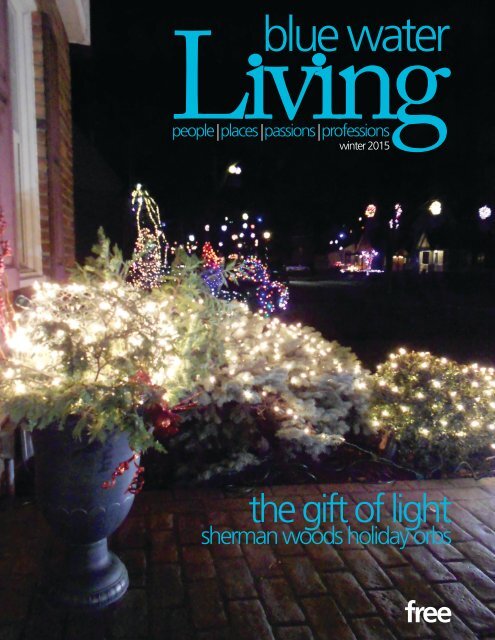 blue water living--dec 18 2015
Create successful ePaper yourself
Turn your PDF publications into a flip-book with our unique Google optimized e-Paper software.
lue water

winter 2015

the gift of light

sherman woods holiday orbs

free
---
port huron's historic

sherman woods neighborhood

ablaze with holiday lights.

from the editor

In September 2014 when my husband and I announced to friends that we had

purchased a home in Port Huron's historic Sherman Woods neighborhood, the very

first question they asked was: "So will you have Christmas balls?"

Now in its fifth year, the very unofficially-official Sherman Woods Christmas Ball

Light Display is surely a highlight for anyone in the Blue Water Area looking for

fantastical Christmas light displays.

And yes, Virginia, we do participate with lighted Christmas balls.

content

places

Sherman Woods 4

Fort Gratiot Lighthouse 6

Sunrise Gardens 8

cover photo

Christmas lights wrapped around a chicken

wire orb and placed in a porch pot

brighten up a Sherman Woods

neighborhood doorstep.

Photo by Patti Samar

Our home, with its twinkling white-lighted spheres in pots (we have no trees out

front) and on bushes, is very conservative in comparison to the yards of my neighbors.

And, as a witness to all five years of this lighted display, I can assure you that there are

more lights this year than ever before.

The nightly parade of cars through our neighborhood -- and it is a parade -- begins

Thanksgiving weekend. Those who came to see the lights that weekend must return

because I've watched neighbors add lights every day well into December.

Since the Sherman Woods holiday light display began, I've seen lighted balls hanging

from trees in other neighborhoods in Port Huron and the surrounding areas. One of

my girlfriends just purchased a home in a small township neighborhood and wants

to encourage her neighbors to make lighted spheres, as well. She thinks it would be a

cool way to unite the neighborhood and spread holiday cheer.

While I know that our light display is the Sherman Woods association gift to all who

visit the neighborhood during the holiday season, the real gift comes when a simple,

festive gesture unifies a community in a positive way. It is a gift that keeps on giving.

I know this is a stretch in terms of suggesting that spheres of light are bringing peace

on earth and goodwill to all, but anything that inspires people to do something for the

pure joy of others is not a bad thing. In fact, it is the thing we need more of in our very

troubled world today. So I encourage you to create lighted orbs...or let someone else

have the coveted parking space in the crowded parking lot...or shovel your neighbor's

sidewalk. Whatever you do, do it with joy in your heart knowing it will bring joy to

others.

Peace,

volume 1, number 3 winter 2015

Blue Water Living is published quarterly by The Write Company,

511 La Salle Blvd., Port Huron, MI 48060. Circulation 7,500.

Editor & Publisher: Patti Samar, owner, The Write Company

Advertising: Patti Samar at 810-987-1256 or pjsamar@aol.com

News releases can be emailed to pjsamar@aol.com

Questions or comments?

Call Blue Water Living at 810-987-1256

Mission: Blue Water Living is the premiere publication

for people living, working and playing

in the Blue Water Area of Michigan.

Its stories and features are written and designed

to be informational and inspirational.

www.BlueWaterLiving.net

© Blue Water Living is the property

of Patti Samar of The Write Company and is a publication

of Blue Water Publishing LLC.

The Write Company is a writing, graphic design and marketing

consultation firm. View our online portfolio at:

www.TheWriteCompany.net

Patti Samar

Editor & Publisher

Blue Water Living
---
Visit our website for more information

and call our office today to schedule a consultation.

best

Michigan

For all other locations checkout www.dutyfreeamericas.com

winter 2015 BlueWaterLiving.net 3
---
places

sherman mcmorran woods, tower, port huron

Holiday nights

full of lights

by Patti Samar

Five years ago when Larry Nelson

made 12 spheres out of Christmas

lights and chicken wire, he was afraid

his neighbors in Port Huron's historic

Sherman Woods neighborhood would

not be happy with his festive display.

"Well, you know, (Sherman Woods)

can be kind of conservative," he said

with a chuckle. But Nelson pressed on,

encouraged by his daughter, Teri, who

grew up in the neighborhood but now

resides in Greensboro, North Carolina

where lighted holiday orbs are a longtime

tradition. Teri was convinced

the spheres would be a hit in Sherman

Woods.

"They've got thousands of them up in

old, old oak trees in Greensboro," said

Nelson. "It's just amazing."

No sooner had Nelson hung his

orbs than neighbors started asking for

instructions on how to make them.

"I started with 12 balls and I'm up

4 winter 2015 BlueWaterLiving.net
---
to 105 now," Nelson said of his own

display.

It is safe to say that the neighborhood

light display in Sherman Woods

now has thousands of orbs, as well.

Neighbors begin stringing balls

and holiday lights the week before

Thanksgiving and continue enhancing

their personal displays well into

December. Every resident in Sherman

Woods is responsible for decorating his

or her own property.

Nelson noted that visiting the

neighborhood has become a holiday

tradition for many in the Blue Water

Area. "Nursing homes send their buses

through, and the police department calls

every year because people begin calling

them and they want to know when the

balls are going up.

"It's crazy. People really do like it. It's

beautiful and it's just fascinating."

sherman woods holiday orbs

• Location: North end

of Port Huron; east of

Gratiot Avenue, just

south of Lakeside

Beach. Enter on La Salle

Blvd. or Edison Blvd.

• Approximate cost per

orb: $7

• Lights go on: Usually

lights start appearing

the weekend prior to

Thanksgiving and are

shut off the week after

New Years.

winter 2015 BlueWaterLiving.net 5
---
M

people

mike popelka, site manager, fort gratiot light station

mike popelka on the grounds

of the fort gratiot light station

6 winter 2015 BlueWaterLiving.net
---
Keeping the light station

ship-shape

by Patti Samar

Mike Popelka likes to keep things ship-shape.

As a Coast Guard retiree, Popelka knows a thing or

two about ship life and he's using his knowledge of all

things nautical as the Port Huron Museum site manager

for the Fort Gratiot Light Station.

"I'm the first one there in the mornings," he said.

"This time of year, I make sure the heat is turned up

and that everything is cleaned and dusted. I make the

cookies and the hot chocolate, too."

Cookies and hot chocolate are easy-peasy for Popelka,

who served as a cook in the Coast Guard on both land

and sea. He was shipboard on the USCG Icebreaker

Mackinaw of Cheboygan and, in his final tour of duty,

on the USCG Bramble, which was docked in Port

Huron.

A native of Wisconsin, Popelka spent 20 years in the

Coast Guard. His active duty career took him twice to

Texas, and on the second tour there he met his wife. He

was also stationed in Connecticut, Puerto Rico, Sault

Ste. Marie, Cheboygan and finally Port Huron. He

retired as a First Class Petty Officer.

Popelka noted that he especially enjoyed his time on

the Mackinaw, as it was during the 1970s when the

shipping season went year round, so there was never a

downtime.

Upon his retirement from the Coast Guard, Popelka

worked in security for the Acheson Colloids company

in Port Huron for almost 20 years. It was after his

retirement from Acheson that he first began working

with the Port Huron Museum as site manager for the

USCG Bramble when the museum owned and took care

of that vessel. Upon the sale of the Bramble to a private

owner, Popelka became site manager at the Fort Gratiot

Light Station.

The St. Clair County Parks and Recreation

Department cares for the property at the light station so

Popelka's duties are administrative and include cleaning

duties and making sure the 50 volunteers are kept

abreast of events and activities scheduled for each day.

The light station is open to the public for tours from

early May through December, with special holiday hours

and nighttime candlelight tours of the lighthouse in

December each year. The buildings on site are available

for rent year round to groups holding special events.

Overnight stays are available on site at the light station,

as well.

"The holiday candlelight tours are an attraction to the

local people," said Popelka, who noted that many locals

have climbed the lighthouse during the daylight hours,

but are interested in seeing the nighttime view. "Seeing

it at night is a unique opportunity."

Popelka's favorite part of his job? "I think meeting the

people who come to see the lighthouse," he said. "There

are not too many jobs in the world where you work with

the public and it's fun."

winter 2015 BlueWaterLiving.net 7
---
places

sunrise gardens, port huron

Digging in

by Patti Samar

Jim Eldridge knows how to make stuff grow.

Eldridge, of Wadhams, is owner of Sunrise Gardens, 3605

Lapeer Road in Port Huron. A lifelong third generation farmer,

he began bunching asparagus for his grandparents on their

working farm when he was just six years old.

"They had 50 acres of just asparagus and we used to bunch it

for Kroger's," he said. He grew up helping his father, Richard

Eldridge, on the family farm and Jim has made his living

working in farming and produce most of his life.

Eldridge said he really began working regularly on his father's

farm when he was 10 years old but his father wouldn't allow

him or his siblings to drive a tractor until they were 16. "It's too

dangerous," he said.

His brother now operates the original family farm in Capac

and Eldridge also farms on the land there. "We are the only

potato farmers left in St. Clair County," he said of his family

operation.

Sunrise Gardens offers three seasons worth of primarily locally

grown or locally sourced plants, produce and holiday greenery.

From April until June, he offers spring plantings at his retail

location including flower baskets, flats, Mother's Day baskets

and Memorial Day grave pots, among other items. He reopens

8 winter 2015 BlueWaterLiving.net

the shop on Labor Day weekend each year and begins selling

potatoes, squash, pumpkins, tomatoes, peppers and corn

stalks, along with mums and fall plantings. After Halloween,

he transitions to holiday home greenery that he creates himself,

along with a selection of locally grown Christmas trees.

Eldridge spends his summer months working the land for his

fall crops. He looks forward to the fall when he opens Sunrise

Gardens and his customers return.

"I'm a people person," he said. "I like helping people." He

notes that his customers return, year after year, because they

understand the quality they will receive. "With the produce, if I

wouldn't buy it, then it shouldn't be there. I take care of it like

that."

And because farming is a gamble, Eldridge and many in his

family have, along the way, also worked other jobs to fill in

during slow times. He has worked in produce departments at

grocery stores, for landscaping companies and in factories along

the way.

But the root of his livelihood has always involved working the

land.

"I like being my own boss and meeting people," he said. "But

you've gotta like farming to do it. It's a lot of work. It's a gamble.

It's a lot of hands-on and a lot of labor."
---
jim eldridge with some of the holiday greenery he

creates for customers. During the holiday season, he

offers fresh wreaths, roping, porch pots, kissing balls,

Christmas trees and grave blankets.

winter 2015 BlueWaterLiving.net 9
---
places

marketing plan?

What marketing plan?

need help?

call your one-stop shop for marketing consultation.

advertising copyWriting. design. & strategy.

print & e-neWsletters. direct mail.

logos/branding. Website design.

political campaigns: messaging. design. strategy.

fund raising collateral materials.

grant Writing editing.

public relations & community relations: messaging/engagement.

10 winter 2015 BlueWaterLiving.net

aWard-Winning Writing

& graphic design Work.

patti samar. owner. Writer. designer. marketing consultant.

(Also Editor & Publisher of Blue Water Woman & Blue Water Living)

810. 987. 1256 www.theWritecompany.net

pjsamar@aol.com
---
Cell: (586) 801-6068

Email: diannare@aol.com

FRESH IS HAPPENING NOW

Drinks Appetizers Entrees

Take Out Service

Chili's Bar & Grill

4305 24th Avenue Fort Gratiot

(810) 385-1103
---
Distinguished Care for

Serious Emergencies

LIFE IS NEVER PREDICTABLE. EMERGENCIES

HAPPEN, and when they do, the trauma team

at McLaren Port Huron is ready for you.

We have a 133-year history of being here for the

Blue Water community. That tradition continues,

as we're performing under the guidelines set

forth by the American College of Surgeons while

we pursue a Level III Trauma Center national

verification.

That means we can care for a wider range

of serious emergencies. It means exceeding

national standards for trauma care staffing,

injury prevention and quality improvement.

When EMS calls, our trauma team is activated,

ready to provide the best available care when

the ambulance arrives.

That's our role in an emergency. Yours is to

remember to turn to the very best – McLaren

Port Huron. A leader in healing. Your partner

in health.

1221 Pine Grove Avenue, Port Huron, MI 48060 | (810) 987-5000 | mclaren.org/porthuron