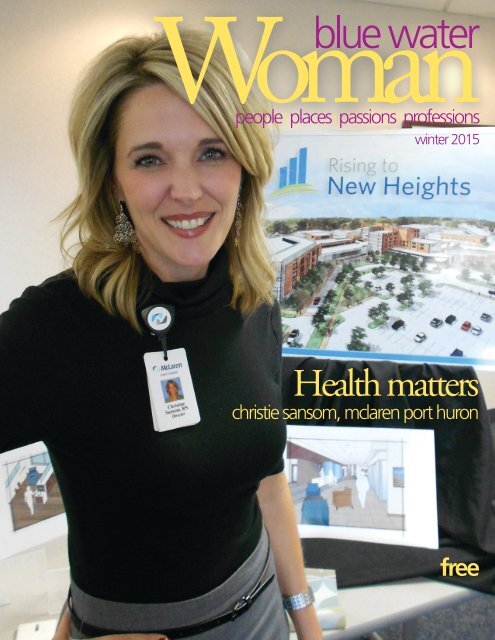 blue water woman--winter 2015-12-18-2015
You also want an ePaper? Increase the reach of your titles
YUMPU automatically turns print PDFs into web optimized ePapers that Google loves.
winter 2015

Health matters

christie sansom, mclaren port huron

free
---
We've heard your questions about pre-planning.

You want to know more.

You want to know how.

We would like to introduce our Advance Funeral Planner

Michelle Wilkins-O'Hara.

Michelle is guiding local families through the steps of funeral pre-arrangement. She is providing

answers and options to the growing demand of those who wish to pre-plan.

John W. Kendrick, president of Pollock-Randall Funeral Home, sees a significant increase

in pre-need planning today. "Every week I see families who are utterly unprepared to deal

with a death, and whose situation could have been eased by some basic planning. It can be a

tremendous gift to survivors. Michelle will be available to help families pre-plan for funerals

so difficult decisions do not have to be made during such a difficult time."

Michelle

Wilkins-O'Hara

Said Michelle: "I am honored to help the community fully understand their choices and

options. Pre-arranging allows the individual to personalize whatever type of service they

choose. Anyone who has had to sit and make funeral arrangements while grieving the loss

of their loved one can truly see the value of pre-planning. It is an opportunity to give your

family the gift of a plan and free them from the financial stress. I am looking forward to

guiding our families and having the privilege of working with the premier funeral service

provider in the Blue Water area."

Michelle is a graduate of St. Clair High School, Rochester College, and an

honors graduate of The Outlook Academy of Advance Funeral Planning,

Franklin, Ohio.

Michelle loves spending time outdoors engaging in activities such as boating

and enjoying time with her husband Jon, her son Henry, and Sydney, their

Labradoodle. She is an avid gardener, exploring ways to create healthy meals

for her family. They are members of St. Peter's Lutheran Church.

Michelle looks forward to hearing how she can help you! For more

information or to schedule an appointment with Michelle, call 810.982.0179

Michelle and her husband,

Jon, and son, Henry

Pollock-Randall

912 Lapeer Avenue

810.982.0179

www.pollockrandall.com

Manager: Ann Randall-Kendrick

Marysville

1200 Michigan Avenue

810.364-7100

www.pollockrandall.com

Manager: John W. Kendrick

Karrer-Simpson

1720 Elk Street

810.985.9605

www.karrersimpson.com

Manager: Thomas K. Simpson

If this has reached you at an unfortunate time or has offended you in any way, we apologize. By responding to this ad, you may be contacted by an agent "Advance Planner" who may offer you

a pre-need life insurance policy or an annuity underwritten and administered by Physicians Life Insurance Company of Omaha, NE.
---
who will be named...

Blue Water Woman

Easy

nomination

process!

of the Year?

Nominations now being accepted

for Blue Water Woman of the Year!

The Blue Water Woman of the Year Awards will honor women who reside in the

Blue Water Area of Michigan who demonstrate excellence and achievement

in one or more of the following areas:

?

• Volunteerism

• Mentoring other women

• Professional achievement

• Blue Water Young Woman of the Year (21 and under)

• Overall Honor: Blue Water Woman of the Year

Award Process:

Nominators MUST complete the nomination form and rules available at

www.BlueWaterWoman.com

A distinguished panel of judges from the Upper Peninsula has been asked to serve as an external,

nonresidential award selection committee.

Honoring the Award Recipients:

Those selected for awards will be notified by Blue Water Woman at the end of January/early February

2016. All will be featured in a story in the Spring (February/March) 2016 issue of the magazine. All

will be honored at a public reception (open to men and women) on February 19, 2016.

Deadline for Submissions:

Submissions must be received by email or snail mail no later than Friday, January 1, 2016.

Submissions can be emailed to: pjsamar@aol.com or sent via U.S. Postal mail to: Patti Samar,

Blue Water Woman, 511 LaSalle Blvd., Port Huron, MI 48060.

Use your smart phone

to visit our website

and view the

nomination form:

Sponsored by:

Woman

Blue Water Woman reserves the right to refuse nominations for consideration without cause. All decisions are final and subject

to approval by Blue Water Woman. Why? Because we said so. ;)
---
from the editor

content

christie sansom 4

lisa gray 6

keely baribeau 8

advertise

in Blue Water Woman!

it works! just ask our advertisers!

The ad deadline for the next issue of Blue Water Woman

is January 15, 2016.

Prices start at just $125 for a business card sized ad!

Our most popular ad size is a quarter page at just $250;

sign a one-year contract and it becomes just $225 a quarter!

What a deal!

For more information, contact Patti Samar at 810-987-1256

or email her at pjsamar@aol.com

volume 5, number 4 winter 2015

Blue Water Woman is published quarterly by The Write Company,

511 La Salle Blvd., Port Huron, MI 48060. Circulation 7,500.

Happy holidays!

I hope you are enjoying this very festive season. Like all of you, I am pressed for

time this month and I've been racking my brain trying to figure out what to write

about.

Tis the season to express thanks for all of the indulgences in our lives...and I have

many. (I am spoiled...I have a good husband) But this time around, I'm having

trouble putting into words all I am thankful for...because it's not "things", really...it's

people I'm thankful for.

So, thank you for allowing me to indulge myself (once more) by sharing a few

photos of the people with whom I've spent some quality and/or fun times with in

2015. Maybe you will recognize a few faces...maybe you won't. Everyone pictured

represents a special part of my life and adventures in the past year. I appreciate

each and every one of them and I'm so thankful to have them all in my life...most

especially my girlfriends who bring joy and levity to my life when I need it most. And

most, most especially my husband who tolerates living with my anal-retentive OCD

self and who is the rock of my life.

Peace to everyone in the new year.

Editor & Publisher: Patti Samar, owner, The Write Company

Advertising: Patti Samar at 810-987-1256 or pjsamar@aol.com

News releases can be emailed to pjsamar@aol.com

Questions or comments?

Call Blue Water Woman at 810-987-1256

Mission: Blue Water Woman is the premiere publication

for women living, working and playing

in the Blue Water Area of Michigan.

Its stories and features are written and designed

to be inspriational, motivational and encouraging.

www.BlueWaterWoman.com

© Blue Water Woman is the property

of Patti Samar of The Write Company

The Write Company is a writing, graphic design and marketing

consultation firm. View our online portfolio at:

www.TheWriteCompany.net

Patti Samar

Editor & Publisher

Blue Water Woman

2 winter 2015 BlueWaterWoman.com
---
winter 2015 BlueWaterWoman.com 3
---
professions

christie sansom, port huron

impacting patient care

by Patti Samar

The first time Christie Sansom stepped into a patient room as a student

nurse, "I knew it was what I was going to do for the rest of my life."

And Sansom, of Port Huron, has taken her nursing career in a direction

that allows her to make an impact on the delivery of patient care in ways

she could not have imagined when she was still in school.

As the director of critical care and emergency nursing at McLaren Port

Huron, she regularly oversees more than 100 nursing personnel and she

is heading up a team of nurses who are very involved in the design of a

new four-or-five story patient tower that will include a new emergency

department and a new intensive care unit. This patient tower is part of a

broad hospital-wide development strategy that also includes construction

of a Karmanos Cancer Institute.

"Our role is to build the space while anticipating what the future

needs of the space are going to be," said Sansom. "There's a strategic

nature to designing the space that will enable us to deliver high quality

compassionate care.

"Our staff members are the experts in how to best deliver that care

and their input in how to deliver that care is crucial. We know the most

important thing is our relationship with the patients and working with a

team to meet patient needs when they need it the most."

In order to make sure staff is satisfied with the design of the space prior

to actual construction of patient care areas and nursing stations, mock

work areas have been laid out in an empty floor of the existing hospital so

that staff can evaluate the right work flow options.

4 winter 2015 BlueWaterWoman.com

Working on the design of the new space is an opportunity that Sansom

welcomed into her already busy work and home life. A mother of four

children under the age of 10, she and her husband share equally in

parenting and home life chores in order to create balance.

"I have an incredible husband who does everything that I do," she said.

"You just make priorities in your life. My family is always going to be the

most important thing in my life, but my work feels like the right way to

spend my time when I'm not with my family."

She is able to make the time needed for them by carefully managing her

time and effort at work.

"I surround myself with really good people," she said of her colleagues.

"My passion is developing leaders who want to provide really great

nursing care. And work is a constant re-prioritization. Health care is

changing so quickly. I've learned, along the way, what kinds of things

work and what doesn't.

"The incredible thing about the new tower is that we already have

such high quality of staff in place. The new environment is just going to

enhance the care we already provide."

When Sansom is not at the hospital or spending time with her family,

she enjoys making use of her creativity by shooting photographs. Her

hobby has turned into a part-time business called Captured by Christie.

Nursing and caring for people, however, remain her primary career

focus. "I feel so very fortunate to have found a career that is so fulfilling on

so many levels with incredible leaders and incredible staff taking care of

patients with such compassion."
---
Victoria's

Hair studio

Men l woMen l cHildren

714 Lapeer aVe. port huron

810. 987.4000
---
passion

lisa gray, port huron

healing hearts

by Patti Samar

Lisa Gray experienced every mother's worst nightmare.

Only, for Gray's family, it wasn't a bad dream; it was reality. Gray's

daughter, then a sophomore in high school, told her that her stepfather

– Gray's ex-husband – had sexually abused her for seven years.

The story of what Gray's family went through, from discovery through

a trial in the court system to seeing the perpetrator placed behind bars for

a very long time, is the subject of Gray's new book, They Don't Tell: Child

Abuse: A Mother's Perspective.

It was late 2006 when Gray's daughter, Nicole, told her mother what had

happened to her. The abuse started when Nicole was in third grade.

At the time, Gray was recently divorced from the abuser, but the

revealing conversation between mother and daughter was the beginning of

a year-long odyssey that took them through the court system as justice was

served.

The experience that Gray and her family went through is a testament to

the fact that, sadly, sexual abuse can be found in homes of families from all

walks of life. Gray is educated and successful – she has a bachelor's degree in

urban policy analysis from Michigan State University and a master's degree

in education and counseling from Central Michigan University – and she

enjoyed a varied and interesting career working in a number of different

industries ranging from a Fortune 500 company to her retirement from the

Social Security administration.

Divorced from her first husband while living and working in

Washington, D.C., she returned to her hometown of Port Huron as a

single mother. "I wanted my kids to be raised in a small town," she said.

As a single parent, she wasn't looking for love, but she found it in a man

she met at church.

"Everyone liked him," she said, noting that other members of the

congregation doted on him and he was genuinely good to them as well,

helping out whenever help was needed. "He was very family-oriented and

he was very family-centered," she said. It seemed like a good fit for a man

marrying a woman with children.

After a few years, however, she began feeling like something wasn't right

6 winter 2015 BlueWaterWoman.com

with the marriage. "He was not really loving the Lord like I thought he

was," she said. "I started to see a hypocritical side of him."

It wasn't until the divorce was final, he was out of their lives and her

daughter came forward that she began to realize how far off the path of

righteousness he had fallen. And, as a mother, she was devastated not only

for her daughter and the trauma she had experienced, but also at the horror

of realizing she had no idea it had been going on in her own home.

"I went through every emotion you can imagine," she said.

In 2013, Gray's brother encouraged her to write a book. She wanted to

share her story with other parents who might be going through a similar life

event.

She emphasizes that the book is about her side of the story as a parent in

crisis. This is not her daughter's story. "Her story is not my story to tell,"

she said. "This story was about me and what it was like for a mother to go

through something like this. It's about my guilt. It was my responsibility to

care for and protect my daughter. In the end, there is only one person you

can blame, though, and that is the perpetrator."

Gray self-published her book and learned about the writing and the

process by using the internet and finding a good editor. She started at first

by "writing bits and pieces" and "sometimes, I would have to stop writing

so I could lay down and cry."

With the help of therapy and prayer, both Gray and her daughter are in a

better place now.

She noted that healing herself was just as important as making sure her

daughter healed, as well.

"It's so important for the mother to do some self-care so she can help her

daughter so they can survive and be whole again."

And that has definitely happened for her daughter. Now 24, Nicole

recently completed a licensed practical nurse program and is preparing to

continue her education and earn a bachelor of science degree in nursing.

"She's walking with her head held high," said Gray with a smile.

Gray's book can be purchased on Amazon.com and Smashwords.com. It has

received outstanding reviews.
---
marketing plan?

What marketing plan?

need help?

call your one-stop shop for marketing consultation.

advertising copyWriting. design. & strategy.

print & e-neWsletters. direct mail.

logos/branding. Website design.

political campaigns: messaging. design. strategy.

fund raising collateral materials.

grant Writing editing.

public relations & community relations: messaging/engagement.

aWard-Winning Writing

& graphic design Work.

patti samar. owner. Writer. designer. marketing consultant.

(Also Editor & Publisher of Blue Water Woman & Blue Water Living)

810. 987. 1256 www.theWritecompany.net

pjsamar@aol.com
---
professions

keely baribeau, lakeport

coming

home

by Patti Samar

8 winter 2015 BlueWaterWoman.com

So, just what happens when a small town gal from Lakeport, Michigan,

heads off to the big city?

Sometimes, when she works hard enough, she can find herself rubbing

elbows with celebrities in a place where the stars are not all located in the

sky. And then, sometimes, years later, such a gal just might return to a

place where the brightest stars can be seen twinkling over Lake Huron and

the pace of life is slower, but perhaps more meaningful.

Such is the story of Keely Baribeau, director of community relations and

marketing for the Port Huron Schools.

After graduating from Port Huron Northern High School and then

earning a bachelor of science degree in film studies from the University of

Michigan, Baribeau moved to Los Angeles to work in the entertainment

industry.

"After my junior year in college, I had an internship at the Tonight

Show and E Entertainment," she said. "So I learned, 'This is what it is

actually like to work in television.'"

Upon graduation, she was determined to return to California and make

a living working in the industry.

"I begged my former intern bosses, 'Please hire me! Please hire me!' and

I moved to L.A."

Bright lights, big city it was. "It was fantastic being from Lakeport,

Michigan and being around all these celebrities," said Baribeau. But, after

nine years of working behind the scenes – she ended up as a supervising

producer and writer for E Entertainment and the Style Network – life

shifted. In the early 2000s when the industry was going through a series of

budget crunches, Baribeau decided it would be wise to broaden her career

options, so she enrolled in graduate school at the University of Southern

California and earned a master of arts in Strategic Public Relations.

After launching her public relations career in Los Angeles, she eventually

moved to Miami and worked in the tourism industry.

It was 2009 when she heard about a job opportunity at St. Clair County

RESA – the district was looking for an instructor for its video production

department.

"I liked coming home," said Baribeau of her decision to return to her

hometown. "A lot of stuff was going on in Port Huron. It's fun living in

Port Huron. I can't think of a time when it was this vibrant of a place to

live."

Her experience at RESA eventually led to her current position in her

home school district.

Currently, the school district is working on a bond proposal that will

cover a wide range of facility improvements and upgrades.

"The size of the district and the task that we have at hand is challenging

and keeps my job interesting," she said. "It's important that we build trust

and establish relationships. That is really important."

She noted that the bond proposal and the impact of the school district,

in general, is important on many levels, including economic development

as employers consistently report that potential employee recruits ask first

about the quality of local schools and the quality of life.

"What's more important to a community than its public school

district?" asked Baribeau. "You feel every single day that you have some

impact to make."
---
Cell: (586) 801-6068

Email: diannare@aol.com

Sanborn Gratiot

Memorial Home

5:30 p.m. to 8 p.m.

Thursday, January 21, 2016

$35/per person

Sommelier Andy Bakko of Wolverine Market

Master of Ceremonies Paul Miller of WPHM-AM

Jazz Guitarist Cory Allen

Craft Beer • Hors D'oeuvres • Silent Auction

Port Huron Elks Lodge #343

3292 Beach Road Kimball MI

For tickets & more information:

www.sanborngratiot.org

810-388-1200

•

•

•

•

•

winter 2015 BlueWaterWoman.com 9