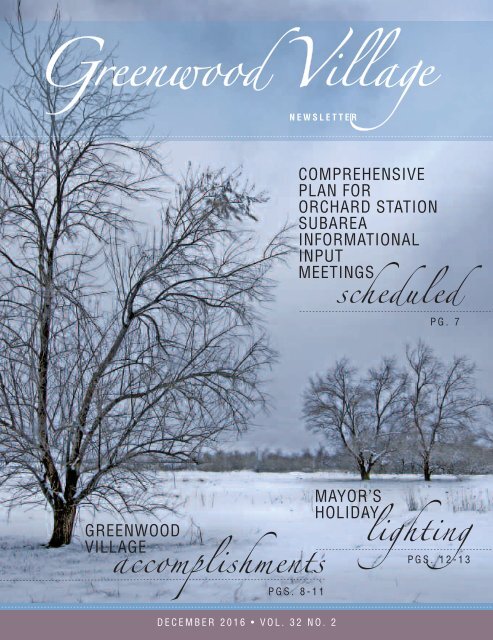 You also want an ePaper? Increase the reach of your titles
YUMPU automatically turns print PDFs into web optimized ePapers that Google loves.
Greenwood Village

N EEW S LLE ET TTE ER

HEADLINE GOES

here P G . X

HEADLINE

HERE P G . X

COMPREHENSIVE

PLAN FOR

ORCHARD STATION

SUBAREA

INFORMATIONAL

INPUT

MEETINGS

scheduled

P G . 7

HEADLINE

HERE

P G . X

HEADLINE

here P G . X

MAYOR'S

HOLIDAY

GREENWOOD

lighting

VILLAGE

P G S . 1 2 - 1 3

accomplishments

P G S . 8 - 1 1

D E C E M BO EN RT H2 0Y1 E6 A• R VI OS L S. U 3E 2#

N O . 2
---
GOVERNMENT

MAYOR RON reports

THIS HOLIDAY

SEASON . . .

Wishing you and your family a happy

and joyful holiday season. It's that

special time of year when

we gather with our

friends and family to

appreciate the many

diverse celebrations that

occur during the month

of December. On behalf

of Greenwood Village, we

wish you the gift of love,

the gift of peace, and the

gift of happiness this

holiday season.

Ron Rakowsky

rrakowsky@ As you start your holiday

greenwoodvillage.com shopping and engage in

303-486-5741 special meals, we ask that

you shop and dine in

Greenwood Village this holiday

season. Here are some very important

reasons why:

• An array of choice for any

lifestyle. The Village is home to an

array of service oriented businesses,

specialty shops and homegrown

businesses with unique items for

all ages.

• Our sales taxes are lower! When

you shop in the Village, you pay

less sales tax. Our sales tax rate is

actually lower than most metro

area cities.

• Support your local government

services. Of the 7.25% sales tax

you pay on purchases in the

Village, 3% comes back to your

community which makes up a

significant portion of our general

fund revenues. The general fund

provides funding for services such

as police protection, parks and

recreation programs, street

maintenance, and road

improvements.

• Support local merchants and

their employees. Business owners

and their employees pay taxes in

the Village. These businesses donate

to local charities and organizations

and provide for our community in

many other ways. By shopping and

dining locally, you contribute to the

economic growth of the business,

thus contributing to the economic

vitality of our local economy.

You can find more information on our

local businesses online at

www.greenwoodvillage.com.

HELP US WITH

FOOD AND SOCKS

FOR THE LESS

FORTUNATE

This holiday season, Greenwood

Village, in partnership with Golden

Hearts of Greenwood and the Sock It

To Em Sock Campaign, is collecting

new and used socks, as well as nonperishable

food items for the homeless

and families that are less fortunate and

may be struggling in this economy for

various reasons. Cases of food are

needed and the following items are

requested: 100% boxed juice drinks;

canned vegetables; canned soups;

canned tuna and chicken; canned fruit

and fruit cups; all types of pasta;

canola and olive oil; peanut butter;

canned kidney, black and pinto beans;

oatmeal; cereals; spaghetti sauce;

crackers; canned chili, canned beef

stew; dry milk, evaporated milk, and

boxed shelf stable milk; healthy snacks

like granola bars, nuts and dried fruit;

and any other non-perishable food

items that would feed children and

families including meals for the

holiday.

Making a donation of food and socks

is a wonderful way of giving back and

can help our children appreciate what

they have when families join together

for a heartwarming task like this one.

Please drop off socks and food to City

Hall, 6060 South Quebec Street or the

Maintenance Facility, 10001 East

Costilla Avenue through December

31. Socks will delivered to the

homeless and all food will be given to

organizations that serve the south

Denver area. Let's make a difference

together.

PG. 2 GV NEWSLETTER | DECEMBER 2016
---
GOVERNMENT

CITY council

NOT SURE WHO YOUR

ELECTED OFFICIALS ARE?

Obtain a list of your state and national government

representatives at www.arapahoevotes.com

DISTRICT 1 DISTRICT 2 DISTRICT 3 DISTRICT 4

Dave Bullock

dbullock@

greenwoodvillage.com

303-804-4137

Darryl Jones

djones@

greenwoodvillage.com

303-804-4136

George Lantz

glantz@

greenwoodvillage.com

303-804-4134

Tom Bishop

tbishop@

greenwoodvillage.com

303-804-4131

Freda Miklin

fmiklin@

greenwoodvillage.com

303-804-4138

Leslie Schluter

lschluter@

greenwoodvillage.com

303-804-4135

Steve Moran

smoran@

greenwoodvillage.com

303-804-4133

T.J. Gordon

tgordon@

greenwoodvillage.com

303-804-4132

DR. HARRY BULL

NAMED

STATE'S TOP

SUPERINTENDENT

Congratulations to Superintendent

of Cherry Creek School District

Dr. Harry Bull for his designation as

the state's top superintendent for 2017

by the Colorado Association of School

Executives. Dr. Bull was commended

for his commitment to excellence for

all students, his tireless advocacy work

and his leadership in the fight for

adequate school funding across the

state. Dr. Bull has been Cherry Creek's

Superintendent since 2013 after

decades spent in the district as teacher,

principal and administrator.

I've had the privilege of interacting

with Dr. Bull on numerous occasions

and I can attest that this gentleman is

a true leader and advocate for our

children and public education. His

resume is very impressive, and his

accomplishments and commitment

to excellence go above and beyond

status quo. I want to share a published

quote he gave upon receiving his

award. This will give you some insight

about his character and the type of

leader he is.

"I'm truly honored, I'm humbled and

I'm a little overwhelmed. I'm still

trying to get my head around this. I'm

blessed to have the opportunity to

serve as the superintendent of Cherry

Creek Schools," Bull said. "What this

continued on page 4

Dr. Harry Bull

DECEMBER 2016 | GV NEWSLETTER PG. 3
---
GOVERNMENT

MAYOR RON reports

continued from page 3

means for me is that there's a recognition statewide about the

work that goes on inside of the district every single day. I'm

the person who gets the name on the plaque — I get that —

but this is really about the work that our teachers do in the

classroom, our staff that works with kids every day, the

building leadership team and the leadership at central office.

"It's about the people," Bull added.

UPDATED RECREATION

REIMBURSEMENT POLICY

One of the great benefits of living in Greenwood Village is

you get paid to play as part of the Village's Recreation

Reimbursement program. The program offers recreation

reimbursement to residents of up to $500 per primary

residence annually. In a nutshell, the Village reimburses you,

up to $500 per year for activities offered by an approved

agency including golf at a municipal golf course, membership

at Greenwood Athletic Club, youth sports through nonprofit

youth sport agencies and more. Agencies must be

within the Denver Regional Council of Governments

(DRCOG) area and includes municipal and special

recreation districts such as South Suburban Parks and

Recreation District and Metropolitan Districts such as the

Greenwood Athletic Club Metropolitan District and

Sundance Hills Metropolitan District.

I want to make you aware of a change City Council adopted

regarding how the program is administered by staff. Effective

December 1, reimbursement checks will be mailed to the

residential address listed on the form; checks can no longer

be picked up at City Hall. This will help ensure the

requester is a current resident of the address submitted. In

addition, reimbursement requests must be submitted for the

year in which the payment was made, not the year in which

the activity takes place if different. Annual memberships are

also reimbursed for the year in which payment was made

and are not eligible for further reimbursement until the

RAMBLE WITH RON

Due to the fall and winter seasons, Ramble with Ron will be

suspended until the spring. If you have some ideas or

suggestions about living or working in Greenwood Village that

you would like to share with Mayor Ron Rakowsky, send him

an email at rakowsky@greenwoodvillage.com or call the

Mayor's Office at 303-486-5745.

annual membership is renewed the following year. The

exception being annual membership (12 months paid in

advance) that is paid in December to take advantage of a

membership sale for the following year shall be applied to

the following year.

Don't forget — the deadline for submittal of all 2016 receipts

for reimbursement requests will be accepted until 5 p.m. on

Tuesday, January 17, 2017.

We hope you and your families enjoy this great benefit as a

resident of Greenwood Village. Additional information is

available on Page 23 of this Newsletter. For questions related

to the program or learn how to request a reimbursement,

please call Parks, Trails, and Recreation at 303-486-5773,

email jliggett@greenwoodvillage.com or visit

greenwoodvillage.com. GV

PG. 4 GV NEWSLETTER | DECEMBER 2016
---
VILLAGE CALENDAR

Visit

WWW.GREENWOODVILLAGE.COM

for more information

Information is subject to change

january 2017

SUNDAY MONDAY TUESDAY WEDNESDAY THURSDAY FRIDAY SATURDAY

4 5

6 7

1

New Year's Day

2

New Year's Holiday

Observed

Village Facilities

Closed

3

P&Z Commission

7 p.m.

City Hall

8 9

10

City Council

Study Session

6 p.m.

Meeting

7 p.m.

City Hall

★ SINGLE FAMILY HOUSEHOLD RECYCLING ★

PTR Commission

7 p.m.

City Hall

11 12 13 14

15 16

17

18

19

20 21

Martin Luther

King Jr. Day

Village Facilities

Closed

P&Z Commission

7 p.m.

City Hall

22 23

24

25 26

City Council

Study Session

6 p.m.

City Hall

Orchard Station

District 3 Meeting

6:30-8:30 p.m.

Highline

Community

Church

Orchard Station

District 1 Meeting

6:30-8:30 p.m.

Aspen Academy

★ SINGLE FAMILY HOUSEHOLD RECYCLING ★

GVAHC Meeting

6:30 p.m.

Curtis Center

Orchard Station

District 2 Meeting

6:30-8:30 p.m.

Comedy Works

BOAA Meeting

6:30 p.m. City Hall

Orchard Station

District 4 Meeting

6:30-8:30 p.m.

Campus

Middle School

27 28

29

30 31 1

2

3 4

★ SINGLE FAMILY RECYCLING ★

Trash And Recycling Holiday Reminder:

With Village offices closed on Monday, December 26 (NOT a

Recycling week) and Monday, January 2 (a Recycling week), this will

have no impact to your trash and recycling service. Republic Services

will be working both days to provide service. Please have your trash

and recycling out on your normally scheduled trash day.

DECEMBER 2016 | GV NEWSLETTER PG. 5
---
GOVERNMENT

Greenwood Village

Don't have Comcast cable?

You can watch GVTV 8 programs on the

Village Website at greenwoodvillage.com

or on The City of Greenwood

Village Channel on YouTube.

NEW ON GVTV 8 – PREMIERES JANUARY 20

GV Kids, Ink! ® News

Take Off At Centennial Airport

For the first time, GV Kids, Ink! News takes part in their first

aeronautical adventure. Check in to your seats so you can

get ready for your flight at Centennial Airport.

Cooking Tips From The Chef

Join a local chef as he shares some of his

cooking secrets to start off the new year.

AVAILABLE ON COMCAST

CABLE IN GREENWOOD

VILLAGE, GVTV CHANNEL 8 IS

AVAILABLE 24 HOURS A DAY,

SEVEN DAYS A WEEK

PROVIDING PROGRAMMING

REGARDING IMPORTANT

LOCAL, STATE AND

NATIONAL TOPICS.

GVTV 8 PROGRAMS

Village Showcase

Join Mayor Ron Rakowsky as he showcases

all the latest happenings and greatest events

taking place in Greenwood Village.

Beyond The Green

A program highlighting the parks, trails and

open space system in the Village.

Over 50 And Loving It!

A program focused on issues and events

affecting people 50+ years of age.

Safety Matters In Greenwood Village

Learn about safety issues in Greenwood

Village and techniques to help keep you and

your family safe.

GV Business Connections

Get an inside look at the business

community of Greenwood Village and learn

about some important business topics.

GV Kids, Ink! ® News

Hosted by youth news reporters, this

program features youth activities and events

in the community.

The Village Insider

Get a glimpse of the people and projects

behind the doors at City Hall.

Colorado Connected

Produced by the Colorado Communications

and Utility Alliance (CCUA), the program

features programs on regional issues.

NASA 360

Produced by the National Institute of

Aerospace for NASA, this program examines

how technologies developed by and for

NASA are used in everything from space

exploration to everyday consumer products.

Graceful Aging

Enjoy this program to learn about elder care

needs. You'll laugh, think and be inspired to

improve your life.

Denver Press Club

Hosted by the Denver Press Club, this

program features discussions with members

of the press and community.

Jazz Cardio Strength Stretch

A powerfully fun and effective workout that

will lift your spirits, strengthen your heart,

muscles, and core. You'll get a healthy dose

of cardio, strength and stretch moves and

finish up feeling energized for the start and

end of your day.

PG. 6 GV NEWSLETTER | DECEMBER 2016
---
GOVERNMENT

OF interest

ORCHARD STATION

SUBAREA

PROPOSED

AMENDMENT

TO THE CITY'S

COMPREHENSIVE

PLAN

DISTRICT MEETINGS

TO BE HELD WITH

RESIDENTS IN JANUARY

In January 2017, residents are invited

to attend their district public

education, informational, and input

meetings to learn about the Orchard

Station Subarea as a proposed

amendment to the Village's

Comprehensive Plan. The meetings are

a result of resident interest in City

Council policy related to

redevelopment in the vicinity of the

Orchard Light Rail Station. The City

Council would like to provide

information and solicit input from

citizens on the Orchard Station

Subarea proposed amendment to the

Comprehensive Plan prior to its formal

consideration at a future City Council

meeting. Any future redevelopment

proposals of the properties within the

outlined subarea would require

DISTRICT 1

Councilmembers

Dave Bullock and Freda Miklin

Wednesday, January 18, 6:30 to 8:30 p.m.

Aspen Academy,

5859 South University Boulevard

DISTRICT 2

Councilmembers

Darryl Jones and Leslie Schluter

Thursday, January 19, 6:30 to 8:30 p.m.

Curtis Ballroom at Comedy Works,

5345 Landmark Place

approval of development plans.

The Orchard Station Subarea is

located north of Orchard Road and

west of Interstate 25 in the vicinity of

the Orchard Light Rail Station. The

goal of the subarea is to guide future

redevelopment in proximity to the

Orchard Light Rail Station to create a

mix of office, residential, and retail

land uses with a network of public

DISTRICT 3

Councilmembers

George Lantz and Steve Moran

Tuesday, January 24, 6:30 to 8:30 p.m.

Highline Community Church,

6160 South Wabash Way

DISTRICT 4

Councilmembers

Tom Bishop and T.J. Gordon

Thursday, January 26, 6:30 to 8:30 p.m.

Campus Middle School Cafeteria,

4785 South Dayton Street

spaces. The draft Orchard Station

Subarea is available at

www.greenwoodvillage.com.

The Comprehensive Plan is a long

range use plan that guides community

decisions about its growth and

development, and establishes a clear

vision for future development of the

community. The Comprehensive Plan

sets forth goals, objectives and policies

regarding future growth, land use

development, environment,

transportation, and economic

development.

The City Council will participate with

residents in the following public

education and informational meetings

in each district of Greenwood Village.

Residents are encouraged to attend

their district meeting. If you need to

confirm the district in which you live,

please visit www.greenwoodvillage.com

or call the City Manager's Office at

303-486-5746. GV

DECEMBER 2016 | GV NEWSLETTER PG. 7
---
GOVERNMENT

MAKING A difference

OUR 2016 ACCOMPLISHMENTS

In 2016, the City Council committed the necessary financial resources to continue to deliver the high quality services to our

residents and business community. These services include police protection, road construction, street maintenance, snow and ice

control, trash removal, large item pickup, recreation reimbursement program, recreation and arts programs, and a multitude of

other services. In addition to our quality service delivery, provided below are some of our major accomplishments Village staff

achieved during 2016.

KEEPING YOU SAFE FROM

DANGER AND INJURY

Phase I Of Maintenance Facility

And PD Crime Lab Completed

In an effort to improve the safety, cleanliness and overall

appearance of the Village, citizens now benefit from even

greater service as a result of improvements to Village

operations. Phase One of the Maintenance Facility

modifications included a new fleet maintenance building;

construction of a new sand and salt storage building for snow

and ice control materials; expanded material bins to allow for

bulk purchasing of materials such as mulch; and canopies for

Village equipment.

The new Crime Lab is well-equipped and modern.

Phase One of the Maintenance Facility modifications completed.

Improvements also included a well-equipped and modernized

crime lab for the Police Department to meet the 21st century

demands of policing. The new crime lab now houses new

state-of-the-art crime lab equipment which can deliver

forensic services such as the processing of fingerprints; have a

drying cabinet that is specifically used to dry items that

contain moisture or blood; and have an area in the lab to

take close-up photographs of evidence that may present items

such as hairs, fibers, or blood spatter. The new Crime Lab

has improved the timeframe of analysis of evidence by the

Police Department before forwarding to the Colorado Bureau

of Investigations (CBI) for further analysis. In addition, the

new building has enhanced the Police Department's capacity

to work on cyber, cellular and financial crimes.

The renovation also includes expanded space to

accommodate the secure processing, cataloging and storage of

all types of evidence; a secure area for customers to retrieve

any property items seized during investigations; a designated

vehicle processing bay for examination and inspection of a

vehicle taken for investigation; a secured area for police

officers to process property and evidence, and an alarm and

video monitoring system to monitor the facility 24 hours a

day.

These modifications to the Maintenance Facility and Police

Crime Lab were identified as Phase One of planned facilities

improvements. Phase Two will include renovation of the

existing Maintenance Facility shop areas, expansion of the

administrative offices and improved parking for guests and

employees. At this time, funding for construction of phase

two has yet to be determined and will require City Council

approval in the future. The entire project is estimated to cost

$16,000,000. The cost for Phase One improvements were

$8,000,000.

Storm Sewer Lining Project Completed

The Village completed a major sewer lining project that

entailed lining several existing metal storm sewer pipes that

were showing signs of corrosion. Locations for the sewer line

PG. 8 GV NEWSLETTER | DECEMBER 2016
---
GOVERNMENT

improvements were Arapahoe Road at Syracuse Way,

Orchard Road at Greenwood Plaza Blvd., Yosemite Street at

Radcliffe, and City Hall. The project also included lining of

the storm sewer pipe and inlet structure at Quebec Street and

Progress Circle. Proactively lining the pipes will extend the

life of the infrastructure and ensure long-term functionality,

while minimizing the chance of failures in the future.

Ballfields At Village Greens Park Renovated

In an effort to make the ballfields safer and more accessible

for users, all six ballfields at Village Greens Park were

renovated. The renovation included laser grading the

transition between the infields and outfields, replacing the

sod, and adding infield mix to improve drainage of the

infields during rain events.

PROTECTING OUR EARTH

AND ALL LIVING CREATURES

First Synthetic Turf Field Opens At Village Greens Park

Residents can now play on the first synthetic turf field at

Village Greens Park. The installation of synthetic turf on

Field 11 was a result of the Village protecting its park

investment. The installation of a synthetic turf field will

reduce the operational costs of the field by minimizing

excessive wear and allow recreationists to enjoy unlimited

play year-round. Allocation of funding of $525,000 for the

project was provided by City Council in the Village's annual

Capital Improvement Program. Maintenance costs are

estimated to be reduced from $20,000 to $1,200 annually as

a result of the installation of the synthetic turf.

The Village's first synthetic turf field at Village Greens Park.

Orchard Hills Park Tennis Court Gets Dual Purpose

The Village resurfaced the Orchard Hills single tennis court

and added another playful feature for users. In addition to

tennis, pickleball can also be played at Orchard Hills Park.

Originally popular with baby boomers, the sport has made a

generational jump and is becoming an exciting activity for all

ages. Grab your paddles and walk over to the court to enjoy

this new amenity in Greenwood Village!

HELPING YOU GET

WHERE YOU NEED TO GO

Final Office Tower Of Village Center Station Underway

Construction of the third and final phase of the Village

Center Station mixed-use development in Greenwood Village

is underway. The last phase of this development includes a

Charter Communications will occupy the final office tower going

in Village Center Station.

306,000 square foot, 12 story, Class A office tower that will

be 100 percent occupied by Charter Communications. The

office tower along with a 1,221 space parking structure and

an additional 18,000 square feet of office/retail space is

located between the recently completed 11 story CoBank

Headquarters and the nine story multitenant Village Center

Station 1 building (VCS I). Both were previously completed

by Shea Properties and are fully occupied.

Village Center Station's prominent location and site amenities

will be complemented by the architecture of the buildings,

and a public plaza which was designed to create an outdoor

amenity for users. The plaza boasts lively retail with patio

dining and three dramatic water features which are set to

music and lighting displays. The plaza also creates additional

outdoor meeting spaces with multiple formal and informal

seating areas all with Wi-Fi connectivity. For public activities

there is ample space to accommodate various types of events.

In addition, the plaza provides a pedestrian connection from

the office towers to the onsite light rail stop. A grand stair

within the plaza leads people to and from the station. The

plaza and the energy it brings to the Arapahoe at Village

Center Station Light Rail stop will complete the vision for

this 13.5 acre master planned development.

Orchard Hills Park tennis and pickleball court.

continued on page 10

DECEMBER 2016 | GV NEWSLETTER PG. 9
---
GOVERNMENT

Making a difference

continued from page 9

Caley Avenue Undercrossing and Goldsmith Gulch extension.

Dayton Street And Maplewood Avenue

Intersection Improvement Project

The purpose of the improvements was to increase sight

distance at the intersection for motorists, pedestrians and

bicyclists. Improvements included realigning a portion of

Dayton Street, moving the northbound and southbound

traffic to the east, which allowed for the stop control on

Maplewood Avenue to be relocated.

bridge and a pedestrian bridge will be built over the High

Line Canal designed to reflect the rural character of the area.

The safety of the crossing at the High Line Canal was a

public concern and the design incorporates safety measures to

address neighboring concerns.

Goldsmith Gulch Trail Extension And

Caley Avenue Undercrossing Completed

Construction of the trail extension along Goldsmith Gulch

including an undercrossing at Caley Avenue east of Yosemite

Street was completed in 2016. The trail extension and

undercrossing is the first phase implementation of the

Huntington-Caley Master Plan that went through an

extensive public process and was approved by City Council in

May 2015. The trail extension takes off from the existing

trail at Fair Avenue east of Yosemite Street, continues south

under Caley Avenue and around the Caley Pond to make

connections to the RTD Arapahoe Road Park-n-Ride and Bus

Transfer/Light Rail Station as well as the Village Center.

STRENGTHENING COMMUNITY

LIFE AND NEIGHBORHOODS

THROUGH PARTNERSHIPS

Molten metal was poured into carved sand molds at Curtis Park.

First Iron Pour Held At Curtis Park

Approximately 500 community members and art lovers

gathered at Curtis Park to experience the excitement of a

Vehicular and pedestrian bridge crossing at High Line Canal.

Harrison Oaks Development Approved

Thirty-two acres of vacant land are planned to be developed

into 11 – 2.5+ single family lots as part of the City Council's

approval of the Harrison Oaks subdivision. The

development, consistent with the Rural Homestead Planning

area, is located off of Belleview Avenue, just west of South

Colorado Boulevard and east of South Steele Street. The

property is divided by the High Line Canal that splits the

property into north and south parcels. All proposed lots will

be accessed from East Belleview Avenue by a new public

road, South Jackson Place. The entry will be enhanced with

berms, rock walls and landscaping. In addition, a vehicular

The Great Egg Hunt at William McKinley Carson Park.

PG. 10 GV NEWSLETTER | DECEMBER 2016
---
GOVERNMENT

contemporary and transformative art

experience of 2,500 degrees of molten

metal known as an Iron Pour. Joined

by the University of Colorado at

Denver sculpture faculty and students,

the Village welcomed citizens to pour

molten metal into 300 sand mold

designs carved by attendees to create

their own artwork. The event

corresponded with an all iron exhibit

at the Curtis Center, fun sand carving

classes, and included music and food

trucks for attendees to enjoy another

spectacular event hosted by the

Village.

Beethoven's Wig Performance

— A Classical Success

The Greenwood Village Arts and

Humanities Council, in partnership

with the Denver Young Artists

Orchestra, hosted "Beethoven's Wig,"

a concert to introduce children to

classical music in a fun and engaging

way. The concert, held in the Cherry

Creek High School theater, featured

special guest singers from University

of Denver's Lamont School of Music.

The Denver Young Artists Orchestra's

String Ensembles and Conservatory

Orchestras played the music for the

pieces while the talented young opera

singers sang the lyrics set to classical

standards of Beethoven, Mozart, and

Elgar's Pomp and Circumstance. After

the performance, the Arts Council

served cookies and cider to

approximately 700 people.

PUBLIC MEETING

OUTDOOR MUSICAL INSTRUMENTS IN WESTLANDS PARK

January 26, 2017 at 6:30 p.m.

Residents are invited to attend a

public meeting on Thursday,

January 26, 2017 at 6:30 p.m. in

the Community Room at City Hall

to provide input on the

installation of outdoor musical

instruments in Westlands Park.

In 2015, a resident suggested

the idea of placing outdoor

musical instruments in a park to

the Parks, Trails and Recreation

(PTR) Commission which

recommended the project's

inclusion, and City Council

approved, in the 2016 Capital Improvement Plan (CIP) budget. A steering committee

comprised of local school teachers, members of the PTR Commission and the Arts and

Humanities Council, PTR staff, and the resident who proposed the project was formed.

The committee reviewed many types of outdoor musical instruments and is proposing a

grouping based on the sound produced, playability, size, and cost while ensuring a wellrounded

mix of instruments with a wide public appeal.

Installation is planned for spring of 2017. For further information, please call Suzanne

Moore, Director of Parks, Trails, and Recreation at 303-708-6142 or email at

smoore@greenwoodvillage.com.

First Annual Egg Hunt

Held At Carson Park

Peter Rabbit made his debut in the

Village at the first annual Peter Rabbit

and the Great Egg Hunt at William

McKinley Carson Park. Over 500

residents made the event an afterschool

outing with their children to

hunt for some eggs and take a photo

with Peter Rabbit. The eggs were

filled with candy and toys and the

hunt was divided into three age

groups, up to eight years of age.

Another highlight of the event was

children enjoying lemonade while

listening to a story read by Peter

Rabbit. Due to great participation,

the Egg Hunt will move to Westlands

Park in 2017. GV DECEMBER 2016 | GV NEWSLETTER PG. 11
---
GOVERNMENT

JUGGLING

THE HOLIDAZE

Greenwood Village residents sang, juggled,

danced, and smiled as the lights shined

brightly on City Hall, Thursday, December

1, 2016. Families enjoyed the many art

activities, a visit with Santa, a lazer show,

snowhill, train ride, singing groups and the

entertainment that came along with the

evening. Wishing you and your family a safe

and fun holiday season. GV

PG. 12 GV NEWSLETTER | DECEMBER 2016
---
GOVERNMENT

DECEMBER 2016 | GV NEWSLETTER PG. 13
---
GOVERNMENT

GET READY FOR winter

GREENWOOD VILLAGE IS

READY FOR THE SNOW SEASON

The Village is ready for the snow season. The Snow and Ice

Program assures roadways are safe and accessible during and

after snow events. Snow and Ice operations consist of three

elements: snow plowing, application of materials for traction

and ice control, and snow removal if safety or accessibility

have been jeopardized.

ROADWAYS

All roadways in the Village are classified into either first or

second priority. The first priority routes include the high

volume roadways that connect major sections of the

community, all school bus routes and residential roadways

which connect the neighborhood to higher volume roadways.

Heavy snow accumulations may require repeated passes over

first priority roadways before second priority roadways are

plowed. Operations are repeated until the storm stops and all

roadway surfaces are cleared.

Snow and ice control operations begin in secondary areas

(residential neighborhoods) after first priority roadways have

been cleared. Snow is plowed and piled to an area that does

not block traffic flow. Snow cannot be piled in the center of

the roadway because thaw/freeze conditions will cause ice on

the roadway. Residential roadways are not plowed from curb

to curb to avoid covering sidewalks and blocking driveways.

Removal of snow piles will only occur when safety or

accessibility has been jeopardized. If possible, remove

vehicles from the roadways during storms for better clearing

of snow.

ICE MITIGATION

There are certain locations in Village neighborhoods that are

prone to ice formation due to shade or poor drainage. Once ice

forms, it is difficult to remove without damage to equipment or

infrastructure. Be on the look-out for snow and ice operators

moving snow piles from the shade to sun-exposed locations in

order to minimize ice build-up.

SNOW SHIFT HOURS

Village personnel who perform road and park maintenance

during the summer months conduct snow and ice control

operations in the winter. A weather service and two remote

weather information stations provide up-to-the-minute

information regarding weather conditions. Snow shifts are

activated when a snowstorm begins. The typical shift hours

are 5 a.m. to 1 p.m., 1 p.m. to 9 p.m. and 9 p.m. to 5 a.m.,

all days of the week, including holidays.

EQUIPMENT

The Village owns and maintains a variety of vehicles to

ensure effective snow and ice control operations. Equipment

includes 12 plow trucks, one anti-icing truck, one slide-in

tanker, one grader, and one loader for snow and ice

operations on roadways. In addition, there are three ATVs

(All-Terrain Vehicles), six pickup trucks with plows and many

hand-held snowblowers and shovels used to clear the trails,

sidewalks and parking lots. In order to assure that all

equipment is operational, mechanics are available at all times

during snow storms to handle any equipment problems.

USE CAUTION WHEN DRIVING

NEAR SNOWPLOWS

When driving near a snowplow, slow down and use caution.

Give plow drivers plenty of room so they can do their job

efficiently and safely.

MATERIALS

The Village applies solid and liquid materials on the

roadways for traction and ice control to improve traveling

conditions during snow and ice events. Staff monitors each

storm to determine the appropriate application of materials

depending on the weather conditions. Additionally, materials

are continually evaluated to identify the most effective

products with the least amount of environmental impact.

CONCRETE/ASPHALT TRAILS,

SIDEWALKS AND PARKING LOTS

The Village plows snow from concrete and asphalt trails, and

some sidewalks and parking lots. First priority trails are

PG. 14 GV NEWSLETTER | DECEMBER 2016
---
GOVERNMENT

those leading to and from schools. The parking lot at Village

Greens Park is the responsibility of the Village along with

snow control operations on sidewalks and parking lots at

City Hall, Curtis Arts & Humanities Center and the

Maintenance Facility. The parking lots of these facilities also

first priority for snow plowing and are cleared

simultaneously with the first priority trails. The parking lots

in other Village owned parks are then cleared. During the

average snowstorm, it takes about eight hours to clear trails,

sidewalks and parking lots. Crews often start as early as 4

a.m. Trail crews periodically check trails for problem areas if

the temperature remains below freezing for extended periods

of time.

QUESTIONS OR TO REPORT

SNOW AND ICE ISSUES

For more information regarding snow and ice operations

in the Village, please call the Maintenance Facility

at 303-708-6100 or email

webpublicworks@greenwoodvillage.com. GV

STEP CAREFULLY

Thaw/freeze conditions can cause new ice on trails, sidewalks

and parking lots; always use caution when walking on these

during periods of freezing weather.

DECEMBER 2016 | GV NEWSLETTER PG. 15
---
GOVERNMENT

GET READY FOR winter

SNOW AND ICE REMOVAL IN

RESIDENTIAL NEIGHBORHOODS

ICE ISN'T NICE!

It is winter and residents may

experience ice issues in front of

their respective properties. The

ice build-up occurs when melted

snow flows into gutters and onto

sidewalks in shaded areas that

have a north-facing exposure.

Due to the freeze and thaw cycles

experienced during winter

months, some areas may

experience more severe icing

than others.

SAFETY FIRST

Ice can be a safety hazard for

children and adults walking in

the neighborhoods and can cause

unwanted slip and fall accidents,

leading to some surprisingly serious injuries. As a resident,

you can even become a victim to falling on the ice in your

own driveway or on your sidewalk in front of your property.

WHAT RESIDENTS CAN DO

• Keep curb lines in residential areas free of excessive piles

of snow allowing for the efficient drainage of the melting

snow.

• Be aware of shady spots in front of your property caused

by large trees, shrubbery, parked cars, two story homes,

etc. which limit the amount of sun and contribute to

icing issues. Remove snow piles, compacted snow and

parked cars on north facing properties immediately after

snow fall.

• When removing snow from your sidewalk and/or

driveway, place the snow on your lawn and refrain from

shoveling or blowing the snow onto the curb or in the

gutter which can block water flow thus increasing the

potential of ice dam formations created during freeze thaw

cycles.

SNOW REMOVAL ASSISTANCE FOR SENIORS

Seniors, 60+ or the disabled can call Volunteers of America,

Colorado Branch, to request assistance as part of their Snow

Buddies program. Call 720-264-3379 or email

snowbuddies@voacolorado.org.

• Clear the snow the length of your property in the

curb/gutter line to keep it free flowing. Push the snow out

to the area where the concrete gutter meets the asphalt,

this extra effort greatly assists in preventing ice dam

formations

• Shovel the sidewalks on all sides of your property, the full

width of the sidewalk down to the pavement. After the

sidewalk is cleared, sprinkle sand to prevent falls.

WHAT GREENWOOD VILLAGE DOES

A "one in and one out" plowing operation in residential

neighborhoods is implemented. Plow trucks plow from the

center of the roadway out toward the edge of the roadway in

both directions. By doing this, snow is equally distributed

on each side of the roadway leaving a clear path of travel for

both incoming and outgoing traffic. This snow removal

method allows for the surface to dry at a quicker rate and

for the melting snow to flow toward the curb/gutter on both

sides of the street. Plowing curb to curb in residential areas

is not performed to avoid covering sidewalks and blocking

driveways. Snow cannot be piled in the center of the

roadway because thaw/freeze conditions will cause ice on the

roadway.

IT'S THE LAW!

The law in Greenwood Village requires all residents to

remove snow and ice from their sidewalks within 48-hours.

This requirement also includes removal of snow and ice

from sidewalks in the front and side of a residence (corner

lots). This requirement does not extend to walkways

leading from the sidewalk to the residence nor to sidewalks

or trails abutting the rear property of a residence. Clearing

snow around mailboxes is also the responsibility of the

occupant.

continued on page 17

PG. 16 GV NEWSLETTER | DECEMBER 2016
---
GOVERNMENT

ENSURING A SAFE

community

GREENWOOD

VILLAGE POLICE

DEPARTMENT

CITIZENS' ACADEMY

BEGINS IN

FEBRUARY 2017!

SIGN UP TODAY!

The Greenwood Village Citizens'

Police Academy is an important

component of community

involvement and citizen outreach. Its

purpose is to provide a forum whereby

participants can develop a basic

understanding of how the Police

Department functions. It will also

provide opportunities for ongoing

communication between members of

the community and the Police

Department.

The next Greenwood Village Citizens'

Police Academy will begin on

Thursday, February 23, 2017, and

continue through Thursday, May 11,

2017. The two Saturday sessions, are

April 8 and May 6, 2017.

Each three-hour session covers a

variety of subjects ranging from basic

law enforcement and its role in the

community to discussions and

demonstrations with other specialized

units: Emergency Response Team

(ERT), K-9 Unit, Crisis Intervention

continued from page 16

Team, Traffic Unit, Accident

Reconstruction, Crime Prevention,

Investigations and School Resource

Officers. Most sessions will have

hands-on activities such as

fingerprinting, high-risk traffic stops,

and use of less-than-lethal weapons.

During each session, you will be able

to ask questions and interact with

police officers.

As an Academy participant, you will

receive a comprehensive behind the

scenes tour of the Police Department,

including the 9-1-1 Communications

Center. Upon successful completion

of the Citizens' Police Academy,

each participant and his or her

family are invited to attend the

NEED SOME HELP?

If you are a resident of Greenwood Village or know of a senior or a person with a

disability who may have a hard time shoveling for any reason, ask your neighbors to

lend a hand to ensure your entire neighborhood is safe and accessible. Local boy

scout troops and youth in the neighborhood are great resources to assist with

residential snow removal. Don't forget to arrange for someone to shovel your snow

while you are on vacation or away from your home for a long period of time during

winter storms.

For more information, please call Public Works at 303-708-6100. GV DECEMBER 2016 | GV NEWSLETTER PG. 17

graduation ceremony and dinner.

An integral component of the

Academy is the participation in a

police patrol ride along. This will be

scheduled to take place outside the

class time at a mutually convenient

time for staff and participants. This

experience is important in creating a

true understanding of what an officer's

job is like and contributes to an

exciting, interactive learning

experience.

Citizens' Academy application forms

are available at the Police Department

6060 South Quebec Street. The

Academy Coordinator will contact you

to confirm your selection to

participate. Potential candidates must

be at least 18 years old; have no felony

convictions; and have no misdemeanor

convictions within one year of

application. Any requirement may be

waived or modified upon review and

approval by the Police Chief.

The Academy is free of charge. For

more information, contact Crystal

Dean at 303-486-8226 or email at

cdean@ greenwoodvillage.com. GV
---
GOVERNMENT

ENSURING A SAFE

community

HOLIDAY

SAFETY TIPS

IF YOU ARE TRAVELING

• Get an automatic timer for your

lights.

• Ask a neighbor to watch your

home, shovel snow, and park in the

driveway from time to time.

• Do not forget to have mail and

newspaper delivery stopped. If it

piles up, it is a sure sign you are

gone.

IF YOU ARE OUT

FOR THE EVENING

• Turn on lights and a radio or TV so

it looks like someone is home.

• Be extra cautious about locking

doors and windows when you leave,

even if it is just for a few minutes.

• Do not display gifts where they can

be seen from outside.

PROTECT YOUR VEHICLE

Do not leave any valuables in your

vehicle. Place everything in the trunk

of the vehicle.

Always lock your vehicle and store all

items out of sight. Breaking into an

empty car isn't worth a thief's time.

However, anything left in plain view

— from your holiday gifts to spare

change, sunglasses, GPS devices, CDs,

cell phones or briefcases – may tempt

a thief.

Help prevent your vehicle from being

stolen by always locking your car and

using anti-theft devices. In addition,

although it is cold, never leave your

vehicle running while you run inside

your home or a store — even if for

only a minute or two.

AFTER YOU'VE

OPENED THE GIFTS

Burglars know that many households

have new, and oftentimes expensive,

items in their homes following the

December holidays — especially items

such as new computers, stereo

components, televisions, cameras and

other electronic equipment. In too

many cases, residents make it easy for

burglars to figure out which homes to

target by putting boxes that identify

their new gifts in plain view with their

other garbage. Avoid becoming an

easy target for post-holiday burglars

by not leaving boxes for new

electronics and other items at garbage

pick-up locations for several days at a

time. Instead, break down any boxes

you are throwing out, put them in

garbage bags and place them inside a

trashcan. Think about keeping

broken-down boxes inside — in a

garage, for example — until the

evening before your regular garbage

pick-up. Some burglars actually look

inside garbage cans for evidence of

holiday gifts.

CELEBRATE RESPONSIBLY

The holiday season is a time of

celebration. Drinking and driving is a

danger to everyone on the road.

Anyone with a BAC of .08 or higher is

in violation of the law and may go to

jail. Remember that the risk is not

worth it. If you choose to drink

alcohol at a party, do not drive. Take a

cab, use public transportation or a

designated driver.

For more information on holiday

safety, please call the Police

Department at 303-773-2525. GV

PG. 18 GV NEWSLETTER | DECEMBER 2016
---
GOVERNMENT

HOLIDAY SHOPPING

SAFETY TIPS

With the holidays upon us, the Village

would like everyone to have a safe

holiday season. Provided below are

some safety tips of which to be aware

and practice when doing your holiday

shopping.

• Be aware of your surroundings at

all times.

• When shopping, try to park in a

well-lit portion of the parking lot

or street.

• When you park your car, secure the

valuables that you have left in your

car by placing them in the trunk.

Do not leave cellular phones,

purses, CD cases, laptops, or any

other item of value in your parked

car where they can be seen. It is

better not to leave valuables in

the car at all. Make sure you close

your windows, lock your doors and

activate your car alarm, if you have

one.

• Do not leave purchased

merchandise in your parked car

where it can be seen. Put these

items in your trunk, or conceal

them inside the vehicle.

• Keep your purse on your body, not

left in a cart or in the car. If you

carry a small purse, carry it over

your shoulder under your coat. Do

not carry all of your credit cards

with you. Leave your unneeded

documents at home.

• Always be aware of the location of

your personal items. Know where

your purse, cellular phone, wallet,

packages, etc. are at all times. Do

not leave them unattended. Do not

overburden yourself with packages.

• When you are finished shopping,

have your keys in your hand before

reaching your car door. Take notice

of your surroundings. If you see

that someone is watching you and

that you may be a potential victim,

return to the store immediately, and

call security or the police

department at 9-1-1.

• Do whatever you need to keep safe,

even if it means asking a security

guard or a police officer to escort

you to your car. It is always better

to be safe than sorry.

If you have any questions or need

assistance, please call the Greenwood

Village Police Department at

303-773-2525 or call 9-1-1. GV

DOG RULES AND LAWS

IN GREENWOOD VILLAGE

RESIDENTS ASKED TO COMPLY

WITH RESPECT FOR NEIGHBORS

Animal Control of the Police Department is here to help

people and animals live harmoniously together in their

community. Nevertheless, there are times when certain

behaviors disrupt residents' peaceful enjoyment of their

homes or property, and is prohibited in Greenwood Village.

It is the responsibility of all pet owners to comply with all

local laws at all times. For more information or to report any

violation of dog rules and laws in the Village, please call the

Police Department at 303-773-2525.

LICENSING

Greenwood Village no longer requires citizens to register

their dogs. The Village does recommend that all pets have an

identification tag on their collar to help return a pet to their

owner.

LEASH LAW

There are no off-leash facilities/parks in Greenwood Village.

Pet owners are required to follow the Village leash law

requiring all dogs to be secured with a pet leash in public

areas of Greenwood Village.

DOG FECES

It is illegal for pet owners to leave their pet waste on public

property in Greenwood Village. Leaving your pet's waste in

the grass or on the trail is not only discourteous to others,

but is very harmful to public health and the environment.

Dog feces is not fertilizer, not biodegradable, and cannot be

flushed down the drain. Trash receptacles are provided at all

Village parks and along trails. If there is no trash receptacle

nearby, keep a bag with you, pick it up, and dispose of it

when you get home.

NUISANCE ISSUES

A penalty assessment notice may be issued to a person

charged with a violation of Village Code related to animals,

including running at large; disturbing the peace; and removal

of dog feces. GV

DECEMBER 2016 | GV NEWSLETTER PG. 19
---
BUSINESS

BUSINESSspotlight

EARLY BIRD RESTAURANT

5425 Landmark Place, Suite 101 • 303-568-9297

www.earlybirdrestaurant.com • Open 7 a.m. - 6 p.m. daily

The City of Greenwood Village is delighted to announce the

addition of the Early Bird Restaurant to The Landmark.

Passionate Chefs, high quality ingredients, and freshly made

drinks and dishes are just a few of the elements that will

make the Early Bird Restaurant your culinary destination of

choice . . . breakfast, lunch, or happy hour.

In 2012, Chefs Kristen and Daniel Cofrades opened the first

Early Bird Restaurant in Westminster, Colorado. The

inspiration behind the Early Bird name is attributable to the

Chefs' daughter who was born prematurely. After continued

success and increasing popularity, they decided to open a

second location at The Landmark. According to Kristen,

Greenwood Village was chosen due to the City's reputation

of being great to work in and its vibrant community. With a

combined 30 years of experience including cooking for

celebrities and the Pope, the two Chefs are confident they

can produce a unique, culinary experience suited to meet

your individual tastes and desires.

The Chefs are not only passionate when it comes to cooking,

but are proud to be a Colorado based company that utilizes

many local, Colorado products on its menu. One example is

the sausage which is purchased from Old Style Sausage in

Louisville, and is their own special, in-house recipe prepared

exclusively for Early Bird. The menu includes items for

Breakfast, Lunch, Brunch, "Rush Hour," and is focused on

fresh, all-natural ingredients. The menu is sure to

continuously inspire a vast variety of options. From Breakfast

Tacos to Crème Brulee French Toast to Bacon Wrapped

Dates & Polenta Pups, there is something for everyone.

A specially prepared menu for kids is also available as well as

several gluten-free options.

In addition to a menu that offers a selection of seasonal,

high-quality, made-from-scratch meals, the Early Bird at The

Landmark will also offer a full bar with a selection of unique

handmade cocktails, craft beer and an eclectic wine list. They

will offer a happy hour from 2 to 5 p.m. serving small plates

along with bottles of wine and draft beer.

When Kristen and Daniel opened Early Bird, they had the

vision of bringing hospitality accompanied with great food

together in a friendly environment. The restaurant has a

history of displaying that small town feel and making it a

point to know each of their customers by name. The Early

Bird scene immerses customers in an elevated sense of style

and sophistication with a big city vibe while maintaining the

small town comfort and familiarity.

The Early Bird Restaurant at The Landmark has a private

dining room space available which patrons can reserve to host

special catered events or business meetings. They also provide

catering services from Boulder to the DTC. Similar to the

restaurant locations, Early Bird Catering consistently provides

an elevated level of service and food quality for their catering

clientele. For those on a budget who love the food, they also

continued on page 21

PG. 20 GV NEWSLETTER | DECEMBER 2016
---
BUSINESS

NEW GV businesses

ASSISTED LIVING

MANAGEMENT SERVICES

Rocky Mountain

Assisted Living, LLC

6143 South Willow Drive, Suite 401

303-996-6886

ATTORNEY

Poynter Law, LLC

5350 South Roslyn Street, Suite 460

303-223-7725

Tomazin, Hillyard & Clor, LLP

5445 DTC Parkway, Suite 1036

303-771-1900

BANK

Centennial Bank and Trust

5340 South Quebec Street,

Suite 375-N

303-595-2555

BUSINESS SERVICES –

LIQUIDATION

Adelphia Consolidation, LLC

5613 DTC Parkway, Suite 850

303-268-6423

DISTRICT OFFICE

Golden Corral Corporation

5950 South Willow Drive, Suite 260

303-868-4688

FRANCHISE

DEVELOPMENT SERVICES

Franchise Marketing

Group, Incorporated

5231 South Quebec Street

844-372-6482

MEDICAL DEVICE

MANUFACTURING

TECHNICAL SUPPORT

Conmed Corporation

6455 South Yosemite Street,

Suite 1000

315-624-3181

MORTGAGE BANKER

Universal Lending Corporation

5680 Greenwood Plaza Boulevard,

Suite 145-S

303-758-4969

PROPERTY MANAGEMENT

Accesso Services, LLC

6455 South Yosemite Street

303-268-6767

Equity LifeStyle Properties,

Incorporated

6143 South Willow Drive,

Suite 330

720-749-6068

REAL ESTATE

George G. Martin

6020 Greenwood Plaza Boulevard,

Suite 100

303-564-7733

Realty Group, LLC

6143 South Willow Drive, Suite 101

303-400-4663

RESTAURANT

Early Bird Restaurant

5425 Landmark Place, Suite 101

303-568-9097

SELF-STORAGE FACILITY

Storquest-Greenwood Village/DTC

5301 DTC Boulevard

720-363-9562

SHOE REPAIR AND SALES

Stolani Comfort Shoes

and Repair

4940 South Yosemite Street,

Suite E-7

720-489-4013

SLURRY PUMP SALES

Toyo Pumps North America, LLC

6143 South Willow Drive, Suite 100

303-663-4707

SOFTWARE CONSULTING FIRM

CD Group, Incorporated

7400 East Orchard Road,

Suite 4050-N

303-495-4222

TELECOMMUNICATIONS

NETWORK DESIGN

AND ENGINEERING

Telecon Design (USA),

Incorporated

6455 South Yosemite Street,

Suite 715

403-697-6933

BUSINESS

UNDER NEW

OWNERSHIP

PET DOOR SALES

AND INSTALLATION

Hale Pet Door

6848 South Dallas Way

303-649-1819

business spotlight

continued from page 20

do catering food drops. These are excellent for office breakfasts.

For more information on the restaurant, see www.earlybird

restaurant.com. To learn more about holiday catering or the

private dining availability, email the general manager at

bb@earlybirdrestaurant.com. To set a reservation at the

Landmark location, please call 303-568-9297. The Early Bird

is open from 7 a.m.-6 p.m. daily. They are located at 5425

Landmark Place, Suite 101, Greenwood Village, CO 80111.

Pay a visit to The Early Bird at The Landmark, where you

will relish a most tasty and satisfying combination of

passionately prepared, chef-driven, food and beverage

creations that will have you returning again and again! GV DECEMBER 2016 | GV NEWSLETTER PG. 21
---
ARTS AND RECREATION

RECREATION programs

BOYS & GIRLS

PEE WEE BASKETBALL

Come enjoy a high energy fun-filled basketball program with

dribbling, passing, shooting and a whole lot of fun! Coaches

and equipment

provided.

Limit: 20 players

Location: Campus Middle School

4985 South Dayton Street

Register online at

www.greenwoodvillage.com/registration

For more information call the Arts and Recreation Division at 303-486-5773.

Day and Dates:

Mondays,

January 30,

February 6, 13

Time:

6:30-7:15 p.m.

Ages:

4 to 6 years old

Fee: $30

BOYS & GIRLS

YOUTH BASKETBALL

Improve your game from the driveway

to the hardwood in a high energy

environment including games, drills

and lots of game experiences. Coaches

and equipment provided.

Day and Dates:

Thursdays, January 19, 26,

February 2, 16, 23

Time: 6:30-7:15 p.m.

Ages: 6 to 9 years old

Fee: $50

Limit: 20 players

Location: Campus Middle School

4985 South Dayton Street

BOYS & GIRLS INDOOR PEE WEE SOCCER

This is an introduction to the game of soccer. If you are new to the sport or already dream of playing in the World Cup you have

the fundamentals. Dribbling, shooting and passing will be taught in a fun

environment. Parents are welcome to stay and watch.

PG. 22 GV NEWSLETTER | DECEMBER 2016

Day and Dates:

Mondays,

February 27, March 6, 13, 20

Time: 6:30-7:15 p.m.

Ages: 4 to 6 years old

Fee: $40

Limit: 20 players

Location: Campus Middle School

4985 South Dayton Street
---
ARTS AND RECREATION

RECREATION programs

RECREATION

REIMBURSEMENT TIDBIT

It's that time again! Along with all the end-of-the year

celebrations take a few minutes to gather your 2016 receipts

and beat the last minute rush by turning in your Recreation

Reimbursement request now.

The deadline is January 15, however, as that falls on a

Sunday and Village offices are closed on Monday in honor of

Martin Luther King Jr. Day, you have until Tuesday, January

17 at 5 p.m. to submit any last minute requests. Please note

there are no exceptions to this deadline. Also note that checks

must be mailed to a home address, not a PO Box, and

cannot be picked up at City Hall.

Remember that any activities paid for in 2016 — even those

taking place in 2017 — must be submitted by the deadline!

There is an exception to this rule for annual membership (12

months paid in advance) that is paid in December to take

advantage of a membership sale for the following year shall

be applied to the following year.

Here are some hints to help expedite your request:

• Make sure the agency is a qualifying entity. We reimburse

for activities at a public entity (e.g. parks and recreation

districts, metropolitan districts and municipal golf

courses) or for non-profit youth sports agencies.

• All receipts must be itemized showing the activity, date

and the amount paid.

• Only the activity itself is reimbursable; be sure fees for

FOCUS — AUTUMN/WINTER CALENDAR

Register online at

www.greenwoodvillage.com/registration

For more information call the Arts and Recreation Division at 303-486-5773.

RECREATION

REIMBURSEMENT DEADLINE

Tuesday, January 17, 2017

For All 2016 Receipts.

golf carts, skate rentals, etc. are separate from the activity

fees.

• Tape small receipts onto an 8-1/2" x 11" piece of paper so

that each receipt is in full view. No staples please!

• Do not use highlighter on receipts, it blurs the ink and

can make it illegible.

• Forms can be found at City Hall or online at

www.greenwoodvillage.com; click on the "Activities and

Events" tab in the middle of the screen and then on the

"Recreation Reimbursement Information" Quick Link on

the right-hand side of the page.

• Requests may be dropped off at City Hall Monday-Friday,

8 a.m. to 5 p.m. or mailed to: City of Greenwood Village,

Attn: Parks, Trails and Recreation, 6060 South Quebec

Street, Greenwood Village, Colorado 80111.

• Reimbursement checks are mailed directly to your

Greenwood Village home. It typically takes 4-6 weeks to

receive a check, though it can take longer closer to the

deadline.

If you are unfamiliar with the program or have questions,

please contact Debbie Armstrong at 303-486-5759 or

darmstrong@greenwoodvillage.com. GV

MARK YOUR CALENDARS!

FOCUS 50+ is an ongoing program that provides unique

opportunities for people (50+) to explore and use their talents and

creativity while learning exciting new skills. Join the fun and meet

interesting people in a casual environment that promotes

spontaneity and camaraderie. Projects include field trips, health

and vitality, art education and a whole lot more!!

For detailed information please call Gina Oldenburg at

720-227-8685. Meeting at Curtis Arts & Humanities Center,

2349 E. Orchard Rd., Greenwood Village.

Mondays: 9-10:15 a.m.

Monday, December 5

Cafe Curtis — (Special Guest Anne Breedon, pianist)

Monday, December 12 — Cancelled

There will be no Focus Meeting due to class programming conflict

Monday, December 19

Holiday Party — RSVP required

Monday, December 26

NO FOCUS 50+ — HAPPY NEW YEAR!!

DECEMBER 2016 | GV NEWSLETTER PG. 23
---
6060 South Quebec Street

Greenwood Village, Colorado 80111-4591

PRSRT STD

US POSTAGE

PAID

ENGLEWOOD, CO

PERMIT #799

ARTS AND RECREATION

ART events

CURTIS ARTS & HUMANITIES CENTER

GALLERY HOURS

Monday-Friday 8:30 a.m.-4:30 p.m.

CURTIS ARTS & HUMANITIES CENTER • 2349 EAST ORCHARD ROAD, GREENWOOD VILLAGE, CO 80121 • 303-797-1779

2017 WINTER ADULT AND

YOUTH ART CLASSES

Register online at www.greenwoodvillage.com/

registration. For more information call the

Curtis Arts & Humanities Center at 303-797-1779.

Don't miss out on a variety of art classes for adult and

kids this winter!

ADULT

ART

Acrylic

Landscape

Painting,

Casual

Watercolor,

Color

Exploration,

Coffee and

Canvas,

Drawing and Sketching, Master Painting, Watercolor

and The Landscape Abstracted

YOUTH

ART

Awesome

Pastels, Frozen

Painting, Paper

Collage, Pee

Wee Art and

Storytelling

Through

Comics

PG. 24 GV NEWSLETTER | DECEMBER 2016