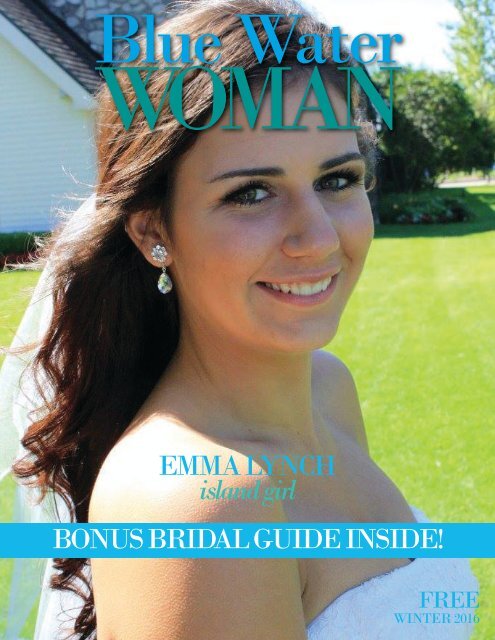 blue water woman--winter 2016--FB post
Create successful ePaper yourself
Turn your PDF publications into a flip-book with our unique Google optimized e-Paper software.
EMMa lyNCh

island girl

BONus Bridal guidE iNsidE!

FrEE

WiNTEr 2016
---
Mothers are givers by nature.

Learn more about

the gift that will

help healing begin

after you're gone.

Call Michelle O'Hara to

learn more about Advance

Funeral Planning for you

and those you love.

(810) 982-0179

Pollock-Randall Funeral Home

912 Lapeer Avenue

Port Huron, MI 48060

810.982.0179

www.pollockrandall.com

Manager: Ann Randall Kendrick

Marysville Funeral Home

1200 Michigan Avenue

Marysville, MI 48040

810.364.7100

www.pollockrandall.com

Manager: John W. Kendrick

Karrer-Simpson Funeral Home

1720 Elk Street

Port Huron, MI 48060

810.985.9605

www.karrersimpson.com

Manager: Thomas K. Simpson
---
Protect your world

Auto • Home • Life • Retirement

Insurance subject to terms, qualifications and availability. Allstate Property and Casualty Insurance Co., Allstate

Indemnity Co., Allstate Vehicle and Property Insurance Co., Allstate Fire and Casualty Insurance Co. Life insurance

offered through Allstate Life Ins. Co. & Allstate Assurance Co. Northbrook, IL; Lincoln Benefit Life Co., Lincoln, NE;

and American Heritage Life Insurance Co., Jacksonville, FL . Securities offered by Personal Financial Representatives

through Allstate Financial Services, LLC (LSA Securities in LA and PA). Registered Broker-Dealer. Member FINRA,

SIPC. Main Office: 2920 South 84th Street, Lincoln, NE 68506. (877) 525-5727. © 2010 Allstate Insurance Co.

173533
---
from the editor

I voted in my first presidential election in 1984. It was my senior year in college. It was Ronald

Reagan, vying for his second term as president, versus Walter Mondale, who had served as vice

president under Jimmy Carter.

At that point in my life, as a young, emerging professional woman, I was learning, first hand, that

the world did not treat women the same way it treated men and, in my opinion, that was not okay.

Women's issues were of extreme importance to me due to what I was experiencing as I entered my

20s. I believed that the Democratic party best represented my political views.

And so I proudly cast my 1984 vote for Walter Mondale.

And, well, he promptly lost. And so I suffered my first in a number of presidential election losses.

But I got up the next day and I went to class. And I carried on, as did the rest of the country.

With every presidential election cycle where I have not voted for the winning candidate, I have

probably felt a sense of disappointment, but, again, I just carried on.

Not so much this year. This year was different. This year, watching my candidate lose the election

hurt. It hurt deeply.

It is no secret that our country is deeply divided. And I live here, in

the Blue Water Area, in a very, very conservative community so it goes

without saying that I have a lot of friends who do not see the world as I

do. They are proudly conservatives. I try to be respectful of their beliefs,

knowing that they care as deeply about their truths as I do mine.

So, how do we bridge that deep divide? As a nation, how do we begin

to heal?

This issue is dedicated to bringing us all together by just being good to

one another. By listening to one another. By really trying to "hear" one

another. And most of all, by really just trying to be polite and kind to

one another. In the words of my mother and the Bible, "Do unto others

as you would have them do unto you."

In my life, I have a number of friends on my Facebook page who

In the words

of my mother

and the bible,

"Do unto

others

as you

would have

them

do unto you."

remind me to be respectful. When I feel like spouting some political rant,

I stop and think about some of my friends who think differently. Is a

Facebook rant worth offending people who you know have a good heart

though you know you see the world differently?

My friend Martha is one of those friends to me.

Until recently, I had never met Martha in person. But a few years ago,

I knew of a kitty who desperately needed a good home. A mutual friend

knew Martha's cat had recently passed away and she might be ready

to move on and make a good home for my kitty friend. This kitty had

belonged, at one point, to one of my neighbors and he was a frequent

guest at my house.

Martha agreed to take him in. So we became Facebook friends so that

I could follow the life of this kitty who meant a lot to me. I also got the

bonus of following Martha's life.

Hers hasn't been an easy one. But she is fascinating and interesting and

smart. And I really like her. And we love the same kitty. And politically,

we are on opposite sides of the coin. Martha can articulate with great thoughtfulness exactly why she

believes in what she believes. I have a great deal of respect for that even if I do not necessarily agree.

Martha has a tender, sensitive heart. I would no sooner say something that would hurt her than I

would hurt a fly (flies are a catch-and-release game at my house).

So before I post political rants on social media, I stop and ask myself, "Will this hurt Martha's

feelings? What is her perspective on this? How about my other conservative friends?"

And sometimes, it stops me.

That doesn't mean that I do not believe in what I believe. It just means that I am stopping to

think about someone other than myself. Someone whose heart I know to be very big and capable of

extending love to those around her, including one very special kitty cat who needed the love she was

so willing to give.

I'm not suggesting you do not speak up. My goodness, if anything, at this point, I am more likely

to jump up and really give it to someone who is making a racist or bigoted comment or implying

that women are less than equal in any way.

However, we are not all cut from the same cloth (thank goodness) and the only way we can really

bridge the divide we now have is to try, from the depth of our souls, to listen to and understand

those who are not evil but feel marginalized – on both sides of the political coin.

Dig through your life and find your Martha. Instead of asking, "What would Jesus do?"

(although, that is not a bad place to start, either…), ask yourself, "What would _____ think if I

posted this?" Instead, try reaching out and learning something more about those people in your life

who think differently but whose hearts you know are true.

I wish you all a peaceful and joyous new year.

CONTENT

Martha Thompson 4

Vivian Cruz 6

Bridal issue

emma lynch 10

leann allen 12

jeanine mccanham 14

advertise

in Blue Water Woman!

it works!

just ask our advertisers!

The ad deadline for the next issue

of Blue Water Woman is January 15, 2017.

Prices start at just $125 for a business card sized ad!

Our most popular ad size is a quarter page at just $250;

sign a one-year contract and it becomes just $225 a quarter!

What a deal!

For more information, contact Patti Samar

at 810-300-2176 or email her at pjsamar@aol.com

volume 6, number 4 winter 2016

Blue Water Woman is published quarterly by The Write Company,

511 La Salle Blvd., Port Huron, MI 48060. Circulation 5,000.

Editor & Publisher:

Patti Samar, owner, The Write Company

Advertising:

Patti Samar at 810-300-2176 or pjsamar@aol.com

Questions, comments or story ideas?

Call Blue Water Woman at 810-300-2176

Mission:

Blue Water Woman is the premiere publication

for women living, working and playing in the Blue Water Area of Michigan.

Its stories and features are written and designed

to be inspriational, motivational and encouraging.

www.BlueWaterWoman.com

© Blue Water Woman is the property

of Patti Samar of The Write Company

The Write Company is a writing, graphic design

and marketing consultation firm.

View our online portfolio at: www.TheWriteCompany.net

Patti Samar

Editor & Publisher

Blue Water Woman

2 winter 2016 BlueWaterWoman.com
---
who will be named...

Blue Water Woman

Easy

nomination

process!

?

of the Year?

Nominations now being accepted

for Blue Water Woman of the Year!

The Blue Water Woman of the Year Awards will honor women who reside in the

Blue Water Area of Michigan who demonstrate excellence and achievement

in one or more of the following areas:

• Volunteerism

• Mentoring other women

• Professional achievement

• Blue Water Young Woman of the Year (21 and under)

• Overall Honor: Blue Water Woman of the Year

Award Process:

Nominators MUST complete the nomination form and rules available at

www.BlueWaterWoman.com

A distinguished panel of judges from the Upper Peninsula selects award recipients.

Honoring the Award Recipients:

Those selected for awards will be notified by Blue Water Woman at the end of January/early February

2017. All will be featured in a story in the Spring (February/March) 2017 issue of the magazine. All

will be honored at a public reception (open to men and women) in February 17, 2017.

Nominator Requirements:

Nominators must be committed to selling a minimum of 20 adult tickets to the awards reception.

Receiving an award is no fun without a cheering section!

Deadline for Submissions:

Submissions must be received by email or snail mail no later than Friday, January 6, 2017.

Submissions must be emailed to: pjsamar@aol.com.

Use your smart phone

to visit our website

and view the

nomination form:

Sponsored by:

Blue Water Woman reserves the right to refuse nominations for consideration without cause. All decisions are final and subject

to approval by Blue Water Woman. Why? Because we said so. ;)
---
tough

cookie

martha cramblit

Port Sanilac

4 winter 2016 BlueWaterWoman.com

by Patti Samar

REditor's Note: In this issue, the two feature stories are written as personal essays.

Remember those cartoons where the one good guy wrestles down a whole

herd of bad guys and hurts them so badly they are pretty much begging for

mercy?

Yeah, well, meet my friend Martha Cramblit. She did that once.

And nope, I am not making that up. And she sure isn't either.

To say Martha has led an interesting, colorful life is an understatement.

Originally from Sandusky, she now resides in Port Sanilac, but did live for a

stint in Colorado and California. A single mother, she raised her three sons

on her own from their young childhood without help from their father. She

always made sure they had a roof over their heads and food on the table. To

do it, she sometimes worked multiple jobs and far in excess of 50 or 60 hours

a week.

And her sons are the light of her life. Her oldest is a military veteran who

returned from his tours of duty in the Middle East suffering from posttraumatic

stress disorder. As a result, Martha has poured her heart into

helping him adjust to life stateside again and working with the Veteran's

Administration to help him receive the care he needs.

Martha's middle son is developmentally disabled and lives at home with

her. She lights up when she talks about him, but that makes her a full-time

caregiver. Her youngest son is a student at Saginaw Valley State University in

pursuit of a graduate degree.

Martha works full time and has suffered a series of health set-backs

in recent years, as well. To say she has a lot on her plate is another

understatement. But that is life as Martha knows it.

Martha came into my life when she adopted a cat I knew of who was in

desperate need of a good home. A mutual friend connected us and Martha

friended me on Facebook so I could follow the life of my kitty friend.

However, the blessing has been following Martha's life.

I gathered, from what I saw on Facebook, that her life had not always been

easy, so I probably wasn't completely surprised when she shared the story

of taking down the three men who attempted to rob the gas station/grocery

store where she was working alone at night in a rough area of Denver.

Martha was then married and she was working the late shift to help make

ends meet for their young family.

"I was working seven days a week, nine hour shifts," she said. "I got

quite an education. There were low-rider gangs that came into the store

frequently. I got attacked one night, but I fought them off. I gave two of

them concussions."

She chuckled when she noted, "The cops came back a week later and told

me, 'Word's out on the street that you're pretty tough. Word's out not to

touch the store, at least not when you're here.'"

However, the word on the street didn't last forever. One night when she

was locking up the store, someone grabbed her to rob her and, well, Martha

struck again.

"I beat him up," she said, noting that she grew up on a farm with a slew of

brothers, so she had learned young how to hold her own when a man twice

her size came around.

Not long after that, Martha left her husband and returned to Michigan

to be near family. "I left everything behind," she said. "It was not a good

situation. I came home to Michigan with my kids in tow. I got a job at a

factory."

While working full time and caring for her children, Martha returned to

school. She attended a business career program in Cass City and earned an

associates degree. "I was working midnights at the factory and I would go to

school during the day," she said.

That eventually led to a job at Prudential Financial and then moved on

to Mutual of Omaha, which sold similar products. While there, she earned a

securities license. She now works for a local insurance company.

Off and on throughout the years, she worked in factories, waitressed,

worked in dental offices and even had a route selling office machines. "Most

of the time I was raising kids, I was working two or three jobs," she said. "I

just thank God I had the kids to keep me grounded. I've always just tried to

do the best I could."

And clearly, Martha has more than succeeded.
---
OF COURSE

I LOOK FABULOUS!

I SHOPPED

AT SUZANNE'S!

STOP IN & SEE

OUR CRUISE WEAR

& WINTER SALES!

SUZANNE'S

Ladies Fashions

325 Huron Ave.

Downtown Port Huron

(810) 364-5422 www.SuzannesFashion.com

winter 2016 BlueWaterWoman.com 5
---
eaching

out

by Patti Samar

vivian cruz

6 winter 2016 BlueWaterWoman.com

IEditor's Note: In this issue, the two feature stories are written as personal essays

I was in tears.

When I scheduled my annual appointment with my eye doctor, I didn't

really think anything of the fact that it was scheduled for the morning after

the presidential election. Why would I?

However, for me, this election was different. My candidate lost. And,

though throughout my life I've voted for plenty of candidates who have lost,

this one hurt more and differently. I woke up weeping. I even chided myself:

Who cries over a presidential election (as I soon found out, this year, a lot of

people)?

But, I put myself together and got myself to Walmart, where my

optometrist practices.

It was then and there that I met Vivian Cruz. In one brief exchange, she

changed my perspective that day and what she said to me so affected me that

I had to reach out and learn more about her.

As Vivian performed a glaucoma test on me, I noted that my vision was

kind of blurry and my eyes were red. "I've been crying," I told her. "It's been

a bad day." It was just 10:30 a.m.

"But we've had worse days," she said to me. I paused and gave that some

thought. Vivian was absolutely right. "Yes," I replied. "You are right. We

have."

When she finished administering my eye tests, Vivian walked toward me.

"Can I hug you?" she asked. "Yes, please," I replied as we reached out and

embraced.

Initially, I really and truly thought maybe Vivian and I were both thinking

of the presidential election that morning. But, when I contacted her days

later, she told me no, she had no idea that was why I was upset that day, but

she saw a patient having a bad day and she just wanted to help.

Helping is what makes Vivian happiest in life.

Originally from New Jersey, Vivian moved to the Port Huron area almost

eight years ago when her daughter decided to attend St. Clair County

Community College. Her daughter left the area within three months, but

Vivian decided to stay.

"I was so homesick," she said of her early days in the area. "But I got

comfortable with the silence." She had grown up in an urban area that was

filled with the noise and hub-bub of city life. There was no escaping the noise.

Here, she found peace when she didn't even know she was looking for it.

"I am happy here," she said of the life she has built here. "I do miss my

friends back home, but I don't see myself moving back home anymore. Life

here has a slower pace and I like that."

Back in New Jersey, she had earned a certified nursing assistant license and

she worked in a hospital. Here, she eventually found work in an assisted living

home and at the optical department at Walmart. She works as much as 70

hours or more per week in order to make ends meet.

She loves her jobs and she loves working with patients. It is no wonder she

wanted to provide extra care to me, a distraught patient, the day I told her I'd

been crying.

"Ever since I was little, I just loved taking care of people," she said. "I loved

making people feel better. I always said if I had a super power, it would be for

comfort and healing."

A mother of three grown daughters, she is proud of their accomplishments.

One is a teacher, one runs a day care and the other is a home health aide.

Clearly, they have all inherited the "helping" gene from her.

Smiley, bubbly and optimistic, Vivian is a positive person. It is distressing to

hear that happiness has come to her in spite of her early life.

"I had a rough life," she said of her growing-up years in New Jersey. "My

mother wasn't always nice to me. But sometimes, you have got to let go and

forgive people. And I think of it like this: if I didn't go through all of that, I

wouldn't be where I am today and I wouldn't be the person I am today. And

it was hard for me to forgive her, but I did.

"You have to live life like it's your last day. You have to," she said.

Her light shines brightly on all who meet her.

And, how fortunate we are, as a community, that she has chosen to make

the Blue Water Area her home.
---
sponsor a student to attend the

Blue Water Woman

of the Year Awards

Student Sponsorships are now being accepted!

Your sponsorship of just $30 will allow a young woman

from the Blue Water Area to attend this inspiring event!

The Blue Water Woman of the Year Awards honor women who reside

in the Blue Water Area of Michigan who demonstrate

excellence and achievement in their personal and professional lives.

Every year, Blue Water Woman magazine sponsors a number of local high

school students so they can attend this award ceremony in an effort

to inspire them to do great things in their lives.

Help us bring more high school students to the event

by sponsoring a student attendee.

Recognition:

All Sponsor a Student sponsors will be recognized at the Blue Water Woman of the Year awards

held at McMorran Place on February 17, 2017.

Sponsorship Process:

Please send a check, made out to Blue Water Woman, for $30, before February 10, 2017, to:

Blue Water Woman Sponsor a Student Program

511 La Salle Blvd.

Port Huron MI 48060

Thank you for caring

for the up and coming young women

in our community.

Sponsored by:
---
Blue water woman editor/publisher

patti Samar & Dale Hemmila

July, 2012

McMorran Place, Port Huron

Photo: Tony Pitts
---
hat little girl doesn't dream

of dancing in a big white

wedding dress and riding off

with prince Charming someday?

The months of planning that walk down the aisle can

feel like an eternity to a bride, but a gal's wedding day just

flies by, according to a number of Blue Water Area brides.

These local women have been kind enough to offer their

advice and insight to future brides. To learn more about the

dos and don'ts of planning your wedding, turn the page and

read on!

Fall 2016 BluEWaTErWOMaN.COM 7
---
I

sland

Girl

by Patti Samar

Emma (Hill) Lynch, 21, of St. Clair,

married Bradley Lynch, 23,

on September 12, 2015 on Mackinac Island

Who planned your wedding?

My mom really planned most of it. That should have been her career.

She knew the island better than I did and I trust her opinion more than

I trust mine. It just worked out better.

How long did you take to

plan a destination wedding?

We got engaged in April and got

married in September. The faster you

plan it, the less stress there is. You don't

have too much time to think about it.

Benefits of having a

destination wedding:

We had a really small wedding.

Everyone in our immediate families

came. It was a very intimate wedding.

You realize who you matter the most to

because they will come no matter where

you get married. We only had 30 people

there, but you really get to talk to your

guests.

"Don't

overthink

things

and stress

out over

little

things.

Remember

it is your

wedding.

What is she glad they

spent more on:

The location. We got married at the Little Stone Church and had our

reception on the Promenade Deck at Mission Pointe Resort. It was

looking out over the water. It wasn't cheap, but it was so worth it.

What did she save money on:

The food. I'm glad we didn't spend a lot on that. Nobody remembers

the food at your wedding. We got a small cake instead of a big wedding

cake. We didn't order expensive fresh flowers; we made our own silk

bouquets. And we didn't have much in the way of decorations because

it was like, 'How are we going to get all of that stuff over to the island?'

So we limited that. Make due with what you have.

Emma & Bradley lynch

Main Street

Mackinac Island, Michigan

Attire:

I bought my dress used on a wedding dress website and it was a lot

cheaper than buying it new. I wore Converse shoes under it, but I wish I

had worn little heels for the pictures because you can see them.

Final advice:

Don't overthink things and stress out over the little things. A lot of

people worry about what other people will like. Remember it is your

wedding. Do what you want.

10 winter 2016 BlueWaterWoman.com
---
He's the light of your life.

Get married in the shadow of Michigan's oldest lighthouse.

Zacharov Photography -

www.zacharovphotography.com

Let Michigan's oldest lighthouse and the clear blue water of Lake Huron

be your something old and something blue on your special day!

We can accommodate your group of 20 to 300+ guests for any wedding,

meeting, fundraiser or social gathering.

For details, dates and pricing options, please contact

the Port Huron Museum at 810-982-0891, ext. 118

or email reservations@phmuseum.org • www.phmuseum.org

Fort Gratiot Lighthouse

2802 Omar St. • Port Huron MI 48060

Located on Lake Huron just north of the Blue Water Bridges!

A joint venture between St. Clair County Parks & Recreation Commission

and the Port Huron Museum

Coming in 2017! Receptions in the elegant & newly restored Carnegie Center in downtown Port Huron!

Every day is the perfect day

to send flowers.

Full Service Florist:

Special Occasions • Funerals • Just Because • Holiday Décor

Wedding Floral Design • Bouquets • Boutonnieres • Corsages

NEW LOCATION! Corner of Hancock & 14th Avenue

1719 Hancock Street • Port Huron • (810) 989 - 7673

winter 2016 BlueWaterWoman.com 11
---
W

orry

not

by Patti Samar

leann (keely) allen, 33, of marysville,

married solomon allen, 37,

on September 12, 2015 in port huron

What did you worry about when planning?

The thing we tried not to worry about was the financing and being

able to pay for everything. We made sure to get quotes from all of our

vendors and to have the bill paid in-full before the wedding day.

What are you glad you spent money on?

We were happy we spent money on the photographers and

videographers because when the day is over, they provide you with

a lifetime of memories that have been captured throughout the

entire day. They both provided exclusive packaged deals that made

our decision simple. I recommend to take as many photos before the

ceremony, because this part takes up so much time throughout the day

and once you say your "I Do's" you can enjoy the rest of the night.

Where could you have cut costs?

We wished we would have not spent as much money as we did for the

catering service. When picking a catering service make sure you know

exactly what they are offering, what they will supply and getting a final

quote prior to the day.

Dress shopping:

When shopping for a dress, keep it about you. Leave your entourage

for the bridesmaid dress shopping. Having too many people involved

while trying to pick your your gown is overwhelming. Think outside

of the box. The dress you love may not fit your body type. Try on all

different styles. It should be comfortable and easy to move in.

Your best advice for future brides?

My advice to the future brides is to set a budget. Make a list of the

things that are most important to you, such as what kind of venue do

you want to have? How many people do you expect to join you? Who

is in charge of paying for what? Stay calm through the entire process

and don't get overwhelmed with the little things because the only one

who will notice will be you. Do your research on venue, music, flowers,

dresses, photographers. Keeping it simple and about you is the most

important.

When choosing a venue make sure you cover all of your bases such as,

what do they provide for your day? Do they supply linens? Table and

chair set up? It is important to know those types of things because the

last thing you will want to do, and yes I mean "you," is to clean up and

tear down everything after the last guest has left the reception.

Also: At the end of the night we realized that we should have eaten

more throughout the day.

Leann Allen

12 winter 2016 BlueWaterWoman.com

Did you receive any great words of wisdom

from anyone else in your life?

We received many great words of wisdom from my mother-in-law,

Barb Allen. A few of the pieces of advice she shared after being married

for over 50 years, were to encourage each other, don't ever belittle each

other, take time for each other, and to remind yourselves why you fell in

love.
---
Let Us Create Special Label Bottles

for the Special Occasions in Your Life!

Wine by the Glass • Wine by the Bottle

Wine Tastings • Wine Glass Painting Parties

Specializing in Sulfite-Free Wine

775 N. Wadhams Road

Located between I-94 & I-69

(810) 367-2400 www.GreenBarnWinery.com

Kelly Joy's

Smokehouse

"Mouth-watering goodness!"

Catering for all occasions!

Not just a smokehouse! Homemade food for any occasion!

Dine in at 706 Lapeer Ave. Port Huron

810. 294.5500

kellyjoysmokehouse@yahoo.com

Kelly Kotelman

Innkeeper

Ballentine House

B & B

810. 294.5266

1205 7th Street Port Huron

Visit airbnb

Massage Skin Treatments Hair Services Nail Care

Let us make your special day

even more special!

Spa Parties

Hair & Nails for Your Big Day

Massage/Facials/Skin Care

to Help You Glow!

2834 Stable Drive Kimball MI 48074

(810) 982-6050

www.calmingeffectshealthspalon.com

winter 2016 BlueWaterWoman.com 13
---
S urprise!

by Patti Samar

Jeanine (Bauman) Mccanham, 46,

of port huron,

married sean (michaels) mccanham, 48,

on november 16, 2015

in the dominican republic

& again on August 27, 2016 in st. clair

What she worried about:

The legalities, the paperwork and the laws of getting married outside of

the United States. The resort walked us through it all, though. Our travel

agent told us that not every resort is equal in providing that kind of help,

so make sure you check if you are having a foreign destination wedding.

What made it fun:

We had a surprise wedding. We didn't tell anyone we were getting

married – not even the friends who were going on vacation with us. It was

really fun for us because for five months before the wedding we planned

and talked about it but no one else knew. It was our little secret.

What would she have done differently:

Nothing! We would not have done anything differently.

Any advice for other brides considering

a destination wedding?

Do your research. Make sure you understand the legalities and

paperwork. Also, plan your wedding for what you want, not for what

you want your guests to experience. Make sure you take advantage of

anything "bridal" that is offered. Our resort offered certain amenities only

as part of a wedding package, so consider those opportunities to indulge

yourself. We received breakfast in bed the day after the wedding and had

an awesome horse and carriage ride.

Any financial advice?

We spent money on everything we wanted to. We would say, "We

only do this once." In retrospect, I don't know if we would have done

the reception here in the U. S. after getting married the previous year.

The reception here was for our family and friends; it wasn't for us. We

might have done something simpler…more of a party with a dance.

Our focus would have been on us. I would have liked more of a mingling

atmosphere. We are older and we didn't need this big traditional wedding.

Jeanine McCanham

Dominican Republic

14 winter 2016 BlueWaterWoman.com

Attire:

I loved everything I wore. At the destination wedding, I didn't wear a

veil purposefully because of the strong winds on the beach. I did wear one

for the wedding here. On the beach I wore footless sandals. Take that shoe

money and put it somewhere else because you want to be comfortable.

You can't see shoes under your dress. I didn't spend money where it wasn't

going to be noticed.

Final advice:

Anything you choose for your wedding needs to be for you. If you want

ice cream and cake and that's all you want, that's what you should get.

All of the decisions we made were all about whatever we wanted. And I

can't put this into words, but we had been together 19 years and we didn't

think getting married would change anything, but it did. It really isn't just

a piece of paper.
---
Planning a wedding?

Planning Your Wedding?

Planning Your Wedding?

Include pet care in your plans.

Call Special Pet Care Services, LLC.

(810) 364-1194

*K9 Companion for the ceremony

*Pet Care during the ceremony

*Pet Care during the honeymoon

O

ur images tell the story

of your wedding day,

the start of your life together,

the beginning of your story.

www.ClickingThroughLife.com

info@clickingthroughlife.com

(586) 945 - 4302

WiNTEr 2016 BluEWaTErWOMaN.COM 15
---
He captured your heart.

Host your reception

in the heart of downtown.

Showers & Rehearsal Dinners

Weddings & Receptions

McMorran Lounge

Memorial Room

In Front of the Fountain: Tent

McMorran Theater

Providing complete party services

Reception packages starting

at $29.50/per plate,

bar included.

(Some restrictions apply. Call for details.)

701 McMorran Blvd. Port Huron

810.985.6166

Copywriting & Design.

Brand Identity/Logo.

Marketing Consultation.

Winter Wine Tasting

Thursday, January 19, 2017

5:30 p.m. – 8:00 p.m.

$35.00 per person

Sommelier Andy Bakko of Wolverine Market

Jazz Guitarist Cory Allen

Wine • Craft Beer • Hors d'oeuvres • Silent Auction

Port Huron Elks Lodge #343

3292 Beach Road, Port Huron, MI 48060

Patti Samar

Owner. Editor. Publisher

The Write Company & Blue Water Woman

pjsamar@aol.com 810.300.2176

www.TheWriteCompany.net

www.BlueWaterWoman.com

For tickets & more information:

www.sanborngratiot.org

(810) 388-1200

at Sanborn Gratiot Memorial Home

16 winter 2016 BlueWaterWoman.com
---
Agents protecting

all your life's moments

Kim Judge

kjudge@fbinsmi.com

Tammy Hutchinson

thutchi@fbinsmi.com

(810) 385-8800 | 7147 Lakeshore Road, Lakeport

FarmBureauInsurance.com

WiNTEr 2016 BluEWaTErWOMaN.COM 17
---
The Area's

Only Designated

Trauma Center

ANOTHER FIRST FROM McLAREN PORT HURON

Most of the time, surgeries are planned and

scheduled. You know when it will happen. You have

time to prepare.

surgeons have gone through special training, and

we have developed protocols and quality controls

so we can provide the right care, right away.

But when a surgery is needed immediately, the

trauma team at McLaren Port Huron is prepared

and stands ready. Around the clock. Day or night.

McLaren is the area's only designated

trauma center

Earlier this year, McLaren Port Huron earned Level

III Trauma Center Designation from the State of

Michigan. This means we are able to care for the

most serious trauma emergencies. Our staff and

When seconds matter, think fast.

Think McLaren.

When it's an emergency that requires surgery, the

trauma team is here for you. Learn more about

the state designation as well as the national

verification currently being pursued at

www.mclaren.org/phtrauma.

Learn more at www.mclaren.org/phtrauma

1221 Pine Grove Avenue, Port Huron, MI 48060 | (810) 987-5000 | mclaren.org/porthuron