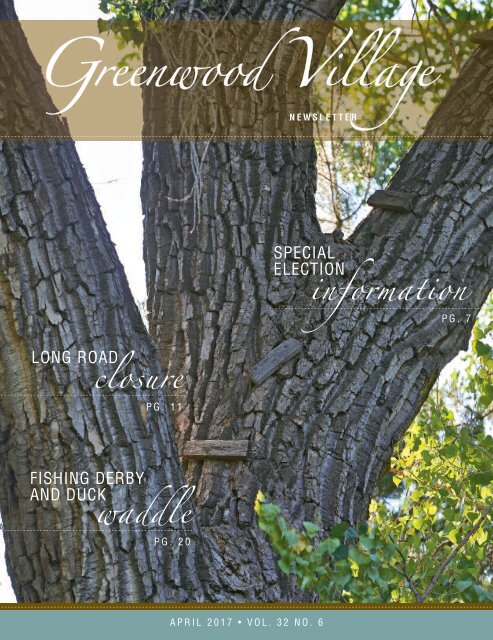 You also want an ePaper? Increase the reach of your titles
YUMPU automatically turns print PDFs into web optimized ePapers that Google loves.
Greenwood Village

N EEW S LLE ET TTE ER

HEADLINE GOES

here P G . X

HEADLINE

HERE P G . X

LONG ROAD

closure

P G . 1 1

SPECIAL

ELECTION

information

HEADLINE

HERE

P G . X

P G . 7

FISHING DERBY

AND DUCK

waddle

HEADLINE

here P G . X

P G . 2 0

A P RM I LO N2 T0 H1 7 Y E• AV RO L I S. S3 U2 E N#

O . 6
---
GOVERNMENT

MAYOR RON

reports

SPECIAL ELECTION

IN JUNE

As you may have heard,

City Council voted to

approve a Special

Election in June to

give residents the

opportunity to vote on

an amendment to the

Village's Comprehensive Plan to guide future

development of the area known as the Orchard

Station Subarea. You can learn more about the

upcoming Special Election on page 7 of this

April Newsletter and the May edition. Registered

voters of the Village should be on the lookout

for their mail ballot from May 15 through May

22. For more information, please call the City

Clerk's Office at 303-804-4113 or visit

greenwoodvillage.com.

Ron Rakowsky

rrakowsky@

greenwoodvillage.com

303-486-5741

APRIL SHOWERS ARE NEEDED

FOR FLOWERS . . . AND TREES

Although it's been a dry winter, we are hopeful that Mother

Nature will bring some rain showers in April so we can have

an abundance of flowers in May. Just as important

precipitation is needed for the thousands of trees we have in

Greenwood Village.

In celebration of Arbor Day in April and the Village being

named a Tree City USA community due to our commitment

to urban forest management, I want to raise awareness of

trees and the important role they play in our environment

and ask for your help.

Did you know since 1995, there have been 5,229 trees

planted on public property within Greenwood Village? Trees

work 24-hours a day to improve our air, protect our water,

save energy and improve economic sustainability, and of

course contribute to the beauty of Greenwood Village. Some

interesting facts: a mature tree can absorb as much carbon in

one year as a car emits driving 26,000 miles and a tree can

produce almost 260 pounds of oxygen per year that can

supply enough oxygen annually to support a family of four!

Please help the Village by planting more trees and properly

watering the ones you have on your property. Keep in mind

the frequency and the amount of water needed for trees

depend on the diameter of the tree trunk. By deep root

watering to a depth of 12 inches under the drip line of a tree

will get the water to the roots and will also aerate the soil.

Generally, trees receive sufficient water if they are in turf

areas that are watered. If drip systems are not adjusted as

trees get bigger, they may not be getting sufficient water for

the size of the tree.

The chart above can give you an idea of how much water a tree

should get per week.

If you need more information about tree maintenance,

please contact our Parks, Trails and Recreation Department

at 303-708-6100.

SMART CITY ALLIANCE

In March, I welcomed 200 representatives of the public and

private sectors to Greenwood Village representing more than

50 jurisdictions across the State to come together in

partnership to collaborate with a special focus on Civic

Innovation. The event, hosted by AMG National Trust Bank

PG. 2 GV NEWSLETTER | APRIL 2017
---
GOVERNMENT

CITY council

NOT SURE WHO YOUR

ELECTED OFFICIALS ARE?

Obtain a list of your state and national government

representatives at www.arapahoevotes.com

DISTRICT 1 DISTRICT 2 DISTRICT 3 DISTRICT 4

Freda Miklin

fmiklin@

greenwoodvillage.com

303-804-4138

Leslie Schluter

lschluter@

greenwoodvillage.com

303-804-4135

Steve Moran

smoran@

greenwoodvillage.com

303-804-4133

T.J. Gordon

tgordon@

greenwoodvillage.com

303-804-4132

Dave Bullock

dbullock@

greenwoodvillage.com

303-804-4137

Darryl Jones

djones@

greenwoodvillage.com

303-804-4136

George Lantz

glantz@

greenwoodvillage.com

303-804-4134

Tom Bishop

tbishop@

greenwoodvillage.com

303-804-4131

in Greenwood Village in partnership with the regional

economic development agency Denver South Economic

Development Partnership (DSEDP), was designed to

accelerate the development of Smart City initiatives across

the State of Colorado.

The issue of transportation was a primary topic for discussion

about the metro area's challenges, opportunities, and

solutions related to addressing transportation. The Colorado

Smart Cities Alliance is a key partnership between the public

and private sectors that enables innovation, improves quality

of life, and increases economic vitality across the state.

TRIBUTE TO GOLDEN HEARTS

OF GREENWOOD

Since 1989, it has been a tradition for Greenwood Village

employees to share in the spirit of giving. Golden Hearts of

Greenwood is a charitable organization comprised of a group

of Village employees who graciously give to children and

families in need during the holidays. They became a tax

deductible 501(c)3 charitable organization in 1996. Over the

years they have been able to do this with assistance from

residents and fellow employees who want to share in the

spirit of giving with donations of food, gifts and sometimes

money in the form of paying some household bills. They also

provide donations to victims of tragedies (fire, hurricane

continued on page 4

APRIL 2017 | GV NEWSLETTER PG. 3
---
GOVERNMENT

Mayor Ron reports

continued from page 3

Katrina), food, toys and clothes to the Colorado Air National

Guard, school supplies for unfortunate children and socks for

the homeless. Hundreds of families, children and individuals

have been served by these employees who reach beyond being

public servants of the community. They truly want to make

people's lives better.

I proclaimed March 20, 2017, as Golden Hearts Day to

recognize the individuals of Golden Hearts of Greenwood

and their work for the past 28 years. Their work is a true

testament of each of their individual character of compassion

to help people in need. If you are interested in learning more

about Golden Hearts of Greenwood and their mission,

please call Paul Miller at 303-708-6158, Steve Grasso at

303-708-6159 or Terri Ockander at 303-486-8282.

Mayor Rakowsky with Golden Hearts – Terri Ockander,

Paul Miller and Steve Grasso.

HAPPY BIRTHDAY TO

LAWRENCE BEAUMONT

On March 18, I had the privilege and honor of attending

Mr. Larry Beaumont's 96th Birthday celebration. In 1942,

at the age of 21, Larry dutifully began his service to our

country as a Master Sergeant in the 543rd Field Artillery

Battalion of the U.S. Army. Larry's unit was shipped out in

1945 to the Island of Leyte, in the Philippines, as part of

the massive gathering of troops in secret in the jungle that

would invade Japan as the last effort of World War II.

On August 8, President Truman made the decision to drop

the atomic bombs, ending the war. Overnight Larry's

mission changed in an effort to do all the logistics and

paperwork to get thousands of men back home to the

United States.

I don't say it as often I should, but as a country, we must

never forget our GV residents who are veterans like Larry

Beaumont, who

sacrificed

relentlessly and

those who gave

their lives to our

country to preserve

what many of us

take for granted —

our freedoms as a

citizen of the U.S.

Keep in mind that

many veterans

never got to return

home and receive

open arms and an

enthusiastic

"welcome home."

We must continue

to honor the past, Larry Beaumont and Mayor Rakoswky

never forget their sacrifices, but also must support our

current generation of veterans and their continued mission.

God Bless the United States of America!

TRADE IN YOUR GAS LAWN

MOWER FOR CLEANER AIR

Do you want to breathe cleaner air? Then you have to discard

your gas powered lawn mower and get an electric one. Did

you know that it's estimated that each weekend in the

summer, about 54 million Americans mow their lawns, using

800 million gallons of gas per year and producing tons of air

pollutants. According to the U.S. Environmental Protection

Agency (EPA), a new gas powered lawn mower produces as

much air pollution in one hour of operation as 11 new cars

each being driven for one hour.

Electric mowers don't totally eliminate pollution, however

emissions from the electric industry are more regulated and

are not in your backyard. Also they save on gas spills and gas

refinery and transportation. Only reel mowers have a 0

carbon footprint. This is why we still prefer reel mowers to

continued on page 8

PG. 4 GV NEWSLETTER | APRIL 2017
---
VILLAGE CALENDAR

Visit

WWW.GREENWOODVILLAGE.COM

for more information

Information is subject to change

may

2017

SUNDAY MONDAY TUESDAY WEDNESDAY THURSDAY FRIDAY SATURDAY

30 1

2

3 4

5 6

City Council P&Z Commission

Study Session 7 p.m.

6 p.m.

City Hall

Meeting

7 p.m.

City Hall

7 8

9

PTR Commission

7 p.m.

City Hall

10 11 12 13

14 15

16

17

18

19 20

City Council

Study Session

6 p.m.

City Hall

★ SINGLE FAMILY HOUSEHOLD RECYCLING ★

P&Z Commission

7 p.m.

City Hall

GVAHC Meeting

6:30 p.m.

Curtis Center

21 22

23

24 25

PTR Commission

7 p.m.

City Hall

BOAA Meeting

6:30 p.m.

City Hall

26 27

28

★ SINGLE FAMILY HOUSEHOLD RECYCLING ★

29

Memorial Day

30 31

1

2 3

City Hall

Closed

NO TRASH SERVICE

APRIL 2017 | GV NEWSLETTER PG. 5
---
GOVERNMENT

Greenwood Village

Don't have Comcast cable?

You can watch GVTV 8 programs on the

Village Website at greenwoodvillage.com

or on The City of Greenwood

Village Channel on YouTube.

NEW ON GVTV 8 – PREMIERES MAY 5

Beyond The Green

Learn about work

behind protecting

the future of the

High Line Canal

and its 71 mile

regional trail.

GV Kids, Ink! News

Bring your own basket

and get ready to go egg crazy

at the Village's

Peter Rabbit's

Magnificent Egg Hunt.

AVAILABLE ON COMCAST

CABLE IN GREENWOOD

VILLAGE, GVTV CHANNEL 8 IS

AVAILABLE 24 HOURS A DAY,

SEVEN DAYS A WEEK

PROVIDING PROGRAMMING

REGARDING IMPORTANT

LOCAL, STATE AND

NATIONAL TOPICS.

Safety Matters – Premieres April 7

Just started driving or are you a

seasoned driver? You may be

violating the law and not even

know it.Hear from Greenwood

Village Police Chief John Jackson

on the do's and don'ts of some

major traffic violations.

Safety Matters

Special Edition

Chief of Police John Jackson

hosts some high school

students to discuss and address

issues important to them.

GVTV 8 PROGRAMS

Village Showcase

Join Mayor Ron Rakowsky as he showcases

all the latest happenings and greatest events

taking place in Greenwood Village.

Beyond The Green

A program highlighting the parks, trails and

open space system in the Village.

Over 50 And Loving It!

A program focused on issues and events

affecting people 50+ years of age.

Safety Matters In Greenwood Village

Learn about safety issues in Greenwood

Village and techniques to help keep you and

your family safe.

GV Business Connections

Get an inside look at the business

community of Greenwood Village and learn

about some important business topics.

GV Kids, Ink! ® News

Hosted by youth news reporters, this

program features youth activities and events

in the community.

The Village Insider

Get a glimpse of the people and projects

behind the doors at City Hall.

Colorado Connected

Produced by the Colorado Communications

and Utility Alliance (CCUA), the program

features programs on regional issues.

NASA 360

Produced by the National Institute of

Aerospace for NASA, this program examines

how technologies developed by and for

NASA are used in everything from space

exploration to everyday consumer products.

Graceful Aging

Enjoy this program to learn about elder care

needs. You'll laugh, think and be inspired to

improve your life.

Denver Press Club

Hosted by the Denver Press Club, this

program features discussions with members

of the press and community.

Jazz Cardio Strength Stretch

A powerfully fun and effective workout that

will lift your spirits, strengthen your heart,

muscles, and core. You'll get a healthy dose

of cardio, strength and stretch moves and

finish up feeling energized for the start and

end of your day.

PG. 6 GV NEWSLETTER | APRIL 2017
---
GOVERNMENT

TAKEnote

SPECIAL ELECTION

JUNE 6, 2017

Greenwood Village will be conducting

a Special Mail Ballot Election on June

6, 2017. All registered voters will

receive a ballot in the mail. Ballots will

be mailed May 15 through May 22,

2017. Ballots can be returned to the

following locations during normal

business hours and from 7 a.m. to

7 p.m. on Election Day:

Ballot Drop-Off Locations

City Hall, 6060 South Quebec Street

(Inside) and 24/7 Drive-Thru Drop

Box located in the east parking lot

available until 7 p.m. on Election Day.

Curtis Arts & Humanities Center,

2349 East Orchard Road (Inside)

Greenwood Village Maintenance

Facility, 10001 E. Costilla Avenue

(Inside)

The Ballot

The ballot will read as follows:

Shall Ordinance No. 04, Series of

2017, amending the Greenwood

Village Comprehensive Plan by

adopting the Orchard Station Subarea

Plan, as recommended by the

Planning and Zoning Commission on

October 18, 2016, and as amended by

City Council on March 20, 2017, be

adopted?

Yes

No

The proposed Orchard Station

Subarea Plan is available to read online

at www.greenwoodvillage.com.

How To Register To Vote

To vote in the Special Election, you

must be registered to vote. Register to

vote online at

www.govotecolorado.com.The

following requirements must be met to

register to vote:

• be a United States Citizen,

• be 18 years of age by Election Day

If you have moved, you can update

your voter information online or with

a Voter Registration form. Voter

Registration forms are available from

the City Clerk's office or the Village's

website at www.greenwoodvillage.com.

Voter Registration Deadlines

You may register to vote at any time in

Colorado, but if you wish to vote in

an upcoming election, you must

register by the following deadlines:

• 8 Days before Election Day if you

register to vote by mail or online

through www.govotecolorado.com

and wish to receive a ballot by mail

• By 7 p.m. on Election Day,

through Arapahoe County Clerk

and Recorder's office in-person.

For more information, please call the

City Clerk's Office at 303-804-4113,

email cityclerk@greenwoodvillage.com,

or visit greenwoodvillage.com. GV

APRIL 2017 | GV NEWSLETTER PG. 7
---
GOVERNMENT

Mayor Ron reports

continued from page 4

all other types of mowers, and electric reel mowers which can

have an electric kick for those days when the lawn is longer

or your time is shorter.

Since gas powered lawn mowers and lawn equipment

contribute nearly 10% of the Denver metro area's ozone precursor

emissions, there is a Mow Down Pollution lawn

mower exchange program through the Regional Air Quality

Council (RAQC) to help residents get rid of their old

gasoline powered mowers, and switch to environmentally

friendly electric mowers. Since 2006, nearly 2,428 gas

mowers have been recycled and replaced with 3,292 electric

mowers — a win-win for the community's environment and

air quality! Furthermore, electric mowers reduce noise

pollution.

There will be three exchange events this summer that

residents can register to attend: April 29 at the Budweiser

Event Center; May 6 at Dick's Sporting Goods Park; and

June 3 at Eco-Cycle CHaRM in Boulder. Participants must

pre-register to attend through the program's website:

www.mowdownpollution.org/.

For more information, please call Matt Goble or Kaylyn

Bopp at 303-629-5450 or email mgoble@raqc.org or

kbopp@raqc.org.

RTD LAUNCHES NEXT RIDE IN

REAL-TIME FOR PASSENGERS

The Regional Transportation District's (RTD) Next Ride

web-based application with real-time capabilities makes it

easier for passengers to plan trips and make connections

while on the go. Next Ride provides accurate and timely

predictions of vehicle locations for bus and light rail, making

it easier for passengers to plan trips and make connections.

RAMBLE WITH RON IN APRIL

Have some ideas or suggestions to share about living or

working in Greenwood Village? Walk and talk with Mayor Ron

Rakowsky from 7:30 to 8:30 a.m. (weather permitting) on:

Thursday, April 13 — Tommy Davis Park,

Swim Club Lot, 9200 E. Orchard Road.

Wednesday, April 26 — Westlands Park,

5701 S. Quebec Street

Registration is not required. For more information, please call

the Mayor's Office at 303-486-5745. Check for updates of the

monthly schedule for Ramble with Ron at

www.greenwoodvillage.com.

Predictions are based on the real-time position of vehicles

combined with their speed to estimate arrival times.

Predictions will be available 30 minutes prior to a bus

reaching a stop and the system will provide updates every 30

seconds. Locations and predictions are available for buses and

light rail at this time with additional real-time capabilities

planned for the future as such services are not yet available

for commuter rail which includes the University of Colorado

A Line and the B Line.

Visit RTD-Denver.com for more information on

Next Ride. GV

GIVING BACK TO THE COMMUNITY

COMMISSION APPOINTMENT

The following citizen was appointed by the Greenwood Village

City Council:

Donna Johnston

District 3

Board of Adjustments & Appeals

For more information on how to

serve on a Village board or

commission, please call the City

Clerk's Office at 303-486-5752 or

email Susan Ortiz, City Clerk, at

sortiz@greenwoodvillage.com.

PG. 8 GV NEWSLETTER | APRIL 2017
---
GOVERNMENT

OF interest

Belleview Avenue and Dayton Street with no street lights.

NEW STREET

LIGHTS PLANNED

FOR BELLEVIEW

AND DAYTON

INTERSECTION

PROJECT TO BEGIN

THIS SUMMER

PUBLIC ART IN WESTLANDS PARK

New street lights will be installed this

summer at the intersection of

Belleview Avenue and Dayton Street.

The street lights will improve the

safety of the intersection by increasing

the visibility at night for both

motorists and pedestrians. While this

intersection currently performs at high

levels of safety, with the nearby

schools, churches/ synagogue, and

state park access, assuring the

Belleview Avenue and Dayton Street with new street lights.

continued safe operations is important.

The street lights will utilize the latest

technology to focus the illumination

on the intersection and avoid light

spilling into the nearby

neighborhoods.

For more information, please call

Matt Layman, Project Manager,

Transportation, at 303-708-6100

or email

mlayman@greenwoodvillage.com. GV

RESIDENTS INVITED TO PROVIDE

INPUT AT PUBLIC MEETING

Residents are invited to provide input at a public meeting on April

26, 2017 at 6:30 p.m. at City Hall regarding the installation of

public art sculptures in Westlands Park. As per the Village's Public

Art Policy, the Parks, Trails, and Recreation Department is seeking

public input on the proposed artists and locations of the work.

At the meeting, residents will get the opportunity to see the

proposed sites and examples of the artists' previous works.

Greenwood Village has partnered with the Museum of Outdoor Art

(MOA) to present rotating, public art installations in Westlands

Park. The MOA proposes temporary placement of 3-5 sculptures in

Westlands Park from the fall of 2017 through summer of 2018.

The sculptures are work of two Colorado based artists, Charles and

Collin Parson; a father/son team presenting new and existing

interior gallery and exterior sculptural works in this unique

exhibition. This exhibition will correspond to a gallery exhibition at

MOA's indoor gallery.

The MOA is dedicated to bringing the vitality of the arts into the

everyday lives of the people of Colorado. A museum without walls,

MOA's collection of outdoor sculpture reaches out to both the

casual passerby and the serious art critic. MOA has several works

located throughout Greenwood Village including two pieces on

loan to the Village located in Westlands Park, The Nest and

Dolphins.

For more information, please call Chris Stevens, Cultural Arts

Coordinator at 303-708-6110 or email

cstevens@greenwoodvillage.com.

APRIL 2017 | GV NEWSLETTER PG. 9
---
GOVERNMENT

OUR NATURAL

environment

CONSERVE WATER AND SAVE MONEY ON YOUR WATER BILLS

In 2017, Greenwood Village is partnering once again with Denver Water as part of the Water Saver Partnership to educate

residents on ways to save water and money on their water bills while maintaining the beauty found in Village neighborhoods.

WAIT —

DON'T IRRIGATE!

When it comes to lawn watering, April

is too early to go automatic. Set aside

plans to program your sprinkler system

for later months, when the ground is

less likely to retain wintertime

moisture.

You can still dig in and start preparing

for the planting season. Here's how:

• Spring is a great time to aerate your

lawn. Aeration can help water

absorb more efficiently.

• Check the height and width of

your trees, shrubs and perennials.

Prune any overgrowth — which

makes excellent compost when

shredded.

• Watch your mail for a detailed

explanation on Denver Water's

summer watering rules, which go

into effect May 1.

Visit denverwater.org/Summer

Watering for more watering tips and

information on the rules.

SAVE WATER,

GET A

REBATE

Here's a simple

springtime project

that pays off: earn a

rebate for installing

a new waterefficient

toilet.

Denver Water offers rebates of up to

$150 for purchasing a WaterSenselabeled

toilet with a per-flush average

of 1.1 gallons or less. WaterSense is a

national program that makes it easy to

choose quality products that use less

water. Makes sense to us!

Learn which models qualify — and

where to buy them — at

denverwater.org/Rebates.

RULES FOR OUTDOOR

WATER USE

Denver Water's 2017 summer watering

rules are enforced May 1 to Oct. 1, so

please use only what you need.

• Water during cooler times of the

day — lawn watering is not allowed

between 10 a.m. and 6 p.m.

• Water no more than three days per

week.

• Do not allow water to pool in

gutters, streets and alleys.

• Do not waste water by letting it

spray on concrete and asphalt.

Bochkarev Photography/Shutterstock.com

• Repair leaking sprinkler systems

within 10 days.

• Do not irrigate while it is raining

or during high winds.

• Use a hose nozzle with a shut-off

valve when washing your car.

RULES FOR WATERING

NEW SEED AND SOD

Denver Water customers with newly

planted seed or sod may water new

turf as necessary, for up to 21 days.

After 21 days, routine watering is

limited to no more than three days

per week and not between 10 a.m. and

6 p.m. To submit your request for a

21-day watering exemption, call

303-893-2444 or email

customercare@denverwater.org.

If you are requesting a watering

exemption, the newly landscaped area

should be 250 square feet or larger. It

is wasteful to run an irrigation system

on an area any smaller, and you can

hand water areas that are less than 250

square feet. Keep in mind that you

may see an increase in your water use

upon watering for up to 21 days.

For questions please contact

Denver Water Customer Care at

303-893-2444. GV

TIP: Amending the soil with compost

prior to planting will help to establish

new plant material more successfully.

Denver Water recommends that you till

compost into the areas that you are

planting. Learn more at

denverwater.org/Compost.

PG. 10 GV NEWSLETTER | APRIL 2017
---
GOVERNMENT

GET YOUR GARDEN READY

COLORADO MASTER GARDENER SM VOLUNTEERS WILL BE AT GARDEN IN A BOX PICK UP

The CSU Extension — Arapahoe County Colorado Master Gardeners (CMGs) who provide

their expertise annually to the Village to care for and maintain the Silo Park vegetable

garden will be available to answer resident questions at the upcoming Garden in a Box

Pick Up on Saturday May 13 from 9 a.m. to 12 p.m. at William McKinley Carson Park

(behind City Hall). The CMG's will be available to give expert advice about insects, plant

identification, landscape planting, growing vegetables and any other yard and garden

questions. Residents who did not purchase a Garden in a Box are welcome to attend.

CMG Volunteers in Arapahoe County are 80 volunteers who foster community

development through gardening. If you are unable to attend this event, CMG Volunteers

are available to answer questions on Tuesdays from 10 to 11 a.m. at Silo Park during the

summer. Silo Park is located at 9300 East Orchard Road.

For more information, please call Julie Liggett, jliggett@greenwoodvillage.com,

303-486-5750 or visit greenwoodvillage.com.

SIGN UP FOR LONG ROAD TEXT NOTIFICATIONS TO YOUR CELL PHONE

Do you live in the neighborhood and want to stay informed on updates related to the Long Road closure?

Text LONGROAD to 888-777. After you text, you will receive a text confirming your registration.

APRIL 2017 | GV NEWSLETTER PG. 11
---
GOVERNMENT

MAKING A difference

2017 BUDGET

WHAT DOES THE

BUDGET SAY ABOUT

THE VILLAGE'S

FINANCIAL CONDITION?

This past November, City Council

adopted the 2017 Annual Operating

and Capital Improvement Budget.

The primary purpose of the Village's

Budget and budgetary process is to

develop, adopt and implement a

fiscally sound and sustainable plan to

accomplish the established goals of

the upcoming year, while remaining

consistent with the long-term vision

of the community. Development of

the 2017 Annual Operating &

Capital Improvement Budget

focused on maintaining the existing

levels of service, reinvesting in the

infrastructure of the community,

and ensuring the financial health

of the organization without the

addition of new taxes or issuance of

debt.

WHERE DOES THE

MONEY COME FROM?

The Village receives revenue from

several sources. Taxes and assessments

represent the largest category,

accounting for more than 80% of all

Village revenue. Other sources

include intergovernmental revenues

comprised of sources which are

collected and shared with the Village

by other governments, as well as

federal, state and/or county grants,

the sale of various licenses and

permits, user charges and fees

intended to offset certain costs,

punitive fines and forfeitures for the

commission of minor crimes, and

lastly, investment earnings and

miscellaneous revenues. For 2017, the

above sources are expected to

REVENUE SOURCES 2017 Budget % of Total

Taxes & Assessments

Property & Specific Ownership Tax $3,300,000 6.8 %

Sales Tax 25,277,000 52.4 %

Use Tax (General & Building Materials) 6,172,000 12.8 %

Lodging Tax 1,718,000 3.6 %

Occupational Privilege Tax 1,990,000 4.1 %

Special Assessments & Audit Collections 1,324,000 2.7 %

Intergovernmental 2,312,221 4.8 %

(Highway Users Tax, Tobacco Tax, Grants, etc.)

Licenses and Permits (Business Licenses, 1,755,000 3.6 %

Liquor Licenses, Building Permits, etc.)

Charges & Fees (Planning and Zoning Fees, 3,039,000 6.3 %

Participant Fees, Franchise Fees, etc.)

Fines & Forfeitures (Court Costs, Fines, etc.) 1,087,000 2.3 %

Investment Earnings & Miscellaneous Revenue 308,000 0.6 %

TOTAL REVENUE $48,282,221 100.0%

EXPENDITURE ALLOCATION 2017 Budget % of Total

Operations & Maintenance

Mayor & City Council $417,568 1.0 %

City Management (City Manager's Office, 887,292 1.9 %

Community Outreach)

City Attorney 526,482 1.1 %

Municipal Judge 35,597 0.1 %

Administrative Services (City Clerk, 3,623,368 7.8 %

Human Resources, Technology)

Finance (Accounting, Payroll, Taxpayer Services) 1,668,051 3.6 %

Community Development (Planning, 2,724,550 5.9 %

Building Safety, Code Enforcement, Facilities)

Parks, Trails & Recreation (Recreation, 7,267,569 15.7 %

Cultural Arts, Parks, Open Space, Trails)

Police (Dispatch, Patrol, Detectives) 10,760,070 23.3 %

Public Works (Fleet, Transportation, 8,329,529 18.0 %

Snow & Ice Control, Storm Water)

Capital Improvement Projects

Parks, Trails & Recreation (Recreation, 2,330,000 5.0 %

Cultural Arts, Parks, Open Space, Trails)

Public Works (Fleet, Transportation, 7,703,667 16.6 %

Snow & Ice Control, Storm Water)

TOTAL EXPENDITURES $46,273,743 100.0%

PG. 12 GV NEWSLETTER | APRIL 2017
---
GOVERNMENT

generate $48.3 million as illustrated

in the table at left.

WHERE DOES

THE MONEY GO?

The Village's budget is composed of

an operating budget, which details

expenditures for the upcoming year,

and a capital budget, which shows the

financial plans for current and longterm

capital improvements, facilities,

and equipment. Additionally, revenue

streams collected by the Village are

often restricted for specific purposes,

as determined by existing laws and/or

regulations. The table above illustrates

how available resources are allocated

so as to continue providing the

community with the services it has

come to expect.

For more information, please call

Shawn Cordsen, Finance Director,

at 303-486-8290 or email

scordsen@greenwoodvillage.com.

Citizens are encouraged to complete

a more detailed review of the

complete 2017 Budget document

at www.greenwoodvillage.com. GV

APRIL 2017 | GV NEWSLETTER PG. 13
---
GOVERNMENT

ENSURING A SAFE

community

GOT DRUGS?

NATIONAL

PRESCRIPTION

DRUG TAKE-BACK

DAY

SATURDAY,

APRIL 29, 2017

10 A.M.- 2 P.M.

AT CITY HALL

On Saturday, April 29, 2017, The

Drug Enforcement Administration

(DEA) will coordinate a collaborative

effort with the Greenwood Village

Police Department and other local law

enforcement agencies to remove

potentially dangerous controlled

substances from every household's

medicine cabinets. Collection activities

will take place from 10 a.m. through 2

p.m. at Greenwood Village City Hall

parking lot, 6060 South Quebec

Street. Police Officers will be available

in the parking lot at City Hall so

citizens can simply drive up and drop

off their unused prescription drugs.

The National Take-Back Day provides

an opportunity for the public to

surrender expired, unwanted, or

unused pharmaceutical controlled

substances and other medications for

destruction. These drugs are a

potential source of supply for illegal

use and an unacceptable risk to public

health and safety.

Here are some guidelines for this oneday

effort intended to bring national

focus to the issue of increasing

pharmaceutical controlled substance

abuse.

• The program is anonymous.

• Controlled, non-controlled, and

over the counter substances may be

dropped off.

• All solid dosage pharmaceutical

product and liquids in consumer

containers, with the exception of

chemotherapy drugs, may be

accepted.

• Liquid products, such as cough

syrup, should remain sealed in their

original container.

• Prescription and over the counter

solid dosage medications, e.g.

tablets and capsules will be

accepted.

• Intravenous solutions, injectables,

and syringes/needles will not be

accepted due to potential hazard

posed by blood-borne pathogens.

• Illicit substances such as marijuana

or methamphetamine are not a part

of this initiative, but can be dropped

off at the Police Department at any

time for disposal.

For more information, please call the

Police Department at

303-773-2525. GV

PG. 14 GV NEWSLETTER | APRIL 2017
---
GOVERNMENT

APRIL 2017 | GV NEWSLETTER PG. 15
---
GOVERNMENT

OUR NATURAL

environment

TRAIL ETIQUETTE

— MIND YOUR

MANNERS

Just like dining in a fine restaurant,

there is proper etiquette when using

area trails. Though multi-use trail

signs may vary in the way they look,

the right-of-way is universal:

bicyclists yield to everyone;

pedestrians yield to horses

(equestrians); equestrians yield to no

one and always have the right-of-way.

Pedestrians — of course it's more

fun to walk side-by-side to talk with

your walking buddies than to walk

single file, but please be aware that

taking up the whole trail makes it

difficult for bicyclists and equestrians

to pass safely. Stay to the right and

close to your walking partners.

Equestrians — It is safest to ride

single file, but as with pedestrians,

many prefer to ride side-by-side to

talk with friends. Be aware that two

horses riding side-by-side take up a

lot of trail space, making it difficult

for others to pass safely. Trails in the

Village are multi-use so you will

encounter bicyclists and pedestrians;

it is the rider's responsibility to

ensure that their horse is under

control. Also keep in mind that

many people are not familiar with

horses and do not understand that

that objects such as bikes and

runners coming up behind them can

scare your horse. Be courteous and

notify pedestrians when passing.

Horses should never be galloping on

the High Line Canal Trail; always be

held to a walk or trot.

Bicyclists — bicyclists yield to both

pedestrians and horses. Be courteous

to other users, keep right when

possible. Verbally alert others when

you are approaching to pass; call out

"on your left" or "on your right" as

equestrians and pedestrians may not

hear you approaching. The speed

limit on Village trails is a maximum

of 15 MPH, depending on

conditions.

Horses — Have you ever noticed a

horse jump? Here's why… horses are

easily scared. In nature, horses are

prey. Horses' eyes are situated on the

sides of their heads which causes

objects to appear to jump from one

side of their vision to the other. This

can trigger the horse's natural

instinct to flee. Pedestrians be aware

that if you get too close to a horse

(closer than the horse's leg length)

you are in danger of getting kicked,

especially if you are a surprise to the

horse. When passing horses or

coming toward horses, keep your

dogs on a tight leash, not between

you and the horse, but on the

outside. Dogs sometimes tend to

panic or jump at a horse if they are

not used to seeing them. Lastly, don't

forget to use your voice by stating

"on your left" instead of the ringers

on your bicycle that will scare horses.

For more information on trails in

Greenwood Village, please call

Parks, Trails and Recreation at

303-486-5773 or visit

greenwoodvillage.com. GV

PG. 16 GV NEWSLETTER | APRIL 2017
---
BUSINESS

MEMBER spotlight

DTC YOUNG PRO KATIE DOYLE

SHINES THROUGH IN THIS

POWERFUL DOCUMENTARY!

Katie Doyle grew up in Greenwood Village, went to school at

Eckerd College in St. Petersburg, Florida, double majored in

Environmental Studies and Art. She moved back to Colorado

and is now working for the Colorado Parks and Wildlife,

educating students and getting them outdoors.

Katie first came

into the Young

Pro's group in

DTC as a film

liaison between young adults and a

film company called Film Festival

Flix that had monthly independent

film showings at The Landmark.

Katie has always loved the ocean and

living in Colorado. She has a lot of

longing for the ocean and made Land

Locked Ocean with the hope that she

would find a way to stay connected

Katie Doyle to it. After some research Katie found

the Colorado Ocean Coalition

(COCO), based in Boulder. She contacted the founder, Vicki

Nichols Goldstein, and she was very enthusiastic about

helping her out and being interviewed. COCO was

everything Katie was looking to find for this film and proof

that there is a connection to the ocean here in Colorado.

Vicki Nichols Goldstein being interviewed in the documentary.

Katie and Jack Ganey made the short documentary together.

They are both Young Professionals and have worked together

on short films and freelance work in the past. Jack Ganey

graduated from Montana State University with a degree in

film. Jack's editing skills really shine through in this

documentary.

The film was accepted into the Blue Ocean Film Festival and

premiered in November 2016 during the festival in St.

Petersburg.

You can view her documentary by visiting:

https://vimeo.com/176536103?ref=tw-share. GV

Visit our Web site at: www.dtcchamber.com

E-mail us: admin@gvchamber.com

Phone: 303-290-9922

7600 Landmark Way, Suite 1615

Greenwood Village, CO 80111

Fax: 303-962-4640

WHAT THE CHAMBER CAN DO FOR YOUR BUSINESS:

• Be a catalyst for your business' economic success by providing access to

strategic opportunities to grow your business' footprint in the community;

• Provide opportunities to build relationships organically through the many

Chamber activities, committees and events;

• Promote your business through the Chamber website and Chamber

Member Spotlight in the Greenwood Village Newsletter;

• Professional and personal development through involvement on various

Chamber committees;

• Broaden your business and community outreach through corporate

philanthropic efforts to give back to worthy causes;

• Build meaningful alliances through the many nonprofit and charitable

organizations the Chamber supports throughout the year.

APRIL 2017 | GV NEWSLETTER PG. 17
---
BUSINESS

BUSINESSspotlight

GREENWOOD VILLAGE CAFÉ

8923 East Union Avenue in The Union Exchange Shopping Center

303-694-0501 • www.greenwoodvillagecafe.com

Monday-Friday 6 a.m.-3 p.m., Saturday 8 a.m.-1 p.m.

Are you looking for a

quaint café to catch up

with your friends for

coffee or a delectable

lunch? Do you need a

relaxing spot to unwind?

Have you wanted to find

a convenient and

accessible spot to enjoy a

quick and flavorful

signature sandwich or

homemade breakfast

burrito? If so, head on

over to the recently acquired Greenwood Village Café, a

hidden gem within the Village. You are sure to find

something flavorful and delightful from the diverse and

distinctive menu selection!

The Greenwood Village Café originally opened their doors in

the Village in 2015. Charlie Reeves and Janice Hough have

owned and operated this Village business since November

2016. Charlie is a retired chef and Janice has years of

restaurant management experience, both having a strong

passion for cooking and eating. With the opening of the café

they have now fulfilled their dream of owning their own

restaurant.

"We chose to conduct business in the Village because of the

great location nestled within close proximity to the

wonderful businesses of the Tech Center and within walking

distance of Cherry Creek High School which is extremely

convenient for high school students," remarked Janice.

Charlie and Janice strive to use locally sourced products

whenever possible and to make everything in-house. From

roasting turkey and beef onsite to baking all of the pastries

themselves, all of their menu items are made to order to each

and every customer's taste.

Their breakfast menu includes burritos, sandwiches, bagels,

yogurt parfaits with granola, Kaladi Coffee and a delicious

selection of house made breads. Selections at lunch include

salads, sandwiches, and wraps. Pair up your lunch item with

Boulder Chips, spicy slaw, potato salad, fresh fruit salad, soup

or green chili.

The Greenwood Village Café also provides catering for your

next special event, business meeting or office party. You can

choose between sandwich platters, buffet bars or buffet meals

for either breakfast or lunch. They provide their standard

catering choices, but their menu is customizable to fit all of

your catering needs. A few examples are the poached salmon

platter with cucumber dill sauce, the beef tenderloin platter

continued on page 19

PG. 18 GV NEWSLETTER | APRIL 2017
---
GENERAL INTEREST

NEW GV businesses

ATTORNEY

Allen, PC

6161 South Syracuse Way,

Suite 370

303-893-3111

ESTHETIC SERVICES

Sherean's Esthetics, LLC

8400 East Prentice Avenue,

Suite 225

303-552-4175

MEDICAL SERVICE PROVIDER

Omnia Health, Incorporated

8301 East Prentice Avenue,

Suite 145

720-229-4809

TALENT AGENCY

Creative Artists Agency, LLC

8101 East Prentice Avenue,

Suite 900

303-796-2655

Deana R. Dagner, PC

5105 DTC Parkway, Suite 325

303-221-4661

Patierno, PC

6161 South Syracuse Way,

Suite 370

303-893-3111

BUSINESS

MANAGEMENT SERVICES

AEA Management Services, LLC

6080 Greenwood Plaza Boulevard

385-224-1395

Forte Health

7350 East Progress Place,

Suite 201

303-704-5588

BUTCHER SHOP

Desi Group, LLC

9555 East Arapahoe Road, Suite 8

303-882-2436

CPA, TAX AND

CONSULTING SERVICES

McGaughey Amfahr

& Associates, PC

9250 East Costilla Avenue,

Suite 450

303-792-3020

FINANCIAL PLANNING AND

INVESTMENT MANAGEMENT

Flourish FP, LLC

5619 DTC Parkway,

Suite 1050

303-957-9260

Knutson Financial, Incorporated

8301 East Prentice Avenue,

Suite 403

720-648-1922

TGAM Services

8400 East Prentice Avenue,

Suite 1500

212-916-6054

GARAGE DOOR REPAIR

AND INSTALLATION

Creative Garage Doors,

Incorporated

8400 East Prentice Avenue,

Suite 605

303-221-5959

INSURANCE SALES

Garret Kramer Insurance Agency

7395 East Orchard Road,

Suite 400

720-773-8750

Physician Reliance

Network, LLC

7951 East Maplewood Avenue,

Suite 300

281-863-4704

PHYSICAL THERAPY

Genesis Medical &

Rehabilitation Center

5950 South Willow Drive,

Suite 200

720-262-5700

RADIO STATION

Always Mountain Time, LLC

5660 Greenwood Plaza Boulevard,

Suite 490

720-726-7777

RESTAURANT

The French Press

4668 South Yosemite Street

303-770-2244

SOFTWARE DEVELOPMENT

Tejas Software, Incorporated

7935 East Prentice Avenue,

Suite 312-W

303-325-3962

VoIP PHONE SERVICE

Loud & Clear

Telecommunications, LLC

5750 DTC Parkway, Suite 105

303-228-5800

BUSINESSES

UNDER NEW

MANAGEMENT

BARBERSHOP

Tribute Barbershop Lounge

8000 East Belleview Avenue,

Suite D-40

303-224-9933

DENTAL PROVIDER

The Fauchard Center

7447 East Berry Avenue, Suite 230

303-741-3300

RESTAURANT

Sushi Katsu 2

9555 East Arapahoe Road,

Suite 4-6

303-790-8822

SOFTWARE DEVELOPMENT

MicroPact Global, Incorporated

5690 DTC Boulevard, Suite 250-E

720-408-2540

business spotlight

continued from page 18

with horseradish cream sauce, or an international cheese

platter.

Since Charlie and Janice are new to the Greenwood Village

community, they have been discussing ways they would like

to get more involved with their neighbors and the

neighborhood. For more information about the Greenwood

Village Café, please visit www.greenwoodvillagecafe.com or

contact them by telephone at 303-694-0501. They are open

for business Monday through Friday from 6 a.m. until

3 p.m. and Saturday from 8 a.m. until 1 p.m. You can also

obtain a 10% discount in the month of April when you

mention this Newsletter article.

This unique café is located at 8923 East Union Avenue,

snuggled within The Union Exchange Shopping Center at

the intersection of South Yosemite Street and East Union

Avenue. Stop in for a scrumptious meal, free Wi-Fi and a

comfortable break from your routine. Plan a visit to the

Greenwood Village Café, where friendliness, freshness and

flavor abound! GV

APRIL 2017 | GV NEWSLETTER PG. 19
---
ARTS AND RECREATION

SENIOR ACTIVITIES

AT CURTIS CENTER FOR THE ARTS

SENIOR FOCUS 50+

Day: Mondays

Time: 9-10:15 a.m.

Location: Curtis Center for the Arts

2349 East Orchard Road

Enjoy a variety of foods, great

conversation and a variety of activities

with this active senior group. Newcomers

welcome and the program is free!

2017 SPRING SCHEDULE

(Subject to change)

Monday, April 3

"A Taste of Italy"

Experience Italian food, culture and music.

Monday, April 10

Lessons in Self-Defense

Monday, April 17

Fun with Art

Monday, April 24

April Birthday Celebrations

and Dance Fun

For more information, please contact

Gina Oldenburg at 720-227-8685.

SENIOR DANCE

Day: Mondays

Time: 10:15-11:15 a.m.

Location: Curtis Center for the Arts

2349 East Orchard Road

Join us for a fun movement and dance

exploration with Rebecca Reiter. Learn

dance routines from the '50s to now!

Newcomers welcome and the program is

free!

HARMONICA

Day: Mondays

Time: 11:30 a.m.-12:30 p.m.

Location: Curtis Center for the Arts

2349 East Orchard Road

Beginners and Intermediates are welcome

to this casual harmonica class with Gilda

Shapiro. It's never to late to learn a new

tune! It's free and newcomers are

welcome. Great way to meet new people

in a casual environment.

For more information about our

Senior Programs, contact Cathy Pate,

Recreation Manager, at 303-486-5766.

PG. 20 GV NEWSLETTER | APRIL 2017
---
ARTS AND RECREATION

ART events

GALLERY HOURS

Monday-Friday 8:30 a.m.-4:30 p.m.

Saturday 10 a.m.-4 p.m.

CURTIS CENTER FOR THE ARTS • 2349 EAST ORCHARD ROAD, GREENWOOD VILLAGE, CO 80121 • 303-797-1779

YOUTH ART

MONTH

Created in 1961, Youth Art Month is

a celebration of visual art that links

over 800,000 K-12 students and over

200 arts educators all across America.

Student exhibitions, public artworks,

art festivals and school events raise

awareness and support of the arts.

YAM exists to recognize arts

education and to provide additional

opportunities for individuals of all

ages to participate in the arts. For the

month of March, the Curtis Center

for the Arts honored Youth Art

Month with a display of visual arts

from local schools. The exhibit

featured over 800 works of art from

community youth. The exhibit was

celebrated with two receptions with

over 900 people in attendance.

APRIL 2017 | GV NEWSLETTER PG. 21
---
ARTS AND RECREATION

ART

programs

CASUAL

WATERCOLOR

CREATING YOUR

OWN SKETCHBOOK

Capture the beauty of nature or the

excitement of travel in your personal

sketchbook. Learn fast and fun

techniques for sketching with

watercolor, pens and ink.

A sketchbook is portable, so it can

become your visual story. The

materials you'll need fit in a small bag,

perfect for art outdoors, on a trip, or

on your lap inside.

Bring your own photographs to inspire

you, your iPad or share the instructor's

reference photos if you'd like to paint

Register online at

www.greenwoodvillage.com/registration

For more information call the the Curtis Center for the Arts at 303-797-1779.

ADULT ART CLASSES

Location: Curtis Center for the Arts, 2349 East Orchard Road, Greenwood Village, CO 80121

the same images together as you gain

confidence with watercolor.

Casual Watercolor is an ongoing series of

classes with a simplified approach to this

gorgeous medium.

Artist Level: These classes are great for

beginners as well as intermediate

artists because they feature the

fundamentals of painting with

watercolors PLUS a casual atmosphere

that encourages playfulness in

painting. We paint and progress

together through each painting and

there will be plenty of demos, tips and

techniques.

Days and Dates: Mondays,

May 1 through May 22

Time: 1 to 3 p.m.

Fee: $80

10% senior discount

for ages 65 and older

Instructor: Renee Reese

Location:

Curtis Center for the Arts

2349 East Orchard Road

Greenwood Village, CO 80121

Ages: 16 and older

COFFEE & CANVAS

Get together once a month on Saturday mornings with

friends. Every workshop features a fresh painting design.

All supplies are included for you, just bring your inner artist.

Day and Time: Saturdays, 10 a.m. to 1 p.m.

ANTICIPATING SPRING

Date: April 8

With the change of season, please join us to paint a fresh

and fun spring garden scene. Students have requested a

painting featuring the daffodils, crocuses and spring green

grasses of the season. This one will be a breath of fresh air.

Come join us!

TEA CUPS GALORE

Date: May 13

Tea cups are the subject of this fun and whimsical canvas.

We'll be using bright and lively acrylic colors to paint a small

collection of tea cups and saucers. This canvas would make a

treasured gift for a mother or special friend. And, yes, we're

serving tea at this workshop.

Fee: $30 for each program

Instructor: Renee Reese

Ages: 16 and older

PG. 22 GV NEWSLETTER | APRIL 2017
---
ARTS AND RECREATION

ART

programs

Register online at

www.greenwoodvillage.com/registration

For more information call the Curtis Center for the Arts at 303-797-1779.

YOUTH ART CLASSES

Location: Curtis Center for the Arts, 2349 East Orchard Road, Greenwood Village 80121

ART IN THE PARK

Make the journey to Silo Park this summer to create unique

hands-on art projects!

Each Art in the Park program introduces participants to a

different art medium and technique that will be used in

designing and constructing a unique work of art. For all

activities please wear sneakers and clothes that can get dirty.

Join us for one day or several to create!

Days and Dates:

Tuesdays and Thursdays,

June 6 through July 20

Time: 12:30 to 2:30 p.m.

For detailed descriptions of all the Art in the Park projects

please visit www.greenwoodvillage.com/registration.

Tuesday, June 6

Thursday, June 8

Tuesday, June 13

Thursday, June 15

Tuesday, June 20

Thursday, June 22

Tuesday, June 27

Thursday, June 29

Tuesday, July 11

Thursday, July 13

Tuesday, July 18

Thursday, July 20

Popsicles and Painting – Sharky

Mixed Up Animal Landscapes

Create A Superhero Workshop

Cosplay Workshop

Artiste Banditos

Living Mural Photo Booth

Make Believe Animals

Think Outside the Circle

Realistic Ceramic Animals

Mud Painting

String Art

Nature Portraits

Fee: $20 per

program –

Fee

includes

all supplies

and snack

Ages: 6 to 10

years old –

Birth

Certificate

may be required

Instructors: Parks, Trails and Recreation Staff,

Pop Culture Classroom, Teresa Castaneda,

Maggie Stewart, and Janice Sugg

Limit: 30 participants per program

Location: Silo Park

9300 East Orchard Road, Greenwood Village, CO 80111

CELEBRATING POLLINATORS

ALL AROUND US ON EARTH DAY

Learn about honeybees, their habitat and habits and what

plants in your garden attract honeybees and other pollinators.

Also, taste some local honey.

There will be several art activities

which will include painting a

functional bee hive that will be home

for a colony of honeybees at the Curtis

Arts Center, metal stamping featuring

bees, butterflies and flowers and make

your own beeswax lotion bars.

Join us for an

educational, artful event

celebrating pollinators.

Day and Date:

Saturday, April 22

Time: 12:30 to 3:30 p.m.

Fee: $30

10% senior discount

for ages 65 and older

Presented by: SoSu Artists Collective

Location: Curtis Center for the Arts

2349 East Orchard Road, Greenwood Village, CO 80121

Ages: 14 and older

APRIL 2017 | GV NEWSLETTER PG. 23
---
6060 South Quebec Street

Greenwood Village, Colorado 80111-4591

PRSRT STD

US POSTAGE

PAID

ENGLEWOOD, CO

PERMIT #799

ARTS AND RECREATION

ART events

GALLERY HOURS

Monday-Friday 8:30 a.m.-4:30 p.m.

Saturday 10 a.m.-4 p.m.

CURTIS CENTER FOR THE ARTS • 2349 EAST ORCHARD ROAD, GREENWOOD VILLAGE, CO 80121 • 303-797-1779

AN INTRODUCTION

TO CYANOTYPE

Cyanotype is a

fascinating and easy

hands-on

introduction to

learning how to make

an image using

Alternative

Photography (early

photo processes).

Join photographer

Anne van Leeuwen to

learn how to make

Cyanotypes.

Participants will be

using prepared

Cyanotype emulsion to coat paper, then expose

to UV light to produce exciting blue images.

Artist Level: This class is for all levels of artists

and non-artists.

Day and Date: Saturday, May 6

Time: 1 to 3 p.m.

Fee: $40

10% senior discount

for ages 65 and older

Instructor: Anne van Leeuwen

Location:

Curtis Center for the Arts

2349 East Orchard Road

Greenwood Village, CO 80121

Ages: 16 and older

PG. 24 GV NEWSLETTER | APRIL 2017