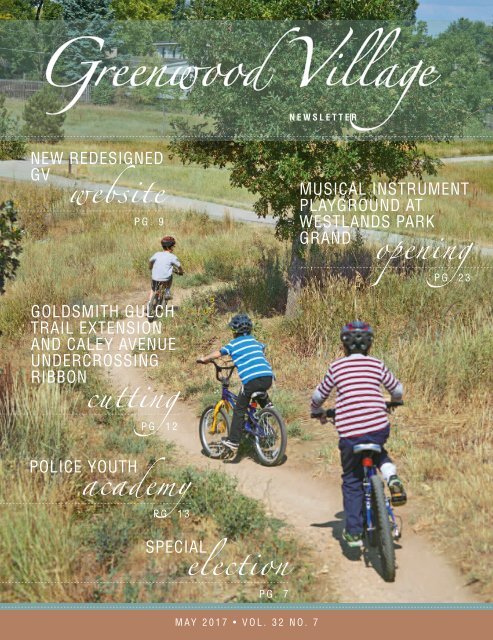 You also want an ePaper? Increase the reach of your titles
YUMPU automatically turns print PDFs into web optimized ePapers that Google loves.
Greenwood Village

N EEW S LLE ET TTE ER

NEW REDESIGNED

GV

website

P G . 9

HEADLINE GOES

here P G . X

GOLDSMITH HEADLINEGULCH

TRAIL HERE EXTENSION

P G . X

AND CALEY AVENUE

UNDERCROSSING

RIBBON

cutting

P G . 1 2

POLICE YOUTH

academy

MUSICAL INSTRUMENT

PLAYGROUND AT

WESTLANDS PARK

GRAND

opening

P G . 2 3

HEADLINE

HERE

P G . X

HEADLINE

here P G . X

P G . 1 3

SPECIAL

election

P G . 7

M AY M O2N 0T 1H 7 Y• EVA OR L I. S3 S2 UNE O #. 7
---
GOVERNMENT

MAYOR RON reports

HONORING

VICTIMS OF CRIME

In April, a commemoration of the 25th

Anniversary of the Colorado's Victims Rights

Act was held as part of National Crime Victims'

Rights Week (NCVRW), April 2-8, 2017. The

Colorado Victims Rights Act was passed by

Colorado voters on November 3, 1992, as

Referendum A: Victims Rights. It became

Section 16a of Amendment II, The Bill of

Rights, of the Colorado Constitution. This year,

National Crime Victims' Rights Week theme —

Strength. Resilience. Justice. — reflects a vision

Ron Rakowsky

rrakowsky@

greenwoodvillage.com

303-486-5741

for the future in which all victims are

strengthened by the response they receive,

organizations are resilient in response to

challenges, and communities are able to seek

collective justice and healing.

This inspiring event in Denver had remarks by Attorney

General Cynthia Coffman, the Acting U.S. Attorney. Bob

Troyer, a longtime supporter speaking to the historical view,

and the daughter of the teacher killed at Columbine.

Chairperson Cara Denney, Coloradans Organized for

Responsible Drivers (C.O.R.D), and myself were also in

attendance. The reoccurring theme of all the speakers was

focused on making sure the criminal justice system is

committed to victims' rights.

Our 18th Judicial District Attorney George Brauchler, along

with Sheriff Tony Spurlock, Douglas County, and Lieutenant

Colonel Matt Packard, Colorado State Patrol, spoke at a

commemoration in Douglas County that I also attended.

The National Crime Victims' Rights Week celebration always

brings a renewed sense of purpose to our Victim Advocates at

Greenwood Village. The Victims Assistance Unit of the

Police Department works to comfort, inform, and support

victims while keeping lines of

communication open with police officers

to bring peace and justice for those

whose lives have been altered by a crime.

If you have any questions or would like

more information about the Colorado

Victims Rights Act, please contact our

Victims Assistance Coordinator Melissa

Madsen at 303-773-2525 or

mmadsen@greenwoodvillage.com. You

can learn more about our victim

assistance services at

greenwoodvillage.com.

Assistant District Attorney Mark Hurlbert poses with

Greenwood Village Mayor Ron Rakowsky and Douglas County

Commissioner Roger Partridge.

RECOGNIZING YOUTH

FOR THEIR ADVERSITIES

There are many untold stories we never learn regarding youth

who overcome some great challenges and adversities in their

lives. Many of these events may be too difficult to explain in

words, but call our attention to recognize these young adults

who have overcome these personal hardships. Their

leadership and bravery is exemplary and I am proud to call

them leaders in our communities.

In April, Greenwood Village, along with some of our

neighboring cities of Arapahoe County, were part of the

Arapahoe County Mayors and Commissioners Youth Awards

(MMCYA) Program recognition event at Centennial Airport.

The MMCYA event recognized 17 students for overcoming

adversity and rising to the challenges life has presented. Each

teen showed maturity and strength beyond his or her years in

overcoming their obstacles with dignity, resourcefulness and

personal integrity. Teens are nominated by their school

counselors, teachers, mentors and parents.

PG. 2 GV NEWSLETTER | MAY 2017
---
GOVERNMENT

CITY council

NOT SURE WHO YOUR

ELECTED OFFICIALS ARE?

Obtain a list of your state and national government

representatives at www.arapahoevotes.com

DISTRICT 1 DISTRICT 2 DISTRICT 3 DISTRICT 4

Freda Miklin

fmiklin@

greenwoodvillage.com

303-804-4138

Leslie Schluter

lschluter@

greenwoodvillage.com

303-804-4135

Steve Moran

smoran@

greenwoodvillage.com

303-804-4133

T.J. Gordon

tgordon@

greenwoodvillage.com

303-804-4132

Dave Bullock

dbullock@

greenwoodvillage.com

303-804-4137

Darryl Jones

djones@

greenwoodvillage.com

303-804-4136

George Lantz

glantz@

greenwoodvillage.com

303-804-4134

Tom Bishop

tbishop@

greenwoodvillage.com

303-804-4131

GV NAMED PUBLIC HEALTH

HERO OF THE YEAR

Congratulations to Greenwood Village as we were named

the Public Health Hero of the Year by Tri-County Health

Department (TCHD). This award is given to individuals,

businesses, or organizations that work to improve or

promote public health in Adams, Arapahoe or Douglas

counties. Our nomination was based on the City Council's

work to pass an ordinance in February 2016 to expand the

Village's smoke-free law. Our comprehensive smoke-free law

prohibits electronic smoking devices everywhere that

conventional smoking is prohibited (including "vape" shops)

and extends to select outdoor areas including transit waiting

areas, parks, trails, outdoor plazas and Fiddler's Green

Amphitheatre.

Through the adoption of Village ordinance, the City Council

strongly believes that it is our duty to protect children,

residents, workers, and visitors from both secondhand smoke

continued on page 4

Left to right: Amy Winterfeld, TCHD Chronic Disease Policy

Specialist; Greenwood Village City Councilmember Leslie

Schluter; Mayor Ron Rakowsky; John M. Douglas, Jr, MD,

TCHD Executive Director; and Kaia Gallagher, President of

the TCHD Board of Health.

MAY 2017 | GV NEWSLETTER PG. 3
---
GOVERNMENT

Mayor Ron reports

continued from page 3

and from electronic device aerosol emissions that contain

cancer-causing chemicals. One of our primary goals at the

Village is to ensure the safety of the community which is why

we are committed to the public's health by taking a hard

stance on second-hand smoke. You can learn more about our

smoke-free law at greenwoodvillage.com.

If you are a smoker and interested in learning how to quit,

the Colorado Quitline offers free over-the-phone counseling

and free nicotine replacement therapy for Colorado residents.

Call 1-800-QUIT-NOW or visit coquitline.org. to get

started. Quitting smoking is a journey, not a single event.

Don't give up. Most people try several times to quit. You can

do it.

PLEASE ATTEND THIS YEAR'S

METRO PUBLIC SAFETY EVENT

It takes a partnership of police and fire agencies to ensure the

safety of the citizens that live, work and visit in our region.

As citizens, we are very fortunate that many of our police and

fire agencies, even though they manage safety for their own

jurisdictions, have developed great working relationships

where they rely on each other for assistance, and in some

cases, share resources to combat crime, manage traffic, and

conduct crime prevention events.

Please join the Greenwood Village Police Department on

Saturday, May 20 from 11 a.m. to 2 p.m. at City Hall as they

host the second annual Metro Public Safety event. There will

be several law enforcement and fire agencies showcasing their

services and providing outreach to citizens of all ages. It will

be a fun event for the entire family. As residents and

businesses of Greenwood Village, please stop by and show

your support for not only our Police Department, but also all

the law enforcement and fire agencies that place their lives on

the line for us every day to protect our neighborhoods, guard

our homes and businesses, safeguard our children at school,

Members of Greenwood Village and Denver Police Departments share

breakfast at Coffee with a Cop event.

PG. 4 GV NEWSLETTER | MAY 2017

save our animals, rescue people from incidents, and support

the victims and families of tragedy. See you all there!

PRESCRIPTION MEDICATION

DISPOSAL SITES ARE

NOW AVAILABLE

Pain killers are

playing a leading

role in the heroin

epidemic in

Colorado which

has prompted

Attorney General

Cynthia Coffman

and the Metro

Mayors Caucus

to work on ways

we can solve this

health crisis that

is claiming the

lives of so many,

including our

young people.

One way is to

address

prescription drug

abuse as it's a fast growing problem in America and is

impacting families across Colorado.

In April, I joined the Mayors of Thornton, Wheat Ridge, and

Mayor Pro-Tem of Aurora and Colorado Attorney General

Coffman to support the launch of Walgreens' permanent

prescription medication disposal sites, which are now located

across the Denver metro area. Walgreens medication disposal

kiosks are free to use, and will help to ensure Coloradans can

safely and easily dispose of medications that are no longer

needed. Properly disposing of unused, unwanted or expired

medications, including controlled substances and

over-the-counter medications, can help to prevent

misuse of those drugs and lower the risk of abuse

by a friend or family member.

According to the Office of National Drug Control

Policy's findings, over half of the people who used

pain relievers non-medically obtained the drugs

from a friend or relative for free; another 11

percent bought them from a friend or relative; and

5 percent got them from a friend or relative

without asking – adding up to 71 percent

obtaining their most recently used pain relievers in

some fashion from friends and family.

continued on page 8
---
VILLAGE CALENDAR

Visit

WWW.GREENWOODVILLAGE.COM

for more information

Information is subject to change

june

2017

SUNDAY MONDAY TUESDAY WEDNESDAY THURSDAY FRIDAY SATURDAY

28 29 30 31 1

2 3

4 5

6

City Council

Study Session

6 p.m.

Meeting

7 p.m.

City Hall

Special Election

7 a.m. to 7 p.m.

P&Z Commission

7 p.m.

City Hall

7 8 9 10

★ SINGLE FAMILY HOUSEHOLD RECYCLING ★

11 12 13

14

15

16 17

PTR Commission

7 p.m.

City Hall

GVAHC Meeting

6:30 p.m.

Curtis Center

18 19

20

21 22

City Council

Study Session

6 p.m.

City Hall

P&Z Commission

7 p.m.

City Hall

BOAA Meeting

6:30 p.m.

City Hall

23 24

25

★ SINGLE FAMILY HOUSEHOLD RECYCLING ★

26 27

PTR Commission

7 p.m.

City Hall

28

29

30 1

MAY 2017 | GV NEWSLETTER PG. 5
---
GOVERNMENT

Greenwood Village

Don't have Comcast cable?

You can watch GVTV 8 programs on the

Village Website at greenwoodvillage.com

or on The City of Greenwood

Village Channel on YouTube.

NEW ON GVTV 8 – PREMIERES JUNE 9

AVAILABLE ON COMCAST

CABLE IN GREENWOOD

VILLAGE, GVTV CHANNEL 8 IS

AVAILABLE 24 HOURS A DAY,

SEVEN DAYS A WEEK

PROVIDING PROGRAMMING

REGARDING IMPORTANT

LOCAL, STATE AND

NATIONAL TOPICS.

GVTV 8 PROGRAMS

Village Showcase

Join Mayor Ron Rakowsky as he showcases

all the latest happenings and greatest events

taking place in Greenwood Village.

Beyond The Green

A program highlighting the parks, trails and

open space system in the Village.

Over 50 And Loving It!

A program focused on issues and events

affecting people 50+ years of age.

Safety Matters In Greenwood Village

Learn about safety issues in Greenwood

Village and techniques to help keep you and

your family safe.

GV Business Connections

Get an inside look at the business

community of Greenwood Village and learn

about some important business topics.

GV Kids, Ink! ® News

Hosted by youth news reporters, this

program features youth activities and events

in the community.

The Village Insider

Get a glimpse of the people and projects

behind the doors at City Hall.

Colorado Connected

Produced by the Colorado Communications

and Utility Alliance (CCUA), the program

features programs on regional issues.

GV Kids, Ink! News

Metro Public Safety Event

Have you ever wanted to visit with many police departments

and fire agencies at the same place and at the same time

in a fun setting? Check out the Metro Public Safety Event

at City Hall and hear from some of the men and women

who put their lives on the line every day.

Parks

Parks in the Village attract many users year-round

for sports and leisure activities. Find out what goes into

keeping the parks in tip top shape and how the Village

protects users from inclement weather.

NASA 360

Produced by the National Institute of

Aerospace for NASA, this program examines

how technologies developed by and for

NASA are used in everything from space

exploration to everyday consumer products.

Graceful Aging

Enjoy this program to learn about elder care

needs. You'll laugh, think and be inspired to

improve your life.

Denver Press Club

Hosted by the Denver Press Club, this

program features discussions with members

of the press and community.

Jazz Cardio Strength Stretch

A powerfully fun and effective workout that

will lift your spirits, strengthen your heart,

muscles, and core. You'll get a healthy dose

of cardio, strength and stretch moves and

finish up feeling energized for the start and

end of your day.

PG. 6 GV NEWSLETTER | MAY 2017
---
GOVERNMENT

TAKEnote

SPECIAL ELECTION

JUNE 6, 2017

Greenwood Village will be conducting

a Special Mail Ballot Election on June

6, 2017. All registered active voters

will receive a ballot in the mail. Ballots

will be mailed May 15 through May

22, 2017. Ballots can be returned to

the following locations during normal

business hours and from 7 a.m. to

7 p.m. on Election Day:

Ballot Drop-Off Locations

City Hall, 6060 South Quebec Street

(Inside) and 24/7 Drive-Thru Drop

Box located in the east parking lot

available until 7 p.m. on Election Day.

Curtis Arts & Humanities Center,

2349 East Orchard Road (Inside)

Greenwood Village Maintenance

Facility, 10001 E. Costilla Avenue

(Inside)

The Ballot

The ballot will read as follows:

Shall Ordinance No. 04, Series of

2017, amending the Greenwood

Village Comprehensive Plan by

adopting the Orchard Station Subarea

Plan, as recommended by the

Planning and Zoning Commission on

October 18, 2016, and as amended by

City Council on March 20, 2017, be

adopted?

Yes

No

The proposed Orchard Station

Subarea Plan is available to read online

at www.greenwoodvillage.com.

How To Register To Vote

To vote in the Special Election, you

must be registered to vote. Register to

vote online at

www.govotecolorado.com.The

following requirements must be met to

register to vote:

• be a United States Citizen,

• be 18 years of age by Election Day

If you have moved, you can update

your voter information online or with

a Voter Registration form. Voter

Registration forms are available from

the City Clerk's office or the Village's

website at www.greenwoodvillage.com.

Voter Registration Deadlines

You may register to vote at any time in

Colorado, but if you wish to vote in

an upcoming election, you must

register by the following deadlines:

• 8 Days before Election Day if you

register to vote by mail or online

through www.govotecolorado.com

and wish to receive a ballot by mail

• By 7 p.m. on Election Day,

through Arapahoe County Clerk

and Recorder's office in-person.

For more information, please call the

City Clerk's Office at 303-804-4113,

email cityclerk@greenwoodvillage.com,

or visit greenwoodvillage.com. GV

'PUBLIC WORKS

CONNECTS US'

PUBLIC WORKS/

PARKS

MAINTENANCE DAY

MAY 23, 2017

In celebration of National Public

Works Week 2017, the

Greenwood Village Public Works

and Parks Maintenance staff will

host the 19th Annual Public Works/Parks Maintenance Day on Tuesday, May 23, 2017,

at 9:30 a.m. First graders from Belleview Elementary are scheduled to visit the

Maintenance Facility to learn about the contributions Public Works and Parks

Maintenance staff make to the quality of life of the Village community. If you would like

to bring your first grader to the event, please

call Wendy L. Bradshaw, Administrative

Supervisor, at 303-708-6193 or email

wbradshaw@greenwoodvillage.com by

Friday, May 12, 2017.

MAY 2017 | GV NEWSLETTER PG. 7
---
Mayor Ron reports

continued from page 4

Protecting the health and safety of our

citizens and our communities is a

critical responsibility of every city or

town. Please help us in this very

important safety initiative and take

your unused medications to a

Walgreens safe disposal site location

near Greenwood Village below:

Aurora – 12051 E. Mississippi Ave.

Denver – 1111 S. Colorado Blvd.

Highlands Ranch – 9141 S. Broadway

RAMBLE WITH RON IN MAY

The Arapahoe County Sheriff's Office

also provides a Drug Drop Box so you

can dispose of prescription and nonprescription

medications. It's located

in the lobby of the Sheriff's Office

Headquarters Building, 13101 East

Broncos Parkway, Centennial. It is

available to the public year-round

during normal business hours

(Monday through Friday, from 7 a.m.

to 5:30 p.m.), excluding holidays.

For a list of additional medication

Have some ideas or suggestions to share about living or working in Greenwood

Village? Walk and talk with Mayor Ron Rakowsky from 7:30 to 8:30 a.m. (weather

permitting) on:

Thursday, May 18 — Tommy Davis Park, Swim Club Lot, 9200 E. Orchard Road.

Tuesday, May 23 — Westlands Park, 5701 S. Quebec Street.

Registration is not required. For more information, please call the Mayor's Office at

303-486-5745. Check for updates of the monthly schedule for Ramble with Ron at

www.greenwoodvillage.com.

take-back sites, please visit

colorado.gov/pacific/cdphe/medication

-take-back-locations-map.

KEEP COOL THIS

SUMMER WITH

XCEL ENERGY

COOLING REBATES

With all your home improvement

projects, don't forget that Xcel Energy

offers rebates that will put money in

your pocket this summer. Substantial

rebates are provided for evaporative

coolers, ductless mini-split heat

pumps, and high efficiency central air

conditioners. Make sure you have a

licensed contractor or qualified person

install your project properly to ensure

the highest efficiency possible. Many

contractors will help with rebate

paperwork, too.

Rebates range anywhere from $200 to

$1200 for evaporative coolers; $200

for ductless mini-split

heat pumps; and $100 to

$1150 for central air

conditioners. Some

rebates require residents

to use a contractor listed

at xcelenergy.com/

COtrades. For rebate

information, please visit

xcelenergy.com/

homerebates.

Don't forget to check

with the Community

Development

Department at

303-486-5783 or your

respective Homeowners

Association (HOA) to

confirm if any building

permits or HOA

approval is required for

home improvement

projects. GV

PG. 8 GV NEWSLETTER | MAY 2017
---
GOVERNMENT

OF interest

CHECK OUT THE

NEW GREENWOOD

VILLAGE WEBSITE

Today's online customers seek quick

access to information that is easily

available, 24-hours a day/365 days a

year. Aimed at improving customer

service for the Village's Website users, in

April, the Village launched a reengineered/redesigned

Website. The new

site boasts a refreshed look and feel,

improved navigation, and a functional

mobile design, all of which are a part of

the Village's ongoing efforts to enhance

the quality and availability of

information for citizens.

NEW SITE FEATURES

• Eye-catching design that reflects the

Village's brand and image.

• Easy to find placement of top

searchable topics — employment

opportunities, activities, events and

important news items, park permits,

and Village maps.

• Calendar that can be searched by

category (meeting, events, activities).

• Social Media news feeds added to the

homepage.

• New navigation buttons.

• A "Spotlight" feature was added to

homepage to announce breaking

news or other time sensitive events.

• Website is now mobile friendly.

• Department pages were reorganized

to ensure user can navigate

effectively, efficiently and

information is easily accessible.

• Police records can now be accesssed

online.

GREENWOODVILLAGE.COM

For more information, please call

Susan Jesse, Executive Assistant, at

303-486-5745 or email

sjesse@greenwoodvillage.com. GV MAY 2017 | GV NEWSLETTER PG. 9
---
GOVERNMENT

OUR NATURAL

environment

CONSERVE WATER AND SAVE MONEY ON YOUR WATER BILLS

Greenwood Village is partnering once again with Denver Water as part of the Water Saver Partnership to educate residents

on ways to save water and money on their water bills while maintaining the beauty found in Village neighborhoods.

SUMMER WATERING

RULES IN EFFECT

Water connects us all. Denver Water's summer watering

rules ensure we have enough water now and in the future.

Water belongs to everyone, and we are all responsible for

using it wisely.

Summer watering rules are enforced May 1 to Oct. 1.

• Water during cooler times of the day — lawn watering

is NOT

allowed between 10 a.m. and 6 p.m.

• Water no more than three days per week.

• Do not allow water to pool in gutters, streets and alleys.

• Do not waste water by letting it spray on concrete or

asphalt.

• Repair leaking sprinkler systems within 10 days.

• Do not irrigate while it is raining or during high winds.

• Use a hose nozzle with a shut-off valve when washing

your car.

If you see water waste that does not meet these rules, call

Denver Water at 303-893-2444 or report it online at

denverwater.org.

Learn more at denverwater.org/SummerWatering.

SPRINKLER SYSTEM START UP

When you turn on your irrigation system for the first time,

visually inspect irrigation nozzles and sprinkler lines for

leaks. Nozzles that are broken or gushing should be

replaced. If nozzles are spraying water onto streets or

sidewalks, adjust them to irrigate the landscape. Lastly, if

you see water pooling from underneath the surface of your

landscape, you could have a sprinkler line leak and this

should be fixed! You can always contact a landscaping

company to assist you with sprinkler system issues.

Check out the following websites for additional tips on

irrigation:

• www.alcc.com

• www.greenco.org

• denverwater.org/Conservation/ TipsTools/Outdoor GV

PG. 10 GV NEWSLETTER | MAY 2017
---
GOVERNMENT

TAKEnote

PUBLIC HEARING

CAPITAL IMPROVEMENT PROGRAM

June 5, 2017 at 7 p.m. at City Hall

The City Council will conduct a Public Hearing in the Council Chambers at City Hall, 6060 South Quebec Street, for citizens to provide

comments and suggestions on needed improvements within the Village to be considered during the development of the 2018-2022 Capital

Improvement Program. The Capital Improvement Program (CIP) is a program to plan the physical development and maintenance of the

community's infrastructure over the short- and long-term. The program includes: roads, drainage, transportation, parks, trails, and public

use facilities. For more information, please contact John Sheldon, Director of Public Works, at 303-708-6100.

SIGN UP FOR LONG ROAD TEXT NOTIFICATIONS TO YOUR CELL PHONE

Do you live in the neighborhood and want to stay informed on updates related to the Long Road closure?

Text LONGROAD to 888-777. After you text, you will receive a text confirming your registration.

MAY 2017 | GV NEWSLETTER PG. 11
---
GOVERNMENT

GOLDSMITH GULCH TRAIL

EXTENSION AND CALEY AVENUE

UNDERCROSSING

RIBBON CUTTING ON JUNE 12

Citizens are invited to celebrate the completion of the

Goldsmith Gulch Trail Extension and Caley Avenue

Undercrossing project at a ribbon cutting on Wednesday, June

12 from 6 p.m. to 7 p.m. The extension of the trail provides

added safety for pedestrians by allowing users to access the

RTD bus and light rail station and the Village Center from the

north without crossing traffic. Funding of the project was

provided through a partnership between Greenwood Village,

Arapahoe County Open Spaces, and the Transportation

Improvement Program (TIP).

Light refreshments will be served at the ribbon cutting and

parking will be available at the RTD parking structure at East

Caley Avenue and South Yosemite Street. Attendees are also

encouraged to access the event through the newly connected

trail system.

For more information, please call Julie Liggett, Administrative

Supervisor, at 303-486-5750 or email

jliggett@greenwoodvillage.com. GV

Existing Conditions Powers Ave.

Reconfigure Intersections with Concrete Pavement

HOLLY STREET

REHAB PROJECT

BEGINS IN JUNE

Three intersections along Holly Street,

Powers Avenue, Berry Avenue, and

Prentice Street will be rehabilitated

beginning in early June. The purpose

of the project is to replace the

deteriorated surface and remove the

small 'eyebrow' islands that have

become severely damaged due to truck

movements at the intersection. The

work is being done while school is on

summer break during June and July.

Further information will be provided

in the June Newsletter and electronic

information signs will be placed on

Holly Street in advance of traffic

control restrictions.

For more information, please call

John Wannigman, Public Works

Manager-Roads, at 303-708-6139 or

email jwannigman@

greenwoodvillage.com. GV

PG. 12 GV NEWSLETTER | MAY 2017
---
GOVERNMENT

MAY 2017 | GV NEWSLETTER PG. 13
---
GOVERNMENT

EXPLORE OUR

trails

THE GREENWOOD VILLAGE

REGIONAL TRAIL NETWORK

Greenwood Village residents, businesses, and visitors are

fortunate to have access to one of the highest quality local

and regional trail systems in the Denver region. Forty-miles

of trails vein within and around Greenwood Village for

bicyclists, equestrians, pedestrians, hikers, and nature

enthusiasts. Our trails provide recreational opportunities,

preserve community and neighborhood character, protect

natural habitat, and allow for improved water and air quality.

Along the Village trails, you will enjoy breathtaking views,

glimpses of wildlife, remnants of the Village's rural heritage,

preserved waterways, 189 acres of developed parks, and 252

acres of open space. Trail surface types include soft surfaces,

crusher fines, and earthen, along with asphalt and concrete

trails for various users.

HIGH LINE CANAL TRAIL

• Designated as a National Landmark Trail lined with

heritage cottonwood trees

• Built in 1883 to deliver irrigation water

• The Canal runs 66 miles from Waterton Canyon and the

South Platte River through Douglas, Arapahoe and

Denver counties ending at the Rocky Mountain Arsenal

Lateral in Green Valley Ranch

• Trail surface: natural surface trail in the southern portion

of the trail including Greenwood Village and hard surface

trail in Denver and Aurora

• 5.47 miles of the High Line Canal run through

Greenwood Village on the west side of the city

• People enjoy using the Canal's trail for hiking, biking,

jogging and horseback riding

• Parks or areas of significance along the High Line Canal

that you might experience while traveling along the trail:

Marjorie Perry Nature Preserve (Greenwood Village),

Chatfield State Park (Arapahoe, Douglas and Jefferson

County), McLellen Reservoir (Littleton), de Koevend Park

and the Goodson Recreation Center (Centennial),

Blackmer Park (Cherry Hills Village), Cherry Creek

Country Club (Arapahoe County), Fairmount Cemetery

(Denver), DeLaney Farm Park (Aurora), Sand Creek

Regional Greenway (Aurora)

Access (With/Without Parking)

There is a parking lot on Orchard Road between Jackson

Street and Colorado Boulevard.

BIG DRY CREEK TRAIL

• Approximately a 7 mile trail connecting the South Platte River

trail system to the High Line Canal in Greenwood Village

• Trail travels through a portion of Greenwood Village,

Littleton and Englewood

• Trail surface: hard surface

• Parks or areas of significance along the Big Dry Creek

Trail that you might experience while traveling along the

trail: Progress Park (Englewood), Belleview Park

(Englewood), Pirates Cove Family Fun Aquatic Center

(Englewood)

Access (With/Without Parking)

Trail access at East Powers Avenue west of South Washington

Street.

CHERRY CREEK TRAIL

• Approximately 40 miles of trail from Confluence Park

where Cherry Creek flows into the South Platte River to

Franktown in Douglas County

• Travels through a portion of Greenwood Village, Denver,

Arapahoe County, Centennial, Aurora, Parker and

Douglas County

• Trail surface: hard surface

• Parks or areas of significance along the Cherry Creek Trail

that you might experience while traveling along the trail:

Village Greens South and Village Greens North Parks

(Greenwood Village), Cherry Creek State Park,

Parker/Jordan Centennial Open Space (Centennial), Bar

Triple C Park (Parker), and a few miles from the southern

end of the trail is Castlewood Canyon State Park, Four

Mile Historic Park (Glendale), Cherry Creek Shopping

District (Denver), Confluence Park (Denver)

Access (With/Without Parking)

Trail access from Greenwood Village is at Village Greens Park

on the east side of the Village.

PARKS, TRAILS AND OPEN SPACE MAP

AVAILABLE AT CITY HALL

You can also access the map online at

www.greenwoodvillage.com. GV

PG. 14 GV NEWSLETTER | MAY 2017
---
GOVERNMENT

TAKEnote

SUMMER CONCERT SCHEDULE AT

FIDDLER'S GREEN AMPHITHEATRE

For more information on additional shows not yet scheduled or to buy tickets,

please visit www.aeglive.com. (All dates and shows are subject to change.)

Date Event Genre

June 5 John Mellencamp with Emmylou Harris - PAVILION ONLY Rock

June 6 An Evening with Boston Rock

June 20 The Moody Blues - PAVILION ONLY Adult Rock

June 24 Kenny Loggins, Peter Cetera, Christopher Cross, CO Symphony Adult Rock

July 1 I Love The '90s with Blackstreet/Naughty By Nature Hip Hop

July 4 Train with O.A.R - Fireworks to Follow Train Adult Rock

July 13 Jack Johnson with Special Guests Rock

July 14 Jack Johnson with Special Guests Rock

July 15 Hall & Oates/Tears For Fears Adult Rock

July 16 Blondie & Garbage - PAVILION ONLY Rock

July 18 Goo Goo Dolls with Phillip Phillips Rock

August 9 Green Day with Catfish & The Bottleman Rock

August 12 93.3 Big Gig with Blink 182 & Bleachers Rock

August 18 An Evening with Idina Menzel Broadway/Pop

August 19 Jeff Foxworthy, Larry The Cable Guy, Eddie Money Comedy/Rock Fest

August 25 The Lumineers with Andrew Bird Rock

August 26 The Lumineers with Andrew Bird Rock

August 27 The Lumineers with Andrew Bird Rock

August 29 Lady Antebellum with Kelsea Ballerini, Brett Young Country

September 2 Dierks Bentley with Cole Swindell Country

September 8 One Republic with Fitz and the Tantrums/James Arthur Rock

September 9 One Republic with Fitz and the Tantrums/James Arthur Rock

SMOKE FREE FACILITY

Out of respect for all patrons,

Fiddler's Green Amphitheatre is a

smoke free facility. Smoking is only

allowed in designated areas outside of

the venue. Attendees are also

reminded that Colorado State law

prohibits smoking marijuana in

public. For more information, visit

goodtoknowcolorado.com. GV

CONCERT NOISE

COMPLAINT LINE

If you have a complaint about the

noise from shows conducted at

Fiddler's Green Amphitheatre, please

call the Greenwood Village Noise

Complaint Line at 303-486-8275.

MAY 2017 | GV NEWSLETTER PG. 15
---
GOVERNMENT

OUR NATURAL

environment

COYOTE ACTIVITY

INCREASING IN THE SPRING

COYOTES EXPECTED TO BEHAVE MORE

AGGRESSIVE TO PROTECT NEW PUPS

Wildlife experts indicate that most coyote and human

conflicts have been a direct result of human behavior such as

feeding coyotes, walking a dog without a leash, or leaving

food or water outside for your pets. Although these behaviors

may seem innocent, they are actually harmful to you and

your family, and to the health and safety of the coyote

population.

Spring is denning season for coyotes with new pups in the

dens and coyotes are expected to behave more aggressively.

Citizens are encouraged to take precautions when enjoying

the outdoors to prevent a negative encounter with these

wildlife animals.

The feeding of coyotes by humans is one of the most harmful

actions man can inflict on coyotes and wild animal

populations. It is essential to minimize human/coyote

conflict, as well as for the health and well-being of coyotes, to

not be fed by humans. Coyotes used to being fed become

habituated to human-provided food and alter their foraging

and hunting behavior. The feeding of coyotes encourages

them to remain in residential areas, increasing their

encounters with pets and humans.

What You Can Do:

• Never feed coyotes! Intentionally feeding coyotes is

illegal and these laws will be enforced.

• Please do not feed coyotes anywhere.

• Discourage others from feeding coyotes.

• Do not touch young coyotes. A coyote that appears

orphaned most often is not; the mother is usually nearby.

• Teach children not to feed or approach coyotes and always

tell an adult when they see one.

• Do not give coyotes the opportunity to get into your

garbage; keep garbage in sealed containers with secure lids.

• Remove attractants from your yard such as pet food, water

sources, bird feeders and fallen fruit. Keep pet food and

water inside.

• Fully enclose gardens and compost piles.

KEEP YOUR DOGS ON A LEASH

As coyotes adapt to their surroundings, they have discovered

that humans provide a sufficient source for food, water, and

shelter. Coyotes will feed on whatever is available to them,

including your household pets. Most attacks on pets occur in

backyards as many coyote-pet interactions occur when a

KEEPING COYOTES OUT

Coyotes are smart, persistent and small. That means most fences

and garden walls won't keep them out. A good rule of thumb is

that anything a cat can get through or over, a coyote can too.

DOGGY DOORS

Do not leave doggy doors open, especially when you are not

home, even in the middle of the day. If you have a cat or dog door

in your home, make sure it's shut especially at dawn, dusk and at

night.

PETS BEING AWAY FROM YARD

Be cautious when bringing pets back home after they have been

gone from the yard for a few days. Coyotes usually move into the

area when family pets leave and pet-coyote interactions occur

when the dog returns home.

COYOTE BROCHURE AVAILABLE!

Want to learn more about coyotes and how to keep your pets safe?

Copies of the Village's coyote brochure are available to pickup at

the Greenwood Village Police Department, 6060 South Quebec

Street.

PG. 16 GV NEWSLETTER | MAY 2017
---
GOVERNMENT

IF A COYOTE APPROACHES

YOU, NEVER RUN AWAY….

INSTEAD HAZE!

Hazing is a method that uses deterrents to move an animal out of

an area or discourage an undesirable behavior or activity. Hazing

can help maintain coyotes' fear of humans and deter them from

neighborhood spaces such as backyards and playgrounds.

Hazing Methods

Using a variety of different hazing tools is critical because coyotes

can habituate to individual items, sounds, and actions. A coyote

who is being hazed must be able to recognize that the potential

threat is coming from a person. Therefore, hiding behind a bush

and throwing rocks or hazing from inside your car isn't effective.

You can use hazing techniques and tools for one animal or

multiple animals. There is usually a dominant animal in the group

who will respond, and others will follow her lead. Don't stop

hazing after it's successful. Coyotes or their pups could return to

their unacceptable habits or behaviors if you stop. Once you haze

the coyote, it may return. Continue to haze the coyote as you did

before. It usually only takes a couple of times for the coyote not to

return.

• Yell and wave your arms while approaching the coyote —

"Go Away Coyote" Method.

The simplest method of hazing a coyote involves being loud

and large. If a coyote has not been hazed before, he might not

immediately run away when you yell at him. If this happens,

you might need to walk toward the coyote and increase the

intensity of your hazing. If the coyote does run away, he might

stop after a distance and look back at you. It's important to

continue to haze the coyote until he leaves the area completely.

You might need to use multiple tactics, such as shaking

noisemakers, stomping your feet, and spraying him with a hose

to get him to leave.

• Use noisemakers (e.g. your voice, whistles, air horns, bells,

soda cans filled with pennies or dead batteries, pots and pans

banged together).

• Use projectiles (e.g. sticks, small rocks, cans, tennis balls,

rubber balls).

• Try other repellents (e.g. hoses, water guns with vinegar water,

spray bottles with vinegar water, pepper spray, bear repellent,

or walking sticks). Citronella spray is also very effective for

hazing a coyote. One brand is SprayShield. If a coyote is in

your yard and won't leave you can use ammonia rags

(ammonia soaked rags, with 70 percent ammonia to 30 percent

water.) Throw them at the coyote. During warmer months you

can squirt them with a hard spray from your hose.

household pet is allowed to roam free.

What You Can Do:

• Keep pets on a six-foot leash when walking at all times.

It is illegal to have your dog off a leash and the law will

be enforced.

• Choose alternate times when you allow your pets in the

yard so your behavior is not predictable with coyotes.

• Never allow your pets to "play" with a coyote.

• Pick up small pets if confronted by a coyote.

• Always supervise your pet when outside, especially at

dawn and dusk.

• Never leave cats or dogs outside after dark.

• If you must leave your pet outside, secure it in a fully

enclosed kennel.

• Keep your pets up-to-date on vaccinations.

REPORT COYOTE

BEHAVIOR AND ACTIVITY

Please call the Greenwood Village Police Department at

303-773-2525 with information on coyote sightings

including sick or injured coyotes. The Police Department is

actively keeping a record of coyote activity in the Village

which will assist the Village in tracking the coyote

population. GV MAY 2017 | GV NEWSLETTER PG. 17
---
BUSINESS

BUSINESSspotlight

THE FAB METHOD CONTEMPORARY PILATES

5940 South Holly Street • 303-229-6704 • www.theFABmethod.com

Visit the website for detailed class schedule.

Low impact, fast-paced, full-body workout . . . incredible

results. If this sounds too good to be true, think again. The

Village is delighted to introduce The FAB Method

contemporary

Pilates studio. With

a newly designed,

state of the art

studio and a grand

opening in March

2017, The FAB

Method was a result

of two talented

professionals leaving

the corporate world to embrace their true passion in the

fitness industry. Co-owners and certified Pilates instructors,

Kadi Bain and Kiki Pierce had a vision of owning a studio

and creating a unique Pilates program. "We embraced and

incorporated our knowledge and experience in the fitness

industry to create our own FAB Method," shared Kadi.

The method incorporates custom made FAB equipment that

is custom built and designed exclusively to accompany the

FAB Method workouts. "The FAB Method is not a

franchised workout. The FABFormer machines are the only

of its kind in Colorado," stated Kiki. The FAB method

utilizes all the elements of an ideal fitness program; including

cardiovascular, strength training, balance and flexibility with

contemporary Pilates. "These aspects are encompassed in one

workout," exclaimed Kadi.

The FAB Method studio offers a variety of class types and

durations designed to offer flexibility to meet all schedules,

early morning or late in the day. Some of the class options

include the FAB Full Body series and the FAB Express. The

FAB Full Body series consists of three classes divided into

three levels and are designed to fit different levels of needs.

For those short on time, two different FAB Expresses classes

are offered, each consisting of 25 minutes, one focusing on

upper body and the other on lower body. The detailed

schedule can be found by visiting the FAB Method website at

http://www.theFABmethod.com/.

A pair of Grip Socks are required for classes and are available

for purchase at the studio. It is recommended to take a Level

1 class during your first visit. After experiencing the FAB

Method yourself and yearning for more, a variety of

affordable Membership options are available including the

option for private sessions. Kadi and Kiki are confident after

attending one class that you will absolutely love how you feel

and the results you will attain. They are offering all new

clients their first class FREE! Due to the success and

popularity of the FAB Method program, classes need to be

reserved online at http://www.theFABmethod.com/ or by

accessing The FAB Method Mobile App.

Additional information regarding membership options or the

FAB Method can be found by calling 303-229-6704, or by

visiting their website at http://www.thefabmethod.com/.

Follow The FAB Method on Facebook and Instagram for the

latest news and updates. Come and try out The FAB Method

and begin your journey to lengthen, strengthen and define

your body in ways you never thought possible! GV

PG. 18 GV NEWSLETTER | MAY 2017
---
BUSINESS

NEW GV BUSINESSES

ATTORNEY

Law Office of Peter S. Ely, P.C.

8480 East Orchard Road, Suite 6500

303-820-3223

Spierer, Woodward, Corbalis & Goldberg, P.C.

5619 DTC Parkway, Suite 525

303-792-3456

Thomas & Associates Law Firm

5613 DTC Parkway, Suite 800

720-336-5291

BARBER SHOP

McStyles, Limited c/o Sola Salon Studios, LLC

6001 South Willow Drive, Suite 3

971-221-5267

FINANCIAL PLANNING

Harmony Private Client Advisors

5619 DTC Parkway, Suite 1050

720-490-4793

Larry Sage, CFP, MBA

6000 Greenwood Plaza Boulevard, Suite 100

303-393-0320

Preferred Financial Strategies, Incorporated

5655 South Yosemite Street, Suite 320

303-759-0369

FINANCIAL SERVICES

Med-Den Funding, LLC

5251 DTC Parkway, Suite 800

844-272-7587

HAIR STYLIST

Yong Maas c/o Collajio Salon and Day Spa

8745 East Orchard Road, Suite 514

720-987-8074

HEALTH CARE SERVICES

Advanced Healthcare Group

5351 South Roslyn Street, Suite 200

303-727-0033

Care Allies, Incorporated

8505 East Orchard Road

303-729-8486

University of Colorado Medicine

8200 East Belleview Avenue, Suite 615

303-493-8219

HOLDING COMPANY

Perry Goen Holding, LLC

8350 East Crescent Parkway, Suite 100

303-882-5932

ICE CREAM AND GELATO

Glacier Ice Cream and Gelato

4940 South Yosemite Street, Suite E-1

303-221-2539

INSURANCE SALES

Insur Group

5347 South Valentia Way, Suite 350

303-770-5157

MORTGAGE COMPANY

HomeStreet Home Loan Center

5445 DTC Parkway, Suite PH4

303-486-6800

New American Funding

5299 DTC Boulevard, Suite 300

800-450-2010

PILATES STUDIO

The FAB Method

5940 South Holly Street

303-229-6704

REAL ESTATE LEASING AND SALES

Dave Buck, Incorporated

8390 East Crescent Boulevard, Suite 300

720-528-6514

True Realty, LLC

5889 South Greenwood Plaza Boulevard,

Suite 402

303-698-1268

SOFTWARE SERVICES

Red Oak Tech, Incorporated

5619 DTC Parkway, Suite 840

720-304-5642

Titan Engineering

5650 Greenwood Plaza Boulevard, Suite 105

720-221-8005

STRUCTURAL ENGINEERING

PK Associates, LLC

6950 East Belleview Avenue, Suite 201

720-799-1058

WIRELESS SALES

T-Mobile

4910 South Yosemite Street

303-502-9366

BUSINESSES UNDER

NEW MANAGEMENT

INSURANCE

O'Dell Insurance Agency

8933 East Union Avenue, Suite 204

303-689-9003

MAY 2017 | GV NEWSLETTER PG. 19
---
ARTS AND RECREATION

PETER RABBIT'S

MAGNIFICENT EGG HUNT

Thursday April 13, 2017, was a perfect

day for Peter Rabbit to visit with over 300

residents at Westlands Park for an egg

hunt, wooden egg decorating contest and

enjoy the beautiful day. The hunt was

divided among children ages 0-8 years of

age. This year's eggs were filled with candy

and special tickets that were redeemed for

prizes. Prizes were plush stuffed animals,

bubble machines, kites, games and more.

Peter Rabbit was available for photo ops

in front of a stunning photo backdrop for

pictures and he also assisted in prize

distribution. The wonderfully decorated

eggs were a hit! Thanks to all staff and

Cherry Creek High School Student

Senate for helping with this successful

event.

PG. 20 GV NEWSLETTER | MAY 2017
---
ARTS AND RECREATION

SENIOR ACTIVITIES

AT CURTIS CENTER FOR THE ARTS

SENIOR FOCUS 50+

Day: Mondays

Time: 9-10:15 a.m.

Location: Curtis Center for the Arts

2349 East Orchard Road

Enjoy a variety of foods, great conversation and

a variety of activities with this active senior

group. Newcomers welcome and the program

is free!

2017 SPRING SCHEDULE

(Subject to change)

Monday, May 1

Taste of France

Experience French food and music.

Monday, May 8

Self-Defense Part 1

Monday, May 15

Self-Defense Part 2

Monday, May 22

Coffee Chat

May 29

Memorial Day – Closed

For more information, please contact Gina

Oldenburg at 720-227-8685.

SENIOR DANCE

Day: Mondays

Time: 10:15-11:15 a.m.

Location: Curtis Center for the Arts

2349 East Orchard Road

Join us for a fun movement and dance

exploration with Rebecca Reiter. Learn dance

routines from the '50s to now! Newcomers

welcome and the program is free!

HARMONICA

Day: Mondays

Time: 11:30 a.m.-12:30 p.m.

Location: Curtis Center for the Arts

2349 East Orchard Road

Beginners and Intermediates are welcome to

this casual harmonica class with Gilda Shapiro.

It's never to late too learn a new tune! It's free

and newcomers are welcome each week.

Great way to meet new people in a casual

environment.

For more information about our Senior

Programs feel free to contact Cathy Pate,

Recreation Manager, at 303-486-5766.

GREENWOOD VILLAGE DAY

JULY 29, 2017

Village Greens Park • 2-9:30 p.m.

EVENT HIGHLIGHTS

2-7 p.m.

Paddle boarding, rock climbing, foosball, soccer darts,

trampolines, golf, inflatables, carnival rides,

carnival games, dodgeball, hands-on art, baseball,

face painting, preschool fun and more . . .

Hamburgers, hot dogs, chicken sandwiches, grilled

cheese, fries, salads, and gelato available for purchase.

Free snow cones and water.

CONCERTS

DOTSERO Jazz Band • 6:30-7:45 p.m.

WASH PARK Band • Begins at 8:15 p.m.

Fireworks directly following concerts.

Tickets and parking passes available at City Hall

July 5 - 27 • Monday-Friday 8 a.m.-5 p.m.

A special event for the residents of Greenwood Village

303-486-5773

MAY 2017 | GV NEWSLETTER PG. 21
---
ARTS AND RECREATION

ART

programs

Register online at

www.greenwoodvillage.com/registration

For more information call the Curtis Center for the Arts at 303-797-1779.

YOUTH ART CLASSES

Location: Curtis Center for the Arts, 2349 East Orchard Road, Greenwood Village 80121

ART IN THE PARK

Make the

journey to

Silo Park this

summer to

create unique

hands-on art

projects!

Each Art in

the Park

program introduces participants to a different art medium

and technique that will be used in designing and

constructing a unique work of art. For all activities please

wear sneakers and clothes that can get dirty. Join us for one

day or several to create!

Days and Dates:

Tuesdays and Thursdays, June 6 through July 20

Time: 12:30 to 2:30 p.m.

For detailed descriptions of all the Art in the Park projects

please visit www.greenwoodvillage.com/registration.

Tuesday, June 6

Thursday, June 8

Tuesday, June 13

Thursday, June 15

Tuesday, June 20

Popsicles and Painting – Sharky

Mixed Up Animal Landscapes

Create A Superhero Workshop

Cosplay Workshop

Artiste Banditos

Thursday, June 22

Tuesday, June 27

Thursday, June 29

Tuesday, July 11

Thursday, July 13

Tuesday, July 18

Thursday, July 20

Living Mural Photo Booth

Make Believe Animals

Think Outside the Circle

Realistic Ceramic Animals

Mud Painting

String Art

Nature Portraits

Fee: $20 per program – Fee includes all supplies and snack

Ages: 6 to 10 years old – Birth Certificate may be required

Instructors: Parks, Trails and Recreation Staff,

Pop Culture Classroom, Teresa Castaneda,

Maggie Stewart, and Janice Sugg

Limit: 30 participants per program

Location: Silo Park

9300 East Orchard Road, Greenwood Village, CO 80111

PG. 22 GV NEWSLETTER | MAY 2017

BOYS & GIRLS

PEE WEE T-BALL

Have fun running fast paced drills, agility training, and

enjoy learning the game. Four weeks of practices and games!

Day and Dates: Mondays, June 5, 12, 19, and 26

Time: 10-10:45 a.m.

Ages: 4 and 5 years old

Fee: $40 per participant

Limit: 20 participants

Location: Silo Park, 9300 East Orchard Road

Greenwood Village, CO 80111
---
ARTS AND RECREATION

THE VILLAGE READ

COMING THIS SUMMER

This summer the Greenwood Village Cultural Arts Program

has partnered with the Arapahoe Libraries to present the first

ever "Village Read." The program is modeled

after Chicago's successful "One Book, One

Chicago" project. The idea encourages adults

of all ages to read one book and participate in

thought-provoking discussions and activities

derived from the chosen book.

Credit for the original idea is given to

Nancy Pearl, a Seattle librarian. "It's based

on the idea of community. My idea was

that people would come together who

would never come together any other way.

Literature brings them together because a

book touches them," she said.

Goals of the program include:

• To encourage leisure reading.

• To encourage community collaboration

throughout the region.

• To provide a variety of means of participation through

book discussions and other activities.

• To provide resources for book discussion groups.

The group has chosen the book "Lake of Fire" by Colorado

author Mark Stevens as this year's "Village Read" book. Set in

Colorado, the story follows hunting guide Allison Coil as she

tries to find out what happened to a body found after

a wildfire ravages the Colorado Flat Tops.

Many activities are being planned around the

themes from the book, and will include a

Mayor's kickoff; appearances and talks by the

author; panel discussions; art exhibit; special

speakers; and a closing party.

Keep your eye out this summer for more

information and a complete listing of activities.

Starting in June, books will available for purchase

at The Friends of Arapahoe Libraries Bookstore at

the Koelbel Library and the Curtis Center for the

Arts. Arapahoe Libraries will also have extra copies

available to check out. We look forward to seeing

you at the many activities planned for August.

Information and reviews of the book can be found at

www.goodreads.com, keyword: Lake Of Fire.

MAY 2017 | GV NEWSLETTER PG. 23
---
6060 South Quebec Street

Greenwood Village, Colorado 80111-4591

PRSRT STD

US POSTAGE

PAID

ENGLEWOOD, CO

PERMIT #799

ARTS AND RECREATION

ART events

GALLERY HOURS

Monday-Friday 8:30 a.m.-4:30 p.m.

Saturday 10 a.m.-4 p.m.

CURTIS CENTER FOR THE ARTS • 2349 EAST ORCHARD ROAD, GREENWOOD VILLAGE, CO 80121 • 303-797-1779

COFFEE & CANVAS

TEA CUPS GALORE

Tea cups

are the

subject of

this fun

and

whimsical

canvas.

We'll be

using

bright

and lively

acrylic

colors to

paint a

small

collection

of tea

cups and

saucers.

This canvas would make a treasured gift for a

mother or special friend. And, yes, we're serving

tea at this workshop.

All supplies and coffee and pastries are included

for you, just bring your inner artist.

Day and Date: Saturday, May 13

Time: 10 a.m. to 1 p.m.

Fee: $30 for each program

Instructor: Renee Reese

Ages: 16 and older

PG. 24 GV NEWSLETTER | MAY 2017