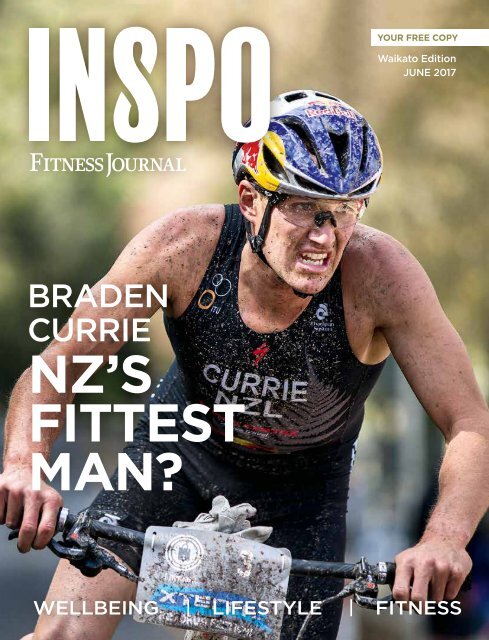 INSPO Fitness Journal June 2017
Everything from nutrition, beauty, home and workplace wellbeing to health, performance – and so much more.
Everything from nutrition, beauty, home and workplace wellbeing to health, performance – and so much more.
SHOW MORE
SHOW LESS
You also want an ePaper? Increase the reach of your titles
YUMPU automatically turns print PDFs into web optimized ePapers that Google loves.
YOUR FREE COPY

Waikato Edition

JUNE 2017

Fitness Journal

BRADEN

CURRIE

NZ'S

FITTEST

MAN?

WELLBEING LIFESTYLE FITNESS
---
We bring your technology back to life

Ph: 07 847 3041

www.tiscowaikato.co.nz

The TechHUB Building

89 Church Rd Pukete Hamilton 3200

admin@tiscowaikato.co.nz

NOW UNDER NEW OWNERSHIP

Waikato's preferred authorised electronic service

professionals for home, office and commercial

Our services

¢ LCD/LED - Plasma - CRT TV & monitors

¢ HIFI/High end audio specialists

¢ DVD - CD - home theatre

¢ Microwave oven

¢ Aerial - satellite + Freeview

¢ Qualified safety testing

Authorised service agents for all major manufacturers

Member of

2 INSPO – FITNESS JOURNAL JUNE 2017
---
CONTENTS JUNE 2017

On the cover

8

Braden Currie – could he

be the fittest man in New

Zealand?

Features

13

17

19

8

How exercise can benefit

your mental health

Men's active wear – our

guide to fitness fashion

Let's talk about gout

22

How to help improve your

own health and wellbeing

Waikato's future potential

26 Olympians

28

32

36

42

46

48

Hockey hero:

Reuben Andrews

Mindfulness for school

children

When sports gambling

becomes an addiction

Encouraging Kiwi kids

to cook

Hamilton teacher Chris May

becomes author

Exercise programme for

50+ age group

Columnists

14

16

24

Sarah MacDonald: Yoga for

30 Athletes and everyone

38

Regular

6

34

47

Kristina Driller: Tips for multi

sport training

John Appel: Encouraging

men to prioritise health

Alison Storey: Motivating

men for a healthier lifestyle

Danielle Roberts: Handy tips

to reboot your gut

Monica Van de Weerd:

40 The joys of digestion

Things We Love

Beauty Spot

Book Corner

Men's Health Week. What's

20 your score?

WWW.INSPOMAG.CO.NZ

FACEBOOK.COM/INSPOMAG

48 6

With 3 studio locations in Hamilton,

Mt Maunganui & Whangarei we offer classes in:

Ü Pole fitness

Ü aerial hoops

Ü team building/ hens parties

Our classes are designed for any fitness level, age,

shape or size! Designed to build core strength,

stability, fitness and flexibility while boosting your

confidence. Pole fitness is so much fun you won't

realise your exercising.

Our goal is to inspire you to enjoy pole fitness as

much as we do!

Get in touch with us today to start

your lessons. You'll be hooked!

info@the-studio.co.nz

www.the-studio.co.nz

INSPO – FITNESS JOURNAL JUNE 2017

3
---
FROM THE EDITOR

Mental health is a hot topic in

today's society. Just as medical

professionals have long advocated

physical health and wellbeing, increasing

emphasis is being placed on the importance

of mental health and wellbeing.

Recent statistics reveal our health system is

overloaded, with issues relating to mental

health continuing to rise.

So this issue is largely dedicated to the

importance of prioritising your mental

health. You'll notice a strong emphasis on

articles geared towards men – to tie in

with the fact the June calendar includes

both Men's Health Month and Men's

Health Week.

We all have men we love in our lives;

fathers, husbands, brothers, sons and

friends. Take a moment to check in. Ask

how they're doing? Don't just accept 'fine'

as an answer. Do the same with the women

in your life. The surface picture is rarely

the entire story.

Encourage the people around you to

become part of your support system - and

vice versa. Get a health check. Be honest

about any concerns. Make some small

changes or tweaks to your lifestyle - you

could be surprised at the positive flow on

effects.

This issue is packed with information

on giving yourself a health check-in, and

of organisations and people who can help.

Whether you are a high performing athlete

or a busy mum or dad, there are many

ways you can try and keep track of both

your physical and mental health - and

improve your awareness of how the two

are linked.

Our cover story on supreme athlete Braden

Currie also touches on the importance

of mental health and the role it has played

in helping him excel at so many sports.

Plus we feature nutrition advice, delicious

recipes, competitions, workout tips

and plenty more. Enjoy – and be kind to

yourself.

LISA POTTER

EDITOR

Fitness Journal

EDITOR Lisa Potter

MOBILE 021 249 4816

EMAIL lisa@inspomag.co.nz

ADVERTISING ACCOUNT MANAGER

Kate Rutherford

PHONE 07 838 1333

MOBILE 027 432 0469

EMAIL kate@inspomag.co.nz

DESIGN Tania Hogg / Kelly Milne /

Dayle Willis

Subscriptions

Subscribe to the free e-edition of

INSPO and you'll be emailed a link to

our online edition each month.

Simply visit:

www.inspomag.co.nz/subscribe

Or pick up a hardcopy from one of

the following locations:

CONTRIBUTORS

Regular contributors: Monica van de Weerd, Alison Storey, Kristina Driller,

Sarah MacDonald, John Appel and Danielle Roberts.

• New World Te Rapa

• New World Rototuna

• Hamilton Airport

• New World Cambridge

• Pak'n Save Te Awamutu

• ASB Events Centre Te Awamutu

Contact us

1 2 3

1 / Alison Storey

A multi-award winning personal

trainer, Alison has represented New

Zealand in three Sports; beach

volleyball, rowing and rhythmic

gymnastics. The two-time New

Zealand Personal Trainer of the Year

runs Storey Sport, a mobile personal

and sports training business and

is a regular INSPO Fitness Journal

columnist. storeysport.co.nz

2 / Chris May

Hamilton school teacher turned

author (Running with a Hurricane) is

passionate about helping boys reach

their potential. Chris has developed

a programme to help engage and

empower boys in their learning, and

shares some of his thoughts in his first

guest column for INSPO Fitness Journal.

3 / John Appel

As director of Advance Wellness,

John works with everyone from

students to professional athletes

and chronic fibromyalgia clients.

He boasts a Masters degree in

Physical Therapy, a Bachelor of

Science in Exercise Physiology and

Athletic Training and is a John F.

Barnes Certified Myofascial Release

Therapist. John is a keen athlete

himself and specialises in injury

prevention training.

Advancewellness.nz

EMAIL info@inspomag.co.nz

PHONE 07 838 1333

12 Mill Street, Hamilton

PO Box 1425, Hamilton 3240

WaikatoBusiness

PUBLICATIONS

PUBLISHER Alan Neben

SALES DIRECTOR Deidre Morris

PRINTING PMP Limited

COMPETITION TERMS

AND CONDITIONS

INSPO competitions are open to NZ residents only.

One entry per person, per competition. Prizes are not

exchangeable or redeemable for cash. Winners will be

selected at random and no discussion will be entered

into after the draw. By entering this competition you

give permission for INSPO to contact you from time to

time with promotional offers. Unless you agree, your

details will not be given to any third party, except for the

purposes of delivering a prize. Winners may be requested

to take part in promotional activity and INSPO reserves

the right to use the names of the winners and their

photographs in any publicity.

4 INSPO – FITNESS JOURNAL JUNE 2017
---
CIVIL - SUBDIVISION - DRAINAGE - CARPARK CONSTRUCTION

07 856 7913 - www.kblcivil.co.nz

13 Mexted Place, Riverlea, Hamilton

INSPO – FITNESS JOURNAL JUNE 2017

5
---
Things

we love

A few of our favourite things

FOOD INSPIRATION

If you love flavoursome

goodies like burgers,

cheesecake or salted caramel

brownies – you'll be ecstatic at

how you can enjoy guilt-free

(and meat-free versions).

Kiwi chef Sam Murphy

revolutionises the world of

plant based eating in her

Beautifully Real Food book. It's

packed with groundbreaking

ideas – our fave is the banoffee

pie porridge parfait.

POSITIVE ENERGY

Hit the ground running in the PureBOOST

running shoe from adidas. Designed to

adapt to your feet and return energy

from every stride, they adapt to your

movements with comfort and support.

Adidas.co.nz

SAVAR SKINCARE

Forget the era of a dried up bar of soap in your

gym bag. Respect your skin with this natural

energising body wash from Savar. Beautifully

fragranced, soap-free and non-drying, it

nourishes and moisturises skin with natural

goodies such as New Zealand lemon balm and

organic sugar cane. Best of all it's made in New

Zealand and comes in a recyclable bottle.

Savaronline.com

SERIOUS WORKOUT WEAR

The lines between active wear and street

wear continue to blur. If you're a fan

of extreme comfort and performance,

you'll love the Better Bodies and Gasp

collections (made in Sweden). With

exceptional fit, the collections are popular

in New Zealand with pro figure girls and

bodybuilders, as well as those who spend

serious time in their workout wear.

gymclothingnz.co.nz

MAT PERFECTION

Made from organic cotton dyed in

concoctions of ayurvedic herbs (including

sandalwood, neem, tulsi and

turmeric), these Archeus yoga mats

are handwoven by traditional weavers

in India. The mat underside is brushed

with natural rubber and is so natural

it can be composted at the end of its

life. Perfect for yin yoga, pilates and

meditation practises.

Archeus.co.nz

6 INSPO – FITNESS JOURNAL JUNE 2017
---
NAILED IT

Inspired by nature, the Earth, Wind & Fire

collection from Colour by TBN is all the

personality you need. Complete your winter

look with beautifully manicured nails in these

on-trend tones. Plus they're super affordable

and the range is 100% animal cruelty free.

Colourbytbn.com

GO TROPICAL

Take a tropical holiday in your shower,

with this luscious coconut body scrub

from Fiji Spice Queen. Invigorating

(Fijian Fair Trade) sugar granules strip

dull cells away, while organic coconut

oil replenishes and macadamia nut oil

calms with antioxident and anti-ageing

properties. Cruelty free certified and

vegan. fijispicequeen.com

SHEER LUXURY

WATER WORKS

Most of us clunk a water

bottle around in our bag,

between the gym, sports

and home. Now you can be

smarter about your water

storage with this slimline,

reusable A5 water bottle

designed to fit stylishly into

handbags, backpacks, laptop

bags and even your pocket.

Untouchedworld.com

TIGHT RECOVERY

Whether for training, competing or

recovery, treat your body to these 2XU

compression tights and help prevent

muscle fatigue by wrapping and supporting

the major muscle groups.

Torpedo7.co.nz

If you're only going to invest in

a few quality items (like most

men) this winter, make one of

them a Cassum top. This exquisite

blend of ultra-fine merino

and possum fibres, blended with

cashmere and silk, is everything

that is good to wear (and touch).

Plus this New Zealand brand,

Untouched World is the first

fashion company in the world

to be recognised by the United

Nations for sustainability.

Untouchedworld.com

COLOUR CRUSH

When it comes to the winter blues,

we're crushing on Triumph's latest

collection. Add some wow-factor

to your lingerie with this awesome

array of blue designs, from cool icy

shades to deepest twilight.

Au.triumph.com

INSPO – FITNESS JOURNAL JUNE 2017

7
---
BRADEN

CURRIE

– the fittest man

in New Zealand?

When Braden Currie says he's 'pretty

competitive', you get the feeling he's also

the master of understatement. For that

is like saying he is 'pretty fit'.

Photo by Graeme Murray

If there was ever a competition to find the

fittest man in New Zealand, he'd have to be

at the top of the field.

His relentless drive has shaped him into

a multisport endurance champion. Braden

wakes up each morning, swims, bikes, runs

and goes to the gym. Then rather than feeling

satisfied with his efforts (like most of us

would), he gets up and does it all over again

the next day - and the next.

Braden's multisport career kicked off

impressively began, as a three time consecutive

champions in the Coast to Coast (World

Multisport Championships). Becoming one

of New Zealand's most acclaimed multisport

athletes was just the beginning of his domination

within the world of endurance sport.

His ingrained need of challenge has seen

him pursue and achieve within every style of

endurance sport.

Within the space of just a few years he

has proven himself globally over a variety of

racing styles and disciplines. Among these

is the New Zealand Long Distance Triathlon

Champion (twice), an achievement which

gave him the confidence and determination

to prove himself in Olympic distance triathlon,

where after only six weeks of racing he

became the New Zealand Olympic Distance

Triathlon Champion.

Alongside his on-road triathlon achievements,

Braden also maintained his passion

and dedication to off-road racing, placing

second in the world at the XTERRA (offroad

Triathlon) World Championships, and

becoming a multiple New Zealand and Asia

Pacific XTERRA Champion.

Every champion has a story of what they

feel has contributed to their achievements.

For Braden, this is growing up on a farm in

a small rural community, with hard-working

parents who taught him that success in life

requires relentless commitment through the

good times and the bad.

Braden did not fit within the mould of the

educational system, and being dyslexic often

made him feel isolated and inferior to his

classmates. A teacher with a passion for multisport

who recognised Braden's struggle with

school, started turning up at his gate at 6am

every morning and made him go running.

8 INSPO – FITNESS JOURNAL JUNE 2017
---
Physical activity

provides me with

daily inspiration. It

clears my head and

makes my body feel

good. I think it's a

key part to moving

through the barriers

that we all experience

when we are feeling

"in the box."

In many ways, Braden attributes his success

within the world of sport, to the teacher

who believed in him.

To this day, he reflects on the impact of

having someone recognise his struggle and

provide the pathway to building back his

confidence in life and the self-belief that

everything is possible when you apply commitment,

dedication and heart.

Braden has gone on to become one of the

most respected names in the world of multisport

and adventure racing. He is a world

champion, a Red Bull athlete, a NZ and

Asia Pacific XTERRA champion and the NZ

Olympic distance, Long Distance and Ultra

Distance Triathlon champion.

He is also a husband and a father – which

are hugely important roles, and by necessity

because of the time and energy he puts into

his sport to stay at the top of his game, his

family have also become immersed in this

world. Wife Sally helps manage much of the

media and marketing that comes with being

an athlete of this calibre.

You get out what you put in

There's a reason so few people reach the

ultimate levels of their sport on a world

stage. It is relentless hard grind. The demand

of competing at the highest level requires

every drop of stamina and strength a person

is capable of, often on a daily basis.

There's the physical challenge of pushing

your body to its limits - and beyond. Then

endless hours of training, of time committed

to your sport (often while also juggling

family life), the mental strength required to

never quit and to repeatedly battle through

the tough times.

Braden is that rare breed of athlete who

continues pushing through barriers. His

drive sees him continually push his body

and mind to its absolute limits – and then set

himself fresh challenges.

It's never too late

In spite of growing up in a small rural community

and not having exposure to any form

The Currie family

Photo by Miles Holden

of multisport or triathlon racing during his

adolescent years, Braden was still able to apply

himself to become one of New Zealand

and the world's best endurance athletes. He

was often described as the farm boy who

came out of nowhere. He had one attempt at

the two-day Coast-to-Coast in 2007, placing

third, having never paddled a multisport

boat or ridden a road bike.

From 2007 to 2011 Braden and Sally, put

all their energy into building a business in

Australia. After selling the business, he decided

to give the Coast to Coast another crack.

He came third in 2012 in the one day, which

only motivated him to go back again and win

it three times in a row.

Rather than a life of practise dedicated to

a sport, it was instead his aggressive racing

attitude, relentless commitment and full

level of support from his family, that enabled

him to develop a career within multisport

and adventure racing.

Driven to excel

Braden knew he could do more and found

himself face-to-face with a career opportunity.

One he had immense passion and

natural talent for, but also was financially

high risk, highly competitive and perceivably

impossible to make a life from as a

full-time athlete.

His competitive spirit has taken him, and

his family (including children Tarn and Bella),

around the world, blitzing strong fields

and racking up win after win.

From triathlons and ironman to on-road

and off-road events, he's a human four wheel

drive machine that just never quits.

This year he has one main goal - to win

the most renowned endurance event in the

world – The Ironman World Championships.

Ironman is a new sport for Braden.

After winning his first attempt at Ironman

this March, he decided that the most fitting

goal for him moving forward was to aspire

towards the biggest goal in endurance sport.

INSPO Fitness Journal catches up with the

powerhouse athlete...

Photo by Graeme Murray

INSPO – FITNESS JOURNAL JUNE 2017

9
---
"My family are part

of what I do. Every

year they travel with

me so I can train and

compete. We have

not spent more than

three weeks apart. I

couldn't do it without

them and they are

a huge part of my

motivation for doing

what I do."

Photo by Graeme Murray

What keeps you motivated?

Racing keeps me motivated. The thought of

racing and everything to do with the race I

have next. I think about the racing part of

it a lot, along with the thought of pushing

my limits beyond what I have experienced

before.

How do you 'push through' the mentally/

physically challenging times?

When it comes to racing, this is where I

come into my own. I really enjoy being in

this space and at my limit. Training through

these times is not as easy though, as I don't

have the external motivators (other athletes,

chance of winning etc.) that I would have in

a race. It's also largely repetitive as you don't

just have to do it once, you need to do it day

in day out to achieve the progression you

hope to. I think growing up on a farm and

learning what hard work means and seeing

my dad work hard every day, has helped

ingrain in me what it means to work. And

even when I'm tired, I still seem to habitually

work at it.

What is your most memorable sporting

achievement?

Winning Ironman NZ was an incredible feeling.

Although I'd had a pretty good summer

of racing, I didn't feel like I had performed

at my best. When it all came together on race

day at Ironman NZ, I couldn't quite believe

it. I didn't really acknowledge what it would

mean to win this event until I was 20metres

from the finish line.

Which part of multisport is most challenging

personally?

The challenging part is trying to train for

multiple styles and disciplines at the same

time. Last summer tested that theory and it

was incredibly hard to feel like I was making

progress in anything. I was trying to juggle

five disciplines at one time.

I know that it wasn't the best idea to

combine so much racing, but it's tough when

it's the NZ summer and there are so many

incredible events on offer within such a short

time period. I don't like missing out and I

like to think I can do it all. Coming second

in the Coast to Coast (after two consecutive

wins) was a good reality check for me. I gave

the event what I thought was enough but

retrospectively I didn't give it the respect it

deserved. Six weeks paddling was never going

to cut it and that is what showed on race

day. This summer was one of my biggest

learning experiences in terms of deciding on

the direction I want to go. I want to be able

to battle it out with the best in the world and

know that I have given 100 percent to my

preparation. There is nothing worse than

walking away knowing what you could have

done, but didn't.

And in terms of training?

I think the biggest challenge for me is doing

big training blocks. I seem to last about three

weeks before I feel like I need to race. My

coach is great at keeping it interesting and

throwing in group training weeks, or changes

of location to keep my interest. I have also

realised that it is actually better for me to

have a race every month or so. Some people

suffer from racing this much but it seems

to give me a good boost that I can then take

into the next block.

What were the most challenging aspects of

multisport when you first started out?

Seems like a long time ago now, but I guess

it was only five years or so. When I first

started out I was happy to try out just about

anything. In my second year of racing I flew

to the USA when our second child Bella was

three days old, to race a series of 70.3 and

HyVee non-drafting triathlon.

I was only one and a half years into swim

training and it was a big move financially to

get to the USA and race against the best in

the world at a sport I had never competed

in. I did get it handed to me, and felt pretty

beaten up on returning home. I did however

still feel I was capable to racing those guys

and it just made me more motivated to go

10 INSPO – FITNESS JOURNAL JUNE 2017
---
ack next time in a position where I could.

Only last year, I also thought I would have

a crack at ITU triathlon. It was an intense few

months of training for events of less than

one hour or two hours' duration. I really

enjoyed it but I didn't have the time I needed

to prepare well enough for a shot at making

the NZ Olympic team.

The process however made a big impact

on me and I feel that it brought me a long

way. I really enjoy a new challenge but after

five years of racing almost every style of

adventure racing, multisport and on and off

road triathlon available, I think I now have

a good feeling about where to put my focus

moving forward.

What are three things you know now, that

you wish you knew when starting out?

I don't have a lot of regrets in my life. I have

enjoyed every experience that I have had

racing, the places it's taken me and the challenges

it has provided me with. I'm grateful

that I didn't start out in this sport too early

as I don't think it would have benefited me.

Every race I have competed in as taught me

something and provided me with skills that

I can now draw on when I find myself in my

toughest moments of racing.

How important is the nutrition side of things?

We have always eaten healthily, with a focus

on only wholefoods. Sally is a naturopath

and although I was reasonably old school

Photo by Miles Holden

Home insurance

may cover your

bike here.

and here?

But what

about here...

here...

When it comes to covering your bike, home insurance just

doesn't cut it. Make sure your bike is covered wherever it

goes. Talk to us today. 0800 692 453 | bikesure.co.nz

INSPO – FITNESS JOURNAL JUNE 2017

11
---
Fave spots in NZ to train and why?

Wanaka and Queenstown are right up there.

That is why we chose Wanaka as our home.

The diversity of training locations keeps me

inspired, which is key to keeping me motivated.

I also really enjoy Taranaki. There's a

maze of backroads there that offer incredible

opportunities for long rides, as well as Mt

Taranaki which has a huge trail network.

The beachside 50metre outdoor pool is also

a huge positive. I plan to spend four weeks

there this summer training.

Fave destination/location you've ever been to?

Tough one: I did enjoy Tahoe last year. It

was a great training ground with an endless

single track network. I could have ridden

somewhere different every day for the entire

month I was there. The lake was beautiful,

but it still doesn't quite beat my home town

of Wanaka.

when I started out, I have felt the benefits of

changes to my diet over time. Last year in the

USA we decided to go paleo and eat mostly

organic.

The motivation was to improve my

metabolic efficiency which would enable me

to burn fats at a higher heart rate when I am

competing. This in theory avoids the crash

or burn out that can happen in long events.

I enjoy eating this way and feel like I have

achieved huge benefits from a change to a

paleo-type diet. It still fits in the mould of

eating wholefoods, but simply removes the

grain component.

How tough is it to fund yourself and your

sport?

I won't lie. Early in my career we put everything

on the line. We (Sally and I) had

our own business in Australia that we put a

lot into when I first started out. This set us

up well and we sold it and started another

business.

The business (a multiday cycle touring

company) was designed to be able to give

me flexibility to train and allow Sally to work

from home. But for a while (many years)

every race counted. My race season was

designed around what was on offer in terms

of prize money. For many years I knew that I

had to win every race.

As time has gone on the partnerships

we have formed with sponsors has helped

provide us with the ability to choose a race

calendar designed around events that will

most benefit my progression towards my

long-term goals. I have been more successful

racing under this model and I don't think

I would have lasted much longer using the

race-to-race idea.

Photo by Graeme Murray

How do you juggle family life with your

training?

My family are part of what I do. Every

year they travel with me so I can train and

compete. We have not spent more than three

weeks apart.

I couldn't do it without them and they are

a huge part of my motivation for doing what

I do.

Sally plays a huge role in everything and

I feel pretty lucky to have someone like her

to ensure that all the background work is

taken care of. If I had to do the admin side

of things, I would have quit a long time

ago. The 100 percent ability to focus on my

training and racing is what has allowed me

achieve the results I have.

How important do you think exercise is for

mental health?

It's hard to imagine a life without physical

challenge in some form. I am not sure

I would cope that well without exercise.

Although sometimes in the fifth hour of my

ride, I like the idea of sitting on the couch

watching Red Bull TV, the reality is that I

thrive on physical challenge and I actually

think that we all do. Physical activity provides

me with daily inspiration. It clears my

head and makes my body feel good. I think

it's a key part to moving through the barriers

that we all experience when we are feeling

"in the box."

How closely do you link the two?

I feel there is a stronger link between

physical activity and mental health than any

other variable. I'd love to see a framework

and structure available to those suffering

from mental health to get them outside, and

having a physical challenge to work towards

as well as the support to get there.

Photo by Miles Holden

12 INSPO – FITNESS JOURNAL JUNE 2017
---
EXERCISE

advised for mental health

The Exercise Association of New Zealand

(ExerciseNZ) says Kiwis with mental health

illnesses should be encouraged to exercise,

but it advises against starting off with

extravagant exercise regimes.

ExerciseNZ chief executive Richard

Beddie says regular exercise is known

to have a positive impact on depression

and anxiety. Kiwis struggling with mental

illnesses should be encouraged to exercise

but it is important to start small and focus on

enjoyable activities, he says.

"Setting extravagant goals like running

a marathon or attending fitness boot camps

can backfire and leave you feeling despondent.

It is important to keep things simple.

Being active for just a few minutes can be

enough to make you feel better and should

still be celebrated as a success."

Mental disorders are the third-leading

cause of health loss for New Zealanders (11.1

percent of all health loss), behind only cancers

(17.5 percent) and vascular and blood disorders

(17.5 percent). Depressive and anxiety

disorders account for 5.3 percent.

In the 2011-2012 New Zealand Health

Survey, more than half a million New

Zealand adults had been diagnosed with

depression at some stage in their lives and

more than 200,000 diagnosed with anxiety

disorders.

The Government's Lowdown website

which exists to support young Kiwis aged 12

to 20 to recognise and understand depression

and anxiety recommends exercise as a

free mood booster. The site states that for

mild depression, physical activity can be as

good as antidepressants or psychological

treatments.

NZ Exercise Industry Awards 2016

student of the year, 27-year-old Shane Way

from Hamilton has struggled with mental

illnesses for most of his life and is a keen

believer in the smart use of exercise to help

NZ Exercise Industry Awards 2016

student of the year, Shane Way

treat mental illness.

"In 2012, after years of battling depression

and anxiety and not accepting or understanding

my sexuality or gender, I had a

breakdown and tried to take my own life. I

was extremely lucky to survive. During my

recovery, I analysed how I could turn my

life around and this is when my passion for

exercise developed," says Shane.

Shane has since completed a Certificate

in Fitness Industry Training, National

Certificate in Massage Therapy and a degree

in Sport Science and Human Performance

from Waikato Institute of Technology.

He is a personal trainer at Les Mills Hamilton,

runs his own massage therapy business,

Rejuvn8 Massage Therapy and has a longterm

ambition of setting up his own personal

training business.

"Exercise built up my confidence, self-esteem

and helped me overcome my mental

illness. After exercising I am more positive,

energised and feel a sense of achievement. It

lifts my overall mood and if I don't train, my

depression comes back in full force.

"Mental illnesses are overwhelming and

the wrong approach to exercise can make

this worse so it's important to start off small.

I recommend people start off with small

walks and once in a routine, try new things

like going for a run, training with a friend

and even going to a gym or group fitness

class.

"I am still battling depression, general

anxiety disorder, social anxiety disorder and

obsessive compulsive order. Through working

with the right doctors, having an amazing

support team and taking the right approach

to keeping active; my mental illness no longer

controls me, I control it.

"I believe exercise is the best way of battling

mental illness as it has personally saved

my life," says Shane.

The annual NZ Exercise Industry Awards

recognise people like Shane who are contributing

to the health and wellness of New

Zealanders through exercise. The 2017 award

finalists will be announced in October.

INSPO – FITNESS JOURNAL JUNE 2017

13
---
TIPS FOR

MULTISPORT

TRAINING

Are you a triathlete? Do you

want to become stronger,

faster, more efficient and

decrease your risk of injury?

BY KRISTINA DRILLER

Research has shown that strength

training may improve power, running

economy and running performance

and also cycling performance and efficiency.

Strength training will also aid in injury

prevention by strengthening the musculature

surrounding joints, including the ability to

strengthen areas of the body which maybe

neglected or weak due to performing the

repetitive movements. When performing

repetitive movements, over time the body

can become prone to injury.

I have included five exercises which are

ideal for triathletes to strengthen the lower

body, core and upper back. These exercises

will help improve the stability and strength

of ankles, knees and hips and develop the hip

stabilisers, all of which are important for the

swim, bike and run.

Overhead squats will strengthen your upper

back, challenge your core and lengthen

the often times tighter muscles of the middle

and lower back. With your arms over your

head, squeeze your triceps to ensure your

elbows are completely straight and while

maintaining a straight back lower down

into your squat maintaining straight elbows

and relaxed shoulders. Pause at the bottom

position and squeeze the upper back and

lift the chest a little higher for 2 – 3 seconds

then return to the starting position. Repeat 3

x 8 – 10.

Sliding split squats with a towel on

floorboards or tiles will strengthening the

hip stabilisers, quads, gluteals and challenge

your balance. Place your back foot on a towel

that will slide easily over the surface you're a

standing on, slide your back foot backwards

and lower the back knee to the floor keeping

a 90° angle at the knee joint. Keep your

torso upright, hips level, knees should point

straight ahead and keep your gaze looking

straight ahead if possible. Perform 3 x 8 – 10

each leg.

Lateral sliding lunges are an excellent

exercise to strengthen the legs in the frontal

plane. The movements of cycling, running

and swimming are essentially performed

in the sagittal plane (moving forwards

and backwards) which can result in lack of

14 INSPO – FITNESS JOURNAL JUNE 2017
---
strength in side to side movements. Similar

to exercise 2, place your right foot on a towel,

slide the right foot out to the side while

bending the left knee and keeping the trunk

upright. Only go as far as you feel comfortable,

keeping the right leg straight. Perform 3

x 8 – 10 each leg.

Reverse planking will strengthening

your hamstrings. Often cycling can result in

quadriceps dominance, strengthening the

hamstrings becomes important and there are

many ways of doing so. Reverse planking in

this position can be progressed from both

legs to a single leg position, just keep your

hips level. Place hands on the floor as shown

in photo, drive the heels into the floor, pull

your toes to your shins and lift your hips

up until you have a straight line from your

shoulders to your heels. Perform 3 x 6 – 8

holding for 5 – 15 seconds.

Side and front planks are two core exercises

which can be performed anywhere.

Keep your shoulders down, neck and back

straight and heels lifted for the front plank,

ensure you don't let your hips sag. For the

side plank, keep your shoulder down and

keep your hips in line (avoid the top hip

being tipped backward or forward), this exercise

can be performed on your knees initially

and then can be done on your ankles with

the top arm lifted up as shown.

KRISTINA DRILLER A specialist in exercise rehabilitation and chronic disease management,

Kristina Driller is a sport and rehab consultant at UniRec and uses "exercise

as medicine". Kristina has a wealth of experience spanning eight years and provides

expert advice in chronic disease management and musculoskeletal rehabilitation.

INSPO – FITNESS JOURNAL JUNE 2017

15
---
MAN UP!

Men of all ages and fitness

levels need to make their

health a priority.

Men aged 40 to 60 are taking a more

active interest in their health. From

the father wanting to keep up with

his kids on the soccer field, to the guy wanting

to complete another coast to coast in his

50s, men are starting to realise that living an

intentional healthy lifestyle leads to massive

performance gains.

I found a Spanish proverb that translates:

"a man too busy to take care of his health is

like a mechanic too busy to take care of his

tools". This is very true.

Historically over the years as a physiotherapist

I would only see guys after an injury

failed to come right on its own. Thinking

an injury will just come right is a little like

thinking that flat tyre will just magically

mend itself.

We men need to learn to take as good

care of our bodies as we do of our cars, bikes,

or surfboards. Here are some recent statistics

I found.

Men die at higher rates than women from

the top 10 causes of death and are the victims

of more than 92 percent of workplace deaths.

In 1920, women lived, on average, only

one year longer than men. Now, men, on

average, die almost six years earlier than

women. Someone here is taking advantage

of modern healthcare to live longer and it

isn't us guys.

Women are 100 percent more likely to

visit the doctor for annual examinations and

preventive services than men.

Suicide rates are 3-18 times higher for

males than for females.

The "she'll be right" attitude is sending

many of us to, if not an early grave, a severely

reduced performance level.

The take home message here is:

If you haven't seen your GP in the last

five years, call and book in now. It could save

your life.

Health, wellness, fitness, and nutrition

have taken huge leaps forward in the last 20

years. Training smarter not harder is the

best way forward.

Smashing the gym, hitting the road or

jumping on the bike and going as hard as

you did when you were 25 is not necessarily

going to be a good thing for your body.

From the age of 30 your lean muscle

mass starts to reduce and from the age of 40

your tendons and ligaments start to lose their

flexibility and ability to recover.

However, there is good news in that

recent research has demonstrated that smart

training, correct nutrition and stress management

can reduce and often reverse these

effects.

Here are my top five tips on being smart

with your wellness.

Can you squat like this:

If you can't do this without falling over

backwards you need to get to yoga. This is

good for your ankle, knee, hip and back flexibility

and is critical in injury prevention.

Do you have a water bottle at work and

finish it off by lunch time and another by the

end of the day?

You have to get water into your system,

your joints will thank you for it.

Do you know your anaerobic threshold

and how to stay away from that zone? If not

you need a good trainer that actually knows

how to train us guys in our 40s and 50s.

Is your current method of core stability

consisting of planks, crunches, sit-ups, medicine

ball twists or mountain climbers? If it

is then I'll be seeing you soon on my physio

table.

What you need is proper Pilates or better

yet, Oov training. One of the best places in

Hamilton for men's Pilates is with Shaun

Stuart-Jones at the Pilates Centre.

Do you know the difference between

good fat and bad fat? Do you kwnow how

many carbs you should be eating and do you

know what your body fat percentage is? If

you are not sure about any of this you should

be looking for a holistic nutritionist in your

area.

Wellness is a way of life. It's something

you do every day, so start small and build

up. The most important thing is to just

start.

Time won't stop, work will still be there

and before you know it you will be sitting

at home in your favourite chair recovering

from a total joint replacement asking

yourself if you could have done anything

differently in your 40s to stop this.

Get out there, get moving and eat well –

so you can enjoy more of life for longer.

JOHN APPEL Director of Advance Physio, John Appel is dedicated to helping everyone

function fully and enjoy everyday life without the restriction of pain.With a Masters in

Physiotherapy, a Bachelor of Science in Exercise Physiology, an Athletic Training degree,

and as a Myofascial Release therapist, he works with a wide range of clients from

professional athletes to chronic fibromyalgia clients. www.advancephysio.co.nz

16 INSPO – FITNESS JOURNAL JUNE 2017
---
WE-AR IT WELL

There's nothing quite like relaxed

fit clothing made in a quality fabric.

These New Zealand we-ar designs

offer a re-take on a classic piece. The

ultimate hoodie is hand dyed 100%

organic cotton; perfect teamed with

the casual style men's jogger pant.

We-ar.com

SECOND SKIN

Skins compression sportswear is

ideal for any active sport, from rugby

to running, and from grinding cross

training sessions to intense cycle

climbs. Scientifically proven to improve

your blood flow, helping get more

oxygen to hardworking muscles, the

recovery range can help you recover

faster so you can do it all again the

next day. Skins.net

MEN'S ACTIVE

WEAR

POTENTIAL PLUS

For sports gear to help push you past your

potential, check out this vibrant New Balance

collection. Incorporating breathability,

weather-wicking fabric and a weightless feel;

so you can chase strength with even more

force. Newbalance.co.nz

FOOT FETISH

The Asics GEL-Kayano 24 has

achieved more than 23 years success

on the road, helping overpronators

stay stable and comfortable over

varying distances. The super comfy

running shoe hugs your feet and

cushions impact to make your last

few kilometres as comfortable as the

first. Asics.com

GET ACTIVE

Workout in comfort with the latest men's

sportswear from Cotton On Active Range.

Specially created for high performance

and fitness development, the line features

t-shirts, gym shorts, workout hoodies,

outerwear and performance tights for

your active lifestyle. Cottonon.com

INSPO – FITNESS JOURNAL JUNE 2017

17
---
Lodge Cheers to Champions Advert OCT 2016.indd 1

20/09/2016 10:35:09 AM

CHEERS TO OUR CHAMPS

KING OF THE WAITEMATA

With Kite Foiling on track to becoming

an Olympic event, the sport is growing

rapidly in New Zealand.

Showcasing the adrenalin pumping

action of the sport recently were

competitors, including New Zealand

Champion Sam Bullock, vying to win

the King of the Waitemata regatta.

Raglan's Matt Taggart proved his

skills and justified his World Master's

Champion title, with an epic display

of athleticism and stamina to race 34

kilometres and take the title.

The event sees competitors use

wind power alone to race a counter

clockwise, 34 kilometre circumnavigation

of Auckland's Rangitoto and

Mototapu Islands.

With Foiling Kites being slated as an

exhibition event in the 2020 Olympics

and a medal event in 2024, the regatta

attracted New Zealand's top kite foilers,

as well as three high performance skiffs.

Winner Matt Taggart just nudged in

under the 60 minute barrier to take the

overall win, and on his foil specific Ozone

R1 kite hit 58kph on the downwind leg.

First across the line, Matt's time of

58 minutes and 42 seconds, not only

won him the regatta, but also achieved

the sub one hour mark. Sam Bullock

came home in second place just over

the hour mark. Chris Kitchen rounded

out the top three on his Kite Foil, beating

veteran Michael Pepper by just one

second. Team ASCC were the first Skiff,

and crossed the line in a time of one

hour and 55 minutes.

Along with the title of The King of

Waitemata, the overall winner took home

$1000 donated by Ozone Kites and

Paragliding New Zealand, and ASCC won

$250 for winning first in the skiff class.

RESULTS

1. Matt Taggart 58min 42sec

2. Sam Bullock 1hr 04min 25sec

3. Chris Kitchen 1hr 13min 11sec

4. Michael Pepper 1hr 13min 12sec

5. Richard Bates 1hr 15min 17sec

6. Grant Payne 1hr 22mins

7. Joshua McCormack 1hr 28mins 50sec

8. Armie Armstrong 1hr 54mins 30sec

9. Glen 2hr 3mins 48sec

10. Darren Kennedy 2hrs 23mins 25sec

Skiffs

1. ASCC 1hr 55mins 0sec

2. Blue Boat 2hrs 24mins 30sec

3. White 2hrs 33mins 38sec

Photos by Mike Peffers Photography

18 INSPO – FITNESS JOURNAL JUNE 2017
---
Let's talk about

GOUT

Selio Solomon is passionate

about improving the way

Pacific Island men think

about what they eat and how

much they exercise.

His own experiences with gout taught

him that lesson the hard way.

Having experienced firsthand how

painful gout is, he shares his experience as

part of Men's Health Month (menshealthnz.

org.nz).

"I found out I had gout in 2005, when

I was 33 years old. At first I thought I had

sprained my ankle. It got very red and swollen

and I couldn't walk. It was, and remains,

the most painful experience I've ever had. It

was so sore I couldn't even rest a sheet over

the affected area.

When I was first diagnosed with gout I got

very depressed about it because I knew my

body was breaking down. In my case, it was

caused by excessive drinking and bad diet. I

also had high blood pressure and high cholesterol.

However, the most concerning thing

was that I had a high blood sugar level, but I

didn't realise that until much later.

I already knew quite a bit about gout. A lot

of my extended family have been through it.

My dad had gout when he was younger and

my brother suffers from it on occasions.

My doctor prescribed Allopurinol, which

is a very strong antibiotic. It works by reducing

the build up of uric acid in the body,

which is what causes gout. I had to drink

heaps of water while taking it so that I didn't

get kidney stones. Within about three days

of taking the drug I would start to get feeling

back in my leg.

I suffered from gout a few times in the

years it took me to get my body back on

track. I'd know it was coming on because I'd

get a tingly feeling in the area that was about

to be attacked. But I'm happy to say I haven't

suffered from gout at all in the last six years,

due to a healthy lifestyle. I eat well and I

exercise regularly. I'm actually a gym owner

now.

The drugs for gout worked when I really

needed them but my major concern was that

they were chipping away at my kidneys. The

only way to keep the gout away permanently

was to change my lifestyle and living a little

more healthily.

That's why I wanted to share my story.

Because the perception in the Pacific community

is that you can eat and drink what

you like and your body will be OK. And

that's just not the case. There are serious

side effects associated with taking strong

medications like those for gout, and there

are consequences for these actions.

I really hope that by sharing my story it

might inspire other men, particularly those

in the Pacific Island community, to understand

that having a healthy body is really

important, and that means eating healthy

food and getting regular exercise. We

shouldn't be letting ourselves suffer from

things like gout as a result of an unhealthy

lifestyle. It's worth making a change."

menshealthnz.org.nz

Men's Health Month

Men's Health Month is a great time

to have a think about our health and

how important it is, to start talking

about it with mates, families and

doctors, and to do something to be

just a little bit healthier.

Men's Health Month 2017 kicked

off with the annual nib Men's Health

Breakfast at the ANZ Viaduct Events

Centre on June 1 and continues

throughout the month of June.

Head to menshealthnz.org.nz for

details of local and national events.

Throughout the month men are being

encouraged to open up and start

talking about their health, and to get

along to the doctor for a check-up.

Get your workplace involved

too – or start your own fundraiser to

support the cause.

19
---
MEN'S

HEALTH

WEEK

Take a moment to

comprehend this statistic

- every three hours one

New Zealand man dies of a

preventable illness.

And every day in New Zealand, 16 people

lose their fight with heart disease

and 16 families farewell a loved one.

Here's another stat to think about - deaths

from often preventable causes - such as heart

disease, cancer, diabetes and lung conditions

– account for a staggering 87 percent of

deaths in high-income countries. New Zealand

is considered a high income country.

However there is one person who has the

power to turn the odds back in your favour,

to get the numbers working for you.

That's you.

Time to get a little proactive, guys

Men's Health Week was established in

New Zealand eight years ago with one goal -

to motivate men of all ages to get proactive

and to take the steps needed to improve

and have greater control of their health and

fitness.

This year Men's Health Week is celebrated

from June 12-18, and the New Zealand Heart

Foundation is the event's health partner.

That's pretty appropriate given that coronary

heart disease is the biggest killer in New

Zealand, accounting for almost 20 percdent

of deaths each year.

"The best thing New Zealand men can do

about their health, and their heart health in

particular, is to get proactive," says associate

professor Gerry Devlin, medical director of

the New Zealand Heart Foundation.

"Small steps lead to big changes. Healthy

eating and doing just 30 minutes of moderate

physical activity a day can help to reduce

your risk of heart disease. The changes can

also have a positive impact on some cancers,

depression, type 2 diabetes and will increase

your overall wellness.

"By being proactive, getting yourself

checked out and then taking the right steps,

you can reduce the danger of major health

risks including many heart conditions. Every

positive change is a step towards better and

longer lasting health and better outcomes for

you and for those people who love you and

depend on you."

"By starting an open discussion with

friends and family and getting a yearly warrant

of fitness check up with your GP, you

can safeguard your lifestyle and wellbeing for

years to come."

If it works for your car, it will work for you

Top racing driver Greg Murphy asks just one

simple question: if an annual check-up is fine

for your car, why is it not OK for every man

in New Zealand?

Greg is known for his combative approach

on the track, and the trans-Tasman

media personality is equally forthcoming

and blunt when talking health checks.

"Just like your car needs regular servicing,

our bodies need an annual warrant of fitness.

That's about as obvious as it sounds, but too

many of us are just too tough and staunch to

bother. That's about as crazy as it gets.

"I've always believed that waiting can cost

you the race. With a race as important as

your life, why would you wait? Get onto it,

get it sorted and start living again."

Through the month of June, all men are

able to get a free Pit Stop Health Check at

Unichem and Life Pharmacies around New

Zealand. Men are encouraged to bring in

their completed Men's Health Week survey

(find this in a pharmacy or online at menshealthweek.co.nz),

and can discuss their survey

results and even get a free blood pressure

check while there.

What's your score?

The Men's Health Week survey is available

in pharmacies nationwide, or online at

www.menshealthweek.co.nz, and it will give

you your health score.

Challenge your mates during Men's

Health Week to get as proactive as you and

compete for the best health score.

Men's Health Week is proudly

sponsored by Registered Master

Builders, Accuro Health Insurance and

Pit Stop. It is also supported by Life

and Unichem pharmacies, and M2

Magazine.

20 INSPO – FITNESS JOURNAL JUNE 2017
---
Weight loss at

Body Buzz

The ups and downs

of mental health

When it comes to the ups and downs of

mental health, few people have embraced

this more literally than Mike Heard.

The Aucklander is a keen

fundraiser for the NZ

Mental Health Foundation,

recently setting a new world

record for the most bungy jumps

in 24 hours as part of his fundraising

efforts.

His mind-boggling 430

bungy jumps off the Auckland

Harbour Bridge within 24 hours

was more than two and a half

times the number of jumps

achieved by the previous record

holder.

In fact, he broke the Guinness

World Record just four and a

half hours into his 24-hour effort,

and says the experience far

exceeded his expectations.

"It's been a huge effort and

I'm absolutely stoked that, with

the support of the AJ Hackett

Bungy New Zealand team, we

were able to achieve our goals of

a world record, as well as raising

funds and awareness for the

Mental Health Foundation."

"I'm not sure what I'm going

to do next to top this."

AJ Hackett Bungy New Zealand

managing director Henry

van Asch says Mike's effort is

extraordinary.

"Our philosophy is that if

you can bungy jump, you can do

anything. And Mike has taken

that to a whole new level."

"To bungy from the Auckland

Harbour Bridge 430 times in a

24-hour period is a phenomenal

achievement, and I'd like to

congratulate Mike and the whole

bungy team for a great result."

Shaun Robinson, chief executive

of the Mental Health Foundation,

says the organisation has

been delighted to be involved.

"Mike and the team have

shown amazing generosity and

Kiwi go-for-it attitude! He has

smashed the record, which is

awesome. He's raised thousands

of dollars, which is great.

And he has touched so many

people's lives, encouraging us all

to talk about mental wellbeing

and reach out and support one

another."

And another bonus – Mike

brought the record back to New

Zealand - the 'original home of

bungy' - when he beat Australian

Beau Retallick's 2014 record of

158 jumps.

To make a donation towards

Mike Heard's Mental Health

Foundation fundraiser go to

mentalhealth.org.nz/bungy or

text BUNGY to 2446 and make

an automatic $3 donation.

Rose lost 46kg the Body Buzz way

"Everyone has a bad photo that they don't want anyone

else to see. The photo above on the left was taken in

Christchurch. I had just bought a new top and I felt pretty

cool in it because I was still blind to the fact that I was a big

person. When I was back in Te Awamutu I took a good look

at the photos. That's when I first realised I was overweight.

I walked in to Body Buzz and joined. I didn't really believe I

could lose weight but the machines made me feel good so

if I lost some weight that would be a bonus. At the time I

had no idea that a year later it would be my 'before' photo."

"Not so long ago large women had to browse the menswear

section to find clothes that were big enough for them. Then

the Warehouse started selling larger clothes which made

shopping easy. I would just walk in and grab the biggest size

they had. I didn't bother trying it on because I knew it

would fit. Now that I am size 14 there are lots of different

styles to choose from and as I have always been overweight

I have no idea what suits me and what doesn't. Shopping

for clothes is a whole new experience for me."

"The reason Body Buzz works so well for weight loss is

because of the system. If you follow the education and

support system Marty has set up you will succeed."

If you find yourself identifying with Rose and you too want

to look and feel great again then it's time to take action and

become part of the community at Body Buzz.

Give us a call today for your FREE consultation

OPEN 24 HOURS AND AIR CONDITIONED

16 Market St, Te Awamutu

07 871 8558

bodybuzzteawamutu@gmail.com

www.bodybuzz.co.nz

16A Vialou St, Hamilton

07 834 2271

bodybuzzhamilton@gmail.com

INSPO – FITNESS JOURNAL JUNE 2017

21
---
Steps you can take to

HELP

YOURSELF

There are a few simple steps all men can take

to actively safeguard their health and protect

themselves from disease and death:

Visit a GP and know your family history

1 One of the easiest and most effective ways

that men can take care of their health is by

getting to know a GP and having a checkup

once a year. Think of it as warrant of

Welcoming

fitness for your body or taking a time out for

a Men's Health Pit Stop.

Your GP can check for all age-appropriate

health risks, answer any questions you may

new patients for the now

future.

Hamilton East Medical Centre provides a wide range

of healthcare services at one convenient location.

Skin Checks and Surgery

The Travel Doctor

Sports Medicine

Ear suctioning

Welcoming

Healthy Lifestyle Clinic

Pharmacy

new patients now

We take melanoma seriously – do you? Get checked today!

Hamilton East Medical

and casual

Centre

patients.

provides a wide range

of healthcare services at one convenient location.

Skin Checks and Surgery

The Travel Doctor

Sports Patient Medicine

Healthy Lifestyle Clinic

parking

available

Patient parking available

Laboratory Testing

Radiology

This service is available to registered

Ear suctioning

Laboratory Testing

Radiology

Pharmacy

16 Beale Street, Hamilton 3216

Phone 07 839 1232 | www.hemc.co.nz

have about your health and outline what

steps to take to make sure you stay healthy

By monitoring your health regularly and

being aware of any illnesses or risks in your

family history, you will be more likely to

Physiotherapy

Men's health

Diabetes Clinic

Minor Surgery

Physiotherapy

Men's health

Diabetes Clinic

Minor Surgery

catch any health issues early and give yourself

the best chance at surviving potentially

life-threatening illnesses.

You can also visit a pharmacy as your local

pharmacist is an easily accessible first step

towards looking after your health. They are

open long hours, late nights and weekends,

and can offer free health information and

advice. Unichem and Life pharmacies are

offering free Men's Health Pit Stop health

checks throughout June.

Get tested

2 Blood pressure and high cholesterol can

be a key indicator for a range of heart-related

We take melanoma seriously

– do you? Get checked today!

This service is available to

registered and casual patients.

16 Beale Street, Hamilton 3216

Phone 07 839 1232

www.hemc.co.nz

22 INSPO – FITNESS JOURNAL JUNE 2017
---
illnesses, as well as diseases like type 2 diabetes.

The answer is simple: get an annual heart

and diabetes check. If you are a male over 50,

get a prostate test done each year too.

Exercise regularly

3 Regular exercise can produce huge benefits

for physical, mental and sexual health.

Research shows that higher levels of physical

activity can reduce cardiovascular disease,

help fight depression, help prevent the onset

of type 2 diabetes and improve sexual function.

So take control of your health with as

little as 30 minutes of daily exercise.

Healthy eating

4 Eating well is important for both mental

and physical health, so you need to know

what foods to eat, in what quantities and

what foods to avoid to minimise health risks.

A balanced diet means eating a wide

variety of healthy foods including plenty of

vegetables, fruit and cereals (like bread, rice

and pasta), some lean meat, chicken or fish,

dairy products (milk, yoghurt, cheese) and

plenty of water. It's a good idea to avoid fatty

foods and foods with lots of sugar in them.

Healthy thinking

5 Depression affects one in eight men at

any time. Most of us struggle with our dayto-day

experiences, but the challenge facing

men is to realise when they are becoming

overwhelmed and knowing how to get help

or when to ask for it. There are lots of services

out there to help you.

Recognising the symptoms of depression

in yourself and others can be the first step to

beating it. Symptoms include tiredness, irritability,

sleep disturbance, and loss of interest

in work or other activities. Other things to

look out for as risk factors include family

history of mental illness, excessive alcohol

consumption, drug use, stress, unemployment

and chronic illness.

Stop smoking – it's the only healthy

6 option

Smoking causes more deaths every year in

New Zealand than road crashes, suicide, skin

cancers, drowning and homicide combined.

It is no secret that if you are a smoker, it

increases your risk of coronary heart disease,

stroke and a range of cancers and other

diseases.

Quitting is the only healthy option. The

body has an amazing ability to recover from

the effects of smoking after you quit. After 24

hours the carbon monoxide in your blood

will have dropped dramatically and all the

nicotine will have been metabolised. Within

a year of quitting the risk of coronary heart

disease is halved and after 10-15 years of not

smoking your risk of disease will be the same

as those who have never smoked.

menshealthweek.co.nz

Our Friendly caring multicultural team are committed to a quality medical

practice, offering a variety of GP services including areas of special interest:

- Women's health

- Men's health

- Paediatrics

- Travel medicine

- Aviation medicine

- Sports injuries

- Chronic care incl. diabetes

- Skin health and minor surgery

DR KIRSHNI APPANNA • DR JEFFREY CHEN • DR MONALI DAROLE

DR JULIA GIVEN • DR WARREN SMITH • DR MIKE WATSON

K4980R

Mandarin speaking Dr. available.

284 Peachgrove Road, Hamilton • 07 855 7824 • www.fivexrdsmc.co.nz

INSPO – FITNESS JOURNAL JUNE 2017

23
---
MOTIVATING MEN

for a healthier lifestyle

BY ALISON STOREY

According to the Journal of Health

Education research, the two main

reasons for men not exercising for

their health are;

– They're not aware of the risks their lifestyle

poses

– They don't consult the doctor regularly to

measure health markers and risks

Really? There are men who drink beer every

day, eat pies for lunch, and only leave the

couch to stand up to shout at the TV league

game, who do not understand this is not the

ideal way to a long and illness free life?

It's likely that if you're reading this publication,

you are not one of these, but maybe

one of your friends is, and if you're going to

be a mate, you need to help them to understand

why a bit of sport away from the couch

will prove to be a massive benefit to their life.

Apparently, men like data. Facts and not

emotional hearsay, which is why an effort

will be made to include scientific research

Make no mistake, exercise

is medicine.

and studies to back up the evidence for exercising

for health in this piece, which should

cover off reason number one.

Going to a doctor regularly which can

show undeniable proof of health markers

getting out of control is one of the best ways

to inspire change. Taking care of yourself

should be regarded as a personal responsibility

and a responsibility to one's family.

The five leading causes of death in 2016-

17 are listed as obesity, smoking, hypertension

(high blood pressure), elevated blood

glucose (diabetes) and physical inactivity.

Granted, some cases of hypertension and

diabetes are genetically based and there's

bugger all you can do about that, other than

take medication.

However, the other three are arguably entirely

avoidable, and so theoretically increase

the chances of NOT dying by three-fifths,

which is way better odds than lotto. Another

fact; physical inactivity and a sedentary

lifestyle are deemed a primary factor in 3.2

million deaths per year worldwide. Read,

needlessly.

Stress (maybe from watching a footy game)

is a huge contributor to high blood pressure

and obesity, and this uncomfortable package

can also be responsible for elevated levels of

anxiety and increased symptoms of depression.

There has even been a study with rural

farmers in Wisconsin that equated anger and

stress with elevated cholesterol.

One of the most important things anyone

B3920H

HAMILTON RADIOLOGY

Offering unparalleled care and expertise

Hamilton Radiology is the Waikato's

largest private medical imaging facility.

With the latest medical imaging equipment and a

highly trained, experienced team of technical staff and

14 local radiologists, we offer an unparalleled standard

of care and expertise.

Appointments are essential for Ultrasound and CT:

Please phone our freephone 0800 426 723

No appointments needed for plain x-ray films, all

referrals accepted. After hours appointments

available on Tuesday evenings.

Hamilton Radiology.co.nz Anglesea Imaging Centre, Gate 2, 11 Thackery St, Hamilton

Anglesea Imaging Centre - Anglesea Clinic - Hamilton East - Rototuna - St Andrews - Morrinsville - Cambridge - Te Awamutu

24 INSPO – FITNESS JOURNAL JUNE 2017
---
can do, but most especially men who are

statistically less likely to do so, is to visit the

doctor on an annual basis for a complete

physical check-up.

This should include a complete workup

of bloods (e.g. cholesterol, blood glucose,

liver function). Ask the doctor to send you

the results, keep them and track them from

year to year so you can measure the effects of

lifestyle changes.

If your doctor puts you on medication,

take it. Studies have consistently shown that

20 to 30 percent of medication prescriptions

are never filled, and that 50 percent of medications

for chronic disease are not taken as

prescribed (according to a review in Annals

of Internal Medicine).

People who do take prescription medications—

whether for a simple infection or a

life-threatening condition — typically only

finish half the prescribed dose.

This lack of adherence, the Annals authors

wrote, is estimated to cause approximately

125,000 deaths and at least 10 percent

of hospitalisations.

Make no mistake, exercise is medicine.

According to that Journal of Health Education

study, there is a whole group of men

classed as 'hard to engage', so in the UK there

is an entire footy programme dedicated to

using that fanatic and dedicated avenue to

create understanding and a sense of urgency

around exercise as preventative medicine.

Getting involved in a non-contact sport,

whether as a club member or team player

can be an extraordinarily effective strategy to

commit to regular exercise.

There are some excellent age indiscriminate,

non-contact options, all with expert

clubs and coaching readily available in

Waikato.

No age barrier and minimal injury risk

engender long-term adherence which is an

essential component of reaping the health

benefits. Archery, kayaking, cycling, and

rowing are all great examples.

If the social environment of a gym, or the

accountability that comes with a personal

trainer fits the bill, weight training three

times a week for two months showed in a

study at the University of Michigan to decrease

blood pressure by an 8 point average.

A Journal of Medicine and Science

in Sport and Exercise study showed that

decreasing body weight to acceptable health

standards (healthy range BMI at the least)

decreased blood pressure by 10-29 points,

which is a massive margin.

Interesting to note it also showed that two

days of housework, decreased blood pressure

by 13 points.

So just to recap –

• If you have a condition that is genetic or

chronic and requires medication – take it.

• In most other cases, lifestyle choices can

work as preventative or restorative components

of health so just do it (you know what

to do)

• To commit to exercise, join a team or take

up a non-contact sport, or get a trainer (the

Sport Waikato website has club info)

• Be responsible for your own health, get

regular check-ups, and understand what your

health markers mean (Ask questions of your

doctor)

ALISON STOREY is a personal trainer who has represented New Zealand in three

different sports (beach volleyball, rowing and rhythmic gymnastics). She has been

awarded New Zealand Personal Trainer of the Year twice and runs Storey Sport, a

mobile personal and sports training business which provides a range of services that

optimise the fitness and wellbeing of its clients. www.storeysport.co.nz

>WIN

Kick start your winter health, with this

awesome prize pack of Red Seal men's

health products.

Enter to win a mammoth prize pack

of Red Seal goodies, to keep you in top

health throughout winter and beyond. The

prize incudes:

• Mens Multivitamin (One-a-day health

optimiser that supports heart, immune system,

energy levels and sexual wellbeing)

• Zinc, B6 and Magnesium (Wards off

colds and flu, and keeps your nervous

system, heart, skin, hair, and nails in peak

condition)

• Pharmacy Strength Zinc Complex (Supports

a healthy immune and reproductive

system, one-a-day high strength dose,

supports prostate health, helps maintain

• Manipulate your health in a positive way

through exercise and a high nutrient food

intake

• Don't become a statistic

• Maybe do more housework (I can hear the

women cheering from here).

healthy sensory nerve function)

• Vitamin C (Important for immunity and

strengthens resistance to winter ills and

chills and aids healing)

• Magnesium (Relaxes tight muscles,

helps relieve muscular spasms, cramps

and soreness, and reduces the symptoms

of tension headaches)

• Vitamin D3 with Boron and Selenium (A

high dose of Vitamin D3 helps to absorb

and use Calcium, which in turn helps

to maintain healthy bone strength and

density)

To enter, email your name and contact

details, with RED SEAL MENS in the

subject line, to win@fitnessjournal.co.nz or

enter online at inspo.co.nz

Entries close June 30 2017.

INSPO – FITNESS JOURNAL JUNE 2017

25
---
Our next generation of

OLYMPIANS

Future Waikato potential Olympians have been

recognised by the Pathway To Podium 2017-2018

programme – and earmarked to receive support and

education towards their long-term goals.

Now in its fourth year, the Waikato

Pathway to Podium programme

supports the crucial components of

Waikato's next cycle of potential Olympians,

and also helps also grow the athletes into

self-reliant and competent individuals away

from their sport.

The nationwide programme sees 36

Waikato pre-high performance athletes

selected by their National Sport Organisation

(NSO). A consortium of regional stakeholders

led by Sport Waikato deliver support

services to the athletes through the High

Performance Sport New Zealand (HPSNZ)

and Sport New Zealand (SNZ) partnered

programme.

Chief executive of High Performance

Sport New Zealand Alex Baumann, explains

the key driver behind the programme.

"The Pathway to Podium programme will

help prepare young athletes for life as high

performance athletes. Athletes selected will

receive early education in areas such as nutrition,

psychology, and strength and conditioning

training. They'll also receive a bundle

of services specifically tailored to them."

"The beauty of this programme is its regional

focus. It's bringing high performance

support to local athletes in their communities.

There's no one place in New Zealand

where talent springs from. Talent is everywhere

and so no matter where an athlete is

from, they'll be given support at a stage in

their development that can really help them

gain their entry ticket to competing for New

Zealand on the world stage,'' says Sport New

Zealand chief executive Peter Miskimmin.

Daniella Cameron, Waikato Pathway to

Podium's programme manager explains

that the programme encourages athlete

self-responsibility, and places emphasis on

components that will be crucial to both performance

and the life of an athlete.

"The long-term development of our athletes

is central to their success on the world

stage. I am incredibly privileged to support

and strengthen the pathway for our Waikato

athletes transitioning into high performance,"

she says.

The athletes involved in Pathway to Podium

in the previous three years have found

the education, experience and development

very beneficial to their progression within

their sport.

"It is the first national programme at this

26 INSPO – FITNESS JOURNAL JUNE 2017
---
level linked to High Performance Sport New

Zealand that the athletes have been part of,

so the content they learn, and the providers

they interact with are of our highest quality

here in New Zealand. It is such an amazing

opportunity to be able to provide this at such

a vital stage in an athlete's career.

"At this stage, when progression is not

always linear, learning obtained in every

component important to their sport is so

valuable. We aim to provide a collaborative

and exciting culture within Waikato Pathway

to Podium, where cross sport engagement

can transpire and athletes can learn about one

another and support each other's success."

The programme is supported by the

University of Waikato, Wintec, Schick Construction,

Gallagher, APL and Orbit Travel.

Craig's Investment Partners selected Waikato

Pathway to Podium as the recipient of funds

raised from their annual mini putt business

house challenge.

Rebecca Petch

"This support provides so much opportunity

for the Pathway to Podium athletes,

and strengthens their foundations moving

forward," says Daniella.

Sam Voss

The Waikato Pathway to Podium Hub athletes

for the fourth-year intake are:

Jason Bovill

Athletics: Isaiah Priddey, Tatiana Kaumoana,

Kayla Goodwin

Bike: Cole McOnie, Rebecca Petch, Sam Dakin,

Jackson Ogle, Ellesse Andrews, Ryan Jordan,

Jarred Treymane, Thomas Garbett

Equestrian: Jackson Bovill

Hockey: Reuben Andrews, Timothy Neild,

Bayleigh Stirling

Netball: Grace Watson, Courtney Elliot, Kate

Littlejohn, Sydney Fraser, Ali Wilshier

Para – Cycling: Nicole Murray, Mitchell Wilson

Rowing: Samantha Voss, Fergus McSwiney,

Angus McFarlane, Cameron Steedman, Jessica

Turfrey, Kelsi Parker

Triathlon: Bradley Cullen, Hamish Miller, Hannah

Knighton, Eva Goodison

Rugby 7s (women): Leanna Ryan, Jazmin

Hotham, Huia Harding

Canoe: Tess Allen

INSPO – FITNESS JOURNAL JUNE 2017

27
---
TOP OF

THE FIELD

It may not have seemed it at the time, but a

lack of sporting options at primary school

turned out to be a blessing in disguise for

Hamilton's Reuben Andrews.

Eight years ago Reuben took up hockey

at his rural primary school as it was the

only winter sport available.

Now the talented 18-year-old is a well

known face on the hockey field, having

captained his St Paul's Collegiate team to a

Rankin Cup win before going on to make the

Midlands Under 21 side and New Zealand

Under 21 team.

Reuben is also a member of the Pathway

to Podium programme, which recognises

the potential of future sports stars and aims

to provide them with mentoring and skills

support.

"Being part of Pathway to Podium has

helped develop my knowledge of high

performance sport on and off the field," says

Reuben.

"I have learned multiple new methods

and ways to improve aspects of my game.

Particularly beneficial has been working on

the areas of nutrition and mental toughness.

"And also tips on how to minimise pregame

nerves and boost confidence have been

extremely helpful."

INSPO Fitness Journal finds out more…

What career path do you plan to pursue?

Property development, which is a family

business currently run by my grandfather.

Over the next few years I plan to try and

learn the ropes and one day hope to take it

over.

Outline your upcoming 12 months?

I am hoping to make Midlands Regional National

Men's team to compete in the upcoming

national league tournament. Following

that I am aiming to be selected in the New

Zealand under 21 programme.

What has been your greatest successes to date?

Winning 2016 Rankin Cup (secondary school

hockey tournament) and being selected to

play in the Sultan of Johor cup for New Zealand

under 21s

What motivates you to keep involved and

competing?

The team aspect makes training more

enjoyable; to be able to catch up with some

good friends that I have made over my years

of playing. My motivation comes from my

competitiveness to be better. I always want to

learn something new and strive to improve. .

What is your greatest challenge?

Fitting my sport in around study, work and

social life

The team around you?

Simon Brill, the head of Midlands Hockey

has played a helpful role in my development

over the past years, helping me with learning

and a competitive training environment.

Frans van der Merwe has helped me with

strength and conditioning over the last year

through the hockey New Zealand and Midlands

programmes.

What does the sport involve?

Team training is based around the team

when everyone is free, normally at night. I

usually train five times a week for between

an hour and a half to two and a half hours, as

well as four strength and conditioning sessions

(two gym, two running) and two games.

What aspect of hockey do you enjoy most?

Spending time together as a team and performing

well.

What is your long-term goal?

To one day be competitive enough to represent

New Zealand at the Olympic Games.

Achieving this requires a lot more training,

to perfect my skills and ability.

Where in the world would you want to train

and compete?

India, because of the size of the crowds they

get and the atmosphere would be amazing.

Are you involved in other sports?

Cricket was my favourite sport until a couple

of years ago – and it just started to take too

long. Also, I really enjoy playing golf.

What advice would you give to others who

want to play hockey?

It's better to play than to watch, so give it a go.

28 INSPO – FITNESS JOURNAL JUNE 2017
---
The Out and About photos are also posted on our

Facebook page: facebook.com/inspomag

Jump online to tag yourself and your friends!

This page is proudly sponsored by Fairview Mazda

P 08 849 9899 | www.fairview.co.nz

B4505H

OUT AND ABOUT

SHOW HUNTER SERIES

Riders and horses from around the Waikato

and Bay of Plenty region gathered at St Peter's

School recently for the Inter-Schools Show

Hunter Series 2017. Photos by Vanessa Mason.

INSPO – FITNESS JOURNAL JUNE 2017

29
---
Why 'Yoga for Athletes'

IS FOR YOU

YOGA FOR ATHLETES BY SARAH MACDONALD

Have you ever been put off trying something new

because you were afraid you wouldn't be any good

at it? Maybe it's time for a change of mindset.

A

topic of conversation at my yoga

studio recently has been around the

concept of Yoga for Athletes, and

what that means.

I teach a 'Yoga for Athletes and Everyone'

class every Monday morning. As the name

suggests, this class is suitable for athletes…

and 'everyone'.

However, I suspect the name of this class

still creates some anxiety for people – both

athletic people, and those who don't consider

themselves athletic. I'd like to try and clarify

this conundrum.

It seems some people shy away from trying

Yoga for Athletes and Everyone for two

particular reasons:

1. They think that it is only for 'athletic'

people, and feel intimidated.

2. They are actually athletes, but are

worried they'll be 'no good at it' because they

have tight muscles, and they think they need

to be flexible to do yoga.

Both of these ideas are completely incorrect.

And it's somewhat ironic, because this

could mean half the class (non-athletes) are

there feeling intimidated by people in class

who look like 'real athletes'; and meanwhile

the 'real athletes' are there feeling intimidated

because they are worried they will be the

least flexible person in the room.

I'd like to see everyone let go of such insecurities

and simply be there for their own

personal benefit. Believe me, no one in this

class has come along just to check you out

and make comparisons or judgements.

This applies to yoga in general; all you

have to do to get involved is start. Don't worry

about who is slimmer or more athletic, fitter,

more flexible, faster, more experienced,

etc. Yoga is for you – at your pace.

Clarification tip #1: You do not need to be

'athletic' to do Yoga for Athletes.

If the class was called 'Athletic Yoga' it would

suggest it is more suited to athletic people.

However Athletic Yoga and Yoga for Athletes

are two very different things.

Athletic Yoga is demanding, strong, deep

yoga, in which you are probably sweating

and you leave feeling like you have done a

workout.

Yoga for Athletes is not 'athletic yoga'. It is

yoga designed for people who do sports (at

any level from recreational to elite). Doing

sports often results in people having tight

muscles and muscular imbalances. (Another

name for this class could actually be 'Yoga for

people with tight muscles'). Common areas

of tightness are the hip flexors, hamstrings,

shoulders and through the front of the body

generally.

While tight muscles may be due to sports,

they can also be due to many other activities,

or even inactivity, such as sitting at a desk

for many hours. Hence the addition of 'and

everyone' to the name of this class.

In a Yoga for Athletes and Everyone, we

are not there to have a hard workout, or try

to be super flexible. We are there to address

the most common areas of tightness and imbalance

that can be attributed to doing sports

(particularly repetitive actions like cycling,

rowing, running etc). There are several other

physical and mental aspects too.

Focus areas in yoga for athletes and everyone:

• Range of motion (flexibility) – opening

up tight areas

• Encouraging a healthy balance of stability,

strength and flexibility throughout the

body

• Core strength

• Balance and proprioception (awareness of

the body's positioning in space)

• Breath awareness and efficiency

• Mental focus

• Recovery and relaxation.

Clarification tip #2: You don't need to be

flexible to do yoga.

Some athletes are hesitant about trying yoga

because they are worried that they won't be

good at it because they have tight muscles

and are not very flexible.

Dedicated athletes are used to being good

at what they do, so doing something they feel

they are not good at can be uncomfortable,

even off-putting. This is another unfortunate

misconception. Let me be very clear that you

do NOT need to be very flexible to be good

at yoga. Being inflexible is actually a good

reason to start doing yoga. Being good at

yoga is about being aware and being present,

and working on bringing your body and

mind into balance.

So if you are a cyclist, runner, swimmer,

rower, equestrian or any other type of athlete

(armchair athletes included), please do not

let your tight muscles put you off trying yoga

– especially a Yoga for Athletes class. Yoga

is a great option for working on creating

balance and countering some of the effects

that sports training can have. And, everyone

is welcome.

SARAH MACDONALD is a professional yoga teacher and New Zealand's only officially

certified Yoga for Athletes instructor. She recently opened Balance Yoga Studio in Cambridge

where she is committed to helping people of all ages discover the benefits of yoga.

She specialises in working with athletes of all levels from any sport, and can tailor yoga

sessions to complement any athlete's training regime. www.balanceyoga.co.nz

30 INSPO – FITNESS JOURNAL JUNE 2017
---
Part of the family for over 40

Part of the family for over 50 years

New Shipment just arrived!

Ask us about our amazing Mazda

Finance Deals!

Demonstrators

now available

One look tells you the all-new Mazda3 3is special.The first tdrive confirms it. SKYACTIV

TECHNOLOGY gives you sports performance with exceptional fuel economy; while

i-ACTIVSENSE* safety technology provides an extra set of eyes for greater driving

enjoyment. Plus, MZD Connect* keeps you informed and in-touch with everything

from live navigation to internet radio and social media connectivity.Whether you

choose Hatch or Sedan, begin your Next Great Drive at Fairview Mazda or go to

allnewmazda3.co.nz

FAIRVIEW MOTORS MAZDA, 2011, 2012 & 2013 MAZDA DEALER OF THE

Visit Fairview

Now, what can

do for you?

Mazda on

473 Te Rapa Rd. I HAMILTON I P 07 849 9838 I fairviewmotors.co.nz

64 Firth St. I MATAMATA I P 07 888 7127 I fairviewmotors.co.nz

95 Victoria St. I I P 07 827 7005 I fairviewmotors.co.nz

FAIRVIEW MOTORS MAZDA, 2011, 2012, 2013 & 2014 MAZDA DEALER OF THE YEAR

473 Te Rapa Rd. | HAMILTON | P 07 849 9838 | fairviewmotors.co.nz

64 Firth St. | MATAMATA | P 07 888 7127 | fairviewmotors.co.nz

95 Victoria St. | CAMBRIDGE | P 07 827 7005 | fairviewmotors.co.nz

132 Kihikihi Rd. | TE AWAMUTU | P 07 871 3079 | fairviewmotors.co.nz

INSPO – FITNESS JOURNAL JUNE 2017

31
---
Helping Waikato kids to

PAUSE,

BREATHE

AND SMILE

"The teachers have all

seen improvements in

their classroom culture.

They've noticed the

children are more

settled, and the teachers

themselves have

personally benefitted

from some of the

strategies mindfulness

has taught them."

Helping Waikato students and teachers increase their

wellbeing and resilience is the aim of a unique programme

called Pause, Breathe, Smile (PBS), operated by the

Mindfulness Education Group.

While we all want our children to

thrive at school – to learn well,

pay attention, make friends and

develop the skills needed to navigate life and

grow to be thriving, happy adults; modern

childhood comes with increasing pressures

on children to perform and achieve. At

the same time new technologies, games,

advertising and the pace of modern life all

Expert online mindfulness course taught by New Zealand

leaders in mindfulness teaching and research.

Your go-to resource for personal wellbeing and

mindfulness practice.

Access 24/7, self-paced, view at your convenience.

¢ Alleviate stress, anxiety and reduce burn-out

¢ Strengthen calm and clarity, boost awareness

¢ Learn to focus on what's important and let go of what's not

Only $79 +GST - start online now; registering is easy at

www.mindfulnesseducation.co.nz

compete for their attention.

The Pause, Breathe, Smile programme

is New Zealand's only locally developed,

evidence-based and scientifically-informed

mindfulness in schools programme. It aligns

with the New Zealand Education Curriculum

and incorporates Te Whare Tapa Whā as

a key element of the programme.

In 2013 and 2014 the programme creator

along with AUT

and University of

Auckland conducted

three research

studies of the

programme, all of

these studies have

now been through

robust academic

peer-review processes

and published in

significant international

journals. This

research shows that

participation by

children and young

people in the Pause,

Breathe, Smile programme

in Aotearoa

B7259H

schools:

• Increases calmness

• Improves focus

and attention

• Enhances

self-awareness

• Helps develop

conflict resolution

skills and positive

relationships

• Reduces stress for

teachers

• Leads to statistically

significant increases

in wellbeing

Nawton School,

a decile 2 Hamilton primary school has seen

such impressive results from PBS that they

have been implementing the programme

across their whole school. Earlier in 2017, two

Nawton School teachers were awarded full

scholarships to become certified educators of

the programme.

"We've seen it positively impact children

in our junior, middle and senior schools, and

in all of our classes, whether they're taught

in English, Maori or a mixture of both," says

Nawton principal Rubina Wheeler.

"The teachers have all seen improvements

in their classroom culture. They've

noticed the children are more settled, and

the teachers themselves have personally benefitted

from some of the strategies mindfulness

has taught them."

Teachers have also noted that teaching

mindfulness to children has been a useful

tool in helping children to self-manage their

behaviour and focus on their learning.

"It fits nicely into the strategies we use

to help empower students to succeed," Ms

Wheeler says. "We're seeing real benefits to

the children – it teaches them to focus their

attention on their school work.

"We're also noticing that the children

are persevering when they meet challenges,

not just when they encounter challenging

behaviour from others but also when they're

finding learning difficult. When it's hard,

32 INSPO – FITNESS JOURNAL JUNE 2017
---
What is

mindfulness?

"We're also noticing

that the children are

persevering when they

meet challenges...When

it's hard, mindfulness

gives them the skills to

keep trying."

mindfulness gives them the skills to keep

trying."

The Pause, Breathe, Smile programme

is taught in the classroom for one-hour

per week, over eight weeks, either by the

classroom teacher or other certified PBS

educator.

High-quality online resources for delivering

the programme in classrooms include

daily guided mindfulness audio practises

and journals for students to enhance their

learning.

Four evidence-based core mindfulness

practises are repeated each week:

• mindful breathing

• mindful eating

• mindful movements

• gratitude practise

As well, a different topic grounded in the

science of positive mental wellbeing and related

mindfulness practise is taught each week.

The Mindfulness Education Group are

holding a free seminar on Thursday 29 June

in Hamilton for education professionals to

find out more about the eight-week mindfulness

in schools PBS programme.

The Mindfulness Education Group is a

social enterprise, and the Pause, Breathe,

Smile programme is supported by the Mental

Health Foundation of New Zealand.

Thanks to generous funding from Trust Waikato,

the Mindfulness Education Group has a

number of 100% full-fee scholarship placements

to award to decile 1-5 schools in the

Waikato region. This will mean more teachers

can complete the PBS Educator Certification

training pathway for free!

Learn more at the free seminar or visit

mindfulnesseducation.nz for more information

and to register your place online.

Event: FREE Pause, Breathe,

Smile information seminar

Date: Thursday 29 June 2017

Time: 4.30pm–5.30pm

Venue: Hamilton City,

Nawton Primary School, Hamilton

TBC

Mindfulness means paying attention

to what is presently occurring, with

kindness and curiosity.

We might be paying attention to a thought,

a feeling, physical sensations, other people or

the environment around us, but to be mindful

means to give the present moment our full

attention, without distraction.

With time and practise, mindfulness helps

us to more fully appreciate the relationship

between our thoughts, feelings and physical

sensations and the outer world. We learn to

see how they are all connected, and that this

shapes our wellbeing and the wellbeing of

those around us.

We are all capable of mindfulness – some

people are naturally more mindful than others,

and all of us have times when we are more

mindful than at other times. Mindfulness practise

is about training our ability to pay attention

so we can improve wellbeing and decrease

distress.

Practising mindfulness helps us to feel less

stressed, anxious and depressed, and more

balanced and in tune with what is happening

within and around us. This helps us feel calmer

and clearer, which in turn boosts wellbeing and

provides an important foundation for learning.

Who is mindfulness good for?

Everyone. We can all be mindful: children,

teens, adults, young and old can all benefit

from being mindful and from learning mindfulness

practise.

The beauty of mindfulness is that it can be

done anywhere. With practise, you can overcome

many of the things that hold you back

from feeling in tune with yourself and your

environment.

What are the benefits of mindfulness?

Research shows that, when practised over time,

mindfulness:

Decreases symptoms of anxiety and depression.

Decreases the production of the stress hormone,

cortisol.

Improves concentration and the ability to learn.

Increases resilience.

Increases calmness.

Enhances self-awareness.

Helps with conflict resolution and the development

of positive relationships.

Increases wellbeing.

With mindfulness practise, we can overcome

distractions and over-thinking, and live more

calmly and clearly in the present moment. We

can feel kinder and more curious about others.

We spend less time worrying about the future

or fixating on the past and can allow unhelpful

thoughts to simply pass by so we can focus on

the task at hand. This reduces stress, anxiety

and depression. Over time better focus and

attention helps build resilience and wellbeing.

* Information supplies by Mindfulness Education Group

(mindfulnesseducation.nz)

INSPO – FITNESS JOURNAL JUNE 2017

33
---
BEAUTY

SPOT

Herbal beauty

There's something truly special about

New Zealand skincare ranges like

Archeus. This divine range of artisan

skincare is handcrafted by Georgina Langdale

in her Hawke's Bay apothecary from natural

and organic ingredients.

Her lifelong passion for botanic wisdom,

healing and nature has created skincare with

natural healing and nourishing properties.

There are no nasties like parabens,

sulfates or artificial fragrances and the range

includes creams, oils, balms, mists, masks

and even beard oil for the blokes.

"I love using ancient techniques such as

slowly infusing beautiful organic plant oils

like organic camellia (my fave), with healing

herbs including calendula, nettle, stellaria

media and plantain," says Georgina.

"Archeus means the life force in us, nature

and the universe. I work with the energetic,

symbolic and healing attributes of plants,

many of which I grow myself.

"This approach and direct connection to

nature adds an extra dimension to the range.

One of my most popular products is Everlasting

Oil; a fabulous oil for all skin types,

infused with gorgeous herbs and essential

oils and lovely at this time of year to put on

under a moisturiser for a bit more protection

against the icy wind."

Archeus.co.nz

>WIN

Treat your skin to the soothing wonder of Archeus and enter

to win a prize pack of Archeus Everlasting Oil and Gentle Camellia

Moisturiser (valued at $95). This handcrafted skincare range is

suitable for all skin types and is vegan.

Certified organic camellia and

evening primrose oils form the base

of the luxurious Everlasting Oil, which

leaves skin feeling soft, hydrated and

fabulous.

The Camellia Moisturiser has been

developed to be an everyday friend,

with the word 'gentle' in mind. The

blend of gorgeous natural oils, floral

waters and extracts help soothe, calm

and rejuvenate skin.

To enter, email your name and contact details, with ARCHEUS in the

subject line, to win@fitnessjournal.co.nz or enter online at inspo.co.nz

Entries close June 30 2017

Liquid Gold

Manuka honey has long been recognised as

liquid gold. ApiRefine Gold Dust Firming

Serum is the latest addition to the impressive

Manuka Doctor collection of skin care

goodness.

The combination of purified bee venom

and manuka honey helps hydrate skin

and supports natural collagen production.

Plant extracts and colloidal gold add to

the multitude of serum benefits. Sleek and

luscious on your skin, it's the perfect treat

all year round.

Manukadoctor.co.nz

Winter glow

Give your skin a healthy winter glow with

a helping hand from the new Brilliant Skin

Bronzer and Illuminator Duos, from the

vegan Designer Brands collection.

Enriched with green tea, vitamin C and

aloe vera, the two in one formula is silky

smooth to apply and blend. Apply bronzer to

the hollows of cheeks, temples and jawline,

and illuminator to the tops of the cheekbones,

nose, brow bone and cupid's bow –

and enjoy a healthy sunkissed skin glow.

Dbcosmetics.co.nz

34 INSPO – FITNESS JOURNAL JUNE 2017
---
FLOAT THERAPY

Float your stresses away in the soothing relaxation of the

latest treatment available from Lifestyle Physiotherapy.

Float therapy is the latest addition to

the range of services offered, alongside

pre and post surgery rehabilitation,

exercise prescription, soft tissue and joint

mobilisation, manipulation and acupuncture.

Physiotherapist and former Black Fern

Teresa Te Tamaki says that while float therapy

was once regarded as 'hippy and alternative',

these days the health benefits are more

widely recognised.

"Floating, just like acupuncture and meditation,

is now considered more mainstream.

It's something we absolutely recommend

helping reduce stress and anxiety and support

pain management and muscle recovery."

The addition of a Dreampod float therapy

to Lifestyle Physiotherapy completes the

range of services available, with a focus on

complete health and wellbeing. From elite

athletes to children, the business caters for

a broad cross-section, with clinics in St Andrews

and Ngaruawahia.

"When you float there is no external stimuli

such as light and noise that we are usually

bombarded with throughout the day, so the

sensory areas of the brain that normally process

this information don't need to work as

hard, which results in the ultimate relaxation.

"The sanitised water is maintained at body

temperature and its high concentration of Epsom

Salts allows you to float with no effort."

The float therapy is open for bookings

this month and Teresa recommends float

therapy for everyone from athletes to expectant

mums.

As a new mum herself, she says the float

therapy can help relieve discomfort and the

feeling of weightlessness is instantly relaxing.

"It's also of benefit to those in high stress

jobs, or in chronic pain, and for athletes the

high concentration of Epsom Salts (magnesium

sulphate) helps with muscle recovery.

There are also detox benefits and it improves

circulation and rejuvenates the skin."

Advance bookings must be made and full

instructions are provided. Lifestyle Physiotherapy's

float therapy will be open late to

allow people to float after work.

For more information or to book your

float, visit lifestylephysio.co.nz

>WIN

Enter to win the opportunity to enjoy three

sessions of Float Therapy from Lifestyle

Physiotherapy (St Andrews and Ngaruawahia).

Opening this month, Float Therapy offers

the chance to relax and rejuvenate, as well

as assisting with muscle recovery, detox and

reduce stress and anxiety.

To enter, email your name and contact

details, with LIFESTYLE PHYSIO FLOAT in the

subject line, to win@fitnessjournal.co.nz or enter

online at inspo.co.nz

Entries close June 30, 2017.

Making a difference in peoples' lives

Services offered:

- Acupuncture

- Soft tissue and joint mobilisation

- Manipulation

- Exercise prescription

- Pre and post surgery rehabilitation

Float therapy... opening in June

Contact us today

reception@lifestylephysio.co.nz

www.lifestylephysio.co.nz

St Andrews: 07 850 5950 Ngaruawahia: 07 824 7799

INSPO – FITNESS JOURNAL JUNE 2017

35
---
It's no game for professional

sports players in

GAMBLING'S

GRIP

BY ANDREE FROUDE

PROBLEM GAMBLING FOUNDATION OF NZ

There is a long list of sports

stars from all corners of the

globe who have developed

crippling and life-changing

gambling problems.

Many of them have spoken candidly

and publicly about the issue which

has, for some of them, been the

biggest battle of their lives.

Recent headlines have highlighted many

top sports stars, particularly in male-dominated

sports such as rugby league and

football, who have succumbed to gambling

problems with catastrophic consequences for

their sporting careers and lives.

Kiwi league star, Kieran Foran said in a

NZ Herald article, "I was a gambling addict.

I had been for most of my career. I've never

bet on rugby league but I've bet big money

on horses and greyhounds."

"It's a torrid road. It takes everything

you've got to get through it."

He's right; it is a difficult road and one that

so many elite athletes have travelled along.

The issue was brought to the big screen

recently with the release of the Australian

movie 'Broke', a story of a league star who

destroys his life with gambling and drinking.

Luke Graham, son of Kiwi league legend,

Mark Graham, produced the movie

hoping it would make people think about

the place gambling has in rugby league and

society.

Although Mark Graham didn't gamble,

Luke said the movie is based on a lot of players

he got to know growing up and he also

had friends with gambling problems.

A gambling problem

can happen to anyone.

If it's you,

you're not alone.

If you are worried about your own

or someone else's gambling

Call 0800 664 262

Email help@pgf.nz www.pgf.nz

K6163R

36 INSPO – FITNESS JOURNAL JUNE 2017
---
Gambling has become so entrenched in

sporting culture that it isn't surprising that

players are exposed to it. But what is it that

makes athletes so susceptible to gambling

problems?

Tony Lindquist, counsellor at the Problem

Gambling Foundation of New Zealand,

said professional sports players often have

ready access to large sums of money and that

is part of the problem.

"With more money available to them the

problem or habit for the athlete has become

really cemented before it is recognised as

problematic," he says.

'If they are actually betting on sports, they

tend to gamble with larger sums of money

than pokie players. Problem sports bettors

will wager large amounts, for example, from

between $100 to $5000 in one bet, as they

start to chase their losses."

Sports players also use gambling as a

form of escapism from the stress in their

lives and even from boredom, as they regularly

have time on their hands particularly

when travelling away from home.

A recent study conducted by Graeme Law

from the University of Chester in the United

Kingdom, involved interviewing 34 current

and former professional football players.

His research, that he conducted as part of

his PhD, found that many players were under-performing

because they were worried

about their losses from gambling.

Mr Law said that players gambled to relieve

the boredom on trips to away games and

after training. He was told of one 18-year-old

player who lost about $2000 on the way to a

game and 'he had a shocker of a game'.

The competitive nature of athletes also

comes into play and fuels the drive to win

that can very easily begin the downward

spiral into harmful gambling.

Once this has happened, shame and

stigma can prevent someone from reaching

out for help or even sharing the problem.

This is particularly so with high profile sports

players.

Unfortunately, reaching out for help often

doesn't happen until someone has hit rock

bottom. As we've seen in the headlines, for

sports stars that can also be accompanied

with intense media scrutiny.

Tony Lindquist says helping someone

overcome a gambling problem is different

for every individual.

"The gambler needs to acknowledge that

his behaviour is having a detrimental effect

on his life and move from thinking about his

behaviour into a stage of doing something

about it," he says.

"It's important when working with someone

who plays sports at an elite level to try

and treat them the same as anyone else and

provide the same level of care and understanding.

"Of course it may be that the intense media

scrutiny has contributed to the harmful

gambling so this may be an area to address

or manage in the future to reduce the risk of

relapse."

Tony says relapse prevention is really

important; being aware of old behaviours

resurfacing, having a support network and

ensuring that the gambler doesn't fall back

into old patterns of behaviour.

There's no doubt that being in the public

eye adds another layer of stress for anyone

battling an addiction. But their stories they

so bravely share act as a reminder that the

heroes we idolise are human and that a gambling

problem doesn't discriminate; it can

happen to anyone.

For more information or advice, visit pgf.nz

OVER 50 GROUP EXERCISE CLASSES PER WEEK,

STRENGTH & CARDIO EQUIPMENT, SQUASH

COURTS, ENDLESS SWIMMING POOLS AND MORE.

UNIREC | ON CAMPUS AT THE UNIVERSITY OF WAIKATO, GATE 1, KNIGHTON ROAD

INSPO – FITNESS JOURNAL JUNE 2017

37
---
Handy tips to

REBOOT

THE GUT

BY DANIELLE ROBERTS

We often underestimate how

much the gut being out of

balance can affect our energy,

health and happiness. For

busy people with lots on their

plate or with stress in their

lives, the digestive system is

usually the first system to

play up.

Without a proper working digestive

system, we are prone to getting ill

easily (colds and flus, etc).

We can get overly moody, our skin can

play up, our bowels play up and we don't

digest and absorb nutrients properly.

From there other systems of the body

start to become affected and a whole chain

reaction comes into play.

If this is resonating for you, here's what

you can try….

Bone broth or vegetable broth for breakfast

to start off your morning.

There are lots of fantastic bone broth recipes

on the internet and many people find it helps

reboot the gut when taken first thing in the

morning. Why is this? Because bone when

cooked in vinegar and boiling water realises

healing amino acids like glutamine, glycine,

proline and arginine.

These can help strengthen the gut lining;

reducing food intolerances, improving immunity

and mood (as a lot of the happy hormone

serotonin is produced in the stomach).

Never fear vegetarians vegans you can

make a vegetable broth so you don't miss out

on these amino acids, by boiling red cabbage,

spinach, cauliflower, broccoli, organic soy

beans, kale, pumpkin, beetroot, parsley and

dried kelp (seaweed).

For a time, eliminate gluten/wheat, dairy,

unnatural additives and preservatives, added

processed sugar and fats.

This is for the simple fact that if your digestive

system is irritated then these substances

are usually the first to cause greater inflammation.

Have meat-free days.

Meat takes approximately 48 hours to

process whereas plant sources take less than

24 hours. Therefore, having more plantbased

meals will put less stress on your

digestive system, allowing greater space for

healing to occur.

Cut down/ eliminate coffee and replace it

with gut friendly herbal teas.

Loose leaf teas are best. Chamomile is calming,

anti-spasmodic for muscles including

the stomach lining, decreases stress responses

in the body, reduces bloating and gas.

Lemon (cleanses and turns alkaline in the

gut) and ginger improve the digestive system,

stimulate and help in the absorption of

nutrients, absorb gases and toxins and help

the skin release toxins.

Fennel is great for relieving bloating, gas

and water retention. Peppermint soothes the

gut reducing irritation and pain.

DANIELLE ROBERTS (Nutritionist) is dedicated to helping people enjoy a healthy

and knowledgeable relationship with food. Her business Fuel Nutrition allows her to

share her passion for nutrition and healthy living. Danielle is a freelance nutritionist

and works with a number of Hamilton gyms. To make a booking, please contact

Danielle at www. fuelnutrition.co.nz

Naturally Healthy

Health Stores and Clinics

www.naturallyhealthy.co.nz

/naturallyhealthynz

Frans van de Weerd:

physiotherapy (acc reg)

• Homeopathy

• Fertility

• Cranio sacral therapy

• Bowen therapy

• Food Sensitivity testing

• Massage therapy

• Facials

• Knowledgeable staff

• Instore tastings: herbal teas;

superfoods etc

• In store displays & education

• Professional therapeutic

ranges

• Best buys and deals

• Bach Flowers blending &

therapy appointments

• Hair Analysis

• Specialising in children &

infants

NATURALLY HEALTHY

106 London Street,

Hamilton Central

Ph 07 958 3845

Free customer

parking on site

Hours:

8am– 6pm

Monday to Thursday

8am– 7pm Friday,

9am– 5pm Saturday

Yoga for Athletes & Everyone

Balance Yoga offers yoga classes for all types of bodies. You don't need to

be an athlete, and you don't need to be flexible. Come and try yoga with our

experienced, professional teachers can discover how yoga can help you move

better, stretch better and breathe better.

Classes six days a week.

Why should athletes do yoga?

• Develop and maintain muscular balance

• Reduce your chance of injury

• Mindfully stretch out your tight spots

• Improve your range of motion, coordination and core strength

• Develop body awareness and mental focus

• Faster, more effective recovery

For class timetable and full details visit

www.balanceyoga.co.nz or contact Sarah 027 287 3444

38 INSPO – FITNESS JOURNAL JUNE 2017
---
INSPO – FITNESS JOURNAL JUNE 2017

39
---
The joys (or not) of

DIGESTION

BY MONICA VAN DE WEERD

While many of us like to pretend

that we are immune to some of

the awkward body responses to

digestion, such as farting, wind, bloating and

acidity – and even joke about these things

between friends and family to cover any faux

pas or embarrassment, perhaps it is time to

consider why we suffer these afflictions.

Is there more to what your body is trying to

communicate – and should you be concerned?

Let's find out more. Simply put, bloating

is the body's way of trying to break down

food which is not breaking down as effectively

as it should.

Farting is gas from food which is not

breaking down properly in the lower bowel.

Acidity or reflux indicates a problem with

the stomach or oesophagus.

This acid can harm your mucus lining

and cause ulcers and inflammation. Enzyme

activity may be compromised and this can

lessen absorption of nutrition.

Acidity, inflammation and a weakened

digestive system can lead to less energy, as

well as immunity and recovery issues.

Depending on which symptom(s) you

have, the following can help support your

digestive processes.

Aloe Vera

This can be taken in a capsule or

liquid form. It helps calm bloating in

the stomach or bowel while helping the

body to absorb proteins. Aloe Vera supports

the immune system against allergens

and supports gastro intestinal health. Talk

to a natural health specialist to ascertain if

you need it by itself or together with other

digestive support herbs/nutrients.

Enzymes

These are recommended when you suffer

indigestion after eating or if you have food

intolerances, which can cause bloating,

flatulence or nausea. Enzymes are available

in capsules and are normally taken before

your meal to support your digestive process

and can help to release nutrients for energy,

cell growth and body repair.

Probiotics

A healthy body naturally hosts trillions of

beneficial bacteria, but today's lifestyle of

stress and poor nutrition can severely compromise

this.

Healthy microflora digestive balance aids

a healthy and strong immune system and

supports intestinal comfort.

Pro and pre biotics are available in

capsules or powders and can be used in

combination with other wellbeing support

nutrients and herbs.

For example LIFESTREAM Bowel Biotics

have enzymes, natural fibres and probiotics /

prebiotics. This formula makes regular bowel

movements easier and more comfortable,

while providing and maintaining healthy

bacteria.

The enzymes in the formula help your

stomach break down the food you eat and

to absorb the nutrients into the body more

effectively.

By giving your digestive system a helping

hand, you should find that your dinner conversations,

health and wellbeing are much

approved.

What else can you do?

- Eat well – refrain from refined foods and

sugary drinks.

- Eat slowly and chew your food well to help

your digestive system work effectively.

- Drink adequate water: without fluids we

become dehydrated and constipated.

- Avoid soft drinks. Choose pure fruit juice,

herbal tea and clean water.

- Do regular exercise with adequate sleep and

relaxation. Plan 10 minutes a day to simply

relax.

- Have proper elimination. If elimination

does not occur daily, toxins and waste may

start to be reabsorbed back into the body.

Support elimination with high fibre foods

and high water intake. - Regular exercise

helps to keep abdominal muscles toned.

When adding supplements or herbs to

your good diet, seek professional advice to

ensure you are taking the correct products

for your specific requirements. Natural

health works if you get the right nutrient/

herb in the right dosage.

MONICA VAN DE WEERD is a well respected Waikato based beauty therapist and

aromatherapist, with an impressive knowledge of natural health and wellbeing. She

and husband Frans (a qualified physiotherapist, homoeopath, craniosacral therapist

and bowen therapist) are committed to living a naturally healthy lifestyle. www.

naturallyhealthy.co.nz

40 INSPO – FITNESS JOURNAL JUNE 2017
---
DRINK YOUR

GREENS

What to do with winter vege? Silverbeet, Cavolo Nero, Redbor

kale, collards, watercress and microgreens are healthy and

readily available, but putting them on the daily menu is difficult

even for the most capable of cooks. So, why not drink your greens?

Green smoothie - the versatile powerhouse

Kale for breakfast? Absolutely. Exchange

your morning coffee for a green smoothie

and see what it does to your energy.

In need of a healthy post-workout meal?

Green smoothies don't have to be light and low

in calories. Add grated raw vegetables like carrots

and beetroot and make your smoothie rich

with avocado, coconut cream or nut butters.

Why leafy greens?

Leafy green vegetables are packed with

vitamins, minerals and substances that boost

your immune system and may help protect

you from heart disease, diabetes and cancer.

They are also a great source of fibre, making

you feel full sooner, decreasing the chance

of overeating, and also slowing down the

absorption of sugar.

Leafy greens are easy to digest and the

raw vegetables provide a wealth of nutrients

that are, unlike in their cooked counterparts,

intact and absorbable.

Be concerned about where your greens

come from, because raw vegetables bear the

risk of food borne illnesses. A good way of

getting food that has minimal handling and

travelling behind it is to buy directly from

farmers (e.g. farmers' markets) or from a local

produce delivery. Wash everything thoroughly

and use quickly. Plants start to break

down right after harvesting, so the fresher

the produce, the richer it is in nutrients.

Organic and spray-free is the way to go:

Without healthy soil, vegetables lack in nutrients,

and sprayed-on chemicals are certainly

not ingredients that belong in your smoothie.

How to go green

Experiment to find out what you enjoy best.

Don't think that a green smoothie needs to

taste sweet for you to like it. Although you

might like your sweet fruit smoothie, you will

probably find a sour-tasting green smoothie

much more refreshing and satisfying.

Start with a 50/50 smoothie, half fruit and

half vegetables, and work your way slowly

towards more vege and less fruit. Cucumber

is a great substitute for fruit on the way to a

WAIKATO FARMERS' MARKETS

local produce + locally produced goods

Every Saturday in Cambridge

Every Sunday in Hamilton

KNOW WHERE YOUR FOOD COMES FROM

- Buy directly from farmers

- Ask about produce and growing methods

- Live with the seasons and save

- Get recipe ideas and enjoy seasonal events

www.facebook.com/waikatofarmersmarkets

low-sugar smoothie. Then add those healthy

ingredients like herbs, ginger, turmeric and

chia seeds, or transform your smoothie into

a protein shake and add nuts, seeds, avocado

and spirulina.

Kiwifruit Green Smoothie

(1 serving, 350 ml glass)

2 packed cups roughly chopped silverbeet

and kale

1 large kiwifruit, peeled

1 mandarin, peeled

1/2 cup water or ice cubes

Apple Lime Green Smoothie

(1 serving, 350 ml glass)

2 small apples, quartered and peeled (to help

your blender)

Juice of 1 lime

2 packed cups roughly chopped silverbeet

1 small grated carrot

1/2 cup water or ice cubes

Blend the greens first, and then add the

remaining ingredients and blend again.

Depending on the blender, you will need to

blend for at least one minute. Although you

don't need to spend a fortune on a decent

smoothie blender, some low-end blenders

just can't do the job and leave your greens

barely shredded. A proper blender needs to

be able to puree a smoothie to a consistency

you can comfortably drink.

Gate 3 Brooklyn Road, Claudelands

Sunday, 8:00-12:00

Victoria Square, Cambridge

Saturday, 8:00-12:00

INSPO – FITNESS JOURNAL JUNE 2017

41
---
KIWI KIDS

CAN'T COOK

New Massey University research, commissioned by the Heart

Foundation and vegetables.co.nz, shows that only 13 percent

of surveyed teachers identified planning and preparing a

complete meal as a key learning objective for their students.

Nearly 120 schools throughout New

Zealand took part in the research,

which examined how intermediate

school children in Years' 7 and 8 were taught

cooking skills under the current school

curriculum.

Heart Foundation Food and Nutrition

manager Dave Monro says while many

schools are doing a good job f teaching cooking

he is concerned about the inconsistencies

in what is taught, how it is taught and how

much time is devoted to it.

"Many of the foods and techniques

taught in class are based around cakes, muffins

and desserts with less than 50 percent of

the foods prepared being main meal items,"

says Dave.

"Additionally, only 10 percent of teachers

surveyed listed the fruit and vegetable

content of a recipe as a factor that influenced

their recipe choice.

"With one in three Kiwi kids now overweight

or obese it's more important than

ever to equip them with skills that will help

set them up for a healthier future."

Overall, the findings indicate that there

are opportunities to better support children

with important skills in food preparation.

"A number of schools surveyed have

comprehensive programmes which we can

learn from and use as the basis for enhancing

teaching in other schools," says Dave.

He says cooking meals and gathering

together as a family, and as a community is a

skill that is proven in many cultures to be an

essential ingredient for a healthy lifestyle.

"Traditionally, schools and parents were

the main teachers of cooking skills, however,

changes in traditional family structures have

resulted in fewer opportunities for our children

to develop these important life skills.

"The school curriculum is the most

appropriate way to support the development

of cooking skills as it reaches all children and

provides many learning opportunities across

a number of subject areas," he says.

As a result of the findings, the Heart

Foundation and vegetables.co.nz will now

work with other key agencies, such as the

Ministry of Health, the Ministry of Education,

the Association of Intermediate and

Middle Schools, and the Home Economics

and Technology Teachers' Association

on developing steps to strengthen what is

taught.

"This will potentially include more consistency

in what is being taught, a stronger

focus on preparing a main meal including

plenty of vegetables and fruit, and a central

pool of resources and tools to enhance some

of the work that is already being done."

Dave also believes there is a key message

beyond this research for parents "that they

need to do what they can from an early age

to get children in the kitchen and to teach

them about food and food preparation".

MRI ULTRASOUND X-RAY CT BONE DENSITY

Pacific Radiology specialise in sports injury imaging

and diagnosis.

We accept any referral forms and provide a

walk in service for all x-ray examinations and urgent

diagnostic imaging .

Enviro-friendly, natural

and healthy education

Large play

areas and

outdoor

opportunities

Choose

kindergarten,

centre or

homebased

education

Exclusive

Cool 4 School

Enviroschools

Under5Enerize

Programmes

kindergarten.org.nz

0800 CHILDREN

Waikato

Kindergarten Association

Call Pacific Radiology for an appointment today or visit

pacificradiology.com

Pembroke

Von Tempsky

Avalon

Cambridge

Phone: 07 834 0000

35 Pembroke Street, Hamilton Lake

21 Von Tempsky Street, Hamilton East

6 Avalon Drive, Hamilton West

14 Dick Street, Cambridge

Email: hamilton@pacificradiology.com

42 INSPO – FITNESS JOURNAL JUNE 2017
---
Mexican

salad jars

These salad jars are easy to transport. Simply

layer your ingredients and securely fasten the lid.

SERVES: 4

TIME TO MAKE: 15-30 mins

MEAL TYPE: Lunch

METHOD

1. Heat the olive oil in a non-stick pan over a

medium heat. Add half of the chopped onion

and cook until slightly soft. Add the mince,

breaking up any clumps with a wooden spoon

and cook for 5 minutes or until browned.

2. Add the cumin, ground coriander, paprika,

oregano and cayenne pepper, cooking for

another 5 minutes until fragrant. Add the

pasta sauce and water and reduce the heat to

low. Simmer for 15 minutes until the sauce has

reduced. Remove from the heat and allow to

cool.

3. For the gaucamole, place the diced avocado

in a bowl and mash roughly with a fork.

Mix through the fresh coriander, capsicum and

lime juice, then season to taste with pepper.

4. Heat a chargrill pan or BBQ to medium

heat and cook the corn for 10 minutes until

tender. Transfer the corn to a board and when

cool enough to handle, remove the kernels

with a sharp knife.

5. Divide the mince mixture between 4 jars

or bowls. Top the mince mixture with black

beans and then continue layering with the

chopped tomatoes, cabbage, second half of

the red onion, chargrilled corn, and top with

guacamole.

6. Garnish with coriander leaves.

TIP: Use the left-overs from your dinner and

put in a jar with a tasty vinaigrette for lunch

the next day.

Muesli cookies

These whole grain muesli cookies are a perfect

treat any time of the day.

SERVES: 10

TIME TO MAKE: 15-30 mins

MEAL TYPE: Dessert

METHOD

1. Preheat the oven to 175°C.

2. Place the margarine, golden syrup and

sugar in a medium saucepan over a medium

heat and stir until the margarine is just melted

and ingredients combined. Add the remaining

ingredients and stir to combine.

3. Place tablespoons of the mixture onto two

baking trays, flattening slightly. This should

make 20 cookies.

4. Bake for 15 minutes or until golden. Allow

to cool on trays.

For more recipes and information around

heart health, visit heartfoundation.org.nz

Don't wait until

next year to

start studying!

Information Session

Talk to our tutors, take a tour of

our facilities, and get answers

to all your questions.

Tuesday 13 th June, drop in from 3.30pm—5.30pm

Student Hub (S Block), Rotokauri Campus

This isn't just about sport. This is about

excellence, wellness, health and helping

people reach their potential.

Take the first step towards your future.

0800 2 Wintec

create your world

www.wintec.ac.nz

INSPO – FITNESS JOURNAL JUNE 2017

43
---
RUNNING

with a Hurricane

Hamilton school teacher Chris May

felt so strongly about wanting to see

his students thrive and succeed that he

decided to put pen to paper and write a

book on the subject.

The result is Running with a Hurricane

(Educating boys for manhood), a book

which explores the world of boys learning

and identifies the idea of what it means to

be 'a' man (as opposed to 'the' man).

"From my own journey through school

and employment, and being involved in

education, I saw the opportunity to develop

a boys' programme to engage and empower

boys in their learning," says Chris.

"The mantra of this programme, named

Nga Tama Toa, teaches boys the value of

what it means to be 'a' man, over being 'the'

man."

Chris has been co-ordinator of his programme

since its inception in 2010.

His book Running with a Hurricane is

written from the view of what boys can learn

to make valuable contributions, not only

to the household they live in but also to

society. Ideas are presented in a way that can

be adopted at home or in the classroom to

develop values and skills.

Running with a Hurricane has been

written for beginning primary through to the

end of high school, and builds upon ideas for

boys as they enter the world of manhood.

A practical and informative insight into

educating boys to be great men, Chris began

his own journey into boys' education in 2010

after noticing a learning need within that

area.

"This was largely based around my own

experience of low achievement during my

school years.

"I left high school with no qualifications,

and spent the next 16 years building my professional

career from the ground up."

From his journey through school and

employment, and being involved in education

himself, he saw the opportunity to develop

boys' learning programmes to engage

and empower boys in their learning.

INSPO Fitness Journal finds out more ...

What prompted you to write on this topic?

After my own failings in school, my life

somehow led me into the world of education.

I saw a need for specific action around boys

learning and wanted to develop programmes

and teacher practise that promoted learning

for boys to ensure success and achievement

at any level.

Why are you so passionate about it?

I understand first-hand what failure and

underachievement feels like at school. I

never want children that I teach to have to

experience the same underachievement that

I did. Every child has the potential for greatness

within them, and part of what I hope to

accomplish is supporting children towards

achieving what even they didn't think was

possible.

Three things you wish everyone remembered

about educating teenage boys?

It takes a team.

We can't have the really good stuff without

getting through the really bad stuff together.

It's not so much about what we do for them,

but what we have enabled them to do for

themselves.

Running with a Hurricane is Chris' first

book and has been released through Amazon.com

>WIN

Enter to win one of two copies of

Running with a Hurricane by Chris May.

To enter, email your name, address and

contact details to win@fitnessjournal.

co.nz with Hurricane in the subject line,

or enter online at inspo.co.nz

Entries close June 30, 2017

44 INSPO – FITNESS JOURNAL JUNE 2017
---
FEEDING

THE ENGINE

THAT CAN'T

Are our kid's lunchboxes

fuelling their busy days?

BY CHRIS MAY

As the old saying goes, the food we eat needs to "fuel the

machine." We feed our bodies and minds, with the fuel that

keeps us going throughout the day.

Like shovelling coal into the firebox of

a steam locomotive, we fuel ourselves

to feed our own personal fires which

drive us towards our daily goals. We all seem

to know the importance around the what,

when, why and how of this fuel, as we never

underestimate the busy-ness of our own

days. But let's take some time to think about

our kids who are in school for the majority

of their day.

Do we underestimate the fuel they need

to power themselves through their day? Our

children's daily lives are far busier than we

give them credit for. The morning bell rings

and learning is Go! Go! Go! Then the play

bell rings and outside its Go! Go! Go! and so

on until the end of the school day. Then of

course are the sports trainings or clubs after

school, where its Go! Go! Go! all over again. A

child's body, and as importantly their mind,

need to be fuelled for a busy, action packed

day. They require the drive to be focused

and on task for long periods of time, and

persevere throughout a long day. Why is it

then that so many lunchboxes are filled with

the fuel that only encourages our kids to do

the exact opposite?

In many children's lunchboxes, healthy

"Healthy foods

prepared and presented

in different ways can

make all the difference

to brightening up what

in the past have been

perceived as 'boring'

foods."

food options have given way too quick and

easy 'throw-in' packaged alternatives. Many

of these alternatives have slim to no nutritional

value, are filled with many different

types of sugars and preservatives which offer

little support for a growing and inquisitive

mind.

This has been very evident for myself

within my years in the classroom. At the start

of one school term during 2016, I decided

to modify our class morning schedule. With

a morning tea bell time at 10:15am, I moved

our eating time from 10:10am to 9:45am.

This enabled us as a class to sit and eat

together, then afterwards continue working

through to the bell at 10:15am.

The hope I had was a television trade

show style 'Tools Down' when the morning

tea bell rang; straight outside to play, no need

to be concerned with packing up. This experiment

was doomed from the beginning,

as many children chugging down fruit-flavoured

drinks and fruit strings packed with

sugar struggled immensely to refocus back

into learning directly after they had eaten.

This was especially evident when directly

compared with their sandwich and natural

fruit eating classmates.

Of course, we should not take the fun out

of food for our kids. Having fun options is

part of what being a kid is about. Let's not try

to be fun police here and move all lunchboxes

towards being plain and boring. Even

I would admit being guilty of the odd Tim

Tam with my mid-morning coffee.

There is a need however, to examine

closely what fuel is being provided for our

busy kids to empower their learning, and just

as importantly, their play throughout their

day. Healthy foods prepared and presented

in different ways can make all the difference

to brightening up what in the past have been

perceived as 'boring' foods.

This means using something that we can

be very poor with during our own days, and

that is time. Time to get and prepare this

fuel. Thinking back to our train idea earlier,

surely these extra few minutes are worth

ensuring that our young trains have the fuel

they need to make it to their desired destinations,

wherever in life their own tracks

choose to lead them.

When students are empowered with their

learning in the classroom, engagement and

learning increases exponentially. A self-motivated

child pushes their own boundaries and

accumulates all their own learning successes

and achievements. The same can be said

about children and their food. A child can

pick a packet out of a bag and throw it in

their lunchbox no problem.

There cannot, however, be any underestimation

of the amount of learning a child

can obtain when they are creating their own

lunch options. It can be said that it is as not

only an emphasis on modifying what's in

the lunchbox, but changing who puts what

in the lunchbox. Sometimes the students

who feel most empowered in the classroom

are the ones who are in control of their own

lunchbox.

INSPO – FITNESS JOURNAL JUNE 2017

45
---
LIAM

MALONE

helps feed hungry

school children

Paralympic medalist Liam Malone

(23) shot into the spotlight following

his awesome medal-winning success

(two golds and a silver) at the 2016

Summer Paralympics.

Liam Malone involved with Eat My Lunch

He has gone on to become something

of a household name and a popular

sporting hero for children (and adults)

of all ages.

Liam is putting his newfound profile to

good use and has partnered with Eat My

Lunch to help feed hungry children. The

Buy One Give One social business is on

a mission to ensure no kid goes to school

hungry.

Parents!

Give your child a chance to catch up or

get ahead this year. Join us!

Maths and English specialists Year 1–13

Now taking preschoolers

For your free consultation call us today!

PHONE 0800 TUTORING

Where education means more than just fun:

It means success!

HAMILTON WEST 07 848 2262

HAMILTON EAST 07 853 5013

www.kipmcgrath.co.nz

Liam approached Eat My Lunch's Lisa

King as he wanted to help make New Zealand's

future look much brighter for less

advantaged children.

"I remember back to when I was in

primary school and it was those children

that came from tough socio-economic

conditions, that rarely had any food at school

and struggled the most with focusing and

engaging in their learning," says Liam.

To date, Eat My

Lunch has delivered

more than 800,000

lunches, giving

400,000 lunches to

hungry kids in 46

low decile schools in

Hamilton, Auckland

and Wellington. But

with 28 percent of

Kiwi children living

in poverty there are

still plenty more kids

to feed.

Every day more

children continue to

go to school without

lunch. It not only

affects kids' learning

capacity, many of the

schools involved with

Eat My Lunch had

teachers' aids and

teachers giving up

time in the classroom

to make food for

the children. Eat My

Lunch has a current

waitlist of 20 schools.

"I think it's really

important Kiwi kids

receive a decent

education and face

minimal barriers to

learning in order to

Michael Meredith and Liam Malone

have a better future. I like that Eat My Lunch

helps remove these barriers by providing

kids with the nutrition and fuel to help them

focus and engage in their studies," says Liam.

Liam helped out at Eat My Lunch HQ recently,

making more than 1500 GIVE lunches

before heading out to the schools and having

lunch with some of the kids.

"Eat My Lunch embodies what it means

to be a Kiwi by helping our neighbours in

need. Visiting the schools and giving the

kids their lunches was both rewarding and

heart-breaking. The kids I met clearly had

very little and I think of it like trying to raise

productive crops in poor soil. We need to

ensure that our children nationwide are fed

every single day.

"A couple of kids gave me a hug before

I left, acknowledging we made a small but

important impact in their lives," says Liam.

Every day we have the choice to make a

difference. Choose today www.eatmylunch.

nz #doingmypart

46 INSPO – FITNESS JOURNAL JUNE 2017
---
www.braemarhospital.co.nz

24 Ohaupo Road, Hamilton

Phone: 07 843 1899

All health insurers accepted

Because Braemar is owned by a charitable trust, we reinvest any surplus

back into the hospital to stay at the forefront of surgical innovation.

K3628R

Excellence means Braemar

INSPO – FITNESS JOURNAL JUNE 2017

47
---
FAREWELL

'GYMTIMIDATION'

helping those 50+ get active

Get off your couch and farewell Netflix as the hottest

streaming technology – and say hello to VARLAH, an

on-demand fitness streaming service in Australia and

New Zealand, which is breaking new ground with the

launch of its Zest online programme.

Tapping into the older demographic – a

market that has been overlooked by

the fitness industry to date – Zest by

VARLAH is New Zealand's first on-demand

eight-week wellness and total transformation

fitness streaming programme aimed at the 50s

plus market, with online daily workouts and a

comprehensive nutrition guide and meal plan.

Zest has been designed by world-renowned

master trainer and group exercise

pioneer Wendi Carroll, who is best known for

her high-energy Aerobics Oz Style workouts

on TV from the 90s and noughties.

As a baby boomer herself, Wendi is a firm

believer in the importance of staying active,

fit and healthy at any age.

"As any personal trainer would tell you, it's

important to tailor workouts to the needs of

individual clients. Especially when it comes to

age; you can't get a grandparent to do exercises

with the same level of intensity as a millennial."

"Given the numerous proven health

benefits for seniors who exercise – including

lowering the risk of heart disease and high

blood pressure – I'm amazed that no one has

created a programme like Zest before."

"Seniors are highly prone to 'gymtimidation',

which is why the Zest workouts – which

can be completed from the comfort of your

own home – are so appealing."

"It is entirely possible to develop a sixpack

in your 60s. Just give me 35 minutes a

day a few times a week over the eight-week

programme, and I promise that your quality

of life will radically improve," says Wendi. .

Designed for those in their 50s, 60s or 70

plus, Zest offers a variety of tailored workouts

for every fitness level. Customers get

lifetime access to Wendi's fun, inspiring and

dynamic workouts that support a variety of

goals across health, strength, agility, weightloss,

mobility and fitness.

Since the programme is entirely online,

video workouts can be streamed on demand

from home, a park, a friend's place or anywhere

and anytime from an internet-enabled

device such as a mobile phone, TV, tablet,

laptop or PC.

The online portal also includes a forum

for fellow Zest participants to motivate each

other, a workout calendar and a population-specific

nutrition guide and meal plan

designed by an accredited dietician.

Whatever the health goal, users will complete

fitness tests and progress charts as they

continue through the program to keep them

accountable.

"We started VARLAH to show the world

that getting active, fit and healthy is within

reach regardless of age, location, fitness

ability or interest. We're so excited to partner

with Wendi to add Zest to our growing

online fitness library and expand our service

to be relevant to all ages and markets," said

VARLAH co-founder, Lexy Meyerson.

"We have an ageing population, and we

need to give our seniors the resources they

need to help them stay active, fit and healthy."

"Baby boomers would fondly remember

those old aerobics videos from the 80s

and 90s that enabled them to exercise from

their living rooms. Zest – and the rest of the

VARLAH catalogue – is the modern equivalent,

letting you access workouts anytime

and from anywhere, on any device with an

Internet connection."

Zest is available for NZ$69.95, and once

purchased, customers have access to the online

portal of on-demand video workouts, nutrition

guides and discussion forums for life.

For more information on Zest by

VARLAH, visit varlah.com

48 INSPO – FITNESS JOURNAL JUNE 2017
---
WIN

Move your way to better

health and fitness from the

comfort of your own home,

with Varlah; the first on

demand fitness streaming

service in New Zealand to

offer a variety of fitness

programs by top leading

fitness industry experts.

Varlah's online programme

Zest is catering for the 50 plus

market - often overlooked

by the fitness industry. The

online eight week wellness

and transformation fitness

streaming program includes

on-demand

daily complete video workouts

and a comprehensive nutrition

guide and meal plan.

Fitness pioneer Wendi

Carroll takes you through

every step, rep, and workout,

and thanks to the convenience

of modern online streaming,

your guide to health, fitness,

strength and weight loss will

literally be at your fingertips

from any device with an

Internet connection.

Aiming to make exercise

more accessible, convenient

and affordable for everyone,

the Zest by Varlah service is

available for $69.95 as a one

off fee. (Check out varlah.com/

zest)

We have TWO Varlah Zest

memberships available as

a prize. To enter, email your

name and contact details,

with VARLAH ZEST in the

subject line, to

win@fitnessjournal.co.nz or

enter online at inspo.co.nz

Entries close June 30 2017

Raglan's healthy

organic grocer and

Herbal medicine

specialists

• Naturopathic & Herbal

Consultations

• Diagnostic Testing

• Winter Herbal Tonics

The Herbal Dispensary

6 Wallis Street, Raglan

P 07 825 7444 | shop online

www.theherbaldispensaryraglan.co.nz

K7276R

HALF DAY

$120 PER PERSON

FAMILY PASS

$275

(2A 2C UNDER 14YRS)

CANYONING

CAVING

& ROCK

CLIMBING

BOOKINGS ESSENTIAL

phone: 07 825 7386 | email: gareth@raglanrock.com

facebook: facebook.com/raglanrock

K9062R

INSPO – FITNESS JOURNAL JUNE 2017

49
---
BOOK

CORNER

Book some timeout

Whether you like to read for

relaxation, for education or

for enjoyment, we reckon

these book titles tick all of

those boxes.

with the condition to live the better life

with anxiety'. Her determined and curious

nature sees her investigate the many facets of

anxiety; triggers and treatments to fashions

and fads. While never underplaying how it

can affect people's lives, and sharing her own

lifelong battle, she also brings humour and

sparks of wisdom to the topic. This small

book with big heart is wordy but you can

dip in and out of it as suits.With a massive

following from her international bestsellers

I Quit Sugar and I Quit Sugar For Life, this is

another thought provoking read.

tance, honesty and courage, among other

topics. Best of all it encourages women to

work towards supporting and encouraging

one another. To inspire and empower yourself

and other women - and surely that can

only be a good thing.

First, we make the beast beautiful

By Sarah Wilson

panmacmillan.com.au

Anxiety. The word deserves its own dictionary,

as it is brings something different to

everyone it affects. These days an increasing

number of people suffer from anxiety in its

many guises. Bestselling author Sarah Wilson

tackles the topic thoughtfully and with a

fresh approach. While there are many books

about coping with anxiety, Sarah's outlook is

more around encouraging those 'who dance

We: A Manifesto for Women

Everywhere

By Gillian Anderson and Jennifer

Nadel

harpercollins.co.nz

With an increasing awareness around depression,

anxiety and mindfulness, this book

is well-timed; encouraging women to taking

care of themselves emotionally, physically

and spiritually. While co-author Gillian Anderson

is better known for her role as special

agent Dana Scully in the iconic X-Files series,

this inspirational book reveals another facet

of her personality. And the word inspiration

is an important one, for that is a key goal

of this book; to inspire women around the

world to support and encourage each other,

to embrace the positive in life and to feel

empowered to work towards happiness and

freedom. It touches on love, peace, accep-

I Don't Have Time: 15-Minutes To

Shape A Life You Love

By Emma Grey and Audrey Thomas

Exislepublishing.co.nz

If you're anything like me, you'll try to ignore

how often you think or say "I'd love to ..

but I really don't have time. Before you know

it, the saying has become your mantra. As a

work-life specialist (Emma) and a life coach

(Audrey), the authors sum it up when they

point out that we live in a time and culture

where exhaustion has become a status symbol.

If you're not frantic or flat out – eyebrows

are raised. Step away from the perils

of 'hurry sickness'. Through shared experiences

and challenges, I Don't Have Time explores

50 excuses we use which prevent

getting on with the things that really matter.

These excuses hold us back in health and

wellbeing, careers, relationships, finances,

home environments, personal development

and recreation. Using humour, anecdotes

and research, this practical guide to ditching

the 'crazy busy' and helping people rescue

themselves, proves that maybe, just maybe,

life doesn't have to be as complicated as we

make it?

Can you truly say you have been

nourishing your body? Are you full of

energy and vitality?

M: 027 844 5347

E: danielle @fuelnutrition.co.nz

www.fuelnutrition.co.nz

www.facebook.com/fuelnutrition4life

Sometimes it is easy to let life get in the

way, now it is time to put yourself first.

For nutrition education, plans and

guidance tailored to your needs contact

Danielle Roberts (Bsc Human Nutrition)

• Mobile Personal Training

• Sport Specific Strength

and Conditioning

• Nutrition analysis and

strategies

• Small group training

50 INSPO – FITNESS JOURNAL JUNE 2017
---
Creating your dream home

Landmark Homes mission is to guide you through

the new build accommodating your needs and

shaping your ideas into reality.

Don't build a house, build a Landmark

LANDMARK HOMES WAIKATO/COROMANDEL

543 Te Rapa Road, Hamilton | p. 07 849 5565 | www.landmarkhomes.co.nz

2016 FRANCHISE

OF THE YEAR

INSPO – FITNESS JOURNAL JUNE 2017

51
---
all referral forms

FREE

ACC

XRAYS

X-RAY ULTRASOUND MRI CONE BEAM CT

HOOD ST CLINIC

30 Hood Street, Hamilton

52 INSPO – FITNESS JOURNAL JUNE 2017

VICTORIA CLINIC

750 Victoria Street, Hamilton

(X-RAY ONLY)

PHONE 07 839 1800

WWW.riverradiology.co.nz