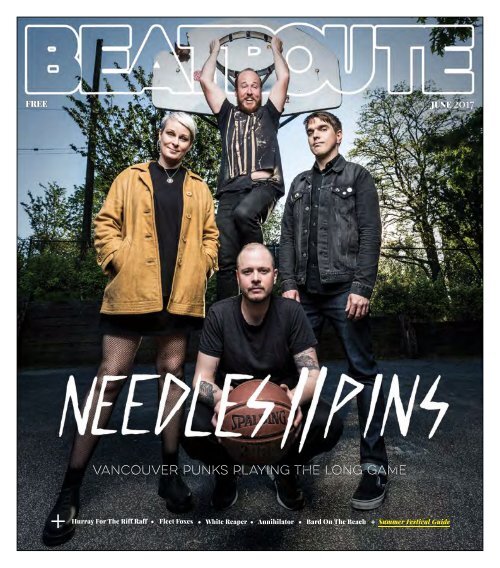 Beatroute Magazine - BC - Print E-Edition - June 2017
BeatRoute Magazine is a monthly arts and entertainment paper with a predominant focus on music – local, independent or otherwise. The paper started in June 2004 and continues to provide a healthy dose of perversity while exercising rock 'n' roll ethics. Currently BeatRoute's AB edition is distributed in Calgary, Edmonton (by S*A*R*G*E), Banff and Canmore. The BC edition is distributed in Vancouver, Victoria and Nanaimo. BeatRoute (AB) Mission PO 23045 Calgary, AB T2S 3A8 E. editor@beatroute.ca BeatRoute (BC) #202 – 2405 E Hastings Vancouver, BC V5K 1Y8 P. 778-888-1120
BeatRoute Magazine is a monthly arts and entertainment paper with a predominant focus on music – local, independent or otherwise. The paper started in June 2004 and continues to provide a healthy dose of perversity while exercising rock 'n' roll ethics.

Currently BeatRoute's AB edition is distributed in Calgary, Edmonton (by S*A*R*G*E), Banff and Canmore. The BC edition is distributed in Vancouver, Victoria and Nanaimo. BeatRoute (AB) Mission PO 23045 Calgary, AB T2S 3A8 E. editor@beatroute.ca BeatRoute (BC) #202 – 2405 E Hastings Vancouver, BC V5K 1Y8 P. 778-888-1120
SHOW MORE
SHOW LESS
You also want an ePaper? Increase the reach of your titles
YUMPU automatically turns print PDFs into web optimized ePapers that Google loves.
FREE

JUNE 2017

VANCOUVER PUNKS PLAYING THE LONG GAME

Hurray For The Riff Raff • Fleet Foxes • White Reaper • Annihilator • Bard On The Beach + Summer Festival Guide
---
June '17

PUBLISHER

BeatRoute Magazine

GRAPHIC DESIGNER

& PRODUCTION MANAGER

Alisa Layne

alisalayne.graphics

WEB PRODUCER

Jash Grafstein

INTERN

Emily BlattaCOPY EDITOR

Robin Schroffel

FRONT COVER PHOTO

Shimon Karmel

www.shimonphoto.com

FRONT COVER DESIGN

Randy Gibson

DISTRIBUTION

Gold Distribution

CONTRIBUTING WRITERS

Heather Adamson • Maxwell Asper

Max Asper • Sarah Bauer • Emily Blatta

Mark Budd • Shania Coombs • David Cutting

Mike Dunn • Colin Gallant • Willow Grier

Carlotta Gurl • Courtney Heffernan

Kathryn Helmore • Susan Horning

Karolina Kapusta • Charlotte Karp

Michelle Kenny • Ana Krunic • Nathan Kunz

Christine Leonard • Paul Mcaleer

Jamie Mcnamara • Andrew R. Mott

Adesuwa Okoyomon • James Olson

Jennie Orton • Johnny Papan • Liam Prost

Sepehr Rashidi • Keeghan Rouleau

Mike Ryan • Keanen Schnoor • Willem Thomas

Brayden Turenne • Graeme Wiggins

Mat Wilkins • Kendall Yan

CONTRIBUTING

PHOTOGRAPHERS &

ILLUSTRATORS

David Arias • Rebecca Blissett • Scott Cole

Syd Danger • Kip Dawkins • Caroline Desilets

Effixx • Galen Robinson - Exo Asia Fairbanks

Eduardo Figueroa • Chase Hansen • Julia Iredale

Shimon Karmel • Tanis Lischewskib • Mandy Lyn

Frederique Neil • My-an Nguyen • Cara Robbins

Willem Thomas • Avalon Uk

ADVERTISING INQUIRIES

Glenn Alderson

glenn@beatroute.ca

778-888-1120

MANAGING EDITOR

Jennie Orton

jennie@beatroute.ca

ELECTRONICS DEPT.

Vanessa Tam

vanessa@beatroute.ca

QUEER

David Cutting

david@beatroute.ca

EDITOR-IN-CHIEF

Glenn Alderson

glenn@beatroute.ca

THE SKINNY

Johnny Papan

johnny@beatroute.ca

CITY

Yasmine Shemesh

yasmine@beatroute.ca

COMEDY

Graeme Wiggins

graeme@beatroute.ca

04

05

06

09

10

11

WORKING FOR THE

WEEKEND

∙ with Jason Corbett

HOORAY FOR THE RIFF RAFF

DIANA

WHITE REAPER

MYSTERY MACHINE

PRAIRIE CAT

ROCOCODE

SHELDONCOLE

ROYAL WOOD

TRAVIS E. TRIANCE & THE .

NATURAL WAY

MEATBODIES

12 SEABORNE

BPM

13 -Goldroom

-Clubland

26 QUEER

28 FILM

SKINNY

14 -Wolves in the Thrown Room

REVIEWS

18

-Annihilator

-Needles//Pins (cover)

-Tiger Army

-Metalocalypstick Festival

SUMMER FESTIVAL

GUIDE

20

29

CANADA 150

21 CITY

-Tacofino

-Sky Harvest

-Traces of Words

-Ian Wallace

-TD Vancouver International .

Jazz Festival

-Guitar Festival

--Bard of the Beach

24 COMEDY

-Jane Stanton

-Jacob Samuel

25 BOOZE

-Sons of Vancouver

-Woods Distillery

-Back and Forth Bar

-Queen of the Month

-Queerview Mirror

-Queer Arts Festival

-From the Desk of Carlotta Gurl

-Capsule Reviews

-This Month in Film

-Fleet Foxes

-Father John Misty

-The Jesus and Mary Chain

38 HOROSCOPES

photo by Lauren D Zbarsky

DISTRIBUTION

We distribute our publication to more than 500

locations throughout British Columbia. If you

would like BeatRoute delivered to your business,

send an e-mail to editor@beatroute.ca

FILM

Paris Spence-Lang

paris@beatroute.ca

LIVE

Galen Robinson-Exo

galen@beatroute.ca

BEATROUTE MAGAZINE

202-2405 Hastings St. E

Vancouver BC Canada

V5K 1Y8

editor@beatroute.ca • beatroute.ca

©BEATROUTE Magazine 2017. All rights reserved.

Reproduction of the contents is strictly prohibited.

ROCOCODE - Page 9

xxxxxx

June 2017 3
---
HURRAY FOR THE RIFF RAFF

joyful protest in an urgent time

MUSIC

photo by Sarrah Danziger

SARAH BAUER

JOHNNY PAPAN

Jason Corbett has been an established

name in the Vancouver music

scene for over 20 years. Beginning as a

long-haired shreddy guitarist during

his angsty teens, Corbett's style

would soon evolve into something

on the opposite end of the musical

spectrum.

Currently the owner and operator

of Jacknife Sound, his own recording

studio, Corbett has produced various

Vancouver artists including: LEATH-

ERS, Sex With Strangers, Art d'Ecco,

and his own band, darkwave synthrock

group ACTORS.

Corbett is a full-time working musician

and composer. When he's not

recording his own band, or producing

other artists, Corbett scores music

for entertainment. He has done

work for big-time video game companies

such as EA Sports and Sega,

and scored seasons one and two of

the Canadian TV series Letterkenny,

just to name a few of his many projects.

It's clear Corbett eats, sleeps, and

breathes music. BeatRoute got the

chance to ask him a few questions

about his journey.

BeatRoute: Your biography says

you were once a long haired shredder.

Your current dark, new-wave

synth style sound is far from that you

would hear at a Slayer concert. Can

you talk about your influences from

your long-haired days to some artists

that inspire you now? Do you still listen

to those bands from your youth?

Jason Corbett: The more I look back

on my influences, the more I realize

that the 80s synth sounds were always

a part of what I was listening to.

As much as I was into metal as a teen,

I was just as into Depeche Mode or

Duran Duran. David Bowie is tops for

me though, even when I was learning

Master of Puppets on guitar at 14

years old. I think what ties it all together

is that there has always been

an element of darkness to what I enjoy

and create.

The Soft Moon, Drab Majesty,

Cold Cave, and Exploded View are all

examples of contemporary

artists that I find inspiring musically

but really there's so many more. And

yes, I for sure still listen to bands from

my youth. Right now I've been on a

with Jason Corbett

Celtic Frost and The Danse Society

binge.

BR: To support yourself, you used to

be a restaurant manager. You now

work in music full-time, how long did

it take you to get to this point and

can you talk a bit about the journey?

Did you have any other sort of day

jobs?

JC: I worked in restaurants for so long

I wasn't sure I would ever get out.

I tried construction, retail, and a

few other odd jobs when I came back

to Vancouver after attending music

college but there was nothing else

that I enjoyed or could stick with.

It's a flexible enough job that you

can work on albums, play shows and

tour. It's also a very social job and I really

enjoyed that aspect. I essentially

worked double duty between restaurants

and music until music just took

over.

BR: Are there any similar parallels

between working in the restaurant

business and music business?

JC: Late nights and rampant alcohol

and drug use? Just late nights for me!

BR: Aside from making music with

your group ACTORS, and producing

for other artists at your studio, you

have also done music for film, television,

and even big time video game

companies like EA and Sega. Was this

something you anticipated being a

part of your career? What led you to

composing for entertainment?

JC: I joke that I'll develop a successful

music career in film by accident. Really

it's been about relationships and

the support of some great people

in my life that have exposed me to

these opportunities. For example, to

be a part of a show like Letterkenny

in my small way is super exciting and

rewarding. I love it!

BR: You own your own professional

studio, Jacknife Sound. How long did

it take you to build this studio, what

are some things about it that separate

it from others?

JC: My home was overtaken with

synthesizers and guitars so it was

time to move into a space I could

work out of 24/7. I found a cool

room that worked and named it

Jacknife Sound. I'm perpetually in

gear acquisition mode so I don't

think I'll ever stop "building."

People tell me it's a fun and relaxed

space that they enjoy creating

and working in. I'm proud of that.

BR: You also take part in promoting

live events such as "Jacknife Sound

Presents…" as well as "Common

Courtesy," a show in which 100% of

the proceeds are donated to charity.

How did you get involved with Common

Courtesy, and which charity/

types of charities are donated to?

JC: I was involved with charity work

in the DTES at my last restaurant

management job. I found it rewarding

so it just made sense to incorporate

that element into some of

the work that I do with music. My

Common Courtesy partner and AC-

TORS bandmate Adam Fink is an

amazing guy who works tirelessly to

help make these projects a success.

I couldn't do it without him. We've

Jason Corbett of Jacknife Sound has made music his full time gig.

worked with Kids Up Front, A Better

Life Foundation, and most recently

Girls Rock Camp Vancouver!

BR: What do you think are the basic

necessities for a musician just starting

out in building their own studio,

whether it be at home, on a budget,

or otherwise?

JC: I think you should ask yourself

how serious you want to get and

what kinds of music you are going to

be doing. A good computer, quality

interface, and the best headphones

and studio speakers you can comfortably

afford would be a safe first

step.

BR: Your whole life seems to revolve

around music, what else do you enjoy?

JC: I was thinking about this question

for a while. It seems at the moment,

music is getting 110% of me

and I couldn't be happier.

Jason Corbett is performing

with ACTORS on June 8 at Fortune

Sound Club.

photo by Shannon Hemmett

When Hurray for the Riff Raff's front woman and

visionary Alynda Segarra returned home to New

Orleans from the first leg of a tour promoting the

band's latest LP, The Navigator, all she wanted to

do was watch RuPaul's Drag Race. It was her escape

from a political climate she still can't make sense of.

"I feel like the world is falling apart and our country

is going to total shit, but then you can watch

someone like a drag performer and be filled with

this incredible life energy because it's so radical,

and it's saying 'F*ck you' to just about every confinement.

And it's so celebratory."

Joyful protest is what The Navigator is all about.

It's a concept album centered around Navita Milagros

Negrón, a young and impassioned Puerto

Rican woman on the road from her home in the

Bronx to a sci-fi imagined alternative realm where

her culture has been stripped dry and her friends

are nowhere to be found.

Segarra created Navita (who shares her similarities

as a Bronx-bred Latinx), out of a single question

which had held a grip on Segarra's life and career

as a musician:

What would happen if Segarra felt like she belonged?

As a Puerto Rican, as a woman; where

could that power take her?

Segarra discovered the more she followed Navi's

path, the more confidence she retained in herself

and her cultural identity. The songs born of this

DIANA

Toronto power trio come to grips with doing just fine

journey have made Segarra feel "more alive and

more free," than she has ever felt in making music.

"Those voices in your head that make you feel

bad about yourself," Segarra says, "for so many

years they were just crippling me on stage and

sometimes I just hated playing music because the

whole set I'd just be like, 'You suck, you suck, you

suck'".

Lack of self-belief can be a prison, even to an artist

with as much vitality and influence as Segarra,

who at twenty-nine-years-old marks The Navigator

as the sixth full-length for Hurray for the Riff Raff,

an acclaimed contributor to the Americana cannon.

The Navigator includes sweet moments of Segarra's

folk influence, with a sunrise-toned country

melody on "Nothing's Gonna Change That Girl"

and stripped-back guitar for "Halfway There", but

the overarching sensibility of the remaining tracks

is expansive and influenced by Caribbean percussion,

lyrics and recorded art. An a cappella doowop

chorus accompanies Segarra on the opening

track "Entrance", while "Pa'lante" is arranged to

stop listeners cold with specific historic references

to the injustices of gentrification, loss of cultural

identity, and racism.

"I was trying to say, 'I'm a Latina woman, and

this is what my life has been like, and here is how

I'm seeing my country right now,'" says Segarra.

with Familiar Touch, DIANA conquers self doubt and growing pains to climb to the top of the bill

COURTNEY HEFFERNAN

With The Navigator, Alynda Segarra brings music to unite us in these trying times

She credits producer Paul Butler for helping power

through the exhaustive emotional growth The

Navigator demanded.

On tour for The Navigator, Segarra has reclaimed

the joy of playing music and feeling connected to

her audience. And as far as any American news

channel can tell her, personal connection is needed

more than ever.

The connection shared between the three members of DI-

ANA is a deep one. Vocalist Carmen Elle, keyboardist Joseph

Shabason and drummer Kieran Adams are in separate places

in Toronto when they connect via Skype with BeatRoute.

"Our band is getting a bit more vocal with regards to our

personal politics," Elle says. "If not in our lyrics and interviews,

then at least in how we are conducting ourselves in

the world and on stage and in the way that we're treating

other people." As the intricacies of their dynamic unfold

over the course of the call the band's collective humour and

honesty is what shines the brightest.

Shabason says that over the past few months DIANA

have been "enjoying the album and the upcoming tour

[without] not stressing too much about it." Following the

August 2013 release of their debut, Perpetual Surrender,

and the runaway success of single "Born Again," DIANA

took their time working on their follow up album, Familiar

Touch. Six months after its release, Elle says Familiar Touch

is "maybe the only album I've made that I really, really like."

Shabason agrees: "It made me feel proud that I don't know

any other albums that really sound like it. It's exciting to me

that we made that album."

It's no coincidence that DIANA are proud of their latest

album. Shabason says that a lot of the creative process

around making Familiar Touch involved "learning from the

mistakes of the past album, wanting to make something

that was a lot more cohesive." Much of the cohesion in the

album's sound has to do with the dynamic within the band.

Familiar Touch was a more collaborative effort than their

debut. Adams says of the creation process, "All three of us

[were] involved the whole time… DIANA seems to be the

space where we all come back together." By contrast, Adams

"I keep thinking the same thought of, 'You guys,

this is not a drill.' I can't believe all of this is happening.

We need each other."

Through the hardened voice of Segarra, it's

made clear: we can't come together quietly.

Hurray for the Riff Raff perform at the Imperial

(Vancouver) on June 15.

and Shabason largely wrote Perpetual Surrender before Elle

joined the band. In the years since their first release Adams

says, "We all know each other quite well and have a whole

series of feelings about each other, which are still evolving

and, I think, improving… Even that evolution throughout

the making of Familiar Touch was part of what went into

it." The result is a multifaceted album with an even richer

sound than their previous effort.

Despite the pride they feel in their completed album, DI-

ANA admit their creative process was fraught with insecurities.

Elle, who is known for speaking candidly about mental

health and her struggles with anxiety, says, "There's usually a

crippling self-doubt that comes with making music. At least

for me, I have that." While Adams and Shabason are quick to

joke about their own insecurities, Shabason admits, "Even

thinking [now] of the last album and how proud of it I am,

I remember when we first finished. My only thoughts were,

'This sucks.' When [I] have perspective and look back at the

times that [I'm] completely filled with self-doubt, it's staggering

how little faith [in myself] I sometimes have."

Following their tour in December 2016, DIANA are touring

Western Canada and the United States in June and July

as a seven person band made up of the musicians they

worked with on the record. While Elle admits it can be

stressful to play as the headliner she says, "It's amazing to

be in a room where the people that showed up, showed up

for you." She adds, "No matter where you're at you always

[think], 'I could be more successful, I could be doing more.'

So it's nice to have a moment when we're like, 'Oh yeah,

we're doing okay.'"

DIANA perform at Fortune Sound Club (Vancouver)

on June 26.

4 June 2017

June 2017 MUSIC

5
---
MUSIC

WHITE REAPER

keeping rock 'n' roll sweet and simple

MAX ASPER

When we are younger, we tend to be much more

impressionable - there are certain things we come

across that can set us on a particular path. For

Tony Esposito, lead singer of White Reaper, it was a

simple as watching music videos from the likes of

Judas Priest and Accept; two influences very prevalent

in the band's guitar-heavy sound. The young

Louisville, KY. native would eventually take some

of that inspiration and charisma to create "The

World's Best American Band," or so White Reaper

have deemed themselves with their latest release

of the same name.

It was around the age of 13 that Esposito, the

lead vocalist and guitarist of the group, would rally

the troupes to start playing together. Esposito

recalls playing at Skull Alley, an all ages venue in

his hometown that allowed his band. The band

consisted of Esposito, Ryan Hater (guitar), and Sam

(bass) and Nick (drums) Wilkerson, and honed

their skills at the Alley. Through high school, the

guys would grind through the local scene, hitting

the road nationally only once they could ditch the

books.

White Reaper's sound has certainly evolved over

the years, but it's always been loud. The quartet

seem to fit in a variety of genres within the indie

rock world, they bring elements of classic '60s garage

rock and the rock revival of the late '90s to

early '00s. The product is a library of lo-fi, melodic,

poppy rock 'n' roll songs. That being said, their new

album, The World's Best American Band, released

in April via Polyvinyl, incorporates a healthy dose

of arena rock which is felt through the heavy, driving

guitar riffs.

Obviously the new project's title is supposed to

be taken in jest, the band has displayed their sense

of humor with earlier releases as well, like 2015's,

White Reaper Does It Again. The band is obviously

confident, and maybe that's because they are obsessive.

After their four month North American

tour, Esposito bluntly proclaims that he and his

band mates are "just going to keep making records

and putting them out," without pause. A method

defined by their choice to book studio time without

having any material to work with for their

newest project; Esposito calls it, "Let's just make a

record." A bold strategy, but one that has led to a

very good album this time around.

The future for White Reaper is bright, and it's

certainly nice to see a band penetrating the ever-expanding

indie rock scene with a more traditional

power pop sound. Esposito even admits that

modern rock 'n' roll seems to be a little bit softer

than it used to be, but denies any credibility to anyone's

opinion on such a massive and diverse category

of music. Things are much less complicated

with White Reaper; they'll either be on the road or

in the studio; always making a racket.

White Reaper perform at the Cobalt on

June 20.

photo by Jesse DeFlorio

With The World's Best American band, White Reaper brings it back to basics and keeps it loud

MYSTERY MACHINE

coming out of hibernation organically

GRAEME WIGGINS

Like good whiskey, Mystery Machine ages well over long periods of rest

When a band takes almost 15 years between albums,

and only plays sporadic shows that crop up

every once in a while, one might imagine there's

some interpersonal strife and acrimony that lies

beneath the surface. For local stalwarts Mystery

Machine, this couldn't be further from the truth.

The nearly 30-year-old band is forged out of

strong friendships and an organic sense of letting

things happen when they do.

"We only come out of hibernation occasionally

and usually it's for a specific reason," explains

vocalist and guitarist Luke Rogalsky, "we put out

a record with Sonic Unyon in 2012 and that was

only because we know those guys and they kind

of asked us to. We weren't actively shopping

anything or whatever. And we did a few shows

around that album. Then nothing for about a year

and then Billy Talent, who we knew when they

were kids (they used to be in this band called

Pezz). We still have the cassette they gave us on

Queens St. when they were young. So we sort of

kept in touch, but then Ian D'sa asked us to open

for them at the Commodore. They did a couple

of "intimate shows" I guess, for them, in 2013 and

because they asked we couldn't say no to playing

at the Commodore."

This time the motivation for action was due to

another band that came up in Mystery Machine's

heyday (the 90s, a golden age of Canadian indie

rock): Hamilton's Sianspheric. "We're such huge

fans of their music," explains Rogalsky, "They were

one of our favourite bands/contemporaries from

back then…once we found out they were coming

to Vancouver, we didn't want to miss playing with

them either."

photo by R.D Cane

Still, one does have to wonder why the vast

lull between their third and fourth albums. Rogalsky

suggests it was organic. "It was time to take a

break. We didn't sit down and say let's take a 12

year break. And we did some shows. We never really

stopped fully. And really anything we've done

that made the public eye, like records, our shows

it's not been our fault! It's really been driven by external

things."

When a band has been a thing for nearly thirty

years, things must have changed and evolved over

time. For Rogalsky the changes mostly come from

maturity. "We're wiser. In terms of just how we get

along and communicate, it's seamless now. I mean,

we had our moments when we were young, fight

with each other and stuff. But also musically, we're

way more in control of what we can do and what

we can't do. We have nicer guitars now, it sounds a

bit better in that sense."

Another advantage Mystery Machine has at its

disposal, one that few bands who've been together

as long as they have seem to share, is their friendship.

"We're friends, I mean I've known Shane, our

bass player since we were 13. And all our wives are

friends too. So we have that relationship even before

the band. We all went to high school together

in Chilliwack. Three of us anyway." This allows

the band to continue at its own pace and gives

them reasons to keep going: "We just love getting

together, just to hang out, first and foremost. An

excuse to do that is just great, if we can sound half

decent as well that's a bonus."

Catch Mystery Machine live w/ Sianspheric

June 29 at the Rickshaw Theatre

6 MUSIC

June 2017

June 2017 7
---
PRAIRIE CAT

there's something about Carry Pratt

EMILY BLATTA

Now a writer and multi-instrumentalist, Pratt puts himself in the

genres of contemplative soft pop and singer-songwriter.

"I could have gone down a more instrumental path, had it not

been for a few people who gave me the confidence to keep pursuing

the vocal side of things." Using less vocal tricks and becoming more

introspective, Prairie Cat's newest album …is Carry Pratt is about

being, well, Carry Pratt.

SHELDONCOLE

deciphering the right path in life and music

MAXWELL ASPER

MUSIC

After a four-year hiatus, Carry Pratt (better known as Prairie Cat)

is releasing his fourth album, …is Carry Pratt. The Kelowna born

drummer-turned-singer-songwriter first moved to Vancouver in

2001 and has since become a well-known staple of the city's indie

pop scene.

Although it's mainly bars and small venues that he will be touring

this summer, Pratt found his footing at the independent Vogue theatre.

He started working there in 2010, first as an usher and then as a

general manager—a time that he says gave him the "opportunity to

get closer to the arts, but also to understand the difference between

playing in clubs and playing in 1200 seat theatres."

A lot of Pratt's music was written at the Vogue after hours, and

this comes across in how it sounds—energetic, poetic and made to

fill a room of Vancouverites.

But before Carry Pratt became Prairie Cat, he was a drummer

in Kelowna during the mid to late '90s. "We started playing music

because we had nothing else to do," he says. Eventually this changed

and Kelowna became known as a natural point for artists to stop

and play between Calgary and Vancouver. As the Okanagan got a

feel for other types of music, so did Pratt.

"As a drummer you're always at the whim of when temperamental

songwriters feel like writing songs and playing shows. They go through

their trials and tribulations, and you're sort of just there," Pratt points

out. "So I was advised a long time ago to write music as well."

ROCOCODE

turning sad songs into dance tracks

ADESUWA OKOYOMON

Vancouver duo Rococode are equal parts

the indie pop band who could have gotten

you through puberty and the band you

could have formed in your parents garage

during your brooding phase; alas, no garages

were infiltrated in the making of this

band. The duo met on MySpace and joined

forces to form the band that is regarded as

one of Vancouver's best-kept secrets.

Starting out as a guitar driven rock band,

Rococode's sound "has become much more

rooted in electronic elements and synthesizers

as [their] interests and tastes have

shifted in that direction."

The band's new EP, Young Ones, doesn't

just feature a whole new sound but a new

message as well—one that is more direct

and relatable. The songs were written over

the course of a week in downtown Los Angeles

and the sonic aspect created during

a week-long residency at the National Music

Centre in Calgary; a place the band has

dubbed "Synth Heaven."

Laura Smith's pleading vocals blend perfectly

with Andrew Braun's voice which

quivers beautifully but can still surprise

you with a little bit of bite at just the right

moment. Together they create a haunting

sound that Andrew calls "a marriage of our

contrasting personalities."

Rococode's affinity for synths, guitars,

(heavy) bass and drums, and catchy melodies

give them the power to make you

Prairie Cat performs at the Railway Club on June 17

Carry Pratt is bringing music forged behind the curtain up to centre stage

photo by Lauren D Zbarsky

Rococode delivers the goods straight from synth heaven with Young Ones

snap your fingers and bob your head even

to melancholy songs with aching lyrics that

will leave a lasting impression. This shines

through on the title track, "Young Ones"

which the band insists is the happiest song

they've ever recorded, "but still has the underlying

subtlety and layers to peel away

and somehow fits in with what Rococode

is." Although Smith and Braun are constantly

evolving, "Young Ones" speaks to

the EP as a whole because it is "a good representation

of where [they] are at and how

[they] see the world and [their] place in it."

Embarking on a tour of the US west coast,

the band is looking forward to writing a fulllength

album this Summer and touring and

recording in the Fall months.

Rococode perform at the Railway

Stage and Beer Cafe (Vancouver) on

June 10.

It doesn't seem like Sheldon Cole is afraid to make bold leaps of

faith, something that is certainly incorporated into his progressive

and experimental folk-rock sound. That being said, Cole still has the

hesitation and fear shared by anyone dealing with the pressures of

young-adulthood and the disparity involved with the feeling that

you're just not in the right place yet. What has allowed the young

artist to parse through the battlefield and angst of being a young and

confused twenty-something is his ability to be brave and let his innate

passion guide him.

Cole's hunger to grow as an artist has always seemed to fuel him.

The earliest memories the Surrey-born, Newberg, Oregon-raised musician

has are of a primitive desire to just sing – around the house,

in the shower, in his room alone. Naturally, he was enamored with

his K-12 school's mandatory choir program, leading him to pick up

both piano and guitar before the age of 12. Cole would continue to

refine his musicality through his adolescence in Newberg, eventually

heading North to Vancouver so he could attend university at Trinity

Western.

While at Trinity, Cole felt "disillusioned with university," and was

plagued with a need to travel, so he dropped out, now on the move

again. The young musician crossed Europe to Belarus. Armed with

an old picture of his relatives, he learned of his origins, meeting his

distant family members and spending a couple weeks learning their

small-village way of life. Upon returning home, the young musician

was motivated and felt he "owed it to [his] family to see how far [he]

could take things" after understanding his circumstance versus theirs.

Cole then enrolled in UBC, and began studying political science with

an intention to pursue a law degree, leaving music on the sidelines.

It's great to let your passions guide you, but sometimes the passion

can be clearer than the path you are trying to decipher. Cole dropped

out of university once again, realizing that perhaps his motivation was

misguided. But he didn't have time for pause, as he was on to his next

appetite, the city of Detroit, which he became obsessed with while at

UBC. Cole would move there for summer 2016, interviewing people

around the city and imbedding himself within the house-show scene,

resurging his music career in the process. Once again impassioned,

Cole wrote his first solo EP, which is aptly titled Detroit.

Today, Cole feels like he's deciphered his path clearly. Cole's head is

held high as he is soon to embark on a 52-city house-show tour, and

he's overjoyed to talk about his new Dark EP, which will be released

on June 16. Despite living such a spontaneous and adverse life, Cole

has a calm demeanor, perhaps because his passion, for the first time,

is aligned with his destiny.

Sheldoncole performs on June 15 at Studio Records (919

Granville)

Cole finds that it's a long hard road from Detroit to the Dark

8 June 2017

June 2017 MUSIC

9
---
ROYAL WOOD

a return to innocence and embracing of one`s inner voice

HEATHER ADAMSON

Royal Wood has been a sought after songwriter for

more than a decade now, sharing his time between

LA and Toronto. Born John Royal Wood Nicholson

but performing under his given middle names, his

eighth album, Ghost Light, was a cathartic expression

that was brought upon by significant loss and

a recognition of life`s fragility and beauty. With no

plans to make an album, Wood entered the studio

and the songs came immediately. "The album felt

like a natural evolution and I needed to get out of

the way," shares Wood. "My father passed away

and I lost my last grandparent. I felt there were

spirits in the room and serendipity surrounding

me. The record came so fast; a song a day or every

other day. It was a little too perfect."

Coming off his album The Burning Bright (2014),

Wood had been incredibly busy and was used to

sharing a lot of his music during production and

writing, whereas Ghost Light was much more of an

insular experience and process. "I didn`t tell anyone

I was making an album," says Wood. "No one heard

any of the songs until I had recorded them." It was

something he needed to experience, a completely

independent and individual approach, which allowed

Wood to let go of a lot internally to help him

grow as a person and artist. "I didn`t realize how

much I needed to go through that on my own to

get to where I am now, which is being more collaborative

than ever before. I have gone from making

an album completely by myself to now working on

music where every single song is a co-write. I have

never enjoyed making music more than I am right

now. When you let people into your world, you elevate

your own world."

Royal Wood follows the Ghost Light to a circle of truly stellar company.

Wood also fully embraced a return to writing

and recording simply for the joy of creation, similar

to how he approached music as a kid. "When I was

a kid I had a natural inclination to create and make

something unique that day. I had lost that somewhere

along the way but found it again with the

making of Ghost Light."

It is this philosophy that is driving his current

dedication and commitment that has landed him

a coveted spot on Bonnie Raitt`s upcoming tour.

Being personally selected by her and her team, it

is a huge feather in the cap to be opening for an

artist he has adored since childhood. "I remember

being a little kid and seeing her on Saturday Night

Live and the next day I went and got her record and

a slide for my guitar. I have done festivals with her

and watched from the side stage. She can sing and

perform like so few people. She is a power house of

a human being."

Whether it is surrounding himself with fellow

musicians and songwriters in the making of new

music or touring with someone as esteemed as

Bonnie Raitt, Royal Wood is living with a current

mantra of being open to anything and seeking to

learn from as many people as possible. "They say

you are the average of the five people you spend

the most time with," shared Wood. "So these days

I am feeling pretty damn good."

Royal Wood performs with Bonnie Raitt on

June 19 at the Queen Elizabeth Theatre.

photo by Jen Squires

TRAVIS E. TRIANCE & THE NATURAL WAY

debut self-titled album for seasoned West Coast musician

Tavis Triance finds room for himself within music and fatherhood.

Living on Half Moon Bay on the Sunshine Coast

with his wife and two young children, life as a musician

has changed dramatically over the last few

years for Tavis E. Triance. Rehearsing and touring

have taken on whole new meanings as scheduling

between his family and day job as a teacher at an

alternative school have made making time for music

that much more creative. "I am two and a half

hours out of Vancouver, including a ferry ride. I will

travel to the city to rehearse, stay overnight and

then ferry back early the next morning to get to

work," Triance says.

There's a whole host of scary people

at the helm of the careening car we

call the world these days. Repressive

and ghoulish caricatures impose religious

and party-line dogma to quash

human nature's hedonistic tendencies.

Violence is wrought.

They scorch the earth with war

and machinery and leave it in ruin in

place of profit. The news cycle keeps

spinning.

It's as a witness to the above that

Meatbodies' frontman, Chad Ubovic

cleverly renders his visionary pop

opus, Alice, a collection of fuzzy and

powerfully gritty glam rock that's

part Roy Wood, part Bowie and most

importantly, part L.A.

Ubovic and his contemporaries

like Mikal Cronin and Ty Segall are

fostering the current psych-inspired

rock scene in Southern California

with a signature sound that deftly

manages to avoid typecasting.

Upon learning they were expecting their

first child a few years ago, Triance had an overwhelming

feeling that he would no longer have

the same amount of time to make music, which

motivated him to write and record his album,

A Brief Respite from the Terror of Dying. When

asked about the album title, Triance explained

it is simply what music is for him. "I am getting

older and less youthful and naive. There are a lot

of pitfalls and bumps in the road. If you can have

these brief respites or islands in the chaos, then it

"Metal on Molly," Ubovic describes

it.

Themes coursing throughout the

album are plentiful, encircling a desire

to return to our most natural

selves without the bonds of religion.

A pagan-like affinity for the earth

and nature, the sacredness of the

feminine, and the pursuit of pleasures

contained in hedonism.

"On Alice, I really wanted to make

a pop album but the songs came out

a bit dark. Down here in the States

and with everything going on politically

in the world, the news cycle

really inspired me to write a kind of

concept album. I guess this is also

kind of our political record," Ubovic

states.

Tabbed as a "band to watch", the

band didn't let outside pressure

undo any momentum following their

acclaimed self-titled release in 2014,

and after extensive touring, set their

sights upon the latest album released

earlier this year.

Side project, Fuzz, with Ty Segall

and Charles Moothart, while still

with beating pulse, became secondary

to Meatbodies current swell in

popularity. Ubovic is now throwing

his whole weight behind it.

With the band in full swing touring

the United States and Canada in

support of the album, what can fans

expect on this tour?

"We've been playing these songs

helps to keep you going. That is what I hope the

album is for people." Having played in countless

bands over the years, including The Royal Mountain

Band and Spoon River, Triance approached

these songs for the first time without a band in

mind, but solely as a singer/songwriter. "I had just

started playing keys so it provoked me to make

different sounding songs and get out on my own

in a way I haven't done before," he says.

Although writing was approached differently,

the recording of the album was done with a

team near and dear to Triance. "All the guys who

played on the album are really close friends of

mine from Montreal that I have played with at

different times in my past," he says. "We went

into the studio with everything set up in one

room. It was a real live and spontaneous process.

A lot of the guys had not heard the songs. We

threw the headphones out entirely so we could

really hear each other. It was an amazing way to

work."

The result is an album that feels incredibly cathartic,

honest and raw. Already having played

Canada Music Week in Toronto, Triance is gearing

up for a Canadian tour that includes the Winnipeg

Folk Fest and Ness Creek Music Festival in

Saskatoon, performance opportunities that he

is not taking for granted. "Because of the extra

effort it takes now, I want to make every experience

count."

Tavis E. Triance & The Natural Way perform

at the Biltmore Cabaret on June 24.

Meatbodies bring their visionary pop opus, Alice, to life.

now for almost a year and a half and

know them really well. When we

play them live, we stretch them out

a bit. They're monsters at this point.

We have some new ones too that we

might bring out," Ubovic says.

Careening cars aside, Meatbodies

plan to unleash their own monstrous

creations in Vancouver, albeit the

kind driven by ethics and dogma free.

Meatbodies perform on June

26 at the Biltmore.

RIO

THEATRE

1660 EAST BROADWAY

10 MUSIC

June 2017

June 2017 MUSIC

11

photo by Kris Krug

HEATHER ADAMSON

MEATBODIES

the makings of a gritty glam rock

MIKE RYAN

MUSIC

JUNE

2

JUNE

4

JUNE

6

JUNE

7

JUNE

8

JUNE

9

12

JUNE

13

JUNE

14

JUNE

16

JUNE

19

JUNE

21

JUNE

22

JUNE

23

JUNE

27

JUNE

28

JUNE

JUNE

HIGHLIGHTS

WWW.RIOTHEATRETICKETS.CA

THE GEEKENDERS & KITTY GLITTER PRESENT

LORD OF THE SCHWINGS:

A TOLKIEN BURLESQUE NIGHT

ALMOST FAMOUS

FRIDAY LATE NIGHT MOVIE

SILENT SINEMA SUNDAY!

THE INVINCIBLE CZARS PERFORM LIVE SOUNDTRACKS TO

NOSFERATU

+ DR JEKYLL & MR HYDE

AUSTRALIAN HORROR THRILLER

HOUNDS OF LOVE

ANNE HATHAWAY & JASON SUDEIKIS

COLOSSAL

PAINT IT BLACK

DIRECTOR AMBER TAMBLYN SKYPING IN FOR Q&A!

GET OUT

*SEE WWW.RIOTHEATRE.CA FOR ADDITIONAL SHOWTIMES

DARIO ARGENTO'S

SUSPIRIA

CAMERON CROWE'S

SINGLES

DARIO ARGENTO'S

THE BIRD WITH THE

CRYSTAL PLUMAGE

FEDERICO FELLINI'S

AMARCORD

CINEMA PARADISO

ALEJANDRO JODOROWSKY'S

SANTA SANGRE

SOPHIA LOREN IN

YESTERDAY, TODAY

& TOMORROW

THE GENTLEMEN HECKLERS PRESENT

HACKERS (1995)

JOHN WOO'S

HARD BOILED

25TH ANNIVERSARY SCREENING

FRIDAY LATE NIGHT MOVIE

ALEJANDRO JODOROWSKY'S

ENDLESS POETRY

THE FICTIONALS COMEDY CO. PRESENTS

IMPROV AGAINST

HUMANITY:

MAPLE MAYHEM #IAHATRIO

THE RIO THEATRE'S VINYL CABARET

A TRIBUTE TO STUART MCLEAN

RICHARD LINKLATER'S

DAZED AND CONFUSED

FRIDAY LATE NIGHT MOVIE

FRANCIS FORD COPPOLA'S

THE OUTSIDERS

JASON MOMOA & KEANU REEVES IN

THE BAD BATCH

*SEE WWW.RIOTHEATRE.CA FOR ADDITIONAL DATES

THE CRITICAL HIT SHOW

A LIVE IMPROVISED EPIC FANTASY

#DNDLIVE

COMPLETE LISTINGS AT WWW.RIOTHEATRE.CA
---
SEABORNE

keeping the tide at bay with a foundation of mutual love

BPM

KAROLINA KAPUSTA

Living in a time where electronic music

is pumped out at an alarming rate for

the sake of topping charts, it's a breath

of fresh air to stumble upon music in

this genre made with love, patience and

care.

This can be said about West Coast

indie electronic two-piece Seaborne.

With Maryse Bernard on vocals and

Solomon Krause-Imlach on production,

the couple creates cinematic soundscapes

accompanied by darker lyricism

and soulful vocals. Together they've created

Seaborne's first EP, Lustre.

When asked how the couple first

met, they both jump in to tell the tale,

their words overlapping, making each

other laugh. Krause-Imlach and Bernard

first crossed paths six years ago when

a friend was putting together an indie

rock band. "We both had eyes [for] each

other but we decided it would be better

to focus on the music at the time

and it was really a great thing because

it allowed us to build a foundation of

friendship and respect," says Bernard.

"I sort of professed my love [to

Maryse after the band broke up around

two years later] and told her what I

had really felt the entire time," reveals

Krause-Imlach.

"It was the sweetest thing in the

world," Bernard gushes. "It wasn't until

last year that we decided to do a project

just the two of us and it's definitely

become the project that's closest to our

hearts."

Like many living by the sparkling sea,

surrounded by lush green forests and

mountain peaks, the couple had an affinity

for the nature that surrounded

them—especially the Pacific Ocean.

They chose the name Seaborne as their

identifier because the sea is a place of

comfort and refuge for them. They both

have family members who first arrived

in Canada by boat, making the name

also a homage to their histories and

families.

"Solomon wouldn't say it because

he's really humble but he plays, like,

absolutely every instrument," Bernard

says, adding how he performs all of the

instrumentation for the group.

"I listen to a lot of different stuff,

electronic music and otherwise, but in

the electronic world I'm not just a deep

house guy or a drum and bass guy specifically,"

Krause-Imlach goes on to explain.

"I've always enjoyed dabbling in

Mutual respect and love breathe life and Lustre into the Victoria-based two-piece Seaborne.

a bunch of different styles and twisting

them into my own kind of thing."

Bernard is the artist behind Seaborne's

lyricism. "I always write about

personal experiences. The tracks on

[Lustre] are all geared towards different

relationships within my life from the

past or present, positive or negative, but

I also wanted to focus on my relationship

with myself," says Bernard.

Seaborne's work is electronic music

to listen to when lost at sea; their debut

five-track EP gently guides the listener

back to shore, the synths like rippling

waves, the breezy bass and the soothing

vocals like a siren singing out from the

dark.

Working on a creative project with

your significant other, however, isn't

always a picnic on the beach. "It's only

natural to take criticism a little more

personally, but we've learned a lot in

the last year to remove ourselves and

our egos from our creations," Bernard

admits.

Despite this, Seaborne has brought

the duo closer together in ways they

never could have imagined. "It can be

really surprising what comes out of

making music together because you're

already in such a vulnerable place with

your partner," says Bernard. "As you

open your soul even more, that is what

makes the music really special."

Seaborne's debut EP, Lustre, is

available now on Spotify, iTunes,

Apple Music, Google Play and

SoundCloud and will be performing

at the Railway Stage & Beer

Café June 10th.

GOLDROOM

distilling the intrigue of half-remembered pasts with summer jams

Three years in the making, Josh Legg aka Goldroom's debut studio album West is West is like a sexy sun-drenched beach party.

PRACHI KAMBLE

Having gained much of his momentum

over the past few years as a DJ and producer

through festivals, boat parties

and dance floors the world over, Legg

created his ode to the Californian dolce

vita as a direct reflection of the glittering

ocean surface that he loving spends

his time sailing on.

West is West has also been instrumental

for Legg in dealing with the

pressures of his heavy tour schedule. "I

tend to return to the strong emotions

of my teenage years a lot," says Legg of

his self-proclaimed escapist tendencies.

"The older you get, the more life becomes

complicated."

Goldroom first came into being

when a friend of Legg's convinced him

to put his research at the University of

Southern California on hold in order

to spend time DJing across LA under

the moniker Nightwave and blogging

about it on what would later became

an iconic music blog known as Binary.

"I loved the writing and the chance to

explore my tastes," reflects Legg. "Blogging

was actually my first step in becoming

a DJ."

The rest as they say is history as

Legg continues to spend the majority

of his time touring around the world

far and away from the comforts of his

own home. "It's something I wrestle

with all the time," he explains, going

on to describe how he finds inspiration

to create new music through personal

experiences over anything else. "I feel

incredibly lucky to travel and play music,

but I watch it erode my life in many

ways. Some of the songs sound lonely

because that's what it feels like being

on the road."

Despite the serious revelation surrounding

the melancholic background

of his new record, the overall sentiment

remains joyful and breezy as Legg continues

to push beyond his boundaries

in song writing and singing. "Before

West is West, I was making music solely

for the dance floor, but I had also always

been a singer and songwriter. I felt

like I hadn't done a good enough job of

bridging the gap between the two and

wanted to bring honest song writing

into my style of music."

Collaborating was another first for

Legg on this record when an aimless

Wednesday afternoon hangout session

at a studio in Silverlake with pitchers of

mojitos, Nick Stadi and Candy Shields

culminated into the bewitching single,

"Underwater." "I wanted an early 90s,

Bad Boy Records music video feel [with]

an old West Coast, Dr. Dre, daytime

pool party video vibe," he said. "Plus, I

wanted to do a disco version of that!"

West is West could conjure up

strong summer feels in the dead of

winter. That's how sensually evocative

and brimming with Californian elements

the record is; Legg's fascination

with Los Angeles's culture is evident in

it all. From the sweet, synth-pop melodies

that beckon pink sunsets, to the

plush percussion arrangements that

make you want to groove low key until

you get hungry for a fiery taco, West of

West screams California in every track.

This exaggerated happiness in the album

stems from Legg's own resistance

to bouts of depression, a not so idyllic

a childhood and his very un-Californian

upbringing in Boston. "You need music

that has hope and is real," he explains.

"I'm not trying to paint a blue sky over

clouds; I try to do both."

In the wake of the current political

unrest in the United States, Legg noticed

a new level of darkness emerging

in his work. "I don't feel like I'm doing

the world a lot of good sometimes by

flying around the world and playing

shows, so I consciously try to find ways

to support the community and do

more." The Goldroom shows are supporting

two major causes this year, one

of them being the Global BrightLight

Foundation to provide solar lights to

villages in Guatemala.

Goldroom performs aboard the

Abitibi Boat June 24th.

CLUBLAND

your month measured in BPMs

VANESSA TAM

As we start to approach the real meat and potatoes of summer, I feel like it's

important to remind you to drink lots of water, eat your vegetables, and that

Beyonce Knowles is most likely going to give birth to twin Geminis this month.

While that sits in, be sure to hit up every single hip hop and electronic music

show on this list, oh and don't do drugs or whatever.

Jesse Rose

June 9 @ Open Studios

Hailing from London, UK, Jesse Rose is a savant of house music. Known for his

long developed personal blend of Chicago house and Detroit techno, Rose's

work has been featured everywhere from BBC's Essential Mix to Berghain's

Panorama Bar in Berlin. Step into the vast darkness of Open Studios and prepare

to dance.

Shiba San

June 17 @ Celebrities Nightclub

Parisian beatmaker Shiba San first broke the charts with his dancefloor hit

"Okay" released on Dirtybird back in 2014 and has continued to tear up the

scene ever since. With a strong background in hip hop and interest in futuristic

house, the producer blends the two genre into his own one of a kind bass

heavy sound.

Omar Souleyman

June 25 @ The Imperial

Born in a small village in Syria, Omar Souleyman started his career in music as

a wedding singer performing dabke, a genre of Arabic folk music, layered over

intense beats and pulsating synth work. A cult favourite among electronic

music connoisseurs the world over, Souleyman plans to release his latest album

To Syria, With Love June 2nd on Mad Decent.

Rich Chigga

June 29 @ Fortune Sound Club

Relatively new to the global hip hop scene, Rich Chigga, also known as Brian

Imanuel, is a 17-year-old Indonesian rapper and comedian born in Jakarta.

Armed with a deceivingly deep voice and inspiration from artists like Childish

Gambino, 2 Chainz and Tyler, The Creator, Imanuel released his debut single

"Dat $tick" on YouTube in February of last year to international viral success

and was coined as "the hardest n**** of all time" by rapper Tory Lanez.

Kid Ink

June 29 @ The Vogue Theatre

Born as Brian Collins in Los Angeles, California, Kid Ink is a multitalented rapper,

singer and songwriter who just released his latest EP, 7 Series. Inspired by

Timbaland, Pharrell Williams and Swizz Beatz, Collins began to pursue music

full time at the age of 22 eventually signing with RCA Records and work with

artists like Ty Dolla Sign, Fetty Wap and Usher.

Rich Chigger

12 BPM

June 2017

June 2017 BPM

13
---
THE SKINNY

WOLVES IN THE THRONE ROOM

out of the ashes

CHRISTINE LEONARD

It's been five long years since black metal shapeshifters

Wolves in the Throne Room last wrapped the

stage in their dark embrace. Ending their half-decade

hiatus with a tour of Europe and the East Coast

of the U.S., the Cascadian metal act have proven as

surefooted as ever in their return thanks to the natural

healing powers of the verdant Pacific Northwest.

"All of us need a bit of time to rest and recuperate,

and gather energy and inspiration," explains drummer/bassist/synth-player

Aaron Weaver.

"For my part, that meant walking in the woods

every day and go swimming in the salt water as

much as possible. I've come to realize that if your life

is a fire that has everything in it then music is just

the leftovers. So, it's important to me to spend time

really living life in order to really play our music from

the heart instead of just going through the motions."

Steadfast in refusing to be driven by materialism

or the need to observe genre-prescribed iconography,

Wolves in the Throne Room have traveled

many miles since the appearance of their debut album

Diadem of 12 Stars (2006). Subsequent releases

on Southern Lord Records, including Two Hunters

(2007) and Black Cascade (2009), aided in winning

ominous repute for the band's turbulent heavy metal

epics. Elementally bonded through the sacred

vibrations of Washington's wildness to his spiritual-brother

guitarist-vocalist Kody Keyworth and

his biological brother (who is also the band's lead

vocalist-guitarist, Nathan Weaver), Aaron believes in

bringing a little piece of heaven on Earth to every

Wolves in the Throne Room appearance.

"It's super important for us that the music emanates

from a place. It emanates from our home. That

ANNIHILATOR

Canadian thrashers return home with overseas destruction in their wake

jphoto by Jasmina Vrcko

the thing that first attracted me to Scandinavian

black metal. It seemed so clear to me that such music

could arise from no other landscape than a wild,

and rocky, and forlorn, and cold northern landscape.

And I love music that is stamped with the imprint

of the land it comes from. It's just a beautiful thing

to me when the artists are specifically calling upon

the spirit of the landscape to animate the music," he

explains.

"When we travel, it's our intention to bring that

spirit with us, which we do by burning cedar or sage,

and by literally bringing objects from home to carry

that energy, and actively trying to conjure the sprits

that inform our music. Our music comes out of an

interaction with Spirit; the spirit of the salmon or

the spirit of the cedar tree. These totemic spirits

that are so powerful here, where we live. And, it's my

hope to be able to share some of that magic with the

people who come to see our shows."

The mystical outfit's fifth studio album Celestial

Lineage (2011) saw the Weaver brothers drowning

nascent folk and punk influences in a soul-scouring

doom undercurrent. Launched in 2014 under their

own label Artemisia Records, the follow-up album

Celestite, was an ambient-synth experiment born of

the lupine clan's desire to return to the cavernous

realms of their previous LP in drone form. Following

their intuition, the band of brothers has recently adopted

two new (touring) pack members, who share

their monastic regard for yoga and vegetarianism,

generating a fresh outlook on the practice of spreading

their proverbial ashes.

"The biggest change we've got is three guitars on

stage now, which makes a huge difference. In the

With seemingly endless tread on their tires, Annihilator is still very much alive and kicking

"We aim to create an immersive atmosphere…. The everyday 'monkey mind' is put aside for a while…"

past our sound has been somewhat striped-down

and a bit raw, and we're really excited perform a

more fully-realized live sound," says Weaver.

"The person who's going to be playing guitar with

us is a really old friend of ours named, Peregrine

Somerville (Sadhaka). We also have an amazing

woman, Brittany McConnell, from the Idaho band

Wolf Serpent, playing keyboards and doing additional

percussion."

According to Weaver, audiences can (still) expect

to join Wolves in the Throne Room on a cathartic

and exhausting journey through heartbreak and triumph.

George R.R. would certainly approve!

BRAYDEN TURENNE

Canada has been responsible for various bands

and individual music artists that have gone on

to great acclaim, sometimes to a point where we

even forget they're Canadian due to mass appeal

swallowing them whole. Ottawa's own Annihilator

began in '84, in the time when thrash was

the ruling genre in metal. Since then, Annihilator

have gone on to forge an expansive, diverse discography

of over a dozen albums in their lifespan.

The passion project of core founding member

Jeff Waters, Annihilator is a band with varying

sounds. "If I had to categorize us, I'd say heavy

metal meets thrash metal," Waters states, "I never

set out to do my own sound, I just went out to

play what I liked."

The band has gone through more than a few

lineup changes over its lifetime, giving albums

each a sense of unique personality. "I went the

opposite of what would have made more sense

commercially. I said: 'I want to change my sound,

I want to change lineups, I want to change writing

styles. I want to experiment and have fun.'"

Despite such a broad and varied string of work

over its lifetime, Annihilator has oddly become

more recognized overseas than on its own home

soil. "Metal, as I knew it, in the mid to late 80s,

"We aim to create an immersive atmosphere,

which means the everyday 'monkey mind' is put

aside for a while, and we can just be fully in the present

with the music, and give ourselves space to be

surprised by the what feelings will emerge and what

visions will arise. It's a situation where space and

time are going to be torn open. People may be inspired

to go wild. There's possession that occurs and

that's understandable and desirable."

Wolves In The Throne Room perform at Venue (Vancouver)

on June 23.

started to die out. I didn't have places to play

or labels that were really interested in putting

our music out. I kind of thought my career was

over," Waters recounts. "Within a year after being

dropped from [record labels] Sony and Roadrunner,

we had one of our biggest albums, King of the

Kill, release in Japan and Europe. That just kept

us going, we literally went non stop since '89 in

Europe, Japan, and South America."

Even with all this success, Waters is still adamant

on touring his home country. "We played

a few club shows in the Ottawa area to warm up

for our '70,000 tons of metal' cruise shows and

that's when I realized I need to do a tour here before

I die."

Now, after so long a time abroad, Annihilator is

returning to their home soil to remind us all that

they're still very much alive and kicking. "Whether

there's fifty people or twelve hundred people,

we're just gonna have a blast. The fans we have

appreciate us live because we have a lot of fun,

our live show is honest."

Annihilator perform at the Rickshaw

Theatre (Vancouver) on June 15.

14 THE SKINNY

June 2017

June 2017 THE SKINNY

15

4

Happy Hour

$

3 Beer til 3pm

$

5 Beer til 5pm

11

Happy Hour

$

3 Beer til 3pm

$

5 Beer til 5pm

18

Happy Hour

$

3 Beer til 3pm

$

5 Beer til 5pm

25

Happy Hour

$

3 Beer til 3pm

$

5 Beer til 5pm

5

Happy Hour

$

3 Beer til 3pm

$

5 Beer til 5pm

12

Happy Hour

$

3 Beer til 3pm

$

5 Beer til 5pm

19

Happy Hour

$

3 Beer til 3pm

$

5 Beer til 5pm

26

Happy Hour

$

3 Beer til 3pm

$

5 Beer til 5pm

6

Jokes feat.

Abby Roberge

13

Jokes feat.

Jane Stanton

20

Jokes feat.

John Beuhler

27

Jokes feat.

Chris Gordon

7

Happy Hour

$

3 Beer til 3pm

$

5 Beer til 5pm

14

Happy Hour

$

3 Beer til 3pm

$

5 Beer til 5pm

21

Happy Hour

$

3 Beer til 3pm

$

5 Beer til 5pm

1

8

15

22

28 29 30

Happy Hour

$

3 Beer til 3pm

$

5 Beer til 5pm

Mr. Boom Bap

presents

Boogie Nights

with

Brown Paper Bag

Mr. Boom Bap

presents

Boogie Night

with

Burnt

Mr. Boom Bap

presents

Boogie Nights

Mr Boom Bap

hosts

"The Shed"

Jazzfest Funk/

Soul open jam

session

Mr Boom Bap

hosts

"The Shed"

Jazzfest Funk/

Soul open jam

session

9

2

The Railway

Stage presents

Ricky Ruth Band

The Railway

Stage presents

Dumb

16

The Railway

Stage presents

The Orange Kyte

23

The Railway

Stage presents

Thee Magic

Circle

The Railway

Stage presents

Mostly Marley

3

Lust for Life

special guests

Maiwah &

Kinship

10

Lust for Life

special guests

Rococode,

Battle Tapes &

Seaborne

17

Lust for Life

special guests

Prairie Cat,

Iceberg Ferg &

Rec Centre

24

Lust for Life

special guests

Living Hour &

The Servers
---
THE SKINNY

TIGER ARMY

iIn the undying light

WILLOW GRIER

NEEDLES//PINS

saying good night to old habits

JAMES OLSON

"Tiger Army never dies!" A catchphrase indelible in the minds and

hearts of fans and onlookers world over, shouted at the top of lungs

and carved into skin from west coast of the United States to South

America to Canada and beyond. For a band that has never found a

discernible niche but always created their own, never fit into the confines

of a single genre, and had almost a decade long gap in between

albums, it's impressive to see such a undying devotion to the Tiger

Army legacy.

In speaking with the band's primary song writer, Nick 13, BeatRoute

gains a little insight into where those strong roots come from.

"I've always tried to be true to myself as a songwriter," he describes,

referring to the whole of his band's 20 year history. "I've never written

with anything commercial in mind or fallen into the trap of trying to

please different demographics. I just try to create something that is

true to me at the time...that means something to me. If I can do that,

it might mean something to someone else."

"The fans of Tiger Army are true music lovers," he continues. "They

care about the songs and the songwriting and they are relating to

something on a personal level, so it therefore becomes timeless in

a way."

Over the course of five albums, Tiger Army danced from punk, to

rockabilly, to everything in between, and on their latest release "V•••-"

find themselves drawing from a noir aesthetic, with heavy influence

from "the second wave of rock and roll" that took shape in late '50s

and early '60s. The album is like a grey, rainy day exploration, with

METALOCALYPSTICK FESTIVAL

never has snubbing the patriarchy sounded so loud

photo by Kaija Kinney

Festival organizer Kaija Kinney puts an emphasis on celebrating women in metal for a second year.

Tiger Army are still going strong in a timeless, genre-banding legacy spanning more than two decades.

ANA KRUNIC

The phrase "Women of Metal" has, in the past, unfortunately

been seen in magazines commonly accompanied

by photos of swimsuit models with guitars

they may not be too sure how to hold. This is fine

in its own way, until you consider the historical lack

of representation of female musicians in the metal

world in any real manner. This has changed quite a bit

over the years, but the gap is still there. Metalocalypstick

Festival founder Kaija Kinney saw this void and

sought to fill it with an event that invites metal bands

with female members from Canada and abroad to

showcase their music in a summer festival setting. "I

saw that there were really no female-oriented metal

festivals, and the ones I did find mostly focused on

only vocalists. Once I get an idea in my head, I have

to do it."

Kinney herself is the frontwoman for the band

Anarcheon, and no stranger to a question a lot of

women in metal bands hear ad nauseum – what's

it like being a girl in a metal band? "I guess I'm sort

of playing on that, too," says Kinney, "but that's not

what I want to do with it. It's more to showcase all

the women in metal and how badass they are, especially

since most of us are still playing in male-dominated

bands." Granted, in terms of proportion, there

are more male musicians playing metal for whatever

reason – but that doesn't mean it was at all difficult

to fill the festival's lineup. This year's festival includes

19 bands, from all over the world including Canada,

Mexico, and Egypt. "I literally spent 18 hour days on

the computer researching all these bands and just

trying to get them over here."

photo by Casey Curry

bursts of fire in between. Both a vintage throwback and the shock

of new life.

"I think there was something really interesting about that time [in

rock and roll] because the first wave was done and it was a transitional

period where people didn't know it was going to happen," Nick 13

describes. "There was a lot of experimentation and a lot of trying to

figure out what the next step was in the sound. There was something

I related to in that and in very early punk, specifically out of New York

City. I heard a musical link between doing something new and pushing

the boundaries that punk initially represented, but also having

sort of a direct lineage with early rock and roll and Du Wop."

"As a music fan and a concert goer" himself, Nick 13 keeps a master

copy of all the setlists from each show Tiger Army has played so that

fans can get the most from every live performance, and not have to

see the same show twice.

Now about to embark on a co-headlining tour with dark Americana

group Murder by Death, Tiger Army will have the chance to

express additional parts of their repertoire, and dig into their discography

that includes "In The Orchard," and other examples of sounds

that found expression in Nick 13's solo country/Americana releases,

which he plans to work on again towards the end of this tour.

"I would say there's a certain musical overlap," he explains. "That

mid century country and hillbilly music has always been a small part

of what Tiger Army is so the two do share that, but the solo stuff was

more about honing in on that."

Despite this connection, Nick 13 expresses that the two projects

will always remain unique for him. "I get a different feeling when I step

onstage. There's a completely different energy at a Tiger Army show."

Tiger Army and Murder By Death bring their depth of

sounds to the Commodore Ballroom on July 3.

In addition to being a showcase for women in metal,

Metalocalypstick donates profits from the festival

to groups like Vancouver Rape Relief and Shelter,

Earth Protectors as well as Girl's Rock Camp. "We

want to encourage women [in performance arts.]

Building confidence for these girls is so important."

Girl's Rock Camp is a non-profit society that does

mentorships and workshops offering musical training

and organizing performances to build self-esteem

and community through music.

Visitors will be camping out while bands play from

the beginning of the afternoon until late at night,

with no shortage of activities such as more-than-likely-drunken

baseball games and nearby lakes to swim

in when it inevitably gets too hot. You'll find Kinney

running around at the festival making sure the cogs

are turning.

"For me, it's pretty hectic. Running around, making

sure everything's good and running smoothly. Being

the second year, I'm thinking things will run a bit

tighter and I have a few volunteers to help out."

The festival is a great female-oriented foil to the

rest of the growing metal festival scene in British Columbia.

Summertime gatherings like Armstrong Metal

Fest and Metallion in Prince George are gaining in

popularity every year. With Metalocalypstick Festival

joining the ranks, the three make for an entire summer

of metal.

Metalocalypstic Festival takes place in Lone

Butte, BC on July 1 and 2.

Needles//Pins

are in the midst of what

might be the biggest year of their

career. Their third record, Good Night, Tomorrow,

is set for release on June 30; its creation an

epicenter of change for the Vancouver based punk

band. Recorded at Rain City Recorders and with a

new producer; Good Night has presented the band

with a host of new opportunities. The pop punk

trio composed of Adam Ess (vocals/guitar), Tony

X (bass), and Macey Budgell (drums) has been a

consistently fun fixture of Vancouver's local music

scene. Crafting catchy, high energy tunes, Needles//Pins

serve as the perfect soundtrack to chain

smoking and shotgunning beers in the parking lot

behind your favorite East Van music venue.

After releasing two enjoyable yet sonically similar

records, the recording process for Good Night

served as a genuine opportunity for the band to

grow as a unit. "The previous two records we had

done were completed in five days. You've got 10 to

12 songs and you bang 'em out in five days. You're

really kind of rushed in that regard and there's

always something you notice after it's done and

you're listening to it and you wish you had time to

make changes," X explains. "This approach allowed

us to listen to things as they developed. There were

things that we absolutely went back and looked

at from previous sessions...it was nice to have the

space and ability to reflect on the products that

we had." Ess and Budgell agree the new process

enabled the band to take the time they needed to

fine-tune each track as they were recorded.

After recording with Jordan Koop at the Noise

Floor (now located on Gabriola Island) for their

previous two releases, Needles//Pins elected to go

with Jesse Gander at Rain City Recorders for Good

Night. "It had nothing to do with Jordan. We just

switched up everything that we did," says X. "We

decided we weren't gonna make the same record

again for the third time. We needed to move forward

as a band. Because if you're not moving

forward then what do you do? We needed to do

something different. Not because of bad experiences.

We were super happy with everything we

had done up to that point. We definitely had to

expand." The results of the band's hard work shows

upon advance listen of Good Night. Tracks like "Violet"

and "Back To The Bright" crystallize the ragged

everyman character of Ess' lyrical and musical

voice, supported by uncomplicated yet emotionally

direct playing by X and Budgell. The band at

once conjures the nostalgic, wistful roots rock of

Gaslight Anthem with the careening, ramshackle

energy of Titus Andronicus and early Against Me!.

Gander not only served as producer for Good

Night, he supplied keyboard work throughout the

album and has since joined the band as their officially

unofficial fourth member. While scheduling

doesn't permit Gander to appear on stage with

Needles//Pins for every performance, the band is

nonetheless excited to bring him into the fold and

he played his most recent live show with the band

last month on stage at the Commodore opening

for The Smugglers.

As part of their recent signing with Mint Records,

joining a roster including the likes of Tough

Age, Jay Arner and The Evaporators, Needles//Pins

are on the verge of releasing their first ever music

video for the anthemic and confrontational "Miracle."

Directed by Mike Babiarz, the band is vocally

optimistic about the final product but they all

agree the shoot was hellish. Two savage 12 hour

days of shooting included turning the band's jam

space into a makeshift bomb shelter, fire alarm

shenanigans and annoying the neighbors with their

after hours playing. "It was fun for two hours and

then it was like 'We're fucked,'" X chuckles. Budgell

adds "We'll find out if it was worth it when the video

comes out. If it sucks I'm never making a music

video again." The band intends on releasing it just

before they head off to Ottawa Explosion in mid

June.

This summer involves a lot of touring for Needles//Pins,

including dates at the aforementioned

Ottawa Explosion and Sled Island in Calgary, along

with a full mid-west and east coast tour of the U.S.

When BeatRoute last connected with Needles//

Pins, the band had just returned from their first

European tour. Ess says the band plans on traveling

across the Atlantic again in spring 2018 but the

trio were absolutely brimming with tales from the

road. An isolated village in the Czech Republic was

the site of one of the most memorable Needles//

Pins shows. "We played at this barn that had been

converted into a legion where the front bar area

was full of old men watching hockey and chain

smoking," says Ess. "And the back was this huge

concert hall. We got there and we were like 'What

the hell is this?'" According to Budgell, everyone

thought that they were in the wrong place. "We

were on tour with Sonic Avenues at the time and

I remember looking at Seb from Sonic Avenues

and he was so bummed when we got there. I told

him that the night could go either way, it could be

amazing or bad. He insisted it was going to be bad.

It wound up being the best show of the tour. It was

wild," Ess concludes.

Longevity can often be rare to attain for a band,

particularly with the same lineup intact. A lot can

happen over the course of five years. The last time

Ess connected with BeatRoute in April 2013 he provided

an enthusiastic view on the Vancouver music

scene. Four

years on, Ess' perspective

has certainly changed, but his

attitude remains optimistic. "I think Vancouver

has changed a lot. I also think that we've changed. I

will readily admit I'm out of the loop sometimes. A

lot of time has gone by since we started this band

and we're not necessarily engaged in the up and

coming stuff," Ess says. "I see that Music Waste is

still happening and every time Music Waste comes

out there's a whole list of bands I've never heard of

before on it and I think that's awesome. That's indicative

of the fact that people are still doing things

and that's really great."

The camaraderie shared between the three original

members is palpable. Throughout the interview,

Ess, X, and Budgell were constantly laughing

at themselves, recalling a variety of hilarious episodes

and good times shared as a group of friends

making music together. As Needles//Pins approach

a decade working together, Ess' summation of what

has kept the band together speaks volumes. "Be

friends before anything else. That's the way we've

always approached it and it's been great as a result

of that. I don't know what other way we could have

done it," he says. "It's always been that way. We're

more like a family and it's been that way since day

one. The band is what we do together."

Good Night, Tomorrow marks the end of the

first phase of Needles//Pins career but the beginning

of a new one. With the addition of a new

member and a greater focus on growing as a band,

Needles//Pins have said "good night" to old habits.

Tomorrow, new opportunities.

Needles//Pins play their album release

show for Good Night, Tomorrow at SBC

Restaurant (Vancouver) on June 30

photo by Shimon

16 THE SKINNY

June 2017

June 2017 THE SKINNY

17
---
American headliner the String Cheese Incident. SCI

as they are known consistently sell out Red Rocks

and many 20,000 capacity venues south of the border.

The band is following in the footsteps of other

jam greats like the Grateful Dead, and Phish having

fostered a fervent base of fans that often follow the

band from show to show. The Element music festival

also features Garaj Mahal, Five Alarm Funk, Steve

Kimock & friends, Genetics, Brickhouse, and the Big

Easy Funk Ensemble. (GM)

Sunfest

Aug 3-6 - Cowichan Valley, BC

As the only country music festival that takes place in

BC every summer, Sunfest has played host to most

of the biggest names in country music. Pull up your

most trustworthy cowboy boots and hat and set up

camp at the base of Mount Prevost as you get serenaded

by Toby Keith, Little Big Town, Old Dominion,

Brett Kissel and Chris Janson.

festival that could. Powered by sheer will and plenty

of elbow grease, Otalith has managed to attract

some world-class talent in past years including Fidlar,

The Black Lips and People Under The Stairs. Currently

in their fifth year, the growing festival is excited to

develop further while maintaining their boutique festival

community feels.

Atmosphere Gathering

Aug 18-20 - Cumberland, BC

Imagine warm summer nights filled with performances

by a curated list of electronic music artists

punctuated by mind and body enhancing workshops

and yoga during the day. Because that's exactly what

Atmosphere Gathering is like. Paired with a great selection

of electronic music artists including Sabota,

Half Moon Run, DJ Shub and DiRTY RADiO, Atmosphere

incorporates little games and competitions

throughout the weekend to bring out the best of

their attendees.

VANESSA TAM AND GRAHAM MACKENZIE

Although Western Canada has lost two of their

largest summer music festivals over the past couple

years (RIP Squamish and Pemberton), the BC

festival circuit is still very much alive and kicking.

Going up against a high American dollar, many

boutique festivals are choosing to celebrate the

plethora of local artists located here in our own

backyard. From this year's most historic festivals

(Shambhala and the Vancouver Folk Music Festival)

to the newest (Fvded in the Park and Westward

Music Festival), there will no shortage of

great music in the West this summer.

Victoria Ska and Reggae Festival

June 14-18 - Victoria, BC

Head out to the party isle of Victoria and jam out

to a generous dose of irie tunes at the Victoria Ska

and Reggae Festival. Supplemented with a series of

free workshops and visual art showcases, join the

local community for live performances by a wide

selection of artists including Skampida, The Boom

Booms, Booker T. Jones, Tonye and The Black Seeds

this summer.

Vancouver International Jazz Festival

June 22-July 2 - Vancouver, BC

With an infinite amount of nuance able to be rendered

from modern jazz, it's impressive to see a festival

like the Vancouver International Jazz Festival

take the time to showcase them all. Playing host to

an international roster of both local and international

artists including Ziggy Marley and Seu Jorge,

the large array of shows spread out over 10 days

gives festival goers the opportunity to jump in as

deep as they desire.

Campbell Bay Music Festival

June 23-24 - Mayne Island, BC

A true labour of love held on picturesque Mayne Island,

the Campbell Bay Music Festival is a volunteer

run event that brings a cohesive selection of artists

together for a weekend of great music and great

vibes. Focusing on more indie and folk bands this

year with acts like Citizen Jane, Cuddle Magic and

Douse, only copious amounts of bliss can be expected

from this truly west coast festival in the forest.

Tall Tree

June 23-26 - Port Renfrew, BC

With undying support from the local artists, residences

and business of Port Renfew, Tall Tree Music

Festival is like a celebration for the whole city.

Currently in its eighth year, Tall Tree is the type of

festival you'd want to plan your extended family reunion

around. And with headliners like Jesse Roper,

Skiitour, Tokyo Police club, Shapeshifter NZ and DJ

Nu-Mark on the bill, there will surely be a little bit of

something for everyone.

Faded in the Park

July 7-8 - Surrey, BC

Evolved up from a dope little midweek club night

in Vancouver, Fvded in the Park has grown to become

the city's first music festival to be located in

the middle of Surrey's Holland Park. A modern rap,

R&B, EDM and bass music lovers dream, headliners

like The Chainsmokers, Wiz Khalifa, Partynextdoor,

Dillon Francis are reasons enough to jump on the

skytrain and hang out in the burbs for a couple days.

Bass Coast

July 7-10 - Merritt, BC

Bass Coast holds a special space in the heart of BC's

robust electronic music community. Independently

founded by Andrea Graham and Liz Thomson, the

boutique festival continues to be independently

owned and operated

by artists, which is a

commendable feat in

and of itself. With a

heavy focus on

booking Canadian talent, especially those of the

West Coast persuasion, this grassroots event is truly

one of those festivals that is for the people, by the

people.

Khatsahlano

July 8 - Vancouver, BC

A festival that more closely resembles a block party,

Vancouverites religiously make a point to come

out to this annual bash to celebrate the many businesses,

artisans and musical acts that make Kitsilano

special. Walking end to end will uncover something

special to behold at every turn be it delicious hand

made ice cream by Rain or Shine, a rare pick up from

Zulu Records or a sun-soaked performance by The

Zolas on the main stage.

Vancouver Folk Music Festival

July 13-16 - Vancouver, BC

Celebrating its 40th year this summer, the Vancouver

Folk Music Festival prides itself on booking

a selection of some of the best contemporary folk

and roots artists from around the world. Situated in

Jericho Park right next to the ocean, a more pleasant

backdrop couldn't exist for performances by artists

like C.R. Avery, the Belle Game, Begonia, Blick Bassy

and the Barenaked Ladies.

Armstrong Metal Fest

July 14-15 - Armstrong BC

More than 30 bands descend on the small hamlet of

Armstrong, BC for a two-day monster mash. Bring

your devil horns cause this is metal stacked on metal

on metal. Stick out your tongue raise those hands in

the air and get set to headbang for 48 hours straight.

Even when you're sleeping you are still going to be

headbanging. This much metal doesn't take a break.

Breaks are for folk fests. If you like metal this is your

Valhalla. Plus they have thrash wrestling. Sounds

badass doesn't it? Sounds like someone is

definitely going to get hurt.

Bands include a lot of unreadable

logos and

WMD, Slagduster, Planet Eater, Exit Strategy, the

Avulsion, NinjaSpy, Citizen Rage, Dragstrip Devils

and many more. (Graham MacKenzie)

Centre of Gravity

July 28-30 - Kelowna, BC

Enthusiasts of action sports, bikinis, Monster Energy,

EDM and hip hop need not look any further

than Centre of Gravity in Kelowna. Returning to the

shores of Okanagan Lake and Kelowna's City Park

this July, the most extreme levels of live music entertainment

will be reached with artists like Snoop

Dogg, Schoolboy Q, Lil Dicky, Marshmello and Excision

ready to fuel the fire.

Electric Love Music Festival

July 28-31 - Agassiz, BC

Without a doubt, attendees of the Electric Love

Music Festival must vibrate at a higher celestial rate

than others. And if camping under the stars of Agassiz,

connecting with loved ones and dancing to an

incredible lineup of electronic music DJs won't help

festivalgoers achieve a next level state of consciousness,

then nothing will.

Element Music Festival

August 3-6 - Princeton BC

This a new festival emerging in Western Canada

and it looks to be styled after the laidback hippy

happy vibe of early Bonnaroo with a heavy emphasis

on jam- my improvisational bands and an

eclectic mix funk, folk, jazz and psychedelia. The big

draw here being three nights and six sets by massive

Kaslo Jazz Etc

August 4-6 – Kaslo, BC

This intimate and laidback festival has been going

for 25 years and is gaining steam as it goes. This year

boasts arguably the biggest line up yet featuring Los

Lobos, A Tribe Called Red, Charles Bradley, Badbadnotgood,

Preservation Hall Jazz Band, the Sheepdogs

and many more. The festival showcases an array of

blues, jazz, folk, world music, and a bit of everything

really. Kaslo Jazz Etc has a unique floating main stage

in Kootenay Lake, which reverberates sound out into

the natural green amphitheater of Kaslo Bay. You

can expect to enjoy world class musicians perform

against a breathtaking backdrop of mountains and

sky. The festival has been selected as one of the top

ten places to get out doors and be in tune by USA

today and one of the top ten places to enjoy outdoor

summer music by Reuters. (GM)

Wapiti Music Festival

August 11- 12 – Fernie, BC

This festival delivers emerging Canadian indie artists

on their way to becoming household names. This

years line up includes Tokyo Police Club, Royal Canoe,

Five Alarm Funk, the Dead South, the Wilderness

of Manitoba and more. You can walk or ride a

bike to the centrally located festival site in beautiful

downtown Fernie at a riverside park. A myriad of

activities for all ages with bonus kids and seniors are

free. (BS)

Shambhala

Aug 11-14 - Salmo, BC

Shambhala is quite literally a family affair in every

aspect. Independently produced by the Bundschuh

family for the past 20 years and hosted on the family's

working farm, Shambs has become the longest

running independent electronic music festival BC

has ever seen. A famously dry festival, the event plays

host to an impressive range of humans, each with

their own preferred method for connecting with

their inner spirit.

Otalith Music Festival

August 18-19 - Ucluelet, BC

Otalith Music Festival

is the little music

Pondarosa Festival

August 18-20 - Rock Creek, BC

Tucked into the tiny town of Rock Creek in the

Okanagan Valley, Pondarosa Festival is an honest getaway

from the hustle and bustle of the big city. Headlined

by Canadian bands Wolf Parade, Five Alarm

Funk, IMUR, Bear Mountain and Gang Signs, organic

growth with feedback from the community is the key

for this beautiful baby of a festival.

Motion Notion Festival

August 24-28 – Golden, BC

This is an exploration of electronic music, art, nature

and the infinite in the heart of the Rocky Mountains.

Motion Notion is a name with meaning. It can be understood

as the 'Movement idea,' the concept that

the flux of the universe is the essence of being and

that ever human, planet, solar system, and galaxy

maintains this continuous flux as long as it exists.

Movement is existence. You will be moving to acts

such as Datsik, Avalon, Dirtyphonics, Koan Sound,

The M machine, Minnesota and more. Also check

out the vendor village, and all the fire dancers, belly

dancers, flaggers, live painters, aerialists, contortionists

and wandering magicians. (GM)

Westward Music Festival

Sept 14-17 - Vancouver, BC

While most of the independent music festivals in

Vancouver have gone the way of the dinosaurs, a

brand new festival rises up to take over where they

left off. With plans to spread out across multiple venues

and genres, Westward's inaugural year will hopefully

breathe new life into Vancouver's local festival

circuit. With many details of the festival including the

lineup and ticket costs still to be announced, it helps

to be optimistic.

Rifflandia

Sept 14-17 - Victoria, BC

Victoria, BC, home to the oldest Chinatown in Canada,

that weird miniatures museum and Rifflandia,

the largest multi-venue music festival on the island.

With past headliners like Kiesza, Modest Mouse and

A Tribe Called Red on their side, skipping a few days

of school doesn't seem so bad now does it?

18 BPM

June 2017

June 2017 CITY

19
---
The Toronto Mendelssohn Choir was founded in 1894 and gave the city its nickname "the choral capital of North America" in the 1900s.

CANADA 150

a thoughtful retrospective on a lifetime of Can-con

MAT WILKINS

A common (and perhaps slightly ill informed)

opinion about Canada' s musical output and its

effect on the hearts and minds of people around

the globe typically seems to go a little like this:

" Rah rah! Hear Ye! Smash hit artists like Bieber,

Drake, Avril Lavigne, and Nickleback are the backbone

upon which this great nation' s rich musical

history thrives and is maintained!" But do not be

confused, dear readers, this opinion is an erroneous

one, but it has absolutely nothing at all to do

with the ability of these artists —who, as we know,

have all generated remarkable amounts of cultural

impact in Canada and abroad. No. The reason

the above assumption is misleading is primarily because

of the above list' s pitiful length and tragic

lack of breadth. But even after we consider artists

like The Weeknd, Arcade Fire, Neil Young, Joni

Mitchell, Bryan Adams, The Tragically Hip, Alanis

Morissette, The Guess Who, Leonard Cohen, The

Band, Sum 41, Simple Plan, Rush, Michael Buble,

Celine Dion, and so on, we have only just skimmed

the surface of this country' s musical past. To

elaborate: Canadians typically seem to know a

Platinum Era ('96-'09)

HiP HOP + R&B

EVERY FRIDAY

10:30pm - 19+

lot about those homegrown heroes that are most

memorable to us, our parents, or even our grandparents,

but memory is a funny thing that way;

when we look at any kind of cultural anything that

has existed in the past we' re often limited to the

small histories of our friends, loved ones, and whoever

else we turn to for information, trend reports,

whatever. The whole truth, however, is that Canada

has been churning out talented and influential

musicians since —and before— The British North

America Act was signed in 1867 unifying Ontario,

Quebec, Nova Scotia, and New Brunswick under

the crown. Happy Sesquicentennial!To properly

broach the considerably gigantic subject of origins

and influences in Canadian music, let' s first go all

the way back to before and around our nation' s

first birthday. Since colonization in the 17th century,

music (like people) was forcefully imported

despite a largely inhospitable climate and geography.

Settlements were spread far and wide, with

prohibitively expensive opera houses and theatres

spread even farther and wider, if at all. Unlike today,

building-code-breaking bars or vile, unventilated

venues simply couldn' t suffice. And without any

stable or immediate form of communication with

the old world or with one another, composers and

performers who were intent on preserving their

traditional styles were at a loss. With the stock

market crash of The Great Depression and the advent

of new radio and recording technologies, Canada'

s domestic music had taken a considerable

hit; Canadian musicians no longer had the money

to buy instruments, while others from around the

world were now outperforming them in the living

rooms and watering holes of their former audience.

But some fragmented flashes of hope remained

far off in the red light districts of Montreal city

(which apparently snuck into the dominion while

we weren' t looking). As vaudeville and orches-

2755 Prince Edward Street

biltmorecabaret.com

tral musics' popularity waned considerably, jazz

was slowly becoming the frontrunner of the North

American avant garde. The genre was developed by

African American musicians in the United States at

the beginning of the 20th century, but segregated

clubs had put a significant damper on performance

opportunities. Montreal and its integrated

clubs quickly became a hotspot for jazz musicians,

attracting a myriad of artists including Dizzy Gillespie,

Johnny Hodges, and Duke Ellington. Occasionally

frequenting these venues and performing at

some not-quite-as-fabulous spots was local jazz pianist

Oscar Peterson, who was later given the (kind

of peculiar) nickname " Maharaja of the keyboard"

by Duke Ellington himself. Peterson went on to

perform in thousands of concerts, release over

200 songs, and win eight grammys. Montreal even

remains a hub for all things jazz today, hosting Le

Festival International de Jazz de Montréal annually,

with an average turnout of around 400 000 people.

But one last thing! Arguably the most underrated

of all musicians in Canada are the great many First

Nations cultures and communities that lived before

the ' founding' of the nation and continue

to live today. As most settlers in Canada took no

interest in recording or describing First Nations

music (don' t forget banning cultural practices

too), most of the remaining evidence we have of

the songs of particular bygone cultures' is in the

preserved instruments found in museums and private

collections. Most First Nations peoples of the

past used drums and noisemakers made of wood,

animal hides, and horns to create complicated

rhythms that were played in the background over

powerful and poetic vocal melodies. As for contemporary

First Nations artists, there are plenty!

Light In the Attic Record' s " Native North America,

Vol I" is a compilation album of Indigenous

pop, rock, folk, and country artists from around

the country performing between 1966 and 1985.

Artists recording and performing now include pop

vocalist Iskwé, throat singer Tanya Tagaq, or singer

songwriter duo Digging Roots, to name but a small

few. So as you can see, Canada' s musical history

is in many ways like a great song: beautiful, necessary,

and important at all points in time. And without

a strong beginning, songs, poems, paintings,

sculptures and histories would simply fall apart or

cease existing entirely. Were it not for the countless

Canadian musicians that set the stage for contemporary

artists through their innumerable amounts

of diligence, creativity, and talent, there is a good

to fair chance that we would be a world without

Shawn Mendes. Let that sink in.

HOUSE JAMS FOR THE YOUNG,

RESTLESS & BORED

CAN I LIVE + GUESTS

EVERY SATURDAY NIGHT

10:30pm - 19+

TACOFINO

Michelin-starred chef Stefan Hartmann joins taco team

Chef Stefan Hartmann brings his global expertise to Tacofino.

WILLEM THOMAS

Tacofino, the propulsive little taco empire, has a made a forward-thinking

move with the recent hiring of Stefan Hartmann. Originally from

Germany, Hartmann is a decorated chef who's worked in notable

kitchens across the globe. Having earned a prestigious Michelin-star

for his own namesake restaurant in Berlin, Hartmann brings 25 years

of wide-ranging culinary expertise to British Columbia to assist Tacofino

in it's taco-takeover. Fine dining tacos? Possibly.

BeatRoute: Why Tacofino and how did this come together?

Stefan Hartmann: I was working next door as the executive chef at

SKY HARVEST

pedal-powered urban sustainability

WILLEM THOMAS

photo by Jeff Vinnick

Imagine, if you will, a metropolis in which forward-thinking, sustainability-focused

agricultural businesses are given not only the opportunity

but also the encouragement to thrive and expand without

following a restrictive path set by a generally disinterested municipal

government. Sounds like commercial science fiction, right? Sky Harvest,

located in an East Vancouver warehouse, is one of a few local

companies working on making that idealistic narrative a much more

common reality, all while staying committed to delivering their products

via bicycle.

Founded in 2011 by Aaron Quesnel, Sky Harvest's progressive business

model is unique and a likely inspiration for future urban greens

growers. As the first Certified Organic urban farm in Canada, they're

a microgreens and specialty greens producer that covers growing,

teaching clients about the product, and delivery — all by bicycle — of

the delicate edible goods to around 80 different grocers and restaurants

across the city, year-round.

The initial concept for Sky Harvest came from Quesnel's thesis while

doing his masters on sustainability in Sweden, which he describes as

a country doing quite a few things right in terms of environmental

policy. "I looked at using rooftop agriculture to help cities become

more sustainable and I brought some of the concepts to Vancouver.

We're not on rooftops here, for a number of reasons (prohibitive costs,

tough building codes), but it still follows the core idea of urban agriculture

in under-utilized spaces." Achieving the aforementioned organic

certification was a no-brainer for Quesnel. "We were basically growing

organic already," he says. "We needed another way to tell our story

— the certification enabled us to more easily connect with consumers

and show the product meets certain high standards and is grown

right."

Bauhaus and I became friends with [Tacofino Managing Partner] Gino

[Di Domenico]. That's where it started, just me and him talking about

it. I was ready for a change in my life. I already knew it was a great company,

it's more like a family where every restaurant is it's own brand.

That's much more interesting than working for a regular corporate

chain. It gives you way more room as well, to develop new items and

ideas. It's much more fun.

BR: How does Vancouver's dining scene compare to some European

cities you've worked in?

SH: I actually think food trends everywhere are starting to go in the

same direction. A food trend in many cities such as Paris is just having

a really developed brand identity and product. That's what Tacofino

is doing right now. They have an established product, but they're still

working on advancing it. Also, people on both sides of the ocean are

more aware than ever of what they're eating; where it's sourced from

and having an awareness of how much labour goes into making it.

BR: As a longtime chef, what interests you most about working with

Tacofino?

SH: I now have the room to focus on bigger, more important things

for Tacofino. I was a head chef at the age of 25, which was a little too

young when I look back now. It wasn't until or was 32 or 33 years old

I was really doing original things I thought, "Hey, maybe no one else

has ever done this before." I'm going to work with the minds behind

Tacofino to advance it, but we're not going to reinvent it — they have

a product that's great already. First I'll be looking within the company;

how everything is going, and who are the people I'll be working with.

And then we'll be bringing ideas from everyone together. A group of

chefs talking together, brainstorming, is where little wonders are born.

Visit the Tacofino Hastings location every Tuesday for New

Music Tuesdays presented by BeatRoute.

Aaron Quesnel is fuelled by micogreens and organic dreams.

Some of Vancouver's top restaurants rely on Quesnel and his growing

brand (Sky Harvest aims to set down roots in a new 4,000 squarefoot

space sometime in the near future, almost doubling their current,

at capacity, 2,300 square-foot warehouse) for the freshest microgreens

and herbs possible, and he's passionate about the work they do. "We

put so much effort into making sure the plants are perfect, and the

demand is there for the products. More and more businesses want to

go local, whether it's for the quality or the transparency."

Sky Harvest wasn't a straightforward undertaking and Quesnel

seems to have enjoyed the challenge. "We've got staff who love to bike

and love plants, but farming is a tough business to start anywhere," he

says. "It's not for the faint of heart."

Learn more about Sky Harvest at skyharvest.ca.

The Museum of Anthropology is hosting new exhibition, Traces

of Words: Art and Calligraphy from Asia, curated by socio-cultural

anthropologist, Dr. Fuyubi Nakamura. Produced in various

materials and styles — from calligraphy and painting to digital

and mixed media — the words presented in the exhibition are

physical traces of time and space, embodying what is ephemeral

and what is eternal in our life.

"We leave traces of ourselves throughout life, be they visible

or invisible," says Dr. Nakamura. "Words, whether spoken, written,

imagined, or visualized, are traces unique to humans. Some

words disappear while others remain only in memory or leave

physical traces as writing or text. These traces are the theme of

the exhibition."

Dr. Nakamura has worked with the Vancouver Asian Heritage

Month Society on other events and wanted to showcase

the large collection of Asian works at the MOA, which makes up

about 40% of the museum's total holdings. Although Vancouver

is home to a large population of Asian heritages, Dr. Nakamura

says that she does not think Asian arts and cultures receive the

level of attention they deserve. "Even among Asian communities,

they organize things mostly independently (for example,

Chinese culture centres), rather than doing something more collectively

or professionally. This exhibition is a way to enhance the

understanding of the diversity of Asian arts and cultures from

different periods and places."

Traces of Words includes palm leaf manuscripts from Southeast

Asia, graffiti art from Afghanistan, Chinese calligraphy, and

Qu'ranic manuscripts. The MOA also worked with teamLab to

create multimedia components so that viewers can experience

and sense (rather than read and translate) script in new ways,

and gain an appreciation for the cultural significance of Asian

writing beyond legibility and comprehension.

"Artwork transforms writing — a form of communication

that is often looked through rather than looked at — into visualized

and materialized words," adds Dr. Nakamura. "Viewing and

feeling these works is like listening to songs in a foreign language

we may not understand — we can still appreciate the lyrics because

there is more to them than the meaning of the words."

This unique presentation is experiential, incorporating the

viewer's individual senses and interpretations to generate conceptual

understanding of the exhibition as a whole. It's the first

of its kind for the MOA and not to be missed.

Traces of Words: Art and Calligraphy from Asia runs

at the Museum of Anthropology until October 9.

photo by Pace Gallery

CITY

TRACES OF WORDS

finding the imprint of time and experience within living text

CHARLOTTE KARP

Dr. Nakamura shows the power of written expression in Asian Culture.

20 June 2017

June 2017 CITY

21
---
PMS: 2925 PMS: 3005

IAN WALLACE

choosing life, choosing art

YASMINE SHEMESH

The gallery space on the Rennie Museum's floor level is bright, with

sunshine streaming through the windows. Mounted on the wall are

eight silk-screens depicting various scenes of scarcity. The photographs

— framed by monochromatic backdrops — are an iteration

of "Poverty": Ian Wallace's 1980 – 1984 multimedia installation that

comments on transience. This 1982 variation is presented as part of

Collected Works, a solo exhibition of the esteemed Vancouver artist's

rare and historic work.

Wallace, himself, is engrossed in the piece. Standing with his jacket

slung over one shoulder, he grows passionate describing the thought

process for a project he created over 30 years ago. This is the first time

he's seen it since 1988. How does that feel? "Well, it's nice to see," he

smiles.

It began as a short film. He wanted to explore homelessness — a

growing issue in the city following the closing of Essondale Hospital

— but felt uncomfortable pushing his camera in disadvantaged people's

faces. So, he created a fictional illusion with friends and family

acting the parts. His son, Cameron, stars in one scene. An image taken

at the railway yard on Drake Street mimics slums of industrial 19th

century Glasgow.

"I felt it was more authentic or genuine to construct my own interpretation

of this as the images, rather than using real people," Wallace

explains. "I didn't want to profit artistically or financially from other

people's suffering, so I had to create a simulation of this subject so

we can think about the subject, but without it necessarily exploiting

people's reality."

In 1980, when he started "Poverty," Wallace was 37 years old.

Though his name was already known for his juxtaposition of painting

and photography, he was living modestly, creating out of his studio

June 10th

1024 Main Street @ The Ellis Building

mainstreetbikeexpo

Our Community Sponsor

Vendors/Brands email:

mainstreetbikeexpo@gmail.com

on Abbott and Cordova. He would soon be renowned for his role in

Vancouver's photo-conceptualism movement through the next decade,

alongside Jeff Wall and Rodney Graham. In 2012, he would be

named an Officer of the Order of Canada for his contributions to art

and his thoughtful exploration of social issues and spaces.

Wallace also taught art history at Emily Carr and UBC — the latter,

a place he found much inspiration as both student and teacher. The

campus was the site of 1990's "Idea of the University" — a sprawling

panorama of 16 images showing instances of academic life.

"I was thinking about the question of learning and art, and where

art fits into the university system and what that involves and everything,"

Wallace says. "But I was a conceptual artist. I was more

academically inclined than a lot of other artists. I was more about

research and writing and that kind of presentation. So I decided to

do a piece of work that kind of recognized that in other people's activities."

For Wallace, the idea was something both independent and

intellectual, rather than defined by students sitting in rows.

A history buff, Wallace is interested how things come to be. This is

mainstreetbikeexpo.com

demonstrated in his fascination with building and his photographic

work of construction sites. "Construction Site (The Barcelona Series

I-V)," shot in Barcelona in 1991, depicts the housing developments for

the Olympic athletes of 1992 summer games. Steel frames and shirtless

workers are accented by bars of monoprint texture — a method

where Wallace nailed a sheet of plywood to the floor, inked it, laid

canvas on top, then danced on the back. Grooves and knots in the

wood balance with the textures of the site.

As Wallace descends back down to the Rennie Museum's main

floor, he walks amongst his ideas. His canvases, like open windows,

invite a consideration of a different perspective. Wallace has always

got his eyes open, searching for new things to see.

Art, he says, keeps him awake. "I'm getting on in age and I think

it's important to keep your mind alive. I'm not going to drift off into

nowhere land very quickly. I'm still alive. Still alert."

Ian Wallace: Collected Works runs at the Rennie Museum

until September 30.

BRINGING YOU THE AMAZING MUSIC OF YOUR WORLD FOR 40 YEARS!

Info and tickets : thefestival.bc.ca

photo by Blaine Campbell

The Ian Wallace solo exhibition at the Rennie Museum highlights the artist's perspective and personal experiences behind his photos.

JULY 13.14.15.16

JERICHO BEACH PARK

Billy Bragg & Joe Henry • Shawn Colvin • Barenaked Ladies • Bahamas

The Revivalists • John K. Samson & The Winter Wheat • Blind Pilot

Rhiannon Giddens • Ferron & her All Star Band • Andy Shauf • Kathleen Edwards

RURA • Mbongwana Star • Blick Bassy • Marlon Williams & The Yarra Benders • ILAM

Sidestepper • Native North America • Archie Roach • Eilen Jewell • Roy Forbes

La Santa Cecilia • Jim Bryson • Leif Vollebekk • Jim Byrnes • The Sojourners

Belle Game • Cold Specks • Tift Merritt • True Blues w/ Corey Harris & Alvin Youngblood Hart

C.R. Avery • Jim Kweskin & Meredith Axelrod • Cris Derksen • Noah Gundersen • Ganga Giri

Ramy Essam • Korrontzi • Aoife O'Donovan & Noam Pikelny • Grace Petrie • The Slocan Ramblers

Katie Moore & Andrew Horton • Hillsburn • Choir! Choir! Choir! • Chouk Bwa Libète • and more!

TD VANCOUVER INTERNATIONAL

JAZZ FESTIVAL

innovative programming fosters inclusive atmosphere

In an economic landscape that's taken a noticeable toll on BC music this

year, the TD Vancouver International Jazz Festival is one of the few festivals

that have remained a rock-solid summer highlight.

Sitting down with endlessly passionate co-founder John Orysik, it is

clear to see that he more than recognizes his responsibility to the city.

"Over the past 32 years, we've been instrumental in making Vancouver

a hub for adventurous creation," explains Orysik, "and a festival like ours

is key to changing people's attitudes [about jazz] and creating community."

Covering 300 unique shows, almost half of which will be free, the Jazz

Festival truly has something to offer for everyone. Headliners include

internationally acclaimed acts like Ziggy Marley, Jacob Collier, Branford

Marsalis, and Snarky Puppy bandleader Michael League's new project,

Bokanté. In addition, local Canadian icons Royal Canoe and Brad Turner

will be performing. Free concerts will be held at David Lam Park, by the

Vancouver Art Gallery, at Granville Island, and around Robson Square.

Paid evening shows will be at the Orpheum, Vogue, and the Ironworks.

"The music doesn't end in the evening," adds Orysik. "Starting at

11:00[p.m.], we have nightly jams at Frankie's Jazz Club, where we encourage

all musicians that are performing in the festival to come and

jam." So, for virtually no cost, you could possibly see Jacob Collier jam

with Branford Marsalis and Michael League. "For the demographic that

BeatRoute has, the Marquee Series really stands out," Orysik continues.

"You've got Thievery Corporation, Post Modern Jukebox, and a Seu Jorge

tribute to David Bowie in Portuguese."

In addition, the entire program will be available online, making scheduling

easier than ever before.

A two day candy store for axe wielders everywhere.

Meredith Coloma is a luthier. She meticulously handcrafts her instruments,

shaping British Columbian wood into magnificent stringed boxes

of expression. Side-by-side with students, Coloma teaches her fine skills

and shares her experiences. It was in one of her building classes where

she met Shaw Saltzberg. He asked Coloma what was next on the young

and experienced luthier's list of aspirations."It was kind of one of those

"That's what we wanted to do from the very beginning — be inclusive,"

Orysik says. "Rather than drawing artificial barriers to the genre, we

chose to house the worlds of jazz, mainstream, and avant-garde equally."

The TD Vancouver International Jazz Festival runs from June

22 – July 2 at various locations.

Three decades have not dampened the passion of Coastal Jazz organizers.

'be careful what you wish for' moments," recollects Coloma. Saltzberg's

connections in the music community helped put Coloma's vision in motion

quickly. Her desire was bringing to life a guitar festival. It would be a

festival that celebrated the craft and the tone quest, with programming

that would provide a link to the TD Vancouver International Jazz Festival.

It would be an association that fostered community and fellowship

between the musically minded attendees. Coloma's concept would fill a

void in Canada — a country that is home to a fair number of renowned

guitar makers.

Glissando to the present — working together as producers, Coloma

and Saltzberg are preparing the final touches for the inaugural Vancouver

International Guitar Festival. Held from June 23 to 25 at the Chinese

Cultural Centre Event Hall, the festival celebrates "the art and craft of

contemporary guitar making, both acoustic and electric."

Among the exhibitors will be Canadian master luthier Linda Manzer,

the builder of the 42-string Pikasso guitar. Manzer will also be on hand

for an interactive seminar where attendees can meet the guitar makers,

drawing knowledge and inspiration for their own musical path. Many of

the builders exhibiting at the festival have been apprentices to one of

the most important forces in the luthier world: Jean Larrivée. Larrivée, a

Canadian master luthier, will be on hand to receive the Industry Builder

Award in recognition of his contribution to guitar building in Canada.

The influence of Larrivée, Manzer, and other legendary makers has guided

many of Canada's current crop of guitar builders. "We wouldn't have a

career if it wasn't for these guitar makers," Coloma acknowledges.

The Vancouver International Guitar Festival takes place from

June 23 - 25 at the Chinese Cultural Centre Event Hall.

Since Bard on the Beach first graced the stage — or, should

we say, sand — in 1990, a plethora of Shakes-philiacs

have witnessed the sweeping drama, petty jealously, and

heart-wrenching tragedy that is core to William Shakespeare's

masterpieces.

For its 28th anniversary, Bard will showcase the Two Gentlemen

of Verona, Much Ado About Nothing, the Winter's

Tale, and the Merchant of Venice, once again utilizing stunning

Vanier Park as its backdrop.

In the Two Gentlemen of Verona, two best friends find

themselves in a complicated love triangle — or square. Keen

festivalgoers will remember the casting call director Scott Bellis

put out a few months ago, looking for the perfect pooch

to play the role of Crab the dog; six-year-old basset hound,

Gertie, won the coveted title.

Director John Murphy has reimagined Much Ado About

Nothing, written in the late 16th century and traditionally set

on the island of Sicily, for the 1950s. "We decided that it was

time to do Much Ado About Nothing," says artistic director

and Bard founder Christopher Gaze. "It's a wonderful celebratory

play and one of Shakespeare's most popular." This iteration

of the story revolves around a group of actors and filmmakers

celebrating the wrap of their movie. The production

promises to remain true to form, combining comedy with

meditations on honor, shame, and societal politics.

The Winter's Tale is led by director Dean Paul Gibson. The

plot is, at first, characterized by fierce jealousy and then accumulates

into a love story — a magical conclusion that inspires

redemption and the mending of broken bonds. "It's one of

those glorious plays," Gaze continues. "It manages to capture

everything in one work: drama, tragedy, humour, and comedy."

Director Nigel Shawn Williams has put a modern-day twist

on the Merchant of Venice — a timeless story of how love can

be challenged by prejudice and a craving for revenge. The play

promises to contemplate how we treat 'the other.'

"When this play was chosen, we could all sense the rockiness

of the world, the madness which was unfolding," says

Gaze. "Nigel Shawn Williams approached me with the idea to

set it in a contemporary context. I agreed. After all, you can't

hide behind another time. One can easily do a Shakespeare

play in a modern-day way and make it resonate like never before."

Bard on the Beach runs from June 1 – June 30 at

Vanier Park.

photo by David Cooper and Emily Cooper

The Bard reimagined for the west coast masses.

22 CITY

June 2017

June 2017 CITY

23

SEPEHR RASHIDI

VANCOUVER INTERNATIONAL

GUITAR FESTIVAL

finding inspiration from the shadowy places within

MARK BUDD

photo by Coastal Jazz

BARD ON THE

BEACH

come for the culture, stay for the sunset

KATHRYN HELMORE

CITY
---
COMEDY

JANE STANTON

perfecting the art of making strangers laugh

GRAEME WIGGINS

SONS OF VANCOUVER CHILI VODKA

meek palates need not apply

JENNIE ORTON

BOOZE

BACK AND FORTH

bar brings the good times back to basics

GRAEME WIGGINS

"I didn't want to be that drunk older loser at the

party trying to be funny so why not try to, and I

know this sounds weird, make strangers laugh?"

Vancouver comic Jane Stanton has taken that goal

and run with it, making local and national strangers

alike laugh in rooms across the nation. She's

parlayed that ability into appearances on CBC's the

Debaters, multiple web series, and performances at

festivals like Bumbershoot in Seattle and Just For

Laughs in Montreal.

The process of heading towards that goal started

straightforwardly but escalated quickly. She explains,

"I did it when I was at acting school the first

time and it was super supportive, and then I did a

show at Laugh Lines, an open mic type of things and

then I didn't do it for a long time." Soon afterwards

is when things really took off, in a most intimidating

way: "Someone phoned me up and asked me to

do this Apollo style show and I was like, 'I should

say yes'. Then I realized 'that means they can boo

you off…why did I say yes to that?' But I tied in that

and then my fourth show was for like a thousand

or fifteen hundred people, and it's been downhill

ever since."

A long-time veteran of the scene, she keeps

things pretty simple when it comes to mining her

life for material. "I don't know what I tackle anymore,"

she relates, "in January I had, not quite an

epiphany, but I'm trying to lose weight and I want

JACOB SAMUEL

booking comedy shows and showing comedy books

Jacob Samuel looks at the humor of life on the stage and on the page.

Stanton is finding that practice makes perfect and that everyone loves a good diet joke.

GRAEME WIGGINS

If there's one thing about Vancouver

comedy, it's the diversity of talents it's

comedians seem to possess. Fresh off

recording his first TV appearance for

CBC at the Winnipeg Comedy festival,

local stand up Jacob Samuel is

set to release his second book, Slinky

Hell; a collection of humour cartoons

that showcase his unique take on the

world and modern living.

Samuel got his start in comedy by

writing comics. He wanted an avenue

to write jokes, and despite never

having been much of an artist, he felt

cartoons could be a good outlet. "I

got pretty good advice from a family

friend who was an editorial cartoonist

for the National Post named Gary

Clement. He said 'you don't have to

draw well for this kind of cartooning

as long as people can understand

what they're seeing and it's funny'. If

writing's more important than this is

doable."

From there, stand-up came soon

afterwards, a way to force himself to

be more social and try new things. He

recounts, "I had been cartooning for

about a year and a half. I got a better

handle on writing jokes. I wanted to

try stand up and I moved to Vancouver

and didn't know many people so

to talk about that. And just where I am in my life. I

grew up listening to Richard Pryor and all of that,

and that's just what I thought stand up was."

It's a devotion to perfectionism that seems to

drive her forward, a lesson learned from comic Phil

Hanley. That is what keeps her motivated. "Well it's

not the money! I love like doing a set of new stuff

and it takes a long time to get it right… but he was

one who was all about doing a five-minute set everywhere

in the city; the exact same set but tweak

the crap out of it and do it for six weeks. That's what

you should be doing. It might end up completely

different from where you started. That's fun. It

might not sound like fun, but that's it."

Catch Jane Stanton live @ Yukyuks on June

16 and 17

it forces you into doing things that

you might otherwise not do. Branch

out and meet people."

Putting the two skills together and

making them work has been fruitful

for Samuel, "I think they complement

each other because some things don't

work in stand up but are still pretty

funny ideas. Stand up is ruthless. if

something doesn't work, it's gone.

Something could be an interesting

idea but if it doesn't fit in the box you

can't much with it. It's more visual.

It's hard to visual in stand-up; if a joke

bombs and you have a prop it's terrible.

But the ruthlessness of stand-up

forces you to be a better writer because

you see what people laugh at.

Supporting comedy in Vancouver's

diverse and sprawling scene can be

more than just going to see some local

stand up or improv shows (though

you should be doing that too). It can

be checking out the local comedians'

other avenues of comedy-making.

Checking out Samuel's book might be

a good start.

Order Samuel's book online

at Slinkyhell.com or on Amazon.

THE WOODS SPIRIT CO.

amaro carefully foraged by mad scientist wood nymphs for your pleasure

An Amaro that fills a hole in the market.

When you think of what could have possibly

started the first craft distilled Amaro in the

Vancouver market, you wouldn't automatically

reach for: "We were foraging for mushrooms

one day." But that is exactly what Fabio Martini

and Joel Myers were doing when they turned

to each other, after years of being enthusiasts

of beer and spirits, and said "let's start a distillery."

The two men have been friends since high

school in Chatham, Ontario, and have remained

close. When the time came to turn a

passion project into a living breathing business,

the decision to work together was an easy

one. And the name was a no brainer.

"I always like to say the idea for the distillery

is literally born out of the woods," laments

Martini.

The friends, who still actively forage for botanicals

for their recipes in the local forests of

the west coast, decided on Amaro after discovering

a notable hole in the local market for

spirits of that type.

"We were doing our research and drinking

a lot of Negronis at the time and there was a

Campari shortage. Bartenders were starting

to experiment with traditional cocktails more

and were calling for a local product that they

could support," recalls Martini.

The process began, and the men had a very

distinct idea for how they wanted this spirit to

taste. Alas, normal distilling practices did not

allow for the subtle flavor extraction they were

hoping for. Now this — this is the cool part.

Myers' wife, Dr. Jennifer Gardy, a PhD in

bioformatics, read an article about a distiller

in London using a vacuum distiller to extract

intense flavors from macerations for his gin.

Martini and Myers knew they had to try it, to

innovate the distilling process to create something

unique.

The wood nymphs had become mad scientists.

The contraption is something directly out of

science class and the results are overwhelming.

Sons' spicy vodka clocks in just below lawsuit level.

photo by Katie Huisman

Like a viper hiding in tall grass, Sons of Vancouver's chili vodka hides

within the Spicy Moscow Mule they serve in their tasting lounge. At

first it is the same delicious and refreshing cocktail you know and love,

and then: zap!

Made by macerating pounds of Thai dragon peppers for the distilling

process, the chili vodka is what co-founder James Lester describes as

their most polarizing product.

"30% of people love it, they write us emails; 70% of people hate it, they

write us emails," he laughs.

The macerated pepper output, which amounts to a dark red mixture

that looks a lot like the mood slime from Ghostbusters 2 and could easily

burn a hole right through your esophagus, then gets proofed down to

40% and blended with more vodka to bring the spice down outside of

"lawsuit territory" as they call it. The result is a nuclear orange concoction

served behind a very fitting label of a woman on a motocross bike.

It is loud, it is dangerous, it is not for the faint of heart.

"We got guys coming in from Coquitlam and Chilliwack with like hot

sauce on their belt loop, and they just identify with chili vodka and they

love it," Lester says.

But it wasn't always palatable.

"We saw craft beer come a long way, but cocktails are the same as

they were, like, 20 years ago. We wanted to do our own thing."

Bartenders were all for it but bar managers would hard pass, fearing

drinks would be returned and that "white people won't drink this."

One day while commiserating in the tasting lounge about what to do

with their most misunderstood baby, a gentleman came in off the street

and greeted them.

"'Hey guys, my name is Cornelius' — and his name really was Cornelius

— and he's like, 'I just want to tell you that I love your chili vodka,

and I don't know if you're getting any opposition but I just want to tell

you that it's great. Don't tone it down at all.' And we were like, 'Ah! Cornelius!'"

Lester laughs.

And as quickly as he had appeared, he left. Like an employee of the

universe, to ensure we got the chili vodka we deserved.

"So we stuck with it and we're calling it like the cult thing," Lester

laments.

Where can you get your own personal bottle of liquid Vesuvius? Head

to Sons of Vancouver Distillery and grab some. And while you are there,

order a Spicy Caesar and drink to Cornelius: man of the people, God of

Fire.

Sons of Vancouver is located at 1431 Crown Street in North

Vancouver. The tasting room is open Fridays 5 p.m. – 9 p.m.,

Saturdays 1 p.m. - 9 p.m., Sundays 1 p.m. – 5 p.m.

Using a sort of organic chemistry method of

distilling in a vacuum under cooler but constant

temperatures, like a botanical sous vide,

they could pinpoint the exact essence they

wanted out of his chosen botanicals, in this

case grand fir needles.

The result is a multi-faceted and intoxicatingly

layered digestif. A first burst of citrus rind,

pulled with expert timing from the fir needles

in their 40-degree bath, then a syrupy sweetness

courtesy of the apricot syrup, followed

by the signature bitterness that Amaros are

known and loved for.

"I still take the first sip and am like, 'damn

that…is bitter,' it kind of slaps your palate

around," admits Martini.

The Amaro Woods has created is a triple

threat: excellent in traditional Campari cocktails

like the Negroni, holds its own alongside

oak barrel aged spirits like bourbon in a good

Boulevardier, and this writer's favorite: on the

rocks as a digestif.

"Sometimes I think when you have the right

idea and the right approach, the serendipitous

things just kind of show themselves," Myers

says.

The Woods Spirit Co. is currently constructing

its tasting lounge, but you

can enjoy their Amaro at bars around

the city and follow their adventures @

woodsspiritco on Twitter and Instagram.

As any Vancouverite who's spent any time in other cities can

attest, Vancouver's nightlife is pretty limited. Sure, you've got

ample amounts of perfectly acceptable tap houses and pubs.

There's a good selection of places to go for fancy cocktails or

if you want to go dancing. What it's lacking, though, is variety.

With Back and Forth Bar, Vancouver's first Ping-Pong bar,

owner Regan Truong plans on changing that.

Having spent the bulk of last year in Toronto opening the

Donnelly Group's eastern foray, Belfast Love, he came back to

Vancouver and, inspired by the diversity of the Toronto nightlife,

went to work bringing something new to the Vancouver

scene. As he explains, "It's a different scene out there. It's got

a lot going on, arts- and culture-wise. The bar scene is a bit

different. And I came across this Ping-Pong bar called Spin. We

all went there, played Ping-Pong and had beers, and thought

it was the coolest thing ever. Susan Sarandon started it up."

That inspiration led to Back and Forth, which initially was

just planned as purely a Ping-Pong bar, but slowly expanded to

include some vintage video games and a host of board games,

all playable in the cafeteria-style communal seating area. "It

evolved over time. I initially wanted to just do a Ping-Pong bar

and then my friends were like, 'Why don't you do games,' so I

bought some board games. Then one of my friends mentioned

videogames. There's a popular video-game bar in Toronto and

they play Mario Kart there. So it's just an unpretentious place

to drink beer and play games."

Part of his efforts of keeping things casual involves keeping

the prices affordable. "All the highballs are five bucks and under

plus tax; all my beer sleeves are five bucks plus tax, $5.75

with tax. I'm trying to make it affordable and fun." And while

he has a good selection of beer on tap (Twin Sales, Parkside,

Phillips, Parallel 49, Fuggles, Strathcona) don't expect much in

the way of food, as he hasn't rented the kitchen as of yet, so

offerings are limited to Chef Boyardee, noodles in a cup, chips,

and Pizza Pops.

Unpretentious is really the key word. With decor seemingly

inspired by your family rec room, and a playlist of nostalgic

rap hits on the system, it's catering to a crowd that seems underserved

in Vancouver at the moment – those who want to

go out but don't want to deal with the usual nightlife stress.

As he puts it, "No crazy DJs, cover charge or dancing. It's hang

out, drink beers, play games."

Back and Forth Bar is located at 303 Columbia

Street and is open Sunday – Thursday from 4 p.m –

2 a.m., and Friday – Saturday from 4 p.m. – 3 a.m.

Back and Forth bar is the place you dreamed about as a kid.

24 COMEDY

June 2017

June 2017 •••••••••••••••••••••••••••••••••••••••••••••••••••••••••••••••••••••••••••••••••••••••••••••••••••••••••••••••••••••••••••••••••••

BOOZE

25

JENNIE ORTON
---
QUEER

KENDALL GENDER

a candid talk

QUEER ARTS FESTIVAL

a conversation with artistic director SD Holman

FROM THE DESK OF

CARLOTTA GURL

CARLOTTA GURL

DAVID CUTTING

Kendall Gender's involvement in the

drag community is massive. She can be

seen at most shows, she is a personality

that people love primarily due to

her kind and compassionate behaviour.

Her performances have left audiences

breathless, and she herself has a story to

tall about this journey. Sometimes we

get wrapped up in these drag persona's

that we forget that sometimes they are

a catalyst for great healing and strength

within ourselves and sometimes that

is what we resonate with them even

though we may not know it. Please enjoy

this candid conversation.

BR: Can you Tell us about your drag

journey?

KG: My Drag Journey! Well I've been

doing drag since 2014, I was one of the

alumni from Jane Smokers show "Cherry

Pop" where she took community members

and put them into drag for the first

time. I remember going to cherry pop

and seeing Jane on stage ( in red lingerie

of course) and being SO inspired,

for the first time I remember thinking,

aaaah this is it. Shortly after that I entered

VNDS for the first time, completely

unprepared, with zero makeup and

literally two wigs, i obviously thought

i was amazing , and i was NOT. I got

eliminated pretty quickly after tripping

on stage and almost gauging my eye out

with scissors ( true story )

That same year I also entered the Mr/

miss Cobalt competition, same storydifferent

audience, less scissors.

After Cobalt, I was approached by my

beloved Drag Mother Jane, to be a part

of a little show she was putting on at the

Odyssey called BRATPACK, there was

going to be a few other queens involved.

I said yes, and boom the first season of

BRATPACK was born.

If I can get candid, that season of

BRATPACK, although fun and exciting

and new, was also one of the darkest periods

of my life, I began partying like crazy

and being on a weekly show basically

gave me an excuse to put a mask over

my bad behaviour. No one could really

tell how fucked up I was because hey, I

was in a wig, and had dark lipstick on. It

spiraled out of control really quick and

before I knew it i was a full blown drug

addict. Drag sometimes is hard for people,

because it's so easily associated with

partying and nightlife, and everything

you could desire is so easily accessibly.

Kendall became this horrible extension

of myself, someone who I could blame

all my insecurities and bad behaviour

on, and almost make a mockery of her.

Around Halloween during the first

season of BRATPACK I chose to get sober.

I quit the show, quit drag, took time

off work and basically became a man. I

grew out my beard went to the gym 5x

a week and wore adidas. In that time off

I needed to find myself, I needed to find

out what I wanted from my own life,

and I am so grateful to have found that

peace and serenity, something I can only

wish for every single person out there.

After 7 months, Jane asked me if I

was interested in coming back to BRAT-

PACK for a two week stint. At first I was

so reluctant and honestly didn't want

to, I thought drag was a closed chapter

in my life and not something I needed

anymore. But I said yes, I got my custom

Evan Clayton lewk (outfit for those of

you out of the slang loop) made, two

backup dancers and as soon as Beyonce

came blaring through those speakers, I

felt a strength that I have never felt before.

It was almost like getting reborn

in a sense. Emerging from the darkest

place of my life into this new world filled

with light and opportunity and a community

who embraced me so lovingly.

After that I did the Legends calendar

contest as Rihanna, and started to explore

a more soft side of my drag , who

knew I enjoyed ballads so fucking much.

BR: Tell us about the sisterhood you

have with Bratpack?

KG: Bratpack is always my favourite

gig. We're all friends outside of the

show as well so it never feels like work.

We all get each other and know exactly

how to maneuver around each other

if that makes sense. We know how to

love and be there for each other, and

also we know what not do to to avoid

explosions.

At the end of the day we are all there

to be the best group for everyones entertainment.

and the future of BRAT-

PACK is looking so bright its literally

giving me anxiety.

BR: What does Kendall's future look like?

QUEERVIEW MIRROR: UNAPOLOGETIC

KG: Kendall's future looks very blessed.

Im so lucky right now to be at a place

where I can choose and layout my art

the way i see fit. Lately I've been doing

alot of hosting/judging and more public

speaking stuff which I love. Also every

time I put on my own shows I always

donate a portion of my fee to charity,

so thats always in the forefront of my

mind, and usually don't bother putting

photo by Chase Hansen

on a show of my own if there is no charitable

aspect to it.

BR: What is something people don't

know about you, or something that they

get wrong?

KG: No one believes that I'm half black,

but I swear to god I am.

KENDALL YAN

SD Holman has been a participating artist with Pride

in Art (PiA) since its inception in 1998 as a volunteer-run

community visual art show. In 2010, PiA

rebranded as the Queer Arts Festival (QAF) and has

since obtained charitable status, being regarded as

one of the top five festivals of its kind worldwide.

Holman works with artists through QAF as the artistic

director to promote visibility and respect for

all who transgress sexual and gender norms with the

transformative power of the arts.

Holman started working with QAF in an effort to

create more spaces for queer art. "Queer art is relentlessly

discredited as too emotional or obsessed

with sexuality," he explains. "Even in retrospectives

or obituaries of prominent queer artists today, their

work is seldom contextualized as queer." The erasure

of queer identities from the art world at large

is made more blatant and critical when considering

the intersectionality of indigenous and Two-Spirit

artists.

This year, the QAF will be running a Two-Spirit

multimedia arts festival, UnSettled, which will run

the entire length of the QAF, from June 17 to 29, and

is curated by Two-Spirit Blackfoot visual arts curator

Adrian Stimson.

"Two-Spirit" is a term used by many Indigenous

people to reclaim and reinforce Indigenous concepts

of non-binary gender, sexual and spiritual identity.

"Two-thirds of the 200 languages indigenous to this

continent conceive of gender norms as having between

three to six categories," Holman explains.

"These non-binary genders, and the people who

identified with them, were brutally suppressed by

colonial heteronormativity, especially through the

residential school system." The best way for the QAF

to ensure a better world for future queers is through

the amplification of the voices of Two-Spirit artists.

"It feels not quite right, in the context of promoting

UnSettled, to be publicizing my own work," he

says. "There's a strong tendency, in looking at collaborations

between Indigenous and non-Indigenous

artists or arts organizations, to focus the lens on the

non-Indigenous collaborators." Instead, SD invites

you to UnSettled and other works by Cris Derksen,

Kinnie Starr, Full Circle First Nations Performance,

and Vancouver Indigenous Media Arts Festival.

The Queer Arts Festival runs from June 17

to 29.

Hello, my delicious dahlings; come journey into

my narcissistic world where beauty is everywhere

and everything is about me. I find myself

feeling happy and blessed with my life decisions

and my choices this month. A big part of that is,

of course, the people I choose to surround myself

with. Friends and family are so important in

our daily lives. The world can be a scary place

sometimes with so many obstacles and hurdles

to overcome that I can't imagine walking

through life handling these things on our own.

All of us, no matter how strong or self sufficient,

need a support system of people we can count

on and look to for advice, care, and comfort.

I choose to call these individuals our Tribe, or

Chosen Family.

When I first came to town many years ago I

found it difficult to make friends or connect

with people on a social level. It wasn't until I

started delving into my passions with performing

and entertaining around town that I started

meeting like-minded individuals with whom I

could share ideas and discover similar interests.

Chosen family are the people who ground us

while still pushing us to fly.

I'm sure we're all too familiar with the term

"drag moms"; and if not, well let me shed a little

light on the subject for you. Traditionally your

drag mom would be the first person who did

your makeup and put you in drag for the very

first time. Over the years that definition has

evolved and become more about full-on drag

houses and families. Now a drag queen will take

a newcomer or fledgling under their arm and

ease them into the scene with their guidance

and tutelage. With drag families, more than

one person can be inducted into that house

and they can enjoy using the house name in certain

shows and events. It's a bonding concept of

bringing people together with like minded interests

and ideas. These days if you are a new

queen it's a good thing to introduce yourself to

a seasoned or more well known performer in

the community, especially if it's one you indeed

look up to and are inspired by. That queen may

just make you their drag daughter or introduce

photo by Chase Hansen

you to more opportunities to showcase your

talents in the drag scene. There are currently

many well known and respected drag houses

in operation today; The House Tyme created,

The House of Bitches, and of course the Haus

of Gurl to name a few.All of these different

forms of chosen family are integral in shaping

us as individuals and preparing us for a thrilling

life in society. My wish is that all of us find that

chosen family that fulfills us in our lives. Until

next time, my Gurl Family, make sure you love

life, love each other, and most importantly...

love me.

"But you are not really black, you are basically white"

KEANEN SCHNOOR

At the early age of one I was adopted from Jamaica

and moved to Lethbridge, Alberta. This was the

start of a whole bunch of brand new experiences

for me. One of these experiences was being the

only person of color in my family. Even though

there was nothing but love and support from my

family, I felt held back by my skin color. This article

is discussing my interactions with my white friends,

who just so happen to be the majority where I grew

up, and how I did not fit certain black stereotypes

by being raised by a white family. In school, I was

not the only visible minority. This made me feel

even more separated from my fellow students.

I was a minority in the minority population. This

made it difficult to really connect with who I was as

a young black man. There were little to no opportunities

for me to make black friends. I did not get

many POC (people of color) influences until later

in my life.

My lack of blackness became the topic of conversation

with many of my "friends" during my

school days. The fact that I did not act like the

black people that my friends were exposed to on

their televisions or through music left them feeling

confused with my racial identity. I looked like

I should enjoy rap music; I looked like I should

understand all the jokes from black comedians; I

looked like I should enjoy grape soda but the truth

is, I don't. I did not fit these stereotypical ideas of

what my friends thought it meant to be a black.

My friends would comment, "But you are not really

black, you are basically white because you have

white parents". If you are not black the truth of the

matter is, you will never know what it is like to be

black. Because of my skin color I could lose my life

in the States whether I did anything wrong/Illegal

or not. Since my parents are white that does not

give me a free pass. This sentiment has stuck with

me for quite some time and it has made me really

want to discover who I am as a person and that is

dynamic and unique. I am proudly black, gay, and I

am the prideful son of an amazing adoptive family.

I am unapologetically me.

26 QUEER

June 2017

June 2017 QUEER

27
---
FILM

CAPTAIN UNDERPANTS

a slightly cynical take on fart jokes

THIS MONTH IN FILM

PARIS SPENCE-LANG

GRAEME WIGGINS AND JULIAN

Captain Underpants: The First Epic Movie is the perfect

premise for a grade-school hit. When a ruthless

principal is hypnotized by pranksters George Beard

and Harold Hutchins, he turns into the silliest superhero

of all time, Captain Underpants, and fights

toilet-based crime.

From my adult perspective, Captain Underpants:

The First Epic Movie is surprisingly entertaining.

There's great voice work, and Dav Pilkey's slightly

cynical take on adulthood and education provided

a nice respite from fairly constant fart jokes.

For his part, my son Julian was slightly disappointed

in the lack of jokes. "It wasn't as funny as

I expected it to be… a little surprising because it's

based off a comic!" But the existing gags—such as

the toilet paper-shooting toilet—were enough for

him to recommend it to his friends at school. Sometimes

a good TPing is all it takes.

Captain Underpants opens in theaters June

1st.

LAND OF MINE

triggers a depth of emotion

Land of Mine

PARIS SPENCE-LANG

Captain Underpants

When WWII ended, the Germans left Denmark. But

they left behind millions of mines littering the coast.

In Land of Mine, Danish sergeant Carl Rasmussen is

given control of a dozen German teenagers to clear

45,000 mines from a beach. With nothing but hate

for the Germans, the sergeant suffers little as the boys

begin their sweep: they crawl up the beach, stabbing

the sand with metal poles and defusing any mines

they find by hand. But as the beach clears, Rasmussen

finds himself sympathetic with their plight despite

conflicting orders from his superiors.

With tense moments blanketed in near-silence,

viewers are apt to be clutching their armrests, waiting

for a seemingly inevitable bang and shifting their

sympathies between the sergeant, the Germans, and

anyone drawn into the tragedies of the era. Director

Martin Zandvliet has a masterpiece on his hands.

Land of Mine opens at Vancity Theater June

2nd.

Music Mondays with VIFF

every other Monday at Vancity Theater

These ain't musicals. For the serious sound

fans out there, VIFF's popular Music Mondays

series is back with a new suite of biopics, documentaries,

and concert films. Showcasing

the best in music, the films feature everything

from brazen bandleaders to the legendary

music magazine Melody Maker. June is for

jazz lovers, with Lee Morgan doc I Called Him

Morgan showing June 5th and guitarist portrait

Bill Frisell showing June 19th.

Upcoming Releases

Band Aid

When a musical couple can't stop fighting,

their counsellor inspires them to channel their

anger in a band and turn their arguments into

songs. With a killer performance from Zoe

Lister-Jones, the film might just inspire a new

generation of weepy open-mic duos.

In theaters June 2nd

Score: A Film Music Documentary

Whether the score is magically present like Star

Wars or subliminally forceful like Inception, it's

an essential piece of cinema. Score gives us an

unprecedented look at the composers and

musicians in the virtual orchestra pit, featuring

Come Together

Gather with your fellow art lovers for the film

premiere of Come Together. In the film, 10

artists do their damndest to start an art festival

in Bogota, Columbia, where street art begins

to cover the bullet holes. Local Vancouver

duo HUMANS score the film and will be

hosting the premiere, with three screenings,

art, and live music all night long.

Come Together premieres June 30th.

Visit www.cometogether.cc for more

information.

historical footage and talking heads of Randy

Newman, Hans Zimmer, James Cameron, and

many more.

In theaters June 16th

Cars 3

For the 2nd time, this franchise is poised to pull

off the impossible: make Nascar exciting, and

make Owen Wilson relevant. Hell, the poster

is better than most movies. With a dud sequel

behind us, Disney-Pixar brings stunning new

animation and a genuinely dramatic storyline

that will make this the whole-family watch-onrepeat

of the summer.

In theaters June 16th

I Called Him Morgan

Fleet Foxes

Crack-Up

Nonesuch

A six year absence in any genre, especially

one that's become as verbose and commercialized

as turn-of-the-decade indie-folk, is

generally a dangerous endeavor.

No group may know this better than

Fleet Foxes, pioneers of the last wave of that

very hybrid, who unfortunately had to witness

their distinct style of harmonious and

densely packed choral indie be curdled by

near-endless imitators.

But Crack-Up, their latest release, shrugs

off the notion that indie-folk is nothing but

a repetitive drumbeat and insipid sing-along

turn-of-phrase, instead offering an album

that revisits the lush acoustic soundscapes

and brimming vocal style that has always

put Fleet Foxes a cut above.

Ditching any conventional radio-ready

joints, album opener and first single "I Am

All That I Need / Arroyo Seco / Thumbprint

Scar" offers a brimming compilation

of orchestral swoons and guitar-driven

urgency. From there, the album leads into

sister-tracks "Cassius, -" and "- Naiads,

Cassadies." The former showcases the archetypal

rising swell of Fleet Foxes' vocal

harmonies and the latter descends into an

almost-bluesy hymnal of keys and guitar.

While neither of these tracks reinvent the

Fleet Foxes formula, they are brimming with

life as though shuddering off the years away

down to minute intricacies that aren't immediately

apparent.

They act as a build-up, almost, for "Kept

Woman," the album's first non-single standout.

It finds vocalist Robin Pecknold ruminating

against a simple and hypnotic turn of

piano keys.

"Anna, you're lost in a shadow there/ Cinder

and smoke hanging in the air/ Oh, and I

know you'll be bolder than me/ I was high, I

was unaware," Pecknold croons in the chorus.

It's a simple and familiar story, but the

minor inflection on the words "cinder and

smoke" represent the subtleties in which

Fleet Foxes thrive.

Perhaps the strongest aspect of Crack-

Up is how each track is rhythmically and

melodically dense, but is never once gaudy

or overwrought in the way that betrays the

telltale sheen of overproduction.

"Third of May / Ōdaigahara" is another

such example of how Fleet Foxes have

stepped up to reclaim the crown. At almost

nine minutes, the album's centrepiece and

longest track interpolates a masterful use

of violins, winding vocal acrobatics, and

start-stop rhythm before tailing off into a

flurry of fluttering strings. It carries with it a

brief shade of the works of Joanna Newsom,

though not nearly as complex.

"If You Need to, Keep Time on Me" is

another album standout, simple and brief

with it's title serving as the chorus plaintively

proclaimed by Pecknold. It's shuddering,

but it also marks perhaps the turning point

for Crack-Up, an album that's undoubtedly

front-heavy.

"Mearcstapa," "On Another Ocean (January/June)"

and "Fool's Errand," for all their

orchestral worth, never quite reach the

highs of the album's first few tracks and

while they share the same spirit, they aren't

necessarily attention-grasping.

The same can be said for the downtempo

and echoing "I Should See Memphis," a

track that can unfortunately be construed

as Crack-Up's nadir to the rest of the albums

lustful and jubilant zenith.

Amidst wistful guitar strums, Pecknold's

voice reverberates dismally, and while it

keeps with the formula of minor instrumental

inflections contributing to the overall

oeuvre of Crack-Up it sadly feels out of place

in an album that revels in its subtle density.

The placement of the penultimate "I

Should See Memphis" may also be considered

a misstep for the album, with even the

last-hurrah atmosphere of closer and title

track "Crack-Up" being unable to bring the

piece back to the heights of its beginnings.

However, apart from a meandering second

half, the only real gripe with Crack-Up

stems from a problem within the structure

of the new indie/folk movement itself, being

that many have the formula down so well

that there never seems a need for more than

a little variation.

While Fleet Foxes have undoubtedly

done something to remedy this, adding vibrant

orchestrals to their well-known vocal

filigree, the issue with albums like Crack-Up

is that they're great pieces in a genre that is

suffering from exhaustion.

Arguably peaking at around the time Fleet

Foxes released their last acclaimed album

Helplessness Blues in 2011, the movement

unfortunately and regretfully umbrella'd as

"indie" is now as commonplace as anything,

the ruminating and contemplative nature of

its forebearers wilfully forgotten.

Call it a bitter irony that the inspiration

drawn from groups like Fleet Foxes on imitators

would result in an oversaturation of

a subculture of music that seemed oh-sobright

and refreshing not even a decade ago.

Either way, Crack-Up bristles with the

same subtle grandiosity found in most

of Fleet Foxes work, and as if preserved in

amber for these six long years, their sound

remains perfectly preserved and contented

to live amongst the nuances that indie-folk

used to encompass.

•Alec Warkentin

•illustration by Julia Iredale

28 FILM

June 2017

June 2017 REVIEWS

29
---
FEATURED CONCERTS

VICTORIA, BC

Beach Fossils - Somersault

Betrayers - 12 Songs to Haunt You

Benjamin Booker - Witness

Big Thief - Capacity

Crack Cloud - Anchorin Point

DJ Orange Julius - The Grove

Dave Depper - Emotional Freedom Technique

The Drums - Abysmal Thoughts

Hooded Fang - Dynasty House

Beach Fossils

Somersault

Bayonet

IIt takes all of one second into Somersault,

the first album from Beach Fossils

since 2013's Clash The Truth, to realize

that this is a totally different band than

the one we once knew. Obviously, that

statement isn't entirely true, Beach Fossils

are actually the exact same band that

made the hazy, lo-fi guitar pop on Clash

The Truth, but listening to "This Year,"

the lead-off track on Somersault, makes

it somewhat hard to tell. This is a record

made with supreme confidence and a

studio sheen that gives Beach Fossils

trademark sound a new life. There are

flourishes of orchestral strings, woodwinds,

and horns layered throughout

Somersault's expertly-crafted pop song

structures that would've sound out of

place in their old work. Here, they seem

at home beside listless acoustic guitars

and buoyant basslines that would feel at

home in Brooklyn or the Laurel Canyon.

Appearances from Slowdive's Rachel

Goswell, and spoken word from rapper

Cities Aviv send Beach Fossils in new

directions that never feel out of their

reach. The three-piece band makes assured

choices and bold left-turns that

make their return after four years something

of a celebration. It doesn't hurt

that songs like "Down the Line" and "Be

Nothing" are some of the best songs

Beach Fossils have ever made. Somersault

isn't a revolutionary album, but it's

made with a confidence that proves it

doesn't need to be revolutionary to be

one of the best albums of the year.

•Jamie McNamara

BETRAYERS

12 Songs To Haunt You

Independent

Edmonton's BETRAYERS make a point

of being concise in composition. Their

latest release, 12 Songs To Haunt You,

clocks in quick, each cut bursting with

danceable pop energy. Sirens ablaze tight

to "THEME FROM SILKY BOYS;" a wicked

speedy driver on a Peter Gunn riff does

the twist to carnival lines of organ and

tight finishes into a classic upbeat pop of

"ONE OF YOUR FOOLS." The song features

a cool vocal harmony between Travis

Sargent's long and low phrasing and

the cheerful, higher-end voice of Scarlet

Welling-Yiannakoulias. Justin Zawada's

bass is a constant energetic forward

groove, with the pace of the Misfits, and

that dark and suspenseful movie action.

Whether it's the swaying "Les Étoiles"

en Francais, with tremolo guitars and a

swell of organ coming around, or the primal

drum groove and drone of "Belong

Here Ragga," every song on 12 Songs

To Haunt You is uptempo rock n' roll in

some cool classic forms. The album follows

a fairly simple formula with a lot of

energy and short songs filled with bass

lines that propel the band towards tight

and defined endings. BETRAYERS can

make a crowd dance and their melodies

and harmonies glide over the fast moving

current underneath.

•Mike Dunn

Benjamin Booker

Witness

ATO Records

When Benjamin Booker released his first

album in 2014 to life-altering success,

he wrote about how his personal lyrics

should be left to him at live shows. He felt

that his shows are about having fun and

forgetting troubles; "Who cares what I'm

saying," he wrote on Facebook. His debut

full-length is comparable to the raw and

explosive nature of The White Stripes,

mixed with the soulfulness of blues

greats such as Jimmy Reed. In a world of

synths and claustrophobia, the purity of

the guitar-driven instrumentation is refreshing,

especially when coupled with

dynamic song structures designed to

build atmosphere. He was right about his

lyrics back then.

With Witness, Booker's lyrics are at

the forefront of the album. The record

is about being a witness, making a statement

on certain aspects of apathy, racism,

and self-worth. We are all witnesses

in some shape or form, but this record

calls for change, a beacon of light for

both artist and listener. Songs like the

title track and "Motivation," deal with

dark themes lyrically, yet Booker finds a

way to inspire with his honest delivery

and mastery over song structure. Musically,

it's as excellent as his debut, but

sounds cleaner due to the addition of

orchestral elements, crisp production

and the desire for his message to get

across. When the music is this good,

it makes the short length of Witness

slightly disappointing, but it's the perfect

sophomore release for an artist

that may be on his way to sit with the

legends.

•Paul McAleer

Crack Cloud

Anchoring Point

Independent

Anchoring Point, the new EP from

Calgary post-punk collective Crack

Cloud, is the latest release in a long

line of ferocious Calgarian post-punk

that combines artistic tendencies

with dystopic, dreary atmospheres.

Yet where other Calgarian bands like

Preoccupations use monotony to

drive their point home, Crack Cloud

indulge in rhythmic art and afro punk

not too far removed from the Talking

Heads. The five-track EP effectively

captures a band that has earned considerable

buzz with their first EP and

frenetic live performances, but it also

solidifies Crack Cloud's reputation as

one of the brightest talents in Calgary's

flourishing music scene.

It's clear when listening to the bouncing,

dub-indebted bass lines and

skronking guitars peppered throughout

Anchoring Point that Crack

Cloud subscribe to the Gang of Four,

neo-Marxist school of post-punk.

On "Empty Cell" and the standout

track "Image Craft," the band uses

pop-leaning afro-punk polyrhythms

to push a political agenda that antagonizes

Albertan power structures

from a philosophical standpoint that

is all too rare in local music these

days. Drummer/vocalist Zach Choy

anchors the band with his acidic yelps

and brainy, self-aware lyrics that avoid

pretension while still flashing some

much-needed fang.

Final track "Swish Swash," may be the

most impressive song in Crack Cloud's

catalog, using droning atmospheres

and a relentless motorik beat to push

the band in a new direction. It's not a

new beginning, but it feels like a new

look for a band with a long career

ahead of them.

•Jamie McNamara

Dave Depper

Emotional Freedom Technique

Tender Loving Empire

Dave Depper can usually be found

playing guitar as a part of Death Cab

for Cutie, a gig he landed after a storied

dance through a string of instruments

and positions in numerous

Pacific Northwest bands. On Emotional

Freedom Technique, Depper

steps into the spotlight on his own.

Opening with an epic synth-pop ballad,

"Do You Want Love," Depper's

debut solo LP is all at once a self-expression

of deepest longing exposed

through the lens of loneliness' stark

self-reflection and a demonstration

of the incredible, self-assured creation

that isolation can bring. Depper's

multi-instrumentalist musical

ability must be noted, having personally

written and played every part

of the album in his Portland home

studio, with the only exception being

Laura Gibson's guest vocals on "Your

Voice on the Radio;" a pure personal

expression album, close to heart and

therefore completely self-controlled.

The record has a classic and cohesive

meandering quality to it, lending

itself well to contemplative walks,

or for quiet reflection over a pot of

tea. Depper's compositions weave

together undulating musical textures

into a singular tapestry for the

exhibition of his vocal poetry—the

true highlight of the record—full of

gentle honesty and a purity found in

demonstrative restraint.

•Andrew R. Mott

The Drums

Abysmal Thoughts

Anti-

It's hard to imagine that The Drums

breakout song, the effervescent

"Let's Go Surfing," came out seven

years ago. It's no fault of their own,

but after two albums and the death

of just about every trend the Jonny

Pierce-led band once fell under, that

first single feels like an artifact of a

twee era gone by.

Hints of that bobbing, C86-influenced

band pop up throughout

Abysmal Thoughts, The Drums first

album in three years, but they've

been recontextualised by Pierce, who

once again has found himself as the

sole member of the band. The move

by Pierce to take back the creative

reigns pays off on a mature record

filled to the brim with pop-leaning

introspection.

On songs like "Mirror" and "I'll Fight

For Your Life," Pierce sounds like a

synth-toting, new wave version of

The Smiths, combining Morrissey-esque

melancholy with bright, summer-ready

melodies that shimmer

overtop restless baselines that Pierce

has perfected after four albums.

Lyrically, Abysmal Thoughts is filled

with a self-aware character assessments

and relationship miscalculations

inspired by Pierce's decision to

leave New York behind for LA. The

result is a record that is at once insular

and expansive, and a joy to listen

to throughout.

•Jamie McNamara

Hooded Fang

Dynasty House

Daps Records

Hooded Fang are back with a sixtrack

album that's both maddeningly

brief and addictive in its haste. Shy of

30 minutes in length, Dynasty House

would feel more like an EP were it not

for the album's gripping, narrative

pacing and endless replayability. Further

weaponizing the instrumental

interplay of figureheads April Aliermo

(bass) and Daniel Lee (guitar, vocals),

Dynasty House uses brevity and

immediacy to lure you into paying attention

to the stories of western immigration

that influence their lives.

If you haven't checked in with Hooded

Fang since their last album, Venus

on Edge, you might be expecting a

quite different band. That record

was their re-introduction, a fulfilled

promise on the strengths they'd

shown intermittently on Graves and

Tosta Mista. Those releases were fun

but exploratory, and not entirely focused.

Few would say that of Venus,

even fewer would dare when it comes

to Dynasty House. These albums are

taught post-punk that only relents

from its razorwire, extraterrestrial

guitar riffs and tidal-while-frantic

bass lines to nod at the drawn-out

paranoia of a bad trip found in the

most realistic psych-rock.

But what makes Dynasty House so

vital is how its themes are so personally

explicit—everything about

the album's lyrics and rollout scream

at you to pay attention. It would be

hard not to comply.

Sonically, it's much the same as Venus,

but using its six tracks to create

individual portraits of real people

among the Asian Diaspora adds a

thematic heft to Hooded Fang that

their apex as musicians couldn't have

otherwise been improved upon.

•Colin Gallant

King Gizzard & The Lizard

Wizard

Murder of the Universe

ATO Records

Perhaps the best part about being

a King Gizzard & The Lizard Wizard

fan is the amount of fun it is to

describe the albums they make to

people who haven't had the pleasure

of finding them yet. Known as the

Gizz to the ever-expanding fan base

that greets the seven-piece psychedelic

collective at their near-legendary

live shows, the blunt-smoking,

Blundstone-sporting band from Melbourne

have built their reputation

on their ability to make outlandish,

consistently jaw-dropping concept

albums, from just about every subgenre

under the psychedelic rock

umbrella.

Having released nine studio albums

since 2012, and with plans to release

five albums this year alone, the band

has enjoyed a near-constant presence

in the headphones of listeners

who lust for psychedelic, garage

rock expeditions that, as of late, have

sounded like Neu!-indebted Krautrock

from the bush.

Still, after a career of left-turns and

over-the-top album concepts like

2016's Nonagon Infinity, a rollicking,

garage-rock epic designed as an infinite

loop, or Microtonal Flying 11a

from earlier this year, it seems that

bandleader and vocalist Stu Mackenzie

is still filled with zany ideas

to put to tape. Enter Murder of the

Universe, an epic, 21-track, threepart

musical saga that uses multiple

narrators to tell a story that the band

started back on I'm In Your Mind

Fuzz in 2014.

Opening with the seven-part garage

rock suite "Altered Beast," Murder

of the Universe is the weirdest, and

often most outlandish, Gizz album

thus far. Impressively, it's also one of

their most technically proficient.

Even though the story told on the album

is somewhat hard to follow, the

band's ability to power through the

HOLLERADO

PLUS LITTLE JUNIOR AND EVERETT BIRD

SUGAR NIGHTCLUB // FRIDAY, JUNE 9TH

CHALI 2NA & THE

HOUSE OF VIBE

PLUS LIINKS

SUGAR NIGHTCLUB // FRIDAY, JUNE 30TH

THE FUNK HUNTERS

PLUS FLAVOURS, MURGE AND KOTEK

SUGAR NIGHTCLUB // SATURDAY, JULY 1ST

THE PHILLIPS

BACKYARD WEEKENDER

PHILLIPS BACKYARD

FRIDAY, JULY 7TH - SUNDAY, JULY 9TH

FOR FULL CONCERT LISTINGS & TO PURCHASE

TICKETS, PLEASE VISIT:

WWW.ATOMIQUEPRODUCTIONS.COM

FACEBOOK /ATOMIQUEPRODUCTIONS TWITTER @ATOMIQUEEVENTS

30 REVIEWS

June 2017

June 2017 REVIEWS

31
---
Kevin Morby - City Music

Not you - Misty

Daniel Romano - Modern Pressure

Ruins of Beverast - Exuvia

TOPS - Sugar At the Gate

dense, brain-fried fantasy storytelling

results in a listening experience so blatantly

weird you can't help but submit

to this world of acrid monster corpses,

vomit coffins, and confused cyborgs

longing to be human.

It's not a perfect album by any means,

but the highs found on Murder of the

Universe are higher than on any other

album in the band's vast catalog.

It's a balls to the wall journey into the

weed-addled brains of one of the most

entertaining bands in modern music.

•Jamie McNamara

Kevin Morby

City Music

Dead Oceans

Kevin Morby's latest release City Music,

a follow up to 2016's Singing Saw, is

meant to invoke the downtown atmosphere,

and does so in its anonymity.

Morby never gets too wild even while

having some fun dance numbers, maintaining

an easy-going attitude and never

getting too excited.

"Come To Me Now" is a cool opener,

a nice blend of synth and a beat that

sounds programmed, but feels human

still. The repeating chord changes are

lulling and Morby's vocals have a Cohen/Reed

vibe, with simple yet evocative

lyrics. "Crybaby" is a street strutting

number that takes its time getting to

the chorus, but has some slow pogo and

a swirling spaced-out ending. "1234"

is spazzy garage rock with a repeating

blues boogie change that comes down

to the hook line, "I'd walk a mile just

to die, die, die, die." It's an unexpected

turn ahead of a verse naming off The Ramones,

as though that mile is a parade

of humans in the "Joey, Johnny, Dee Dee,

Tommy" t-shirt. Morby seems practiced

in his nonchalance, with a vocal tone

that feels like Tom Petty reading the directions

to coffee, and a willingness to

add oddball parts here and there that

help to keep the record nicely off balance.

City Music does well in the early morning,

but it only takes off in fits. Morby's

chill vibe is recognizable and has its

low-key charm. Some cool garage-rock

moments mixed with a Lou Reed feel

and some cool synth excursions. A lot of

people write about living in New York,

but City Music never goes so far as to

name the place, and that gives Morby

room to find and be whatever he wants.

•Mike Dunn

Daniel Romano

Modern Pressure

New West Records

Daniel Romano has proved himself an

extremely capable musical chameleon,

putting on the turns of old time country

and psychedelic '70s songwriter-folk like

a well-worn denim jacket. His appropriation

of mid-20th century musical stylings

is so effective and all-encompassing

it often borders on parody. It's frankly

astonishing that he is able to produce

material so diverse on such a consistent

basis, while also producing records and

leather working on the side.

His new record, Modern Pressure, is a

riff on late-'70s rock, specifically the

George Harrisons of the world. It's fun

and colourful, with springing guitars,

melodious organs and present drums.

It's enormously authentic sounding,

even mimicking the lyrical style of the

period. Tracks like "When I Learned

Your Name" carry an anachronistic air,

with the song's lyrics observing and

waiting for a girl to come of age, a sentiment

which seems creepy now, but

is strangely in keeping with the lyrical

leanings of artists like the Beatles.

Still, it carries on something very quintessential

about Daniel Romano, his

charming, country-styled vocal affectation

and vibrato, and an acute sense of

self. You'll even catch Romano singing

about another contemporary songwriter,

Jennifer Castle, on the record.

•Liam Prost

Ruins of Beverast

Exuvia

Vàn Records

Exuvia marks the triumphant return of

SUNDAY MONDAY TUESDAY WEDNESDAY THURSDAY FRIDAY SATURDAY

4

GLAD RAGS 5PM

BE AFRAID 4:15PM

NON LA 3:30PM

EVE

MADCHESTER

MONDAYS

5

6

7

QUIETER (SEATTLE)

LEISURE CLUB

GUILT TRAP

BB

TERROR BIRD

LAKE SOUTH (NZ)

ACE MARTENS

POSHLOST

1

8

2

THE CURE VS. BAUHAUS

9

8:00-10:30PM

PALE RED

CULT BABIES

THE JINS

10:30-2

DANCE PARTY

THE EAST VAN

90S PARTY

3

10

CLUB

TENGGER CAVALRY

FELIX MARTIN

11

18

80s/90s MANCHESTER

BAGGY SCENE

BRITPOP

SHOEGAZE

DANCE

INDIE

$3 DRINK

SPECIALS

12

19

13

FESTIVAL

20

20

14

21

v

15

CHEAPSKATES

FREE POOL

SKATE VIDS

HIP HOP

SK8 ROCK

22

EARLY

SHOW

Sightlines

Sharky

(Vic)

Deals

60s DANCE PARTY

10:30-2:00

16

23

7-10PM

17

24

DIVIDE + DISSOLVE (AUS)

JOHNNY OINTMENT (WA)

BASIC INSTINCT

10:30-2:00

25

MAUNO (HALIFAX)

CUDDLE MAGIC (NYC)

NO COVER!

HACIENDA CLASSICS

ART

80s/90s UK + BRIT POP

MONDAYS WITH DJ ROCK SUZANNE

26

DJ SUZANNE HAMPTON

NO.20

NO COVER/$4 HIBALLS

FREE POOL

27

28

29

AMATEUR ONLY STRIP NIGHT

30

32 REVIEWS

June 2017

June 2017 REVIEWS

33
---
the evolution of

LA Vida Local

Rene Aussant

Feelin' Fine

Independent

"You can't beat the feeling of a Whiskey and Ginger," Aussant trills in the second track of his

Feelin' Fine EP. If you could visualize the sound of this sad, yet edgy acoustic album, it would be

a pointy, dull knife. Aussant's lyrics are well written and would be best listened to 'round the

fire with a Whiskey and Ginger or on a long thought-provoking solo drive. The track "San Francisco"

best represents Aussant's scraggly, vocal rumble. This paired with the gentle acoustic

guitar serenades the listener with a taste that is salty-sweet; a delightful combination leaving

you wanting more.

• Michelle Kenny

The Psychic Alliance

Evil Against Evil

Independent

The Psychic Alliance have succeeded in crafting their best release yet. Recorded amidst internal

turmoil and frantic last minute rewrites, the psychedelic/punk collective have produced a

concise yet colourfully diverse collection of tracks running the gamut of rock's best subgenres.

The proggy overture of "Evil Against Evil" is shattered by the searing punk drive of "No Fixed

Address." Elsewhere the goofy rag time of "The Octopus is Sad" is followed by "Yesteryear," a

track best described as garage rock King Crimson.

Reportedly recorded live off the floor with very few overdubs, Evil Against Evil has a suitably

organic sound that is both theatrical and intimate.There is truly something for everyone on

this record, be it the over the top vocal stylings of frontman Shaun Lee to the exceptional

musicality on display throughout. Vancouver's best kept secret has truly outdone themselves.

• James Olson

Stephanie Ratcliff

Things Above Ground

Independent

If you're looking for new songs to kickstart your summer, Stephanie Ratcliff has brought you

six. The folk-pop singer's latest EP, Things Above Ground, is full of her wistful, free and uplifting

sound, bringing everything she's got to offer to the surface.

The tracks to make you the most nostalgic for better days are easily "We Won't Find Our

Way Back" and "Home." Their titles say it all, but as you listen further you can't help but imagine

these two becoming the soundtrack to new memorable moments. While the lyrics may

take you back in time, the melody and harmonies are sure to keep you in the moment, sending

magnitudes of happiness throughout your bloodstream.

"Lionheart" will also have you climbing over mountains, sailing the seas and manifesting

your own destiny. When fellow Vancouverite Brian Chan chimes in with the cello, the feeling

of being ready to tackle everything is only amplified. Rartcliff has worked hard to ensure there

isn't one song on this EP that'll stop you from daydreaming. Whether you are taking that summer

road trip, exploring, or just feel like dancing around the house, Things Above Ground has

got you covered.

• Shania Coombs

Super Pyramid

Devoid

Independent

The contents of the envelope sent to the BeatRoute office last month by Vancouver natives

Super Pyramid were nothing short of mystifying. A demo CD in a small red envelope, accompanied

by a black and white photocopied lyric book covered in collage-style artwork and a

tracklist printed over a picture of a cherry sundae.

Super Pyramid's sound on their debut EP, Devoid, is one that seems typically reserved for those

seasoned and longstanding bands that are far from fresh on the scene. The record contains a

little of everything, from the anthemic "Road to Tyranny" that touches on the woes of trying

to chase far off dreams, to the spacey yet gracefully rhythmic "Devoid" that speaks beautifully

-- in syllabically starved stanzas-- about falling out of love. Though each tune is unique,

the tracks on this record remain remarkably coherent, due perhaps to the vocals that amble

overtop each mix (reminiscent of Menomena's Danny Seim), or the clever and understated

instrumentation that plays off itself in a beautifully distinct way.

Playing the part of the Vancouver music scene's newest dark horse, Super Pyramid has erupted

into the limelight with a thoughtful, provocative and catchy release that's sure to creep into

living rooms around the city before we even know it.

• Mat Wilkins

Willolux

Thread & Tape

Independent

Maple Ridge native Kristina Emmott's new album Thread & Tape is quintessential folk pop,

and features nine tracks that are honest, heartfelt and perfect for a summer drive with your

mom. Standout tracks are "Cedar + Fir" and "Sweet Spot", which are flowery and in their own

world, like the Fraser Valley. Written by Emmott and stitched together at Protection Island

studio, Thread & Tape will have you on the mend and in a paisley print dress by album closer

"Clotho".

• Emily Blatta

JUNE 22 – JULY 2 | 2017

/coastaljazz

#VanJazzFest | COASTALJAZZ.CA

34 June 2017

June 2017

DIAMOND SPONSOR PLATINUM SPONSOR GOLD SPONSORS SILVER SPONSORS MEDIA PARTNERS

35
---
LIVE AT the WISE

SUMMER EVENTS SCHEDULE

THE WISE HALL (UPSTAIRS) OPEN ONLY FOR EVENTS

36

THU. JUNE 1

FRI. JUNE 2

SAT. JUNE 3

SUN. JUNE 4

SUN. JUNE 4

SAT. JUNE 10

THUR. JUNE 15

FRI. JUNE 16

WED. JUNE 21

FRI. JUNE 23

SAT. JUNE 24

FRI. JULY 7

SAT. JULY 22

SAT. JULY 29

FRI. AUGUST 4

THU. AUGUST 10

SUN. SEPT 17

ELECTRIC JON & ROB B. STARDUST WITH D.J. NIBBS

VANCOUVER QUEER SLAM POETRY FINALS

SAM TUDOR • BEN ROGERS • VIPER CENTRAL • KITTY & THE ROOSTER

SOUTH COUNTY FAIR WEST COAST LINE-UP LAUNCH

CLOTHING SWAP BY BESTEVENTSINVANCOUVER.COM

1PM–3PM (LOAD-IN 12:30PM) • $10 ADMISSION

THE MICAH ERENBERG BAND WITH SPECIAL GUESTS THE GODSPOT

REGGAE NIGHT! REBELSTOKE WITH SPECIAL GUEST ZUKIE JOSEPH

DEATH CAT WITH BB ALLIN & THE STABBERS (GG ALLIN TRIBUTE)

THE WISE CANVAS LOUNGE FEATURING LIVE MUSIC BY CINNAMON KANE

ART SHOWCASE FEATURING LOCAL ARTISTS LORE SCHMIDT, CHARLY MITHRUSH AND DONNA STEWART

MÍSTICA MUSIC (COLUMBIAN)

DECLAN O'DONOVAN AND ADAM FARNSWORTH

SCREAMING CHICKENS TABOO REVUE

Entangados AND MNGWA

GLAM SLAM! WRESTLING VS BURLESQUE

THE BIG SOUND • 26-PIECE SOUL ORCHESTRA

MARY GAUTHIER

TEQUILA MOCKINGBIRD ORCHESTRA

VANCOUVER FOLK MUSIC FESTIVAL PRESENTS AMY HELM

THE WISE LOUNGE (DOWNSTAIRS)

HOURS: WEEKDAYS 7PM–1AM; FRI+SAT 7PM–2AM; SUNDAY 7PM–MIDNIGHT

THUR. JUNE 1

FRI. JUNE 2

MONDAYS IN JUNE

SUN. JUNE 11

FRI. JUNE 16

SAT. JUNE 17

SUN. JUNE 18

TUE. JUNE 20

WED. JUNE 21

SUN. JULY 2

MONDAYS IN JULY

WED. JULY 18

BRIAN ROCHE • EXHIBITING ARTIST LAUNCH PARTY

HOOTENJENNANNI WITH The Staggers and Jaggs

VAN DRIVER • 8-11PM • $10 SUGGESTED DONATION

WISE CLUB ANNUAL GENERAL MEETING • FREE TO ALL MEMBERS OR

INTERESTED IN BECOMING MEMBERS • 7:30–9:00PM • PIZZA INCLUDED

THE RETURN OF OQO

JERRY LEGER & THE SITUATION

TARA HOLLOWAY & SAMMI MORELLI

DENNIS BOUWMAN AND RICHARD INMAN

PLANET PINKISH FEATURING ORCHARD PINKISH

AND THE BIRD FRIGHTENING HAY DOLLS • THIRD WEDNESDAY OF EVERY MONTH

AMANDA CASSIDY • EXHIBITING ARTIST LAUNCH PARTY

HANK PINE • 8-11PM • $10 SUGGESTED DONATION

PLANET PINKISH FEATURING ORCHARD PINKISH

AND THE BIRD FRIGHTENING HAY DOLLS • THIRD WEDNESDAY OF EVERY MONTH

WISE CLUB

1882 ADANAC STREET • WWW.WISEHALL.CA • 604 254 5858

Ruins of Beverast - Exuvia

German one-man black metal project Ruins of

Beverast, created by mastermind Alexander von

Meilenwald. Four years after the release of Blood

Vaults - The Blazing Gospel of Heinrich Kramer

(2013), Exuvia marks the fifth full-length from the

project. The record more than holds its own next

to the rest of the project's stellar and acclaimed

discography.

The four year gap from the previous album has

enabled Meilenwald to distill a meditative yet

deadly deep cut worthy of the band's back catalogue,

and it towers head and shoulders over

a majority of the other metal releases 2017 has

offered thus far. Exuvia is a must-listen not only

for metal fanatics of the current year, but also

people who appreciate evocative and progressive

songwriting, heavy in conceptual undercurrents

and burning with vision. Exuvia absolutely exudes

atmosphere – take two thirds through the

eponymous opening track. The listener will find

themself whisked away by the pounding, ritualistic

drums, consumed by Meilenwald's evocative

vision that lasts for the album's duration. Exuvia is

full to brimming with thunderous, epic lead lines

and absolutely crushing drumming, but also features

a very unique and subtle atmosphere that

slowly fills the listener with a sense of fear and

wonder. As the ancient war drums slam and the

torrential rains mar the full moon, the listener

is drawn through the dark forests of the album's

six tracks. It will leave you with an impression of

not only what modern metal has grown into, but

what it has the potential to become.

•Greg Grose

Sufjan Stevens, Bryce Dessner,

Nico Muhly, James McAllister

Planetarium

4AD

Easily one of the more ambitious albums of the

year, Planetarium is a result of the combined efforts

of The National's Bryce Dessner, classical composer

Nico Muhly, critical darling Sufjan Stevens and frequent

collaborator James McAllister, in an effort to

explore the solar system.

Much like Stevens "50 States" series, the 17-track

release features pieces named after various celestial

bodies, each meticulously arranged with credit

to the classical backgrounds of Dessner and Muhly.

However, the similarities between Planetarium and

the collaborators past works, for the most part,

stop there.

Over an hour and fifteen minutes, the sordid crew

traverse the musical sounds of the galaxy in a craft

TOPS - Sugar At the Gate

powered by buzzing ambience, silver-slick orchestration,

and Steven's own interest with autotune

adding a pitch-modified madness to his usually

placid and ephemeral vocals.

Standout tracks "Jupiter," "Mars," and the fifteen-minute-long

epic "Earth," present perhaps

the best execution of this undoubtedly strong, if

not blissfully experimental and exploratory, album.

The only real gripe about Planetarium could possibly

come about due to it's length, but for something

inspired by the ever-expanding universe, anything

short and sweet would be an injustice.

A brief example of the scope of Planetarium comes

about on "Saturn," the first track released from

Planetarium, which finds the group interpolates

Greek mythology and shimmering keys in an electronically-fuelled

expressionistic expanse.

In short, Planetarium forgoes formula for ambition,

classical for the future, and if any would dare

attempt to score the universe, it's these brave few.

•Alec Warkentin

TOPS

Sugar At The Gate

Arbutus Records

The release of TOPS sophomore album, Picture

You Staring, set a tone for the Montreal band, and

as Sugar at the Gate comes out, it is clear that they

don't intend to fully stray from that path. Yet that's

what makes the newest release great - TOPS has

found their niche and they're playing to it.

While the group has previously been criticized for

their simplicity, which you can still find present in

this album, it doesn't take away from their sound.

In fact, simple works in their favour, allowing them

to experiment in the boundaries they've set for

themselves without trying to tread into territory

too unfamiliar. The dream pop trio have said they

had more space to make music in Sugar at the Gate

than previous work, and it shows.

The album grows better with each listen, as slow

understanding reveals that the often upbeat and

happy tunes are riddled with raw emotion. Most of

the LP caters to TOPS fans, with songs like "Petals"

acting as refreshing, but still familiar tunes.

With dreamy atmosphere, Jane Penny's outstandingly

strong vocals, and instrumentals that step

slightly outside of their comfort zone, TOPS has

delivered an assured album that shows a band perfecting

their trademark sound and only beginning

to explore new possibilities. Sugar at the Gate is a

testament to TOPS talent, while also presenting a

band who's skills have grown exponentially, while

still leaving listeners wanting more.

•Amber McLinden

June 2017

Father John Misty/

Entrance

Malkin Bowl

May 26 2017

For an artist with a reputation for being

ornery, the indefatigable Josh Tillman

(AKA Father John Misty) seemed

to be enjoying himself at his Vancouver

stop on the "Pure Comedy" tour.

A sold out show at the Malkin Bowl

saw the crowd in good spirits, young

parents even brought their children to

enjoy the folk rocker's performance of

questionably age appropriate material.

Father John Misty's set leant heavily

on tracks from his most recent release,

the expansive and consistently dour

Pure Comedy. The title track and "Total

Entertainment Forever" served as

the opening numbers for Father John

Misty's set, setting the mood for a performance

that was celebratory in spite

of the caustic nature of his biting lyrics.The

stage show was notably sparse

with the exception of some mood

photo by Darrole Palmer

The Jesus and Mary Chain

lighting. Father John Misty's backing

band was quite sizeable but absolutely

necessary as they were able to fully

capture the sweeping majesty of cuts

such as "When You're Smiling and

Astride Me" and "Chateau Lobby #4

(in C for Two Virgins)" in a live setting.

With the exception of a brief pause to

comment on the standing President of

the United States, Father John Misty's

interaction with the crowd was limited

but it did not detract from his performance

in the slightest. Tillman could

even been seen dancing passionately

to the charged energy of "The Ideal

Husband."

It almost seems fittingly that the

concluding number was Father John

Misty's most instrumentally barren

yet emotionally visceral track. "Holy

Shit" garnered a massive sing-along

from the crowd before the night came

to a close. Father John Misty gave everything

fans could have asked for in a

performance.

• James Olson

Father John Misty

The Jesus and Mary Chain

The Vogue Theatre

May 24, 2017

It's important to note at the outset, that as

a genre, shoegaze is not typically known for

wild performances. It's right there in the

name. What the performances typically

missed in terms of energy, usually they made

up for in volume; cascading walls of sound

and waves distortion. The Jesus and Mary

Chain of old were known for a bit of that,

with the added possibility of smashed instruments

, crowd thrown projectiles, and fights

between band members often cutting sets

short but providing a dangerous element to

otherwise shoegaze-like show.

But in its thirty plus years of existence, the

Jesus and Mary Chain have matured some,

and the volatility of their live show reflects

that. They've turned things down, their new

songs, like set opener "Amputation" and

"Black and Blues" are much less driven by their

photo by Galen

distortion and noise than their earlier work

and even their older songs seem a little less

intense. But what's left once the noise is taken

down a notch is band that writes solid, power

pop songs that harken back to Phil Spector

and the Beach Boys. The hooks and Jim Reid's

singular voice are given centre stage.

Even though the songs shine through, it

did feel as though that missing element of

danger, or barring that, noise, did take the

performance down a notch. The moments

that came closest to providing that, like

pre-encore set closer "Reverence" and even

newer song "All Things Must Pass" were the

real highlights. Older songs were the crowd

favourites, including a slightly underwhelming

encore opener "Just Like Honey." All in

all it was a solid set of material, showcasing a

great selection of good songs, delivered well.

It just felt it could have been a little bit more:

a reason to have wear the earplugs I brought,

maybe?

• Graeme Wiggins
---
NEW MOON RISING: your monthly horoscope

Month of the Fire Horse: Full Moon June 9, 2017

QUAN YIN DIVINATION

•illustration by Syd Danger

As Fire takes centre stage in a Fire year, this month is ablaze with the

energy of rising heat. It should prove to bring in the warmest weather

we've had in years, so lather on that sunblock — skin can burn and be

susceptible to problems under this kind of cosmic flow.

The Horse is a romance star to the Snake, Rooster, and Ox, indicating

a good time for developing partnerships both personally and professionally.

The Fire Horse is the most ambitious sign of the zodiac,

inspiring accomplishments of all kinds. Leadership, self-expression,

spirituality, and fast-paced teamwork thrive under the influence of

this exciting and rewarding month. However, it's a good time to ego

check — arrogance can sometimes lead to folly, so rein in any bossy

behaviour to move forward successfully.

Rabbit (Pisces): Time to look closely at the friendships and community

you are cultivating. In what ways can your social standing be

improved by choosing environments that resonate with your deeply

peaceful and artistic nature?

Dragon (Aries): Coming up against some resistance and making

compromise is how deals are made or broken. Hold firm in your

position and work on your grace and poise.

Snake (Taurus): How much is too much? Limits are useful for

defining boundaries, but in order for them to be effective, there

must be limits even on our own limits.

Horse (Gemini): If you want to make an omelette, you have

to break some eggs. Weigh out the opportunity costs carefully,

because making a sacrifice could put you in the lead or leave you

choking on someone else's dust.

Sheep (Cancer): Don't get overwhelmed. Ask for help from your

community to support you — people are happy to help you now.

Follow along with what others are doing and stay on top of your

to-do list.

Monkey (Leo): It's not about how much you earn. Curb your

spending and take this month to put something down for future

gain — an investment now will show return in time.

Rooster (Virgo): Love is in the air. Be truthful about the particulars.

Open communication prevents an embarrassing encounter.

Clear the air with someone who is waiting for you to speak up.

Dog (Libra): Hard work can make the difference between success

and failure now. Your rewards are related to the time invested.

Don't give up — there's value in just moving through the motions.

Pig (Scorpio): Sometimes you need to do things you don't want

to do and it helps build your strong character. Defend yourself and

make sure you have met all your responsibilities.

Rat (Sagittarius): Boom. It's happening! The sun is shining so

get things going in the direction you want to see them go in. Your

empowered optimism guides you through this time of change with

clarity.

Ox (Capricorn): If you've been carrying a heavy load, it might be

time to put it down and rest. You can only look after others when

you have found balance within yourself. Diet, exercise, and rest will

support your well-being and that of those near you.

Tiger (Aquarius): Team up to make it work better, faster, and to

have more fun doing it. You're never alone, Tiger — there's plenty

of people who share your vision. Find company that supports your

point of view and work together to further your plans to change

the world.

Susan Horning is a Feng Shui Consultant and Bazi Astrologist

living and working in East Vancouver. Find out more

about her at QuanYin.ca.
---
UPCOMING

SHOWS

SATURDAY JUNE 14 | THE BILTMORE CABARET

JUNE + JULY 2017

SUNDAY JUNE 11

RISK!

Live Podcast

St. James Hall

SATURDAY JUNE 17

CASH'D

OUT

The Biltmore Cabaret

THURSDAY JUNE 22

CHUCK

RAGAN

The Biltmore Cabaret

MONDAY JUNE 26

MEATBODIES

With Milkers Wanted

& Dried Out

The Biltmore Cabaret

THURSDAY JUNE 29

TEEN DAZE

& SAM O.B.

The Biltmore Cabaret

6/30 P-LO

The Biltmore Cabaret

7/28 IN THE VALLEY BELOW

With Flagship

The Biltmore Cabaret

7/29 NORTHLANE & INTERVALS

With Invent Animate

The Vogue Theatre

/MRGCONCERTS @MRGCONCERTS @MRGCONCERTSWEST

FOR MORE INFO & TICKETS

~

GO TO MRGCONCERTS.COM

~