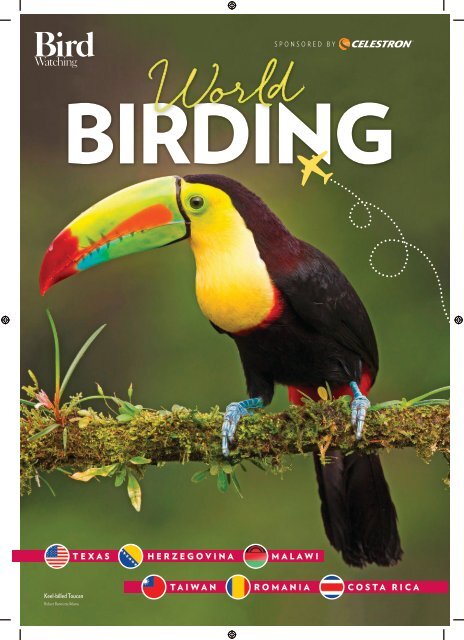 You also want an ePaper? Increase the reach of your titles
YUMPU automatically turns print PDFs into web optimized ePapers that Google loves.
SPONSORED BY

BIRDING

TEXAS HERZEGOVINA MALAWI

Keel-billed Toucan

Robert Bannister/Alamy

TAIWAN ROMANIA COSTA RICA
---
UNITED STATES

UNITED STATES

Bob Gibbons / Alamy

TEXAS

It's birds aplenty in this grand, rich and varied habitat

WORDS: STUART WINTER

T

here is certainly no better way

to embrace TexMex species in

all their colourful grandeur than

by participating in the Rio

Grande Valley Birding Festival (RGVBF).

British expat Julian Hough, who lives

in Connecticut, has become a leading

light on the American birding scene, and

helped introduce me to some of the Rio

Grande's most eagerly-sought birds, as

I worked through a five-day itinerary of

field trips that the birding festival

organisers had customised to help me see

most of the valley's specialities.

Leading a crocodile of birders – or

should that be alligator in these parts

– along the labyrinthine trails of the

famous Santa Ana National Wildlife

Refuge, Julian was quickly pointing out

birds that had been high on my wish list.

Feisty Great Kiskadees with their

bandit masks held us up as they dashed

from look-out to look-out. Even brighter

Green Jays, a dream for any colouring

book fanatic, played tag in denser cover,

their striking green and yellow plumage

absorbed by the leaf colour. An Altamira

Oriole exploded into view in all its fiery

glory. Think flying Christmas lights!

As we made our way out of the riparian

forest into open wetlands, Julian served

up another Rio Grande delicacy, Green

Kingfisher, an emerald gem of a bird but

surprisingly easy to overlook on a

concealed perch. Amid the hubbub of

wildfowl and shorebirds, there were

Laguna Atascosa National Wildlife Refuge

Common

Pauraque

Black-crested

Titmouse

much-sought Least

Grebes and Mottled

Ducks to pick out from

the Blue-winged Teal

and countless American

Coot. Suddenly, the

already buoyant mood

went up several

notches. Julian was on

a Hook-billed Kite. The list-hungry

Americans went into a frenzy. This was

a lifer for many of them, a real doodledandy

of a bird for those who had

travelled from New York, Washington

state and California to see Texas' finest.

On paddle-like wings, it soared

effortlessly over the dense stands of

moss-covered ebony trees, avoiding the

attentions of a passing Harris's Hawk,

before disappearing from view. The hawk

had no doubt found a supply of its

favourite food – tree snails.

One day's Texan birding, a notebook

littered with asterisks denoting lifers,

and the adventure was only beginning.

Mike Weedon

TEXAS

Mike Weedon

Santa Ana

National

Wildlife Refuge

Two hours

upstream of the

festival headquarters, Salineno, with its

population of 302, is unlikely to feature

on many tourist itineraries, but for

American birdwatchers, the views this

hummingbird of a hamlet provides over

the Rio Grande has made it a place of

legends. The dusty shoreline is pockmarked

with tripod feet and engrained in

the memories of all those have made

a pilgrimage here over the years to see

truly wild Muscovy Ducks. I had to make

do with three species of kingfisher.

Belted and Green were quickly under

the belt, but a copper-breasted Ringed

Kingfisher, a brash, bruiser of a bird that

has 'gone large' with the bill order, was

simply mesmerising as it disintegrated

the Rio Grande's tranquil somnolence

with its raucous calls.

A soaring Zone-tailed Hawk, shining

out amid a huge flock of Black Vultures,

followed by a ghostly Grey Hawk,

quickened the pulse to such an extent

that some people needed a sit down.

There was only one place in town: the

nearby winter feeding station with its

amphitheatre seating plan to allow

perfect viewing of more RG – I was now

using the local language – specialities.

Among the ostentatious Green Jays and

blazing Altamira Orioles, squabbling over

strategically positioned orange slices,

diffident Olive Sparrows lurked. A

Black-crested Titmouse, a recent split

from its Tufted relation, and superb

Altamira Oriole, another Mexican

speciality with a restricted range in

2 World Birding 2016
---
SPONSORED BY

Great Kiskadee

Mike Weedon

Exclusive

online content

birdwatching.co.uk/

worldbirding

Black-necked

Stilts

Mike Weedon

Flycatchers from taking up squatting

rights on virtually every post.

Next was a three-hour coach journey to

the legendary frontier town of Laredo.

The gunfighters have long gone.

Perhaps they were driven out of town

by the seedeaters? These birds sure are

mean. The Rio Grande's reedy river

margins are the only place in the USA

to see White-collared Seedeaters, though

even in the thin ribbon of habitat, they

are as skulking and secretive as any

Locustella or Acrocephalus warbler. We

searched and searched. A whisper

trickled through the group: seedeater

showing. Even with 20 trans-Atlantic

trips under my belt, the RGVBF provided

me with 26 lifers.

They included: Golden-fronted

Woodpecker, Tropical and Couch's

Kingbirds, a best-by-call identification

challenge, Long-billed and Curve-billed

Thrashers, Clay-coloured Thrush and,

remarkably approachable – though

camouflaged – Common Pauraques.

Altamira Oriole

Mike Weedon

With thanks to: Bird Watching attended

the festival, courtesy of Nancy Millar,

director of McAllen Convention &

Visitors' Bureau. web: mcallencvb.com

A great place to stay in the valley is at the

Alamo Inn B&B, a few minutes' drive

from Santa Ann National Wildlife Refuge.

Visit alamoinnbnb.com

Mike Weedon

Texas, kept the life list rolling.

Cattle country came next. The festival

programme's exhaustive trip itinerary

had me venturing into Kleberg County.

Shorebirds, never waders the other side

of the Atlantic, took advantage of a

rolling landscape dappled with pools as

they arrived fresh from the Arctic tundra.

Peeps Caption – for Western, on a Semipalmated and

Least picture Sandpipers – scuttled between the

legs of lanky American Avocets and

Black-necked Stilts.

Stilt Sandpipers looked on with

a suspicious air, wary of any marauding

raptors. There were plenty to fear.

Northern Harriers seemed to be

patrolling every field, outnumbered only

by the American Kestrels on top of each

telephone pole. Crested Caracaras and

delectable White-tailed Hawks were a

reminder that we were in deepest Texas.

A huge flock of American White

Pelicans, numbering at least 5,000 birds,

turned the famous Texan 'big skies' into

a monochrome kaleidoscope with their

abstract shapes set in the pale, milky

afternoon sky. Only the purple-painted

fence posts provided an incongruous

dash of colour. The reason for the colour

wash was chilling: purple denotes a land

owner's right to shoot first, ask questions

later. Worrying, indeed, but it failed to

deter the migrating Scissor-tailed

NATURE DX 8X25

Even if you're taking a full-size pair of binoculars

on your travels, a pair of compacts is a good

back-up to have handy in all situations, and the

Nature DX 8x25s, which are waterproof, offer

great optical performance in a small package,

producing a bright, sharp, natural image with a

user-friendly design. At just £113, they're not

going to break the bank, either – for more

details see celestron.com

birdwatching.co.uk 3
---
BOSNIA AND HERZEGOVINA

SPONSORED BY

Livanjsko Polje

karst field

BOSNIA &

HERZEGOVINA

HERZEGOVINA

An enjoyable visit to Herzegovina found plenty of birds but very few birdwatchers

WORDS & PHOTOGRAPHS: DAVID CHANDLER

Herzegovina is not really on the

birdwatching map. It's the

southern end of Bosnia and

Herzegovina, with wonderful

limestone landscapes, lots of birds, but

only a handful of serious birdwatchers –

there are about five! So, when you are

birding, you don't bump into hordes of

birdwatchers, which for me, makes it an

attractive destination!

Getting there is easy. I flew to

Dubrovnik, in Croatia, for less than £130,

as a guest of Wild Herzegovina. I was

met by Denis, my guide, at the airport.

My Balkan birding bonanza, with one

other guest, Dermot, had begun.

Herzegovina has caves, underground

rivers, spectacular plains, imposing

mountains, extensive forested areas

and glorious wetlands. Our programme

started low, got higher, and then

switched to wetlands. The pace was

relaxed and the weather wasn't always

on our side, but we still recorded more

than 150 species in seven days.

Our low level forays focused on two

karst fields, which, typically, are plains

hemmed in by mountains. Most are

seasonally flooded. Spring is a great time

to visit, as migrating birds flow through

the Adriatic Flyway.

Kravice

Waterfalls

Popovo Polje, our first karst field,

covers almost 120 square km and greeted

us with glorious blasts of Nightingale

song. I had a fleeting view of a tit, one

that looked different from those I'm used

to. It wasn't the best view, but made me

think 'Sombre Tit' and our guide agreed.

Nightingales were almost ever-present

but this was the only time a Sombre

Tit, a south-east Europe speciality,

was recorded.

We birded against a cloud-shrouded

mountain backdrop, with a bit of rain,

Tawny Pipit, Whinchats, Corn Bunting

and Hawfinch. The sounds of distant

Hoopoe and Bee-eater added a taste of

the exotic, and Eastern Orphean Warbler

put in its first appearance.

This large Sylvia is a close relative of

Whitethroat and Garden Warbler, and is

another south-eastern speciality. It sang,

maybe like a mix of Blackbird and

Blackcap, and called croakily.

But the star of day one was a bird that

builds a mud nest on rocks – a bit like

a House Martin's, but with an entrance

hole fit for a woodpecker. A short-tailed

bandit-faced bird stuck its head out, and,

later, gave us a great view on a big chunk

of limestone – Western Rock Nuthatch.

'Western' sounds counter intuitive, but

its range is significantly more western

than its Eastern counterpart!

Livanjsko Polje was even more

impressive. At more than 400 square km

this is the world's largest regularly

flooded karst field. A small marshy area

gave us Little Bittern, in flight, briefly,

as is often the case with this delightful,

diminutive heron.

We pondered the identity of an 'Acro'

(an Acrocephalus warbler – Reed and

birdwatching.co.uk 5
---
BOSNIA AND HERZEGOVINA

Sedge for example), checked a record-shot

against the Collins Guide app – and added

Moustached Warbler to the list.

There was impressive waterside

birding, with up-close Wood Sandpipers,

Ringed Plover, Greenshank, and perhaps

my favourite 'Acro' – a super-sized reed

warbler, chuntering out a sore throat song

– Great Reed Warbler. A 'wet-my-lips'

Quail stayed invisible and some distant

marsh terns evaded ID at first, but

succumbed later, a dozen buoyant-in-theair

breeding plumage Black Terns.

We travelled further up the karst field,

through Montagu's Harrier habitat, seeing

male and female, and loitered by a

still-flooded part of this remarkable area,

adding Redshank, Lapwing, and later,

Spotted Redshank, which obliged us with

a view of wings and rump.

A Bittern boomed, and a Hobby hunted,

then perched, giving a glorious view of

this always-good-to-see falcon.

Enticement enough, but nothing

compared to last spring's spectacle of

a thousand or so Red-footed Falcons.

This one karst field is home to about 400

calling Corn Crakes. They were silent in

our presence – but the nocturnal

soundscape must be incredible.

Day three kicked off at a former

recreation centre with mature trees and

open habitat near the Buna and Bunica

rivers, not far from our Mostar guest

house. There was fluty Golden Oriole

song, rich Nightingale song, and the

sound of Wrynecks, which are

woodpeckers, albeit small and peculiar

ones, and we saw several. A Turtle Dove

purred, a Hoopoe

poo-poo-pooed, a

Spotted Flycatcher

spotted flies, and a

rain-sodden Hobby

just sat in a tree.

Our guide had

a guaranteed spot

for Lesser Spotted

Woodpecker – a nest

site. We watched and

waited, but the

woodpecker proved to

be completely un-spotted! Denis has

6 World Birding 2016

Sand Martins

been back since and seen the Lesser Spot,

as well as Wryneck and Syrian

Woodpecker, all at their nests and all

from the same spot!

The more open, slightly scrubby habitat

provided good birding, too, with plenty of

Whinchats, four Whitethroats in two

bushes, and seven paint-palette Bee-eaters

on a wire. Later, over a riverside lunch

with Golden Oriole accompaniment,

Syrian Woodpecker came our way,

prompting discussion over its ID. The

head markings were good for Syrian, but

the vent was as red as a Great Spot's and

we couldn't see any flank streaks.

Helpfully, the Collins guide describes

the head markings as the 'safest feature'.

We finished the day with a convincing

view of a Middle Spotted Woodpecker,

a calling Quail, Tree Sparrows, and a

Rock Partridge,

through a rainy

windscreen!

yellower-than-yellow Golden Oriole.

I can't think of anywhere else I've been

with as many Golden Orioles.

The village of Blagaj is only about

seven miles from Mostar as the oriole

flies. Famed for its historic Dervish

Monastery, Blagaj sits at the source of the

Buna, against a massive, cliff-face

backdrop. This was once home to Griffon

Vultures, but alas, no more, so after

walking past pomegranate bushes, we

contented ourselves with Alpine Swift,

Blue Rock Thrush, Crag Martins, Dipper

and Grey Wagtail.

Podrelezje Plateau gave me my first

encounter with subalpine karst fields,

with Wood Lark, Eastern Subalpine

Warbler and more Bee-eaters. We pulled

up for coffee and I opened the van door.

A Lesser

Whitethroat rattled,

a Wood Warbler

trilled, and two

Hawfinch showed

themselves nearby!

We strolled past an

Blidinje Nature

Park

early Christian cemetery, then an early

Muslim cemetery. This country has plenty

of history and plenty of birds. An Eastern

Orphean Warbler took to the wing – big

and grey with a dark head. Then Blackeared

Wheatear. There are two morphs of

this bird, pale-throated and blackthroated.

We saw both, and a pristine

black-throated sang for us – buzzy and

scratchy. A very different sound reached

our ears, too, as the local mosque

signalled prayer time.

We headed on. A Tawny Pipit showed

us the dark centres on its coverts, but the

Rock Thrush behind distracted, as did

Hutovo Blato

Marshlands
---
MALAWI

MALAWI

MALAWI

SOUTH

AFRICA

If you don't want to miss out on some wonderful sights, then

consider this lovely African country for your next birding trip

WORDS: DOMINIC COUZENS

I

t was late afternoon at a guest

house in one of Africa's less

well-known capital cities,

Lilongwe. I was sitting opposite

my guide, Abasi Jana, reviewing the

day's birding with cup of tea in hand.

The last of the sunlight twinkled on the

garden pool and a gecko roused itself

from slumber to scuttle across the wall.

Our attention was caught by a small bird

in one of the garden shrubs.

"Collared Sunbird," called Abasi after

the briefest scan with his binoculars.

"That's a new one for the day".

He was right, it was yet another. Much

as I always think it's rude of a new bird

to appear when you are actually tallying

your day-list, this intrusion was, in a way

symptomatic of the happy profusion we

had experienced in the last few hours.

Collared Sunbird was species 109, on

a curtailed day – we hadn't even started

at dawn. Malawi, you might say, was

showing off. Perhaps, though, it needs to.

This small republic in south-central

Africa, a third submerged under the

eponymous Rift Valley lake and its

southern half surrounded by

Mozambique, is far from a famous

birding location, seemingly outshone by

the safari centres of neighbouring

Zambia and Tanzania.

Yet it punches above its weight

bird-wise, 650 species cramming into

a country smaller than Greece, owing to

A wealth of great wildlife

can be enjoyed in Malawi,

including Hippos

a rarefied mix of different habitats and

high number of localised species that

make even hardened Africa-philes

salivate. As to this opening salvo of

birds, it happened that we had seen most

of them in relatively unusual

circumstances – in miombo woodland,

a well-defined habitat made up from

modest-sized trees without much

understory, on poor soils.

Miombo hosts a profusion of birds,

but seeing them can be far from a doddle.

Success depends entirely on finding

roaming bird flocks that come and go as

they please. At Dzalanyama Forest

Reserve there's 100,000 hectars of the

stuff, plenty in which to hide.

In the end, it took all of 15 minutes to

find our first flock. Just beyond the

entrance gate, Abasi stopped the car and

declared "Pale-billed Hornbill".

A scramble led us to a clearing and

a great view of this decidedly scarce

species; it was perched resplendent on

a treetop and making a sound like a very

panicked Green Woodpecker.

Within seconds

we were

distracted by

movement in the

greenery a few

metres away at

eye level, and

were amazed to

see one of

imageBROKER/Alamy

John Warburton-Lee Photography/Alamy

Dzalanyama's most sought-after species,

a Souza's Shrike. In contrast to our own

shrikes, which are generally birds of open

areas, this small grey and olive-brown

shrike specialises in feeding low down in

the shade of the woodland, making it

easy to overlook.

Souza's Shrikes habitually join bird

parties and, sure enough, the sunlit

canopy was soon

White-backed

Night Heron

alive with flitting

shapes. This is

always a thrilling

spectacle, eliciting

a wholesome mix of

excitement and

panic, and here in

the heart of Africa,

exotic names came

thick and fast –

Yellow-bellied

Hyliota (like

a colourful Pied

Flycatcher),

Green-capped

Eremomela (yellowish, warbler-ish),

Black-eared Seedeater (sparrow-like)

and African Paradise Flycatcher (caramel

brown, opulent long trailing tail). My

notebook was hot for half an hour, before

the feeding party ghosted out of sight.

"Good start," I remarked to Abasi.

"Stierling's Woodpecker!" he replied,

eyes fixed behind me. This was another

"mega", hardly found anywhere else in

the world. It looks like a cross between

a Great Spotted and a Green Woodpecker,

with a bold black stripe through the eye,

8 December 2016
---
SPONSORED BY

AfriPics.com/Alamy

Racket-tailed Roller

African Paradise

Flycatcher

View from the

Zomba Plateau

robertharding/Alamy

and two of them pecked away at close

range, adjacent to a plain-faced Cardinal

Woodpecker. The woodpeckers were part

of a new flock, and we were rapidly

immersed again in shifting shapes.

Several species, including the hyliotas,

had disappeared, while new ones

appeared such as Southern Black

Flycatchers – no flock in miombo

woodland is exactly the same.

The variety kept up: we clocked the

scarce and smart Rufous-bellied Tit

(African tits are languid creatures,

seemingly robbed of the family

effervescence by the heat), plus Blackthroated

Honeyguide, the bird that leads

people to bees' nests and waits for the

comb to be extracted as its reward.

Flock three turned up about 40 minutes

after that (with one of my favourites,

Spotted Creeper, one of the few land

birds that inhabits both Africa and

India), and flock four just before

lunchtime (with Violet-backed Starling,

a bird of salivating

gorgeousness). By the time

we were settling into what

was packed-lunch enough

for eight, it seemed we had

seen almost every top

quality bird – except one.

"We should see

Anchieta's Sunbird by the

dambo," Abasi reassured

me. But I was twitchy. You

see, Anchieta's Sunbird is,

to Malawi, what a

completely gorgeous

Spotted Creeper

actress or actor might be to a film –

worth the entire spectacle. I remembered

seeing the plate in Birds of Africa

depicting this gem, years before, and

taking a sharp intake of breath.

The bird has a glittering blue head and

a brilliant yellow breast, but it looks as

though somebody has taken a dagger to

the latter and there is a splash of vivid

crimson flowing down the front.

The dambo, a wet area within the

forest, delivered, of course, with a male

sunbird in a flowering protea. And this

being Africa, a habitat shift offered

another spike of new species, including

Scaly-throated and Pallid Honeyguides,

Flappet Lark and, presumably

embarrassed by the plenitude, both

a Red-faced Crombec and a Red-faced

Cisticola (tiny warbler-like birds).

Despite the wonders of miombo

woodland, to many birders the biggest

joy of Malawi is in its remaining patches

of highland forest. Continent-wide, this

is now a very scarce habitat, and the

feathered gems

associated with the

Afro-montane biome

seem to be

diminishing by the

day. You could

actually see this at

two of our next

destinations, on the

Zomba Plateau a few

hours south of

Lilongwe and further

south at Thyolo, where

FLPA/Alamy

the vegetation is almost completely

denuded, leaving only remnant patches

to hint at the riches of the past.

We saw a number of woodcutters even

during our short visit to Zomba.

Admittedly, it does make forest birding

easier, and over the next few days we

caught up with almost all the

specialities, including such sought after

species as Bar-tailed Trogon, Whitestarred

Robin, African Broadbill,

Square-tailed Drongo and a host of

sociable, thrush-like birds called

greenbuls, which are bewitchingly

difficult to identify.

We also scored a hat-trick of gorgeous

mini-finches: Red-faced Crimsonwing

and both Green and Red-throated

Twinspots, each of which has white dots

on the underparts. Several inhabitants of

these forests are rare even within

Afro-montane biome, and are currently

confined in this small corner of Malawi

and neighbouring Mozambique.

Arguably the two biggest stars are the

colourful White-winged Apalis, a small,

long-tailed canopy species with bold

Joe Vogan/Alamy

birdwatching.co.uk 9
---
MALAWI

Mount Mulanje –

a bird-rich habitat

Ariadne Van Zandbergen/Alamy

yellow, black and white coloration, and

the Thyolo Alethe, which is a chunky,

oversized Robin-type bird that feeds on

or just above the forest floor, lapping up

its favourite food, ants.

The triumph for us of finding the latter

species was tempered by the fact that

some of its more assertive prey found

their way up our trouser legs and effected

a seriously painful bite.

Another favourite, although slightly

more widely distributed, is the Greenheaded

Oriole, which I actually spotted

before Abasi (equivalent to getting the

ball off Lionel Messi once in five days).

Another species to

make Southern

African birders go

weak at the knees,

this oriole has, as

you can guess, a

moss-green head

and mantle.

Malawi's highest

mountain is Mount

Mulanje, an

inselberg rising

from the

surrounding 700m

plain, with several

peaks topping

2,500m and one, called

Sapitwa peak, at 3,002m.

Here there is enough luxuriant forest to

give you hope that some of the Afromontane

specialities will survive. We

spent an intoxicating afternoon

obtaining magnificent views of Silverycheeked

Hornbill and a little flycatchertype

gem known as a Blue-mantled

Elminia, while Scarce and African Black

Swifts rode the updrafts on the cliffs

high above. What a place!

There could hardly be a greater

contrast between the high mountain

10 World Birding 2016

F1online digitale Bildagentur GmbH/Alamy

forests and our next location, Liwonde

National Park. Lying on the plain next to

the Shire River that drains Lake Malawi,

it provides a dose of what any tourist

would think of as "wild Africa".

Only 540 square km in area, Liwonde

apes its host country in miniature by

encompassing a network of different

habitats, including marshes, savannah

and a type of tall woodland known as

mopane. Within this rich mix, game

animals are everywhere indeed, from the

restaurant of my accommodation, the

luxurious Mvuu Lodge, you could see

Waterbuck, Bushbuck, Impala and

Warthogs every time

Silvery-cheeked

Hornbill

you glanced up from

your ice-cold beer.

(At night, we saw

a Pel's Fishing Owl

from the dinner

table, a common

experience here).

The river froths

with Hippos, living

in one of the

Pel's Fishing Owl

AfriPics.com/Alamy

highest densities in the world. Together

with a more than healthy population of

Nile Crocodiles, and 900 elephants, this

is not a place to go swimming, or indeed

wandering off.

The richness of Liwonde extends to its

birds, with more than 400 species

recorded in this relatively tiny area (one

of the highest totals in southern Africa).

This means that you can hardly go

anywhere without seeing a glittering

away of colourful, iconic and – frequently

– unusual birds. For example, you can

enjoy such African staples as bee-eaters,

rollers, woodhoopoes, hornbills, weavers

and sunbirds around the camp, while

you're enjoying a cup of tea, or on a short

daytime walk (a treat in wild Africa). But

you can hardly avoid coming across

delights such as Böhm's Bee-eater,

a small, dainty species that frolics

around the chalets here, but is actually

pretty rare everywhere else in the world.

On the boat trips to enjoy the Hippos

(and the elephants, which often swim

across the Shire River), it is quite easy to

see African Skimmers and White-backed

Night Herons. The many palm trees host

Dickinson's Kestrels and Red-necked

Falcons, and the mopane woodland just

drips with birds, including rarities such

as Lilian's Lovebird (a tiny parrot) and

Racket-tailed Roller. The variety is

dazzling, and indeed we again saw 100

species in a single day here.

Malawi is fabulously rich in wildlife,

safe, genuinely friendly and small,

meaning that the distances between sites

are easily manageable. The only thing

that Malawi seems to lack is visitors –

and they are missing a treat.

With thanks to: Central African

Wilderness Safaris (cawsmw.com) and

Malawi Tourism.
---
HUNGARIAN BIRD TOURS

7 day flight inclusive (BA) birdwatching

holidays in Hungary for only £990 staying at

the outstanding Hotel Villa Volgy in Eger famous for

its fine wines and historic

buildings. This hotel has just

upgraded all its rooms to 4

star standard! Hungarian

Bird Tours offers that mix

of outstanding birdwatching

with plenty to see, drink

and eat in your spare time.

Eger is a hugely popular

destination and offers many

different attractions. It is

also ideally placed on the

southern slopes of the Bukk

WHITE BACKED

WOODPECKER

National Park with its four species of Eagle and eight

species of Woodpecker to see Hungary's spectacular

birds. Hungarian Bird Tours is run by Roy Adams

who lives in a village close to Eger.

He is mostly known for his work on Hawfinches

and Woodpeckers.

Holidays start from £450 (4 days)

Telephone: 07774574204 or

For full information visit

www.hungarianbirdtours.com

NORTH

THE

TILLEY HAT

GUARANTEED FOR LIFE

INDISPUTABLY THE FINEST

OUTDOOR HAT IN THE WORLD.

HANDCRAFTED IN CANADA SINCE 1980

FOR MEN AND WOMEN WORLDWIDE.

+44 (0)1326 574402 www.tilley.com

THE BEST CHOICE OF BIRD

AND WILDLIFE CRUISES

FROM ONLY

£1399pp!

SOUTH

wildwings.co.uk

0117 9658 333

wildinfo@wildwings.co.uk
---
TAIWAN

CHINA

TAIWAN

INDIA

TAIWAN

A wide range of birds that live in or pass through this

beautiful island make it a must-visit destination

WORDS & PHOTOGRAPHS: MIKE WEEDON

T

he genius of Darwin was in the

simplicity and clarity of his

thinking. Tiny genetic

mutations will result in slight

differences in organisms' ability to

survive and reproduce. Given enough

time, the pressures of selection will lead

to the development of different species.

When populations are isolated, such as

on islands, the effects may become

magnified and accelerated. For instance,

Darwin famously noted the radically

different bill structures of the apparently

closely related finches of the different

Galápagos islands.

In extreme cases, where there has been

considerable isolation, such as Australia,

New Zealand or Madagascar, there are

a large number of endemic bird species.

But on little island groups, like the British

Isles, which are close to, and formerly

joined to, the continental land mass, we

have just one (controversial) endemic

species (Scottish Crossbill) and several

endemic subspecies.

Taiwan lies somewhere in the middle.

It is a decent-sized island, nearly twice

the size of Wales, 180km off the southeastern

coast of mainland China. It has at

least 15 endemic bird species but dozens

of endemic subspecies, several of which

are on the cusp of being given full

species status, or have already been

given full species status by some

authorities. There are also several

regional endemics found there.

So, Taiwan offers a good chunk of

endemic birds, but owing to its position

off the Chinese coast, it is also a great

place for seeing migrating Asiatic birds.

I was there with a small group, last

autumn, and in a week or so, our bird

haul included nearly 50 birds which were

either full endemic species or subspecies,

or regional endemics. But we

also got a fantastic taste of

autumn migration, Taiwan

style. Add to that plenty of

non-endemic birds of high

calibre, one or two endemic

mammals, fabulous scenery,

and spectacular butterflies in

profusion, wonderful people

and fantastic food (and, yes

I am a vegetarian!), and you

can see it could be very easy

to fall in love with Taiwan.

Taiwan is a long north-south

island, with the capital Taipei

in the far north. As most

visitors do, we started our

adventure here, getting our eye

Yellow Tit,

Mike's favourite

endemic species

in Taiwan

Taiwan Barbet

Taiwan

Macaque, an

endemic

primate

in at the botanical gardens. We arrived

a couple of days after a typhoon, so there

was a certain amount of tidying being

done. But we were soon ticking our first

endemic: the attractive and colourful

Taiwan Barbet, plus seeing our first

Black Bulbul (a bulbul in Chough's

clothing), Grey Treepie (like a small

colourful Magpie), Chinese Bulbul and

Malayan Night Heron.

The older people of Taipei clearly love

the gardens, and were gathered in groups

doing Tai Chi or just walking around

enjoying the air. There were also a group

of 30 or so photographers all trying to get

a snap of Dark-streaked and Brown

Flycatchers as well as a young Crested

Goshawk. Overhead, a pair of adults of

12 World Birding 2016
---
SPONSORED BY

Owston's Bullfinch, another

potential endemic

TRAILSEEKER 8X32

These binoculars are excellent for travelling

birdwatchers, packing excellent optical

performance into a compact and lightweight

(453g) package. Field of view is 136m@1000m,

and close focus 2m, making them perfect for the

all-round naturalist as well as all typical

birdwatching situations, and they're waterproof,

too. Price is £257, and more details are available

at celestron.com

The Chingsui

Wetlands

Siberian Crane

and his best

friend

birdwatching.co.uk 13
---
SPONSORED BY

The coast at the

southern end of

Taiwan, showing

the beautiful

forested hills

Grey-chinned

Minivet

this spectacular hawk were displaying.

With our eyes now partly in, we hit the

northern tip of the island, at Yehliu Geo

Park. The car park was jammed with

coaches, and the paths densely crowded

with parasol-wielding, shuffling masses.

But, after a couple of hundred yards, the

crowds vanished and our group ploughed

on to the Magic Toilet, a shaded loo block

renowned as a migrant stopover, where

we added Japanese Paradise Flycatcher

and Arctic Warbler to our trip lists.

In the early evening, we paid our

respects to a pair of local celebrities. At

the Chingsui Wetland at Jinshan a young

Siberian Crane had arrived in 2014. By

autumn 2015 it had developed a healthy

symbiosis with a local farmer, who dug

in the paddyfields while the Crane stood

beside him, looking for morsels.

Also there were great flocks of mixed

herons and egrets, Black Drongos,

Spot-billed Duck and best of all,

a beautiful female Painted Snipe.

For the next few days we would

venture south. Despite having

a population of

24 million people,

most of Taiwan,

away from the

western plain, is

covered in lovely,

forested hills and

mountains. It

didn't take too long

driving through the

hills to encounter

Alpine Accentor

(endemic

subspecies)

A classic Taiwan

endemic, the

Swinhoe's

Pheasant

(this is a male)

our first flock of the one bird I wanted to

see above all others, Taiwan Blue

Magpie; a spectacular, blue, black and

white, red-billed, long-tailed beauty of an

endemic bird! Taiwan Scimitar Babbler

(like a big grumpy, white-throated Wren)

was very pleasing, too, rather rescuing

a rainy second day, largely on the road.

On our third morning we made

a tactical decision to check out the car

park area, first thing, at nearby Taroko

National Park. It is

curious how often

car parks are the

best places! This

one yielded some of

the best birds of the

trip, with the small

trees dripping with

endemics, flocks of

them: Taiwan

Yuhina, like a

Crested Tit, but

unrelated, and

calls like a

Goldfinch; Yellow

Tit, a big, feisty tough guy tit with an

open yellow face and long crest; and

Varied Tit, of the potential split Taiwan

subspecies/species. Then there was the

gorgeous Grey-chinned Minivet (like

a colourful, arboreal, red wagtail).

That morning we rose through the

spectacular Taroko gorge, heading up

into the mountains. We stopped off for

a coffee by a Sacred Tree (don't ask me

why it was sacred), where we were given

honey on a cocktail stick (don't ask me

why). And, as luck would have it, a group

of endemic laughingthrush-like bird, the

Steere's Liocichlas (don't ask me how to

pronounce it), were in the bushes nearby.

birdwatching.co.uk 15
---
TAIWAN

Taiwan

Whistling

Thrush

Here is the

bridge over the

gorge from

where the

whisting-thrush

was seen

We crossed

a terrifying

rickety bridge by

a waterfall, which

produced that

mountain stream

staple, the

Plumbeous

Redstart, as

well as another

endemic, namely

the Taiwan

Whistling Thrush (which

was resplendent in navy blue).

But when we reached 3,000m, things

got even juicier. Up there, in the pines,

we encountered the renowned

Flamecrest, a fancy relative of our

Goldcrest, with a voice so high I could

only hear it with my right ear! There

were tame endemic White-whiskered

Laughingthrush, and even tamer Alpine

Accentors (Taiwan subspecies).

But the star high altitude endemic for

some in our small group was the Collared

Bush-robin, or Johnstone's Robin, a very

pretty ash, chestnut and white endemic

relative of the Red-flanked Bluetail.

The forested mountains of the

Dasyueshan Forest are fantastic places for

a drive and for birding. Here we got great

views of the amazingly colourful and

distinctive endemic Swinhoe's Pheasant.

The forests near the top produced some

lovely little birds with fancy names,

including the Rufous-faced Warbler,

Grey-cheeked Fulvetta, Fire-breasted

Flowerpecker and a tiny, exquisite

relative of our Long-tailed Tit, called

Black-throated Tit.

The next day we were down in the

western lowlands, in a world of fishing

ponds and muddy paddyfields. There

were Long-toed Stints, Marsh Sandpipers

and Lesser Sand Plovers. We flushed

a couple of tiny Yellow Bitterns and saw

a flock of 75 Black-faced Spoonbills, the

vanguard of the 2,000 (half the world

population!) which winter in Taiwan.

Then it was down to the southern tip of

the island near Kending. We were in the

far south to witness the start of the great

raptor migration which passes through

each autumn. We were too early for the

Grey-faced Buzzard passage, but bore

...And here is the view from the above

bridge, showing the Taiwan Whistling

Thrush habitat

witness to the passing of several hundred

Chinese Sparrowhawks, plus Oriental

Honey Buzzards, and such bonuses as

White-throated Needletail, Oriental

Pratincole and Ashy Drongo, as well as

our first views of the endemic Taiwan

Macaque and Taiwan Green Pigeon.

Taiwan is a beautiful country full of

fascinating wildlife. I haven't even had

space here to describe the bat-catching

antics of a Kestrel; the curious display

flight of the Black-shouldered Kite; the

subtle beauty of the endemic Owston's

Bullfinch or the Grey-capped Pygmy

Woodpecker. And I haven't been able to

convey the wealth of food delights on

offer or to do justice to the landscape.

You are just going to have to see, hear

smell and taste for yourself.

But the lasting message, is that this is

a land of speciation in action. Even the

humble, familiar Coal Tit has its own

Taiwan subspecies, with an elongated

crest: ripe for 'splitting'.

There is no doubt, Darwin would have

loved this place!

HUMMINGBIRD ED 50MM

The Hummingbird is a genuine travel scope, weighing in at just 540g and small enough

to easily fit into a coat pocket (thus avoiding the inconvenience of having to pack it

away in your hold luggage), yet with ED glass that produces a sharp,

natural image in all situations. Magnification is 7-22x,

bringing birds within easy reach, and it also takes a range

of Celestron's astronomical eyepieces, giving extra

versatility. At £300, the price is far from astronomical,

though. For more details, go to celestron.com

Taiwan Blue Magpie

16 World Birding 2016
---
Birdfinders

For all your

top birdwatching

destinations worldwide

Are these

still on your

wish list?

South America

from £2490

including flights

Find them with us

every year

01258 839066 info@birdfinders.co.uk

www.birdfinders.co.uk

Birdwatching

Holidays Worldwide

For over 30 years our expert naturalists have

led small group tours to some of the world's

most spectacular wildlife and birdwatching

destinations including:

Taiwan

Poland

Extremadura

Madagascar

Costa Rica

Dordogne

Belarus

Guatemala

Expert led small group naturalist tours

Over 100 tours worldwide

Specialist photography trips

New destinations for 2017/18

Request our 2017/18 brochure today

www.thetravellingnaturalist.com

01305 267 994 info@thetravellingnaturalist.com
---
Phil Gower Bird Photography Tours

ANDALUCÍA 2017

Amazing tours catering for the specific needs of

bird photographers at all levels.

OUR ANDALUSIAN VILLA NEAR OSUNA, IS THE IDEAL PLACE FROM WHICH TO

VISIT THE BEST BIRDING LOCATIONS/HIDES IN SOUTHERN SPAIN.

Iconic species: Spanish Imperial Eagle, Griffon Vulture, Egyptian Vulture, Montagu's Harrier, Great and Little Bustard,

Honey Buzzard, Squacco Heron, Blue Rock Thrush, Black Wheatear, Rock Bunting, Crested Tit, Stone Curlew, Roller,

Bea Eater, Calandra Lark, White-headed Duck, Black-necked Grebe, Kentish Plover and many more…

For more details and to book your bird photography tour, visit our website:

www.philgowerbirdphotography.com

Email: phil@philgowerbirdphotography.com

Office Tel: 01249 472427 Mobile: 07970073590

* Experience matters *

We've been taking groups to the world's best

birdwatching destinations for 34 years.

Visit www.sunbirdtours.co.uk for full details of our

programme of worldwide escorted tours.

Email sunbird@sunbirdtours.co.uk

Tel: 01767 262522

3003

Sunbird, 26B The Market Square, Potton,

Sandy, Bedfordshire SG19 2NP

Great birding Great value Great fun
---
ROMANIA

Exclusive

online content

birdwatching.co.uk/

worldbirding

ROMANIA

ROMANIA

It's a case of 'the birds and the bears' in this rich and varied

eastern European wildlife haven

WORDS & PHOTOGRAPHS: MIKE WEEDON

E

uropean birdwatching trips are

not really supposed to be like

this. One day, you are watching

a Ural Owl and Chamois in the

morning, a dozen close-up Brown Bears

in the evening. And a couple of days later

drifting along by a floating Whiskered

Tern colony, with White and Dalmatian

Pelicans overhead, enjoying more

Squacco Herons than you can imagine.

And, moored up at night, the frog and

toad chorus is so loud that you can barely

dream, let alone sleep.

But Romania presents a different kind

of European birding, offering several

different worlds within its borders.

I was there in June, accompanying a

group from the Ramblers Worldwide

Holidays. The trip was split between

exploring the Carpathians and Dracula

country in Transylvania; the steppe; and

five nights sleeping on a 'floating hotel'

in the mind-blowing Danube Delta.

The bears were the highlight of the

first couple of days of the trip, in the

Carpathians. We visited a little hide and

watched the

glorious mammals

emerging from the

forest to come to

biscuit bait. Brown

Bears are nervous

and sensitive to

each other's

positions and

movements.

A sneaky Fox,

which came in to

pinch some biscuits,

set the younger

bears and females

on edge. But not as

Male Brown Bear

much as the appearance of a big brute of

a male, massive and muscular, and

already mostly in his short summer coat.

One of the females flirted with him,

outrageously, leading him into the forest.

But the highlights, for me, of the whole

bear-watching experience included

hearing the blood-curdling, instinctjarring

roars of nearby bears in the

forest. That and the all-too-brief

appearance of a mother with two tiny

cubs which almost looked like they

wanted to come and explore in the back

of our (open-doored) hide.

Delta drifting

The core of the whole trip was cruising

the myriad water ways of the Danube

Delta. There are 3,446 square km of this

incredible delta system in Romania.

Channels take you through subtly

different vegetation systems and forest

types. There are vast floating reedbeds,

damp forests, dunes, lagoons, and richly

vegetated banks. And there are masses of

birds, everywhere!

The excitement started when we first

boarded our floating hotel at Tulcea, the

gateway to the delta. House Sparrows, of

all the exotic birds you could choose,

were sweeping majestically over the

water by our boat and catching giant

yellow Tisza Mayflies (Europe's biggest

mayfly). We even got excited by our first

passing Whiskered Terns. I say 'even' not

because Whiskered Terns are anything

other than fantastic birds, but because we

were to see thousands of them over the

next few days in

the delta. I love

Whiskered Terns,

but they are so

common there

that, when a

couple of (for us,

more familiar)

Black Terns

White Pelicans are

more numerous than

Dalmatian Pelicans in

the Danube Delta

joined one feeding flock, these grabbed

all the attention.

The Danube Delta is a massive source

of food for a great variety of birds. There

are feeding herons everywhere, with

different tracts attracting Night Herons,

Squacco Herons, Purple Herons and Little

and Great White Egrets, Pygmy

Cormorants and Cormorants, and of

course White, and a lesser number of,

Dalmatian Pelicans.

But above the water, there were great

riches, too. Never have I known such

numbers of Cuckoos. There is a constant

accompaniment of the males' song and

occasional females' 'bubbling' calls.

There are Icterine and Eastern

Olivaceous Warblers warbling, Golden

The landscape

of the

Carpathians is

truly beautiful

18 World Birding 2016
---
SPONSORED BY

Spanish Sparrow

Roller

Whiskered Tern

Orioles orioling, Grey-headed

Woodpeckers pecking wood, Hobbies

catching insects for fun and Rollers

round every corner.

And turning a corner is part of the joy

of the delta. You may come across a

basking Grass Snake, a quick splash of an

Otter, the odd Musk Rat, or the nesting

pond of Red-necked or Black-necked

Grebes. Drift round another corner and

there could be a White-tailed Eagle

waiting in a tree. Or you could drift,

engine off, up to the hanging nest of

a tiny Penduline Tit.

Night life

For all its rich birdlife, the most amazing

magic the Danube Delta had to offer

came with its night life. When your

'floating hotel' is moored in the middle of

nowhere in the middle of the Danube

Delta, next to the largest reedbed in

Europe, you are in the heart of the action.

There are barking Little Bitterns and

booming Bitterns and plenty of croaking

Great Reed Warblers, but, though they

are not far away, these are hard to hear

because of the sheer volume of frogs and

toads. The sound is overwhelming. It

engulfs you, hypnotises you, snatches

you with its long sticky tongue and spits

you out, goggle-eyed.

Back on dry land

One gets used to life on the water and it

was strange even after just five nights to

be back on dry land, where frogs and

toads don't shout you to sleep. But with

the richness of the birding, flowers and

insect life of the rolling oak woods and

steppe country of Dobruja meant the

delta was soon not missed. We were in

Lesser Grey Shrike and Red-backed

Shrike heartland, with Honey Buzzards

overhead and an abundance of the

mighty Cardinal Fritillary butterfly

feeding on every large purple flower.

I missed the only Levant Sparrowhawk

of the trip as we were picnicking in a

forested area. I had snuck off to

photograph Middle Spotted Woodpecker

in a beekeeper's field and perhaps the

singing Icterine Warbler which was

OUTLAND X 6X30MM monocular

Compact, lightweight (227g), easy to carry and versatile, this monocular is

perfect for any naturalist or birdwatcher who travels – its size means

you need never be without an optic in any situation, even in the

airport queue! It has a field of view of 184m@1000m, and

multi-coated lenses and the 6x magnification mean it can cope

with all conditions. There's 20mm of eye relief, and it's

waterproof. Prices start from £41, and you can find out more

details at celestron.com

overhead. We found Spur-thighed

Tortoises and Green Lizards and massive

Bradyporus crickets, which look like they

are made of riveted bronze plates and

could bite your thumb off.

There were Spanish Sparrow

condominiums in White Stork stick nests,

Little Owls peering at us over flowerfilled

ancient ruins, where Wheatears

and Tree Sparrows fed their young.

Out in the steppe, grazed by tiddly,

cute European Sousliks (a ground

squirrel), were Isabelline Wheatears,

Tawny Pipits and Stone-curlews.

The glory of Romania is in the contrast

between the different landscapes. It is

wonderful to know that parts of the EU

still preserve traditional landscapes.

Some directives designed to protect

habitats may have negative impacts, but

at present there are great riches there.

From the roar of the bears in the

mountains to the cacophony of frogs in

the Danube Delta, Romania provides

a wealth of treats for all the senses.

birdwatching.co.uk 19
---
COSTA RICA

Carara National

Park is a popular

birding hotspot

Exclusive

online content

birdwatching.co.uk/

worldbirding

SPONSORED BY

UNITED STATES

MEXICO

COSTA

RICA

RGB Ventures/Alamy

Montezuma Oropedola and

Keel-billed Toucan

COSTA RICA

A whole host of bird species can be enjoyed in this Central American country

WORDS: SETH INMAN

Nature Picture Library/Alamy

I

n the lower folds of Poás

Volcano's foothills, overlooking

the city of Alajuela and Costa

Rica's Central Valley, Xandari

Resort & Spa offers travellers what Forbes

Magazine has called 'a mountainside

slice of paradise.'

The 40-acre property includes diverse

tropical gardens and a forest reserve with

several miles of trails that lead to

multiple waterfalls – one of which is

between 60ft and 70ft high.

A total of 130 bird species have been

reported on the resort's eBird hotspot

(an online birding resource, which you

can view at http://bit.ly/2dpcyy1), but

Xandari is a mere 20 minutes away from

the country's main international airport.

Hummingbirds and tanagers flit

year-round among the flowering bushes

and fruiting trees, Blue-and-white

Swallows commonly swoop down by the

sunset pool to sip water.

Strange vocalisations of the

Montezuma Oropendola, diverse tunes

from the Orange-billed Nightingale-

Thrush, and eerie whistles from Rufousand-white

Wrens drift up from the woods

below, while various species of raptor

soar thermals in the skies above.

Spot White-eared Ground-Sparrows

foraging among the leaf litter, Red-

Rufous-tailed

Hummingbird

crowned Ant-tanagers

chattering in the dense vine

tangles, and Long-tailed

Manakins performing their

mating rituals. To say

nothing of all the migratory

warblers and other families

of birds that find Xandari's forest and

gardens to be a little oasis in the greater

overwintering haven of Costa Rica!

An orange grove is a popular area for

the local community of Blue-crowned

Motmots and one of the resident pairs of

Hoffmann's Woodpeckers, as well as

three types of saltator that fly through

almost daily for their breakfast.

At dusk, calls from the Common

Pauraque and Laughing Falcons echo

across the hills, and if you're lucky and

have a good torch you might spot a

Mottled Owl or Tropical Screech-Owl,

National Geographic Creative/Alamy

as well as the cute but deadly

Ferruginous Pygmy-Owl. Dawn choruses

resound with Rufous-naped Wren chatter

and whistles from Costa Rica's national

bird, the Clay-colored

Thrush, often

interspersed with

Yellow-throated

Euphonia and Barred

Antshrike song

depending on the

location of your villa.

One of the advantages

of being in the Central

Long-tailed

Manakin

All Canada Photos/Alamy

Valley is the proximity

to several key Costa

Rican birding hotspots.

Costa Rica's dry season,

or summer, runs from December to April

and corresponds with the North

American bird migration, so despite the

higher rates on hotels throughout the

country it makes for better birding. The

rainy season is more affordable given the

lower amount of tourists in the country,

and often the mornings are sunny and

clear before the afternoon downpours.

With nearly 900 species recorded in

a country two-thirds the size of Scotland,

Costa Rica is a top candidate for any

birdwatcher's holiday destination,

whether they be casual or avid!

birdwatching.co.uk 21
---
Finland & Norway • Estonia • Lesvos • Canary Islands • Spain (Extremadura)

Spain (Iberian Lynx) • New Zealand • The Gambia (a BWM Reader's Holiday)

Morocco • Tanzania • Alaska • Arizona • Florida (photographic) • Texas

New York • Peru • Brazil • Cuba • St Lucia • Honduras & Grand Cayman

www.avianadventures.co.uk

01384 372013 avianadventures@btinternet.com

3367

2016 / 2017 Programme