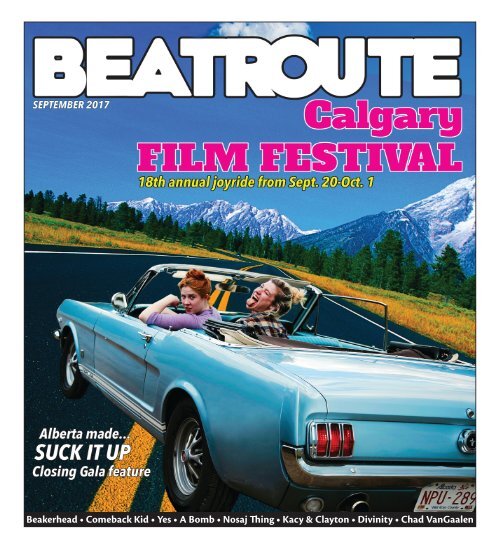 BeatRoute Magazine [AB] print e-edition - [September 2017]
BeatRoute Magazine is a monthly arts and entertainment paper with a predominant focus on music – local, independent or otherwise. The paper started in June 2004 and continues to provide a healthy dose of perversity while exercising rock 'n' roll ethics.
BeatRoute Magazine is a monthly arts and entertainment paper with a predominant focus on music – local, independent or otherwise. The paper started in June 2004 and continues to provide a healthy dose of perversity while exercising rock 'n' roll ethics.
SHOW MORE
SHOW LESS
You also want an ePaper? Increase the reach of your titles
YUMPU automatically turns print PDFs into web optimized ePapers that Google loves.
Beakerhead • Comeback Kid • Yes • A Bomb • Nosaj Thing • Kacy & Clayton • Divinity • Chad VanGaalen
---
feature

The

Poutine

Supreme!

ground beef, jalapeño cheddar

cheese sauce, sour cream topped

with tomatoes and green onions.

ROLLING OUT ALL SEPTEMBER!

To Book the Big Cheese Food Truck call:

403-354-CURD (2873)

Featured Hot Dog:

BEEF WRANGLER

all beef wiener topped with onion

rings, sour cream, bacon and

shredded cheddar cheese

Slurpees! Milkshakes!

This Month's Milkshake is..

Chocolate

Banana Split

Visit our Kensington location

and enjoy 12 flavours

of ice cream!

738B 17TH AVE. S.W. I 207 10TH ST. N.W. I FACEBOOK.COM/MYBIGCHEESE. I MYBIGCHEESE.COM
---
FIXED

Editor's Note/Pulse 4

Bedroom Eyes 7

Vidiot 19

Edmonton Extra 30-31

Book Of Bridge 32

Letters From Winnipeg 33

This Month in Metal 47

FEATURES

Calgary Film 15-17

CITY 8-13

Beakerhead, Skifflemania!,

Fashion

FILM 15-19

CIFF roundup, Return To Nuke Em High

Volume 2, The Vidiot

TABLE OF CONTENTS

MUSIC

rockpile 21-33

Comeback Kid, Yes, The New Pornographers,

The Mad Caddies, The Voodoo

Glow Skulls, A-Bomb, Mister & Mystic,

2/3 Of Nothing, Mammoth Grove, UP +

DT Festival

jucy 35-36

Nosaj Thing, Billy Kenny, Caspa

roots 38-39

Kacy & Clayton, Amy Helm, Ayla Brook

shrapnel 41-42

Divinty, Yawning Man, Maglor

REVIEWS

music 45-51

Chad VanGaalen, Alvvays, Faith Healer,

The National and much more ...

BEATROUTE

Publisher/Editor-in-Chief

Brad Simm

Marketing Manager

Glenn Alderson

Editor

Colin Gallant

Managing Editor

Sarah Kitteringham

Production Coordinator

Hayley Muir

Web Producer

Masha Scheele

Social Media Coordinator

Amber McLinden

Section Editors

City :: Brad Simm

Film :: Jonathan Lawrence

Rockpile :: Jodi Brak

Edmonton Extra :: Brittany Rudyck

Book of (Leth)Bridge :: Courtney Faulkner

Letters From Winnipeg :: Julijana Capone

Jucy :: Paul Rodgers

Roots :: Liam Prost

Shrapnel :: Sarah Kitteringham

Reviews :: Jamie McNamara

Contributing Writers

Christine Leonard • Arielle Lessard • Sarah Mac • Amber McLinden • Kennedy Enns •

Jennie Orton • Michael Grondin • Mathew Silver • Kevin Bailey • Jackie Klapak •

Hayley Pukanski • Nicholas Laugher • Arnaud Sparks • Brittney Rousten • Jodi Brak •

Breanna Whipple • Alex Meyer • Jay King • Alec Warkentin • Paul McAleer • Mike Dunn •

Shane Sellar • Kaje Annihilatrix • Dan Savage

Advertising

Ron Goldberger

Tel: (403) 607-4948 • e-mail: ron@beatroute.ca

Distribution

We distribute our publication in Calgary, Edmonton, Banff, Canmore, and Lethbridge.

SARGE Distribution in Edmonton – Shane Bennett (780) 953-8423

e-mail: editor@beatroute.ca

website: www.beatroute.ca

E-Edition

Yumpu.com/BeatRoute

Connect with BeatRoute.ca

Facebook.com/BeatRouteAB

Twitter.com/BeatRouteAB

Instagram.com/BeatRouteAB

Copyright © BEATROUTE Magazine 2017

All rights reserved. Reproduction of the contents is prohibited without permission.

Dave Drebit, in the newly-formed The Night Terrors, lets loose at Dickens on a hot August night.

BEATROUTE • SEPTEMBER 2017 | 3
---
pulse

ALLY PARTY

Friday Sept 22 – Sunday Sept 24

Friday Sept 28 – Sunday Oct 1

Beers, bands and tacos in the

parking lot. Record sale

Woolworm

Archaics

Feel Alright

I am The Mountain

Jason famous

Cold Water

King Turtle

Seizure Salad

Kris Ellestad

Fox Who Slept The Day away

Body Body

Jordon Hossack

Freddy Dwight

36?

Grey Screen

Liquor Mountain

… more

LOCAL 510

AFTER HOURS WITH BRAIDS

Following a successful spring season, Studio Bell

After Hours is back with more to offer late night

guests on Friday, September 22 from 7:00 pm to

11:00 pm. The fall season will kick-off with JUNO

Award-winning three-piece Braids headlining in

Studio Bell's Performance Hall, while beat-makers

Kloves (techno) and Miss Hazard (house and techno)

spin selections on multiple levels.

Due to public demand, the fourth installment of

the series will also include a later start time, giving

attendees more time to dance and mingle after they've

gotten warmed up.

CALGARY

BEER CORE

BENEFIT

Duane Hostland is a 40 year old father of three, a

loving husband and an avid obstacle course racing

competitor. During a routine procedure, Duane was

diagnosed with stage 3B terminal stomach cancer.

His first thoughts were not of himself, but of his two

daughters, his son, and the love of his life, Rosalie.

Duane is determined to overcome his illness. His

biggest fear is not being able to provide for his family

while undergoing aggressive treatment.

On Saturday, Sept. 30, CALGARY BEER CORE will host

a fundraiser for the Hostland family, bringing together health,

wellness, art, and music at The Stetson between 3pm and

12am. A silent auction will be held, showcasing products

and services donated by Calgary businesses dedicated to

health, wellness, art, culture, music, and community. Local

bands and musicians are slated to play throughout the event

to celebrate the Hostland family. All proceeds will go to the

Hostland family.

WENDESDAYS

4 | SEPTEMBER 2017 • BEATROUTE
---
NO,

YOU'RE

WEIRD!

JOHNFLUEVOGCALGARYTHAVESW··

JOHNFLUEVOGEDMONTONAVENW··

FLUEVOGCOM
---
SOARING EAGLE RECORDS

It's a bird, it's a plane, it's....

Matt Olah was the founder and frontman of Cowpuncher, a

Calgary band that had a good run over several years, playing

across Canada, making records, having a devout following.

All good things must pass, Olah took a job with the Calgary

Folk Music Festival and hung up his microphone (for the now,

anyway) and is now pitching his new venture, Soaring Eagle

Records.

Where does the name come from?

When we were filling out grant applications for Cowpuncher

there was always a field on the form for record labels. As a joke

we would fill in Soaring Eagle Records. We even made a Facebook

page. And now it's for real!

Any specific focus or kind of music or artist?

No. With the Folk Fest I'm programmed to work with a diverse list

of artists. I want colour, female representation and people I like!

What does it mean these days when you get signed to a label?

What do you have to offer?

Artist development. I work at a large music festival that also has

a venue with shows year round. I think I'm good at knowing how

to book and promote artists and shows. I was also an artist for 12

years and had some real successes. I'm happy to share that knowledge

and experience.

For more Matt go to... www.facebook.com/soaringeaglerecords

BEATROUTE • SEPTEMBER 2017 | 7
---
CITY

BEAKERHEAD

a fun-filled history of human innovation at your fingertips!

by B.Simm

CITY AT NITE, CITY OF LIGHT

Beakerhead's photowalk workshop

Torch night with Serpent Mother and her flame lovin' fans.

Now in its fifth year, Beakerhead's stimulating, visual, hands-on,

art meets science, street walk experience ups the ante with

more than 60 events and exhibitions designed to inform, entertain,

excite and tweak your imagination. On account this extravaganza

is so massive, we decided to let Jasmine Palardy, Beakerhead's communication

pro, do the talking and touch upon this year's theme

and a just a few of the fun rides to look forward to.

SNAKES AND LADDERS

This is Canada's 150th year birthday, although the land certainly

has a history that extends well beyond that as does human ingenuity.

This year we decided on a snakes and ladders theme. It's not

a typical board game, not in the literal sense you roll the dice and

see what happens. Rather, with 14 engineered art installations we

constructed a snakes and ladders story. Innovation and invention

is a bumpy road. For anyone going from innovation to execution

there's a lot of failures and successes along the way.

And what we've often heard about Beakerhead is that because

it's so massive, where do I go next? You can choose your adventure

and self-discover, or walk up to a site and read about the snakes

and ladders story which offers another direction to go in. It's our

way of bread-crumbing people through this story of history and

human ingenuity and innovation.

SERPENT MOTHER

Now the most literal of snakes is the Serpent Mother which is a

mechanically articulated snake more than 160 foot long staged at

Fort Calgary. She shoots 20-30 feet columns of fire from multiple

points along her body. And there's buttons you can push!

get your pack on and up to the space station and prepare for space

travel. It delightfully pokes fun at the bureaucracy of public transit.

We may think the future will be glitzy and smooth, but public

transit will always come with its glorious red tape.

INKED: THE SCIENCE OF DEEP SKIN

One interesting workshops is Inked, and the science of tattooing.

You'll walk into a tattoo parlour, sit down with a tattoo artist and

dermatologist and learn about tattoo augmentation and the affect

it has on your body. Then you get to pick up the machine and

actually make a tattoo… on an orange peel!

SCIENCE OF CATS AND DOG

Co-founder Jay Ingram is hosting a stage show at MRU's

Bella Concert Hall that looks at everything from cat and dog

behaviorists to detective dogs to robot cats and dogs.

THAT'S SOUNDS DIFFERENT

Deaf and Hear Alberta is having a listening party at the Grace

Presbyterian Church where you can bring a CD or piece of vinyl,

they will play it and will remove or add certain frequencies so you

understand what people with different auditory perceptions hear.

Beakerhead's complete schedule of events can be found at

www.beakerhead.com

Last year, one of Beakerhead's main

attractions were the giant white,

luminous bunnies who lite up the night.

Everyone loved the bunnies, and everyone

wanted to take photos of them trying to

capture that fabulous glow-in-the-dark

experience, which is not so easy to do. No,

the bunnies didn't scamper off, but night

photography can be tricky business if

you're not exactly sure how it works.

This year Beakerhead offers a new indepth

hands-on experience with a refine

your skills workshop led by local photographer

and visual storyteller Rob Brown.

Growing up, Brown developed a passion

for film cameras and went shooting

when and wherever he could to snag the

world through his lens. As the digital age

unfolded so did Brown's photo adventures,

roaming the planet taking him to exotic

territories including New Zealand, Cambodia,

Cuba and Turkey where he indulged in

landscape, street and night photography.

"The photos I most enjoy taking involve

emotional storytelling, usually with people

in them, but not always... Beakerhead is so

unique, because so many of the exhibits

have a light component to them. The big

bunnies and octopus in previous years

were all lite up and dramatic allowing for

great photography."

Brown will be carrying his Panasonic

Lumix GX8, a street camera supreme, but

he'll show how you can make your own

hand-held capture all the glory at night.

For more info go to www.beakerhead.com

Night Photography Workshop

SAIT LOVES ACAD

Anyone who has gone to SAIT or ACAD know the technical world

is siloed away from the arts world, and that extends way beyond

school. So this year SAIT and ACAD are playing with each other

with giant inflatables, kind of a love story between those two

institutions. SAIT will have a hug paint brush on its rooftop, while

ACAD will have a rocketship on top of there's.

CALGARY MUNICIPAL SPACE STATION

There's a local group called Humble Wonder who will be turning

the Calgary Tower into its first municipal space station. To envision

an extension of public transit, we have to think about a municipal

space station that will connect to galaxies beyond. They're converting

the elevator and at least half of the top of the tower into a

space station that's a fully inclusive experience and includes some

virtual reality. It's guided experience, you'll be with a fellow space

traveler to get some ground training like any other astronaut, then

Calgary's Major Tong gazing down from the tower.

Rob Brown: viewing the world through a storytelling lens.

8 | SEPTEMBER 2017 • BEATROUTE CITY
---
HEXAGON CAFE

game board delight in Kensignton

The afternoon sun pours into the fresh, bright,

clean, contemporary interior of the Hexagon

Board Game Cafe. It's truly a warm delight looking

out from a second story window as people wander

up and down Kensington Road, enjoying their

summer's day. That the cafe has such an exquisite and

inviting design is no surprise considering the owners,

Kellie Ho and Randy Wong, both graduated with

degrees in architecture.

But the Hexagon is more than just a place to chitchat

and enjoy the view over a cup of coffee or a beer,

if you prefer. It's where board-gamers congregate and

delve deep into their obsession. The idea came to Ho

and Wong when they couldn't find work as designers

and traveled to Korea.

"Boarding cafes are really popular there with people

from all over the world," say Ho. "And we thought

to bring the concept back home." Three years ago

they opened their first cafe in Edmonton, Ho's hometown,

on Whyte Ave. And then the location here in

Calgary, where Wong's from, last year.

Kellie says that while they do cater to gamers they

also get a lot of professionals, students and those out

on date nights that crack open the board. "It's a good

ice-breaker, and you get to see the other's personality

quite easily," she laughs. For those who haven't yet taken

the plunge into the parallel universe of gameland,

you're missing out on a wonderful experience in a

wonderful place.

On Thursday, Oct. 5. ACAD Student Night takes

place at Hexagon, #200 -1140 Kensington Rd. NW.

MADISON'S

Inglewood's new comfort cafe has many splendors

Community-minded whiz kids Pieter and Jared

Co-owner, Pieter Boekhoff, says that he and

his partner, Jared Salekin, designed their

boutique nacho bar with women in mind. "It's

meant to be female-centric. A place were women

can come, enjoy a glass of wine, have good

conversation," says Boekhoff. And clearly the

elegance of Madison's with its wood paneling,

white tiling, a modern flair for furniture and

golden rays of sun filling the room, distinguishes

and distances itself from the dingy,

bottom-rung sports bar full of men chugging

back beers. Although you can order beer at

Madison's, they have lots of local craft brew on

tap that they rotate regularly.

Boekhoff adds, "We also wanted to make it

the most comfortable coffee shop you've every

worked out of." He notes the design of the

tables, chairs and positioning of power outlets,

all for the convenience of using a laptop.

Speaking of comfort and style, Madison's

CITY

by B.Simm

Let's go boarding now, everyone is learning how!

by B.Simm

may have the best patio in

Inglewood, facing south,

back off the street and

partly shaded by mature

trees and building walls

on each side. There's both

sun and protection, a real

comfy pocket.

The nacho menu is their

food specialty. Served on a

8 x12 inch aluminum tray,

they offer five different

selections that include the

Angry Hawaiian, Mexican,

Korean, Poke and Wild

Mushroom & Truffle with

none of the typical pub grub ingredients you'd

get in a bar. Fresh, filling and fantastic is a

deserving description. You'd be hard-pressed

to go back to that ole plate piled high with its

shredded monza-cheddar mix.

The name Madison's is tip of the hat to New

York where both Salekin and Boekhoff went

for inspiration. And what did they come back

with? A delicious Old Fashioned cocktail priced

at TEN DOLLARS! Thank you very much!!

Both graduates of the entrepreneur program

at MRU and pro-community, Boekhoff and

Salekin set up Madison's to give people a stake

in the firm. "For $5,000," says Boekhoff, "you

get an order of nachos per week. And it's also

an investment in the company where you get a

profit share as a non-voting member."

Chips Ahoy! On so many levels. Madison's is

located at 1212 - 9 Ave. SE.

WHAT SHAKES

YYSCENE's quick scan go-to-guide for September...

Everything, and I mean EVERY-

THING is happening this month.

Music? Check. Dance? Check. Food

from trucks? Check. Film? Hells yes,

check. Science and art, together

again? Check check.

Are you a fan of Jay Arner? Well, he's

playing with Heavydive and Carbolizer

on Sept. 7 at the Nite Owl.

More into dance? The 36th Annual

Alberta Dance Festival presented

by Dancers' Studio West runs at the

Pumphouse Theatres Sept. 7-16. Go,

culture yourself.

Food! On Saturday, Sept. 9 head to Currie Park (by Wild Rose Brewery if that's a better

marker for you) for this year's Circle the Wagons traveling carnival, featuring YYC Food

Trucks, beer, music, art and performers from 9 a.m. to 11 p.m.Head off to MacEwan Hall

after you've eaten your body weight in tacos to check out Oh Wonder's Ultralife Tour.

Beakerhead: Your art is in my science! Your science is in my art! From Sept. 13-17 you can

take in some amazing exhibits – both interactive and not – around downtown Calgary

and just revel in Beakerhead's awesomeness. A giant, fire-y serpent, fun down Kensington

Alley, the art of butchery. .. well that sounds weird, but you get the idea. Much to see!

The Ballantynes with Hard Pressed and Letters to Lions play the Palomino on Sept. 14,

with Fiver and Saltwater Hank at the Hillhurst United Church Sept. 15. Market Collective

– more than just a market – brings us the Market Collective Bike Scavenger Hunt on

Sept. 17 from 12-4 p.m.

Film! So much film from Sept. 20 - Oct. 1 with the 2017 Calgary International Film Festival,

featuring documentaries, shorts, local films, international films ... you name it, they've

got it. Buy a pass and start planning your month. That's a lot of films ...

Studio Bell After Hours will feature former locals Braids with Kloves and Miss Hazard on

Sept. 22 from 7-11 p.m. Sept. 23sees Elliott Brood headlining at The Gateway, and The

Commonwealth will be busy with Kacy & Clayton on Sept. 24 and Austra (so excited!) on

Sept. 27.

Ending the month you have Feist at the Bella Concert Hall for a three-night stand, Sept

27-29, The New Pornographers with Born Ruffians on Oct. 3 at MacEwan Hall, and why

not head to the Ship & Anchor on Oct. 4 to check out Adictox with Canibales & No

More Moments?

There — start planning your month.

The Ballantynes, Vancouver's premier soul-rockers

Sept. 14 at The Palomino

Kari Watson is a writer and former Listings Editor of FFWD Weekly, and has continued

to bring event listings to Calgary through theYYSCENE and her event listings page, The

Culture Cycle. Contact her at kari@theyyscene.ca.

Kari Watson

Editor, writer, events listings curator

BEATROUTE • SEPTEMBER 2017 | 9
---
Books

SKIFFLEMANIA!

Billy Bragg reveals the roots of Britain's rock 'n' roll revolution

At the height of its popularity in 1957 skiffle

in Britain was enormous. Nothing less than a

massive skiffle attack with an estimated 400

groups in London and literally thousands more scattered

across the country playing school gymnasiums,

cafes and church basements, prompting an insane

surge in annual guitar sales that also soared into the

thousands. Top hits on the radio, smash records, crazed

skiffle contests and packed coffee houses... Skifflemania

was in full swing! And then in a flash it was gone,

just as a one scruffy skiffle outfit from Liverpool, The

Quarrymen, made their first demo recording a Buddy

Holly song. Soon after, rock 'n' roll was here to stay.

Skiffle was a major influence, the segue to stardom

and a new universe for many of great British pop and

rock artists including The Beatles, The Who, David

Bowie and Jimmy Page. Yet very little is known about

this fertile period from '56 to '58 which hasn't garnered

much more than a footnote in the history books. This

is precisely why Billy Bragg, the political folk-punk troubadour,

took to writing a fine piece of smart, articulate

and often witty historical research with Roots, Radicals

And Rockers: How Skiffle Changed The World.

Its beginnings hinge on Ken Colyers, whose unwavering

purist love for New Orleans jazz led to the

formation of a "trad jazz" band that included Lonnie

Donegan, a lively Scot who also cherished country

swing and the blues. In 1954 Ken Colyer's Jazzmen

recorded a reeved-up version of Leadbelly's "Rock

Island Line" as a B-side with Donegan taking lead

vocals. What was essentially a near throwaway track

would launch the skiffle craze two years later and vault

Donegan into orbit.

In terms of Donegan's talent, Bragg claims, "He was

undoubtedly the best blues singer in Britain. Head and

shoulders above anyone else as a white blues singer. He

was a good all 'round entertainer, who had that ability

to engage an audience. A very gregarious personality. I

meet him in his later years, he was the life and soul of

the party kind of guy. And a real fan of the music. He

had a real a love for it, which he wanted to communicate

to the people. That's what I got out of him."

It wasn't just Donegan's skill, fire and enthusiasm

that created the skiffle boom, it was also its accessibility.

Bragg notes that post-war youth in Britain had

gown up with rationing. Music was scarce, record

stores weren't in abundance, many teenagers had to

sign records out of the public library to hear jazz, blues

and country. And there was a long standing a feud

in the '50s between the British and American music

unions that prevented artists to tour in the others'

country. On top of it, the BBC put the squeeze on.

"They rationed rock 'n' roll," says Bragg. "And these kids

said, 'Fuck em! We're going to make our own music.

We don't care about the BBC. We're going to take the

guitar and make our own music.'"

by B.Simm

And that they did. Bragg claims upward of 50,000

skiffle bands existed in Britain with guitars in hand.

"You got to remember these are teenagers, and they

used the guitar as way of defining themselves as not

adults and not children. The guitar is the tool by which

they do that. And I do think if you were a 15 year old

in 1957, and you saw a sign that said, Tonight Skiffle,

you wouldn't expect to hear just Lonnie Donegan type

of songs. You would expect to hear music played on a

guitar. It could be blues, it could be jazz or calypso. Just

picking up the guitar was a symbol of something new.

That's what these people were trying to do. Paradoxically

by going back to Lead Belly they were trying to

build a bridge to the future and make it happen. And

the guitar is the means but which they defined themselves

as being a completely new generation."

Indeed it did. Ten years later "My Generation"

was fiercely punctuated by Pete Townshend's

spectacle of violent windmills and smashed guitars

that then would pave the way for yet another

DIY generation led by a feisty, street fightin' man

named Stummer who, armed with a battered

black Telecaster, threw down the gauntlet: This is a

public service announcement… WITH GUITARS!

Roots, Radicals And Rockers: How Skiffle Changed The

World is publishsed by Faber & Faber.

10 | SEPTEMBER 2017 • BEATROUTE CITY
---
FASHION HUSTLE

PIECE ON PEACE

a small boutique forging ahead with a flair for fashion and health

After working as a skin care specialist

for several years, Barb MacKenzie

shifted her focus to fashion

while continuing to maintain her interests

in healthy and sustainable products. The

result is Piece on Peace, a small boutique

located in Southwest Calgary. Essentially

MacKenzie runs a mini-department store

that carries a variety of designer clothes,

handbags, jewelry, footwear and bedding

along with full line of eco-friendly cleaning

and skin care products.

"I've always been about the piece," she

say when discussing her shop's name that

she runs with her husband. "What got us

accepted into the Farmers' Market years

ago was making capes and using the most

beautiful fabrics. None of them were

exactly the same, so that became your

'piece', it's individual and has your name

on it as you walk around the city."

MacKenzie adds that as an artisan-based

company, they didn't want to

carry any "manufacturing"— materials

or products that made from industrialized

processes. "We want to support

textiles in a green way. For instance, is

that piece, that product, going to be

sitting in a landfill forever? So the other

part, the other 'peace' is about sustainability.

Textiles are becoming a dirty

business. The dyes can be very toxic, as

are the chemicals in permanent-press

products. Everything from the clothing

you're wearing to what you're sleeping

in, it concerns autoimmune systems,

your health, your lifestyle."

To get a better idea of what Piece on

Peace is about, MacKenzie talks specifically

about some of the products she carries

and the benefits they have.

Skin Care

"They aren't necessarily organic, but we

don't want any fillers, any petroleum

by-products, or parabens which are

preservatives, we frown against dyes, and

don't like artificial scents. We are looking

at the most natural product that you can

wear on your skin and thinking that they

can be absorbed into your system. Think

of it as food!"

Barb MacKenzie owner of

Piece On Peace, located at 5 Spruce

Center in Spruce Clif f in SW Calgary

pieceonpeace.com

by B.Simm

Cleaning Products

"Most cleaners are filled with abrasive

chemicals to do the job, but you don't

need that. A lot of our cleaning products

are from Clean Conscious, a small

company out St. Alberta who make their

cleaners from natural ingredients (e.g.,

baking soda, vinegar, alcohol, cornstarch,

lemon) that are really effective. They also

source out all their ingredients based on

fair-trade practices, so no low-pay, child

labour. It's important to know that story,

and we want to tell it."

Jewelry

"One of our jewelry designers works

with stones and their meanings. Stones

have stories behind then, certain

energies too and they work differently

on everyone. Another is a metal jeweler

who takes a lots of recycled materials,

like copper tubing used for plumbing.

And she also finds old broken jewelry at

markets and thrift shops, then breaks it

down to make something new."

Swedish Stockings

"Stockings, leggings, tights and nylons

make textiles the second largest pollutting

industry because they're only

worn a few times, if that, then thrown

away filling up landfills. And most dyes

used are bad for you pressed against

your body all day... This company is

about women making products for

women. The two Swedes who started

it use recycled yarns, dyes that aren't

harmful, they taken the comfort level

miles beyond, and all their products

are made in a solar power plant in Italy.

The company has grown from a baby to

giant in the last couple years."

Footwear

"We have some stylish boots similar to

Wellies, Wellington rainboots, but you

sweat in those. The ones we have come

from Denmark although made in Portugal

called Lemon Jelly. They have this

technology that smells fresh like lemons

but uses anti-bacterial material so your

feet don't sweat or smell."

Bedding

"Real Egyptian cotton is really the best

way to sleep. The quality of cotton is

not based on thread count, it's based

on how durable the fibre and how long

it. This cotton comes from Italy, which

is the hub for all your manufactured

green materials. It comes into Canada

as an unfinished good then sewn here

saving a huge cost on all the duty.

Sleeping in Egyptian is like a dream, it

allows you to have a far better sleep

and that improves your health. Never

underestimate your bedding."

CITY

BEATROUTE • SEPTEMBER 2017 | 11
---
ody-body by

PUNK MEETS FASHION

a runway makeover with street style

by B.Simm

debut cassette release available

sept 15 at all fine local record shops

body-body by

After creating a jewelry line based on "wearing

your spirituality" which has grown substantially

and now has national distribution, local designer and

yoga instructor, Apryl Dawn, is embarking on another

venture bringing underground street style to the

refined, high-flyin' world of runway fashion.

The idea of a punk rock fashion show with bands

that provide a runway soundtrack, has that idea

been done before somewhere?

There's a fashion week in Toronto that mixes music

with fashion, but locally, definitely not. This was

brainchild of Dave (Pederson, vocalist/guitarist in

Downway) and I bouncing ideas off each other, and

my frustration with not seeing more alternative

fashion and looks on the main runway.

Not seeing more alternative fashion on the runway,

what does that mean specifically?

I'm not a pastels and floral kind of girl, or a cut and

structured wearables type of person. I've been to lots

of fashion shows and for the big ones, that what it's

about — What is the average 30 to 40 year woman

wearing? I suppose I'm not average or interested in

average, nor are the people I work with. I don't see alternative

fashion out there on the level it should be.

We have a lot of freedom to dress the way we want,

and express our authentic self. Our fashion is our

inner self, it's our authentic being which we should

be able to express. More and more we're moving

towards that point, but I still think we need to break

down some walls.

But you have punk street fashion, a DIY culture that

creates their own style from clothes bought at thrift

shops. When or how does that street style crossover

and spill onto the runway?

Honestly, I love the person on the street that found

a whole bunch of shit for five bucks and looks totally

rockin', opposed to someone who just went out and

spent 500 dollars on a t-shirt. And I think it blends

from one world to the other because there is no structure

in place yet. There is this deep, grungy, grindy underworld

of punk and rock that's actually feeding the

high side of fashion. Couture is definitely not shaping

that. It's coming off the street, from the bottom up.

We're feeding off something that's been underground

for decades and decades, and stealing little bits of

pieces — chains, leathers, belts and buckles — and

that's all being becoming one for me.

The PUNK MEETS FASHION showcase takes place

Thursday, Sept. 21 at Commonwealth.

12 | SEPTEMBER 2017 • BEATROUTE CITY
---
OTAHPIAAKI 2017

Indigenous Beauty, Fashion and Design Week

by B.Simm

Rebecca Merasty models new fashion by one of Otahpiaaki's

feature designers, Brenda Lee Asp, who named the cape

"Honouring Raven - My Mother's People".

Photos taken at Tsuu T'ina on the banks of the river called they

call Kootsisáw, the Blackfoot refer to as Moh kínstsis, and the

Stoney Nakoda call Wincheesh pah.

PHOTOS: JASON ENG

these designers are building their brands. In some cases, our students

have collaborated on eCommerce sites, graphic design and the design

of lookbooks for designers who do not have these tools.

One of our founding students Spirit River Striped Wolf (MRU Policy

Studies) developed an international costing export tool for any designer

to use if they're thinking of selling in the EU. Another student, Taryn

Hamilton (MRU Justice Studies) is engaged in developing new Canadian

law designed to protect the industrial designs of Indigenous creatives. It

matters who is at the front of the room too. Each of these designers have

successful ventures. So, having thought leaders like Justin Louis present and

inspire others is critical to growth that we anticipate could be upwards of

19.6M in our province alone.

The Truth and Reconciliation Showcases go beyond the flair of a fashion

show. Could you elaborate on these two showcases?

We kick off the week with a performance by Grammy nominated artists,

the Northern Cree Singers on September 18, and are very excited to be

screening Rumble: The Indians Who Rocked the World on Tuesday, Sept.

19 both at the Bella Concert Hall.

The Truth Showcase has been curated to include designers whose work

inspires questioning, commitment, action, impact and change through designs.

The evening opens with opens with champion hoop dancer Dallas

Arcand who warms up our runway.

The Reconciliation Showcase has been assembled from designers'

collections that are more couture and avant-garde, similar to a luxury

runway from New York or Paris – many of our designers have been invited

to both. Our featured guest is Brenda Lee Asp from the Northern

Tutchine First Nation in the Yukon. The final piece in the showcase

is a reconciliation cape project organized by Brenda that will be built

collaboratively over the week.

For all details about the seminars, runaway shows, music, film, scheduling

and tickets for Otahpiaaki 2017, go to otahpiaakifashionweek.com

Based out of Mount Royal University, Otahpiaaki is

an annual week long event that showcases Indigenous

beauty, fashion and design featuring a wealth

of local and regional Indigenous artists and designers

with their inspiring creatives. Patti Derbyshire – Chair

of Entrepreneurship, Marketing and Social Innovation

in the Bissett School of Business at MRU – talks indepth

about what Otahpiaak 2017 has to offer and

what it hopes to achieve with this bold and exciting

Indigenous venture.

Overall the focus of the event draws on a rich Indigenous past, but then

places it into a very contemporary context. In fact, that seems to be

a statement made: while its roots are deep in tradition, this is a very

progressive exhibition, this is Indigenous fashion design here and now.

I think this is a good read of Otahpiaaki 2017 and the designers with

whom who we've started to build relationships. At our first showcase

last November, Justin Louis and Tishna Marlowe informed the direction

of this project. There were three things that are important to convey.

First, that our student teams understand that Indigenous creatives are

carriers of vibrant cultural knowledge and a voice that has always been

strong, resilient and diverse.

Also, the design and craft of Indigenous apparel, fashion, music, film

and arts has always been a critical component of identity in Indigenous

communities – an underappreciated hallmark of Canada's fashion

identity. Our students completed research in this area earlier this year

and we discovered that iconic fashion and apparel in Canada, in fact, is

Indigenous. Finally, there is an immense creative and economic engine,

by Indigenous designers and for Indigenous designers, where global

impact and presence is inevitable.

Looking at cross-section of the seminars and workshops offered, it

seems like every stone is overturned, is there anything in Indigenous

fashion and and design that isn't covered?

There are 760+ First Nations, Métis and Inuit communities within

Canada, so there is much to discover yet. This is a Seven Generations

project that we intend to co-create over the next seven years, so

we're just infants really. There's no question that the strength of the

program comes from the advice of our Elder, Jeannie Smith Davis,

recommendations from our founder-designers, as well as Otahpiaaki

student teams. Fashion and creativity are powerful platforms for

discussion and healing.

What we've developed is what worked last year – using fashion,

sewing, creative studios, social innovation, and entrepreneurial thinking

as opportunities to build relationships and knowledge of difficult

and compelling topics. Those who participate in workshops with this

year's Indigenous designers, both Indigenous and non-Indigenous receive

new knowledge. It is not formalized but we found when people

work creatively with their hands, they will listen and speak with one

another, with time to reflect on what is being shared.

One might learn about a craft technique and its lineage, but

honestly last year participants learned as much about deep beauty

–intellectual, spiritual, cultural, emotional and physical, the diversity

of Nations, Missing and Murdered Indigenous Women and Men, the

intergenerational trauma of residential schools, the Indian Act, and

about the TRC Calls to Action. Discussion and action are embedded

in each of the workshops and will be shown over and over on the

runway events .

There's a strong entrepreneurial, a business component. How is

that weaved into the event?

Economic reconciliation is a pillar of the greater Otahpiaaki project

and incorporates new venture thinking, marketing, and social innovation.

We are based at the Bissett School of Business so it's valuable

and a natural fit to hear the stories and methods of how each of

CITY

BEATROUTE • SEPTEMBER 2017 | 13
---
FILM

CALGARY FILM 2017

200 films, 40 counties, Alberta galore

by Jonathan Lawrence

SUCK IT UP

Grief and friendship meet in Invermere-shot film

by Morgan Cairns

try not to talk your ear off," says Steve Schroeder jokingly. As

executive director of the Calgary International Film Festival, he

"I'll

talks vigorously about this year's new films and events, espousing

the level of originality and local pride that they aspire to each year.

With over two thousand submissions, the team at Calgary Film (no

longer abbreviated as CIFF) had their work cut out for them. What they

ended up with is "200 different, remarkable perspectives, visions of the

world that come through every genre from 40 countries or more and of

every type of film," says Schroeder. It's a passion Calgary Film has both for

film and organizing a community is palpable. "It's what we love, it's what

motivates us," he adds.

Schroeder himself is no stranger to festivals or films. "I've always been

a film buff. I've been now 20 plus years working in the arts community in

Calgary. I started as a live theatre producer, where I developed a love of

festivals in general…I love when a city has a deep festival-based culture

because nothing makes a city liveable, vibrant and fun and civilized like a

festival."

Calgary Film isn't merely a series of screenings at different theatres,

however. People are encouraged to come out to the Q&As and other special

events that will be happening during the festival week, particularly the

Opening Gala which includes walking the red carpet, live entertainment

and a post-screening after party. Then the Closing Gala, which follows the

Alberta-made film presentation, Suck It Up, will be an all-inclusive awards

celebration, free to the public that provides a great opportunity for "fans

to mingle with filmmakers," says Schroeder.

Calgary Film has a growing dedication to Alberta-produced film and

TV, which has been expanding rapidly for the past several years. In 2016,

they began a feature called Showcase Alberta to champion Alberta talent.

In fact, about a quarter of their Canadian content has ties with Alberta.

"We're definitely an international film fest." states Schroeder. "But the

percentage of local content that we show is significantly higher than [other

film festivals]." Calgarians, in specific, are really excited by this industry

that they know is growing." Schroeder also notes that often the best

attendances during the festival are films with Alberta content, particularly

where the local filmmakers are present.

This year's festival will have an event focused on the new television

show, Wynnona Earp¸ produced in Alberta. It will be a "big cast and

creator event," says Schroeder, which includes a Q & A session. He adds

that tickets to the event are selling fast, and that people are flying in from

all over to see it, "If people's Facebook posts are to be believed," he jokes.

Attendees can expect a wide range in tone and genre from the lineup

this year. Schroeder says if you're unsure which film to see, his best advice

is to "find a local film and just check it out, you're likely to have a very

good time. Pick one blind, and have a random experience. People are

always surprised happily so."

Calagry Film runs from September 20 to October 1, 2017. See www.calgaryfilm.com

for film sch edules and to purchase tickets.

Albertan pride – not pretending to be anything else.

After her feature film debut at TIFF in 2014, director Jordan

Canning's much-anticipated sophomore feature is set to

make its Alberta debut at this year's Calgary International

Film Festival. Programmed as the coveted Closing Gala selection, this

locally shot film is finally ready for its homecoming.

Initially premiering at the Slamdance Film Festival in January, Suck

It Up follows the impromptu trip of two friends, Faye and Ronnie, in

an attempt to cope with the sudden death of Ronnie's brother and

Faye's ex-boyfriend Garrett. Spending the week in Ronnie's family

cabin in Invermere, the two girls, in their own very different ways

(Ronnie through drugs and drinking, and Faye through crafting and

micromanaging) attempt to reconcile their loss whilst humorously

engaging in typical vacation trysts, in what Canning aptly describes

as a "joyride through grief."

"It was much more of a comedy when I first got [the script]. There

was less of the grieving, emotional weight, and that was something I

really thought was important to bring into the story," says Canning.

"I can't call the film a comedy, I can't call it a drama, and I hate the

term dramedy, but that's really where it sits - a mix of both. I call it

the salty and the sweet. It has that emotional through line that really

grounds the characters, and the comedy is there, and some of it is

quite dark, because when you go through heavy shit your humor can

get quite dark."

Joining the project after reading the first script, Canning recounts

how the film's two leads, Erin Carter and Grace Glowicki, who had

already made a short together, initially fueled the passion project.

"[They] wanted to take on something bigger. They wanted to write

great roles for themselves that they weren't necessarily getting in auditions,"

explains Canning. "So they approached [screenwriter] Julia

Hoff and said, 'Hey, do you maybe want to write us a feature that we

can shoot for $10,000?'"

With Glowicki's family cabin serving as the starting point, the

actresses tapped Los Angeles-based Hoff to create a script around

the BC Rockies locale. "Julia had never been to Invermere," explains

Canning, "but Grace and Erin had spent their childhoods there, so

they sent her this list saying there's a bowling alley, there's a candy

store, there's these great lookouts. So Julia created this story, and the

three of them developed these characters, and wrote this script."

Their search for a female director led them to Canning, who was

immediately attracted to the project. "I was going through some

stuff in my own life and Faye just kinda grabbed hold of me and I saw

myself in her and I felt that I really could bring something to the table

with a story about grief, and losing someone to cancer," she said.

"The script that I originally read was very different from the script we

eventually shot, but what was always clear was Julia's voice. She is so

good with dialogue and emotional truth."

And while the script may have gone through numerous rewrites,

the Invermere shooting location remained a steady presence through

the entire process. "Right from the get-go it was written for Invermere,"

says Canning. "We wanted to use everything we could about

the town and showcase it well."

With most of the cast and crew returning for the film's Calgary

premiere, Canning couldn't be happier to see the film come full

circle. "We're making films in Canada, and we're not pretending this

is anything but Canada," she states. "I hope that there can be some

pride in seeing Calgary and seeing Invermere for what it is and being

like, fuck yeah, we don't need to pretend it's anything else."

Suck It Up will be the Closing Gala event of the Calgary International Film

Festival on September 30 at 7:30pm, followed by the awards ceremony.

Jordan Canning and Erin Carter will be in attendance.

14 | SEPTEMBER 2017 • BEATROUTE FILM
---
SMALL TOWN CRIME

modern film noir is conventional, yet intriguing

Another small town meets mystery in this edgy detective film.

BUCKOUT ROAD

creepy urban legend delves into dream sequences

Buckout Road is an intense throwback to 70s horror films.

by Philip Clarke

by Philip Clarke

When alcoholic cop Mike Kendall (John

Hawkes) is let go from the police force

due to an incident involving the death

of his partner, he inevitably hits rock bottom.

A year and a half goes by without him ever

getting a new job. Mike learns that being branded

as an "alcoholic cop-killer" tends to not bode well

when trying to meet new people in any kind of

social circle. Either way, Mike does what he can by

going to interview after interview, but he never

gets the job. The fact that he tells interviewers that

he has a serious drinking problem, however, might

have something to do with it.

In the meantime, Mike is busy collecting unemployment

checks and using them at the bar to

get wasted. If he's numb to the pain, then the pain

won't hurt so badly. All his sister Kelly (Octavia

Spencer) wants for him is to get sober. That and

for him to get a job and pay her and her husband

(Anthony Anderson) back all the money that he

owes them.

Old habits die hard when John discovers an

unconscious, bloody and bruised woman lying on

the side of the highway. This inciting incident will

take Mike down an insidious rabbit hole of sex

and violence. What follows is an incredibly tense

series of events that never lags or feel tiresome; the

pacing is on point.

Small Town Crime is a lean, mean and expertly-made

modern day film noir. Written and directed

by Eshom and Ian Nelms, the film has all the

elements of a classically made noir, but maintains

a modern sensibility to it. A hard-edged private

eye, femme fatales, and over-the-top gangsters are

just a few of the wonderful ingredients thrown in.

The film has a very balanced blend of gruesome

violence and incredibly subtle pitch-black humour

that takes the story over the edge to be exceptional.

While many elements of the film work incredibly

well overall, the film rests squarely on Hawkes'

shoulders. As the broken, snarky and charming

lead, Hawkes is purely magnetic from beginning

to end. Mike is onscreen for almost every single

scene in the film, and deservedly so. He's so utterly

compelling that you simply can't take your eyes off

him. You're on his side throughout the length of

the story.

Small Town Crime follows all the beats of your

typical crime film, so nothing in the story is particularly

shocking or surprising. That said, it's still

incredibly well made all the same. You don't always

have to reinvent the wheel. You just need to find

an interesting way to spin it. That interesting spin is

named John Hawkes.

Small Town Crime will be shown during the Calgary

International Film Festival. For more info and times

go to www.calgaryfilm.com/films

NO ROADS IN

Directed by Calgary-based Josh Wong, NO ROADS IN follows singer-songwriter Blake Reid, sound

engineer Adam Naugler, and the Blake Reid Band on a musical journey as they challenge industry

convention and set out to create an analog record.

An abandoned house in the middle of an endless Alberta wheat field is transformed into a

recording studio, as the group comes together to capture the love, laughter and raw energy of

13 songs recorded live off-the-floor over five days in the summer of 2016. Showcasing the vast

Alberta prairie landscape and the uniquely haunting isolation that foments creativity, the beautifully

shot documentary celebrates music's imperfections and explores what is really important in

music, and in life.

Following the film, the Blake Reid Band will perform songs from the film. Both the film screening

and live performance will take place at Studio Bell, home of the National Music Centre.

When Aaron Powell (Evan Ross) returns home

to his small town after several years away

in the military, he's disappointingly correct

in his assumption that his psychologist grandfather Dr.

Powell (Danny Glover) wasn't there to pick him up from

the bus station. It turns out that Dr. Powell had shirked

his familial responsibilities in favour of working with Detective

Harris (Henry Czerny) to try and stop the strange

happenings that are afoot in their town.

The townsfolk have been haunted for several years by

the many urban legends about the titular Buckout Road.

Some believe in them, while others simply pretend

that none of it is real. "Out of sight, out of mind" is the

general mantra that many of them seem to live by.

However, the legends begin to seep into the real world

when members of the town begin to sleepwalk their

way in the middle of the night to Buckout Road. That is,

before they ultimately kill themselves in both awful and

downright disturbing ways.

With the help of fraternal stoner twins Erik (Kyle

Mac) and Derek (Jim Watson) as well as Detective Harris'

daughter Cleo (Dominique Provost-Chalkley), Aaron

attempts to figure out the mystery of these troubling

legends before it's too late.

What works best about Buckout Road are the dream

sequences, which go back and forth between a 1970s'

zombie exploitation film, and witches being burned at

the stake, to name just a few of the scenes. The dreams

are both creepy and unnerving in equal measure. The

moments of shock and gore generally work to great

effect, shown over and over again to the point of numbing

submission.

Buckout Road plays at the Calgary International

Film Festival. For more info and times go to www.

calgaryfilm.com/films

Wednesday, Sept. 27

Studio Bell • NMC 7:30 pm

Friday, Sept. 29

Globe Cinema 9:30 pm

Amsterdam Film

Festival 2017

Van Gogh Award

16 | SEPTEMBER 2017 • BEATROUTE FILM
---
TURN IT AROUND: the story of East Bay punk

love letter to San Fran music scene

Green Day at Gilman circa 1990.

Turn It Around: The Story of East Bay Punk is a purely unadulterated

love letter to punk rock and everything it stands for.

Co-writer/director/producer Corbett Redford has flawlessly

crafted a documentary about the punk rock scene in the San Francisco

Bay Area over the course of over thirty years. It began in the late

1970s where punk was a counterculture response to the Vietnam

War. Contrary to popular belief, however, true punk rock is not about

being loud and angry for the sake of being loud and angry, as many

critics of the genre so often prematurely point out. Like all good

art, punk rock is a form of self expression and Turn It Around is an

informative, inspiring and entertaining lens with which to showcase

that self-expression.

We're treated to lots of footage, photos and interviews from several

key players in the punk scene spanning many years. Redford's documentary

is incredibly broad in its scope, yet remains an intimate character

study with many different personalities. Billie Joe Armstrong, Noah

Landis, Tre Cool, Robert Eggplant, Anna Joy Springer, Tim Armstrong and

Kathleen Hanna are just a few titans of their industry that Redford interviews.

The film very easily could have been a painfully biased slant on

the genre. However, Redford wisely captures several different influential

voices to give the film an incredibly well-rounded point of view overall.

Being 155 minutes in length, Redford makes sure that every single

possible aspect about punk rock is covered. Several different forms of

the genre are discussed, such as hardcore punk, pop punk, ska, queer

by Philip Clarke

punk and feminist punk, just to name a handful. The beauty of punk

rock is just how incredibly inclusive and communal it can all be.

The heart and soul of Turn It Around is where much of the film's

running time takes place, at 924 Gilman Street. The venue was a

well-regarded Shangri-La for every race, gender and orientation of punk

rocker. Gilman was, and still is, a place all to its own. The club was home

to many different shows over the decades where every kind of person

could go to be themselves as free spirits. That said, Gilman did unfortunately

experience some trouble from time to time. Like with anything

popular, the more positive attention something gets, the more detractors

and contrarians will come crawling out of the grass like serpents. As

punk became continually popular throughout the years, skinheads and

Neo-Nazis subsequently also joined shows at the Gilman, where they

would often spout their repugnant hate-speech and/or incite brutal acts

violence.

It's these moments of tension and conflict that Redford carefully documents

that elevate the film to another level. The punks and skinheads

conflict is ripe for several different films on their own. If you think about

it, Green Room would be a perfect film to have as a double bill with Turn

It Around. The very fact that these conflicts are still going on today make

the hatred and intolerance showcased all the more visceral and disturbing

to watch. As hard as those moments in the film are to experience,

they are equally important to be aware of and discuss at length.

Turn It Around: The Story of East Bay Punk is unquestionably a film

worth watching for punk rockers of all ages. Even if you're not a fan

of punk rock, the film is still worth seeing to understand why both its

music and lifestyle have been so beloved for many years. If you're still not

convinced however, it's narrated by Iggy Pop and executively produced

by Green Day. And who doesn't want to hear Iggy Pop narrate?

Turn It Around will be shown during the Calgary International Film Festival.

For more info and times go to www.calgaryfilm.com/films

SOME OTHER GUYS

fascinating documentary about Merseybeat's forgotten rockin' rollers

that was the Big Three."

The above quotation is frequently heard throughout

"And

Some Other Guys, often used to punctuate a story

from witnesses and fans of the reckless, hard-partying loud 1960s

Liverpool band, The Big Three. The band members, Johnny

Hutchinson (Hutch), Johnny Gustafson (Gus), and Brian Griffiths

(Griff), were punk before there was punk, and caused rock-androll

mayhem long before anyone else.

That said, they were a Merseybeat band, who sounded – and

looked – much like The Beatles and other acts of that time

and place. They packed music venues and played to hordes of

screaming girls (which sounded like a "bomb going off.") They

were lauded for their musical talents, both then and today. They

were called the "greatest, ass-kicking band that ever came out of

Liverpool" by one musician. They were the "original power trio,"

remarked another.

So why then has no one ever heard of them?

Beatroute spoke with Todd Kipp, director of the film, to shed

light on that question, although he himself could not explain why

they've been essentially reduced to a footnote in music history,

despite their talent.

"[The Big Three] were praised by everyone in Liverpool," said Kipp.

While planning the film, Kipp met with guitarist Brian Griffiths

- who now resides in Calgary - and listened to some of his stories.

Kipp soon realized that this was "more than just another band

who were one of the hundreds on the Mersey Beat scene in the

early 1960s." Clearly, there was a story here worth telling.

The documentary shares a fascinating, yet poignant story of

how the band "could have and should have been huge," Kipp

said, "but were too self destructive and ahead of their time and

ultimately imploded before the British Invasion."

FILM

Many argue that the Big Three should've been even bigger.

Despite their clean image, The Big Three answered to no one,

least of all their manager, Brian Epstein, who also managed The

Beatles. Epstein, or "Epi," was trying to turn them into his other

rising stars, donning the three in matching suits and encouraging

them to write poppy love songs. The Big Three weren't having any

of it though; they were violent, rowdy, tough-talking Brits - and

hard drinkers.

by Jonathan Lawrence

"They loved being on stage," Kipp added, "but didn't care for

the rest of the business and it was to be their downfall."

Fans of The Beatles who are interested in extra lore will find

some lesser known tales here. The Big Three played gigs with

them, they hung out together, and even lived together. The

Beatles were even fans. Yet The Big Three were essentially the

anti-Beatles.

"I wouldn't join the Beatles for a gold clock," said Hutch, the drummer.

Kipp, an admitted huge fan of the Merseybeat era, shared his

enthusiasm for making this film, which is evident throughout.

"These are all first-hand stories," he wrote, "and despite the fifty

plus years and everyone's memories, it's essentially the truth."

Some Other Guys is a fascinating examination of a band that

voluntarily cut their career short because they didn't want to play

by the rules. A band that had the potential to reach Beatles-like

heights, but refused to because they didn't want to wear suits. To

be fair, there's a sense of admiration and heroism in that sentiment.

The film is told through a colorful, dynamic mix of interviews,

archival photos, animation, and even a modern enactment of the

band in action.

Kipp summarizes it with this quote: "The Story of The Big

Three is the ultimate story of every band with talent and potential,

but who just didn't make it. These guys were signed with

Brian Epstein, Decca Records, played The Cavern Club countless

times, all the TV shows and are still considered the best band to

miss the British Invasion."

And that was The Big Three.

Some Other Guys will be shown during the Calgary International Film

Festival. For more info and times go to www.calgaryfilm.com/films

BEATROUTE • SEPTEMBER 2017 | 17
---
RETURN TO NUKE EM HIGH: VOL. 2

Lloyd Kaufman reveals political message hidden in slimy satire by Breanna Whipple

RUMBLE: THE INDIANS WHO ROCKED THE WORLD

Tuesday, Sept. 19 Bella Concert Hall

More than the Who, the Rolling Stones or Elvis Presley, it was Link Wray's distorted guitar that

forever changed the sound of rock 'n' roll. His 1958 track "Rumble" was described by Bob Dylan

as "the best instrumental ever"—yet it was banned by many American radio stations. As a Native

American, Wray's music posed a threat to the establishment, as did the blues, jazz and pop of

so many other Indigenous musicians over the years. Artists like Charlie Patton, Mildred Bailey

and Jimi Hendrix couldn't be open about their native identities as attempts to erase Indigenous

cultures persisted across the continent. Blending audio archives, concert footage and interviews

with industry icons Robbie Robertson, Buffy St. Marie, Taboo (Black Eyed Peas) and many others,

this Sundance award-winner is an unforgettable and political exploration of a musical history that

was silenced for too long.

— Hot Docs 2017, Toronto

With a nuclear power-plant seeping toxic

sludge into the veins of slapsticky nerds

as they wage war against a gang of punky

sadists, to describe Class of Nuke 'Em High as anything

but a subversive work of art would be a cardinal

sin. Released in 1986, a historical time in which

high school exploitation films swept the nation,

Lloyd Kaufman's brainchild is set apart by its meaningful

message hidden by the outlandishly lavish

chaos that erupts on screen. Placing hot coals to the

feet of the American educational system was the

goal since inception, and much of the reason why

Kaufman called for a reboot of the franchise in 2013

with Return to Nuke 'Em High: Volume 1 (2013).

Doused heavily enough in biting social commentary

to warrant two films, Return to Return to Nuke 'Em

High: Volume 2 (2017) is set to premiere in Calgary

at The Globe on September 9.

"Young people are the people that change the

world and they're usually in high school, so I'm

fascinated with that age group. Its the most interesting

and certainly, in my opinion, the most important...

and they're the people that want to make the world

a better place," explains Kaufman of his favored age

group to represent on film.

"When it comes to issues like toxic nuclear waste

from back in 1983, I didn't think it made sense to

appeal to middle aged, bourgeois people. I wanted

to appeal to young punks who might actually

learn something from this very entertaining movie

called The Toxic Avenger (1984)... and indeed, The

Toxic Avenger has been a huge influence on everybody

from the directors of Deadpool (2016) to the

Environmental Protection Agency (EPA). The EPA in

both Canada and the US have used Toxic Avenger as a

way to appeal to young people."

Kaufman says social commentary is deeply and

intentionally embedded throughout his filmography,

and the Nuke 'Em High series is no different.

"Class of Nuke 'Em High is all about high schools

and there's lots of themes therein, especially in the

United States where the junk food is being foisted on

the high school students... We know about the bullying,

we know about the fact that they learn nothing

in the American educational system and that's kind of

what we're dealing with here. It's the satirical view of

the horrors of the American educational system, and

that is exactly the reason that we had this unpleasantness

in Charlottesville, Virginia."

Sadness envelops his voice.

"We've let the American educational system deteriorate...

So that is kind of what interests me -- get young

American people to realize that they've been totally

fucked over."

Much of this message is overshadowed by Troma

Film's notoriety for bizarre scenes and cartoonish gore,

making censorship a regularly faced issue.

"Serious blood, guts, dismemberment... Die Hard,

that's okay – but the Troma goofy cartoon violence

is not okay... This is a thing called fascism, when they

apply different rules to the elite and other rules for

you. It's fascism, and it's on the rise in your country and

mine."

Social issues aside, Return to Return to Nuke 'Em

High: Volume 2 is promised to continue and upscale

the madness propagated in the first volume. Sure to

pique the interest of Motörhead-bangers everywhere,

Lemmy Kilmister returns as the President.

"We dedicated the movie to Lemmy and to Joe

Fleishaker, who was our 500 pound action star."

Fleishaker was a regular fixture in the Troma film

universe, appearing in such films as Zombiegeddon

(2003), Tromeo and Juliet (1996), and the second and

third renditions of The Toxic Avenger. Both figures

passed away within six months of each other.

In summation, if one were to look past the giant

penis monsters and slimy green ooze dripping from

every orifice in the Nuke 'Em High films, a couple

things become clear – We are the youth of today, and

Lloyd Kaufman wants us to pay attention so we pave

the way for our tomorrow.

Catch Return To Nuke 'Em High: Volume 2 at The Globe

Cinema September 9 (Calgary).

18 | SEPTEMBER 2017 • BEATROUTE FILM
---
Alien Convenant

Baywatch

Guardians of the Galaxy Vol. 2

Okja

Snatched

FILM

ALIEN COVENANT

The key to colonizing a new planet is bringing

enough weapons to subjugate the current

inhabitants.

Unfortunately, the colonists in this sci-fi thriller

only brought American flags.

When a settlement ship on its way to its new

home world breaks down, the onboard android

(Michael Fassbender) wakes the crew (Katherine

Waterston, Billy Crudup, Danny McBride) from stasis

so they can mend the ship on a nearby planet.

Luckily, that planet is home to a lost crewmember

of an earlier Earth expedition. Unluckily, it's

infested with body-imbedding aliens created by

the previous party's experiments with locale DNA.

Although this sequel to Prometheus finds director

Ridley Scott returning to his horror roots, this

Alien prequel resembles too many other entries in

the anthology to be revolutionary. This is particularly

true when it comes to the heroine.

Besides, if mankind wanted to create new life it

would just legalize marriage with space bacteria.

BAYWATCH

The most important thing to remember when

lifeguarding is to not rely on dolphins to save

everyone.

Thankfully, the lifeguards in this comedy are

keeping the beach safe themselves.

When esteemed lifeguard Mitch (Dwayne Johnson)

is forced to add hotshot Olympian Brody (Zac

Efron) to his summer roster, he shows his distain by

training the cocksure rookie himself. After enduring

Mitch's grueling feats of strength, Brody is filled

in on the Baywatch team's (Alexandra Daddario,

Kelly Rohrbach) extracurricular activity: surveilling

a suspected drug smuggler (Priyanka Chopra).

A raunchier version of the already exploitive

television series, this poorly written feature film

adaptation brings the show's best assets to the

forefront, but at the expensive of a decent story

and capable acting. Terrible T&A humour aside,

this quasi-tribute plays more like an insult to the

show and its fans.

Incidentally, the only explosions lifeguards see

are the beached whale kind.

BORN IN CHINA

Girls born in China know that they will grow up in

a safe, white American suburb.

Unfortunately, as this documentary verifies,

the same doesn't apply to every female species

in China.

A single-mother snow leopard struggles to find

nourishment for her young in China's merciless

mountain region. Meanwhile in the jungle, the

birth of a female golden snub-nosed monkey forces

a neglected male to venture out on his own. Also

leaving the nest is a giant panda whose mother is

having a hard time letting her go.

Narrated by John Krasinski, Disney's latest

nature documentary once again does an excellent

job of capturing rare fauna in their native environments.

Unfortunately, like the others in the

eco-series, this maternal endeavour is also heavily

edited to fit a desired narrative while the animals

are given human characteristics.

By making the pandas human, however, just

makes eating ginger beef that much more difficult.

THE CIRCLE

The downside to working for an innovative tech

company is being the first killed by sentient

machines.

Luckily, the gadgets in this thriller are not nearly

as nefarious as their creators.

As the newest hire at tech giant, The Circle, Mae

(Emma Watson) makes quite the impression on

the company's co-founders (Tom Hanks, Patton

Oswalt) by becoming a lab rat for their latest spycam

technology. Being online all the time, however,

takes its toll on Mae, her family (Bill Paxton,

Glenne Headly) and her friends (Karen Gillan, Ellar

Coltrane), as each of their lives are also televised for

public consumption.

While it is a timely piece on the loss of privacy,

the power of online mob mentality and the digitization

of our data, this paranoid Orwellian analogy

is tactlessly encrypted with bad acting, outdated

discoveries and stock villains.

Moreover, facial recognition cameras can't find

you if you're wearing a Burqa.

GOING IN STYLE

The most stylish way for an old man to depart this

world is in a pinstriped zoot suit.

The chaps in this comedy, however, chose to

wear Halloween masks instead.

After losing his house and pension to the bank,

Joe (Michael Caine) must find a way to support his

granddaughter (Joey King), so he proposes that he

and his friends (Morgan Freeman, Alan Arkin) rob

the aforementioned bank.

With help from some neighbourhood crooks,

the trio gleans enough knowledge to stage a

successful stickup, but not enough to evade the FBI

(Matt Dillon).

A tepid remake of the 1979 heist spoof starring

George Burns, this Zach Braff-directed ensemble

does have some outstanding chemistry between

its elderly leads, but little in the way of big laughs.

The sappy script and predictable outcome don't

help either.

Besides, retirees would have more money if

they'd stopped giving out their credit card numbers.

GUARDIANS OF THE GALAXY VOL. 2

The worst thing about summer in space is that all

the garage sales just float away.

Fortunately, the starship in this sci-fi adventure

has found a planet able to regulate its own gravity.

When Rocket (Bradley Cooper) pockets a

powerful battery, the alien race he stole it from

hires Yondu (Michael Rooker) to bring it and the

Guardians of the Galaxy – Star-Lord (Chris Pratt),

Gamora (Zoe Saldana), Drax (Dave Bautista), Baby

Groot (Vin Diesel) – back to them.

While his surrogate father stalks him, Star-Lord's

real father Ego (Kurt Russell) offers him and his

crew asylum on a sentient planet.

A surprisingly emotional sequel to the 2014

sleeper hit, this complex follow-up focuses on

the fluidity of fatherhood and the burden of loss.

Thankfully, it also amps up the action and layers on

the laughs.

Incidentally, if planet Earth was sentient then

she could tell us where to drill for oil.

THE VIDIOT

rewind to the future

by Shane Sellar

HOW TO BE A LATIN LOVER

To be a successful Latin lover you must consummate

your sham marriage in 90-days or be

deported.

Smartly, the lothario in this comedy has sex in

the first 90 minutes. Securing a sugar mama at the

old of 21, Maximo (Eugenio Derbez) has spent the

last 25 years leeching off his wealthy, older wife. But

that all changed when she left him for a younger

model (Michael Cera).

Single for the first time in ages and living with

his estranged sister (Salma Hayek) and her son,

who is training to be a Latin lover, Maximo seeks

help from a fellow gigolo (Rob Lowe).

With a plethora of Hollywood cameos to

compensate for its unknown lead, those brief

star-studded appearances are the only highlight in

this predictable comedy's endless parade of sexist,

racist and humorless jokes.

Incidentally, sex with a senior citizen is actually a

threesome with the Grim Reaper.

OKJA

When the world runs out of food the starving

masses will have no choice but to eat at Arby's.

Thankfully, the scientists in this fantasy are

devising new food sources.

A greedy CEO (Tilda Swinton) creates and disperses

a race of super-pigs across the globe that she

hopes will someday feed the multitudes and make

her millions. Ten years later, Okja, the super-sized

swine adopted by a South Korean girl (Ahn

Seo-hyun), grabs headlines when she becomes embroiled

in a battle between the company's crazed

zoologist (Jake Gyllenhaal) and animal rights

activists (Paul Dano, Lily Collins) trying to liberate

her from slaughter.

An eclectic parable of the meat industry marinated

in oddball performances, this quirky Korean

import pads its vegetarian agenda with twee

moments between pig and owner that are brutally

punctuated by the grim reality of the food chain.

Besides, wouldn't it just be easier to start eating

CEOs?

​

SNATCHED

The upside to vacationing with your parents is

that they wake early enough to get good poolside

loungers.

Nonetheless, the party girl in this comedy tried

her hardest to find anyone else to take.

Stuck with an extra ticket to Ecuador after her

boyfriend dumps her, recently unemployed Emily

(Amy Schumer) has no other option but to offer it

to her overly mistrusting mother (Goldie Hawn).

Their retreat takes a turn for the worse when

they're kidnapped by a crime lord (Óscar Jaenada)

and accidentally kill his nephew. On the run, they

must make it to the US consulate before he catches

them. With scant character development between

the bickering mother and daughter duo before,

during, and after their experience, this poorly

structured romp relies too heavily on its humorous

leads to offset its lack of story.

Fortunately, when you travel with family there's

always someone to identify your body.

​

He's a Tornado Alley Cat. He's the…

Vidiot

BEATROUTE • SEPTEMBER 2017 | 19
---
ROCKPILE

COMEBACK KID

heavy as hell and holding steady

by Jodi Brak

Winnipeg hardcore veterans drop their new album on September 8.

From their humble beginnings as a side project

through their rise to one of the biggest bands

in Canadian hardcore, Comeback Kid has

rolled with the punches like the best of them. They

embody an aggressive style in their music that,

much like the group itself, presses forward with a

furious momentum.

"Hardcore music is something that took me on a

path in life that I would never have gone on without

this certain genre of music, I'm still inspired by it," says

vocalist Andrew Neufeld.

"I think the aggression and the tempos are just a

healthy release. To get some of that stuff out, some of

those feelings you couldn't get out any other way."

Beginning as a side project by Neufeld and fellow

Figure Four member Jeremy Hiebert, Comeback Kid

quickly found traction after their 2003 debut Turn it

Around, and began touring full time. It wasn't long

before they had broken through their home turf in

Winnipeg and were embarking on coast-to-coast

North American tours, then beyond. Now closing

in on 20 years as a band, Comeback Kid has become

iconic, built upon musicianship and dedication.

It's seen them grow from the community centre,

all-ages scene to international headliners.

Powerful drums and heavy, high-strung guitar riffs

are front and centre to their sound, setting the pace

for ferocious vocals that cut through the cacophony.

Melodic leads rise through the distortion, adding a

sense of sonic emotion to supplement the meaningful

lyrics. The consistency of their sound has been

impressive, and their seventh studio album Outsider

ROCKPILE

shows that they remain as focused as ever. It's their

fifth album featuring Neufeld as lead vocalist. His

original role as co-founder was guitar; Scott Wade

provided vocals. Wade then departed in 2006, which

shook the band for but a brief moment, but hardly

caused a hiccup in their touring schedule.

"We were in between an Australian and American

end of a tour when he told me, so I had some time

to think about it. Actually we organized for him to

do his last show, and then get dropped off, and then

the guy who dropped him off drove the other guy

up from Minneapolis to play guitar so I could sing,"

Neufeld recalls.

"Obviously in the beginning taking his style and

trying to do the songs sort of like him was hard.

But slowly we just kind of merged that into where

we are today."

Their 2007 release, Broadcasting was the first

Comeback Kid album entirely featuring Neufeld

on vocals.

"We just really have kind of rolled with the punches,"

Neufeld says.

"Me and Jeremy [Hiebert, lead guitarist], two original

members, we've been with each other through

thick and thin, we've also had a lot of really great

members who have contributed quite a bit of their

lives to this project. And we're just able to somehow

keep it going, and it always works out. Right now we

feel pretty over the moon about the new record and

the new tour we have lined up. And it's never any bad

blood with anybody… our old singer Scott is at our

house right now."

That new record is Outsider. Featuring 13

tracks of fast and furiously melodic hardcore music,

the music only slows down to catch its breath

before launching into another intense salvo. From

the first self-titled track, it digs in and continually

gains momentum with a string of heavy rippers

one after another. For the most part, the album

keeps up the hard and heavy pace for the entire

record. Around the halfway point there is a bit of

a change in tone; it's still aggressive, but somehow

on a lighter note. Towards the end of the

album the music feels almost reflective, with a

more somber track "Moment in Time" (featuring

Northcote) to close it all off.

"I think we're writing more complete songs."

Neufeld says of the new album.

"We just tried to be a little more up front on this

record with our themes and really make the features

of each song actually be features and not sometimes

letting those things slide."

One track in particular, "Consumed the Vision"

(which features Chris Cresswell from The Flatliners

on guest vocals) stands out as one of the small

handful of songs Comeback Kid has written that

uses major-key notes to create a lighter feel. Rest

assured, though, the song is just as heavy as the

rest of the album.

Neufeld says, "I just think it creates a different

mood, and that definitely separates itself. With

that song, I think it was kind of directly in response

to everything we were writing that week.

I remember Jeremy (lead guitar) and Stu (Ross,

rhythm guitar) had all these fast songs with

double picking, just fast riffs and heavy drums. I

like that kind of stuff and that definitely always

has a part on Comeback Kid records, but I kind of

wanted to write something lighter in mood."

After the September 8 release, Comeback Kid hits

the road from coast to coast across Canada and the

U.S.A. After that, they'll hop across the pond for a

European leg of the tour.

Outsider is another milestone in a storied

career. Looking back on what Comeback Kid

has become, what has been made of the blood,

sweat and tears of many dedicated musicians,

Neufeld can't help but reflect on how the band

evolved to become more than simply the sum

of its parts.

"I mean honestly it's a dream come true for

us. When we were kids this is what we wanted to

do, and we were able to fulfill that. We were able

to play in places we never thought we would go

and stay busy as a band for this long and that's all

we ever wanted," Neufeld says. "Comeback Kid is

bigger than us, and that's crazy to think about.

We're kind of just along for the ride and hopefully

we can stay on this train for a while because we

really enjoy it."

Comeback Kid plays the Park Theatre on September

26 (Winnipeg), The Exchange on Septeber 27 (Regina),

The Needle Vinyl Tavern on September 28 (Edmonton)

and The Gateway September 30 (Calgary). Outsider

comes out via New Damage Records on September 8.

BEATROUTE • SEPTEMBER 2017 | 21
---
YES

days of future past

There are few things progressive rock and roll pioneer Gary

Downes hasn't attempted in his storied career. As the sole

member of the legendary band Yes to possess a musical degree,

his expertise on the keyboards has opened the doors (or gates

of delirium, if you will) to some remarkable adventures. Opportunities

that the innovative synth-player has embraced time and again, as

further evidenced by his work with The Buggles and Asia.

"I look at all of the different bands I've been in as books, or films,

really," begins Downes.

"I think that certain events happen throughout a band's history.

Talking about Yes, it's an amazing series of chapters that have happened

over the years. And I think that every musician has contributed at some

stage when they've come into the band. I consider myself to be present

in a few chapters of the band at least, which is nice."

Taking a page from his own book of life, Downes' current collaboration

with Yes members; singer Jon Davison, guitarist Steve Howe,

drummer Alan White and bassist Billy Sherwood, is focused on bringing

that joy of discovery to a new demographic of prog-rock listeners. And,

when it comes to condensing the band's half-century run of 21 albums

into a single concert event, Downes' is definitely a fan of the divide and

conquer approach.

"On this particular tour we're doing a chronological review of the first

10 albums, plus some extra tracks. And it's been very successful in terms

of the fans getting to hear a couple of cuts they've never heard before.

We put it together like that in a way that's interesting from a musicology

standpoint in that you see how the band progressed and how the influences

moved on. By connecting one song from each album to the next,

you see the progression of the group through the years."

Appreciation for Yes's time-dissolving long-distance opuses has

gained an almost religious quality over the decades, as their popularity

has grown despite a persistent disregard for the commercial viability of

10-minute long songs.

Given the cult of followers who have embraced the group's

attention surplus disorder, Downes' hasn't really moved that far

from his roots as the son of a church organist and choirmaster in

Stockport, England.

NEW PORNOGRAPHERS

life imitates art

"You make a record and then you have to learn how to play it!"

Orchestrating the polyphonic activities of the Vancouver-spawned supergroup known as The New

Pornographers for over a decade and a half has given singer-songwriter/guitarist A.C. Newman a

certain knack for capturing a musical snapshot of a moment in time and preserving its essence like an

insect suspended in amber. Recently, when tasked with pulling together a cohesive sting on compositions for

the band's ongoing tour, Newman discovered that skimming through a scrapbook of past recordings unlocked

the sweetest of memories. Those that have yet to be made.

"We always try and mix it up, it's just about the math of how we're going to split up songs, which takes a

while cuz at the beginning of a tour because you're just sort of guessing what the set will be," says Newman.

Celebrating five decades of music with an uplifted spiritual outlook.

"The music is quite dynamic, and at times dark in parts, but the

end result when you listen to Yes music is one of an uplifted spiritual

outlook. The name of the band is positivity. I've come across a

lot of young musicians like Taylor Hawkins of Foo Fighters who've

decided Yes is one of their favourite bands of all time.

"So, you can tell that the music isn't just the domain of progressive

rock fans, it's spread right across a number of generations

and genres."

He laughs knowingly at the mention of fellow progressive groundbreakers

Rush.

"When Yes was getting inducted this year at the Rock and Roll

Hall of Fame, the presenters were Alex and Geddy from Rush. They

both said that they were hugely influenced by Yes from the very beginning.

There are whole eras of different bands and styles of music

by Christine Leonard

photo: Glenn Gottlieb

that appreciated what Yes has had to offer over the years. And I

think a lot of that comes down to the individual musicianship being

to the fore, as well as composition. You could probably say that

we're the ultimate modern-day musician's band."

A bonafide musicians' musician himself, Downes was reputedly

entered into the Guinness Book of World Records for the most

keyboards played in a live performance That's a record only one with

his prowess at tickling the ivories and pushing the envelope of music

can hope to achieve.

Catch Yes in performance with Todd Rundgren at the Queen Elizabeth

Theatre September 5 (Vancouver), the Northern Alberta Jubilee Auditorium

on September 7 (Edmonton) and the Southern Alberta Jubilee

Auditorium on September 8 (Calgary).

by Christine Leonard

"I feel like these days, we're trying harder, especially on this record and Brill Bruisers (2014). It was

the first time where we said, 'Let's go out there on stage and just try to be as close to our albums as

possible.' Whereas before that I think we were a little more lackadaisical about it, now we're slightly

more disciplined and it's cool to go out there and go like, 'Okay what you hear on the record, we're

going to try to do that live.'"

Thus far the popular response to conductor Newman's dynamic, high-fidelity approach with Whiteout

Conditions has been overwhelmingly positive. After all, what better way to secure affections of a new

generation of listeners than by fulfilling every frustrated delinquent's wildest fantasy and running amok in the

hallowed halls of education? John Hughes would applaud the scorching adolescent angst vented in The New

Pornographers' video for their latest runaway single "High Ticket Attractions."

"We were just talking to directors and Dan Huiting said 'Okay, I know of a high school that's slated for demolition

and I think I could destroy it.' And I said, 'Let's do that.' The cool thing is that what makes that video look

so high budget. It was real, filmed destruction! I made a couple of contributions to the video; I wanted the kids

to have medieval weapons and I wanted a flaming motorcycle and after that I was just, 'Do what you want!'"

Ordering up battle-axes and stuntmen on a whim may seem out of character for a thoughtful alt-rock

troubadour who has coaxed so many to crash on the floor, or psychiatrist's couch, of his well-appointed artist's

studio. But truth be told, Newman has always had his eye on the prize, it's just that the prize in question has

gradually gotten a lot more impressive.

"We just did The Late Show with Stephen Colbert and every time I'm in those situations there's always

that feeling of, 'Holy shit. How did I get here?' It's almost like the nightmare where somebody throws you

into a situation that you're not ready for. But before we ever did TV I use to think, 'Can you imagine?

What else it there? That'd be the coolest thing in the world to ever experience that – to be a band that

performs on a late-night TV show!' And then it just becomes this weird thing where it becomes our reality.

And it's always surreal, and it's fun, but there is an element of that nightmare scenario where you're

like 'Oh my God. I've got to go play my song in front of a million people and I can't fuck it up!' It's like

child is the father of the man.

The New Pornographers perform with Born Ruffians at MacEwan Hall in Calgary on Monday, Oct. 2, then

Winspear Centre in Edmonton on Wednesday, Oct. 4 and at Burton Cummings Theatre on Saturday, Oct. 7.

22 | SEPTEMBER 2017 • BEATROUTE ROCKPILE
---
ROCKPILE

BEATROUTE • AUGUST 2017 | 23
---
THE MAD CADDIES

hustling horns on the Prairies

California Ska punks The Mad Caddies tease new self-produced album.

The Mad Caddies have been tooting their ska

horns over the world since their inception

in 1995.

The Caddies' sound is a feast for the ears; it's thirdwave

ska influenced by their punk predecessors with

dominating guitar riffs. Infused with a mix of reggae

and calypso beats, the band tops it off with jazzy

horns and heavier vocals on a pop-backbone. Combining

these styles gave The Caddies their own brand

of madness, which they've maintained and delivered

across numerous releases and tours worldwide.

The Mad Caddies' last album, Dirty Rice, was

released in 2014 and although new music is in the

works, the guys are keeping the details tightly under

wraps. Vocalist and guitarist Chuck Robertson, who

helped form the band while in high school, reveals

what he can.

"We are recording it on our own, we love our

family at Fat [Wreck Chords] but have decided

to try something different this time around.

Todd [Rosenberg, drums] handles a lot of the

by Sarah Mac

production aspect, and we've recently built

a studio in our hometown in the Santa Ynez

Valley in California."

This may come as a surprise to some since The

Caddies have released all their records, except for

their debut, on Fat Wreck Chords.

"As for musical style, we think our fans will

be very pleased! We're experimenting with

some new sounds, but it's definitely still very

Caddies-esque. The creative process is still what

we love about our jobs. And it's been pretty

collaborative the past few years. One of us may

have an idea, sometimes complete, sometimes

in the early stages and we'll finish and arrange it

together as a band."

But, as for the release date, "it's sort of a surprise."

Robertson adds.

Fortunately for us Albertans, we've been

graced with a second set of shows from The Caddies;

the first set was during a small tour in July

with the Offspring.

"Well, The Offspring tour came up last minute

and we were happy to be a part of it," says Robertson,

the concludes, "But we've always felt a strong connection

with our Canadian fans. So, we love heading

up North for shows. Plus, we are all still really good

friends. So, it's fun to get out on the road together

whenever we can."

Don't miss The Mad Caddies at The Needle Vinyl

Tavern on September 14 (Edmonton) and at Dicken's

Pub on September 15 (Calgary).

THE VOODOO GLOW SKULLS

packing in the California street music

This past summer, the news coming from the camp

of legendary ska-core band The Voodoo Glow Skulls

was hard to swallow.

But first, some context. Hailing from Riverside, California

and formed by brothers Frank, Eddie and Jorge Casillas in '88,

The Voodoo Glow Skulls combine the elements of ska with

traditional punk and hardcore style, and douse it with Mexican

flare and rhythm; they've released nine full-length albums,

around a half-dozen EPs and have contributed to well over 30

different compilations. The Glow Skulls' rowdy and rambunctious

feel, alongside blazing horns and bi-lingual lyrics, have

hooked a legion of fans and given them a distinctive sound

that couldn't be matched.

Recently though, the Glow Skulls have fallen on hard

times. This past June, lead singer and eldest brother Frank

unexpectedly announced that he was leaving the band,

leaving the remaining Glow Skulls shocked and shaken.

Heartbroken, we chatted with Eddie to discuss the future.

"In hindsight, we might have seen it coming over

the course of a few years, but it wasn't so clear or evident.

Really, this has a lot to do with personal family business rather

than the band not getting along, there's a lot more to it that I

won't get into. But, he [Frank] moved away, to Arizona, about

15 years or so ago and that was the beginning of him distancing

himself from the band. It took a while for things to really

change, but apparently, they did. So, it's still shocking."

Pausing for a moment, he resumes.

"And now, we're about to do a full tour without our

older brother and lead singer of the band. So, it's an uphill

battle and it's hard. When you're used to one guy being the

front man and he's not there and worse, he's not coming -

it's weird. So, we're in a weird place, but we're working our

way through it and we're still thinking positive. So, we just

want to play well and make it a rad show; hopefully people

will respect that."

There's a deep appreciation for the members of the Glow

Skulls who are continuing this tour for their fans. Efrem Martinez

Shulz of Manic Hispanic and Death By Stereo fame has

stepped up to front the Glow Skulls for their upcoming tour.

"He's a hardcore singer in a great band of his own. So, we're

just glad he can tour, he can help us save face and not cancel

on our fans, which is the most important thing. And also, not

cancel on us. But, he isn't a permeant member of the band."

Solemnly, Casillas continues, "we've had a career for 29

years now and we're not sure if we want to stop, but we want

the option. But, to be fair with you, we're really close to not

doing this again and we might just stop. It's hard, but we're

trying not to bum anyone out and fulfill these commitments

to our fans."

He pauses, and continues.

"The fact that I still get to go on stage and perform these

songs I wrote over the last almost 30 years, that's a big deal

and I wouldn't take it for granted. Because it's all about the

band and all about the music, we're gonna be at these shows

with a band that's still functioning 100 per cent. And we're

not taking it lightly. We're practicing more than ever, which

makes us tighter than ever."

So, come 'on Canada, let's do Voodoo (hopefully not) one

last time.

Come celebrate 29 years of music with the Voodoo Glow

Skulls at the Windsor Tavern on September 20 (Winnipeg),

at the Exchange on September 21 (Regina), at Dicken's Pub

on September 22 (Calgary), at the Needle Vinyl Tavern on

September 23 (Edmonton), and at the International Beer Haus

on September 24 (Red Deer).

Wherein we hear sombre news from the long-running ska band.

by Sarah Mac

24 | SEPTEMBER 2017 • BEATROUTE ROCKPILE
---
A-BOMB

an explosive break-out

A-Bomb's debut Break Through The Static is unleashed September 1.

A-Bomb has come crashing into Calgary,

rising in the ranks of the local music scene

over the past two years since the band first

performance on fateful night at Tubby Dog. After

the release of several online singles, A-Bomb has

compiled their debut EP, Break through the Static.

MISTER & MYSTIC

philosophers in love

When sitting down with Kat Westermann and Matthew Spreen,

two key members of Calgary's psych-rock outfit The Heirlooms,

you'lll quickly find a refreshing outlook towards music. As the duo

expounded upon their future goals, it's clear a big part of this vision came to

be in their new project Mister & Mystic, a romantic indie rock vision by two

philosophers deeply in love.

Westermann and Spreen are on the brink of releasing their debut self-titled

EP, which was recorded in Vancouver at Blue Light Studios with producer Kaj

Falch-Neilson. The album opens with an upbeat, percussion-filled rendition

of "Walk Me Home," which incorporates Spreen's loop pedal for the multiple

guitar layers. In the second track, "All the Way," Kat sings "I missed you before

I met you…"

She admits the song is unabashadely "directly [about] Matt."

One notable characteristic of this YYC duo is their personal bond. It reaches

all the way from their romantic and musical partnership, to their philosophical

beliefs, to everything in-between. You can even see it in their perpetually fresh

wardrobe and naturally abounding kindness.

In the aforementioned track, Westermann captures the sentiment of "missing

something… Where you know what it's going to feel like, but you don't quite have

it yet… Then you finally get it and it's a thousand times better than you would

have thought."

So what is the big plan for the record and the couple?

"Album release September 8. Wedding September 9."

Simple enough! Their album follows the same vein: something simple and sweet

with a vibrant authenticity. Some reoccurring themes woven into their mystical

tapestry are hints of desolation after a collapse. Don't worry, Spreen can explain.

"There's this lingering thing in society involving apocalyptic expectations, and

people kind of feel anxious, and maybe that's a bit far, but we are living in a city

where the main industry has collapsed."

Westermann happens to indulge this dark fantasy in their track "Caves In," as

ROCKPILE

photo: Trevor Hatter

The band itself is named after the raunchy hot dog

combo of chips, cheese sauce, and ketchup, and

the three-piece band is living up to their name with

explosive synergy, edgy ballads, and classic rock 'n'

roll attitude.

Lead vocalist and guitarist Faith Schadlich has

by Kaeleigh Phillips

stellar vocal range, and is reminiscent of the great Lita

Ford who rose to stardom in the '80s hair metal scene,

along with Canadian female-led bands Diemonds and

The Pack A.D. With newest addition Jenny Brisebois

on the bass and Nicole Niewinski on drums, A-Bomb

makes for an all-force, no-fluff power trio, and their

four-track EP is a tightly wound and energetic example

of great music arising from the ashes of the hair

metal scene.

"We got a free recording with [celebrated local

musician] Lorrie Matheson and found we wanted to

record more, so we decided to do the EP," Schadlich

says.

Each member of the trio has a different favourite

song, with Schadlich preferring "Rocker Roller" due

to its stylistic integrity as a classic '70s inspired tune.

Brisebois is a fan of "Queen of the Night" because of

the sing-along ballads in the song, and Niewinski loves

"Breaking through the Static" because it is fun to play.

When the band is taking a break from rocking on

stage, they can be found "drinking cold ones with the

boys" according to Brisebois.

These rock-n-roll women are excited to release

their EP on September 1 and are passionate about

their future in the Alberta music scene. "

You are jamming on stage with your friends and

you meet people with a similar interest who love your

shows. It is a love of playing and sharing my music,"

Schadlich says of the Calgary experience.

"I get to live my dream."

A-Bomb releases Break Through The Static at The Palomino

Smokehouse & Bar on September 1 (Calgary)

with support from Electric Revival and Dane. Check

them out online at https://aa-bomb.bandcamp.com

Mister & Mystic is finding harmony in all avenues of life.

by Taylor Odishaw-Dyck

photo: Kevin Kirkpatrick

she sings "I love you when the world caves in."

There are eight tracks on the short album, although one of these is a brief spoken

word interlude, which contains thought-provoking poetry laden with heavy

vocal effects.

Additional instrumentation on the album was provided by two studio musicians,

including Peter Robinson on percussion and Brian Chan on cello. The recording

took two days, which was a pleasant surprise, because that lined up perfectly

with their budget. They had nothing but good to say about Falch-Neilson, who

struck a balance between assertive and flexible production.

For Westermann and Spreen, this release is the next step towards making their

music more intimate both for their audience and for each other.

Catch Mister & Mystic's EP release as a part of We Are The Wind - A Soaring Eagles

Record Showcase alongside Todd Stewart, Jason Famous & Le Fame, and Sinzere.

The show takes place at Festival Hall September 8 (Calgary).

BEATROUTE • SEPTEMBER 2017 | 25
---
2/3 OF NOTHING

please enjoy responsibly!

2/3 of Nothing celebrate the release of The High Cost of Low Living.

Hindsight maybe 20/20, but that doesn't

mean you don't gain a lot of clarity by going

through that shit the first time around.

For Calgary-based hardcore rock outfit 2/3 of

Nothing the gravelly road to rock 'n' roll notoriety

represented a tough age for the band who spent

four years slogging it out in the pit before hanging

up their gloves.

"Back in 1997, the jam space smelled like beer,

cigarettes and pee. We didn't take ourselves or our

music seriously. It was more about hanging out and

having an excuse to party. All of the songs were written

under the influence so they could be played under the

influence," confirms guitarist Mike Davies.

That pattern of self-immolation started to take its

toll and Davies was ready to take a step back from the

proverbial canvas at that point. And he wasn't alone.

"With so many conflicting drugs-of-choice, ego

being one of them, infighting and addiction shortened

the life of the band and we broke up in 2001," fellow

founding guitarist Trevor Lagler explains.

"Fast-forward to 2015, with several years of recovery

under our belts, and Davies and I rekindled our

friendship, which inevitably lead to a discussion about

putting the band back together. We wanted to go into

the studio and record our lost songs."

Recovery is a loaded term for 2/3 of Nothing, as the

group may have distanced themselves from those negative

habits and attitudes, but the goal of writing and

performing riveting punk and metal-tinged tunes continues

to be a shared obsession. Salvaging their friendships

was the easiest part of the equation, according to

Lagler; he credits the band's comradery and willingness

to laugh at themselves as being essential to the process

of going back to the drawing board and drafting the

plans for the future. Fortunately, the passage of time

had not diminished their instrumental or songwriting

talents, and only served to amplify them.

"Dave (Countryman) is one of the most solid

and under-rated bassists playing in the local scene,"

confirms Lagler.

"He and Mike Davies go all the way back to the

mid-80s; they co-wrote and arranged all of the band's

by Christine Leonard

original songs. Mike is considered to be one of the

best punk rock guitar players in Calgary and his level

of experience, sense of humor, and personality help to

keep things in the band light, and fun, which is one of

the main focuses of this project."

With that promise of keeping things pleasant and

clearheaded, Lagler and Davies had little trouble roping

Countryman and (recently retired) drummer Rich

Johnson into their idea for a proper 2/3 of Nothing

reunion.

"When the four of us got back together we discovered

a different energy and perspective," recalls

Countryman.

"We were playing together again because we love

each other and we enjoy playing as a band. Total

180-degree turn. This time we had an opportunity to

grow the music as a brand and put some pride into it.

We're now coming from a place of humility, and just

having fun. This album, we've created together, is called

The High Cost of Low Living. It's a historical record of

the band and it is everything that has come before,

with our new perspective stamped on it."

There's nothing more empowering that an unclouded

mind and a fresh mouth. For these Calgary rock

vets that's just two thirds of the big picture.

"My lyrics range from taking the piss out of everyday

mundane situations (from a very tongue and cheek

perspective), to the more serious subject like life

and addiction. Basically, we have serious songs and

seriously silly songs. It's all about maintaining balance,"

says Lagler.

"Recording this album means finally tying up loose

ends that are decades old. We are intensely proud of

this accomplishment, because this was the reason we

got back together. People can expect us to be loud,

tight, make jokes at our own expense and play some

kick-ass punk rock 'n' roll music!"

2/3 of Nothing celebrate their album release with

headliners Gaytheist and Solid Brown at The Palomino

Smokehouse & Bar on September 16 (Calgary). You

can listen to the record online at https://twothirdsofnothing.bandcamp.com

MAMMOTH GROVE

street hearts hits the bricks

September's back-to-school regime is a

questionably welcome event, but for Calgary

students-of-life Mammoth Grove the

requisite first essay question of 'How I spent my

summer vacation?' is one worth crowing about.

While others spent their dog days mowing lawns

and painting fences, Mammoth Grove has been

growing its fuzzy beard, working on its psychedelic

moontan and observing the migratory

behaviour of the Cowtown concertgoer.

"In my experience music has been one of the

most consistent, most enjoyable, most beneficial

ways to make a living," extolls lead singer-guitarist

Devan Forrester of his summer employment of

choice. "I have a pretty hard time sticking through

things I don't care about, don't believe in and don't

want to be a part of, which how I've felt about

most jobs in the past. So music has been great, especially

recently I've been jamming a lot. I've been

downtown playing gigs, solo shows, open mics and

just being out there and it's working really well."

Catching the waves of humanity that wash

across the core throughout July and August,

Forrester (who also performs solo under the name

Silver Moss) has had ample opportunity to exercise

his mind, polish his craft and gain a more fulsome

understanding of the relationship between performer

and audience.

"I was out a lot for Stampede which is

great, of course. Happy, smiley, drunk people

everywhere. I was playing outside of the gates

of the [Calgary International] Blues Festival as

everyone filtered out and middle-aged crowd

was having a lot of fun. I've never been offered

more joints, roaches, doobies, piece of hash,

one-hitters. Mom and Dad like to have a good

time out! On the train ride home afterwards

I had the entire car singing along to "I Won't

Back Down" on the Green Line. What can I say?

Tom Petty's been a gold nugget for me."

Sure he gets plenty of requests for CCR, Neil

Young and Steve Miller, but it's Petty who's

illuminated Forrester's quest for authenticity and

Sidewalk citizen. Mammoth Grove takes it to the street.

by Christine Leonard

self-awareness. By his estimation, it's not just looking

the part and delivering the goods, but bridging

the gap between generations while exuding a

signature sound that is entirely unique.

"I play very few covers, I don't really know many

at all," explains Forrester.

"Right now the point of busking for me is to try

out all these new songs I've been writing. And I've

been writing lots! Mammoth Grove has this massive

back catalog that we want to record and do

stuff with, but we're just kind of relaxing right now.

After we went toured out to B.C. in May we figured

let's do our own things and enjoy the summer

by soaking it up on the coast and playing on the

streets back home."

Although this post-tour summer hiatus has

been the longest of their collaboration, Mammoth

Grove has been busily cultivating all of the

elements necessary to flourish throughout the

dark, cold winter months. Bound with wood, wire

and an unquenchable thirst for beauty, Forrester's

methods and approach have only grown stronger

thanks to weeks spent pounding the pavement

during his 21st century troubadour bootcamp.

"The biggest thing for me was just getting over

that initial fear of busking. I was scared and I was

nervous, but now I'm really into being able to

rely on my voice and a guitar. Mammoth Grove

is always electric, but this summer I've been really

only playing acoustic, because it's lighter to carry

around. So, that definitely changes the sound

and dynamic and everything about it. I'm really

focusing on simple songwriting. I've noticed while

busking that people connect with your voice way

more than your guitar. I've been working on my

vocal technique and range and it feels great to be

confident in just what I am right here and now.

'Blam!' Until recently I felt like I had to be the singer,

now I feel like I get to be."

Mammoth Grove performs with Yawning Man

and Alex Perrez & The Rising Tide at The Palomino

Smokehouse & Bar on September 21 (Calgary).

26 | SEPTEMBER 2017 • BEATROUTE ROCKPILE
---
BODY-BODY

bring on the dance floor bangers!

by B. Simm

LOOSE ENDS

what's happening around Calgary in September

by Jodi Brak

photo: Arif Ansari

The Menzingers hit Marquee Beer Market & Stage on October 3.

photo: Charles Wrzesniewski

After three decades in the business of making conceptual punk, Kamil Krulis is no stranger, and certainly no

wallflower, when it comes to reivention and making a statement. In his newest project he's rechristened

himself DJkkay and teamed up with an electro-beat specialist, Antoine, to produce a new dance floor (in the

works) sensation called Body-Body. What's the concept, what's the statement? Well, as always, it's a pleasure

sparing with good ole KK and not too difficult for him to simply lay it on the line, or rather, the dance floor.

Briefly, what's the concept behind your new project?

Basing a dance group on the Italo drive sound of the early '80s and deconstructing it.

There's definitely a lot of overt sexual referencing. Let's start with the track "I Want Your Body", which has

the unlikely combination of Rod Stewart's "Do You Think I'm Sexy" and Olivia Newton John's "Let's Get

Physical" dubbed in with some slo-mo, German robotic techno. There's no real mincing of words here with

a line like, "I want your body". A rather blunt come on, don't you think?

Well, in reality that song is the beginning of working with the Italo bass sound. How Antoine works it warps

genres. I was interested in simple anthemic lyrics, as if English was my second language. Oh wait, English is my

second language! But the pleasure of hedonism is a call to hit the dance floor.

"Maschine" another sexified track. What are you talking about when you say, "When you turn me on,

I'll turn you on"? One of those extended mechanical devices with a dildo attached to it seen in porn

videos, a fuck machine? Or is the person here a sexual machine themself, a get-up-stay-on-the-scene

sort of character?

Haha! Is it man-made? Is it human? In Body-Body we are living in a Phillip K. Dickian future.

"Sexbooth", interesting title. Do you remember the Orgasmatron in Woody Allen's Sleeper from

the early '70s? A sci-fi sex capsule that someone steps into for climatic pleasure. Is that what the

sexbooth here is about?

Oooooh Brad. "Sexbooth" is about what is affectionately known as booth number one at Pizza Bob's, the one

you might have passed out in. It has been the subject of a number of rumoured make-out scenes over the

passage of time. The track itself is another hedonistic dance floor banger.

For the record, it's booth number three at Bob's I had a "little nap" in on one occasion. Back to the Body-

Body EP. This is a six-song recording that starts out with the suggestive "Get Down On The Beat" and ends

with the kiss-off "You Don't Know Me". A journey, an adventure seems to take place during the songs in

between. Is this some story about a sexual romp? It seems all very promiscuous, a lot of body, body and

very little soul going, which perhaps is the idea. While lust and sex are the dominating themes, there's an

alienating undertow.

A big part of the conceptual aspect of Body-Body is to reinvent a time when Reagan was president and nuclear

war truly a fear with the zeitgeist, not unlike Trump now. So perhaps the journey is one where pleasure and

the bacchanalian coincide on the dance floor with the regular mundaneness of being alive in a meaningless

middle-class world. The dance floor is the ultimate other-world escape.

Who's the master programmer working the keyboards and computer? Who's the other Body? And where

do you draw your inspiration for this kind of get your electro-pop groove on? Just Italo disco?

Antoine is the other Body. He is heavy into hip-hop beats. He is both a savant and very knowledgeable, so I

think there is that element. I made him figure out the Italo drive, ha! One of my stipulations was that it had to

sound pre-house Chicago. I think it's working.

body-body is having a tape "dance-floor" release party Saturday, Sept. 30 at Local 510.

ROCKPILE

THE MENZINGERS

Marquee Beer Market & Stage, October 3

Armed with music that looks into the depths

of sadness and cynicism to pull out something

positive, The Menzingers are a group of

Pennsylvania punk rockers who understand

that inspiration can be found in the face of

darkness. Their music is highly melodic and

surprisingly progressive, swinging back and

forth between clean, lightly picked chords and

heavy, high-gain crescendos. Top it off with a

witty, irreverent sort of poetry to their lyricism

and you have songs that will loop endlessly in

your head for weeks.

STATE CHAMPS

Marquee Beer Market & Stage, September 23

These guys most assuredly bring the pop

to pop-punk. Hailing from New York, State

Champs songs always seem to fall on a lighter

note – at least musically. With an infectious,

head-bobbing beats, their songs are played in

keys that leave a smile on the face and a warm

feeling in the gut. They're bringing their tunes

quite a ways west on their latest tour; check

them out while you actually have the chance.

JESUS PIECE

Palomino Smokehouse & Bar, October 4

Unleashing classic hardcore that leans towards

the metal side, this five-piece act out of Philly

deliver moshpit tunes like the best of them.

They mix the beat of hardcore with the deep

growls and incessant background calamity of

metalcore, and are known for their ability to

spin crowds into a delirious frenzy at the drop

of a chorus hook. Their Calgary show is sure to

be one for the books.

CHANGE OF HEART

Palomino Smokehouse & Bar, October 6

Once thought to be a spark that flickered in the

'80s and quickly faded away, Change of Heart

pulled off a successful reunion in 2009 and has

been bringing their weird brand of Tragically

Hip meets The Clash indie-punk back to the

stage ever since. Vocalist Ian Blurton is known

for his work with other Canadian indie projects

such as beloved Napalmpom pals Bad Animal;

he also worked with C'mon and Cowboy Junkies,

conjuring a much deserved cult following.

BEATROUTE • SEPTEMBER 2017 | 27
---
UP+DT Festival

U.S. GIRLS

exploring new modes of music making

Big changes are underway in the U.S. Girls world.

The music of U.S. Girls, the moniker of American expat Meg

Remy, is always sentimental, socially aware and elusive.

Remy, the Toronto based songwriter and producer, is known

for her obscure samples, produced by old tapes and recordings that are

stretched and dismantled as well as fuzzy beats. Her Illinois tinged voice

tells stories of despairing sadness through a glowing voice. Though challenging,

her experimental singer/songwriting is hopeful and vibrant.

U.S. Girls has not released an album since 2015's Half Free, a vivid,

by Michael Grondin

dreamlike collection of anecdotes that also dive deep into Remy's

imagination, partnered with music videos that complement its

dreamy qualities.

In a phone interview with Remy while on set for a new music video in

Kingston, Ontario, she explains that a brand new album is in the works.

"I just finished a record. It'll come out early 2018," she says, not giving

away too many details.

"I don't know if I can tell you what it's called."

Making a turn from her minimalist beats, Remy says she wanted to

explore new ways to approach writing an album.

"It's a record like I've never made before with lots and lots of musicians.

Like 20. So it's very elaborate but not ornate at all," she explains.

"It features a band, and from now on I'll be playing with a band."

Indeed, her upcoming tour features a full band.

"There'll be drums, bass, guitar, keyboards, vocals, saxophone," she

explains with a laugh.

Without getting too political, Remy discussed the ways in which the

current social climate seeped into her new work.

"A lot of this album was written during the course of the U.S. presidential

election. So, there is a lot of that in there," she says, again without

going into detail.

"It's like asking for an opinion on the bible or something. I'm just sad,

but also not surprised unfortunately. I don't know what else to say."

She says that even if not directly, any we can asks bigger questions is

important regardless of the medium.

"Any platform or vehicle to address social issues can be good. If it's a

poster on a wall, or a conversation two people have, or a film or a song, it

works. Music is as good as any other," she says.

U.S. Girls perform as part of Up + Downtown Fest at the Vinyl Needle Tavern

on October 6 (Edmonton). They'll be playing with Tei Shi, GGOOLLDD,

and Lyra Brown. They perform with Crystal Eyes and Child Actress at The

Palomino Smokehouse & Bar on October 7 (Calgary).

SISTER NANCY

bringing 41 years of experience to the stage

Sister Nancy is the original mumma and the mistress of ceremonies.

She may be best known for her hit "Bam Bam," but her legacy

and influence extends vast stretches beyond that. The classic

reggae tune, a cut from her '82 album One, Two, did not experience

immediate success. However, it experienced a resurgence courtesy of

sampling in songs by Lauryn Hill and Kanye West, who used it on the

new offering "Famous."

Finally, 35 years after recording, people have begun to learn who the

woman is behind the timeless tune. Born Ophlin Russell in Kingston,

Jamaica in 1962 to a conservative Christian family, Sister Nancy first got

into music through her brother, legendary reggae/dancehall DJ Brigadier

Jerry. She soon decided she wanted to start DJing and MCing herself, and

became known as the first female dancehall DJ.

"I was the first woman who was there, now I'm looking 41 years after

all the ladies who come, they come after me," she says over the phone

from her home in New Jersey.

"I of course I am very pleased with what I have accomplished and how

I have set the pace for other females."

She never let the fact that the music scene in Jamaica, and around the

world for that matter, was male dominated, saying simply, "I said if they

can do that, I think I can do that."

She has also worked as an auto mechanic, another industry dominated

by men. The experience served as the basis for her song "Transport

Connection."

Last year, Nancy retired from her job as a bank accountant, and now

enjoys her time relaxing at home, because when she hits the road to

perform, she is hard at work. In the 41 years of her musical career, she

says that her performance has changed for the better, and she is working

harder now than she ever has, even when she was in her 20's.

by Paul Rodgers

"The more you work, the more you gain more experience, the more

you know. You know how to operate on the stage and how to perform

and how to deliver to people. And I like it, I love it because now I know

exactly what to do."

Though she hasn't been in the studio to record her own music recently,

she hasn't ruled it out as a possibility in the future, saying "I'm still

pretty young."

"I was born like this, this is not something I put on, or something that I

can take off, I was born to do what I do and I know that."

Sister Nancy performs on October 6 at the Freemason Hall (Edmonton)

during Up + Downtown Fest.

28 | SEPTEMBER 2017 • BEATROUTE ROCKPILE
---
TEI SHI

pop musician moves beyond the bedroom to the studio

Colombian-born, Vancouver raised artist comes into her own.

photo: JJ Medina

The hypnotic grooves and bombastic beats of New York based

Canadian singer Tei Shi are showcased on her debut full-length

Crawl Space, what she calls a vessel for her emotions and fears

expressed through warm melodies and a liquid-smooth voice.

"Crawl Space is the closing of a chapter and the beginning of

something new in my life," says Valerie Teicher in a phone call from her

Chinatown apartment in Manhattan. The album came out in April, and

has received rave reviews.

The Colombian-born, Vancouver raised writer/producer claimed

some fame after self-producing and self-releasing two EPs, showcasing

UP+DT Festival

by Michael Grondin

her charming yet minimal approach to electronic bedroom-pop, layering

her vocals over experimental, pop-infused beats.

"The journey of my experiences after having jumped into all of this

made me feel like I wanted my first album to push both personal boundaries

and re-introduce myself musically," she says. "A crawl space seemed

like this metaphorical space where I could hide to work through fears

and anxieties."

She explained that in the two-year process of writing and producing

Crawl Space, her life went through many changes.

"I was dealing with a lot of the eternal conflicts and pressures you feel

when you are starting to put together something you love — something

that is very precious to you," she says.

"When I was really working on the bulk of the album and finishing

it, I was experiencing the end of many important relationships in my

life as well."

This forced her to reexamine things.

"I re-inserted this period of my life and revisited my childhood life. I

looked at things now the way I would have as a kid," she says. "I wanted

to rediscover the roots of why I loved singing and performing. There was

a lot of tying back a lot of my current emotions as I tried to stay true to

that young part of myself."

Crawl Space is a mature, fleshed out, 15 song musical effort that

pushes far beyond what Teicher released in the past, moving beyond the

bedroom and into a studio.

"I was able to bring many musicians in, so there's a different role you

have to play where you have to guide the process but also let things

unfold in their own way," she concludes.

Tei Shi perform as part of Up + Downtown Fest at the Vinyl Needle

Tavern on October 6 (Edmonton). They'll be playing with U.S. Girls,

GGOOLLDD, and Lyra Brown. They also perform at the Commonwealth

Bar & Stage on October 7 (Calgary).

FIVER

bringing mistreatment of those with mental illness to light in song

With increasing numbers of people in Canada being aware

of and accepting of those with mental illness, and those

who suffer from them learning to cope with the challenges

those illnesses present, Toronto-based artist Fiver has explored some

of the darkest historical elements of those afflictions on her new

record, Audible Songs From Rockwood. The album finds singer-songwriter

Simone Schmidt inhabiting the psyches, in field recording

style, of a number of fictional patients at the Rockwood Asylum For

The Criminally Insane, as gathered from case files dated between

1854 and 1881.

Schmidt, who also works with Toronto psych-country group The

Highest Order, and was in underground country group One Hundred

Dollars, took two years to research the case histories of patients, and the

album has an immediacy, a subtle yearning easily at home in the classic

Appalachia of the arrangements.

"I read an article about women who were incarcerated at the

Rockwood Asylum before the asylum was built, this period of 12 years

when prison labourers from the Kingston Penitentiary constructed the

asylum," says Schmidt. "They had nowhere to put people who were designated

criminally insane, those being people who had plead criminally

insane at trial, or even those who were in jail but weren't adhering to the

social order of the institutions. The 'social order' of the Kingston Penitentiary

in particular was one of silence and work. If you couldn't be quiet all

day and work, they deemed you criminally insane. Because Rockwood

Asylum took 12 years to build, they need to do something with the people

who couldn't live in the other institutions so they sent the women to

live on the Cartwright Estate, where the asylum was being built, housing

them in the horses' stables. I wrote a song from that almost immediately,

and wanted to explore the history further. It took me into the roots of

our institutions in settler and colonial society."

ROCKPILE

Two years of research brought on Fiver's latest album.

by Mike Dunn

While those methods for diagnosing mental illness in the past might

seem very dubious now, Schmidt doesn't feel we're that far removed

from the antiquated methods of history. "I don't think that the DSM

(Diagnostic and Statistical Manual of Mental Disorders) is that much

more of a precise science, and I would argue that I think that people who

can't conform to the dominant notions of what it is to be a productive

person, or to fit into the economy, are often incarcerated, whether that's

in a mental institution or a prison, quite often their freedom is withheld."

Fiver performs at Hillhurst United Church on September 15 (Calgary) and

at McDougall United Church as part of Up + Downtown Fest on October

7 (Edmonton). Schmidt's other band, The Highest Order, will also perform

at Up + Downtown.

BEATROUTE • SEPTEMBER 2017 | 29
---
live music

september 2

the frontiers

september 9

jay bowcott

september 16

mackenzie walas

september 23

SADLIER-BROWN DUO

september 30

MIKE WATSON

saturday nights

EDMONTON EXTRA

PAROXYSM

Edmonton crust punks unleash sociopolitical debut

photo: Dustin Ekman

Paroxysm will release their self-titled EP on September 22.

by Sarah Kitteringham

weekly specials

late night movies

$5 pints, $1 oysters

$1/2 off wine

$2.50 tacos

$7 beer flights

$5 draft pints

$3 jack daniels

midtownkitchen.ca

Emerging from Edmonton, Paroxysm expels

a d-beat laden, blackened style of hardcore

punk. The socio-politically oriented band

is on the cusp of releasing their self-titled EP, a

25-minute crossover rager. The multi-label release

will be available on vinyl, and features blazing riffs

and a crusty howl excellently lain over top the

mix. Paroxysm has improved quickly since their

March 2016 offering, the Open Wounds Demo.

Despite its rudimentary recording quality, the

50-cassette edition sold out.

"I believe that musically the aim has been for

a d-beat, blackened-crust type sound. At least,

this is where I think a lot of our influences are

coming from. Each member of our band seems

to feed off of a variety of metal and punk," explains

Holly Blake, the lyrics and vocalist for the

act. She discussed the release with BeatRoute

alongside drummer Chris.

"The demo was recorded in one take, live-offthe-floor

in a matter of hours with equipment

that none of us knew how to use. By the time we

recorded the EP, we were tighter as a band and

playing much faster. We also took our time while

recording the EP. There are more layers of guitar.

The sound is altogether cleaner."

It'd be foolish to mistake cleanliness for meekness,

as the EP is anything but. The oscillating

groovy riff in "White Picket Fence" is overlain

with unnerving shrieks; "Sickness Remains"

opens with crushing, swelling instrumentation

then transforms into something bordering on

grindcore. The obvious difference here is the improved

production, courtesy of Derek Orthner

(Begrime Exemious). Thematically, the release

has many commonalities with their demo,

whose cover depicted the St. Bernard Residential

School located in Grouard, Alberta. Paroxysm's

Bandcamp page includes a strong statement

regarding the release.

"Paroxysm is a platform for me to bring to

light the rampant human indignities that have

been caused by colonialism," explains Chris.

Extreme racism, poverty, unusually high

rates of illness, low life expectancy, inconsistent

access to clean drinking water and suicide rates

that are double the national average are all deep

seated, ongoing issues for Aboriginal communities

across Canada.

"Be it the cover of our demo, which depicts

the Residential School my mother and her siblings

attended, the cover of our [new self-titled]

album that shows an ominous view of the tar

sands that have destroyed a vast landscape, or

in the music which I use as a release for inner

turmoil caused by the struggles of daily racism."

He continues, "My family along with EVERY

indigenous family on Turtle Island [the ingenious

name for North America] have deep

wounds that we are trying to deal with. It's very

true that not a lot of people know or acknowledge

the atrocities committed on Indigenous

peoples. By telling a part of my story in that

write up it puts a face to the white supremacist

laws created by the Canadian government."

Blake is adamant that Paroxysm will continue

to focus on social issues as a means of addressing

and combating injustice. In the current

antagonistic political climate where extreme

right wing ideologies are being normalized, it's

a message Paroxysm places deep importance in,

both from within and in their day-to-day lives.

"I don't just think it's important to make a

statement about this with our band, I think it's

important to make this statement in every life situation

where it needs to be heard," explains Blake.

"It's about speaking out against 'socially

acceptable' racism which includes anti-refugee

and Islamophobic sentiments, spitting on

anti-choice-misogynist-sign-holding-scumbags,

or standing in solidarity with workers in every

industry being exploited for their labour."

She concludes, "It's about acknowledging that

the land we inhabit is stolen, and this nation

continues to exploit and victimize indigenous

communities to date. We must all work toward

reconciliation and indigenous liberation. I

believe it starts with educating folks on Canada's

treacherous history, and addressing the racism

that has been passed down through generations

and dismantling it."

Paroxysm will release their self-titled EP on vinyl at the

Brixx on September 22 (Edmonton). They'll be performing

alongside Begrime Exemious and WAKE. You can

hear the band at paroxysmofficial.bandcamp.com

30 | SEPTEMBER 2017 • BEATROUTE ROCKPILE
---
FUCK FENTANYL

Punks stand up for safe partying

by Jessica Robb

There's no doubt there's a greatly romanticized

cultural depiction of hard partying, one that

is particularly celebrated and exacerbated by

those within the music scene. It's become as easy

to find hard drugs as it is to find marijuana, and the

timing could not be worse. Canada in the depths of

an opioid crisis that has claimed at least 2458 people

last year alone, making the tragic line between euphoria

and fatal overdose so thin that two grains the

size of salt can kill even the healthiest adult.

This is fentanyl: a powerful synthetic opioid that is

similar to morphine, but is 50 to 100 times more potent.

Today it is found mixed with street drugs to enhance

the associated effects of heroin and cocaine.

The high potency of fentanyl greatly increases the

risk of an overdose, especially as bootleg versions of

the drug become more attainable and variations of

the drug (carfentanil) grow even more toxic.

"It's not the fear of getting addicted anymore… It's

the fear of immediately dying that should be scaring

people," says Abby Blackburn of the band Ripperhead.

Blackburn saw a need to educate the Edmonton

punk community on the realities of the fentanyl crisis

after witnessing some friends come fatally close

to an overdose first hand. As such, she's organized

a presentation and gig at DV8 in September to help

folks become better educated on the crisis.

"I don't want it to be a D.A.R.E. program. People

want to party, it's their life and they're in control of

it… I just want them to be safe about it. And that's

where the naloxone kits come in," explains Blackburn.

Naloxone kits are now available at pharmacies

across Alberta, and contain a drug that can reverse

an opioid overdose by pushing opioids off the receptors

in the brain to restore normal breathing. The

effects only last 20 to 90 minutes, which is enough

time to call 9-1-1 and seek professional medical

attention.

"It's basically the rule of three: don't party alone,

make sure you have this kit and know where your

supplier is coming from," Blackburn encourages.

The kits are free to pick up at most pharmacies

and will also be provided at the event for attendees

to take home as part of the presentation by Alberta

Health Services. If you're unable to attend, Alberta

Health Services website also features a lengthy list of

locations where they are available.

Blackburn has brought together four local punk

bands to provide the music for the night, to scream

in the face of fentanyl and even open up with their

own personal struggles. While punk rock may be the

lens to view the issue through on this particular occasion,

the event isn't specific to the punk community.

Blackburn welcomes anyone who wants to get

educated, regardless of genre preference.

"I just want everyone to know that there's a lot

of love and heart in everything that [the punk

community] does, and even though our music may

be aggressive at times… We're still happy about it,"

affirms Blackburn. "That's the number one thing:

just always be happy about it, because you only get

one life."

Fuck Fentanyl will be taking place at DV8 Tavern on

September 8 (Edmonton). The event includes a presentation

by an Alberta Health Services representative as

well as a potluck. SASS, Whiskey Wagon, The Unreliables,

and NME will perform after the presentation. For

a list of pharmacies where naloxone Kits are available,

visit www.albertahealthservices.ca

Overdose prevention gets loud.

photo: Nadja Banky

INDUSTRY HOUSE

new venue fills gap in the Edmonton scene

While larger venues thrive and purvey

booze to the legal music loving crowds,

the question in the Edmonton music

scene remains: where will the all-ages scene

flourish? This is something Ryan Walraven has

been considering for years, whether it was putting

on all ages shows at the now defunct Avenue

Theatre or with his new project, Industry House.

The new venue will provide a much-needed stage

for under-age bands as well as house a safe space

for younger show goers. Walraven has partnered

with his friend Phil Short of Corvus the Crow as

well as Sabian Ryan, who will help handle booking

and marketing. The venue's manifestation appears

rather spontaneous, coming together in three

months at most.

Thankfully, each member of the venue team has a

background in the trades, which made the renovation

process not only cost effective, but speedy.

Walraven, Short and Sabian put in countless hours

sanding, woodwork and so much more to get the

room in quick operational condition.

"I've worked in trades my whole life," explains

Short. "This is my first adventure into this side of

the music scene. I'm in a band and I do wanna be

involved in other parts of music. My brother has the

silkscreen connections and after finding and putting

this place together, I realize my new job now is making

merch," he says, his smile clear over the phone.

"We tried to make it so that we considered what

ROCKPILE

All ages and all genres are welcome at new Edmonton venue Industry House!

bands really want in a stage," Walraven adds. "People

don't have to stare face to face with the artist and

you're also not taco-necking yourself because the

stage is so high. We wanted to build the best intimate

venue in the city."

The silkscreen connection Short spoke of is part

of the three-pronged business plan Industry House

has been implementing. Combining the silkscreen

shop with L.T.D. Talent Services and Industry House,

the venue can more easily manage running all-ages

shows. BeatRoute asked about the common issue

with all-ages venues lacking the liquor sales to be

sustainable, and how Industry House plans on combatting

this.

"I think it's going to take some time establishing

the all-ages shows," explains Walraven. "After about a

year and a half, I found a handful of bands who were

hungry and motivated. The high school networks are

so tight knit that word of mouth was how we were

able to get everyone out. We would have 250+ local

by Brittany Rudyck

kids coming out. It was insane."

While not every show at the venue will be an

all-ages event, the trio looks forward to a frequent

array of genres, which perhaps has not been the case

in other DIY all-ages shows.

"I think over the last few years the motivation

to start a band at a young age wasn't really there

because there weren't many places to play publicly,"

muses Walraven. "You couldn't rent halls anymore,

and the Armoury was doing a few shows but it

seemed mostly secluded to hardcore. There [are] a

lot of other underage rock bands and genres that

need places to play too."

The goal is to put on six shows with liquor licenses

a month to ensure all-ages shows remain the priority

and the youth community can be served. That said,

their first performance is for an 18+ crowd.

To sweeten the deal, a local food truck the Cranky

Ape (owned by Walraven's partner at L.T.D. Talent

Services) will be on site most event nights to sling

their carb heavy delights.

"I swear he has the best fries in the city," claims

Walraven. "Hand cut, made day of - you'll never meet

a dude more proud of his food truck."

Corvus the Crow, Bring Us Your Dead and From the

Wolves perform at the grand opening of Industry

House on September 1 (Edmonton). For more

information on upcoming shows, visit their website at

http://www.industryhouse.ca

BEATROUTE • SEPTEMBER 2017 | 31
---
BOOK OF BRIDGE

ARTS DAYS

showcasing the arts in Lethbridge

by Courtney Faulkner

Youth create chalk art outside of Casa for Family Affair on the Square.

Claire Lint busks on the street as a tap dancer for Art Walk 2016.

photos: Henriette Plas

Lethbridge celebrates their seventh annual

Arts Days from September 23 through October

1, with a plethora of activities for all-ages

and interests. The event showcases the work

of talented local artists through performances,

workshops, artist talks, and artisan markets, connecting

the community through creativity.

Claire Lint, a local dance artist and co-founder

of the non-profit organization the Lethbridge Society

of Independent Dance Artists (LSIDA), is one

of the city's young artists who has chosen to invest

her talent locally. Lint, who grew up Lethbridge,

and whose dance has taken her to perform in the

likes of places like the northern artist community

of Dawson City, Yukon, has proudly watched the

city grow and develop its talent pool.

"I think we're starting to really blossom and

come into our own as an arts community," says

Lint. "I think it's time that we're put on the map,

especially in Alberta, but I think in Western

Canada, as a community that has a lot to say,

and has a lot to contribute, in all art forms."

"As we continue to band together, it's going to

start happening. I feel like there's a pulse, where

the more people that get involved, the bigger the

pulse is going to become, and then I think people

will just have to come here, they'll need to come

here to access festivals, and residencies, and however

you access the community as an artist."

Lint first became involved with Arts Days as

a busker for Art Walk, an annual event that has

taken place in Lethbridge coming on its 14th

year. This collaboration between businesses

and artists will showcase over 40 exhibitions installed

in local businesses and venues throughout

downtown. Lint remembers the first Art

Walk she attended in 2009.

"I have a very vivid memory of walking

around, and I think there was only 10 venues, it

was very, very small, but I just remember going

around and thinking that it was just the coolest

thing. For shops to open up their doors, and

bring art in."

Five years later, Lint found herself compelled

to participate. Buskers had primarily been musicians

up until that point, however Lint had an

alternative idea with her dancing shoes.

"I found a piece of plywood in my parent's

garage and I painted it white, and I found a

top hat, and I threw out a suitcase and I tap

danced," says Lint.

"I would be like a living statue, and you know,

get the coin and then tap. It was really great

to see the kids engage with that, and to have

that live performance art theatre feeling, while

cross-pollinating into this art world, where people

are moving around and they're looking at

different visual art, like ceramics and paintings,

fabrics and textiles, then to be a part of the

busking and the music was really cool."

Last year LSIDA put out a call for dancers, and

the performance of busking dance artists grew to

eight different dancers performing 17 times in 17

different locations throughout the community.

"Now, nearly a decade later, I'm able to reach

out and connect with other people and bring

those opportunities to them, which to me is

really incredible," says Lint. "Something that always

stuck in my gut was creating opportunities

for others, that was always something that I felt

really passionate about."

The artists participating in Arts Days spans all

generations. Karen Brownlee, a local painter and

fine artist who has been creating work focused on

the landscape and people of southern Alberta for

over 40 years, has been involved with Art Walk

since its inception. She's been showcasing her

work permanently in Tompkins Jewelers, and in

the past offering on-site painting demonstrations.

"The concept is that you take the art to the

people. Rather than the people having to search

it out," says Brownlee.

"My life has been devoted to my family, and

the creation of my own art," she continues.

"When you get down to the heart of the arts

practice, in the visual arts, it's me in the studio.

There is no exhibit, there is no book, unless you

guard your studio time."

Brownlee has devoted herself to interpreting

the everyday sights around her, such as the

mapping out scenes of farming towns, grain

elevators, community members, flowers and

horses, in her colourful water colour creations.

She jokingly says that as she ages and grays, her

paintings subsequently become more colourful.

"One of my first art professors, Pauline

McGeorge, told me 'True artists find inspiration

in their backyard,' so I really took that to heart.

When I see something happening on the piece

of paper that's exciting, I go with it."

"I really feel it's been my calling, and in a lot

of ways I feel it's been art therapy. Just don't give

up. You've just got to do it."

Arts Days takes place September 23 through October

1 in Lethbridge, with the Art Walk on September

29 and 30. Visit artsdayslethbridge.org for a full

list of events and times.

32 | SEPTEMBER 2017 • BEATROUTE ROCKPILE
---
letters from winnipeg

SLOW SPIRIT

maestros of mercurial pop

Since their emergence on the Winnipeg music scene,

self-described "genre-immune" five-piece Slow Spirit

have opted to follow their creative whims rather than

meet any predetermined expectations.

The band's seven-song debut studio album, Unnatured,

arrives independently on September 23. Recorded and mixed

by Paul Yee at Stereobus Recording, it strikes a seamless balance

between multi-instrumental precision and compositional

spontaneity. The band's five members—all skilled musicians

who met while studying at the University of Brandon's School of

Music—draw from the worlds of jazz, punk, post-rock, pop and

singer/bassist Natalie Bohrn's lyrical prose to concoct something

all their own.

"People are still really taking us for our jazz influence,

which is something I think we kind of run from in our own

artistic identities," says guitarist Eric Roberts. "We try to think

of ourselves as making loose pop music."

Call it what you will. With aesthetics and influences

abounding, the album shows the group's mastery of

bringing intricate ideas together. Lead tracks "Human" and

"Legendary Mistake" are powerful, rhythmically complex

numbers that reveal the group's versatility. Elsewhere, "Last

Night," a portrait of the members' time in Brandon, Manitoba

and their interactions with the colourful characters that

lived outside of their downtown apartment, bring their

post-rock ambitions to light.

"Creatively, going to jazz school helped us be more

equipped to understand some fundamental concepts about

music," says Bohrn.

Between the five members of the band, which also includes

Justin Alcock (drums), Julian Beutel (keyboards), and Brady Allard

(guitar), they now count at least four other bands that they

contribute to between them. Noise troupe tunic, dream-popsters

Living Hour, electro-pop act ATLAAS, and a cinematic

instrumental project called Palm Trees are among them.

3PEAT

pass the mic

The spawn of '90s backpack hip hop and

underground Prairie rap legends, 3PEAT's

infectious beats swirl to the laid back loops

of the ones that set the groundwork.

During their short time on the scene, the

emerging group—which includes MCs Steve, E.GG

and Dill the Giant, as well as DJ/manager Anthony

Carvalho—has found a place on bills alongside

punk and indie-rock acts as easily as they would a

rap showcase.

"I think that's what Winnipeg's about," says

E.GG. "They just support everything."

The group's triad of MCs started rapping outside

of Grippin' Grain shows, a long-standing rap-centric

club night, and before long they were rocking

stages at festivals and opening for some of their

own microphone heroes, like Blackalicious and T.I.

In 2016, 3PEAT released their stellar debut

self-titled EP, a top to bottom fresh collection of

cuts that flow to a golden-era sample base.

The record features members trading verses

as part of their self-styled "triangle offensive" or

tackling tracks solo.

"All of those songs we did together," says Steve

of the EP. "We wanted to kind of build that model

with our EP. Half of it is 3PEAT songs and the other

half is solo songs from each of us. It's kind of like

introducing us."

ROCKPILE

"It's hard for us to schedule rehearsals, because we're all so

busy and have so many projects," says Bohrn. "We're always

giving our time to other bands."

It's because of this that their first proper release feels more like

a finale than it does a birth. After years of performing, refining,

and adapting the songs on the album, Roberts and Bohrn both

seem ready to write Slow Spirit's next chapter.

"[Unnatured] captures what we've been able to accumulate

in the last four years," says Roberts. "Those songs

we've reshaped a number of times, because often we don't

have the energy between our other projects to write new

songs… Rearranging was always a way that we could keep

things fresh and kind of grow as a band and as musicians."

As a result, some of the songs on the album are unrecognizable

live. Like living entities, they can transform depending

on the situation. The song "Unknown," a quieter piece on the

record, for example, has been entirely altered into a full-blown

rock tune for festival appearances, according to Roberts.

"It's hard to know when inspiration is going to strike and

you're going to want to change a song completely," he continues.

"Sometimes we're inspired by a certain performance

opportunity."

It remains to be seen what the future will hold for the purveyors

of mercurial pop. What they are certain of, however, is their

commitment to following whatever new creative pursuit may

come their way.

"It has been such a long process to get this album out, and we

kind of just want to be creative again," says Roberts.

"We're not exactly sure what we're going to do next…

We've never been very good at the industry standard way of

doing things."

Slow Spirit perform at The Good Will Social Club on September

23 (Winnipeg). To pre-order their new album, Unnatured, visit

slowspiritband.com

3PEAT are a Winnipeg hip-hop group on the rise.

Much like other rap supergroup marketing

models (read: Wu-Tang), 3PEAT will operate as a

rap trifecta and each individual MC will also be

propped up with their own solo output.

"It's kind of like everyone brings their own little

flavour into the big pot of jambalaya," says Steve.

More releases have already emerged. E.GG

followed up 3PEAT's group debut with his own

Slow Spirit's Unnatured will be released on hi-fidelity format.

photo: Tommy Illfiger

solo Alverstone record in 2016. Since then, Steve

has offered up the soulful "Oh Yeah," and Dill the

Giant dropped the track "Emails" featuring ARI IQ

earlier this year.

With a consistent stream of tracks, appearances

at industry conferences, live shows galore, and a

2017 Western Canadian Music Award (WCMA)

nomination for Rap/Hip Hop Artist of the Year to

by Julijana Capone

photos: Eric Roberts

by Julijana Capone

add to their list of accomplishments, the past year

for the group has been fruitful.

"We were actually in Toronto at a conference—

Canadian Music Week—and we were on the street

when we got the email [about the WCMA nod],"

says Carvalho. "We were like, 'Holy shit!'"

"I think it's dope that things like the Western

Canadian Music Awards are kind of shining a light

on artists from that area of Canada," says Steve.

Indeed, it hasn't always been easy for Canadian

Prairie rap to get its due, but a new generation of

hip hop artists are emerging from the 'Peg—namely,

3PEAT, Super Duty Tough Work, The Lytics, and

more—to pick up where others left off, following

in the footsteps of nationally-underrated Manitobans

like Shadez, Mood Ruff, Frek Sho, pioneering

rap label Peanuts & Corn, and Winnipeg's Most,

among others.

"They've laid the stepping stones for us to be

here and do what we do," says Steve.

"It's gonna be dope in another decade when

you're gonna see a lot more [Winnipeg] names,"

adds E.GG.

3PEAT perform at Freemasons' Hall on September

15 (Edmonton) and on September 16 at the Mercury

Room (Edmonton) as part of BreakOut West. To hear

more of 3PEAT's tunes, head to threepeatmusic.com

BEATROUTE • SEPTEMBER 2017 | 33
---
september AT

sun

HOT MESS

09/03

PRIDE BASH

mon

09/11

Hifi Club

Presents Com Truise+ NOSAJ THING

thur

09/14

10@10: A HIP-HOP SHOWCASE OF BEATS AND RHYMES

sat

09/16

WED

09/20

Live Nation Presents:

the Cave Singers w/ Chris Cheveyo

Live Nation Presents:

Allan Rayman WITH GUESTS

sun

09/24

MRG CONCERTS

PRESENTS:Kacy & Clayton WITH GUESTS

wed

09/27

commonwealth PRESENTS

AUSTRA WITH ELA MINUS

what a time wednesdays • world famous fridays • modern vintage saturdays

403-247-4663 731 10 TH AVE SW COMMONWELATHBAR.CA COMMONWEALTHYYC COMMONWEALTHBAR
---
JUCY

NOSAJ THING

shining a light on music

photo: Innovative Leisure

Mastering the connection between audio and visual.

Nosaj Thing, who is colloquially known

as electronic producer/composer/

performer Jason Chung, has released

his fourth full-length studio LP Parallels. To

celebrate, he is taking the release out on a two

month North American tour.

Chung's previous full-length LP tour

(Fated) travelled through Houston, where

the theft of all of his equipment and digital

archives occurred, triggering an opportunity

to reassess. In a crushing state of deep loss,

Chung resiliently pushed forward with the

support of his fans and friends to acquire a

fresh set of equipment and a clean slate to

start over with. Heading into that fateful tour,

Chung had been heavily focused on collaboration

in the visual realm to create an immersive

experience; with his rebound production EP,

No Reality, he did just that, stringing together

a cohesive set of five tracks and visuals that

left concert goers awestruck.

JUCY

With Parallels, Chung has created an album

that takes the listener on a dark journey,

replete with oscillating emotions and sonic

reflections. While Steve Spacek, Kazu Makino

and Zuri Marley's vocal contributions to the

record helped push Chung's experimentations

further in the instrumental aspects of the

music, there are to be no collaborations when

Chung takes the music visual.

"Actually, for this tour, it's going to be the first

time that I'm performing solo, even with the

visual aspect of it," Chung says.

"You know in the past I worked with graphic

designers, animators and programmers and this

time around I'm going to be experimenting more

with light and space."

This statement may come as a bit of a

surprise to anyone who's experienced a live

Nosaj Thing performance recently, but the

illuminating aspect of it is that the reset and

rebound of Chung's career have helped him

by Andrew R. Mott

to take full personal control of the concert

experience on this tour.

"I'm programming lasers and lights and seeing

where I can take it. Pretty much just experimenting

with the space of the venue… I'm trying to

program in non-traditional ways that I haven't

seen before and program to movements in a way

that I kind of envision to my music. I'm going to

be programming the lights with each song and

getting really detailed with it."

This move away from collaborating with visual

artists to venture into the creation and marriage

of music with light is really born from the

combination of aspiration and discontentment in

a creative minimalist seeking to enter the trance

of production.

"I think I'm feeling just a little bit exhausted

from how we consume everything, like news,

basically, social media and our phones and

everything. It's just so stressful. Sometimes I want

to throw my phone out the window, like, once a

week or something. I just want to sit at home and

make ambient music and channel out?"

So Chung's immersed himself in the task of

creating a flexible multi-sensory set, pushing his

skill set further and reaching deeper into the process

to push his influence fully across the venue.

"I'm a little bit frustrated, and actually it feels

weird for me as a performer playing electronic

music, when everyone's just facing the stage.

You know, I'm not up there singing or playing

guitar like a traditional band or whatever. I'm

used to just working in the studio or in a room.

That's kind of the reason that I started doing

visuals in the first place. 'Cause I just didn't

like the idea of everyone paying attention to

what I'm doing on stage. I don't think it's that

interesting with a midi controller and drum

machine up there. It's kind of distracting (me)

from being able to perform. You know, sometimes

electronic music isn't designed to be performed

on stage with a whole crowd watching,

so I thought it would go hand in hand bringing

a visual element in [to] play, because light has

some distance, some range to it, it's something

you can kind of feel. With a laser you can feel it,

it has an energy that it sends, cause it reaches

to the end of the room."

This desire to personally create the visual experience

of his music on stage has helped Chung

find a greater sense of reward as a performing artist,

shifting his focus from just playing his music to

that of helping people to see what he envisions.

"I'm actually just really excited about it,

because I feel that it's going to be more of an

output of what I have in my head. I love collaborating

cause things come out that I'd never

even imagined, but it's also interesting to make

things visually that you have in your head that

you can share, especially if you're also making

music too. I think that's kind of rare."

Nosaj Thing performs at the Commonwealth Bar

& Stage on September 11 (Calgary), at Amigos

Catina on September 13 (Saskatoon), and at

the West End Cultural Centre on September 14

(Winnipeg).

LET'S GET JUCY!

Good god it's autumn again. This is an interesting

September for yours truly, in that it is the first in

four years that I am not returning to school. Feels

good man! Here's hoping that you all had summers rich

with dancing, partially regrettable decisions and drained

your bank accounts on festival, shows and various intoxicants.

Anyways, here's a bunch of shows I can't go to:

Justin Martin returns to the HiFi September 2. One of

those just long-standing favourites, Dirtybird's poster boy

definitely seems to like it out here, making multiple stops in

Calgary a year and performing at Bass Coast and Shambhala

annually. It's for good reason, his productions and live shows

never disappoint.

I was really, really hoping to lock down an interview with

this artist, as he is a personal favourite of mine but it didn't end

up panning out. However, you should all know Bonobo well.

The multi-instrumentalist is one of the single best producers

within the realms of downtempo and melodic electronic

music. He brings his riveting live show to the Palace Theatre on

September 13.

This right here is one outrageous lineup if I've ever seen one:

Vanilla Ice, Salt-N-Pepa, Rob Base and Biz Markie play at

Winsport Arena at Canada Olympic Park on September 13.

Don some neon, maybe some gigantic pants and a fanny-pack

and get your nostalgic groove on!

Masked and leather-clad dubstep trio Black Tiger Sex

Machine perform at the Marquee on September 15. A tad too

heavy on the screech and wonkiness for my cynical, decrepit

old ears, but hey, if that's your thing it should be one heck of

a party, seems like they were pretty well received at this year's

Shambhala.

Another festival favourite, Skiitour brings the winter early

to the Palace theatre on September 16. Another good one for

neon, but maybe sub out the fanny pack for some ski goggles.

DON'T EAT THE SNOW!

Australian hip-hop duo Bliss N Eso perform at Wild Bill's on

September 25 (Banff), the Forge on September 27 (Edmonton)

and the Gateway on the 28 (Calgary). Though their career has

been marred in recent years by some unfortunate occurrences,

like having their music barred from Triple J, or a stuntman

getting shot in the gut while filming one of their videos, their

music is actually really sunny and enjoyable for the most part.

Rap giant Tech N9ne performs with his frequent collaborator

Krizz Kaliko play the Marquee September 29.

I shall personally be making the commute for Billy Kenny

at the end of the month so I hope to see some familiar faces

there, and will be covering Calgary artists at Fozzy Fest as well!

Enjoy the month, see ya in October.

• Paul Rodgers

Bliss N Eso

BEATROUTE • SEPTEMBER 2017 | 35
---
BILLY KENNY

multi-faceted DJ and musician is a man of many faces

Billy Kenny has cemented his footing within the electronic dance

music industry and is making waves with his solo work and his

Hannover-based imprint, This Ain't Bristol.

Kenny's passion for music stems from an early age. At 16-yearsold,

Kenny was already booking venues and showcasing his vinyl

spinning skills.

"I got into grime music really early and it was a huge thing at the time.

I DJed for a lot of grime MCs and moved from that to speed garage. I

went into bassline and tiny bit of dub, then to jacking house, into what I

do now," Kenny says.

Transitioning from heavy bass drops to rubbery basslines, Kenny was

set to dominate dance floors and was presented an opportunity do so

by starting a label through the This Ain't Bristol event imprint in 2014.

photo: Ollie Simcock

"This Ain't Bristol was This Ain't Bristol before I became to be a part of

it. I was the first international artist that they booked at the event. It was

just a party…. I became really good friends with the crew and I moved

over four months later and we collectively decided to start this record

label," Kenny clarifies.

Everyone involved with the label is from Germany, with the exception

of Kenny, who hails from Leeds and Nick Hill, from Bristol.

Despite having international status now, it was a challenge to get

people on board with their first project, a compilation featuring an

impressive list of names including Ardalan, Abby Jane and Kyle Watson.

That same year, Kenny decided to chase after Dirtybird Records,

where he immediately caught the attention of Barclay Crenshaw, also

known as Claude VonStroke.

by Catalina Briceno

"The debut was April 2015, but [in] December 2014 I sent [Barclay]

seven demos and he liked them all and maybe a month later he said,

'Look I can definitely tell you're going send me something that we're

going to go with, but I think these aren't the ones.' A week later, I wrote "I

Operate,"" says Kenny.

It is no doubt that This Ain't Bristol is influenced and inspired by

Dirtybird. Kenny says the challenge is keeping the labels separate

from his own work. The key to attaining that distinction is doing

everything himself.

"I'm trying very hard at the moment to do everything myself. I'm not

sampling anything, the vocals are my own, whether it sounds like me or

not, it's always my voice."

His vocals can be heard in various tracks like "I Operate," "Hula Hoop,"

and "Das Ist Sick." Kenny also reveals he has start to delve into singing

and will experiment with that in the future. Currently, he just wrapped

up the tracks, "The Trip Report," "Hood Girl," and an official remix of

Claude VonStroke's pounding, anthemic track "Barrump," which will be

released on the Dirtybird Campout compilation in October.

Although there is no word on a release date for his collaboration with

Mija, Kenny reveals plans to accompany the track with a music video. He

is also back in the studio with Motez, testing out possible tracks.

A plethora of those unreleased tracks were exhibited during his set

at Shambhala Music Festival this year, which left attendees thirsting for

more. Many on the popular event's group page declared his set as the

highlight of the weekend.

Although it won the hearts of many, Kenny has decided not to post

the entirety of his set on SoundCloud, he will soon release a recap.

"We're also talking about [doing something similar to Dirtybird

Campout]," explains Kenny, referencing the three-day electronic festival

in California.

He concludes thoughtfully, "I think first, we need to make sure that

we have a nice stamp in the market to attack something like that."

Catch a special five-hour-long set from Billy Kenny on September 30 at the

HiFi Club (Calgary).

CASPA

doing what he wants when he wants

Dubstep giant Caspa has been hard at work

in the studio, churning out tunes more

akin to the roots of the genre than the hyper-produced,

mainstream "brostep" that's come

to dominate the cyber airwaves and festival bills.

Perhaps best known for his pivotal FabricLive mix

with Rusko, that arguably did more to shape the

genre of dubstep than any one other release, West

London's Gary McCann is now setting out on a

tour that hits only Canadian locations, in order to

"show that dubstep is still popping in Canada."

"I just feel like there's a lot of love in Canada,"

says McCann.

"And they love bass music. And it's got a lot of

history there."

He said with this tour he wants to "make a statement"

that the original sound of dubstep still has

the ability to get bass-heads to flock to dance floors.

McCann has played numerous shows across North

America, and spent a four-month stretch of time

living in Denver, Colorado. He got perhaps the best

taste of North American bass culture when he played

Shambhala alongside Rusko last summer.

"It was interesting," relays Caspa.

"We had so many people in our career asking us,

'When you playing Shambhala' and it was like fuck it,

was finally good to say, 'We've played it, if you wasn't

there, too bad.'"

McCann is mindful of the stress put on an artist

Dubstep icon embarks on a cross-Canada tour.

by the cycle of excessive touring and partying, then

returning home to record more music and repeating.

"You need to find that balance of enjoying writing

the music to go and enjoy it playing it out, not just

too much in the studio or too much live. You need

to get that balance right and I think that's what keeps

the energy flowing."

He said in the early days of his touring career,

nearly 15 years ago, he would try bringing a small

photo: On The Rise Music

studio set up with him everywhere he went on

tour, but would only succeed in creating ideas,

never full tracks.

"When you go back to basics and you start writing

music and enjoying writing music and not in a hotel

room on the lobby floor doing a bloody remix, for

me that's not fun and that's not why I do it. You need

to be in the studio being creative, enjoying what

you're doing."

by Paul Rodgers

In terms of the music he has been creating from

the home-front, it is an absolute return to form. His

Vibrations series thus far consists of five songs that

highlight his origin story in music: stripped back

tracks with deep bass wobbles and minimal, effective

percussion usage.

""Deja Vu,"" he says, "that's the last track I released.

When I made that, that's why it's called "Deja Vu" I

wanted to make a 2007, 2005 sounding kinda tune

but on steroids, with 2017 production."

McCann is also the founder of imprint Dub Police,

but in recent years he has decided to step back in

order to slow down and focus on putting his time,

energy and money into his own project.

"There's only so much that you can put into

music and keep pumping it in and pumping it in and

pumping it in," McCann explains.

His philosophy on touring, recording and the future

is quite simple: keep things consistent, and more

importantly enjoyable. He has been putting quality

time into his recording process, releasing one single at

a time, in an "old school" fashion and touring where,

when and how he sees fit.

Caspa performs at OV Club on September 3

(Winnipeg), at the Starlite Room on September 8

(Edmonton), at Marquee Beer Market on September 9

(Calgary), and at the Pump Roadhouse on September

10 (Regina).

36 | SEPTEMBER 2017 • BEATROUTE JUCY
---
ROOTS

KACY & CLAYTON

from Saskatoon to Chicago

Kacy & Clayton were all set to record in Saskatoon when Jeff Tweedy approached them.

It's been a whirlwind year for Kacy & Clayton.

It saw them sign to New West Records, earn

a Juno nomination for their debut album

Strange Country (2015), open for Wilco at San

Francisco's legendary Fillmore Auditorium,

and have their latest album, The Siren's Song,

produced by Jeff Tweedy. Throughout it all,

the Wood Mountain, Saskatchewan duo have

maintained their very laid back vibe and very

dry sense of humour.

"Well, [Jeff Tweedy] had [Strange Country]

in a frame in the bathroom at the studio in

Chicago," says vocalist Kacy Lee Anderson. "If

not Jeff, then someone went out of their way to

hang it up in there. I mean, I wouldn't do that,

you know, to stroke someone's ego when they're

coming by."

Adds her second cousin, Clayton Linthicum,

"'Oh they're coming over, better hang their

record up in the bathroom.'"

Jokes aside, the transition from playing

smaller clubs and festivals to touring with one of

alt-country's pioneering acts was a smooth one

for the band, having toured throughout Canada

for several years, the band did not feel much

pressure.

"It's really not so different from playing a

festival," says Linthicum. "The Wilco shows were

in amphitheaters, so they had a festival feel, but

going from those venues to the smaller shows

we did in clubs was a real change. We felt this

push to play the best show we could, and it's

nice to get that feeling, you feel a good kind of

tense, it keeps you on the ball."

photo: Dane Roy

The Siren's Song finds Kacy & Clayton

expanding on Strange Country's '60s folk-rock

sound, with the influences of Fairport Convention,

Sandy Denny, The Byrds, and The Grateful

Dead running through the mix.

Having Tweedy sign on to produce the album

had a bigger impact on their schedule than it

did on the music however. Anderson notes that

Tweedy was genuinely excited and easy to work

with. "

We wanted to have everything put together

in case Jeff wanted to change things up," Anderson

attests, "and when we listened to demos, he

said, 'It all sounds great, let's just do it.' He really

just made us feel so relaxed and let us do the

work. He'd bring us soda waters, with caffeine

in them."

by Michael Dunn

"Kacy and I had been planning the album for

awhile," Linthicum explains.

"We wanted to make one with our live band,

with Mike [Silverman] and Shuyler [Jansen]. and

we had the material almost all together," says

Linthicum. "We'd already booked the studio in

Saskatoon, but when the opportunity to record

in Chicago came up we had to rearrange some

things. Tweedy's a really kind guy. He knew a lot

about our last album, it blew me away that he

knew so much about what we'd already done.

He really let us do our thing, and he'd step in

here and there, if there was a moment of doubt

or he had some idea he thought was cool."

The run up to the release of the album has

seen the band drop videos for "The Light Of

Day" and "Just Like a Summer Cloud," both shot

in the pair's absence. The clips are short films

that feel connected to the content of the songs,

as opposed to the live or performance footage

that's become de rigueur. As with the move to

New West, Linthicum and Anderson are seeing

the need to let go of the day-to-day promotion

of their work.

"Kacy and I used to do all of that stuff, like most

bands, just do it yourself," says Linthicum. "And now

there are a lot more people around, with smart

ideas, chiming in on everything. Having a good

manager like Shuyler really helps, we can leave a lot

of those things up to him, and having a good agent

to book the shows. It's hard to keep that control at a

certain point, so you have to let things go and trust

the people you're working with."

"We have to constantly check on what's being

promoted, and make sure things are going out

that reflect the way we want to represent the

music we're making," says Anderson. "With the

videos, it's about acting, it doesn't have much to

do with playing music. I hope we never have to

act in another video again, maybe we could just

make a slide show, or a Powerpoint maybe?"

Kacy & Clayton perform at Amigo's Tavern on

September 21 (Saskatoon), at the Commonwealth

Bar & Stage on September 24 (Calgary), and at the

Needle Vinyl Tavern on September 25 (Edmonton).

38 | SEPTEMBER 2017 • BEATROUTE ROOTS
---
AMY HELM

rambling into the limelight

Preaching love and community through folk and gospel.

by Brendan Morley

photo: Jana Leon

AYLA BROOK & THE SOUND MEN

selling yourself, then and now

by Michael Dunn

A

musician finds ways to keep themselves "A lot of the time people hear my name and

busy in between recording projects. think I'm a woman, so I thought the fellas in the

For veteran Edmonton songwriter Ayla band might think it was funny being called The

Brook, a number of life events and factors led to Brookettes," says Brook. "Well, they didn't. Most of

him taking a long break between the Danny Michel-produced

the best sound techs I know are women, but being

After The Morning After (2008) that we're all techs, and very reasonable, or "sound"

and his latest, (I Don't Wanna Hear Your) Break people, if you will, we became The Sound Men."

Up Songs, released earlier this spring.

As the time passes between releases, Brook

"I'd been living off music for about eight years, notices the difference between releasing records

taking every gig, doing everything I could to make then and now.

a living by playing, and I was pretty burned out," "Well, there aren't as many record stores, so you

Brook tells BeatRoute.

don't have as much on-the-ground curation or the

"Saved By Radio sort of ceased being a thing, suggestions to fit people's tastes or expand them

so we couldn't work with them to put out the that you might have once before," says Brook, who

record when it was finished, and we sort of shelved worked in legendary and now defunct Whyte Avenue

it for a while. Brent [Oliver, bass player] moved to

record store Megatunes for a number of years.

Winnipeg for three years, and so there was no real "The whole branding thing is a little new to me.

rush to put the album out. I kept doing what I had The old ideal was that you weren't supposed to be

been, doing the side player thing with Bombchan, seen as trying to sell yourself, where now, it takes a

and working as a sound tech, until it felt like it was massive amount of engagement to do so. You have

time to put out the record."

to be on social media as much as being out playing,

(I Don't Wanna Her Your) Break Up Songs finds always putting your best face on things, and

Brook and his Sound Men rollicking in a sort of maybe that's tough for some artists. But it levels

early Wilco via Sticky Fingers style, with dashes of the playing field a bit, like how are you gonna hear

Lou Reed and Marc Bolan present in Brook's laid about some band form Saskatoon without that

back vocal delivery. That relaxed vibe is countered engagement? It's a learning curve, but writing songs

by the drive of the band, a full-throat throwback and playing music is still as fun as it's always been."

rock n' roll unit featuring veteran Edmonton players

Brent Oliver, Sean Brewer, Chris Sturwold and Ayla Brook & The Sound Men perform at the Ship &

Johnny Blerot.

Anchor Pub on September 23 (Calgary).

ROOTS

Music has always been a part of life for

Amy Helm. In fact, it runs deep in her

blood. Growing up as the daughter of

acclaimed singer/songwriter Libby Titus and legendary

rock and roll pioneer Levon Helm, a career

in music might seem like an inescapable fate. Yet

for Helm the decision to follow on this path was

not always obvious.

"I'm not sure that I had a vision of a career in music."

Helm tells BeatRoute,

"I just enjoyed singing. So that's what I always

gravitated towards. Then at some point in my

late 20's I think that I really decided that this was

a better career than waitressing. And the money

wasn't that much better, but certainly the reward

was, and the heart and spirit was much stronger,

so I jumped in."

For nearly 20 years the singer and multi-instrumentalist

has been sharpening her skills and honing

her sound as a key player in several groups, including

the celebrated alt-country outfit Ollabelle and in the

Grammy-winning band led by her late father, Levon

Helm of The Band fame. So when Amy Helm finally

stepped into the spotlight as a solo artist with the

release of her debut album Didn't It Rain (2015), she

was already well equipped.

"It was a huge transition. It's one that I'm still

discovering," Helm modestly admits about the shift

to bandleader.

"As I watch others who've done it much longer than

I have, and who do it much stronger than I do, I realize

that you could spend a lifetime crafting it."

This deep respect and gratitude for older gospel,

blues, and folk artists (particularly strong women), is

prominently displayed on Helm's record. The album's

title track, a soulful rendition of the classic gospel

hymn, is a nod to Mahalia Jackson; an artist that Amy

confesses she once went months listening to exclusively.

The gospel spirit that resonates on the album has

been with Amy since she was a child.

"My grandmother, when I was a kid, would sing

those songs to me. In church, it is stuff that I would

hear. Then when I was in my 20's, I was just so drawn

to singing it."

Since the album's release, Helm and her backing

band the Handsome Strangers, have toured extensively,

most recently playing a string of shows with Elvis

Costello. In the true spirit of the gospel music she was

raised on, Amy's live performances aim to create a

powerful and emotional atmosphere rooted in community

and love.

"I try to keep politics off the stage because I

think that going to hear music is a relief for people.

Especially when there is a political climate as fraught

as it is now in the States. But, I also believe that when

you have an administration that is silently and now

actively allowing white supremacy to be alive and vibrant

in the United States, you have to do something

because people need to be reminded that we've got

to come together."

Helm is currently finishing up a brand new album,

tentatively slated for release in early 2018, with Grammy

award winning producer Joe Henry.

"It's not even 12 hours old!" says Helm excitedly

from a Los Angeles studio.

"We did four days of tracking and today I go in and

do a little editing and that's about it! It feels strong."

With lots of voices and instruments filling the

room in a live off-the-floor approach, Amy Helm's

new album is aiming to capture the togetherness and

community of her spirited live shows.

Amy Helm performs at the WISE Hall on September 17

(Vancouver), the Hume Hotel on September 20 (Nelson),

Festival Hall on September 21 (Calgary), and the

New Moon Folk Club on September 22 (Edmonton).

There's a learning curve to marketing yourself, especially when you started before the Internet.

photo: Chris Sturwold

BEATROUTE • SEPTEMBER 2017 | 39
---
SHRAPNEL

DIVINITY

longstanding Calgary act unveils full-length offering

by Sarah Kitteringham

Calgary's longest running metal band is Divinity.

photo: Kirk Duncan

In terms of longevity, Calgary has no longer

living metal act than Divinity (though

props go out to Forbidden Dimension,

who hold that title in punk realms). Formed

in the summer of 1997, they've outlasted

every act to emerge from the city with their

technically proficient, emotive melodic

death metal. Created by vocalist Sean

Jenkins and guitarist James Duncan, they've

endured the rigmarole of the music industry

to emerge as proudly independent, and

that's just fine by them.

"Since we've been pushing the same band

for 20 years now, there has been all kinds of

ups and downs and everything in between,"

begins Sean Jenkins, the vocalist and designer

for the band (the band also contains

a second vocalist, their former bassist Jeff

Waite). Jenkins formed the project with

Duncan just out of high school; both have

been part of the project ever since.

"In the first 15 years of it, we were very

hungry for success. Honestly it was never

'full-time' because we've always had day jobs

and other commitments but we did manage

to put in a full-time effort. We would practice

three to four times a week for three to

four hours a time for years and years and

this was a major reason why we were able to

achieve the things we did. We released our

first full-length album [2007's Allegory] in

2006 independently and within six months

of that release we were signed to Nuclear

Blast. This wasn't by chance!"

The band followed up the release with a

slot on 2008's Summer Slaughter. Candlelight

Records later picked up the band for

their second offering, 2010's The Singularity.

"The thing with getting signed is… is it's

extremely hard staying signed. We found

that there [was] all kinds of opportunities

coming about once [we were] signed, but it

SHRAPNEL

didn't mean all the expenses and costs were

easily taken care of. We simply could not

sustain that kind of a situation and it created

all kinds of turmoil within the band."

Rather than remain on the industry

wheel, Divinity struck out on their own to

get back to doing what they enjoy: making

tunes at an unrushed pace. The result was a

series of EPs, including The Immortalist - Pt.

1 - Awestruck (2013), The Immortalist - Pt.

2 - Momentum (2016) and The Immortalist

- Pt. 3 - Conqueror (2017), earlier this year.

Now those three releases are compiled into

a full-length dubbed The Immortalist, which

is available on CD and digital download. Despite

each EP being a stand-alone piece, as a

whole they make a cohesive statement.

"The trilogy EP concept was something

we came up with in 2011 after things fizzled

out with Candlelight Records in 2010. We

thought it would be a good way to release

new music more often than a creating a

full-length album all in one shot," explains

Jenkins of the unusual release strategy.

"This was also because we decided at that

time to no longer pursue major labels or any

labels for that matter… We realized that being

independent was what worked best for us."

Their style of very technical melodic

death metal is extremely clean and organized,

and has changed little in the past

decade – with the exception of how it's

produced.

"We have definitely gone on a huge musical

journey creating these EPs and the final

all-in-one full-length. Each EP would exponentially

improve upon the last in regards to

song writing and recording production, because

we had decided to take on more and

more aspects of production, except the final

mixing and mastering," explains Jenkins.

"However, we would also make sure there

was cohesion between the EPs because we

knew it would all come together as a fulllength.

The biggest connection between it

all is the lyrics are all built around a sci-fi

concept story of a character who figures out

how to become immortal. So each song talks

about a specific part of the concept story."

Musically, the album highlight just might

be "Hallowed Earth," as it slows down the

onslaught and features a substantial dose

of melody. Reminiscent of Strapping Young

Lad's opus "Love?", it showcases a different

side of Divinity.

"I'm glad you hear the Strapping Young

Lad influence! [They] and Soilwork are

our biggest influences for sure. I am going

back and forth on the songs "D.M.T." and

"Conqueror" as to which one best showcases

our new album. I have to say "D.M.T."

is something very special to us because we

managed to get guest vocals from Björn

"Speed" Strid of Soilwork on that song,

along with Jeff and I doing vocals too. It was

all recorded in different stages but to hear

the final song with all of us playing along

with Bjorn is just fucking awesome!"

Now on the cusp of their Calgary release

party, the unit known as Divinity is better

than ever.

"Five years ago or so, we decided that we

were happiest as an independent band doing

our thing completely on our own terms.

This brought out our original love of simply

playing heavy metal."

Divinity will perform at their album release

party at Mercury Room with Expain, Immunize,

and Skepsis on September 22 (Edmonton)

and at Distortion on September 23 (Calgary)

alongside Expain, Plaguebringer, and Sonder.

You can listen to their album online at www.

divinity.ca

This Month

In METAL

Kick off your month with some heavy metal! On Saturday,

September 2, head to Vern's in Calgary for Vancouver

based techy grind/deathcore act Angelmaker,

who are performing alongside citymates Torrefy. Also on the

bill is Edmonton act Protosequence and Calgary acts Train

Bigger Monkeys and ChaosBeing.

On Sunday, September 10, head to Broken City in Calgary to

see another Vancouver based act. This time around it's Neck of

the Woods, who are touring their newest album The Passenger.

They'll be performing with grindsters Exit Strategy, deathcore

act Plaguebringer, and Chained by Mind.

The following weekend, Vern's in Calgary will be hosting

a black metal show featuring Edmonton's own Idolatry,

Vile Insignia, Scythra, Arctos, and Black Sacrament. Tickets

are only $13 at the door, bring your ID and don't forget

yer corpsepaint.

Edmonton's finest Canadian gig goes down on Friday,

September 22 when Calgary's own WAKE heads North to play

with their pals in Begrime Exemious and Paroxysm, who are

celebrating their album release party (read about the crust

album in the Edmonton Extra section). Show is at the Starlite

Room, tickets are $10 in advance.

Check out a fantastic bill at month end when Scandinavian

melodic death metal warriors Dark Tranquility

touch down at Dickens Pub in Calgary on September 25

with their buds in Warbringer and Striker. That same

bill hits Park Theatre on September 23 (Winnipeg), The

Exchange on September 24 (Regina), The Starlite Room on

September 26 (Edmonton), and the Rickshaw Theatre on

September 28 (Vancouver). Unfortunately, despite many

attempts, we couldn't get the band on the horn to discuss

it in further detail, but rest assured you'll have a neck

snapping time!

• Sarah Kitteringham

BEATROUTE • SEPTEMBER 2017 | 41
---
YAWNING MAN

and the never-ending battle with boredom

Conjuring epic multihued shamanic yarns.

Waging a never-ending war on

boredom, the lumbering Californian

desert rock entity known as

Yawning Man dates back to the golden era

of the psych-rock fringe when the likes of

Brant Bjork, John Garcia and Josh Homme

caught wind of their free-wheeling space

rock ways. From pulling off clandestine generator

parties for a few friends the desert

back in the mid-80s to performing in front

of thousands of devoted fans at venues

around the globe, founding guitarist Gary

Arce has never forgotten the desolate internal

and external landscapes that informed

his early years.

"I actually lived at the Salton Sea, and believe

me, the Salton Sea is not that romantic!"

Arce recalls with a chuckle.

"I used to live near there, I grew up in the

Palm Desert also known as the Low Desert.

The place is a running joke with locals; cuz

tourists would go there and find just a toxic

puddle with dead fish on the shore everywhere.

I just remember going there and

walking along the shore thousands of dead

fish and meth heads walking streets like the

walking dead. In between where I lived and

Mexican border there was this weird culture

of illegal immigrants mixed with meth heads

mixed with dead fish."

These days Arce is looking forward to

hopping the border together with the band's

original bassist Mario Lalli and their 2014

addition known as drummer Bill Stinson, as

Yawning Man prepares to bring their ponderous

machinations to Canada for the second

time in recent memory. Having fallen under

the thrall of the land of ice and snow at last

April's 420 Music and Arts Festival in Calgary,

the sidewinding trio is set for autumnal return,

but this time as headliners.

"I've toured all over the world and I love

Canada. It's so beautiful and breathtaking

and the people are super sweet and it's just

a rad place. This tour we really wanted to

go back there, so we asked the agency for

that to happen. This time we're going as a

headlining band and it's our first time going

out on our own!"

Hard to believe for a band that's had such a

lengthy and influential run. Although admittedly

inconsistent, Yawning Man's discography

has attracted ample attention and garnered

them many comparisons to other so-called

stoner rock acts, although he understandably

shirks that unimaginative label.

"I'm excited and I'm just hoping that people

come out to see us, because we get type-cast

into this weird metal-desert-rock thing like Kyuss

and all those bands. And yeah, we're from

the same town as Kyuss and we're friends with

all those bands, but we are nothing like Kyuss.

And I think hopefully people will start to

realize that we are our own band.

We've never followed trends. Never tried to

be metal or this or that. We've just done our

own thing."

Sighting the work-ethic and nonconformity

of his favourite punk acts for a point of reference

amidst the ever-shifting sands of public

opinion, construction-worker-by-day Arce's

primal howl dredges up the heart of darkness

from the bottom of the Salton Sea.

"Music for me is like another job; I do have

a hardcore job. I do concrete and construction

and I have to have a side of me where I'm

mellow and I do love ambient dark music. I've

always found something in it that's mysterious

and innocent. I've always been into that kind

of sound."

by Christine Leonard

Known for his ability to take a simple

musical phrase and spin it out into an epic

multihued shamanic yarn, Arce has come

to realize the importance of channeling his

creative impulses into increasingly defined

forms. Edging away from amorphous compositions

like those found on their foundational

albums Rock Formations (2005) and

Vista Point (2007), the threesome's newest

constructs refer to a predetermined set of

musical blueprints.

"I started all these projects," Arce explains.

"I'd call up all these friends and go 'Hey,

dudes let's drink beer and jam!' We'd take

best of improvised jams and make a record.

It got to the point where all of the recordings

I was doing were all fuckin' jammie with

no song structure and that started to get

boring for me. I was under the gun and I just

stopped. I told myself Yawning Man was one

band where I couldn't afford that attitude of

just working off-the-cuff. Mario has moved

and now he lives right near me, so we have

closed the distance. We're starting to get

focused and write more structured songs,

coming up with riffs and going back and

forth and playing it until we both think it's

cool enough to keep."

He concludes honestly, "I'm kind of a dick

about the beats being a certain way. I always

tell our drummer 'Don't play a silly four-four

beat. Give me something different that fits,

don't play a dumbass rock beat over again!'

cuz I'll get bored and once I get bored I get

lazy and lose interest."

Yawning Man performs at the Palomino

Smokehouse & Bar on September 21 (Calgary)

and at the Starlite Room September 23

(Edmonton).

MAGLOR

answers the call of the forest by Sarah Kitteringham

After two of three members relocated to Canmore, it took

former Calgary act Maglor an ungodly amount of time to

release their second album Asunder. Not that it's out of the

ordinary for the atmospheric black metal trio: everything they've

done has taken an ungodly amount of time, but the result is always

worth the wait.

"We do often have a difficult time trying to decide exactly what style

our music is. We've never really tried to specifically fit into any one

particular genre," explains multi-instrumentalist and vocalist Beren Tol

Galen. Every member of the band uses a pseudonym; all members are

multi-instrumentalists.

"That said, we definitely draw inspiration from metal projects such as

Moonsorrow, Summoning, Enslaved, Wardruna... to name a few. Alongside

this, we are often heavily influenced by many soundtrack composers

as well: [American film, game and television composer] Jeremy Soule,

[American film score composer] James Horner, and [Japanese video

game composer] Nobuo Uematsu, among others. We've had our music

described as heathen folk metal, atmospheric black metal, and even

blackened folk metal."

After forming in 2002 and functioning under the name Haven, the

band reassessed and renamed after "one of the seven sons of Fëanor,"

within J.R.R Tolkien's collection The Silmarillion. They eventually released

2012's Call of the Forest, delivering a layered and expansive sound

marked by cold tremolo picking, battering drums, hypnotic crooning

and chanting then shrieking vocals, alongside floating keyboard lines.

This approach is continued on Asunder.

"We tried to write the album with the idea that it is one, singular tale;

separated into chapters, each with a different sense or feel," says Tol

Galen. "We try to create a sound born from realms unknown; of ages

long forgot."

The album spans five tracks, taking the listener on an eerie, varied

journey that sounds best when blasted loud on its gorgeous 12-inch

format. The package visually utilizes a mountainous theme that spreads

across the cover and insert.

"For Asunder we decided to press vinyl as well as again releasing CDs.

We are all avid record collectors and really enjoy having an album on

vinyl format. The sound and feel, as well as full art and jacket is a really

nice package to have as far as physical formats go," explains Tol Galen.

Both editions are available now.

Asunder is now available on vinyl from Sounds of the Land Records. Visit

https://maglor.bandcamp.com/ to purchase a copy or stream the album.

42 | SEPTEMBER 2017 • BEATROUTE SHRAPNEL
---
musicreviews

Chad VanGaalen

Light Information

Flemish Eye Records

Without a doubt, alienation and disassociation are at the core of Chad VanGaalen's bizarre and beautiful indie rock.

Since his early days as a street busker in Calgary's core, VanGaalen has been nebulous and moody, effortlessly shape

shifting between genres and styles. While previous works have always retained his singularly odd and utterly ramshackle

style, they've also flirted with country (Shrink Dust), blipping electronica (Diaper Island and Soft Airplane),

alternative folk (Infiniheart and Skelliconnection) and experimental techno (his 2015 collaboration with Seth Smith,

Seed of Dorozon). Albums are further heightened with the bizarre bleeps and bonks of homemade instruments,

delightful contraptions that are best enjoyed when witnessed in a live setting alongside VanGaalen's disarming animations.

On sixth solo studio album Light Information, VanGaalen has somewhat reverted to the stylistic proceedings of his

earlier days. The result is a record that's startlingly in line with both 2006's Skelliconnection and 2008's follow-up Soft

Airplane. The result is an album that's startlingly in line with both 2006's Skelliconnection and 2008's follow-up Soft

Airplane. Opener "Mind Hijackers Curse" kicks off the proceedings, with Chad's slightly layered, reverberating vocals

making an almost immediate appearance. The drums are clattering and understated, and the vague and hard-to-pinpoint

background instrumentation evokes a plinking, plunking sound that wouldn't be out of place in a sci-fi movie.

Of course, this is right in line with his previous output: he has long been fascinated by the subject, most notably materializing

in his 2015 short film 'Tarboz,' which tells the story of an intergalactic space traveller. If you've yet to witness it,

think the animation style of Adult Swim's disturbing Superjail!, as utilized by Wes Anderson. It's a wonder to behold.

"Prep Piano and 770" is the first jarring track of the record, flirting with the same noise that made his side project

Black Mold damn near unlistenable for anyone disinterested in the genre. While menacing keys bleep and bop, cascading

keys set the tone for follow-up track "Host Body." The lyrics are the strongest of the release, as Chad forebodingly

croons, "I'll be the host body yes, for the parasitic demons. They can eat me from the inside out, I already hear

them chewing." Herein, the similarity to Soft Airplane's "Poisonous Heads" is obvious: the song is stark, and slightly

bouncy, spinning foreboding tales of the future.

Later on, "Old Heads" is upbeat and joyous jangly pop. In particular, the chorus is infectious and sung high– "WHO

IS THE OPERATOR, KEEPING ALL MY CELLS TOGETHER?!" – and is sure to incite a future sing-along at gigs. Later on,

"Faces Lit" has a similar vibe with its a sway inducing style. "Pine And Clover" evokes the yowl of Neil Young with its

layered style and lazy, folkish guitars.

After nearly two decades of making music, VanGaalen's ruminations have grown more contemplative, yet remain

consistently dark. Long associated with the archetype of a man-child (a moniker Chad himself has used) for his

forays into implausible fantasy territory, his lyrics skirt between out-of-this-world and highly relatable. "Broken Bell"

illustrates this.

I sit and do a drawing

A portrait of my dad

I should really visit him

Before he is dead

Cause we are getting old

Our cells just won't divide like their told

I'm not really good

At this kind of thing

Should I take the advice of the graffiti on the wall, telling me to go suck it?

Or should I listen to the voices ringing in my head, like a broken bell?

Family is a recurrent theme, particularly now that VanGaalen is a proud father. Relevant to that point, it sounds

like there is a distorted, childish croon in opener "Mind Hijacker's Curse" (though on the former, it might just be the

Korg 770 monosynth he fixed up for the release). Childish sounds appear again, but this time much clearer, in closer

"Static Shape." Evidently, the backing vocals are provided by his daughter Pip and Ezzy. In the closing song, the effect of

modulated childish noise is pleasant, particularly in conjunction with the jaunty keyboards.

Although it's not out of character, when the last 30 seconds or so of "Static Shape" end in noise territory that is

unpleasantly jarring and squealing, it does not benefit the album. It's likely the intention to be confrontational this

way directly after the album's sweetest moments, but it seems unnecessary. Fittingly, Soft Airplane ended in a similar

fashion with a full noise track dubbed "Frozen Energon," though that track was far longer with a better sonic arc.

All told, Light Information offers nothing particularly new in the Chad VanGaalen universe; it remains a wonderful

addition to his catalog that's likely to dominate the earshot! charts for months and be nominated for a Polaris Prize.

In short, VanGaalen is well on his way to being the type of musician we remember in decades to come, courtesy of his

bizarre bent on Canadiana.

• Sarah Kitteringham

Illustration by Emile Compion

BEATROUTE • SEPTEMBER 2017 | 45
---
Alvvays

Antisocialites

Polyvinyl Record Co.

When Alvvays burst onto the scene, it was a perfect conduit between

stadium pop-rock and the grimey and brittle toned indie

darlings of the mid-10's. Equal parts Beach House, Mac Demarco,

and Tegan and Sara, rounded off with a refined coat of '80s

synth shimmer. They had a lot going for them, even outside of

the fact that frontwoman Molly Rankin is one of those Rankins,

and is thus East Coast royalty. After a disappointing, but necessary,

relocation from PEI to Toronto, their self-titled debut

pushed about as far as a Canadian indie could. The record is an

absolute single machine, with catchy pop hook after catchy pop

hook. The guitars are brittle, the reverb is dense, the synths are

smooth, and Rankin's electric silver hair sparkles almost as much

as her luminous vocals. This band was the full package.

It's only been three years, but those songs are burnt into the

speakers of every coffee house in Canada, thus, it's about time

for a few new ones. Hence, Antisocialites: an extremely polished

sophomore release that hits fast, but arcs strongly.

It's a much stronger front-to-back listen than its forebear, but

the trade-off is that there are markedly fewer shimmering hooks.

For each fluttery and beautiful pop anthem like "Dreams Tonite"

there is a stuttering and unfamiliar indie exercise like "Hey." The

rougher tracks are by no means inaccessible, but rather just

divergent enough to add shape to the album.

The least comfortable songs are the most interesting on the

record. Things slow down in the second half, with the sparkly

clean tonality giving way to some careful grit in the low end of

the mix. Of note is the beautiful and restrained closer "Forget

About Life," with its rolling percussion, off-time guitar chords,

and intermittent discordant noises, echoing the lifestyle of disarray

the song half-heartedly celebrates. "Already Gone" is perhaps

the most melancholic tracks on the record, a starry-eyed song

with a slowly building wall of noisy harmony.

The second half is tremendous, but is made all the stronger

in conversation with the whopping one-two-three punch of "In

Undertow," "Dreams Tonite," and "Plimsoll Punks," the brightest

and biggest songs on the record, not coincidentally the first

three songs released. It's hard to say that the biggest moments

on Antisocialites top the pop genius of their debut, but they

certainly come close, and the album experience is strong enough

to keep neo-millenials running in slow motion through urban

sidestreets to these songs for years to come.

• Liam Prost

46 | SEPTEMBER 2017 • BEATROUTE

The National

Sleep Well Beast

4AD

For all intents and purposes, the ever-growing acclaim surrounding Cincinnati

commiserators The National can be attested to anything but a

brimming and constant need for experimentation — but their latest

album, Sleep Well Beast, finds the group revelling more outwardly than

ever before.

Following the success of their last release Trouble Will Find Me,

the past four years have found each respective member of the band

focusing primarily on side-projects, individually fracturing into various

collaborations with other artists such as Sufjan Stevens, Jonny Greenwood,

and Brent Knopf.

But the burning question for one of the biggest bands in indie-rock,

a group known for their overt dedication to grandiose subtlety, latent

slow-burn tracks that bleed familiarity with permeating emotional

dread, and wickedly-talented composition that grows in the mind like

ivy, is always How? How could they possibly continue their consistent

stream of quality albums, each more acclaimed than the last?

The answer to this question is found in Sleep Well Beast, an album

constructed with familiar framework—down-tempo malaise and

rollicking percussion—a house built on a tried-and-true foundation,

rooms filled with self-referential lyrics and sad-sack moroseness, but

this time decorated with left-turn flair: bristling guitar solos ("The

System Only Dreams in Total Darkness"), oscillating synth-work ("Walk

It Back"), and unbridled urgency ("Turtleneck").

Sleep Well Beast also marks one of the most sonically-rich albums

in The National's near-impeccable discography, with each moment

featuring minute sounds and ambience in an aural experience that only

serves to compliment the honeyed baritone of vocalist Matt Berninger.

Drummer Bryan Devendorf's percussion is, as always, on point ("Day

I Die"), and the influence from guitarist/keyboardist Bryce Dessner's

work on the solar-system-inspired album Planetarium shines through

the glitchy keys on tracks like "Empire Line" and "I'll Still Destroy You."

There is also a structural contrast from the The National's previous

two releases Trouble Will Find Me (2013) and High Violet (2010),

which were carried on a fluid wave of emotional resonance, each track

flowing into one another very simply and delicately. Sleep Well Beast,

while retaining some fluidity, is more of a callback to the shifting tonal

structures of Alligator (2005) and Boxer (2007), and manages to do so

without seeming regressive in its execution.

While Sleep Well Beast may not probe any new territory thematically,

primarily focusing on the dissolution of relationships and friendships,

ruminating in the melancholic way that only Berninger's lyricism can,

the album still manages to hit the emotional high-points that the longtime

National fans hunger for ("Nobody Else Will Be There," "Carin at

the Liquor Store").

If anything, Sleep Well Beast can be considered the first album by

The National that isn't a grower — it comes out full force, showcasing

the best parts of a band full of talented performers who know their

strengths, playing music together in utter synergy.

• Alec Warkentin

Faith Healer

Try ;-)

Mint Records

Jessica Jalbert, indie paladin of acid dream-in-denim psych pop,

has been writing so many pleasant earworms over the years it's

really quite exciting to think about what the future holds: not

just for her personally, but the crew of Edmonton musicians

who tour and perform with her. Looking back since her first

proper solo LP over half a decade ago, fans and those in the

know should see that the humbly talented songwriter/guitarist

can craft a damn good pop song. "Paris Green" from her solo release,

Brother Loyola, "I Wish That I" from art-punk supergroup

Tee-Tahs and "Acid" or "Universe (Whatever 'Till You're Dead)"

from the lauded 2015 Faith Healer release Cosmic Troubles:

there's a reason why these songs could be the soundtrack to

you and your pals making all the right questionable late-night

summertime decisions.

A big part of this is Jalbert's kismet partnership with producer

Rene "Renny" Wilson, a virtuosic multi-instrumentalist and

sentient crushed velvet suit playing a vintage Hammond. Try

;-) is their second Faith Healer release, and sonically there's a

pretty linear connection between this new record and Cosmic

Troubles: pleasantly washed-out production, delicate layers of

'60s and '70s keys and guitars and effortless vocals that question

and search.

While the album is a tight nine tracks, you can still hear the

evolution and experimentation sprinkled in every new song. A

piano fill or third guitar lick may only be a few bars long, but

it's in those moments you can really hear Jalbert and Wilson's

cosmic growth (the fading outro to the title track is a great

example). "Light of Loving," an absolute journey that starts off

with a subtle 13th Floor Elevators riff, slow burns into over five

minutes of percussive cruise, fuzz and speaking-panning organ.

The starts, stops tones and changes on "Might As Well" sounds

like Ardent Records in '70s Memphis. "2nd Time" vibes like an

outdoor folk music festival, especially with those downhome

piano tickles and rare acoustic guitar (!) solo, while "Sufferin'

Creature" probably wouldn't sound too out of place on Velvet

Underground's Loaded.

Try ;-) feels like self-exploration and reflection on expectation

versus reality. Whether it's for fun, for love or for reasons

unknown, we all sometimes do crazy, inexplicable shit. And

you know what, that's fine. As French writer Sidonie-Gabrielle

Colette once said, "You will do foolish things, but do them with

enthusiasm."

• Jared Maleski
---
Belle Game

Fear Nothing

Arts & Crafts

offer the listener a powerful album that never

suffocates or remains static.

• Nathan Kunz

Brand New

Through sonic walls of booming rhythms and

strung-out synth lines, Vancouver crush pop

group Belle Game create a unique and dynamic

experience throughout their sophomore LP, Fear

Nothing.

Led by vocalist Andrea Lo, the band manages

to pack the 10-song album with full and precise

arrangements from track to track. Subtle guitar

lines and acoustic drums scattered amongst

songs create natural elements without taking

away from the pop sensibilities put in place by

wavering synthesizers and striking keys. Though

rarely sparse or static in arrangement, Belle

Game does a great job of never suffocating the

listener with sound, as instrumentals remain

organized throughout.

Performances by Lo on Fear Nothing are

consistently tasteful, often acting as a strong

addition to the regimented tirade of instrumentation,

though at times punching through

to become a focal point. As synths sizzle and

steady bass drum hits gallop into existence on

the opening track "Shine," Lo's vocals seem to

command the soundscape as they appear before

the wall of sound. On the standout track "Bring

Me," Lo belts the opening lines as keys punch

her performance home with striking effectiveness.

Fear Nothing remains consistently strong

thanks to precise walls of instrumentation and

captivating vocal performances by Lo. By blending

natural and electronic elements, Belle Game

Brand New

Science Fiction

Procrastinate! Music Traitors

For the first time in eight years, Brand New has

finally released a new album. The band rose to

superstar status in the world of nostalgic emo

bands, dominating the minds of high school

kids through a formidable mix of melodramatic

lyrics and vengeful guitars. Brand New fans are

extremely passionate and patient for good reason,

as the band always delivers on songs with

the potential to become immortal and sacred.

However, the band's past three albums have set

the bar high and Science Fiction falls short for

the amount of time it took to create.

When fans say they love the album, but

believe another album is on the way, something

is wrong. Science Fiction is a solid offering

with some of the best tracks the band has ever

recorded, but there are too many flaws for an

album that's taken this long. In fact, a few songs

suffer from a stretched out length like album

opener "Lit Me Up" and "Batter Up," two tracks

with underwhelming song progression compared

to other longer tracks like "Same Logic/

Teeth." The worst song "Could Never Be Heaven"

features an acoustic melody that doesn't suit

Jesse Lacey's vocals, failing to rival other softer

Brand New classics. Even then, the album's lows

aren't much to complain about. From Nirvana

to Modest Mouse, the band does justice to their

influences without ever compromising their

own identity. It's hard not to wish for more of

The Devil and God Raging Inside Me on this

album, but Science Fiction offers a satisfying

conclusion to a legacy that has affected thousands

and will affect generations to come.

• Paul McAleer

Death From Above

Outrage! Is Now

Dine Alone Records

In the current music industry landscape, three

years can feel like a damn long time.

It's hard to say that Death From Above (1979)

BEATROUTE • SEPTEMBER 2017 | 47
---
Julie & The Wrong Guys

are a legacy act, but Outrage! Is Now does its

damndest to make the case, ultimately feeling

less like DFA and more DOA.

The Torontonian duo once known for deftly

blending hard rock with proto-EDM return on

the scene feeling like stale egalitarians preaching

a "both sides are just as bad" apathetic message

full of year-old cliché and rote, riff-rocky

tunes. Instead of offering any semblance of

thought-provoking lyrics, Outrage! stays on

the sideline, instead pointing out the painfully

obvious trends that anyone with an internet

connection already knew.

The most egregious lyric lies in "Freeze Me,"

with Sebastien Grainger pondering "are we

outside the safe spaces of love?" It reads like a

cynical mockery of safe space initiatives that

help minorities feel at home in scenes that often

feel hostile to their very existence.

Overall, Outrage! is a special kind of middling.

Not outright terrible, but so mediocre

that it makes you question if the band has always

been this ok. Fond memories of the band's

past albums dissipate, leaving only a cloudy

image of a band that once felt revolutionary

dirtying that air with a gaseous explosion of

radio rock gone awry.

• Jamie McNamara

Everything Everything

A Fever Dream

RCA

A Fever Dream is the fourth album from

Everything Everything, a four-piece band from

Manchester who derived their name from the

first words on Radiohead's Kid A. They stretch

and pull at the fabric of pop with each release,

seeing how far they can go before the whole

thing tears apart. No matter how indiscernible

the end results are from the source material,

the music commands the senses like a puppeteer

changing your mood with the pull of a

finger. That's what Radiohead and Everything

Everything have in common despite heading in

different sonic directions.

Each of the band's past releases have been

well received by both fans and critics, but A

Fever Dream is easily their most complete full

length yet. The album embraces simplicity in

the eye of an electronic hurricane. The storm

is full of noise – trees crashing into houses,

power lines exploding, and rain flooding the

streets, but there's always a sliver of a blue sky

the distance. The simple melodies provide the

backbone and the storm is whatever the band

decides to break it with, including the erratic

and emotionally crushing nature of Jonathan

Higgs' vocals. The energy is unlike any album

released this year.

From the crashing cymbals in the latter

half of the title track to the urgent chorus of

"Good Shot, Good Soldier," the album is full of

euphoric moments surrounded by meaning.

A Fever Dream is made for dancing, created in

the same vein as "Idioteque" off Kid A, but the

subject matter speaks about modern injustices.

The record can fall on both sides of the spectrum,

helplessly disengaged and unrealistically

optimistic, but the band knows unity is the only

solution. In that regard, dancing is one way of

achieving Everything Everything's goal.

• Paul McAleer

Goldtop

You Possess Me

Independent

Too often, indie pop tends toward the simple,

with the "millennial whoop" standing in for actual

lyrical content in the choruses of otherwise

catchy and infectious tunes.

Thus the relief in hearing You Possess Me, by

Edmonton duo Goldtop. Alice Kos and Everett

LeRoi are crafting thoughtful, well-arranged

songs with lyrical and melodic choruses that

refuse to dumb down emotion to mere wailing

over simple changes. The title track leads off

with a beat that has a similar tone to The

Ronettes' classic "Be My Baby," buoying the

wobbling tremolo rhythm guitar, while Kos and

LeRoi harmonize throughout the length of the

number, which is rare and lends the song a laid

back Everly Brothers vibe. "Even Tonight" is a

warm classic pop ballad reminiscent of Jackson

Browne, with some mid-'60s Beatles shining

through in the arrangement, before Kos takes

the lead on the licorice power pop of "Rip It

Off." You Possess Me makes solid use of programmed

beats in a number of songs, but still

feels natural and intimate.

Goldtop are working with a lot of space and

taste on You Possess Me, although they veer in

a number of stylistic directions, including some

interesting atmospheric alt-country cuts, never

quite settling on one particular sound. Those

turns are a good thing over the course of an album,

but the most interesting moments on You

Possess Me touch on the Brill Building/power

pop/indie rock combination, a unique synthesis

of styles that bring out the best in Goldtop's

catchy hooks and melodies.

• Mike Dunn

Emily Haines & The Soft Skeleton

Choir of the Mind

Last Gang Records

Over 10 years after releasing her first solo

endeavour, Knives Don't Have Your Back, Emily

Haines is back with Choir of The Mind. The album

once again centers around her piano playing

and poetic prose style, but here her vocals

are used to create venerable layers of instrumentation.

Where Haines' project previously focused

on the misery that comes with loss, she's more

hopeful here, exploring the inner recesses of her

mind and the strengths of femininity.

For Haines, feminine strength comes from

softness. On "Strangle All Romance" she is

ghostly and rough; vocal reverberations through

a mountain valley. It's deeply personal, her

equivalent of flexing a muscle. She sings: "Love

is my labour of life/ we'll tear it up." The song

transitions into "Wounded," where she acknowledges

the repercussions of her open heart.

"Statuette" galvanizes on these themes

further, examining the traditional hierarchy

between men and women in relation to social

power. Haines replicates these roles to place

her at the feet of a male contemporary, who

has the creed and material possessions to "buy

any girl in the world." The backing beat mimics

the worst type of elevator music, adding to the

sleaze of her counterpart.

The standout is the title track, "Choir of the

Mind." It's as if the artist has voiced all of the

concurrent thoughts within her head to create a

deconstructed monologue atop her own meditative

lullaby. It's poetic, melodic, and painfully

introspective.

Haines has a way of evoking drama through

her pace, which is often her biggest asset. Some

may be turned off by the downtempo scenes

she creates, but for a reflective listener, it's an

exercise in meditation.

• Trent Warner

Julie & The Wrong Guys

Julie & The Wrong Guys

Dine Alone

By masterfully creating a union of delicacy and

aggression, Julie & The Wrong Guys concoct

a powerfully potent mixture on their debut

self-titled LP.

Over the distorted riffs of Eamon McGrath

and a thumping rhythm section courtesy of

Mike Schwarzer and Mike Peters of Cancer Bats,

Canadian indie legend Julie Doiron (formerly

of Sub Pop heroes Eric's Trip) delivers vocal

performances tuned to each track individually.

On lead single "You Wanted What I Wanted,"

Doiron strikes with urgently strained lines

between screeching guitar licks at the chorus,

then drops into a laid back tone as notes are

softly and precisely picked through the verses.

Later, on "Tracing my own Lines," Doiron sings

with a soft fragility over an open, breathing

instrumental track of steady bass drum strikes

and chugging guitar, accented occasionally with

shaking thunderous strums.

The band's power throughout the 10-track LP

lays not in an expected display of volume, but

rather their keen sense of effective strikes and

heavy tones. McGrath's twisting western-tinged

guitar lines on "Farther from You" beautifully

contrast a darker driving rhythm section,

eventually tying together at the refrain with

explosive effectiveness.

Acting as a modern day odd couple, Julie &

The Wrong Guys blend elements from across the

spectrum beautifully and to great effect, making

their debut powerfully raw and unpredictable

from start to finish.

• Nathan Kunz

Lascar

Saudade

Independent

With Lascar's sophomore outing, there has been

a very noteworthy development on the sonic

tone that made the Chilean band popular with

their first release, 2016's Absence. Lascar makes

atmospheric black metal that is full of melancholy

and longing, and the tone of the album is

nothing short of beautiful.

There is a lot to like about this band, but the

unfortunate news is that what is being evoked

is nothing that hasn't been said before by other

bands. The melodies played are beautiful in

their own right, but the songs stagnate towards

the end as the ideas are not varied or developed

upon to justify the long track lengths. Even

when the band is playing a beautiful melody or

adding a new idea, it doesn't seem as honed or

well executed as successful bands in this style of

music such as Alcest or Coldworld. On Saudade,

Lascar has still yet to show a sound or style that

is uniquely its own, and sets itself apart from the

other bands who have succeeded at this style

of music. Even when the album is at its best

moments, it's unfortunately something that has

been heard and done before, and therefore becomes

hard to recommend to anyone who isn't

an avid fan of this style of music. It's certainly

not a bad release, but the project still has yet to

come into its own and therefore it becomes an

easy album to forget about after a listen or two.

• Greg Grose

Milo

Who Told You to Think??!!?!?!?!

Ruby Yacht / The Order Label

Milo (née Roy Ferreira) has been a bubbling

name in the art rap scene for a while. Formerly

of the now defunct Hellfyre Club, the Wisconsin-bred

rapper learned the ropes from artists

like Busdriver (who guests with a freestyle),

Nocando and Open Mike Eagle.

Following up 2015's very solid So The Flies

Don't Come is Milo's latest release, the exceptionally

punctuated Who Told You to Think​?​?​!​!​?​!​?​

!​?​!. It's by far his most cohesive work yet, starting

life as a cloudy, jazzy beat tape reminiscent of

Madlib. It's a new approach for Milo, considering

he's most known for his Wikipedia-required

reference-heavy verses. Like he says on track

"the young man has a point (nurture)," his

vocabulary pays his rent.

48 | SEPTEMBER 2017 • BEATROUTE
---
That vocabulary consists of references to beat

poets, role playing games, cartoons, philosophy,

and everything in between. He uses these to

comment on the state of rap, love, society or

mortality. A lesser artist, including the Milo of

the past, may have struggled to pull these seemingly

disparate ideas together into a structured

whole, but Who Told You To Think??!!?!?!?! marks

a definite evolution for him, one which serves as

a frequent source of pride for him on the record.

And he should be proud. Who Told You To

Think??!!?!?!?! is the beautiful and flowing piece

of artistry that we've all been waiting for.

• Cole Parker

Nosaj Thing

Parallels

Innovative Leisure

Two years after having his gear and archives stolen

while touring through Houston, Nosaj Thing

has released his fourth studio album, Parallels.

The 10-track album opens up with "Nowhere," a

song that starts with the sense of the confusing

echo of reboot and then launches into melodic

waves a la Philip Glass; tense, shifting in tonality,

and laced with a strange undercurrent. Shocked

by a muffled vocal sample that states the album's

title, the track breaks tack and drifts to its

finale. Awakened by a warm and grimy bass line

"All Points Back To U," featuring Steve Spacek,

folds the listener into layers of sound that

reverberate back to the roots of Nosaj Thing's

style on 2009's Drift, but with an elevated sense

of space. Spacek's vocals provide a sense of

forced reflection that Nosaj Thing's usual pure

instrumentation simply cannot. "Get Like"

glaringly defines the oscillating conceptual line

of emotional flux that has now fully permeated

Nosaj Thing's evolving musical style. Deep in

the warm, heavy bass there's a spirit of courage

and aspiration pushing to overcome the pull

of depression. "Way We Were" featuring Zuri

Marley picks the record back up and infuses

an air of R&B that's soothes with the desire of

possibility. Marley's resonant colour uplifts just

enough to shine some light without breaking

the album's dark through line. "IGYC" pulls the

listener back into a refractory cave atmosphere,

a chamber of reflected sound, glittering, strange

and fading without consideration. "Sister" finds

the end of the record with swells of hope and a

rough hewn bass drum that drive with strength

out of a valley of confused darkness, and yet the

very last sound is still jilted.

• Andrew R. Mott

No Use For A Name

Rarities Vol. 1: The Covers

Fat Wreck Chords

For fans of the skate punk quartet, No Use For

A Name, the last five years have been difficult.

The unexpected passing of frontman Tony Sly

in 2012 brought the band to halt and left fans

wondering what the future would hold for

NUFAN.

Rarities Vol. 1: The Covers is the first new release

since 2008's final studio album, Feel Good

Record of the Year. Although these tracks aren't

originals, they still manage to fill a void left by

NUFAN's absence.

Throughout their 20-year career, NUFAN lent

their talents to many compilations; including

both covers and original hits. Fat Wreck Chords

combed through countless recordings and compiled

a compilation of only non-album covers,

combining a wide variety of unreleased gems

from NUFAN's time at the label. Included on

Rarities Vol. 1 are songs ranging from punk rock

legends D.I. and The Pogues, to more classic

artists like Depeche Mode and Cheap Trick.

Queens of the Stone Age

Their take on each track is as No Use as you're

going to get; each song performed in perfect

NUFAN style with Sly's distinctive vocals echoing

alongside. And because it's NUFAN, a couple

of your favourite T.V. theme songs too – you'll

love them.

In respect to the five-year anniversary of Sly's

passing just this past July, many fans will be embracing

this record as soon as they get the chance.

• Sarah Mac

BEATROUTE • SEPTEMBER 2017 | 49
---
Tricky

Queens of the Stone Age

Villains

Matador Records

Perhaps Queens of the Stone Age frontman Josh

Homme's most underrated talent is his ability

to make anything that he works on sound like

a QOTSA record, no matter the personnel involved.

That's been true for the past six QOTSA

albums, and even with pop producer Mark

Ronson, it's true for Villains.

While bringing Ronson, whose past credits include

Amy Winehouse and Bruno Mars, aboard

may seem like a leftfield move, the results are

almost disappointingly similar to 2015's …Like

Clockwork, because, after all, to quote Josh

Homme himself on "Make It Wit Chu," "Sometimes

the same is different, but mostly it's the

same."

Villains explodes out of the gate with "Feet

Don't Fail Me," a desert-noir foot stomper that

blends Ronson's penchant for pop-funk with

QOTSA's bong-ripping stoner rock. It's not the

last time that blend of influences pays off well:

"The Evil Has Landed," "Hideaway," and "Un-Reborn

Again" all exude pomp and swagger while

still sounding like textbook QOTSA.

Album highlight "Domesticated Animals" is a

chugging, mixed-meter melee that builds to one

of the best rock choruses in recent memory and

a thrilling conclusion that finds bassist Michael

Schuman unleashing a bloodcurdling yell not

heard on a QOSTA album since Songs for the

Deaf.

It doesn't reinvent the wheel, but throughout

its runtime, Villains serves to cement QOSTA's

reputation as one of the most consistently enjoyable

bands in modern rock music.

• Jamie McNamara

RALEIGH

Powerhouse Bloom

Independent

RALEIGH kind of rips. Powerhouse Bloom opens

with a short hit of percussion, followed by a

glimmering guitar voicing. What follows is a

meditative intro, a slow drum pattern, a bubbling

bass line, and a warm cello set the scene.

It isn't until the first chorus, where a legitimate

guitar riff cuts through the bustling mix, where

it becomes clear that this is a bigger and more

mature RALEIGH than Sun Grenades and Grenadine

Skies.

It's their third full-length release of bumpy

dream pop, but this time with sharper edges,

and a keen ear for pacing. RALEIGH has always

played with quick starts and stops, and stabbing

transitions, but mostly within the spectrum of

playfulness. Powerhouse Bloom cuts parts in

and out with precision, and with a completeness

of vision. The experimental but deliberate

studio production work here invites a tonal and

musical cohesiveness, filling in dead space with

ambient sounds and long reverb trails, and adding

texture with a grimey compression or phaser

on the vocals.

There is so much viscera and effect to

Powerhouse Bloom, it reeks of deliberation and

experimentation like we've come to expect from

RALEIGH, but with a force and dynamism that

transcends anything that's come before.

• Liam Prost

the record to all-night dance party proportion.

The production is crisp, layered, full of tight,

hard hitting drums, unique sonic samples and

never ending drive. It's easy to imagine that in a

decade or two from now that any track on this

album will push the volume up and soak a sun

filled drive with joyful nostalgia.

• Andrew R. Mott

Tchornobog

Tchornobog

I, Voidhanger Records

The murky, churning waters of the debut Tchornobog

album are not waters to be traversed

lightly. The riffs and production are clouded

in a thick haze, where the music can be heard,

but the delivery of the riffs sounds booming,

cavernous and epic. The listening experience

of the album is one that feels akin to being lost

in a vast underground cavern, hearing sounds

moving through the blackness but not quite

being able to parse where they are coming from.

The album sounds dissonant, hostile, and full of

ideas.

Even as far as simple metal structure goes,

the guitar playing is always strong and always

driving but never flashy; things drift from

moving at breakneck speeds to crunching to a

halt and moving into slower, heavier passages.

The way the songs are structured allows for a

huge wealth of ideas to be displayed over the

course of their epic runtimes, featuring both

heavy, memorable riffs and quieter moments

featuring saxophone and piano from time to

time as well. One negative that the album has is

that there seems to be little consistency through

any of the its four tracks. Although the album is

very consistent in tone, once the band finishes

playing a riff, they seem more or less done with

it. The album cycles ideas so many times over

the course of any of its songs that there seems

to be little reason the album couldn't have been

one giant piece of music. That being said, all the

ideas presented on the album work very well,

and Tchornobog's debut is easily one of the

strongest and most memorably alternative pieces

of extreme metal to be released this year.

• Greg Grose

The Royal Foundry

Lost in Your Head

Independent

Tricky

Ununiform

False Idols/!k7 Music

After putting out numerous singles and getting

heavy rotation on the terrestrial airwaves, the

quartet known as The Royal Foundry has finally

released its breakout album, Lost In Your Head.

First coming onto the Edmonton music scene

in 2013 as a newly-married alternative folk

duo, Jared Salte and Bethany Schumacher have

completely reinvented themselves with a solid

and well-defined electro-pop sound. Drawing

inspiration from the latest trends as well as

movements from '90s Brit pop and '70s progressive

rock, Salte and Schumacher dive deep into

the exploration of love and relationship on a

13-track explosion of youthful expression and

experimentation.

Salte's vocals hold the consistent lead on

the record while Schumacher provides a subtle

harmonic reinforcement that sits just right

in the mix. Sprinkled like candy throughout

the LP, Schumacher's timbre takes the fore in

anthemic elements that elevate the intensity of

I wonder, when you're a dozen albums into a

storied career in the trip-hop game, is there still

enough creative gas in the tank? Apparently so,

if your name is Adrian Thaws.

The iconoclastic beat-maker and producer

still has a lot of issues to get off his chest and

he has some top-notch talent to help him out.

Biding his time between grime-swathed and

trap-infused tracks such as "Same As It Ever

Was, "It's Your Day," and "Bang Boogie" (with

Russian hip hop homie Scriptonite), the master

of melancholy plays it cool. Elsewhere, Tricky

glides around genres from some signature R&B

sultriness from the likes of labelmate Francesca

Belmonte ("New Stole"), to the slashing guitar

fuelled electro-banger of "Dark Days" (featuring

rising dub-pop princess Mina Rose), to a breathy

and sparse cover of Hole's "Doll Parts" (from

avant-garde artist and former AA-model Avalon

Lurks). Of course, no Tricky oeuvre is complete

without a contribution from his most influen-

50 | SEPTEMBER 2017 • BEATROUTE
---
tial muse Martina Topley-Bird; her smoky haze

of a voice blankets the last track on the album

"When We Die," while the brooding Dark Prince

spits out bars asking all the important questions

about where we go when the afterlife is upon us.

Thirteen appears to be a lucky number after all

and for fans of the genre this is your good luck

charm.

• Bryce Dunn

Wand

Plum

Drag City Records

California's Wand comes from a different time,

staying true to their classic rock influences with

each release through avoiding the cheap tricks

the modern age offers. Plum marks a shift for

Wand as it's their first album featuring new

guitarist Robbie Cody and keyboardist Sofia

Arreguin, adding to the existing three members.

Instead of frontman Cody Hanson bringing most

of the material to the table, the songwriting

process transformed into a collaborative environment

relying on chemistry and improvisation

from each member of the group.

The end result isn't a shocking or sudden

departure from Wand's earlier work, but that's

fine because the music stays true to the type

of record that's timeless. Without the internet,

it would be hard to say if Plum came out

four years ago or 40. The record opens with

"Setting," beginning with a high-pitched drone

like a time machine ready to go off. The title

track follows with a focus on keys even though

the rest of the album puts guitar riffs and solos

at the forefront. The vocals from Hanson are

reserved and soothing even at points when

the instrumentation demands more. It works

for the most part, but it's hard not to want

Hanson to unleash emotions that derail the

psychedelic spectrum.

The album is full of standout tracks, including

closer "Driving," a song featuring Hanson at his

most versatile, and "The Trap," a slow burning

heartbreaker reminiscent of Wilco's Summerteeth

in tone. Plum explores a handful of

ideas throughout the album, offering something

for every type of rock fan to enjoy, while solidifying

each member as equally important to the

band's overarching success.

• Paul McAleer

Wintersun

The Forest Seasons

Nuclear Blast Records

2017 has been a big year for Jari Mäenpää.

With Wintersun's late July release The Forest

Seasons, something has shifted in the tone of

the band. The album still channels the epic fantasy

bombast of their earlier works, but the musicianship

and songwriting displays a maturity

not shown in earlier work. Rather than starting

out at the speed of sound, the compositions on

The Forest Seasons begin with a simple idea, and

continue to slowly and gradually develop upon

it over the course of 10 minutes until the track

draws to a close. Songs move steadily and progress

in a way that manages to fit plenty of ideas

without feeling crowded, muddled, or overcomplicated.

Melodies and motifs drift in and out of

the composition, taking you from quiet acoustic

moments to thunderous crescendos without

disconnecting from each other.

Considering the album only features four

songs, The Forest Seasons is an incredibly varied

record, as each song feels separate and different

from one another, but all intensely varied and

containing an entire world of detail within their

10 minute spans. In this way, the album strongly

Wintersun

succeeds. Wintersun set out to convey an entire

season with each track on this album, and the

album follows through with this vision. The

compositions are well thought out and excellently

executed, and because of this, the album

becomes a must listen for any power metal fan

who wants excellent songwriting with a little

high fantasy cheese on the side.

• Greg Grose

BEATROUTE • SEPTEMBER 2017 | 51
---
STRANGELY BEAUTIFUL

Momentous allusions to a disastrous outcome. Predictions have come and gone,

the end is almost here. Welcome to CIRCUS OF THE STRANGELY BEAUTIFUL:

FERAL APOCALYPSE. Tribes from all walks of performance and across Alberta are

making the journey to the last standing building, the Distortion, in what was the city of

Calgary. The annual show is the best kept underground secret in the province.

Producer Harley Page started the event to help local performers, artist, and vendors

network, connect and showcase their amazing talents all in one night.

Atmosphere is the core of the show, and in one day the cast and crew change Distortion

into the apocalypse. Guests are strongly encouraged to dress up for their chance

to win great prizes in the costume contest such as a Big Rock Brewery Tour, and at the

always free carny games. Take pictures with old and new friends in the life size bird cage

photo booth complete with a swing and carcasses. Sample the customized food menu

and drinks and of course check out all the stage show craziness.

This year Edmonton's Waking Mayhem brings their trash-metal to town, and as usual

local clothing designer, Sheppish Contour, brings her magic. Also featuring Alberta's

outstanding talents: Circus of Hell, Visha Loo, Fatt Matt, Lindsay Marie and Chelsea

Nightingale. Along with tribe leaders: Tiffany Tailfeathers, Elizabeth Kay, Bitch Sassidy, Dani

Spades, Rica Shae, Tannus Betzler, Lady O, Emcee Mr. Adelaide and DJ Clay Stitches.

Can they all come to a revelation? Which tribe will stand tall and which will fall? You are

all invited to come and witness the Strangely Beautiful. Friday, Sept. 22 doors at 8:30,

$13 presale/ $18 door/ $20 no costume. Distortion Nightclub on Macleod Trail.

BEATROUTE • SEPTEMBER 2017 | 53
---
SAVAGE LOVE

stranger things

I'm a lady considering taking on a foot fetishist as a slave. He would do

chores around my house, including cleaning and laundry, and give foot

rubs and pedicures in exchange for getting to worship and jack off to my

model-perfect feet when I've decided he's earned it. Am I morally obligated

to tell my roommates? Technically the guy would be in their common

space too. I will fully vet him with references and meet him in a neutral

location at least once—and anything else you might suggest I do for security's

sake. Though my roommates are not what you would call conservative,

I'm not sure they'd understand this kind of arrangement. I would have my

slave come over when no one is around, and then my roommates could

come home to a sparkly clean common area! My slave would never have

access to their personal spaces, nor would I leave him alone in any area of

our home until a strong bond of trust had been established. No harm, no

foul? Or am I crossing a line?

–Man Into Cleaning A Shared Apartment

A friend in Berlin has a similar arrangement. This guy comes over to

clean his apartment once a week and—if my friend thinks he's done

a good enough job—my friend rewards him with a knee to the balls.

It's a good deal for both parties: My vanilla-but-kink-adjacent friend

gets a sparkly clean apartment (which he loves but doesn't want to

do himself), this guy gets his balls busted on a regular basis (which he

loves but can't do himself). But my friend lives alone, MICASA, and

that makes all the difference. Or does it?

Time for some playing-games-with-foot-fetishists theory: If you

were having sex with a boyfriend in the common areas of your

apartment when your roommates weren't home—let's say your

boyfriend (or even some rando) wanted to fuck you on the kitchen

floor—you wouldn't be morally obligated to text your roommates

and ask their permission. But we're not talking about a normal guy

here or normal sex—we're talking about a fetishist who wants to

be your slave. Does that make a difference? It might to people who

regard kinksters as dangerous sex maniacs, MICASA, but a kinky

guy isn't any more or less dangerous than a vanilla guy. And a kinky

guy you've gone to the trouble to vet—by getting his real name and

contact info, by meeting in public at least once, by asking for and

following up with references—presents less of a threat to you and

your roommates than some presumed-to-be-vanilla rando one of

you brought home from a bar at 2 a.m.

Strip away the sensational elements—his thing for feet, his desire

to be your chore slave, the mental image of him jacking off all over

your toes—and what are we left with? A friends-with-benefits

arrangement. A sparkly clean apartment benefits you (and your

roommates); the opportunity to worship your feet benefits him. This

guy would be a semi-regular sex partner of yours, MICASA, and while

the sex you're having may not be conventional, the sex you have in

your apartment—including the sex you might have in the common

areas when no one is at home—is ultimately none of your roommates'

business.

That said, MICASA, unless or until all your roommates know what's up,

I don't think you should ever allow this guy to be alone in your apartment.

My girlfriend drunkenly confessed to me that she used to pee on her ex. I'm

not sure what to do with this info.

–Dude's Relationship In Peril

Did she ask you to do something with this info? Did your girlfriend say,

"Hey, I used to pee on my ex—now go make me a dream-catcher with

that news, would you?" Your GF got a little kinky with an ex, most likely

at the ex's request, and so what? If piss isn't something you're into, DRIP,

don't obsess on the distressing-to-you details and focus instead on the big

picture: You've got an adventurous GF. Congrats. If she doesn't have an

equally adventurous BF, here's hoping she finds one.

My 7-year-old son started getting really into gauze, splints, and bandages

when he was 3, and by the time he was 4, it became clearly sexualized.

He gets a boner when he plays "broken bone" or just looks at bandages,

and he has expressed how much he loves to touch his penis when he

does this. My husband and I (both happily vanilla) have been accepting

and casual about this. We've provided him with a stash of "supplies,"

taught him the concept of privacy and alone time, and frequently remind

him to never wrap bandages around his head or neck. Is it normal to be

so kinky at such a young age? I know kinks generally develop from childhood

associations. When he was 2, he had surgery to correct a common

issue on his groin. Might that have sparked this? I want my son to grow

up with a healthy and positive sexuality. Are we doing him a favor or

a disservice by supplying him with materials, freedom, and privacy to

engage in a kink so young?

–Boy Always Needing "Doctoring" And Getting Edgier

Your son's behavior isn't that abnormal, BANDAGE. It's standard for kids,

even very young kids, to touch their genitals—in public, where it can

be a problem, or in private, where it should never be a problem. And

lord knows kids obsess about the strangest shit. (What is the deal with

dinosaurs, anyway?) Right now your son is obsessed with bandages and

splints and gauze, his interests aren't purely intellectual, and it's easy to

see a possible link between his experience with bandages and gauze in his

swimsuit area and his obsession.

None of this means your son is definitely going to be kinky when he

grows up, BANDAGE—not that there's anything wrong with being kinky

when you grow up. There are lots of happy, healthy kinksters out there,

and your kid could be one of them when he grows up. But it's too early to

tell, and so long as his interests aren't complicating his life (he's not behaving

inappropriately with friends or at school), your son's whatever-this-is

will become less of your concern over time and ultimately it will be none of

your business.

In the meantime, you don't wanna slap a "so kinky" label on a 7-yearold.

(If he were to overhear you using that term to describe him, does he

have the computer skills to google it himself?) But you're doing everything

right otherwise. You aren't shaming your son, you aren't making bandages

and gauze and splints more alluring by denying him access to them, you

are teaching him important lessons about privacy and what needs to be

reserved for "alone time."

You ask if it's normal to be "so kinky" (a phrase we shall both retire, at

least when referring to your son, after today) at such a young age. Probably

not—but so what? According to science, most adults have paraphilias, aka

"non-normative sexual desires and interests." That means kinks are normal—at

least for grown-ups—so even if your son isn't normal now, BAN-

DAGE, he'll be normal someday. Most happy, healthy, well-adjusted adult

kinksters can point to things in their childhood that seemed to foreshadow

their adult interests in bandages/bondage/balloons/whatever. Author,

journalist, and spanking fetishist Jillian Keenan (Sex with Shakespeare) was

fascinated by spanking when she was your son's age; Keenan likes to say

she was conscious of her kink orientation before she knew anything about

her sexual orientation. So while your son's behavior may not be "normal"

for a kid who grows up to be vanilla, it would be "normal" for someone

who grows up to be kinky.

On the Lovecast,

Dan and Jesse Bering chat

about your father's penis:

savagelovecast.com.

mail@savagelove.net

@fakedansavage on Twitter

ITMFA.org

by Dan Savage

54 | SEPTEMBER 2017 • BEATROUTE