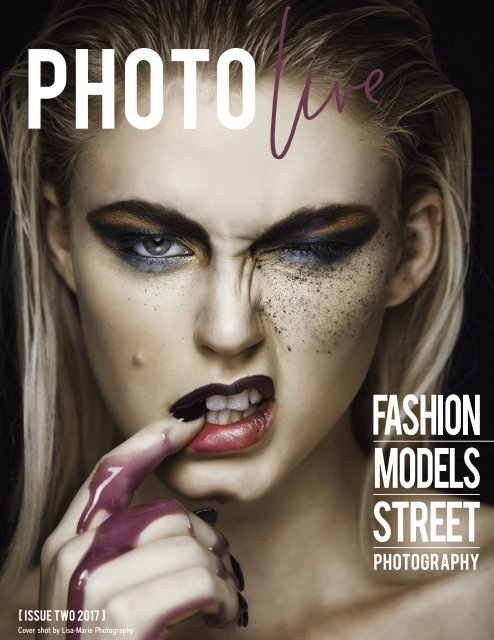 Photo Live Issue 2
Models, Fashion and Street Photography featured in our special 2nd issue of Photo Live - Your's free to read!
Models, Fashion and Street Photography featured in our special 2nd issue of Photo Live - Your's free to read!
SHOW MORE
SHOW LESS
Create successful ePaper yourself
Turn your PDF publications into a flip-book with our unique Google optimized e-Paper software.
PHOTOlive

PHOTOGRAPHY

[ ISSUE two 2017 ]

Cover shot by Lisa-Marie Photography
---
Contents

Photographers

Street Photographers

Models

Podcasts
---
welcome to PHOTO live ISSUE 2

This issue is packed full of brilliant talent!

We were fortunate to catch up with some amazing artists who specialise

in people photography. So this issue is one for those readers who love

fashion, models and a touch of glam thanks to our special interview with

Haute Shots' Stacey Frazier.

We also caught up with Marco Larousse, Japanese photographer, Noriyuki

and Rita Law from Hong Kong who talk to us about street photography.

Roxanne and Brian from This Week In Photo Glam talk to us about hosting

a podcast as well as their photography and modelling, while French model

Morgane fills us in on being a model in France.

We want to hear from you... if you're a photographer or model, head over to

our Facebook or Instagram page and drop us a message - tell us if you're a

photographer, model or involved in photography and why we should feature

you. We love meeting new people and love sharing their art in our magazine.

Rob Jenkins

Editor/Publisher

5
---
6

P

hotogr
---
aphers

7
---
LISA-MARIE

Photography

Bio

Lisa-Marie is a Scottish-born Freelance Photographer

based in Alberta, Canada who

specializes in Fashion, beauty and conceptual

portraiture.

Lisa-Marie has been published in a variety

of magazines that include Papercut Magazine,

Ellements Magazine, Hacid Magazine

and Dark Beauty Magazine to name a few.

She has also had the cover of several magazine

such as Model Life Magazine's launch

issue, children's magazine Petite Magnifique,

The Alchemist Magazine's Beauty

Issue and Lash Inc. She is featured on the

Editor's Choice page of 500px. A few of her

images have been shown in New York City.

She recently won Vistek's "Show Us Your

Best Contest" and had a 6 page spread interview

for Practical Photography Magazine's

Pro Showcase for the July 2016 issue.

Lisa-Marie is also an Elinchrom and Canon

Ambassador.

8
---
Lisa-Marie welcome to Photo Live, who

inspired you to make photography

your life?

Thanks so much for having me be a part

of Photo Live! Photography was never

really on my radar for a career or even

a hobby until my grade 10 year of high

school. I had to choose an option class

for credits to graduate and I was between

photography, computers and art.

I was already taking a computers course

and didn't want to have two of the same

class. I also can't draw so it was a simple

choice of the photography class. I remember

thinking that "Oh this will be so

easy!" and boy was I wrong! Very early

on I became enamoured with photography

and wanted to learn as much as I

could. I've never looked back.

Let's back up and talk about your first

few photo shoots - were they fashion

themed?

Not at all! Fashion photography never really

came into play for me until my second

year of university. During our first

few "photoshoots" I had friends from

high school help me with portrait work

as we were learning side lighting, butterfly

lighting and Rembrandt lighting etc.

Even during university I wanted to be a

food photographer so I was focusing on

still life photography.

What sort of gear did you use?

I've always been a Canon girl. Canon was

what I learned on and my first professional

camera was the Canon 40D. I had

a simple 18-55mm lens and then "upgraded"

to a 50mm when I started doing

fashion work. I used the strobes we had

in the studio and I have had Elinchrom

lighting for years.

You graduated from Grant MacEwan

University studying Design and Photography

- tell us about that part of

your life… the study, what was it like

studying photography formally?

During high school, I learned the basics

but I wanted to learn more. I wanted to

broaden my knowledge of the technology

of photography. Photography was the

minor with a major in design. Although

the program was great, it didn't focus on

photography as much as I would have

hoped. I found myself putting everything

into the photography classes and less

into the design. I had three wonderful

photography teachers who I learned a

lot from. If it wasn't for one of my professors,

I wouldn't have found fashion

photography.

Do you feel that the study helped you

with the direction you chose?

The program helped me realize that this

WAS my passion and what I wanted to

do for the rest of my life. Finding fashion

photography was more of an accident.

We had a class where we were studying

portraiture. We had to do the basic lighting

that I had done in high school but I

wanted to go a little bit further and try

some different editing. I remember being

so proud of those images. During our critique,

my professor looked at my work

then looked at me. Without missing a

beat he said "People aren't your thing."

When he walked away, my heart just

dropped. I'm a perfectionist, especially

with photography and I was so devastated.

I wanted to prove him wrong. I

spent all summer doing fashion shoots

with my friends around our city, trying

different things and coming up with different

concepts. At our year end portfolio

showing, my entire portfolio was

fashion and beauty photography. The

professor who had said those words to

me the year prior came up to my table.

I said to him, "Remember when you said

I couldn't photograph people?" He just

looked at me and winked. I realized then

he had said what he said to me because

he knew my personality. He knew I would

work hard to prove him wrong. Without

him saying those words to me, I wouldn't

have found the love and passion I have

for fashion photography.

You graduated, and you seem to have

hit the ground running, tell us about

the first time you were published in a

magazine?

I still remember that feeling. I was on

cloud 9. I had done an editorial with a

local model at a children's playground

right at sunrise. She brought tons of

clothes and accessories. I was incredibly

nervous as she is a very popular model

in our city and someone once told me, if

you get to shoot with her then you have

made it here in Edmonton. After I sent

her the finished edits, she convinced

me to send them to a magazine in British

Columbia. The dream was always to

get published but I never thought that

it would happen so quickly. Getting that

accepted email was such an amazing

feeling. Even to this day, I still get the

feeling of accomplishment and pride of

getting published.

And recently you were featured in

Practical Photography (one of my favourite

titles) what are you doing for

them?

I love Practical Photography Magazine!

I was absolutely honoured when they

asked to feature me in their Pro Showcase

in their July 2016 issue. Not long

after that issue hit shelves, they asked

me to be their columnist for the November

2016-Novemember 2017 year. I cried

when I opened up that email. I have

never felt so proud and honoured to be

asked to be a part of one of my favourite

magazines. It has been an amazing year

writing for them!

9
---
One thing people often ask is how does

someone become a sponsored photographer?

You're a Canon Ambassador,

what does that mean?

I am a Canon and Elinchrom Ambassador.

This happened just last year. I

had entered a photography contest for

one of our local photography stores in

town. I never enter contests but this one

popped up on social media and I thought

why not? I ended up winning that contest

and it opened up so many doors for

me. I was asked what equipment I used

and one of the workers at the Toronto

headquarters showed my work to people

at Elinchrom first. I was asked to speak

at the Toronto ProFusion Photography

Tradeshow for Elinchrom and demonstrate

how I use their lighting systems

to create a 'Lisa-Marie McGinn' style of

photography. Not long after that, I was

asked to host two workshops in Edmonton

and Calgary sponsored by Vistek,

Canon and Elinchrom. I will never forget

that feeling! Having people come and

watch me do my thing and create my

art meant the world to me! With every

image I share on social media now, I tag

Elinchrom and Canon. I share my lighting

and what camera and lenses I use.

On to your photos, how do you start

planning out an idea? Do you collaborate

with others?

Yes I love collaborating. Usually my ideas

come to me late at night, right before I

go to sleep I lay in bed thinking what kind

of image I want to create next. I always

want to try something different, sometimes

it works and sometimes it doesn't.

I'm lucky to know a lot of talented individuals

in my town who are always open

and willing to create my vision.

Book I and Book II are full of amazing

photos, did you spend a lot of time editing

through your portfolio to choose

what images were featured?

Thank you so much! I find myself culling

my images more frequently now than

when I first started. I always have 1 or

2 images from a shoot that are my favourite

and I add those to my portfolio.

My portfolio has changed quite a bit over

the last 5 years and even now with my

style leaning towards beauty photography,

I find it changing again. I used to

love photographing creative, fairytale

style imagery and while I still love capturing

those images, beauty work has

been my go-to for the last year.

You also do Portrait and Wedding packages,

does your fashion photography

cross over into families and weddings?

Yes, definitely. In regards to angles and

trying to be creative, I find myself trying

different things than just the standard

portraits and weddings. It works sometimes

but I always love to try new things

and I'm not afraid too keep trying.

Let's touch on post processing, do you

do your own and how do you approach

an image? What I mean is when you're

planning a fashion shoot, do you have

an outcome in mind where you know

you'll need to add some post or is it an

organic process that evolves as you

work?

Yes, I love retouching! Photoshop has always

been a passion for me. When I'm

photographing an editorial, I typically

know how I am going to edit just by the

lighting and mood I'm trying to accomplish.

Sometimes I go in completely blind

and just experiment. I typically do that

after editing a portrait session or a wedding.

I love grabbing an image that I haven't

touched and just editing until I am

happy with the final image.

Can a photographer make a living

from fashion alone?

I believe they can, yes. I was laid off from

my full time job three years ago. I had

no idea what I was going to do next. My

boyfriend (now my husband) told me to

try photography. What did I have to lose?

The first 4 months were hard. I needed

to get my name out there more and

get those clients. Three years later, I'm

shooting constantly whether its fashion,

beauty, portraits or weddings and get to

travel to different cities and provinces

demonstrating my style of photography.

Ok some fun questions - where do you

see yourself if 5 years?

Professionally? Shooting for Vogue! The

ultimate dream for a fashion photographer.

I would love to be travelling the

world doing workshops and working for

clients like Vogue, Harper's Bazaar, Cosmopolitan

etc. Personally? I just recently

got married and my husband and I

would love to have a family. And another

dog...or two!

What gear do you lust after if any?

Phase One or Hasselblad! Thats the

dream! I used a Hasselblad in University

and it was the most amazing experience.

The quality was outstanding. Although I

will never part with my Canon cameras

(I have a collection now).

You're going on holiday - what camera

would you take for playing the tourist?

Travelling with me is always an adventure.

I carry EVERYTHING I have camera

wise. I have my Canon 5D Mark III, my

Canon 7D (just incase) and all of my lenses.

You never know when an amazing

photographic opportunity will come up

so I always like to be prepared!

Finally where can readers go to see

more of your work?

They can go to my website at

www.lisamariemcginn.com or my instagram

handle is @lisamariephotog. Also,

check out my facebook at Lisa-Marie

Photography. You can also pick up past

copies of Practical Photography Magazine

(November 2016-November 2017)

and read about how I create my images!

10
---
11
---
12
---
13
---
14
---
15
---
16
---
17
---
18
---
19
---
20
---
21
---
22
---
23
---
24
---
25
---
26
---
ONLINE:

www.lisamariemcginn.com

www.instagram.com/lisamariephotog

www.facebook.com/LMGPhoto

27
---
marc

hayden

28
---
Hi Marc and welcome to Photo Live,

how would you describe yourself as a

photographer? What do you specialise

in?

Hi! Thanks for having me :) I tend to favour

portraiture and fashion for personal

work, and there is a strong beauty

theme to my image-making. Im doing a

lot more lifestyle work these days, and

I really enjoy documentary-style work,

too.

I think every photographer has a story

about how they got started, what's

yours?

Well, I actually went to art school and

painted at school. I always had a passion

for art, but I painted up until university,

and thats where I started using Apple

Macs. I didn't touch a camera until many

years later, and it was actually the iPhone

that got me into photography. Photography

was a real luxury hobby and

career before digital photography and

the internet really took off, but I knew Id

always love image-taking….I just knew.

I was working for Apple's ad agency for

a few years and realised I wasn't being

creative, so I decided to change careers!

Looking at your photography, eyes

are important to you aren't they? But

when you capture them, they seem to

pierce you as the viewer…

Yeah, I can't get away from eyes. For

lifestyle, they aren't the focus, but for

beauty, I love them. I see a lot of stuff

on social media, and its just naked girls.

Don't get me wrong, the female body is

wonderful, but bum shots are kinda….

boring. Everyone has a butt. And many

look the same haha. Eyes, though….theyare

unique, and they say everything. I

also want people to appreciate the image,

not just the flesh.

Talk to us about your editorial work.

Are you doing fashion magazines and,

I've been told, that that type of shoot

can be more for the love and exposure

as they pay minimal rates…?

I test a lot, because I enjoy it, and working

with stylists is great. But Im not

submitting anymore. If a quality fashion

mag commissions me, 100% I'm there,

because Im an artist, and I love to create.

If you're doing Wonderland, Love,

or Vogue….those kind of mags, then the

exposure is good. Its definitely a labour

of love.

You also do Commissions, can you tell

us about that?

Sure! I do a fair amount of corporate

work, and fashion commissions are

great. Being a full time freelancer really

is full time. Im terrible at stopping, but

I have a family, so I want to make time

for them. My social life is pretty much

non-existent, but its the path I chose. I

want to create, and I want to support

my family….commissions help me do

that. I have done cool lookbooks for a variety

of brands, and Im always looking to

do more.

You're recent personal work is powerful,

what's inspired that look?

Just me. And that is really important. I

remember starting out and panicking

about having a style. Id look a other artists

and worry. But the moment I stopped

worrying, and just did what came naturally,

thats when my work came into its

own. Obviously I take in outside influence

all the time, but the way I frame, the

poses, etc….thats just what I like.

Who inspires you?

I like fine art. I know more about fine art

than I do photography, so Id say Cubism,

Pop Art, music, graphic art. Basquiat,

Picasso, Haring, Mondrian - these guys

were visionaries.

What do you see for photography in

the next 5 years, as in the tech and

perhaps the way we appreciate the

art?

Great question, and I do wonder how the

availability of kit will affect the quality

of the work, in both positive and negative

ways. But, at the end of the day,

you can't buy artistic talent, so Im not

phased by that. Its like when music production

was suddenly available to every

bedroom producer….there is just more

noise. The quality always shines through.

Marc - thanks for being in Photo Live

Issue 2, where can readers go to find

out more about you?

Thanks for having me! My instagram

@_marchayden and my website

marchayden.co.uk are great places to

keep up with my work. Im also on twitter

@_marchayden, and on Facebook (marchaydenphoto).

If your readers have

any questions they can also drop me an

email at marc@marchayden.co.uk.

29
---
30
---
31
---
32
---
33
---
34
---
ONLINE:

marchayden.co.uk

instagram.com/_marchayden

facebook.com/marchaydenphoto

facebook.com/_marchayden

35
---
ALEX SANCHEZ

Welcome to Live Alex, where are you

living and how did you get started as

a photographer?

I live in Lyon, I´ve always love photography

but I did not have a professional

camera. So 2 years ago I decided to start

and began to collaborate with different

models.

You have some amazing maternity

photography, what inspired you to

photograph women in this style?

Even though it is not my favorite photography

style, it´s something I love to

do as it remains in my ground, witch is

the studio photography.

What mainly inspires me is to immortalize

this precious moment which is the

pregnancy. In this period of a woman life

you can see how radiant they are, totally

glowing. I try to enhance this moment

throught the studio lights control.

What photography do you love most?

I love doing portraits and nudes. I´m always

searching for deep expressions

and intense looks.

Regarding nudes photography, I try to

show only the indispensable, so as to

bring to mind sensuality.

Tell us about life for a photographer in

France… do you do this as a full time

job?

For the moment I am not doing this full

time but I am working for it :). It will be

great to work from my passion. In Lyon

there is a lot of photographers but I cannot

complain as I have got enough photography

work.

Do you travel much with your photography?

Where have you been?

I love to travel but as I work a lot, sometimes

it is hard to plan. I have been to

Morocco, England, South of France,

Spain is my motherland. And I am going

to Thailand in November. Can´t wait!

What's been the most challenging

photo shoot you've done?

For me, each picture is a challenge, there

is always things that happen during

the shooting that you did not have predicted,

but if I have to choose one, I will

definitly say the social pictures, I mean

wedding pictures, event pictures, as you

cannot control the models and the light

as in a studio.

Who inspires you as a photographer?

Peter Coulson, I really love how he masterizes

the black and white pictures. I

also like very much Michael Woloszynowicz.

What do you have planned for next

year?

My goal is to manage to open my own

studio so as to developp my art to the

next level.

Where can our readers go to see more

of your work?

facebook.com/AlexSanchezPhotography

& instagram.com/alex.sanchez.photo.

36
---
37
---
38
---
39
---
40
---
41
---
42
---
43
---
44
---
ONLINE:

www.instagram.com/alex.sanchez.photo

www. facebook.com/AlexSanchezPhotography

45
---
Chris, welcome to Photo Live, why are

your photos so damn good? Ok that's

probably too confronting as an opening,

let's start with, when did you

know you'd found your "look" or style?

Haha thanks for having me! I'd say finding

a "look" took me about 6 or 7 years.

I spent a long time treading water, not

really doing one thing in particular. It

wasn't until I did a lot of soul searching

to really decide what I wanted to focus

on that it started coming together.

Let's back up a bit more, how did you

get started as a photographer?

I picked it up as a hobby after graduating

college. I had always messed around

with it before then, but once I really dug

in, I was hooked. I'd shoot whatever I

could locally and after some time, decided

to give it a real go.

When I look at your art, I keep thinking

of the words - Drama, Passion, Power…

am I on track?

I like those words - I also like to throw

in "Theatrical." I love the idea of visual

theater and all the ingredients of melodrama

that go with it.

The photo, Cela New York, tell us about

that photo...

This was shot for a handbag desire, Cela

New York, and we were very much inspired

by a Helmut Newton shot for this

image in particular. It was shot in Prospect

Park in Brooklyn.

You've photographed some amazing

people, who'd been a lot of fun to

shoot?

I've been very fortunate to shoot a wide

variety of people will all different kinds

of personalities. That dance between

theirs and mine is one of my favorite

parts about portraiture. One of my favorite

subjects has been my lady, the

very talented Lindsay Adler.

Chris

KNIGHT

I love the tones and feel of your Personal

Work, talk us through the red-

something that evolved over time?

You use light dramatically, is that

headed woman sitting on the desk

with the two men… it's got a detective

feel from the movies.

That image was definitely inspired by old

film noir movies - one of my favorite genres

of film. It was actually shot in Beijing,

China as part of an event for Profoto

China. Lindsay Adler and I were there to

present and shoot and this was a concept

we created for them - and two entirely

different versions of it. My version

was the set-based, cinematic version. I

designed the set at home and they built

it. We sourced a few local models and

shot that image with over almost 200

people standing my shoulder. It was lots

of fun and a great challenge.

And the images featuring people with

arrows, can you share what you're

communicating and why…?

These were for a project called "St. Sebastian."

I love the story, the visuals and

the narrative that comes with it. This

was shot here in New York. I wanted to

create a classic version and modern version

side-by-side to see how the viewer

responds uniquely to each. It's one of my

favorite projects I've ever done.

It definitely has. I spent years shooting

swimwear and lifestyle in Miami with

clean, bright, colorful images. Dramatic

lighting was a journey, but I'm happier

over here.

Who inspired you as a growing artist

and has that changed as you've grown

as a photographer?

I'm definitely heavily inspired by classical

painting. I love Rembrandt, Caravaggio,

Vermeer - the Baroque painters really do

it for me. Photographically I love Irving

Penn, Richard Avedon, Eugenio Recuenco,

Erwin Olaf, Gregory Crewdson, Annie

Leibovitz. Tastes definitely change and

evolve. I didn't get into painting until

much later, but I think one of the best

things visual artists can do is study mediums

that are not your own.

We'd like to send readers to see more

of your photography - where can they

go?

chrisknightphoto.com

instagram.com/chrisknightphoto

facebook.com/chrisknightphoto

46
---
47
---
48
---
49
---
50
---
51
---
52
---
53
---
54
---
ONLINE: chrisknightphoto.com

instagram.com/chrisknightphoto

facebook.com/chrisknightphoto

55
---
56

Andrea Joki
---
Andrea Joki tells us

about her photographic

journey...

BACKGROUND

My father was a hobbyist photographer

– mostly taking pictures of trains and

his children (the two of us). I inherited

his camera equipment but didn't do

much with it until the birth of EBAY in

the 1990s. I was buying and selling antique

apparel (1860s-1920s) and needed

photographs to match the provenance I

had researched for each item. So I put

aside my father's Minolta and bought a

Canon Rebel with digital features (this

was pre-digital sensor but the selling

point of the Rebel was that it had digital

exposure readings – no exposure meter

needed!). I still have that camera – nicknamed

"Fred" - and he saw a lot of use

up until around 2005 – and the rise of

the digital sensor.

I was curious about digital sensor cameras

but feared the loss of quality in dynamic

range and clarity. I researched

how CCD and CMOS sensors worked and

eventually settled on the Nikon D50. The

color was beautiful even if the CMOS rendered

skin tones so much nicer (and less

orangey).

57
---
DEVELOPING MY STYLE

In early 2000, I think many people got

into family portraiture for their children

and the love of kids. So they were ace at

getting great expressions and moments

from their subjects but often had terrible

comps and color. For me, I loved the

design challenge – the story of an image

and how all the pieces come together to

tell us about the subject. Unfortunately,

I had the opposite issue of my nascent

photographer colleagues: while I would

have an image with a beautiful juxtaposition

of wild countryside and perfectly

positioned person, I wouldn't notice that

they were dead in the eyes and lifeless.

I was too busy putting together the big

picture rather than seeing the small details

of connection and emotion.

At that point, I was very ambivalent – I

enjoyed images of people NOT looking at

the camera and instead interacting with

the environment but I needed to be able

to take and sell 'smiling faces' as well

if I wanted a business. It's something I

worked on for several years; learning to

get that comfortable rapport with any

subject of any age. That skill didn't come

over night and I really had to upgrade

my interpersonal skills to do so. E.g.,

what works on a small kid can be very

irritating to a teen.

At the same time, taking image after image

helped me to develop my personal

vision – my style. It's something that I've

come to realize has to grow organically

from taking a lot of pictures. It can't be

forced and it is something that evolves

over time; you find that you naturally begin

to gravitate toward photographing

and processing images in a certain way

that YOU find pleasing. The best example

I can give of this is that in 2006 I was

good friends with some amazing pho-

tographers. Our way of photographing

was very similar; in fact, we all shot with

deep rich color / very good clarity and

our images were fairly similar. But within

four years, we had branched out and

come into our own as photographers in

very different ways. Our current work

looks so dissimilar as to be striking that

we were ever photographing similarly.

My style soon translated into surreality

– I wanted a bit of magical realism in

my images and to create something we

could not ordinarily see beyond life's distractions.

To complement that, I always

want every image to tell a story about

the person in it. For that reason, I never

photograph in public parks – they all look

the same whether you are in Melbourne

or Prague, Denver or Chicago. The same

manicured lawns and the same hardy

trees. Instead, I try to find places that

are representative of the person and

that time in their life- nature preserves

or places with the native architecture or

flora. That way, when the person grows

up or moves, they will have everything in

the image to remind them of that time

and place. A park or random location

just can't do that.

The other foundation of my style that I

am very proud of is color harmony. It's

about creating moods or ensuring that

the subject harmonizes with or stands

out from the environment. E.g., if photographing

in a forest I will dress subjects

in jewel tones, often in contrasting

colors that help them pop from the busy

background so they don't get lost. At

beaches or fields, I will dress subjects

in bleached and softer colors that work

with the environment so the harmonize

with it instead of standing out like a

sore thumb. That's one of the reasons

you won't find subjects in black or dark

clothes on a beaches if I can help it – I

work with my clients in advance with

suggestions on what to wear based on

the chosen location.

When we photograph, we photograph

for interest – we want people to really

explore the image. It's a tough task: how

to make the image speak and to ensure

everything in the four corners is precisely

placed to create accord or surprising

chaos. Suggestions such as rule of third,

golden mean, and juxtaposition make

sense when you see the big picture and

how everything works together to put a

focus on or describe the subject. E.g., if

you take a photograph on a lawn with

random cars in the background and a

tree growing out of the subject's head,

it doesn't enhance the subject or tell

his/her story. But if you place them in

the bottom right corner of the image

with their house beautifully framed in

the background in the left top corner,

then you've told a story. Similarly, if I

am photographing in Finland, I'll include

blueberry bushes and aspens framing

the subject. If I am in Oregon, I will get

windswept driftwood on meandering

beaches or old growth moss covering

aspen forests, in Prague I want to photograph

the Old Town or an abandoned

soviet military base, and in Gold Coast

of Australia, I want to photograph the

spits that jut out with high rises in the

background. It's all about contrasting

the timelessness of a location with the

very dated (never to be that way again)

person in the image.

58
---
59
---
60
---
THOUGHTS FOR FELLOW

PHOTOGRAPHERS

I'm asked often about what advice to

give photographers and the most important

thing for me is to encourage people

to a) analyze everything you do and b)

get (honest!) feedback as often as you

can. Also, experiment without the worry

about failing. Even now, with so many

years behind me, I try new things and

different angles/orientations every session,

knowing most won't work. A great

shoot for me is not all decent images –

it's about looking through the raws and

being on a rollercoaster ride of good…

good…terrible…great…great..bad…good..

good….bad….. In failing is when I learned

to really grow as a photographer.

My other recommendation is to learn to

see beyond what the camera can take.

You are not bound but the limited dynamic

range and 'mechanical' boringness

of what the machine captures. A

photograph is art when it translates a

scene or moment into something very

unique and distinct. Always stretch your

imagination to go beyond what your

raw is showing you – there is a fascinating

world out there that you, with

your unique history and world view, can

translate into something truly inspirational

and wholly distinct.

Finally – photographers make up the

best community of people! After several

years in the business, I looked back and

recognized that my best images were

often taken with other photographers

– working with colleagues at all levels is

amazing and they push you to new directions

you might not have otherwise

taken. Teaming up with local photogra-

phers is often the best thing you can do

for yourself and your business – regular

get togethers create the most amazing

images and opportunities for growth.

I think that's why I began teaching in

2008. I have made amazing friendships

around the world and have photography

to thank for bringing the world to me

here In this little country of Finland. Although

I don't do workshops any more

due to the heavy travel, I am forever

grateful for the memories I've made and

the truly inspirational people I've met as

a result. We have some of the most creative

and giving people in the industry

and too often don't even know it.

Of course, pictures speak louder than

words. Here are images with context/

info, which I always find helpful. In several,

I gave behind the scenes or raws to

give an idea of the starting point to give

an idea of how not to be bound by the

raw.

My website: www.jokiphotography.com

Facebook and Flickr that have my most

recent work:

www.facebook.com/JokiPhotography/

www.flickr.com/photos/maiasuvi/

Behind the scenes Facebook page –

where you can see pullbacks/behind the

scenes images:

www.facebook.com/JokiPhoto

61
---
62
---
63
---
64
---
ONLINE: www.jokiphotography.com

www.facebook.com/JokiPhotography

www.flickr.com/photos/maiasuvi

www.facebook.com/JokiPhoto

65
---
66
---
Interview with photographer Stacie Frazier...

Welcome Stacie! You've done so much

for women, what I mean is that you've

taken your art and helped people see

real beauty, how did it all start?

I really feel like my entire life eventually

led me to boudoir photography. But, it

specifically began after I had been laid

off from my job as a graphic designer.

Part of my job responsibilities as a designer

had been light photography details.

I had begun shooting friends as a

hobby during lunch breaks on the roof

of the Venetian hotel-casino. That led to

them asking if I could do sexier shoots

for them on the side. Well, I had blogged

much of these experiences, and unbeknownst

to me at the time, was developing

a following. So, by the time I had lost

my job I had perfect strangers asking for

boudoir shoots. It turned into an automatic

business for me. So grateful. But,

mostly thankful that it ended up being

a business that actually empowered the

women I worked with, and not just me.

Do your clients start by saying they

don't feel "glamorous" or beautiful?

How do you overcome that? Is it s body

image problem? Nerves? Both?

Every woman comes into their session

with nerves. Many of them have been

married for 20 years or so and "unseen"

- whether it be just by their husbands

being the only one to have seen

them intimately or sadly, being taken for

granted at that stage in their marriage.

Their bodies have changed from age,

childbirth and whatnot. But they still

want to be sexy, feel desired and viewed

with kind, loving eyes as a woman of

true beauty and worth. And I honestly

believe each woman I photograph is just

that...worthy and beautiful. So, during

a session they are being viewed by my

team and I, perfect strangers to them, of

course they will be nervous. One thing I

hear time and time again though is how

appreciative they are that we were so

nonjudgemental. That is one of the most

important traits for a boudoir photographer,

in my opinion. It builds trust. But, it

has to be genuine, obviously.

Do the women do it for themselves, for

their partner … both?

It started with most of them saying

they were doing it for their partner. But,

I could see they were really doing it for

themselves too. Now, I get a mixture of

women who say they are doing it for

themselves, their partners or both.

Tell us about the process… Someone

has rang you and wants to book -

what happens next?

We figure out what their needs are and

I help them decide which session they

should go with, location they should

shoot at, etc. They book their shoot and

fill out a questionnaire that helps me get

to know them better so that I can formulate

ideas for their shoot to tailor it

more to their personality through poses

and wardrobe advice. And then it's

showtime!

Talk to us about the challenging

shoots. What's a difficulty you sometimes

face?

On a very rare occasion, we might encounter

a client who is either especially

uncomfortable in her own skin which

makes her more stiff and more difficult

to pose or who has her heart set on facial

expressions that don't translate on

camera as beautifully as she might think

they will. It can prove difficult to break

the habits of "duck lips" or "deer in the

headlights" eyes, for instance.

I'm not sure how to phrase this, so I'll

do my best, your photos are exactly

what I'd want to see of my lovely wife,

what I mean is they are feminine but

really sexy as well. I hope that makes

sense?

I think something that I have always

aimed for was to create photos that appealed

to both women and men alike.

Usually the photos are being gifted to a

man so I needed to represent his desires

as well as the clients. For that reason,

I never really shoot overly frilly or girly

scenes. I prefer a more masculine backdrop

actually, so that the clients femininity

pops more. But, I also lean towards

a woman looking more confident and

powerful, which can be characterized as

masculine traits in our society. Against

a more neutral backdrop, this is accomplished

much easier than something

overly feminine.

Tell us about your reality show.

Well, we almost had a reality show. Came

really close, but it ultimately didn't end

up happening. We had been approached

by many producers trying to entice

us into trying to get out own show. I

67
---
68
---
skipped most of the requests but trusted

two of them to portray us accurately

and respectfully so we actually had two

different opportunities where the networks

were presented with the idea but

ultimately passed.

Sizzle Reel: https://youtu.be/k2OqqGHqjcs

Props and accessories - how do you decide

who suits what?

The answers on the pre-session questionnaire

that I send to them helps me

figure out if there is anything I might be

able to bring to make their shoot more

special. But, we do all of our shoots on

location so I keep that to a minimum. I

can, however, give them advice on what

types of outfits to bring based on what

I have learned about them. I do like

when clients bring meaningful props to

sessions, like a special piece of jewelry

or perhaps a framed wedding photo to

place bedside on the nightstand.

There's lot's of tears when people see

how amazing they look, do you feel the

experience changes people and that

the changes last?

I have always said that a boudoir photography

shoot is most definitely a life

changing experience for women. I've

seen the transformation with my own

eyes from the very beginning. They leave

their session standing taller, and that

feeling stays with them for months afterwards,

and they are reminded of it

every time they look at their photos. I

think this is why I see so many clients

returning for more sessions throughout

the years. It's an addictive feeling for

them!

Ok, what's next for you - any plans for

the next 12 months you can share?

It's a slight departure from my regular

work but I am continuing on with my

current fine art photo project. It's called

Bag Ladies, which is a look at the objectification

of women, particularly where

dating and our social conditioning are

concerned. I'm concerned with where we

are heading with all of that. You can find

this photography project right here:

Interview: youtu.be/iK3iyyw3mkE

Announcement post:

hauteshots.com/personal-photography-project/

Full series posts:

hauteshots.com/category/bag-ladies/

Can you share 5 tips for people having

a boudoir shoot?

Relax.

Don't be afraid to let your personality

shine through.

Trust your photographer.

Enjoy the process.

Be extra kind to yourself.

Finally where can readers find out

more about Haute Shots and Stacie

Frazier?

Website: hauteshots.com

Blog: hauteshots.com/our-blog

Instagram: instagram.com/hauteshots

Facebook: facebook.com/HauteShots

Marketing Video: youtu.be/m-sLDYWQ8d0

69
---
70
---
71
---
72
---
73
---
74
---
ONLINE: hauteshots.com

hauteshots.com/our-blog

instagram.com/hauteshots

facebook.com/HauteShots

youtu.be/m-sLDYWQ8d0

75
---
hotogr

St reet

76

P
---
aphers

77
---
MARCO Larousse

78
---
Welcome to Photo Live Marco, ok,

straight into it - how hard is it being a

street photographer? What I mean is

do you find it challenging to take photos

of strangers as part of your photography?

It used to be hard for me in the beginning

when I started to point my camera

at people in foreign countries. I was

very curious about their unposed daily

life routines and did not want to capture

staged and posed smiling photos.

At that time, I started doing this in the

beginning of the 90's, I was not aware

that there was a historic genre of photography

called street photography.

Once I discovered that this was a classic

art form and understood the importance

of documenting contemporary daily life

that may become relevant for future

generations, I started to feel very confident

about what I do. I even feel that

street photography is extremely important

to society if the intentions are right

and the subjects are treated with a lot

of respect.

Tell us about the beautiful black and

white. You seem to do a lot of B and W

… are you shooting jpg files and using

one of the Fuji film modes?

I shoot 95% of my images in B&W. I like

to tell the story without the distraction

of color. I only switch to color if I think

that the color adds important information

to the story. I set my camera to

shoot jpg & RAW and set the camera to

B&W +Red Filter mode with some custom

tweaking of highlight and shadow intensity.

Fuji and Olympus both have very

nice B&W jpg modes straight out of the

camera that are often already publishable.

For my large fine art prints, however,

I go to the RAW files and tweak them to

look good on paper.

Back to the beginning - when did you

pick up a camera and decide this was

what you loved?

I got my first own camera when I was

about 6 years old. It was a plastic camera

that I found in a grab bag for 50

cents. My mom bought me a cheap roll

of B&W film and I was hooked. This may

also have been where my brain was

wired into thinking that the final result

of the photographic process was a B&W

print. And I still shoot B&W and print my

work on paper to this day.

Why Fuji?

When Fuji introduced the first X100 at

Photokina 2010, I was very excited about

the concept of a camera that brought

back the features of my old analog

rangefinders into the digital world. The

camera was small, quiet, had a great IQ

and had the aperture, shutter speed and

exposure compensation as external dials

on the camera. Now that even the ISO

dial has been added to my most recent

Fuji camera, I am very happy with this

set up for now.

Why analog?

I just shoot differently when I shoot

analog. The whole process is a lot slower

and I'm even more selective on the shots

that I take. I also have a higher keeper

rate by shooting less. Analog also helps

me to slow down and enjoy the waiting

time before the image reward compared

to the instant gratification of digital photography.

You're also a successful podcaster

with Scott Bourne, how did that come

about?

I had appeared on a few photography

podcasts when Scott contacted me

about 4 years ago and asked me if I

wanted to start a podcast on Fuji cameras

with him. I was still an ambassador

for Fuji at that time (official X-Photographer)

and after we worked out our strategy

we started the show. Both of us were

surprised how quickly this show became

popular, but we were hitting different

limitations on a show that was only talking

about one brand. We then closed the

Fuji show and opened the show to all

mirrorless brands. I was producing these

shows for Photofocus at that time. And

at the beginning of this year, Scott and

79
---
80
---
I founded PPN - Photo Podcast Network

as a hub for photography and creativity

related podcasts. We currently have 4

shows per month and have been really

pleased with the great feedback from

our wonderful audience.

Will PPN be growing in the future - you

already have some excellent show's,

what's next?

We are still a young network and are

growing our audience every week. There

are a lot of opportunities out there and

we'll make the next move when the time

is right :)

Are you teaching or doing workshops?

Can you tell us what you teach in

them?

Yes, I am teaching workshops that generally

cover street or documentary photography.

And printing often plays an

important role, too. I see my workshops

rather as retreats. I don't want to lecture

theory the whole time. I find it equally

important to talk about motivation,

goals, and mind-set. My goal is that the

participants have a good time and feel

that they are spending a few days with

friends. They should see and learn new

things and leave the workshop/retreat

motivated.

Where can our readers go to see more

of your photography?

They can go to MarcoLarousse.com

to see my work and read my blog

or tune in at PPN - Photo Podcast

Networkphotopodcasts.com/podcasts

to listen to our photography podcast

episodes on inspiration, mirrorless,

Q&A, or gear. And they can always

get in touch with me on Twitter

twitter.com/hamburgcam.

Thanks Marco!

Thank you so much for featuring my

work.

81
---
82
---
83
---
84
---
85
---
86
---
87
---
88
---
ONLINE:

www.MarcoLarousse.com

www.photopodcasts.com/podcasts

www.twitter.com/hamburgcam

89
---
90

RITA LAW
---
Hi Rita, thanks for talking to us at Photo

Live, where are you based?

I am based in Hong Kong - a dense urban

jungle, chaotic yet blissfully exciting.

You take a lot of amazing city photos,

capturing the businesses... or should I

say, chaos of Hong Kong, how did you

get into photography?

I was given a Practica LTL3 from my dad

when I was 13 and it becomes my first

camera (I still use it sometimes when I

travel!).

The one thing that really brought me into

photography was the film photography

course I attended in university. I used to

worry too much if I would waste a film

every time I shoot. One of the "Sunny 16"

excises was to shoot a series of street

photos using a fully manual SLR and

no light metering was allowed, the end

result images weren't that great at all

but it made me realised trial-and-error

is the best way to learn from my own

mistakes.

Hong Kong looks a mix of old and new

- what's it like to walk around the city

and shoot?

Hong Kong itself is like a concrete jungle.

The urban design back in late 19th is

pretty compelling I have to say. You can

easily find all sort of neon signage hanging

right above a busy street in Kowloon

and some parts of Hong Kong Island. The

street scene in Hong Kong always looks

dense and full of energy. It is very easy

to spot interesting happenings on street.

In short, it is a paradise for street photography

lovers.

Tell us how you go out and shoot?

What's your process? Do you plan or is

it impulsive?

I found observing people and all the random

happenings on street particularly

fascinating. I shoot when I spot an interesting

scene, moment or people. This

must have something to do with my previous

job as a location scout.

What are you using for your photography?

(Gear)

At work, I use Nikon D5 and the 24-70mm

f/2.8 E ED VR for general event coverage

and sometimes carry with me the 80-

400mm f/4.5-5.6G ED VR if it is a sporting

event. I have a Panasonic GF7 with its kit

lens for streets and of course a smartphone,

recently upgraded to iPhone8, to

snap at any moment.

Talking of gear, you worked for Digital

Rev for a while, what was that like?

It was fun and absolutely rewarding. The

DRTV production team was a relatively

small one, 4 in total, but definitely the

best team I have ever worked with, plus

It is always a pleasure to be given the

latest cameras and gears to try on!

And now you work for yourself?

No, I work for an agency as a content

producer right now, my work is more

into content marketing than purely production,

which is a definitely challenging

but interesting to me, since I came from

a Graphic Design background.

Have you done much traveling and

where have you gone?

Yes! I consider myself as a travelholic. I

travelled 4-5 times each year. I made

trips to Cuba, Canada, UK, Georgia and

Russia so far in 2017 and will be visiting

Lebanon next month!

What's been a favourite place to visit?

Oh… This is hard to choose from! If I really

have to pick a favourite place, then it

would have to be Moscow. It is the destination

of my very first solo trip when I

was 19. I fell in love with this city at first

sight. I visited Moscow 6 times already -

never get bored with it!

Back to your photos, do you process

images before sharing?

For the images on my Instagram, I mainly

use the built-in filters from app and

sometimes Photoshop CC if I have access

to computer and got plenty of spare

time.

Tell us 3 things about Rita Law we don't

know (maybe a favourite book, movie,

food, what you love about HK or hate)

I love neon signages.

I love sans-serif.

I hate foods with orange pigment like

pumpkin and carrot.

Can you give us a 5 tips on shooting

photos in the city?

* Choose the camera you are most comfortable

to carry around, take it with you

everyday

* Use aperture-priority mode or even full

auto mode for run-and-gun type of urban

photography and street snap

* Look for the geometry, leading lines or

pattern in the scene

* Get lost in the city and don't be afraid

to explore

* (Not really a tip though…) Shooting

with a DSLR with huge tele zoom lens in

city may make you look like a creep or

paparazzi, get ready for weird look in

public!

Finally where can our readers go to see

more of your photos?

I am pretty active on Instagram

(@RitaTheTravelholic) but can also be

found on Twitter (@ritalaw), Youtube:

www.youtube.com/c/ritathetravelholic

and Facebook:

www.facebook.com/ritathetravelholic

91
---
92
---
93
---
94
---
95
---
96
---
ONLINE:

www.instagram.com/RitaTheTravelholic

www. facebook.com/ritathetravelholic

www.youtube.com/c/ritathetravelholic

www.twitter.com/ritalaw

97
---
NORIYUKI

Tomita

Welcome to Live Nori, tell us about

yourself and where you live, how you

got into photography….

I'm a middle-aged Japanese journalist

live in Tokyo. My speciality is art, cultu

re, and so on. I've just quit my newspaper

company this spring and now I'm a

free and traveling alone.

My first step job in photography was

for work in my twenties. At first, I used

a film camera and did the development

myself. Soon I got into and enjoyed taking

many photos as a hobby. In the beginning

I liked art and wanted to be an

artist in my youth, so that taking photos

tickled my artist's mind. In addition, my

photos were sometimes used with my

articles in the newspaper.

What sort of photography do you do?

Is it street or a mix of different styles?

Many are street photos. I'm free to go

to favorite places and take landscapes,

flowers, photos of old temples, and cats.

If possible, I would like to take portraits

more.

What is life like in Japan for you? Do

you work full time or is photography

your full time job?

I no longer work full time and now I'm

putting my dreams into practice enjoying

my free time. Travelling with a

camera is one of those dreams. I want to

continue this life like a cloud as long as

time and money permits.

How often are you out shooting?

Basically I always take my camera everyday

and use it whenever I find an interesting

scene.

Why did you choose to use Fuji?

I've used several makers for many years.

Nikon or Canon for films, Ricoh or Sony

for digitals. For journalism, it was necessary

to capture exactlly and closely.

But I came to prefer the more warm

and soft photos. Fuji suits my demands.

Occasionary I knew that old lenses can

be used with mirrorless and last year I

bought Helios. It was very exciting to use

it by manual mode and then I began to

buy many vintage lenses. I discovered

the summilux 50mm or 35mm of Leitz

that was produced about 50 or 60 years

before.They are wonderful because of

the beautiful and soft bokeh. Now I use

a Leica M8 too.

Are you involved in any clubs or photo

groups?

No. I prefer being alone. Fortunately

many followers see my photos in Instagram.

That's enough.

We love how you photograph the culture

of your country, what do you

think about when you're out doing

your photography? Are you just walking

and finding things or do you have a

plan and look for certain subjects?

I love this country and culture, but for

me, taking photo is more private, indiviual,

thing. I see old temples and flowers,

equally in my mind. Delight of creation is

important.

What would you tell a new photographer

who is starting out, how would

you advise them to do some street

shooting?

Don't use zoomlens with auto focus. Only

when you stop this, your world of photography

will be wide open.

Finally where can our readers go to see

your photos?

Someday I want to publish a photo essay

or books with my photos in near future.

For now you can find me on instagram

under @noripppyo.

98
---
99
---
100
---
ONLINE:

www.instagram.com/

noripppyo.

101
---
102Models
---
103
---
104

MODEL

Morgane

Were' guessing being a model in

France is competitive, after all

Paris, Milan and New York are

seen as the fashion capitals of

the world. We asked French model

Morgane, how she got started

as a model and just how difficult

it is there…

Morgane, welcome to Photo Live, tell

us about yourself.

Well I am Morgane, I am French and I

live in Lyon. I got into modelling a year

ago, when one of my friend asked me if i

wanted to try to do a photoshoot. First I

wasn't sure I could do it but after thinking

more about it I felt like why not, I like

his work, I know him, let's give it a try. I

always dreamed of doing a photoshoot

so I tried it out.

Is modelling for full time?

Its not a full time job for me, I would love

it to be. It's a passion that I have to create

some projects with photographers.

Are you registered with an agency

and what does an agency do for you

(a question for the many models that

contact me about starting out).

I dont have any agency beaucause I dont

have an agency profile because of my

small size.

(Editor: According to The Balance, a

female model in Paris needs to be five

feet nine inches to six feet tall, and figure

measurements are 34-23-33)

Still you've done so many amazing

photo shoots, how does that process

work? Does the photographer contact

you or is it booked through an agency?

Usually the photographer contacts me

via a social network. We discuss the project

and try to make it happen if we think

we can work together.

Tell us about your first modelling

shoot, were you nervous?

I was pretty nervous, I had never done

that before, I was scared to look stupid

or to make bad pictures. But I trust my

friend and he made me feel confident.

You can see my first photoshoot on instagram

and my progress with my friend

with who I've done many other awesome

projects.

How do you prepare for a photo shoot?

Well I talk a lot about the direction we

want to take with the photographer.

We talk about the look, the makeup, the

place where we are going to shoot the

photos. I find some inspirational images

online for the photoshoot.

Are you doing catwalk too … what is

the main type of modelling you do?

I only do photoshoots for now, however

I've been asked me to appear in a music

video!

What's the modelling scene like in

France? Is it difficult to get noticed?

Well there is a lot of girls that dream to

become a model so it's not an easy thing

to do.

You've build a great Instagram following

- can you share some tips for our

readers who may be just starting out

as models?

It's important to practice. Don't say yes

to just anything. Trust yourself and do

what you love.

What's been your favourite shoot?

My favorite shoot is one of my last

shoot. It's not on Instagram yet but it

will pretty soon. It was in a studio with

two photographers that are friends of

mine. We played with glitter and it was

so much fun, a bit sexy, colourful and a

lot of work.

Ok a fun question - what would you

take with you on a desert island?

Tough question, i need so many things

lol. I guess my phone, i am nothing without

my phone, if it works of course or

chocolate, chocolate is life.

Morgane thanks for letting us talk to

you, where can our readers go to see

more of your amazing work?

All my work is on instagram so I can

share my work and communicate with

everyone, you can see it at:

instagram.com/like.a.magic.unicorn

all photographs supplied by Morgane
---
105
---
106
---
107
---
108
---
109
---
110
---
ONLINE:

www.instagram.com/like.a.magic.unicorn

www. facebook.com/morganephotoslyon

111
---
112P odcast
---
s

113
---
PODCAST

TWIP

GLAM

Last issue we touched on some podcasts

we enjoy, and another brilliant

show is TWIP Glam hosted by Brian

Fischer and Roxanne Cali - welcome to

Photo Live!

Brian: Thanks for having us!

So to get started how did you both

come to know each other?

Brian: Like most models and photographers,

we met at a photo shoot. At this

point I had been on the hunt for a podcast

partner for over a year. As we shot

together I was immediately taken with

Roxanne's quick banter and the acoustics

of her voice. I asked her on the spot

if she would be interested in hosting a

podcast and we have been on this journey

together ever cents.

Roxanne: Brian first reached out to me

on Model Mayhem, I was new to the industry

and his photos were amazing! I

was quite nervous the first time we shot,

thankfully he made it so easy for me and

we hit it off right away!

You've shot together a few times -

how often and what's been a favourite

shoot?

Brian: We try to shoot together three or

four times a year, but our busy schedules

make that sporadic. Because I find

the process of working with Roxanne

so enjoyable, it's hard to pick, one of my

favorites would have to be an experimental

body paint shoot we did gluing

thousands of pink aquarium rocks to

Roxanne. The shoot went off without a

hitch but we had a ton of confused spectators

and and amazing mess to clean

up afterwards.

Roxanne: We have shot together countless

times, between Brian's portfolio jams

and our individual and group shoots, we

have a lot of photos. I also fondly remember

the pink aquarium rock shoot,

it's up there for sure, but the LED bikini

was such a fun project, that might be

my favorite. Brian made the suits and I

tucked the battery pack right between

my cheeks. Good thing he wasn't taking

photos from the back!

You've only recently become part of

TWIP - how did that happen?

Brian: Our road to podcasting has had

some interesting twists and turns. The

first iteration of our show,"Model Photography

Showcase", was a similar for-

114
---
mat but primarily audio with an attached

slideshow. That show was designed to

be a 26 episode run over the space of

one year. At the end of the series Frederick

Van Johnson announced the TWiP

network. After a bit of soul-searching we

had a meeting with Frederick and decided

to launch a modernized iteration of

the show on his network.

What's happening with the TWIP network

- we haven't seen the original

show for a while…?

Brian: This Week in Photo (TWiP) went

on hiatus earlier this year to allow for

some much-needed renovation. During

the hiatus the entire infrastructure that

drives the network has been reengineered

and updated. The good news is

that the main show we'll be returning to

the airwaves this November.

Back to your show - how do you find so

many talented people to talk to?

Brian: We spend a surprising amount of

time surfing through social media looking

for profiles. We don't just look for the

biggest names we can get on board. We

try to look for the spark of creativity regardless

of level of experience. We also

rely on a bit of crowd sourcing, when invite

people to send in suggestions with

every episode.

Roxanne: Brian is the master of finding

talent. He can typically tell from just one

image if they should be on the show, I

greatly admire his knack for that.

Who comes up with the questions,

what's the process to making the interview

interesting?

Brian: Our show is surprisingly organic.

We script the first 15 seconds and the

last 20 seconds of the show and have

a rough format, but everything else is

made up on the spot. To Roxanne's credit,

I regularly do not share the images I

have picked in advance. Her reactions

are 100% genuine and on the spot!

Roxanne: What makes the interview

interesting is the stories behind the

concepts, the bloopers, and the stylistic

elements. It's all there, we just put it

together! I enjoy the free-flowing ideas

rather than a strict script.

You both have a fun banter, there's no

awkward pauses, what's the secret?

Brian: Editing! Lots and lots of editing!, but

that's only a partial truth. Roxanne was

the 35th person I considered to podcast

with. She is amazingly quickwitted and agile.

Over the years I have thrown out some

of the most off-the-wall comments and

jokes, and she is right on top of it. I think

some of this comes from having worked

and traveled together for years but most

of it is just good chemistry.

Outside of the podcast, are you both

doing teaching… particularly together?

Brian: In the past I have done a fair

amount of workshop hosting and taught

workflow to professional photographers.

Unfortunately, the podcast has eaten

into my teaching. Each episode takes a

tremendous amount of time to produce.

Roxanne: I don't consider myself a teacher

per say, but I've been involved in many

photo workshops and training seminars

as the model. I would love to help Brian

in the future as we incorporate some

teaching into our podcast.

What's next for the show…?

Brian: That's a great question, we are

just about to complete season one. Season

two will begin just after New Year's.

In addition to our staple of interviewing

photographers, we would like to add episodes

involving more models, make up

artists, Fashion designers and so on. I

would also like to do more destination

shows. We may also co-host some workshops

in the coming year.

Roxanne: We are very excited to incorporate

more variety into the show, this

has been a labor of love and we want to

keep things interesting, so trying some

new things will be a fun adventure for

us. I thoroughly enjoyed our recent episode

where we shot at the castle in

Northern California and set-up a small

demo of how it all works. Hopefully those

types of shows will be more prevalent in

the coming season.

How do you deal with the nudity restrictions

on iTunes and YouTube?

Brian: Regretfully, the iTunes and primary

YouTube feeds have modesty boxes

over nudity. The good news is that we

publish an on edited version to the blog

posts at ThisWeekinPhoto.com

And finally how can readers subscribe

and listen? What can we do to spread

the word about TWIP Glam?

Brian: The easiest way to subscribe

is through iTunes, Not an iTunes user,

ThisWeekinPhoto.com has links to the

RSS feed that will let you subscribe with

any podcast application.

115
---
BRIAN

Fis ch er

116
---
Brian welcome to Photo Live. You're a

busy man, running a photo podcast,

blog and a photographer… what else

do you do?

Although I started out as a full-time professional

photographer, I quickly realized

that I needed stability and benefits. In

my 20's I went back to school and now

work in the medical field. In my personal

life I restore old trucks(Very slowly). At

the moment I am working on hey 1969

International Harvester cab-over semi.

I also dabble in drones, 3-D printing, antique

photography, and the list goes on.

Tell us about your photography, how

did you get into taking photos of

amazing people?

I like to say that I didn't get into photography,

photography got into me. I

have my older brother to blame, one

day I walked into the bathroom to find

him conducting mad science! There was

chemicals in trays, Machines shooting

lights on magical paper and this amazing

red light. I was hooked!

Through high school and college photography,

my work with human subjects

was limited to portraits. As I grew little

older, had more resources and had students

interested in the subject, I drifted

into shooting glamour. I had a powerful

experience handing over the results of

one of my early glamour shoots to it's

subject. The model was amateur with

relatively low self-esteem. Upon seeing

her images, she burst into tears of happiness.

There was no turning back, the

majority of my work has been glamour

from that point on.

One thing I've picked up watching TWIP

Glam is you really pay attention to the

details, is that something you're a natural

at or something you've learned

over time?

Without doubt it's a combination. I am

by nature detail oriented. I come from a

long line of engineers and schoolteachers,

and it shows. This may also be a

product of spending years in front of a

lightbox examining my own work. Digital

photography is great for instant feedback,

but nothing will slow you down

and make you pay attention like shooting

with the film. This is why I regularly

shoot with film to this day.

What's been a favourite shoot you've

done?

This is a hard one to answer, every shoot

is different and so many stand out and

not just because they produced the best

images. Sometimes it's just making an

amazing connection with your model.

My podcast partner Roxanne is a perfect

example. It started with a great photo

shoot and has turned into and amazing

friendship.

If I had to pick a tremendously fun photo

shoot I would have to go back to 2008

when I shot the Canadian model Ella

Modella. I was doing a series of "Prosthetic

swimwear" shoots and Ella came

to California to be involved. We had

amazing chemistry from the outset,

the weather was perfect and we had

tremendous fun. More than following

directions Ella has a wonderful sense of

her surroundings. We were coming to

the end of the shoot and Ella spotted a

spectacular sunset happening behind

me. We immediately ran past each other

in a sprint to capture the last moments

of light, turning into one of my favorite

silhouettes ever.

Other side- what's been not so much

fun?

I have a few to choose from. Being a

beach photographer I have drowned a

number of cameras and had a few scary

instances. In 2011 I was shooting a model

on top of a huge flat rock at Panther

Beach California. A huge rogue wave

came up one side of the rocks and down

my side. I was drug about 20 feet towards

a significant drop into the ocean

fortunately I came to a stop before going

into the drink. bloodied and camera destroyed,

the shoot was over.

How often are you doing collaborations

and who's involved?

Over the last 10 years I have worked to

boil my photo shoots down to the minimum.

Ideally I shoot with myself, the

model, occasional assistance and one

lens. I like the restriction of working with

and around the environment. I think it

forces you to be more creative.

Who comes up with the ideas - is it a

team thing or does it fall to you?

It's just me! (...and an Internet of friends).

I take time every day to look at great

photography. Whether that is model

mayhem, 500px or National Geographic.

I think that everybody has great inspirations

as we look at the world around

us. The trick is to grab that idea before it

fades and write it down.

117
---
118
---
How do you choose the model for the

shoot?

In the case of a shoot for a client I take

great care in determining their personal

preferences. Even if I feel a model is

not quite ideal for a shoot, it's important

to lean in the direction of the customers

preferences. For my personal work, I always

start with faces. If a model's face

speaks the message I'm trying to put

forth, everything else will take care of

itself.

Can you share 5 quick tips for people

wanting to shoot models?

1. Workshops - Group shoots and workshops

are fantastic way to introduce

your self to shooting models.

2. Start with a professional - Hire a local,

experienced model for your first two or

three photo shoots. Most models are

more than happy to work with new photographers.

3. Starts simple - keep your first photo

shoot sample. Natural light with a single

reflector and one assistant.

4. Communicate - make sure to communicate

your vision to your model and

invite her to set the boundaries of the

photo shoot.

5. Community - after starting your portfolio,

join the online community of photographers

and models. Websites like

'Model Mayhem" and 'One Model Place'

can be tremendous resources.

Bonus: 6. Model release - have your model

sign a simple release explaining the

boundaries of the photo shoot and what

the images will be used for. This is an essential

step for setting a models expectations

for a shoot.

Apart from Roxanne (hehe) who else

has been a favourite to shoot?

I've had so many positive experiences

over the years it's hard to choose. One of

my many favorites is model Gracie Kay.

(http://www.modelmayhem.com/kfly)

With a wonderful combination of Beauty,

Personality, Intelligence and Professionalism,

she is more than a great model,

she is one of my favorite people.

Finally where can we go to see more of

your photography??

With my personal website in dire need of

an update I suggest people check out my

profile on Model Mayhem.

www.modelmayhem.com/BrianFischer

119
---
120
---
121
---
122
---
ONLINE: www.modelmayhem.com/BrianFischer

123
---
MODEL & PODCAST HOST

Ava CALI

124
---
Hi Roxanne (Ava Cali), why do you model?

I know it's straight to the point but

hey let's dig a bit deeper…

Modeling allows me to create art with

my body as well as motivation to stay

healthy and fit. At any moment I could

get a great gig that needs me ready next

week...so it's a great motivator! I guess

if I'm completely honest, modeling gives

me confidence in my everyday life that

allows me to succeed in many other avenues.

How did you start modelling and tell

us a bit about your first shoots, were

they awkward, fun, difficult?

I was working in the office of a venue

that randomly hosted a photography

workshop for beginners one day. I

met the model and we started talking

about her nude portfolio and she asked

if I would want to shoot with her right

then. I was feeling spontaneous...so we

headed to a good backdrop and off came

our clothes! That first photo with her is

still in my portfolio on Model Mayhem. It

was definitely awkward and very fun. I

couldn't believe what I had done after it

was over, but I didn't regret it either! She

got me in contact with the photography

school and I did my fist studio shoot

about a week later. That photographer

was very patient with me as I was quite

nervous, we did silhouettes and got

some very neat shots! I remember dancing

around the backdrop and him just

going with it rather than instructing me

into forced poses. It was a great learning

experience. That started my portfolio on

Model Mayhem and the rest is history.

I often get asked about modelling and

one thing the girls who I photograph

talk to me about is that they are "not

the right look"… they are either not

tall enough or not skinny enough, can

you talk to us about modelling where

you are, what sort of of modelling can

someone do if they are not tall enough

or thin enough or…

Every shoot requires different body

types. I don't like to think about it in

terms of not being skinny or tall enough,

it's more about the style of photos your

body best lends itself to. If you are

healthy and happy, that is what matters.

It's about taking what you have,

making it the best it can be, then finding

photographers who appreciate your

look. Modeling is empowering, it's a tool

and an art form.

I find that living on the Central Coast, I

mostly get jobs with swimwear at the

beach, or boudoir shoots in hotel rooms

to help boost a photographers portfolio

to get more paid clients. The weather

here is so mild that I also often do nudes

in nature- that's one of my favorites as

it's a new challenge each time! For curvier

girls, pinup is a great look, but lifestyle

and swim can also be great options. Just

getting out there and experimenting

with what you like and what fits your

style best is important. You don't know

if you will love it until you try. I will say

though that if you are basing your income

on modeling, being tall and skinny

will likely get you the most jobs. It's

just the industry. Look outside the box

though and put yourself out there.

Are magazines that feature the typical

thin, tall model changing do you think?

I see often on TV ads that more regular

shaped people are being featured and

we applaud that, but is it something

you feel is going to stay with us…?

I do think there are more average everyday

bodies being featured in ads. They

are beautiful and I hope it does stick! I

think it's great for girls going through

puberty especially to see body-type variety

in ads. It's tough at that age.

Have you had any experiences with

being discounted because of your

physical look? Too tall, too short to anything?

I have been fortunate enough to work

with very kind and professional photographers.

I have never had a photographer

discount any of my attributes.

I think if this had happened early on it

would've have pursued modeling, so I'm

very thankful that it hasn't. Sometimes

I've looked at my images and realized

that there were things I wanted to work

on physically, but photographers hire

me based on my portfolio so they know

what I look like before I show up. If they

were looking for a different height or

shape, they wouldn't have reached out

to me.

Ok, on to some fun, what is your favourite

modelling genre for you?

I think I mentioned this earlier too...

Nudes in nature, specifically implied

nudes in nature are my favorite. They

challenge me because they are always

new situations to integrate myself into.

It's avoiding sharp objects and trying to

look natural while in very uncomfortable

poses. I just like the challenge and the

end result!

Can you tell us of any fun situations

that you've had, any "oops" moments?

Brian will tell you about one he caught

on camera, I was with 2 other models on

the beach facing away from the waves

when a freakishly large wave came out

of nowhere and soaked all 3 of us! It was

quite funny and very cold.

Talk to us about props, clothing etc, do

you buy them or does the photographer

or a stylist provide them for a

shoot?

I bring lots of Goodwill items to themed

shoots, sometimes they work, sometimes

they don't. For group shoots I always

bring my own wardrobe. I've been

on shoots where a stylist has pre-selected

everything I am wearing and it's

great! It's important to have up to date

measurements on your port for that reason.

I'm constantly picking up fun items

125
---
to bring to shoots. I have boxes of props

and funny outfits. It makes dressing up

for Halloween extra fun too!

You're also a podcast host, can you tell

us how that got started and how it's

going?

Brian and I met when he contacted me

to shoot years ago, we became quick

friends. He's had this podcast dream

for quite some time and asked me to be

his cohost. When I agreed I had no idea

where it was going. Our first podcast

was audio only (with photos from the

photographers we were interviewing)

and it morphed into a full-blown production!

They other day I was talking at a

school about photography and one

thing we discussed was the changes …

it seems that very few people are "just

photographers" these days. Often

they are content creators with stories,

video and much more across a bunch

of social media, do you think that's

happening with modeling?

Modeling is a relatively short-term gig

for most of us. Beauty fades. There's not

as much time for models to decide that

they want to broaden their interests in

modeling outside of trying different genres.

Photographers typically have a lifelong

passion lending itself to broadening

horizons when they hit a certain point in

their advancement. Models hit that time

and are usually at the end of their careers.

They could pick up a camera or get

into other aspects, but broadly speaking

there isn't a lot of time for them to be

more than "just models".

Ok a fun question - what would you

take on a desert island:

- Book

- DVD … movie or TV show (yes you have

electricity and a player)

- favourite clothing

- favourite food

- anything else?

I would definitely bring a survival book,

I love to read, but can't imagine reading

one book over and over. If I've read

a book once, that's usually enough. Just

like movies, if I know what's going to

happen it's just not as fun anymore. I

read and watch movies mostly for entertainment

value though. A survival book

would help enrich the rest of my life, so I

think I'd go practical. lol

I'd bring Princess Bride as my movie, it's

one movie I can't get enough of! It's so

quotable and I love all of the characters!

Even though I know this is theoretical

and I wouldn't need to worry about climate

and shade, all of those things come

to mind. I honestly prefer to be naked, so

if that was an option and the weather

was just right I'd choose that for sure.

My favorite clothes are sundresses, they

make me feel pretty and carefree...and I

love summer!

Favorite food has to be a tie...alfredo pesto

pasta with chicken or very spicy Thai

red curry. I couldn't live without both!

126
---
Other: I am an absolute wine lover to the

core. It wouldn't be home without plenty

of good wine! Mostly red, but white has

its' place as well.

My portfolio is on model mayhem at

www.modelmayhem.com/avacali and

hear our podcast at:

thisweekinphoto.com/category/twip-glam/

Finally Roxanne, where can our readers

go to see more of your amazing

modelling and hear your on the

podcast?

ONLINE: www.modelmayhem.com/avacali

thisweekinphoto.com/category/twip-glam

127
---
FILM

film classic

CAMERAS

This issue we again visited Tom at Camera House in Adelaide on Grenfell Street and

talked classic cameras. Tom had some beauties to share...

128
---
The Nikon F2 Photomic

Manufactured in Japan from 1971

to 1980 this camera used a horizontal-travel

focal plane shutter and titanium

shutter curtains. It's a 35mm

camera and uses the Nikon F-mount

for lenses. The interesting thing about

this camera, Tom pointed out, is the

F2 had an interchangeable viewfinder

(heads) that had pro's enthusiastic

about using it. It was the D800 of its

time. It's a solid camera, and came in

all black or black and silver top version.

The film locking mechanism is

brilliant as the rotating latch prevents

the film cassette dropping out of the

bottom until you open it completely.

It also featured 1/2000 shutter top

speed

Higher flash sync of 1/80

Slow shutter speeds from 2 - 10 seconds

with integrated self-timer.

If you want one you need to look out

for fatigue cracks on the titanium foil

and the only way to replace that is

buying a second body for parts without

cracks. Also check for high levels

of wear or corrosion on the film guides

and the pressure plate.

Ensure the shutter works on all

speeds. Slower speeds can be inaccurate

so check them. However these issues

can be looked at by a technician

who can do a clean and lubricate and

adjust.

If you're keen on film this is a good

camera to grab. It's solid, reliable and

brilliant to use.

129
---
Leica M4-P

It's beautiful. The stunning rangefinder

built from 1981 to 1986 and made

by Leitz Canada. It was finished in

black chrome and some hard to get

silver-chrome units can be found,

maybe. The M4-P featured 28mm and

75mm framelines so it could be used

with the newer lenses of the time -

the M lenses. It was a 35mm featuring

manual focus, manual exposure and

weighed 545g. Holding it in your hand

makes you want to load up some film

and hit the streets.

Image from Wikipedia.

Zeiss Ikon Contina

Also a 35mm camera, this one made

by Zeiss Ikon and first introduced in

the mid 1950s. Zeiss Ikon is a company

formed in the mid 1920s in Germany, it

came in a viewfinder and a rangefinder.

It featured a 1 second to 1/250 or

1/300 with the X and M Sync and Self

Timer. Excellent lenses and solid build,

it's a smaller camera in the hand then

the Nikon but still heavy compared to

some of today's mirrorless units. It's

sturdy and feels good in your hands…

130
---
"PBX has become my most valuable resource.

When I'm in a rut and just can't think of what's next for improving my business, I can scroll

through the ever growing library of interviews and just pick one. Sure enough there's

something in that random interview that I hadn't thought about or even knew was something I

could do.

Plus there's an amazing community of photographers in the Facebook group that are so giving

with their knowledge. I only wish I had found this sooner. -Justin Berrington

131
---
BLACKFOREST

Interview with BlackForest Bags founder - Rashi

132
---
There's one item photographers love

almost as much as their cameras.

It's something we faun over, desire to

have the next best thing, touch lovingly

and probably, if you're like me, have

way too many. I'm talking about camera

bags. It seems I can't ever find just

the right one. I've come to the conclusion

you can't have just one. So here's

my set up.

A backpack for overseas travel, it olds

two mirrorless bodies, a few lenses

and personal items. I take this on the

plane so I know my gear is safe. I also

have a messenger bag that's light but

sturdy that I use for walking around

streets and shooting touristy stuff.

But still I struggle, the back pack isn't

right for weddings or street cause

I'm having to take it off to get a lens

out - smart that the zip is against my

back so I can't be robbed though. The

messenger bag is good but sometimes

I'd like something a bit .. more stylish.

Something that my wife isn't going to

roll her eyes and … my hope is she likes

it so much she is also happy to put it

on her shoulder. Especially when she's

doing all the shopping and I"m carrying

everything she buys, plus my gear.

So I went searching on the web, and I

came across a bag I'd never seen before.

Checking their website I discovered

they actually are great looking

bags, roomy and the company seems

to really be into photography.

I reached out to Blackforest bags and

the founder herself came back to me

and we had a talk about bags… welcome

to Photo Live RashI!

Thank you very much for the

opportunity.

You're based in India, where abouts?

We are based in Surat, Gujarat.

Now there's a lot of photographers

here probably looking to start their

own business - not in bag production

but in other areas, how did you go

about starting your business?

I am actually a dentist by profession. I

am also a triathlete and a mother.

I had stopped working during my pregnancy

and had to take a long maternity

leave which gave me a lot of time to

start working on my own passion which

has now become a full time job.

I have always been fascinated with

photography and my husband is a photography

enthusiast. He makes some really

amazing pictures. We always carry

our SLR camera everywhere we travel,

be it family holidays or our solo trips. We

have tried a lot of bags existing in the

market to give us the right feel while on

the move. With time like everyone else

we have gathered a collection of cameras

and lenses, lights, a tripod and couple

of other essentials.

Whatever bag we tried over time, backpacks

and messengers had either a

very typical camera bag look or if they

looked slightly better, they couldn't perform

well. We often used to discuss what

an ideal bag should be like and my sole

search for one made me create one.

The thing that got me interested apart

from the look of the bags is that you

state one of the problems is that it's

been a problem carrying not only our

camera but all the other things at the

same time. Tell us how you tackled

that problem?

Its really important to have a well organised

camera bag which can keep the

camera body and lenses separated with

padded dividers, offer all round protection

and also provide additional pockets

for travel documents and personal

items. Creating just enough space for

all these gives freedom to any user to

use the pockets or slots as they would

prefer. It also makes it easy for one to

access anything they need instantly because

you know where you have placed

them.

To ensure long term use and comfort, we

have chosen the best, most natural materials,

designed well and ensured that

the artisans who handcraft our bags

follow the stitching instructions well to

avoid any tears and the bags must stay

intact.

The bags shouldn't weigh down the user

so they have to be made light without

compromising on the quality of leather

, cotton canvas, the foam padding, and

hardware.

I remember another bag manufacturer

doing a video on making their bags

and I confess I'm geeky enough to

have watched and enjoyed it, how did

you test your prototype bags to make

sure they were going to be right for

your market?

133
---
We have been working on this project

for almost an year before we launched

in August 2016. There were a 3 prototypes

and some initial samples made

and studied by a few photographers and

friends before we finalised the design of

our first series RIMO I. Field tests were

done by loading the bags with various

sets of equipment and lugged around.

In fact we travelled a lot with our own

samples and prototypes. They were sent

out to wedding photographers, fashion

photographers and also to various

reviewers like Steve Huff, Dave Cryer,

Chris Gampat, Brittany Smith. Over time

we have improved anything we thought

needed betterment and kept on moving

in that direction.

The study of materials and hardware

never stops even now because we are

yet expanding our product line due to be

launched in near future.

We welcome any feedback most happily

and work on those points yet adhering

to our design philosophy and ideas.

As someone who's photographed a

bunch of weddings over the years, one

thing that can be tricky is - getting to

your lens to swap quickly and quietly

- velcro is my enemy… was that something

you had to think about?

Yes velcro is a necessary evil. You just

can't do without it at least as of now

there hasn't been any breakthrough.

However there is one major change we

have established in our products which

you will notice when you receive our

bag. We have totally avoided using the

brushed nylon lining used by 90 percent

companies out there. This brushed nylon

lining seen in almost every camera bag

out there sticks to the velcro dividers

once they are inserted in the bag. We

have to struggle a little bit to place them

in the right position as best suited for

our gear. After discussing this with a lot

of photographers, we understood that

with many years of use, this brushed nylon

lining starts wearing off until a time

that velcro no longer sticks to it rendering

the bag useless. Everyone tries to

continue using the bag by changing the

position of the divider a bit but life of the

bag shortens as this lining wears out.

Also it is very noisy to pull off a velcro

divider.

This may not be a concern for many of

us who do photography just as a hobby

and don't end up using the bags everyday.

The lesser the bag is used, the lesser

the dividers are pulled out and placed

back, the more the life of the bag.

In our bags however the lining has been

changed to premium cotton twill which

looks classy. Offers smaller area for

velcro attachment and stays intact for

years to come. It is barely any noise to

be pulled out comparatively.

How many people work at Blackforest?

We are a team of six people within the

company.

Rashi Chaudhary, Founder. I design the

bags, source materials from various vendors,

write content for our website. I am

also head marketing and customer care.

This is because we need to stay involved

at all these fronts to ensure we connect

well with our customers and create more

than just a camera bags company.

Paresh Chaudhary, Co Founder ,my husband

is the Director at his own textile

firm, Nobletex industries. I work from

home mostly because we have a 3 year

old baby girl to look after. Therefore all

inventory maintenance, shipping from

the warehouse and all legal formalities,

documents and accounts is under his

wing. Website developer and technical

Incharge: This person helps us time to

time to instate any changes at our website.

He has been with us from our website

designing phase much before we

launched.

We have one accountant and one Warehouse

Helper who maintains the inventory,

packs all to be shipped bags and

dispatches them. He also maintains the

raw materials procured at the warehouse.

And one Assistant who can carry

on with some work I delegate time to

time.

We outsource manufacturing of bags at

a state of the art unit in India which does

work for a lot of top brands worldwide.

One thing we photographers sometimes

struggle with is getting our

name out there - seems everyone is a

photographer today. How did you get

your name out there in a pretty competitive

market with some quality bag

makers already established?

We believe people will notice us for our

designs, quality and durability. Once you

receive our bag, you will be able to see

how well they have been made and I am

very hopeful you will love to carry it out.

They look so great. The designs are not

made just for men. Women would love to

have one of their own.

Over this past year, we have been very

responsive to our customers for all their

requests and that makes a lot of difference.

You need to be there for them. A

lot of website visitors are recommended

by our customers. So the word of mouth

works.

We have gained only genuine reviews in

our journey and will always stay true to

that.

Our price point is a very great factor.

Once you receive our bag, you will definitely

agree our bags are value for

money.

134
---
135
---
136
---
One thing I love about your website

and blog is you actually have lot's of

great content about photography,

Travel, fashion and lot's of photo articles

- how did you decided to take that

path?

We are photography enthusiasts and

love travelling the world. We love making

new friends and our BLOG is very reflective

of our personal journey. We love

to share great content from all over the

world and I feel it is a very relevant platform.

Through our website, we intend

to do a lot more than just business. As

a photographer yourself, you would understand

how we artists are, there is an

urge to explore and bring beauty forward

to the world.

Now to be upfront you're not paying

anything for us to talk to you but we

are going to get a bag and put it to

the test… what I'm planning is having

3 different photographers use the bag

over a weekend and give us feedback.

Before I do that are the bags for DSLR

cameras or better for mirrorless ?

The bag which you are receiving, the VIN-

SON can carry:

1. SLR camera body or 2 mirrorless cameras

2. 2-3 lenses

3. Laptop – 13'3 in

4. Accessories

You can chose your own kit depending

on your use.

We're looking forward to testing the

bag out - where can our readers go to

see your bags and your great content

about photography?

They can be referred to this page. It all

begins here and then the website will direct

you to the associated pages.

https://www.blackforestbags.com

Thanks Rashi

Its been a pleasure.

Review

When the Vinson (Sand Tan) bag arrived from Black

Forest the plan was to put it to a series of user

tests. I was... going to share it with a few of the

photographers in our group, but then I started using

it and well, that's not going to happen. This bag

is beautiful and practical. I decided to take it on a

shoot in the city when I met up with local model

Amy Caldwell (you'll see her with the bag in my pictures).

Planning my day, I decided on taking my Fuji

XT20, 3 lenses, a small container holding SD cards,

spare batteries, my wallet, keys, cleaning cloth and

a few other bits and pieces. I put my iPhone 6s Plus

in the spot where you'd normally place an iPad and

off I went.

Things I loved were the shoulder strap has a swivel

so it's never tangled or wrong way round ( a pet

peeve ).Also it stays on the shoulder when walking

around but if you're moving quickly put it diagonally

across your chest and it sits comfortably.

The bag has a handle on top so you can pick it up

by the handle... you'd be suprised how handy this

is. The pockets are strong and snug, so to where

the iPad sits.

It's a combination of waxed cotton and full grain

leather and looks high quality. It feels nice to the

touch and if you're using one body and a lens or a

mirrorless and a couple of lenses it's perfect. And

the price is very good too for a high quality bag. The

bag flap closes with brass catches so at weddings

there's no velcro tear noise.

On the streeet the bag is a joy to use, it's easy to

access, looks quality and holds enough gear and

personal items for a days shooting.

Highly Recommended!

137
---
THE $1 BILLION

Instagram

GOLD MINE!

138
---
INSTAGRAM FOR THE FAMOUS

AND NOT-SO-FAMOUS...

I was browsing Harper's Bazaar

online the other day (hey I do model

photography!) and came across

a very interesting statistic... apparently

industry experts, in around

2015, estimated that brands spend

more then $1 billion per year on

sponsored Instagram posts. That's

a lot of money that use to be spent

on traditional media! Social media

sponsorship is a whole new world

of marketing and it's opened the

doors to just about anyone who's

willing to put in the hard work, has

talent and drive to make either a

part time or full time income from

their passion. But first a short history

lesson on advertising...

If you were to jump back into some

sort of time machine, and set the

date for around 1970 through to

the 80s or 90s, there wasn't too

many ways to get known locally,

let alone be world famous. You

had to be a star ( or rising star ) of

stage, screen, music, art ... maybe

politics, medicine, science, humanities...

On the darker side of life,

some have committed crimes for

fame:

John Hinckley Jr - He attempted

to assassinate President Ronald

Reagan so that he could use the

'fame' to get the attention of actress

Jodie Foster who he was in

love with.

Tonya Harding - The figure skater

so badly wanted to be the most famous

that she conspired to have

her competitor, Nancy Kerrigan,

attacked. The result was Kerrigan

recovered and placed higher then

Harding, who sunk to the lows of

the celebrity world doing a sex

tape and celebrity boxing.

In contrast we have millions of talented

people who made art, music

films and other forms of entertainment

or knowledge that gained

fame as a by product of their endeavours.

Albert Einstein for example

is a Nobel laureate in physics,

Nelson Mandela, Nobel laureate for

peace suffered years of imprisonment

for his beliefs. Musicians, artists,

creators, scientists, doctors

and leaders of nations have become

famous as a result of their

hard work and dedication.

In video games we have people

like Hideo Kojima who developed

Metal Gear Solid, Sid Meier of Civilisation

fame and Carol Shaw who

is noted as the first woman game

designer who, whilst working for

Atari worked on 3-D Tic Tac Toe

and world on Super Breakout.

These people became famous,

not because they sought fame but

because of their talent. Today that

line has blurred. Some people are

famous for simply, being famous.

Today, the whole game has

changed dramatically.

Traditional media doesn't have the

same power it once had. Magazines

and newspapers have been

closing in the hundreds each year.

The internet and particularly social

media has fragmented how

we consume entertainment. No

longer do we sit down on Sunday

night at 8.30 for the "Sunday

Night Movie" we have Netflix, Stan,

HBO, iTunes,YouTube and Amazon

among others to watch what we

want when we want. Social media

sites like Instagram allow anyone

with a talent to gather faithful followers

and engage with them by

sharing content. Then, if you're

good at creating interesting content

and good at gaining followers,

suddenly you're the "media" ... you

have the numbers to be a valuable

commodity for advertisers to

sponsor.

With that in mind, let's take a look

at one option for gaining followers

and maybe becoming ... famous.

139
---
Instagram: becoming an

"influencer"

Instagram is one of the key online

and social media choices for gaining

popularity. Instagram's research

shows that it has 2.8x higher then

average ad recall then other social

media networks. It also found that

consumers are a whopping 58x

more likely to engage with branded

content on Instagram then Facebook,

and 120x more likely compared

to Twitter.

Instagram visitors stay on site

for an average of 192 seconds

longer then any other social media

channel.

So Instagram offers those who

build an audience popularity, but

it's not just popularity that is the

motivation. Income, career and an

adventurous life itself can be the

rewards when you work the system.

You see advertisers pay for

eyeballs - the eyes of people who

are potential customers for their

products. If you're a photographer

using say ... Nikon equipment and

you have 30,000 followers that are

actively engaged with you on Instagram,

then you might be an attractive

proposition for a brand like

Nikon to work with you - I'm using

Nikon as a hypothetical, but you

get the point. That is ...

1. You need a large following

2. Your following needs to be engaged

with your content

Why engaged? Because anyone

can go and buy followers, and

while there's nothing wrong with

promoting and advertising your

media (your page/site) ... that's

how marketing works, ideally you

need followers to be involved with

you, to want to see your posts. In

the 80s if you were selling a product

you made an ad and ran it on

TV or radio or in print.

Today you are the product - people

are "buying" you so to speak. If you

have created something of value,

for example good photo content

and story's, then chances are you

can build an audience. Back in the

90s and prior, you first needed a

product or service, then you needed

to spend money with the media

to promote or sell that product. Today

you can bypass that expense,

no longer do you need to book a TV

campaign or an ad in a magazine

to get people's attention. Social

media sites like Instagram gives

everyone the same opportunity.

The key factor though is you need

your audience to be engaged, that

is connected to your content, enjoying,

likening and commenting on

your content.

It's no good having 100,000 followers

and getting 10 likes on a post.

Advertisers want people to see

and engage with their brand.

If followers (fans) are the starting

point for sponsorship, it's the engaged

fans that are the true currency

in this new world of media.

We did some quick calculations on

some of the biggest Instagram accounts

from celebrities and found

engagement rates varied. Some

were around 1% while others were

2.5% and more. However when

you have 100 million followers and

1% of your followers are engaged

that's still a massive number! One

percent of 100 million works out

to 1 million fans engaged and if

you're a brand that is 1 million potential

customers seeing someone

like Kim Kardashian use a product.

So a brand not only gets engaged

fans seeing their product but the

endorsement of a celebrity is the

cream on the marketing cake.

Engagement rates, getting

paid and becoming an Instagram

Influencer.

The Huff Post reports that some

brands pay between $5 and $10

per thousand followers. Some pay

more for bigger names, up to $100

per thousand followers. When

you're getting started and you've

got a reasonable following that's

growing, you may start out by

getting free product. As we said

though, it's not just about the numbers,

you need to build engagement...

getting your followers engaged

(enjoying, commenting and

liking) your content. So how do you

work out what your engagement

rate is? Let's take a look:

140
---
"1 million

potential

customers

seeing

someone

like Kim

Kardashian

use a

product."

Here's how you work out engagement

rates for your page:

Engagement Rate on Instagram:

(Number of likes & comments) /

(Number of followers).

Let's say an account has 50,000

followers and on average gets

1500 comments/likes - that gives

them an engagement rate of 3%.

Is that any good? Well let's do a

quick comparison. But first ... a

trip back in time. In the old days

of 60s, 70s and 80s advertisers

would measure the success by

the number of sales an ad generated.

Some smart marketers like

Readers Digest would run coupon

campaigns, constantly testing and

refining the message to improve

the response of the message. Today

people don't run coupon campaigns

so much, at least not like

they use to. But comparing Instagram

to email marketing gives us a

clearer picture.

On average (according to Smart

Insights) the open rate on an email

in the area of Entertainment is

21%, but the click through rate -

the number of people who opened

your email then clicked to see the

content was around 2.3% ... so not

too much different to Instagram.

But there are key differences. With

email you have a bit more time and

space to tell your story (sell product)

but on Instagram you have

the benefit of endorsement. That

means if you are a travel blogger

and use Instagram and have a

strong following - people are likely

to trust you and that trust is gold in

the bank. That is because your followers

believe you, they trust you

and if you say visiting a resort was

great, then they believe you and

might also put that resort on their

list of places to visit.

So Instagram gives a sponsor/advertiser

both reach and credibility

through endorsment.

Engagement Rates

We looked at the average engagement

rates on social media and

found Instagram to be top of the

pile:

Instagram 2.26%

Pinterest 0.042%

Facebook 0.216%

Twitter 0.027%

We'll take a look at Facebook and

Youtube in another issue, but for

now let's dig a bit deeper into Instagram.

We've asked a few of our friends

who've built solid followings for

some Instagram tips.

141
---
142

"Instagram's research shows that

it has 2.8x higher then average

ad recall then other social media

networks. It also found that

consumers are a whopping 58x

more likely to engage with branded

content on Instagram then

Facebook, and 120x more likely

compared to Twitter."
---
143
---
The World Loves Melbourne

theworldlovesmelbourne.com

instagram.com/theworldlovesmelbourne

Dave Hagger who started the blog

has a great Instagram following of

almost 38,000. His blog is for foodies

who want the best Melbourne

has to offer and also has a sister

site, The World Loves Sydney.

Dave is a Food blogger and I can

vouch he knows the best places

for a meal! Here's Dave's take on

using Instagram

Facebook is tough but if you pay to

play Facebook can be great. Instagram

is also moving towards more

pay to play!

5 tips for Instagram would be:

3. Post regularly. Build a following

by posting every day if possible.

However avoid posting too many

times a day because that diminishes

your value!

4. Effective use of hashtags. Use

local as well as broadly appealing

hashtags. Try to mix them up.

Avoid being shadow banned for

using spammy hashtags.

5. Style and curate your images!

Creative use of backgrounds. Use

props like Italian tiles, diff textures

like wooden boards, vintage props,

linen etc. Flatlays are still king - fill

the frame with interest. Short video

clips have good engagement

and are the way of the future!

1. Make it visually excellent! Use a

decent SLR camera and a decent

smartphone - as well as apps like

Snapseed (my favourite) to enhance

your already great photos.

Play around with effects and filters

so that the photo sings!

2. Make it bright and vibrant! The

trend is away from dark to vibrant

pics. Some filters help brighten,

even use a whiteness feel for effect.

144
---
Tiffany Dean Cosplay

instagram.com/tiffanydeancosplay

Tiff is onoe of our cosplay editors

and has worked hard building a following

across multiple social media

sites. Her Facebook sits at around

10,000 and has been her main social

media platform for some time,

but with changes to the algorithm

she's now begun building her Instagram

following with 2,500 so far.

1. I place my IG in the same place

as my FB re marketing. They're unfortunately

all I have and as IG is

now owned by FB, neither are great

for marketing. IG can be easier to

gain a following, however followers

are removed faster than you get

them. I'm aiming to become active

on YouTube and have IG as a secondary

thing. IG however is a great

booster during things like Conventions

(for cosplayers) as people

are generally looking for people

they may have taken a photo of.

2. The most effective ways to

grow IG are to try and keep posts

relevant to what your main focus

is. For example, as a cosplayer I

gain more followers if I post a cosplay

of something that is current

as it's what is 'trending.' Hashtags

are imperative to grow your IG as

they are what people search for -

it's how people can find you. Also

networking with others is helpful.

Some Instagram pages focus on

sharing others work - if you can

be shared on a page with a good

following it's a great way for your

follower number to increase.

3. The first 500 I actually found

easier than the rest, namely as at

that time, Instagram didn't go and

boot followers. The first 500 tend

to include a lot of friends and family

too which helps you reach that

number faster.

4. Re hashtags I just realized that

the best way to go is to make them

relevant. For example if I post a

photo of me in cosplay, I'm not going

to go and hashtag something

like gourmet meal (unless it's relevant

lol). I also try and do a few

hashtags but not have 30 of them.

It's a fine line between too little and

too many. It's also random and IG

works much like FB now in that you

could hashtag the same things for

different photos and get 300 likes

on one photo and 30 on another.

It's important to just see hashtags

as a way to tag relevant search

words so people can find your

photo.

5. I've been very lucky in that I've

not had too many negatives on my

own page. I've been called fat and

all sorts of things on pages with

so called 'fans' of certain things.

In those cases I tend to ignore it,

but in this case I kindly made them

aware that people may have gone

through a difficult time and that

the focus should be on the costume,

not a persons weight. I also

thought it important to speak up

for the sake of young people who

might develop eating disorders if

slim people are being called fat.

In most cases I either ignore or

just delete. I only respond if I can

correct someone respectfully and

kindly. If it all goes to pot I just delete

or block lol.

145
---
Sara Moni Cosplay

instagram.com/saramonicosplay

We've been big fans of Sara's over

the years and she's built huge following

online.

Facebook - 60,700

Instagram - 29,800 plus followers

We asked Sara for a few quick tips

on how she got going on Instagram:

It wasn't really difficult to build my

Instagram. It's difficult to maintain

and keep content flowing more

than anything!

1. Don't be concerned with numbers,

be concerned with engagement,

the type of audience that

you attract and if it's the attention

you really want.

2. Don't be afraid of taking weeks

in planning and researching costume,

never rush

3. Never compare yourself to

someone else in an unhealthy way.

Fun competition can be motivating,

but never get down on yourself

Instagram marketing company, Dash Hudson, CEO Thomas Rankin suggests you need at least 5,000 followers although

10,000 is the number that will more likely get the attention of brands... but they need to be real and engaged. Harper's

Bazaar magazine reported that fashion blogger, Daniella Bernstein of @weworewhat charges between $5000 and

$15,000 for a single branded Instagram post.

(http://www.harpersbazaar.com/fashion/trends/a10949/how-bloggers-make-money-on-instagram/)

146
---
Charlotte Nicholson

instagram.com/charliegirlnic

Charlotte is an Adelaide based

photographer.

1. Know your demographic! Knowing

your audience is vital to Instagram.

Understanding your audience

helps with how you post,

when you post and what you post.

2. Interact with other Instagram

accounts that also post to a similar

audience demographic. Getting

your posts into their feeds can

be a case of interacting with their

posts. This can be done by liking

posts, following, commenting or direct

messaging them. Interact with

your followers. Take the time to

thank followers for comments. Interaction

means that your content

has a better chance of reaching

their Instagram feed. Pay attention

to accounts that regularly like your

posts, they are still seeing your

posts and it's because the algorithm

has noted they like your content.

3. #... Learn how to hashtag. Research

hashtags that are popular

in your genre of content. For example:

brands, location, style and

content relevant.

Instagram allows up to 30 #'s per

post that need to be in your original

post to count. Hashtags are

a way to get your content to new

accounts. Using the right hashtag

can throw your content into the

feed of new followers who may be

interested in your content based

on what they are interested in, who

they follow, and what hashtags

they have used recently.

4. Use the stories feed to bring

your content directly to the attention

of your followers. When any of

us open up Instagram the stories

feed is the first content we see.

This is an opportunity to direct your

followers to your content.

5. Post consistently. Post quality

content at regular times over the

week. Don't be that person that

posts 10 posts in one evening and

then doesn't post again for a few

days. Insights information will help

you determine what time of day

and what content works for your

account.

147
---
THE INSTAGRAM AUDIENCE

EXPERIMENT

OR HOW WE SCREWED UP OUR EDITOR'S FEED...

"...feeding

him a few

Red Bulls

and a donut

calmed him

down a bit."

We decided as part of this story

to experiment on Instagram using

sites that promise large "real"

followers for payment. We didn't

want to damage the Gametraders

account so we volunteered our editors

photography account. After

much persuasion (promise of a 6

pack of Red Bull) we got started on

our experiment.

To begin he (foolishly) closed his

old account and created a new

one - you can see it here:

https://www.instagram.com/rjp_

adelaide/

Next he started posting some photos

as he is a photographer that

does a lot of portrait and model

photography sprinkled with occasional

cosplay.

Over a few weeks of terrible hash

tagging skills he'd managed only

130 followers. We reminded him

how useless he was and that he

wasn't allowed to do anymore

hash tagging. He didn't take the

criticism to well but feeding him a

few Red Bulls and a donut calmed

him down a bit.

Now it was now time for the experiment.

First up we researched a

bunch of sites that offer to sell or

gain you followers for around $20

- $30 U.S. We bought 1000 followers

that flooded in pretty quickly.

The engagement, however stayed

the same, in fact it went down! At

this point the Editor started to really

freak out, worrying about getting

banned or something.

Next we tried another seller and

got another 1500 but engagement

remained poor. As an example -

see the Wonder Woman photo of

cosplayer Tiffany Dean, sure the

hashtags could have been better

and we decided to work on that as

we experimented.

Next we got in contact with one

of the mega follower sites with

names like Portrait of the Day or

similar - I won't share which one,

but this generated thousands of

likes of the supplied photo (cost

$20 US) but not many followers.

We experimented by letting them

choose the photos to share - we

got two shares and we had thousands

of likes and lot's of positive

148
---
comments on the photo. So that

worked in that we got awareness

but not a lot of rub off with regards

to followers. However, the followers

it did generate were genuine

fans of the photography style on

his page plus we notice that even

though followers were not growing

and likes were still small comparatively,

we noticed that some of the

"likes" were coming from followers

with large followings themselves.

Doing some quick calculations, our

editors' page engagement rate is

slowly creeping up to 1% (again)

after being punished, now we use

the word punished here loosely but

maybe not. You see after we began

the experiment and saw how

bad the engagement level was we

did some digging and and came

across the term - Shadowban...

there's a very comprehensive article

here on Shadowban -

thepreviewapp.com/avoid-instagram-shadowban/

name and press Get Tested...

shadowban.azurewebsites.net

When we tested, we were "safe"

so that means either our content is

not good, our hashtags are terrible

(yeah we know) and not working

or, and this is probably it, a combination

of bought users that are not

engaged plus poor hash tagging.

So in conclusion to our experiment

our editor now has thousands of

followers, a low engagement rate

but he's seeing different types of

"likes" and he hopes to build on

that. He did threaten to delete this

account too and start again, but

after another bunch of Red Bulls, a

few donuts and some advice from

friends, he's decided to keep it and

work on getting the engagement

rate up.

It points out that there are 4 things

you can do to avoid this Shadowban

situation including avoiding

using buying apps/sites like we

used. Plus they mention banned

hashtags! With regard to Shadowban

we did some more digging

and found the respected website

- Petapixel has an article on Shadowbans

and even has a link to this

site that claims to test if you are

"banned"

You can see the site here and you

simply paste in your Instagram

149
---
facebook.com/photolivemagazine

instagram.com/photolivemagazine