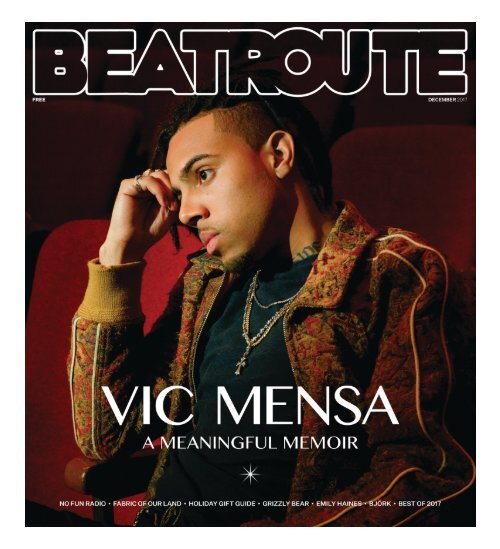 Beatroute Magazine BC Print Edition December 2017
BeatRoute Magazine is a monthly arts and entertainment paper with a predominant focus on music – local, independent or otherwise. The paper started in June 2004 and continues to provide a healthy dose of perversity while exercising rock 'n' roll ethics. Currently BeatRoute's AB edition is distributed in Calgary, Edmonton (by S*A*R*G*E), Banff and Canmore. The BC edition is distributed in Vancouver, Victoria and Nanaimo. BeatRoute (AB) Mission PO 23045 Calgary, AB T2S 3A8 E. editor@beatroute.ca BeatRoute (BC) #202 – 2405 E Hastings Vancouver, BC V5K 1Y8 P. 778-888-1120
BeatRoute Magazine is a monthly arts and entertainment paper with a predominant focus on music – local, independent or otherwise. The paper started in June 2004 and continues to provide a healthy dose of perversity while exercising rock 'n' roll ethics.

Currently BeatRoute's AB edition is distributed in Calgary, Edmonton (by S*A*R*G*E), Banff and Canmore. The BC edition is distributed in Vancouver, Victoria and Nanaimo. BeatRoute (AB) Mission PO 23045 Calgary, AB T2S 3A8 E. editor@beatroute.ca BeatRoute (BC) #202 – 2405 E Hastings Vancouver, BC V5K 1Y8 P. 778-888-1120
SHOW MORE
SHOW LESS
You also want an ePaper? Increase the reach of your titles
YUMPU automatically turns print PDFs into web optimized ePapers that Google loves.
wTRIM SIZE: 10.25"W x 11.5" H, RIGHT HAND PAGE

ALL I WANT

FOR CHRISTMAS

IS SHOE

JOHN FLUEVOG SHOES 837 GRANVILLE ST 604·688·2828 65 WATER ST 604·688·6228 FLUEVOG.COM
---
December'17

PUBLISHER

BeatRoute Magazine

LAYOUT

& PRODUCTION MANAGER

Naomi Zhang

Front Cover Photo

Courtesy Universal Music

Front Cover Design

Randy Gibson

CONTRIBUTING WRITERS

Bailey Barnson • Sarah Bauer • Jonny

Bones • Seth Cudney • Quan Yin

Divination • Mike Dunn• Kennedy Enns

• Slone Fox • Colin Gallant • Jovana

Golubovic • Michael Grondin • Greg

Grose • Kathryn Helmore • Max Hill •

Alex Hudson • Sarah Jamieson • Jeevin

Johal • Karolina Kapusta • Charlotte

Karp • Ana Krunic • Arielle Lessard •

Sarah Mac • Paul Mcaleer • Brendan

Morley • Andrew R. Mott • Zoei Nijjar

• Adesuwa Okoyomon • Emma Sloan •

Stepan Soroka • Vanessa Tam • Willem

Thomas • Brayden Turenne • Alec

Warkentin • Mat Wilkins • Jordan Yeager

CONTRIBUTING

PHOTOGRAPHERS &

ILLUSTRATORS

Robert Anderson • Nedda Asfari •

Peter Battistoni • Bryce Hunnersen

• Bill Crisafi • Elissa Crowe • Tj Dawe

• Itai Erdal • Cody Fennell • Greg

Gallinger • Maria Jose • Dahila Katz

• Anita Lewis • Connor Mccracken •

Nelson Mouellic • Darrole Palmer • Jaik

Puppyteeth • Daniel Rampulla • Rachel

Robinson • Shimon Karmel • Raymund

Shum • Landon Speers • Jake Stark •

Steven Taylor • Matthew Zinke

ADVERTISING INQUIRIES

Managing Editor

Jordan Yeager

jordan@beatroute.ca

BPM

Alan Ranta

alan@beatroute.ca

Comedy

Graeme Wiggins

graeme@beatroute.ca

Live

Galen Robinson-Exo

galen@beatroute.ca

Editor-In-Chief

Glenn Alderson

glenn@beatroute.ca

City

Yasmine Shemesh

yasmine@beatroute.ca

Local Music

James Olson

james.olson@beatroute.ca

The Skinny

Johnny Papan

johnny@beatroute.ca

Film

Hogan Short

hogan@beatroute.ca

04 HI, HOW ARE YOU? 22

05

06

11

13

16

19

- with Rudolf Penner

PULSE - CITY BRIEFS!

CITY

- No Fun Radio

- The Fabric Of Our Land

- pulses // patterns

- The Rockin' Cowboy

HOLIDAY

GIFT GUIDE

FOOD & DRINK

- Holiday Hops

- Bottoms Up:

Trans Am Restaurant

BEST OF 2017

MUSIC

- Alex Lahey

- The Barr Brothers

- Grizzly Bear

- Emily Haines

- The Pack A.D.

Photo by Michael Fulton

24

27

29

29

34

THE SKINNY

- Cancer Bats

- Scrape Records

BPM

- Contact Winter Music

Festival

- Hundred Waters

- Xavier Omär

- Vic Mensa

- Snotty Nose Rez Kids

FILM

-Best of 2017

ALBUM REVIEWS

- Björk

- Angel Olson

- Big K.R.I.T.

- Tennis

- Young Lean

- MORE

LIVE REVIEWS

- Flying Lotus

- King Krule

- Gwar

HOROSCOPES

Glenn Alderson

glenn@beatroute.ca

778-888-1120

DISTRIBUTION

Gold Distribution (Vancouver)

Mark Goodwin Farfields (Victoria)

Web

Jashua Grafstein

jash@beatroute.ca

Social Media

Mat Wilkins

mat@beatroute.ca

BEATROUTE MAGAZINE

202-2405 Hastings St. E

Vancouver BC Canada

V5K 1Y8

editor@beatroute.ca • beatroute.ca

©BEATROUTE Magazine 2017. All rights reserved.

Reproduction of the contents is strictly prohibited.

TOKiMONSTA- Page 23

December 2017 3
---
WITH RUDOLF PENNER

GLENN ALDERSON

We met Rudolf Penner on the sixth

floor of the Bay, shopping for socks

before an umbrella party that he

was attending that evening at the

Vancouver Art Gallery. The smell

of holidays was in the air and he

looked suspiciously similar to Santa

so we couldn't resist asking him

for a chat about what his life was

all about living south of the North

Pole. Little did we know we'd be

getting a glimpse in to the window

of a wonderful man who's an artist,

activist and all around good soul.

Penner's business card reads artist,

poet, musician and computer lessons

but after our chat we learned he

was so much more than all of those

things combined. You never know,

maybe he actually is Santa.

How long have you been living in

Vancouver?

Rudolf Penner: Since 1960, with a

brief hiatus in Clearbrook, BC where

I played my harmonica for a bunch

of cows a few times. Although they

didn't pay me, they honoured me

with rapt attention, came running,

but always kept chewing their cud.

Has anyone ever told you that you

have an uncanny resemblance to

Santa?

RP: This is a no brainer. Even the cops

think I look like Santa! One pair of

them got me last year and thought

I was a thief. I'm glad they didn't get

out the cuffs. I've got my own cuffs

and they're on my boot tops. Luckily

they have hardcore shockproof

laptops, which they viewed to

determine I was not the thief. They

used voice recognition to identify

me, I believe. Never asked for I.D. but

just asked me to say my name. No, I

didn't say Santa. Apparently a lot of

older guys with beards look exactly

like me.

Have you ever seriously considered

working part-time as a mall Santa

over the holiday season?

RP: I was recruited by one local mall,

with photos and everything taken,

but upon reading the contract, I

found it looked like it had been

quickly copied and pasted together

from the web, so I declined. Santa,

in this mall, had to go waltzing thru

the mall playing an instrument

and singing Christmas carols. His

other duties included sitting in

a Santa chair and receiving visits

from children. The contract,

however, specified, that under no

circumstance was Santa supposed to

touch the kids. I imagined a scenario

where a parent would place the

young boy on my lap or knee and

leave him there, and I would not be

able to hold him up.

The other thing that disturbed me

about the Santa role is what if I don't

know the toy the child or hipster

is asking for? Well, there are Santa

schools for that, you know? And

they teach you all the ins and outs of

being a mall Santa.

One woman at a park gig about

eight years ago asked me to get her

boyfriend out of jail. I obliged. Yes,

I was dressed in a Santa Suit and

played up the empathy card quite

heavily. It worked!

You mentioned the harmonica.

What other instruments do you

play?

RP: I play the flute, organ, synthesizer,

piano, guitar, and drums. I am

surprised, because I can still play

all of these items despite having to

divide my time. If I have a gig with

one instrument, I'll focus on that for

three to eight weeks and seem to be

able to get on well. I recently played

the UBC organic farm as a busker,

joined by a pal named Daniel, on the

washtub bass. We made hardly any

cash but walked away with armloads

of fresh produce and coupons for the

farm market there.

Do you remember the first or one

of the more memorable live music

shows you saw in Vancouver?

RP: I saw April Wine at the

Commodore, some time after

1987. It was incredible. I have often

wondered why they never upgraded

themselves to a modern stage set-up,

but the music was awesome.

What are you listening to right

now?

RP: I listen to old rock by accident

when I'm surfing online. Other than

that I'm just listening to Stripped, a

fantastic album by the Rolling Stones.

I really like some of the newer bands,

but since I seldom listen to the radio,

I find it hard to hear them. I went to

see the Sheepdogs and Wintersleep

at a New Year's celebration at

Canada Place. Thank you Canada

for acknowledging Canadian talent.

The Sheepdogs are coming to the

Commodore on Feb. 16.

What is your favourite thing about

the Christmas holidays?

RP: That you're allowed to dress

up your place in all the bells and

whistles, baubles and ornaments

hanging from wires in your home,

visit Christmas tree farms in town,

drink Black Russians, eat Halvah and

occasionally someone is cheered up

just by the fact that they're in the

Christmas spirit or they see me and

think of Santy Claus.

What is something you see

in Vancouver that makes you

particularly excited to call this city

home?

RP: I see the acceptance of people

from myriad other countries. It is

a relief to hear less racism, and we

multi-lingual, multi-ethnic and otherviewed

populace. I find the young

people in the city are particularly

polite to me, and I don't know

why. I attribute it to TV. In the '90s

programs were dialoguing about

so many different things that the

youth picked up on and seem to

have incorporated it into their way

of thinking.

What's one thing you would change

about Vancouver?

RP: I would like to see all the

developers and real estate sellers in

jail. And more creative live music

venues that cater to local musicians.

What do you think is one of

Vancouver's best-kept secrets?

RP: The China Cloud (524 Main St.)

Wednesdays, 9 p.m. Be there or be

oval. It feels like a private nightclub;

there you can hear psychedelic rock,

folk and jazz and get cheap Bulleit.

One of the last underground jazz

joints folks.

are

Rudolf

basically

Penner

forced

may

to

be

deal

jolly,

with

but

a

he doesn't roll with Santa.

4

December 2017
---
CITY BRIEFS!

Yolks Restaurant & Commissary East Van Panto Shiny Chinese Lantern Festival Queer as Funk

YOLKS RESTAURANT &

COMMISSARY

Yolks is located at 1598 East Hastings

East Vancouver's favourite breakfast

joint has got itself some fresh digs, just

up the street from their former location

on Hastings and Clarke. Now at

Hastings and Woodland, the new space

spans almost 2,000 square feet and

seats up to 100. Mmm... those perfectly

poached egg bennies. Plan brunch now.

EAST VAN PANTO

December 1- January 6 at the York

Theatre

Theatre Replacement is celebrating

its fifth anniversary of East Van Panto

this year with a roaring production of

Snow White & the Seven Dwarves. In

this adaptation, the panto — always

taking a local angle — sees Snow White

attempt to escape the evil Queen of

North Vancouver, dancing with the

PNE's SuperDogs and befriending some

'80s rock and rollers along the way.

HYPE! AN IMPROVISED HIP

HOPERA

December 8 at Havana Theatre

Instant Theatre Company is known

well for its hilarious, razor sharp improv

and with Hype!, the team combines

Broadway and hip-hop to deliver likely

the wittiest freestyling musical you've

ever seen.

SHINY

December 6-9 at Left of Main

In collaboration with Maxine Chadburn

and Rianna Svelnis, dancer and

choreographer Kelly McInnes explores

how chasing society's impossible

beauty standards can dangerously

warp one's sense of self in this poignant

multidisciplinary performance. The

piece was partly inspired by McInnes'

personal struggle with body image and

eating disorders.

CHINESE LANTERN FESTIVAL

December 15-January 21 at the PNE

This five-week celebration of Chinese

culture includes 35 spectacular lanterns,

a variety of performances like folk

dancing, plate spinning, and acrobatics,

and food trucks where attendees can

enjoy eats like dim sum.

EAST VAN CHOIR COLLECTIVE

WISH FUNDRAISER

December 14 at Rickshaw Theatre

Three East Vancouver-based choirs

— Kingsgate Chorus, ESCHOIR, and

the Mount Pleasant Regional Institute

of Sound — are bringing their voices

together to raise funds for WISH, a

Downtown Eastside drop-in centre for

women involved in the street-based sex

trade. The vocalists will be performing

music by Sade, Sufjan Stevens, and

more.

NO DRESS REHEARSAL: A

TRIBUTE TO GORD DOWNIE

December 14 at Rio Theatre

Canada suffered a grand loss this year

with the passing of Gord Downie,

beloved frontman of the Tragically

Hip. To celebrate his life and work, a

handful of artists including Twin Bandit,

TJ Dawe, and Bend Sinister's Dan

Moxon are gathering to pay tribute to

their barstool bard. Partial proceeds of

the event will benefit the Gord Downie

and Chanie Wenjack Fund.

NEW YEARS EVE TRIPLE HEADER

December 31 at the Comedy Mix

Start your year off with laugh with local

fave comedians Graham Clark, Dino

Archie, and Simon King! Charlie Demers

hosts, and there will be door prizes,

party favours, and a champagne toast.

QUEER AS FUNK

December 31 at Wise Hall

Ring in the New Year with Vancouver's

most electrifying soul, Motown, and

funk cover band as they celebrate

with tunes from Aretha Franklin and

Stevie Wonder to Bruno Mars and

Justin Timberlake. With horns, strings,

percussion, and seriously rich vocals,

the eight person-strong group —

unique in our local LGBTQ community

— maintains an ever-triumphant

command of the genre.

December 2017 5
---
CITY

NO FUN RADIO

BROADCASTING AN ECLECTIC MIX OF VANCOUVER TASTES

LAUREN DONNELLY

Photo by Darrole Palmer

Matt Perry (Kutcorners) co-hosts Polar Radio on NFR with Nick Wisdom.

In an unassuming brick building

in Vancouver's Gastown, behind a

green-barred gate, there's a midday

party going on. Broadcasting live onto

the web is the Polar Radio Show –

just one of a number of shows made

possible by the six-week-old nonprofit,

No Fun Radio (NFR).

NFR recently set up shop in Hi-Five

grilled cheese's old digs at 30 East

Cordova Street. Derek Duncan is

one of four co-founders behind the

newcomer to Vancouver's music

scene.

The space is only about

100-square-feet, but what NFR lacks

in space it makes up for in confidence.

"It doesn't need to be bigger," says

Duncan. "I like that it's just meat and

potatoes. There's no bloat to it –

obviously some of that has to do with

the fact that it's self-funded but I feel

like we got the studio that we wanted.

We didn't have to cut any corners."

The founders aren't cutting corners

on their plans, either. In the process

of finalizing logistics for a visual

component to accompany audio

streams, NFR is also moving forward

with workshops to teach people

how to use DJ equipment in a safe,

inclusive environment. "When I first

started throwing shows in Vancouver

it was really difficult," says Duncan,

who DJs for a living. "It's really difficult

to know what to do. It's hard to know

how to build a budget, how to get a

venue, how to make a poster – and

those are all things that we'd like to

teach people too."

NFR is focused on nurturing the

local community in order to put

Vancouver on the map. The goal is

also to branch out with more live

events that provide broadcasters with

the opportunity to play outside of

the radio station. To facilitate support

for local artists, NFR is diligent about

archiving its shows. Archived work

is available online 24 hours after

broadcast.

Modeled after international

web-based radio stations such as

Amsterdam's Red Light Radio, and

Los Angeles' Dub Lab, the station

currently hosts international artists

on Fridays and Saturdays. Although

its main focus is on broadcasting live

out-of-studio, Duncan says they're

already receiving show pitches from

around the world.

"Vancouver has such a habit of

putting an outward focus on music

and there's so much talent here,"

says Duncan. "And every city is guilty

of that, but I think it's good when

people have strong support for their

locals and they go out and pay cover

and respect the energy that goes

into it. It's important that people

understand that that's how you build

community – by supporting your

neighbor and caring to know about

what other people are doing."

Show programming features an

eclectic mix for every taste, ranging

from trap, to disco, to house, to

bhangra. The station provides

broadcasters with a platform from

which to transmit their creativity.

That's the goal, says Duncan. "All of

us really just envisioned creating a

platform for people in Vancouver to

reach outside of their sphere."

"You're able to tune into all these

really amazing local DJs but also

you get to listen to everybody who's

coming through the city."

In its current state, Canadian

radio leaves a lot to be desired. CRTC

regulations are imposed but don't

necessarily result in more support for

local artists. Operating on the web

means NFR is free from the chains

of regulation. Duncan sees that as

a boon for creativity. "You're not

promoting creativity if you're putting

harsh guidelines on somebody,"

he said. "You open yourself up to

having a way wider sphere of audio

that you're able to play if you're

not confined to those sorts of

regulations."

Duncan acknowledges Vancouver's

history of solid university radio

stations but argues that local radio

has never been a good representation

of underground music or an ideal

environment for a DJ. That's why

NFR is focused on providing the

means – good monitoring, intuitive

DJ equipment – and the platform for

local artists to build their skills while

being heard.

The reception so far is better than

NFR-founders imagined possible.

"We weren't sure if we'd be able to fill

this many hours with content," says

Duncan. "We wondered if Vancouver

really had the thirst to participate.

The answer is totally yes. Right away,

everybody's been keen to share. We're

just six weeks in and we're seeing

people coming to the studio, teeming

with excitement because they've put

so much energy into doing something

and they're seeing results. Seeing that

2,000 people listened to your radio

show last week, that's cool."

Tune in to No Fun Radio online at

www.nofunradio.com

ESSENTIAL CINEMA ESSENTIAL BIG SCREEN // HAPPY HOLIDAYS

City Lights

Dec 22, 23, 28, 30

Paris, Texas

Dec 22, 26, 29

Black Orpheus

Dec 23, 27, 29

Ikiru (To Live)

Dec 23, 26, 30

Days of Heaven

Dec 27, 28, 30

6

December 2017
---
Bernard Frize Altesse (2007) acrylic on canvas | 114 1/8 x 89 3/8 in (290 x 227 cm)

Rennie Museum | 51 East Pender St | Vancouver
---
THE FABRIC OF OUR LAND

REINFORCING THE THREADS OF COMMUNITY

PULSES // PATTERNS

DISMANTLING THE PAST TO FORGE THE FUTURE

CITY

KURTIS ARMSTRONG-SINCLAIR JEEVIN JOHAL

Now until April 15, the Museum of Anthropology (MOA)

is hosting The Fabric of Our Land: Salish Weaving in

collaboration with the Musqueam Indian Band — a showcase

of traditional and contemporary weaving that spans over 200

years of Salish tradition.

From 1885 to 1951, the Government of Canada imposed

a law called the Potlatch Ban. This restriction prohibited

First Nations from practicing important ceremonies and

traditions that have been mainspring in their culture for

many generations. These laws were put in place to erase the

culture of the First Nations and assimilate their people into

the melting pot that is Canada. One of those traditions was

loom weaving. Residential schooling made it near impossible

for the community to pass down the craft from mother to

daughter. Contemporary weavers, like Debra Sparrow, have

had to learn how to weave by studying only photographs

and patterns from books. The last known weaver, Sparrow's

great grandmother, passed on in the early 1930s. Now, after

85 years of cultural oppression, the Coast Salish people are

working passionately to reconnect with their heritage and

revive their lost craft.

"We are not going to stop until we wrap the city of

Vancouver in blankets," says Sparrow.

The museum has a dedicated viewing room for the

weavers to study the blankets up close. A rare opportunity

for the artists, as these blankets have travelled from as far as

Finland to get here. Many have been rolled up in storage for

the last couple centuries and this is the first time the public

has been able to view them.

Salish weaving is a truly ancient practice. According to

oral tradition, blankets have been woven since the beginning

of time. They were traditionally made from the hair of a

now-extinct breed of woolly dogs, specifically bred by the

Salish for their long white fur and exclusively fed salmon. The

breed disappeared in the early 1900s when the Hudson's Bay

Company introduced cheaper sheep wool blankets produced

Photo by Markku Haverinen

en masse. Dog wool blankets could not compete with the

company and the breed soon became extinct. The people

also spun wool from the hair of mountain goats and used

dyes from the plants they found all around them. Woven

items are still used in ceremonies as regalia and are often

given as gifts to the community during potlatches. These

utilitarian works of art are immeasurably valuable; there are

lessons of integrity woven into the fabric of each piece. There

is a need within the culture for this craft to exist. It connects

the Coast Salish to who they are as a people. The designs

created are focused and mathematical, intricate patterns

that affirm value within Salish culture and give them a place

to set their feet down. The weavings represent the beauty

of the land and contain the connected memories of many

generations.

Contemporary blankets take up to five months to create,

so we can only guess the amount of time that was required

in the past. The women see this methodological work as a

time of connectedness and meditation: the loom is a space

for them to connect with their heritage and ancestors after

so many years in the dark. Although the old blankets were

treated with arsenic as a preservative, all of the contemporary

blankets are used frequently in ceremony.

To be in spirit is to be inspired. The Salish, inspired by

the world around them, see how they are responsible for

the world that they live in. This respect for the Earth and its

resources is a foundation of identity to the people. As such,

The Fabric of Our Land: Salish Weaving is not an exhibit

and it is not archaeology. These pieces have been brought

together in order to educate us on who the Coast Salish are

as they fight for their rights and values in the colonial legacy

that is Canada.

The Fabric of Our Land: Salish Weaving runs at the Museum

of Anthropology until April 15. Debra Sparrow will also be

offering periodic weaving demonstrations on the loom.

It would be a daunting task to decipher the number of sounds the human

ear consumes in one day; and we're not just talking about what's blasted into

our membranes by a pair of pretty, little, white earbuds. Simply navigating

through life on a day-to-day basis, we are bombarded with a plethora of both

pleasing and not so pleasing audibles. For instrument builder and musician

George Rahi, the world is a complex library of vibrant tones waiting to be

dissected and reimagined in a completely unique light.

With extensive knowledge of both acoustic and electronic music, Rahi

disassembles seemingly outdated objects and instruments, stitching them

together with surgeon like precision, to take the listener on an expedition

through uncharted sonic landscapes. "In a lot of these materials there's

usually perfectly good things that at the time represented the crux of

technological development," discusses Rahi. "I'm taking my own approach to

those materials, as raw materials for a new kind of sound."

In his upcoming exhibit, pulses // patterns, Rahi unveils his latest

Frankenstein in the form of an electronically processed pipe organ,

rejuvenating its classic sound with a stunning twist of the modern, birthing

new life into the forgotten beast. With childlike wonder, he explains, "I think

it's a really creative way to look at things in the world as holding potential [to

receive] a very new life as an instrument."

As computers get thinner, resolutions become bigger and brighter, and

phone updates more frequent, "e-waste" has become an ever increasing

problem in our modern society, as electronics pile up like discarded pizza

boxes. But for Rahi, these savoury items are ripe for the picking, using them

to teach people to appreciate them as more than just a time capsule of years

gone by. Rahi encourages to "look at e-waste in terms of new generative

possibilities for what's there." By mutilating these once pinnacles of

technology, they can be metamorphosed into something with purpose again.

To some, it may seem that what Rahi is doing is an elaborate science

experiment, but his creations hardly lack emotional depth. Like any song, or

piece of music, his instruments and collaborations tell stories. "I don't think

its too much of a stretch to say that there's expressive qualities to these

sounds," says Rahi. "Everything works together to create an environment and

an experience."

pulses // patterns runs from December 8-14 at Western Front. George Rahi

performs alongside keyboardist and composer Robyn Jacobs on December 14.

George Rahi transcends sonic boundaries, breathing new life into relics.

December 2017 9
---
CITY

THE ROCKIN' COWBOY

BECAUSE LIFE'S TOO SHORT FOR BORING CLOTHES

LUIZA BRENNER

If you've ever strolled by East

Broadway, around Main Street,

chances are you've spotted a peculiar

storefront crowned by bull skulls.

Those who dare to meander through

the doorway are transported to a

parallel universe of leather cowboy

boots, beaver-hair brimmed hats,

and tons of new and vintage goodies.

The men behind it all? The one and

only Cowboy Dave (a.k.a. Dave Lawr)

and his second-in-command, Danny

Kresnyak.

"The front of the store is obviously

very attention-grabbing," says

Kresnyak. "And then you come

inside and you maintain that sort of

museum-esque quality. People come

in and just look at stuff, or you get

folks who just stand outside and are

almost afraid to come in. They just

look at the fact that the door handle

is a rifle and they're so mesmerized

by it."

As a branch of now-defunct

Toronto-based shops, the Rockin'

Cowboy opened its doors in

Vancouver in 1971 and "has

specialized in curating the finest in

new and used rock n' roll, western,

vintage wear and accessories"

ever since. The bold statement on

their recently-launched website is

accurate, indeed. There, Elizabeth

Taylor's dear Liberty boots and a

never-worn 1970 John Wayne-like

cowboy hat share the space with

a rack of $15 used t-shirts and

bullwhips.

More than a store, the Rockin'

Cowboy is a rock 'n' roll and country

music sanctuary. The homages

are everywhere: "Guitar Slim, a

very early blues and rock 'n' roll

musician who influenced Muddy

Waters, Buddy Guy, and all those

cats; Waylon Jennings, the king of it

all... Essentially, everything you see

is for sale, except for this Johnny

Cash poster, in his pill-doing days,"

Kresnyak points out. Amongst the

collector's items is a dull beige shirt

priced at $495 designed by Nudie

Cohn, the man behind Elvis Presley's

infamous gold suit.

When asked about the

importance of the store for the

music scene in Vancouver, Cowboy

Dave is categorical: "We make it

affordable for musicians to come

and buy cool and different things

that they can't find anywhere else

– things that are going to set them

apart. 'People aren't coming only

to hear you. They are coming to see

you. They want to see what you're

wearing.' And that's part of the

whole thing."

To seal the deal and end the visit,

a good ol' cowboy tradition (despite

the fact that it was a rainy Tuesday

morning): a shot of whiskey. After

walking out of the shop, Kresnyak's

words still echo: life's too short to

wear boring clothes. Cheers to that.

The Rockin' Cowboy is located at 106

East Broadway.

Photo by Luiza Brenner

Cowboy Dave Lawr and Danny Kresnyak curate eclectic oddities with style.

10

December 2017
---
BeatRoute's 2017

Holiday Gift Guide

Whether you're shopping for your mom, the guy up the street who

makes your coffee every morning, or yourself, we've got you covered

this holiday season. With this great haul of locally-made goods (save

for the Hip collection — but come on, it's the Hip), find the perfect

prezzy while also supporting your talented neighborhood makers.

ALL NATURAL

FRUITCAKE

Net Wt 700 g

UPRISING BREADS BAKERY

If you're invited to a Christmas party and want

to bring something other than wine, one good

option would be East Van's Uprising Bread's

famed Fruit Cake. It bucks the stereotype of

fruitcake being wholly unlikeable. It's all natural

and avoids the really unpleasant, ancient

candied fruit thing. It's so popular they ship it

out to Toronto. –Graeme Wiggins

Uprising Breads Bakery is located at 1697

Venables Street.

THE TRAGICALLY HIP COMPLETE

COLLECTION 1987-2016

Vinyl is hip now, and now the Hip are on vinyl.

The Complete Collection 1987-2016 contains all

13 of the band's studio albums, along with their

self-titled EP and Live Between Us live album.

The releases have all been remastered and

pressed to 180-gram vinyl. Comes with a poster

and vinyl slipmat. Timely and super Canadian.

–GW

Purchase The Tragically Hip Complete Collection

1987-2016 at thehip.com.

GOODBOY—COLLECTIVE

For the dog parents in your life, Goodboy—

Collective offers a wide array of toys, clothing,

and accessories. How about a paint-spattered

dog bowl, a vividly coloured, hand knit

hamburger, or sleek peach hued collars? They

also donate 10% of their proceeds to Thank God

I Am Out, a BC dog rescue society. This will be a

gift that keeps on giving. –Prachi Kamble

Shop Goodboy—Collective at shopgoodboy.com.

PITON POTTERY

Please the creatures of comfort on your list with

Piton Pottery ceramics. Give the gift of getting

lost in contemplation with one of Coral Patola's

timeless and nostalgic designs. Inspired by her

childhood growing up in the Pacific Northwest,

the Emily Carr grad includes nods to nature and

tactile pleasures in her pieces. A Piton mug is a

pure, simple delight on even the drizzliest winter

day. –LD

Purchase Piton Pottery at stockists like the Gallery

of BC Ceramics, Kyubu Market, or at

pitonpottery.ca.

FOX & FLICKER

Vancouver artist Charlene Dittrich specializes in

macramé creations. For the not-so-craft-savvy

of us, macramé is a textile created by knotting

cords. Dittrich creates heavily detailed and

intricate wall-hangings, dreamcatchers, and

an assortment of related crafts. She also uses a

variety of cords to make her art, including ones

that come in a wide range of earthy pastels. –PK

Shop Fox & Flicker at Eastside Flea and at

foxandflicker.com.

CHARLIE & LEE BOUTIQUE

Get your favourite fashionista something she'll

love at Chinatown's Charlie & Lee. Featuring

clothing by BC brands Lloyd Clothing, Sunja

Link, and Korinne Vader, the independent

boutique offers North American-made and

ethically sourced goods. With various items like

soaps, ceramics, jewellery, and locally designed

prints, Charlie & Lee is a one-stop-shop for all

your stocking stuffer needs. And the best part?

You don't have to face holiday crowds at the

mall. –LD

Charlie & Lee Boutique is located at 223 Union St.

PACIFIC KNOT

Pacific Knot makes handmade outerwear chic

and trendy. The company has a large selection

of warm toques made of thick wool, as well as

lush, heavy knitted scarves, mittens, and some

ingenious boot warmers. Not only that, but

their toques for kids come in bright colours and

adorable patterns. Guaranteed to make you go

"aww!" –PK

Shop Pacific Knot at Eastside Flea and at

pacificknot.com.

December 2017 11
---
arn burner variety pack
---
HOLIDAY HOPS

CELEBRATING YOUR SEASONAL BEER PALATE

TOM PAILLE AND WILLEM THOMAS

BOTTOMS UP

LUCAS MARINCELJ (TRANS AM RESTAURANT)

GLENN ALDERSON

FOOD & DRINK

Powell Street Brewery's Double IPA is twice as nice.

As fall drizzles and drips its way into winter, the weather

inevitably changes from bright and cheery to damp and

dreary. Local west coast craft brewers have developed the

perfect coping mechanism: winter ales. We decided to get a

taste of some of their offerings.

POSTMARK BREWING

Stout

Located in the old Settlement Building in the heart of the

Downtown Eastside, Postmark opened its doors in 2014

following the success of Vancouver Urban Winery and

the Belgard Kitchen. Behind that landmark doorway lies a

welcoming atmosphere that invites you to get cozy after

a sightseeing walk about Gastown. Postmark's Stout is the

perfect companion to warming yourself beside a fireplace,

designed for sessionability with a bit less alcohol (4.8 per

cent) and a sweet balance of malts for a chocolate, coffee,

caramel taste that will warm your soul.

PARALLEL 49 BREWING COMPANY

Salty Scot

Salty Scot from Parallel 49 Brewing Company has been

making comebacks for several years, for good reason. It's a

Scottish "wee heavy" style that combines sweet caramel and

vanilla flavours with sea salt to intensify them. The Scotch Ale

is bold behind these flavours and makes a great winter drink.

Not too many at a time, though – with 7.5 per cent ABV, it

packs a bit of a punch. With the food truck brought into the

Street Kitchen for the winter, it's a great excuse to visit and try

one, or maybe two.

STRATHCONA BEER COMPANY

Brrr! Winter Radler

Like migrating birds, radlers seem to disappear as the weather

turns cold. Viewed almost exclusively as summer patio drinks,

many BC breweries have taken to producing their own takes,

with flavours like grapefruit and lemon hitting stores and,

subsequently, parks and beaches. Since opening in July 2016,

Strathcona Beer Company can already lay claim to making

one of Vancouver's most popular radlers, the Beach Lemon

Mandarin Radler. For brewer and co-owner Michael "Fezz"

Nazarec, the question was how to translate that success into

a winter-appropriate version. The answer? Huge quantities

of fresh BC cranberries, which make the Brrr! Winter Radler

possibly craft brewing's first Christmas-ready radler. Tarter

and dryer than its summer sibling, it's light and effervescent,

while still retaining the juiciness we've come to expect.

GRANVILLE ISLAND BREWING

Lions Winter Ale

Holding down top seniority of seasonal beers is the Lions

Winter Ale, which has been lovingly brewed by Granville

Island Brewing since 2004. This long-time favourite blends

hints of vanilla, cocoa, and caramel into a deep, rich

mouthful. Specialty malts ensure this ale isn't too sweet on

the palate, making it an amazing pairing with both sweet and

savoury tastes (bacon jam, anyone?). The unique sweet and

spicy taste may have everything to do with its secret "winter

flavourings," but this ale is no secret beyond the wet and

stormy shores of our west coast.

33 ACRES BREWING COMPANY

33 Acres of Cashmere

When it comes to naming and branding their new beers,

Mount Pleasant's 33 Acres Brewing Company follow an

aesthetic all their own, channelling themes of longing and

nodding romantically to the natural world. For their new

Northwest Red Ale, they let the properties of the beer

define itself. Smooth and balanced, 33 Acres of Cashmere

harkens back to its namesake fibre, existing as an inviting,

approachable ale. The bright amber colour and roasted malt

flavour make this the perfect beer to sneak off to a cabin (or

your basement suite) for the night. Or, as it's a limited-run

beer, stop by the tasting room for a few.

POWELL STREET CRAFT BREWERY

Right Kind of Crazy

Imperial beers combine bold flavours with stratospheric

ABVs, and in west coast brewing, the Imperial style known

as a Double IPA generally reigns supreme. Powell Street Craft

Brewery co-owner and brew master David Bowkett's take on

a Double IPA hits the mark, boasting a 9 per cent ABV and

bringing together three types of hops for a flavourful and

hoppy, yet remarkably easy-to-drink beer. Since opening in

2012 (look out for some neat plans for their fifth anniversary

this month!), Powell Street has won awards for their creative

takes on northwest pale ales. The Right Kind of Crazy is a big,

clear IPA that will definitely raise your spirits during a rainsoaked

December evening.

How did you start bartending?

I started bartending when I was nineteen at a neighbourhood pub down the

street from my house in Toronto. At that time I wanted to bartend more than

anything. Being young, impressionable and somewhat socially awkward, I

figured being a bar man would make girls like me. I wanted the job so bad that

I went to that bar every day for two weeks with a fresh resume until they finally

just gave me one bussing shift a week to shut me up. I eventually worked my

way up from there.

How long have you worked at Trans Am?

I showed up at Trans Am about nine months ago during closed hours on

a mutual friend's recommendation. I can still remember the dirty look on

Gianmarco's face when I popped my head in the door, as if I was going to ask

him "So, is this a dentist's office?" Since then we have developed our very own

variety of in-house bitters, syrups, infusions and even liqueurs.

Best thing about your job?

Total creative freedom I suppose. Improvisation is the backbone of what we do,

and is essential to the personal experience of our guests – new and old. I also

get to work with a great friend.

Favourite drink to make?

A little drink I call Sage & Whiskey, a modern take on the Old Fashioned. Made

with local white rye, muddled sage, house-made grapefruit bitters & vanilla

syrup all stirred together, poured over hand-cut ice and smoked with a thick

cloud of burning sage.

Go-to on a night off?

I would say Trans Am makes up the majority of my social life. The rest of

my time is spent on music; either playing in bands or producing bands. I do,

however, frequent Tangent Cafe on Sunday's for a hearty breakfast.

Greatest night you've ever had at work.

That's difficult. The greatest nights I've had are attached more to a feeling than

a specific time. It's the feeling that whatever it is you're doing is working, the

people you're in the company of are connecting and that the experience you

are providing is one-of-a-kind.

The worst?

Full moons, or when people ask for paralyzers and I have to tell them "This place

is not for you."

Trans Am is located at 1879 Powell Street.

Photo by David Gauthier

Lucas Marincelj shows off his signature Sage & Whiskey cocktail.

December 2017 13
---
CITY

HOW STAR WARS SAVED MY LIFE

FINDING THE FORCE WITHIN THROUGH A HOPEFUL SAGA

CHARLOTTE KARP

VAN VOGUE JAM

SHARING VOGUE CULTURE IN A SAFE, INCLUSIVE SPACE

YASMINE SHEMESH

Nicholas Harrison's play tells a tale of overcoming childhood trauma by finding solace in Star Wars.

When Nicholas Harrison was five years old, he was

sexually abused, thrown against a wall in attempted

murder, whipped with an electric cord until he was

covered in welts, and told by the priests and teachers at

school that he deserved it.

As a child, he believed it.

"The priests used religion to scare me," says Harrison.

"That's how pedophiles do it – they want to make sure

you're not going to say anything, so they terrify you.

They say they'll kill your family and it'll be your fault –

you're making the priest do this to you because you're

dirty and bad."

While Harrison still lives with the abuse as an adult,

he lives functionally, has a successful career, and has

written a play about his experiences to encourage others

to speak out. One of the best parts? The production

features Star Wars.

"When my mum pulled me out of school, we were at

a drugstore and there was an R2-D2 figure I was looking

at, and she said, 'Do you want that?' I had just been

pulled out of school and I had these welts all over me –

anything I wanted, I was going to get. I carried that thing

everywhere," Harrison recalls.

"I loved the idea of a small group of people taking

on something so ominous" he says. "Darth Vader in

his black robe was like a Roman Catholic priest, so this

rag-tag group of Wookies and robots banding together

really spoke to me."

When Harrison started speaking out about his abuse,

people asked how he could accuse "poor, frail old men"

when he was so strong by comparison, forgetting that

he was a child at the time and his abusers were not 80

but 40 or 50. How Star Wars Saved My Life is about

putting an end to these misconceptions and reminding

people that it's okay to talk about abuse.

"This play is about hope and breaking down the

barriers of silence," Harrison says. "It's about being able

to survive and carry on, making a positive effect on

the world, and being heard – there are so many people

who have had traumatic things happen to them, and

they never speak about it, so inside they're hurting and

decaying. If they felt they had the ability to be open

about it, maybe they could work towards living a life

that isn't full of pain."

How Star Wars Saved My Life runs from December 6-10

at Performance Works.

Vogue: a dance form illustrated by fierce

stares, whirling limbs, and fabulous

costumes that emerged out of African

American and Latino LGBTQ communities

in New York during the 1960s. The

expression is celebratory and theatrical

– it's an embodiment of pop culture

iconography as well as an escape for those

experiencing discrimination.

Dancer and choreographer Ralph

Escamillan is the founder of Van Vogue

Jam, a by-donation dance class open

to anyone interested in learning more

about ballroom culture. After being

introduced to it by fellow Vancouver

dancer Jojo Zolina and then spending time

in New York training with the legendary

Leiomy Maldonado, Escamillan started

teaching vogue at Harbour Dance Centre,

but didn't feel the class was going in the

right direction. Escamillan also recognized

a divide between those who could afford

classes and those who couldn't.

"My goal through Van Vogue Jam is

to create an inclusive training space for

people to learn dance," they say. "Taking

the money aspect out really helped, and

it's great, because I feel we wouldn't have

gotten the bankers, the 15-year-old boys

and their moms, that girl on Granville

Street who doesn't know how to walk

in heels. It's people who wouldn't take a

dance class coming in to learn in a really

safe environment."

"We always get to know who we're

dancing with before the class starts,"

Escamillan continues. "So we ask for

people's names, what their pronouns are,

and something positive, just to get people

into the mood of the class. For me, dance is

more than just a form."

On December 15, VVJ is hosting its

second-ever ball, the BALL-OoZA. There

are five categories of competition, all

Christmas themed: Bazaar, Performance,

Runway, Realness, and Sex. The most

important component of the ball,

Escamillan emphasizes, is that it's for all

people, of all ages.

"I remember being a queer kid and

thinking, 'the only way into queer culture is

seeing it online or going to a club.' They're

not the best ways to experience queer

culture, and vogue is a really amazing

opportunity for youth to see queer culture

as more than just this over-sexualized

thing," they say.

The BALL-OoZA takes place on December

15 at the Russian Hall. Van Vogue Jam runs

on Tuesdays at the Karma Teachers studio.

Learn more at ralphescamillan.com

Photo by Joe Bulawan

VVJ founder Ralph Escamillan.

14

December 2017
---
1

Happy Hour

$

3 Beer til 3pm

$

5 Beer til 5pm

2

Blues Brunch 1-4

Saturday Sessions

4:30-7:30

Viemaster

9-late

3

AC/DCember

Rock Band

Karaoke

4

The Andy Tabb

Welcome Band

5

Musical Bingo

Hosted by

Meredith Geddes

at 7pm

6

Happy Hour

$

3 Beer til 3pm

$

5 Beer til 5pm

7

Live Agency

Presents

Big Madge

w. Club Sofa

& Yamilk

8

Railway Stage

presents

Cindy Wilson

of the B-52s

w. Sarah Jaffe

9

Blues Brunch 1-4

Saturday Sessions

4:30-7:30

The Modelos

9-late

10

AC/DCember

Rock Band

Karaoke

11

The Take Back

DJs Khingz,

Mic Flont

& Guests

12

Drag Club

feat. Karmella

Barr & Dust w.

Isolde N Barron

& Alma Bitches

13

Happy Hour

$

3 Beer til 3pm

$

5 Beer til 5pm

14

Happy Hour

$

3 Beer til 3pm

$

5 Beer til 5pm

15

Railway Stage

presents

604 Records

Christmas Party

16

Blues Brunch 1-4

Saturday Sessions

4:30-7:30

The Blackwood

Renegades

17

AC/DCember

Rock Band

Karaoke

18

The Take Back

DJs Khingz,

Mic Flont

& Guests

19

Musical Bingo

Hosted by

Meredith Geddes

at 7pm

20

Happy Hour

$

3 Beer til 3pm

$

5 Beer til 5pm

21

Happy Hour

$

3 Beer til 3pm

$

5 Beer til 5pm

22

Toddcast Podcast

presents

The Boom

Booms

23

Blues Brunch

1-4

Saturday Sessions

4:30-7:30

24

Hard Rock Miners

X-mas Eve

singalong

25

The Take Back

DJs Khingz,

Mic Flont

& Guests

26 27 28

Musical Bingo

Hosted by

Meredith Geddes

at 7pm

Happy Hour

$

3 Beer til 3pm

$

5 Beer til 5pm

Mr. Boom Bap

presents

Boogie Nights w.

Honey

Larochelle

29 30

Live Agency

presents

One Sexy

Chokehold

Blues Brunch

1-4

Saturday Sessions

4:30-7:30

31

The Jam NYE
---
Alan Ranta, BPM Editor Glenn Alderson, Editor-in-Chief Graeme Wiggins, Comedy Editor

James Olson, Local Music Editor

The Descendents

Hypercaffium Spazzinate

Hyper-Spazz is a picture-perfect

example of a straight up old-school

sound resurrected for today's musical

tastes. It's a simple, in-your-face punk

record that doesn't try to be anything

but, which is what I love most about

it. (Runners up: The Melvins – A Walk

With Love and Death, GRIZ – Chasing

the Golden Hour Part II) - JP

James Olson, Local Music Editor Jordan Yeager, Managing Editor Yasmine Shemesh, City Editor

2017

BESTmoment

The collapse of the Patriarchy. From Hollywood

bigshots like Harvey Weinstein and Brett Ratner

down to obscure DJs in the Vancouver scene, the

culture of silence around sexual abuse, what used

to be a token aspect of male privilege, has instead

turned into a #metoo megaphone, and we will all

be better off for it.

- AR

I finally got the chance to go back to Detroit and

explore it properly. It's one of the most beautiful

and broken cities I've ever had the pleasure of

visiting.

- GA

Danica Roem defeating one of the longest running,

most conservative Virginia lawmakers to become

BEST

Mat Wilkins, Social Media Editor

The Bombay Royale

Run Kitty Run

Ever wondered what the score to

a psychedelic '60s James Bond film

produced Bollywood-style in Australia

would sound like? Well, wonder no

more. This is a dream become reality.

(Runners up: DJ Format & Abdominal

– Still Hungry, King Gizzard and the

Lizard Wizard – Flying Microtonal

Banana)

- AR

Idles

Brutalism

Brutalism is a record of healing

achieved through a calculated

combination of sarcasm, wit and

aggression. This Bristol proto punk

band knows exactly what they're

doing, providing a necessary voice

in music today. An homage to lead

singer Jon Talbot's mother and their

complicated relationship, there's

something so painfully raw and real

the first open transgender elected to the state

legislature in the US was a political win we all

needed after a notably hellish year. - GW

Landing a pet friendly basement suite within my

budget in Vancouver. Miracles are real kids. - JO

Riot Fest Chicago, Prophets of Rage went on stage,

the lights go down and a spotlight shines on a

lonely mic stand. Moments later the entire crowd

is singing Like a Stone and remembering Chris

Cornell (and how his music changed our lives). - JG

Probably all of the cool things I've learned

from artists I admire since jumping into music

of 2017

about Idles and I can't stop listening.

(Runners Up: Louise Burns – Young

Mopes, Slowdive – Slowdive) - GA

Ragana

You Take Nothing

This anarcho-feminist blackened doom

duo gives me hope, despite their

bleak sound. They give me faith that

metal can progress and be inclusive

and push back against the oftentimes

male dominated, fascist elements all

the while being brutally heavy as fuck.

(Runners up: Kendrick Lamar - Damn,

Destroyer - Ken)

- GW

Charly Bliss

Guppy

This Brooklyn-based quartet have

crafted a charming, catchy and

thoroughly enjoyable album of power

pop perfection that I found myself

frequently returning to. Eva Hendricks'

childlike vocals make cuts like "Glitter,"

"Ruby" and "Julia" all the more

endearing with their slice-of-life lyrics

and radio ready hooks. I can't wait to

see what this band does next. (Runners

up: Spoon - Hot Thoughts, Cigarettes

After Sex - Self-titled)

- JO

The XX

I See You

My heart swells every time I listen

to this album. (Runners Up: Nine

Inch Nails - Add Violence, HAIM -

Something to Tell You)

journalism. Buzz Osborne (the Melvins) and CJ

Ramone (the Ramones) were two interviews that

struck me on a deep level, listening to them talk

about doing things their own way, not feeling the

need to conform to the norm, and not worrying

about other's opinions on your personal journey.

- JP

As bad as my memory is, I'll never forget opening

my front door to find my best friend standing

there, having flown in from Toronto to surprise me

for my birthday. Someone flew across the country

for ME?! Still can't grasp the concept. - JY

I met an amazing person in February and we're

16

December 2017

Johnny Papan, Skinny Editor

- JG

SZA

Ctrl

SZA had already found her voice in

LPs S and Z, but on Ctrl, that voice

has been refined to craft an album

that's candid, confessional, and

contemporary. Her debut EP explores

modern-day romantic relationships

with a candor that everyone can

relate to, although few might admit

it. (Runners up: Kendrick Lamar –

DAMN., Daniel Caesar – Freudian) - JY

Charlotte Gainsbourg

Rest

It's not often that a well-established

actor is able to release music on

par with their work in cinema, but

Gainsbourg does it in a way that's

unbelievable. Rest's instrumentation

exudes a theatricality and melodrama

that expertly avoids cheesiness

through dark and thoughtful lyrics,

mirroring the equally dark and

thoughtful movies she so often

appears in. (Runners up: Bored Décor

– Bored Décor/OKGB, Slowdive – s/t)

- MW

Liam Gallagher

As You Were

I love Liam Gallagher. His snarl, his

bravado. As You Were is as epic as

he promised, stripped down enough

to show off his vocal prowess and

loud enough that it satisfies any void

Oasis' breakup left. A great collection

of straight up, unfussed rock 'n'

roll. (Runners up: Syd - Fin, Kehlani

– SweetSexySavage) - YS

BESTalbum

totally going steady now, which is pretty rad!

Having someone who enjoys my company as

much as she does has definitely been a highlight of

the year pour moi.

- MW

Interviewing Hanson. They're so important

to me in a lot of ways. The first band I really

loved. Poring over magazines they were in made

me start dreaming about writing about music. I've

always turned to them for light in darkness. The

opportunity to interview them was a dream come

true.

- YS
---
BESTsong

InsideInfo

"Conformity"

Enei spun this track at Bass Coast this year,

and it was the high point of my festival. It's

nasty ass two-steppin' drum and bass, quirky

and atmospheric with an anvil crushing bassline,

supporting the tremendously poignant

vocal sample, "The opposite of courage in our

society is not cowardice. It is conformity."- AR

Ariel Pink

"Another Weekend"

Weekends are bullshit but this is still my

ultimate TGIF anthem. Ariel Pink is so

wonderful and strange. He's a true creative

genius and even though not all of Dedicated

To Bobby Jameson is on point like Pom Pom

was, this track's sentiment really resonates…

Another weekend out of my life, another

weekend I can't rewind.

-GA

Aya

"Kweku Collins featuring Allan Kingdom"

"You had hair like the sun/a thousand souls

set aflame" is a hook now imprinted in my

soul. I'm not entirely sure what the song is

about but it's got a mournful, misty, fall vibe.

Nothing really comes close for me this year.

- GW

BESTlive show

Kate Tempest

March 29 @ Fortune Sound

Club

"All that is meaningless rules /

And we have learned nothing

from history." Few wordsmiths

have shattered the grand illusion

to capture the ominous despair

of urban alienation quite like

English spoken-word artist

Kate Tempest did on her 2017

Mercury Prize shortlisted album,

Let Them Eat Chaos, which she

performed at this show in its

entirety. There were no forced

crowd interactions and no false

encore, just pure, unmitigated

truth.

- AR

Solange

April 28 @ Rennie Museum

One of the rare times I was on

Twitter Solange announced her

"Scales" gallery performances in

Vancouver and I was actually able

to buy tickets before they sold

out. It was really special to see

her test out the live show she'd

eventually be taking to festivals

all over the world on such an

intimate audience. Everyone

was sitting down with their cell

phones carefully locked away,

Father John Misty

"Leaving LA"

The winding centerpiece to Father John

Misty's Pure Comedy captures everything

that makes Josh Tillman compelling as an

artist and as a songwriter. Throughout its

epic 13-minute run time, Tillman takes to

task the modern consumerist lifestyle, the

entertainment industry, and the frustrating

contradictions that he himself personifies

as a musician in the public eye. Set to sparse

acoustic guitar and mournful strings, Father

John Misty has crafted the spiritual successor

to Bob Dylan's "Desolation Row." - JO

Post Malone

"Rock Star"

This song is everywhere and I'm ok with that.

Post Malone proving that he's no more a onehit

wonder.

- JG

Fozzy

" Judas"

There were too many great songs to really

choose a best song of the year. I'm choosing

"Judas" simply because the chorus is catchy

as hell and I still listen to the song regularly.

Great modern-rock track with WWE wrestler

Chris Jericho on vocal duties.

- JP

hanging on to every word of

her incredibly passionate and

choreographed set. I thought

Jawbreaker at Riot Fest was going

to be the show of the year for

me but looking back, Solange

definitely stole the show. - GA

Princess Nokia

March 23 @ The Biltmore

Cabaret

This proved to me that rap shows

could be different. She has an

undeniable chemistry, even if

the performing chops weren't

all there. So inclusive, so warm

and inviting. The crowd were her

enthusiastic children, she their

caring protector. - GW

Flaming Lips

May 15 @ Queen Elizabeth

Theatre

This was a bucket list show

for me and the Lips did not

disappoint. With a performance

complete with balloons,

streamers, blow up critters, a

human hamster ball, a lazer

unicorn, and a cosmic gong, it

was easily my favourite show I've

ever seen by any band yet. - JO

Japandroids

March 21st @ Commodore

Ballroom

Remember that time when the

Vancouver Rock duo sold out the

Commodore Ballroom? That was

a fun show.

- JG

Roger Waters

October 28 @ Rogers Arena

The former Pink Floyd

frontman's massive production

encompassed the best of his

entire career. It was a cinematic

spectacle of modern day social

commentary and psychedelia,

a story told through the trippy

tunes of one of the world's

greatest artists.

- JP

Roger Waters

October 28 at Rogers Arena

Pink Floyd will always be held

on a pedestal in my heart – they

were my dad's favourite band,

and I grew up listening to them.

He and I saw Roger Waters

perform The Wall in 2010 and

2012, so seeing him live again all

these years later accompanied by

my sister was a pretty emotional

experience. The production

Frank Ocean

"Chanel"

If you've ever interacted with me, you

probably know I'm deeply enamoured with

Frank, and "Chanel" is one of my favourite

songs ever made. It's the most-played song

on my iTunes and I've yet to get sick of it.

The love of my life, singing candidly about

bisexuality? Sign me up.

- JY

Moses Sumney

"Lonely World"

The lyricism in "Lonely World" is incredible;

it's immediately apparent that Sumney's

history at UCLA studying creative writing was

not in vain. The song speaks of the effect of

loneliness and emptiness, how it "speaks to

you in ways nobody speaks to you" and is an

inevitable force in everyone's life. - MW

Missy Elliott

"I'm Better"

This year was big for me getting back into

dance. It hasn't been easy after so many

years off, but I took a class where we did

choreography to this song and it was the first

time in a long time that I really felt connected

and comfortable enough to let go. - YS

value itself was breathtaking

and, despite being 74 years old,

Roger's still got it.

- JY

King Gizzard and the

Lizard Wizard

October 9 @ The Commodore

King Gizzard is like the King

Midas of live music: put an

instrument in their hands,

and they'll be able to shred

'til kingdom come. With two

drummers (playing perfectly in

time), some intermittent ripping

on the flute, and Tibetan-style

throat singing to complement an

already amazing performance,

King Gizzard is an all-time

favourite performance. - MW

Lionel Richie

September 3 @ Rogers Arena

I took my best friend for her

birthday and we had so much

fun. I'm a sucker for power

ballads and felt like I was at an

arena concert in the '80s. It was

over-the-top, nostalgic, feel-good

and damn entertaining. Richie

was super charismatic and he put

on a fantastic show. I lost it when

he did "We Are The World." - YS

BESTfilm

Guardians of the Galaxy ii

There has never been a bad film starring Kurt

Russell with a beard. Without a beard? Sure, plenty,

but never with. It's just not possible. It's Kurt

Russell… with a beard.

-AR

Call Me By Your Name

This film is a beautiful love story that moved me in

many ways. Also the scene with the peach is a true

moment in cinematic history.

- GA

Get Out

Equal parts horror movie and political satire, it

ends up making magic and doing justice to both

parts, it's both deeply funny and tense in a perfect

combination to get its much-needed point across.

- GW

Logan

Writer/director James Mangold closes the saga

of Hugh Jackman's Wolverine with one of the

best superhero films ever made. I never thought

I would ever start tearing up at a movie about an

angry Canadian ripping bad guys apart with knives

coming out of his arms, but Logan was a deeply

emotional and visceral experience. They gave a

truly iconic character the finale he deserved. - JO

Twin Peaks: The Return

Technically this is a television show, but no one

tells a story like David Lynch. Twin Peaks: The

Return felt more like an 18-hour movie, bringing

viewers back to the small mountain town of Twin

Peaks 25 years later. And just like all of Lynch's

work, he left views with more questions than

answers; What Year Is This!? - JG

Split

Split's most impressive trait is the superb acting

of James McAvoy who took on the role of 24

completely different personalities living within

a single character. Though it caused some

controversy, I thought Split was an enjoyable take

on trying to horrify identity disorders and M. Night

Shyamalan's signature "twist ending" took the idea

to a whole new level.

- JP

Get Out

I wasn't sure what to expect of comedian Jordan

Peele's directorial debut – horror is hard to do well.

It's probably the genre I watch least. But Get Out

is brilliant, with its suspense rooted in everyday,

casual racism, contrasted by a less believable (read:

physically impossible) body snatching twist. This

is no cheap jump-scare horror movie. Instead, it

leaves you feeling unsettled and uneasy, building

suspense the whole way through.

- JY

Alien: Covenant

Reboots and franchise movies are by and large

the worst thing about cinema in the 21st Century,

yet Alien is a huge guilty pleasure of mine. Evil,

virtually unkillable aliens that are perpetually angry

and seem to exist only to eat people? In state-ofthe-art

CGI, no less? Sweet.

- MW

Get Out

Today's divisive political climate has highlighted

ugly prejudices that still very much exist. Along

with being a thrilling film, Get Out's social

commentary is urgently important. - YS

December 2017 17
---
Louise Burns

Young Mopes

Light Organ

01By Glenn Alderson, James Olson, Johnny Papan, Alan Ranta, Mitch Ray, Willem Thomas, Mat Wilkins & Jordan Yeager

BESTof 2017 Local Releases

Louise Burns continues to shine bright

under the spotlight of her solo career

with Young Mopes, an impeccably

produced and polished collection of

reverb drenched indie rock, highlighted

by her soaring vocals and confident

persona as a songwriter. Having grown

up in the music industry has allowed

Burns to mature in a way that not many

artists get to realize; this third LP puts

her at the top of her game and no doubt

at the top of many year-end lists as well.

- GA

Woolworm

Ready To Die

Mint Records

Woolworm captivated

the attention of the

Vancouver music scene

and beyond with their

dark and brooding,

smart and somehow

02

mysteriously poppy jams.

All ten tracks shine with a

newfound level of polish

and professionalism that

make this pleasantly cynical

four-piece come to life in a

way we've never really heard

before.

- GA

Dopey's Robe

Who And When Is Stephen

Networks?

Independent

The rise of Dopey's Robe

in such a short time has

been impressive, as has

their prolific output. Who &

When Is Stephen Networks?

is a polished step forward

for this garage/psych band

that is ready to take a

serious run at it. - MR

03

So Loki

Shine

Owake Records

04

So Loki's Shine is a masterfully

crafted release. With vocals by Sam

Lucia and production by Geoffrey

Millar, the record oozes with both

experimentation and refinement,

resulting in a hip hop album influenced

by Vancouver's often electronic-centric

music scene. - JY

05

Destroyer

ken

Merge Records

Dan Bejar has bestowed upon us

another wonderful collection of songs

from his beautiful mind. This is his first

outing away from his JC/DC studio

team and the results, while noticeably

different, are still the same old Bejar.

Needless to say, we are still in love. -GA

Peach Pit

Being So Normal

Kingfisher Bluez

06

Independent

A decade into their careers, alt-soul/

r&b unit the Boom Booms have put

out their strongest record to date with

A Million Miles. Boasting an incredibly

glossy, modern production, they truly

shine as songwriters on tracks like the

pining "Otherside" and the funkinflected

"All Day All Night." - JO

Needles//Pins

Good Night, Tomorrow

Mint Records

09

Punk trio Needles//Pins step up their

game with their third record. Recalling

the wistful nostalgia of the Gaslight

Anthem and the ramshackle passion

of early Against Me, Needles//Pins get

your blood pumping in all the right

ways. - JO

Japandroids

10

Near To The Wild Heart Of Life

Arts & Crafts

Japandroids have built upon and

further refined those key elements

that have made this band one of

Vancouver's most sought-after acts.

Vivid lyricism worthy of Springsteen,

anthemic hooks, and a devotion to

rock 'n' roll purity feel even more grand

and life affirming on Near To The Wild

Heart Of Life. - JO

Sam Tudor creates folk that is

simultaneously anthemic, thoughtful,

and melancholic. His newest record

Quotidian Dream is about the

inevitable anxiety and confusion

that goes together with the equally

inevitable process of growing up. - MW

Kim Gray

Compulsion

Bad Diet Records

13

Since leaving garage band Skinny Kids

to embark on a spacier solo endeavour,

Kim Gray has been putting out releases

each better than the last. While Gray's

approach to songwriting tends to wind

down well-travelled trails, his lo-fi

experimentation and pensive lyricism

on Compulsion make for a warm listen.

- WT

The Courtneys

14

II

Flying Nun

Tegan and Sara's favourite reverbsoaked

three-piece return with

II, an album bigger, catchier, and

more focused than their debut. The

Courtneys have refined their nostalgic,

sunny grunge-pop across the release,

making a confident step forward. - WT

and ambient gestures that will color

your dreams.

- AR

Ora Cogan

Crickets

Hand Drawn Dracula

17

The inspiration for Cogan's seventh

album draws inspiration from a

Vancouver Island retreat, and captures

a suitably reflective blend of symphonic

folk-rock and supernatural ambient

somewhere between Karen Dalton and

Grouper.

- AR

18

Colin Cowan and the Elastic

Stars

Cosmos In Summer

Independent

The fourth instalment in Colin Cowan's

seasonal tetralogy under the Elastic

Stars banner is his most experimental

psych-pop cosmic album to date, and

that guy was already way out there. AR

Minimal Violence

Acid Lakes

Lobster Theremin

19

A very strong offering from a solid

band. Shifting from black metal to pure

rock 'n' roll, Strike Mortal Soil cements

Wormwitch as one to keep an eye on.

- MR

Petunia and the Vipers

22

Lonesome, Heavy and Lonesome

Independent

Bringing feel-good rockabilly boogiewoogie

to the dancefloor, Petunia and

his Vipers keep your feet tapping until

the dawn of spring. Also smoked with

moonlight slow-burns, Petunia and the

Vipers prove they're ready to bloom.

- JP

Rene Therrien

23

Y So Much?

Independent

Released while she was living in

France, Renee Therrien has created an

album worthy of recognition beyond

Vancouver. Beautifully soulful, there is

nothing but quality from start to finish.

- MR

The X Presidents

24

Hands Up

Kush Grove

Peach Pit prove they deserve all of the

online buzz they've earned with the

Channeling the hot, hazy BC summer The X Presidents' self-produced second

release of Being So Normal. Sharply

of 2017, Lida P and Ashlee Luk pump album is a largely introspective affair,

written cuts like "Seventeen" and

out a deep-rave acid-techno EP

with tracks ranging in tone from

"Drop The Guillotine" speak to the

Tanglers

15

heavy enough to give any listener a melancholic, guitar-driven reflections

band's undeniable chemistry, especially

Spring Chicken

concussion.

- AR like "What I Should Have Said" and "Get

the thoroughly charming mix of Neil

Independent

Me Through" to the more feel-good

Smith's smooth unassuming vocals and

11

20

"Carefree" and "Tumblin'." Jazz, blues,

Belle Game

guitarist Chris Vanderkooy's effortlessly Dead Quiet

Spring Chicken is a garage-esque

and rock influences underscore the

Fear/ Nothing

precise leads.

- JO Grand Rites

exploration of various musical genres

album, resulting in a cohesive, relevant

Arts & Crafts

07

Independent

that span from country twang to bluesy

release from a local hip-hop crew worth

The Orange Kyte

landscapes with grungy undertones.

keeping an eye out for.

- JY

Fear/Nothing marks a successful change

Grow It Right

Dead Quiet's second album has all the Each song explores a style of its own in direction for the crush pop act. The

Little Cloud Records

bravado and focus of a stoner metal over an indie-rock skeleton. - JP

25

folk leanings of their earlier work have storc

band that is at the top of their game.

been shed for an emotional synth/ S/T

As aptly named an album as any, With some interesting additions to their Cloudface

16

electronic pop sound that consistently Independent

psych rock unit the Orange Kyte have established sound, Grand Rites makes Variations

entertains.

- JO

matured sonically over time. Grow It for a compelling listen. - MR Independent

Don't let the lowercase 's' fool you, storc

Right is the culmination of that growth,

21

and it's been worth the wait. - MR Sam Tudor

08 12

Wormwitch

brings the hardcore punk stylings of the

For this meditative tape, David

Strike Mortal Soil

early '80s back with a heavy fist. People

Quotidian Dream

Reynolds plumbs the depths of the

Independent

are having more sex now because they

The Boom Booms

Independent

Korg Mono/Poly synthesizer to concoct

heard storc now brings you punk rock,

A Million Miles

spellbinding splays of rhythmic noise

not babies.

- JP

18

December 2017
---
MUSIC

ALEX LAHEY

RISING UP FROM DOWN UNDER WITH BROTHERLY LOVE

FRANKIE RYOTT

Alex Lahey keeps things modestly simple on her debut album.

From student to superstar, Australian singersongwriter

Alex Lahey has landed in North

America, touring in support of her debut album,

I Love You Like a Brother. With her up front

attitude and creative wit Lahey is moving to the

top of many playlists, and for good reason.

Starting off in Melbourne studying jazz

saxophone at university, Lahey branched away

from the clinical method of learning and moved

towards creating something of her own. After

releasing her EP B-Grade University she was

quickly catapulted into the spotlight having

frequent airtime on Australian radio Triple J and

touring with artists like Blondie, Catfish and the

Bottlemen and, her close mentors, Tegan and

Sara.

After such success there was no doubt her debut

album would be something special and with I

Love You Like a Brother, Lahey delivered. The

ten track full-length album carries a collection

of universal experiences that have been

transformed into ironic yet relatable indie-rock

songs. Her honest vocals are complemented by

an array of punchy beats and melodic guitar riffs.

Alongside this, Lahey draws inspiration from her

own life creating a bond with her listeners.

"I make music because it's my way of

expressing myself, when people relate to it

and engage in a positive way it is such a lovely

bonus," she says.

I Love You like a Brother opens with the

recurrent strumming of "Every Day's the

Weekend," where Lahey keeps things modestly

simple before ascending into an infectious

chanting chorus. The deceptively upbeat music

contrasts with lyrics that touch on the turbulent

nature of relationships, a theme that continues

throughout the album. This is evident in lyrics,

such as the self-deprecating "I've gained weight

and drink too much, maybe that's why you don't

love me as much," and the bitter realisations of

"Mothers and fathers don't last forever/We don't

get a choice/So let's stick together," which are

ironically partnered with joyful melodies that

you can't help but sing along to.

Being on tour has not starved Lahey of

creativity instead, as she travels from one side

of the world to the other, she continues to draw

inspiration from her experiences, adding more

and more to her creative cauldron. "On tour

I keep meeting so many different people and

that's what I like writing songs about, people;

their personalities and experiences and the

conversations I have with them. It definitely

continues to inspire my music," says Lahey.

There is no doubt that 2017 has been a

significant year for the 25-year-old Melbournian

and there's no sign things will be slowing down.

Currently in the middle of her I Love You like a

Brother tour she continues to impress audiences

all over the northern hemisphere by creating a

space where fans can gather together and sing

along with her unapologetic indie-rock anthems.

Alex Lahey performs at The Cobalt (Vancouver)

on December 12.

THE BARR BROTHERS

EMBARKING ON A COLLECTIVE SEARCH FOR SOUND

STEPHANIE NAZYWALSKYJ

When BeatRoute catches up with the

Barr Brothers they are cruising through

Switzerland, touring in support of their

third studio album, Queens of the Breakers.

Opening for the War On Drugs throughout

the UK and Europe, the band are not only

crossing borders, but showing the world

how they've pushed boundaries with their

latest release. Following the massive success

of their first two albums, The Barr Brothers

(2011) and Sleeping Operator (2014), the

trio's lead singer and multi-instrumentalist

Brad Barr discusses their newfound creative

process.

"Sonically, we decided the next round

of music we played should be born out

of playing together, out of a collective

search for a sound," he says. "The idea was

for everyone to play their instrument the

way they wanted and it turned out to be

something joyful and expressive for the

group. We also took it into a trippier, more

psychedelic place than we had allowed

ourselves to do in the past."

Lyrically, the band's new collective,

creative approach caused a bit of a struggle,

which Barr chalks up to being a first time

father: "Suddenly the writing schedule

wasn't fluid, I had to find different times to

write and new ways to maintain interest

in what I had to say. With a one-year-old

around, watching the little guy grow up

made me less interested in what I had to say

and more interested in how he was seeing

the world and what he had to say."

The title, Queen of the Breakers, stems

from the brother's collective adolescence.

Brad and brother Andrew went to visit the

Breakers Mansion, which was built in the

1800s by the Vanderbuilts, dressed up in

their mother's clothing and dropped acid

while taking a tour of the museum. While

the title is a reflection of year's gone and the

dad of today might advise his younger self

"not to smoke so much as it would mess

with his voice," Barr says he's not so different

from the guy of 10 years ago.

The Barr Brothers have built a substantial

following grace to their beautiful bluesy-folk

sound, multi-layered vocals and meaningful

lyrics, but they sustain their popularity

with their unique inclusion of the harp

and tenacious desire to connect with their

audiences, both on record and during live

performances. "While sharing the experience

with Andrew and Sarah (Pagé, harpist) is

great, I like to think that with each record

we get a little closer to allowing our family

to come with us on the road, particularly as

I don't think I'll ever stop wanting to be on

the road or stop performing music. Maybe

when I'm in my 60s, but right now it's one of

the biggest joys I get out of life."

With German rest stops being the high

and French rest stops the low, it's safe to say

the Barr Brother's will continue to move full

speed ahead producing albums that are sure

to keep their audience coming back over

and over again.

The Barr Brothers perform December 17 at

the Imperial (Vancouver)

Queens Of The Breakers was a collaborative effort for the Barr Brothers trio.

December 2017 19
---
MUSIC

GRIZZLY BEAR

FOGGY FUTURE LIES AHEAD FOR BROOKLYN'S FINEST FOLK QUARTET

MATHEW WILKINS

A lot of things can happen in five years; long

time lovers split up, authors finish novels,

five-year-olds learn their ABCs. As time

tightens its grip on us, so often chaos does

as well, with change and possibility as the

inevitable byproducts. And so when a lofty

five-year hiatus stood between Grizzly Bear's

2012 album Shields and last August's Painted

Ruins, the potential for a drastic sonic change

went from idea to expectation in the minds

of fans worldwide with every silent year.

But who and where is Grizzly Bear now? A

time out of this magnitude is sure to impact

and alter not only the band's music, but the

members themselves.

"[Shields] was tough. When it was good it

was great, but this time in our lives we didn't

want to experience that level of intensity

again," says guitarist and vocalist Daniel

Rossen of the band's most recent trip to the

studio. No longer bound by the same record

contract that surrounded Shields, Rossen and

the band felt they had more time to flesh

out and solidify unfinished ideas, rather than

those already near completion brought to

the band (usually) by singer Ed Droste and

drummer Chris Bear, or Rossen. The good

news: a far more democratic songwriting

process moving forward. The bad news:

"Unfortunately I don't think there are gonna

be any B-sides released for this one… We

focused on the [songs] we knew were going

to work."

Flash forward to October 12, the day

Moonlight director Barry Jenkins released a

chopped and screwed version of Veckatemist

and Painted Ruins, much to the surprise

and delight of the band. With Grizzly Bear's

history of having done work on the Blue

Valentine score, BeatRoute was obviously

curious as to whether a collaboration

between Jenkins and Grizzly Bear would ever

be on the horizon.

"That's more up to him but I would love

that… The fact that he's even interested in

our music is a great thing," says Rossen.

The rest of Grizzly Bear's future is uncertain;

with a year left on their most recent tour

and "no firm career trajectory in mind ever,"

there's no telling when or where the band will

EMILY HAINES

NAVIGATING THE MINEFIELD OF MEMORY WITH A NEW SOLO PROJECT

MATHEW WILKINS

go next. Yet the years between Shields and

Painted Ruins have effectively changed each

member in profound ways, both musically

and personally.

"We've been doing this for so long we have

our own musical vocabulary," Rossen says,

describing their sonic style as something

automatic and almost unconscious.

These changes shine through in Painted

Ruins and hint at the continuation of a

constantly evolving and maturing sound,

giving us all hope for a bright — albeit

unclear — future. But perhaps it's this

directionless, unplanned process that allows

them to pick up where they left off so easily,

impervious to time's tightening grasp in just

the right ways. If that is indeed the case, rest

assured that Grizzly Bear shows no signs of

losing their knack for uncertainty, as evident

by Rossen's closing remark about future

Grizzly Bear projects:

"We'll see where we're at when the tour ends."

Grizzly Bear perform December 7 at the

Orpheum Theatre

Photo by Tom Hines

Grizzly Bear took their time to flesh out Painted Ruins.

Emily Haines celebrates memory on Choir Of The Mind.

Memory is a fickle friend. There are times in our lives when all we

want is to forget the people we once were – our mistakes, our

heartbreaks, our tragic hairstyles – times when it's easiest to foist

ownership of these things upon constructed, infinitely fallible "pastselves,"

turn away, and push on forward, feeling a bit wiser. For Emily

Haines, it's this complicated relationship with memory that forms

the thematic through-line of her latest record, Choir of the Mind.

"You want to imagine that your life is you progressing and

evolving and that you're becoming better every day," she says. "You

don't necessarily want to be haunted by all the previous incarnations

of yourself."

When Haines' last solo record, 2006's Knives Don't Have Your

Back, and its follow-up EP What is Free to a Good Home? were

released over a decade ago, she was swept up in the grief of having

just lost her father, as well as orienting herself within the flowering

success of her band, Metric. It probably seemed like a good time to

look forward rather than back. By the end of her 2007 solo tour, she

had begun to feel the grief lifting, and no longer wanted to inhabit

the dark headspace of those emotionally fraught songs. The Soft

Skeleton was tucked away in the closet, and Haines hasn't looked

back since.

Until now, that is. The funny thing about memory is that our

relationship to it changes as we grow older, and that connection to

the past starts to feel more precious than mortifying.

"There's something so beautiful and valuable about that to me,

once I got past the immature idea that my life was supposed to be

this endless upward ascent," she says. "Places that used to fill me

with a sense of dread – this street corner, or this place where I used

to go when I was 15, and feeling kind of haunted by these places –

something shifted, and suddenly I felt that it was an incredible luxury

and gift to have access to those memories and those times."

That re-contextualization of the past is part of what made now

seem like the right time for the retrospection of Choir of the Mind.

"This album's got this anniversary-type feeling of coming back

home and taking stock and having all our minds blown that it's been

10 years since Knives came out," she says. "I think it's a shared feeling

for listeners, too."

Indeed, that gorgeous, melancholic record was a brooding

touchstone for a generation of young indie listeners who, like Haines,

are now at a point where they're beginning to re-evaluate their own

connection to that time in their lives.

"Everyone who's not 20 is grappling with the fact that our lives

are on right now," she says. "We're adults, and what does that mean?

Who are we, compared to whatever idea we had of who we would be

by this time?"

Choir of the Mind is meant as an album to curl up with and reflect

upon; it's a chance to "take a breath" and escape from consumerism

and filtered, curated personality branding, and to feel a connection.

Haines writes for herself, but her personal credo is to only release

that music when she feels it can help someone else.

Haines is about to embark on a limited 12-date tour to support

the album, playing a string of hand-picked venues, and she's relishing

that chance to create a sense of connection with listeners in an

intimate space.

"I can't even handle how excited I am for this tour," she says, calling

it an "art holiday." "It's the most un-viable thing. It's a total luxury to

be able to do a small tour like this. It's, like, the least profitable thing

in the world."

2017 has already been a busy year for Haines – she recorded

and released Choir of the Mind in September, toured with Broken

Social Scene, produced her first record (The Beaches' Late Show,

which dropped in October), and is currently in the studio working

on Metric's next album – so setting out on a solo tour might not be

everybody's idea of a vacation. But for Haines, it's therapeutic.

"When I'm in the work, I just feel calm," she says. "It quiets my

mind."

Emily Haines performs at The Chan Centre for the Performing Arts on

December 7.

20

December 2017
---
THE PACK A.D.

WELCOME TO THE DOLLHOUSE

KEIR NICOLL

Becky Black and Maya Miller have been performing together as the

Pack A.D. for more than 10 years now and following the release of

their ninth studio album, Dollhouse, the fearless guitar/drums duo

are tearing down the proverbial walls.

"I think it's more of a larger concept," says guitarist/vocalist Black,

speaking to the name of their new album. "We all live in a tiny

cacophony of our own minds and that can be like a restrictive

dollhouse."

The first song off Dollhouse is entitled "Woke Up Weird," a gritty

self-aware blues-rock romp. "I wake up weird every day," Black says.

"Waking up weird is kind of normal."

The Pack's concept goes beyond the everyday weird, as Black

and Miller (drums) speak to the larger, universal strangeness of life

on Dollhouse—the kind of big questions that can keep you up at

night with themes of darkness, gloom and death.

"Our music is dark," Black says. "We have a sense of humour

about the conflicts and things that are surrounding us as artists,

yet as artists we tend to gloomify things, so everything can end up

being a little darker." So there is a balance and a paradox, which

also contributes to the overall weirdness of the band.

It is all well presented on Dollhouse, where there is a jarring

contrast between the duo as 3D characters against a 2D backdrop

of a dollhouse on the album's artwork. This creates a darkly

comedic effect, as Black and Miller look by turns perplexed.

As it turns out, the upcoming show at the Rickshaw will be the

Pack A.D.'s last, for a long time to come. This duo has played many

shows at many venues around the world over the course of their

nine album career. Black reveals, as words of adieu, that "I hope

that everyone who wants to see us in this city comes out, because

we're in a flux state in this band. I guess we're in a flux state every

other month and we're not there but then we'll be back. But

probably, speaking in all seriousness, this will be the last time we

play for a long time."

The Pack A.D. perform December 8 at the Rickshaw Theatre.

MUSIC

The Pack A.D. tear down the walls on Dollhouse.

December 2017 21
---
22

RIO

THEATRE

1660 EAST BROADWAY

DEC

8 -

10

11

DEC

13

DEC

14

DEC

DEC

15

17

DEC

20

DEC

21

DEC

22

DEC

23

DEC

24

DEC

27

DEC

29

DEC

30

DEC

31

DEC

JAN

1

JAN

3

DEC

THE GEEKENDERS PRESENTS

HOW I MET MY MOTHER

A BACK TO THE FUTURE

PARODY MUSICAL

THE 19TH ANNUAL

ANIMATION SHOW OF SHOWS

*ALSO PLAYS DEC 18

THE KILLING OF A SACRED DEER

THE SQUARE

THE GENTLEMEN HECKLERS PRESENT

STAR TREK: GENERATION

NO DRESS REHEARSAL:

A MUSICAL TRIBUTE TO

GORD DOWNIE

KITTY NIGHTS WEST PRESENTS

PEE WEE'S BURLESQUE

CHRISTMAS SPECIAL

ALSO ON THE 16TH!

JANE GOODALL BIOPIC JANE

THE GEEKENDERS PRESENTS

A HARRY POTTER

CHRISTMAS BURLESQUE

THE FICTIONALS COMEDY CO. PRESENTS

IMPROV AGAINST HUMANITY

CARDS AGAINST VANCOUVER LAUNCH

#IAHATRIO

ANOTHER WOLFCOP

LOVE ACTUALLY

YIPPEE KI YAY, MOTHERFUDGER!

DIE HARD

FRIDAY LATE MOVIE

WHITE CHRISTMAS (1954)

BLACK CHRISTMAS (1974)

FRANK CAPRA'S

IT'S A WONDERFUL LIFE

WILL FERRELL IN ELF

THE CRITICAL HIT SHOW!

#DNDLIVE, IMPROVISED EPIC FANTASY

AMERICAN PSYCHO

FRIDAY LATE NIGHT MOVIE

STANLEY KUBRICK'S THE SHINING

JOHN CARPENTER'S THE THING

PATRICK MALIHA'S

NAUGHTY LITTLE NEW YEAR'S EVE

NEW YEAR'S DAY HANGOVER MARATHON!

HAUSU + THE BIG LEBOWSKI

MAD MAX: FURY ROAD

DOUBLE BILL!

RIDLEY SCOTT'S

BLADE RUNNER (1982) &

BLADE RUNNER 2049

COMPLETE LISTINGS AT WWW.RIOTHEATRE.CA

CANCER BATS

CANADIAN HARDCORE GROUP PUTS THE BAT IN BLACK SABBATH

ANA KRUNIC

Cancer Bats turned their one-off cover project in to an Ozzy-fuelled touring act.

There are plenty of bands that start off their careers

playing covers, and very few that go the opposite

route, especially after already finding success with

their original music. Toronto's hardcore punk

golden boys Cancer Bats landed in the situation by

accident.

"It started in 2011, when we were booked to play

a festival in the UK called Sonisphere," explains lead

vocalist Liam Cormier. "Slipknot were headlining as

the last band of the festival. The organizers said to

us: 'What if you guys figured out a cover set to play

SCRAPE RECORDS

LOCAL RECORD SHOP REINVENTS ITSELF AS MUSIC LABEL

JOHNNY PAPAN

SCRAPE Records was once

Vancouver's go-to shop for everything

hard rock and metal. They sold tickets

to all the heaviest shows, stocked

their shelves with the grittiest tunes,

and even brought some of the world's

most notorious thrashers in-store for

intimate performances.

In early 2016, Vancouver's

heavy-metal rock-shop closed its

East Broadway doors. However,

in celebration of SCRAPE'S 20th

anniversary, the shop's owner, J.J.,

announced the former record

store would be reinvented into an

independent music label.

SCRAPE Records has already signed

its first band: extreme metal outfit

Zimmer's Hole, which consists of

vocalist Chris Valagao as well as Byron

Stroud, Jed Simon, and Gene Hoglan

from Strapping Young Lad. Hoglan

is considered one of metal's greatest

drummers and has also performed

in notorious groups such as Death,

Dark Angel, Fear Factory, Testament,

and cartoon death-metal band

Dethklok from Adult Swim's show

Metalocalypse.

J.J. confirms that Zimmer's Hole

at the end of the night for anyone who wants to

keep partying after Slipknot closes out the festival?'

Obviously, we agreed."

Organizers began advertising a mysterious

Black Sabbath cover band called Bat Sabbath to

festivalgoers, holding back from revealing the

group's true identity.

"People thought it was the Foo Fighters. All I

could think was, man, they're going to be bummed,"

laughs Cormier. "But the cool part is that it worked

– it ended up being packed. We thought we were

is already making demos for their

upcoming album, which is aiming

for a Fall 2018 release under SCRAPE

Records. In the meantime, SCRAPE

will be reissuing the band's first three

albums, Bound By Fire, Legion of

Flames, and the notorious When You

Were Shouting at the Devil… We

Were in League With Satan.

J.J. will be putting together a

sampler disc to help promote B.C.

bands as well as the growing label.

He is looking not only for new artists,

but also for future employees. As of

right now, J.J. is running the show on

his own, with hopes of changing the

label-artist dynamic in a way that will

benefit both parties to the fullest.

"I really want to establish new ways

that a label can work with bands,"

says J.J. "There's a certain structure

I think is useful to follow, but to

me it's really important to work

with the bands. I want them to be

involved in the process – I want to

be communicating with them on

an even playing field. I want them

involved in putting the product

together, not feeling that anyone is

trapped."

Photo by Niall Burns

"I reached out to a lot of people

I've known in the industry for 20+

years and asked them, 'Do you think

starting this label is a wise idea? Or

am I just completely insane?'" he

concludes. "Then I think of when I

opened the store. I had no idea if that

doing it as a one-off show, but in a perfect storm

of technology, everyone recorded the set on their

phones and uploaded it to YouTube. So we finished

the tour, and literally by the time we got home

hours later, we already had offers to play in other

cities as Bat Sabbath."

The videos are still up, and it's evident why they

were contacted about bringing more Bat Sabbath

to the world. Their sound adapts to Sabbath well,

not to mention Cormier's incredibly enthusiastic

performance.

"I've really gotten into playing up the showman

aspect of it. I'm wearing a cape and motorcycle

boots, and my shirt's tucked in but it's completely

unbuttoned. I have a really good time playing with

the Cancer Bats, but I'm really into how far I go

with this character that is the maniac fronting Bat

Sabbath. It may be more entertaining for me than

anybody else, to be honest."

Bat Sabbath plays the Cobalt on January 5 with

Waingro and Woe Monger and January 6 with Dead

Quiet and We Hunt Buffalo.

would work or not, and it worked out

for nearly 20 years. This may not, and

that's fine. But you don't know the

outcome until you try."

For more information, contact orders@

scraperecords.com.

December 2017
---
BPM

CONTACT WINTER MUSIC FESTIVAL

BLUEPRINT CELEBRATES SIXTH YEAR OF BENDING SPACE AND TIME

ALAN RANTA

CLUBLAND

YOUR MONTH MEASURED IN BPMS

ALAN RANTA

whipped cream

rezz

Photo by Will Selviz

Ho, ho, holy shnikeys… What a year this was, eh? Waking up

every morning was like Captain Picard demanding a damage

report. Check out these shows if you need a little something to

get you through the final stretch.

Big Joy Festival 2017

Dec. 7 to 9 @ Multiple Venues

The experimental music festival is going out with a bang

for its fifth and final year, promising a broad spectrum of

harsh noise, textural fog, and transdisciplinary audio/video

explorations with performances by Ian William Craig, Greg Kelley,

SEEKERSINTERNATIONAL, and more. Tickets are cheap, and the

vibes are as weird as you need them to be.

Blockhead

Dec. 8 @ VENUE

The longtime Ninja Tune beatsmith returns to VENUE in support

of his joyfully titled new album, Funeral Balloons. That said,

many will probably just be going because of the video Anthony

Francisco Sheppard produced for "The Music Scene," as well they

should as it is one of the most beautiful things ever made. Watch

it, fall into a dream, and go.

Western Canada's largest indoor music festival is only getting bigger

for its sixth year. The two-day event returns to B.C. Place, and aims to

turn that big old stadium into an immersive, intergalactic vessel that

may visually stimulate onlookers so profoundly that they see through

the very fabric of space and time. The broad tastes of discerning

listeners who have consistently sold out this spectacle for the last few

years have been taken into account, with a line-up boasting around

twenty of the most epic knob-twiddlers in electronic music today

encompassing the hottest up and comers alongside living legends.

Following are a few selections that will make your holiday season pop.

Marshmello

He's like Deadmau5 with a bucket on his head. Why would you not

want to see that? Seriously, though, Marshmello seems like a pretty

cool dude. His videos are stuffed with self-deprecating humor and

self-affirming messages, while his main stage EDM sound, featuring

silky bass lines with sharp synth melodies and trap percussion, is

perfectly produced to stay puft.

Ekali

A couple years ago, Vancouver's Nathan Shaw was playing bass for

Juno-winning folk-rockers Said the Whale, simply writing trap-tinged

tunes as Ekali on the side. That was until he got invited to Tokyo's

Red Bull Music Academy and had Drake snag an instrumental for his

lauded 2015 release, If You're Reading This It's Too Late. At this point,

you really need to know who he is.

TOKiMONSTA

Los Angeles producer Jennifer Lee, best known as TOKiMONSTA, is

one of the hardest working women in show business, and has been

for nearly a decade. Her label, Young Art Records, has fostered rising

talent since 2014, while her tireless work in the studio actually helped

her recover from a two-part brain surgery that initially left her unable

to walk or comprehend language. Yet, despite the practical necessities

behind the creation of her third album, 2017's Lune Rouge, it is proof

that she hasn't lost a step.

Photo by Michael Fulton

ekali tonkimonsta armin van buuren

REZZ

Don't underestimate twenty-something Niagara Falls native Isabelle

Rezazadeh (a.k.a. REZZ). She's been DJing since she was 16, and has

spent more hours on Albeton than there are in a day since she first

saw deadmau5 live, subsequently getting props from Skrillex for her

cinematic, cerebral productions and ultimately releasing her debut

album, Mass Manipulation, through mau5trap itself. She's living the

dream, but she worked for it. Just don't look directly into her eyes

unless you want to be hopelessly hypnotized.

Armin van Buuren

One hardly needs to introduce Armin van Buuren. This Netherlands

native is one of the biggest names in electronic music, a powerful

proponent of progressive house and vocal trance in Ibiza and beyond.

He has won countless awards and polls for being the world's best DJ,

and hardly a release of his goes by that doesn't land on the Billboard

charts. Even if you don't like his music, you won't want to miss his

spectacle.

Falcons

Formerly known as TightMike and currently blowing up as Falcons,

Michael Graham is a Los Angeles-based producer and Fool's Gold

signee whose forays into the hip-hop and futuristic R&B end of the

EDM spectrum have earned over 28 million streams and counting.

They were well earned streams too, no bots about it.

Whipped Cream

This Shambhala veteran has been slaying stages all the way down the

coast, from her home turf on Vancouver Island to the party mecca

of Los Angeles and everywhere in between, but all you need to know

can be heard on her SoundCloud. All you hear there is her work, and

nobody else's. She tears up the most tripped-out, hardcore hybrid

bass allowed by law.

Contact Winter Music Festival set to invade B.C. Place on December

26-27.

Nora En Pure

Dec. 16 @ Celebrities Playhouse

Born in South Africa and raised in Switzerland, DJ Daniela

Niederer (a.k.a. Nora En Pure) is a master of house so deep that

light cannot escape it and dance so indie that it could convert

a Hare Krishna to a hipster. Everyone could use a dancefloor as

smooth as hers right now.

Sarah Davachi/Loscil/Nicolas Bragg

Dec. 21 @ Red Gate Revue Stage

The longest night of the year deserves to be accompanied by the

most elongated and mesmerizing of musical forms. Davachi and

Loscil are two of the most important ambient/drone musicians

in the world, with extensive catalogues and endless imaginations,

while longtime Zulu Records employee and Destroyer guitarist

Nicolas Bragg is as eclectic as cuddlecore.

Mark Farina

Dec. 22 @ Imperial

The mad genius behind Mushroom Jazz can't seem to stay away

from the DJ booth. This travelling minstrel cooks up his signature

blend of San Francisco-fried Chicago House and dubby, funky

downtempo at over a hundred shows a year, as he has for over 25

years now. Respect the hustle, and shake that booty.

Sarah Davachi

December 2017 23
---
BPM

HUNDRED WATERS

DELVING DEEPER INTO THE IMPRECISE NATURE OF HUMAN CONNECTION

BRENDAN REID

Photo by Lenne Chai

Hundred Waters embrace the intimacy of communication.

Communication is something humans have always

struggled with, and now we have tools that allow

us to miscommunicate over larger distances and in

greater volumes. Hundred Waters appreciates how

complicated communication can be, especially

between two people who love each other deeply.

It's a problem with no easy answer – one that

cannot be scapegoated onto the overarching

specter of technology.

Ironically, the group's latest offering,

Communicating, is a love letter to the concept

of miscommunication. And though it expounds

the frustrations inherent in relationships and

connection, it also implores listeners to strive

for joy and comfort, within both oneself and the

company that surrounds them.

Hundred Waters is a group that thrives on

intimacy. The band began within the humorously

named "Bro Island," a former karate dojo/grocery

store that was repurposed into University of

Florida housing. It was in this liminal space

that Hundred Waters began to find their feet.

The connection between its members runs

deep – percussionist Zach Tetreault and multiinstrumentalist

Trayer Tryon began making

music together as early as middle school. When

lead singer Nicole Miglis joined the group, she

and Tryon formed a relationship of their own,

deepening the sense of love and emotion the band

projects with their unique sound.

Despite their closeness, Hundred Waters often

examines love with scrutiny, making sure to expose

its shortcomings as much as its innate beauty.

Communicating explores these themes openly,

investigating concepts of longing and change, as

well as the efforts we make to communicate our

feelings to one another.

The lush voice and creative vision of lead singer

Miglis carry these ideas to fruition, and the video

for "Fingers" is a key example of her fearless artistic

integrity. In the video, Miglis lies on the ground

in a barren but well-lit room, and finds herself

covered in live insects, ranging from cockroaches

to mealworms, tarantulas to carrion beetles. There

is no special effects trickery going on here; Miglis

truly let these creatures envelope her, and for good

thematic reason.

"[Fingers is] about being in a relationship and

not knowing what you really want," she says.

"Being in something for so long that you don't

know where else to go. [This] creates a constant

feeling of being unsettled. It was the closest thing

to intimacy I could think of, and the furthest."

Anyone who has been in an out-of-touch

relationship knows the feeling, and Miglis

embraces this sensation in its most literal form,

letting her skin crawl in ways that would terrify

most.

"Part of me just finds insects fascinating," she

admits. "We're so socially phobic of them. They're

one of the smallest visible forms of life to us, and

we fear them the most. Like the lion and the

mouse fable… I think the way we consider and

treat these smaller forms of life says a lot about us

as people."

Her observation is apt. In today's era, people

seem to belittle one another as much as they do

smaller forms of life, and a great deal of this can

be attributed to simple miscommunication. Many

people believe that technology itself is responsible

for these problems, but Miglis is inclined to

disagree.

"Technology evolves with people," she says.

"Any moral issue that comes out of modern

communication isn't technology, it's us. And those

things have always been there. Technology just

gives us a tool."

Hundred Waters performs at the Fox Cabaret

(Vancouver) on December 9.

XAVIER OMÄR

DEFYING GENRES WITH MUSIC THAT SPEAKS TO THE SOUL

JORDAN YEAGER

Xavier Omär is not yet a household name, but that's

not to say he's new to the music scene. Now 27,

the singer has been making music for more than 15

years under different guises. He started as Spazzy

Rocket, dropped the vowels to become SPZRKT, and

eventually decided to take the mask off altogether.

Thus, Xavier Omär was born.

"Because of the way I had SPZRKT spelled, it

became such a ceiling for me," he says. "I didn't want

one. It felt more inviting for people to know my

actual name, and it's also a help in humility; the only

people up to this point who have called me by my

name are my family and friends. It's the same name

your mama called you when you were in trouble. So

it's helped me to keep everything in perspective."

Despite the name changes, Omär's music has

always explored topics in similar veins: relationships,

faith, and "the journey along the way." Where his

experimentation often lies is in delivery. Over the

years, records like Bonfire, The Everlasting Wave,

and Pink Lightning vary from rap to R&B to pop

depending on his mood. As much as listeners might

try to compartmentalize his sound, Omär doesn't

like to be defined, preferring to focus less on genre

and more on creating "whatever [he's] feeling right

then and there." His energy comes from storytelling,

and that becomes most obvious in his live show.

"I'm dying in that freaking gym every day getting

ready for tour," he says. "Because of the way that I

perform, I need to train like an athlete to a degree.

24

When somebody says they're going to an R&B show,

you expect a particular vibe, but it's way more than

that. And that's kind of the signature of what I do.

The first six to eight years of me making music, I was

performing as a rapper. I had a hard time letting go

of the energy you would expect from that when I

decided to just start singing."

From changing his name to finessing his stage

presence, everything Omär does is deliberate.

Each song is written with intention and a sense of

responsibility to the listener.

"I don't know that I really love to write about

anything," he laughs. "The happier moments, of

course. Whenever you're moved so much in a

good way that you have to write about it, that's

awesome. But the records that have a bit of a deeper

background story are the ones that fans seem to

really stick with and appreciate me for. And it's great,

because I want to be able to be open and honest

with them, but the part of it that sucks is that I

have to live it first. But there is a lot of beauty in it.

I don't write immediately after I go through a bad

situation. I wait a couple months to try to see what

the positive side of it is, and then I tell the story. I just

don't want to be irresponsible with the pain. I want

to be able to relate to people, but also help them

through those times."

Xavier Omär plays The Fox Cabaret on December 21.

His new EP, Pink Lightning, is out now.

Photo by Joe Gonzales

Xavier Omär sings his life story soulfully, drawing perspectives from each experience.

December 2017
---
BPM

RIGHT HERE,

RIGHT NOW

DJ JODIE OVERLAND

ALAN RANTA

VIC MENSA

A MEANINGFUL MEMOIR ABOUT HOPE AND FREEDOM

vCOURTNEY HEFFERNAN

Vic Mensa's debut album, The Autobiography, gets up close and personal, touching on important issues about addiction and depression.

Vancouver is a melting pot. Only a third of its

population was actually born in the city. With

such a flux flexing, this column is here to shine a

light on welcome new contributors to our scene.

First up is hypnotic techno magnate Jodie

Overland. If she's not in the studio, you may find

her going out for ramen, her current obsession,

or heading to The VAL Villa, her new favorite

rave space. High on her list of achievements, she

opened for the legendary Richie Hawtin next

to two other prominent women in the Calgary

scene, a gig that she found empowering, yet her

proudest moment so far was being selected for

the 2017 RBMA Montréal Bass Camp, a "most

amazing learning experience" that gave her the

best tools in order to foster her mesmerizing

production skills.

Why here?

I moved to Vancouver for a number of reasons.

The job I had be working at for the past three

years had laid me off, and the person I was

dating at the time had moved away to Japan

around the same time. I wasn't tied down to a

lease in Calgary, and I also had an opportunity

to live [in Chinatown] here in Vancouver that I

couldn't pass up. Calgary is in a weird place right

now with the economic recession and I figured

all of the signs were pointing towards me trying

out a new city. I'm a lone wolf for the most part

in the scene world, but I enjoy going to all kinds

of events.

Four months after the release of his debut

LP, The Autobiography, and two months into

supporting Jay-Z's 4:44 tour, Vic Mensa sounds

more content with his career than he ever has. "It

feels phenomenal. I love it. I had a point in time

when I was performing music that was not as

honest and I just felt phoney on stage, I just felt

like I wasn't me. Just saying 'Turn up!' every other

song. 'Turn up!'"

Part of the reason why Mensa feels more

authentic when he performs is because The

Autobiography is a very personal album. He

describes the recording process as cathartic. "It

was a process of unearthing repressed memories

and drawing connections from the past to the

present and the future." He draws on childhood

and adolescent experiences on "Memories on

47th St." and recalls the impact of crime and

gun violence on his community on "Heaven on

Earth."

Since Mensa first started to record as a

solo artist in 2013, he has aimed to be more

forthcoming in his lyrics. He says, "I try to be

honest in my music." While he uses his platform

predominantly to speak honestly about his own

life, he is a vocal critic of social inequalities in

America. "Police brutality, mass incarceration,

I know the information, I know the truth. So I

think along with that comes the responsibility

to vocalize." Though he admits he doesn't love

using social media, "I do at times try to use

social media to talk about the things that are

important to me."

Among the topics important to Mensa is

mental health. He says that when he first started

talking about it, "It felt like I was being real with

myself first and foremost. I never set out to be a

spokesman for mental health." When he wrote

"There's Alot Going On" for his 2016 EP of the

same name he says, "I just told the truth about

my own experience. I said exactly the shit I was

going through. I talked about how I was addicted

to drugs and depressed and suicidal and shit

at points in time." With the EP and with that

record in particular, "A lot of people reached out

to me to say maybe that song saved their life or

got them through a tough time. I just started

to realize how silent so many people are about

those types of issues. I realized I could help

people as a writer who really speaks candidly

about mental illness."

It was Mensa's intention from the outset

to speak candidly about his self destructive

tendencies on "Wings," his collaboration with

Pharrell Williams and Saul Williams. It is an

unflinching look at depression, infrequently

depicted in hip hop.

"I knew I needed to make a song like that,

something that spoke about those things in my

life. And so I tried a couple times and when I

ended up getting with Pharrell that day, it just

clicked. The lyrics kind of just wrote themselves,"

he says.

The future Mensa envisions on The

Autobiography is not without hope. "'We Could

Be Free' [is] an imagining of what freedom could

look like in the future," he says. "Having a broad,

wide angle view of pain and privilege as they

present themselves."

Having struggled with and overcome addiction

and depression, Mensa is grateful to be where

he's at today and is already excited to get back

into the studio. As for the audience response

to his self-reflective music he says, "People

appreciate it in a different way. It hits you in a

different way."

Vic Mensa will perform with Jay-Z at Rogers

Place (Edmonton) December 9, host at Caprice

(Vancouver) December 9 and perform with Jay-Z

at Rogers Arena (Vancouver) December 11.

What now?

I'm working on my debut EP featuring five

acid/techno tracks. I'm holding off on DJing

as much as I was in Calgary in order to focus

on my production, but I'm hoping to play in

four different cities this spring as a mini tour. I

would love to open for DVS-1 sometime. He's

my DJ idol. In terms of production, I'd love to

collaborate with Lena Willikens or Young Male.

DJ Jodie Overland has landed in Vancouver.

December 2017 25
---
BPM

SNOTTY NOSE REZ KIDS

FLIPPING THE SCRIPT WITH WIT AND WORDPLAY

CHRIS DZAKA

Snotty Nose Rez Kids are sick of hearing

the grim narrative in the media about

suicide, drug abuse and substandard

housing among First Nations people.

The self proclaimed "Rez" kids have

honed their skills as hip-hop emcees to

create a new narrative that they're eager

to share: First Nations kids are more

than statistics in the highway of tears or

Photo by Blaire Russell

Darren (Young D) Metz and Quinton "Yung Trybez" Nyce are SNRK.

suicide numbers. Aboriginal youth are

survivors and creators.

"Our goal is to be a voice of the

voices. There are so many things we've

been through and have to say but

haven't necessarily been said," says

Darren (Young D) Metz. "We have

to lead the next wave and the next

generation and keep on fighting."

A rap duo hailing from Kitimat, BC

and part of the Haisla Nation, SNRK is

made up of childhood friends, Metz

and Quinton "Yung Trybez" Nyce. Fresh

off tour dates in Montreal and Toronto,

SNRK recount each coming from great

families who fostered tight relationships

with their community. Nyce smiles as

he reminisces, "As far as the Rez goes,

we had it great. We had the ocean in

the summer and 10-foot snow banks in

the winter."

Though problems like deplorable

housing, substandard drinking water,

and drug and alcohol abuse are a part

of the environment many First Nations

youth face growing up, SNRK are

flipping the script, drawing attention

to issues such as these while radiating

positivity for the youth of today.

"We're not just speaking for

ourselves, we're speaking for our youth,"

says Nyce. "Whether they're in a good

situation or a shitty situation. This is

why we do this, for our indigenous

youth."

The duo may be young but they've

seen enough to know what is and

isn't worth fighting for. Since their

inception, SNRK has released three

full-length albums this year alone and

have plans to drop another collection

of songs in the new year. Their songs

are a thoughtful mix of classic and

modern hip-hop inspired lyrical

content and beats, alongside traditional

First Nations singing, seasoned with

thought provoking interludes. Each

album illuminates issues facing their

community while underscoring the

lighthearted relationship with family,

friends and the Rez they love.

The group feels music can provide

some insight into their politics on

songs like "KKKanada" and "Savages"

off their latest record, The Average

Savage. Together, Metz and Nyce

attempt to stomp out stereotypes with

unapologetically truthful and positive

music as only they can deliver, via quick

witty word play.

"When we write music, we don't

always try to focus on the negative,

we try to focus on the positive even if

there's not a whole lot of positive in a

situation," Metz says.

SNRK deliver timely and current

lyrics with beats that resemble a

nineties tip. But both men have

definitely created their own distinct

voice. Metz breaks it down like this,

"I was into 2pac and Biggie, then in

the 2000's I was into southern rap.

Something about that accent got me.

Now it's Wale and Kendrick Lamar. As

an artist you grow up liking certain

things and you develop your own style

from it. Nyce chimes in, "I've seen J

Cole a bunch of times. I really like his

music and Kendrick Lamar too. It's a

great time to be an indigenous artist. A

lot of us indigenous people are able to

get into arts and don't have to fall into

a nine-to-five. As (Indigenous) people

we are naturally artists. Our music is

indigenous rising music."

SNRK have a new collaboration project

called Devil's Club coming out in early

2018.

26

December 2017
---
FILM

BEST 10 FILMS OF 2017 (SO FAR)

HOGAN SHORT

Three Billboards

Call Me By Your Name The disater Artist Stan

10.

The Lost City of Z, like its characters,

is grandiose and larger-than-life. It is

a film that shows us the spirit of early

explorers as they risk everything for

the sake of discovery. This is a riveting

portrayal of a man and his obsession,

a journey of grandeur that feels like an

epic tale of exploration from the past as

he searches for his lost city.

9.

Mudbound is a thoughtfully slow story

about both a white and a black family

living in the rural American south

during World War Two. The film is a

careful look at the tragedy of the times,

using war not just as an absorbing

narrative arc, but also as an example of

shared experience. This is a considerate

story to reflect on until the critical end

moments, which take all that reflection

and shatter your heart with it.

8.

Marjorie Prime, set in the near future,

is a sentimental drama about grief and

regret. A family heals with the memory

and appearance of their deceased loved

ones using holograms. This allows

them to heal in cathartic ways that the

present day could never allow. Marjorie

Prime wonderfully explains that regret

means not appreciating love when we

have it, and assures us that loss is worth

it.

7.

Get Out is the rare film that tells its

metaphors blatantly while maintaining

a genius subtlety. The social critique

here proves so insidious that the real

horrors of a more hidden type of racism

stay with you long after each terrifying

scene. The idea and execution are

perfect, making this film a wildly fun,

albeit terrifying, classic for the genre.

6.

Blade Runner 2049 had every chance

to be another awful sequel to a sci-fi

classic, but instead depicts an original

story that makes the original even

better in retrospect. The expertly

tangled story is accompanied by

stunning visuals and a soundtrack that

make this improbable 30-years-later

sequel well worth the wait.

5.

Dunkirk is the true World War Two

evacuation story of the thousands of

Allied soldiers stranded on the beach.

Complexly layered in both time and

point of view, we see heroism from the

air (one hour), horrors experienced by

the stranded soldiers (one week), and

risks taken by common citizens rescuing

them by boat (one month). This is a

masterpiece of war cinema that uses

little dialogue, shows new perspectives,

and feels no need to show an enemy

soldier even once.

4.

Wind River is the directorial debut

from Taylor Sheridan, the writer behind

Hell or High Water and Sicario. Like

his previous films, this is a bleak and

unflinching modern western, set this

time in the freezing North. A local

tracker helps an FBI agent solve the

murder of a young Native woman in a

plot that grips you from the beginning,

through the intense and surprising third

act, all the way to the end.

3.

Lady Bird's heart wrenching moments

are always immediately replaced with

hilarity. The few times when humour

doesn't follow allow us to really feel

that sadness. This tone-perfect, comingof-age

drama from the mind of Greta

Gerwig is a refreshing look back at your

upbringing and childhood home, even

if you no longer call it that.

2.

Three Billboards Outside Ebbing,

Missouri is not just the funniest film

of the year, but also one of the darkest.

You will laugh and then wonder if

you should be laughing, but it won't

matter because the entertaining plot

won't give you a chance to think about

anything other than the story's core:

a bitter, heartbroken anti-hero in grief

over her daughter's death, looking

for justice and hoping to hold the

responsible accountable with the use of

three billboards.

1.

Call Me By Your Name is this year's

Moonlight, except with rich, white

men in the sun-drenched Italian

countryside. It is a slowly simmering,

beautifully patient look at first love

and first heartbreak. Whether it's the

explanation of the origin of the word

"apricot" or the analysis of ancient

statues "daring us to desire them," every

moment carries the vulnerable feeling

of familiarity.

HONOURABLE MENTIONS

Stronger, Brigsby Bear, The Big Sick,

Landline, Good Time, Logan Lucky,

Band Aid, A Ghost Story, The Killing

of Sacred Deer, Lady Macbeth, Sweet

Virginia, The Square, Detroit, Logan,

Shot Caller, The Darkest Hour, Coco

FRIDAY LATE NIGHT MOVIES!

19+

VALID ID FOR

BAR SERVICE

VISIT WWW.RIOTHEATRETICKETS.CA FOR SHOW TIMES & TICKET PRICES

DEC 8 + 9

THE ROOM

DEC 15 EDWARD SCISSORHANDS DEC 22 DIE HARD DEC 29 AMERICAN PSYCHO JAN 6 LABYRINTH

December 2017 27
---
MUSIC REVIEWS

Björk

Utopia

One Little Indian

Over the span of her career, Björk has given energy

and insight to almost every aspect of humanity.

She's experimented with (and created) new

technologies and instruments, reflected on life

from biological and spiritual perspectives, and most

recently on Vulnicura (2015), she created a deeply

personal reflection of her own heartbreak and loss.

Two years later, she returns with perhaps her most

accessible concept to date; Utopia is an exploration

of music, womanhood, and most importantly

love. Ostensibly, it's an album of self-care in an

exasperatingly ominous global landscape.

Working again with co-producer Arca, Björk

has entered her "strongest musical relationship."

Throughout the album they push each other's

boundaries—Arca's harsh electronic sounds are

complemented by the softness of Björk's harps,

strings, and flutes. The album is an intense clash

of musical intellect drawn from universal human

feeling. That's what is part of Björk's brilliance and

mystique; she doesn't only want to tell you how

she feels, she wants to explore the gamut of what it

means to feel that. With each note, hum, breath, she

tries to let you in. After her greatest heartbreak, she

planted and nurtured seeds of resilience.

Opener "Arisen My Senses" transports you to

the first moment you felt love in a kiss. Björk is

resetting all aspects of herself for the better of her

world. The song is the simultaneous eruption of

volcanoes and the shifting of tectonic plates; the

consideration of what's at risk with a new lover, and

the thrill of putting it all on the line. Arca's drum

sample fireworks and the overlaying vocal echoes

from Björk form hundreds of sparks that rise and

fizzle throughout the five-minute track. The harp

that follows is the unmistakable sound of the hope

required to let one's self love again after heartbreak;

the sound of letting go of personal qualms.

The title track is an exploration of her world

– the sound of discovery at once simple and

complex. There are new creatures offering unheard

onomatopoeia, footsteps trekking through

unfamiliar flora, and Björk' guiding voice, easing you

in: "You assigned me to protect our lantern/ to be

intentional about the light." Her Utopia exists in our

own world, but it's not possible unless we "purify,

purify, purify…" a process that begins internally

before inheriting the earth.

Once she's put in the work, the album's opus "Body

Memory" unfolds. Nearly ten minutes in length, it

is the antithesis to Vulnicura's "Black Lake," where

Björk unveiled the extent of her heartbreak and

betrayal, bleakly shedding everything until there was

no Björk left. Now, she fights against her anxiety and

internal misgivings, learning to trust herself. From

there, she grants us a slew of love songs, falling first

in love with herself before moving on to fall in love

with others, with nature, with the world, with love.

While striving for peace, Björk rejects and condemns

violent men from her past; her longtime partner,

Lars Von Trier (whom she recently lamented with

an essay discussing the abuse she suffered at his

hands while filming Dancer in the Dark), and the

patriarchy itself. On "Tabula

Rasa" she sings "Clean plate: Not repeating the

fuckups of the fathers," of the many ways these

men have failed her, and of a need for something

new—she entices the listener: "you are strong / you

are strong / you're so strong." For Björk, strength

comes from vulnerability, and softness comes from

protecting one's vision and values.

If you can get into what Björk is offering, then there's

room for you in Utopia. Her surreal version of a

self-help album works only because it has to—if one

shuts off, the music stops.

• Trent Warner

• Illustration by Geneva Haley

December 2017 29
---
Angel Olsen - Phase Big K.R.I.T - 4eva Is A Mighty Long Time King Gizzard & The Lizard Wizard - Polygondwanaland

Angel Olsen

Phases

Jagjaguwar

Following her 2016 breakout album, My Woman, this collection

of B-sides, demos and cover tracks from Angel Olsen was highly

anticipated by loyal fans and curious new ones about the charismatic

singer-songwriter's inner workings. When records like these are

released on their own, rather than being packaged as part of a deluxe

set or bonus tracks that accompany a reissue, usually there's the

expectation that the material is of the splendid caliber that's been

sitting in the vaults, waiting for a little studio spit and polish, then

tied up in a big beautiful bow and given to the record company to

deliver as rare gems.

Yes, and no. Mostly no – repacking Olsen with some fairy dust

isn't in the cards here. She's not that kind of woman. Phases certainly

has a few polished gems, no doubt about that. But the vast majority

of tracks are stripped down, often lo-fi, late-night, lazy afternoon

throw together, let's get-it-on-tape sessions and kitchen recordings

that contain all the typical imperfections – amplifier hum, glitchy

noises from recording devices turning on and off, cracking voices,

and chairs that creak. But none of that means there's not some

fantastic stuff.

Phases is full of Olsen showing different sides and different

influences. Most definitely a profound collection of diamonds in

the rough. The woman has a big heart, she's funny, she's subtle and

terribly inviting.

• B. Simm

Big K.R.I.T

4eva Is A Mighty Long Time

Multi Alumni

To say Big K.R.I.T absolutely killed it with his new album would be

an understatement. With 4eva Is A Mighty Long Time, K.R.I.T f***ing

demolished it. Bringing forward a new era of his hyped power beats,

and a new and personal take on soulful hip-hop.

The hour and a half long album is essentially split into two parts.

The first, an intense, fast-paced party setlist, pumped full to every

corner with incredible lyrical talent. The first track "Big K.R.I.T," is a

gateway into the first half of the album, a perfect introduction to his

southern roots, quick wit, and beautiful vocal samples in his beats.

He doesn't let you take a breather here though, throwing "Confetti,"

at you, leading from that intro with a highly memorable beat.

Distorted piano and drawn out cymbals lead you into K.R.I.T's castle,

while a woman sings in the distance, and behind you crowds mutter

and cheer. K.R.I.T has his fair share of humor within the record as

well. Take "Classic Interlude," a banter rich, minute long argument

between K.R.I.T and his friend about classics. A short and sweet

break in the album, only for the next track "Aux Cord" to whip you

off your feet again and back into his Cadillac cruiser.

Big K.R.I.T wanted to show us he was still one of the kings, and the

effort put into proving himself payed off. A party anthem tracklist

with some serious substance in it is hard to find. Add a second half to

that album full of vulnerable, lyrically crafted letters to the soul. And

you've got one of the best albums of the year.

• Keeghan Rouleau

King Gizzard & The Lizard Wizard

Polygondwanaland

Flightless

After four out of a planned five albums in 2017 alone, it would be

easy to dismiss King Gizzard & The Wizard Lizard's gimmicky output

as quantity over quality. Yet, album after album, the Australian

seven-piece psychedelic band has managed to not only push their

own lore (also known to fans as the Gizzverse) further, but push their

sound into increasingly impressive territory.

After the smooth jazz detour of Sketches of Brunswick East,

the band's collab with Mild High Club, KGATLW have hit a new

peak with Polygondwanaland, an album that deftly blends the

manic urgency of August's Murder of the Universe, with the bands

jazzier output. Polygondwanaland is packed full of tightly wound

polyrhythms, half-fried soundscapes, and a newfound love for synths

that fits perfectly with the band's previous sonics. Arpeggiated,

Carpenter-esque synth lines often work as transition between songs,

replacing the need for spoken-word that featured heavily on previous

efforts.

Like most of KGATLW's albums since Nonagon Infinity,

Polygondwanaland's tracks blend seamlessly together, but there

past reliance on musical motifs has mostly been left behind. It's a

welcome change and it allows for the band to flex their muscles as

musicians, evident on the album opener "Crumbling Castle." The

near 11 minute song is textbook KGATLW, but like much of the

album, it manages to add some new flair to the formula, resulting in

a new high water mark for a band that has created so many of them

over their short career.

• Jamie McNamara

Liam Corcoran

Nevahland

Fontana North

Liam Corcoran (ex-Two Hours Traffic frontman) takes listeners on

the rollercoaster that is life in his solo debut LP Nevahland. The

record follows a storyline of three couples being forced to evacuate

their small community, when they meet a mysterious man claiming

he is a priest and promising them safety. The album summarizes

their journey of disaster, hardship and learning how to leave their

home behind. Ranging from an alternative-rock sound in the lead

single "Tick Tock" to a country folk vibe in "Party's Over," the LP has a

wonderful tendency to slip out of the confinements of a single genre

or tempo, keeping you on your toes the whole time. Nevahland is

truly an artifact of Corcoran's musical vision. He wrote all the songs

and booked all the sessions, yet he definitely wasn't alone through

this process. Artists like Kinley Dowling (Hey Rosetta!), Emilee Sorrey

(Sorrey), Dan Griffin (Arkells, Teen Ravine) and Nathan Wiley were

there supporting Liam through the experience of developing this

album and enriching his sound since the 2015 EP Rom-Drom. From

beginning to end, the album resonates with deep and powerful lyrics,

sing-along worthy "oohs" and "ahhs" and inviting beats compelling

you to nod your head and tap your foot.

• Mackenzie Mason

Tove Lo

Blue Lips (lady wood phase II)

Universal Music

In a world plagued by Weinsteins and Spaceys, it's more important

than ever for femmes to balance the male-strom with stories of

reclamation of their bodies; of sexual awakenings, prowess, and

positivity. Each of these concepts may also be steeped in heartbreak,

but they make for a hell of a story, and Tove Lo has made it her

mission to share these stories on her latest Blue Lips (lady wood

phase II).

Tove Lo is another in a string of Swedish-pop acts that follow

standalones like Robyn and Lykke Li, forever relegated to moderate

success and acclaim (such as Icona Pop, Tove Styrke, Elliphant, and

Zara Larsson). Tove Lo's past hits include "Habits (Stay High)" and

"Cool Girl" – both of which find the narrator navigating sexuality

in some way – first by engaging unhealthy behaviours as a means

of coping, and next by refusing to commit or "catch feelings" as a

means of self-preservation and empowerment.

Her journey comes full circle on Blue Lips' lead single "disco tits,"

which finds Tove Lo ready to go all in on a new lust-filled relationship

as she sings, "I'm fully charged, nipples are hard / ready to go," over a

confectionary electro beat assisted by pitch changes and the barking

of what can be assumed to be dogs in heat (woof!).

Unfortunately, much of the album is too steeped in cliché pop

sounds, preventing Tove Lo from breaking apart from many of her

peers. Her sexually charged and empowered lyrics help her shine on

the aforementioned single, as well as on 'bitches,' 'bad days,' and 'hey

you got drugs,' but the majority of the other songs feel stagnant in

an attempt to be radio-friendly. It's a shame, because when Tove Lo is

shining, it can feel euphoric.

• Trent Warner

December 2017 31
---
Jaden Smith - SYRE Tennis - We Can Die Happy Young Jesus - S/T

Noel Gallagher's High Flying Birds

Who Built the Moon?

Sour Mash Records

Liam Gallagher might have to rethink labelling his brother Noel as

a potato – unless he's saying a starchy vegetable can make a better

album than him. While Liam is still trying to bottle up the innate

magic that launched Oasis to the moon, Noel is moving on. Liam's As

You Were had some great tracks like "Wall of Glass" and "For What

It's Worth," but it was largely forgettable and sounded inferior to

classic Oasis songs. Who Built the Moon? is could have used a little

bit more Oasis, balancing out the overproduced instrumentation

that drowns out Noel's singing with raw tracks recorded straight to

the final cut. This is the man who wrote the "Champagne Supernova"

in one sitting; he doesn't need to take time and think about what

makes a successful tune.

Along with two former Oasis members in the main band, over 20

musicians were involved with this album and it shows in the final

product. It has a psychedelic backbone, but there's many different

ideas explored that utilize everyone's talents except for Noel. It isn't

until "Dead in the Water" that he shines. It's a bonus track, but it's

the best on the album because it was written, years ago, under the

same conditions as "Champagne Supernova." The rest of Who Built

the Moon? is thoroughly enjoyable, but this track is what makes Noel

a golden fry as opposed to a washed out potato. It's just him and his

guitar, putting his songwriting talents and voice at the forefront. The

High Flying Birds are undoubtedly skilled, but "Dead in the Water"

proves that Noel Gallagher is the rocket that can soar to heights his

brother can only look up to.

• Paul McAleer

Jaden Smith

SYRE

Roc Nation

Father of existentialism and son of Will, Jaden Smith has made it

hard to take him seriously with each Tweet questioning if babies are

smarter than adults. He wore a Batman costume to Kanye West's

wedding and he fittingly has a song titled "Batman" on SYRE, his

debut album. There's no doubt being a product of Hollywood is

damaging for a young adult growing up, but it works in his favour

with this album. Everyone expected it to be awful, but it's surprisingly

enjoyable. Sure, there are a few laughable lyrics, but the production

alone is worth admiring. He raps his "heart is broken/Gettin' green/

Man I'm artichokin,' but is that really worse than some of the trap

songs blessing the airways this year? Would it be better if Offset sang

the lyrics in auto tune? Probably, actually, but let's cut the kid some

slack.

SYRE doesn't distinguish itself from its influences. Jaden often

32

mimics the Drake flow paired with his high-pitched voice, yet the

end of "Breakfast" asks, "Do you think you can save rap music?" A

saviour is original and this album is the farthest thing from unique.

However, Jaden is an excellent copycat thanks to his acting career

and he knows how the play the part. All 17 tracks explore different

influences and it's hard to pinpoint the exact direction he's going

to go next. The 19-year-old undoubtedly has a handle on modern

hip hop. He just needs to find his own voice that sets him apart,

transforming him to a leader as opposed to a follower. Luckily, he's

got time, and money, on his side.

• Paul McAleer

Tennis

We Can Die Happy

Mutually Detrimental

Fairly fresh off the release of Yours Conditionally in March 2017

comes Tennis' We Can Die Happy. The songs were cuts that, to the

band, were too far-fetched from the rest of the aforementioned

record's sound. While this may be true of the record's thematic ties,

the '70s pop sound they propagate remains.

Lead single "No Exit" is a lo-fi pop dream. It's the sound of a sultry

house party make out with a cute stranger. Though, it's less about the

makeout and more about the burst of self-confidence—of elation—

that follows as you make your way back into the crowd. Like the rest

of the album, it's about letting go and experiencing joy, regardless of

the conflicting feelings that may precede this process.

Next comes "I Miss That Feeling," an exploration of the synthesis

of anxiety and sexual or romantic pleasure: "Flicker hot and hovering

/ like my own discovering," sings Alaina Moore "Diamond Rings" is

the most overt departure from Yours Conditionally, gearing more

towards a Joan Jett-esque pop rock ballad that is the most overtly

confrontational of any Tennis song. The guitars gear forward in a

march matched by singer Alaina Moore's staccato drone.

We Can Die Happy is simple and pretty and rife with languid

sentimentality; an easy listen for a weary heart looking to find peace.

• Trent Warner

Young Jesus

S/T

Saddle Creek

Woe to those poor souls who may approach a band named Young

Jesus hoping for mumblerap and wavy trap beats — this L.A. fourpiece

is the antithesis of an Internet upbringing.

To unpack that idea, Young Jesus' debut on Saddle Creek sounds

more like a throwback to those patient alt-rock bands of the midto-late

90's (think somewhere between Bedhead and Duster), where

the formula is composed of bursts of energy followed by meandering

atmospherics.

Composed of seven tracks with one-word titles that fluctuate

between two and 12 minutes, S/T is an goddamn experience. From

the opening strums of the conventionally-constructed "Green," to

the parting words delivered after the closing beatdown of "Storm,"

the world constructed by Young Jesus is all-encompassing.

Take, for example, the penultimate track "Feeling" — easily the

highpoint of the album. In just under 10 minutes, the listener is

tossed through the motions of undulating guitar, free-form drums,

birdsong, snippets of conversation from unseen participants, and

winding post-rock interludes as vocalist John Rossiter shouts wildly.

It may sound overwhelming, but it's not. Nothing is done for its

own sake. Everything serves its purpose: to explore the minutiae of

the day-to-day. This seems to be the magic of Young Jesus. The lyrics

aren't the most clever and the instrumentation, at points, becomes

a little much, but there is something there. It's not immediately

apparent, but it's undeniably felt. That alone makes it worth the

listen.

• Alec Warkentin

Yung Lean

Stranger

YEAR0001

Where were you when you first saw the video for "Ginseng Strip

2002?" Shots of a bucket-hatted babyface awkwardly looking at

and lip-syncing to a home-video style camera on the steps of some

modernist office building, then shucking and jiving with Arizona's on

deck in a grocery story, all while clip-art text flashes the screen?

For many, it immediately posed Jonatan Leandoer Håstad — aka

Yung Lean — as the meme of the hour, destined to go down in the

annals of the Internet history. What we fools didn't know was that

the foresight and style Yung Lean had then would influence aspiring

Soundcloud rappers for years afterward.

First off, Stranger, Lean's latest, is no Unknown Death 2002, but

it does follow familiar guidelines: heavy bass with airy, sprite-like

accents and an unwavering commitment to the projection of the

battle-hardened life of a 21-year-old Internet rap phenom.

Candidly, though, it's not half bad. Yes, the lyrics border cringe at

points but they're also eerily illustrious and vivid. Such is the case on

tracks like "Agony," which a bare-hearted Lean opens with: "Take a

pill and go to sleep / I'm chasing witches in the street / I'm the last

page in your book / Can't write a song, only do hooks." It's oddly

intimate, and there are snippets like this all over Stranger's fourteen

tracks.

If anything, Stranger is simply a testament to the staying power

of "sad boy" hip hop, a kingdom in which Yung Lean still reigns

supreme.

• Alec Warkentin

December 2017
---
LIVE REVIEWS

Photo by Darrole Palmer

Flying Lotus

The Vogue Theatre

November 20, 2017

A generation of amateur smartphone photographers

and filmmakers have flooded the internet with

blurry images and shaky, distorted sounding videos

of their favourite musicians, disengaging from the

opportunity to share in a genuine and unique live

experience with the performer…it's annoying. So

how does an artist lure an audience back to the

analog way of enjoying shows through eyeballs

instead of touchscreens? Slap some 3D glasses on

their faces! This past Monday evening, experimental

super producer, Flying Lotus, brought his travelling

3D show to the Vogue, transforming the classic

theatre into a modern cinematheque.

Having recently made his directorial debut earlier

this year with the film Kuso, reviewed by many as

"the grossest movie ever made," Flylo continues to

experiment with the fusion of sound and vision,

while inadvertently (or blatantly), forcing audience

members to leave their phones in their pockets and

fully immerse themselves in a full on, trippy as fuck,

multimedia experience.

Towering behind a tree trunk of a DJ booth, likely

purchased at a garage sale in the Upsidedown world

of Stranger Things, Captain Flylo took the crowd

on an interstellar space odyssey as floating neon

skulls, terrifying baby heads and pulsating orbs

jutted out from the screen. The tunes were equally

wild and weird. Frantic, disconnected synthesizers

and massive beats morphed into funk, jazz and

hip hop rhythms, creating a melting pot of sounds

that somehow melded into cohesive songs. Or

he was straight up just fucking around and the

colours hurling towards the crowd were too pretty a

distraction to pay attention to the melodies.

Unlike what critics have said about Kuso, no barf

bags were required for Flylo's 3D show. Despite a few

nausea inducing moments, it was a pretty wicked

time.

• Jeevin Johal

GWAR

The Commodore Ballroom

November 13, 2017

A GWAR show is most definitely a unique

experience. There's some things you notice as soon

as you step in– the ceiling lights and speakers in

front of the stage dressed in protective plastic, and

concert-goers dressed in white for the anticipated

showering of fake blood/cum/piss that's soon

to be unleashed upon the venue. Just before the

band hit the stage, the entire room went dark

for a minute as Black Sabbath's "War Pigs" cried

out through the stereo. The band stepped out

in larger than life costumes, ones you still can't

be entirely sure how they manage to play their

instruments in. And out came frontman Blothar,

sporting a human-sized sword, and galactic moose

antlers on his back. It doesn't take too far into

their second song, "Hail Genocide", for him to

decapitate two of his hooded prisoners and send

literal torrents on blood onto the first few lucky

rows of people. Highlights definitely included

the politically current evisceration of President

Trump during "El Presidente", after focusing a bit

more on the music and getting extra-heavy during

"Bring Back the Bomb". It is total sensory chaos,

a lot of people attending for the theatrics alone,

which culminated in a sort of intergalactic bossbattle

during "The Sordid Soliloquy of Sawborg

Destructo", where an approximately ten-foot

tall robot creature is slowly chopped up by the

circular saw-arm wielding Sawborg. If you don't

mind being soaked in mysterious fluids while

watching what is basically a visual orgy of violence

and perversion, it's highly recommended that you

see GWAR at least once in your life.

• Ana Krunic

Photo by Darrole Palmer

Photo by Darrole Palmer

King Krule

The Vogue Theatre

November 5, 2017

Four years after the release of his last album,

the elusive King Krule is now headlining

a tour for his recent release The OOZ. At

once familiar and otherworldly, the live

show is everything we've come to expect:

heavy, cathartic, and introspective. He barely

addresses the crowd, except to mumble thanks

and to introduce his band. But that's not to say

he isn't present: he throws himself into each

song, combining energetic guitar-centric dance

moves with his signature deep, gritty vocals.

Backed by drums, saxophone, bass and guitar,

King Krule blends punk, jazz, and trip-hop

effortlessly to create a sound all his own. The

band stands in a row, rarely interacting with

each other and lit only from behind with

oscillating blues, pinks, oranges and purples.

It's a minimal setup with maximum payoff, and

each element is intentional. From his lyrics to

his instrumentation, everything you hear is

there for a reason. The crowd is full of devoted

fans, all similar in age to the young twentysomething

musician, singing along to his every

word as if they've been waiting for this day

forever – or at least since 6 Feet Beneath the

Moon came out four years ago.

• Jordan Yeager

December 2017 33
---
NEW MOON RISING

YOUR MONTHLY HOROSCOPE

QUAN YIN DIVINATION

As we enter this month, we move

into the deep and dark waters of

emotion and wisdom with the

yang water element and a marked

absence of fire and earth. In the

Bagua (Chinese compass), north

is the direction associated with

the season of winter, and the yang

water stem compounds this very

dark and cold energy. Think of

the deep and sometimes forceful

nature of the oceans and rivers

— calling for adaptability or the

strength of sheer force to guide you

around obstacles or confront issues

head on. Relentless perseverance

and tenacity are true to the form

of the unstoppable flowing water.

The Rat month in the Rooster

year can be a deeply creative or

a destructive and devastating

combination, depending on how

this combination is used. This is a

perfect time to reveal how water

affects you, as we rarely experience

the water element so purely as this

moon reveals it now.

Rabbit (Pisces):

Respect must be earned, but also

reciprocated. Your kind heart is an asset

but don't let it get in the way of fair

business agreements. Stand up for yourself

and your community who stand with you.

Dragon (Aries):

Multiple objectives make your time

seem more valuable and your pocket

a little lighter than normal. Be careful

not to overspend on conveniences and

unnecessary expenses.

Snake (Taurus):

Personal growth and self-work can give

you the care you need now. There's a time

for taking care of number one, and this

season is a good time to put yourself first.

Horse (Gemini):

A change in lifestyle, work, or friendship

leaves you feeling like a fish out of

water. Focus on the new inspiration and

opportunities for growth and change with

a resolute attitude.

Sheep (Cancer):

Let them down easy, but be firm. Conflict

can be productive if it's used to inspire

healthy change. This one may take

some time to heal but your suffering is

completely optional.

Monkey (Leo):

Familiarity is a luxury you can do without.

The excitement and inspiration of new

people and ideas make the world your

oyster. You are full of optimism, curiosity

and hope for a bright tomorrow.

Rooster (Virgo):

It might be your fault or it might not, but

assigning blame for life's circumstances

doesn't change the simple truth that

you're right where you need to be. Work

diligently to set the record straight.

Dog (Libra):

Work success or failure can leave you

feeling the hero or playing the fool. Keep

your calm under pressure and no one will

question your actions or intentions. Love

flows easily from your open heart now.

Pig (Scorpio):

Your popularity and reputation

get a boost this month as romantic

opportunities or obligations take centre

stage and much of your emotional energy.

Renew and replenish in style as the year

turns.

Rat (Sagittarius):

Feeling overwhelmed? It hasn't been an

easy year for you, mouse, but feeling sorry

for yourself or playing the victim doesn't

do you justice. Persevere, strengthen your

resolve, and success is still possible.

Ox (Capricorn):

Good times with family and friends or

a busy work life can tax your time and

energy. Limit your public exposure and

value your private time.

Tiger (Aquarius):

A test of your good character gives you an

opportunity to teach others the wisdom

of correct action. Your grace and poise are

you best asset — smile and courageously

put your best foot forward.

Susan Horning is a Feng Shui Consultant

and Bazi Astrologist living and working in

East Vancouver. Find out more about her

at QuanYin.ca.

34

December 2017
---
s at u r d ay j a n 2 0

WEEKEND EDITION

c e l e b r i t i e s u n d e r g r o u n d

d a n c e p a r t y

h o s t e d b y ILONA & SOUTH EAST

D J s D E L S TA M P & s k y l a r l o v e