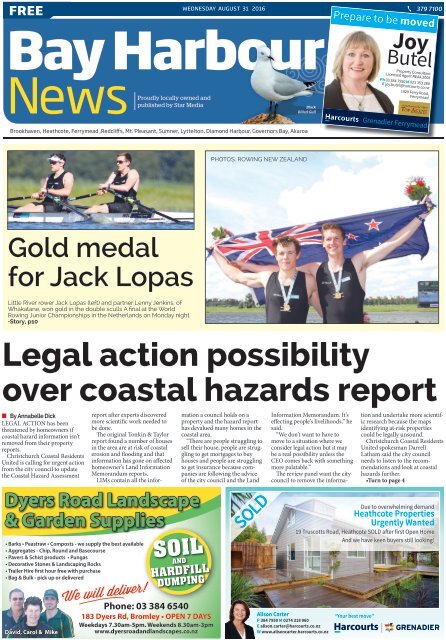 Bay Harbour: August 31, 2016
Create successful ePaper yourself
Turn your PDF publications into a flip-book with our unique Google optimized e-Paper software.
FREE

Wednesday august 31 2016 379 7100

Prepare to be moved

Bay Harbour

News

Proudly locally owned and

published by Star Media

Brookhaven, Heathcote, Ferrymead ,Redcliffs, Mt. Pleasant, Sumner, Lyttelton, Diamond Harbour, Governors Bay, Akaroa

Black

Billed Gull

Joy

Butel

Property Consultant

Licensed Agent reAA 2008

Ph 03 384 7950 M 021 353 280

E joy.butel@harcourts.co.nz

1020 Ferry road,

Ferrymead

Four Seasons Realty

Grenadier Ferrymead

PHOTOS: ROWING NEW ZEALAND

Gold medal

for Jack Lopas

Little River rower Jack Lopas (left) and partner Lenny Jenkins, of

Whakatane, won gold in the double sculls A final at the World

Rowing Junior Championships in the Netherlands on Monday night.

•Story, p10

Legal action possibility

over coastal hazards report

• By Annabelle Dick

LEGAL ACTION has been

threatened by homeowners if

coastal hazard information isn't

removed from their property

reports.

Christchurch Coastal Residents

United is calling for urgent action

from the city council to update

the Coastal Hazard Assessment

Dyers Road Landscape

& Garden Supplies

• Barks • Peastraw • Composts - we supply the best available

• Aggregates - Chip, Round and Basecourse

• Pavers & Schist products • Pungas

• Decorative Stones & Landscaping Rocks

• Trailer Hire first hour free with purchase

• Bag & Bulk - pick up or delivered

David, Carol & Mike

We will deliver!

SOIL

AND

Phone: 03 384 6540

183 Dyers Rd, Bromley • OPEN 7 DAYS

Weekdays 7.30am-5pm. Weekends 8.30am-3pm

www.dyersroadandlandscapes.co.nz

report after experts discovered

more scientific work needed to

be done.

The original Tonkin & Taylor

report found a number of houses

in the area are at risk of coastal

erosion and flooding and that

information has gone on affected

homeowner's Land Information

Memorandum reports.

LIMs contain all the information

a council holds on a

property and the hazard report

has devalued many homes in the

coastal area.

"There are people struggling to

sell their house, people are struggling

to get mortgages to buy

houses and people are struggling

to get insurance because companies

are following the advice

of the city council and the Land

HARDFILL

DUMPING

SOLD

Alison Carter

P 384 7950 M 0274 318 960

E alison.carter@harcourts.co.nz

W www.alisoncarter.harcourts.co.nz

Information Memorandum. It's

effecting people's livelihoods," he

said.

"We don't want to have to

move to a situation where we

consider legal action but it may

be a real possibility unless the

CEO comes back with something

more palatable."

The review panel want the city

council to remove the information

and undertake more scientific

research because the maps

identifying at-risk properties

could be legally unsound.

Christchurch Coastal Residents

United spokesman Darrell

Latham said the city council

needs to listen to the recommendations

and look at coastal

hazards further.

•Turn to page 4

Due to overwhelming demand

Heathcote Properties

Urgently Wanted

19 Truscotts Road, Heathcote SOLD after first Open Home

And we have keen buyers still looking!

"Your best move"

GRENADIER
---
PAGE 2 BAY HARBOUR

Wednesday August 31 2016

Inside

FROM

THE

EDITOR'S

DESK News....................... 3-10 & 15

ALL POWER to the Christchurch

Coastal Residents United group in

their bid to erase coastal flooding

and erosion information from

property records (see page 1).

The city council will announce

in a couple of weeks what it

will do over the tricky position

thousands of homeowners now

face.

Scientific experts from GHD

Consultants found a number

of errors in the report and have

made a recommendation to the

city council to have it updated

urgently.

The experts say the maps used

to identify at risk properties could

be legally unsound and should be

put to one side until new ones are

completed.

That's good news in the short

to medium term for homeowners

– you simply don't want this

information on your LIM report.

– Barry Clarke

Owning a husky requires dedication

15

NEWS NEWS

Local Views...................12

Sport..........................................14

Schools............................ 17

Community Events......18

Health & Beauty......... 21

Real Estate...........................22

GET IN TOUCH

General Enquiries Ph 379-7100

Classified Advertising Ph 379-1100

starmedia.kiwi

Annabelle Dick. 03 364 7497

annabelle.dick@starmedia.kiwi

NEWS SPORTS ADVERTISING ADVERTISING

Fraser Walker-Pearce. Ph: 364 7424

fraser.walker@starmedia.kiwi

Javier Balcazar. Ph: 982 9308

javier.balcazar@starmedia.kiwi

Rob Davison. Ph: 021 225 8584

rob.davison@starmedia.kiwi

Better Councils Make

Darrell

Latham

Better Communities

Authorised by Dr Darrell Latham

53 Colenso St, Sumner, Christchurch 8081

Heathcote

Community

Board

Building or

renovating?

• Kitchens

• Wardrobes

• Vanities

• Custom Made

022 087 9918 | info@dynamicjoinery.co.nz

www.dynamicjoinery.co.nz

TREE TROUBLE?

Call the

TREE PEOPLE

0800 4 SEASONS

384 9630

QUalIFIeD

aRBORIStS

LANDSCAPING & PLANTING

WWW.FOURSEASONSTREECARE.CO.NZ

Visit our new website: www.min.nz

With thriving communities and

picturesque views,

the bays are truly spectacular

COASTAL REAL ESTATE SPECIALISTS

We'll help you live the dream.

Min Sarginson Real Estate Ltd. specialises in homes, sections and

rental properties in the spectacular Lyttelton Harbour bays, and

coastal suburbs of Christchurch, New Zealand.

We'll make it so easy for you. All our sales consultants live in the

area – we can give you valuable insights into life in our thriving

coastal communities.

This is an exciting time; of promise, optimism, and opportunities

never anticipated pre-quakes. Beachfront, or hillside with

grandstand views, find the property of your dreams:

Lyttelton | Diamond Harbour | Governors Bay | Cass Bay

Charteris Bay | Church Bay | Purau Bay | Port Levy | Northshore

Southshore | New Brighton | Heathcote | Sumner | Redcliffs

Scarborough | Mount Pleasant | Clifton

Call Min Sarginson Real Estate Ltd. for free, no-obligation advice. Lyttelton: 03 329 4161, lyttelton@min.nz or Church Bay: 03 328 7273, churchbay@min.nz
---
Wednesday August 31 2016

News

Candidates: Send in your bios

BAY HARBOUR

In Brief

PAGE 3

IN THE lead-up to the local

body elections, candidates for

city council and community

boards are invited to send a

100-word profile and photo of

themselves to the Bay Harbour

News by September 5 for

publication the following week.

From September 16,

voting documents will be

sent out in the mail to elect

city councillors, mayor and

community board members.

•Email shelley.robinson@

starmedia.kiwi

Elections 16

Kindergarten's uncertain future

A city council mistake

means that Kidsfirst

will have to resubmit

their resource consent

application to operate

a kindergarten in

McCormacks Bay Rd

• By Annabelle Dick

COMMISSIONER Justine

Ashley declined the

application under the Resource

Management Act as the city

council should have publicly

notified all affected residents

about the application but did

not.

A property on McCormacks

Bay Rd was meant to have

been notified but they weren't

initially seen as being affected

by the proposed centre.

NOT YET: Resource consent has not been granted for a new

kindergarten on a McCormacks Bay Rd reserve.

The commissioner said the

resource consent was declined

purely due to the notification

process and not on the proposal

itself.

"I appreciate this outcome is

frustrating for the applicant as I

am unable to consider the overall

merits of the proposal. This

decision should not be interpreted

as any indication of my

substantive view on whether

consent should be otherwise

granted," she said.

Kidsfirst applied for a consent

to operate a kindergarten for

up to 50 children at the McCormacks

Bay Recreation Reserve

next to the community centre.

Kidsfirst chief executive

Sherryll Wilson said they're

planning to fight the decision

to get their centre back in Mt

Pleasant.

"Kidsfirst is committed

to continuing the process of

gaining the necessary consents

for the establishment of a new

kindergarten on an existing

site," she said.

The organisation wanted to

introduce a larger kindergarten

after the Mt Pleasant centre was

damaged in the earthquakes.

Kidsfirst has reapplied for

resource consent and a hearing

has been set for October.

DESIGN EXPERTISE WANTED

The Lyttelton-Mt Herbert

Community Board is looking

for design professionals and

community representatives

to volunteer for the Lyttelton

Design Review Panel. The board

wants members to bring their

design expertise and have a good

knowledge and understanding of

Lyttelton's design and development.

The panel will have an advisory

role and will consider the design of

developments in the area.

CONTAINERS REMOVED

Shipping containers at Moa

Bone Point and Clifton Tce are

disappearing as work is progressing

along quake-damaged sites.

Containers were removed from Moa

Bone Point on Monday and Tuesday

night and a third of the containers

at Clifton Tce will be removed

tonight after they were placed there

to protect road users from rockfall.

Work has been completed at Moa

Bone Point to a stage where the

containers are no longer needed and

progress at Clifton Tce means one

third of the containers could go.

ONE LANE ON EVANS PASS RD

Evans Pass Rd above Sumner is down

to one lane while a retaining wall is

being built. Traffic lights have been

installed to maintain two-way traffic

and work will take until the end of

the year.

Thinking of

Selling?

Our Professional Agents

deliver outstanding results

You will save thousands

Call Debra Hakaraia

03 384 8600

Experience the workout that will

change the way you train forever!

• F45 is the most innovative,

challenging and systemised

training in the world

• Experience Personal Training

in a group environment

• Lose weight, gain lean

muscle and boost your

energy levels

CoNTaCT us To

GET your

FrEE 2 wEEk

Pass Today!

LIMITED OFFEr!

• Functional, short & sharp

45-minute class-based

sessions

• The most rewarding,

motivating and fun workouts

which change daily

• Be challenged and achieve

visible results fast!

Visit our website for details

on our programmes and

class timetable.

Unit 4/ 1 Waterman Place, Ferrymead

Email: ferrymead@f45training.co.nz Phone 022 188 0850

www.f45training.co.nz/ferrymead f45ferrymead f45_training_ferrymead
---
PAGE 4 BAY HARBOUR

Wednesday August 31 2016

News

Coastal

hazards

report

•From page 1

"The report is flawed, and the

panel confirmed that it's flawed

too and needs substantive work

in order to fit its purpose," he

said.

The city council is now considering

its next move and will

release plans in the next month

on how it will address the problematic

report.

The report focused on areas of

urban development and assessed

Brooklands, Avon-Heathcote

Estuary, Sumner and Taylor's

Mistake, Waimairi Beach to

Southshore, Duvauchelle,

Takamatua, Akaroa, Wainui,

Charteris Bay, Teddington, Allandale

and Purau.

The panel recommended the

city council work with Environment

Canterbury on coastal hazards

and continue engagement

with residents.

City council general manager

strategy and transformation

Brendan Anstiss said the additional

scientific work was expected

to be completed by early

next year.

Dogs popular in Lyttelton

• By Annabelle Dick and Fraser

Walker-Pearce

LYTTELTON IS the most

popular area for dogs in the Bay

Harbour News area according to

new city council statistics.

Data released by the city

council on the number of dogs

in the city and their locations,

shows that Lyttelton, Sumner

and Heathcote are the three most

popular areas.

Meanwhile, St Albans (1452),

Spreydon (1114) and Belfast (975)

are the top three most popular

suburbs for dog owners in the

whole city.

The Banks Peninsula and the

bay area boast a total of 2849

dogs, which equates to just over

11 per cent of the 31,859 registered

dogs in the city.

Statistics show labradors are

by far the most popular breed

with 4686 in the city, second goes

to staffordshire bull terriers at

2660, and close behind in third is

bichon frise on 2408.

The total number of dogs in

the city as of August 16 is 31,859

dogs, which includes all registered

dogs in the city, as well as

some that have been registered

previously, but are yet to be registered

for this year.

About a quarter of dogs in the

NUMBER ONE: Labradors are the most popular pooch in the city with more than 4500

registered in Christchurch.

city live in north-western suburbs

homes, and the eastern suburbs

are not far behind. Together

the two groups of owners make

up half of the city's registered

dogs.

About 19 per cent live in southeastern

households, 17 per cent

in south-western suburbs, and

the other 13 to 14 per cent live

elsewhere around the city.

Bay Harbour News dog numbers by location

Akaroa, 182; Balmoral Hall, 20; Birdlings Flat, 36; Clifton,

79; Diamond Harbour, 247; Duvauchelle, 77; Ferrymead,

3; Governors Bay, 161; Heathcote, 258; Le Bons Bay,

40; Little River, 217; Lyttelton, 384; McCormacks Bay,

78; Moncks Spur, 81; Moncks Bay, 54; Mt Pleasant, 165;

Okains Bay, 69; Pigeon Bay, 43; Port Levy, 43; Redcliffs,

127; Richmond Hill, 25; Scarborough, 84; St Andrews Hill,

85; Sumner, 291.

nina COOk

Nina Cook was born in Whakatane

in 1967. She was educated

in Wanganui and then at

Christchurch Polytechnic School

of Art and Design where she

received a Bachelor of Design.

In 2007 Nina established the

studio from which she currently

works. Nina's work is held in

private collections in New Zealand

and overseas.

Frame OF mind

For this exhibition, I am exploring

issues of societal bias through a

personal lens.

The effect of proselytized overly

fixed viewpoints on political,

religious, racial, gender and

environmental issues is alarming.

When this alarm is combined with

the information bias that occurs in

this curated information age, our

dual desires to belong and control

are kicked into overdrive.

I am not immune to this, but

am also shocked at the lack of

empathy or comprehension of

'other' that some people exhibit.

This body of work is my way of

trying to understand.

Though many (including

myself) try to be independent,

compassionate, open-minded

and critical in our thinking, we

cannot avoid being influenced.

Not only by our own experience

and state of mind, but also by

broader cultural, societal, and

scientific relevancies. And this is

always changing.

Art a fantastic way of exploring

issues because it combines both

intellectual and intuitive practices.

The frame is overt, pedantic. As

in a museum display, it provides

a curated context, which is only

ever part of the story.The content

captures personal situations and

impressions – things I have felt,

seen and imagined.

Whilst painting, I have been

deliberately mindful of my thought

process. I asked myself; What is

the true impetus for this work?

What narrative is cycling/growing

in my mind?

How is this effecting my choices?

At what point/s does my 'frame

of mind' become 'confirmation

bias'? To what degree is bias

necessary? When does it become

a liability?

I didn't discover any big answers,

just personal ones – but every bit

helps.

Some clues are reflected in the

work titles, much more in the

works themselves as physical

Nostalgia

Release

manifestations of my frame of

mind.

Most importantly, I am inviting

the viewer to reflect upon their

own frame of mind or state of bias

whilst investigating mine.

public meeting/Agm

Wednesday, 7 September 2016

at 7pm (refreshments from 6.30pm)

Whaka inaka - 'causing Whitebait'

by Shelley mcmurtrie

Shelley is the principal scientist at EOS

Ecology and project lead for Whaka Inaka. In

the largest initiative of its kind, Whaka Inaka

installed 204 bales as spawning habitat for

inaka/inanga along 3 km of riverbank in the

Heathcote/Opawho, Steamwharf Stream,

and Lake Kate Sheppard in January 2016.

With the involvement of local community, iwi

and schools they monitored the bales during

the spawning season to count the eggs and

check on pest activity. The programme was

a success with the bales supporting eggs

in areas where spawning was otherwise

not occurring, and the community learning

about their natural environment in their

back yard.

Whaka Inaka is a collaboration between

EOS Ecology, Te Rūnanga o Ngāi Tahu, and

University of Canterbury (MERG, Resilient

Shorelines).

St Faiths Church Hall

46 Hawke Street - New Brighton

Entry gold coin donation towards Godwit artwork to be placed

at Bridge Street
---
TM

Wednesday August 31 2016

News

BAY HARBOUR

PAGE 5

Harbour health plan

• By Annabelle Dick

A NEW initiative to restore

and protect Lyttelton Harbour's

health was launched by five key

organisations last Tuesday.

The Whakaraupo/Lyttelton

Harbour Catchment Management

Plan has been created to

look after the harbour's health

and major players signed a

memorandum of understanding

to signify the project's

beginning.

Te Hapū o Ngāti Wheke, Te

Rūnanga o Ngāi Tahu,

Environment Canterbury, the

city council and the Lyttelton

Port Company will join forces

to create an action plan to

manage and restore the

harbour.

Te Rūnanga o Ngāi Tahu

Kaiwhakahaere Tā Mark Solomon

said managing the harbour

needed to move beyond

words and into action.

"For me, the focus needs to

be on actions more than words.

We need to restore the harbour

as a source of mahinga kai for

future generations," he said.

"The future of Whakaraupō

is tied to how well we can work

together on this project. It is up

to us to secure the wellbeing of

ON BOARD: Lyttelton Port Company chief executive Peter Davie, Te Ao Tūroa general

manager Kara Edwards (representing Te Rūnanga o Ngāi Tahu), Environment Canterbury

commissioner Elizabeth Cunningham, Te Hapū o Ngāti Wheke (Rāpaki) chairperson June

Swindells and city councillor Andrew Turner signed a memorandum of understanding at

Rapaki Marae.

the harbour."

Sedimentation in the upper

harbour has increased since

human settlement and the

harbour's health has declined

ever since. Experts will carry

out erosion assessment and

landscape characterisation will

look at surface water quality,

quantity and ecosystem health,

and mahinga kai and cultural

values. Representatives from

the key organisations will take

the information gained and

existing research to implement

projects in the basin.

The group will hold community

workshops to share

ideas within the action plan.

The workshops will begin

in September and be held in

Governors Bay, Lyttelton and

Diamond Harbour.

•Lake Forsyth page 8

In Brief

MAIN RD WORKS

Work is underway to repair an

earthquake-damaged culvert on

Main Rd near Moncks Bay. Work

is expected to take three months

and traffic will be moving in both

directions.

FREEDOM CAMPING

The city council is asking for

public feedback on proposed

changes to the its freedom

camping bylaw. The amended

bylaw proposes to ban all nonself-contained

freedom camping

throughout the district but would

allow certified self-contained

camping without a time

restriction in rural zones. Public

feedback on the city council's

proposal is being sought until

September 15, and a full review

of the bylaw is scheduled for next

year.

TUNNEL DELAYS

Maintenance work in Lyttelton

Tunnel will see traffic restrictions

tonight and tomorrow night.

The New Zealand Transport

Agency will undertake essential

work in the tunnel between

9pm and 3am on August 31

and September 1. The work will

restrict traffic flow and dangerous

goods won't be permitted in the

tunnel. Normal traffic will be

restricted to one lane and delays

are expected.

Sara TEMPLETON

Councillor for Heathcote

Hi – I love where I live in Heathcote Valley at the

centre of our new ward. We have lived here almost

20 years and have been involved in many of the

community groups throughout the area.

Chairing the Hagley-Ferrymead Community

Board for the last three years has also given me

the governance experience and relationships

necessary to be an effective councillor best able

to represent our ward.

More next week...

/saratempletonchch

Authorised by Sara Templeton, 23 Marsden St, Heathcote, Christchurch 8022

THINKING OF RENOVATING?

ENJOY IT WITH US!

From concept to completion, enjoy the experience of a full service

renovation company.

Whatever the scope of your extension or renovation, with your

dreams and our experience we can realise your home's potential.

WE MAKE IT EASY WITH OUR THREE SIMPLE STEPS...

With 5 offices in Christchurch,

let's start the conversation call

0800 764 846

or visit smith-sons.co.nz
---
PAGE 6 BAY HARBOUR

Wednesday August 31 2016

News

Lady McCombs passion remembered

• By Annabelle Dick

LADY CHRISTINA McCombs

has passed away just short of her

100th birthday.

Lady McCombs was a wellknown

figure for her contributions

to education and the southeast

community.

She died on August 13, more

than 100 people turned out to

her farewell on August 20.

Lady McCombs grew up on

Panorama Rd on the top of Clifton

Hill which is where she spent

most of her life.

In 1955, she married former

Lyttelton MP Sir Terence

McCombs and took in his four

children Elizabeth, David, Peter

and Patrick and gave birth

to their youngest child John.

Sir Terence was also the first

principal of Cashmere High

School.

Peter McCombs remembers

his mother as a passionate

woman.

"She was very caring and

interested on all sorts of levels

about the community and the

organisations in it. It was a

strong passion of hers," said Mr

McCombs.

Lady McCombs was involved

with Sumner School, Cashmere

High School, joined in and supported

many local groups and

served on committees.

She was also a patron with

Plunket and worked with mothers

through branches in Redcliffs,

Heathcote, Ferrymead and

Woolston

When her husband took up a

position at the then brand-new

Cashmere High School in 1956,

LONG LEGACY:

From the early days

of spending time

with her favourite

house cow Peggy

to standing on the

New Zealand High

Commission balcony

in London, Lady

McCombs led a long

and interesting life.

she helped establish it, said Mr

McCombs.

"Together they shaped Cashmere

and in turn Cashmere

shaped them both. There was

considerable pride and satisfaction

in doing what he loved and

with Christina alongside him

in every step of the way – from

helping with the original colours

and the uniform, through to

helping dig the original swimming

pool," he said.

Another moment Mr

McCombs recalls is when his

mother went to the United

Kingdom in 1974 to support her

husband as the appointed New

Zealand High Commissioner in

London.

The Queen, the Duke of

Edinburgh and other dignitaries

came to New Zealand House

in London to attend an official

dinner which featured whitebait.

"She found herself in the

position of having to roll up her

sleeves and help with cooking

and serving of the fresh whitebait.

The hired professional chefs

found themselves completely

mystified when 5kg of fresh

whitebait arrived having just

been flown in from New Zealand,"

he said.

"She also gave cooking lessons

on the radio. She was a competent

seamstress and a very good

knitter. Her jerseys and scarves

were very impressive, perhaps

again reflecting the heritage that

her parents had brought from the

Shetland Islands," Mr McCombs

said.

Lady McCombs hailed from

the Shetland Islands, in Scotland,

and was the only child of Gilbert

and Margaret Tulloch.

She attended Christchurch

Girls' High School before she

trained in home science and

taught at the then Christchurch

Technical College.

In the final years of her life she

moved into an apartment within

the Ilam Life Care facility in Riccarton.

DAD'S

DESERVE

GREAT

PIZZA

THE ORIGINAL GOURMET PIZZA BAR

BOOK FOR

FATHER'S DAY

SUNDAY

4 SEPTEMBER

CALL 376 4900

FERRYMEAD ~ 2 WATERMAN PLACE

WINNIEBAGOES.CO.NZ

30881BAYH

Resene

Premium

Paint 10L

ColorShop/

DIY Cardholder

Special!

Resene

Testpots

55-80ml

Come in and see us

today at your local

Resene ColorShop!

Ferrymead, Hornby,

Lichfield Street,

Northwood, Rangiora,

Shirley, Tower Junction

Discounts off the normal retail price until 12 September 2016 at Resene owned ColorShops and

participating resellers. Valid only with cash/credit card/EFTPOS purchases. Not available in conjunction

with account sales, promotional vouchers/coupons or other offers. Excludes trade, ECS and Crown

products and PaintWise levy. Offer for Resene ColorShop/DIY cardholders only. Sign up for a free card

in store. Offer applies to 10 litre Resene premium paints, primers, stains and 55-80ml testpots only.

TAKE CHARGE OF YOUR

ELECTRICAL SAFETY

• Power tool and

cable repairs

• Appliance repairs

• Electrical test &

tagging specialist

• Site Safe accredited

• Public liability cover

• Over 40 years experience

WINTER

SPECIAL

PER $

40 HOUR

PROMPT,

OLD-FASHIONED

SERVICE

EASTSIDE TEST TAG & TOOL REPAIR

CONTACT: JOHN BAILEY 021 0284 7921

Kids Birthday Parties

Choose from one of our Great Party Packages to suit!

1

2

3

4

Paintball, mini golf (indoor or outdoor), 50 balls and

club hire for the driving range $39 per child.

Paintball, mini golf (indoor or outdoor) $32 per child.

Indoor and outdoor mini golf, 50 balls and club hire

for the driving range $20 per child.

Indoor or outdoor mini golf, 50 balls and club hire

for the driving range $14 per child.

To book ph 376 5350, 50 Ferrymead Park Drive, Ferrymead

Book any Birthday Party with Caddyshack

and you will receive:

• Mini golf game for each child ($9 per child).

• Use of party room for one hour for $50, or two hours for $90.

• Caddyshack Party Meal and drink.

• Caddyshack lollies.

• Themed party gear including invitations and balloons.

• Caddyshack party host to ensure fun and relaxation.

• The birthday child also receives a gift.

• All party goers receive a free child mini putt voucher for

their next visit.

Ph 384 1566, 21 King Edward Terrace, Woolston
---
Wednesday August 31 2016

BAY HARBOUR

PAGE 7

Kiwi rock stars for concert

• By Tom Doudney

NEW ZEALAND rock royalty

Mi-Sex and Dragon are set to

headline a concert in Lincoln in

March which could pull in up to

10,000 people.

The line up for the Live in

Lincoln Selwyn Sounds concert

at Lincoln Domain will also

feature the Jordan Luck Band,

Sharon O'Neill, Annie Crummer,

Margaret Urlich, Debbie

Harwood and former Opshop

frontman Jason Kerrison, as well

as other local bands, including

from Lincoln High School. And

it's hoped the event will not be

just a one off.

Local events company 3 Coins

Gentlemen, which is staging

it with sponsorship from the

Flemington subdivision, aims to

hold the concert in Lincoln on

an annual basis.

Event organiser David Parlane

said he was pleased to have

assembled such an outstanding

line up for the first event.

"We all remember what we

were doing when these artists

first came into the music scene

in New Zealand, and to have

them perform all these years

later with new material as well as

LIVE: The Jordan Luck Band will join Mi Sex and Dragon

(right) for a concert in Lincoln.

old is an honour for the town,"

he said.

"We were just getting sick and

tired of all of the big things that

were happening in [Christchurch]

and we're only 22km away

with some great facilities so

we just thought 'why not?'" Mr

Parlane said.

Mi-Sex, best known for their

1979 single Computer Games,

recently reformed and are about

to release their new album Not

From Here.

Dragon's signature song, April

Sun in Cuba, remains a Kiwi

classic.

Mr Parlane said the timing

of the Mi-Sex comeback made

them an ideal headliner and it

had just been a matter of finding

other artists that would fit the

same bill.

"Dragon has got hit after hit,"

he said.

"Everything just nicely fits

with the music era that we want

down in the domain."

Mr Parlane said the concert

would be a family-friendly

event, running from 11.30am

to 8.30pm with a professional

security company and a base

of volunteers involved. Noise

mitigation measures would

limit the impact on the Lincoln

community, with the stage

facing towards the Southern

Alps so that sound would be

directed away from the town.

Lincoln High School's

grounds will be used for car

parking and the school will benefit

financially from the event

with students collecting money

for parking.

Details: Saturday, March

4, 2017, from 11.30am-

8.30pm

Tickets: On sale Thursday

via Ticketek. Ticket buyers

will be able to

pre-purchase a return

bus ride between pick-up

points in Christchurch or

Rolleston and Lincoln

Domain

Truck loads

to be covered

in tunnel

• By Annabelle Dick

TRUCK DRIVERS travelling

through Lyttelton Tunnel will

need to cover loose loads from

tomorrow when a new bylaw

comes into place.

The New Zealand Transport

Agency bylaw was created in an

effort to reduce the amount of

material polluting the tunnel.

The bylaw comes as the

amount of dirt has increased significantly

following the February

22, 2011 earthquake.

Up to 8000kg of dirt and dust

is cleaned out of the tunnel every

month, compared to 235kg a

month before 2011.

"Cleaning the tunnel has gone

from once a month to three times

a week," said NZTA maintenance

contract manager Barry Stratton.

While commercial vehicles are

covered by the new bylaw, it does

not apply to private vehicles.

Trucks carrying fertiliser,

construction or demolition material,

waste, soil, sand, stock feed

and other products which can be

blown around are covered by the

new bylaw.

Scrap metal and logs which are

harder to cover easily and effectively

are excluded.

AutuMn & wIntER

ARE A GREAt tIME

to sEll youR HoME!

It may be true that there are fewer buyers and sellers in

the winter marketplace but the ones that are there are

serious and have a sense

of urgency to purchase.

If you're considering selling and would like some honest,

professional advice, give me a call today – it costs

nothing to talk!

Chris Moores

Harcourts Grenadier Ferrymead

1020 Ferry Road

P: 03 384 7950 | M: 027 588 4440

E: chris.moores@harcourts.co.nz

licensed sales Consultant REAA 2008

Dr Tim Lindley

For Heathcote

Community Board

I am an experienced leader and former business

development manager for a CRI.

As chair of the Coastal Pathway Group for three

years I have worked closely with the Community

Board and Council staff to drive this visionary

project forward.

I have a highly collaborative team working style.

A vote for Tim is a vote for an effective community

board that gets things done.

GRENADIER

@timlindleychch

Authorised by Tim Lindley, 28 Patmos Place, Mount Pleasant, Christchurch, 8081

Start your day

Sunny side up

2for1

with our

breakfasts

this

September

Daily 8–11am

The Tannery, 3 Garlands Road, Woolston

ph: (03) 389 5359 email: info@casselsbrewery.co.nz

Group bookings advised.
---
PAGE 8 BAY HARBOUR

Wednesday August 31 2016

News

Life jackets make a difference

• BY GARY MANCH,

NAVIGATIONAL SAFETY OFFICER,

LYTTELTON

IN THE past fortnight there have

been two very serious events

reported in the media which

involved fishermen.

THe first incident was at the

mouth of the Waitaki River,

where it was reported that a

whitebaiter was swept out to

sea by a large wave. The man

had waders on, but he was also

wearing a life jacket. The man

survived his ordeal and was

rescued.

I know I harp on about boating

safety, but the whitebaiter's

experience is a perfect example

of the extreme importance of

wearing a life jacket when in, or

on the water.

It saddens me when I think

about all the lives lost due to

people believing that they are

bulletproof. It scares me when

I hear people say: 'That won't

happen to me'.

THis message is for all of you

out there – if you see someone

who is going out on the water,

or is in an area where it is likely

they could come to harm; tell

them to wear a life jacket. It's not

complicated, is it?

Here's a powerful statistic to

help you persuade them – about

Pirate's Corner

70 per cent of recreational

boating fatalities are likely to

have been prevented if life jackets

had been worn. Not wearing

life jackets is the single biggest

contributor to recreational

boating fatalities.

THe other serious event

involved a couple of young men

who went out to sea in their boat

in New Plymouth.

It was reported that an incident

occurred with the boat and as a

result, the men ended up in the

water. It's alleged that a decision

was made to swim to shore and

that only one of the men was

wearing a life jacket; yet it is

believed that spare life jackets

were on board.

Only one of the men made it

to shore, the other is reported to

still be missing and has not been

found. Media reports suggest

that there was a weather warning

issued which notified of rough

sea conditions on the day that the

men headed out on the water.

Again, this tragic event

exemplifies the importance of

wearing a life jacket. Checking

the weather forecast before

heading out on the water is also

absolutely crucial. If reports are

unfavourable for boating, it's best

to stay ashore.

My deepest sympathies go to

the family and friends of the man

who are now dealing with this

horrible situation

Lake quality scrutiny

• By Annabelle Dick

LAKE FORSYTH will have

stricter enforcement around

what can go into it as proposed

changes to the Wairewa/Lake

Forsyth catchment are accepted.

Environment Canterbury has

accepted the recommendations

of independent hearing

commissioners on plan changes

to the Canterbury Land & Water

Regional Plan.

Changes include reducing

the amount of sediment and

nutrients that get into the

lake, such as nitrogen and

phosphorus.

Ecan commissioner Peter

Skelton said nutrients play a big

part in the health of the lake.

"Phosphorus is a significant

factor in the frequent

cyanobacteria blooms that limit

use of the lake for recreation and

customary food gathering, and

can pose a health risk," he said.

The lake's quality came under

PROTECTING

ASSETS: Ecan

will implement

plan changes

to better

protect Lake

Forsyth.

fire in April when the algal

bloom flared up after a run of

dry weather.

The bloom can produce toxins

that can be harmful to humans

and animals. It was reported

that 30 sheep died after drinking

it.

From January 2020, stock

won't be allowed on the bed

and banks of Lake Forsyth or

the rivers – Ōkana, Ōkuti and

Takiritawai – that flow off it.

Professor Skelton said this

will reduce nutrients in the

catchment.

"Rules prohibiting stock from

using and disturbing the beds,

banks and riparian margins of

rivers and the lake are designed

to limit new phosphorus

sediment being released to the

lake," he said.

The plan change will be

subject to an appeal period of 15

working days from September

3 and will be enforced once the

appeal period has finished.

relocation

sale

ShowErS froM $360

VaNItIES froM $170

toILEtS froM $189

MIxErS froM $58

WiDe selectiOn

Of bathrOOm anD

kitchen prODucts

heavily redUced

232 Main South Rd - Christchurch

0800 MILLEN

Open 7 Days

Mon - Fri 9.00 - 5.30, Sat 9.30 - 4.00, Sun 10.00 - 3.00

0800 MILLEN | www.millen.co.nz | 03 348 8678

Up to

70%

off

A BRANCH OF

Michael Toomey

mft@younghunter.co.nz

Proudly providing

legal advice to

the community

for 25 years

Michelle Rossiter

mjr@younghunter.co.nz

P. 384-5350

www.younghunter.co.nz

$35 WOF

Tyres & Repairs

extended HOURS

Tuesday & Wednesday

8.00am-7.00pm

Saturday 9am-3pm

Complete

Tyre and

Auto

6 ISSUES

delivered to your door

FROm ONly

Canterbury owned and operated

464 Ferry Rd, 03 389 5370

ctawoolston@yahoo.co.nz

8.00am-5.00pm Mon-Thurs Fri

New & Used Tyres • Puncture Repairs

Batteries • WOF • Balancing

Mechanical Repairs • Lube & Servicing

Wheel Alignment

$

44. 50

SUBSCRIPTIONS FREEPHONE

0800 77 77 10

rugbynews.co.nz
---
Wednesday August 31 2016

BAY HARBOUR

PAGE 9

FINAL dAYS

Sahara

• solution dyed nylon

• extra heavy duty + stairs

• Cut pile

• 1 colour

BULK LOTS, SLIGHTLY IMPERFECT STOCK, OVER RUNS, ALL MUST GO!

2 house lots, first grade.

NOW

$79.90

3.65m Wide Rolls

POLYPrOP

Benmore

• Heavy duty

• Cut Pile

• 4 great colours

• 4 meter wide rolls

• Foam Back

$79.90

PeR metRe

4m Wide Rolls

20 HOUSE LOTS

WOOL

Calabar

• Pure wool

• extra heavy duty plus

stairs grade

• loop pile

$75.00

PeR metRe

3.65m Wide Rolls

2 HOUSE LOTS

WOOL

Tiburon

• Pure wool

• extra heavy duty plus

stairs grade

• loop pile

• slightly imperfect.

$75.00

PeR metRe

3.65m Wide Rolls

10 HOUSE LOTS

POLYESTEr

Sanctuary

• 50 oz luxury polyester

• extra Heavy duty

• Cut pile

• Great colour

$99.00

PeR metRe

3.65m Wide Rolls

south island's largest stockist of vinyl

2m wide SELLING From $30 per metre

312 Wilsons road North, Waltham Phone 366 0070

www.carpetkingdom.co.nz | Mon - Fri 8am - 5pm | Sat 10am -1pm

Q Card Finance Now available

FrEE no obligation measure & quote (conditions apply.)
---
PAGE 10 BAY HARBOUR

Wednesday August 31 2016

News

Healthy food key

ingredient at kitchen

• By Gabrielle Stuart

AT 57, Trevor Stacey went from

being a red-meat loving kiwi

bloke to going vegan, almost

overnight.

In December, he had a

quintuple bypass open heart

surgery,which means all five of

the major blood vessels leading

to his heart were blocked.

He either had to make a major

change to his diet, or face spending

the rest of his life in and out

of hospital, he said.

But although he was motivated,

knowing where to start

when almost every meal he knew

was based around meat was a

huge challenge.

His predicament was the push

his son, Cole Stacey, needed to

start his own healthy eating business,

Green Dinner Table.

He was working at the time as

a nurse, but had been thinking

for a while about going into business

with a friend, former Town

Tonic head chef Tom Riley, he

said.

"It has always been in the back

of my mind because I have got

an interest in health and wellbeing,

but really the thing that did

it for me was what happened to

my father, and then the birth of

my daughter. I thought if that's

my future I want to do whatever

I can to prevent that happening,"

he said.

Green Dinner Table works as

a food box service, delivering

recipes and all the ingredients

and dressings needed for either

three or five healthy, plant-based

meals each week.

The two set up their commercial

kitchen at the British Hotel

in Lyttelton, which they have

been working for several months

to renovate.

Their goal was not to "turn

everyone in Christchurch vegan,"

Cole Stacey said, but to teach

people they could cook tasty and

filling meals without having to

rely on meat.

"That is what my mum said

when she started cooking some

of these recipes for my father: It

GONE

GREEN:

Trevor

Stacey's

switch to a

vegan diet

after a heart

operation

inspired

former Town

Tonic head

chef Tom

Riley to start

his own

healthy food

business.

is undoing 50 years of learning,"

he said.

Although most of their customers

were friends and family

at the beginning, he said it had

grown fast and they now had

calls from new customers almost

every day.

Trevor Stacey said he still

wouldn't call himself a vegan: He

still went out for a steak once a

month as a special treat.

But he said his cholesterol

levels were rated normal for the

first time in years, and he had

lost about 6kg since cutting meat

out of his diet.

And he said the meals were

surprisingly "meaty".

"We had friends over for dinner

one night who knew we were

on a meat-free diet, so we had a

vegan shepherds pie. But he said

afterward when are we going to

have this meat-free dish? And I

said you've already eaten it."

•More information on Green

Dinner Table can be found at

their website, www.greendinnertable.co.nz.

Little River

rower wins

gold at

world champs

• By Fraser Walker-Pearce

LITTLE RIVER'S Jack Lopas

has struck gold at the Junior

Rowing World Championships

in the Netherlands.

Lopas, 17, and rowing partner

Lenny Jenkins, of Whakatane,

won gold in the double sculls A

final on the last night of the junior

championships on Monday

night New Zealand time.

The gold medals added to

five other medals won by New

Zealand representatives at

the combined junior, under

23 and senior World Rowing

Championships at the Willem-

Alexander Baan Rowing Course

in Rotterdam.

Lopas and Jenkins conquered

tough weather conditions in the

final race. The Kiwis were behind

Belarus and Germany, but

by the halfway point, Belarus

had dropped off, giving Lopas

and Jenkins the chance to surge

past.

They went on to overtake Germany

and clinch the gold medal

with a time of 6min 26.19sec.

Earlier in the year, Lopas won

the national under 19 double

sculls, under 18 double sculls,

and under 18 single sculls titles,

earning himself a trial to represent

New Zealand.

During his trial, Lopas set a

national record during a 2km

test, beating Olympic gold medallist

Hamish Bond's time of

6.03sec by almost half a second.

GOLDEN MOMENT: Jack Lopas (left) and Whakatane's Lenny

Jenkins clasp their gold medals which they won at the Junior

World Rowing Championships in the Netherlands.

PHOTO: ROWING NEW ZEALAND

The

Woolston Club...

A classic, contemporary

club experience

Cafe open from 11am

TAB & Gaming, Function Facilities,

HOUSIE Tuesday, Thursday, Saturday

SHUTTLE Tuesday - Saturday

Open 7 Days

Restaurant open

from 5.30pm!

RETRO ROAST LUNCH

12PM-1.30PM

WEDNESDAYS

$10 Members / $12 Non

SUNDAY ROAST 12PM-2PM SUNDAY

FATHER'S DAY LUNCH

Sunday 4th September, 12pm-2pm

Dining Dads go in the draw to WIN

a $250 'Man Pack'

7.30PM SATURDAY:

NEVILLE WILKINS &

THE VISCOUNTS, $5 entry

What's On...

2PM SUNDAY:

THE

BOTTLEJACKS

The magazine for

gardeners who

like To geT Their

hands dirTy

www.gardener.kiwi

100%

Maronan Road, Tinwald, Ashburton

SundAy 4Th SepTeMbeR

Open: 11am - 4pm

FATHERS DAY - ALL DADS RIDE FREE

with a fare-paying Child on our Railcar.

Ashburton Fire Museum and Lynn Museum of

Woodworking open, Model Engineers operating.

**EFTPOS ON-SITE**

Visit www.plainsrailway.co.nz or

our Facebook Page for details

Phone:

03 308 9600
---
Wednesday August 31 2016

BAY HARBOUR

PAGE 11

Firefly Sumner's newest hair salon

Daryl & Katie Brazil, proud new owners

Wednesday 24th August saw the launch of

Sumner's newest salon Firefly Hairdressing.

This upmarket, newly refurbished salon,

formerly known as Ali Barbers has been taken

over by Daryl and Katie Brazil. Having left a well

established hair and beauty salon in the UK,

they bring with them a wealth of experience,

knowledge and enthusiasm to ensure a quality

service in a friendly, relaxed environment.

BOOK NOW.

Dawn Critchley, Fiona Proudfoot

and Francine Brazil

Little ladies looking in their goody bags

Amy Symington & Katy Gosset

Emma Chang & Daryl Brazil, Hairstylists

The party is just getting started

Quality hairdressing at honest prices

Introducing

WALK IN WEDNESDAYS

All walk in appointments

20% OFF

Get the look...

OMBRE COLOUR

for easy maintenance colour

all year round

$125 Valid until 31/12/16

UNLIMITED

BLOW DRYS

for $99

per month

Valid until 31/11/16

Introducing

COMPLIMENTARY WINE/BEER

with all appointments

after 5pm Tuesday & Thursday

BE IN TO WIN

A Remington Shine Revival Hair Dryer Pack

Q: Why is the salon named FIREFLY?

Like, share & comment on our Facebook page to enter.

Winner will be chosen at random September 31st, 2016.

We pride ourselves on being friendly,

professional stylists with a passion for

hairdressing, who listen to our clients

to meet their individual needs.

Contact us to book your appointment today

34 Nayland St, Sumner. Ph: 03 326 5807. fireflyhairdressing
---
PAGE 12 BAY HARBOUR

Wednesday August 31 2016

Your Local Views

Markets fill more than

a shopping need

Port Hills

Labour MP

Ruth Dyson

talks about the

importance

of farmers'

markets

The establishment and spread

of farmers' markets in New

Zealand has been a great addition

to our landscape.

The chance to buy local and

fresh produce directly from the

producer (often) is something I

enjoy. We have two spectacular

such markets in this area – Lyttelton

and Mt Pleasant.

Lyttelton market turns 11 this

month. It has gone from strength

to strength, different venues,

more and more stalls – and more

and more shoppers.

It is a total credit to the wonderful

team who organise it and

also to the stall holders who don't

have the opportunity to shelter

from the inclement weather

but bravely front their stalls in

the face of wind and rain. And

always with a smile and great

conversation – cheeky though it

often is.

The Mt Pleasant market is

younger and smaller but again

has a wonderful variety of local

Previously

United Travel

goods and local people. It has

also had to move venues as the

Community Centre has taken

shape around its former site but

the organisers and stallholders

just got on with it.

This market was started in

response to the lack of supermarkets

and other shops in the area

post-February quake but even

though we now have nearly a surplus

of supermarkets, the market

has continued to be strong.

The market fills more than just

a shopping need. For many, particularly

those displaced, waiting

and arguing, in limbo postquake,

it is a connection with

their community, with familiar

people, and often with people

who are in the same situation.

It's a chance to catch up, swap

notes and give support. It's a

chance to receive support and

sadly so many people still need

post-quake support.

So thank you to the people that

set up these lovely markets (and

Opawa and Linwood too), who

have kept them going through

great times and harder times, and

who provide such a lovely "water

well" for conversation and caring.

Happy birthday Lyttelton market!

And many more to come.

Bay Harbour News asked its

readers what they thought

of a Lyttelton Design

Review Panel being set up

to help decide what could

be built there, and what

buildings could look like

Robin Williams – I am

writing an opinion in response

to your invitation to comment

on the proposed Lyttelton Design

Review Panel.

I was listening to Radio New

Zealand National recently and

then watched a programme on

television where the chap from

The Block New Zealand programme

and an architect were

doing a tour of New Zealand

looking at all types of homes. My

following opinion arises from

there.

It would be a sad day when

Christchurch, the city of the

21st-century and beyond, and

surrounding suburbs didn't embrace

making history as well as

preserving any heritage precinct.

Mr Stanaway and his wife are

building on an empty site that

once was "the former fire station

building."

Surely they are not wanting

replicate this building as this

would be a lost opportunity to

create the history of the future.

I would be interested how the

panel members will be selected

and please tell us more about the

role of the city council's Urban

Design Panel.

It seems to be heavy handed

and indicates further delays

for people who are wanting to

make a contribution to what is

described as the best opportunity

to build a city for the future.

Penny Carnaby, of Lyttelton

– What an excellent idea to set

up a Design Review Panel for

Lyttelton buidings in the future.

Go for it!

I think many of us found it really

distressing when the Stanaway's

edgy building was turned

down by the city council.

There is in my view a design

leadership deficit in relation

to how we want to see Lyttleton

develop in the future.

The impact of the quakes has

changed Lyttelton forever. We

can't get the heritage back but we

can imagine an amazing village

in the future which truly reflects

the creative spirit which abounds

everywhere.

It's a great idea to get a design

team in but first I suggest that

you invite locals to re-imagine

the village we want in the future

so the design team is guided by

NEW BUILD: The

Lyttelton Design

Review Panel will

have power of

decision on what

buildings can be

established in

the area.

a big picture narrative and story

for Lyttelton.

Nga Mihi nui.

Bay Harbour News asked

its readers what they thought

about police coverage in Lyttelton

after a rise of burglaries

in the area.

Vicki Jerome, of Barrys Bay –

Being lucky enough to live on

the Akaroa side of the Peninsula,

we haven't had any personal

experience of crime in the 13

years we've lived here, but I have

to say it seems ludicrous to have

the Lyttelton police station only

open between the hours of 8am

and 5pm.

Surely, most of the burglary

and theft crimes occur after

dark? I know a proportion occur

during the day when homeowners

are thought to be away at

work, but generally these crimes

will not be discovered until they

return from work, usually after

5pm.

There should at least be two

shifts, the second being from

5pm until 2am, and ideally three,

to cover the full 24 hours.

Thinking of

Canada and

Alaska in 2017?

We are hosting a cruise tour information

evening with APT/Travel Marvel presenters

and would love you to join us.

When: 6pm, Wednesday 7 September

Where: YOU Travel Ferrymead

Please RSVP by Monday 5 September

to Melissa@youferrymead.co.nz

$100

DUTY FREE

VOUCHER

for every new booking*

Recieve a FREE

4-wheeled suitcase

with every APT or

TRAVELMARVEL

booking.

see us instore youtravel.co.nz

03 384 2700

This promotion applies for bookings made from 20/8/16 - 30/9/16.

YOU Travel Ferrymead

960 Ferry Road

melissa@youferrymead.co.nz
---
M10 9943 Event Stand A2 Landscape Poster.indd 1

1/08/16 10:37 am

Wednesday August 31 2016

BAY HARBOUR

PAGE 13

WIN

BE TO

THE ALL NEW TOYOTA FORTUNER

Get your team to the game

Purchase anything in-store or online and enter

at mitre10.co.nz/winatoyota to go in the draw.

Promotion ends 30 September 2016. Terms and conditions apply.

UNDER

$

20

TOOLS FOR THE

JOB

MakE

DaDS Day

Number 8

40 Piece Socket Set

1/4'' and 3/8'' drive

229280

Number 8

Drill Driver Bit Set, 101 Piece

290255

armorall

5 Piece Detailing Kit

242948

Number 8

5L Sprayer

234818

Cantilever Toolbox

Metal, 460mm

275233

atlas

Garden Tools

192943, 192944,192945

Fiskars

Lopper and Pruner Set

218188

$11 99 $99

$39 95 $ 24 99

$13 76

$ 49 98

From

$19 98

$39 98

CLEARANCE

oN SELECTED FISHING GEAR

$14 89 $99 98

Stanley

Fibreglass Hammer

245134

Bosch

Angle Grinder

125mm

291855

$159

Black and Decker

18V Drill Driver and 20 piece accessory kit

li-ion Battery + 2 year warranty

292412

Rods

Reels

Tackle

Nets

& More!

$14 98 $349

Buy Right

10 Piece Paint Brush Set

174062

Jobmate

Electric Water Blaster, 1400W

232503

ALL NEW

BBQ RANGE

IN SToRE NoW

$19 80

Fuller Pro

6 Piece Screwdriver Set

Comfortable soft grip handles. Includes wall bracket.

Lifetime warranty. 235736

$339

Morrison

Petrol Lawnmower, 200ST

290293

$399

Nouveau

3 Burner BBQ with Hood

289049

GIFT IDEAS FOR FATHER'S DAY

STUCK FOR AN IDEA?

$19 98 GIVE DAD

Grillman

3 Piece BBQ Tool Set

202239

Stanley Fat Max

2 Piece Drill / Impact Driver Combo

18v.

268253

Gift Card

A MITRE 10

GIFT CARD

Ferrymead

1005 Ferry Road, Phone: 366 6306

Opening Hours: Monday–Friday: 7:00am–7pm

Saturday, Sunday and Public Holidays: 8:00am–6:00pm

Offers available at Mitre10 Mega Ferrymead only, until the 5 th Sept 2016, while stocks last.

mitre10mega.co.nz

If you find a lower price on an identical stocked

product locally we will beat it by 15%.

If you find the same product cheaper from another Mitre 10 store or Mitre 10 website we'll match that price. Excludes trade

and special quotes, stock liquidations and commercial quantities. The in-store price may be lower than that advertised.
---
PAGE 14 BAY HARBOUR

Wednesday August 31 2016

Inter-school champions

SPORTS

• By Fraser Walker-Pearce

OUR LADY Star of the Sea

School's year 7/8 rugby team

have won the Friday grade B

inter-school competition.

After taking part in the

Canterbury championships in

South Hagley Park on Thursday,

Our Lady Star of the Sea

principal John Kane received

a phone call from the school's

opponent in Friday's final, St

Patrick's Catholic Primary

School.

"He (St Patrick's principal

Tom Wallis) told me they had

to forfeit because they were all

injured from the Canterbury

tournament on Thursday. We

were supposed to play them

after we won our semi-final last

week, but they were decimated

by injury," Mr Kane said.

He said the side's win by

forfeit was still a win, and

something the school should

celebrate.

"We've got some really good

athletes here at school, but half

of the side had never played

rugby before. So for them to go

out and win the zone first time

was pretty cool. Then to win

the B grade, where we only lost

one game the whole season, was

great," he said.

The games are run as 10-aside

and both the school's year

5/6 and year 7/8 rugby teams

are south-east zone champions

CHAMPIONS: Our Lady Star of the Sea's year 7/8 rugby team are champions of the Friday

grade B inter-school competition. ​

for their age. Now the year 7/8

side are city-wide champions

as well.

Mr Kane said the year 7/8

team had all improved massively

over the season, but named

a few players that had been the

side's best.

"If I had to pick our best players,

I should name three. Billy

McLoughlin, Cass Robertson,

and Charlie Cameron . . . Cass

is (Scott Robertson's) son. All

three of his boys come here . . .

we tried to get him in to coach,

but he's a bit busy with Canterbury,"

he said.

Mr Kane said the most improved

players in the side are

Alejandro Ballard and Flynn

Greig.

"[Flynn] got mashed up

quite a bit, but boy he was

tough."

Bays recognise

season's top

performers

• By Fraser Walker-Pearce

FERRYMEAD BAYS celebrated the

finish of the league season with their

senior prizegiving evening at Winnie

Bagoes on Saturday.

The men's side finished the

Mainland premier football league

season in fourth place after defeating

Western 7-1 in their final game last

Saturday.

As well as many team player of

the year awards, special recognition

went to the club's newest life member

Mark Piercey.

First team reserves coach Mark

Anderson was named coach of the

year, and Allison Evans won the

personality of the year award.

The club's golden boot was jointly

awarded to first team midfielder

Andy Tuckey and reserves winger

Dorian Grault.

Both the most valuable player and

the players' player of the year awards

went to fullback Fraser Angus, while

most improved was Preston Bell.

Andreas Wilson took away player of

the year.

The men's side will still look to

finish on a high in the final of the

English Cup against Coastal Spirit at

English Park on Saturday.

All natural

cowhide

headboard

• 100% natural quality

• unique euro style

• showroom and factory specials

• comfort and satisfaction guarantee

• customised beds & furniture

durasteel

Homes

Ph Chris McEwin

03 379 6195

022 639 2370

chris@fdscan.co.nz

You can afford your own home

Durasteel offer potentially the strongest and most

cost effective housing in New Zealand, using NZ

Industrial Steel Framing with cladding options

Your needs are individual

Whether you need a bach, first home, retirement

home or storage with living options...

Durasteel Homes

use NZ Industrial

steel framing, giving

our homes extreme

structural strength

& integrity - with

affordability!

G AR LANDS R D

American Barns

Mono Roof Designs

OP AWA R D

THE TANNERY

C UM NOR T CE

CHA PM ANS R D

PO R T HILLS R D

FRENCH

BAKERY

TU NNE L R D

Gable Roof Designs

22 Kennaway Rd • www.dreamwool.com • Ph 343-5105

www.durasteel.co.nz

AlSo SHED

SPECIAlS

AvAIlABlE
---
Wednesday August 31 2016

BAY HARBOUR

PAGE 15

News

Owning a husky requires dedication

Scott Bamford

is the host of

CTV's Rural

New Zealand.

Watch Rural

New Zealand,

brought to you by Carrfields,

Wednesdays at 7.30pm on

CTV Freeview channel 40,

live and on demand at ctv.

co.nz

• By Scott Bamford

THIS WINTER, at least one

husky a week is arriving at the

West Melton branch of Husky

Rescue NZ, the company

re-homing abandoned or

unwanted huskies.

This season is shaping up to

be the worst in the company's

seven-year history.

Although many of the

unwanted dogs come from

Auckland, Husky Rescue NZ has

experienced an influx of huskies

from Christchurch.

"We do always have dogs from

Christchurch … it's pretty much

one dog a week from Canterbury.

It's the worst winter we've ever

had," Husky Rescue NZ founder

Michelle Attwood said.

The siberian husky is known to

be a hands-on breed.

Ms Attwood said a minimum

exercise routine of 5km a day is

WALKIES. Two Husky Rescue NZ dogs out for a dry-land

scooter journey. ​

needed to keep them healthy.

"In summer, that means [running

or walking] very late at

night, or early in the morning,

to avoid those 20 deg C temperatures."

Huskies also require seasonally

intense fur maintenance, a

lot of entertainment and a firm

understanding of who sets the

rules, she said.

"If the owner fails to establish

their position as leader, the

husky, with its strong pack

mentality, will become the pack

leader instead and be almost

impossible to control," Ms Attwood

said.

Many people will purchase a

husky before understanding the

dog's needs and then give up

when the job becomes too hard,

she said.

"[Owners] say: 'Oh well, it

jumped a six-foot fence, it ate

the neighbour's cat and it won't

come back when it's called' …

Those are all just standard husky

traits."

Ms Attwood reported reoccurring

problems from irresponsible

breeders.

"We've had over 12 dogs from

just one backyard breeder …

time and time again we are seeing

the same problem dogs from

the same problem breeders," she

said.

The rescue centre caters to

huskies through a combination

of pack-like living arrangements

and dry-land scootering and

sledding.

"They do really well at the

CHILLING. Christos

Merentitis and

his husky Max

enjoying some

down time.

sport and they love it, getting

them to stop running is the

hardest part," Ms Attwood said.

Husky owner Christos Merentitis

adopted his pet Max about

three years ago. Strict training

and constant exercise is what

helped Max become a beloved

member of the family.

"I got Max when he was

10-months-old. A lot of trainers

said that was too late to correct

bad habits, but you've just got

to keep on top of it and actually

want to see a change in your dog

. . . take them for a huge run, and

then do 10 minutes of training

– when they are too tired to be

cheeky or disagree with you," he

said.

OPEN SAT & SUN

Nehad, Anita, Ashleigh, Kellie and Grant

Full Service Pharmacy

including...

• Passports Photos

• Revlon Cosmetics and Revlon Club

• Gifts and Gift Wrapping

• Ear Piercing

• Extensive Natural Health range

• Scarves, Hats and Sunglasses

• Focus on Natural Organic Skincare including Trilogy,

Antipodes and Sukin

Dispensary Service

• Medico Packs

• Quit Smoking Quitcards

• Emergency

Contraceptive Pill

• Delivery Service

Owned and operated by

your phamacist, Grant Bell

CAFÉ

NOW OPEN

1005 Ferry Rd, Ferrymead. Ph:943 9635

OPEN 7 DAYS: Mon to Fri 8.30am - 6pm

Sat 9am - 4pm and Sun 10am - 4pm
---
PAGE 16 BAY HARBOUR

Wednesday August 31 2016

Sumner - "Awesome neighbourhood,

safe, loads of cool things to do; beach,

cafes, cinema. Beautiful place to live."

Go to SuperValue.co.nz/Neighbourly to see who won

LONDON

ROME

NEW YORK

PARIS

TOKYO

[YOUR SUBURB]

Fresh Tegel NZ Skin On Chicken Breast Fillets

Californian Red/Green Seedless Grapes

$

9 99

kg

$

5 99

kg

Fresh NZ Prime Beef

Mince

Large Hass Avocados

$

10 99

kg

$

1 49

each

Tararua Butter 500g

Cadbury Chocolate

Block 155-200g

Fresh'n Fruity Yoghurt 1kg

(Excludes Greek)

$

3 49

each

Speight's Gold Medal Ale/Summit

12 x 330ml Bottles

Please drink

responsibly

$

2 99

each

Villa Maria

Private Bin

750ml

(Excludes Pinot Noir/Syrah)

$

3 99

each

Coke/Sprite/Fanta/

Lift/L&P 1.5L

$

16 99

pack

SuperValueNZ

SuperValue.co.nz

$

11 99

each

$

2 49

each

SuperValue Lyttelton: 17 London Street, Lyttelton. Phone 328 7368. Open 7am-9pm, 7 days.

SuperValue Sumner: 3 Village Mall, Sumner. Phone 326 5688. Open 7am-9pm, 7 days.

Specials available from Wednesday, 31st August until Sunday, 4th September 2016 or while stocks last. We reserve the right to limit quantities. All limits specified apply per customer per day.

Trade not supplied. Prepared meals are serving suggestions only. Props not included. Certain products may not be available in all stores. Proprietary brands not for resale.

Customer Support Freephone 0800 40 40 40.

svbhn3108
---
Wednesday August 31 2016

BAY HARBOUR

PAGE 17

SCHOOLS

Redcliffs School held a mini Olympics to celebrate

the big event in Rio. Year 8 students organised the

day and parents took part to emulate the Olympic

spirit.

FRENCH FRENZY: Emily and Amelia represented

France.

DAFFODIL DAY: Diamond

Harbour Primary School

hosted a daffodil hat-making

competition to raise money

for the annual campaign. The

competition had a daffodil

theme and was designed to

keep kids sun safe. The school

had a painted playground

daffodil and pupils had to

bring gold coins to cover the

flower. The proceeds went to

the Cancer Society NZ, which

provides new entrant pupils

with hats when they start

school.

DOWN UNDER: Ruby, Judson and Ollie represented Australia at

Redcliffs mini Olympics.

HELPING

HAND: Raffy

and Mia help

younger pupil

Noah get into

the Olympic

spirit.

LIGHTENING BOLT:

Lenny and Flynn dressed

as Jamaican sprinting

sensation Usain Bolt.

GO FOR GOLD: James

jumped for victory.

3 Garlands Road, Woolston

DeluxeCinemas.co.nz

Phone FREE Bookings ICE CREAM | Free Parking WITH | EVERY Cafe/Licensed TICKET Bar

03 389 5360

Online Before Bookings 5pm, Monday | Cinema to Friday. Club Terms | Hot & Conditions Nuts/ Cheeses Apply.

An Absolute Crowd Pleaser

M Violence, Coarse Language,

DAILY CHAsIng 12:10pm, gREAT: 4.15pm WEd: SING 2.10pm, 4.20pm, STREET 6.10pm THu: Some Scenes 2.10pm, May Disturb

Young Children

4.20pm, 6.10pm FRI & sAT: 12.35pm, 2.10pm, 6.10pm sun: 11.45am,

WED 12:10pm, 4.15pm, 8:20pm

2.00pm, 6.00pm MOn: 12.15pm, Pauline Collins, Jonathan Pryce

THU 10:00am DOUG 2.10pm, 6.10pm TuE: 12.35pm, 2.10pm,

M Course Language and sexual references.

6.10pm.

WED 12:10pm, 4.15pm, 8:20pm

NZ Biggest Film Ever

M Violence, Coarse Language,

Some Scenes May Disturb

THU 10:00am

HUNT FOR THE WILDERPEOPLE Young Children

dAVId bREnT: lIFE On THE ROAd WEd: 2.25pm, 4.15pm, 8.15pm

Jacky Cambel, Seth Rogan

THu: 2.25pm,

DAILY 12:10pm, 4.15pm, 4.15pm8.15pm FRI: 2.45pm, 4.15pm, 8.15pm M Violence, Coarse sAT: Language,

Some Scenes May Disturb

ME BEFORE YOU Young Children

10.30am, 2.45pm, 8.15pm sun: 3.40pm, 8.00pm MOn: 2.20pm, 4.15pm,

8.15pm WED 12:10pm, TuE: 4.15pm, 2.45pm, 8:20pm 4.15pm, 8.15pm.

An Absolute Crowd Pleaser

M Violence, Coarse Language,

Some Scenes May Disturb

THU 10:00am THE PAPAL BASILICAS Young Children

AbsOluTElY FAbulOus: WEd: 10.15am, 12.10pm, Pixar Family 4.00pm, Film6.00pm

M Violence, Coarse Language, Some

FINDING DORY JULY 20TH Scenes, May Disturb, Young Children

COMING THu: 10.45am, 12.35pm, 6.25pm FRI sAT: 10.45am, 6.35pm

Pixar Family Film

sun: 10.00am,

M Violence, Coarse Language,

FINDING 1.50pm MOn: DORY 10.15am, JULY 4.20pm 20TH TuE:

Some

10.45am,

Scenes, May Disturb,

6.35pm.

Pixar Family Film

SOON

M Violence, Coarse Language, Some

FINDING DORY JULY 20TH Scenes, May Disturb, Young Children

pOI E: WEd: 1.30pm, 5.05pm THu: 10.20am FRI: 10.20am, 4.40pm

sAT: 4.40pm sun: 10.10am, 4.10pm MOn: 10.20am TuE: 10.20am,

4.45pm.

bAd MOMs: WEd: 2.00pm, 8.40pm THu FRI: 12.10pm, 8.25pm

sAT 4.15pm, 8.25pm sun: 12.00pm, 7.20pm MOn TuE: 12.10pm,

8.25pm.

EMbRACE: WEd: 6.55pm sAT: 12.25pm sun 5.35pm.

RAMs: WEd: 3.15pm.

bRAnAgH THEATRE lIVE: ROMEO And julIET WEd: 10.00am.

COMIng sOOn: sEpT 8: Sully (M). Aug 15: The Secret Life of Pets

(G); The Reharsal (TBC)

Chasing Great G. David Brent: Life on the Road M Offensive language, sexual references and

content that may offend. Absolutely Fabulous M Offensive language, sexual references and

drug use. POI E G. Bad Mums R16 sex scenes, sexual content & offensive language. Embrace

M Offensive language and nudity. RAMS M Offensive language & nudity. Branagh Theatre Live:

Romeo and Juliet M Violence.
---
PAGE 18 BAY HARBOUR

Wednesday August 31 2016

Images End

August 5 – September 4

Mark Soltero's Images End

exhibition brings together a

collection of work from what

Soltero refers to as the Back

Catalogue. These works form

a reflection on the nature of

images in a networked world.

The materials and processes –

black, white and grey, applied

as if printed, through stencils

on hessian or paper, reflect

the evolution of his ideas

about painting. Soltero's ideas

stem from an intellectual

imagination, but are driven by

an emotional need to create.

50 Works Gallery, 50 London

Street, Lyttelton

Knit 'n' Yarn

Today, 10am-11am

Head along to Lyttelton

Library to Knit 'n' Yarn. Bring

your knitting, crochet or other

portable craft project and enjoy

time with other crafters.

Temporary Lyttelton Library

at Trinity Hall, free, beginners

welcome.

Baby Times

Friday September 2, 10.30am-

11am

During each session there

is a variety of stories, songs,

rhymes, fingerplays and other

book related activities. The

programmes are especially

suitable for under two-year-olds.

Temporary Lyttelton Library at

Trinity Hall, free.

Storytimes/Wā Kōrero

Tuesday, August 30, 11am-

11.30am

Programme for pre-schoolers

include stories, music,

movement and rhymes.

Kōrero pukapuka, pūoru,

korikori.

Temporary Lyttelton Library at

Trinity Hall, free.

Greater Linwood

Community Forum

Monday, September 5, 10.30-

noon

The Greater Linwood

Community Forum is a monthly

meeting for people living within

the Hagley/ Ferrymead ward.

Members of the community

gather together for morning tea

and an exchange of ideas and

information.

If you would like any matters

added to the agenda please let

Brenda know brenda.preston@

ccc.govt.nz

Phillipstown Community

Centre, 39 Nursery Rd,

Phillipstown.

Planting days at Urumau

Reserve

September 11, 10-12pm or

1-3pm

Come help in a series of

quality native tree plating days.

Tools, plants and lunch are all

provided. Bring gloves. The

planting is limited to 12 people

per session so registration is

essential at lytteltonreserves@

hotmail.com or phone 328 9093

Charity

EvEnt

Parliamentary

rugby team

Email annabelle.dick@starmedia.kiwi

by 5pm each Wednesday

Meet at the far end of Foster

Tce at 10am or 1pm, Urumau

Reserve

Drayton Reserve

Conservation Week working

bee

Saturday, September 10, 2pm-

4pm

The working group has been

clearing weeds and will now

plant some of the original native

trees which used to grow in the

local area. There is a lot to do

and everyone is welcome.

For further information,

phone Dave Bryce on 021 363

498.

Meet at the Avery Place

entrance if you would like to help

planting native seedlings in the

nearby area of the Reserve.

Learn to Sail

Saturday, September 3, 9am –

5:30pm

Learning to sail is a lot of

fun and provides children and

adults of all ages with valuable

life skills. To help children and

families to get into sailing in an

easy and affordable way without

the up front cost of having to

purchase a boat, Naval Point

Club in Lyttleton has 10 wellequipped

optimist dinghys.

Phone David Noakes: 021 022

88411 or email programmes@

navalpoint.co.nz.

BACK IN TIME: Come check out Fred Tunnicliffe's exhibition

of Lyttelton in the 1990s. Exhibit runs from September 3 - 30,

Monday - Saturday 10am-4pm, Sunday 11am-3pm, 20 Oxford

St, Lyttelton.

Markets

Mt Pleasant Farmers Market:

The market has temporarily

moved to the western end of the

McCormacks Bay Reserve. You

will find it at the intersection of

McCormacks Bay and Main

Rds. Every Saturday, 9.30am-

12.30pm.

Lyttelton Farmers Market:

Every Saturday, 10am-1pm,

London St.

Your land. Your people. Your stories.

Canterbury

rugby legends

All proceeds go to Hohepa Canterbury and 0800 Hungry

SATURDAY 3rd SEPTEMBER

Watch live at Christ's College Upper Field 3pm

SUGGESTED DONATION: Adults $10, Family $20 (2 adults & 2 children under 12)

INCLUDING OTHER EVENTS:

Parliamentary Netball Team VS Netball Legends: 1pm at Christ's College Indoor Court.

After-match function. 4.30pm-6.30pm. Includes drinks, light food, entertainment, auction

and a chance to meet well-known sports personalities and MPs. $75pp.

For more information and tickets to the after-match function visit www.parlysport.com

Every Wednesday at 7.30pm

on CTV Freeview Channel 40

live and on demand at ctv.co.nz

Brought to you by
---
Wednesday August 31 2016

BAY HARBOUR

PAGE 19

Four Grenadier Seasons Ferrymead

Realty

Mt Pleasant

91 Cannon Hill Crescent

Just over two year ago my clients were delighted to have secured this spacious modern family suntrap on the sought after

mid slopes of Mt Pleasant, however with a move south pending, they are now committed to seeing the home sold! While their

tenure has been relatively brief the home has provided a fabulous sanctuary for all the family and frequent quests. Offering

shelter from the prevailing easterly wind, the home is well placed to take in the breath taking expansive views across the city

through to the snow-capped Alps along with the spectacular sunsets and the stunning city lights come night.

Auction: 15 September 2016 from 1pm

View at: www.harcourts.co.nz ID#FM4963

Deb Beesley Ph 027 280 8837

4 3 1 2 Sumner

2 1 1 2

64 Arnold Street,

Beautifully designed, warm, sunny and low maintenance, this two-bedroom home offers a great lifestyle in a

tranquil and lovely environment. Perfectly suited to a wide range of buyers, from professional couples to empty

nesters looking to downsize, this is a place where the rat race doesn't need to feature. The home is beautifully

presented both inside and out, with tasteful decor and great design making it a property that stands out from the

crowd in a market flooded with boring boxes.

Auction: 15 September 2016 from 1pm

View at: www.harcourts.co.nz ID#FM4952

Michelle Ward Ph 027 203 7858

Leithfield 109 Kings Road,

Lyttelton 67 Jacksons Road

Mt Pleasant 169A Major Hornbrook Road

Redcliffs 22B Augusta Street

1 1 1 1

3 1 1 2 1 1 4 3 2 1 2

Auction: 15 September 2016 from 1pm

View at: www.harcourts.co.nz ID#FM4962

Chris Smart

Ph 021 871 100

Price: $495,000

View at: www.harcourts.co.nz ID#FM4974

Joy Butel

Ph 021 353 280

Price: NPM

View at: www.harcourts.co.nz ID#FM4966

Joy Butel

Ph 021 353 280

Price: NPM

View at: www.harcourts.co.nz ID#FM4967

Alison Carter

Ph 0274 318 960

Woolston 9 St Florian Place

Islington 15A Gregory Avenue

Woolston 107a Randolph Street

Sumner 91 Wakefield Avenue

4 2 1 2 3 1 1 1

3 2 1 2 4 1 2 2

Auction: 8 Sep 2016 from 1pm

View at: www.harcourts.co.nz ID#FM4951

Liz Lewis

Ph 0274 530 952

Price: $369,000

View at: www.harcourts.co.nz ID#FM4957

David Searle

Ph 021 565 950

Price: $425,000

View at: www.harcourts.co.nz ID#FM4928

David Searle

Ph 021 565 950

Price: $499,000

View at: www.harcourts.co.nzID#FM4941

Alison Carter

Ph 0274 318 960

Greg Powell

Branch Manager

027 274 6157

Alison

Carter

0274 318 960

Michelle

Ward

027 203 7858

Deb

Beesley

027 280 8837

Joy

Butel

021 353 280

Chris

Moores

027 588 4440

David

Searle

021 565 950

Kirsty

McLeod

027 226 5893

Liz

Lewis

0274 530 952

FERRYMEAD

Maree

Hood

027 497 8891

Mari

Crampton

027 230 1098

Catherine

Dougall

027 588 6844

Dave

Elston

0274 593 165

Chris

Smart

021 871 100

Craig

Todd

027 642 1075

Lisa

Ny

0276 225 060

Megan

Jarratt

027 841 2335

This could

be you!

1020 Ferry Rd Ferrymead • Ph 384 7950 • harcourtsgrenadier.co.nz

Grenadier Real Estate Ltd MREINZ is a Licensed Agent Under the

Real Estate Agents Act 2008
---
PAGE 20 BAY HARBOUR

Wednesday August 31 2016

ON DEMAND At www.stYle.Kiwi

from

magazine

to screen

Stories given new life

exclusive

interviews

Andrea Allen meets

the locals

coming to town

A look at what's on

StyleTV_StarAd_June_FP_001_2016

Watch every thursday at

7.30pm

repeats friday at

11am & 4.30pm

Freeview HD 40 | Live on ctv.co.nz
---
2

Wednesday August 31 2016

[Edition datE]

HEALTH & BEAUTY

BAY HARBOUR

PAGE 21

Experts restore that

"winning smile"

Meeting people for the first

time, interacting with others on social

occasions, going for a job interview – in

all these situations your smile is the most

important part of you.

or perhaps, on a lighter note, you

might be scaring yourself with your 'selfie'

because your smile is not as attractive as it

should be, due to missing or broken teeth.

perhaps it's time for a visit to Denture

South in Barrington, where the experts

can give you that winning smile back.

Clinical technician Andrew Johnson

and his team of clinical and lab

technicians are fully focused on providing

customised service at their Barrington

clinic, and will take all the time needed

to fulfill your partial or full denture

requirements whether you want an even,

bright smile or a more natural-looking

one.

For people who have had dentures for a

while and are finding they frequently need

to buy denture adhesive to keep them in

place, Andrew advises having the dentures

relined so they will fit better. As he points

out, the money spent on denture adhesive

over 12 months would easily cover the

cost of having your dentures refitted.

Denture South has been providing a full

range of denture services for the residents

of Christchurch for over 13 years. These

services include first-time immediate

dentures, full replacement dentures,

partial plates and sports mouth-guards.

Many Denture South clients come

through word-of-mouth referral, an

indication of the level of satisfaction that's

provided there. Friendly, approachable

and highly skilled, the Denture South

team enjoys helping people with all their

denture fitting, ongoing care and denture

maintenance requirements.

The friendly Denture South team

Conveniently located at

230 Barrington Street,

Denture South has

off-street parking.

phone 332-4004 for

a complimentary

consultation.

Winter Special

$20 DISCOUNT

August, excluding Saturday

when you mention this advert.

Tracy Tuesday-Saturday, 9am-5pm

Sally Wednesday-Thursday, 9am-7pm

Jolene Saturday, 9am-4pm

Phone 03-328-8859 or book online

www.facebook.com/honeycomblyttelton

34a London Street, Lyttelton

Pro Fiber

Prescriptive reconditioning

treatment. $30 in salon, plus

take home products.

Ask your stylist

which one

is best for you.
---
PAGE 22 BAY HARBOUR

Wednesday August 31 2016

REAL ESTATE

Big home - big views

91 Cannon Hill Crescent, Mt Pleasant

Auction Date: Thursday 15 Sep 2016 - unless sold prior

4 bedrooms | 3 bathrooms | 2 living room | 1 dining room | 2 car garage | 2 off-street parks | Listing # FM4963

Just over two year ago my clients were delighted

to have secured this spacious modern family

suntrap on the sought after mid slopes of Mt

Pleasant, however with a move south pending,

they are now committed to seeing the home sold!

While their tenure has been relatively brief the

home has provided a fabulous sanctuary for all

the family and frequent quests. Offering shelter

from the prevailing easterly wind, the home is

well placed to take in the breath taking expansive

views across the city through to the snow-capped

Alps along with the spectacular sunsets and the

stunning city lights come night.

This attractive contemporary home shouts

simplistic style with its neutral décor and offers a

family friendly functional floor plan for easy day

to day living, all year round comfort and is ideal

for those who enjoy entertaining.

The home has been revitalised throughout

offering buyers the opportunity to purchase,

stress free, this tasteful, low maintenance home.

Good off street parking, double internal

garaging and delightful landscaped grounds

complete the picture.

Come view this special home today, you

won't be disappointed.

Auction Date: Thursday 15 Sep 1:00 p.m. (98

Moorhouse Avenue) Unless Sold Prior

Open Homes: Wednesdays, Saturdays and

Sundays 1:00 p.m. - 1:45 p.m until auction

day. See you at the Open Day or for a private

viewing or more information contact Deb

Beesley of Harcourts Grenadier Ferrymead

(Licensed Agent REAA 2008) on 384 7950 or

mob 027 280 8837

now bigger than ever

growing with you

SprIng Is here –

It'S Sow Time

how to get the best results from

seeds and seedlings

100% NatIve In

The capItal

Unravelling the secrets of

Otari-wilton Bush

The New Zealand

landscape awards

The people behind

the projects

$7.90 incl. GST

Save our roSeS

How a rose register is protecting our heritage

September 2016 | 100%

It's time

to grow!

New look and more

content than ever!

MeeT LeSTer Brice

A Garden coach

auckland Botanic GardenS

Why we love our public grounds

The magazine for

gardeners who like to get

their hands dirty

SubScribe from

$43. 50*

*6 issues/6 months

ISSN 2423-0219

SUBSCRIPTIONS FREEPHONE

0800 77 77 10

www.gaRdeNER.kiwI
---
Wednesday August 31 2016

BAY HARBOUR

PAGE 23

Classifieds Contact us today Phone our local team 03 379 1100

Public Notices

business video

PRoduCTion

A video will bring your business

alive & into your customers mind.

Promote your

services or business

with a professionally

created video with us

• Corporate and

Business video a speciality

• Competitive rates

• 25 years experience

• Start to finished product

• Professional quality guaranteed

PHone KeRRY 021 635 083

Adult Information

LIVE ADULT CHAT

Explicit Naughty

Kiwi Babes 1 on 1

0900 77 747

Asian Babes 1 on 1

0900 88 100

XXX Listen

0900 69 100

Chat $3.99 - Listen $1.99/min+gst

Free SLOTS & downloads

www.kiwibabes.co.nz

PHONE NOW!!

Gardening

& Supplies

Landscape

and Garden

Services

If you need help

getting your garden

back in order after

repairs, need any

type of landscape

construction work or

garden restoration.

Ph 021 272 0303

A GARDEN OR

LANDSCAPING TIDY

UP? Rose & Fruit Tree

Pruning, Shrub, hedge

& tree pruning, Lawns,

Gardening, consistently

reliable general property

upkeep, Dip. Hort. 10

yrs experience, One off

tidy ups or on-going

service. Nick's Property

Maintenance. Keeping

your garden beautiful.

Free Quote. Ph. 942-4440

Gardening

& Supplies

GARDENER - Need

your home or commercial

garden tidied up or

renovated or require long

term assistance. Phone

Ruth 326-6663 or 021

272-0303

Holiday

Accommodation

Computers

ALL

YOUR

COMPUTER

WORRIES SOLVED!

QUEENSLAND SUN-

*$30.00 off your first

SHINE COAST AUSTRAservice

with this coupon!* LIA Resort, Ocean Views,

No problem too big or Balconies, Self Contained,

1 or 2 B/R Ensuite,

small from home PC's to

business networks. PC Heated Pool, Spa, Sauna,

slow? An end to Viruses, Free Internet, Shops,

Spyware, and Clogged Restaurants, Tennis, Surf

Systems. Safe secure Club & Patrolled Beach,

hassle-free computing. Public Transport at door.

Lost files recovered. Ask for our SEASONAL

Microsoft Certified, SPECIALS. Phone 61 7

MCSE, MCP+l. 30 years 544-35011 Email: reception@mandolin.com.au

experience. Call Andrew

www.mandolin.com.au

Buxton this week on 326-

6740 or 027 435-7596

for $30.00 off* Custom

Computers Christchurch

Public Notices

Rexellent Rentals

Cars, Vans, Brisbane , Coolangatta

FREE CALL

0800 601 508

www.rexellent.com.au

Real Estate

AS IS where is wanted by

private cash buyer, ph 021

342 900

WANTED Section/land

to rent, lease or buy, ph

Rachel 021 064 3933

Situations Vacant

CA$H

Strippers

& Podium

Dancers

Wanted!

18+ TO APPLY

NEISHA

021 193 0118

ADD SOME

COLOUR

TO YOUR ADVERT!

Real Estate

Mt Pleasant, 19E Aratoro Place

Move in and enjoy this 2 double bedroom townhouse

targeted primarily for the over-60's. Open plan flow from

living area with fantastic hill views to a sunny and private

courtyard. Enjoy walking? Stroll along the estuary or

walk along the new costal pathway

- it's all right there. Great neighbours

plus great location!

Deadline Sale Closing 4pm,

Weds 7th September, 2016

Open hOmes

Weds,

sat & sun

11.30am-12.30pm

Erin Callanan Licensee Salesperson AREINZ

M (27) 441 4273 | T (03) 423 9937

W http://erincallanan.raywhite.co.nz/

A 7 Colombo Street, Cashmere, Christchurch

Situations Vacant

DELIVERY DRIVER

REQUIRED

The Star is looking for a contract driver to

join its delivery team. The work involves

delivering The Star to our runners & retail

outlets on a Thursday morning.

The hours of work will be approximately

3:30am-11:30am,with a degree of flexibility

required. You must have your own reliable

vehicle (light van) and a clean license.

Applicants will need to be honest, reliable &

have a good general knowledge of the City.

For further information call Mark Coulthard

Phone: 364-7453 or 021 800 809.

Email: mark@starmedia.kiwi

Licensed (REAA 2008)

Unlimited Real Estate (Christchurch) Limited

Trades & Services

LANDSCAPING/

STONE WORK

All forms of landscaping,

fences, decking & paving.

Phone Mike

Stoneage Landscapes

021 1499 733

Trades & Services

Driveways

We Repair

Cracks

and Apply

Factiostone

on top of

your Interior

and Exterior

Substrates

saving Time,

Money, Stress

& Mess.

Spec-Tec /

Factio

Free QuoTe

0212209603

Now working

in your area

• Tree Pruning

& Removal

• Stump Grinding

• Hedge Trimming

Fully Insured

Qualified Arborist

For a free quote,

ph 0800 248 733

www.jimstrees.co.nz

• Renovations

• Alternations

• Bathrooms

Trades & Services

ALL YOUR BUILDING NEEDS

• New builds

• Maintenance

• LBP Registered

027 664 3176

splbuilders@outlook.co.nz

ADVERTISE YOUR BUSINESS HERE

Phone for further details

(03) 379 1100

Trades & Services

ROOF

PAINTING

Rope & harness

a speciality,

no scaffolding

required,

30 years of

breathtaking

experience.

FREE QUOTES

Exterior staining,

exterior painting,

moss and mould

treatment and

waterblasting

Phone Kevin

027 561 4629

ConCRETE

Decorative Concrete

Placing, Canterbury

owned & operated

for over 10 years,

competitive rates, full

excavation, coloured,

exposed, stamped, call

Paul 027 322 6119

Trades & Services

DRAInLAYER

Reg, all types, 20 yrs hill

work exp, ph 028 408-

0121

ELECTRICIAn.

JMP Electrical.

Experienced & registered..

Expert in all home

electrical repairs &

maintence.Call James 027

4401715

ELECTRICAL &

HEATPUMPS. Full

service including pressure

& performance test

$60 + GST. Affordable

electrical services, wiring

alterations & repairs,

LED conversions. Motel

Maintenance Specialist Ph

326 4992 or 0274 329755.

FURnITURE

REMOVALS Large

Trucks $95 + GST per hour

7 day NZ wide, packing

& moving, Professional

BRICKLAYER. GEoRGE

Lockyer. Over 30 years

bricklaying experience.

Company, Professional

UK trained. Licensed

Service. Canterbury

Building Practitioner

Relocations Ltd. ph 0800

number BP105608.

359 9313

Insurance work. EQC

LAnDSCAPE

repairs. Heritage

CONSTRUCTION

brickwork a speciality. No

Lawns, paving, water

job too small. Governors

features, irrigation,

Bay. Home 329-9344,

planting, decks,

Cell 027 684-4046, email

driveways, kerbing, ponds,

georgelockyer@xtra.co.nz

retainer walls, fencing.

CARPET & VInYL Free quotes, Phone Tony

Laying. Repairs, uplifting, 021-034-8555

relaying, restretching, PAInTInG

Email jflattery@xtra. & PLASTERING Free

co.nz, ph 0800 003 181 quotes. Immediate start.

or 027 2407416

Discount for pensioners.

Work guaranteed. Ph

CARPETLAYER

Kerin 022 191 7877 or

Laying and Repairs, 40 yrs

379-1281. Website www.

experience, ph Peter 326-

swedekiwipainting.co.nz

7711 or 027 240-6532

PAInTER/PLASTERER

Experienced tradesman,

quality work, free quotes,

ph Simon 027 389-1351 or

03 328-7280

PAInTInG

&

DECORATING.

Excellent finish.Domestic

& Commercial. Ph Chris

027 223 8542

Trades & Services

PLASTERERInG

INTERIOR, no job too

big or too small, specialise

in repair work & new

houses, free quotes given,

over 20 yrs plasterering

experience, ph 027 221-

4066 or 384-2574

PLASTERER FIBRoUS

Gib. No job too small, Call

Heath 022 639 9547

& Licenced Practitioner.

RooFInG QUALIFIED

Re-Roof & Repairs,

all types. Member

New Zealand Roofing

Association. Over 35 years

experience. Phone John

027 432-3822 or 351-9147

email johnmill@ihug.

co.nz

STonEMASon, BRICK

& BLOCKLAYER,

Earthquake Repairs, Grind

Out & Repoint, River/

Oamaru stone, Schist,

Volcanic Rock, Paving,

all Alterations new & old,

Quality Workmanship,

visit www.featureworks.

co.nz or ph 027 601-3145

VHS VIDEo TAPES

& all camera tapes

converted to DVD, video

taping, weddings, twenty

firsts, special occasions,

www.grahamsvideo.co.nz

ph 03 338-1655

WInDoW CLEAnInG

"Your Windows are the

eyes of your Home", for

a free no obligation quote,

call Greg Brown, Crystal

Clear Window Cleaning

ph 384-2661 or 027 616-

0331 Local Resident

Wanted To Buy

WANTED

POSSUM SKINS

& POSSUM FUR

(Hand Plucked)

Buying Now

Top Prices Paid

Contact Russell

Dunsandel

0274 779754

Possum Pam NZ Ltd

Agent for Nichols NZ

Ltd & Wadsworth

A+ Household effects,

fridges, freezers, washing

machines, ovens. Good

cash paid. Ph Paul 022

0891 671
---
PAGE 24 BAY HARBOUR

Wednesday August 31 2016

Ferrymead

UNDER NEW OWNERSHIP

and many more instore specials...

Visit: www.superliquor.co.nz or call 0800 SUPERL (0800 787 375) for your local store. 123 stores nationwide, 100% locally owned and

operated. Offers end close of trade 11th of September 2016, while stocks last. Available at participating stores only. Limits may apply at

participating outlets. Trade not supplied. Terms and conditions may apply. Available 29th of August - 11th of September 2016 inclusive.

Please see www.superliquor.co.nz for details.

9 HUMPHREYS DRIVE, FERRYMEAD - down Kite Lane opposite Casual & Country (under Viva Women's Gym) PH. 03 376 4097 www.superliquor.co.nz