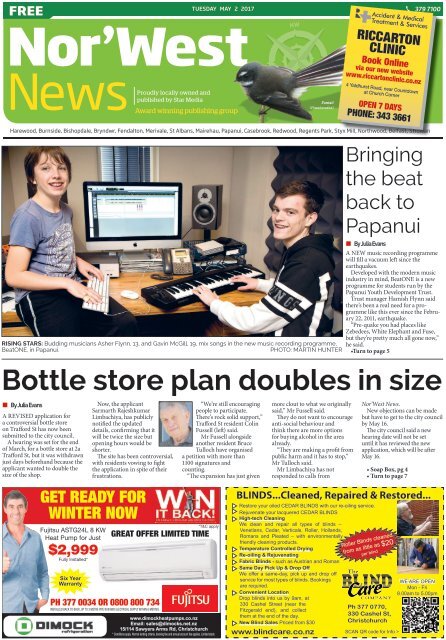 Nor'West News: May 02, 2017
You also want an ePaper? Increase the reach of your titles
YUMPU automatically turns print PDFs into web optimized ePapers that Google loves.
FREE

TUESDAY mAY 2 2017 379 7100

RICCARTON

CLINIC

Book Online

via our new website

www.riccartonclinic.co.nz

Proudly locally owned and

published by Star Media

Award winning publishing group

Fantail

(Piwakawaka)

4 Yaldhurst Road, near Countdown

at Church Corner

OPEN 7 DAYS

PHONE: 343 3661

Harewood, Burnside, Bishopdale, Bryndwr, Fendalton, Merivale, St Albans, Mairehau, Papanui, Casebrook, Redwood, Regents Park, Styx Mill, Northwood, Belfast, Strowan

RISING STARS: Budding musicians Asher Flynn, 13, and Gavin McGill, 19, mix songs in the new music recording programme,

BeatONE, in Papanui.

PHOTO: MARTIN HUNTER

Bringing

the beat

back to

Papanui

• By Julia Evans

A NEW music recording programme

will fill a vacuum left since the

earthquakes.

Developed with the modern music

industry in mind, BeatONE is a new

programme for students run by the

Papanui Youth Development Trust.

Trust manager Hamish Flynn said

there's been a real need for a programme

like this ever since the February

22, 2011, earthquake.

"Pre-quake you had places like

Zebedees, White Elephant and Fuse,

but they're pretty much all gone now,"

he said.

•Turn to page 5

Bottle store plan doubles in size

• By Julia Evans

A REVISED application for

a controversial bottle store

on Trafford St has now been

submitted to the city council.

A hearing was set for the end

of March, for a bottle store at 2a

Trafford St, but it was withdrawn

just days beforehand because the

applicant wanted to double the

size of the shop.

Now, the applicant

Sarmarth Rajeshkumar

Limbachiya, has publicly

notified the updated

details, confirming that it

will be twice the size but

opening hours would be

shorter.

The site has been controversial,

with residents vowing to fight

the application in spite of their

frustrations.

Get ready for

winter now

"We're still encouraging

people to participate.

There's rock solid support,"

Trafford St resident Colin

Fussell (left) said.

Mr Fussell alongside

another resident Bruce

Tulloch have organised

a petition with more than

1100 signatures and

counting.

"The expansion has just given

more clout to what we originally

said," Mr Fussell said.

They do not want to encourage

anti-social behaviour and

think there are more options

for buying alcohol in the area

already.

"They are making a profit from

public harm and it has to stop,"

Mr Tulloch said.

Mr Limbachiya has not

responded to calls from

Nor'West News.

New objections can be made

but have to get to the city council

by May 16.

The city council said a new

hearing date will not be set

until it has reviewed the new

application, which will be after

May 16.

• Soap Box, pg 4

• Turn to page 7

BLINDS...Cleaned, Repaired & Restored...

Hot Hot Deal

Restore your oiled CEDAR BLINDS with our re-oiling service.

on 8KW Heat

Rejuvenate

PumP

your lacquered CEDAR BLINDS

High-tech Cleaning

*T&C apply We clean and repair all types of blinds –

Venetians, Cedar, Verticals, Roller, Hollands,

Great offer Limited time

Romans and Pleated – with environmentally

friendly cleaning products.

Temperature Controlled Drying

Re-oiling & Rejuvenating 10 5 only

Fully Installed*

Fabric Blinds - such as Austrian and Roman

Same Day Pick Up & Drop Off

BE QUICK

$2,999

Six Year

We offer a same-day, pick up and drop off

Six Year

service for most types of blinds. Bookings

Warranty

Warranty

are required.

Fully Installed*

Convenient Location

Drop blinds into us by 9am, at

Installed back to 330 back, Cashel up to Street 3 metre (near pIpe the

run and electrIcal Ph 377 0770,

Fitzgerald supply wIthIn end), 6 and metres. collect

them at the end of the day.

330 Cashel St,

www.dimockheatpumps.co.nz

New Blind Sales Priced from $30

Christchurch

Email: sales@dimocks.net.nz www.dimockheatpumps.co.nz

15/114 Sawyers Arms Rd, Christchurch

Fujitsu ASTG24L 8 KW

Heat Pump for Just

Fujitsu ASTG24L 8 KW

$2,999 Heat Pump for Just

PH 377 0034 OR 0800 800 734

PH 377 0034 or 0800 800 734

Installed back to back, up to 3 metre pIpe run and electrIcal supply wIthIn 6 metres.

* Conditions apply. Normal lending criteria, booking fee and annual account fee applies. Limited stock.

Roller Blinds cleaned

from as little as $20

per blind

Email: www.blindcare.co.nz sales@dimocks.net.nz

SCAN QR code for Info >

WE ARE OPEN

Mon - Fri

8.00am to 5.00pm
---
2

Latest Christchurch news at www. .kiwi

FROM

THE

REPORTER'S

DESK

Tuesday May 2 2017

Inside

THE CITY'S north-west has

certainly been busy this week.

The controversial liquor store

set for Trafford St has reached

yet another milestone as the new

application made it back to the

city council.

Hopefully there are no more

speed bumps in that saga –

residents just want to find out

whether the bottle store gets the

green light or not.

If anyone out there has a

spinal injury, please reach out

and contact Cindy Allison. She's

a woman with an amazing story

to tell.

Cindy has made it through her

own battles and there have been

many, including cancer.

But she is now giving back

and helping people regain movement

after their spinal injuries

through her doctoral studies.

Read more about Cindy on

page 3.

–Julia Evans

Great recipes to warm you up

FOOD 11

NOR'WEST NEWS

News.................................3, 5, 7

Your Local Views..........4

Schools.....................................6

Sport.................................... 8

Food............................................11

Events................................12

Senior Living...............14-15

Health & Beauty ........16

GET IN TOUCH

General Enquiries Ph 379-7100

Classified Advertising Ph 379-1100

The Christchurch Star Company Ltd. PO box 1467 - Christchurch

starmedia.kiwi

NEWS

Julia Evans

Ph: 021 914 742

julia.evans@starmedia.kiwi

ADVERTISING

Viv Montgomerie

Ph: 364 7494

viv.montgomerie@starmedia.kiwi

ADVERTISING

Monique Maynard

Ph: 364 7474

monique.maynard@starmedia.kiwi

One stop shop for

all your dental needs

Warm, friendly & affordable dental care for the whole family...

LAwyERS

We provide a full range of modern dental services

and ensure the highest level of care.

ACC Treatment Provider | WINZ Quotes |Student Discounts

Free Dental for Adolescents | Same Day Emergency Treatment

(03) 355 3888

DENTISTS

DAVID

ROWLEY

JENNY

KIM

Merivale Dental Group

welcomes hygienist

Megan Smith to the team

Level 1, 184 Papanui Rd

(opposite Merivale Mall)

www.merivaledental.co.nz

Be warm in

winter with

mohair and

alpaca rugs,

throws and

scarves

140 Colombo Street

Beckenham, Christchurch

Phone 03 943 1639

www.themohairstore.co.nz

We have over 40 years' experience

to assist you with…

• Buying and Selling Houses and

Commercial Property

• Wills, Trusts and Estate matters

• All issues facing you

and your business;

• Employment Law

matters;

• Traffic matters;

• Advice regarding

Retirement Villages

• General Legal Advice on all matters

Call John, Brendan or Andrew today

03 366 8996

Email. lawyers@mclegal.co.nz

Airport Business Park

92 Russley Road, Christchurch 8042

Maronan Road, Tinwald, Ashburton

OPEN SATURDAY 6 TH MAY

Open: 11am - 4pm

"Celebrating Ashburton's Wheels Week Plus"

Journey back in time at the Tinwald Domain on our Vintage Railcar!

The Ashburton Fire Museum, Lynn Woodwork Museum & Ashburton

Woodturners are open to browse through. Vintage Machinery display

- view a 1900's era, German Roland Sawmill in action.

** For the Ladies: Combined Craft demonstrations in Function room

(Spinning, Quilting, Patchwork & more) **

In the Car park the Ashburton Steam & Model Club operate miniature

Train rides. Bring a picnic lunch & enjoy the Domain area, with playground,

tennis court & tranquil pond area.

**EFTPOS ON-SITE**

Visit www.plainsrailway.co.nz or

our Facebook Page for details

Phone:

03 308 9600

Organic Training College

LEARN FROM

THE EXPERTS

Start a career in

organics. Reduce

your footprint and

produce a regular

supply of your own

fruit and vegetables.

COURSES (All fees under $500)

Year 1

Introduction to Organics

44 weeks

Starts August 2017

(Lincoln campus)

Year 2

Applied Organics

46 weeks

Starts August 2017

(Lincoln campus)

Programme information

college@bhu.org.nz | 03 325 3684 | www.bhu.org.nz
---
1 2 3 4 5 6 7 8 9 10 11 12 13 14

1 2 3 4 5 6 7 8 9 10 11 12 13 14

1 2 3 4 5 6 7 8 9 10 11 12 13 14

1 2 3 4 5 6 7 8 9 10 11 12 13 14

1 2 3 4 5 6 7 8 9 10 11 12 13 14

NOR'WEST NEWS Latest Christchurch news at www. .kiwi

Tuesday May 2 2017 3

ews

PhD student never gave up

ashion

TWO TYPES of cancer, a head

• By Julia Evans

injury, losing a home – you

could have forgiven doctoral

student Cindy Allison if she had

decided to throw in the towel.

But instead, the 56-year-old

Canterbury University student

has never given up trying to get

her PhD in health science.

She first enrolled for her

course three days before the

Gardening

September 4, 2010, earthquake,

which immediately put her

studies on hold.

Then she managed to get a

head injury.

"In my second year of study,

I fell and hit my head on some

rocks and got a head injury," she

said.

She was then displaced from

otoring

her home after the February 22,

2011, earthquake.

And finally, if that was not

enough, cancer struck. Not once

but twice. First it was breast

cancer, then melanoma.

It was a week before the first

class was set to begin last year

when a regular mole check

asty Bites

provided Ms Allison's second

diagnosis of cancer.

"It was only early stages – I

didn't have to have radiotherapy

or chemotherapy. But the

DOCTOR: Soon to be doctor, Cindy Allison has overcome

many battles to get back to her studies.

melanoma was scary, though. I

sunbathed too much as a child

thinking I would never get old,"

she said.

The breast cancer was at such

an early stage, it was "a nuisance

more than anything," Ms Allison

said.

But now everything is coming

together again. She's bought a

house, finished her cancer treatment

and is raring to get her

studies back on track.

She's working on a programme

to help people with

spinal cord injuries regain

movement.

"Everything has felt a bit up

RESEARCH: Cindy Allison's

doctoral studies involve a

workshop to help people

with spinal injuries regain

movement.

in the air …but I feel like I'm

finally getting my brain back,"

she said.

Currently seeking people to

participate with spinal cord

injuries, Ms Allison hopes to

recruit people to take part in the

course she's developed based on

the Feldenkrais method.

It's a method that helped

Ms Allison when yoga, pilates,

physiotherapy, stretching and

everything in between hadn't

worked.

•Potential participants

who have had their injuries

for at least 12 months

can find out more by

emailing lucinda.allison@

pg.canterbury.ac.nz or

phoning 366 7001 ext 8397

In Brief

VANDAL UPDATE

The city council has confirmed

complaints of vandals at Lake Roto

Kohatu and said around $15,000

has been spent this summer alone

cleaning up. Kay Holder, city council

operations manager for regional

parks, said there is ongoing work

for redesigning facilities and an

upgrade to the entrance is planned.

Signage has been installed to provide

appropriate behaviour guidelines.

LIBRARY OPENING

The Bishopdale Library and

Community Centre is looking good

for a July opening. Construction has

passed the halfway mark and the roof

is on. City council staff are confident

the building will be ready for the

public in a few months. Contractors

will remain on the site for nine weeks

and then the city council can begin

fitting out the new centre.

PARKING REMOVAL

Street parking outside properties

on Sawyers Arms Rd is an accident

waiting to happen, residents say. The

parking has caused a complete lack

of visibility when the residents come

out of their driveways. The parking

stretches between the entrance to

the Graham Condon Sports and

Recreation Centre and the Papanui

Leagues Club. City council staff will

have to consult all affected parties.

oney

Mother's Day

Spoil Mum this

Mother's Day with a

stunning Obaku watch

BUILD WITH

CONFIDENCE

• Renovations • Extensions

• New Homes • Fit outs

Call us today: T 323 5771

www.buildrighthomes.co.nz 3

NO. 13774 HARCOURTS Main North Road, Belfast NEW ZEALAND 2012-2013

See our full range instore

Ilam Watchmakers

207 Waimairi Rd, Ilam, Christchurch 8041 | Tel: 357 1002 | www.ilam-watchmakers.co.nz

Land size

Bedroom

Bathroom

Lounge

Dining

Toilet

Shower

Study

Land size

Land Bedroom size

Land size

Bedroom

Bedroom

Bathroom Bathroom Bathroom

Bathroom

Lounge Lounge Lounge

Lounge

Dining

Dining

Dining Toilet Toilet

Toilet Shower Shower Garage Shower

Shower Study Study

Study Study Carport

Car pad

Boat pad

Pool

Tennis court

Garage

Garage

Garage

Garage

Carport

Carport

Car pad

Car pad

Boat pad

Boat pad

Pool

Carport

Car pad

Boat pad

Carport

Car pad

Boat pad

Pool

Pool

Tennis court

Tennis court

Pool

Tennis court

Tennis court

850m

4

2

1

2.5

850m 850m4

850m 4

850m 4 2

24

12

2.5 1 2.5

2 1 2.5

1 2.5

$245 MILLIO N IN

OVER

SALES

H A R C O U R T S

G O L D
---
4 Tuesday May 2 2017

Latest Christchurch news at www. .kiwi

Your Local Views

NOR'WEST NEWS

FLAME FILES

Keep calm

and patient

to help kids

locked in car

• Mark Thomas, fire risk

management officer

A COUPLE of instances this

week of young children locked in

cars with the keys in with them.

Generally when this occurs mum

gets more and more anxious as

time goes by. This in turn causes

the kids to become agitated and

of course the level of distress then

ramps further upwards.

Every now and then with children

who are either not restrained

or are old enough to free themselves,

a patient and cool parent

can get them to unlock the vehicle

from inside.

This happened at the antarctic

centre last week after the mum

phoned AA, which phoned the

Fire Service, which responded.

She then persuaded an obviously

bright wee soul to flick the locking

mechanism. They then left and the

fire truck turned up to an empty

park. To be fair to mum she apparently

phoned AA back so no job

turned out to be a good job for our

Fire Service friends at the airport.

Larger liquor store bid riles resident

Trafford St

resident and

protestor

Bruce Tulloch

writes about

an application

to increase

the size of a controversial

bottle store proposed for

the street

LAST October a liquor licence

was requested for a store on

the corner of Trafford St and

Harewood Rd, which would be

open until 10pm, seven days a

week.

In the middle of suburban

homes, with other alcohol outlets

accessible, there was strong

opposition.

A petition collected more

than 1100 signatures and 36 individual

objections were lodged,

with support from the local

community board, the Anglican,

Catholic, Presbyterian and

Salvation Army churches and

the YMCA.

The majority of objectors were

prepared to attend the district

licensing committee's hearing

on March 29, but a week before

this, the applicant applied

to double the store size.

This required a new application,

and the hearing had to be

put off.

This revised application was

published on Anzac Day, with

the hearing date to come.

PROTEST: Residents are opposing an application to open a

bottle store on Trafford St.

Doubling the size will only

increase the reasons for rejection.

While existing objections

are carried forward, new objections

can be made, provided

they are received by Tuesday,

May 16.

The Sale and Supply of Liquor

Act states that sale, supply and

consumption of alcohol should

be undertaken safely and responsibly,

and harm directly or

indirectly caused, including any

to society generally or the community,

should be minimised.

Canterbury University

research has found close

proximity to alcohol outlets is

associated with increased serious

violent crime, and other ill

effects are well-documented.

There has been opposition

country-wide to the rash of new

suburban liquor stores for good

reason.

It is very important that the

city council listens to the wishes

of the community.

We have seen the damage

caused in Christchurch when

the public are ignored, as in the

proposed changes to Victoria

Square or the fiasco with Redcliffs

and other schools.

The chaos in the United

States, I believe, shows the massive

damage when trust and

collaboration break down.

This case will indicate whether

that lesson is understood.

BEN SELBY

An artistic slice of New Zealand

culture is being served up in the

town of Little River. From May 6,

Little River Gallery will be exhibiting

works by artists Robin Slow and

Brian Flintoff.

Titled 'Whare Huruhuru Manu,'

the exhibition of Slow's lyrical

paintings show the cultural stories

of Maori past and present with

luscious depth using symbols and

motifs in precious oxides. Flintoff's

delicately carved instruments in

bone and native timbers add to

breadth of the exhibition.

There is a further dimension to the

exhibition, music composed and

played by Bob Bickerton, inspired

by Robin's paintings and using

Brian's instruments. CD's and

DVD's featuring all three artists

work are available.

Little River Gallery is located in

Little River on State Highway 75

between Christchurch and Akaroa.

Visit www.littlerivergallery.com or

call 03 325 1944.

6 May - 7 June 2017

Whare

Huruhuru

Manu

Robin Slow | Brian Flintoff

music by Bob Bickerton

Main Rd, Little River | 03 325 1944 | art@littlerivergallery.com

'CEREC' & cosmetic dentistry

Wisdom tooth removal

Painless, high quality dentistry

Sedation dentistry

Experienced, conscientious team

Experienced hygienists

OPEN SATURDAYS

355 9380

144 Cranford Street

www.stalbansdentalcentre.co.nz

tHe tRuSteD nAme in fAbRicS

Burwood & Redwood

HOME OF THE

$

40 SERVICE

Ph: 383 2114

269 Burwood Rd, Burwood

Ph: 354 4022

290 Main North Rd, Redwood

SHOP HOURS

Mon-Fri 8.30am-5.30pm. Sat 9.00am-4.00pm

"Quality fabrics that are

real value for money"

BLENHEIM RD

HARALDS

ANNEX RD

Layby available

See us on www.starlive.kiwi

BIRMINGHAM DRIVE

47 Birmingham Drive, Middleton | Phone 338 7700 | Open Mon-Sat 10-4

47

MATIPO ST
---
NOR'WEST NEWS Latest Christchurch news at www. .kiwi

Tuesday May 2 2017 5

News

Anger over maintenance contracts

Residents

look at doing

the work

themselves

• By Charlotte Carter

RESIDENTS FRUSTRATED at

the lack of maintenance carried

out by the city council have

decided to take matters into

their own hands.

The Northwood Residents'

Association says their suburb is

suffering from a "maintenance

deficit" since the earthquakes

and have started a voluntary

group to tidy up the area.

However, the city council says

it has not dropped maintenance

levels in the suburb.

Association president Clive

Smith said the problem started

after the February 22, 2011,

earthquake.

"The standard of maintenance

really has dropped in the past

few years . . . and we understand

the council has had excess

expenditure in other places, but

now we've had enough, we're

over it," he said.

Mr Smith attributes the lapse

in maintenance to the system of

using different sub-contractors

in the area.

But city council acting operations

manager neighbourhood

and sports parks Jane Lodge

said: "The level of service in

the local and sports parks

maintenance contract has not

dropped since the Christchurch

earthquakes."

Mr Smith said the association

has started recruiting through a

Facebook post.

It has asked for people "willing

to give some time to improving

areas around here."

"You may feel that we

shouldn't need to do this as

we pay high enough rates. But

city council only have limited

budgets for this kind of thing,"

the post said.

Mr Smith said the association

was only trying to raise the idea

that they think the standard

isn't as high as it could be, and

WORKING BEE:

Northwood

residents

are fed up

with a lack of

city council

maintenance

around areas

such as

Waterford

Reserve. ​

that parts of the suburb really

do look a bit shabby.

Ms Lodge said the city council

is willing to work with the residents

to help facilitate and assist

with park clean up initiatives.

• To find out more about

the association's clean up

effort, visit www.

facebook.com/

NorthwoodResidents

Association/

Student music

recording

programme

•From page 1

These music programmes fell

by the wayside due to a lack of

funding and leaders of the groups

involved moving on, Mr Flynn

said.

"It was a direct result of the

earthquake," he said.

But with its funding secured,

BeatONE is the first of its kind

aimed at getting younger students

into learning the art of music

production early.

"Our programme focuses on

the essential elements involved

in the writing, recording and

production of music," said course

co-ordinator Tom Linklater.

It will cover the basics from

how to use a microphone properly,

right through to producing

a professional sounding band or

electronic recording.

"The intention of the programme

is to give the young

people of Christchurch the opportunity

to learn about the topics we

cover, meet others who are interested

in exploring these areas, and

build a community for creative

collaboration," Mr Linklater said.

•Workshops will be run on

Mondays after school and on

Saturdays. To register online,

visit the BeatONE music

academy Facebook page
---
6 Tuesday May 2 2017

Latest Christchurch news at www. .kiwi

NOR'WEST NEWS

Cotswold to join cycle programme

• By Julia Evans

COTSWOLD Primary School

is raising funds to install new

tracks and provide bicycles for

pupils.

The bikes in schools

programme is run across the

country to get more children

cycling in a safe environment on

school grounds.

If successful in its fundraising,

Cotswold will only be the second

school in the city to run the

programme.

Last year Rawhiti School in

North New Brighton installed

ACHIEVERS

SPORTS

three tracks and bought more

than 50 bicycles, which associate

principal Paula Fleming Connell

said is what Cotswold wants as

well.

She said the school is looking

to raise more than $100,000

to complete the project but is

well on the way with a $15,000

grant from the New Zealand

Transport Agency and $5000

from the Southern Trust.

Christchurch bikes in schools

project manager Anouk

Minnaar said due to the demand

for construction work in

Christchurch, the quotes have

ACHIEVERS

SPORTS

been a lot higher than other

regions.

"The cost here is expensive

because contractors have other

SCHOOL

ACTIVE: Cotswold Primary School to be part of the bikes in

schools programme to develop a love for cycling in pupils. ​

priorities," she said.

Mrs Fleming Connell said the

school wants asphalt tracks so

they don't have to be maintained

SCHOOLS

after they're built – maintaining

the bicycles will be cost enough.

The tracks would also be open

for the wider community and

SCHOOL

nearby pre-schools to use as

well.

Ms Minnaar and Mrs Fleming

Connell made a deputation

to the Fendalton-Waimairi-

Harewood Community

Board regarding Cotswold's

plan.

The board is waiting for a

report back from city council

staff and once that's back,

Cotswold is looking for a grant

of up to $20,000.

SCHOOLS

Getting lessons from

acclaimed choreographer

Internationally-renowned dancer Rina Chae tutored

students from around the country at an arts and theatre

camp held at St Margaret's College last week.

BUSINESSES

SPORTS

BUSINESSES

SPORTS

EXPERIENCED: Rina Chae with students from St

Margaret's College and as far afield as Auckland.

Name our new retirement village

and be in to

WIN $500

A brand new Summerset Retirement Village

is coming soon to Casebrook, joining other

villages around the country including

Summerset in the Orchard (Hastings),

Summerset at the Course (Wellington)

and Summerset by the Ranges (Levin).

We're asking you to help come up with a

name for our new retirement community.

We're looking for a name that will give our

village a sense of place, reflecting the

Cavendish Road location – and of course the

name should contain the word 'Summerset'.

Inspire us with your name for our new

village and you might win $500 – plus you'll

always know that it was you who named the

place a community will soon call home.

How to enter:

• Competition entries to be emailed to

danielle.hallett@summerset.co.nz or

mailed to Danielle Hallett, Summerset

Group, PO Box 5187, Wellington 6140

or call 03 741 3340

• Competition entry must contain your

proposed village name, along with

your name, address and daytime

phone number.

• The winner will receive a $500 voucher

for a store of their choice.

• The judges' decision will be final and

no correspondence will be entered into.

• Entries close 5pm, 5 May 2017. Winners

will be advised by 19 May 2017.

COSTUME: The girls were tutored in all aspects of

theatre, dance and singing.

www.summerset.co.nz

Love the life

SUM0463

DRAMA: St Margaret's College first On the Stage

workshop culminated in a final performance for parents

and tutors.
---
NOR'WEST NEWS Latest Christchurch news at www. .kiwi

Tuesday May 2 2017 7

News

Big crowds at Anzac services

Fashion

The Papanui, Harewood and

Belfast Anzac Day services

had record numbers of

attendees this year.

Bottle store plan doubles in size

• From page 1

Fendalton-Waimairi-

Harewood Community Board

member Linda Chen was

supposed to attend the hearing

to represent the community's

views.

But as she lives in the area and

made an independent submission

against the proposal she

said she had to step down.

"It's a conflict of interest and

I would rather step down than

retract my submission," she

said.

Board member Aaron

Campbell has taken over as the

board's neutral representative.

Gardening

HONOUR: The Harewood

Motoring

service led by Reverend Matt

Watts of the Anglican Parish

of Burnside-Harewood said

the 250 programme sheets

ran out quickly when more

than 400 residents attended.

RESPECT: The Belfast service at Sheldon Park had 150

attending.

Tasty Bites

SERVICE: Bigger than ever,

the Papanui RSA parade

featured St Andrew's College

pipe band and old service

vehicles.

PHOTOS:

AARON CAMPBELL

Bookarama busiest in years

LITERATURE: The annual Bookarama held by the Rotary

Club of Bishopdale Burnside was one of the busiest for 12

years. Burnside High School hosted the event, which ran

from April 27-30. Thousands of books were donated by

residents and all money raised will be injected back into

community groups by the Rotary club.

Money

HORTICULTURAL CENTRE - HAGLEY PARK Opp the Hospital

THIS SAT & SUN

SAT 6 MAY 8AM - 7PM • SUN 7 MAY 8AM - 5PM

MASSIVE RANGE OF NEW SKIS SNOWBOARDS AND BOOTS

HUNDREDS OF JACKETS AND PANTS ALL WITH HUGE REDUCTIONS

PLUS HELMETS GOGGLES GLOVES

BE FITTED OUT BY SNOW INDUSTRY PROFESSIONALS

BUY WITH TOTAL CONFIDENCE - ALL PRODUCTS SOLD WITH BACKUP SERVICE
---
8 Tuesday May 2 2017

Latest Christchurch news at www. .kiwi

CBHS beat Waimea,

set sights on Burnside

• By Andrew King

THE OPENING round of the UC

Championship has begun with

a number of north-west schools

looking to stamp their mark on

the competition.

Solid work before and after the

halftime break allowed Christchurch

Boys' to grab a bonus point

victory over Waimea Combined

in the opening round of the UC

Championship.

The defending champions recorded

a 52-21 victory at home on

Saturday, with coach Rob Smith

saying the 15-minute period

before and after the break was

crucial.

"We scored about four or five

tries in that period," Smith said.

Now CBHS look towards their

upcoming match against close

rivals Burnside High.

Burnside lost their opening

round match against St Thomas

64-5.

Burnside first XV manager

Matt White said while they started

well, they left too much space

out wide and were punished for

it.

Looking ahead, White said

CBHS will be tough.

"You are playing one of the top

schools in the country so you

know it will be tough," he said.

St Andrew's had a bye in the

opening round. They will be on

OPENING WIN: Alex Harford

kicks the extras for CBHS in

the 52-21 victory over Waimea

Combined on Saturday.

PHOTO KATE JENSEN

the road for the next three games,

the first of which will be against

Roncalli-Aoraki in Timaru.

Meanwhile, St Bede's were

beaten by "a better team" in their

opening match, losing 15-10 to

Lincoln High on Saturday.

St Bede's coach Gerry Davidson

said Lincoln played the

better game. St Bede's will face

Marlborough in Christchurch on

Saturday.

Maadi Cup winning duo named

in national junior rowing team

• By Andrew King

THEY TOOK on the best in

New Zealand, now rowers Ben

Taylor and Thomas Russel will

take on the world.

The duo have been named in

the national junior rowing team.

The two 17-year-old St

Andrew's College students were

a part of the winning Maadi Cup

squad which not only brought

back the top prize for the first

time in the college's history, but

the Springbok Shield as well.

They will row in the four

coxless at the junior world

rowing championships in

Trakai, Lithuania, from August

2-6.

Rowing is in Taylor's blood,

the last time the school raised

the shield was when his father,

Andrew, was in the boat 34 years

ago.

Now he has been named in the

national squad, he said he has

one up on his father.

"He is really supportive, really

interested and completely stoked

that I have made the team," he

said.

Russel made the team last year

and said he was nervous going

into the trials, but once he got on

the water he just got stuck into

his work.

"I was more shocked about

making it the year before, but I

am still extremely happy to back

that up," he said.

Taylor and Russel have been

in the boat together for the past

four years and both agree having

each other there really pushes

them to perform better.

"You see each other on the

water but then spend a bit more

time together out of it as well,

and that means we really want to

push for each other," Russel said.

SPORTS

NOR'WEST NEWS

NATIONAL ROWERS: Thomas Russel (left) and Ben Taylor

will compete in the four coxless at the junior world rowing

championships in Trakai, Lithuania, in August.

PHOTO: ST ANDREW'S COLLEGE

Taylor said he has to give

credit to coach Dale Maher, who

has been the "perfect finishing"

coach.

"He won seven jubilee cups in

his eight years while coaching

the Rangi Ruru Girls' eight, so

he knows his stuff," Taylor said.

Both said they are incredibly

proud to be able to represent

their country in a sport they

love.
---
NOR'WEST NEWS Latest Christchurch news at www. .kiwi

Tuesday May 2 2017 9

raNGiora • Northwood • st martiNs • tower juNctioN • BishoPdaLe • raNGiora • Northwood

Northwood • st martiNs • tower juNctioN • BishoPdaLe • raNGiora • Northwood • st martiNs • tower juNctioN • BishoPdaLe •

Mother's Day

FOR LESS!

Follow us on

Facebook:

Facebook: @papertreestores

100s OF GIFTS MADE AFFORDABLE FOR MOTHER'S DAY!

nEW RELEASE COOKBOOKS

DInnERTIME

GOODnESS

(nADIA LIM)

HOT

PRICE

Get a FREE

Colouring Book

when you buy one

of these already

$

34 .99

$

44 .99

ESSEnTIAL

(AnnABEL LAnGBEIn)

ADULT COLOURInG FOR LESS

HALF PRICE

Staedtler Pen Sets

36 COLOURS

RRP $59.99

$

29 .99

EA

BEST

PRICES

In TOWn

GREAT VALUE GIFTS FOR MUM

BARGAIn

READS

OnLY

$

6 .99

EA

26 COLOURS

RRP $39.99

$

19 .99

EA

*Colouring books

may vary from

store-to-store

40 % *

WAS $29.99

$

17 .99

CELEBRATE BY

PIPPA MIDDLETOn

$

14 .99

off

ADDRESS

BOOK

BARGAIn COOKBOOKS

SIMPLY BAKInG

@papertreestores

TESSA KIROS

THE RECIPE

COLLECTIOn

*Fantastic price books only. Range may vary between stores.

FASHIOn STATIOnERY

STATIOnERY GIFT SET

SHOPPInG LISTS

SHOPPInG LIST

$

8 .99

THE nEW

KITCHEn

GARDEn

MUM'S nOTEBOOK,

DOCUMEnT WALLET

& WEEKLY PLAnnER

FOOD FOR

THOUGHT

nOTEBLOCK

WITH PEn

ALL UnDER

$10.00

STICKY nOTES FOLDER

$

19 .99

$

9 .99

COROnATIOn ST DVD TRIVIA GAME

tower junction, off Clarence St, Riccarton | Bishopdale, 31 Bishopdale Court, Bishopdale | rangiora, 206 High Street, Rangiora

Northwood supa centre, Main North Road, Belfast | st martins shopping centre, Wilsons Road, St Martins

EA

WAS $14.99

$

8 .99

EA

• st martiNs • tower juNctioN • BishoPdaLe • raNGiora • Northwood • st martiNs • tower juNctioN • BishoPdaLe • raNGiora
---
10 Tuesday May 2 2017

Latest Christchurch news at www. .kiwi

NOR'WEST NEWS

Now opeN

Serving

Delicious

Gourmet

Pizza &

Pasta

Great food made from

the freshest natural

ingredients.

8 Prestons Road,

Christchurch

(Next to The Redwood Bar)

Ph: 03-352 2559 to book

Take away available. Tonnes of carparking
---
NOR'WEST NEWS Latest Christchurch news at www. .kiwi

Tuesday May 2 2017 11

GREAT food

BROUGHT TO YOU BY...

Your fresh food people

CHILLI LIME PINEAPPLE

Ingredients

BEEF MINCE NACHOS

Ingredients

1 Pineapple

2 Limes, zest and juice

¼ tsp Dried chilli, chopped

Directions

Cut the skin off the pineapple,

cut into wedges and remove the

core. Rub the lime zest and chilli

over the pineapple.

Cook on a medium-hot

barbecue, or under the grill, until

golden then squeeze fresh

lime juice over just before

serving.

BANANA PANCAKES

Ingredients

3 medium Bananas

2 Eggs, separated

100g Yoghurt, plus more to serve

50g Butter, melted and cooled

plus more for cooking

150 ml Milk

½ tsp Vanilla paste, or essence

½ tsp Salt

1 cup Self raising flour

50 ml Honey or maple syrup to

serve

Directions

Mash one banana with a fork

and then whisk together with

the egg yolks. Mix in the yoghurt

and melted butter, then add the

milk and vanilla essence and

whisk until smooth.

Add the salt and flour and stir

until just combined and a batter

is formed.

Whisk the egg whites until

they form soft peaks. Fold into

the batter half at a time trying to

keep as much air as possible in

the batter (if you prefer a thinner

pancake you can add a little

more milk).

Slice the other bananas into

half cm slices.

Add a little butter to a medium

hot non-stick frying pan

and then place banana slices in

groups of three for each pancake.

Allow them to cook for two

minutes.

Pour two tablespoons of batter

over each group of bananas

to form a pancake and allow to

cook for two to three minutes

until the top has bubbles and is

starting to dry out a little.

Carefully flip and cook on the

other side another one to two

minutes.

Remove, keep warm and serve

in a stack with honey and natural

yoghurt.

2 Tbsp Olive oil

1 Onion, finely diced

500g Beef mince

800g Whole peeled tomatoes

2 Tbsp Tomato paste

¼ tsp Chilli powder

1 packet Corn chips

½ cup Cheddar cheese

¼ cup Low-fat sour cream

1 sprig Parsley

Directions

Heat a saucepan, add olive

oil and onion, and cook over a

medium heat for five to eight

minutes until softened. Add beef

mince and cook for five minutes,

breaking up the mince with a

wooden spoon.

Chop canned whole tomatoes

and add to the pan.

Add tomato paste and simmer

for five minutes. Add chilli

powder and season with salt and

pepper to taste.

Spoon mince mixture onto

four plates and surround with

corn chips. Serve topped with

grated cheddar cheese, a dollop

of sour cream and parsley.

Bananas ....................... 1 .99

KG

JAZZ Apples 1.5KG BAG . 3 .99

KG

Pineapple ................... 2 .99

EACH

Celery .......................... 1 .99

EACH

New Season NZ Satsuma

Mandarins coming soon

Chicken Tenderloins 10 .99

KG

Premium Beef Mince 11 .99

kg

Beef Cheeks ...... 17 .99

KG

All our fresh meat is 100% NZ FARMED.

specials VAlid 1ST MAY - 7TH MAY 2017. ONLY AVAILABLE AT

RAEWARD FRESH HAREWOOD RD, TOWER JUNCTION,& MARSHLAND RD

harewood rd Mon–Fri 7.00am–6.30pm Sat–Sun 8.00am–6pm

Tower junction Mon–Fri 8.00am–7.00pm Sat–Sun 8.30am–6pm

MARSHLAND RD Mon–Sun 8.00am–6:00pm

WWW.

At

we have...

local FRESH produce

everyday

TRY A delicious SMOOTHIE

.CO.NZ

Tropical Citru s Smoothie

1 ora nge, peeled a nd qu a rtered

1/2 gra pefruit, peeled, qu a rtered a nd

seeded

1/4 le mon, peeled, qu a rtered a nd

seeded

1/2 cu p of fresh pinea pple chu nks

3/4 cu p plain gree k yogu rt

Method

Combine ingredients into blender.

Blend together u ntil s mooth.
---
2

Tuesday [Edition May datE] 2 2017

12

Latest Christchurch news at www. .kiwi

FAIR: The original gypsy fair

will be holding its 32nd and

final fair for the 2016-17 season.

As in the past, they will be

bringing an interesting range

of handcrafted products sold

exclusively at the fair, many

of which are made before

your eyes. There will be a

bouncy castle obstacle course,

glass blowing, woodcraft,

tattooing, body piercing, folk

art, jewellery and embroidery.

The fair will be at Richmond

Village Green, Stanmore Rd,

on Saturday and Sunday from

9am.

Reading to Dogs

Tuesday, 3.30-4.30pm

These sessions have been designed to

provide a relaxed and non-threatening

atmosphere to encourage children to

practise their reading skills and develop

a love of reading. This programme uses

dogs who are the pets of the city council

animal management team and have been

trained and tested for health, safety and

temperament. Sessions are 15min. Phone

941 7923 to book a spot.

Free entry, Shirley Library, 36

Marshland Rd, Shirley

Fendalton Family History Help

Wednesday, 9.30-11.30am

Are you interested in family history

(genealogy)? A volunteer from the

Canterbury branch of the New Zealand

Society of Genealogists is available to help

with your family history questions.

Fendalton Library, 4 Jeffreys Rd,

Fendalton

Scrabble Club

Wednesday, 11am-noon

Go along to scrabble club. There's no

obligation, just go along whenever you

can and join the friendly group. All

materials are supplied.

Free entry, Shirley Library, 36

Marshland Rd, Shirley

Christchurch School of Music Musical

Storytimes

Thursday, 11-11.30am

For this year's New Zealand Music

Month Christchurch City Libraries is

working with local musician Adam

McGrath of The Eastern who will be

spending time in the libraries around

Christchurch.

Email julia.evans@starmedia.kiwi

by 5pm each Wednesday

Papanui Library, 35 Langdons Rd,

Papanui

Ukulele Workshop

Saturday, 1.30-2.30pm

With Kelly Horgan and Kelly Davies.

Free entry, Shirley Library, 36

Marshland Rd, Shirley

Classical Guitar Ensemble

only Mitsubishi Electric

® ®

Unit 8/33

Saturday, 2.30-3.15pm

HyperCore Watts

While ® Road,

ordinary heat pumps produce less heat below 7°C,

Technology

HIGH WALL HEAT PUMP

Playing a mixture of classical and

guarantees only Mitsubishi fully Electric HyperCore ® Technology FLOOR guarantees CONSOLE

Sockburn, Christchurch

FH25 3.2kW Heat Heat Pump

popular numbers.

rated capacity its fully right rated capacity right down to -15°C KJ60 so 6.8kW you Heat get Pump

Free entry, Fendalton Library, 4 Jeffreys down to -15°C so you

all the $2549.80

heat you paid for. $4449.50

Rd, Fendalton

get all the heat you

Installed BB. BB.

Installed BB. BB.

Drawing Classes

Monday, 10-11.30am

Things are getting creative in April, a

six week drawing skills course has begun.

The course will finish with a group exhibition

at the centre. Over six week participants

will learn some basic skills that

will enable them to gain confidence. The

course will introduce different mediums

such as pencil, charcoal, graphite, coloured

pencil, pen, felt and ink. It is open

to anyone who wants to attend. Phone

382 0350 for more information.

St Albans Community Centre, 1049

Colombo St, St Albans

Maths and English Help

Monday, 6-6.30pm

Kumon is a unique learning

programme that allows students to catch

up and get ahead. Go along and find out

what it's all about and how your child can

reap the rewards. Free testing in maths

and English. Sign up before May 7 by

emailing kumon.fendalton@gmail.com

Free entry, Kumon Papanui Education

Centre, 1-2 Horner St, Papanui

HOME & HEATING

Air Con Christchurch

Tucker Electrical

Air Con Christchurch Tucker Electrical

specialize in providing Heating, Ventilation

and Solar solutions with Automation to save

energy. As a sister company they provide the

complete package with all warranties and an

Winter Heat Pump Specials

Air Con New Zealand $50,000 workmanship

warranty, being agents for Mitsubishi

Electrical, Fujitsu, Panasonic, Gree, Toshiba

plus multiple supply options for solar solutions.

New Zealand's best low temperature

Home Automation is fast becoming the

normal control of energy and the Econnecx

performance heat pump, guaranteed!

locally designed system is cost effective and

can be used to control all aspects of your

commercial or home premises from turning

While ordinary heat pumps produce less

lights

heat

on/off

below

to

7°C,

the control of the heat pump

only Mitsubishi Electric HyperCore ® Technology central guarantees

heating systems, and of course the

its fully rated capacity right down to -15°C

biggest

so

saver,

you

hot

get

water, all from your phone

via an app.

all the heat you paid for. Mitsubishi Hypercore is an ideal heat pump/

air conditioner for the South Island as it works

at the nominal rating down to minus 15

degrees at full rated output (no other brand of

heat pump does that), add to the performance

Save

$250

HIGH WALL HEAT PUMP

FH25 3.2kW Heat Pump

$2549.80

Installed BB.

Conditions apply.

www.airconnz.co.nz

®

Save

$400

NOR'WEST NEWS

We at Tucker Electrical offer true solutions with full

visibility and quality products.

With Solar PV (Electrical Power Generation)

there are many pit falls and false quick sales

are being made due to misleading television

advertising and badly sold solutions. We at

Tucker Electrical offer true solutions with

full visibility and quality products providing

instant assessment of your actual generation

suitability by a full report.

Did you know you can, if installed correctly,

check each panel is working correctly? Did

you know you can assess/see the total amount

of generation of your system and the instant

position of generation? Many package deals do

not offer this and then you are only guessing

when trying to maximise the use and benefit

of your investment. On a financial return basis

we can show you how a 12% return on your

investment is quite simple.

Call us for any information or confirmations

for free Build Back Smarter Home Assessments

which are supported by the Christchurch City

Council (we are one of only three suppliers for

the programme). All our assessors are Beacon

Pathway Accredited and trained.

Call Stephen Tucker on 027 432 6222

in the cold the multi direction louvers and duct

vane air louvers and advanced air filtration

® Winter Heat Pump Specials

with the movement sensor, all these add up to anytime or the office on 343 3049 to book

the best performer in the range of all brands an appointment or assessment and free

FLOOR

heat

CONSOLE

pumps and wifi control and you have an quote for Tucker Electrical or Air Con

KJ60 6.8kW unbeatable Heat Pump solution. New Zealand's Christchurch. best low temperature

$4449.50

Installed BB.

Conditions apply.

Winter Heat Pump Specials

performance heat pump, guaranteed!

Winter Heat Pump Specials

Winter Heat Pump Specials

While ordinary

heat pumps produce

less heat below 7°C,

paid for.

While ordinary heat pumps produce less heat below 7°C,

only Mitsubishi Electric HyperCore ® ® Technology guarantees

its New its fully fully rated Zealand's capacity right best down low to to temperature

-15°C so so you you get get

all all the the heat you you paid for. for.

performance heat pump, guaranteed!

New Zealand's best low temperature

performance heat pump, guaranteed!

Quietly Superior Heat Pumps

03 343 4441

Save

$250

Save

$250

NEW MODEL 6kW

HIGH WALL HEAT PUMP

(8.3kW max)

FH25 3.2kW Heat Pump

Installed

$2699

$2549.80 BB

Installed BB.

Conditions apply.

Conditions apply

www.airconnz.co.nz

Conditions apply. apply.

www.airconnz.co.nz

BE IN TO WIN

THE INSTALL BACK

If confirmed this month!!

®

Save

$400

Save

$400

FLOOR CONSOLE

KJ60 6.8kW Heat Pump

$4449.50

Conditions apply. apply.

5.85kW Hiwall

FLOOR CONSOLE

® ®

Quietly Superior Heat Heat Pump

Cozy (7.4kW max)

6 YEAR WARRANTY

$4449.50 Installed

KJ60 6.8kW Heat Unit Unit Pump 8/33 Watts Road,

Installed BB.

$1999

Conditions apply.

Sockburn, Christchurch

BB

03 343 4441

Conditions apply

BE IN TO WIN

A 6kW HEAT PUMP!!

Quietly Superior Heat Pumps

Unit 8/33 Watts Road,

Sockburn, Christchurch

03 343 4441 3886

®
---
2

NOR'WEST [Edition NEWS datE]

Latest Christchurch news at www. .kiwi

Tuesday May 2 2017 13

HOME & HEATING

Get rid of dampness

in your house

Now wITH the colder and wetter weather

on its way, home owners are focusing on

ways to make their homes comfortable, warm

and healthy for their families throughout

winter. RISING dAmp is an issue that affects

many of our older properties which suffer

from poor, or no, insulation. In Canterbury

especially, post-quake, many people have

relocated to homes that suffer from rising

damp which can be associated with health

problems. Independent tests have shown

that up to 40 litres of water can rise from the

ground and enter a house every day, leading

to mildew, mould, condensation and musty

smells. moulds can produce various allergic

reactions and the frail, elderly and very young

are especially vulnerable.

Canterbury Foam Concrete Ltd is a

locally owned and operated firm. The team

understands the problems caused by rising

damp and are there to help. They will come

to your damp home and pump a lightweight,

flowable foam concrete under your timber

floored home. Specially adapted for our

New Zealand conditions and applications

it provides a layer of protection against

rising moisture. An unexpected benefit that

the team at Canterbury Foam Concrete

have noticed recently, is that many owners

of properties which had underfloor foam

concrete installed, reported that it also

provided protection against liquefaction after

the earthquakes.

Contact Canterbury Foam Concrete Ltd

now for your free, no obligation quote and

complimentary appraisal of your underfloor

ventilation needs. Phone 03 376 4608 or

0508 362626 for more information.

AttAck Rising DAmP

For existing homes with

wooden floor construction

• Stop Mould & Mildew

• Reduce Heating Bills

• Cost Effective Permanent

Solution To Rising Damp

• Free Consultation / Quotes

...at the source

STOP RISING DAMP TODAY www.foamcrete.org

Free Phone: 0508 362626 Main Office: (03) 3764608 Fax: (03) 3764603

L

The facts about

home ventilation

Balanced Pressure vs Positive Pressure

Under the New Zealand Building Code,

all buildings, including residential, need to

be suitably ventilated, either with opening

windows or forced ventilation. Clause G4.1

states: "The objective of this provision is

to safeguard people from illness or loss of

amenity due to lack of fresh air." There are

many benefits to forced, or mechanical,

ventilation over opening windows, including

warmth, security, reduction of outside noises

and reduction of condensation.

Traditional domestic ventilation systems

are 'positive pressure'. They bring air in from

outside via the roof space and force the stale air

out through gaps around windows and doors.

The incoming air from these

systems has to be heated or

cooled to keep the house warm

in winter or cool in summer.

The Smooth-Air HEX390 is

a 'balanced pressure' system. It

extracts air from the house and

at the same time brings in fresh

air. These two streams of air

pass through a heat exchanger,

which warms incoming air in

winter and cools in summer if

air conditioning is being used.

This means that up to 80% of

the energy which would be

Balanced

Pressure

Ventilation

wasted using a traditional positive pressure

system is recovered, resulting in significant

energy savings and therefore lower heating or

cooling costs.

Until recently, balanced pressure ventilation

systems have been considerably more

expensive than traditional positive pressure

systems. However, with Smooth-Air's unique

manufacturing capabilities, a HEX390

balanced pressure system can be installed for

a similar price as a traditional positive pressure

system.

Contact Smooth-Air on 0800 SMOOTH

(0800 766 684), or visit www.smooth-air.

co.nz or www.home-ventilation.co.nz

Ventilation Equipment

Suppliers to trade and retail

HEX390

Balanced Pressure Ventilation with Heat Recovery

Fresh air

from outside

Exhaust air

to outside

HEAT PUMP

SALE NOW ON!

Amazin' autumn Specials!!

• We will offer you the best quality brands and

option of heat pump for your home/business

• Providing Heat Pump solutions for over 15 years to Cantabrians

• We personally guarantee all our products & installs for 5 years

(providing annual maintenance has been completed)

Phone us today for your free consultation & quote

41A SHAKESPEARE RD, WALTHAM

PHONE 03 366 0525

www.enviromaster.co.nz

"A local team for local people"

Warm stale air

from house

for healthy indoor air

Substantial energy savings over traditional domestic

ventilation systems

0800 SMOOTH (0800 766 684)

www.smooth-air.co.nz

sales@smooth-air.co.nz

Heat is transferred to the

incoming filtered fresh air

264 Annex Road, Riccarton

Christchurch 8024, NZ

Ph +64 3 343 6184

Warm fresh air

to house

Mon - Fri 7.30am - 5pm
---
2

[Edition datE]

Tuesday May 2 2017

14

Latest Christchurch news at www. .kiwi

SENIOR LIVING

NOR'WEST NEWS

GO-Advanced

Omega-PC Fish Oil

Herbs & natural

ingredients give powerful

support for your

immune system!

It is well known how important

omega-3 fatty acids are to good health. It

is estimated most people don't even get a

third of the recommended omega-3 fatty

acids on a weekly basis. Countries with a

higher amounts of omega-3 in their diet are

known to have lower cardiovascular disease

and, in many cases, better overall health.

Recent research has shown inflammation

to be a big part of disease and the ageing

process.

Fish oil can help reduce inflammation

by providing essential fatty acids required

by the body to heal itself and maintain

good health. Until now most fish oil

only contained omega-3 fatty acids in

triglyceride form. Fish, however, naturally

contain omega-3 in triglyceride and

phospholipid form but until recently the

phospholipid form was lost due to the

manufacturing process.

GO-Advanced Omega-PC sets new

standards in fish oil as it contains

omega-3 attached to both triglycerides

and phospholipids. Studies have shown

GO-Advanced Omega-PC to be far better

absorbed, leading to increased levels of

vital omega-3 fatty acids in the organs

thru giving the potential for more health

benefits.

GO-Advanced Omega-PC is produced

from fresh wild deep sea cold water fish

using a new advanced and more natural

cold extraction process that better

preserves the natural nutrient profile found

in fish. It is manufactured to high GMP

standards and is molecularly distilled to

remove any containments, toxins and

heavy metals.

Further info on this revolutionary new

fish oil and its benefits is available from

the Natural Health Advisers, Naturopath

and Medical Herbalist at Marshall's

Health & Natural Therapy in New

Brighton, phone 388 5757. We are always

happy to help!

Researchers have shown that certain

herbs and natural ingredients can

dramatically reduce your chances of

succumbing to colds and flu.

Formulas like Go Healthy "Go Vir-

Defence" has been based on the latest

research and has already proved itself too

many.

Due to the high potency extracts used in

this formula most will find only one or two

capsule daily sufficient to keep our immune

system at optimum, however at the first

sign of any immune attack, e.g. headaches,

sore throat, aches etc the dose should be

increased to one or two capsules up to

three times daily. Most will then find the

symptoms will disappear quickly without

getting worse.

Go Vir-Defence contains the following

powerful ingredients:

Olive Leaf Extract has become one of

the most popular ingredients used in the

treatment of immune attacks as it has

strong anti-microbial properties that help

slow the growth of bacteria and prevent the

replication of viruses.

Garlic Extract is effective in combating

bacteria, viruses and fungi and supporting

the immune system. In general it may be

used as a preventative for most infectious

conditions, digestive as well as respiratory.

The anti-microbial action makes it suitable

for treatment of respiratory infections,

influenza, recurrent colds and respiratory

catarrh.

Andrographis Extract has powerful

immune enhancing properties and has

been shown to help prevent the common

cold as well as reduce the duration and

severity of the symptoms of the common

cold.

Echinacea Extract is a natural antibiotic

and infection fighter. It helps kill bacteria,

viruses and fungi and provides powerful

immune support.

Pau D' Arco Extract assists in enhancing

the body's immune system.

Citrus Bioflavonoids work with Vitamin

C and support the immune system as well

as strengthening capillaries and reducing

inflammation.

Vitamin C is a powerful antioxidant and

helps counteract many types of bacteria

and viral infections.

Elderberry Extract provides nutrients for

immune support.

Zinc is an essential mineral for the

immune system and general health. It is

required by every cell in the body. It is

common to have sub-optimal levels of

Zinc. Zinc possesses anti-viral activity.

Generally this all-natural formula is very

safe and highly effective without any side

effects but due to the high potency extracts

used please check with us first if you are on

any prescription medication. This formula

is also not suitable during pregnancy or

lactation.

Vir-Defence and further information

available from: Marshall's Health &

Natural Therapy, 110 Seaview Road,

New Brighton, Phone: 388-5757. We are

Always Happy to Help!

121 Skyhawk Road

Would you like

to promote your

Business?

For local features

please contact

Bev Stanger

03 364 7407

bev.stanger@starmedia.kiwi

NOT all FISH OIl IS CreaTed eQUal!

ONLY GO OMEGA-PC retains the natural Phospholipids that have been shown to be so beneficial for Good

Health BUT are lost in other brands of fish oil due to the less natural manufacturing processes used!

GO-ADVANCED OMEGA-PC SETS NEW STANDARDS IN FISH OIL!

Omega-3 fish oil normally contains the vital Omega-3 fatty acids in a triglyceride form. Fish however naturally

contain Omega-3 in a triglyceride & phospholipid form but until recently the phospholipid form was lost due to the

manufacturing process. GO OMEGA-PC is produced using a new more natural cold extraction process that better

preserves the natural nutrient profile found in fish. Studies show GO OMEGA-PC offers superior absorption with

increased omega-3 fatty acids in organs giving the potential for more health benefits.

GO-ADVANCED OMEGA-PC OFFERS:

• Superior absorption of vital Omega-3, as

shown in research

• Advanced new cold extraction better

preserves the natural nutrient profile

found in fish

• Naturally contains phospholipids to

support cellular health

• Contains vitamin D3 to support immune,

bone & cardiovascular health

• Supports cardiovascular health - Countries with

a higher Omega-3 intake have much lower rates

of heart disease

• Supports blood circulation, healthy cholesterol &

healthy blood pressure

• Supports joint health, joint mobility & repair

• Supports overall health & wellbeing

• Natural anti-inflammatory - can help reduce

pain

Look for

Omega/PC

on the label

Bringing You the Best in Natural Health!

- WE ARE ALWAYS HAPPY TO HELP -

SUPER SPECIALS

80 Softgels ONLY $10.90 SAvE $7.00

200 Softgels ONLY $22.90 SAvE $12.00

400 Softgels ONLY $42.90 SAvE $26.90

MAIL ORDER AVAILABLE

MARSHALLS HEALTH & NATURAL THERAPY

CONSULTING - PRESCRIBING - DISPENSING - MANUFACTURING - MEDICAL HERBALISTS

110 SEAVIEW RD, NEW BRIGHTON • PH 03 388 5757 • Email: enquiry@marshallshealthshop.co.nz
---
NOR'WEST NEWS Latest Christchurch news at www. .kiwi

Tuesday [Edition May datE] 2 2017 15 3

SENIOR LIVING

Device to prevent

snoring Taking

Why put up with broken sleep, when

help is at hand with Snorex, an appliance

that prevents snoring, sleep apnoea, and

dry and raw throats.

Snorex is custom-fitted to your mouth

for comfort, and a follow up service is

provided.

Denise Lim has been involved with

Snores for 22 years

and has had a 98%

success rate with

people using the

appliance. Snoring

can be a health

hazard, causing

sleep apnoea, where

the person actually

stops breathing for

short periods.

It can cause

short-term memory

loss, tiredness and

contribute to high

blood pressure.

The Snorex

device does not feel

restrictive, is noninvasive

and carries

STAY WELL, rEcovEr fASTEr, WiTh Go vir-DEfENcE

Powerful Natural Immune Support

• Provides powerful nutrient support for your immune system,

reducing the chances of immune weakness that can lead to

colds, flu & poor health.

• Contains some of the best research proven ingredients

shown to reduce the severity & duration of colds & influenza.

• Has potent anti-microbial properties reducing the growth of

bacteria, fungi & preventing the replication of viruses.

• Supports respiratory health & reduces the symptoms of most

types of upper respiratory tract infections.

• Supports energy levels by supporting the immune system.

• Safe, Effective, all Natural formula.

Each easy to swallow

Vege-capsule contains:

Olive Leaf - 5000mg

Garlic – 1200mg

Andrographis – 1200mg

Echinacea – 500mg

Pau D' Arco – 250mg

Citrus Bioflavonoids –

20mg

Zinc (equiv.) - 5mg

Elderberry – 220mg

Vitamin C – 200mg.

Super

Prices

60 capsules only

Save

$19

$29.90

Full Range of

GO-HEALTHY NZ

products in store &

all at Great Prices!

30 capsules only

$15.90 Save

$14

120 capsules only

Save

$49.90 $47.90

N.Z. Made to Good Manufacturing Practice

Standards. Quality You Can Count On!

Bringing You the Best in Natural Health!

MARSHALLS HEALTH & NATURAL THERAPY

CONSULTING - PRESCRIBING - DISPENSING - MANUFACTURING - MEDICAL HERBALISTS

110 SEAVIEW RD, NEW BRIGHTON • PH 03 388 5757 • Email: enquiry@marshallshealthshop.co.nz

- WE ARE ALWAYS HAPPY TO HELP! -

a money-back guarantee.

Many people are referred by ear, nose

and throat specialists, however, anyone can

phone for an appointment.

For an information pack or to discuss

the Snorex further, phone Denise Lim on

377 4318 or check out the website

www.snorex.co.nz

you can stop him

snoring with a

SNOREX

Why put up with a broken

night's sleep?

Ph 377-4318 or 027 682 1752

DENISE LIM

FOR A FREE INFO PACK

Website: www.snorex.co.nz

MAIL

ORDER

AVAILABLE

Take a trip with

Third Aged Tours

people aged over 50 on trips

around New Zealand and the world for

nearly 20 years has earned Third Age Tours

a brag book that Director Brenda Corby-

Yarrall says "businesses would give their

eye teeth for.''

"Taking small groups of 10 – 24 people

means I can operate the tour in a relaxed,

companionable manner. We have an

absolute blast when we're away. It's all about

having fun".

"Most of my trips are run annually

because they're so popular, but I'm always

adding new destinations - like "Sicily, South

Italy & Vatican" + "Cuba",

as people ask for them.''

Brenda checks out all

accommodation before

booking it, and ensures

the party spends at least a

few nights at each place.

"That way you don't feel

like you're living out of a

suitcase.''

Many clients now have

made over 20 tours with

us, one has completed a

whopping 27 tours.

"My clients tell me

they keep coming back

THE JOYS OF HOME OWNERSHIP #27

CLEANING

THE SPOUTING

Wouldn't you rather be learning to play

the bagpipes? Let us take care of the

spouting at your new home at

McKenzie Lifestyle Village in Geraldine.

Contact David Connolly on 0800 84 55 24.

M E M B E R O F R V A

because of the size of the groups and our

relaxed manner. My motto is 'There are no

strangers, only friends waiting to meet.'

We gather together for breakfast at

8.30am which sets us up for the day and

everybody thinks is a very civilised hour.''

"I organise incredible trips at incredible

prices. Look around, you can't find better

for all we include".

For more information, phone

03 379 3799 or 03 312 7050 or email her

on sunshineone@xtra.co.nz.

Third Age

Tours EST 1999

Small Group Tours for

the over 50s

Domestic and

International

Great Prices!

nEW

England/Wales & Yorkshire Dales

24 August - 23 September 2017

Enchanting Ireland & Scotland

1 June - 26 June 2017

curiosities of cuba May 2017

Treasures of Turkey 11 May - 04 June 2018

nEW

nEW

captivating croatia, Slovenia

montenegro & Venice

16 June - 10 July 2017

Vietnam & cambodia

3 - 25 October 2017

Beautiful norfolk Island

22 - 29 October 2017

Sicily, rome & Southern Italy

October 2017

South Island Tours

Glorious Autumn in Arrowtown

2018 Dates TBA

catlins/Stewart Island

8 - 16 February 2018

White herons, Glaciers & Alpine

loop Tour

28 January - 2 February 2018

PluS oThEr DESTInATIonS!

For a FrEE InFormATIon

PAck contact Brenda

Third Age Tours

Ph 03 379 3799 or 03 312 7050

Freephone: 0800 927 725

sunshineone@xtra.co.nz | thirdagetours.co.nz
---
16

Tuesday May 2 2017

HEALTH & BEAUTY

Latest Christchurch news at www.

.kiwi

NOR'WEST NEWS

Denture technicians keep abreast of industry

developments

As registered members of the New

Zealand Dental Council, Ryan Carlton

and his fellow technicians at Dentures

Plus in Innes Road are required to

undertake verified training at various

courses every year, to upskill and keep

abreast of new developments in the

industry.

"For example, our technicians Thomas

Gu and Nicole Yee will be attending a

two-day course later this year on the

fitting of first-time dentures," Ryan says.

In addition, Nicole has recently spent

four weeks in India as part of a course

she is undertaking on maxilo facial work,

which deals with artificial eyes, ears and

noses.

"This is a service we may potentially

offer in the future," Ryan says.

Ryan himself has recently returned

from the International Dental Show,

which was held in Cologne, Germany.

"It's the largest trade show in the world

for the industry, with manufacturers

and suppliers from all over the world

showcasing their products. There were

over 2300 stands – it was really eyeopening."

Ryan says he was particularly interested

in how digital technology is being

incorporated into dentistry, for example

3D printing being used at different stages

of denture manufacture such as the crown

and bridge.

"It's still in the very early stages, and it

needs more development, but that's where

it's heading," Ryan says.

He believes that in the future, people

that make and fit dentures will be seen

as architects rather than technicians,

with patients being able to download the

pattern for their dentures the architect

has designed on computer, and print

them on a 3D machine.

In the meantime, he emphasises the

importance of keeping dentures clean.

Dentures Plus offers a full range of

products for denture cleaning including

denture cleaners, brushes and denture

baths for soaking the dentures.

Ryan particularly recommends Caldent

denture cleaner, as it is non-abrasive and

effectively removes stains, calculus and

plaque.

"It works wonders," he says. "Years of

stains and plaque can be removed with

this product."

It can be purchased through

the Dentures Plus website, www.

denturesplus.co.nz, for delivery anywhere

in Christchurch and throughout the

country.

Dentures Plus, 396 Innes Road, is

open Monday to Thursday 8am-5pm

and Friday 8am-2pm. To make an

appointment for a consultation on

denture fitting or repair, phone

385 5517.

Dentures Plus also

offers a full range

of products for

denture cleaning.

Discover this

unique Emporium

Plus a unique range

of gifts, homewares and

water features.

Crafted candles a speciality!

722 Marshlands Road

Top end Styx

Ph: 03 323 9781

www.hitchingpost.co.nz

Beautiful Teeth

Meet the

Owner

Ryan Carlton

Parkside

Cutz

Quality Cutting Bar

No appoiNtmeNts Necessary

Ladies cuts from $26

Blow Waves $12

Mens Cuts $20

Beard Trim $10

Clipper Cut $15

Natural Smile

Kids cuts

Preschool $16

School age $17

Men pensioner cuts $17

Parkside Cutz Cutting Bar

Parkside Plaza Bishopdale (opp Harewood Tavern)

Unit 6,333 Harewood Road, Bishopdale

Open Mon - Friday 9am-5pm

Late night Thursday to 6pm

Saturday 9am-1pm

Free Consultation, No Obligation

• Full Dentures • Dentures Repaired • Implant Assisted Dentures

• Injection Moulded Flexible Partials • Relines

• Mouthguards • Additions/Repairs

• Purchase cleaning and care products from our website.

All dentures personally

designed and created to ensure

a comfortable natural fit.

DENTURES PLUS (2014) LTD

Denture Clinic and Laboratory

396 Innes Road, St Albans. Phone 385 5517.

Email: denturesplus@paradise.net.nz

www.denturesplus.co.nz

Orbiter Bus stops Innes Road

St John

Community Shop

✓Unbelievable bargains

✓ Value and quality

Supporting Life

272 Lincoln Road

Corner Spencer Street

Addington

Phone 03 338 2560

Magazine & TV | sTyle.kiwi

Helping us,

Helps tHe

community

Drop off or buy

3 family stores in your community

30 Main North Rd,

Ph 352 4581

520 Cranford St,

Ph 352 0515

50 Charles St, Kaiapoi

Ph 03 903 0017

style

noun

elegance and sophistication.

synonyms: flair, grace, poise,

polish, suaveness, urbanity,

chic, finesse, taste, class,

comfort, luxury, affluence,

wealth, opulence, lavishness.
---
NOR'WEST NEWS Latest Christchurch news at www. .kiwi

Tuesday May 2 2017 17

REAL ESTATE

Near new, family home in Brookhaven

19 Mollymawk Place, Brookhaven

Deadline Sale: All offers will be presented on Tuesday 9th May 2017 (unless sold prior)

4 bedrooms | 2 bathrooms | 2 living rooms | 2 car-garage | 2 off-street parks | Listing # SMT 10120

Thoughtfully designed this beautiful

spacious family home is one you must view.

Near two years old, the family focused 222m2

home incorporates a layout conducive

to entertaining and an easy care lifestyle

with excellent outdoor flow to a sheltered

courtyard and fully fenced grounds.

Set on a generous 650m2 section, this

sparkling gem offers two living areas

flowing from the fully appointed kitchen to

capitalize on the use of space. Large living

area windows allow the sun to stream in and

warm the home along with its heat pump.

The spacious master bedroom boasts an

ensuite and walk in wardrobe, plus a separate

bathroom with luxurious bath which caters

for the rest of the family.

Situated merely a few minutes' walk from

Charlesworth Reserve's kitesurfing and

windsurfing base, and only a short drive to

the Port Hills, there'll be no excuse for the

family not to enjoy the great outdoors. All

amenities are close; Ferrymead shopping

centre is just 15 minutes' walk away, offering

restaurants, and shopping. The Tannery,

with its entertainment and boutique

shopping emporium are also nearby.

Tucked neatly away in a quiet cul-de-sac

environment amongst other new properties,

your children can enjoy the community and

wonderful educational opportunities being

zoned for Mt Pleasant School.

Easy drive on access and off street parking

with double internal access garage with drive

through, perfect for trailers or vehicles.

Our vendors minds are set, and they now

offer this home to a brand new owner. Be

quick.

Selling via Deadline Sale, all offers will be

presented on Tuesday 9th May 2017 (unless

sold prior). Those seriously considering its

purchase are advised to register their interest

as this property may be sold at any time.

Please phone for viewing times or for a

private viewing contact Debra Hakaraia of

Smart Real Estate (Licensed Agent REAA

2008) on 027 562 0420 or 384 8600 or

email Debra on enquiries.christchurch@

smartrealestate.co.nz or visit our website

www.smartrealestate.co.nz.

Classifieds Contact us today Phone our local team 03 379 1100

Computers

ALL

YOUR

COMPUTER

WORRIES SOLVED!

*$30.00 off your first

service with this coupon!*

No problem too big or

small from home PC's to

business networks. PC

slow? An end to Viruses,

Spyware, and Clogged

Systems. Safe secure

hassle-free computing.

Lost files recovered.

Microsoft Certified,

MCSE, MCP+l. 30 years

experience. Call Andrew

Buxton this week on 326-

6740 or 027 435-7596

for $30.00 off* Custom

Computers Christchurch

Curtains

DRAPES

CURTAINS

BLINDS

Made to order

Fabric and net

samples available

Free consultations

Free quotes

Phone Now!

Sues Soft

Furnishing

03 383-1928

Curtains

www.curtainfabric-outlet.com

Half Price Sale

from $5 per mtre

Call at Our Shop

CURTAIN FABRIC OUTLET

71 Hawdon St Sydenham

Ph 366-5026

Funeral Directors

Direct Cremation

Provider

Service without

the funeral

0800 000 121

www.cremorials.co.nz

Garage Sales

AVONHEAD ROTARY

CLUB Monster Charity

Garage & Car Boot

Sale, this Saturday 6th

May, 8am to 12.30pm, at

Burnside Bowling Club,

330 Avonhead Road. Huge

variety of useable items,

stalls and sausage sizzle.

Gardening

& Supplies

A GARDEN OR

LANDSCAPING TIDY

UP? Shrub, hedge &

tree pruning, Lawns,

Gardening, consistently

reliable general property

upkeep, Dip. Hort. 10

yrs experience, One off

tidy ups or on-going

service. Nick's Property

Maintenance. Keeping

your garden beautiful.

Free Quote. Ph. 942-4440

Holiday

Accommodation

QUEENSLAND SUN-

SHINE COAST AUSTRA-

LIA Resort, Ocean Views,

Balconies, Self Contained,

1 or 2 B/R Ensuite,

Heated Pool, Spa, Sauna,

Free Internet, Shops,

Restaurants, Tennis, Surf

Club & Patrolled Beach,

Public Transport at door.

Ask for our SEASONAL

SPECIALS. Phone 61 7

544-35011 Email: reception@mandolin.com.au

www.mandolin.com.au

Health & Beauty

FOOTCARE

OASIS

Senior Citizens Foot Care

25 Conway Street, Spreydon

Treating hard thick nails, calluses

and corns finishing with a foot massage

Price $30 Allow 45 mins

Home Visits available by appointment

Therapist – Amanda

(30 years experience)

Ph. 942-6036 for an appointment

HOURS ARE FLEXIBLE

Hire

REntal

Free Delivery

and Installation

Terms and conditions apply

NEED A

FRIDGE • WASHER

TV • FURNITURE ?

Call Mr Rental - 0800 111 313

Visit www.mrrental.co.nz

123 Blenheim Road, Riccarton

Open Monday to Saturday

CAR REMOVALS

$$CASH PAID$$

CARS, VANS, UTES & 4X4 WANTED

NZ OWNED AND OPERATED FOR 24 YEARS

We use world class vehicle depollution systems

0800 8200 600

www.pickapart.co.nz

Personals

IF YOU ARE female and

lonely or bored or seek

a distraction, drop me a

line. I am seeking a well

presented lady to share

quality time

Fun conversation and

laughter. I like to travel,

enjoy theatre, movies

,walks and trying new

eating places. Matt

P.O.Box 1919 ChCh

To Let

NEED MORE

SPACE?

FREE ECO HEATER THIS MONTH

Ideal as an extra

bedroom or office

Three convenient sizes

from $70 p/w:

Standard 3.6m x 2.4m

Large 4.2m x 2.4m

Extra-large 4.8m x 2.4m

Visit our display cabins at

470 Cranford Street or call

0211277227 for a free brochure

www.justcabins.co.nz
---
18

Latest Christchurch news at www. .kiwi

Tuesday May 2 2017

NOR'WEST NEWS

Classifieds Contact us today Phone our local team 03 379 1100

Trades & Services

Trades & Services

Trades & Services

Tuition

Situations Vacant

Swimming Pool Specialist

The Pool Guys

Need your pool:

• Fully Renovated?

• Cracks Repaired?

• Plumbing Checked or Upgraded?

• Filtration?

• Painted, Plastered or Tiled?

Email: sbcontracting01@gmail.com

Call 027 562 7457 www.thepoolguys.co.nz

Trades & Services

ELECTRICAL

AFFORDABLE

Registered all types

of repairs, installs,

lighting etc

HEATPUMP

Full Service

$60 + GST

Ph 326 4992 or

0274 329 755

& Property Maintenance

Paving

Patio - Pathways - Driveways

Lawns and Gardens

Planting - Raised Vege Gardens

Readylawn - Irrigation - Fencing

General Maintenance

Water Blasting - Gutter Cleaning

Rental Property Maintenance

Section Clearing - Weed Spraying

20 Years Experience

Locally owned and operated

Free Quotes - Competitive Pricing

Blair Gibson 027 699 5815

BLOCKED

DRAINS?

• VIDEO INSPECTION

• WATERBLASTING

• LIQUID WASTE

PH: 03 365 7960

24 hours // 7 days

info@h20jet.co.nz

www.h20jet.co.nz

Trades & Services

EQC CASH SETTLEMENT

We will re-scope your property to ensure

you have been paid in full to cover all

your repair costs.

None of the properties that we have

re-scoped so far has been paid the

correct amount to repair their damage.

EXAMPLES

Trades & Services

PAINTING &

WALLPAPERING

• Satisfaction

guaranteed

• Over 30 years

experience

• Reliable &

honest

Please call

Ray Martin Ltd

021 770 551

or 359 5520

r.martin@globe.net.nz

• Replacement/new roofing

• Colour Steel gutter & fascia

• Flue & log burner installs

• Skytube/light installs

• Earthquake repairs

Licence Building

Practitioner LBP

Member of the Roofing

Association

DCM ROOFING LTD

The Roofing Specialists

PHONE IAIN

027 445 5597

iain@dcmroofing.co.nz

ELECTRICAL

AFFORDABLE

Registered all types

of repairs, installs,

lighting etc

HEATPUMP

Full Service

$60 + GST

Ph 326 4992 or

0274 329 755

•Yaldhurst Road Initially $3,800 after our

re-scope payment received $46,320

•Wairakei Road Initially $7,575 after our

re-scope payment received $38,182

•Prossers Road Initially $19,827 after our

re-scope payment received $60,273

•Kaplan Avenue Initially $859 after our

re-scope payment received $34,931

•Liverton Crescent Initially $11,000 after our

re-scope payment received $29,842

•Dalkeith Street Initially $5,000 after our

re-scope payment received $8,945

• We have re-scoped 50 properties who have been under

paid for their repairs.

• Have your initial repairs failed?

• Did you receive your full entitlement?

• Do not pay your excess until all repairs are completed.

• General under payments are: Asbestos testing and

exterior lead paint, peeling wallpaper, cracking in exterior

plaster not repaired correctly.

For re-scoping and all earthquake repairs

including painting and redecorating.

Enquire now Phone 021-667-444

EXTERIOR PLASTERING

Quality

Workmanship

at Competitive Pricing

Free Quotes

Aynsley Frewer

M: 027 201 1296

E: aynsleyfrewer@xtra.co.nz

PO Box 20534 Bishopdale

Trades & Services

ROOF

PAINTING

Rope & harness

a speciality,

no scaffolding

required,

30 years of

breathtaking

experience.

FREE QUOTES

Exterior staining,

exterior painting,

moss and mould

treatment and

waterblasting

Phone Kevin

027 561 4629

Trades & Services

AAA HAnDyMAn

licensed carpenter

LBP, all property and

building maintenance,

repairs, bathroom/shower

installations, with free

quotes 03 383 1927 or 027

245 5226 ciey@xtra.co.nz

BUilDER

LICENSED, available for

all aspects of building.

Please call 027 241-7471

or 335-0265

BUilDER

For all building work

but specialist in bathroom

renovations, 30 yrs

experience, with service

and integrity. Free Quotes.

Ph Lachlan 383-1723 or

0274 367-067.

****************

Trades & Services

GARAGE CARPET

You'll be amazed at what a multi-purpose room

your garage becomes when you add carpet and it

only costs around $35m2.

Part of the Protecta Coatings Group

Trades & Services

CARPET & Vinyl

lAying

Repairs, uplifting,relaying,

restretching,email

jflattery@xtra.co.nz,

ph 0800 003 181

or 027 2407416

ClEAnER (PRiVATE)

$22 per hr. Ph 352-2457

DRAinlAyER

Reg, all types, inclds soak

holes, 20yrs exp. ph 028

408-0121

ElECTRiCiAn

REgiSTERED

for all electrical

installations & repairs Ph

03 322 4209 or 021 026

73375

FURniTURE REMOVAlS

Large Trucks $95 +

GST per hour 7 day NZ

wide, packing & moving,

Professional Company,

Professional Service.

Canterbury Relocations

Ltd. ph 0800 359 9313

PAinTing

DECORATing

Wingfields Contracting,

all interior & exterior

painting & all forms of

interior plastering & jib

fixing, ph Mark 021 171-

1586 or 355-5994

PAinTER

Available, All aspects in

painting. Very competitive

in roofs and fences. Please

call 027 241-7471 or 335-

0265

PlASTERER

Gib Stopping, Small

job specialty. 30 + years

experience. Ring 0800

387-369

We only use New Zealand made,

100% UV resistant specialised carpet.

We also paint garage and workshop floors.

www.protectafloorings.co.nz

Call now 021 488 025

PlASTERing

Stopping / skimming. 30

yrs exp, all work large &

small. Contact Tony 027

222 2993 or Earl 027 345

0561

PlUMBER

For prompt service for all

plumbing maintenance,

repairs and alterations.

Phone Michael 364 7080

or 027 438 3943

PlUMBER AlF

THORPE PlUMBing

Certifying Plumber for

all types of plumbing,

maintenance, spouting,

alterations etc. Phone 352-

7402 or 0274-350-231

PlUMBER

A Top Plumbing job

completed at a fair price,

prompt service, all work

guaranteed, Ph Brian 960-

7673 or 021 112-3492

ROOFing

Qualified & Licenced

Practitioner. Re-Roof &

Repairs, all types. Member

New Zealand Roofing

Association. Over 35 years

experience. Phone John

027 432-3822 or 351-9147

email johnmill@ihug.

co.nz

SPOUTing ClEAning

Spouting Unblocked,

Cleaned Out and Flushed

Out. Also Full Handyman

Services Available. Call

Trevor 332 8949 or 021

043-2034

TilER/CARPEnTER

35 years exp, no job

too small. Ph Ross 027

4311440.

TREES Big OR SMAll

tree removal, trimming,

stump grinding, shelterbelt

clean up, section clearing,

rubbish removals,

excavation work, ph Trees

Big or Small, for a free

quote, 021 061 4783

TREE WORK

Hedge trimming, stump

grinding, rubbish removed,

small job specialty Ph

Andrew 03 322-8341 or

027 435-8759

T.V. SERViCE CEnTRE

Repairs, tvs, microwaves,

stereos, DVD. Aerial

installations and kitsets,

480 Moorhouse Ave, ph 03

379 1400

UPHOlSTERER

Dining Chairs, Lounge

suites, Caravan Squabs

etc. recovered. Free

Quotes. Phone Graeme

383-1448

VHS ViDEO TAPES

& all camera tapes

converted to DVD, video

taping special occasions,

www.grahamsvideo.co.nz

ph 03 338-1655

Trades & Services

PILATES Beginner &

Intermediate classes,

Tuesday & Wednesday

nights. Fendalton Croquet

Club, Makora Street.

Phone Julie 351-2100

PILATES Beginner &

Intermediate classes,

Tuesday & Wednesday

nights. Fendalton Croquet

Club, Makora Street.

Phone Julie 351-2100

Wanted To Buy

AAA Buying goods

quality furniture,

Beds, Stoves, Washing

machines, Fridge Freezers.

Same day service. Selwyn

Dealers. Phone 980 5812

or 027 313 8156

A+ Household effects,

fridges, freezers, washing

machines, ovens. Good

cash paid. Ph Paul 022

0891 671

TOOLS Garden,

garage, woodworking,

mechanical, engineering,

sawbenches, lathes, cash

buyer, ph 355-2045

Situations Vacant

ATTENTION:

CAREGIVER Wanted,

we have 2 part time/casual

positions avail, looking for

someone with experience

& qualified to care for

dementia patient, care is

in a private residence with

support from other carers

& family, for one person,

shifts incl day shifts, night

shifts & sleep over shifts,

with allowances to suit,

we work as a combined

unit & are happy to look

at suggestions & happily

work as a team to make

sure we are providing the

best care, pay rate to be

discussed & depends on

experience, email nikki_

moana@yahoo.co.nz or ph

027 239-8972

Public Notices

Weka Pass Railway

Waipara, North Canterbury

We are RUNNING

SUNDAY 7th May

Running 1st & 3rd

Sunday of every month

Phone 0800wekapass

Depart Glenmark Station

11.30am & 2.00pm

www.wekapassrailway.co.nz

MAINTENANCE

Doctor

Fixit

• Carpentry • Repairs &

Maintenance

• Doors & Windows

• Fencing

• Painting & Plastering

• Tiling

• Outdoor Maintenance

• Renovations

• Decks & Pergolas

Norm McRae

027 222 3060 | 03 312 0082

www.doctorfixit.nz

Exotic Performers

Wanted

This occupation of exotic dancing and

performing requires high levels of creative

talent, personal commitment and interest.

Must be able to compose dance,

and work in an adult entertainment

environment on stage.

Apply online at

www.calendargirls.co.nz

Maronan Road, Tinwald, Ashburton

OPEN SATURDAY 6 TH MAY

"Celebrating Ashburton's Wheels Week Plus"

Journey back in time at the Tinwald Domain on our Vintage Railcar!

The Ashburton Fire Museum, Lynn Woodwork Museum & Ashburton

Woodturners are open to browse through. Vintage Machinery display

- view a 1900's era, German Roland Sawmill in action.

** For the Ladies: Combined Craft demonstrations in Function room

(Spinning, Quilting, Patchwork & more) **

In the Car park the Ashburton Steam & Model Club operate miniature

Train rides. Bring a picnic lunch & enjoy the Domain area, with playground,

tennis court & tranquil pond area.

ADVERTISE YOUR BUSINESS HERE

Entertainments

Open: 11am - 4pm

**EFTPOS ON-SITE**

Visit www.plainsrailway.co.nz or

our Facebook Page for details

Phone for further details

Phone:

03 308 9600

(03) 379 1100
---
NOR'WEST NEWS Latest Christchurch news at www. .kiwi

Tuesday May 2 2017 19

Hear the blues,

feel the emotion

FOLLOWING on from the success of his 'e

Story of the Blues' Show & Supper in March,

modern day Blues guitarist, Ryan Neville is set

to do it all again next weekend before heading

off to gigs in USA.

Nashville Tennessee, Las Vegas and Austin

Texas are amongst the places Ryan has

performed over the years. His love of blues

inspired him to assemble his current show, 'e

Story of the Blues'.

A masterful and colourful stage show

incorporating live musicians, video, light, and

sound, 'e Story of the Blues' takes you on a

journey from the famous Robert Johnson

Crossroads to the backwaters of the Mississippi

Delta.

"We share the stories of the famous Chicago

Blues men and woman that time will not erase!"

says Ryan.

Four seasoned local musicians complete

Ryan's band, e Midnight Blues Band' -

Emmalene Rose Sparey (vocals); Chantelle

Marie Rakich (piano, keys, vocals); Chris

Farmer (drums, percussion, vocals); Steve Hill

(bass guitar).

"Together we weave the tapestry through the

decades of the greatest musical entertainers of

our time," says Ryan. "Hear the blues, feel the

Lunch & Dinner

All you can eat, 7 days

NOW SERVING

available

from

9am

Breakfast

HAPPY

HOUR

5PM - 7PM

DAILY

Bookings Essential PH 386 0088

fb.com/GardenHotelRestaurant www.gardenhotel.co.nz

Live Music:

6PM.FRI.05 MAY

emotion."

Opening the show with a selection of 'songs

you know and love' is crooning duo, 'Two Guys'

(Mal Harris & Tony Clark), covering artists such

as e Rat Pack, Tom Jones, Engelbert

Huperdink, Neil Diamond, Elvis, Michael Buble.

MC for the event is radio personality, Sue

White.

Ryan Neville & the Midnight Blues Show

Band perform at Halo Bar & Lounge, 66B

Wharenui Rd on Saturday 13th May. Doors

open at 6.30pm.

Tickets $28 (includes supper) available on-lne

at www.ryannevilleshowband.co.nz

OUR CABINET ITEMS ARE HOMEMADE

CREATED FRESH ON SITE DAILY

$12

LUNCH

SPECIALS

COFFEE

HAPPY

H O U R

2PM-4PM

DAILY

$3.50

Offer available for a limited time

and includes tea, hot chocolate

MON: ROAST MEAL

TUE: FISH & CHIPS

WED: FISH BURGER

THU: ROAST MEAL

SAT: FISH & CHIPS

AVAILABLE

FROM

11.30AM-2PM

FOR A

LIMITED TIME

Rhonda Campbell

PHONE 385 8880 FIND US ON FACEBOOK fb.com/GBCCHCH

THE GARDEN HOTEL COMPLEX | 110 MARSHLAND RD

www.gardenhotel.co.nz | phone 385 3132

RESTAURANT & CAFÉ

Cooked Breakfasts

We are open from 6.30am

Seniors SPECIAL

2 courses Soup/Roast or Roast/Dessert

Special available lunch only. Monday - Saturday 12pm - 2.30pm

Family Friendly

Kid's 2 course special

JOIN

A CLUB BY

THE SEA!

SUPER RUGBY

LIVE ON THE BIG SCREEN

ClubBISTRO

Open Tuesday to Saturday

12pm-2pm and from 5pm

Midweek $10

SPECIAL ROAST

Available Tuesday,

Wednesday, & Thursday

www.newbrightonclub.co.nz

TUESDAYS & THURSDAYS

Members Lucky Card Draw

FUNCTION ROOMS

SHUTTLE RUNNING

Tues, Thurs, Fri & Sat

TAB POD

GAMING ROOM

PIERVIEW

Restaurant

202 Marine Parade | Ph 388-9416

Members, guests and affiliates welcome

Quality

a la carte

with a view!

Open from 5.30pm

FRIDAY, SATURDAY & SUNDAY

OPEN FOR SUNDAY 3 COURSE

SUNDAY BRUNCH DINNER SPECIAL

$25

By the Seaside!

10.30am-2pm

H ORNBY

WORKINGMEN'S

CLUB

«WHAT'S ON«

FRIDAY 5 MAY, 7PM

JO'S KARAOKE

Club

CAFE

OPEN 7 DAYS

LUNCH & DINNER

Gluten Free &

Vegetarian options

SATURDAY 6 MAY

4.30PM

ANDY GILMOUR

8PM

SHA-LOW

$18

$20

$10

Chalmers

Restaurant

Early Bird Special

5.30pm – 6.30pm

FRI & SAT

Roast (4 Choices)

and Free Desserts

still only $20.50

Unbeatable value

including your

choice of fresh

Veges and Salads

'Famous for

their roasts!'

The

RACECOURSE HOTEL

& Motorlodge

118 Racecourse Rd, Sockburn,

Christchurch. Ph 03 342 7150

www.racecoursehotel.co.nz

SUNDAY BUFFET

Sunday 28th May

ALL YOU CAN EAT

$25 BOOK NOW!

«COMING UP«

SUNDAY 14 MAY

$30

LUNCH from 12pm &

DINNER from 5pm

LIVE MUSIC:

NEVILLE BARRIE

Every Mother goes in

the draw to WIN

one of two Gift Baskets!

CHALMERS RESTAURANT

Bookings Essential

Hornby WMC | ph 03 349 9026 | 17 Carmen Road | Hornby

www.hornbyworkingmensclub.co.nz | Members, guests & affiliates welcome
---
20 Tuesday May 2 2017

Latest Christchurch news at www. .kiwi

NOR'WEST NEWS

$

9 99

kg

Fresh NZ Lamb Shoulder Chops

$

3 50

each

Just Juice/Citrus Tree

Fruit Juice/Drink

2.4/2.8L

$

29 79

pack

DB/Export Gold/Tui

24 x 330ml Bottles

$

8 79

each

Jacob's Creek Sparkling 750ml

(Excludes Reserve)

Plus

2 for

$

9 50

ea $

2 99

Mainland Cheese Mild/Colby/

Edam 1kg/Tasty 700g

$

5 50 $

4 99

All Good Fair Trade

Ecuadorian Bananas

bunch

Molenberg

Bread 700g

$

2 99

ea

Chesdale Cheese Slices 250g

$

3 80

pk

Meadow Fresh Yoghurt/Dairy Food 6 Pack

kg

New Season Seedless

Satsuma Mandarins

FreshChoice Merivale

189 Papanui Road, Christchurch.

Open 7am – 9pm, 7 days.

FreshChoice.co.nz FreshChoiceNZ 355 4432

FreshChoice Merivale

Certain products may not be available in all stores. Savings are based on non-promotional price. Limits may apply.

Prices apply from Tuesday 2nd May to Sunday 7th May 2017, or while stocks last.

Owned and

operated

by locals

FCNO0205