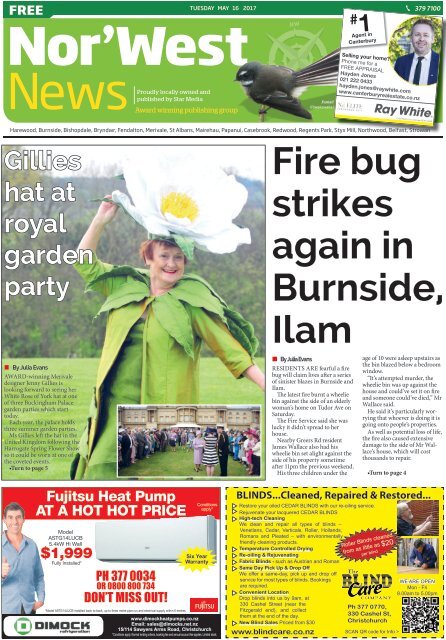 Nor'West News: May 16, 2017
Create successful ePaper yourself
Turn your PDF publications into a flip-book with our unique Google optimized e-Paper software.
Crest Realty Ltd Licensed (REAA 2008)

FREE

TUESDAY mAY 16 2017 379 7100

#

1

Agent in

Canterbury

Proudly locally owned and

published by Star Media

Award winning publishing group

Fantail

(Piwakawaka)

Selling your home?

Phone me for a

FREE APPRAISAL

Hayden Jones

021 222 0433

hayden.jones@raywhite.com

www.canterburyrealestate.co.nz

Harewood, Burnside, Bishopdale, Bryndwr, Fendalton, Merivale, St Albans, Mairehau, Papanui, Casebrook, Redwood, Regents Park, Styx Mill, Northwood, Belfast, Strowan

Gillies

hat at

royal

garden

party

Fire bug

strikes

again in

Burnside,

Ilam

• By Julia Evans

AWARD-winning Merivale

designer Jenny Gillies is

looking forward to seeing her

White Rose of York hat at one

of three Buckingham Palace

garden parties which start

today.

Each year, the palace holds

three summer garden parties.

Ms Gillies left the hat in the

United Kingdom following the

Harrogate Spring Flower Show

so it could be worn at one of

the coveted events.

•Turn to page 5

• By Julia Evans

RESIDENTS ARE fearful a fire

bug will claim lives after a series

of sinister blazes in Burnside and

Ilam.

The latest fire burnt a wheelie

bin against the side of an elderly

woman's home on Tudor Ave on

Saturday.

The Fire Service said she was

lucky it didn't spread to her

house.

Nearby Greers Rd resident

James Wallace also had his

wheelie bin set alight against the

side of his property sometime

after 11pm the previous weekend.

His three children under the

age of 10 were asleep upstairs as

the bin blazed below a bedroom

window.

"It's attempted murder, the

wheelie bin was up against the

house and could've set it on fire

and someone could've died," Mr

Wallace said.

He said it's particularly worrying

that whoever is doing it is

going onto people's properties.

As well as potential loss of life,

the fire also caused extensive

damage to the side of Mr Wallace's

house, which will cost

thousands to repair.

•Turn to page 4

Fujitsu Heat Pump

at a HOt HOt Price

Conditions

apply*

Hot Hot Deal

on 8KW Heat PumP

Model

ASTG14LUCB

5.4kW Hi Wall

$1,999

Fujitsu ASTG24L 8 KW

Heat Fully Installed* Pump for Just

$2,999

*Model ASTG14LUCB installed back to back, up to three metre pipe run and electrical supply within 6 metres.

BLINDS...Cleaned, Repaired & Restored...

Restore your oiled CEDAR BLINDS with our re-oiling service.

Rejuvenate your lacquered CEDAR BLINDS

High-tech Cleaning

We clean and repair all types of blinds –

Venetians, Cedar, Verticals, Roller, Hollands,

Romans and Pleated – with environmentally

friendly cleaning products.

Temperature Controlled Drying

Re-oiling & Rejuvenating

Six Year

Warranty

Fabric Blinds - such as Austrian and Roman

Same Day Pick Up & Drop Off

BE QUICK

We offer a same-day, pick up and drop off

Six Year

service for most types of blinds. Bookings

Warranty

are required.

Convenient Location

Drop blinds into us by 9am, at

Installed back to back, up 330 to 3 metre Cashel pIpe Street (near the

run and electrIcal supply wIthIn Fitzgerald 6 metres. end), and collect

them at the end of the day.

www.dimockheatpumps.co.nz

Email: sales@dimocks.net.nz

www.dimockheatpumps.co.nz

New Blind Sales Priced from $30

15/114 Sawyers Arms Road, Christchurch

PH 377 0034

OR 0800 800 734

Fully Installed*

DON'T MISS OUT!

PH 377 0034 OR 0800 800 734

*Conditions apply. Normal lending criteria, booking fee and annual account fee applies. Limited stock.

10 5 only

Roller Blinds cleaned

from as little as $20

per blind

Ph 377 0770,

330 Cashel St,

Christchurch

Email: sales@dimocks.net.nz

www.blindcare.co.nz SCAN QR code for Info >

6/105 Coleridge St, Sydenham, Christchurch

WE ARE OPEN

Mon - Fri

8.00am to 5.00pm
---
2

Latest Christchurch news at www. .kiwi

Tuesday May 16 2017

Inside

FROM

THE

EDITOR'S

DESK

NOR'WEST NEWS

News.......................................3-5

WHEELIE BINS today – what

next tomorrow?

That's the big worry as an

arsonist operates in Burnside and

Ilam.

Residents have every reason to

be fearful. The arsonist has set

alight wheelie bins and the fires

have spread to adjacent dwellings.

They have been lit late at night

when people are sleeping.

And as the arsonist gains in

confidence he (and it is likely to

be a he), will almost certainly step

up the campaign.

Police need to find him quickly.

On a brighter note, Merivale

designer Jenny Gillies will have

her White Rose of York hat at one

of three Buckingham Palace garden

parties which start today.

The hat was spotted by the wife

of the North of England Horticultural

Society Council chairman

when Jenny was at the Harrogate

Spring Flower Show last month.

– Barry Clarke

St Bede's athlete prepares for the

10

Commonwealth Youth Games SPORT

Your Local Views..........4

Schools.....................................6

Hello Neighbour.......... 9

Sport..........................................10

Radio Lollipop..............14

Food...........................................15

Events................................18

GET IN TOUCH

General Enquiries Ph 379-7100

Classified Advertising Ph 379-1100

The Christchurch Star Company Ltd. PO box 1467 - Christchurch

starmedia.kiwi

NEWS

Julia Evans

Ph: 021 914 742

julia.evans@starmedia.kiwi

ADVERTISING

Viv Montgomerie

Ph: 364 7494

viv.montgomerie@starmedia.kiwi

ADVERTISING

Monique Maynard

Ph: 364 7474

monique.maynard@starmedia.kiwi

We've been trusted to look after hundreds of

properties all over Christchurch.

You can trust us to look after your's too.

Property Manager of

the Year NZ 2015/16

Ray Hastie

Manager

027 448 8225

Nicola Flanagan

Property Manager

021 914 332

Paula Hastie -

Rebekah Whalley

Assistant Property

Accounts Administrator

Manager

03 331 6755

Nominated for Ray White New Zealand Property Management Office of the Year, 2016/17

Local Experts – Citywide Knowledge

Phone (03) 331 6755

www.propertymanagementchristchurch.com

Abbey Nolan

Property Manager

027 379 5021

Prier Manson Real Estate Ltd Licensed (REAA 2008)

LAwyERS

We have over 40 years' experience

to assist you with…

• Buying and Selling Houses and

Commercial Property

• Wills, Trusts and Estate matters

• All issues facing you

and your business;

• Employment Law

matters;

• Traffic matters;

• Advice regarding

Retirement Villages

• General Legal Advice on all matters

Call John, Brendan or Andrew today

03 366 8996

Email. lawyers@mclegal.co.nz

Airport Business Park

92 Russley Road, Christchurch 8042

This unique powerful

treatment provides

you with pain relief

in seconds

Acupuncture

without needles

• Relieves all kinds of body pain

• Boosts your energy

• Improves sleep and mood

• Relieves asthma and hay fever

• Combat addiction (sugar, cigarettes,

alcohol and drugs)

• Reduce blood pressure

TRY IT NOW - First treatment is free

FOR A lIMITed TIMe ONlY

Dr Lan's Reflexology Network

Melrose Building

108 Sawyers Arms Road, Christchurch

Phone: (03) 323 4168 or 027 231 8388

Taking Care of family

Wills, Powers of Attorney, Family Trusts, Rest Home Subsidy,

and Separation and Relationship Property Agreements,

we'll take care of you and your family.

3 locations: New Brighton, Styx Mill & Kaiapoi

www.pierlaw.co.nz
---
NOR'WEST NEWS Latest Christchurch news at www. .kiwi

Tuesday May 16 2017 3

News

Tenants' rights in focus

• By Julia Evans

HOUSING NEW Zealand

tenants are looking to develop

a charter of rights with the city

council.

A number of the concerned

tenants expressed interest in

working with the city council

and the Fendalton-Waimairi-

Harewood Community Board

after a meeting regarding the

Government's state housing

sale-off in March.

In November, Prime

Minister and former Housing

Minister Bill English said the

Government would look to

sell up to 2500 state houses in

Bryndwr, Riccarton and

Shirley as part of its sell-off

programme.

The Bryndwr Community

Group has expressed concerns

about what impact the sale

will have on some of the most

vulnerable members of the

community – those who have

no choice but to live in state

housing.

However, Marney Ainsworth,

spokeswoman for the group said

it was keen to work with the

board and council to develop a

master plan for the area.

It came up in a conversation

One stop shop for

all your dental needs

Warm, friendly & affordable dental care for the whole family...

DENTISTS

DAVID

ROWLEY

JENNY

KIM

Merivale Dental Group

welcomes hygienist

Megan Smith to the team

We provide a full range of modern dental services

and ensure the highest level of care.

ACC Treatment Provider | WINZ Quotes |Student Discounts

Free Dental for Adolescents | Same Day Emergency Treatment

regarding the rights of tenants,

who feel like their opinions

are being swept under the

rug.

"We hope to get city council

support behind us," she said.

The city council said it is

interested in working with the

Bryndwr community so residents

can have the determining

voice on how the area grows and

develops in the future.

Head of facilities, property

Luxury

AccommodAtion

Treat yourself and your partner or friends to a

Luxury winter "Re Treat" at Sumner Re Treat.

Come and enjoy time away from the children and

work. Relax in the spa and enjoy a glass of wine

with our compliments.

Winter

Special Rate:

2 people $185 per night,

additional people - $35

each per night. Receive

the 2nd night half rate.

Pay for 1 night and receive

one night half price when you

book through Chris at Sumner

Re Treat.

and planning Bruce Rendall

said the proposal for the charter

is completely community

driven.

"Council's social housing

staff would be happy to meet

with the community group to

understand what they wish to

achieve," he said.

Community board member

Aaron Campbell said he would

be happy to speak to the board

on behalf of the residents.

RIGHTS: Bryndwr

Community Group members

(from left), Marney Ainsworth,

Gail Scott and Naenae Higgs

hope develop a charter of

rights with the city council for

state housing tenants in the

area. PHOTO: GEOFF SLOAN

In Brief

GREEN LIGHT

The city council has approved a

signalised pedestrian crossing

in Papanui on Main North

Rd, between Halliwell Ave

and Proctor St, to connect the

bus stops outside Northlands

Shopping Centre. The signals

aim to address pedestrian safety,

which has been compromised by

the large number of pedestrians

making unsafe crossings

between the bus stops.

FIRST FEMALE

COUNCILLOR

One hundred years ago

Ada Wells became the city's

first female councillor. Her

achievement, paving the way for

women in politics, was celebrated

by the city council on Thursday.

Mayor Lianne Dalziel dedicated

the city council's Camellia room

to Ms Wells. Before she became

a councillor, she taught at St

Albans School but was fired by

the headmaster James Speight

after asking for maternity leave.

PUBLIC FEEDBACK

Papanui city councillor Mike

Davidson will set up shop at

1pm tomorrow in the Papanui

Library to chat and hear what's

on residents' minds. Cr Davidson

said it's always great to hear the

thoughts and views from the

community.

(03) 355 3888

Level 1, 184 Papanui Rd

(opposite Merivale Mall)

www.merivaledental.co.nz

Our fee is

1%

1 Wakefield Avenue, Sumner

03 326 5443 or 027 273 5555

between 8.30am and 8.30pm

chris@sumnerretreat.co.nz

www.sumnerretreat.co.nz

Kama Jacobs

min fee applies

We deliver a powerful marketing advantage

by adding value to your Smart Real Estate

experience…why would you pay more

Call Kama Jacobs: 022 043 7696

Jahna Brennan: 021 557 010

Office: 03 384 8600

Jahna Brennan
---
4 Tuesday May 16 2017

Latest Christchurch news at www. .kiwi

Your Local Views

NOR'WEST NEWS

Fixing the central city

Merivale

businessman

Rob Mercer

writes about

the need to

improve vehicle

access to the

central city

Pre-quake, things were starting

to rot and the city council

didn't know how to fix it.

There were dirty red buses

with nobody on them clogging

up Colombo St and overzealous

parking wardens pushing

people away.

The city council doesn't

understand the money merrygo-round.

There needs to be

people in town to spend money,

to attract tourists in and create

more jobs.

It's a simple fact that people

on buses and bikes don't spend

money.

The city shouldn't be difficult

to access, but the city council

is making it very difficult to

access.

If you want to shop, you jump

in your car and drive to where

it's convenient, like a suburban

mall, and that's because they

have convenient parking.

We're not London or Auckland

with their traffic problems,

REGENERATION: A focus on cycle lanes means the central

city isn't easy for cars to access, which is making it hard for

businesses to thrive.

and Christchurch has the ability

to have easy access for our cars,

which we are traditionally used

to having.

The city council's phobia of

cars is difficult to understand in

the age of the electric car. In a

couple of years, electric cars will

be all over us.

I stood up in a post-quake

recovery meeting in 2012 and

asked the question, to make the

central city work, bearing in

mind all the money was being

spent in the suburbs, what

percentage of that will go back

into the city centre to make it

work?

We're going to do things differently,

they said. But they've

missed an opportunity.

Touchy subject of bike lanes

on main roads – I drove down

Colombo St north of the square

and I felt like emigrating when

I saw bike lanes on both sides

of the street and all the parking

gone.

The narrowing of roads like

Cambridge Tce is damaging

businesses.

THREAT: The wheelie bin was up against the side of James

Wallace's home. If the fire had of spread, it could have killed

his sleeping children.

PHOTO: GEOFF SLOAN

Burnside, Ilam fire bug

•From page 1

Said Mr Wallace: "Whoever it

was must have used an accelerant

because there was only one bag

of rubbish in there, not enough

to cause that much damage."

He had also heard of a for sale

sign being set on fire, three other

wheelie bins, a burnt car and the

cover of a boat.

"Four of the fires have been

within 100m and there was another

400m away. There will be

more," Mr Wallace said.

Fire Service investigator Mark

Thomas said there have been at

least five in the area.

"Any deliberately lit fire is

treated as serious," Mr Thomas

said.

The Fire Service is collating

data regarding the attacks, which

it will pass on to the police to

help the investigation.

Organic Training College

LEARN FROM

THE EXPERTS

Start a career in

organics. Reduce

your footprint and

produce a regular

supply of your own

fruit and vegetables.

COURSES (All fees under $500)

Year 1

Introduction to Organics

44 weeks

Starts August 2017

(Lincoln campus)

Year 2

Applied Organics

46 weeks

Starts August 2017

(Lincoln campus)

Programme information

college@bhu.org.nz | 03 325 3684 | www.bhu.org.nz

A

E

P

W

NICKY WAGNER

MP FOR CHRISTCHURCH CENTRAL

"I'm Always Happy to Help"

103 Salisbury Street

Central Christchurch

PO Box 21359

Christchurch 8143

chch.office@parliament.govt.nz

(03) 365 8297

www.nickywagner.co.nz

Funded by the Parliamentary Service and authorised

by Nicky Wagner, 103 Salisbury Street, Christchurch
---
NOR'WEST NEWS Latest Christchurch news at www. .kiwi

Tuesday May 16 2017 5

News

Bid for Edgeware Pool money

• By Julia Evans

A COMMUNITY board has

requested a cash injection for

the Edgeware Pool be included

in the city council's Annual

Plan.

In its submission on the draft

Annual Plan, the Papanui-Innes

Community Board has included

an application for

$5 million to go

towards the pool

development.

The request will

go before the city

council in June.

Pauline

Cotter

It is being

championed by

the community

board as a way of showing

solidarity for community

developments in the area, city

councillor and board member

Pauline Cotter said.

"It's important to note that

the St Albans Pavilion and Pool

Group hasn't asked for any

funding," she said.

Paul Somerville, chairman of

the pool group, said he did not

know the community board was

making the request.

The group has been planning

to cover the full cost of the pool

by fundraising on its own.

Cr Cotter said $5 million is

only a starting point, and the

amount is up for negotiation.

"I'm excited to see what might

come out of the conversation

around the council table," She

said.

Depending on what stage of

construction the pool is at, Cr

Cotter said the funding could be

earmarked for a future Annual

Plan or the Long Term Plan.

Mr Somerville said the group

would love to have a partnership

with the city council, even

though the pool will be run

by the community. The group

secured land at 43 Edgeware Rd

for $1 last year, but will have to

give it back if the pool isn't built

within 10 years.

"We've raised money in the

community, about $50,000 or

$60,000, to get the resource

consent. The biggest thing

now is to get the land," Mr

Somerville said.

It comes at a time when

spending on pools – including a

proposed complex in Linwood,

another at QE II and the inner

EXCITING: St

Albans Pavilion

and Pool Group

chairman Paul

Somerville

outside the

Edgeware Rd

location proposed

for the new pool.

PHOTO: GEOFF

SLOAN ​

city metro sports facility – is

being questioned.

City councillor and

community board member

Mike Davidson said the

Edgeware community model

could work for other pools,

instead of bigger and more

costly complexes.

•HAVE YOUR SAY: Do

you think the city council

should allocate money

to the construction of the

Edgeware Pool? Email Julia.

Evans@starmedia.kiwi

Merivale

designer's

royal hat

•From page 1

Said Ms Gillies: "I made it especially

for the Harrogate exhibition,

so when the wife of the chairman

of North of England Horticultural

Society council fell in love with it,

saying it would look fabulous at the

Buckingham Palace summer garden

party to which she had been

invited, how could I not leave it for

her to wear?" Ms Gillies said.

Ms Gillies was invited to exhibit

at the Harrogate Spring Flower

Show last month.

She presented her Christchurch

Connection exhibition, which

included 15 stunning costumes, in

the UK show – her first exhibition

outside of Australasia.

"I feel honoured being able to

spread the word about our beautiful

city and the rich culture visitors

can expect to find when they visit

us," she said.

Many visitors to the show went

specifically to see Ms Gillies'

exhibition, which was all about

promoting Christchurch.

"Although there's been some

recent negative publicity about our

garden city image, I am confident

it's a blip and we will be back even

stronger than before."

Christchurch City Council

Strengthening Communities Funding

information sessions 2017

If your community organisation needs funding to make projects

happen you can make an application to the Strengthening

Communities Fund. There have been a number of changes

to the application process for 2017 and the funding

schemes we offer, including the opportunity to apply

for multi-year funding.

The Council's community grant applications are now open.

Council staff will be presenting a 15 minute information

session followed by individual advice and assistance at the

following locations and times.

Date Location Session time

Thursday 18 May 2017

Coastal/Burwood

(Community Boardroom)

Corner Beresford and Union Sts

9.30am–10.30am

Friday 19 May 2017 South Library (Boardroom) 1pm–2pm

Friday 26 May 2017

Christchurch City Council Civic Offices

First Floor Function Room

9.30am–10.30am

Visit ccc.govt.nz or phone 941 8999 for more information.

Bookings are not required.
---
6 Tuesday May 16 2017

Latest Christchurch news at www. .kiwi

SCHOOLS

THESPIAN:

Ella Minehan-

Fitzgerald who

plays Barbara in

the Rangi Ruru

Girls' School

production of

Revenge of

the Amazons.

PHOTO: NEIL

MACBETH ​

Modern twist on a classic

RANGI RURU Girls' School's

drama production this year will

be Revenge of the Amazons, by

Kiwi playwright Jean Betts.

The play is a modern spin on

Shakespeare's A Midsummer

Nights' Dream with strong feminist

themes, first performed in

the early 80s.

Director of Theatre Arts at

Rangi Ruru, Peter Rutherford

said in spite of the age of the play,

the issues are still very relevant

in 2017.

"The recent American elections,

the Roastbusters case and

the Wellington Boys' College

scandal clearly show that instilling

in our students the importance

of feminist philosophies

and themes are as relevant as

ever," he said.

Rangi Ruru is supporting

Aviva's family and sexual

violence services by taking

donations of female hygiene

products and gold coin donations

at the door.

Tickets are on sale now for

the show that runs from tomorrow

until May 20 at the Merivale

Lane Theatre. Check out the

school's open day on Friday for

more info.

•Watch the video at star.

kiwi

Single-sex learning could

be affected by zones

• By Sarla Donovan

THE PRINCIPALS of Shirley

Boys' and Avonside Girls'

High Schools are concerned

that families across the east

retain the choice of a single-sex

education, regardless of whether

they live in the zone.

The two schools are likely to

share a zone when they co-locate

to new premises in 2019.

Both schools are to be rebuilt

at QE II Park after their existing

sites were damaged in the 2011

earthquakes.

Their boards are currently

working with each other and the

Ministry of Education to try and

thrash out a new, shared zone.

Avonside Girls' High School

principal Sue Hume said while

the zone needed to give access to

those close to the new campus,

it was important to preserve the

choice of single-sex education

for families right across the east.

She said the school had always

taken a significant portion of

students from out of zone.

"Historically we provide services

for families in the east and

we want to continue to give that

choice to families across the east

of the city.

Anyone within the zone has

an absolute right (to attend the

school). So it can't be too big that

it can't cope with the numbers."

DAMAGED: Avonside Girls' High received significant damage

in the Canterbury earthquakes. The school will be rebuilt on a

new campus at QE II, along with Shirley Boys' High.

John

Laurenson

Sue Hume

NOR'WEST NEWS

Shirley Boys' High School

principal John Laurenson said

he would like a new zone to

encompass the areas around the

school's new location, including

Queenspark, Waitakiri and

Prestons.

Katrina Casey, deputy secretary

sector enablement and

support at the Ministry of Education,

said changes would be

made to the two schools' current

enrolment schemes "to reflect

their new location."

She said the capacity of all

schools in the local network

must be taken into account.

Rezoning to take in more

populous areas could increase

the number of students coming

from in zone, potentially reducing

choice for families elsewhere

in the east.

Shirley Boys' is the only state

secondary school for boys east of

Colombo St.
---
NOR'WEST NEWS Latest Christchurch news at www. .kiwi

Tuesday May 16 2017 7

WE HAVE MOVED

Due to upcoming EQC repairs on the building at Athelstan Street we vacated our

premises at the end of our lease which expired on the 31st of January 2017.

With over 100 years of combined expertise in jewellery Edwin, Craig and Jim

offer their services where you can purchase your engagement, wedding rings

and remakes, have jewellery repaired, ring resized and restoration completed

as well as have your precious items of Jewellery valued.

Edwin Edmonds

15% OFF

DIAMOND RINGS

for a limited time.

From the 16th of May to the 9th of June

2017 we have a diamond ring promotion

where you will receive a 15% discount off all

diamond ring styles displayed in stock.

(Excludes repairs, remakes, insurance

claims and existing specials).

Clarity Diamonds will continue to offer their extensive

range of engagement, wedding and anniversary

rings and remake service by appointment only.

To make an appointment

phone Edwin on (03) 982 2982 or

email edwin@claritydiamonds.co.nz

CrAIG ANDErSoN

Goldsmith

Craig now offers a by appointment only service

for Jewellery Manufacture, Restoration and Repair.

T 021 844 649 or E goldsmithnz@gmail.com

A member of the Goldsmiths Guild of New Zealand Craig

completed his apprenticeship in Wellington attaining his

Trade Certificate in Manufacturing Jewellery in 1978. Now

with more than 40 years experience at the work bench,

specialising in jewellery repair and restoration, Craig will

discuss the best available options with you in regards repairs

and restoration of those precious

items of jewellery.

For an appointment

contact

Craig either by

T 021 844 649 or

E goldsmithnz@

gmail.com

Professional

service from

professional

people

Edwin Edmonds

Clarity Diamonds

GIA Diamond Cert.

Craig Anderson

Goldsmith

Goldsmiths Guild

of NZ Member

NZ Trade Certificate

in Manufacturing

Jewellery

Jewellery Valuation Specialists

We have Moved, our new address is unit 2/301 Lincoln Road

(opp Domino's and next door to The Addington Coffee Coop).

Ph: (03) 332 4233 | Email: jim@jvcvaluers.co.nz

www.jvcvaluers.co.nz

Why use The Jewellery Valuation Centre? The Jewellery Valuation Centre are

leading the industry in jewellery valuation services.

1. EXPERIENCE. As we value more precious jewellery than anyone else in NZ, our

valuation team have unrivalled expertise. We can value all types of jewellery,

diamonds and gemstones. We value antique watches, antique jewellery,

Asian 22 carat or 24 carat gold jewellery.

2. QUALITY. Our valuations meet Insurance Company standards. Your jewellery will

be clearly described, cleaned, photographed and valued.

3. PRICE. We offer fair and transparent pricing based on the work we do, not the

value of your jewellery. So there's no hidden fees.

4. SECURITY. Your jewellery stays on our premises, all our valuations are completed

in house.

5. CONVENIENT. Conveniently located at Unit 2 - 301 Lincoln Road in Addington

6. SERVICE. By appointment you can make a booking at our special Valuation Days,

to have your jewellery valued within the same day. Please Phone 332 4233.

7. Check us out. www.jvcvaluers.co.nz

Jim Young

JVC Valuers

Senior Valuer

GIA: Diamonds

Graduate

Bei Kong

JVC Valuers

FGA: Gemmogolist

GIA: Diamond

Grading

By appointment only

www.claritydiamonds.co.nz

www.titaniumweddingrings.co.nz

Ph: (03) 982 2982 or 0800 4 RINGS

Email: edwin@claritydiamonds.co.nz

CrAIG ANDErSoN

Goldsmith

Jewellery Manufacture, Restoration & Repair

By appointment only T: 021 844 649

E: goldsmithnz@gmail.com

2/301 Lincoln Road

www.jvcvaluers.co.nz

Ph: (03) 332 4233

E: jim@jvcvaluers.co.nz
---
8 Tuesday May 16 2017

Latest Christchurch news at www. .kiwi

NOR'WEST NEWS

Seedless Easy

Peel Mandarins

$

10 99

kg

Fresh NZ

Lamb Leg Roast

$

3 99

kg

$

1 30

each

$

3 99

each

Just Juice Fruit Juice 1L

Whittaker's Chocolate

Block 250g

$

4 50

each

The Good Taste Co. Soup 500/600g

3

for

$

7 00

Sealord Tuna Sensations/Lite 180/185g/Uncle Ben's

Express Rice 250g

$

9 00

each

Alpine Mild/Colby/Edam Cheese 1kg

$

21 79

pack

Peroni Nastro Azzuro

12 x 330ml Bottles

$

11 79

each

Wither Hills 750ml

(Excludes Pinot Noir)

$

3 00

each

Wattie's Complex Mix 650-750g/Fries 900g-1kg

FreshChoice Merivale

189 Papanui Road, Christchurch.

Open 7am – 9pm, 7 days.

FreshChoice.co.nz FreshChoiceNZ 355 4432

FreshChoice Merivale

Certain products may not be available in all stores. Savings are based on non-promotional price. Limits may apply.

Prices apply from Tuesday 16th May to Sunday 21st May 2017, or while stocks last.

Owned and

operated

by locals

FCNO1605
---
2

[Edition datE]

NOR'WEST NEWS Latest Christchurch news at www. .kiwi

Tuesday May 16 2017 9

Neighbour

Hello

Time to pay

attention to

your hair…

As the cold weather approaches and

styled-up winter fashions come out to play,

now is the ideal time to pay some extra

attention to your hair – whether it's getting

an exciting new cut, a brand-new colour or

a protective and restorative treatment.

Owner/operator Nickki Irvine and her

team at Karamella Hairdressing in St Albans

have the experience and knowledge to

advise on the right cut and colour to match

your skin tone, lifestyle and personality.

Nickki says the colour trends for winter

range from light coppery hues through to

the high fashion red tones.

To maintain that salon-styled look

Karamella offers the smoothing blow out,

an in-salon treatment for reducing frizz

and creating smooth, easy-to-manage hair

for up to six weeks.

Reach your local

community with us

To promote your business

and for your free marketing

plan contact:

Monique

Maynard

P. 364 7474

monique.maynard@starmedia.kiwi

At their Blow Dry Bar, prices start at just

$25, with every 10th visit free. Services

range from a classic shampoo and blow dry

through to curls, colour or straightening

and special occasion hair-ups.

If your hair has become damaged and

dry through exposure to summer sun and

wind, or blow-drying, the Karamella team

recommends Profibre – a long-lasting cure

for damaged hair. Profibre rebuilds the

internal structure of the hair, with three

levels of treatment. A consultation with

one of the stylists will ensure the right level

of repair is applied to your hair, which will

leave it feeling soft, smooth and strong and

prolong its life.

A passionate hair stylist with more

than 20 years' experience, Nickki has just

welcomed two new additions to her team.

Helping us,

Helps tHe

community

Drop off or buy

3 family stores in your community

30 Main North Rd,

Ph 352 4581

520 Cranford St,

Ph 352 0515

50 Charles St, Kaiapoi

Ph 03 903 0017

They are Hannah King, who has been

hairdressing for 15 years, and Tara Snell,

who has been barbering for nine years.

The two talented stylists look forward to

meeting many new clients at Karamella

Hairdressing.

To book an appointment with any of the

stylists, phone 355 2125. Opening hours

are Tuesday, Wednesday, Thursday, 9am-

8pm, Friday 9am-5pm, and Saturday

9am-4pm.

Karamella Hairdressing is located on

the corner of Cranford and Westminster

streets, St Albans. Neighbouring

businesses include the popular Metro café

– an ideal spot to enjoy a coffee before or

after your hairdressing appointment.

INTRODUCING

Hannah Reynolds

Tara Snell

Book your appointment today!

Unit 2, 159 Cranford St, St Albans

Ph: 03 355 2125

First 4 weeks

FREE

Quality Childcare

• Flexible booking hours

• Now open 7am to 6pm

• Large outdoor area

• Friendly and welcoming

with open door policy.

Phone: 385 8311 | 262 Westminister St, Mairehau

mairehau@firstlearners.co.nz | www.firstlearners.co.nz
---
10 Tuesday May 16 2017

Latest Christchurch news at www. .kiwi

School football action

• By Andrew King

THE CONNETICS schools

premier first XI competition

continues tomorrow with a

number of north-west teams

looking to take points.

All games will be played at the

Christchurch Football Centre

tomorrow.

Burnside will try to topple table

leader Cashmere when they meet

at 5.45pm.

Last time the two teams met

they could not be separated with

the game ending in a 2-2 draw at

English Park.

Burnside coach David

Williams said Cashmere will be a

big match.

"They have started the season

with two wins and will be hard to

beat," he said.

Burnside secured a 3-1 victory

over St Bede's in the second

round of the competition on

Wednesday.

Meanwhile, Papanui are eyeing

up their next challenge when they

take on Middleton at 7.30pm.

Papanui manager Paul

Anderson said he has a new team

to work with.

"We have had some good

battles with Middleton over the

past few years and tomorrow

should be no different," he said.

Last time the two met, Papanui

won 2-1 at English Park.

SPORTS

IN ACTION: Papanui's Zac

White (right) defends against

CBHS's Muhammad Mann

in Papanui's 2-1 win last

Wednesday.

Papanui, fresh off a bye in the

first round, managed to score a

2-1 win over Christchurch Boys'

High on Wednesday.

CBHS will head into round

three with a bye.

St Andrew's will play rivals St

Bede's at 4pm. Last time the two

met, St Andrew's crushed them

5-2.

St Bede's coach Matt Jansen

said the aim this week was to take

the three points.

"We will have to tighten up

our discipline and take all our

chances to beat St Andrew's," he

said.

Commonwealth Youth Games call up

• By Andrew King

ST BEDE'S student Nick

Moulai has been selected in the

Commonwealth Youth Games

athletics team to compete in

Nassau, Bahamas, in July.

The middle-distance runner

was named in the team at the

start of last week and confirmed

he was the right selection

by winning the Canterbury

secondary school road race on

Thursday.

He ran the 4km event in a

time of 12min 15sec. Moulai said

being included in the team was

fantastic.

"It feels like everything is

going to plan and that feels

great. Any opportunity to

represent your country is

awesome. You just have to put

your mind to it and give it

everything," he said.

He will run in the 1500m and

3000m races at the games.

Moulai got the running bug as

a surf lifesaver at the age of nine.

"I started getting into the

sprints and now the sport

• By Andrew King

IT WILL be a battle between

two undefeated teams in the

UC Championship when

Christchurch Boys take on

Timaru Boys at noon today.

In their first two hit outs,

CBHS have scored 98 points and

conceded 29. Timaru have also

MEDAL HOPE: St Bede's student Nick Moulai has been

selected in the Commonwealth Youth Games athletics team.

consumes my life," he said. life a bit difficult, but my coach

He said he is a "low mileage is really good at managing my

kind of guy", running about time," he said.

50km during the track season The chance to see more of the

and bumping it up to 70km world has him excited too.

a week in the cross-country "I'm sure it won't be all about

season.

running and we will have a bit of

"It does make having a social fun over there," he said.

Battle of the undefeated boys' high schools

been in good form, including a

43-17 victory over Shirley last

week.

However, it was a mixed bag

for north-west teams at the

weekend.

St Andrew's recorded their

second win, beating Marlborough

15-0. St Andrew's have one

more game on the road against

NOR'WEST NEWS

Rangiora before their first home

match against Lincoln. Burnside

were defeated 74-7 by Nelson,

who retained the Moascar Cup.

Burnside return home to face

Waimea Combined.

St Bede's travelled to play

Christ's and were beaten 41-19.

They will look to improve as they

host St Thomas in round four.
---
NOR'WEST NEWS Latest Christchurch news at www. .kiwi

Tuesday May 16 2017 11

HEALTH & AWARENESS

Loving your independence?

Could this be you?

Sally was referred to an Occupational

Therapist (OT) as she was struggling

to hear on the phone and was losing

contact with her family and friends,

she was wanting any help that could be

useful following challenges since her car

accident.

She has:

Ankylosing spondylitis (which is an

illness that stiffens up the joints),

Tinnitus (ringing in the ears) and is a

little hard of hearing.

Fracture in her upper back from a car

accident in 2015

Sally lives in a two storied home on a hill

in native bush with her husband.

She loves her home and gardening.

Due to a combination of Ankylosing

spondylitis and the recent upperback

fracture Sally has a forward flexed spine,

requiring her to bend her knees to look

up.

The OT visited Sally in her own home

and covered the following info on the

first assessment:

Energy conserving techniques

Regular postural changes to self manage

back discomfort

Problem solving Sally's kitchen set up to

minimise bending and reaching

Problem solved better phone options and

also where to buy a cordless amplified

phone

Adjusting her office set up to optimise

function when using computer

Having raised garden beds and garden

pots on her deck,

Changes in social life since accident

and covered the five ways to Mental

Wellbeing to maximise mental wellness.

Sally feels very connected to her two

storied home, which is surrounded by

native bush, situated on a hill. The OT

discussed the challenges and solutions to

remain living in this home long term and

provided insights into ways to manage

this including the potential of living on

one level, use of the community van and

possible bathroom adaptations.

Summary from Sally's perspective:

Sally reports that she was delighted with

the services as:

- the OT came to her house and at a

time of day and day of week that suited

Sally best.

- there was no waiting for the service -

seen within the week of referral.

- it was so affordable - $135 assessment

and advice

- she received good advice that

immediately changed her daily life

(so much more than improving

communication by phone)

- she now has clear understanding

of both the challenges and solutions

that may lie ahead of her.

- This resulted in less worry about

the future

- She was impressed that the

discussion involved her love for

nature (still be able to enjoy her

garden) and that it was not limited

to immediate need and safety

She expressed that she feels more

confident about staying in her much

loved home. She is aware of how

to access future input from the OT

who now knows her well.

The Centre for Senior wellbeing

is an information hub for Senior

Health. We connect you to the

services you need to stay living well

and independently in your own home.

See www.seniorwellbeing.nz for

more information.

To enquire about staying

safe and well in your

home, just call 3772577.

CSW

Safe & Well in your own home

The Centre for Senior Wellbeing is located at 300 Colombo Street, Sydenham. The Blue Line Bus stops in front of the door and there is ample

parking. To enquire about specialised exercise classes or physiotherapy treatment, phone 377-2577 or visit www.triggerpoints.co.nz

NEW TECHNOLOGY TO TREAT FUNGAL NAILS

A simple solution to a complex problem before after

3

NO. 13 HARCOURTS NEW ZEALAND 2012-2013

37 Main South Road, Upper Riccarton | Ph 348-7910 | www.feetfirst.co.nz

Contact me today... I can make a real difference!

HARCOURTS CANTERBURY TOP 20 2004-2017

HARCOURTS NEW ZEALAND TOP 100 2009-2016

Phone 03 352 6166 or 027 220 6565

deb.harvey@harcourtsgold.co.nz

471 Papanui Road, Christchurch

LICENSED AGENT REAA 2008

OVER

$250 MILLIO N IN

H A R C O U R T S

SALES

G O L D
---
12 Tuesday May 16 2017

Latest Christchurch news at www. .kiwi

Page 28 North Canterbury News Thursday May 11 2017

BE IN TO

WIN!

NOR'WEST NEWS

GREATNORTHCANTERBURY

Bar –Meals –Atmosphere!

NOW OPEN

the brand new

WAIAU TAVERN

little brother of the historic

1896892

18 Lyndon St, Waiau

027 357 9886

waiaulodgehotel@gmail.com

Jet Boating at its best!

Tailor made rides

–7days aweek.

Hanmer Springs

Be in to Win

A NIGHT'S STAY FOR TWO

LAVENDYL

at

Kaikoura's Beautiful Dylans Cottage

&Lavender Farm and aDouble Pass

intothe Kaikoura Museum

Just read the ads,answer these questions and send them to

KaikouraWinterEscape,POBox 86, Amberley 7441

Who is openinginMid-May? .............................................................................................

Which business is just 5min from town? ..................................................................

Which business is Built forthe Future?......................................................................

Your Name:.......................................................................................................................................

Ph:.................................................. Email:........................................................................................

Entries close 30 June.Competition will be drawnonJuly 3and winners

notified by phone or email.Prize must be redeemed by August 31.

Conditions apply,school holidays exempt.

1900384

YOUR SAFETY &SECURITY

COMES FIRST!

We have the solution to fit your needs...

Alarm System -installation, servicing &monitoring

Satellite -CCTV -Locksmithing –Guards

Security Patrols -Fire Protection

Prompt, efficient &secure service

Ph 315-7262

Email admin@hanmersecurity.co.nz

1898026

Reservations

essential

Gorgeous giftware, china (including

Royal Albert), tea, teddy bears and dolls.

Haberdashery and knitter's supplies.

Beautiful things in abeautiful 1880s cottage.

Youwill be delighted!

Be in to Win2nights

stay for 2atHanmer

Springs Forest Camp

1899880

Vibrant Historymeets

State-of-the-artDisplay

Stroll through this modern museum, built for

the future, and discoverour past.

OPEN

DAILY

1896047

JETBOATING &RAFTING

Open 7days 9am-5.30pm

Ph: 0800 AMURI 1 or 021 882 122

Em: amurijet@gmail.com

Cnr SH7 &Hanmer Springs Road.

www.amurijet.co.nz

www.raftinghanmersprings.co.nz

Go to acebook-

KaikouraMuseum forup-to-datenews

Don't miss our kid's clothing clearance!

50% off all children's clothing and shoes during

May. Includes special occasion dresses. Be Quick!

1893951

Great ideas for Mother's Day

75 Main St,

Oxford

Ph (03) 312 1416

Comfort, Style &Indulgence

in the heart of Hanmer

at unbelievably good rates

Boutique boardroom for intimate &corporate

functions, Family Gatherings –Celebrations -

Management &Training Retreats

Catering as required

1&2Bedroom Apartments -Spa

Just read theads,answerthese questionsand

send them to Hanmer Winter Escape,

POBox 86, Amberley.7441

Who is advertisingSki Hire?.................................

Who is housedinabeautiful1880'scottage?

...................................................................................

Your Name...............................................................

Phone.......................................................................

Email........................................................................

Entries close30June. Competitionwill be drawn on

July 3and winnersnotifiedbyphone or email.

Prize must be redeemed by August 31.

Conditions apply,schoolholidaysexempt.

The Perfect Getaway!

Premium stylish 1&2bedroom

apartments. Everything at your

doorstep. 5min to town. The Fairways

is the perfect place to stay.

1900385

Discover the best of natural and clinical

skincare, and rejuvenate with facials,

masages and beauty treatments.

Book now |0800 150 026

enquiries@artisanspa.nz

www.artisanspa.nz

Escape to the forest

this winter...

11 acres, surrounded by

forest, mountains, warm

welcomes and facilities.

Offering easy access to

Thermal Pools, mountain

biking, walking &outdoor

activities, families,

adventure tourists &

groups.

243 Jollies Pass Road

1900402

Locatedinthe exciting newCivic Centre,

West End,Kaikoura · 03 319 7440

E: info@clearridge.co.nz | W: www.clearridge.co.nz

T: +64 (3) 3155144 |Reservations NZ: 0800 555 596.

A: 28 Jacks Pass Road | Hanmer Springs 7334 | NZ.

1893511

1Kersage Drive, Ocean Ridge, Kaikoura

+64 3319 3055

Forthe best rates –Book Direct

www.thefairways.co.nz

1893496

Ph: 03 315 7202

FindF

us on

www.hanmerforestcamp.co.nz

getinvolved@hanmerforestcamp.co.nz
---
NOR'WEST NEWS Latest Christchurch news at www. .kiwi North Canterbury News Tuesday Thursday May 11 162017 Page 1329

WINTERESCAPES!

Winter? Wonderful!

•Superb Pizza

•Great Burgers

•Fabulous Coffee

•Light Lunches

•Real Hot Chocolate

•Fantastic food from our Licensed Restaurant

•Outdoor Spas •Accommodation

Hanmer'sBestQuadBikeRide–Guaranteed!

HANMER

ADVENTURE

"This could be

the best you'll

ever have"

Open 7days

Inland Kaikoura Rd • Ph: (03) 315-6446

e: jenny@mtlyfordlodge.co.nz

www.mtlyfordlodge.co.nz

escape

Mid-week Specials

FROM $339

including 2course dinner

and light breakfast for 2

Show this

ad &get a

further 10%

discount.

For bookings, phone 03 315 7555

or visit www.selectbraemarlodge.com

1896042

1896044

MAY-JUNE

FREEPOOLPASS

(Valuedat$24)

withevery2.5hour

QuadBikeTour

JUST$149pp

For Mountain Biking, Ski Hire & Transport,

Claybird Shooting & Archery

Ph: 03 315 7233 E: info@hanmeradventure.co.nz

20 Conical Hill Road,HanmerSprings

www.hanmeradventure.co.nz

GREATNORTH CANTERBURYS

QUIZ HUNT!

Great Prize to be won!

Get around North Canterbury, fill in the answers to these questions as you explore our

Winter Wonderland and go in the draw to Win a Midweek Night of Luxury, including:

• Accommodation at the prestigious Heritage Hanmer Springs with breakfast for 2 people.

• A double pass to the amazing Hanmer Thermal Reserve

• A tailor made jet boat ride for 2 with Amuri Jet

1. Whatisthe makeofthe motorbikeinside the Mt LyfordLodge Restaurant?

............................................................

2.Whatcolour is the dress in the pictureabove the fireplace at the Red Post Cafe,Culverden?

............................................................

3. How many soapvarieties aredisplayedonthe shelves at The Lavender Farm, Kaikoura?

............................................................

4. Whaticonic featurefromThe Waiau Lodge Hotel is mounted on the wall inside the Waiau

Tavern? ............................................................

5.How did Hanmer Springs Animal Park'sPepper Pig get her nose damaged?

............................................................

6. Whatisthe name of the cute caravan at Maisy Blue, Oxford?

............................................................

7. Whatisthe big white tube-likeobject featured in the Auditorium at the Kaikoura

Museum?.............................................................

Name .................................. Phone .................................. Email ...................................

Post to: North CanterburyNewsQuiz Hunt,POBox 86,

Amberley7445byJuly 30 th 2017

Competition drawn on July 31 st 2017

Prizes must be redeemed by August 31 st 2017 or by

agreement with sponsors.

Winnerswill be notified by phone or email.

Sponsored by:

Visit

SUN-THURS

and feel the difference...

Up to20% Discount

*Conditions apply

Ph. 0800 587 873

1900383

•Exceptional Service

•Licensed

•Open 7Days

Treat Your Mum

to a great coffee

& tasty treats

by our cosy fire

Mon -Thurs 8.00am -5.00pm,

Fri 8.00am -8.00pm,

Sat &Sun 8.00am -5.30pm

Your Hosts,

Trent and Carolyn Allison

Main Rd, Culverden

Ph 03 315 8492

1896467

www.settlershanmer.co.nz

1896889
---
14

Tuesday May 16 2017

The magazine for

gardeners who

like To geT Their

hands dirTy

www.gardener.kiwi

100%

Latest Christchurch news at www.

News

Caring for kids through the airwaves

• By Sarla Donovan

RADIO LOLLIPOP is on a

mission to raise funds for a

new studio.

The charity broadcasts live

into Christchurch Hospital

and Ronald McDonald House

four nights a week, providing

comfort and entertainment

to children having surgical,

medical and acute treatment.

Until now, they've operated

out of a mobile van on a

construction site by the old

parkside hospital entrance.

Live broadcasts are 6-8pm

Monday to Thursday and

volunteers visit children in the

wards during the show, playing

games, doing crafts and

giving parents a break.

When not in use, the van is

parked at the Z petrol station

on nearby Lincoln Rd.

Now, the Canterbury

District Health Board has approved

the design concept for

a new studio to go inside the

hospital.

Radio Lollipop Christchurch

chairman Kieran Denton is

excited by the news.

"It'll be awesome, we and the

hospital are really looking forward

to it. It means children

will be able to come in and run

their own radio shows, which

NEW ZEALAND RED CROSS

GLOBAL LEADERS IN FIRST AID TRAINING

Christchurch Course Dates 2017

Venue: 32 Birmingham Drive, Middleton

First Aid Revalidation Course (6 hours)

Cost $130.00 per person (certificates must not have

expired for more than 3 months)

Time: 8.30am – 3.15pm

Monday

19 June

26 June

Tuesday

13 June

18 July

Wednesday

24 May

31 May

Friday

9 June

23 June

ON AIR: DJ Jojo and DJ Nicky broadcasting live from the

Radio Lollipop van outside Christchurch Hospital.

is the model used around the

world."

Volunteering at Radio Lollipop

was its own reward, said

Mr Denton.

"It feels like you're making

a difference at a really difficult

time for people. We get lots

of thanks and smiles. Parents

appreciate the change in their

kids after we visit. Often we're

the only non-medical people

that visit. We don't poke or

prod or give injections. We're

the fun people that come

around."

He said research had shown

Sunday

21 May

28 May

M Learning Workplace Revalidation Course (4 hours)

Cost $130.00 per person (certificates must not have

expired for more than 3 months)

Time: 8.30am – 12.45pm

Tuesday

20 June

Wednesday

7 June

Friday

26 May

For bookings please call 0800 REDCROSS or 339-7111

Book online at www.redcross.org.nz

USE THE RED CROSS ADVANTAGE - COMPREHENSIVE FIRST AID, ESSENTIAL FIRST AID,

REVALIDATION OR TAILORED TRAINING TO SUIT yOU AT yOUR PLACE OR OURS.

.kiwi

RED CROSS

ON THE MOVE: The van

which Radio Lollipop

currently broadcasts out

of is to be replaced by a

purpose-built studio inside

the hospital. ​

the interaction between volunteers

and patients helped reduce

the time spent in hospital

and the amount of drugs the

children required for pain.

Radio Lollipop volunteers

visited around 3000 children

in Christchurch every year.

The charity is part of a

worldwide network running

across five countries and over

30 hospitals.

It relies on grants and donations

from the public to fund

its work, which is all done by

volunteers.

Mr Denton said yearly running

costs for the charity's

work were around $16,000 but

with the new studio costing

$75,000 they were initiating a

fundraising drive for the extra

money needed.

•To make a donation go to

http://radiolollipop.org/

donate

•If you think you might be

interested in volunteering

for Radio Lollipop, there's

an information evening at

7pm on Thursday May 18

at the YMCA on Hereford

St.

Ensuring a safe work place

Learning first aid is not only a part of ensuring a safe

work place, but also an integral part of our engagement with the

wider community. We all learn the necessary skills to ensure that

in times of emergency we are able to assist our work colleagues,

but are we able to take these skills home, into the community or

on to the sports field?

not all work places are the same and the injury risk for each place

can be wide and variable. The office attended by administrators

does not carry the same risk as those people working with heavy

machinery, or perhaps at some distance from a regular ambulance

service. it is therefore essential that you pick the right first aid

course to suit all of your activities – both professional and social.

take, for example, an office worker who does not have a high

risk work environment and whose concern might be to ensure that

they can deal with minor cuts and superficial injuries, or the ability

to perform effective CPr. These skills can be achieved on a course

of eight hours duration and would generally fit into low to medium

risk area. But take this same person on to a sports field either as a

spectator or player when a higher level injury occurs. The eight

hour course covering unit standards 6402 and 6401 (or 26551 and

26552) does not cover head neck and spinal injuries, eye injuries,

NOR'WEST NEWS

hypothermia and poisonings.

The majority of injuries occur outside of the work place, in

fact one in three injuries occurs in the home, making it the most

common place for injuries to happen. new Zealand children

are twice as likely to die through injury as children who live in

australia. They mostly die as a result of motor vehicles accidents

or falls in the home. fatalities from leisure and sport are not far

behind those in the workplace.

The wider 12 hour course teaches the additional unit standard

6400 and provides a wide knowledge base for medium to high risk

environments. This course covers many of the skills required to

deal with the most common injuries, such as falls (which can result

in head, neck and spinal injuries) and dealing with complex scenes

such as motor vehicle accidents.

if you are not sure on the course best suited to your needs, ask

your accredited first aid training provider. They can explain the

course content and give you options that will best suit your needs.

Look beyond the workplace and consider your family and your

location. Check that you have a good quality first aid kit that is

up-to-date with replenished items, and that everyone knows where

it is located.

USE THE RED CROSS ADVANTAGE -

COMPREHENSIVE FIRST AID,

ESSENTIAl FIRST AID, REVAlIDATION

OR TAIlORED TRAINING TO SUIT YOU

AT YOUR PlACE OR OURS.

16 Hours Thursday/Friday

22 & 23 June

20 & 21 July

NEW ZEALAND RED CROSS - GLOBAL LEADERS IN FIRST AID TRAINING

CHRISTCHURCH COURSE DATES 2017 • VENUE: 32 BIRMINGHAM DRIVE, MIDDLETON

Comprehensive First Aid PLUS Course (16hrs or 4hr upgrade)

Unit Standard 6402, 6401, 6400 and 25411 or 26552, 26551, 6400 and 25411

Cost $275.00 per person incl FA Manual & GST for 16 hours or $85.00 per

person for upgrade following completion of CFA

Time: Day One 8.30am – 5.30pm Day Two 8.30am – 5pm

4 Hours Friday 1.15pm-5pm

23 June

21 July

Comprehensive First Aid Course (12hrs)

Unit Standard 6402, 6401, 6400 or 26552, 26551, 6400

Cost $225.00 per person incl FA Manual & GST

Time: Day One & Day Two 8.30am - 3.15pm Time: Day One 8.30am - 5.30pm

2 x Monday

12 & 19 June

2 x Tuesday

23 & 30 May

6 & 13 June

2 x Wednesdays

21 & 28 June

12 & 19 July

Thursday/Friday

25 & 26 May

1 & 2 June

Day Two 8.30am - 12.45pm

Thursday/Friday

22 & 23 June

20 & 21 July

Weekends

20 & 21 May

27 & 28 May

Essential First Aid Course (8hrs)

Unit Standard 6402, 6401 or 26551, 26552

Cost $155.00 per person Time: 8.30am – 5.30pm

Monday

12 June

Tuesday

6 June

4 July

Wednesday

21 June

12 July

M Learning (App.) First Aid Courses

Practical First Aid

Unit Standards 6402, 6401

Cost $155.00 per person

Time: 4 hours 8.30am-12.45pm

Wednesday 31 May

Saturday 17 June

Workplace First Aid

Unit Standards 6400, 6401, 6402

Cost $225.00 per person

Time: 8 hours 8.30am-5.30pm

Wednesday 31 May

Saturday 17 June

Thursday

18 May

1 June

FOR BOOKINGS PLEASE CALL 0800 REDCROSS OR 339-7111 • BOOK ONLINE AT WWW.REDCROSS.ORG.NZ

Saturday

20 May

27 May
---
NOR'WEST NEWS Latest Christchurch news at www. .kiwi

Tuesday May 16 2017 15

GREAT food

BROUGHT TO YOU BY...

Your fresh food people

VANILLA RICE PUDDING

WITH MANDARINS AND

MINT

Ingredients

5 Tbsp Short grain rice

2 Tbsp Caster sugar

2 cups Milk

1 Vanilla bean

½ cup Cream

1 Egg

3 tsp Butter

2 Cardamom pods

4 Mandarins

3 tsp Cointreau

4 leaves Mint leaves

Directions

Preheat oven to 160 deg C.

Grease a 750ml baking dish. In

a bowl, combine the rice and

sugar then tip into the dish.

Pour over the milk. Split the

vanilla bean and scrape the

seeds into the cream, add the

egg, whisk all together and add

to the dish.

Gently press the cardamom

pods but don't release the seeds

and bury in the rice.

Bake for 30 minutes, stir then

continue cooking for another

hour.

Peel the mandarins, removing

as much pith as possible, mix

with the liqueur and put in a

bowl. Shred the mint leaves and

scatter over the mandarins.

CREAMED WHITE BUTTON

MUSHROOM SOUP WITH

TRUFFLE FOAM AND

BACON TWIST

Ingredients

250 ml Mushroom stock

50 ml Olive oil

600g Button mushrooms,

chopped

1 Onion, white, diced

2 cloves Garlic, crushed

2 sprigs Thyme

1 Ltr Vegetable stock

50 ml Cream

1 small bunch Flat leaf (Italian)

parsley, to garnish

1 packet Streaky bacon, to serve

Truffle foam

100 ml Milk

5 ml Truffle oil

1g Agar agar powder

Directions

Make up mushroom stock

with 250ml water and set aside.

Heat olive oil in a frying pan

and add chopped mushrooms,

stir for a minute, add onion,

garlic, picked thyme leaves and

season with salt and pepper.

Add mushroom stock and

simmer for around 15 minutes.

Add vegetable stock and simmer

for a further 15 minutes.

Check for seasoning.

Blend soup in batches. Add

cream and chopped parsley to

finish and a little truffle foam if

using. Serve with bacon. Twist

lengths, place on baking paperlined

tray and cook in a hot oven

until crispy.

Truffle foam

Bring milk to the boil, remove

from heat, add truffle oil and

powdered agar agar, then sieve

and cool. Whisk on high speed

until aerated.

Satsuma Mandarins . 3 .99

KG

Buttercup Pumpkins .. 2 .99

each

White Button

Mushrooms 250g ........... 2 .99

pack

feijoas .............................. 4 .99

KG

Large Persimmons ..... 5 .99

KG

Beef Rump Steak ....... 13 .99

kg

Diced Beef ....................... 11 .99

KG

Chicken Drumsticks ... 3 .99

KG

NEW SEASON

All our fresh meat is 100% NZ FARMED.

specials VAlid 15TH MAY - 21st MAY 2017. ONLY AVAILABLE AT

RAEWARD FRESH HAREWOOD RD, TOWER JUNCTION & MARSHLAND RD

harewood rd Mon–Fri 7.00am–6.30pm Sat–Sun 8.00am–6pm

Tower junction Mon–Fri 8.00am–7.00pm Sat–Sun 8.30am–6pm

MARSHLAND RD Mon–Sun 8.00am–6:00pm

WWW.

At

local FRESH produce

everyday

in season now

Passionfruit, Feijoas

Persimmons a nd Ta marillos

.CO.NZ
---
16 Tuesday May 16 2017

Latest Christchurch news at www. .kiwi

SCHOLARSHIPS & SCHOOL OPEN DAYS

Selwyn House School

At Selwyn House School core learning in

english, mathematics and computer science

is complemented by trans-disciplinary rich

tasks and inquiries, which allow high levels

of application, creativity, and problemsolving.

The development of these skills,

combined with crucial interpersonal

skills, will enable Selwyn House girls to be

well equipped for the future. Our futurefocussed

learning environment

caters exclusively for girls in

Years 1 - 8.

Selwyn House School offers

a nurturing environment and

small class sizes while providing

a comprehensive and innovative

approach to learning. This not

only enhances the capabilities

of each girl but provides her

smooth transition to secondary

school. Selwyn House is

proudly the only independent

girls' primary school in the

South Island to offer the

International Baccalaureate

Primary Years Programme

(PYP). Global citizens who

will be well prepared to take on

leading roles in our world are

being created at Selwyn House.

Selwyn House School is

currently offering scholarships

for the 2018 academic year in

the categories of academic,

all-rounder, boarding, music,

performing arts and sport.

Eligible girls may apply for a

Year 6 Scholarship, a Year 7

Scholarship or a Selwyn House

Old Girls' Association Bursary. With the

Scholarship Registration deadline fast

approaching, it is strongly encouraged

that families contact the school directly

for complete scholarship criteria. For

more information on the benefits of a

Selwyn House School education for your

daughter, please contact Sheila Paisey

(Enrolments Registrar) 03 355 7229.

Ultimate campus for

Avonside and Shirley

More than six years after earthquakes

damaged their existing schools, Avonside

Girls' High School and Shirley Boys' High

School are looking forward to moving to

a cutting-edge campus on QEII Park.

The design for the new schools has

only recently been released.

Avonside Girls' Principal Sue Hume

says being able to start from scratch has

enabled the architects to come up with

the 'ultimate campus'.

"It features better facilities than either

of our schools has ever had in the past.

We are very excited at the educational

opportunities this will enable us to offer

our students."

Shirley Boys' High School Headmaster

John Laurenson says the schools will

continue to deliver quality single sex

education.

"Students will spend most of their

day in a single sex environment – that

is really important to us. Single sex

KIWI

SOUL

GLOBAL

VISION

education benefits both boys and girls.

Our students will also benefit, both

educationally and socially, from being

able to learn alongside and mix with

students from the partner school. It is a

fantastic opportunity."

Among the major facilities are a large

Performing Arts Centre (with a 750-seat

and a 100-seat theatre), three full-sized

Gyms (complete with climbing wall), a

Cultural Space and four Sportsfields.

Each school will also have a long list of

specialist learning facilities. Highlights

include an Electronics Lab, Recording

Studios, Editing Suites, a 2D and 3D

Printing Room, six Science Labs and

an Indoor Fitness Centre (complete

with exercise equipment including

rowing machines, stationery bikes and

treadmills).

The schools are due to open on their

new sites in time for Term Two of 2019.

Two of the gyms on the campus will feature a climbing wall and be able

to be linked for major events. The schools will also share a third gym

NOR'WEST NEWS

Selwyn House School

2018 Scholarships

Registration Deadline

Thursday, 18 May 4pm

Academic, Boarding, Music, All

Rounder, Performing Arts and Sports

Scholarships available 2018

For inFormation regarding

enrolment please contact:

sheila paisey on 03 355 7299 or

s.paisey@selwynhouse.school.nz

Be our guest - schedule your personal tour today

SHIRLEY BOYS'

HIGH SCHOOL

www.shirley.school.nz

Avonside Girls' High School

OPEN EVENING

Thursday 25 May 2017 from 5.00pm – 7.00pm

The evening begins in the gymnasium

at 5.00pm, with an address from the

Principal, Mrs Sue Hume, and student

representatives. A tour of the school

follows, with the opportunity to talk

to teachers and students.

We look forward to welcoming

all prospective students and

families for 2018.

CVG SCHOLARSHIP EXAMINATION

THURSDAY 8 JUNE 1-3 PM

SHIRLEY BOYS' ASSEMBLY HALL

Please register by ringing the school office on 375 7057.

OPEN NIGHT • THURSDAY 25 MAY 2017

6.30-8.30PM

(03) 389 7199 | www.avonside.school.nz
---
NOR'WEST NEWS Latest Christchurch news at www. .kiwi

Tuesday May 16 2017 17

Exercise

sharpens young

adult brains

Regular physical activity improves brain function

even in young adults considered in their prime and

at the height of cognitive ability, according to a

University of Otago study.

A

body of research already exists

showing aerobic exercise

improves brain function in

older adults, but there is a

limited amount of literature on how it

affects young adults.

The Otago researchers, led by

Department of Psychology Senior

Lecturer Dr Liana Machado, set out to

test the oft-held belief that the brains of

young adults in their prime might not

benefit as much as older people from

regular sustained exercise.

They took 52 tertiary students, aged

between 18 to 30, and put them through

a series of cognitive tests on a computer

while measuring oxygen availability in

the frontal lobe of their brains, as well as

their self-reported exercise frequency.

Dr Machado says their "surprising"

findings, just published online in the

journal Psychophysiology, show that

both blood supply to the brain and

cognitive functioning appear to benefit

from regular exercise in young adults.

"This provides compelling evidence

that regular exercise, at least five days per

week, is a way to sharpen our cognitive

ability as young adults – challenging

the assumption that living a sedentary

lifestyle leads to problems only later in

life," she says.

The research also provides potential

insight into understanding why people

who regularly engage in aerobic exercise

tend to function better on a cognitive

level.

"I think the idea that young people do

not have to worry about exercising since

they are in their prime developmentally

is rapidly being overturned by mounting

evidence that even the brains of young

adults can benefit from regular exercise,"

she says.

"The exercise could involve brisk

walking or more vigorous activity, and

could be made up of a few 10 minute

bouts of exercise, rather than one single

block of exercise," she says.

The researchers also found that body

mass index was not a key factor in how

well the brain functioned, indicating that

regular engagement in physical activity

may be more important than body

weight.

Dr Machado says she had noticed

over the years that university students

appeared progressively less fit.

"I wondered whether we might find

significant relationships between exercise

levels, oxygen availability in the brain,

and cognition in the young adults, but

no studies had considered this in healthy

young adults."

These findings come at a time of

increased scientific focus on links

between exercise and cognitive health in

older adults.

Discover this

unique Emporium

'CEREC' & cosmetic dentistry

Wisdom tooth removal

Painless, high quality dentistry

Sedation dentistry

Experienced, conscientious team

Experienced hygienists

OPEN SATURDAYS

355 9380

144 Cranford Street

www.stalbansdentalcentre.co.nz

Plus a unique range

of gifts, homewares and

water features.

Crafted candles a speciality!

722 Marshland Road

Top end Styx

Ph: 03 323 9781

www.hitchingpost.co.nz

St John

Community Shop

✓Unbelievable bargains

✓ Value and quality

Supporting Life

272 Lincoln Road

Corner Spencer Street

Addington

Phone 03 338 2560

Be warm in

winter with

mohair and

alpaca rugs,

throws and

scarves

140 Colombo Street

Beckenham, Christchurch

Phone 03 943 1639

www.themohairstore.co.nz

watch local | support local | shop local

Join our hosts

Geoff & renee on

sKy ChaNNeL 83

Thursday 7.30pm

repeaTs friday

1.30am & 7.30am

WE SHARE YOUR VISION

SKY 083 + On Demand

WWW.STAR.KIWI

for enquiries, contact Geoff moreton: 021 1066 177
---
2 Tuesday [Edition May datE] 16 2017 NOR'WEST NEWS

18

Latest Christchurch news at www. .kiwi

Reading to Dogs

Tuesday, 3.30-4.30pm

These sessions have been

designed to provide a relaxed

and non-threatening

atmosphere to encourage

children to practise their

reading skills and develop

a love of reading. This programme

uses dogs who are

the pets of the city council

animal management team

and have been trained and

tested for health, safety and

temperament. Sessions are

15min. Phone 941 7923 to

book a spot.

Free entry, Shirley

Library, 36 Marshland Rd,

Shirley.

Living with a Chronic

Condition

Wednesday, 9.30amnoon

Do you have an ongoing

health condition that

affects the way you sleep,

feel exercise and enjoy life?

The "living a healthy life"

self-management course

will help you to charge of

your life. Learn skills to

cope with pain, fatigue and

frustrations, share with

others in a similar situation

and develop problem

solving skills. The course

will benefit anybody living

with a chronic condition,

not just those with arthritis.

To register phone Dave

Cox on 0800 663 463 or

email dave.cox@arthritis.

org.nz.

Free entry, Fendalton

Library, 4 Jeffreys Rd.

Literacy Learner Licence

Course

Wednesday, 10am-noon

This is a 10-week course

starting on Wednesday.

Tuition is free for adults

who are New Zealand

citizens or residents. Email

Kim Button at kim@nht.

org.nz or phone 027 677

2472 for more information.

Free entry, Pay it Forward

community space, 49

Nancy Ave.

Heart Failure Information

Session

Wednesday, 10.30-noon

Hosted by the Heart

Foundation this free event

includes a short presentation

by a cardiac specialist

from Christchurch Hospital

followed by the chance

to ask questions and talk to

others. To register phone

Emma 366 2112 or email

emmag@heartfoundation.

org.nz

Heart Foundation Office,

357 Madras St.

Scrabble Club

Wednesday, 11am-noon

Go along to scrabble

club. There's no obligation,

just go along whenever you

can and join the friendly

group. All materials are

supplied.

Free entry, Shirley Library,

36 Marshland Rd.

Email julia.evans@starmedia.kiwi

by 5pm each Wednesday

While ordinary

heat

After School Club

performance pumps produce heat pump, guaranteed!

less heat below 7°C,

Monday, 3.30pm-4.30pm

only Mitsubishi Electric

® ®

Go and have fun at the Unit 8/33 HyperCore Watts

While

new library after school

® Road,

ordinary heat pumps produce less heat below 7°C,

Technology

guarantees only Mitsubishi fully Electric HIGH WALL HyperCore HEAT PUMP ® Technology FLOOR guarantees CONSOLE

Youth Group

club. There will be technology,

games, crafts, and

its fully right rated capacity

Sockburn, Christchurch

rated capacity

Friday, from 6.30pm

FH25 3.2kW right

Heat Heat

down

Pump

to -15°C KJ60 so KJ60 6.8kW you Heat get Heat Pump

A new youth programme books. Every Monday

down to -15°C so you

all the $2549.80

heat you paid for. $4449.50

Installed BB. BB.

Installed BB. BB.

is hitting Belfast, www.airconnz.co.nz

focusing during term time, suitable 03 343 get all the 4441 heat you

Conditions apply. apply.

Conditions apply. apply.

on 14 to 17-year-olds on for children aged 6 to 10.

paid for.

Friday nights. Revolution Bookings aren't required

Youth will be based at but space is limited and

the Belfast Community caregivers are to stay in the

Network.

library during the session.

®

®

Free entry, Belfast Community

Network, 710 Main Marshlands Rd.

Shirley Library, 36

NEW

North Rd.

HIGH MODEL WALL HEAT 6kW PUMP

5.85kW Hiwall

FLOOR CONSOLE

Drawing Classes

Monday, 10-11.30am

Things are getting creative

in April, a six-week

drawing skills course has

begun. The course will finish

with a group exhibition

at the centre. Over six week

participants will learn

some basic skills that will

enable them to gain confidence.

The course will introduce

different mediums

such as pencil, charcoal,

graphite, coloured pencil,

pen, felt and ink. It is open

to anyone who wants to

attend. Phone 382 0350 for

more information.

St Albans Community

Centre, 1049 Colombo St.

Healthy Cooking Class

Monday 7.30-9pm

Nutritionist Gill Judge

is running a new healthy

cooking class to combat

heart disease, obesity and

diabetes. During the one

and a half hour sessions,

Mrs Judge hopes to show

people the importance

of healthy eating and an

overall healthy lifestyle to

change modern attitudes.

Future classes will be

guided by feedback from

participants. For more

information email gill@

serenityhealth.co.nz.

Abberley Park Hall, St

Albans.

HOME & HEATING

Air Con Christchurch

Tucker Electrical

We at Tucker Electrical offer true solutions with full

visibility and quality products.

Air Con Christchurch Tucker Electrical

specialize in providing Heating, Ventilation

and Solar solutions with Automation to save

energy. As a sister company they provide the

complete package with all warranties and an

Winter Heat Pump Specials

Air Con New Zealand $50,000 workmanship

warranty, being agents for Mitsubishi

Electrical, Fujitsu, Panasonic, Gree, Toshiba

plus multiple supply options for solar solutions.

New Zealand's best low temperature

With Solar PV (Electrical Power Generation)

there are many pit falls and false quick sales

are being made due to misleading television

advertising and badly sold solutions. We at

Tucker Electrical offer true solutions with

full visibility and quality products providing

instant assessment of your actual generation

suitability by a full report.

Did you know you can, if installed correctly,

check each panel is working correctly? Did

you know you can assess/see the total amount

of generation of your system and the instant

position of generation? Many package deals do

not offer this and then you are only guessing

when trying to maximise the use and benefit

of your investment. On a financial return basis

we can show you how a 12% return on your

investment is quite simple.

Call us for any information or confirmations

for free Build Back Smarter Home Assessments

which are supported by the Christchurch City

Council (we are one of only three suppliers for

the programme). All our assessors are Beacon

Pathway Accredited and trained.

Home Automation is fast becoming the

normal control of energy and the Econnecx

performance heat pump, guaranteed!

locally designed system is cost effective and

can be used to control all aspects of your

commercial or home premises from turning

While ordinary heat pumps produce less lights heat on/off below to 7°C, the control of the heat pump

only Mitsubishi Electric HyperCore ® Technology central guarantees

heating systems, and of course the

biggest saver, hot water, all from your phone

its fully rated capacity right down to -15°C via an so app. you get

all the heat you paid for. Mitsubishi Hypercore is an ideal heat pump/

air conditioner for the South Island as it works

at the nominal rating down to minus 15

degrees at full rated output (no other brand of

heat pump does that), add to the performance

As part of New Zealand Music Month,

in the cold the multi direction louvers and duct

Christchurch City Libraries is hosting a series of vane air louvers and advanced air filtration Call Stephen Tucker on 027 432 6222

musical performances across the city. ® Check

®

with the movement sensor,

Winter

all these add up

Heat

to anytime

Pump

or the office on

Specials

343 3049 to book

out the Papanui High School choir and chamber the best performer in the range of all brands an appointment or assessment and free

music ensemble HIGH at WALL Papanui HEAT Library PUMP today from FLOOR heat CONSOLE pumps and wifi control and you have an quote for Tucker Electrical or Air Con

12.30 to 1pm. Ngā Manu Tioriori waiata group will

FH25 3.2kW Heat Pump

KJ60 6.8kW unbeatable Heat Pump solution.

Christchurch.

be performing at Shirley Library tomorrow from

New Zealand's best low temperature

10am. Bishopdale School kapa haka will take the

$2549.80

stage at Papanui Library on Friday from noon.

$4449.50 performance heat pump, guaranteed!

Installed BB.

Installed BB.

Guitar Otautahi will be Conditions playing apply. classics from

Conditions apply.

Winter Heat While ordinary Pump heat pumps produce Specials

less heat below 7°C,

Bach to The Beatles on Saturday from 2pm and Winter Heat Pump Specials

on Monday Chisnallwood School choir, ukulele

only Mitsubishi Electric HyperCore ® ® Technology guarantees

and Irish group at Shirley Library.

its New its fully fully rated Zealand's capacity right best down low to to temperature

-15°C so so you you get get

all all the the heat you you paid for. for.

Save

$250

Save

$400

Winter Heat Pump Specials

performance heat pump, guaranteed!

New Zealand's best low temperature

Quietly Superior Heat Pumps

Save

$250

Save

$250

(8.3kW max)

FH25 3.2kW Heat Pump

Installed

$2699

$2549.80 BB

Installed BB.

Conditions apply.

Conditions apply

www.airconnz.co.nz

www.airconnz.co.nz

BE IN TO WIN

THE INSTALL BACK

If confirmed this month!!

Save

$400

Save

$400

® ®

Quietly Superior Heat Heat Pump

Cozy (7.4kW max)

6 YEAR WARRANTY

$4449.50 Installed

KJ60 6.8kW Heat Unit Unit Pump 8/33 Watts Road,

Installed BB.

$1999

Conditions apply.

Sockburn, Christchurch

BB

03 343 4441

Conditions apply

BE IN TO WIN

A 6kW HEAT PUMP!!

Quietly Superior Heat Pumps

Unit 8/33 Watts Road,

Sockburn, Christchurch

03 343 4441 3886
---
NOR'WEST NEWS Latest Christchurch news at www. .kiwi

Tuesday [Edition May 16 datE] 2017 19 3

HOME & HEATING

Choosing the right heat

pump for your home

Whether it be a new build, or a retrofit,

most homes include at least one heat pump,

if not a whole heating solution. They can

provide cheap, clean heat and are much more

convenient than a log burner as you just need

to press a button. But how do you decide

what is best? Choosing the right sized heat

pump is key to ensuring optimum comfort

levels. Every situation varies and it is therefore

important to get professional advice from heat

pump experts.

The range varies from wall mounted high

walls, floor mounted systems, multi systems,

ceiling cassettes, right through to ducted

central heating systems allowing you to have a

very discreet way of heating your whole home

to a constant temperature throughout.

Firstly, you must select a heat pump that

is suitable for the size of the space you wish

to heat. Usually a site visit is the best way to

ascertain this. Not only is the size of the area

taken into consideration but also, insulation,

building orientation, windows and ceiling

space. There are a wide range of heat pumps

available with different heating outputs so it

is important to select the correct size for your

requirements that will handle the job but not

be unnecessarily overpowered.

Secondly, the location of your heat pump

is also extremely important. The cheapest

installation is a back to back where the outdoor

unit is positioned directly behind the indoor

unit however this is not necessarily always

the best option. It is vital that the indoor

unit is positioned in a place that will not be

constantly blowing on you. Also important, is

the location of the outdoor unit. Most people

do not want their outdoor unit sitting directly

in their outdoor entertaining area or right

outside their bedroom window.

Choose a brand you can trust. Many brands

have come and gone over the years but there

are a number of manufacturers who provide

reputable and reliable products. All brands

vary in their energy efficiency, quietness of

systems and price, so it depends on your

application as to which will be most suitable.

Major brands such as Panasonic, Fujitsu,

Mitsubishi, Daikin, Toshiba and Hitachi are

all reliable brands backed up by good technical

after sales service.

Ensure your heat pump is installed by an

accredited installer. This will not only ensure

correct installation of your heat pump, but

also validate the manufacturers warranty.

Other things to consider when choosing a

heat pump are time clocks, ease of use of the

remote controllers, air filtration and also wifi

capabilities.

Heating is a major investment in your home

and it is vital to get the right advice.

Enviro Master Ltd specialise in the supply,

installation and servicing of all major brands

of heat pumps. Our salesmen are engineers

ensuring you get quality, unbiased advice as

to which system will suit your application

the best. Enviro Master Ltd offer a free, no

obligation quote and will come to your home

to see what is required. Visit our website at

www.enviromaster.co.nz.

AttAck Rising DAmP

For existing homes with

wooden floor construction

• Stop Mould & Mildew

• Reduce Heating Bills

• Cost Effective Permanent

Solution To Rising Damp

• Free Consultation / Quotes

...at the source

The facts about

home ventilation

Balanced Pressure vs Positive Pressure

Under the New Zealand Building Code,

all buildings, including residential, need to

be suitably ventilated, either with opening

windows or forced ventilation. Clause G4.1

states: "The objective of this provision is

to safeguard people from illness or loss of

amenity due to lack of fresh air." There are

many benefits to forced, or mechanical,

ventilation over opening windows, including

warmth, security, reduction of outside noises

and reduction of condensation.

Traditional domestic ventilation systems

are 'positive pressure'. They bring air in from

outside via the roof space and force the stale air

out through gaps around windows and doors.

The incoming air from these

systems has to be heated or

cooled to keep the house warm

in winter or cool in summer.

The Smooth-Air HEX390 is

a 'balanced pressure' system. It

extracts air from the house and

at the same time brings in fresh

air. These two streams of air

pass through a heat exchanger,

which warms incoming air in

winter and cools in summer if

air conditioning is being used.

This means that up to 80% of

the energy which would be

Remove

cooking smells

and steam!

Remote

extraction fans

wasted using a traditional positive pressure

system is recovered, resulting in significant

energy savings and therefore lower heating or

cooling costs.

Until recently, balanced pressure ventilation

systems have been considerably more

expensive than traditional positive pressure

systems. However, with Smooth-Air's unique

manufacturing capabilities, a HEX390

balanced pressure system can be installed for

a similar price as a traditional positive pressure

system.

Contact Smooth-Air on 0800 SMOOTH

(0800 766 684), or visit www.smooth-air.

co.nz or www.home-ventilation.co.nz

Ventilation Equipment

Suppliers to trade and retail

STOP RISING DAMP TODAY www.foamcrete.org

Free Phone: 0508 362626 Main Office: (03) 3764608 Fax: (03) 3764603

L

HEAT PUMP

SALE NOW ON!

Amazin' autumn Specials!!

Range Hood cupboard insert

● Domestic

● Commercial

● Industrial

• We will offer you the best quality brands and

option of heat pump for your home/business

• Providing Heat Pump solutions for over 15 years to Cantabrians

• We personally guarantee all our products & installs for 5 years

(providing annual maintenance has been completed)

Phone us today for your free consultation & quote

41A SHAKESPEARE RD, WALTHAM

PHONE 03 366 0525

www.enviromaster.co.nz

"A local team for local people"

0800 SMOOTH (0800 766 684)

www.smooth-air.co.nz

sales@smooth-air.co.nz

264 Annex Road, Riccarton

Christchurch 8024, NZ

Ph +64 3 343 6184

Smooth-Air has

a wide range

of ventilation

equipment to bring

fresh air into your

home

Mon - Fri 7.30am - 5pm
---
20 Tuesday May 16 2017

Latest Christchurch news at www. .kiwi

NOR'WEST NEWS

One step

closer

to your

dream lifestyle

JUNE 30 - JULY 2

HORNCASTLE ARENA

10AM - 5PM

Adults $8 - Under 12's free

Star Media is proud to be sponsoring Canterbury's first ever Playhouse Challenge

Live Auction Saturday July 1 at 4pm

Proceeds to charity - Birthright Canterbury and Tenants Protection Association

starhomeshow.kiwi

Star Media Event
---
NOR'WEST NEWS Latest Christchurch news at www. .kiwi

Tuesday May 16 2017 21

REAL ESTATE

A Huntsbury haven

73 Parklands Drive, Huntsbury

Auction: Thursday, 1 June 2017 - Unless Sold Prior

3 bedrooms | 2 bathrooms | 2 toilets | 1 living room | 1 dining room | 1 office/study | 2 car-garage | Listing # BE192830

It is time for my client to say goodbye to

his much loved home. With its sweeping

views across the Canterbury Plains to the

Alps you will never want to leave your new

home.

A unique semi-circular design takes

advantage of the sun all day and optimises

the view. With a deck stretching along the

northern front of the house you will enjoy

the outdoor/indoor flow from the living

room. Summer will come again and you

can entertain in those long evenings.

Watch the stars at night from your master

bedroom and in the morning, enjoy a coffee

and croissant on your balcony. Naturally

there is a walk-in robe and ensuite for you

to use and enjoy.

On the lower level are two good sized

double bedrooms with a conservatory as

well. A large family bathroom should keep

the children or guests happy.

And as well there is the bonus of easy

access, off street parking and a double

garage.

Don't delay, call today, this lovely home

has to be sold on or before auction day.

To download Property Files: http://

www.propertyfiles.co.nz/property/

BE192830

AUCTION: Thursday 1st June 2017

from 12:00pm, Harcourts Grenadier 98

Moorhouse Avenue (Unless Sold Prior)

Open Home Dates: Wednesday 5.00

p.m. – 5.30 p.m. Saturday and Sunday

2.00 p.m. - 2:45 p.m. See you at the open

home or to arrange a private viewing

of this property call Debbie Pettigrew

from Harcourts Grenadier Beckenham

(Licensed Agent REAA 2008) now on 337

1316 or 027 777 0411

tHe tRuSteD nAme in fAbRicS

"Specialists in real value

apparel and upholstery fabrics"

BLENHEIM RD

ANNEX RD

BIRMINGHAM DRIVE

47

MATIPO ST

HARALDS

47 Birmingham Drive, Middleton | Phone 338 7700 | Open Mon-Sat 10-4
---
22

Latest Christchurch news at www. .kiwi

Tuesday May 16 2017

NOR'WEST NEWS

Classifieds Contact us today Phone our local team 03 379 1100

Computers

ALL

YOUR

COMPUTER

WORRIES SOLVED!

*$30.00 off your first

service with this coupon!*

No problem too big or

small from home PC's to

business networks. PC

slow? An end to Viruses,

Spyware, and Clogged

Systems. Safe secure

hassle-free computing.

Lost files recovered.

Microsoft Certified,

MCSE, MCP+l. 30 years

experience. Call Andrew

Buxton this week on 326-

6740 or 027 435-7596

for $30.00 off* Custom

Computers Christchurch

Curtains

www.curtainfabric-outlet.com

Half Price Sale

from $5 per mtre

Call at Our Shop

CURTAIN FABRIC OUTLET

71 Hawdon St Sydenham

Ph 366-5026

Gardening

& Supplies

A GARDEN OR

LANDSCAPING TIDY

UP? Shrub, hedge &

tree pruning, Lawns,

Gardening, consistently

reliable general property

upkeep, Dip. Hort. 10

yrs experience, One off

tidy ups or on-going

service. Nick's Property

Maintenance. Keeping

your garden beautiful.

Free Quote. Ph. 942-4440

Holiday

Accommodation

QUEENSLAND SUN-

SHINE COAST AUSTRA-

LIA Resort, Ocean Views,

Balconies, Self Contained,

1 or 2 B/R Ensuite,

Heated Pool, Spa, Sauna,

Free Internet, Shops,

Restaurants, Tennis, Surf

Club & Patrolled Beach,

Public Transport at door.

Ask for our SEASONAL

SPECIALS. Phone 61 7

544-35011 Email: reception@mandolin.com.au

www.mandolin.com.au

Trades & Services

Personals

GENTLEMAN on NW

side of the city seeks a

slim tall well presented

professional lady

for outings, conversation

and winter company.

Between 40 and 65, living

on own, and spontaneous.

Phone 3583634

PROFESSIONAL single

guy is looking to find a

single feminine lady to

hook up with and enjoy

pleasant moments,

laughter and weekends

away. 0276594425

THERE MUST be oodles

of single ladies in the city,

who would enjoy having a

man on her arm

to go to the Court theatre,

movies, out to dinner,

drives and walks, some

time relaxing in front of

the TV,

or just hangin out together

smelling the roses and

tasting the fruits of love. If

you are one contact me at:

Matt P.O.Box 1919,

Christchurch

To Let

NEED MORE

SPACE?

FREE ECO HEATER THIS MONTH

Ideal as an extra

bedroom or office

Three convenient sizes

from $70 p/w:

Standard 3.6m x 2.4m

Large 4.2m x 2.4m

Extra-large 4.8m x 2.4m

Visit our display cabins at

470 Cranford Street or call

0211277227 for a free brochure

www.justcabins.co.nz

Trades & Services

& Property Maintenance

Paving

Patio - Pathways - Driveways

Lawns and Gardens

Planting - Raised Vege Gardens

Readylawn - Irrigation - Fencing

General Maintenance

Water Blasting - Gutter Cleaning

Rental Property Maintenance

Section Clearing - Weed Spraying

20 Years Experience

Locally owned and operated

Free Quotes - Competitive Pricing

Blair Gibson 027 699 5815

concrete & paving

• Driveways

• Earthquake repairs

• New Home Specialists

• Patios & Paths

tel: 0508 873 7483

email: sales@affordableconcrete.co.nz

www.affordableconcrete.co.nz

Trades & Services

Swimming Pool Specialist

The Pool Guys

Need your pool:

• Fully Renovated?

• Cracks Repaired?

• Plumbing Checked or Upgraded?

• Filtration?

• Painted, Plastered or Tiled?

Email: sbcontracting01@gmail.com

Call 027 562 7457 www.thepoolguys.co.nz

GARAGE CARPET

You'll be amazed at what a multi-purpose room

your garage becomes when you add carpet and it

only costs around $35m2.

Part of the Protecta Coatings Group

We only use New Zealand made,

100% UV resistant specialised carpet.

We also paint garage and workshop floors.

www.protectafloorings.co.nz

Call now 021 488 025

EQC CASH SETTLEMENT

We will re-scope your property to ensure

you have been paid in full to cover all

your repair costs.

None of the properties that we have

re-scoped so far has been paid the

correct amount to repair their damage.

EXAMPLES

Trades & Services

EXTERIOR PLASTERING

Quality

Workmanship

at Competitive Pricing

Free Quotes

Aynsley Frewer

M: 027 201 1296

E: aynsleyfrewer@xtra.co.nz

PO Box 20534 Bishopdale

Trades & Services

Trades & Services

•Yaldhurst Road Initially $3,800 after our

re-scope payment received $46,320

•Wairakei Road Initially $7,575 after our

re-scope payment received $38,182

•Prossers Road Initially $19,827 after our

re-scope payment received $60,273

•Kaplan Avenue Initially $859 after our

re-scope payment received $34,931

•Liverton Crescent Initially $11,000 after our

re-scope payment received $29,842

•Dalkeith Street Initially $5,000 after our

re-scope payment received $8,945

• We have re-scoped 50 properties who have been under

paid for their repairs.

• Have your initial repairs failed?

• Did you receive your full entitlement?

• Do not pay your excess until all repairs are completed.

• General under payments are: Asbestos testing and

exterior lead paint, peeling wallpaper, cracking in exterior

plaster not repaired correctly.

For re-scoping and all earthquake repairs

including painting and redecorating.

Enquire now Phone 021-667-444

Trades & Services

PAINTING &

WALLPAPERING

• Satisfaction

guaranteed

• Over 30 years

experience

• Reliable &

honest

Please call

Ray Martin Ltd

021 770 551

or 359 5520

r.martin@globe.net.nz

• Replacement/new roofing

• Colour Steel gutter & fascia

• Flue & log burner installs

• Skytube/light installs

• Earthquake repairs

Licence Building

Practitioner LBP

Member of the Roofing

Association

DCM ROOFING LTD

The Roofing Specialists

PHONE IAIN

027 445 5597

iain@dcmroofing.co.nz

ROOF

PAINTING

Rope & harness

a speciality,

no scaffolding

required,

30 years of

breathtaking

experience.

FREE QUOTES

Norm McRae

027 222 3060 | 03 312 0082

www.doctorfixit.nz

Reporter,

Sub Editor

Situations Vacant

Star Media is seeking journalists.

We are looking for a reporter who will

have the ability to file great stories for our

print publications, including The Star and

Community titles, and our website

www.star.kiwi.

The successful applicant will need to be

competitive, have a thorough knowledge

of Christchurch and Canterbury, have

great deadline sense and have a passion

for community news and the people that

make it.

Video skills would be an advantage.

Star Media is also seeking casual sub

editors. The successful applicants will

need to have had experience with

InDesign and able to copy sub, lay out

pages and write headlines.

Trades & Services

BRICKLAYER

George Lockyer. Over

35 years bricklaying

experience. UK trained.

Licensed Building

Practitioner number

BP105608. Insurance

work. EQC repairs.

Heritage brickwork and

stonework a speciality. No

job too small. Governors

Bay. Home 329-9344,

Cell 027 684 4046, email

georgelockyer@xtra.co.nz

• Carpentry • Repairs &

Maintenance

• Doors & Windows

• Fencing

• Painting & Plastering

• Tiling

• Outdoor Maintenance

• Renovations

• Decks & Pergolas

Trades & Services

HANDYMAN

No job too big or small.

Good rates. Call 020 410

67205

PAINTER AVAILABLE

All aspects in painting.

Very competitive in roofs

and fences. Please call 027

241-7471 or 335-0265

PLASTERER

Gib Stopping, Small

job specialty. 30 + years

experience. Ring 0800

387-369

PLASTERING

Stopping / skimming. 30

yrs exp, all work large &

small. Contact Tony 027

222 2993 or Earl 027 345

0561

PLUMBER

For prompt service for all

BUILDER LICENSED

available for all aspects of

building. Please call 027

241-7471 or 335-0265

BUILDER

For all building work

but specialist in bathroom

renovations, 30 yrs

Exterior staining, experience, with service

plumbing maintenance,

and integrity. Free Quotes.

repairs and alterations.

exterior painting,

Ph Lachlan 383-1723 or

Phone Michael 364 7080

moss and mould 0274 367-067.

or 027 438 3943

PLUMBER

treatment and ****************

ALF THORPE

CARPET & VINYL

waterblasting

PLUMBING Certifying

Laying. Repairs, uplifting,

Plumber for all types of

Phone Kevin

relaying, restretching,

plumbing, maintenance,

jflattery@xtra.co.nz,

spouting, alterations etc.

027 561 4629 ph 0800 003 181 Phone 352-7402 or 0274-

or 027 2407416

350-231

Trades & Services DRAINLAYER

PLUMBER

Reg, all types, inclds soak

AAA HANDYMAN

A Top Plumbing job

holes, 20yrs exp. ph 028 completed at a fair price,

licensed carpenter 408-0121

prompt service, all work

LBP, all property and ELECTRICIAN

guaranteed, Ph Brian 960-

building maintenance, REGISTERED

7673 or 021 112-3492

repairs, bathroom/shower for all electrical ROOFING

installations, with free installations & repairs Ph Qualified & Licenced

quotes 03 383 1927 or 027 03 322 4209 or 021 026 Practitioner. Re-Roof &

245 5226 ciey@xtra.co.nz 73375

Repairs, all types. Member

New Zealand Roofing

Trades & Services

Association. Over 35 years

experience. Phone John

027 432-3822 or 351-9147

MAINTENANCE

email johnmill@ihug.

co.nz

SHOE REPAIRS

Belfast engraving.Shoe

Doctor

repairs,key cutting &

engraving.(10 yrs exp)683

Fixit Main North Rd

ph 027 3113423

SPOUTING CLEANING

Spouting Unblocked,

Cleaned Out and Flushed

Out. Also Full Handyman

Services Available. Call

Trevor 332 8949 or 021

043-2034

TILER/CARPENTER

35 years exp, no job

too small. Ph Ross 027

4311440.

Send your CV to

Editor in Chief

Barry Clarke

barry@starmedia.kiwi

Trades & Services

TREES BIG OR SMALL

tree removal, trimming,

stump grinding, shelterbelt

clean up, section clearing,

rubbish removals,

excavation work, ph Trees

Big or Small, for a free

quote, 021 061 4783

TREE WORK

Hedge trimming, stump

grinding, rubbish removed,

small job specialty Ph

Andrew 03 322-8341 or

027 435-8759

T.V. SERVICE CENTRE

Repairs, tvs, microwaves,

stereos, DVD. Aerial

installations and kitsets,

480 Moorhouse Ave, ph 03

379 1400

UPHOLSTERER

Dining Chairs, Lounge

suites, Caravan Squabs

etc. recovered. Free

Quotes. Phone Graeme

383-1448

VHS VIDEO TAPES

& all camera tapes

converted to DVD, video

taping special occasions,

www.grahamsvideo.co.nz

ph 03 338-1655

WATERBLASTING

Quick service, great rates

Call Bret 02041067205

Wanted To Buy

AAA Buying goods

quality furniture,

Beds, Stoves, Washing

machines, Fridge Freezers.

Same day service. Selwyn

Dealers. Phone 980 5812

or 027 313 8156

A+ Household effects,

fridges, freezers, washing

machines, ovens. Good

cash paid. Ph Paul 022

0891 671

TOOLS Garden,

garage, woodworking,

mechanical, engineering,

sawbenches, lathes, cash

buyer, ph 355-2045

Public Notices

Weka Pass Railway

Waipara, North Canterbury

We are RUNNING

SUNDAY 21st May

Running 1st & 3rd

Sunday of every month

Phone 0800wekapass

Depart Glenmark Station

11.30am & 2.00pm

www.wekapassrailway.co.nz
---
NOR'WEST NEWS Latest Christchurch news at www. .kiwi

Tuesday May 16 2017 23

QUEEN:

IT'S A KINDA MAGIC

RETURNS

Aer an overwhelming reception from New Zealand

audiences in 2015, Showtime Australia and Peter Freestone are

bringing their huge theatrical Rock concert Queen: It's a Kinda

Magic back to NZ, appearing at the Horncastle Arena on

ursday 1st June.

Capturing the imagination of Queen fans both locally and

internationally, Director Johnny Van Grinsven attributes the

show's continued success to the attention-to-detail; everything

from the costumes, instruments and even the lighting cues have

been designed to replicate those seen in real Queen concerts.

Making Queen: It's A Kinda Magic extraordinarily authentic is

the involvement of Peter Freestone, Freddie Mercury's best

friend, biographer, assistant and constant companion for the

nal 12 years of his life. As Production Consultant, Freestone

has schooled the cast and producers on the characters and

nuances of the original band in order to perfect the

performance.

"We're extremely lucky to have Peter involved. He knows

Freddie and the boys so well; his knowledge about who they are

and how they moved and played and even their sense of

humour has really helped take this show to the next level," says

Johnny Van Grinsven.

Another highly impressive member of the ensemble is

principal musician Giles Taylor who steps on stage as Freddie

Mercury, and does so as the only tribute performer in the world

who sings and plays both piano and guitar live on stage.

Though piano and vocals have been a mainstay in Taylor's

repertoire since his childhood, he taught himself guitar

specically for the role of Mercury.

Supporting Taylor for this mammoth stage production are

Australians Richie Baker as Brian May on guitar and Kyle

ompson as Roger Taylor on drums, as well as South Africa's

Steven Dennett as John Deacon on bass.

Tickets on sale at Ticketek.

A DOUBLE PASS

WIN

Queen: It's A Kinda Magic

Who plays Freddie?

RESTAURANT & CAFÉ

Cooked Breakfasts

We are open from 6.30am

Seniors SPECIAL

2 courses Soup/Roast or Roast/Dessert

Special available lunch only. Monday - Saturday 12pm - 2.30pm

Family Friendly

Kid's 2 course special

$18

$20

$10

www.newbrightonclub.co.nz

LIVE MUSIC - THIS SATURDAY 20th MAY

GAME OF TONES

MID-WINTER XMAS

FUNCTIONS

WE HAVE THE VENUE.

EXCELLENT CATERING. PLENTY OF

PARKING. ENQUIRE NOW!

'Famous for

their roasts!'

202 Marine Parade | Ph 388-9416

Members, guests and affiliates welcome

The

RACECOURSE HOTEL

& Motorlodge

118 Racecourse Rd, Sockburn,

Christchurch. Ph 03 342 7150

www.racecoursehotel.co.nz

JOIN

A CLUB BY

THE SEA!

TUESDAYS &

THURSDAYS

Members Lucky

Card Draw

FUNCTION ROOMS

SHUTTLE RUNNING

Tues, Thurs, Fri & Sat

TAB POD

GAMING ROOM

ClubBISTRO

Open Tuesday to Saturday

12pm-2pm and from 5pm

Midweek $10

SPECIAL ROAST

Available Tuesday,

Wednesday, & Thursday

PIERVIEW

Restaurant

Quality a la carte

with a view!

Open from 5.30pm

FRIDAY, SATURDAY

& SUNDAY

OPEN FOR

SUNDAY BRUNCH

By the Seaside!

10.30am-2pm

SUNDAY 3 COURSE

DINNER SPECIAL

$25

SUNDAY BUFFET

Sunday 28th May

ALL YOU CAN EAT

$25 BOOK NOW!

NOW SERVING

available

from

9am

Breakfast

HAPPY

HOUR

5PM - 7PM

DAILY

Bookings Essential PH 386 0088

fb.com/GardenHotelRestaurant www.gardenhotel.co.nz

Live Music:

6PM.FRI.19 MAY

OUR CABINET ITEMS ARE HOMEMADE

CREATED FRESH ON SITE DAILY

$12

LUNCH

SPECIALS

Lunch & Dinner

All you can eat, 7 days

COFFEE

HAPPY

H O U R

2PM-4PM

DAILY

$3.50

Offer available for a limited time

and includes tea, hot chocolate

MON: ROAST MEAL

TUE: FISH & CHIPS

WED: FISH BURGER

THU: ROAST MEAL

SAT: FISH & CHIPS

AVAILABLE

FROM

11.30AM-2PM

FOR A

LIMITED TIME

Vintage Blue

PHONE 385 8880 FIND US ON FACEBOOK fb.com/GBCCHCH

THE GARDEN HOTEL COMPLEX | 110 MARSHLAND RD

www.gardenhotel.co.nz | phone 385 3132

H ORNBY

WORKINGMEN'S

CLUB

«WHAT'S ON«

SATURDAY 20 MAY

4.30PM

EASY COME

EASY GO

8PM

MARION'S

OUTLAWS

Club

CAFE

OPEN 7 DAYS

LUNCH & DINNER

Gluten Free &

Vegetarian options

WIN TICKETS TO BONEY M

Spend $15 or more in the CLUB CAFE from

Friday 5th May to Sunday 4th June and go

in the draw to WIN one of three double passes

to BONEY M at the Horncastle Arena on

Thursday 8th June.

«COMING UP«

FRIDAY 9 JUNE, NOON

CRUSADERS v

BRITISH & IRISH LIONS

PRE-MATCH LUNCHEON

WITH GUEST SPEAKERS

JOHN TAYLOR (Welsh & Lions Loose Forward)

& RICHARD LOE (All Black Prop)

plus special guests

CANTERBURY SQUADS v LIONS 1950's, 60's, 70's

GREAT ENTERTAINMENT - AUCTIONS - RAFFLES

Tickets $100 includes buffet meal & drinks.

Chalmers

Restaurant

Early Bird Special

5.30pm – 6.30pm

FRI & SAT

Roast (4 Choices)

and Free Desserts

still only $20.50

Unbeatable value

including your

choice of fresh

Veges and Salads

Hornby WMC | ph 03 349 9026 | 17 Carmen Road | Hornby

www.hornbyworkingmensclub.co.nz | Members, guests & affiliates welcome
---
24 Tuesday May 16 2017

Latest Christchurch news at www. .kiwi

NOR'WEST NEWS

TOP

02

03 04

Paul Nichols

FENDALTON

Chris Lewis

FENDALTON

Jenni Rolton

ST ALBANS

Cindy-Lee

Sinclair

MERIVALE

05

06

07

08

Grant Milligan

FENDALTON

David Canning

ILAM 2

Tracy Thomson

ST ALBANS

Corina Grey

ILAM

09 10

11

12

Richard Dawson

ILAM 2

Cathy Carter

FENDALTON

Janine Laney

ILAM 2

Chris Campbell

ILAM

13

14

15

16

Michael Limmer

ST ALBANS

Nerina Higgins

MERIVALE

Don Yee

ILAM

Fiona Williams

ILAM

17 18

19

20

Peter Hampton

ST ALBANS

Fiona Nankivell

ILAM 2

John Morrison

ILAM 2

Steven Marshall

FENDALTON

Win-Win

Congratulations to our Top 20 consultants for 2016/17

It's an unquestionable truth – the success of our clients is directly tied to the

success of our people. That's why it's their triumphs we celebrate as much as

those of the individuals you see here.

We want to thank our clients for their trust in us. We wish to congratulate our high

achievers for their passion and dedication, their unique expertise and exemplary

service. We look forward to further success with you in the years to come.

Contact one of our top

performers today:

Fendalton 03 355 6116

Ilam 03 351 6556

Ilam 2 03 351 3002

Merivale 03 355 6677

St Albans 03 377 0377

holmwood.co.nz