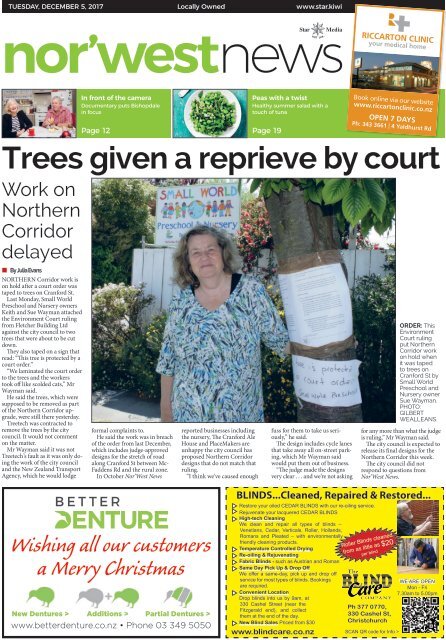 Nor'West News: December 05, 2017
You also want an ePaper? Increase the reach of your titles
YUMPU automatically turns print PDFs into web optimized ePapers that Google loves.
TUESDAY, DECEMBER 5, 2017

Locally Owned

www.star.kiwi

In front of the camera

Documentary puts Bishopdale

in focus

Page 12 Page 19

Peas with a twist

Healthy summer salad with a

touch of tuna

Book online via our website

www.riccartonclinic.co.nz

OPEN 7 DAYS

Ph: 343 3661 | 4 Yaldhurst Rd

Trees given a reprieve by court

Work on

Northern

Corridor

delayed

• By Julia Evans

NORTHERN Corridor work is

on hold after a court order was

taped to trees on Cranford St.

Last Monday, Small World

Preschool and Nursery owners

Keith and Sue Wayman attached

the Environment Court ruling

from Fletcher Building Ltd

against the city council to two

trees that were about to be cut

down.

They also taped on a sign that

read: "This tree is protected by a

court order."

"We laminated the court order

to the trees and the workers

took off like scolded cats," Mr

Wayman said.

He said the trees, which were

supposed to be removed as part

of the Northern Corridor upgrade,

were still there yesterday.

Treetech was contracted to

remove the trees by the city

council. It would not comment

on the matter.

Mr Wayman said it was not

Treetech's fault as it was only doing

the work of the city council

and the New Zealand Transport

Agency, which he would lodge

formal complaints to.

He said the work was in breach

of the order from last December,

which includes judge-approved

designs for the stretch of road

along Cranford St between Mc-

Faddens Rd and the rural zone.

In October Nor'West News

reported businesses including

the nursery, The Cranford Ale

House and PlaceMakers are

unhappy the city council has

proposed Northern Corridor

designs that do not match that

ruling.

"I think we've caused enough

fuss for them to take us seriously,"

he said.

The design includes cycle lanes

that take away all on-street parking,

which Mr Wayman said

would put them out of business.

"The judge made the designs

very clear . . . and we're not asking

ORDER: This

Environment

Court ruling

put Northern

Corridor work

on hold when

it was taped

to trees on

Cranford St by

Small World

Preschool and

Nursery owner

Sue Wayman.

PHOTO:

GILBERT

WEALLEANS ​

for any more than what the judge

is ruling," Mr Wayman said.

The city council is expected to

release its final designs for the

Northern Corridor this week.

The city council did not

respond to questions from

Nor'West News.

Wishing all our customers

a Merry Christmas

New Dentures > Additions > Partial Dentures >

www.betterdenture.co.nz • Phone 03 349 5050

BLINDS...Cleaned, Repaired & Restored...

Restore your oiled CEDAR BLINDS with our re-oiling service.

Rejuvenate your lacquered CEDAR BLINDS

High-tech Cleaning

We clean and repair all types of blinds –

Venetians, Cedar, Verticals, Roller, Hollands,

Romans and Pleated – with environmentally

friendly cleaning products.

Temperature Controlled Drying

Re-oiling & Rejuvenating

Fabric Blinds - such as Austrian and Roman

Same Day Pick Up & Drop Off

We offer a same-day, pick up and drop off

service for most types of blinds. Bookings

are required.

Convenient Location

Drop blinds into us by 9am, at

330 Cashel Street (near the

Fitzgerald end), and collect

them at the end of the day.

New Blind Sales Priced from $30

Roller Blinds cleaned

from as little as $20

per blind

Ph 377 0770,

330 Cashel St,

Christchurch

www.blindcare.co.nz SCAN QR code for Info >

WE ARE OPEN

Mon - Fri

7.30am to 5.00pm
---
2 Tuesday December 5 2017

Latest Christchurch news at www.star.kiwi

from the editor's desk

CHRISTMAS MIGHT be right on

the radar but there's another big event

looming too – the City2Surf.

Yep, it's only a handful of months away

(see page 4) so it's time to start lacing up

those running shoes and pounding the pavement or local park

to get in some sort of shape.

The great thing about the City2Surf – and this hasn't

changed over the decades – is that anyone regardless of shape

or fitness level can take part.

A face that will appear on the marketing of City2Surf this

year is Jesel Royokada, a Fijian pastor.

And remember it's a family event – children 10 and under

are free to participate.

news

Getting into the spirit for City2Surf

Pastor Jesel Royokada has asked his congregation

of about 80 to get involved in next year's Star Media

City2Surf.

Page 4

sport

NOR'WEST NEWS

Student wins tennis open

Tessa McCann (left) is looking forward to a big year on the

court after winning the Canterbury women's tennis

open.

Barry Clarke

get in touch

GENERAL ENQUIRIES Ph 379 7100

CLASSIFIED ADVERTISING Ph 379 1100

The Christchurch Star Company Ltd

PO box 1467, Christchurch

starmedia.kiwi

NEWS

Julia Evans

Ph: 021 914 742

julia.evans@starmedia.kiwi

ADVERTISING

Monique Maynard

Ph: 364 7474

monique.maynard@starmedia.kiwi

Page 10

community events

Fun with robots

Join others at the Redwood Library to build a Lego robot

and then program it using the library's iPads.

Wednesday, 3.30-4.30pm

Page 23

The best-read local newspaper, delivered to

16,717 homes every Tuesday

Harewood, Burnside, Bishopdale, Bryndwr, Fendalton, Merivale, St

Albans, Mairehau, Papanui, Casebrook, Redwood, Regents Park,

Styx Mill, Northwood, Belfast, Strowan.

FREE GIFT *

when you purchase a photo

with Santa at The Palms

2 – 6 Dec 10am – 4pm

7 – 8 Dec 10am – 6pm

9 – 13 Dec 10am – 4pm

14 – 15 Dec 10am – 6pm

16 – 17 Dec 10am – 4pm

18 – 23 Dec 10am – 7pm

24 Dec 10am – 4pm

2017 Winner

RookieStoreof the Year

Super Liquor Elmwood

The Super Liquor Annual Awards evening recognises store owners and

managers, who uphold Super Liquor's brand pillars - Super Service,

Super Range, Super Deals, Super Convenient.

Super Liquor Elmwood picked up the Rookie Store of the Year Award

recognising the work of the Super Liquor Elmwood team since the store

opened a year ago.

3for

$

99!

OR FROM $34.99ea

INCLUDES JIM BEAM, SMIRNOFF RED,

GORDON'S, BAILEYS, CORUBA OR

FAMOUS GROUSE 1 LITRE OR EL JIMADOR

OR JACK DANIEL'S 700ML

now open!

SUPER LIQUOR

ELMWOOD

1 Normans Road

P 03 355 1170

TPS31720

*T&C's at thepalms.co.nz

Corner Marshland & New Brighton Rd, Shirley

Sorted

GIFT CARD

GIFT CARDS

now instore

Offers end close of trade 24th December 2017, while stocks last. Available

at participating stores only. Limits may apply. Trade not supplied. Terms and

conditions may apply. Please see www.superliquor.co.nz for details.
---
NOR'WEST NEWS Latest Christchurch news at www.star.kiwi

Tuesday December 5 2017 3

News

Native bush plan mooted

• By Julia Evans

MORE THAN 150 years

after its last tree was chopped

down, Papanui Bush may be

reinstated.

The Papanui-Innes Community

Board is looking to regenerate

the forest that took up 36ha

between what is now Papanui

High School

and Vagues Rd

in 1850.

The modern

native forest

plan is

proposed for

Bridgestone

Reserve on

Mike Davidson

Langdons Rd.

It would make

it only the second in the city

alongside Riccarton Bush.

City councillor Mike Davidson

said he is pushing for the

project to create a native bush

in his ward that the community

can be proud of.

"If we can reclaim a bit of history

in Papanui, that would be a

really good thing . . . but it's got

to be done properly," he said.

It will be a huge recreational

attraction for the community,

which would be involved in the

planting of the bush, as well as

providing habitats for native

bird and encourage growth in

NATIVE: The possibility of rejuvenating Papanui Bush, which was cut down more than 150 years

ago is being investigated.

population, Cr Davidson

said.

It was one most significant

landmarks the settlers saw as

they walked over the Port Hills

to establish Christchurch but the

land was divided in a ballot and

the trees were felled.

According to a paper by the

Papanui Heritage Group the

bush was made of totara, rimu,

kahikatea and matai. The last

totara tree was cut down in 1861,

years after the rest of the bush

was gone.

Bridgestone Reserve is a bit

smaller than Cr Davidson was

hoping for. But he said he could

work with it.

A city council feasibility report

will come back from staff later in

the week so the board can work

on submitting a proposal for the

Long Term Plan.

Cr Davidson said it would

only need a start up capital of

about $10,000. "I'm hoping to

find some money in this year's

budget for it," he said.

A project like this would take

a lot of time for the trees to develop,

so he wants to get it under

way as soon as possible.

•HAVE YOUR SAY: What

do you think about the plan

to rejuvenate the historic

Papanui Bush? Email your

views to julia.evans@

starmedia.kiwi

Local

News

Now

In Brief

Fire rages, homes at risk

TREE REMOVAL

Fifty-five eucalyptus and pine

trees will be removed from

Belfast's Styx Mill Conservation

Reserve to enable planting of

native trees. Following the

removal of the trees, the area will

be replanted with1200 native

trees and shrubs including 60

totara and matai. A number of the

existing pine trees will be retained

to provide habitats for cavitynesting

native birds.

FLORAL THEFTS

The Friends of Abberley Park

group has taken to posting

pictures of the plants whose

flowers have been cut and

removed from the park on its

Facebook page to shame the

"vandals" that do it. The most

recent incident saw a peony rose

bush lose more than 35 flowers

and another lose 12. "Shame

on these thieving vandals," the

Facebook post said.

SAFETY IMPROVED

A $76,000 pedestrian island is

being put in near Cotswold School

on Gardiners Rd and Fairford St

to increase safety after calls from

the community. The location

will provide a safe crossing point

for all pedestrians, although a

city council pedestrian survey

found the majority of pedestrians

crossing were Cotswold pupils.

Who knew it would be so

wonderful

tohear

my grandkids

play music poorly

Wishing you a happy

and safe holiday season

Thank you for your continued

support, I look forward to

working with you in the New Year

Kama Jacobs

Contact: Kama Jacobs

022 043 7696 or 03 384 8600

www.smartrealestate.co.nz

kama.jacobs@smartrealestate.co.nz

Licenced

under the Real

Estate Agents

Act 2008

Merivale Hearing Clinic

24b Church Lane

Call now: 356 2324

Greg Foote, Audiologist

Book an appointment today, Consultations by appointment only.
---
4 Tuesday December 5 2017

Latest Christchurch news at www.star.kiwi

News

NOR'WEST NEWS

Local

News

Now

Fire rages, homes at risk

Getting into the spirit of

• By Andrew King

JESEL ROYOKADA embodies

everything that is the Star Media

City2Surf.

Last year he was photographed

leaping into the air after crossing

the line capturing the spirit of the

event.

Now, the Christchurch Fijian

Seventh-Day Adventist Church

pastor has asked his congregation

of about 80 to get involved in the

event as a way to connect with

other cultures.

"We come from the islands and

sometimes we do things in our

own island groups but it is good

to get involved with the rest of

the community," he said.

The 31-year-old encouraged

about 25 of his parishioners to

get involved in the event last year

"It was the first time our

church has got involved with

something like this," he said.

He said they were told

about the event by Healthy

Families Christchurch, part

of a nationwide Government

initiative ​aimed at helping New

Zealanders live healthy, active

lives.

"I would like to see all 80 of

them out there, and their friends

and families. We can even have

kids in prams at the event," he

said.

He said they will start to train

soon for the event, which will be

held on March 18.

The event is split into two

sections – 6km and 14km.

The Star Media City2Surf with

Les Mills 14km event starts in

Centennial Park, Spreydon, at

9am.

The Sport Canterbury 6km

event starts at 10am in Hansen

Park, Opawa.

Both finish at the Ferrymead

playing fields. There will be

after-event entertainment

with live music, food and free

children's entertainment in the

finish area.

Earlybird entries open online

on December 1 and cost $20.

They can be purchased from

http://www.city2surf.co.nz/

Standard entry from January 1

will cost $25 online or tickets can

be purchased from The Athletes

Foot, Pak'n Save and New World

supermarkets.

Children 10 and under are free

to participate.

•The Star Media City2Surf

will be held on March 18.

Early bird entries will be

available from December

1 at http://www.city2surf.

co.nz/

ENTHUSIASM: Jesel Royokada embodies the spirit that is the

Star Media City2Surf.

HEAT PUMP

SALE NOW ON!

Amazin' summer Specials!!

• We will offer you the best quality brands and

option of heat pump for your home/business

• Providing Heat Pump solutions for over 15 years to Cantabrians

• We personally guarantee all our products & installs for 5 years

(providing annual maintenance has been completed)

Phone us today for your free consultation & quote

41A SHAKESPEARE RD, WALTHAM

PHONE 03 366 0525

www.enviromaster.co.nz

"A local team for local people"

LAwyERS

We have over 40 years' experience

to assist you with…

• Buying and Selling Houses and

Commercial Property

• Wills, Trusts and Estate matters

• All issues facing you

and your business;

• Employment Law

matters;

• Traffic matters;

• Advice regarding

Retirement Villages

• General Legal Advice on all matters

Call John, Brendan or Andrew today

03 366 8996

Email. lawyers@mclegal.co.nz

Airport Business Park

92 Russley Road, Christchurch 8042

BURWOOD

HOME OF THE

$

40 SERVICE

FESTIVE SPECIALS FOR YOU

SHOP HOURS

Mon-Fri 8.30am-5.30pm. Sat 9.00am-4.00pm

Ph: 383 2114

269 Burwood Rd, Burwood

Lay-by available
---
NOR'WEST NEWS Latest Christchurch news at www.star.kiwi

Tuesday December 5 2017 5

News

Public in roading discussions

• By Julia Evans

FENDALTON residents will

know how roading issues in the

area will be dealt with this week.

City council staff will send a

report out to members of the

the Glandovy, Idris and Straven

Residents'

Association

this week, group

spokesman

James Wilding

said.

He said a

Karleen

Edwards

more detailed

report will

be sent to the

Fendalton-Waimairi-Harewood

Community Board before its

next meeting.

City council staff and

members of the board met

with residents' association on

Wednesday to discuss traffic and

roading issues in the area.

THe meeting came after

Nor'West News revealed city

council chief executive Karleen

Edwards recommended traffic

and road layout issues be dealt

with behind closed doors

and a working party was not

established.

But the board rebutted the

idea and kept the table open.

"As is the nature of such

meetings, there was a frank

TROUBLING: The Glandovy, Idris and Straven Residents' Association wants to address traffic

and roading issues before a cyclist or pedestrian is injured. ​

exchange of views. Our sense is

that those present recognised

that there were serious traffic

issues that needed addressing,

and swiftly," association

spokesman James Wilding

said.

THe group proposed a calm

road network for the area,

40km/h signage outside nearby

schools and for freight to use

the strategic freight network. As

well as pushing for the narrow

cycleways to be updated.

THe issues are being dealt with

by city councillors Raf Manji

and Aaron Keown, as well as

transport staff.

Mr Wilding said the group

will still push to create a formal

working group with the city

council.

"Our hope is still to work

in partnership with the board

and city council, including by

way of a working group which

includes community, the board

and council staff, including

traffic, health, urban design and

heritage staff," he said.

Local

News

Now

Call to

investigate

cycling initiative

• By Julia Evans

Fire rages, homes at risk

CONCERNS HAVE been

raised over publicity of a cycling

initiative at Jellie Park Sports and

Recreation Centre.

Staff at the centre not knowing

about the initiative at all, and a

lack of advertising, has prompted

the Fendalton-Waimairi-Harewood

Community Board to

ask city council staff investigate

urgently.

The campaign to get less people

driving to Jellie Park in a bid

to clear the congested car park

means if you cycle five times, you

receive free pool entry and a bottle

of water.

The initiative was first run in

February with only a "small to

moderate uptake," city council

western area operations manager

Martin McGregor said.

It was recommended the

programme be dropped. But a

second campagin, running from

now through summer, was called

for by the board as it said a longer

trial was necessary for a greater

uptake. As well as being in warmer

months when more people are

likely to cycle.

It was previously suggested that

the scheme would be rolled out

across all city council sport and

recreation centres.

'CEREC' & cosmetic dentistry

Wisdom tooth removal

Painless, high quality dentistry

Sedation dentistry

your one stop shop!

We welcome you to come along and have a look

ENROL FOR

TERM 1 NOW!!

Experienced, conscientious team

Experienced hygienists

OPEN SATURDAYS

355 9380

144 Cranford Street

www.stalbansdentalcentre.co.nz

We've been trusted to look after hundreds

of properties all over Christchurch.

You can trust us to look after your's too.

Late night Thurs open till 6.30pm

1 Amyes Rd, Hornby Ph. 349 4163

Hours: Mon - Fri 9am-4.30pm,

Sat 9.30am-1.30pm

335b Riccarton Rd, Church Cnr

Ph. 341 8539

Hours: Mon - Fri 9.30am-5pm

Sat 9.30am-2.30pm

MERIVALE

BACK TO SCHOOL BOOST

HOLIDAY PROGRAMME

22nd - 26th January 2018

Maths, English, Spelling, Reading, Science

Specialists in NCEA Physics and Chemistry

Year 1-13

Property Manager of

the Year NZ 2015/16

Ray Hastie

Manager

027 448 8225

Paula Hastie

Assistant Property Manager

Local Experts – Citywide Knowledge

Phone (03) 331 6755

www.propertymanagementchristchurch.com

Chloe McGill

Property Manager

021 914 332

Rebekah Whalley

Accounts Administrator

03 331 6755

Abbey Nolan

Property Manager

027 379 5021

Nominated for Ray White New

Zealand Property Management

Office of the Year, 2016/17

Prier Manson Real Estate Ltd Licensed (REAA 2008)

FREE

AssEssmEnt

Merivale 03 355 0345

merivalekipmcgrath@gmail.com
---
6 Tuesday December 5 2017

Latest Christchurch news at www.star.kiwi

News

Chance to

reconnect with

school before

demolition

• By Julia Evans

FORMER BISHOPDALE School

pupils have been invited to visit

one last time.

The school's 60-year-old buildings

are being demolished during

the school holidays as work begins

on the $4.38 million rebuild.

Principal Sue Fisher said anyone

who wants to go back, take photos

and visit the classrooms is more

than welcome.

"People from Bishopdale seem

to live in this area forever," she

said.

She said there is a huge community

connection in the suburb,

especially as its going through a

regeneration with the new library

and redevelopment of the mall.

Demolishing the first block will

begin in January, with the new

building beginning construction

in March and the rebuild expected

to finish late next year.

"They [the Ministry of Education]

want to have it done in the

holidays because it's not desirable

to have children and asbestos in

the same space," Mrs Fisher said.

Anyone who wants to go

through the school has until December

15. Phone the school on

352 9354 to arrange a time.

RIDING ITS recent wave of

success, the film A Perfect Child

has brought home two more

awards for its St Margaret's and

Christ's College producers.

The 18min short film, written

and produced by St Margaret's

and Christ's College students

Nina Hogg and Simon Brown

won Best New Zealand Film

and Best Secondary School Film

awards at the Uni Shorts Film

Festival at the end of November.

This year's line-up saw 36

finalists from New Zealand, the

United States, Israel, Australia,

Switzerland, Germany, Spain

and the Netherlands across six

categories with the winners

being named at the opening

night of the festival at Unitec in

Auckland.

The judging panel included

award-winning filmmaker Alyx

Duncan, renowned actress,

writer and director Aidee Walker

and internationally acclaimed

animator Katie Naeher.

They praised the film for its

strong premise and depth of

talent.

The festival is a platform for

for emerging student filmmakers

and screening of selected new

student film work – the biggest

film festival of its type in Australasia.

A Perfect Child is the work of

around 60 students from the two

schools and tells the story of Ava,

a young girl in an orphanage

who comes to realise that fellow

orphans are being cloned to create

perfect children.

The film took a year to make

with students involved in every

aspect of production, including

writing, directing, casting,

costuming and post-production,

even an original film score composed

by year 13 student Jeremy

Lidstone.

Head of media studies at

Christ's College Peter Hewson

NOR'WEST NEWS

Local

News

Now

Further success for school film

Fire rages, homes at risk

DECORATED:

Simon and

Nina recently

attended the

ATOM Awards

in Melbourne

where A Perfect

Child won Best

Senior Short

Film.

Above – Tigerlily

Perry as Ava

in the awardwinning

short

film A Perfect

Child.

said is a fitting acknowledgement

of the many months of

hard work, perseverance and grit

by all the students across both

schools.

"I applaud each and every one

of them, and am very proud of

what they've achieved."

Pack a

it ' s

Picnic,

Island

Time!

Discover walking tracks, native birds,

penguins, the swimming beach and

shipwrecks, all on the island that's

only 15 minutes from Christchurch!

Start Exploring

Otamahua/Quail Island today!

Wednesday 6th Dec - Cnr Wilkinsons & Johns Rd (Access via Gardiners)

Thursday 14th Dec - 455 Linwood Ave, Cnr Keighleys Road

0800 436 574

www.blackcat.co.nz

DEPARTS: LYTTELTON QUAIL ISLAND

Oct – Apr 10.20am 3.30pm

Dec – Feb 10.20am & 12.20pm 12.30pm & 3.30pm

FARE: adult $30 child $15 return

CRUISES

LYTTELTON & AKAROA

Ilam Watchmakers

All watches and clocks

in stock discounted

Conditions apply. While stocks last.

Does not include rechargeable or solar batteries

& pressure testing. Offer only available on any

watch purchased between now and Christmas.

207 Waimairi Road, Ilam, Christchurch 8041.

Telephone: 357 1002 | www.ilam-watchmakers.co.nz

CONDITIONS APPLY
---
NOR'WEST NEWS Latest Christchurch news at www.star.kiwi

Tuesday December 5 2017 7

News

School zone not likely to expand

• By Julia Evans

CHILDREN LIVING less than

2km from Redwood primary

are not guaranteed entry to the

school.

And the Ministry of Education

has vetoed a call from the school

to change that.

Principal John

Stackhouse said

in the process of

the Prestons Rd

school's $4.9 million

rebuild, the

ministry rejected

Katrina

Casey

a request for an

expansion to the

enrolment zone.

It also wants the

roll to be cut by about 40 pupils.

Without an increase to the

tight admission zone, Mr Stackhouse

said children who live less

than a 90sec car ride away from

the school are not guaranteed a

place.

They have to go through the

ballot system, which does not

take proximity to the school into

consideration.

"We actually have the smallest

zone in the city," he said, which

is encased in a few blocks around

Daniels Rd, Main North Rd, Prestons

Rd and Willowview Drive.

Said board of trustees chairwoman

Ana Connor: "It doesn't

feel right to turn local children

away."

Mrs Connor said the school

has had several meetings with

the ministry and informal meetings

with other schools in the

area.

Ministry of Education deputy

secretary sector enablement and

support Katrina Casey said it appreciates

the challenge Redwood

is facing but there is a challenge

catering to roll growth and decline

across the city.

"Any expansion of the Redwood

zone to the west or south

will result in the school being

less able to cater for projected

growth in the Redwood School

catchment. This would impact

negatively on neighbouring

schools," Ms Casey said.

But she said the ministry

is happy to meet the board of

trustees again and discuss the

issues.

Mr Stackhouse said the school

and board would keep trying to

change the ministry's mind.

The complications have been

caused by the February 22, 2011,

earthquake, he said.

"After the quakes, we had a

FRUSTRATION:

The Redwood

School zone

will not be

increased.

drop in roll as people moved

away or were forced out of their

homes."

But Mr Stackhouse said families

have been coming back into

the area and with it, an increase

in pupils.

The rebuild of the school is

currently in the early planning

stage, with work expected to

begin at the end of next year and

finished in 2019.

"The initial plans have gone

back to the ministry to have

initial costing, then detailed

planning will commence term 1

next year," he said.

Local

News

Now

Fire rages, homes at risk

Mayor defends

funding cuts

• By Julia Evans

MAYOR LIANNE Dalziel has

defended the decision to slash

Papanui-Innes Community

Board's funding.

Ms Dalziel wrote a letter to

the community board, which

explained the city council's decision

to cut the board's funding

from $402,860 for the 2017/18 by

about $85,000.

Ms Dalziel said the process

which the city council used to

allocate the funding was an improvement

on the previous process,

which had "a lack of clear

rationale" and was "ad hoc."

"While this process worked

well for some boards, others

received disproportionately less

funding," the letter said.

Ms Dalziel said the new process

is based on measurable data,

is transparent and less costly to

administer. It uses population

data as well as the social deprivation

index.

But she said although the

social deprivation index has its

"limitations" it is still the best

tool available.

Ms Dalziel wrote that

she encouraged the board's

working together across the

board boundaries to support

organisations.

GOOD TIMES THIS

SUMMER

Plan your summer, our

events guide is out now!

ccc.govt.nz/summertimes
---
8 Tuesday December 5 2017

Latest Christchurch news at www.star.kiwi

Important theme in school production

SAVING THE world's

endangered animals was the

theme of the annual St Margaret's

College junior school production.

Written by the school's

performing art's department,

Museum Alive involved all pupils

from years 1-6.

The production was set in the

year 2067 where a group of children

take a trip to the museum

and get sent back to 2017.

They meet some endangered

animals who, through song and

dance, say what is threatening

their survival. The children are

motivated to want to try and

change the course of history and

save the animals from extinction.

PHOTO: PETRA MINGNEAU

• By Julia Evans

RANGI RURU Girls' student

Rebecca Harris has been picked

for a national band which also

features semi-professional

musicians.

The year 12 student was named

in the New Zealand Youth

Symphonic Winds band for the

second year running.

Positions in this group are

highly sought after by young musicians

up to the age of 25. Many

are studying at tertiary level or

are playing in a semi-professional

SCHOOLS

Student musician picked for band

environment.

Rebecca, who is also a member

of the All Girl Big Band and the

A-Grade Canterbury Brass Band,

will meet with other members of

the Symphonic Winds in January

and July for intensive rehearsals,

workshops and performances.

VIRTUOSO: Year 12 Rangi Ruru

Girls' School student Rebecca

Harris has been named in

the New Zealand Youth

Symphonic Winds band for the

second year running.

Boat named after principal

A LASTING homage

to retiring St Margaret's

College principal

Gillian Simpson has

been unveiled.

The St Margaret's

College Rowing Club

celebrated the naming

and blessing of its

new eight, which was

kept a secret from Ms

Simpson.

The boat is to honour

all she has done for the

school, sport and rowing,

in particular, after

more than a decade as

principal.

NOR'WEST NEWS

TRIBUTE: Principal Gillian Simpson and her husband David with the eight

St Margaret's College named in her honour.

Bathroom & Shower

Renovations

Tile & grout Cleaning

Re-grouting

Grout Sealing & Re-colouring

Replace Mouldy Silicone

CALL TODAY 0800 247 688

www.groutpro.co.nz

befoRe

afTeR

Discover this

unique Emporium

Metal art - gifts - hoMewares

water features - pottery

Mirrors - candles

wall hangings & More

722 Marshland Road, Top end Styx

Open 7 Days

Ph: 03 323 9781

www.hitchingpost.co.nz

EQC CASH

SETTLEMENT

We will re-scope your property

If you have been cash settled

for repairs you will have been

well underpaid.

This also applies to remedial work to be carried

out under the earthquake repair program.

All the properties we have rescoped

100% have been underpaid

some by as much as up to $40,000.

EQC have agreed to pay out any

shortfall in all cases.

You can only gain by re-scoping.

Enquire now phone 021 667 444
---
NOR'WEST NEWS Latest Christchurch news at www.star.kiwi

Tuesday December 5 2017 9

CHRISTMAS

BAY AND

BARNES

BLOCK

750ml

SEVEN

SUNDAYS

750ml

$

8 99 $ 11 99

BuRnSide

SURVIVAL

OYSTER BAY

Excludes Pinot

Noir & Sparkling

750ml

CHURCH

ROAD

750ml

$

14 99

each

social

MATAWHERO

OR JULES

TAYLOR

750ml

$

19 99

each

FICKLE

MISTRESS

750ml

$

20 99

Choose from

WAIKATO, LION RED,

SPEIGHT'S or SUMMIT

24 x 330ml Bottles

$

29 99

each

when you

buy any 2

OR

PASQUA

MAGNUMS

1.5 Litre

$

16 99

or

more

$

31 99

each

Choose from

WITHER HILLS, THE

NED or LEEFIELD

STATION Ranges

750ml Excludes Pinot Noir

$ 1299

each

when or

you buy6

more

TAYLOR'S

PORT

Tawny or

Ruby

750ml

$

29 99

each

LINDAUER

CLASSIC

Excludes

Special

Reserve

750ml

CANTI

PROSECCO

750ml

DANIEL LE

BRUN

750ml

MUMM

OR PIPER

HEIDSIECK

750ml

$

11 99 $ 13 99 $ 19 99 $ 49 99

each

$ 1399

each

when or

you buy2

more

$14 99

each

SINGLE BOTTLES

APEROL SPRITZ PACK

1 x Aperol 700ml,

1 x Cinzano

Prosecco

750ml

$

34 99 $

each 37 99 $

57 99

each

BILLY

MAVERICK

SOMERSBY

SCRUMPY

18 x 250ml

CIDER

CIDER

Cans, 7%

12 x 330ml

1.25 Litre

PIMM'S LEMONADE

Bottles

Bottle

HOT DEAL!

& GINGER

$

27 99

$ $

8 99

$

14 99

DOUBLE JACK

22 99

4 Bottles, x 330ml

DANIEL'S & COLA

4%

10 x 375ml Cans 6.9%

$

11 99 under $20

$ 39 99 $

24 99

MAC'S RANGE

6 x 330ml Bottles

MIST WOOD

10 x 320ml Bottles, 5%

LONG WHITE

10 x 320ml Bottles, 4.8%

CORUBA & COLA

OR CORUBA &

DRY

12 x 250ml Cans, 7%

CANADIAN

CLUB

1 Litre

JIM BEAM

BLACK

700ml

continue the

FESTIVE

SPIRIT...

ST REMY

1 Litre

MAKER'S

MARK

1 Litre

SUMMIT ULTRA LOW

CARB or SPEIGHT'S

MID ALE

12 x 330ml Bottles

$

19 99

each

$

29 99 $

24 99

HEINEKEN

15 x 330ml Bottles

$ 27 99

ASAHI

12 x 330ml

Bottles

$ 24 99

PERONI

12 x 330ml

Bottles

DB EXPORT GOLD, TUI , DB DRAUGHT

24 x 330ml Bottles

$

31 99

each

STEINLAGER

CLASSIC

18 x 330ml Bottles

HOT DEAL!

$

27 99

STEINLAGER

TOKYO DRY

12 x 330ml Bottles

$

21 99

Offers end close of trade 24th December 2017, while stocks last. Varietals may vary by store. Available at participating

stores only. Limits may apply at participating outlets. Trade not supplied. Terms and conditions may apply.

Available 4th – 24th December 2017 inclusive. Please see www.superliquor.co.nz for details.

Super Liquor superliquor.co.nz

Burnside • 501 Wairakei Rd • Phone 359 0556

Offers valid until 24th December while stocks last. Limits may apply. Trade not supplied.

Super

Location

SUPER LIQUOR

BURNSIDE

Roydvale Ave

now open!

Waiakei Rd

• Open 7 days from

10am - 9pm

• Chiller trailer hire

• Glassware hire

Abros Pl

GIFT CARDS

now instore

CORONA

18 x 355ml Bottles

HOT DEAL!

$

37 99

Sorted

GIFT CARD
---
10

Latest Christchurch news at www.star.kiwi

Tuesday December 5 2017

NOR'WEST NEWS

raNGiora • Northwood • st martiNs • tower juNctioN • BishoPdaLe • raNGiora • Northwood

Northwood • st martiNs • tower juNctioN • BishoPdaLe • raNGiora • Northwood • st martiNs • tower juNctioN • BishoPdaLe •

RRP $15.99

$

7 .99

EA

GIFTS

FOR KIDS

GIANT XMAS

JIGSAW & BOOK

RRP $45.00

$

34 .99

LIKE A BAT OUT

OF HELL, STORY

OF MEAT LOAF

RRP $24.99

$

12 .99

SPIDER-MAN

& X-MEN

POP-UP BOOKS

GIFTS

FOR HIM

BICYCLE

TOOL KITS

$

19 .99

EA

LIFE ON MUZZLE

FIONA REDFERN

AMAZING

GIFT SHOP

BOXED

CARDS

50 %

RRP $39.99

$

19 .99

EA

RRP $37.99

$

29 .99

CHRISTMAS FOR LESS!

off

$

19 .99

GAME OF THRONES

STATIONERY SET

VINTAGE CAR CLOCK

RRP $7.99

$

3 .99

AOTEAROA

GAVIN BISHOP

$

17 .99

$

12 .99

PAW PATROL

CHRISTMAS

BOOK

BLOCK TECH PRINCESS

FAIRYTALE CASTLE

RRP $72.00

$

24 .99

EA

RRP $64.99

$

29 .99

GROOMING KIT

$

19 .99

CALENDARS

20 %

RRP $40.00

BAD DAD

DAVID WALLIAMS

$

29 .99

RRP $24.99

$

7 .99

$

19 .99

TOP GEAR THE COOL 500

@papertreestores

100s of MAGICAL

GIFTS FOR

EVERYONE

*Stock may vary from store-to-store

Follow us on Facebook:

@papertreestores

tower junction, off Clarence St, Riccarton | Bishopdale, 31 Bishopdale Court, Bishopdale | rangiora, 206 High Street, Rangiora

Northwood supa centre, Main North Road, Belfast | st martins shopping centre, Wilsons Road, St Martins

off

$

24 .99

RRP $59.99

$

24 .99

STAR WARS

BOOKS &

MODEL

CHIC

BOUTIQUE KIT

GIFTS

FOR HER

$

14 .99 $

12 .99

GIZZI'S SEASON'S

EATINGS

LITTLE BLOCKS

FIRST TRAIN STATION

STAR

WARS

TREASURY

RRP $64.99

$

19 .99

SCRAPBOOK

KIT

EAT

CHELSEA WINTER

RRP $50.00

$

34 .99

BUY TWO,

GET THE

THIRD

FREE

MEMO CUBES

WITH CARDS

$

5 .99

EA

GARDEN

GIFT SETS

$

19 .99

EA

CHRISTMAS

CARDS

ELMER'S FOR DIY SLIME

FROM

$

3 .99

$

19 .99

EA

1000 PIECE

JIGSAW

PUZZLE IN

A TIN

OR 2 FOR

$35.00

• st martiNs • tower juNctioN • BishoPdaLe • raNGiora • Northwood • st martiNs • tower juNctioN • BishoPdaLe • raNGiora
---
NOR'WEST NEWS Latest Christchurch news at www.star.kiwi

Tuesday December 5 2017 11

Band gets into

the swing of it

THE ALL Girl Big Band set out

to inspire the younger female

students from St Andrew's

College to pick up brass or wind

instruments.

The concert in the Centennial

Chapel was for girls years 5 to 10.

But the school's jazz big band

only has a few girls in it, so it is

encouraging more girls to learn

those instruments and develop a

love for jazz.

Music, dancing, singing and

laughter filled the chapel.

SCHOOLS

Be fabulous:

shop with us!

Sizes 6-22

MUSICAL: Lana Law from the All Girl Big Band set to

inspire young jazz musicians. ​

DANCE: Students from years 5 to 10 were treated to a

performance by the city's only All Girl Big Band.

•More schools, p16

Teacher nominated for award

• By Julia Evans

CO-DEVELOPING AN entirely

new school curriculum has earned

Simon Christie a nomination for a

teaching award.

The year 7 Selwyn House teacher

has made the finalist in the technology

category of the Education HQ

New Zealand Unsung Hero award

for his work on the mechatronics

course.

The curriculum is for year 1 to 8 pupils and combines

mechanical engineering, mathematics, science, technology

and the arts.

It engages the pupils in real-world, local problems to

solve. In Mr Christie's class, pupils designed tools to be

used by his tetrapalegic mother-in-law.

SMITH & BOSTON

Prebbleton Village | Christchurch

Ph: 03 349 5646

www.smithandboston.co.nz
---
12 Tuesday December 5 2017

Latest Christchurch news at www.star.kiwi

News

NOR'WEST NEWS

Local

News

Now

Fire rages, homes at risk

Photographers captured the heart of the

Bishopdale community in the village mall during the

Christchurch Documentary Project.

A worker digging a grave at Waimairi Cemetery.

Raymond and Colleen Holland having

afternoon tea at their Bishopdale home where

they have lived for the last 30 years.

Bishopdale in focus

• By Julia Evans

BISHOPDALE was in front of

the camera lens as its community

was captured in a photography

documentary.

A year-long photography

project by Canterbury University

fine arts students finding the

essence of the suburb is open to

the public at Bishopdale Library.

The Christchurch

Documentary Project cast its

eyes on Halswell in 2015, then

the city's east last year.

But from April to August,

Bishopdale was the subject of

students Thomas Herman, Liam

Lyons, Elise Williams, Janneth

Gil and Lucas Perelini's cameras.

From the iconic elephant slide

at Bishopdale Park to long-term

tenants at the mall, Ms Gil said it

was a fantastic opportunity to dig

deep into the community that

often flies under the radar.

"I met many amazing people

but I always will remember

The Burnside Scottish Country Dance Club, which meets on

Farrington Ave.

Raymond and Colleen Holland.

They are such a sweet couple and

they have been living in the area

for more than 30 years," she

said.

Ms Gil said the pair had many

amazing stories to tell about their

community.

​The aim of the documentary

project is to create a photo

archive of the city post-natural

disaster for future generations

to see, focusing on different

suburbs.

City council project

manager Sam Ludemann said

Bishopdale was chosen as there

is a significant change and

rejuvenation happening in its

community at the moment.

That includes the opening

of the new library and mall

upgrades, he said.

"There's going to be something

of real value – an exhibition

but also a body of work that

represents the people in the

community."

Free computing at the Bishopdale Village Mall.

PHOTOS: JANNETH GIL
---
NOR'WEST NEWS Latest Christchurch news at www.star.kiwi

Tuesday December 5 2017 13
---
14

Tuesday December 5 2017

Magazine & TV | sTyle.kiwi

Shop online

with the in

store special

prices!

Discount code:

Goat

themohairstore

140 Colombo Street, Beckenham

Phone 03 943 1639

www.themohairstore.co.nz

style

noun

elegance and sophistication.

synonyms: flair, grace, poise,

polish, suaveness, urbanity,

chic, finesse, taste, class,

comfort, luxury, affluence,

wealth, opulence, lavishness.

Latest Christchurch news at www.star.kiwi

Success for water polo squads

• By Andrew King

ST BEDE'S and St Margaret's

were the top water polo

squads at the South Island

junior secondary schools

championships.

Competing in Christchurch

over three days at both Jellie

Park Recreation and Sports

Centre and Rangi Ruru Girls',

the St Bede's year 9/10 side

won the division one boys title

while St Margaret's year 9/10

team won the division one

girls crown.

Christ's College and St Andrew's

placed second and third

in the boys and Marlborough

Girls' and Dunedin's Columbia

College placed second and

third in the girls.

St Bede's Patrick O'Neill was

named boys most valuable

player for the tournament.

Coach Cooper Stewart said

the team gelled really well especially

off the back of Patrick

and his brother Sam.

"They both are something

else. They really stood out in

the tournament," he said.

The O'Neill boys are identical

twins, which proves difficult

for Stewart to tell them

apart.

"They switch shoes

sometime just to mess with

us. They are very identical," he

laughed.

St Margaret's Violette Perry

was named girls MVP.

Director of sport Helen

Belcher said the team of young

girls will take a lot of confidence

away from the tournament

win.

"There were also some solid

performances by the senior

members and together as

a team they worked well to

sustain pressure against some

SKILL: St

Bede's George

Methven looks

to link up with

a teammate on

their way to the

boys division

one South Island

junior secondary

school

championships

title.

SPORTS

NOR'WEST NEWS

CHAMPS: St

Margaret's year

9/10 water polo

team won the

girls division one

title at the South

Island junior

secondary school

championships

of the best schools in the South

Island," she said.

"We're looking forward to

seeing what these girls can do

in our senior teams."

Both schools had three players

selected in the tournament

team, based on their performances

over the three-day

event.

O'Neill, brother Sam and

Sam Rochford were joined

by Christ's Moe Gath, St

Andrew's Lachie Frazer, King's

High's Josh McGregor and

Burnside's Darius Porter in the

boys team.

Perry, Josie Persico and Ella

Frazer were included in the

girls team with Rangi's Lucy

Howden, Columbia's Emily

Peacock, Marlborough's Georgia

Reed and Louise Brown.
---
NOR'WEST NEWS Latest Christchurch news at www.star.kiwi

Tuesday December 5 2017 15

Gold Coast event for

Papanui baseball player

• By Andrew King

PAPANUI HIGH student

Owen Dabkowski has been

selected to play for the

Super City Spartans in the

Gold Coast summer classic

baseball tournament in

Australia in January.

The 13-year-old has been

playing baseball since he was

five and currently plays for

Southern Astros club based

in Avonhead Park.

He said he was looking

forward to competing

overseas.

"I am looking forward to

meeting new people and being

able to compete at a high

level for New Zealand," he

said.

He said it would be great

to get more students into the

sport.

"It is not popular at all [at

Papanui High]. I think that

I am the only one that plays.

I'd like to introduce it to

more students though," he

said.

Ultimately, he would like

to get a scholarship to play in

the United States.

Owen has been busy

fundraising towards the cost

of the trip through running

sausage sizzles, quiz nights,

a St Albans market day sale

and car washing.

THROWING SMOKE: Owen Dabkowski has been

selected to play for the Super City Spartans in the Gold

Coast Summer Classic Baseball Tournament

He was also granted $450

from the Papanui-Innes

Community Board towards

the trip.

The classic has been run

since 2016 and will feature

at least 18 teams participating

in the various age group

levels this year.

The aim of the tournament

is to develop players and the

game of baseball.

• By Andrew King

TESSA MCCANN is targeting a big

year after winning the Canterbury

women's tennis open.

The 16-year-old Rangi Ruru

student beat Elmwood's Emily

Martin in straight sets 6-3, 6-1 at the

Trustpower Tennis Centre at Wilding

Park.

"I was quite pleased with myself

and happy with the result. The wind

got a bit tricky later in the day but

they were really good games," she

said.

Now she is focusing on three upcoming

tournaments in January, the

under-16 nationals and the under-16

teams' event, both held in Auckland

and an ITF under-18 tournament in

Christchurch.

For now, she will focus on the

TOP TWO:

Open winner

Tessa

McCann

(left) with

runner-up

Emily Martin.

Tessa said

she is looking

forward

to the

upcoming

tournaments

in the new

year. PHOTO:

PATRICK

ROSE

Student wins tennis open

OPENING

NIGHT

"THE FASTEST SHOW IN TOWN"

25+ THUNDERING V8s

interclub competition where she plays

for the Cashmere club.

Tessa missed a few interclub games

while she ventured overseas to watch

her father and coach Neil play in the

seniors world individual championships

in Miami, United States early

last month.

He was beaten 6-4, 6-0 in the second

round by Chilean Claudio Rojas

Trivinos.

"He is my inspiration to play tennis

and has given me heaps of good tips

over the years," she said.

Tessa lives in Ashburton but makes

the trip up to Christchurch each week

with her mother Tammy to their flat.

They return to Ashburton on the

weekends.

"My mum is studying early childhood

teaching up here so we stay in a

flat," she said.

Welcome to our family friendly

Christmas shop

• Nativity Sets • Decorations

• Ornaments • Santas • Fairy Lights

Pataka - 768 Marshland Road (North End)

Open everyday until Christmas Day

10am - 4pm

www.ruapunaspeedway.co.nz

SATURDAY 9 DECEMBER 2017

PLUS

WAR

RYAN STONE TQ TRIBUTE

MIDGETS

MODIFIED SPRINTS

1/4 MIDGETS

OF

THE

WINGS

GATES OPEN - 5pm • TImE TRIALS - 6pm • DIRT STARTS FLYING - 6.30pm

ADULTS $20 • STUDENTS/SENIORS $15 • KIDS U/14 FREE (WITH AN ADULT)

FAMILY: 2 ADULTS & UP TO 4 KIDS $40 • EFTPOS AVAILABLE

If wet check the Speedway Infoline 03 349 7727

or www.ruapunaspeedway.co.nz or FACEBOOK Ruapuna Speedway
---
16 Tuesday December 5 2017

Latest Christchurch news at www.star.kiwi

Helping us,

Helps tHe

community

Drop off or buy

3 family stores in your community

4 Restell Street, Papanui

Ph 03 352 0515

50 Charles St, Kaiapoi

Ph 03 903 0017

NEW RELEASE

New Benchmark for Recreational Jetboating

Pupils learn what it takes to be a cop

WATER SKILLS: One of

several challenges at the

PCT event which required

the pupils to work together.

• By Sophie Cornish

FOUR ST Patrick's Catholic

Primary School pupils are on

their way to being as fit as the

police.

The year 7 and 8 pupils

gained the quickest time for

intermediate students in the

physical competency test at

the Royal New Zealand Police

College.

The annual PCT event is run

by Blue Light New Zealand

with teams of intermediateage

students participating in a

variety of mental and physical

challenges.

One challenge included a

water race, which required

pupils to carry and pass water

through their hats to fill a

bucket.

The Bryndwr school was

one of two from Christchurch

PHYSICAL: St Patrick's and Marshland School pupils were

put through their paces in a police fitness test. ​

chosen from a competition

run by Blue Light Canterbury

to get the all-expenses paid

trip to Wellington.

NOR'WEST NEWS

Marshland School was

also selected and the two

teams trained and travelled

together.

Hamilton 470

20 Lunns Rd, Christchurch

Ph: 03 962 0505 Email: john.connelly@hamjet.co.nz

www.hamiltonjetnz.co.nz

Students raise $1400 for girls with parents in prison

MORE THAN $1400 was

raised to buy Christmas

presents for girls with parents

in prison.

Rangi Ruru Girls' School

year 7 and 8 pupils held their

annual market day, with

profits going towards the

presents.

The year 8 pupils bought

the Christmas gifts while the

year 7 girls wrapped them

and made cards.

Dean Rebecca Allen said

the pupils hand made the

goods that largely sold out.

"The day was a culmination

of learning over the past

term and it was a credit to the

girls entrepreneurship and

team work. They were able

to share their learning with

their families and their community,"

she said.

MADE WITH

LOVE: Lily

Boock and

Paloma Muir

selling punch

and homemade

cookies.

Kerbside public

holiday collection

is changing

Christchurch School of Music presents

Christmas in the Gardens on the Archery Lawn on

Saturday 9 December from 11am - 3pm

Enjoy a wide range of ensembles, orchestras,

choirs, jazz and more.

Come and try

out all the

instruments in

the KBB "Have

a Go" tent - all

instruments

available for

children and

their parents

to try.

Starting this Christmas, you will notice a change with

your kerbside collection on certain public holidays.

Wheelie bins will now be collected a day after their

usual collection day.

MON TUE WED THU FRI SAT

• Monday collections will be picked up on Tuesday

• Tuesday collections will be picked up on Wednesday

• Wednesday collections will be picked up on Thursday

• Thursday collections will be picked up on Friday

• Friday collections will be picked up on Saturday

These changes will only affect Christmas Day, New Years Day,

Easter Good Friday and ANZAC Day, for all other holidays

collection will continue as normal.

Thanks to everyone who gave feedback on this through our survey.

Please ensure wheelie bins are placed at the kerbside by 6am

on collection day.

RED

GREEN

YELLOW

For more information, phone 941 8999

or visit ccc.govt.nz
---
2

NOR'WEST

[Edition

NEWS

datE]

Latest Christchurch news at www.star.kiwi

Tuesday December 5 2017 17

Shops bursting with

festive gift ideas

Finding those special gifts and stocking

fillers as well as the Christmas treats for

the table is so easy at our city's malls and

shopping centres, where the shops are

bursting with festive merchandise.

Every woman likes to receive bodypampering

gifts, and there is a huge

selection of these priced to suit all budgets

at the many pharmacies and gift shops

around the city. Perfume is another

favourite and again there is a wide

selection to choose from, ranging from

exciting new releases to the well-known

fragrances that have stood the test of time.

Lingerie, jewellery, fashion accessories,

homewares and decor items – there's no

end to the ideas for the women on the list.

The men are equally well catered for, from

the sophisticated metro-male boyfriends,

to the car-crazy brothers and the DIY

in Nor'West News

The countdown to the big day is well underway, so making

up the Christmas gift list will now be a top priority… if you

haven't already done so.

enthusiast and keen gardener husbands

and dads. Choose from clothing, books,

tools, personal grooming items and

gadgets to put a smile on their face on

Christmas morning.

Speaking of smiles, nothing gives families

more joy than seeing the excitement

of the children opening their presents.

Whether they are delivered by Santa or

snuck under the tree by mum and dad,

the cuddly toys, games, dolls and building

blocks, the candy canes, toy trucks and

pretty dresses currently filling the shops

will bring squeals of sheer happiness from

the smallest family members.

The tweens and teens usually have their

own ideas about what they want for

Christmas, so the gift cards offered by a

wide range of retailers are the perfect way

to please.

The BeST

NeIGhBOURhOOD

BAR IN TOWN

EXTENDED KITCHEN HOURS!

FRI 8th: live DJ

SAT 9th: live Band, misfitz

hAPPY hOUR: Mon-Thurs

4pm-6pm, $6 pints +

house wines + $10 jugs.

We can do all meals as

takeaways and preorders.

Designer

Fashion

IDEal fOR CHRISTmaS gET-TOgETHERS

aND CaTERED fUNCTIONS.

Join our loyalty

programme

www.roseandthistle.co.nz

3000

items

arriving

daily!

See Our

HUGE

Selection!

We design your jewelery unique

to your style and personality.

We offer a resize and redesign service.

• Designer Brands • Family Clothing • Menswear • Footwear

• Bric-a-brac • Workman Outdoor Clothing • Household Goods

• Books • See the Retro Section AND Formal Wear

Open Daily 7 Days

Sydenham: 39 Battersea St Papanui: 472 Cranford St

Hornby: 94 Shands Rd New Brighton: 52 New Brighton Mall

(Old Farmers Building)

HOURS

Open 7 days 10am–4pm

New Brighton store only is closed on Sundays.

New Zealand's Largest

Recycled Clothing Retailer

Merivale Mall | ChristChurCh

Phone 356 2377
---
2

18

[Edition Tuesday datE] December 5 2017

Latest Christchurch news at www.star.kiwi

HEALTH & BEAUTY

New hope for patients

suffering from MS,

strokes or spinal injuries

For those seeking relief from pain caused by injury, and other physical and mental

health issues, Chinese health practitioner Dr Lan Xiao offers a method of treatment

that brings fast, and often immediate results.

NOR'WEST NEWS

Special offer for DeceMBer - if you

have suffered a stroke, spinal injury or

have MS, then this article is for you.

A graduate of Beijing Medical College, Dr Lan

established an acupuncture clinic in Christchurch

in 1993. As she continued her research and medical

practice, she discovered a reflexology network on

the human body, an exciting new discovery that

became the foundation of her new treatment –

acupuncture without needles.

Instead of needles, Dr Lan uses a blunt instrument

to stimulate the reflexology points on the face

or other parts of the body. When the point is

stimulated by pressure, a message is sent to the

repair centre to promote healing. As Dr Lan

explains, the treatment increases energy, which

boosts the body's healing system.

The body will heal injuries naturally, she says, but

that is a slow process. In addition, many people will

start to use their injured part, for example a knee

or an ankle, before it is properly healed, therefore

prolonging the injury and even causing chronic

pain.

With her powerful treatment, results are produced

very quickly – even instantly.

She likens it to the differences between the

power of a car – natural healing, of an aeroplane

– other types of natural healing, and of a rocket –

reflexology network.

It brings fast results because it is a very precise

treatment, Dr Lan says. She uses it to treat people

of all ages with many different types of pain in all

parts of the body, including arthritic pain, MS,

and pain from injury, and there are no side-effects.

Depression and anxiety, often the result of ongoing

low energy, can also be overcome with Dr Lan's

treatment.

Dr Lan's treatment can give amazing, instant

improvement for muscle weakness and numbness

caused by nerve damage such as MS, stroke

and spinal injury. Search You Tube for Dr Lan

reflexology to see lots of instant results videos.

Dr Lan has published a book, Dr Lan's Reflexology

Network, which introduces the treatment and

explains how it works. Her website, www.

drlansreflexologynetwork.co.nz, includes treatment

videos, where people who have had the treatment

speak about the fast relief it has brought them.

Dr Lan is offering 10 patients of stroke, 10

patients of MS and 10 patients of spinal injury

half price for their rehabb. Phone 323 4168,

mobile 027 231 8388.

True

Who thought

DENTURES

and false!

could look this

natural?

• Full dentures • Metal partial dentures

• First-time immediate dentures • Implant supported dentures

vegeland

for the best value

fruit and vegetables

everyday

STUNNING: A beautiful new denture for

a young female patient

These stunning lovebite full upper and

lower dentures have been expertly crafted by

internationally-recognised dental technician

Richard Greenlees at his Christchurch studio.

The combination of Richard's skill, experience

(including 15 years in London's prestigious

Harley Street) knowledge and revolutionary

techniques allow him to create beautiful

bespoke false teeth that truly resemble those

in nature and reflect each patient's individuality

and unique character.

310 marshland road, chch

phone 03 385 3718

tony.vege@gmail.com

As seen on

WWW.STAR.KIWI

follow

us on

AGING GRACEFULLY: Natural teeth for

a gentleman patient in his 80's

402 Montreal Street

Christchurch | P. 379 1222

By appointment only.

Consultation fee applies.

HOLLYWOOD: It's all white for this

female patient in her 60's

lovebite.com

Richard will personally guide you through the entire process to create

teeth with small nuances in the fabrication, colour and shape. Your beautiful new

lovebite dentures will boost your confidence and make you look and feel year's younger!
---
NOR'WEST NEWS Latest Christchurch news at www.star.kiwi

Tuesday December 5 2017 19

GREAT food

BROUGHT TO YOU BY...

Your fresh food people

PEA, BEAN, ASPARAGUS

AND TUNA SALAD

Ingredients

Salad

2 cups new season peas, trimmed

300g asparagus, trimmed and

halved lengthways

300g green beans, trimmed and

halved diagonally

300g tuna in spring water,

drained and flaked

¼ cup fresh basil

Caper dressing

¼ cup capers

¼ cup red onion, finely sliced

2 Tbsp balsamic vinegar

3 Tbsp extra virgin olive

oil

Directions

Cook beans, asparagus,

and peas in a large

saucepan of boiling water

for 2-3min, until tender

to the bite but still bright

green.

Drain well and refresh

in ice-cold water to cool,

then drain again.

In a large salad bowl,

combine cooked greens

and flaked tuna.

Combine dressing

ingredients, season with

salt and pepper to taste

and pour dressing

over salad.

Toss well, garnish with

basil leaves and serve.

SMOKEY SWEET CHICKEN

DRUMSTICKS

Ingredients

8 chicken drumsticks

1 tea, a pot of strong tea,

"smokey" flavoured variety.

2 Tbsp honey

1 orange, juice only

1 Tbsp soy sauce, thick (or

oyster sauce)

Directions

Make a strong pot of tea using

a "smokey" flavoured variety.

To each two cup measure

of tea, add two tablespoons of

honey, the juice of an orange

and a tablespoon of thick soy or

oyster sauce. Blend together.

Add a cup of water. Layer your

drumsticks in a baking tray and

pour the mix over them.

Place into medium oven and

cook for 20-30min, basting

occasionally. The liquid should

reduce to a sticky glaze.

Cooking tip: If the chicken

cooks before the glaze forms,

remove the drumsticks and keep

warm.

Put the marinade in a pot and

reduce it down until syrupy.

Toss the chicken through the

syrup and serve.

Raspberries 125g ....................... 4 .79

punnet

local Peas 400g ........................... 2 .49

bag

Iceberg Lettuce (unwrapped) 1 .79

each

Large Pineapples .................... 2 .99

each

Bicolour grape punnets 500g 4 .99

punnet

Rocket & Agria Potatoes .. 2 .49

kg

Whole Beef Fillets ............... 32 .99

kg

Chicken Drum Sticks ............. 3 .99

kg

Butterflied Lamb Leg ........ 18 .99

kg

Precooked Sausages 1 kg .. 7 .99

kg

NEW SEASON

NEW SEASON

check out our premium

handcrafted Sausages instore

PRODUCE

WE'VE GOT YOU

COVERED

This summer with a great range of fresh, quality produce

from the best growing regions around New Zealand.

All our fresh meat is 100% NZ FARMED.

specials VAlid 4th december - 10th december 2017. ONLY AVAILABLE AT

RAEWARD FRESH HAREWOOD RD, TOWER JUNCTION & MARSHLAND RD

harewood rd Mon–Fri 8.00am–6.30pm Sat–Sun 8.00am–6pm

Tower junction Mon–Fri 8.00am–6.30pm Sat–Sun 8.30am–6pm

MARSHLAND RD Mon–Sun 8.00am–6:00pm

WWW.

.CO.NZ
---
2

[Edition datE]

Tuesday December 5 2017

20

Latest Christchurch news at www.star.kiwi

SENIOR LIVING

Aspire

Canterbury

Mobile

Aspire Canterbury is a not-for-profit

community-focused organisation

committed to meeting the needs of older

persons with mobility issues and disabled

persons. Their aim is to assist people in

making informed decisions about accessing

services or choosing products that will

assist them in their daily lives.

They have taken their services on the

road and out into communities, meeting

people in their environments to make

daily living easier. Aspire Mobile is a

response to the need to reconnect, giving

disabled people easier access to services

and introducing them to new products

which can make their lives more enjoyable

and provide them with a sense of inclusion

in the wider community.

They will show you how to choose a

walker or walking stick that is the correct

height, provide information about both

their services and other resources available

for community, disability and health

organisations.

For more information visit

www.aspirecanterbury.org.nz,

03 366 6189 mobileservices@

aspirecanterbury.org.nz We can help.

Support and Resources for Independent Living

walkers to

purchase

(FroM $230)

or hire

$20

Can we help you or someone you support?

Disability Information Service – a 'one stop

information service' which offers unbiased

advice to assist people navigate their way to

organisations or services that can provide them

with support or advice.

Aspire Canterbury Shop – shop online or call in

to our shop at 314 Worcester Street and view our

range of easier living products We also hire out

wheelchairs, ramps and walkers.

Total Mobility Discounted Taxi Service – a scheme

which provides 50% discounts on taxi journeys to

eligible people in the Christchurch area who, due

to health conditions, are unable to access public

transport. Contact us for more information on

03 366 9093 or visit our website.

per week Mobile Service – Fun interactive presentations of

our information, services and easier living

equipment. We come to you! To book our

presenter to speak to your group call Richard

at numbers below or email mobileservices@

aspirecanterbury.org.nz

Mobility scooter demonstrations available.

Aspire Canterbury is a not-for-profit organisation

providing services to the community since 1981

Physical Address:

314 Worcester Street

Linwood Christchurch

Postal Address:

PO Box 32074

Christchurch 8147

2015 NZ Disability

Information Centre

of the Year

Ph: 03 366 6189

Freephone: 0800 347 242

Ph: (Total Mobility) 03 366 9093

Mobile Service: 027 588 9700

E: admin@aspirecanterbury.org.nz

W: www.aspirecanterbury.org.nz

Plenty to do at McKenzie

Lifestyle Village

The last stage is under construction at

McKenzie Lifestyle Village but there are still

good sites available. We also have a number

of affordable villas ready for immediate

occupation. Prices range from $330,000

and our monthly outgoing fees are fixed for

life.

Our beautiful Leisure Centre is very

popular with the residents who make

full use of the swimming and spa pools,

gymnasium, craft room, library and lounge

area. Outside, the Bowling Green is also

popular along with Petanque, Mini-golf and

Table Bowls. This coming summer will see

Croquet being played on our Village Green.

The residents' monthly activities calendar

boasts the following; bowls events, concert

going (Operatunity), shopping trips, lunch

outings, yoga, housie, Qigong (Tai Chi),

happy hour, knitting, quiz nights, cards

and games, book club, Bible discussion,

craft sessions, and there are regular visits by

the hairdresser, massage therapist and the

NOR'WEST NEWS

podiatrist.

Geraldine is a great little town with a

very pleasant microclimate. There is plenty

to do in and around the town with art

galleries, theatre and cinema, interesting

shops and boutiques, two museums and a

wide range of good places to eat. For the

more adventurous there are river and forest

walks nearby, opportunities for biking and a

choice of two local golf clubs.

For more information you can

talk to David Connolly about this on

0800 84 55 24.

you can stop him

snoring with a

SNOREX

Why put up with a broken

night's sleep?

Ph 377-4318 or 027 682 1752

DENISE LIM

FOR A FREE INFO PACK

Website: www.snorex.co.nz

Third Age Tours eST

Small Group Tours for the over 50's

Domestic and International

Great Prices!

england/Wales & Yorkshire Dales

23 August - 24 September 2018

enchanting Ireland & Scotland 31 May - 27 June 2018

curiosities of cuba 25 April - 21 May 2018

Treasures of Turkey 1 - 25 September 2018

captivating croatia, Slovenia

montenegro & Venice

1 June - 25 June 2018

Vietnam & cambodia 4 - 26 October 2018

Beautiful norfolk Island 4 - 11 November 2018

Sicily, rome & Southern Italy 29 September - 24 October 2018

South Island Tours

Glorious Autumn in Arrowtown 17 - 22 April 2018

catlins/Stewart Island 22 Feb - 2 Mar 2018

White herons, Glaciers & Alpine loop Tour

28 January - 2 February 2018

PluS oTher DeSTInATIonS!

For a Free InFormATIon PAck contact Brenda

Third Age Tours

1999

Ph 03 379 3799 or 03 312 7050 | Freephone: 0800 927 725

sunshineone@xtra.co.nz | www.thirdagetours.co.nz

Follow us on Facebook
---
NOR'WEST NEWS Tuesday December

[Edition

5

datE]

Latest Christchurch news at www.star.kiwi

2017 21 3

SENIOR LIVING

1 in 2 people

deficient in B12

Emerging research has shown as

many as 50% of older adults & as many

as 25% of younger adults are deficient

in vitamin B12. Scientists at Rush

University Medical Center found those

most deficient in vitamin B12 to have the

smallest brain mass & the lowest scores

on tests measuring short-term memory,

concentration & brain performance.

Another study showed that older people

with higher levels of B12 in their blood

have bigger, healthier brains & score

higher on cognitive tests than those with

lower levels. Yet another recent landmark

study showed that B12 supplementation

slows the accelerated rate of brain

shrinkage & declining cognitive function.

B12 is essential for energy production, cell

health, regulation of mood & sleep cycles,

nerve health & repair, & prevention of

homocysteine a serious cardiovascular

risk factor that is known to cause damage

& plaque in the blood vessels. It

can also increase

the chances of a

stroke. Harvard

researchers found

a 34% decrease risk

of vision loss in a

study of participants

aged 40+ who supplemented with B12.

Another study linked a higher risk of

hearing loss in subjects in their 60's who

were low in B12.

The reason so many people lack B12

appears to be our body's ability to absorb

it declining with age as the digestive

system becomes less efficient. Anti-reflux

medication & other drugs further reduce

B12 absorption. The good news is B12 in

the form of Methylcobalamin sublingual

tablets that are dissolved in the mouth &

thru bypassing the digestive tract have

been shown to effectively raise B12 levels

in the body.

Further detailed information is

available from the Natural Health

Advisers at Marshall's Health & Natural

Therapy, 110 Seaview Road, New

Brighton, Phone: 388-5757. We are

always happy to help!

IS YOUR BRAIN SHRINKING?

BRAIN FOG, FORGETFUL, FEELING OLD, LOW ENERGY, MOOD SWINGS,

DIFFICULTY SLEEPING, PINS & NEEDLES, NUMBNESS IN LEGS

Up to 1 in 2 people may have a shrinking brain due to a lack of vitamin B12.

Supplementation of methylcobalamin B12 has been shown to reduce the rate of brain

shrinkage & support memory & brain function. B12 is also known to protect against

homocysteine a serious cardiovascular risk factor that can also damage the hearing,

eyesight & affect the mood. B12 is essential for energy, cell health & nerve function.

B12 SupportS:

• Memory & Brain Performance

• Helps protect brain from shrinking

• Energy & Recovery

• Nerve Function

• Helps protect blood vessels from damage

• Sleep

• Cellular Health & Repair

• Vegetarian's Diet

• Good Health

• Cardiovascular Health

SEE A DIFFERENCE

IN AS LITTLE AS 48

HOURS!

SUPER PRICE OFFER

Do You Suffer Eczema or Psoriasis?

Special

120g tube

Only $27.30

270g Pump Bottle

Only $42.90

Superior Methylcobalamin B12

(High Absorption Sublingual Lozenges)

100 Lozenges

Only $ 32 .90

You'll be amazed

at the difference

it can make!

200 Lozenges

Only $ 59 .80

MAIL ORDER AVAILABLE

Bringing You the Best in Natural Health

MARSHALLS HEALTH & NATURAL THERAPY

CONSULTING - PRESCRIBING - DISPENSING - MANUFACTURING - MEDICAL HERBALISTS

110 SEAVIEW RD, NEW BRIGHTON • PH 03 388 5757 • Email: enquiry@marshallshealthshop.co.nz

- WE ARE ALWAYS HAPPY TO HELP! -

MooGoo Eczema & Psoriasis Balm is our top selling

anti-inflammatory & anti-fungal cream. It is a great

alternative to steroid & chemical based creams.

Customers rave about how great it is!

Ideal For:

• Eczema & Psoriasis

• Seborrheic Dermatitis

• Fungal & Yeast skin conditions

• Supports wound healing

• Infants to Adults

MAIL ORDER AVAILABLE

Effective natural skincare

that is ideal for problem skin

MooGoo produce a full range of safe,

natural skin & scalp products that are

especially suited for those with problem

skin. In these products they only use top

quality edible ingredients that are known

to be highly effective & good for our skin.

These active ingredients are only used in

correct concentrations for effective results

& not just added to look good on the

label. Because the MooGoo range is so

safe & yet so effective is probably why it

was rated the number one most preferred

brand of non-prescription (non-steroid)

creams for those suffering from problem

skin in Australia. It is also recommended

by many medical practitioners in

Australia.

As MooGoo products are safe & natural

they are ideal for long term use from

babies to adults. They are an effective

alternative or follow-up treatment to

chemically-based ointments.

Although MooGoo products are

commonly used by people with skin

complaints like Eczema, Psoriasis &

Dermatitis etc. the range of products is

becoming increasingly popular for healthy

skin care. The Skin Milk Udder Cream

is the lightest of creams that can easily

penetrate the skin with its beneficial

ingredients especially the milk protein

which has been shown to increase skin

elasticity & health. It is non-greasy &

contains no mineral oil or other nasties.

The comprehensive MooGoo range

includes the popular Milk Shampoo &

Conditioner, Milk Wash, Cleansing Bars,

Fresh Cream Deodorant, Body Spray,

Edible Lip Balms, Baby range & much

more.

The MooGoo range & further detailed

information & advice is available

from the Natural Health Advisers at

Marshall's Health & Natural Therapy,

110 Seaview Road, New Brighton.

Phone: 388-5757. We are always happy to

help!

ARE YOU READY

TO DOWNSIZE?

Paying rates for a house that's

too big? Paying maintenance and

heating costs for space you don't use?

A move to one of our

architecturally designed villas

at McKenzie Lifestyle Village in

Geraldine will cut those costs.

Three villas are available for

occupation now, priced from

$355,000.

Talk to David Connolly today

on 0800 84 55 24.

Bringing You The Best in Natural Health

MARSHALLS HEALTH & NATURAL THERAPY

conSulTinG - PreScribinG - diSPenSinG - manufacTurinG - medical HerbaliSTS

110 SEAVIEW RD, NEW BRIGHTON • PH 03 388 5757 • Email: enquiry@marshallshealthshop.co.nz

- WE ARE ALWAYS HAPPY TO HELP! -

121 Skyhawk Road
---
22 Tuesday December 5 2017

Latest Christchurch news at www.star.kiwi

NOR'WEST NEWS

$49 89

Wetta

Gardner Hose

50m

12mm x 50m, 5 year

warranty

240778

Number 8

30m Hose

238109

GET IT BEFORE IT'S GONE

$

19 98 $

149

$ 49 99 WAS $121

Gardenia

Hose

Trolley Set

13mm x 20m hose

with fittings

932621

Wetta

Professional

Fitted Hose

12mm x 30m

3 layer knitted

hose

923642

Wetta

Lifestyle

Hose with

Fittings

18mm

x 30m.

Large bore

hose 10year

warranty

with fittings

917252

$

99 99

Number 8

Sprinkler

238281

Sprinkler

Heads

$

9 98

Number 8

Water Timer

238283

Hozelock

$

14 99 $

149

$

84 99

Wetta

Gardena

Microtimer

Water Timer

Computer control

1-999 minutes

timer with simple

digital read out

programming.

921082

239418

$

19 98 Hidrate

Oscillating

$

5 98 $ 24 99

Sprinkler

115473

Sprinkler

916324, 921513

Sprinkler

Bases &

Stands

Wetta

4 Zone

Water

Timer

930525

$

39 98

Hidrate

Impact Sprinkler

on Spiked Base

Up to 24m coverage.

929544

SPARE SPRINKLER HEADS AVAILABLE OR MAKE UP YOUR OWN

$

199

$

849

Orbit

Heavy Duty

Travelling Sprinkler

Covers up to 13,500

square feet along 200

feet of hose.

297480

Kline

5 Pod Farm Pack

100m x 32mm pipe,

installation DVD.

910789

ST041217

Available from Tuesday

5th December until

Monday 11th

December 2017,

while stocks last.

Mitre10 MEGA

Hornby Ph: 349 8497

*If you find a lower price on an identical stocked

product locally we will beat it by 15%

Mitre10 MEGA

Papanui Ph: 359 5443

*If you find the same product cheaper from another Mitre 10 store or Mitre 10 website

we'll match that price. Excludes trade and special quotes, stock liquidations and

commercial quantities. The in-store price may be lower than that advertised.
---
NOR'WEST NEWS Latest Christchurch news at www.star.kiwi

Tuesday December 5 2017 23

Bishopdale Documentary

Project

Every day, 9am-6pm

A selection of photographs from

the Christchurch Documentary

Project: Bishopdale 2017 are on

display in the library.

Ōrauwhata: Bishopdale Library

and Community Centre, 13

Bishopdale Court

Scrabble Group

Tuesday, 9.45am-noon

Go along and play scrabble

with the friendly weekly group.

Exercise your brain and have fun.

Gold coin donation. Sundbye

House, 100 Farrington Ave

Football

Tuesday, 12.10-1pm

Social kick around of football

at Nunweek Park. Played

every Tuesday and Friday from

12.10pm. It's free and anyone

is welcome. Suitable for those

who work night shift or are

free during the daytime. Or

if you work near the airport,

Harewood, Bishopdale, Papanui,

Avonhead, Wairakei, Burnside,

Memorial Ave and have an hour

lunch break. Generally played

with four or seven a side. Email

Christchurch.soccer@gmail.com

for more information.

Nunweek Park, Harewood Rd

RED CROSS

Learning first aid is not only a part of ensuring a safe

work place, but also an integral part of our engagement with the

wider community. We all learn the necessary skills to ensure that

in times of emergency we are able to assist our work colleagues,

but are we able to take these skills home, into the community or

on to the sports field?

not all work places are the same and the injury risk for each place

can be wide and variable. The office attended by administrators

does not carry the same risk as those people working with heavy

machinery, or perhaps at some distance from a regular ambulance

service. it is therefore essential that you pick the right first aid

course to suit all of your activities – both professional and social.

take, for example, an office worker who does not have a high

risk work environment and whose concern might be to ensure that

they can deal with minor cuts and superficial injuries, or the ability

to perform effective CPr. These skills can be achieved on a course

of eight hours duration and would generally fit into low to medium

risk area. But take this same person on to a sports field either as a

spectator or player when a higher level injury occurs. The eight

hour course covering unit standards 6402 and 6401 (or 26551 and

26552) does not cover head neck and spinal injuries, eye injuries,

hypothermia and poisonings.

The majority of injuries occur outside of the work place, in

fact one in three injuries occurs in the home, making it the most

common place for injuries to happen. new Zealand children

Email julia.evans@starmedia.kiwi

by 5pm each Wednesday

GenConnect

Tuesday, 12.10-12.40pm

Connecting generations by

sharing knowledge. Do you have

questions about your iPad, Smart

Phone or Tablet? Or maybe you

want to know how to use Skype,

Facebook, or share your photos

with family or friends? Ask an

expert. Papanui High School

students will be available every

Tuesday during term time from

12.10-12.40pm to help you find

answers to all your questions

Papanui Library, 35 Langdons

Rd.

Reading to Dogs

Tuesday, 3.30-4.30pm

These sessions have been

designed to provide a relaxed and

non-threatening atmosphere to

encourage children to practise

their reading skills and develop a

love of reading. This programme

uses dogs who are the pets of the

city council animal management

team and have been trained

and tested for health, safety

and temperament. Sessions are

15min. Phone 941 7923 to book

a spot.

Shirley Library, 36 Marshland

Rd

Arsenic and Old Lace

Tuesday to Monday, 7.30pm

Ensuring a safe work place

are twice as likely to die through injury as children who live in

australia. They mostly die as a result of motor vehicles accidents

or falls in the home. fatalities from leisure and sport are not far

behind those in the workplace.

The wider 12 hour course teaches the additional unit standard

6400 and provides a wide knowledge base for medium to high risk

environments. This course covers many of the skills required to

deal with the most common injuries, such as falls (which can result

in head, neck and spinal injuries) and dealing with complex scenes

such as motor vehicle accidents.

if you are not sure on the

course best suited to your

needs, ask your accredited first

aid training provider. They can

explain the course content and

give you options that will best

suit your needs. Look beyond

the workplace and consider

your family and your location.

Check that you have a good

quality first aid kit that is up-todate

with replenished items, and

that everyone knows where it is

located.

A tale of mass murder, home

surgery and elderberry wine.

Mortimer Brewster is living a

happy life – he has a steady job

at a prominent New York newspaper,

he's just become engaged,

and he gets to visit his sweet

spinster aunts to announce the

engagement. Helped along by a

cast of misfits and the criminally

insane, Arsenic and Old Lace is a

fast-paced, vintage comedy with a

killer punch line. To book tickets

go to http://www.repertory.nz/

Elmwood Audiotorium,

Aikmans Rd

Fendalton Family History

Help

Wednesday, 9.30-11.30am

Are you interested in family

history? A volunteer from the

Canterbury branch of the New

Zealand Society of Genealogists

is available to help with your

questions.

Piano

Raewyn Clegg

Registered Teacher of

Piano and Theory of

Music.

29 Lancewood Drive

Halswell

Ph 322-9377

Fendalton Library, 4 Jeffreys Rd

Bishopdale Bridge Club

Wednesday, 11am-2.30pm

Go along and join in with this

social group which meets every

Wednesday for a game or two of

bridge. Table fees $5. Phone Janet

for more information on 352

1440.

Ōrauwhata: Bishopdale Library

and Community Centre, 13

Bishopdale Court

Knit 'n' Yarn

Thursday 2-3pm

Go along and enjoy a chat with

other as you knit. For anyone

who loves to knit or wants to

learn.

Fendalton Library, 4 Jeffreys Rd

Card Club

Friday, 1.30-3.30pm

This weekly card club is on

every Friday, just go along and

join in the fun.

Robotics pop up at Redwood

Library. Have fun playing

with Lego Mindstorms EV3,

Bee-Bots, M-Bots and simple

programming software of

the library's iPads. A dropin

after-school session for

children ages seven to 12 will

be held from 3.30-4.30pm

on Wednesday. Library

staff will be on hand to help

children explore robotic fun.

Free entry and no booking is

required.

Shirley Library, 36 Marshland

Rd

Super Saturday Storytimes

Saturday, 11-11.45am

Encourage learning through

a love for stories and craft.

Storytimes is an interactive programme

including stories, songs,

rhymes and play. This is a free

session.

Shirley Library, 36 Marshland

Rd

Bishopdale Book Club

Monday, 10-11am

Go along to join a friendly

group of readers and chat about

your current reading and old

favourites. With no set book to

read, this is a relaxed and social

group, which meets monthly in

the library.

Ōrauwhata: Bishopdale Library

and Community Centre, 13

Bishopdale Court

NEW ZEALAND RED CROSS

GLOBAL LEADERS IN FIRST AID TRAINING

Christchurch Course Dates 2017

Venue: 32 Birmingham Drive, Middleton

First Aid Revalidation Course (6 hours)

Cost $130.00 per person (certificates must not have

expired for more than 3 months)

Time: 8.30am – 3.15pm

Monday

11 Dec

26 Feb

Tuesday

16 Jan

13 Feb

Wednesday

20 Dec

24 Jan

Friday

15 Dec

5 Jan

Sunday

17 Dec

14 Jan

M Learning Workplace Revalidation Course (4 hours)

Cost $130.00 per person (certificates must not have

expired for more than 3 months)

Time: 8.30am – 12.45pm

Monday

18 Dec

Thursday

25 Jan

Friday

16 Feb

For bookings please call 0800 REDCROSS or 339-7111

Book online at www.redcross.org.nz

USE THE RED CROSS ADVANTAGE - COMPREHENSIVE FIRST AID, ESSENTIAL FIRST AID,

REVALIDATION OR TAILORED TRAINING TO SUIT yOU AT yOUR PLACE OR OURS.

USE THE RED CROSS ADVANTAGE -

COMPREHENSIVE FIRST AID,

ESSENTIAl FIRST AID, REVAlIDATION

OR TAIlORED TRAINING TO SUIT YOU

AT YOUR PlACE OR OURS.

16 Hours Thursday/Friday

18 & 19 Jan

NEW ZEALAND RED CROSS - GLOBAL LEADERS IN FIRST AID TRAINING

CHRISTCHURCH COURSE DATES 2017 • VENUE: 32 BIRMINGHAM DRIVE, MIDDLETON

Comprehensive First Aid PLUS Course (16hrs or 4hr upgrade)

Unit Standard 6402, 6401, 6400 and 25411 or 26552, 26551, 6400 and 25411

Cost $275.00 per person incl FA Manual & GST for 16 hours or $85.00 per

person for upgrade following completion of CFA

Time: Day One 8.30am – 5.30pm Day Two 8.30am – 5pm

Friday 4 Hours 1.15pm-5.00pm

19 Jan

Comprehensive First Aid Course (12hrs)

Unit Standard 6402, 6401, 6400 or 26552, 26551, 6400

Cost $225.00 per person incl FA Manual & GST

Time: Day One & Day Two 8.30am - 3.15pm Time: Day One 8.30am - 5.30pm

2 x Monday

19 & 26 Feb

2 x Tuesday

9 & 16 Jan

27 Feb & 6 Mar

2 x Wednesdays

14 & 21 Mar

Thursday/Friday

4 & 5 Jan

11 & 12 Jan

Day Two 8.30am - 12.45pm

Thursday/Friday

18 & 19 Jan

Weekends

13 & 14 Jan

20 & 21 Jan

Essential First Aid Course (8hrs)

Unit Standard 6402, 6401 or 26551, 26552

Cost $155.00 per person Time: 8.30am – 5.30pm

Monday

19 Feb

Tuesday

9 Jan

Wednesday

17 Jan

M Learning (App.) First Aid Courses

Practical First Aid

Unit Standards 6402, 6401

Cost $155.00 per person

Time: 4 hours 8.30am-12.45pm

Thursday 15 Feb

Wednesday 7 Mar

Workplace First Aid

Unit Standards 6400, 6401, 6402

Cost $225.00 per person

Time: 8 hours 8.30am-5.30pm

Thursday 15 Feb

Wednesday 7 Mar

Thursday

4 Jan

25 Jan

FOR BOOKINGS PLEASE CALL 0800 REDCROSS OR 339-7111 • BOOK ONLINE AT WWW.REDCROSS.ORG.NZ

Saturday

13 Jan

20 Jan
---
24 Tuesday December 5 2017

Latest Christchurch news at www.star.kiwi

NOR'WEST NEWS

A Star Media Event

Star Media

Sunday 18 March 2018

#areyouupforit? 14km, 6km Community Fun Run Event

Entries NOW OPEN

$20 Early bird tickets available from www.city2surf.co.nz
---
NOR'WEST NEWS Latest Christchurch news at www.star.kiwi

Tuesday December 5 2017 25

REAL ESTATE

You'll fall in love

12 Mays Road, St Albans

Deadline Treaty: All offers presented on Wednesday 6 December at 5pm (unless sold prior)

4 bedrooms | 2 bathrooms | 1 living room | 1 car-garage | Property ID: SMT10206

Exuding instant charisma and charm

this lovingly retained gorgeous home

offers contemporary comforts cleverly

incorporated to compliment modern

lifestyles. In a much sought after area, in

excellent school zones, and just a short walk

to the trendy shops and cafes in Merivale,

and near Northlands Mall.

Extensive renovations recently to high

standards include a new kitchen, two new

bathrooms, new carpet throughout and

freshly painted. Fully fenced so great for

children and pets.

You're fall in love as soon as you step

through the front door. The welcoming

entrance leads to the comfortable open

plan living area and kitchen. The kitchen

area is light filled with a great working

kitchen, a double oven, gas hobs, and

dishwasher. French doors lead seamlessly

to the outdoor decking, overlooking the

private back garden with mature plantings,

grapes, feijoas, and old world roses.

Four double bedrooms, and one living

(or 3 beds and 2 living). This gorgeous

family home with efficient heating and

triple glazing throughout will keep you

toasty warm in the cooler months.

The separate single garage and off street

parking are an added convenience.

In Christchurch Girls High and

ChristchurchBoys High School (2018),

Heaton Normal School (Intermediate), and

Paparoa Primary School. A stone's throw to

St Andrews College.

This beautiful character home in a

sought after area could be yours. All offers

presented on Wednesday 6 December at

5pm (unless sold prior).

Marketed by Smart Real Estate

Debra Hakaraia

Phone 0275 620 420, 03 384 8600

www.smartrealestate.co.nz

Licensed Agent Reaa 2008

growing with you

SprIng Is here –

It'S Sow Time

how to get the best results from

seeds and seedlings

100% NatIve In

The capItal

Unravelling the secrets of

Otari-wilton Bush

The New Zealand

landscape awards

The people behind

the projects

$7.90 incl. GST

Save our roSeS

How a rose register is protecting our heritage

September 2016 | 100%

It's time

to grow!

New look and more

content than ever!

MeeT LeSTer Brice

A Garden coach

auckland Botanic GardenS

Why we love our public grounds

now bigger than ever

The magazine for

gardeners who like to get

their hands dirty

SubScribe from

$43. 50*

*6 issues/6 months

ISSN 2423-0219

SUBSCRIPTIONS FREEPHONE

0800 77 77 10

www.gaRdeNER.kiwI
---
26

Latest Christchurch news at www.star.kiwi

Tuesday December 5 2017

NOR'WEST NEWS

Classifieds Contact us today Phone our local team 03 379 1100

Community Events

ALCOHOLICS

ANONYMOUS, If you

want to have a drink thats

your business. If you want

to stop, we can help. Phone

0800 229-6757

Computers

ALL

YOUR

COMPUTER

WORRIES SOLVED!

*$30.00 off your first

service with this coupon!*

No problem too big or

small from home PC's to

business networks. PC

slow? An end to Viruses,

Spyware, and Clogged

Systems. Safe secure

hassle-free computing.

Lost files recovered.

Microsoft Certified,

MCSE, MCP+l. 30 years

experience. Call Andrew

Buxton this week on 326-

6740 or 027 435-7596

for $30.00 off* Custom

Computers Christchurch

Curtains

www.curtainfabric-outlet.com

Fashion Designs & Colours

Discontinued Designs

End of Lines Bargain Prices

Call at Our Shop

CURTAIN FABRIC OUTLET

71 Hawdon St Sydenham

Ph 366-5026

Gardening

& Supplies

A GARDEN OR

LANDSCAPING TIDY

UP? Shrub, hedge &

tree pruning, Lawns,

Gardening, consistently

reliable general property

upkeep, Dip. Hort. 10

yrs experience, One off

tidy ups or on-going

service. Nick's Property

Maintenance. Keeping

your garden beautiful.

Free Quote. Ph. 942-4440

Holiday

Accommodation

QUEENSLAND SUN-

SHINE COAST AUSTRA-

LIA Resort, Ocean Views,

Balconies, Self Contained,

1 or 2 B/R Ensuite,

Heated Pool, Spa, Sauna,

Free Internet, Shops,

Restaurants, Tennis, Surf

Club & Patrolled Beach,

Public Transport at door.

Ask for our SEASONAL

SPECIALS. Phone 61 7

544-35011 Email: reception@mandolin.com.au

www.mandolin.com.au

Personals

ARE YOU FEMALE?

Maybe bored, lonely, or

in need of a distraction or

company. Hi Im Matt, and

i am a quality single guy

and would love to meet

you. You might even be a

hard working housewife

looking for a discreet

coffee and chat..

0276594425

A YOUTHFUL

Grandad seeks a young

looking Granny 55 to 70

ro wile away the time.

Drop a note to me Richard

18A Brockhall Lane ChCh

8042 All replies answered.

Personals

CHARMING

GENTLEMAN

Is looking to find an asian

lady to enjoy each others

company and be a close

lady friend

email with pic to

tossthecoin68@gmail.com

LOCAL CHCH

businessman is searching

for an attractive stylish

well presented lady for

outings, functions,events

and social times with a

view of a LTR. You would

be a tall, slim to athletic

lady with a well looked

after figure, articulate

informed and worldly,

Write with pic to Jim

P.O.Box 1919 ChCh

SINGLE GUY. seeks

a single lady as a 24/7

activities companion. ph

3583634

Trades & Services

DRIVEWAYS

Exposed Aggregate

Stamped Concrete Plain

Concrete Resurfacing

Things we offer...

Competitive/affordable pricing

Attention to detail

Professional service

free quotes/insurance scopes

Cell 0278 145 848

www.drivecrete.co.nz

PAINTER

Michael Kelly Painters

Locally owned and

operated family

business.

25+ years Experience

• Painting • Wallpapering

• Interior • Exterior

Free Quotes

Phone

Michael 0212 649 492

michaelkellypainter@hotmail.co.nz

Trades & Services

MAINTENANCE

Doctor

Fixit

• Carpentry • Repairs &

Maintenance

• Doors & Windows

• Fencing

• Painting & Plastering

• Tiling

• Outdoor Maintenance

• Renovations

• Decks & Pergolas

Norm McRae

027 222 3060 | 03 312 0082

www.doctorfixit.nz

RENTAL

NO BOND

Terms and conditions apply

NEED A

FRIDGE • WASHER

TV • FURNITURE ?

Call Mr Rental - 0800 111 313

Visit www.mrrental.co.nz

123 Blenheim Road, Riccarton

Open Monday to Friday

Trades & Services

ROOF RESTORATIONS

• Roof Restoration

• Painting/Decorating

• Moss Treatments

WINDOW TINTING

99% uv block

fade protection

heat control

reduce glare

25 Years Experience

Trades & Services

real estate

"When experience counts"

Residential & Business Brokers

Licensed agent REAA 2008

Free Quotes Canterbury and Districts

03 365 3653 0800 368 468

• Gutter Cleaning

• Leaks

Paul Jefferies - 021 235 9552

allaspectsroofpaint@gmail.com

tintawindow

advanced film solutions

privacy films

frosting designs

non-darkening films

Workmanship Guaranteed

Lifetime Warranties on Most Films

UV

block

• 25+ years

experience

• Personal service

• $1000 donation to

your sports club/

team/charity etc

(special conditions

apply)

Free appraisals/no obligation

competitive commission rates

JOHN BENTLEY areinz

Ph. 352-2457/021 386 001

jbentley@actrix.co.nz

Bentley Realty MREINZ

Trades & Services

HOUSE

CLEARING

Are you

moving house

or trying to

downsize?

Call All Clear

Canterbury. We work

with you to recycle,

sell and dispose of

unwanted items.

Ph: 03 260 0934

or 021 078 4553

raewynlcooke@gmail.com

www.allclearcanterbury.co.nz

Trades & Services

Lawns, Gardens

& Home Cleaning

9185885AA

Free Quotes

Professional, personalised

service. Regular &

one-offs. Fixed price.

Ph: 377-5814

For all your property and

cleaning requirements

Trained, insured & security

screened owner/operators

Multi-award winning

systems & Franchises

Franchises Available

www.fviphomeservices.co.nz

PLUMBER

PROMPT SERVICE

For all

Plumbing

•Roofing/

spouting

•Maintenance

•Installations

8790441AA

Trades & Services

Michael

Gale

Plumbing Ltd

Small work

no problem

Ph 364 7080 (24 hour)

Mob 027 438 3943

Trades & Services

ROOF

PAINTING

Rope & harness

a speciality,

no scaffolding

required,

30 years of

breathtaking

experience.

FREE QUOTES

Exterior staining,

exterior painting,

moss and mould

treatment and

waterblasting

Phone Kevin

027 561 4629

AAA HANDYMAN

licensed carpenter

LBP, all property and

building maintenance,

repairs, bathroom/shower

installations, with free

quotes 03 383 1927 or 027

245 5226 ciey@xtra.co.nz

BRICKLAYER

George Lockyer. Over

35 years bricklaying

experience. UK trained.

Licensed Building

Practitioner number

BP105608. Insurance

work. EQC repairs.

Heritage brickwork and

stonework a speciality. No

job too small. Governors

Bay. Home 329-9344,

Cell 027 684 4046, email

georgelockyer@xtra.co.nz

BUILDER

For all building work

but specialist in bathroom

renovations, 30 yrs

experience, with service

and integrity. Free Quotes.

Ph Lachlan 383-1723 or

0274 367-067.

BUILDER LICENSED,

available for all aspects of

building. Please call 027

241-7471 or 335-0265

****************

CARPET & VINYL

LAYINg

Repairs, uplifting,

relaying, restretching,

E mail jflattery@xtra.

co.nz

ph 0800 003 181

or 027 2407416

Christchurch's

premier Eco

Friendly cleaning

company

• Eco Friendly

• Gear Supplied

• Professional

• Guaranteed

Contact us today!

Freddie

020 4143 7007

www.snapclean.co.nz

Trades & Services

FENCE PAINTINg

Staining Quality at a

reasonable price. Free

quotes. Phone Warren

today on 980-1676 or 027

2014713

PAINTER

Quality work, I stand by

Canterbury Ph Wayne

03 385-4348 or 027 274

3541

Trades & Services

painting & all forms of

interior plastering & jib

All aspects in painting.

Very competitive in roofs

job specialty. 30 + years

Plumber for all types of

spouting, alterations etc.

PAINTINg DECoRATINg

Wingfields Contracting,

all interior & exterior

fixing, ph Mark 021 171-

1586 or 355-5994

PAINTER AVAILABLE

and fences. Please call 027

241-7471 or 335-0265

PLASTERER

Gib Stopping, Small

experience. Ring 0800

387-369

PLUMBER

ALF THORPE

PLUMBING Certifying

plumbing, maintenance,

Phone 352-7402 or 0274-

350-231

SHoE REPAIRS

Belfast engraving.Shoe

repairs,key cutting &

engraving.(10 yrs exp)683

Main North Rd

ph 027 3113423

SToNEMASoN, BRICK

& BLoCKLAYER,

Earthquake Repairs, Grind

Out & Repoint, River/

Oamaru stone, Schist,

Volcanic Rock, Paving,

all Alterations new & old,

Quality Workmanship,

visit www.featureworks.

co.nz or ph 027 601-3145

T.V. SERVICE CENTRE

Repairs, tvs, microwaves,

stereos, DVD. Aerial

installations and kitsets,

480 Moorhouse Ave, ph 03

379 1400

VHS VIDEo TAPES

& all camera tapes

converted to DVD, video

taping special occasions,

www.grahamsvideo.co.nz

ph 03 338-1655

WINDoW CLEANINg

Average 3 bdrm house

inside or out $40. Both

$70. Phone Trevor 344-

2170

Wanted To Buy

Dealers. Phone 980 5812

AAA Buying goods

quality furniture,

Beds, Stoves, Washing

machines, Fridge Freezers.

Same day service. Selwyn

or 027 313 8156

TOOLS Garden,

garage, woodworking,

mechanical, engineering,

sawbenches, lathes, cash

buyer, ph 355-2045
---
NOR'WEST NEWS Latest Christchurch news at www.star.kiwi

Tuesday December 5 2017 27

What's On

Entertainment

Christchurch's only

SEASIDE CLUB

LIVE MUSIC

7PM SATURDAY

Dateless n Desperate POP-ROCK-BAND

TUESDAYS & THURSDAYS

MEMBERS LUCKY CARD DRAW

FUNCTION ROOMS | GAMING ROOM

SHUTTLE SERVICE Tues, Thurs, Fri, Sat

To advertise, contact

Jo Fuller 027 458 8590

jo.fuller@starmedia.kiwi

DINE BY THE SEA!

UPSTAIRS

Pierview A la Carte Restaurant.

The restaurant is open from 5.30pm

Friday, Saturday and Sunday, and for

Sunday Brunch from 10.30am to 2pm.

SUNDAY NIGHT BUFFET

LAST SUNDAY OF THE MONTH

NEXT BUFFET : BOOK NOW!

NEW YEAR'S EVE

Sunday 31st Dec, from 5.30pm

DOWNSTAIRS : CLUB BISTRO

Open Tuesday to Saturday

from 12pm - 2pm & from 5pm.

New Brighton Club

202 Marine Pde | Ph 388-9416

www.newbrightonclub.co.nz

Members, guests and affiliates welcome

Get all 'Christmasy' with us!

PRE-CHRISTMAS FUNCTIONS,

PARTIES, WORK BREAK UPS,

CHECK THIS OUT!

TWO COURSE THREE COURSE

FESTIVE MENU FESTIVE MENU

ONLY

$

30

EACH

AVAILABLE LUNCH & DINNER DAILY

UNTIL 24/12/16 FOR PARTIES OF 10 OR MORE

SORRY, WE ARE CLOSED CHRISTMAS DAY

'TIS THE

SEASON

TO BE

JOLLY

ONLY

$

45

EACH

The

RESTAURANT & CAFÉ

0pen daily from 6.30am

Breakfast, Lunch & Dinner

RACECOURSE HOTEL

& Motorlodge

118 Racecourse Rd, Sockburn,

Christchurch. Ph 03 342 7150

www.racecoursehotel.co.nz

CHRISTMAS

IN THE

BUFFET

RESTAURANT

Lunch & Dinner

All you can eat, 7 days

H ORNBY

WORKINGMEN'S

CLUB

LET US

ENTERTAIN YOU!

WESTVIEW LOUNGE

THIS FRIDAY, 7PM:

ROBBIE DREW

THIS SATURDAY, 4.30PM:

BARROSS

8PM:

JOHN McCABE

Chalmers

Restaurant

FREE DESSERT

FRIDAYS & SATURDAYS

EXTENSIVE CARVERY FROM 5.30PM PRICED AT

ONLY $22.50 PER PERSON AND DESSERT'S ON US!

SUNDAY BUFFET

LUNCH $25 12PM | DINNER $27 5PM

GROUPS WELCOME. BOOKINGS ESSENTIAL.

PRE CHRISTMAS BUFFETS

SUNDAY 3, 10, 17 DECEMBER

LUNCH & DINNER BUFFETS : $30 PP

LIVE MUSIC AT DINNER with NEVILLE BARRIE

DINE & DANCE

SATURDAY 16 DECEMBER

BUFFET DINNER & SHOW : $45PP

MADSEN PROMOTIONS present

THE MUSIC OF THE BEACH BOYS

Club CAFE

The Hornby Club | ph 03 349 9026 | 17 Carmen Rd | Hornby

www.hornbywmc.co.nz | Members, guests & affiliates welcome

PLEASE NOTE:

CHALMERS CLOSES

FOR HOLIDAYS

SAT 23 DEC

REOPENING

THURS 11 JAN

OPEN 7 DAYS

LUNCH &

DINNER

Gluten Free &

Vege options

Bookings Essential

PH 386 0088

fb.com/GardenHotelRestaurant

www.gardenhotel.co.nz

SERVING

HAPPY HOUR

5PM - 7PM DAILY

OUR CABINET ITEMS

ARE HOMEMADE

CREATED FRESH ON SITE DAILY

$12

LUNCH

SPECIALS

Live Music:

6PM.FRIDAY.08DEC

COFFEE

HAPPY

H O U R

2PM-4PM

DAILY

$3.50

Offer available for a limited time

and includes tea, hot chocolate

MON: ROAST MEAL

TUE: FISH & CHIPS

WED: FISH BURGER

THU: ROAST MEAL

SAT: FISH & CHIPS

AVAILABLE

FROM

11.30AM-2PM

FOR A

LIMITED TIME

Rhonda Campbell duo

PHONE 385 8880 FIND US ON FACEBOOK fb.com/GBCCHCH

THE GARDEN HOTEL COMPLEX | 110 MARSHLAND RD

www.gardenhotel.co.nz | phone 385 3132
---
28 Tuesday December 5 2017

Latest Christchurch news at www.star.kiwi

NOR'WEST NEWS

Now Open

Introducing our brand new

purpose built retirement village

in the heart of Shirley.

Retirement just started looking a whole lot

better in Shirley! The Village Palms offers

affordable luxury and first class care.

• One bedroom serviced apartments

starting at $285,000

• Two serviced studio apartments for sale

at $255,000

• Studio care rooms certified up to hospital

level care $155,000

Call us on

022 321 1872

or Freephone

0800 THE VILLAGE

for your own

personal

guided tour

At The Village Palms, we also offer the full continuum

of care, with care suites, Rest Home & Hospital level rooms

available with care delivered 24 hours a day by Registered

Nurses and experienced staff.

The Village Palms - 31 Shirley Road, Shirley Where new memories are made