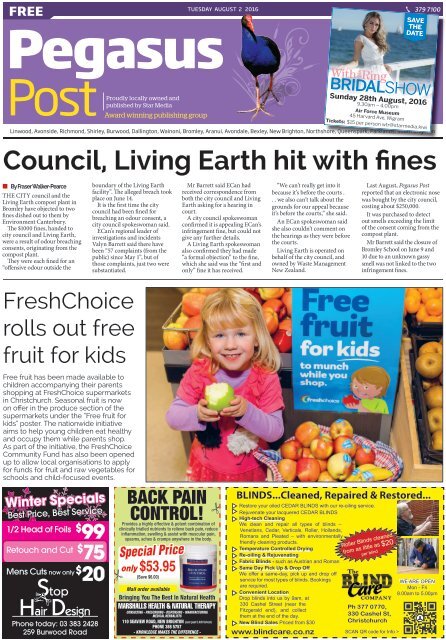 Pegasus Post: August 02, 2016
Do you know the secret to free website traffic?
Use this trick to increase the number of new potential customers.
FREE

TUESDAY AUgUST 2 2016

379 7100

Pegasus

Post

Proudly locally owned and

published by Star Media

Award winning publishing group

Sunday 28th August, 2016

9.30am – 4.00pm

Air Force Museum

45 Harvard Ave, Wigram

Tickets: $15 per person wtr@starmedia.kiwi

Linwood, Avonside, Richmond, Shirley, Burwood, Dallington, Wainoni, Bromley, Aranui, Avondale, Bexley, New Brighton, Northshore, Queenspark, Parklands, South Brighton

Council, Living Earth hit with fines

• By Fraser Walker-Pearce

THE CITY council and the

Living Earth compost plant in

Bromley have objected to two

fines dished out to them by

Environment Canterbury.

The $1000 fines, handed to

city council and Living Earth,

were a result of odour breaching

consents, originating from the

compost plant.

They were each fined for an

"offensive odour outside the

boundary of the Living Earth

facility". The alleged breach took

place on June 14.

It is the first time the city

council had been fined for

breaching an odour consent, a

city council spokeswoman said.

ECan's regional leader of

investigations and incidents

Valyn Barrett said there have

been "57 complaints (from the

public) since May 1", but of

those complaints, just two were

substantiated.

Mr Barrett said ECan had

received correspondence from

both the city council and Living

Earth asking for a hearing in

court.

A city council spokeswoman

confirmed it is appealing ECan's

infringement fine, but could not

give any further details.

A Living Earth spokeswoman

also confirmed they had made

"a formal objection" to the fine,

which she said was the "first and

only" fine it has received.

"We can't really get into it

because it's before the courts .

. . we also can't talk about the

grounds for our appeal because

it's before the courts," she said.

An ECan spokeswoman said

she also couldn't comment on

the hearings as they were before

the courts.

Living Earth is operated on

behalf of the city council, and

owned by Waste Management

New Zealand.

Last August, Pegasus Post

reported that an electronic nose

was bought by the city council,

costing about $250,000.

It was purchased to detect

out smells exceeding the limit

of the consent coming from the

compost plant.

Mr Barrett said the closure of

Bromley School on June 9 and

10 due to an unknown gassy

smell was not linked to the two

infringement fines.

FreshChoice

rolls out free

fruit for kids

Free fruit has been made available to

children accompanying their parents

shopping at FreshChoice supermarkets

in Christchurch. Seasonal fruit is now

on offer in the produce section of the

supermarkets under the "Free fruit for

kids" poster. The nationwide initiative

aims to help young children eat healthy

and occupy them while parents shop.

As part of the initiative, the FreshChoice

Community Fund has also been opened

up to allow local organisations to apply

for funds for fruit and raw vegetables for

schools and child-focused events.

Winter Specials

Best Price, Best Service

1/2 Head of Foils

Retouch and Cut

Mens Cuts now only

$

99

$

75

$

20

Phone today: 03 383 2428

259 Burwood Road

BACK PAIN

CONTROL!

Provides a highly effective & potent combination of

clinically trialled nutrients to relieve back pain, reduce

inflammation, swelling & assist with muscular pain,

spasms, aches & cramps anywhere in the body.

Special Price

only $53.95

(Save $6.00)

Mail order available

Bringing You The Best In Natural Health

MARSHALLS HEALTH & NATURAL THERAPY

CONSULTING - PRESCRIBING - DISPENSING - MANUFACTURING

MEDICAL HERBALISTS

110 SEAVIEW ROAD, NEW BRIGHTON (Just past C.N.B School)

PHONE 388 5757

- KNOWLEDGE MAKES THE DIFFERENCE -

BLINDS...Cleaned, Repaired & Restored...

Restore your oiled CEDAR BLINDS with our re-oiling service.

Rejuvenate your lacquered CEDAR BLINDS

High-tech Cleaning

We clean and repair all types of blinds –

Venetians, Cedar, Verticals, Roller, Hollands,

Romans and Pleated – with environmentally

friendly cleaning products.

Temperature Controlled Drying

Re-oiling & Rejuvenating

Fabric Blinds - such as Austrian and Roman

Same Day Pick Up & Drop Off

We offer a same-day, pick up and drop off

service for most types of blinds. Bookings

are required.

Convenient Location

Drop blinds into us by 9am, at

330 Cashel Street (near the

Fitzgerald end), and collect

them at the end of the day.

New Blind Sales Priced from $30

www.blindcare.co.nz

Roller Blinds cleaned

from as little as $20

per blind

Ph 377 0770,

330 Cashel St,

Christchurch

SCAN QR code for Info >

WE ARE OPEN

Mon - Fri

8.00am to 5.00pm
---
2

Tuesday August 2 2016

Inside

PEGASUS POST

FROM

THE

EDITOR'S

DESK News.......................................3, 5

THIS WEEK we have a very

special guest in the paper –

Maleficent. I'm led to believe by

the little people in my life that

she is rather scary, but also quite

cool. Reporter Georgia O'Connor-

Harding spoke to Tyra Adlam

who portrays the character while

doing charity work. Page 4 has the

interview.

On the local schools page we

see what students have been up to

after the school holidays. Youth

MP for Christchurch East, Beth

Walters, is our guest columnist

this week. She discusses Youth

Parliament on page 8.

And a very happy birthday to

New Brighton Working Men's

club member Allan Adams who

celebrated his 100th birthday yesterday.

He is on page 5 and talks

about his fond memories with

reporter Caitlin Miles.

Hei kona – Shelley Robinson

Scotty Bamford returns for a brand new season of CTV's

Rural New Zealand

NEWS11

Our People........................4

Schools......................................7

Local Views..................... 8

Sport...........................................11

Events................................14

Home & Heating............15

Senior Living......16 & 17

Health & Beauty.............18

Real Estate.....................19

GET IN TOUCH

General Enquiries Ph 379-7100

Classified Advertising Ph 379-1100

starmedia.kiwi

NEWS

Fraser Walker-Pearce

Ph: 364 7424

fraser.walker@starmedia.kiwi

ADVERTISING

Gail Henry

Ph: 364 7450

gail.henry@starmedia.kiwi

"Red Chilli Thai Takeaway"

Will be reopening on the

1st of August

under new ownership trading as

Longtail Thai

Takeaway & Restaurant

Come and check out the

newly refurbished

Takeaway area with

Restaurant opening

to follow.

Super Delicious

Food and Service.

Dyers Road Landscape

& Garden Supplies

• Barks • Peastraw • Composts - we supply the best available

• Aggregates - Chip, Round and Basecourse

• Pavers & Schist products • Pungas

• Decorative Stones & Landscaping Rocks

• Trailer Hire first hour free with purchase

• Bag & Bulk - pick up or delivered

David, Carol & Mike

695A Gloucester Street, Dallington

PH: 381 6151

We will deliver!

HELPING US,

HELPS THE

COMMUNITY

Drop off or buy

2 family stores in your community

30 Main North Rd,

Ph 352 4581

520 Cranford St,

Ph 352 0515

SOIL

AND

HARDFILL

DUMPING

Phone: 03 384 6540

183 Dyers Rd, Bromley • OPEN 7 DAYS

Weekdays 7.30am-5pm. Weekends 8.30am-3pm

www.dyersroadandlandscapes.co.nz

Burwood & Redwood

HOME OF THE

$

40 SERVICE

Ph: 383 2114

269 Burwood Rd, Burwood

Ph: 354 4022

290 Main North Rd, Redwood

SHOP HOURS

Mon-Fri 8.30am-5.30pm. Sat 9.00am-4.00pm

Layby available

See us on www.starlive.kiwi

Proud installers of

NEW & RECYCLED

CLOTHING

SHOPS AT:

14 Yaldhurst Rd, Ph 03 341 5379

251 Ferry Rd, Ph 03 381 3089

94 Victoria St, Rangiora, Ph 03 310 7421

Open: Mon-Fri 10am-4.30pm, Sat 10am-2pm

SUPER STORE:

320 Manchester Street (Bealey Ave end)

Phone 03 365 2051.

Clothes, shoes, whiteware, furniture,

linen and homeware.

Open: Mon-Fri 9am-5pm, Sat 9am-3pm

Donations of furniture and homewares

welcome during shop hours.

Get a Mitsubishi Electric GE42 5.4kW

Heat Pump including FREE installation* for just

$2,399*

*includes cost of back to back install only, conditions apply

Phone 0800 324 678

Call now for a free quote
---
PEGASUS POST Tuesday August 2 2016 3

News

Salvation Army programme

helps hundreds into jobs

• By Fraser Walker-Pearce

A WORK programme run by

The Salvation Army in Aranui

finished up last month, getting

more than 420 people into work

in the rebuild over a period of

four years.

The 'U Build 4 the

Rebuild' programme was

established as an earthquake

recovery project by The

Salvation Army in April

2012 and ran its first civil

construction course with just

five people in

June that year.

Project

manager for

the programme

Robyn

Laurenson

(right) said the

project was funded by donations

from the public after the

February 22 earthquake.

"We're based out of Aranui.

We did that on purpose, because

the east was hit very badly from

the earthquakes. Some people

needed food parcels, blankets,

all sorts of things, so it was a

REBUILD HELP: The Salvation Army's 'U Build 4 the Rebuild'

programme recently finished after getting more than 420

people into work.

way to give back.

"The funding for the project

was all through donations

to The Salvation Army postearthquake

from New Zealand

and overseas donors . . . when

we talked to SCIRT, they were

talking about a shortfall of

about 1500 rebuild workers," she

said.

Ms Laurenson said

"pressure cooker" type

programmes was the best way

to reflect the industry.

"The six-week courses started

at 7am every morning because

we wanted to reflect what really

happened in the industry . . . we

had people who had lost their

jobs through the earthquake.

We up-skilled them in a pressure

cooker type six week course

so they could get into these

types of jobs," she said.

Last month, the funding

stream ended for the 'U Build 4

the Rebuild' programme.

But The Salvation Army's

youth and education officer

Bruce Tremain said although it is

a shame the programme ended,

it lends an opportunity for a new

programme to replace it.

"Unfortunately the funding

stream was cut. It was always a

limited source and just happened

that it finished in June," he said.

Funding has now been

moved to a driver mentoring

programme, trying to give

people confidence to go for their

full licence.

In Brief

ROTHESAY RD LIGHTS

Rothesay Rd in Parklands is

not scheduled to undergo street

lighting upgrades at this time.

However, the city council still

intends to replace the fluorescent

lights. They were installed

between the 1960s and the 1980s,

and have a low efficiency rating.

RICHMOND ROAD REPAIR

North Avon Rd has been closed

between North Parade and

Flesher Ave for wastewater

works. The detour will be North

Parade, Medway St to River Rd.

The road closure is scheduled to

be lifted in October. Meanwhile,

the Stapletons Rd and Dudley

St intersection will be closed for

about three months. Stapletons Rd

is one-way southbound between

Averill St and Randall St.

KNITTING FOR ALL

Children and the elderly united

for a good yarn last week at The

Palms shopping centre. Knitting

workshops were held, and the

centre donated $1000 to the Kiwi

Family Trust to help enhance

their support services for the

community. Children were taught

the basics of knitting by expert

knitters, and each participant

was given a free starter pack. The

pack came complete with a ball of

wool, knitting needles and an easy

to follow pattern.

WOF $35

Bookings advisable

Complete

Tyre and

Auto

Full Workshop

Repairs & Tyres

NEW HOURS

Monday, Thursday & Friday

8.00am-5.00pm

Tuesday & Wednesday

8.00am-7.00pm

Saturday 9am-3pm

Canterbury owned and operated

464 Ferry Rd, 03 389 5370

ctawoolston@yahoo.co.nz

New & Used Tyres • Puncture Repairs

Batteries • WOF • Balancing

Mechanical Repairs • Lube & Servicing

Wheel Alignment

Wainoni

& PANDA'S PIZZA

Buy 2 pizzas

& get the 3rd

FREE

Only available with this coupon

Mon - Thurs 4pm-9.30pm

Fri - Sun 12 noon-9.30pm

Valid until 31st August, 2016

175 Wainoni Road, Wainoni

(opp Pak 'n Save) • Phone 388 4373

F45 TRAINING FERRYMEAD IS NOW OPEN!!

F45 Training Ferrymead and Christchurch branches invite you to come and experience the breakthrough fitness

phenomenon taking the world by storm. F45 is its very own style of training. It combines elements of High

Intensity Interval Training (HIIT), functional training, weight and resistance training and cardio to give you the

best full body workout, push you to new limits and deliver results fast!

Our innovative team training systems have been proven all around the world to help you reach your fitness

goals. Short, Sharp 45-minute workouts which change daily and are never repeated have been designed for all

fitness levels. Our trainers will make sure you are being challenged and motivated everytime you come for a

workout. F45 will get you stronger and healthier while having fun. Don't wait, come judge by yourself!

Visit our website (below) for details on our programmes and class timetable.

FERRYMEAD: Unit 4/ 1 Waterman Place, Ferrymead

Email: ferrymead@f45training.co.nz

Phone 022 188 0850

www.f45training.co.nz/ferrymead

CHRISTCHURCH: 579 Colombo Street

Email: christchurch@f45training.co.nz

Phone 03 390 1195 and 022 657 9433

www.f45training.co.nz/christchurch

Sign up for a FREE 2 week

trial pass to experience the

workout that will change

the way you train forever!

LIMITED OFFER!
---
4

Tuesday August 2 2016

Our People

PEGASUS POST

Tyra Adlam aka Maleficent

Playing the villain for charity

Tyra Adlam has a second life as one Disney's most-loved villains, Maleficent. Georgia

O'Connor-Harding spoke to her about the reaction she gets when undertaking charity

work dressed as the "mistress of all evil"

Why did you decide to dress up

as Maleficent?

A lot of it had to do with being

drawn to gothic characters.

Characters that are crazy pale,

with colourful eyes decked out

in black. Maleficent is very

commanding and powerful. I

have so much more confidence

in my real life now after dressing

as this character.

What was it like when

you made your first public

appearance as Maleficent?

It was Halloween and I ended

up going on a bus trip and having

a great time. I didn't realise

New Zealand had these Armageddon

expos. When I went to

my first expo I had no idea what

to expect. I spent the first hour

posing for photos. The reaction

was staggering. My character

encourages strength and power.

Meeting like-minded people in

the community was great, too. I

got into charity events through

that. The goal now, with my

friend Darth Vader, is to do as

much good as possible. Our

characters both know what it's

like to suffer. We both want to

give back to people who need

help – there is nothing in this

world like it.

What events do you attend as

Maleficent?

I go to Armageddon, and do

charity and not-for-profit work

with the Christchurch Faerie

Circle.

What do you do as a day job?

I have worked at the Christchurch

Horror Maze over the

summer as a scare actress.

Because of health issues I've got,

I can't really do a great deal.

So it hasn't been an easy

journey?

No. Ever since I was diagnosed

with a chronic illness it has

been ongoing. Finding the right

balance is so important because

you can do too much. Some

days are really good but you can

push yourself a little too much

and your body can protest the

next day. One of the reasons I

love being Maleficent is because

it is not about me. When I do a

charity event as Maleficent it is

not about me and my issues, it

is entirely about someone else.

It is really nice focusing yourself

WORKING FOR CHARITY: Tyra with Flat Man (middle) and the

Christchurch Faerie Circle at an Imagination Station charity

event.

PHOTO: ANGELA JONES

on people in need, rather than

focusing on yourself. It is a way

for me to get out of my own head

and realise other people have

stuff going on as well.

You have a great outlook.

You kind of have to. You get to

a point where you can either sit

there and be miserable about the

things you can't change, or you

can invest your energy into the

good stuff.

Tell me about your family?

I have a sister who is incredibly

supportive. My parents live

in Te Puki, near Tauranga. It

is the Kiwifruit capital of New

Zealand. My family think it is

great I dress up. There is this idea

that it is weird and there can be

judgment, but my family think

it is great. They get right behind

it and support it. My sister is an

artist. She is a painter that just

got into sculpting and is very

creative. My grand-father, who

passed away in 1997, was

into pottery so there has always

been an artistic influence in my

family.

Have you ever considered

going into acting?

I have toyed with the idea. But

with my chronic illness, there

is no telling how I will be on

any one day. Charity events do

not happen too often and they

are only for a few hours. Even

if I don't feel great, there is the

reward of helping others and I

can push myself through. But it

is a matter of listening to what

the body is saying.

And how old are you?

I am 36. All my friends complain

they are getting older, but I

am getting closer to 40 and love

it. It is actually really exciting. In

my 20s, I was like most people.

I was relatively self-absorbed,

self-focused and a bit dramatic.

Obviously living though the

earthquakes was a pretty traumatic

experience. That was when

MAGIC: Tyra dresses as the Disney character Maleficent when

she does charity work.

PHOTO: KIRSTY LEE

I realised I needed help. I had

extensive therapy. I needed to

address over-coming my grief.

I knew people who died in the

2011 earthquake. But I have now

put that trauma behind me. The

main thing is to keep moving

forward.

How do children react when

they see you?

It does vary. I have done some

faerie events where children

come rushing up to me and

throw their arms around me.

On the flip-side, some find my

whole look intimidating. I have

been known to have done charity

events where children look at me

and burst into tears.

When you were younger did

you enjoy fairy tales?

I was always drawn to the

dark characters. When I was

four-years-old I remember

going into kindergarten and the

teacher asked what we want to

be when we grew up. I wanted

to be Lily Munster because she

was a vampire. When I started

watching Disney movies I

found the villains interesting.

Old-school princesses were one

dimensional. Nowadays you

have movies like Frozen where

the princesses have their own

defined personalities. But back

in the earlier days, their entire

existence was having a man save

them and there was nothing

exciting about that.

Thanks Canterbury

for your continued support
---
PEGASUS POST Tuesday August 2 2016 5

News

Community garden theft

Fashion

The looting of

a Churchill Park

garden shed went

unreported

to police

Gardening

• By Fraser Walker-Pearce

A RICHMOND community

garden was "broken into

and smashed" recently – but

volunteers decided not to pass

the case on to police.

Thieves allegedly took gardening

equipment and a lawn mower

when they broke into the Churchill

Park Community Garden shed

on Guild St late last month. The

Motoring

garden is run by volunteers.

The garden's co-ordinator

Mary Tingey said after the incident

she decided not to involve

the police.

"They have better things to do

than worry about a little community

garden being broken

into like ours . . . I think they

IN RUINS: Don Stewart and Ida McNicholl beside the

Churchill Park Community Garden shed from which

gardening equipment was stolen. ​

Tasty Bites

have higher priorities to be honest,"

she said.

A police spokeswoman said

to help protect yourself and

others, crime should always be

reported.

"All members of the public are

encouraged to report crime or

suspicious behaviour to police as

soon as possible," she said.

The tools at the garden were

bought through funding grants.

All end products – such as silverbeet,

cabbage and peas – from the

garden are given to a food bank at

Delta Community House.

The community garden was

started by the Richmond Community

Action Network and

Delta Community House after

the February 22, 2011, earthquake.

It is run by "four or five"

volunteers who tend to their

patch every Friday.

Ms Tingey said it is a wellused

park, and especially popular

with children.

"The park itself is a beautiful

spot with plenty of birds for company.

It is well-used as a place to

bring children and dogs, as well

as a peaceful place to rest. Children

have built huts," she said.

Ms Tingey said almost everything

in the garden had been

donated or supplied by local

businesses.

"The park and garden is a

community effort. The shed was

donated by CanCERN [Canterbury

Communities' Earthquake

Recovery Network] and it was

transported to the site by the Student

Volunteer Army," she said.

"The land is owned by Anglican

Living, who strongly support

the garden. Worthington

Contracting have supported the

garden by supplying water and

fixing up hoses when things

go wrong. They also mow the

lawns . . . they are very good

neighbours."

Celebrating

work in the

community

MORE THAN 20 businesses

from the Bromley and Linwood

areas got involved in the annual

It's Great to Live Here event held

yesterday.

The event was a partnership

between local community groups,

businesses and the city council.

It brought community groups

and organisations together to

showcase the work they do in the

Linwood, Phillipstown, Bromley

and Woolston areas.

Phillipstown Community Hub

co-ordinator Viviana Zanetti said

it was great to be invited.

She said it was a perfect

opportunity to let the community

know what their organisation was

currently doing and their plans

for the future.

Representatives from the

Ministry of Education and

Ministry of Social Development

attended the event.

Linwood College staff also

spoke with the community about

the school's rebuild, and gathered

residents' deedback.

New Brighton veteran marks 100 years

Money

CHEERS:

Allan Adam

had a quiet

couple of

beers at the

New Brighton

Club with his

friends to

celebrate his

birthday.

• By Caitlin Miles

A CENTURY of memories came

flooding back to New Brighton

Working Men's Club and war

veteran Allan Adams when he

celebrated his 100th birthday

yesterday.

Mr Adams has also been a

member of the Sumner RSA for 40

years. He still goes for a beer with

friends when he can.

Mr Adams is a resident in the

Brookhaven Retirement Village in

Woolston and Christchurch has

always been home.

He was born in Opawa in 1916

and attended primary school

in Opawa before heading to

Christchurch West High School.

He said he was a "good kid" and

only got the strap once. Which he

"didn't deserve".

"A prefect walked past the door

and I waved at him, the teacher

saw me and I got the strap. I didn't

deserve that," he said.

After leaving high school Mr

Adams worked with his father for

several weeks before getting two

job offers on the same day.

"I had wanted to work in radio

and I got offered a job but I turned it

down for a job at the Tai Tapu Dairy

Company. It was the height of the

depression and I wanted a job that

was going to be stable," he said.

He worked for the dairy company

for 43 years.

He met his wife June in 1943

when he 26.

"I was in Wellington on holiday

and I was down at the wharf when

I saw her, we went on a couple of

dances and she worked as an usher

at the movie theatre, I went to the

pictures quite a lot," he said.

During t World War 2 Mr

Adams was a radar technician

in the New Zealand Air Force. It

wasn't until after basic training

when he was on standby that he

realised he was colour-blind.

"They kicked me out after that,"

he said.

There is no secret to longevity for

Mr Adams. He said hitting the century

mark is not that important,

all birthdays get the same after a

while.

"My wife always said you're such

an old bugger you'll make 100.

"And now I have," Mr Adams

said.

EvEryday BEst Buys!

30 capsules

Go Healthy

GO VIR-DEFENCE

Keeps those ills and chills

at bay, and promotes

immune health.

RRP $29.99

ONLY

$25.90

It's time to

grow

• Prescriptions • Medico Packs

• Gifts • Health Advice

• Dry Cleaning • Passport/ID photos

Burwood Pharmacy

Hours: Mon-Fri 9am-5.30pm, Thurs 9am-6pm

11 Parnwell Street. Ph 383 4814

bigger from August 22
---
6

Tuesday August 2 2016

PEGASUS POST

Check out this

Exclusive to Pegasus Post readers only

BUY 1

GET 1

FREE

GoldAir

Panel Heater

425W with Timer

279423

DEAL!

$

127

*Present this

advert in the

Ferrymead store to

redeem this offer,

1 offer per advert

Ferrymead

1005 Ferry Road

Phone: 366 6306

Opening Hours:

Monday–Friday: 7:00am–7pm

Saturday, Sunday and

Public Holidays: 8:00am–6:00pm

mitre10mega.co.nz

If you find a lower price on an identical

stocked product locally we will beat it by 15%.

If you find the same product cheaper from another

Mitre 10 store or Mitre 10 website we'll match that price.

Excludes trade and special quotes, stock liquidations

and commercial quantities. The in-store price may be

lower than that advertised.

Offer available at Mitre 10 Mega Ferrymead only, until Wednesday 10th August, 2016, one week only! While stocks last.
---
PEGASUS POST Tuesday August 2 2016 7

SCHOOLS

ALL FOR ONE: Swordsmen Athos (Mark Ealam), Porthos (Hagen Byford) and Aramis (Bailey

Cropp) with d'Artagnan (Cole Yeoman) are The Three Musketeers. They will be on show at

Shirley Boys' High School from August 9 to 12, starting at 7.30pm each night. Shirley and

Avonside Girls' high schools have joined forces to bring a cast of 35, more than 50 costumes,

20 swords, boats, horses, muskets, explosions and a rotating stage, to bring to life The Three

Musketeers. Tickets can be purchased from the Shirley Boys' High student office or cash door

sales on the night. Tea, coffee and refreshments available. Tickets $10.

NEW ADDITION: Waitakiri

Primary School celebrated

its first day of term 3 with the

opening of its new hall. In

the last week of the holidays,

the hall was blessed by

kaumatua Reverend Sandy

Kaa. But it wasn't until last

Monday when the whole

school had its first look at

the hall. The pupils sang

and learnt why the hall

was blessed. The hall was

funded by Rata Foundation

and Mainland Foundation

provided some funding, the

Ministry of Education paid

for half of the cost, and the

school's board of trustees

made up the rest.

Shirley Boys' band getting

close to Rockquest finals

SHIRLEY BOYS' High School's

up and coming Fuzhun band are

one of 30 Smokefree Rockquest

groups around the country to

have made it to the next stage in

judging for the national final.

Fuzhun is made up of year 11

and 12 students, Michael Mose,

Temuera Hay, John Lauvao,

Keenan Jarvis, Gideon Valavala,

Josh Mosa'ati, Toa Osai and

Neihana Hay.

There was about 700 entries in

this year's event. Bands played

off to represent their region, and

finalists will now send video

footage for selection to play off

at the national final in Auckland

on September 24.

Rockquest Charitable Trust

chairman Matt Ealand said it

was great to see the spread of

finalists across every one of the

regions where the event was held

this year.

The top 30 is made up of 20

bands and 10 solo-duos. Six of

the top 20 bands are from the

South Island, and four of the top

10 solo or duo acts.

The top 30 bands and solo-duos

will now be further narrowed

down by a panel of judges.

This month the final five

bands will be announced and

three solo-duos to play off at

the Raye Freedman Centre

at Epsom Girls Grammar on

September 24.

The 22 acts that didn't make

the cut become contenders for

the People's Choice Award,

with the winner of the voting

campaign competing as the

ninth act in national final.

The top 20 school-aged

bands from around New

Zealand are:

Alien Weaponry, Bream Bay

College, Northland; O-Boy!

Kaipara College, North Shore;

Daffodils, Western Springs

College and Kristin School,

Auckland; Nui Trio, Manurewa

High School, Manukau;

Tree Juice, Cambridge High

School, Waikato; Half Eaten

Pie,Te Awamutu College,

Waikato; Made Alive, Whakatane

High School & Trident

High School, Bay of Plenty;

AhJeez, Bethlehem College

& Tauranga Boys College,

Bay of Plenty; Kurawaka,

TKKM O Kawakawa Mai

Tawhiti & Gisborne Girls High

School, East Coast; Suburban

Goons, New Plymouth Boys'

High School, Taranaki; Headlock,

Havelock North High

School, Hawkes Bay; Why

Vibrations, Wanganui High

School, Whanganui; Hymns

& Her, Dannevirke High

School, Manawatu; Retrospect,

Onslow College, Wellington;

Meraki, Marlborough

Boys' College, Marlborough;

The Hoard, Golden Bay High

School, Nelson; Tetra, Nelson

College for Girls, Nelson;

Fuzhun, Shirley Boys' High

School, Christchurch; Pseudo

Sane, Geraldine High School,

Timaru; Ceiling, Mt Aspiring

College, Central Otago.

THE HOME OF GOOD BAKING

DAILY BREAD

White, Wheatmeal, Grain

NO LIMIT!

ONLY

99 C EA

CHOC CARAMEL

SLICE

Choc sweet

shortcake encases

the gooey

caramel filling, all

coated in choc

icing.

ONLY

$

3 49

EA

$25,000

TRAVEL GIVEAWAY

ALL BREAD

ROLL PACKS

(Excludes dinner

rolls.)

2 FOR

$

3 98

Purchase 2 x 2L Dairy Dale Milk to enter

the draw to win $1,000 worth of travel

vouchers for your family!

25 WINNERS - 1 PER STORE!

MILK

Dairy Dale 2L varieties.

$

5 98

2 FOR or $3.19 each

LOAVES $

3 49

Assorted flavours.

EA

Promotional pricing available while stocks last from 01/08/16 to 07/08/16.

Images are serving suggestions only. Promotion valid 1st - 31st August 2016. Winners will be contacted Wednesday 7th September 2016.

Terms & conditions apply. Full terms & conditions can be found at www.couplands.co.nz

Open 7 days | 8 Convenient local locations

Hornby • Barrington • Ferry Rd • Papanui • Riccarton • Upper Riccarton • New Brighton • Rangiora

BAKERIES

www.couplands.co.nz
---
8

Your Local Views

Youth MP for

Christchurch East

and Aranui High

Tuesday August 2 2016

Fortunate to have democracy SHOWBIZ Christchurch held

its popular Way Off Broadway

ews

School student

Beth Walters

talks about

attending Youth

Parliament and representing

the eastern suburbs

Parliament,

ashion

a word which until

recently used to have a series of

negative connotations because

I would only ever see it through

the eyes of the media. However,

maybe the word Parliament is

viewed negatively because we

don't value and understand fully

our democracy?

I know personally it was only

until recently from participating

in Youth Parliament, did I realise

Gardening

how fortunate we are to live a

democratic society.

Youth Parliament was an

experience that was eye opening,

not only to the way our democracy

works but also to how every

individual has backgrounds and

passions that shape their viewpoints

and the way they conduct

themselves, because of the demo-

otoring

cratic society we live I realised

how privileged we are to be able

to express these opinions.

Over the space of two days, 121

youth MPs from across Aotearoa

represented and advocated for the

asty Bites

young people from their respective

electorates. I represented Christchurch

East. As young people we

learnt a lot and experienced the

majority of what a MP would.

Youth parliamentarians this

year debated a mock bill. Its

purpose was to ensure that New

Zealand's web pages and apps are

accessible to people with disabilities.

Some would argue, was this

the most relevant issue that affects

young people to be debating?

However, I feel the perspectives

that were raised provided a

youthful insight into an important

issue that the Government

will one day have to pass a bill on.

It was the mock bill that gave me

insight into how vital it is in our

democratic society that different

opinions and perspectives are

presented when debating issues

that affect everyone.

The respect, the courage and

the mana that was shown by the

rangatahi that represented each

electorate and community over

the two days at Parliament, was

a true testament to the calibre

of young people we have in

Aotearoa.

But the question can be asked

in the Christchurch East electorate,

how can we better encourage

involvement and engagement in

the democratic process? In the

2014 election, a total of 2540 of

the 4265 people aged between

18 and 24 enrolled to vote in

the Christchurch East electorate

voted. However, since being in

Parliament I've begun to ask,

what about the other 40 per cent

who chose not to vote?

I've recently turned 18 and in

this year's local council elections

and also in next year's general

election I am legally able to vote

and I will, because I feel educated

around the different parties and

policies but I only feel educated

because of my experiences at

Youth Parliament, prior to that I

had no idea.

If that is the case, then there

will be many young people like I

who feel uneducated around the

democratic process. As a community

how can we better educate

each other on the importance of

voting, that it is a right that we

should be grateful to have and

how can we better show not only

young people but also adults

the importance and value that a

democratic society presents?

Way off Broadway

brings out talent

show earlier this month.

The bi-monthly concert is an

open-mic night for performers,

held at the NASDA studios at

the Ara Institute of Canterbury

based in the central city.

For each performance, nine

singers individually took to the

stage to sing musical theatre

accompanied by the piano.

The singers were

accompanied by pianist Sam

Jury.

The recent performance

included songs from wellknown

musicals including

My Fair Lady, Les Miserables,

Dreamgirls, Jekyll and Hyde

and Willy Wonka. There

will be two more Way Off

Broadway performances this

year with a duet evening on

September 9 and further solo

performances on December

11. The performances are

unauditioned.

Interested performers should

email wayoffbroadway@

showbiz.org.nz

PEGASUS POST

IN THE MOMENT: Briana

VinZant, of Burwood,

showed her talent at the

NASDA studios recently.

Below: Pianist Sam Jury.

PHOTOS: DONNA ALLEY ​

oney

Explore Chch's best

hospitality hotspots

Listen Live to

weekdays at 5.30pm

CTV Freeview Channel 40

Live and on demand at ctv.co.nz

Mondays, Wednesdays and Fridays at 10pm

On the mOve? tune in

fOr yOur lOcal news
---
PEGASUS POST Tuesday August 2 2016 9

CARPET HOUSE LOT DEALS

Prices are based on an average 3 bedroom home, using 20 broadloom metres of carpet, three finishing bars and fully installed.

POLYPROP

NYLON WOOL

Benmore

• Heavy Duty

• Cut Pile

• 4 great colours

• 4 meter wide rolls

• Foam Back

• $79.90 per m

Tasman Twill

• Wool Blend

• Heavy Duty

• Loop Pile

• 1 Colour

• $65 per m

Memphis

• 26 oz Solution dyed nylon

• Heavy duty

• Cut Pile

• 1 great colour!

• Stain & fade resistant

• $75 per m

$2600

FoaM Back

InstaLLatIon IncLuded

$2800

Luxury underLay &

InstaLLatIon IncLuded

$3000

Luxury underLay &

InstaLLatIon IncLuded

WOOL POLYPROP

NYLON

Bedrock

• Hardwearing Polyprop

• Heavy Duty

• Loop Pile

• 4 great colours

to choose from

• $49.90 per m

Calabar

• Pure wool

• Extra heavy duty plus

stairs grade

• Loop pile

• $75.00 per m

Windsor Twist

• 36 oz Solution dyed nylon

• Cut Pile

• Extra Heavy Duty

• 8 amazing colours

• $109.90 per m

$2500

Luxury underLay &

InstaLLatIon IncLuded

$3000

Luxury underLay &

InstaLLatIon IncLuded

$3700

Luxury underLay &

InstaLLatIon IncLuded

NYLON

Tiburon

• Pure wool

• Extra heavy duty plus

stairs grade

• Loop pile

• Slightly imperfect.

• $75.00 per m

$3000

Luxury underLay &

InstaLLatIon IncLuded

POLYESTER

Sanctuary

• 50 oz Luxury polyester

• Extra Heavy Duty

• Cut pile

• Great colour

• $99.90 per m

$3500

Luxury underLay &

InstaLLatIon IncLuded

south island's largest stockist of vinyl

2m wide SELLING From $30 per metre

312 Wilsons Road North, Waltham Phone 366 0070

www.carpetkingdom.co.nz | Mon - Fri 8am - 5pm | Sat 10am -1pm

Q Card Finance Now Available

FREE no obligation measure & quote (conditions apply.)
---
10

Tuesday August 2 2016

PEGASUS POST

WINDOWS 10 OPTIONS

ON ALL EX LEASE COMPUTERS

i5 Cyclone Tower 22" screen

Ex Lease

• i5 Intel CPU

• 4GB RAM

• 500GB Hard Drive

• Tower case

• Keyboard & Mouse

corded

• Windows 10 option

• DVD writer

• 22" screen

• 6 Months Warranty

• Ex Lease

HP8570P Elite Book Series

Ex Lease

• i5 CPU

• 4Gb Ram

• 500Gb Hard Drive

• 15.6" Screen

• DVD writer

• Windows 7 or

Windows 10

• Ex Lease

WAS $749

NOW

$699

incl GST

$599

incl GST

i3 Desktop Cyclone

22'' screen, Ex Lease

• i3 Intel CPU

• 4GB RAM

• 320GB Hard Drive

• Desktop case

• Keyboard & Mouse

corded

• Windows 10 option

• DVD writer

• 22" screen

• 6 Months Warranty

• Ex Lease

Toshiba Satellite C850

Ex Lease

• Intel i3

• 4GB Ram

• 500Gb Hard Drive

• 15.6" Screen

• DVD writer

• Windows 7 or

Windows 10

• Ex Lease

WAS $599

NOW

$549

incl GST

$499

incl GST

We service & repair laptops, tablets and smartphones,

including broken screens. Ring us first for a quote.

Shop online at: www.computercentre.co.nz

serving christchurch for over 28 years

Unit 1/100 Fitzgerald Ave (Next to Cartridge World)

Phone: 379 3428

www.computercentre.co.nz

Open Monday-Friday, 9am-5pm

Q Card lending criteria, terms

and conditions, and fees apply

*All work carried out in our

workshop. Home pcs only.

Pay with Q Card or Farmers Card.
---
PEGASUS POST Tuesday August 2 2016 11

SPORTS

Shirley Boys' make finals

SPORTS

of UC Championship

• By Gordon Findlater

SHIRLEY BOYS' High School

have confirmed their spot in

this year's UC Championship

play-offs after a crucial 32-24

win over Waimea Combined.

First-five Jackson Taylor

brought up his 100th point

in the competition with two

tries, with Logan Bell and Jim

Tuipulotu also crossing the line

of Shirley.

They may also be inclined

to write a letter of thanks to

Timaru Boys' High School and

Christchurch Boys' High School

which defeated Marlborough

Boys' College and St Andrew's

College from the race for the top

four.

The top four in this year's

championship is now decided

going into the final round.

A finals-like atmosphere will

be expected in Shirley Boys' final

round encounter with CBHS

on Saturday, the two teams met

in last year's semi-finals, Shirley

Boys' won the game 25-17.

We just want to go back there

and repeat, we're in great form

and we will have to play them

FINALS FOOTY: Shirley Boys' High School has booked their

spot in the finals of this year's UC Championship following a

32-24 win over Waimea Combined. ​

or Christ's the following week,"

said Shirley Boys' rugby administrator

John Fox

Round 13 results: Shirley

Boys' 32, Waimea Combined 24;

Christ's College 51, Ashburton

14; Burnside 25, St Bede's 22;

CBHS 35, St Andrew's 15; Timaru

Boys' 18, Marlborough Boys'

12; Nelson College 34, Roncalli

0; Rangiora High School 29, St

Thomas 19.

Standings: Christ's College

59pts, CBHS 57pts, Nelson

College 46pts, Shirley

Boys' 44pts, Timaru Boys'

38pts, Burnside HS 38pts,

Marlborough Boys' 36pts, St

Andrew's 36pts, St Bede's 34pts,

Waimea Combined 33pts, St

Thomas 23pts, Rangiora High

School 21pts, Ashburton 8pts,

Lincoln High School 7pts,

Roncalli College 2pts.

RURAL RETURNS: Scotty Bamford (left) returns for a brand

new season of Rural New Zealand tomorrow night.

Scotty's back on Rural NZ

HE'S BACK! Scotty Bamford

returns to the screen tomorrow

night on CTV, in an all new

season of Rural New Zealand.

Mr Bamford will return to the

screen for the first time in nearly

12 months after a near-fatal truck

crash over the Christmas period

last year.

The Rural New Zealand team

have been hard at work following

the end of season two, earlier

this year with filming for season

three beginning in July.

"We've had some absolutely

cracking days filming over the

winter, the weather has really

played ball. We've been travelling

far and wide, leaving our gummy

marks right across Canterbury,"

said Mr Bamford.

Mr Bamford is excited to show

off what he and the team have

been working on when episode

one airs this week.

"We catch up with two girls

that are riding horse back,

circumnavigating New Zealand.

We met them in Kaikoura,

3000km into their journey," he

said.

This week's episode sees Mr

Bamford meet Carrfields founding

director Greg Carr.

"Over the next 16 weeks

we'll be learning more about

the Carr family and how the

Ashburton-based agricultural

business has grown into a diverse

international operation," he said.

Mr Bamford said that one of his

highlights this season was a recent

trip to Omarama, to meet the

2015 South Island Farmer of the

Year co-winner Richard Subtil.

Later in the season Mr Subtil

will explain the effort that

went into recognition in the

competition and his plans to

future-proof the family farm for

generations to come.

Episode one will air at 8pm

tomorrow on CTV, Freeview

channel 40.

ON DEMAND AT WWW.stylE.kiWi

from magazine

to screen

storiEs givEn nEW liFE

Watch EvEry thursday at

7.30pm

rEpEats Friday at

11am & 4.30pm

ExclusivE intErviEWs

Andrea Allen meets the locals

coming to toWn

A look at what's on

Fashion Focus

Trends to follow

the ultimate guides

ExpErts sharE tips

StyleTV_StarAd_June_HP_001_2016

Freeview HD 40 | Live on ctv.co.nz
---
12

2

[Edition datE]

Tuesday August 2 2016

PEGASUS POST

Nurse Maude COMMuNITY ParTNersHIPs

driving force behind Nurse Maude

The supporT of the people of

Christchurch for Nurse Maude's work

started the day sibylla Maude first

stepped out on the streets of Christchurch

120 years ago with the community

recognising the need and responding.

"Just as Nurse Maude has always been

a large part of the community, so the

community has been such a large part

of Nurse Maude," says sue Bramwell,

general manager of marketing for Nurse

Maude.

That partnership with the community

continues today through its support of

Nurse Maude's hospice shops, Maudes

on Trade Me and key sponsorships which

include harcourts holmwood.

harcourts holmwood has been,

literally, behind Nurse Maude for

more than seven years now, with its

sponsorship of an initial five cars now

increased to more than 30.

every year sales consultants from

harcourts holmwood are clocking up

millions of kilometres across the greater

Christchurch and Canterbury region.

The Nurse Maude cars are on the road

seven days a week, delivering nursing

care across Canterbury and the chances

are when you see one of Nurse Maude's

distinctive white cars on the road that the

back window will be carrying the name

and photo of a sales consultant from the

harcourts holmwood franchise.

With the agents' photo, name and

contact details in the rear window, both

harcourts holmwood and Nurse Maude

are benefiting from the partnership and

Bramwell says mutual benefit is what a

good sponsorship agreement is all about.

"For us it's essential support for Nurse

Maude, for harcourts holmwood it's

a very effective way of letting people

know that the company not only cares

about supporting the community it does

business with, it is actually doing so," says

Bramwell.

harcourts holmwood has found

that people like the fact that the sales

consultants they list their home with are

donating a significant amount of money

to Nurse Maude every year.

playing a key part in helping Nurse

Maude care for the people of Canterbury

doesn't just start and stop with Nurse

Maude's cars however.

harcourts holmwood's support went

above and beyond during the earthquakes

when its sales consultants turned out

to help deliver water, portable toilets

and blankets to Nurse Maude's most

vulnerable clients.

It also has regular clothing drives for

the Nurse Maude hospice shops and

gathers donations from its events.

"Individually and collectively the

people of harcourts holmwood have

contributed a great deal to the work of

Nurse Maude," says Bramwell.

"It's an enduring sponsorship of which

they are justifiably proud and we are very

fortunate to have."
---
[Edition datE]

PEGASUS POST Tuesday August 2 2016 13

3

Nurse Maude COMMuNITY ParTNersHIPs

Perfect synergy

in sponsorship

There are some partnerships that just make perfect sense, and the one

between eCoCentral and Nurse Maude would be one of those.

WheN Nurse Maude started

Maudes on Trade Me, selling almost

everything from furniture to fine

jewellery to raise money for its nursing

services it soon ran out of storage

space.

"In the past a lack of space meant

that Maudes on Trade Me, had often

been unable to take large volumes of

donated goods," says sue Bramwell,

general manager marketing for Nurse

Maude.

With the considerable resources of

eCoCentral now behind it, however,

Maudes on Trade Me is able to clear

entire house lots, moving the larger

items through the eCoshop on

Blenheim road.

The partnership has been a great

success with Maudes on Trade Me now

able to clear entire house lots and take

in a much broader range of furniture

and whiteware.

"people can still drop smaller items

off to any of our hospice shops," says

Bramwell, "but we can now go out and

collect house lots of saleable furniture

and whiteware if people want to email

us or give us a call."

For Judi sefton, Chief executive

of eCoCentral and Jim Magee,

Chief executive of Nurse Maude,

the partnership simply makes sense,

allowing a wide range of goods to be

recycled and sold to support Nurse

Maude's services rather than be

dumped.

"eCoCentral is all about maximising

the volume of goods that can be

recycled and minimising landfill," says

sefton, "and to be able to do that while

helping raise money for Nurse Maude

can only be a good thing."

"The partnership between

eCoCentral and Nurse Maude

clearly demonstrates the huge value

the business community can bring

to organisations such as ours," says

Bramwell.

Those who need to downsize, clear

some space or simply see unwanted

furniture and household goods to

benefit the wider community rather

than just be dumped see Maudes on

Trade Me as the ideal home for those

items.

For Nurse Maude it means much

needed financial support for nursing

services at a time of increasing demand,

while eCoCentral is all about caring

for the community through recycling

and reducing landfill.

"ecoCentral and Nurse Maude

talk about caring for the people of

Canterbury together and that is exactly

what's happening here," says Bramwell.

"everyone is benefiting."

With the considerable

resources of eCoCentral

now behind it, Maudes on

Trade Me is able to clear

entire house lots, moving

the larger items through

the eCoshop on

Blenheim road.
---
142

Tuesday [Edition August datE] 2 2016

HOME & HEATING

PEGASUS POST

Email fraser.walker@starmedia.kiwi

by 5pm each Wednesday

Warming winter with

EnviroMaster

KITE FLYING: Kites are flown on the beach near the pier almost every

day that conditions are suitable from 11am to 4pm. Go along and watch,

or take a kite and join in. Recapture your childhood, and let your children

experience the joy of kites instead of playing with their electronic gadgets.

People complain about the Christchurch easterly wind, but it's ideal for kite

flying, so dress appropriately and head along, any time of the year.

Are you struggling with the heat of

Summer or wanting to get organised for

Winter? With the ever changing weather

patterns, heat pumps have the flexibility

of being able to heat and cool which is

an advantage no other appliance can

offer. This represents great value for

your investment as you can use it all year

round. The team at enviro Master Ltd can

help keep you cool this Summer either at

home or work. enviro Master supplies,

installs and services all the leading brands

including Panasonic, Fujitsu, Mitsubishi

and Daikin. This means our team can

show you which system and brand will

best suit your needs.

We currently have savings up to $600 off

the recommended retail price on

selected models.

Would you like to maximise the number

of days you can use your swimming pool?

Heating your pool can do this and one

of the most cost effective ways is with a

water heat pump. enviro Master Ltd can

supply, install and service you swimming

pool heat pump providing you with a

comfortable, extended swimming season.

Servicing your heat pump is extremely

important to ensure that it is working

as effectively and efficiently as possible

resulting in a healthy, hygienic heat pump,

lower power bills and greater comfort.

But beware, not all cleaning companies

are equal. We are constantly hearing

of people being charged huge amounts

for servicing and all they are getting is a

heat pump clean. We at enviro Master,

are qualified engineers and therefore

are able to fully test and diagnose any

problems you may or may not be aware

of with your heat pump. Also, as we are

associated with all major brands, we are

able to repair these under warranty if

they are still within the warranty period.

It is important to remember, when

selecting an installer, the manufacturer's

warranty does not cover the installation

and consumers could be responsible

for any repair or damage caused to the

system due to poor installation. enviro

Master's five-star installation guarantee

ensures correct installation, and a

demonstration so customers have an

understanding on how it will best meet

their needs.

For a free in home consultation,

call Enviro Master on 366 0525

or visit our showroom at

41A Shakespeare Rd,

Waltham, Christchurch.

Fabulous Feminism: Too many dinner

parties

July 31 to August 20, Monday to Friday,

11am to 4pm. Saturday noon-3pm

Colleen Anstey, Sandra Beltman,

Lizzie Cook, Clare Hardy, Allie Eagle,

Brooke Georgia, Kate Glass, Rebecca

Harris, Helen Heliotrope, Margaret

Hudson-Ware, Julia Holden, Linda

James, Anne-Marie, Jean Bronwyn, Judge

Eden Kendall, Robyn Kilty, Kristin Leek,

Marilyn Rea-Menzies, Jannelle Moore,

Margaret Ryley, Shirley Scarlett, Susan

Sky, Helen Sutherland, Tiffany Thornley,

Robyn Voyce, Robyn Webster, Gail

Wright, and Jane Zusters invite you to go

along to their new exhibition.

Eastside Gallery, 388 Worcester St.

Free entry

New Brighton Ukulele JAM

Friday nights, from 7.30pm

Every Friday this group meets to play

the ukulele and other instruments and

sing all kinds of songs and different

genres of music – anything that is in

the spirit of Joyful Anarchic Music

(JAM). There is a data projector so all

the lyrics and the chords are available.

Everyone is welcome. Tea, coffee and

biscuits are free.

St Faith's Hall, 46 Hawke St, New

Brighton. $2 entry

Rawhiti Hoedown

August 13

Following last year's comedy night with

Ben Hurley, the Rawhiti Parent Teachers'

Association is now raising funds to put

up shade sails. Go along to a hoedown

and help provide swim facilities for

children and the community. The Black

Velvet Band will play traditional and

contemporary songs on the night. Tickets

include your first drink and supper. The

Dear Ones photo booth will be there

to capture the fun and frivolities of the

night. Dressing up is optional, there will

be spot prizes for best in show.

Tickets $30 each. Search Hoedown with

the Black Velvet Band on Trade Me.

Super Saturday Storytimes

Every Saturday, 11-11.45am.

Go along and enjoy a Storytimes

session followed by fun craft activities.

This programme runs during the school

term and is for children between the ages

of two to seven. There will be a different

storytime theme and craft activity every

weekend.

Shirley Library, 36 Marshland Rd,

Shirley. Free entry.

Children's Poetry Show

Tuesday, August 23, 10.30-11am

In the week of National Poetry Day

2016, popular children's poet, illustrator,

and librarian Greg O'Connell will present

brand-new and favourite pieces from his

forthcoming book, Megabyte & Other

Poems. As a tutor with Christchurch's

renowned School for Young Writers,

Greg will involve the audience in a

humorous, lyrical roller-coaster of rhyme,

rhythm, and refrain. Go along with

family and friends, and enjoy the sheer

fun of performing poetic lines, out loud.

All ages welcome.

Shirley Library, 36 Marshland Rd. Free.

No bookings required.

Films at the New Brighton Museum –

August

Every Monday from 1.30pm

August 8: Little Lord Fauntleroy, 1936,

Freddie Bartholomew, drama. August

15: The Roaring Twenties, 1939, James

Cagney, thriller. August 22: Please Don't

Eat the Daisies, 1960, Doris Day, comedy.

August 29: The Philadelphia Story, 1940,

Katherine Hepburn, romantic-comedy.

New Brighton Museum, corner Hardy St

and Seaview Rd. $2 entry

HEAT PUMPS

Which one is right for you?

• Single-split, Multi-split, Ducted?

• Wall, Floor console, Ceiling cassette, Concealed?

• Mitsubishi, Panasonic, Fujitsu, Daikin, Toshiba...?

Find out with a FREE HOME APPRAISAL

from the Independent Heat Pump Experts.

BOOK NOW

0800 47 48 97

heatpumpguys.co.nz

THE INDEPENDENT SPECIALISTS
---
PEGASUS POST Tuesday August [Edition 2 datE] 2016 153

HOME & HEATING

Get rid of dampness

in your house

noW WITH the colder and wetter weather on

its way, home owners are focusing on ways to

make their homes comfortable, warm and healthy

for their families throughout winter. rISIng

DAMP is an issue that affects many of our

older properties which suffer from poor, or no,

insulation. In Canterbury especially, post-quake,

many people have relocated to homes that suffer

from rising damp which can be associated with

health problems. Independent tests have shown

that up to 40 litres of water can rise from the

ground and enter a house every day, leading to

mildew, mould, condensation and musty smells.

Moulds can produce various allergic reactions

and the frail, elderly and very young are especially

vulnerable.

Canterbury Foam Concrete Ltd is a locally

owned and operated firm. The team understands

the problems caused by rising damp and are

there to help. They will come to your damp home

and pump a lightweight, flowable foam concrete

under your timber floored home. Specially

adapted for our new Zealand conditions and

applications it provides a layer of protection

against rising moisture. An unexpected benefit

that the team at Canterbury Foam Concrete

have noticed recently, is that many owners

of properties which had underfloor foam

concrete installed, reported that it also provided

protection against liquefaction after

the earthquakes.

Contact Canterbury Foam Concrete Ltd

now for your free, no obligation quote and

complimentary appraisal of your underfloor

ventilation needs. Phone 03 376 4608 or 0508

362626 for more information.

smooth-air products

To enSure the quality of your air, contact

the experts. Smooth-Air Products can calculate

the required air exchange for your building

requirement. Smooth-Air offers a wide range of

ventilation equipment, from air vents to ducting

for fans, for both the commercial and domestic

markets. They have an extensive range of fans

and ventilation components in-store but they

can also provide innovative solutions tailored to

differing requirements.

VenTILATIon

This includes both the exchange of air to the

outside as well as circulation of air within the

building. It is one of the most important factors

for maintaining acceptable indoor air quality in

buildings.

Filtered air supply for summer and filtered

and warmed air in winter creates a healthy

environment in which to live and work. In case

of poor or insufficient air intake from outside,

the oxygen content decreases, humidity and

dustiness levels increase. If exhaust ventilation

is not provided or it is not effective, polluted air,

smells, humidity and harmful substances are not

removed.

Low oxygen with high carbon dioxide causes

stuffiness in the room and occupants can feel

drowsy. Invisible harmful substances like a

high content of dust and tobacco smoke are

harmful and can cause various diseases. even

bad smells can cause discomfort or irritate the

nervous system. In summer, it's easy to open

windows for cross ventilation, however as winter

approaches, we start to shut up out houses to

trap in the heat and as a result, air quality can

decline.

It is therefore very important to ensure good

air quality indoors through adequate ventilation.

HEAT PUMP

SALE NOW ON!

Amazin' winter Specials!!

• We will offer you the best quality brands and

option of heat pump for your home/business

• Providing Heat Pump solutions for over 14 years to Cantabrians

• We personally guarantee all our products & installs for 5 years

(providing annual maintenance has been completed)

Phone us today for your free consultation & quote

41A SHAKESPEARE RD, WALTHAM

PHONE 03 366 0525

www.enviromaster.co.nz

"A local team for local people"

Heat Transfer

Ventilation Equipment

Suppliers to trade and retail

● Domestic

● Commercial

● Industrial

Transfer the excess heat

from the log burner to

the bedrooms

AttAck Rising DAmP

For existing homes with

wooden floor construction

• Stop Mould & Mildew

• Reduce Heating Bills

• Cost Effective Permanent

Solution To Rising Damp

• Free Consultation / Quotes

...at the source

STOP RISING DAMP TODAY www.foamcrete.org

Free Phone: 0508 362626 Main Office: (03) 3764608 Fax: (03) 3764603

L

Inlet grille

Smooth-Air has

a wide range

of ventilation

equipment to bring

fresh air into your

home

0800 SMOOTH (0800 766 684)

www.smooth-air.co.nz

sales@smooth-air.co.nz

Heating appliance

In-line

centrifugal

fan

Outlet grille

Outlet

grille

264 Annex Road, Riccarton

Christchurch 8024, NZ

Ph +64 3 343 6184

4 way

splitter

Outlet

grille

Mon - Fri 7.30am - 5pm
---
16 2

Tuesday [Edition datE] August 2 2016

SENIOR LIVING

AMAZING ISLAND

MIRACLE OIL

ReveRed foR centuries by Polynesians

and Southeast Asians for its remarkable

skin anti-aging and healing properties,

dilo oil comes from the nut of the sacred

dilo tree, "the tree of a thousand virtues".

The dilo tree draws its sustenance directly

from the nutrient rich warm waters of the

Pacific ocean.

dilo oil is also called "the beauty oil"

as it can penetrate all three layers of the

skin offering exceptional cell hydration

and regeneration. It has a unique ability

to stimulate the growth of healthy skin

cells and the formation of new tissue

giving it powerful anti-aging properties

that can help reduce lines, blemishes,

scars, stretchmarks, dry or scaly skin, skin

redness and repair damaged skin.

It also possesses anti-inflammatory,

antimicrobial, antifungal, antioxidant and

sun protective properties and is commonly

used on most skin ailments including

rosacea, pimples, ulcers and sores,

acne and acne scars, psoriasis, eczema,

dermatitis, rashes, blisters, skin eruptions,

warts, insect bites and stings, athlete's

foot, burns, sunburn, cuts and cracks,

nappy rash, and many more often with

incredible results. Also it is used for joint

and muscular pain and may even help

stimulate healing.

EAT

TALK

SMILE

Live life

confidently with

advanced dental

and denture care.

8 CONVENIENT CHRISTCHURCH

LOCATIONS:

Merivale 03 375 4444

Beckenham 03 375 4443

Fendalton 03 375 4449

Linwood 03 375 4448

Kaiapoi 03 375 4442

QEII Dental 03 388 0881

Dentistry with a Smile 03 338 8210

Halswell Dental 03 322 9577

further information is available

from the Natural Health Advisers at

Marshall's Health & Natural Therapy,

110 Seaview Road, New Brighton,

Phone: 388-5757.

We are Always Happy to Help!

Canterbury's leading company specialising

in complete denture services.

www.duchenne.co.nz

AMAZING ISLAND MIRACLE OIL

As seen on Rachel Hunter's Tour of Beauty

Revered for centuries by Polynesians & Southeast Asians for its remarkable

skin anti-aging & healing properties, Dilo oil comes from the nut of the sacred

Dilo tree, "the tree of a thousand virtues". Dilo oil is often called the beauty oil

as it can penetrate all three layers of the skin offering exceptional cell hydration

& regeneration. It has a unique ability to stimulate the growth of healthy skin

cells & this gives it powerful anti-aging & healing properties that can help

reduce lines, blemishes, scars & damage to the skin. It also possesses antiinflammatory,

antimicrobial, antifungal & antioxidant properties.

Dilo Oil Supports

• Anti-aging & skin regeneration, helps reduce lines, blemishes, scars &

stretch marks

• Skin hydration

• Skin repair & growth, helps feed the skin & stimulate healthy new cells

• Wound healing & skin protection from bacteria, viruses & fungus

• Most skin problems, rosacea, pimples, ulcers & sores, acne, psoriasis,

eczema, dermatitis, rashes, blisters, skin eruptions, warts, insect bites &

stings, athlete's foot, burns, nappy rash etc.

• Joint & muscular pain

Bringing You the Best in Natural Health

AMAZING

PRICES

100% PURE & ORGANIC

50ml

only $19.90

only $29.90

100ml

POWERFUL

NATURAL BEAUTY

& HEALING OIL

- WE ARE ALWAYS HAPPY TO HELP! -

MAIL ORDER AVAILABLE

MARSHALLS HEALTH & NATURAL THERAPY

CONSULTING - PRESCRIBING - DISPENSING - MANUFACTURING - MEDICAL HERBALISTS

110 SEAVIEW RD, NEW BRIGHTON • PH 03 388 5757 • Email: enquiry@marshallshealthshop.co.nz

PREVENt fALLS IN COLD wEAthER

Warm up sleepy muscles

and joints gently.

Winter ground is often wet, very cold and

slippery, making it easy to fall which results

in injury, sometimes serious.

Cold muscles and joints are tight and stiff,

don't perform well, less ready for action and

warming them up gently will loosen them

and ease them into movement.

A good warm up keeps the body working

like a well-oiled machine. Joints and muscles

work together for maximum efficiency and

full body strength which is vital for injury

prevention.

You can warm up muscles, joints, hands and

feet while watching Tv with an Aircycle

circulation booster. The gentle exercise will

help strengthen leg muscles and increase

joint flexibility for better balance and to help

PEGASUS POST

you stay on your feet.

A few minutes Aircycle exercise while

sitting down with a coffee, chatting to a

friend or reading the paper will get your

blood pumping, keep joints and muscles

warm, flexible and strong, to improve

balance, keep you mobile and help avoid

falls.

Aircycles are available from pharmacies,

diabetes Christchurch, Aspire Canterbury,

More Mobility, at www.aircycle.co.nz, call 04

569 5013 or post $44.90 to Aircycle, Po Box

45105, Waterloo, Lower Hutt. 5042

ARTHRITIS

Boost circulation and gently

exercise while you sit – it's so easy!

FOR

Pain & stiffness

Swollen ankles

Night cramps

Painful hands

Balance & mobility

Sore legs/numb feet

Travel & office sitting

Diabetes foot problems Only

Stroke rehab/Parkinson's

$39 90

Available from pharmacies,

at www.aircycle.co.nz

or by calling 04 569 5013

you can stop him

snoring with a

SNOREX

Why put up with a broken

night's sleep?

Ph 377-4318 or 027 682 1752

DENISE LIM

FOR A FREE INFO PACK

Website: www.snorex.co.nz
---
PEGASUS POST Tuesday [Edition August datE] 2 2016 17 3

SENIOR LIVING

Liposomal Vitamin C Offers

More health Benefits

Liposomal vitamin C is a technological breakthrough and may offer

incredible health benefits.

vitamin C is a vital antioxidant nutrient

that plays a critical role in the immune

function. White blood cells depend upon

vitamin C in order to survive and withstand

the attack of pathogens and free radicals.

environmental toxins damage cells that

leads to disease but vitamin C and other

antioxidants can neutralize this damage.

vitamin C does not directly attack cancer

cells but helps keep the immune system

strong. The immune system fights cancer

cells with hydrogen peroxide, a natural type

of chemotherapy to destroy the cancer cells.

vitamin C may help prevent one of our

worst diseases and many researchers believe

it to be a useful part of a comprehensive

cancer treatment protocol.

vitamin C also has many other important

roles in the body. It is a major constituent in

the production of collagen, ligaments, bones,

discs, tendons and skin. It has been shown to

improve the healing process of burns, cuts,

wounds, sprains/strains and broken bones as

well as reduce inflammation and pain. It is

known to support cardiovascular function,

blood flow and keep the blood vessels strong

but flexible. vitamin C has numerous other

health benefits including supporting lung

function, balanced blood sugar levels and

eye health.

vitamin C cannot be produced in the

body but must come from our diet. our

bodies require much more vitamin C

than ever before due to our more stressful

lifestyle and toxic environment. Many

researchers believe it is impossible to obtain

enough vitamin C in a normal healthy diet.

Most oral vitamin C supplements are

believed to have an absorption rate of as low

as 20%. This is due to vitamin C being water

soluble and our cell membranes being made

up of fat and the fact that water and fat don't

mix.

Liposomal vitamin C is made by

combining essential phospholipid fatty acids

with vitamin C to form nano-size particles

that can easily pass through the digestive

system into the bloodstream and into the

cells. The absorption rate is over 90% and

liposomal vitamin C is easily stored in the

body for use when required.

further information is available from the

Natural Health Advisers at Marshall's Health

& Natural Therapy, 110 Seaview Road,

New Brighton, Ph: 388-5757.

They are Always Happy to Help!

PAULGER COURTS

RETIREMENT VILLAGE

our empasis is on safety

AT PAuLgeR Courts

owners Robyn and

Peter Macdonald

truly appreciate

the value of our

residents maintaining

their community

attachments, hobbies

and independence,

whilst knowing

that support and

companionship is

there if they need it.

The village's 34

semi-detached but

private units sit in

landscaped grounds

alongside george Manning House, the

purpose-built eighty-one bed rest home

and hospital. on hand at gMH Robyn

and her team are available to answer any

questions or organise any assistance the

residents need.

Paulger Courts units are designed to

be sunny, comfortable and easy to live

in, whilst relieving the residents of the

burden of home maintenance or reliance

on family for urgent assistance. With the

supplied 'Never Alone' alarm, the nightly

security patrol and willing staff, residents

and their families can feel reassured that

help is at hand should it be required.

The emphasis at Paulger Courts is on

ensuring that it always remains a safe and

happy place for people to live, making

the move to a retirement village as easy a

transition as possible.

LIPOSOMAL VITAMIN C OFFERS SUPERIOR ABSORPTION

& ThE POTENTIAL FOR MORE hEALTh BENEFITS

Liposomal vitamin C is a technological breakthrough. Most oral vitamin C

supplements have an absorption rate as low as 20%. Liposomal vitamin C has

an absorption rate over 90% & is easily stored in the body compared to normal

vitamin C. Due to our modern stressful lifestyle & more toxic environment we

require higher amounts of vitamin C than is normally provided by a good diet.

Vitamin C is a powerful antioxidant that plays a critical role in immune function.

It helps keep the immune system strong so the immune system can protect the

cells from damage that leads to disease.

Liposomal Vitamin C Supports:

- A strong immune system

- Formation of collagen, ligaments,

bones, discs, tendons & skin

- Stable blood sugar levels

- Cardiovascular & blood vessel

health, blood flow

- Healing of cuts, burns, wounds,

broken bones etc.

- Lung function & blood

oxygenation

- Reduced allergies due to its

antihistamine role

- Anti-inflammatory & pain control

- Antioxidant protection

Super Special

(500mg Liposomal Vitamin C

per SoftGel capsule)

60 capsules

Only $19.90 Save $10.00

120 capsules

Only $32.90 Save $17.00

240 capsules

Only $59.90 Save $39.90

MAIL ORDER

AVAILABLE

Bringing You the Best in Natural Health!

MARShALLS hEALTh & NATURAL ThERAPY

CONSULTING - PRESCRIBING - DISPENSING - MANUFACTURING - MEDICAL HERBALISTS

110 SEAVIEW RD, NEW BRIGHTON • PH 03 388 5757 • Email: enquiry@marshallshealthshop.co.nz

- WE ARE ALWAYS hAPPY TO hELP! -

Paulger Courts

Retirement Village

(in association with George Manning House Rest Home and Hospital)

Enquiries welcome.

''

Please ring

Robyn MacDonald

on 338-9164

weekdays

Spreydon, Christchurch

AVAILABLE NOW

1-bedroom unit

$160,000

2-bedroom unit

$260,000

Family owned and oriented

Retirement Village for independent

living in a supportive environment.

''
---
18 2

Tuesday [Edition datE] August 2 2016

HEALTH & BEAUTY

PEGASUS POST

Joint pain: Do I have arthritis or

could it be mainly my muscles?

The team at Physical sense in sydenham sees clients with a range

of symptoms but many of their middle-aged and senior clients

visit complaining of pain in one of their joints.

PhysiotheraPist ietje van

stolk suggests that a major part of the

pain could be due to muscle pain rather

than simply arthritis. "even if an x-ray

shows arthritis, the reason for the pain

may be the muscles around the joint,"

she explains. The images show how

a muscle knot (the crosses) in a back

muscle can give hip pain (aches and pain

are the red areas in the drawings), a knot

in a muscle on the back of the shoulder

blade can give a deep pain in the front

of the shoulder and a muscle knot all the

way near the groin can give an ache in

the knee (especially at night in bed).

ietje recalls one case where an 89

year old client with severe arthritis who

walked with a stick, told her, "i will

end up in a wheelchair, i cannot put

any weight through my right leg due to

pain in my hip and buttock". "Within

4 treatments, she was walking with

her stick but without the severe pain,"

says ietje. "The arthritis was one of the

factors that made her muscles spasm but

A unique UNIQUE PoweRFuL POWERFUL

tReAtment TREATMENT wiLL WILL Give GIVE

you YOU PAin PAIN ReLieF RELIEF in IN

juSt JUST A Few FEW SeConDS SECONDS

Acupuncture

without needles

Dr Lan Xiao

• Relieve all kinds of body pain

• • Relieve all asthma kinds and of body hay fever pain

• Relieve • Fantastic asthma weight and loss hayfever results

• Fantastic • Great results weight for loss insomnia, results dyslexia

• Great

depression

results

and

for

low

insomnia,

energy

• Stop cravings for cigarettes, alcohol,

depression

sweet foods

and

and

low

drugs

energy

instantly

• Stop cravings for cigarettes, alcohol,

sweet foods and drugs instantly

WATCh our Free Trial

insTAnT resulTs

Available

Free Trial Available *

videos online

*Conditions apply

*

*Conditions apply

108 Sawyers Arms Rd, Papanui

108 Sawyers (inside Melrose Arms Building) Rd, Papanui

Phone: 03 (inside 323 4168 Melrose • Cell: Building) 027 231 8388

Phone: www.drlansreflexologynetwork.co.nz

03 323 4168 • Cell: 027 231 8388

the other was that older people move

less and the flexed position the hip is

in when we sit is particularly bad for

the hip." ietje is happy with the fact that

although the client was 89 and could

have been "given up on" or told to live

with the pain, she made a difference to

her health and wellbeing.

The same lack of movement can

be the reason for your knee pain or

your shoulder pain and the same few

treatments could make a huge difference

for you.

at Physical sense, hands-on

techniques (massage and triggerpoint

deactivation techniques) are used

to release the muscles. The client

also gets a home exercise program

designed to mobilize and stretch the

joint, strengthen the important core

muscles and increase general strength

and balance. They teach a movement

sequence that stretches the joint in all

directions whilst the client is able to lie

safely on their bed, perfect for older or

NEED

DENTURES?

WE CAN

HELP

230 Barrington st

332 4004

Your Local

Friendly

Dental

Technician

Easy parking

& great service

SHOULDER

PAIN

KNEE PAIN

HIP PAIN

(the crosses are the areas of the muscle spasms, the red areas is where the pain is felt)

less mobile clients.

in many cases having the muscles

released and being taught how to

maintain it, is enough to stay on top of

the problem. if severe arthritis is the

underlying cause, some maintenance

therapy may be necessary, but that is

often more affordable and, for older

patients, better tolerated than surgery. in

very few treatments the client will know

Chronic pain in one

of your joints?

Even if your joint is not in the best

shape, a major part of the pain could

be caused by the muscles surrounding

the joint.

At Physical Sense we have good results

with releasing the muscles (with hands

on techniques) and increasing your

strength and flexibility. Within a few

treatments you will know if this is

what you need.

Call 377 2577

if it is going to work for them or not,

without financial commitment.

Physical sense Gym & Physio

is located at 300 Colombo street,

sydenham. The Blue line Bus stops in

front of the door and there is ample

parking. to enquire about specialised

exercise classes or physiotherapy

treatment, phone 377-2577 or visit

www.triggerpoints.co.nz.

Physical Sense | Ph: 377 2577 | 300 Colombo St, Sydenham

Magazine & TV | sTyle.kiwi

style

noun

elegance and sophistication.

synonyms: flair, grace, poise,

polish, suaveness, urbanity,

chic, finesse, taste, class,

comfort, luxury, affluence,

wealth, opulence, lavishness.

super LOW prICes!

GO FISH OIL

OMEGA 3

OUR BEST SELLER AT A GREAT PRICE!

Was $35.00 NOW $22.90 210 Capsules

Was $60.00 NOW $39.90 420 Capsules

Supports heart, brain, skin, joint and general wellbeing.

3 Convenient Locations:

The Palms: 385 0364

The Hub Hornby: 349 5150

Bush Inn Centre: 348 7867
---
2

PEGASUS [Edition POST datE]

Tuesday August 2 2016 19

Lovely new build in handy location

51C Main Rd, Redcliffs

Auction: 4 August 2016, unless sold prior

3 bedrooms | 2 bathrooms | 2 living rooms | 1-car garage | 1 off-street parking | Listing #: FM4939

This well thought out one-year-old

Horncastle home comes with a 10-

year Master Build guarantee and

is low maintenance and warm. Set

well back off the Main Road at the end of

a private lane, you'll enjoy privacy, all-day

sun, peace and quiet and convenience to

amenities.

The stunning kitchen is open plan with

the dining and living room, and has an

induction hob, wide fridge space and

lots of cupboards. The kitchen table is an

extremely sunny spot to sit and dine with

euro stacking doors you can access the patio

and protégé vege garden.

The lounge is well appointed for catching

the last of the evening sun and has a ranchslider

and indoor outdoor flow onto the

aggregate patio and front garden.

There are three good-sized bedrooms and

an extra versatile room with double doors

off the lounge that can be an office, media

room or fourth bedroom.

The master bedroom has an ensuite, his

and her wardrobes and is separated away

from the other two bedrooms.

The whole house has energy efficient

hydronic underfloor heating and there is a

heatpump.

The garage has internal access and there

is off-street parking for a second car.

This will tick a lot of boxes and suit a wide

array of buyers.

With the reopening of the Redcliffs School

the timing couldn't be better for families

to secure this new home now! Owner has

purchased and moving to Sumner.

Open Home date: Wednesday, August 3,

1pm to 1.40pm. Auction date: Thursday,

August 4, 1pm (Grenadier House, 98

Moorhouse Ave).

See you at the Open Days, or for more

information contact Alison Carter or Craig

Todd of Harcourts Grenadier Ferrymead

(Licensed Agent REAA 2008) on 384 7950

or Alison mobile 0274 318 960, Craig

mobile 027 642 1075.
---
569a Colombo Street

Christchurch

03 377 6800

www.tocherish.co.nz

20

Tuesday August 2 2016

PEGASUS POST

Sunday 28 August

9.30am – 4.00pm

PROUDLY SPONSORED BY:

bliss

Modern

Contemporary

Hair

CREATING YOUR PERFECT WEDDING

weddings by

collective concepts

www.weddingconcepts.co.nz

Airforce Museum

45 Harvard Avenue,

Wigram, Christchurch

Tickets: $15.00
---
PROUDLY

PROUDLY

CHRISTCHURCH

CHRISTCHURCH

OWNED

OWNED TUESDaY, aUGUST 27, 2013 PROUDLY 384

384 CHRISTCHURCH 0600

0600

PROUDLY CHRISTCHURCH OWNED MONDaY JUNE 24, 2013

OWNED WEDENSDaY 10 JULY, 2013 384 0600

384 0600

A Mainland

Media Publication

Kea

(Nestor Notabilis)

Ladbrooks, Tai Tapu, Leeston, Lincoln, Southbridge, Prebbleton, Halswell, Rolleston, Templeton, Burnham, West Melton, Darfield, Arthurs Pass

Mainland

Press Newspaper

Sumner, Redcliffs, Mt. Pleasant, Ferrymead, Woolston, Lyttelton & Akaroa Harbours

Harewood, Burnside, Bishopdale, Bryndwr, Fendalton, Merivale, St Albans, Mairehau, Papanui, Casebrook, Redwood, Regents Park, Styx Mill, Northwood, Spreydon, Belfast Hoon Hay, Hillmorton, Cracroft, Cashmere, St Martins, Somerfield, Sydenham, Addington, Waltham, Opawa, Beckenham, Huntsbury, Woolston

Black Billed

Gull

A Mainland

Press Newspaper

New Zealand

Swamp Hen (Pukeko)

Linwood, Avonside, Richmond, Shirley, Burwood, Dallington, Wainoni, Bromley, Aranui, Avondale, Bexley, New Brighton, Northshore, Queenspark, Parklands, South Brighton

PROUDLY CHRISTCHURCH OWNED MONDaY JULY 15, 2013 PROUDLY 384 CHRISTCHURCH 0600

OWNED MONDaY 12 aUGUST, 2013 PROUDLY 384 CHRISTCHURCH 0600

OWNED MONDaY JUNE 24, 2013 384 0600

A Mainland

Press Newspaper

Fantail

(Piwakawaka)

A Mainland

Newspaper

Bellbird

(Korimako)

A Mainland

Press Newspaper

New Zealand

Pigeon (Kereru)

Templeton, Islington, Hei Hei, Broomfield, Halswell, Oaklands, Westlake, Hornby, Wigram, Sockburn, Church Corner, Ilam, Russley, Hyde Park, Avonhead, Riccarton Park, Riccarton

PEGASUS POST Tuesday August 2 2016 21

Cars

$4,001 - $8,000

NEED a new car? and

need finance we can help.

Call us today Learners

lcs, past credit issues

been bankrupt or new to

New Zealand! Call Leon

022 625 2232

Celebrant

WEDDINGS, Civil

Union Ceremonies,

Renewal of Vows, Naming

Ceremonies, Funerals

and Unveilings - Jenni

Gibson Ph/Fax 324-8332,

021 723-089. www.

celebrantservices.net.nz

Computers

ALL

YOUR

COMPUTER

WORRIES SOLVED!

*$30.00 off your first

service with this coupon!*

No problem too big or

small from home PC's to

business networks. PC

slow? An end to Viruses,

Spyware, and Clogged

Systems. Safe secure

hassle-free computing.

Lost files recovered.

Microsoft Certified,

MCSE, MCP+l. 30 years

experience. Call Andrew

Buxton this week on 326-

6740 or 027 435-7596

for $30.00 off* Custom

Computers Christchurch

Curtains

www.curtainfabric-outlet.com

Fashion Designs & Colours

Discontinued Designs

End of Lines Bargain Prices

Call at Our Shop

CURTAIN FABRIC OUTLET

71 Hawdon St Sydenham

Ph 366-5026

Funeral Directors

Direct

Cremation

No frills, No Service,

No fuss, simply

straight to the crem.

Other options available

Ph: 379 0178

for our brochure

or email office@

undertaker.co.nz

Holiday

Accommodation

QUEENSLAND SUN-

SHINE COAST AUSTRA-

LIA Resort, Ocean Views,

Balconies, Self Contained,

1 or 2 B/R Ensuite,

Heated Pool, Spa, Sauna,

Free Internet, Shops,

Restaurants, Tennis, Surf

Club & Patrolled Beach,

Public Transport at door.

Ask for our SEASONAL

SPECIALS. Phone 61 7

544-35011 Email: reception@mandolin.com.au

www.mandolin.com.au

Classifieds Contact us today Phone our local team 03 379 1100

Public Notices

Call us & we'll help

you place your

classified advert in our

community papers

Nobody knows

Christchurch

like a local

We're local, we're

in Christchurch, we

speak your language!

Phone: 379 1100

Selwyn

Times

Nor'West

News

Bay Harbour

A

News

Southern

Pegasus

Post

Western

View Press

News

Classifieds

Our community papers are published every

Tuesday (Bay Harbour, Wednesdays) focusing

on local issues & local people.

Gardening

& Supplies

A GARDEN

PROFESSIONAL

NEEDED? Qualified

Horticulturist, offering

expert pruning, garden

makeovers, garden design

and landscaping, for free

quotes call Bryce 027 688-

8196 or 0508 242-733

A GARDEN OR

LANDSCAPING TIDY

UP? Rose & Fruit Tree

Pruning, Shrub, hedge

& tree pruning, Lawns,

Gardening, consistently

reliable general property

upkeep, Dip. Hort. 10

yrs experience, One off

tidy ups or on-going

service. Nick's Property

Maintenance. Keeping

your garden beautiful.

Free Quote. Ph. 942-4440

GARDEN DESIGN

& MAINTENANCE

Rose & Fruit Tree

Pruning by trained

Horticulturalists.

Book winter

pruning in now.

M: 027 688 8196

P: 0508 242 733

Pets & Supplies

Public Notices

Weka Pass Railway

Waipara, North Canterbury

We Are Running

SunDAY 7th August

Running 1st & 3rd

Sundays of every month

Phone 0800WEKAPASS

Depart Glenmark Station

11.30am & 2.00pm

www.wekapassrailway.co.nz

DEMOLITION

With care and respect we

will remove your dwelling.

Our policy is to recycle as

much as we can. We are a

local company specialising

in residential properties. We

will endeavor to cater for

your individual needs.

Ph. R.M. Solutions

021 02866981

for a free quote.

Situations Vacant

CA$H

Strippers

& Podium

Dancers

Wanted!

18+ TO APPLY

NEISHA

021 193 0118

AFFORDABLE Dog

Grooming $44 small,

$52 med, experienced

and qualified groomer/

veterinary nurse,

Redwood, ph June 03 354-

6414 or 027 746-5295 027 577-2367

CARER Wanted, needing

reliable person to care

for lady in a wheelchair,

great rates, refs plse, New

Brighton area, ph Chch

MUMS & DADS

Would you like your children to

exercise more and earn some money?

DELIVERY

PEOPLE

WANTED

The Star requires

delivery personnel

in all areas of

Christchurch.

The work involves

door-to-door

delivery of The Star

newspaper.

Situations Vacant

Assistant Producer

Star Media

Be part of a growing, locally-owned multimedia company!

Star Media is looking for a full-time Assistant Producer for

its busy production team. The successful applicant will have

outstanding organisational skills and a strong passion for

everything TV and Media.

The Role

You will assist our senior production

staff in all stages of commercial and

web video production, with direct

accountability for the execution of

a specific client brief within editorial

guidelines.

You will oversee all day-to-day

operations, such as schedule

planning, brand and product research,

staff and talent management and

more.

Your responsibilities include but are

not limited to-

• Creative script writing, idea

generation and research

• Managing

producer's daily

activities

• Interacting with

team members and

ensuring excellent

communication within

various departments

• Planning and organising

ahead to establish an

efficient course of action

for yourself and the team

• Leading and motivating

production teams, crews and

contributors, by providing

clear instructions,

support, direction and

feedback

If you're ready for your next challenge, send your CV and cover

letter to Maria.Virgolini@starmedia.kiwi.

Candidates will be considered as and

when applications are received.

Applicants for this position should have

NZ residency or a valid NZ work visa.

Please call

Leanne Lucas 364-7451 or

Mark Coulthard 364 7453

email: deliveries@starmedia.kiwi

• Establishing clear objectives

for implementing effective and

economic production schedules

• Composing and preparing a variety

of correspondence, reports, and

internal documents in support

of current and new business

development activities

Our ideal candidate

We are looking for an enthusiastic,

highly motivated individual with

excellent time management skills,

able to work on multiple projects

simultaneously and to liaise and

cooperate with external suppliers,

clients and team.

Candidate's strengths-

• Relevant qualification in journalism,

communications, media studies or

equivalent experience

• Sound knowledge of the production

process

• Video editing experience

• Script writing experience

• Excellent communication skills

• Ability to think creatively and

"outside the box"

• Can work independently and as part

of a team

• Can work effectively under pressure,

react quickly and meet tight

deadlines

• Have a full, valid driving licence

Trades & Services

Appliance Sales & Service

388 4780

Appliance Services

14 Brighton Mall, New Brighton

ROOFING

- Re-roofing and

new roofing

- Quality roofing at

the best price around

- Licensed building

practitioner

Robinson

Roofing Ltd

Call Hamish for a

quote 03 347 90 45

FENCING

Paling, picket,

iron, trellis

Demolition and

removal

Phone Bevan

021 231 1860

Fencing Uprite

Your Eastside

Specialist

• Replacement/new roofing

• Colour Steel gutter & fascia

• Flue & log burner installs

• Skytube/light installs

• Earthquake repairs

Licence Building

Practitioner LBP

Member of the Roofing

Association

DCM ROOFING LTD

The Roofing Specialists

PHONE IAIN

027 445 5597

iain@dcmroofing.co.nz

DRIVEWAYS & PAVING

FREE QUOTES

Professional, friendly

Service Always

Ph. 03 329 4806

or 027 827 0505

CAP CONSTRUCTION LTD

Trades & Services

BEST BATHROOMS

full renovation specialists,

LBP, repairs &

maintenance ph 03 387-

0770 or 027 245-5226

BRICKLAYER

George Lockyer. Over

30 years bricklaying

experience. UK trained.

Licensed Building

Practitioner number

BP105608. Insurance

work. EQC repairs.

Heritage brickwork a

speciality. No job too

small. Governors Bay.

Home 329-9344, Cell

027 684 4046, email

karengeorge@xtra.co.nz

BUILDER

For all building work

but specialist in bathroom

renovations, 30 yrs

experience, with service

and integrity. Free Quotes.

Ph Lachlan 383-1723 or

0274 367-067.

BUILDER LICENSED

available for all aspects of

building. Please call 027

241-7471 or 335-0265

CARRIER LOCAL

experienced, friendly,

trade-me purchases, single

items to truck loads,

furniture to whatever,

removals & trade

deliveries a specialty. Ph

GEH 341-5069

CARPET & VINYL

Laying. Repairs, uplifting,

relaying, restretching.

Email jflattery@xtra.

co.nz, ph 0800 003 181 or

027 2407416

CARPETLAYER

Laying and Repairs, 40 yrs

experience, ph Peter 326-

7711 or 027 240-6532

FENCING

All styles and shapes,

gates, wooden, ph Mark

027 331-3223

FURNITURE REMOVALS

Large Trucks $95 +

GST per hour 7 day NZ

wide, packing & moving,

Professional Company,

Professional Service.

Canterbury Relocations

Ltd. ph 0800 359 9313

GLAZIER

Window repairs, pet

doors, new glazing, double

glazing, conservatory

roofs. Experienced

tradesman. Call Bill on

981-1903 or 022 413-3504

DRIVEWAYS

Replace, repair or new.

We are a local company

with over 10 yrs exp.

We also operate a

digger for all other

earthworks.

Ph. R.M. Solutions

021 02866981

for a free quote.
---
22

Tuesday August 2 2016

Classifieds

PEGASUS POST

Trades & Services

Trades & Services

Garden design

Planting professionals

Garden renovation &

Makeover

Quality plant sourcing

Expert pruning &

Trimming

M: 027 688 8196

P: 0508 242 733

E: greentherapy@

xtra.co.nz

LANDSCAPE

CONSTRUCTION

Lawns, paving, water

features, irrigation,

planting, decks,

driveways, kerbing, ponds,

retainer walls, fencing.

Free quotes, Phone Tony

021-034-8555

Cracked tiles?

Dirty grout?

Old or mouldy

silicon?

Brett Ph 03 358 5105

or 027 746 7632

www.groutpro.co.nz

Grand National

Racing Carnival

6, 10, 13 August | Riccarton Park Racecourse

Proud to sponsor Saturday 13th August

142nd NZ Grand National Steeplechase

Start your

day with us

RESTAURANT & CAFÉ

We are

open

from

6.30am

Race Day Breakfasts

FROM

$18

Cooked breakfasts

Party on

with us

LIVE MUSIC |SPORTS BAR

Friday 5th: Medium Rare

Saturday 6th: Mark Henare

Wednesday 10th: Code Red

Racecourse Hotel

118 Racecourse Rd, Ph 342 7150

www.racecoursehotel.co.nz

Open daily from 6.30am - late

Seniors

2-course

Lunch Deal

Roast/Dessert

or

Soup/Roast

Mon-Sat

12pm-2.30pm

$20

Children's

2-course

Special

$10

We are family

friendly.

OVEN CLEANING

Professional cleans

$50.00. Gift Vouchers

avail. Phone 0800 683-

6253 or 027 228-0025

PAINTING

& Decorating interior

& exterior, gib fixing,

plastering, paperhanging,

Est 50 yrs in ChCh, ph

Wingfields Ltd, ph Mark

021 171-1586 or 355-5994

PAINTER AVAILAbLE

All aspects in painting.

Very competitive in roofs

and fences. Please call 027

241-7471 or 335-0265

PAINTING

& DECORATING.

Excellent finish.Domestic

& Commercial. Ph Chris

027 223 8542

PLUMbER

For prompt service for all

plumbing maintenance,

repairs and alterations.

Phone Michael 364 7080

or 027 438 3943

PLUMbER

ALF THORPE

PLUMBING Certifying

Plumber for all types of

plumbing, maintenance,

spouting, alterations etc.

Phone 352-7402 or 0274-

350-231

ROOFING

Qualified & Licenced

Practitioner. Re-Roof &

Repairs, all types. Member

New Zealand Roofing

Association. Over 35 years

experience. Phone John

027 432-3822 or 351-9147

email johnmill@ihug.

co.nz

SPOUTING CLEANING

Spouting Unblocked,

Cleaned Out and Flushed

Out. Also Full Handyman

Services Available. Call

Trevor 332 8949 or 021

043-2034

STONEMASON

BRICK

&

BLOCKLAYER,

Earthquake Repairs, Grind

Out & Repoint, River/

Oamaru stone, Schist,

Volcanic Rock, Paving,

all Alterations new & old,

Quality Workmanship,

visit www.featureworks.

co.nz or ph 027 601-3145

TILER/CARPENTER

35 years exp, no job

too small. Ph Ross 027

4311440.

DRIVEWAYS & PAVING

FREE QUOTES

Professional, friendly

Service Always

Ph. 03 329 4806

or 027 827 0505

CAP CONSTRUCTION LTD

TREES

BIG OR SMALL, tree

removal, trimming, stump

grinding, shelterbelt clean

up, section clearing,

rubbish removals,

excavation work, ph Trees

Big or Small, for a free

quote, 021 061 4783

TREE WORK

Hedge trimming, stump

grinding, rubbish removed,

small job specialty Ph

Andrew 03 322-8341 or

027 435-8759

T.V. SERVICE CENTRE

Repairs, tvs, microwaves,

stereos, DVD. Aerial

installations and kitsets,

480 Moorhouse Ave, ph 03

379 1400

UPHOLSTERER

Dining Chairs, Lounge

suites, Caravan Squabs

etc. recovered. Free

Quotes. Phone Graeme

383-1448

VHS VIDEO TAPES

& all camera tapes

converted to DVD, video

taping, weddings, twenty

firsts, special occasions,

www.grahamsvideo.co.nz

ph 03 338-1655

NEED A

PLUMBER?

Call us now for fast

friendly service.

Get your problems sorted out

quick smart - on time!!

Phone for a FREE

quote now.

Phone 03 377 1280

Mobile 021 898 380

WATERbLASTING

Quality Job, Quick Service

by skilled tradesman, Ph

Richard Severin at Jet-X

0800 538 969 Free quotes,

visit www.jetx.co.nz

WINDOW CLEANING

Average 3 bdrm house

inside or out $40. Both

$70. Phone Trevor 344-

2170

ADVERTISE YOUR BUSINESS HERE

Phone for further details

Wanted To Buy

AAA Buying goods

quality furniture,

Beds, Stoves, Washing

machines, Fridge Freezers.

Same day service. Selwyn

Dealers. Phone 980 5812

or 027 313 8156

A+ Household effects,

fridges, freezers, washing

machines, ovens. Good

cash paid. Ph Paul 022

0891 671

A Records and Hi-Fi

gear wanted, excellent

prices paid for good

records especially kiwi

and overseas bands 60's

- 90's PennyLane 430

Colombo St Sydenham

7 days www.pennylane.

co.nz ph 3663278 or 021

2226144

TOOLS

Garden, garage,

woodworking,

mechanical, engineering,

sawbenches, lathes, cash

buyer, ph 355-2045

(03) 379 1100

The

Woolston Club...

A classic, contemporary

club experience

Cafe open from 11am

Happy Hour 4.30pm - 5.30pm

TAB & Gaming, Function Facilities,

HOUSIE Tuesday, Thursday, Saturday

SHUTTLE Tuesday - Saturday

THE

DOUG

CALDWELL

The Piano | Centre for Music & the Arts

156 Armagh Street | Christchurch

Open 7 Days

Restaurant open

from 5.30pm!

Retro Roast Lunch

12pm Wednesdays

$10 Members/$12 Non

SUNDAY ROAST

LUNCH

12PM - 2PM

LIVE MUSIC

7PM FRIDAY

OLYMPICS GAMES

NIGHT

7PM SATURDAY

ROCKABELLA

QUARTET

PIANO MAESTRO

DOUG

CALDWELL

Bob Heinz (guitar)

Mike Kime (bass) &

Ted Meager (drums)

WITH

JODY

KEEHAN

SUNDAY

14 AUGUST, 3PM

Book at Eventbrite or phone 03 352 8568

NEW SEASON

MENU OUT NOW!

COMING UP

SATURDAY

27th August, 7pm

Dinner Theatre at its Best

A NIGHT OF MAYHEM

Three course meal & show $60

Doors open at 6.30pm
---
PEGASUS POST Tuesday August 2 2016 23

JOIN

A CLUB BY

THE SEA!

www.newbrightonclub.co.nz

WHAT'S ON

TUESDAYS &

THURSDAYS

Members

Lucky Card Draw

TAB POD

RUGBY

SUPER 18

GRAND FINAL

HURRICANES

v LIONS

7.30PM SATURDAY

GAME OF

TONES

7pm SATURDAY

13th August

- downstairs -

ClubBISTRO

Open Tuesday

to Saturday

12pm-2pm

and from 5pm.

Midweek

SPECIAL

$10

ROAST

Available Tuesday,

Wednesday,

& Thursday

- upstairs -

PIERVIEW

Restaurant

Quality a la carte

with a view!

Open FRIDAY,

SATURDAY,

& SUNDAY

from 5.30pm

FRIDAY SPECIAL:

BBQ PORK RIBS

$19.50!

for a limited time

SUNDAY SPECIAL

$25 3-Course Feast

SUNDAY 28th AUG

BOOK NOW for

Sumptuous winter

BUFFET $25

SUNDAY

BRUNCH!

By the Seaside!

10.30am-2.30pm

SHUTTLE RUNNING

Tues, Thurs, Fri & Sat

202 Marine Parade

Ph 388-9416

Members, guests and affiliates welcome

H ORNBY

WORKINGMEN'S

CLUB

«WHAT'S ON«

WESTVIEW LOUNGE

FRIDAY 5 AUGUST, 7PM

31 July, 2PM

JO'S KARAOKE

SATURDAY

6 AUGUST, 4.30PM

AL PARK

8PM MEDIUM RARE

«COMING UP«

SATURDAY 20 August, 8PM

DnD Showband presents

THREE SHOWS IN ONE...

Fleetwood Mac ; ABBA; Moulin Rouge

Pre sale tickets $20 / Door sales $25

SUNDAY 21 August, 2PM

Pat Dugan's 90th

Birthday Celebration

Tickets $20.

SATURDAY 27 August, 7.30PM

SOUND SENSATION

13 PIECE SHOWBAND. Tickets $25.

Hornby WMC, 17 Carmen Road, Hornby

phone 03 349 9026

www.hornbyworkingmensclub.co.nz

Members, guests & affiliates welcome

Lunch & Dinner

All you can eat, 7 days

Bookings Essential

PH 386 0088

fb.com/GardenHotelRestaurant

www.gardenhotel.co.nz

NOW SERVING

available

from

9am

Breakfast

HAPPY

HOUR

5PM - 7PM

DAILY

LIVE

LIVE MUSIC

6PM FRIDAY 5th August

MUSIC

PHONE 385 8880 FIND US ON FACEBOOK fb.com/GBCCHCH

THE GARDEN HOTEL COMPLEX | 110 MARSHLAND RD

www.gardenhotel.co.nz | phone 385 3132
---
24

Tuesday August 2 2016

PEGASUS POST

Vote and be into WIN

a Selaks Hamper

worth $1000!

Including $300 of FreshChoice

Gift Cards. 4 prizes to be won.

Promotion runs from 11th July 2016 to 7th August 2016.

See FreshChoice.co.nz for Terms & Conditions.

Cast your vote at FreshChoice.co.nz/

Selaks-Roast-Day

FINAL

WEEK

Californian Red Seedless

Grapes 500g

$

3 99

pack

Fresh NZ Pork

Shoulder Roast

(Excludes Free Range)

$

6 99

kg

Cadbury

Chocolate Block

155-200g

2for

$

5 00

$

3 99

each

Meadow Fresh Yoghurt 1kg

(Excludes Greek)

2

for

2

for

$

6 50

Vogel's Bread 720-750g

(Excludes Gluten Free)

$

4 50

each

Sanitarium Light 'n' Tasty 410-525g

$

3 50

Wattie's Canned Fruit 400-420g

(Excludes Tropical)

WINE

DEAL

OF THE

WEEK

$

22 99

pack

Heineken/Asahi/Budejovický Budvar

12 x 330ml Bottles

$

11 99

each

Selaks Reserve 750ml

(Excludes Syrah)

$

3 80

each

Keri Fruit Drink/Juice 2.4-3L

FreshChoice Parklands

60 Queenspark Drive, Christchurch.

Open 7am-11pm, 7 days.

FreshChoice.co.nz FreshChoiceNZ 383 1004

FreshChoice Parklands

Certain products may not be available in all stores. Savings are based on non-promotional price. Limits may apply.

Prices apply from Tuesday 2nd August to Sunday 7th August 2016, or while stocks last.

Owned and

operated

by locals

FCPP0208