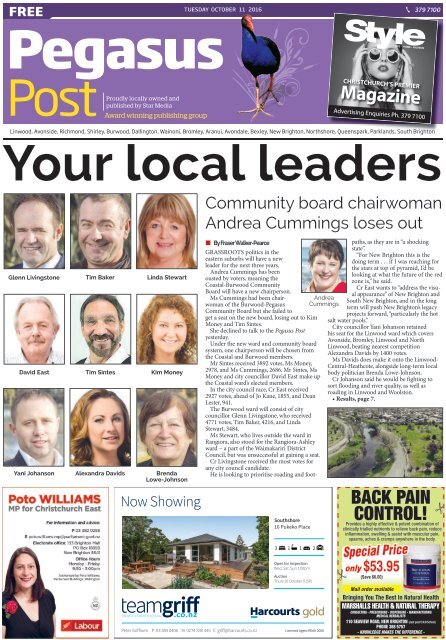 Pegasus Post: October 11, 2016
Create successful ePaper yourself
Turn your PDF publications into a flip-book with our unique Google optimized e-Paper software.
Land size

Land

Land size

Bedroom Bedroom size

Garage

Garage

Garage

Carport

Carport

Bedroom

Bathroom Bathroom Bathroom

Lounge Lounge Lounge

Carport

Car pad

Car pad

Car pad

Boat pad

Boat pad

Boat pad

Dining

Dining

Land size

Toilet

Garage

Bedroom

Bathroom

Shower

Study

Shower Carport

Study

1 2 3 4 5 6 7 8 9 10 11 12 13 14

1 2 3 4 5 6 7 8 9 10 11 12 13 14

1 2 3 4 5 6 7 8 9 10 11 12 13 14

Car pad

Lounge

Boat pad

Pool

Tennis court

1 Pool 2 Tennis 3 court 4 5 6 7 8 9 10 11 12 13 14

Pool

Tennis court

Dining

Pool

Toilet

Shower

Tennis court

Study

FREE

TUESDAY OCTOBER 11 2016

379 7100

Pegasus

Post

Proudly locally owned and

published by Star Media

Award winning publishing group

Magazine

CHRISTCHURCH'S PREMIER

Advertising Enquiries Ph. 379 7100

Linwood, Avonside, Richmond, Shirley, Burwood, Dallington, Wainoni, Bromley, Aranui, Avondale, Bexley, New Brighton, Northshore, Queenspark, Parklands, South Brighton

Your local leaders

Community board chairwoman

Andrea Cummings loses out

Glenn Livingstone

David East

Yani Johanson

Tim Baker

Tim Sintes

Alexandra Davids

Linda Stewart

Kim Money

Brenda

Lowe-Johnson

• By Fraser Walker-Pearce

850m

4

2

1

2.5

Andrea

Cummings

850m

GRASSROOTS politics in the

eastern suburbs will have a new

leader for the next three years.

Andrea Cummings has been

ousted by voters, meaning the

Coastal-Burwood Community

Board will have a new chairperson.

Ms Cummings had been chairwoman

of the Burwood-Pegasus

Community Board but she failed to

get a seat on the new board, losing out to Kim

Money and Tim Sintes.

She declined to talk to the Pegasus Post

yesterday.

Under the new ward and community board

system, one chairperson will be chosen from

the Coastal and Burwood members.

Mr Sintes received 3892 votes, Ms Money,

2978, and Ms Cummings, 2686. Mr Sintes, Ms

Money and city councillor David East make up

the Coastal ward's elected members.

In the city council race, Cr East received

2927 votes, ahead of Jo Kane, 1855, and Dean

Lester, 941.

The Burwood ward will consist of city

councillor Glenn Livingstone, who received

4771 votes, Tim Baker, 4216, and Linda

Stewart, 3484.

Ms Stewart, who lives outside the ward in

Rangiora, also stood for the Rangiora-Ashley

ward – a part of the Waimakariri District

Council, but was unsuccessful at gaining a seat.

Cr Livingstone received the most votes for

any city council candidate.

He is looking to prioritise roading and footpaths,

as they are in "a shocking

state".

"For New Brighton this is the

doing term . . . if I was reaching for

the stars at top of pyramid, I'd be

looking at what the future of the red

zone is," he said.

Cr East wants to "address the visual

appearance" of New Brighton and

South New Brighton, and in the long

term will push New Brighton's legacy

projects forward, "particularly the hot

salt water pools."

City councillor Yani Johanson retained

his seat for the Linwood ward which covers

Avonside, Bromley, Linwood and North

Linwood, beating nearest competition

Alexandra Davids by 1400 votes.

Ms Davids does make it onto the Linwood-

Central-Heathcote, alongside long-term local

body politician Brenda Lowe-Johnson.

Cr Johanson said he would be fighting to

sort flooding and river quality, as well as

roading in Linwood and Woolston.

• Results, page 7.

4

2

Provides a highly effective & potent combination of

clinically trialled nutrients to relieve back pain, reduce

inflammation, swelling & assist with muscular pain,

spasms, aches & cramps anywhere in the body.

1

2.5

BACK PAIN

CONTROL!

Special Price

only $53.95

(Save $6.00)

850m 4 2 1

850m 4 2 1

2.5

2.5

Mail order available

Bringing You The Best In Natural Health

MARSHALLS HEALTH & NATURAL THERAPY

CONSULTING - PRESCRIBING - DISPENSING - MANUFACTURING

MEDICAL HERBALISTS

110 SEAVIEW ROAD, NEW BRIGHTON (Just past C.N.B School)

PHONE 388 5757

- KNOWLEDGE MAKES THE DIFFERENCE -
---
2

Tuesday October 11 2016

Inside

FROM

THE

EDITOR'S

DESK

PEGASUS POST

News...........................3, 5, 7, 8

THE LOCAL body elections

have certainly been a low key

affair, with just 38 per cent of

the city's eligible voters taking

part. A surprise upset is former

Burwood-Pegasus Community

Board chairwoman Andrea

Cummings missing out on a seat

around the table to Tim Sintes

and Kim Money. Other than

that, it was business as usual,

with incumbent city councillors

Yani Johanson (Linwood), Glenn

Livingstone (Burwood) and

David East (Coastal) winning by

comfortable margins.

The community boards have a

hefty task ahead, with the eastern

suburbs still requiring strong

grass-roots leadership in the

recovery from the earthquakes.

Mayor-elect Lianne Dalziel has

made it clear that these boards

should be given more power –

let's hope this happens.

Hei kona, Shelley Robinson.

Fighting cancer with fitness

NEWS 5

Local Views....................11

Community Events......12

Holiday Fun...................15

Sports........................................16

Education........................ 17

Health & Beauty.............19

GET IN TOUCH

General Enquiries Ph 379-7100

Classified Advertising Ph 379-1100

The Christchurch Star Company Ltd. PO box 1467 - Christchurch

starmedia.kiwi

NEWS

Fraser Walker-Pearce

Ph: 364 7424

fraser.walker@starmedia.kiwi

ADVERTISING

Mark Sinclair

Ph: 364 7461

mark.sinclair@starmedia.kiwi

LIQUID LAUNDROMATS

345 STANMORE ROAD,

RICHMOND

7 DAYS: 5am-11pm

WASH & DRY ALL YOUR

LAUNDRY IN ABOUT 1 HOUR

$4.00 WASH

$4.00 DRY

Wash 2 Mink Blankets, Duvets

or Woolrests for only $10

DRY UP TO 4 LOADS IN

ONLY 20 MINUTES! $4

SAvE TIME & ELECTRICITY

• Fast Dryers

• Sports Gear

• Duvets

• Mink Blankets

• Bedding

• Washers

• Domestic Laundry

Other Locations:

289 Colombo Street, Sydenham

47 Carmen Road, Hornby

www.liquidlaundromats.co.nz

RAY HASTIE

Manager

027 448 8225

REBEKAH WHALLEY

Accounts Administrator

03 331 6755

DOUG NICOL

Property Manager

027 277 1256

ABBEY NOLAN

Property Manager Junior

027 379 5021

NICOLA FLANAGAN

Property Manager

021 914 332

JENEFER BIMLER

Business Development Manager

021 716 655

"We are where you are"

www.propertymanagementchristchurch.com

Introducing

Ray White

Citywide Property

Management

Local Experts –

Citywide Knowledge

We've been entrusted to look

after over $99 million of property

throughout Christchurch.

You can trust us to look after yours

too. Call today.

P. 03 331 6755

Prier Manson Real Estate Ltd
---
PEGASUS POST Tuesday October 11 2016 3

News

Suspected contamination

at Bromley Cemetery site

• By Fraser Walker-Pearce

PLANS TO expand Bromley

Cemetery have to be further

investigated after it was

found that a small site may be

contaminated with lead and

asbestos.

The cemetery, which was

established in 1918, is at capacity

and no new burials can take

place.

The city council did look at

expanding, but a site on the

land is potentially contaminated

and means more plots cannot

be made.

The cemetery's caretaker

house was demolished and

removed from its site in 2014,

and part of that land is "most

likely" contaminated with

lead and asbestos, said city

council's operation manager

neighbourhood and sports

parks Al Hardy.

The cemetery is based just

off Linwood Ave and will only

accept pre-purchased plots and

second interments. A second

internment is if a body has to be

lifted and re-placed in its grave.

HIKING BOOTS

& SHOES

For men, women

and children

From

$79.95

to $250

47c Garlands Road, Woolston

Phone 389 3431

www.thefootwearfactory.co.nz

MORE SPACE NEEDED: Bromley Cemetery is at full

capacity. Increasing plots was looked into, but found it was

potentially contaminated. ​

Mr Hardy said the history of

the cemetery points to the site

being contaminated.

"Given the history of the site

as an old landfill and the house

demolition, the site is most

likely contaminated. This means

that it would be an extensive

up to

30 %

Resene Premium

Paints, Primers,

Sealers, Wood Stains

off and Wallpaper

and 25% off Decorating Accessories

and Cleaning Products

30890 PEG R

Come in and see us today!

Shirley Resene ColorShop

38 Marshland Road, (03) 385 5082

Discounts off the normal retail price 28 Sept - 31 Oct 2016 at Resene owned ColorShops

and participating resellers. Paint offers also available at participating Mitre 10 MEGA/Mitre

10 stores. Valid only with cash/credit card/EFTPOS purchases. Not available in conjunction

with account sales, promotional vouchers/coupons or other offers. Excludes trade, ECS and

Crown products and PaintWise levy.

and expensive process to render

the site suitable for a relatively

small number of burials," he

said.

Mr Hardy said even if the city

council go ahead with the testing,

the usable area of the site

is limited, and a costly consent

process would have to take

place.

"If [city] council found the

funding to do this work the

actual number of plots that may

be possible on the site would be

very small, potentially around

100 plots," it said.

In a 2013 master plan for

cemeteries across the city, the

city council stated that Bromley

was "approaching capacity".

Currently the future of the

land where the former sexton's

house was, is unknown. But

options available to the city

council includes "extensive

testing" to find the scope of the

contamination and what future

the site has.

Mr Hardy said an above

ground ash internment was

mooted, but it is yet to be investigated.

"There is no current plan for

the site. It is currently grassed

down. A suggested option is

for an above ground ash interment

area such as a wall but this

has not been investigated," he

said.

quality fresh meaTs

Now open

all day Saturday

7.30am to 5.00pm

BUTCHERY

Open Monday-friday 7.30am-6.00pm

101 Stanmore Rd, Linwood - Ph: 389 8065

In Brief

DRIVER ARRESTED

A man was arrested for driving

dangerously and failing to

stop for police last week. Police

stopped his vehicle on suspicion

of dangerous driving on Friday

morning at about 2.45am on

Quinns Rd, Shirley. The man

appeared in district court on

Friday.

COURTS COMING SOON

Shirley Tennis Club is only

weeks away from beginning

construction on two new courts

at their Richmond Park site. The

city council approved the courts

along with a number of others

at a recent meeting. The club

was devastated by the February

22, 2011, earthquake but has

since recovered and improved

its membership base to the point

that it now needs the new courts.

PLAYCENTRE APPROVED

The city council has approved

moving a playcentre to Simeon

Park. The Canterbury Playcentre

Association requested that

the city council allow them to

relocate the former Wainoni

Playcentre building from

Bickerton Reserve to Simeon

Park. The association want to

use 1367 sq m of Simeon Park to

house the playcentre. This site is

located next door to Addington

School.

Wainoni

& PANDA'S PIZZA

Buy 2 pizzas

& get the 3rd

FREE

Only available with this coupon

Mon - Thurs 4pm-9.30pm

Fri - Sun 12 noon-9.30pm

Valid until 31st December, 2016

175 Wainoni Road, Wainoni

(opp Pak 'n Save) • Phone 388 4373

be a time traveller!

FUN DAY AT

the arts centre

– market square

sunday 16 Oct, 10am–4pm

free

Ever wondered about

the story of your house?

18 Oct, 5.30pm–8.30pm

civic offices, level 1

53 Hereford Street, Central City

free

Orton Bradley park

Spring Fair

23 Oct, 10am–4pm

marine drive,

charteris bay

children

Free

this is a sample of events. for event details visit ccc.govt.nz/heritageweek
---
4

Tuesday October 11 2016

Moon Chair

Stackable

288986

PEGASUS POST

Firebox BBQ

Pizza Oven

292702

Jack and Jill

Pacific Hardwood

Setting

248065

$

79

Ravenna

Big Chair

Aluminium

Wicker

With Cushion

288871

Contempo

Crane Chair

With Cushion

248423

$

499

Pacific

2 Seater Bench

288910

$

128

Contempo

Day Bed

Aluminium

and Wicker

With

Cushion.

289088

$

299

$

799

$

349 $

1499

Pacific

Lounge Set

!88197

Sienna

4 Piece Lounge

!88931

Marbella

Triple

Lounge Set

!88199

Contempo

7 Piece Round Set with Tubchair

!88192

Icarus

3 Piece Setting

!88920

$

1399 $

2299

$

3699

$

2199 $

1999

Firebowl with

Round Base

289023

Outdoor Fire Pit

248387

Round Mesh Fire Pit

Pebbles with Grill

232486

La Hacienda

Large Lay

Chimenea

182668

$

249

Barb-I-Cad

Portable BBQ

Utensils and

condiments not

included

173594

$

99

$

179 $

199

$

39 98

Enforcer

Electronic

Insect Killer 30w

269027

Gasmate

Column Heater

Electric 2000w.

248398

$

299

BBQ Mat

122 x 73cm

279635

Bamboo Torch

1.2m high

129683

30 Seconds

BBQ Cleaner

1L Spray Bottle

082534

$

4 98 $

9 95

Weber

Family Q

Gas BBQ

239459

$

949

Go Anywhere

Charcoal BBQ

219676

Ranger

Portable Gas

BBQ

202319

$

89 99 $

29 98 $

39 98

Sizzler

Portable Stainless

Steel BBQ

118721

Portable Charoal

BBQ in cooler bag

168386

$

159

$

349

$

299

Ferrymead

1005 Ferry Road, Phone: 366 6306

Opening Hours: Monday–Friday: 7:00am–7pm

Saturday, Sunday and Public Holidays: 8:00am–6:00pm

Offers available at Mitre10 Mega Ferrymead only, until the 16th of October, while stocks last.

mitre10mega.co.nz

If you find a lower price on an identical stocked

product locally we will beat it by 15%.

find us

mitre10.co.nz

If you find the same product cheaper from another Mitre 10 store or Mitre 10 website we'll match that price. Excludes trade

and special quotes, stock liquidations and commercial quantities. The in-store price may be lower than that advertised.
---
PEGASUS POST Tuesday October 11 2016 5

News

Fighting cancer with fitness

WHEN MAIREHAU resident

Isobel Stout was diagnosed

with breast cancer, fighting the

disease and getting through the

gruelling treatment regime was

her main focus.

Six months of chemotherapy,

a double mastectomy and five

weeks of radiation left her

"absolutely shattered" and

she was not prepared for the

challenging transition back to

everyday life.

It was not until Ms Stout, 50,

discovered a new exercise class

for recovering breast cancer

patients at St George's Cancer

Care Centre that she began to

get her life back. Recently, she

completed a charity bike ride

up Coronet Peak, raising $4000

for the Pinc & Steel Cancer

Rehabilitation Trust.

She is a senior environmental

health officer at the city council

and was one of the first patients

to sign up to the initiative

in which pilates, yoga and

cardiovascular exercises are

delivered by trained oncology

physiotherapists.

For Ms Stout, the main

benefits of St George's exercise

classes were restoring confidence

and getting her physical strength

back after treatment.

"I had no trust in myself

ON HER FEET: Isobel Stout (left) discovered a new exercise

class for recovering breast cancer patients and has been

working with St George's Cancer Care Centre oncology

physiotherapist Julee Binns. ​

anymore and didn't know what

I should or could do physically,"

she said.

"I had been pretty active

before my diagnosis but it

somehow didn't feel right to be

going back into that routine after

what my body had been through

during treatment and surgery.

Forty-five other Christchurch

women have since completed the

10-week programme, which is

offered free of charge to eligible

patients due to funding from

the New Zealand Breast Cancer

Foundation and the Pinc & Steel

Cancer Rehabilitation Trust.

It is the only programme of

its kind in Christchurch, and

plans are in place to introduce

a similar initiative for men

recovering from prostate cancer.

Oncology physiotherapist

Julee Binns said there is a real

need for cancer patients to have

access to specialised exercise

programmes post-treatment.

"The side effects of cancer

treatment, for example scarring

and lymphedema, limit the

ability to exercise and can have

a big impact on quality of life,"

she said.

Practice manager Viv Ali said

the clinic's long-term vision is

to develop a wider programme

for patients that incorporates

exercise, yoga and mindfulness.

Exercise has been shown to

improve outcomes for cancer

patients both during and after

treatment. Some benefits include

decreased fatigue, an increased

sense of well-being, improved

functional ability and reduced

risk of osteoporosis following

chemotherapy.

International studies of

women diagnosed with breast

cancer indicate a 50 to 53 per

cent increased chance of survival

if regular, moderate intensity

exercise is undertaken.

In Brief

DISASTER READY

Bunnings Warehouse Shirley

is holding a natural disaster

emergency management week

to raise awareness about being

prepared. Get Ready Week began

yesterday and runs until Sunday

in Bunnings stores around the

city. Eastern suburbs residents

are encouraged to visit their local

Bunnings for information and

activities on how to get prepared.

Children will have an opportunity

to make a take-home emergency

board that includes vital information

to 'grab and go' in the case of

an emergency.

MAIREHAU ROAD REPAIRS

Fortune St in Mairehau will

undergo repair work over the next

three weeks. Preliminary CCTV

investigations have been completed

and Stronger Christchurch

Infrastructure Rebuild Team has

begun a full relay of the wastewater

mainline along Fortune

St outside number 35. The work

is expected to take about three

weeks.

QEII TENDER

Tenders for the construction of

the new QE II Recreation and

Sport Centre are still being evaluated.

It is expected the contract

will be considered by the city

council at the Wednesday, November

2 meeting.

Drama Classes for Children

The Blind Care Company has been

cleaning and repairing the region's blinds

for over 60 years. Those six decades

have seen changes in both fashion and

technology. Styles have ranged from

festooned fabric swags to straightforward

and still popular holland roller blinds,

from vertical to horizontal slat systems,

and in every colour or pattern popular

since the 1960s.

Whatever your style, the Blind Care

Company has the expertise to keep your

window treatments looking fresh and

working efficiently. Using only ecofriendly

chemicals, the build-up of dirt,

dust, grease, nicotine and smoke residue

Helping children

develop social

skills for a

competitive

world.

Fun Classes for 5-17 years

Weekly Classes 0800 161 131

www.helenogrady.co.nz

can be removed so that your blinds

smell fresh and are restored to their

original glory. The company can repair

blinds also, having a huge range of parts

in stock. And if you want something

completely new, a great range of blinds is

available for purchase.

The company prides itself on efficient

service, providing a fast turn-around,

with most work taking one or two

days, and a same day cleaning option is

available. It makes it as easy as possible

for clients. The Cashel Street location

couldn't be more convenient and a pickup

and drop-off service is available. 150

blinds per day can be cleaned at this site,

HELPING US,

HELPS THE

COMMUNITY

Drop off or buy

2 family stores in your community

30 Main North Rd,

Ph 352 4581

520 Cranford St,

Ph 352 0515

For all your blind repair and cleaning requirements

or one of their mobile vans can do up to

50 per day. That means they will come to

your home or office, remove and clean

your blinds on the spot and reinstall them

for you.

A cut-down and size alteration service

is available in order that the blinds you

bought are a perfect fit.

They are experts in their field with a

huge amount of experience to draw on.

In fact, all their staff has been on board

for at least 8 years, and many up to 20

years. Whatever the job involves, they

will work hard to make sure it gets done,

including one job of 800 blinds which

they completed in 4 days.

Roast Meal

just $10.50*

*Monday night only. Conditions apply.

✔ Tues Quiz Night

✔ Wed Karaoke ✔ Thurs Live music

✔ Sky Sports ✔ Courtesy Van

✔ Friendly Staff & Atmosphere

Chats Bar

251 Travis Road

QEII Shopping Centre

Ph: 388 1566

Find them at

330 Cashel Street

Call 3770770

email:

service@blindcare.co.nz

or visit blindcare.co.nz
---
6

Tuesday October 11 2016

PEGASUS POST

SCIRT programme on the home straight

SCIRT's five year programme of repairs to pipes, roads, bridges and retaining walls

is almost complete and we're aiming to finish construction in December.

The City Council and NZ Transport Agency will continue completing ongoing repairs

to the city's earthquake-damaged infrastructure after SCIRT.

Progress in your neighbourhood

• We've finished connecting homes in Aranui to

their new resilient vacuum wastewater system.

Storm water and roading work will continue until

the end of the year.

• Pages Road, between Anzac Drive and

Breezes Road is back to one-way towards

the city, while we complete the final round of

wastewater repairs and rebuild the road.

• We've almost completed our extensive repairs

to the wastewater, storm water, fresh water and

roading networks in Parklands and expect to be

finished by the end of November.

• Wastewater repairs on Woodham Road,

Linwood are 80% complete.

• New Brighton will still see major works to the

wastewater network and crews repairing small

sections of road until December.

Your support is helping

us to get the job done.

Thank you from the

SCIRT team.

Road works and detours are tough on nearby businesses.

Please go the extra mile to support your local businesses.

Want

more

info?

Email:

info@scirt.co.nz

Phone:

941 8999

Email us on:

info@scirt.co.nz to get our:

Weekly Traffic Update

Monthly e-Newsletter

Follow us on Twitter:

@SCIRT_info

#chchtraffic

Programme funded by
---
PEGASUS POST Tuesday October 11 2016 7

News

Award-winning Dallington

garden like a 'restaurant'

• By Fraser Walker-Pearce

ABOUT 30 years ago, you

couldn't see Ian Foster's

Dallington home from the

street because the garden was

so overgrown. Then last week,

it won gold in a gardening

competition.

Mr Foster and his wife Val

bought the house three decades

ago but have since landscaped,

pruned, planted and cut their

garden into a winner.

They used to have a vegetable

garden but have recently been

taking it more seriously. And

now they have a gold medal to

show for it.

In a recent Canterbury

Horticulture Society

competition, the Fosters won

the small residential category for

properties up to 500 sq m.

Mr Foster said he had entered

the competition in years gone

by, and had won "several" prizes

over that time.

"(We're) very pleased because

we got a gold for the garden this

time," he said.

The Fosters enjoy sharing their

garden with friends and family,

who have given a nickname to a

particular part of the garden.

"Whenever we host friends

and family and are having

something to eat, we take them

to a part of the garden they say

is like a restaurant setting. They

call it Fosters on Gayhurst," Mr

Foster said.

Mr Foster said his favourite

part of his award-winning

garden is a collection of maple

trees, but he loves it on the

whole.

"We've got about 40 (maple

trees) in the garden . . . I'm only

in the garden about a day a

week, but I'm always snipping at

things.

"I know I'm a skite but it's

TOP GARDEN: Ian

Foster wearing his

$2 golden medal,

in his awardwinning

Dallington

garden.

really very different and it's

colourful. Ian Fryer is our

landscaper, so he was helping to

lay it all out," he said.

The garden was landscaped,

pruned and planted over the

course of the year and even

required the removal of a

swimming pool to complete the

look.

Election

results

•From page 1

Mayoralty

Lianne Dalziel 75,091

John Minto 12,996

Tubby Hansen 1400

Burwood Ward (1 vacancy)

Glenn Livingstone 4771

Cruize Erueti 858

Coastal Ward (1 vacancy)

David East 2927

Jo Kane1855

Dean Lester 941

Linwood Ward (1 vacancy)

Yani Johanson 3078

Alexandra Davids 1678

Scott Toomey 302

Burwood Ward of the Coastal-

Burwood Community Board (2

vacancies)

Tim Baker 4216

Linda Stewart3484

Sela Faletolu-fasi 1756

Brian G Steer 615

Coastal Ward of the Coastal-

Burwood Community Board (2

vacancies)

Tim Sintes 3892

Kim Money 2978

Andrea Cummings 2776

Linwood Ward of the Linwood-

Central-Heathcote Community

Board (2 vacancies)

Alexandra Davids 2888

Brenda Lowe-Johnson 2583

Jackie Simons 2196

Jack Singh 1039
---
8

Tuesday October 11 2016

News

PEGASUS POST

GREAT SUCCESS: Lions clubs from around the city collaborated to raise

$50,000 for Age Concern Canterbury's new mini van.

Lions answer SOS

Nova Montessori

Early Childhood Centre

and Primary School

OPEN DAY

Saturday 15th October 10am-2pm

Offers an individual holistic

education for children between

the ages of 3 to 13 years.

Nova Montessori Children's House

and Primary School

53 Owles Terrace, New Brighton

www.novamontessori.school.nz

INTERMEDIATE and

high school students have

been exploring the art of

verbatim theatre as part of

The Court Theatre's latest

holiday programme.

Verbatim theatre is a

form of documentary

theatre in which plays

are constructed from the

precise words spoken by

people interviewed about

a particular event or topic.

This required the

participants, aged

between 12 and 15, to

interview people and

use their testimony to

construct a piece.

Throughout the week,

students interviewed

NEW Brighton Lions

were one of seven clubs

around the city to respond

to an "SOS" call from Age

Concern Canterbury.

The clubs pulled together

$50,000 over a period

of six months, enough to

buy Age Concern a new

12-seater mini-van.

Keys to the mini-van

were handed over to Age

Concern representatives

recently.

New Brighton, Christchurch-Pegasus,

Lyttelton,

Ferrymead, Christchurch

South, Christchurch-Seaview,

and Riccarton-Waimairi

clubs all pitched in

an average of about $3000

each for the new van.

New Brighton Lions

Club member Warren

Glassey said Age Concern

Canterbury needed the

van to provide transport

for elderly locals who had

become "housebound" following

the earthquakes.

"Age Concern said there

was a significant number

of elderly people that

were badly affected postearthquakes

that have now

become housebound . . .

people living with

Alzheimer's or dementia

and turned their

stories and words into

a performance for the

interviewees.

Theatre education

manager Rachel Sears

said the theme wasn't

about what it was like

we know it will be used for

the next 15 years, five days

a week at least," he said.

Within six months, the

clubs raised the $50,000

needed to purchase a new

Ford Transit 12-seater

mini-van. This included a

$20,000 donation from an

international Lions charitable

trust.

The last $10,000 came in

the form of sponsorship

from Colliers International;

Chatswood Retirement

Village, Opawa; and Willowlea

Retirement Village,

Shirley.

Acting out people's stories

LEARNING: Eric Rule, of Aranui, was interviewed

by Joseph McAllum, of Cashmere, and Charlie

Holmes, of Wanaka.

living with Alzheimer's or

dementia, but more about

sharing memories.

"We had a great

feedback session after

the interviews. The

students said things like it

was the best history lesson

they had ever had," she

said.

sellOut

Montego Firm or Medium Mattress & Base

• Classic 8 inch Pocket Spring technology which minimizes partners

disturbance as each individual coil reacts separately.

• Comfort Foam Edge support.

• Naturally Healthier Latex. Pure New Zealand luxurious wool

• 10 Year Warranty - Made in Christchurch.

Open 7 Days Mon - Fri 9 - 5.30pm Sat - Sun 10 - 4pm

QUEEN

$1899

KING

$2199

up tO

18 mOnths

interest

free!

SUPER KING

$2399

242 Ferry Rd Along From Old Ami Stadium | Phone 377 8887 | www.bedworld.co.nz

SAVE

uP to

$2000
---
PEGASUS POST Tuesday October 11 2016 9

free 11mm

high density

FINAL DAYS

luxury underlay

Bonita

• 48oz solution dyed

nylon

• extra heavy duty

+ stairs

• Cut pile

• 2 Colours

NOW

$139.90

3.65m

3.65m

Wide

Wide

Rolls

Rolls

WiTH

FREE

UNdeRlAY

Toulon

• Wool plus

• extra heavy duty

+ stairs

• Cut pile

• 1 Colour

• slightly imperfect

NOW

$95.00

WiTH

FREE

UNdeRlAY

Fairfields

• 48oz Wool plus

• extra heavy duty

+ stairs

• Cut pile

• 3 Colours

NOW

$159.90

3.65m Wide Wide Rolls

3.65m 3.65m Wide Wide Rolls Rolls

WiTH

FREE

UNdeRlAY

Sanctuary

• 55oz Polyester

• extra heavy duty

• Cut pile

• 1 Colour

• slightly imperfect

WiTH

FREE

UNdeRlAY

Tiburon

• 40oz Wool

• extra heavy duty

+ stairs

• loop pile

• 1 Colour

WiTH

FREE

UNdeRlAY

Carterville

• 50 oz Polyester

• extra heavy duty

• Cut pile

• 1 Colour

• slightly imperfect

WiTH

FREE

UNdeRlAY

NOW

$115.00

NOW

$95.00

NOW

$105.00

3.65m Wide Rolls

3.65m Wide Rolls 3.65m Wide Rolls

Horizon

• 36oz solution dyed

nylon

• extra heavy duty

• Cut pile

• 2 Colours

WiTH

FREE

UNdeRlAY

Madison

• 48oz Wool

• Commercial grade

• loop pile

• 1 imperfect colour

WiTH

FREE

UNdeRlAY

Newport

• solution dyed

nylon

• Commercial

grade

• loop pile

• 2 Colours

WiTH

FREE

UNdeRlAY

NOW

$125.00

3.65m Wide Rolls

NOW

$89.90

3.65m Wide Rolls

NOW

$115.00

3.65m Wide Rolls

Garage carpet

stock clearance

2m - $30 per MTR

3m - $45 per MTR

4m - $60 per MTR

All carpet remnants

priced to clear from

$5 per piece

Conditions apply

Clearing vinyl

FROM

$30 per metre

(2 metre wide vinyl)

312 Wilsons Road North, Waltham Phone 366 0070

www.carpetkingdom.co.nz | Mon - Fri 8am - 5pm | Sat 10am -1pm

Q Card Finance Now Available

FREE no obligation measure & quote (conditions apply.)
---
10

Tuesday October 11 2016

PEGASUS POST

new outdoor furniture

in store now

The california U shape

$5999

The copenhagen

$3999

we deliver within 48 hours - conditions apply
---
PEGASUS POST Tuesday October 11 2016 11

Your Local Views

Community rebuilding

The Bridge

South

Brighton

Trust

chairwoman

Jane

Harrison talks about

how the community

has come together to

lead the recovery in

the eastern suburbs

The recent unanimous

vote by the city council

to grant The Bridge

South Brighton Trust

$325,000 to purchase the

abandoned church on

Bridge St was a victory

for community-led

regeneration in the east.

Sitting in the gallery of

the city council chambers

on the day of the decision,

the large contingent of

South New Brighton supporters

heard councillor

after councillor declaring

their support for our project

and their admiration

for the hard work that

went into preparing our

case.

Councillors also recognised

the lack of tangible

evidence of recovery and

regeneration in our community.

In many ways they

were right about the need

Previously

United Travel

for a gathering place for

the people of South New

Brighton and about the

commitment and expertise

brought by the people

involved in this project.

And yes, we are still

lacking much in the way

of visible evidence of a

commitment to replace

what we have lost in South

New Brighton.

However, I think the

bridge community hub

project actually shows just

how much our community

has not only recovered,

but has taken regeneration

into its own hands.

We are no longer waiting

for someone else to fix

or replace things – we are

doing it ourselves.

By supporting our local

school, sports clubs, community

groups, voting

in the competition to get

free foundation repairs

for the bridge building, or

helping with community

planting, estuary cleanups,

or the recent working

bee at the bridge building

– the people of South New

Brighton are not sitting

waiting for regeneration

to be done to us or for us.

For many of those

involved in projects such

as the bridge hub, the real

hard work has been behind

the scenes – building

relationships with people

in the community, with

other community groups

and with our local elected

representatives and city

council staff.

We have been fully supported

and guided by city

council staff whose names

most local people will

not know. We have been

adamant about using local

experts and community

knowledge to guide this

project.

These two factors have

made the creation of a

community owned and

managed hub for the people

possible.

While it is easy to focus

on what has not happened

in the east and to measure

progress by the building

work that we see above

the ground, it is important

to recognise the

value of building strong

relationships, trust and

community strength. It is

here that we find the real

drivers of regeneration.

Thinking of the UK or Europe for 2017?

Baltic & St. Petersburg

We're the European experts.

Greece & the Dalmatian Delights

$

5999 *

7 nights from

Cruise onboard Seabourn Quest

$

5599 * from Copenhagen to Tallinn,

3 days in St. Petersburg, Helsinki,

ending in Stockholm.

per person share twin in CAT A Ocean View Suite, based on 13 May 2017 departure.

7 nights from

Cruise from Piraeus onboard (Athens) new Seabourn to Monemvasia,

Encore

Katakolon, Syvota, Brindisi, Dubrovnik

and Primosten, ending in Venice.

per person share twin in CAT V1 Veranda Suite, based on 17 Jun 2017 departure.

www.nativeplantnursery.nz

SPRING

The Award winning teams at YOU Travel Ferrymead

and Tower Junction have years of knowledge and

expertise under their belt, and are always out seeking

and exploring the next "on trend" destination. Bring

your ideas into the experts and together let's create

you the most memorable travel experience.

Seabourn offers award winning

ultra-luxury small ship cruising

with gourmet dining, open

bars and fine wine on

board the ship.

INTO

ACTION

Christchurch

478 Marshland Road

Marshland Christchurch

T: 03 385 9008

E : christchurch@tnpn.co.nz

YOU Travel Ferrymead 960 Ferry Road, Ferrymead 03 384 2700 @ melissa@youferrymead.co.nz

YOU Travel Tower Junction 3/4 Troup Drive, Addington 03 341 8965 @ sandra@youtowerjunction.co.nz

*Terms & Conditions: Prices quoted are not guaranteed and subject to availability at time of booking. Further terms and conditions apply, please ask us for details.
---
12

Tuesday October 11 2016

Brighton Art Gallery

October 1-31, 10am-4pm daily

An exhibition is on at the

Brighton Gallery for the month

of October. The paintings on

show are done by local artist Judy

Harrington. Ms Harrington has

been painting for more than 10

years and the mediums she uses

include watercolour, acrylic and

oils. Her artwork is mostly about

landscapes and wildlife, specialising

in birds. She also teaches

painting and drawing.

Brighton Gallery. Shop 4, Carnaby

Lane, New Brighton. Free entry

Annual Church Fair

Saturday, October 22, 9am-noon

Holy Trinity Avonside is holding

its annual community fair on

its grounds at 168 Stanmore Rd.

Community stalls are welcome at

the fair, so if you wish to load up

your boot, or sell from your own

table, please book a site by phoning

389 6948. The event will go

ahead even if the weather is bad.

There will be a variety of stalls

including books, cakes, crafts,

teas, plants, raffles, a sausage

sizzle, second-hand clothing and

many more. Go along to listen to

the ukulele band and enjoy all the

fun of the fair.

Holy Trinity Avonside Church,

168 Stanmore Rd, Avonside. Free

entry

Step Ahead Exhibition

Runs until Friday, October 21.

Monday to Friday, 11am-4pm,

Saturday, noon-3pm

The Step Ahead exhibition

coincides with Mental Health

Awareness week and provides

a goal for trust members to

recognise and celebrate their

skill and achievement. About

40 trust members are exhibiting

drawings, paintings, photography,

mosaics, stone carving and

other crafts. Items for sale can be

purchased by phoning Eastside

Gallery, 981 2881.

Eastside Gallery, cnr Worcester

St and Stanmore Rd. Free entry

New Brighton Seaside Market

Every Saturday, from 10am-

2pm

Go along to the seaside and

enjoy live entertainment, food,

fresh produce, arts, crafts,

jewellery and more. There will

be a bouncy castle and free

face painting for the kids. For

inquiries, email seasidemarket@

mail.com.

New Brighton Pedestrian Mall.

Free entry

All Australian Car Show

Sunday, October 16, 10am-2pm

The Christchurch All

Australian Car Show will

be displaying cars by Ford

Australia, General Motors

Holden, Chrysler Australia and

more. From the classics from the

1950s onwards, up to the very

latest models, a large variety

of cars from Australian-based

manufactures will be on display.

Email fraser.walker@starmedia.kiwi

by 5pm each Wednesday

Local clubs will be displaying

their cars, and all private owners

are welcome to take along their

examples to contribute to the

event.

Ouruhia Domain, Marshland

Rd. General admission $5

Ukulele JAM

Friday nights, from 7.30pm

Every Friday this group meets

to play the ukulele and other

instruments and sing all kinds

of songs and different genres of

music – anything that is in the

spirit of Joyful Anarchic Music

(JAM). There is a data projector

so all the lyrics and the chords

are available. Everyone is welcome.

Tea, coffee and biscuits are

free.

St Faith's Hall, 46 Hawke St,

New Brighton. $2 entry

Kite Flying on the Beach

Every day, 11am-4pm

Any day, weather permitting,

kites are flown on the beach near

the pier. Go along to watch, or

bring a kite and join in. Recapture

your childhood, and let your

children experience the joy of

kites. The Christchurch easterly

wind is ideal for kite flying, so

dress appropriately and go along,

any time of the year.

New Brighton Beach, near the

pier. Free event

NATIONAL TOURNAMENT: During Labour Weekend, eastern

suburbs football club Coastal Spirit will hold the under-19 Lotto

Tournament. In previous years, both the men's and women's

matches have been well attended throughout the long

weekend. The two finals are played on Monday afternoon. All

matches will be held at Cuthberts Green in Aranui, with no entry

fee. For more information on the event, go to Facebook and

search for under-19 Lotto Tournament.

Parkview School Fair

November 18, 5-8pm

Rain or shine the Parkview

School Fair is on. Go along and

enjoy the fun – old fashioned

games, grab a couple of

bargains. There will be the

White Elephant Trust stall,

books, clothes, plants, and

baked goods for sale. Lots of

food will be available so go along

and have tea there as well. Have

a ride in a hot rod, bounce on

the bouncy castle, or try winning

$100 by purchasing the right key,

what's in the mystery envelope,

win a teddy, hair colouring,

PEGASUS POST

tattoos and lots more.

10 Chadbury St. Free entry

The Friends of the Botanical

Gardens Spring Plant Sale and

Heritage Week Walks

Plant sale – Sunday, October 16,

12.30-3.30pm; walks from 2pm

Perennials, succulents, trees

and shrubs including New

Zealand natives at $5 each.

Guides will conduct tours with

the emphasis on the history of

the gardens. The theme is hidden

histories – our stories unearthed.

Botanic Gardens, Armagh St

car park entrance. Free entry

THE HOME OF GOOD BAKING

DAILY BREAD

White, Wheatmeal, Grain

NO LIMIT!

ONLY

99 C EA

LOLLY SLICE

Ideal for kids of all

ages — great for

parties!

$ ONLY

3 49 ONLY

$

3 49

EA

RASPBERRY

BUNS

4PK

EA

PURCHASE 2 X DAIRY DALE

2L MILK TO ENTER THE DRAW

TO WIN 1 OF 50 PLAYSTATION

GAMING PACKS!

50 WINNERS - 2 PER STORE

Promotion valid 1st - 31st October 2016. Winners will

be contacted Monday 7th November 2016. Terms &

conditions apply. Full terms & conditions can be found

at www.couplands.co.nz

MILK

Dairy Dale 2L varieties.

$

5 98

2 FOR or $3.19 each

DINNER ROLLS 6PK

$

1 49

EA

Promotional pricing available while stocks last from 10/10/16 to 16/10/16.

Images are serving suggestions only.

Open 7 days | 8 Convenient local locations

Hornby • Barrington • Ferry Rd • Papanui • Riccarton • Upper Riccarton • New Brighton • Rangiora

BAKERIES

www.couplands.co.nz
---
PEGASUS POST Tuesday October 11 2016 13

World Travel Expo.

You're invited...

Join us and be inspired for your next adventure.

When: Sunday 16 October

Time:

10am - 3pm

Where: Wigram Airforce Museum

45 Harvard Ave, Wigram

Christchurch

NEW

VENUE

Enter on the day

to be in to

WIN

2 RETURN FLIGHTS

to Europe & a

$1000 HOT Travel

Voucher *

EXCLUSIVE DEALS I GREAT SHOWS I AMAZING PRIZES

Be inspired by fabulous presentations from the experts….

10.15am First Time to Europe 10.30am Japan

11.00am Italy 11.00am Cuba

11.30am Europe - Guided Holidays 11.30am Great Train Journeys of the World

12.00pm Vietnam & Cambodia 12.00pm Off Track Aussie

12.30pm Cruise the Mediterranean 12.30pm India & Sri Lanka

1.00pm Canada & Alaska 1.00pm South America

1.30pm River Cruising 1.30pm Fully Escorted Holidays

2.00pm Spain & Portugal 2.00pm The Baltics & Scandinavia

2.30pm France 2.30pm Croatia

We look forward to seeing you there...

*Prize is based on 2 return tickets to either Paris, Rome, London, Frankfurt or Zurich. Please ask your House of Travel consultant for full terms and conditions.

The best holidays are created together. HOT.CO.NZ

Barrington 331 7182 | Ferrymead 376 4022 | High Street Lanes 339 3440 | Hornby 344 3070 | Merivale 355 2200

Northlands 352 4578 | On Victoria 365 7687 | Rangiora 313 0288 | Riccarton 341 3900 | Shirley 385 0710 | Upper Riccarton 343 0869
---
14

Tuesday October 11 2016

THE NAMES YOU KNOW,

BACKED BY THE NAME YOU TRUST.

[Edition PEGASUS datE] POST 3

New Location - Ray White Real Estate Bishopdale

"We love helping our clients

realise their dreams when buying

or selling property and to see

their elation after the purchase

or sale has been completed," says

realtor Barry Ellis of the newly

opened Ray White Real Estate

Bishopdale office.

"Over seven years ago when

my wife, Karen and I entered

the real estate industry we had a

vision. Our desire was to deliver

optimum results based upon

collaborative communication,

clear outcomes, and prioritised

strategies which left our clients

happy and fulfilled."

This vision has become the

core of Karen and Barry's

business ethos which can be

proven time and time again, by

their track record and database

filled with satisfied customers,

many of whom they now call

life-long friends.

"Building a relationship with

our clients based upon trust

and moral fibre is at the heart of

who we are and how we work.

We are about people, not sales

numbers. We treat our clients

like we would like to be treated

and work in their best interests

at all times. For each property

that we bring to the market we

introduce customised

marketing campaigns

and develop individual

strategies for the widest

possible audience appeal.

For us, that includes

all potential local and

national buyers as well

as international lookers.

This is made possible by

our professional network, which

help us spread the word far and

near, because the market is larger

than just our local communities.

We also believe in providing

accurate information from the

outset including appraisals where

we provide a realistic assessment

of a property's value in the

market today. We pride ourselves

on building a relationship with

each client based upon the old

fashioned values of honesty,

trust, and good communication.

Clients are not numbers. They

are people and we want them

to feel they can trust us and

count on us any time they have a

need for service or advice." adds

Karen.

Barry and Karen's goal of

opening a real estate office has

recently come to fruition. They

have recently opened their own

Ray White Real Estate location

in Bishopdale. Stop by and see

what's happening in the property

market and if you are looking

to sell make sure you give them

a call as they have excellent

opening specials during October

and November

"Joining the Ray White group

was an obvious choice for us."

says Barry. "Ray White is a

family owned business which

matches our personal value

system. They believe in pride

and integrity with every real

estate transaction and so do we.

These same values are shared

by world-leading coach Steve

Hansen who is Ray White

New Zealand's Global Brand

Ambassador. The partnership

between Steve Hansen and

Ray White shares a common

commitment to leadership,

family values and 'doing things

the right way'. It also shines a

light on Ray White's strategic

focus, which is dedicated to

customer satisfaction and the

client interests at heart".

The support and infrastructure

that Ray White provides ensures

that the team at Ray White

Bishopdale can focus firmly on

delivering excellent outcomes for

their clients and raising the bar

in service within the local real

estate industry.

The team at Ray White

Bishopdale are committed to

doing the right thing by their

clients by providing honest

information, realistic advice

and up to date communication

to ensure as stress free an

experience as possible. You can

keep up to date with the team

through their website www.

rwbishopdale.co.nz or via

facebook www.facebook.com/

rwbishopdale.co.nz

Stop by today and visit the

Ray White Bishopdale team

office. Parkside Plaza on

Harewood Road or call them

on 03 359 1627. Alternatively

you can drop them an email at

bishopdale.nz@raywhite.com.

THE NAMES YOU KNOW,

BACKED BY THE

See Smiths City Commercial

for all your commercial

television and signage needs.

E: commercial@smithscity.co.nz

W: www.smithscity.co.nz/sc-commercial

Commercial

NAME YOU TRUST.

Karen and Barry proudly

selling for Ray White.

You can expect the same level of attention, service

and local area knowledge you have come to know,

now backed by the strength of the Ray White brand.

Call now for a market apprasial

Karen and Barry Ellis

021 519 275 | karen.ellis@raywhite.com

021 519 274 | barry.ellis@raywhite.com

Inline Realty Limited Licensed (REAA 2008)
---
PEGASUS POST Tuesday October 11 2016 15

THE NAMES YOU KNOW,

BACKED BY THE

NAME YOU TRUST.

Testimonials

Barry & Karen helped me for over a year

looking for a property, sometimes even

driving me to and from viewings when I

did not have a car. They were very helpful

and were not pushy, they listened to what

I wanted. I would recommend them to

anyone looking at buying or selling a

property"

Tracey P, Grimseys Road Redwood

Coming highly recommended by

a colleague I contacted Barry to aid

with the selling of our "As Is Where

Is" property in Burwood. Being a very

difficult market and not knowing how

best to sell the property, Barry and his

team provided the market details and

confidence in previous sales to allow

us to make the right decision. Excellent

marketing stimulated the right activity

to get our price expectation, a figure that

Barry predicted from the first day we met.

Always available and providing regular

and detailed feedback, the sale was a

success. Thanks to Barry & Karen and the

team

Steve H, Reginald Street Burwood

We can recommend Karen & Barry Ellis

unreservedly as Real Estate agents who

truly care about and value their clients.

Positivity, Enthusiasm and Knowledge

were key elements in the selling of our

home and both Karen & Barry readily

made time available to discuss our

needs. Their professional integrity and

Karen and Barry Ellis, Ray White

Real Estate Bishopdale.

honesty were always evident throughout

the process particularly when an offer

was presented to us. From the initial

photographs to the actual sale of our

home we felt valued and consulted. Selling

your home can be stressful but we always

felt informed and confident that we were

in "safe hands" in all respects."

Helen and Rae, Regents Park Drive

Barry & Karen have been fantastic. They

do what they say they are going to do and

then they do extra. Totally professional

but friendly with it. Barry & Karen made

this process as easy and stress free as

possible and it was really appreciated".

Stroudy, Shirley

"Karen & Barry were recommended to

us by our ASB banker, we found that they

were very pro-active in their approach to

selling our house. This was very evident

by the number of viewers that came to the

first open home they held. We would have

no hesitation in recommending Karen &

Barry Ellis"

Olwyn- Northwood

SCHOOL HOLIDAY FUN

The school holidays have just finished but eastern suburbs pupils

participated in a range of fun activities while they had the chance. Pupils

at the Christchurch School of Gymnastics holiday programme had a day

of building with Lego. Meanwhile, at Te Wero Gymnastics, students got

involved in learning skills on the gym floor and on the balancing beam.

Youth Alive Trust students also swung on swings at a local park before

heading off to the Flip Out Trampoline Arena.

CREATIVE: One CSG student

made a diving board and foam pit

out of Lego.

STRETCH OUT: In the boys'

holiday programme at Te Wero

Gymnastics, pupils stretched

before getting into their games.

READY TO GO: Billy lines himself up with a

rope swing at St Martins School during the

Youth Alive Trust holiday programme.

SUPER FUN: Taylor

Piper-Kendall (left).

of Casebrook,

Poppy Cuthbert, of

Lincoln, and Bella

van Nobelen, of

Marshland, made

their way through a

"laser field" of string.

The activity was

part of the Air Force

Museum's school

holiday programme,

Spy Games. As part

of the programme,

children also had to

rescue an Air Force

Museum agent

and search for a

dangerous device to

save the day.

Dyers Road Landscape

& Garden Supplies

• Barks • Peastraw • Composts - we supply the best available

• Aggregates - Chip, Round and Basecourse

• Pavers & Schist products • Pungas

• Decorative Stones & Landscaping Rocks

• Trailer Hire first hour free with purchase

• Bag & Bulk - pick up or delivered

David, Carol & Mike

We will deliver!

SOIL

AND

HARDFILL

DUMPING

Phone: 03 384 6540

183 Dyers Rd, Bromley • OPEN 7 DAYS

Weekdays 7.30am-5pm. Weekends 8.30am-3pm

www.dyersroadandlandscapes.co.nz
---
216

[Edition Tuesday datE] October 11 2016

PEGASUS POST

CONTINUING EDUCATION

PODIUM FINISH: The Canterbury team after their third place finish in

Gisborne.

PHOTOS: SURF2SURF.COM​

Bronze finish for surf team

CANTERBURY HAVE finished

third at the National Scholastic Surf

Championships in Gisborne.

Aranui High School's Estella

Hungerford played a key role in her

team's strong performance. She finished

second overall in the under-14 girls'

division final. Hungerford scored 9.17 in

the semi-final to advance to the final day

of competition where she scored a 9.3 to

finish behind Gisborne's Tanira Tamanui.

Zac Van Eekelen and Zayne Stringer

from Shirley Boys' High School also competed

for Canterbury at the event in the

under-16 boys' competition.

Van Eekelen advanced from his heat

with scores of 9.43 and 11.5. He was unable

to go further than the quarter-finals

where he scored a 7.27. Stinger was unable

to advance from his heat with a score

of 5.43.

Canterbury finished on a total of 13,760

points behind Taranaki on 23,045 and

Auckland 14,765.

ACHIEVERS

FUTURE STAR: Estella Hungerford

finished second overall in the

under-14 girls competition.

SPORTS

INTERNATIONAL OPPOSITION: Aranui High School's first XV rugby team had

the rare opportunity of playing an international team last week. They played

a South African under-18 schools team who were in Christchurch with the

Southern Cape Sports Tours group. The South Africans were too strong for

Aranui at the Lincoln Rugby Club on Thursday with the final score 0-49. While

the result didn't go their way the game against BUSINESSES

the South Africans is sure to

be a match the team will remember forever. Earlier in the year Aranui won the

Wednesday secondary schools competition.

Ensuring a safe

ACHIEVERS

work place

SPORTS

Learning first aid is not only a

part of ensuring a safe work place, but also

an integral part of our engagement with

the wider community. We all learn the

necessary skills to ensure that in times of

emergency we are able to assist our work

colleagues, but are we able to take these

skills home, into the community or on to

the sports field?

not all work places are the same and

the injury risk for each place can be wide

and variable. The office attended by

administrators does not carry the same

risk as those people working with heavy

machinery, or perhaps at some distance

from a regular ambulance service. it is

therefore essential that you pick the right

first aid course to suit all of your activities –

both professional and social.

take, for example, an office worker who

does not have a high risk work environment

BUSINESSES

and whose concern might be to ensure

that they can deal with minor cuts and

superficial injuries, or the ability to perform

effective CPr. These skills can be achieved

on a course of eight hours duration and

would generally fit into low to medium

risk area. But take this same person on to

a sports field either as a spectator or player

when a higher level injury occurs. The eight

hour course covering unit standards 6402

and 6401 (or 26551 and 26552) does not

cover head neck and spinal injuries, eye

injuries, hypothermia and poisonings.

The majority of injuries occur outside of

the work place, in fact one in three injuries

occurs in the home, making it the most

common place for injuries to happen.

new Zealand children are twice as likely

to die through injury as children who live

in australia. They mostly die as a result

of motor vehicles accidents or falls in the

home. fatalities from leisure and sport are

not far behind those in the workplace.

The wider 12 hour course teaches the

additional unit standard 6400 and provides

a wide knowledge base for medium to high

risk environments. This course covers many

of the skills required to deal with the most

common injuries, such as falls (which can

result in head, neck and spinal injuries) and

dealing with complex scenes such as motor

vehicle accidents.

if you are not sure on the course best

suited to your needs, ask your accredited

first aid training provider. They can explain

the course content and give you options

that will best suit your needs. Look beyond

the workplace and consider your family and

your location. Check that you have a good

quality first aid kit that is up-to-date with

replenished items, and that everyone knows

where it is located.

S

S

S

Burwood & Redwood

Layby for

xmas now

Offer ends 31 December 2016

Hot in-store deals

Ph: 383 2114

269 Burwood Rd, Burwood

Ph: 354 4022

290 Main North Rd, Redwood

SHOP HOURS

Mon-Fri 8.30am-5.30pm. Sat 9.00am-4.00pm

Layby available

6 ISSUES

delivered to your door

FROm ONly

$

44. 50 NEW ZEALAND RED CROSS

SUBSCRIPTIONS FREEPHONE

0800 77 77 10

rugbynews.co.nz

Monday

17 October

7 November

14 November

Friday

28 October

4 November

18 November

GLOBAL LEADERS IN FIRST AID TRAINING

Christchurch Course Dates 2016

Venue: 32 Birmingham Drive, Middleton

First Aid Revalidation Course (6 hours)

Cost $120.00 per person (certificates must not

have expired for more than 3 months)

Time: 8.30am – 3.15pm

Tuesday

25 October

1 November

22 November

Sunday

16 October

30 October

6 November

For bookings please call 0800 REDCROSS or 339-7111

Book online at www.redcross.org.nz

Wednesday

19 October

23 November

21 December

USE THE RED CROSS ADVANTAGE - COMPREHENSIVE FIRST AID, ESSENTIAL FIRST AID,

REVALIDATION OR TAILORED TRAINING TO SUIT yOU AT yOUR PLACE OR OURS.
---
PEGASUS POST Tuesday October [Edition 11 datE] 2016 17 3

CONTINUING EDUCATION

Passionate tutors make

learning rewarding

Pursue a career in a trades-related field.

If 2017 is the year you have decided to

pursue a career in a trades-related field, the

Southern Institute of Technology (SIT) have

a range of options that may interest you.

With trade qualifications available from

Level 2 through to Diploma, there is a

programme to suit everyone from the

school leaver to the mature student looking

to make a change.

Studying with SIT ensures a handson

approach to learning with theory

complimenting all practical components.

Graduates leave SIT secure in the knowledge

they have the ability and qualification to

succeed in their chosen career.

Modern facilities and fantastic support

from passionate tutors with years of industry

experience make the learning environment

for students both rewarding and successful.

Trades programmes available include:

Hairdressing, Beauty Therapy, Architectural

Technology, Automotive, Automotive Heavy

Trades (Diesel), Carpentry/Construction,

Electrical, Engineering (Civil/Mechanical),

Joinery and Quantity Surveying.

Specific trades are offered at our

Christchurch Campus, visit www.sit.ac.nz

for further details.

Students aged 16 to 19 are eligible to

apply for the Youth Guarantee Scheme

when studying selected trades. If successful,

applicants' tuition fees, material and

equipment costs will be covered.

For further information or an

appointment to view our facilities, phone

0800 T-O STUDY

Help your child grow

in confidence

Life skills programme for children.

Do your children lack self-confidence, or

perhaps have so much energy that they need

an outlet for it? Development through drama

is the ideal approach to teach confidence

and channel youthful energy while building

self-esteem.

The Helen O'Grady Drama Academy has

been in New Zealand for 32 years. This highly

regarded worldwide programme helps

students aged 5 to 17 fulfil their potential by

acting confidently and speaking clearly. This

unique, self-development programme helps

achieve invaluable life skills. The confident,

articulate child makes friends easily, accepts

challenges and new directions. Confident

children become well-rounded adults.

Our fully qualified teachers are trained

in the Helen O'Grady Drama system,

they ensure each child is encouraged

and valued in a warm, positive learning

environment. Lessons stimulate and

motivate students without the exam or

peer group pressure. Weekly class activities

include speech training, creative movement

and improvisation. Our Youth Theatre

programme encourages the development of

leadership and organisational skills. Three

terms of the year cover the self-development

programme and in the fourth term all

students prepare a performance for parents

and friends. We also offer Trinity College

London examinations as an option for

those who wish to pursue an international

qualification.

Our safe structured learning environment

values student individuality and encourages

team building. Most importantly its great

fun too!

Enrol now phone 0800 161 131 and see

our website www.helenogrady.co.nz

CHRISTCHURCH CAMPUS

60 Waterloo Road, Hornby, Christchurch

OPEN EVENING

Tuesday 18 October, 5 - 7pm

Check out 2017 study options

Come and experience our awesome courses

and facilities

*Direct material costs apply

Call today or email sit@sit.ac.nz

0800 TO STUDY

www.sit.ac.nz

NEW ZEALAND RED CROSS - GLOBAL LEADERS IN FIRST AID TRAINING

CHRISTCHURCH COURSE DATES 2016 • VENUE: 32 BIRMINGHAM DRIVE, MIDDLETON

Comprehensive First Aid PLUS Course (16hrs or 4hr upgrade) Comprehensive First Aid Course (12hrs)

Unit Standard 6402, 6401, 6400 and 25411 or 26552, 26551, 6400 and

25411 Cost $265.00 per person incl FA Manual & GST for 16 hours or

$80.00 per person for upgrade following completion of CFA

Time: Day One 8.30am – 5.30pm Day Two 8.30am – 5pm

Unit Standard 6402, 6401, 6400 or 26552, 26551, 6400

Cost $210.00 per person incl FA Manual & GST

Time: Day One & Day Two 8.30am - 3.15pm

16 Hours Thursday/Friday

20 & 21 October

24 & 25 November

4 Hours Friday 1.15pm-5pm

21 October

25 November

2 x Tuesdays

18 & 25 October

8 & 15 November

29 Nov & 6 December

2 x Wednesdays

26 Oct & 2 November

16 & 23 November

Thursday/Friday

13 &14 October

27 & 29 October

3 & 4 November

USE THE RED CROSS ADVANTAGE -

COMPREHENSIVE FIRST AID,

ESSENTIAl FIRST AID, REVAlIDATION

OR TAIlORED TRAINING TO SUIT YOU

AT YOUR PlACE OR OURS.

Essential First Aid Course (8hrs)

Unit Standard 6402, 6401 or 26551, 26552

Cost $150.00 per person Time: 8.30am – 5.30pm

Monday

21 November

5 December

Tuesday

18 October

8 November

13 December

Wednesday

26 October

16 November

Thursday

13 October

3 November

1 December

Saturday

15 October

29 October

5 November

Time: Day One 8.30am - 5.30pm

Day Two 8.30am - 12.45pm

2 x Mondays

21 & 28 November

5 & 12 December

Thursday/Friday

20 & 21 October

24 & 25 November

Weekends

15 & 16 October

29 & 30 October

5 & 6 November

FOR BOOKINGS PLEASE CALL 0800 REDCROSS OR 339-7111 • BOOK ONLINE AT WWW.REDCROSS.ORG.NZ
---
18

Tuesday October 11 2016

PEGASUS POST

Mental Health Awareness Week

10–16 October 2016

$

10 99

kg

Fresh NZ Lamb Leg Roast

$

4 99

bag

Country Fresh Washed White Potatoes 4kg

2for

$

6 00

Vogel's Bread 720-750g

(Excludes Gluten Free)

$

3 30

each

Alpine Butter 500g

4for

$

5 00

Wattie's Canned Fruit

400-410g

(Excludes Tropical)

$

30 99

pack

Speight's/Summit

24 x 330ml Bottles

$

13 99

each

$

2 69

each

Allan Scott/Taylors 750ml

(Excludes Allan Scott Sparkling/Pinot Noir/

Taylors Jaraman/Promised Land)

Cadbury Chocolate Block 155-200g

Shopping ping

just got easier

Best deals are here!

FreshChoice Parklands

60 Queenspark Drive, Christchurch.

Open 7am-11pm, 7 days.

Prices apply from Tuesday 11th October to Sunday

16th October 2016, or while stocks last.

FreshChoice.co.nz

FreshChoiceNZ

383 1004

FreshChoice Parklands

Owned and

operated

by locals

Certain products may not be

available in all stores. Savings

are based on non-promotional

price. Limits may apply.

FCPP1110
---
PEGASUS POST Tuesday October 11 2016 19

HEALTH & BEAUTY

Migraine relief

Krissy Winter saw an article in the local newspaper a year ago and having suffered

from debilitating migraines wondered if the treatment would help her.

"My migraines were debilitating and

they'd often come without warning.

Sometimes once a week, but generally

about once a month. I'd moved up from

Dunedin where I'd managed them with

my Osteopath, Yoga and Pilates. In

Christchurch I was so reluctant to let

anyone near my neck. I read the article

and I must admit I wasn't convinced and I

went to the first appointment with a page

of all the concerns I had. The first time I

met Laurie I remember walking out and

feeling more in control. After about four

treatments with Laurie and perfecting the

technique she taught me I truly began to

reap the benefits. Now I'm fantastic. If I

feel a migraine coming on I now have the

control to manage it myself, even stopping

them from taking over, without needing

someone to drive me in to the Osteopath

or the hospital for an injection to relieve

the pain. With the technique Laurie

taught me I'm armed and dangerous!"

Many people suffer continually from

headache and migraine pain not knowing

what help is at hand from three specially

trained Physiotherapists at Muscle People.

In the past ten years, the understanding of

what causes headaches and migraines has

significantly changed. The research now

shows that sensitisation of the brain stem

is what causes this pain.

Laurie, Clare and Naomi have trained

in Australia in the Watson Approach

which is proven to work. This method

examines and treats the movements of

the first three segments of the neck, which

when sensitised cause headaches and

migraines.

"In our clinics we see people from

as far away as Invercargill who come

to us specially to seek treatment" says

Laurie Moore, Director of Muscle People

Physiotherapy. She says "The symposium

in Australia we went to just recently

reaffirmed the effectiveness of what we

do, and honed our skills even more."

Generally patients will come to our

clinic four or five times in the first few

weeks of treatment. We show them some

very simple exercises to do at home.

After the first few weeks, treatments the

sessions are guided by how the patient is

feeling.

"Often patients come to us at the end

of a long journey having tried quite a few

other treatments, and we are able to help

them reduce or remove their pain. If you

think this technique might help you, but

aren't sure, give us a call." Laurie says.

Give the friendly team at Muscle

People Physiotherapy a call on 360 3606

to book in to their headache clinic.

With the technique

Laurie taught me I'm

armed and dangerous!

suffering from

splitting headaches?

We can help!

• 3 expert physios with extensive

experience relieving headache

and migraine pain

• No GP referral needed

• Read our article on this page

to see how we can help relieve

your pain

musclepeople.co.nz

Reduce youR pain - call us today! 360 3606

Bishopdale clinic

13a Bishopdale court

ph 360 3606

Worried about a MOLE?

three Muscle people physio clinics:

city clinic

12 Hereford st

ph 961 0236

Offers:

n Affordable Melanoma Diagnosis

n Latest Computer aided technology

n Immediate Results

n Dermoscopy inspection

n SIAscope examination

n See image results on screen

n On-site management or referral

OPAWA SURGERY

122 Opawa Road, Christchurch

Wigram skies clinic

67 skyhawk Rd

ph 322 9400

Ring Now:

332 7366

Dr John L. Dewsbury

M.B., Ch. B. (Otago) D.R.C.O.G.

(Lond.) F.R.N.Z.C.G.P

SuPER

LOW PRICES!

Over 60 health products

on special every day.

Locally owned and operated.

Giving health advice since 1992.

The Palms: 385 0364

The Hub Hornby: 349 5150

Bush Inn Centre: 348 7867
---
20

Tuesday October 11 2016

REAL ESTATE

Family versatility in private and peaceful setting

20 Dunrobin Place, Avonhead

4 bedrooms | 2 bathrooms | 2 living rooms | 2 car-garage | 3 off-street parks | Listing # 2867

Positioned at the end of a quiet culde-sac

and enjoying a northerly aspect

this 1970's classic block home offers

flexibility, function and will suit a myriad

of family situations. An expansive, formal

lounge opens out to the 663sqm grounds,

enabling family and friends to enjoy the

sun or dine alfresco. The crucial kitchen

area – such a hub for families is brand

sparkling new. Living areas are light and

open welcoming the sun while retaining

all-important privacy. With three generous

double bedrooms upstairs, a northern

balcony extends from two of the three

bedrooms with vistas of the garden while

also doubling as a sheltered sunroom. The

décor throughout is neutral, allowing you

to easily impact your own touches inside.

Downstairs is a bit or a treat where this

home showcases its options for different

family configurations. A fourth generous

double bedroom, new bathroom and

a separate toilet will allow you to have

family separation when needed and

accommodate guests when you like. The

grounds are a safe environment for young

children and pets with the address falling

inside the Burnside High School and

Merrin Primary School zone. A double

garage with additional space for off-street

parking puts an exclamation mark on the

package here for your consideration – you

simply must inspect our subject property.

Immediate possession is available.

Open homes Thursday and Sunday

12.30am-1.00pm. For a private viewing

contact Peter or Kathryn Hampton

of Harcourts St Albans - Holmwood

(Licensed Agent REAA 2008) on

377 0377 or Peter mobile 021 367 761.

PEGASUS POST

now bigger than ever

growing with you

SprIng Is here –

It'S Sow Time

how to get the best results from

seeds and seedlings

100% NatIve In

The capItal

Unravelling the secrets of

Otari-wilton Bush

The New Zealand

landscape awards

The people behind

the projects

$7.90 incl. GST

Save our roSeS

How a rose register is protecting our heritage

September 2016 | 100%

It's time

to grow!

New look and more

content than ever!

MeeT LeSTer Brice

A Garden coach

auckland Botanic GardenS

Why we love our public grounds

The magazine for

gardeners who like to get

their hands dirty

SubScribe from

$43. 50*

*6 issues/6 months

ISSN 2423-0219

SUBSCRIPTIONS FREEPHONE

0800 77 77 10

www.gaRdeNER.kiwI
---
PROUDLY

PROUDLY

CHRISTCHURCH

CHRISTCHURCH

OWNED

OWNED TUESDaY, aUGUST 27, 2013 PROUDLY 384

384 CHRISTCHURCH 0600

0600

PROUDLY CHRISTCHURCH OWNED MONDaY JUNE 24, 2013

OWNED WEDENSDaY 10 JULY, 2013 384 0600

384 0600

A Mainland

Media Publication

Kea

(Nestor Notabilis)

Ladbrooks, Tai Tapu, Leeston, Lincoln, Southbridge, Prebbleton, Halswell, Rolleston, Templeton, Burnham, West Melton, Darfield, Arthurs Pass

Mainland

Press Newspaper

Sumner, Redcliffs, Mt. Pleasant, Ferrymead, Woolston, Lyttelton & Akaroa Harbours

Harewood, Burnside, Bishopdale, Bryndwr, Fendalton, Merivale, St Albans, Mairehau, Papanui, Casebrook, Redwood, Regents Park, Styx Mill, Northwood, Spreydon, Belfast Hoon Hay, Hillmorton, Cracroft, Cashmere, St Martins, Somerfield, Sydenham, Addington, Waltham, Opawa, Beckenham, Huntsbury, Woolston

Black Billed

Gull

A Mainland

Press Newspaper

New Zealand

Swamp Hen (Pukeko)

Linwood, Avonside, Richmond, Shirley, Burwood, Dallington, Wainoni, Bromley, Aranui, Avondale, Bexley, New Brighton, Northshore, Queenspark, Parklands, South Brighton

PROUDLY CHRISTCHURCH OWNED MONDaY JULY 15, 2013 PROUDLY 384 CHRISTCHURCH 0600

OWNED MONDaY 12 aUGUST, 2013 PROUDLY 384 CHRISTCHURCH 0600

OWNED MONDaY JUNE 24, 2013 384 0600

A Mainland

Press Newspaper

Fantail

(Piwakawaka)

A Mainland

Newspaper

Bellbird

(Korimako)

A Mainland

Press Newspaper

New Zealand

Pigeon (Kereru)

Templeton, Islington, Hei Hei, Broomfield, Halswell, Oaklands, Westlake, Hornby, Wigram, Sockburn, Church Corner, Ilam, Russley, Hyde Park, Avonhead, Riccarton Park, Riccarton

PEGASUS POST Tuesday October 11 2016 21

Cars

$4,001 - $8,000

NEED a new car? and

need finance we can help.

Call us today Learners

lcs, past credit issues

been bankrupt or new to

New Zealand! Call Leon

022 625 2232

Community Events

ALCOHOLICS

ANONYMOUS, If you

want to have a drink thats

your business. If you want

to stop, we can help. Phone

0800 229-6757

Computers

ALL

YOUR

COMPUTER

WORRIES SOLVED!

*$30.00 off your first

service with this coupon!*

No problem too big or

small from home PC's to

business networks. PC

slow? An end to Viruses,

Spyware, and Clogged

Systems. Safe secure

hassle-free computing.

Lost files recovered.

Microsoft Certified,

MCSE, MCP+l. 30 years

experience. Call Andrew

Buxton this week on 326-

6740 or 027 435-7596

for $30.00 off* Custom

Computers Christchurch

Curtains

www.curtainfabric-outlet.com

Fashion Designs & Colours

Discontinued Designs

End of Lines Bargain Prices

Call at Our Shop

CURTAIN FABRIC OUTLET

71 Hawdon St Sydenham

Ph 366-5026

Gardening

& Supplies

A

GARDEN

PROFESSIONAL

NEEDED? Qualified

Horticulturist, offering

expert pruning, garden

makeovers, garden design

and landscaping, for free

quotes call Bryce 027 688-

8196 or 0508 242-733

A GARDEN OR

LANDSCAPING TIDY

UP? Rose & Fruit Tree

Pruning, Shrub, hedge

& tree pruning, Lawns,

Gardening, consistently

reliable general property

upkeep, Dip. Hort. 10

yrs experience, One off

tidy ups or on-going

service. Nick's Property

Maintenance. Keeping

your garden beautiful.

Free Quote. Ph. 942-4440

Classifieds Contact us today Phone our local team 03 379 1100

Holiday

Accommodation

QUEENSLAND SUN-

SHINE COAST AUSTRA-

LIA Resort, Ocean Views,

Balconies, Self Contained,

1 or 2 B/R Ensuite,

Heated Pool, Spa, Sauna,

Free Internet, Shops,

Restaurants, Tennis, Surf

Club & Patrolled Beach,

Public Transport at door.

Ask for our SEASONAL

SPECIALS. Phone 61 7

544-35011 Email: reception@mandolin.com.au

www.mandolin.com.au

Public Notices

Weka Pass Railway

Waipara, North Canterbury

We Are Running

SunDAY 16th October

SunDAY 23rd October

MOnDAY 24th October

Running 1st & 3rd

Sundays of every month

Infoline Chch 96 22 999

Depart Glenmark Station

11.30am & 2.00pm

www.wekapassrailway.co.nz

DEMOLITION

With care and respect we

will remove your dwelling.

Our policy is to recycle as

much as we can. We are a

local company specialising

in residential properties. We

will endeavor to cater for

your individual needs.

Ph. R.M. Solutions

021 02866981

for a free quote.

Situations Vacant

CA$H

Strippers

& Podium

Dancers

Wanted!

18+ TO APPLY

NEISHA

021 193 0118

To Let

HOUSEME

Portable sleepout or office

available to rent. Insulated

and value for money at

$75.00 per week, you

wouldn't live in anything

else. Contact Amanda

today on 0279570920 or

houseme2015@xtra.co.nz

Tours

Rexellent

Rentals

Cars, Vans, Brisbane, Coolangatta

FREE CALL

0800 601 508

e: rexellent@bigpond.com

Public Notices

business video

PRoduCTion

A video will bring your business

alive & into your customers mind.

Promote your

services or business

with a professionally

created video with us

• Corporate and

Business video a speciality

• Competitive rates

• 25 years experience

• Start to finished product

• Professional quality guaranteed

PHone KeRRY 021 635 083

Public Notices

Call us & we'll help

you place your

classified advert in our

community papers

Nobody knows

Christchurch

like a local

We're local, we're

in Christchurch, we

speak your language!

Phone: 379 1100

Selwyn Bay Harbour Pegasus

A

Times The magazine News Postfor

Nor'West gardeners Southern who

Western

News

View Press

News

like To geT Their

hands

Classifieds

dirTy

Our community papers are published every

Tuesday (Bay Harbour, Wednesdays) focusing

on local issues & local people.

www.gardener.kiwi

100%

The magazine for

gardeners who

like To geT Their

hands dirTy

www.gardener.kiwi

100%

DELIVERY

PEOPLE

The Star requires

delivery personnel

in all areas of

Christchurch.

The work involves

door-to-door

delivery of The Star

newspaper.

Situations Vacant

MUMS & DADS

Would you like your children to

exercise more and earn some money?

WANTED

Please call

Leanne Lucas 364-7451 or

Mark Coulthard 364 7453

email: deliveries@starmedia.kiwi

Trades & Services

Appliance Sales & Service

388 4780

Appliance Services

14 Brighton Mall, New Brighton

BLOCKED

DRAINS?

• VIDEO INSPECTION

• WATERBLASTING

• LIQUID WASTE

PH: 03 365 7960

24 hours // 7 days

info@h20jet.co.nz

www.h20jet.co.nz

FOR ALL YOUR

★Garden Clean-ups

★Pruning

★Lawn Mowing

★Garden Maintenance

Call us today for a FREE quote

PH 0800 4 546 546

(0800 4 JIMJIM)

Trades & Services

• Replacement/new roofing

• Colour Steel gutter & fascia

• Flue & log burner installs

• Skytube/light installs

• Earthquake repairs

Licence Building

Practitioner LBP

Member of the Roofing

Association

DCM ROOFING LTD

The Roofing Specialists

PHONE IAIN

027 445 5597

iain@dcmroofing.co.nz

HOUSE

CLEARING

Are you moving

house?

Let All Clear Canterbury

take care of your

unwanted items.

You identify what you want

to keep & we will dispose

of the rest!!

Ph: 03 312 7119

Mob: 021 078 4553

allclearcanterbury@gmail.com

www.allclearcanterbury.co.nz

Appliance Sales & Service

388 4780

Appliance Services

14 Brighton Mall, New Brighton

9220021AA

Trades & Services

& Property Maintenance

Paving

Patio - Pathways - Driveways

Lawns and Gardens

Planting - Raised Vege Gardens

Readylawn - Irrigation - Fencing

General Maintenance

Water Blasting - Gutter Cleaning

Rental Property Maintenance

Section Clearing - Weed Spraying

20 Years Experience

Locally owned and operated

Free Quotes - Competitive Pricing

Blair Gibson 027 699 5815

MDC

BUILDERS

Renovations & Repairs

All forms of Home

Maintenance

Bathrooms & Kitchens

Site clears

Excavating Driveways

& Paths

All forms of Foundations

Free Quotes

Give me a call today

Ph 022 407 8581

mdcbuildersnz@gmail.com

15% Discount with this Advert

BEST BATHROOMS

full renovation specialists,

LBP, repairs &

maintenance ph 03 387-

0770 or 027 245-5226

Trades & Services

BRICKLAYER

George Lockyer. Over

30 years bricklaying

experience. UK trained.

Licensed Building

Practitioner number

BP105608. Insurance

work. EQC repairs.

Heritage brickwork a

speciality. No job too

small. Governors Bay.

Home 329-9344, Cell

027 684 4046, email

karengeorge@xtra.co.nz

BUILDER

For all building work

but specialist in bathroom

renovations, 30 yrs

experience, with service

and integrity. Free Quotes.

Ph Lachlan 383-1723 or

0274 367-067.

BUILDER LICENSED

available for all aspects of

building. Please call 027

241-7471 or 335-0265

CARRIER

Local, experienced,

friendly, trade-me

purchases, single items

to truck loads, furniture

to whatever, removals &

trade deliveries a specialty.

Ph GEH 341-5069

CARPETLAYER

Laying and Repairs, 40 yrs

experience, ph Peter 326-

7711 or 027 240-6532
---
22

Tuesday October 11 2016

Classifieds

PEGASUS POST

Trades & Services

ARCHGOLA

Enjoy outdoor living all year round

15 months

INTEREST FREE

Normal lending criteria apply

• House, deck, carport & window canopy etc

• Warm & dry in winter

• UV protection for summer

• Customised & Tailored

• Café curtains fitted

• 5 year warranty

Chris Thorndycroft

Ph 0800 27 24 46 | www.archgola.co.nz

Trades & Services

CARPET & Vinyl lAying lAnDSCAPE

Repairs, uplifting, COnSTRUCTiOn

relaying, restretching, Lawns, paving, water

Email jflattery@xtra.co.nz,

ph 0800 003 181 or 027

features,

planting,

irrigation,

decks,

2407416

driveways, kerbing, ponds,

ClEAning

retainer walls, fencing.

Home cleaning service.

Free quotes, Phone Tony

Fussy, thorough and

021-034-8555

reliable. Ph 325-3426

PAinTing

&

evenings or 021 046 2258

DECORATing interior

& exterior, gib fixing,

plastering, paperhanging,

Est 50 yrs in ChCh, ph

Wingfields Ltd, ph Mark

021 171-1586 or 355-5994

DRIVEWAYS

Replace, repair or new.

We are a local company

with over 10 yrs exp.

We also operate a

digger for all other

earthworks.

Ph. R.M. Solutions

021 02866981

for a free quote.

FENCING

Paling, picket,

iron, trellis

Demolition and

removal

Phone Bevan

021 231 1860

Fencing Uprite

Your Eastside

Specialist

FURniTURE

REMOVAlS

Large Trucks $95 +

GST per hour 7 day NZ

wide, packing & moving,

Professional Company,

Professional Service.

Canterbury Relocations

Ltd. ph 0800 359 9313

glAZiER

Window repairs, pet

doors, new glazing, double

glazing, conservatory

roofs. Experienced

tradesman. Call Bill on

981-1903 or 022 413-3504

Trades & Services

PAinTER

Top quality work, interior/

exterior, pensioners

discount, free quotes, 30

years experience, I stand

by Canterbury, ph Wayne

your friendly painter 03

385-4348 or 027 274-3541

ElECTRiCAl/HEAT

PUMPS, Affordable,

servicing, alterations, PAinTER AVAilAblE

security & LED lighting,

Ph 326 4992 or 0274

329755.

FEnCing

All aspects in painting.

Very competitive in roofs

and fences. Please call 027

241-7471 or 335-0265

All styles and shapes,

PlUMbER

gates, wooden, ph Mark

For prompt service for all

027 331-3223

plumbing maintenance,

FEnCE PAinTing/ repairs and alterations.

STAining Quality at Phone Michael 364 7080

a reasonable price. Free or 027 438 3943

quotes. Phone Warren

today on 980-1676 or 027

2014713

ROOFing

Qualified & Licenced

Practitioner. Re-Roof &

Repairs, all types. Member

New Zealand Roofing

Association. Over 35 years

experience. Phone John

027 432-3822 or 351-9147

email johnmill@ihug.co.nz

SPOUTing ClEAning

Spouting Unblocked,

Cleaned Out and Flushed

Out. Also Full Handyman

Services Available. Call

Trevor 332 8949 or 021

043-2034

STOnEMASOn, bRiCK

& blOCKlAyER

Earthquake Repairs, Grind

Out & Repoint, River/

Oamaru stone, Schist,

Volcanic Rock, Paving,

all Alterations new & old,

Quality Workmanship,

visit www.featureworks.

co.nz or ph 027 601-3145

TREES big OR

SMAll, tree removal,

trimming, stump grinding,

shelterbelt clean up,

section clearing, rubbish

removals, excavation

work, ph Trees Big or

Small, for a free quote,

021 061 4783

Trades & Services

FINANCE

Overdue

Overdue

bills

bills

need

need

paying?

paying?

It's nice to know you can rely on

It's SCL nice Finance to know to help. you can Isn't rely it? on

SCL Finance to help. Isn't it?

Ph 0800 725 725

Ph 0800 725 725

* Subject to normal lending criteria

* Subject to normal lending criteria

ROOF REPAIRS

Locally owned & operated with

over 30 years experience.

• Extensions & repair • Roof coating

• Concrete & clay tiles • Butynol

• Malthoid • Asbestos Certified

• Coloursteel • Old iron • Guttering

Phone Dave 981 0278

or 021 223 4200

E: dave@beaumontroofing.co.nz

BEAUMONT ROOFING LTD

Trades & Services

TREE WORK

Hedge trimming, stump

grinding, rubbish removed,

small job specialty Ph

Andrew 03 322-8341 or

027 435-8759

T.V. SERViCE CEnTRE

Repairs, tvs, microwaves,

stereos, DVD. Aerial

installations and kitsets,

480 Moorhouse Ave, ph 03

379 1400

UPHOlSTERER

Dining Chairs, Lounge

suites, Caravan Squabs

etc. recovered. Free

Quotes. Phone Graeme

383-1448

VHS ViDEO TAPES

& all camera tapes

converted to DVD, video

taping, weddings, twenty

firsts, special occasions,

www.grahamsvideo.co.nz

ph 03 338-1655

WATERblASTing

Quality Job, Quick Service

by skilled tradesman, Ph

Richard Severin at Jet-X

0800 538 969 Free quotes,

visit www.jetx.co.nz

ADVERTISE YOUR

BUSINESS HERE

Phone for

further details

Trades & Services

WinDOW ClEAning

Average 3 bdrm house

inside or out $40. Both

$70. Phone Trevor 344-

2170

Wanted To Buy

AAA Buying goods

quality furniture,

Beds, Stoves, Washing

machines, Fridge Freezers.

Same day service. Selwyn

Dealers. Phone 980 5812

or 027 313 8156

A+ Household effects,

fridges, freezers, washing

machines, ovens. Good

cash paid. Ph Paul 022

0891 671

TOOLS

Garden, garage,

woodworking,

mechanical, engineering,

sawbenches, lathes, cash

buyer, ph 355-2045

The Brougham

darts

EVERY

WEDNESDAY

Six teams

Newcomers

welcome

KARAOKE

8PM EVERY SATURDAY

RESTAURANT & CAFÉ

'Famous for their roasts!'

The

Woolston Club...

A classic, contemporary

club experience

Cafe open from 11am

TAB & Gaming, Function Facilities,

HOUSIE Tuesday, Thursday, Saturday

SHUTTLE Tuesday - Saturday

PRO WRESTLING

UNSANCTIONED

The best in NZ pro wrestling.

Tickets on sale now! Phone 366 1481.

SATURDAY 29 OCTOBER, 7PM

blues night

EVERY THURSDAY

THE ELEVATORS

cnr Brougham St/Waltham Rd

phone 366 1481

School's Out

FAMILY FRIENDLY

Kid's Special

Two courses

Great Kids menu plus designated play area.

SENIORS SPECIAL $

20

Two courses:

Soup/Roast or Roast/Dessert

Special available lunch only

Monday - Saturday 12pm - 2.30pm. Conditions apply

Treat

the Kids

$

10

Open daily from 6.30am - Breakfast, Lunch & Dinner

The

RACECOURSE HOTEL

& Motorlodge

118 Racecourse Rd, Sockburn,

Christchurch. Ph 03 342 7150

www.racecoursehotel.co.nz

Open 7 Days

Restaurant open

from 5.30pm!

RETRO ROAST LUNCH

12PM-1.30PM

WEDNESDAYS

$10 Members / $12 Non

FREE

6PM EVERY FRIDAY

-COMING EVENT-

MRS BROWNZ BOYS

3 course Meal & Show. $65 a ticket

SATURDAY 5th NOV

What's On...

7PM THIS SATURDAY

UNFINISHED BUSINESS
---
PEGASUS POST Tuesday October 11 2016 23

www.newbrightonclub.co.nz

WHAT'S ON

TUESDAYS &

THURSDAYS

Members

Lucky Card Draw

MANUKAU v

CANTERBURY

SATURDAY 2.35PM

TAB POD

SUNDAY

BRUNCH!

By the Seaside!

10.30am-2.30pm

JOIN

A CLUB BY

THE SEA!

- downstairs -

ClubBISTRO

Open Tuesday

to Saturday

12pm-2pm

and from 5pm.

Midweek

SPECIAL

$10

ROAST

Available Tuesday,

Wednesday,

& Thursday

- upstairs -

PIERVIEW

Restaurant

Quality a la carte

with a view!

Open FRIDAY, SATURDAY,

& SUNDAY from 5.30pm

SORRY, FULLY BOOKED

SATURDAY 15, 22, 29 OCT

FRIDAY SPECIAL:

BBQ PORK RIBS...

$19.50!

for a limited time

SUNDAY SPECIAL

$25 3-Course Feast

SUNDAY 30 OCT

ALL YOU CAN EAT BUFFET

$25... BOOK NOW!

SHUTTLE RUNNING

Tues, Thurs, Fri & Sat

202 Marine Parade

Ph 388-9416

Members, guests and affiliates welcome

H ORNBY

WORKINGMEN'S

CLUB

«WHAT'S ON«

WESTVIEW LOUNGE

FRIDAY 14 OCT, 7PM

IAN MAC

SATURDAY 15 OCT

4.30PM BARROSS

8PM ROBBIE DREW

SUNDAY 16 OCT, 1.30PM

KEEPING IT

COUNTRY

Kylie Austin + Allan Barron + Yvonne Munro

backed by REMEDY Showband

Pre-sale tickets $15. Door sales $20

«COMING UP«

SATURDAY 19 NOV, 8PM

BAD MOON RISING

THE CCR TRIBUTE SHOW

Tickets $20

FRIDAY 9 DEC, 8PM

THE WARRATAHS

Tickets $25

Hornby WMC, 17 Carmen Rd, Hornby ph 03 349 9026

www.hornbyworkingmensclub.co.nz

Members, guests & affiliates welcome

Lunch & Dinner

All you can eat, 7 days

Christmas

Functions

Lunch & Dinner Buffet

NOW SERVING

available

from

9am

Breakfast

HAPPY

HOUR

5PM - 7PM

DAILY

SATURDAY 19th NOV - SATURDAY 24th DEC

Book & dine with us for your Christmas party this

festive season, and we'll take care of the rest!

Bookings Essential PH 386 0088

fb.com/GardenHotelRestaurant www.gardenhotel.co.nz

LIVE

Mandi Miller

6PM FRIDAY 14th October

MUSIC

PHONE 385 8880 FIND US ON FACEBOOK fb.com/GBCCHCH

THE GARDEN HOTEL COMPLEX | 110 MARSHLAND RD

www.gardenhotel.co.nz | phone 385 3132
---
24

Tuesday October 11 2016

PEGASUS POST