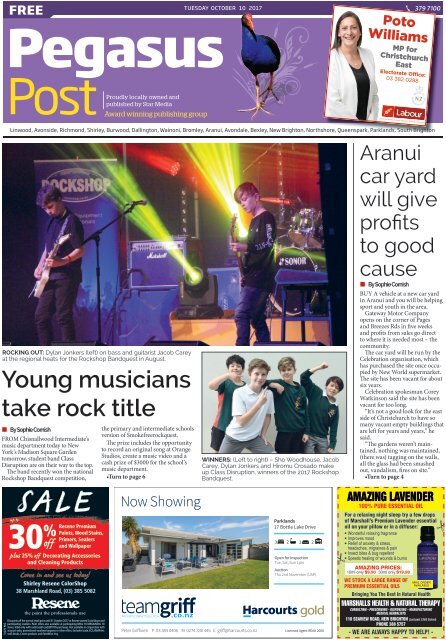 Pegasus Post: October 10, 2017
Create successful ePaper yourself
Turn your PDF publications into a flip-book with our unique Google optimized e-Paper software.
Land size Land size Bedroom Land Bedroom size

Garage

Garage

Garage

Carport

Carport

Bedroom Bathroom Bathroom Bathroom Lounge Lounge Lounge

Carport

Car pad

Car pad

Car pad

Boat pad

Boat pad

Boat pad

Dining

Dining

Toilet

Shower

1 2 3 4 5 6 7 8 9 10 11 12 13 14

Study

Study

1 2 3 4 5 6 7 8 9 10 11 12 13 14

1 2 3 4 5 6 7 8 9 10 11 12 13 14

Pool

Tennis court

Pool

Tennis court

1 Pool 2 Tennis 3 court 4 5 6 7 8 9 10 11 12 13 14

FREE

TUESDAY OCTOBER 10 2017

Pegasus

379 7100

Poto

Williams

MP for

Christchurch

East

Post

Proudly locally owned and

published by Star Media

Award winning publishing group

Electorate Office:

03 382 0288

Linwood, Avonside, Richmond, Shirley, Burwood, Dallington, Wainoni, Bromley, Aranui, Avondale, Bexley, New Brighton, Northshore, Queenspark, Parklands, South Brighton

ROCKING OUT: Dylan Jonkers (left) on bass and guitarist Jacob Carey

at the regional heats for the Rockshop Bandquest in August.

Young musicians

take rock title

• By Sophie Cornish

FROM Chisnallwood Intermediate's

music department today to New

York's Madison Square Garden

tomorrow, student band Class

Disruption are on their way to the top.

The band recently won the national

Rockshop Bandquest competition,

31075 PEG

30 %

off

up to

Resene Premium

Paints, Wood Stains,

Primers, Sealers

and Wallpaper

plus 25% off Decorating Accessories

and Cleaning Products

Come in and see us today!

Shirley Resene ColorShop

38 Marshland Road, (03) 385 5082

Discounts off the normal retail price until 31 October 2017 at Resene owned ColorShops and

participating resellers. Paint offers also available at participating Mitre 10 MEGA/Mitre 10

stores. Valid only with cash/credit card/EFTPOS purchases. Not available in conjunction with

account sales, promotional vouchers/coupons or other offers. Excludes trade, ECS, WallPrint,

wall decals, Crown products and PaintWise levy.

the primary and intermediate schools

version of Smokefreerockquest.

The prize includes the opportunity

to record an original song at Orange

Studios, create a music video and a

cash prize of $3000 for the school's

music department.

•Turn to page 6

WINNERS: (Left to right) – Sho Woodhouse, Jacob

Carey, Dylan Jonkers and Hiromu Crosado make

up Class Disruption, winners of the 2017 Rockshop

Bandquest.

850m

2.5

850m 4 2 1 2.5

850m 4 2 1 2.5

4

2

1

Land size

Garage

850m

Bedroom

4

Carport

Bathroom

2

1

Aranui

car yard

will give

profits

to good

cause

• By Sophie Cornish

BUY A vehicle at a new car yard

in Aranui and you will be helping

sport and youth in the area.

Gateway Motor Company

opens on the corner of Pages

and Breezes Rds in five weeks

and profits from sales go direct

to where it is needed most – the

community.

The car yard will be run by the

Celebration organisation, which

has purchased the site once occupied

by New World supermarket.

The site has been vacant for about

six years.

Celebration spokesman Corey

Watkinson said the site has been

vacant for too long.

"It's not a good look for the east

side of Christchurch to have so

many vacant empty buildings that

are left for years and years," he

said.

"The gardens weren't maintained,

nothing was maintained,

(there was) tagging on the walls,

all the glass had been smashed

out, vandalism, fires on site."

•Turn to page 4

AMAZING LAVENDER

100% PURE ESSENTIAL OIL

For a relaxing night sleep try a few drops

of Marshall's Premium Lavender essential

oil on your pillow or in a diffuser:

Lounge

Dining

Toilet

Shower

Study

••

Wonderful•relaxing•fragrance•

••

Improves•mood

••

Relief•of•anxiety•&•stress,•

Car pad

Boat pad

Pool

Tennis court

headaches,•migraines•&•pain

••

Insect•bites•&•bug•repellent

••

Speeds•healing•of•wounds•&•burns•

AMAZING PRICES:

10ml only $9.90 30ml only $19.90

2.5

WE STOCK A LARGE RANGE OF

MAIL ORDER

PREMIUM ESSENTIAL OILS

AVAILABLE

Bringing You The Best In Natural Health

MARSHALLS HEALTH & NATURAL THERAPY

CONSULTING - PRESCRIBING - DISPENSING - MANUFACTURING

MEDICAL HERBALISTS

110 seaVIeW roaD, NeW BrIGHToN (Just past C.N.B School)

pHoNe 388 5757

- We are alWaYs HappY To Help! -
---
2

Latest Christchurch news at www.star.kiwi

Tuesday October 10 2017

Inside

FROM

THE

EDITOR'S

DESK

PEGASUS POST

News......................................3-6

THAT'S A great new initiative

in Aranui on our front page

today – a car yard that gives

back to the community.

Celebration, that burgeoning

church-based organisation in the

east, has purchased the site on

the corner of Breezes and Pages

Rd.

It was once a New World, had

Trust Bank there, for those who

can remember Westpac's forerunner,

and a few other things

over the years.

It is a prime site but until now

no one has wanted to develop it,

so Celebration has stepped in.

Vehicles, by the sound of it,

will be sold fairly cheaply and

profits, Celebration says, will go

into local youth and sport.

That's a damn fine idea so all

power to Celebration if that is

how it all pans out.

– Barry Clarke

Tangelo cake for those who are gluten-free

FOOD 13

Sport............................................8

Community Events..... 9

Automotive..........................12

Education..................14,15

Health & Beauty............16

Real Estate..................... 17

GET IN TOUCH

General Inquiries Ph 379-7100

Classified Advertising Ph 379-1100

The Christchurch Star Company Ltd. PO box 1467 - Christchurch

starmedia.kiwi

NEWS

Sophie Cornish

Ph: 364 7437

sophie.cornish@starmedia.kiwi

ADVERTISING

Mark Sinclair

Ph: 364 7461

mark.sinclair@starmedia.kiwi

YOUR LOCAL GARAGE

• All vehicle repairs

• Oil changes and services

• Brakes • Loan car available

• Tyres, punctures & batteries

• W.O.F • Tune up

$10 off *

your in-store purchase

at 223 Annex Road, Middleton

*

Coupon to be surrendered upon purchase.

Minimum spend of $50. Terms & conditions apply.

Shop in-Store

or oNliNe

Bulk nappies & wipes

Joggers & strollers

Capsules & carseats

Nursery furniture

plus muCh

more!

VERY FRIENDLY SERVICE AND ADVICE

Your LocaL GaraGe

NEW BRIGHTON AUTOMOTIVE

Phone: 03 388 3630

40 Hawke St (behind Z Petrol Station)

223 Annex Road, Middleton, Christchurch

Phone 03 338 0508

Open Monday to Friday 10am - 4pm

& Saturday 10am - 2pm

www.babyonline.co.nz

10%-70% OFF

stOreWide

8th birthday sale

Wednesday 11th - Sunday 15th

Instore demos Saturday 14th 11am - 3pm

218 Moorhouse Ave - 03 366 6912

no rain checks - excludes gift vouchers and items already on sale
---
PEGASUS POST Latest Christchurch news at www.star.kiwi

Tuesday October 10 2017 3

News

Red zone trail opening celebration

• By Bridget Rutherford

UP TO 5000 people are expected

to meet in the middle on Sunday

to celebrate the partial opening

of the residential red zone's first

major project.

The Meet in the Middle event

will be held at Kerrs Reach to

mark the partial completion of

Te Ara Otakaro, a city to sea

transitional trail running alongside

the Avon River.

When complete, the 12km

long trail will run from Barbadoes

St to Pages Rd, and will be

accessible for cyclists, walkers,

joggers and wheelchairs.

WELL

KNOWN:

Singer

Hollie

Smith will

headline

Meet in

the Middle

on Sunday.

Organised by the Avon-Otakaro

Network, Meet in the Middle

will see groups meet at either the

New Brighton Clock Tower or on

the northern bank of the Avon,

opposite the Margaret Mahy

Family Playground, at 10.30am.

Both groups will then walk or

cycle to meet at Kerrs Reach at

noon for the free event, which

will have live music, food, information

stalls and a regatta.

New Zealand soul singer Hollie

Smith will headline the live

music. Folk band The Eastern's

Adam McGrath will also play.

Canterbury and Union Rowing

Clubs, Arawa Canoe Club,

Aoraki Dragons and Te Waka

Pounamu crews will all compete

in the regatta.

Avon-Otakaro Network

spokesman Evan Smith said the

partial opening was a milestone.

"It's important to get people

engaged again in the red zone

around the river. For a long

time it's been a scar in the landscape

in the east, but it's time

now for that to heal."

He said the trail still needed

to be completed from the Avondale

Bridge to New Brighton,

although many people had

already been using the

other sections.

The date was chosen

because it coincided

WELL USED: Walkers have already been using the Te Ara

Otakaro trail, along the Avonside section. ​

with The Breeze Walking Festival,

Biketober, Mental Health

Week, school holidays and heritage

and conservation weeks.

Mayor Lianne Dalziel and

Minister supporting greater

Christchurch regeneration Nicky

Wagner will lead the group from

the central city, while Christchurch

East MP Poto Williams and

network chairman Teoti Jardine

will lead those coming from New

Brighton.

The work to construct the

trail is coinciding with the city

council's upgrade of temporary

stopbanks next to the river.

City Care has done pro bono

work on it, alongside a $50,000

grant from the Ministry of Social

Development.

It is not yet known how long

the trail will remain, because the

future location of stopbanks has

not been decided.

• Meet in the Middle

will be held on Sunday, from

11am-3pm, with

access from Hockey Lane.

Those walking will meet

at 10.30am. For more

information visit www.

middle.nz

Local

News

Now

In Brief

Fire rages, homes at risk

NEIGHBOURHOOD FUNDS

Money has been set aside to fund

barbecues, picnics, concerts

and potluck dinners accross

the community, to celebrate

Neighbourhood Week. The

Coastal-Burwood Community

Board has allocated $3500 for

29 community-run events.

The funding is seen as a small

contribution towards the event

and ranges from $50 to $290. The

money is not able to be used on

alcohol or fireworks.

PLAYGROUND UPDATE

Work is progressing on the site

for the New Brighton seaside

playground. Initial work saw

the foundations for the toilet

block installed, and the base

prepared for the splash pad and

swimming pool areas. A variety

of playground equipment has

been ordered. Over the next few

weeks work will start on the dry

play equipment areas.

GARDEN AWARDS

The Alpine View Lifestyle Village

in Burwood won a Christchurch

Beautifying Association garden

award last week. It took the Peter

Lawrence Trophy for the rest

and retirement homes category.

Gayhurst Rd residents Ian and

Val Foster also took a top award,

the Mitchell Trophy, a residential

category for trees and shrubs.

We've been trusted to look after hundreds

of properties all over Christchurch.

You can trust us to look after your's too.

NEW BRIGHTON TALENT SHOW

Saturday 14 th october, 10-2PM

BLACK BOARD ENTRY ON THE DAY

027 517 4250

Property Manager of

the Year NZ 2015/16

Ray Hastie

Manager

027 448 8225

Paula Hastie

Assistant Property Manager

Chloe McGill

Property Manager

021 914 332

Rebekah Whalley

Accounts Administrator

03 331 6755

Abbey Nolan

Property Manager

027 379 5021

Local Experts – Citywide Knowledge

Phone (03) 331 6755

www.propertymanagementchristchurch.com

Nominated for Ray White New

Zealand Property Management

Office of the Year, 2016/17

Prier Manson Real Estate Ltd Licensed (REAA 2008)
---
4 Tuesday October 10 2017

Latest Christchurch news at www.star.kiwi

PEGASUS POST

News

Historic Team NZ shirt up for grabs

• By Sophie Cornish

New car yard

to help

community

•From page 1

Vehicle prices at Gateway will

range up to $10,000.

Discussions are currently

under way with several parties

about leasing the property, including

with the Department of

Corrections about a community

corrections office being there.

Mr Watkinson said the purpose

of purchasing the site was

to enhance the area.

"For us, it was really about

making a positive contribution

to the area and actually putting

it back into some productive use.

There hasn't been much done

on the east of Christchurch as

far as rebuilding and bringing

business initiatives back into the

space, so that's why we've chosen

that site," he said.

Department of Corrections

district manager Lisa Joseph

said its previous site was red

zoned after the February 22,

2011, earthquake.

AN ORIGINAL Team New

Zealand shirt from the historic

1995 America's Cup win is up for

auction to raise money for the

rebuild of Pleasant Point Yacht

Club.

It is one of 1000 limited edition

shirts with a certificate of

authenticity signed by Sir Peter

Blake and Sir Russell Coutts who

headed the 1995 campaign.

The auction is one of many

items on the website GalaBid,

raising money for the rebuild of

Pleasant Point Yacht Club's clubrooms

in South New Brighton

Park.

The club lost all it's facilities in

the earthquakes.

The auction is now under way

until noon on Saturday.

Team New Zealand will be

hosted by the yacht club at an

event on Saturday, where the

auctioning of GalaBid items will

continue.

Other items up for grabs include

several seats on a helicopter

ride piloted by Richie McCaw to

a mystery location, a horse power

experience in a dual sulky behind

Monkey King, New Zealand's

top harness racer, and a hot laps

session at Mike Pero Motorsport

Park in a V8 Supercar driven by

Greg Murphy. Club spokesman

Nigel Humphreys is very happy

with the auction items and said

there is a constant stream of

ticket sales for the event, which

will take place at the Air Force

Museum of New Zealand.

FUNDRAISING:

The Team New

Zealand shirt

that will go up

for auction to

raise funds for

Pleasant Point

Yacht Club's

proposed new

clubrooms.

"The special auction items have

all been donated by businesses

and individuals keen to help the

club realise its dream to rebuild

in the South New Brighton Park,"

said Mr Humphreys.

Those who are not attending

the event but still wish to

continue bidding on the items

should contact club commodore

Alastair Burgess.

bulk Compost, lawn mix,

aggregates and stones

The new Ferrymead Mitre10 Trade Centre and Landscaping Zone has

everything you need to complete your projects.

• Screened Soil

• Vege/Zoom Grow

• Bio Blend

• Garden Grow

• Turf Mix

• Tree Mulch

• Black Mulch

• Standard Bark Nuggets

• Premium Bark Nuggets

• Builders Mix

• AP20 Shingle

• AP40 Shingle

• Plastering Sand

• Brick Sand

• Bedding Sand

Dyers Road Landscape

& Garden Supplies

• Barks • Peastraw • Composts - we supply the best available

• Aggregates - Chip, Round and Basecourse

• Pavers & Schist products • Pungas

• Decorative Stones & Landscaping Rocks

• Trailer Hire first hour free with purchase

• Bag & Bulk - pick up or delivered

• Crusher Dust

• Round Stones

• Driveway Chip

• Teddington Chip

David, Carol & Mike

We will deliver!

SOIL

AND

HARDFILL

DUMPING

Phone: 03 384 6540

183 Dyers Rd, Bromley • OPEN 7 DAYS

Weekdays 7.30am-5pm. Weekends 8.30am-3pm

www.dyersroadandlandscapes.co.nz

all new landsCape zone

Ferrymead 987 Ferry Road Phone 373 6550

mitre10.co.nz/trade
---
PEGASUS POST Latest Christchurch news at www.star.kiwi

Tuesday October 10 2017 5

Trees set to get the chop

• By Sophie Cornish

OVERSIZED TREES will be

removed from Westhaven streets.

The Coastal-Burwood Community

Board has voted to

remove 168 over-sized trees

causing issues for Westhaven

residents.

A replacement strategy will be

put in place following consultation

with residents.

The tree roots are causing damage

to infrastructure including

footpaths, kerbs, vehicle crossings,

driveways, walls, fences and

letterboxes, causing public safety

issues.

The majority of the trees

within the Westhaven area were

planted in 1998 and 50 per cent

of those trees are now considered

to be in poor condition.

There are 24 streets involved

which have the plane, elm, birch

and liriodendron trees.

Some 35 trees will not be able

to be replaced due to spacing

constraints.

Acting community board

chairman Tim Sintes said the

trees will come down and the

board will consider several options

for their removal, including

a staggered approach.

Removing the trees in summer

and replacing them in winter

RUPTURED FOOTPATH: Cracks in the footpaths from the tree

roots are causing health and safety concerns.

is one option being considered,

which would mean the cost

would be split over two financial

years.

City councillor Glenn Livingstone

agreed that this was

important.

"We need to go at the pace

of the community. It's really

important that we take the community

with us if we are going

to go through with the wholesale

destruction of the trees," said Cr

Livingstone.

Flyers may be distributed in

the area soon and residents will

be able to provide feedback.

Species being considered for

the replacement include nyssa

sylvatica, acer rubrum and magnolia

grandiflora.

The entire operation, including

replacing the trees and repairing

damage, will cost about

$228,000.

Alternatives to removing the

trees, including installing root

barriers or fixing the damage,

were found not to be realistic

long-term options.

• By Sophie Cornish

NATIONAL LIST MP Jo

Hayes wants action to stop

anti-social and intimidating

behaviour in the New Brighton

Library foyer.

The call comes after a Salt on

the Pier staff member was assaulted

in the lobby last month

by a group of youths, after asking

them to move on.

The victim was held down by

one youth and punched in the

face by two others.

His cellphone was also stolen.

Mrs Hayes, who has experienced

the intimidating

behaviour in the lobby before,

made a presentation to the

Coastal-Burwood Community

Board last week about ways to

solve the issue.

The library foyer is a congregation

point for youths who use

the free wi-fi provided by the

library 24 hours a day.

The upstairs restaurant part

Local

News

Now

Fire rages, homes at risk

Call for action

after assault

at library

of Salt on the Pier is accessed

via the foyer area.

Youths often sit and watch

people walking by, said Mrs

Hayes, who has witnessed them

following people in attempt to

intimate and annoy them.

Shutting off the free wi-fi at

night as well as a buzzer system

for Salt on the Pier restaurant

patrons are what Mrs Hayes

has suggested as a solution.

"These are things they can

actually do rather cheaply,"

said Mrs Hayes.

The buzzer system would

mean that only Salt on the

Pier employees would be able

to open the lobby doors from

inside the restaurant.

Vandalism, including the

tagging and smashing of notice

boards, has also occurred previously

in the lobby.

The community board

agreed to pass the matter on to

the city council to investigate

possible solutions.

Discover this

unique Emporium

Get your first month

FREE * ccc.govt.nz/recandsport

Metal art - gifts - hoMewares

water features - pottery

Mirrors - candles

wall hangings & More

722 Marshland Road, Top end Styx

Open 7 Days

Ph: 03 323 9781

www.hitchingpost.co.nz

Still Pedalling!

Full Workshop Services:

• WOF's • Service Checks

• Wheel Alignment • Brakes

• Clutches • Tyres etc

All makes & models

This Weekend!

October 14-15

JOIN US TODAY

Trevor Crowe's been

involved with cars for a

while. You can benefit

from his experience at...

Subaru Specialists

518 Moorhouse Ave (East end) | P: 379 7615

W: crowesport.co.nz | E: service@crowesport.co.nz

No joining fee

Pools, Fitness Centres,

Classes and more

Recreation &

Sport Centres

*Terms and conditions apply.
---
6 Tuesday October 10 2017

Latest Christchurch news at www.star.kiwi

News

Local

News

Now

PEGASUS POST

Fire rages, homes at risk

• By Sophie Cornish

MENTAL HEALTH

organisation Step Ahead is

demonstrating the benefits of

artwork for improving mental

stability.

The Eastside Gallery in Linwood

is currently hosting an art

exhibition containing 100 pieces

made by about from Step Ahead.

The annual exhibition runs

until Friday. It coincides with

mental health awareness week,

The exhibition has a diverse

range artwork including mix media

photography, stone carving,

mosaic and craft including wood

turning.

Seventeen pieces were sold in

the first two days.

The not-for-profit organisation

provides programmes that offer

social, educational and recreational

activities for adults aged

BEACH

ART:

Members

of Step

Ahead have

artwork on

display at

Linwood's

Eastside

Gallery.

Art exhibition raises

mental health awareness

18-65 years with mental illness.

Said Step Ahead Operations

Manager Di Cockburn: "It provides

an opportunity not readily

available for members to showcase

their talents to the wider

community and sell some work.

"Basically it provides a goal to

work towards and an opportunity

to recognise and celebrate

skill and achievement."

Ms Cockburn believes the benefits

are enormous and members

are given a sense of pride, self

worth and achievement.

Art is a big part of Step

Ahead's programme and several

art groups meet every week.

Other activities the organisation

offers are health and fitness

related such as cooking, sport,

walks and tramping and social

and life skills such as employment,

technology and educational

support.

PERFORMING: Class Disruption during the Rockshop Bandquest regional finals.

Young musicians take rock title

•From page 1

Orange Studios is located in

Woolston and is one of the more

well known studios in the South

Island.

The band is made up of Dylan

Jonkers (vocals, songwriting and

bass), Sho Woodhouse (drums),

Hiromu Crosado (keyboard) and

Jacob Carey (guitar).

Hiromu also won the national

award for best keyboardist.

During the regional heats, the

band performed a cover of Rush's

Tom Sawyer, and an original

written by Dylan called Take

It Away, a song about having

FLAME FILES

• By Mark Thomas - Specialist fire

investigator

A RECENT call to Hei Hei

presented a bit of a challenge for

the Sockburn crew.

A child in a wheelchair was

stuck in her bedroom because

the door handle had broken.

She had been there for some

hours before the family admitted

defeat in their endeavours to

make entry.

The fire crew called managed

to get one of their number

through a window into the room

with some small tools that were

sufficient to break out.

Family reunited.

confidence in yourself and not

giving up.

The band was then required to

submit a six-minute video to be

judged alongside all of the other

regional winners.

Learning the piano at age four

was just the start for 13-year-old

Dylan, who can also play bass,

guitar, trombone and drums.

He has written 12 songs for the

band, which they hope to make

into an album later this year.

Auditions were held at the start

of the year for new members (Jacob

and Hiromu) to join the year

8s Dylan and Sho who needed to

Water reported flowing from

a house in Stanmore Rd turned

out to be the downfall for some

indoor gardeners.

Helpful firefighters looking

inside were worried that the

chemicals visible were part of a

methamphetamine lab.

They weren't, but several

rooms full of spiky leafed illegal

plants were found by the police

experts called in.

A resident of Aranui was

recently taken to hospital with

burns to the hand.

You guessed it!

Stovetop fire.

Every week the same!

replace two members who went

on to high school.

Jacob came up for the idea of

naming the band Class Disruption

which the band says has

no reflection of their classroom

behaviour.

Music programme co-ordinator

Judith Bell said the band has

started a Google document to

brainstorm ways the $3000 prize

money can be spent.

Dylan hopes they will be able

to get more cymbals for the drum

kit and an instrument called a

theremin, an electronic device

which can create sound effects.

Fires, rescues - just another week

Spreydon's fire crew had the

unpleasant job of removing a

bicycle brake handle from a bike

last Tuesday.

That bit sounds easy. But the

handle was impaled through the

rider's hand at the time.

The delicate use of a serious

pair of bolt cutters allowed the

patient to be taken to hospital

for expert surgery to remove the

handle from hand.

Finally, someone in Aranui

was cold on Wednesday night.

They opened the boarded up

fireplace and lit a fire.

It was boarded for a reason.

No flue, no chimney!

Adopt Me!

Parklands Lotto & Post

The ideal pet, no feeding,

no vet bills and no dirt box!!

And only $20

Take me home so I can sit

beside your door and keep it

open for you.

60 Queenspark Drive, Parklands Shopping Centre. Ph. 383 0303

HOURS: Mon - Fri 8.30am-5.30pm, Late night Wed til 6.30pm, Sat 9.00am - 7.00pm
---
PEGASUS POST Latest Christchurch news at www.star.kiwi

Tuesday October 10 2017 7

CARPET HOUSE LOT DEALS

Prices are based on an average 3 bedroom home, using 20 broadloom metres of carpet, three finishing bars and fully installed.

POLYPROP

NYLON WOOL

Benmore

• Heavy Duty

• Cut Pile

• 4 Metre Wide Rolls

• Foam Back

• 4 Great Colours

• $79.90 per m

Boucle

• Extra Heavy Duty

+ Stairs

• 80/20 Wool Plus

• 48oz

• 1 Colour

• $99.90 per m

Detroit

• Extra Heavy Duty

• 26oz Solution dyed

nylon

• 12 Colours

• $75.00 per m

$2600

FoaM Back

InstaLLatIon IncLuded

$3500

Luxury underLay &

InstaLLatIon IncLuded

$3000

Luxury underLay &

InstaLLatIon IncLuded

POLYPROP POLYESTER

NYLON

Cartersville

• Extra Heavy Duty

• 50oz Luxury Polyester

• Cut Pile

• Slightly Imperfect

• $79.90 per m

Bedrock

• Heavy Duty

• Polyprop

• 1x Great Colour

• Loop Pile

• $49.90 per m

Windsor Twist

• Extra Heavy Duty

• 36 oz Solution Dyed

Nylon

• Cut Pile

• 8 Amazing Colours

• $99.90 per m

$3100

Luxury underLay &

InstaLLatIon IncLuded

$2500

Luxury underLay &

InstaLLatIon IncLuded

$3500

Luxury underLay &

InstaLLatIon IncLuded

NYLON

Horizon

• Extra Heavy Duty

• 36oz Solution Dyed

Nylon

• 1 Colour - Dusk

• $99.90 per m

$3500

Luxury underLay &

InstaLLatIon IncLuded

POLYESTER

Sanctuary

• Extra Heavy Duty

• 50 oz Luxury Polyester

• Cut Pile

• Great Colour

• $99.90 per m

$3500

Luxury underLay &

InstaLLatIon IncLuded

south island's largest stockist of vinyl

buy 1 metre get 1 metre free!

2 metre wide vinyl

selected patterns

conditions apply

312 Wilsons Road North, Waltham Phone 366 0070

www.carpetkingdom.co.nz | Mon - Fri 8am - 5pm | Sat 10am -1pm

Q Card Finance Now Available

FREE no obligation measure & quote (conditions apply.)
---
8 Tuesday October 10 2017

Latest Christchurch news at www.star.kiwi

SPORTS

PEGASUS POST

Skater off to world champs

• By Sophie Cornish

SHIRLEY BOYS' High School's

Ethan De Rose is off to the junior

world championships for short

track speed skating.

The 15-year-old will represent

New Zealand in Poland in March

2018.

It will be the second time he

has competed for the team, also

competing in Austria in January

this year.

He will travel to Latvia where

he will train before heading to

Poland to compete in the 500m,

1000m and 1500m distances.

Ethan said he "did alright" at

his first world championships,

however, was a young competitor

in the single grade event, competing

against athletes as old as 19.

He trains three days a week on

the ice, three days in the gym and

runs on Sundays.

Ethan began speed skating

when he was four after getting a

voucher for a free trial.

Coach Mark Jackson said

Ethan's natural talent was obvious

from a young age.

Mr Jackson has known Ethan

as an athlete since he was five

years old.

He hopes Ethan will finish in

the top 20 at the world championships

and the following year

will aim for top 10.

ENDURANCE: Ethan De Rose competing in Melbourne at the

Australian national championships in 2015.

In spite of being too young

to qualify for the 2018 Winter

Olympics in South Korea, Mr

Jackson hopes to train Ethan for

the 2022 Winter Olympics in

Beijing.

"If he trains really well and

shows the same kind of commitment

and talent that he's got now,

he will have a good chance for the

team then."

Their current training has focused

on building Ethan a strong

endurance base.

"He's got to have a good base

behind him to go into an international

programme elsewhere,"

he said.

Mr Jackson really enjoys coaching

the athlete.

"He has amazing concentration

. . . he's one of those guys who's

always wanting to learn, he's

asking me more than I'm telling

him, not many kids at his age are

like that," he said.

DEMOLITION: The Bexley Park gymnasium came down in

2012 after being red-zoned following the earthquakes.

Permanent home for

football club sought

THE COASTAL Spirit Football

Club is looking for a permanent

home.

The club is currently located

at Cuthberts Green on Pages

Rd along with the Canterbury

Softball Association.

This location is one of two

options being considers for the

permanent home base, which

would be redeveloped alongside

the softball association.

Club chairman Darren

Johnson spoke to the Coastal-

Burwood Community Board

last week about the possibility of

having a football club at the new

QEII site.

"We proposed to the community

board to ask questions

about whether they would entertain

the idea of a football base

there and what sort of facilities

could possibly go in," said Mr

Johnson.

Mr Johnson is now waiting to

hear back.

He hopes funding will come

from city council and various

trusts.

If there is a possibility to use

of the QEII site, this could take

between two to five years said

Mr Johnson.

If the club decides to redevelop

it's current base, this would only

take approximately two years.

Previously, the club's home

base in Bexley had a gymnasium

and five football pitches with

flood lighting.

Helping us,

Helps tHe

community

Drop off or buy

3 family stores in your community

4 Restell Street, Papanui

Ph 03 352 0515

50 Charles St, Kaiapoi

Ph 03 903 0017
---
PEGASUS POST Latest Christchurch news at www.star.kiwi

Tuesday October 10 2017 9

Mystical Fair

Saturday, 10:30-3:30pm

A number of holistic practitioners

from healers, mediums

to crystals will be present who

will be happy to help you with

any questions or guidance you

may need. Hot and cold food

availiable. Disability toilets and

parking. Gold coin entry.

Waitakiri Primary School Hall,

170 Burwood Rd

Ascot Scrabble Group

Friday, 12.45pm

Challenge your word knowledge

with other like-minded folk.

Join in with this friendly group

suitable for beginners or experienced

players. Cost $3, includes

afternoon tea.

Ascot Community Centre, Ascot

Ave, North New Brighton

Reading to Dogs

Wednesday, 3.30-4.30pm

Encourage your children's

reading skills in a relaxed and

fun environment. The programme's

animals have all been

trained and tested for health,

safety and temperament. Library

staff and a dog handler will be

present at all times to help facilitate

the sessions. Sessions are

15min.

New Brighton Library, Marine

Pde

Email sophie.cornish@starmedia.kiwi

by 5pm each Friday

Aranui Creation Station

Wednesday 10am-noon

This initiative from Otautahi

Creative Spaces encourages people

to use their imagination and

encourage their crafty side. Make

new friends and share ideas and

tips on creative projects. It's free

to take part and everyone is welcome

to go along and share their

crafty side.

109 Aldershot St. Free entry

Game Zone

Thursday, 3.30-4.30pm

An hour of fun playing favourite

games like mine-craft,

charades, Connect Four and

Pictionary. Learn and develop

strategies in new games such as

dutch blitz, heads up, hand and

foot, and group games. Join in

for X-box and PS4 tournaments.

Take your friends or meet some

new ones; all children aged eight

to 12 welcome. No booking or

payment required.

Linwood Library, 1st floor Eastgate

Shopping Centre

Learner Licence Course

Friday, 9.30-11.30am

Get the knowledge and confidence

you need to succeed when

sitting your learners licence test.

This course is delivered by Literacy

Christchurch who provide

you with laptops to use during

the class time to sit practice tests

and for researching questions.

The course does not include the

actual test, or the fee to sit the

actual test.

Aranui Library, 109 Aldershot

St

Seaside Market

Saturday, 10am-2pm

Head to the seaside this weekend

and enjoy live entertainment,

great food, fresh produce, artisan

bread, arts, crafts, jewellery and

more. With a bouncy castle and

free face-painting for the littlies.

New Brighton Mall

Golden Oldies Movies

Monday, 1.30pm

Every Monday the New

Brighton Museum plays a film

classic and this week it's That

Touch of Mink by Doris Day and

Cary Grant (1962). The theme

is romance and comedy. Running

time 1hr 31min. Before the

movie, enjoy a cup of tea or coffee

and a biscuit, it's a good way to

start the week and meet some

new people. $2 donation.

8 Hardy St.

Have-A-Go at Indoor Bowls!

Every Tuesday, 11am-1.30pm

Indoor bowls for the senior

community. No experience

necessary and all abilities

welcome. Go along to try it out.

Please wear soft shoes. Cost per

person is $2. First session free.

Phone Tania Smith at ACTIS on

963 7070, or 027 540 5442 with

any inquiries.

Love Lego?

Head along to

the Imagination

Station pop-up

facility in New

Brighton. The

popular centre

uses Lego

and Duplo as

a medium for

learning and

creativity.

Friday-Monday,

9.30am to 5.30pm

- open every day

during school

holidays, 10-6pm.

$2 entry fee.

Carnaby Lane,

New Brighton Mall

Aranui/Wainoni Community

Centre.

Eastside Gallery

October 16-26, Mon-Fri 11-4pm

Sat noon-3pm.

Time & Memory exhibition.

Opening night October 16, all

welcome. Time & Memory is an

exhibition of drawings prints and

paintings by Linda James, Robyn

Kilty, Margaret Ryley and Tiffany

Thornley who have worked

and exhibited together for many

years. This time work by Linda

James' mother who recently died

is included. Linda found work

Joyce had done in the 40s and

that provided the title Time &

Memory. Closed for Labour Day

Monday. Phone 981 2881.

388 Worcester St
---
Oxford Tce

Oxford Tce

10 TUESDAY OCTOBER 10 2017

Latest Christchurch news at www.star.kiwi

PEGASUS POST

Harper Ave

Victoria St

Manchester St

Colombo St

Durham St

Montreal St

Park Tce

Salisbury St

Salisbury St

Peterborough St

Peterborough St

Victoria St

Kilmore St

Cranmer Square

Cambridge Tce

North

Hagley Park

Armagh St

Armagh St

Rolleston Ave

Gloucester St

CHRISTCHURCH

CONVENTION

CENTRE

Gloucester St

Manchester St

Christchurch

Botanic Gardens

Worcester Blvd

Cathedral Square

Worcester St

Deans Ave

Riccarton Ave

Hereford St

Cashel St

Montreal St

Oxford Tce

Cambridge Tce

Cashel St

Lichfield St

Colombo St

Hereford St

High St

South

Hagley Park

Tuam St

Tuam St

HEALTH PRECINCT

Hagley Ave

METRO

SPORTS

FACILITY

Antigua St

St. Asaph St

Montreal St

Durham St

St. Asaph St

Colombo St

Manchester St

St. Asaph St

Moorhouse Ave

Moorhouse Ave

SHOPPING

IN THE

CENTRAL

CITY?

CHECK OUT WHERE 3500+

PARKING SPACES ARE

ccc.govt.nz/carpark
---
PEGASUS POST

Latest Christchurch news at www.star.kiwi

TUESDAY OCTOBER 10 2017 11

Madras St Latimer Square

Salisbury St

Peterborough St

Barbadoes St

Barbadoes St

AVON LOOP:

TE PAPA ŌTĀKARO

AVON RIVER PRECINCT

Kilmore St

Chester St

Armagh St

Gloucester St

Worcester St

Hereford St

Fitzgerald Ave

Madras St

Cashel St

Lichfield St

Tuam St

St. Asaph St

Ferry Rd

Fitzgerald Ave

Barbadoes St

Madras St

Moorhouse Ave
---
12 Tuesday October 10 2017

Latest Christchurch news at www.star.kiwi

AUTOMOTIVE PROFESSIONALS

PEGASUS POST

Fast turnaround for

minor panel repairs

As we all know, having our car off the road for minor

panel repairs can be frustrating, but for customers of

SMART Repairs in Lichfield Street, it isn't a problem.

"With our focus on fast turnaround,

getting customers back on the road

as quickly as possible is the way we do

business," says owner Brian Caffell, who

runs the long-established panel shop

with his wife Maxine.

In addition, customers have the

benefit of a courtesy car, so they can stay

on the road while their vehicle is in the

workshop. There is also a free pick-up

and delivery service available if required.

Customers can be assured of topquality

workmanship at SMART

Repairs, with the workshop team having

over 40 years' industry experience

between them, with services including

panelbeating, spraypainting, paintless

dent removal, (PDR) and mag wheel

repairs and painting.

As specialists in small to medium

panel repair work, no job is too small for

SMART Repairs, and with their friendly,

personal approach they make it easy for

customers who may be unsure what to

do if their vehicle has been scratched or

dented.

The team also provides quotes for all

insurance companies, and carry out

those repairs quickly and efficiently.

"We take pride in our work and ensure

that our customers are happy with the

results," says Maxine.

SMART Repairs are currently looking

at expanding and incorporating a mobile

division, so they can come to you for

minor paint and interior trim repairs,

PDR and mag wheel repairs.

SMART Repairs is located at 272

Lichfield Street, at the Fitzgerald

Avenue end. Opening hours are

Monday to Friday, 8am-4.30pm.

To enquire about repairs to your

vehicle, please call in, or phone

377-0409.

The Automotive

Lamp Specialists

New and Used Lamps for Cars, Trucks,

Vans, 4WD and Motorhomes

325 Brougham Street, CHRISTCHURCH

PH 0800 225 483

A vonhead

utomotive

free

6 months roadside assist

with any vehicle servicing

• automatic transmission

flushing service

• Wof • tune-ups • suspension

• batteries • neW tyres • oil &

lube service • courtesy cars

• full mechanical repairs

oPen 6 days (sat until 1pm)

126 racecourse road

Ph 342 7123 or 027 495 6600

Free Check & Assessment

ROSES

AUTO ELECTRICAL

s

m

a

r

t

mall

edium

Fast

turnaround

utomotive

epair

echniques

• Paintless dent removal

• Minor paint repairs

Smart repairS (NZ) Limited

automotive refinishers

272 Lichfield St (Fitzgerald Ave end)

Ph 377-0409

PARKER

AUTOMOTIVE

■ All Automotive Repairs and

Servicing including 4WD

■ Suspension Brakes & Cambelts

■ WOF, Tyres, Batteries

■ Courtesy Car

55 Lincoln Rd, behind Caltex

(Cnr Lincoln & Torrens Rd)

Ph 03 982 4268

Mob 027 331 0382

Email: parkerauto@clear.net.nz

®

• W.O.F • Servicing

• Repairs • Batteries

• Auto Electrical • Tyres

• Clutch • Cambelt

• Diagnostic Equipment

YOUR LOCAL

AUTOMOTIVE SHOP

287 Hoon Hay Road

Christchurch

Open Mon-Fri

Ph. 982 0405

• new & quality

secondhand tyres

• alloy wheels

• replacement rims

• puncture repairs

WITH A MASSIVE RANGE OF TYRES IN STORE,

WHY NOT POP IN AND SEE US TODAY!

8c Birmingham Drive,

(Cnr Hands & Birmingham Drive)

Ph: 03 343 0099 Cell: 027 226 3805

Website: www.jcmdirect.co.nz
---
PEGASUS POST Latest Christchurch news at www.star.kiwi

Tuesday October 10 2017 13

GREAT food

BROUGHT TO YOU BY...

Your fresh food people

GLUTEN-FREE TANGELO

SYRUP CAKE

Ingredients

3 Tangeloes, approx 350g

200g Blanched almonds, ground

1 cup White sugar

5 Eggs

1 tsp Vanilla

1¼ tsp Gluten-free baking

powder

MARINATED RUMP STEAK

AND MUSHROOM KEBABS

Ingredients

Kebabs

600g Beef rump steak

12 small mushrooms

1 Large onion, cut into 3cm

squares

6 Vine-sweet mini peppers,

halved diagonally

Syrup

1 Tangelo, juiced

¼ cup Sugar

1 bowl Greek yoghurt, creme

fraiche, vanilla ice cream or

coconut yoghurt for a dairy-free

alternative

Directions

Place whole tangelos in a large

pot and cover with plenty of cold

water. Boil for two hours, drain

and allow to cool.

Heat the oven to 180 deg C.

Grease and line a 21cm round

spring form cake tin.

Cut tangelos in half and

remove any pips. Place fruit

(skin, pith, flesh and all) in a

food processor and blitz until

smooth.

Add all other ingredients

and blitz until smooth and well

combined.

Pour into prepared cake tin

and bake for one hour or until a

skewer inserted into the middle

of the cake comes out clean.

Cover cake with tin foil half way

through cooking time to avoid

the top burning.

Remove cake from the oven,

mix tangelo juice and sugar

together and pour over cake

while warm.

Allow cake to cool before

removing from tin.

Marinade

2 Tbsp Lemon juice

¼ cup Canola oil

¼ cup Soy sauce

1 Tbsp Dijon mustard

1 Tbsp Worcestershire sauce

1 Tbsp Curry powder

2 cloves Garlic, crushed

1 pinch Freshly ground black

pepper, to taste

Directions

Combine all the ingredients

for the marinade and place in a

resealable plastic bag.

Cut the steak into 3cm cubes,

add to the marinade and move

it around so it is evenly

covered.

Discard any long stems

from the mushrooms. Add to

the marinade and move them

around.

Seal the bag. Refrigerate for

at least eight hours. This is the

secret of the well-flavoured

kebabs.

Thread the steak, onion,

mini peppers and mushrooms

alternately onto four long metal

skewers.

Tip the marinade into a small

saucepan and bring to the boil.

Grill for about 2min each side

on high heat basting once or

twice.

Red, Yellow or

Green Capsciums ............................. 1 .29

EACH

Iceberg Lettuce .................................... 1 .79

each

NZ Tangelos........................................ 2 .99

KG

Bi-Colour Grapes 500g ................... 3 .99

BAG

Breakfast &

BBQ Mushrooms 250g ........................ 3 .99

PACK

NZ Strawberries

available in store now

NEW SEASON

Beef Rump Steak ............................. 13 .99

kg

Chicken Thigh Fillets ................. 12 .99

kg

Lamb Shoulder Chops ................ 11 .99

kg

All our fresh meat is 100% NZ FARMED.

specials VAlid 9TH OCTOBER - 15TH october 2017. ONLY AVAILABLE AT

RAEWARD FRESH HAREWOOD RD, TOWER JUNCTION & MARSHLAND RD

PRODUCE

WEV'E GOT YOU

COVERED

This summer with a great range of fresh,

quality produce from the best growing regions

around New Zealand.

harewood rd Mon–Fri 8.00am–6.30pm Sat–Sun 8.00am–6pm

Tower junction Mon–Fri 8.00am–6.30pm Sat–Sun 8.30am–6pm

MARSHLAND RD Mon–Sun 8.00am–6:00pm

WWW.

.CO.NZ
---
2

[Edition Tuesday datE]

14 October 10 2017

Latest Christchurch news at www.star.kiwi

CONTINUING EDUCATION

PEGASUS POST

Papanui

High School

As the weather gets warmer and the

evenings get longer it is the ideal time to get

out of the house and learn something new

and meet some new people by taking part

in one of the wide range of nightclasses on

offer at Papanui High School for Term 4

beginning from Tuesday 24 October.

From Art to Yoga and everything in

between we are sure regardless of your

age or interest you will find something

to tempt you. Classes at Papanui High

School are held in a warm, friendly relaxed

environment and our tutors are supportive

and well qualified in their chosen fields.

A new course on offer is Creative Candle

Making which will teach you to create

your own soy container candles and

melts, either for yourself or ideal as a gift.

Discover more about soy wax, fragrance,

wick selection and trouble shooting

commom candle making issues. This is a

hands on course where you will make 3 full

sized scented candles, 6 melts, 5 tea lights

and 1 votive. The cost of all materials is

included in the course fee. This course is

being taught by Jane Alexander and will be

held at Papanui High School on Saturday 4

November between 10 am – 4 pm at a cost

of $148.

For further information and enrolment

in this or any of our Term 4 courses

please visit our website on www.papanui.

school.nz or email rpb@papanui.school.

nz or telephone our office on 3520701.

Ensuring a safe

work place

Learning first aid is not only a part of

ensuring a safe work place, but also an

integral part of our engagement with

the wider community. We all learn the

necessary skills to ensure that in times of

emergency we are able to assist our work

colleagues, but are we able to take these

skills home, into the community or on to

the sports field?

Not all work places are the same and

the injury risk for each place can be

wide and variable. The office attended by

administrators does not carry the same

risk as those people working with heavy

machinery, or perhaps at some distance

from a regular ambulance service. It is

therefore essential that you pick the right

first aid course to suit all of your activities

– both professional and social.

Take, for example, an office worker who

does not have a high risk work environment

and whose concern might be to ensure

that they can deal with minor cuts and

superficial injuries, or the ability to perform

effective CPR. These skills can be achieved

on a course of eight hours duration and

would generally fit into low to medium

risk area. But take this same person on to

a sports field either as a spectator or player

when a higher level injury occurs. The

eight hour course covering unit standards

6402 and 6401 (or 26551 and 26552) does

not cover head neck and spinal injuries,

eye injuries, hypothermia and poisonings.

The majority of injuries occur outside of

the work place, in fact one in three injuries

occurs in the home, making it the most

common place for injuries to happen.

New Zealand children are twice as likely

to die through injury as children who live

in Australia. They mostly die as a result

of motor vehicles accidents or falls in the

home. Fatalities from leisure and sport are

not far behind those in the workplace.

The wider 12 hour course teaches the

additional unit standard 6400 and provides

a wide knowledge base for medium to high

risk environments. This course covers

many of the skills required to deal with

the most common injuries, such as falls

(which can result in head, neck and spinal

injuries) and dealing with complex scenes

such as motor vehicle accidents.

If you are not sure on the course best

suited to your needs, ask your accredited

first aid training provider. They can explain

the course content and give you options

that will best suit your needs. Look beyond

the workplace and consider your family

and your location. Check that you have a

good quality first aid kit that is up-to-date

with replenished items, and that everyone

knows where it is located.

NEW ZEALAND RED CROSS

GLOBAL LEADERS IN FIRST AID TRAINING

Christchurch Course Dates 2017

Venue: 32 Birmingham Drive, Middleton

First Aid Revalidation Course (6 hours)

Cost $130.00 per person (certificates must not have

expired for more than 3 months)

Time: 8.30am – 3.15pm

Monday

16 Oct

6 Nov

Tuesday

24 Oct

31 Oct

Wednesday

18 Oct

16 Nov

Friday

27 Oct

3 Nov

Sunday

15 Oct

29 Oct

M Learning Workplace Revalidation Course (4 hours)

Cost $130.00 per person (certificates must not have

expired for more than 3 months)

Time: 8.30am – 12.45pm

Saturday

11 Nov

Wednesday

25 Oct

Friday

13 Oct

For bookings please call 0800 REDCROSS or 339-7111

Book online at www.redcross.org.nz

USE THE RED CROSS ADVANTAGE - COMPREHENSIVE FIRST AID, ESSENTIAL FIRST AID,

REVALIDATION OR TAILORED TRAINING TO SUIT yOU AT yOUR PLACE OR OURS.

USE THE RED CROSS ADVANTAGE -

COMPREHENSIVE FIRST AID,

ESSENTIAl FIRST AID, REVAlIDATION

OR TAIlORED TRAINING TO SUIT YOU

AT YOUR PlACE OR OURS.

16 Hours Thursday/Friday

19 & 20 October

23 & 24 November

NEW ZEALAND RED CROSS - GLOBAL LEADERS IN FIRST AID TRAINING

CHRISTCHURCH COURSE DATES 2017 • VENUE: 32 BIRMINGHAM DRIVE, MIDDLETON

Comprehensive First Aid PLUS Course (16hrs or 4hr upgrade)

Unit Standard 6402, 6401, 6400 and 25411 or 26552, 26551, 6400 and 25411

Cost $275.00 per person incl FA Manual & GST for 16 hours or $85.00 per

person for upgrade following completion of CFA

Time: Day One 8.30am – 5.30pm Day Two 8.30am – 5pm

Friday 4 Hours 1.15pm-5.00pm

20 Oct & 24 Nov

Comprehensive First Aid Course (12hrs)

Unit Standard 6402, 6401, 6400 or 26552, 26551, 6400

Cost $225.00 per person incl FA Manual & GST

Time: Day One & Day Two 8.30am - 3.15pm Time: Day One 8.30am - 5.30pm

2 x Monday

20 & 27 Nov

2 x Tuesday

17 & 24 Oct

7 & 14 Nov

2 x Wednesdays

25 Oct & 1 Nov

15 & 22 Nov

Thursday/Friday

26 & 27 Oct

2 & 3 Nov

Day Two 8.30am - 12.45pm

Thursday/Friday

19 & 20 Oct

24 & 24 Nov

Weekends

14 & 15 Oct

28 & 29 Oct

Essential First Aid Course (8hrs)

Unit Standard 6402, 6401 or 26551, 26552

Cost $155.00 per person Time: 8.30am – 5.30pm

Monday

20 Nov

Tuesday

17 Oct

7 Nov

Wednesday

25 Oct

15 Nov

M Learning (App.) First Aid Courses

Practical First Aid

Unit Standards 6402, 6401

Cost $155.00 per person

Time: 4 hours 8.30am-12.45pm

Tuesday 14 Nov

Thursday 26 Oct

Workplace First Aid

Unit Standards 6400, 6401, 6402

Cost $225.00 per person

Time: 8 hours 8.30am-5.30pm

Tuesday 14 Nov

Thursday 26 Oct

Thursday

2 Nov

30 Nov

FOR BOOKINGS PLEASE CALL 0800 REDCROSS OR 339-7111 • BOOK ONLINE AT WWW.REDCROSS.ORG.NZ

Saturday

14 Oct

28 Oct
---
PEGASUS POST Latest Christchurch news at www.star.kiwi

Tuesday October [Edition 10 datE] 2017 153

CONTINUING EDUCATION

Risingholme Community

Centre Term 3

Term 4 sees us continuing to offer

a range of classes across the city at

Risingholme Community Centre,

Riccarton High School, Shirley Boys High

School, Christchurch Girls High School

and Hornby High School, many of which

have become a tradition of Risingholme

Community Centre programme. So what

better way to prepare for summer than

to get out and learn something new by

enrolling in a course of interest – maybe

something that you have tried before and

want to explore further or perhaps you

would like to try something new, or to

meet new people with similar interests.

It has been proven that Lifelong Learning

has many benefits with the obvious ones

being the continuation of a learning

journey, learning a new skill, increased

confidence, meeting new people and much

more. Our full range of classes can be

viewed on our website www.risingholme.

org.nz

Are you Digitally challenged in our

ever changing digital world? Or if you

are not familiar with using a computer,

we offer classes on Computer Basics or

maybe something more advanced such as

Word, Excel or Photoshop. If you would

like to know more about these or other

classes that we are running, we would

love to hear from, you can enrol via

our website www.risingholme.org.

nz or phone the Risingholme office

332 7359.

New and exciting at Risingholme

Community Centre is Zentangle.

What is this you might say - well if

you can't sit still enough for yoga, or

your mind wanders in meditation,

or you would like a creative aspect to

your mindfulness, this may work for

you. This method of drawing does not

require any previous drawing ability,

it can be a 15 minute practice you can

build into your everyday, or you can

explore some of the more creative ways

you can then use this design practise to

make your own cards, images, or decorate

products. This class will teach you a

variety of 'tangles' and get you started on

your Zentangle path in a supportive and

creative atmosphere, and you can build it

at a pace that suits you, within your time

constraints or desire as you move through

the term.

If you would like to know more about

these classes or others on our website

www.risingholme.org.nz please call the

office 03 332 7359

Adult and Community

Education Term 4, 2017

Come learn with us

Risingholme Community Centre offers

a wide range of short courses, each term,

at a range of venues.

Risingholme Community Centre

Alterations & upcycling (sewing), Art (Creative with crystals and pastels, Mixed

Media, Watercolour, Painting with Acrylics), Mindfulness, Cake Decorating,

Drawing & Sketching, Dyeing of Natural Fibres, Embroidery, ESOL, Fabric

& Craft Skills, Guitar, Knitting, Patchwork & Quilting, Pottery, Sewing Skills,

Upholstery, Using your Overlocker, Weekend Sewing classes, Yoga, Wood

Sculpture, Woodwork, Woodwork for Women, Zentangle.

Christchurch Girls' High School

Dressmaking, Embroidery, KiwiSaver, Skincare & Make up, Te Reo Maori,

Watercolour Painting.

Hornby High School

Pattern Making, Sewing Skills, Thai Cooking.

Riccarton High School

Calligraphy, Creative Writing, Computing (Excel & Word), Embroidery for

pleasure, Level 3 ESOL IELTS, ESOL Business English Intermediate, First

Aid, Advanced Indian Cooking, Italian Cooking, Italian Language, Learn to

Touch Type, Mediterranean Cooking, NZ Sign Language (a range of levels),

Russian Language, Sewing Skills, Spanish Language, Te Reo Maori, Writing For

Children & Young Adults, Yoga.

Shirley Boys' High School

Arduino – introduction to coding and electronics, Painting with Acrylics,

Computing Basics, German Language, Gluten Free and Vegetarian Cooking,

NZ Sign Language, Photoshop, Pilates, Reiki Level 1, Spanish Language Level

3, Te Reo Maori, Thai Cooking, Website Design, Woodwork, Yoga (range of

classes).

Situations Vacant:

Tutor – Te Reo Māori

Risingholme Community Centre is a Community Based Adult and Community

Education Organisation who deliver Community Based Learning to Adults across

Christchurch. This is a unique opportunity where you will be working with groups of

Adults to improve their knowledge of Tikanga Māori and use of Te Reo Māori.

So, if you're fluent in Te Reo Maori, have an understanding and awareness of Tikanga

Māori, have an innovative approach to Adult Learning and a passion for sharing your

knowledge then we would love to hear from you. Typically courses are 16 hours and

run over 8 weeks.

For further information please contact:

Wendel Karati (Director Risingholme Community Centre)

director@risingholme.org.nz

027 221 2211

Full details available on www.risingholme.org.nz

Risingholme office at 99 Hawford Road

Phone 332 7359 | Email info@risingholme.org.nz

www.risingholme.org.nz
---
16 Tuesday October 10 2017

Latest Christchurch news at www.star.kiwi

HEALTH & BEAUTY

PEGASUS POST

Love your dentures

Is it time to swap your generic denture appearance

for a beautiful, natural looking smile?

Internationally renowned dental

technician Richard Greenlees,

PGDipCDTech (University of Otago) of

Lovebite is the person to call.

His special point of difference is

rebuilding what he calls the Oral

Architecture, the structure and shape of

a patient's face that is often lost following

years of wearing dentures.

Lovebite dentures address problems

that can arise due to years of the patient

wearing incorrectly fitting or poorly

functioning dentures, such as poor

occlusion (the way the teeth come

together), aesthetics, function and

hygiene.

An intricate knowledge and

understanding of facial features allows

Richard to return facial tissues back to the

correct position, reform lips, and restore

beauty and confidence.

Richard provides a friendly, discreet

service and personally guides his patients

through the transformation process to

create teeth with small nuances in the

fabrication, colour and shape.

Carmen, a recent patient said in a

thank you letter to Richard, "I highly

recommend your craftsmanship to anyone

wanting a natural looking smile. Because

you do your work in front of your client,

one is able to see how meticulous and

dedicated you are to ending up with a top

class result. My dentures are amazing.

They look like one's own natural teeth. So

much time, effort and energy went into

the end result. Simply the best."

Richard's patients have varying needs,

from full denture replacement, to first

time immediate dentures, implant

supported dentures and metal partial

dentures.

Since he started making teeth in

1980 Richard has travelled extensively,

accumulating vast knowledge through

training and working in Japan, and

running his own practice in the

prestigious Harley Street, London for 15

years. He continues to teach his world

leading techniques globally.

Richard also creates porcelain crowns

and veneers, working with like-minded

dental professionals.

A beautiful new Lovebite smile

resembles nature and reflects the patient's

character. It boosts confidence and helps

patients to look and feel years younger.

To learn more and to view a gallery

of stunning Lovebite dentures, visit

lovebite.com.

BEFORE

AFTER

These before and after photographs

perfectly highlight the facial

rejuvenation that can be achieved

with a Lovebite denture (right).

The patient's facial structure and

shape have been restored, with her

beautiful new smile transforming

the way she looks and feels.

True

Who thought

DENTURES

and false!

could look this

natural?

• Full dentures • Metal partial dentures

• First-time immediate dentures • Implant supported dentures

STUNNING: A beautiful new denture for

a young female patient

These stunning lovebite full upper and

lower dentures have been expertly crafted by

internationally-recognised dental technician

Richard Greenlees at his Christchurch studio.

The combination of Richard's skill, experience

(including 15 years in London's prestigious

Harley Street) knowledge and revolutionary

techniques allow him to create beautiful

bespoke false teeth that truly resemble those

in nature and reflect each patient's individuality

and unique character.

Shop online

with the in

store special

prices!

Discount code:

Goat

themohairstore

140 Colombo Street, Beckenham

Phone 03 943 1639

www.themohairstore.co.nz

AGING GRACEFULLY: Natural teeth for

a gentleman patient in his 80's

402 Montreal Street

Christchurch | P. 379 1222

By appointment only.

Consultation fee applies.

HOLLYWOOD: It's all white for this

female patient in her 60's

lovebite.com

Richard will personally guide you through the entire process to create

teeth with small nuances in the fabrication, colour and shape. Your beautiful new

lovebite dentures will boost your confidence and make you look and feel year's younger!
---
PEGASUS POST Latest Christchurch news at www.star.kiwi

Tuesday October 10 2017 17

REAL ESTATE

State of Luxe

9 Kawharu Street, Marshland

Auction: Thursday, 26 October 2017 Unless Sold Prior

4 bedrooms | 2 bathrooms | 2 living rooms | 1 dining room I 1 office/study I 2 car-garage | Listing #PI48732

This exceptional home offers luxurious

contemporary living. Designed and built by

Mike Greer Homes, with a 10-year Master

Build Guarantee, you will enjoy the comfort

and peace of mind that comes with modern

construction. Situated on a spectacular

1,607m2 site in the sought-after Prestons

development, with an outlook across

Waitikiri Golf Course, no detail has been

overlooked in this very special property.

The open-plan living and dining area will

be the hub of family living. A coved ceiling

defines the sitting area, where a doublesided

gas fire is a cosy focal point and bifold

doors open to outdoor living and the

views beyond. An elegant additional lounge

shares the gas fire and converts to a media

room with a projector and dropdown

screen. The well-appointed kitchen boasts

a sleek island bench and spacious butler's

pantry, and is complemented by a walk-in

linen cupboard and wine cellar. The palatial

master bedroom includes his and hers WIR

and tiled en suite with double shower and

corner spa bath. Three additional bedrooms

plus office share a family bathroom.

Outside, the stunning grounds offer a

choice of outdoor living and are beautifully

landscaped with easy-care plantings and

fruit trees.

If the ordinary won't do, this very special

home offers contemporary comfort in

an exceptional setting. Don't miss the

opportunity to make it yours.

Open Homes TBC Saturdays and

Sundays 2:00 p.m. - 2:30 p.m. until auction

See you at the open days or for a private

viewing phone Cameron Bailey on 352

6166 or mobile 0275 557 079 of Harcourts

Gold Papanui (Licensed Agent REAA

2008)

growing with you

SprIng Is here –

It'S Sow Time

how to get the best results from

seeds and seedlings

100% NatIve In

The capItal

Unravelling the secrets of

Otari-wilton Bush

The New Zealand

landscape awards

The people behind

the projects

$7.90 incl. GST

Save our roSeS

How a rose register is protecting our heritage

September 2016 | 100%

It's time

to grow!

New look and more

content than ever!

MeeT LeSTer Brice

A Garden coach

auckland Botanic GardenS

Why we love our public grounds

now bigger than ever

The magazine for

gardeners who like to get

their hands dirty

SubScribe from

$43. 50*

*6 issues/6 months

ISSN 2423-0219

SUBSCRIPTIONS FREEPHONE

0800 77 77 10

www.gaRdeNER.kiwI
---
18

Latest Christchurch news at www.star.kiwi

Tuesday October 10 2017

PEGASUS POST

Classifieds Contact us today Phone our local team 03 379 1100

Computers

ALL

YOUR

COMPUTER

WORRIES SOLVED!

*$30.00 off your first

service with this coupon!*

No problem too big or

small from home PC's to

business networks. PC

slow? An end to Viruses,

Spyware, and Clogged

Systems. Safe secure

hassle-free computing.

Lost files recovered.

Microsoft Certified,

MCSE, MCP+l. 30 years

experience. Call Andrew

Buxton this week on 326-

6740 or 027 435-7596

for $30.00 off* Custom

Computers Christchurch

Curtains

www.curtainfabric-outlet.com

Fashion Designs & Colours

Discontinued Designs

End of Lines Bargain Prices

Call at Our Shop

CURTAIN FABRIC OUTLET

71 Hawdon St Sydenham

Ph 366-5026

Gardening

& Supplies

LANDSCAPE GARDEN

PROFESSIONAL

Qualified Horticulturist,

offering expert, garden

makeovers, design and

landscaping, for free

quotes call Bryce 027 688-

8196 or 0508 242-733

To Let

NEED MORE

SPACE?

WARMER THAN A CARAVAN

NO BOND

Ideal as an extra

bedroom or office

Three convenient sizes

from $70 p/w:

Standard 3.6m x 2.4m

Large 4.2m x 2.4m

Extra-large 4.8m x 2.4m

Visit our display cabins at

470 Cranford Street or call

0211277227 for a free brochure

www.justcabins.co.nz

Holiday

Accommodation

QUEENSLAND SUN-

SHINE COAST AUSTRA-

LIA Resort, Ocean Views,

Balconies, Self Contained,

1 or 2 B/R Ensuite,

Heated Pool, Spa, Sauna,

Free Internet, Shops,

Restaurants, Tennis, Surf

Club & Patrolled Beach,

Public Transport at door.

Ask for our SEASONAL

SPECIALS. Phone 61 7

544-35011 Email: reception@mandolin.com.au

www.mandolin.com.au

Trades & Services

carpet cleaning

• Commercial Carpet Cleaning

• Residential Carpet Cleaning

• Upholstery Cleaning

• Stain & Odor Removal

• Tile & Grout Cleaning

NEED HELP WITH YOUR

CARPET CLEAN?

Simply give us a call on 021 035 8989

We will get the job done in a professional way.

house and garden

home

cleaning

Trades & Services

Trades & Services

kitchen renovation

PABLO'S PAINTWORKS

27 Birmingham Drive, Middleton

03 338 6280 | 021 541 323

pablospaints@xtra.co.nz

www.pablospaintworks.co.nz

gardening

services available

throughout

christchurch

your one stop shop for home services

www.anextrapairofhands.co.nz

info@anextrapairofhands.co.nz

0800 535 355

Kitchen looking tired?

Revitalize with new colour at a

fraction of replacement cost

• Alterations & Hardware available

• Laminated Kitchens no problem

• 'On Site' finishing available

• Over 20 years experience

• Free Quotes with no obligation

• All Joinery & Furniture repair & Spraycoatings

junk

Trades & Services

ROOF REPAIRS

Locally owned & operated with

over 30 years experience.

• Extensions & repair • Roof coating

• Concrete & clay tiles • Butynol

• Malthoid • Asbestos Certified

• Coloursteel • Old iron • Guttering

Phone Dave 981 0278

or 021 223 4200

E: dave@beaumontroofing.co.nz

BEAUMONT ROOFING LTD

Trades & Services

FOR ALL YOUR

★Garden Clean-ups

★Pruning

★Lawn Mowing

★Garden Maintenance

Call us today for a FREE quote

PH 0800 4 546 546

(0800 4 JIMJIM)

HOUSE

CLEARING

Are you

moving house

or trying to

downsize?

Call All Clear

Canterbury. We work

with you to recycle,

sell and dispose of

unwanted items.

Ph: 03 260 0934

or 021 078 4553

raewynlcooke@gmail.com

www.allclearcanterbury.co.nz

PLUMBER

A Top Plumbing

job complete at a

fair price, prompt

service, all work

guaranteed

Phone Brian

960-7673 or

021-112-3492

Why go to the Dump? Junkman comes to you!

Items too big for the rubbish bin?

Or too heavy for you to move?

Junkman comes to FROM

you & takes it away $

65 *

*Prices vary depending on items and volume – minimum charge $65

0800 586 5626

www.junkman.co.nz office@junkman.co.nz

MFC4510

9164023AA

Trades & Services

BEST BATHROOMS

full renovation specialists,

LBP, repairs &

maintenance ph 03 387-

0770 or 027 245-5226

BRICKLAYER

George Lockyer. Over

35 years bricklaying

experience. UK trained.

Licensed Building

Practitioner number

BP105608. Insurance

work. EQC repairs.

Heritage brickwork and

stonework a speciality. No

job too small. Governors

Bay. Home 329-9344,

Cell 027 684 4046, email

georgelockyer@xtra.co.nz

BUILDER

For all building work

but specialist in bathroom

renovations, 30 yrs

experience, with service

and integrity. Free Quotes.

Ph Lachlan 383-1723 or

0274 367-067.

Trades & Services

BUILDER LICENSED

available for all aspects of

building. Please call 027

241-7471 or 335-0265

*****************

CARPET & VINYL

LAYINg

Repairs, uplifting,

relaying, restretching

E mail jflattery@xtra.

co.nz

ph 0800 003 181

or 027 2407416

FENCE PAINTINg

Staining Quality at a

reasonable price. Free

quotes. Phone Warren

today on 980-1676 or 027

2014713

gARDENER AVAILABLE

exp & reliable. Garden

maintenance. lawns

mowed, rubbish removed.

Ph Frank 021 088 23104.

gLAZIER

Window repairs, pet

doors, new glazing, double

glazing, conservatory

roofs. Experienced

tradesman. Call Bill on

981-1903 or 022 413-3504

PAINTER

Available, All aspects in

painting. Very competitive

in roofs and fences. Please

call 027 241-7471 or 335-

0265

PAINTER

Quality work, I stand by

Canterbury Ph Wayne

03 385-4348 or 027 274

3541

PAINTINg DECORATINg

all interior & exterior, 40

yrs in trade, free quote and

advice, ph Rick 021 232

5249 ah 03 383 2288

PAINTINg DECORATINg

Wingfields Contracting,

all interior & exterior

painting & all forms of

interior plastering & jib

fixing, ph Mark 021 171-

1586 or 355-5994

PLUMBER

ALF THORPE

PLUMBING Certifying

Plumber for all types of

plumbing, maintenance,

spouting, alterations etc.

Phone 352-7402 or 0274-

350-231

Trades & Services

STONEMASON, BRICK

& BLOCKLAYER

Earthquake Repairs, Grind

Out & Repoint, River/

Oamaru stone, Schist,

Volcanic Rock, Paving,

all Alterations new & old,

Quality Workmanship,

visit www.featureworks.

co.nz or ph 027 601-3145

TILER/CARPENTER

35 years exp, no job

too small. Ph Ross 027

4311440.

T.V. SERVICE

CENTRE

Repairs, tvs, microwaves,

stereos, DVD. Aerial

installations and kitsets,

480 Moorhouse Ave, ph 03

379 1400

UPHOLSTERER

Dining Chairs, Lounge

suites, Caravan Squabs

etc. recovered. Free

Quotes. Phone Graeme

383-1448

VHS VIDEO TAPES

& all camera tapes

converted to DVD, video

taping special occasions,

www.grahamsvideo.co.nz

ph 03 338-1655

WINDOW CLEANINg

Average 3 bdrm house

inside or out $40. Both

$70. Phone Trevor 344-

2170

Wanted To Buy

AAA Buying goods

quality furniture,

Beds, Stoves, Washing

machines, Fridge Freezers.

Same day service. Selwyn

Dealers. Phone 980 5812

or 027 313 8156

TOOLS

Garden, garage,

woodworking,

mechanical, engineering,

sawbenches, lathes, cash

buyer, ph 355-2045

WHITEWARE

WANTED Cash for

fridges, freezers, dryers,

washing machines, ovens.

Top prices paid for good

working machines. Ph

Dave anytime 960-8440 or

027 6622 116

Public Notices

Entertainment

Weka Pass Railway

Waipara, North Canterbury

We are RUNNING

SUNDAY 15th October

Running 1st & 3rd

Sunday of every month

Phone 0800wekapass

Depart Glenmark Station

11.30am & 2.00pm

www.wekapassrailway.co.nz

LUTHER AND LLOYD:

TWO OUTRAGEOUS HERETICS?

SIX-WEEK COURSE

This year marks the 500th Anniversary of Martin Luther

nailing his thesis to the church in his German town of

Wittenberg (October 31). An action that unexpectedly

sparked the Reformation. This year also celebrates the

50th Anniversary of the heresy trial of Lloyd Geering

here in Aotearoa New Zealand. An event that was most

divisive for many of our churches.

This course will examine the huge impact of the two

men in their time, noting their significance for today.

Attention will be drawn to the different theological

perspectives involved.

Six-week course of 2 hour sessions

held on Thursday afternoons 2pm - 4pm

commencing on 19 October 2017

The course will be co-facilitated by Charles Manning and

Reverend Rodney Routledge. The course will draw on the

latest scholarship and will be interactive in format.

VENUE: Iona House, Aranui

Enrolments by 15 October by email to

stgmin@gmail.com or 3812536

(please leave a message)
---
PEGASUS POST Latest Christchurch news at www.star.kiwi

Tuesday October 10 2017 19

What's On

Entertainment

To advertise, contact

Jo Fuller 027 458 8590

jo.fuller@starmedia.kiwi

Love on the Lawn

The ideal wedding venue!

'Famous for their roasts!'

RESTAURANT & CAFÉ

Cooked Breakfasts

Check out our extensive breakfast

menu from Continental to Cooked

We are open from 6.30am

Seniors SPECIAL

Two courses $20

Soup/Roast or

Roast/Dessert

Special available lunch only

Monday - Saturday 12pm - 2.30pm

$18

TREAT THE

FAMILY!

Kid's 2 course

special

School

Holidays

We are family

friendly.

Great Kids menu

plus designated

play area.

$10

The

RACECOURSE HOTEL

& Motorlodge

118 Racecourse Rd, Sockburn,

Christchurch. Ph 03 342 7150

www.racecoursehotel.co.nz

THIS SUNDAY

www.newbrightonclub.co.nz

LIVE RUGBY = THIS FRIDAY 7.35PM

CANTERBURY v AUCKLAND

LIVE MUSIC = THIS SATURDAY 7PM

Dateless n Desperate PopRockBand

TUESDAYS & THURSDAYS

Members Lucky Card Draw

FUNCTION ROOMS

SHUTTLE RUNNING

Tues, Thurs, Fri & Sat

TAB POD

GAMING ROOM

PIERVIEW

Restaurant

Quality

a la carte

with a view!

Open from 5.30pm

FRIDAY, SATURDAY & SUNDAY

OPEN FOR SUNDAY 3 COURSE

SUNDAY BRUNCH DINNER SPECIAL $25

By the Seaside!

10.30am-2pm

ClubBISTRO

Open Tuesday to Saturday

12pm-2pm and from 5pm

Midweek $11

SPECIAL ROAST

Available Tuesday,

Wednesday, & Thursday

SUNDAY NIGHT

BUFFET

Sunday 29th October

ALL YOU CAN EAT

$25 BOOK NOW!

202 Marine Parade ● Ph 388-9416

Members, guests and affiliates welcome

H ORNBY

WORKINGMEN'S

CLUB

LET US ENTERTAIN YOU!

WESTVIEW LOUNGE

THIS FRIDAY, 7PM:

IAN MAC

THIS SATURDAY,

4.30PM:

BARROSS

THIS SATURDAY,

8PM:

C-BAY

BAND

UNBEATABLE FAMILY DINING

Chalmers

BUFFET

Restaurant

FREE

DESSERT

FRIDAYS & SATURDAYS

EXTENSIVE CARVERY

5.30PM & 6.30PM

PRICED AT ONLY $22.50

PER PERSON

AND DESSERT'S ON US!

SUNDAY

BUFFET

LUNCH $25

12PM-2PM

DINNER $27

5PM-8PM

GROUPS WELCOME

BOOKINGS ESSENTIAL

SPORTS HALL

THIS SUNDAY,

1.30PM

CONCERT

FOR BRIAN

FEAT. LOCAL ARTISTS

TICKETS $15

Proceeds to Cancer Soc

BOOK

NOW!

DINNER

Friday, Saturday,

Sunday

LUNCH

Every Sunday

12pm - 2pm

PRE-

Christmas

BUFFETS

Sun 3, 10, 17 Dec

Lunch & Dinner

Music by Neville Barrie

Buffet dinner with

Madsen Promotions

LIVE SHOW

The Music of the

Beach Boys

Saturday 16 Dec

Club CAFE

$30

Dine &

Dance

$45

OPEN 7 DAYS FOR LUNCH & DINNER

Gluten Free & Vegetarian options

The Hornby Club | ph 03 349 9026

17 Carmen Rd | Hornby

www.hornbywmc.co.nz

Members, guests & affiliates welcome

SERVING

HAPPY HOUR

5PM - 7PM DAILY

OUR CABINET ITEMS

ARE HOMEMADE

CREATED FRESH ON SITE DAILY

$12

LUNCH

SPECIALS

Live Music:

6PM.FRI.13 OCT

COFFEE

HAPPY

H O U R

2PM-4PM

DAILY

$3.50

Offer available for a limited time

and includes tea, hot chocolate

MON: ROAST MEAL

TUE: FISH & CHIPS

WED: FISH BURGER

THU: ROAST MEAL

SAT: FISH & CHIPS

AVAILABLE

FROM

11.30AM-2PM

FOR A

LIMITED TIME

Rhonda Campbell duo

PHONE 385 8880 FIND US ON FACEBOOK fb.com/GBCCHCH

THE GARDEN HOTEL COMPLEX | 110 MARSHLAND RD

www.gardenhotel.co.nz | phone 385 3132
---
20 Tuesday October 10 2017

Latest Christchurch news at www.star.kiwi

PEGASUS POST

Introducing our brand new

purpose built retirement village

in the heart of Shirley.

Retirement just started looking a whole lot

better in Shirley!

The Village Palms, opening in November,

offers affordable luxury

and first class care.

Our stylish one bedroom apartments start at

an unbelievable purchase price of $255,000 and

spacious studio's at a competitive $150,000.

At The Village Palms, we also offer the full continuum of

care, with care suites, Rest Home & Hospital level rooms

available with care delivered 24 hours a day by Registered

Nurses and experienced staff.

Call us on

022 321 1872

or Freephone

0800 THE VILLAGE

for your own

personal

guided tour

The Village Palms Where new memories are made