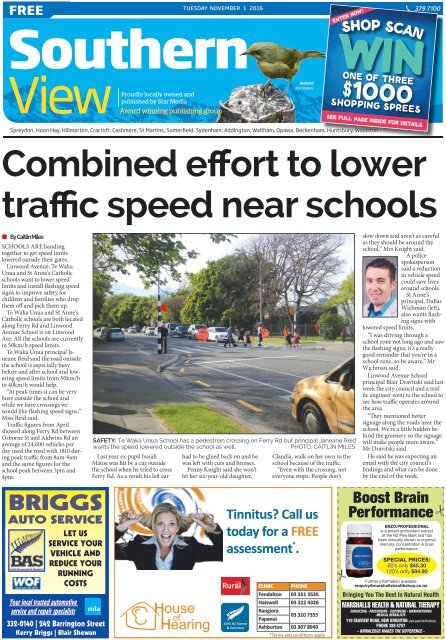 Southern View: November 01, 2016
You also want an ePaper? Increase the reach of your titles
YUMPU automatically turns print PDFs into web optimized ePapers that Google loves.
FREE

TUESDAY NOVEMBER 1 2016

Southern

View

Proudly locally owned and

published by Star Media

Award winning publishing group

Bellbird

(Korimako)

Shop scan

ENTER NOW!

one of three

$1000

SHOPPING SPREES

SEE full page inside for details

379 7100

Spreydon, Hoon Hay, Hillmorton, Cracroft, Cashmere, St Martins, Somerfield, Sydenham, Addington, Waltham, Opawa, Beckenham, Huntsbury, Woolston

Combined effort to lower

traffic speed near schools

• By Caitlin Miles

SCHOOLS ARE banding

together to get speed limits

lowered outside their gates.

Linwood Avenue, Te Waka

Unua and St Anne's Catholic

schools want to lower speed

limits and install flashing speed

signs to improve safety for

children and families who drop

them off and pick them up.

Te Waka Unua and St Anne's

Catholic schools are both located

along Ferry Rd and Linwood

Avenue School is on Linwood

Ave. All the schools are currently

in 50km/h speed limits.

Te Waka Unua principal Janeane

Reid said the road outside

the school is especially busy

before and after school and lowering

speed limits from 50km/h

to 40km/h would help.

"At peak times it can be very

busy outside the school and

while we have crossings we

would like flashing speed signs,"

Miss Reid said.

Traffic figures from April

showed along Ferry Rd between

Osborne St and Aldwins Rd an

average of 24,600 vehicles per

day used the road with 1810 during

peak traffic from 8am-9am

and the same figures for the

school peak between 3pm and

4pm.

BRIGGS

AUTO SERVICE

LET US

SERVICE yOUR

VEhICLE And

REdUCE yOUR

RUnnInG

COSTS

your local trusted automotive

service and repair specialists

332-0140 | 242 Barrington Street

Kerry Briggs | Blair Shewan

SAFETY: Te Waka Unua School has a pedestrian crossing on Ferry Rd but principal Janeane Reid

wants the speed lowered outside the school as well.

PHOTO: CAITLIN MILES

Last year ex-pupil Isaiah

Matoe was hit by a car outside

the school when he tried to cross

Ferry Rd. As a result his left ear

had to be glued back on and he

was left with cuts and bruises.

Penny Knight said she won't

let her six-year-old daughter,

House

of

Hearing

100% NZ Owned

& Operated

Claudia, walk on her own to the

school because of the traffic.

"Even with the crossing, not

everyone stops. People don't

CLINIC PHONE

Fendalton 03 351 3535

Halswell 03 322 4326

Rangiora

Papanui

03 310 7355

Ashburton 03 307 8949

slow down and aren't as careful

as they should be around the

school," Mrs Knight said.

​A police

spokesperson

said a reduction

in vehicle speed

could save lives

around schools.

St Anne's

principal, Dallas

Wichman (left),

also wants flashing

signs with

lowered speed limits.

"I was driving through a

school zone not long ago and saw

the flashing signs, it's a really

good reminder that you're in a

school zone, so be aware," Mr

Wichman said.

Linwood Avenue School

principal Blair Dravitski said last

week the city council and a traffic

engineer went to the school to

see how traffic operates around

the area.

"They mentioned better

signage along the roads near the

school. We're a little hidden behind

the greenery so the signage

will make people more aware,"

Mr Dravitski said.

He said he was expecting an

email with the city council's

findings and what can be done

by the end of the week.

Boost Brain

Performance

ENZO:PROFESSIONAL

is a potent antioxidant extract

of the NZ Pine Bark and has

been clinically shown to improve

memory, concentration & brain

performance.

SPECIAL PRICES:

60's only $45.30

120's only $84.90

Further information available

enquiry@marshallshealthshop.co.nz

Bringing You The Best In Natural Health

MARSHALLS HEALTH & NATURAL THERAPY

CONSULTING - PRESCRIBING - DISPENSING - MANUFACTURING

MEDICAL HERBALISTS

110 SEAVIEW ROAD, NEW BRIGHTON (Just past C.N.B School)

PHONE 388 5757

- KNOWLEDGE MAKES THE DIFFERENCE -
---
2

Tuesday November 1 2016

Inside

FROM

THE

EDITOR'S

DESK

SOUTHERN VIEW

News.......................................3-5

ALL POWER to Linwood Avenue,

Te Waka Unua and St Anne's

Catholic schools in their bid to

get the speed limit dropped to

40km/h outside their gates.

Reporter Caitlin Miles revealed

Linwood Avenue's move a couple

of weeks ago, and now Te Waka

Una and St Anne's on Ferry Rd

have gone to the city council to

lower the speed outside their gates

too.

There's no reason why the city

council shouldn't move swiftly

on this and drop the speed from

50km/h when children are

arriving and leaving school.

It's a no-brainer.

We pay tribute to the province's

top young sports people on page

11 with coverage of the Christchurch

South Zonta secondary

sports awards.

Rio Paralympian medal winner

William Stedman won two

awards. – Barry Clarke

Architect rebuilding communities

OUR PEOPLE 8

Schools ............................. 6

Local Views...........................9

Real Estate.....................14

Community Events......15

Health & Beauty.........16

Senior Living............... 17-19

Entertainment..............23

GET IN TOUCH

General Enquiries Ph 379-7100

Classified Advertising Ph 379-1100

The Christchurch Star Company Ltd. PO box 1467 - Christchurch

starmedia.kiwi

NEWS

Caitlin Miles

Ph: 364 7442

caitlin.miles@starmedia.kiwi

ADVERTISING

John Verd

Ph: 364 7496

john.verd@starmedia.kiwi

6 ISSUES

delivered to your door

FROm ONly

$

44. 50 0800 793 364

www.heritagefunerals.co.nz

SUBSCRIPTIONS FREEPHONE

0800 77 77 10

rugbynews.co.nz

For all your

emergency

plumbing

and

gasfitting

needs

PLEASE give

us a call.

Don't leave the sale of your

home to chance.

Talk to Shady Attia.

He will get the job done!

Back Row: Mark, Aaron, Jacob, Mark, Sam

Front Row: Liz, Matt, Sandra, Ant & Paul

SERVICING ALL AREAS OF CHRISTCHURCH

Phone today! 3790-711

or email us: info@whiteheadplumbing.co.nz

Shady Attia

03 423 9862 • 021 021 69996

shady.attia@mikepero.com

Mike Pero Real Estate Ltd Licensed REAA (2008)
---
SOUTHERN VIEW Tuesday November 1 2016 3

News

Ban on freedom campers expected

• By Caitlin Miles

ADDINGTON PARK will

be rid of freedom camping

for good by the end of the

year if the city council passes

recommended bylaw changes

tomorrow.

The city council will choose

whether or not to make amendments

to the Freedom Camping

Bylaw which will ban freedom

camping from Addington

Park along with Windsport

Park, Lower Styx River Mouth,

French Farm and Wainui by

December 1 this year.

It is expected to also ban

non self-contained camping

throughout the city.

The city council introduced

a freedom camping bylaw last

year, and camping was allowed

at these five spots.

In March, city

council chief executive

Karleen

Edwards made

the decision

to temporarily

close Addington

Park and other

freedom camping areas in the

city and on Banks Peninsula

until May next year.

The move came after reports

of overcrowding and sanitary

problems including an incident

PARKED UP: A freedom camping ban has temporarily stopped Addington Park looking like

this, and if the city council signs off on changes to the Freedom Camping Bylaw the ban will

be permanent.

PHOTO: GEOFF SLOAN

of a camper defecating on the

playground swings.

Addington resident Bruce

McNabb said the last couple of

months have been great without

freedom campers in Addington

Park and he is happy to know

the city council are banning

camping there completely.

The city council decided to

have a partial review of the

bylaw to make changes ahead

of the full review of the bylaw

planned for next year.

Deputy mayor Andrew Turner

(left), who was also chairman of

the hearings panel that made the

report on the recommendations

said these changes needed to

happen ahead of the full review.

"There were some issues that

needed to be resolved before we

came into the next summer season

. . . we will look more closely

at the other issues when the full

review is done," Mr Turner said.

Consultation on changes

to the bylaw were open from

August to September and 72

submissions were made with

55 supporting the proposed

changes.

The full review is still planned

for May next year, it will discuss

if further changes to the bylaw

need to be made.

In Brief

SMOKE-FREE DINING

Three local cafes will make

history today by taking part in

the first formal trial of smoke-free

outdoor dining in the country.

The six-month pilot, named

the Fresh Air Project, includes

Emperor's New Clothes, in

Cashmere, Addington Coffee

Co-op and Oddfellows both in

Addington. They are some of

the 20 Christchurch businesses

who are taking part and will

make their outdoor dining areas

completely smoke-free for the

next six months, in bid to improve

the health of customers and

staff. The project is a partnership

between the Cancer Society,

the Canterbury District Health

Board, and endorsed by the city

council.

REPAIRS ON HOLD

Ground conditions repair work

to a retaining wall on Major

Aitken Drive, Huntsbury, have

been placed on hold to review the

design. Work is expected to start

Monday, November 7, to begin

carrying out repair work following

the reviewed design. It is expected

to take three weeks to complete.

The road between 30 and 41 Major

Aitken Drive will be reduced to

one lane and two-way traffic will

be maintained via traffic lights.

There will be on-street parking

restrictions in place.

Megan

WOODS

Member of Parliament for WIGRAM

Get to know your butcher!

Constituents needing

assistance or wanting an

appointment are invited

to contact me on:

Phone 338 6347

Email: megan.woods@

wigram.org.nz

Authorised by Megan Woods MP, Shop 8/12 McCarthy Street, Christchurch

230 Barrington st

332 4004

Your Local

Friendly

Dental

Team

Easy parking

& great service

BLACKBOARD Buys Of the weeK

BBq weeK!

Chicken thigh Kebabs

$

9 95

tRAy Of 8

• SATAY • NICE & SPICY

• DOUBLE SMOKE • BBQ PLUM

ALL fLAvOuRs gLuten fRee!

Butterfly Chickens

$

15 00

eACh

Lamb Patties

$

7 00

tRAy Of 6

• ORIENTAL MINT • SATAY

• NICE & SPICY • MOROCCAN

• SUNDRIED TOMATO & BASIL

ALL fLAvOuRs gLuten fRee!

Butterfly Lamb Legs

$

19 95

eACh

• DOUBLE SMOKE • PEKING SPICE

• THAI COCONUT • NICE & SPICY

PLAIN OR ORIENTAL MINT

we ALsO hAve OveR 10 DiffeRent

fLAvOuRs Of hAnDCRAfteD

sAusAges mADe On site

LOOK Out fOR the sAusAge

Of the weeK!

FRESH MEATS

BARRINGTON

Shop 36 — Barrington Shopping Centre, Spreydon

Ph 332 8450 | www.freshmeats.co.nz
---
4

Tuesday November 1 2016

McMaster & Heap

Veterinary practice

Lymphoma

Moya is a beautiful 4yr old Bull Mastiff cross who

until earlier this year had been a perfectly healthy

young dog. Her owners had noticed that over the

past few days she hadn't been quite her normal

bouncy self, had gone off her food and developed

a swelling under her throat. They bought her

to the clinic and although on examination she

seemed quite well she not only had enlarged

lymph nodes around her neck but also around the

front of her shoulders and at the back of her hind

legs. Causes of this could be infection, an allergic

reaction, immune mediated disease (where the

body kills off its own cells) or cancer. Fine needles

aspirates (FNA's) were taken of Moya's lymph

nodes and sent to a veterinary laboratory. Taking

an FNA is a painless procedure and in the majority

of animals can be done without sedation. A small

needle is inserted into the tissue that you want to

sample and a small amount of cells are collected

and put onto a slide.

Unfortunately, the results that came back from the

laboratory confirmed that Moya had a malignant

form of cancer known as Lymphoma. This form of

cancer is one of the most commonly seen in dogs

and often involves multiple organs around the

body. To find out where the cancer had spread to

Moya had blood tests and thoracic and abdominal

x-rays and ultrasound scans performed. The

Lymphoma had spread to organs within her chest

and abdomen as well as within her lymph nodes –

she had high stage B cell-Lymphoma.

The results were discussed with her owners who

decided that they would like to go ahead with

treating her further. With this type of Lymphoma

treatment is not surgical, but medical; usually

with chemotherapy. We are in contact with a

number of specialist Veterinary Oncology

clinics in Australia and we

contacted them straight away.

Within 24 hours they had

produced an entire report on

Moya, her cancer and different

chemotherapy options that

they recommended. These

treatment options varied

from palliative care with

steroids through to multidrug

chemotherapy options.

Moya's family decided to go

ahead with the preferred

primary treatment option

lasting 15 weeks.

Moya started her

chemotherapy the following

day coming into the clinic

every Friday for a blood

test to check her red and

white blood cell levels and for

administration of her drugs

intravenously. Throughout the

entire duration of treatment,

she was very well behaved and

tolerated the chemotherapy

drugs extremely well, with

hardly any noticeable side

effects. She was always ready

for her treats and walk after her

drugs had been given!

At the end of the 15 weeks

Moya was in complete remission

and four weeks later still appears

to be. Her owners report that

she is better than ever and when she visited last

week she was rolling around as normal for her

tummy to be tickling whilst we were trying to

take her blood test! There is a chance that the

Lymphoma will come back but for the moment

she is happy, has a new lease of life and is enjoying

her time at home with her family.

Informing a client that their special friend has

a form of cancer, is one of the awful parts of

my job. It is such a dreaded disease with often

fatal consequences and often at the time of

diagnosis, the disease has well advanced. Due

to many cancers having

malignant potential, speed

of diagnosis and treatment

is necessary to have any

chance of remission. Many

hard decisions have to be

made and that is when you

can rely on us to do our job.

We have the necessary skills

and diagnostics to diagnose

the type of cancer your pet

has and then we employ

the specialized services of

Oncology consultants in

Australia to get the most

successful chemotherapy

protocol for your pet. That's

often the hardest part

as the administration of

chemotherapy usually goes

really smoothly. Pets rarely

have side effects, the drugs

are painless if given properly,

your pet is treated as an

outpatient and we often see

improvement quickly, if we are

going to be successful. I have

first hand experience in the

process as my beautiful dog

Lola developed kidney cancer

last year and received four

rounds of chemo. If anyone

wants to discuss the process

of cancer diagnosis and

treatment for your pet, please

give the clinic a call.

News

Potter retains leadership

of community board

• By Caitlin Miles

KAROLIN POTTER has

retained her spot as the

chairwoman of a

newly-established

community board.

The community boards'

elected members were officially

sworn in last week

and the chair and deputy

chairs.

Karolin Potter is the

chairwoman of the newly

established Spreydon-

Cashmere Community

Board, retaining her position

from when she was

the chairwoman of the

disestablished Spreydon-

Heathcote Community

Board, after she took over

from Paul McMahon when

he resigned earlier this

year.

Melanie Coker will also

hold her position as the

deputy, which she was previously

on the Spreydon-

Heathcote Community

Board. Both women are

members of The People's

Choice and represent

Spreydon.

Five members of the new

Spreydon-Cashmere Community

Board have worked

together before on the now

Karolin Potter

disestablished Spreydon-

Heathcote Community

Board, with Lee Sampson

the only new face.

Ms Potter said during

her time as chairwoman

one of her goals is to have

more people from the

community involved in the

board and discussing the

issues facing the area.

"I am really interested in

seeing if there is a way of

getting more community

groups to be involved in

the board," Ms Potter said.

Linwood-Central-Heathcote

Community Board

members elected Central

Ward representative Sally

Buck as the chairwoman

and fellow central representative

Jake McLellan as

the deputy.

SOUTHERN VIEW

Sally Buck

Ms Buck has previously

had experience with local

body politics. She was a

city councillor for five

terms, from 1989-2013.

Ms Buck said she is

focused on keeping the

community at the centre of

decisions that will impact

them.

"I want to ensure

that the community's

voice is heard and that

the community board

works together to get

the best outcome for the

community," Ms Buck

said.

Mike Mora was voted

as the chairman of the

Halswell-Hornby-Riccarton

Community Board

and Helen Broughton is

the deputy chairwoman.

Varicose Vein Treatment

Non-surgical Vein Laser Treatments available

Free Assessment

Tired of aching and unsightly veins?

No surgery, no scars, no stitches. No time off work

- continue normal daily activities. An affiliated provider to

Southern Cross Health Society (medical necessity

criteria apply) - check your policy for cover.

Enjoy skirts, short and cropped pants again.

Payment plans available (Conditions apply)

www.transformclinic.co.nz | 52A Mandeville St | Riccarton | 08002lookgood | 343 2880

WE SPECIALISE IN THE CARE AND

PRESERVATION OF TREES

• Pruning

• Expert Tree Felling

• Fully Insured

• Free Quotes

• Powerline Clearing

• Branch Chipping

• Competitive Rates

• Orion Approved Contractor

FULLY

QUALIFIED

ARBORISTS

Open 7 days

Cnr Hoon Hay & Coppell place

phone 338 2534, Fax 339 8624

e. mcmasterandheap@yahoo.co.nz

www.mcmasterheap.co.nz

McMaster & Heap

Member of NZ Arboriculture Association

For quotes and enquiries phone 03 349 7143 | For urgent enquiries phone 027 272-6710

Email: office@arbor-tek.co.nz

www.arbor–tek.co.nz
---
SOUTHERN VIEW Tuesday November 1 2016 5

News

Concern at cycleway route

• By Caitlin Miles

DEMOLISHING HOMES for a

cycleway has made Somerfield

residents band together to stop

the city council from doing it.

Up to four homes at the end of

Roker St and part of Barrington

St could be bought by the city

council and demolished to join

the roads and make way for a

4m wide cycleway as part of the

Quarryman's Trail cycleway.

Nic McKenzie is a neighbour

to the potentially affected properties

on Roker St and she didn't

think it was clear in the plans

that the homes might go.

"There were just some lines

over the homes and if you

weren't looking closely you

wouldn't know the council are

suggesting demolishing them,"

Mrs McKenzie.

City council transport operations

manager, Steffan Thomas

said the city council had been

in contact with the potentially

affected home owners but no

properties had been purchased

at this stage.

Mrs McKenzie said she is

"concerned" about the impact a

cycleway will have on their quiet

street.

"For those of us who are a

little bit newer to the cul-de-sac,

CHANGES: Lisa Winchester, Julie Macdonald and Nic

McKenzie want the city council to change the proposed

cycleway to keep their neighbourhood the same. ​

we live here because it's really

nice and quite and safe with no

traffic and the city council are

suggesting 2500-5000 cyclists a

day," she said.

Fellow Somerfield residents

Lisa Winchester and Julie Macdonald

joined Mrs McKenzie in

creating a submission against

the proposed route, even creating

an ulterior route which

would not require houses to be

demolished.

The current route involves

travelling up Frankleigh St and

connecting with Barrington St

and demolishing homes between

Barrington and Roker St to create

a cycleway and travelling up

Roker St, Strickland St and Antigua

St into the central city.

Mrs Winchester, Mrs Macdonald

and Mrs McKenzie propose

a route along Frankleigh,

Milton, Simeon and Collins Sts

instead.

"This way no homes need to

be demolished and we feel it is

a much more direct route," Mrs

Macdonald said.

Mr Thomas said the reason

the city council proposed

the route through Roker St

was because of the low traffic

volume and minimal impact

on removing car parking and

buying properties would still be

cheaper.

"Even with the purchase of the

properties in Roker St, the Roker

St option is significantly cheaper

to build than the Milton alternative

and has less impact on the

community," Mr Thomas said.

However, Mrs Macdonald

does not agree.

"For the community here it

doesn't make sense to put these

busy cycleways down these quite

streets," she said.

There have been 39 cycle accidents

in the last 10 years along

the Milton St route, with four

being serious injury. Eight of

the accidents were on Milton St

between Barrington and Strickland

streets, one of which was a

serious injury accident.

•In last week's article on the

Quarryman's Trail cycleway we

said 70 per cent of car parks are

proposed to go from Antigua

St, between Hazeldean Rd and

Moorhouse Ave. In fact it should

have read between Hazeldean

Rd and Brougham St. We

apologise for the error.

In Brief

CAR FIRE

A car that was torched in

Spreydon on Saturday morning

is believed to be stolen. Residents

were awoken to a loud bang

at about 1.20am. Crews from

Addington, Christchurch and

Sockburn were called to the scene

on Edinburgh St and found the

vehicle well involved.

NEW VEHICLE FOR GROUP

Community Watch has added

a vehicle to their operation to

help keep the community safe.

The group spent several months

fundraising for the vehicle which

it will use during patrols of the

area most week days with extra

night patrols. The efforts to pay

for the Suzuki Grand Vitara

was aided by donations from

Pub Charity, Hollands Suzuki,

Barrington, The Cashmere Club,

Fresh Choice Barrington and

AMI Insurance.

SPEED LIMIT CHANGES

THe city council is proposing

speed limit changes to six roads

within the Halswell area. It is

proposing to change the speed

on Milns, Sutherlands, Sparks,

Halswell Junction, Marshs and

Quaifes Rds. It comes after the

city council approved speed limit

changes on 29 roads around the

city in September.

Spotted any lonely cones?

There are a lot of lost, lonely road cones out there. We want to bring them home.

We're tidying up the streets as the SCIRT programme winds down.

Please help us track down stray cones no longer on the job. We'll put them back to

work, or send them off to the giant cone melting pot in the sky.

The CONEMOBILE is coming your way.

SCIRT's CONEMOBILE is hitting the streets to collect any road cones that have gone

astray. Let us know if you've spotted a lost or wayward cone.

Call the CONEMOBILE

0800 SCIRT CONE - 0800 7247 82663

email info@scirt.co.nz or visit Facebook/com/scirtcone

Your support is helping us to get the job done. Thank you from the SCIRT team.

Programme funded by
---
6

Tuesday November 1 2016

SCHOOLS

SOUTHERN VIEW

New entrants

St Anne's had five new pupils start recently

Alice Munday Ashlee Tait Krish Chettri Liam Kelso

Lilly May Gibbons

Has your child recently

started school? Send your

photos to caitlin.miles@

starmedia.kiwi

PACIFICA: Darnell

Faga-Ieti (left)

was proud of his

younger siblings,

Natasha, Liyah,

Tanisha and Ezekiel,

who all received

awards at the

Pacifica evening

at Hillmorton

High recently.

The evening also

involved Rowley

Avenue, Spreydon

and Hoon Hay

schools.

RACING:

Linwood Avenue

five-year-old

pupils set off

on their crosscountry

running

race, completing

a 1km lap of the

school grounds.

The event was

held last week,

with all year

levels taking part

in the day. Many

parents went

along to support

their children.

RUNNING THE PLACE: Cashmere High

students (back left) Frey Anderson, Connor

McCabe, Oliver Bristowe, Mikaere Haerewa,

Jane Lee, Min Bin, Sota Nagano, (front left)

Isaac Greenlees, Lesieli Punivai and Jirayu

Sawisit all took turns working as wait staff

and running the front of Protocol Bar and

Restaurant as part of their recent year 12

food and hospitality course.

THE HOME OF GOOD BAKING

SOUTHERN

PLAINS

BREAD

VARIETIES

(Excludes Spicy Fruit)

ONLY

$

1 99

EA

HOT DEAL!

SALTED

CARAMEL

TRUFFLES

12pk

ONLY

CHEESE ROLLS

12pk

Soft and fluffy,

generously

topped with

cheese, perfect

for BBQs and

kid's lunches.

RASPBERRY

SLICE

$

ONLY

2 99 A divine

ONLY

raspberry slice

$

3 49

for all occasions.

EA

EA

MILK

Dairy Dale 2L varieties.

$

5 98

2 FOR or $3.19 each

ANZAC FAMILY PACK

BISCUITS

$

4 99

EA

Promotional pricing available while stocks last from 31/10/16 to 06/11/16.

Images are serving suggestions only.

Open 7 days | 8 Convenient local locations

Hornby • Barrington • Ferry Rd • Papanui • Riccarton • Upper Riccarton • New Brighton • Rangiora

www.couplands.co.nz
---
SOUTHERN VIEW Tuesday November 1 2016 7

raNGiora • Northwood • st martiNs • tower juNctioN • BishoPdaLe • raNGiora • Northwood

Northwood • st martiNs • tower juNctioN • BishoPdaLe • raNGiora • Northwood • st martiNs • tower juNctioN • BishoPdaLe •

Christmas

FOR

Less

www.paper-tree.co.nz

MAKING GIFTS MORE AFFORDABLE THIS CHRISTMAS!

NEW RELEASE BOOKS

OUR PRICE

the elf on

the shelf

ADOPT AN

ELF ON THE SHELF

AND GET

$10.00 OFF

ACCESSORIES

NOW INSTORE!

elsewhere $44.99 elsewhere $50.00 elsewhere $49.99 elsewhere $64.99 elsewhere $49.99

up to

25 % Latest releases!

off

50 %

Locations

OUR PRICE

$

34 99

$ OUR PRICE

OUR PRICE

35 99 OUR PRICE

$

34 99 $

29 99

OUR PRICE

$ $

49 99 29 99

elsewhere $37.99

OUR PRICE

$

19 99

OUR PRICE

$

27 99 OUR PRICE

OUR PRICE

$

24 99

elsewhere $34.99 elsewhere $26.00 elsewhere $35.99

$

9 99 OUR PRICE

$

17 99 OUR PRICE

$

15 99

elsewhere $17.99 elsewhere $23.99

elsewhere $21.99

off

TOYS

tower junction, off Clarence St, Riccarton

Bishopdale, 31 Bishopdale Court, Bishopdale

rangiora, 206 High Street, Rangiora

Northwood supa centre, Main North Road, Belfast

st martins shopping centre, Wilsons Road, St Martins

Follow us on Facebook @papertreestores

• st martiNs • tower juNctioN • BishoPdaLe • raNGiora • Northwood • st martiNs • tower juNctioN • BishoPdaLe • raNGiora
---
8

Tuesday November 1 2016

Our People

SOUTHERN VIEW

Architect helps rebuild communities

Entrepreneur Camia Young, 42, settled here

in the aftermath of the February 22, 2011,

earthquake. Fraser Walker-Pearce talks to

the American architect about her passion

for rebuilding the city

Tell me what you were doing

when you first arrived in New

Zealand?

I arrived five years ago and

was teaching architecture at the

University of Auckland. During

that time, we brought more than

1000 students to Christchurch to

help with the rebuild and I did

that until about a year or so ago.

I was flying from Christchurch

to Auckland on a Monday and

coming back on the Wednesday.

I would do that every week and I

got super tired. I loved teaching,

it was such a good time.

During your time at the university,

were you still involved

with Christchurch?

In the middle of that teaching

we did Gap Filler's pallet pavilion,

which took place over the

course of a summer and winter.

It was up for two years, so that

was a treasure of a project. And

during setting that up, I caught

a bug – it was a good bug, but a

bug nonetheless. The bug taught

me about building communities

through building buildings. It

wasn't about the pavilion it was

about the community around

the pavilion that made it work.

It was about a healing place for

the community to gather around

after the earthquakes.

And what after that?

Then I started a project called

Exchange Christchurch, XCHC.

X stands for exchange and CHC

is Christchurch's airport code.

And we will be doing Exchange

Auckland, which will be XAKL

and Exchange Wellington which

will be XWLG. So there are other

initiatives coming as well. It

provides a place for people that

have lost a lot in the earthquakes,

a place to create and produce

their creative work and develop

their creative practice.

Great, so what can people see

at XCHC at the moment?

At the moment we have a

jeweller, a painter, a composer,

a few photographers, an

architectural designer and art

exhibitions that change weekly.

So would you say you've been

quite involved with the rebuild

of the city?

I've been more involved in the

social side of the rebuild more

than anything. What I've been

doing is learning by doing while

I'm here. This will absolutely

be a 21st century city where it's

not so much about the next big

icon, but where the people will

come first and the buildings will

be a by-product of that. I have

confidence in the people.

Right, and where in the city

are you based?

I'm mostly at the exchange

in the central city, but I own

a place out in Lyttelton. I love

Lyttelton, but I also love Sumner,

New Brighton, places with a

cool community feel. I much

prefer the speed of small than

the big city stuff, you can get

so much more done in small

communities. I actually live up in

Mt Pleasant and I quite like that.

And you have a slight accent

there – is it American?

Yes. I was born in Colorado

and those mountains still call

to me. I'm from Aspen. It's the

Rocky Mountains that get me.

New Zealand has a really strong

connection with nature as well.

I left when I was younger and

lived in Europe for 11 years,

studied in London, then worked

in Rotterdam (Netherlands),

Paris (France), Madrid (Spain)

and Basel (Switzerland). It was

great, I was practicing there as an

architect.

There must have been some

incredible projects in the likes

of Paris?

There was one project in Paris

– it's the only time I've ever cried

ENTREPRENEUR: Camia Young moved to Christchurch to

use her skills as an architect to help rebuild the city after the

earthquakes.

when we lost a project. It still

hurts to this day. I fell in love

with it. It's where I learned to

dream with the intent to realise

the dream. It's easy to come up

with an idea, it's expensive to

execute them.

I'd imagine it would be. Have

you been anywhere other than

America, Europe and New

Zealand?

I'm also a Brazilian resident.

My father lives there. I spend

a bit of time there and I speak

Portuguese as well. He lives in

northern Brazil. He built a selfsustaining

home in the middle

of the sand dunes. He's lived

without electricity for the last 25

years and now has solar power.

He's a hippy in the middle of a

desert. So he's my inspiration for

a lot of things.

That's pretty incredible. Do

you have a project that, once

completed, you'll be happy to

retire and put your feet up?

No. I don't really have an

end-game. I love seeing positive

change. And I think we're all

inherently creative, to see that

work done is the road and the

end for me.

Where did you spend your

school years?

Up through secondary I

was in Aspen, elementary and

high school. Then I did my

undergraduate at University

of Colorado and graduated

as valedictorian and went

on to get a masters in Los

Angeles at SCIARC, the

Southern California Institute of

Architecture. In three years, I got

two masters degrees, rather than

two and a half for one masters,

which it could've been. Then I

practiced architecture in Europe

for 11 years across the board

there.

Do you have any family over

here in Christchurch?

No, no family here, I fly solo.

I have lots of love, I miss them,

miss the mountains, too. But

some family has come out while

I'm here, though. Mum and dad

have been out. My sister uses

the old 'if you don't eat your

vegetables, you won't be able to

go visit Aunty Camia' on her two

kids. They're super-excited to

visit as well.

Was it always an intention of

yours to come to Christchurch?

Not at all. I was looking for

change from working in a

corporate office. As much as I

loved my life in Europe, I wanted

to find somewhere I could do

my own thing. A friend of mine

who is a Kiwi offered to bring me

in to teach at the University of

Auckland, which was about three

months before the February

22, 2011, earthquake. Then

that entire year course became

focused on the earthquake and

on Christchurch. I had never

taught and I had never been to

Christchurch, but I was looking

for a new home and so I came

a month before the course

was due to start and I walked

Christchurch for that month and

then went up to teach the course.

I knew in that month that I

would stay here. I was looking

at a couple of other countries

around the world – Brazil,

Canada – but I couldn't do it.

What are some of your

first memories stepping into

Christchurch post-earthquake?

It was late 2011, so it was

post-apocalyptic. I thought

immediately I was in way over

my head and I thought I was

naive in the fact that I thought

I could make a difference. But

after phoning my dad about it,

I decided I would stay. I started

really walking the city and

learning as much as I possibly

could about it. I ended up getting

my visa through the job in

Auckland and now I'm here. But

that month, it was really scary

for me because I had never seen

a crisis on that scale before and I

didn't know what to do.

Must have been pretty

terrifying. Had you experienced

an earthquake before that?

I think I remember maybe one

earthquake when I was in Aspen,

but when I was in LA there was

a few. But nothing compared

to when I came here, and they

happened so often back then.

HEAT PUMP

SALE NOW ON!

Amazin' spring Specials!!

• We will offer you the best quality brands and

option of heat pump for your home/business

• Providing Heat Pump solutions for over 14 years to Cantabrians

• We personally guarantee all our products & installs for 5 years

(providing annual maintenance has been completed)

Phone us today for your free consultation & quote

41A SHAKESPEARE RD, WALTHAM

PHONE 03 366 0525

www.enviromaster.co.nz

"A local team for local people"

A Piece of Sydenham History for Sale

14 Shelley Street, Sydenham

3 1 1 2

This cute as a button cottage was built in the late 1800's and retains

many of its original features. It offers two bedrooms, study and open

plan living area plus a modern kitchen and bathroom. There is a lovely

sheltered deck to sit on with these summer evenings coming on.

You will have time to enjoy the local amenities with the easy care

section. An added bonus is a roomy sleepout - perhaps overflow

sleeping or a work from home space?

Your agent, Your home, Your future

P 027 777 0411

Listing Number: BE192645

Call now to view - this is a rare

opportunity to buy a slice of history.

Price: $375,000

LICENSED SALES CONSULTANT REAA 2008
---
SOUTHERN VIEW Tuesday November 1 2016 9

Your Local Views

Making cycleways work

Spreydon Ward

city councillor

Phil Clearwater

writes

about the

benefits and

concerns of

the Quarryman's Trail

cycleway, which will travel

from Halswell through

Hoon Hay, Spreydon,

Addington and into the

central city

Both before and after being

re-elected as the councillor

for the Spreydon Ward, I have

talked with residents about how

we need to fix the problem of the

city's traffic congested streets.

To reduce our reliance on cars,

we need to have other transport

options like active travel (walking

and cycling) and public

transport available so people

have a choice. To build the

planned 13 major cycle routes

in the city, there will need to be

compromises.

The cycleways are designed to

provide a safe route for people

who are keen to bike to school or

work, but do not feel the current

roads are safe. There have been

39 cycle-related accidents along

the proposed Quarryman's Trail

route in the last 10 years and

four of those accidents caused

serious injuries. This cycleway

will provide a safe and continuous

cycle route between Halswell

and the central city.

Parents who have children

at Our Lady of the Assumption

and Hoon Hay schools on

Sparks Rd have told me they are

supportive of the proposal as it

will provide a safe bike route for

their children to get to and from

school.

This is something that they

have wanted their children

to be able to do, but with the

busyness of the roads, they have

not felt this was a safe option.

The cycleway proposal includes

a signalised pedestrian crossing

outside the two schools to

improve safety for the children

crossing the road.

For everyone in cars, or on

bikes and walking, the proposals

for the Quarryman's Trail

cycleway include some major

traffic upgrades.

The existing roundabouts at

Lyttelton/Frankleigh/Milton

Sts, Hoon Hay/Sparks Rds and

Hendersons/Sparks Rds are

proposed to be removed and

signalised. This will improve

traffic flows along these roads

and reduce congestion in

peak hours for residents and

motorists.

New traffic signals are also

planned for the intersection of

Disraeli/Antigua Sts to improve

safety for cars trying to cross

Antigua St in peak hours.

Another part of active travel

many residents have told me

about is the need to upgrade

many of our local footpaths.

I'll discuss fixing this part of

our transport with city council

staff and my fellow councillors,

too.

Meanwhile, I encourage local

residents to give feedback to the

city council on the cycleway

proposal, as your feedback

is critical to ensure that we

build a cycleway that works for

everyone.

FLAME FILES

Remember the citywide

ban on outside fires

• By Mark Thomas – Fire

Risk Management Officer

SUPPOSEDLY WE'RE zeroing

in on summer now although

some days it certainly doesn't

feel like it.

A reminder that in the city

boundaries there is a permanent

ban on outside fires and we're

sort of obliged to put any fire out

that we're called to.

I say sort of obliged because

our officers are generally pretty

decent people and quite often

leave a small fire like a brazier

to the occupants to put out

themselves rather than involve

a high-revving fire pump and

have firefighters stomp all over a

section.

They do this at the risk of

being lied to and ignored. The

second time called back to

the same fire their attitude is

generally much less obliging.

Ducklings, a dog stuck in

a fence and an injured swan

featured in animal rescues

carried out by city crews this

week.

For good measure they were

again called to pluck a

trapped drone from the top of

a tree.

These are sure to increase as

aerial tools and toys become

more and more prevalent. Just

a word of advice to would-be

pilots.

There are an awful lot of trees

that are much taller than our

tallest ladder.

Hornby Hub had an

evacuation last Thursday

evening, caused, it seems, by

a spray tanning operation in a

beauty shop setting off the fire

detection system.

Readers respond to

Western News' article

on the Quarryman's Trail

cycleway potentially

removing car parks,

changing speed limits and

road layouts.

James McKee – We think

it's a dumb idea and a total waste

of funds. When the cyclists are

charged for using the road then

we should look at it.

But they are a bunch of whining

kids who want everything for

free. The taxpaying road users

are about to be screwed again

and the ratepayers are screwed

twice. Maybe the council can

start licensing bikes and use the

money for upgrades.

Brian Roberts – With

reference to the article in Western

News I have a few questions:

IT'S EXTREME!

WeedonS Road, West Melton

Adults $20

Pensioners $15 with gold card

Family $40 (2 adults & 4 children under 15)

Accompanied children under 15 years $10.

Infants under 5 FREE. (Sorry, no EFTPOS)

Info line Ph 021 070 3140

www.mooreparkspeedway.co.nz

1. Has anyone done any

research into how many cyclists

will use this facility. Will it be

only on fine days and the car

brought out for winter?

2. Does it take the needs of

cyclists to have two roundabouts

removed and replaced with traffic

lights when motorists have

put up with the roundabouts for

years?

The bicycle lobbyists seem to

think that the city can be taken

back to the 1950s and we will all

ride bikes again.

Has no one told them that you

can never go back. The car is here

to stay and that is a fact of life.

They give no thought to the

old and infirm and their needs

but only see the Holy Grail of

a car-less society. It is time that

some of them grew up.

One hopes that common sense

will prevail.

SUNDAY 6 NOVEMBER

FROM 1pm

Canterbury senior & junioR

solo champtionships

Michael Brathwaite –

Regarding the Quarryman's

Trail, while I do not object to

cycle lanes in principle, I do

object to the removal of any

parking spaces, the closure of

street entrances to motorists, and

the lowering of speed limits.

I am on a list of people to

PLUS

sIDECAR

SUPPORT

whom the city council is supposed

to send emails regarding

issues like this but, while they

advise me of proposed changes

in places to which I seldom go,

such as Linwood, I never seem to

hear about ones in my area, and

I'm certain I heard nothing about

this one.

On Labour Day, when driving

along Brougham St, I noticed

Collins St had been closed. There

had been a lot of discussion about

it in the local papers recently and

the community board recently

asked the city council to lower

the speed limit there.

However, I suspect it has all

been an orchestrated smokescreen,

because when I rang the

city council about it, I learned

that they had decided in February

to stop motorists turning

into it to avoid the traffic jams

where three lanes merge into two,

and that it is to become part of a

cycleway.

I fully sympathise with shop

owners who will lose business

when customers can no longer

park near their shops. They will

probably be forced to cycle as

they will not be able to afford to

run cars anymore.

Dyers Road Landscape

& Garden Supplies

• Barks • Peastraw • Composts - we supply the best available

• Aggregates - Chip, Round and Basecourse

• Pavers & Schist products • Pungas

• Decorative Stones & Landscaping Rocks

• Trailer Hire first hour free with purchase

• Bag & Bulk - pick up or delivered

David, Carol & Mike

We will deliver!

SOIL

AND

HARDFILL

DUMPING

Phone: 03 384 6540

183 Dyers Rd, Bromley • OPEN 7 DAYS

Weekdays 7.30am-5pm. Weekends 8.30am-3pm

www.dyersroadandlandscapes.co.nz
---
10

ON NOW!

Tuesday November 1 2016

your chance to

win one of three

$1000

SHOPPING SPREES

THIS COULD BE YOU!

Shop scan

SOUTHERN VIEW

½ PRICE

ALL

UVEX

HELMETS

While stocks last

ALL CUBE

BIKES ON

CLEARANCE!

• Clothing, parts & accessories

• Bike servicing and repairs

• Friendly helpful staff

• Layby available • Open 6 days

03 360 2050

93 Barrington St

Mon-Fri 8.30-5.30,

Sat 9.30-3.30

cycleworkz.co.nz

WIN

enter every time you shop at any of these participating businesses - more draws, more chances to win! Promotion closes 9th Dec 2016. conditions apply.

Quick Stop Liquor

69 Centaurus Rd,

Cashmere.

Ph 332 0233

Hrs: Mon 3pm-7pm

Tues - Sat 11am-7pm

Specials from 25th

October to 7th November

• BEER • WINE •

• SPIRITS • RTDs

OVER 50 CRAFT

BEERS INSTORE

$

34 99

1 LITRE

I can

see

clearly

now

GREAT BUY!

$29.60

BARRINGTON, 256 Barrington Street

PH 332 1730 | www.suckling.co.nz

special

offer

Bring in this

ad and receive

$

5 off

any Style Cut

1 per person.

Offer valid until

06/12/16

Style Cuts

cuts

$

29

Just Cuts Hornby, Shop 49A, The Hub, Christchurch

Taste of Persia

Souvlakis & Kebabs

• Various Choices

Lamb, Chicken, Beef, Falafel (Vegetarian)

• Different Sizes

Large/Small/Pocket

• Extra Meat, Mushroom + Cheese Available

• Persian Style Kebabs on Rice

• Fast Friendly Service

• Excellent Value for money

• Phone Orders are Welcome

239D Colombo Street | 332 7252

Open: Tues – Sun 11am – 9pm

KTS

From

$10 Hair Cuts

No appointment just walk in!

337-9407

239B Colombo Street, Beckenham

CHRISTCHURCH'S PERFECT

INDOOR ENTERTAINMENT

FLIP OUT TRAMPOLINE ARENA

• MAIN ARENA

• TRICKING AREA

• FOAM PIT

• WALL TRAMPOLINE

• TUMBLE TRACK

YOUR SAFETY IS OUR #1 PRIORITY

PHONE 384 8244

230 MACES RD, BROMLEY

WWW.FLIPOUT.CO.NZ

Full mechanical service for all

makes and models

WOF $35

New & used tyres available

Free battery test

Wheel Alignments

20 Gasson St, Sydenham

Ph 379-6212

Mon-Fri 8am - 5pm Sat 8.30am - 1.30pm

MOTOR COMPANY CHCH LTD

Bezzera E61 Machines

Vitamix Blenders

Kitchenaid Mixers

Magimix Processors

Bialetti Espresso

Kai Shun Knives

Lodge Cast Iron

Le Creuset Cookware

Pyrolux Cookware

Arcos Knives

Cutlery Homeware

Cheforks Uniforms

Bamix Stick Blenders

Schott Zwiesel

Victorinox Knives

Dualit Toasters

Electric Mincers

Food Dehydtrators

Cake Decorating

Roasting Dishes

Electric Kettles

Sabatier Knives

Acme Expresso Cups

Imperia Pasta Makers

Staub Cookware

Wood Chopping Boards

Quality Bikes

Wanted

new tO addingtOn!

Authentic Indian

Restaurant

North/south delicacies, Dine in or takeaway

lunch specials from $9 .50

full licensed restaurant

See our menu at PepperBridge.co.nz

Spring bedding Special

duvets, blankets, Covers

20% OFF

All bedding SeRViCeS

when you mention this ad

(excludes pillows)

Total Food Equipment

218 Moorhouse Ave 03 366 6912

Before After

Open 7 days • 620a Ferry Road, Woolston | Phone 03 376-6377

www.aroundagaincycles.co.nz

aroundagaincycles@gmail.com

300 Lincoln Rd, Addington | (03) 595 0442

330 Lincoln Rd, Christchurch

Ph: 03 338 3312 | mastervalet.co.nz

$22

WOF

SIZZLING

SAT WOF

SPECIAL

Full mechanical service

+ repair available

Cnr Fitzgerald Ave & Hereford St.

Phone: 365-5220

www.a1auto4service.co.nz

Quality

NZ Made Beds

& Bedroom

Furniture

OPEN 7 DAYS

• Sealy • Beautyrest • Coastwood Furniture • Robax

• Mazon Virtali • Compac Furniture • Sleepmaker

• Sleep Systems NZ

242 Ferry Rd (Along From Old Ami Stadium)

Phone 377 8887 | www.bedworld.co.nz

Printer Cartridges

Visit us and SAVE!

100 Fitzgerald Ave, Christchurch (03) 365-7739

2016 seasoN

NoW starteD

the place to be

this summer!

Season passes available at the Woodford Glen Shop,

129 North Avon Road, ChCh | Ph (03) 385-1515

Check out www.woodfordglen.co.nz for meeting dates

The Automotive Lamp

Specialists

WE ARE

BACK IN

HORNBY!!

BUTLER

Auto Mart

Auto Parts Professionals

STOCKISTS OF NEW PARTS FOR

MOTOR VEHICLES FROM 1930-2016

Radiator Hoses, Water Pumps, Wheel Cylinders,

Belts, Electrical Components, Suspension Parts,

Bearings, Specialised Classic Parts

+ 100's of other parts!

Boost Brain Performance

ENZO:PROFESSIONAL (ENZOGENOL) is a potent

antioxidant extract of the N.Z. pine bark and

has been clinically shown to improve memory,

concentration & brain performance.

SUPER

60's only $45.30, save $5.00

120's only $84.90, save $15.70

PRICE! Detailed Information Available

Bringing You the Best in Natural Health!

New and Used Lamps for Cars, Trucks,

Vans, 4WD and Motorhomes

PH. 0800 225 483

325 Brougham Street, CHRISTCHURCH

4 Brynley Street, Hornby, Ph (03) 982 7554

407 Colombo Street, Sydenham, Ph (03) 366 8005

www.butlerautomart.co.nz

MARSHALLS HEALTH & NATURAL THERAPY

CONSULTING - PRESCRIBING - DISPENSING -

MANUFACTURING - MEDICAL HERBALISTS

110 SEAVIEW RD, NEW BRIGHTON • PH 03 388 5757

Email: enquiry@marshallshealthshop.co.nz

- WE ARE ALWAYS HAPPY TO HELP! -
---
SOUTHERN VIEW Tuesday November 1 2016 11

Stedman wins two more awards

SPORTS

Paralympian William

Stedman now has

two Zonta awards

to go with the two

bronze medals he

won in Rio

MIDDLETON Grange student

and Port Hills Athletics Club

member William Stedman took

home two accolades at the 26 th

Zonta secondary schools sports

awards on Thursday night.

Stedman won the most

outstanding achievement by

a young sportsman with a

disability award, and then

took out the most outstanding

achievement by a young

sportsman specialising in one

sport.

The 16-year-old became a

double Paralympic medallist in

September when he won bronze

in both the men's 400m T36

and men's 800m T36 in Rio de

Janeiro.

The youngest member of the

New Zealand Paralympic team

ran through half the field in the

last 200m to win his first bronze

in the 800m final. He recorded a

personal best time of 2m 11.98s

in the race.

He then won his second bronze

medal in the 400m with a time of

55.69 seconds, one second behind

winner Paul Blake of Britain. He

also competed in the long jump,

finishing fifth.

WINNER: William Stedman

was awarded for his hard

work and commitment

to athletics at the awards

evening.

PHOTO: LEE MALZARD

PHOTOGRAPHY

Stedman, who has cerebral

palsy, was a spectator just four

years ago when he was on a family

holiday in London.

Seeing the 2012 Paralympics

gave Stedman the idea that he

could compete on the world

stage.

After returning from London,

Stedman took up cross-country,

running with the Port Hills

Athletics Club. But he switched

to shorter distances and the long

jump after attending a paraathletics

camp in 2014.

Leading up to the Rio games,

the Paralympian trained on a

daily basis with coach George

Edwards at Hansen Park in

Opawa.

Zonta Sports Awards

results

•Category one: Mostvalued

contribution

to a team by a young

sportswoman and

sportsman

Girls' winner: Georgie

Smith, St Andrew's, rowing

Boys' winner: Cameron

Russell, Burnside, rugby,

sevens

•Category two:

Contribution to sports

administration by a young

woman and a young man

in a position of umpire,

referee, coach or tutor

Girls' winner: Hannah

Hutchinson, Christchurch

Girls, polo

Boys' winner: Devon

Harding, Christchurch Boys,

rugby league

•Category three: Most

outstanding achievement

by a young sportswoman

and a young sportsman

with a disability

Girls' winner: Christina

Shepherd, St Andrew's,

athletics

Boys' winner: William

Stedman, Middleton,

athletics

Category four: Most

outstanding individual

achievement by a young

sportswoman and a young

sportsman specialising in

one sport

Girls' winner: Kate Smith,

Christchurch Girls, track and

road cycling

Boys' winner: William

Stedman, Middleton,

HARD

WORK:

Stedman

competed

at the Rio

Paralympics,

taking home

two bronze

medals.

athletics

•Category five: Most

outstanding team of

young sportswomen and

sportsmen or mixed team

Girls' winners: Burnside,

volleyball; Villa Maria,

hockey first XI

Boys' winners: Christ's,

rowing 'eight'; St Andrew's,

clay target shooting

Category six: Best allround

young sportswoman

and young sportsman who

has achieved in more than

one sporting code

Girls' winner: Lily

Marshall, St Margaret's,

netball, rowing

Boys' winner: Joshua

Archer, Shirley Boys, rugby,

surf life saving, canoe

racing

DESIGNER

FASHION

AT OUTLET

PRICES

HORNBY 409 Main South Road | OVER 50 STORES

dress-smart.co.nz
---
12 2

Tuesday [Edition datE] November 1 2016

Southern View

SOUTHERN VIEW

Neighbour

Hello

Hungry for tasty treats

As soon as you walk into Pierce's

Bakery at 78 Barrington Street, your

taste buds go into overdrive from the

tantalizing smells of the freshly baked

pies. Whichever your pick, sweet

or savory you'll taste a little slice of

paradise to fill your hungry stomach.

The pie making at the bake house is

a team effort. Roger makes the mixes.

Sam is a master at putting the pies

together and Glenn makes the pastry,

sausage rolls and many other special

treats.

Roger keeps pace with the steady

demand for slices, biscuits and custard

squares which he manages to do with

consistent quality.

Margaret is a dab hand at

the shop on Barrington

Street for making

pizza, quiches, apple

turnovers and

custard tarts.

Lynn assembles all

the sandwiches and

rolls, while Margaret

and Lynn together

make the tarts and kids

biscuits. Serving you, the

customer is their favorite task of the

day. Friendships build as they hand you

delicious treats and share stories of life.

Their award winner Peach Melba

pie reached 7th place in the Bakels Pie

Award contest this year.

STOCK YOUR FREEZER

Call today and order your favourite

pies, rolls and desserts for pick up. Life

is busy, don't be caught wondering

what to make for dinner. It's always

convenient to be stocked up for those

days you're not in the mood to cook or

when the afternoon hours just seem to

get away from you.

Open the freezer door and pull out a

tasty pie, quiche, roll or treat, knowing

they will taste great and fill all the

hungry stomachs.

OPEN FOR BREAKFAST

and LUNCH

Stop by the bakery first thing

in the morning while on your

way to work, dropping

the kids at school or

starting your day. A

hearty breakfast makes

all the difference in your

morning performance

and energy levels. Grab

your lunch or snacks

for home or office. Fresh,

homemade, delicious tasting

items offer a great way to start

the day!

SNACKS

In the mood for a snack? Try one of

their delicious pies, muffins, biscuits,

slices, sweet loaves or any of their baked

goods and don't forget the chance to

open a wholesale account.

Hungry? Pierce's Bakery is only a

hop, skip, and a jump away from you

and worth the time to stop by for a

scrumptious, tasty treat.

Call and place your order for pick

up or to open a wholesale account

Pierce's Bakery 337 0422

150 Cashmere Rd

P. 338 3334

Gifts from the heart

Beautiful quality Babies and Toddlers gifts,

Clothing, Shoes, Bedding and Toys.

Christmas Gifts and Decorations in store now.

Big Spring Sale

up to

50% off

on clothing and shoes with this ad.

Mon-Fri 10am-5pm

Sat 10am - 2pm

www.babybelle.co.nz

BAR

Addington

TELL US FOR

10% OFF ANY MEAL!

Greg Page was the original lead

vocalist & founding member

of which famous band?

a) The Wiggles

b) The Beatles

c) The Aquabats

EST 1994

QUIZ NIGHT:

Tuesdays

from 7.30pm

308 Lincoln Rd

Ph 03 338 9361

MOBILE

HAIRDRESSER

comes to YOU

with 33 years experience!

Personal service in the comfort of

your own home.

Dianne is reliable, on-time and she

listens to you because hair is her

passion.

• Adult style cuts: $25

• Senior discount (65+): $22

• Colour your hair with Tint $75-

90 Longer

• Foils & cut $85-100 - Discounted

for two or more.

Book now: 022 439 5819

Barrington

Kiwi BaKing

at its Best!

Muffins, Cakes,

Homemade Pies,

sandwiches and Rolls

10% discount

for shop orders over $100

Monday 6.30am - 2.30pm

Tuesday - Friday 6.30am - 3.00pm

& saturday 7am - 2pm

Pierces

BAKERY

Wholesale is for retailers who purchase our product

regularly for the purpose of on selling to their customers

www.piERcEsBAKERY.co.nz - (03) 337 0422

Somerfield

½ PriCE

ALL UVEX

HELMETS

While stocks last

ALL CUBE

BIKES ON

CLEARANCE!

• Clothing, parts & accessories

• Bike servicing and repairs

• Friendly helpful staff

• Layby available • Open 6 days

03 360 2050

93 BArringTon ST

Mon-Fri 8.30-5.30,

SAT 9.30-3.30

cycleworkz.co.nz

Iron out

your

driving

habits

with

JM Driver Training!

Refresher Lesson (1 hour)

only $75

AA Certified

New Learners

Refresher Training

Call Jeff today!

(027) 537-1966 or email:

jeff@jmdriving.co.nz

Woolston

50% off

selected giftware

with this coupon.

The Woolston

Gift Shop

683 Ferry Road, Woolston

Ph. 384 1528

Open Mon to Fri 9am - 5.30pm, Sat 9am - 2pm

Advertising enquiries John Verd | Ph: 021 912 372 | john.verd@starmedia.kiwi
---
SOUTHERN VIEW Tuesday November 1 2016 13

Barrington Jewellery Centre

BARRINGTON MALL

The Warehouse

offering a combined expertise in jewellery of over 100 years.

opened in 1999 Barrington Jewellery Centre offers unique service where you can purchase

your engagement, wedding rings and remakes, have jewellery repaired, ring resizing and

restoration completed, as well as your precious items of jewellery valued.

Before

YouR oNe sTop JeWelleRY shop

Remade

Ring

1.01ct

18ct gold

only $6,995*

1 Only.

After

Clarity Diamonds - Edwin Edmonds

Clarity Diamonds was established by Edwin Edmonds to offer a

personalised service to provide the best combination of style quality

and value for money. Over the last 35 years Edwin has specialised

in engagement and wedding rings and carries one of the largest

selections in Christchurch which customers can order in the

combinations that suit them best. Free Quotes are given and a design

service is also available. Remaking of your jewellery is also a speciality

at Clarity Diamonds where we can recreate your treasured pieces.

1.00ct DIAMOND RING SPECIALS

FROM ONLY $6,995*

*not available for insurance claims

Your choice of 18ct white

or yellow gold, several style

options available

Craig Anderson – Goldsmith / Manufacturing Jeweller

With 38 years experience at the workbench Craig specialises in jewellery repair and

restoration. A member of the Goldsmiths Guild of New Zealand, Craig completed

his apprenticeship in Wellington and attained his Trade Certificate in Manufacturing

Jewellery in 1978. Jewellery repairs, ring resizing and restorations are carried out

by Craig in his workshop on the premises. Craig will discuss the best available

options to you in regards repairs as well as advice on the care and maintenance

of your precious jewellery items. Whilst no appointment is necessary Craig can be

contacted on (03) 337 6576 if you wish to make a time to see him.

BARRINGTON

Jewellery Centre

Professional

service from

professional

people

Edwin Edmonds

Clarity Diamonds

GIA Diamond Cert.

Craig Anderson

Goldsmith /

Manufacturing

Jeweller

Member Goldsmiths

Guild of N.Z.

NZTCMJ

JVC Valuers

1st Fl/10a Athelstan Street,

Barrington

Christchurch

Ph:

Fax:

03 332 4233

03 982 4234

Email: jim@jvcvaluers.co.nz

Client Name:

Valuation Number:

Ruby Ring

JC12-7834Ad

Valuation for Insurance

Item: 1 SOLITAIRE RING

Alloy: 18ct yellow gold, Stamped : (18ct/1.00), Manufacture: assembled cast, Maker Designer: na, Setting:

tapered six claw, Underrail: straight, Shoulders diamond set extended and pointed cross over,

Shank/Band: narrow, near flat and slightly tapered.

DIAMOND.. one claw set, round brilliant cut diamond measuring 5.37 - 5.29 mm, estimated total weight

0.58 carats, with apparent averaged quality of; Colour: I-J, Clarity: low SI2, Make: medium good.

DIAMOND.. Fourteen channel set, round brilliant cut diamonds measuring 1.93 - 1.95 mm, estimated

total weight 0.42 carats, with apparent averaged quality of; Colour: H-I, Clarity: SI2-I1, Make: medium.

DiamondLink #L049M- www.diamondlink.co.nz

Item Weight:

Condition:

Durability:

510

Good

Good

Valuer: Jim Young, GIA: Diamonds Graduate GIA: ADG

Authorised signature:

Economic Factors:

grams

NRV- New Replacement Value......

$6,275.00

VALUERS DECLARATION - I hereby certify that the above item was personally examined by me on the date shown

and has been valued for the purpose of Insurance. This report does not constitute a warranty or guarantee. This

report should be read in conjunction with the attached schedule

20 July 2012

$NZ Exchange Rates US$ 0.7775 Metal Prices (NZ$/ounce) Gold 2055.16 Platinum 1857.87 Palladium

785.52 Silver 36.09

LAST mONTh ALONE mORE ThAN

700 NEW ZEALANDERS NEEDED

TO CLAIm fOR LOST OR STOLEN

JEWELLERY AND WATChES. If YOU

NEED TO CLAIm NOW, WOULD YOUR

JEWELLERY bE fULLY INSURED?

®

ATHELSTAN STREET

JVC Valuers, Jewellery Valuation Specialists

Craig Anderson NZTCMJ

BARRINGTON

JEWELLERY

CENTRE

ENTRANCE

Why use JVC ? See why JVC Valuers, jewellery valuation specialists are leading

the industry in jewellery valuation services.

1. EXPERIENCE. As we value more precious jewellery than anyone else in NZ, our

valuation team have unrivalled expertise. We can value all types of jewellery,

diamonds and gemstones. We value antique watches, antique jewellery, Asian

22 carat or 24 carat gold jewellery.

2. QUALITY. Our valuations meet Insurance Company standards. Your jewellery

will be clearly described, cleaned, photographed and valued. (see sample in

advertisement)

3. PRICE. We offer fair and transparent pricing based on the work we do, not the

value of your jewellery. So there's no hidden fees.

4. SECURITY. Your jewellery stays on our premises, all our valuations are

completed in house.

5. CONVENIENT. JVC Valuers has four valuation centres conveniently located

in Auckland, Tauranga, Wellington & Christchurch (Christchurch, 1st floor 10a

Athelstan Street-next to medical centre).

6. SERVICE. By appointment you can make a booking at our special Valuation

Days, to have your jewellery valued within the same day. Please Phone 332 4233.

7. Check us out. www.jvcvaluers.co.nz

Barrington St Barrington St

Barrington

jewellery

Centre

Frank leigh St

Jim Young

JVC Valuers

Senior Valuer

GIA: Diamonds

Graduate

Bei Kong

JVC Valuers

FGA: Gemmogolist

GIA: Diamond

Grading

Barrington

Shopping

Centre

athelStan St

WE ARE

HERE

SiMeon St

Barrington

Medical

Milton St

www.claritydiamonds.co.nz

www.titaniumweddingrings.co.nz

Ph: (03) 982 2982 or 0800 4 RINGS

Email: edwin@claritydiamonds.co.nz

Jewellery Manufacture, Repair & Restoration

Ph: (03) 337 6576

Email: gold.smith@clear.net.nz

www.jvcvaluers.co.nz

Ph: (03) 332 4233

Email: jim@jvcvaluers.co.nz

Opening Hours: Monday to Friday 9:00am to 5:30pm. Clarity Diamonds now also open 10:00am to 2:00pm Saturdays.

LeveL 1 - 10a atheLstan street, Barrington, ChristChurCh
---
14

Tuesday November 1 2016

REAL ESTATE

They loved it, now you can live it!

143 Opawa Road, Opawa

Price: $629,000

4 bedrooms | 2 bathrooms | 1 living room | 1 dining room | 1 office/study | 2 car-garage | Listing # FM4973

Superbly positioned and immaculately

presented, this character-packed family

home is offered to the market with real

commitment by vendors determined to

achieve a result.

Accommodation is provided by four

bedrooms (master with walk-in-robe

and it's own ensuite bathroom), double

doors and decking…plus a completely

separate luxury bathroom. Generously

proportioned living spaces offer plenty of

flexibility, with a study nook enhancing

functionality and a host of heating

solutions (including two heatpumps and

a wood fire with wetback) promising yearround

comfort, stunning leadlights are a

feature in most of the rooms.

Outside, the sun-drenched deck is the

perfect spot for family BBQs, while the

private, fully-fenced section offers ample

room for kids and pets alike. Double

garaging completes the appeal, while

the proximity to quality schools (Opawa

Primary, Cashmere High and Rudolph

Steiner, to name but a few) and an array

of amenities (including Ferrymead, the

Tannery and the local Opawa shops)

ensures everything you could ever need is

within easy reach.

Fully insured and with all EQC work

completed, this delightful home will

invariably attract interest from a wide

range of buyers. Immediate action is

advised - call now to learn more.

To view documentation in relation to

this property, please view: http://www.

propertyfiles.co.nz/property/FM4973

Open Home Dates: Saturday 5 Nov

2:30pm - 3:30pm Sunday 6 Nov 2:30pm

- 3:30pm.

Make sure you come visit at one of

the open homes, or to arrange a private

viewing of this property call Joy Butel

of Harcourts Grenadier Ferrymead

(Licensed Agent REAA 2008) on 384

7950 or mob: 021 353 280

SOUTHERN VIEW

growing with you

SprIng Is here –

It'S Sow Time

how to get the best results from

seeds and seedlings

100% NatIve In

The capItal

Unravelling the secrets of

Otari-wilton Bush

The New Zealand

landscape awards

The people behind

the projects

$7.90 incl. GST

Save our roSeS

How a rose register is protecting our heritage

September 2016 | 100%

It's time

to grow!

New look and more

content than ever!

MeeT LeSTer Brice

A Garden coach

auckland Botanic GardenS

Why we love our public grounds

now bigger than ever

The magazine for

gardeners who like to get

their hands dirty

SubScribe from

$43. 50*

*6 issues/6 months

ISSN 2423-0219

SUBSCRIPTIONS FREEPHONE

0800 77 77 10

www.gaRdeNER.kiwI
---
SOUTHERN VIEW Tuesday November 1 2016 15

Email caitlin.miles@starmedia.kiwi

by 5pm each Wednesday

Ignite and Excite

Daily, 11am-4pm

The Christchurch Community

Arts Council, on behalf of the

Christchurch Drug and Alcohol

Service and the Christchurch

Opioid Recovery Service, are

proud to present a collection of

artwork by drug users, those

in recovery and workers in the

addiction sector.

Linwood Community Arts

Centre, 388 Worcester St. Free

entry

TEDxChristchurch

Awesome Library

Daily, 11am-3pm

If you want to know what

all the fuss is about TED

talks go to the library and watch

a few entertaining

New Zealanders speak on

interesting subjects on a big

screen. Learn some interesting

things and ideas while taking

some inspiration from the talks.

The presentations from last

year's talks will be running until

November 5.

Te Hapua Halswell Centre. Free

entry

Musical Instrument Practice

Slots

Tuesday, 3.30 – 7pm

Book a time to go solo or

have a silent practice with up

to four bandmates. There will

be electronic drums, a digital

piano, a Roland session mixer,

mics and headphones available

for budding musicians. You can

also take in your own electric

instruments, and plug into the

session mixer.

Te Hapua: Halswell Centre, 341

Halswell Rd

Mid Week Laughter Club

Wednesday, 6pm-7pm

If you need an excuse to

laugh for no reason here it is.

The laughter club meet every

Wednesday to giggle about

nothing at all with the aim of

relieving stress and relaxing to

get you through the rest of the

week.

St Marks Methodist Church,

Corner Barrington and

Somerfield Sts. Entry $2

Scrabble Club

Wednesday, 1.30pm-3.30pm

If you want a chance to show

your skills with words and

creativity this is the place to go.

Be social and even pick up some

wordy tricks off others. There is

no obligation to join the scrabble

club, go when you like and take

your own board if you choose

too.

Linwood Library, First floor

Eastgate. Free entry

NERDS: Join the Nerd Degree as they discuss pop culture showing their lack of knowledge

about it. Every month the nerds sit down and discuss what is happening around the world

and if they don't know the answer they try and provide witty answers by making them up

instead. This time around they will discuss all things magical and where they can be found,

from dragons to magical mountains. This performance will take place at Orange Studios in

Woolston tomorrow night from 7.30pm-9.30pm. Tickets and more information are available at

https://www.cosmicticketing.co.nz/event/show/4996 ​

Hoon Hay Neighbourhood

Week Dinner and Dessert

Friday, 5pm-8pm

Take your own picnic dinner

to sit down and enjoy, while

getting to know your neighbours

in the Hoon Hay community.

The Hoon Hay Community

Association will be giving away

free desserts of cake and frozen

treats. Everyone is welcome to

attend.

Hoon Hay Community Centre,

90 Hoon Hay Rd. Free entry

Linwood Village Market

Saturday 9am – 1pm

The Linwood Village Market

is back offering many different

items for sale. Fresh produce,

plants, books, antiques, jewellery,

bric-a-brac, retro items,

vintage clothes and household

goods, handmade goods, crafts

and artworks, are some of the

things you can find at this

market.

Linwood Community Arts

Centre, 388 Worcester St. Free

entry

St Mark's School Fair

Saturday, 10am-3pm

St Mark's School is hosting a

fair this weekend with a lot on

offer for everyone, from kids

to adults. There are many different

stalls offering a variety

of items, start your Christmas

shopping by finding gifts at the

many stalls and pick up some

food while you're there. There

will also be entertainment and

games throughout the day.

St Mark's School, 33 Cholmondeley

Ave, Opawa. Free entry

Opawa Farmers Market

Sunday, 9am-noon

Grab some locally grown

produce or freshly baked bread

at the market, which runs

every Sunday. Pick up organic

products and enjoy taking a look

around the market.

275 Fifield Tce, Opawa. Free

entry

Author talk – Patti Clark and

JA Wright

Wednesday, 6.30pm-8pm

Authors of This Way Up, How

to Grow an Addict will discuss

their books at this talk. From the

idea through to the publishing

of the books learn more about

the stories and authors who created

them. No booking required.

South Library, 66 Colombo St.

Free entry

MALTWORKS VILLAS

LIFESTYLE VILLAGE • HEATHCOTE VALLEY • CHRISTCHURCH

Lifestyle Village

for over 55 yrs

Under offer

• 65 FREEHOLD UNIT TITLES - protecting your

investment (not licence to occupy)

• On site caretaker for maintenance of grounds,

common areas plus a communal clubhouse

• Selection of well designed larger floor plans

with both single and double garaging

• Solar panels on all villas generating

power savings

Sue & Gemma Roberts

P 03 323 6045 Sue 027 4401 282 Gemma 027 2236 471

E sue.roberts@harcourts.co.nz E gemma.roberts@harcourts.co.nz W www.sueroberts.co.nz twisskeir.co.nz Licensed Agent REAA 2008

MALTW

LIFESTYL
---
16

Tuesday November 1 2016

HEALTH & BEAUTY

SOUTHERN VIEW

Koru Clinic talks dermal fillers!

As the face ages, collagen levels deplete, reducing skin elasticity and leaving the facial skin lined,

saggy, drawn and gaunt. Dermal fillers are considered by many as the ultimate weapon for older

women to counter ageing, so what are the most asked questions?

What are dermal fillers?

Dermal fillers are most

commonly hyaluronic acidderived

gels that are injected

into the face to fill out static

lines and deep wrinkles.

They restore depleted volume

that can occur in ageing and

weight loss, lift sagging parts

of the face to reshape and

contour the face to give it a

more youthful or glamorous

appearance.

How do I know if fillers are

for me?

Koru Clinics Dr Heather

Jefferies treats men and women

with fillers and says the treatment is ideal

for skin ageing. "A side effect of ageing

is that collagen levels in the dermal layer

of the skin decrease, so the skin can

weaken, and lose fullness and elasticity. A

slowdown in collagen production occurs

from about age 30, which is when many

people can begin to notice sagging, fine

lines and wrinkles".

What areas do fillers help?

"They are most commonly used on lips,

around the corners of the mouth and in

the cheek area," she says. "Using dermal

fillers in the mid-face area can reshape the

face by restoring volume. Cheeks can be

enhanced and the overall contour of the

face can be improved."

Will the results look natural?

Dr Jefferies specialises in natural

enhancement through medical expertise.

"When having dermal fillers for the

first time, patients are often concerned

that other people will notice they may

look different or 'have had work done'.

A treatment done in moderation,

if administered by an experienced

practitioner, will result in subtle changes

that are difficult to detect."

"The goal should be for

friends and family to comment

on how well you look or how

refreshed you appear."

Are there any risks or side

effects?

"There can be problems

with fillers," Dr Jefferies says,

"however, risks and side effects

are often attributed to injection

technique rather than the

product itself, so you should

ensure any filler treatment is

undertaken by an experienced

cosmetic doctor."

How long does a filler

treatment take and how long will it last?

A dermal filler treatment takes about

an hour and the cosmetic effect is evident

immediately. True results are seen in

two to three weeks when the filler fully

integrates into the tissue. Dermal fillers

last anywhere from 10 months to two

years, depending on the area treated and

the type of filler used."

"If you decide to stop using dermal

fillers, over time the product gradually

breaks down and reduces in the skin.

Tissue and muscles will return to their

Koru Clinic owner

Dr Heather Jefferies

previous pre-treatment state and the

ageing process will continue as normal."

Dr Jefferies says fillers are relatively

simple, less invasive and less expensive

than surgery for freshening up the face.

"In good, skilled experienced hands,

injectable fillers can transform an

individual's appearance, helping them look

younger, more beautiful and feel more

confident, with minimal downtime"

Koru Clinic is located at

31 Colombo Street. Call

now for an appointment

on 03 372 3589

Acupuncture

Dr Lan Xiao

A unique UNIQUE PoweRFuL POWERFUL

tReAtment TREATMENT wiLL WILL Give GIVE

you YOU PAin PAIN ReLieF RELIEF in IN

juSt JUST A Few FEW SeConDS SECONDS

without needles

• Relieve all kinds of body pain

• • Relieve all asthma kinds and of body hay fever pain

• Relieve • Fantastic asthma weight and loss hayfever results

• Fantastic • Great results weight for loss insomnia, results dyslexia

• Great

depression

results

and

for

low

insomnia,

energy

• Stop cravings for cigarettes, alcohol,

depression

sweet foods

and

and

low

drugs

energy

instantly

• Stop cravings for cigarettes, alcohol,

sweet foods and drugs instantly

WATCh our Free Trial

insTAnT resulTs

Available

Free Trial Available *

videos online

*Conditions apply

*

*Conditions apply

108 Sawyers Arms Rd, Papanui

108 Sawyers (inside Melrose Arms Building) Rd, Papanui

Phone: 03 (inside 323 4168 Melrose • Cell: Building) 027 231 8388

Phone: 03 323 4168 • Cell: 027 231 8388

www.drlansreflexologynetwork.co.nz

lovebite.com

"Exclusive range

of pottery,

furniture,

handcrafts,

stoneware &

gifts"

395 Brougham St,

Christchurch

Ph (03) 365-3411

Open 7 days

Mon-Fri 10-4.30pm

Weekends 10-4pm
---
SOUTHERN VIEW Tuesday November 1 2016 17

SENIOR LIVING

Replacement dentures

now just a phone call

away with 3D technology

Keeping up-to-date with the latest

techniques in denture technology is

one of the keys to the success of John

Batchelor's company, Duchenne Dental, so

it's no surprise that John has been closely

following the development of 3D printing

of dentures and dental implants.

"I knew it was something that would be

of enormous benefit to our patients," he

explains. "When I was confident in the

advanced technology and its affordability,

then I knew it would be a good option."

His research took him to the bi-annual

International Dental Show in Cologne and

to some of the world's leading dental and

IT companies, helping John decide that the

timing was right to bring this technology to

New Zealand.

"I formed relationships with leading

companies in dental scanning technology

and 3D printing in several countries. We

now have the technology and expertise to

ensure our clients here in New Zealand

receive world class treatment and

products."

Unexpected client benefits

Duchenne now 3D print all their chrome

frames and partial bases, and have also

started using 3D print technology in full

upper and lower dentures.

John says there are numerous benefits

to Duchenne's clients, including

providing patients with a quicker and

more economical service, and dentures

and implants that are more accurate and

personalised.

"A bonus is that all models are stored

digitally so wherever you are, if you need

a replacement denture or tooth, we can

quickly and easily print one. And in many

cases patients don't even need to visit the

surgery!"

Duchenne Dental has manufactured over

300 partial dentures and both they and

their patients are delighted with the results.

for more information phone tristan

pattinson or John batchelor on

(03)2604188

Aspire

Canterbury

Aspire Canterbury offers support, advice and resources to

older people and those with impairments, their families and

caregivers.

Removing barriers to everyday living for individuals,

Aspire Canterbury inspires people to live life to

the fullest no matter what their difficulties.

The Disability Information Service is a source

of valuable information about the various

services available to people with short or long

term impairments and professionals from

community/health organisations.

Visit Aspire Canterbury's shop at 314 Worcester

Street or visit their website for more information

and resources. They also have an online shop selling

a wide selection of easier living aids, and offer rental

services for wheelchairs, ramps and walkers.

Aspire also has a mobile service which is available

for free, fun, interactive presentations of all their

equipment and services to retirement homes/villages

and any other community groups wanting a speaker.

for more information visit

www.aspirecanterbury.org.nz, 03 366 6189

mobileservices@aspirecanterbury.org.nz

We can help

2015 NZ Disability

Information Centre

of the Year

EAT

TALK

SMILE

Live life

confidently with

advanced dental

and denture care.

8 CONVENIENT CHRISTCHURCH

LOCATIONS:

Merivale 03 375 4444

Beckenham 03 375 4443

Fendalton 03 375 4449

Linwood 03 375 4448

Kaiapoi 03 375 4442

QEII Dental 03 388 0881

Dentistry with a Smile 03 338 8210

Halswell Dental 03 322 9577

Canterbury's leading company specialising

in complete denture services.

www.duchenne.co.nz

Support and Resources for Independent Living

walkers to

purchase

(FroM $230)

or hire

$20

per week

Can we help you or someone you support?

Disability Information Service – a 'one stop

information service' which offers unbiased

advice to assist people navigate their way to

organisations or services that can provide them

with support or advice.

Aspire Canterbury Shop – shop online or call in

to our shop at 314 Worcester Street and view our

range of easier living products We also hire out

wheelchairs, ramps and walkers.

Total Mobility Discounted Taxi Service – a scheme

which provides 50% discounts on taxi journeys to

eligible people in the Christchurch area who, due

to health conditions, are unable to access public

transport. Contact us for more information on

03 366 9093 or visit our website.

Mobile Service – Fun interactive presentations of

our information, services and easier living

equipment. We come to you! To book our

presenter to speak to your group call Richard

at numbers below or email mobileservices@

aspirecanterbury.org.nz

Mobility scooter demonstrations available.

Aspire Canterbury is a not-for-profit organisation

providing services to the community since 1981

Physical Address:

314 Worcester Street

Linwood Christchurch

Postal Address:

PO Box 32074

Christchurch 8147

Ph: 03 366 6189

Freephone: 0800 347 242

Ph: (Total Mobility) 03 366 9093

Mobile Service: 027 588 9700

E: admin@aspirecanterbury.org.nz

W: www.aspirecanterbury.org.nz
---
18

Tuesday November 1 2016

SENIOR LIVING

Arthritis and you

Arthritis is New Zealand's leading cause

of disability with more than 600,000 New

Zealanders' having arthritis. Arthritis can

occur to any one at any age and there are

more than 1,000 children in New Zealand

living with arthritis.

Arthritis New Zealand raises awareness

of the more than 140 different forms of

arthritis, advocates for people who are

living with arthritis, funds research and

provides advice and support.

Arthritis Educators are available to

provide expert advice and guidance, help

people learn how to self-manage their

pain and provide up-to-date information

about the various forms of arthritis and the

treatments that are available.

There are a range of activities

in Christchurch and throughout

Canterbury for people with arthritis. The

accompanying advertisement outlines

some of the locations across Christchurch

and Canterbury where Information and

Advice sessions will be held over the next

month.

For further details of these I&A

sessions and the other services available

please phone Arthritis New Zealand on

0800 663 463 or visit our website at

www.arthritis.org.nz.

Arthritis, it could surprise you!

Pine bark may support brain

function

Recent news from Auckland University

of Technology has people excited about a

pine bark extract called Enzogenol. AUT

reported that patients suffering memory

loss and other brain problems after a

traumatic brain injury recovered better

when taking Enzogenol compared to a

control group.

Enzogenol is not a new product, though.

In fact, it was developed at Canterbury

University and has been in our health

food shops for over 10 years. According to

ENZO Nutraceuticals, the company that

produces the product, a number of research

studies have shown how Enzogenol can

help improve brain function and support

healthy blood circulation.

The amazing thing is, it is made from

the bark of New Zealand Pinus Radiata

with an extraction method that uses only

purified water. Apparently, the pine bark

is full of healthy plant compounds that

are naturally part of our diet when we eat

fruits and vegetables. Yet, the pine bark is

loaded with these natural antioxidant and

anti-inflammatory compounds and makes

a great starting material for this health

product. Keen on a chewing a bit of pine

bark?

Further detailed information is available

from the Natural Health Advisers at

Marshall's Health & Natural Therapy,

110 Seaview Road, New Brighton, phone:

388-5757 – We are Always Happy to Help!

Third Age

Tours

Small Group Tours for

the over 50s

Domestic and

International

Great Prices!

neW

neW

neW

england/Wales & Yorkshire Dales

24 August - 23 September 2017

enchanting Ireland & Scotland

1 June - 26 June 2017

curiosities of cuba May 2017

Treasures of Turkey On Hold & TBA

captivating croatia, Slovenia

montenegro & Venice

16 June - 10 July 2017

Vietnam & cambodia

3 - 25 October 2017

Beautiful norfolk Island

22 - 29 October 2017

Sicily, rome & Southern Italy

October 2017

South Island Tours

Glorious Autumn in Arrowtown

20 - 25 April 2017

catlins/Stewart Island

9 - 17 February 2017

White herons, Glaciers & Alpine

loop Tour

30 Jan - 4 Feb 2017

PluS oTher DeSTInATIonS!

For a Free InFormATIon

PAck contact Brenda

Third Age Tours

Ph 03 379 3799 or 03 312 7050

Freephone: 0800 927 725

sunshineone@xtra.co.nz |thirdagetours.co.nz

"Treadle" for

Healthy Feet

"Treadling" on an Aircycle circulation booster is a highly effective

way to keep your feet healthy," says Lynne Taylor, Manager of

Diabetes Christchurch.

Maintaining good blood

flow in the feet is key to

preventative foot care

and is simple with an

Aircycle. The "treadle"

exercise works the calf

muscles and pumps the

blood.

"It's in our feet that

arthritis, complications of

diabetes, including nerve,

neuropathy and circulatory

disorders often show up,"

says Lynne. "It's important

to heed the first signs, as

loss of feeling can mean

abrasions, ulcers and

other foot problems go

undetected or do not

heal, sometimes leading

to amputation".

By maintaining good

blood flow with the

Aircycle, people frequently

ARTHRITIS

Boost circulation and gently

exercise while you sit – it's so easy!

FOR

Pain & stiffness

Swollen ankles

Night cramps

Painful hands

Balance & mobility

Sore legs/numb feet

Travel & office sitting

Diabetes foot problems Only

Stroke rehab/Parkinson's

$39 90

Available from pharmacies,

at www.aircycle.co.nz

or by calling 0800 14 14 15

Bringing You the Best in Natural Health

- KNOWLEDGE MAKES THE DIFFERENCE -

SOUTHERN VIEW

report numb, tingling feet

regain feeling, normal

colour and flexibililty,

swollen ankles and

cramps are relieved and

ulcers heal.

No need for special

exercise times with

the Aircycle. Just use it

gently while having coffee,

watching TV or chatting

on the phone. Pop it in your

pocket to take to use under

your desk in the office or

when travelling by car or

plane.

It's so easy to protect

and care for your feet

with an Aircycle.

Aircycles are available

in pharmacies, Diabetes

Christchurch,

www.aircycle.co.nz

or call 0800 14 14 15.

Improve - Brain - Function!

Life is better with clearer thinking, sharper mind, healthier brain and body.

Enzogenol, is a potent natural antioxidant & anti-inflammatory, produced

from an extract of the New Zealand pine bark. In one study researchers

concluded it can reduce the average age of the brain by 12 years in as

little as 5 weeks. Studies show it can improve response time as well as

long & short term memory, concentration & brain performance. Enzogenol

also helps protect the body from the aging process, including supporting

the cardiovascular, nervous system & improving recovery after illness.

ENZO:PROFESSIONAL contains 240mg of Enzogenol + 30mg Vitamin C.

It is the most potent Enzogenol formula available.

Further detailed information available in store.

SPECIAL PRICE

60 Capsules 120 Capsules

ONLY

$

45 30 ONLY

$

84 90

MAIL ORDER AVAILABLE

MARSHALLS HEALTH & NATURAL THERAPY

CONSULTING - PRESCRIBING - DISPENSING - MANUFACTURING - MEDICAL HERBALISTS

110 SEAVIEW RD, NEW BRIGHTON • PH 03 388 5757 • Email: enquiry@marshallshealthshop.co.nz
---
SOUTHERN VIEW Tuesday November 1 2016 19

SENIOR LIVING

Improve Prostate

Health Naturally!

The prostate is a small

walnut shaped male organ

located beneath the urinary

bladder and wrapped around

the urethra or urinary tube.

It is of little significance for

most men until the late 40's

when for a large percentage

of men it tends to enlarge

and affect normal urination

by restricting flow through the

urethra. This condition is known

as Benign Prostatic Hyperplasia or BPH.

BPH reduces the ability of the bladder

to evacuate completely causing common

symptoms like wanting to urinate more

frequently (especially annoying at night

and as it affects sleep quality), difficulty

starting urination, dribbling after urination

and pain with urination.

The word benign in BPH is very

significant as it means an enlargement of

the prostate that isn't cancer. However BPH

should always be diagnosed by a M.D.,

as there is always the chance of prostate

cancer. Once diagnosed as BPH it can often

be managed quite well with herbal and

nutritional remedies and without the side

effects of prescription drugs used for this

condition.

Saw Palmetto is a herb that has been

used for centuries for BPH of the prostate.

A review of 18 doubleblinded

studies found an

average improvement of 72%

of BPH symptoms in Saw

Palmetto users. Researchers

have found Saw Palmetto

to inhibit the formation of

Dihydrotestosterone (DHT)

and DHT is the main reason

for the prostate to enlarge, and

to be a risk factor for prostate

cancer and hair loss.

Phellodendron amurense inner bark is

another herb that has been found to protect

against BPH and recent research has shown

it to be protective against prostate tumor

development in laboratory studies.

Lycopene is a potent antioxidant with

numerous health benefits including cancer

and BPH protective benefits.

Fatty acids from the seeds of Pumpkin,

Evening Primrose and Flax have been

shown to be supportive of prostate and

general good health.

Further information is available

from our Natural Health Advisers,

and Naturopath at Marshall's Health

& Natural Therapy, 110 Seaview Road,

New Brighton, 388-5757. We are Always

Happy to Help!

Greater independence

in your own home

Being able to hire and buy specialist

equipment and supplies is a large part of

people being able to retain independence

in their own home.

With a long history of caring for

people in the community Nurse Maude

understands, better than most, that access

to these products and this equipment,

backed by experienced staff and advice,

goes a long way toward people maintaining

that independence.

Nurse Maude's Health & Mobility Shops

in Wairakei Road and High Street Rangiora

and Maudes Online at

www.nursemaudeshop.org.nz are all

specifically designed to make that happen

and include a wide range of equipment

and products, including specialised

incontinence product and a range of preprepared

frozen meals that can heated in

the microwave at home.

Advice on the best products, and their

use, for your needs is always available at

the Health & Mobility Shops which are

open 9am to 4.30pm Monday to Friday or

24 hours a day, seven days a week when

you shop online.

you can stop him

snoring with a

SNOREX

Why put up with a broken

night's sleep?

Ph 377-4318 or 027 682 1752

DENISE LIM

FOR A FREE INFO PACK

Website: www.snorex.co.nz

Do you neeD Prostate Manager?

For many Men the prostate tends to enlarge in size as they age often

restricting the flow of Urine from the bladder. This enlargement of the prostate

is called Benign Prostatic Hyperplasia or BPH and is best confirmed by a M.D.

Marshall's Prostate Manager provides nutrients to support prostate health &

healthy urinary flow in those diagnosed with BPH. It is unique in the fact the

nutrients are in liquid dispersion as well as concentrated extract form.

Common Symptoms of BPH:

• Wanting to urinate more frequently

• Inability to empty the bladder completely

• Difficulty starting urination

• Dribbling after urination

• Pain with urination

• Weak urine flow

Natural Prostate

Support & Protection

For All Men 40+

60 capsules only

$

29.90

120 capsules only

$

44.90

(only one soft-gel daily)

MAIL ORDER AVAILABLE

Bringing You The Best In Natural Health

MARSHALLS HEALTH & NATURAL THERAPY

CONSULTING - PRESCRIBING - DISPENSING - MANUFACTURING - MEDICAL HERBALISTS

110 SEAVIEW RD, NEW BRIGHTON • PH 03 388 5757 • Email: enquiry@marshallshealthshop.co.nz

- KNOWLEDGE MAKES THE DIFFERENCE -
---
20

Tuesday November 1 2016

SOUTHERN VIEW

Just

advertisement

in The Star

reaches more

people than

any other

media in

Christchurch!

Reach more customers with The Star!

For a free marketing consultation,

contact the team:

shane@starmedia.kiwi | 03 379 7100

www.starmedia.kiwi
---
SOUTHERN VIEW Tuesday November 1 2016 21

Classifieds Contact us today Phone our local team 03 379 1100

Car Parts

Health & Beauty

Trades & Services

Trades & Services

Trades & Services

Trades & Services

TYRES Secondhand,

most sizes, from $30 fitted,

217 Waltham Road, 027

476 2404

Computers

ALL

YOUR

COMPUTER

WORRIES SOLVED!

*$30.00 off your first

service with this coupon!*

No problem too big or

small from home PC's to

business networks. PC

slow? An end to Viruses,

Spyware, and Clogged

Systems. Safe secure

hassle-free computing.

Lost files recovered.

Microsoft Certified,

MCSE, MCP+l. 30 years

experience. Call Andrew

Buxton this week on 326-

6740 or 027 435-7596

for $30.00 off* Custom

Computers Christchurch

Garage Sales

**************

BARRINGTON

St Nicholas South West

Church, Barrington St,

Thurs 3rd Nov, 10am-

12pm. Japanese Playgroup

garage sale

Gardening

& Supplies

Landscape

and Garden

Services

If you need help

getting your garden

back in order after

repairs, need any

type of landscape

construction work or

garden restoration.

Ph 021 272 0303

Gardening

& Supplies

A GARDEN OR

LANDSCAPING TIDY

UP? Rose & Fruit Tree

Pruning, Shrub, hedge

& tree pruning, Lawns,

Gardening, consistently

reliable general property

upkeep, Dip. Hort. 10

yrs experience, One off

tidy ups or on-going

service. Nick's Property

Maintenance. Keeping

your garden beautiful.

Free Quote. Ph. 942-4440

A GARDEN

PROFESSIONAL

NEEDED? Qualified

Horticulturist, offering

expert pruning, garden

makeovers, garden design

and landscaping, for free

quotes call Bryce 027 688-

8196 or 0508 242-733

Celebrant

WEDDINGS, Civil

Union Ceremonies,

Renewal of Vows, Naming

Ceremonies, Funerals

and Unveilings - Jenni

Gibson Ph/Fax 324-8332,

021 723-089. www.

celebrantservices.net.nz

Centre of Excellence

AVENUE HEALTH

202 Bealey Ave

New purpose-built

surgical facility

• Cosmetic Medicine

& Surgery

• Skin Medicine &

Dermatology

• Skin Cancer Surgery

Dr Ken Macdonald

MB ChB (Edin), FRACP,

FRCPE, FRCP (Lond), FNZDS

www.kmsurgical.co.nz

Phone 03 379 9467

Holiday

Accommodation

QUEENSLAND SUN-

SHINE COAST AUSTRA-

LIA Resort, Ocean Views,

Balconies, Self Contained,

1 or 2 B/R Ensuite,

Heated Pool, Spa, Sauna,

Free Internet, Shops,

Restaurants, Tennis, Surf

Club & Patrolled Beach,

Public Transport at door.

Ask for our SEASONAL

SPECIALS. Phone 61 7

544-35011 Email: reception@mandolin.com.au

www.mandolin.com.au

To Let

HOUSEME

Portable sleepout or office

available to rent

Insulated and value for

money at $75.00 per week,

you wouldn't live in

anything else. Contact

Amanda

today on 0279570920 or

houseme2015@xtra.co.nz

Tours

Rexellent

Rentals

Cars, Vans, Brisbane, Coolangatta

FREE CALL

0800 601 508

e: rexellent@bigpond.com

Trades & Services

Cracked tiles?

Dirty grout?

Old or mouldy

silicon?

Brett Ph 03 358 5105

or 027 746 7632

www.groutpro.co.nz

electrician

residential - commercial - industrial

residential - commercial New Builds - industrial

electrical

residential - commercial

New and Builds lighting design

- industrial

electrical Renovations

and lighting design

New Builds

incl. rewires, switchboard Renovations upgrades, basic additional

electrical and lighting design

lights incl. rewires, & power switchboard / data points, upgrades, garden lighting, basic additional spa power

Renovations

lights & power / data Home points, Ventilation garden lighting, spa power

incl. rewires, switchboard upgrades, basic additional

Home Ventilation

lights heat

& power transfers / data and points, positive garden pressure lighting, systems spa power

heat transfers Alarm and positive pressure systems

Home System Ventilation Installation

incl. heat the latest transfers

Alarm smart and

System phone positive

Installation control pressure and systems monitoring

incl. the latest

Alarm

smart

System

phone

Installation

control and monitoring

incl. the latest smart phone control and monitoring

Call William for a free quote: 021 594 442 or

Call William for free quote: 021 594 442 or

email: admin@preciseelectrical.co.nz

Call email: William admin@preciseelectrical.co.nz

for a free quote: 021 594 442 or

www.preciseelectrical.co.nz

email: www.preciseelectrical.co.nz

admin@preciseelectrical.co.nz

www.preciseelectrical.co.nz

We are proud members of:

We are proud members of:

We are proud members of:

DRIVEWAYS

Exposed Aggregate

Stamped Concrete Plain

Concrete Resurfacing

Things we offer...

Competitive/affordable pricing

Attention to detail

Professional service

free quotes/insurance scopes

Cell 0278 145 848

www.drivecrete.co.nz

LAND

REINFORCEMENT

SPECIALISTS

RETAINING WALLS – repaired/new timber/

block/concrete/reviews/assessments/

valuations for insurance purposes/in ground

retaining walls for slope stabilisation

LAND REMEDIATION – under runners/

slip remediation/drainage/hill sites/river or

stream banks a speciality/house re-levelled/

new foundations

Call Duncan Laing on 021 320 400

or David Campbell on 021 466 144

DESIGNED, CONSENTED, BUILT AND SIGNED OFF

Laing Technical Ltd

Consultants/Project Managers/Contractors

www.laingtechnical.co.nz

9 Ernlea Terrace, Cashmere Ph: 980 5947

35 YEARS IN THE BUSINESS IN CHRISTCHURCH

Trades & Services

Appliance Sales & Service

388 4780

Appliance Services

14 Brighton Mall, New Brighton

Trades & Services

• Replacement/new roofing

• Colour Steel gutter & fascia

• Flue & log burner installs

• Skytube/light installs

• Earthquake repairs

Licence Building

Practitioner LBP

Member of the Roofing

Association

DCM ROOFING LTD

The Roofing Specialists

PHONE IAIN

027 445 5597

iain@dcmroofing.co.nz

restaurant

Fine Indian cuisine and

Fully Licensed Restaurant and B.Y.O.

Table bookings are welcome and we also do catering

OpenIng sOOn!

Home delivery available (conditions apply)

458 Colombo St, Sydenham, ChCh

03 366 5853

spouting

• Continuous spouting made to

measure

• New or existing homes

• Steel fascia

• Snow fall protection

• No job to big or small

• Will replace or repair any

gutter profiles

• All coloursteel colours available

• All works guaranteed

www.superiorspouting.co.nz

Ph. Jem 0277 515250

to let

Need an extra room?

RENT ME NOW

Portable

Bedroom or Office

From $75 per week

3.6m x 3m STUDIO

Insulated & double glazed

NO BOND REQUIRED

Phone Amanda:

0279570920

or 0800 HOUSE ME

www.hOUSEmE.cO.Nz

Trades & Services

HOUSE

CLEARING

Are you moving

house?

Let All Clear Canterbury

take care of your

unwanted items.

You identify what you want

to keep & we will dispose

of the rest!!

Ph: 03 312 7119

Mob: 021 078 4553

allclearcanterbury@gmail.com

www.allclearcanterbury.co.nz

Trades & Services

9220021AA

hOUSEmE2015@xTRA.cO.Nz

Trades & Services

MDC

BUILDERS

Renovations & Repairs

All forms of Home

Maintenance

Bathrooms & Kitchens

Site clears

Excavating Driveways

& Paths

All forms of Foundations

Free Quotes

Give me a call today

Ph 022 407 8581

mdcbuildersnz@gmail.com

15% Discount with this Advert

Now working

in your area

• Tree Pruning

& Removal

• Stump Grinding

• Hedge Trimming

Fully Insured

Qualified Arborist

For a free quote,

ph 0800 248 733

www.jimstrees.co.nz

PLUMBER

Michael

Gale

Plumbing Ltd

PROMPT SERVICE

For all

Plumbing

•Roofing/

spouting

•Maintenance

•Installations

8790441AA

Small work

no problem

Ph 364 7080 (24 hour)

Mob 027 438 3943

Lawns, Gardens

& Home Cleaning

9185885AA

Free Quotes

Professional, personalised

service. Regular &

one-offs. Fixed price.

Ph: 377-5814

For all your property and

cleaning requirements

Trained, insured & security

screened owner/operators

Multi-award winning

systems & Franchises

Franchises Available

www.fviphomeservices.co.nz

ROOF

PAINTING

Rope & harness

a speciality,

no scaffolding

required,

30 years of

breathtaking

experience.

FREE QUOTES

Exterior staining,

exterior painting,

moss and mould

treatment and

waterblasting

Phone Kevin

027 561 4629

AAA CArpentry

licensed builder

practitioner all property

maintenance small job

expert by tradesman /

handyman free quotes city

wide call now 03 387-

0770 or 027 245 5226

ciey@xtra.co.nz

BUILDer

For all building work

but specialist in bathroom

renovations, 30 yrs

experience, with service

and integrity. Free Quotes.

Ph Lachlan 383-1723 or

0274 367-067.

BUILDer

LICENSED, available for

all aspects of building.

Please call 027 241-7471

or 335-0265

CArrIer

Local, experienced,

friendly, trade-me

purchases, single items

to truck loads, furniture

to whatever, removals &

trade deliveries a specialty.

Ph GEH 341-5069

CArpenter

HAnDyMAn

Small Job Specialists,

Carpentry, Repairs,

Decking & Maintenance,

40 years experience, no

job too small, Ph Warren

03 322-1103 or 027 697-

8541

CArpet & VInyL

LAyIng

Repairs, uplifting,

relaying, restretching,

email jflattery@xtra.co.nz,

ph 0800 003 181

or 027 2407416

DRIVEWAYS

Replace, repair or new.

We are a local company

with over 10 yrs exp.

We also operate a

digger for all other

earthworks.

Ph. R.M. Solutions

021 02866981

for a free quote.

Trades & Services

FenCe pAIntIng

Staining Quality at a

reasonable price. Free

quotes. Phone Warren

today on 980-1676 or 027

2014713

FUrnItUre

reMOVALS

Large Trucks $95 +

GST per hour 7 day NZ

wide, packing & moving,

Professional Company,

Professional Service.

Canterbury Relocations

Ltd. ph 0800 359 9313

LAnDSCApIng LtD

Paving, Lawns, Irrigation,

Decking, Fencing.

Kanga & small digger

services. Check out Squire

Landscaping on facebook.

FREE QUOTES. Ph

Authur 347-8796, 027

220-7014 Edwin 027 220-

7154

pAIntIng DeCOrAtIng

interior & exterior,

gib fixing, plastering,

paperhanging, Est 50 yrs

in ChCh, ph Wingfields

Ltd, ph Mark 021 171-

1586 or 355-5994

pAInter

Available, All aspects in

painting. Very competitive

in roofs and fences. Please

call 027 241-7471 or 335-

0265

pAInter

Top quality work, interior/

exterior, pensioners

discount, free quotes, 30

years experience, I stand

by Canterbury, ph Wayne

your friendly painter

03 385-4348 or 027 274-

3541

pLASterer

Gib Stopping, Small

job specialty. 30 + years

experience. Ring 0800

387-369
---
22

Trades & Services

PLUMBER

A Top Plumbing job

completed at a fair price,

prompt service, all work

guaranteed, Ph Brian 960-

7673 or 021 112-3492

PLUMBER

ALF THORPE

PLUMBING Certifying

Plumber for all types of

plumbing, maintenance,

spouting, alterations etc.

Phone 352-7402 or 0274-

350-231

ROOFING

Qualified & Licenced

Practitioner. Re-Roof &

Repairs, all types. Member

New Zealand Roofing

Association. Over 35 years

experience. Phone John

027 432-3822 or 351-9147

email johnmill@ihug.

co.nz

SPOUTING CLEANING

Spouting Unblocked,

Cleaned Out and Flushed

Out. Also Full Handyman

Services Available. Call

Trevor 332 8949 or 021

043-2034

TREES BIG OR SMALL

tree removal, trimming,

stump grinding, shelterbelt

clean up, section clearing,

rubbish removals,

excavation work, ph Trees

Big or Small, for a free

quote, 021 061 4783

TREE WORK

Hedge trimming, stump

grinding, rubbish removed,

small job specialty Ph

Andrew 03 322-8341 or

027 435-8759

T.V. SERVICE

CENTRE

Repairs, tvs, microwaves,

stereos, DVD. Aerial

installations and kitsets,

480 Moorhouse Ave, ph 03

379 1400

UPHOLSTERER

Dining Chairs, Lounge

suites, Caravan Squabs

etc. recovered. Free

Quotes. Phone Graeme

383-1448

VHS VIDEO TAPES

& all camera tapes

converted to DVD, video

taping, weddings, twenty

firsts, special occasions,

www.grahamsvideo.co.nz

ph 03 338-1655

WATERBLASTING

Quality Job, Quick Service

by skilled tradesman, Ph

Richard Severin at Jet-X

0800 538 969 Free quotes,

visit www.jetx.co.nz

Vehicles Wanted

VEHICLES

ANY CONDITION

WANTED

FOR CASH

$ $ $

Ph 347 9354 or

027 476 2404

Wanted To Buy

AAA Buying goods

quality furniture,

Beds, Stoves, Washing

machines, Fridge Freezers.

Same day service. Selwyn

Dealers. Phone 980 5812

or 027 313 8156

A+ Household effects,

fridges, freezers, washing

machines, ovens. Good

cash paid. Ph Paul 022

0891 671

Tuesday November 1 2016

Classifieds

Wanted To Buy

TOOLS Garden,

garage, woodworking,

mechanical, engineering,

sawbenches, lathes, cash

buyer, ph 355-2045

Public Notices

Weka Pass Railway

Waipara, North Canterbury

We Are Running

Sunday 6th november

Running 1st & 3rd

Sundays of every month

Infoline: 0800wekapass

Depart Glenmark Station

11.30am & 2.00pm

www.wekapassrailway.co.nz

DEMOLITION

With care and respect we

will remove your dwelling.

Our policy is to recycle as

much as we can. We are a

local company specialising

in residential properties. We

will endeavor to cater for

your individual needs.

Ph. R.M. Solutions

021 02866981

for a free quote.

Situations Vacant

CA$H

Strippers

& Podium

Dancers

Wanted!

18+ TO APPLY

NEISHA

021 193 0118

Free Public Seminar

"Linking Diet anD CanCer"

Integrative GP Dr Dan Quistorff will discuss the

link between cancer and our modern diet and

cover the science behind the discovery of CYP1B1,

the discovery of Salvestrols and how these unique

compounds can be used to our benefit.

"Linking Diet and Cancer"

The Atrium, 455 Hagley Ave

Tuesday 8th November 2016

6.30pm – 8.00pm

All cancer sufferers, their friends or family

and anyone wanting to minimise the risk of

cancer should attend this free seminar.

The first 50 people to register will receive a

free copy of the book "Linking Diet and Cancer"

To register phone: 0800 725 822

or email info@salvacare.co.nz

www.salvacare.co.nz

Situations Vacant

Public Notices

MUMS & DADS

Would you like your children to

exercise more and earn some money?

DELIVERY

PEOPLE

WANTED

The Star requires delivery personnel

in all areas of Christchurch.

The work involves door-to-door

delivery of The Star newspaper.

Please call

Leanne Lucas 364-7451 or

Mark Coulthard 364 7453

email: deliveries@starmedia.kiwi

Public Notices

business video

PRoduCTion

A video will bring your business

alive & into your customers mind.

Promote your

services or business

with a professionally

created video with us

• Corporate and

Business video a speciality

• Competitive rates

• 25 years experience

• Start to finished product

• Professional quality guaranteed

PHone KeRRY 021 635 083

THE ABBA SHOW SET TO

REIGNITE ABBA-MANIA

THE ABBA Show jets in for a full national

tour this month, playing at the Isaac Theatre

Royal on Wednesday 9th November.

Following more than 4000 international

performances to date, including recent tours of

North America and South Africa, the show's

NZ tour will take in an exhausting 22 different

venues in just 34 days.

Far from being 'just another cover band',

The ABBA Show is a full-scale concert

experience and stage show featuring 2.5 hours

of live musical performance with a live band,

replica costumes, theatrical lighting and effects,

and all the ABBA hits. And despite Mamma

Mia (the musical) still doing the rounds,

promoter John Van Grinsven from Showtime

Australia is confident that fans will recognize

the distinct and worthwhile experience that

The ABBA Show offers.

"They're completely different shows.

Mamma Mia is a great musical but The ABBA

Show does more of an authentic concert

experience. We've worked really hard to make

it just the way the fans will remember it if they

were lucky enough to see the originals perform

live. It really is a unique show."

Start your day

with us

We are open from 6.30am

every day

COOKED

BREAFASTS

from

$

18

Join us for

Race Day

Breakfast

SAT. NOVEMBER 5

SOUTHERN VIEW

& DINNER $65

Tickets

WOOLSTON CLUB

43 Hargood St, Woolston | ph 389 7039

www.woolstonclub.co.nz

The starring cast of the show - comprising

Brits Hannah Pocock as Agnetha and Jenna

Ball as Frida and Aussies Cameron Charters as

Bjorn and Brent McMullen as Benny - has put

in countless hours to achieve the attention to

detail that the show is famous for.

Tickets on sale now at Ticketek and the

Isaac Theatre Royal.

Be in to WIN a

double pass

Star Media has a double to pass to give

away to 'e ABBA Show taking place at the

Isaac eatre Royal on Wednesday 9th

November 2016, 8pm.

To go into the ticket draw, email your

name and daytime contact phone number,

along with the answer to: "Hannah Pocock

as -------" to:

jo.fuller@starmedia.kiwi Subject: ABBA

SHOW Competition.

Entries close 5pm Monday 7th

November. The winner will be notified.

RESTAURANT & CAFÉ

'Famous for

their roasts!'

FAMILY FRIENDLY

Kid's Special

Two courses

Great Kids menu plus designated play area.

SENIORS SPECIAL

Two courses:

Soup/Roast or Roast/Dessert

Special available lunch only

Monday - Saturday 12pm - 2.30pm. Conditions apply

$

10

$

20

Open daily from 6.30am - Breakfast, Lunch & Dinner

The

RACECOURSE HOTEL

& Motorlodge

118 Racecourse Rd, Sockburn,

Christchurch. Ph 03 342 7150

www.racecoursehotel.co.nz

SHOW &

THREE COURSE

MEAL

Tickets available at club reception

& online: http://tickets.dkcm.co.nz
---
SOUTHERN VIEW Tuesday November 1 2016 23

www.newbrightonclub.co.nz

GREAT

ENTERTAINMENT

TUES & THURS

Members Lucky Card Draw

TUESDAY 1st Nov

MELBOURNE CUP

COMING UP

NZ CUP DAYFUN DAY

Tuesday 8th Nov from 11am

TICKETS $25

includes drink on

arrival and lunch

Prizes for

Best Dressed Lady

Best Dressed Man

Lucky Seats

Losing Ticket Draw

MASTER HYPNOTIST

BRIAN GEE

7PM SATURDAY

19 NOVEMBER

Tickets $10

TAB POD

SHUTTLE RUNNING

Tues, Thurs, Fri & Sat

202 Marine Parade

Ph 388-9416

Members, guests and affiliates welcome

JOIN

A CLUB BY

THE SEA!

GREAT

DINING

- downstairs -

ClubBISTRO

Open Tuesday to Saturday

12pm-2pm and from 5pm

Midweek $10

SPECIAL

ROAST

Available Tuesday,

Wednesday, & Thursday

- upstairs -

PIERVIEW

Restaurant

Quality a la carte

with a view!

Open from 5.30pm

FRIDAY, SATURDAY

& SUNDAY

FRIDAY SPECIAL:

BBQ PORK RIBS

$19.50!

for a limited time

SUNDAY SPECIAL

3 courses: $25

NOW OPEN FOR

SUNDAY

BRUNCH

By the Seaside!

10.30am-2.30pm

SUNDAY

27 NOVEMBER

ALL YOU CAN EAT

BUFFET

$25... BOOK NOW!

H ORNBY

WORKINGMEN'S

CLUB

«WHAT'S ON«

FRIDAY 4 NOV, 7.30PM

GAME OF TONES

SATURDAY 5 NOV

4.30PM THE BUSKER

8PM DRAMA QUEENS

«COMING UP«

FRIDAY 18 NOV, 7.30PM

FIGHT NIGHT

BOWYN 'BOMAN' MORGAN

v SHAUN COLMORE

MARK JONES v

KYLE 'THE ESSEX BOY' SMITH

plus top line corporate fights

Door sales $40 or @Dash

SATURDAY 19 NOV, 8PM

BAD MOON RISING

THE CCR TRIBUTE SHOW

Tickets $20

FRIDAY 9 DEC, 8PM

THE WARRATAHS

Tickets $25

Hornby WMC, 17 Carmen Rd, Hornby ph 03 349 9026

www.hornbyworkingmensclub.co.nz

Members, guests & affiliates welcome

Lunch & Dinner

All you can eat, 7 days

Christmas

Functions

Lunch & Dinner Buffet

NOW SERVING

available

from

9am

Breakfast

HAPPY

HOUR

5PM - 7PM

DAILY

SATURDAY 19th NOV - SATURDAY 24th DEC

Book & dine with us for your Christmas party this

festive season, and we'll take care of the rest!

Bookings Essential PH 386 0088

fb.com/GardenHotelRestaurant www.gardenhotel.co.nz

LIVE

RHONDA CAMPBELL duo

6PM FRIDAY 4th November

MUSIC

PHONE 385 8880 FIND US ON FACEBOOK fb.com/GBCCHCH

THE GARDEN HOTEL COMPLEX | 110 MARSHLAND RD

www.gardenhotel.co.nz | phone 385 3132
---
24

Tuesday November 1 2016

SOUTHERN VIEW

Donation boxes at

checkouts instore.

$

7 99

kg

Fresh NZ Prime

Beef Mince

$

2 99

punnet

New Season Sweet Juicy Strawberries 250g

$

4 00

each

Just Juice/Citrus Tree Fruit Juice

2.4/2.8L

$

7 00

each

Alpine Mild/Colby/Edam

Cheese 1kg

$

3 00

each

Kellogg's Sultana Bran/Nutri-Grain/Coco Pops/

Special K 290-420g

(Excludes Special K Fruits)

Stoneleigh/

Sacred Hill 750ml

(Excludes Rapaura/

Latitude/ Wild Valley/

Sacred Hill Reserves)

$

16 99

pack

Speight's Gold

Medal Ale/Summit

12 x 330ml Bottles

$

11 99

each

2for

$

5 00

Griffin's Squiggles/

MallowPuffs/Toffee Pops

185-200g

Handmade in-store

Available in our Deli 4-7pm daily, Monday to Saturday

Shopping just got easier

Best deals are here!

FreshChoice Barrington

256 Barrington Street, Christchurch.

Open 7am-11pm, 7 days.

Prices apply from Tuesday 1st November to

Sunday 6th November 2016, or while stocks last.

FreshChoice.co.nz

FreshChoiceNZ

332 6364

FreshChoice Barrington

Owned and

operated

by locals

Certain products may not be

available in all stores. Savings

are based on non-promotional

price. Limits may apply.

FCSV0111