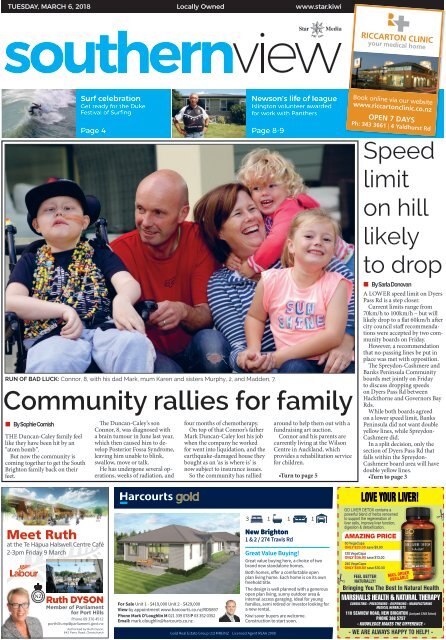 Southern View: March 06, 2018
Create successful ePaper yourself
Turn your PDF publications into a flip-book with our unique Google optimized e-Paper software.
TUESDAY, MARCH 6, 2018

Locally Owned

www.star.kiwi

Surf celebration

Get ready for the Duke

Festival of Surfing

Page 4 Page 8-9

Newson's life of league

Islington volunteer awarded

for work with Panthers

Book online via our website

www.riccartonclinic.co.nz

OPEN 7 DAYS

Ph: 343 3661 | 4 Yaldhurst Rd

Speed

limit

on hill

likely

to drop

RUN OF BAD LUCK: Connor, 8, with his dad Mark, mum Karen and sisters Murphy, 2, and Madden, 7.

Community rallies for family

• By Sophie Cornish

THE Duncan-Caley family feel

like they have been hit by an

"atom bomb".

But now the community is

coming together to get the South

Brighton family back on their

feet.

The Duncan-Caley's son

Connor, 8, was diagnosed with

a brain tumour in June last year,

which then caused him to develop

Posterior Fossa Syndrome,

leaving him unable to blink,

swallow, move or talk.

He has undergone several operations,

weeks of radiation, and

four months of chemotherapy.

On top of that Connor's father

Mark Duncan-Caley lost his job

when the company he worked

for went into liquidation, and the

earthquake-damaged house they

bought as an 'as is where is' is

now subject to insurance issues.

So the community has rallied

around to help them out with a

fundraising art auction.

Connor and his parents are

currently living at the Wilson

Centre in Auckland, which

provides a rehabilitation service

for children.

•Turn to page 5

• By Sarla Donovan

A LOWER speed limit on Dyers

Pass Rd is a step closer.

Current limits range from

70km/h to 100km/h – but will

likely drop to a flat 60km/h after

city council staff recommendations

were accepted by two community

boards on Friday.

However, a recommendation

that no-passing lines be put in

place was met with opposition.

The Spreydon-Cashmere and

Banks Peninsula Community

boards met jointly on Friday

to discuss dropping speeds

on Dyers Pass Rd between

Hackthorne and Governors Bay

Rds.

While both boards agreed

on a lower speed limit, Banks

Peninsula did not want double

yellow lines, while Spreydon-

Cashmere did.

In a split decision, only the

section of Dyers Pass Rd that

falls within the Spreydon-

Cashmere board area will have

double yellow lines.

•Turn to page 3

Meet Ruth

at the Te Hapua ¯ Halswell Centre Café

2-3pm Friday 9 March

Phone 09 376 4512

porthills.mp@parliament.govt.nz

For Sale Unit 1 - $419,000 Unit 2 - $429,000

View by appointment www.harcourts.co.nz/RD5897

Phone Mark O'Loughlin M 021 339 078 P 03 352 0352

Email: mark.oloughlin@harcourts.co.nz

3 1 1 1

New Brighton

1 & 2 / 274 Travis Rd

Gold Real Estate Group Ltd MREINZ Licensed Agent REAA 2008

Great Value Buying!

Great value buying here, a choice of two

brand new standalone homes.

Both homes, offer a comfortable open

plan living home. Each home is on its own

freehold title.

The design is well planned with a generous

open plan living, sunny outdoor area &

internal access garaging. Ideal for young

families, semi retired or investor looking for

a new rental.

Kiwi saver buyers are welcome.

Construction to start soon.

LOVE YOUR LIVER!

GO LIVER DETOX contains a

powerful blend of herbs renowned

to support the regeneration of

liver cells, improve liver function,

digestion & detoxification.

AMAZING PRICE

60 VegeCaps

only $20.00 save $9.90

120 VegeCaps

only $36.90 save $13.00

240 VegeCaps

only $69.80 save $30.00

Feel BeTTer

NaTUrallY!

MAIL ORDER

AVAILABLE

Bringing You The Best In Natural Health

MARSHALLS HEALTH & NATURAL THERAPY

CONSULTING - PRESCRIBING - DISPENSING - MANUFACTURING

MEDICAL HERBALISTS

110 seaVIeW roaD, NeW BrIGHToN (Just past C.N.B School)

pHoNe 388 5757

- KNOWLEDGE MAKES THE DIFFERENCE -

- We are alWaYs HappY To Help! -
---
2

Tuesday March 6 2018

from the editor's desk

IF EVER a family deserved a stroke of

good luck it is the Duncan Caley's.

On page 1 today, we highlight their

plight – a terribly ill child, dad's out of

work and the house they bought

post-quake has major insurance issues.

Most of us have had quake insurance problems, but add on

the sick child and losing your job and it makes it one tough

mountain to climb – just to get to the start line.

So the community is rallying around to do what they can,

and a fundraising art auction will be held this month.

Event organiser Maureen Taane sums it up: "If there ever

was a whanau in need of assistance, this is the one."

- Barry Clarke

Latest Christchurch news at www.star.kiwi

top performers

Canterbury Sports Awards

Find out who the finalists are in the Canterbury Sports

Awards at the Air Force Museum of New Zealand on

Friday night.

Page 6

school pool party

SOUTHERN VIEW

Final swim at Spreydon School

Bid farewell to the school's pool on Sunday from 1pm to 4pm.

The pool at 2 Halswell Rd has been a feature of the community

since 1904.

get in touch

GENERAL ENQUIRIES Ph 379 7100

A Star Media Event

Page 11

City2Surf

CLASSIFIED ADVERTISING Ph 379 1100

The Christchurch Star Company Ltd

PO box 1467, Christchurch

Star Media

Get active on March 18

#areyouupforit? Enter the 6km or 14km section of the Star

Media City2Surf at www.city2surf.co.nz.

starmedia.kiwi

NEWS

Sophie Cornish

Ph: 364 7437

sophie.cornish@starmedia.kiwi

ADVERTISING

Richard McCombie

Ph: 364 7472

richard.mccombie@starmedia.kiwi

Page 14

The best-read local newspaper, delivered to

15,826 homes every Tuesday

Spreydon, Hoon Hay, Hillmorton, Cracroft, Cashmere,

St Martins, Somerfield, Sydenham, Addington, Waltham,

Opawa, Beckenham, Huntsbury, Woolston.

Air Conditioning and Heat Pumps

Commercial and Residential

• Daikin • Fujitsu • Mitsubishi • Gree • Panasonic

• Toshiba • Hitachi

Mitsubishi

Hypercore

Heat Pumps

installed

from $2,495 *

The magazine for

gardeners who

like To geT Their

hands dirTy

CELEBRATING

2 YEARS

of our Christchurch branch

FREE Quotation

FREE Installation

FREE Aluminium Track

for Christchurch customers

*Conditions apply. Back to back installations 3 metre pipe run.

Email info@pshc.co.nz

Website www.pshc.co.nz

www.gardener.kiwi

100%

PROFESSIONAL CUSTOM MADE CURTAINS

25 Picton Avenue Riccarton, Christchurch

P 349 4888 E officinevoluptasnz@gmail.com

www.officinevoluptas.co.nz

Tuesday, 13th March 2018

Register your interest by contacting

Tasha Brobyn on 03 365 0385

brobynt@cathedralgrammar.school.nz

Principal's address 9:30am
---
SOUTHERN VIEW Latest Christchurch news at www.star.kiwi

Tuesday March 6 2018 3

News

Heathcote dredging fast-tracked

WORK ON dredging the

Heathcote River will be brought

forward.

The city council approved

work on a 700m stretch of the

river between Radley St and the

Woolston Cut at its meeting on

Thursday. It will be fast-tracked

to help reduce the flood risk in

the area.

The dredging

will cost an

estimated $3

million and will

get under way

Keith

in the next few

months, once

the necessary

Davison

consents have been obtained.

"Hydraulic modelling has

demonstrated that flooding

upstream of Radley St is caused

in part by the inadequate

capacity of the channel to convey

flood flows to the Woolston Cut

and out to the estuary,'' said city

council land drainage manager

Keith Davison.

"Over the years a considerable

amount of silt has built up in the

river so we're planning to dredge

it in three stages, starting with

the stretch of the river between

Radley St and the Woolston

Cut."

Mr Davison said the city

PROGRESS: The city council has fast-tracked the next stage of a dredging project for the

Heathcote River from Radley St to the Woolston Cut.

PHOTO: GILBERT WEALLEANS ​

council needs to remove about

60,000 cu m of material from the

river to deepen the channel and

improve its flow rates.

The city council also agreed

at its meeting to look at

opportunities to fast-track

further stages of dredging work

in the Heathcote River.

The dredging is part of a

package of flood mitigation

work, including storage basins

and the Flood Intervention

Policy, which the city council

has put together to ease the

risk of flooding on private

properties in the Heathcote

catchment.

Local

News

Now

Fire rages, homes at risk

Speed limit

on hill

may drop

•From page 1

The double yellow lines will

extend from Hackthorne Rd

south for 3.4km.

Board chairwoman Karolin

Potter said it was a difficult

issue with "quite a lot of strong

opinions" at the meeting. About

13 people gave submissions,

most from Banks Peninsula, she

said.

"Some of them were cyclists

who believed that it would

put them in danger because

motorists would believe they

couldn't cross the yellow lines

but still would want to pass

them – and in some places the

distance between the car and

the cyclist would be very little."

Dyers Pass Rd has a high risk

rating compared to other rural

roads in Banks Peninsula.

Over nine years from 2006-

2017 there were 14 serious

injuries and one fatality

between Sign of the Takahe and

Governors Bay.

The city council is expected to

make a decision on lowering the

speed limits in early April.

ATTENTION

NZ ART LOVERS

If you don't already have this

classic NZ art book in your

collection, NOW is the perfect

time to purchase

Grahame Sydney Paintings 1974 -2014

Normal retail $99

This 304 page NZ classic art hardback

(in slipcase) features over 200 paintings

and covers Grahame's 40 year

career as a full-time artist.

DON'T MISS OUT!

LIMITED NUMBERS

FERRYMEAD

1005 Ferr

erry Rd. Ferr

errymead Ph. 384 2063

Hon Nicky Wagner

National List MP

Come and visit us at our new

office at 922 Colombo Street

SUPER DEAL

HALF

PRICE

$

49.99

SALUTE TO GOODIE CLASSIC

www.ruapunaspeedway.co.nz

ADULTS $20 • STUDENTS/SENIORS $15 • KIDS U/14 FREE (WITH AN ADULT)

FAMILY: 2 ADULTS & UP TO 4 KIDS $40 • EFTPOS AVAILABLE

GATES OPEN 5pm • TIME TRIALS - 6pm • DIRT STARTS FLYING 6.30pm

SATURDAY 10 MARCH 2018

PRESENTS THE

WAR

INSURANCE

MODIFIED SPRINT

PLUSAVON

CLAY CUP

OF

THE

WINGS

A

E

P

W

922 Colombo Street

Central Christchurch

PO Box 21359

Christchurch 8143

chch.office@parliament.govt.nz

03 365 8297

nickywagner.co.nz

Funded by the Parliamentary Service and authorised by

Nicky Wagner, 922 Colombo Street, Christchurch.

If wet check the Speedway Infoline 03 349 7727

or www.ruapunaspeedway.co.nz or FACEBOOK Ruapuna Speedway
---
4 Tuesday March 6 2018

Latest Christchurch news at www.star.kiwi

News

SOUTHERN VIEW

Celebration of surfing

THE THIRD annual

week-long celebration of surfing

in New Brighton and the visit of

legendary Hawaiian surfer Duke

Kahanamoku opens on Sunday.

The Ray White New Brighton

Duke Festival of Surfing is

organised by the New Brighton

Pier and Foreshore Promotion

Society and is the largest and

most varied surfing event in New

Zealand.

It celebrates Kahanamoku,

who is said to have introduced

surfing to New Zealand and

surfed in New Brighton in

1915.

What's happening:

Sunday – The Boardroom

exhibition

The festival will launch with

The Boardroom exhibition in

New Brighton Mall, a display of

more than 100 surfboards.

The display is a time line

exhibition of loaned surfboards

over the past 70 years.

It will showcase varying

types, different designs and

materials used, as well as

historical displays of surfing

photographs with a focus on

New Brighton.

COMPETITION: North Wai Boardriders Club's Estella Hungerford will be a top contender in the age group events.

Wednesday, March 14 – The

Stoke Art Exhibition 2018

This exhibition pulls together

creative people who find

common ground in surfing and

will explore what it is about

surfing that causes creative

drive, whether it is a physical,

emotional, visual, procedural or

metaphysical response, or

simply coincidence. It will be

shown in Fiksate Gallery and

will feature a range of emerging

and established artists from

both New Zealand and

overseas.

Friday, March 16 – outdoor

movie night

There will be two films shown

at the New Brighton amphitheatre.

The children's movie is

Disney's Moana and the second

is supported by the Aotearoa

Surf Film Festival with a feature

film Fish People and two short

surf films.

Friday, March 16, and

Saturday, March 17 – surfing

competition

The surfing competition begins

with the age group shortboard

events. Surfers from around

New Zealand and Australia

have confirmed entries. Age

groups include under-12 all the

way through to under-20 and

will feature a number of local

surfers such as Ava Henderson,

Estella Hungerford and Myka

Black. Ava and Estella recently

won their events at the Billabong

contest in Whangamata.

On Saturday, the longboard

events will begin with a range of

top competitors in all age groups

from the open premier sections

through to the over-40 women's

and over-60 men's.

There will also be open men's

and women's logger events,

which will provide some old

school surfing styles with more

traditional moves on heavier

single-fin longboards.

Saturday, March 17 – concert

There will be a smorgasbord

meal at the New Brighton Club

followed by a rock concert

featuring Soaked Oats, a South

Island band with a growing

reputation, and local band

Run77.

'Water and Light', it's all around us and nowhere

more so than on the Banks Peninsula.

As small outcrop of volcanic rock jutting out into

the Southern Ocean we are surrounded on all

sides, and nowhere

is that interplay

between water and

light more evident.

The Little River

Gallery is proud to

host Philip Beadle's

latest work, inspired

by the landscapes

of the Plains and

Peninsula.

Using a mixture of oil, watercolour, drypoint

and monotype, Philip's work is as varied as the

landscapes he depicts.

Christchurch based Philip Beadle, whether

working with the human form or drawing

inspiration from the low sun on water agitated

by wind, uses the Canterbury environment to

inform his work.

Warm and inviting, cold and forgiving, water

and light are constant but also forever changing.

'Water and Light' is showing at

Little River Gallery from 10th March

to 4th April.

Philip

Beadle

Water & Light

10 March – 4 April

Main Rd, Little River | 03 325 1944

art@littlerivergallery.com

Dyers Road Landscape

& Garden Supplies

• Barks • Peastraw • Composts - we supply the best available

• Aggregates - Chip, Round and Basecourse

• Pavers & Schist products • Pungas

• Decorative Stones & Landscaping Rocks

• Trailer Hire first hour free with purchase

• Bag & Bulk - pick up or delivered

David, Carol & Mike

We will deliver!

Phone: 03 384 6540

183 Dyers Rd, Bromley • OPEN 7 DAYS

Weekdays 7.30am-5pm. Weekends 8.30am-3pm

www.dyersroadandlandscapes.co.nz

Best

Motorbuys

TM

ANYTHING WITH A MOTOR!

The South Island's leading motoring publication

FREE every Friday at hundreds of locations

around the South Island, and it's available online!

www.bestmotorbuys.co.nz

SOIL

AND

HARDFILL

DUMPING

For advertising enquiries, ph Lea Godfrey 021 277 3086
---
SOUTHERN VIEW Latest Christchurch news at www.star.kiwi

5

Tuesday March 6 2018

Local

News

Now

Fire rages, homes at risk

BATTLE: Connor before being diagnosed with his brain tumour.

(Right) – Connor in hospital while his sisters, Madden and

Murphy, keep him company.

Community rallies behind family

•From page 1

Mr Duncan-Caley said the

family's situation was like "an

atom bomb going off."

The money raised from the art

auction will help fund the costs

required for their life going forward.

"If there ever was a whanau

in need of assistance, this is the

one," said auction organiser

Maureen Taane.

The auction called Jedi's New

Hope because of Connor's Star

Wars obsession will be held on

March 23.

"It is very much a communityled

and community-driven event,

as most things on the east side

are," she said.

Within five days of launching

the event, 15 pieces of art had

already been donated.

The auction will be held at the

Fiksate Gallery in New Brighton

Mall. Tickets are expected to sell

out. Said Mr Duncan-Caley:

"We've been extremely humbled

and gobsmacked by the

support from the community

. . . it has really lifted us."

Senior Chef Cooking

Demonstration

Thursday 8 March, 2pm

Essie Summers Retirement Village

We warmly invite you to attend a cooking demonstration

by Senior Chef.

Senior Chef is an 8 week cooking class for people aged

over 65 who would like to improve their cooking skills,

confidence or motivation with cooking for one to two people.

Information will be provided if you would like to sign up for

this programme.

Followed by a lovely afternoon tea.

Please RSVP to Susie on 337 6500

222 Colombo Street, Beckenham

(Limited spaces available)
---
6

Tuesday March 6 2018

Latest Christchurch news at www.star.kiwi

SOUTHERN VIEW

Big night for top sports stars

The finalists have been named in the Canterbury Sports

Awards which honours the best athletes in the region in a

number of different categories. Andrew King reports

THE CANTERBURY Sports

Awards will recognise the hard

work of athletes, administrators,

officials, coaches and teams at

the Air Force Museum of New

Zealand on Friday night.

Middleton Grange athletic star

Will Stedman is a finalist in the

sportsperson or team with a disability

of the year.

Last year's Maadi Cup winners

St Andrew's College are finalists

in the outstanding junior team

of the year category, along with

the Heaton Intermediate girls

first XI cricket team which were

crowned national champions for

the third year in a row.

Former Christchurch Boys'

High golfer Tom Parker is a

finalist in the outstanding young

sportsman of the year category,

alongside St Andrew's rower Ben

Taylor.

Former Burnside golfer Amelia

Garvey is a finalist in the ​outstanding

young sportswoman of

the year category. She will face

stiff competition from gymnast ​

Madaline Davidson and standout

rugby player Grace Brooker.

Finalists:

Outstanding team of the year:

Basketball, Alloyfold Canterbury

Wildcats, women; boxing,

Canterbury boxing team; cricket,

SPORTS

Canterbury men's team; and

rugby, Canterbury women.

Outstanding sports coach of

the year: Athletics, Dale Stevenson;

basketball, Lori McDaniel;

cricket, Gary Stead; and rugby,

Scott Robertson.

Outstanding sportswoman

of the year: Rowing, Grace

Prendergast; rugby, Kendra

Cocksedge; and swimming,

Sophie Pascoe.

Outstanding sportsman of

the year: Athletics, Tom Walsh;

rowing, John Storey; rugby,

Richie Mo'unga; and squash,

Paul Coll.

Outstanding young sportswoman

of the year: Golf,

Amelia Garvey; gym sports,

Madaline Davidson; and rugby,

Grace Brooker.

Outstanding young sportsman

of the year: Basketball,

Quinn Clinton; golf, Tom Parker;

rowing, Ben Taylor; and rugby,

Tom Christie.

Outstanding administrator

of the year: Athletics, John

Gamblin; bowls, Emily Robbins;

boxing, Holly Sullivan; and

taekwon-do, Kris Herbison.​

Outstanding sports club of

the year: Basketball, Lincoln

University; cricket, Old Boys'

Collegians Cricket Club; football,

Selwyn United; and tennis,

Waimairi Tennis Club.

Outstanding official of the

year: Basketball, Matthew

Bathurst; gymsports, Toby

Levine; and hockey, Gareth

Greenfield.

Outstanding junior team of

the year: Basketball, under-19

Canterbury combined boys;

football, Canterbury United

youth team; rowing, St Andrew's

College rowing eights; and

TOP ATHLETE: Double

bronze medal winning

Paralympian William

Stedman from Middleton

Grange is a finalist in the

sportsperson or team with

a disability of the year

category.

cricket, Heaton Intermediate

girls first XI.

Sportsperson or team with a

disability of the year: Athletics,

William Stedman; boccia,

Jeremy Morriss; and swimming,

Sophie Pascoe.

Outstanding sports event

of the year: Cycling, Urology

Associates car park canon

ball; gymsports, New Zealand

trampoline championships;

hockey, international hockey

test series – women's Black

Sticks v USA; rugby, Crusaders

v British and Irish Lions; and

rugby league, Pacific series rugby

league event.

Lifetime achievement

award: Cricket, Mike

Satterthwaite; football, Debbie

Newman; gymsports, Tina

Colijn; marching, Raewyn Shaw;

rowing, John Wylie; rugby,

Murray Dulieu; squash,

Wayne Seebeck; tennis, Lindsay

North; and water polo, Lachie

Marshall.

21–23 MARCH

Isaac Theatre Royal

THE ROYAL NEW ZEALAND BALLET IS HONOURED TO STAGE A NEW FULL-LENGTH

DANCE WORK, INSPIRED BY THE FILM THE PIANO WITH PERMISSION KINDLY

GRANTED BY JANE CAMPION, JAN CHAPMAN AND SADDLEBACK PRODUCTIONS.

REDISCOVER THIS EXTRAORDINARY TALE OF DESIRE, VIOLENCE

AND HOPE, SET AGAINST A BACKDROP OF WILD AOTEAROA.

BOOK NOW

rnzb.org.nz

SUPPORTED BY

NATIONAL TOURING

PARTNER

PRESENTED IN ASSOCIATION WITH
---
SOUTHERN VIEW Latest Christchurch news at www.star.kiwi

Tuesday March 6 2018 7

Thursday 8 March between

10am - 11am and 1pm - 2pm

Swap $20 cash for $30 worth

of Barrington Gift Vouchers!

Available at the Gift Voucher

counter outside Just Incredible.

For these!

Swap this...

Reserve Bank of

New Zealand

$20

$20

Special conditions apply (please see Gift Voucher for full T&C's).

Limit one swap per customer. Vouchers are valid until Sunday 25 March 2018.

FREE

WIFI

www.barringtonshopping.co.nz

256 Barrington Street, Christchurch 8024 • Ph. 03 332 4221
---
8 Tuesday March 6 2018

Latest Christchurch news at www.star.kiwi

SOUTHERN VIEW

Volunteer Jack's life of league,

Islington's Jack

Newson was named

top male volunteer

at the New Zealand

Rugby League

Awards for his

service to the Hornby

Panthers. Andrew

King speaks to the

ageless 76-year-old

So Jack, you have a longstanding

tie with the Hornby

Panthers, 66 years and

counting. What got you into

league?

When I was growing up every

young kid around the country

wanted to be an All Black. But

we were from Hornby and we

wanted to be Kiwis. That was

the difference, we are a staunch

rugby league area. League

dominated and I still love the

game right up to today. It has

been my life.

Now you volunteer for the

club and was named top male

volunteer of the year by NZRL.

Are there more people helping

out nowadays or less?

There is plenty of people who

help out with the club and we

have an excellent committee who

gets a lot of work done. I just help

out when I can and I don't live

far away. I go over there every

week.

I like to go to the schoolboys'

prize giving. I love watching the

younger kids coming through.

Gave up coaching but I really

like watching them develop

their skills. There is a lot of good

coaches there now, that have

passed me.

I used to coach 14s take them

to 15s then to 16s and then drop

back down and do it all over

again.

So what keeps you coming

back to help out?

It is part of my life. My love of

the club, the sport all rolls into

one. It is a major part of my life.

When my boys finished playing I

HOME: Jack Newson outside the Islington house which he has lived in all his life.

PHOTO: MARTIN HUNTER

was a bit lost. I had been

flat tack chasing teams here

there everywhere then it just

stopped. Now grand kids are

coming through so it all started

again.

Did you play right through

the grades?

I did. Started off with

schoolboys stuff. Back in those

days, it was done on weights

rather than ages. There was an

old fish scale hung from a tree

and you all lined up one by one

we would hang on it and get put

in a team. We would try fast

a bit to get into a lower grade

(laughing). And I continued

through to the senior's grade.

Premiers got brought in later. I

played in the second row, then

prop later on.

Who are some of the notable

guys you played alongside?

I played with some good

players but the standouts were

John Bray, who played for the

Kiwis in 1964, Ian Drayton,

who played in the same team,

Brian Langton, who played for

CHARGER: Jack Newson

playing in the masters grade

in 2003 for Hornby.

Canterbury, and I was coached

by the legendary Mel Cooke in

open grade senior football.

Cooke must have been an

inspiration?

Oh, he was terrific. He could

bring the best out of you. He

would lay it on the line what he

wanted to be done, but he would

encourage you to play better. He

was an inspiration to us all and

captained the Kiwis for many

years.

Did you ever get selected for

higher honours?

I made the Kiwis masters

squad in 2008 in the Gold Coast

and the last time was 2013. They

were always good trips. It is

never really serious, especially

at our age. I captained them at

AMI Stadium against Australia.

We won twice and drew once

and the rest we lost. I played for

the Canterbury Maori squad a

few times.

You still play now. What that

like?

I am still playing masters for

Hornby, but we are struggling for

players this year. I could play for

the Shirley Hawks, they said they

have room for me. But I would

rather play for Hornby. We have

been going 16 years straight but

a few numbers dropping away

now.

That is incredible. So your

whole family has been involved

with the club as well in some

way?

Yes my daughter Mataara, 50,

played Hornby in the women's

team. Sam, 48, played in the

lower grades before he decided to

play basketball instead. John, 47,

played right through the grades

and was selected in the 1989

"Your face Junior is Kiwis unique. who toured Papua

Trust your

New

injectable

Guinea. Hemi, 45, was the

same and was also selected in the

wrinkle

1990

treatments

Junior Kiwis and played for

to an the experienced

New Zealand Maori before

Cosmetic playing Physician" in the south of France for

a while. Lincoln, 43, also played

Medical Director

through Dr Heather the Jefferies grades and made

the Canterbury and Canterbury

Maori sides. Hemi and Lincoln

also boxed at the same time and

both won Golden Gloves titles.

4 2 2 2

Designed for the view

Cashmere Hills, 24 Dyers Pass Road

Your agent, Your home, Your future

LICENSED SALES CONSULTANT REAA 2008

Auction 08 March 2018 Unless Sold Prior

Architecturally designed by Ian Cumberpatch, this delightful home offers

timeless style and quality craftsmanship. Functional, practical, and extremely

private, this is a special property with much to offer the discerning buyer.

Spacious rooms throughout feature high ceilings and large windows while

solid rimu woodwork provides warmth and contrast to the neutral décor.

With three living spaces you can move seamlessly from the dining table

through a family room and onto the formal lounge. Sliding doors lead onto a

sunny deck - an ideal place to sit and enjoy your view across the city to the Alps.

You will enjoy the birdsong from the Reserve next door as well as the outlook of

mature trees and garden. Secure and private this is a lovely garden to relax in.

Easy access to the recreational areas of the Port Hills, cafes and with good

schooling within a few minutes' walk, this home demands your attention.

A good double garage and easy drive on access complete the picture.

My clients want to be sold and give you the opportunity to enhance and

modernise this well-designed home. An opportunity not to be missed on the

desirable lower slopes of Cashmere.

P 027 777 0411

Pain free laser

"Your face is unique. skin Trust rejuvenation your injectable wrinkle

Facial assessments

treatments to an experienced Cosmetic Physician."

Injectable wrinkle

- Medical Director, Dr treatments Heather Jefferies

Dermal fillers

Prescription peels

• Pain free laser skin Microdermabrasion • Prescription peels

rejuvenationMole Mate® skin • Microdermabrasion

cancer

• Facial assessments and mole

• Mole

checks

Mate

Leg vein treatment

® skin cancer

• Injectable wrinkle and mole checks

treatments

• Leg vein treatment

• Dermal fillers

31 Colombo St, Cashmere

31 Colombo St, Cashmere | Phone 372 3589

Phone 372 3589 www.koruskin.co.nz

www.koruskin.co.nz
---
SOUTHERN VIEW Latest Christchurch news at www.star.kiwi

Tuesday March 6 2018 9

league and more rugby league

HONOURED: Jack Newson was named male volunteer of the

year by New Zealand Rugby League after spending 66 years

with the Hornby Panthers. (Above) – His first Hornby side in

1952 (back right).

Plus I have 12 grand kids and

about three of them have played

for Hornby too.

I'd imagine you get down the

clubrooms for a few quiet ones?

I still get down every Friday

night. I don't stay as late as I used

to. Back in the day, there used to

be complaints that we had left

the lights on from guys going to

work, but we would still be there

getting a few in.

You must have some really

good stories from those days?

Grand finals were the

biggest event we had. There is

no comparison compared to

nowadays. In the clubrooms

you couldn't move. And back

then we had a huge rivalry with

Halswell, the Hornets, and the

hatred between the spectators

was amazing. One grand final

in the mid to late 80s we hired

a helicopter to land on the No

2 field at the Addington Show

Grounds (now AMI Stadium)

and a kid in a Hornets suit

jumped out. We had a guy in a

spray can outfit with 'Panthers'

on it and a fire extinguisher who

hunted the Hornet done and

'killed it'. Then some pallbearers

come on to the field, put it in

a coffin and went to take it off

the field. Well some Halswell

fans didn't like this and a group

dressed up as clowns came on

the field and started to beat up

the pallbearers. A full riot looked

like it was going to break out but

the Hornby cheerleaders raced

'I played with some good players but the standouts

were John Bray, who played for the Kiwis in 1964,

Ian Drayton, who played in the same team, Brian

Langton, who played for Canterbury, and I was

coached by the legendary Mel Cooke in open grade

senior football' – Jack Newson

on and started to hit the clowns

with their pom-poms and it

fizzled out.

Now you have lived on the

same section all your life.

Tell me about that?

Yeah, we have lived in the

same section since I was born in

1942. It is not the same house,

we knocked the old one down in

1969 and built the one we are in

now in 1970. The old one didn't

have running hot water and

the toilet was outside and the

bath was in the wash house also

outside. Every week a night man

used to come empty the toilet

for us.

My dad, unfortunately, died

when I was three so mum raised

me by herself.

It must have been tough

losing your dad when you were

so young?

Yes it was. He died from

injuries he got in World War 1 in

1945, so quite a long time after

he got back in 1918. He had some

form of blood poisoning. But I

was actually adopted. My father's

sister, who is now my mother

took me in from birth and raised

me as her own and then my

dad, Jim Newson, adopted me

as well. I was one of 12. There is

only me and my brother, Murray

Tirikatene, left. I still see him

and other parts of that side of my

family.

Oh wow. So any particular

reason why have you never

moved from that section?

There was and still is no need

to. All my work was here. I

worked at the freezing works as a

slaughter man on the chain over

the back fence. My mum was

here.

Then I had my family and we

all lived here with my mum so

we built a sleep out out back

for her. She lived with us the

whole time. I mean I worked

the odd job out of town. I was

a boilermaker by trade and the

freezing works was seasonal so I

went out of town every now and

again.

What is your best memory in

the Islington house?

Probably when the kids were

young running around the

house, making noise and getting

into mischief. At the time it was

not so good. But it was the first

thing you missed when you were

away.

liQuid laundromatS

289 Colombo St, Sydenham

(next to SuShi Shop)

17 halSwell rd, hoon hay

713 ferry rd, woolSton

7 dayS: 5am-11pm

waSh & dry all your

laundry in about 1 hour

$4.00 WASH

$4.00 DRY

wash 2 mink blankets, duvets

or woolrests for only $8

DRY UP TO 3 LOADS IN

ONLY 25 MINUTES! $4

SAvE TIME & ELEcTRIcITY

• Fast Dryers

• Sports Gear

• Duvets

• Mink Blankets

• Bedding

• Washers

• Domestic Laundry

SELF SERvIcE

Other Locations: 47 Carmen Road, Hornby • 319 Pages Rd, Aranui

• 345 Stanmore Rd, Richmond • 261 Burwood Rd, Burwood

www.liquidlaundromats.co.nz

LET'S GO SHOPPING

Preloved & quality

• Clothing /Footwear

• Bricabrac

• Furniture

• Household items

Late night Thurs open till 6.30pm

1 Amyes Rd, Hornby Ph. 349 4163

Hours: Mon - Fri 9am-4.30pm, Sat 9.30am-1.30pm

335b Riccarton Rd, Church Cnr Ph. 341 8539

Hours: Mon - Fri 9.30am-5pm, Sat 9.30am-2.30pm

Like us on Facebook

Thankyou

for your

support

Hornby Family Store
---
10 Tuesday March 6 2018

Latest Christchurch news at www.star.kiwi

SOUTHERN VIEW

WE'VE MOVED

to 392 Moorhouse Ave

GRAND OPENING

SALE NOW ON

Sales, Service, Parts & Finance: 03 379 0588

The Ultimate

Driving Machine

ENJOY AN UNBEATABLE 15% OFF

ALL NEW BMW SEDANS AND HATCHES. *

Find your ultimate driving machine at the BMW EXPO Sales Event.

Enjoy 15% of all new BMW Sedans and Hatches* along with other

outstanding opportunities across a wide range of BMW models.

Visit Christchurch BMW today to find out more.

Christchurch BMW

30 Manchester Street, Christchurch, 03 363 7240. chchbmw.co.nz

*

15% saving applies across the BMW Sedan and Hatch range only and is based on Manufacturers Recommended Retail Price excluding On Road Costs for new vehicles ordered, registered and delivered between

February 1st and March 31st 2018, or while stocks lasts. Offer excludes pre-owned and demonstrator vehicles, the BMW X Range, the BMW i3 and the BMW M5. Cannot be used in conjunction with any other offer.
---
SOUTHERN VIEW Latest Christchurch news at www.star.kiwi

Tuesday March 6 2018 11

occur weekly except on public

holidays. Phone 0800 663 463 to

register.

St Marks Methodist Church, cnr

Barrington and Somerfield Sts

Beyond Beginner Computers

Wednesday, 9-10.30am

Consolidate your computer

skills and learn more about

internet searching, email,

using Word and the libraries'

eResources. Bookings are

required. Cost will be $15 per

person.

South Library, 66 Colombo St

Toddlerock St Martins

Wednesday, 9.30-11am

Enjoy some music, dance, food

and fun for pre-schoolers and

their caregivers at Toddlerock.

Cost will be $2 per family.

Hillview Christian School gym,

150 Wilsons Rd

Kint 'n' Yarn

Wednesday, 11am-1pm

Go along to Linwood Library

for this friendly Craft Corner

session. Take your knitting,

crochet or other portable craft

project and enjoy time with

other crafters. Have a look at

the range of books to get ideas

for your next project. Free,

beginners welcome.

Linwood Library, Eastgate

Shopping Centre

Creative Writing on

Wednesdays

Wednesday, 4-5.45pm

Email emily.oconnell@starmedia.kiwi

by 5pm each Wednesday

A group leader will work with

group members to craft, create

and develop your own work.

Take some pens or pencils, a

laptop, paper and any of your

wonderful ideas, story-telling, or

art. Talk to any of the Linwood

Library team for contact

information. No charge.

Linwood Library, Eastgate

Shopping Centre

South Library Book

Discussion Group

Wednesday, 6-7pm

For those who love reading

and want to share in discussion

with other friendly book

lovers. It subscribes to the book

discussion scheme so there is

a cost involved. Held on the

first Wednesday of each month

at 6pm. Places are limited so

phone or email to inquire about

availability and cost.

South Library, 66 Colombo St

Mid-Week Laughter Club

Wednesday, 6-7pm

The focus of the club is to get

over the stress of the first part

of the week and have a positive

outlook for the rest. The event

aims to release endorphins and

help you relax and lower stress

levels. There is no comedy,

stand-up or jokes at this session.

Go along to Spreydon School on Sunday from 1pm to 4pm

for its pool farewell party. The pool has been part of the

community since 1904. The school invites former pupils,

families associated with the school, and the wider Spreydon

community to have a final splash in the pool before its

permanent closure at the end of the season. There will be

a gold coin entry on the day. All proceeds will go towards

the school's new playground and outdoor area. The parent

teacher association will be running a few food stalls for

those wanting a bite to eat. The party will be at Spreydon

School, 2 Halswell Rd.

Instead you are encouraged to

make yourself laugh at nothing

at all for the purpose of relaxing.

St Marks Methodist Church, cnr

Barrington and Somerfield Sts.

Entry $2

Rummikub Club

Thursday, 10am-noon

Join in game of rummikub,

a tile-based game for two to

four players, which combines

elements of the card game

rummy and mahjong. No charge.

Linwood Library, Eastgate

Shopping Centre

Beckenham Exercise Class

Friday, 9.30-10.30am

Designed for people

living with long-term health

conditions. Classes generally

Scrabble at Linwood Library

Friday, 10.30am-noon

Go along to our Scrabble Cub.

No obligation, just go along

when you can and join the

friendly group. All materials are

supplied. No fee.

Linwood Library, Eastgate

Shopping Centre

Babytimes

Friday, 11-11.30am

Encouraging learning through

language, Babytimes is a free

interactive programme including

songs, rhymes, stories and play.

Non-members welcome.

Linwood Library, Eastgate

Shopping Centre

Spreydon Social Games Club

Saturday, 10am-noon

Come along to play a friendly

game or two of upwords,

scrabble, cards, chess, mahjong

and more.

Spreydon Library, 266

Barrington St

Opawa Farmers' Market

Sunday, 9am-noon

Go along to the Opawa

Farmers' Market on Sunday for

organic and delicious produce

from local growers. From artisan

bread and French pastries to

fresh berries and local cheeses,

there will be something for

everyone.

275 Fifield Tce, Opawa

BridalsHoW

25th March, 2018

25th March, 2018

10am – 3pm

10am – 3pm

Air Force Museum of NZ

Air Force 45 Harvard Museum Ave, of Wigram, NZ

45 Harvard Christchurch Ave, Wigram,

Christchurch

2x Fashion parades showcasing

All the experts the latest under Bridal one styles. roof.

www.withthisring.kiwi All the experts under for one roof.

tickets.

www.withthisring.kiwi for tickets

a honeymoon prize of

5 nights in Fiji

With proud support from:
---
12 Tuesday March 6 2018

Latest Christchurch news at www.star.kiwi

SENIOR LIVING

SOUTHERN VIEW

Device to prevent

snoring

Why put up with broken sleep, when

help is at hand with Snorex, an appliance

that prevents snoring, sleep apnoea, and

dry and raw throats.

Snorex is custom-fitted to your mouth

for comfort, and a follow up service is

provided.

Denise Lim has been involved with

Snores for 22 years

and has had a 98%

success rate with

people using the

appliance. Snoring

can be a health

hazard, causing

sleep apnoea, where

the person actually

stops breathing for

short periods.

It can cause

short-term memory

loss, tiredness and

contribute to high

blood pressure.

The Snorex

device does not feel

restrictive, is noninvasive

and carries

you can stop him

snoring with a

SNOREX

Why put up with a broken

night's sleep?

Ph 377-4318 or 027 682 1752

DENISE LIM

FOR A FREE INFO PACK

Website: www.snorex.co.nz

GO LIVER DETOX

Is a powerful, 1-A-Day formula that contains

herbs renowned to support healthy liver

function, regeneration of liver cells, digestion

& detoxification. The formula consists of milk

thistle, dandelion root, globe artichoke, burdock,

grape seed

LOVE YOUR LIVER!

a money-back guarantee.

Many people are referred by ear, nose

and throat specialists, however, anyone can

phone for an appointment.

For an information pack or to discuss

the Snorex further, phone Denise Lim on

377 4318 or check out the website

www.snorex.co.nz

Your liver affects your hormones, mood, energy, & overall health. Unfortunately for most of us the liver is

underperforming. Some of the common symptoms can be tiredness, weakness, confusion, skin spots &

lumps, rashes, hormonal in-balance, dark circles under the eyes, yellow discoloration of the whites of the

eyes to name a few. Luckily liver function can generally be improved with diet,

lifestyle changes & nutritional support.

Bringing You the Best in Natural Health

Super price

60 VegeCaps

OnLy $20.00 save $9.90

120 VegeCaps

OnLy $36.90 save $13.00

240 VegeCaps

OnLy $69.80 save $30.00

MARSHALLS HEALTH & NATURAL THERAPY

CONSULTING - PRESCRIBING - DISPENSING - MANUFACTURING - MEDICAL HERBALISTS

110 SEAVIEW RD, NEW BRIGHTON • PH 03 388 5757 • Email: enquiry@marshallshealthshop.co.nz

- WE ARE ALWAYS HAPPY TO HELP! -

MAIL ORDER

AVAILABLE

Centuries old folk

remedy supports

good health!

A fermented liquid health tonic offers an array of

powerful health benefits. It is none other than the

popular apple cider vinegar or ACV.

Since the time of Hippocrates – the

"Father of Medicine" – ACV has been

renowned for its curative properties.

In his popular book "ARTHRITIS &

FOLK MEDICINE", DR. D.C. Jarvis

reports how he found that Vermonters

who regularly consumed ACV and Honey

had excellent health with many putting in

a vigorous day's work on the farm even

when well into their eighties. He also noted

the effects of ACV and H on arthritis to be

remarkable with many patients reporting

almost total relief after taking a course

of the mixture. Dr. Jarvis surmised that

the acid and potassium in cider vinegar

counteracted calcium deposits and helped

the body control calcium use. He also noted

that Vermonters who consumed ACV and

H around meal time had excellent blood

pressure and circulation. The reason he

found was that protein foods thickened

the blood and vinegar thinned it. As the

blood thickens it cannot pass as easily

and quickly through the blood vessels and

capillaries. This poor blood flow

would reduce cellular health by

limiting nutrients to the cells as

well as waste elimination from the

cells. To prevent cell damage the

body naturally increases blood

pressure but this puts more stress

on the blood vessels, organs and

heart. Having ACV and H with

meals will help prevent protein

raising the blood pressure. It also

contributes to a feeling of greater

well-being because the thinner

blood circulates quickly and

more easily through the blood

vessels. Dr. Jarvis found regular

consumption of CV and H to be

an excellent health tonic with

numerous Health attributes.

ACV SUPPORTS

• Healthy digestion, assimilation of nutrients, elimination of wastes

• Energy – Vitality – Endurance

• Elimination of viruses, bacteria, fungus & parasites

• Powerful antioxidant

• Cardiovascular health, blood flow & healthy blood pressure

• Diabetes – improves insulin sensitivity

• Arthritis & joint support • Longevity & improved health

• Settles the stomach & reduces reflux

• Weight Loss

ACV is highly nutritious as it contains all

the goodness of the apple in a form that is

readily accepted by the bodyGood health

starts with good digestion and assimilation

of nutrients. ACV taken before food will

stimulate and promote healthy digestion

and assimilation of vital nutrients for good

health. A well-functioning digestive system

helps prevent disease by neutralising any

toxic substances that enter the body.

It is important to note not all ACV is

produced in the traditional way and results

are likely to prove disappointing with these

other vinegars.

Marshall's Premium ACV & ACV

with 20% Manuka Honey is produced in

Canterbury from Organic whole apples in

the traditional way. It is double strength so

you can use less.

Further information is available from

the Natural Health Advisers at Marshall's

Health & Natural Therapy, 110 Seaview

Road, New Brighton, Phone: 388-5757.

We are always happy to help!

Apple Cider VinegAr - Powerful Natural Health Tonic

ACV is a highly nutritious with all the goodness of apples (one of our most health-giving fruits) in a form that is readily

accepted by the body. It promotes healthy digestion, assimilation of nutrients & elimination of wastes. Detoxifying

& purifying & supports the function of vital organs like the kidneys, bladder, liver & heart. Helps neutralise toxic

substances & harmful bacteria in food. A time-honoured natural remedy to improve health & longevity.

ALWAYS INSIST ON MARSHALL'S TRUE APPLE CIDER VINEGAR FOR

MAXIMUM NUTRITIONAL VALUE & HEALTH BENEFITS!

Bringing You the Best in Natural Health

MARSHALLS HEALTH & NATURAL THERAPY

CONSULTING - PRESCRIBING - DISPENSING - MANUFACTURING - MEDICAL HERBALISTS

110 SEAVIEW RD, NEW BRIGHTON • PH 03 388 5757 • Email: enquiry@marshallshealthshop.co.nz

- WE ARE ALWAYS HAPPY TO HELP! -

Super price

Premium QuALity N.Z. DoubLe

StreNgth, orgANic APPLe

ciDer ViNegAr:

750ml only $9.90, 2ltr only $19.90

With 20% mANukA hoNey ADDeD:

750ml only $14.90, 2ltr only $29.90

MAIL ORDER

AVAILABLE
---
SOUTHERN VIEW Latest Christchurch news at www.star.kiwi

Tuesday [Edition March 6 datE] 2018 133

SENIOR LIVING

What's happening

at Lady Wigram

Retirement Village?

It's been a busy few years for The

Golden Healthcare Group with their latest

development of Lady Wigram Retirement

Village on Kittyhawk Road. The first villas

were occupied in August 2015 and now 101

villas are completed.

In December, the club house opened

which provides a bowling green, hair

dressing salon, restaurant and bar, billiard

room, movie theatre and library. The Club

House has all the trimmings, including 16

one and two bedrooms Apartments. The

next stage will also include a swimming

pool, gym and a further 14 Apartments.

When speaking with one of their

residents about how he feels about the new

Club house, Mr Havill said "everyone is

so excited about it opening, we have all

been watching it very closely'. Mr Havill is

fascinated as to how the fountain works.

He has lived in the village for the past

few years, enjoying his new life style and

making friends. He has also picked up new

hobbies including learning to play mahjong,

"I love it, I had never played in my life". Mr

Havill owned his own home for 44 years

and in that time he maintained the house,

painted it, did this... did that. "We don't

have to do that anymore, this is my place for

the moment. Every villa is different, even

though they look the same. But you make it

your own". One thing Mr Havill likes at this

age is "the gates shut at night, we can get in

but no one else can and that is an additional

sense of security for us".

Owner John Tooby says "our residents

are very involved in the continuing

development of the village, they share our

pride in making this a great place to live. It's

a real community and it continues to grow".

How's your LIVER doing?

Your liver affects how you feel, your

mood, hormones, energy and overall

health. In fact it carries out over 500 crucial

functions that are vital to maintain good

health. If your liver is under-performing as

is the case for most of us, it means that the

body has more toxins that could be setting

the stage for disease. Disease can normally

only survive if the environment is suitable.

A well performing body will generally have

a much better chance of staying healthy.

Some symptoms of an underperforming

liver can be: Fatigue, weakness, trouble

concentrating, confusion, dark urine, dark

circles under the eyes, yellow discoloration

of the whites of the eyes, bloating and gas,

dry and dark patches on the neck and

under arms, bruising easily, constipation,

skin spots and rashes, eczema, psoriasis,

hormonal problems, moody and many

more.

The liver is the only organ in the body that

can regenerate itself if the right conditions

are met. In most cases the liver function can

be improved relatively easily with diet and

lifestyle changes and nutritional support.

Natural herbal extracts like milk thistle,

dandelion, globe artichoke, burdock, grape

seed and turmeric have been shown to be

very effective at supporting detoxification,

digestion and liver function. These herbs

are food for the liver and body. They

provide the building blocks to allow the

liver to regenerate healthy cells. All these

ingredients are available in a high potency

one-a-day vegie capsule.

Fresh vegetable juices are an excellent way

to provide the body with easily absorbed

nutrients. They also help the liver detox the

body and support its regeneration.

Certain strains of probiotics have been

shown to support healthy digestion, liver

function and much more. A one-a-day

comprehensive high potency probiotic

is highly recommended to support good

health.

Apple cider vinegar as well as being highly

nutritious contains beneficial enzymes that

support healthy digestion, liver function

and absorption of nutrients.

As your liver function improves you will

notice increased energy, clearer skin, less

hormonal problems, better digestion, and

a positive mood and sharper mind just to

name a few.

Further detailed information on

how to support your liver and general

health is available from the Natural

Health Advisers at Marshall's Health &

Natural Therapy, 110 Seaview Road, New

Brighton, phone 388-5757. We are always

happy to help!

A Leader in

Healthcare

Excellence for

the Older Person

Brookhaven

Retirement Village

29 Alport Place

Woolston

Phone 03 384 5046

Albarosa

Dementia

80 Harewood Road

Papanui

Phone 03 375 0727

Somerfield

Dementia

137 Barrington Street

Somerfield

Phone 03 332 5897

www.goldenhealthcare.co.nz

Golden Age

Retirement Village

96 Harewood Road

Papanui

Phone 03 375 0720

Camellia Court

Dementia

84 Harewood Road

Papanui

Phone 03 375 0722

Hoon Hay

Dementia

16 Anvers Place

Hoon Hay

Phone 03 379 7825

Lady Wigram

Retirement Village

Sarah Jacobson

Village Manager

210 Kittyhawk Ave,

Wigram

Phone 027 3411 464

ARE YOU READY

TO DOWNSIZE?

Paying rates for a house that's

too big? Paying maintenance and

heating costs for space you don't use?

A move to one of our

architecturally designed villas

at McKenzie Lifestyle Village in

Geraldine will cut those costs.

Three villas are available for

occupation now, priced from

$355,000.

Talk to Hayley Grant today

on 0800 84 55 24.

Support and Resources for Independent Living

walkers to

purchase

(FroM $230)

or hire

$20

Can we help you or someone you support?

Disability Information Service – a 'one stop

information service' which offers unbiased

advice to assist people navigate their way to

organisations or services that can provide them

with support or advice.

Aspire Canterbury Shop – shop online or call in

to our shop at 314 Worcester Street and view our

range of easier living products We also hire out

wheelchairs, ramps and walkers.

Total Mobility Discounted Taxi Service – a scheme

which provides 50% discounts on taxi journeys to

eligible people in the Christchurch area who, due

to health conditions, are unable to access public

transport. Contact us for more information on

03 366 9093 or visit our website.

per week Mobile Service – Fun interactive presentations of

our information, services and easier living

equipment. We come to you! To book our

presenter to speak to your group call Richard

at numbers below or email mobileservices@

aspirecanterbury.org.nz

Mobility scooter demonstrations available.

Aspire Canterbury is a not-for-profit organisation

providing services to the community since 1981

Physical Address:

314 Worcester Street

Linwood Christchurch

Postal Address:

PO Box 32074

Christchurch 8147

2015 NZ Disability

Information Centre

of the Year

Ph: 03 366 6189

Freephone: 0800 347 242

Ph: (Total Mobility) 03 366 9093

Mobile Service: 027 588 9700

E: admin@aspirecanterbury.org.nz

W: www.aspirecanterbury.org.nz
---
14 Tuesday March 6 2018

Latest Christchurch news at www.star.kiwi

SOUTHERN VIEW

A Star Media Event

Star

Media

Sunday 18 March

#Areyouupforit?

EntEr NOW!

Entry $25 (children 10 and under free)

Available online now from city2surf.co.nz or at these outlets
---
SOUTHERN 2 [Edition VIEW datE]

Latest Christchurch news at www.star.kiwi

Tuesday March 6 2018 15

HEALTH & BEAUTY

Highly effective

treatment brings

Special offer - one treatment for

arthritis at half price for the first 10 people

who make an appointment before april 6.

'amazing' results

for arthritis patient

Anyone that suffers from arthritis will know the pain, discomfort

and sheer inconvenience this can cause in day-to-day life.

However, thanks to a highly effective treatment

offered by Chinese health practitioner Dr Lan Xiao,

they can get fast, and very often immediate relief.

Lan developed the treatment, known as

'acupuncture without needles', which she describes

as being similar to reflexology in that the problem

area on the body is determined through pressure,

but is much more accurate.

One client who was thrilled with the results of

this treatment, is Corinna Cornelius. Corinna was

having problems with her right hand after she overused

it following an injury to her left hand and it

became arthritic.

"I couldn't close my hand up and make a fist, and

it was also very painful, especially if I knocked it.

This also made it very difficult to do everyday things

like picking up a cup of tea or cleaning my teeth,"

Corinna said.

After hearing about Lan's treatment from a friend,

Corinna decided to give it a try, and was thrilled

with the results.

"The difference after one treatment was amazing.

My hand wasn't painful and I could make a fist."

A further six treatments followed, and Corinna

said while her hand was still slightly stiff, it was

improving every day and things were back to

normal. Following a holiday in Australia, she was

due to go back to Lan for a check-up, but didn't

think she would need any further treatment.

"I love her skills. What she did was just amazing –

and there were no needles involved!"

Lan uses acupuncture without needles to treat a

wide range of injuries and medical conditions and is

now ACC registered.

Dr Lan is offering one treatment for arthritis

at half price for the first 10 people who make an

appointment before April 6. Her clinic is located

at 108 Sawyers Arms Road, and her hours are

Monday, Wednesday and Friday from 12pm to

5pm.

To discuss your health issues or make an

appointment, phone 323 4168 or 027 231 8388.

Discover this

unique Emporium

Metal art - gifts - hoMewares

water features - pottery

Mirrors - candles

wall hangings & More

ACC Registered

722 Marshland Road, Top end Styx

Open 7 Days

Ph: 03 323 9781

www.hitchingpost.co.nz

style

noun

elegance and sophistication.

synonyms: flair, grace, poise, polish, suaveness,

urbanity, chic, finesse, taste, class, comfort,

luxury, affluence, wealth, opulence, lavishness.

MAGAZINE

STYLE.KIWI
---
16

Tuesday March 6 2018

Latest Christchurch news at www.star.kiwi

REAL ESTATE

Welcome to the Beckenham loop

40 Sandwich Road, Beckenham

Price by negotiation

3 bedrooms | 2 bathrooms | 2 living areas | 2 car garage | Listing ID: SMT10239

SOUTHERN VIEW

Privately positioned on a corner site

of 641m2 this charming home with a

sleep out is close to the suburb's excellent

schools and is surrounded by tree lined

streets within close proximity of local

walks cafes, bars and shopping amenities.

This character home with lead lights,

polished floors and wood panelling may

be exactly what you have been waiting

for; offering three bedrooms, two double

sized and one single. Two living areas

including a formal lounge is west facing

and captures the last of the sunshine,

a perfect space to relax in after a hard

day's work. The separate dining area

ideal for family meals adds to the appeal.

An easy flow to the decking areas from

the entrance and main bedroom is a sure

winner.

Accessed via a private driveway

with all EQC work completed. The

self-contained sleep out is perfect for

extended families.

Full fencing provides safety for small

children and pets and the wraparound

garden offers beautiful outlooks from

every window. Completing the appeal

is a standalone, easy-to-access double

garage.

Offering the charm of yesteryear

this brilliantly located property is your

chance to own in one of Christchurch's

most sought-after suburbs.

Our vendors have given clear

instructions, this property will be sold.

Marketed by Smart Real Estate

Debra Hakaraia

Phone 0275 620 420 or 03 384 8600

www.smartrealestate.co.nz

Licensed Agent Reaa 2008

growing with you

SprIng Is here –

It'S Sow Time

how to get the best results from

seeds and seedlings

100% NatIve In

The capItal

Unravelling the secrets of

Otari-wilton Bush

The New Zealand

landscape awards

The people behind

the projects

$7.90 incl. GST

Save our roSeS

How a rose register is protecting our heritage

September 2016 | 100%

It's time

to grow!

New look and more

content than ever!

MeeT LeSTer Brice

A Garden coach

auckland Botanic GardenS

Why we love our public grounds

now bigger than ever

The magazine for

gardeners who like to get

their hands dirty

SubScribe from

$43. 50*

*6 issues/6 months

ISSN 2423-0219

SUBSCRIPTIONS FREEPHONE

0800 77 77 10

www.gaRdeNER.kiwI
---
2

[Edition datE]

SOUTHERN VIEW Latest Christchurch news at www.star.kiwi

Tuesday March 6 2018 17

HOME & HEATING

Temporary premises

for Smooth-Air

Throughout 2018, it's business as usual

for ventilation equipment specialists,

Smooth-Air, as they operate from

temporary premises at 351c Blenheim

Road while their Annex Rd premises are

being rebuilt.

Due to re-open in early 2019, the

new building will be better suited to the

company's needs and more efficient than

the previous one, marketing spokesperson

Kate Rattray says.

"In the meantime, we will be continually

moving onwards and upwards with

an increased product range to service

our commercial, trade and domestic

customers.

"We are also pleased to have on board

our new national sales manager Phil

Henderson, and new regional manager

Richard Jack. Their focus will be on

continuing to provide customers with

excellent service and advice," Kate says.

Experts in providing quality of air for

domestic and commercial purposes,

Smooth-Air supplies equipment for all

types of ventilation systems including

ducting, grilles, diffusers and fans – in

fact, anything that moves air into, out of,

or around a building.

While the majority of customers are

trade, Smooth-Air also sells directly to

the public, with a range of extraction

and ventilation systems, as well as other

ventilation components for domestic use.

For the domestic market, the focus is on

cleaner, drier, warmer homes. Smooth-Air

has several ventilation systems designed

for the New Zealand climate. The HEX390

is a heat exchanger suitable for domestic

and commercial premises, exchanging

fresh air for stale, while reclaiming heat

(or cooling) from the expelled air.

Their HTU heat transfer unit is another

popular option, transferring heat from

log burners to other areas of the home,

improving energy efficiency and reducing

power consumption.

Smooth-Air also caters for large

commercial projects, with the capacity to

produce substantial quantities of TD panel

duct, as well as provide other specified

equipment, including AirChange heat

exchangers such as those used for the Jellie

Park Pool.

Their skilled workshop team builds

ducting components, and these can be

supplied from stock, or made to customer

specifications. With the purchase of a

new building in Christchurch, which is

dedicated to manufacturing, Smooth-

Air have recently more than doubled

their manufacturing capacity. Along

with their Auckland

and Wellington

workshops, Smooth-

Air's workshop floor

space now totals nearly

3000sqm, and of the 80

staff nationwide, 30 are

dedicated workshop

staff members.

Engineering manager

Mike Nash oversees all

three workshops.

"As suppliers to

customers in all areas of

New Zealand, we pride

ourselves in doing the

job right first time." Mike says.

"With manufacturing capability in

Christchurch, Auckland and Wellington

we are able to share workload across

locations, keeping manufacturing inhouse,

providing a flexibility to our

customers and reliability of supply by

cross-utilisation of resources.

"At Smooth-Air, our policy is to provide

a one-stop solution to all our customers

in the HVAC industry. As well as our

manufacturing prowess, we also have the

ability to source items from a wide range of

suppliers both locally and internationally."

A nationwide operation, Smooth-Air's

head office is Christchurch, with branches

located in Auckland and Wellington.

Their temporary Christchurch premises

are located at 351c Blenheim Road, just

round the corner from their original

Annex Rd site.

Ventilation Equipment Suppliers

totrade

retail

The most efficient way

to ventilate your home

&

HEX 390

For Healthy Indoor Air

Heat is transferred to the

incoming filtered fresh air

HEAT PUMP

SALE NOW ON!

Amazin' Autumn Specials!!

• We will offer you the best quality brands and

option of heat pump for your home/business

• Providing Heat Pump solutions for over 15 years to Cantabrians

• We personally guarantee all our products & installs for 5 years

(providing annual maintenance has been completed)

Phone us today for your free consultation & quote

41A SHAKESPEARE RD, WALTHAM

PHONE 03 366 0525

www.enviromaster.co.nz

"A local team for local people"

Substantial energy savings

over traditional domestic

ventilation systems.

0800 SMOOTH

(0800 766 684)

sales@smooth-air.co.nz

Made in New Zealand,for New Zealand conditions

Fresh air

from outside

Warm, stale

air from house

351c Blenheim Rd

Riccarton

Christchurch

03 343 6184

Exhaust air

to outside

Warm fresh air

to house

Monday - Friday

7.30am - 5pm

www.smooth-air.co.nz
---
18

Latest Christchurch news at www.star.kiwi

Tuesday March 6 2018

SOUTHERN VIEW

Classifieds Contact us today Phone our local team 03 379 1100

Building Supplies

Situations Vacant

Trades & Services

Trades & Services

SHOWERLINERS

Installed to fit your tired

or old existing shower,

the perfect solution, ph

Lachlan for a free quote

383 1723 or 027 436 7067

Computers

ALL

YOUR

COMPUTER

WORRIES SOLVED!

*$30.00 off your first

service with this coupon!*

No problem too big or

small from home PC's to

business networks. PC

slow? An end to Viruses,

Spyware, and Clogged

Systems. Safe secure

hassle-free computing.

Lost files recovered.

Microsoft Certified,

MCSE, MCP+l. 30 years

experience. Call Andrew

Buxton this week on 326-

6740 or 027 435-7596

for $30.00 off* Custom

Computers Christchurch

Gardening

& Supplies

A GARDEN OR

LANDSCAPING TIDY

UP? Shrub, hedge &

tree pruning, Lawns,

Gardening, consistently

reliable general property

upkeep, Dip. Hort. 10

yrs experience, One off

tidy ups or on-going

service. Nick's Property

Maintenance. Keeping

your garden beautiful.

Free Quote. Ph. 942-4440

LANDSCAPE GARDEN

PROFESSIONAL

Qualified Horticulturist,

offering expert, garden

makeovers, design and

landscaping, for free

quotes call Bryce 027 688-

8196 or 0508 242-733

QUEENSLAND SUN-

SHINE COAST AUSTRA-

LIA Resort, Ocean Views,

Balconies, Self Contained,

1 or 2 B/R Ensuite,

Heated Pool, Spa, Sauna,

Free Internet, Shops,

Restaurants, Tennis, Surf

Club & Patrolled Beach,

Public Transport at door.

Ask for our SEASONAL

SPECIALS. Phone 61 7

544-35011 Email: reception@mandolin.com.au

www.mandolin.com.au

Night Shift

Caregiver

A fulltime Night Shift

duty is becoming

available at Thorrington

Village, 51 Birdwood

Ave, Beckenham.

This is for a Senior

Caregiver who must

have caregiving

experience and

especially with

dementia residents,

and have night shift

experience.

Thorrington Village is

owned by the Archer

Group and has a strong

set of Christian values.

Application

forms can be

collected from the

Thorrington office

during work hours

or by email on:

andrew@

thorringtonvillage.

org.nz

Trades & Services

HOUSE

CLEARING

Are you

moving house

or trying to

downsize?

Call All Clear

Canterbury. We work

with you to recycle,

sell and dispose of

unwanted items.

Ph: 03 260 0934

or 021 078 4553

raewynlcooke@gmail.com

www.allclearcanterbury.co.nz

ADVERTISE YOUR BUSINESS HERE

Phone for further details

(03) 379 1100

Enjoy outdoor living all year round

• House, deck, carport & window canopy etc

• Warm & dry in winter

• UV protection for summer

• Customised & Tailored

• Café curtains fitted

• 5 year warranty

ARCHGOLA

15 months

INTEREST FREE

Normal lending criteria apply

Chris Thorndycroft

Grant Stewart

Ph 0508 272 446 | www.archgola.co.nz

From new builds to small home alterations, we

specialise in turning your dream home ideas into reality.

Call the name you can trust!

Ph 377 0034

Trades & Services

Lawns, Gardens

& Home Cleaning

BUILDER

www.dimocks.net.nz

9185885AA

Free Quotes

Professional, personalised

service. Regular &

one-offs. Fixed price.

Ph: 377-5814

For all your property and

cleaning requirements

Trained, insured & security

screened owner/operators

Multi-award winning

systems & Franchises

Franchises Available

www.fviphomeservices.co.nz

Trades & Services

ROOF

PAINTING

Rope & harness

a speciality,

no scaffolding

required,

30 years of

breathtaking

experience.

FREE QUOTES

Exterior staining,

exterior painting,

moss and mould

treatment and

waterblasting

Phone Kevin

027 561 4629

junk

Why go to the Dump? Junkman comes to you!

Items too big for the rubbish bin?

Or too heavy for you to move?

Junkman comes to FROM

you & takes it away $

65 *

*Prices vary depending on items and volume – minimum charge $65

DRIVEWAYS

Exposed Aggregate

Stamped Concrete Plain

Concrete Resurfacing

Things we offer...

Competitive/affordable pricing

Attention to detail

Professional service

free quotes/insurance scopes

Cell 0278 145 848

www.drivecrete.co.nz

GLAZING

Stephen Thom Glazing 2012 Ltd.

• Mirrors • Pet Door Specialists

• Splashbacks

THE CAT DOOR MAN

ALL BROKEN WINDOWS

Phone Cushla or Darren Twist

03 352 6225 or 027 352 6225

Trades & Services

AAA HANDYMAN

licensed carpenter

LBP, all property and

building maintenance,

repairs, bathroom/shower

installations, with free

quotes 03 383 1927 or 027

245 5226 ciey@xtra.co.nz

BRICKLAYER

George Lockyer. Over

35 years bricklaying

experience. UK trained.

Licensed Building

Practitioner number

BP105608. Insurance

work. EQC repairs.

Heritage brickwork and

stonework a speciality. No

job too small. Governors

Bay. Home 329-9344,

Cell 027 684 4046, email

georgelockyer@xtra.co.nz

BUILDER LICENSED

available for all aspects of

building. Please call 027

241-7471 or 335-0265

BUILDER

For all building work

but specialist in bathroom

renovations, 30 yrs

experience, with service

and integrity. Free Quotes.

Ph Lachlan 383-1723 or

0274 367-067.

0800 586 5626

www.junkman.co.nz office@junkman.co.nz

Trades & Services

CARPET & VINYL

LAYINg Repairs, uplifting,

relaying, restretching,

Email jflattery@xtra.co.nz,

ph 0800 003 181 or 027

2407416

PAINTINg

&

DECoRATINg

Wingfields Contracting,

all interior & exterior

painting & all forms of

interior plastering & jib

fixing, ph Mark 021 171-

1586 or 355-5994

PAINTER

Available, All aspects in

painting. Very competitive

in roofs and fences. Please

call 027 241-7471 or 335-

0265

PAINTER

Quality work, I stand by

Canterbury Ph Wayne 03

385-4348 or 027 274 3541

PLASTERER

Gib Stopping, Small

job specialty. 30 + years

experience. Ring 0800

387-369

PLUMBER

ALF THORPE PLUMBING

Certifying Plumber for

all types of plumbing,

maintenance, spouting,

alterations etc. Phone 352-

7402 or 0274-350-231

plumber

Due to Christchurch

chlorinating/fluorinating

water supply and the

potential for contaminated

water from wells I can offer:

Full house micron filter and charcoal filters

with UV sterilisation to eliminate chlorine

taste, any odours and small particles as well

as harmful bugs.

Certified Plumber and Gasfitter servicing

Christchurch and surrounding areas.

Kevin Unsworth

Plumbing LTD

Phone: 021 165 4650

www.kevinunsworthplumbing.co.nz

Cracked tiles?

Dirty grout?

Old or mouldy

silicon?

Brett Ph 03 358 5105

or 027 746 7632

www.groutpro.co.nz

Trades & Services

SPoUTINg CLEANINg

Spouting Unblocked,

Cleaned Out and Flushed

Out. Also Full Handyman

Services Available. Call

Trevor 332 8949 or 021

043 2034

SToNEMASoN, BRICK

& BLoCKLAYER

Earthquake Repairs, Grind

Out & Repoint, River/

Oamaru stone, Schist,

Volcanic Rock, Paving,

all Alterations new & old,

Quality Workmanship,

visit www.featureworks.

co.nz or ph 027 601-3145

T.V. SERVICE CENTRE

Repairs, tvs, microwaves,

stereos, DVD. Aerial

installations and kitsets,

480 Moorhouse Ave, ph 03

379 1400

UPHoLSTERER

Dining Chairs, Lounge

suites, Caravan Squabs

etc. recovered. Free

Quotes. Phone Graeme

383-1448

Trades & Services

VHS VIDEo TAPES

& all camera tapes

converted to DVD, video

taping special occasions,

www.grahamsvideo.co.nz

ph 03 338-1655

WINDoW CLEANINg

Average 3 bdrm house

inside or out $40. Both

$70. Phone Trevor 344-

2170

Wanted To Buy

AAA Buying goods

quality furniture,

Beds, Stoves, Washing

machines, Fridge Freezers.

Same day service. Selwyn

Dealers. Phone 980 5812

or 027 313 8156

TOOLS Garden,

garage, woodworking,

mechanical, engineering,

sawbenches, lathes, cash

buyer, ph 355-2045
---
SOUTHERN VIEW Latest Christchurch news at www.star.kiwi

Tuesday March 6 2018 19

What's On

Entertainment

To advertise, contact

Jo Fuller 027 458 8590

jo.fuller@starmedia.kiwi

KING'S SINGERS 'GOLD'

IN 1968, the original six King's Singers came

together through their shared love of singing

and quickly became world renowned for their

mesmerising performances. Celebrating their 50

Year Anniversary, they are touring with

performances across New Zealand. e King's

Singers chart their journey through the music -

a breath-taking repertoire that has evolved to

become one of the most diverse and compelling

imaginable.

With a discography of over 150 recordings

e King's Singers have set the standard for the

art of a cappella everywhere. ey are the

recipients of two Grammy® Awards, an Emmy®

Award, the Midem International Classical

Award and recent inductees into Gramophone

magazines Hall of Fame.

e King's Singers have always been lauded

for their flexibility and the diversity of their

repertoire, which includes a panoply of

commissioned works by many of the supreme

composers of our times – including Sir John

Tavaner, Toru Takemitsu, John Rutter, Luciano

Berio, Nico Muhly, György Ligeti and Eric

Witacare. is love of diversity is reflected in

SERVING

th

the 50 anniversary release, Gold, a triple-album

of new recordings featuring 60 tracks spanning

over 500 years, celebrating the amazing musical

heritage of e King's Singers.

On this rare tour of New Zealand this

charismatic ensemble performs one concert

only in Christchurch at the Charles Lunley

Auditorium on ursday 8 March. is

celebratory programme will feature especially

commissioned anniversary pieces by some of

the world's great contemporary choral

composers including Nico Muhly, Bob Chilcott

and Alexander L'Estrange.

An alchemy of ancient and modern,serious

and light- hearted, expected and unexpected,

the Gold programme features premieres by

some of the great contemporary choral

composers of our day, alongside masters of the

Renaissance and Romantic era's.

e King's Singers are Patrick Dunachie and

Timothy Wayne-Wright, countertenor; Julian

Gregory, tenor; Christopher Bruerton and

Christopher Gabbitas, baritone; Jonathan

Howard, bass. www.kingssingers.com

FEATURE BUFFET COMING UP...

HAPPY HOUR

5PM - 7PM DAILY

OUR CABINET ITEMS

ARE HOMEMADE

CREATED FRESH ON SITE DAILY

$12

LUNCH

SPECIALS

Irish Fare

added

to the

Dinner Buffet

SATURDAY

17TH MARCH 2018

Available only on

Saturday 17th March 2018

DINNER SESSION ONLY.

NORMAL PRICE APPLIES

Lunch & Dinner : All you can eat, 7 days

Bookings Essential PH 386 0088

fb.com/GardenHotelRestaurant www.gardenhotel.co.nz

COFFEE

HAPPY

H O U R

2PM-4PM

DAILY

$3.50

Offer available for a limited time

and includes tea, hot chocolate

MON: ROAST MEAL

TUE: FISH & CHIPS

WED: FISH BURGER

THU: ROAST MEAL

SAT: FISH & CHIPS

AVAILABLE

FROM

11.30AM-2PM

FOR A

LIMITED TIME

LIVE MUSIC 6PM SATURDAY:

RHONDA CAMPBELL & JOHN BEVIN

PHONE 385 8880 FIND US ON FACEBOOK fb.com/GBCCHCH

THE GARDEN HOTEL COMPLEX | 110 MARSHLAND RD

www.gardenhotel.co.nz | phone 385 3132

'Famous for their roasts!'

RESTAURANT & CAFÉ

Kid's SPECIAL

Two courses

Seniors SPECIAL

Two courses

$10

We are family friendly. Great Kids menu plus designated play area.

Soup/Roast or

Roast/Dessert

Special available lunch only

Monday - Saturday 12pm - 2.30pm

What's On

TUESDAYS & THURSDAYS

MEMBERS LUCKY CARD DRAW

Saturday 17th March

ST PADDY'S DAY

DJ KRONIK from 3pm

PRIZES FOR BEST DRESSED - LUCKY SEAT NUMBERS

Highlanders v Crusaders 7.35pm

DOWNSTAIRS

CLUB BISTRO

Open Tuesday to Saturday

from 12pm - 2pm & from 5pm.

$20

Start your

day with us

We are open from 6.30am

Cooked

breakfasts

$18

Check out our extensive

breakfast menu from

Continental to Cooked

The

RACECOURSE HOTEL

& Motorlodge

118 Racecourse Rd, Sockburn,

Christchurch. Ph 03 342 7150

www.racecoursehotel.co.nz

H ORNBY

WORKINGMEN'S

CLUB

PLAYING

THIS WEEKEND

WESTVIEW LOUNGE

FRIDAY 8PM:

RYAN NEVILLE & THE

MIDNIGHT BLUES BAND

BLUES, ROCKABILLY, ROCKnROLL

PRE-SALE TIX $22 / DOOR $26

SATURDAY 4.30PM:

BARROSS

8PM: LITTLE CITY DUO

PLANNING

A FUNCTION?

We have rooms available

for any occasion.

Call us today, 349 9026

DINE BY THE SEA!

UPSTAIRS

Pierview Restaurant

Open from 5.30pm Friday, Saturday

and Sunday, and for

Sunday Brunch from 10.30am to 2pm.

SORRY, PIERVIEW IS FULLY BOOKED

Fri 9; Sat 10; Sun 11; Sat 17 March 2018.

SUNDAY 25th MARCH, from 5.30pm

SUNDAY NIGHT BUFFET

$25pp BOOK NOW!

202 Marine Pde | Ph 388 9416 | www.newbrightonclub.co.nz | Members, guests & affiliates welcome

FAMILY FRIENDLY DINING

OPEN DAILY

HERE'S SOME OF OUR TASTY SUMMER DISHES

Club CAFE

GF & V options available

LUNCH & DINNER DAILY

Chalmers Restaurant

CARVERY DINNER $22.50

EVERY FRIDAY & SATURDAY FROM 5.30PM

Early Bird Special

5.30pm - 6.30PM

FREE

DESSERT

Family Friendly

SUNDAY NIGHT BUFFET $27

EVERY SUNDAY FROM 5PM-8PM

PERFECT FOR SPECIAL OCCASIONS & FAMILY EVENTS!

The Hornby Club | ph 03 349 9026 | 17 Carmen Rd | Hornby

www.hornbywmc.co.nz | Members, guests & affiliates welcome
---
20

Latest Christchurch news at www.star.kiwi

Tuesday March 6 2018

SOUTHERN VIEW

raNGiora • Northwood • st martiNs • tower juNctioN • BishoPdaLe • raNGiora • Northwood

Northwood • st martiNs • tower juNctioN • BishoPdaLe • raNGiora • Northwood • st martiNs • tower juNctioN • BishoPdaLe •

BARGAIN

BOOK BONANZA

35 %

off

BOOKS

*Only

STORE

WIDE *

applies to bargain/fantastic price books.

Stock may vary from store-to-store.

@papertreestores

EVERYTHING

MUST GO!

MORE FANTASTIC SPECIALS INSTORE NOW!

HALF

PRICE

KIDS' PUZZLES

*Applies to selected products.

50 %

*Applies to selected products.

off

GREETING CARDS

TUES, MARCH 6 - SUN, MARCH 11

25 % off*

STATIONERY

FASHION

UP TO

95 % off

RRP

30 %

off

STORAGE BOXES

Follow us on Facebook:

@papertreestores

tower junction, off Clarence St, Riccarton | Bishopdale, 31 Bishopdale Court, Bishopdale | rangiora, 206 High Street, Rangiora

Northwood supa centre, Main North Road, Belfast | st martins shopping centre, Wilsons Road, St Martins

• st martiNs • tower juNctioN • BishoPdaLe • raNGiora • Northwood • st martiNs • tower juNctioN • BishoPdaLe • raNGiora
---
AUTUMN

SALE

HUGE DISCOUNTS ON QUALITY TREES AND SHRUBS

UP TO 80% OFF!

for a limited time only

UNTIL 25 MARCH 2018

366 Halswell Junction Road

Halswell, Christchurch 8025

T: 03 349 9240 GET IN

QUICK!

E: info@allwood.co.nz

www.allwood.co.nz

Keep up to date on what is happening around the

nursery through our website and Facebook page.
---
AUTUMN SALE

UP TO 80

Deciduous trees

on sale include:

• Maples

• Dogwoods

• Oaks

• Flowering Cherry Trees

• Tulip Tree

• Crab Apple

• Beech Trees

• Elms

• Limes and many more

Huge range.

Trees up to 5m in height.

Minimum

20% discount

SOME TREES UP TO

80% OFF

Topiary Standards

All discounted

by 20% or more

• Portuguese Laurels

• Bay Laurels

• Griselinia

• Liquidamber Gumball

• Photonia Red Robin

• Robinia Mop Top

Rhododendron

Varieties

Daphne

Large Grade

Big chunky plants.

$49.50 grade

NOW $35

Pink and white scented

flowers. $59.50 grade

NOW $45

366 Halswell Junction Road, Halswell, Christchurch 8025 | T: 03 349 9240 | E: info@allwood.co.nz

Keep up to date on what is happening around the

nursery through our website and Facebook page.

www
---
% OFF!

for a limited time only

UNTIL 25 MARCH 2018

Shrubs

Great range of

quality plants.

All

with 20%

discount

Ideal for large and

small gardens.

Hedging Plants

• Griselinia

• Pittosporum

• Photinia Red Robin

• Euonymus

• Mexican Orange

Blossom

• Bay Laurel

• Portuguese Laurel

• Plus many more

All discounted

by 20% or more

Flowering Cherry

Michelia Varieties

Pyrus Salicifolia

Pendula

Evergreen

Magnolia Tree

(Weeping Silver

Pear Trees)

Many varieties available.

Up to

80% discount

Great ornamental evergreen tree

with fragrant flowers. Requires

shelter from wind when young.

20% DISCOUNT

Tough ornamental tree for

exposed sites. Were $145

NOW $100

• St Mary

• Little Gem

• Blanchard

• Kay Parris

All discounted

by 20% or more

366 Halswell Junction Road, Halswell, Christchurch 8025 | T: 03 349 9240 | E: info@allwood.co.nz

.allwood.co.nz

OPEN TUESDAY to FRIDAY - 9.00am to 4.30pm

SATURDAY & SUNDAY - 10.00am to 4.00pm
---
Good, honest gardening advice is our hallmark

Trees for Avenues and

Lifestyle Properties

Landscape plans, planting plans...

Allwood Trees has a great

planning service for garden

design.

From planning to completion,

Allwood Trees can organise

this for you.

Huge range, ideal for lifestyle

properties, driveway avenues,

feature trees, park-like settings.

Up to 80% off

Café Allwood Come in and enjoy

• Breakfast and lunch menu

• Great coffee

• Cabinet food

• Catering

• Indoor/outdoor seating

MARCH ONLY

Purchase Eggs Benedict breakfast

and get a regular coffee free!

Check out the café Facebook and Instagram accounts to keep up to date.

366 Halswell Junction Road, Halswell, Christchurch 8025 | T: 03 349 9240 | E: info@allwood.co.nz

www.allwood.co.nz

CAFÉ OPEN TUESDAY to FRIDAY - 7.30am to 3.00pm

SATURDAY & SUNDAY - 8.30am to 3.00pm