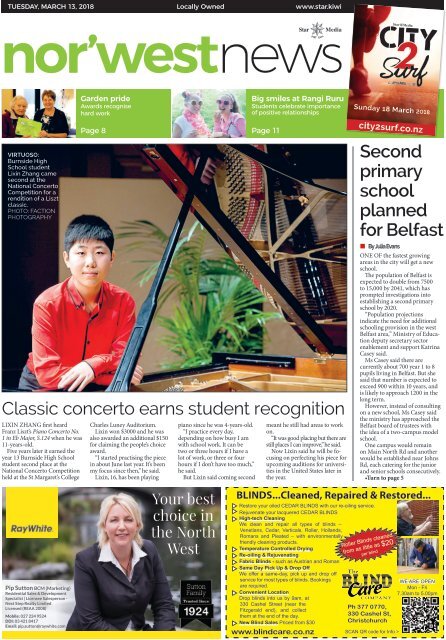 Nor'West News: March 13, 2018
Create successful ePaper yourself
Turn your PDF publications into a flip-book with our unique Google optimized e-Paper software.
TUESDAY, MARCH 13, 2018

Locally Owned

www.star.kiwi

A Star Media Event

Star Media

Garden pride

Awards recognise

hard work

Big smiles at Rangi Ruru

Students celebrate importance

of positive relationships

Sunday 18 March 2018

VIRTUOSO:

Burnside High

School student

Lixin Zhang came

second at the

National Concerto

Competition for a

rendition of a Liszt

classic.

PHOTO: FACTION

PHOTOGRAPHY ​

Page 8 Page 11

Classic concerto earns student recognition

LIXIN ZHANG first heard

Franz Liszt's Piano Concerto No.

1 in Eb Major, S.124 when he was

11-years-old.

Five years later it earned the

year 13 Burnside High School

student second place at the

National Concerto Competition

held at the St Margaret's College

Charles Luney Auditorium.

Lixin won $3000 and he was

also awarded an additional $150

for claiming the people's choice

award.

"I started practising the piece

in about June last year. It's been

my focus since then," he said.

Lixin, 16, has been playing

piano since he was 4-years-old.

"I practice every day,

depending on how busy I am

with school work. It can be

two or three hours if I have a

lot of work, or three or four

hours if I don't have too much,"

he said.

But Lixin said coming second

meant he still had areas to work

on.

"It was good placing but there are

still places I can improve," he said.

Now Lixin said he will be focusing

on perfecting his piece for

upcoming auditions for universities

in the United States later in

the year.

city2surf.co.nz

Second

primary

school

planned

for Belfast

• By Julia Evans

ONE OF the fastest growing

areas in the city will get a new

school.

The population of Belfast is

expected to double from 7500

to 15,000 by 2041, which has

prompted investigations into

establishing a second primary

school by 2020.

"Population projections

indicate the need for additional

schooling provision in the west

Belfast area," Ministry of Education

deputy secretary sector

enablement and support Katrina

Casey said.

Ms Casey said there are

currently about 700 year 1 to 8

pupils living in Belfast. But she

said that number is expected to

exceed 900 within 10 years, and

is likely to approach 1200 in the

long term.

However, instead of consulting

on a new school, Ms Casey said

the ministry has approached the

Belfast board of trustees with

the idea of a two-campus model

school.

One campus would remain

on Main North Rd and another

would be established near Johns

Rd, each catering for the junior

and senior schools consecutively.

•Turn to page 5

Pip Sutton BCM (Marketing)

Residential Sales & Development

Specialist | Licensee Salesperson -

Next Step Realty Limited

Licensed (REAA 2008)

Mobile: 027 224 9524

DDI: 03 421 8417

Email: pip.sutton@raywhite.com

Your best

choice in

the North

West

BLINDS...Cleaned, Repaired & Restored...

Restore your oiled CEDAR BLINDS with our re-oiling service.

Rejuvenate your lacquered CEDAR BLINDS

High-tech Cleaning

We clean and repair all types of blinds –

Venetians, Cedar, Verticals, Roller, Hollands,

Romans and Pleated – with environmentally

friendly cleaning products.

Temperature Controlled Drying

Re-oiling & Rejuvenating

Fabric Blinds - such as Austrian and Roman

Same Day Pick Up & Drop Off

We offer a same-day, pick up and drop off

service for most types of blinds. Bookings

are required.

Convenient Location

Drop blinds into us by 9am, at

330 Cashel Street (near the

Fitzgerald end), and collect

them at the end of the day.

New Blind Sales Priced from $30

Roller Blinds cleaned

from as little as $20

per blind

Ph 377 0770,

330 Cashel St,

Christchurch

www.blindcare.co.nz SCAN QR code for Info >

WE ARE OPEN

Mon - Fri

7.30am to 5.00pm
---
2 Tuesday March 13 2018

Latest Christchurch news at www.star.kiwi

from the editor's desk

THE NEW motorway that goes from

Belfast and loops past The Groynes on to

the airport and soon to be beyond was

built for a very good reason.

On page 1 today, we show Belfast is one

of the two fastest growing areas in Christchurch.

The population will double in the next 20 years, and plans are

looming for another primary school in the area.

There's no rocket science in that. With the numbers that are

being predicted, it'll be the start of a handful of new schools, I

suspect.

When the quakes hit in 2010 and 2011 and it was revealed the

province has several major shallow fault lines, who would have

imagined the city would grow with the speed it is.

- Barry Clarke

get in touch

GENERAL ENQUIRIES Ph 379 7100

CLASSIFIED ADVERTISING Ph 379 1100

The Christchurch Star Company Ltd

PO box 1467, Christchurch

starmedia.kiwi

Star

Media

A Star Media Event

Count down to Maadi Cup

School crews eye up big regatta

Six days out from the biggest school rowing event of the

year, we look at how some of the crews might fare at Maadi

Cup which starts on Monday in Twizel.

Pages 16-17

City2Surf

Get active on Sunday

#areyouupforit? Enter the 6km or 14km section of the Star

Media City2Surf at www.city2surf.co.nz.

Page 20

St Patrick's School fair

NOR'WEST NEWS

Fun for the community

Check out the St Patrick's School fair on Sunday with

something for everyone including auctions, toys, books,

clothing, bake sale and fun for the kids.

NEWS

Julia Evans

Ph: 021 914 742

julia.evans@starmedia.kiwi

ADVERTISING

Monique Maynard

Ph: 364 7474

monique.maynard@

starmedia.kiwi

Javier Balcazar

Ph: 982 9308

javier.balcazar@

starmedia.kiwi

Page 23

The best-read local newspaper, delivered to

16,717 homes every Tuesday

Harewood, Burnside, Bishopdale, Bryndwr, Fendalton, Merivale, St

Albans, Mairehau, Papanui, Casebrook, Redwood, Regents Park,

Styx Mill, Northwood, Belfast, Strowan.

Try Out

• Great value

• Dine in/takeaway

• Group bookings

welcome

• Off street parking

Authentic

Vietnamese

Fresh, healthy food

packed with flavour

and prepared by our

Vietnamese chef

Try Out

Vietnamese

Restaurant

OPEN 7 DAYS

11.00am - 2.30pm &

5.00pm - 10.00pm

17 Main North Rd, Papanui. Ph: 352 8832.

Air Conditioning and Heat Pumps

Commercial and Residential

• Daikin • Fujitsu • Mitsubishi • Gree • Panasonic

• Toshiba • Hitachi

Mitsubishi

Hypercore

Heat Pumps

installed

from $2,495 *

*Conditions apply. Back to back installations 3 metre pipe run.

Email info@pshc.co.nz

Kim is disrupting the Banking Industry

by giving back her clients control of their

Money and their Home Lending, and

ultimately paying it off Faster!

Can Kim help you too?

Get in touch Today!

www.mylend.co.nz email: kim@mylend.co.nz cell: 027-222-1044

Website www.pshc.co.nz
---
NOR'WEST NEWS Latest Christchurch news at www.star.kiwi

Tuesday March 13 2018 3

News

Waimairi's rates now in spotlight

Community board deputy

chairman and accountant

Sam MacDonald has been

crunching the numbers

again and says Waimairi

doesn't get value for its

rates contribution. Julia

Evans reports

THE WAIMAIRI Ward will put

$80 million of rates into the city

council's coffers over the next

three years.

But with only $4 million coming

back in capital project funding

for the area, Fendalton-Waimairi-Harewood

Community

Board deputy chairman and

rates watchdog Sam MacDonald

doesn't think that's a fair deal.

Mr MacDonald, an accountant

by trade, represents the Waimairi

Ward, covering Wairakei

Rd through to Yaldhurst Rd.

"City council staff advise me

that the proposed Long Term

Plan funding allocates $4 million

in capital projects to Waimairi

over the next three years,

compared to a rate take in our

ward of $80 million over that

same period. How is that fair?"

Mr MacDonald previously

told Nor'West News he questioned

what the $100 million

of rates Fendalton, Waimairi

REPAIR: Fendalton-Waimairi-Harewood Community Board

deputy chairman Sam MacDonald doesn't think residents in

his ward are getting value for money from their rates.

PHOTO: MARTIN HUNTER

and Harewood residents paid in

the last financial year had been

spent on.

He said now, he really can't

see how ratepayers are getting

value for their money.

"I have ratepayers calling or

emailing me on a regular basis

asking for roads to be fixed,

drainage to be sorted and for

parks to be maintained to an

acceptable level," he said.

Mr MacDonald has been

campaigning for the city council

to "get the basics right" such as

roading, water and rubbish collection,

before spending excessive

amounts on other projects.

He said a lot of the main roads

in the area are still in poor condition

following the February

22, 2011, earthquake, and are

in need of "serious" structural

repair.

"It's staggering to find that we

are effectively paying for contentious

and expensive projects

like CBD cycleways, while at the

same time facing in excess of

five per cent annual rate rises."

Mr MacDonald is urging local

residents to make submissions

on the Long Term Plan so

that city councillors hear the

ongoing sense of frustration

with its performance and

continual rate rises.

"I am encouraging ratepayers

to make their voices heard in

these upcoming submissions.

This frivolous spending spree

needs to stop – let's prioritise

getting the basics right first."

The public can submit on

the city council's draft Long

Term Plan at https://ccc.govt.

nz/the-council/consultationsand-submissions/haveyoursay/

show/125.

•HAVE YOUR SAY: What

would you like to see the city

council spend money on in

your area in its Long Term

Plan? Email your views to

julia.evans@starmedia.kiwi

Local

News

Now

In Brief

Fire rages, homes at risk

ST ALBANS CRICKET FIELD

Work on the St Albans Park cricket

field is under way and the main

line for the irrigation is being put

in. Wet weather is causing small

delays and the high water table

is requiring extra gravel in the

trenches to support the pipe. A

sign to inform the public of future

works has been installed on the

temporary fencing around the old

pavilion site. The site for the new

pavilion has been excavated in

preparation for the installation of

its piles.

WRONG SIGN TAKEN DOWN

The Papanui-Innes Community

Board raised the issue of a

potential sign conflict at the corner

of Westminster and Rutland Sts.

City council staff investigated

and found that a sign installed

during construction had not been

removed and as a result conflicted

with the permanent "no right turn"

signs. The temporary signage has

now been removed.

CORRECTION

Last week Nor'West News reported

Christchurch Boys' High School's

Tom Woelders, who won a rowing

contest against Olympic gold

medallist Eric Murray was a year

12 student. Tom is in year 13 and

Ricardo De Sousa is a rowing club

committee member, not coach.

'CEREC' & cosmetic dentistry

Wisdom tooth removal

Painless, high quality dentistry

Sedation dentistry

Experienced, conscientious team

Experienced hygienists

OPEN SATURDAYS

355 9380

144 Cranford Street

Wedding?

Visit Smith and Boston!

First National Progressive

Specialising in residential

property management

and residential sales

"We pride

ourselves on

exceeding your

expectations"

www.stalbansdentalcentre.co.nz

Still Pedalling!

Full Workshop Services:

• WOF's • Service Checks

• Wheel Alignment • Brakes

• Clutches • Tyres etc

All makes & models

Trevor Crowe's been

involved with cars for a

while. You can benefit

from his experience at...

Subaru Specialists

518 Moorhouse Ave (East end) | P: 379 7615

W: crowesport.co.nz | E: service@crowesport.co.nz

SMITH & BOSTON

Prebbleton Village | Christchurch

Ph: 03 349 5646

www.smithandboston.co.nz

Progressive

Licensed REAA 2008

1 Wentworth Street | 03 358 9088 | www.gpre.co.nz
---
4 Tuesday March 13 2018

Latest Christchurch news at www.star.kiwi

Your Local Views

NOR'WEST NEWS

Local

News

Now

Fire rages, homes at risk

Sharing information on local issues

Simon Britten

works for a

Papanuibased

youth and

community

development

organisation,

and is the founder and

curator of the Think Papanui

Facebook page. He writes

about the importance of

community engagement

and what's going on in

Papanui at the moment

WHEN I stood as a Papanui-

Innes Community Board

candidate in the 2016 local

body election I could see there

was an opportunity for people

to be more engaged with local

government if they had better

access to information about

local issues and the activities of

the city council and community

boards.

There is a lot of detail involved

with their meetings and processes.

Not everybody will read

through the detail of board

agendas and minutes, and it can

be a challenge keeping track of

proposals and opportunities

to submit feedback to the city

council.

Papanui-Innes Community

Board deputy chairwoman

Emma Norrish shared some

great information in the

Nor'West News about what the

board is doing and how the public

can get involved.

The team at the Nor'West News

also deserve credit for excellent

coverage of local issues.

My own contribution is the

Think Papanui Facebook page –

an information source focused

on the Papanui Ward (basically

the suburbs of Papanui, Northcote,

and Redwood).

My aim is to share information

on city council consultations,

community board agenda items

and decisions, local projects in

action, and generally what's

happening in the community.

All content is now also

published on a website and in a

weekly email newsletter.

Right now there are two

really important plans being

consulted on.

Firstly, consultation is open on

Environment Canterbury's Long

Term Plan.

Of particular significance to

the Papanui area is the proposal

to discontinue the 107 and 108

bus routes.

The consultation document

also outlines ECan's revenue and

finance policy (remembering

that we pay rates to ECan as well

as to the city council), and plans

including freshwater management

and air quality.

Feedback on public transport

options and other aspects of

the plan can be given until 26

March.

Secondly, on March 9 the

city council published a consultation

document on the city's

Long Term Plan.

There may be a number of

proposals in this that are relevant

to the Papanui ward.

Two that have been signalled

already are changes to the cycleway

programme (more spending

and later completion), and

as covered by the Nor'West News

last week, potentially increased

powers for community boards to

act on intersection upgrades.

For more information on the

city's Long Term Plan keep an

eye on city council communication

channels as well as Think

Papanui (and, I'm sure, the

Nor'West News).

•Think Papanui can be

found at facebook.com/

ThinkPapanui and www.

thinkpapanui.nz

Readers respond to

the article regarding

Environment Canterbury's

draft Long Term Plan

proposal to cut two Papanui

bus routes.

Avi Lim – Bus cuts to

Northwood will cause serious

hardship to me. I do not drive and

rely on the bus to get around – to

the library, the doctor and to get

groceries. I pay a lot of rates every

quarter and I don't see why I am

being deprived of this essential

service. Rates keep going up and

services keep being cut down.

This is terrible.

Amanda Woodfield – Very

disappointed to hear of the

Northwood bus route ending. My

daughter uses it to get home from

school. If I can oppose it in any

way let me know.

Vicki Taege – The 107 should

not go as it services the area for

Willowbank. We live very close

to the 108, that bus should go

because whenever I see it go past

in the morning, or at night, there

are never any people using it.

What happens

to the contents

of your green bin?

Come along to the

Organics Processing Plant

FREE OPEN DAY!

Saturday 17 March

10am–3pm

triPle treAt

sPeedwAy

eXtrAVAgAnzA!

25th Battle of the stocks

+ rees Family Farewell stockcar tour

+ Canterbury super saloon Champs

Fri 16 th & sAt 17 th mArCh

7Pm stArt

douBledAys roAd KAiAPoi

inFoline 03 364 8833

www.woodFordglen.Co.nz

Adults $20, seniors $10, Children $5, under 5 yrs Free

FAmily PAss $40 (2 Adults & uP to 4 Children 14yrs & under)

40 Metro Place, Bromley

(next to EcoDrop)

Parking onsite or on Metro Place

Hosted by

• Plant tour every 30 minutes

• See New Zealand's largest

compost windrow turner

• Prizes and giveaways

• Informative, educational and fun

for the whole family.

Now

Available at

RED

GREEN

YELLOW

For more information, phone 941 8999

or visit ccc.govt.nz/disposal

37 Main South Road, Upper Riccarton | Ph 348-7910 | www.feetfirst.co.nz
---
NOR'WEST NEWS Latest Christchurch news at www.star.kiwi

Tuesday March 13 2018 5

Sarah Wu – Bus route

cuts will affect me a lot.

I am a single mother

with two school-age boys,

luckily, I have my mother's

help to drop the boys off

at the bus stop and then

pick them up from the bus

after school, while I am

working full-time.

If the bus route is cut, the

•From page 1

Ms Casey said the

board of trustees

would be collecting

feedback from the

community on the

two campus model,

which it would

then relay to the

ministry.

"The first phase of engagement

will involve faceto-face

workshops, and will

gather and explore

discussions on the

possibilities of a

second campus,"

she said.

The first workshop

was held on

Monday morning

in the school hall.

Another will be

held tomorrow at

7pm, as well as on Thursday.

The workshops are

open to the public.

"The ideas and themes

boys would have to walk

1km to the nearest bus

stop, and change two buses

to get to school. It means

a normal 10min bus trip

would increase to more

than a one-hour trip from

home to school. They can

get up early in the morning

to do that, but if it takes

more than one hour from

generated through this first

phase will then be used to

construct an online survey

that will make it possible to

identify which ideas have

a wider base of support,"

Ms Casey said.

The survey will be

available in late March

until early April.

If the public did

not support a second

Belfast campus, the

school to home, that will

mean the boys will miss

out on all of their afterschool

activities.

As a Styx Mill resident, I

can tell not so many people

are using the bus, but there

are people who do need the

service, and those people

are normally children, or

elderly, who don't drive.

Second school planned for Belfast

Katrina

Casey

ministry would look

to begin consultation

on establishing a new

primary school in the area,

she said.

But at this stage there was

no timeline for development

or construction

of the new campus

or school.

In recent years

the school had to

build an additional

11 classrooms and a

new administration

block to cater for its

growing roll.

Belfast is one of two areas

in the city that have had

"area plans" developed by

the city council under the

greater Christchurch urban

development strategy.

Over the last decade,

Belfast has already seen

significant growth, which

the city council said has

"put pressure" on existing

infrastructure and services.

•HAVE YOUR SAY:

Do you think a twocampus

school is a

good idea? Email your

views to julia.evans@

starmedia.kiwi

Reduce your power bill

with LED lights

Reducing electricity costs is important

to homeowners, and one simple way to

achieve that is with LED lights. As Bill

Kells of Switched On Building Solutions

points out, these are much cheaper to

run than incandescent or halogen light

bulbs.

They also have the related benefit of

reducing heating costs.

"Incandescent and halogen light bulbs

require air flow over them, so there is a

gap in the ceiling allowing heat to escape

to the roof cavity," Bill explains.

"The LED light, on the other

hand, doesn't require air flow and

completely fills the gap, preventing

heat from escaping."

As well, LED lights are dimmable,

have a life span of 40,000 hours and a

manufacturer's warranty of five years,

and the price for them has come down

significantly over the last two to three

years.

Switched on Building Solutions

currently has a special offer for replacing

halogen lights with LED lights in existing

homes. The first four lights will be

supplied and fitted for the fixed price

of $240 plus GST, with additional lights

priced at $55 each plus GST.

To arrange a consultation, please

phone 373 8313.

ADVERTORIAL

Struggling to see

with your dim lights?

Get switchedon

Upgrade your old power hungry halogen downlights

• Switch to LED for sleek long lasting efficient lighting

• 70% saving on power for lighting

nova Series LEd

Fixed Recessed

downlights

Replace 4 downlights

$240 + GSt

✓ Security and landscape lighting

✓ Pre purchase/Insurance Electrical Inspections

✓ Replace tired/old existing switches sockets

✓ Switchboard Upgrades

✓ House Rewires

ContaCt US today!

24 Frank Coxon Road, Belfast, Christchurch

03 373 8320 • info@switchedon.net.nz

www.switchedon.net.nz
---
6 Tuesday March 13 2018

Latest Christchurch news at www.star.kiwi

NOR'WEST NEWS

Have you been declined

treatment by the DHB ?

The Canterbury Charity Hospital

may be able to treat you at no cost.

Our current services are:

• Gynaecology and women's health

• Rectal bleeding clinic

• Colonoscopy (acute and screening)

• Cataracts

• Orthopaedics (upper and lower limb)

• General surgery (abdominal, rectal)

• Oral surgery and dentistry (* conditions apply)

• Counselling (by self referral)

To be treated by the Charity Hospital you must:

• Have been turned down in writing for treatment by the CDHB

• Not have medical insurance

• Not be able to afford the treatment privately (means tested)

• Have a referral from your doctor

* All dentistry and oral surgery patients need a dentist's referral.

Dentistry is available for WINZ clients only, whilst oral surgery may

be available if you fit the above criteria.

Why are the Charity Hospital's services at no cost to the patient?

More than 280 unpaid volunteer surgeons, nurses, dentists and support staff generously

donate their time for free. The Charity Hospital does not receive any Government funding.

Volunteers are always welcome. If you are a surgeon, nurse or technician,

volunteer forms are on our website at www.charityhospital.org.nz

or email reception@charityhospital.org.nz

To donate to the charity please visit our website at www.charityhospital.org.nz.

Your next step...

get a referral from your doctor or dentist - please don't contact the hospital directly.

For more information:

www.charityhospital.org.nz
---
NOR'WEST NEWS Latest Christchurch news at www.star.kiwi

Tuesday March 13 2018 7

News

40 homes by 2020 at Cranford basin

• By Julia Evans

AT LEAST 40 houses will be

built in the Cranford basin by

the end of 2020.

In an update on the

Cranford Regeneration Plan

to the greater Christchurch

partnership committee,

the city council said it

has begun the process of

entering memorandums

of understanding with

developers.

The memorandums are

being sought in a bid to

cement a timeframe for the

development, in which 370

homes will be built on 38ha

around the rim of the basin.

The rest of the land would

be used for wetlands, cycle and

walkways.

"To date, a MOU has only

been signed for the Case-

Crozier block, which commits

them to endeavour to deliver

40 of the maximum houses by

the end of 2020," the report

said.

It said city council staff

are continuing to work with

Grassmere landowners to

finalise the memorandum for

that block, which would see

further houses built, it said.

A justification for the city

council using the Greater

Christchurch Regeneration

Act to reclassify the land

UPDATE: The city council is entering into memorandums of understanding with

developers over the Cranford basin.

PHOTO: GEOFF SLOAN

zoning around Crozier and

Grassmere Sts was to speed up

the process of developing the

basin.

The report also addresses

concerns from Ngāi Tūāhuriri

and Ngāi Tahu about the

effects of stormwater drainage

into Horseshoe Lake, which is

culturally significant.

Said the report: "This matter

can only be dealt with as

part of Ōtākaro Avon River

Corridor Plan."

"The city council

commitment is to work with

Te Rūnanga o Ngāi Tahu,

Te Ngāi Tūāhuriri Rūnanga

and Regenerate Christchurch

to develop options and test

the feasibility of moving

the current Dudley Creek

diversion stormwater

discharge from Horseshoe

Lake."

The development is a city

council plan to regenerate

former farmland in Papanui

between Winters and

McFaddens Rds.

GREAT PRICES

EVERY DAY

• Weekly specials on everyday essentials

• Discounted E-liquids and vaping starter kits

• Easy parking

CELEBRATING

2 YEARS

of our Christchurch branch

FREE Quotation

FREE Installation

FREE Aluminium Track

for Christchurch customers

OPEN

7 DAYS

Warrington Discounter

68 Warrington Street • 03 386 2222

PROFESSIONAL CUSTOM MADE CURTAINS

25 Picton Avenue Riccarton, Christchurch

P 349 4888 E officinevoluptasnz@gmail.com

www.officinevoluptas.co.nz

Great rates,

fantastic service

Come in and chat to your local friendly team in Papanui.

They can help you with a range of options to suit your

banking needs.

» Home loans

» Everyday banking

» Savings and Investing

» Insurance

» Personal loans

2-6 Main North Road, Christchurch

0800 SBS BANK sbsbank.co.nz

Specific credit and eligibility criteria along with Standard Contract Terms for Residential Lending apply. Credit Fees and Charges may apply. Transactional account opening criteria, fees and charges, terms

and conditions apply. SBS Bank insurance products are arranged by Southsure Assurance Limited, a subsidiary of Southland Building Society (SBS Bank). Personal loans are provided by Finance Now Limited,

a subsidiary of SBS Bank. Finance Now lending criteria, fees and Terms and Conditions apply for all secured and unsecured personal loans. Standard Contract Terms for Residential Lending, General Terms

and Conditions and our fees and charges along with Terms and Conditions for secured and unsecured personal loans are available on request from any branch of SBS Bank or at sbsbank.co.nz.
---
8 Tuesday March 13 2018

Latest Christchurch news at www.star.kiwi

News

Councillors

to duel in

cycle race

HAVING JUST finished the

Kathmandu Coast to Coast,

Mike Davidson is back on his

bike and getting ready for his

next challenge.

The Papanui Ward city

councillor will be taking on

his colleague, city councillor

Glenn Livingstone for a cycling

duel during Le Race on March

24.

The two councillors have

committed to a sporting

"three-peat" for the year,

taking on the Coast to Coast,

Le Race and the Christchurch

Marathon later in the year.

"I have done Le Race

before, but because of all this

training, I am fitter than

any previous year," said Cr

Davidson.

"This year I hope to finish

Le Race under four hours, but

most importantly I want to

smash Glenn."

Cr Livingstone is not too

concerned.

"I just hope that I don't

embarrass Mike," said Cr

Livingstone.

Four weeks ago, both

men completed the two-day

individual event of the Coast to

Coast.

TREES, FLOWERS and shrubs

were all on show for the 28th

Papanui-Innes Community

Board garden pride awards.

"There's a such a lovely feeling

around projects like this, people

are clearly chuffed that their

hard work is recognised and

we all enjoy having a look at

other people's gardens especially

when they look so wonderful,"

chairwoman Ali Jones said.

Ms Jones said board

members love engaging with

the community, in conjunction

with organisations such as

the Christchurch Beautifying

Association, which judged the

awards.

This will be the last annual

garden pride awards, Ms Jones

said due to funding constraints,

the awards will now be held once

every two years.

The evening was hosted by Ms

Jones and deputy chairwoman

Emma Norrish. Awards were

handed out by city councillors

Mike Davidson and Pauline

Cotter, board members John

Stringer and Jo Byrne.

As well as Christchurch

Beautifying Association president

Ron Andrew, secretary Lesley

Taylor and members Peter

Lawrence, Lyn Smith, Margaret

Kingsley and Jan Claxton, judged

the awards.

Winners:

Audrey M. Burnett, Bryndwr

Marie McCormick, Papanui

Trevor Paul Newton, Redwood

Alli Robertson, Redwood

Maria Corazon Wright,

Redwood

Lesley and Ray Calder,

Redwood

Murray and Carolyn Jones,

Redwood

Peter Monopoli and Jillian

Walls, Redwood

Terry and Julie Mooney,

Marshland

Lew Henry and Glenys

McCord, Redwood

Diane and Colin Eaton,

Redwood

Irene and Charles Godfrey,

Marshland

June Honey, Papanui

Abbella Lodge Motel,

Redwood

Glenn and Jenny Barrett,

Mairehau

Trevor J Gibling, Mairehau

Leone Allen, Papanui

Daphne Stone, Papanui

June and Bernard Hunt,

Belfast

J and A Robinson, Redwood

Daphne and Donald Greig,

Shirley

NOR'WEST NEWS

Local

News

Now

People taking pride in the garden

Fire rages, homes at risk

COMMUNITY

SPIRIT: Leone

Allen getting

her award

from judge Jan

Claxton.

Nicolette Connors, Strowan

Lyn Smith, Mairehau

Janice Banks and Ross

Murdoch, Marshland

Julie and Garry Millar,

Papanui

Christine O'Connor and Garry

Pool, Shirley

Pip Gilvray, Redwood

Clare and Russ Denton,

Redwood

Lyn Rawson and Ho Hogg, St

Albans

Michael Coulter, St Albans

Lesley Taylor, Mairehau

Gaye and Peter Bartley,

Redwood

BUSH INN

PROVEDORE

INTERNATIONAL FOOD MARKET

Opening 2019!

Development at Bush Inn Centre continues!

Briscoes Homewares will open in early 2019.

The Provedore International Food Market will also

open in early 2019.

The Provedore is a genuine alternative to supermarkets - all the

basic supermarket supplies plus much more.

This international food market will have a range of local,

international and specialist providers from New Zealand, South East

Asia, India, The Mediterranean, The Middle East and Europe.

Natural and healthy foods, speciality liquors, farmers market

supplies, organic and gluten free.

Fromagerie, Delicatessen, Bakery, Butchery and Seafood.

JOIN "THE PROVEDORE"

We are leasing now and want Craft Beers, Boutique Wines,

Fruit and Vege, Organic products, Lollies, Pasta, Cheesecakes,

Fish and seafood, Spices, Asian Supplies, Coffee Roasters.

If you have an operation that will fit The Provedore contact us

now. Sites are available from 30sqm- 1000sqm.

Contact Development Manager Andy Bell to discuss this

opportunity. Mobile 021 449 256 or andy@bushinncentre.co.nz
---
2

[Edition datE]

NOR'WEST NEWS Latest Christchurch news at www.star.kiwi

Tuesday March 13 2018 9

RYMAN HEALTHCARE

It's got to be good

enough for mum

The Ryman Healthcare story began back

in 1984 when company co-founder Kevin

Hickman visited a resthome and didn't like

what he saw. There were shared bathrooms

and little in the way of privacy or dignity for

residents.

Deciding he would want something better

for his mum, he teamed up with John Ryder

to start a company with a very simple aim

– the way Ryman Healthcare looked after

people had to be "good enough for mum".

For more than 30 years Ryman's villages

have evolved to include resort-style amenities

such as indoor swimming pools, bowling

greens and hair and beauty salons.

The way Ryman care for people and the

systems they use are constantly refined but

their core aim remains the same – everything

they do must be 'good enough for mum… or

dad'.

Village aim to delight residents

That core aim is certainly reflected at the

Ngaio Marsh Retirement Village in Papanui.

"It's part of our culture, and deeply

embedded in our philosophy," village

manager Anna Thomson says, noting that

Ngaio Marsh recently received its four-year

audit certification.

"That's a significant achievement," Anna

says, "and it's something we're really proud

of. Our aim is to delight our residents and

deliver a very high quality of care, and our

staff receive a lot of positive feedback for that."

Ngaio Marsh offers independent living,

assisted living and two levels of care, which

residents can receive as their needs change.

From independent townhouse living, and

assisted living in a serviced apartment, to rest

home and hospital care.

"It's a seamless transition," Anna says.

"As our residents' needs change they get

the care they need, while still retaining

their friendships with other residents and

relationships with the staff they know."

High resident to staff ratios – 1:10 for

resthome care and 1:5 for hospital care,

ensure residents get the best-possible care at

all times.

The unit co-ordinator for the rest home

and hospital, Vicky Boswell, is one of those

responsible for ensuring the quality of care is

continually maintained throughout her team.

Vicky has been with Ngaio Marsh for

two years and loves her job. She started her

working life in aged care, went from there to a

hospital environment, then to a hospice, and

is now back in aged care with Ryman.

"It feels like I've come home," she says.

"Everyone has been so supportive in helping

me update my skills. The whole process is set

up to help staff achieve their goals."

Vicky finds the myRyman care app

particularly beneficial, as it has the care

Care provided 'good enough for mum'

Resthome resident Valma Bishop with her grand-daughter Lisa McNicholl, back

left, village manager Anna Thomson and staff members Karen Ditmer, back right,

and Vicky Boswell.

programme of all her resthome and hospital

residents electronically stored. This enables

caregivers, registered nurses and other staff to

have immediate access to it through the tablet

in their rooms and allows staff to spend more

time with the residents, which they love Vicky

says.

"It also makes families feel more secure."

The myRyman care app is a leading-edge

computer programme that was specifically

developed by Ryman for Ryman retirement

villages.

The support the Ngaio Marsh team receives

from other Ryman villages also plays an

important part in the care of residents, Vicky

says.

"We have regular conferences and meetings

with management, registered nurses and staff

members from other Ryman villages and we

share information and helpful ideas with each

other. We are constantly looking at what we

can do better." The village also offers free wifi

and a free clothing labelling service.

Vicky is also a strong advocate of teamwork

among her own staff and says she promotes

that "all the time".

"We're a family, and we share the workload

if someone needs help. We're all here to help

each other, and that goes through the whole

team, including activities co-ordinators,

laundry staff, office staff – everyone."

One of the key factors that make life so

enjoyable for Ngaio Marsh residents is the

delicious meals, and a new set of menus has

just been introduced. They include three

options for lunch every day – including one

vegetarian.

"The majority of our residents eat better

here than when they were at home," Anna

says. "We have a wonderful kitchen team who

take pride in what they produce. The quality

and presentation is very high."

Vicky adds that the residents enjoy the

process of going through the menu each week

and choosing what they will have.

"It's just like being in a restaurant."

With safety another crucial factor for

residents and staff, six months ago Ngaio

Marsh had a generator installed, ensuring

continuity of electricity supply.

"That's one of the Ryman points of

difference," Anna says, "having things in place

in case something happens. It gives residents

and families peace of mind, and we've had

good feedback about it."

Resthome resident, Valma Bishop, moved

into Ngaio Marsh last September with her

husband Colin, who needed hospital care.

Sadly, Colin passed away shortly after, and

Valma, already a shy person, became very

anxious and withdrawn.

Now, just six months later, she is thriving

and happy, Anna says.

The couple had previously visited Ngaio

Marsh on an open day, and Valma liked it

immediately, although Colin wasn't keen

to move from their home. As it turned out,

a hospital room was available for him when

he became ill, and Valma was able to move in

with him.

Now she has a lovely room overlooking the

rose garden, and is enjoying retirement village

life.

"It's amazing how many friends you make,"

she says.

As well as making new friends, Valma has

also reconnected with friends from many

years ago, who also live at Ngaio Marsh.

One of her nine grandchildren, Lisa

McNicholl, says there has been a "total

transformation in grandma".

"With the help of the staff, and the

environment, this has given her confidence

and she enjoys being here. The staff have been

amazing. Having to come here has been a

blessing in disguise."

Retirement living and care

at its best!

Townhouses and serviced apartments

Resthome and hospital care

For more information phone

Anna or Marie on 352 5140

95 Grants Road, Papanui

8020
---
10 Tuesday March 13 2018

Latest Christchurch news at www.star.kiwi

NOR'WEST NEWS

last taste of

summer

BURNSIDE

Get out and play while the sun still shines! Make the most of these

long balmy evenings with super deals on your summer faves

GOOD

CRAIC!

Psst... that's Irish for good

times (pronounced crack)

ST PATRICK'S DAY

Saturday 17th March 2018

JAMESON

1 Litre

Includes 2018

Limited Edition

Bottle

$

49 99

each

SEVEN

SUNDAYS

Range

750ml

JACOB'S CREEK

RESERVE

Range

750ml

Includes Pinot Noir

Excludes Sparkling

STONELEIGH

Range

750ml

Includes Pinot Noir

& Pinot Noir Rosé

LEEFIELD

STATION

Range

750ml

$

15 99

SELAKS

THE TASTE

COLLECTION

Range

750ml

Includes Pinot Noir

MT DIFFICULTY

ROARING MEG

Range

750ml

Includes Sauvignon

Blanc & Pinot Gris

Excludes Pinot Noir

$

16 99 $

34 99

$

11 99 $

20 99

$ 12 99 $

21 99

$

12 99 $ 17 99

JULES

TAYLOR

Range

750ml

$

19 99

KAHLÚA or

MALIBU

700ml

SEAGERS

1 Litre

Includes

Seagers

with Lime

ABSOLUT

FLAVOURS or

JP WISER'S

700ml

$

24 99

each

$

33 99

each

APPLETON

ESTATE

BOMBAY

SIGNATURE

SAPPHIRE

MAKER'S

BLEND

1 Litre

MARK

700ml

HOT DEAL!

$

41

$44 99 99

700ml

$ 44 99

$

31 99 $ 34 99 $ 37 99

CHIVAS REGAL

EXTRA or

THE

GLENLIVET

FOUNDER'S

RESERVE

700ml

$ 54 99

each

NEW

INSTORE!

BELL'S

WHISKY

1 Litre

GLENFIDDICH

12YO

700ml

DE

VALCOURT

BRANDY or

RUSSIAN

STANDARD

1 Litre

each

LAPHROAIG

10YO

700ml

$

59 99 $ 84 99

SIZE

JIM BEAM

1.75 Litre

$

64 99

SOUTHERN

COMFORT

1 Litre

$

39 99

KGB Range

12 x 330ml

Bottles, 4.8%

Includes Lemon

& Black Russian

$

21 99

GORDON'S G & T

4 x 250ml Bottles, 7%

GENTLEMAN

JACK & COLA

4 x 330ml Bottles, 6%

$

17 99

VODKA CRUISER

12 x 275ml

Bottles, 5%

$

11 99 BILLY

MAVERICK

JIM BEAM

& COLA

& COLA

18 x 250ml

8 x 330ml Cans, 7%

Cans, 7%

$ 19 99 $

29 99

$ 24 99

CORUBA & COLA

12 x 250ml Cans, 7%

Includes Coruba Gold & Dry

WOODSTOCK

& COLA

12 x 330ml

Bottles 5%

12 x 250ml

Cans 7%

CODY'S

& COLA

12 x 250ml

Cans 7%

each

$

21 99 $

19 99

under $20

ORANJEBOOM

12 x 330ml Bottles

LION ICE

15 x 330ml Bottles

$ 19 99

$

20 99

each

$

21 99

12 x 330ml Bottles

12 x 330ml Bottles

$

24 99 $

25 99

STEINLAGER

CLASSIC

24 x 330ml Bottles

$

24 99 $

39 99 DB DRAUGHT, TUI $

24 99

DB EXPORT 33

MAC'S RANGE

HEINEKEN

12 x 330ml Bottles

DB EXPORT

HOP LAGER

12 x 330ml

Bottles

or DB EXPORT GOLD

15 x 330ml Bottles

PURE

BLONDE

12 x 355ml

Bottles

each

2for

OLD MOUT

CIDER

1.25 Litre

SPEIGHT'S

CIDER

12 x 330ml Bottles

LION RED, WAIKATO,

SUMMIT or SPEIGHT'S

24 x 330ml Bottles

each

Super Liquor Burnside • 501 Wairakei Rd • Phone 359 0556

Offers end close of trade 25th March 2018, while stocks last. Varietals may vary by store. Available at participating stores only. Limits may apply at participating

outlets. Trade not supplied. Terms and conditions may apply. Available 12th March - 25th March 2018 inclusive. Please see www.superliquor.co.nz for details.

Roydvale Ave

Super

Location

SUPER LIQUOR

BURNSIDE

now open!

Waiakei Rd

Abros Pl

• Open 7 days from

10am - 9pm

• Chiller trailer hire
---
NOR'WEST NEWS Latest Christchurch news at www.star.kiwi

Tuesday March 13 2018 11

ELMWOOD School held

a red and white mufti-day

last week.

The school dressed in

the colours of the Tongan

flag to raise money for the

Red Cross appeal in the

wake of Cyclone Gita.

Pupils raised $700.90,

which will go to recovery

efforts after the cyclonedestroyed

homes, churches

and even the Tongan

parliament house.

It has been labelled the

most severe cyclone to hit

Tonga since records began

– killing two, severely

injuring three and leaving

more than 30 people with

minor injuries.

SCHOOLS

Mufti-day to help Tonga

PLAY: Harriet Hill and Emily

Shepherd helped raise money by

wearing red during mufti-day. ​

THe Lunar New Year

was celebrated by pupils

at Fendalton Open Air

School.

New pupils were

welcomed onto the

school with a mihi

whakatau performance

from the school's senior

kapa haka.

At the end of the ceremony

each new child

was welcomed with a

little kete (basket) with

the school's badge on the

front and an acorn from

the massive oak tree in

the playground.

Big smiles at Rangi love week

Rangi Ruru Girls' School

celebrated the importance

of positive relationships

during its annual love

week.

Love week celebrates one

of the school's five core

values – aroha – bringing

the Rangi Ruru community

together to connect with

each other.

The week included fun

activities and challenges

as well as a pink and red

mufti-day on Thursday

with funds raised going to

the New Zealand Breast

Cancer Foundation.

THE YOUNGEST pupils at St

Andrew's College celebrated

the opening of the brand new

Stewart Junior Centre.

Dame Adrienne Stewart

opened the centre for pre-school

year 1 to 3 pupils by unveiling a

plaque.

The Stewart family made

a significant contribution to

the Stewart Junior Centre,

designed by Wilkie and Bruce

Architects, and built by Armitage

Williams.

The development includes

three new junior classrooms in

one block, an adjacent new preschool,

and impressive outdoor

facilities for both.

Mark Stewart spoke on behalf

of the Stewart family, and said it

Georgie

Gaiger

and Lily

Pringle

Junior centre opened at St Andrew's

OPENING: Pupils performed

a kapa haka during the

celebration.

was almost exactly 50 years since

he started at St Andrew's as a

five-year-old.

He said his family was proud

of its long association with the

college and their support of various

projects.

His brother Todd, and other

family members were also in

attendance.

All rooms in the junior school

have high spec engineering,

technology and brand-new furniture

and equipment.

Outdoors is an impressive

playground, designed by Jasmax,

a three-quarter sized court, artificial

grass, and a stage.

The close proximity of the new

junior school and pre-school is

another positive aspect of the

development, preparatory school

principal Jonathan Bierwirth

said.

"There is a natural cohesion

and close connection between

the junior school and pre-school,

which is significantly enhanced

by having both within the new

Stewart Junior Centre."

discount vitamins

Go HEaltHY

FlaxsEEd oil

Flaxseed oil

helps to support

healthy skin, hair

and nails, as well

as promoting

joint health.

sandERson

FisH oil 3000mG

Fish oil helps to

support general

health, heart,

circulation, brain and

joint health.

nutRaliFE

Joint caRE

Joint Care helps to

support healthy joints

with scientifically

researched Glucosamine

plus Chondroitin and

essential nutrients.

220 caPsulEs

FoR onlY

$19 90 $19 90 $49 90

150 caPsulEs

200 caPsulEs

FoR onlY

FoR onlY

+ FREE delivery for prescriptions in local areas and no fax charge +

Open Monday – Friday: 8:30am – 5:30pm

Wairakei

Road

BaRnEtt's PHaRmacY

4/501 Wairakei Road, Burnside 03 360 3178 03 351 3099 wairakei@barnettspharmacy.co.nz BarnettsWairakei
---
12 Tuesday March 13 2018

Latest Christchurch news at www.star.kiwi

PATHWAY:

Max Darling

(12), Tom

Crutchley

(11), Will

Harrison (6)

and Max de

Geest (front

right) have

all been

offered

scholarships

to United

States

universities.

FORMER CHRIST College

basketballers Will Harrison,

Max de Geest, Max Darling and

Tom Crutchley have all been

offered scholarships to United

States universities.

All four played in the senior

A team and look set to continue

to pursue their passion for

basketball overseas.

Harrison has signed with St

Lawrence University in New

York and de Geest is heading

for Long Beach State in

California.

Darling and Crutchley have

not confirmed where they will

head yet, they are still working

SPORTS

Former Christ's ballers

offered US scholarships

out their best options.

Much of the resurgence

and growth of basketball at

College can be credited to coach

Mark Dickel and the strong

relationship that has developed

between College, the Canterbury

Rams and the Mainland Eagles

Basketball Academy.

"Signing and playing in the US

is a wonderful opportunity for

these boys," Canterbury Rams

general manager Caleb Harrison

said.

"And having four players from

the same school team signing US

scholarships is a pretty amazing

achievement."

Big night for sports award winners

• By Andrew King

GOLFER AMELIA Garvey,

athletics stalwart John Gamblin

and the St Andrew's College

rowing eights were honoured

at the Nexia New Zealand

Canterbury Sports Awards on

Friday night.

Garvey, 18, a former Burnside

High student, was named ASB

outstanding young sportswoman

of the year ahead of GymSport's

Madaline Davidson and rugby's

Grace Brooker.

Gamblin, a former president

and life member of the Christchurch

Avon Athletics Club in

Schools vie for national titles

• By Andrew King

Burnside, won the Polytan

outstanding administrator of

the year award, beating Emily

Robbins, bowls, Holly Sullivan,

boxing, and Kris Herbison, tae

kwon do.

The St Bede's College teacher

was instrumental in the merger

of the Christchurch and Avon

athletics clubs about 30 years ago,

current president John Palmer

said.

The Maadi Cup-winning St

Andrew's eights were named Lincoln

University outstanding junior

team of the year ahead of the

under-19 Canterbury combined

IT COULD be game, set and

match for St Margaret's, St

Andrew's, Rangi Ruru or Christ's

which have all qualified for the

New Zealand secondary schools

tennis final at Wilding Park.

All four competed at the South

Island tennis teams championships

in Timaru with St Margaret's

winning the girls and Rangi

coming second. Christ's won the

boys and St Andrew's won the

mixed competition.

The Christ's team is made up of

captain Dylan Heap (right), Will

and Nick Schneideman, Jenner

Johnson and Liam Adams. They

took maximum points in all five

rounds of the tournament and

will now look ahead to the national

final at Wilding Park from

Monday to Thursday next week.

"We're all really solid players in

the college team and all play club

tennis as well as for school. It's

good fun," Heap said.

St Margaret's qualified as the

NOR'WEST NEWS

boys basketball side, Heaton Intermediate's

girls first XI cricket

side and the Canterbury United

youth football team.

Old Boys Collegians Cricket

Club were joint winners with

Selwyn United in the Christchurch

City Council outstanding

sports club of the year award.

They beat Lincoln University's

basketball squad and the Waimairi

Tennis Club.

The awards were held at the Air

Force Museum of New Zealand.

More than 130 nominations

were received for the awards

across 30 sporting codes.

top South Island girls team ahead

of Rangi by five points. The St

Margaret's team of Annie Coates,

Ruby Spencer, Sophie White,

Abby Mason and Elizabeth

Andre will be looking to win the

school's first ever national title.

Head of sport Helen Belcher

said while tennis has been strong

over the last few years, they will

need to bolster their ranks with

two of the team now in their last

year of school.

St Andrew's will look to defend

their title in the mixed category.

The team is made up of Jamie

Garbett, Vera Goesmann, Grayson

Cullen, Harrison Darling,

Farrah Richards and Bella Rose

and will look to win the school a

fourth successive title.

•More sport page 16

Sore Feet?

Last month I stood with our

Canterbury MPs to commemorate

the seventh anniversary of the 22

February Canterbury earthquakes

at the public memorial service in

Christchurch.

When the national memorial was

unveiled last year, Rt Hon Bill English

described it as a place to grieve

and a place to hope. Today, we

see a transformed Christchurch,

Waimakariri and Selwyn as a result of

our investment in the regeneration

of our region and evidence of our

commitment to the people of

Canterbury.

We stood with the people of

Canterbury seven years ago and we

stand with the people of Canterbury

today.

I enjoyed speaking at a meeting of

U3A (University of the Third Age)

in Northern Christchurch recently

on my work as Spokesperson for

Funded by Parliamentary Service and authorised by

Matt Doocey MP, Level 1, Conway Lane, Rangiora.

Greater Christchurch Regeneration

to ensure our region is resourced

for its growth and regeneration, and

on my background in mental health

and current work as Spokesperson

for Mental Health. I enjoyed a robust

discussion afterwards with members.

I enjoy meeting with different groups

in our community so if you would

like me to attend or speak at your

meeting, please do get in touch with

my offices.

You might have heard me speaking

on the radio recently about my

upcoming event with Paul Lynch on

26 March at 7.30pm in the Rangiora

Town Hall. This is the start of a

series of community conversations

I will be having around our shared

experiences with mental health to

help break the stigma of asking for

help. I do hope you are able to attend

this important discussion.

we can help!

448 Papanui Road (opp BP Petrol station) Ph 03 352 6400

www.papanuifootclinic.co.nz
---
NOR'WEST NEWS Latest Christchurch news at www.star.kiwi

Tuesday March 13 2018 13

CLEARANCE

PRICE DROP

OUR LOWEST

ADVERTISED PRICES EVER ON

SANCTUARY BEDS*

Spoil yourself with the ultimate

in luxury and support.

You can afford to indulge yourself

with a luxurious Sanctuary bed. Enjoy

superior comfort and support for a

restful sleep night after night.

Cybele

Queen Size

Firm Feel

Set from $2,799

Mattress Only $1,999

Eos

Queen Size

Medium to

Firm Feel

Set from $3,199

Mattress Only $2,499

Carnation

Great entry level pocket spring bed

that ticks all the boxes.

Undeniable value for money plus a 10 year

warranty. Nuvole and Dreamfoam® comfort

layers for a great night's sleep.

Queen Size

Set from $1,599

Mattress Only $1,099

Gretel

Luxurious comfort, support and

perfect for allergy sufferers.

Featuring anti-bacterial fabric and dust-mite

resistant, hypo-allergenic Wool fibres with superior

Latex Gold®. Get more support and less partner

disturbance with Swisstek Pocketcoil.

Queen Size

Set from $2,799

Mattress Only $2,299

EXCLUSIVE

2 Great Christchurch Locations

BEDS R US HORNBY

40 Carmen Rd

Hornby

Ph: 03 595 2360

BEDS R US MOORHOUSE

166 Moorhouse Ave

(Next To Noel Leeming)

Ph: 03 379 5110
---
14 TUESDAY MARCH 13 2018

Latest Christchurch news at www.star.kiwi

Nor' West NEWS
---
Nor' west NEWS

Latest Christchurch news at www.star.kiwi

TUESDAY MARCH 13 2018 15
---
16 Tuesday March 13 2018

Latest Christchurch news at www.star.kiwi

NOR'WEST NEWS

Schools count down to Maadi Cup

Six days out from the biggest school rowing event of

the year, Andrew King looks at how some of the crews

might fare at Maadi Cup which starts on Monday at Lake

Ruataniwha, Twizel

LAST YEAR St Andrew's College

took the Maadi Cup back to

Papanui Rd for the first time

in their history, beating out

favourites Christ's College and

Christchurch Boys' High in the

under-18 eights.

Their efforts were honoured

at the Nexia New Zealand

Canterbury Sports Awards on

Friday where they were named

outstanding junior

team of the year.

Riley Gain, who

is in charge of

rowing at St Andrew's,

said none

of the winning

eight from last year are returning

for next week's Maadi Cup,

which has made for an exciting

time of rebuilding.

"The mood in the camp is one

of excitement and the rowers are

very much looking forward to

heading to the event," he said.

Maadi Cup starts on Monday

and runs through the week at

Lake Ruataniwha, Twizel.

Earlier this month, CBHS had

a strong showing at the South

Island secondary school champs,

also on Lake Ruataniwha, with

10 gold medals, including victory

in the Fred Strachan Cup in the

SPORTS

under-18 eights in a time of 6min

1.54sec. They also won The Bell

for the top school overall, followed

by Rangi Ruru.

CBHS rowing head coach

Logan Keys said the goal is to do

well across all of the age groups

and build a sustainable programme

in which the under-18

events are always the main target.

"We will be putting some hard

yards in to

ensure we peak

for the main

event," he said.

They will

face stiff competition

from

North Island school crews, particularly

Hamilton Boys' High,

which won the under-18 eights

at the North Island secondary

school championships on Lake

Karapiro, Cambridge, this month

in a time of 5min 56.68sec, beating

CBHS's time by almost 5sec.

When asked who we should

watch out for at CBHS, Keys said

he would rather not put any extra

pressure on his team members by

singling them out.

Rangi Ruru also had a strong

showing with six gold medals at

the South Island champs. They

defended the Kate Strachan

TOP PRIZE: The St Andrew's College eights claimed the Maadi Cup last year for the first time

and won outstanding junior team of the year at the Canterbury Sports Awards. A new team will

look to defend the cup next week.

PHOTO: GEOFF SLOAN

Memorial Cup in the under-18

eights race.

Director of rowing Mark

Cotham said the girls are in very

good spirits after a great regatta

earlier this month.

"They understand that the

training intensity will increase

. . . they have a love/hate relationship

with training at the moment,"

he said.

St Margaret's head of sports

Helen Belcher said while their

crews had not been finalised yet,

it will have some returning from

the eight which took silver at last

year's Maadi Cup.

"We expect the North Island

crews to come out strongly so

will be very wary of them across

all grades," she said.

South Island secondary

school rowing champs –

results

Winners – boys:

•CBHS: Under-15 coxed

quadruple sculls and coxed

octuple sculls; under-16

coxed quadruple sculls;

under-17 coxed four;

coxed quadruple sculls;

under-18 novice double

sculls; coxless pairs oars;

coxed quadruple sculls;

coxed four and under-18

coxed eights.

Bathroom & Shower

Renovations

Tile & grout Cleaning

Re-grouting

Grout Sealing & Re-colouring

Replace Mouldy Silicone

CALL TODAY 0800 247 688

www.groutpro.co.nz

befoRe

afTeR

Paul and the team at

Somerfield Upholstery want

to thank all their customers for

their support and wish them

a Very Happy Christmas

and Prosperous 2018

Closed 20th December 2017

Reopens 19th January 2018

30 YEARS

EXCELLENT

RANGE OF FABRICS

EXPERIENCEFREE

Recover your couches and chairs and save money!

BEFORE

AFTER

QUOTES

Somerfield Upholstery Ltd

FURNITURE RECOVERY SPECIALIST

10 Calgary Place, Hornby | Ph 021 251 6200 | 349 0456

VISIT OUR SHOWROOM | QUALITY WORKMANSHIP GUARANTEED

www.somerfieldupholstery.co.nz

Paul Tainui
---
NOR'WEST NEWS Latest Christchurch news at www.star.kiwi

Tuesday March 13 2018 17

regatta

TOP GIRLS: Rangi Ruru's under-18 eights won gold at the South

Island secondary school champs.

PHOTO: DAVID WILLIAMS

•Shirley Boys' High:

Under-15 coxed eights; and

under-16 single sculls.

•Christ's College: Under-16

coxed eights; under-17 coxed

eights; and under-18 novice

coxed eights.

•St Bede's: Under-16 coxed

four; and under-18 novice

coxed four.

•Cashmere High: Under-18

novice coxed quadruple

sculls.

Winners – girls:

Rangi Ruru: Under-16

coxed four; under-16 coxed

eights; under-17 coxed eights;

under-18 novice coxed eights;

under-18 novice coxed four;

and under-18 coxed eights.

CGHS: Under-15 coxed

eights.

Dunstan High: Under-15

double sculls; quadruple

sculls; coxed octuple

sculls; and under-16 coxed

quadruple sculls.

St Margaret's: ​Under-18

coxed four.

Villa Maria: Under-18 coxed

quadruple sculls.

Former Maadi Cup

winners to represent

NZ at world champs

Former St Andrew's students Ben Taylor and

Thomas Russel have been selected in the New

Zealand team for the world rowing under-23

championships. The pair, pictured above after

winning the Maadi Cup with St Andrew's last

year,will compete in the coxed and coxless

four boats. The championships will be held in

Poland from July 25-29.

Hugh LeLievre

Manufacturing Jeweller

reg 236

Why choose us:

• 38 years trade experience

• Honest, approachable, free appraisals

• Knowledge • Skills • Advice

• Quality work • Affordable prices

• All work carried out on premises

• Make/create your designs

• Repairs, re-makes, re-models

• Unique, one off pieces in stock

Immediate in-store quotes

Mon-FRi

10-6PM

SatuRday

10-2PM

2a Straven Rd

(Cnr Riccarton & Straven Rds)

Ph 03 348 1135

WE SERVICE

WHAT WE SELL

"the best oil that

money can buy"

WAYNE HILL CARS

313 LINCOLN RD

ADDINGTON CHRISTCHURCH

Ph. (03) 338 3255 E. hillcars@es.co.nz

Meet me Bill Tito Craftsman Book Repair Specialist

Paper Plus Shop 24, the Hub Hornby Mall

Fri 23, Sat 24, Sun 25 March

Ph.03 344-5050

10am - 4pm each day

www.bookrepair.co.nz

Dont Despair Think Repair

All Repairs Welcome
---
18 Tuesday March 13 2018

Latest Christchurch news at www.star.kiwi

NOR'WEST NEWS

12th - 18th March 2018

Australian Red/Green

Seedless Grapes

$

5 99

kg

Fresh NZ Pork Leg Roast

(Excludes Free Range)

$

5 99

kg

$

1 00

ea

$

4 00

ea

$

2 50

ea

Bluebird Burger Rings/Twisties/Cheezels/Rashuns

110-120g

Keri Fruit Drink/Juice 2.4-3L Nestlé Chocolate Block 140-200g

2for

$

29 99

pk

Speight's Gold Medal Ale/Summit

24 x 330ml Bottles

$

11 99

ea

Stoneleigh 750ml

(Excludes Rapaura/Latitude/Wild Valley)

$

10 00

Tegel Frozen Chicken 950g

edgeware

Your new local supermarket, serving you a great range of fresh food, with

thousands of savings store-wide.

61 Edgeware Road, Edgeware

Open 7am-9pm, 7 days

Now

Open

FreshChoice

Merivale | Edgeware

Open 7 Days a week.

FreshChoice.co.nz FreshChoiceNZ 0800 40 40 40

Customer Support Freephone

While stocks last at FreshChoice Merivale and Edgeware only. We reserve the right to limit quantities.

Trade not supplied.

Owned and

operated

by locals

fcnw1303
---
NOR'WEST NEWS Latest Christchurch news at www.star.kiwi

Tuesday March 13 2018 19

BE INSPIRED

Beautiful jewellery

in unique designs

Bella Silver in Merivale Mall has been

supplying beautiful jewellery for delighted

customers from Christchurch and further

afield since 1996.

Owner Alfredo Escaip travels around the

world to personally select exquisite pieces

for his store, as well as creating custommade

engagement rings and wedding

bands in his Christchurch workshop.

The range includes precious and semiprecious

stones, the majority of which are

totally natural, set in sterling silver and

gold. Necklaces, bracelets, pendants, rings

are all on display – so many stunning and

unique designs to choose from for gifts or

for a special treat for yourself.

Bella Silver also offers jewellery repairs,

a professional watch repair service, and

watch battery fitting.

Originally a mechanical engineer in

his home country, Mexico, Alfredo made

jewellery as a hobby. Then, after moving to

New Zealand in 1995, he decided to turn

jewellery-making into a full-time career.

As he says, "It's much more artistic and

creative than engineering."

Bella Silver is open seven days a week,

so next time you are shopping in Merivale

Mall, stop by and take a look at the

amazing selection. And check out their

website and Facebook page for news and

new arrivals. For further information,

phone 356 2377.

FOR 8 YEARS AND OLDER

INTERPRETERS NEEDED

We are recruiting now for our Canterbury Introductory

Interpreting course starting in May 2018.

Complete the course, pass the assessment and

become a paid interpreter with us.

You must be proficient in English and preferably

one of the following languages:

Amharic, Arabic, Cantonese, Dari, Farsi, Japanese,

Mandarin, Nepali, Samoan, Sign Language,

Sinhala, Somali, Tagalog.

For more about training and working with us, go to

our website.

Applications Close Fri. 09 April 2018

402A Main North Road Redwood

- Christchurch

03 595 2641

Follow us on Facebook

COURSE DATES:

INTERPRETING

New Zealand

Fridays 6:00 p.m - 8:30 p.m.

Saturdays 9:00 a.m. - 4:30 a.m.

4 & 5 of May

18 & 19 of May

22 & 23 of June

6 & 7 of July

Participants must attend all 5

sessions.

Phone Maria: 027 493 1122

maria.fresia@interpret.org.nz

www.interpret.org.nz

Enrol now: www.interpret.org.nz/become-an-interpreter.html

We design your jewelery unique

to your style and personality.

We offer a resize and redesign service.

Merivale Mall | ChristChurCh

Phone 356 2377
---
20 Tuesday March 13 2018

Latest Christchurch news at www.star.kiwi

NOR'WEST NEWS

A Star Media Event

Star

Media

Sunday 18 March

#Areyouupforit?

EntEr NOW!

Entry $25 (children 10 and under free)

Available online now from city2surf.co.nz or at these outlets
---
NOR'WEST NEWS Latest Christchurch news at www.star.kiwi

Tuesday March 13 2018 21

KIDSTUFF

Kids love CASPA!

Canvas Bag

Drama School

expands!

CASPA (Creative After School

Programmed Activities) incorporating

PAPA JACKS offers children the

opportunity to be creative, make new

friends and try new experiences all within a

safe, nurturing environment. CASPA offers

working parents an affordable after school

and school holiday programme that their

kids just love!

CASPA attributes its success to the

variety of activities on offer as well as the

convenience and affordability for parents.

CASPA kids enjoy an exciting range of

activities including sports, music, games,

drama, arts and craft as well as fun trips.

Previous themes and activities have included

a Karaoke Dance Party, CASPA Fear Factor,

Healthy Art, Out of Africa and hundreds of

other amazing themes/activities!

CASPA parents enjoy peace of mind,

knowing their kids are safe and enjoying

the benefits of a quality after school

programme. Some parents and caregivers

also enjoy government subsidies for

CASPA. CASPA is Child Youth and Family

approved for the OSCAR Subsidy and in

some circumstances, the full CASPA fee

will be covered by the subsidy.

For more information or to enrol, call

Caroline, Rachel or Tania on 349 9260 or

visit www.caspa.org.nz

New owner,

familiar faces

Burnside-based preschool and nursery, curriculum designed for active and exciting

The Enchanted Garden, was handed over play.

to new owner-operator Debbie Taylor in With 10 spaces in their nursery, and

October. She has been in early childhood 23 spaces in their preschool, the centre

management for over seven years and has provides the complete early childhood

three children of her own. Along with the service. The fluidity of care allows children

familiar faces of long-time staff, Debbie's to form close bonds while families enjoy

vision is to continue the high quality care peace of mind.

and reputation that The Enchanted Garden Phone (03) 359 7944 or visit their

has maintained since 1995.

website www.theenchantedgarden.co.nz

The centre offers children a home away

from home, with a philosophy based on

holistic, individualised care. They engage

higher teacher-to-child ratios to allow

better care and attention. The centre

is staffed with a team of professional

educators and nurturers who are highly

trained and passionate about creating

happy experiences.

The setting is warm and home-like in

nature while the playground and indoor

environment have been designed to allow

children to safely explore and learn with

confidence. This is supported by a strong

Canvas Bag Drama School have been

running after-school drama classes in the

Merivale area for children for over 20 years

and last year opened a second successful

campus in South Brighton

So it's great news that in Term 2 Canvas

Bag will open a 3rd campus in Halswell

beginning with two classes that cater for 5-7

years and 8-12 years.

"We are looking forward to making

our wonderful brand of drama education

available in Halswell," says director Felicity

Williams, "and engaging with

children and families in this

area."

"Our popular classes are

based on storytelling and

improvisation. We take a story

and then enable children to

create their own dramatic

interpretation of it using

physical movement, percussion

and dress-up."

Classes are high energy and

fun, with imagination as the

driving force; and being able

to harness the creativity into a

Is a child you know

struggling to relate

or learn?

Don't struggle alone.

Our therapists can help.

They come to you.

Physio, Speech Language, Music,

Occupational Therapists and Dieticians

P: (03) 377 5280

E: therapyprofessionals@clear.net.nz

www.therapyprofessionals.co.nz

vivid and exciting performance allowing for

children's individuality to shine.

Children gain in terms of confidence

and communication, and as an after

school leisure activity drama classes have

a great deal to offer in terms of social

and intellectual development, enhancing

literary skills taught at school.

To find out more about Canvas Bag

Drama School, visit the web page

www.canvasbag.nz and contact the school

for schedules.

home away

from home

UNDER NEW MANAGEMENT!

FREE hAlF DAy 20 hoURs ECE

OPEN 7.30-5.30pm ALL YEAR

SpaceS

available

0-6 years

facebook.com/

The Enchanted Garden

255 Greers Rd, Burnside

Phone: 03 359 7944

www.theenchantedgarden.co.nz

call us

noW

CASPA

After School

& Holiday Programme

Your friendly childcare solution

Creative

After

School

Programmed

Activities

P: 349 9260 or 027 352 1638

E: info@caspa.org.nz

W: www.caspa.org.nz

• We provide a safe, creative

environment for 5-13 year olds

• Our staff are trained

• A range of fun activities

• 7.15-8.30am and 3-6pm Mon-Fri

• 8am-6pm Holidays

• Kids just LOVE it!

Incorporating

Subsidies

Apply

DRAMA CLASSES5-13yrs

Term 2 - 30th April

Free trial class

Be on stage and have fun!

• Creative

• Comedy

• Laughter

• Friends

• Leadership

• Performance

• Movement

• Dressups

• Confidence

• Improvisation

• Production

• Self growth

Canvas Bag Drama School

Three Locations: Merivale • South Brighton • Halswell

info@canvasbag.nz • 021 222 7273 • www.canvasbag.nz
---
22 Tuesday March 13 2018

Latest Christchurch news at www.star.kiwi

NOR'WEST NEWS

Connecting

COMMUNITIES

Local

people

Local

news

Local

ownership

Local

opinions

Star Media.

We're connecting

Cantabrians!

Your local newspapers.

www.starmedia.kiwi
---
NOR'WEST NEWS Latest Christchurch news at www.star.kiwi

Tuesday March 13 2018 23

Email julia.evans@starmedia.kiwi

by 5pm each Wednesday

Scrabble Group

Tuesday, 9.45am-noon

Go along and play scrabble

with the friendly weekly group.

Exercise your brain and have

fun.

Gold coin donation. Sundbye

House, 100 Farrington Ave

GP Clinic

Tuesday, 10am-1pm

A Justice of the Peace will be

available to members of the community,

to witness signatures

and documents, certify document

copies, hear oaths, declarations,

affidavits or affirmations as

well as sign citizenship, sponsorship

or rates rebates applications.

There is no charge for this service.

Fendalton, Shirley and Papanui

libraries

GenConnect

Tuesday, 12.10-12.40pm

Connecting generations by

sharing knowledge. Do you have

questions about your iPad, Smart

Phone or Tablet? Or maybe you

want to know how to use Skype,

Facebook, or share your photos

with family or friends? Ask an

expert. Papanui High School students

will be available every

Tuesday during term time from

12.10-12.40pm to help you find

answers to all your questions.

Papanui Library, 35 Langdons

Rd

Friends of the Christchurch

City Libraries Book Talk

Tuesday, 12.30pm

This month's speaker is Tracy

Chollet. Chollet is a Christchurch

based poetry and short story

writer, who has also worked

as a freelance journalist. Her first

novel Alignment has drawn on

her experiences living in France

and her love of Brittany. She

will talk about her writing approach,

routine, inspiration and

how living in France influenced

the novel. Entry is a gold coin

donation. For more information

phone Diane on 332 5760.

Fendalton Library, 4 Jeffreys Rd

Reading to Dogs

Tuesday, 3.30-4.30pm

These sessions have been designed

to provide a relaxed and

non-threatening atmosphere to

encourage children to practise

their reading skills and develop a

love of reading. This programme

uses dogs who are the pets of the

city council animal management

team and have been trained and

tested for health, safety and temperament.

Sessions are 15min.

Phone 941 7923 to book a spot.

Shirley Library, 36 Marshland

Rd

The St Patrick's School fair returns on Sunday at 11.30am. Go along to this fun-filled

community event. Featuring something for everyone including auctions, toys, books,

clothing, up cycling, flowers, plants, bake sale, craft, Devonshire teas, a delicious array of

food, barbecue, Pimms lawn and bar. There will be plenty of fun activities and stalls for the

kids- bouncy castle, bubble soccer, jolly jars, face painting, pamper parlour, DIY jelly, games

and more.

Bishopdale Bridge Club

Wednesday, 11am-2.30pm

Go along and join in with this

social group who meets every

Wednesday for a game or two

of bridge. Table fees $5. Phone

Janet for more information on

352 1440.

Ōrauwhata: Bishopdale Library

and Community Centre, 13 Bishopdale

Court

READiscover Your Local

Park

Wednesday, 10.30-11am

Seven books have been hidden

in seven parks near to seven

libraries. Read and discover

Bishopdale Park and then go

along to this libraries storytime

session in the great outdoors.

Encourage learning through a

love for stories.

Ōrauwhata: Bishopdale Library

and Community Centre, 13 Bishopdale

Court

Christchurch Women's Toastmasters

Friday, 12.30-1.30pm

Want to advance your career?

Have the confidence to speak

up for issues you care about? A

friendly group of women meet

weekly to help women succeed

through developing speaking

and leadership skills. See our

website for more information -

www.cwctoastmasters.org.nz

St Pauls, behind in Tennis

Pavilion, 1 Harewood Rd

Card Club

Friday, 1.30-3.30pm

This weekly card club is on

every Friday, just go along and

join in the fun.

Shirley Library, 36 Marshland

Rd

Tolkien Week at Shirley

Library

Begins Monday

Tolkien Week takes place from

March 19 to 25 and will involve

a display of rare Weta Workshop

miniatures from The Lord of

the Rings, along with text and

photographs of Tolkien's life and

inspiration. Activities include

quizes for adults and children

(with the One Ring as first prize)

and the opportunity for people

to write their name in Elvish.

Shirley Library, 36 Marshland

Rd

JOIN US NOW!

See website for details

GET

KESS HAIR AND BEAUTY

2 FOR $23.90 Fudge Shaper

2 FOR $34 Fudge Matte Hed

EVERY

DAY

COTTON ON KIDS

$15 & UNDER All Baby Sale Products

BUY 1 GET 1 HALF PRICE All Baby Sale Items

ITALIA SPORTSWEAR

$40 SHOES selected styles

HALLENSTEINS

$10 POLO'S New Stocks & Styles Just Arrived

THE WATCH.CO.NZ

UP TO 60% OFF RRP on Timex, Pulsar, Lorus &

Hello Kitty Citizen watches.

Sign up to Smart Deals & be in the monthly draw for a $100 Dress-Smart gift card!

Be one of the first to hear about the latest deals, sent straight to your inbox each week!

CHRISTCHURCH 409 Main South Road, Hornby

Open 10am-5pm, 7 Days 03 349 5750

www.dress-smart.co.nz
---
24

Tuesday March 13 2018

REAL ESTATE

A class act – avant-garde classic on the hill

136 Moncks Spur Road, Redcliffs

Deadline Sale: 5pm Friday 23 March 2108

3 bedrooms | 2 bathrooms | open plan kitchen, dining living area | 1 study/play area | 2 carport | 2 off-street parks | Listing ID: 6237

What began life as a 1950s bungalow was

transformed in the 1970s when architecture

in Christchurch was breaking from the

constraints and traditions of the past to

create what is now a truly unique home.

What we have today is an avant-garde

home nestled into the sunny slopes above

Redcliffs. Not only does it bask in sunshine

it enjoys uninterrupted views across the

estuary and up the coastline. The magic of

the setting reflects the magic to be found

indoors. On 3 levels it provides space for

everyone and everything. The main central

floor comprises the entry from the carport

at the front door, open plan kitchen dining

and living, a study/play area, 2 double

bed-rooms which open to a spacious deck

area and a state of the art bathroom. Stairs

descend to a rumpus room/studio which

opens to a paved patio area giving access to

a landscaped contemporary hillside garden.

The upper level provides the main suite

comprising bedroom, en suite and dressing

room and expansive open living space with

floor to ceiling windows. This home exudes

contemporary style with an industrial

minimalist theme.

Open homes Sundays 1.45pm-2.30pm

and Thursdays 7.30pm-8pm.

See you at the open homes or for a private

viewing contact Min of Min Sarginson

Real Estate (Licensed Agent REAA 2008),

phone 0274 320 327 or 329 4161

Latest Christchurch news at www.star.kiwi

NOR'WEST NEWS

now bigger than ever

growing with you

SprIng Is here –

It'S Sow Time

how to get the best results from

seeds and seedlings

100% NatIve In

The capItal

Unravelling the secrets of

Otari-wilton Bush

The New Zealand

landscape awards

The people behind

the projects

$7.90 incl. GST

Save our roSeS

How a rose register is protecting our heritage

September 2016 | 100%

It's time

to grow!

New look and more

content than ever!

MeeT LeSTer Brice

A Garden coach

auckland Botanic GardenS

Why we love our public grounds

The magazine for

gardeners who like to get

their hands dirty

SubScribe from

$43. 50*

*6 issues/6 months

ISSN 2423-0219

SUBSCRIPTIONS FREEPHONE

0800 77 77 10

www.gaRdeNER.kiwI
---
NOR'WEST NEWS Latest Christchurch news at www.star.kiwi

Tuesday March 13 2018 25

AUTOMOTIVE PROFESSIONALS

Panel repairs in handy,

central city location

Whether it's a ding on your door from

the supermarket car park, or you have

been involved in a 'fender bender' and

need a panel or two repaired, in fact,

whatever panel and paint services you

need, the friendly team at Smart Repairs

(NZ) Limited can get the job done with

minimum fuss.

As specialists in small to medium repairs

(no job is too small!), they offer a full range

of services including panel beating, spray

painting, paintless dent removal and mag

wheel repairs and painting.

Their workshop team has over 40 years

of experience in the automotive repair

industry between them, so you can be

assured of top-quality workmanship. The

team stands behind all their repairs.

Accidents happen, but there's no need

to panic – Smart Repairs can help you get

back on the road. They offer free advice and

assessments and are happy to discuss the

options for your vehicle repair – they want

to make it easy for customers that may be

unsure of what to do if their vehicle has

been scratched or dented.

Smart Repairs can provide estimates for

all insurance companies, and will carry out

s

m

a

r

t

mall

edium

• Panel beating

• Spray painting

Fast

turnaround

utomotive

epair

echniques

Smart repairS (NZ) Limited

automotive refinishers

272 Lichfield St (Fitzgerald Ave end)

Ph 377-0409

repairs in an efficient and timely manner.

Brian, Maxine and Dave are Christchurch

born and bred, and love being in the city

as it gets rebuilt. They are easily located

in central Christchurch – on the corner

of Lichfield Street and Fitzgerald Avenue

(Access is from Lichfield St.)

Customers can have the use of Smart

Repairs' courtesy car while their vehicle is

being repaired. A free pick-up and delivery

service within Christchurch is also available

on request.

"We take pride in our work, and want to

ensure that our customers are happy with

the results," Maxine says.

"Getting you back on the road is our

focus."

EftPos and credit cards accepted. A 10

per cent discount is offered if you mention

this advertising feature.

Smart Repairs (NZ) Limited

are located at 272 Lichfield St.

Christchurch. Opening hours are

Monday to Friday 8am-4.30pm.

To enquire about vehicle repairs,

please call in or phone 377-0409.

European

Car Owners

NEW DIAGNOSTIC EQUIPMENT!

We can identify ANY electrical

fault & reduce repair work

with our NEW European Car

Specific Diagnostic Equipment

ROSES

AUTO ELECTRICAL

Enquiries welcome

CH 352 5090

PARKER

AUTOMOTIVE

■ All Automotive Repairs and

Servicing including 4WD

■ Suspension Brakes & Cambelts

■ WOF, Tyres, Batteries

■ Courtesy Car

55 Lincoln Rd, behind Caltex

(Cnr Lincoln & Torrens Rd)

Ph 03 982 4268

Mob 027 331 0382

Email: parkerauto@clear.net.nz

Receive a 10% discount when you

mention this advertising feature

A vonhead

utomotive

free

6 months roadside assist

with any vehicle servicing

• automatic transmission

flushing service

• Wof • tune-ups • suspension

• batteries • neW tyres • oil &

lube service • courtesy cars

• full mechanical repairs

oPen 6 days (sat until 1pm)

126 racecourse road

Ph 342 7123 or 027 495 6600

• W.O.F • Servicing

• Repairs • Batteries

• Auto Electrical • Tyres

• Clutch • Cambelt

• Diagnostic Equipment

YOUR LOCAL

AUTOMOTIVE SHOP

YOUR CENTRAL

CITY WORKSHOP

• new & quality

secondhand tyres

• alloy wheels

• replacement rims

• puncture repairs

WITH A MASSIVE RANGE OF TYRES IN STORE,

WHY NOT POP IN AND SEE US TODAY!

NeW LoCATIoN 95 Gasson St

The Automotive

Lamp Specialists

287 Hoon Hay Road

Christchurch

Open Mon-Fri

Ph. 982 0405

®

8c Birmingham Drive,

(Cnr Hands & Birmingham Drive)

Ph: 03 343 0099 Cell: 027 226 3805

Website: www.jcmdirect.co.nz

New and Used Lamps for Cars, Trucks,

Vans, 4WD and Motorhomes

95 Gasson Street, CHRISTCHURCH

PH 0800 225 483
---
26 Tuesday March 13 2018

Latest Christchurch news at www.star.kiwi

Building Supplies

SHOWERLINERS

Installed to fit your tired

or old existing shower,

the perfect solution, ph

Lachlan for a free quote

383 1723 or 027 436 7067

Community Events

ALCOHOLICS

ANONYMOUS, If you

want to have a drink thats

your business. If you want

to stop, we can help. Phone

0800 229-6757

Computers

ALL

YOUR

COMPUTER

WORRIES SOLVED!

*$30.00 off your first

service with this coupon!*

No problem too big or

small from home PC's to

business networks. PC

slow? An end to Viruses,

Spyware, and Clogged

Systems. Safe secure

hassle-free computing.

Lost files recovered.

Microsoft Certified,

MCSE, MCP+l. 30 years

experience. Call Andrew

Buxton this week on 326-

6740 or 027 435-7596

for $30.00 off* Custom

Computers Christchurch

Curtains

www.curtainfabric-outlet.com

Fashion Designs & Colours

Discontinued Designs

End of Lines Bargain Prices

Call at Our Shop

CURTAIN FABRIC OUTLET

71 Hawdon St Sydenham

Ph 366-5026

Entertainment

Weka Pass Railway

Waipara, North Canterbury

We are RUNNING

SUNDAY 18th MARCH

Running 1st and 3rd

Sunday of every month

Phone 0800wekapass

Depart Glenmark Station

11.30am & 2.00pm

www.wekapassrailway.co.nz

growing with you

SprIng Is here –

It'S Sow Time

how to get the best results from

seeds and seedlings

100% NatIve In

The capItal

Unravelling the secrets of

Otari-wilton Bush

The New Zealand

landscape awards

The people behind

the projects

$7.90 incl. GST

ISSN 2423-0219

NOR'WEST NEWS

Classifieds Contact us today Phone our local team 03 379 1100

Gardening

& Supplies

A GARDEN OR

LANDSCAPING TIDY

UP? Shrub, hedge &

tree pruning, Lawns,

Gardening, consistently

reliable general property

upkeep, Dip. Hort. 10

yrs experience, One off

tidy ups or on-going

service. Nick's Property

Maintenance. Keeping

your garden beautiful.

Free Quote. Ph. 942-4440

Holiday

Accommodation

QUEENSLAND SUN-

SHINE COAST AUSTRA-

LIA Resort, Ocean Views,

Balconies, Self Contained,

1 or 2 B/R Ensuite,

Heated Pool, Spa, Sauna,

Free Internet, Shops,

Restaurants, Tennis, Surf

Club & Patrolled Beach,

Public Transport at door.

Ask for our SEASONAL

SPECIALS. Phone 61 7

544-35011 Email: reception@mandolin.com.au

www.mandolin.com.au

Personals

PROF SINGLE 60's MAN

In NW, seeks mod, stylish

slim lady for company/

activities. Ph 027 6594425

Pets & Supplies

AFFORDABLE Dog

Grooming $46 small,

$52 med, experienced

and qualified groomer/

veterinary nurse,

Redwood, ph June 03 354-

6414 or 027 746-5295

To Let

HOMESITTERS reqd

Chch & surrounds.

Lovely homes / pets. Ph

Lisa 359-2323 www.

townandcountryhomesit.

co.nz

Save our roSeS

How a rose register is protecting our heritage

September 2016 | 100%

It's time

to grow!

New look and more

content than ever!

MeeT LeSTer Brice

A Garden coach

auckland Botanic GardenS

Why we love our public grounds

Trades & Services

DRIVEWAYS

Exposed Aggregate

Stamped Concrete Plain

Concrete Resurfacing

Things we offer...

Competitive/affordable pricing

Attention to detail

Professional service

free quotes/insurance scopes

Cell 0278 145 848

www.drivecrete.co.nz

HOUSE

CLEARING

Are you

moving house

or trying to

downsize?

Call All Clear

Canterbury. We work

with you to recycle,

sell and dispose of

unwanted items.

Ph: 03 260 0934

or 021 078 4553

raewynlcooke@gmail.com

www.allclearcanterbury.co.nz

ADVERTISE YOUR BUSINESS HERE

Phone for further details

(03) 379 1100

BLOCKED

DRAINS?

• VIDEO INSPECTION

• WATERBLASTING

• LIQUID WASTE

PH: 03 365 7960

24 hours // 7 days

info@h20jet.co.nz

www.h20jet.co.nz

& Property Maintenance

Paving

Patio - Pathways - Driveways

Lawns and Gardens

Planting - Raised Vege Gardens

Readylawn - Irrigation - Fencing

General Maintenance

Water Blasting - Gutter Cleaning

Rental Property Maintenance

Section Clearing - Weed Spraying

20 Years Experience

Locally owned and operated

Free Quotes - Competitive Pricing

Blair Gibson 027 699 5815

ROOF

PAINTING

Rope & harness

a speciality,

no scaffolding

required,

30 years of

breathtaking

experience.

FREE QUOTES

Exterior staining,

exterior painting,

moss and mould

treatment and

waterblasting

Phone Kevin

027 561 4629

now bigger than ever

junk

Why go to the Dump? Junkman comes to you!

Items too big for the rubbish bin?

Or too heavy for you to move?

Junkman comes to FROM

you & takes it away $

65 *

*Prices vary depending on items and volume – minimum charge $65

PAINTER

Michael Kelly Painters

Locally owned and

operated family

business.

25+ years Experience

• Painting • Wallpapering

• Interior • Exterior

Free Quotes

The magazine for

gardeners who like to get

their hands dirty

SubScribe from

$43. 50*

*6 issues/6 months

SUBSCRIPTIONS FREEPHONE

0800 77 77 10

www.gaRdeNER.kiwI

Phone

Michael 0212 649 492

michaelkellypainter@hotmail.co.nz

AAA HANDYMAN

licensed carpenter

LBP, all property and

building maintenance,

repairs, bathroom/shower

installations, with free

quotes 03 383 1927 or 027

245 5226 ciey@xtra.co.nz

Trades & Services

0800 586 5626

www.junkman.co.nz office@junkman.co.nz

BRICKLAYER

George Lockyer. Over

35 years bricklaying

experience. UK trained.

Licensed Building

Practitioner number

BP105608. Insurance

work. EQC repairs.

Heritage brickwork and

stonework a speciality. No

job too small. Governors

Bay. Home 329-9344,

Cell 027 684 4046, email

georgelockyer@xtra.co.nz

EXTERIOR PLASTERING

Quality

Workmanship

at Competitive Pricing

Free Quotes

Aynsley Frewer

M: 027 201 1296

E: aynsleyfrewer@xtra.co.nz

PO Box 20534 Bishopdale

PAINTINg

&

DECoRATINg

Wingfields Contracting,

all interior & exterior

painting & all forms of

interior plastering & jib

fixing, ph Mark 021 171-

1586 or 355-5994

PAINTER AVAILABLE

All aspects in painting.

Very competitive in roofs

and fences. Please call 027

241-7471 or 335-0265

PAINTER

Quality work, I stand by

Canterbury, Ph Wayne 03

385-4348 or 027 274 3541

PLASTERER

Gib Stopping, Small

job specialty. 30 + years

experience. Ring 0800

387-369

PLUMBER

UPHoLSTERER

Dining Chairs, Lounge

suites, Caravan Squabs

etc. recovered. Free

Quotes. Phone Graeme

383-1448

VHS VIDEo TAPES

& all camera tapes

converted to DVD, video

taping special occasions,

www.grahamsvideo.co.nz

ph 03 338-1655

WINDoW CLEANINg

BUILDER LICENSED

Average 3 bdrm house

available for all aspects of

building. Please call 027

241-7471 or 335-0265

BUILDER

For all building work

inside or out $40. Both

$70. Phone Trevor 344-

2170

Wanted To Buy

but specialist in bathroom

AAA Buying goods

renovations, 30 yrs

quality furniture,

experience, with service ALF THORPE Beds, Stoves, Washing

and integrity. Free Quotes. PLUMBING Certifying machines, Fridge Freezers.

Ph Lachlan 383-1723 or Plumber for all types of Same day service. Selwyn

0274 367-067.

plumbing, maintenance, Dealers. Phone 980 5812

spouting, alterations etc. or 027 313 8156

****************

Phone 352-7402 or 0274-

CARPET & VINYL

TOOLS Garden,

350-231

LAYINg Repairs,

garage, woodworking,

SHoE REPAIRS

uplifting, relaying,

mechanical, engineering,

Belfast engraving.Shoe

restretching, Email

sawbenches, lathes, cash

repairs,key cutting &

jflattery@xtra.co.nz, ph

buyer, ph 355-2045

engraving.(10 yrs exp)683

0800 003 181 or 027

Main North Rd, ph 027

2407416

3113423

ELECTRICIAN

SPoUTINg CLEANINg

Registered, electrical Spouting Unblocked,

installation and repairs,

Gorbie Electrical, ph 021

026 73375 or 03 322 4209

Cleaned Out and Flushed

Out. Also Full Handyman

Services Available. Call

Trevor 332 8949 or 021

ELECTRICIAN

043 2034

For electrical work, no job

SToNEMASoN, BRICK

to small, affordable, tidy &

& BLoCKLAYER

experienced, HEATPUMP

Earthquake Repairs, Grind

servicing, & perfomance

Out & Repoint, River/

test $70 + gst, ph or txt 027

Oamaru stone, Schist,

432 9755 or 03 326 49922

Volcanic Rock, Paving,

gREENFIELDS all Alterations new & old,

For quality gardening Quality Workmanship, visit

services call Johnny 022

1983698.

www.featureworks.co.nz or

ph 027 601-3145
---
NOR'WEST NEWS Latest Christchurch news at www.star.kiwi

Tuesday March 13 2018 27

What's On

Entertainment

To advertise, contact

Jo Fuller 027 458 8590

jo.fuller@starmedia.kiwi

Students have done us proud!

From top le:

Dominic Wilson

(Burnside High)

CHOGM Representative;

Meg Roberts (Rang Ruru)

Senior Gold Award;

Joshua Persico (CBHS)

Junior Silver Award;

Bottom le:

Noah Cunningham

(St Patrick's Bryndwr)

Junior Silver Award;

Ruby Wilson-Moses

(Selwyn House)

Junior Bronze Award

'Famous for their roasts!'

RESTAURANT & CAFÉ

Kid's SPECIAL

Two courses

Seniors SPECIAL

Two courses

$10

We are family friendly. Great Kids menu plus designated play area.

Soup/Roast or

Roast/Dessert

Special available lunch only

Monday - Saturday 12pm - 2.30pm

$20

Start your

day with us

We are open from 6.30am

Cooked

breakfasts

$18

Check out our extensive

breakfast menu from

Continental to Cooked

The

RACECOURSE HOTEL

& Motorlodge

118 Racecourse Rd, Sockburn,

Christchurch. Ph 03 342 7150

www.racecoursehotel.co.nz

CANTERBURY students have done extremely

well in the Queen's Commonwealth Essay

Competition judged in London with Meg

Roberts (Rangi Ruru) gaining senior gold;

slilver awards going to Noah Cunningham (St

Patricks Bryndwr) and Joshua Persico (CBHS);

and Ruby Wilson-Moses (Selwyn House)

gaining a junior bronze award.

With 12,300 entries from throughout the

Commonwealth and just 4% awarded gold,

9% silver and 13% bronze, Canterbury

students have done us proud.

e winners were acknowledged at the

Canterbury Branch of the Royal

Commonwealth Society at the Russley Golf

Club on Sunday evening with the Guest

Speaker, Sandra Manderson QSM, presenting

the certificates and cash rewards.

SERVING

HAPPY HOUR

5PM - 7PM DAILY

is year's competition is now open with

entries needing to reach London by 1st June

and is open to under 19 year olds. Last year's

theme was 'A Commonwealth for Peace' with

this year's theme 'Towards a Common Future'.

Entry details are on www.rcscanty.co.nz

together with the 2017 winning essays.

Another Commonwealth opportunity for

youth happens each year in August when

students from all over New Zealand gather in

Wellington for a Model Commonwealth

Summit where the students represent a

Commonwealth country and debate issues

from that country's point of view. Dominic

Wilson from Burnside High spoke about his

experience. e Canterbury branch offers a

grant to help with expenses towards this with

details on www.rcscanty.co.nz

EVENTS COMING UP...

Irish

Fare

added

to the

Dinner

Buffet

SATURDAY

17TH MARCH 2018

Available only on

Saturday 17th March 2018

DINNER SESSION ONLY.

NORMAL PRICE APPLIES

OUR CABINET ITEMS

ARE HOMEMADE

CREATED FRESH ON SITE DAILY

$12

LUNCH

SPECIALS

Say o I doo Say o II do

COFFEE

HAPPY

H O U R

ON OUR

Love on the Lawn

SEE US AT THE WEDDING SHOW

FOR EXCLUSIVE SHOW DAY DEALS

SUNDAY 25th MARCH | 10am-3pm

WIGRAM AIR FORCE MUSEUM

Lunch & Dinner : All you can eat, 7 days

Bookings Essential PH 386 0088

fb.com/GardenHotelRestaurant www.gardenhotel.co.nz

2PM-4PM

DAILY

$3.50

Offer available for a limited time

and includes tea, hot chocolate

MON: ROAST MEAL

TUE: FISH & CHIPS

WED: FISH BURGER

THU: ROAST MEAL

SAT: FISH & CHIPS

AVAILABLE

FROM

11.30AM-2PM

FOR A

LIMITED TIME

LIVE MUSIC 6PM SATURDAY:

VINTAGE BLUE

PHONE 385 8880 FIND US ON FACEBOOK fb.com/GBCCHCH

THE GARDEN HOTEL COMPLEX | 110 MARSHLAND RD

www.gardenhotel.co.nz | phone 385 3132

What's On

TUESDAYS & THURSDAYS

MEMBERS LUCKY CARD DRAW

Saturday 17th March

ST PADDY'S DAY

DJ KRONIK from 3pm - 6.45pm

PRIZES FOR BEST DRESSED - LUCKY SEAT NUMBERS

Highlanders v Crusaders 7.35pm

DOWNSTAIRS

CLUB BISTRO

Open Tuesday to Saturday

from 12pm - 2pm & from 5pm.

DINE BY THE SEA!

UPSTAIRS

Pierview Restaurant

Open from 5.30pm Friday, Saturday

and Sunday, and for

Sunday Brunch from 10.30am to 2pm.

SORRY, PIERVIEW IS FULLY BOOKED

This Saturday 17 March 2018.

SUNDAY 25th MARCH, from 5.30pm

SUNDAY NIGHT BUFFET

$25pp BOOK NOW!

202 Marine Pde | Ph 388 9416 | www.newbrightonclub.co.nz | Members, guests & affiliates welcome

H ORNBY

WORKINGMEN'S

CLUB

PLAYING

THIS WEEKEND

March

16 & 17

St Patrick's

Weekend

Music to jig to

Friday : Robbie 'Mc' Drew

Saturday : Norm Bland

followed by Boru

Cans of Guinness &

Jameson RTD

Irish Specials in the

Club Cafe

PLANNING A FUNCTION?

We have rooms available

for any occasion.

Call us today, 349 9026

FAMILY FRIENDLY DINING

Club CAFE

OPEN DAILY

LUNCH & DINNER

GF & V options available

Dine and

WIN

A

DOUBLE

PASS

TO SEE

Chalmers Restaurant

CARVERY DINNER $22.50

EVERY FRIDAY & SATURDAY FROM 5.30PM

Early Bird Special

5.30pm - 6.30PM

LIONEL

RICHIE

SUNDAY 15 APRIL 2018

ENTER WHEN YOU DINE IN THE CLUB CAFE

& CHALMERS RESTAURANT.

Conditions Apply.

FREE

DESSERT

Family Friendly

SUNDAY NIGHT BUFFET $27

EVERY SUNDAY FROM 5PM-8PM

PERFECT FOR SPECIAL OCCASIONS & FAMILY EVENTS!

The Hornby Club | ph 03 349 9026 | 17 Carmen Rd | Hornby

www.hornbywmc.co.nz | Members, guests & affiliates welcome
---
28 Tuesday March 13 2018

Latest Christchurch news at www.star.kiwi

NOR'WEST NEWS

Top

02

03

04

Paul Nichols

FENDALTON

Chris Lewis

FENDALTON

Richard Dawson

ILAM 2

Grant Milligan

FENDALTON

05

06

07

08

Chris Campbell

ILAM

Fiona Nankivell

ILAM 2

Henry Cochrane

ILAM 2

Jenni Rolton

ST ALBANS

09

10

11

12

Mitchell

MacDonald

ST ALBANS

Corina Grey

ILAM

Sarah Piggott

ST ALBANS

Cathy Carter

FENDALTON

13

14

15

16

Steven Marshall

FENDALTON

Bee Banks

ILAM 2

Lesley Falconer

MERIVALE

Don Yee

ILAM

17

18

19

20

Ryoko Nishida

MERIVALE

Emma Luxton

ILAM 2

Tracy Thomson

ST ALBANS

Martin Sutton

ILAM 2

Win-Win

Congratulations to our Top 20 Consultants for February 2018

It's an unquestionable truth – the success of our clients is directly tied to the

success of our people. That's why it's their triumphs we celebrate as much as

those of the individuals you see here.

We want to thank our clients for their trust in us. We wish to congratulate our high

achievers for their passion and dedication, their unique expertise and exemplary

service. We look forward to further success with you in the years to come.

Contact one of our top

performers today:

Fendalton 03 355 6116

Ilam 03 351 6556

Ilam 2 03 351 3002

Merivale 03 355 6677

St Albans 03 377 0377

holmwood.co.nz
---
ARE YOU UP FOR IT?

Sunday March 18

Under 10's free

Enter now at Pak'NSave | New World | The Athlete's Foot

or online at city2surf.co.nz

A Star Media Event
---
You choose your distance: 14km, 9am start or 6km, 10am start

ENTRY

ENTRY

76

OPAWA

74

Colombo Street

SPREYDON

76

74A

Ferry Road

Wilsons Road

H 2 0

6KM START

Hansens

Park

H 2 0

Grange Street

Barrington Street

14KM START

FERRYMEAD

Centennial

Park

CASHMERE

Port Hills Road

76

FINISH

Ferrymead

Playing

Fields

H 2 0

H 2 0

Water

Toilets

74

Hawford Rd

Pioneer Stadium

6km

Site

Map

P

P

ENTRY

Butler St

HANSEN

PARK

Les Mills

Warm Up

STAGE

Aynsley Tce

6km

runners

Grange St

ENTRY

CENTENNIAL

PARK

Lyttelton Street

14km

Site Map

First Aid

Free Sunscreen

STAGE

Les Mills

Warm Up

P

WALKERS

JOGGERS

RUNNERS

Participants

assemble

here

START

14km runners

Heathcote River

STAGE

START

First Aid

Free Sunscreen

Toilets

Clothing Drop Off

8.30-10am

Late Registrations

8.30am-10am

9am-10am Les Mills

Warm Up & Entertainment

Start Line. 10am start

6km Runners

14km Runners

P

Participants

assemble here

WALKERS

JOGGERS

RUNNERS

Rose Street

START

Cashmere View

STAGE

START

Toilets

Clothing Drop Off

Late Registrations

7am-9am

8am-9am Les Mills warm

up & entertainment

Start Line, 9am start

PROUD

SPONSOR

OF THE
---
Transport

PARK AT

MCCORMACKS BAY

• Buses to startline from 7.15am

• Last bus to 14km at 8.15am for 9am start

• Last bus to 6km at 9.30am for 10am start

• Buses only stop at start line drop offs

PARK AT EITHER

START LINE

• Post event bus runs from Ferrymead

finish to 14km and 6km starting point

• Buses run from 10am

• Buses only stop at start lines

FREE SHUTTLE

• Free Shuttle will be running between

Ferrymead Playing Fields (finish line) and

McCormacks Bay (free parking).

• No ticket needed.

• Runs from 7:30am-9:00am, 10:00am-1pm

Need to know

Online Order

• Selected collect? Bring your e-ticket confirmation

to Smiths City Colombo street on Friday 16

March between 11-5pm Or Saturday 17 March

between 9-5pm.

Selected courier? You will receive your entry

shortly. Cut off day for courier is March 1.

• The 14km starts at 9am at Centennial Park,

Pioneer Stadium. The Sport Canterbury 6km starts

10am at Hansens Park, Opawa.

• Warm up with our Christchurch Les Mills fitness team,

and enjoy pre event entertainment.

• At the finish line grab your free Pump Water or

Powerade

• Enjoy free children's entertainment and our live band.

• Look out for our social media squad. See your

photo on The Star City2Surf Facebook Page.

• Prize giving starts at mid-day.

Look the part

Star Media

Star Media

Available in 3 different colours

T-Shirt $35 Singlet $30

Children's T-shirt $30

Christchurch 2018

Available now at The Athlete's Foot

Riccarton, Northlands and on event day

Pre-Run bus route

McCormacks Bay - 14km-6km

Post-run bus route

Ferrymead - 6km - 14km

76

WOOLSTON

74A

FREE shuttle bus

McCormacks Bay - Finish Line -

McCormacks Bay (No ticket needed)

14 KM

START

Centennial & DROP

Park OFF

SPREYDON

Barrington Street

CASHMERE

Colombo Street

Wilsons Road

OPAWA 6 KM

DROP OFF

76

Hansens 6 KM

START Park

Grange Street

74A

Port Hills Road

76

74

Ferry Road

FERRYMEAD

INFO

FINISH

LINE

MOUNT

PLEASANT

FREE

PARKING

INFO

MCCORMACKS

BAY

BUS TICKETS

$6

BUY NOW AT

CITY2SURF.CO.NZ

74

Proud to support

Child

Prize

Corporate

Prize

School

Prize

Family

Prize

Spot

Prizes

Sunday

18th

March
---
March 18 $25

Enter now at Pak'NSave | New World | The Athlete's Foot | or online at city2surf.co.nz

Be in to win return flights

for two to London on

Singapore Airlines

Prize announced at mid-day Sunday 18 March 2018

at The Star City2Surf. You must be wearing your

registration sticker to be eligible.

1

SINGAPORE AIRLINES

BRAND GUIDELINES

SUMMARY

Proudly supported by: