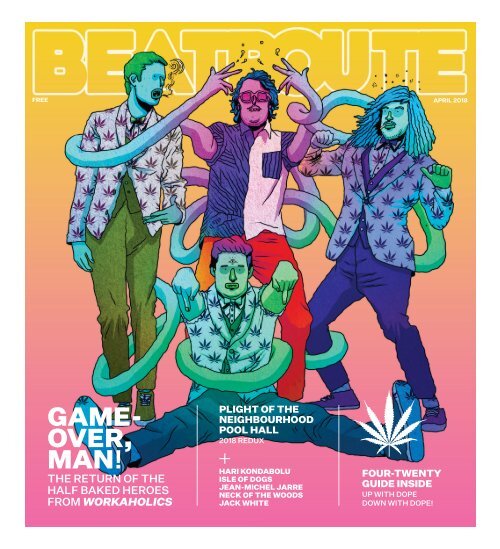 BeatRoute Magazine BC Print Edition April 2018
BeatRoute Magazine is a monthly arts and entertainment paper with a predominant focus on music – local, independent or otherwise. The paper started in June 2004 and continues to provide a healthy dose of perversity while exercising rock 'n' roll ethics. Currently BeatRoute's AB edition is distributed in Calgary, Edmonton (by S*A*R*G*E), Banff and Canmore. The BC edition is distributed in Vancouver, Victoria and Nanaimo. BeatRoute (AB) Mission PO 23045 Calgary, AB T2S 3A8 E. editor@beatroute.ca BeatRoute (BC) #202 – 2405 E Hastings Vancouver, BC V5K 1Y8 P. 778-888-1120
BeatRoute Magazine is a monthly arts and entertainment paper with a predominant focus on music – local, independent or otherwise. The paper started in June 2004 and continues to provide a healthy dose of perversity while exercising rock 'n' roll ethics.

Currently BeatRoute's AB edition is distributed in Calgary, Edmonton (by S*A*R*G*E), Banff and Canmore. The BC edition is distributed in Vancouver, Victoria and Nanaimo. BeatRoute (AB) Mission PO 23045 Calgary, AB T2S 3A8 E. editor@beatroute.ca BeatRoute (BC) #202 – 2405 E Hastings Vancouver, BC V5K 1Y8 P. 778-888-1120
SHOW MORE
SHOW LESS
Create successful ePaper yourself
Turn your PDF publications into a flip-book with our unique Google optimized e-Paper software.
TRIM SIZE: 10.25"W x 11.5" H, RIGHT HAND PAGE
---
april'18

PUBLISHER

BeatRoute Magazine

LAYOUT

& PRODUCTION MANAGER

Naomi Zhang

FRONT COVER ILLUSTRATION

Peter Ricq

FRONT COVER DESIGN

Randy Gibson

INTERN

Jessie Foster

CONTRIBUTING WRITERS

Beth D'Aoust • Adam Dean • Lauren

Donnelly • Jarrett Edmund • Jessie Foster

• Jovana Golubovic • Cathal Gunning

• Trevor Hatter • Zach Johnson • Noor

Khwaja • Ana Krunic • Brendan Lee •

Axel Matfin • Hollie McGowan • Maggie

McPhee • Jamila Pomeroy • Dan Potter •

Molly Randhawa • Tory Rosso • Frankie

Ryott • B. Simm • Willem Thomas • Cole

Young

CONTRIBUTING

PHOTOGRAPHERS &

ILLUSTRATORS

Robert Anderson • Nedda Asfari •

Peter Battistoni • Bryce Hunnersen •

Bill Crisafi • Elissa Crowe • Tj Dawe • Itai

Erdal • Cody Fennell • Greg Gallinger •

Maria Jose • Dahila Katz • Anita Lewis •

Connor Mccracken • Nelson Mouellic •

Darrole Palmer • Jaik Puppyteeth • Daniel

Rampulla • Rachel Robinson • Shimon

Karmel • Raymund Shum • Landon

Speers • Jake Stark • Steven Taylor •

Matthew Zinke

ADVERTISING INQUIRIES

Managing Editor

Jordan Yeager

jordan@beatroute.ca

Local Music

James Olson

james.olson@beatroute.ca

The Skinny

Johnny Papan

johnny@beatroute.ca

Comedy

Graeme Wiggins

graeme@beatroute.ca

Editor-In-Chief

Glenn Alderson

glenn@beatroute.ca

City

Yasmine Shemesh

yasmine@beatroute.ca

BPM

Alan Ranta

alan@beatroute.ca

Live Reviews

Darrole Palmer

darrole@beatroute.ca

Film

Hogan Short

hogan@beatroute.ca

04

05

06

10

12

14

15

HI, HOW ARE YOU?

- With the Herbal Chef

PULSE - CITY BRIEFS!

CITY

- Record Store Day

- Vancouver Tattoo Show

- The Blue Hour

- Mr. Burns

THE PLIGHT OF THE

NEIGHBOURHOOD

POOL HALL

2018 Behind the 8-Ball Redux

GRASSIFIEDS

- Dispensary Guide

- 420 Events

FOOD & DRINK

- Electric Bicycle Brewery

- Blue Heron Creamery

- Bottoms Up w/ Emily

Shelle

COMEDY

- Hari Kondobolu

- Corner Gas

16

18

21

25

26

29

34

MUSIC

- Phoebe Bridgers

- The Neighbourhood

- Wild Child

BPM

- Eli Escobar

- Jean-Michel Jarre

- Bishop Briggs

- Prado

THE SKINNY

- Iron Kingdom

- You Big Idiot

- Neck Of The Woods

- Brass

- Heron

COVER - GAME

OVER, MAN

FILM

- Isle of Dogs

REVIEWS

- Jack White

- Amen Dunes

- Guided by Voices

HOROSCOPES

Glenn Alderson

glenn@beatroute.ca

778-888-1120

DISTRIBUTION

Gold Distribution (Vancouver)

Mark Goodwin Farfields (Victoria)

Web

Jashua Grafstein

jash@beatroute.ca

Social Media

Mat Wilkins

mat@beatroute.ca

BEATROUTE MAGAZINE

202-2405 Hastings St. E

Vancouver BC Canada

V5K 1Y8

editor@beatroute.ca • beatroute.ca

©BEATROUTE Magazine 2018. All rights reserved.

Reproduction of the contents is strictly prohibited.

April 2018 3
---
WITH THE HERBAL CHEF, CHRISTOPHER SAYEGH

LAUREN DONNELLY

World-renowned chef Christopher Sayegh

brings the high to haute cuisine this month

with a pop-up feast for the senses. Let him

prime your palette for 4/20 with his pioneering

take on cannabis-complemented cuisine. For

two nights only, April 6 and 7, at a top-secret

location, Sayegh will guide Vancouver diners

through a multicourse experience combining

local ingredients with THC and CBD extracts. And

this isn't your average edible experience. Chef

Sayegh is a Michelin-trained chef whose eightcourse

tasting menu is a true adventure down the

rabbit hole. Sayegh's done his research, putting his

background in science to good use. He's studied

the endocannabinoid system, extraction methods,

and vetted sources to make sure the dining

experience is meaningful to guests looking to

heighten their dining with light doses of cannabis.

Featuring locally-sourced ingredients — including

wares from local partners like the Quarry and

Aura Cannabis –– the emphasis is on quality and

community. Sayegh's soiree aims to destigmatize

cannabis by fusing fine dining with local wine

pairings, music, and stimulating conversation –– is

this heaven? We spoke to the Herbal Chef to find

out what makes Mary Jane such a great dinner

guest.

BR: What's the biggest misconception about

cannabis-infused cuisine?

CS: That it's either a gimmick or it's easy. It's

neither. Cooking with cannabis is definitively

harder than cooking without it. The logistics alone

create another layer of hardship on top of running

a restaurant.

BR: You say you want people to experience food,

not just eat it. How does cannabis enrich the

dining experience?

CS: Cannabis is a sensory enhancer. So while

we send out our timed and specifically dosed

menu we can see diners embark on and enjoy

the culinary journey we have set forth. It helps

enrich the smells, the flavours, the atmosphere and

the overall energy of the meal. It's a new way to

experience fine dining.

BR: How do art and music add to the dining

experience?

CS: Because cannabis enhances the senses, it's

important to have art and music that create

a distinct atmosphere as well as stimulate

conversation based around the composition. It

elevates the dining experience.

CS: Oh boy... back when I was first starting

out it was very difficult to get lab tests for the

concentrates which is not how I like to do things.

Long story short, I was bamboozled by the person

I was purchasing the extract from, because it

was more potent than what they said. I ate a

small amount of the edibles I made with it and

completely lost it for the next eight hours. In fact

the only reason I think it lasted eight hours instead

of two days was because I threw up everything a

couple hours later. I was so high I couldn't focus on

anything but trying not to toss my cookies. There's

quite a bit more to this story, but I'll leave it at

this…don't fuck around with edibles if you don't

know the potency.

BR: What's your favourite music to listen to

while cooking?

CS: The genre depends on how much work is left

to do. If we have a ton of catching up to do, I need

a pump up –– hip-hop and rap, something along

the lines of Kendrick Lamar, Childish Gambino,

or Logic. If we're on track with our prep and are

smooth sailing I enjoy listening to something chill

–– Masego, FKJ, Mura Masa. If I have no worries at

all (like I'm cooking for friends/family) I enjoy some

Frank Sinatra.

BR: Favourite music to listen to while smoking?

(Do you smoke?)

CS: I love to smoke and usually prefer a joint.

I do not, however, smoke while I'm cooking or

allow any of my staff to as we need full focus to

execute our dinners. While I smoke I like to listen

to a combination of the above with some classical

music.

BR: The Pharcyde's "Pack the Pipe" or Cypress

Hill's "Hits from the Bong"?

CS: If I had to choose out of only these two, I'd

say Cypress Hill's Hits from the Bong. We actually

catered a Cypress Hill party on a rooftop venue

called Green St a while back.

BR: Tell us a bit about this dinner, what can

Vancouver expect from the experience?

CS: Vancouver can expect a culinary showcase first

and foremost. Made with ingredients that we go

out and source ourselves either by hand from the

ground, off our fishing poles or from the farmers

themselves. They can expect a subtle shift in their

perception as the dinner continues. Guests will

go from an excited anticipation to a euphoric

sensation before finishing the evening in blissful

relaxation. As their moods shift, the food and the

music will help their heightened senses get the

most out of the experience.

Chef Sayegh hosts two pop-up dinners in Vancouver

on April 6 and 7, and space is limited. The dinners

begin at 7 p.m., and their location will be revealed

just prior to the event. Tickets cost $200 (including

gratuity and a gift bag). Enquire about tickets here:

herbalchefvan@gmail.com and find out more about

the Herbal Chef at http://theherbalchef.com/

4

BR: Remember that cop who called 911 when

he ate too many edibles? Have you ever had any

bad experiences while experimenting?

Chef Christopher Sayegh serves up a feast for the senses, priming your palette for 4/20.

April 2018
---
CITY BRIEFS!

BC Distilled Métis Mutt The Railway Stage & Beer Café Verboden Festival World Ski and Snowboard Festival

ART! VANCOUVER

APRIL 19-22 AT VANCOUVER

CONVENTION CENTRE

This annual fair features artists, art

workshops, panel discussions, and

more. Now in its fourth edition, Art!

Vancouver aims to promote the

international art scene in Western

Canada. Look for works by artists

like Sudan photographer Nihal Omer

alongside local talent like landscape

painter Jenna Robinson.

INCITE: CRAFTING CREATIVE NON-

FICTION

APRIL 11 AT VANCOUVER PUBLIC

LIBRARY

In this free event presented by the

Vancouver Writers Fest, four female

writers from diverse backgrounds

discuss how they've used the nonfiction

genre to spur discussions on

today's issues. The evening features

Room Magazine managing editor

Chelene Knight, former This Magazine

editor Lauren McKeon, feminist activist

Judy Rebick, and Globe and Mail

columnist Elizabeth Renzetti.

THE GATEWAY SHOW

APRIL 20 AT RICKSHAW THEATRE

Celebrate 4/20 with stand-up

comedians Ivan Decker (Just for

Laughs), Maggie Maye (Conan), Myles

Webber (MTV), and Sophie Buddle

(Kevin Hart's LOL), as they attempt to

tell their best jokes after smoking way

too much weed.

BRICKCAN 2018 PUBLIC LEGO

EXHIBITION

APRIL 21-22 AT RIVER ROCK

CASINO

The largest public exhibition of

LEGO in BC is back. Stop by the River

Rock Casino to check out hundreds

of amazing models built by LEGO

enthusiasts from all over the world.

THE RAILWAY STAGE & BEER CAFÉ

CELEBRATES 85TH ANNIVERSARY

APRIL 6-8 AT THE RAILWAY STAGE

& BEER CAFÉ

Since it originally opened in 1932

as a private club for CPR workers,

the Railway has been a Vancouver

mainstay for live music. The iconic,

historic venue is celebrating its

milestone 85th birthday with — what

else? — a weekend full of music,

with performances from local bands

including Hey Ocean! and Said The

Whale.

BC DISTILLED

APRIL 14 AT CROATIAN CULTURAL

CENTRE

The largest spirits event in the country

for local makers celebrates its fifth

annual edition on April 14. Featuring

40 distilleries from around the

province, including Deep Cove Brewers,

Odd Society, and Tumbleweed Craft

Distillery, the event also includes bites

from Forage and Juniper.

VERBODEN FESTIVAL

APRIL 13-15 AT THE WALDORF, 333,

AND THE ASTORIA

Vancouver's only darkwave music

festival will feature more than 30 artists

from all around the world. Glasgow's

Soft Riot and Seattle's Charlatan will

perform alongside local bands like

ACTORS, Spectres, and Ghost Twin.

The festival is completely DIY and

community-run.

MÉTIS MUTT

APRIL 25-MAY 5 AT FIREHALL ARTS

Sheldon Elter writes and stars in

this recounting of his difficult

childhood, having grown up in an

abusive household while experiencing

discrimination because of his culture.

Elter combines stand-up comedy,

original music, and multi-character

vignettes to explore who he is and

what's important to him.

WORLD SKI AND SNOWBOARD

FESTIVAL

APRIL 10-15 IN WHISTLER

In this jam-packed weekend, North

America's largest festival of snow

sports, music, and art celebrates

the finals of the Monster Energy

Boarderstyle World Championships,

hosts the annual OLYMPUS 72hr

Filmmaker Showdown, and provides a

platform for local artists to showcase

their work. There will also be live

performances from A Tribe Called

Red and DJ Jazzy Jeff, as well as parties

throughout Whistler Village.

April 2018 5
---
CITY

RECORD STORE DAY

IN SUPPORT OF OUR LOCAL, INDEPENDENT MUSIC SHOPS

Red Cat Records has been voted one of the top independent record stores in Canada.

HOLLIE MCGOWAN

For music lovers, there's nothing quite like the

thrill of buying music that has been pressed

onto vinyl. This April 21, independent record

stores all over Vancouver will once again be

bustling with vinyl aficionados chasing the

excitement. Before the hustle begins, we caught

up with some of the city's main hot spots for

record shopping to talk about surviving in the

digital era, this year's special releases, and the

advent of the 11th annual Record Store Day.

RED CAT RECORDS

Voted one of the top 10 independent record

stores in Canada and now with two locations,

one on Main Street and the other in Hastings-

Sunrise, Red Cat has plenty for the vinyl seeker's

soul.

What does it take for a record store to

survive today?

Dave Gowans, Red Cat Records: Being open to

carrying every type of music.

What is the first record you sold at the shop?

If I can remember correctly, the first CD we sold

would have been a Junior Wells CD.

Recommendations on what to buy on record

store day?

Spacemen 3 re-issues, A Wire 7-inch box set,

and there's some rare David Bowie stuff that

looks interesting.

NEPTOON RECORDS

Vancouver's oldest record store, Neptoon is a

staple within the city. There's also plenty of CDs,

concert posters, and memorabilia in addition to

all their new and used records.

6

What does it take for a record store to

survive today?

Ben Firth, Neptoon Records: It would be very

tough to start a store now. I think all the stores

in Vancouver are known well enough that we're

all pretty established and people will come to

us.

What is the first record you sold at the shop?

I can't remember. I've been working here since I

was a little kid. My dad opened the store in '81,

and I was born in '87.

Recommendations on what to buy on record

store day?

I'm really excited about the deluxe version of

the Baby Huey record. It's an amazing '70s soul

funk record.

AUDIOPILE RECORDS

Audiopile is one of the main spots to hit

up when out hunting for new and/or used

records, cassettes, and CDs on Commercial

Drive. Established in 2001, Audiopile has a wide

selection for everyone.

What does it take for a record store to

survive today?

Mark Richardson, Audiopile Records: I think

a knowledgeable, approachable staff is key.

A lot of people come into physical stores for

the interaction, which you just can't get when

you're buying records online.

What is the first record you sold at the shop?

This is what the owner [Geoff Barton] passed

on to me: "New Bomb Turks, At Rope's End. It

was before I even opened the doors. A delivery

guy heard me playing it, asked about it, and I

sold it to him."

Recommendations on what to buy on record

store day?

Shiho Yabuki, The Body Is A Message of the

Universe.

DANDELION RECORDS AND

EMPORIUM

Dandelion Records and Emporium is a unique

little store located on Main Street, just north of

Broadway. In addition to rare and special finds

on vinyl, Dandelion also sells handcrafted items

such as greeting cards and kitchenware.

What does it take for a record store to

survive today?

Jeff Knowlton and Laura Frederick,

Dandelion Records and Emporium: I think

being flexible and having a store with records

as well as gifts works well for us. We also have a

great community and a lot of support from our

customers so that really helps too.

HIGHLIFE RECORDS

Highlife is another important focal point for

music shopping on Commercial Drive. Not

only is there plenty of music to purchase on

both vinyl and CD, they also sell DVDs, concert

tickets, books, and musical instruments.

What does it take for a record store to

survive today?

Kevin Finseth, Highlife Records: For Highlife,

survival required a strong belief in the value

of what we do, showing up for work, creating

a strongly curated selection, [and] paying

attention to the folks who come in the store.

What is the first record you sold at the shop?

Muddy Waters, The Real Folk Blues.

BEAT STREET RECORDS

What was once a shop dedicated to selling

items such as skateboards and clothing

eventually became dominated by records.

With now over 50,000 new and used records in

stock, it still maintains the sale of urban lifestyle

goods on the side such as graffiti art supplies, DJ

equipment, and more.

What does it take for a record store to

survive today?

Avi Shack, Beat Street Records: Being a part

of the community that supports us. Great

customer support. Bringing in records that

make people happy.

What is the first record you sold at the shop?

I wish I knew. 22 years is a long time ago. I still

have the first $2 bill that was spent here though.

Recommendations on what to buy on record

store day?

So many releases to choose from. Demon

Fuzz, Czarface, and Too Short are some of our

favourites.

Record Store Day is on April 21.

VANCOUVER TATTOO

AND CULTURE SHOW

FRESH INK, FUN TIMES

HOGAN SHORT

The Vancouver Tattoo and Culture Show is back at the

Vancouver Convention Centre, starting on April 20 and

running through the weekend.

"If you're new to tattooing, this gives you an

opportunity to see the entire gamut of styles, as well as

the individual style of each artist," says event organizer

Tim Lajambe. "If you are an avid tattoo collector, it

gives you an opportunity to be tattooed from artists all

around the world."

So why go to a convention over simply walking into a

shop and booking an appointment?

"To see, meet, and support local artists!" enthuses

Moorea Hum-Spensley, who tattoos out of a private

studio in Vancouver. "It's a great opportunity to buy

prints or other artwork. You can also get tattooed by

artists who are usually booked up months in advance."

With over 200 artists and their portfolios present, it's

easy to find a style that suits your vision. Local artist Kyle

Hoffarth has some tips for anyone worried they might be

overwhelmed or underprepared.

"Number one: bring cash," he says. "Tattooers aren't

typically tech-savvy business people, so we deal with

cash only. Also, the convention is a great place to get

some really unique artwork. Many artists will have oneoff

drawings and flash to choose from. Take advantage

of the convention to get something truly unique and

original."

Even if you're not sure you want a tattoo, Lajambe

says there are plenty of other things to enjoy at the show.

"We have tattoo contests, aerial performers, taiko

drummers, lion dancers, and the list goes on. This year

specifically we are trying to incorporate more culture

from the different countries of the origins of tattooing."

So why not get a fresh tattoo this 4/20? Whatever

your hopes or hesitations, expect a fun and inclusive

environment that is, at the very least, a unique way to

spend your weekend.

Vancouver Tattoo and Culture Show runs from April 20-22

at the Vancouver Convention Centre.

April 2018
---
THE KILLERS • FLORENCE + THE MACHINE

IN COLLABORATION WITH
---
Richard Jackson, Pump Pee Doo (2004 - 2005) fibreglass, pumps, buckets, acrylic paint, MDO

132 x 240 x 240 inches (335 x 609 x 609 cm)

Rennie Museum | 51 East Pender St | Vancouver
---
THE BLUE HOUR

FEATURE EXHIBITION AT CAPTURE PHOTOGRAPHY FESTIVAL CONSIDERS THE CONCEPT OF TIME

NOOR KHWAJA

Joi T. Arcand's inspires the discussion of the "invisibility of Indigeneity" at Capture Festival.

The Contemporary Art Gallery's exhibition, The

Blue Hour, opens to the public from April 6 until

June 24 as the headliner for the annual Capture

Photography Festival. This exhibition features

five different artists who each use photography

in their own way to complicate the imagined

timeline of the photographic image. While each

individual artist's work speaks outwardly to larger

political, environmental, and visual dilemmas,

MR. BURNS

THE SIMPSONS-INSPIRED PLAY EXPLORES THE SIGNIFICANCE OF STORIES

AXEL MATFIN

The stories that we tell and hear have an immense impact on our society

and culture. From binge-watching a new show to downloading a book

directly to the palm of our hand, we as humans have greater access to story,

in all its mediums, than ever before. But what if that all went away? What

if we were plunged into a dark age where all the stories and parables of our

modern era disappeared? What if we were left with only the memories of

our most impactful narratives? What would our narratives become? How

would our stories change, and how would that define our culture? What

happens to the copyright of a story in a world without law? Do stories

belong to anyone? This April, Vancouver's Little Mountain Lion Theatre

Productions will engage with these questions in their performance of Mr.

Burns: A Post-Electric Play.

their combined presentations allow them to

challenge our definitions of the characteristics of

photography.

Speaking with the show's curator, Kimberly

Phillips, it is clear that the intent behind The Blue

Hour is to spark a conversation.

"When something starts to kind of trouble our

perceptions about a medium or a discipline or

an object, that's when I tend to become excited,"

Photo by Duy Nguyen

Mr. Burns: A Post-Electric Play goes beyond Springfield city limits.

Photo by Joi T. Arcand

Phillips explains. This exhibition does just that.

Our daily interactions with photography allow

us to "presume we have control," and think of

photography "as something that brings clarity,

that locks a moment down, and that is evidence

of something that happened." The exhibition

attempts to skew this perception and invites us

to view the photograph as "the way the world

reveals itself to us, not an index of the world,"

especially in relation to time. Photographs do not

have to reveal a moment in the past, but rather

can interrupt an idea of the present and the

future as well.

The title of the exhibition, The Blue Hour, is

drawn from the writings of contributing artist

Colin Miner, and helps to introduce the repeated

interruptions of time in the work of the displayed

artists. Phillips explains that the term technically

references "a time of day at twilight, where

it's not quite day and it's not quite night." You

can't tell "if time is moving ahead or backwards.

It's a moment where time is suspended." This

ambiguity in our often linear ideas of time is

what the exhibition hopes to create.

The Blue Hour runs from April 6-June 24 at the

Contemporary Art Gallery as part of Capture

Photography Festival.

Written by American playwright Anne Washburn, Mr. Burns premiered

May 2012 in Washington, D.C. and was met with reviews that galvanized

it as a staple of modern experimental theatre. The play focuses on the

survivors of a world-ending disaster as they gather around a campfire for

the verbal re-telling of the now-classic Simpsons episode "Cape Feare."

For the second act, the play jumps ahead seven years, when these same

survivors have formed a theatre troupe which travels the remains of the

world performing television episodes, complete with commercials. In the

third act, time jumps 75 years into a future still reeling from the fall of

civilization where the theatre troupe has expanded their interpretation of

TV lore into a full-on musical cabaret that reflects the new society.

Mr. Burns is fertile ground for the talents of director Madelyn Osbourne

who, along with her team of designers and actors, has been preparing for

opening night since late 2017. The evolving post-apocalyptic world of

Mr. Burns provides ample room for a radical assembly of costumes, stage

design, and character evolution that has Osbourne deeply engaged with the

process of the production. She communicates with her team by connecting

with their feelings.

A key figure beside Osbourne is her composer and musical director

Katerina Gimon who, after months of divining inspiration from Gilbert and

Sullivan, as well as from the original 1962 Cape Fear film, has created a truly

original score.

"I was going through wormholes of pop culture," states Gimon when

asked about her process on writing the original music. "A lot of this was

already quite set," – some songs are built into the show – "but the hardest

thing was trying to find the moments where I could bring back certain

melodies or melodic ideas so the structure would work for the actors and

the audience."

Mr. Burns: A Post-Electric Play runs from April 3-21 at Studio 1398.

BOOK REVIEW:

DELUSIONS OF

GRANDEUR

SHORT STORIES SHARE RELATABLE

ACCOUNT OF YOUNG, CANADIAN

EXPERIENCE

LAUREN DONNELLY

CITY

Imagine if your conversations with your best friend

were published as short stories. The breakups, the

random musings, the chance encounters on transit.

Delusions of Grandeur is just that. Janet Ford and

Carmen Leah are Canadian artists and best friends

who live on opposite sides of the country. Ford

writes from Vancouver about her experiences with

addiction and mental illness, and from Toronto,

Leah reflects on the consequences of mundane

moments in everyday life.

Ford's characters speak from the depths of

addiction and mental illness while Leah's characters

grapple with how to live with them. Juxtaposed,

their stories tell both sides of the story. The result

is a relatable, albeit dishevelled, account of young

Canadian life.

These characters are anti-heroes and -heroines,

and though it isn't uplifting material, it's

unapologetically honest – that's what makes it

so good. The collection tells stories of everyday

cowardice and brief sparks of bravery.

Ford's "Sober" is a microcosm of the cycle

of addiction. Waking up next to an enabling

partner, last night's makeup etched under her

eyes, the heroine decides to make a change. And

she's determined that this time, it'll stick. Ford

unflinchingly describes how low rock bottom

needs to be to make sobriety tempting. In Leah's

"Hospitals," Claire's dealing with the symptoms

of her MS, her friend Sam is suicidal, her other

friend has overdosed, and her boyfriend is abusive.

Surrounded by other people's misery, she learns

that "things [get] better. But first they [get] worse."

Nestled against each other, Ford's and Leah's

stories dialogue with one another. One asks a

question and the story that follows responds. But

like any good conversation between friends, the

exchanges are complementary, proving that we're

never alone in our illusions of self-importance, no

matter how different our individual failings.

Pick up a copy of Delusions of Grandeur at The Paper

Hound or Lucky's Comics.

Illustration by Carmen Leah

April 2018 9
---
Photo by Edemiria Schmitz Hsiao

2018 Behind the Eight Ball Redux

THE PLIGHT OF OUR

NEIGHBOURHOOD POOL

By Jovana

Golubovic

In the shadowy corners of the hall amass the players,

circling their tables with the stealth of a wildcat. They enter the

spotlight of hanging lamps to aim, shoot, and retreat again into

darkness. Bets are made and corners are called amid murmur and

the clinging of glasses. Tiny explosions sound in loose succession like

striped and solid-colored fireworks.

For some, the art of strategy draws them in, for others it's the

opportunity to socialize. With modern billiards dating back to the

early 1900s, the game carries a timeless appeal. Yet there has long

been speculation that it would not continue into the brave new

world. An article in Vancouver Magazine published in 1979 mourned

the plight of the neighborhood pool hall, and BeatRoute addresses

the same matter in today's article, forty years later. However you look

at it, billiards is a game reminiscent of another time and perhaps of

another kind of people. A bygone era before Netflix provided endless

entertainment at the click of a button, before technology consumed

human minds. I visited some of Vancouver's most established pool

halls to investigate why pool, which may be in a steady decline even

as one of the world's most popular games, is alive and well in the

hearts of many.

Bruno comes to the East End Pool Hall in Hastings Sunrise every

day, though he doesn't even like pool. He comes in to play cards

with Mike, who has owned the place with his brother Luigi for 37

years. The Italian immigrant friends met near the pool hall at what

was once Cafe Mario, but has since been replaced with a Portuguese

restaurant. Always playing the Italian card game, Scopa, East End

Billiards becomes an extension of their cultural dwelling. They never

play for money, only for coffee, perhaps repelled by the original

owner's lewd reputation as a gambler. Mike always wins. He expertly

whips up a cappuccino at the espresso machine on the corner of the

bar.

Mike attests that East End Billiards has seen no trouble since he

and Luigi took over. However, the pool hall, which once went by

a different name, comes with an edgy past. Mike and Luigi are the

fourth owners it has seen. The first owner, one of two to be named

Joe, is rumored to have had a gambling habit, quickly turning his

second-floor games venue into an illicit hideaway. Story goes that

one night, two people jumped out the window to evade the cops

following a fight with Joe. Their legs were broken by the fall.

Upon my visit, I saw a safe and inviting space, showing that

Mike and Luigi, who were avid pool players back in Italy, had done

wonders with the place. A billiards-themed mural draws your eye to

the venue, which would otherwise be considered discreet. The mural

is truly a relic of the past for someone is pictured smoking indoors.

An ascending staircase upon entering gives the pool hall a secret

clubhouse aesthetic. To one side of my table, a group of middleaged

men in their 30s and 40s are speaking a language I wanted to

believe was Italian, but which, upon further eavesdropping, was

unquestionably Spanish. To the other side, a couple of college-aged

boys take turns shooting, animated in conversation. When asked

Photo by Rachael Moreland

10

April 2018
---
what draws them to this particular pool hall, the younger

gentlemen expressed enchantment with the old-world

charms of the owners, which won them over after they

initially sought out the place for its location. The older

gentlemen got straight to the point, offering no more

information than, "I like the pool. I like the table." "Light My

Fire" by the Doors played three times in my 45-minute visit.

A huge departure from the cozy, personable east-side

hall, Commodore Lanes and Billiards is a busy beast and

the staircase, this time, descends. Commodore is known as

the longest-standing pool hall in Vancouver, established in

1928, although it technically only introduced billiards in the

mid 80's. It is also the largest, boasting twenty tables. Every

day is a party on Granville Street, Vancouver's designated

entertainment district, and this is reflected by the amount of

tourists the iconic games hall attracts. Tourist from England,

Switzerland, and China make up my adjacent tables, all

happy-go-lucky during a stopover on a night on the town.

"People come in for a good time," says T.J., a manager who

informed me that business is reliably steady, and if anything

was swinging wildly, it was the bowling business.

T.J. emphasizes that Commodore Lanes does not endorse

leagues: an attempt to keep pool for the people. League

players can be demanding, not to mention secretive. It is

not uncommon for them to request empty buffer tables

surrounding theirs so that none may spy on their methods.

Historical memorabilia decorates the walls of Commodore

Lanes & Billiards as top 40 blasts from the speakers.

Fresh from the sensory overload of downtown, I ease

my way onto the checkered floor of Guys & Dolls Billiards

on Main Street. The bartender seems vaguely amused and

largely confused by the outgoing gentleman seated at the

bar. I interrupt to ask her if I may interview her briefly about

the pool hall.

"You're better off asking Don," she gestures towards the

man on the barstool, "he comes in here every day."

As a former employee and apparent pool enthusiast, it is

surprising that Don was dismissive of the game. He prefers

nine ball. "You lose by accident in eight ball; you win by

accident in nine ball," he advises.

Big on leagues, which are largely comprised of families,

Guys & Dolls strives to be inclusive to all people, an

interestingly different approach than that of Commodore.

This main street venue is a more than a pool hall; it's a

hangout, a part of the community. It is a drop-in centre for

pool players, or just anyone. "[The owners] help out people

who are homeless; nice guys who are down on their luck.

They let them sit down on a couch and fall asleep. Let them

be out of the rain," the ex-employee tells me and I believe

him when he exclaims that the owner, Kelsey, is "a hell of a

nice guy!"

Don complains that there are barely any pool halls left,

"There used to be like 20," he says. "Now there are five."

Finally, somebody affirms what I set out to write. Supply

and demand is what he attributes to this massacre, and it

would justify why the management at the other pool halls

haven't noticed dips in business. With less pool halls in town,

players are forced to keep to only a few halls. But why is the

demand dropping? I initially thought that pool might not

be accessible to young people, the next generation of pool

players, due to Vancouver's archaic liquor laws. Yet all three

of the pool halls I visited allowed minors. Perhaps it's the very

nature of the game that is becoming unattractive to people

today.

The social aspect may be too much for an increasingly

introverted society. People today prefer texts over phone

calls, disassociated interaction over real life. The amount of

skill required and the potential for mastery makes it a game

akin to chess, another excellent and locally unpopular game.

Are people today too blasé to bother with steep learning

curves? We must step up to the challenge, keep our minds

sharp and keep pool thriving in the few venues it has left to

thrive. I am more than amused when Don pull out a flipphone.

This guy gets it.

Photo by Rachael Moreland

Photo by Yuta Kato

Photo by Edemiria Schmitz Hsiao

Photo by Edemiria Schmitz Hsiao

April 2018 11
---
GRASSIFIEDS

Photo by Jessie Foster

4/20 CALENDAR

JESSIE FOSTER

They say it all started with a group of high school kids

smoking pot beside a wall on April 20, in 1971. Since

then, the 420 ritual was adopted by the Grateful Dead,

spread across the country and embedded deeply

into North American culture. Now there are global

celebrations in almost every corner of our planet. Here

are some of the greenest ganja festivities of 2018.

Vancouver 420 , Sunset Beach, April 20

JESSIE FOSTER

BEATROUTE'S

VANCOUVER DISPENSARY GUIDE

After the notoriously messy event held last year

at Sunset Beach, the city has decided to go ahead

anyways and host the 24th annual 420 celebration.

They are expecting more than 100,000 people to join

the peaceful protest in the war against cannabis and

rejoice in weed culture. Finish off the afternoon with a

trip to the farmers market.

Five Alarm Funk, Commodore Ballroom,

April 20

Vancouver's Five Alarm Funk will be playing their 420

show at the Commodore. The eight-person group are

promised to be nothing short of funky on their North

American tour. Get your tickets early for this 2018

Juno Nominated band.

Aniya Jacob at the Village Bloomery is all about natural organic vibes.

Vancouver is considered to be the Amsterdam

of Canada. No wonder why with hundreds of

dispensaries budding up around the city and

headshops embracing for legalization. Here's a

sneak peak of BeatRoute's favourite dispensaries

the city has to offer.

Village Bloomery

1540 West 2nd Ave, The Waterfall

Building #206

Walking up to the shop is described as magical,

with sights such as glass galleries, natural

courtyard and waterfalls. It's got a great seated

area out front with a very natural organic feel.

Even has reading material inside if you're looking

for a place to spend the afternoon.

BONUS POINTS: Highly relaxing

Karuna Health Foundation

4510 Victoria Dr.

Karuna goes above and beyond your regular

corner store dispensary. As a tasty bonus they

offer frozen smoothies, ice cream, coffees and

slurpees for their sweetest customers. They offer

over 90 strains and 50 extracts with anything

from skin creams and bath bombs to Phoenix

tears.

BONUS POINTS: Tinctures, tears and treats

Green Panda

1707 Robson St.

The Green Panda is known to attract all sorts of

international attention for their stellar and loyal

customer service. They offer joints for just a

handful of dollars as well as spaces to roll before

12

you head out. They've got stickers, free shirts

and an all-around down to earth atmosphere.

BONUS POINTS: Bud referral program

CannaClinic

2223 Commercial Dr.

Cannaclinics offers smoke-free forms of medical

cannabis such as ingestible tablets, extracts,

edible oils and butters, suppositories, oils for

vaporizers and topical products. Cannaclinics

is "Canada's Most Reliable Medical Cannabis

Dispensary."

BONUS POINTS: Doctor-like professionalism

RedMed

231 Abbott St.

Building relationships, being approachable

and offering a fully laid-back vibe is what sets

RedMed apart from the rest. Absolutely no

white lights or sterile ambience in this grassroots

facility. Come here if you like a wide range of

flowers, anywhere from 25-40 strains at a time!

BONUS POINTS: Owned by Canadian rap legend,

Red1!

Buddha Barn

2179 W 4th Ave.

The Buddha Barn not only heals with nature's

safest medicine, they hold yoga nidra, yoga and

meditation classes to develop body, mind and

soul. True to their name, they give back to the

community by supporting abused women and

children around Canada.

BONUS POINTS: Yoga classes

Wealth Shop

4545 W 10th Ave.

These pioneers foster a community hub where

cannabis can collide with design, culture and

innovation for an exceptionally lush experience.

Vancouver's first licensed cannabis dispensary hits

it out of the park when it comes to emulsifying

stereotypes in the growing industry.

BONUS POINTS: Empowers positivity

Eggscana

2303 E Hastings St.

Just like a good chicken, they never stop laying

down quality products. They work around the

clock to acquire new strains, product lines and

looking at Cannabis in a fresh new way.

BONUS POINTS: Happy birthday gram

Leaves Of Zazie

109 E Broadway

Leaves of Zazie donates back to the community

with $1 of their charity strand going towards

Paws for Hope Animal Foundation. They carry

bunches of non-marijuana products which have

unique strengths in healing ailments.

BONUS POINTS: Paws for Hope

Lotusland Cannabis Club

3474 W Broadway.

Huge flowers of pure joy. Lotusland boasts

eight different locations across Vancouver and

Victoria and carry a wide selection of highgrade

medicinal marijuana products including

concentrates, edibles and so much more.

BONUS POINTS: Medical marijuana flowers

Cannabis Cuisine Fine Dining Series, Venue

TBA, April 20-22

Chef Travis Petersen of The Nomadcook and Chef

Evan Elman of Dinner In The Sky come together to

whip up a six course THC-infused menu at this pop up

restaurant downtown Vancouver. Book in advance for

a fully loaded brunch or scrumptious dinner for the

420 weekend.

Grassroots Expo, UBC Robson Square,

April 7-8

A fully immersive experience for Vancouver's

"cannabis curious," this conference will feature

panellists, doctors, exhibitors, job fairs, education

areas, a lounge and a stage with world-class speakers.

Photo by Jessie Foster

April 2018
---
1

Happy Hour

$

3 Beer til 5pm

2

The Stew

Local Jam Night

w. guest DJs

3

The Live Agency

presents

The Lazys

w. The Fallaways

4

Happy Hour

$

3 Beer til 5pm

5

THE RAILWAY

85 YEAR

Anniversary

Weekend 6 th -8 th

6

The Railway

85YR weekend w.

Friction Project

7

The Railway 85YR

Blues Brunch 1-4

Saturday Sessions

4:30-6:30

Said The Whale

8

The Railway

85YR weekend w.

Hey Ocean!

9

The Stew

Local Jam Night

w. guest DJs

10

The Railway

Stage presents

Drag Club

w. hosts Karmella

Barr & Dust

11

Live Acts & Live

Agency presents

Railway Rhymes

w. Don Castro &

guests

12

The Live Agency

presents

FKB

w. Written Years

& Trope

13

Live Acts & Live

Agency presents

Luki Fero

w. Quantum Council

& more

14

Blues Brunch 1-4

Saturday Sessions

4:30-7:30

Live Acts pres.

Air Stranger

15

Live Acts pres.

Jenny Banai

w. Bad Strangers,

Harlequin Gold, &

Poor Nameless Boy

16

The Stew

Local Jam Night

w. guest DJs

17

Happy Hour

$

3 Beer til 5pm

18

Happy Hour

$

3 Beer til 5pm

19

Live Acts & Live

Agency presents

If Not, Winter

w. Belcarra, Fionn

& Abraham

20

Live Acts & Live

Agency presents

Slevyn

w. Sly Detrick &

more

21

Blues Brunch 1-4

Saturday Sessions

4:30-7:30

Live Agency pres.

Matt Hoyles

22

Happy Hour

$

3 Beer til 5pm

23

The Stew

Local Jam Night

w. guest DJs

24

Happy Hour

$

3 Beer til 5pm

25

Happy Hour

$

3 Beer til 5pm

26

Live Acts & Live

Agency presents

Railway Rhymes

w. Big Ctity Dreams

& Mic Dreams

27

Toddcast Podcast

presents

Owlface

w. Hale Road &

Bobby's Cane

28

Blues Brunch 1-4

Saturday Sessions

4:30-7:30

S&S & Railway pres.

Pink Mexico

29

Happy Hour

$

3 Beer til 5pm

30

The Stew

Local Jam Night

w. guest band
---
FOOD & DRINK

ELECTRIC BICYCLE

BREWERY CREEK'S NEWEST, FRESHEST ADDITION

WILLEM THOMAS

Craft beer and building, Electric Bicycle is the newest kid on the hop block.

If the beer gods are willing, Brewery Creek

shall continue to rise. The area – running

from False Creek up towards Broadway – has

a brewing history dating back to the late

1800s. Perhaps their eye-popping mural has

already caught your attention, but Electric

Bicycle is the newest, weirdest kid on the

hop block. Located mere doors down from

veterans R&B Brewing ("We've been paying

their mortgage going there so often while

getting ready to open," says head brewer

Paddy Russell), Electric's Bicycle's training

wheels are ready to come off: their beers start

BLUE HERON CREAMERY

INNOVATION SPURS THE EVOLUTION OF VEGAN CHEESE

FRANKIE RYOTT

Whether you're vegan or not, the question

on everyone's lips is often: "What about

cheese?" With plant-based, dairy-free diets

quickly rising in popularity worldwide, cheese

is often the last excuse and the hardest

food to replace. Colin Medhurst and Karen

McAthy of Blue Heron Creamery are happy

to provide the answer with their range of

plant-based, dairy-free, vegan products.

A born and raised Vancouverite, Medhurst

has an extensive background in plant-based

food, having been one half of Feed Life, a

business focused on making plant-based

living more achievable. After the passing

of his wife and business partner, Eden,

Everyone's got a friend in cheeses at the Blue Heron Creamery.

14

rolling out in early April.

When speaking to the minds behind

Electric Bicycle and visiting the almost-done

taproom, it's clear they're trying to create

an establishment altogether different from

conventional thoughts of what a Vancouver

craft brewery should be. Perhaps it's the

aesthetic (try to picture a circus-themed

antique oddities shop crossed with a 1930s

barbershop), or the excitement of those

involved to do essentially whatever they

want, unrestricted by over-planning or

sales-figures. While some BC tasting rooms

Medhurst strove to keep her legacy alive. The

universe provided McAthy, former executive

chef, author of The Art of Plant-Based

Cheesemaking, and a pioneer in her craft.

The two combined forces to create a business

with the mission of exploring the diversity of

vegan cheese. In turn, they have managed to

swiftly enter a niche that is quickly becoming

a market dominator.

The most significant detail that sets Blue

Heron Creamery well above the ranks of

standard non-dairy cheese is their key focus

on maintaining the art of cheesemaking.

This includes having a precise focus on the

methodology involved, including the use of

Photo by Colin Medhurst

prefer a utilitarian approach to design that

often results in boring drinking spaces,

Electric Bicycle realizes you can bring people

in for the beer and give them a fun, unique

experience at the same time.

For owner Elliot McKerr and his partners,

the concept and end product didn't appear

overnight.

"It's been a trial-by-fire build-out," he says.

Forgoing the route of hiring designers and

contractors, they chose to do everything

themselves. "The theme came together

through this being a fun, organic building

experience, with everyone trading ideas and

making it up as we went."

"Craft beer and craft building," adds Leigh

Matkovitch, who heads Electric Bicycle's

marketing and media efforts.

In a space that used to house a literal

electric bicycle producer, a wholly original

brewery has taken up residence. Expect six

beers for onsite imbibing and growler fills

at open, with guest taps, an expansion to

eight taps, and community collaboration

brews through their "Think Tank" program to

follow shortly after.

Electric Bicycle Brewing is located at 20 East

4th Avenue.

active cultures, washing, flipping, turning,

and the aging stages that are keys of the craft.

"Karen has the ability to really push the

current advance of cheesemaking with

plant-based mediums," says Medhurst. "She

has taken culturing, aging, and afromaging

techniques, applied different methodologies,

and still managed to keep those timehonoured

traditions alive."

"I would love to see cultured vegan cheese

and the methodologies evolving around it as

an evolution of the cheesemaking craft," says

McAthy.

This attention to detail and craft

alongside hours of hand peeling almonds

and monitoring cultures undoubtedly shines

through in their final products, which include

mouth-watering herb and garlic cumulus

cheese, addictive almond ricotta, saporous

almond bocconcini and more. Even the most

adamant of dairy cheese advocates would

find them hard to fault. But they don't stop

at just cheese – Blue Heron also offers a

wide range of butters, spreads, platters, and

catering packages, all of which make it the

perfect addition to the quickly transforming

vegan hub that is Main Street.

Blue Heron Creamery is located on 2410 Main St.

BOTTOMS UP

WITH EMILY SHELLE AT THE RAILWAY STAGE & BEER CAFÉ

HOW DID YOU START BARTENDING?

I was living in an old mining town in Australia called

Beechworth, working as an au pair and on the hunt for a

second job. I applied at a local hotel called Tanswell's. It was

an old gold rush era pub from the late 1800s. Apparently Ned

Kelly used to ride his horse through the tavern doors, right up

to the counter.

HOW LONG HAVE YOU WORKED AT THE

RAILWAY?

I've been coming in for years, but about three months ago I got

home from travelling through Asia and vowed to get a job in a

live music venue. Lucky for me, the Donnelly Group got back

to me right away.

BEST THING ABOUT YOUR JOB.

The people I work with. It's rare in this industry to have a crew

that is so compatible. Doug Meaker (bar manager) and Chad

Cole (owner, GM) have done an amazing job. I especially love

working in the back bar, a hidden Vancouver gem. When it's

slow I can shoot pool with regulars, try some of our many

delicious craft beers and engross myself in people's stories of

Railway. It's incredible working in a place with so much history.

FAVORITE DRINK TO MAKE?

Old Fashioned. It's also my favorite drink to drink so I get

excited whenever I get to make one.

GO TO ON AN OFF NIGHT?

I love Uncle Abe's and The Narrow. The music they play and

the cocktails they serve are right up my alley.

THE GREATEST NIGHT YOU'VE EVER HAD AT

WORK?

For me there hasn't been just one. It's the gigs that bring in the

best clientele that are winners. When the band is good, the

night is good.

WORST?

I mean, even the worst shifts at Railway are still fun ones.

I honestly can't think of a night where I've been truly

miserable. If I hate the band, get swarmed with 17 martinis at

once or get several customers who forgot their deodorant, I

am still having a laugh.

The Railway SBC is located at 579 Dunsmuir Street

Photo by Zee Khan

April 2018
---
HARI KONDABOLU

USING SOCIAL ACTIVISM TO BREAK THE MONOTONY

BETH D'AOUST

Photo by Mindy Tucker

Hari Kondabolu uses comedy to inspire social change from within.

Hari Kondabolu has made a name for himself in the space where

comedic and political spheres intersect, offering impassioned

insights on current affairs and social justice issues through a

uniquely humorous lens. Kondabolu speaks from a measured,

compassionate, well-rounded perspective, likely a product of his

upbringing in the vibrant borough of Queens, New York. Having

spent the majority of his adult life straddling the comedy stage,

academia, and human rights campaigns, Kondabolu has crafted

a keen ability to use humour to advance dialogues surrounding

controversial and often uncomfortable topics.

Kondabolu has long been outspoken on the topic of gun

violence in America. Several years ago, he performed a satirical bit

likening a hypothetical "open-carry chainsaw lobby" to campaigns

supporting open-carry firearm legislation in the U.S. Thus, on

the topic of the #NeverAgain movement, led by the teens who

survived the recent mass shooting at Marjory Stoneman Douglas

High School in Parkland, Florida, Kondabolu has much to say when

asked whether or not he feels this response has the potential to

affect lasting change: "Oh God, yes. It's a national mobilization of

young people. And they've all taken a certain personal approach to

this. This isn't a topic they just care about. This is their lives and the

lives of their friends, family. This is deep. And we've never seen that.

With the children in Sandy Hook, you would think that would have

been rock bottom, right? But there wasn't mobilization after. There

have been so many more shootings since then."

"These kids in Florida are a very special group of young people,"

he continues. "It's almost like it happened in a place with was

the right mix of people with passion, righteous indignation, and

the desire to put this issue and the country before anything else.

COMEDY

There's something about an individual who's willing to break the

monotony. This could be any other news cycle: another shooting,

and you move onto the next thing. [Emma Gonzalez] and her

classmates stand out. They're the difference. Just in the same way as

the images of the little girl, naked and running from the napalm [in

Vietnam] – these are things that shocked the system. They broke

the monotony of the day to day."

Kondabolu qualifies that he doesn't expect to see legislative

change until the influence of the movement causes elections

to be lost, rendering gun lobbyist money immaterial. He does,

however, view the recent defeat of two NRA-backed politicians,

Roy Moore and Rick Saccone, as evidence of changing tides. So

while he remains hopeful for change, Kondabolu continues to use

multiple platforms – from standup to social media – to urge the

public against desensitization in the midst of media saturation.

Kondabolu cautions that, in this current climate, "there's so much

media, and because you can see the most horrific things online,

we've lost some of that [ability to shock people into action]. I think

part of it is to just remember our humanity. There's something

about seeing strangers as part of this larger community and being

connected to you. We're all human. I think we can never lose the

ability to see ourselves in other people and see their pain in our

pain."

With the pursuit of introspection, unity, and recognition of

our common humanity underscoring his body of work, Hari

Kondabolu encourages us to reach across the aisle in a continuous

quest for understanding.

Hari Kondabolu performs at the Commodore Ballroom on April 28.

CORNER GAS

COMEDIAN BRENT BUTT BREAKS DOWN THE SHOW'S ANIMATED REBOOT

JOHNNY PAPAN

Corner Gas was one of the most beloved sitcoms

born of Canadian soil. Set in a gas station in

the fictional town of Dog River, Saskatchewan,

comedian Brent Butt created a group of lovable

characters portrayed by actors with excellent

on-screen chemistry. Corner Gas was a perfect

pseudo-nonsensical storm that captivated

audiences for six seasons, unexpectedly garnering

over 70 award nominations, six Gemini wins, and

its own highly successful movie. Now, Butt and

his quirky friends will further evolve the show by

exploring the unlimited possibilities of animation.

In the episode "Squatch Your Language,"

it's clear that Corner Gas has already taken full

advantage of the fantastical freedoms animation

offers. Within the first five minutes, you witness

a mythically brutal fight break out between a

sasquatch and a unicorn. The fun doesn't stop

there – Butt claims the animated pilot episode,

"Bone Dry," sees the gas station put in a postapocalyptic,

Mad Max-style scenario.

"That's the type of thing that there's no way we

could have done in the real world, but we can do

that in animation," says Butt. "We can put a gas

station in the middle of the desert instead of rural

Canada. We can create 40 dune buggies rolling

over a hill. We always let our imaginations go, but

we had to bring things back to Earth a bit more

often in the old days. Now we can put Wanda and

Hank in outer space and do what we want to do."

Although the visuals are different, the comedic

style and character interactions are familiar. It's

easy to forget you're watching something different

– the flow of the new series is that smooth and

recognizable.

"Norm Hiscock, who also wrote on King of the

Hill, was one of the first people I talked to when

we were thinking of doing this," he says. "I asked

him: 'If we were to do this as an animated show,

what should we do to change the script?' He said,

'Nothing, just keep writing more scripts. This

is the perfect show to animate.' That's how we

approached it. It's still interesting people saying

funny things."

Fans will be ecstatic to know that the original

cast is kept intact, with the exception of Janet

Wright, who passed away in 2016; the role of

Emma Leroy is now voiced by Corrine Koslo.

The option to record dialogue separately is a

convenient option in the animated world, but Butt

preferred to have its cast record lines together to

maintain their fluid chemistry and bounce off each

other. With half the cast living in Vancouver and

half in Toronto, everyone is patched together to

work in real time, even if they're in different cities.

"You can't really overstate the importance of the

Just when you thought our friends from Dog River couldn't get any more cartoony...

chemistry this cast has, and how it plays into the

success of the show. That's the kind of lightning in

a bottle you only cross once in a lifetime if you're

lucky."

When it comes to why the show has grown to

the heights it has, Butt concludes: "I think there

was an authenticity to Corner Gas that people

responded to. We weren't trying to sell anything.

We first went into it thinking, 'Well, the network

made a mistake, we've somehow convinced

them to shoot 13 episodes over the summer, but

nobody's gonna watch it.' So we just made a show

that we liked."

Corner Gas: The Animated Series premieres April

2 on Comedy Central.

April 2018 15
---
MUSIC

PHOEBE BRIDGERS

EMBRACING VULNERABILITY AND COMING OUT AS PRO-SEXT

GRAEME WIGGINS

Photo by Frank Ockenfels

Phoebe Bridgers finds a balance of intensity and sincerity on Stranger In The Alps.

Singer-songwriter Phoebe Bridgers' latest album,

Stranger in the Alps, strikes a rare balance. The

Los Angeles based artist has created an emotional

collection of songs that speak from the heart while

maintaining a sense of humour to make it a relatable

experience for all.

"I'm trying to find the balance between being

sincere and not being too intense," Bridgers explains.

"Letting people know that I'm serious about what

I'm saying. I don't want to italicize the subtext. It's

just life. I want to say it how it is and not make it too

intense. With my songs I try to write like I'm talking to

someone."

When one does write very relatable emotional

music, fans can get pretty intense. This is a concern

Bridgers shares with some of her prominent musical

friends: Connor Oberst, Ryan Adams, and Julien

Baker. Bridgers takes that responsibility seriously but

her down-to-earth persona captures a slightly more

diverse crowd. As she puts it, "I do have intense fans

but I also have women who are really like me. Who

kind of talk like a surfer. "Dude your record is sick!"

There's a Venn diagram between how intense they are

versus their bro-y attitude."

It also helps that she talks about relatable things,

fairly frankly. The idea of the vulnerability that arises

from sent sexts comes up on her song "Demi Moore."

Make no mistake however, she's definitely not against

the idea: "Oh I'm so pro sexting. I could talk about

this for so long. I'm so pro sexting because, especially

for young people. TMI I lost my virginity on high

school campus and I wasn't allowed to sext or allowed

to have boys over. Or girls. I wasn't allowed to have

girls sleep in my bed because my parents knew I was

bisexual. I felt this weird shame about it," she says.

"I don't know one full grown adult who didn't have

some sort of movie theatre experience in their early

teens. It's the same thing, only safer. And there's more

consent."

Bridgers deals with serious issues in her songwriting

and sometimes that means getting people out of

their seats at shows can be difficult. In some cities

that meant covering Sheryl Crow's "If It Makes You

Happy," which was a crowd pleaser. It also involved

confetti filled balloons when performing "Scott St."

For Vancouver, she has a secret weapon: "You can

look forward to an emo cover of Japandroids. I fucking

love Japandroids so much and always try to cover a

Japandroids song in Vancouver. When I was opening

for people that's how I won over Vancouver."

Phoebe Bridgers performs April 24 at the Cobalt.

16

April 2018
---
THE NEIGHBOURHOOD

TRANSMITTING BIG CITY SOUNDS WITH SENSITIVITY

ADAM DEANE

WILD CHILD

THE EVOLUTION OF AUTHENTIC EXPECTATIONS

ZACH JOHNSON

Photo by Adam Alessi

The Neighbourhood have a lot of love to give.

Every once in awhile you come across a band that

slithers into your headphones and projects an

alternate vision of reality for a day. Los Angelesbased

band The Neighbourhood happens to be

one that can do just this with their atmospheric,

sensitive and soul-encompassing sound that

transcends all corners of a city, reminding you there

The Austin-based seven-piece indie folk band Wild

Child is on a continuous journey of authenticity

in their artistic expression. The two primary

songwriters, Alexander Beggins and Kelsey Wilson,

originally met in a different band prior to forming

Wild Child in 2010. Throughout the past eight years

the band has released four full length albums, their

most recent being Expectations, a fully realized

collection of bombastic indie pop.

"I don't think we've made a conscious effort to

evolve our sound," Beggins explains. "We've never

wanted to make the same record twice, but we

are consciously trying to find a way to change [our

sound] and we have a big pool of inspiration."

Regardless of Wild Child's mindset, their 2011

debut, Pillow Talk, took off thanks to their songwriting

talent. "All those songs did really well on

Hype Machine online for some reason and we were

all like 'shit, I guess we're doing that now,'" jokes

Wilson.

Shortly after Wild Child's first album, their

carefree approach to song writing stopped. "Wild

Child started strictly for fun: zero expectations, zero

drive to be or do anything. It all kind of accidently

fell into our lap, with music that we wouldn't have

ever set out to make initially. We started playing

[Pillow Talk] on the road and realized we didn't like

playing quiet ukulele stuff in loud open bars and

that wasn't us," Wilson asserts.

Fast-forward to the present day and Wild Child

is more driven, ambitious and passionate than

ever. The band has gone above and beyond to

create their best record to date with Expectations.

The nine song LP released this past February was

recorded in both North America and Europe in

collaboration with some well-known producers

and musicians including Chris Walla (Death Cab for

Cutie), Scott McMicken (Dr. Dog), Matthew Logan

Vasquez (Delta Spirit) and Chris Boosahda (Shakey

Graves). Expectations is a cohesive and well-written

album that resonates with Wild Child fans for its

relatable content.

"I think Expectations is best explained by the

title," says Beggins. "There is the duality of the

statement like expectations of who we want to

be, and where we want to be, and who we're with

and what relationships we're involved in, all of us.

Expectations is how I feel about the expectations

is love in the world.

BeatRoute caught bassist Mikey Margott at his

favourite sandwich spot and trapped him down for

a few minutes on the day of The Neighbourhood's

new self-titled sophomore album release.

The conversation started on an incredibly

light note with Soulja Boy's "Kiss Me Through

The Phone" being the MOH while waiting for the

publicist to patch through the call. And just like

Soulja Boy, The Neighbourhood boast millions

of monthly listeners on Spotify, currently sitting

around the 5 million mark at 406th in the world.

Margott and the band moved into the

production of their new album with a well-deserved

confidence that has taken five years to build.

With the release of two EPs, Hard and To Imagine

in the last six months, they've been meshing the

familiar sounds that created their name with a new

synthetic vibe, which at times combines violin,

autotuned clips of frontman Jesse Rutherford's

vocals, and chimes over boombastic hip-hop-esque

beats.

On top of the tracks that had been pre-released,

their single "Too Serious" was what Margott

called a new fan-favorite with a complete stringarrangement

being utilized as another leap into

unexplored territory for the band. As if that weren't

enough, they scooped Tommy Wiseau to play

a futuristic bounty hunter of sorts in their 80's

inspired video for the hit-track "Scary Love."

"He was a total sweetheart. You always have your

expectations of how much ego is going to come

into play, and he was just totally down to work,

never complained."

When asked what's ahead for Margott and the

band, he illustrated that the band will always be

priority number one, though we can expect more

from Margott and possibly other members of the

band on an individual level.

"For me, I think it's really important to do side

projects. As much as The Neighbourhood is equally

as much my baby as it is everyone else's, we are a

true band and it's not run by one person. We all

work together. As beautiful as that is, it doesn't

allow me to get my own artistic craft completely

out by myself. Within the next two years, there will

be a side project coming out."

The Neighbourhood performs at the Vogue Theatre

on April 10.

Wild Child's album, Expectations, is so great they might as well be Gwyneth Paltrow.

Photo by Sean Daigle

we have set for ourselves."

Like Pillow Talk and its successor albums,

Expectations is another successful representation

of the band's authentic expression. Wild Child has

captured the mindset of its members, infused some

diverse producers and musical styles, and created

an album through incredible effort that continues

to build on the impressive repertoire it has already

produced.

Wild Child have grown up significantly

throughout their eight years as a band, but one

element is constant: Wild Child has, is, and will

continue to be authentic to their music and

message.

Wild Child perform at the Fox Cabaret on April 26.

MUSIC

FEATURED CONCERTS

VICTORIA, BC

MOONTRICKS

PLUS BOUSADA AND XAVIER

CAPITAL BALLROOM // SATURDAY, APRIL 14

SLOAN "12" TOUR

CAPITAL BALLROOM // THURSDAY, APRIL 19

FIVE ALARM FUNK

PLUS GUESTS

CAPITAL BALLROOM // SATURDAY, APRIL 28

FRAZEY FORD

PLUS GUESTS

CAPITAL BALLROOM // SUNDAY, APRIL 29

FOR FULL CONCERT LISTINGS & TO PURCHASE

TICKETS, PLEASE VISIT:

WWW.ATOMIQUEPRODUCTIONS.COM

FACEBOOK /ATOMIQUEPRODUCTIONS TWITTER @ATOMIQUEEVENTS

April 2018 17
---
BPM

ELI ESCOBAR

EVERYONE TO THE DANCEFLOOR AND OUT ON THE STREETS

HOLLIE MCGOWAN

Photo by Kenny Rodriguez

Eli Escobar looks back to political reactionary music of the '70s on his latest release, Shout.

In November of 2016, the election of U.S. President

Donald Trump created a ripple of fear, anger, and

resentment felt throughout the world. Among

those who were deeply troubled by the election

was renowned New York DJ and disco house

producer, Eli Escobar. He did what any good

artist would do during such a tumultuous period,

which was to turn to his creative outlets to release

emotion and voice concern regarding the grim and

unstable political climate.

"I was feeling a lot of pain, anger and confusion,

and the best way I knew how to deal with it was to

make music," reflects Escobar.

There exists a long history between music and

politics, which has resulted in masterpieces that

have transcended the years with messages of

peace, love, and harmony over powers that seek to

divide cultures and breed hatred, each generation

echoing the words of their creative ancestors. For

Escobar, the 1970s in particular were a goldmine

of politically charged music, strong messages

presented in the most beautifully composed

tracks.

"I'm very influenced by the music of the '70s,"

Escobar says. "During that time, artists were really

talking about the problems of the world, the inner

cities, war, social and racial injustice. We haven't

seen another era in music so focused on mirroring

the outside world since, and [Marvin Gaye's]

What's Going On was probably the first high

profile album of that decade which really set the

whole thing in motion. I did not set out to emulate

this period or make political statement with [my

2018 album Shout], but what I did do was make

music directly influenced by modern day America."

Shout tracks like "Nightmare Rag," "The People,"

and "Goin' On?" clearly illustrate Escobar's

sentiments regarding the current state of affairs.

On "The People," lyrics explicitly address the

POTUS, making a call for justice as a solid house

beat enters the track and carries the rest of

the tune forward. The album itself is filled with

dancefloor worthy tracks that leave one feeling

just as excited about the rhythm as they do about

being politically engaged.

"I feel a solidarity with all of the nightlife scene

here in New York," tells Escobar. "I believe most

everyone here wants to be on the right side of

history, and that's one of the beautiful things about

nightlife and dance music. People who believe in

equality for all tend to come together on the dance

floor!"

Eli Escobar performs at Open Studios on April 13.

18

April 2018
---
JEAN-MICHEL JARRE

BRINGING A COACHELLA-SIZED SPECTACLE TO THE NORTH

ALAN RANTA

CLUBLAND

MARCH 2018: GOU-GE YOUR EARS

ALAN RANTA

BPM

Photo by Erik Voake

I miss drugs before fentanyl. It was really something to come of age back

when a pill cost $25, and felt good. I wouldn't touch the stuff now, and

I don't. It was getting cheaper and shittier before it became commonly

lethal. Sorry, kids, but you missed it. Your only hope is to convince the

Liberals to get behind decriminalizing all drugs. It's the lesser of two evils.

Making it harder to get the stuff we want (that doesn't hurt anybody

else) only gets us a whole lot more stuff that we don't want, which

makes everything harder for everyone. That said, if you go to all of these

shows sober, you'll win a prize.

The Residents

April 11 @ Imperial

What is it? I don't know. It's the kind of thing that may seem relatively

normal in a dream, but then when you wake up and think about it, it

chills you to your core. This is what a pirate may call "bizarrrrrrrrre."

Jean-Michel Jarre is heralded as one of the most important names in electronic music with a keytar collection to back it up.

There is no need to go to Coachella this year. The best is coming

to us. Yes, French electronic legend Jean-Michel Jarre is bringing

his unparalleled spectacle to Vancouver, and there isn't a shred of

hyperbole in assigning this guy the legend tag.

Granted, Jarre came in a couple years after the likes of than

Jean Jacques Perrey and Wendy Carlos, but he quickly planted

his flag as one of the most important names in electronic music

history. He went on to sell over 80 million albums worldwide, with

his landmark 1976 album Oxygène selling over 12 million copies

alone, an album that became a cornerstone for the progression

of ambient music. Meanwhile, the magnitude of his live shows

have made it into the record books multiple times, starting with a

1979 Bastille Day performance for a then-unprecedented million

celebrators in Paris and culminating with the 850th birthday of

Moscow, where he played for an astronomical 3.5 million people.

"If I had to keep one moment, I think that would be the

concert I'd done in Houston for the 25th anniversary of NASA,"

Jarre reminisces about his 1986 stateside performance. "Gathering

1.3 million people is still in the Guinness Book of Records for the

largest audience in the United States. An astronaut was supposed

to play live in the timelessness of space, but, unfortunately, it

was Ron McNair, and he died in the Challenger crash. Of course,

the concert became a tribute for the astronauts, and something

special in my life until today."

Despite his many impressive achievements, Jarre never rested

on his laurels. Ever since his early days studying elements of

musique concrete with its pioneer Pierre Schaeffer and the power

of the synthesizer with Karlheinz Stockhausen in the late '60s,

he has produced a steady stream of work, dropping new albums

every few years or so, including two spiritual sequels to Oxygène

that were each spaced out by twenty years. He keeps the passion

alive listening to classical, jazz, hip-hop, and punk, but especially

today's younger electronic acts, as demonstrated by his two-part

collaborative Electronica releases, which featured the likes of

Gesaffelstein, Little Boots, Sebastien Tellier and Siriusmo, and his

2013 DJ mix for contemporary eclectic electronic label InFiné,

simply titled InFiné by JMJ.

"I always think that I'm a beginner," Jarre remarks. "For

instance, I'm going to play Vancouver for the first time. It's a great

excitement. It's a very special city, a unique atmosphere. We have

this image all over the world that Canada is so cold and full of

snow, but Vancouver is exactly the reverse. Also, these days, the

fact you have such a big Chinese community makes Vancouver

an international hub. I'm so happy to share with the Vancouver

audience one of the most sophisticated projects I've ever

achieved, both on a musical point of view and on a visual point of

view: 3-D without glasses, total immersion in terms of visuals, and

also my music since Oxygène to the most recent work."

Obviously, Jarre is no beginner to live performance, and this

show promises to present an unforgettable and unparalleled

experience, carefully crafted by the great mind himself.

"I've always been involved in the design of my shows, and this

time, I really wanted to recreate visually what I'm doing musically,

by creating architecture of sounds, creating perspectives, and

giving that impact and giving that effect on the visual point of

view," Jarre enthuses. "So I conceived the stage design with giant

slide LED screen panels, semi-transparent, and that gives fairly

spectacular 3-D effects around the three of us, surrounded by 60

instruments from the first analog synthesizers to the very up-todate

touch screens and digital equipment, so it's a fairly unique

and ambitious project."

While the show has been constantly tweaked by Jarre since

he hit Toronto and Montréal in early 2017, his piece with NSA

whistleblower Edward Snowden will still feature prominently.

Jarre travelled to Russia to record with Snowden for a track on

Electronica 2 - The Heart of Noise, as his sacrifice reminded Jarre

of his mother, who was part of the French resistance in 1941. If

anything, the track is even more relevant now than when it was

recorded.

"Promoting the values of Snowden, which are actually more

and more up-to-date when you see what's going on with

Facebook and the leaks all over the world, we need to protect our

privacy," Jarre declares, "And we need to protect people helping

us to discover how our privacy can be in danger."

So, come to pay homage to a master of his kind, come for the

spectacle, come for the knowledge… No matter what draws you

here, you will leave with far more value than your ticket costs.

Jean-Michel Jarre performs at the Queen Elizabeth Theatre on

April 17.

Peggy Gou

Apr 14 @ Celebrities UG

South Korea-born, Berlin-based Ninja Tune-signee Peggy Gou is being

promoted as a "polymathic electronic music producer, DJ, model, pianist

and designer." She's a veritable renaissance woman. Expectedly eclectic,

her quirky, pop-laced kinetic mutantronica beats claim influence from

the likes of J Dilla, Patrick Cowley, Yellow Magic Orchestra and DJ

Sotofett. She could be the next TOKiMONSTA. See her now before she

blows up.

Carpenter Brut

April 17 @ Imperial

Holy nightmare of John Carpenter, does this band push the upper limits

of cheesy '80s synth-rock, drenched in the hard driving soundtracks of

classic period horror/thriller films. Hang on tight.

Sequential Circus 22 feat. 1800 Haight Street, Amos

Hertzman, DJ Lace & more

Apr 21 @ Open Studios

The good folks at Sequential Circus have kindly serviced greater

Vancouver with the choicest cutting-edge curations in local multimedia,

live-PA electronic music for over a decade now. There are five quality

acts on this bill, headlined by BeatRoute favorites 1800 Haight Street,

with mind-bending visuals by Dermot Glennon, acrobatics by AcroYoga,

and an aerial hoop performance by Selene.

Injury Reserve

May 01 @ Fortune Sound

This up-and-coming Arizona alt-rap trio drops self-aware, high energy

rhymes over slick, banging beats. This particular gig, touted as "A

Traveling Party/Art Installation," is part of their ongoing Arena Tour,

despite the fact it's going down at Fortune Sound, but the Funktion-One

sound system there is better than an arena anyway, so it's for the best.

Photo by Jungwook Mok

Peggy Gou

April 2018 19
---
BPM

BISHOP BRIGGS

GRAPHIC NOVELS, THE OC AND A CHURCH OF SCARS

ADAM DEANE

PRADO

MAKING WAY FOR THE WEIRDOS

JORDAN YEAGER

Photo by Jabari Jacobs

A star on the rise, Bishop Briggs grew up obsessed with American culture and karaoke.

To put it lightly Bishop Briggs (aka Sarah Mclaughlin)

does not do anything half-assed. In truth, after

hearing tracks like "River, " "Wild Horses" and her

most recent release "White Flag," you'll begin to

understand why she has repeatedly graced the

Billboard 100 charts and smashed Twitter's Emerging

Artist charts while performing alongside bands like

Kaleo and Alt-J. The traditional pop-electronic genre

label is immediately discarded once her cathartic

vibe meets her unavoidably relatable and honest

vocals and lyrics.

Having caught up with BB precisely one month

before the 4/20 release of her debut album, Church

of Scars, following her SXSW performances,

peculiarly, her spirit was incredibly high. If her energy

was any more animated, she'd have to take up an

acting role in anime. Speaking of which, Briggs let us

in on a few of her other artistic vents.

"Darker poetry is always my go-to. Even if I'm

having a good day I like to write poetry to remind

me of who I am at my core. I am a big diary-writer,

and that involves a ton of graphic novel vibes; I draw,

I do speech bubbles, the whole thing. I started to

get drawn to tattoos as a way of therapy, which my

mum was very upset about. I started to see a distinct

correlation between getting the tattoos and feeling

as though I got closure on events or experiences.

And then as time progressed, I feel like my tattoos

grow with me."

At 25, the London-born, Hong Kong and Tokyo

raised singer has already graced soundtracks of

multiple blockbusters, she's collaborated with bands

like Cold War Kids and more recently, she forged

next to Dan Reynolds (vocalist of Imagine Dragons)

for her newest track "Lion" off of her upcoming

release.

"If you can imagine (no pun intended) being in

a vocal booth standing next to him, it's just the

strength of his voice," she says. "You don't hear

tracks where he's just singing acapella. It makes you

a superfan."

When questioned about her unconventional

upbringing, Briggs credits her childhood as the spark

of her love for all things music and culture.

"I didn't really realize that it was an unusual

upbringing until I moved to the States at 18. At that

point I was like, oh it is strange to go to karaoke bars

every couple of days after school. For me, it was all

I'd ever known. I went to an international school and

was pretty obsessed with American culture, so by the

time I moved to the States I was ready to become a

character from The OC."

Bishop Briggs will begin her first headlining tour

in Vancouver at the Commodore with her debut

album, Church of Scars, set to release the week prior

to the show. If you're a fan of hard-hitting vocals,

deep bass, high-energy and big hearts; you should

catch this one. Otherwise, stay home and watch

reruns of The OC or something.

Bishop Briggs performs April 27 at the Commodore

Ballroom.

Photo by Zee Khan

Benita Prado's energy is infectious – when she

talks, you want to listen. The 19-year-old hip

hop artist has quickly carved a place for herself

in Vancouver's music scene, challenging existing

structures and revolutionizing the game. Listening

to her, it's clear Prado knows what she wants and

how she's going to get there; she's been crafting,

refining, and redefining her sound since her mom

gifted her a guitar at age 13.

"My mom gave me the guitar and she was like,

'Here, I want you to learn some Rolling Stones on

this,'" laughs Prado. "I was like, 'Uh, I don't fuck

with that.' So I just started writing my own stuff,

just stupid little teenage heartbreak stuff. And

from there I started going onto SoundCloud and

Twitter and branching myself out that way."

Before making a name for herself in the public

sphere, Prado was a ghostwriter for big-name

rappers when she was just 15. She's used the

following four years wisely, learning the game from

the inside out – there's no better way to overthrow

the system than from within it.

"I came out the womb looking like I was 12, so

I deadass just finessed people," she says, laughing

after a comparison to Maeby Bluth from Arrested

Development's stint in the film industry. "I was 15,

like, 'Yeah, I'm 19, and I know how to do this.' I still

20

do it, but it makes it harder to focus on my own

career. I was always the behind-the-scenes type

person and now I'm in the fuckin' foreground."

If you have the dedication, the vision, and the

talent, you will succeed, and Prado's mission is

to be the living proof. When asked about the

purpose of her art and what she hopes to achieve,

she responds with a laugh: "Maybe like… world

domination?"

"I hope people see themselves [in my music],"

she says. "[In my songs], I let myself be the worst

version of myself for, like, two minutes. Everyone

needs an outlet for that shit. So I just want them to

take away the vulnerability, and accepting that not

everybody has to be a positive person – you just

have to be a person. Have that balance. Sometimes

I feel like a dark ass bitch. But it's like, just live your

life. You don't have to be positive all the time. I was

an emo ass kid. I was deadass emo as fuck from

grades five to 10. Now I'm getting back into it; I

have all the My Chemical Romance albums."

Ultimately, Prado makes music for the people

who have been in her shoes, living in their feelings

without public figures to look up to.

"Have you ever seen the Vine of that little emo

black kid who does screamo in front of mirrors?"

asks Prado. "He's literally the best Viner. People

Prado is poppin' off with the release of her new mixtape, Yung Depression.

always make fun of him. I make music for those

people, and I want those people to have an outlet,

and women of colour to have an outlet. All the

people that don't feel like they fit into a SZA or a

Beyoncé – that super feminine, hyper-beauty type

thing. It's all centred around men, and I don't have

time for that. Centre around yourself! Be proud of

your ugliness."

"I want to be the person people look up to for

that kind of shit," she continues. "But at the same

time, I'm human, I make mistakes. So I try to keep

it real while creating a movement for black little

weirdo kids like me. Cause there's all these white

little weirdo heroes and I'm like, where's the one

for the black kids? Being black in Vancouver, and

being Aboriginal, I have all these odds against me,

but you've got to just show up like, yeah, I'm here,

I'm this bitch right here. And it's pretty much just

constantly being yourself and really just going for

it. Be a bad bitch."

Prado's new mixtape is due out April 2018.

April 2018
---
IRON KINGDOM

HEAVY METAL TRADITIONALISTS SET TO OPEN THE GATES OF ETERNITY

ANA KRUNIC

New Wave of Traditional Heavy Metal band looks to rebirth a classic sound.

Many a fledgling metalhead got their start in the

fundamentals of the genre through bands like Iron

Maiden, seeing Eddie's snarled face on a t-shirt,

or maybe hearing Judas Priest's "Painkiller" at a

party. Not to mention the large percentage of us

that have drunkenly sung along to our fair share of

Manowar songs in our youth (and, hell, to this very

day!). Raucous, often theatrical, but still accessible,

traditional heavy metal has survived past the '70s

and '80s to enjoy a massive resurgence in recent

years, bringing us the New Wave of Traditional

Heavy Metal (NWOTHM). In Canada alone, we've

seen Cauldron, Skull Fist, and Striker succeed

internationally, and now the lower mainland has

its own contender in Surrey's Iron Kingdom.

Formed in 2011, Iron Kingdom's melody-heavy,

fantastically-themed songwriting hits all the marks

you'd want in a NWOTHM group, a move away

from the ever-growing doom and death metal

heaviness of the past couple decades, and a move

back towards the roots of the genre.

"A big part of what saw [frontman] Chris and

I get together in high school was a genuine love

for the '70s and '80s when it came to music and

aesthetics," says founding member and bassist

Leighton Holmes. "In the early days, blissfully

unaware of what was going on around us, we

dreamt of a resurgence of the glory days of metal

– a return to how it was before the race to the

bottom, before everyone tried to really outdo

each other in terms of heaviness. I like some of

the extreme genres of metal, but I really love the

musicianship, storytelling, and song craft of the

NWOBHM bands and power metal bands that

followed suit. For us, it's all about making the

music we want to hear as diehard metalheads."

They've enjoyed a pretty heavy touring schedule

since the release of their 2011 debut, Curse of the

Voodoo Queen. They've hit North America, Brazil

and Europe in the past few years, with no plans to

sit around anytime soon. Iron Kingdom returns

to the local stage to headline the first night of

Hyperspace Metalfest, sharing the weekend with

a slew of western Canadian and American heavy/

power metal acts.

"In honour of the fifth anniversary of [our

second LP] Gates of Eternity, we're going to

be performing the whole album front to back,

and I'm incredibly pumped to see how people

respond," says Holmes. "It's been pretty awesome

rehearsing this set because it's really given me that

opportunity to think about the songs, specifically

the lyrics, with a completely different frame of

reference after five years."

Since they plan on staying relatively local this

year to lay the groundwork for their next album,

Holmes says that playing a local festival like

Hyperspace Metalfest is an opportunity to look

back on the material that saw them on their first

major tours while still marching onward.

"We're really excited to share this album with

the people who have supported us from the

beginning, as well as people who may be seeing

us for the first time. We're really looking forward

to Hyperspace – we get to do what we love with a

bunch of friends all sharing in the great gift called

metal."

Iron Kingdom headlines day one of Hyperspace

Metal Festival at the Rickshaw Theatre on April 13.

April 2018 21
---
YOU BIG IDIOT

DON'T GET MAD, GET HILARIOUS

COLE YOUNG

You Big Idiot serve up a tasty dose of comedy with their pop punk on Mega Donair.

"Every time we go to some Music BC workshop

they always say 'you need to look like you belong

together,'" says Shafer Carson about why You Big

Photo by Trav Anema

Idiot always play in costume. "So we just took that

to the extreme."

You Big Idiot, which consists of Carson (Vocals,

Bass), Colin Pearson (Vocals, "Easy" Guitar), Chris

Hogan ("Hard" Guitar), Kurt Anderson (Guitar)

and Steve Pearson (Drums), is a fun punk band

that's made a big splash in the Vancouver local

music scene. They choose to use comedy as a way

to express themselves, peeling away from the usual

more serious attitude you might get from their

scene counterparts.

"We all came from angrier punk bands," Pearson

explains. "I don't know if our name was meant to

be angry or not but we've evolved into a comedy

band anyway and I like that. I like getting mad but

comedy is such a more fun way to get mad." You

can tell by the album, this band of friends and

brothers like to laugh. Mega Donair is the name

of their sophomore release and it boasts subtle

comedic references to everything from Seinfeld to

the Barenaked Ladies.

Mega Donair was self recorded and mixed by

Shafer in a studio the band made in the Pearson's

family home basement. Although it's a homemade

album, you'd never guess it. They spent two years

perfecting each track and it shows. The album was

also mastered at the legendary Blasting Room in

Colorado to give it that final spit shine.

The album is packed full of fast, fun songs, most

of which are at over 200 BPM. "Usually he or I write

a song," Shafer says, nodding to Colin. "And that's

like chord structure and lyrics, then we'll all jam it

out together." They're also quick to acknowledge

that everyone contributes to the songwriting.

While discussing the pro's of playing in a band with

old friends for so long Shafer says, "It's always tight,

you can take breaks and the groove is still there."

One of the mega standout moments on Mega

Donair is the incredible jazz jam as the outro to

the track "Selfie." It takes you from feeling like

you're at a crazy show at Pub 340 to suddenly an

old smoky jazz bar. It's a unique and beautiful end

to the song. All of the parts where recorded by

the talented Kristy-Lee Audette, Shafer explains

the recording process. "I kept sending her into

the booth with different instruments, trumpet,

trombone, glockenspiel etc. I never played her

anything we had previously done so she just did

track after track and I mixed it all together later."

At the end of the day You Big Idiot are some

cool guys playing music for all the right reasons.

They take their craft seriously without taking

themselves too seriously, a nice change of pace in

this day and age.

Mega Donair is available April 20. You Big Idiot

performs April 27 at SBC Café.

22

April 2018
---
NECK OF THE WOODS

AN EMOTIONAL TRIBUTE FALLS VICTIM TO DECEIT

Neck Of The Woods refuse to let a photo scandal get in the way of their greatness.

JOHNNY PAPAN

Neck of the Woods are a progressive death metal

quintet from Vancouver, British Columbia. For

the last five years, they have been destructing

stages of all grandeur, spreading their macabremeets-machine

gun sound throughout the lower

mainland, performing alongside notable artists

including Converge, Every Time I Die, The Devin

Townsend Project, The Faceless, Misery Signals,

and many more. In September 2017, Neck of the

Woods released their sophomore record, The

Passenger, an album with a deep-rooted emotional

connection.

"Lyrically, I tend to speak of personal struggles

and development," explains lead vocalist Jeff

Radomsky. "In the Passenger, the bulk of the lyrics

are directed towards extending support to my

sister who suffers from brain cancer. A good chunk

of the lyrics were written in the waiting room

during her craniotomy."

Neck of the Woods are an extremely heavy

band who were stricken under the weight of an

even heavier reality. Though the soundscape of

the group is inflamed with aggression, Radomsky

clarifies that together, the group reached deep

within their darkness to find a shining light for his

Photo by Shimon Karmel

sister, Sarah.

"All the songs that draw attention to her

torturous battle with this disease are uplifting,

positive statements of support, a reminder that

she can beat it," he says. "The other guys in the

band all harbour personal relationships with her as

well: she's come on tours with us, she illustrates a

bunch of our merch, often works our merch booth

at shows, and has bent over backwards to help us.

The Passenger was for her."

Though it's inevitable that any band would

be more than ecstatic to reveal their latest work

to the world, especially one so vulnerable in

expression, Radomsky admits there's a whole

other side to this story involving lies, deceit and

deception. The band has held this tale in secrecy

until now.

Christopher McKenney is a surrealist

photographer from Pennsylvania. One of his

images recently graced the cover of the upcoming

album, In Becoming A Ghost, by tech-death band

The Faceless.

"I found McKenney through Instagram years

ago," Radomsky explains. "I had been a big fan

of his work for quite some time. I purchased a

few framed prints of his photography for my

apartment over the years and interacted with him

via Instagram prior to purchasing the photo for

our record cover."

The photo in question was one of McKenney's

pieces entitled "Them." This was the initial shot

meant to cover the Passenger.

"The dark subject matter paired with an

unsettling surreal aspect grabbed my attention

immediately," says the vocalist. "I'm a big fan of

surrealist art, be it photography, illustration or

painting. If it's weird and dark, I'm usually into it.

When I first laid eyes on the piece, I was struck like

a deer in the headlights. It spoke to me. I could

hear the subject of the photo crying out like a

banshee in the night; I could feel its pain and knew

it was level to mine. I felt it encompassed the

themes of the lyrical content, sound and overall

feeling of the record so well that we had to use it."

In preparation for the record's release, the band

contacted McKenney and eventually purchased

the rights to use his image as their album cover for

$400 USD. Things seemed to be going smoothly

for the band. That is, until they caught wind of an

Australian shoegaze band called Vagrond, who

used the exact same image as the cover for their

2014 album Regret.

"I stumbled upon an article about Chris'

photography," explains the lead vocalist and

instrumentalist for Vagrond, who performs under

the name Atheos. "I hadn't previously seen his

work, but as soon as I saw the photo in question I

felt it was a perfect image to represent our album.

I sent an email to Chris asking if he sold his images

for album cover use and if that particular image

was available. He told me that the image had

not previously been used and was available to

purchase. We bought the image and he said it was

ours exclusively. The album was released digitally

in December 2014 and physically, on CD and vinyl,

in mid-2015."

When Neck of the Woods and Vagrond

discovered their shared artwork, the Vancouver

band's picture-perfect album promotion was

distraught. Neck of the Woods brought the

artwork-epidemic to the photographer's attention.

McKenney allegedly stated that Vagrond had used

the photo without his permission and he knew

nothing about this.

Atheos says otherwise: "Jeff and myself shared

our emails showing that we both had bought

exclusive rights to the image, and it was therefore

Chris' mistake that the image had been sold twice."

When Radomsky confronted McKenney after

exchanging emails and receipts with Atheos,

both bands would soon lose all contact with the

photographer.

"Because I used Neck of the Woods as an outlet

to deal with my sister's condition, McKenney's

actions struck me like a knife in the chest,"

Radomsky reveals. "I had a strong connection with

the piece we had bought from him. When he took

our money and ran, I felt like he took more than

mere dollars. I felt he robbed me of a piece of my

outlet."

With only a few days to remedy the situation,

Radomsky partnered with Kevin Moore of Soft

Surrogate Design to reimagine The Passenger's

cover image. After reviewing hundreds of photos,

illustrations, and paintings from artists around

the world, they decided they would have to create

something original. They took to the woods with

borrowed camera gear, limited supplies, and a few

friends. Chasing the setting sun, the pair managed

to get the shot they wanted with only minutes to

spare. Overnight, Moore reworked an entirely new

layout for the record, produced all-new marketing

graphics, and created an animated video for the

next single. The record, with its new cover, was

released a few weeks later.

"Ultimately we're much, much happier with our

cover," he says. "It's a more accurate portrayal of

the record in every respect, right down to the little

details. I feel the whole experience sprouted a few

grey hairs on my head, but it taught me a lesson

I needed to learn: it's always worth trying to do it

yourself. Restrictions breed creativity."

Christopher McKenney was contacted via email

and did not respond.

Neck of the Woods plays the Astoria on April 6.

April 2018 23
---
MUSIC

BRASS

DISHING OUT THE GOLD STANDARD IN HOUSE PARTY PUNK

MAT WILKINS

Photo by Mike Tan

Brass provide high-octane thrills on For Everyone.

"Have a good time, so everybody around you

can have a good time." This, according to vocalist

Devon Motz, is the fundamental concept that

guides Vancouver punk band BRASS, whose

music and performances are packed to the brim

with a special brand of energy that's delightfully

involving: the kind of energy that makes you feel

like the music wouldn't be what it is without the

community that gathers around it.

"It needs to be relatable, catchy, and heavy

all at the same time," explains Motz when

discussing the band's distinctive sound, which

consists of blistering riffs, high-octane rhythms,

and roaring vocals. Each song off of their first

full-length, No Soap Radio, acts as a sort of

sonic firework, exploding with that intoxicating,

quintessentially punk power that's over almost

as quickly as it began. With 10 songs and a total

runtime of about 17 minutes, the album doesn't

beat around the bush. "A four-minute song could

be a minute-and-a-half song when you get rid of

everything that's boring."

Yet despite their length and relative rowdiness,

each BRASS song contains a healthy dose of

lyrical depth, dealing with subjects like mental

health and substance abuse. According to Motz,

the brutally honest (and often self-deprecating)

lyricism in their work ties into their veiled

philosophy on musical honesty and community

involvement.

"I think bad feelings are worth celebrating,

because they're fucking feelings, man," he says.

"[Writing] a catchy song about being depressed

is better than being depressed."

Their next album, For Everyone, will veer

away from this path, touching on relatable

topics outside of the lyrical self-loathing found

throughout their debut LP. For Everyone is set to

live up to its namesake, with a huge breadth of

subject matter and riffs written for audiences to

"let loose, be safe, inclusive, and have fun."

BRASS is a band that adheres to the gold

standards of identity, involvement, and energy.

They write songs and play shows meant to lift

people up out of their seats and out of their

stupors, and will continue to do so all over our

city and beyond – so long as we keep dancing.

BRASS play their For Everyone album release

show April 7 at The Cobalt.

HERON

SLOWLY CLAWING YOUR FACE OFF

JAMILA POMEROY

Stepping into the jam space of Vancouver doom

metal band Heron, there is laughter, talk of album

art by macabre artist Cryptworm, and a slight

skunky haze. This atmosphere is beyond fitting for a

genre which is often visually represented with dark

psychedelic art and imagery of cannabis culture.

While the four-piece has been prominent in the

scene, their forthcoming release, A Low Winter Sun,

will be their first full-length album.

A Low Winter Sun is not your typical doom

metal album, as the band has incorporated

elements of thrash, sludge, and post-metal into

their sound. The band recorded the album locally at

Rain City Recorders, with producer Jesse Gander (3

Inches of Blood, Bison BC, White Lung).

"We've been building on this record for about

two years now, explains vocalist Jamie Stilborn. "It's

not a concept album, but we've tried playing the

songs in different orders and it fucks us up. It just

feels right to be played and listened to in the order

[that the songs] are in."

Stilborn tends to write lyrics centered on esoteric

and existential concepts with inspiration drawn

from film and philosophy, tackling heavy subjects

with optimism and positivity. This approach

perhaps sets them apart from many bands in the

doom metal scene, who often drift lyrically towards

dark themes with nihilistic viewpoints. While

their music never features clean vocals, Stilborn

aims to use vocals as an instrument of their own.

Sonically their heavy, bass-driven sound blends

beautifully with their spacey and unconventional

song structures, sounding comparatively to bands

like Sleep and YOB. This is some serious melt your

face off music.

Heron has shared the stage with big names in

doom and sludge metal, including High on Fire and

Pallbearer.

"I think that was probably my biggest

accomplishment, opening for High on Fire," says

guitarist Scott Bartlett. "I'm a huge fan of Matt Pike,

High on Fire, and Sleep, so it was pretty incredible.

The band acknowledges there is a deep sense

of community and connection within the doom

scene, in comparison to other sub-genres of metal.

Heron emphasize their excitement in continuing

to play with the bands they have connected with,

spanning across the country and down the West

Coast.

"There is a really good vibe happening right now

with the band," says Bartlett. "We keep pushing

forward. That's really the bottom line for us. As

long as we are having fun and making good music, I

think we are doing things right."

Heron play the Astoria on April 17.

Photo by Milton Stille

Scott Bartlett, Jamie Stilborn, Ross Redeker, and Bina Mendozza bring crushing doom riffage while

tackling deep lyrical themes.

24

April 2018
---
HOGAN SHORT

Almost exactly a year ago, the beloved show

from Comedy Central, Workaholics, concluded

with its seventh season. Workaholics was more

than just a stoner comedy about three dimwitted

telemarketing bros with a complete lack

of self-awareness; the show brought quick-witted

sketch-style comedy to the mundane lifestyles

of underachievers who just want to have fun.

Workaholics was beloved by girls and guys alike,

whether they were in their teens, 20s, 30s, or even

50s. So when it was announced that the gang of

Adam (Adam DeVine), Ders (Anders Holm), and

Blake (Blake Anderson) would be back barely

a year later with a Netflix film playing another

trio of idiots, people let high hopes grow. If you

were a fan of Workaholics, then their new film,

Game Over, Man! (a play on Bill Paxton's famous

line from Aliens), is exactly what you have been

missing. The film is Kyle Newacheck's first featurelength

credit as a director, who also co-created

Workaholics and directed most of its episodes.

The premise of Game Over, Man! is simple: three

underachieving, unintelligent housekeepers at

a luxury hotel must stay alive and save the day

when they get caught up in a hostage takeover.

Newacheck, DeVine, Holm, and Anderson work

together to collaborate on ideas.

"We all worked on it," says Newacheck. "Anders

is the writer, but we all work as a team when

developing. That mushrooms episode from

Workaholics was really great and inspired by Die

Hard. Collectively, Die Hard is our favourite movie.

So we said 'Let's make a Die Hard movie and

make it funny.' The stakes are really high and it's

life and death and you have these three stooges

running around. Other producers came on, like

Seth Rogen, and they have experience making

these movies. They helped us with our emotional

line with the three guys, they cleaned it up, added

a few jokes. The four of us would take notes and

then, as a director, that's where I come in to figure

out how we actually do this."

Writing a film and getting it into production is

always difficult enough, but this group's style of

comedy relies on being instinctually funny. Like

Workaholics before it, Game Over, Man!'s laughs

rely heavily on improv, and that requires a director

who knows how to best capture spontaneity. This

group has been working together for so long that

the jokes and lines delivered throughout Game

Over, Man! never feel forced and always elicit big

laughs from its three stars.

"You don't get that natural connection without

improv and multiple cameras capturing it," he

says. "Back in the day, I just moved the camera

while they improvised. It's at the core of who we

are. You can have scenes on the page and then

the emotion isn't necessarily there. When you

put real friendship behind it, then you can start

improvising the jokes."

Since Game Over, Man! is set in a luxury hotel, it

makes sense that there would be some celebrities

staying there. This plot device is perfect for the

inclusion of some unpredictable cameos, and

casting celebrities to come together for a quick

scene to play themselves is an interesting task.

"You would be happy to know that Shaggy

was in from day one," Newacheck laughs. "Poor

Anders, he wrote and rewrote that script like

eight times. Every single time, Shaggy has been

in it, singing at gunpoint. It was relevant and

perfect. He flew over from Jamaica. As soon as his

headshot came up, everyone else started coming

in, too. People like Steve-O, they just came out

because they were fans."

One thing fans know for sure about DeVine

is that he is never afraid to take it all the way;

DeVine seems to be the one most drawn to

making a complete fool of himself for the sake of

the scene. In Game Over, Man!, he goes where too

few men have gone on film. His character not only

goes full frontal, but close up and at every angle.

"Adam is just the guy who will do that," says

Newacheck. "I lived with him for seven years, and

let's just say he's never been shy about his dick. It's

not a surprise to me at all that he would take it

there. He is known to do that. It was a closed set. I

was sitting there behind the camera right behind

him and speaking quietly and seriously saying,

very literally, okay, now loosen up."

Newacheck's character on Workaholics, Karl,

was such a fan favourite that he could easily be

the fourth member of their quartet. But while

fans might hope for Newacheck to make an

appearance in the film, for this project, he decided

to stay in the director's chair.

"I never considered putting myself in the film,

but everyone else did," he says. "For this one, there

just wasn't a role. Karl – that was me. I was so into

it and I loved it. For this, I wanted to establish

myself as a director."

If you are someone who has never seen

Workaholics, then Game Over, Man! is a great

introduction to the group. If you love Workaholics

and have seen every episode six times, depressed

that no new episodes are coming, then consider

this film a welcome reprieve. If you hate

Workaholics, then this movie probably isn't for

you.

Game Over, Man! is available on Netflix now, right

on time for 4/20.

April 2018 25
---
FILM

ISLE OF DOGS

WES ANDERSON'S PUP-MOTION FAILS TO RAISE THE WOOF

MAGGIE MCPHEE

THIS MONTH IN FILM

BRENDAN LEE

You Were Never Really Here – April 6

A man, a hammer, and a girl he never imagined he'd have the heart to

care for. Winner of Best Actor and Best Screenplay awards at the 2017

Cannes Film Festival, Joaquin Phoenix's performance promises a gutpunch

to the psyche.

A Quiet Place – April 6

The louder the scream, the better the chance they'll find you. John

Krasinski and partner in crime, Emily Blunt, tackle the horror genre

with a unique twist that could very well lead us all to a land of silent

nightmares.

Indian Horse – April 13

An adaptation of the late Richard Wagamese's great Canadian novel,

Indian Horse follows a young Indigenous boy in 1970s Canada. From

hopeful beginnings as a talented ice hockey player, the boy grows up to

face the harsh realities of holding on to identity in a world that's trying

to rinse it out of you.

Super Troopers 2 – April 20

The Broken Lizard comedy group is back, 17 years after the

unconventional state troopers first pranked, drank, and smoked their

way into everyone's hearts. With the return of the original cast, the

sequel promises to be undeniably unwholesome in all the right ways.

A lot of old dogs and a even few new tricks apparently isn't enough to keep Isle Of Dogs out of the doghouse.

Isle of Dogs raises the bar for contemporary American

animations. Wes Anderson approached his stop-motion fable

with the same attention to detail and craftsmanship as the great

Hayao Miyazaki, elevating him as America's auteur animator

equivalent. A team of 27 animators laboured endlessly to imbue

their puppets with life, emotion, and vitality. They handcrafted

every object and assigned specialists for emotional nuance,

action scenes, and comedic timing. The team's work, partnered

with Wes' unmistakable style, birthed a film of visual splendor,

and French composer Alexander Desplat delivered a soundtrack

to match.

Unfortunately, the story and characters don't live up to the

film's sensory resplendence.

Dogs takes place in a dystopian future Japan, while the houndhating

municipal governor quarantines all canines on Trash Island

due to a "dog-flu" outbreak. When 12-year-old Atari crash-lands

his plane on the island, a pack of pups accompanies him on the

search for his lost dog, Spots. The fictional dog-hating culture

traces back to ancient Japanese dynasties, granting the film a

scope too epic for its tale of love between boy and dog.

A chasm between the plot's scope and artistic minutiae leaves

much room to fall flat. The all-star cast, comprised of Anderson

veterans Bill Murray, Edward Norton and Tilda Swinton – and

two dozen other mentionable names – packs Dogs with a lot of

weight. But the story flits between the government bodies, prodog

activists, and Trash Island ruffians so fast there's no time to

get to know their characters in depth. It's difficult to care about

what's at stake when we aren't invested in who's involved.

The film flows at a brisk pace as a determined camera sweeps

the audience through bright and inventive landscapes. However,

there is no evident reason for a Japanese setting other than an

aesthetic one, and the film has been criticized for its tone-deaf

appropriations of Japanese culture. Perhaps this prioritization

of aesthetics is the film's greatest downfall. Anderson's clinical

attention to detail left him with a case of tunnel vision that

compromised the core of his story.

Disobedience – April 20

From Academy Award Winning Director Sebastián Lelio comes a

passionate take on forbidden desire. A shunned woman returns home

and reignites the relationship with a female childhood friend that cast

her out in the first place. With sweltering friction, the film stars Rachel

Weisz and Rachel McAdams.

You Were Never Really Here

FRIDAY LATE NIGHT MOVIES!

19+

VALID ID FOR

BAR SERVICE

VISIT WWW.RIOTHEATRETICKETS.CA FOR SHOW TIMES & TICKET PRICES

APRIL 6 THE BIG LEBOWSKI APRIL 13 ARMY OF DARKNESS APRIL 20 HEAVY METAL APRIL 27 PAPRIKA MAY 4

STAR TREK 2: WRATH OF KHAN

26

April 2018
---
MUSIC REVIEWS

Jack White

Boarding House Reach

Third Man/Columbia

Jack White has been called a lot of things

– minimalist, revivalist, madman, genius,

protagonist, antagonist, lover, fighter – probably all

true, or true enough. One thing's for sure, Jack's a

creator who loves making art.

Now suppose for a moment we suspend our

belief that pop music, any and all of that stuff made

to be marketed for immediate consumption, did

not have a hit factor assigned to it. In other words,

we didn't rate or predict how much radio play, units

moved or YouTube views a song or album got or

was worthy of. Rather we assessed music only for its

art value, not for its potential to chart and sell.

It's still hard for those familiar with Jack to

remove his association with the White Stripes. He's

constantly compared to the success of his musical

debut. Such is the nature of the biz: you're only as

good as your last record. And in Jack's case, for many

it's still those records he made with Meg. But Jack

doesn't roam in that world anymore. He lives in the

land of art for art's sake, which is the starting point

for Boarding House Reach.

As the pulsating vibe of the album's opener

"Connected By Love" continues to build, the midsection

of the song suddenly bursts into a frenzy

of weird guitar loops and crazy keyboard soloing.

Then, just as suddenly, it drops down to near silence

with only a soft piano and warm bassline playing

while Jack pleads and cries out, "Forgive me, and

save me from myself!" Sisters Ann and Regina

McCrary soon follow and lend their powerful voices

pushing the chorus into a climatic spin of strange,

vibrating electronics and full gospel sounds. When

it finally settles, it's easy to image Jack the madscientist

running around his lab tweaking dials and

fiddling with gadgets moreso than Jack the musician

headphones on bellowing into a studio mic.

Jack the scientist is not such a peculiar analogy

given his first career he flourished as a tradesman

in his upholstery shop. Boarding House Reach has

that sound and feel all over it – the studio is Jack's

laboratory, his new shop, and his trade is mixing

weird science with rock 'n' roll producing strange

musical concoctions.

Jack also loves gospel. On "Why Walk A Dog"

a church organ forcefully pumps out two chords

swaying back and forth as if someone was standing

on the keys instead pressing down on them with

their hands. It's a big churchy blast that gives

away to a brooding guitar solo that's more akin to

motorized output signal that grinds up and down as

it's put through an electronic oscillator. Weird, yes.

Wonderful as well. The marriage of soul and sci-fi

sonics works quite well.

Moving into funk and R&B, "Ice Station Zebra"

is chopped and sliced with jazzy breaks and

machine-gun breakdowns with some fine multilayered

rappin' by Jack that's right up there with

the Beasties. Taking a sharp turn and heading

into very different territory, "Abulia and Akrasia"

showcases the talents of Australian blues singer C.W.

Stoneking, who does a spoken-word sermon over a

sad, spiritualized Middle Eastern violin and tinkering

piano. While the manic pace of "Over and Over

and Over" with its fuzzed-out electro-romp and

haunting, alien chants, parallels the eerie universe of

Bowie's "Black Star". Staying in a strangeland, Hal's

omnipresent mechanical voice from 2001: A Space

Odyssey is filtered through a cheesy TV commercial

that leads off "Everything You've Ever Learned". The

track then proceeds to ramp up into a harrowing

garage-jazz-psychedelic freakout that cuts right into

a late '60s B-movie, biker soundtrack.

There's A LOT going on in Jack's lab. His

experiments dabble in 10cc's quirky pop and Roxy

Music's avant-garde art rock, then travel through

the Beatles' playground on the White Album

before pulling into the carnival factory-works of

latter-day Tom Waits. Boarding House Reach is an

endless experimentation, fused with sci-fi creations

that are, yes, wonderfully weird. Will any of these

tracks chart? Who cares. It may not be commercial,

but it's art. Good art where Jack takes on a new

classification by transforming himself into a

complex futurist.

• B. Simm

• Illustration by Danielle Jette

April 2018 27
---
RIO

THEATRE

1660 EAST BROADWAY

APRIL

APRIL

4

PHANTOM THREAD

RIOTHEATRE.CA FOR ADDITIONAL DATES

A FANTASTIC WOMAN

APRIL

5

APRIL

6

APRIL

8

11

APRIL

13

APRIL

15

APRIL

16

APRIL

18

APRIL

19

APRIL

20

APRIL

21

APRIL

22

APRIL

25

APRIL

26

APRIL

27

APRIL

MARY AND

THE WITCH'S FLOWER

RIOTHEATRE.CA FOR ADDITIONAL DATES

THE GEEKENDERS PRESENT

XXX-MEN BURLESQUE

*ALSO APRIL 7!

THE BIG LEBOWSKI

FRIDAY LATE NIGHT MOVIE

LADY BIRD

I, TONYA

THE GENTLEMEN HECKLERS PRESENT

HARD TICKET TO HAWAII

DAN SAVAGE PRESENTS

THE BEST OF THE HUMP FILM FESTIVAL

ARMY OF DARKNESS

FRIDAY LATE NIGHT MOVIE

OSCAR-WINNER GARY OLDMAN IN

DARKEST HOUR

ANYA TAYLOR-JOY, OLIVIA COOKE,

AND ANTON YELCHIN

THOROUGHBREDS

THE FICTIONALS COMEDY CO. PRESENTS

IMPROV AGAINST HUMANITY

SPRING FLING

#IAHATRIO

VANCOUVER PREMIERE!

DELINQUENT

INSTANT THEATRE COMPANY PRESENTS

SHAKESPEARE AFTER DARK:

THE SHAKE & BAKE SHOW

HEAVY METAL

FRIDAY LATE NIGHT MOVIE

KITTY NIGHTS WEST PRESENTS

EROTIC CITY: A LIVE BAND

BURLESQUE TRIBUTE TO PRINCE

EARTH DAY!

DIRECTLY AFFECTED:

PIPELINE UNDER PRESSURE

DIRECTOR IN ATTENDANCE FOR Q&A!

THE CRITICAL HIT SHOW

A LIVE, IMPROVISED EPIC FANTASY!

#DNDLIVE

STORY STORY LIE

DANGER ZONE

BROADWAY BURLESQUE:

A TRIBUTE TO MUSICALS

SATOSHI KON'S

PAPRIKA

FRIDAY LATE NIGHT MOVIE

COMPLETE LISTINGS AT WWW.RIOTHEATRE.CA

A Place To Bury Strangers - Pinned

Goat Girl

Goat Girl

Rough Trade

Adding to the grand tradition of DIY basement recordings if London had any

basements, Goat Girl's sprawling, 19-track self-titled debut marks a significant

achievement in grimy, lo-fi storytelling. Emerging from the fragmented South

London indie scene, the album serves as a collection of fast-paced urban

observations with lead singer Clottie Cream's morose drawl as the centerpiece.

Elements of punk, psychedelia, and even experimental country spiral and twist

their way around Cream's sharp cultural criticism. Never far removed from the

volatile socio-political context of their city, album highlights "Scum," "Cracker

Drool," and "Country Sleaze'' serve up tongue-in-cheek critiques of masculinity,

humanity, and greater society as a whole. "Creep on the train / I really want to

smash your head in" groans Cream on "Creep." Goat Girl's self-titled debut is a

fast-paced slap in the face, clocking in around 40 minutes they waste no time

making a lasting impression.

• Jarrett Edmund

Guided by Voices

Space Gun

Rockathon Records

The ludicrously prolific Robert Pollard keeps it 100 with a record that maintains

the warmth and eclectic energy of his back catalogue as it enters three figures.

Tirelessly inventive, the band blazes through a track-list which takes the best of

their lo-fi early years and fuses it with Pollard's arena-sized ambitions and ear for

catchy choruses.

The opening riffs of the title track sound as clean as anything the band has

produced, the DIY grunge of their early years replaced by slick sharpness in

instrumentation and singing alike. Warmer cuts such as "Ark Technician" let

Pollard slip into nostalgic reverie, a marked contrast from the tight production

of the album's opener. "Blink Blank" has the ragged charm of Zevon later in his

life; grizzled vocals and growling guitars coalescing into an energetic cut, its

lyrics and tone funny, frank and foreboding all at once. Shades of Earthquake

Glue's glossy, Townsend-scale catchiness show up in the album's penultimate

track "Flight Advantage," with its bizarre, irresistibly memorable refrain of

"Spiders will dance."

The echoing "Got to keep moving" of "Evolution Circus," along with its scratchy

faraway chorus vocals, is indicative of the album's mood, a largely successful

attempt to cut and paste the scale of classics like Alien Lanes with the banter

and inimitable character of GBV's many underrated, inconsistent obscurities.

After over 2,000 recordings, Pollard shows no signs of slowing down but rather

doubles down with an album which is both a reminder of his extensive years of

practice and his zeal for lovable spontaneity.

• Cathal Gunning

Amen Dunes - Freedom

Amen Dunes

Freedom

Sacred Bones

Amen Dunes, a.k.a. sound-shifting rock artist Damon McMahon, has dedicated

a lifetime to exploring selfdom through sound. If the past 10 years have been

a dark wood of introspective, sometimes alienating incantations, then the

project's newest release is the long-awaited clearing. Freedom, rough and

rhythmic, will revive listeners with fresh air and sweet sun.

Freedom took three years to make, with help from band mainstays Jordi

Wheeler and Parker Kindred, plus newcomers Delicate Steve, electronic

musician Panoram and producer Chris Coady (Beach House, TV on the Radio).

Despite these decorative changes, Freedom remains a continuation of

McMahon's personal examinations of the self. Each track is a character vignette

that represents McMahon, his turbulent past and masculine identity; from the

fallen surf hero of psych-pop "Miki Dora" to the rock bent "Blue Rose" about

his father. McMahon tackles his mother's recent death on "Believe," a song of

propulsive percussion upon which he warbles lyrics like "you said you lived out

on the wrong side, you said that's half the fun."

Although each song charters new sonic territory, McMahon houses them under

his distinct style and unwavering quest to answer the life-long question: why am

I? With Freedom, McMahon delivers an answer of the musical proportions we

dreamed, and now know, he is capable of.

• Maggie McPhee

Preoccupations

New Material

Flemish Eye

The band formerly known as Viet Cong return with a dark, dreamy post-punk

record; the most fully-realized evocation of their unrelenting sound yet. The

pithy title gives away nothing but the track-list, boasting titles like "Decompose"

and "Manipulation," is indicative of New Material's mood. "It's a ode to

depression and self sabotage," says frontman Matt Flegel. Indeed an atmosphere

of clamouring unease and instability permeates the album, but spacey

production deepens and elevates this darkness over the record's predecessors.

The strongest songs on New Material are studies in pressure as it builds

and dissipates, with the instrumentation and singing often at odds in this

regard; when lyrics make sense their background is madness and vice versa.

On "Disarray," Flegel's placid tones remind us "everything you've ever been

told is a lie" as vibrant drums bounce behind his voice, the beat sounding as

relentless as he does retired. On "Antidote," a steady drumbeat underscores

lyrics which are first squawked, then drawled; theatrical yells and emotionless

monotone both contrasted with instrumentation which grows more chaotic

as verses turn to chanted, repetitive mantras. This confluence of dead-eyed

delivery and clattering accompaniment revives potentially cliché lyrics about an

28

April 2018
---
APRILTUESDAY

SUNDAY MONDAY WEDNESDAY THURSDAY

01

Ear Muffs

02

KARAOKE!

03

04

The Garden

w/ Tijuana Panthers

& Cowgirl Clue

05

Acid Mother's

Temple

w/ Yoo Doo Right

& V.Vecker Ensemble

FRIDAY

The

w/ Russian Tim

& Pavel Bures (EARLY)

SWITCH

(LATE dance party)

06

SATURDAY

07

Brass

(album release)

w/ Anchoress,

Frank Love & Glad Rags

08

Ear Muffs

09

KARAOKE!

10

11

Beats & Bass

Cancer Smasher

(Auction / Fundraiser)

X.X.T

w/ guests

12

Phono Pony,

Sorry Edith,

The Charm Offensive

& Strange Breed

13

The Corps

w/ The Skudfux (EARLY)

14

Colby & The Catastrophes

w/ Alex Little And

The Suspicious Minds (LATE)

Lo Moon

w/ Kraus

15

Ear Muffs

16

KARAOKE!

17

18

19

Rinse Dream

w/ Miesha And The Spanks,

Hedks & Shame Cube

20

The Tranzmitors

w/ guests

21

Whores

w/ Helms Alee & Mess

22

Dave Hause

w/ The Drew Thomson

Foundation

& Jesse Labourdais

Elastic Stars

w/ Jody Glenham

& The Dreamers

and Chance Lovett

& The Broken Hearted

23

24

Phoebe Bridgers

(SOLD OUT)

25

26

The Prettys,

Art d'Ecco &

Highland Eyeway

MAN UP

27 28

Queer Bash

Reunion

29

Queers N' Beers

Ear Muffs

30

KARAOKE!

(It's the last night we're

open for business y'all)

Tues 03 - Vibe Corridor Tues 17 - Vibe Corridor

Thurs 05 - Cuddy Sessions Wed 18 - Soft Spot

Tues 10 - Vibe Corridor Thurs 19 - Precious

Wed 11 - Spirit Music Tues 24 - Vibe Corridor

Thurs 12 - Actual Dads Thurs 26 - Boss Takeover
---
EVERY MONDAY FROM 2-4 PM PST!

THE AVULSIONS

DEBUT ALBUM

'EXPANDING PROGRAM'

OUT NOW

04.13..............................Toronto / The Garrison

04.14 -Sold Out....Toronto / Horseshoe Tavern

04.16...........................Montreal / Theatre Plaza

05.01....................Winnipeg / Pyramid Cabaret

05.03..................................Edmonton / Starlite

05.04...................................Calgary / Palomino

05.05...................................Calgary / Palomino

05.09...........................Vancouver / The Astoria

More tour dates and tickets available at:

www.flemisheye.com

FLEMISHEYE.COM
---
Guided by Voices - Space Gun Guided by Voice Holy Wave - Adult Fear JJUUJJUU - Zionic Mud

"information overdose.

The track segues into an unexpectedly-dreamy close as do many on

the album, the influence of M83 producer Justin Meldal-Johnson

bleeding into the band's typically moodier aesthetic. These injections

of levity are "disaster relief," and deepening the palette of tones the

band has to work with lends the record's gloominess more impact

than its predecessor, 2016's self-titled Preoccupations.

In New Material, darkness excites and envelopes; delivery and

instrumentals are alternately deadpan and jolting, never fully awake

or asleep, shuffle-stepping between unsettled waking life and a

chilling but invigorating dreamscape.

• Cathal Gunning

A Place To Bury Strangers

Pinned

Dead Oceans

Adversity has long been the driving force inspiring sonic chemists

to one up themselves. On this fifth full-length by the decade old

noise rock trio the struggles of life are real but they also come with

a big pay off. The opener, "Never Coming Back," brims with anxiety

whether it's brought on by the changes all around or a consistent

streak of personal bad luck matters less and less as the trance

inducing back beat helps give the sensation of exiting this world for

clouds of noise up above.

Otherworldly guitar sounds and copious amounts of forlorn blasts of

sonic chaos have always been the rule but this release has a notable

addition with the inclusion of he/she vocals. The hellish buzz-saw

guitar riffs on "Frustrated Operator" benefit greatly from a female

presence widening the dynamic with soft Nico-inspired singing

which is truly shiver inducing.

Weary voices give searing meditations on personal truth revealing a

side to the band that usually hides beneath layers and layers of postrock

noise.

• Dan Potter

The Penske File

Salvation

Stomp Records

The Penske File's new album, Salvation, is a power-poppy blend

of various punk rock styles. The opening track "Kamikaze Kids,"

explodes from the picking pattern of a brightly-toned guitar to a

folk-infused, chorus-y punk song reminiscent of new-era Green Day

meeting old-school Against Me!

Salvation's fourth track "Spin My History," is an emotionally driven

rock-song with enough catchiness to fit on radio airwaves, and

enough grit to catch your attention. "Last Chance" is a smack-yourface

tune that mixes elements of '50s rock n' roll with heavy, melodic

skate-punk.

Overall, Salvation feels like a well-executed power-pop tribute to

punk music of the early 2000s. Sounds on Salvation are comparable

to the likes of Blink-182, Sum41, NOFX, Yellowcard, and many more

artists of that era. The record's diversity touches on punk's many

niches, leaving something catchy and enjoyable for fans from all

walks of the genre.

• Johnny Papan

Holy Wave

Adult Fear

The Reverberation Appreciation Society

Following up on the heels of Holy Wave's Freaks Of Nurture, their

2016 release, Adult Fear is the five piece from Austin's fifth official

release and third full-length album. Sticking with their signature, hazy

psych-garage sound, Holy Wave has managed to release yet another

captivating collection of tracks.

With each new album the band puts out, they seem to mature

towards new levels of experimentation and layering lush

instrumentation, amid tracks gliding effortlessly between different

grooves and tempos. This does not so much startle, but rather takes

one on a trip with the band.

One aspect that sticks out on Adult Fear is the departure to a more

neo-psychedelic sound, reminiscent of groups such as The Zombies,

Pink Floyd (a la Syd Barrett), and more recently, Ariel Pink. This

shines through on tracks such as "Nation In Regress," "Habibi," and

"Adult Fear."

Layered in abundant organ/synth tones and track lengths reaching

April 2018 31
---
LA VIDA LOCAL

HOMEGROWN VANCOUVER MUSIC RELEASES

Preoccupations - New Material

above eight minutes, Holy Wave drenches classic psych sounds on a

blotter of fresh composition.

• Tory Rosso

JJUUJJUU

Zionic Mud

Dine Alone

LA psych rock band JJUUJJUU's debut album, Zionic Mud, opens

strong with "Camo," firing you into a hypnotic trance of funky

basslines, accented by raucously squawking lo-fi guitars. This album

conjures images of bohemian Californians dancing barefoot. Drawing

you in with it's siren song before sending your mind's eye skyward,

beyond this earthship.

Zionic Mud maintains high energy through the title track with

fantastic build-ups transitioning into wild crescendos. Bookended

by "Bleck," a straight ahead psych track, the first third of the album

is funky, spaced out, and danceable. A tempo switch, leading to a

gentle outro dove-tailing the short interlude of atmospheric space

travel in "Level." This first instrumental has a softness that only lasts a

moment before your consciousness is transported to witness storms

on a outlier planet, amping you up and passing you down the line of

tales to come.

JJUUJJUU maintains this build up, fade away presence loyally

throughout Zionic Mud. The variation of tempo and structure build

an excellent album. The layered, airy psych, paired with thunderous

drums, moody, post-punk guitars and vocals that don't take centre

stage creates something accessible.

• Trevor Hatter

Zeke

Hellbender

Relapse Records

Saltwater Hank

Stories from the Northwest

Independent

Is there anything more Canadian than references to beaver

pelts? On his debut album, Saltwater Hank weaves timeless

yarns of Canadiana in true bluegrass-folk fashion. Stories from

the Northwest is a lo-fi recording with a dry vocal treatment. Its

rustic sound takes a page from the O Brother, Where Art Thou?

soundtrack. But this isn't your average bluegrass record paying

homage to American narratives. Stories from the Northwest

cheekily uses a nostalgic genre to relay perspectives that aren't

traditionally covered in history books. Loyal to the land instead

of the colonizer, the lyrics reference B.C.'s geography. The trickster

coyote even makes an appearance in the lyrics of "Coyodel

#1," a melody inspired by Canada's FIPA deal, and "Coyodel #2"

is dedicated to land and water defenders who choose action

over passivity. The instrumentation of fiddles and mandolin

perfectly complements Hank's pointedly political lyrics, but Blake

Bamford's banjo on "Hartley Bay Rag" stands out as a shining

moment.

• Lauren Donnelly

The Shit Talkers

I Scream

Mountain Momma Records

I Scream is a raw, unapologetic, to-the-core punk rock record. The

opening track, "Ewwwww," is a borderline-destructive offering

that draws imaginative imagery of a wild house party, moshers

romping about, shoving each other through walls with aggressive

affection. "Normal Love," the following track, is a romantic blend

of grungy groove mixed with angsty thrash.

From there, the Shit Talkers unleash a flurry of speedy tracks

with "Shut Up," "Late in French," "Betty," and "8th Dick," before

continuing the trend with the album's lead single, "The They," and

ending with "Fukn Guyz." I Scream packs a fun-filled fist to the

face and kick to the groin.

• Johnny Papan

The Orange Kyte

The Orange Kyte Says Yes!

Little Cloud Records

The Orange Kyte Says Yes! is an album that takes listeners on an

eclectic psych voyage that pulls out all the stops, even after you

thought they'd all been pulled.

The album opens with "More In," a blissful instrumental that

features crunchy, fuzzed-out guitar and distant organs playing in

unison: a tantalizing clue for what to expect from the rest of this

sophomore outing. The album is peppered with surprises, like

when "Echolocation" introduces a folky acoustic guitar for the

first time on the record, or when "Looks Like Me to Me" launches

into dystopian, lo-fi synths and repetitive vocal mantras.

With this latest record, Stevie Moonboots and co. holed up at

Invisible Recordings to craft a perfect and measured follow-up

that starts on an incredible note – and only goes up from there.

• Mat Wilkins

Harrison Brome

Body High EP

Nettwerk Music Group

Vancouver-based R&B crooner Harrison Brome has been making

serious waves leading up to the release of his forthcoming EP,

Body High. The collection of songs features his already popular

title track, which premiered on Complex and gained traction

from media outlets like FADER and Hypebeast. The EP explores

ideas of modern romance, resentment, and courtship with tracks

like "Jaded" and "9-5."

On the "Body High" single, it's clear Brome has mastered the

art of anticipation: he leaves listeners wanting more by carefully

capturing the nostalgic sense of sensuality that almost makes you

feel guilty for lusting over it. With his music earning more than

22 million streams worldwide, Body High is surely going to take

Brome nowhere else but higher.

• Molly Randhawa

After a hellishly long wait, Zeke are back with their first album in

14 years. The punk legends known for mixing the gritty might of

Motorhead with the cartoon fun of The Ramones sound in great

form right off the top of the album as "On the Road" kicks out some

seriously caffeinated guitar solos. Thankfully, each song continues to

snuff out boredom with an all-killer-no-filler approach.

"Burn" literally sounds like the band is about to spontaneously

combust as the snarling vocals spat out over the whip crack of the

one-hundred-mile-an-hour snare drum will leave any punk extremist

dizzy. The fun continues on "AR-15," with the refrain "blow it away,

blow it away" whilst the misanthropic anthem is taken even higher

with New York Dolls-like guitar leads sped up to an un-godly tempo.

The inhuman speed that these short but damaging blitzkriegs are

belted out is truly frightening and definitely makes this Zeke's fastest

recording to date.

• Dan Potter

32

Yamantaka//Sonic Titan - Dirt

Yamantaka//Sonic Titan

Dirt

Paper Bag Records

Yamantaka//Sonic Titan are back with a vengeance after five years of relative

silence. Toronto's distinctively pan-cultural experimental music and performance

collective have released their most ambitious, yet also their most cohesive, record

yet with Dirt, an album conceived as the soundtrack to an unreleased 1987 anime

with Buddhist and Iroquois influences. "Someplace" and "Dark Waters" set the

stage in suitably dramatic fashion with charging prog rock rhythms and sweeping

melodic passages. "The Decay" unfolds as the album's true centerpiece, an operatic

dreamscape lead by deliberate doom metal riffage and uplifting, airy vocals. Dirt is

a phantasmagorical journey.

• James Olson

April 2018
---
Photo by Lisa Wu

A Tribe Called Red

Commodore Ballroom

March 10, 2018

Whether or not it's your first time at A Tribe Called Red show or your

fifth, you'll find yourself in a sea of ravers, dancers and head-bobbers

– covered in sweat of others or your own.

Described as "pow-wow-step," the First Nations electronic group

played the first of two back-to-back, nearly sold out shows. Despite

Ian "DJ NDN" Campeau departing in October, 2017 for health

reasons, Tim "2oolman" Hill and Ehren "Bear Witness" Thomas kept

the crowd off their feet effortlessly from start to finish over the

course of a mesmerizing 90-minute set.

Transcending traditional genres of music, ATCR is out of the

ordinary, as they aren't necessarily one type of dance music. Bridging

and blending genres such as hip hop, reggae and dubstep with

LIVE

traditional First Nations vocal chanting and drumming has led to

them blowing up into the biggest First Nations group out of Canada,

netting the group multiple Juno nominations.

From the first drop, the audience was exposed to a sensory

overload: from breakdancing cameos by breakdancers Matthew

Creeasian and Angela Gladue in full regalia to a video loop of

indigenous imagery and the instances of cultural appropriation in

pop culture over the ages – ideas both divisive and inclusive.

ATCR are constantly blending the ideas of traditional and

contemporary of the political, social and artistic spheres. Despite

writing music as indigenous people for (predominantly) indigenous

people, the crowd came from a plethora of different generations,

cultures and creeds. Unity has always been a staple of ATCR and this

night was no exception.

• Timothy Nguyen

Charlotte Day Wilson

Fortune Sound Club

March 20, 2018

Charlotte Day Wilson is a multi-talented singer,

songwriter, producer and instrumentalist. Based

out of Toronto, Wilson has made waves in the

Canadian music scene, having lent her talents

to artists like BadBadNotGood, River Tiber and

Daniel Caesar. Now, it's her chance to take the

spotlight.

Stone Woman is Wilson's sophomore EP,

with six tracks of R&B and jazz-inspired ballads.

Wilson's style is like honey— smooth, sweet

and slow-moving. From tracks like "Doubt," to

"Nothing New," Wilson gives listeners a window

into the motions of a past relationship.

The Stone Woman Tour started in Vancouver,

the first of ten sold-out shows across North

America and Europe.

Just like her EP's cover art, Wilson kicked

Photo by Darrole Palmer

off her tour with the title track, in a dimly-lit

Fortune Sound Club. Wilson's setlist included

performances from both Stone Woman, and her

debut EP, CDW. Supporting her were her three

band members on keys, guitar, bass and drums.

But in the end, the most impressive part about

Charlotte Day Wilson is her infectious stage

presence. There were moments in "Find You" and

"Falling Apart" that had the crowd moving, and

moments in "Funeral" where the room fell silent.

As the crowd screamed for an encore, Wilson

returned alone with her guitar and proceeded

to close the show with an airy, reverb-dense

ballad, unreleased to the public. Her emotional

performance left the crowd in awe, leaving fans to

anticipate her next release.

The first show of the Stone Woman Tour is a

career-defining moment for Charlotte Day Wilson,

and Vancouver is lucky to have been the first stop.

• Lyndon Chiang

PVRIS

Vogue Theatre

March 6, 2018

PVRIS plays a style of music that builds with

atmosphere and grows slowly, getting louder and

more feverish until, before you know it, your feet

are sore and you've been dancing for what seems

like days. Headed by the marvellous Lynn Gunn,

the band parked their live show atop the Vogue

theatre's stage Tuesday night and put on a show as

uplifting as it was haunting.

The ambient pop-infused rock band from

Massachusetts was subtle in their presentation,

allowing the tight-knit interlayering of a solid

setlist to speak for itself. Beneath a heavenly

glow from the lights above, Gunn transitioned

flawlessly between soft spoken songs sat behind

Photo by Lindsey Blane

the keyboard with tracks like the stripped down

version of 'Same Soul,' to showcasing her wailing,

impressive vocal range on 'Separate.' Gunn isn't

overly talkative, but when she does speak, her

voice has a tone of closeness that could cause

hearts to break.

More than anything, the show was an excuse to

jump around. As the sound grew from its tentative

beginning, it wasn't long before the crowd was

helpless, unable to avoid the rhythm of the drums

and the synthesizer. In the course of an hour or

so, PVRIS went from being welcomed on stage

to owning it. The atmosphere in the place could

vibrate paint from the walls, and Gunn more than

succeeded in making a few new friends along the

way.

• Brendan Lee

F

R

I

D

A

Y

S

277 PRINCE EDWARD ST

BILTMORECABARET.COM

April 2018 33
---
NEW MOON RISING

YOUR MONTHLY HOROSCOPE

QUAN YIN DIVINATION

Month of the Fire Dragon

In Chinese folklore, there is a saying: "when the Dragon and Dog oppose, the gates

of Heaven and Hell are open." This month brings full opposition to the annual Dog

energy, activating a strong opposition between solar and lunar influences. Though

while polarity can bring conflict, it can also bring harmony and balance through the

unity of opposites.

Change can mean opportunity, and those who aspire toward higher ideals may

escape the doom and gloom that might otherwise shroud our thinking now.

Be selective with media — activism and peacekeeping are priorities this month.

The four earth protectors (the Dog, Dragon, Ox and Sheep) will be most affected

by this month's shift, as the earth communicates directly with them. Rather than

blaming or accusing others, lets keep looking toward the light of a bright future and

our willingness to unite with others for a happy tomorrow.

Rabbit (Pisces): If petty problems or

people crowd your workspace, take

more time in solitude and use quiet

discipline to stay focused on what

is in front of you and your correct

relationship to it.

Dragon (Aries): Exciting times call

for a calm mind. Additional costs or

sacrifices may be necessary in order to

achieve your goals. It's better to let go

voluntarily than to have an undeserving

punishment. Save face by making a

willing sacrifice.

Snake (Taurus): Paperwork surrounds

you and the only way out is through.

Take it one step at a time and you

can accomplish more – overwhelmed

thinking slows you down and creates

more obstacles.

Horse (Gemini): Gentle sweetness can

pacify but may also patronize. Make

sure that you speak your mind, even if it

may come across as abrupt or tactless.

It's your party and you get to have it

your way!

Sheep (Cancer): Assist others now

and give them the support they need

to achieve. You won't be left behind

as everyone needs to work together

to make it happen. Stay close to those

who have your best interests at heart.

Monkey (Leo): Being pulled in many

directions means you'll need to have

clear priorities in place this month.

Multiple objectives might seem to be

conflicting now, where once they were

in harmony. What's most important to

you?

Rooster (Virgo): This busy month

tests your ability to maintain your

focus, but is an opportunity for you to

learn something. Look for the lesson

revealed in your decisive action – you

are a multi-faceted intellectual who can

juggle more than others can.

Dog (Libra): Turn your attention to

your values and what inspires your

action in the world. Do unto others

as you would have them do unto you.

This month could solidify important

relationships and partnerships, or

destroy the ones you care about the

most.

Pig (Scorpio): If people seem to busy

for you now, don't take it personally.

Peace is a place of rest for the heart

and soul, and the changes you seek are

coming soon. Be patient and take this

month to catch up on all the things you

may have neglected or procrastinated

on recently.

Rat (Sagittarius): This is a good time

to socialize, network, or make new

connections that will pave the way

forward. There are opportunities

for motivated Rats to seek out new

territories or break new ground this

month, but you'll need to go out there

and make it happen!

Ox (Capricorn): Pay close attention to

your mood, which may, at times, hover

like a dark rain cloud over you. This is a

time where your internals and externals

may not be matched so do what you

can to put on a happy face, grin, and

bear it.

Tiger (Aquarius): Notice how the

sunshine feels as it kisses your face! The

world is full of beauty, laughter, and

grace. You are surrounded by peace and

harmony. Trust that all is as it should

be. All is well.

Susan Horning is a Feng Shui Consultant

and Bazi Astrologist living and working

in East Vancouver. Find out more about

her at QuanYin.ca.

34

April 2018
---
CANADA'S LARGEST INDEPENDENT CONCERT PROMOTER

UPCOMING SHOWS

ALBERT HAMMOND JR.

WITH PINKY PINKY

April 11 - The Biltmore Cabaret

AN EVENING WITH:

THE RESIDENTS

April 11 - Imperial

MOONCHILD

WITH GUESTS

April 15 - The Biltmore Cabaret

CUT COPY (DJ SET)

WESTWARD FEST ANNOUNCE PARTY

April 16 - The Biltmore Cabaret

SC MIRA & DAYSORMAY

WITH GUESTS

April 21 - The Biltmore Cabaret

CASPER SKULLS

WITH GUESTS

April 26 - The Biltmore Cabaret

JAPANDROIDS AT FORTUNE SOUND CLUB

AN EVENING WITH:

URIAH HEEP

ALTAMEDA AND JARED & THE MILL

WITH GUESTS

April 26 - Tickets are Still Available!

April 27 & April 28 - Sold Out April 28 - Vogue Theatre April 30 - The Biltmore Cabaret

TICKETS ARE AVAILABLE AT MRGCONCERTS.COM