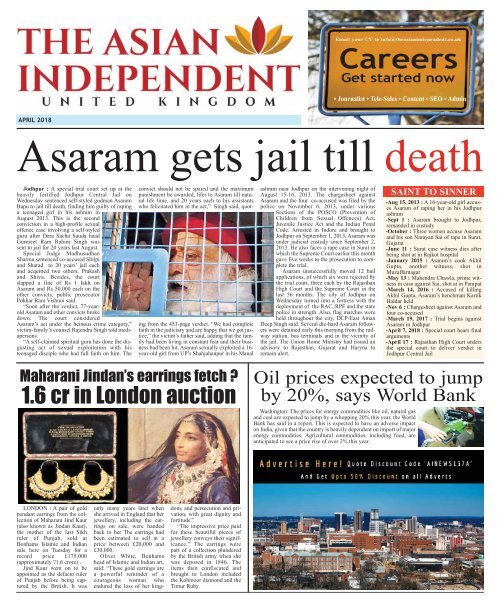 Create successful ePaper yourself
Turn your PDF publications into a flip-book with our unique Google optimized e-Paper software.
Email your CV to info@theasianindependent.co.uk

• Journalist • Tele-Sales • Content • SEO • Admin

APRIL 2018

Asaram gets jail till death

Jodhpur : A special trial court set up at the

heavily fortified Jodhpur Central Jail on

Wednesday sentenced self-styled godman Asaram

Bapu to jail till death, finding him guilty of raping

a teenaged girl in his ashram in

August 2013. This is the second

conviction in a high-profile sexual

offence case involving a self-styled

guru after Dera Sacha Sauda head

Gurmeet Ram Rahim Singh was

sent to jail for 20 years last August.

Special Judge Madhusudhan

Sharma sentenced co-accused Shilpi

and Sharad to 20 years' jail each

and acquitted two others, Prakash

and Shiva. Besides, the court

slapped a fine of Rs 1 lakh on

Asaram and Rs 50,000 each on the

other convicts, public prosecutor

Pokhar Ram Vishnoi said.

"Soon after the verdict, 77-yearold

Asaram and other convicts broke

down. The court considered

Asaram's act under the heinous crime category,"

victim-family's counsel Rajendra Singh told mediapersons.

"A self-claimed spiritual guru has done the disgusting

act of sexual exploitation with his

teenaged disciple who had full faith on him. The

convict should not be spared and the maximum

punishment be awarded, lifer to Asaram till natural

life time, and 20 years each to his assistants

who felicitated him in the act," Singh said, quoting

from the 453-page verdict. "We had complete

faith in the judiciary and are happy that we got justice,"

the victim's father said, adding that the family

had been living in constant fear and their business

had been hit. Asaram sexually exploited a 16-

year-old girl from UP's Shahjahanpur in his Manal

ashram near Jodhpur on the intervening night of

August 15-16, 2013. The chargesheet against

Asaram and the four co-accused was filed by the

police on November 6, 2013, under various

Sections of the POSCO (Prevention of

Children from Sexual Offences) Act,

Juvenile Justice Act and the Indian Penal

Code. Arrested in Indore and brought to

Jodhpur on September 1, 2013, Asaram was

under judicial custody since September 2,

2013. He also faces a rape case in Surat in

which the Supreme Court earlier this month

gave five weeks to the prosecution to complete

the trial.

Asaram unsuccessfully moved 12 bail

applications, of which six were rejected by

the trial court, three each by the Rajasthan

High Court and the Supreme Court in the

last 56 months. The city of Jodhpur on

Wednesday turned into a fortress with the

deployment of the RAC, RPF and the state

police in strength. Also, flag marches were

held throughout the city, DCP-East Aman

Deep Singh said. Several die-hard Asaram followers

were detained early this morning from the railway

station, bus terminals and in the vicinity of

the jail. The Union Home Ministry had issued an

advisory to Rajasthan, Gujarat and Haryna to

remain alert.

SAINT TO SINNER

-Aug 15, 2013 : A 16-year-old girl accuses

Asaram of raping her in his Jodhpur

ashram

-Sept 1 : Asaram brought to Jodhpur,

remanded in custody

-October : Three women accuse Asaram

and his son Narayan Sai of rape in Surat,

Gujarat

-June 11 : Surat case witness dies after

being shot at in Rajkot hospital

-January 2015 : Asaram's cook Akhil

Gupta, another witness, shot in

Muzaffarnagar

-May 13 : Mahendra Chawla, prime witness

in case against Sai, shot at in Panipat

-March 14, 2016 : Accused of killing

Akhil Gupta, Asaram's henchman Kartik

Haldar held

-Nov 6 : Chargesheet against Asaram and

four co-accused

-March 19, 2017 : Trial begins against

Asaram in Jodhpur

-April 7, 2018 : Special court hears final

arguments

-April 17 : Rajasthan High Court orders

the special court to deliver verdict in

Jodhpur Central Jail

Maharani Jindan's earrings fetch ?

1.6 cr in London auction

Oil prices expected to jump

by 20%, says World Bank

Washington: The prices for energy commodities like oil, natural gas

and coal are expected to jump by a whopping 20% this year, the World

Bank has said in a report. This is expected to have an adverse impact

on India, given that the country is heavily dependent on import of major

energy commodities. Agricultural commodities, including food, are

anticipated to see a price rise of over 2% this year.

LONDON : A pair of gold

pendant earrings from the collection

of Maharani Jind Kaur

(also known as Jindan Kaur),

the mother of the last Sikh

ruler of Punjab, sold at

Bonhams Islamic and Indian

sale here on Tuesday for a

record price £175,000

(approximately ?1.6 crore) .

Jind Kaur went on to be

appointed as the defacto ruler

of Punjab before being captured

by the British. It was

only many years later when

she arrived in England that her

jewellery, including the earrings

on sale, were handed

back to her The earrings had

been estimated to sell at a

price between £20,000 and

£30,000.

Oliver White, Bonhams

head of Islamic and Indian art,

said: "These gold earrings are

a powerful reminder of a

courageous woman who

endured the loss of her kingdom,

and persecution and privation,

with great dignity and

fortitude".

"The impressive price paid

for these beautiful pieces of

jewellery conveys their significance."

The earrings were

part of a collection plundered

by the British army when she

was deposed in 1846. The

items then confiscated and

brought to London included

the Kohinoor diamond and the

Timur Ruby.
---
UNITED KINGDOM

2 April 2018

www.theasianindependent.co.uk

UK gifts historic

shipwrecks to Canada

Defence Secretary Gavin Williamson has

announced that the UK has officially gifted the

historic Franklin Wrecks to the Canadian government

and Inuit community. Ownership of the

two shipwrecks, HMS Erebus and HMS Terror,

two of the most archaeologically important shipwrecks

in the world, was formally transferred to

the Canadian government with the signing of a

Deed of Gift at a ceremony today. With this historic

transfer, Inuit of Nunavut, who played a key

role in their discovery, will also become joint

owners of the wrecks and artefacts. The ceremony

at the Canadian Museum of History saw the

Canadian Minister of Environment and Climate

Change, Catherine McKenna, accept ownership

of the wrecks on behalf of Canada from the UK

government, represented by the British High

Commissioner Susan le Jeune

d'Allegeershecque CMG. Mr Torsten Diesel,

from the Inuit Heritage Trust spoke of the importance

of this transfer to Inuit. The gifting is an

historic milestone in the long-standing cooperation

between the UK and Canada on the issue.

Defence Secretary Gavin Williamson said:

We have deep historic links with Canada and

this gift is testament to our prospering relationship.

The story behind these vessels is both fascinating

and incredibly important to the history of

both our nations. The UK joined forces with the

Canadian government and Inuit population to

search for these ships for 172 years and I'm

delighted they will now be protected for future

generations. The two ships, under the command of

Rear-Admiral Sir John Franklin, set sail from

England in 1845 on an ill-fated voyage through the

Canadian Arctic to find the Northwest Passage.

During the treacherous journey, the ships became

trapped in thick sea ice. Despite many attempts to

locate the wrecks, they proved elusive for over

172 years. In 1997, the UK and Canadian governments

signed an agreement giving custody and

control of the wrecks and their contents to Canada,

while still remaining property of the UK.

Plans to strengthen NHS

cyber security announced

A new multi-million pound

Microsoft package will ensure

NHS systems have the most upto-date

software with the latest

security settings. The deal with

Microsoft will ensure all health

and care organisations are

Team AI :

Devinder Chander

Editor-in-chief

Fred Shakir

Marketing & Creative Manager

Columnists

V.B. Rawat

Farzana Suri

Arun Kumar

Head Office

46 Summer Rd, Erdington

Birmingham, B23 6UR.

Tel : +44 7878 456 484

Email :

info@theasianindependent.co.uk

Advertisement

Enquiries

+44 7475 475 343

The Asian Independent is an

Intellectual Property of

Samaj Media Enterprise Ltd

using the latest

Windows 10 software

with up-todate

security settings

to help prevent

cyber attacks.

Since 2017 the

government has

invested £60 million

to address cyber

security weaknesses.

A further £150

million will be spent

over the next 3 years

to improve the NHS's

resilience against attacks. This

will include setting up a new

digital security operations centre

to prevent, detect and

respond to incidents.

The centre will:

allow NHS Digital to

respond to cyber attacks more

quickly allow local trusts to

detect threats, isolate infected

machines and kill the threat

before it spreads

Other measures to improve

cyber security include:

£21 million to upgrade firewalls

and network infrastructure

at major trauma centre hospitals

and ambulance trusts

£39 million spent by NHS

trusts to address infrastructure

Blow for PM May as MPs

back Britain staying in

EU customs union

London, British Prime Minister Theresa May

suffered her biggest Brexit blow so far when MPs on

Thursday backed a call in the House of Commons for

Britain to stay in a European customs union.

A debate, promoted by

the main opposition Labor

Party, was agreed unanimously

after a four hour

debate in the House of

Commons, Xinhua reported.

Although the vote is not

binding on the government,

many politicians believe it

will influence May's future

thinking on a deal she wants

with the European Union

after Britain leaves the bloc.

The vote means the

House of Commons will

formally ask the government

to remain in a customs

union with the EU. May has

insisted that Britain will

leave both the customs

union and European single

market when it parts company

with the EU.

Labor MP Yvette Cooper,

who chairs the House of Commons home affairs

committee, said she and other select committee

chairs called for the debate because they think the

customs union issue needs to be debated. Cooper

urged the government to bring forward a "proper

weaknesses

new powers given to the Care

Quality Commission to inspect

NHS trusts on their cyber and

data security capabilities

a data security and protection

toolkit which requires

health and care organisations to

meet 10 security standards

a text messaging alert system

to ensure trusts have access

to accurate information – even

when internet and email services

are down

Health and Social Care

Secretary Jeremy Hunt said:

We know cyber attacks are a

growing threat, so it is vital our

health and care organisations

have secure systems which

patients trust.

debate" for the Commons, saying: "It is time for the

government to stop running away."

The motion called on the government to include

as an objective in negotiations on the future relationship

between the UK and

the EU the establishment

of an effective customs

union between the two territories.

Supporters of Britain

staying in a customs union

with the EU fear it will

have a dramatic impact on

Britain's trading relationship

with EU member

states, and will pose a

threat to the Northern

Ireland peace treaty. But

the government insists that

leaving the customs union

and single market will

enable Britain to strike

trade deals across the

world.

Conservative MP

Marcus Fysh said staying

in an EU customs union

plan would entirely give up

control to the EU and

would weaken the UK's sovereignty.

MPs were told the EU is the UK's largest export

market for goods, accounting for a total of $202 billion

of exports and $336 billion of imports in 2016,

with a frictionless border.

PM meeting with President

Aliyez: 26 April 2018

Prime Minister Theresa May met

President Aliyez of Azerbaijan.

A Downing Street spokesperson

said: This afternoon the Prime

Minister hosted President Aliyev of

Azerbaijan in Downing Street for a

bilateral meeting. The Prime Minister

welcomed President Aliyev and said

that she was pleased that he had chosen

the visit the UK so soon after his

inauguration. The leaders agreed on

the importance of the UK-Azerbaijan

relationship and of our co-operation

on issues of shared interest including

regional security and energy. They

noted the commercial opportunities

presented by our close ties, underlined

by the sixth Production Sharing

Agreement between BP and SOCAR

which they witnessed being signed

following the meeting. They discussed

matters of regional and global

security and agreed on the need to

restore international norms against

chemical weapons use. The Prime

Minister thanked President Aliyev

for Azerbaijan's continued contributions

to regional security including

through its support to the NATO mission

in Afghanistan. They spoke

about the threat to security posed by

foreign fighters returning from Syria

and Iraq and agreed on the importance

of continued close co-operation

and information sharing between our

security services. The Prime Minister

and President Aliyev discussed

democracy and human rights in

Azerbaijan. They agreed that the UK

and Azerbaijan would continue to

work to address concerns both bilaterally

and through multilateral organisations

in order to support sustainable

development and modernisation

in Azerbaijan.

* The Asian Independent and people associated with it are not responsible for any claims made by the advertisers and do not endorse in any products or services advertised. Please visit www.theasianindependent.com/tc for more information.
---
www.theasianindependent.co.uk

UNITED KINGDOM

British kids walk for

India's homeless

London : A great

many lost, abandoned,

or homeless children

wander into India's railway

stations every year,

from where they are

often trafficked or

exploited. Last Sunday,

the same day as the

London Marathon,

about 170 British school

boys, aged 6-13, took

part in a 10-mile walk to

raise money for such

children in India.

The children from

Papplewick, a private

school for boys in

Ascot, managed to raise

£18,000 (about 16.5

lakh). The money would help run

Child Help Desk at the Salem station,

established last year by Railway

Children, a U.K.-based charity that

helps street children, abandoned children,

or those at risk of trafficking in

India, East Africa and even in Britain.

"It was heartwarming to see children

so charitable, and even little ones

walking with their parents, siblings

and also their pet dogs to help kids in

another country," said Saritha Selvan,

whose son participated in the walk.

The funds raised are expected to help

Defence Secretary announces latest

wave of cadet units in schools

the programme protect 876 children

for a year.

Trafficking point : A recent survey

by Railway Children found that

"two or three children arrive unaccompanied

at Salem station every

day" and that it was "easy for these

vulnerable children to

be lost without trace."

Salem has been

reported to be a notorious

transit point for

child trafficking,

from where young

boys and girls often

get sold into factories

as child labour. Child

Help Desks aim to get

to the children before

the traffickers do, and

provide the traumatised

kids a safe place

to stay until a more

permanent shelter is

found.

The Child Help

Desk at the Salem

station was opened in July last year. It

assists abandoned, missing, or runaway

children who end up in the station

premises, and aims to restore

them to their family or provide necessary

assistance in coordination with

government agencies.

April 2018

3

Duke and Duchess of

Cambridge name son

Louis Arthur Charles

London, The Duke and Duchess of

Cambridge have named their son

Louis Arthur Charles, Kensington

Palace said on Friday. In a statement

the Palace said: "The Duke and

Duchess of Cambridge are delighted

to announce that they have named

their son Louis Arthur Charles. "The

baby will be known as His Royal

Highness Prince Louis of Cambridge."

The prince is the duke and

duchess's third child, the younger

brother of Prince George and Princess

Charlotte, and Queen Elizabeth's sixth

great-grandchild, reports the

Guardian. Lord Louis Mountbatten

was Prince Charles's great-uncle who

was assassinated by the IRA in 1979.

Prince Louis of Battenberg was the

Duke of Edinburgh's grandfather's

name. The three names are popular

choices recycled by the royal family.

Prince Charles is Charles Philip Arthur

George, while Prince William is

William Arthur Philip Louis. Prince

George's full name is George

Alexander Louis.

It has taken four days for the new

prince's name to be released. He is

fifth in line to the throne, and was born

on Monday. Both Prince George and

Princess Charlotte's names were

released two days after their births, but

Prince William's name was not made

public for seven days, reports the

Guardian.

The Defence Secretary, Gavin Williamson, has

today announced that 26 schools across the country

will create new cadet units under the

Government's Cadet Expansion Programme

(CEP). Schools across the UK will benefit from

the latest round of openings, including three in

East Anglia, two in the East Midlands, four in

Greater London, one in the North East, four in the

North West, one in the South East, six in the West

Midlands, three in Yorkshire & Humberside, one

in Scotland and one in Wales. The announcement

came as the Defence Secretary had the opportunity

to meet cadets at Phoenix Collegiate School

in West Bromwich and see first-hand the new

skills that students have gained.Speaking at the

event, Defence Secretary Gavin Williamson said:

Being a cadet offers students unrivalled opportunities

to develop new skills, enjoy unforgettable

life experiences, and be inspired by our world

class Armed Forces.

I'm delighted to announce a new round of cadet

units in schools across the UK, showing our commitment

to ensure students from all backgrounds

have the chance to fulfil their potential. The cadets

I met today impressed me with their confidence,

problem solving and teamwork – skills that will

stand them in good stead in the future. Phoenix

Collegiate was approved in the last wave of cadet

units, and has been on parade now for over a year.

The latest round of cadet units ensures the

Government remains on target to have a total of

500 running in the UK by 2020. 418 cadet units

are already up and running and this latest wave

takes the total approved units to 453. Many are

opened in less prosperous areas where opportunities

for cadet units were previously limited. The

Cadet Expansion Programme is backed by £50

million funding from Libor fines, which covers set

up costs, uniforms, equipment and training. The

benefits of the cadet experience were highlighted

in an independent report published by

Northamptonshire University, which found that

being a cadet can increase social mobility and help

disadvantaged children reach their potential.

Robert Goodwill MP is also conducting independent

research into how schools can best

utilise their cadet units; assessing the benefits of

having a military ethos and values in schools

provides to its pupils. The findings will be completed

by the end of September 2018.
---
4 April 2018

UNITED KINGDOM

www.theasianindependent.co.uk

Plymouth trio banned from waste

trade for fly-tipping around Cornwall

The Environment Agency, councils

and the police teamed up to track

down gang who spoiled scenic beauty

spots. Three men from the Plymouth

area have been banned from the waste

trade for fly-tipping in Cornish beauty

spots. Wayne Plummer, of Burrator

Avenue, Princetown, Ashley Brown,

of Tollox Place, Plymouth and

Michael Baggally, of Wolseley Road,

Plymouth, were all given Community

Orders requiring 100 hours of work

after admitting the illegal deposit of

household, industrial and commercial

waste and not being registered waste

carriers.

They dumped waste, including old

sofas and carpets, in scenic locations,

even setting fire to it on one occasion.

All 3 were ordered to pay £520 compensation

and given a Criminal

Behaviour Order for 5 years, preventing

them from being involved in the

waste business. Baggallay, who had

his hearing for sentencing adjourned

pending a mental health assessment to

establish his fitness for work,

Most national elections

not free and fair: Study

LONDON: A new study titled "How to rig an

election" by academics at the London School of

Economics and the University of Birmingham

lists six ways polls are undermined, and concludes

that a high proportion of elections across the

world are not free and fair.

The number of elections across the world has

reached an all-time high, but this has done little to

increase the quality of democracy, the study published

as a book by Nic Cheeseman (Birmingham)

and Brian Klaas (LSE) says.

Their research demonstrates that a high proportion

of national elections are not free and fair –

enabling authoritarian leaders to remain in power

– with the emergence of new technology playing a

part in the process of manipulation, the university

said. The research is based on more than 500

interviews and the two academics' experience of

watching elections on the ground in countries

such as Belarus, Kenya, Madagascar, Nigeria,

Thailand and Tunisia.

It also seeks to reveal the extent of the democratic

decay that has benefited dictators. They use

six strategies dictators to undermine the electoral

process and guarantee victory: "invisible rigging"

or gerrymandering and exclusion, buying hearts

and minds, divide and rule strategies and the use

of political violence, stuffing the ballot box in

ways old and new, hacking the election using new

technology, and, tricking the international community

into endorsing the result.

appeared at Plymouth Magistrates

Court on Monday 23 April 2018.

Plummer and Brown were both sentenced

on 10 April 2018.

The prosecution followed a joint

investigation between the

Environment Agency, which took the

lead role, South Hams Council,

Plymouth City Council, Cornwall

Council and Devon and Cornwall

Police.

A spokesperson for the

Defence Secretary honours

allies Australian and New

Zealand on Anzac Day

Defence Secretary Gavin Williamson has

laid a wreath at the Cenotaph to mark the

wartime service of Britain's close allies

Australia and New Zealand.

Veterans from both countries gathered to

mark Anzac Day, which honours the anniversary

of the first major military action fought by

Australian and New Zealand forces during the

First World War.

ANZAC stands for Australian and New

Zealand Army Corps. The soldiers in those

forces quickly became known as Anzacs, taking

pride in the name.

After laying a wreath at the Cenotaph the

Defence Secretary attended a service of commemoration

and thanksgiving alongside military

personnel at Westminster Abbey. On Anzac

Day, we remember the sacrifice and courage of

troops from Australia and New Zealand. Almost

a century has passed since the end of the First

Environment Agency, said: This

criminal behaviour was premeditated

and planned and the environmentallysensitive

locations were chosen by the

defendants for their remoteness in

order to better escape detection.

World War and Britain is proud to have served

side-by-side with them in many conflicts over

the last 100 years. Our alliance is one of the

most constant and enduring military partnerships

in history, one which will continue to protect

our shared values and commit to make the

A spokesperson for South Hams

District Council, where some of the

waste was tipped, said:

I'm delighted that we've been able

to work with the Environment Agency

and other local authorities to secure a

conviction in this instance.

I hope this sends a message that flytipping

will absolutely not be tolerated,

and we will prosecute offenders.

On 2 November 2016, Cornwall

Council was alerted to fly-tipping in

the car park at Cremyll on the Rame

Peninsula that included sofas and

carpets.

Further offences followed in

January 2017 at Little Lane in

Bovisand and two days later near

Torpoint. The final offence happened

at Hooe Road in Plymstock

when waste was dumped on a public

footpath and set on fire. Devon and

Somerset Fire and Rescue attended.

Evidence found at 3 sites linked the

waste to all 3 men. The total clean-up

cost was more than £5,000.

world a safer, more secure place.

Gavin Williamson has met with his counterparts

from Australia and New Zealand earlier

this year to examine how allies can continue to

work together against evolving threats.

Currently the UK partners with both Australia

and New Zealand in a number of ways, including

the UN peacekeeping mission to South

Sudan, uniting in the Global Coalition to defeat

Daesh, committing to establish stability in Syria

and Afghanistan, and combining on humanitarian

missions such as Ebola in Sierra Leone.

To provide security to the seas, the UK works

side-by-side with Australia and New Zealand as

part of the Combined Maritime Force, to tackle

drug and weapon smugglers. Additionally, as

part of our strengthening relationship the Royal

Navy ship HMS Sutherland visited Australia in

February and March, allowing further opportunities

for our naval forces to collaborate.

Visions for Peace Building and Sustaining Peace

Statement by Ambassador Jonathan

Allen, UK Deputy Permanent

Representative to the UN, at the

Security Council Briefing on

Peacebuilding

Thank you Mr President. And may

I start by thanking the Secretary-

General, State-Secretary Neculaescu

and Commissioner Chergui for their

briefings. As I remember saying in

Addis last September at the Security

Council's joint meeting with the

African Union PSC, our relationship is

vital, and we must continue to

strengthen it if we are to have success,

so it is particularly good to see you

here, Commissioner Chergui.

The UK shares the briefers' alarm

at the scale and complexity of violent

conflict today. The costs are mounting,

whether we measure those in lost

lives, displaced families, human rights

violations, extreme poverty, or peacekeeping

and humanitarian budgets.

Our motivation to prevent further conflict

and to sustain peace must be

greater than ever. And I agree very

much with the Secretary-General on

the importance of human rights in this

context, both of course as a warning or

trigger of conflict, but not only that.

We believe that activity at national and

local level on human rights can be an

important contribution in of itself to

stability and conflict prevention.

The UK very much welcomes

Secretary-General Guterres' vision for

peace building and sustaining peace,

and particularly the renewed focus on

conflict prevention set out in his

report. We also fully endorse the

understanding that supporting countries

to sustain peace should be a

shared priority across the whole UN

system, from peace and security to

developments and human rights.

Many of our own ministries and governments

have come to this conclusion.

The UK government has decided

that over half of our development

spend will be in conflict and fragile

states, as that is the greatest challenge

in reducing poverty today. This does

not, as some might be concerned, does

not mean that the respective mandates

of different parts of the United Nations

are under threat. And in this regard, we

welcome the fact that both the General

Assembly and the Security Council

will adopt resolutions committing to

further implementation of the

Sustaining Peace Vision agreed in

2016.

The UK has identified three priorities

for future work.
---
www.theasianindependent.co.uk

UNITED KINGDOM

April 2018

5

Penny Mordaunt announces UK aid commitment

to protect civilians, aid workers

and hospitals targeted by the Asad regime

UK to provide emergency medical

support and help protect medical facilities

and brave humanitarian workers

being deliberately targeted in Syria.

The UK will provide lifesaving

emergency medical support and help

protect medical facilities and brave

humanitarian workers that are being

deliberately targeted with bombs and

chemical weapons by the Asad

regime, the International Development

Secretary Penny Mordaunt will say in

Brussels today (Wednesday 25 April).

UK aid will help to train thousands

of doctors and nurses to deliver trauma

care in the most extreme conflict

zones and to immediately respond to

attacks, including how to remove

shrapnel and treat blast injuries, burns

and wounds from mortar fire. It will

also provide essential medical supplies

such as sutures, oxygen, blood

and anaesthetics.

UK support aims to keep medical

facilities open and we are are providing

blast proofing materials and sandbags

to reinforce underground medical

facilities and limit the damage from

attacks.

Ms Mordaunt announced that the

UK will provide at least £450 million

this year to alleviate the extreme suffering

in Syria, as well as providing

vital support to millions of Syrian

refugees sheltering in neighbouring

countries.

With at least 30,000 people currently

injured every month in Syria, it is

expected that around a quarter of this

UK aid support in Syria will be spent

on healthcare next year.

Speaking at the Brussels conference

on 'Supporting the Future of

Syria and the region', Ms Mordaunt is

expected to say:

It is clear the Syrian Regime and its

backers, Russia and Iran, will attempt

to block every diplomatic effort to

hold the regime accountable for these

reprehensible and illegal tactics.

Syria is now one of the most dangerous

places on earth for aid workers

and medical staff. Medical facilities

Duchess of Cambridge

gives birth to boy

London, Catherine, Duchess of Cambridge and wife of

Prince William, gave birth to a baby boy on Monday, the royal

family announced. The child was born at 11 a.m. in St. Mary's

Hospital weighing 8lbs 7oz (3.8 kg). The royal couple's third

child is fifth in

line to the

British throne

after grandfather

Prince

Charles, father

Prince William

and two siblings,

the BBC

reported. The

newest addition

to the

royal family is

a younger

brother to

Prince George,

4, and Princess

Charlotte, 2,

and is Queen Elizabeth II's sixth great-grandchild.

"The Queen, the Duke of Edinburgh, the Prince of Wales, the

Duchess of Cornwall, Prince Harry and members of both families

have been informed and are delighted with the news,"

Kensington Palace said in a statement. "Her Royal Highness and

her child are both doing well," it said. Prince William was present

for the birth. Prime Minister Theresa May tweeted her

"warmest congratulations" to the couple. "I wish them great happiness

for the future," she said.

and schools have been deliberately

targeted, aid has been blocked to

starve communities into submission,

and rape and sexual violence have

been deployed as routine weapons of

war. Today's pledge of UK aid support

will help keep medical facilities open

in the face of relentless attacks so doctors

and nurses can save the lives of

innocent Syrians, as well as helping

the millions of Syrian refugees sheltering

in neighbouring countries. But

today can't only be about pledges of

money and we cannot allow anyone to

turn their backs on the global rules and

standards that keep us all safe.

We're calling for an immediate

ceasefire and safe access so that brave

aid workers and medical staff can do

their jobs without fear of attack. This

year, we must go beyond commitments.

We must see concrete actions,

which lead to greater protection for

civilians and aid workers and work

together to put Syria on a path towards

peace. It is estimated that at least 478

health facilities have been attacked or

destroyed and at least 830 health

workers have been killed in Syria

since the conflict began in 2011.

There has been an increase in the

number of health facilities in Syria targeted

in the first months of 2018, with

36 facilities attacked in February

alone. Last year UK aid supported

more than 175 health facilities, with

more than 11,000 trained healthcare

workers that delivered 2.2 million

consultations.

On top of this, UK support has provided

specialist training and equipment

to respond to chemical weapons

attacks, as well as providing personal

protective equipment for frontline aid

workers and 20,000 ampules of antidote

to treat the effects of some chemical

agents. The UK will continue to

use our position as a permanent member

of the UN Security Council and on

the Human Rights Council to support

resolutions that seek to protect civilians

and humanitarian workers, as

well as calling for existing resolutions

to be observed by the regime and its

backers.

With 5.6 million Syrian refugees

sheltering in neighbouring countries,

the UK aid commitment announced

today will also provide support in

Jordan and Lebanon so that Syrian

refugees can remain close to home

until they are one day able to return

safely. On top of this, the UK will provide

additional support for refugees in

Turkey.

Home Secretary statement

on the Windrush generation

The Home Secretary's statement to the

House of Commons on the Windrush generation.

From the late 1940s to the early 1970s,

many people came to this country from

around the Commonwealth to make their

lives here and help rebuild Britain after the

war.

All members of this House will have

seen the recent heartbreaking stories of

individuals who have been in this country

for decades struggling to navigate an

immigration system in a way they

never, ever should have been.

These people worked here for

decades. In many cases they helped

establish the National Health Service.

They paid their taxes, enriched our culture.

They feel British in all but legal

status and this should never have been

allowed to happen.

Both the Prime Minister and I have

apologised to those affected and I am

personally committed to resolving this situation

with urgency and purpose. Of

course an apology is just the first step we

need to take to put right the wrong these

people have suffered, but before I get on to

the steps we will be taking I want to

explain how this situation has arisen.

The Immigration Act 1971 provided that

those here before it came into force should

be treated as having been given indefinite

leave to enter or remain in the UK, as well

as retaining a right of abode for certain

Commonwealth citizens. Although HMS

Windrush docked in the Port of Tilbury in

1948, it is therefore everyone that arrived

in the UK before 1973 who were given settlement

rights and not required to get any

specific documentation to prove these

rights.

Since 1973 many of this Windrush generation

would have obtained documentation

confirming their status or would have

applied for citizenship and then a British

passport.

From the 1980s successive governments

have introduced measures to combat illegal

immigration. The first NHS treatment

charges for overseas visitors and illegal

migrants were introduced in 1982.

Checks by employers on someone's

right to work were first introduced in

1997, measures on access to benefits in

1999, civil penalties for employing

illegal migrants in 2008, and the most

recent measures in the Immigration

Acts of 2014 and 2016 introduced

checks by landlords before property is

rented and checks by banks on account

holders. The public expects us to

enforce the immigration rules

approved by Parliament as a matter of

fairness for those who abide by the rules.

And I'm personally committed to tackling

illegal migration because I have seen

in this job the terrible impact has on some

of the most vulnerable in our society.
---
6 April 2018

ASIA

www.theasianindependent.co.uk

4 Indians figure

in Time's top 100

Chandigarh : Four Indians have figured

in Time magazine's list of 'The 100 Most-

Influential People'.

Entrepreneur Bhavish Aggarwal, Indian-

American business executive Satya Nadella,

film actress Deepika Padukone and Indian

cricket team's captain Virat Kohli have

found their way to Time's latest issue.

In Kohli's profile — written by Sachin

Tendulkar — Kohli has been called a household

name and a champion in cricket. "Even

back in 2008, his hunger for runs and consistency

was remarkable, something that has

become the hallmark of his game," Sachin

wrote while recollecting the moments

around a decade back when Kohli led the

Indian Under-19 cricket team to win the

World Cup.

A piece on Deepika's contribution has

been written by American actor Vin Diesel.

"So often in the entertainment industry, we

deal in stereotypes, and people get stuck in

certain markets. Deepika is the best the Earth

has to offer. She's not just here to represent

India; she's here to represent the world,"

Diesel wrote. Sachin Bansal, the executive

chairman of Indian e-commerce company

Flipkart, has written on Ola's co-founder

Bhavish Aggarwal. "After all, he co-founded

Ola, one of the world's largest ride-sharing

companies, scaled it to more than 100 Indian

cities, empowered millions of driver-partners

and commuters, and is a flag bearer for

India's consumer-tech ecosystem — all by

the age of 32," Bansal noted. Ola has become

one of the first home-grown tech companies

to meaningfully expand outside India.

Satya Nadella, an Indian-American business

executive, has been added for restoring

Microsoft's spirit of innovation. "Growing

up in India, Satya Nadella fell in love with

cricket, a sport whose grace comes from

melding stars into a cohesive and harmonic

team," Walter Isaacson, a professor of history

at Tulane University and a former managing

editor of Time, noted. Since becoming

CEO of Microsoft in 2014, Nadella has used

those principles to restore the company's

spirit of innovation, Isaacson has written.

Earlier, in the list of contenders, the name

of Prime Minister Narendra Modi had also

figured. However, he could not make it to the

final list. PM Modi had been named among

the contenders last year as well as in 2016.

(With agency inputs)

Pakistan's Ahmadi community releases

damning persecution report

Islamabad : Pakistan's disenfranchised Ahmadi community

released an annual report on Saturday that detailed growing hostilities

against the minority sect, including indiscriminate arrests and

impediments blocking them from voting in general elections.

Ahmadis are forbidden from calling themselves Muslims or

using Islamic symbols in their religious practices. They face discrimination

and violence over accusations their faith insults Islam

and community leaders say that open vitriol and calls for violence

against the community intensified in 2017.

"Under pressure from religious extremists, the Ahmadis were

denied registration in joint electoral lists," community leaders said

in a news release accompanying the "persecution report".

"The preparation of separate electoral lists being prepared

specifically for the Ahmadis in Pakistan is the worst kind of discrimination,"

they said.

With a general election due in 2018, politicians from both the

religious fringe and established parties have had the Ahmadis in

their sights.

The ultra right-wing Tehreek-e-Labaik party began a political

furore late last year after lawmakers from the ruling Pakistan

Muslim League-Nawaz (PML-N) approved apparently small

changes to the election law that discarded a requirement for Ahmadi

voters to declare they are not Muslim.

Protests ended after the government met its demands, scrapping

the proposed amendments and accepting the law minister's resignation.

Labaik has since staged smaller protests and openly

denounced the Ahmadi community.

The Ahmadis consider themselves to be Muslims but their recognition

of Mirza Ghulam Ahmad, who founded the sect in Britishruled

India in 1889, as a "subordinate prophet" is viewed by many

of the Sunni majority as a breach of the Islamic tenet that the

Prophet Mohammad was God's last direct messenger.

Legal restrictions began in 1974, following a constitutional

amendment declaring Ahmadis non-Muslim. A decade later military

dictator General Zia ul Haq barred Ahmadis from identifying

themselves as Muslim.
---
www.theasianindependent.co.uk

ASIA

April 2018

Dalmia Bharat group 'adopts' Red

Fort; Cong questions govt move

How private entity given mandate to maintain the iconic structure, asks opposition party

New Delhi : The Congress on

Saturday questioned how a private

entity was given the mandate to maintain

the iconic Red Fort, days after a

corporate house signed an agreement

with the tourism ministry under its

'Adopt a Heritage' project.

The Dalmia Bharat group, under

the memorandum of understanding,

would maintain the monument and

build basic infrastructure around it and

has committed a sum of Rs 25 crore

for the purpose over a period spanning

five years.

"They are handing over the iconic

monument to a private business. What

is your commitment to the idea of

India, to the history of India? We

know you have no commitment, but

we still want to ask you," Congress

spokesperson Pawan Khera told

reporters here.

"Do you have dearth of funds. Why

funds for the ASI (Archaeological

Survey of India) lapse, why do they

lapse. See the CAG (Comptroller and

Auditor General) reports. If they have

paucity of funds, then why do they

lapse," he asked.

IndiGo Airlines and the GMR

23 chapters on Sikh history

in Class XII book removed

Chandigarh/Patiala : The deletion of 23

chapters from the Class XII history book of the

Punjab School Education Board (PSEB) — pertaining

to important aspects of the Sikh history—

has raised a storm in the state.

The PSEB, after reviewing the syllabus, has

reportedly removed the chapters concerning the

history of Sikh gurus and their teachings —

Anglo-Sikh wars; the rule of Maharaja Ranjit

Singh and annexation of Punjab among others,

from the textbook.

While newly inducted Education Minister OP

Soni said he was not aware of this, PSEB officials

admit that certain

chapters from the last

year's syllabus have

been deleted to "bring

the syllabus on a par

with the National

Council of Educational

Research and Training

(NCERT)".

They added that

these chapters would

now be taught in Class

XI, and the new textbooks were currently in

print. However, the syllabus of class XI, circulated

online to some schools, does not mention that

the ancient Sikh history will be included in their

textbooks. It is learnt that while a print order for

11,000 history books was made, 3,500 have

already been printed. The new syllabus of Class

XII , without the above mentioned chapters, has

also been shared online with the affiliated

schools.

Among other important aspects of Punjab history

that are no longer part of the Class XII history

book are chapters on Sikh struggle against

Mughals and Ahmad Shah Abdali and the origin

and growth of Sikh Misls and Banda Singh

Bahadur. These have been replaced by chapters

on modern history, early and medieval history

and political and economic developments in

these periods and the rise of nationalism and

freedom struggle.

As the matter took political overtones with

former Education Minister and SAD spokesperson

Daljit Singh Cheema demanding a high-level

probe and action against officials guilty of deleting

chapters and wrote a letter to Chief Minister

Amarinder Singh, the latter dismissed as malicious

the SAD's allegation of deletion of chapters

on Sikh gurus.

Lambasting Akali Dal leaders for trying to

spread "misinformation" on a sensitive religious

issue, the CM said Akalis had shown gross irresponsibility

by making a baseless public statement

without bothering to check on the facts.

"The fact is that the courses have merely been

realigned with the

NCERT syllabus to

enable students from

Punjab to compete at the

national level," said the

Chief Minister, making it

clear that not even a single

word had been deleted

by the board.

The history chapters

had been now spread

across classes XI and

XII, on the recommendation of an expert committee,

of which a SGPC representative was also

a member, he said. He added that under his directive,

a chapter on the lives of four Sahibzadas

had been incorporated in the textbooks.

Prof Gurmeet Singh Sidhu, head of the

department of religious studies, Punjabi

University, said the PSEB had omitted major

parts of Punjab history from classes XI and XII

syllabus. Moreover, the facts were wrong and

history had been distorted.

"Removing the Sikh history means we are

depriving our students of knowing their past,

which is highly damaging for any culture. I have

read Class XII and I am shocked to find so many

factual errors in the book, which shows that the

board was least concerned about Punjab history.

We have constituted a three-member committee

which will be presenting a report to the CM and

the Education Minister, along with supporting

documents highlighting all mistakes," he said.

group were also in the race to bag the

project.

The Dalmia Bharat group has

agreed to provide certain basic amenities

at the 17th century monument

within six months. These include providing

drinking water kiosks, street

furniture-like benches and signages to

guide the visitors, according to the

ministry. The entity has also agreed to

put up within a year tactile maps,

upgrade toilets, light up the pathways

and bollards, carry out restoration

work and landscaping and build a

1,000 sq ft visitor facility centre.

It will also provide a 3-D projection

mapping of the fort's interior and exterior,

battery-operated vehicles and

charging stations for such vehicles and

a thematic cafeteria.

Responding to Khera's remarks,

Minister of State for Tourism K J

Alphons said under the scheme started

last year, the ministry is looking at

public participation to develop heritage

monuments.

"The companies involved in these

projects will only spend and not make

money. They will create amenities

such as toilets, provide drinking water

7

for the tourists so that their footfalls

increase. They might put up signs outside

to say that they have developed

the amenities. If they are spending

money, there is nothing wrong in taking

credit for it," he said.

"I want to ask the Congress what

they did for the past 70 years. All the

monuments and facilities around them

are in terrible shape. In some places,

there were no facilities at all," he said.

As of March this year, 31 prospective

'monument mitras' (friends of heritage

sites) have been shortlisted by a

oversight and vision committee for

developing tourist-friendly amenities

at 95 monuments, heritage and other

tourist sites including the Red Fort,

Qutub Minar (in Delhi), Hampi

(Karnataka), Sun Temple (Odisha),

Ajanta Caves (Maharashtra), Char

Minar (Telangana) and Kaziranga

National Park (Assam).
---
8 MARCH 2018

ASIA

www.theasianindependent.co.uk

Asaram's daughter distances

65% of video

consumption in rural

India: Smriti Irani

New Delhi, An average Indian spends

200 minutes a day on mobile apps and 65

per cent of video consumption the country

is from rural areas, said Union

Minister Smriti Irani on Friday.

In the backdrop of latest data, the

Union Information and Broadcasting

Minister called upon the media and entertainment

industry to think about new

things that can be offered to consumers.

Speaking at the 69th valedictory session

of Development Journalism Course

at the Indian Institute of Mass

Communication here, Irani said that times

had changed and the journalist was no

longer the last word on a given piece of

news. "Things have changed from the

time when editor had the last word on the

narrative. Now consumer also decides on

the narrative and asks about the source of

information. In this age of data exploding

from every nook and corner, many would

google every piece of information, and

therefore, it is important to be credible,"

Irani said.

The Minister said the video consumption

in rural areas was set to grow further

in the days ahead, according to an official

release. "An average Indian spends 200

minutes a day on mobile apps and 65 per

cent of video consumption in our country

is only from rural areas and is slated to

grow further. In this scenario, the media

and entertainment industry should think

about what new things can be offered to

the consumers," the release quoted her as

saying.

herself from disgraced father

Gandhinagar, Distancing herself from her

A Surat-based woman has accused Asaram of

father and his empire, the daughter of convicted

self-styled godman Asaram, stated on Friday that

she had taken a different path a long time back.

"The world outside believes that I am very

much involved in the daily affairs of the ashrams,

whereas the ashram management believes that I

have been independent of the ashram for over 17

years," Bharti told the media outside the

Gandhinagar court. Bharti was at the court for a

hearing where she and her mother Lakshmi have

been named as accomplices in yet another rape

case against Asaram.

raping her multiple times between 1997 and 2006

at his centre in Ahmedabad. Four other women

followers – Dhruvben, Jassi, Nirmala and Meera

— have been named in the chargesheet for abetment

of rape.

A Jodhpur court sentenced Asaram this week

to life imprisonment on charges of raping a minor.

Claiming ignorance of Asaram's future legal

action, Bharti said: "The legal team in Jodhpur

does not consult us. Whether they would go to

High Court or not, they would take a decision. I

have no knowledge."

Apart from heat Delhi suffers from bad air quality

New Delhi, The national capital, though at

39.2 degree Celsius, a notch above the season's

average on Friday, still saw relief with three

degrees drop in maximum temperature, a Met

official said, but the air quality still remained

"very poor".

Parts of Delhi continued suffering heat with

Palam area recording 41 degrees, a notch above

the season's average. On Thursday, Palam recorded

43.9 degrees. Gurugram and Faridabad in

Harayana recorded 39.2 degree Celsius.

With 46.5 degrees, Churu in west Rajasthan

was the most hot place in India on Friday.

For the National Capital Region, weather analysts

attributed change in wind direction, from

dry and warm westerly winds to humid and cool

easterly and south-easterly breeze as the reason

for the temporary respite.

Possibility of light showers towards Saturday

may add to the respite for Delhi and neighbouring

areas, the India Meteorological Department said.

Mercury will however start caching up from

next week onwards. The minimum temperature

on Friday was recorded at 26.4 degrees Celsius,

two notches above the season's average.

"Temperature in Delhi and surrounding areas

will remain below 40 degrees for next two to

three days, due to the easterly winds and western

disturbance. After that mercury will start to rise,"

Mahesh Palawat, director of private weather analyst

Skymet told IANS.

According to the IMD, light rains may

improve the weather of Delhi in next 24 hours.

"Delhi may see light rain shower towards late

Friday night or Saturday morning," an IMD official

said.

The humidity oscillated between 39 to 57 per

cent.

Thursday's maximum temperature was recorded

at 42 degrees, two nothces above the season's

average, while the minimum temperature was

recorded at 25.5 degrees Celsius, a notch above

the season's average.

According to Central Pollution Control Baard,

the Air Quality Index (AQI) of Delhi on Friday

was kept at 306, considered very poor, while on

Thursday it was 312.

2,655 candidates in fray for

Karnataka Assembly polls

Bengaluru, In all, 2,655 candidates

are in fray for the ensuing

May 12 Karnataka Legislative

Assembly polls, according to a

data from the state Chief

Electoral Office. Of the 3,509

who filed valid nominations by

the last date on Tuesday, 583 candidates

withdrew by Friday and

271 were rejected after their

papers were scrutinised on

Wednesday, according to the data

which was made available on

Friday night.

Of the candidates in the fray,

including 219 women, 222 are

from the ruling Congress, 224

from the opposition Bharatiya

Janata Party (BJP), 201 from

Janata Dal-Secular (JD-S), 1,155

Independents and 800 from other

national, regional and fringe parties,

according to the final list

released by the poll panel.

Mulbagal constituency in the

state's Kolar district has the highest

number of contesting candidates

with 39 in fray for the seat.

Friday was the last date for the

candidates to withdraw their

nominations. Polling will be held

in a single phase for all the 224

Assembly constituencies in the

state, including 36 reserved for

the Scheduled Castes (SCs) and

15 for Scheduled Tribes (STs).

The votes will be counted on

May 15.

Pak doctor who

aided Osama

hunt shifted to

'safe location'

Islamabad, Shakil Afridi, a

doctor who helped the USA's

Central Intelligence Agency

(CIA) track down Osama bin

Laden, has been moved out of a

prison in Peshawar to an undisclosed

'safe location' in another

city, the media said.

Afridi had been imprisoned

in the Central Prison Peshawar

for almost seven years after he

ran a phoney vaccination campaign

in Abbottabad city to

help the CIA track down and

kill the former Al Qaeda chief

in a controversial raid on May

2, 2011. A year later, Afridi was

sentenced to 33 years in prison

for involvement in anti-state

activities by a tribal court in

Pakistan.

Speaking to the Express

Tribune, an official of the

Peshawar prison said that a

large number of police as well

as army contingent reached the

prison on Friday and took

Afridi away amid tight security.

The official said he had no idea

where the prisoner had been

shifted. Another official said

Afridi had most probably been

moved out of the province.
---
www.theasianindependent.co.uk ASIA April 2018 9

MP Governor tells

BJP leaders 'how

to get votes'

Bhopal : A controversial video of Madhya

Pradesh Governor Anandiben Patel has surfaced

in social media, in which she is seen giving "vote

mantra" to a BJP woman leader, advising her to

take up the cause of malnourished children herself,

instead of depending on government officers.

"These officers do not need votes, but we

do," she tells the Bharatiya Janata Party (BJP)

leader pointing to the officers in the video.

The video is believed to have been shot during

Patel's visit to Satna district of the state on

Thursday, when she was talking to BJP leaders in

the area at the local airport.

She also advises the woman leader -- Satna

Mayor Mamta Pandey -- and other party leaders

to adopt poor and malnourished kids in the area

if they want to get votes in the upcoming polls.

"Eradicating malnourishment is our responsibility.

Engage councilors to achieve it. You don't

get votes just like that. You have to ensure people

get what they want. The government is providing

Rs 500 every month for each child... The

children should get its benefit. Only then the

dream of Narendra (Modi) Bhai will be fulfilled,"

says Patel.

Patel, a former Gujarat Chief Minister, tells

Pandey to "visit poor people and adopt their

kids" to get their votes. The Governor's video has

left a section of the people red-faced, who have

now tweeted the video to President Ram Nath

Kovind, saying she is misusing her post and

demanding action against her.

Bypolls to 4 Lok Sabha, 10

assembly seats on May 28

New Delhi, The bypoll to the Kairana Lok Sabha

seat in Uttar Pradesh will be held on May 28 as the

Election Commission on Thursday announced dates

for bypolls to four Lok Sabha seats and 10 assembly

seats across ten states. Apart from Kairana in Uttar

Pradesh, parliamentary

bypolls will be held on

May 28 for Palghar and

Bhandara-Gondiya in

Maharashtra and to the

Nagaland seat.

The seats where

assembly bypolls will be

held on May 28 are

Noorpur (Uttar Pradesh),

Shahkot (Punjab),

Jokihat (Bihar), Gomia

and Silli (Jharkhand),

Chengannur (Kerala),

Palus Kadegaon

(Maharashtra), Ampati

(Meghalaya), Tharali (Uttarakhand) and Maheshtala

(West Bengal).Counting on all the seats will take

place on May 31. The bypoll in Kairana gains significance

as the ruling BJP had lost two prestigious Lok

Sabha bypolls in Uttar Prdesh in March after the

Bahujan Samaj Party and Samajwadi Party joined

hands against it. The BJP lost Gorakhpur, earlier represented

by Chief Minister Yogi Adityanath and the

Phulpur, earlier represented by Deputy Chief

Minister Keshav Prasad Maurya. The success of

Samajwadi Party candidates in both Gorakhpur and

Phulpur had come as a boost to efforts by opposition

parties to forge a a common understanding against

the BJP in the run up to 2019 Lok Sabha polls. The

contest in Kairana will be watched with considerable

interest as the seat

was also held by the

BJP. The vacancy

arose after death of

sitting MP Hukum

Singh.

Bhandara-Gondiya

and Palghar Lok

Sabha seats were also

held by the BJP.

Byelection to

Bhandara-Gondiya

Lok Sabha seat was

necessitated when in

early December 2017,

sitting member Nana

Patole quit the BJP and the Lok Sabha seat to join the

Congress. The Palghar seat in north Konkan fell

vacant after the sitting BJP MP Chintaman Vanga

died on January 30 following a heart attack.

Nagaland Lok Sabha seat fell vacant following

resignation of Neiphiu Rio, who was elected as Chief

Minister. The BJP, which had won an absolute majority

in the 2014 General Elections with 282 seats, has

lost seven seats in Lok Sabha by-elections held so far

in the last four years and its present tally is 274.

Pakistan's new

finance minister

presents budget as

oppn protests

ISLAMABAD: The outgoing PML-N government's

newly appointed finance minister

Miftah Ismail presented its sixth budget in

Parliament on Friday amid opposition protests

calling for a budget covering only the remaining

three months of the administration's tenure.

The defence budget was set at Rs1,100 billion,

from a revised budget estimate of Rs 999

billion for the previous year, or 18.5% of the

total outlay. During Ismail's address, members

of the opposition continued their protests and

uninterrupted chanting of slogans. They surrounded

his dias and threw papers in the air.

Opposition members also ripped apart

copies of the budget while PML-N lawmakers

encircled Ismail's dias to keep protesters at a

distance.Ismail said the government is using

data mining and other technologies to catch tax

evaders.

"We have given people one last chance to

declare their domestic assets. We will catch

them and prosecute them if they do not avail

our tax amnesty package," he said. According

to a copy of the budget 2018-19, the total outlay

has been set at Rs 5,932.5 billion, up from

Rs 5,103.88 billion last year The target GDP

growth rate for the upcoming fiscal has been

set at 6.2%, against 6% for 2017-18. The total

tax target is Rs 4,888.6 billion, of which taxes

comprise Rs 4,435 billion.

2nd Martha Farrell Award Ceremony held at Delhi:

Women empowerment through participation

Martha Farrell Foundation

has been working with women

groups across India since inception.

The core activities of the

foundation are to empower

women through participation

and action-oriented programmes.

Gender inequality has

been the curse of all the developing

and developed societies

since civilization. Patriarchy and

subordination of women are

embedded in the social system of

India. In societies such as ours, it

is almost a given that women

will spend much longer caring

for the home and children than

men. In the 1850s the women

groups in the United States of

America struggled to include

women in the provisions of 14th

and 15th Amendments

(Extending citizenship rights and

granting voting rights). In India,

Savitribai Phule opened the first

school for girls in 1848 with the

support of his husband Jyotirao

Phule which allowed the women

of marginalized sections of the

society to get an education and

prepare them to assert for their

rights. Education is the only tool

through which women and men

can achieve social and economic

mobility in life.

The patriarchal mindset in

India needs to be changed. A girl

child is not welcome at the time

of birth. Statics reveal that

women are vulnerable in every

part of India. Public transport is

often intermittent, they face

harassment en route and late

working hours leave them open

to greater risk of violence.

Casting couch is prevalent in

every field of industry.

According to 2016 report by

National Crime Record Bureau

(NCRB), more than 3 lakh incidents

of crime against women

were recorded. Such crimes

against women belonging to the

marginalized sections of the

society increased manifold.

India is an emerging economy.

Data reveals that only 25

percent of Indian women are in

the workforce, while for China it

70 percent. To reduce this gap,

inclusive policies need to be formulated

and implemented.

Women need to develop a scientific

outlook for that dogmatism

and superstitions should be

rejected. Dowry system needs to

be annihilated. Social and economic

inequality can only be

reduced through empowering

women. Men monopolization

over the mind of women needs

to be demolished. They need to

be empowered not only at the

regional level but also at the

national level. The representation

of women in Parliament of

India needs to include.

Since independence, several

initiatives on the part of the government

as well private organizations

are taken in safeguarding

the vulnerable women.

Contributions by Martha Farrell

Foundation, Society for

Participatory Research in Asia (

PRIA) and Rizwan Adatia

Foundation in empowering

women are commendable and

need to be supported by every

sensitive citizen of the world.

During the function, awards

under different category were

given to individuals and institutions.

The J&K Government has

admitted in the Legislative

Assembly while giving a reply

that 11,786 cases of crime

against women in 2016 were

reported. Gang Rape,

Kidnapping are common in the

state of J& K. In that situation,

Nadiya Shafi, a promising individual

from Kashmir has been

working among marginalized

women groups to educate them

about their constitutional and

legal rights. Malti Sangne of

RSCD, Maharashtra received

institution category award.

RSCD organized several programmes

for the empowerment

of marginalized women in the

state of Maharashtra.

A dialogue took place on the

sensitive issues concerning

women among the panelists.

Rizwan Adatia, Founder &

Chairman of Rizwan Adatia

Foundation, a visionary, philanthropist

narrated his story how

he began his journey from a

humble background. His mother,

a pious woman motivated him to

engage in social services particularly

for the vulnerable women.

From that day onward, he and

his family have been working for

the upliftment and empowerment

of marginalized women.

Rizwan said: "There is need to

bring about change in the minds

and hearts of the people and create

awareness in the society

towards gender equality".Sohail

has been creating awareness

among boys and girls through

sports platform. He said: Girls

and boys can understand better

when they engage in open discussion".

The discussion was

moderated by Ms. Poonam

-Rahul Bali,

Senior Correspondent, The

Asian Independent, New Delhi

Muttreja, Population Foundation

of India. A song was sung by

Tripy Sama, musical band mesmerized

the audience. Nandita

Pradhan Bhatt, Director, Martha

Farrell Foundation thanked the

guests for participation.

Addison Aaron

A First Class Full Service

International Law Firm

Committed To Winning Matters.

Tel : 0121 213 4812

law@addisonaaron.com

w w w . a d d i s o n a a r o n . c o m
---
www.theasianindependent.co.uk

Accountants

City Accountants

29 Foremans Road, Sparkhill,

B'ham B11 3AA

Tel. 0121 777 8000

www.city-accountants.co.uk

43B Formans Rd, B'ham, B11

3AA | Tel: 0121 777 8000

Barber Shop

JC Hairstyles

78 Gipsy Ln, Leicester LE4

6RE

Tel: 0116 266 9188

271 Tat Bank Rd, Oldbury,

Birmingham, B68 8NP

Tel : 0121 544 0068

Ladypool Rd, Birmingham,

B128JY

Bars & Pubs

5 Market Pl, Tipton, DY4 7EJ

Tel : 0121 557 6506

Bank

118 Soho Rd, B21 9DP

Tel : 0121 515 0400

182 Soho Rd, Birmingham,

B21 9LP, Tel : 0121 507 9940

173-175 Soho Rd, B'ham, B21

9SU | Tel : 0121 523 5973

290 Soho Rd, Birmingham,

B21 9LZ | Tel : 0121 554 9082

Builders

S &P Builders

Sukhi Mob. : 07737 060 121

Pamma Mob.: 07450 762 550

Bearwood Maintenance

Mob. 07811 392 786

Raj & Raj Building Work

B'ham | Mob. 07404 042 783

Birmingham Building

Construction

Osman Abyan

Managing Director

Mob; 07429 398 280

birminghambuildingconstruction@hotmail.com

Carpentry

Flora Carpentry

Sunny Mob. 07403 586 305

Mail: gurdipflora@hotmail.com

Carpets

UK Carpets

1188-1190 Warwick Rd, Acocks

Green, B'ham B27 6BT

Tel. 0121 707 6424

www.uk-carpets.com

Corner Shop

165 -167 Stratford Rd, B'ham,

B111RB | Tel : 0121 772 1322

523 Foleshill Rd, Coventry,

CV6 5AU | Tel : 024 7666 5277

Wallsal Rd, Wednesbury,

WS10 9SJ

44a Pinson Rd, Willhall,

WV132PR | Tel : 01902 606302

42 Church St, Bilston,

Wolverhampton,

WV14 0AH

Aaron's Catering Services

Brewery Street, off High Street

Smethwick B67 7RA

Tel : 0121 555 8400

Mob : 07805 337 232

Mail: info@aaronsfoods.co.uk

Web: www. aaronsfood.com

Indian Sweets

& Catering

We Cater For All Occasions;

Weddings, Birthdays,

Engagements Parties or any

other Social Functions.

Big Discounts on

Bulk Orders

Quality Service and

Years of Experience

71 Great Bridge,

Tipton, DY4 7HF

Tel. 0121 238 2648

Mob: 07413 426 930

Mail: vivek_18hp@yahoo.com

Café & Restaurants

84 Oxhill Rd, Birmingham,

B21 9RH | Tel : 0121 554 5517

225 Holyhead Rd, Birmingham

B21 0AP | Tel : 0121 515 4110

20 High St, Smethwick, B'ham,

B66 1DX | Tel : 0121 558 8488

86 High St, Smethwick, B'ham,

B66 1AQ | Tel : 0121 558 8372

Tollgate Shopping Precinct,

Smethwick, Birmingham, B67

7RA | Tel : 0121 565 2122

Tollgate Shopping Centre,

Brewery St, Smethwick, B'ham,

B67 7RA | Tel : 0121 555 8400

285-287 High St, Smethwick,

Birmingham, B66 3NJ

Tel : 0121 565 2187

166 High St,

Harborne,Birmingham,

B179PN

314, High St,

Harborne, Birmingham,

B179PU

10, Rood End Road,

Oldbury, Birmingham,

B688SH

125 High St, West Bromwich,

Birmingham, B70 6NY

Tel : 0121 525 9458

142 High St, West

Bromwich, Birmingham,

B706NY

40 Old Walsall Rd, B'ham,

B42 1NP

205 Dyas Ave, Birmingham,

B42 1HN

572 Kingstanding Rd, B'ham,

B44 9SD | Tel : 0121 373 3549

563 Coventry Rd, Small Heath,

Birmingham, B10 0LP

Tel : Tel: 0121 572 6397

703 - 705 Stratford Road,

Sparkhill, B'ham, B11 4DN

Tel: 0121 778 5100

71 Great Bridge, Tipton, DY4

7HF | 0121 238 2648

48A Lower High St,

Wednesbury, WS10 7AL,

Tel : 0121 505 1211

200 Dudley Rd, Wolverhampton,

WV2 3DT | Tel : 01902 450939

Barcroft Rd, Wolverhampton,

WV2 3HF | Tel : 01902 451113

Cash & Carry /

Supermarkets /

Corner Shops

Radias Superstore

121-127 Melton Rd, City

Centre, Leicester LE4 6QS Tel:

0116 266 9409

A1 Cash and Carry

112 Green Lane Road,

Leicester, LE5 3TJ

Tel: 0116 212 2129

Shah's Pan House

523 Foleshill Rd, Coventry,

CV6 5AU

Tel: 02476 665 2777

Catering

Sukhdev's Catering

Unit 4, 5/7 South Road,

Hockley, Birmingham B18 5LT

Tel: 0121 314 1247

Mail: sukhdev@sukhdevfoods.com

www.sukdhevcaterings.co.uk

Double Glazing

Star Windows (GB) Ltd.

16 Rolfe St, Smethwick,

B'ham B66 2AA

Tel. 0121 555 8333

Electronics

86 Great Hampton St, B'ham,

B186EW

Fence

T & D Fencing

Unit 405, Smethwick Enterprise

Centre, St, Smethwick, B66 2AR

Tel. 0121-565 4533

www.TandDfencing.co.uk

Hardware Store

Queens Park Stores

Diy • Furniture • Beds • Bathrooms

224/230 Court Oak Road,

Harborne, Birmingham B32 2EG

Tel: 0121 – 4282164

www.queensparkstores.co.uk

27A W Bromwich St, Walsall,

WS1 4BP :| Tel : 01922 642329

CLASSIFIED

Health Care

Premium Community Care

86 Digbeth, B'ham B5 6DY

Tel. 0121 643 9808

Insurance

Crownsway Insurance

Brokers Ltd.

183 Holyhead Road,

Handsworth, Birmingham

Tel. 0121 554 3566/9788

www.crownsway.co.uk

Insurance Broker

46 Summer Rd, Birmingham,

B236UR

DJS House, 183 Holyhead

Road, Birmingham, B21 0BD

Tel : 0121 554 3566

Lettings & Sales

Ignite Properties

44A High Street, Leamington

Spa, CV31 1 LW

Tel.: 01926 930 251

www.ignite-properties.co.uk

Angel Estates Ltd

251-253 Rookery Rd,

Birmingham B21 9PU

Phone: 0121 448 0717

M & R Lettings & Sales

Wolverhampton

Tel. 01902 833 844

Sodhi & Co.

123 Evington Road, Leicester

Tel. 0116 255 3455

www.sodiandco.com

Library

Birmingham Rd, Birmingham

B43 6NW

193 High St, Harborne, B'ham,

B179QG

Kingstanding Road, B'ham,

B44 9ST | Tel : 0121 464 5193

Meat Shop

Soand Meat Shop

122 Green Lane Road, Leicester

Tel. 0116 276 0658

326 Ladypool Rd, Birmingha,

B128JY

Punjab Meat Center

16 Tollgate Shopping Precinct,

Smethwick, B'ham B67 7RA

Tel. 0121 448 7279

169 Rookery Rd, Birmingham,

B21 9QZ, Tel : 0121 554 1988

Tollgate Shopping Precinct,

Smethwick , B'ham, B67 7RA

Tel : 0121 558 4441

123 High St, West Bromwich,

Birmingham, B70 6NY

Tel : 0121 553 3555

37 High St, West Bromwich ,

Birmingham, B70 6PB

Tel : 0121 553 5231

600 -602 Coventry Rd, Small

Heath, Birmingham, B10 0US

Tel : 0121 773 0234

542 -544, Coventry Rd, Small

Heath, Birmingham, B10 0UN

Tel: 0121 771 0292

711/713 Stratford Road,

Sparkhill, Birmingham, B11

4DN | Tel: 0121 778 5553

Soand Meat Shop

122 Green Lane Road, Leicester

Tel. 0116 276 0658

Punjab Meat Center

16 Tollgate Shopping Precinct,

Smethwick, B'ham B67 7RA

Tel. 0121 448 7279

Stand Meat Shop

122 Green Lane Road,

Leicester, LE5 3TJ Tel: 0116

276 0658

New Asia Meat Centre

119 Caludon Rd, Coventry CV2

4LR Tel: 024 7644 7900

Gill Meat & Grocery

Unit 12, Tollgate Shopping Centre,

Smethwick, B'ham B67 7RA

Tel : 0121 558 4441

383 Mosley Rd, B'ham,

B129DD

Tat Bank Rd, Oldbury, B'ham

B68 8NR

212 Golden Hillock Rd, B'ham,

B112PN

Birmingham,

B10 0QP

Mortgage

Zakir Mortgage

128 A, Stoney Lane, B'ham

Tel. 0121 449 7091

Mob. 07890 615 016

Motoring

BR Car Care

383-387 Moseley Rd, B'ham

B12 9DD

Tel. 0121 440 0779

Mosque

Off License

Super Wines and Spirits

91-793 Stratford Rd,

Birmingham B11 4DG

Tel: 0121 778 5016

April 2018

10

4-6 Beauchamp Ave, B'ham,

B201DR

255 Lodge Rd, B'ham,

B18 5SJ

91-793 Stratford Rd, B'ham,

B11 4DG | Tel: 0121 778 5016

138 Clay Ln, Coventry,

CV2 4LT

Brax News, 156-160 W

Bromwich St, Walsall,

WS1 4DE

Darlaston, Wednesbury,

WS10 7TQ

Party Hall

Supreme Banqueting and

Conference

10, Roebuck Lane, West

Bromwich, B70 6QP.

Tel: 0121 553 3921

Radio

715-C Parkfield Road

Wolverhampton, WV4 6EE

Tel. 1902 681 655

TM

Sky Digital Channel 0205

24 hour Entertainment

On Sky, On-Line, On Mobiles

Studio : 01902 457875

Reception : 01902 450533

Safety Lockers

MINT Safety Deposit Centres

MacDonald Road, Leicester,

LE4 5HD | Tel. 0345 222 3456

School of Motoring

Bains School of Motoring

Mobile: 07973 281968

Tel: 0121 523 2848

Security Services

Your Security Services Ltd.

86 Digbeth, B'ham B5 6DY

Tel. 0121 448 0750

www.ysrl.co.uk

Singers, Stage and

TV artists

Babbu Chander

Wolverhampton

Mob. 07492 129 321, 07429 119 530

Sukhdev Jassi

Bedford | Mob. 07901 796 669

Pamma Lasadia

Wolverhampton

07448 886 166
---
www.theasianindependent.co.uk

Solicitors Chaudhary's Cash & Carry

Stratford Rd, Birmingham, B11

4BP | Tel: 0121 778 3800

Dadiyal Supermarket

118-120 Alum Rock Rd, B'ham,

B8 1NH

Desi Bazaar

560 Coventry Rd, Small

Heath, Birmingham, B18 0UN

Tel: 0121 773 9909

Braitch Solicitors

28 Chapel Ash,Wolverhampton

Mob. 07773 374 848

Tel. 01902 711 200

Indian Advocate & Top

Immigration Services

Wolverhampton

Tel.01902 457711

Mob. 078 2828 3992

Midland Immigration

Services Ltd.

255 Melton Road, Leicester

Tel. 0800 0304 998

VKM

48, Queen St, Wolverhampton

WV1 2BJ

Tel: 01902 311 1155

Super Market

Sabar General Stores

113, Holyhead Road,

Handsworth B21 0HH

Tel : 0121 551 6423

Wayco Supermarket

72A Soho Road, Handsworth,

BIRMINGHAM, B21 9BH

Tel : 0121 551 8711

Soho News

129 Soho Rd, BIRMINGHAM,

B21 9ST

Al Halal Supermarket

7 - 13 Alum Rock Rd, B'ham,

B8 1LL | Tel: 0121 327 0074

Al Halal Supermarket

360 Coventry Rd, Birmingham,

B10 0XE | Tel: 0121 753 4391

Al Halal Supermarket

753-770 Stratford Rd, B'ham,

B11 4DG | Tel: 0121 777 1510

Aujla Supermarket

116 High St, West Bromwich,

B'ham, B706PB

Buy and Save

Rood End Rd, Oldbury, B'ham,

B688SH

Desi Mass Bazar

Ladypool Road, Birmingham,

B128TT

East & West Supermarket

721-725 Stratford Rd, B'ham,

B11 4DN | Tel: 0121 7773904

East & West Super market

132 - 136 Ladypool Rd, B'ham,

B128JA

Food World

121 Villa Rd, Birmingham,

B19 1NH | Tel: 0121 554 6532

Food World Super market

728 Stratford Rd, Birmingham

B11 4BP | Tel: 0121 777 8636

Gill Super market

330A Soho Rd, Birmingham,

B21 9NA | Tel : 0121 523 5272

Grocery Store

New Street, Smethwick, B'ham,

B66 4PH |

Hill Top Super market

125 Hill Top, West Bromwich,

Birmingham, B70 0RU

Tel : 0121 505 3529

Khan Super Market

618 - 620 Coventry Rd, Small

Heath, Birmingham, B10 0UT

Tel : Tel: 0121773 6843

Lifestyle Express Apna

Food & Wine

Albret Rd,

B'ham, B21 9QX

Lodge Supermarket

70 Lodge Rd, West Bromwich,

Birmingham, B70 8PA

Tel : 0121 553 4004

Londis Supermarket

23 Acfold Rd, Birmingham,

B20 1HD

Malhi's Supermarket

Bacchus Rd, Birmingham, B18

4RE

Money Saver Food Store

Ladypool Rd,

B'ham, B128TT

Pak Super Market

121-125 Lozells Rd, B'ham,

B19 2TR | Tel : 0121 554 2711

PAK Supermarket

Unit 1 Cape Hill Retail Centre,

Cape Hill, B'ham, B66 4PH

Tel : 0121 558 6786

Pak Super Market

42 Alum Rock Rd, B'ham, B8

1JA | Tel: 0121 328 7868

Punjab Food Store

94 High St, West Bromwich,

B'ham, B706NZ

If You See This...

List Your Business Here

Call : 07878 456 484

Punjab Supermarket

Birmingham :

B11 4DX

R S Superstore

58 Nineveh Rd, Birmingham,

B21 0TE | Tel : 0121 554 1687

S & B General Store

3 College Rd, B'ham B20 2HU

Tel : 0121 523 4371

Sabar General Store

113 Holyhead Rd, Birmingham

B21 0HH | Tel :

Sonali Supermarket

537, Coventry Rd, Small

Heath, Birmingham, B10 0LL

Tel: 0121 773 8236

Toor Supermarket

93 Rookery Rd, B'ham, B21

9QX | Tel : 0121 554 0796

Vegmart

147-149 Soho Rd, B'ham, B21

9ST | Tel :

Villa Supermarket

117 Villa Rd, B'ham, B19

1NH | Tel : 0121 554 2374

Wayco Supermarket Ltd

72A Soho Rd, B'ham, B21

9BH | Tel : 0121 551 8711

Heer Super Store

19-21 Clay Ln, Coventry, CV2

4LJ | Tel : 024 7645 6903

Warley Supermarket

75 Bridge St, Wednesbury,

WS10 0AH | 0121 505 5898

Banga Stores

59A Lea Rd, Wolverhampton,

WV3 0LW | 01902 338835

Samra Supermarket

418 Dudley Rd, Wolverhampton

WV2 3BP | 01902 458814

Sandhus Supermarket

15 Bargate Dr, Wolverhampton,

WV6 0QW | Tel: 01902 311556

Take Away & Cafe

Chick King

225 Holyhead Rd, B'ham

B21 0AP | Tel. 0121 515 4110

Jalandar Sweet Shop

86, High St, Smethwick,

B'ham B66 1AA

Apna Punjab Sweet Centre

65A, Purely Road, Leicester

LE4 6PB

Tel: 0116 266 6567

Taxi & Coach Hire

Brit Coaches

93 Dudley Rd, Halesowen

B63 3NS

Tel. 0121 769 2707

www.britcoaches.co.uk

Warley Cars

Tel. 0121 555 7654

Taxi & Bus Hire

86, Digbeth Rd, Birmingham, B5

6DY | Tel : Tel: 0121 643 1000

209, Bordsley Green, B'ham, B95SP

Tent Hire

Amrit Tent Hire

Mob; 07815 134 618

amrittenthire@yahoo.co.uk

Walsall DIY

West Bromwich St.

Walsall 01922 642 329

CLASSIFIED

Travel Agency

101 Soho Rd, Birmingham, B21

9SP |

Travel Agencies

Sky Way Travel

232 Soho Rd, B'ham B21 9LR

Tel. 0121 523 3050

Balu Travel

114 Soho Rd, B'ham B21 9DP

Tel. 0121 554 4013

Visa

√Ó≈‹ ÚΔ'ÒΔ Á∂ Í≈·'ª Ò¬Δ «ÚÙ∂Ù √»⁄È≈

£@.E@p

«√apple¯ Í≥‹≈' ÍÀ∫√

«Í¡≈apple∂ Í≈·' ‹Δ˙,

¡≈Í ‹Δ ÁΔ ‹≈È'≈appleΔ

Ò¬Δ «¬' √»⁄È≈ «ÁÂΔ ‹ªÁΔ ˛

«' "√Ó≈‹ ÚΔ'ÒΔ" ¡ıÏ≈apple 'π‰

«√apple¯ Í≥‹≈' ÍÀ∫√ (£@.E@p)

«Úæ⁄ «ÓÒ∂◊ΔÕ Âπ√ƒ «‹√ ÚΔ

Áπ'≈È Â∂ '∂·≈ «Á÷≈«¬¡≈ «◊¡≈

√≈¬ΔÈ ÏØapple' «Ò«÷¡≈ ÍÛ∑Ø ¿π√

Áπ'≈È ÂØ∫ Âπ√ƒ "√Ó≈‹ ÚΔ'ÒΔ"

¡ıÏ≈apple ıappleΔÁ √'Á∂ 'Ø ËøÈÚ≈ÁÕ

'Øapple ‹≈‰'≈appleΔ Ò¬Δ √øÍapple' 'appleØ

ÎØÈ ÈøÏapple : @GHGH DEF DHD

samajweekly@gmail.com

April 2018

Training & Development

11

Event Management & Wedding Planners

Travel & Accommodations

Enjoy Holidays in India & Across the Globe with ONTIME

Inbound & Outbound Tailor Made Tours

Ontime Luxurious Apartment

Rent-a-car Service Across India

Visa & Air Tickets | Travel Insurance

ONTIME HOSPITALITY SERVICE (Mumbai, India)

+91-22-26848985/66952866/26837175

+91-9833120569

info@ontimetravel.net, chetna@ontimetravel.net

www.ontimetravel.net | www.ontimeapartments.com

On kanshi TV

channel 864.

SATURDAY at

6 :00 pm

SUNDAY at

6 :00 pm

Ambedkarites News and Views

by

BUDDHIST INTERNATIONAL MEDIA

Mob : 07411 251 804, 07847 307 059
---
12 April 2018

BUSINESS

www.theasianindependent.co.uk

HIGH EXPORTS spur TEA

board's plans for U.S. show

KOLKATA : In a bid to sustain the

high level of exports touched last year,

the Tea Board is proposing a delegation

to participate in a food show in

the U.S. A delegation to further trade

prospects with China is also on the

anvil. It has already taken a delegation

to Dubai in February.

Indian tea exports had touched

240.7 million kg in 2017. Five importing

countries, including two of India's

rivals in the global arena, helped India

reach this export level. "This level is

sustainable, with a possibility of

enhancement," S. Soundararajan,

Director Tea Development, Tea Board

of India, said.

Higher price : In several countries,

including the U.S., Indian teas were

sold at prices higher than the average

export price of $3 per kg. This buoyancy

now makes a 15% rise to 275

million kg by 2020 seem attainable,

said a source. The board is planning to

participate in the 64th Summer Fancy

Food Show, a major food and beverage

exposition in New York, starting

June 30. It had first participated in this

event last year. While last year the

biggest contributors to India's exports

were Egypt, (which increased imports

by 166%), Sri Lanka (which increased

imports by 84.8%) and China (where

Indian tea exports increased 50%),

exports to the U.S. too had risen. For

India, the U.S. is beginning to emerge

as an important market, following a

Tea Board of India campaign to highlight

the beverage as a health drink.

Exports to the U.S. stood at 14.1 million

kg in 2017.

Sources said the U.S. was a 130-

million kg market, mainly serviced by

Argentina. India is now targeting a

larger slice of this market with speciality

teas such as orthodox,

Darjeeling and green tea. In 2017,

Indian tea was showcased at food

shows and through delegations to the

U.S., Russia, Australia, Germany and

in Chile.

Azam Monem Chairman, ITA, had

said there was a preference for Indian

teas in several markets and the delegations

helped showcase the bouquet of

teas available. In February, a delegation

had visited Dubai, while those to

the U.S. and China are in the pipeline.

India's Forex

reserves rise

by $1.21 bn

Mumbai : India's foreign exchange

(Forex) reserves increased by $1.21 billion

as on April 13, official data showed

on Friday. According to the Reserve

Bank of India's (RBI) weekly statistical

supplement, the overall Forex reserves

rose to $426.08 billion from $424.86

billion reported for the week ended

April 6. India's Forex reserves comprise

of foreign currency assets (FCAs),

gold reserves, special drawing rights

(SDRs) and the RBI's position with the

International Monetary Fund (IMF).

Segment-wise, FCAs — the largest

component of the Forex reserves —

increased by $1.20 billion to $400.97

billion during the week under review.

Besides the US dollar, FCAs consist

of nearly 20-30 per cent of major global

currencies. It also includes investments

in US Treasury bonds, bonds of

other selected governments and

deposits with foreign central and commercial

banks. However, the country's

gold reserves value remained stagnant

at $21.48 billion. The SDRs' value

inched up by $6.6 million to $1.54 billion,

while the country's reserve position

with the IMF rose by $8.9 million

to $2.07 billion.

Petrol price in Delhi touches Rs 74.08,

highest since September 2013

New Delhi, Petrol prices

in Delhi touched a fresh high

were Rs 78.03 (Kolkata,

August 2014), Rs 82.07

prices due to the ongoing supply

cut by the Organisation of

of Rs 74.08 per litre on Friday, (Mumbai, March 2014) and the Petroleum Exporting

the highest in nearly five

years. In September 2013 the

price had touched Rs 74.10 a

litre. In Kolkata, Mumbai and

Rs 76.93 (Chennai, July

2014). Diesel prices also

touched new record levels on

Friday. Diesel prices in Delhi,

Countries coupled with strong

demand for crude oil.On

Friday, Brent crude oil was

priced around $73.56 per barrel,

Chennai too, prices climbed to Kolkata, Mumbai and

whereas in 2013 it was

new multi-year highs at Rs

76.78, Rs 81.93 and Rs 76.85

per litre respectively, the

Indian Oil website said. The

previous highs in these cities

Chennai were Rs 65.31, Rs

68.01, Rs 69.54 and Rs 68.90

per litre respectively. Petrol

prices firmed up on Friday

along with surge in crude oil

priced at over $100 a barrel.

Prices of transport fuels are

now changed on a daily basis

unlike the previous norm of

fortnightly revision of prices.

States allowed to set up crop insurance

firms to execute PMFBY

NEW DELHI : The Centre has allowed states to

set up their own insurance companies for implementing

the Pradhan Mantri Fasal Bima Yojana

(PMFBY), a senior Agriculture Ministry official

said on Monday. The move comes after several

requests from states as well as observations made

by the Comptroller and Auditor General (CAG) in

its 2017 report that old crop insurances schemes

which have now been merged with PMFBY, were

poorly implemented during 2011-2016. Presently,

five public sector insurers and 13 private insurance

companies are empanelled for implementation of

the scheme, the official said. The public insurers

include Agriculture Insurance Company of India

(AIC), United India Insurance Company (UICC),

National Insurance Company (NIC), Oriental

Insurance Company (OIC) and New India

Assurance Company (NIAC). Launched in April

2016 , PMFBY provides comprehensive crop insurance

from pre-sowing to post harvest against nonpreventable

natural risks at extremely low premium

rate of 2% for kharif crops, 1.5% for rabi crops and

5% for horticulture and commercial crops.

Axis Bank commences process

to appoint new MD & CEO

Mumbai :

Lending major Axis

Bank on Friday said

it has commenced

the "succession

process to appoint a

new Managing

Director and CEO".

According to a BSE filing, the

company' Board has appointed

Egon Zehnder, a global leadership

advisory firm, to conduct

the succession process and

evaluate candidates.

"The Board will ensure that

the said process will be completed

before the end of

(Shikha) Sharma's tenure and

thus facilitate smooth transition

of leadership responsibilities at

the bank," it said in a BSE filing.

On April 9, Axis Bank

accepted the request of incumbent

Managing Director and

CEO Shikha Sharma to be reappointed

for a shorter duration

of time, subject to regulatory

approval. Sharma had requested

to be on a revised reappointed

period from June 1,

2018 up to December 31, 2018.

The board had earlier decided

to re-appoint Sharma for a

period of 3 years from June 1,

2018, subject to approvals.

Sharma has served as the

bank's Managing Director and

CEO for around 9 years. In this

period, she has led the bank's

next stage of growth.

However, the rise in the

bank's NPA levels has become

a major cause of concern.
---
www.theasianindependent.co.uk

HEALTH

April 2018

13

Strike a balance with calorie-restricted diet

Opting for a calorie-restricted diet is being touted as a sustainable way to lead a fitter, healthier life.

According to a recent study published

in the journal Cell Metabolism,

those following a calorie-restricted diet

not only burned fat but also underwent

reduced cell damage — a crucial part

of minimising the ageing process. The

study has also reignited interest in the

term 'calorie-restricted' with many

wanting to know how it can be adapted

for health benefits.

Researchers define caloric restriction

(CR) as reducing food intake while

avoiding malnutrition. This usually

means consuming 30-40% fewer calories

than the standard daily requirement.

That's the equivalent of limiting

daily intake to around 1,200 calories

for women and 1,400 calories for men.

Calorie restriction vs fasting

Calorie restriction is not the same as

fasting. The process involves cutting

off all sorts of food that can cause oxidation.

It also includes adding to the

diet, foods that are rich in antioxidants.

This in turn helps in protecting the

body from oxidative stress. "For example,

eating too much sugar and

processed carbohydrates (like pasta,

bread, and baked goods) can damage

your skin's collagen, which keeps your

skin supple and helps resist wrinkles.

Moreover, these foods damage your

overall health. They come with risk of

heart diseases and diabetes. The bad

boys are: alcohol, sugar, refined flour

and its products, fatty meats, sugary

pastries, etc," says Delnaaz T

Chanduwadia, chief dietician, Jaslok

Hospital and Research Centre, Pedder

Road. In a crux, the food should be

nutrition-dense rather than being calorie-dense.

Foods that are particularly

high in antioxidants are the colourful

fruits and vegetables. The pigments

found in these colourful vegetables

work as potent antioxidants."

Who is it recommended for?

Losing sustainable amount of

weight may improve weight-related

medical conditions such as diabetes

and high blood pressure. Therefore,

those suffering from these illnesses can

opt for this diet.

Experts also recommend this diet

for people with obesity. "Due to obesity,

there is an increase in free radical

via smoking, increase in fatty food,

trans fat, difficulty in breathing, etc.

The body is under constant stress

because of which the free radicals

attack the lipid layer of the cell and

cause damage. This further alters the

protein structure which hampers the

function of enzyme and hormones

later, altering the DNA and mitochondria

of the cell leading to complete

damage. It continues as a chain, which

later leads a greater risk of cardiac

arrest and makes one more vulnerable

to stroke, arthritis, cancer and early

ageing," says Pooja Thacker, nutritionist,

Bhatia Hospital, Tardeo.

Drinking water may

help exercising seniors

stay mentally sharp

Older people should drink more water to reap the full

cognitive benefits of exercise, a study suggests.

The study presented at the American Physiological

Society (APS) annual meeting in San Diego, US explores

the association between hydration status before exercising

and exercise-enhanced cognition in older adults.

Dehydration has been shown to impair exercise performance

and brain function in young people, but less is

known about its impact on older populations. "Middleage

and older adults often display a blunted thirst perception,

which places them at risk for dehydration and

subsequently may reduce the cognitive health-related

benefits of exercise," said Brandon Yates from Spaulding

Rehabilitation Hospital in the US. The researchers

recruited recreational cyclists (average age 55) who participated

in a large cycling event on a warm day. The

cyclists performed a "trail-making" executive function

test - quickly and accurately connecting numbered dots

using paper and pencil - before and after the event.

170 potential lung cancer

drug targets identified

Scientists, who tested over

200,000 chemical compounds,

have identified 170 candidates that

can be potentially used for developing

new drug therapies for lung

cancer. The five-year project set

out to identify new therapeutic targets

for non-small cell lung cancer

as well as potential drugs for these

targets - a significant step forward

towards personalising cancer care,

researchers said.

For the large majority of compounds,

we identified a predictive

biomarker - a feature that allows

the development of 'precision medicine,'

or individualised treatment

for each patient," said John Minna,

from University of Texas in the US.

For the study, published in the

journal Cell, the researchers

searched for compounds that would

kill cancer cells but not harm normal

lung cells.

"We began an ambitious project

with the goal of identifying 'therapeutic

triads': chemicals that kill

cancer cells, biomarkers that predict

who would respond, and the

therapeutic targets on which those

active chemicals work," said

Medication use increases in newlydiagnosed

dementia patients

Researchers have found an increase

in medication use by the patients who

have been newly-diagnosed with

dementia and they may consume

unnecessary or inappropriate medicines

that increase the risk of side effects.

"Our study found that following a diagnosis

of dementia in older people, medication

use increased by 11 per cent in a

year and the use of potentially inappropriate

medications increased by 17 per

cent," said lead author Danijela

Gnjidic, Senior Lecturer from the

Faculty of Pharmacy and Charles

Perkins Centre at University of Sydney.

According to the researchers, potentially

inappropriate or unnecessary

medications included sleeping tablets,

pain drugs, depression drugs and

acid reflux drugs (proton pump

inhibitors). "These medications are

typically recommended for short

term use but are commonly used

long term by people with dementia,"

Gnjidic said. Around 50 million people

live with dementia around the

world—425,000 in Australia alone.

Also, dementia is currently the second

leading cause of death in

Australia, the researchers said. The

longitudinal study, published in the

Journals of Gerontology: Medical

Sciences, of nearly 2,500 people was

conducted in collaboration with Yale

University and University of

Kentucky.

Minna.

Continuing to uncover the

mechanism of action for the majority

of the 170 chemicals will be a

key focus of future research.

Follow-up work will also include

testing the chemicals on other types

of cancer. Preliminary work shows

some of the compounds are likely

effective against certain breast and

ovarian cancers as well.

The researchers have carefully

developed and curated a collection

of lung cancer cell lines since the

1970s that is now recognised as the

world's largest. The team of scientists

began by testing 200,000

chemicals against 12 lung cancer

cell lines.

"The initial screen gave us

15,000 chemical 'hits,' way too

many to work with in detail, but

with repeat testing we eventually

narrowed the number down to

170," said Bruce Posner, Professor

of Biochemistry and Director of the

High-Throughput Center at

University of Texas.

The set of 170 chemical compounds

was then tested across 100

lung cancer lines.

Eat fatty fish to cut your heart disease risk

Consuming fatty fish four times a

week may help increase the amount of

good cholesterol and prevent the risk of

heart disease,

finds a study.

The findings

showed that fatty

fish increases the

size and lipid

composition of

high-density

lipoprotein

(HDL) particles,

also known as

good cholesterol,

in people with

impaired glucose

metabolism.

Morever, using daily 30 ml of camelina

oil -- rich in alpha-linolenic acid, which

is an essential omega-3 fatty acid -- was

also found to decrease the number of

harmful Intermediate-density lipoprotein

(IDL) particles.

The IDL

lipoprotein is

the precursor of

(low-density

lipoprotein)

LDL, which is

also known as

the bad cholesterol.

Previous

studies have

shown that

long-chain

omega-3 fatty

acids found in

fish have a beneficial effect on lipoprotein

size and composition.
---
14 April 2018

HEALTH

www.theasianindependent.co.uk

Commonwealth wants Modi's

commitment to beat malaria

New Delhi, With one in seven Indians at risk of

contracting malaria and an unfortunate break in the

"dramatic success" of the last decade, Prime

Minister Narendra Modi's commitment at the

Commonwealth summit in London this week to

beat the disease is eagerly awaited, say experts

"India is central to this achievement (eradication

of malaria from Commonwealth countries).

We look forward to hear the strategy India is working

on to achieve its commitment of eliminating

malaria by 2030," said James Whiting, Executive

Director, Malaria No More (MNM), UK.

Malaria is included as an issue in the

Commonwealth Heads of Government Meeting

(CHOGM) in London on April 19-20, which will

be attended by Modi. A day before CHOGM on

Wednesday, a Malaria Summit is being held to get

political and financial commitments from the head

of nations.

"We would also be looking forward to hear

about the financing part of the Indian strategy to

eradicate malaria," Whiting told IANS. MNM is a

global non-profit convening the campaign on

behalf of the global malaria community and is registered

as the Malaria Elimination Trust in India.

According to government estimates, it will cost

Rs 10,653 crore to eliminate malaria in India by

2030.

India has the third largest burden of malaria

incidence in the world after Congo and Nigeria. In

India, Odisha is the biggest victim of malaria constituting

close to 41 per cent of India's malaria

incidence as of 2016, the NGO said in a statement.

According to the World Malaria Report 2017,

60 per cent of global malaria deaths in 2016

occurred in eight Commonwealth countries and 90

per cent of the Commonwealth population (2.4 billion

or two-third of global population) lives in

malaria affected countries.

"The malaria campaign has seen a dramatic success

in the last 10-15 years both in India and globally,"

said Whiting, adding that there has been a

fall of 60 per cent in global malaria deaths since

2000 saving nearly seven million lives.

In recent times, India has achieved remarkable

progress in its fight against malaria as it has

reduced its malaria burden by nearly half from two

million cases in 2000 to one million cases in 2016,

and malaria related deaths have gone down by twothirds

during this period.

However, for the first time in 15 years, progress

towards ending the disease has stalled. The WHO's

malaria report confirmed cases and deaths are no

longer falling. Malaria affected around 216 million

people globally in 2016, an increase of five million

cases over the previous year.

The MNM statement said: "Due to the nature of

malaria, this fight can only go two ways: forwards

or backwards. There is no standing still. We are

currently on a cliff edge – continue to battle the

disease or risk an acute and deadly resurgence."

And, precisely for this the pressing decision the

heads of Commonwealth nations, most importantly

India, face is to either continue towards ending

the disease with renewed financial and political

commitments or put the hard fought progress in

jeopardy. A total of 24 members of the

Commonwealth are actively tackling the disease,

20 have eliminated malaria and eight have never

had malaria. Sri Lanka and Maldives have already

eliminated malaria and Malaysia hopes to eliminate

by 2020, the MNM said.

"The Malaria Summit 2018 will discuss on the

amount of money required to eliminate malaria and

the smart new ways of spending that money

including new ways of gathering the data.

Tomorrow's summit will be attended by 16 heads

of state," said Whiting.

Beer belly bad

for your heart

Beer belly bad for your heart

New York, If you have

developed a spare tyre, it is

time you saw a doctor to assess

your cardiovascular health as

researchers have found that

belly fat, even in people who

are not otherwise overweight,

is bad for the heart.

"People with a normal

weight but a fat belly have more

chance of heart

problems than people

without a fat

belly, even if they

are obese according

to BMI (body mass

index)," said study

author Jose Medina-

Inojosa from the

Mayo Clinic in

Minnesota, US.

"This body shape indicates a

sedentary lifestyle, low muscle

mass, and eating too many

refined carbohydrates," Medina-

Inojosa said. BMI, which is

weight relative to height in

kg/metre square, is used to categorise

adults as underweight,

normal weight, overweight or

obese. However, BMI does not

account for the amount and distribution

of fat and muscle.

Central obesity is a store of

excess fat around the middle

of the body and is a marker of

abnormal fat distribution. This

study tested the hypothesis

that people with normal

weight and central obesity

would have more heart problems

than people with normal

weight and normal fat distribution.From

1997 to 2000, the

study enrolled nearly 1,700

people aged 45 years or older

in the US.

Participants

underwent a

clinical examination

and

measurements

were taken of

weight, height,

waist circumference

and hip circumference.

Patients were followed-up

from 2000 to 2016 for the

occurrence of major adverse

cardiovascular events such as

as heart attack, stroke, and

death from cardiovascular

causes. Participants with a

normal BMI (18.5-24.9

kg/metre square) and central

obesity had an approximately

two-fold higher long-term risk

of heart problems compared to

participants without central

obesity, regardless of their

BMI, the study said.

Munjals, Burmans submit higher bid

of Rs 1,500 cr for Fortis Healthcare

New Delhi, Sunil Kant

Munjal of Hero Enterprise as

wells Anand Burman and Mohit

Burman of Burman family have

approached the Board of Fortis

Healthcare with a binding offer

to invest Rs 1,500 crore directly

in the company, a company

statement said here on Thursday.

This offer would replace the

original offer made to the Board

on April 12, 2018. On April 12,

2018 Hero Enterprise promoted

by Sunil Munjal and the Burman

family offered to invest Rs 1,250

crore directly in Fortis

Healthcare, to bail out the cashstrapped

company.

The improved binding offer,

according to Munjal, is "even

simpler, more attractive and

faster to implement and without

any due diligence." This is a

joint bid by Hero Enterprise and

the Burman family, both of

whom have a long-standing

presence and interest in the

healthcare sector. "We will

invest Rs 500 crore through preferential

issue of equity shares

and Rs 1,000 crore through preferential

issue of warrants," said

Wine, lox, cheese: there are a lot of things you give up when

you become pregnant. But the one thing that pinches the most is

kicking the caffeine habit. While there haven't been any concrete

studies conducted yet to explain the exclusions, this recent study

answers some questions regarding caffeine. The study says that

exposure to moderate to high levels of caffeine while in the

womb is linked to excess weight gain in your child's early years.

How does caffeine affect the foetus : When a pregnant

woman drinks coffee, or any caffeinated drink, the caffeine in it is

readily absorbed by the bloodstream and distributed to the tissues.

From here it crosses the placenta and reaches your tiny growing

wonder in the womb. Excessive intake of coffee has been linked

to an increased risk of miscarriage and restricted foetal growth.

Munjal in the letter. "Our upfront

investment into the company

will be Rs 750 crore. This

includes Rs 500 crore through

preferential issue of equity

shares and Rs 250 crore, being

the amount equivalent to 25 per

cent of the consideration for the

warrants at the time of allotment,"

he added. The additional

Coffee in pregnancy can make children

gain weight, swap caffeine with these

Method for study : The researchers wanted

to try and find out if caffeine

intake during pregnancy might

also be associated with excess

weight gain in the child's early

years. They, therefore, drew on

just under 51,000 mother and

infant pairs.

At 22 weeks of pregnancy, the

mums-to-be were asked to quantify their

food and drink intake from among 255 items,

including caffeine, using a specially adapted Food

Frequency Questionnaire.

Rs 1,000 crore after the initial

infusion of Rs 500 crore will

come at a valuation of Rs 161.60

per share. "We believe that our

improved offer is even more

compelling, and is significantly

better than any other options

being explored by the company.

We would like to reiterate that

we are long-term investors who

have a keen interest and affinity

towards the Indian healthcare

sector and this improved offer is

a testimony to this," Burman

said. They expressed the hope

that the Board would consider

this "very simple" offer and put

it before shareholders to take a

final decision. "In our view, this

is the best offer on the table and

deserves serious and urgent consideration,"

Munjal said.
---
www.theasianindependent.co.uk

SPORTS

2019 Cricket World Cup

India to start vs South Africa on

June 5, play Pakistan on June 16

April 2018

15

Kolkata : India will open their 2019

World Cup campaign against South

Africa on June 5 and square off against

arch-rivals Pakistan on June 16, a senior

BCCI official told PTI today.

The 2019 World Cup will be held in

the UK from May 30 to July 14 and

India will strat on June 5 as the BCCI

will have to maintain a mandatory 15-

day gap between the IPL final and

international assignment as per the

Lodha Committee recommendations.

The matter was discussed during

the ICC Chief Executives Meeting

here today. "The 2019 IPL will be

played between March 29 and May 19.

But we need to maintain a 15-day gap

and World Cup starts on May 30.

Therefore as per a 15-day gap, we

could have only played on June 5.

"South Africa are our first opponents.

The CEC agreed and the matter has

been referred to the ICC board," he

said. The official had earlier stated that

the match will be on June 4 but later corrected

himself. The clash against Pakistan will take

place on June 16 in Manchester. India have

never lost to Pakistan in a World Cup.

Interestingly, ICC, in their various marquee

events, have started with an Indo-Pak fixture in

the past which is almost always a sell-out. It

happened in the 2015 World Cup in Australia (at

Adelaide) and the 2017 Champions Trophy in

UK (in Birmingham). "This is the first time an

Indo-Pak match won't be a starting affair. Since

Virat

Kohli's Indian

cricket team will

open its 2019

Cricket World Cup

campaign against

South Africa on June

5 and their contest

against Pakistan will

take place on

June 16.

the format will be a round robin affair (all teams

playing each other like 1992)," the official

added. Other decisions that were formalised

included the FTP for the next five-year cycle

from 2019-23.

"As we had decided, India will play a maximum

309 days of international cricket in this

cycle across formats, a reduction of 92 days

from the earlier cycle.

"However the number of home Test matches

will increase from 15 to 19. All these Tests will

Shahzar shoots silver to open

India's account in World Cup

New Delhi- Growing up,

Shahzar Rizvi was given a tough

time by his cousins Rayyan and

Shaual Rizvi. While the two

were firing shotguns, young

Shahzar couldn't even lift one,

let alone bear the recoil of the

gun.

The puny kid, Shahzar left the

family obsession with the big

guns and picked up a pistol in

2009. Then too his cousins had a

big laugh at his expense. "Ye kya

utha liya (What have you picked

up?)" they asked.

After years of suffering at the

hands of his cousins, Shahzar

plans to get back at them when

he returns from South Korea.

"They have shot in the Nationals

but now I have two World Cup

medals. I'll ask them how many

they have won," Shahzar told

The Tribune from Changwon,

South Korea, after winning a silver

medal in the 10m Air Pistol

event at the World Cup.

"I joined Air Force in 2014

and then things began to fall in

place as far as my shooting was

concerned. I had nothing to

worry after that as everything

including food and pellets were

taken care of by the Fauj,"

Shahzar said.

Tuesday's silver medal was

his second successive medal in

the ISSF World Cups.

Previously, the 19-year-old had

stamped his class as he won the

10m Air Pistol event in the

World Cup at Guadalajara

(Mexico) with a world record

score of 242.3 in the finals.

'Not happy'

Shahzar had a golden chance

to win at Changwon too but

came up short by 0.2 decimal

points. At 19, others would have

been out celebrating for winning

another World Cup medal. But

not Shahzar. He was back at the

hotel moping over losing the

gold medal.

"I missed the gold medal.

Gold looks far better than the silver.

I had two very bad shots in

the final and that had big impact

on where I finished," said

Shahzar, who is from Bawana

Kot, Meerut. The gold was won

by Russia's Artem Chernousov.

Chernousov had a commanding

lead of over four points over

Rizvi. But a couple of bad scores

by the Russian in his 19th and

20th shots in the 24-shot final

opened the door for Rizvi. The

youngster duly obliged and

closed the gap with 10.6 and a

perfect 10.9. Shahzar needed to

score 10.3 or over in his last shot

to win the gold. Instead he

logged 10.0 to finish second.

be part of the World Test Championship," he

added.

It was also confirmed that India will not play

any Day/Night Test match for now as it's not a

part of the World Test Championship.

"All matches in the ICC World Test

Championship are day matches played with the

red ball. If that's the case, there is no point in

playing pink ball Tests if it doesn't help in

preparation for World Test Championship," he

concluded.

Barca thrash Sevilla

to win King's Cup

MADRID- Unstoppable duo Andres Iniesta and

Lionel Messi helped Barcelona thrash Sevilla 5-0 to

win the King's Cup final for the fourth consecutive

season on Saturday as they close in on a likely domestic

double. Luis Suarez struck twice in the first half for

the Catalans as they won the competition for a record

30th time. However, it was Iniesta and Messi who

pulled all the strings as the La Liga leaders blew away

Vincenzo Montella's stunned side. Philippe Coutinho

set up Suarez for the opening goal in the 14th minute

and Barcelona dominated the rest of the game. The

result goes some way to make up for their humiliating

Champions League quarterfinal elimination by AS

Roma earlier in April.

Messi slammed home the second after good work

from Jordi Alba with Suarez adding another, before

Iniesta netted from a tight angle. Coutinho added a

fifth from the penalty spot to complete the rout."This

doesn't cover up what happened in Rome but it's an

important title," said Suarez. "At the start of the season

we would have taken this, there's huge merit to it. It's

strange to be knocked out of the Champions League,

we gave the impression that we could go far in it."

Both Barcelona and Sevilla fans sang Iniesta's name

when he was substituted in the final stages, with the

chants echoing around the Wanda Metropolitano stadium

until after the final whistle.
---
16 April 2018

SPORTS

www.theasianindependent.co.uk

'ODIs, T20Is will help

India prepare for Tests'

New Delhi : Playing limited-overs cricket ahead

of their Test series in England will serve as the ideal

platform for the Indian team to get used to conditions

away from home, coach Ravi

Shastri said. India begin their tour

of England in July with three T20Is

and three ODIs. They then take on

the hosts in a five-Test series starting

in August. "We will be there in

England almost a month before the

first Test. That gives us that much

more time to prepare," Shastri

said. India will come into the contests

against England high on confidence after beating

hosts South Africa 5-1 in ODIs and 2-1 in T20

competition earlier this year. India had earlier

bounced back after losing the first two Tests against

the Proteas to finish the series 1-2. "What our boys

did in South Africa makes me proud as a coach

because there were 21 days of cricket and on each

one of those 21 days, India competed," Shastri

added. "The One-day series we won after 25 years.

And so, from a coach's point of view, you have to

just stand up and say 'well done, guys. Simply magnificent.

You have raised the bar'."

Bayern vs Ronaldo

Berlin- Jerome Boateng said only a defensive

team effort could prevent Cristiano Ronaldo adding

to his mind-blowing tally of nine goals in six games

against Bayern Munich on Wednesday. Bayern host

Real in a blockbuster Champions League semifinal,

first-leg, at the Allianz Arena with Ronaldo in goalscoring

form. The Portugal superstar has scored 15

goals in the Champions League this season, hitting

the net in each of Real's 10 games in Europe. "We

can only stop Cristiano Ronaldo as a team," Bayern

centre-back Boateng said. "In front of goal, he's

like a machine. You can't shut him out completely,

he always gets his chances in a game, because of

the lines he runs and his excellent timing. Real base

their game around him and it's important we give

him as little room as possible."

New Delhi-The Indian men's hockey team's medalless

and rudder-less Commonwealth Games performance

has brought chief coach Sjoerd Marijne under the

scanner with Hockey India scheduling a performance

review meeting later this week. It has been learnt that

some senior players of the team, led by skipper

Manpreet Singh, PR Sreejesh and Rupinder Pal Singh,

met top HI officials here today and presented their

explanation for the performance.

It is for the first time in 12 years (since 2006) that

India failed to win a single medal in hockey at the CWG

and this hasn't gone down well with the national federation,

which said that it won't shy away from taking

tough decisions after the review meeting.

According to a Hockey India official, not just the

players, the coach's performance will also be scrutinised

and corrective measures will be taken, if needed,

as three important tournaments -- Champions Trophy,

Pandya, Karthik to be part of

World XI against West Indies

Indian hockey team coach Sjoerd Marijne

under scanner after medal-less

Commonwealth Games campaign

Asian Games and the season-ending World Cup -- are

lined up this year. "The performance in Gold Coast is

definitely not acceptable.

It is below-par to say the least. We have been providing

all facilities to the team but they just fail to deliver

in big events," the HI official said. "We were one of

the medal favourites but look how we performed

against lower-ranked teams like Wales, Pakistan, New

Zealand and England."India were particularly poor in

the 2-2 draw against Pakistan, conceding the equaliser

with just seven seconds left on the clock. It has been

earlier reported that some senior players were unhappy

with chief coach Marijne's decision to blood youngsters

like Vivek Sagar Prasad, Dilpreet Singh, Sumit,

Gurinder Singh in place of experienced pros such as

Sardar Singh and Ramandeep Singh in the CWG-bound

squad. And the HI official said all these issues will be

examined during the review meeting.

Salah takes

centre stage

Liverpool- When AS Roma agreed

to sell Mohamed Salah to Liverpool

last June they could well have anticipated

that the

Egyptian would

go on to be a big

success with the

Premier League

club. What they

surely didn't

expect would be

that Salah and

Liverpool would

stand between

them and a place in the Champions

League final.

But on Tuesday at Anfield, Roma's

primary task will be to stop the prolific

Salah from adding to his impressive

41 goals in all competitions.

The Italian side are a surprise

arrival in the last-4 of Europe's premier

club competition after a stunning

comeback against Barcelona in the last

round. Liverpool pulled off their own

surprise as Salah scored in both legs of

his team's 5-1 aggregate quarterfinal

win over Premier League champions

Manchester City. Juergen Klopp, the

Liverpool manager, expects Roma's

defenders to give Salah an early

reminder, if any were needed, that

friendships end once the players are on

the field. "I am pretty sure the Italian

defenders are famous for not having

friendly games, so I think Mo will feel

early in the game that they are not his

teammates any more and then he can

strike back in a football way," the

German said. Liverpool skipper Jordan

Henderson said that Salah fully

deserved the PFA Award and hopes

that his wonderful form can continue

until the end of the season.

Kolkata, India all-rounder Hardik Pandya

and wicketkeeper batsman Dinesh Karthik will

be part of the ICC World XI which will take on

the West Indies in a charity T20 game at the

Lord's on May 31, BCCI acting secretary

Amitabh Chaudhury said here on Wednesday.

"Hardik and Dinesh will be part of the World

XI team for the charity match," Chaudhury told

reporters on the sidelines of the ICC meeting.

Top-ranked bowler Rashid Khan of

Afghanistan along with Bangladesh stars Shakib

Al Hasan and Tamim Iqbal have also confirmed

their participation.

The match is being organised to raise funds

for stadia in the Caribbean, which were damaged

due to hurricanes last year.

Other Asians who have already confirmed for

the match are Pakistan's Shahid Afridi and

Shoaib Malik, and Thisara Perera of Sri Lanka.

The proceeds from this match will be donated

towards rebuilding and renovating five major

venues as well as other community cricket facilities

that were damaged by Hurricanes Irma and

Maria.

The venues that will benefit include the

Ronald Webster Park in Anguilla, the Sir Viv

Richards Stadium in Antigua, the Windsor Park

Stadium in Dominica, the A.O. Shirley

Recreation Ground in the British Virgin Islands

and the Carib Lumber Ball Park in St. Maarten.
---
www.theasianindependent.co.uk

The teaser of Rajkumar Hirani's upcoming film,

Sanju, was released on Tuesday, and it immediately

created a buzz on social media.

The 85-second video shows Ranbir Kapoor, who is

playing Sanjay Dutt in the film, in different avatars.

He narrates the journey of his life and reveals some

shocking truths. For example, he says that he had to

beg for a bus ticket. It's not clear when this happened.

Ranbir also talks about the issue of drug abuse and

possessing an AK-56 rifle.

At one point in the teaser, Ranbir's Dutt talks about

being lost in substance abuse at the age of 22, and how

he made a comeback with a muscular body.

ENTERTAINMENT

Here are Ranbir Kapoor's

8 avatars in Sanju teaser

Katrina Kaif to endorse

jewellery brand

Mumbai, Bollywood actress Katrina Kaif will

endorse jewellery brand Kalyan Jewellers.

"Katrina personifies brand Kalyan's attributes of style

and elegance. She epitomises the quintessential woman

of today – confident, progressive and with the courage of

her convictions. Katrina has set her own path with sheer

hard work, akin to Kalyan's own growth trajectory,"

Ramesh Kalyanaraman, Executive Director, Marketing

and Operations of Kalyan Jewellers, said in a statement.

The actress will endorse the brand's collections and

will also be part of its customer engagement programmes

across the showrooms in India and West Asia.

In India, she will predominantly feature in the company's

communication campaigns, especially in the

northern and western markets.

Katrina has joined other Kalyan brand ambassadors

including megastar Amitabh Bachchan, politician Jaya

Bachchan, Nagarjuna, Prabhu, Shivaraj Kumar and

Manju Warrier. Kalyanaraman thanked Sonam for "augmenting

the product propositions of brand Kalyan over

the past two years and helping strengthening its status as

one of India's most trusted jewellery brand".

Sanjay Dutt was one of the superstars in the early

'90s when he got arrested in a case related to the

Mumbai bomb blasts of 1993. Hirani hints that he

might be talking about his arrest and underworld in

the biopic. The teaser is probably not a part of the

actual film as only last few seconds feature actual film

footage. However, one thing is for sure that Ranbir

Kapoor has aced Sanjay Dutt's look in the film.

The film will hit the screens on June 29, 2018. Here

are eight of Ranbir Kapoor's looks in the film:

The film releases on June 29. It also stars Manisha

Koirala, Anushka Sharma, Dia Mirza, Paresh Rawal,

Karishma Tanna and Vicky Kaushal.

April 2018 17

Saroj Khan sparks fresh row

on casting couch, apologises

Mumbai, Veteran choreographer Saroj

Khan's brazen comment that the casting

couch "provides livelihood at least" in

showbiz received a divided response. For

some, it's the bitter truth and some found

her comment derogatory. She later retracted

and apologised

Congress leader Renuka Chowdhary

supported Khan's view

and said the Parliament

too is not immune to

the casting couch.

At an event in

Sangli, Khan said:

"Can I tell you one

thing? This has been

happening since the

beginning of time. It

hasn't started now.

Someone or the other

tries to take advantage

of every other girl. The

government's people

do it too. Then why are

you after the film

industry?

"It provides livelihood

at least. Does not rape and leave you.

It depends on the girl, what she wants to

do. If you don't want to fall in the wrong

hands, you won't. If you have art, why

would you sell yourself? Don't take the

film industry's name." A video of the comment

was doing the rounds on social media

on Tuesday. Her comment left Twitterati in

shock as many took it as a clean chit to the

prevalence of the casting couch in the

Indian film industry, which has largely

remained mum in naming and shaming

offenders despite speaking up in favour of

the global #MeToo movement. Khan, however,

apologised for making the remark.

"Whatever the question, you don't

know… You just know my answer. So it is

sounding wrong. But anyhow, I am sorry. I

I treat every song like a

different character : Neha

Mumbai, Singer Neha Kakkar, known for delivering hit party songs like "Sunny

sunny" and "Manali trance", says she treats every song in a different way to bring

variety in her singing. "I treat every song like a different character. It is good

that people recognise my voice instantly but as an artiste, I always try and

bring some variety with each of them," Neha told IANS.

"In my song 'Second hand jawaani', I sound like a Punjabi 'kudi' (girl)

whereas in 'Kala chashma' my voice is different. 'Sunny sunny' is different

from 'Cheez badi' and 'Manali trance'. Though

these are item songs, each time I sound different,"

she added.

The singer started performing on stage since she

turned 4. "I cannot really recall when I faced stage

fear because I started so young. It's my natural

habit. But you know, I can see how I have changed,

rather improved as a singer. I never had a formal

training but regular practice of singing. "I have grown

up now… with so much experience in life that I keep

incorporating in my expression while performing,"

said the 28-year-old singer. While handling success

is a task that many youngsters failed to handle,

Neha counts all her blessings. "I am fortunate to

be successful. People's love is precious to me. I

can never take that for granted.

I know how youngsters like us get into bad

things, addictions that ruined their career. "No, I

am mature on that ground," said Neha who started

her musical journey on the national platform by

participating in the show "Indian Idol" in 2006. She

went on to become a judge of many reality shows like

"Sa Re Ga Ma Pa L'il Champs 2017" and "The Voice

India Kids".

apologise," Khan told IANS. When probed

as to what was the question, Khan disconnected

the call.

The comment comes in the wake of a

debate which got intensified after southern

actress Sri Reddy caused a stir by sitting

semi-naked on a road in Hyderabad to

protest against the casting couch menace in

the film world.

Chowdhury supported

Khan, saying:

"Yes, it is the bitter

truth. The whole film

industry may get up in

arms against me. It's

just not in the film

industry also, this happens

everywhere in

work spaces with

women. It happens

everywhere. So, don't

imagine that the

Parliament is immune

or some other work

space is immune. It's

not. "This happens

with women everywhere.

If you look at the western world

today, established top actresses have taken

this long to come out and say 'Me too'. It's

time India stood up and say 'Me too'."

From the film fraternity, Bollywood star

Ranbir Kapoor said he has never faced the

casting couch, but it is "worse" if it exists.

And Richa Chadha felt the media was

blowing Khan's statement out of proportion

as what she meant was why was

Bollywood being singled out when it happens

everywhere.

Filmmaker Ashoke Pandit slammed

Khan. "I didn't expect such derogatory and

uncalled for statements from a veteran like

Saroj Khan and totally condemn it. Our

entertaiment industry, like all other industries

respects women.

Govind Namdev

reunites with

Govinda in film

Mumbai, Veteran actor Govind

Namdev says

he is happy to

work with

actor Govinda

after 26 years,

this time for

" R a j u

Rangeela"

directed by

P a h l a j

Nihalani. "I

am happy to

get different

roles and characters in films. In this

film, I play a very crucial role. He is

the CEO of Govinda's character's

company. Govinda has triple role in

this film," Govind said in a statement.

"We are reuniting after 'Shola

Aur Shabnam'. It's been 26 years.

We revived our old memories on the

set of 'Raju Rangeela'," added the

actor, mostly known for playing negative

roles on the big screen.

On the reason for choosing the

film, he shared: "This is a thrillercomedy

film. I accepted this role

because Pahlaj Nihalani has given

me a very significant character."

Govind has featured in films like

"Bandit Queen", "Virasat", "Satya",

"Sarfarosh" and "Wanted".
---
18 April 2018

ENTERTAINMENT

www.theasianindependent.co.uk

Salman Khan meets CM

Mufti in Kashmir, shoots

for Race 3. See pics

Bollywood superstar Salman Khan arrived in Jammu and Kashmir on Monday for

a two-day shoot schedule of his upcoming film Race 3. He met the state's chief minister

Mehbooba Mufti and pictures from his visit are flooding the internet. The crew

first reached Srinagar where they received a warm welcome from CM Mufti and spent

an hour with her. Later, they travelled to Sonamarg and shot for the film.

Directed by Remo D'Souza, the action packed thriller is being produced jointly by

Ramesh S. Taurani and Salman. Taurani shared a picture on Twitter and wrote, "We

thank the Chief Minister Madam Mehbooba Mufti for welcoming us in Kashmir for

the Final Lap of #Race3 with @BeingSalmanKhan #Race3InKashmir

#Race3ThisEid"

More pictures from Salman's visit to the valley are doing the rounds online.

Check them out:? Race 3 also stars Anil Kapoor, Bobby Deol, Jacqueline Fernandez,

Daisy Shah and Saqib Saleem. Like most Salman hits, Race 3 is also scheduled to be

released on Eid this year. This is the second time Salman is shooting in Sonamarg - he

shot for Kabir Khan's hit film Bajrangi Bhaijaan in the picturesque hill station and

spent a fortnight here. Abbas-Mustan directed the first two iterations of Race and both

films had Saif Ali Khan and Anil Kapoor in lead roles.

Ranveer Singh sees off

Alia Bhatt, asks paparazzi

if they want a love bite

Bollywood actor Ranveer Singh is a darling

of photographers. He never disappoints them,

and something similar happened after the Gully

Boy wrap party. The

film, directed by

Zoya Akhtar, finished

its shooting

schedule last week.

Photographer

Manav Mangalani

has shared a video

on his Instagram

handle in which

Ranveer Singh can

be seen saying bye

to Alia Bhatt. As the

photographers asked

the duo to pose,

Ranveer probably

mishears them. In

the video, while

being his usual self, he asks the photographers

whether they want a 'love bite'? As everyone

starts laughing, Ranveer can be seen leaving

Alia till her car and driving off himself. Ranveer

and Alia have also been a part of a few TV commercials.

Ranveer Singh is currently basking in

the success of Padmaavat in which he played the

character of Alauddin Khilji. Now, he is gearing

up for three more films. Apart from Gully Boy,

Ranveer will also be seen in Rohit Shetty's

Simmbaa and

Kabir Khan's

film based on

India's unexpected

win at

The search

for dream role

continues

Shamita Shetty to play a woman with

a controversial past who moves into a

middle class housing society

Shilpa Shetty's sister Shamita Shetty, who was a part of the hit movie

Mohabbatein, has signed up an international project. To be helmed by LA

based Indian film maker Sushrut Jain, the movie is titled The Tenant and is

about a woman with a mysterious past who moves into a traditional

housing society. Shamita will be seen playing the lead role of an

alluring cosmopolitan woman whose arrival in a middle class

housing society causes a stir.

Set in India, The Tenant is written and directed by Sushrut

Jain whose last film Beyond All Boundaries was an award-winning

documentary feature, set during the 2011 Cricket World

Cup, about the passion for the sport of cricket in India. An excited

Shamita says, "I have started with the workshops and absolutely

loving it! This is such a learning curve."

Inspired by Rooney Mara

Model turned actress Amyra

Dastur will next be seen as lead

with Rishi Kapoor in Leena

Yadav's Rajma Chawal. The

movie is a light hearted drama

about a boy who falls in love

with a girl who is more rebellious

than religious. In the film,

Amyra's look is uncannily similar

to Rooney Mara from The Girl With

The Dragon Tattoo.

Amyra even had the side of her head

shaved for an edgier look. Besides Rajma

Chawal, Amyra will also be seen in

Kangana Ranaut and Rajkummar Rao

starrer Mental Hai Kya.

the Cricket

World Cup of

1983. He will

be playing the

team's captain,

Kapil Dev, in

the film.

On the other

hand, Alia Bhatt

is now preparing

for the

release of

M e g h n a

Gulzar's Raazi, which is based on a novel titled,

Calling Sehmat. Written by Harinder Sikka, the

novel traces the life of a Kashmiri girl who is

married to a high-ranked military officer in

Pakistan. While Gully Boy will hit the screens

in February, 2019, Raazi will be released on

May 11, 2018.

Real women have real

bodies: POOJA BHATT

Mumbai, Actress-filmmaker Pooja Bhatt

says real women have real bodies and they

must celebrate themselves as they are. Pooja

re-tweeted a post by a nutritionist who wrote to

the Union Minister of State for Health and

Family Anupriya Patel, commenting on a campaign

which was for promoting healthy, nutritious

eating, which received

a backlash on social media.

The campaign's image

showed the outlines of two

different women, with different

body sizes. While one

was visibly larger, curvier

contained eggs, meat, bread,

burgers, doughnuts, fries and

fizzy drinks and beer, the

other was lean and contained

only fruits and vegetables.

The accompanying message

read: "What is your

choice?"

The nutritionist asked:

"Did the government really

make this body shaming ad?

Women can eat healthy but have hormonal

issues due to which they have excess weight as

well. Highly insensitive campaign!"

Pooja reacted saying: "I second that. Thin is

not necessarily healthy or fit and someone who

has a larger frame or is supposedly overweight

by the standards of the world is not necessarily

unhealthy. Real women have real bodies and

must celebrate their bodies in whatever shape

or size!"

Football a sleeping sport in India, says

Ranbir

Actor Ranbir Kapoor says that football has

been a sleeping sport in India

but it is now gaining importance

due to government support.

"I have always enjoyed

playing soccer (football) as a

child. It is a sleeping sport in

our country, but now with

government's support and

leagues like Indian Super

League, it is slowly gaining

prominence. It is good if a

country has different sports as

it gives a platform to more

talent," Ranbir said in a statement.

The actor was at the

Global Indian International

School (GIIS) East Coast

Campus grounds for a practice session on

April 22 before the Magic Bus Cup Celebrity

Football Match. The match saw the All Stars

Football Club, comprising Bollywood stars

playing against Singapore's Celebrities Sports

Club for a charity cause.
---
www.theasianindependent.co.uk

TECH

Wipro net declines 21%

in Q4, 5.9% in 2017-18

Bengaluru, Global software major

Wipro on Wednesday reported that its

consolidated net profit declined 21 per

cent annually for the fourth quarter

and 5.9 per cent yearly for fiscal 2017-

18. "Consolidated net profit for the

fourth quarter declined 21 per cent

year-on-year to Rs 1,801 crore from

Rs 2,267 crore in the same period year

ago. "Net profit for the fiscal also

declined 5.9 per cent to Rs 8,008 crore

from Rs 8,514 crore in 2016-17," said

the company in a regulatory filing on

the BSE. Sequentially too, net profit

declined 7.2 per cent from Rs 1,940

crore posted in the third quarter.

Consolidated revenue for the quarter

also declined, albeit marginally, by

1.6 per cent to Rs 13,769 crore from

Rs 13,988 crore in the same period last

fiscal and remained flat sequentially as

against Rs 13,670 crore last quarter.

Consolidated revenue for the fiscal

also remained flat at Rs 54,487 crore

as against Rs 55,040 crore in 2016-17.

Under the International Financial

Reporting Standards (IFRS), net

income was $277 million and gross

revenue $2,115 million for the quarter.

For the fiscal under IFRS, net income

was $1.2 billion and gross revenue

$8.4 billion, an annual decline of 1 per

cent. IT services for the quarter contributed

$2,062 million, posting 2.4

per cent sequential and 5.5 per cent

growth under IFRS and Rs 13,410

crore in rupee terms, up 1.3 per cent

sequentially from quarter ago.

For the fiscal, IT services revenue

remained flat at Rs 52,840 crore or

$8.1 billion. The firm projected lower

sequential revenue for the first quarter

of 2018-19 from IT services business

in dollar terms. "We expect revenue

from our IT services to be in the range

of $2,015-2,065 million for the first

quarter ending June 30," said the filing.

The outlook is less than $2,033-

2,073 million range it projected for the

fourth quarter of fiscal 2017-18 on

January 19 and $2,062 million it

reported. Wipro Chief Executive

Abidali Neemuchwala told reporters

here later that investments in digital

and efforts in client mining were paying

off well. "Our strong order bookings

in the last two quarters provide us

the right foundation to grow as we

progress through the year," he said.

Chief Financial Officer Jatin Dalal

said that investments in Holmestm

and automation software were resulting

in productivity improvement.

"We generated robust operating

cash flows of Rs 8,400 crore at 105

per cent of our net income for the fiscal

2017-18," he said. The company

declared 50 per cent interim dividend

of Rs 1 per share of Rs 2 face value for

the fiscal. With the board recommending

the interim dividend as the final

dividend, the total dividend for the fiscal

remains Rs 1 per share.

Under the capital allocation policy,

the company has completed a buyback

of its shares valued at Rs 110,000 million

in December 2017. The company

made an annual provision of Rs 526

crore ($81 million) for the insolvency

of two customers and impairment loss

in one of its acquisitions. The company

added 58 new clients in Q4, taking

the total to 233 for the fiscal, while the

number of active customers to 1,248

for the year. Though 1,274 techies

were added for the quarter, the total

headcount for the fiscal declined to

1,63,827 from 1,65,481 year ago due

to higher attrition (16.6 per cent) in

Q4 as against 16.3 per cent year ago.

The company's blue-chip scrip of

Rs 2 face value was sold at Rs 287.20

per share at the end of Wednesday's

trading on the BSE as against

Tuesday's closing price of Rs 287.05

and opening price of Rs 289.

April 2018

19

Google most trusted

Internet brand

in India : Report

New Delhi, Online search engine Google

is the most trusted Internet brand in India, followed

by Facebook, a report said on

Wednesday. "With 1.2 trillion searches per

year, it (Google) has become the first port of

call for all things on the Internet," the TRA

Brand Trust Report 2018 said here.

It further said: "Facebook, ranked second in

the list, has been steadily climbing the trust

ladder over the years (ranked seventh in 2015,

fourth in 2016 and third in 2017 BTR

reports)." The survey, however, was

carried out during

November 2017-

January 2018

and did not

take into

account the

recent

reports of

data breach

and privacy

involving Facebook, said N. Chandramouli,

CEO, TRA Advisory.

He further said the impact of privacy concerns

are likely to affect Facebook's ranking in

the next survey. According to the report, e-

commerce major Amazon ranked third among

the most trusted Internet brands in the country

and e-Bay ranked fourth.

The other major e-commerce brand Flipkart

was positioned sixth in the brand trust report.

Among the online taxi aggregators, Ola ranked

seventh in the list, surpassing Uber which took

the fifteenth position.
---
20 April 2018

TECH

www.theasianindependent.co.uk

Close to 40 million

JioPhones sold so far: Report

New Delhi, Highlighting the fact that

JioPhone is already a meaningful contributor

Reliance Jio's growth, a recent survey

estimates that total JioPhones sold so far

could be close to around 40 million.

A survey by Credit Suisse on the Indian

Telecom Sector said as suggested by

recent media reports, JioPhone had 36

per cent share of the feature phone

market for January-March quarter

of 2018 on an expanded market

base.

"This implies JioPhone sales

of around 21 million for the

quarter or roughly 7 million

per month," the survey said.

According to the report, the

exit run-rate for March could

be higher than this number

since the Rs 49 plan got introduced

in late January. "Now

compare this with net adds

reported by Jio running at 8-9 million

for January and February 2018

(March data is awaited — we will

likely get to see a higher number when

company reports on April 27)," it said.

"Overall, we conclude that JioPhone is

already a meaningful contributor to growth

for Jio. We estimate the total Jiophones

sold so far could be close to around 40 million,"

the report added.

The survey stated that it is difficult to

gauge at this

point

whether

Jio is eating

into other's share or adding to the pie with

customers buying Jiophone as their secondary

device.

"Given the mood in the incumbent camp

on this topic (that is, not much alarm), the

latter could be the more likely situation

currently. Exit of smaller players (most

recently Aircel) could be cushioning the

blow for incumbents — but that is a cushion

that may not last for long," it said. The

survey suggested that these trends, however,

do indicate that JioPhone is a

product that has passed the early

adopter stage and is getting well

accepted, and that should be a reason

for worry for the incumbents.

"Sooner than later, it could start

eating into installed subscriber base

of incumbents. Going forward,

potential release of KaiOS version of

Whatsapp could be an added catalyst

for sales of this device," it noted.

The report pointed out that it would

be interesting to see Jio's experience of

data usage on these devices.

It said Jio consistently saw around 10

GB per month usage per sub in the smartphone

segment.

"We would be surprised if feature

phoneusers match up to that level of consumption,"

the survey added.

Facebook stops third-party apps from stealing users' data

San Francisco, Facebook has finally begun

its crackdown on third-party apps from stealing,

sharing or spamming your data without permission

from its platform as well as from Instagram.

In a post on its developers' page late on

Tuesday, Facebook said the new apps "created

from today onwards will not have access to publish

posts to Facebook as the logged in user".

According to Facebook, the publish_actions

permission will be deprecated. This permission

granted apps access to publish posts to Facebook

as the logged in user. "Apps created before today

that have been previously approved to request

publish_actions can continue to do so until

August 1. No further apps will be approved to

use publish_actions via app review," the

50 new 'Moto

Hubs' opened

in western UP

New Delhi, Lenovo-owned Motorola on

Monday opened 50 new "Moto Hubs" in

western Uttar Pradesh, including in Noida,

Ghaziabad, Agra and Meerut.

Along with Moto x4 and Moto z2 Force

smartphones, "Moto Hubs" provide access

and availability to Motorola's online exclusive

devices like Moto e4 plus and Moto g5

plus, the company said in a statement.

"We have received encouraging response

to the previously opened Moto Hubs in

NOIDA and are confident of a promising

response from the customers in other parts

of west UP," said Sanjay Bhattacharya,

Regional Sales Lead, Motorola Mobility

India. 50 new 'Moto Hubs' were inaugurated

in Telangana last week.

The company also has 100 "Moto Hubs"

across Tamil Nadu, with 50 in Chennai, and

100 in Karnataka.

Facebook post noted. British political consultancy

firm Cambridge Analytica was found misusing

users' data collected by a Facebook quiz app

which used the "Login with Facebook" feature.

"Developers currently utilising publish_actions

are encouraged to switch to Facebook's Share

dialogs for web, iOS and Android," Facebook

said. "Effective today, name and bio from comments

on your own media will be removed; you

will continue to receive username and comment

text. "On August 1, the Live application programming

interface (API) Apublish_actions permission,

which allows an app to publish on

behalf of its Users, will be reserved for approved

partners. "A new permission model that allows

apps to publish Videos to their User's Groups

Huawei 'P20 Pro' smartphone with

first triple rear camera in India

New Delhi, Chinese electronics major Huawei, currently facing

a disadvantage in the US as top intelligence officials have

told people not to buy its devices, on Tuesday brought its flagship

"P20 Pro" with world's first Artificial Intelligence (AI)-

powered triple rear camera system to India.

Its earlier avatar, P10, never made it to India. The last 'P'

series device that arrived in the country was "P9" in 2016. Since

then, Huawei has vigorously promoted its sub-brand Honor

which has created a distinct space in the crowded smartphone

market. Priced at Rs 64,999, Huawei "P20 Pro" features the

world's first Leica triple rear camera system which received

highest overall scores by "DxOMark" in the premium smartphone

segment, defeating Apple as well as Samsung devices.

"DxOMark Rankings" is a trusted industry standard for camera

and lens image quality measurements and ratings.

"Huawei brand mainly works on providing state-of-the-art

technology and top-of-the-line innovation. P20 Pro is the first

smartphone with three cameras at the rear. We saw a great

momentum on social media when we launched the device in

Paris. I am confident it will appeal to our consumers in India as

well," P. Sanjeev, Vice President, Sales, Huawei Consumer

Business Group, told IANS.

and Timeline will be created instead," said

Facebook. There is also an Instagram "Graph

API" change which removes the ability to pull

the profile of users who leave comments on your

posts. Several third-party trackers are still abusing

Facebook Login, exfiltrating users' data

including name, email address, age range, gender,

locale and profile photo, claimed a new

security research report from Freedom to Tinker

— a digital initiative by Princeton University's

Centre for Information Technology Policy. The

researchers found two types of vulnerabilities:

Seven third parties abusing websites' access to

Facebook user data and one-third party using its

own Facebook "application" to track users

around the web.

Painstaking investigation helped CBI

arrest Kotkhai rape-murder accused

New Delhi, Painstaking scientific

investigations virtually starting

from the scratch, including use of

advanced DNA mapping and technical

surveillance, and spread over

nearly nine months in complete

secrecy helped the CBI finally crack

the sensational Kotkhai rape-murder

case. Narcoanalysis and polygraphy

and technical data also helped the

agency come to the conclusion that

those accused by Himachal Pradesh

Police in the rape-murder case of the

16-year-old girl in Shimla's Kotkhai

area in 2017 were not the culprits, an

official told IANS on Wednesday.

"When we took over the case,

there were already six accused

named by police," he said, adding

that one of the accused had died in

police custody. The Class 10 student

went missing on July

4 last year while

returning from school,

five km from her

home. Two days later,

her body was found in

the Halaila forest area.

The Central Bureau of

Investigation (CBI)

took over the case on

July 22, 2017, after

the Himachal Pradesh

High Court's orders.

"After taking over,

we started collecting

digital footprints of the accused

named by Himachal Police," the

official said.

The official said that the agency

officials soon found that the accused

had never visited the area where the

crime occurred.

"We matched their blood samples

with DNA found on the girl and

from blood samples collected from

the spot and other material like

liquor bottles and the victim's

clothes. All the results were again

negative," he said. "The CBI carried

out four polygraphy and narcoanalysis

tests on the accused which too

were negative. Thus, we gave clean

chit to them," he said.

The official said that the agency

had to then start all over again from

the scratch. "We started investigation

afresh, thoroughly combing the

area. The agency questioned over

2,000 area people and recorded the

statements of over 400 persons," he

said. The CBI official maintained

that area residents didn't cooperate

as the case had gained wide publicity.

The CBI also didn't take police

help as it had arrested nine police

officers, including Inspector General

of Police Zahur H. Zaidi, for the custodial

death of one of the accused.
---
www.theasianindependent.co.uk

China plans to use

AI, drones to

protect Great Wall

Beijing, China plans to use artificial

intelligence (AI) and drones to

protect the Great Wall.Under an

agreement between the government

and the US tech giant Intel, the

world's second largest manufacturer

of semiconductors and microprocessors

and the China Foundation For

Cultural Heritage Conservation will

explore ways to collaborate in the

inspection, repair and preservation of

the Great Wall, Xinhua news agency

reported. To begin with, Intel drones

will collect images from sections of

the monument and use 3D modelling

to identify damaged areas.

"The use of the latest technologies,

will provide a new perspective of the

protection of the Great Wall, and show

us the great potential of science and

technology in cultural heritage protection,"

said Li Xiaojie, director of the

China Foundation For Cultural

Heritage Conservation. The Great

Wall, a symbol of China, is actually

not just one wall, but many interconnected

walls built between the third

century B.C. and the Ming Dynasty

(1384-1644). With a length of over

8,000 km, the Great Wall — made up

of numerous walls, connected to each

other and built during different

Chinese dynasties — is under threat

from water and wind erosion as well

as human activities in its vicinity,

making its restoration difficult, owing

to its enormous size.

WORLD

India, China ready to re-set ties

as Modi meets Xi in Wuhan

April 2018

21

Golden State Killer : DNA search for California

serial killer led to wrong man in 2017

SACRAMENTO, CALIFORNIA :

Investigators hunting down the socalled

Golden State Killer used information

from genetic websites last year

that led to the wrong man, court

records obtained on Friday by The

Associated Press showed.

An Oregon police officer working

at the request of California investigators

persuaded a judge in March 2017

to order a 73-year-old man in a nursing

home to provide a DNA sample.

The Oregon City man is in declining

health and was unable to answer

questions on Friday about the case.

The case of mistaken identity was

discovered as authorities hailed a

novel use of DNA technology that led

this week to the arrest of former

police officer Joseph DeAngelo at his

house outside Sacramento on murder

charges. Critics of the investigative

approach, however, warned it could

jeopardise privacy rights.

Mr. DeAngelo is suspected of

being the sadistic attacker who killed

13 people and raped nearly 50 women

during the 1970s and '80s.

"We have the law to suggest that he

is innocent until he's proven guilty

and that's what I'm going to ask

everyone to remember," Mr.

DeAngelo's public defender Diane

Howard said outside court. "I feel like

he's been tried in the press already."

Investigators were able to make the

arrest this week after matching crimescene

DNA with genetic material

stored in an online database by a distant

relative. They relied on a different

website than they had in the Oregon

search, and they did not seek a warrant

for Mr. DeAngelo's DNA.

Instead, they waited for him to discard

items and then swabbed the

objects for DNA, which proved a conclusive

match to evidence that had

been preserved more than 30 years.

Database tapped

Also on Friday, the co-founder of

the genealogy website used by authorities

to help identify Mr. DeAngelo

said he had no idea its database was

tapped in pursuit of the suspect who

eluded law enforcement for four

decades. Authorities never

approached Florida-based GEDmatch

about the investigation that led to Mr.

DeAngelo, and co-founder Curtis

Rogers said law enforcement's use of

the site raised privacy concerns that

were echoed by civil liberties groups.

The free genealogy website, which

pools DNA profiles that people

upload and share publicly to find relatives,

said it has always informed

users its database can be used for

other purposes. But Mr. Rogers said

the company does not "hand out

data." Officials did not need a court

order to access GEDmatch's large

database of genetic blueprints, Mr.

Holes said. Major commercial DNA

companies say they do not give law

enforcement access to their genetic

data without a court order. Civil libertarians

said the practice raises legal

and privacy concerns for the millions

of people who submit their DNA to

such sites to discover their heritage.

Privacy laws aren't strong enough

to keep police from accessing ancestry

sites, which have fewer protections

than regulated databanks of convicts'

DNA, said Steve Mercer, chief

attorney for the forensic division of

the Maryland Office of the Public

Defender. "People who submit DNA

for ancestors testing are unwittingly

becoming genetic informants on their

innocent family," Mr. Mercer said.

While people may not realise police

can use public genealogy websites to

solve crimes, it is probably legal, said

Erin Murphy, a DNA expert and professor

at New York University School

of Law. "It seems crazy to say a police

officer investigating a very serious

crime can't do something your cousin

can do," Ms. Murphy said. "If an ordinary

person can do this, why can't a

cop? On the other hand, if an ordinary

person had done this, we might think

they shouldn't."

Wuhan (China) India and China will

look to re-set their strained ties as Prime

Minister Narendra Modi and President Xi

Jinping meet each other at a two-day informal

summit in the central Chinese city of

Wuhan starting on Friday.

The Asian giants, who fought a brief war

in 1962 and have a history of mutual distrust,

nearly came to an armed conflict near

their border in 2017, taking their ties to a

new low. However, the "one of its kind"

rendezvous between Modi and Xi at the

heart of China is a sign enough that the two

countries were willing for a new start in

their tense relationship. The Xi-Modi meeting

will be different from the past ones as

the talks will not be choreographed but freewheeling

with only one Mandarin-speaking

Indian interpreter present. The meeting is an

offshoot of Xi-Modi parleys just after the

resolution of the Doklam crisis on the sidelines

of BRICS Summit at Xiamen in China.

"The idea germinated at the Xiamen summit,"

said an official. The two leaders will

meet not once or twice but "several" times

during the two days and will have heart-toheart

conversations, Chinese and Indian

officials say. According to informed

sources, Modi and Xi might amble down the

East Lake in Wuhan or take a boat ride by

the historic villa of Mao Zedong.

Though there is no formal agenda of the

meet and both will not issue any joint statement,

thorny issues like border dispute will

come up during their chat. "You can imagine

the importance Xi provides to India as

this is the first time he is having such a

meeting with any foreign leader. They will

chat on all outstanding issues," a Chinese

government official told IANS. India and

China have a longstanding dispute over

their 3,500-km long winding border, which

ties them down. Of the 14 neighbours,

China is yet to settle its boundary dispute

only with India and Bhutan. New Delhi is

against Beijing's grand Belt and Road project

whose artery cuts through Pakistancontrolled

Kashmir. India's stance on the

Belt and Road matters to China as the

opposition by New Delhi could well hamper

the project. Another sticking point is

Beijing's opposition to New Delhi's application

to enter the Nuclear Suppliers Group

and its plea at the UN to declare the

Pakistan-based Masood Azhar as an international

terrorist.

China's foray into the India Ocean also

worries India. India's inclination to be the

part of Quad — an emerging bloc of the

US, Japan and Australia apparently to

counter China in the Indo-Pacific — worries

Beijing. As both sides have decided

not make public the outcome of the twoday

meet, a Chinese top official said both

leaders may arrive at some important consensus

to resolve their outstanding issues.

The Chinese side has said both the leaders

will also talk beyond the bilateral relations.

US trade protectionist policy will figure in

the talks.

Kim steps onto S.

Korean soil, talks begin

Goyang, South Korea, Kim Jong-un became the first North

Korean leader on Friday to set foot in South Korea by crossing the

military line, ahead of the historical inter-Korean talks.

The formal talks between Kim and South Korean President

Moon Jae-in began here in the Panmunjom border village in the

third-ever inter-Korean summit, media reported.

In a moment rich with symbolism and pomp, Moon and Kim

shook hands at the border, as both hoped for "frank" discussion

that will cover nuclear weapons and a possible peace treaty.

Much of what they will talk about is likely to have been agreed

in advance, but many analysts remain sceptical about the North's

sincerity in offering to give up nuclear weapons, the BBC said.

Kim was accorded a ceremonial welcome before launching the

talks on peace and prosperity of the Korean Peninsula, Xinhua

news agency reported. The talks are being held at a conference

room on the second floor of the Peace House, a South Korean

building in Panmunjom village that divides the two Koreas.

Standing on the two sides of the military demarcation line

(MDL), marked only by a low concrete slab, Moon and Kim shook

hands with beaming smiles on their faces for their first meeting.

The MDL came up post the 1950-53 Korean War that ended in an

armistice. After walking across the MDL into the South Korean

side, Kim invited Moon to briefly cross the border into the northern

side. It was an apparently unscripted moment during a highly

choreographed sequence of events, the BBC report added.

They returned to the southern side of Panmunjom holding

hands, marking a historic moment in more than a decade.
---
22 April 2018

WORLD

www.theasianindependent.co.uk

Sushma Swaraj lambasts Pakistan at SCO meet

Beijing, Indian External

Affairs Minister Sushma

Swaraj on Tuesday slammed

Pakistan for sheltering terrorists

and urged the Shanghai

Cooperation Organisation

(SCO) to act against the countries

that promote terrorism.

Without a direct reference to

Pakistan, Sushma Swaraj said

the world community together

must "wipe out this scourge

from the face of the earth".

"There are a number of challenges

that are being faced by

the world today, foremost being

the threat of global terrorism

and the imminent need to build

a strong security architecture to

combat it, she said at the

Foreign Ministers meet of the

SCO here where her Pakistani

counterpart Khawaja Asif was

also present. "We strongly

believe that our fight against

terrorism should not only seek

to eliminate terrorists but

should also identify and take

strong measures against states

that encourage, support and

finance terrorism and provide

sanctuary to terrorists and terror

groups," she said. "The

criminal terrorist militias are

not impeded by borders as they

seek to destroy the architecture

of international stability and

build walls of fear in societies

that believe in pluralism.

"Maiming and killing innocent

lives indiscriminately constitutes

the most blatant violation

of human rights. We have to

work together to wipe-out this

scourge from the face of the

earth. "In order to realise this

objective, we must unite across

our differences, strengthen our

resolve and script an effective

strategy against terror," she

said, welcoming the "clarity"

shown by the SCO on terrorism

from its inception. The SCO

was set in 2001 in Shanghai by

Kazakhstan, China,

Kyrgyzstan, Russia, Tajikistan

and Uzbekistan. India, along

with Pakistan, were granted full

member status at the SCO summit

in Astana, Kazakhstan, in

June 2017. This is the first time

that India is participating in the

SCO Foreign Ministers' meeting.

In her address, Sushma

Swaraj said the SCO member

states have been connected historically

through shared commonalities

and her country was

committed to working with the

group to strengthen economic

and investment ties. Stressing

India believed that economic

globalisation should be more

open, inclusive, equitable and

balanced for mutual benefits,

she said: "Protectionism in all

its forms should be rejected and

efforts should be made to discipline

measures that constitute

barriers to trade."

She also called for promotion

of liberalisation and facilitation

of trade and investment

to inject greater impetus into

the world economy.

Sushma Swaraj said that the

SCO "is a major platform for

convergence in our world

views on sustainable development,

clean and healthy living,

multilateral trading system,

Doha Development Agenda,

disarmament and non-proliferation".

She also stressed that connectivity

with SCO countries is

India's priority, but for connectivity

to ensure cooperation and

trust, "respect for sovereignty

is essential" and "inclusivity,

transparency and sustainability

are imperative". Mentioning

Indian participation in the

International North-South

Transport Corridor, the

Chabahar port; the Ashgabat

Agreement on multimodal

transport between India, Iran,

Kazakhstan, Oman,

Turkmenistan and Uzbekistan;

the India-Myanmar-Thailand

trilateral highway project; and

the Bangladesh-Bhutan-India-

Nepal (BBIN) initiative, she

also said that that India has

operationalised the air freight

corridor between Kabul,

Kandahar, New Delhi and

Mumbai.

She also said that reforms in

the UN Security Council is an

"urgent task" before the SCO.

According to a statement

issued by the Indian Embassy

here following the conclusion

of Sushma Swaraj's visit that

started on April 21, her meeting

with Chinese State Councillor

and Foreign Minister Wang Yi

on Sunday reviewed various

aspects of the India-China

bilateral relationship and

exchanged views on international

and regional issues of

common interest. In a joint

media address afterwards, they

announced that at Chinese

President Xi Jinping's invitation,

Indian Prime Minister

Narendra Modi will visit China

on April 27-28 for an informal

summit-level meeting.

Saudi air strike kills

over 50 Yemen rebels,

including commanders

An air strike on Yemen capital Sana'a by a

Saudi-led military coalition has killed dozens of

Huthi rebels, including at least two commanders,

Saudi television reported on Saturday.

Saudi Arabia's official Al-Ekhbariya television

said two high-ranking insurgents were among

more than 50 Huthi militiamen killed in Sanaa on

Friday evening, without giving further details.

Saudi-owned Al-Arabiya television said a total

of 38 rebels were killed in the strike on a Huthi

interior ministry building.

The Huthis confirmed an air strike on Sana'a

but gave no details.

Ahead of Pompeo's Saudi visit

The raid came hours ahead of a public funeral

of the Huthis' political head Saleh al-Sammad,

killed last week in a Saudi-led coalition strike. It

also came as newly-appointed United States

Secretary of State Mike Pompeo was scheduled to

land in Riyadh for meetings, including talks on the

Yemen conflict. The Iran-backed rebels have been

locked in a war with the Saudi-led military

alliance, which since 2015 has fought to restore

the internationally-recognised Yemeni government

to power. The Yemen conflict is widely seen as a

proxy war between regional titans Iran and Saudi

Arabia. The Huthis control Sanaa, as well as much

of the country's north — which borders Saudi

Arabia — and the key Hodeida port on Yemen's

Red Sea coast.

Saudi strikes push Yemen to the brink of

famine

Nearly 10,000 people have been killed since the

Saudi-led alliance joined the Yemen conflict, triggering

what the United Nations has called the

world's worst humanitarian crisis.

Yemen now stands at the brink of a famine. The

Saudi-led coalition imposed a total blockade on

Yemen's ports in November in retaliation for

cross-border Huthi missile attacks on Saudi

Arabia. The blockade has since been partially lifted,

but access to the impoverished country remains

limited.

US flies bombers

over South

CHINA SEA

Washington, US Air Force B-52 Stratofortress bombers flew over the

South China Sea earlier this week on a training mission, according to the

American military. The bombers took off on Tuesday from Andersen Air

Force Base on the island of Guam, according to a statement from US Pacific

Air Forces, which oversees air operations in the region.

The flight also involved additional training with F-15 Strike Eagle jets in

the vicinity of Okinawa, Japan. The training mission was part of the US Air

Force's routine "Continuous Bomber Presence" in the region.

A US military official told CNN on Friday that the two bombers flew

between two Chinese claimed features in the Spratly Islands, claims

unrecognised by China's neighbours and the US government.

China has used these geographic features in the Spratlys to build manmade

islands, some of which Beijing has equipped with military facilities.

Officials told CNN that the Chinese military did not intercept the US aircraft

during their mission.

Asked about the purpose of these islands, the Trump administration's

nominee to head the US military's Pacific Command, Adm. Phillip

Davidson told Congress this month that China was using these islands to

exercise control over the South China Sea.

"China has long claimed the South China Sea as their own," he said.

"It is my belief that they intend to establish the military structure that will

help them control the air and sea lanes through that region of the world."

IS trying to foment migration wave to Europe: UN

Brussels, Islamic State (IS) commanders fleeing Syria are conspiring

with extremist groups in Africa to foment and infiltrate a new

migration wave destined for Europe, the head of the UN World Food

Programme has said. David Beasley, a former Republican governor of

South Carolina, said Europe needed to wake up to the extremists' strategy

in Africa's Sahel region, the Guardian reported on Thursday.

Those forced out of Syria were uniting with local terrorist groups to

use a lack of food as both a recruitment tool and a vehicle to push millions

of Africans towards Europe, he said. Beasley told the Guardian:

"You are going to face a similar pattern of what took place years ago,

except you are going to have more Isis and extremist groups infiltrating

migration.

Skip Hire

No.1 Skip can provide a quick quote and supply skips

across the UK. Our range of skips can accommodate

all waste types depending on the size of skip. Get a

quote and make an enquiry today.
---
www.theasianindependent.co.uk

WORLD

Van mows down 10 on Toronto

sidewalk, DRIVER ARRESTED

Toronto : Ten persons have been

killed and 15 injured after a man

ploughed a rental van through pedestrians

on a city sidewalk here. The

driver was arrested after a tense

standoff with police.

The incident occurred around 1.30

p.m. on Monday when the van driver

mounted the sidewalk of city's

famous Yonge Street and ploughed

over people enjoying the first sunny

day of spring. He sped over a twokilometre

stretch till his van hit a bus

shelter. The entire stretch presented a

ghastly scene as bodies, debris and

items of clothing lay scattered on it.

The van driver has been identified

as 25-year-old Alek Minassian from

the city outskirts' Richmond Hill.

Toronto Police chief Mark Saunders

though said he was not ruling out

anything at the stage. He said the

killer was not known to the city

police. "There's nothing on our files.

There's nothing that we have on him

right now. It (the accident) looks

intentional and as a result 10 people

are now not with us," said Saunders.

Police said that the incident appeared

deliberate but no motive was clear.

During the chase, when a lone

police officer pointing a gun at the

driver asked him to surrender, the

suspect told him that he had a gun.

As the police officer shouted: "Get

down, get down or you will be shot,"

the suspect said: "Kill me." However,

he soon surrendered. He was due in

court. This is the worst incident of mass

killing in the city's history. In a press

conference later, Canadian Public

Safety Minister Ralph Goodale ruled

out any terror links. The incident does

"not appear to be connected to any

national security concerns", he said.

Canadian broadcaster CBC cited

government officials as saying

Minassian was not associated with

any known terror groups. Canadian

Prime Minister Justin Trudeau called

the incident a "senseless attack and a

horrific tragedy". Speaking at a news

conference on Tuesday, Trudeau

praised the police officers involved,

who he said "faced danger without a

moment of hesitation". Minassian

had previously attended a school for

students with special needs in north

Toronto, former classmates said.

Jagmeet Singh of the New

Democratic Party, the Leader of

Opposition, said: "Tragic news coming

out of Toronto – my thoughts are

with all those affected by the horrific

events…" European Commission

President Jean-Claude Juncker

mourned the victims, saying: "I send

my deepest condolences to the families

and loved ones of the victims, as

well as to Prime Minister Trudeau

and to all Canadians."

The incident took place about 29

km from the city centre, where

Foreign Ministers from the G7 countries

were meeting to discuss world

issues. After Europe and the US, this

is the first such incident in Canada.

April 2018

23

Rouhani warns Trump

against walking away

from n-deal

Tehran, Iranian President Hassan

Rouhani on Tuesday warned his US

counterpart Donald Trump that abandoning

a nuclear deal that the Tehran

government signed with world powers

in 2015 would lead to "serious

consequences". Speaking live on television,

Rouhani said his government

had kept its end of the deal and

warned Trump not to tear up the

agreement, which had also been

signed by Russia, China, Germany,

the UK and France. "I am telling

those in the White House that if they

do not live up to their commitments,

the Iranian government will react

firmly," Rouhani said.

"If anyone betrays the deal, they

should know that they would face

severe consequences," he added.

Trump has said that unless the US'

European allies put right what he has

described as "terrible flaws" in the

deal by May 12, his government

would re-establish economic sanctions

on Iran, dealing the pact a major

blow, Xinhua news agency reported.

Rouhani stressed that Iran was

complying with the deal, as has been

confirmed a dozen times by the

International Atomic Energy Agency,

whose Director General Yukiya

Amano said in March that a possible

failure of the agreement would be a

great loss. French President

Emmanuel Macron was in

Washington in an attempt to try and

persuade Trump not to walk away

from the accord.
---
24 April 2018

WORLD

www.theasianindependent.co.uk

Trump admin ends special protections

for 9,000 Nepalese immigrants

WASHINGTON : The Trump

administration has decided to terminate

the temporary protection status

for nearly 9,000 Nepalese immigrants

with authorities asking them to leave

or find another way to stay in the U.S.

to allow for an orderly transition.

Temporary Protected Status (TPS) is a

designation afforded to nationals of

countries experiencing humanitarian

crisis such as violent conflict, environmental

disasters, earthquake or epidemics

that would prevent nationals

from returning safely. This decision

affects 8,950 people, 85 % of whom

live in New York. All of these people

from Nepal would have to go back to

Nepal or face deportation. However,

to allow for an orderly transition,

Secretary of Homeland Security

Kirstjen M Nielsen has determined to

delay the termination for 12 months.

The designation will now terminate

on June 24, 2019, the Department of

Homeland Security said. The decision

to terminate TPS for Nepal was made

after a review of the environmental

disaster-related conditions upon which

the country's original designation was

based and an assessment of whether

those originating conditions continue

to exist as required by statute.

Singapore Airlines to launch

world's longest non-stop flight

Singapore, Singapore Airlines is set

to launch the world's first non-stop

flight with almost 20 hours in the air, by

the end of this year, the media reported

on Thursday.

Singapore Airlines' newest plane, the

Airbus A350-900ULR — for Ultra

Long-Range — will travel on a recordbreaking,

globe-spanning flight that will

connect Singapore to New York, Earlier,

the airline used to fly the gas-guzzling,

four-engine A340-500 on the 9,500-mile

route, with just 100 business-class seats

on board. The service proved to be inefficient,

and Singapore Airlines

cancelLed the flights in 2013.

Singapore Airlines is now taking

delivery of Airbus' newest wide-body,

the A350-900. It has 21 planes in its

fleet, of an order for 67 aircraft.

It has ordered seven of the Ultra

Long-Range planes.

On April 23, the plane had its first

test flight, an almost five-hour roundtrip

that launched from the airframer's

assembly plant in Toulouse, France.

The Ultra Long-Range will be able to

fly a remarkable 11,160 miles, an

increase of more than 1,800 miles over

the standard A350. It means that

Singapore Airlines will reclaim the

crown of running the world's longest

non-stop air route. Keeping passengers'

comfort in mind, the A350s share

Airbus' design philosophy that makes

the aircraft cabin feel more like a room,

rather than a long tube. The plane has

high ceilings, sophisticated LED lighting,

almost vertical sidewalls and a low

noise level. The air circulation system

on the A350 has also been designed to

be quiet and draft-free.

Indian-American Democrat loses

Congressional by-election

New York, A Democrat Indian-American doctor has narrowly lost a

by-election to Congress in a heavily

Republican constituency in Arizona but dramatically

increased her party's support in what

was seen as a referendum on Donald Trump's

presidency. Hiral Tipirneni lost by only six per

cent of the votes in Tuesday's by-election from

a constituency that was considered so heavily

Republican that the Democratic Party did not

even bother to run a candidate there in 2016

considering it futile.

The by-election in the constituency, which

covers the suburbs of the state's main city

Phoenix, was caused by the resignation of Trent Franks, the sex scandaltainted

long-time Republican member of the House of Representatives.

Trump polled 21 per cent more votes in the constituency against Hillary

Clinton in the 2016 presidential election.

Had Tipirneni won, she would have joined the four Indian-Americans

in the House of Representatives — Ami Bera, Raja Krishnamoorthi,

Pramila Jayapal and Ro Khanna. Kamala Harris is a senator of part

Indian-American heritage.

Despite Tipirneni's defeat, her polling 47 per cent of the votes in a

constituency that had previously been written off as unwinnable by the

Democrats was seen as a boost for the party working hard to capture

Congress in the November elections.

"Win or lose, we're taking this to November," Tipirineni told her supporters

after the election, according to a report.