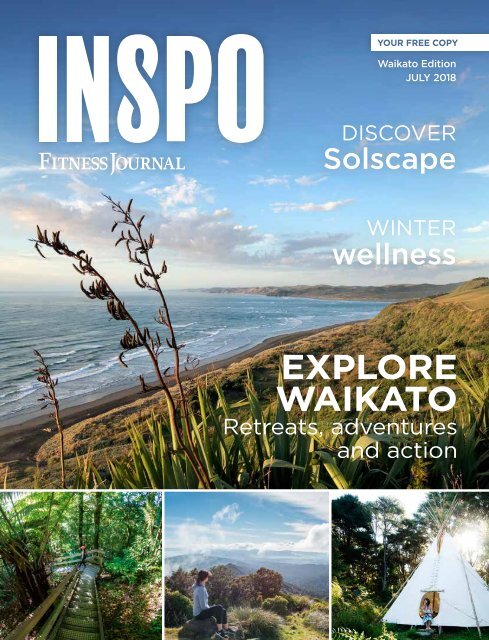 INSPO Fitness Journal July 2018
Everything from nutrition, beauty, home and workplace wellbeing to health, performance – and so much more.
Everything from nutrition, beauty, home and workplace wellbeing to health, performance – and so much more.
SHOW MORE
SHOW LESS
Create successful ePaper yourself
Turn your PDF publications into a flip-book with our unique Google optimized e-Paper software.
Waikato Edition

JULY 2018

Fitness Journal

DISCOVER

Solscape

WINTER

wellness

EXPLORE

WAIKATO

Retreats, adventures

and action

WELLBEING LIFESTYLE FITNESS
---
CONTENTS JULY 2018

47

On the cover

Treat yourself to a wellbeing getaway

8

Features

22

26

36

Growing great athletes:

The Adastra Foundation

Shaping future sports stars

Get exploring: Outdoor

adventures for kids

Ben Warren: The

40 importance of gut health

Columnists

18

24

32

Kristina Driller: Tips for

exercising with bands

Alison Storey: Long term

20 athletic development

39

44

Michiel Badenhorst: Youth

health and wellbeing

Shane Way: Get your

wellbeing back on track

Rebecca Jefferies: Beat

the winter blues

Tiffiny Hall: Overcoming

emotional eating

Danielle Roberts: Winter

46 wellbeing on a plate

Solscape: a restful paradise

8 Regular

11

Yoga surging in popularity

42

Book Corner

12

16

Explore Waikato: hills,

beaches and retreats

Driven to succeed: Hamish

Bond

40

43

47

Quick bites

Beauty Spot

WWW.INSPOMAG.CO.NZ

FACEBOOK.COM/INSPOMAG

B3920H

Hamilton Radiology.co.nz

HAMILTON RADIOLOGY

Offering unparalleled care and expertise

Hamilton Radiology is the Waikato's

largest private medical imaging facility.

Anglesea Imaging Centre, Gate 2, 11 Thackery St, Hamilton

With the latest medical imaging equipment and a

highly trained, experienced team of technical staff and

14 local radiologists, we offer an unparalleled standard

of care and expertise.

Anglesea Imaging Centre - Anglesea Clinic - Hamilton East - Rototuna - St Andrews - Morrinsville - Cambridge - Te Awamutu

Appointments are essential for Ultrasound and CT:

Please phone our freephone 0800 426 723

No appointments needed for plain x-ray films, all

referrals accepted. After hours appointments

available on Tuesday evenings.

INSPO – FITNESS JOURNAL JULY 2018

3
---
FROM THE

EDITOR

Welcome to our winter issue. Hopefully

it provides you with a good

excuse to snuggle up with a warm

drink and relax. We've packed in plenty of

articles to help you beat the winter blues

and perhaps inspire a fresh focus on your

personal wellbeing.

When the rain is pouring down and

events are cancelled or unenjoyable due to

weather conditions, it's easy to feel a tad

negative about the winter season.

So take the advice of our experts and

follow their tips to enjoy these slower paced

months.

In particular, we're celebrating the fact

Waikato is bursting with winter getaway

options. Forget the hassle of booking flights,

making travel and accommodation

arrangements.

Just grab a few of your favourite things

and head for one of the brilliant destinations

close to home; from rejuvenating retreats to

action packed adventure escapes, you may be

surprised at the options in your own backyard,

as revealed in our Explore

Waikato series.

Like most things in life, it's easy to

overlook what's right in front of you. Join

us in discovering some fresh local spots to

enjoy - either for some solitude and relaxation,

or for adventures and exploration

with friends and family.

Here's to fresh discoveries and new

destinations.

LISA POTTER

EDITOR

Fitness Journal

EDITOR Lisa Potter

MOBILE 021 249 4816

EMAIL lisa@nmmedia.co.nz

ADVERTISING MANAGER

Deidre Morris

PHONE 07 838 1333

MOBILE 027 228 8442

EMAIL deidre@nmmedia.co.nz

DESIGN Tania Hogg / Kelly Milne

Subscriptions

Subscribe to the free e-edition of

INSPO and you'll be emailed a link to

our online edition.

Simply visit:

www.inspomag.co.nz/subscribe

Or pick up a hardcopy from one of

the following locations:

CONTRIBUTORS

Regular contributors: Monica van de Weerd, Alison Storey, Kristina Driller,

Sarah MacDonald, John Appel and Danielle Roberts.

• New World Te Rapa

• New World Rototuna

• Hamilton Airport

• Pak'n Save Te Awamutu

• Les Mills Hamilton

EMAIL info@inspomag.co.nz

PHONE 07 838 1333

12 Mill Street, Hamilton

PO Box 1425, Hamilton 3240

1 2 3

1) Ben Warren

One of New Zealand's leading

nutritionists and holistic

health experts, Ben Warren is

recognised as a leader in his

field with more than 15 years of

hands on experience. Ben has

made it his mission to build a new

future of personalised health, by

empowering and educating New

Zealanders on the importance

of nutrition and living a healthy

lifestyle. Bepure.co.nz

2) Tiffiny Hall

Author, trainer, journalist and

television personality, Tiffiny

is also one of the highest qualified

female martial artists in the world

for her age. Tiffxo.co

3) Michiel Badenhorst

Passionate about encouraging

and educating young athletes,

Michiel Badenhorst is Strength

and Conditioning co-ordinator

at St.Paul's Collegiate School,

Hamilton.

PUBLISHER Alan Neben

SALES DIRECTOR Deidre Morris

PRINTING PMP Limited

COMPETITION TERMS

AND CONDITIONS

INSPO competitions are open to NZ residents only.

One entry per person, per competition. Prizes are not

exchangeable or redeemable for cash. Winners will be

selected at random and no discussion will be entered

into after the draw. By entering this competition you

give permission for INSPO to contact you from time to

time with promotional offers. Unless you agree, your

details will not be given to any third party, except for the

purposes of delivering a prize. Winners may be requested

to take part in promotional activity and INSPO reserves

the right to use the names of the winners and their

photographs in any publicity.

4 INSPO – FITNESS JOURNAL JULY 2018
---
The

The

Money

Money

Mattress

Mattress

Deal

Deal

is on now!

is on now!

Go in the draw to win

$20,000

Go in the draw to win

CASH

$20,000

CASH

When you buy your

new Sealy mattress

When you buy your

new Sealy mattress

*

*

Bedpost Te Rapa

STORE NAME

Full 9 Maui address street, and Te store Rapa, Hamilton

07 850 5272 | bedpostterapa@gmail.com

STORE Open NAME 7 days Mon - Fri 9-5.30pm

Full contact/opening address and store

Sat 9-5pm Sun 10-5pm hours

Terms and Conditions: *Combo offer applies to Queen size Tempur Aspire

base and Lugano Mattress. Image for illustration purposes only.

contact/opening hours

Terms and Conditions: *Combo offer applies to Queen size Tempur Aspire

base and Lugano Mattress. Image for illustration purposes only.

Conditions of Entry:

Information on how to enter the promotion is detailed on www.bedpost.co.nz

WE ACCEPT THESE CARDS

Entry into the promotion is deemed to be an acceptance of these.

Conditions 12 of Months Entry: Interest Free Available †

Entries close: 14 †On September in-store purchases $200 2018 and over. Lending criteria, fees, terms and conditions apply.

*Discount applies to normal ticketed price.

Information on how to enter the promotion is detailed on www.bedpost.co.nz

WE ACCEPT THESE CARDS

Entry into the promotion is deemed to be an acceptance of these.

12 Months Interest Free Available †

Entries close: 14 †On September in-store purchases $200 2018 and over. Lending criteria, fees, terms and conditions apply.

*Discount applies to normal ticketed price.

INSPO – FITNESS JOURNAL JULY 2018

5
---
Things

we love

A few of our favourite things

FITNESS FUN

Kids love technology, while parents

love kids to exercise and be healthy.

The Fitbit Ace is the ideal solution.

Designed specifically for kids, the

smartwatch reminds them to move,

provides motivating challenges and

rewards, and has up to five days'

battery life. Fitbit.com

LET IT RAIN

Create your own tranquil work or home environment

with a Young Living Rainstone Diffuser. The sleek

design combines state-of-the-art ultrasonic

technology and traditional Chinese craftsmanship,

to provide an essential oil-infused mist. Created

with rare purple clay found only in a small region of

China, each Rainstone Diffuser is handmade using

ancient craftsmanship. youngliving.com

TIMELESS STYLE

These days a watch needs to be

stylish, sporty, performance-driven

and top quality. The Seiko Astron

range ticks all the boxes. The

executive sports series offers GPS

solar technology (the first watch in

the world to do so), plus it's water

resistant and supremely good

looking. Seiko.co.nz

SKIN POLISH

Treat your skin to the benefits of

the MOR Sugar Crystal Body Scrub

(choose from the addictive options

of marshmallow or pomegranate).

This exfoliating sugar scrub gently

polishes and moisturises, leaving

skin smooth and perfumed. It's the

perfect winter treat for your skin.

morboutique.com

FOCUS ON THE ACTION

These days the phone camera

has become the norm for

capturing instant action and

special moments. But sometimes

you need a little extra help for

the perfect shot. These Struman

Optics phone lenses are the

answer. From fishbowl to macro

lens, the tiny (but super high

quality) lenses fit seamlessly

onto your camera case. There's

even a tripod and zoom lens

and they fit on any smartphone.

Strumanoptics.co.nz

6 INSPO – FITNESS JOURNAL JULY 2018

BE YOUR OWN

WONDER WOMAN

Reebok has teamed up with Gal

Gadot; symbol of confidence,

courage and inner strength. Be

your own wonder woman and

work out with confidence in

Reebok training wear. We love

the Lux tight and Speed HER TR

footwear. Reebok.co.nz
---
FEET FIRST

Competition

CORNER

Whether you stand or sit for most

of the day, give your tired feet a

boost with the Shakti Footpad. Made

by hand in India, the Shakti range

is based around the ancient art of

acupressure. Small enough to keep

under your desk or take on your

travels, it's instant relief for aching

feet. shaktimat.co.nz

SWEET INDULGENCE

While Kiwi favourites like snifters

and jaffas keep disappearing, New

Zealand company Donovan's is

committed to creating delicious new

Kiwi treats. Lovingly crafted in Waikato,

Donovan's combines the finest quality

ingredients with a good dash of Kiwi

ingenuity. The result is memorably

tasty, with flavours like Peanut Brittle

Chocolate Block, Chocolate Peppermint

Clusters and Rocky Road Clusters.

donovanschocolates.co.nz

GROOM WITH VALOR

Keep your beard sleek and healthy, with

a helping hand from Valor Beard Balm.

A blend of oils designed to be absorbed

quickly into whiskers and skin, it's the

difference between scruffy and unkempt

and well groomed. shavewithvalor.com

If you're blessed with curves, you'll know the battle

to 'tame the bounce' when working out. There's a

fine art to finding the perfect bra and it's a rarity to

discover something that supports, flatters and fits

comfortably.

Look no further than this awesome creation

from Shefit. Able to be worn as an X-back or

H-back, and with complete customisation, it's the

solution to every ill-fitting bra you've endured.

Both the shoulder straps and bust band are

completely adjustable, so regardless of your height,

width or cup size, you can tweak it to suit. Velcro

band fastenings and front-zip access mean you can

jiggle your way into this bra without needing to be

a contortionist. Then simply adjust the straps for the

ultimate in comfort and support. (sportsbra.co.nz

Our review: The search is over. The Shefit is well

deserving of its label as the Ultimate High Impact

Sports Bra.

>WIN

FEET TREAT

Allbirds wool footwear put New

Zealand on the map, with people

around the globe clamouring

for the mega-comfy sustainable

footwear. The Kiwi brand's latest

offering is the Tree Runner, crafted

from a textile Allbirds engineered

using eucalyptus pulp. Treat your

feet to the ultimate in comfortable

footwear. allbirds.co.nz

Treat yourself to a more comfortable workout and

enter to win a Shefit Ultimate High Impact Sports Bra.

To enter, email your name, address and contact phone

number to win@inspomag.co.nz with Shefit in the

subject line, or enter online at inspomag.co.nz. Entries

close on August 31, 2018. (Head to sportsbra.co.nz to

see the range and work out your size - please include

this on your competition entry).

INSPO – FITNESS JOURNAL JULY 2018

7
---
WELLBEING

GETAWAYS

When winter rolls around, many New Zealanders dig out

their passports and head for warmer weather and tropical

beaches. However, there's much to be said for holidaying closer

to home and enjoying a getaway with a wellbeing focus.

The idea of a wellbeing retreat is becoming

increasingly popular, whether

wanting to 'switch off' from the pressures

of life for a week or two, or just for an

overnight life detox.

Alongside this is a growing trend for

getting 'off grid'; away from unnecessary

mod-cons and technology.

Less than an hour's drive from Hamilton

is the perfect solution; Solscape Eco Retreat.

With accommodation ranging from

woodland tipis and upcycled train cabooses,

to hand-built rammed earth domes and a

new eco-lodge, there's an option for every

budget (starting from campsites for $20).

There's also a family bach and the charming

Ivy Cottage or Lotus Belle Tents (ideal

for summer holidays). And the renovated

17 metre Overlander train, which captures

the fun personality of Solscape, is another

popular option.

Whether you're seeking some alone time

for self-reflection, or prefer a more adventure

packed schedule, this 10 acre paradise

overlooking Manu Bay is a veritable paradise.

Under the guiding hand of the McCabe

family, your stay can be one of solitude, with

nothing but the distant crash of waves and

birdsong for company.

If you feel the need for connection,

indulge in a restorative massage or holis-

8 INSPO – FITNESS JOURNAL JULY 2018
---
tic bodywork at the onsite Kahuna room,

nestled on the edge of the forest for absolute

seclusion.

There is an underlying serenity to Solscape,

with no sense of being rushed or busy.

This is in part due to Solscape team, who

never forget to look up and appreciate the

stunning setting themselves.

It's clearly a place good for the soul. Dotted

around are groups of surfing backpackers,

families with young children, and those

just enjoying a quiet corner with a book and

their own thoughts for company.

For those who thrive on being part of

something more involved, you can immerse

yourself in the extended Solscape community,

which often includes WWOOF volunteers.

Solscape offers yoga classes and surfing

lessons, and Raglan is a mecca of more

adrenaline-pumping activities such as rock

climbing, kayaking and glow worm caving.

The whole point is to set your own pace

and do whatever restores or rejuvenates you.

There's no pressure, no timetable and no

expectations.

The newest addition to Solscape are its

two Eco Lodges, offering a more luxe stay

(comfy double bed, reading nook, ensuite

and kitchen), although still with the same

restful vibe. In keeping with the core values

INSPO – FITNESS JOURNAL JULY 2018

9
---
of Solscape, the Eco Lodges have been designed around

energy efficiency and feature passive solar design, recycled

and locally sourced timbers, and plenty of personal

touches right through to handmade wall lanterns.

Part of the property is dedicated to a permaculture

garden, and throughout the year classes are held.

Come summer, the garden is a welcome source of

organic produce in the popular eatery; The Conscious

Kitchen. The plant-based menu is developed around

locally and ethically sourced produce.

Treat yourself to a holiday which sees you feel

refreshed and rejuvenated by opting for local getaway

that requires nothing more than choosing your favourite

book or music and taking a short drive to Solscape. •

10 INSPO – FITNESS JOURNAL JULY 2018
---
YOGA SURGING

in popularity

Yoga is surging in popularity

around New Zealand, while

organised sport is in decline,

according to Exercise NZ chief

executive Richard Beddie.

Yoga is now one of New Zealand's

most popular forms of movement or

exercise, with recent research statistics

showing yoga has grown around the country.

A report from Sport New Zealand, Sport and

Active Recreation in New Zealand has shown

that New Zealanders' involvement in club

and organised sports has declined.

"If yoga was considered a sport, it would

be the biggest sport in New Zealand by more

than 50 percent," says Richard.

"There are more than half a million Kiwis

taking part in exercise in gyms and fitness

centres alone, and yoga has been a major

part of this growth."

Yoga is valuable as an activity, as well as

being complementary to many other exercise

activities. It is common for regular gym users

to add in yoga as a part of balanced routine.

"Relief from stress is also a key factor.

Yoga improves the body, calms the mind and

helps balance life. For many people yoga is

the yin to the yang of everyday life.

"Stress is almost a given in a developed

country and, as a result, the mindful component

of yoga is so beneficial. While yoga can

vary in physical intensity, it always provides

people with methods of being mindful,

which is something many benefit from and

seek in today's busy lifestyles."

"It has become so big as a form of and activity

that we are staging the inaugural yoga

conference in Auckland in November. Yoga

has doubled in the last five years and just

keeps growing largely due to its versatility,"

says Richard.

A Lincoln University international PhD

student Tilak Raj is teaching yoga to Lincoln

University rugby players as part of his doctoral

research, to see if yoga is helpful in reducing

injuries and improving performance.

"Yoga has just exploded in recent years

and there are now lots of support organisations

for yoga including the New Zealand

Register of Exercise Professionals.

"Exercise NZ is committed to supporting

all forms of exercise and structured movement

and activity in New Zealand and sees

yoga as an important and essential mode to

help Kiwis stay active." •

Yoga for Athletes & Everyone

Balance Yoga offers yoga classes for all types of bodies. You don't need to

be an athlete, and you don't need to be flexible. Come and try yoga with our

experienced, professional teachers can discover how yoga can help you move

better, stretch better and breathe better.

Classes six days a week.

Why should athletes do yoga?

• Develop and maintain muscular balance

• Reduce your chance of injury

• Mindfully stretch out your tight spots

• Improve your range of motion, coordination and core strength

• Develop body awareness and mental focus

• Faster, more effective recovery

For class timetable and full details visit

www.balanceyoga.co.nz or contact Sarah 027 287 3444

Strengthening Women

Inside and Out

• Fitness for women

• Total body workout

• Coaches during every circuit

• Results for every fitness level

• Weight Management Programme

• FREE 7-day Trial

Curves Chartwell

Lynden Court, Chartwell, Hamilton

Phone: 07 8533 493

INSPO – FITNESS JOURNAL JULY 2018

11
---
EXPLORE

WAIKATO:

Summit tracks and

transformation retreats

Alongside all the adrenaline pumping activities on offer, the

Hamilton and Waikato region also boasts plenty of natural

attractions and relaxing alternatives, from hiking to summits,

to retreats for those looking to unwind and focus on their

health and wellness this winter.

Summit Tracks

Lovers of the great outdoors are spoilt for

choice with a range of summits to conquer.

The walking tracks up and around Mt Te

Aroha offer stunning views across the region

filled with native bird-song.

The Summit Track starts at the Mokena

Geyser in Te Aroha Domain and quickly

ascends to the Whakapipi Lookout.

The lookout provides panoramic views

over the Hauraki Plains before the track

continues through a small saddle and then

steeply up to reach the top. From the summit,

there are 360 degree views across the

Waikato and Bay of Plenty regions, and Mt

Ruapehu, Mt Ngauruhoe and Mt Taranaki

are all visible on a clear day.

Time: 45 minutes one way to Whakapipi

Lookout, three hours one way to summit

For those looking to push themselves,

tackle Mt Pirongia, one of the highest peaks

in Waikato.

The Tirohanga Track will take you to the

summit through steep and at times challenging

terrain. A lookout tower at the top of

Tirohanga track offers panoramic views of

the surrounding area.

An easier but slightly longer route is the

Tahuanui Track, which branches off the

12 INSPO – FITNESS JOURNAL JULY 2018
---
Nikau Walk. This track climbs steadily up a

tawa-clothed ridge and joins the Tirohanga

track five minutes from the summit. Take

it one step further and challenge yourself

to spend a night on the mountain in the

Pahautea Hut.

Mt Karioi also offers a challenging full day

hike, with stunning views of the west coast

from the summit, while smaller mountains

such as Kakepuku, and Hakarimata are

equally rewarding.

Experiences and retreats

If a retreat is more your thing, there are a

number of experiences in the region to help

you de-stress and revitalise.

Te Atawhai wellness retreat is a holistic

health and wellness experience located at the

foot of the majestic Mt Te Aroha. Their fourday

wholeness experience has been carefully

designed to reset our modern day living

rhythms in a way that brings about lasting

change to our health, vitality, wellness and

zest for life. Starting with the most powerful

driver of change, our mind, Te Atawhai

helps to create a new sense of awareness and

mindfulness around nutrition, movement

and mind management.

Solscape Eco Retreat in Raglan is designed

as a place for rest, rejuvenation and

Rejuvenating Winter Activities

From hiking to summits offering 360 degree views, and stunning waterfall finds, to

focusing on your health & wellness with a yoga or personal growth retreat, the Hamilton &

Waikato region boasts an abundance of options to choose from.

Challenge yourself to complete some of the regions most popular hikes, or if you are in

need of some rest and relaxation, check out the great wellness retreats on offer including

those focused on holistic health, mindfulness and overall wellbeing.

For more information on adventure activities and more in Hamilton & Waikato,

visit www.hamiltonwaikato.com

INSPO – FITNESS JOURNAL JULY 2018

13
---
playful inspiration, to nurture our connection

with each other and the natural world.

Guests can choose from a variety of eco

accommodation options, enjoy yoga, surf

lessons, massage and holistic bodywork, as

well as plant-based cuisine, all in the pure

beauty of Raglan.

Sakura is tucked away in the beautiful,

mystical rolling hills of Waikato and has created

retreats to help guest de-stress, revitalise

and rediscover themselves. With support

from the Sakura team, guests will undertake

a journey of self-inquiry so as to return to

everyday life with a renewed sense of purpose

and tools to support health, vitality and

overall wellbeing.

You can visit Sakura as a day guest at

MOUNTAIN/TRAIL

RUNNING SHOES

- Entry level to serious grip

- All terrain traction

- Great for mid-ultra distance

LYCAN

HELIOS

AKASHA

BUSHIDO

BUSHIDO

ULTRA

RAPTOR

MUTANT

Available at

221A Victoria Street, Hamilton | P: (07) 839 5681 | F: (07) 839 5846

www.trekntravel.co.nz | www.facebook.com/trekntravelnz

14 INSPO – FITNESS JOURNAL JULY 2018
---
one of their courses or scheduled events, a

retreat guest, or spend some time enjoying

our luxurious accommodation and beautiful

surroundings as a homestay guest.

Or opt for the best of both worlds and

enjoy a multi-day hiking adventure, complete

with delicious dining options to top it

off with a tour with Nature & Nosh.

For more information on these and

other great activities and attractions

(suitable for those with an adventurous spirit

as well as those who appreciate nature at

a more relaxed pace), check out

www.hamiltonwaikato.com •

a place for rest, rejuvenation and playful inspiration

YOUR

'CLOSE TO HOME'

GETAWAY

special retreat packages

available now

info@solscape.co.nz www.solscape.co.nz (07) 825 8268

INSPO – FITNESS JOURNAL JULY 2018

15
---
THE NAME'S

BOND...

HAMISH BOND

After years of world domination in rowing, Hamish Bond

is something of a household name in New Zealand (and

around the globe). We find out more about the golden athlete

whose determination to succeed never seems to wane.

BY CALEB SHEPHERD

While most commonly paired with

teammate Eric Murray for their

total domination of world pairs in

rowing, Hamish's achievements in the sport

would be more than enough for most people

to hang up the oars and put their feet up.

However, it seems to have only whet his

hunger for success and led him down a new

path. That path that still means wearing

a skintight lycra suit, but instead of oars,

Hamish has swapped his gear for an aero

helmet and time trial bike.

New Zealand media has followed

Hamish's code switch closely, inspired by the

challenge of such a daunting code switch and

impressed by his almost immediate success

in his new discipline.

Often overlooked in this success story are

the small details, and the work ethic which

Hamish undertakes to make performing to

his potential not just a possibility, but a near

certainty.

Having been in the New Zealand rowing

team alongside Hamish for five years, and

shared a boat with him and Eric for a short

period of time, I can testify that he leaves

absolutely no stone unturned in his quest for

perfection.

Reasonable risk

From the outside, it would be easy to see the

code switch as a huge risk, but what many

people don't understand is the intricacy of

elite sport, and the thousands of hours of

repetitive training that goes on behind the

scenes.

Hamish is not someone to stand idly by

and let that monotony consume him, so went

looking for a new challenge.

"I think the biggest challenges have come

from stepping completely into the unknown.

Rowing is a very structured sport, you know

what the targets are each year, especially

when you've been at the top end of the sport

for as long as I had." He says the simplicity of

rowing training and the known expectations

were good. However, after 11 years at the top

level they were starting to show signs of wear

and tear.

"I guess in some ways I was also becoming

stale, so moving to cycling with my particular

approach to the sport focusing on time trials

- no one's really done that before."

Double dedication

To put his commitment to this transition in

perspective, I was in the adjacent apartment

to Hamish at the 2016 Rio Olympic Games

village.

When the rest of the athletes were

sleeping in on the morning after the rowing

regatta finished, Hamish was outside on the

balcony. He wasn't gazing out at the towers

of apartment blocks or the walking tracks

lined with palm trees. He was head down on

the handlebars of his bike, sweat dripping

into a puddle underneath him, winding the

wind trainer so hard it made a bloody awful

racket.

Hamish competed in the 2016 Tour of

Photo by John Cowpland

Southland, showing the cycling world he

was a force to be reckoned with and a true

workhorse.

Having decided to specialise on individual

time trial, which is perhaps the purest

form cycling has to offer, in 2017 Hamish

flew to the UK in a quest to reduce his drag

and make him as slippery as possible.

"I guess my biggest take away from that

was teaming up with an outfit called Aerocoach

who specialise in aerodynamics while

time trialing. Essentially from my work with

them I managed to reduce my CdA (Coefficient

of drag area).

"Essentially it's a measure of how much

drag you produce and I reduced that by 10

percent over my course in the UK. Which

means when you're traveling at near 50kmh

you're going 1.6kmh faster for the same

amount of power, so that sort of speed

increase is massive in terms of your performance

in a time trial."

Perhaps one of the biggest signals that his

hard work is paying off was winning the national

championship individual time trial at

the beginning of 2018, and gaining selection

to the Commonwealth Games on the Gold

Coast.

Hamish went on to claim the Bronze

medal on the Gold Coast, and therefore most

likely punching his selection ticket to the

World Championships to be held in Austria.

16 INSPO – FITNESS JOURNAL JULY 2018
---
Fuelling the fire

One thing constantly overlooked with our

top athletes are the setbacks they've had

along the way.

Hamish enjoyed an unbeaten run of 71

international races over an eight year period

in rowing, but that came off the back of multiple

challenges, perhaps the most obvious

being the 2008 Beijing Olympics.

"That was quite a challenging year, never

really feeling comfortable in the boat, bouncing

from one thing to another knowing that

we were capable of going fast, but we could

never sort of find our rhythm and executing

was pretty challenging.

"And then to ultimately miss out on the

A-Final at the Olympics as world champions

was a bit of a step back from what our expectations

were.

"In saying that, I didn't dwell on it too

much at the time as I was only 21 years old

and thought I still have a fair future in the

sport. I guess I bounced back and used it as a

learning experience. It reinvigorated me in

some ways."

This ability to turn a disappointing result

around, and use it as fuel for the next step, is

one of the key points separating Hamish and

other highly successful athletes from the rest

of the pack.

Strain and pain

It seems even being super successful can

bring with it added difficulties depending on

the type of character you have as a person.

For Hamish, who is incredibly determined

to be the best, and to continually improve,

the pressure to live up to his own expectations

became a very real strain on his mind,

particularly towards the latter part of his

rowing career.

"When I'm looking at 2016 in particular,

going out every race and knowing that you

have eight years of history in terms of our

unbeaten record on the line every race was

quite challenging mentally. I did put a lot

of pressure on myself and that did wear me

down a little bit towards the end."

Fresh direction

Not only has Hamish changed sports and

direction over the past two years, he has also

recently become a father. When asked if

this had added extra elements to his career

planning, Hamish says: "I've been lucky that

Lizzie has been very supportive of what I do

and has essentially enabled me to carry on

much as I did before.

"I've tried to make a few adjustments to

my training in order to be around and be

helpful and try to do my part where I can.

But unfortunately elite sport is very uncompromising,

and as soon as you start making

compromises or letting things slip, you're not

giving yourself the best chances of success."

I asked Hamish whether becoming a

father had changes his perspective at all.

"I think it's added to my understanding of

where sport is in the grand scheme of things.

"Essentially all we are doing is playing

games, and I'm very privileged to be able to

pursue these opportunities to the best of my

abilities.

"Even though they mean a lot at the time,

when you boil it down, family, health and

those sort of things are far more important

than going out and racing either in rowing

or cycling. So I guess having Imogen and

wanting the best for her has added to that

perspective on life."

It's clear that Hamish leaves no stone unturned

in his pursuit of sporting excellence.

Elite sport rarely comes with any guarantees

or certainties, but he will be is driven to give

himself the best opportunity to succeed in

anything he does. It's just who he is. •

Photo by Rowing NZ

17
---
START POSITION

END POSITION

START POSITION

END POSITION

▲ MINI-BAND FIRE HYDRANT

▲ MINI-BAND TRICEP PUSHDOWN

TIPS FOR

EXERCISING

WITH BANDS

If you're reading this, it's highly likely you're interested

in learning about resistance bands, loop bands/mini

bands and power bands.

BY KRISTINA DRILLER

You may be wondering what they are,

what the difference is between them,

and how you can incorporate them

into your next workout? You may have used

them in the past and, now a convert, love the

fact they can majorly blast your glutes and

increase the intensity of an exercise.

Light and easy to pack for travel, bands

allow you to perform numerous exercises

without any other equipment.

They come in a range of different

strengths, and depending on the brand will

come in different colours to identify the

lightest through to the heaviest strength.

All the bands stretch and provide resistance

or assistance to a movement, depending

on what the goal of the exercise is. This

can then improve your muscular strength.

Power/Strength Bands

Due to the nature of power bands, each

level of band can be used in varying ways. In

recent years, power bands have been popularised

by various fitness experts for use as a

mobility tool.

Power bands are generally a thicker

material and are much firmer than resistance

and mini-bands. They are also longer, which

allows for use of resistance bands in different

ways.

The mid to heavy strength power bands

are useful as tools to improve hip and shoulder

mobility (please see photos of mobility

for hips), however they can also be used for

resistance exercises such as banded push ups

(pictured), sumo or crabs walks (please see

photo with mini-band) or assisted chin ups.

Choose the resistance or thickness of

power band you need based on what you

want to achieve and what the exercise is that

you are going to perform.

If you were doing a crab walk as a beginner,

you may want to use the lightest power

band or perform them with a mini-band

(pictured), however if you had access to a

resistance band or loop band, this would also

be an option.

Resistance/Thera-Band Bands

Resistance bands are excellent rehabilitation

tools as they are cheap, easy to transport and

you can do countless exercises for various

parts of the body.

Resistance bands are a single, thin, long

piece of material which can be held in both

hands for exercises, tied in a knot or tied to

an anchored piece of equipment.

If you want to improvise with these

▼ MINI-BAND CRAB WALK

▼ MINI-BAND CRAB WALK

START POSITION

END POSITION

START POSITION

END POSITION

18 INSPO – FITNESS JOURNAL JULY 2018
---
START POSITION

END POSITION

START POSITION

END POSITION

▲ MINI-BAND SQUAT

▲ POWER BAND FIRE HYDRANT

bands, try tying it around your foot or knee

while you do a dead bug or fire hydrant exercise

(pictured) and it will add extra resistance.

These exercises are easily done with just

body weight, however adding the band will

help you feel the extra resistance.

Using bands in this way stops you from

plateauing in your fitness journey and allows

you to continue to build strength.

Mini/Loop Bands

Mini-bands are comparable to resistance

bands in that they are often made out of

material akin to that of resistance bands,

however they are one continuous loop.

People like using mini-bands because you

don't need to tie them.

You can pull them over the feet and place

them anywhere from the ankle to the upper

thigh and perform various movements from

squats (pictured), lunges, clams, or four point

kneeling exercises.

Tricep pushdowns and a modified lat

pulldown are easily performed using the

loop band (see photos).

Using bands in the gym is a fantastic way

of adding variety, increasing resistance to a

body weight exercise, help you to get more

from the exercise you are currently doing

and to improve your mobility.

Add a few of these ideas to your programme

and have a play with the various

bands available to you.

Whether it's a thera-band or a power

band, once you have a few exercises under

your belt you will be able to see ways of using

them in exercises you already do.

To source any bands, discuss with your

local exercise professional or pop into your

local physiotherapy clinic or sports store. •

▲ POWER BAND HIP MOBILITY

HIP FLEXOR

START POSITION

END POSITION

▲ RESISTANCE BAND DEAD BUG

▼ MINI-BAND LAT PULLDOWN

START POSITION

▲ POWER BAND HIP MOBILITY

END POSITION

▲ POWER BAND PUSH UP

START POSITION

END POSITION

KRISTINA DRILLER A specialist in exercise rehabilitation and chronic disease

management, Kristina Driller is a sport and rehab consultant at UniRec and uses

"exercise as medicine". Kristina has a wealth of experience spanning eight years

and provides expert advice in chronic disease management and musculoskeletal

rehabilitation.

INSPO – FITNESS JOURNAL JULY 2018

19
---
LONG-TERM

ATHLETIC

DEVELOPMENT

Was Usain Bolt always fast? Did someone spot that when he

was ten and mould his success? Rumour has it he had more

fun playing cricket and wasn't that sold on sprinting. What

if Tiger Woods hadn't really enjoyed golf all that much, or

Serena Williams didn't have the fun of the company of her

sister when they did all that practise as kids?

BY ALISON STOREY

Commonly people talk about natural

talent, however if you've read 'Bounce'

by Matthew Syed, or subscribe to

Anders Ericsson's theory of ten thousand

hours you'll understand how much that timing,

people, and resources have to do with

it. Also, it shouldn't be underestimated how

much childhood play provides unintentional

accumulated practice, the development of

skills, neural pathways and movement competency

and it's weighting against natural

talent.

There is also that kid who at age eight, is

a foot taller and wider than everyone else in

his rugby team and looks like a natural talent

simply because the skinny short kid doesn't

stand a chance of fending him off.

All these ideas are encompassed in Long

Term Athletic Development; the idea there

are stages of motor skill learning, strength

and endurance development, and enjoyment,

that all have to come ahead of training

to win when it comes to youth sport. If

you're a parent of a sporty kid, you should

know there is a massive amount of research

that continually challenges and drives the

development of the safest, smartest and most

successful practices for athletic development

from toddler to teenager. To ignore this

research, is to risk a child's enjoyment and

success of sport, and perhaps their future

health which would be an absolute tragedy in

this age of rising inactivity.

The fact is, you can't guess talent. Sporting

prowess is not linear, it is a continual rate

of progression that depends on co-ordination,

movement competency, skill learning

and opportunity. Any parent will tell

20 INSPO – FITNESS JOURNAL JULY 2018
---
you that the growth rates vary immensely

between kids of the same chronological age;

limbs grow before torsos and growth spurts

can be anywhere up to 12 centimetres in a

year.

Some kids pick up a skill at the drop of

a hat, some take a little longer, some just

actually need more encouragement and

instruction or different cues until they get

it. Some learn best by doing, others learn

by mimicking, and still more may have what

is termed 'adolescent awkwardness' which

means their brain hasn't quite caught up with

their limb growth yet.

Some improvements in pre-adolescence

are purely due to familiarisation – if the athlete

does something often enough, they get

better at it, but it doesn't necessarily mean

they are any more talented long term, their

neural adaptation for that certain movement

has just been greater than the other guy at

that point.

Conversely, the western world is in

danger of breeding less active kids which

means even the most basic of fundamental

movement patterns and eye-hand skills are

missing when they first show up to school

sports day. This lack of neuromuscular

facilitation alone leads to a poor foundation

of strength and coordination and heightens

the risk of injury.

All of these factors combine to mean that

adult training programmes cannot logically

be superimposed onto youth – technical

competency-based and progressive training

is key to long-term athletic development.

The day of training the team just like dad

did in the seventies is limited; sports science

improvements, qualified professionals skilled

in strength and conditioning programming,

sport pedagogy and knowledge about energy

systems and endurance and strength capacity

at various biological growth stages is available

in spades. Hence several schools in Waikato

have employed full time S&C coaches in their

sports department to ensure the safe athletic

development of their students.

Although worth considering is the penchant

for constant higher-level sports participation

between summer and winter. With

no real break and rest from sport it may just

limit adaptations and again, heighten the

risk of injury, and to have an athletic career

ended prematurely when it might have been

avoided would be just heartbreaking.

The overriding message seems to be that

Fundamental Movement Skills are paramount

and getting kids strong and resilient

and in doing so lowering their risk of injury,

is the foundation of ongoing development

and enjoyment. Simple things like impromptu

running races, jumping ropes,

throwing things, building forts out of trees,

and dare it be said, climbing trees, are the

building blocks of sporting capacity.

Because of course, at the very top of the

checklist is enjoyment. It is a well-known

truth that kids that have fun playing a variety

of sports, without specialising too early, develop

a range of competencies and technical

10 pillars of successful long-term

athletic development

Lloyd et al. J Strength Cond Res. 2016

1. Long-term athletic development

pathways should accommodate

for the highly individualised and

non-linear nature of the growth and

development of youth.

2. Youth of all ages, abilities,

and aspirations should engage in

long-term athletic development

programmes that promote both

physical fitness and psychosocial

wellbeing.

3. All youth should be encouraged

to enhance physical fitness from

early childhood, with a primary

focus on motor skill and muscular

strength development.

4. Long-term athletic development

pathways should encourage an

early sampling approach for youth

that promotes and enhances a

broad range of motor skills.

5. Health and wellbeing of the child

should always be the central tenet

of long-term athletic development

programmes.

skills that make them better specialist athletes

later in life if they choose to do so. And

considering only about one percent of kids

that play basketball at high school in the US

will end up in the NBA, having fun may well

6. Youth should participate in

physical conditioning that helps

reduce the risk of injury to ensure

their ongoing participation in

long-term athletic development

programmes.

7. Long-term athletic development

programs should provide all youth

with a range of training modes to

enhance both health- and skillrelated

components of fitness.

8. Practitioners should use relevant

monitoring and assessment tools

as part of a long-term physical

development strategy.

9. Practitioners working with youth

should systematically progress and

individualise training programs

for successful long-term athletic

development.

10. Qualified professionals and

sound pedagogical approaches

are fundamental to the success of

long-term athletic development

programmes.

be the most important part of youth sport.

Even Usain Bolt was rumoured to say;

"When I'm at the gym, I think about chicks,

going to the beach, and looking good. I do it

for the girls." •

ALISON STOREY is a personal trainer who has represented New Zealand in three

different sports (beach volleyball, rowing and rhythmic gymnastics). She has been

awarded New Zealand Personal Trainer of the Year twice and runs Storey Sport, a

mobile personal and sports training business which provides a range of services that

optimise the fitness and wellbeing of its clients. storeysport.co.nz

INSPO – FITNESS JOURNAL JULY 2018

21
---
GROWING

GREAT

ATHLETES

There is no doubt that New Zealand has a

knack for growing great athletes. We excel on

the world stage in many sports and our world

champions inspire and motivate all ages to get

involved and strive to succeed.

Anthony East

Whether a naturally talented high

achiever or relentlessly hard slogger,

Kiwi athletes tend to stand

out from the crowd for their down-to-earth

attitude and quiet determination.

Hamilton and Cambridge have become a

prominent springboard for young talent and

thanks to the support of organisations like

The Adastra Foundation, our young up-andcoming

athletes are provided with support

and professional guidance to help them

reach their full potential.

The Adastra Foundation initiated its Mentoring

Programme in 2008.

The programme aims to support and

encourage scholarship recipients to manage

their own learning, so they may maximise

their potential, develop their skills, improve

their performance and become the person

they want to be.

The Adastra Foundation

Now entering its twelfth year of helping

young people with their athletic and musical

careers, The Adastra Foundation is backed

by some serious muscle; Grassroots Trust,

The Lion Foundation, Brian Perry Charitable

Trust; and Tauranga Energy ConsumerTrust.

The Adastra vision is success for extraordinary

young New Zealanders on the national

and international stage.

Previous recipients include Eric Murray,

Hamish Bond, Mahe Drysale, Blair Tuke,

Lydia Ko, Peter Burling, Lisa Carrington and

Laura Langman.

2018 Scholarships

The impressive array of 2018 Adastra

scholarship winners include representatives

from rock climbing and netball, to surfing,

weightlifting and violin.

The beauty of the Foundation is that it

gives athletes outside of mainstream sports

an equal opportunity to be involved. And the

results are paying off.

Already this year 2018 scholarship

winners are making history. Rebecca Petch

was awarded the Female Top Achiever at the

BMX New Zealand awards evening. Hannah

Jensen and Jana Kivell played in the 2018

FIRS Inline Hockey World Championships.

Jana is a member of the New Zealand U18

Hannah Jensen

Junior Women's team and Hannah coaches

this team. Both skaters also play in the New

Zealand Inline Ferns.

Opportunity knocks

Adastra Trustees awarded the biggest

number of scholarships ever this year; to 112

Waikato and Bay of Plenty recipients.

To date, the Adastra Foundation has

awarded 457 scholarships totaling $2,117,000.

Trustees are Kevin Burgess, Amigene Metcalfe,

Jen Palmer, Mark Hollands, Graeme Maw

and Andy Roche.

Applications for the 2019 intake are open

now. Scholarship hopefuls need to be aged

between 16 and 23. For more information

visit adastra.org.nz

2018 Adastra

scholarship recipients:

Aimee Ferguson (athletics)

Alastair Blackett (cricket)

Alex van der Zalm (sailing)

Alia Jaques (hockey)

Ally Wollaston (cycling)

Amy Dunn (athletics)

Amy Robinson (hockey)

Anika Jackson (squash)

Anna Hamilton (music/performing arts)

Anthony East (wakeboarding)

Ashleigh Sando (athletics)

Autumn Stephens (rugby)

Ben Grindrod (squash)

Ben van Dalen (rowing)

22 INSPO – FITNESS JOURNAL JULY 2018
---
Dan Caldwell

Benjamin Broad (motocross)

Blake Murray (trap shooting)

Blake Nahu(AFL)

Brad Coxon (hockey)

Briana Perry (cricket)

Briar Burnett-Gran (equestrian)

Cailen Calkin (cycling)

Campbell Maclean (hockey)

Charlisse Leger-Walker (basketball)

Christopher Steeghs (badminton)

Claudia Ashby (swimming)

Claudia Paterson (canoe)

Cole McOnie (cycling)

Courtney Elliott (netball) (martial art)

Daniel Scanlon (hockey)

Dilan Nanayakkara (cricket)

Drew Carson (equestrian)

Eileish Hayes (football)

Elin Tawharu (surfing)

Ellesse Andrews (cycling)

Ema Miyaura (tennis)

Emily Ussher (netball)

Ethan Larsen (hockey)

Felix Calder Hawkins (badminton)

Felix Holton (music/performing arts)

Garrick du Toit (hockey)

Georgia Dobbe (white water rafting)

Glenn Templeton (squash)

Grace Holland (rowing)

Grace Watson (rowing)

Greer Caddigan (equestrian)

Hamish Miller (surf lifesaving)

Hannah Jensen (inline hockey)

Hannah Knighton (triathlon)

Hay (cycling)

Jana Kivell (inline hockey)

Jarred Treymane (cycling)

Hannah Knighton

Jazmin Hotham (rugby)

Jessica Turfrey (rowing)

Jessie Hodge (hockey)

Kate Littlejohn (rowing)

Katie Trigg (music/performing arts)

Keean Cooper (equestrian)

Kelsey Eames (whitewater rafting)

Kendra Peart-Anderson (hockey)

Kewarei Hawkins-McClutchie (hockey)

Kiaan Watts (cycling)

Ki-tana Tuhakaraina (netball)

Leanna Ryan (rugby)

Liam Moffatt (waterpolo)

Libby Bradley (surf lifesaving)

Lisa Mather (net (squash)

Maddison Black (martial art)

Matt Berry (cycling)

Max Dobbe (white water rafting)

Max Duckworth (water ski racing) Mckenzie

Milne (cycling)

Morgan Haakma (wakeboarding)

Nia Dixon (cycling)

Nicola Hammond (equestrian)

Nina Paripovic (tennis)

Oliver Soar (rock climbing)

Olivia King (cycling)

Paige Flynn (swimming)

Patrick Washer (canoe)

Rachael Archer (motocross)

Amy Robinson

Raiha Ensor (surfing)

Rebecca Petch (cycling)

Ryan Forlong (volleyball)

Sam Cook (cycling)

Samantha Voss (rowing)

Samuel Tanner (athletics)

Sharnaye Hall (volleyball)

Shaun Campbell (golf)

Sydney Johnson (rowing)

Tatiana Kaumoana (athletics)

Thomas Rawstron (athletics)

Thomas Raymond (swimming)

Tim Neild (hockey)

Timothy Monigatti (powerlifting)

Veerle ten have (sailing)

Victoria Chanwai (music/performing arts)

Zack Mutton (canoe).

Kendra Peart-Anderson

Jordan George Woodall

Katie Trigg

Liam Moffatt

INSPO – FITNESS JOURNAL JULY 2018

23
---
YOUTH HEALTH

and wellbeing

An unknown author once said "In order to change, we

must be sick and tired of being sick and tired." Childhood

obesity is growing at an alarming pace and with that,

mental and medical illness.

BY MICHIEL BADENHORST

According to the NZ Ministry of

Health, Health Statistics for the period

2016/17, around one in eight or 12

percent of children (age 2-14) were obese, the

percentage for 15 years an older is a staggering

32 percent.

A further 21 percent of children were

overweight but not obese. According to the

findings, the child obesity rate has increased

from 8 percent in 2006/07 to 12 percent in

2016/17.

Some of the major contributors to this

problem is well documented and include:

Too much screen time, a direct contributor

to sedentary lifestyle

Lack of sleep, both in quality and duration

(linked to screen time and poor diet)

Lack of play and physical activity

Regular fast food consumption (high in

saturated fat, refined starch and salt)

High sugar consumption (It is said that on

average, the Western diet includes around

5-6kg of added sugar per week)

Hopefully you read this and realise that

the problem is real, and if you are "sick and

tired" of your situation or that of your overweight

child, then my challenge to you is that

you start the change.

Most of us are guilty of pushing a device

into our child's hands when we need a "time

out" or using unhealthy treats and or screen

time as an achievement incentive or reward.

We neglect to realise that we are actually enforcing

bad habits, habits that could cost our

childrens long-term health and wellbeing.

Start the change by creating a culture of

health in your own home.

Here are some ideas:

1. Family physical activities

We are privileged to call one of the most

beautiful countries in the world our home.

Make the most of this fact by going on family

bike rides, walks or playing in the park.

Start a sport or hobby that requires physical

activity together as a family.

The New Zealand Ministry of Health

recommends at least two and a half hours

of moderate or one and a quarter hours of

24 INSPO – FITNESS JOURNAL JULY 2018
---
vigorous physical activity, spread throughout

the week, for adults.

For young people, the recommendation

is an accumulation of at least one hour a day

of moderate to vigorous physical activity, at

least three days a week.

This should include vigorous physical

activities and activities that help strengthen

muscles and bones.

2. Limit screen time

Studies have shown that as little as one

to two hours of screen time a day has a

significant negative effect on cognitive brain,

speech, physical, and social development.

Recommendations provided by the New

Zealand Ministry of Health suggests less than

two hours of recreational screen time per day.

3. Set achievable goals and challenges in the

family

Make it a goal to cut out all added sugar from

your diet (limit sugar to the occasional cheat

treat). Make it a goal to drink more water,

replace your fizzy drinks with water or even

milk.

Set achievable weight goals for the whole

family. Remember, we are after healthy goals

not the unrealistic magazine looks.

Set bigger goals like a tramping trip or

climbing a mountain together once or twice

a year. This will help to motivate you.

4. Make rewards fun family activities that will

build lasting memories

Let's be honest, a trip to a local fast food

chain as a reward or incentive provides no

lasting memories or enjoyment. Next time,

plan something where the whole family can

benefit from the reward, something that will

build lasting memories.

5. Plan and make meals together, eat together

without any devices near the table

With a little bit of planning, you can transform

the way you and your family eat. A trip

to your local farmers' market for fresh veg

and fruit, jumping on Google to get healthy

meal plans and recipes can change the way

your family look and feel within a couple of

weeks.

Let the whole family contribute in making

meals and or setting the table. Eat together,

at the table, at least once a day without

any devices nearby. Healthy families are the

foundation of our society.

About Michiel

Michiel Badenhorst is passionate about encouraging

and educating young athletes.

"There are so many myths when it comes

to youth development which I believe need

to be addressed through community awareness

and education," says Michiel.

"I am passionate about addressing issues

like youth obesity, safe training, functional

physical development, long-term athletic

development and active lifestyle. "

Having grown up on a farm in South Africa,

Michiel received his honours degree in

Biokinetics (Musculosceletal Excercises Science

and Rehabiliatation) from the University

of the Free State in 2004. He has worked at

a high school in youth athletic development

and owned a CrossFit affiliate.

In 2014 he was appointed as the strength

and conditioning co-ordinator at St.Paul's

Collegiate School, Hamilton.

"It is extremely satisfying to see young

athletes that you work with excel in their

various sports and achieve regional or New

Zealand representative level. However what

motivates me most is to see young people

enjoy physical activity and move well.

"Our young people don't "learn through

play" anymore, so many have lost the skill of

performing basic movement standards well.

"Physical activity and sports involvement

at school level is crucial. Evidence is

clear that physical activity through play and

non-competitive sports involvement at a

young age has far reaching positive implications

on individual health and wellbeing,

promoting physical, emotional and cognitive

growth.

"However, we do need to be careful not

to promote early sport specialisation, which

can lead to injury, athlete burnout and youth

losing interest in long-term physical activity.

What provides me with the greatest sense of

achievement is to help competitive and non

competitive athletes to achieve their personal

and or sports goals."

Michiel and his wife have two young

children, an eight-year-old daughter and sixyear-old

son, and as a family enjoy bike rides

and outdoor activities. •

INSPO – FITNESS JOURNAL JULY 2018

25
---
Helping shape

FUTURE

SPORTS

STARS

Todd Barker's domain

remains the same - the gym -

but he's traded working with

rugby players, to working

with some of New Zealand's

up-and-coming sports

stars at St Peter's School in

Cambridge.

The move is a refreshing change for

Todd who, after 10 years working for

the Waikato Rugby Union, is now the

strength and conditioning coach at St Peter's.

In his new role, he looks after 330

students - that's a quarter of the school's

students participating in its elite sporting

programme.

Todd and his team, which includes a

number of Wintec Postgraduate and Masters

students, ensure that these young athletes

are in optimal physical condition to excel in

their chosen sport.

"After focusing on rugby for the last

decade, I'm really enjoying working with so

many different sporting codes at St Peter's as

well as working with elite young athletes and

coaches," he says.

Todd Barker

"Our students include a large number

of New Zealand representatives and world

champions who represent all the usual

sports, as well as some more unique sports

such as lacrosse, equestrian, rock climbing

and barefoot skiing."

St Peter's has the largest strength and

conditioning programme of its kind in New

Zealand and aims to have one of the best

sporting programmes in the country.

From his past work experience at the Waikato

Rugby Union, Todd is used to working

in high pressure environments and is well

equipped for his new role.

Todd graduated from Wintec with a

Bachelor in Sport and Exercise Science in

2008 and while working full time at the

union, decided to study a Master of Science

(Sport and Exercise Science) also at Wintec.

With young twin daughters at home, he

soon found that studying, working full-time

and parenting was too much of a juggle.

Still keen to further his education, Todd

switched from studying a Masters to a

Postgraduate Diploma in Sport and Exercise

Science, which gave him the work-life balance

he needed.

"I still want to complete my Masters at

some stage and I felt like the diploma was a

good step towards that long-term goal. The

research I did during my diploma really

opened my eyes to the latest developments

in sports science and reinforced how important

it is to keep up-to-date with research,"

says Todd.

"I'm passionate about sport and it

was awesome to study at Wintec with a

like-minded group of people and tutors who

all love sport as much as I do."

Unsurprisingly for someone who is

immersed in sports on a daily basis, Todd is

an avid sportsman himself. He played high

school rugby, was a former competitive badminton

player and now spends his spare time

catching waves. •

Can you truly say you have been

nourishing your body? Are you full of

energy and vitality?

Sometimes it is easy to let life get in the

way, now it is time to put yourself first.

| SMOOTHIES | ORDER ONLINE

| PICK UP OR DELIVERY | FASTLANE.KIWI |

WRAPS | SALADS

M: 027 844 5347

E: danielle @fuelnutrition.co.nz

www.fuelnutrition.co.nz

www.facebook.com/fuelnutrition4life

For nutrition education, plans and

guidance tailored to your needs contact

Danielle Roberts (Bsc Human Nutrition)

In addition to new salads, smoothies, acai bowls and slices,

we have introduced online ordering. You can pick up your

salad in the afternoon without worrying that your fav has been

sold out! We sell Family size salads and we can cater for your

work functions, so more time for your workout!

| SMOOTHIES | ORDER ONLINE

| SALADS

WRAPS

|

| FASTLANE.KIWI

| PICK UP OR DELIVERY

26 INSPO – FITNESS JOURNAL JULY 2018
---
MASSAGE

THERAPY

– the missing component in

your training programme?

Massage therapy is the manipulation

of the soft tissue to influence and

enhance the body's own healing

mechanisms, and can assist with injury prevention,

recovery and rehabilitation as well

as preparation for competition.

The Academy of Sport (now High Performance

Sport New Zealand (HPSNZ)) elite,

carded athletes have been offered massage

therapy as a support service to their training

since the early 2000s, and Rowing New Zealand

was one of the first sports to incorporate

massage therapy on a weekly basis for elite

rowers on the senior programme.

Now, regular massage therapy sessions

should be incorporated into any athlete's

training programme, argues Stephen Bur-

den, Registered Massage Therapist (MNZ),

Massage Programme Coordinator at Wintec's

Centre for Sport Science and Human Performance.

A massage service provider with HPSNZ,

Stephen worked with rowers for 12 years including

Olympic medallists Mahe Drysdale,

George Bridgewater and Nathan Twaddle.

The medallists indicated that the massage

therapy sessions "helped flush their tissues,

aid recovery and allowed them to take on the

large training volumes their coaches expected

them to complete, therefore preventing

injury."

Massage therapy can assist an athlete in

injury prevention, treating areas of tension

and lengthening and restoring flexibility to

muscles to lower the risk of overuse injuries.

Massage therapists use techniques to

stimulate the circulation of blood and

lymph, to assist with the eliminations of

waste toxins accumulated during exercise,

reducing post-exercise muscle soreness. A

faster recovery enables an athlete to manage

their training workload better.

"Massage is a key part of my recovery

and injury prevention. It is vital to keep

my muscles in good condition and eliminate

anything that may stop my body from

working at its best," says Cameron French,

New Zealand 400mH champion and record

holder.

Massage therapy also creates feelings of

well-being and relaxation, as well as assisting

athletes with the psychological and physiological

preparation for training and competition.

Well trained, experienced therapists

will work on local problem areas of the body;

breaking down scar tissue in muscles that occur

as a result of being overused or not fully

recovered from a training session.

Everybody is different; therefore, the

massage therapist has to consider the sport,

phase of the athlete's training programme

and the athlete themselves.

If you're keen to find out more about

massage therapy, Wintec offers introductory

level courses through to a Diploma in Relaxation

and Wellness Massage (Level 5).

For more information visit wintec.ac.nz/

massage. •

This isn't just massage.

This is preventing injury, encouraging faster recovery,

and helping athletes train for excellence.

From introductory level courses through to a

Diploma in Relaxation and Wellness Massage (Level 5),

Wintec can provide a massage course that caters to all

your needs. You'll learn anatomy, physiology, health and

nutrition, and massage therapy techniques to support

an athlete's training programme and help them

achieve success.

Find out more at wintec.ac.nz/massage

create your world

www.wintec.ac.nz/massage

INSPO – FITNESS JOURNAL JULY 2018

27
---
STROKE

OF LUCK

gives Hamilton man

a health Jumpstart

Hamilton man Steve

Harvey, 52, knew he faced

serious health problems after

being diagnosed with Type

2 diabetes, knew and it

would start affecting his life

badly if he didn't take action

quickly.

Steve is one of around 240,000 people

in New Zealand living with diabetes

and with 40 new diagnoses every day,

this number is likely to more than double in

the next 20 years, according to Diabetes NZ.

On the way home from a doctor's appointment

Steve stopped at the Hamilton YMCA

after hearing it offered fitness classes for bigger

individuals and thought he'd give it a shot.

"It was pure luck that I walked in just five

minutes before a Jumpstart class was beginning

and decided to join in," said Steve.

"I had never heard of Jumpstart. After

literally walking off the street and into the

programme, I've attended weekly when it's

running, as well as joined the gym.

"I've also got a bad knee and osteoarthritis

and Jumpstart has helped me get my health

back," he says.

Jumpstart was established in 2015 by the

YMCA and healthcare company Pharmaco

(NZ) Limited. It provides exercise, nutrition

and lifestyle education for people with diabetes,

or those who are pre-diabetic.

Now onboard, a healthier lifestyle has

taken off for Steve. He has gone through two

Jumpstart programmes and is making good

progress managing his type 2 diabetes as well

as his other health issues.

Steve has worked as an orderly at Waikato

Hospital for over 20 years and enjoys his

role, but his ability to do his job and support

his family was at risk.

More than a year after his first Jumpstart

programme, Steve has lost a lot of weight (9.4

kgs in the last three months). His goals are

to continue going to the gym regularly and

working towards an even better weight in

Steve Harvey with Jumpstart

Coordinator Emily Morris.

"I had never heard of

Jumpstart. After literally

walking off the street and

into the programme, I've

attended weekly when

it's running, as well as

joined the gym.

2018, after joining a Cardio and Reflex class

and starting his third Jumpstart programme.

Steve gives credit to Emily Morris, Rei

Manawaiti and the others in the Jumpstart

group for making him feel, for the first time

in his life, that he belongs in a gym.

Jumpstart coordinator Emily says she has

"watched Steve's confidence grow and seen

him slowly trust the process and that everyone's

journey is different.

"He has embraced and laughed at my creative

ways in helping him find himself again

– from playing games like 'tag', hip-hop

dancing, setting goals, long chats, choosing

your own exercises and learning that you are

in control of your own health," she says.

These personal exercise curriculums

make working out more engaging and feel

more like fun rather than a chore.

When asked what he likes most about

Jumpstart, Steve says: "Rather than being programme

focused, it focuses on the individual

and there's so much support around you."

Steve now goes to the gym five times a

week and is supported by his two sons, ages

17 and 20, who also regularly join him, as

well as his 12-year-old daughter, making it a

family effort to live healthier.

"One of my sons came up to me and said

'I'm really proud of you dad' and that was

the best feeling in the world," Steve says.

"I'm very grateful for how far I've come and

couldn't have done it without all the people

around me.

"Jumpstart has introduced me to exercises

and equipment I never would have heard of

or used before."

He enthusiastically comments: "Come to

Jumpstart, it works!"

Jumpstart runs four programmes a year

and has helped more than 950 people in the

last three years, operating at 14 YMCAs across

the country.

Common results from the programme

include weight loss, lower waist measurements

and blood pressure, improved mental

health and confidence about a healthy future.

The weekly sessions help get people moving,

no matter their size. For people who are

pre-diabetic, exercise and lifestyle programmes,

like Jumpstart, can help delay the

onset of Type 2 diabetes.

To join Jumpstart, visit:

jumpstartprogramme.co.nz. •

28 INSPO – FITNESS JOURNAL JULY 2018
---
INSPO Fitness Journal tries...

THE SHAKTI MAT

Pleasure or pain?

Let's start this off with some brutal self-honesty. I

have zero pain tolerance. I can barely stand the agony

of plucking a sole eyebrow hair, and have a definite

needle phobia. So when faced with the shark-like teeth

of the Shakti Mat, it's fair to say there was a certain

reluctance to just dive in.

However, having heard rave reviews,

I'm determined to form my own

opinion. With a tendency to tight

shoulders, a sore back and headaches around

deadline time, I'm keen to see if the product

lives up to the hype.

The Swedish acupressure mat comes in

three options; light, original and advanced

(varying from 8000 to 4000 points). The

promotional blurb promises relaxation in 20

minutes. Along with supporting deep restful

sleep; relaxation of tense muscles; recovery

from headaches, recovery from muscular

injury; circulation and overall well-being.

I've already wasted the promised 20

minutes of relaxation suspiciously eyeing up

the mat's sharp white barbs. Deciding to err

on the side of caution, I wear a thin t-shirt

for protective safety, rather than kick off with

bare skin.

With the Shakti mat on top of my bed (a

softer base is recommended for the first few

times) I gingerly ease myself down, waiting for

the searing pain. It's surprisingly manageable,

with just a warm tingle for the first few minutes.

I breathe out and relax, feeling warmth

spread over my back as the sensation becomes

a little more intense. However the expected

needle sharp bite isn't there, although the bare

skin at the top of my neck is verging on mild

discomfort. I last for 15 minutes and find that

I've actually enjoy the sensation.

Afterwards my skin looks as though it

has been bitten by 1000 tiny ants and is red

and flushed. But it feels warm and relaxed -

no pain!

I've since used the Shakti Mat several

more times, as well as the Shakti foot pad

and acupressure pillow. It's a definite thumbs

up across the range, and on days when I feel

a headache starting, I take 10 minutes of

Shakti time. So far, so great.

On this occasion the product really does

live up to its reputation. Thank you Shakti -

the pleasure is all mine.

– By Lisa Potter

>WIN

Discover the Shakti experience for yourself and enter to win a Shakti Mat

and Shakti Pillow prize pack. (For more information on the range, visit

shaktimat.co.nz).

To enter, email your name, address and contact phone

number to win@inspomag.co.nz with Shakti in the

subject line, or enter online at inspomag.co.nz.

Entries close on August 31 2018.

INSPO – FITNESS JOURNAL JULY 2018

29
---
RUGBY

SEASON

LOOMS

The 2018 Mitre 10 Cup

schedule has been announced,

with the competition set to

kick off on Thursday August,

16.

Waikato's season gets underway

against Manawatu at Central

Energy Trust Arena, Palmerston

North on Saturday, August 18, from 2.35pm.

Waikato will host North Harbour (Saturday

25 August) and Wellington (Wednesday

5 September) in its first two home games at

FMG Stadium Waikato, before facing Hawkes

Bay (Thursday 13 September) and Southland

(Saturday 29 September), with Waikato's

Photos by Lauran Robinson and Kevin Booth

final home game against Otago (Saturday 13

October).

The remaining away matches will be

against Auckland (Thursday 30th August), a

potential Ranfurly Shield challenge against

current holders Taranaki (Sunday 9 Septem-

ber), before again taking on Bay of Plenty

(Friday 21 September) and Northland (Saturday

6 October) back on their home turf.

The competition will be played across

nine weeks with five home and five away

games before semifinals and finals.

Young local talent shines

Former Hamilton Boys High

School and New Zealand

Secondary Schools captain

Quinn Tupaea has signed with

Waikato for the upcoming 2018

Mitre 10 Cup season.

Tupaea, 19, is a talented young

rugby player with a strong and

physical presence on the field in

both 15's and 7's. In 2017 he captained

the Hamilton Boys High

School 1st XV to a shared Super

8 title, led the team to a national

title game appearance and led the

seven's side to their third consecutive

Condor 7s title.

His form also saw him gain selection for the 2017 New Zealand

Secondary Schools team, in which he was named captain. Earlier this

year Quinn was co-winner of the Secondary Schools Sportsman of

the Year award at the Brian Perry Waikato Regional Sports Awards.

"Quinn Tupaea is a local product and he has been on our radar

for some time coming through our emerging players programmes,"

says Waikato CEO Blair Foote. "He is a player with incredible talent,

in defence he is solid and physical and is a destructive runner when

he has ball in hand.

"He was a player we did not want to lose to another region, so

to be able to have him join our high performance team was a top

priority for us."

Quinn Tupaea played junior rugby for Southwell before playing

for Hamilton Boys High School and in 2018 has featured for Hamilton

Old Boys in the Premier Club Rugby competition.

30 INSPO – FITNESS JOURNAL JULY 2018
---
APRES SKI

After a day's skiing at Whakapapa, there's nothing

like being able to return to a warm and comfortable

environment right on the mountain.

Within 10 minutes from the end of

your run, you could be sitting in

front of a warm fire, with your

favourite drop, surrounded by fellow skiers

and boarders, trading tales of great runs,

adventures on and off piste; all set against a

stunning mountain backdrop.

When you join The Waikato Ski Club you

become part of a community that has been

enjoying snowsports for more than 60 years.

With a reputation as a friendly and

passionate snowsport club, the Ski Lodge

team is dedicated to making every visit an

enjoyable time.

The Lodge provides a welcoming environment

for members, their families and

guests. The heart of the Lodge is an open

plan lounge that provides a friendly atmosphere

to catch up with old friends and make

some new ones. Where you can get some

tips from our experienced crew or organise a

buddy for your next day out.

A large well-equipped kitchen and dining

area sits adjacent to the lounge. As a selfcatering

club, managing your own favourite

foods and dietary requirements is a breeze.

Great for families or those who struggle with

catered food options.

Newly renovated bunkrooms are warm

and well insulated, with comfortable bedding

and individual privacy curtains. At the end of

a long day, a great night's sleep is our goal.

With a growing calendar of activities

and space for new members, check out our

website (waikatoskiclub.co.nz) for details on

joining and having your best snowsports year

so far. •

s k i

c l u b

A short walk up from the Top of The Bruce, Waikato Ski

Club Lodge offers great family fun in a spectacular setting.

Whakapapa ski field is the largest North Island ski area and has

fantastic skiing on and off piste. Waikato Ski Club runs the Ski

Lodge originally built and maintained by The Waikato Tramping

Club. The modernised facilities provide comfortable and

affordable on mountain accommodation all year round.

s k i

c l u b

T Friendly and local ski club

T Comfortable Lodge that has ski in

& ski out over winter

T GREAT location at Whakakapapa

T Family friendly rates and facilities

T New members welcome

WWW.WAIKATOSKICLUB.CO.NZ

INSPO – FITNESS JOURNAL JULY 2018

31
---
GET YOUR

WELLBEING

back on track

I've recently found myself re-analysing my life. Remember

that New Year's resolution you made for 2018? You know –

the one to cut back on work, stress less and stop caring what

everyone thinks? The one where you'll be carefree, live life

to the full and just be happy? Well I do, and I don't know

about you, but I failed miserably. But how? How do we get so

caught up and lose track of what we want? And how do we

get back on track? How do we get our wellbeing back…

BY SHANE WAY

We live in a world where life is busy.

We work hard, look after others,

do all the "have tos" and miss

out on the "want tos. So why do we keep

sacrificing our wellbeing? Why do we always

put others first and keep giving from our cup

until it's empty? This got me thinking, and

talking, and realising that it's not just me – it

seems to be the case for a lot of people.

I set myself goals for the year, I knew what

I wanted, and I knew how to get it. But somewhere

along the way I forgot to put it into

play. I got caught up in working hard, helping

everyone else and not concentrating on myself

and achieving wellbeing the right way.

See, when the intention is there, that's

great – but when we don't put strategies into

place and focus on putting those plans into

action, things fall apart quickly. Before we

know it, we have lost sight of what our goals

are, and we're achieving wellbeing in the

wrong way.

So how do we get back on track? Do we

grind for the rest of the year and promise

ourselves that we will put our own wellbeing

first? No. That's not the way to live, in fact it's

not living at all. It's time to take back control

of our lives, focusing on ourselves, our wants

and our needs. But the question is how?

When I asked myself this question I wanted

to come up with the answers for myself,

but also be able to give others advice and

help them on their wellbeing journey. So,

here's how we start.

Become mindful:

To be able to find reality, you need to take a

step out of it. It's hard to look forward if we are

caught up in everything else that's going on.

This is where mindfulness and meditation

play a key role. It's going to help you

disconnect from the pressure of life, find

some peace and tranquillity, clear the mind

and help you to relax.

If it's something you're not into or haven't

tried before don't worry – there are many

apps and YouTube clips for beginners that

help to guide you and make it all a stress-free

and enjoyable experience. You should find

yourself feeling refreshed, calm and collected.

Ground yourself:

Once you've cleared your mind you need to

ground yourself – literally. Some of us connect

with earth, some with water, some with sand.

32 INSPO – FITNESS JOURNAL JULY 2018
---
Think about what calls you and go to it.

For me the water grounds me – it always has.

For me, there is no better feeling than being

in the water, weightless, floating and free.

So, find the place that calls you, take off your

shoes and feel the ground beneath you.

Whether it's sand, grass, water or dirt –

feel the earth between your toes, and let your

energy flow into the earth, let the earth's

energy flow into you.

Find clarity:

Your mind is clear; your energy is balanced

and now it's time to find clarity. ind a space

where you won't be distracted.

Yes, that means you'll have to put down

your cellular device and ignore your notifications

for a while. Don't worry, I tried it and I

survived. You need to find a place where you

can really connect with your mind and soul.

Get comfortable. Close your eyes and

think about what you want, what makes you

happy, what feeds your soul and what makes

your heart sore. As soon as you can, write it

down and put it somewhere you will see it

every day as a reminder.

Start fresh:

Now that you've figured out what you want

and what will make you happy then apply it.

Don't just wait for it to happen, make it happen.

Everyone says it's hard but it's not.

We meet people in life who are selfish and

always get what they want; the key is to be a

mixture of selfish and selfless. For change to

happen you must make changes.

If this means you need to be selfish to be

selfless in the long run, then so be it.

You may need to step back from some of

your responsibilities, you may need to cut

some people out of your life and you may

need to let some people down. That's ok.

If you can't look after yourself you can't

look after others – so put yourself first, find

health, happiness, balance and you'll be back

on track, back on your wellbeing journey.

Refresh and repeat:

Wouldn't it be easy if once we got life on

track its stayed that way? Well we all know

that isn't the truth. Life isn't easy – everything

worth having we need to work hard for,

including our health, including our happiness

and including our wellbeing.

This means you'll need to take a step

back, become mindful, ground yourself, find

clarity and start fresh as often as you need to.

Remember that a life worth living needs

balance. Put your wellbeing first and you'll

flourish. Once you put your wellbeing first,

you'll help, support, inspire and motivate so

many more people when they see you living

your truth – your wellbeing, your way. •

SHANE WAY An awardwinning

personal trainer; Shane

is committed to helping others

reach their goals and enjoy a

positive mindset. Passionate

about sharing his own journey,

he places a strong focus on mental wellbeing

alongside physical wellbeing. Shane is also a

member of the advisory board for "Creating Our

Futures", which is the proposed model of change for

Mental Health and Addiction services in Waikato.

INSPO – FITNESS JOURNAL JULY 2018

33
---
Exercise to help keep

ON TOP OF

ASTHMA

New Zealand fitness expert Richard Beddie is urging

Kiwis to exercise more to help beat asthma.

The Exercise NZ chief executive says

keeping fit with exercise is great way

for managing asthma. Asthma is not

a condition to be dismissed lightly, causing

the deaths of more than 60 people a year

according to Asthma Foundation statistics.

In New Zealand, respiratory disease,

which includes asthma, affects one in six Kiwis,

or about 700,000 people. More than half

a million New Zealanders take medication to

control asthma.

One in seven children, and one in nine

adults, have asthma in New Zealand. It's also

estimated that 586,000 school days are lost

each year due to asthma-related symptoms

in children.

New Zealand has the fourth highest hospital

admission rates for asthma of all OECD

countries with the proportion of Pasifika and

Maori children admitted twice as high as

European children.

"Aerobic exercise particularly helps as

it's involved in strengthening the oxygen

delivery process in the body, and the muscles

involved in breathing," says Richard.

"For most, the safest forms of activity

are more "stop and go" type activities, rather

than long continuous movement, and a gentle

warm up and cool down helps too.

"As with any medical condition, if people

suffer asthma regularly or severely, they

should check with their doctor before start-

ing into any new exercise activities and seek

good advice and support from a registered

exercise professional when they start a new

exercise routine."

Around one in three adults with severe

asthma are dependent on oral steroids - a

treatment which may cause a range of side

effects including weight gain.

Estimates suggest up to 10 percent of the

asthma population have a severe form of

asthma. In New Zealand, that could equate

to more than 52,000 Kiwis who may struggle

to control their day-to-day symptoms and

continue to have frequent asthma flare-ups,

despite taking their maximum prescribed

doses of asthma medication.

Boost your gut health

with Immunity Fuel

Immunity Fuel is a probiotic superfood

combining billions of good bacteria with

organic wholefoods into one daily supplement

to help support a healthy gut, strong

immune system and energetic body.

A small New Zealand family-owned and

operated business, Immunity Fuel products

are classed as raw fermented foods, containing

all 13 strains of good bacteria from the

Lactobacillus family plus Certified Organic

wholefoods.

The result is a unique probiotic boasting

real nutritional value.

By combining the goodness of billions

of probiotics with wholefood nutrients, consumers

get their daily dose of good bacteria

and nutritional multi-vitamins in just one

daily teaspoon.

Founder, Damian Johansen explains that

making healthy choices like taking a daily

probiotic should be both easy and a regular

part of your morning routine.

"Incorporating small improvements into

your daily regime, such as Immunity Fuel,

can result in long-term health benefits. Every

small change is another small step on the

Give yourself an extra winter

boost and enter to win one of

three Immunity Fuel prize packs.

To enter, email your name,

address and contact phone

number to win@inspomag.co.nz

with Immunity Fuel in the

subject line, or enter online at

inspomag.co.nz. Entries close on

August 31 2018.

>WIN

way to your ultimate destination – a better,

healthier and happier you."

"Every day we lose good bacteria that is

vital for healthy bodily functions and this is

particularly the case in the gut. Taking a probiotic

is one of the single most effective ways

to ensure a healthy digestive system."

Available in gluten free format, as well as

regular, the product is completely natural

with no GMO, no artificial flavours, colours

or preservatives, making it an ideal all-in-one

multivitamin and probiotic suitable for the

whole family.

Immunity Fuel is available online at and

at selected health and organic stores nationwide

and immunityfuel.co.nz

34 INSPO – FITNESS JOURNAL JULY 2018
---
Jazz Unlimited

Jazz Unlimited boasts the

biggest range of top-quality

syllabi in the area, four

new upmarket studios, with

the latest safety features, and a

joyful, caring, inclusive culture

with outstanding teachers.

Learn American Jazz, American

Tap, Classical Ballet, Hip

Hop, Contemporary, and Theatre

arts. Ages from 3 years to adult.

Enrol now to be part of our

fabulous recital in December in

a professional theatre. There are

also other performance and competition

opportunities during the

year.

We're at 188 Kent Street,

Frankton (Norton Road end).

Visitors are welcome.

Enrol now for Term 3 to ensure

a place. For more information

- term dates, timetable, etc

- visit www.jazzunlimited.co.nz,

phone 07 838-0096, or email

jazzunlimited@xtra.co.nz

Jazz Unlimited Dance Studio

American Jazz, American Tap, Classical Ballet, Hip Hop, Contemporary.

Ages: 3 years to adult.

We have a new, custom-built, 4-studio complex with sprung floors,

commercial air con, ventilation system, wall-length mirrors, & free

parking. We have been in Hamilton for over 25 years. Weekend classes

are available. Class sizes are limited to ensure effective learning. Fees are

paid by the term. You are welcome to visit us at

"5,6,7,8… Start Your Dance

Journey in the Limelight"

Limelight Dance Academy

has been Hamilton's

premiere dance school

for the last 30 years. Originally

the Margaret Fairhead School

of Dance, former pupil Kerry

Mills took over the school in

2008 and gave it its new name

– Limelight.

Students entering the school

find themselves in well-structured,

inspirational and

challenging classes. Children

are not only learning the art of

dance, but also building confidence

and pride in themselves

that shines through in their

day-to-day life.

The school's core values of

excellence, acheivement and

passion and Kerry's holistic

approach to training speak

to the team's desire to carve

a journey of dance education

for their students. From when

students enter into the Preschool

or Junior School, they

find themselves on a path with

lessons that progress from term

to term. Students often add

different styles to their repetoire

as they grow, such as Jazz,

Contemporary, Tap, Hip Hop

and Lyrical.

Head to our website to find

out more about the school, it's

mission, history and acheivements

both nationally and

internationally.

Limelight Dance Academy

limelightdanceacademy.co.nz

The school's

core values

of excellence,

achievement and

passion and Kerry's

holistic approach

to training speak to

the team's desire

to carve a journey

of dance education

for their students.

188 Kent St, Frankton (Norton Road end)

Learn to dance in a caring, inclusive studio culture. We have excellent

teaching and exam results, and fabulous Shows. Our syllabi are

internationally recognised, and teaching standards are moderated by

external examiners.

Enrol now for Term 3. Spaces may be limited. Preschool fees are $60.00

per term, or $50.00 if paid before the term begins. Please contact us for

other fees.

We teach partner dance too – Ballroom, Latin, Salsa, Argentine Tango,

Latin Rock. We also specialise in wedding dance tuition.

Enrol now for Term 3

188 Kent Street, Frankton

jazzunlimited@xtra.co.nz | (07) 838 0096

www.jazzunlimited.co.nz

INSPO – FITNESS JOURNAL JULY 2018

35
---
RUN, PLAY,

EXPLORE

Encouraging kids to discover the natural

playgrounds around them, Hamilton mum

Ceana Priest is helping families explore the

great Kiwi outdoors.

Finn's first overnight stay;

at Daly's Clearing Hut.

Kiwi adventures are a key part of family

life for Hamilton mum Ceana Priest.

Passionate about passing on her love

of nature and exploring to son Finn, along

the way she has discovered other like-minded

parents searching for child friendly

outdoor options.

Ceana's enthusiasm for sharing has

seen the launch of her website, outdoorkid.

co.nz, promoting family outdoor adventures

(predominantly in Waikato, with a few in Bay

of Plenty).

"It helps other parents or grandparents

find outdoor adventures for their Kiwi

explorers to get muddy, clamber over trees,

discover critters or just tear around on their

bikes," she says.

Having grown up in Whakapapa surrounded

by nature, Ceana wanted Finn to

have a childhood filled with his own outdoor

adventures.

Newstead Walkway

"There's a huge amount of research

into the benefits of children in nature," she

says, "and this is evidenced by the number

of forest schools opening throughout New

Zealand. I believe having nature based experiences

builds a huge amount of resilience -

there's always going to be bumps and bruises

- but with safe boundaries these 'mishaps'

generally result in a greater understanding of

their own abilities.

"Additionally, nature offers kids the

opportunity to display their creativity by

making up their own games or getting hands

on constructing bush huts.

"We're incredibly fortunate to live in a

country where access to nature play is relatively

easy - starting from finding critters in

our own backyards."

Ceana has scoured the many local options

available, and next on her to-do list is some

more multi-day hikes with Finn.

"He's already done overnighters (Daly's

Clearing Hut is a great spot to start with little

ones) and handled them like a trooper - slept

very well in the tent too."

With a lifelong passion for the great outdoors,

Ceana had completed her first 100km

trail run before Finn arrived. After he was

born, she struggled to find adventures they

could both enjoy and so began her quest.

"I struggled to find a website that could

tell me whether the trail was buggy friendly

or a maze of steps stairs. So I started

Outdoor Kid to help other families discover

kid-friendly adventures.

"We've had a blast along the way and met

some great people. I wanted to share the

adventures we've had and encourage others

Ceana Priest and son Finn

to have a go with their little ones."

Ceana encourages families with children

of all age to get out and have a go. Below

she shares five of her local favourite family

friendly spots:

FIVE TOP ADVENTURES

1. Jurassic Forest Loop

This impressive pest-free enclosure is just

south of Ohaupo. A spot we have driven past

countless times without realising it had an

adventure worth exploring. Grassy meadows

for picnicking, an engaging activity trail

around one of the Waikato's most pristine

peat lakes and best of all a trail through a

Jurassic Forest!

The Jurassic Forest Loop has an amazing

stand of kahikatea with wizened buttresses

looming out of the ground - super cool,

and some friendly fantails too. The site is

surrounded by predator-proof fencing and

will be eventually be the site of a national

wetland centre.

36 INSPO – FITNESS JOURNAL JULY 2018
---
Time: Allow one hour. More for the Toyota

Kiwi Guardians activity trail.

Location: 4km south of Ohaupo on SH3

Time: Allow an hour for a casual explore

Location: Tamahere Junction SH1, parking

opposite Woodcock Road Tamahere.

2. Morrinsville River Walk

This was a total surprise tucked away on

the edge of Morrinsville. Finn loved tearing

around the dirt paths and beside the stream

(keep an eye on little ones as there are some

steep drop-offs) and paddling on the rocks

alongside Waitakaruru Stream.

It is an ideal summer adventure with

enormous trees, waterfalls, shallow stream

rock formations ideal for paddling, and it

really feels that city life is miles away. Not

suitable for buggies, this is definitely a walking

track. Take the pooch too!

Time: Allow one hour return. More for

adventuring.

Location: Parking at Morrinsville Recreation

Grounds, and Studholme Street

4. Allan Turner Walkway

Opened in 2014, the suspension bridge on

the Allan Turner Walkway linking the Tamahere

and Matangi communities is a well-kept

secret.

This impressive feat of engineering spans

the Mangaharakeke Gully system and is a

short fun adventure for kids. For an adventure

that lasts a little longer trek down the

path under the bridge to explore the stream

- be prepared to get muddy! This gully is also

important for long-tailed bats who use it as a

corridor linking their habitats.

Time: Allow half an hour for a short explore

Location: The bridge connects Woodcock

Road, Tamahere and Fuchsia Lane, Matangi.

Allan Turner Walkway

Morrinsville River Walk

3. Tamahere Reserve

This is a total hidden gem and was once the

'donation' spot for car-loads of household

rubbish. But now, after local resident Leo

Koppens began the impressive task of tackling

this neglected reserve, it has become a

thriving remnant of lowland swamp forest.

New boardwalk was added earlier this

year and Finn loved tearing around on the

boardwalk to the viewing platform overlooking

the meandering Mangaone Stream. The

reserve contains lowland kahikatea swamp

forest with multiple stands of trees - some

more than 400 years old.

Jurassic Forest Loop

5. Newstead Walkway

Prepare to let the little ones loose here. Kids

will love the murky swamps and exploring a

glade surrounded by some of New Zealand's

tallest eucalyptus trees.

There are massive trunks to hug, fallen

trees to clamber over - look out for the stick

insects - and even some home-made forest

huts to play in. Take your time here. Finn

adored poking around in the undergrowth

finding bugs and there was enough open

space to tear around and burn off some

energy. Bonus!

Time: Allow 1.5 for

a good explore

Location: The trail can

be started from either

Vaile Road or

Morrinsville Road.

For more exploring

ideas, visit

outdoorkid.co.nz •

DEUTER KID

COMFORT II

Designed for freedom of movement, this child

carrier features pivoting Vari-Flex hip fins for a

comfortable snug fit. The ergonomic seat has

soft side panels and a comfortable,

washable headrest.

The Kid Comfort child

carriers are suitable for

children who can sit

up by themselves. The

maximum load (child

and pack contents) is

22 kg.

Camping adventures

Available at

Tamahere Reserve

221A Victoria Street, Hamilton | P: (07) 839 5681 | F: (07) 839 5846

www.trekntravel.co.nz | www.facebook.com/trekntravelnz

INSPO – FITNESS JOURNAL JULY 2018

37
---
Lodge Cheers to Champions Advert OCT 2016.indd 1

20/09/2016 10:35:09 AM

Ben van Dalen and Matthew Dunham

Hamish Bond and Eric Murray

CHEERS TO OUR CHAMPS

World Rowing Cup

The 2018 World Rowing Cup season concluded in

Lucerne, Switzerland with New Zealand topping the

medals table, and Germany the overall World Cup

points table in a show of rowing competence. This was

the final World Cup in the three-regatta series, and

for many countries, the last chance to test their crews

internationally before the World Rowing Championships

in September. New Zealand's medals came in six

races with five of them gold medals. This included the

Women's Pair of Grace Prendergast and Kerri Gowler

who remain unbeaten since 2017. Robbie Manson took

gold in the hotly contested Men's Single Sculls. Also

taking gold was the New Zealand Women's Double

Sculls, the Women's Eight and Men's Pair. Photos by

Rowing NZ.

Hannah Osborne

Michael Brake and Tom Murray

Mahe Drysdale

Robbie Manson

38 INSPO – FITNESS JOURNAL JULY 2018

Men's Eight
---
GET

EXCITED

about your

life this

winter

Each year I notice how

people's mood and energy

seem to become lower as

winter progresses. For some,

the gloom of the winter

weather can make them

quite miserable and create a

dark cloud that follows them

around a bit like Eeyore.

BY REBECCA JEFFERIES

Seasonal Affective Disorder (SAD) can

impact many, to various extents,

through being exposed to less daylight

hours and the fact that long weekends are

few and far between.

Unlike the festive season and New Year's

where many make plans for social gatherings,

holidays, getting active and having fun;

in winter many just hunker down and hope

to make it through without falling ill too

often. However we can take back control of

our moods by getting excited about life over

the colder months.

Firstly, moving our bodies releases

endorphins and increases blood flow, so it is

important not to let your exercise regime fall

away over winter. I often hear from clients

that it is just too cold, too dark or too wet to

exercise. But I say toughen up, wear clothing

that protects you, find a buddy and get out

on chilly winter nights or mornings for a

brisk walk. Or find a friend who has some

home exercise equipment and with the help

of Pinterest create some fun partner workouts

together.

Or get to a couple of hot yoga or pilates

classes a week. Head to the local indoor pool

for a swim or join a squash club. Join your

kids for Friday nights inline hockey disco

nights. Whatever you choose to do, make

exercise and movement important all year

round. No excuses! This alone will help you

feel better.

Next make plans as you would for summer.

Take a week off if possible or plan a extra

long weekend in late winter to take time

out. Some opt for a warm tropical island

getaway, some choose a quiet winter break in

the Coromandel and others choose a winter

wonderland experience at the snow.

Whatever the choice, even if it works

best to have some peaceful days in your own

home, the most important thing is to plan

and book it. The purpose behind this is to

build anticipation and eagerness. Schedule

something to look forward to over the next

couple of months. Make plans for how you

will spend this time. Where can you go? Who

can you visit? What book will you read? What

skill/craft might you learn? Get the kids

involved if this is a family break.

Also make smaller plans maybe once or

twice a month. Maybe a day trip to Raglan

for takeout on the beach. Or a winter hike.

Or a day trip to the hot pools in Te Aroha or

Rotorua. Or a mid-winter Christmas dinner

with the wider family or friends.

Finally, always be grateful. I mention this

in almost every conversation because I believe

in the power of appreciation so much.

Look for the goodness in winter.

Is it snuggling beside a fireplace, popcorn

and movie nights, soaking in the bath, flannelette

sheets, gumboots and winter coats,

frost on the lawns to crunch with our shoes,

the sun eventually coming through on a

foggy morning? Is it a good reason to stay

in bed a little longer on a Sunday, no flies

or mosquitoes and no sunscreen stains? Or

how about sinking into a great book in your

dressing gown, yummy hot Sunday night

roast dinners, warm socks and hot drinks?

Shall I go on with the abundance of citrus

fruit or the nutritious soups that you can

whip up in minutes? There really is so much

to enjoy.

Be sure you are aware of the wonders of

winter and life will feel so much lighter and

warmer. And guess what? Before you know it,

the gorgeous signs of spring will be sprouting

before you get a moment to feel any doom

and gloom.

"I get a little warm in my heart when I

think of winter!" (unknown) •

REBECCA JEFFERIES is a Waikato-based certified life coach/ transformation

worker, and a loving mama to three gorgeous children. Rebecca decided to become a

life coach to fulfill her lifelong passion of helping others gain a connection with their

authentic self, to love and nurture who they truly are, live out their deepest dreams

whilst living a balanced, healthy and happy lifestyle. breathingspacecoaching.co.nz

INSPO – FITNESS JOURNAL JULY 2018

39
---
The importance of

GUT HEALTH

BY BEN WARREN

Research over the past two decades has revealed that gut

health plays a crucial role in our overall health, and an

unhealthy gut can contribute to a wide range of health issues

including diabetes, obesity, rheumatoid arthritis, autoimmune

conditions, depression, and chronic fatigue syndrome. "Gut

health plays a crucial role in our overall health."

This is all well and good. But how do you

know if you are living with suboptimal

gut health? If you don't suffer from irritable

bowel syndrome, have bloating or gas,

are there other signs you should be aware of?

Below is a list of signs you may be living with

an unhealthy gut:

1. Digestive issues like bloating, gas or

diarrhoea

These are the hallmark signs of gut dysfunction.

In large, this is related to the health;

both number and diversity, of the bacteria

living inside your gut, intestines, stomach

and colon.

These bacteria are called your microbiome

and symptoms such as bowel irregularity

or gas can occur when the balance of

bacteria is not right.

Gas in particular is a sign that food is

fermenting in your gut, which is related

to having insufficient stomach acid, or an

imbalance of beneficial gut bacteria to break

down the food you've eaten.

"The number and

diversity of the bacteria

living inside your gut

impact your overall

health and wellness."

2. Sugar cravings

Scientists have found that gut bacteria actually

secretes special proteins that are similar

to hunger-regulating hormones; leptin and

ghrelin. These proteins affect both our food

cravings and mood.

To sum it up, bacteria try to get us to eat

foods that they thrive on. So, if you eat a lot

of sugar you feed the unhelpful bacteria that

love it and they secrete the proteins to make

you crave sugar more. It's a vicious cycle.

It's also somewhat of a relief. It's not a lack

of willpower alone that contributes to your

weakness for the sweet stuff.

Fixing your gut can eradicate the bacteria

that cause you to crave these foods in the

first place. Over time then, you can work to

reduce these cravings in this way.

3. Bad breath

Bad breath is a sign your gut flora isn't optimal.

Chronic bad breath is called halitosis.

In most circumstances, halitosis is a result

of odor-inducing microbes that reside in

between your teeth and gums, and on your

tongue.

A healthy digestive system is crucial for

optimal overall health and the ratio of good

and bad bacteria is an indicator of the condition

of your health.

Halitosis is a sign that your body is harbouring

too much non-beneficial bacteria

that are contributing to your bad breath!

"Bad breath is a sign your

gut flora isn't optimalz"

4. Food intolerances or sensitivities

If you suffer from food intolerances such

as gluten or dairy, this is highly related to

what's know as leaky gut. The gut barrier is

your gatekeeper that decides what gets in and

what stays out.

40 INSPO – FITNESS JOURNAL JULY 2018
---
"The gut barrier is your

gatekeeper that decides

what gets in and what

stays out."

When you think about it, our gut is a

system that operates entirely on its own. It is

a sealed passageway from our mouth to our

bottom. Technically, the scope with which

it interacts with other organs in our body is

somewhat limited.

Anything that goes in the mouth and isn't

digested will pass right out the other end.

This is, in fact, one of the most important

functions of the gut: to prevent foreign substances

from entering the body.

When the intestinal barrier becomes

permeable in the instance of leaky gut syndrome,

large protein molecules escape into

the bloodstream. Since these proteins don't

belong outside of the gut, the body mounts

an immune response and attacks them. This

immune response then tends to shows up as

food intolerances.

The good news? Often if you can work

on your gut health, food intolerances can

reduce.

5. Moodiness, anxiety and depression

Micronutrient deficiencies that impact our

mental health can be related to compromised

gut function.

If you are experiencing mood imbalances,

anxiety or depression and have access to

good nutrition, a leaky gut may mean you

are unable to effectively absorb them.

"A compromised gut will

affect your ability to use

serotonin and dopamine

- your happy hormones -

and vitamin D within your

body."

The majority of serotonin and about half

of your dopamine is made in your gut. If you

have leaky gut, your body can lose much of

the serotonin and dopamine it produces.

Supporting any gut dysbiosis may then be the

missing piece in supporting your mind health.

Understanding this, it's easy to see how

the inner workings of your digestive system

don't just help you digest food, but also guide

your emotions.

Why Your Gut Health Matters

Live seminar presented by Ben Warren

Leading clinical nutritionist Ben Warren is hosting a seminar

series on gut and the digestive system; why it is so central to

health, energy and happiness and how you can support its

balance naturally.

During the two hour seminar Ben will share why gut health is

so central to health, what damages gut health, how to identify

if your gut is out of balance, understanding gut-related health

concerns, great foods for gut health and lifestyle advice to

support great gut health.

The seminars are being held across New Zealand from

August 7 to September 6.

6. Skin problems like eczema

A common sign of food intolerance is

eczema. We view eczema as being a sign of a

systemic health condition.

In almost all cases, eczema and other skin

conditions such as rosacea and psoriasis,

which is an autoimmune skin condition, are

related to systemic inflammation, poor gut

health or compromised liver function.

Eliminating foods that we have an intolerance

to and working on our gut health is

a great way to support skin health concerns

such as these.

7. Low immunity

The link between leaky gut and our immune

system is huge. If you have an unhealthy gut,

you may also suffer from frequent illness or

infections.

This is related to a suppressed immune

system. We have written a helpful blog about

the link between gut health and immunity.

80 percent of the humoral immune

system is located in our gut. What this means

is the single biggest demand on our immune

system isn't from environmental factors like

germs or bugs. It's actually from our food.

If we are eating a food we are intolerant

to - or simply eating certain foods, particularly

proteins, too much - our body tags that

protein as an invader and alerts our immune

system which issues a response.

This immune response in the intestinal

system has a lot of collateral damage.

There are many, many more signs and

The biggest problem is that it loosens the symptoms of compromised gut function,

junctures in our gut and the villi in our small but the above is a great place to start when

intestine. This allows the proteins to get learning about your precious gut health and

directly into your bloodstream and you get how it impacts your everyday wellbeing.

another immune response.

For more information, visit bepure.co.nz •

>WIN

Enter to win one of two double passes to Ben

Warren's 'Why Your Gut Health Matters' seminar

- one for the Cambridge event (Tuesday, August 14) and

one for the Hamilton event (Thursday, September 6). To

enter, email your name and contact details, with the seminar

you would like to attend, to win@inspomag.co.nz with Gut

Health in the subject line. Or enter online at inspomag.co.nz.

Entries close on August 3 for the Hamilton competition and

August 30 for the Cambridge competition.

INSPO – FITNESS JOURNAL JULY 2018

41
---
BOOK

CORNER

Winter is the perfect time to curl up with a

good book (or two) and enjoy some time out.

We share a few of our faves.

The Nourishing Cook

by Leah Itsines

MacMillan Publishing,

RRP$39.99

If you're feeling uninspired about cooking

healthy or creative meals, a quick flick

through The Nourishing Cook is sure to

spark some enthusiasm. Packed with colourful

recipes and tips to ensure culinary

success, it's an ideal read whether you're a

foodie, a busy 'eat on the run' personality,

or have a focus on improving your nutrition

and wellbeing,.Food blogger and self taught

cook Leah Itsines aims to change the way

people shop, cook, and eat and her vibrant

personality shines through on every page.

This is it! It's your life. Live it.

by Amanda Mortimer

Your Life Live It,

RRP$34.99

Most of us have a desire to live a 'better' life,

but are often bogged down in the mundane.

Amanda Mortimer is a world-class coach

who delivers ample life tools and options

in this book. It is packed with exercises,

knowledge and checklists to help guide your

individual progress. It's a modern take on life

in every sense; as well as her written guide,

there are links to online sessions, videos

and apps.

The Yoga Body

by Lola Berry

MacMillan Publishers,

RRP$39.99

The days of a cookbook being just a cookbook

have long gone. Lola Berry is a master

of creating a desire to live a healthier lifestyle

with her umbrella approach to nutrition,

health and wellbeing. While there are plenty

of deliciously tempting recipes here, the

yoga teacher and nutritionist also inspires

you to improve your fitness and flexibility,

while learning to quiet your mind. It's a great

book to dip into with segments for everything

from detoxing and jetlag to yoga poses

for targeting specific areas of the body or to

help with sleep and various moods.

The Kitchen Science Cookbook

by Dr Michelle Dickinson

Nanogirls Labs Ltd,

RRP$49.95

Every home should have this awesomely

creative cookbook in their library. It's the

perfect must-have for winter, packed with

ideas on how to transform everyday kitchen

and pantry ingredients into tasty treats or

fun science experiments. With more than

50 recipes, you can make everything from

edible earthworms and milk sculptures to

from window wobblers and scrumptious

slime - no science lab. Icons indicate whether

each recipe is edible, requires time to 'set', or

has any safety issues.

Sleep Sense. Improve your sleep.

Improve your health

by Dr Katharina Lederle

Exisle Publishing,

RRP$29.99

There's nothing quite like waking refreshed

after a good night's sleep, yet many of us

struggle with a variety of sleep issues, from

insomnia to broken or poor quality sleep.

Sleep and fatigue specialist, Dr Katharina

Lederle shares her knowledge around how

sleep impacts on everything from physical

health and mood swings to weight gain.

Learn that how and when you sleep can

affect the everyday balance of your life and

discover how to create healthy sleep habits.

Keeping It Real

by Makaia Carr

Penguin Random House,

RRP$38

There's something immensely relateable

about Makaia Carr. It's rare that someone

with such a large social media and public

following shares the real roller coaster of

their life; the good, the bad and the ugly.

Makaia's openness about her own journey

sees her touch on issues which have shaped

and challenged her own life, from alcohol

dependency and depression to becoming a

young parent and using social media. It's part

biography and part self help book - with an

underlying theme around the importance of

self-love and self-confidence.

42 INSPO – FITNESS JOURNAL JULY 2018
---
SAY CHEESE

With the increased popularity of

plant-based diets and rise in

allergies and food intolerances,

new products that are natural and ethically

friendly are poised to be well received.

The new MyLife Biocheese Cheddar

range offers the taste and melt of cheese, but

made with coconut oil. The range is entirely

plant based, vegan friendly and dairy free.

Perfect for those who are lactose intolerant,

looking to reduce their dairy intake or

who have hypersensitivities to allergens. (It's

also GMO free with no additives or preservatives).

Biocheese is available in selected New

World and Pak 'n Save stores nationwide.

>WIN

Enter to win one of three Biocheese voucher packs (valued

at $50). Each pack includes include Biocheese vouchers and

a cooler bag. To enter, email your name, address and contact

phone number to win@inspomag.co.nz with Biocheese in the

subject line, or enter online at inspomag.co.nz.

Entries close on August 31, 2018.

SWEET INDULGENCE

>WIN

New Zealand chocolate company Donovans is

right in the heart of the dairy country – the

Waikato. Using the best ingredients and mixed

by experts, the Donovans range of delicious chocolates

is a Kiwi favourite. These tasty treats are available in

selected supermarkets and stores nationwide.

To view the range, visit donovanschocolates.co.nz.

Enter to win one of three awesome Donovans

chocolate prize pack for three lucky readers. Valued

atmore than $70, filled with a selection of Donovans

must-have goodies.

To enter, email your name, address and contact

phone number to win@inspomag.co.nz with

Donovans in the subject line, or enter online at

inspomag.co.nz. Entries close on August 31, 2018.

INSPO – FITNESS JOURNAL JULY 2018

43
---
STEP AWAY

FROM THE

CHOCOLATE

Tips on overcoming

emotional eating

Everyone overeats from time

to time. I raise my hand.

Guilty. We've all been there.

BY TIFFINY HALL

Founder of TIFFXO.COM

It doesn't matter if it's because Mum made

her famous lasagne, if it's a special occasion

and you can't resist the smorgasbord

or maybe you're just mindlessly munching

and not realising you've made a pretty good

dent into that bag of chips.

Sometimes we turn to food to forget our

troubles as a coping mechanism; you've just

had that bicker with your partner, better see

what the fridge has to say about it. Afterwards,

you feel like you've let yourself down

with a side serve of sabotage.

Guess what? You are not alone. It's called

'emotional eating' and isn't only about our

"eyes being bigger than our stomachs" or

feeling stuffed because we were starving.

It's about using food to cope with uncomfortable

feelings, then usually feeling shame

and beating ourselves up afterward. Why?

Because we are not actually hungry for food,

we're hungry for a release or a distraction, or

to feel in control.

Your occasional moments of excess won't

undo all of your hard work, but if you're finding

your weightloss efforts are being thwarted

by emotional eating, find the focus within

your body, oppose the negative emotions

and work to resolve the problem instead of

avoiding it and replacing it with food.

Try these steps to vanquish that emotional

eating once and for all!

1. Change your reward system

Instead of filling that gap with food, start

rewarding yourself with other satisfying

activities. Run yourself a bath, go for a walk,

paint your nails or visit your Dojang.

2. Form new habits

It's all about finding healthy coping mechanisms

- ask yourself "will this make me feel

better or worse right now, tomorrow next

week?" If you can answer better, you're on

the right path! The aim is to find healthier

ways to cope with negative feelings that don't

cause further issues.

Replacing one bad habit with another is

just going to lead you back around in the

vicious cycle of self destruction. Some examples

of healthy coping are exercise or talking

with a supportive friend.

At the end of the day, you are a person

who gets to enjoy life! And you can't be too

hard on yourself. Remember, you can reset,

recharge and start over.

3. Keep a food/mood diary

By pinpointing your triggers you are taking

the first step to taking back your control. If

you find you have a slip and you're reaching

for that chocolate bar, take a moment and

take a note of the time, what you ate, what you

were feeling, if you were actually hungry and

how it made you feel before and afterwards.

This will allow you to notice any recurring

patterns and help you understand what made

you reach for that chocky bar. (Remember, be

kind yourself. This is to be treated as an exercise

in curiosity and self-kindness, not judgment.)

4. Time for the butcher's paper

It's time to get the butcher's paper out and

write down any and every alternative way

you can think of to meet your emotional

needs.

This means you're allowing your brain to

learn and appreciate healthier alternatives

to soothe your troubles leading you straight

to the bread bin. Keep your list somewhere

handy and the next time you're hit with the

urge to smother yourself with food, have a

44 INSPO – FITNESS JOURNAL JULY 2018
---
About Tiffiny

Tiffiny Hall is an author, expert trainer,

journalist and television personality. She is

best known for her role as trainer on The

Biggest Loser (Australia), which earned

her a Logie nomination for Most Popular

New Female Talent. She is also one of the

highest qualified female martial artists in

the world for her age. She is a Sixth Dan

Black Belt Master Instructor, qualified

personal trainer with a Diploma of Sport

Coaching, specialising in martial arts.

Passionate about creative writing, Tiffiny

has published four novels with her next

Young Adult novel set for release this

year. She has written four health books

and a cookbook. Tiffiny is the founder

of TIFFXO, an online website offering

motivation, fitness programmes, nutrition

advice, and more. .tiffxo.com.

moment of reflection and check your list

again. By doing something different, you

start re-training your brain to associate these

alternative activities with feeling better.

5. Practise mindful eating

Tuning into your body is the most important

thing you can do. (Cass Dunn, our resident

psych teaches our Ninjas every week on

TIFFXO.COM during Mindful Mondays).

I often hear stories of people who struggle

with binge eating and find themselves zoning

out when they overeat, sometimes not even

realising what they're consuming. Emotional

eating is generally done in a mindless fashion.

A big (and easy) first step in surviving the

problem would be to practise a few methods

like, pausing and ensuring you're actually

hungry before eating.

This will help overcoming the disconnection

between the mind and the body. When

it is time to eat, make sure you're bringing

your full attention to the experience (taste,

smell, textures, colours) as well as your physical

and emotional state.

By being present when eating, you'll start

recognising your body's "full" signals and

appreciate the impact different foods have

on your body. Other mindfuless practises

such as exercise, meditation and yoga provide

great ways to reconnect with your body

so you are making the food choices that will

support your overall physical and emotional

wellbeing. •

MRI ULTRASOUND X-RAY CT BONE DENSITY

Pacific Radiology specialise in sports injury imaging and diagnosis.

We accept any referral forms and provide a walk in service for all

x-ray examinations and urgent diagnostic imaging.

Call Pacific Radiology for an appointment today

or visit pacificradiology.com

Pembroke

Von Tempsky

Avalon

Cambridge

- 35 Pembroke Street, Hamilton Lake

- 21 Von Tempsky Street, Hamilton East

- 6 Avalon Drive, Hamilton West

- 14 Dick Street, Cambridge

Phone: 07 834 0000

Email: hamilton@pacificradiology.com

INSPO – FITNESS JOURNAL JULY 2018

45
---
WINTER

WELLBEING

BY DANIELLE ROBERTS

Being sick makes us feel grumpy, frustrated and

demotivated. It can also negatively impact on

work and relationships, so a fresh focus on winter

wellbeing is time and energy well spent.

Below are some strategies to consider

when planning your winter wellbeing:

Consider how your body is affected

by the change of season

As seasons change, so does our climate

and environment. This also takes place

within our buildings. For example; in summer,

offices often have airconditioning on,

artificially turning a warm environment cold,

while in winter, heaters turn a cold environment

warm/hot. Due to the constantly

changing environment around us and the

way our body respond, we need tools to understand

how to best cope by optimising our

health, nutrition and wellbeing.

Certain foods and the way we eat can help

balance our bodies responses to biochemical

fluctuations. Some basic biochemical laws

are that like increases like; ie hot creates hot

(you eat chilli you get hot); anxious creates

anxious, etc, and that opposites balances

opposites; i.e. hot balances cold (you eat hot

soup you get warm); calm/peace balances

anxiety, etc. We understand this on an

intuitive level. Most of us won't eat ice cream

in winter, because it makes us feel colder

and we desire to be warm. If we were to eat

ice cream and we were cold, then we are

bringing more of the cold element into our

bodies. This is a likely environment for colds,

bugs and flus to set in.

To create a more stable environment in

winter, start with increasing heat in your

body by eating food such as light curries with

warming spices like curry, chilli, ginger, turmeric

and cumin. Drink Chai tea throughout

the day.

To accompany this, add some dampening

foods like dairy, coconut and root vegetables

like kumara.

If there is too much dampness, balance

with dryness, with food and drinks that are

diuretics or astringents, and ingredients such

as parsley, coriander, basil, quinoa or millet,

turmeric, cumin and sprouted beans. (Note

that some of these also increase the heating

element).

There are many more examples of foods

and the category they fit into, so have a play

with these elements and see how your body

responds.

Your digestive system and your immune

system are linked

The gut holds a large percentage of our

immune system. It is the first line of defence

against unwanted bugs. If you rarely consider

how your digestive system is doing, then you

will probably find that your health issues

could be coming from underperforming digestive

functions. Stoking your digestive fire

is the greatest way to ensure you are breaking

down and absorbing your food properly. Iit

also nourishes the functions of the immune

system that are housed within the gut.

Learn to get to know the flow of your

digestive system:

Notice how you feel before you eat. Are

you really hungry?

How do you feel once you have eaten?

Heavy or energised?

Discover how your body digests certain

foods. For example dairy is a healthy food

group, but for those without much heat or

dryness within their body in winter, too

much can cause further dampness, producing

symptoms of mucus and congestion.

Here are some things to start to practice:

Try to eat only when hungry. Stoke your

digestive fire with digestible meals.

Avoid putting out the fire with excessively

cold, damp foods/ drink or aggravating the

fire with excessive spicy foods.

Leave three to four hours between meals.

Drink warm water with lemon, ginger tea

or chai tea at least 20 minutes before each

meal. This helps stimulate stomach acid to

assist in the breakdown of food.

Chew your food properly as this helps

break down the food for greater absorption

of nutrients.

Eat until your stomach is half to three

quarters full. This leaves enough room for

your stomach to churn and digest food

properly.

When you digest nourishing food properly,

you shouldn't experience discomfort, lack

of energy or bloating. You should feel happy,

energised and light.

Stress? Reduce it.

This one is possibly the most important

part of the equation. People can experience

stress mentally, emotionally, physically and

spiritually. Everyone reacts different to situations

and has their own individual triggers. I

urge you to discover what helps you let go of

stress and bring more of that into your life;

whether it's creative projects, walks/hikes in

nature, yoga or simply you time.

www.fuelnutrition.co.nz •

DANIELLE ROBERTS (Nutritionist) is dedicated to helping people enjoy a healthy

and knowledgeable relationship with food. Her business Fuel Nutrition allows her to

share her passion for nutrition and healthy living. Danielle is a freelance nutritionist

and works with a number of Hamilton gyms. To make a booking, please contact

Danielle at www. fuelnutrition.co.nz

46 INSPO – FITNESS JOURNAL JULY 2018
---
SMOOTH OPERATOR

Stay smoothly sleek with bodEze Body Sugaring Gel. Made in

New Zealand, it's a pain-free alternative to waxing. Enhancing

the age-old tradition of sugaring to remove unwanted hair

from the roots effortlessly, the addition of kiwifruit and aloe

vera moisturisers and nourishes skin. Enjoy smooth, hair-free

skin that lasts up to six weeks. bodeze.com

>WIN

Enter to win one of three bodEze Body Sugaring prize packs.

To enter, email your name, address and contact phone number

to win@inspomag.co.nz with bodEze in the subject line, or

enter online at inspomag.co.nz. Entries close on August 31 2018.

NATURE'S BOUNTY

BEAUTY

SPOT

Keep your skin supple and smooth,

with a helping hand from nature's

garden. Weleda's Wild Rose body

lotion and body oil is ideal for an

all-day aroma of floral freshness, to

complement your softly nourished

skin. The Weleda range is ethically

sourced, natural, organic and

sustainable. weleda.co.nz

LIP SMACKING

VIBRANT METALLLICS

Metalllic hues are all the rage

when it comes to seasonal hair

trends. Keep your colour sleek

and vibrant, with the conditioning

Colour Care range from Matrix

RAW. Created with coconut milk

and meadowfoam, it's designed

to keeping colour fresh through

four weeks of washing.

This cocktail concoction from Designer

Brands will keep you lip smackingly

kissable Prep and prime your pout with

this delicious lip scrub, created from

vegan ingredients. Winter is the perfect

time to exfoliate, buff and polish your

lips. Plus it smells and tastes delish.

Dbcosmetics.co.nz

GLOW IN A BOX

For glowing skin on the go, Inika's

Baked In A Box is your winter

must-have. It's the perfect starter

(or travel) kit containing all the

Inika organic goodies needed for a

radiant complexion (includes baked

mineral foundation, illuminiser,

bronzer, brush, liquid foundation,

BB cream, concealer, primer and

mattifying powder). Plus the

range is vegan and cruelty free.

inikaorganic.com

BREATHE AND RELAX

All essential oils are not

created equal. Thanks to

its proprietary seed to

seal production process,

Young Living is regarded

as producing some of the

best and most authentic

essential oils in the world. This

divine Relaxation Massage

Oil combines the soothing

scents of lavender, tangerine,

coriander, and spearmint

for maximum relaxation.

Youngliving.com

INSPO – FITNESS JOURNAL JULY 2018

47
---
FROM CANADA

TO HAMILTON

to study for a career in sport

Lydia Tuaiti has travelled

half way around the world

to pursue her passion for

knowledge and sports.

The Wintec Masters student spent her

early years in New Zealand, before

moving to Canada where she attended

high school and spent hundreds of hours

training, playing, travelling and fundraising

to represent her province, British Columbia,

in netball.

Lydia also managed to fit in playing

volleyball and soccer, captaining all of her

squads and achieving the top athlete award

in her final year of high school.

So it's fair to say that sport has always

been a dominating force in Lydia's life.

After high school, Lydia did a gap year

travelling and came to the realisation that

she wasn't ready to give up on sport just yet.

"It sounds corny but I realised that sport

has the power to bring change. The reason I

chose to study sport was to support kids, like

me, to achieve and go as far with their sport

as they want," says Lydia.

Once she had decided to study sport,

Lydia moved back to New Zealand, enrolling

in Wintec's Bachelor of Sport and Exercise

Science.

"I chose to study at Wintec as they were

well known for being practical and hands-on.

Thankfully this is very true and more.

"At Wintec, I have built connections with

many different schools and sports centres

across Waikato. I have worked in one of

Hamilton's leading gyms to apply the skills I

learnt in the classroom. Taking full advantage

of external opportunities like these is invaluable

when developing skills and building

confidence," says Lydia.

Lydia completed her Bachelor of Sport

and Exercise Science last year and is now

enrolled in Wintec's Master in Science (Sport

and Exercise Science).

As part of her Masters work she is currently

working at St Peter's School in Cambridge,

investigating the fatigue response

in young female athletes when completing

different resistance training stimulus.

Lydia loves working with sport and hopes

to work for a school once she completes her

Masters.

During my playing years, sport opened

many doors for me. I was able to travel and

compete, creating memories with friends

that I will always cherish. Every step of the

way I had support and encouragement from

family, teachers, my small town community

and even complete strangers." •

48 INSPO – FITNESS JOURNAL JULY 2018
---
1 2

OUT AND

ABOUT

Future stars shine

July has been a busy month for

track cycling at the Avantidrome

in Cambridge, with both the North

Island School Track Champs and

Round 2 of the Subway National

Track Series.

The annual North Island School

Track Championships saw 190 riders

from 90 schools across the North

Island on the track. Stand out riders

included Ally Wollaston (U20 Girls)

and Jack Carswell (U16 Boys) from

St Peter's School; awarded the

Waipa Home of Champions Cups

for the Best Performed Female and

Male athletes, after winning all three

individual track events comprising

the keirin, scratch and points

races, as well as the road race and

criterium.

Other noteable performance's

included Hamish Banks (St Peter's

School) in the U14 Boys, and

Mackenzie Barnett (Cambridge

Middle School) in the U13 Girls,

who also claimed a clean sweep of

events.

Top school trophies went to St

Peter's taking the Home of Cycling

Trophy for the best performed boys

school and Cambridge High winning

the Home of Cycling Trophy for the

best performed girls' school.

More young and developing talent

was on show with the second

round of the Subway National

Track Series. (U17 to U23 male and

female riders). The three-round

series, developed by Cycling New

Zealand and supported by Subway

New Zealand, provides track racing

opportunities for developing riders

in a competitive and supported

environment.

Round three will be held at the

Avantidrome from August 24-26

and is free for spectators. Check

out www.nationaltrackseries.nz for

more details.

1-4. North Island School Track

Championships. Photos by Concept

78 Photography

Photos 5-7. Subway National Track

Series. Photos by Dianne Manson.

3

4

5

7

6
---
TAKING

THE CUE

Forget the cliche of smokey

pool halls and jaded players.

The game of pool has a fresh

new image and a group of

young Hamilton players are

helping raise its profile.

While New Zealand team members

impressed at the recent World

Junior Pool Championships in

Nebraska, it was the younger Kiwi players

who excelled on the final scoreboard.

Competing in the U14 female division,

New Zealand players took out the top three

spots. Rachael Harwood (12) from Pukekohe

High School won first place, beating

defending champion Alyxandra Jones (14)

from Waikato Diocesan School for Girls

who settled for second place. Also from

Waikato Dio was third placed Alyxandra

Endres (13).

Overall, the team of 15 New Zealand players

brought home three titles of World Pool

Champion and 22 trophies and plaques from

the VNEA Junior World Pool Championships

held in the US in late June.

In total, 15 of New Zealand's top junior

pool players were involved in the competition,

The Valley National 8-ball League Association

(VNEA) is one of the world's largest

amateur pool leagues.

Ranging in age from 12 to 20 years, the

Kiwi team was captained by 17-year-old Avondale

College student Deon Rawlings. Deon

won the Under 18 Male 8 Ball Singles title in

2016 and was part of the New Zealand team

who won the Under 18 team title in 2017.

Senior VNEA Women's team

"Pool is a great sport to be a part of because

it does not rely on physical capability.

This means that no matter who you are, you

can be great at this game," says Deon.

Waikato Diocesan student Alyxandra

Jones likens pool to a slightly more physical

game of chess, and says that gender and age

are no factor in the sport with mental focus

making the greatest difference.

"You can be male, female, young or old,

or in a wheelchair and still play. As long as

you can see over the table, you're all good."

Bernie Endres, team manager and general

manager of cue sports club Massé, says the

team is loaded with talent.

Massé provides members equipment and

free coaching to help players improve their

skills and develop the sport in New Zealand.

"While cue sports has always been strong

in New Zealand, it is becoming more diverse,"

says Bernie. "The club has more than

13,000 members, of whom about half are

women and many of those are juniors.

"Pool is a sport that seems to fly under the

radar but it seems the current members see

the value in it and are spreading the word.

The sport teaches you skills that are transferable

off the table such as self-discipline and

patience."

The junior team has been preparing for

the championship over the past year under

the guidance of coach Jimmy Henry.

They've also had sessions with sports

psychologist Jason Yuill-Proctor, from High

Performance Sport New Zealand, who has

worked with many of the country's elite

sports people and teams.

As part of its commitment to grow worldclass

players, Masse supports all 15 competitors

in the VNEA World Pool Championships

with uniforms, flights, accommodation, and

tournament entry fees.

The senior team recently returned from

the 38th Annual VNEA World Pool Championships

with several accolades.

Hamilton's Denise Wilkinson won the

Women's 8 Ball Singles and was runner

up in the Women's 9 Ball Singles. She was

also named in the Women's All Star Team,

meaning she was one of the top four female

players of the championship.

Denise was also part of the Women's

8 Ball team, the Southern Stars alongside

Brooque Pologa (23), Kimberley Cullen (41),

and Agnes Kimura (43), who won the title

over Canada. •

Selling homes

throughout

Ha milton!

Jo Harris

027 551 3552

joh@lodge.co.nz

JOHARRIS.CO.NZ

My passion equals your results!

• Mobile Personal Training

• Sport Specific Strength

and Conditioning

• Nutrition analysis and

strategies

• Small group training

50 INSPO – FITNESS JOURNAL JULY 2018
---
• High staff ratios

• Fulltime cook

supplying healthy

meals

• Family owned and family

focussed centre

• WINZ subsidies available

to all services

• Babies 0-12 months

• Little Toddlers 12-24 months

• Big Toddlers 2-3 years

• 3-5 year olds

• 20 hours ECE care for 3 and 4

year olds

1,3 and 5 Cullimore street, Pukete,

Hamilton. Phone/Fax: 07 849 6780

B6351H
---
PLEASE APPROVE THIS AD AS SOON AS POSSIBLE. NOTE THAT ANY ALTERATIONS

MUST BE FINALISED BY OUR MATERIAL DEADLINE.

Part of the family Part of forthe over family 45 years for over 50 years

ALL NEW CX-8 IS HERE

Since 1967 Fairview Motors has been supporting families, businesses and community organisations

throughout the Waikato and we're continuing this tradition in 2016 as a proud sponsor of

'Balloons Over Waikato'.

Register your interest at mazda.co.nz and be among

www.fairviewmotors.co.nz

the first to test drive the next evolution in the CX range.

FAIRVIEW MOTORS MAZDA, 2011, 2012, 2013 & 2014 MAZDA DEALER OF THE YEAR

132 Kihikihi Rd. TE AWAMUTU P 07 870 2535 fairviewmotors.co.nz

7141465AA

irfax Media makes every effort to create advertisements to meet your specific needs. Please note in some instances we may be unable to supply additional proofs due to complexity of the request or deadline constraints.

PROOF

This advertisement has been created as a service of Fairfax Media. It cannot be reproduced without permission. If you wish to use this material elsewhere, please contact your advertising consultant. Charges will apply.

FAIRVIEW MOTORS MAZDA, 2011, 2012, 2013, 2014 & 2017 MAZDA DEALER OF THE YEAR

473 Te

52

Rapa Rd |

INSPO

HAMILTON

– FITNESS

| P 07 849

JOURNAL

9838 / 64

JULY

Firth

2018

St | MATAMATA| | P 07 888 7127

95 Victoria St | CAMBRIDGE | P 07 827 7005 / 132 Kihikihi Rd. | TE AWAMUTU | P 07 871 3079 fairviewmotors.co.nz