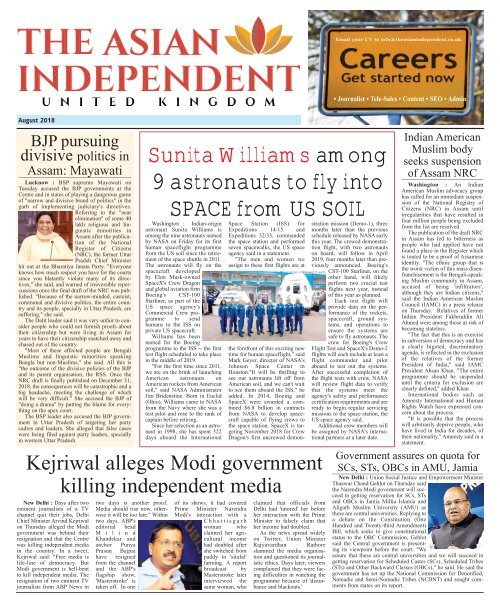 You also want an ePaper? Increase the reach of your titles
YUMPU automatically turns print PDFs into web optimized ePapers that Google loves.
Email your CV to info@theasianindependent.co.uk

• Journalist • Tele-Sales • Content • SEO • Admin

August 2018

BJP pursuing

divisive politics in

Assam: Mayawati

Lucknow : BSP supremo Mayawati on

Tuesday accused the BJP governments at the

Centre and in states of playing a dangerous game

of "narrow and divisive brand of politics" in the

garb of implementing judiciary's directives.

Referring to the "near

elimination" of some 40

lakh religious and linguistic

minorities in

Assam after the publication

of the National

Register of Citizens

(NRC), the former Uttar

Pradsh Chief Minister

hit out at the Bharatiya Janata Party. "Everyone

knows how much respect you have for the courts

since you blatantly violate many of its directives,"

she said, and warned of irreversible repercussions

once the final draft of the NRC was published.

"Because of the narrow-minded, casteist,

communal and divisive politics, the entire country

and its people, specially in Uttar Pradesh, are

suffering," she said.

The Dalit leader said it was very unfair to consider

people who could not furnish proofs about

their citizenship but were living in Assam for

years to have their citizenship snatched away and

chased out of the country.

"Most of these affected people are Bengali

Muslims and linguistic minorities speaking

Bangla but non-Muslims," she said. All this is

"the outcome of the divisive policies of the BJP

and its parent organisation, the RSS. Once the

NRC draft is finally published on December 31,

2018, the consequences will be catastrophic and a

big headache, meeting the challenge of which

will be very difficult." She accused the BJP of

"doing a drama" by putting the blame for everything

on the apex court.

The BSP leader also accused the BJP government

in Uttar Pradesh of targeting her party

cadres and leaders. She alleged that false cases

were being filed against party leaders, specially

in western Uttar Pradesh.

Kejriwal alleges Modi government

killing independent media

New Delhi : Days after two

eminent journalists of a TV

channel quit their jobs, Delhi

Chief Minister Arvind Kejriwal

on Thursday alleged the Modi

government was behind their

resignation and that the Centre

was killing independent media

in the country. In a tweet,

Kejriwal said: "Free media is

life-line of democracy. But

Modi government is hell-bent

to kill independent media. The

resignation of two eminent TV

journalists from ABP News in

two days is another proof.

Media should rise now, otherwise

it will be too late." Within

two days, ABP's

editorial head

M i l i n d

Khandekar and

anchor Punya

Prasun Bajpai

have resigned

from the channel

and the ABP's

flagship show,

'Masterstroke' is

taken off. In one

Sunita Williams among

9 astronauts to fly into

SPACE from US SOIL

Space Station (ISS) for

Expeditions 14/15 and

Expeditions 32/33, commanded

the space station and performed

seven spacewalks, the US space

agency said in a statement.

"The men and women we

assign to these first flights are at

Washington : Indian-origin

astronaut Sunita Williams is

among the nine astronauts named

by NASA on Friday for its first

human spaceflight programme

from the US soil since the retirement

of the space shuttle in 2011.

The astronauts will fly on the

spacecraft developed

by Elon Musk-owned

SpaceX's Crew Dragon

and global aviation firm

Boeing's CST-100

Starliner, as part of the

US space agency's

Commercial Crew programme

to send

humans to the ISS on

private US spacecraft.

Williams has been

named for the Boeing

programme to the ISS -- the first

test flight scheduled to take place

in the middle of 2019.

"For the first time since 2011,

we are on the brink of launching

American astronauts on

American rockets from American

soil," said NASA Administrator

Jim Bridenstine. Born in Euclid

(Ohio), Williams came to NASA

from the Navy where she was a

test pilot and rose to the rank of

captain before retiring.

Since her selection as an astronaut

in 1998, she has spent 322

days aboard the International

of its shows, it had covered

Prime Minister Narendra

Modi's interaction with a

Chhattisgarh

woman who

claimed her agricultural

income

had doubled after

she switched from

paddy to 'sitafal'

farming. A report

broadcast by

Masterstroke later

interviewed the

same woman, who

claimed that officials from

Delhi had 'tutored' her before

her interaction with the Prime

Minister to falsely claim that

her income had doubled.

As the news spread widely

on Twitter, Union Minister

Rajyavardhan Rathore

slammed the media organisation

and questioned its journalistic

ethics. Days later, viewers

complained that they were facing

difficulties in watching the

programme because of 'disturbance

and blackouts.'

the forefront of this exciting new

time for human spaceflight," said

Mark Geyer, director of NASA's

Johnson Space Center in

Houston."It will be thrilling to

see our astronauts lift off from

American soil, and we can't wait

to see them aboard the ISS," he

added. In 2014, Boeing and

SpaceX were awarded a combined

$6.8 billion in contracts

from NASA to develop spacecraft

capable of flying crews to

the space station. SpaceX is targeting

November 2018 for Crew

Dragon's first uncrewed demonstration

mission (Demo-1), three

months later than the previous

schedule released by NASA early

this year. The crewed demonstration

flight, with two astronauts

on board, will follow in April

2019, four months later than previously

announced. Boeing's

CST-100 Starliner, on the

other hand, will likely

perform two crucial test

flights next year, instead

of this year as planned.

Each test flight will

provide data on the performance

of the rockets,

spacecraft, ground systems,

and operations to

ensure the systems are

safe to fly astronauts. The

crew for Boeing's Crew

Flight Test and SpaceX's Demo-2

flights will each include at least a

flight commander and pilot

aboard to test out the systems.

After successful completion of

the flight tests with crew, NASA

will review flight data to verify

that the systems meet the

agency's safety and performance

certification requirements and are

ready to begin regular servicing

missions to the space station, the

US space agency said.

Additional crew members will

be assigned by NASA's international

partners at a later date.

Indian American

Muslim body

seeks suspension

of Assam NRC

Washington : An Indian

American Muslim advocacy group

has called for an immediate suspension

of the National Registry of

Citizens (NRC) in Assam until

irregularities that have resulted in

four million people being excluded

from the list are resolved.

The publication of the draft NRC

in Assam has led to bitterness as

people who had applied have not

found a place in the Register which

is touted to be a proof of Assamese

identity. "The ethnic group that is

the worst victim of this mass disenfranchisement

is the Bengali-speaking

Muslim community in Assam,

accused of being 'infiltrators',

although they are Indian citizens,"

said the Indian American Muslim

Council (IAMC) in a press release

on Thursday. Relatives of former

Indian President Fakhruddin Ali

Ahmed were among those at risk of

becoming stateless.

"The fact that this is an exercise

in subversion of democracy and has

a clearly bigoted, discriminatory

agenda, is reflected in the exclusion

of the relatives of the former

President of India," said IAMC

President Ahsan Khan. "The entire

programme should be suspended

until the criteria for exclusion are

clearly defined," added Khan

International bodies such as

Amnesty International and Human

Rights Watch have expressed concern

about the process.

"It is possible that the process

will arbitrarily deprive people, who

have lived in India for decades, of

their nationality," Amnesty said in a

statement.

Government assures on quota for

SCs, STs, OBCs in AMU, Jamia

New Delhi : Union Social Justice and Empowerment Minister

Thaawar Chand Gehlot on Thursday said

the Narendra Modi government will succeed

in getting reservation for SCs, STs

and OBCs in Jamia Millia Islamia and

Aligarh Muslim University (AMU) as

these are central universities. Replying to

a debate on the Constitution (One

Hundred and Twenty-third Amendment)

Bill, which seeks to give constitutional

status to the OBC Commission, Gehlot

said the Central government is presenting

its viewpoint before the court. "We

assure that these are central universities and we will succeed in

getting reservation for Scheduled Castes (SCs), Scheduled Tribes

(STs) and Other Backward Classes (OBCs)," he said. He said the

government has set up the National Commission for Denotified,

Nomadic and Semi-Nomadic Tribes (NCDNT) and sought comments

from states on its report.
---
UNITED KINGDOM

2 August 2018

www.theasianindependent.co.uk

Women are

judged harsher

than men for hate

speech: Study

London : Women who make

hateful remarks on social media

are likely to be judged more

severely than men who make

the same comments, a new

study has found. The findings,

published in the journal Sex

Roles, also suggested that the

reactions to hate speech made

by women were less accepted

than counter speech from men.

"These findings support the

idea that women are more concerned

about fairness and

avoiding harm to others than

men," said co-author Claudia

Wilhelm from the University of

Erfurt in Germany.

"In the specific case of comments

directed against women

and sexual minorities, hate

comments by female authors

are perceived as an act of double

deviance and are therefore

sanctioned more strictly than

such hate comments by men,"

Wilhelm added.

For the study, the research

team conducted an online survey

that involved 457 participants

(51 per cent female)

through political interest

groups and a German news

magazine site on Facebook.

If a person using social

media thinks that a comment

made by somebody else is inappropriate

or offensive, they

may report or "flag" it to the

platform provider. The participants

read through online comments

directed against women

and sexual minorities, and indicated

whether they would flag

these comments as inappropriate.

Another group of participants

evaluated the reactions

that followed hate comments.

Some of the comments were

presented as being made by

men, while others were said to

have been written by women.

The researchers did not find

a direct effect of gender on the

flagging of hate comments but

the results showed that women

are morally more concerned

about fairness than men.

Team AI :

Devinder Chander

Editor-in-chief

Columnists

V.B. Rawat

Rahul Kumar

Farzana Suri

Arun Kumar

Head Office

Samaj Media Enterprise Ltd

Suite 507, Hawthorns House

Halfords Lane, Smethwick,

Birmingham U.K.,B66 1BB

+44 7878 456 484

+44 121 565 4810

Email :

info@theasianindependent.co.uk

Advertisement

Enquiries

+44 7475 475 343

The Asian Independent is an

Intellectual Property of

Samaj Media Enterprise Ltd

UK exports to non

EU countries continue

to outstrip EU

UK exports of goods and

services to the rest of the world

were higher than UK exports to

the EU for ninth year running,

ONS figures published today

(Tuesday 31 July) confirm.

In figures released in the

second calendar year after the

EU referendum, exports to non-

EU countries amounted to

around £342 billion in 2017,

showing the worldwide

demand for British goods and

services remains. Exports to

EU countries were around £274

billion in 2017.

The fastest growing export

market for the UK since 2010

was Oman, with exports

increasing by 354% to £3 billion.

This was followed by

British Government decision to repeal anti

caste discrimination legislation condemned

In its General Body meeting

held on 29 July, 2018, the

Federation of Ambedkarite and

Buddhist Organisations UK

(FABO UK) condemned the

British Government's decision to

drop anti caste discrimination legislation

in favour of case law. . The

Government has left the sufferers

of caste discrimination at the

mercy of emerging case law by the

courts.

As it is very expensive and time

consuming to go to courts and

with no guarantee of winning a

case, sufferers would hesitate to

go to courts and their misery will

continue. It appears that the

Government has listened more to

the anti caste legislation lobby and

the voice of sufferers has been

ignored. To challenge the

Government, a careful strategy

would need to be adopted with all

the organisations opposed to the

Government decision coming

together. Atrocities on Dalits and women

in India are increasing day by day.

Macedonia (FYROM) with UK

trade growing by 318% to £1

billion and then Kazakhstan

which was up by 210% to £2

billion.

International Trade

Secretary, Dr Liam Fox MP

said:

British goods remain in global

demand as exports to non-EU

countries continue to grow in

markets such as Oman. It shows

the confidence the world has in

our goods and is important as

90% of global trade will come

from outside EU.

As an international economic

department, we have a

dynamic and experienced team

who will negotiate free trade

deals and make a success of

Review of the Schedules Castes and

Scheduled Tribes (Prevention of

Brexit. We're also

supporting UK

businesses in

exporting more

and talking to

international businesses

on why we

should be the top

destination for

investment

through our

GREAT campaign.

Today's figures

also reveal in

2017:

overall exports

of goods rose by

13% to £339 billion

overall exports of services

rose by 7% to £277 billion

the USA remains the UK's

top export market, buying over

£112 billion worth of goods

and services in 2017, an

increase of 8% since 2016

The news is promising as

separate ONS figures show that

UK exports overall rose by 5%

in the year to end May 2018.

Our world-leading services

sector recorded a trade surplus

of £111 billion in the same period,

with services exports

totalling £279 billion in the

year to May 2018.

The UK also attracted more

than 2,000 foreign direct

investment projects in financial

year 2017 to 2018.

London : Middle aged people

who abused alcohol or

abstain from it may be at a

higher risk of developing

dementia, according to a study.

However, the researchers

warned that the results do not

encourage people who do not

drink to start drinking. "The

findings strengthen the evidence

that excessive alcohol

consumption is a risk factor for

dementia" and "encourage use

of lower thresholds of alcohol

consumption in guidelines to

promote cognitive health at

older ages", said the

researchers including Severine

Sabia from the French National

Institute of Health and Medical

Research (INSERM) in Paris.

"The study should not

motivate people who do not

drink to start drinking given

the known detrimental effects

of alcohol consumption for

mortality, neuropsychiatric

disorders, cirrhosis of the

liver, and cancer," they added.

As people live longer, the

number living with dementia

is expected to triple by 2050.

So understanding the impact

of alcohol consumption on

ageing outcomes is important.

Atrocities) Act is still lying in the

Supreme Court. The Indian Government

* The Asian Independent and people associated with it are not responsible for any claims made by the advertisers and do not endorse in any products or services advertised. Please visit www.theasianindependent.com/tc for more information.

Heavy drinking, abstinence

from alcohol

may up dementia risk

For the study, published in the

journal THE BMJ, the team

analysed data from 9,087 participants

aged between 35 and

55 years. They were assessed

at regular intervals between

1985 and 1993 on their alcohol

consumption and alcohol

dependence.

The analysis showed that

out of the 9,087 participants,

397 cases of dementia were

recorded over an average follow-up

period of 23 years.

The team found that abstinence

in midlife or drinking

more than 14 units a week was

associated with a higher risk

of dementia compared with

drinking one to 14 units of

alcohol a week. Among those

drinking above 14 units a

week of alcohol, every seven

unit a week increase in consumption

was associated with

17 per cent increase in dementia

risk. The authors acknowledged

that this is an observational

study, so no firm conclusions

can be drawn about

cause and effect, and the

researchers cannot rule out the

possibility that some of the

risk may be due to unmeasured

factors.

needs to bring a fresh bill in Parliament or

an ordinance to overturn the Court Order

and restore the original version of the Act.

Dalit and Adivasi communities under the

banner of All India Ambedkar Mahasabha

(AIAM) are planning a Bharat Bandh on

August 9, 2018 on a much bigger scale

than the one held on 2 April this year to

press for their demands. Everybody was

requested to support that protest.

The meeting welcomed and supported

the work the Anti Caste Discrimination

Alliance was co-ordinating to ensure that

the contribution of the Dalits to the World

War 1 and World War 2 was recognised by

this Government. Any proposed memorial

in this country needs to include our community's

contribution. An International

Ambedkar Convention is being held in

Japan in September 2018 organised jointly

by the Burakumin Community of Japan

and Ambedkar International Mission

based in the USA. If anybody wishes to

attend, please contact C. Gautam, Joint

Secretary, FABO UK.

Arun Kumar

General Secretary, FABO UK
---
www.theasianindependent.co.uk

With an investment of up to

US$5.3bn, the UK will become

the largest foreign investor in

Peru. The project will create

thousands of jobs and greater

prosperity.

Anglo American this week

announced the approval of its

Quellaveco project, a worldclass

copper project in Peru.

This announcement represents

the UK's largest investment

ever in Peru, highlighting

the UK's long-standing commitment

to the country. The

investment will reach up to US

$5.3bn, making the UK the

largest foreign direct investor

in the country. Colin Gray,

Chargé d'Affaires at the British

Embassy, said: Anglo

American's announcement is

excellent news for Peru and for

our bilateral relationship. This

is a moment of pride and the

culmination of many years of

hard work. This project will

create thousands of jobs and

bring greater prosperity across

the country. I offer my warmest

congratulations to all those

who have worked so hard to

make it a reality.

The development phase of

the project has an expected capital

cost of US$5to US$5.3 billion

and will be funded on an

attributable basis: 60% by

Anglo American and 40% by

Mitsubishi. First production of

copper is expected in 2022,

ramping up to full production

in 2023. Mark Cutifani, CEO of

Anglo American, said:

"Quellaveco is one of the

world's largest and most attractive

undeveloped copper orebodies.

After several years of

UNITED KINGDOM

Action to address recent fire door issues

Fire doors from 5 suppliers

have now been identified as failing

to meet requisite fire performance

standard following an

on-going investigation by

MHCLG.

Fire doors from five suppliers

have now been identified as failing

to meet requisite fire performance

standard following an

on-going investigation by the

Ministry of Housing,

Communities and Local

Government (MHCLG).

This highlights broader potential

failings within the industry

and the Government is taking

immediate action to address this.

MHCLG began investigating

the fire door industry after it was

found that a glazed, composite

fire door from Grenfell Tower

manufactured by Manse Masterdor

failed a 30 minute fire resistance test

after approximately 15 minutes.

Issues were subsequently identified

with doors produced by Masterdor

Limited (the successor business to

Manse Masterdor). Investigations

have continued and in the last few

days doors from 3 additional manufacturers

have failed fire resistance

testing when tested on both sides.

MHCLG is writing to all building

control bodies highlighting the need

to check that existing building regulations

guidance on new fire door

installations is followed. The guidance

sets out the tests which should

be performed – including testing

doors on both sides – in order to

meet building regulations requirements.

The Secretary of State for

Communities has instructed major

fire door suppliers to meet this week

and agree a clear plan of action to

tackle the failings which have been

identified, with weekly reports on

progress.

The government's Independent

Expert Panel and the National Fire

Chiefs Council have advised that the

additional risk to public safety is

low, as even when not meeting full

resistance standards fire doors will

provide some protection from the

spread of fire and are part of layered

fire protection systems within buildings.

Rt Hon James Brokenshire MP

said: While the department's investigations

are on-going, I now have

enough evidence to suggest that

there is a broader issue across the

fire door market.

That is why I am calling on suppliers

to meet this week and provide

reassurance that they are gripping

this issue properly.

I want to see a clear plan of

action to rectify existing problems

Anglo American's

Quellaveco in Peru is the

UK largest investment

extensive preparatory work, we

are very pleased to develop the

project together with our partners

Mitsubishi. We are grateful

for the strong support we

have gained from our host communities

and at the national

level. Quellaveco should bring

very significant opportunities

and sustainable benefits to the

lives of those we employ, our

business partners, the surrounding

region and Peru as a whole,

for decades to come."

The support of local communities

is the result of an

innovative 18-month consultation

with local authorities and

community representatives

from the Moquegua region.

Through this 'dialogue table',

Anglo American agreed 26

detailed and specific long-term

commitments relating to water

management, environmental

protection and social investment.

For example, by ensuring

that the water required by the

operation is drawn mainly from

a river whose water is naturally

unfit for human or agricultural

use and additionally by collecting

excess rainfall and sharing

it with the communities, Anglo

American is delivering on its

promise of a positive water

impact for local people and

their livelihoods.

and ensure such failures are not

repeated in the future. Whilst

our Expert Panel assures me the

risk remains low I want to assure

the public that the government is

doing everything it can to ensure

construction products are of the

highest safety standards and

accurately tested and marketed.

The Secretary of State has

also asked National Trading

Standards to oversee local investigations

which are taking place.

MHCLG will also work with

third party certification bodies to

develop minimum standards of

assurance to provide building

owners with greater confidence

in the fire doors they purchase.

The products which have

failed government tests to date

were glazed and unglazed doors

supplied by Manse Masterdor and

Masterdor Limited and glazed composite

doors supplied by Specialist

Building Products Limited, trading

as Permadoor; Solar Windows

Limited; and Birtley Group Limited,

trading as Bowater by Birtley. All

doors that are known to have failed

to meet the necessary standards

have been withdrawn from the market

and the department has informed

local trading standards of its findings.

Each manufacturer has cooperated

fully with the government's

investigations, which are

continuing.

August 2018

3

Decoded: How ginger

reduces bad breath

London : Ever thought how ginger helps

reduce bad breath? A pungent compound present

in the spice may be an answer to it, a new

study suggests.

The study found that the pungent compound

-- 6-gingerol -- stimulates enzymes contained

in saliva that breaks down foul smelling substances

in the mouth ensuring fresh breath and

better aftertaste. The pungent principle of ginger

makes the level of the enzyme sulfhydryl

oxidase 1 in saliva increase 16-fold within a

few seconds, the researcher said.

The saliva and breath analyses carried out

on human volunteers showed that the enzyme

breaks down malodorous sulpher-containing

compounds. "As a result, our breath also

smells better," said lead author Thomas

Hofmann from the Technical University of

Munich in Germany. The researchers mentioned

that many food components contribute

directly to the characteristic taste of food and

beverages by means of contributing their own

particular taste, scent or spiciness.

To find out more about food components,

the research team investigated the effects of

food components on the molecules dissolved

in saliva. The study, published in the Journal of

Agricultural and Food Chemistry, also suggested

that citric acid increases the sodium ion

content of saliva, making salty foods taste less

salty. Citric acid influences our perception of

taste through a completely different mechanism,

the researchers said.

As everyone knows from personal experience,

sour foods such as lemon juice stimulate

salivation. The amount of minerals dissolved

in saliva also increases in proportion to the

amount of saliva, they added.
---
4 August 2018

UNITED KINGDOM

www.theasianindependent.co.uk

Sunshine lights up

A38 in East Midlands

As England basks in a heatwave,

the power of the sun is

helping light the way for

motorists in the East Midlands.

Highways England has

installed more than 4,500 innovative

solar road studs that harness

sunlight in the daytime

and light up the road at night,

helping drivers stay safe. The

beauty of these road studs is

that they are also effective in

heavy rain, mist or fog and a

four-hour charge from daylight

can power the devices for over

200 hours.

The studs have been introduced

as part of £8.5 million

worth of improvements to journeys

along the A38 between

Ripley and junction 28 of the

M1 near Mansfield – a stretch

that is used by more than

23,000 vehicles every day.

The improvements also

include high visibility lane

markings that make it easier for

drivers at night or in adverse

weather conditions, and

coloured high friction surface

that reduces the risk of skidding.

Highways England project

manager, Matthew

Carruthers, said: We're always

looking for new ways to further

improve journeys and safety

for drivers and this is a great

example of that.

This section of carriageway

has no street lighting so the

solar road studs and improved

lane markings make a real difference.

At the same time the

new technology is more

durable, meaning less disruption

for motorists in the long

term thanks to fewer roadworks.

Standard road studs

Highways England helps to

solve cuddly conundrum

Highways England traffic

officers had a surprise when

they rushed to respond to

reports of pigs on the loose on

A1(M) recently.

A driver called

Cambridgeshire Police to

report 20 swines sauntering on

the motorway between

Huntingdon and Peterborough

just before 7am on Friday 13

July. However the traffic officers

were in for a shock when

they arrived as found the drivers'

description had been a bit

of the sty. Officers Graeme

Laws and Ian White could find

no trace of the pigs at junction

15, and then when searching a

junction further south found

out that the reported trotters

were in fact a team of teddies as

the "pigs" turned out to be cuddly

cows which had been

blown around by the wind.

Highways England traffic

officers are trained to quickly

clear many types of motorway

disruption, including animals

loose on the network.

Thankfully the fluffy Friesians

were significantly easier to

clear up than the real life pigs

they were expecting to find.

Some of the cuddly cow toys

picked up by the Traffic

Officers

Ian, who was one of the traffic

officers to respond to the

call, said: We were looking for

these pigs, worried about the

disruption they could cause if

there were live animals on the

motorway, so were quite surprised

to find the hoof of the

matter was that they were actually

teddy cows The wind had

been causing them to moove

around in the road, making

drivers think they were live animals

wandering through the

traffic. There were a lot of

them, and as we were gathering

them we kept spotting anudder

one which we needed to grab.

Eventually we managed to

manoeuvre them off the road so

that drivers could continue

their journeys uninterrupted.

The officers milked the situation

by bringing the cuddly

cattle culprits back to their

depot at Whittlesford so others

could see what had caused the

nuisance.

They are now looking to

reunite the cows with their

owner, or they will look to

donate them to a children's

charity.

require car headlights to illuminate

their reflective surface –

typically this means that the

headlights can be seen up to 90

metres away, giving drivers

travelling at 60mph around

three seconds to react to conditions

on the road. The new road

studs are powered by solar

energy, with a panel absorbing

power during the day.

Throughout the night they generate

their own light through a

battery powered LED and can

be seen up to 900 metres away,

giving drivers travelling at

60mph more than 30 seconds to

react. The new studs are also

more durable, lasting up to five

years longer than standard

studs, require less maintenance

during their lifetime and at only

4mm in height means are they

safer for motorcycles.

Women's Hockey WC:

India hold US, qualify for

quarters playoffs

London : India qualified for

the playoffs of the quarterfinals

in the Women's Hockey

World Cup as they held higherranked

United States 1-1 in

their third and final Pool B

match at the Lee Valley Hockey

and Tennis Centre

here on Sunday.

The Indian team

displayed great

character and a

solid defensive

structure throughout

the match to

earn the draw as

captain Rani

Rampal (31st

minute) cancelled

out Margaux

Paolino's 11thminute

goal. With the firstplaced

team in the pool, Ireland

advancing directly to the quarter-finals,

england and India are

certain to finish second and

third -- thereby both securing a

spot in the playoffs. Though the

US have two points -- same as

India and England -- the former

is behind on goal difference.

Ireland take on England later in

the day. India needed at least a

draw against the US to keep

their chances alive for the last

eight stage after playing a draw

against England before losing

to Ireland.

India started the match

against the US on the front foot

as they showed some quick

passing, but had a scare in the

fourth minute when their captain

Rani was forced off with a

twisted ankle.

The World No. 10 team won

their first penalty corner of the

match in the seventh minute,

but Gurjit Kaur's

flick was saved by

US goalkeeper

Jackie Briggs.

India dominated

possession and

pressed the

Americans but the

11th minute saw

the US take the

lead as Indian

goalkeeper Savita

was called into

action when Erin

Matson's shot was saved by the

shotstopper. However the

rebound was put into the back

of the net through Savita's legs

by Margaux Paolino. India

looked for an equaliser and

were threatening the US

defence with some good buildup

play; winning their two

more penalty corners in the first

quarter, but Gurjit Kaur's

efforst were not enough. India

continued to put pressure on the

US in the second quarter which

saw Rani's drive being intercepted

by a defender while the

captain's penalty corner strike

was deflected away by Briggs

in the first five minutes of this

quarter.
---
www.theasianindependent.co.uk

UNITED KINGDOM

August 2018

5

Caste in Great Britain and equality

law: a PUBLIC CONSULTATION

Government consultation response

23rd July 2018, will be seen as a

dark day when the British

Government announced the result of

the Caste Consultation. The

Government will not be implementing

the caste law as envisaged by

Equality Act 2010 Section 9(5) but

instead the government will now be

taking steps to repeal the Caste provision.

Government response states on

Page 3 , ref (Caste in Great Britain and

equality law: a public consultation

Government consultation response),

As the result of a 2013 amendment to

section 9 (5) (a) of the Equality Act

2010, a duty exists to introduce specific

legal protection against discrimination

because of caste, by making

caste an aspect of race for the purposes

of the Act. However, the subsequent

judgment of an Employment

Appeal Tribunal [EAT] in the Tirkey v

Chandhok case in 2014 established

that many of the facts relevant in considering

caste in many of its forms

might be equally capable of being

considered as part of a person's ethnic

origins, which is already part of the

existing race provisions within the

Act. The consultation therefore invited

views on whether suitable legal

protection against caste discrimination

is better ensured by exercising the

duty or by relying on emerging caselaw

under the Act as developed by

courts and tribunals. The public consultation

ran from 28 March 2017 to

18 September 2017. ( Caste in Great

Britain and equality law: a public consultation

Government consultation

response P3 )

CasteWatcuK's 15 year active

campaign has been nullified at a

stroke of the pen by a government

that caved into pressure from the

opposing side who demanded the

repeal of the Caste provision.

Government says that a separate

Caste provision is not required and

suggest caste could be covered by an

existing ethnic origins provision.

This means reliance is placed on case

law to develop. This clearly means

the victims will not have any legal

protection and have to go through

expensive long drawn legal battle to

get justice. This alone is a massive

deterrent for victims to seek justice to

the delight of offenders who can continue

to abuse and harass people on

File Photo

the basis of caste with impunity.

Government has not lived up to its

bold commitment 'that no one should

suffer prejudice or discrimination on

any grounds , including any perception

of their caste' and sold out to the

opposing side, no doubt for political

reasons with an eye on Hindu and

Sikh votes , a section amongst them

were the main antagonists. No doubt

Government also had an eye on trade

and commercial overseas interests.

Of the 16,138 consultation

responses, analysis indicated that:

• 8,513 respondents were 'in

favour of relying on case-law';

• 2,885 respondents were 'in

favour of legislation';

• 3,588 respondents rejected both

options;

• 1,113 respondents were 'not

sure' which was the better

option;

• 1 respondent was in favour of

either option; and The views of

38 respondents were sufficiently

unclear as to not be able to determine

which option they supported On a

positive note, our campaign gave a

running battle to the opposition.

History will not be so forgiving when

future generations will look back on

this historic blunder by those who

claim to abide by the principle of

equality but in practise do everything

to undermine it. By holding onto an

archaic social system of caste which

is so detrimental to the progress of

humanity, the opposition together

with the British government, demonstrably,

lost its moral compass.

Castewatchuk will continue its

campaign to cause a dent in the vile

system of Caste and shall be reviewing

the details of the consultation

response to formulate our response.

-Sat Pal Muman

Chair, Castewatch UK

AUSTRALIA'S KING

penguin population

shrinks by 90%: Study

Eat fibre-rich food to cut

stress and anxiety

London : The world's

largest colony of King penguins

in the southern Indian

Ocean has shrunk by nearly 90

per cent in the last three

decades, yielding the territory

to encroaching vegetation, an

alarming research has found.

The colony of King penguins

-- Aptenodytes patagonicus

Miller -- at Ile aux

Cochons, Iles Crozet, in the

southern Indian Ocean was

known in the 1980s as the

largest King penguin colony

and the second largest penguin

colony in the world.

At the time, the colony

included 500,000 breeding

pairs and consisted of over two

million penguins. Due to isolation

and inaccessibility, aerial

photographs, and satellite

images were used to report on

changes in the colony and population

sizes over the past 50

years.

The photographs confirmed

that the colony's penguin population

has plummeted, said

Henri Weimerskirch from the

Centre d Etudes Biologiques

Chize (CNRS) at the

Universite de la Rochelle in

France. The population of penguins

has declined by 88 per

cent over the past 35 years,

from 500,000 pairs to 60,000

pairs.

The data, appearing in the

journal Antarctic Science,

showed that the decline began

in the late 1990s, coinciding

with a major climatic event in

the Southern Ocean related to

El Nino. The size of the

colony may also subject it to

density-dependent effects.

That is, the larger the population,

the fiercer the competition

between individuals,

slowing the growth of all

members of the group, the

researchers said.

The repercussions of lack of

food are thus amplified and can

trigger an unprecedented rapid

and drastic drop in numbers,

especially following a climatic

event like the one at the end of

the 1990s.

Diseases such as the Avian

cholera which is currently ravaging

populations of seabirds

on other islands in the Indian

Ocean, could also be one of the

explanations.

Still, none of these possibilities

seems to offer a satisfactory

explanation for a decline of

the magnitude observed on Ile

aux Cochons.

London : If you want to reduce your stress

then you should eat more pulses, wholegrain

cereals, oats and vegetables as consumption of

high-fibre foods may help reduce the effect of

stress, says a study. The authors explained that

stress can cause major changes in the gut and

also in our brain which in turn affects our

behaviour. Foods rich in fibre was found to

reduce this adverse effects of stress in mice.

The findings suggested that a gut bacteria

produces short-chain fatty acids (SCFAs),

which are the main source of nutrition for cells

in this region of the body and high levels of

fibres stimulate the production of these SCFAs

"There is a growing recognition of the role of

gut bacteria and the chemicals they make in the

regulation of physiology and behaviour. The

role of short-chain fatty acids in this process is

poorly understood up until now," said corresponding

author John F. Cryan from University

College Cork in Ireland.

"It will be crucial that we look at whether

short-chain fatty acids can ameliorate symptoms

of stress-related disorders in humans,"

Cryan added.

For the study, published in The Journal of

Physiology, the team fed normally produced

SCFAs to the mice and then subjected them to

stress. They were assessed for anxiety and

depressive like behaviour, stress responsiveness,

cognition and sociability as well as how

easily material passes through the gut.

The results showed that increase levels of

SCFAs reduced the levels of stress and anxietylike

behaviour among the mice.

The investigators also explained that stress

experienced over a prolonged period of time

can affect the bowel by making the barrier

between the inside of the gut and the rest of the

body less effective and "leaky".

Treating the condition using the SCFAs can

also reverse the "leaky" walls inside the gut,

said the study.

The research provides new insights into

mechanisms related to the impact of the gut

bacteria on the brain and behaviour as well as

gut health.

"Developing dietary treatments which target

these bacteria will be important for treating

stress-related disorders," said the researchers.
---
6 August 2018

ASIA

www.theasianindependent.co.uk

With Ambanis getting favor

from the government, it is

important for our academic fraternity

to go into details of all

this. This government has

opened front against people particularly

the marginalised at different

fronts. Closing UGC is

one thing but before closure,

UGC send notice regarding '

Institute of Eminence' where

they said 'merit and merit alone

will be the criteria'. In India

merit is absolutely brahmanical

in nature and in certain way to

deny the space to the SC-ST-

OBCs in the institution. These

institution will have their own

'autonomy' and will be outside

the domain of UGC. They can

negotiate with foreign institution,

collaborate with them. The

aim is to bring them to 'international'

standard.

Fact is that the agenda is to

target all other institutions.

When the people were campaigning

for equal education for

all, we have a government which

want to create this difference in

the name of 'excellence' and

'merit'. So you can understand

why Narendra Modi still enjoy

support for the upper echelon of

the savarna jaatis because

through these 'institutions of

eminence' you keep the status

quo ante and state abdicate its

duties towards people. Finish the

PRIVATISATION

OF EDUCATION

education system of the country

and bring the Dronacharays into

these institutions of 'merit'.

But what to say. Political parties

feel that their duties finish

after sending a tweet with

#bhakts of all varieties respond

as per their leaders.

The day we start responding

as per our issues and not as per

our leaders, the things will

change. The day, we start going

beyond individuals and seek

wider consultations, listen to

your critique things would be

different. The day intellectuals,

academics and those in public

life speak without being a

'Bhakt' things will change. This

is the biggest war that the brahmanical

system has now imposed

on the Bahujan masses. With the

help of crony capitalists, they

want to deny opportunities to

India's indigenous people. They

wont do things openly. They

wont challenge the 'constitution'.

They would do it in a surreptitious

way which means, kill

the institutions and universities

which were government added

and provide huge opportunity to

By Vidya Bhushan Rawat

social and human rights activist

India's historically denied people.

I wrote a few days back

appealing to all the political parties

that swear in the name of

social justice, Baba Saheb

Ambedkar, Ram Manohar Lohia,

Periyar and others that there is a

direct

assault

on people's

right to

education. We have not fulfilled

Will Ms Mayawati, Mr Rahul

Gandhi, Mr Askhilesh Yadav

and other political parties

raise the issue in Parliament.

We know the Ambanis give

chanda to all. Please be

responsible to people. It is

time for all these parties to

make their stand clear. Fight

this battle as future generations

will never forgive you

for not speaking up for their

rights. Stand up and speak.

the earlier promises but rather

than making things better we created

a mess so that people cant

make it to these institutions. This

need a strong political response

to the extent that all the member

of Parliaments of SC-ST-OBCs-

Minorities must seek explanation

from the government on this.

This matter will not be helped

through court cases as we know

who is using court but this matter

must be resolved politically.

Baba Saheb wanted education

for all. He wanted quality education.

How many Universities

does this government offer a

budget of Rs 1000 crore which it

want to give to 'institutions of

eminence' ? Why should this

kind of budget not made available

for our primary and secondary

education with efficient

teachers and better schooling

facilities. Why can't government

improve the existing infrastructure

in the Universities and colleges

and make them better

accountable if it feel they are not

functioning well. Privatisation of

education is a highly irresponsible

act of the government. It is

not that all these institutions will

run on private money. Frankly,

the Ambanis know it well that

they will need a friendly government

to support them establish

with infrastructure and also with

government grants. The freedom

these institutions will have is to

deny students admission in the

name of merit and secondly, only

those would be able to go there

who have a certain amount of

budget in their pocket.

Vidya Bhushan Rawat is a social

and human rights activist. He blogs

at www.manukhsi.blogspot.com twitter

@freetohumanity

Email: vbrawat@gmail.com
---
www.theasianindependent.co.uk

Rs 12.68 crore allotted

for Taj preservation

New Delhi : An

amount of Rs 12.68

crore was set aside for

conservation, preservation

and environmental

development

works at the Taj

Mahal in the last three

years, Minister of

State for Culture

Mahesh Sharma told

the Lok Sabha on

Monday. The expenditure

incurred by the

government from

2017-18 on the monument's

conservation,

preservation and

environmental development

was around

Rs 4.12 crore. In the

previous two years,

close to Rs 3.6 crore (2015-16)

and Rs 4.6 crore (2016-17) have

been spent by the government,

Sharma said.

"The essential conservation,

preservation and environmental

development work at Taj Mahal

'I suffered by joining hands

with Modi-led BJP'

Jammu : Former Chief

Minister Mehbooba Mufti said

on Monday that Jammu and

Kashmir prospered

when Atal

Bihari Vajpayee

was the Prime

Minister but she

had suffered now

despite joining

hands with the

BJP led by

Narendra Modi.

Addressing a public meeting

here to commemorate the 19th

foundation day of the Peoples

Democratic Party (PDP),

Mehbooba Mufti said: "Though

the PDP (then) was in a ruling

alliance with the Congress, the

state prospered when Vajpayee

is attended regularly to keep the

monument in good condition," a

statement by the Ministry of

Culture said.

The information was given by

Sharma in reply to an unstarred

question in the Lok Sabha. The

was the Prime Minister." She,

however, said that despite joining

hands with the Bharatiya Janata

Party (BJP), she

had suffered during

Narendra Modi's

Prime ministership.

She justified her

father the late Mufti

Muhammad

Sayeed's decision

to join hands with

the BJP. "Mufti

Sahab agreed to join hands with

the BJP in 2015 because we had a

good understanding during

Vajpayee's reign. "But this time,

it was a difficult decision.

Forming an alliance with the BJP

was like drinking poison," she

added.

Supreme Court on Thursday

slammed both the Central and

Uttar Pradesh governments for

the neglect of Taj Mahal, wondering

what will happen if

Unesco withdrew the historic

monument's world heritage title.

5 lakh saplings

to be planted in

Delhi this month

New Delhi : To increase

the green cover of the national

capital, Environment

Minister Imran Hussain on

Wednesday announced that

the Delhi government will

plant five lakh trees and

shrubs this month on a date to

be announced soon.

He also directed various

greening agencies in the city

to begin preparation for the

massive drive which will be

launched by Chief Minister

Arvind Kejriwal. The Minister

also directed the Department

of Environment and Forest to

undertake mass awareness

campaign to make the plantation

drive an unprecedented

and successful drive.

Pakistan SC seeks report on foreign

employment of top generals

Islamabad : Pakistan's

Supreme Court on Wednesday

sought a report from the

Defence Ministry on the foreign

employment of former

Army Chief General (retd)

Raheel Sharif and former

Director-General Inter-Services

Intelligence (ISI) Lt. Gen.

(retd) Ahmed Shuja Pasha in

violation of a law that

restrained government officers

from doing so for two years

post-retirement. Hearing the

suo motu case of dual nationalities

of government employees,

Chief Justice Saqib Nisar

inquired whether the senior

Army officials took permission

from the federal government or

not, according to Geo News.

Gen. Sharif left for Riyadh

in April 2017 to head a 41-

nation military alliance led by

Saudi Arabia. He retired in

2016. On the other hand, the

former ISI chief after his retirement

in 2012, worked with a

multinational firm in the UAE.

He is now serving as a group

chief adviser to a Lahore-based

firm owned by a Pakistani

politician, reports say.

"According to the law, government

officers cannot sign an

employment contract abroad

for two years after their retirement.

Generals Pasha and

Sharif, both, found employment

abroad. Is the law not

applicable to Army officers?"

the Chief Justice asked.

Defence Secretary Lt .Gen.

(retd) Zamir-ul-Hassan Shah

apprised the court that both

retired officers had obtained a

no-objection certificate (NOC)

prior to leaving the country for

employment. The government

had permitted both generals to

sign foreign employment contracts,

Shah said. The threejudge

bench directed the

Defence Ministry to obtain

more information in this

regard, according to the

Express Tribune.

ASIA

Sri Lanka bets on Indian

visitors to boost tourism

Kolkata : Sri Lanka is betting big on

Indian visitors as the island nation is expecting

a 20 per cent growth in arrival of travellers

to 2.4 million in the current year, an

official said on Tuesday. "Last year, about

two million international visitors travelled to

Sri Lanka and we expect it to reach 2.4 million

this year. Of two million visitors, there

were over three lakh Indians," Sri Lanka

Convention Bureau's Chairman Kumar De

Silva said on the sidelines of an interactive

session organised by MCCI.According to

him, India is the largest source market for

tourists for Sri Lanka. Of the total visitors,

about 90 per cent were tourists and the rest

was for other purposes including business

engagements, he said, adding that the country

was also focusing at travellers for business

meetings.

There is growing cooperation between

two neighbouring countries and the target

markets for Meeting, Incentive, Conference

and Exhibition (MICE) are cities close to Sri

Lanka, said De Silva.

Sri Lankan Airlines' Country Manager

Lalit Peiris said the carrier operates 122

direct flights per week from 14 Indian cities

to Colombo though the airline has no plan, at

present, to expand it in India. However, from

Kolkata, during the festive season of Durga

Puja, the carrier proposes to increase to four

flights per week against three flights a week

during the rest of the year. De Silva said

tourism has been one of the top foreign

exchange earners for the country and it could

become the largest in years to come.

August 2018

7

7 Indian firms in Fortune 500

list, IOC tops, RIL up 55 ranks

Mumbai : Seven Indian companies feature in the

US magazine Fortune 500 list of the world's largest

firms, with state-run Indian Oil Corp (IOC) remaining

the top-ranked Indian company in the 2018 rankings

and Reliance Industries Ltd (RIL) improving its

position substantially.

American retail giant Walmart tops the latest

Fortune listing while Indian Oil jumped to 137th

position, from 168th rank last year.

"The world's 500 largest companies generated $30

trillion in revenues and $1.9 trillion in profits in

2017. Together, this year's Fortune Global 500 companies

employ 67.7 million people worldwide and

are represented by 33 countries," Fortune said.

The Mukesh Ambani-led RIL, whose main oil and

gas business has been supplemented with the addition

of telecom player Jio, was the top private company

from India as its ranking improved by 55 places

to 148, from being the 203rd last year.

State-run explorer Oil and Natural Gas Corp

(ONGC), which did not figure in the 2017 list,

returned among the Forbes 500 with a ranking of

197th. In the continuing good story for oil companies

at a time of rising prices, two Chinese majors --

China Petroleum and Chemical Corp (Sinopec) and

the China National Petroleum Corp (CNPC) -- were

at 3 and 4 respectively while Royal Dutch Shell

secured the 5th position. State-run electric utility,

State Grid Corp of China, is at second position in the

Fortune 500 of 2018. State-run oil marketer Bharat

Petroleum Corp Ltd (BPCL) moved up to 314th position,

from 360th last year, while government-owned

State Bank of India (SBI) improved one place over

last year to be at 216. Tata Motors improved its ranking

to 232, from 247th last year.
---
8 August 2018

ASIA

www.theasianindependent.co.uk

SC to hear plea to declare

Agra as heritage city

New Delhi : The Supreme Court on

Monday posted for August 28 the hearing

of a plea related to

declaring Agra,

home to the Taj

Mahal, as a heritage

city. A bench of

Justice Madan B.

Lokur and Justice

Deepak Gupta said

it would hear the

plea on August 28. Environmentalist M.C.

Mehta, who filed the main petition for

preservation and maintenance of the Taj

Mahal in 1985, had filed an application 10

years ago to declare Agra a heritage city.

Mehta said the government has done

nothing to prevent encroachment in and

around the 17th century monument. On

Monday, the Centre told the court that the

Joint Secretary of the Union Ministry of

Environment, Forest and Climate Change

and the Commissioner of the Agra Division

were responsible for maintenance of the Taj

Trapezium Zone (TTZ). TTZ is an area of

about 10,400 sq km spread over the districts

of Agra, Firozabad, Mathura, Hathras and

Etah in Uttar Pradesh and Bharatpur district

of Rajasthan.

Student pass to be allowed in DTC

AC buses from September 1

New Delhi : After protests from university

students, Delhi Chief Minister Arvind

Kejriwal on Tuesday

ordered that student

passes would be valid in

air-conditioned DTC

buses too from

September 1. Kejriwal

tweeted that he had

directed the Transport

Minister to expedite the

proposal. Transport Minister Kailash

Gahlot acknowledged the order and tweeted

in reply that he "will immediately take

necessary steps". Scores of colleges students

on Tuesday protested outside the

Chief Minister's house demanding that the

student pass be allowed in AC buses too.

Yamuna continues to swell,

more people shifted in Delhi

New Delhi : The water level of the

Yamuna river which has already crossed the

danger mark in the capital is constantly rising

and had reached 206.05 metre on

Tuesday evening. The evacuation of people

living on the riverbed, which started on

Saturday, has resulted in the shifting of over

10,000 people. "More people are being

shifted as the water level is rising and the

situation is severe. Some people are not

willing to shift, but we are trying to persuade

them," an official of the Flood

Control Department said. "The flow of the

river is steady, but more rainfall may

impact the flow. We are keeping a close

watch," the official added. Delhi witnessed

its worst-ever floods in 1978 when the

river's level touched 207.49 metres.

Be Cautious about Ram Vilas

Paswan and his son Chirag Paswan

As is well known about Ram Vilas

Paswan that he is an opportunistic

politician with no moral character. He

is also known as a "Mausam

Vaigyanik "( Weather Scientist) across

the political spectrum. In the last four

years, Ram Vilas Paswan and his son

Chirag Paswan did not raise any issue

concerning the welfare of the Dalits.

Not only this Ram Vilas Paswan and

his son Chirag Paswan did not organize

even a single national level rally

against the Modi government and

Justice Ak Goel for rendering the

SC/ST ACT ineffectual under the banner

of Lok Janshakti Party (LJP),

All of a sudden, a love for the

SCs/STs has awakened in the vile

hearts and minds of both father and

son. A question is: Why should only

justice AK Goel be removed? There

are a bunch of MPs and MLAs in the

BJP who have caused damage to the

SCs/ STs through evil deeds. Why not

their resignation also?

Paswan and his son know very well

that justice AK Goel is already a

retired person. He has been favored by

the Modi government to head

National Green Tribunal (NGT) after

retirement. This move on behalf of

both father and son is a calculated

move. Both knew it very well that justice

AK Goel`s removal would not

strengthen the SC/ST ACT since the

damage has already been done to the

ACT. Their calculated move aims to

win the hearts of the Dalits across

India. Both father and son did not participate

in Bharat Bandh call given by

the Dalits on 2nd April. How can both

be loyal to the Dalits? Now it is the

Dalits who have to think twice before

falling into the trap of father and son.

Where were Paswan and his son when

Bengaluru among 14 global

cities to clean toxic air

Bengaluru : India's tech hub Bengaluru on

Tuesday joined 13 other cities, including London, to

clean up toxic air and check pollution in urban areas

the world over. Hosting the first meeting of the C40

Air Quality Network, Bengaluru brought

experts and policymakers from 13 other

cities from the world over to find solutions

to the threat of toxic air pollution.

"Formed when London Mayor Sadiq

Khan visited India in December last year,

the Network enabled leaders to share

information and work together to develop

plans for how each city will clean up

its toxic air," an official statement said.

The C40 Cities is an organisation of

96 global cities to fight climate change

and work towards a sustainable future, while the

C40 Air Quality Network, a body of upto 20 global

cities formed in December last year, aims to develop

solutions for air pollution, and is co-chaired by

Khan and Bengaluru Mayor Sampath Raj.

The 13 cities that were part of the meeting were

Berlin, Chennai, Dar-es-Salaam, Delhi,

Johannesburg, Kolkata, London, Los Angeles,

Portland, Quito, Salvador, Tel Aviv and Warsaw.

"The discussions and knowledge sharing on how

other cities have dealt with air quality challenges is

beneficial," Karnataka Chief Minister H.D.

Kumaraswamy said on the occasion. As part of the

Dalits were mercilessly flogged?

Where was Paswan when Modi government

issued several directives to

dilute reservations in the government

departments? Where were Paswan

and his son when Rajiv Gandhi

National Scholarship (RGNF) meant

for the Scheduled Castes(SCs) students

was delayed purposively by the

Modi government because of

Jawaharlal Nehru University (JNU)

episode? Must keep in mind they are

the same Paswans who have been

demanding reservation for the upper

Rahul Bali

Senior Correspondent,

the Asian Independent, UK

caste. A letter to Home Minister

Rajnath Singh by father and son is

nothing but a calculated move to bring

back the Dalits to the BJP fold. Must

be rejected without having given a

second thought.The Dalits of India

must not forget that it is the same

Paswan family who shook hands with

Network, the global cities sign the 'clean bus' and

'fossil fuel-free streets' declarations, thereby relying

on low-emission vehicles that run on electric power

instead of traditional fuels like petrol and diesel, that

contribute to high emissions. Even as

Bengaluru is implementing projects promoting

the use of electric vehicles and

plans to have an all-electric bus fleet in

the city by 2030, Deputy Chief Minister

G. Parameshwara said the government is

committed to implement an air quality

management plan for the capital. "Based

on the best practices we can learn from

the forum, I commit my support in

implementing a robust air quality management

plan for Bengaluru by providing

both financial and governance resources," said

Parameshwara, who also holds the portfolio of

Bengaluru Development Minister.

An estimated seven million people die prematurely

each year due to air pollution, according to the

World Health Organisation. In 2016, there were over

1.1 million early deaths in India and over 40,000 in

Britain due to air pollution, statement from the

Network said. London Deputy Mayor for

Environment and Energy Shirley Rodrigues,

Bengaluru civic body commissioner N. Manjunatha

Prasad and air quality researchers and experts from

the state were also present.

the anti- Dalit and anti-reservation

BJP to work against Mayawati.

Paswan family doled out funds to

those roadside Dalits to work day and

night to organize public meetings

against Mayawati. In 2014 Lok Sabha

elections, roadside Dalit leaders from

Delhi and other parts of India were

invited to Uttar Pradesh (UP) to work

against Mayawati. The negative propaganda

of such roadside Dalit leaders

succeeded amid Modi wave and

Mayawati left without

a single seat in 2014

Lok Sabha elections.

It is also a common

knowledge in the

political spectrum that

Paswan family need

BJP/RSS backing to

stay in power, not the

BJP/RSS. Today, When Rahul Gandhi

wave is catching momentum day by

day, Paswan and his son Chirag have

come out of a muddy water like a frog

who does nothing but grunt.

It is also a common knowledge that

Chirag Paswan as an actor was outrightly

rejected by the Brahmin

Bollywood lobby due to his caste

background. After his first Hindi

movie "Miley Naa Miley Hum" not a

single Hindu actress accepted Chirag

Paswan as a Co-Star. Chirag Paswan

also went to Vaishno Devi to seek

Hindu Goddess`s blessings before the

release of the film. Everyone knows

that Dr Ambedkar criticized Hindus

Gods and Goddesses because Hindu

Gods and Goddesses are the prime

originators of the 'varna' system which

later solidified as the caste system.

Prof Kancha Ilaiah, a noted

Dalitbahujan scholar and writer is of

the opinion that Hinduism is a religion

of violence, says even its gods are violent.

"In fact, violence has been

Hinduism's principal mechanism of

control(Bangalore Mirror). Let us

recall the words of revered Kanshi

Ram Ji who said: "If Thakurs of Bihar

want Paswan should win he will win, if

Thakurs want him to lose elections,

Paswan will not win even a single

seat." From this one can understand

that Paswan is nothing without

Thakurs in Bihar.

The Dalits of India must understand

that a leader seeking the blessings of

Hindu Gods or Goddesses can never be

your friend. Yes, he or she can be a

deadly enemy. Both father and son are

not true followers of Baba Saheb Dr

Ambedkar. The Dalits of India must

also remember that Paswan family

agenda is not to remove justice AK

Goel but to gain the votes of the Dalits.

Dear Dalit brothers and sisters, the

time has come to identify who is your

friend and who is your foe.

If you fail to act at this time you

and your children will suffer for the

next five years.

Imran Khan will take

oath as PM on August 11

Islamabad : Pakistan Tehreek-e-Insaf

(PTI) Chairman Imran Khan has said that he

will take oath as Prime Minister on August

11, the media reported on Monday.

Talking to the newly-elected members

from Khyber Pakhtunkhwa province in

Islamabad, he said a

decision regarding

nomination of the

Chief Minister will be

taken soon and in the

best interest of the

people, according to

Radio Pakistan.

Although PTI has

emerged as the single

largest party in the

National Assembly in

the July 25 polls, it is short of numbers to

form its government independently.

To meet the required number of votes, the

PTI leadership has reportedly approached the

Muttahida Qaumi Movement-Pakistan

(MQM-P), the Grand Democratic Alliance

(GDA), PML-Quaid (PML-Q) and the

Balochistan Awami Party (BAP), as well as

Independents. Meanwhile, former Prime

Minister Nawaz Sharif's Pakistan Muslim

League-Nawaz and Bilawal Bhutto-led

Pakistan Peoples Party agreed on formulation

of a "coordinated joint strategy" in an attempt

to give a tough time to PTI in Parliament.
---
www.theasianindependent.co.uk ASIA August 2018 9

Second wave of floods hits

Assam, 90,000 affected

Guwahati : Close to 90,000 people have been hit in

Assam as a second wave of floods ravaged the state,

affecting 153 villages in six districts including

Dhemaji, Lakhimpur, Darrang, Golaghat, Sivsagar and

Charaideo.

The Assam State Disaster Management Authority

(ASDMA) said the floods that have hit the state since

June 13 have affected 10.99 lakh people. The state has

registered 41 deaths — 38 in flooding and 3 due to

landslides. Chief Minister Sarbananda Sonowal on

Friday reviewed the flood situation.

He has asked the Revenue and Disaster

Management department to come up with innovative

steps like constructing high-rise structure to give succour

to the people who suffer from perennial floods

every year. From June 13 to August 3, Assam has had

two waves of floods affecting 163 villages and 10.99

lakh people.

Altogether 388 relief camps have been set up and

440 relief distribution centres have been opened to distribute

relief items to the affected people.

Backwardness of SCs/STs

enough to grant them quotas in

promotions, Centre tells SC

New Delhi, The Centre on Friday told the Supreme

Court that mere backwardness of the Scheduled Caste

and Scheduled

Tribes was

enough to grant

them reservations

in promotions

and that there

was no need for

the government

to back their

inadequate representation

with

quantifiable data.

The contention

came during a hearing by a five-judge bench

headed by Chief Justice Deepak Misra on a government

plea seeking a re-look by a seven-judge constitution

bench at a 2006 judgment that barred reservations in

promotions. The top court in 2006 had said, " … State

will have to show in each case the existence of the compelling

reasons, namely, backwardness, inadequacy of

representation and overall administrative efficiency

before making provision for reservation" in promotions.

The 2006 judgment is also known as Nagaraj judgment.

Pointing to the social oppression that Scheduled

Caste people suffer at the hands of dominant castes,

Attorney General K.K. Venugopal said: "They are not

even allowed to ride horses" during their family functions.

The court directed the listing of the matter on

August 16.

Sri Lankan medicines to be

protected under international

intellectual property system

Colombo : Sri Lanka has announced that

it is moving its centuries-old folk medicine

system for protection under the international

intellectual property system. On Saturday,

Minister of Industry and Commerce Rishard

Bathiudeen said the government was working

with the World Intellectual Property

Organisation (WIPO) for the last five years

to introduce intellectual property support to

Sri Lanka's traditional, indigenous medicine

Record 3,350 kg ganja

haul in Tripura: Police

Agartala, Security forces have

seized a record 3,350 kg of dry

cannabis (ganja) valued at over Rs

2 crore and arrested two persons

in Sepahijala district in west

Tripura, police said on Friday.

"A joint team of security personnel

and other officials led by

Deputy Superintendent of Police

(Directorate of Intelligence

Bureau) Alok Bhattacharjee seized

3,350 kg of cannabis in the bordering

village of Kamalnagar late

Thursday," Sepahijala district

police chief Kulwant Singh told

IANS on phone. "The contraband

in 85 drums was buried in a betelleaf

garden and was recovered after

a 15-hour operation. The case was

later handed over to the Directorate

of Revenue Intelligence," he added.

The government led by Chief

Minister Biplab Kumar Deb has

announced that it will make Tripura

a drug-free state and directed the

security forces to have zero tolerance

against drug trade. The

Directorate Revenue Intelligence

system, reports Xinhua news agency.

Sri Lanka's very own indigenous medical

practice is centuries old and co-exists with

the country's Ayurveda practice. "Ayurveda

practice is a long-standing tradition in Sri

Lanka existing with our indigenous medicine

system. Similar to our local medicine

system, it supports our wellness and medical

tourism development as well," Bathiudeen

said.

(DRI), which was part of the joint

operation, on Friday said that it was

the seventh successive seizure of

contraband sourced from Tripura.

"As much as 8,900 kg of ganja

originating from Tripura has been

seized in the past few months," a

DRI statement said. "Organised cultivation

and harvesting of cannabis

for commercial purposes in Tripura

is seen to be a new trend and the

DRI is closely monitoring the situation

in the eastern sector in tandem

with other agencies. Large-scale

cultivation of ganja is occurring in

hilly tracts and jungles of Tripura

under thick foliage of rubber plantations,"

it added. In a separate operation

along with Assam Police, BSF

and CRPF on Thursday, DRI seized

488 kg of cannabis from an abandoned

house in Angla Bazar,

Badarpur, in Karimganj district of

Assam. A Northeast Frontier

Railway press release said the

Railway Protection Force had

seized around 100 kg of ganja valued

at Rs 6.27 lakh from Guwahati,

Agartala and Dimapur railway stations

over the past two weeks.

Nepal begins

reconstruction of

damaged school

with China's aid

Kathmandu : The reconstruction

of Nepal's oldest

school, which was severely

damaged by the massive 2015

earthquake, has begun with

Chinese assistance. Nepali

Minister for Education,

Science and Technology

Giriraj Mani Pokhrel and

Chinese Ambassador Yu

Hong jointly launched reconstruction

of the building at

Ranipokhari in the capital on

Friday, Xinhua news agency

reported. The building of the

school, widely known as

Durbar High School, is one of

the 25 quake-damaged projects

that China agreed to help

reconstruct. The school,

established in 1853, was shifted

to the current location in

1891. After a 7.8-magnitude

earthquake hit the Himalayan

country in 2015, the Nepali

government made an arrangement

to teach the students at

make-shift shelters within the

school premises.

The students have been

taking their classes at a nearby

public college over the

past month after the school

building was demolished for

reconstruction.

Before the devastating

quake, the building was housing

two schools — Durbar

High School and Sanskrit

Secondary School with

around 500 students, according

to the school administrations.

China's Shanghai

Construction Group had been

contracted to reconstruct the

building within the next 20

months. Chinese Ambassador

Yu said Beijing will build a

safe and attractive building

blended with traditional features

and expressed hope that

it will remain as a symbol of

friendly relations between the

two countries.

Addison Aaron

A First Class Full Service

International Law Firm

Committed To Winning Matters.

Tel : 0121 213 4812

law@addisonaaron.com

w w w . a d d i s o n a a r o n . c o m
---
www.theasianindependent.co.uk

Accountants

City Accountants

29 Foremans Road, Sparkhill,

B'ham B11 3AA

Tel. 0121 777 8000

www.city-accountants.co.uk

43B Formans Rd, B'ham, B11

3AA | Tel: 0121 777 8000

Barber Shop

JC Hairstyles

78 Gipsy Ln, Leicester LE4

6RE

Tel: 0116 266 9188

271 Tat Bank Rd, Oldbury,

Birmingham, B68 8NP

Tel : 0121 544 0068

Ladypool Rd, Birmingham,

B128JY

Bars & Pubs

5 Market Pl, Tipton, DY4 7EJ

Tel : 0121 557 6506

Bank

118 Soho Rd, B21 9DP

Tel : 0121 515 0400

182 Soho Rd, Birmingham,

B21 9LP, Tel : 0121 507 9940

173-175 Soho Rd, B'ham, B21

9SU | Tel : 0121 523 5973

290 Soho Rd, Birmingham,

B21 9LZ | Tel : 0121 554 9082

Builders

S &P Builders

Sukhi Mob. : 07737 060 121

Pamma Mob.: 07450 762 550

Bearwood Maintenance

Mob. 07811 392 786

Raj & Raj Building Work

B'ham | Mob. 07404 042 783

Birmingham Building

Construction

Osman Abyan

Managing Director

Mob; 07429 398 280

birminghambuildingconstruction@hotmail.com

Carpentry

Flora Carpentry

Sunny Mob. 07403 586 305

Mail: gurdipflora@hotmail.com

Carpets

UK Carpets

1188-1190 Warwick Rd, Acocks

Green, B'ham B27 6BT

Tel. 0121 707 6424

www.uk-carpets.com

Corner Shop

165 -167 Stratford Rd, B'ham,

B111RB | Tel : 0121 772 1322

523 Foleshill Rd, Coventry,

CV6 5AU | Tel : 024 7666 5277

Wallsal Rd, Wednesbury,

WS10 9SJ

44a Pinson Rd, Willhall,

WV132PR | Tel : 01902 606302

42 Church St, Bilston,

Wolverhampton,

WV14 0AH

Aaron's Catering Services

Brewery Street, off High Street

Smethwick B67 7RA

Tel : 0121 555 8400

Mob : 07805 337 232

Mail: info@aaronsfoods.co.uk

Web: www. aaronsfood.com

Indian Sweets

& Catering

We Cater For All Occasions;

Weddings, Birthdays,

Engagements Parties or any

other Social Functions.

Big Discounts on

Bulk Orders

Quality Service and

Years of Experience

71 Great Bridge,

Tipton, DY4 7HF

Tel. 0121 238 2648

Mob: 07413 426 930

Mail: vivek_18hp@yahoo.com

Café & Restaurants

84 Oxhill Rd, Birmingham,

B21 9RH | Tel : 0121 554 5517

225 Holyhead Rd, Birmingham

B21 0AP | Tel : 0121 515 4110

20 High St, Smethwick, B'ham,

B66 1DX | Tel : 0121 558 8488

86 High St, Smethwick, B'ham,

B66 1AQ | Tel : 0121 558 8372

Tollgate Shopping Precinct,

Smethwick, Birmingham, B67

7RA | Tel : 0121 565 2122

Tollgate Shopping Centre,

Brewery St, Smethwick, B'ham,

B67 7RA | Tel : 0121 555 8400

285-287 High St, Smethwick,

Birmingham, B66 3NJ

Tel : 0121 565 2187

166 High St,

Harborne,Birmingham,

B179PN

314, High St,

Harborne, Birmingham,

B179PU

10, Rood End Road,

Oldbury, Birmingham,

B688SH

125 High St, West Bromwich,

Birmingham, B70 6NY

Tel : 0121 525 9458

142 High St, West

Bromwich, Birmingham,

B706NY

40 Old Walsall Rd, B'ham,

B42 1NP

205 Dyas Ave, Birmingham,

B42 1HN

572 Kingstanding Rd, B'ham,

B44 9SD | Tel : 0121 373 3549

563 Coventry Rd, Small Heath,

Birmingham, B10 0LP

Tel : Tel: 0121 572 6397

703 - 705 Stratford Road,

Sparkhill, B'ham, B11 4DN

Tel: 0121 778 5100

71 Great Bridge, Tipton, DY4

7HF | 0121 238 2648

48A Lower High St,

Wednesbury, WS10 7AL,

Tel : 0121 505 1211

200 Dudley Rd, Wolverhampton,

WV2 3DT | Tel : 01902 450939

Barcroft Rd, Wolverhampton,

WV2 3HF | Tel : 01902 451113

Cash & Carry /

Supermarkets /

Corner Shops

Radias Superstore

121-127 Melton Rd, City

Centre, Leicester LE4 6QS Tel:

0116 266 9409

A1 Cash and Carry

112 Green Lane Road,

Leicester, LE5 3TJ

Tel: 0116 212 2129

Shah's Pan House

523 Foleshill Rd, Coventry,

CV6 5AU

Tel: 02476 665 2777

Catering

Sukhdev's Catering

Unit 4, 5/7 South Road,

Hockley, Birmingham B18 5LT

Tel: 0121 314 1247

Mail: sukhdev@sukhdevfoods.com

www.sukdhevcaterings.co.uk

Double Glazing

Star Windows (GB) Ltd.

16 Rolfe St, Smethwick,

B'ham B66 2AA

Tel. 0121 555 8333

Electronics

86 Great Hampton St, B'ham,

B186EW

Fence

T & D Fencing

Unit 405, Smethwick Enterprise

Centre, St, Smethwick, B66 2AR

Tel. 0121-565 4533

www.TandDfencing.co.uk

Hardware Store

Queens Park Stores

Diy • Furniture • Beds • Bathrooms

224/230 Court Oak Road,

Harborne, Birmingham B32 2EG

Tel: 0121 – 4282164

www.queensparkstores.co.uk

27A W Bromwich St, Walsall,

WS1 4BP :| Tel : 01922 642329

CLASSIFIED

Health Care

Premium Community Care

86 Digbeth, B'ham B5 6DY

Tel. 0121 643 9808

Insurance

Crownsway Insurance

Brokers Ltd.

183 Holyhead Road,

Handsworth, Birmingham

Tel. 0121 554 3566/9788

www.crownsway.co.uk

Insurance Broker

46 Summer Rd, Birmingham,

B236UR

DJS House, 183 Holyhead

Road, Birmingham, B21 0BD

Tel : 0121 554 3566

Lettings & Sales

Ignite Properties

44A High Street, Leamington

Spa, CV31 1 LW

Tel.: 01926 930 251

www.ignite-properties.co.uk

Angel Estates Ltd

251-253 Rookery Rd,

Birmingham B21 9PU

Phone: 0121 448 0717

M & R Lettings & Sales

Wolverhampton

Tel. 01902 833 844

Sodhi & Co.

123 Evington Road, Leicester

Tel. 0116 255 3455

www.sodiandco.com

Library

Birmingham Rd, Birmingham

B43 6NW

193 High St, Harborne, B'ham,

B179QG

Kingstanding Road, B'ham,

B44 9ST | Tel : 0121 464 5193

Meat Shop

Soand Meat Shop

122 Green Lane Road, Leicester

Tel. 0116 276 0658

326 Ladypool Rd, Birmingha,

B128JY

Punjab Meat Center

16 Tollgate Shopping Precinct,

Smethwick, B'ham B67 7RA

Tel. 0121 448 7279

169 Rookery Rd, Birmingham,

B21 9QZ, Tel : 0121 554 1988

Tollgate Shopping Precinct,

Smethwick , B'ham, B67 7RA

Tel : 0121 558 4441

123 High St, West Bromwich,

Birmingham, B70 6NY

Tel : 0121 553 3555

37 High St, West Bromwich ,

Birmingham, B70 6PB

Tel : 0121 553 5231

600 -602 Coventry Rd, Small

Heath, Birmingham, B10 0US

Tel : 0121 773 0234

542 -544, Coventry Rd, Small

Heath, Birmingham, B10 0UN

Tel: 0121 771 0292

711/713 Stratford Road,

Sparkhill, Birmingham, B11

4DN | Tel: 0121 778 5553

Soand Meat Shop

122 Green Lane Road, Leicester

Tel. 0116 276 0658

Punjab Meat Center

16 Tollgate Shopping Precinct,

Smethwick, B'ham B67 7RA

Tel. 0121 448 7279

Stand Meat Shop

122 Green Lane Road,

Leicester, LE5 3TJ Tel: 0116

276 0658

New Asia Meat Centre

119 Caludon Rd, Coventry CV2

4LR Tel: 024 7644 7900

Gill Meat & Grocery

Unit 12, Tollgate Shopping Centre,

Smethwick, B'ham B67 7RA

Tel : 0121 558 4441

383 Mosley Rd, B'ham,

B129DD

Tat Bank Rd, Oldbury, B'ham

B68 8NR

212 Golden Hillock Rd, B'ham,

B112PN

Birmingham,

B10 0QP

Mortgage

Zakir Mortgage

128 A, Stoney Lane, B'ham

Tel. 0121 449 7091

Mob. 07890 615 016

Motoring

BR Car Care

383-387 Moseley Rd, B'ham

B12 9DD

Tel. 0121 440 0779

Mosque

Off License

Super Wines and Spirits

91-793 Stratford Rd,

Birmingham B11 4DG

Tel: 0121 778 5016

August 2018

10

4-6 Beauchamp Ave, B'ham,

B201DR

255 Lodge Rd, B'ham,

B18 5SJ

91-793 Stratford Rd, B'ham,

B11 4DG | Tel: 0121 778 5016

138 Clay Ln, Coventry,

CV2 4LT

Brax News, 156-160 W

Bromwich St, Walsall,

WS1 4DE

Darlaston, Wednesbury,

WS10 7TQ

Party Hall

Supreme Banqueting and

Conference

10, Roebuck Lane, West

Bromwich, B70 6QP.

Tel: 0121 553 3921

Radio

715-C Parkfield Road

Wolverhampton, WV4 6EE

Tel. 1902 681 655

TM

Sky Digital Channel 0205

24 hour Entertainment

On Sky, On-Line, On Mobiles

Studio : 01902 457875

Reception : 01902 450533

Safety Lockers

MINT Safety Deposit Centres

MacDonald Road, Leicester,

LE4 5HD | Tel. 0345 222 3456

School of Motoring

Bains School of Motoring

Mobile: 07973 281968

Tel: 0121 523 2848

Security Services

Your Security Services Ltd.

86 Digbeth, B'ham B5 6DY

Tel. 0121 448 0750

www.ysrl.co.uk

Singers, Stage and

TV artists

Babbu Chander

Wolverhampton

Mob. 07492 129 321, 07429 119 530

Sukhdev Jassi

Bedford | Mob. 07901 796 669

Pamma Lasadia

Wolverhampton

07448 886 166
---
www.theasianindependent.co.uk

Solicitors Chaudhary's Cash & Carry

Stratford Rd, Birmingham, B11

4BP | Tel: 0121 778 3800

Dadiyal Supermarket

118-120 Alum Rock Rd, B'ham,

B8 1NH

Desi Bazaar

560 Coventry Rd, Small

Heath, Birmingham, B18 0UN

Tel: 0121 773 9909

Braitch Solicitors

28 Chapel Ash,Wolverhampton

Mob. 07773 374 848

Tel. 01902 711 200

Indian Advocate & Top

Immigration Services

Wolverhampton

Tel.01902 457711

Mob. 078 2828 3992

Midland Immigration

Services Ltd.

255 Melton Road, Leicester

Tel. 0800 0304 998

VKM

48, Queen St, Wolverhampton

WV1 2BJ

Tel: 01902 311 1155

Super Market

Sabar General Stores

113, Holyhead Road,

Handsworth B21 0HH

Tel : 0121 551 6423

Wayco Supermarket

72A Soho Road, Handsworth,

BIRMINGHAM, B21 9BH

Tel : 0121 551 8711

Soho News

129 Soho Rd, BIRMINGHAM,

B21 9ST

Al Halal Supermarket

7 - 13 Alum Rock Rd, B'ham,

B8 1LL | Tel: 0121 327 0074

Al Halal Supermarket

360 Coventry Rd, Birmingham,

B10 0XE | Tel: 0121 753 4391

Al Halal Supermarket

753-770 Stratford Rd, B'ham,

B11 4DG | Tel: 0121 777 1510

Aujla Supermarket

116 High St, West Bromwich,

B'ham, B706PB

Buy and Save

Rood End Rd, Oldbury, B'ham,

B688SH

Desi Mass Bazar

Ladypool Road, Birmingham,

B128TT

East & West Supermarket

721-725 Stratford Rd, B'ham,

B11 4DN | Tel: 0121 7773904

East & West Super market

132 - 136 Ladypool Rd, B'ham,

B128JA

Food World

121 Villa Rd, Birmingham,

B19 1NH | Tel: 0121 554 6532

Food World Super market

728 Stratford Rd, Birmingham

B11 4BP | Tel: 0121 777 8636

Gill Super market

330A Soho Rd, Birmingham,

B21 9NA | Tel : 0121 523 5272

Grocery Store

New Street, Smethwick, B'ham,

B66 4PH |

Hill Top Super market

125 Hill Top, West Bromwich,

Birmingham, B70 0RU

Tel : 0121 505 3529

Khan Super Market

618 - 620 Coventry Rd, Small

Heath, Birmingham, B10 0UT

Tel : Tel: 0121773 6843

Lifestyle Express Apna

Food & Wine

Albret Rd,

B'ham, B21 9QX

Lodge Supermarket

70 Lodge Rd, West Bromwich,

Birmingham, B70 8PA

Tel : 0121 553 4004

Londis Supermarket

23 Acfold Rd, Birmingham,

B20 1HD

Malhi's Supermarket

Bacchus Rd, Birmingham, B18

4RE

Money Saver Food Store

Ladypool Rd,

B'ham, B128TT

Pak Super Market

121-125 Lozells Rd, B'ham,

B19 2TR | Tel : 0121 554 2711

PAK Supermarket

Unit 1 Cape Hill Retail Centre,

Cape Hill, B'ham, B66 4PH

Tel : 0121 558 6786

Pak Super Market

42 Alum Rock Rd, B'ham, B8

1JA | Tel: 0121 328 7868

Punjab Food Store

94 High St, West Bromwich,

B'ham, B706NZ

If You See This...

List Your Business Here

Call : 07878 456 484

Punjab Supermarket

Birmingham :

B11 4DX

R S Superstore

58 Nineveh Rd, Birmingham,

B21 0TE | Tel : 0121 554 1687

S & B General Store

3 College Rd, B'ham B20 2HU

Tel : 0121 523 4371

Sabar General Store

113 Holyhead Rd, Birmingham

B21 0HH | Tel :

Sonali Supermarket

537, Coventry Rd, Small

Heath, Birmingham, B10 0LL

Tel: 0121 773 8236

Toor Supermarket

93 Rookery Rd, B'ham, B21

9QX | Tel : 0121 554 0796

Vegmart

147-149 Soho Rd, B'ham, B21

9ST | Tel :

Villa Supermarket

117 Villa Rd, B'ham, B19

1NH | Tel : 0121 554 2374

Wayco Supermarket Ltd

72A Soho Rd, B'ham, B21

9BH | Tel : 0121 551 8711

Heer Super Store

19-21 Clay Ln, Coventry, CV2

4LJ | Tel : 024 7645 6903

Warley Supermarket

75 Bridge St, Wednesbury,

WS10 0AH | 0121 505 5898

Banga Stores

59A Lea Rd, Wolverhampton,

WV3 0LW | 01902 338835

Samra Supermarket

418 Dudley Rd, Wolverhampton

WV2 3BP | 01902 458814

Sandhus Supermarket

15 Bargate Dr, Wolverhampton,

WV6 0QW | Tel: 01902 311556

Take Away & Cafe

Chick King

225 Holyhead Rd, B'ham

B21 0AP | Tel. 0121 515 4110

Jalandar Sweet Shop

86, High St, Smethwick,

B'ham B66 1AA

Apna Punjab Sweet Centre

65A, Purely Road, Leicester

LE4 6PB

Tel: 0116 266 6567

Taxi & Coach Hire

Brit Coaches

93 Dudley Rd, Halesowen

B63 3NS

Tel. 0121 769 2707

www.britcoaches.co.uk

Warley Cars

Tel. 0121 555 7654

Taxi & Bus Hire

86, Digbeth Rd, Birmingham, B5

6DY | Tel : Tel: 0121 643 1000

209, Bordsley Green, B'ham, B95SP

Tent Hire

Amrit Tent Hire

Mob; 07815 134 618

amrittenthire@yahoo.co.uk

Walsall DIY

West Bromwich St.

Walsall 01922 642 329

CLASSIFIED

Travel Agency

101 Soho Rd, Birmingham, B21

9SP |

Travel Agencies

Sky Way Travel

232 Soho Rd, B'ham B21 9LR

Tel. 0121 523 3050

Balu Travel

114 Soho Rd, B'ham B21 9DP

Tel. 0121 554 4013

Visa

August 2018

Training & Development

11

Event Management & Wedding Planners

Travel & Accommodations

Enjoy Holidays in India & Across the Globe with ONTIME

Inbound & Outbound Tailor Made Tours

Ontime Luxurious Apartment

Rent-a-car Service Across India

Visa & Air Tickets | Travel Insurance

ONTIME HOSPITALITY SERVICE (Mumbai, India)

+91-22-26848985/66952866/26837175

+91-9833120569

info@ontimetravel.net, chetna@ontimetravel.net

www.ontimetravel.net | www.ontimeapartments.com

On kanshi TV

channel 864.

SATURDAY at

6 :00 pm

SUNDAY at

6 :00 pm

Ambedkarites News and Views

by

BUDDHIST INTERNATIONAL MEDIA

Mob : 07411 251 804, 07847 307 059
---
12 August 2018

BUSINESS

www.theasianindependent.co.uk

Amritsar's fan, carpet industry on brink of closure

Amritsar : Amritsar's once

famous fan manufacturers and

carpet weavers are on the verge

of extinction due to high input

cost, shortage of skilled labourers,

lack of innovation and

flight of production units to

other states.

The number of fan manufacturers

has shrunk to less than 70

from over 2,500 units in early

80s, industry experts said.

Amritsar, which was a major

hub for producing various

types of fans - ceiling, table,

exhaust and pedestal - is now

struggling to survive.

"Gradually, Amritsar industry

has lost to other production

centres such as Ghaziabad,

Delhi and Varanasi. As these

centres are closer to source of

High input cost, shortage of

skilled labourers to blame

Bloomberg : India offered

Uganda a $200-million credit

line to fund energy and agriculture

projects during Prime

Minister Narendra Modi's visit

to the East African nation.

India, which already has

raw materials, the Amritsar

units lost on competitiveness,"

said Baladev Singh, a fan manufacturer

of Amritsar.

The manufacturers also

complained that discontinuation

of freight equalisation policy

made the raw material costlier

for the city-based manufacturers

as compared to manufacturers

of other states.

Skilled workers also migrated

for better future to other

states with the growth of similar

industrial clusters in different

parts of North India, the

manufacturers said.

Former fan manufacturerturned-hotelier

Satnam Singh

recalls that once flourishing

business has become a cottage

industry where the proprietor is

defense cooperation with

Uganda, is ready to strengthen

its collaboration with Uganda,

Modi said in a televised speech

in Entebbe.

Uganda may use the funds to

purchase Indian merchandise

the worker and his residence is

the workshop. He blames the

government's apathy for the

India to lend Uganda $200

million for energy, farming

India, which already has defense cooperation with Uganda, is ready to strengthen

its collaboration with Uganda, Modi said in a televised speech in Entebbe.

for the two industries, President

Yoweri Museveni said. The two

nations will cooperate on technology

for solar power and irrigation,

and the equipment may

be assembled or manufactured

in Uganda, he said.

Indian exports to Uganda

narrowed to $736 million at

present from $1.2 billion in

2015, while Ugandan shipments

to the subcontinent

increased to $44 million from

$24 million during the same

period, Museveni said.

Modi, in Africa for a summit

of the BRICS nations, also

signed deals worth $200 million

in Rwanda for irrigation

projects and the development

of special economic zones.

Jerusalem : Israel's national

carrier El Al has withdrawn its

plea filed in the country's top

court against the government's

decision to allow Air India to

fly over Saudi Arabia's airspace

on the Delhi-Tel Aviv route,

which it had claimed gave its

competitor an unfair competitive

edge.

Israel's High Court of Justice

had urged El Al to drop the petition

it filed in March this year,

days after Air India's inaugural

flight landed in Tel Aviv on

March 22. In a statement to the

Tel Aviv stock exchange, the airlines

said its decision was made

following a hearing on the matter

on July 18. No further details

were provided, but it seems the

airlines decided to pay heed to

the court's request. El Al had

filed an urgent petition to the

court against the Israeli government,

Transportation Ministry

and the Civil Aviation Authority,

claiming that granting the Indian

airline permission to fly the

route, which significantly

reduces the cost and flight time,

gave a foreign company an

unfair competitive advantage

and violated the state's commitment

to Israel's national carrier.

The Air India flight between

Delhi and Tel Aviv flies over

Saudi and Omani airspace,

two countries with which Israel

misery. "Leave aside any

bailout package, no government

ever bothered to even

New Delhi : The government

has moved the Delhi High Court

to enforce a $3.8-billion recovery

from Reliance Industries

(RIL), Shell and ONGC following

an English court ruling

over its share from the Panna-

Mukta and Tapti fields in

western offshore, Oil Minister

Dharmendra Pradhan said on

Wednesday. In a written reply

in the Rajya Sabha, Pradhan

said based on the Final Partial

Award (FPA) dated October

12, 2016, the Directorate

General of Hydrocarbons

(DGH) had on May 25, 2017,

raised demand for $3.8 billion

on ONGC, RIL and Shell

towards Government of India

share of profit petroleum and

royalty.

RIL and Shell challenged the

FPA before the High Court in

London. ONGC was not party

constitute a commission to take

stock of the problems the

industry is facing," he said.

The government officials

have been evasive on this matter.

The department does not

keep trade-specific numbers of

industrial units. Besides, it is

not mandatory for industries to

register themselves with the

department, Department of

Industry and Commerce

Deputy Director BS Brar said.

He said no assessment was ever

carried out to know the status

of local industries.

The carpet industry of the

city has a similar story. It has

been facing hard times because

of acute shortage of trained

manpower.

The city, which was once

known for hand-made Persianstyle

carpets (Bukhara style), is

witnessing its extinction. The

city had seen the glorious days

of carpet weaving as Amritsar's

to the arbitration.

"The High Court, London,

rejected the petition filed by

RIL and Shell on April 16,

2018, except on one issue

which was remanded to the

Arbitral Tribunal," he said. "For

enforcement of the FPA,

Government has filed a petition

before the Delhi High Court."

In December 2010, BG

Exploration & Production India

Ltd, which was subsequently

acquired by Shell, and RIL, initiated

arbitration against the

products used to be exported to

Russia and European countries

until 1995.

Industrialists also link the

attitudinal change to this

decline. Weaving is mainly

done by skilled women.

Weaving required extremely

focused attention and arduously

long sitting hours. Besides,

disenchantment due to low

salaries, TV serials also distracted

the women workforce.

Increased awareness towards

girls' education and attractive

career options also led to the

shortage of trained workforce.

Carpet exporter Vikram

Makhani said a steep reduction

in GST rate was unlikely to

revive the industry. Focal Point

Industries Association chairman

Kamal Dalmia said the

government could revive these

clusters by providing financial

incentives and technical assistance.

Govt moves court to recover

$3.8 bn from RIL, Shell, ONGC

doesn't have diplomatic relations.

The permission by the two

countries to allow Air India to

fly through their airspace on the

Government of India (GoI)

after a dispute over the state's

share of profit and royalty from

Panna-Mukta and Mid and

South Tapti contract areas off

the west coast. The Arbitration

Tribunal gave its FPA on

October 12, 2016. RIL and

Shell initiated proceedings

under the English Arbitration

Act, 1996 to challenge the

arbitration award before the

English Commercial Court in

November 2016. On May 2,

2018, the court delivered its

final judgment, remitting a significant

issue for redetermination

by the Tribunal within

three months while disposing of

eight other issues, RIL had said

on May 24. The Arbitration

Tribunal has scheduled a hearing

to determine the remitted

issue and will thereafter deliver

an award, it had said.

Israeli airline drops plea against Air India flights via Saudi airspace

The Air India flight between Delhi and

Tel Aviv flies over Saudi and Omani

airspace, two countries with which

Israel doesn't have diplomatic relations.

way to Tel Aviv was hailed as

"historic" by Israeli Prime

Minister Benjamin Netanyahu

and Transportation Minister

Yisrael Katz. It was also projected

in the Israeli media as a sign

of warming ties between Israel

and the Gulf countries, something

that Netanyahu keeps hinting

at when he talks about his

country's growing acceptance

worldwide under his leadership.

El Al in its petition argued that

allowing Air India to cross over

airspace that is closed to Israeliowned

airlines violated the 1944

Convention on International

Civil Aviation as well as various

Israeli government decisions.

The airline noted in its petition

that in a December 1994

decision to privatise El Al, the

government said that Israeli

civil aviation policy must

ensure "equal opportunities

between Israeli airlines and foreign

airlines on a competitive

basis" and ensure "sound and

fair competition".
---
www.theasianindependent.co.uk

HEALTH

August 2018

13

Public health dept data: Children form 10

per cent of Maharashtra's leprosy pool

Leprosy is an infectious

disease caused

by mycobacteria

laprae that affects skin

and can lead to

physical deformity

and disfigurement.

Even as the Union Health Ministry's

deadline to eliminate leprosy across the

country by 2018 approaches, in

Maharashtra alone, children account for

10.11 per cent of the state's total leprosy

burden, indicating that the bacterial

infection is still spreading among children.

Leprosy is an infectious disease

caused by mycobacteria laprae that

affects skin and can lead to physical

deformity and disfigurement.

Data from the state public health

department shows that till March 2018,

1,624 children were diagnosed with leprosy,

of the total pool of 16,065 patients

in the state. Of them, in 27 per cent of

the infected children, the disease has

progressed into multi-bacillary, a condition

where there are more than five skin

lesions on the body.

While India declared itself leprosy

free in 2005 - meaning leprosy cases

were less than one per 10,000 people -

in the past few years, the number of

cases have risen across the country. The

World Health Organisation has set a

deadline for 2020 to completely eliminate

deformities due to leprosy among

children. But with newer cases coming

up, experts believe the target may be

hard to achieve for India. Dr Atul Shah,

a plastic surgeon in Nanavati hospital

who treats deformities arising out of

leprosy, said it is necessary for the government

to actively find the hidden leprosy

population. "The disability proportion

has gone up, which means diagnosis

is happening much later," he said.

Shah said he still gets children with leprosy

at a stage when they develop deformity.

"Patients also ignore the lesions

until disability happens," he said.

Dr VV Pai, director at Bombay

Leprosy Project, said: "What we need is

active case finding to prevent late diagnosis

or deformity." In the initial stages,

Midlife fitness may

boost your heart health

A new study states that people with high fitness during their middle

age are less likely to develop or die from heart diseases later in

their lives. The effect of low fitness is real on heart diseases as well

as depression. People with high fitness during their middle ages are

significantly less likely to die from heart diseases in later life even

if they were diagnosed with depression, researchers including one

of Indian-origin suggested.The study, published in the journal of the

American Medical

Association Psychiatry, found

that participants with high fitness

were 56 per cent less

likely to die from heart diseases

following a depression

diagnosis. Depression has

been linked to several other

chronic medical conditions

such as diabetes, obesity and chronic kidney disease, but taking

anti-depressants are likely to help. But according to the researchers,

for patients with these conditions, the more appropriate treatment

may be exercise. The researchers said the reasons behind this may

partly be connected to the general health effects of physical activity,

including the fact that exercise decreases inflammation that may

cause depression. By reducing inflammation, the risk for depression

and heart diseases are lowered, the researchers mentioned.

"The earlier you maintain fitness, the better chance of preventing

depression, which in the long run will help lower the risk of

heart diseases," said co-author Madhukar Trivedi from the

University of Texas Southwestern Medical Centre in the US. For

the study, the researchers examined database of nearly 18,000 participants

who had their cardio-respiratory fitness measured at an

average age of 50 years.

The researchers used Medicare Administrative data to establish

correlations between the participants' fitness at midlife to rates of

depression and heart diseases in older age. "There is enough evidence

to show that the effect of low fitness on depression and heart

diseases is real. But further study is needed to establish the mechanism

by which this effect happens," Trivedi noted.

the disease is identified as paucibacillary,

with less than five skin lesions on

body. In Maharashtra, 1,182 children

have been identified with paucibacillary

leprosy, forming 16.2 per cent of total

paucibacillary burden in Maharashtra

and 442 children (five per cent) have

more than five lesions termed as multibacillary.

"In Mumbai, deformity cases

are low. We found only six children with

Eating food

that heals from

within JAMUN

Research is underway to develop various

sources for stem cells, as well as

to apply stem-cell treatments for neurological

disease and chronic diseases

like heart disease and diabetes.

The search for novel treatments

for diseases, longevity

and wellness is far more than

ever before. Be it acupuncture,

naturopathy, massage,

homoeopathy, biofeedback,

Ayurveda or even stem cell therapy

and many others, they are

not integrated into orthodox

medicine. Most do not get

approved by FDA. Rather they

represent what is called alternative

or complementary therapies.

According to recent reports in

the US, a more open view is

being considered for stem cell

therapy. Stem cell therapy is the

use of stem cells to treat or prevent

a disease or condition. Stem

cells are a class of undifferentiated

cells that are able to differentiate

into specialised cell types.

Commonly, stem cells come

from two main sources: Stem

cells from the bone marrow are

the most widely used in stemcell

therapy, but some therapies

use stem cells from umbilical

cord blood.

Research is underway to

develop various sources for stem

cells, as well as to apply stemcell

treatments for neurological

disease and chronic diseases like

heart disease and diabetes. Other

potential areas of use include

arthritis, stroke, lung disease,

sports injuries, hair loss and skin

problems with ageing like wrinkles.

Stem-cell therapy has become

controversial. This controversy

is often related to abortion politics

and to human cloning. While

these issues will continue to be

researched, the good news is that

grade I, and three with grade II disability

in the city at our centre. The deformity

cases are much higher in tribal

regions of Thane and Palghar," Pai said.

His NGO has treated 866 leprosy

patients between 2003 and 2017 and of

them 55 were children. An 11-year-old

from Dombivali, now undergoing a

multi-drug therapy at the centre, was

diagnosed after a year-long delay in

2017 with clawed hands and skin

lesions on her face, stomach, arms,

thigh and hip. While her mother also

had leprosy and was undergoing active

treatment, she failed to identify her

daughter's symptoms.

"Her nerve damage was controlled

but the lesions were huge on her body.

Diagnosis was very late" Pai said. It

takes six months to one year for a

patient to develop deformities in the

form of clawed hands and feet.

Across Maharashtra, the Directorate

of Health Services has recorded 1,181

cases of disabilities among leprosy

patients until March.

A slight dip in the number of children

getting diagnosed with disabilities is

encouraging. But doctors claim that

screening programs need to be regular.

From 2016-17 to 2017-18, number of

leprosy cases among children dipped

from 11 to 10.11 per cent. In 2014-15,

2,045 children, in 2015-16, 1,764 children

and in 2017-18, 1,624 children

have been diagnosed with leprosy in

Maharashtra. Rati Mishra, who is

attached to the National Centre for

Promotion of Employment for Disabled

People, said there are 119 provisions

under various acts in the Constitution

that are discriminatory against leprosy

patients. "The funding for the program

is low. We need more human resources

to screen patients door-to-door as the

social stigma demotivates patients from

coming forward," she said.

one can use one's own food to

activate our body's own dormant

stem cells.

A viable alternative to stem

cell transplantation is to design

approaches that stimulate

endogenous stem cells to promote

healing and regenerative

medicine. Many natural compounds

have been shown to promote

healing. A research published

in 2006 demonstrates

effects of several natural compounds;

phytonutrients in green

tea, berries and vitamin D in

combination act to promote healing

via an interaction with stem

cell populations. These are commonly

consumed foods like our

very own jamun or black berry,

spirulina and Japanese seaweed.

Jamun fruit and seeds have a

history of use as a hypoglycaemic

agent in treating diabetes

in traditional medicine in India

which has been validated by several

scientific studies. Not only

diabetes, many studies are

demonstrating its cancer-fighting

qualities. It has phytonutrients,

among them glycosides.

Recent preliminary studies show

they guide our stem cells to produce

more red blood cells and

thereby can potentially benefit

people suffering from heart failure.

These are new areas of

research and offer potential in

treating disease. However, till

more information is available,

including these simple foods in

our diet can certainly help in

repairing and healing our bodies

from inside without any side

effects.
---
14 August 2018

HEALTH

www.theasianindependent.co.uk

'Processed food like

bacon and hot dogs

bad for mental health'

The study revealed that those who were

hospitalised for mania were more than three

times more likely to have had eaten beef jerky,

ham or salami in the recent past. A recent

study has suggested that consumption of

processed meats like bacon and hot dogs can

be linked to mental breakdowns. A Johns

Hopkins Medicine study has revealed that

those who were hospitalised for mania were

more than three times more likely to have had

eaten beef jerky, ham or salami in the recent

past and scientists are of the opinion that this

could be due to the presence of nitrates that

chemicals used to process and cure meats.

The same researchers conducted an experiment

on rats where they were fed on diets with

added nitrates. The rats showed mania-like

hyperactivity just after a few weeks.

Although genetic and other risk factors

have been associated with manic episodes that

characterise bipolar disorder, they were not

able to explain the cause behind the mental illness.

Researchers, hence, are looking at diet as

a plausible causative factor among other

things. Robert Yolken, professor at the Johns

Hopkins University School of Medicine, said,

"Future work on this association could lead to

dietary interventions to help reduce the risk of

manic episodes in those who have bipolar disorder

or who are otherwise vulnerable to

mania." For the study, dietary data of 1,101

people aged 18 to 65 between 2007 and 2017

were collected and analysed and consumption

of cured meat was identified as an important

contributing factor. "We looked at a number of

different dietary exposures and cured meat

really stood out," Yolken said. The survey did

not take into account the time frame of cured

meat consumption hence the researchers could

not infer exactly how much cured meat triggers

an individual's risk of mania.

Multiple pregnancies might make

women's cells age more quickly,

according to a study that may explains

why women with many children tend

to show signs of accelerated ageing.

The findings, published in the journal

Scientific Reports, were reached

by looking at two separate markers of

cellular ageing - telomere length and

epigenetic age - in hundreds of young

women with different reproductive

histories in the Philippines.

"Telomere length and epigenetic

age are cellular markers that independently

predict mortality, and both

appeared 'older' in women who had

more pregnancies in their reproductive

histories," said Calen Ryan, a doctoral

student at University of Washington in

the US.

"Even after accounting for other

factors that affect cellular ageing, the

number of pregnancies still came out

on top," said Ryan.

Cellular ageing was accelerated by

between 0.5 and 2 years for each additional

pregnancy, a surprisingly large

effect according to the researchers.

Another finding they did not expect

was the fact that women who were

Is it safe for

diabetics to

eat mangoes?

Let's find out

A diabetic can eat half a mango daily. However, they should avoid having the juice.

Also, they must keep a gap of an hour between having food and consuming a

mango. Is it worth the risk? Totally, as it comes with innumerable health benefits.

Mangoes are synonymous with summer and the only good

thing offered in the scorching heat. The juicy yellow pulp is

loaded with the goodness of fibre, antioxidants, vitamin A, vitamin

B6, vitamin E, vitamin K, but the health benefits of mangoes

have often been debatable because of its high calorie and

sugar content. That's probably the reason why many people

avoid binging on the king of fruits, especially diabetics.

But what if these are just a bunch of myths and it's safe for

diabetics to eat it? According to the book Healing Foods by

Miriam Polunin, mangoes contain enzymes that aid breakdown

and digestion of protein, and also fibre, which keeps the digestive

functions working efficiently. But how much is advisable?

Dr Anil Bhoraskar, senior diabetologist, SL Raheja Hospital

says, "A diabetic patient can eat half a mango daily. However,

they should avoid having the juice. Also, they must keep a gap

of an hour between having food and consuming a mango".

Bhoraskar also suggests checking blood sugar levels after eating

a slice of mango. "If the blood sugar level is beyond 25% then

you must not eat the rest of the mango.

Each food item has a varying response to an individual's

body, It is very important to know that all food items act differently

on the same individual on different days and this is known

as interpersonal variation. The consumption of other food items

alongside the mango can also have a variable effect", he said. Is

it worth the risk? "Mangoes are high in fibre content and contains

lots of antioxidants like zeaxanthin, quercetin, astragalin

and beta-carotene which help boost brain health and function

along with Vitamin B6", says Dr Rinki Kumari, chief dietitian

at Fortis Hospital. If diabetics need to relish the delicious fruit,

a certain amount of fitness is also important. So is a decent balance

between mango and other dietary intakes.

currently pregnant had cells that

looked younger - not older - than predicted.

"Paradoxically, even though a

woman's biological age was higher

with each child that she had, if a

woman was pregnant when the measurements

were taken, her epigenetic

age, and to a lesser extent her telomeres,

looked 'younger' than predicted

for her chronological age," said

Christopher Kuzawa of Northwestern

University in the US.

"It's an interesting situation in

which pregnancy makes someone look

temporarily 'young,' but there appears

Daily exercise may cut heart

attack risk even in polluted areas

Regular physical activity may

reduce the risk of heart attack, even in

areas with moderateto-high

levels of traffic

pollution, a study

claims.

"While exercise is

known to reduce cardiovascular

disease

risk; pollution can

increase the risk of

cardiovascular disease,

including heart

attacks, asthma and chronic obstructive

lung disease," said Nadine Kubesch

from the University of Copenhagen in

Denmark. "Currently there is little data

on whether poor air quality cancels out

the protective benefits of physical

activity in preventing heart attacks,"

said Kubesch, lead author of the study

published in the Journal of the

American Heart Association.

Researchers in Denmark, Germany and

to be some lasting, cumulative relationship

between the number of pregnancies

and more accelerated biological

age," said Kuzawa.

Researchers have known from historical

records and epidemiological

studies that women who have many

children tend to have slightly shorter

lives and succumb to different diseases

than those who do not.

"What we didn't know was whether

we could detect these kinds of effects

using measures of cellular aging,"

Ryan said.

Although there is good evidence

that having more children, especially

more than four or five, can increase

the risk of certain diseases and shorten

lifespan, researchers still do not really

know why.

"Our study points to cellular

changes during pregnancy, possibly

related to adaptive changes in the

mother's immune system as a possible

explanation," said Kuzawa.

"There's still a lot we don't know.

For instance, it's not clear whether

these relationships will persist into

later life as these women age. We also

do not know whether these changes

Spain evaluated outdoor physical activity

levels (sports, cycling, walking and

gardening) and nitrogen

dioxide (NO2 pollutant

generated by

traffic) exposure in

51,868 adults, aged 50-

65. Over a 17.7-year

period, there were

2,936 first heart attacks

and 324 recurrent heart

attacks. Higher levels

of pollution were associated

with more heart attacks, however,

the risk was lower among those who

were physically active, the researchers

found. Moderate cycling for four or

more hours per week cut risk for recurrent

heart attack by 31 per cent; and

there was a 58 per cent reduction when

all four types of physical activity

(together totalling four hours per week

or more) were combined, regardless of

air quality.

Multiple pregnancies make women's cells age faster

"Paradoxically, even

though a woman's biological

age was higher with

each child that she had, if

a woman was pregnant

when the measurements

were taken, her epigenetic

age, and to a lesser extent

her telomeres, looked

'younger' than predicted

for her chronological

age," said Christopher

Kuzawa of Northwestern

University in the US.

will actually lead to less favourable

long-term health outcomes," he said.

To answer these questions, a follow-up

study on the same women 13

years after the first measurements,

taken in 2005, is already underway.
---
www.theasianindependent.co.uk

Researchers at the Georgia

Institute of Technology in the

US analysed data from multiple

research papers on dehydration

and cognitive ability. The data

pointed to functions like attention,

coordination and complex

problem solving suffering the

most, and activities like reacting

quickly when prompted not

diminishing much.

"The simplest reaction time

tasks were least impacted, even

as dehydration got worse, but

tasks that require attention

were quite impacted," said

Mindy Millard-Stafford, a professor

at Georgia Tech.

As the bodies of test subjects

in various studies lost water, the

majority of participants increasingly

made errors during attention-related

tasks that were

mostly repetitive and unexciting,

such as punching a button

in varying patterns for quite a

few minutes. There are situations

in life that challenge attentiveness

in a similar manner,

and when it lapses, snafus can

happen. "Maintaining focus in a

long meeting, driving a car, a

monotonous job in a hot factory

that requires you to stay alert

are some of them," said Millard-

Stafford, a principal investigator

of the study published in the

journal Medicine & Science in

Sports & Exercise. "Higherorder

functions like doing math

or applying logic also dropped

off," said Millard-Stafford. The

researchers have been concerned

that dehydration could

raise the risk of an accident, particularly

in scenarios that combine

heavy sweating and dangerous

machinery or military

hardware. There's no hard and

fast rule about when exactly

such lapses can pop up, but the

researchers examined studies

with one to six per cent loss of

body mass due to dehydration

and found more severe impairments

started at two per cent.

That level has been a significant

benchmark in related

studies."There's already a lot of

quantitative documentation that

if you lose 2 percent in water it

HEALTH

Dehydration can lower

cognitive abilities

Just two hours of vigorous work in the summer sun without drinking fluids

could be enough to blunt concentration, say scientists who found that

cognitive functions often deteriorate as the body gets dehydrated.

affects physical abilities like

muscle endurance or sports

tasks and your ability to regulate

your body temperature,"

said Millard-Stafford.

"We wanted to see if that

was similar for cognitive function,"

she said. The researchers

looked at 6,591 relevant studies

for their comparison, then narrowed

them down to 33 papers

with scientific criteria and data

comparable enough to do metadata

analysis. They focused on

acute dehydration, which anyone

could experience during

exertion, heat and/or not drinking

as opposed to chronic dehydration,

which can be caused

by a disease or disorder.

"If you weigh 200 pounds

and you go work out for a few

of hours, you drop four pounds,

and that's 2 per cent body

mass," Millard-Stafford said.

"With an hour of moderately

intense activity, with a temperature

in the mid-80s, and moderate

humidity, it's not uncommon

to lose a little over 2

pounds of water," she said.

Turns out, there is a key connection

between viruses and

inflammatory bowel diseases

like ulcerative colitis and

Crohn's disease. A study led by

a researcher at the University of

Colorado Anschutz Medical

Campus focused on viruses

inhabiting bacteria in the intestine

known as bacteriophages

or simply phages. "Phage numbers

are elevated at the intestinal

mucosal surface and increase

in abundance during inflammatory

bowel disease (IBD), suggesting

that phages play an

unidentified role in IBD," said

Duerkop, lead author of the

study published Monday in the

journal Nature Microbiology.

IBD poses significant health

burdens worldwide and has

inspired intense investigation

into the environmental factors

causing persistent inflammation

of the intestine. Microbial communities

are critical in maintaining

intestinal health but

changes in the composition of

these organisms may cause an

inflammatory response by the

body. According to the

researchers, most studies looking

at how these microbial communities

might spark inflammation

have focused chiefly on

bacteria rather than the viruses

August 2018

15

Inflammatory

bowel diseases

like Crohn's

have been linked

to this virus

residing inside them. When

inflammation occurs,

researchers found that phage

communities change randomly

leading to a genetic signature

indicative of the inflammatory

environment. "We hypothesize

that inflammation or other host

defenses alter phage abundances

during colitis," the study

said. "Such stresses could produce

ecological disturbances in

the intestinal environment, driving

alterations within the viral

community," the study further

pointed out Those disturbances

could be the result of the viruses

killing off beneficial bacteria

in the intestine and allowing for

`bad actor' bacteria to cause

inflammation and bowel disease.

Clinicians could target

certain bacteria with viruses to

eliminate bacteria that lead to

inflammation. Bacteria could

be manipulated to circumvent

the development of disease.

"We could promote the

growth of good bacteria - a

kind of phage therapy,"

Duerkop said. "We could perhaps

use phages as markers to

identify someone predisposed

to developing these diseases.

While there is clearly more

research to do, the potential is

very exciting," he added.

White rice and diabetes

are not NATURAL FITS

Keep these diet tips in mind

Calories in white rice: The

better half of many delectable

food combos like dal-chaawal,

rajma-chaawal, biriyanis and

more, white rice is also a good

source of carbohydrates. But is

it safe for diabetics?

Though some might argue

that brown rice is a more

healthy alternative, white rice

is a more popular and preferred

foodgrain across India, especially

its eastern regions. White

rice is a good source of carbohydrates

and the better half of

many delectable food combos

like dal-chaawal, rajma-chawal,

biryaanis, pulao, and so on.

However, experts say that the

calories in white rice can spike

blood sugar levels, and excessive

consumption could

increase the risk of developing

type-2 diabetes.

White rice vs brown

Since it is an easily available,

delicious food item, diabetics

are often at a loss as to

whether or not to avoid white

rice. The solution, as with

every other thing in life, is to

exercise moderation.If you are

diabetic, monitor your white

rice intake and have a small

portion once a week.

Brown rice might be a better

option if you are diabetic as it

has a low glycemic index

which helps in the stabilisation

of blood glucose levels. It is

also a good source of magnesium,

vitamin B6, selenium,

phosphorus, thiamine, niacin,

manganese and is high in fibre.

Here's a tip to keep in mind

when preparing white rice. Do

not have just plain white rice as

it is devoid of nutrients such as

fibre and magnesium. Add vegetables

such as carrots, beans,

peas, soy beans, onions, jeera

to increase its nutrient value.

Ideal diet for diabetics

Naina Singhania of thefitnesity.in,

says a diabetic person

should eat at regular intervals

and have a balanced diet. It

should include "all proteins,

complex carbs, vitamins, minerals

and essential fats. So, lots

of mushrooms, moong, dal,

milk, tofu, chicken, fish and

eggs." Also, get good fats from

nuts like almond, walnuts and

from seeds like pumpkin seeds,

sunflower seeds and flaxseeds.

Dr Rinki Kumari, chief

dietician, Fortis Hospitals,

Bangalore, advises diabetics

should understand how different

foods affect blood sugar. It

is best to pick foods with low

glycemic index.

"Fill half plate with nonstarchy

vegetables. Round out

the meal with other healthy

choices - whole grains, nuts

and seeds, lean protein, fat-free

or low-fat dairy, and small portions

of fresh fruits and healthy

fats."
---
16 August 2018

ASIA/WORLD

www.theasianindependent.co.uk

1.67 million ballots

rejected in Pakistan

polls: Report

Islamabad : About 1.67 million

votes were excluded from the count in

Pakistan's July 25 general election, surpassing

the number of ballots rejected in

2013 polls, according to a report by an

independent poll watchdog.

Free and Fair Election Network

(FAFEN) is a coalition of 30 domestic

non-governmental organizations that

observe general election and mobilize

voters. According to the FAFEN report,

the increase in the number of discarded

ballots was a ubiquitous phenomenon

observed in Pakistan's all four provinces

and Islamabad Capital Territory (ICT).

Overall, the increase was recorded at

around 11.7 per cent. There were more

than 100 million registered voters in

Pakistan but out of them, only about 51

per cent exercised their franchise,

according to the Election Commission.

Around 40 per cent increase in the number

of rejected votes was observed in

Balochistan, 30.6 per cent in Khyber

Pakhtunkhwa including Federally

Administered Tribal Areas (FATA), 7

per cent in Sindh and 6.6 per cent in

Punjab, said the report cited by Geo

News. In ICT, the number of ballots

excluded from the count was over double

the discarded ballots in the region in

2013 election. The report also said that

the number of votes excluded from the

count surpassed the margin of victory in

120 (21 per cent) of the 570 provincial

assembly constituencies where polls

were conducted. These included 58

constituencies in Punjab, 24 in Khyber

Pakhtunkhwa, 22 in Sindh and 16 in

Balochistan. The victory margin in 79

national and 169 provincial assembly

seats was less than 5 per cent of the total

votes cast, FAFEN said.

N.Korea still pursuing

nuclear, missile

programmes: UN report

Washington, A confidential UN

report has accused North Korea of continuing

to

d e v e l o p

nuclear and

missile programmes

in

violation of

international

sanctions. The

report was prepared

by independent experts who submit

their findings every six months to the

UN North Korea Sanctions Committee

of the Security Council, CNN reported

on Saturday. The report also says North

Korea is defying sanctions through

diplomats and others based overseas and

continues to sell conventional weapons

to fuel violence. The revelation comes as

US Secretary of State Mike Pompeo, in

Singapore for an Association of

Southeast Asian Nations (Asean) ministerial

meeting, told reporters that he was

an advocate of keeping pressure on

Pyongyang as the country has yet to take

any concrete steps to dismantling its

nuclear program. "I've also emphasized

the importance of maintaining diplomatic

and economic pressure on North

Korea, to achieve the final, fully verified

denuclearization of North Korea as

agreed to by chairman Kim (Jong-un),"

he said. Speaking to journalists on the

sidelines of the gathering of southeast

Asian diplomats, Pompeo said he had

called for "the complete shutdown of

illegal ship-to-ship transfers of petroleum

destined for North Korea".

Boeing, SpaceX human

spaceflight postponed

to 2019 : NASA

Washington, NASA has confirmed

a delay in the first piloted flights of

Boeing and SpaceX, part of NASA's

Commercial Crew programme to send

humans to the International Space

Station (ISS) on private US

spacecraft. SpaceX is targeting

November 2018 for Crew

Dragon's first uncrewed

demonstration mission

(Demo-1), three months later

than the previous schedule

released by NASA early this

year. The crewed demonstration

flight, with two astronauts

on board, will follow in

April 2019, four months later

than previously announced.

"We believe, the earliest

time we can confidently do

that will be in mid-2019 after

flying an uncrewed flight test

late this year or early next

year," said John Mulholland, vice president

and programme manager for

Man jailed for breaking into Buckingham Palace

Boeing's Commercial Crew effort, in a

NASA blogpost. "I'm incredibly proud

of the progress our team has made, and

it has been inspiring to watch them

work through challenges quickly, while

developing a brand new human-rated

spacecraft that Boeing, NASA and the

Pompeo visits Malaysian PM

ahead of Asean summit

Kuala Lumpur, US Secretary of

State Mike Pompeo on Friday met

Malaysian Prime Minister Mahathir

Mohamad on Friday before leaving

for Singapore to attend a summit of

foreign ministers of the Association of

Southeast Asian Nations

(Asean). Pompeo, who

arrived in Malaysia on

Thursday night, visited

Mahathir Mohamad in

Putrajaya and congratulated

the 93-year-old leader

for his surprise victory in

the elections held in May,

reports Efe news.

Pompeo and Mahathir

discussed a number of

issues of mutual interest, according to a

statement by the Malaysian government.

The US and Malaysia established

diplomatic ties in 1957, when the latter

became independent from British rule

and strengthened them in 2014 by signing

a partnership agreement. After

meeting Mahathir, Pompeo will leave

for Singapore, the second stop of his

Southeast Asia tour, where he will

attend the Asean meeting,

coinciding with the visit of

a North Korean delegation,

headed by his counterpart

Ri Yong-ho. On Thursday,

the Asean foreign ministers

urged the two Koreas, the

US and other parties to sustain

efforts to denuclearize

the Korean peninsula and

establish lasting peace.

Asean consists of Myanmar,

Brunei, Cambodia, the Philippines,

Indonesia, Laos, Malaysia, Singapore,

Thailand and Vietnam, which have a

joint population of around 630 million.

London : A homeless man

who trespassed into the

grounds of Buckingham Palace

before damaging a glass display

cabinet and falling asleep

on it has been jailed. Steven

Lawlor, 44, entered the protected

royal site on July 16 and

broke poster boards and glass

cabinets fixed to metal railings

to use as bedding, Westminster

Magistrates' Court heard, the

BBC reported.

He stayed there for more

than four hours before the security

guards spotted him on CCTV cameras.

Lawlor was jailed for 28 days

for trespassing and 21 days for criminal

damage, to be served concurrently.

The Queen was not in the palace at

that time. Lawlor appeared in court

nation can be proud of," Mulholland

added. Boeing's CST-100 Starliner, on

the other hand, will likely perform two

crucial test flights next year, instead of

this year as planned. Each test flight

will provide data on the performance

of the rockets,

spacecraft, ground systems,

and operations to ensure the

systems are safe to fly astronauts.

The crew for Boeing's

Crew Flight Test and

SpaceX's Demo-2 flights will

each include at least a flight

commander and pilot aboard

to test out the systems. After

successful completion of the

flight tests with crew, NASA

will review flight data to verify

the systems meet the

agency's safety and performance

certification requirements

and are ready to begin

regular servicing missions to the space

station, the US space agency said.

CBI moves request

for Choksi's extradition

from Antigua

New Delhi : The extradition request

for fugitive diamond merchant Mehul

Choksi, who has secured an Atiguan passport

and is living there, will soon be sent

to the Caribbean country, the CBI said on

Friday. The Central Bureau of

Investigation (CBI), which is probing the

Rs 13,500-crore banking fraud allegedly

committed by the jeweller and his nephew

Nirav Modi, said that its letter to get

Choksi deported has been forwarded to

the Ministry of External Affairs (MEA).

The CBI sent on Monday the letter to

the Union Home Ministry which in turn

forwarded it to the MEA, an official said.

In its request to the Home Ministry, the

CBI said Choksi's extradition was being

sought "on grounds of principle of reciprocity

and dual criminality". A source

revealed that the MEA has received the

extradition request from the CBI and is

currently in the process of conveying it to

the authorities in Antigua and Barbuda.

via video-link on Friday and pleaded

guilty to criminal damage and trespassing

on a protected site. He caused

210 pound of damage but no order of

We should have

the right to

criticise religion:

Bangla writer

New Delhi : Bangladeshi-

American human rights

activist and writer Rafida

Bonya Ahmed, whose husband

Avijit Roy was hacked

to death by Islamic extremists

in February 2015 while they

were visiting Dhaka, has

called for citizens right to critique

the religion.

She was participating at an

international media forum

here on Saturday. "Religion is

a problem. It propagates hate

and divisions. We should

have the right to criticize religion.

You don't pick up

machetes, you pick up the

pen. I see the hunger for

change," Ahmed said at a session

titled "Fighting

Machetes with a Pen" during

the closing day of The Media

Rumble.

Unnerved by the personal

tragedy and attack that she

and her late husband faced,

she spoke in concern of issues

related to free speech and

highlighted the rise of religious

extremism and censorship

in Bangladesh. She said

that religious fractiousness is

injected very strategically in

the country by those in power

for purely self-driven ends.

She also mentioned that extrajudicial

killings have become

common, and stated that religion,

politics and class issues

are all related. She said such

issues have to be talked about

in public space. Rafida Bonya

Ahmed and her late husband,

Avijit Roy, a writer, blogger

and online activist, was

attacked with machetes by

Islamic extremists in Dhaka.

Roy died and

Ahmed was critically injured.

She had received deep

wounds in her head.

The Media Rumble, organised

by Newslaundry and

Teamwork Arts, touched

upon a wide range of issues

facing the media industry and

journalists in contemporary

times. The two-day event was

held across several venues at

India Habitat Centre.

compensation was made

because of his limited

means, the report said.

The break-in prompted

concerns over the security

of the royal site. The Times

newspaper reported that

there were at leat two

intruders at the palace last

year. A 22-year-old man

was arrested trying to climb

a security fence last

August, while in December

a man was caught attempting

to scale a wall within the perimetre

fence. In 2016, a convicted murderer

was jailed after climbing over

the wall to get inside the palace.
---
www.theasianindependent.co.uk

ENTERTAINMENT

When Kher turned into

Freeman's fanboy!

Till date, he has won a number of

prestigious awards besides getting

nominated for global honours such as

Screen Actors Guild Awards and

BAFTA. In fact, this year itself,

Anupam Kher was nominated

for his outings in The Big Sick

and The Boy With the Topknot

(both from 2017).

Interestingly, the senior actor

readily admits that he still

behaves like a fanboy when he

meets or spots iconic actors.

"When I go for global award

functions, whichever direction

I look at, I see best actors from

across the world sitting around.

And there is a fan inside each

one of us, including me. When

Morgan Freeman got the lifetime

achievement award (at

Screen Actors Guild) earlier

this year, I ended up clicking a

photo with him.

In fact, I went up to him as

a fan. When I approach

someone like that, I don't do

it as an actor, who has done

500 films and is a Padma

Bhushan awardee; I go only as

a fanboy," he says. At international

functions, Kher feels like

he is "representing my country".

"So, for me, it is like, 'India's

Anupam Kher' or 'Indian actor

Anupam Kher', and it's a great feeling.

In fact, that's why when you see

sportsmen/ athletes [winning medals

at] Olympics or Commonwealth

Games etc., it gives you a sense of

Actors have

well-researched

scripts now:

Shabana Azmi

Veteran actor Shabana Azmi feels that the filmmaking process

in India has come a long way in India. Talking about more

acting workshops and the rising significance of the script,

Azmi states, "What's good about today's movies is

that there are acting workshops organised with

intent to bring familiarity between the actors

and characters, which is essential for any

film." "This also helps actors understand

the director's vision in a proper way.

Today, actors have well-researched

scripts in their hand which wasn't the

case with us, earlier," Azmi further

says, adding, "I always used to feel

strange about it, especially working

with child actors. The filmmaking

process has developed, which I

feel, is the best thing that has happened

to Indian cinema."

However, when it comes to

the quality of music being

churned out of Bollywood,

Azmi's different views.

"When I listen to today's

music, especially when it

comes to their lyrics, I find it

absurd. The quality has gone

down, unfortunately."

vShabana Azmi has appeared

in acclaimed films such as

Sparsh (1980), Arth (1982),

Godmother (1999), and more

recently, the 2016 Sonam-K

Ahuja starrer, Neerja.

pride. After all, your nationality is

mentioned right next to your name on

the passport," he says, adding that he

still inds "awards to e fantastic."

"It makes you feel good ecause you

are taught rom childhood that if you

study well, you will get an award. So,

it must be a great thing. I never got

awards in studies or sports. In fact, I

remember once my PT teacher, Sada

Singh, saw me running and he said,

'stop running Anupam, because even if

you run alone you will come second

(laughs)'. So, it is always a great feeling

to get awards," says the actor.

August 2018

17

Richa Chadha

takes a cue from

Jessica Alba

Richa Chadha has been busy filming for the second season of the web series

Inside Edge, and it seems she's going to sport a different look this time around.

According to a source from the production house, the actor's new style has

been inspired by Hollywood actor Jessica Alba.

A source reveals, "Her look in the show - that of a femme fatale - has been

inspired from Alba's character Max Guevera in the popular TV show, Dark Angel.

The show was hit in the West, and Alba's uber cool look was the talk of the town.

Following that, the makers zeroed in on a similar look for Richa that would match

her character in the series."

The makers of the show have apparently decided on an edgy look for Richa,

who plays Zarina Malik, the owner of a T20 cricket team in the show.

In season two, Richa is said to take the centre stage, and her character is bolder

and more powerful than she was in the previous season.

The source further explains, "The team wanted something that was chic and

modern and something that made Richa look powerful. When they

were looking for references, they chanced upon Jessica Alba's

look from Dark Angel, and Richa was drawn to it immediately."

The actor has also been

shooting a biopic on south

Indian adult star, Shakeela

Khan. She is flying between

Mumbai, and a remote

village in Karnataka,

where the

biopic

b e i n g

filmed. eat

lengths to

get

l o o k

right.

the

is

Go with

the flow

Modelling to acting to singing, Himanshi

Khurana has many a talent. No wonder,

she is the latest face of music videos

Social media is akin to a university in current times; be it your

business or career, all are hugely dependent on it... believes actress

and model Himanshi Khurana. In the age of 'influencers', this

Ludhiana girl is known for her act in music videos, something that

she has been doing for about a decade.

In Chandigarh, on Thursday, she spoke at length on how visibility

online is an indicator of success in any profession. "Short on time,

today everyone is looking for solutions on the web - courses, opportunities,

shopping, selling - today everything has converged on one's

phone and the competition is fierce," says this recently turned singer.

Work ethics As for moving from modelling to acting to singing,

this girl likes to go with the flow. "I started modelling in class 10 and

took up each project as it came my way. I was young, I didn't really

care. If work came my way, I did it or carried on with my life, but my

parents instilled in me strong work ethics."

She has quite a few Punjabi films to her credit as well, including

Jeet Langey Jahaan, Sadda Haq, Sukhpreet, Leather Life, Siffat and

Bol. "If I am offered a role that a film can do without, I am not going

to bother doing it," says the actress, who is getting ample recognition

being the face of many a music videos, including the hugely popular

Mann Bharrya. "It sure feels great to have the name prominently in

the cast of music videos," she beams. It's this recognition that has

fetched her endorsements, something that she insists she takes up

only if she genuinely likes and uses the product. She offers a tip for

a shining mane, "Ensure that you eat well."
---
18 August 2018

ENTERTAINMENT

www.theasianindependent.co.uk

The adventurous streak

Television star Anas Rashid says he chose to essay the

negative role in Nankana as he was getting a golden

chance to work with Gurdas Maan

Kristen Stewart to join

Charlie's Angels reboot cast

Actress Kristen Stewart is all set to join the ensemble cast of

the 'Charlie's Angels' reboot.

Directed by Elizabeth Banks,

the star cast of the upcoming

project comprises Naomi Scott

and Ella Balinska.

The Hollywood Reporter

quoted Banks as saying,

"Charlie's Angels, for me, is one

of the original brands to celebrate

the empowered woman

since its debut in the '70s", in a

statement. The director will also

be in front of the camera as

Banks will be playing Bosley,

the owner of the detective

agency, Charlie Townsend.

Elizabeth Banks directed the

blockbuster 'Pitch Perfect 2'.

The movie is slated to release

on September 27, 2019.

Television actor Anas Rashid did not have a

bucket list, just two-three wishes and, luckily,

each one has seen the light of the day! Chilling

out and enjoying the rains in his hometown

Malerkotla, Punjab, Anas wants to sit

back and relax.

He has driven all the way from

Mumbai to Punjab in two days. Quiet an

adventure freak! "Oh yes," smiles the

actor adjusting his baseball cap. "I think

working on the show Prithvi Raj Chauhan

has made me adventurous," shares the

actor who recently made his debut in a

Punjabi film, Nankana, with a negative character.

Nothing negative : For an actor who

I JUST GO WITH MY

INSTINCT: RADHIKA

Actor Radhika Apte says how she has picked such varied roles so far

Radhika Apte is all set for her

fourth release of the year, Ghoul —

that's another web show — in which

she plays a military interrogator. After

a great run in the first half of 2018, the

actor, who has carved a niche for herself

with an array of starkly different

roles, has an equally exciting line-up

ahead for the next half of the year.

On the film front, Radhika will be

seen in Andhadhun, directed by Sriram

Raghavan; and Bazaar, directed by

Gauravv Chawla. Talking about the

past year, she says that her choices

have been purely instinctive. "When I

sign a project, I don't really think of

how they'll all be perceived. I just go

ahead with my gut instinct because the

concept excites me or because they're

relevant to my mindset at that point in

time. I had so much fun doing the

starkly different roles in each project I

Legendary singer Lata

Mangeshkar doesn't see too

many films any more. But she

did catch glimpses of Anil

Kapoor's homage to herself in

"Fanney Khan", and Boney

Kapoor and the late Sridevis

daughter Janhvis debut film

"Dhadak".

Lata is all praise for the two.

"Boney and Anil are both

very close to us Mangeshkars. I

had even attended Anil's engagement

to Sunita, though I couldn't

attend his wedding. I am so glad

have been involved with this year,"

says Radhika. Her year started on a

high note with Pad Man, followed by

her web series with Saif Ali Khan and

Nawazuddin Siddiqui, and then the

fourfilm anthology Lust Stories. The

actor says that it's hard to choose

between the two mediums.

"Personally, I'm not like any of the

characters I've played but still one can

always relate to every story told and

every character involved on some

level or the other. I also love the [web]

platform, which gives a complete

sense of freedom to the characters, but

cinema gets actors the fame and recognition

they long for." The 32-year-old

actor is also doing two Hollywood

projects — a World War II spy drama,

in which she's the spy; and Michael

Winterbottom's next feature, The

Wedding Guest, opposite Dev Patel.

played the lead in the most popular TV show

Diya Aur Bati Hum, what made him say yes to

a negative role? "This was one of my wishes

— to work with Gurdas Maan. When Pooja

Gujral, one of the producers of the film,

approached me for a film starring Gurdas

Maan, I simply didn't ask any question." Anas

auditioned for the role. "Pooja asked me two

things, whether I could speak Punjabi and if I

already had stubble," shares Anas.

"This was my second wish-after playing the

good, dutiful husband, son and brother in Diya

Aur Batti Hum for almost seven years, I wanted

to play a negative role, do something evil on

screen and Nankana gave me the opportunity

to do so."

his daughter Sonam is married

and is doing some really good

work too. There was a time when

I don't go looking

for roles of strong

women: Rebecca

Rebecca Ferguson feels lucky that "men write

incredible roles" for her. But

the actor says she doesn't go

looking for "strong roles".

"It is funny because when I

read a script, I don't read it

from that perspective. I don't

pick a role or go looking for

strong women (that I can portray

on-screen)," says Ferguson

about the strong roles that she

has done on the big screen. "I don't think strength is

only physical strength; it's about being able to create

a purpose for your character," she says.

Sonam can't wait for

dad's Fanney Khan

The much-anticipated musical comedy Fanney Khan

has been creating a buzz ever since it was officially

announced. And the latest one to fall for this buzz is none

other than fashionista Sonam Kapoor. The Neerja actor

'can't wait' to watch her

father, Bollywood star Anil

Kapoor, in the awaited musical

drama. The 33-year-old star

took to her Instagram where

she posted the movie's

poster, writing, "This

movie is going to pull a

lot of heartstrings!

Can't wait!?" 'Fanney

Khan' is a one of its

kind musical comedy,

revolving around a

father who wishes to

fulfil his daughter's

dream of becoming

a singer."

I'd love to sing for Janhvi

Kapoor : Lata Mangeshkar

actresses had to slow down after

marriage.

"Thankfully, those days are

over. As a working woman —

and I've been working since the

age of 12 -- it would be completely

unacceptable for me to

give up my career after marriage."

Boney too is a close family

friend.

"After he lost Srideviji so

suddenly, his daughter's debut is

a reason for him to smile.

Janhvi is pretty. I'd love to

sing for her." In the meanwhile,

the songstress is all praise for

Anil's unflagging enthusiasm in

"Fanney Khan".

"Anilji plays a fan of mine

and Rafi saab. He wants his

daughter in the film to be like

me. It's very flattering to be still

thought of as a hero and an icon.

I've been lucky to be emulated

for decades now. But I want

to tell the singers of our country,

'Do not be another Rafi, Kishore,

Lata, Asha or Mukesh. Be yourself.

Learn dedication to the craft

from us. But do not imitate us'."
---
www.theasianindependent.co.uk

Apple first US

company to hit $1

trillion-mark

New York : Apple on Thursday become

America's first publicly-traded company to

hit the $1-trillion milestone when its stock

briefly hit the $207.05 per share -- the price

required to achieve the feat. The stock,

however, fell below $207 later during the

mid-day trading. "Given the volatile nature

of the market, however, it's possible Apple

may not stay a $1-trillion company for very

long, or it could bounce back and forth over

the $1 trillion-mark in the coming days,"

The Verge reported. The Cupertino-based

iPhone maker had updated its share count

to 4.83 billion (as of July 20) which translated

into nearly $973 billion in market cap

on Wednesday. In 2017, China's PetroChina

Co crossed the $1-trillion milestone but

since then, the energy company has lost a

massive $800 billion in its market cap.

According to media reports, the stock

nosedived after China announced key economic

policy shifts in the last decade that

did not go well with PetroChina.

Apple, maker of the iPhone, iPad and

other devices, said its fiscal 2018 third

quarter revenue stood at $53.3 billion, up

17 per cent from the same period last year.

The company reportedly aims to introduce

at least three new iPhone models soon

which may include a considerably larger

version of the iPhone X and a less expensive

version. Apple was co-founded

four decades ago by Steve Jobs which has

completely changed the way people think

about mobile communication and related

services.

TECH

France bans

smartphone

use in schools

Paris : In order to curb digital

addiction among adolescents,

the France government has voted

in favour of a ban on the use of

use during class. A recent study

showed that almost nine out of

10 students own a smartphone in

France and a high number of

smartphones during school

complaints have been reported

hours. The decision will come

into effect next month when the

new school session starts in

France, an official statement

by school teachers regarding the

students who engage in messaging

and chatting in the class.

Once the rule is implemented

said. The lawmakers from

from the next academic year,

French President Emmanuel

Macron's centrist LREM party anymore. According to

children upto the age of 14 to 15

years studying in primary or secondary

and its allies gave final approval

to the bill, while lawmakers on

the left and right abstained from

the vote, calling the law a "publicity

stunt" that would change

nothing, reported Le Monde.

Education Minister Jean-

Michel Blanquer had previously

said that the ban is a matter of

public health because children

are not playing during breaks

Blanquer, the move may also

encourage other countries to

implement the same rule for the

betterment of the young students.

"It sends a message to

French society as well as countries

around the world," he said

in a statement. France is not the

first to introduce a ban as almost

one third of schools in the

Britain have stopped smartphone

schools in France will

have to keep their smartphones,

tablets and other connected

devices switched off or leave

them at their home. The rule

will, however, allow the schools

to make exceptions for "pedagogical

use" -- use of the devices

for teaching purposes -- extracurricular

activities, or for specially-abled

students.

August 2018

19

Kolkata bank fraud:

Police identify one

more bugged ATM

Kolkata : The Kolkata Police on Thursday identified

one more ATM in addition to two others where the

machines were allegedly used to clone people's card

details and fraudulently withdraw around Rs 18-20

lakh from bank accounts here in the past one week, a

senior officer said. Police said they have so far

received 77 complaints of fraudulent withdrawals from

the affected account holders, primarily of Canara Bank

and Punjab National Bank (PNB). "We have identified

an ATM outlet of Kotak Mahindra Bank in south

Kolkata's Elgin Road where the scheming device was

used to clone people's card details. This too was an

unmanned ATM outlet. Our department has also

received one more complaint of fraudulent withdrawal

taking the tally of complaints to 77," Joint

Commissioner of Kolkata Police Praveen Tripathi said.

Two other unguarded city ATM outlets of Canara

Bank and Punjab National Bank, where such fraud

allegedly took place, were identified previously.

The city police department had already formed a

Special Investigation Team (SIT) on Wednesday to

probe the large-scale bank fraud that created panic

among a section of citizens and hinted that an interstate

racket might be involved in the case as the unauthorised

withdrawals were done from certain ATMs in

Delhi. The officer also revealed that some high profile

persons in the city including a former Calcutta

University Professor and a renowned radio jockey at a

private FM station have fallen prey to the act of fraud.

The bank fraud came to light earlier this week after

several people approached the city police with complaints

that amounts ranging from Rs 4,000 to Rs

40,000 have been debited from their bank accounts,

fuelling suspicion that they had fallen victim to skimming

devices planted on some ATM machines in the

city.
---
20 August 2018

TECH

www.theasianindependent.co.uk

US State dept applauds Facebook

for removing suspicious accounts

Washington : The US State

Department has applauded

Facebook for removing several

suspicious accounts "orchestrated

from abroad" and were

believed to be involved in

spreading disinformation.

The reaction came on

Wednesday a day after the

social media giant removed 32

fake accounts and pages that, it

says, were involved in "coordinated

unauthentic behaviour"

and political influence campaign

to manipulate voters

ahead of the November midterm

elections in the United

States.

"We applaud Facebook's

decision to expunge accounts,

orchestrated from abroad, that

foment division and violence

inside the United States," State

Department spokesperson

Heather Nauert said.

"These efforts are part of a

broader external campaign

aimed at weakening America

and threatening our way of life

by pitting citizens against each

other and sowing discord in

general," she said, and urged all

technology companies to take

an aggressive approach to this

insidious problem.

Demanding Russia and all

Microsoft testing 'drag and

drop' feature from phone to PC

San Francisco : Microsoft has released

the test version of its "Your Phone" app for

Windows 10 that is being designed to mirror

a phone straight to desktop, with texts,

photos and notifications. The test app has

rolled out for "Insiders with Android" testing

devices first. "Need to add a photo to

your presentation? Want to spruce up that

selfie with some Windows Ink action? Just

'drag and drop,'" Dona Sarkar, Head of the

Windows Insider Programme and Brandon

LeBlanc, Senior Programme Manager at

Microsoft, wrote in a blog post on Tuesday.

The "Your Phone" app will be compatible

with Android 7.0 and above and Microsoft

is also planning to extend this same feature

to iPhone users in the future. "For iPhone

users, surf the web on your phone, then

send the webpage instantly to your computer

to pick up where you left off to continue

what you're doing - read, watch, or

browse with all the benefits of a bigger

screen," wrote Sarkar and LeBlanc.

"You will receive an app from Microsoft

which you must download to your mobile

phone and follow the setup prompts," the

post added. The app is being tested as part

of Microsoft's next Windows 10 update,

codenamed "Redstone 5" which is expected

to be available by October.

The software maker first unveiled the

app back at the company's Build developer

conference in May. Additionally, the tech

giant is also working on narrator improvements,

fixes for the PC, keyboard command

changes and more.

other "malign" actors immediately

cease this reckless behaviour,

Nauert asserted that the

United States will not tolerate

foreign, including Russian,

attempts to subvert American

democratic processes and institutions.

Though Facebook has

not yet attributed the accounts

to any group, it said the campaign

does bear some resemblance

to the propaganda campaign

allegedly run by Russia's

Internet Research Agency

(IRA) in the run-up to the 2016

US presidential election.

During a Congressional

hearing, Senator Richard Burr

said 60 per cent of the US population

uses Facebook.

"A foreign power using the

platform to influence how

Americans see, think about one

another is as much a public policy

issue as it is a national security

concern," he said.

Senator Mark Warner said

social media companies have a

lot of work to do in this regard.

"All the evidence this committee

has seen to date suggests

that platform companies, namely,

Facebook, Instagram,

Twitter, Google and YouTube,

still have a lot of work to do,"

he said.

Made 'mistakes' in smartphone business

in India, will bounce back: Lenovo CEO

Bengaluru : Admitting that

Lenovo made some "mistakes" in

the smartphone business in India,

the company CEO Yang Yuanqing

on Thursday vowed to bounce back

and reclaim its past glory in the

next couple of years by launching

right products for the India market

under both its Lenovo and

Motorola brands. "India is a very

important market for us. We have

room for improvements in the

smartphone business," Yuanqing

said here while participating in a

roundtable conference, along with

other members of the Lenovo

Executive Council -- the highest

decision-making body of the company.

"Overall, our target is to generate

revenue of up to $6 billion in

the next five years from India,"

Yuanqing said, adding that the

company is focusing on scaling all

verticals of its businesses including

the personal computer (PC) and

smart devices segment that

includes tablets, and data centre

business, besides the smartphones

segment.

While Lenovo's PC and tablet

businesses have continued to post

robust growth in India over the past

few years, its market share in the

smartphone business saw a decline

in the 2017-2018 financial year,

coming down to about six per cent,

from nine per cent in the previous

financial year, the company said,

citing data from the International

Data Corp (IDC).

"In the PC segment, we grew by

43 per cent while the market grew

by just 5 per cent, and in tablets

segment, we were No. 1," Rahul

Agarwal, Managing Director and

CEO, Lenovo India, said.

"The dual brand strategy of

rolling out smartphones under both

Lenovo and Motorola brands has

not affected us adversely. We will

continue to revamp product portfolios

under both brands. The two

brands can be complimentary,"

Yuanqing said. He added that the

company was planning to target the

premium segment with the

Motorola brand and the affordable

and entry segments mostly through

Lenovo. Where the company did

not do too well in the past year was

on its service strategies and in

appealing consumers from more

places within the country, he said.

US judge blocks posting of

blueprints for 3-D-printed guns

Washington : A US federal judge

has blocked the public availability of

blueprints that provide instructions

for making guns using 3-D printers,

just hours before the documents were

expected to be published online by a

Texas group that had reached an

agreement with the Donald Trump

administration to do so. US District

Court Judge Robert Lasnik in Seattle

granted a temporary restraining order

on Tuesday night barring a trove of

downloadable information about creating

the do-it-yourself weapons,

according to the Washington Post.

The Defence Distributed group

had reached a settlement with the

Trump administration in June to

allow it to legally publish the plans.

But eight states and the District of

Columbia sued the government earlier

this week to block the deal, arguing

the untraceable guns were a safety

risk.

New York Governor Andrew M.

Cuomo on Tuesday also issued a

cease-and-desist order against the

man who was scheduled to post them

online. The judge said that the publication

of the manuals by Texas-based

Defence Distributed creates "the

probability of irreparable harm". He

scheduled another hearing for August

10. Although Defence Distributed

had been expected to publish the

blueprints on Wednesday, it uploaded

files for nine types of gun to its website

last week. Between Friday and

Sunday, more than 1,000 people

downloaded the files for building a

gun apparently modelled on the AR-

15 rifle -- the gun used in many of the

mass shootings in the US.

The lawsuit was filed in Seattle,

Washington, by the state's Attorney

General Bob Ferguson. New York,

New Jersey, Massachusetts,

Connecticut, Pennsylvania, Oregon,

Maryland in addition to the District

of Columbia were also involved.

Earlier on Tuesday, President

Donald Trump said that the 3D printing

of plastic guns "doesn't seem to

make much sense" after his administration

reached the legal agreement

with the group promoting the activity.

"I am looking into 3-D Plastic guns

being sold to the public. Already

spoke to NRA, doesn't seem to make

much sense!" said Trump in a Twitter

post, referring to the National Rifle

Association, the powerful US progun

organization and lobbying group.

The battle over the blueprints

started in 2013, when Defence

Distributed's founder Cody Wilson

made the first fully 3-D-printed pistol

and posted the design files online.

The federal government alleged that

violated federal law. Uploading the

files, it argued, was tantamount to an

illegal export of firearms. Wilson

sued, and the federal government

shocked all involved by reversing its

position last month. It settled with

Wilson, agreeing to pay $40,000 in

legal fees and exempting the company

from the regulations, allowing it to

post the blueprints online. But Judge

Lasnik found the government didn't

follow procedure when agreeing to

the settlement.

Speaking outside the court, the

Washington Attorney General called

the judge's decision a "complete, total

victory". "Everything we asked for

we got from Judge Lasnik," he said,

and called on Trump to make it

"unlawful for anyone to make this

information available for anyone".
---
www.theasianindependent.co.uk

Afghanistan to hold

presidential elections

on April 20

Kabul : Afghanistan will hold its next

presidential polls on April 20 next year, the

Independent Election Commission (IEC)

announced on Tuesday. The IEC said these

elections will be

held six months

after the October

parliamentary and

district council

elections, Tolo

News reported.

The announcement

came after

national unity government

leaders

called on the IEC a

week ago to

announce the date for the 2019 presidential

election as "soon as possible". According to a

statement issued by the President's Office,

President Ashraf Ghani met IEC members,

the UN Secretary-General's Special

Representative for Afghanistan, head of the

UN Assistance Mission in Afghanistan

Tadamichi Yamamoto and various ambassadors

of countries supporting the poll process.

"At the meeting the leadership asked the

IEC to reassure the people about the (voter)

registration process and provide facilities for

political parties, civil society organizations

and international observers to monitor the

election process," the statement read.

Naypyidaw : At

least 10 people have

been killed and more

than 100,000 people

forced to flee their

homes after heavy

rains pounded

Myanmar and flooded

villages, according

to government

officials. As of

Tuesday, some

119,000 people

across five provinces

had been displaced

by rising waters,

with Magway region

particularly hard hit,

with more than

70,000 affected,

CNN quoted Min

Thein, Director of the

D i s a s t e r

Management Agency, as saying. Images released

by the Ministry of Information show rescue boats

evacuating people, while children and families

cling to rooftops to escape rising water levels.

However, attempts to reach many of those affected

WORLD

'BAG RAGE' prompts

backdown on plastic

bag levy in Australia

Sydney : Australia's

second-largest supermarket,

Coles, on

Wednesday halted plans

to charge shoppers for

plastic bags, succumbing

to customer fury

about a shift away from

single-use plastics.

Coles, owned by

Wesfarmers, and its

larger rival Woolworths

Group Ltd removed

one-use plastic bags

from stores late in June

as part of a national

push to reduce waste,

selling reusable ones for

a small fee instead. It

drew a furious

response, dubbed "bag

rage," as customers angry

about having to bring their own

sacks or pay 15 Australian

cents (11 U.S. cents) for a

reusable plastic bag abused

checkout staff and vented on

social media.

The union representing store

workers launched a public

campaign on the issue and both

grocers capitulated, temporarily

waiving the fee. Coles,

which had initially planned to

reintroduce the fee on July 12,

never levied it and has now

extended the waiver indefinitely.

"Some customers told us

they needed more time to make

the transition to reusable bags,"

the company said in a statement.

"Many customers bringing

bags from home are still

finding themselves short a bag

or two so we are offering complimentary

reusable (bags) to

help them complete their shopping,"

it said.

The waiver was "still intended

to be an interim measure,"

Coles said, but gave no date for

the resumption of the fee, saying

only it will "assess when

customers have become accustomed

to bringing their own

bags." Woolworths has levied

15c per bag since July 8.

The backflip comes while

Coles is under immense pressure

to lure customers, as its

sales growth lags

Woolworths just as

Wesfarmers prepares

to spin it out and list it

separately.

"It's all a part of

lifting their customer

satisfaction and getting

more customers

in the door," said

James Tao, a market

analyst at stockbroker

Commonwealth

Securities in Sydney.

The cost of the move

would probably have a

negligible financial

impact, he added. "It's

more about the PR

side." However that

also appeared to backfire

as Coles was lampooned

online. "Coles' colossal plastic

bag fail" and "Coles caves" ran

headlines on Australia's main

news sites. Major retailers in all

but two Australian states face

fines if they supply single-use

plastic bags. The UN wants to

eliminate single-use plastic by

2022 and says more than 60

countries have so far taken

steps to ban or reduce plastic

consumption.

10 killed, 100,000

displaced in Myanmar floods

have been hampered by heavy rains. Many of

those displaced have been relocated to temporary

shelters, with both monasteries and cyclone

shelters opening their doors to families, according

to the National Disaster Management

Committee (NDMC). Additional shelters

would be opened for pregnant women and women

with young children, said the Committee. Parts of

Myanmar flood annually during the monsoon. In

2015, seasonal flooding killed around 100 and displaced

more than 200,000 people.

August 2018

21

23 bodies recovered after

Myanmar landslide

Yangon : Twenty three bodies have been recovered from a site

where 27 people went missing last week after a landslide hit

Myanmar's Kachin state, media reports said on Monday. Search continues

for the remaining four in the Hpakant mining region, Xinhua

news agency quoted regional news journal 7Day News as saying. A

massive landslide occurred on July 24, after a 91.4-metre-high pit

wall of an unused jade mining site collapsed in Seik Mu village.

Iran to sue US for banning

imports of Iranian rugs

Tehran : Iran will file a lawsuit with international tribunals

against US' fresh sanctions on importing handwoven Iranian

rugs, media reports said. US President Donald Trump "has

wrongly sanctioned the art industry, which is a symbol of culture

and intellectual property of the Iranian people," Xinhua quoted

Fereshteh Dastpak, head of Iran National Carpet Center, as saying.

"According to international protocols, what belongs to a

nation could not be sanctioned," Dastpak noted. The Office of

Foreign Assets Control of the US Treasury Department recently

revoked the license for importing Iran's carpets and foods,

including pistachios and caviar.

Top US cardinal resigns after

sex abuse claims

Rome : Cardinal Theodore E. McCarrick, the former

Archbishop of Washington and prominent diplomat at the centre

of a decades-old sexual abuse scandal, has resigned, the Vatican

announced on Saturday. The Vatican said that Pope Francis

accepted McCarrick's resignation from the College of Cardinals

on Friday evening and ordered him to "a life of prayer and

penance until the accusations made against him are examined in

a regular canonical trial". McCarrick, 88, was found by the

church in June to be credibly accused of sexually abusing a

teenager nearly 50 years ago. Since then, additional reports of

sexual abuse and harassment by the cardinal, over a span of

decades, were reported, according to the Washington Post.

The Pope also ordered McCarrick's suspension from public

ministry and instructed him to "remain in a house yet to be indicated

to him" until the trial. He is the highest ranked US Catholic

clergy member to ever be removed from ministry due to sexual

abuse allegations. The victims included one then-minor and three

adults, who were young priests or seminarians when McCarrick

allegedly abused them, the Post reported. The cardinal said in

June that he was "shocked" by the initial allegation and had "no

recollection of the reported abuse".

US, PAKISTAN

reiterate resolve to

restore bilateral ties

Washington : The US and Pakistan have reiterated

their resolve to restore their bilateral relationship

during a meeting between Pakistan's

Ambassador to the US

Ali Jahangir Siddiqui

and US Defence

Secretary James Mattis

at the Pentagon here.

Apart from bilateral ties,

Jahangir and Mattis on

Monday discussed

Pakistan's relations with

Afghanistan and the

regional security situation.

Pakistan's Defence

Attaché Brigadier

Kamal Anwar Chaudhry

accompanied Siddiqui, Geo News reported.

The meeting took place in the aftermath of the

July 25 elections which saw Imran Khan's

Pakistan Tehreek-e-Insaf (PTI) emerge victorious.

The US had, however, expressed its reservations

about constraints on media freedom before

the polls. Earlier, US Department of State

spokesperson Heather Nauert stated that the election

campaign in Pakistan was smeared by

restrictions put in the way of free speech.

Nauert also highlighted that the US will look

for opportunities to work with the new government

to advance the goals of security, stability,

and prosperity in South Asia.
---
22 August 2018

WORLD

www.theasianindependent.co.uk

Trump urges US attorney

general to end Russia probe

Washington : US President

Donald Trump on Wednesday

urged Attorney General Jeff

Sessions to end Special

Counsel Robert Mueller's

Russia investigation immediately,

escalating his attacks on

the inquiry. "This is a terrible

situation and Attorney General

Jeff Sessions should stop this

Rigged Witch Hunt right now,

before it continues to stain our

country any further,"

Trump tweeted.

"Bob Mueller is totally

conflicted and his 17

Angry Democrats that

are doing his dirty work

are a disgrace to USA!"

The tweet came as

Trump's former campaign

chief Paul

Manafort, who was earlier

indicted by the special

counsel, faces trial for

the second day in federal

court in Virginia.

Sessions, however, already

recused himself last year —

handing off oversight to

Deputy Attorney General Rod

Rosenstein. So he is unlikely to

act, CNBC reported.

The President has criticized

Sessions for his recusal. In

June, Trump said on Twitter

that Mueller was continuing to

investigate "all because Jeff

Sessions didn't tell me he was

going to recuse himself". "I

would have quickly picked

someone else. So much time

and money wasted, so many

lives ruined…and Sessions

knew better than most that

there was No Collusion."

The Justice Department and

the office of the special counsel

did not immediately respond to

a request for comment. The

White House did not immediately

respond to a request for

elaboration on the President's

comments. Mueller was investigating

Trump's tweets criticizing

Sessions as part of a

wider inquiry into whether the

President has obstructed justice,

the New York Times earlier

reported.

Trump's attacks on Mueller

have escalated in recent weeks.

The President's attorney, former

New York City Mayor

Rudy Giuliani, made headlines

on Monday saying that "collusion

is not a crime".

TRUMP THREATENS

government shutdown

over immigration policy

Washington : US President Donald Trump has threatened to

shut down the government if the Democratic Party does not

cooperate on border security issues.

"I would be willing to 'shut down' government if the

Democrats do not give us the votes for Border Security, which

includes the Wall! "Must get rid of Lottery, Catch and Release

etc. and finally go to system of Immigration based on MERIT!

We need great people coming into our Country!" Trump tweeted

on Sunday. The threat came on top of another fiery tweet posted

earlier on the same day, which said: "Please understand, there are

consequences when people cross our Border illegally, whether

they have children or not -- and many are just using children for

their own sinister purposes. "Congress must act on fixing the

DUMBEST and WORST immigration laws anywhere in the

world! Vote 'R'," referring to Republicans, Xinhua news agency

reported. The tweets were in response to attacks on the US government's

family separation policy, which saw thousands of

minors separated from their parents who entered the US illegally.

The controversy that ensued the family separation policy

caused many Republican lawmakers to distance themselves from

Trump's tough immigration agenda.

It also stalled legislative progress in Congress for comprehensive

immigration reform, which had been a major promise for his

supporters during his 2016 campaign.

However, Trump's menacing tweets were rebuffed even by his

own party members, who said "shutting down the government

will not be helpful". Congressman Steve Stivers, a Republican

from Ohio, downplayed the possibility of a shutdown in a TV

interview on Sunday, saying: "I think we're going to make sure

we keep the government open." The US federal government last

shut down was over a spending bill when the Congress failed to

reach consensus due to political fights.

Soldiers patrol Zimbabwe

capital after election violence

Harare : Soldiers patrolled

the streets of Harare on

Thursday a day after three

opposition protesters were

killed in post-election clashes

that dashed President

Emmerson Mnangagwa's

hopes of ending Zimbabwe's

reputation for political repression.

Troops backed by

armoured vehicles opened fire

on Wednesday to clear the capital's

streets of demonstrators

who accused Mnangagwa's ruling

party of trying to rig

Monday's presidential election.

Many shops were closed on

Thursday morning and the

pavements quiet. Several

streets were still strewn with

rocks and the charred remains

of fires. Soldiers loitered at

intersections. "Yesterday was a

very sad day for Zimbabwe,"

said minibus driver Gift, glancing

over his shoulder as a soldier

smoking a cigarette looked

on. "We hope things remain

quiet and we can all just forget

about this election. We don't

know if it was fair. The government

will do what they want."

The deployment of soldiers

and their shooting and beating

of unarmed protesters is likely

to set back efforts to end

Zimbabwe's pariah status in the

wake of the army's removal of

longtime leader Robert Mugabe

in a coup last November.

Mnangagwa blamed the violence

on the opposition

Movement for Democratic

Change, led by Nelson

Chamisa, who announced on

Twitter on Wednesday that he

had "won the popular vote".

Chamisa provided no details or

concrete evidence of rigging.

The website of the election

commission, which is expected

to start announcing presidential

election results on Thursday, was

offline after being taken out by

unidentified hackers overnight.

Amnesty International called on

the government to launch a

prompt investigation into the

army's actions. "It is unfortunate

that this election has descended

into bloodshed, which could

have been avoided if security

forces had exercised restraint

against protesters," the Londonbased

human rights organisation

said.

China says foreigners

should not interfere in

Cambodia after election

Beijing - Foreigners should

not interfere in Cambodia's

internal affairs, the Chinese

government's top diplomat told

his Cambodian counterpart,

following an election in the

Southeast Asian

nation that critics

said was neither free

nor fair. China is

Cambodia's most

important diplomatic

and economic backer.

Prime Minister

Hun Sen's ruling

Cambodian People's

Party said on

Monday it had won

all 125 parliamentary

seats up for grabs in a

general election a day

earlier, a vote heavily

criticised by rights groups, the

United States and other

Western countries.

Chinese State Councillor

Wang Yi offered his congratulations

for what he said was the

"smooth" election, China's

Foreign Ministry said in a statement

late on Wednesday after

Wang met Cambodian Foreign

Minister Prak Sokhon on the

sidelines of a regional forum in

Singapore. The election result

showed the Cambodian people's

"affirmation and trust" in

the administration of the

Cambodian People's Party,

Wang said. "China has always

resolutely supported

Cambodia's efforts to protect

its sovereignty, independence

and stability, and opposes any

foreign country interfering

in Cambodia's

internal affairs," the

statement cited Wang as

saying. China would

continue to provide

help to Cambodia to

maintain stability and

develop, he said.

The Chinese Foreign

Ministry quoted Prak

Sokhon as saying the

election was orderly

and transparent and that

the Cambodian people

had voted for peace,

stability and development.

"China is the Cambodian

people's closest, most reliable

friend," he said, according to

the Chinese statement.
---
www.theasianindependent.co.uk

Women football

players more

vulnerable to injury

from heading

New York : Women's brains are

much more vulnerable than men's to

injury from repeated football heading,

according to a new study.

Regions of damaged brain tissue

were five times more extensive in

female football players than in males,

suggesting that sex-specific guidelines

may be warranted for preventing soccer-related

head injuries, showed the

findings published online in the journal

Radiology. "Researchers and clinicians

have long noticed that women fare

worse following head injury than men,

but some have said that's only because

women are more willing to report

symptoms," said study leader Michael

Lipton, Professor at Albert Einstein

College of Medicine in New York.

"Based on our study, which measured

objective changes in brain tissue

rather than self-reported symptoms,

women do seem more likely than men

to suffer brain trauma from heading

soccer balls," Lipton added.

About 30 million women and girls

play football worldwide, according to

the International Federation of

Association Football, known as FIFA,

the international governing body of

football. In the study, Lipton and his

colleagues performed diffusion tensor

imaging (DTI), a form of MRI, on 49

male and 49 female amateur football

players. Both groups ranged in age

from 18-50 with a median age of 26,

and both groups reported a similar

number of headings over the previous

year (an average of 487 headings for

the men and 469 for the women). DTI

detects subtle brain damage by measuring

the direction of the diffusion of

water in white matter (the deep brain

tissue that coordinates communication

between brain regions).

11 killed in Afghanistan roadside

blast; gunmen storm govt building

Kabul-A roadside bombing

hit a passenger bus in western

Afghanistan on Tuesday,

killing at least 11 people, as

militants launched a coordinated

attack on a city in the country's

east, setting off gunbattles

with Afghan troops, officials

said.

The morning attack in western

Farah province took place

in the Bala Buluk district and

also wounded 31 people, all

civilians, according to Abdul

Jabar Shahiq, the provincial

health department chief. There

were women and children

among the casualties.

The bus was on its way from

Herat province toward the capital,

Kabul, when it hit the roadside

bomb, Shahiq said. Details

were sketchy for the attack in

eastern Afghanistan, where

militants launched a coordinated

assault Tuesday on

Jalalabad, the provincial capital

of Nangarhar, according to

local officials. Zabihullah

Zemarai, a member of the

provincial council, said there

was first a car bombing — likely

an explosion set off by a suicide

car bomber — near the

city's provincial hospital and

health department, followed by

gunfire.

Attahullah Khogyani,

spokesman for the provincial

governor, said the target

appeared to be the provincial

refugee and repatriation department,

which is also located in

the same area of the city.

He could not provide any

detail on possible casualty figures

as fighting was still underway

at the department compound.

No one immediately

claimed responsibility for the

attacks. In Nangarhar, both the

Taliban insurgents and the

Islamic State group have been

active. The Taliban also have a

strong presence in Farah, especially

in Bala Buluk where they

often plant roadside bombs to

target government officials or

Afghan security forces. Such

attacks often end up inflicting

significant casualties among

civilians. Farah has seen heavy

fighting in recent months, with

local officials and tribal elders

requesting additional government

forces to support the overburdened

army and police. In

May, more than 300 Taliban

launched a multi-pronged

attack on the city of Farah, the

provincial capital, before they

were repelled. At least 25 government

troops were killed in

the fighting.

WORLD

Saudi vows to ensure

epidemic-free Hajj season

Riyadh : The Saudi health

ministry said the current Hajj season

is so far safe from epidemic

diseases, the media reported on

Tuesday. The Hajj rituals due in

mid-August is being managed

with tight security and health

measures to ensure the safety of

pilgrims, the ministry said, Al

Arabiya reported. The ministry is

also following the developments

and changes in the global health

situation in cooperation with the

World Health Organization and

other international health bodies.

August 2018

23

NASA's SLS rocket gets

major hardware boost

Washington, Engineers have now assembled

the first major piece of core stage hardware

for NASA's Space Launch System

(SLS) rocket which is designed to herald a

new era of exploration beyond low-Earth

orbit, launching crew and cargo on deep

space exploration missions to the Moon,

Mars and beyond.

It now is ready to be joined with other

hardware for Exploration Mission-1, the first

integrated flight of SLS and the Orion spacecraft,

NASA said in a statement on

Wednesday. The 212-foot-tall core stage,

referred to as the "backbone" of the rocket

by NASA, will contain the SLS rocket's four

RS-25 rocket engines, propellant tanks,

flight computers and much more.

Though the smallest part of the core stage,

the forward skirt will serve two critical roles.

It will connect the upper part of the rocket to

the core stage and house many of the flight

computers, or avionics.

"Completion of the core stage forward

skirt is a major step in NASA's progress to

the launch pad," said Deborah Bagdigian,

lead manager for the forward skirt at the

agency's Marshall Space Flight

Center in Huntsville, Alabama.

"We're putting into practice the

steps and processes needed to

assemble the largest rocket

stage ever built.

With the forward skirt, we

are improving and refining how

we'll conduct final assembly of

the rest of the rocket,"

Bagdigian said.

As part of forward skirt testing,

the flight computers came

to life for the first time as

NASA engineers tested critical

avionic systems that will control

the rocket's flight. Located

throughout the core stage, the

avionics are the rocket's

"brains," controlling navigation

and communication during

launch and flight.

It is critical that each of the

avionics units is installed correctly,

work as expected and

communicate with each other

and other components, including

the Orion spacecraft and

ground support systems.

"It was amazing to see the

computers come to life for the

first time," said Lisa Espy, lead

test engineer for SLS core stage

avionics. "These are the computers

that will control the

rocket as it soars off the pad for

Exploration Mission-1," Espy

added.
---
24 August 2018

WORLD

www.theasianindependent.co.uk

Women defiant as Danish

ban on full-face veil

takes effect in Denmark

Human rights campaigners have slammed the ban as a violation of women's rights, while supporters

argue it enables better integration of Muslim immigrants into Danish society.

US tariff plan

doomed to be

futile: China

Beijing : The US is playing hard and

soft tactics with China on the trade issue,

but such a two-faced approach is doomed

to be futile and will disappoint countries

and regions opposing the trade war, China's

Ministry of Commerce said on Thursday.

The comments came after the US threatened

to raise tariffs on $200 billion worth

of Chinese goods from 10 per cent to 25

per cent and later spread the news that it

wants to restart negotiations with China.

The US act set aside the interests of its

own farmers, business owners, consumers

and the interests of the world, the ministry

spokesperson was quoted as saying by

Xinhua news agency. "Facing such an escalating

trade war threat, China has made full

preparations and will be forced to take

countermeasures in order to defend national

dignity, the interests of its people, free

trade and the multilateral system, as well as

the common interests of all countries," the

spokesperson said. He said that China

believes in solving differences through dialogue,

but that should come with the prerequisite

of equal treatment and honouring

commitments. The ultimate purpose of the

US' baseless accusations against China is to

suppress the latter's peaceful development,

according to the spokesperson.

Stockholm-Denmark's controversial

ban on the Islamic

full-face veil in public spaces

came into force on Wednesday

as women protested the new

measure which fines anyone

wearing the garment. Human

rights campaigners have

slammed the ban as a violation

of women's rights, while supporters

argue it enables better

integration of Muslim immigrants

into Danish society.

Protests against the ban were

planned in the capital

Copenhagen and the secondbiggest

city Aarhus late

Wednesday, with several hundred

people expected to attend,

some of them wearing the fullface

veil. A spokesman for the

Copenhagen police said they

did not plan to fine the protesters

who violated the ban.

Wearing a burqa, which covers

a person's entire face, or the

niqab, which only shows the

eyes, in public will lead to a

fine of 1,000 kroner ($156, 134

euros). The ban also targets

other accessories that hide the

face such as balaclavas and

false beards. Repeated violations

will be fined up to 10,000

kroner. A 30-year-old Muslim

woman interviewed in daily

Berlingske, identified only as

Sarah, said she had "lost faith

in the system".

Born and raised in Denmark

by parents who emigrated from

Turkey, she has worn the niqab

since she was 18.

"I've realised that democracy

doesn't work. Politicians

boast of freedoms and rights

when they are making fun of

Muslims and when they are

drawing caricatures of the

prophet. But when it comes to

me, they take away my right to

choose how I want to dress,"

she said. "I have come to the

realisation that Muslims don't

have the same rights as others.

So much of politics is hypocritical."

It is not known how

many women wear the niqab

and burqa across the country. "I

don't think there are many who

wear the burqa here in

Denmark. But if you do, you

should be punished with a

fine," Justice Minister Soren

Pape Poulsen was quoted as

saying by Ritzau news agency

in February when the government

presented its proposal for

the ban.

It said at the time that the

burqa and niqab were not

"compatible with the values

and sense of community in

Danish society".

But Sarah said that instead

of enabling Muslims to integrate

Danish values, the ban

risked having the opposite

effect of increasing segregation.

"When the mosque is one

of the few places where we can

(wear veils), then I think the

law will mean that more people

will go to the mosque."

China, Asean agree on draft South

China Sea code of conduct

Singapore : China and the

Association of Southeast Asian

Nations (Asean) have agreed on a

draft code of conduct that will lay

the foundation for talks over the

disputed South China Sea, the

Foreign Ministers of Singapore and

China announced on Thursday. The

agreement came at the annual ministerial

meeting between China and

Asean member states in Singapore,

Channel News Asia reported.

China has overlapping territorial

and maritime claims in the South

China Sea with several Asean

members, including Brunei,

Malaysia, the Philippines and

Vietnam.

The countries have long discussed

a deal to defuse tensions but

the talks have been hindered by

sticking points such as the area the

agreement should cover. Chinese

State Councillor and Foreign

Minister Wang Yi said the agreement

on the draft was a new and

important step for the code of conduct

deliberations. "I believe that

the negotiation on COC can be

speeded up if we exclude external

interference," he said. "Facts will

prove that China and Asean member

states are capable of maintaining

peace and stability in the South

China Sea and reaching regional

rules adhered to by all through

negotiations."

Singaporean Foreign Affairs

Minister Vivian Balakrishnan

called the agreement a "milestone".

He said the single draft negotiating

text will be a "living document and

the basis of future code of conduct

Austrian man found with

80 birds in hand luggage

at Paris airport, arrested

Paris : The French police have arrested an Austrian man at a

Paris airport after he flew in from Mexico with 80 small birds

stashed in his hand luggage, a judicial source said Wednesday.

Although all but one of the birds were still alive when they were

discovered at Roissy airport, a further 55 have since died, the

source added. The birds were discovered on Friday in boxes hidden

in three bags. The Austrian collector, who is already facing

court action in Germany, claimed to be passionate about birds.

The birds, many of which feed on nectar, likely died because of

the "transport conditions and the stress of their capture," the

source said. Exceptional permission was given to allow the birds

to leave the airport instead of facing quarantine conditions.

The illicit avian cargo was placed in the care of vets before the

surviving birds were taken to a permanent home on Wednesday.

3 mountaineers killed

in French Alps

Paris : Three climbers were reported dead on Thursday in the

Mont Blanc massif mountain range in the Alps, the media reported.

The mountaineers were believed to have lost their lives after

they fell from an altitude of about 3,600 metres in the Miage

Domes area of the mountain, Xinhua news agency reported citing

local media.

negotiations". Both sides also

agreed on the key modalities for

future rounds of talks.

He also said that the agreement

on a single text didn't mean that

negotiations were over or that all

the competing claims over territory

in the South China Sea were

resolved as the code of conduct

"was never meant to resolve territorial

disputes", according to the

report. Balakrishnan added that it

would be premature to set a deadline

for the negotiations on the

code of conduct as it involved a

"dynamic, evolving situation".

Negotiations on the code of conduct

began in March and both sides

arrived at the first draft during talks

held two months ago at China's

Changsha city, said Balakrishnan.

The Chinese Foreign Minister

said that Beijing dispatched its

most advanced rescue ship

equipped with professional searchand-rescue

teams to the Nansha

Islands (in South China Sea) days

ago, to carry out various missions.

The ship will provide maritime

assistance for ships from countries

around the world when necessary,

he said.

US Secretary of State

arrives in Malaysia

Kuala Lumpur : US Secretary of

States Mike Pompeo arrived on

Thursday in Malaysia on his first visit

to the region with an agenda that

includes ministerial level meetings of

the Association of Southeast Asian

Nations (Asean) in Singapore on

August 3 and 4. According to his official

agenda, Pompeo will first make a

short visit to Kuala Lumpur which will

include a meeting with Malaysian

Prime Minister Mahathir Mohamad on

Friday morning, Efe news reported.

The same day he will go to

Singapore, where he will participate in

bilateral and multilateral meetings

under the framework of the Asean.

Asean is made up of Myanmar, Brunei,

Cambodia, the Philippines, Indonesia,

Laos, Malaysia, Singapore, Thailand

and Vietnam. Denuclearization of the

Korean peninsula and the historic

meeting between US President Donald

Trump and North Korean leader Kim

Jong-un in Singapore in June is expected

to be feature in the discussions on

Saturday at the Asean Regional Forum

(ARF), which deals with matters related

to security. North Korea is among

the countries that take part in the ARF,

along with South Korea, China, Japan,

Russia and the EU, among others.

Pompeo's trip will conclude with a

meeting with Indonesian President

Joko Widodo in Jakarta.