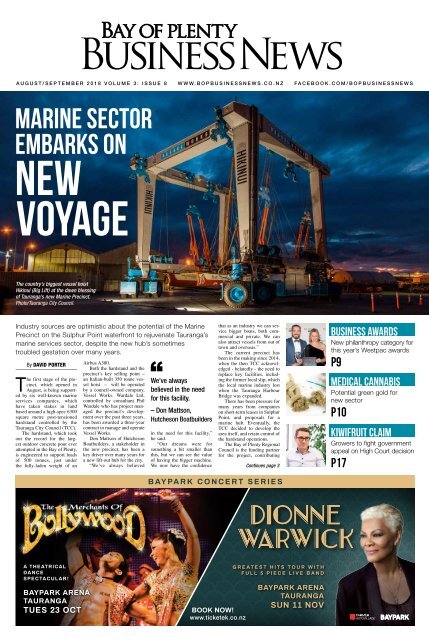 Bay of Plenty Business News August/September 2018
From mid-2016 Bay of Plenty businesses have a new voice, Bay of Plenty Business News. This new publication reflects the region's growth and importance as part of the wider central North Island economy.
From mid-2016 Bay of Plenty businesses have a new voice, Bay of Plenty Business News. This new publication reflects the region's growth and importance as part of the wider central North Island economy.
SHOW MORE
SHOW LESS
Create successful ePaper yourself
Turn your PDF publications into a flip-book with our unique Google optimized e-Paper software.
Bay of plenty

AUGUST/SEPTEMBER 2018 VOLUME 3: ISSUE 8 WWW.BOPBUSINESSNEWS.CO.NZ FACEBOOK.COM/BOPBUSINESSNEWS

Marine sector

embarks on

New

voyage

The country's biggest vessel hoist

Hikinui (Big Lift) at the dawn blessing

of Tauranga's new Marine Precinct.

Photo/Tauranga City Council.

Industry sources are optimistic about the potential of the Marine

Precinct on the Sulphur Point waterfront to rejuvenate Tauranga's

marine services sector, despite the new hub's sometimes

troubled gestation over many years.

By DAVID PORTER

The first stage of the precinct,

which opened in

August, is being supported

by six well-known marine

services companies, which

have taken stakes in land

based around a high-spec 6300

square metre post-tensioned

hardstand controlled by the

Tauranga City Council (TCC).

The hardstand, which took

out the record for the largest

outdoor concrete pour ever

attempted in the Bay of Plenty,

is engineered to support loads

of 500 tonnes, just under

the fully-laden weight of an

Airbus A380.

Both the hardstand and the

precinct's key selling point –

an Italian-built 350 tonne vessel

hoist – will be operated

by a council-owned company,

Vessel Works. Wardale Ltd,

controlled by consultant Phil

Wardale who has project managed

the precinct's development

over the past three years,

has been awarded a three-year

contract to manage and operate

Vessel Works.

Don Mattson of Hutcheson

Boatbuilders, a stakeholder in

the new precinct, has been a

key driver over many years for

a new lift-out hub for the city.

"We've always believed

We've always

believed in the need

for this facility.

– Don Mattson,

Hutcheson Boatbuilders

in the need for this facility,"

he said.

"Our dreams were for

something a bit smaller than

this, but we can see the value

of having the bigger machine.

We now have the confidence

that as an industry we can service

bigger boats, both commercial

and private. We can

also attract vessels from out of

town and overseas."

The current precinct has

been in the making since 2014,

when the then TCC acknowledged

- belatedly - the need to

replace key facilities, including

the former local slip, which

the local marine industry lost

when the Tauranga Harbour

Bridge was expanded.

There has been pressure for

many years from companies

on short-term leases in Sulphur

Point, and proposals for a

marine hub. Eventually, the

TCC decided to develop the

area itself, and retain control of

the hardstand operations.

The Bay of Plenty Regional

Council is the funding partner

for the project, contributing

Continues page 3

business awards

New philanthropy category for

this year's Westpac awards

P9

medical cannabis

Potential green gold for

new sector

P10

kiwifruit claim

Growers to fight government

appeal on High Court decision

P17

Bay Venues
---
2 BAY OF PLENTY BUSINESS NEWS August/September 2018

We support

kiwi business.

So you can keep

businessing.

To find out how 2degrees can help

your business contact Andy Bell

on 022 200 0256

MC9312A

MC9312A BUS Bay of Plenty FP ad V1.indd 1

15/08/18 11:55 AM
---
Marine sector embarks on new voyage

From page 1

$5 million from the Regional

Council's $42.5 million

Regional Infrastructure Fund.

A major part of the TCC's $6.4

million contribution is being

offset by the sale of properties

on and near the site.

The first phase was initially

slated for completion by

the beginning of the year, but

there have been delays - partly

caused by weather, and partly

by changes in specifications as

the project evolved, according

to sources close to the project.

(see page 7 for more details)

Construction began in

October 2016, and stage one of

the project is now close to completion

and already operating,

with further stages dependent

on additional commitment and

demand from industry.

As well as Hutcheson

Boatbuilders, the other inaugural

stakeholders include

Pachoud Yachts, Pacific

7, RMD Marine, SMF

Engineering and Super Yacht

Coatings. Matamata Motor

Trimmers and Western Work

Boats have also taken up lease

arrangements. (see page 6 for

further details)

The precinct will be

a draw card for boat owners

both within New Zealand

and from offshore. The new

facility is expected to attract

interest from the global super

yacht sector, and will also

benefit from increased vessel

maintenance needs during the

America's Cup defence, said

Peter Busfield, executive director

of the NZ Marine Industries

Association (NZMIA). (see

page 5 for details).

TCC Mayor Greg

COVER STORY

Jaine Lovell-Gadd.

Photo/Tauranga City Council.

The thing that has

really resonated with

me is that industry

itself has wanted

to buy the land -

they aren't tenants,

they are part of this

development."

– Jaine Lovell-Gadd

Brownless told guests at the

opening that Tauranga was

lucky to have a dynamic and

innovative marine industry that

delivered high-quality services

in the area and nationally.

"The future growth and prosperity

of our city depends on

attracting and retaining skilled,

knowledgeable people and helping

them develop productive,

high-value businesses."

The sheer capacity of having

the biggest vessel hoist in

NZ is expected to give the precinct

a competitive edge when

it comes to servicing large

BAY OF PLENTY BUSINESS NEWS August/September 2018 3

commercial and recreational

boats. Vessel Works has access

to deep water berthage and a

refit wharf suitable for large

boats, a sophisticated waste

and wash water processing and

recycling system, and barge

loading ramps and facilities for

unloading catch and loading

ice, which are used by local

fishing companies.

The TCC has also allocated

$600,000 towards further

repair and upgrade works

on Bridge Wharf to increase

access to deep water berthage

for local fishing and other vessels.

The council will also be

looking to invest in additional

temporary berthage along Dive

Crescent, subject to a business

case supporting the investment,

said Brownless.

Dave Pachoud, managing

director of Pachoud Yachts,

said it was really important

for the company to have direct

access to the water and the

travel lift in place.

"This will bring us a lot of

work. It has already, just with

the current project we have

secured on the basis that the

lift was coming and we would

be able to launch the vessel.

It's really been a good thing."

Roger Rawlinson, managing

director of fishing company

RMD Marine, said that

being able to develop complementary

marine businesses

in the area was fantastic for

everyone at the precinct.

"We all have a stake now to

make the area work for industry.

We consider the precinct

to be crucial to a better future

for everyone in industry. RMD

Marine could have relocated

our business, but because of

Vessel Works, business and services

are now available here.

"Our boats were too big to

go on the old slipway, but the

new travel lift is an amazing

piece of engineering and having

the ability to lift heavier

boats, in a place where several

boats can be worked on, will

put Tauranga on the map as

the place to go. It makes sense

to retain marine industry skills

locally and attract more people

to our region to work on their

vessels. We could end up leading

this industry."

Super Yacht Coatings

co-owners Regan Woodward

and Mark Hanna are originally

from the Bay and are relocating

their main operational base from

Auckland to a new purpose-built

facility at the precinct.

"We think it's a really good

move," said Woodward, noting

that the company would be

working on a 44 metre sloop in

November. While he declined

to go into details on anticipated

volumes for reasons of

commercial confidentiality,

Woodward said SYC was aiming

to double its turnover.

"We're very positive and

think there's a lot of potential.

If the hardstand is run right

and the pricing is correct, and

it sounds like it is, there's no

stopping it, especially in the

current climate."

Pacific 7 owner Sean Kelly

said that having SYC in the

precinct was a key factor

because they would have a

facility that the hoist could

drive large vessels into.

"It's really expensive to wrap

yachts," he said. "You want to

put them in the shed and reduce

the environmental risks."

Kelly, a long-time Sulphur

Point marine business operator,

said he knew of at least four

super yachts planning to come

to Tauranga over the next few

months, which would have a

lot of maintenance work done.

Jaine Lovell-Gadd, the TCC

general manager responsible for

the project, said that for her the

key element was keeping the

marine industry in Tauranga.

"We have a city surrounded

by deep water," she said.

"I think the precinct's purpose

is about keeping keep the

marine industry in the city and

the flow-on effects of that, in

the form of employment and

economic value.

"The thing that has really

resonated with me is that

BOP Regional Council's John Cronin, NZMIA's Peter Busfield,

TCC Mayor Greg Brownless and Hutcheson's Don Mattson at

the precinct's official opening. Photo/Tauranga City Council.

industry itself has wanted

to buy the land - they aren't

tenants, they are part of this

development. The industry

was serious about wanting the

precinct with the travel lift

that goes with it. They helped

shape the vision and were serious

about it, and were prepared

to put money in. I think that

showed the commitment from

everybody. You draw on all the

skill sets from all around."

Jim McManaway, owner

of SMF Engineering, who

has been acting chair of the

Tauranga Marine Industry

Association, said he believed

the precinct would in time

rejuvenate an industry

that Tauranga was not only

renowned for, but had essentially

been founded upon.

"It is not just complementary

to what remains of our local

industry, but goes some way

toward restoring skills and

infrastructure that have been

systematically left to deteriorate

and /or been removed,

particularly over the last two

decades," he said.

"The economic flow-on

effect of the precinct is obvious,

and there are few other

regions that have the ability

to tick as many boxes under

potential for marine services

as Tauranga."

McManaway said credit

was due to the many people

who had been pushing for a

marine hub over the decades.

"Things could have been

done differently, but we now

have a world-class facility.

What we need to do is turn

that into a world class operation,

and then we can build on

that with confidence. We need

to make sure we draw on the

vast experience in marine services

of all the stakeholders in

the precinct."
---
4 BAY OF PLENTY BUSINESS NEWS August/September 2018

CONTACT

INFORMATION

PUBLISHER

Alan Neben

Ph: (07) 838 1333 Mob: 021 733 536

Email: alan@nmmedia.co.nz

SALES DIRECTOR

Deidre Morris

Ph: (07) 838 1333 Mob: 027 228 8442

Email: deidre@nmmedia.co.nz

EDITOR

David Porter

Mob: 021 884 858

Email: david@nmmedia.co.nz

STUDIO MANAGER

Tania Hogg

Ph: (07) 838 1333

Email: production@nmmedia.co.nz

GRAPHIC DESIGNER

Kelly Milne

Ph: (07) 838 1333

Email: kelly@nmmedia.co.nz

ADVERTISING

INQUIRIES

Please contact:

ACCOUNT DIRECTOR

Vanessa Lee

Mob: 021 715 225

Email: vanessa@nmmedia.co.nz

BUSINESS DIRECTOR

Pete Wales

Mob: 022 495 9248

Email: pete@nmmedia.co.nz

ELECTRONIC

FORWARDING

EDITORIAL:

News releases/Photos/Letters:

david@nmmedia.co.nz

PRODUCTION:

Copy/Proofs:

production@nmmedia.co.nz

SUBSCRIPTIONS:

info@nmmedia.co.nz

Neben Morris Media specialises

in business publishing,

advertising, design and print

media services.

Bay of Plenty Business News has

a circulation of 8000, distributed

throughout Bay of Plenty between

Waihi and Opotiki including

Rotorua and Taupo, and to a

subscription base.

Bay of Plenty Business News

Suite 4, 117 Willow Street

Tauranga, 3110

Bay of Plenty

www.bopbusinessnews.co.nz

12 Mill Street, Hamilton

PO Box 1425, Hamilton, 3240

Ph: (07) 838 1333

Fax: (07) 838 2807

www.nmmedia.co.nz

From the editor

In this month's cover story,

we look at the impressive

new Marine Precinct that

officially opened for business

recently on what was formerly

a cluster of marine businesses

hanging on under temporary

tenure at Tauranga's Sulphur

Point.

Industry sources are optimistic

about the potential of

the new precinct to rejuvenate

the city's marine services sector.

The first stage of the precinct

is being supported by six

well-known marine services

companies, which have taken

stakes in land based around a

high-spec 6300 square metre

post-tensioned hardstand controlled

by the Tauranga City

Council (TCC).

The hardstand and the precinct's

key selling point – an

Italian-built 350 tonne vessel

hoist, the biggest in the

country – will be operated by

a council-owned company,

Vessel Works. Wardale Ltd,

controlled by consultant Phil

Wardale, who has project managed

the precinct's development

over the past three years,

has been awarded a three-year

contract to manage and operate

Vessel Works.

The Kiwifruit Claim Group

plaintiffs are digging in for a

court battle likely to extend

into next year, following the

Crown's decision to appeal

the recent High Court ruling

that the Ministry for Primary

Industries had been negligent

and breached its duty of care

in allowing Psa into New

Zealand.

The Crown's appeal is

wide-ranging and seeks to

clarify the scope under which

government regulators can

be sued for negligence. In

response both original plaintiffs,

Seeka and the 212-strong

grower group, have filed a

cross appeal and deplored the

government's action.

A new sort of green gold

may soon rival SunGold kiwifruit

as a high value crop option

Hands on: Tauranga Mayor Greg Brownless at the controls

of New Zealand's biggest vessel hoist at the Marine

Precinct's official opening. Photo/Tauranga City Council.

David Porter

for Bay of Plenty orchardists,

according to Tauranga-based

company MediCann. The company

aims to establish a network

of medicinal cannabis

growers throughout the Bay

of Plenty to supply the medical

cannabis market, which is

expected to grow rapidly once

government makes its production

legal.

The company has targeted

the Bay because the region is

home to a high level of horticultural

expertise, thanks to

its strength in the kiwifruit and

avocado industry. The company

is awaiting final passage of

the Misuse of Drugs (medicinal

cannabis) Amendment Bill

to be passed officially into law,

with most observers expecting

this to occur later this year.

Entries are still open

this month for the Westpac

Tauranga Business Awards,

with Air New Zealand sponsoring

a new category that

will celebrate Corporate

Sponsorship and Philanthropy.

Entries for all except the new

category will close on Friday,

14 September, with results

announced at the annual

awards gala at ASB Arena on

Friday, 9 November.

The Tauranga Chamber of

Commerce is calling for the

nomination of supportive businesses

in the new category by

Friday, 28 September.

Advice + Experience

= FINALISTS

in the NZ 2018 Xero Awards

'Accounting Partner of the Year'

category

We're fiercely proud of the depth of experience in our

team that allows us to deliver better business advice.

It's nice to be acknowledged by Xero, too!

What does better business advice look like?

Find out at one of our Xero workshops.

Wednesday 31 October

Xero Debtors & Creditors

Date TBC - Register your interest

Xero Fundamentals

Head to www.inghammora.co.nz to register.

07 927 1200

60 Durham St, Tauranga

www.inghammora.co.nz
---
New infrastructure will

attract overseas yachts

By DAVID PORTER

I was promoting

NZ marine

"When

services overseas

recently, a super yacht skipper

advised that his yacht is

coming for haul out at the new

precinct later this year," said

Busfield.

"This will be one of many

over the next few years and I

predict that the precinct and

Vessel Works will be full of

vessels very soon."

Addressing the official

opening of the precinct in

August, Busfield said he was

pleased on behalf of the marine

industry that the Tauranga City

Council and the BOP Regional

Council had supported the

precinct and encouraged local

marine businesses to buy freehold

property within the area.

"This site will not only serve

the interests of the Tauranga

marine industry," he said.

"I think you will be amazed

at the number of boats that

will come - not only from all

over New Zealand, and from

Auckland, which is lacking

infrastructure like this, but

from offshore."

COVER STORY

The new waterfront operation at Sulphur Point will put Tauranga

on the map as one of the largest marine precincts in New

Zealand, says Peter Busfield, executive director of both the NZ

Marine Industry Association (NZMIA) and its associated industry

training organisation.

Busfield, who has recently

been in Fiji promoting the

New Zealand marine services

industry, noted that the 15

super yachts moored there

during his visit were just part

of a fleet of 74 super yachts

expected to pass through the

port this year.

"I was previously in Palma

de Mallorca [in the Balearic

Islands, Spain], one of the biggest

centres for super yachts in

On the hard: Pacific 7's new 31 metre workboat (left) was

recently acquired from the US. Photo/Tauranga City Council.

BAY OF PLENTY BUSINESS NEWS August/September 2018 5

Europe," he said.

"With facilities like the

Marine Precinct, Tauranga is

hopefully going to get good

business from the European

boats that will decide to stay

longer in NZ for their refit and

professional services."

He added that successive

NZ governments had made

it easier for visiting offshore

yachts, which could now stay

for 24 months and access GSTfree

services. "That is all a

good incentive for them to

come to NZ and now to access

the largest haul-out centre in

the country."

On top of that, the

America's Cup was likely to

provide a huge boost to the

industry, and the new facility

could expect to benefit, said

Busfield.

During the America's Cup,

as well as 25 police, marshalling

and umpire boats, and

its own 20 support vessels,

Emirates Team NZ would

also be hosting on the water

between 800 and 1000 VIPs

each day of racing.

"Emirates Team NZ works

on the basis of having hundreds

of smaller sponsors who

become part of the family and

will have to be entertained.

That means eight to 10 ferries

will be needed."

In addition, the teams so

Strong growth expected

for new precinct, says

NZ Marine Industry

Association's Peter Busfield.

Photo/Tauranga City Council.

far signed up from Italy, the

US and the UK, will also have

hundreds of VIPs to host, there

would likely to be another

20 or so ferries needed, said

Busfield, plus there would

likely be more than one thousand

media.

"There is a lot infrastructure

involved and Auckland just

does not have the required infrastructure

to handle than number

of vessels. So I am expecting

that you will get some pretty

good business leading up to the

America's Cup."

Busfield said the NZMIA

currently had about 200 companies

listed nationwide, with

470 apprentices in training.

"With the growth nationwide,

we are expecting to see

about 600 apprentices in the

next couple of years, and I'm

sure that a lot of those new

employees will come from

Tauranga."

Dustless Vapour Blasting

Sand Blasting

Commercial Marine Painting

New Builds

Repaints

Paint Repairs

Antifouling

Propspeed

New Zealands premier marine painters, providing an

international standard of finish to the local market.

From Luxury yachts to Work boats, we've got you covered

0800 SY COAT

email: info@superyachtcoatings.com

web: www.superyachtcoatings.com
---
6 BAY OF PLENTY BUSINESS NEWS August/September 2018

Investors in the Marine Precinct

Hutcheson Boatbuilders

Hutcheson Boatbuilders,

run by Don Mattson, has

been in the marine business

since 1993 and is wellknown

in the Bay of Plenty and

nationally for its high-quality

boat building workmanship.

The firm - which has been

based out of Sulphur Point

for more than two decades -

undertakes a complete range of

shipwright and boat-building

work on recreational and commercial

vessels.

Hutcheson also undertakes

new boat construction, vessel

refits, vessel repairs and maintenance,

general marine engineering,

osmosis repairs, stainless

steel work, and repaints.

Mattson, who has been

pushing for an integrated

marine service centre and

replacement for the decommissioned

former slip for some

years, said the industry now

had the confidence that it could

service both commercial and

recreational boats that were of a

larger tonnage than in the past.

"We have a very vibrant

fishing industry in Tauranga

and we haven't been able to

service their bigger boats for

some time, and now we can.

"That will help locals

who won't have to travel to

Whangarei for a lift anymore,

which is quite a wasteful journey

for a local fishing boat."

"We're now really up for

the challenge and to move

forward."

Pacific 7

Pacific 7 is a marine contracting

company run by

Sean Kelly, one of the

long-established identities on

the Sulphur Point waterfront,

who has a fleet of workboats

and barges and a tug.

The company supplies a

number of marine services to

local and central government,

including piling, surveying,

salvage and mooring.

Current projects include

supplying the vessel for a seabed

survey in the Eastern Bay

of Plenty.

Pacific 7 has also recently

purchased a 31 metre boat

from the US, which Kelly said

he expected would be put to

work on a project in the South

Pacific for several months.

His electric work boat

concept (see Bay of Plenty

Business News, May-June

2018) has generated considerable

interest and Pacific 7 is

now preparing for a project in

mid-October to convert a twin

diesel engine recreational boat

to electric propulsion.

"We've got a number of

people who are seriously interested

in the electric option,"

said Kelly.

"We're looking forward

to our tenure at the Marine

Precinct. It will mean a brand

new workshop for us, with

new berthage facilities, so we

can maintain our own boats

efficiently and provide services

to others."

Super Yacht Coatings

SYC specialises in the fairing

and painting of large luxury

vessels.

Since its formation in 2011

by Mark Hanna and Regan

Woodward, the company has

worked for numerous boat

The Pachoud Sport Cat 60 VS model. Her maiden voyage was an 870nm crossing to

New Caledonia, averaging an astonishing 32 knots. Photo/Pachoud Yachts.

ed when it was built at Alloy

Yachts about five years ago.

Pacific 7's Sean Kelly noted

that SYC's contribution to the

precinct would be significant.

"Painting is one of the biggest

difficulties you have with

maintaining a boat these days

- you want to put them in the

shed and reduce environmental

risks. Mark and Regan's

painting facility will be a big

draw card."

Pachoud Yachts

Pachoud Yachts is a progressive

and innovative

boat-building company,

specialising in the construction

of luxury composite yachts,

which has been operating in

the Bay of Plenty for more

than three decades.

The company is focused

on: custom building large luxury

yachts and superyachts,

building a semi-production

range of Sport Cats, the refit

COVER STORY

of superyachts, and the conversion

of commercial vessels

into superyachts.

"As a business we are currently

going through an extended

period of high growth, with

the rapidly growing popularity

of our Sport Cat range being

a significant contributor,"

said managing director Dave

Pachoud.

"We are increasing our

research and development in a

range of fields, including hydrodynamics

and hydrofoil design -

an area in which we have broken

numerous boundaries.

We are currently expanding

our highly skilled composite,

mechanical, interior and painting

teams as well.

Our new high-tech facility

in the Marine Precinct will be

able to house vessels of up to

60m in length for new build

and refit.

"We are very excited to be

a part of the Marine Precinct

development and believe it will

builders, shipyards and yacht

owners throughout the world.

The company was set up in

Auckland, and its BOP-born

owners are taking the opportunity

presented by the precinct

to move to a purpose-built

facility that will become its

new operational HQ.

"Our first client was Alloy

Yachts," said Woodward.

"Back then SYC employed six

people on a labour-only contract.

We now employ around

35 staff working around

Australasia. We are planning

on bringing a lot of work from

out of town and offshore into

Tauranga.

"We are looking to hire

local Tauranga people who

are motivated to work in the

marine painting industry and

we are offering apprenticeships."

SYC is about to begin its

first super yacht repaint job on

the new hardstand - a 44 metre

sloop they originally paintbe

a serious benefit to Tauranga

and the local economy."

RMD Marine

RMD Marine fishes and

lands fish from the West

Coast to the East Coast

of the North Island.

The company, owned by

the three Rawlinson brothers,

Roger, Marcus and Daniel, is

now focusing its efforts on the

company's state of the art 24

metre trawler Santy Maria.

Launched in 2016, this was

one of the first new build fishing

boats in the industry for

many years and has replaced a

number of older boats operated

by RMD Marine.

RMD Marine has been

working for some years with

Moana Pacific Fisheries and

is partnering with them on its

fleet renewal.

"Our current fishing focus

is to land quality and sustainable

fish with less impact on

the environment," said Roger

Rawlinson.

"We have replaced our older

vessels with the Santy Maria to

do so. We are still catching the

same fish, but in a better way

and the safety of our crew at sea

is held at the highest standard."

RMD Marine/Moana

Pacific has been on the

Sulphur Point waterfront for

several years, and will be sharing

adjacent wharf space with

longtime Sulphur Point occupant,

Sean Kelly of Pacific 7.

"The development of the

new wharf will deliver extra

berthing, which is well overdue.

Finalising this isn't far

away, and we have plans laid

out and are ready to roll."

SMF Provides the Full

Range of Specialised

Marine Hardware Solutions

Specialised Metal Fabricators Ltd is now up and running in

its new office and workshop in the Marine Precinct at Sulphur

Point. SMF offers contract manufacturing, metal fabrication

and machining services, including all types of marine

stainless steel, aluminium and other metal- based work

across the full range of boat chandlery and other hardware.

SMF specialises in the manufacture

of one-off components and small

production runs, complementing its

ability to provide efficient repairs and

maintenance. The team can provide innovative

design solutions and advice to

clients, drawing on more than 25 years'

experience in marine fabrication.

"Our goal is to provide our clients with

innovative custom engineering solutions

that have a perfect blend of value and

quality," says owner and director Jim Mc-

Manaway.

Recent projects have included stainless

and alloy tanks, exhaust elbows, heat

exchanges, hand rails, pushpits and pulpits,

stanchion repairs, stanchion bases,

bimini frames, dodger bows, fair leads,

tandem alloy boat trailers, bait stations,

dive ladders, hard top supports and radar

arches. SMF also repair a wide range of

alloy-bronze, brass, magnesium, titanium

and stainless castings and fittings.

Apart from SMF's marine engineering

work, the company has also been involved

in the manufacture of residential balustrades

architectural fittings and frames,

fencing and gates. In fact SMF can provide

expert advice on almost any metal fabrication

job.

07 578 1575

1 Den Place,

Marine Precinct, Tauranga

metalfabmf.co.nz
---
COVER STORY

BAY OF PLENTY BUSINESS NEWS August/September 2018 7

Stakeholders urge collaboration

to make best of precinct

Phil Wardale, who project managed the Marine Precinct

development, and whose consultancy will now manage

Tauranga City Council-owned Vessel Works, acknowledges there

have been some hiccups in the years of developing the hub.

By DAVID PORTER

fair to say we took

some time out during the

"It's

project to be really sure

at every step as decisions were

made that we were doing it the

right way," he said. "What we

stayed focused on was a lot of

future proofing."

It was originally hoped the

hardstand would be installed

by late last year. The precinct

is now operational and the

hoist has so far successfully

lifted almost a dozen vessels.

But there are still negotiations

going on with civil works contractors

HEB Construction

over some completion issues

and costs, and it could be up

to a year before some stakeholding

companies will be in

a position to finally move into

their own completed premises.

Wardale says the weather

and evolving specs played a

large role in the delays.

"During last Winter, HEB

Construction had a lot of difficulties

with the rain. They

had months where they had

washed-out base course under

the slab, and by the end of the

year were struggling to get the

right weather conditions."

Phil Wardale (above): Aim was to future proof the new

hardstand and hoist (right). Photos/Tauranga City Council.

Wardale said there were

also amendments to the specs

along the way, which has taken

extra time. The last major

works still being completed

involve the water processing

plant.

"That has moved from

being a plant that was quite

simple for stage one, to being

one of the most advanced in

the country for a boatyard,

which is now able without any

modifications to take stage two

and three," he said.

"It also now includes fully

computerised recycling of the

water. There's a whole lot of

detail like that because we

have continually massaged the

project to get the best outcome."

The TCC's Jaine Lovell-

Gadd confirmed that final

quality issues were being

worked through with HEB

Construction.

"These are just things that

happen at the end of a contract,"

she said. "Originally we

were looking at a smaller project

and hoist, then you put it

to market, then get a chance to

make it bigger. I think we are

making good progress."

Wardale said that five people

were trained in using the

hoist, including himself and

Wardale Ltd staff, and more

would be trained up. Now that

Wardale had won the contract

to run the facility for the council,

operating manuals, price

lists and processes were being

drawn up.

"We've now got a lot of

work to do in marketing the

precinct," he said. "The local

region knows about it and my

task is to spread the word in

the wider region. We want to

provide an efficient and seamless

operation."

Bay of Plenty Business

News has spoken to all of the

major stakeholders on the project,

and there was a general

feeling there was a need for

better communication between

the council and business as the

precinct moves into its next

phase.

Hutcheson Boatbuilders'

Don Mattson said that, despite

some issues coming up during

the development, overall it was

time to be positive about what

had been achieved.

"A lot of areas don't have

councils doing something

like this and getting behind

the industry like this," said

Mattson. "It's a new venture

for everyone. And we've got

work coming in already. We

need to work more closely

with the council so they understand

where we are coming

from."

SMF Engineering's Jim

McManaway said he thought

what the council had achieved

since Wardale's involvement

had been great.

"Now, given we've transitioned

from the conceptual to

the operational stage, it's my

belief we should be looking at

more of a pragmatic and collaborative

approach between

stakeholders."

JOIN

NOW!

Be a recognised and respected member

of the Tauranga business community by

joining the Chamber.

Join Tauranga Chamber members Lyn and Brent Trail

from Surveying Services, Tauranga.

Chamber members benefit from business support and

connections, networking and training events, business profiling

opportunities, plus regular member deals and promotions.

For more details & to sign up visit www.tauranga.org.nz
---
8 BAY OF PLENTY BUSINESS NEWS August/September 2018

Baypark launches

new Concert Series

Baypark has launched a new Baypark Concert Series aimed

at bringing top calibre acts to the Bay of Plenty.

The series will cater to the

family and mature market

and sees Baypark

adopting a much more proactive

approach to sourcing

high quality concert acts,

says Gillian Houser, the venue's

Business Development

Manager.

The first in what will be a

four concert series each year, is

The Merchants of Bollywood

(on Tuesday, 23 October), followed

by vocal icon Dionne

Warwick's Greatest Hits Tour

(on Sunday, 11 November.)

The five time Grammy®

winner was last in New Zealand

when Warwick toured in the

mid-nineties, a tour Houser

was involved in promoting in

a previous role. Warwick was

originally on an Australianonly

tour. She had not intended

to come to New Zealand until

Houser visited Australian promoters

and secured exclusive

rights for Baypark to present

her in the North Island. The

Australian promoter arranged

for a Christchurch concert for

Warwick's only other appearance

in New Zealand.

"Our driver is all about

building on our reputation

that Baypark is the Hub of

Entertainment in the Bay of

Plenty," said Houser.

"We haven't been getting

this style of entertainment in

Dionne Warwick: Pop icon and

multimillion selling recording legend.

the city, which is why we've

launched our Concert Series.

The reality is that to get top

acts we need to get closer to

the source and bring them in

ourselves."

The proactive approach

to researching, sourcing and

signing international acts has

resulted in performers coming

to Baypark that would

never previously have considered

Tauranga. Growth in the

region now means that demand

for these entertainers is there

The Merchants of Bollywood will provide

a riot of high energy dance and music.

and Baypark expects ticket

demand to be very strong.

The series has been a long

time coming with many hours

of planning and international

correspondence.

Houser said Baypark was

already in negotiations with

a number of other potential

international artists to maintain

the flow of high quality acts

into Tauranga next year.

Confidence in the success

of the tour is further cemented

by Farmer Auto Village supporting

the series as a key

sponsor.

"It is with great pleasure

and huge excitement that the

team at Farmer Auto Village

are enthusiastically involved in

this wonderful concert series,"

said Michael Farmer, Group

Managing Director.

"It's fantastic to see

Tauranga can host such a high

calibre of artists in our great

city."

The Merchants of

Bollywood was originally

booked to take part in a

Auckland festival, but Baypark

has secured the rights to one

other New Zealand appearance

in Tauranga.

The concert features a cast

of more than 40 performers

direct from Film City Mumbai

– the home of Bollywood

Cinema.

The show tells the story

of how the Merchant family

dynasty upholds the responsibility

for maintaining the

ancient traditions of the Kathak

dance, the dance of the Gods.

Featuring a cast of more

than 40 performers adorned

in 1200 different eye-popping

costumes and 5000 pieces

of glistening jewellery, this

uplifting show is a riot of colour

and high-energy music

by award-winning composers

Salim and Sulaiman Merchant.

Sensational dance scenes

are choreographed by Vaibhavi

Merchant, granddaughter of

Hiralalji Merchant, one of the

founders of classic Bollywood

Cinema.

Merchant's choreography

incorporates many different

styles of Indian dancing

including folkloric dance from

Rajasthan and contemporary

forms such as disco – showcasing

the true variety of

Bollywood musicals.

Tickets available from

Ticketek and start from $85.00.

The un-missable, five-time

Grammy® winner Dionne

Warwick is renowned for

her scintillating and sensual

interpretations of pop classics,

including many from

chart-topping songwriters Burt

Bacharach and Hal David.

Warwick has become a

cornerstone of American pop

music and culture, with a

career that has lasted half a

century with 75 charted hit

songs and record sales of more

than 100 million.

With timeless classics

"Don't Make Me Over" "Walk

on By" "Anyone Who Had a

Heart", "Message to Michael",

"Promises Promises", "A

House is Not a Home",

"Alfie", "Say a Little Prayer",

"This Girl's in Love With

You", "I'll Never Fall in Love

Again", "Reach Out For Me",

and the theme from Valley of

the Dolls, Warwick is sure to

captivate and entertain.

Tickets from $85.00 available

at Ticketek, including

exclusive VIP meet and greet

opportunities.

For more information on

any events visit www.asbbaypark.co.nz

or call 07 577 8560.

To purchase tickets visit

www.ticketek.co.nz

Exceptional People

Exceptional Care

Care rooms available now

At Radius Care, we know that moving into care can be a big

upheaval, not just for new residents, but for family members too.

That's why we do all we can to minimise the stress, and make

the transition as smooth and comfortable as possible. Plus, once

you've moved in, everything you need, from excellent amenities

to expert care (including residential and hospital level), is right

here, onsite. Giving you peace of mind, that whatever the future

brings, your future health and wellbeing needs will be met.

Radius Althorp

9 Grantston Drive, Pyes Pa

Ph (07) 543 2912

Radius Matua

24 Levers Road, Matua

Ph (07) 576 2802

www.radiuscare.co.nz 0800 737 2273

With 22 locations, 1500 staff and 1700 residents nationwide, Radius Care is one of the

largest providers of aged care in New Zealand, and also considered one of the best.
---
BAY OF PLENTY BUSINESS NEWS August/September 2018 9

Westpac Awards announces new

Corporate Sponsorship category

Entries are now open for the Westpac

Tauranga Business Awards, with Air New

Zealand sponsoring a new category that

will celebrate Corporate Sponsorship

and Philanthropy. Entries for all except

the new category will close on Friday, 14

September, with results announced at

the annual awards gala at ASB Arena on

Friday, 9 November.

The Tauranga Chamber

of Commerce is calling

for the nomination of

supportive businesses in the

new category by Friday, 28

September.

Awards organiser Anne

Pankhurst said the chamber

was delighted Air New

Zealand is supporting the

important new category.

"The corporate sector supports

and contributes an enormous

amount towards the

community, and it was felt

that this needs to be recognised

through an award," said

Pankhurst.

"While a large amount

is contributed through the

ever-necessary money, the corporate

sector also contributes

its time and expertise.

"It was felt that if this was

recognised in a tangible manner,

it would encourage the

philanthropic culture that is

needed to support and grow

the social infrastructure of

the city."

Judges are carefully selected

for their business skill and

knowledge, with any conflicts

established at the beginning

of the process. Judging will

proceed in three stages.

The first stage is the initial

assessment of the entry by the

head judge, financial judge and

awards coordinator.

In stage two businesses will

be visited by the judges, who

will drill down in more detail

on the entry and gain an over

all impression of the business.

This interview will take

up to two hours. There may

also be a third stage where the

judges may return for a second

site visit or a specialist judge

may visit.

At this point there will be

further scrutiny to financials,

staff and any further detailed

information.

Judges may request customers

or suppliers information

to gain feedback, and may

ask to involve staff.

Pankhurst said the chamber

was still finalising who would

serve as head judge.

Last year's Westpac

Tauranga award winner was

1st Call Recruitment, which

not only picked up the overall

award for Business of

the Year, but also won in the

Embracing Digital Technology

category, and picked up a

Highly Commended award for

Workplace Safety.

The company, which has

become the biggest employment

agency in the Central

North Island since it was

founded in Tauranga in 2006,

says it has found the awards

process very useful.

Managing Director Phill

Van Syp said the award wins

had been very helpful in winning

new business and had

prompted a lot of positive

comment from clients.

"We reviewed everything

about the business when we

went through the awards

process. We re-evaluated

everything and found some

holes that we could fix.

"We've moved away from

some sectors, but we're putting

more effort and focusing

on other areas of the business,

including the white-collar

sector, which has seen huge

growth for us."

1st Call also has a new

employment-related software

product coming out at the end of

the year, and has been working

with Callaghan Group on this.

"The awards have been

very positive for everyone

here," he said.

Bay of plenty

NOVEMBER/DECEMBER 2017 VOLUME 2: ISSUE 17 WWW.BOPBUSINESSNEWS.CO.NZ FACEBOOK.COM/BOPBUSINESSNEWS

1st Call Recruitment's team celebrates its big win.

Photo: Natalie Murdoch Photography/Tauranga

Chamber of Commerce.

1st Call

gets the call at

Tauranga awards

Bravery and a willingness to strategically

integrate technology in business were

the key themes at the 2017 Westpac

Tauranga Business Awards, held before

a crowd of 450 at the annual gala event

at ASB Arena this month.

By DAVID PORTER

st Call Recruitment led

the roll call of 13 win-

taking out the overall 1ners,

Westpac Business of the Year

Award. The company also

won the Vodafone Embracing

Digital Technology Award, and

was highly commended in the

ACC Workplace Safety Award.

Tui Products, a former

Westpac Business of

the Year winner, received

the University of Waikato

Corporate Leadership Award.

Innovative Mount

Maunganui-based design

BUSINESS

ClaaS

NO IT IS

NOT A SPELLING

MISTAKE -

FIND OUT MORE

AT ARRIVALS

Best

in Bay

store Paper Plane won the

Bay of Plenty Business News

Sustainable Business Practices

Award, with a highly commended

going to the Young

Innovator Awards team.

(Please see pages 23-29 for

full coverage of all winners.)

The awards are run by

the Tauranga Chamber of

Commerce, and coordinator

Anne Pankhurst said this

year saw an increased number

of entrants, with a wide

mix of businesses across

all sectors and business

practice.

Head judge and financial

assessor Raimarie Pointon,

a principal of Young Read

Glen Forgie, chief executive of Corporate Award winner Tui Products,

with Heather Connolly of category sponsor University of Waikato. Photo:

Natalie Murdoch Photography/Tauranga Chamber of Commerce.

Woudberg, also commented on

the wide range of high calibre

local businesses.

"There has been a very clear

theme to the 2017 Westpac

Business of the Year Awards

with the entrants showing

more entrepreneurship and

innovation," she said.

CLOUD AS A SERVICE

"As never before, we have

seen local businesses embracing

technology as the cornerstone

for carefully considered

and well-structured strategy."

Tauranga Chamber chief

executive Stan Gregec said it

was great to see a mix of both

newer and more established

businesses being recognised in

this year's awards.

"The Tauranga business

landscape is changing every

year and we are seeing a

whole new crop of businesses

emerging that add variety,

scale and sophistication to our

economic base."

ARRIVALS

stratusblue.nz/businessclaas

WESTPAC TAURANGA BUSINESS AWARDS 2018

– CATEGORIES

Award

Sponsor

Customer Experience Award......................................... Trustpower

Excellence in Service Award.......................................... YOU Travel

Manufacturing, Construction and Distribution Award..... Powerco Ltd

ACC Workplace Safety Award....................................... ACC

Corporate Leadership.................................................... University of Waikato

Social Enterprise........................................................... Bay of Connections

Business Innovation ..................................................... Zespri

Retail Excellence Award................................................ Gartshore Retail Interiors

Tourism and Hospitality................................................. Bay Venues

Embracing Digital Technology........................................ Vodafone

Emerging Business........................................................ Toi Ohomai

Sustainable Business Practices..................................... Bay of Plenty Business News

Corporate Sponsorship Award...................................... Air New Zealand

1st Call Recruitment's team celebrates its big wins last year.

Bay of plenty

Proud sponsor of the Sustainable Business Practice award

Naming Sponsor......................................................... Westpac

Media Partners........................................................... NZME

WINNERS OF THE WESTPAC BUSINESS EXCELLENCE AWARDS 2017

Winner - 'Business of the Year' | Winner - 'Embracing Digital Technology'

Highly Commended - 'Workplace Safety'

Tauranga - Hamilton - Auckland - Wellington - Christchurch

0800 46 36 75 l info@1cr.co.nz

www.1cr.co.nz

Make your 1st

Call for all your

recruitment needs

to our award

winning team
---
10 BAY OF PLENTY BUSINESS NEWS August/September 2018

BOP company aims to get

green gold from region

A new sort of green gold may soon rival

SunGold kiwifruit as a high value crop

option for Bay of Plenty orchardists.

By RICHARD RENNIE

Tauranga-based company

MediCann aims to establish

a network of medicinal

cannabis growers throughout

the Bay of Plenty to supply

the medical cannabis market,

which is expected to grow rapidly

once government makes

its production legal.

MediCann managing director

Brendan Ogilvy says the

company has targeted the Bay

of Plenty because the region is

home to a high level of horticultural

expertise, thanks to its

strength in the kiwifruit and

avocado industry, and because

there is a strong culture of

entrepreneurship within the

community.

"We are looking to model

our operation off Zespri's use

of plant variety rights with

kiwifruit," said Ogilvy.

"MediCann will supply the

seeds, the crop standards and

the hardware necessary, with a

contract to purchase from the

grower at harvest time."

MediCann has attracted significant

investment and inquiries

from some of the Bay of

Plenty's most successful growers,

and Ogilvy said the company's

grower network was

one of its key points of difference

within the MC industry in

New Zealand.

The company is awaiting

final passage of the Misuse

of Drugs (medicinal cannabis)

Amendment Bill (see accompanying

article) to be passed

officially into law, with most

observers expecting this to

occur later in the year.

"We are very happy with

the direction the government

bill is going, and also with

what National has proposed,"

he said.

Internationally, the medicinal

cannabis industry is esti-

mated to be currently worth

US$50 billion, and ultimately

up to US$200 billion.

The value in New Zealand

alone is estimated to be $1

billion, based on Department

of Health estimates that

250,000 people a year access

medicinal cannabis.

In light of an opioid drug

epidemic in the US claiming

63,000 people a year from

addiction, cannabis treatment

is starting to draw attention

for its effectiveness in certain

treatments, including

pain relief.

It is difficult to overdose

on medical cannabis as a treatment,

and while it does have

addictive characteristics, it sits

lower on that scale than other

addictive options in society,

including alcohol.

Ogilvy says his company

aims to establish secure,

covered growing areas with

a 1000sqm footprint, making

them easy to fit into an existing

orchard's boundary.

"But it is not a 'plug and

play' crop," he said.

"There is a level of grower

training and experience

required, and we will have

agronomists to help get growers

up and running with it."

Ogilvy said MediCann

would deliver affordable and

accessible cannabinoid-based

treatment of the highest medical

standard.

MediCann is co-founded by

two leading medicinal cannabis

experts, Ross Smith, and

Luc Krol, owner of Paradise

Seeds, a European supplier of

cannabis seeds for the past

40 years.

The company's board also

includes Elizabeth Plant, a

former president of the New

Zealand Pharmaceutical

Society and Pharmac advisor,

and Dr Franz Strydom, a wellknown

Tauranga GP and skin

Brendan Ogilvy: Aims to use Bay's strong grower network

to move into medical cannabis market. Photo/Supplied.

cancer doctor.

Ogilvy said the projected

returns for medicinal cannabis

should make interested growers

take notice. MediCann

estimates that one hectare of

medicinal cannabis will yield

$1.5 million, compared with

one hectare of SunGold earning

$110,000 in orchard gate

returns.

Processing will be carried

out with pharmaceutical

partners in New Zealand,

and Ogilvy said the company

already has clinically proven

branded products ready to be

sourced from New Zealand

grown cannabis, once legal

approval is granted.

There is a level of

grower training and

experience required,

and we will have

agronomists to help

get growers up and

running with it.

Ogilvy and MediCann are

not alone in efforts to secure a

piece of the burgeoning medicinal

cannabis market.

In May, Auckland-based

company Helius Therapeutics

announced its intention to start

growing and processing medicinal

cannabis from an undisclosed

location in Auckland

from a purpose-built 6500 sqm

growing facility.

The group managed to

raise $15 million in only four

months, including a portion

underwritten by a low profile

high wealth family.

Director Paul Manning said

the company was on target to

employ about 60 people and

ultimately start exporting into

the lucrative trade.

Down on the East Coast,

Hikurangi Hemp managed to

crash crowd-funding website

PledgeMe when it attempted

to raise $2 million on the site

in April.

The company achieved the

$2 million target, along with

an additional $1.4 million in

registered interest.

An additional $4 million is

intended to be raised from institutional

investors.

While both companies have

connections to overseas seed

suppliers and expertise, they

are locally owned.

All parties jumping on medical

cannabis bandwagon

As political parties jostle

for voter attention in the

crowded centre of New

Zealand's political spectrum,

medical cannabis is proving an

unlikely subject to grab their

interest.

Attention was piqued earlier

this year when the Misuse

of Drugs (medicinal cannabis)

Amendment Bill passed its

first reading. The Bill had its

second reading in late July.

However, the final report

from the Health Committee

has stalled the Bill, with

the committee being unable

to reach agreement due to a

polarity of views and complexity

of the issues.

These are largely around

the lack of detail on dispensing,

eligibility, monitoring and

reporting.

Despite that, the Bill is

expected to still go into its

second reading, and ultimately

be passed into law. The legislation

aims to make it legal for

people suffering from terminal

disease and chronic pain to

legally access cannabis-based

products.

The Labour Partysponsored

Bill also comes

with the condition imposed

by the Greens in the coalition

arrangement, that a referendum

be held on legalising

marijuana use, a move also

supported by New Zealand

First.

Meantime, not to be outdone,

National surprised

many in late July by dropping

its initial support for the Bill,

and putting forward its own

alternative medicinal cannabis

Bill.

National leader Simon

Bridges said the government's

Bill ignored how a medicinal

cannabis system would operate

in practice.

"The government has said

it will increase access now and

leave it to officials to think

through the controls and the

consequences later.

"That's typical of this government

but it's not acceptable,

so we are putting forward a

comprehensive alternative,"

he said.

National's proposal requires

products to be approved the

same way other medicines are

approved, through Medsafe,

and cannabis products supplied

only by pharmacist, and

cultivators and manufacturers

licensed for commercial production.

No advertising will be

permitted.

Expectations are that,

despite National dropping its

support for the Bill as it now

stands, a version of the proposed

legislation will still find

passage through Parliament to

become an Act before the end

of the year.

Meantime an annual survey

conducted by the New Zealand

Drug Foundation has found a

lift in public support for legalising

marijuana use, moving

up from 78 percent a year

ago to 87 percent this year.

– By RICHARD RENNIE
---
BAY OF PLENTY BUSINESS NEWS August/September 2018 11

Taxing forestry investment income

For those who have investments in forestry, it's timely to consider

the legitimate opportunities available to manage your tax bill when

the harvest income finally starts to roll in.

REGULATORY MATTERS

> BY GRANT NEAGLE

Grant Neagle, a director at Ingham Mora Chartered Accountants

in Tauranga, is a business advisor and tax specialist. He can be

contacted on 07- 927- 1225 or grant@inghammora.co.nz

With average log prices

tracking above the

three-year average,

investors are earning significant

lump-sum amounts of

income as the stands are harvested

and sold.

First, some background.

Forestry is a tax favoured

investment. Operating and

growing costs are tax deductible

upfront, while the income

is not derived and taxed until

years down the track when the

trees are ultimately harvested

and sold.

To make the most of the

favourable tax rules, the preferred

type of investment fund

entity is one that is transparent

for tax purposes.

The most common type of

transparent entity for widely

held forestry investment funds

is a partnership.

An entity - like a partnership

- is transparent for tax

purposes in that it does not

pay tax in its own capacity.

The investors do instead. Any

forestry income earned, or

expenditure incurred by the

entity is deemed to be earned

and incurred by the investors

in proportion to their ownership

interest in the vehicle.

So, an investor's share of

the annual operating costs

incurred by the forestry entity

flows through to the investor

and can be offset against

the investor's other income.

Similarly, the investor's

share of the harvest income

is received and taxed in the

hands of the investor.

Compare this with a

non-transparent entity, such as

To make the most of

the favourable tax

rules, the preferred

type of investment

fund entity is one that

is transparent for tax

purposes.

a standard company, which is

not transparent. The expenditure

will not flow through to

the investors, so they will not

be able to take advantage of

the tax deduction in the intervening

years.

A further benefit of an

investor holding their investment

through a transparent

entity is that it allows another

set of favourable tax rules to

be applied when the lumpsum

harvest income is finally

earned.

The tax benefit from these

rules will arise when investors

have lower levels of income

in their own names. There are

two sets of tax rules that can

benefit investors.

The first set is known as the

Income Equalisation Scheme

(IES). It allows farmers,

fishers and people that earn

income from forestry to spread

the income over future income

years, rather than have it all

taxed in the year it is earned.

Broadly, this is achieved

by the person making a deposit

to an account held by the

Inland Revenue. The amount

deposited is allowed as a

deduction against the current

year income, i.e. it reduces the

income.

Then the amount of the

deposit becomes income in the

future income year in which

the taxpayer requests and

obtains the repayment of the

amount from Inland Revenue.

Thus, the mechanism of

paying the deposit and then

having it refunded achieves

the spreading of the income

between the years.

The benefit is that the

income may be taxed at an

investor's lower marginal tax

rate. Whereas, if it was all

earned in the one year it may

push the investor into a higher

tax bracket and be taxed at a

higher tax rate.

The second set of rules

allows a person to allocate

income from the disposal of

timber between the year they

derive the income and the previous

three income years.

So, like the IES it facilitates

the spreading of income,

just backwards into past years

instead of forwards in future

years.

It enables a person to have

the income taxed at a lower

marginal tax rate in the current

and three previous years, rather

than paying tax at a higher

rate if all the income was taxed

in the year it was earned.

Unlike the IES, no deposit

payment is required to the

Inland Revenue. Instead a person

files an application with

the Inland Revenue no later

than one year after the end of

the year of sale of the timber.

For an investment that is

subject to the ebbs and flows

of international demand for

timber, and the opportunity

cost of not having put the

land to more profitable uses

along the way, any tax benefits

an investor can gleam will be

well-received.

The comments in this article

are of a general nature and

should not be relied on for

specific cases, where readers

should seek professional advice.

RADIO - TV - DIGITAL

HERE'S WHAT LOCAL BUSINESSES

ARE SAYING ABOUT MEDIAWORKS

"We've had a successful partnership with

Mediaworks here in the Bay for the last

5 years, and have really seen the direct

benefits Radio advertising has had on

our business in that time. The team in

Tauranga have consistently provided

us with great service, acting as trusted

advisers for our marketing activity."

MARK, GENERAL MANAGER, PACIFIC TOYOTA

"For over 10 years we've worked

closely with the Mediaworks team

to help grow our business in the

Bay. The jingle we've had running

with them all this time still get's

mentioned to us by our customers -

it's a catchy number that gets stuck

in their heads....and I love that!"

STEPHEN, OWNER, MR RENTAL

"We were impressed with the results

of our Radio campaign following our

recent relocation. On opening day we

were busy from open to close, with

lines out the door! The best part? We

had a 10% increase vs a similar offer

at the old location. Great work with a

short lead up, Radio works!"

BRUCE, OWNER, SUBWAY CBD TAURANGA

#1

NUMBER ONE NETWORK

IN TAURANGA

WITH 88,900

LISTENERS EVERY WEEK

Contact our Tauranga team

today on: 07 928 7300

SOURCE: GFK RADIO AUDIENCE MEASUREMENT SURVEY, COMMERCIAL RADIO

STATIONS, TAURANGA 2/2018, ALL PEOPLE 10+, MON - SUN, 12MN-12MN
---
12 BAY OF PLENTY BUSINESS NEWS August/September 2018
---
BAY OF PLENTY BUSINESS NEWS August/September 2018 13

Business confidence and

investment markets

A recent survey shows business confidence is at a low level in

New Zealand. ANZ's monthly survey of hundreds of businesses

nationwide is considered a leading indicator of the health of the

economy.

WHAT TO DO WITH YOUR MONEY

> BY BRETT BELL-BOOTH

Investment Adviser with Forsyth Barr Limited in Tauranga, and an

Authorised Financial Adviser. Phone (07) 577 5725 or

email brett.bell-booth@forsythbarr.co.nz.

The July survey showed

headline business confidence

at its lowest level

since May 2008, with a net 45

percent of respondents reporting

they expect general busi-

ness conditions to deteriorate

in the year ahead.

Firms' views of their own

activity also deteriorated to a

net four percent expecting an

improvement, which is at its

lowest level since May 2009.

The Opposition has made

much of this news, claiming it

is evidence of poor economic

management of the new government.

To be fair, business confidence

usually dips after a

change of government, as business

waits to see what the

impact of new government

policy will be.

However, survey results are

just one of many indicators

signalling economic headwinds.

From an investment perspective,

sharemarket movements

do not strictly correlate

with business confidence.

The following graphs show

the ANZ Business Confidence

Index from July 2015 and the

NZX 50 market index for the

same period.

While business confidence

has fallen, particularly over the

last 12 months, the sharemarket

has continued to rise.

One reason for the lack of

correlation is that the sharemarket

index is weighted to

the largest companies, which

are not necessarily reflective

of the domestic economy.

Fisher & Paykel Healthcare

and a2 Milk are the two largest,

both benefitting from a

strong export focus.

a2 Milk in particular has

had a spectacular growth path

in the last 12 months, based

around its Chinese market success

with its infant formula

product.

Because of this growth, a2

Milk has been an influential

factor behind the NZX50's

overall performance.

But despite the lack of correlation,

the business confidence

survey does indicate the

investment intentions of firms

are declining, which is likely

to have an impact on economic

activity.

Ultimately, a rising share

market reflects corporate

earnings growth, as investors

are prepared to pay more for

growing companies.

Without continued investment,

corporate earnings

growth is likely to be subdued

at best and share market valuations

are likely to be affected.

However, whether the

result will be a share market

correction, or merely a slowing

of the rate of growth, remains

to be seen, as is the timing of

any change.

Currently the New Zealand

economy is still expected to

show GDP growth in excess of

two percent, interest rates continue

to remain at low levels,

unemployment is low, while

government expenditure in the

state services sector and infrastructure

areas is increasing.

All are signs that the economy

is still healthy, with no

slowdown in immediate sight.

This column is general in

nature and is not personalised

investment advice. It has been

prepared in good faith based

on information obtained from

sources believed to be reliable

and accurate. Disclosure

Statements for Forsyth Barr

Authorised Financial Advisers

are available on request and

free of charge.

Wolf in sheep's clothing

In more than a decade of

studying debtor behavior, I

have come across a few serial

or habitual debtors. The following

is a list of behaviours

and statements that seem to be

common indicators of likely

problems.

CREDIT MANAGEMENT

> BY NICK KERR

Nick Kerr is Area Manager BOP for EC Credit Control NZ Ltd.

He can be reached at nick.kerr@eccreditcontrol.co.nz

Contact and request

outside of normal bounds

Especially in the trades, I hear

all the time of the clients that

"need help right now", who

call out of hours and ask for

services that aren't normally

supplied.

And they tend to be the

ones that end up causing all

the trouble when it comes time

to pay. That initial behaviour

is telling of a reactive, not a

proactive attitude. And it usually

translates into only paying

once pressure is applied.

"If you look after me this

time, there will be a lot more

work coming your way."

This statement is seldom true.

It speaks to a feeling of self-importance

and an expectation of

special treatment, which is not

a great way to start a financial

relationship.

Post-transaction

negotiation.

This behaviour is more preva-

lent within certain cultures, but

is definitely a warning sign.

The time to negotiate is

before the transaction, not

afterwards, when the supplier

is at a distinct disadvantage.

Provide a written quote with

terms of trade and stick to the

price.

I always say to my clients:

"if you don't believe that

your service is worth what you

charge, then charge less. If you

do, then stick to your guns and

don't discount."

Private individuals asking

for a seven day or 20th of

following invoice, on the

first transaction.

In my experience this is a big

warning sign - it is a fishing

expedition to see how lenient

the credit terms really are, and

seldom ends well.

If asked for this, tell the

potential client that there is

a process in beginning an

account and that a full credit

application will need to be

filled in. Those just fishing

around will normally drop out.

Potential client stating

how good they are at paying

bills, or how wealthy

they are.

This often highlights ingrained

insecurities surrounding money,

and may be a very good indicator

of payment habits that are

just the opposite.

Constant name-dropping of

well-known individuals or

company directors (if you

are from a large company).

As with the above, this is often

a good sign of insecurity, and

is completely irrelevant if they

are applying for credit. It is

often used to try and build a

sense of importance and circumvent

the normal application

process.

Below are some other comments

that should send up

warning signals, and my suggested

responses.

– I don't have my wallet with

me, but let the car go and I will

pay by internet tonight. NO.

Go get your wallet or use our

computer to transfer funds.

– Can you make the invoice

out to X…. as they are going

to be paying the bill? NO. But

after payment, we can change

the name on the receipt to the

party who paid.

– Do you credit check

accounts here? YES - we do

and goodbye.

– No, I don't have any ID

on me. Then that's how much

credit you will be given.

– I didn't get the invoice. But

the quote got there OK?

– I have been using your competitor

for years, but want a

change: Overdue account, eh?

– I paid it into the wrong

account. That's strange,

our account number hasn't

changed in years.

– I'm not happy with the work.

But you only realised this after

the invoice was issued?

At the end of the day there

will always be professional

debtors who will try and

have a go, but if you establish

good Terms of Trade,

do Comprehensive credit

checks (EQUIFAX), and

employ some simple debtor

profiling techniques, you can

severely reduce the impact

that these individuals can

have on your business.
---
14 BAY OF PLENTY BUSINESS NEWS August/September 2018

BOP's Ecosystem of entrepreneurs

– a model for the future of work

What we've witnessed

in the recent past is;

really great stuff in

business happens when people

break the rules we've all been

subconsciously following.

Where once only efficiency

ruled, the ability to be effective,

by being intentionally different,

not following the status

quo, using technology to do

things in new, interesting ways

is now sought-after to remain

competitive.

Those folk who do amazing

stuff? They're called disruptors

for a reason.

We're in a place where

people all over the world are

starting to realise that oldstyle

institutions with systems

and hierarchies embedded in

the way things always were

aren't supporting innovators

and game-changers the way

we need them to.

Of course, there will always

be a place for them and people

who need them, but they're not

necessarily serving everyone

the way they once did.

When it comes to education

institutions for instance,

for the most part we've been

working along the same lines

for too long.

The Industrial Age where

workers were required to be

compliant and do repetitive

tasks consistently, dealing

only with known-knowns and

well understood technology is

over.

We often get asked why Venture Centre

is focused on curating and supporting a

growing ecosystem of entrepreneurs. Short

answer: local people, if supported, can

(and do) do great things, solving problems

and creating new work and opportunities

to increase the Bay of Plenty's social

and economic success. Here's a deeper

explanation of why.

Those were the elements

around which most of our current

education system was built.

Life-long learning-by-doing

and building on the successes

and failures, expertise

and knowledge amongst diverse

communities working

together to make stuff better,

is part of the 'alt-ed' (alternative

education) which is now

taking shape.

When we see

each other as key

networks and valuable

collaborators, not

competition, we find

there's room for us all

to succeed.

Business has been kind

of the same. Until relatively

recently accepted wisdom

dictated a limited range of

business and delivery models,

structures, hierarchies, management

and measurements be

used in order to deliver results.

Today these models are

changing and evolving, diverse

leadership, speedy experimentation

methods along

with measures including

impact as well as profit are

redefining what success can

look like.

And that's where Venture

Centre comes in. We're here for

the change-makers, those who

challenge the status quo, supporting

them to test their ideas,

providing access to diversity of

thought, expertise and resources

which nudge them in new

directions.

An ecosystem that backs

people that actualise new generative

solutions to persistent

and growing problems.

That's what Venture Centre,

along with collaborative

organisations like Priority

One, are striving for here in

Bay of Plenty.

We were reminded of the

importance of these disruptive,

entrepreneurial ecosystems

recently, when watching the

wonderful speech USA soccer

icon, Abby Wambach, gave at

Barnard College's graduation

recently. Here is our favourite

excerpt:

In 1995, around the year

of your birth, wolves were

reintroduced into Yellowstone

National Park after being

absent for 70 years.

In those years, the number

of deer had skyrocketed because

they were unchallenged,

alone at the top of the food

chain. They grazed away and

reduced the vegetation, so

much that the river banks were

eroding.

Once the wolves arrived, they

thinned out the deer through

hunting. But more significantly,

their presence changed the

behavior of the deer.

Wisely, the deer started

avoiding the valleys, and the

vegetation in those places

regenerated. Trees quintupled

in just six years.

Birds and beavers started

moving in. The river dams the

beavers built provided habitats

for otters and ducks and

fish. The animal ecosystem

regenerated.

But that wasn't all. The rivers

actually changed as well.

The plant regeneration stabilized

the river banks so they

stopped collapsing. The rivers

steadied—all because of the

wolves' presence.

See what happened here?

The wolves, who were feared as

a threat to the system, turned

out to be its salvation.

We know that change can

be scary. Plucky upstarts can

be seen as a threat to the way

things have always been done.

However, if you recognise

that the way things have always

been has led us to face the massive

challenges and inequities

we do today; that if we keep

doing the same things, the same

way and not adapt to ubiquitous

connectivity, automation,

increased diversity and the

fourth revolution, we will deepen

and worsen these challenges;

you will know that change is not

only necessary it is a constant

which we need to acknowledge

and incorporate into how we do

things from now on.

Curating and co-ordinating

an ecosystem to support

brave citizens who do things

differently, chose to take the

entrepreneurial path less travelled,

connecting them to

opportunities to learn skills,

access expertise and soak up

knowledge from others in our

community, is a way forward

to ensure our community's

success.

When we see each other

as key networks and valuable

collaborators, not competition,

we find there's room for us all

to succeed in this amazing Bay

of Plenty community.

A strong, dynamic, connected

ecosystem – a Bay of

Plenty of valuable ideas, created,

tested, launched and grown

by local entrepreneurs can,

will and is delivering work

which benefits us all.

P.S. You can see all of Abby's

bad-ass speech by going here;

http://clik.vc/disruptors.

Entrepreneurs CLOser to solving serious housing crisis

CLOser operates as

a social enterprise.

Profit is not its

driver. Sustainable,

successful outcomes

for the people it

serves is the primary

measure.

CLOser (partly acronym

for Connected Living

Opportunities) formed

at Tauranga Startup Weekend

2017 to create a replicable

housing model to solve the

affordable housing problem.

Low-income and young

people, non-traditional families

and elderly can't afford

to buy the type of properties

usually designed by property

developers, and there are also

those who would CHOOSE to

live a simpler, more sustainable

way of life in close knit,

co-operative communities if

provided with the opportunity.

These models (of connected

living) take a significant

amount of time because time

and energy gets depleted with

the complex nature of the work

required.

Beyond navigating regulations,

you have to find

like-minded people, find the

right site, funding, design and

construction. And then there's

managing the democratic

decision-making required to

maintain community harmony

which is a job in itself – but

ultimately can be very rewarding.

CLOser aims to take much

of the hard work and complexity

out of it.

Each CLOser project is

adjusted to its participants

vision/intent and is supported

to become a self-managed

community (if desired).

Affordability is key, and is

why CLOser operates as a

social enterprise. Profit is not

its driver. Sustainable, successful

outcomes for the people it

serves is the primary measure.

On the eve of 2018's

Tauranga Startup Weekend

(August 31st - September

2nd) focused entirely on social

impact – we asked CLOser

co-founder and architect,

Bobbie Cornell to give a snapshop

of what they've been up

to, where they are at and what

they've learned.

What challenges has CLOser

faced during the year?

The main challenge has been

being able to dedicate enough

unpaid time to get things moving,

while balancing other

commitments.

The restrictions on suitable

zones and the high costs of

compliance, and then development

– before even breaking

ground – are also proving challenging.

But we're determined

to pave the way.

What is your plan now?

We've found supporters of

CLOser are actually people

who have property and investment

capital that want their

legacy to be doing good for

un-served members of their

community rather than 'just'

making money.

We're developing a detailed

concept as a pilot with a committed

and socially motivated

land owner in Katikati – it's

a prototype design. We've

sourced funding to carry

out our modelling, thanks to

BayTrust and have been working

with Venture Centre and

Akina to build capacity and

to help find and utilise expert

advisory support. Getting this

done is our immediate focus.

And a key to being able to

move forward is finding new

team members and collaborators,

rather than reinventing any

wheels, by working together

we can share knowledge and

spread our capacity across

Bobbie Cornell (left) with the original CLOser co-founders Ina Murphy and Ryan Plank shortly

after Tauranga Startup Weekend 2017.

regions who also need housing

solutions.

What have you learnt along

the way about Tauranga's

housing that you didn't know

at the start?

It is deceptively difficult to

do anything 'outside the box'.

Traditional property development

focused on profiteering

is seen as the only way.

There is a lot of suspicion

of people who want to do

something with property who

are not focused solely on personal

gain. Creative, socially

and environmentally conscious

solutions get the life sucked out

of them even though everyone

admits they address problems

which are getting worse.

There needs to be more

scope and ability for council

staff to seek and get resources

to have independent expert

support for projects beyond the

norm where experience may

be limited (e.g.; there's very

little understanding of social

enterprise, social procurement,

social entrepreneurs and that

can lead to scepticism).

Finally, that good people of

like, willing minds can make

lighter work of wicked problems.

I've learnt that complementary

collaboration is key!

Find more about CLOser

at: https://www.facebook.

com/connectedLiving

Opportunities/ or signup to

take part in Tauranga Startup

Weekend Impact here: http://

clik.vc/tgasw18book
---
BAY OF PLENTY/CENTRAL PLATEAU REGISTERED MASTER BUILDERS HOUSE OF THE YEAR 2018

1

GIB Showhome

Award Winner

LAKESIDE

LUXURY

BAY OF PLENTY /

CENTRAL PLATEAU

0F

Neben Morris Media congratulates GIB Showhome Award

Winner Landmark Homes for their outstanding success at the

2018 Bay of Plenty/Central Plateau Master Builders House of the

Year Awards. We are also proud to congratulate all other Bay of

Plenty/Central Plateau award winners.

A supplement of Bay of Plenty Business News
---
2 BAY OF PLENTY/CENTRAL PLATEAU REGISTERED MASTER BUILDERS HOUSE OF THE YEAR 2018

GIB Showhome award winner

LANDMARK HOMES

•

Registered Master Builders House of the Year

•

•

Registered Master Builders House of the Year

•

Lakeside

Luxury

Bay of Plenty/Central Plateau

Bay of Plenty/Central Plateau

WINDOWS - ENTRY DOORS - BIFOLDS

Landmark Homes TRW's win an excellent

example of company's design-and-build

focus in Eastern Bay.

Landmark Homes Taupo,

Rotorua and Whakatane

franchise is celebrating

its category win and a Gold

Medal in this year's regional

Registered Master Builder

House of the Year Awards,

for its lakeside build at

Wharewaka Point in Taupo.

The firm also picked up

a Gold Reserve Medal win

in the Bay of Plenty/Central

Plateau 2018 awards, meaning

the build is in the Top 100 in

New Zealand of the 35,000

homes built last year and will

TAUPO

go through to the national

finals in November.

Landmark Homes for

Taupo, Rotorua and Whakatane

says the company is based

in Taupo, with a small office

in Whakatane, and works

throughout the Eastern Bay.

Owner/Director Gerry

Schumacher says Landmark

Homes TRW is happy to work

with clients that have their

own architect.

Using their in-house design

PROUD SUPPLIER TO

LANDMARK HOMES TAUPO

Make windows not walls

Contact us today for your window and door needs

V6120L

Richard & Louise Russell

Visit us

43 Miro Street, Taupo

Contact us

first.taupo@xtra.co.nz

Ph: 07 378 9599

www.firstwindowstaupo.co.nz

CREATE YOUR

DREAM BATHROOM

AT MICO

SUPPLYING QUALITY INNOVATIVE PRODUCTS

TO THE AWARD WINNING LANDMARK HOMES

MICO TAUPO

66 CROWN ROAD, TAUPO

07 378 4380

www.mico.co.nz
---
BAY OF PLENTY/CENTRAL PLATEAU REGISTERED MASTER BUILDERS HOUSE OF THE YEAR 2018

3

capabilities, the company can

provide drawings and plans

as part of a very cost-effective

solution for clients.

Schumacher says Landmark

Homes TRW provides a steady

supply of homes for regular

clients, but focuses on design

and build homes in the middle

to upper sector of the

housing market.

"We specialise in clients

who often have very specific

needs. We take into account

the home's orientation for

views, as well as sloping sites

and other considerations such

as wind and weather. You

have to build the house to

fit the site."

He adds: "Our award-winning

home in Taupo is a great

example of what we do best."

The four-bedroom, threebathroom

residence at

Wharewaka Point is a family

home that opens beautifully

to the outdoors, making the

most of its stunning lakesidefacing

location.

The 303sqm layout forms

two core wings, with outdoor

living options to both the east

and west of the open-plan

space. Pillarless corner sliders

make indoor-outdoor entertaining

a breeze.

Schumacher notes that

most housing in Taupo faces

the lake and the mountains

to take best advantage of

the views, but that also can

expose the homes to the colder

southerlies.

"Incorporating two outdoor

living areas so you have the

option to switch your entertaining

from one side of the home

to the other depending on the

weather is a common factor

discussed with clients during

the design phase," he says.

Continues page 4

Landmark Homes Taupo Construction Manager Tony Lafferty and Director

Steven Painter celebrating at this year's regional Master Builders Awards.

Phone: 07 578 5024

Address: 51 Koromiko Street, Judea, Tauranga

Email: info@pacificstone.co.nz

Website: www.pacificstone.co.nz

LANDMARK HOMES,

TAUPO SHOWHOME.

BENCHTOPS AND SPLASHBACK IN DEKTON

AURA15, PROUDLY SUPPLIED BY PACIFIC STONE.
---
4 BAY OF PLENTY/CENTRAL PLATEAU REGISTERED MASTER BUILDERS HOUSE OF THE YEAR 2018

From page 3

Inside the Wharewaka

Point home, all manner of

modern convenience awaits,

from the contemporary entertainer's

kitchen to well-appointed

bathrooms including a

master ensuite.

A chic palette of whites and

greys creates a relaxed atmosphere

throughout, enhanced by

an abundance of natural light,

with dark wood floors as a

grounding force.

Although built in an established

residential subdivision,

the home offers privacy

while remaining connected

to views and alfresco living.

Weatherboard cladding with

gable detailing, an asphalt

shingle roof, and barn-style

garage and front doors all lend

themselves to the traditional

homely feel of this warm and

inviting abode.

The family will be moving

into the house at the end of

the year.

Schumacher says the Taupo

market is still strong, with plenty

of land, good sales and new

sections becoming available.

Whakatane is a little slower,

mainly because it is now

a struggle finding good land

to build on at a reasonable

price, with Rotorua following

a similar pattern, though new

developments are now on the

horizon there.

The Landmark TRW team,

which has also won Gold

and Silver Medals, and Gold

Reserve Medal, in 2015 and

2017, is excited about the

prospect of competing in the

national awards.

Landmark Homes TRW

Taupo / Rotorua / Whakatane

T 07 376 8528 M 021 843 249

T Whakatane 07 308 4095

E admin@landmarkhomes.co.nz

W landmarkhomes.co.nz

Proudly supporting the team

at Landmark Homes Taupo,

Rotorua & Whakatane

Quality German Timber Flooring

◊ Ideal for New Zealand ◊ Ecologically Sustainable ◊ Made in Germany

0800 427 669 www.haro.co.nz
---
BAY OF PLENTY BUSINESS NEWS August/September 2018 15

Locals hack policy, law and regulations for

common good

Hacking is a term given to work people do to

make things better – it is a creative activity,

not, as is often thought, a destructive one.

The Better Rules 'hack'

was a two-day learn-bydoing

workshop-style

event which gave people an

opportunity to turn government

policy and legislation

into reusable computer code

which could then be used in

multiple apps to reduce the

time, cost and complication

involved in dealing with government.

The event was a Tauranga

first. It attracted lawyers,

developers, programmers, UX/

UI designers, policy people,

local and central government

employees who applied their

various and complementary

skills to improve the way society

functions.

Better Rules Hack came to

Tauranga thanks to the partnership

created between central

governments, all of government

Service Innovation Lab,

LegalHackersNZ and Venture

Centre.

It linked Wellington's open

government innovation experts

with the Bay's entrepreneurs

and digital enablement project

implementation team. Mind

food was provided thanks to

sponsorship from Catalyst IT.

Level 7 Applied Computing

Waikato University student

George Stroud grabbed the

opportunity.

"I came to learn something

new and see how I might apply

my theoretical knowledge

of code."

George walked away want-

QrtHori_BOPBN_Basestation_Oct17.pdf 1 17/10/17 10:37 AM

Better Rules Hack team at work at Basestation coworking space

ing to do more, a prize which

gives him access to a Dev

Academy Human Skills workshop

and the inspiration to

look for more challenges to

solve using his skills.

Four teams formed and created

working demonstrators

making rules from more than

one source (such as legislation

from multiple agencies or trade

agreements) digital, they were;

The Homeschool Coop –

connecting parents to support

alternative schooling options

Local impact investor to judge

social entrepreneurship event

An entrepreneur, investor,

director and BayTrust

trustee, Steve Napier

knows the value of money and

the power it can have when

used to grow ideas that do

good into sustainable innovations.

With over 30 years experience

in the funds' management

and sharebroking industries

(including asset allocation),

Steve has seen a lot and adds

enormous value to the judge's

panel of Tauranga Startup

Weekend Impact.

His biggest successful

investment was buying shares

in a green fund manager whose

share price went up more than

20 times and did a lot of environmental

good too. Steve

shares with us a little about what

he would like to see at the local

social change focused event.

What are the elements of

starting up a business that

gets you most excited?

Proving the concept.

Getting feedback that the product/service

is really on track

and making a difference.

What is the most important

thing that entrepreneurs

should know?

Success takes a lot of plan-

such as home education

should they choose to opt-out

by choice or need to provide

learning for a child with disabilities

who may not want,

or be able to take part in the

school system.

ii (Inclusive Infrastructure)

– built a (Kubernetes) cloud

infrastructure on @catalyst_

cloud for the #betterruleshack

teams to use for the weekend

and beyond.

LABS (Legal Advice for

Find out how indigenous organisms

and cannabis lead to social innovation

The Social Innovation

Opportunity event,

co-produced by ĀAkina

Foundation and Venture

Centre, is a three-part morning

event designed to inspire,

showcase and workshop social

innovation opportunities and

how they can be fostered locally

to address big issues.

The combination of Kristen

Joiner, Social Innovation

Expert and Director of Impact

Investment at Enterprise

Angels, five practitioners in an

interactive panel, and a workshop

lunch exploring the tools

and methods social entrepreneurs

use, make it an event not

to miss.

Manu Caddie from

Hikurangi Enterprises in

Gisborne will join the panel

and share his learnings.

Manu is involved in developing

high-value products

from indigenous organisms

(plants, fungi and shellfish)

with a vision of recladding

our highly erosion prone land

in native rainforest to be sustainably

harvested for natural

health products and high nutrition

foods.

His team are also establishing

a medical cannabis

company utilising local skills

to develop safe, effective

pharmaceuticals.

The pace of government

regulation and access to more

investment restrain the growth

of Hikurangi Enterprises who

hold the vision of Ngati Porou

diaspora returning to populate

their tribal lands again.

Maintaining and revitalising

the paepae and cultural

ning and hard work. Most of

the time it is harder and takes

longer than expected.

What ideas would you like

to see from Tauranga's Startup

Weekend Impact participants?

An impact investor wants

traditions and creating work

in commercial activities to

enhance rather than degrade

biodiversity, soil and water

quality are among their goals.

In 10 years they'd like

to see a wide range of businesses

growing and supporting

communities beyond the

East Coast.

In 100 years they envisage

the land and waterways

restored with mokopuna

living in harmony with the

environment again.

Come and meet Manu,

Business Start-ups) built upon

existing work. They used artificial

intelligence to provide

business start ups with legal

advice and tools.

RaDbyIRD worked on taking

the research out of R&D funding

in an effort to reduce the

complexity and uncertainty of

what counts as R&D in order

to obtain grants or tax breaks.

To join the next Better

Rules Hack follow @legalhackersnz

on Twitter.

a similar thing to a financial

investor, but just in a different

way – the biggest risk adjusted

return per dollar spent – while

making an impact on a social

challenge.

What's the best way for participants

to capture your interest

when pitching their idea?

It's vital, especially for a

technical product/service,

that the offering is really well

understood and that there is a

well thought out pathway to

success.

Signup to meet Steve and

take part in Tauranga Startup

Weekend Impact here: http://

clik.vc/tgasw18book

discuss social innovation

and mix with others wanting

to take action at The Social

Innovation Opportunity, part

of the Groundswell Festival on

27th August , 9:30am - 1pm,

Basestation 148 Durham Street

Tauranga.

MADVentures – events for youth

Codebrite Term Time After School

31 July to 18 September (weekly), 3:00pm

to 5:00pm

PoweringON – events for

business owners

Xero Meetup – Job Management Software

28 August 2018, 9:30am to 10:30am

Tauranga Startup Weekend

31 August to 2 September 2018

The Pitches – Tauranga Startup Weekend

2 September 2018, 5:00pm to 8:30pm

Office Hours Marketing Strategy and

Planning with Marketing on Demand

6 September 2018, 3:00pm to 5:00pm

Office Hours Financials with Crowe

Horwath

10 September 2018, 11:00am to 12:00pm

Office Hours Business Buying Success

with Ingham Mora

12 September 2018, 11:00am to 12:00pm

Office Hours Sales and Marketing with

Bravesight

13 September 2018, 10:30am to 12:30pm

Office Hours Legal with Mackenzie Elvin

17 September 2018, 11:00am to 1:00pm

Dale Carnegie's Attitudes for Customer

Service Seminar

21 September 2018, 9:00am to 10:45am

Office Hours Intellectual Property with

James & Wells

26 September 2018, 10:30am to 12:30pm

Instigator – events for founders

The Social Innovation Opportunity for

Tauranga

27 August 2018, 9:30am to 1:00pm

Tauranga Startup Weekend: Impact

31 August - 2 September 2018

Starts 5.00pm to 12pm, Friday

8.00am to 12.00pm, Saturday

8.00am to 8.30pm, Sunday

Coaching Clinic for Social Enterprises

11 and 12 September 2018

Between 1.00pm Tuesday and 3pm Wednesday

Entrepreneurs Everywhere – Startup

Weekend Reunion

12 September 2018, 5:30pm to 7:30pm

Angelic Drop-In Clinic

20 September 2018, 4:30pm to 6:30pm

Plug-in & power up

C

M

Y

CM

MY

CY

CMY

K

Coworking – way

more than a desk!

Be our guest, take

a tour & enjoy a

coffee on the house

• Desks, secure offices, team spaces

• Flexible terms - come for a day,

a week, month or year

• Event and Meeting rooms free

with residency or book as needed

• Uncapped internet

• Tech support and award

winning barista onsite

Designed, managed and run by

Get in touch 0800 000557

info@basestation.co.nz

148 Durham Street, Tauranga

The Communication & Technology Space

join us!
---
16 BAY OF PLENTY BUSINESS NEWS August/September 2018

Five questions to ask yourself before

signing your next office lease

So, you're about to sign yourself and an office load of people into

a new space you've just found… "Yep, looks great, hand me that

pen". Hold up. There are a few pertinent questions to ask yourself

before you close the door on negotiations – and on an office that

you may still be in for years to come.

1. Is there enough room to

grow into?

Odds are you're moving

because you need more space.

Odds are also that your new

landlord will expect you to sign

a minimum three-year lease.

So you need to ensure you

have enough room for today

and in 1095 days – all without

paying for space you don't

need in the meantime.

So, before you look at leases,

you should study your business

plan.Then allow for around

10 square metres (including all

your office furniture) for every

employee you have, and every

employee you plan to have in

the next three years.

2. Is it the right kind of

space?

When scanning commercial

listings, you'll find yourself

discounting spaces you deem

too small or too large.

But don't be too quick to

do this without at least looking

at accompanying pics – and,

preferably, the floorplan.

Layout is paramount.

If several of the square feet

you need form an odd alcove

unsuitable for anything but a

few plants, you can't count

them in your seating arrangement.

Conversely, a smaller,

rectangular space may fit more

desks in a more Feng Shui kind

of way.

3. Is it the right space for

your top employees?

An office move often starts in

your head, months before you

let anyone else know about

your plans.

But maybe you should

invite your key employees into

your thoughts, so as to get their

own thinking on the matter.

Why? Because a move will

only be beneficial if you don't

lose these people on the way to

your new office.

It's literally worth consulting

those who are essential to

your business – not only on

the kind of environment that

they'd like to work in, but

where they would like it to be

located.

At the end of the workday,

your new office should primarily

be both a space and in a

place that works for the people

who are working in it.

4. Is it right for your clients?

In an age where you can get

everything done between

email, Google Docs and

Dropbox, it's quite possible

to find out six months down

the email thread that your client

Sam is not the man you

thought he was – he is, in fact,

a woman christened Samantha.

If you run your business

like that, there's no need to

keep your clients in mind

when setting up a new office

– especially if you can't even

picture them.

For everyone else, there are

a few things to consider.

One: is your new place easily

accessible and do you have

parking when they get there? If

not, is there a parking building

nearby where you can negotiate

to get cheap rates? (Which

you should pay, BTW).

Then, once the clients get

inside, is there space to create

somewhere comfortable for

them to wait?

And further space to make a

simultaneously impressive and

comfortable meeting space –

whether that be a board room

or covered deck?

5. Does this office reflect

your brand?

You probably put a lot of

thought into your business

name, signwriting, website and

Facebook page – because these

things tell people what you're

all about.

But do you know what else

gives away your company culture?

Carpet "preserved" from

the 80s and fluorescent lights.

And "we don't care" is not

a good message to send.

Don't fall into the trap of

creating a great reception and

boardroom and ignoring the

rest of the office either.

Clients will notice your

poor sardined, fluorescent-lit

workers and will still glean

that "we don't care" message.

At a bare minimum, make

sure your new office is a nice

environment for everyone it

will house – whether it's every

day or once a month.

Then take your key brand

values and reflect them in

your interior design – if you're

all about fun, don't paint

everything in shades of black

and boredom.

www.bayleys.co.nz/

workplace/office/insights

Commercial

Property

Management

At Bayleys, we believe relationships are

what businesses are built on and how

they succeed.

We understand that to maximise the

return on your property you need:

Professional property management

A business partner that understands

your views and goals

Speak to your Bayleys team today

SUCCESS REALTY LTD, BAYLEYS,

LICENSED UNDER THE REA ACT 2008

Jan Cooney

Senior Commercial Property Manager

P 07 579 0609 M 027 408 9339

jan.cooney@bayleys.co.nz

Brodie Thomas

Commercial Property Manager

P 07 579 0608 M 027 746 9218

brodie.thomas@bayleys.co.nz
---
BAY OF PLENTY BUSINESS NEWS August/September 2018 17

Kiwifruit Claim Group digs

in for cross appeal

The Kiwifruit Claim Group plaintiffs are digging in for a court battle

extending into the New Year. This follows the Crown's decision to

appeal the recent High Court ruling that the Ministry for Primary

Industries had been negligent and breached its duty of care in

allowing Psa into New Zealand.

By RICHARD RENNIE

The Crown's appeal is

wide-ranging and seeks

to clarify the scope under

which government regulators

can be sued for negligence.

The Crown's solicitors also

highlighted the potential of the

High Court finding to significantly

impact upon biosecurity

operations.

In turn both Seeka and the

212-strong grower group have

filed a cross appeal.

Seeka was the only post-harvest

processor to commit to the

original claim action, which

culminated in the favourable

court ruling in June.

Seeka was excluded from

the High Court action in favour

of the claim as a post-harvest

company, but is also represented

as a significant grower.

The initial ruling only

acknowledged the duty of care

owed Seeka as another orchard

operator and lease holder,

along with the other growers,

rather than the wider impact

upon Seeka as a post-harvest

processor to the entire sector.

Seeka incurred losses of $3.9

million in the outbreak through

staff redundancy costs and loss

of sales revenue.

Seeka chief executive

Michael Franks said the plaintiffs

had predicted the Crown

would appeal the ruling.

"We could not appeal first,

it would have jeopardised all

growers' claims," he said.

The cross appeal is based

on two key parts of the High

Court decision – one is that

Seeka was also owed a duty

of care as a post-harvest processor,

and secondly that MPI

was negligent because its staff

did not check a shipment of

pollen and plant matter that

contained Psa when it arrived

from China.

Franks confirmed to Bay

of Plenty Business News that

the plaintiffs, backed by LPF

Litigation Funding Ltd, would

be pursuing the claim to its

final conclusion.

"This is all about accountability,"

he said.

Grower representative

John Cameron from Te Puke

said the group was resigned

to the hard grind of an appeal,

and suspects there may be a

broad range of issues within

Seeka's Michael Franks: "It's all

about accountability." Photo/Supplied.

the Crown's action.

"We were happy with the

ruling when it was made and

would not have appealed if the

Crown had not done so first."

Cameron said he remained

confident the appeal outcome

would be in the growers' favour.

"The longer this drags out

the greater the cost will be to the

government as Psa continues."

The total claim value for

the impact of Psa was lodged

at $450 million compensation.

BOP iwi scoop big kiwifruit orchard deal

By RICHARD RENNIE

Bay of Plenty iwi significantly

stepped up

investment in the kiwifruit

sector with the purchase

of one of the country's largest

privately held orchard investments,

scooping the deal ahead

of several interested foreign

buyer groups.

The Matai Pacific orchard

near Te Puke was offered by

tender on behalf of its largely

United Kingdom investor/

owners to the market earlier

this year, amid strong competition

from both local and

overseas interests.

But it was a joint venture

between three Bay of Plenty

iwi interests that managed to

secure the 98 canopy ha property

with its 2.6 million tray

production of SunGold and

Green, generating an estimated

$11.4 million to $12.3 million

a year income.

Rotorua based Te Arawa

Group Holdings, Whakatane's

Ngati Awa Group, and Rotoma

No.1 Incorporated, teamed up

for the purchase. The acquisition

consolidates the position

of all three iwi groups

as significant primary sector

players within the region and

the industry.

Based on current sales in

the Western Bay of Plenty,

kiwifruit orchards are selling

for about $450,000 a hectare

Matai Pacific kiwifruit orchard: Now in iwi hands.

Photo/Supplied.

for Green and up to $1 million

a hectare for SunGold.

The value of the deal has

not been disclosed, but based

on the orchards being split

50:50 between SunGold and

Green fruit, estimates place the

canopy area alone at a value

of $65-$75 million. Additional

assets include 100ha of pastoral

land and two houses.

The deal also provided

an option for the iwi groups

to purchase $5.2 million of

Zespri shares, on a recently

re-aligned one tray: one

share basis.

The move marks the second

significant investment by iwi

into the industry within the

past year.

Last year, a $30 million

investment programme to

build 10 kiwifruit orchards in

the BOP and Gisborne regions

was announced as then single

biggest investment.

That deal was proposed to

be set up on 90ha of unproductive

tribal land across the two

regions.

BOP-based Te Awanui

Huka Pak is another significant

force in kiwifruit.

The 100 percent Maoriowned

business has a 17 percent

stake in major grower and

post-harvest operator Seeka,

while also retaining land holdings

and buildings that bring

its total investments to more

than $20 million.

Te Arawa Group Holdings

chairman Andrew West said

the Matai Pacific purchase

would ensure a brighter future

for its people, delivering jobs

and economic growth on

the back of booming global

demand for kiwifruit.

"This is an industry we know

well and we have a proven track

record of success," he said.

Bayleys national country

manager Duncan Ross said

iwi should be applauded for

getting the funds required

together in a relatively short

time, suggesting they have

strong support from not only

shareholders, but the banking

sector too.

"And to be able to raise

those funds to compete at the

PRINTING

DESIGN | PRINT | DELIVER

top end of a hot sector like

kiwifruit is no mean feat."

He said iwi assumption of

ownership was very much a

good news story for the sector,

iwi and the region.

Bidding for the block had

been strong in the tender process,

with about two-thirds

being local interest and onethird

coming from overseas

interests.

"These included parties

who already had significant

We can take care of all your printing

needs from concept to completion

Mark Goodman 021 420 685

WAIKATO / BAY OF PLENTY

interests in the New Zealand

primary sector."

Collectively the three iwi

groups now oversee significant

resources in the Bay of

Plenty, with Te Arawa representing

21,000 beneficiaries,

Rotoma No.1 administering

6600ha on the shores of

Lake Rotoma for 1800 iwi

shareholders, and Ngati Awa

Group managing assets for

22 hapu representing 20,000

shareholders.

PREMIUM AND

SMALL BIZ HUB

STANDS

Organisers

Early Bird

Offer Available:

Till 31st Oct 2018

Sponsors

6 MARCH 2019

BAYPARK ARENA, TAURANGA

Supporting Partners

WHERE BUSINESS GETS DONE!

• Supercharged one day event

• Kick-start your year

• Showcase your business

• Seminars and masterclasses

• Network with leading edge businesses

• Find opportunities and solutions

• Amazing Expo only offers and prizes

• Free entry for visitors (9.30am - 4pm)

SHOWCASE YOUR BUSINESS

Book your stand for Business Expo 2019
---
18 BAY OF PLENTY BUSINESS NEWS August/September 2018

HR, MANAGEMENT AND RECRUITMENT

CREATING WORKPLACE

DESIGN BRILLIANCE

FOR TWENTY YEARS

Every business benefits from a well-designed workspace - where the needs of

your team, your customers and other visitors are thoughtfully accommodated

to maximise productivity and bring your brand to life.

For 20 years STACK Interiors have designed business and office interiors that

delight and inspire - where people love to work and where functionality is never

compromised. Whatever the size of your business we deliver on time and on

budget. Every time.

We offer services at each stage of the process:

• Property Options Analysis

• Workplace Strategy

• Design from concept to construction

• Quantity Surveying

• Project Management

• Relocation Management

• We also provide services for landlords and property managers

Get in touch for a chat about how we can design your new workplace,

futureproof your current space or help you attract tenants.

Call Annmaree Kane on

+64 21 193 8416

or David Maurice on

+64 21 231 9015

E annmaree@stack.co.nz

Ground Floor, 29 Grey Street, Tauranga

V4980L

Successful Change

and Leadership

It is common that leaders in any business are looking to realise

increased efficiencies by making changes, such as modifying a

process or system, or changing the organisation structure. While

there will be business and economic drivers for making these

changes, the challenge is always how to implement the change

as effectively as possible.

By TANI HANSEN

Human Resource Specialists

Everest – all about people TM

Employees are key to the

successful implementation

of a change programme

and having a communication

plan that ensures open,

honest, timely and relevant

communication is essential.

Ensuring employees understand

what the drivers are for

the changes, what is changing

and what is not, and indicative

timelines is a must.

As part of the communications

plan it is important to

carefully consider the various

target audiences for change

communications, ensuring

that both Formal Influences

and Change Influencers in the

business are identified and

engaged early.

Formal Influencers are people

in the business that have

the formal/structural authority

to lead the changes such as the

CEO, General Managers and

Team Leaders.

It is vital that Formal

Influencers are committed to

the changes, are clear about the

vision for the change and can

articulate this vision naturally,

in their own words.

The more clearly a Formal

Influencer can articulate the

vision and what the new ways

of working will be like, the

faster their direct reports will

adopt the changes being made.

Change Influencers are

those people who influence

others regardless of their title

or role in the business.

A Change Influencer may

initially have a dissenting or

opposing view to the changes.

Speaking with Change

Influencers early in the change

process can provide the opportunity

for those people to

challenge the rationale for the

change directly, which will

help them understand why the

changes are necessary and help

you understand what others in

your business may say or think.

Through discussion ideally

differences of opinion and

misunderstandings will be

resolved early in the change

process.

Once a shared understanding

about the changes has been

reached, Change Influencers

can become strong advocates

for change and help

share the rationale and benefits

of the change throughout

the business.

Change Influencers play

a key role in the successful

implementation of change.

All too often, the opportunity

to work with Change

Influencers is lost or over

looked.

During the change process

sometimes these individuals

are invited to "get off the bus"

before any effort is made to

harness the potential value

they can add.

Rather than asking them to

"get off the bus" we suggest

identifying them early, having

a discussion with them first

and seeing where it goes.

Using Formal and Change

Influencers to deliver and articulate

key messages about changes

within business is critical.

Without them you cannot

successfully lead or implement

change.
---
HR, MANAGEMENT AND RECRUITMENT

BAY OF PLENTY BUSINESS NEWS August/September 2018 19

Strategic Pay report allows successful

planning and benchmarking in

a changing market

There is a great need for up to date information that can

influence remuneration policy and decision making. The Strategic

Pay New Zealand Benchmark Remuneration Report provides

comprehensive information on remuneration and benefits for

specific benchmark positions across the country - a report that in

2018 contains more detail and analysis than ever before.

• Increased detail around

tenure - As the baby boomer

generation continue to

increase tenure and pay

expectations, the report

details how long individuals

are spending in certain

roles and at different levels.

By CATHY HENDRY Health roles (1.2%).

Organisations are forecasting

an average rise in payroll

Containing specific data

from more than 500

organisations, including

over 164,000 incumbents,

the Report allows business

leaders to gain the insight they

need to make strategic decisions.

Whether this is around

remuneration itself, benefits /

rewards, tenure, gender splits,

employment practices and

more, data is broken down

into segments so organisations

can find the exact information

that adds value.

Strategic Pay reports have

shown that salary movements

are increasing at a slow pace

with overall market movements

of 2.2% in the last 12

months. The largest movements

were in Trade and

Labouring roles (3.4%) and

lowest movements in Policy

and Planning roles (1.1%) and

of 2.4% for the year ahead

but we must be careful to acknowledge

the implications

of what is happening in the

labour market. The payroll increases

are in effect reflective

of organisations' budgets and,

once set, reflect their funding

or pricing. The recent pay

settlements, minimum wage

increases and discussions

around teachers' pay mean

that employers will be dealing

with rising expectations and

constraints of budgets. Having

experienced a period of

price and wage stability for a

number of years, the growing

expectations of a number of

groups suggest we are likely

to see increased wage inflation

in the year ahead.

It is important for organisations

to use external data

in any remuneration review

process, with external benchmarking

key to any salary

review process, not only to

retain staff, but also to drive

higher performance.

The New Zealand Remuneration

Benchmark Report

is a really cost-effective way

for business leaders to be introduced

to remuneration and

benchmarking. In certain industries,

pay is becoming a

major factor in employment -

highlighting the value in having

access to the best benchmarking

information possible.

New additions to the

Report:

• Greater focus on construction

and engineering sectors

- With these industries experiencing

growth as well

as new pressures, this year

we have expanded specific

components around construction

and engineering.

• Gender comparisons -

Gender remains one of

the major topics in the NZ

employment market. The

report therefore provides

gender breakdown analysis

across sectors and job positions.

• Employment policies and

practices - With policies

and practices such as KiwiSaver

becoming more

prominent in the NZ market,

the report offers insight

into uptake and engagement.

The Report allows businesses

of all sizes and industries to

have access to quality, trusted

data. With comprehensive

breakdowns available by sector,

region, turnover and employer

size, the report's data

can be used to make good

decisions over the coming

months.

Cathy Hendry

Senior Consultant, Tauranga

P: +64 7 834 6581 M: +64 27 498 9812

E: cathy@strategicpay.co.nz

HELPING ORGANISATIONS

SUCCEED THROUGH THE

PERFORMANCE OF PEOPLE

New Zealand

Remuneration

Benchmark

Report

The Report allows businesses

of all sizes and industries to

have access to quality, trusted

data. With comprehensive

breakdowns available by sector,

region, turnover and employer

size, the report's data can be

used to make good decisions

over the coming months.

The New Zealand Remuneration Benchmark

Report 2018 is the most comprehensive benchmark

remuneration survey report available right now

and is available to purchase.

> Order with the code BOPBusinessNews10%

before 31 October 2018 to receive a 10% discount.

Organisations that also contribute data to the Strategic Pay

database will receive a further 50% off.

www.strategicpay.co.nz | info@strategicpay.co.nz | 07 834 6580

Auckland | Hamilton | Wellington | Christchurch | Dunedin

StrategicPay

Your best source of remuneration knowledge
---
20 BAY OF PLENTY BUSINESS NEWS August/September 2018

HR, MANAGEMENT AND RECRUITMENT

90 Day Grievance Free Trial Period

The 90-day Grievance Free Trial Period came into effect in

2009. While not mandatory, the existing legislation is now firmly

embedded into our employment psyche and agreements. And it's

now under review by the Coalition government. With legislation set

to change, employers with more than 19 employees will no longer

be able to utilise the Grievance Free Trial Period.

HUMAN RESOURCES

> BY KELLIE HAMLETT

Director, Recruitment & HR Specialist, Talent ID Recruitment Ltd

It's certainly been an interesting

talking point from

an employer point of view.

Some large employers have

opted not to utilise this optional

piece of legislation within

their employment policies.

Instead they have chosen

to maintain their employer

brand and rely upon robust

recruitment processes and performance

management.

So potentially, any changes

are unlikely to have too much

impact on larger companies,

with 100-plus employees.

Many of the companies I

work with are smaller employers

and the legislation has been

useful, and served its purpose –

if and when it was ever needed.

Let's face it, recruitment

mistakes do happen, and the

90-day trial period is there

for both the employer and the

employee to utilise.

I've seen it utilised for a

variety of reasons, but never

abused.

In fact, I feel that it has

provided employers with confidence

to perhaps give someone

a chance, when previously

perhaps they would not have

taken on an employee.

The existing law has been

tested and interpreted in a

more complex way than was

originally envisaged.

Labour market supply and

the ability to attract the best

candidates are key considerations

when looking at utilisation

of this clause.

The grievance-free

trial period wasn't intended

to be used as a "cure

all" for poor recruitment

and induction processes.

And it's not a fail-safe way

of getting rid of unsuitable

employees, as some thought

initially might have been

the case.

Key areas of importance in

the existing legislation included:

prior employment - the trial

period cannot be used where

there has been any previous

employment relationship, with

Let's face it,

recruitment mistakes

do happen, and the

90-day trial period

is there for both the

employer and the

employee to utilise.

I've seen it utilised for

a variety of reasons,

but never abused.

no indication of a timeframe in

which this would apply.

This has been an interesting

challenge for those organisations

that have a more transient

work force or branches

throughout the country.

Other relevant key points

to note include that the

employment agreement with

the 90-day trial period clause

had to be signed before the

employee commencing work,

or it was deemed not applicable

(and a few employers have

been caught out with this).

Other obligations - that

good faith requirements have

to be active, constructive,

responsive and communicative

- still apply.

The notice period must

be clear; and the clause must

comply with other provisions

already in place within the

employment agreement.

For example, should a

training provision be included,

then the employer must satisfactorily

demonstrate that the

employee was provided every

opportunity to remedy the skill

shortfall, otherwise they are

contradicting their own policies

and procedures, and therefore

not demonstrating good

faith to the cause.

As to what "grievance-free"

means under this piece of legislation:

it includes that an

employee dismissed under

the trial period provision may

claim a personal grievance on

some grounds, but may not

make a claim of unjustifiable

dismissal.

A claim may still be made

on grounds such as discrimination,

sexual harassment, unjustified

disadvantage, duress

relating to union membership,

and non-compliance with other

employment legislation, e.g.

issues such as minimum wage

and health and safety.

Tradestaff's "Cool and Easy"

mantra is what keeps clients

and candidates coming back

Tradestaff has over two decades of

experience supplying temporary and

permanent workers to the trades and

industrial sectors.

This success is down to finding the right

person for the right job. At Tradestaff it's all

about people! It's about ensuring that they

are safe at work, trained appropriately and

treated fairly and equally.

Through consistent action in a positive,

fun and innovative environment people

are made to feel valued and appreciated.

Whether you are looking for work or for

workers, the process is as cool and easy as

possible.

Since 2005, Tradestaff has maintained a

strong commitment to exceeding workplace

health and safety standards. Achieving the

top tertiary level in the ACC Partnership

Programme demonstrates Tradestaff's

dedication to improving and enforcing top

standards of health, safety and injury management

at work.

Additionally, Tradestaff are committed

to professional standards and always aim to

be at the forefront of innovation. And in that

vein, are one of the first companies in New

Zealand to be certified to The Recruitment,

Consulting & Staffing Association (RCSA)

StaffSure Registry, helping clients and candidates

alike know that they are choosing a

reputable provider.

Get in touch to talk about how

Tradestaff can help with your labour

needs or job search.

Contact the Tauranga

team on 07 577 1634 or

bop@tradestaff.co.nz

www.tradestaff.co.nz
---
HR, MANAGEMENT AND RECRUITMENT

BAY OF PLENTY BUSINESS NEWS August/September 2018

21

Customised

solutions for

clients and

candidates

"Staff - that's what we do"

Business results

Professional service

Client solutions

Candidate management

Voted Tauranga's Most Trusted

Recruitment Consultants by

our Candidates and Clients

is something we are hugely

proud of. Being able to trust

a Recruiter that can make a

difference to your life is not

something we take lightly, we

take into account your requests and apply the

best possible solution. We know the importance

of having great staff, obtaining a good job and the

impact that can have. You can trust us to get it right.

At The Staffroom we meet our

Clients and Candidates face to

face, to peel back the layers and

get to the root of their needs.

Aligning company cultures and

personality traits are key factors to

ensure we get the right fit.

P Our policy - get back to everyone

P Our attributes - Honesty Integrity Sincerity Trust

P Our service - Personable Reliable

P Our communication is vital and at the centre of

everything we do

P Our aim - is to provide best practice client

service and candidate care
---
22 BAY OF PLENTY BUSINESS NEWS August/September 2018

WAIKATO NEWS

Ambitious start for new agency

Waikato's new economic development

agency is making an ambitious start as it

organises a regional summit to prioritise

key initiatives for the region.

By GEOFF TAYLOR

The Waikato Regional

Economic Development

Agency (Waikato

REDA) came into existence

on July 1; it's a limited liability

company, owned by the

Waikato Regional Economic

Development Trust and funded

by a mixture of local authorities

and businesses.

Waikato REDA has a current

establishment board and

will call for expressions of interest

in a skills-based, permanent

board before the end of

the year.

Waikato businessman Dallas

Fisher chairs the Waikato

REDA establishment board

and says the agency aims to

become a front door for the

region. That applies to "Wellington"

and investors keen to

understand and talk to Waikato,

and to local businesses and organisations

wanting to help tell

the region's story.

"This is an important time

for Waikato – we need to take

a strategic approach to getting

us up to that next level. We do

relatively well, but let's face

it, we've suffered from a low

profile and subsequent underfunding."

Waikato REDA's first activity

is an invitation-only economic

development summit at

the end of August.

"We'll have 250 key people

in the room, helping us determine

the major priorities and

initiatives for the new organisation."

At the end of the summit,

Waikato REDA will have a list

of 12-14 economic development

initiatives that will have

the greatest impact on Waikato

and its people, and the agency

will work with government and

funders to make those happen.

A CEO has to embody

that, as well as

bringing a huge variety

of skills to the role.

"If people are asked to name

the top five economic initiatives

in Waikato at the moment

they struggle," he said.

"In terms of tourism, if you

take out Hobbiton from Waikato

we are a bit lean."

"If we can together identify

what the top priorities are then

we can put our hands up for that

funding. We need to be able to

put these projects on the table,

properly structured to do so.

"Our purpose is to arrive at

the economic initiatives that

will have the biggest impact.

We want to accelerate growth

in Waikato. We all need to be

moving in the one direction and

the Government needs to understand

from the region what

we want. We need to be picking

some winners to get our share."

Waikato REDA will be

based at Innovation Park, at the

Ruakura campus in Hamilton,

with WIPLtd CEO, Stuart Gordon

in the establishment CEO

role. A recruitment drive is underway

for a permanent CEO.

Mr Fisher says Waikato

REDA is very deliberately

being built on the work of the

Business Growth Services

team, under the Waikato Innovation

Park umbrella.

The team works closely

with NZTE and Callaghan

Innovation to help grow businesses

across the region, and

will now be part of Waikato

REDA.

"We're continuing with this

model of being out in the towns

as it's a great model and we

know it makes a difference to

those businesses," he says.

"So, while we'll be talking

to the region and all our supporters

about the major economic

development initiatives

we'll be undertaking on a larger

scale, people can be confident

that we're continuing the onthe-ground

help that's so important."

Dallas has previously

chaired Waikato Means Business,

the region's 20-year economic

development strategy,

created with input from civic,

business and Māori leaders.

As well as taking strong

direction from Waikato Means

Business, Waikato REDA has

taken a lead from the Waikato

Dallas Fisher, chairman of the Waikato Regional

Economic Development Agency establishment board.

Plan, an overarching strategic

plan developed by the region's

leaders that has targeted investment

and economic development

as two of its priorities.

The new agency acknowledges

all the research and hard

work that's been done in the

past few years, Dallas says, and

is proud to be standing on the

shoulders of some great people

and organisations.

"We're ready to take on that

challenge of bringing everything

together and acting as the

lead voice for the region."

Stuart Gordon will hold the

position of interim CEO until

a permanent appointment

is made. Applications for the

new CEO close on July 18; the

board hopes to announce a new

CEO by September.

Dallas says the new agency

aims to become an obvious

front door for the region,

whether that's for the government

or investors keen to talk to

Waikato, or for local businesses

and organisations wanting to

help tell the region's story.

"A CEO has to embody

that, as well as bringing a huge

variety of skills to the role.

"We're looking for someone

who is going to add significant

value to the relationships

we need to have, and who can

bring that strategic approach to

economic development in the

region."

Waikato REDA's three

high-level objectives are lifting

economic performance for

the region; attracting and retaining

talent and investment;

providing one voice for regional

economic development in

Waikato.

"This is an important role

for Waikato, and indeed New

Zealand," says Dallas.

"If we can boost economic

development in our region, the

nation benefits as well.

"We see this leader as being

able to significantly influence

how well Waikato can

do through economic development

– but that's not enough

on its own; they'll also have to

be someone who engages extremely

well with people."

Councils streamline resource consenting

Nine Waikato councils have banded

together to develop a more customerfriendly

resource consenting process.

The initiative has aligned

resource consenting processes,

making it consistent

across all nine councils

involved. Each council will

maintain its own statutory

responsibilities but work from

a common base. Councils will

use the same resource consent

application forms and

decision letters.

The initiative was driven

by Waikato Local Authority

Shared Services Ltd (WLASS),

a council-owned company

which promotes shared services

between Waikato-based

councils. WLASS aims to reduce

costs and duplication,

have councils work more efficiently,

promote best practice

and make councils more customer-friendly.

WLASS chair and Waikato

District Council chief executive

Gavin Ion said a more

stream-lined and consistent

consenting process would be

welcomed by customers who

can struggle with the bureaucracy

and time involved in applying

for a resource consent.

This was a first step in aligning

planning between councils.

"The RMA is a complex

piece of legislation and working

with it can be challenging

for customers and for

council staff.

"This project aims to provide

some consistency and

make the process easier and

more efficient for all of us

charged with working with the

legislation," he said.

"Customers will know

what they can expect and

what is involved and importantly,

those expectations will

largely be standard across the

region. Customers working

with multiple councils should

find the consenting process

more efficient."

Waikato-based property

developer Kevin Honiss, who

works across multiple councils,

welcomed the change.

"It will save developers and

property owners time and money

and will make the whole

process easier for council staff

as well. It's going to be more

efficient for everyone and that's

a good thing."

Kevin said he would like

to see the initiative go even

further.

"It would be great if there

was a more consistent planning

regime as well because at the

moment every council has a

different rule and every rule is

different. Auckland is going in

the right direction with its Unitary

Plan and if can learn from

that in Waikato, we should."

Senior planners within each

council developed the aligned

process. Councils involved are

Thames-Coromandel, Hauraki,

Waipa, Waitomo, Rotorua

Lakes, Matamata-Piako, South

Waikato and Waikato District

Councils as well as Hamilton

City Council.

The Future is arriving in New Zealand

World-renowned futurist and thought

leader, Professor Sohail Inayatullah, is

presenting in New Zealand for the first

time. He will be in New Zealand at the

invitation of Rutherford Business Institute

for a two-day workshop in Auckland

on September 24 and 25. Professor Inayatullah

will be running a futures and

strategic foresight workshop aimed at

business and industry leaders. The aim

of the workshop is to provide attendees

with the tools and strategies necessary to

not only manage disruption, but to be the

disrupter.

Commenting on his forthcoming visit,

Professor Inayatullah is looking forward

to presenting in New Zealand and

stated:

"We can either be overwhelmed by

the waves of change, ride the waves, or

become the wave maker. I look forward

to working with New Zealand organisations

to explore creating alternative and

preferred futures."

Professor Inayatullah's workshop is a

first for New Zealand, as he is in very

high demand internationally. He has

worked closely with organisations and

governments for more than 30 years as

a futurist, helping them to create the narratives

they need to shape their preferred

future. He is the UNESCO Chair in Future

Studies, a Professor at the Graduate

Institute of Futures Studies at Tamkang

University and teaches at the University

of Melbourne and the University of the

Sunshine Coast. Full workshop details

and registration: www.rutherfordbusiness.nz/futures-thinking/
---
BAY OF PLENTY BUSINESS NEWS August/September 2018 23

Are you ready for an ageing New Zealand?

It's a fact — New Zealanders are living longer with more complex

health needs. Whatever shortcomings might occasionally be

revealed in our excellent New Zealand health care system, people

will continue to require care when they are no longer able to care

for themselves.

AGEING AND WELLNESS

> BY MELISSA HARRIS

Melissa Harris is the Facility Manager of Radius Althorp in

Tauranga, Radius Residential Care Ltd. Phone (07) 5432912 or

email Melissa.Harris@radiuscare.co.nz

"I statement from families

don't know where to

start" — is a common

who are facing the need to

place a loved one in care for

the first time.

There is often considerable

pressure when there's been

a quick discharge from hospital,

or a home assessment

has determined the need for

urgent care.

And there can be the added

complexities of how to access

subsidy and finance information.

You may be unaware of

them, but there are a number

of sources for this information,

so seek out the best

advice possible.

The decision to consider

care options starts at home.

Often it is infrequent visitors

who are the first to notice

changes in your loved one.

This can range from their

inability to do normal activities

with ease, worsening medical

conditions worsen, chang-

es in mobility or occasional

falls, more prominent memory

impairment, or risky behaviour

such as leaving jugs boiling or

baths running.

It is important you recognise

these changes and

record them with their GP, as

early conversations can lead

to early care intervention,

either in the home or through

supported living.

The industry says that families

often report having known

about the changes in their

loved one, but they simply

classify them as the inevitable

result of getting older, rather

than the deterioration it clearly

advertises.

This can cause considerable

grief when their loved

one has a serious injury at

home because they are unable

to cope.

The first step is asking the

GP for a referral for assessment.

This referral is made to

your local DHB team, who

will make an appointment to

meet with you and your loved

one to further discuss your

observations and concerns.

The level of care might

be classified as resthome,

hospital, secure dementia or

psychogeriatric care.

Obtaining a subsidy

is always the

responsibility of the

person receiving care

or their family — not

the care provider.

It is vital at this stage to ask

lots of questions around funding

and government subsidy

support, as it can be a lengthy

process.

At assessment time, you

should be given a Residential

Care Subsidy booklet, which

contains valuable information

including asset thresholds and

how to apply for the government

subsidy.

Obtaining a subsidy is

always the responsibility of the

person receiving care or their

family — not the care provider.

You should be given a list

of facilities offering the level

of care required and it is up to

you and your loved one to find

the appropriate placement that

suits your needs.

Though a daunting task

under pressure of time, you are

best to avoid rushed decisions

that overlook what is important

to your loved one. After all, it is

to become their new home.

In the next issue we will

examine important factors to

consider in evaluating care

placement options.

10 tips to keep your business

running smoothly

I'm often surprised at how little some new clients know about

their own business - even such simple facts as what their monthly

overheads are. This is information that can mean the difference

between success and failure.

MONEY MATTERS

> BY STEPHEN GRAHAM

Stephen Graham is a Director and Managing Partner at BDO

Rotorua, Chartered Accountants and Advisers. To find out more

visit bdorotorua.co.nz or email rotorua@bdo.co.nz

I

tell these clients that staying

up-to-date is crucial, and

that there's no excuse not

to be. All it takes to clearly

understand your position and

make the right decisions to run

a robust and profitable business,

is a monthly check of

the following key indicators of

your business' health:

1. Monitor cash

Cash needs to be closely monitored

as it is the single most

important indicator of business

performance. With cash, it's

imperative that it is monitored

more daily than monthly. It is

also important that it is monitored

on both a short-term and

longer-term basis.

2. Financial reports

Too often I see businesses

reacting to information months

down the track. It is imperative

that accurate reports are

prepared on a monthly basis,

close to month-end, so you can

react in real-time to market

changes. Most software can

provide reports – from large

businesses with fully integrated

programmes, to smaller

companies using bank-link

type reports. Don't just do

your GST and move on to the

next job – print your monthly

reports and review them.

3. Customers

You must understand your customers.

You should be regularly

asking them what they want

and what they think of your

product or service. Use technology

to help you connect

and measure with them.

4. Overheads

Many clients not know their

monthly overheads, yet it is

such an easy calculation –

even if done as basically as

dividing annual overheads by

12 months. It is essential information

to have in order to

know when you've reached

that crucial breakeven point in

the month and have begun to

make a profit.

5. Key relationships

Strong relationships are fundamental

to business success.

So find a bank manager you

connect with, who will give

you their direct dial number,

and make sure you stay in

touch. Likewise it's imperative

to have strong relationships

with key suppliers. They're

often willing to extend payment

terms or give discounts

and allowances, so constant

communication is the key.

Huge benefits can flow to your

business including improved

margins and support through

tight cash flow periods.

6. Gross margin

Know your pricing model and

continually strive to maximise

your margins. Gross profit and

margin are key financial indicators

that need to fall out of

your monthly reports. Only by

understanding your model can

you strive for improvements.

7. Debtors and creditors

Monitor your debtor levels

monthly. It's important to

measure the days outstanding

and have formalised methods

of collections. This often

requires continuous follow-up

and a firm consistent approach.

Also measure your creditor

levels monthly. Huge gains

can be made by using technology

and managing creditors

on line, and by eliminating

cheque payments.

8. Stock control

Measure the stock that is key

to your business on a monthly

basis to obtain accurate

financial reports. This doesn't

necessarily mean monthly

physical stock takes, but

it does mean having a programme

to monitor levels,

ageing and shrinkage. Rolling

stock takes and spot checks

are useful. Stock – along with

badly managed debtors – is

often the culprit when money

runs out.

9. Employees

Great employees are the key

to business success. You need

a process for collecting all the

great ideas your employees

have. You also need to monitor

staff turnover on a monthly

basis.

10. Budgets

The difference between a

dream and a goal is a plan. You

must have both short and longterm

business budgets, and

review your monthly results to

budgets. Most software easily

accommodates budgets.

If you're stuck or confused

about any of these matters,

ensure you get professional

advice sooner rather than later.

Staying up-to-date is fundamental

to good business.
---
24 BAY OF PLENTY BUSINESS NEWS August/September 2018

How to make yourself

part of the story

Sometimes making news headlines means being willing and

responsive to seize on major news stories and other opportunities

as they arise.

TELLING YOUR STORY

> BY JAMES HEFFIELD

Director of Bay of Plenty marketing and PR consultancy Last

Word. To find out more visit lastwordmedia.co.nz or email

james@lastwordmedia.co.nz.

The chief executive of a

fledgling national association

recently told

me how he had inserted his

organisation into a breaking

national news story by simply

picking up the phone and

asking if they wanted comment

from an industry expert.

Another organisation I work

with secured a spot on the AM

Show's Carpool because they

had the gumption to call in and

ask to be part of it.

In both cases, the resulting

coverage was seen by hundreds

of thousands of New

Zealanders, helping to raise

awareness of the respective

organisations and position

them as experts in their industries.

In the case of the national

association, it also resulted in

new members signing up as a

direct result of seeing the association

in the news.

Being able to add your

voice to a breaking or ongoing

news story is as much about

attitude as it is about ability.

If you're across a topic and

willing to speak to the media

at short notice, you hold a significant

advantage over those

who are gunshy in front of the

media, require time to research

a subject, or need permission

from others in their organisation

before they speak.

That's not to say you

shouldn't be prepared – it's

Being able to add

your voice to a

breaking or ongoing

news story is as

much about attitude

as it is about ability.

always important to go into an

interview knowing the facts

and the key messages you

want to get across.

But if you're quick on your

feet and willing to prioritise

media opportunities when they

arise, you can secure some

amazing coverage.

Knowing who to contact

and having existing relationships

with the media is also

helpful. You don't need to be

on first-name terms, but if

you've previously spoken to

a particular journalist and they

know who you are, they are

likely to be more receptive.

Having their contact details on

hand also makes things easier.

Keep the business cards or

details of journalists you deal

with.

And consider subscribing

to a media database service

that allows you to look up

the contact details for media

organisations and specific

journalists quickly and easily.

Keep in mind that not every

trending news story should be

considered a publicity opportunity.

Never seek to comment

on disasters or sensitive

subjects for commercial gain,

and stick to topics where your

commentary will add value or

provide an angle that hasn't

already been covered.

Tesla's chief executive Elon

Musk learnt that lesson in painful

fashion recently when he

publicly offered the use of an

experimental mini submarine

to assist with the rescue of the

boys' football team that was

trapped in the Tham Luang

cave in Thailand for more than

two weeks.

When his offer was rejected

as impractical by the rescue

team, Musk would have been

wise to accept their word rather

than publicly suggesting he

knew best, when he was not

directly involved in the rescue.

Also remember that making

the news is just the first step.

Once you do secure positive

coverage, make the most of it.

People are absorbing information

through a wide range

of channels, so make sure to

maximise its reach by sharing

it through your communications

channels, particularly

your social media accounts.

Recent figures from

Facebook show it has 3.2 million

monthly average users in

New Zealand, which makes it

an important platform for any

message you want to share.

Securing media coverage

can have a big impact on your

brand. Next time you see a

trending media topic that you

have expertise in, consider

reaching out to media to let

them know how you can add

value to their story. You might

be surprised by the results.
---
P5177Y

Bay of plenty

25

First on the scene

Tauranga Chamber of Commerce's recent BA5 networking meeting,

hosted by Air New Zealand at Mills Reef.

CONNECTING

BUYERS AND

SELLERS OF

QUALITY

BUSINESSES

When is the right time to sell

your business? Right now.

1 Caitlin Hayward and Bill Reeves, Air New Zealand. 2 Stan Gregec, Tauranga Chamber of Commerce CEO.

At TABAK, we promise to guide

you through the sales process

with focus, integrity and

complete confidentiality.

3 Anita Brown, Go Map Girl and Ron Devlin, Tauranga Chamber of Commerce president. 4 Abbie Clark and Rachel

Lawrence, Altex Coatings.

FOCUS • INTEGRITY

CONFIDENTIALITY

5 Linda Rewita, Edvance and Michael Bayly, Karamu Farm. 6 Steff Bunn and Warren Scobie, Bizness Wins.

WHY TABAK

INDUSTRY EXPERIENCE

REALISTIC APPRAISALS

7 Kirsten Street, Westpac and Patrice Belcher, Bay Venues. 8 Trevor and Shona Jones, ADG.

TEAM APPROACH

PRE-QUALIFIED BUYERS

9 Lindsay Faris, Groundswell. 10 Owen Lee-Cusack, Success Personnel and Ken Persyk, University of Waikato.

147 Cameron Road

p. 07 578 6329

e. tauranga@tabak.co.nz

w. tabak.co.nz
---
26 BAY OF PLENTY BUSINESS NEWS August/September 2018

Big agency or good agent

- which is more important?

Eight years ago, at age 20 and after studying

marketing and economics at university, I became

a real estate agent. I was full of optimism, excited

about the challenge, and couldn't wait to learn the

ropes from my older and more experienced peers.

After just a few weeks, I was

shocked at some of what I

saw. People from all walks

of life and almost every background

you can imagine were

doing a quick course, suddenly

becoming marketing experts, and

claiming an ability to "get the best

price for your property".

The agent you choose

to sell your property

will have a direct and

significant bearing on the

outcome.

I found many of my peers

seemed to not really have any idea

what they were doing. Their training

seemed to have been heavily

geared towards how to get listings,

leaving to chance the infinitely

more important issues of how to

market real estate and negotiate

with purchasers. Over the next

couple of years, I wondered at

times whether I might find another

more suitable career. But eventually

I made a commitment that I

would become the change I wanted

to see.

With the above in mind, I ask

you to do whatever you need to do

to plant the following statement

firmly in your mind:

"The agent you choose to sell

your property will have a direct

and significant bearing on the outcome."

Throughout the process, your

agent probably has a hundred or

more opportunities to influence

the outcome. This starts as early as

the initial suggestions they make

around preparing the property for

sale and the method of sale. It extends

through to each and every

phone call, text message, email

and other interaction they have

with every single purchaser who

enquires about your property.

How and to whom the property

is marketed, whether or not the

photography and video is exceptional,

which features should be

highlighted to different purchasers

- the list of opportunities your

agent has to absolutely make or

break the sale is almost unlimited.

And of course how your agent responds

when a purchaser actually

says "I'd like to make an offer"

will be critical to the outcome. But

every one of the preceding points

is equally as important, because in

some cases they will dictate whether

or not an offer is even received.

And when you apply this concept

to luxury and lifestyle properties,

the stakes go through the roof.

Luxury and lifestyle properties can

be incredibly sensitive to the market,

especially given they are often

in a significantly higher than average

price range. When selling one

of these properties, the agent you

choose could influence the price by

$500,000 or more. In some fraught

situations, such as a family breakup

or a seller under intense financial

pressure - the agent you choose

could very easily mean the difference

between selling or not.

Where's the proof, you ask?

As an example, a few weeks ago,

after more than three years on the

market with three of the country's

best-known real estate agencies,

my independent, specialist real estate

agency took over and sold an

upmarket Te Puna lifestyle property

in just 32 days. If you think

luck had anything to do with that,

please start from the top and read

this over again.

TERMS

OF TRADE

CREDIT

CHECKING /

MONITORING

DEBT

COLLECTION

Nick from

EC Credit Control

is the Bay of

Plentys leading

debt prevention

expert.

CREDIT

MANAGEMENT

TRAINING

FOR A NO OBLIGATION MEETING CALL OR EMAIL NICK TODAY

nick.kerr@eccreditcontrol.co.nz | P: 027 713 2128

0800 EC GROUP | www.eccreditcontrol.co.nz
---
Protecting New Zealand

from "dirty" money

Although it sounds somewhat terrifying, there's a good reason for

the Anti-Money Laundering and Countering Financing of Terrorism

Act that's been in force in New Zealand since 2013. According to

figures released by the Ministry of Justice, about $1.35 billion from

the proceeds of fraud, illegal drugs and trafficking is laundered

through everyday New Zealand businesses each year.

The AML/CFT Act applies

to banks, casinos, financial

institutions and

some trust and company service

providers. If you've tried

to open a bank account or get

a loan in recent years, you've

been asked to provide certain

identification and proof

of address as well as proof of

where your funds come from.

From 1 July 2018, the legislation

has been extended. Real

estate agents and conveyancers;

lawyers and accountants;

and some businesses that deal

in expensive goods must comply

to the Act as well.

"The law will come into

effect in stages for different

sectors to give businesses time

to prepare for these changes,"

explains Paula Lines from the

Law Shop.

Lawyers, conveyancers,

and trust and company service

providers must comply from 1

July 2018 and providers of accounting

services from 1 October

2018. Real estate agents

from 1 January 2019, and

dealers in high-value goods

and the NZ Racing Board will

be included from 1 August

2019.

The law changes are

a practical measure

to protect Kiwi

businesses and to

make it harder for

criminals to profit

from and fund illegal

activity.

Paula Lines, Commercial Lawyer at The Law Shop.

All businesses and service

providers covered under the

AML/CFT Act, including those

from the first phase, will now

have reporting requirements

that relate to certain transactions

and they must also report suspicious

activities.

The law changes are a practical

measure to protect Kiwi

businesses and to make it harder

for criminals to profit from and

fund illegal activity. They'll

also safeguard and help New

Zealand live up to its reputation

as being one of the least corrupt

countries in the world and a

great place to do business.

"In the past, as your lawyers,

we may have primarily dealt

with you at a distance until it

came time to sign the paperwork,

but these days we need

to view your identification prior

to acting for you. The main

change for you will be having to

provide all the necessary information

at the beginning of the

transaction," Paula says.

"People just need to be

aware that some extra information

may be required from them

during certain transactions.

Even if you have been a customer

of businesses such as ours for

a long time, we may still need

to ask you to confirm that you

are who you say you are and,

in some cases, tell us where the

money you are going to use has

come from.

"If you want to get a jump

start and make sure things keep

running smoothly, it's best to

contact us ahead of when you

need our firm to act for you. It's

best to have everything in place

and ready to go. Just give our

Tauranga or Rotorua offices a

call and we'll get things sorted."

Call The Law Shop on 07

572 5272 (Tauranga) or 07 349

2924 (Rotorua) or email team@

thelawshop.co.nz

STEPHANIE NORTHEY

LL.B | Director

PAULA LINES

LL.B | Director

SARSHA TYRRELL

LL.B | Director

ROTORUA

1268 Arawa St

Rotorua

TAURANGA

1239 Cameron Rd

Greerton
---
618a Te Matai

Road

LISTED

"After three years on the market with a number

of agents, our luxury property in Te Puna was no

closer to being sold. Enter, Cameron Macneil.

Cameron's approach is refreshing to say the

least. At each step of the process we felt he

listened to us, developed clear strategies, then

had the confidence (and competence) to

implement them. Cameron's obvious depth of

knowledge and passion for his profession was

evident right from start and at all times we felt he

had our best interests at heart. Most importantly

in our case, Cameron instinctively knew what

needed to be changed in order to attract the

right buyer and within just 32 days of listing, our

property was sold.

353

Minden Road

SOLD

To anyone considering selling a high-end

property in the Bay of Plenty, and to anyone

wanting to get it right the first time, we strongly

recommend engaging Cameron Macneil of Oliver

Road Estate Agents."

Tom Duncan

353 Minden Road, Te Puna

Hi, my name is Cameron Macneil. I have eight years experience selling high-end properties

and I have recently started my own agency servicing the entire Bay of Plenty.

Oliver Road Estate Agents is unique in that we focus solely on marketing and negotiating the

sale of luxury and lifestyle properties - no standard residential or commercial. In doing this,

we're making a commitment to the owners of these properties to spend all of our time

working in this often challenging segment of the market, ensuring each property gets the

specialist attention it requires.

Are you considering selling your luxury or lifestyle property in the next six months?

Have you previously been on the market with another agency and are ready for a fresh

approach?

Do you have no intention of selling, but would be interested to know what your property is

worth?

Are you considering renovating or subdividing, and would like an idea of the value that will be

added?

If you answered "yes" to any of these questions, give me a call anytime. I believe you'll find

my approach to be relaxed and professional.

Cameron Macneil

Director | Licensed Real Estate Agent

Oliver Road Estate Agents Limited

Licensed REAA 2008

021 800 889

cameron@oliverroad.co.nz

www.oliverroad.co.nz