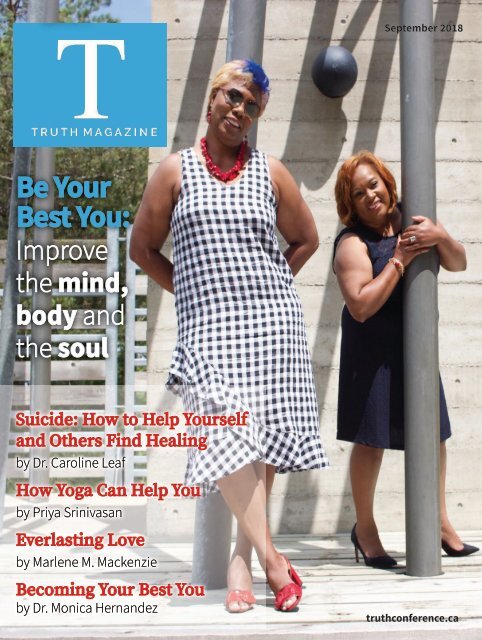 You also want an ePaper? Increase the reach of your titles
YUMPU automatically turns print PDFs into web optimized ePapers that Google loves.
September 2018

truthconference.ca
---
FEATURES

18

06

Suicide: How To Help Yourself and

Others Find Healing

More and more people are choosing to take their own lives

because they see death as the only solution to the difficulties

they face.

10

13

Yoga Passion

"But I don't want to do yoga, it's so boring!"That was my answer

for so many years when my mom would beg me to do yoga with

her. I would watch her practicing it every day and just couldn't

understand what was so special about it.

14

Everlasting Love

Finding a partner and having a happy marriage cannot be left to

chance. It is important to plan for the end before the beginning,

to count the cost up front, and try to anticipate the pitfalls and

difficulties that will occur along the way.

19

20

Project Trashion

What is the first thing you look for when purchasing a new shirt?

Fit? Style? Colour? Many would say a combination of all three. It

is important in our society to have channels such as fashion to

express ourselves and our beliefs.

20

22

Your Best You

The Spirit of Christ is omnipotent, omniscient and omnipresent

at all times. He knows you even better than you know yourself

and can come into your life and re-design it if you ask Him.

Today, ask Him into your life to transform it and bring you to

your highest and best—your very best. To Him be all honour,

glory and praise.

2 | Truthmagazine
---
OUR CONTRIBUTORS

Welcome

EDITOR-IN-CHIEF

Nadine Miller

PUBLISHER & EDITOR

Cheryl-ann Philip

PRODUCTION & GRAPHIC DESIGN TEAM

Jessica Chandrathasan

Krisika Suthanthireswaran

PROOF READERS

Cheryl-ann Philip

Pollyana Darrell

HAIR STYLIST

Genesis Hair Studio - Sue Thomas

CONTRIBUTIONS

Dr. Monica Hernandez

Marlene M. MacKenzie

Lorna (Pat) Chacha

Priya Srinivasan

Three years of growth and discovery! Our third publication

of sharing transformational holistic truths; the outcome:

positive impact! Real change! Being your "best you"means

maximizing your talents, managing and minimizing your

triggers, and recognizing the areas of your life which have the

potential to blossom, and develop them. Every day is a gift-an

opportunity to continue building on the existing foundation

or to do a reset. Being your "best you" is about seed time and

harvest. Take time to invest in yourself and reap a harvest

from the legacy you create.

THE NAKED TRUTH GOSPEL

Truth Magazine is produced by The Naked Truth Gospel

(TNTG), a faith-based, not-for-profit organization dedicated

to promoting wholesome thinking and lifestyles, while

empowering and equipping individuals with practical

tools to recalibrate their personal GPS (Guiding Principles for

Success) through publications, workshops, multimedia shows

and other events.

TNTG is the parent of Truth Conference and Real Truth Talk

Show .

TRUTH CONFERENCE

Truth Conference, a wellness weekend getaway offers the

opportunity to withdraw briefly from life's treadmill and

explore practical knowledge and tools for achieving your

"Plan A," as coaches share guiding principles for successful

living.

REAL TRUTH TALK SHOW

Coming soon, Real Truth Talk Show is a new Canadian web

talk series bringing fresh, lively, energetic and meaningful

conversation with guests from different backgrounds and

experiences on lifestyle topics.

Truthmagazine | 3
---
Spousal

Support

Collaborative

Family Law

Child

Support

Divorce

Separation

Agreements

Custody

Grandparents'

Rights

Family

Property

Access

Family Law

Child

Protection

made simple.

151 City Centre Drive, Suite 201

Mississauga, ON L5B 1M7

T: (905) 890-0474

bennettlaw.ca

4 | Truthmagazine
---
Ways to Boost

Your Mood Immediately

1

Sunshine and Nature

Let the sunshine into your house. Open the shades and

curtains. Go for a walk in nature. Get fresh air.

4

Get Lost on Purpose

Go somewhere you have never been. Go for a drive

with no destination in mind.

2

Music

Put on upbeat music to becomeenergized when you're

feeling down.

5

Hugs

Ask for a hug. We need human touch to sustain life.

When we are feeling down, we need even more human

connection for healing. Pets help with healing too.

3

Lavender & Orange

Both these scents calm the body; they are refreshing

and provide soothing.

6

Small Projects

Be productive! Find something to do whether it be

organizing a messy drawer, baking or doing art.

"Grow through,

what you go through"

Truthmagazine | 5
---
Suicide: How To Help

Yourself & Others Find Healing

More and more people are choosing to take their

own lives because they see death as the only

solution to the difficulties they face.

Kate Spade and Anthony Bourdain are recent

high-profile suicide cases that left the world rattled

and perturbed yet, every 40 seconds someone

commits suicide—every 40 seconds someone's

world is devastated.

We have a problem!

I say "we" have a problem because the rising rate of

suicide is a judgement on our society. David Foster

Wallace, discussing suicide, says:

"The so-called 'psychotically depressed' person

who tries to commit suicide doesn't do so out of

'hopelessness' or any abstract conviction that life's

assets and debits do not square; and surely it is

not because death suddenly seems appealing. The

person in whom an invisible agony reaches a certain

unendurable level will kill themselves the same

way a trapped person in a burning high-rise, will

eventually jump from a window. Make no mistake

about people who leap from burning buildings.

Their terror of falling from a great height is just

as great as it would be for you or me…that is, the

fear of falling remains a constant but the variable

here is the other terror, the fire's flames; when the

flames get close enough, jumping to possible death

becomes the slightly less terrible of two terrors.

For the individual, it is the terror of the flames that

eventually provides impetus to jump. Invariably,

people down on the sidewalk, looking up, yelling

'Don't!' and 'Hang on!', cannot understand the jump.

You would have to have personally been trapped

and felt those flames to really understand a terror

way beyond falling."

Individuals like Bourdain and Spade could not

escape the "flames" because we, as a society, did

not provide a way for them to save themselves.

These flames are different for everyone. It could

be the conflict of trying to be someone else than

ourselves; a festering trauma from any stage in our

lives, or mounting pressure and expectations from

our lifestyle; it could be loneliness, relationships…it

could be anything. All of us are vulnerable because

we face the challenges of daily life.

The current psychiatric system is supposedly helping

people but it is in shambles. Psychotropic drugs

have failed to eradicate mental ill-health; more

people suffer from mental ill-health than ever

before. Kate Spade saw some of the best mental

health professionals in New York for months before

her death. As psychologist Noel Hunter notes,

"most people who have committed suicide did so

after having sought out help." He also points out,

"Telling someone they are "ill" for suffering or being

sad serves to further alienate the individual. It often

results in the person feeling defective, and puts the

problem inside the individual instead of recognizing

how cultural and circumstantial factors are negatively

impacting them. Studies have demonstrated over

and over again that a biological illness perspective

on human suffering leads to decreased empathy,

increased desire for social distance, and increased

prejudice and discrimination."

As a society, we have to re-examine how we view

mental health. We have to re-examine the way we

help people who are going through difficult times.

We have to stop placing blame squarely on the

shoulders of the individual who find it difficult to

escape the flames of their life.

6 | Truthmagazine
---
HELP LINE:

If you, or anyone you know is struggling with

suicidal thoughts call Toronto Distress Centre.

Contact:

(408) - HELP

(416)-408-4357

Truthmagazine | 7
---
Suicide: How To Help

Yourself & Others Find Healing

WHAT CAN WE DO AS A SOCIETY?

Love. We cannot survive without love. Love is, according to

research, the top addiction and scientists show us we are

wired for love. More people die from the lack of love than

any other disease. Love thrives in a community. Humanity

is wired to work and thrive in a community. Love cannot

be shared, of course, without someone to love. In science,

and especially quantum physics, "entanglement" is one of

the most important laws - often referred to as the law of

relationships. We are entangled humans living in an entangled

universe; we need each other. When we help other people,

we heal ourselves.

Love starts in the family unit. It is important for parents and

guardians to constantly tell and show their children they are

loved. Hug them; tell them they are needed, wanted and

special. Parents and guardians also need to create a safe

space for their children by assuring them they will not be

judged or condemned. As a parent of four children, I have

to constantly work at making sure my children know that

no matter what, they have my trust and love. I ensure they

feel safe and not judged—we can talk about anything and

everything.

At schools and workplaces teachers and managers should

be trained to identify the signs of mental ill-health and

be equipped to provide adequate support for troubled

individuals. Such support can be a compassionate and

knowledgeable person who is there to help individuals deal

with the vagaries of life.

Churches can also be incredible powerhouses when it

comes to showing communities what love looks like. In

addition to regular counseling services, churches should

create loving, safe and non-judgmental centers or peaceful

gardens, manned by volunteers who will listen and love

people who are going through tough times. Unfortunately,

more and more people feel that the church is a harsh, critical

and sin-obsessed institution in bed with the current political

empire. This is a judgment on the current state of Western

Christianity, which in many ways, does not reflect the love of

a beautiful and caring God.

As a clinical practitioner, I have repeatedly experienced

how communities of love work wonders at transforming the

mind. I have recorded these in my books, DVDs and online

programs, including the 21 Day Brain Detox.

People can be healed—there is indeed much to hope for!

We have many programs that deal with overcoming toxic

thinking patterns: training and educating individuals to

use their mind well, at drleaf.com and at our non-profit,

the Whole Mind Project. You are more than welcome to

contact us for more information.

We are currently working on certified counseling courses

and an app to train individuals to think and build healthy

memories, which will be released in October 2018.

Mental well-being. The association between mental

"disorders" and violence (including suicide) is an unfair

association and distorts the discussion; in particular,

the media's caricature of individuals with mental issues

committing acts of violence because there is 'something

terribly wrong with their brain'. According to research, those

battling with mental issues are more often victims than

perpetrators.

We desperately need a revolution in mental healthcare.

The current drug-oriented, biomedical model of diagnosis

and treatment for non-medical problems and experiences

is reductionistic and dangerous. While the biomedical model

is very effective in treating illnesses such as heart disease,

diabetes, cancer and so on, it is unhelpful and even damaging

in matters to do with consciousness and the mind, such as

depression or anxiety.

8 | Truthmagazine
---
The "treatment" of these so-called diseases of the mind is

predominated by psychotropic drugs, Electroconvulsive

Therapy (ECT) and Transcranial Magnetic Stimulation(TMS),

which statistics or studies have shown to be ineffective,

destructive, disempowering, and stigmatizing in the long run.

Calling for a bigger budget for drug-oriented psychiatry really

"medicalizes misery", dehumanizes people while ignoring the

context surrounding why a person chooses to act or speak

in a certain way.

Drugging people to control their thoughts, feelings and

actions is not the answer to societal ills. The good news

is that there are many alternatives to psychotropic drugs

and invasive treatments like ECT. Mad in America, an online

community of mental health professionals, advocates, and

individuals provides detailed resources on the current

state of mental health treatment, guides to withdrawal

and alternatives to drug treatment for mental health

issues. The contributors at Mad in America, including

psychiatrist and mental health advocate Dr. Peter Breggin,

are making incredible strides in changing the way individuals

and institutions define and treat people suffering from

the vagaries of life.

Most importantly, we need to recognize that DMs, Tweets,

commenting on someone's Facebook wall, or liking an

Instagram post is not the same as taking the time to phone

someone, or paying a visit to check in on a loved one even if

they seem "fine".

You can listen to my podcast on social media and the mind

for more information.

"Often times, depression can mute or hinder someone's

ability to reach out. So, if you do see someone struggling,

reach out! If you don't see someone who used to be

around, reach out!" (Caissie St.Onge)

Dr. Caroline Leaf

If you, or anyone you know is struggling with suicidal

thoughts call 416-408-4357.

This is informative not individual medical advice.

I recently recorded a podcast on dealing with depression

with Dr. Jason Littleton. You can listen to the full interview

here: Episode 35(also available on iTunes and Google Play)

Relationships. Although the technological age has helped

improve the lives of many, platforms such as social media

can serve to increase our sense of isolation, and increase

our desire to seek attention. We now have the world at

our fingertips, yet, paradoxically, more and more of us live

solitary, futile lives. We are more connected, literally, yet we

are more isolated than ever before.

We should all make an effort to engage less with our phones

and computers but more with those we love and are part of

our community. We should limit our time using technology,

including social media, to certain hours of the day or, certain

days. The brain thrives in a dynamic and social atmosphere;

the more we reach out to others, the more we improve our

own mental and physical health.

Truthmagazine | 9
---
Entrepreneurship And Accounting

A Growing Complexity

Business Adviser - Yonin Senouvo

Managing Partner at Senouvo Consulting Group

According to the census 1 of December 2015, Canada's

economy is essentially made up of very small to medium

enterprises/businesses (SMEs) which represent respectively

54.1% (businesses with less than 4 employees) and 43.8%

(businesses with 5 to 99 employees). While the medium size

companies (100 to 499 employees) represent 1.8% of the

total, large companies (over 500 employees) only account

for 0.3% of the market.

This overwhelming ratio of small businesses (97.9%)

raises the inevitable question of their ability to manage

while focusing on their core business. In fact, many small

businesses still see accounting and finance as a mere tool

to help file the year-end administrative paperwork: yes

"TAXES". Undoubtedly, tax filing needs to be done however,

this exercise now requires a departure from the traditional

view of the accountant as a tax filer. In order to optimize

the SME's chances for optimization and healthy growth,

today's accountant needs to be a specialist on tax, finance,

management and systems in order to provide competent

and relevant advice to SMEs on the everchanging nature of

their business.

As a managing partner at Senouvo Consulting Group (SCG),

I have spent the last 15 years in two of the top global

accounting and advisory firms, (commonly known as the

Big 4s) and have learned that business success is measured

by the ability to learn, and optimize resources. The 2.0

Accountant provides business clients with benefits beyond

bookkeeping and tax filing. For example, the Accountant is

able to advise and caution clients regarding over-investment

on fixed assets or, if and when cash flow needs to be better

managed, by delaying vendor payment.

SCG is a 2.0 accounting firm whose priority is to shoulder the

management burden of the SME and assist them to provide

the same quality of services as large corporations. We

purpose to come alongside small businesses, understanding

that they are the game changers. We position ourselves as

advisers helping our clients achieve sustainable growth.

1

Key Small Business Statistics - June 2016, Government of Canada

10 | Truthmagazine
---
BMO Nesbitt Burns

Five Tax Ideas for the

Remainder of 2018

Below you will find concepts that could help you save taxes, increase

your net worth, and position you for financial success in 2018.

1. Start tax planning now

Many investors wait until year end before

thinking about how to reduce their annual

tax bill. As a result, they often miss out on

available tax planning opportunities. Tax

planning should be a year round activity in

order to maximize the savings opportunities

available to you. Feel free to email me at

cameron.murphy@nbpcd.com for a copy

of our 2018 Personal Tax Calendar, which

summarizes important tax deadlines and

provides some tax planning tips for you to

consider throughout the coming year.

2. Make your RRSP and TFSA

contributions

Making regular Registered Retirement

Savings Plan (RRSP) contributions is one of

the best ways to ensure you save enough

for your retirement. If you've already made

your 2017 RRSP contribution, consider

making your 2018 RRSP contribution early,

instead of waiting until 2019, in order to

maximize the tax deferred compounding

inside your RRSP. The maximum RRSP contribution

available for 2018 is $26,230.

The benefits and flexibility provided by a

Tax-Free Savings Account (TFSA) make it

ideal for saving for multiple financial goals.

The TFSA contribution limit for 2018 is

$5,500. Unused contribution room – dating

back to 2009 when TFSAs were first introduced,

or the year you turned 18 – carries

forward and can be used in a future year.

You may want to consider gifting funds to

your spouse or common-law partner, or

adult children to allow them to contribute

to their own TFSA (subject to their personal

TFSA contribution limit). Income earned

within their TFSA will not be attributed back

to you.

3. Reduce tax with income-splitting

Under our tax system, the more you earn,

the more you pay in income taxes on

incremental dollars earned. With this in

mind, it may make sense to spread income

among family members who are taxed at

lower marginal rates in order to lower your

family's overall tax burden, subject to the

income attribution rules. Some of the more

common income-splitting strategies to

consider include:

• An interest-bearing loan at the prescribed

interest rate to family members

in a lower tax bracket. This strategy is

particularly attractive because rates are

currently at historically low levels;

• Pension income-splitting between

spouses (or common law partners);

• Gifts to adult children or other adult

family members (other than a spouse or

common-law partner); and

• Gifts to a minor child – directly or through a

trust structure – to acquire investments that

generate only capital gains.

Let's connect

Cameron Murphy, BBA (Hons), CIM

Investment Advisor

BMO Nesbitt Burns

905-681-2829

cameron.murphy@nbpcd.com

www.cameronmurphy.ca

Truthmagazine | 11
---
doTerra Word Search

Essential Oils

L

G

H

E

L

I

C

H

R

Y

S

U

M

M

E

C

A

R

B

O

R

V

I

T

A

E

E

T

M

A

A

R

I

L

U

O

H

C

T

A

P

A

O

R

L

E

Y

A

R

E

V

I

T

E

V

L

N

I

E

S

N

E

C

N

I

K

N

A

R

F

R

B

M

E

L

A

L

E

U

C

A

L

E

E

L

C

T

N

I

M

R

E

P

P

E

P

C

O

C

P

A

B

E

R

G

A

M

O

T

E

U

U

Y

B

R

E

A

T

H

E

I

L

S

T

Y

A

P

M

Y

R

R

H

L

A

V

E

N

D

E

R

R

E

P

S

I

H

W

O

N

B

E

R

V

A

E

C

L

A

R

Y

C

A

L

M

T

E

A

M

S

Y

W

S

O

R

E

G

A

N

O

M

T

E

S

C

O

S

U

T

P

Y

L

A

C

U

E

E

Enjoy this word search on essential oils that will help you become a better

you. Remember to look up, down, left, right, forwards and backwards.

BREATHE

CLARY CALM

VETIVER

ARBORVITAE

LAVENDAR

FRANKINCENSE

EUCALYPTUS

LEMON

WHISPER

PEPPERMINT

PATCHOULI

MELALEUCA

BERGAMOT

OREGANO

HELICHRYSUM

MYRRH

CYPRESS

12 | Truthmagazine
---
Yoga

Passion

How Yoga can Help

"But I don't want to do yoga, it's so boring!"

That was my answer for so many years when my mom

would beg me to do yoga with her. I would watch her

practicing it every day and just couldn't understand what

was so special about it.

But years passed and sometime during highschool, I

started developing an interest in fitness. I had always

had the gift of natural flexibility so I thought I'd give yoga

another shot. I soon realized that heck, I was really good

at it so I just continued practicing, under the guidance of

my mom of course (who, was more than thrilled). I slowly

started to see the real benefits of yoga, including weight

loss, muscle strengthening and discipline in my fitness.

Today, yoga is a daily part of my life. Whether it's to start

the day or to end the night, it has become one of my

greatest passions. Yoga is my number one fitness activity

and is easily the part of my day which I look forward to

most. People take up yoga for a lot of different reasons –

meditation, spirituality, muscle toning, restoration…the list

is endless; but that is what is so beautiful and so unifying

about it. Whatever stage, level, reason – yoga has a place

for everyone and will return however much love and effort

you put into it.

People always tell me that they'd love to do yoga but are

not flexible. Like I once did, so many people try it once and

walk away because they find it too hard and not enjoyable.

Even I will admit, if I take a break from yoga for whatever

reason (we all have busy lives with work and school, but

that is no excuse!), the first time getting my stiff body

through a yoga session sucks! However I PROMISE YOU,

it's just a matter of staying disciplined and keeping at it.

The ONLY way to get better at it and enjoy is to keep

doing it, and I promise you, you will see the results!

Priya Srinivasan

Truthmagazine | 13
---
Everlasting Love

The desire and the pursuit of such love is leading many single

adults to attend Plan & Prepare unique 10-Week Relationship

Seminar and its associated social activities. Plan & Prepare

was established in 2004 to provide enrichment seminars

for individuals concerned about building and maintaining a

healthy relationship. Some of the life changing topics dealt

with include:

In Pursuit of Everlasting Love, Overcoming the Fear of

Rejection, Healing Emotional Wounds, What is Love? Ten

Most Common Emotional Needs, Sexuality I & II, Dating

Guidelines, Money in Marriage and Beauty In and Beauty

Out.

Throughout the years, we have opened our doors to over

1,500 people and celebrated over 75 marriages. Although

most attend these seminars as a single adult, we have seen

many return to the seminars with their future spouse. Here's

what three happily married couples have to say:

"Plan & Prepare gave us the step-by-step guidance on how

to move on from past wounds and relationship hang-ups and

open our hearts to love again unconditionally." Adriano & Eva

"Plan & Prepare deepened our understanding of ourselves,

each other and God's plan for a successful marriage. The

topics really helped us to have important and meaningful

discussions as an engaged couple." Tyler & Ruth.

"We are now married with a blended family of three. My

husband and I did our pre-marital counseling through Plan

& Prepare which guided us through our courtship." Richard

& Karen.

In addition to our 10-week seminars, many have enjoyed our

annual elegant Christmas Gala, Singlesfest conference, boat

cruise, road trips, barbeque, sports activities and many other

social events. Engaged couples are also enjoying our premarital

computerized assessment program prior to saying 'I

Do!'

All single adults (never married,

dating, engaged, separated or

divorced) desirous of a lasting

change in their lives are invited to

attend our 10-week seminar and

events. Plan & Prepare assists

in the preparation of individuals

spiritually, emotionally, financially

and physically for whole and

healthy relationships.

Marlene M. MacKenzie

Co-Founder of Plan & Prepare

14 | Truthmagazine
---
"Plan & Prepare

gave us the

step-by-step guidance of

how to move on from past

wounds and relationship

hang-ups and open our

hearts to love again

unconditionally. "

Adriano & Eva.

In 1997, my ministry with singles began as the Singles Director

at Kennedy Road Tabernacle Church and five years later, I began

leading DivorceCare Recovery Groups in Brampton. In 2005, I

became co-founder of Plan & Prepare, coordinating its unique

seminars and events. My personal journey of overcoming

broken relationships, has offered hope to many who experience

the pain of a broken heart.

I truly believe that a happy marriage is no accident. The secret to

success in any endeavor is planning and preparing. Many of us

are willing to spend years in school receiving an education that

will prepare us for success in our chosen career or profession. If

we are so careful about planning for career success, why aren't

we just as careful about planning for success in marriage?

We invite all to attend our fall seminar and become the BEST

YOU for a life time partner.

"Finding a partner and having a happy marriage cannot be left to

chance. It is important to plan for the end before the beginning,

to count the cost up front, and try to anticipate the pitfalls and

difficulties that will occur along the way." Myles Munroe.

Marlene M. MacKenzie and her husband Tom have been married

for 19 years and are parents to 14-year old Thomas Jr. She

has shared her testimony of God's faithfulness, healing power,

restoration and forgiveness at singles and women's conferences and

to congregations; has hosted 'Nite Lite' on CTS and has been heard

on WDCX and Joy 1250 radio stations.

Truthmagazine | 15
---
Girls Of Destiny

Programs Empowering Girls

Regardless of our size, shape, height, colour, ethnicity

or religion we are all capable of great things. We all

have this one thing in common-purpose. Purpose is

like an iceberg; 90% is below the surface and 10% is

visible. How does one find their purpose or tap into

their potential? Ask yourself these questions:

Why was I put on this earth?

What do I want to do with my life?

What do I love to do?

Who do I want to help?

How can I help?

The answers to these questions may help us find our

purpose but if we don't believe in ourselves we cannot

pursue our passion and serve others. Kendall Bronk,

a leading researcher on youth development, submits

that, "…the development of purpose is intricately

woven with the development of identity."

Let's face the facts. Some of us struggle with loving

ourselves, finding our true identity, and connecting

with others. Everywhere we go we are bombarded with

the supposed ideal image of beauty and popularity

which we don't fit. It is no wonder we find it difficult to

value and treasure ourselves.

In a National Population Health Survey conducted by

Statistics Canada, the indication is that adolescent

girls tend to have a lower self-concept (a sense of selfworth

and a feeling of control) than boys. The damaging

effects of low self-worth make girls more susceptible to

issues such as teenage pregnancy, depression, obesity

and various other health issues. A positive self-concept

on the other hand, is apparently, key to developing

good mental and physical health.

Girls of Destiny (GOD) leadership, etiquette, personal

development summer camp and life skill programs are

designed to inculcate and bolster positive self-concept

in adolescent girls age 11-16. Founded in 2003, the

programs continue to provide great mentorship for

girls.

The goal of GOD is to engage the community by

mentoring and empowering girls as they go through

their teen years, to build self-esteem, develop social

graces and radiate beauty from within. GOD helps girls

appreciate their personality and value their real self.

Bill Damon, the leading researcher on purpose and

adolescence at Stanford University, says "The biggest

problem growing up today is not actually stress,

it's meaninglessness. Finding purpose early builds

confidence and habits of mind that can be practiced.

Purpose is something young people not only need, but

want."

Young people may not know what their purpose is,

but the adults in their lives may have a good idea. I

challenge every adult reading this article to encourage

a young person to find purpose by enlightening them

on the strengths you observe they have and how they

can use them to impact their community and society.

Girls of Destiny team members believe each girl has

unique gifts, talents and abilities. Our self-esteem,

modeling, leadership, etiquette, hair care, makeup,

cooking, dance, S.T.E.M. (Science, Technology,

Engineering and Math) and community service

programs give girls the experiences to help discover

their own sense of purpose which is critical during their

adolescent years. We inspire girls to be brilliant "Stars

in the Universe", destined to influence their world.

Pat Chacha

Founder

16 | Truthmagazine
---
tesTimonialS

"I had so much fun and met many new

friends. The camp is amazing. We modeled,

danced, cooked, learned how to create

mobile Apps and how to set a nice table. The

volunteers are nice. The banquet was the

best, live DJ, lots of food."

Girls of Destiny 2016 Camper

"I wish to express my sincere appreciation to you

and the sponsor for kindly absorbing costs for Girls

of Destiny Camp for my daughter. I know she totally

enjoyed it, and expressed genuine interest and gained

positive learnings from the guests that came in;

the gym and the catering piece. Your efforts should

not stop with these young women at camp. I have

heightened concerns that desperate needs exist for

us to work with young women within our community

to endorse their self-worth, value and self-esteem,

offering guidance and support.

Thanks again."

Lilieth (Mom)

"I loved Girls of Destiny Camp for exposing us to

women in business...we were taught self-confidence

and told that we could do anything, but to have an

actual woman in front of us to give an account of

what she has accomplished was amazing. It made my

goals more attainable in my eyes. Have a blast this

year!" xo

Winnie (Alumni)

Truthmagazine | 17
---
Easy Yogourt and

Granola Breakfast

Parfaits

A fast, easy, and light breakfast or

snack made of granola, yogourt,

and either fresh fruit, jam, or

lemon curd. Make it even easier

with all store-bought ingredients

INGREDIENTS

1 cup (100 grams) granola, store-bought or

homemade

1 cup (227 grams) yogourt, regular or greek

1/2 cup-3/4 cup fresh fruit or berries, jam, or lemon

curd

DIRECTIONS:

1. In 2 half-pint jars, glasses, or small bowls,

alternately layer the granola, yogourt, and fruit,

berries, or lemon curd.

2. Serve immediately.

18 | Truthmagazine
---
''FoodRescue.ca makes it easy

for food businesses to improve

their environmental footprint by

donating surplus food to local

social service organizations that

provide immediate hunger relief."

Food Rescue

The Truth About Our Food

Canadians throw away 40% (15 billion pounds) of food

each year, most of which is perfectly edible. The value of

this discarded food equates to $31 billion being tossed into

landfills, resulting in a tremendous amount of greenhouse gases

entering the atmosphere which is not a sustainable situation for

our environment.

At the same time, there are single parents struggling to pay

bills and feed their kids; seniors living on shrinking incomes,

and youth unable to make ends meet. Every day we interact

with these people – neighbours, co-workers, students, or

retirees – who are experiencing hunger right in our own

communities.

MAKING A DIFFERENCE LOCALLY

A great way to help stop food wastage in your community is

to volunteer with a local charity or non-profit organization.

These groups can take advantage of FoodRescue.ca to access

fresh, nutritious food and you can be a volunteer rescuer!

Offering 30 minutes a week to pickup a donation from a local

business and drop it off at a shelter or school, can make all

the difference to those in need.

FoodRescue.ca is a free, online tool that gives food

businesses with any amount of surplus a simple way

to donate food to any type of local charity at any time.

Grocery stores, retail outlets, restaurants, cafés, bakeries,

butchers, caterers, hotels, producers, and growers can

register to become food donors. Foods like perishable

dairy, protein, prepared foods, and produce, as well as, any

fresh, frozen, or shelf-stable items can be picked up by

'rescuers' to ensure this good food gets to those who need

it most.

HOW YOU CAN HELP AT HOME

Reducing the amount of good food that is thrown away is

everyone's responsibility. We can all pay more attention to

what we buy, consume, and put in the bin on garbage day.

Try planning meals and shopping just for those needs, so that

there is less spontaneous purchasing and the items bought

are more likely to be used. Gather any older, limp produce

items and store them in the freezer for making your own

soup stock. When you are not sure what to make with excess

food, search online for new recipes that incorporate those

ingredients. In this way, we will all do our part to better our

communities!

Visit www.foodrescue.ca for more.

Truthmagazine | 19
---
20 | Truthmagazine
---
When Trash Meets Fashion

Project Trashion

What is the first thing you look for

when purchasing a new shirt? Fit? Style?

Colour? Many would say a combination

of all three. It is important in our society

to have outlets such as fashion to

express ourselves and our beliefs. Not

only does it help to define individual

people, but also communities and

cultures. But what we fail to recognize, is

the impact fast fashion can have on our

environment and communities.

In recent years, next to oil, the fashion

industry has become the second most

harmful industry to the environment.

What's even more crazy is it releases

more green house emissions than

aviation and international shipping

combined. To grow enough cotton to

produce one pair of jeans requires 6,800

litres of water. If the pair of jeans are

dyed, that would require 1,600 different

types of chemicals and toxins. The

same pair of jeans also has an impact

on the lives of individuals in other

communities. In many cases clothing

is produced in sweat-shops for very a

low cost. The jeans that you may have

purchased for fifty dollars would have

been made for less that a couple cents.

Why has this come about? The answer

is fast fashion. Fast fashion is when large

retailers mass produce trendy clothing

at a low cost. These are the clothes that

you see coming in for one season and

disappearing the next.

To put an end to the chaos the fashion

industry has created, we as consumers

must make more informed decisions

when purchasing clothing. Some options

would be to seek second hand clothing,

participate in clothing swaps, purchase

locally produced fashion pieces, adapt

an minimalist life style, or seek clothing

created by more sustainable materials.

Project Trashion is an upcoming exhibition

that is meant to bring attention to this

issue through art, media and design. The

exhibition is comprised of two segments,

a fashion exhibition and a tradeshow.

The fashion exhibition showcases works

of art, such as the dress in the photo

above, that are made with the help of

passionate and creative students. The

tradeshow segment brings together

various local activists in the sustainable

fashion community to educate

attendees on how they can easily make

changes to a more sustainable future.

Project Trashion,

"strives to create a global impact by

educating, engaging and creating a

culture of sustainability, starting with

our community. Our greatest challenges

not only lie in creating a zero-waste,

energy efficient and sustainable event,

but to create a collaborative cooperation

between established advocators to

cultivate a sustainable culture in the

community".

What people don't realize is that

sustainable fashion exists in the heart

of our communities. By purchasing from

your local shops and designers, you are

supporting local artists and ensuring that

your fashion piece comes from ethical

production. The piece to the left, is one

of many pieces that will be featured at

Project Trashion. It was designed by an

artist in the local Greater Toronto Area

using sustainable materials and methods.

For more information on this great cause

and exhibition, check out:

www.projecttrashion.com

Truthmagazine | 21
---
Your Best You

Become the best version of yourself

"The Spirit of Christ is omnipotent,

omniscient and omnipresent at all

times. He knows you even better than

you know yourself and can come into

your life and re-design it if you ask

Him. Today, ask Him into your life to

transform it and bring you to your

highest and best—your very best. To

Him be all honour, glory and praise."

- Monica Hernandez, Ph.D.

It has been years my husband and I have wanted to change

the landscape of our front yard to something more attractive.

We felt the flower garden was not at its best and brought in

an expert to re-design the space. And at last, it is being done!

For days I watched the men at work re-designing the space.

They removed slabs of concrete, dug up several perennials

and shrubs, and lay bricks, forming a new design. Already the

landscape has been changed in a marked way and I can foresee

how different and beautiful my front yard will look. Clearly, the

entire exercise reminds me of our personal lives. Sometimes

we look into our lives and know we are not our very best. Yet,

we do not know what to do. We do not know how to put the

various parts of our lives together to experience harmony, and

a sense of well-being.

There is something we can do. I know someone who is an

expert at re-designing lives. This Person sees and knows all

things, even our most secret thoughts and desires, and can

re-design our lives into our very best. He knows where all the

parts of our lives are, and can put them together into a new

experience. That Person is the Spirit of Christ.

The Bible says that "if the Spirit of

him that raised up Jesus from the

dead dwells in you, he that raised

up Christ from the dead shall

also quicken our mortal bodies

(our worldly tendencies) by his

Spirit" – Romans 8:9-11, KJV. This

means the Spirit will raise us out of

stagnation and spiritual death to

become our very best, even while

we yet walk this earth.

Becoming our best is a process

under the guidance and direction of the Spirit of Christ, and it

involves changing our negative thoughts, feelings and attitudes

and practicing biblical truths we have learned along the way.

The great thing about it is, we do not have to do it alone. When

we put learned principles of Truth into action, we grow and the

Spirit of Christ who raised up Jesus from the dead will help us

along the way. He will help us change our thinking and feeling:

our very personalities, if we let him he will give us strength,

courage, wisdom and understanding as he brings us to be our

very best.

Monica Hernandez, Ph.D.

22 | Truthmagazine
---
IMAGINE - DESIGN - CREATE - ACHIEVE

WWW.GNMGENESIS.COM

416-628-0991 (OFFICE) | 647-785-6540 (MOBILE)

LIFE. CHANGING.

That's what sponsorship is.

Compassion works only with the local church in 25

of the world's poorest countries to help children

get an education, stay healthy, learn how to build

strong relationships and discover God's love for

them in the gospel of Jesus Christ.

Unleash the possibilities!

Sponsor a child.

Sponsor a child today.

1-800-563-5437 | compassion.ca

Truthmagazine | 23
---
an empty lantern

provides no light

Self-Growth

is the fuel that allows

your light to shine bright