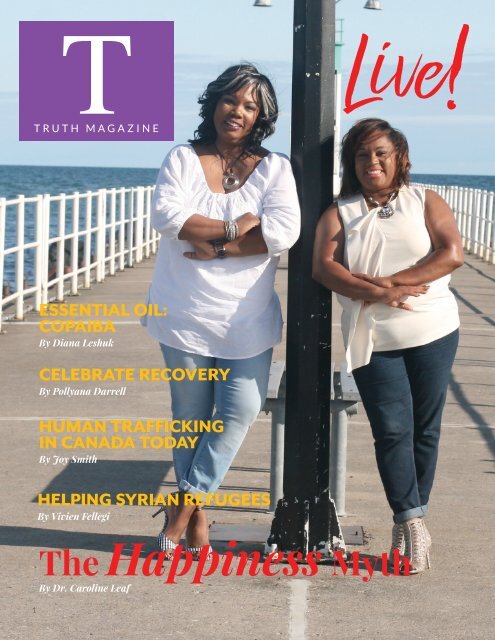 Truth Magazine Issue 4 2019
Publication 4 encourage readers to not be afraid to live life. It is okay to fail. Just get up and get back in the race of life! Get on that motorbike and ride!!!
Publication 4 encourage readers to not be afraid to live life. It is okay to fail. Just get up and get back in the race of life! Get on that motorbike and ride!!!
SHOW MORE
SHOW LESS
You also want an ePaper? Increase the reach of your titles
YUMPU automatically turns print PDFs into web optimized ePapers that Google loves.
T

TRUTH MAGAZINE

Live!

ESSENTIAL OIL:

COPAIBA

By Diana Leshuk

CELEBRATE RECOVERY

By Pollyana Darrell

HUMAN TRAFFICKING

IN CANADA TODAY

By Joy Smith

HELPING SYRIAN REFUGEES

By Vivien Fellegi

The Happiness Myth

By Dr. Caroline Leaf

1
---
FEATURES

LOOK OUT FOR

02

02

The Happiness Myth

When you begin to realize how impressive

your mind is, you will be encouraged to

persevere through challenges and develop a

character of which you can be proud.

Mindfulness

10 Death was my BFF

12 Poem: Resilience

07

15

07

31

Celebrate Recovery

CR is a 12-step Christ-centered program

based on the eight principles of The

Beatitudes in Matthew 5. It is a challenging

and life-changing program designed to

give participants the resources and tools

necessary for life success.

15

Human Trafficking

in Canada

In Canada, the average entry age into this

modern-day slave trade or trafficking is

12-14 years of age. 93% of the trafficked

victims in Canada are born Canadians.

She Lives for Purpose

We spend an enormous amount of time

thinking about our future and our dreams

that we forget to live in the present; we miss

the enjoyment of the present.

Career

18 Beating the Odds:

The Cyntoia Brown Story

23 Single by Choice or Chance

Culture

26 Helping Syrian Refugees

Wellbeing

35 Essential Oil: Copaiba

36 Benefits of Alkaline Water

38 Poem: Life Lessons

39 Zesty Zingy Zingiber Officinale

31
---
OUR CONTRIBUTORS

Welcome

EDITOR-AT-LARGE

Nadine Miller

PUBLISHER & EDITOR

Cheryl-ann Philip

PRODUCTION & GRAPHIC DESIGN

Francine Grey

PROOF READERS

Pollyana Darrell

Cheryl-ann Philip

HAIR STYLIST

Genesis Hair Studio - Suzette Thomas

PHOTOGRAPHY

Jojo Smith

ARTICLES

Pollyana Darrell

Cameron Murphy

Karlene Millwood

Diana Leshuk

Maresa Cadienhead

Naomi-Nicole Bramer

Joy Smith

Dr. Caroline Leaf

Sandra Hylton

Jackie Porter

Life is fragile. Life is fleeting. It is wonderful to be afforded the

opportunity to choose to live a life that will leave a positive

impact upon someone else.

Oftentimes, we choose to hold on to things and people tightly

for fear of losing what we cherish. I challenge you to loosen

your grip, trust God and live!

Corrie Ten Boon a Dutch holocaust survivor penned these

words:

"Hold everything in your hands lightly, otherwise it hurts when

God pries your fingers open.

Worry does not empty tomorrow of its sorrow; it empties

today of its strength.

The measure of a life, after all, is not its duration, but its

donation."

Jesus the Messiah said, "My purpose is to give them a rich and

satisfying life." Let's capitalize and maximize the game of life

and live!

This edition focuses on the many ways people are celebrating

and living a satisfying life.

L-R Nadine Miller and Cheryl-ann Philip

Copyright 2019

1
---
The

Happiness

Myth

By DR. CAROLINE LEAF
---
Mindfulness

When you scroll through Instagram, it is evident we are all searching for happiness; a

"happiness" that usually consists of us smiling in front of commodities like money, cars

or even "likes" on a picture. Marketing ads for new products almost always mention

"happiness" as an end goal, whether we are watching an advertisement for a new soda, new holiday

or a new drug. Smiling, happy people stare at us from billboards as we drive to work or walk around

our neighborhood—there is no escaping it; life is all about happiness…right? WRONG!

When it comes to our mental health, our understanding of happiness has overtaken the human

condition. Whereas previous generations saw grief, anxiety and even fear as natural parts of

human existence, for many of us today these (very normal) human emotions are an anathema or

curse. Sadness has almost become like a sin; often we are just told to "suck it up" or "don't show

it." Indeed, many people are told there is something wrong with them biologically if they are sad

for more than two months after losing a loved one, or if they are traumatised from a disturbing

experience like war. What then is a "normal" grieving period? What is a "normal" response to

violence and bloodshed?

It is perfectly normal to be sad, unhappy

or stressed at times—we should not be

ashamed of these emotions.

It is perfectly normal to be sad, unhappy or stressed at times—we should not be ashamed of these

emotions. Rather than worrying about what we feel, we should ask ourselves why we feel this

way, or what is the root of the emotion, and how we can work on finding healing. Don't mask the

unhappiness; try to understand and resolve it. Our mental struggles actually help us build stronger

characters and make us more resilient. Pretending to always be happy, on the other hand, or feeling

guilty for not always being happy, is dangerous and will not help us grow emotionally or mentally.

Part of the issue is that we often don't know who we are. While many people are given labels

and told there is something intrinsically wrong with their brain because they are sad or unhappy,

others are told that being themselves is not enough to make them happy, and "that is why you

need to buy this product". It is easy to see how, beneath all these conflicting messages, we don't

even know how to be satisfied discovering who we are, nor are we comfortable getting to know

ourselves, with all the good and not-so-good bits. Yet we can hardly be "happy" if we don't even

know our own identity, as I discuss in my book The Perfect You. When we are rooted in a firm sense

of our own belonging, we will find life more bearable, more interesting and more joyful despite

periods of sadness!

Discovering our unique, one-of-a-kind way of thinking is a challenge that can bring out the best of

us. I have found repeatedly in my research, clinical experience and personal life that excitement

rises when we adopt a positive attitude and persist in the face of a difficult task, which includes

getting to know who we are! One of the greatest feelings in life is understanding something or

completing an activity after a mental, and perhaps even physical, struggle. This leads to a sense of

achievement as we rise to the challenge, contributing to our overall sense of pleasure, even if we

are not always "smiling" and "happy" during the process.

3 3
---
Mindfulness

As a society, we have to redefine

what happiness means and why it is

important. As I discuss in my book

Think, Learn, Succeed, happiness

has more to do with a sense of

inner satisfaction than external

consumption—it is a mindset; a way

of seeing and interacting with the

world. It is not a commodity, nor is it

dependent on our surroundings. It is

not an end goal that we are trying to

reach. It is the joy we have living the

"meaningful, good life," and revolves

around our ability to choose to focus

on the positive, to connect with others,

and to have meaningful relationships

in a community. Happiness is knowing

where we belong and knowing why

we are alive, regardless of what is

going on in our life. It is not so much a

smile as a state of being that includes

moments of sadness, anger, grief and,

paradoxically, unhappiness.

Ways you can develop your

Happiness Mindset

1. FIND YOUR IDENTITY

When you begin to realize how impressive your mind is, you will be encouraged to persevere through challenges and

develop a character of which you can be proud. You can become the kind of person who, on your death bed, you will

be happy that you lived, and lived well. In my book The Perfect You, I have included the cutting-edge, evidence-based

neuroscientific, neuropsychological, quantum physics and other research, which I used in my clinical practice over the

years to teach people how to find their identity again. I outline in a practical way, the importance of understanding your

identity and how to develop a lifestyle of finding and developing your Perfect You—who you are at your core. The Perfect

You can help you understand the science behind your character; that is, your capacity to think, feel and choose in a way

that aligns with the unique design of your brain. Once you begin to understand who you are, you can improve the way you

process and re-conceptualize the issues of life, your decision-making, your relationships; how you cope at work, school

and at home; your sense of joy and purpose, and ultimately your mental health, which will enable you to function in and

contribute to society.

4
---
Mindfulness

2. STIMULATE YOUR BRAIN

Getting to the other side of a challenge brings a sense of happiness in the achievement and sets the stage for the next

challenge with the addition of the new skills (aka new neural networks) you have gained from the challenge. Every day,

think of ways you can challenge your brain, such as reading a difficult book for an hour or setting aside time in the day to

learn a new language. For more information on memory building, see my book Think, Learn, Succeed.

3. JOIN A COMMUNITY

It is so important that we make the effort to connect with others in a meaningful and deep way, and get involved in our

community, such as volunteering at a local non-profit, joining a book club or starting your own meet-up group. Indeed, I

cannot emphasize enough the importance of the link between happiness and a community mindset, which I also discuss in

my book Think, Learn, Succeed. Talking to someone about why you are feeling unhappy can help you find healing mentally

and physically and being around others is a great way to feel happy and content in life. Our bodies respond positively when

we become active members in a community. Why? Because, our mesolimbic dopamine system, (linked to addiction), lights

up when we give to others, giving us a deep sense of pleasure. We are essentially hardwired to love and serve others!

It is important to remember unhappiness is a normal part of life, and it does not mean you are a broken machine or have

a disease. True happiness is a process, not a destination. It does not come from getting; rather it is based on giving and

understanding yourself and your unique mind.

5
---
The BEST Professional and

Personalized Care for YOU and

your Newborn!

Experienced Doulas, Night

Nurses, Maternity

Consultants, and

Breastfeeding Nurses

available to offer support and

assistance.

www.zealousbabycare.com
---
Asuccessful life is about resilience; the ability

to return to your original self after being

stretched, bent out of shape or compressed

by the situations and circumstances you face. For

most of us, we lack the necessary tools and resources

needed to make that successful return. I recently

discovered Celebrate Recovery(CR), a program that

continues to assist me with my successful return to

my original position.

For eight years, Pastors Rob and Tania Meikle of

Kingdom House Christian Centre in Brampton have

been conducting Celebrate Recovery. It is one of

the many ways Kingdom House is fulfilling its Vision

Statement, "Transforming lives, fulfilling destinies."

CR is a 12 step Christ-centred program based on the

eight principles of The Beatitudes in Matthew 5. It is

a challenging and life changing program designed to

give participants the resources and tools necessary

for life success. As a graduate of the program, I can

attest to the non-judgmental environment which

lends to an unburdening of the soul; that allows you

to realise that we all have struggles and we need not

be ashamed or feel guilty. It provides a community

of individuals sharing in each other's joys, pains and

struggles knowing that someone is praying with, and

for you.

Celebrate

Graduates and current program leaders, Christopher

and Jasmine Soodeen, shared their views of the

program. In Chris' words, "Celebrate Recovery allows

you to see the real you; totally different from what

others perceive you to be. It creates the opportunity

for you to look deep inside yourself; to see beneath

the surface of your hurts, habits and hang- ups."

RECOVERY

7 7
---
Mindfulness

For Jasmine, her CR journey exposed her deep struggles

with trust. "I love Jesus and wanted to serve but it became

impossible because I preferred not to deal with people. I

kept blaming people for the mistakes others made." She

acknowledges that when she began dealing with the root

causes of the issues, her thinking, perspective, attitude,

behaviour and actions changed and soon she began to see

significant changes in her life and relationships.

The end of the 26-weeks program is more like the beginning

of your recovery journey. Recovery in this context is not a

perfected state; it is on going and so is the celebration; you

continue to celebrate as you recover components, parts and

sometimes bits and pieces of the jigsaw puzzle of your life

with resilience.

By POLLYANA DARRELL

Christopher & Jasmine Soodeen

Celebrate Recovery

Start Date | Monday October 21st at 7pm

Register Online | kingdomhousecc.churchcenter.com

Contact | cr@kingdomhouse.com

Kingdom House Christian Centre | 40 Holtby Ave, Unit 3A, Brampton, ON

8
---
Mindfulness

Celebrate Recovery

Testimonials

CARL HERMAN

"My life is forever changed because of Celebrate

Recovery. I have learnt to forgive myself and others;

make amends for wrong actions, attitudes, behaviours,

whole hearted confessions and engage in chainbreaking

prayers! John 8:36, "Therefore, if the Son

makes you free, you shall be free indeed." This has been

my experience as I walked through this program."

CHANTELLE GRANT

"I struggled with issues of self-worth and identity that

stemmed from rejection and abandonment. Guilt

and condemnation led to bouts of deep depression

and I was diagnosed as manic depressive. Celebrate

Recovery provided me with the opportunity to have a

relationship with Jesus Christ. Romans 8:38, "For I am

convinced that neither death nor life, neither angels

nor demons, neither the present nor the future, nor any

powers, neither height nor depth, nor anything else in all

creation, will be able to separate us from the love of God

that is in Christ Jesus our Lord."

SHERRI SANJURJO

"I was a very walled, guarded and emotionally unavailable

individual until I attended Celebrate Recovery. CR was

a healing process of handing over or surrendering my

hurts, habits and hang-ups over to God. It was painful

and uncomfortable at times but was nevertheless

bathed and saturated in love, forgiveness, and grace

from God. Thank God for CR!"

WALDEN MADEIROS

"I came into Celebrate Recovery with the hope of

receiving help with my anger issues and God delivered

me from habits, behaviours and thinking patterns that

had become strongholds. God continues to strip away

areas of my old self while bringing me freedom in my

heart and my mind and allowing me to grow more and

more in the image and likeness of God."

9
---
10

DEATH

was myBFF
---
Mindfulness

At 6 years old, I dreamt I witnessed my own death at

28 years young. For 22 years, this dream replayed

once per month, 12 times per year. There was no

change in the sequence or the ending and so it became the

story of my life. In time and with its regularity, I believed it to

be true and imminent so I prepared for it. It directly shaped

how I lived for 28 years.

Inevitably, I made friends with Death or "Big D" as I nicknamed

him- we became best buds, BFFs really! Our friendship

coloured how I saw things – how I interacted with the world.

My thoughts and the choices were all based on, "What if I

died today?" If we (Death and I) had shared a moment with

someone, I would think, "Let me hug you when I'm leaving

because what if I died tonight?" Death truly distorted the lens

Celebrate Recovery

allowed me to understand

how much my relationship

with death permeated

every area of my life,

imprisoning me.

through which I saw and functioned in the world.

Celebrate Recovery allowed me to understand how much

my relationship with death permeated every area of my life,

imprisoning me. Gradually, I understood all the ways Death

showed up; all the ways I believed it to be my reality and all

the ways I worshiped at its feet. CR allowed me to look at my

life again and learn how to live rather than die.

Recently, an incident occurred that would have been

understood, prior to CR, as a confirmation from my old friend

death however, after having walked through the process of

CR, it is a confirmation of life.

One evening, exhausted, tried, and feeling quite stretched,

I decided to visit my favourite Indian restaurant for some

comfort food before heading home. I would usually order

in advance but for some reason that day I didn't. I thought

it was late and it shouldn't take too long; I'll just go and grab

some food, go home and relax- shed the trials of the day. I got

there, parked my car and reached for my wallet and then I

remembered...oh gosh!!! I have no money!

(Earlier in the week, I had the shocking realization that I had

overspent and there was no money in my account- like literally

nothing. I was now upset, well, more irritated by the lack of

control it indicated.) I'm here at my favourite restaurant; I'm

hungry and without any money. I start mulling this over...ok...I

could put this on credit. It's been a rough day; I deserve some

good comfort food; I could push it- is my overdraft maxed out?

But there is this strong rising thought: "...No, I have no money.

This is my reality; I need to live in that. Whether I like it or

not, my choices have landed me here and it is the place I find

myself right now. Choose to live in your reality not what you

wish it were."

CR taught me if I sweep my voice or my truth under the rug or

hold my tongue, that feeling or truth will mutate or evolve just to

find a means of expression - it will find a way to get out into the

light. After what seemed like an eternity, I looked at the time

and it was 10:15 pm. Reluctantly and sadly I drove myself

home without the food.

I arrived home and my Mom says to me, "Did you hear there

was a bombing at your favourite restaurant tonight? The

News says it happened around 10:18pm…" (What??!! I just left

there!!)

Had I gotten the takeout food, by any means necessary, I

would have been right there when the bomb was dropped. In

the face of all that happened how can I question that God's

hand is over my life and that He has chosen life for me? Praise

God! I made it past my 28th birthday!

I now have the opportunity to tell an unusual story of my life;

of living Sandra who declares the goodness and works of the

Lord in the land of the living.

By SANDRA HYLTON

11
---
Resilience

The battered Cherokee blazed into the parking lot; rusty, dusty and loud;

Huddled in the back amidst bulky, lumpy baggage, three pretty little girls-

A closer look revealed a wide-eyed infant bundled in a faded car seat;

Her head wrapped in black, the driver loudly and impatiently tooted the horn in the almost

still parking lot- Who is she? Where had she come from and – where is she going? Is the van a

reflection of her life- rusty, dusty, battered and loud?

Full of baggage andbulk

andpeople

dependent on her?

A younger version of herself emerges from Burger King

Dressed in uniform; drinks and greasy paper bag hugged by club-like chubby hands, wriggles

into the front seat.

They chomp; they slurp; they chatter while the baggage in the back salivate and mutter-

Who is she? Where has she come from and-

Where is she going? It's a hot, humid Sunday afternoon!!! –

Maybe she was on the job- a caregiver for children? Or-

Maybe doing a good deed for a friend-

Maybe running her own errands and taking a break to grab a bite-

The ruckus coming from the back causes her to scream and choke on her coke.

She sputters; becomes pink in the face; turns and slaps the one closest to her

- an audible hush ensues-

Who is she? Where did she come from and where is she going?

I would like to meet her- hear her story- listen to how she manages with the almost-broken

down van and the rambunctious imps in the back - the working teenager in uniform?

Is that all there is to her life?

Perhaps she will spin an incredible yarn of the van being someone else's;

- she is helping out her single-mother daughter with her kids-

Perhaps she will tell me her daughter needed to go away for some most needed R & R;

it wasn't by choice.
---
Her hands and mouth wiped clean of the grease,

the teenage re-enters the joint and emerges yet again

with smaller but still greasy portions for the subdued ones in the back.

Break's over!!!

The battered van blares out into the congested street again-Who is she? Where did she come

from and- where is she going?

She is from a generation of subdued and subjugated, whipped women,-

Pushed down and

– pushed aside and

- pushed away;

Never celebrated; never told or shown her worth so-

Just maybe the van is a reflection of her life?

She has carried so many others for a long time- her siblings,

her children, her own parents, her husband, her friends

while she does her best to survive;

no consistent maintenance here only necessary, minimum repairs;

no time for body work or winterisingthe

loudness of the exhaust lost in the din and humdrum of life

just another one needing overhauling.

Don't you dare judge her.

There is more to her than you see or understand

'cause under the hood, that sputtering engine is roaring to fulfill destiny.

If you knew her you would know that - despite awful and sometimes abusive relationships, her

capacity to love and nurture and care for others did not wane

If you knew her you would know her persistence, 0bstacles and opposition pushed her to

hone and carve and fine-tune her character.

If you only knew her, you would know that her resilience has hoisted her higher than she has ever

fallen andwhat

sounds like a cacophony to you is her symphony of lifeliving

out loud -full of love and laughter.

By POLLYANA DARRELL

13
---
Mindfulness

IN CANADA TODAY

William Wilberforce once said, "You may choose to

look the other way, but you can never again say you

did not know." How true!

There is an estimated 30 million people enslaved through

sexual exploitation and forced labor in the world today. The

sex trade brings in a global value of $32 billion. The U.S.

Department of Health and Human Services states, "After

drug dealing, trafficking of humans is tied with arms dealing

as the second-largest criminal industry in the world." This is

the modern-day slave trade and it happens in cities, towns

and rural areas all across Canada every single day. To this end,

Bill C-268 and Bill C-310 of the Canadian Criminal Code have

seen some significant amendments through the tireless and

relentless work of MP Joy Smith (Kildonan, St. Paul Riding,

Manitoba.)

The amended section of Bill C-268, Section 279.01dictates a

new mandatory five-year sentence as penalty for those who

commit the offence of Child Trafficking(persons under the age

of 18 years). Secondly, Bill C-310amended the Criminal Code

to add the current Trafficking in Persons offences to the list of

offences which, if committed outside of Canada by Canadians

or permanent residents, could be prosecuted in Canada. This

second amendment enhances the definition of exploitation in

the Trafficking in Persons offence(Section 279.04).Individuals

are convicted of human trafficking offences where forcible

confinement, sexual assault, procuring and conspiracy are

elements in the cases.

In Canada, the average entry age into this modern-day slave

trade or trafficking is 12-14 years of age. 93% of the trafficked

victims in Canada are born Canadians. Slavery occurs when

one person completely controls another person(s), using

violence or the threat of violence, to maintain control, exploits

them economically and they cannot walk away.

Victims of trafficking are obtained by location and method.

The locations where traffickers target their victims can be in

a social situation, in a public place, in a residence or a shelter,

in a bar or a club, or at a sports event. The methods they use

are romantic overtures, force or abduction, fake job offers,

or acting as a benefactor. The traffickers target their victims,

gain their trust initially and then groom them to be trafficked

and make money for them. After they have control over them,

the threats and brutality become an everyday occurrence.

This is an example of what happens every day. A group of girls

attended summer sports events at their local community

center. Three cute guys showed up and began to show a great

15
---
Mindfulness

deal of interest in them. The girls were 14 and 15 years old.

The guys were three and four years older. They engaged with

the girls in their sports and in conversation. Unaware to the

girls, their grooming had begun. Soon they were telling these

young girls how beautiful they were. It was not long before

the guys were asking them out on dates and persuading

them to lie to their parents about where they were going.

The girls were coached to say they were going to a friend's

house for sleepovers, when in actual fact they were going to

parties with their new boyfriends. The (traffickers)boyfriends

It all changed one night when their "boyfriends" demanded

they be paid back for the gifts, and the fancy dinners at

high-end restaurants. The girls initially said no, but after the

beatings and the threats, they complied with the traffickers'

wishes.

It did not end well. One girl jumped off a bridge to end her

life one cold December day right before Christmas. She could

not stand how her parents rejected her, or how she lost her

school friends, or the horrors she lived everyday at the hands

Human traffickers target the youth because they

are easy to persuade; easy to intimidate and scare.

did things to them they had never experienced before. They

told them things they had never heard before, and with the

showering of gifts, gold chains and fancy restaurants,the girls

thought they had met the men of their dreams.

of her traffickers. By the grace of God she lived, but she broke

every bone in her body when she landed on the ice. She spent

a year in hospital learning how to walk again. Today, she still

suffers from the physical and mental pain of her ordeal. The

other girls disappeared and have not

been found to this day.

Traffickers make between $260,000-

$280,000 per victim per year. That is

why they engage in this horrible crime

against our youth. Human traffickers

target the youth because they are

easy to persuade; easy to intimidate

and scare. They earn them a lot of

money, very fast. Many young girls (and

boys) develop a Stockholm syndrome,

much like abused women do with

their abusive spouses. Often,all the

trafficked victim's support systems

are gone...their parents, and their

friends. Young survivors take years

making up for their lost education, and

recovering from the addictions they

inevitably acquired to cover up the

pain. Often survivors' families suffer

greatly by blaming themselves because

their daughter or their son got caught

up in this horrific life style. Parents,

grandparents, siblings, friends, or the

victims should never blame themselves.

16
---
Mindfulness

The blame lies solely on the shoulders of the predators alone.

I know one human trafficker who "educated" others on how

to become a successful trafficker. One of his methods was to

drive his new recruits past school grounds and say, "See those

kids? Don't look at them as kids. Look at them as ATMs."

Parents and teachers should be aware of the signals that

suggest a young person is being groomed. If the youth talks

about expensive restaurants that she is being taken to or,

has/carrying two cell phones or,suddenly begins to wear

expensive gold chains or designer clothes they cannot afford;

if she often has unexplained cuts and bruises and explains

them away. These are some signs that the youth is being

groomed. No school-aged young man can afford to take his

girlfriend to expensive restaurants. McDonald's,Tim Hortons,

Starbucks, or some other reasonable coffee house is usually

on the menu. Expensive restaurants are not affordable for

them. Fancy expensive gold chains and new designer clothes

are also far too expensive for the average young guy to

purchase for his girlfriend, yet traffickers do it all the time.

Education is our greatest weapon against this horrific crime.

My education on this issue started in Parliament. It has

resulted in my passion and commitment to make a difference

in our key legislations to further combat human trafficking

and protect the victims. Canadians must become acutely

aware that human trafficking happens on Canadian soil every

day.

I credit the survivors for working with me and telling their

stories. I give God the glory, because it is not possible to pass

laws in a minority government. I've seen many miracles. Only

God can do these miracles, all we have to do is be willing to

obey His call.

Joy Smith, B.Ed M.Ed

Former Member of Parliament

Founder and President

The Joy Smith Foundation Inc.

www.joysmithfoundation.com

Spousal

Support

Collaborative

Family Law

Child

Support

Separation

Agreements

Access

Custody

Child

Protection

Divorce

Grandparents'

Rights

Family

Property

Family Law

made simple.

151 City Centre Drive, Suite 201

Mississauga, ON L5B 1M7

T: (905) 890-0474

bennettlaw.ca

17 17
---
Career

BEATING THE ODDS

The Cyntoia Brown Story

18

"Y

es. [I cut my hair because] I don't wanna be pretty anymore. Beauty attracts

trouble and it's just not worth it."

This is the voice of a woman resigned to her fate; the hand that life dealt her through a

flawed justice system. At age sixteen, Cyntoia Brown was sentenced to life in prison for

killing Johnny Allen, a 43-year-old man who solicited and hired her for sex. Brown was

tried as an adult and given a harsh sentence that would have her serve 51 years before

being eligible for parole.

What led Cyntoia Brown to this place at such a young age? Cyntoia's life was fraught

with trouble even while she was in the womb. Her mother would consume dangerous

amounts of liquor every day, which experts testified had an effect on Cyntoia's cognitive

abilities. She was given up for adoption at six months and experienced abuse from her

adopted father. As a result, she ran away and ended up on the streets where she met

Cut Throat, a 23-year-old man with whom she started a sexual relationship and who

subsequently forced her into prostitution.
---
Career

"He would explain to me that some people were born whores

and that I was one, and I was a slut, and nobody'd want me but

him, and the best thing I could do was just learn to be a good

whore," Brown explained.

When we read stories like these, it may affect us emotionally

for a moment but, unless or until we've had similar

experiences we'll never truly understand the depth of the

emotions of the victims. Cyntoia Brown found herself in a

place of hopelessness and despair. The systems that had

been setup to protect her victimized her instead and left her

with nowhere to turn and with limited options. She lost her

identity, self-worth, value, and significance and preferred to

become invisible. She didn't want to be noticed and resorted

to hiding in plain sight. Not everyone will understand. Not

everyone can relate.

I can.

identity. I never really had one before so I thought now would

be a good time to get one."

Her situation seemed very cut and dried but often times God

is hidden in the details. The true essence of resilience is finding

an opportunity in the direst of circumstances and using it

to rise above the situation. Not only did Cyntoia embark on

discovering and defining herself, but she also completed her

high school education and successfully pursued an associate's

and a bachelor's degree while in prison.

God's plans for our lives are much different than man's. He

chooses things that seem powerless to shame those who are

powerful. (1 Corinthians 1:27b).

God always has someone positioned as our destiny connector

who shows up when all hope seems lost. Just ask Joseph. After

being abused and sold into slavery by his jealous brothers,

When victims of abuse are further victimized

by those who should be protecting them it causes

devastating consequences in their lives.

My own struggles with the after effects of sexual molestation

and emotional abuse once led me to a similar place. It was a

dark period in my life which was reflected in the color and

style of clothes that I chose to wear back then. Like Cyntoia,

I felt that my beauty was a curse and resorted to covering

myself in extremely baggy, black clothes. Every day. When I

got the courage to tell my mother about the molestation she

called me a liar and vowed never to speak to me again. To her

credit, she apologized and asked for my forgiveness a few

months before she died in 2011.

When victims of abuse are further victimized by those who

should be protecting them it causes devastating consequences

in their lives. They lose their sense of identity, are often

haunted by the guilt and shame of being manipulated and

controlled, and some may even struggle with post-traumatic

stress disorder (PTSD).

In her own words, Brown confessed that she had no sense of

identity. She said, "I decided that while I'm in here I'd find an

Joseph later found himself incarcerated because of a vicious

lie from a conniving woman.

While imprisoned, he met two men, one of whom promised

to entreat Pharaoh on his behalf. When it seemed like he'd

been forgotten, the moment that suddenly altered his destiny

forever, arrived. The doors opened and he was brought to

Pharaoh who promoted him to his place of power, purpose

and prominence.

Dan Birman, a professor from the University of South

Carolina, is one of Cyntoia's true advocates and a destiny

connector of sorts. His documentary, Me Facing Life:

Cyntoia's Story, was pivotal in shedding light on her case. The

documentary, compounded with the attention of several

A-list celebrities, put pressure on Tennessee's governor, Bill

Haslam to overturn the verdict against Cyntoia. It worked.

After careful deliberation, Tennessee changed its law to forbid

harsh sentences for victims of the sex trade. In addition, the

19
---
Joie de Vivre

Nadine Miller and

Cheryl-ann Philip seized

the moment, enjoying a

beautiful day at Lakeview

Park in Oshawa, Ontario.
---
Section

21
---
Career

Continued from page 19

Law Society was pushed to clarify its ruling when sentencing

victims convicted of first-degree murder, and finally as his

last act before leaving office, the governor granted Cyntoia

clemency.

"The Lord has held my hand this whole time and I would never

have made it without Him," Brown wrote in response to the

decision, adding that she is committed to living the rest of her

life helping others.

Already she has emerged as a leader among the inmates

by using her life experiences as a platform to mentor other

women in the prison and plans to continue mentoring after

her release. She no longer wants to hide behind the veil of

obscurity. She has harnessed the power within and turned her

pain into purpose. With God's help and that of a few distant,

yet good friends, she has beaten the odds and emerged

victorious. The doors have now been opened for Cyntoia-

From limited options to limitless possibilities.

From an identity crisis to having a sense of purpose. From

powerless to powerful.

After 15 years of a life sentence, Cyntoia was released under

supervision in August and I'm sure the best is yet to come.

By KARLENE MILLWOOD

22
---
SINGLE BY CHOICE OR CHANCE

A Man Is Not A Plan And

Other Hard Truths

Charlotte is a single woman who likes the finer things in

life. She loves dining at nice restaurants and drinking

fine wine. She loves the arts. She loves to travel.

Charlotte also enjoys her career as a Television producer. It

has provided her with a very comfortable lifestyle.

Time is running out for Charlotte. Even though she is 57,

Charlotte admits she has never felt comfortable making

decisions around her finances. It has created a lot of anxiety

for her over the years. Charlotte could never figure out if she

was doing the right things with her money and consequently,

did not save very much.Should she put money in a TFSA, or

RSP? Should she pay off debts or save? She is also afraid to

lose money investing in the markets. Charlotte doesn't know

where to start. It was easier to just not deal with it. She

decided she would spend time pursuing her many interests

instead. Charlotte knows she has not saved much for her

future and now as she approaches her 58th birthday, she

is starting to wonder if she will ever be in a position to slow

down anytime soon.

Samantha 46, is a married woman, who met her husband

Barry in university. She fell in love with Barry soon after they

met. It just felt right. Barry wanted to start a family as soon as

he finished school. Shortly after, he asked her to marry him.

He promised to take care of her. She wanted to be his wife,

start a family and create a home life for them. For many years

Barry kept his promise and took very good care of Samantha.

23
---
Career

Then one day, he broke his promise and left Samantha and

their two kids to fend for themselves after squandering the

family's assets.

Why Financial Resilience?

It is becoming increasingly urgent for women to become more

engaged with their finances especially since women outlive

men by four years and are two times more likely to end up in

poverty at retirement. Women are also marrying and having

children later, yet we are still earning less than men. The

truth is, we can no longer afford what ignoring our finances is

costing us. The women in this story are vulnerable - and they

know it. They have not embraced financial resilience. Although

Charlotte earns her own money, her lack of knowledge

around money has made her bury her head in the sand. She

has avoided having a money conversation with herself, and

has no idea if she will be able to maintain the lifestyle she has

worked so hard to create. Samantha on the other hand, never

thought she would have to face taking care of herself and two

children, on her own. Without a source of income, Samantha

decided to move in with her parents. She is now going back to

school to finally finish her nursing degree.

How can women like Charlotte become more

financially resilient?

1. Ask for referrals and find a trusted advisor who can help

you to "know your numbers".

2. Advocate for yourself. Have an honest conversation with

yourself about your financial worries.

3. Commit to learning more about money through books and

seminars.

By JACKIE PORTER

This quick, practical read, focused on various aspects of later life

stages for single women, has enough common sense advice to

benefit single men too.

— Mark Venning, Change Rangers

If you are over 45, single by choice or chance, living in Canada

today and are examining the options for your future, this book is

for you. The path you take depends on your preparedness, from

where you will live to how best to cope with aging parents and how

you will address your own financial future.

This book will assist you in designing a life plan that

encompasses not only financial goals but also your other life

priorities—such as career, relationship and other personal goals.

Read on to find your own path to a happy, healthy and financially

stable longer life.

Jill O'Donnell, BA, RN, has been a trailblazer and trendsetter in

the field of eldercare management in Canada since 1981. She is the

Director of Jill Cares, a division of SPARK DIRECT HEALTH. Jill

is co-author of The Canadian Retirement Guide and The Retirement

Guide (USA) and a memoir, Searching for Robert.Finding Andrew.

She is a well-known presenter at international, national, regional

and local conferences on aging.

Jackie Porter, BA, CFP is a financial advisor, helping families,

businesses and professionals for over 19 years. She is a featured

speaker and advocate for numerous corporate, non-profit and

charitable organizations.

INSOMNIAC PRESS

Canada $19.95 • U.K. £16.95 • U.S.A. $19.95

Cover design by Mike O'Connor • Cover image by iStockphoto.com

O'Donnell & Porter

SINGLE BY CHOICE OR CHANCE

INSOMNIAC PRESS

To help (Canadian women over 45) plan for a fulfilling life on their own,

authors Jill O'Donnell and Jackie Porter give advice on how to age

gracefully. The book is full of suggestions, tips and ideas, delivered in a

friendly, non-judgemental way.

— Ellen Roseman, personal finance writer and continuing education

instructor.

SINGLE BY CHOICE

OR CHANCE

The smart woman's guide

to living longer, better

Jill O'Donnell & Jackie Porter

24
---
Helping Syrian Refugees

BAYAN KHATIB FINDS HER TRUE CALLING

Syrian Canadian Foundation Executive Director Bayan

Khatib knows what it's like to feel utterly lost.

When Khatib was a baby, her father, a Syrian political prisoner,

escaped and fled to the United States of America with her

mother, leaving her behind with grandparents. By the time

they reclaimed her, the couple had three more children.

Khatib's brother, jealous of the new arrival, wanted her to

know that she wasn't welcome.

Shortly after reuniting with her family in Denver, seven-yearold

Khatib followed her brother into an elevator. Having grown

up in Syria, Khatib had never encountered one before. Her

brother pressed the up button and darted out. When Khatib

arrived at the top floor, she was completely disoriented,

and cried until a resident took her back downstairs. "That

exacerbated the sense of not belonging," she says. "Even my

brother (didn't) want me."

Her parents couldn't help. Her father, tormented by memories

of torture, was "difficult," while her depressed mother had

little to give. "I felt really neglected," says Khatib. The once

exuberant girl withdrew into herself and barely opened her

mouth.

An Arabic memoir, Just Five Minutes: Nine Years in the Prisons

of Syria written by a Syrian political prisoner (who had been

confined to the same prison as Khatib's father), shook her

26
---
Culture

to the core; it galvanized her into activism. "It was my first

time being exposed to details of the insane human rights

violations in Syria, that had affected my family," says Khatib.

The professional writing student spent the next five years

translating the book painstakingly into English, to widen its

reach.

When the revolution against the tyrant Assad erupted in

2011, Khatib became the media relations person for the

Syrian opposition. "That was when I had to come out of my

shell," she says.

But it wasn't until the Syrian refugees arrived in Canada that

Khatib found her true calling. In December 2015, she entered

the Toronto Plaza Hotel (where many were housed initially) to

a scene of utter mayhem. Mothers clutching babies without

diapers huddled anxiously in the lobby, while barefooted

children ran around them, squealing. Khatib understood what

they were going through. "I remember ... this new confusing

world, you don't know how to fit in," she says.

"It was my first time being

exposed to details of the

insane human rights

violations in Syria, that had

affected my family"

Since the settlement agencies were overwhelmed, Khatib

rallied the Syrian-Canadian community for volunteers to

connect the newcomers with Arabic-speaking doctors,

housing, and ESL tutoring. The Syrian Canadian Foundation

(SCF), co-founded by Khatib, also focuses on empowerment

by offering Syrian refugees mental health education, women's

wellness programs, and networking dinners with potential

employers.

The organization has more recently developed arts-based

initiatives to foster self-expression. Khatib organized a

creative writing group since writing has always been cathartic

for her. "It's like therapy–you put the pieces together and

suddenly your thoughts make sense," she says. Students

Bayan Khatib

read their stories aloud during workshops, and receive

constructive feedback. "The first step to healing is ... to feel

heard," she says.

The SCF has also run theatre-based approaches for refugees

exploring integration issues and taught youth photography

through Flash Forward Photo Voice to help them document

their adjustment to emigration through photos, which will be

showcased at an upcoming exhibit.

While Khatib's organization supports the most vulnerable

refugees, it also champions extraordinary newcomers, like

Syrian wheelchair Table Tennis champion Dema Dahouk.

Khatib raised over $10,000 to fund Dahouk's participation

in tournaments and to hire her an elite coach. Dahouk

has already won two tournaments and is on the path to

qualifying for the Paralympics. "It's important for Canada to

see ...examples of refugees ....contributing back to Canadian

society," says Khatib.

Khatib gets back as much as she gives. Her work with refugees

helped her understand her own parents' struggles and come

to grips with her past. "I learned so much about my family just

from watching the newcomers."

Witnessing her organization grow from a handful of

volunteers into a professional enterprise which has served

over a thousand clients, has also boosted her confidence.

"Seeing it come to life makes me feel that it's possible to...

achieve whatever I put my mind to," says Khatib.

First published in canadianimmigrant.ca [Author: Vivien Fellegi]

27
---
BMO Nesbitt Burns

Five Tax Ideas for the

Remainder of 2019

Below you will find concepts that could help you save taxes, increase

your net worth, and position you for financial success in 2019.

1. Start tax planning now

Many investors wait until year end before

thinking about how to reduce their annual

tax bill. As a result, they often miss out on

available tax planning opportunities. Tax

planning should be a year round activity in

order to maximize the savings opportunities

available to you. Feel free to email me at

cameron.murphy@nbpcd.com for a copy

of our 2019 Personal Tax Calendar, which

summarizes important tax deadlines and

provides some tax planning tips for you to

consider throughout the coming year.

2. Make your RRSP and TFSA

contributions

Making regular Registered Retirement

Savings Plan (RRSP) contributions is one of

the best ways to ensure you save enough

for your retirement. If you've already made

your 2018 RRSP contribution, consider

making your 2019 RRSP contribution early,

instead of waiting until 2020, in order to

maximize the tax deferred compounding

inside your RRSP. The maximum RRSP contribution

available for 2019 is $26,500.

The benefits and flexibility provided by a

Tax-Free Savings Account (TFSA) make it

ideal for saving for multiple financial goals.

The TFSA contribution limit for 2019 is

$6,000. Unused contribution room – dating

back to 2009 when TFSAs were first introduced,

or the year you turned 18 – carries

forward and can be used in a future year.

You may want to consider gifting funds to

your spouse or common-law partner, or

adult children to allow them to contribute

to their own TFSA (subject to their personal

TFSA contribution limit). Income earned

within their TFSA will not be attributed back

to you.

3. Reduce tax with income-splitting

Under our tax system, the more you earn,

the more you pay in income taxes on

incremental dollars earned. With this in

mind, it may make sense to spread income

among family members who are taxed at

lower marginal rates in order to lower your

family's overall tax burden, subject to the

income attribution rules. Some of the more

common income-splitting strategies to

consider include:

• An interest-bearing loan at the prescribed

interest rate to family members

in a lower tax bracket. This strategy is

particularly attractive because rates are

currently at historically low levels;

• Pension income-splitting between

spouses (or common law partners);

• Gifts to adult children or other adult

family members (other than a spouse or

common-law partner); and

• Gifts to a minor child – directly or through a

trust structure – to acquire investments that

generate only capital gains.

Let's connect

Cameron Murphy, BBA (Hons), CIM

Investment Advisor

BMO Nesbitt Burns

905-681-2829

cameron.murphy@nbpcd.com

www.cameronmurphy.ca
---
BMO Nesbitt Burns – Five Tax Ideas for the Remainder of 2018 continued...

4. Reduce the amount of withholding tax from

your paycheque

While many consider an income tax refund to be a windfall

of sorts, a refund means you've given the government a

tax-free loan during the year. A tax refund usually occurs

because the income taxes that are withheld by your

employer exceed your actual tax liability. Income

tax withholding rates are an estimate of the taxes you

will owe for the year if your only income source

is the one upon which the taxes are being

calculated. Withholding rates do not take into

consideration all income tax deductions

and credits such as RRSP contributions,

deductible support payments or

charitable donations. This can result

in an overpayment of tax during the

year and provide a refund when you

file your tax return. If you would like

your employer to reduce the amount

of withholding taxes from your

earnings, you can make a request,

in writing, to your Regional Taxation

Services Office of the Canada Revenue

Agency (CRA) and/or Revenu Québec (RQ).

You will need to include documentation to

support your request, such as RRSP contribution

receipts or a written court order for support payments. If

approved by the CRA and/or RQ, your employer will receive

a letter of authorization to reduce the withholding taxes on

your employment income. The reduced withholding taxes

mean you will improve your cash flow during the year by

increasing your net take home pay, instead of receiving a

lump-sum tax refund the following year when you file your

tax return.

5. Make your charitable giving tax efficient

The benefits of making a charitable donation are countless,

from helping those in need to the personal satisfaction

you feel when giving something back to a cause you feel

passionate about. However, with proper planning, you can

also reduce your income tax liability and maximize the

value of your donation. A donation of qualifying publiclytraded

securities may be preferred over a cash donation of

equal value, particularly in cases where you have already

decided to dispose of the securities. A charitable tax receipt

equal to the fair market value of securities donated to

a charity will reduce your taxes through a donation tax

credit. For donations made after 2015 that exceed $200,

calculation of the federal charitable donation tax credit will

allow higher income donors to claim a federal tax credit at

a rate of 33% (versus 29%), but only on the portion

of donations made from income that is subject to

the new 33% top marginal tax rate that came

into effect on January 1, 2016

When combined with the provincial

donation tax credit, the tax savings can

approximate 50 per cent of the value

of the donation (depending on your

province of residence). A donation of

securities is considered a disposition

for tax purposes; however, because of

the tax incentives provided on a donation

of qualifying appreciated publicly-traded

securities to charity, the capital gain inclusion

rate is nil instead of the normal 50 per cent

that would otherwise apply. You should also consider

combining all charitable donations for you and your spouse

and claim these on one income tax return for maximum tax

savings.

If you'd like to be more strategic with your charitable giving,

consider establishing a donor advised fund (BMO has a

Charitable Giving Program if you are interested). You can

make a charitable contribution to your donor advised fund

and obtain the tax savings benefits today, while having

the flexibility to make disbursements to your designated

charitable beneficiaries over time; ensuring a legacy of

giving long into the future. A variety of assets are accepted

for contribution in order to establish your donor advised

fund, or when making additional contributions, including

publicly-traded securities.

1 Source: https://www.canada.ca/en/revenue-agency/services/tax/registered-plans-administrators/pspa/mp-rrsp-dpsp-tfsa-limits-ympe.html

2 Source: https://www.canada.ca/en/revenue-agency/services/tax/individuals/frequently-asked-questions-individuals/adjustment-personal-income-tax-benefit-amounts.html

3 On a related note, be aware that new tax proposals were introduced in July 2017 that seek to limit income splitting with certain adult family members involving private companies. Revised tax proposals were later

released in December 2017. For more information, please ask your BMO financial professional for a copy of our publication, Tax Proposals Affecting Private Corporations: "Income Sprinkling" Draft Legislation Revised.

4 It is an opportune time now to consider this strategy in order to lock-in the current prescribed rate which is set at 1% until March 31, 2018 as it may increase later in 2018 with the rising interest rate environment.

5 Source: https://www.canada.ca/en/revenue-agency/services/charities-giving/giving-charity-information-donors/claiming-charitable-tax-credits/amended-legislation-charitable-donationtax-credit.html

This publication is for informational purposes only and is not and should not be construed as professional advice to any individual. Individuals should contact their BMO representative for professional advice regarding

their personal circumstances and/or financial position. The information contained in this publication is based on material believed to be reliable, but BMO Wealth Management cannot guarantee the information is

accurate or complete. The comments included in this publication are not intended to be a definitive analysis of tax applicability or trust and estates law. The comments contained herein are general in nature and

professional advice regarding an individual's particular tax position should be obtained in respect of any person's specific circumstances. ®"BMO (M-bar roundel symbol)" is a registered trade-mark of Bank of Montreal,

used under licence. BMO Wealth Management is a brand name that refers to Bank of Montreal and certain of its affiliates in providing wealth management products and services. Not all products and services are offered

by all legal entities within BMO Wealth Management. ® "BMO Nesbitt Burns" is a registered trade-mark of BMO Nesbitt Burns Inc. BMO Nesbitt Burns Inc. is a wholly-owned subsidiary of Bank of Montreal. If you are

already a client of BMO Nesbitt Burns, please contact your Investment Advisor for more information.
---
SHE LIVES FOR

PURPOSE

"It does not do to dwell on dreams and forget to live."

Sun streamed into the laughter-filled room

reflecting the mood and demeanour of the

women and girls in their gym garb as they

awaited the beginning of a fitness session. I was pumped

but apprehensive. I have always wanted to become

involved in Zumba because of the dance component

it brings to fitness. Admittedly, after 10 mins, I became

painfully aware of muscles and tendons and perhaps bones

that I forgot existed. I was so impressed with the simplicity but

thoroughness of the workout and the fun she brought to the

session I wanted to hear her story. Here is an excerpt from my

conversation with Aleshia "goal crusher" Ali, Zumba Group Fitness

Instructor.

How would you describe your philosophy of life? How does

this manifest itself daily?

My life's philosophy is to try and live a life to impact someone's life with

positivity each day. This can be something as simple as putting a smile on

someone's face, or donating or listening to a friend or even a stranger's

problem. Group fitness allows me to do so. I impact people's lives by

helping them unleash their potential which will hopefully allow them to

leave with a smile and a sense of accomplishment. I feel like I was truly put

in this world to help bring joy and laughter to other people.

31
---
Wellbeing

How did you decide what you wanted to do with

your life?

While pursuing my undergraduate degree in Health Studies

and Gerontology I came to understand that those living with

chronic disease and mental illness faired better when they

were physically active. Physical activity is also key to aging

healthy, recovering from acute illnesses, and for one's overall

health and wellbeing. As a result, I decided to pursue my

own journey in fitness and health. After graduation, I studied

to become a fitness professional. I am a certified Personal

Trainer and Group Fitness Instructor.

I feel amazing about my work because teaching others, helping

them achieve their fitness goals, being healthy and strong

while having fun is truly my passion. I love every minute of it,

and one day I hope to establish my fitness studio.

much of a difference it makes when you compliment and

encourage people; just being more positive promotes a sense

of community. Noticing your students or people in general

and giving credence to their improvement, instil so much

confidence in themselves. As an Instructor, you definitely

have to be to your class what you bring to your class and what

you want from your class.

What is your motto regarding life? Any favourite

sayings/quotes about life?

My favourite quote comes from a character in a Harry Potter

novel, 'It does not do to dwell on dreams and forget to live.' I

am a Harry Potter nerd and I am very much a dreamer! This

quote reminds me to put action to my dreams because so

often we don't do that. We spend an enormous amount of

time thinking about our future and our dreams that we forget

"I came to understand that those living with chronic

disease and mental illness faired better when

they were physically active."

Tell me about your journey with Zumba.

The requirements of the program I studied at Humber College

included teaching Group Fitness as well as a fitness practical

exam. I designed my class to be more dance fitness based

with soca music (my favourite genre). My professor really

encouraged me to pursue teaching. She said I was made for it.

I started out teaching Muscle Resistance Classes, and would

take Zumba classes with my mentor, who also encouraged me

to take my Zumba instructor course and apprentice with her.

I did just that, and once I started teaching I was hooked. I've

taught Zumba to seniors, youth, and adults. I love to shake

and shimmy with my class.

Life lessons from Zumba

Zumba is a whole world by itself and can become cultish (she

laughs). I have learnt from those sometimes catty, cruel and

yes, divas that becoming fit and healthy does not change

your bad attitude. Most people who come to my classes tell

me that they have become more confident and have so much

fun. The most important thing I have learnt though, is how

to live in the present; we miss the enjoyment of the present.

Secondly, we wish things could change; our lives, situations

and we fantasize about our dreams and future but we do

nothing to change it to what we dream about. I have learnt

to write down my ideas, my dreams; that way I can actually

action them and eventually end up doing something about

them; maybe not all at once but they get worked on. In that

way, we put action to our dreams while living and enjoying the

present.

Describe a person who has had a profound impact

on your life and why?

Three women were significant in that way in my life. My

amazing Fitness Instructor, Winne. She fused so much

energy into her class and I wanted to absorb as much

information from her as possible. Leah Gavarkovs, another

Group Fitness Instructor, encouraged me to become a

group fitness instructor. Her praise, and her attention to my

form and execution in class really helped me become a very

polished instructor. Lastly, Jennifer Kane was definitely a

32
---
Wellbeing

huge influence. She encouraged me to pursue my Zumba

certification and groomed me as a fitness instructor, and as

a people leader. Her mentorship allowed me to successfully

gain a full- time job supervising the Fitness Centre at Cassie

Campbell Community Center.

Have you changed your view of life over time? How

so and why?

(She chuckles) I really haven't lived that long to say I have

changed much. For one thing though, I have changed my views

about myself. Truth be told, I really did not like myself because

I was not who and what I saw on TV and in magazines. I looked

different even from the rest of my family. I began a journey

to change how I felt about myself and my life because those

feelings were leading me down a path of self-destruction. The

change did not happen overnight but today, I know I value

myself a lot more than before and it shows by the life I live and

how I treat myself. I am beautiful, strong, comfortable in my

own skin, curls and all and I know my self worth. I know there

is still a lot of life to live and lot of tough times too but my

journey has definitely given me tools to successfully deal with

whatever comes my way. It is clear my view of life has changed

from when I was a teenager and will no doubt change when I

become a Mom or get married or any of those exciting things

but I look forward to that because "the only thing constant in

life is change.

If you could write a message to your future children

or generation about life and put it in a time capsule,

for them to read 20 years from now, what would

that message be?

I would tell them I love them and everything will be alright.

Clearly, we all go through life's challenges and need to always

know that it will get better; we will get through it. I would

encourage them to be kind to people; we need to pay forward

kindness because what we put out in the universe comes back

to us.

Aleshia Ali can be reached for consultation for group fitness

sessions at leeshletics@gmail.com or on Instagram @leeshletics

By POLLYANA DARRELL

33
---
CINNAMON

CLARY SAGE

WILD ORANGE

LAVENDER

GINGER

MARJORAM

BASIL

PEPPERMINT

FRANKINCENSE

FENNEL

GERANIUM

CASSIA

MELALEUCA

ROSE

LIME

LEMON

OREGANO

E

I

Y

F

E

M

G

T

N

I

M

R

E

P

P

E

P

E

Q

M

E

L

A

L

E

U

C

A

A

R

U

U

M

G

S

B

Z

N

O

M

E

L

H

F

C

M

Q

L

B

S

K

N

H

X

H

M

K

Q

C

V

W

F

U

S

E

O

M

N

E

Y

R

D

I

L

L

N

A

I

K

I

E

J

J

X

O

C

M

A

H

B

C

X

U

H

L

T

N

F

V

L

F

M

N

M

A

R

J

O

R

A

M

D

L

A

T

K

R

E

A

I

N

C

N

N

Q

G

Z

O

O

A

R

L

O

E

N

N

K

C

L

E

R

V

C

R

R

R

Q

E

C

R

B

N

N

N

A

A

P

K

L

I

M

E

A

I

G

V

C

U

E

I

A

S

R

G

R

R

E

Q

G

N

U

N

Y

P

L

L

C

R

S

Y

J

P

Y

U

J

A

G

Z

J

O

J

M

F

H

F

I

S

R

G

U

S

G

N

E

P

G

L

D

A

Y

M

F

A

A

R

E

U

H

I

O

S

E

W

I

J

L

V

P

S

B

G

D

M

O

R

I

V

Y

S

N

S

W

H

Y

S

L

Q

E

O

G

I

N

G

E

R

B

H

A

O

E

R

L

M

W

L

A

V

E

N

D

E

R

J

B

B

Y

A

C

Y

34
---
Wellbeing

Essential Oil:Copaiba

The Copaiba is a large towering tree that grows in

tropical rainforests of South America. For hundreds of

years, traditional healers in northern Brazil have used

copaiba trees for their health benefits. Copaiba oil is steam

distilled from the resin of the tree.

Copaiba has become one of doTERRA's most popular essential

oils for good reason. BCP (Beta-caryophyllene) found in

Copaiba interacts directly with the CB2 receptors(organ

or cell.)CB2 receptors improve immune health, reduce

inflammation, and pain and supports the health of the

cardiovascular, nervous, digestive, immune, and respiratory

systems.

Copaiba oil contains a significant amount of BCP–typically

around 55-60%, while CBD oil usually contains between 2

and 30%.

Other advantages to choosing Copaiba over CBD(cannabidiol

is a chemical compound in marijuana with a variety of uses. It

is a remedy for headaches, migraines; relieves muscle cramps

and joint pain)oil, it's half the cost of CBD with no prescription

needed and is 100% legal so no worries for plane travel and

border crossing.

(doTerra is a Latin derivative meaning "Gift of the Earth".

The Company was established in 2008 with the mission to

produce and share therapeutic-grade essential oils.)

www.doTerra.com

www.CDB.medicines.org

By DIANA LESHUK

Independent Product Consultant, doTerra

CBD vs COPAIBA

• ISOLATED molecule

• INDIRECT receptor activation

(Cascade)

• INCONSISTENT dosage

• LIMITED science

• REGULATORY challenge

• CBD 5–35%

CONCENTRATION

• COMPLETE plant chemistry

• DIRECT receptor activation

• REASONABLE dosing

• More than 1000 PUBLISHED

STUDIES

• BCP almost 60%

CONCENTRATION

• Does not contain

PSYCHOACTIVE

CANNABINOIDS

35
---
WELLBEING

BENEFITS OF

ALKALINE WATER
---
Wellbeing

Summer 2013 was a very busy year for our family of

three. We were engaged in high intensity training,

coaching and managing our business. Additionally, we

soon learned that we had a new baby on the way. After many

challenges to fit our family and lifestyle into our little car,

we decided to get an upgrade. It was then that we were first

introduced to the idea of anti-aging, antioxidant, alkaline water

by one of our former coaches, 3x Canadian Olympian and

captain of the Canadian Olympic Team in Barcelona, Freddie

Williams. He shared with us his own personal experience

with the water. His wife had used the water in her bout

with cancer. He shared with us cancer research which was

done by Dr. Otto Warburg, the German Scientist and Nobel

peace prize winner who in the early 1900s discovered that

no sickness or disease can thrive in an alkaline environment.

Sicknesses and diseases in the body are caused by acidity. We

were excited to learn more about alkaline water and ventured

out on our own research efforts. We learned that it the micro

"Immediately after drinking the

alkaline water, we noticed its

lighter, sweeter taste."

of ours complained he had been experiencing acid reflux

problems for many years, we wondered if the alkaline water

might help. Acid reflux is an overabundance of stomach acid

that frequently escapes the stomach, making its way back up

through the stomach into the esophagus where it burns like a

caldron in your throat. Ultimately, it can destroy the stomach

lining and esophagus. If it's ever happened to you, you

understand the discomfort firsthand. The idea that alkalinity

neutralizes acidity was appealing to our colleague, who asked

to try the water. We gave him some of our water. Within

hours he called with a sigh of relief.(I don't mean to gross you

out, but, it was dramatic). He described making a couple of

trips to the bathroom and reported that his stool was black,

nothing like he'd ever seen before. Afterwards he felt superb.

The acid had completely cleared his system. He was finally

freed from years of discomfort. Additionally, he'd all but given

up on trying to have another baby. He was surprised to find a

'little bun in the oven."His longtime girlfriend with whom he

tried for years to have a baby, was expecting. He swears by

the alkaline water that it was the reason for the season, at his

age, in his early fifties. Who's to say? "Who feels it knows it!"

By MARESA CADIENHEAD-RYAN

Ionization Technology Consultant;

Speaker, Writer & former world leading

High Jumper

clusters, antioxidants and alkalinity make the water effective

in hydrating the body, given that proper hydration is very

important when engaging in high intensity training. It didn't

take long before we decided on an upgrade for our health

rather than our car and decided to invest in the gold standard

of alkaline water system; not just for ourselves but for our

children. We followed the old adage, "prevention is better

than cure."

Immediately after drinking the alkaline water, we noticed

its lighter, sweeter taste, as compared to regular water. In

addition, we could literally feel it moving through our bodies.

It's human nature to tell far and wide whenever you find

something good;it's hard keeping it to yourself. Overtime,

we experimented with the alkaline water in our training and

noticed that our cardio exercises were easier. Our long run

recovery times were quicker than usual resulting in our doing

more and going longer. We couldn't help sharing what we

learned with our friends and neighbours. When a colleague

37
---
wellbeing

Life Lessons

What I want to teach the next generation;

The generation where we place our hope,

Are the things that life taught me.

First, life is not fair;

It is not equal.

There will always be partiality and biases-

Biases that will follow you wherever you go

Whatever you do

Because some people believe not everyone is born equal

And their views will affect your views -

If you let them.

Life is not fair

But it doesn't have to bring you down.

When life presents challenges,

And obstacles and handicaps,

It is giving you a chance to rise above it

Use challenges as ways to better yourself

And obstacles as stepping stones

Use handicaps to prove to the world you have more to offer

Because once we see challenges as opportunities

Instead of restrictions,

We focus and work on ourselves

Not others;

If we use obstacles as a means to get ahead,

Those opposed to us will have nothing to use against us

And when we accept our handicaps, we show the world

Nothing can hold us down.

Life is not fair;

It is full of challenges and obstacles

But if we learn to live fair and just

And put in effort where it is due

We might just teach the rest of the world

How good life can be.

By NAOMI-NICOLE BRAMER
---
WELLBEING

Zesty Zingy Zingiber

OFFICINALE

Commonly known as ginger, this spice has brought relief to millions over the centuries as

the treatment for multitudinous aliments, making the case for its Ancient Indian namevishwabhesaj

- which means, "universal medicine."

Recently, I was encountering some digestive issues along with a tinge of diarrhea and nausea

and wanting to tackle the diarrhea first, I thought I'd use a hot caffeine-free, milk-free beverage. I

remembered, as a little girl, my mom would serve ginger tea intermittently whenever she thought

we needed some"bush" tea to "clean or purge us." So, I decided to get some ginger and administered

the tea as per instruction-1 packet to 8 ozs. water. The next day, I had 3 cups of ginger tea and

voila, diarrhea was gone, nausea went 'poof' and my digestion improved. This was so noticeable

that I decided to continue using the ginger to aid my digestion issues. Sure enough, the rest of the

week, I had no issues with indigestion (which is regular) and then, I came up on this book in the

office, "Ginger: Common Spice and Wonder Drug" by Paul Schulick and decided to read it. Here

are some fascinating facts being touted about ginger.

Current scientific and ethnomedical literature support the empirical findings that ginger has a

wide range of benefits for the digestive system. Among other things, its properties aid in digestion

especially of protein, produce anti-diarrheal activity, support probiotic and liver protection

and have anti-emetic(vomiting) capabilities. In addition, ginger's enzyme actions and digestive

stimulation synergize with its anti-ulcer benefits to reduce gastric volume which in turn relieves

39
---
Wellbeing

balance critical enzymes reduces physiological

active substances that produce inflammation.

A1989 trial revealed that consumption of fresh

or powdered ginger by rheumatic patients for

three months, reduced swelling and stiffness

and was better for pain relief. It is reported that

6 out of the 7 patients in the trial, even after

5-10 years of conventional treatment,they had

been continuously afflicted with some degree of

inflammation, swelling and morning stiffness. In

the second trial, (56 patients with various forms

of arthritis; 28-rhumatoid, 18 osteoarthritis, and

10 with muscular discomfort), again using fresh

or powdered ginger, it was concluded, "more than

three-quarters experienced to varying degrees,

relief from pain and swelling. All patients with

muscular discomfort experienced relief in pain."

(K.C.Srivastava; pg 34). According to Public Citizen

Health Research Group (April 1993, Vol.9; No.4),

during the 21/2 years study, no side effects were

reported while conventional arthritic treatment

on the elderly alone, resulted in 3,300 inducedulcer

deaths.

constipation and aids in the excretion of small gall stones as

found by Japanese researchers.

Secondly, ginger reduces fever for the same reason aspirin

does. It does so by impeding the activity of fever-causing

enzymes and suppressing the production of particular

inflammatory substances. Like aspirin, it assuages fevers by

aiding your body to return to its core internal temperature

or thermo regulation. It is also believed to relieve chills and

warms the body all with no side-effects.

Historical literature and herbal formulation from India, China

and more recently, the Middle East and Cuba all hail ginger

as an aphrodisiac. One 14th century sex manual purported,

"A man who prepared himself for love with ginger and honey

would give much pleasure to the woman..."(Ginger, pg. 25).

In China, ginger has always been known as an agent to

boost appetite, bring balance to hormones and circulation

improvement. In Tibet, its reputation is for improving the vital

energies of the lethargic and Persian historians claim ginger

has brain-cleaning properties.

In Denmark, two clinical trials revealed ginger reversed

many arthritic symptoms without side effects. Its ability to

Pathogenic species of particular bacteria like E.Coli and

salmonella are significantly impacted by ginger, "Ginger

unquestionably inhibits pathogenic species of bacteria like

E.Coli and salmonella while stimulating growth of potentially

beneficial species useful in the control of diarrhea and

constipation(Paediatrics, 1991; Jul; 88(1):90-7).

Clinical findings reveal that ginger's properties can eliminate

parasitic worms found in human intestines. This is one reason

why ginger is traditionally eaten with sushi. (There has been

a marked increase in parasitic worm, Arisakis,infection which

is principally contracted through the consumption of raw fish

or sushi.)When used in an in vitro study, ginger and 2 of its

constituents resulted in more than 90% of the larvae to die in

four hours and completely decimated within 16 hours.

All quotations and information are culled from Ginger:

Common Spice and Wonder Drug by Paul Schulick.

By POLLYANA DARRELL

40
---
Recalibrate Your Personal GPS

(Guiding Principles for Success)

Real Change

PRODUCTIONS

Truth Conference

Fitness Workshop

Dealing with Depression Symposium

Real Truth Talk Show

Truth Magazine

W W W . T R U T H N A T I O N . C A

4 1 6 - 6 2 8 - 0 9 9 1 | 1 8 6 6 - 9 4 8 - 7 8 0 0
---
3 Things You Can't

Recover in Life:

the moment

after it's missed

the word

after it's said

the time

after it's wasted