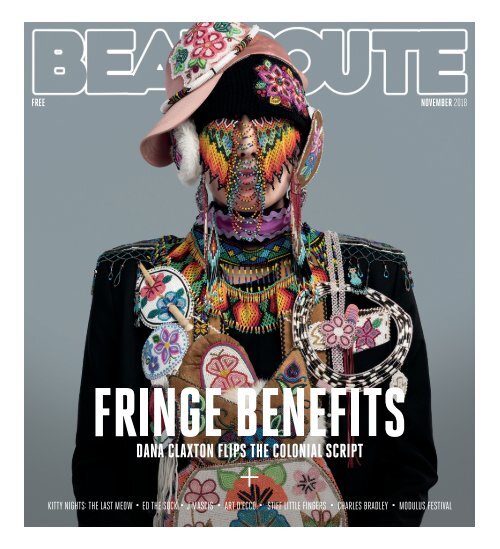 BeatRoute Magazine BC Edition November 2018
BeatRoute Magazine is a monthly arts and entertainment paper with a predominant focus on music – local, independent or otherwise. The paper started in June 2004 and continues to provide a healthy dose of perversity while exercising rock 'n' roll ethics. Currently BeatRoute's AB edition is distributed in Calgary, Edmonton (by S*A*R*G*E), Banff and Canmore. The BC edition is distributed in Vancouver, Victoria and Nanaimo. BeatRoute (AB) Mission PO 23045 Calgary, AB T2S 3A8 E. editor@beatroute.ca BeatRoute (BC) #202 – 2405 E Hastings Vancouver, BC V5K 1Y8 P. 778-888-1120
BeatRoute Magazine is a monthly arts and entertainment paper with a predominant focus on music – local, independent or otherwise. The paper started in June 2004 and continues to provide a healthy dose of perversity while exercising rock 'n' roll ethics.

Currently BeatRoute's AB edition is distributed in Calgary, Edmonton (by S*A*R*G*E), Banff and Canmore. The BC edition is distributed in Vancouver, Victoria and Nanaimo. BeatRoute (AB) Mission PO 23045 Calgary, AB T2S 3A8 E. editor@beatroute.ca BeatRoute (BC) #202 – 2405 E Hastings Vancouver, BC V5K 1Y8 P. 778-888-1120
SHOW MORE
SHOW LESS
Create successful ePaper yourself
Turn your PDF publications into a flip-book with our unique Google optimized e-Paper software.
TRIM SIZE: 10.25"W x 11.5" H, RIGHT HAND PAGE

LIFE'S TOO SHORT

TO WEAR

BORING SHOES

JOHN FLUEVOG SHOES 837 GRANVILLE ST 604·688·2828 65 WATER ST 604·688·6228 FLUEVOG.COM
---
November'18

PUBLISHER

BeatRoute Magazine

LAYOUT

& PRODUCTION MANAGER

Naomi Zhang

FRONT COVER PHOTO

Headdress Jeneen:

Jeneen Frei Njootli

FRONT COVER DESIGN

Randy Gibson

CONTRIBUTING WRITERS

Andrew Bardsley • Sarah Bauer • Emilie

Charette • Leslie Ken Chu • Emily Corley

• Adam Deane • Quan Yin Divination

• Lauren Donnelly • Joshua Erickson •

Matty Hume • Brendan Lee • Joey Lopez

• Sarah Mac • Dayna Mahannah • Maggie

McPhee • Trevor Morelli • Keir Nicoll •

Jennie Orton • Logan Peters • Scott Postulo

• Paul Rodgers • Brittany Rudyck • Patrick

Saulnier • Leah Siegel • Danielle Wensley

CONTRIBUTING

PHOTOGRAPHERS &

ILLUSTRATORS

Danny Clinch• Raunie Mae Baker • Syd

Danger • Cole Degenstein • Cody Fennell

• Nick Harwood • Vanessa Heins • Jason

Ma • Monica Miller • Fraser Ploss • Jaik

Puppyteeth • Zachary Schroeder • Craig

Sinclair • Art Streiber • Ebru Yildiz

ADVERTISING INQUIRIES

Glenn Alderson

glenn@beatroute.ca

778-888-1120

Managing Editor

Jordan Yeager

jordan@beatroute.ca

Local Music

Maddy Cristall

maddy@beatroute.ca

The Skinny

Johnny Papan

johnny@beatroute.ca

Comedy

Graeme Wiggins

graeme@beatroute.ca

Editor-In-Chief

Glenn Alderson

glenn@beatroute.ca

City

Yasmine Shemesh

yasmine@beatroute.ca

GRASSIFIEDS

Jamila Pomeroy

jamila@beatroute.ca

Live Reviews

Darrole Palmer

darrole@beatroute.ca

Film

Hogan Short

hogan@beatroute.ca

04

05

06

10

11

12

14

15

16

HI, HOW ARE YOU?

- with Art d'Ecco

PULSE - CITY BRIEFS!

CITY

- Eastside Culture Crawl

- Hopscotch Festival

- Modulus Festival

- Kitty Nights

THEATRE

- Places Please

DANA CLAXTON

COMEDY

- Brian Posehn

- Ed The Sock

GRASSIFIEDS

- MCRCI

- Strain Of The Month

STREET/ROUTE

MUSIC

- We Are The City

- China Syndrome

- Wooden Horsemen

20

21

25

27

33

34

SKINNY

- Behemoth

- Erosion

- Stiff Little Fingers

- Fu Manchu

- Underoath

BPM

- Kweku Collins

- Ivory Towers

- dounpour

FILM

- Bohemian Rhapsody

- Anthropocene

- This Month In Film

REVIEWS

-Charles Bradley

- Daughters

- Empress Of

- MØ

& MORE!

LIVE REVIEWS

-Courtney Barnett

- Third Eye Blind

- MC5

HOROSCOPES

DISTRIBUTION

Gold Distribution (Vancouver)

Mark Goodwin Farfields (Victoria)

Web

Jashua Grafstein

jash@beatroute.ca

Social Media

Mat Wilkins

mat@beatroute.ca

BEATROUTE MAGAZINE

202-2405 Hastings St. E

Vancouver BC Canada

V5K 1Y8

editor@beatroute.ca • beatroute.ca

©BEATROUTE Magazine 2018. All rights reserved.

Reproduction of the contents is strictly prohibited.

Bohemian Rhapsody - Page 25

November 2018 3
---
WITH ART D'ECCO

Written by Glenn Alderson

Art d'Ecco is an enigmatic presence

in the west coast music scene. The

cryptic personality hiding behind

the wig and apoca-lipstck chooses

to remain anonymous; keeping his

real-life shrouded in a bit of mystery

to ensure the emphasis doesn't stray

from the music. For his debut album,

he locked himself up in a cabin on

one of the Gulf Islands (although

he won't say which one!) to put his

ideas to tape. Then he put it all on

the line, risking everything he had

by shelling out the dough needed

to bring his songs to life. The new

album is called Trespasser and d'Ecco

was kind enough to let us in to get

a conservative glimpse of the man

behind the glam that is his on-stage

persona. We caught him on the 401

heading towards Toronto and this is

what he had to say.

You wrote a good chunk of

Trespasser in a remote cabin

on one of the Gulf Islands.

Are you still living sans

mainland?

Yes indeed I do live on an island. It's

a very anonymous existence. I like

to blend into my surroundings, it

provides me a sense of normalcy, a

stark contrast to the evening ego I put

on for stage.

Can you please tell us a bit

about what attracts you to

island life?

I do my best work sans distractions.

Creating in a vacuum allows me to

be distraction-free. I'm not sure I

can live/work from the Gulf Islands

in perpetuity but for Trespasser it

worked out well.

Would you describe yourself

as an actual recluse now

or is isolation a part-time

hobby?

When I wrote and demo'd Trespasser I

would spend two-three week periods

holed up at a time. It was a very cold

winter and there were lots of power

outages. So I relied on my record

collection and my wood stove to

provide me with the warm comforts

needed to survive and push through.

My daily routines involved writing

and learning music production. It was

obsessive and intense. I'd spend hours

listening to songs and specific albums

that inspired me, studying how things

were captured, and the various gear

that was used etc. "Trespasser" is the

sum total of these experiences. It's

pure introspection and fantasy put

through a record collector's lens.

You grew up in the

Vancouver music scene can

you describe some of the

bands you were surrounded

by at a younger age that left

an impression on you?

I moved to Vancouver in 2004. I was

barely 20 years old and indie rock

was all I wanted to do. DJs were

spinning vinyl. Haircuts were angular

and asymmetrical. Electroclash was

considered dance music. It was very

"Meet Me In The Bathroom" (by

Lizzy Goodman). But the cute little

Vancouver version. All my friends

played in bands, were actors and

worked in bars. What a glorious time

to be alive.

What does an average day

for Art d'Ecco look like

these days (when not on the

road)?

I wake up, fall out of bed. Drag a

comb across my head, find my way

downstairs and drink a cup... wait.

Those are Beatles lyrics.

No Art d'Ecco performance

is complete without a wig

Photo by Mandy Lyn

and lipstick. Can you please

talk about the origins of

your onstage persona?

I played my first show spring 2016.

It felt so pedestrian and... bland.

It made me incredibly sad and

uninspired. "Hey! Here I am! Another

white dude in a guitar rock band!"

So I put together a collage of some

artists — Annie Lennox, Carole Pope,

Gary Numan, Bowie, Peter Murphy

etc. And the one common thread

among them was that they were all

very hyper-stylistic with their image.

Everything started to inform me from

that point on. Next show I surprised

my band with a bit of a hotel room

reveal they weren't expecting. I

emerged from the washroom in full

make-up and glammy attire just

before we were to hit the stage. They

were a bit shocked, but dug it.

What's an example of

something on-stage Art

d'ecco would do that you

otherwise wouldn't dream

of?

All of it.

We read that you would

play "Bohemian Rhapsody"

for your Grandma to help

relax her.

Alzheimer's is a brutal disease. With

my grandmother it was routine bouts

of sun downing (evening anxiety) that

would trigger me to play for her. She

could sit for hours listening to me

noodle on the piano. Eventually I'd

run out of shit to play and just cycle

the first part of Bohemian Rhapsody

over and over. She always knew it

wasn't Beethoven though. Funny how

the brain remembers melody.

What are your thoughts on

the new Queen biopic that's

coming out this month?

That I wish it was made the way Sacha

Baron Cohen wanted it to be made.

Wham, glam, thank you ma'am. Art d'Ecco has just released Trespasser and he's ready to share it with the world.

What's next for Camp

d'Ecco?

Lots of touring! I still feel like nobody's

heard this album yet. So I'll be

pounding the pavement until end of

next year, and beyond.

4

November 2018
---
CITY BRIEFS!

Beatrix Potter Hunnybee Bruncheonette Soul Samurai This Duet That We've Already Done Vancouver Podcast Festival

Beatrix Potter: Illustrations

of this world

November 10 at VanDusen Botanical

Garden

Part of the Yosef Wosk Library &

Resource Centre at VanDusen Garden's

2018 Speaker Series, lecturer Spencer

W. Stuart explores beloved children's

novelist Beatrix Potter's lesser-known

study of fungi through scientific

illustration, as well as her conservation

efforts of England's Lake District.

Hunnybee Bruncheonette

789 Gore Avenue

Created by the same folks behind

The Birds & The Beets, this all-daycafe

turns into a bar called Soap

after 5 pm — taking a similar cue

from its Gastown sibling. Come in

for wholesome breakfast and brunch

items made from scratch, like ricotta

pancakes with crumble, jam, and curd.

Soul Samurai

November 22 - December at Studio

1398

Presented by Affair of Honor – a new

independent theatre company that

creates movement-based works with

female leads – Soul Samurai is a badass

combination of revenge epic, hip-hop

spectacular, and queer vampire love

story. A Vancouver Fringe Festival

favourite.

We For She

November 16 at Vancouver

Convention Centre

Now in its fifth iteration, this annual

event unites current and emerging

leaders and change makers who

champion gender equality in business.

Some of the speakers this year include

teenage transgender advocate Tru

Wilson and Jake Sitka, co-founder of

Next Gen Men, an organization that

educates and empowers men and boys

in conversations around gender.

Spartacus DIY Workshop

Series

November 12-December 10 at

Spartacus Books

Held at Spartacus Books, this workshop

series is aimed at those interested in

activism, art, and social justice. Themes

range from embroidering patches and

making posters to editing Wikipedia

pages.

Vancouver Podcast Festival

November 10-12 at various locations

With live recordings at the Rio Theatre

and CBC Studio 700, as well as a variety

of shows and panels to take in, this

event celebrates local podcasters,

as well as national and international

ones. Guests include Mike Browne of

the Dark Poutine Podcast, and Sean

Cranbury and Carleigh Baker.

Weekly Stories

Every Wednesday at the Drive Coffee

Bar

East Vancouver's newest storytelling

show runs for an hour every week on

Commercial Drive. With a mission to

provide a diverse narrative ranging

from gender and age to origin, this

inclusive series offers a stage to anyone

who has a story to share. Hosted by

Jo Dworschak (Coop Radio's Out and

About in Canada), admission is by

donation.

Vancouver Synthesizer

Festival

November 23 at Historic Theatre

An immersive evening of experience

awaits at this unique festival that

brings together local electronic,

ambient, and visual artists. The lineup

includes Merlyn Chipman, who works

with analog video feedback, and the

Dynalectric Orchestra.

What a Fish Knows

November 16 at the Vancity Culture

Lab

Jonathan Balcombe will be speaking,

based on his popular book of the

same name, about the intelligence

and emotional complexity of an

extraordinary (and underestimated)

animal species: fish.

This Duet That We've Already

Done (So Many Times)

November 27-December 1 at Historic

Theatre

Montréal's Frédérick Gravel joins

Brianna Lombardo in this intimate and

passionate examination of everyday life

in love.

November 2018 5
---
CITY

EAST SIDE CULTURE CRAWL

LOOKING INSIDE THE SOULS OF OUR LOCAL ARTISTS

KARINA ESPINOSA

Usually, viewers can only see the work that

comes out of an artist's studio. Stripped of

their context, these objects can seem nebulous

and inaccessible to the casual onlooker. But

the Eastside Culture Crawl opens up those

intimate workspaces and invites people to take

a look inside.

The Eastside Culture Crawl is an annual,

HOPSCOTCH FESTIVAL

A GUIDE FOR THE HOPSCOTCH NOVICE

GRAEME WIGGINS

Vancouver, over the years, has seen a lot of

alcohol-related festivals come and go. At 23

years and running, the Hopscotch Festival

remains stalwart. It's a multi-day festival that

showcases the best whiskey, spirits and beer

through tasting events and workshops that

culminate in a three-day event at the PNE

Forum featuring live music, an onsite liquor

store and food.

Photo by Desireé Patterson

The annual Eastside Culture Crawl allows participants to glimpse into artists' studios.

four-day visual arts festival that aims to

encourage active engagement with artists and

their work in East Vancouver. Now in its 22nd

year, the Crawl is expected to draw 35,000

art buffs, patrons, and novices to experience

the variety of arts that the community has to

offer. Esther Rausenberg, this year's Executive

Director and one of the founders of the Crawl,

With such a lengthy and storied history,

Hopscotch has taken feedback and improved

the festival year after year. Last year there was a

big overhaul to help separate the beers from the

spirits so as to make things clearer for guests.

Executive producer of the festival, Adam Bloch,

details the biggest change this year: "This year

we're bringing in some amazing restaurants to

improve our food quality and food showcase.

Photo by Devin Araujo

ruminates on the progress that the Crawl has

made since it first launched.

"The growth has been pretty exceptional,

both in terms of artists participating and

public attendance," she says. "But most of all

I'm always amazed and impressed with the

different directions these artists are going."

Rausenberg is quick to note that a majority

of the art presented for this edition is brand

new work from the artists. The artists are

constantly innovating, which is what makes

the Crawl worth visiting each year. She adds:

"We've included a lot of workshops and

demonstrations to further entice the public

to get a better understanding of how the art

is created, because that's what this is about

– the exploration and curiosity of the artist's

process."

An established photo-based artist herself,

Rausenberg is familiar with the necessity of

art in people's lives, and she fondly recalls

instances from past Crawls when viewers

responded emotionally to the artwork.

"When you're opening up your own space,

you're really exposing yourself and saying to

the public, 'Here's who I am and here's what

I do.' People really respond to that level of

vulnerability – I think that they need and want

that," Rausenberg affirms. "In a way, it's what

they're looking for and that's why they keep

connecting to this event time and time again."

The Eastside Culture Crawl will run from

November 14-18.

We always listen to feedback and it's become

very obvious that people are eating dinner.

Everything at this thing has to be amazing, so

if dinner in the conscious or subconscious of

the guest is an integral part of completing an

awesome night we really want to focus on that."

Bloch has some important advice for those

new to the festival, to make sure they maximize

their enjoyment. "First and foremost, it is based

around alcohol so safety is always a number one

priority," he says. "Don't drive, make sure you

take a taxi home or public transportation."

Another piece of advice he has is perhaps less

obvious, but is also safety related: "There's no

rush. People have four hours to taste. Eat. Drink

water, which will be onsite. Have a snack.

There's no reason to just pound. Our whole

thing about this festival is that it's not a reason

to get drunk. We don't want anyone who's just

looking to get hammered. There are lots of

liquor stores – buy a bottle and stay home."

MODULUS FESTIVAL

NOT YOUR AVERAGE CLASSICAL MUSIC FEST

MATHEW WILKINS

Post-classical, neoclassical, neoromantic, electroacoustic…

these are just a few words to describe types of music even

our most seasoned concert-going readership may have

a hard time defining. Yet they are also the sonic bread

and butter of Music on Main's annual Modulus Festival, a

five-day showcase of the world's best in contemporary

classical music. Aimed at providing diverse and accessible

programming to the city, this festival is the perfect

opportunity for those of us looking to expand our sonic

palate.

"Modulus is full of opportunities to get in a room with

people from around the world and hear things that you

don't normally get to hear in your own community," says

Dave Pay, founder of Music on Main and Artistic Director

for the festival.

According to Pay, Modulus' programming is absolutely

brimming with the unconventional; composers,

conductors, and performers from far and wide have been

specially selected for this year's festival to show Vancouver

citizens how "composers are seeing and hearing the

world." Included in the programming are artists like British

composer and vocalist Laura Bowler, whose piece explores

online political activism through lyricism, composition,

and mixed media. Others, like French composer Thierry

Pécou, have written works for the show that, through

their music, provide refuge from rapid and invasive

technological progress.

"These artists are of the world," explains Pay of this

year's selections. "And they're creating works that are of

the world and relevant to all of us. And that's something

that I think people don't expect with new music, or

contemporary classical, or whatever they're calling it."

This year's music, as a result, is highly varied. Some

pieces explore what Pay calls "the fallibility of technology."

Other performances focus on the audience's visceral

reaction to sound. Yet words obviously fail when trying

to describe the myriad compositions that will be at this

year's Modulus. The best option, dear readers, is obviously

to attend... and with ticket prices sitting at a comfortable

maximum of $29, this opportunity is a hard one for the

sonically curious to pass up. Not convinced? Try checking

out some of the free Modulus events to whet your aural

appetite.

"We want all the shows to be accessible because we

know that sharing art and experiencing art together

builds a stronger community," explains Pay, before artfully

capping off the interview with something we can all agree

on:

"We all end up caring more for each other when we

listen together."

Modulus Festival runs from November 2-6 at the

Roundhouse Community Arts & Recreation Centre, CBC

Studio 700, and The Post at 750.

For 23 years, the Hopscotch Festival has been educating guests about all things liquor.

6

Hopscotch Festival runs from November 23-24 at

the PNE Forum.

Thierry Pécou riffs on classical music at Modulus 2018.

November 2018
---
AMPLIFY BC

GRANTS NOW

AVAILABLE FOR BC'S

MUSIC INDUSTRY

CAREER

DEVELOPMENT

Supporting sound

recording, marketing +

music videos for BC Artists

Deadline:

December 12, 2018

LIVE

MUSIC

Supporting BC-based

live music events

Deadline:

November 14, 2018

MUSIC INDUSTRY

INITIATIVES

Grants to grow BC's

music industry

Rolling intake until

March 1, 2019

AmplifyBC

APPLY + LEARN MORE AT creativebc.com creativebcs

ALSO ON VIEW THIS SEASON

A CURATOR'S VIEW: IAN THOM SELECTS

Through March 17, 2019

GUO PEI: COUTURE BEYOND

Through January 20, 2019

THE METAMORPHOSIS

November 24, 2018 - March 17, 2019

THROUGH

FEB 3, 2019

Dana Claxton: Fringing The Cube is organized by the Vancouver Art Gallery and curated by Grant Arnold, Audain

Curator of British Columbia Art

Visionary Partners for Photography Exhibitions:

Miles, Maureen and Larry Lunn

Supporting Sponsor:

Major support provided by:

Cathy Zuo

Dana Claxton, Headdress, 2015, LED Firebox with transmounted chromogenic transparency, Collection of the Vancouver

Art Gallery, Purchased with the support of the Canada Council for the Arts Acquisition Grants program and the

Vancouver Art Gallery Acquisition Fund
---
Glenn Brown Anaesthesia, (2001) oil on panel | 41 9/16 x 31 11/16 x 15/16 in (105.5 x 83 x 2 cm)

Rennie Museum | 51 East Pender St | Vancouver
---
KITTY NIGHTS

THE LAST MEOW MARKS THE END OF AN ERA

MIA GLANZ

Photo by TD Images

CITY

FEATURED CONCERTS

VICTORIA, BC

HEADSTONES

PLUS THE MATCHSTICK SKELETONS

CAPITAL BALLROOM // WEDNESDAY NOV 21

DELHI 2 DUBLIN

PLUS KHANVICT

CAPITAL BALLROOM // SATURDAY NOV 24

Burgundy Brixx and the Purrfessor celebrate a 10 year legacy of Kitty Nights in Vancouver with one last meow.

Like many good things in life, the reigning

burlesque night in Vancouver, Kitty Nights, began

as an implant from New York City. It was 2007 and

Burgundy Brixx and the Purrfessor had had enough

of George Bush, so they made the decision to seek

refuge north of the border.

"Seems quaint now," the Purrfessor laughs.

In New York, Burgundy had been a long time

performer, loving the "mishmash" of the burlesque

scene: elegant, dedicated clubs, as well as dive bars

where you never knew who you would see. It was "a

really wild, crazy place," she says.

Suddenly: a rustle of chiffon, a gasp, a scream.

"Oh my god, dirty martinis here!"

For Burgundy, the beauty of New York burlesque

was the spontaneous nature of booking and

performing. "Some of the top names in burlesque

would be in this little hole in the wall and you paid

five dollars to get in."

This was the attitude Kitty Nights brought to

the Canadian scene. At the time, burlesque in

Vancouver was members only. You belonged to a

troupe and performed with the troupe. Burgundy

transplanted the name of the night that she ran

in New York as well as its ethos when she founded

Kitty Nights in Vancouver.

"You don't have to be in a troupe. If you do

burlesque let us know, we'll see if we can put you

on our stage."

According to Burgundy, burlesque has always

been an anti-establishment art form. The tradition

began in the 1800s in Britain. "They were femalerun,

femal- cast productions that were satires of

operas and of Shakespeare and of classical highbrow

theatre," says Burgundy. Male parts were

played by women. At the time women weren't on

stage, and they weren't revealing a lick of skin in

society. It was all about poking fun at the upper

classes, an act of political activism to say "this is me

and my body and it's hilarious."

But of course, in the 1800s, showing the body

meant maybe an ankle was revealed under the

hem of the toga of the woman playing the part

of a Roman. What defined burlesque then was

the comedy, the irreverent tone, and the gender

of the performer rather than nakedness. It wasn't

until Gypsy Rose Lee in the 1930s that strip tease

became part of burlesque. Legend has it that after

Lee, the Godmother of Burlesque, had finished

singing a bawdy song on stage, thinking the

curtains were up, she began to take off the cuff and

collar from her costume. These accoutrements were

white and between acts were removed to keep

clean. This particular night, the curtains did not go

down, and the audience thought Gypsy was taking

her clothes off, and began hooting and hollering

wildly.

"Her boss said, 'Whatever you did, do that every

night.' So she started making it into a tease," adds

Burgundy.

"[It's about] trying to get a rise out of your

audience," quips Burgundy. "Gypsy Rose Lee would

talk about current events while she was taking her

clothes off. Everyone knows that you're going to be

naked by the end of the show – it's the story you

tell, how you get from here to there."

According to Burgundy, the 1970s were "when

the patriarchy completely took over, and they

didn't want any of the stories. They just wanted the

nakedness… that's when burlesque died."

Which brings us to New York City in the 1990s,

when the club kids and the comedians got together

to revive this forgotten art. Soon after, Kitty Nights

was born and made its way to Canada. It has been

a weekly fixture of Vancouver nightlife for 10

years, winning numerous accolades, including four

golden plates, and even helping Burgundy and the

Purrfessor win the fight for Canadian residency.

This November, the infamous event will have its

"Last Meow" at the Rio Theatre to mark its tenth

anniversary, as well as the exit of Burgundy Brixx

and the Purrfessor from the burlesque stage.

The details of the performance will be a surprise.

In true New York style, the

"top secret super celebrity international guests"

won't be revealed beforehand, making it a huge

thrill for the audience when they emerge from

backstage on the big night. Maybe Burgundy Brixx

will pull out one or two of her signature numbers:

"The Brickhouse," because she sure loves funk, or

"Cinnamon Buns" with the assless dress.

"The subtle art of fuckery" – exactly what Kitty

Nights is all about.

FUNK THE HALLS: THE

FUNK HUNTERS

PLUS GUESTS

CAPITAL BALLROOM // FRI NOV 30 & SAT DEC 1

YUKON BLONDE & THE ZOLAS

PLUS GUESTS

CAPITAL BALLROOM • THURSDAY DEC 6

FOR FULL CONCERT LISTINGS & TO PURCHASE

TICKETS, PLEASE VISIT:

WWW.ATOMIQUEPRODUCTIONS.COM

FACEBOOK /ATOMIQUEPRODUCTIONS TWITTER @ATOMIQUEEVENTS

November 2018 9
---
A holiday treat for the whole family!

Written by Marcus Youssef | Directed by Stephen Drover

Music by Veda Hille

Nov 28, 2018–

Jan 06, 2019

THEATRE

PLACES, PLEASE

YOUR MONTHLY THEATRE GUIDE

LEAH SIEGEL

As we put away our sexy Halloween costumes and

shift our attention to the inevitable cold embrace of

winter, let's talk theatre. Sure, that older stuff

has its time and place. Arthur Miller's Crucible? We'll

take it. Anton Chekhov's Uncle Vanya? Love it. The

Bard himself, Willy Shakes? *Kisses fingertips* Classic.

But there's another reason to go to see live

theatre. Below is a selection of local playwrights and

companies doing some awesome stuff this month,

from creatively incorporating multimedia in new

ways, to gender bending older stories. Avengers 27

(or whatever's playing now — it's hard to keep track)

can wait. It's time for something different.

Monsterkill 5: Remonsterkilled (Or, We

Were the Empty Set) at Havana Theatre,

Oct. 30-Nov. 3

With the world so divided right now, it's nice to take

a break from people bashing each other up to watch

other people bash each other up. In an homage

to the whack-em-up video game à la Super Smash

Bros., we follow the exploits of a group of avatars

in a video game where they are manipulated into

senselessly fighting each other by a couple of unseen

voices. This isn't just Ready Player One nostalgic

whimsy, though. In his play, writer-director Matt

Horrigan alludes to the uglier sides of video gaming,

specifically the excessive violence of "militainment,"

and the right-wing subcultures that are thriving

online.

Ultimately, the players in Monsterkill "don't

struggle to escape the game," Horrigan says. "They

struggle with why they're there." Eventually, they

reach a point where "they're no longer able to answer

that question."

Empire of the Son at Gateway Theatre

Nov. 8-17

When Tetsuro Shigematsu first debuted his one-man

show at The Cultch a few years back, Vancouver took

notice. In it, he fiddled with toys, played recorded

conversations between himself and his father, and

employed the use of a camera to paint an intimate

portrait of his father, who had only just passed

before the first performance. Colin Thomas, still at

The Georgia Straight, called it "exquisite."

Since then, Shigematsu has taken Empire all over

Canada. Time, nevertheless, has not made the piece

stale. "Because the text is so much in my body, I'm

at a point where when I'm onstage, if I take a breath,

I genuinely do not know what I'm about to say until

I begin to talk," he says. "It's as if the lines of the play

are occurring to me for the first time. Sometimes this

show just hits me and I'm knocked over."

See this one while you can, folks. Once it wraps

here, Shigematsu takes "=Empire abroad. It ain't

coming back.

The Enemy at Firehall Arts Centre, Nov.

10-Dec. 1

In case you didn't hear, the United Nations came out

with a climate report in October essentially saying

that humanity is screwed. (We're not panicking,

you're panicking.)

As if on cue, Firehall is mounting a production of

Henrik Ibsen's "Enemy of the People" this month. The

play, written over one hundred years ago, depicts

the timeless-yet-quite-timely battle between the

environment and the economy. In it, we follow Dr.

Stockmann, a scientist who raises concerns over the

safety of a community's water. The townspeople,

whose income is dependent upon the local baths,

don't take too kindly to their livelihoods being

threatened. For this contemporary take, Firehall has

added another dimension by making Dr. Stockmann

a woman. We can only assume that her gender will

make everything easier for her, right?

If any of this is giving you existential angst,

there's always the option to binge watch cat videos.

Honestly, we might just go do that.

Photo by Pedro Meza

TICKETS AVAILABLE AT THECULTCH.COM

Jenn Griffin and Paul Herbert star in The Enemy, an interpretation of Henrik Ibsen's An Enemy of the People.

10

November 2018
---
Pretty little birds harass diners

on the Vancouver Art Gallery's

cafe patio. They're starlings. Perched

on empty chairs, they tilt their heads,

begging for food. They're here because

in the 1890s a group of Shakespeare

enthusiasts released starlings in

New York's Central Park. The North

American landscape agreed with

them, and they eventually spread to

B.C. They compete with several native

species for nesting space and food.

By Lauren Donnelly

Since they moved in, woodpecker,

martin and bluebird populations have

declined. They're an invasive alien

species, and true to eurocentric form,

they're now invading the art gallery

patio. One aggressive starling flaps its

wings, interrupting artist Dana Claxton

mid-sentence. She acknowledges the

imported bird. "They're bossy things,

although they're pretty," she says.

"You could say the same thing about

colonialism, right?"

From the mid-1990s to today,

Hunkpapa Lakota artist Dana Claxton's

work has examined and challenged

colonialism. Its footprint is wide and

deep in Canada, and Claxton is skilled

at recognizing its impacts. Using

performance art, video installations,

text-based work and photography, she

explores the intersections of colonial

ideology, indigeneity, beauty, identity,

history, culture and spirituality. A survey

exhibition of the Vancouver-based

artist's work from the last 28 years is

now on display at the Vancouver Art

Gallery.

The exhibition is called Fringing

the Cube. "The cube" is artist Brian

O'Doherty's theoretical analysis of the

gallery space as a white cube. The fringe,

Claxton explains, is a foundational

part of Sioux plains aesthetics. It's

like a living thing. "A lot of the plains

dances are based on the relationship

with the natural world," she says. "The

grass dances emulate the wild prairie

grass, the wild chicken dance, the crow

hop, they all have those relationships

and so there's certain ways that you

move your fringe for certain reasons."

Through Indigenous aesthetics, the

sterile, intimidating, western gallery

space aesthetic comes alive with the

landscape it's built on.

Landscapes have had a formative role

in Claxton's work. At five-years-old she

longed to be a filmmaker, and growing

up in Moose Jaw, the sky might have

had something to do with it. "That sky,"

she says. "It's like the largest screen in

the world." Living in Vancouver she

misses the thunder, and the wind of

the prairies. The marriage of sound,

image and music intrigues her. She's

collaborated with local musicians

including Lil'wat Nation composer

Russell Wallace and Coast Salish hiphop

artist Ostwelve (Ronnie Dean

Harris). Most recently, she's worked

with her nephew Mitchell Claxton,

he's a DJ and EDM producer based in

Alberta. She says as a first generation

MuchMusic viewer, the aesthetics

of music videos have influenced her

work. When she's working, music helps

her conjure things up. Her playlist

includes a range of genres from peyote

to rap, hip-hop to Chopin –– whose

compositions can make her cry –– to

EDM. She's not a hundred per cent sure

of where the music genre boundaries

begin and end, but on the weekend she

saw Diplo perform. Her review? He was

incredible.

When she moved to Vancouver

in the early '80s the punk scene was

still exploding. Her boyfriend was a

drummer in a punk band, and going

to his gigs introduced her to a whole

different world. "I got thrust into the art

scene and observed it for a long time,"

she says. "Because art has a relationship

to class and privilege, it's mysterious."

Then she took a job working at the

Helen Pitt Gallery. And that changed

everything.

The Pitt was an artist-run centre.

Artist-run centres first cropped up

in the '60s as a response to the lack

of works by local artists in public

art galleries. "That was how I started

out," says Claxton. She calls herself a

late-bloomer in Vancouver's art scene,

"wanting to think about how to have

Photo by Zee Khan

Dana Claxton Flips the Colonial Script

different voices within art and not just

the west. 'Cause the west doesn't just

own art."

Ownership is a powerful theme in

Claxton's work. For too long, Indigenous

representation has been co-opted by

colonialism. Just watch an episode of

APTN's series First Contact and you'll

hear the sort of ugly stereotypes that

the mainstream media has used to

represent Indigenous cultures. The

docu-series challenges perceptions of

mostly-caucasian Canadians by bringing

them to Indigenous communities.

Claxton says that any kind of

conversation is good if it brings people

together. Colonialism has caused a

cultural distancing with systems like

residential schools and reservations that

kept people apart. "Put people on a

plot of land and build a barrier around

it and then they become scary," she

says. That fear is part of our beautiful

country's ugly, brutal history.

"I heard someone say the other day,

post-reconciliation," she says. "And I

thought post-reconciliation already?

People don't know. They just don't

know, and education is implicated in

that not knowing." As an educator at

the University of British Columbia's

Visual Arts program, Claxton recognizes

that reconciliation is a fraught process

that many people still don't understand.

Through teaching, she's realized that

many of her students don't know

about Canadian realities. Not knowing

means there's a risk of history repeating

itself. For years her art has unpacked,

demystified and debunked Indigenous

representation in art and pop culture,

and offered another perspective. She

doesn't create to educate, but her art

is intuitive, and Canada's racist history

has impacted her and her family. "It

impacted my own psyche and who I

am as a Lakota Canadian woman," she

says. "That interests me." Pursuing that

interest spurs her creativity.

Her photographic work is bold and

impactful. In Headdress-Jeneen (2018),

artist Jeneen Frei Njootli sits dressed in

black, bedecked in beadwork –– from

bracelets, to a pink beaded ball cap, to

a moccasin pressed against her chest.

Her face is obscured. We can't see her

and we can't quite tell if she can see

us. It's part of a series inspired by the

phenomenon of Indigenous women

wearing their beadwork only to receive

unwanted touch. "I hear that story over

and over," Claxton says. "Why people

think they can reach out and touch

Indigenous things on somebody's body

is remarkable. There's something up

there in terms of privilege, I think."

Headdress, the first piece in the series,

shows a woman whose face is hidden

by beadwork from Claxton's own

personal collection. After that she asked

others to bring in their collections to be

photographed. Claxton said she knew

Jeneen's image would be powerful.

"Even to shoot that photo, it became

this heightened experience," Claxton

says. "Those things have their own

energy, their own manna, and they're

made by people in her community

and her family so that whole thing was

vibrating, it was alive."

Far from frivolous, aesthetics are

powerful. The Canadian government

recognized that power when it created

the Indian Act. The Act forbade

Indigenous people from wearing their

regalia, practicing their traditions,

and speaking their own languages.

Claxton is still floored when she

thinks about how Indigenous cultures

were criminalized. She works with

Indigenous aesthetics because they're

beautiful. She finds beauty, like art, is

everywhere. But she insists it needs

to be reframed outside of judgement,

class, and privilege. "You just have to

reclaim all this stuff and own it yourself

and have your own interpretation," she

says. "There's not just one definition or

analysis of beauty. That'd be crazy!"

Canada's beauty belies an ugly

past. A country of peace and liberty

that has developed at the expense of

suppressing Indigenous people and

extracting their land. It's a dynamic

contrast symbolized by the beautiful

sleek starlings on the Art Gallery patio.

Claxton's conscious awareness makes

her art so powerful. She observes

everything, really sees things, and then

turns those observations into art. Art

that has the potential to open people's

hearts and minds.

"First of all the image is in your mind,

then you create it in the studio, then

it goes into the public," she says. "Into

the cube –– the gallery –– and then

the life that it has after that becomes

a shared experience. The viewer has an

experience with it and they take that

experience and tell somebody at work.

That's the spirit of art, of how it exists.

It's really generous."

When you think of it that way

you can see why imperialists found

Indigenous art so threatening, and why

the artist's autonomy is so important.

As her first survey exhibition

approaches, Claxton is understandably

reflective. Surveying what she's been up

to all these years has been a remarkable

experience for her. "At the end it's a

relief," she says. "But at the moment

it's scary, daunting and uplifting."

She laughs. "So I think those are all

good things." As for Canada's odds of

reconciliation, Claxton's optimistic

that it can happen with a shift of

consciousness.

"It will all work itself clean," she says.

"It'll all work itself clean, but it's going

to take awhile yet."

Dana Claxton: Fringing the Cube is

on view at the Vancouver Art Gallery

October 27, 2018 to February 3, 2019. A

catalogue of her work co-published by

Figure 1 Publishing & The Vancouver Art

Gallery is available for purchase online

and at the Gallery Gift Shop.

November 2018 11
---
COMEDY

BRIAN POSEHN

CUTTING BOTH A FEARSOME AND FEARLESS PERSONA

JOSH SHEPPARD

Photo by Seth Olenick

Brian Posehn has written a comedic memoir detailing the memorable moments of his life.

ED THE SOCK

RETURNING TO WAGE WAR ON STUPID

JOHNNY PAPAN

Very few of us can resoundingly say we've followed

our hobbies and had them turn into a successful

career. Brian Posehn is one of those lucky people

who has done so while also staying true to his

innate sensibilities. The comedian is doing a stand

up tour as well as promoting his new book, a

memoir full of heartfelt anecdotes regarding his

formative years and experiences with his heroes.

In the flurry of changing and shifting landscapes,

the comedian, actor, and writer has been able

to have a consistent output of projects that feel

true to his sensibilities as an artist. Despite being

involved in basically every sitcom from the '90s,

Posehn is still able to recollect the best moments of

being in a good writers' room.

"Being a 20-something and getting the chance to

work with Bob Odenkirk and David Cross was one

of the most rewarding experiences of my career,"

says Posehn. "Bob was the true show runner of 'Mr.

Show' – he is one of the only people I would call a

comic genius. He would see the potential in all of

our ideas, whether they worked or didn't, and this

helped me learn about the process. 'Mr. Show' is

still one of my favourite projects that I've worked

on."

Having an unabashed interest in the "nerdy,"

Posehn doesn't care what you think – he's going to

do projects that interest him.

"I have been involved in a huge number of

differing subjects. I'd say I've had a dream life in

regards to the people I've met and had the pleasure

of working with. Just to name a few, I've worked on

the Deadpool comics as well as working with Rob

Zombie in The Devil's Rejects where I got brutally

murdered. I've worked with Spielberg and even had

the late great Ronnie James Dio come to my house."

Fantasies are sometimes best defined by the

hobbies we choose to live through. Dungeons &

Dragons is one of the most creative and immersive

activities, brimming with unlimited potential. Stand

up likewise retains similarities as a storytelling

outlet. The individuals involved must create their

own narrative with a certain dynamism that always

contains different variables at play.

"The unlimited potential and imagination of it all

is very enriching to create what could be described

as pure fantasy. The storytelling aspect really does

have a connection with stand-up in that you can go

anywhere with it."

Having your niche hobbies directly tied to your

showbiz persona for many could be seen as a

pitfall, potentially too alienating for a mainstream

audience. But Posehn's ability to continue to work

on mainstream sitcoms while still being able to

reach a dedicated alternative audience shows that

you must be fearless in what you enjoy.

Catch Brian Posehn November 15-17 at Comedy Mix.

Ed the Sock is much more than a mere sock

puppet. He's also kind of an asshole. But he's an

educated asshole with strong statements and a

charming knack for calling out stupidity when

he sees it. The gruff-voiced, green-haired, cigar

chomping personality is a key figure in historical

Canadian pop-culture and entertainment. Now,

he is set to embark on his coast-to-coast "War on

Stupid Tour" which will see him unapologetically

comment on modern day societal bullshit such as

fake news, culture wars, outrage warriors, the altright,

the radical left, and much more.

"I have had so many people over the past few

years asking me to come back and speak truth

to morons. I could no longer say no," Ed explains.

"People are aggravated and frustrated that nobody

is out there expressing the views of the average

intelligent Canadian, because reasonable voices

get drowned out. But nobody drowns me out. I

look forward to pressing the flesh during the tour.

In a figurative sense, not like Weinstein or Cosby. I

can be an asshole, but I am an asshole in service of

non-assholes. Someone needs to be your voice."

Ed is known for hosting a slew of shows from

the mid-'90s to 2000s including Ed's Night Party,

Ed's Nite In, I Hate Hollywood, This Movie Sucks!,

and the list goes on. He is best known for his work

with MuchMusic during the channel's golden

years. Ed, upset with MuchMusic's change in

character over the last several years, made a video

12

entitled "Who Murdered MuchMusic?" which was

ordered to be taken down by the channel's current

owners, Bell Media.

"MuchMusic is dead. They dropped the 'music'

from their name a few years back, so now it's just

called 'Much,' which is ironic because they are

clearly 'Less,'" Ed says. "It was a revolution in how

TV looked, felt, and sounded, a rejection of the

norms of the TV industry. Then management

stopped valuing the channel's uniqueness and

started trying to emulate traditional television. It

isn't Bell that killed it – they inherited a channel

that had already shit the bed. They just changed

the sheets."

Now, Ed the Sock, alongside creator Steven

Kerzner, hopes to restore and revitalize the energy

of MuchMusic through their own web-based

platform: the FU Network, which will feature a

plethora of brand new shows like Hey Ladies,

Shooting the Shit, and other comedic programs.

Old school Ed the Sock fans will be excited to hear

that one of his most popular showcases, Fromage,

will be returning as Fromage: The Cheesy History

of Music Videos, a weekly show that will comically

cover music videos from the 1950s to modern

times.

Ed concludes: "People can now customize what

news biases they immerse themselves in, what kind

of opinions or information they get. They try to

edit out the outside world and get outraged when

the outside world pokes through. We've made

ourselves stupid. Someone has to shatter the shell

people have built around themselves, and so far, I

don't see anyone stepping up. So here I am."

Ed the Sock performs at the Upstairs Cabaret

(Victoria) on November 28 and the Biltmore

Cabaret (Vancouver) on November 29.

The web-based FU Network aims to restore the energy of the classic MuchMusic era with Ed The Sock.

November 2018
---
KNIFENERD

THE STUDENT BECOMES THE MASTER

JEEVIN JOHAL

Owner Kevin Kent is dedicated to the knife life.

GOODWILL LAGER

A BEER BREWED FOR THE KIDS

JORDAN YEAGER

The holiday season is about spending quality

time with those closest to us – gathering for

family dinners, drinking hot chocolate, and

expressing our gratitude for what we have. It's

a time for reflection and generosity. But when

you're a kid, it doesn't hurt to also receive a

gift or two to show off to your friends come

the new school year.

For some families, providing gifts for their

children doesn't come easy, and it can fall

to the wayside in favour of more necessary

expenditures. Enter Goodwill Lager, a beer

brewed and designed in collaboration

between Red Truck Beer Company and

Donnelly Group. They've brewed 10,000 cans,

and one dollar from each can purchased at

any Donnelly location will go towards a toy

drive held on December 3.

"It started as a bunch of managers just

grabbing toys and donating them to kids,"

says Donnelly Group Director of Marketing

Damon Holowchak. "Now, it's evolved to

include each member of our staff, which

is over 1,000 people. We give them $50

Toys 'R' Us gift cards and they purchase an

unwrapped toy that becomes their entrance

to our Christmas party. The Salvation

Army comes and picks them up, they fill

wish lists the best they can, and those toys

A Samurai without his sword is no different

from a chef without his knife. The relationship

forged between steel and the one who wields

it is a natural romance, and although both

individuals are intelligent and adaptable in the

face of adversity, an extreme vulnerability exists

without the possession of a sharp blade.

Owner and President of Knifewear, a

Japanese knife shop in Vancouver, Kevin Kent

knows this well and has devoted his life to

showing both chefs and home cooks alike

what power lies in a handmade Japanese knife,

despite initially being a skeptic himself.

"In 1999, I was working in London, England

and I found a booth with this guy selling a

bunch of Japanese knives, and I said to the

man with confidence: 'Look, I'm a chef. I keep

my knives razor sharp,'" explains a slightly

embarrassed Kent. "I grabbed his knife and gave

it a big windup to slice through a tomato and it

blazed through and stuck in the cutting board!

I fell in love."

Kent quickly developed an insatiable lust

for all things metallic, collecting knives and

selling them to friends when he returned back

to Canada.

"I used to be like that weed dealer in college

who sold weed to [smoke it]," admits Kent.

"My idea was to sell a few knives to buy more

are distributed to children that might not

normally have toys at all. We're over a million

bucks in toys given away."

Though the toy drive has been held for 18

years now, Donnelly Group has never quite

figured out a way to engage the public in

their initiative. That all changes this year with

the introduction of Goodwill Lager. At each

of their venues on both the east and west

coasts, tall cans of the beer will be added to

menus from November 1 until December 3.

"We didn't ever include the public as well

as we could in what we thought was a really

good initiative, because it was mostly an

internal party for staff," says Holowchak. "We

always wanted to get our guests involved,

and this year we found a way that we can all

talk about the toy drive and allow them to

get involved in a pretty simple way. We're

encouraging all of our customers to come in

and drink a beer – which they're probably

going to do anyway with us – but this way,

you can give some money for toys for kids.

Hopefully, with a buck each, at least $10,000

will be donated in addition [to the $50 per

staff member] for more toys."

You can find Goodwill Lager at any Donnelly

Group venue from November 1 to December 3.

so I could open a restaurant and it got out of

control."

The restaurant idea was quickly abandoned

once Kent saw how lucrative his business

model was becoming, and now with four stores

across Canada, Kent has decided to chronicle

the teachings bestowed upon him through his

frequent journeys to Japan in an aptly titled

new book, The Knifenerd Guide to Japanese

Knives.

"Other books focus either on how to sharpen

knives or the real nuts and bolts of how to use a

knife," says Kent. "Cool, but we wanted to focus

on the blacksmiths and the craftsmen who

make them."

It takes much time, strength, and discipline

to become a Samurai or a chef, and as

comfortable as Kent is with a knife in his hands,

he openly admits he's only just begun his

training in the ways of the almighty pen.

"I'm a burnt out chef. I don't fancy myself a

writer, and I wasn't optimistic or particularly

confident when I started," he confesses. "But I

think what we've turned out is a book I really

love."

The book launch for A Knifenerd Guide to

Japanese Knives takes place at Knifewear (Main

St. location) on November 7.

RIO

THEATRE

1660 EAST BROADWAY

NOVEMBER

COMPLETE LISTINGS AT WWW.RIOTHEATRE.CA

November 2018 13

NOVEMBER

1

NOVEMBER

2

NOVEMBER

3

NOVEMBER

4-5

NOVEMBER

7

NOVEMBER

9

12

15

16

22

TO

25

28

PAUL ANTHONY'S

TALENT TIME!

First Thursday of Every Month!

Blues Legends

SUE FOLEY & JIM BYRNES

THE ROCKY HORROR

PICTURE SHOW

Friday Late Night Movie

THE BIG BAD FOX

& OTHER TALES

CHILLY GONZALES:

SHUT UP AND PLAY THE PIANO

SWEET SOUL BURLESQUE:

15 Years of Ferocity

BEST F(R)IENDS

VOLUME 1 & 2

+ THE ROOM

Hosted by Greg Sestero!

BIRDS OF CHICAGO

with Daniel Rodriguez

Vancouver Premiere!

THE ORCHARD

Cast & Crew in Attendance

BATMAN:

MASK OF THE PHANTOM

Friday Late Night Movie

NOVEMBER The Fictionals Comedy Co. Presents

IMPROV AGAINST HUMANITY

#IAHATRIO

30

BACK TO THE FUTURE

Friday Late Night Movie

DUNKIRK

NOVEMBER

KITTY NIGHTS BURLESQUE:

THE LAST MEOW

11

Their FINAL Burlesque Show

NOVEMBER

NOVEMBER

NOVEMBER

NOVEMBER

18

21

NOVEMBER

Hard Rubber Orchestra

Presents:

A TRIBUTE TO KING CRIMSON

SEINFELD BURLESQUE

MARIA BY CALLAS:

IN HER OWN WORDS

THE RIO GRIND

FILM FESTIVAL!

VANCOUVER'S FAVORITE

GENRE FILM FESTIVAL!

Details at www.riotheatre.ca

NOVEMBER THE CRITICAL HIT SHOW!

NOVEMBER

A #DNDLIVE IMPROVISED

EPIC FANTASY!

#DNDLive

The Geekenders Present

DISNEY "Big Band"

BURLESQUE

CITY
---
JAMILA POMEROY

Grassifieds

CANNABIS

LEGALIZATION

IN BRITISH

COLUMBIA:

WHAT YOU

SHOULD KNOW

On October 17, Canada became the second

country in the world to fully legalize cannabis,

second to Uruguay. During the first 24 hours

of legalization, B.C's online legal government

cannabis sales came in at around 10,000

individual sales, and about 100,000 individual

sales at the Ontario online legal government

cannabis store. While the province is roughly

three-times the size of B.C. in population, our

sales are still significantly lower than Ontario,

when broken down to a population size more

comparable to B.C.; if Ontario were to have a

similar population as us, their average online

sales would have come in at around at over

30,000, three-times more than B.C. The online

sales have since dropped to about 8,700 a

week and have been projected to continue to

drop. It's hard to say at this point whether the

low sales are due to the province's allegiance

to the grey-zone cannabis infrastructure that

was in place prior to legalization, or to the

talked about inferior government cannabis:

perhaps British Columbians have been spoiled

living in Canada's Amsterdam.

Regardless of low sales there seems to be a

slightly more noticeable essence of the green

stuff in the Vancouver air, with dispensary

line-ups larger than usual. The government

of Canada is clearly putting light on the

recreational use of cannabis, steering from

touching on the medicinal side of the plant,

hopefully just for the time being. When

calling into the government's online store

call centre with questions about cannabis, in

regards to health and ailments, you will most

likely be given vague information that steers

clear of offering health advice, and lacks the

resources to direct you to said health advice.

The Health Canada born Medicinal Cannabis

program still remains, but it appears the

legalization and sudden social acceptance of

cannabis has further embedded medicinal

programing: making light of British

Columbian stoner culture, while leaving

medicinal patients in the dark.

Despite the newfound acceptance of the

plant, there seems to be much confusion over

the laws and regulations surrounding. Here

are some crucial things you should know

about cannabis legalization in Canada:

Who is eligible?

You must be 19 years or older to buy, use,

possess, and grow non-medical cannabis.

Exemptions are made to those with medical

cannabis permits.

Where is cannabis sold, and

how do I know the cannabis I am

purchasing is legal?

Cannabis will be sold exclusively at

government-run stores, licensed private

retailers, and the B.C. government's online

store. While prior to legalization, dispensaries

were monitored by their respective police

and municipal forces, licensed private retailers

will now be both monitored and licenced

by the Liquor and Cannabis Regulation

Branch. Non-medical cannabis is to carry an

excise stand on its packaging, similar to the

stamp found on tobacco: the excise stamp

acts as verification that the product is from

both a licenced grower and retailer, while

assuring the correct tax has been paid. All

cannabis products without this excise stamp

are not legal. Medical cannabis purchasers

will continue to purchase through the

government.

How much can I carry and grow?

Adults 19+ are permitted to carry up to 1,000

grams of dried cannabis in a public place, or

your own home. Connective, you may not

grow more than the allotted 1,000 grams;

projections should be based on the expected

yield from four cannabis plants (limmit four

plants per-household). Exemptions are made

for medical cannabis permit holders.

Where can I use cannabis?

Public use laws follow suit of tobacco

smoking laws, excluding smoking in

communal spaces such as playgrounds and

sports fields. Cannabis users are prohibited

from smoking within six metres of air intakes,

windows, and doors. While smoking tobacco

is illegal in most indoor facilities, smoking

Photo by Ryan Walter Wagner

cannabis in hotel rooms for example, is legal,

should the hotel permit it. Exemptions are

made for medical cannabis permit holders.

Like alcohol and other impairing substances,

it is illegal to drive while high; there has been

no differentiation yet made, in regards to

whether the consumption of isolated CBD

based cannabis products can be legally

consumed prior to driving. Consumption in

or on private property is fully legal, however,

renters must abide by landlords, strata

council rules.

While it is clear that the focus of

legalization and cannabis legislation has

been on non-medical cannabis, medical

cannabis, and the medical cannabis program

is still available to those with the proper

corresponding ailments. Carriers of medical

cannabis permits will still be governed

by many of the prospective laws set prior

to legalization; there are exemptions for

use of Health Canada authorized medical

cannabis on school property and on intercity

busses, trains, and boats as long as specific

requirements are met. Specific details of

Health Canada authorized medical cannabis

law can be found in the updated Order in

Council No. 542, updated this October;

although they are not written in layman's

terms, providing as information inaccessible

to the general public, without the presence

of a law professional, or persons familiar with

reading legislative amendments.

If the first few weeks of cannabis

legalization have told us anything, it's

that British Columbians appear to have a

greater trust or allegiance to the existing

ecosystem of cannabis; a system that has

been built on grassroots and not a glass

ceiling, encompassing both the recreational

and medicinal attributes of cannabis. We

can only hope the government will follow

suit, providing accessible information to

Canadians, and products that serve a wide

range of consumers.

For more information on cannabis legislation,

law, and the corresponding amendments, visit

cannabis.gov.bc.ca

STRAIN-OF-THE-MONTH

Black Tuna

Black Tuna is a hybrid strain developed in British Columbia

by 5 Star Organic. The strain was bred specifically to help

offer fast relief to those dealing with chronic pain. It has

gained widespread fame as a cross between parent plants

Herijuana and Lamb's Bread. The high THC strain is known

for its strong narcotic effects and whimsical marketing

from back-in-the-day; prepackaged flowers were sold in

sealed tuna cans. While the strain may have a strong smell,

it is in fact quite earthy, rather than the assumed contents

of a tuna can. Due to the strains high potency, it may not

be best suited for moderate or novice users.

Written by Jamila Pomeroy

14

November 2018
---
STREET/ROUTE

By Chris Dzaka | Photos by Timothy Nguyen

BeatRoute hits the pavement in

Vancouver and asks…

"

What do you waste your

money on the most?

Cyndi Dallow, shopper

"Eating in restaurants. It's a lot more expensive than

grocery shopping and cooking at home. Especially

with not eating breakfast or bringing a lunch to work.

Before the afternoon even hits I've had something I've

picked up along the way for breakfast and something

I have to buy for lunch. It's the snooze button tax.

Jesse Smith, barber at Uptown

"Shoes. I don't wear them a lot. I don't wear the ones I buy a lot. I

pack them away and save them for a rainy day, then I don't end up

wearing them for months and months. I'm a sneakerhead!

Kayla Robins, pizza restaurant employee

"Food and clothing. Nobody needs to go out

every single night and buy a $54 steak.

Aundre Cade, construction worker

"My son, who's 17 and has to eat and plays

football for New West. He's 6'2'' and 245 lbs.

And he should have a job at 17.

Dejan Stanic, Cartem Donuts

"Maybe adult vinyl toys. Like the art toys. I spent like $200 on

a dissection, it's like an art piece but at the same time, why

did I spend that much money on a toy? That's when I get

buyer's remorse. I'm an adult man, why do I have toys?!

Riley Dickson,

Harley Davidson mechanic

"I'd probably say it's an even tie between

rent in the city and the activities

available to do in the city. I do think

rent is pretty crazy around here. That's

a big part of people's costs. But also the

culture, the night life, and the activities

available. It's super expensive to be here

but you get what you pay for.

Anthony Tse, restaurant manager

"Alcohol. I get value out of it – it's like buying a car.

Once you get the car off the lot, it's like you lose 30 per

cent. I could eat beans and rice all day, but where's the

enjoyment?

Jessica Blaquiere,

barber at Uptown

"Graphic novels and books. It's

not really a waste. I guess it's a

waste because it's not completely

needed. Sometimes they sit

there a while until I actually get

to them.

Holly Figueroa, stay-at-home mom

"I don't know if it's a waste, but coffee. It adds up

over time when you're getting one every morning or

sometimes twice a day. On average I spend $3.50 to

$4.50 a day, if not more. Then I usually buy a bag of

coffee once every two weeks.

November 2018 15
---
MUSIC

WE ARE THE CITY

LOOKING BACK AND BREAKING FREE

SAFIYA HOPFE

With two new albums under their belt, We Are The City are an unstoppable musical force.

If there's anything Cayne McKenzie, Andrew

Huculiak and David Menzel have mastered

in their decade spent playing music together

as We Are The City, it's tapping into the

hearts of listeners with raw energy and

vulnerability. Tracks like "Time, Wasted" and

"Astronomers" captured the Vancouverbased

trio's capacity to blend deeply melodic

melancholy with sharp intensity back in 2009.

Since then, albums High School (EP, 2011)

and Violent (2013) have hooked fans with

percussive variability, blunt lyrical awareness

and authentic emotion. Above Club (2015)

shattered any delusions that they might

CHINA SYNDROME

VANCOUVER POWER POP BAND HIDES IN PLAIN SIGHT

COLE YOUNG

It's far from China Syndrome's first rodeo.

Having just released their fourth studio

album, Hide In Plain Sight, they've designed

their own melodic sound fitting best under

the title of power pop. The local four-piece

have been working with producer David

Carswell (New Pornographers, Destroyer)

since the beginning, making sure to give their

records that polished touch, and their latest

offering is no exception.

This time, however, the band

experimented more with mixing up the

16

become predictable and now, three years

later, they are returning, with two albums —

RIP and At Night — prompted by a return

to their roots as individual artists and as an

unstoppable collective force.

Drummer Andy Huculiak describes the

experience of working on the first of the two

albums – RIP– from Cayne's childhood home,

triggering nostalgia and a layered search for

creative freedom. "It was really potent. We've

been a band for over ten years now and that's

a long time, a lot of things happen and things

change. I would say that a lot of the music

we make is influenced by where we make it,

China Syndrome's latest, Hide In Plain Site, is a collective power pop rock offering.

Photo by Kristen Huculiak

and we were kind of hitting a wall at a studio

here in Vancouver, and were like, 'Okay, how

do we get out of this? How do we change

things?' And so we decided it would be a

good choice to kind of go back to where it all

started and that just proved to be the ticket."

The second of the two albums, At Night,

is an emotionally-charged palette of hazy,

dirty etherealism. At once erratic and still,

quiet and hectic, it proves the band's self

awareness, and capacity to balance full

creative freedom with mastery of all they

have come to be renowned for. "WHEN

I DREAM, I DREAM OF YOU" strikes a

balance between simple, almost corny lyrical

content and a truly idiosyncratic sense of

rhythm and progression. "CHOICE IS UNLIKE

ANYTHING" is under two minutes long and

as chaotic as anything else on the album,

but through its punchy asymmetry manages

a fully formed and poignant narrative arc.

Self-engineered, self-produced, and selfmastered,

At Night truly epitomizes the

freedom the trio aspired to in making it.

It also demonstrates the focus required to

produce a well-rounded masterpiece in such

a pressureless environment.

We Are The City perform November 8 at Lucky

Bar (Victoria).

songwriting responsibilities. Prior to this

album, vocalist and guitarist Tim Chan

was the primary composer but for this

offering, the rest of the guys : Vern Beamish

(guitar), Mike Chang (bass) and Kevin

Dubois (drums) hopped on the writing train,

bringing out interesting new layers to their

sound. Together the band moves in step

from the Red Hot Chili Peppers-esque funky

sounding track "State of Mind" to "Nowhere

To Go," a tale of the regular guy being worn

down by the repetitiveness of the nine-tofive

lifestyle, to the sorrowful track "Empty,"

which is about coming home and realizing

a loved one has mysteriously disappeared.

The effect of multiple contributors gives you

something new to chew on the whole way

through the album.

When asked about the pros and cons of

self releasing albums, Chan expresses that

it's always nice to have complete control.

"You know we'd love to have some help for

sure. We've talked about doing a Go-Fund-

Me sort of thing, but we then feel like we're

putting the onus on other people. We don't

like obligating other people." A humble way

to go about making art, most of the band

makes their income by artistic means on

the side as well. Through visual art, film and

teaching music, these guys stay busy being

creative.

Looking forward, China Syndrome plan

to continue to play as many local and out of

town shows as possible while having a great

time making new music.

"The most important goal is to have fun,"

Chan says.

Hide In Plain Sight is out now on LP, CD and

all the streaming services.

WOODEN HORSEMAN

GO SOUTH WITH PAST LIVES

JEEVIN JOHAL

The mystic of the American South has long been a source

of musical inspiration for decades of songwriters. Grab any

legendary rockstar's autobiography and there will likely be a

chapter on the artist's affinity with the kaleidoscope of sounds

and blue collar, working class stories that came from this region.

On their latest record Past Lives, Vancouver outfit Wooden

Horsemen romanticize their own version of Americana. "It's

the most passionate music ever recorded," declares singer

Steven Beddall. Fellow singer, Missy Cross adds, "There's

something deeply mysterious about some of the themes that I

love." Together the two vocalists intertwine personal spiritual

reflections and stitch soulful, gospel harmonies to their signature

gritty, rhythm and blues rompers. But don't let these lyrical

meditations on divinity fool you, Wooden Horsemen ain't no

Sunday School band.

"I grew up in the Church, but I'm not a religious person now,"

confesses Cross. "But it shaped me and gave me the tools to ask

the questions of, 'What is spirituality? What do I believe in?'"

Beddall, also once a childhood patron of religion, bears the same

feelings."[Past Lives] is not necessarily a Christian record, I'm not

trying to espouse a strictly Christian outlook in the music," he

says. "It's largely an acknowledgement of the past."

This allusion to days gone by is carefully crafted through the

narrative of Past Lives. From the opening declaration in "Lies," to

the final, delicate harmonies of "I've Been Changed," Bedall and

Cross guide us on an emotional journey through their deepest

inspirations, while never allowing the instrumentation to get

too messy or convoluted with so many moving parts. Having

originally been conceived as a three piece, Beddall explains,

"Stylistically I have to keep in mind that the sound is going to

be much larger and more intense. Its changed my approach to

[songwriting] in a positive way. It's a challenge for me."

At the core of the record, Past Lives once again capitalizes

on the band's ability to get the people shakin'. "I feel a little self

conscious or self aware when it's too quiet and I'm sitting down,"

reveals Beddall. Cross, never short on infectious dance moves,

laughs, "I always call myself the hype girl because I look over and

make sure everyone is having fun." As the Wooden Horsemen's

sound grows, so too does their congregation.

Wooden Horsemen perform at the Wise Hall (Vancouver) on

November 3.

Photo by Scott Little

Wooden Horsemen question beliefs and spirituality on Past Lives.

November 2018
---
FRANKIE COSMOS

GETTING LOUD AND SHOOTING FOR THE STARS

JUDAH SCHULTE

THE GARDEN

THE JESTERS OF ORANGE COUNTY

MARYAM AZIZLI

MUSIC

Vessels is Frankie Cosmos' largest and loudest release and it demands to be heard.

Before Frankie Cosmos became one of the

most notable indie-rock quartets out of New

York, it was Ingrid Superstar, a pseudonym

for frontperson and songwriter, Greta Kline.

Sincere and full of thoughtful observation,

Kline's songwriting has been gaining attention

since she began releasing music at age 15. The

earliest of the 50+ releases on her Bandcamp

page are rough demos that seem to embrace

imperfection, their lyrics sung at a level just

above whispers. Though the Greta Kline of today,

with the support of her bandmates and the help

of Sub Pop Records, has raised her voice, in every

Frankie Cosmos song there is a whisper of Ingrid

Superstar, a young woman who is watching,

feeling and demanding to be heard.

Vessel, the groups third full length studiorecorded

LP, is their largest and loudest release

to date. The record is one of dimension, each

instrument exploring the reaches of each song,

playing in and around Klines lyrics like kids on

a playground. Dynamic drum parts drive the

album at steady trot while bright synth tones

invite the listener to stop and enjoy the view.

Although the glitter of tight production is what

sets Vessel apart from their back catalog, at no

point does the record lose the intimacy that is so

characteristic to Frankie Cosmos.

Considering the 10 years of consistent releases

and the 18 tracks on Vessel, one might assume

that Greta Kline's songwriting well is everflowing,

and they would be correct.

"I think writer's block is mostly just a fear of

failing," says Kline. "So I just write bad stuff a lot

and that's how I don't get writer's block. I think

for me, I'd rather write something bad than not

write at all."

Photo by Angel Ceballos

It's this imperfectionistic approach to

songwriting that makes Frankie Cosmos' songs

feel so candid. The compulsive process behind

Klines music could be equally responsible for it's

recurring themes or figures, perhaps the most

frequently recurring figure being JoeJoe the

dog, Greta Kline's late, great furry companion.

Throughout Kline's songs, which are wrought

with emotion, with love and the loss of it,

sometimes JoeJoe's memory acts as a sort of

allegory for heartbreak, at others a symbol of

purity.

"He was always around, hanging in my room

with me while I wrote songs, and just was kind of

my confidante," says Kline. "I was out on a walk

with him when I met my first love. JoeJoe was

basically just by my side through a lot of my life,

and I love him a lot."

Though our poet has lost a dear friend,

she has made others. Having met the half the

members of her band at shows, Frankie Cosmos

is built like a form of indie-supergroup. On

drums we have Luke Pyenson of Krill, with Alex

Bailey from Warehouse playing bass, and on

the keyboard is Kline's childhood friend, Lauren

Martin.

Greta Kline writes songs for those bussing

home alone, or the ones who's clothes never

seem to fit quite right. She writes for the people

at the party who spend the whole night petting

the dog, and with her band turning up both the

volume and the tempo, Frankie Cosmos has a

better chance of catching their attention before

it returns, again, to the puppy.

Frankie Cosmos perform November 9 at the

Biltmore Cabaret.

Born and raised in Orange County California, twins

Wyatt and Fletcher Shears formed the Garden

in 2011 at the age of 17. According to them, the

"origin story" of the Garden is considerably less

exciting than what came after. Despite the brothers

having walked the runways for Yves Saint Laurent,

Hugo Boss and Balenciaga — no big deal — music

is the beginning and end for the duo.

The Garden hardly belongs to any one

genre, and are ever-morphing. The permanent

instrumental installments are (frequently dense)

drums and bass, played by Fletcher and Wyatt,

respectively. Inspiration is drawn from the likes of

M.I.A., with experimental roots and surreal lyrics

fleshing electro punk skeletons. Ballistic vocals,

stylistic versatility and bold fashion choices conjure

up the trademark sound and presence of the duo.

This genre ambiguity allowed room for a niche

of their own. Portraying themselves as modern

day court jesters, here to trick and entertain, this

paradigm fits most organically with their tone,

look and essence. The brothers live by the selfmade

words of Vada Vada, meaning total freedom

of expression without boundaries or guidelines of

any sort. As for the internal workings of the group,

thinking is put aside to facilitate creation.

"When I'm making music I try not to think,

cause when I think I start thinking about all these

other things that are in my head all the time, and

then I get distracted, and then I make something

I don't really like cause my full self wasn't in it.

So I try not to think about anything, so I can just

put my full self into whatever I'm making," says

Fletcher.

The OC natives claim that it's as easy to stand

out as it is to blend in where they're from. Growing

up, the clean-cut, conservative surroundings

conflicted with their interests, views and

aspirations. After being signed to Epitaph Records

in 2015, tensions were quick to arise, caused by the

Garden's androgynous sound and its misalignment

with Epitaph's otherwise heavy music roster.

This antagonism with their environment was

quintessential to their growth as individuals and

musicians, and only served to further internalize

the duo. Still living in the same room they grew

up in, the twins have always been very private and

have never been apart for long.

Their musical longevity can be attributed to

their attached-at-the-hip dynamic and artistic

integrity in making music that resonates with

them, that they enjoy. From the outside, there is

confusion surrounding the lyrical themes of the

band, often interpreted as nonsensical, but with

a band like the Garden (is there a band like the

Garden?), looks are often deceiving.

"When we write music, we don't really put it

all out there, like 'hey I love you, you love me,

let's get married,' we keep it more to ourselves,"

says Fletcher. "We're not really trying to convey

anything 100 per cent understandable to our

audience. We appreciate our audience, but we

make music for ourselves, it makes sense to us."

The Garden's fresh approach to lyricism,

self-expression and the creative process throws

monotony under the bus and gives EDM a

welcomed facelift.

The Garden perform at the Vogue Theatre

(Vancouver) on November 16.

Wyatt and Fletcher Shears are turning EDM on its head with their own unique tricks and antics.

Photo by Cara Robbins

November 2018 17
---
CLOUD NOTHINGS

SETTING THE SUBURBS ON FIRE

EMILY CORLEY

J. MASCIS

BRIGHTENING THE TONE WITH A SOLO RELEASE

GRAEME WIGGINS

MUSIC

On the cusp of the release of their fifth full studio

album, Cloud Nothings' Dylan Baldi is pretty

confident that this latest offering is an auspicious

encapsulation of their experience as one of North

America's best loved post-hardcore noise punk

bands. "The process has gotten a lot cleaner," he

says. "We know what we're doing. But not in a way

that seems boring yet." The years of shared wisdom

and experience that have gone into Last Building

Burning are clear – Cloud Nothings have finally

nailed that sweet spot between the sharp, angsty

vehemence that defines 2012's Attack on Memory

and the more thoughtful and melodic venture of

2017's Life Without Sound.

Baldi acknowledges the revival of the bands'

earlier intensity for this new album. "I really wanted

to make something that felt fun to play. I feel like

the last record (2017's Life Without Sound) was

just a little overwrought in some ways, and maybe

that came across on the recording even. When we

played the songs, I would feel differently. It didn't

have the same kind of energy I guess, as some of

the old stuff. And I missed that, so I wanted to

find a different, new way to bring that vibe back."

The band are confident about this rejuvenation

translating well for their upcoming tour. "it's gonna

be a kind of brutal show. There's no letting up,

basically. I'm looking forward to that because when

you only work for an hour of every day, it might as

well be intense."

Cloud Nothings are a band with a closer bond

than most – aside from bassist TJ Duke, they all

live together in Cleveland, Ohio. "That's always

come easily for us. I do see bands that seem like

they don't like each other, and I always think

Photo by Daniel Topete

Cloud Nothings are keeping the indie tour circuit warm with the release of their latest, Last Building Burning.

why are they doing it? Is the pay-off really that

cool? I'd rather just sit at home or do something

else if I hated the people I was with. It's nice

that they're just my friends." They all grew up in

suburbs around Cleveland, and met shortly after

Baldi finished high school and started playing

shows in and around the city. Baldi explains that

their shared local history is important to the

background of the latest album.

"I thought Last Building Burning was striking as

a theme. The image captured what I feel like the

record sounds like in a way; some of the songs are

about the erasure of certain parts of cities' histories

and things that are being destroyed. Entire

neighbourhoods are being turned into condos

and stuff and that bugs me. It is kind of nice to be

in a place and see it change. But sometimes I feel

like the changes aren't in the best interests of the

residents of the city."

Despite being on the road with Cloud Nothings

pretty much consistently since 2010, Baldi remains

down-to-earth and genuinely grateful for the travel

opportunities that the band's success has afforded

him. "We suddenly had the opportunity to go to

Europe - none of us would have ever been able to

do that unless this band got offered a tour there. I

used to take all sorts of photos and stuff. I would

wander round, even in the freezing cold, and take

artsy pictures of all this European shit. Going to

Asia also blew my mind. If I wasn't in this band,

there would be absolutely no way I'd get to go that

far away from where I'm from."

Cloud Nothings perform at The Imperial on

November 6.

Catching an interview subject at the right time

of a press cycle can sometimes make or break

the interview. If you catch them towards the

middle or near the end of a cycle, they've likely

heard the questions a million times, are sick of

answering questions in general and will generally

be a little trickier to get talking. This is especially

true when handling someone as notoriously

quiet in interviews as legendary indie guitarist

J. Mascis. Famous for fronting alt rock stalwarts

Dinosaur Jr., he's about to go on tour in support

of his new solo LP Elastic Days. Thankfully,

it's still early in the press cycle and he was as

forthcoming as one could hope for.

It's not so much that Mascis is unfriendly –

he's just not into talking for talking's sake.

"I just don't respond well to bad interviews,"

says Mascis. "I just get annoyed by stupid

questions. I can't talk about nothing. A lot

of people can take a stupid question and

pontificate about something else and just start

babbling and I don't have that ability."

Mascis' solo albums tend to turn down the

volume compared his work with Dinosaur Jr. His

last album, Tied To A Star, was inspired by older

English folk music and the like. His new album

comes from a very particular place as well.

"I was kind of inspired by this Terry Reid video

where he's playing acoustic and the drummer

was playing rim shots and that sounded cool, so

maybe I should play rim shots and acoustic. A

little bit of inspiration but whatever, just writing

songs and trying to keep with an acoustic vibe."

The acoustic bent of his solo work stems from

how he performs live: "I'm thinking I'm going to

go play by myself, acoustic guitar, so that's the

vibe."

He's released three singles for the album so

far, "Web So Dense," "See You at the Movies,"

and "Everything She Said," which definitely fit

the mold of what he's described.

"The first song is probably my favourite, and

the last song I wasn't sure about whether it was

going to make it on the album but some people

convinced me to put it on. And they picked that

as the song to put out."

The singles so far have demonstrated the

consistency he's displayed for his entire career.

In his work, both with Dinosaur Jr. and solo,

there is very little in the way of weak links. To

maintain this kind of consistency is a marvel

when you've been making music for over 30

years. He attributes this to his own singular

vision:

"I haven't tried to do weird, different things

that aren't my style. I'm just trying to make

music that I like. I won't put it out if I don't like

it. I like some stuff more than others but they

are all representations of where I was at, at the

time. Like a photo album."

If the past is any indication, the current

representation of where he is should be worth

checking out.

J. Mascis plays the Imperial (Vancouver) on

November 7.

Photo by Cara Totman

Dinosaur Jr. frontman J Mascis keeps building his elastic wall of sound, one solo release at a time.

November 2018 19
---
STIFF LITTLE FINGERS

FU MANCHU

40 YEARS OF GUTSY, BRASH IRISH PUNK EXPLORING SPACE AND TIME

TREVOR MORELLI

JOHNNY PAPAN

Stiff Little Fingers are celebrating 40 years of Inflammable Material with a small Canadian tour.

"If you talked to the record label and the

management back in the day, they all wanted

you to be as big as like U2, or whatever. I'm not

sure we ever wanted to do that," laughs Stiff

Little Fingers frontman Jake Burns.

"I'm not sure we ever wanted to do that. I'm

actually astonished that I'm still playing in Stiff

Little Fingers and think any of the guys would say

the same thing after 40 years."

Since 1977, the Belfast, Nortern Ireland

quartet – rounded out by Ian McCallum (guitar),

Al McMordie (bass), and Steve Grantley (drums)

– has been bringing their brand of unfiltered

Irish punk rock to fans all over the globe.

Burns says they wouldn't be hitting Canada

If it wasn't for the passionate and faithful fans

that came out and supported them on their

last Canadian jaunt two years ago.

"We all had so much fun the last time. I mean,

not every show was a huge success. Saskatoon

on a wet Sunday night was not terribly well

promoted," he remarks. "But in general we

were pleasantly surprised by the turnout and

the reaction of the people that were there;

they seemed to really enjoy it. We had a really

great time, so when the chance came up to go

back, we jumped at it."

Next year marks the 40th anniversary

of the band's debut LP Inflammable

Material (1979, Rough Trade Records), which

went on to sell more than 100,000 copies and

reached #14 on the UK Albums Chart.

It's an impressive milestone considering

the album was almost left in the dust. After

their deal with Island Records fell through, Stiff

Little Fingers were left to release the record

20

independently through Rough Trade records, a

small indie label at the time. The result is a raw,

unpolished effort recorded in just 10 days and

earning the band a cult following in punk circles

around the world.

Although Burns is proud of Stiff Little Fingers'

body of work, he goes back and forth on

whether or not there's anything he would have

done differently on Inflammable Material.

"Even by the time we got into making the

second album, there were things on the first

album I wanted to change," he recalls. "I would've

liked to have had a bit more time to record it.

You might think, 'Yes, we could have played it

better, we could have done this better, we could

have done that better.' But then it wouldn't have

been the album that it is."

Burns believes the raw, reckless sound

of Inflammable Material is what many of Stiff

Little Fingers' devoted followers love about it.

"A lot of its charm is the fact that we were

young and brash and angry and loud, and that I

think is its main sort of feature," he says. "I love

the first Clash album, but you could hear by the

time they got around to making London Calling,

they had gotten so much better at what they

were doing. I still enjoy London Calling; for my

money, it's not a tenth of the album that the first

one is."

Mix something Irish into your life –

besides the whisky in your coffee, of course –

and check out Stiff Little Fingers on tour across

Canada this month.

Stiff Little Fingers perform November 29 at the

Rickshaw Theatre (Vancouver).

"Ever since I was a kid, I always thought there

was another world exactly like Earth with

the same people and things, but with slightly

different things going on at the same time.

Doesn't really make sense to me now, but back

then it did."

These are the words of Scott Hill, vocalist and

guitarist of California stoner-rock powerhouse

Fu Manchu. Hill is explaining the meaning

behind the band's most recent record, Clone

of the Universe, which packs seven out-of-thisworld

tracks into one tight, hard-hitting record.

Though seven songs seems short, the album still

runs at nearly 40 minutes due to the album's

final track "Il Monstro Atomico," an 18-minute

epic that takes up the LP's entire flipside. The

song also features legendary guitarist Alex

Lifeson from Rush.

"We had written about 15 or 16 songs, but

we wanted to keep the entire record kind of

short," Hill explains. "We kept coming up with

riffs and songs. Instead of recording them on our

four-track machine and putting them away, we

decided to take the best riffs and parts and do a

long song with different tempos, shifting parts,

quiet, loud. We got Alex Lifeson to play guitar

on the song due to our wonderful manager,

Brian Frank, who is friends with Alex's manager.

We had the song on a very rough sounding

four-track demo. We didn't think anything

would happen but we sent him the song, he dug

it and said he would play on it. We thought our

manager was fucking with us when he told us.

We sometimes still can't believe that he played

on our record, he is a legend!"

Preceding "Il Monstro Atomico" are the

classic, in-your-face stoner rock stylings Fu

Manchu is known for. The album opens with

the very bouncy "Intelligent Worship" and is

followed by the aggressive single "(I've Been)

Hexed." The loudness continues with "Don't

Panic" before installing the slow and psychedelic

tunes "Slower Than Light" and "Nowhere Left

to Hide." The album's title track, "Clone of the

Universe," encapsulates the stylistic entirety of

the album in one piece.

Over the last few years, space has been a

consistent trend in their album artwork and

themes, and it's especially apparent on this

album. On the songwriting for Clone of the

Universe, Hill explains:

"There's a lot of isolation and being alone

type themes. Some outer spacey things. General

paranoia. I have had outer body experiences and

I've seen things."

Fu Manchu play the Rickshaw Theatre

(Vancouver) on November 11.

Taking stoner rock to new heights, Fu Manchu enlist the help of Rush guitarist Alex Lifeson.

November 2018
---
BEHEMOTH

COMMERCIALIZING AS A WAY TO SAY "FUCK YOU"

ANA KRUNIC

Setting yourself apart in the world of extreme

metal is an arduous task nowadays. To achieve

success on a mainstream level, you have to deal

with the fact that, to the conventional crowd, all

metal sounds mostly the same. To the uninitiated,

it may as well be all the same dudes growling

about Satan over double kicks and down-tuned

guitars. Few bands have achieved visibility in that

realm, and while they have been criticized for it

in recent years, Poland's Behemoth has brought

themselves to unparalleled levels of commercial

success in the extreme music world.

Adam Darski, otherwise known as Nergal, is

the main reason that Behemoth's work has a

Photo by Grzegorz Gołębiowski

I Loved You at Your Darkest sees Behemoth expand their horizons and experiment with commercial ideologies.

wider conceptual lens. As their main songwriter

and frontman, he's brought focus to the visual

side of Behemoth, which has become a huge

part of their brand. Their imagery and music has

always been iconoclastic and stems from Nergal's

personal philosophies as a man who was raised

Catholic but is now a strong proponent for

modern Satanism. I Loved You at Your Darkest,

their new release, is not an exception, but strays

from their usually relentless blackened death

metal. It explores orchestral and choral elements,

augmenting the sacrilegious motifs their work

usually follows.

"When I started writing the lyrics, I wasn't really

ready for it," says Nergal. "I had a lot of ideas in

my notebook but I was missing a main thought. I

was struggling. When the title finally appeared to

me, it immediately opened the doors and made

it obvious that the album was going to have a

very strong sacral approach. From there I took it

further with the photography and gave myself the

green light to go biblical on this record, full on. I

mean, the bible has always been one of our main

references, but I think this is the pinnacle."

Despite legal troubles such as nearly being

charged with blasphemy in Poland for tearing up a

bible onstage, and his battle with and victory over

leukemia, Behemoth has stayed fairly consistent

in releasing music and touring. They also maintain

their brand with products like jewelry and coffee.

"I wouldn't say there is a strict formula to how

Nergal works or does things," he says. "I really like

my artistic anarchy and I really worship it because

it gives me so much freedom. If you ask me 'How

do you write songs,' I don't really know. I just open

my eyes, spread my arms, and ask the cosmos to

grant me amazing ideas."

Their foray into becoming more of a brand

has been met with some backlash, seen as too

commercial for a band with roots such as theirs.

They recently released a video on YouTube titled

"God = Dog Food" (a play on one of their newest

singles, "God = Dog") depicting a dog eating

their newly released dog treats in the shape of

little black crosses. It's pretty on the nose, but it's

an effective and lighthearted fuck you to their

religious detractors in Poland, who have been

hounding Behemoth for years.

"We were just brainstorming with our

management and I brought up the idea. I'm just

thinking about how my local Polish adversaries

are going to take it," he laughs. "Because they

obviously would love to see me crucified or

stoned, and they can't physically drag me in the

street and do it like they did 2000 years ago. These

days they need to bring me to court. So I'm just

waiting patiently, or impatiently, to see what their

arguments are going to be. I love how they can't

fucking handle it."

Despite the negative feedback from people who

would probably rather see Behemoth go back to

their black metal roots, whatever they're doing

is evidently working for them. At the end of the

day, Nergal says he's still using his art as a personal

conduit.

"I've always seen Behemoth as a kind of artistic

entity. An artistic being that can explore its vision

in more ways than just sonically. I always underline

that the music is our priority – we live the music,

we breathe the music, we shit the music. But

why should we limit ourselves as artists? Just to

play guitar, get drunk and get laid. That's such a

stereotype. There's nothing wrong with getting

laid and getting wasted, I'm a hedonist. But there's

so many different channels that can be adopted

to express our vision, and I'm eager to see what

else is out there because I don't know. Let's take it

from here. Let's take it further, let's try to elevate

ourselves as much as we can."

Behemoth plays Vancouver at the Commodore

Ballroom on November 19.

EROSION

BAPTISM BY BLOOD AND VOLUME

ARI ROSENSCHEIN

It's a dark winter night and a few hundred black-clad

Vancouverites are watching Erosion annihilate the

Astoria, supporting local heavyweights Bison. Like their

debut album, Maximum Suffering (2018 Hydra Head),

Erosion's performance is grim and efficient. No banter

or instrumental breaks—just punishing songs played at

absurd velocity with vitriolic lyrics of uncommon depth

screamed by bespectacled frontperson Jamie Hooper.

The band describes the album as a "cathartic audio

expulsion of our collective contempt for humanity," and

it certainly is. Comprised of members of Baptists and

Three Inches of Blood, Erosion deal in short diatribes with

crusty authenticity. It's aural rancor of the lowest order.

Hooper is sledgehammer direct about the band's

central message. "Erosion refers to the political, social,

and moral decay around us. Worldwide politics

are terrifying and there's so much xenophobic-fear

mongering." He gives a hometown example. "Take a walk

through the DTES and it's tragically obvious how our

systems are failing marginalized people every day."

Though based in the province, Hooper doesn't

consider Erosion a BC—or even a particularly Canadian—

band. "If we had to identify regionally, I think "Pacific

Northwest" fits better. The issues we yell about are global

and our sound takes as much influence from Sweden as it

does from Toronto."

Speaking of influence, besides drumming in Baptists,

Erosion's Nick Yacyshyn plays in SUMAC with Hydra

Head-honcho and metal guru Aaron Turner. Hooper

jokes that Erosion "operates on a lot of nepotism and

favours from both the Baptists and SUMAC camps."

Considering the gap between 2013's Kill Us All cassette

EP and Maximum Suffering, one might imagine a wait

for new music. Maybe not. "Nick's a prolific guy," says

Hooper. "He's got material waiting for us to contribute

our filth to." So it's down to scheduling? "The trick is

getting everyone in a room. Once we're together, things

happen pretty quick."

Maximum Suffering is available now via Hydra Head.

Erosion are reflecting on the political, social and moral decay around us.

Photo by Walter Wagner

November 2018 21
---
UNDEROATH

FORMER CHRISTIAN-METAL BAND FLIPS THE BIRD TO THEIR OLD STYLE

SLONE FOX

Underoath embody an overarching sense of honesty with their new direction on Erase Me.

Consisting of drummer and clean vocalist Aaron

Gillespie, guitarist James Smith, guitarist Timothy

McTague, bassist Grant Brendell, vocalist Spencer

Chamberlain, and keyboardist Christopher Dudley,

Underoath has continually thrived in the face of

diversity. Have you ever thought about what it

would feel like to prepare for a cross-country tour

spanning over 30 tour dates?

"It's not un-fun," laughs Dudley between the

Photo by Nick Fancher

rustling noises of general multitasking and the

occasional thunk of packing instruments.

During his time in the band, Dudley has seen

the band rise, fall, and rise again. Holding strong

through member changes and a complete stylistic

overhaul, the band has undoubtedly evolved since

their last time in Western Canada more than six

years ago.

"I think it'd be easier to point out the things

that haven't changed, rather than what has

changed," says Dudley. "I hate using the term

'more mature,' but I look at our band back then

and just the way in which we dealt with each

other. In hindsight, there was a lot of toxic stuff

there. Not really knowing how to communicate

and all that stuff eventually lead to us breaking up

a few years back."

While the personal dynamic of the band

has shifted, the changes are also very apparent

musically. Having officially opted to drop their title

as a Christian band earlier this year, Underoath's

eighth album Erase Me hosts a slew of expletives

for the first time in the band's career. While this

was an unwelcome shock to some fans initially,

others felt as if it made the band more appealing.

For Dudley, though, it's really no big deal.

"I remember specifically having a conversation

with Spencer before we started writing this album,

and the sentiment was him saying: 'If we're going

to do a record, I need it to be a thing where if this

is the last piece of art I ever create, it is 100 per

cent honest. I can't think about what people are

going to think about it or how it's going to be

perceived.' And obviously I was like, 'Dude, that's

the way it should be.'"

This lyrical honesty has apparently paid off,

connecting Underoath to new fans in a way that

transcends simply dropping the f-bomb.

"I think that overall it's been a really good thing,

breaking down barriers between us and people

in general," Dudley explains. "I don't even think

that it has anything to do with specific words that

are said, I think it just has to do with the overall

honesty of the record and that's super important."

With 20 years of experience as a band, it's not

surprising that everything to do with music would

be complete muscle memory by now. According

to Dudley, this level of mastery even extends to

include live performances.

With a newfound momentum fuelled by their

overhauled musical style, it's likely that Underoath

has a whole future of riser-rolling daydreams

ahead of them, and a slew of new musical avenues

to explore.

Underoath performs at the Vogue Theatre

(Vancouver) on November 19.

22

November 2018
---
BPM

KWEKU COLLINS

YOUNG RAPPER FINDS THE FOREST FOR THE TREES

GRAEME WIGGINS

CLUBLAND

YOUR MONTH MEASURED IN BPMS

ALAN RANTA

It could be argued that rap music right now is at a creative

zenith. The availability of a storied history of music at creators'

fingertips have found an audience which seems open to

concepts and feelings once less common in the rap game.

Illinois rapper Kweku Collins is a perfect example of the result

of these situations.

In the song "Aya" from last year's Grey EP, Collins sings about

an "Evergreen type affinity" and in his videos, forests figure

prominently. This stems from his youth more than from his

hometown of Evanston, Illinois. He explains, "Evanston is called

the city of trees. They have it on signs and stuff, but when I was

a kid I was born in upstate New York so when I was growing

up, to get from one town to another, you had to drive down

the highway with trees and hills. And the further north you

get there are mountains. We'd go camping in the Adirondack

Mountains in the summer. That's where my celebration of the

forest comes from."

His most recent video, for single "Sisko + Kasidy" takes this

forest interest and adds a dose of post-apocalyptic sci-fi. "I

can't remember if the concept for the video came before I

made the song or not. Sisko and Kassidy being a reference to

Star Trek Deep SpaceNine. Captain Sisko and Kasidy Yates. I've

always been really into sci-fi. Since I was a kid I've been into Star

Wars and Star Trek. I'm a really big Firefly fan too. I've always

wanted to incorporate that into the world I'm creating with

my heart. So we sat down and came up with the idea of like a

post-apocalyptic world kind of like Wall-E, where humans have

abandoned the earth to seek refuge elsewhere and still come

back to find out what happened. Also I just wanted to be a

spaceman."

The poster used to promote the upcoming tour emphasizes

this energy, featuring him leg up on a monitor in an iconic

rock star pose. The poster was inspired from an unlikely source

for a young rapper, Thin Lizzy, which he discovered from a

record store band shirt and researched who they were. "What

I connected with was that the lead singer [Phil Lynott] was

biracial (black and white). And growing up, whenever I find

someone who really looks like me, and when he talks about

growing up in Ireland, not fitting in and struggling to find his

way, I connected with that; it resonated with me."

While he's been to Canada before, performing as an opener,

this is his first time headlining and it will feature something

new to him: performing with a live band rather than just a DJ.

"This is the first time since high school that I'm performing

with a live band. So I will say up until now it's been me and a DJ

and my live performances have been energetic. My favourite

performers are performers that are electrifying to watch.

Performers that give their all." Collins is interested to see how it

goes, it being a bit of a trial by fire: "With the live band, this will

be the first time we perform on stage together. I'm so stoked.

In rehearsal I'm usually laying down so I don't know what to

expect from myself." With his "evergreen type affinity" being

energized by the lush Pacific Northwest backdrop, we can

probably set our expectations pretty high.

Kweku Collins performs November 30 at the Biltmore Cabaret

Still waiting for your pot to arrive in the mail? It's probably gonna be

a while. The gov't only had, oh, eighty years to figure it out, so it's no

surprise they weren't prepared. Well, you can't just sit there and grow

a beard for butt cancer all month. Might as well distract yourself by

cramming your body onto a dance floor.

The Mole

November 10 @ Copper Owl (Victoria)

Colin de la Plante (a.k.a The Mole) has quietly been one of the most

interesting figures in electronic music to have ever called Canada home.

Spending most of his time in Berlin these days, Victoria is sure to give

him the hero's welcome he deserves, as he spins every genre under the

sun into a house-like form.

Rezz

November 17 @ PNE Forum

If you don't know Rezz yet, you better get on it. She's one of the biggest

and best upcoming stars in Canadian electronic music. Only in her early

twenties, she has already proved her complete mastery of diverse bass

music with Certain Kind of Magic, her second album on Deadmau5's

personal label, and if she plays anything off it, the PNE Forum won't have

to undergo any earthquake testing for the next decade.

Sequential Circus 23

November 17 @ Open Studios

If live PA is your thing, you probably already have tickets to the 23rd

installment of Sequential Circus. This one is gonna feature cerebral

knobbing from AVR, BIG ZEN, lazy d, RiDylan, Sara Gold and tokiomi,

with visual performances from Collizhn Visuals, Dermot Glennon,

Vjettlike, and Yasushi Harada, and acrobatics by AcroYoga Vancouver.

Top notch stuff.

Justin Martin

November 24 @ Open Studios

You can hardly go to an EDM festival in B.C. without seeing Justin Martin

beat that bird with a bat on its main stage, and there's good reason for it.

He's the shit.

MURS

November 26 @ Fox Cabaret

Nicholas Carter (a.k.a. MURS) has a long history of hip-hop badassery,

considering his work with crews such as Living Legends and Felt, his

output on El-P's Definitive Jux and Tech N9ne's Strange Music, and the

thousand other things he's done. Carter actually set the Guinness World

Record for rapping, when he dropped knowledge for 24 consecutive

hours in 2016. Expect insanity.

Rezz

November 2018 23
---
BPM

IVORY TOWERS

SYNTH POP AND SELF CARE

ANDREA NAZARIAN

Quinne Rodgers finds a delicate balance of optimism and anger in her work as Ivory Towers.

Listening to Ivory Towers feels like experiencing

a beautiful, haunting dream sequence.

Quinne Rodgers' delicate vocals oscillate over

experimental synths, heavily distorted melodies

and ominous percussion, giving the listener an

almost out-of-body pop music experience.

For Rodgers, music is all about surviving. The

Vancouver-based artist uses the artform as a

way to cope with the volatile political climate

and environmental destruction we witness daily.

Music is a kind of a security blanket for her, one

that cares for and nurtures her through difficult

times.

Queller is the third and latest offering from

Rodgers as Ivory Towers. She was formerly a

member of feminist electronic duo MYTHS,

deciding to pursue music as a solo artist in 2014.

OLD MAN CANYON

LIFTING THE VEIL OF THE FACADE AND FACING REALITY

QUINN THOMAS

24

The production on the eight-track EP gives off

a dual sense of aggression and softness, layering

growling, apocalyptic sounds with ethereal

sonics and effervescent vocals. The result is

highly evocative tracks that feel both brutal and

soothing; hostile and dainty.

"I feel a lot of anger at what's going on

politically and environmentally around the

world," Rodgers says. "But at the same time,

I have so much love for nature and beautiful

things, so I want to make music that's beautiful.

For me, it's impossible not to have that

juxtaposition of optimism and anger in my

work."

There's a deep sense of nurturing in

Rodgers' lyrics, but also a fierce, warrior-like

protectiveness. "I'd pluck all the feathers outside

Jett Pace took his latest visions out to Joshua Tree to bring them to life on A Grand Facade.

A lot has changed in the past four years. New

Prime Minister, new cannabis laws and a new

album from Vancouver's own Old Man Canyon.

Last Interviewed by BeatRoute in November 2014

they hadn't yet recorded their debut, Delirium

(released January, 2016). This was an album

featuring swirling synths and singing/songwriting

reminiscent of a post-Beatles John Lennon.

On Delirium, frontman and multi

instrumentalist Jett Pace sonically departed from

his debut EP, Phantoms and Friends, that gained

him notoriety through being featured in shows

like Suits, Shameless and Sons of Anarchy. This

shift displayed a bold step forward for the band

displaying much potential to follow trends and to

refine sharply written songs.

Hitting the road, Old Man Canyon toured for

Photo by Cody Briggs

a year then went through some serious changes

involving management. Since coming back, Pace

hunkered down and started writing material that

would find its way onto the upcoming album, A

Grand Facade.

Inspired by the likes of Tame Impala and

Unknown Mortal Orchestra, Pace recorded the

majority of A Grand Facade in his basement.

When it came time to polish the record they took

it out to Joshua Tree. Pace explains, "I rented an

Airbnb in the middle of the desert where there

was no one for 10 miles around us, we could

make any sort of noise at any time. So we had a

week-long listening party. We had instruments,

we were tweaking little things, and the final

touches were completed there with my two

buds."

my chest / To build us a warm and safe little

nest," she chirps on Sand Witches. "I saw some

men marching down the road, two by two

singing / I'm gonna bring some heads today,"—

a metaphorical battle cry on Maenad Gore

Competition.

Rodgers samples Mother Nature herself in

Queller, warping animal and environmental

noises to create beautiful sounds. Using

advanced production software, she's able to

record the flutter of butterfly wings, the crunch

of gravel or the humming of a wasp, playing

with the raw recordings and turning them into

intricate melodies.

With Queller, Rodgers wanted to create a

body of work that was more accessible to a

broader audience than her previous releases,

using beat-driven synth pop as a medium to

contribute meaningfully to the political and

cultural landscape.

"I think all art is political, especially right

now," explains Rodgers. "Everybody is getting

despondent and too much angry music can wear

down your soul. I wanted to write at least some

tracks on this EP that made people feel safe, like

they could go home and listen and feel protected

from the outside world."

Ivory Towers' EP Queller releases on all platforms

November 16.

Pace seems to be a cut above the average

songwriter, drawing more from satire of situations

rather than just straight storytelling of the tragic

artist. Through intense imagery Pace encourages

the listener to examine our societal place and

how we can shift that. "I'm trying to bring

attention to the ignorance we all turn to world

issues, but also our ability to shift ourselves and

how we really create our own realities," he says.

Conceptually this shows up on the first track,

and leading single for the album, "Good While

It Lasted." In the song the narrator, filled with

indignation, gets high as they watch the world

end. An idea that appears clichéd but when

told with Pace's great lyricism it invokes deeper

thought about how (regardless of the listener's

emotional reaction of the song) we could change

ourselves to be better, and to not grow resentful

of current events. All of this is done in a tonguein-cheek

style where implicit introspection

proves to be much more powerful than explicit

simplicity.

Old Man Canyon continues to mature as a

band with pure motives. Everyone should be

marking down November 16 as a day to sit down

and dive into the rest of A Grand Facade.

A Grand Facade is available through all streaming

platforms on November 16.

DOUNPOUR

THE ACCESSIBLE AVANT-GARDE

MAT WILKINS

"I've always wanted to make music that's…" there's a

pause on the other end of the line. You can hear cars

whizzing by on a busy street through the receiver as

Zane Coppard, the mind behind Dounpour, looks for

the word to aptly describe his latest project. "Fun."

Coppard is on the road during the call, acting

as the interim drummer for Belle Game's latest

North American tour. The fact that he scheduled

our interview just after the band played a show is

certainly evidence enough that he's a decidedly busy

musician – but things don't end there. Just four

months ago he released the Doubtless EP under his

experimental electronic project 1000 Petal Lotus, and

is currently sitting on the next release.

"I was getting a little bogged down with what I was

creating," Coppard says of the latest 1000 Petal Lotus

record. Not only that, but "administrative work" for

Smash Boom Pow (an indie rock band Coppard plays

in with his brother Ulysses) had been mounting. "I

kind of started thinking: is this what music really is?

This serious and administrative sort of realm?"

And so, on a particularly rainy Vancouver

night, the idea for Dounpour was born. The tracks

that make up Coppard's debut album Brod are a

diverse collection of vertigo-inducing, lo-fi sonic

experimentations that at once charm and disarm

listeners. The album, chalk full of unintelligible

sounds and strange sonic textures, is oddly anchored

and made accessible through a constant (though

sometimes jagged) rhythm.

"It kinda just went where it went," he says. "I don't

really listen to a lot of [experimental] music – I think

it's just my approach that does that."

An approach that Coppard describes as one

marked by urgency and improvisation, with many

of the songs on the record having been written

at the same time they were recorded. Even some

of the musical equipment used on the record is

equipment that Coppard is learning to use while

he uses it. What results is music that teeters on the

precipice between the accessible and the avant-garde

– music that is both a product of Coppard's creative

escapism and his prolific artistic output. Dounpour's

debut collection of music is thoughtful, complex,

compelling, and peculiar, but above all else… fun.

Photo by Japhy

Dounpour is Zane Coppard at his most experimental.

November 2018
---
BOHEMIAN RHAPSODY

BIOPIC CELEBRATES THE PROWESS OF ROCK 'N' ROLL'S MOST ENIGMATIC FRONTMAN

GLENN ALDERSON

FILM

Queen on the big screen. As far as biopics go, Bohemian Rhapsody sticks to the formula but Rami Malek shines under pressure as Freddie Mercury.

The legacy of Queen and Freddie Mercury is

one that's been relatively undocumented on the

silver screen up until now. It seems strange that

it's taken so long, given the band's impressive

footprint and history of success but the proper

2018 biopic that we now know as Bohemian

Rhapsody has been a long time in the making for

many reasons.

From its initial announcement in 2010

(remember when Sacha Baron Cohen was

announced to be playing the part of Mercury?) to

now, the film has seen so many line-up changes

you'd think 20th Century Fox was actually a band

trying to find their place on the rocky road to

success. With the initial firing of director Bryan

Singer and rumors that even Daniel Radcliffe

would be taking the lead at one point; all of the

unprecedented rumors and casting changes only

added to the excitement. All the drama aside, the

final lineup starring an impressive Rami Malek

(Mr. Robot) as Mercury finds a way to channel a

greatest hits celebration while touching on the life

and times of the band who collectively helped the

enigmatic frontman shine.

At times the film's restrained portrayal of

Mercury's sexuality does seem unnervingly

conservative and even homophobic at times, with

the only real "villain" painted in their story being

his queer manager, Paul Prenter (Allen Leech).

The amount of pandering done to make the film

accessible to a conservative audience is palpable

yet Bohemian Rhapsody still manages to retain

heart and doesn't get too lost in the "in between

moments" as Mercury refers to them at one point

in the film.

Mercury (born Farrokh Bulsara) was as

enigmatic as he was misunderstood and the story

this biopic tells is as much of a tragedy as it is a

heroic rock 'n' roll tale of emotional fury. While it

does take on the darker dramatic elements with

its portrayal of Mercury's battle with HIV, for

the most part the film sticks to a cookie cutter

formula of a rah-rah biopic and cuts straight to

the goods, which is fine since the actual lives of

Queen outside of Queen really weren't all that

exciting.

Bohemian Rhapsody starts and ends with the

band's most iconic performance of their career,

1985 Live Aid at Wembley Stadium, arguably the

biggest concert in rock 'n' roll history. Queen took

the stage and changed music with their 20-minute

set so it's exciting to see the fan-fare recreated so

fantastically.

While the band members (Gwilym Lee as

Brian May, Ben Hardy as Roger Taylor and

Joseph Mazzello as John Deacon) are properly

represented and given the respect they deserve,

the crowning moments of the film are ultimately

focused on Mercury, which really wouldn't have

shined nearly as bright without the talent of

Malik's goofy yet accurate portrayal.

The brightest moments of the film shine in the

performances and they are shot exceptionally

well. And with the band's Live Aid performance

bookending the movie, it makes the final scene

play out like the ultimate encore. Recreating the

magic of such a monumental event makes the

movie worth watching, even if your knowledge

of Queen only extends to Wayne's World or

foot-stomping and hand-clapping along to "We

Are The Champions" at hockey games. In the end,

Bohemian Rhapsody is a fun rock 'n' roll drama

complete with all the hits and even a surprising

and totally unexpected cameo from Mike Myers

(look closely!). It's probably best that Sacha Baron

Cohen left things be in Queen-land as well so he

could move on to trolling conservative America

while Malik stood under the bright spotlight to

pay homage to one of the greatest performers and

vocal artists who ever lived.

November 2018 25
---
FILM

THE VISUAL LANGUAGE OF DOCUMENTARY

IN CONVERSATION WITH FILMMAKER JENNIFER BAICHWAL

PAT MULLEN

THIS MONTH IN FILM

SUPPORT YOUR LOCAL CINEMA

BRENDAN LEE

Prospect – November 2

Set amidst the toxic forest of a distant moon, a teenage girl and

her father search for an untapped deposit of gems that could

reap riches. The only problem is they're not alone. This sci-fi

thriller won the Adam Yauch Hörnblowér Award at the 2018

SXSW Film Festival.

Widows – November 16

When four women's husbands are murdered in the line of

criminal activity, instead of crumbling in defeat, they pry back

fate from cold dead hands. This icy thriller simply cannot fail, with

legendary director Steve McQueen (12 Years a Slave) and awardwinning

author Gillian Flynn (Gone Girl) orchestrating every turn.

At Eternity's Gate – November 16

The story of near-mythical painter Vincent Van Gogh and his

struggle for recognition within a world that neither respects

nor understands the beauty in his work. Willem Dafoe shines

as Gogh, and director Julian Schnabel paints a painfully elegant

picture.

The Ballad of Buster Scruggs – November 16

The wild and wacky Coen brothers return to the world of the

Western, and do so with a sardonic splash. Told in six separate

parts, prepare for the untamed wilderness of the Oregonian

frontier days, and the violently hilarious people that lived them.

Canadian filmmaking trio Jennifer

Baichwal, Nick de Pencier and Edward

Burtynski recently completed a trilogy

of films that chronicle human impact

upon the planet. Their most recent

film, Anthropocene: The Human Epoch,

identifies a new era in which human

influence is the most dominate factor

determining the Earth's form. The three

travelled the world to document some of

Earth's largest sites of industrial resource

extraction. Baichwal spoke with BeatRoute

about some of the challenges and

paradoxes of documentary filmmaking in

our current social context.

I've been noticing that there seems to

be a formal shift in documentary film away

from an emphasis on spoken language.

Cinematic images are starting to take

precedence, while narration becomes

deliberate, minimal, or absent altogether.

I emphasize spoken language because

I think that cinematic images might be

starting to function as their own language

in these works.

JB: I'm not sure… I would say that there's

as much of a trend in the direction of

straightforward, dense, narrative storylines

that are character driven. In that genre

of documentary, the visual language is

almost always subordinate in a way that

I've always found puzzling because film is a

visual medium. One of the most important

things for me from the very beginning as a

filmmaker is that visual language was not

subordinate to text.

I've been thinking about why it is so

meaningful to emphasize visual language

over text. I have a notion that we often

have our most influential realizations when

we're out in the world, observing. Perhaps

the closest you can get to simulating

that experience cinematically is to place

someone in front of a powerful image and

allow them to experience it quietly.

JB: Absolutely. Especially in the work

that we have done with Ed Burtynsky in

Manufactured Landscapes, Watermark,

and Anthropocene, the idea was always

to create an experiential understanding

of where you were. I believe that the

possibility for a kind of transformation

of self or a shift in consciousness is much

more likely to happen when you're not told

what to think about something. There is a

very deliberate absence of the didactic or

the polemic in these films in order to allow

viewers to come into these places they're

responsible for or connected to, but would

never normally see. To actually feel what

those places are like.

When I was watching Anthropocene I

had a reaction on two levels: I was amazed

at how beautiful so many of the images

of these locations were, but I was also

disturbed at my aesthetic reaction to

these places that were the sites of so much

human destruction. It was like looking at

art—

JB: I would say around the aesthetic

argument that compelling is a better word

than beautiful, in the sense that you are

drawn into an experience because it's

intriguing or compelling. It's the aesthetic

engagement that creates that extended

reflection. Burtynsky has gotten that

critique throughout his whole career, of

making the ugly beautiful. I would argue

that the ambiguity, the paradox at the

heart of that, is what makes his work so

powerful. It's something we really try to

explore in the film. Not every story is just

about rapacious destruction, it's about the

complexity of existence and the way that

we, as a species, engage with and use up all

of these elements in the natural world that

in themselves are kind of astonishing.

Anthropocene: The Human Epoch

is now screening in select Canadian

theatres. A travelling museum exhibition

has also premiered at the Art Gallery

of Ontario, and will travel to MAST

in Bolonga in Spring 2019. For more

information on Jennifer Baichwal's work

and the Anthropocene Project visit

theanthropocene.org.

Green Book – November 21

This is the true story of a world class black pianist on tour and the

rough and tumble Italian-American who drives him through the

south. They must follow their titular green book to know which

establishments will serve black people. This is a two-worldscollide-to-make-each-other-better

kind of affair from one half of

the Farrelly brothers, who usually bring us comedies like Dumb

and Dumber. This one grabbed the Grolsch People's Choice

Award at TIFF… which is a big deal.

At Eternity's Gate

26

November 2018
---
MUSIC REVIEWS

Charles Bradley

Black Velvet

Daptone Records/Dunham Records

Just as early hip hop was built off the beats of both

classic, and underground soul groups from the mid-

60's into to early 70's, Charles Bradley's final album,

Black Velvet, is a compiled retrospective of Bradley's

recording career, and his decade-spanning work with

producer Tommy 'TNT' Brenneck and the players and

crew at Daptone Records in Brooklyn, New York.

Bradley's soul was the real deal, a vocalist who hit

certain notes that only a few before him could hit

with such conviction. Bradley's voice was a conduit

to his heart, as much as it was a unique instrument.

His tone split through the mix over grooves that

always had that slow-riding bounce, head bobbing

in a long Impala while the additions of percussion,

and the horns never sounded digital. Considering the

serendipitous nature of living, it's both to Daptone's,

and Bradley's good fortune that they found each

other. The rotating cast of sidemen whose recording

room and techniques have resulted in some of this

era's most classic-sounding wile forward thinking

soul music found a vocalist who was as warm as the

sound their music created, and Bradley, whose mix

of wailing Bobby Bland, elemental James Brown, and

sincerity of Sam Cooke needed the best elements of

uncluttered mid-60s Memphis soul along with the

cinematic quality of funk in the early 70s.

Among Black Velvet's ten cuts, there isn't one spot

where the horns have a manufactured digital warmth,

the kick drum sets the pace while the rest of the kit

has an airy, distant feel so common to old records

where everyone played in one room, quiet enough to

catch the mic bleed of a bit of everything. The bass

is punchy, but dialled back in the midrange, creating

a melodic thump, with lyrical lines throughout but

never upsetting the groove. Some players just have

that feel on bass, how long to sustain a note, and

when to mute another in passing, to give the beat

its lower melodic push. There might not be a better

live room anywhere currently than in Brooklyn at

Daptone records.

"Can't Fight The Feeling" brings shots on the

downbeats with Bradley hitting those James Brown

moans and oh's each time, while the horns rise and

fall in between with a guitar hook that sounds just

like jelly moves. The band settles into a vamp with

slight organ backing, with Bradley taking the lead,

his churchy, uplifting lines over a chord run that

gradually leads to the chorus. There's a rave up break

in the middle with Bradley pleading to his baby,

"Please take a chance on me," that has a bit of Archie

Bell & The Drells' "Tighten Up", though with more

accented push, compared to that cut's lounge-y flow.

On "Luv Jones", the mens choir hangs with the horns

though the pre-disco intro, the kind of sound that

defined early 70s pop culture. The verse's repetitive

lines would make an excellent sample on a hip hop

record, and the groove is a good shaker that blends

in without having to jump out and be the most

distinctive thing.

It's on "I Feel A Change" that Bradley gets heavy, on

a ballad with dramatic changes in the choruses, the

song accents the attention to detail that Brenneck

put into arranging these cuts, with instruments

maintaining a melodic motif with subtle moves

around those parts, each instrument always in its

place but never feeling shuttered, and invoking an

ever-heightening drama. A lot of records going for

a classic-sounding vibe tend to try these moves, but

can tend to sound a little forced, where the grooves

on Black Velvet leave plenty of room for melodies to

swoop in and out.

The title track is an instrumental, and given

Bradley's propensity during live performances to

leave the stage and embrace as many people as he

could, sharing his heart and love with everyone he

could find, a cut like "Black Velvet" might make a

great mid-show opportunity for Bradley to commune

with the people. Slow and swaying, One could

imagine Bradley imploring the crowd to love each

other as much as he loved them. "Stay Away" has

some cool fuzz guitar, like Eddie Hazel, or from Burnt

Offering by labelmates The Budos Band, and Bradley's

cover of Neil Young's classic country rock standard

"Heart Of Gold" is a cool take on the familiar, Bradley

off-timing the melody just a little, while the horns lay

down Young's harmonica melody with some jump,

giving an old cut a fresh sound.

Charles Bradley's story is one of adversity,

persevering through harder conditions than just

about anyone who can afford to go to the record

store might have to, finding strength and love in

music, and letting those things lead his path. He

shared those parts of himself with everyone who

listened to his records and saw him play, and cut

some of the defining soul music of our era, and Black

Velvet being his final, posthumous record makes

excellent contribution to that canon. While young

cats like Leon Bridges and Curtis Harding deftly take

up the sound of classic soul, their time to define

will come. With his producer Tommy Brenneck, his

contemporaries Sharon Jones and Lee Fields, and

the ace crew of musicians rolling tape at Daptone in

Brooklyn, Charles Bradley was able to live a dream

musically, and make music that helped reinvigorate

an essential sound for his time.

• Mike Dunn

• Illustrated by Vince Lin

November 2018 27
---
Alias & Dose One - Less is Orchestra Daughters - You Won't Get What You Want Dead Soft - New Emotion Empress Of - Us

Ace Frehley

Spaceman

Entertainment One

Is it possible to discuss Ace Frehley and not

mention his previous band from the '70s? Isn't it

time he stood on his own merit? Frehley is now

well and truly entrenched in the third phase of his

+40-year solo career, Spaceman being his fourth

release in less than a decade.

First impression is that there is zero lyrical

progression here. Once again, he's paradoxically

singing about being from outer space, yet also a

humble boy from the Bronx, just rocking with the

boys.

It's somewhat remarkable that his voice is holding

up so well after all these years. Musically speaking,

Spaceman is mapped out in a manner that is true

to his signature style — simple and melodic with

roots firmly planted in classic hard rock — and

there's no denying this old Ace still plays a mean

guitar.

As per his long-standing tradition, he ends his

latest flight of fantasy with the epic, six-and-ahalf

minute instrumental "Quantum Flux," the

highlight of the entire album for sure. Despite

this grand finale, Frehley's eighth solo venture

clocks in at an underwhelming 36 minutes, even

less if you exclude the lackadaisical yet painfully

apropos cover of Eddie Money's "I Wanna Go

Back." However, it does come with three alternate

versions of the cover for the obsessive collector!

Far out, man!

• Josh Wood

Alias & Dose One

Less is Orchestra

Anticon

Alias used to jokingly call his music goth-hop and

it's a fitting, if not limited description of the wide

variety of songs here. There's the spooky art-trap

music of "Top Billing II" and "The Deadener" to the

more lush serene hum of "The Doghawk." It's clear

that despite his being forced to work on music

part time (indie hip-hop doesn't pay the bills

like it used to), that he still managed to hone his

production craft.

For his part, Dose One's voice has aged like fine

wine. The added rasp gives his vocals a weathered

gravitas that suits his takes on mortality and

workaday life. His lyrics can still get pretty abstract

at times but it's reigned in a little more than his

earlier work. The recent passing of Alias hangs

heavy over this record. It's a thoughtful, beautifully

crafted collection of songs made by two people at

very different points in their lives from when they

were the Anticon heavy hitters.

• Graeme Wiggins

Daughters

You Won't Get What You Want

Ipecac Recordings

I recently read an article in a magazine called "Rock

is Dead, Thank God." Now to be fair, the author

admits, "the future looks promising on the surface,

but these are but mere glimmers on ocean waves

carrying off a floating corpse." Knowing Daughters,

they'd probably delight in this and maybe the

title of their brand new LP, You Won't Get What

You Want, is a nod to that. But maybe they're

dead wrong. Maybe this is the record, like The

Shape of Punk to Come, that will blow the roof

off the whole thing. It's a piece of art that, like any

good piece of art, is layered with contradictions,

emotion, time and space. It's dynamic, fraught

with tension and ferocity and yet willing to

breathe. It's introspective and incisive, yet flails

around in the expanses of our collective psyche,

unsure and afraid.

From the Liars-esque opening track, "City Song,"

to the shrill insect-like drone of "Long Road, No

Turns," to the terrifying cinematic sprawl of "Satan

in The Wait," you are fully immersed in the twisted

narrative concocted by vocalist Alexis Marshall

and you're only three songs in.

"Less Sex" sounds like it was written by Leonard

Cohen in hell. "The Reason They Hate Me" is

pummeling, like the crushing weight of the day-today

grind. By the time the strings hit on the outro

of "Guest House" it should be clear that Daughters'

experimental anti-melodies are the waves that are

carrying off the floating corpse of Rock. After all,

"there is an ocean beyond the waves."

• Sean Orr

Empress Of

Us

XL Recordings

The sophomore studio album from Los Angelesbased

artist Empress Of builds upon the critical

success of her 2015 debut and interim dance chart

collaborations. The Latin ballad "Trust Me Baby"

and radio-friendly dance-pop songs "Love For Me"

and "When I'm With Him" led as singles ahead of

the release of Us.

The ten tracks embody a dreamy Caribbean

island vibe, infused with danceable '80s synth

grooves. Catchy falsetto vocals are reminiscent

of electro-pop contemporaries Banks, FKA

Twigs and Lorde, but an injection of Spanish

lyrics differentiates "Trust Me Baby" and "When

I'm With Him." The first half of the album rolls

hazily along at a head-bobbing tempo, creating a

perfect pairing with all that legal cannabis, despite

what the track titled "I Don't Even Smoke Weed"

suggests.

Love and relationships are the main topics

explored, but the lyrics come secondary to

the sickly sweet vocals featured prominently

throughout. The electronic influences and strong

vocal hooks on later tracks seem destined for

important plot crescendos in teen TV dramas.

Us closes softly with the song "Again," which

brings the energy and tension built over tracks six

through nine to a warm, dreamy denouement.

• Vaughn Turnbull

Georgia Anne Muldrow

Overload

Brainfeeder

For her entire career, Georgia Anne Muldrow

has specialized in the kind of r&b/jazz/hip-hop

fusion that Flying Lotus and labelmates on Lotus'

Brainfeeder imprint have become known for. So

when it was announced that Muldrow had signed

to the independent L.A.-based label, the pairing

made instant sense. On Muldrow's Brainfeeder

debut, Overload, executively produced by Flying

Lotus, she fails to disappoint, turning in her most

cohesive and exciting effort in years.

Muldrow's greatest musical tool has always

been her overpowering voice, which she uses in a

multitude of ways to capture the attention of the

listener and keep them on their toes. The intro to

the album, "I.O.T.A (Instrument of the Ancients),"

instantly puts that vocal power on full display,

allowing her to command the track by layering her

vocal parts so as to sound like an angelic chorus.

On the next song, "Play It Up," trap cymbals crash

over the track, but they can't usurp Muldrow, who

dances over the song, rarely landing her lines in

classic rhythmic time but flowing so captivatingly

that the rhythm of the beat plays backseat to her

haunting melody.

Rarely does an r&b album primarily about love

sound so out there, and credit is due to Muldrow's

suite of producers for giving her such interesting

canvases to paint on. At about the halfway point,

Overload switches to a more traditional style of

r&b, which Muldrow has a masterful command

of. Overload is not without faults, particularly in

the lyrics themselves, which border on heavyhanded.

However, nothing is enough to take away

from Muldrow's luscious voice, the true star of the

album. Just for that, Overload is worth your time.

Add in a variety of Grade A production, and we're

looking at one of the most interesting albums of

the year.

• Graham King

Colter Wall

Songs of the Plains

Young Mary's Record Co./Thirty

Tigers

With Songs of the Plains, Colter Wall has created a

timeless tribute to cowboy singers and authentic

country music, while simultaneously cementing

himself as the leader of the pack moving the

tradition forward. Though it's easy to become lost

in his stirring baritone, a voice that reverberates in

a way that almost negotiates a physical response

with the listener, it's Wall's uncanny ability to both

masterfully craft his songs and interpret those of

others, putting a signature stamp on them that

make up the foundation of his second LP. Wall's

precise guitar picking supports these songs, along

with his finger style similar to Mississippi John

Hurt, while he's deftly backed by the lonesome

harp of Mickey Raphael — Willie Nelson's long

time harmonica player — Lloyd Green on pedal

steel, and the rhythm section of Chris Powell and

Jason Simpson.

Opening with a laid back waltz on "Plain to

See Plainsman," Wall inhabits the road weary

sentiment of a fast-moving traveler, far from

where he started but on his way home. We find

him on more familiar territory in the revenge

seeking ballad, "John Beyers (Camaro Song),"

where Wall growls, ''This southside Swift Current

boy is northside bound." There is a strong sense

of place throughout all of Wall's songs, as the

title of the album suggests, with nods to people

and stories set in Saskatchewan, Manitoba and

Alberta. He pays homage to Wilf Carter with a

version of "Calgary Round-Up," and tips his hat

to underground legend Billy Don Burns with a

haunting cover of "Wild Dogs." The album ends

with the traditional cowboy song, "Tying Knots in

the Devil's Tail," featuring Saskatchewan country

artist Blake Berglund and Alberta's own Corb Lund.

Among all of the pieces combined to create Songs

of the Plains, be it the taste of Grammy awardwinning

producer Dave Cobb, the musicality of

the aforementioned band, or Wall's stunning vocal

and songwriting ability, it's his reverence for both

the pioneers and contemporaries of his craft that

allow Wall to cut a distinct path for himself.

• Conway Jankowski

28

November 2018
---
Georgia Anne Muldrow - Overload Laura Jane Grace and the Devouring Mothers - Bought to Rot Lil Yachty - Nuthin' 2 Prove

Jeff Tweedy

WARM

dBpm Records

WARM, the latest solo offering from Jeff Tweedy, is a breathing,

thinking, feeling body of personal reflections and existential

wonderings that listens as much as it speaks. The ten-song

album of new material follows Tweedy's acoustic retrospective

release, Together at Last (2017), and Wilco's 2016 album, Schmilco.

Produced and recorded by Tweedy at Chicago's now-legendary

studio, The Loft, WARM radiates with a familiarity that Wilco fans

will notice within the first few strums of Tweedy's Martin 0-18.

With Tweedy's unmistakable vocal sincerity at its core, WARM

extends that welcome to existing fans and new listeners alike. The

difference here is in a feeling of proximity. WARM is decidedly more

intimate than a Wilco record, the front door wide open, "Welcome"

emblazoned on the porch mat.

With the rise in anxiety, depression, loneliness and worry among

the psyches of so many, WARM is exactly the kind of album that

needs to be heard. "Could I find a world just right or will I always

look too high?" he muses in the awareness-seeking "From Far Away."

"Sometimes we all think about dying / Don't let it kill ya," he prods

in "Don't Forget," reminding us that we are not the only ones. "I

know what it's like starting over again," he says from the shadows

of "I Know What it's Like." Through poignant perceptions and

meditations, Tweedy invites us to experience introspection without

pretense, honouring the space between the notes. Hinging on a

vulnerability that rewards multiple listens, WARM is the mirror and

Tweedy the reflection saying, "I see you. I hear you. I'm here with you.

F

R

I

D

A

Y

S

You are not alone."

Laura Jane Grace and the Devouring Mothers

Bought to Rot

Bloodshot Records

277 PRINCE EDWARD ST

BILTMORECABARET.COM

• Alex Vissia

Bought to Rot is Laura Jane Grace's first LP as a solo artist, but it

retains the angst, energy and familiarity punk fans know and love

about her main squeeze Against Me!

With the guitars dialed down only slightly, Grace continues her

gutsy journey of self-discovery as a transgender artist by firmly

wearing her heart on her sleeve and opening her wounds for us to

hear every honest dialogue, pissed off rant, and lonely lament she has

to offer.

The results are mostly positive. Tunes like "The Airplane Song,"

"Reality Bites," and "The Acid Test Song" pull off big riffs and catchy

melodies. But there's also some serious scorching to be done, as

Grace lets loose on the Windy City on "I Hate Chicago," where she

scorns everything from the Chicago Bulls to Wilco to Lollapalooza.

"China Beach' carries the same sentiment, with more stream of

consciousness outbursts worth paying attention to.

Lyrically, Bought to Rot is thoughtful but frank; musically, it's

tight, energetic, and lean while maintaining impact. There's hardly

any songs on the disc that pass the three-minute mark, yet Grace's

power, courage, and who-gives-a-fuck attitude sticks with you once

again. In her own words, she's a "true trans-soul rebel," even if she's

one that doesn't always get the immediate credit she deserves in the

moment. Seriously though, don't offer her tickets to a Cubs game.

• Trevor Morelli

Mark Sultan

Let Me Out

Modern Sky USA / Dirty Water Records

Lifelong punk addict and garage rock salesman to the stars, Mark

Sultan has been turning out cult rock gems since the mid '90s and,

perhaps, he feels he has typecast himself over the years. Seeking

his own flawed identity with his latest release, Let Me Out, he gives

a plaintiff and prominent voice to his inner dialogue. Normally

affiliated with a litany of zany musical acts, a solo Sultan retreated

to his recording facility in the woods outside Berlin, "Sound

Imperfection Studios," to gather his new vision together. A cascade of

emotions flows forth from the opening track "Coffin Nails," with its

surging organs and '60s shimmer. Eric Burdon would be flattered that

his urgent desire to get out of that place has translated so well to

Let Me Out some five decades later. The man of many aliases (BBQ,

Von Needles, Creepy, Blotrz and Krebs to name a few) has found

his happy place, setting up a sugar shack full of surf-rock shakers

including "The Other Two," "Heed This Message" and "Black Magic,"

swingers such as "Everybody Knows," "Wasting Away" and "The

Problem," and beatnik café wallpaper "Believe Me." The album shifts

into party mode with "Don't Bother Me," which finds Sultan swatting

at fireflies while twisting his hips in Strawberry Alarm Clock time.

Marquee-worthy "Humiliation" and "Tragedy" lend dramatic flair to

Sultan's highs and lows, making for a jangly joyride to ol' Make-Out

30

November 2018
---
MØ - Forever Neverland Shad - A Short Story About A War UNMAN - UNMAN

Point. Chilly despite the friction of an intense pace, the diamondforming

pressure of a night out with Sultan could leave a body

suffering from over exposure.

• Christine Leonard

MØ

Forever Neverland

Chess Club / RCA Victor

Danish singer-songwriter MØ, née Karen Marie Ørsted, hasn't

released an album since 2014's debut No Mythologies to Follow.

Since then, she has become very familiar to pop listeners through

frequent collaborations with big name producers.

With that in mind, Forever Neverland is a cohesive follow-up. MØ

delves into the thin veneer of California living and pop stardom,

reminiscing about simpler times in her adolescence. It's well-treaded

ground, but the stellar songwriting makes this through line feel fresh.

The sonic space on Forever Neverland is not wholly unique either,

seeing MØ play with a lot of current trends in today's pop music.

Generic dancehall beats and overdone Zedd-like vocal modulation

can make what are otherwise great songs feel tired and rehashed.

But MØ 's desperate rasp and incredible vocal range cut through

the occasional monotony, providing an immediate emotional

connection to the listener. Forever Neverland, despite its overdone

EDM pedigree, is a great pop album. Genetically engineered to have

you belt it out in traffic, swaying to the beat.

• Cole Parker

Shad

A Short Story About A War

Secret City Records

Give yourself time to truly understand Shad's sixth album, A Short

Story About A War. It's a dense record that mixes eclectic jazz bass

lines with distorted guitars, thumping beats, and of course, politically

charged lyrics.

Like many artists in these unstable political times, Shad has a lot

on his mind and his commentaries tackle everything from income

disparity to immigration to the robotic nature of work. It's Rage

Against the Machine through a hip-hop lens.

Shad's flow is better than it's ever been, playing with humor

while maintaining a serious tone. On "The Foot Pt. 1 (Get It Got

It Good)," the album's standout track, he evokes the spirit of

Childish Gambino's "This Is America," with lines about a weapons

manufacturer who ignores his morals in order to provide for his

family. It's a bit too real to be funny.

The list of guest pals on the album is also impressive. Lido

Pimienta contributes her soulful voice to "Magic," Kaytranada creates

woozy, shifting soundscapes on "The Fool Pt. 3 (Frame of Mind)," and

Yukon Blonde show up for the bouncy album closer, "All I Need."

A Short Story About a War is a jarring album containing multiple

messages that will make you think, the kind of record that should

elevate Shad to another level at this point in his career. Perhaps he

sums it up best near the end of the album on "Another Year," stating:

"The moral of the story is the war continues within us, every day."

• Trevor Morelli

Lil Yachty

Nuthin' 2 Prove

Quality Control

The month of October blessed some and cursed others with the

release of Lil Yachty's third studio album, Nuthin' 2 Prove. The

Atlanta rapper has shaken the scene in the short time he's been on it,

first with the celebrated Lil Boat mixtape, and later on the (uh) dark

horses, Teenage Emotions and Lil Boat 2. Showcasing his climb to the

top, this album is yet another monument of lyrical prowess ("I'm da

mac, I'm da mac, skeet"), with Cardi B, Offset and Juice WRLD among

the big name talents aboard.

As underwhelming as the album is on the whole, Yachty owns his

bubblegum trap origins and his pride in his "trash" warrants an odd

kind of respect.

• Maryam Azizli

November 2018 31
---
MRG CONCERTS &

THE GOLDEN TICKET

.........................................................

This Month's Showcase of Must-See Music! The Ticket to Your New Favourite Artist.

MR TWIN SISTER

with SATEEN

November 11

The Biltmore Cabaret

STILL CORNERS

with Ruby Haunt

and Booty EP

November 6

Fox Cabaret

LA VIDA LOCAL

HOMEGROWN VANCOUVER MUSIC RELEASES

Gross Misconduct

Equinox

Independent

Remember that time when Mastodon took a bunch of thrash metal pills and

overdosed? Actually, it never happened. But if it ever did happen, Gross Misconduct's

new album Equinox might be the result. Equinox toes the line beautifully between

thrash and death metal, but also creates a dynamic sound with many progressions.

Snarling razor cut riffs that slice holes into everything. Haunting acoustic passages that

dig deep into the earth. Desperate yells that make you want to run to hell for help. It's

all here and more, in this magnificent record.

When you start to dig deeper after a few listens you can hear just how busy this band

is. Highlighted by guitarist Dave London's cut through leads and distinct forays into a

stab worthy attack that is egged on further by intense whipper snapper drumming.

Gross Misconduct are nearly 20 years in to the metal game and it shows. There isn't a

miscue to be heard here. Songs "Equinox," "A Place Of Bones" and "Exhaustive Integral"

are a serious 1-2-3 punch right off the top and from there this album deafens you into

bliss.

• Heath Fenton

KOSM

Cosmonaut

Independent

JOHN MAUS

with ACTORS

DECEMBER 2

Rickshaw Theatre

Follow @beatroutebc for a chance to win your way in!

TICKETS AT MRGCONCERTS.COM AND RED CAT RECORDS

ART D'ECCO

with Bored Decor

November 16

The Biltmore Cabaret

Vancouver's KOSM kick the door in with Cosmonaut, their monstrous full-length debut.

Brace yourself for a satisfying trip through an exciting mountain range of cascading,

meaty riffs, swelling rises and heady drops, all led by the powerful, soaring vocals of the

dynamic Jessie Grace.

While intended to indicate a will to explore the atypical and elaborate the old into

something new, the term "progressive" can be off-putting. Too often does a band

fall prey to its own ambition of pursuing every flight of fancy and pushing things

further, which can quickly turn a forward-thinking album into a confusing grab-bag of

technically proficient tangents awkwardly sewn together. Cosmonaut is not that. Here

is an album where progressive elements are subtly used to colour already solid, groovy

song foundations, which could easily stand by themselves.

Despite the restraint exercised in the progressive department, this album clocks in

at sixty-six minutes without dragging. It chugs along at a steady pace, pounding and

banging, weaving and bobbing its way to the unsettling conclusion that is "Wza-Y'ei," a

truly disorienting bout of space dementia. Cosmonaut delivers on all fronts.

KOSM will play Pub 340 on Saturday, November 17 for their 'Cosmonaut' album

release party, accompanied by OmnisighT, Truent and Opus Arise.

• Daniel Robichaud

UNMAN

UNMAN

Independent

Feast your ears on the debut self-titled EP cascading out of the Vancouver post-grunge

trio UNMAN. The album starts off with singer/guitarist Patrick Kinch narrating our trip

through suspended animation. He leads us to a field of noise, which is where UNMAN

really begins to shine. Kinch's Nick Cave-inspired vocal delivery sits well juxtaposed over

the band's mid-90s heavy-hitting shoegaze sound. The album really hits its stride with

"Vacation/After Vacation," where you get lost in the sonic depths of Bill John Blatt's

production. A quintessential post-grunge experience, fans of Mogwai, Nothing and

Whirr should feel at home with UNMAN.

• Johnny Kosmos

32

November 2018
---
LIVE

Photo by Kira Clavell

MC5 - MC50 Tour

Commodore Ballroom

October 17, 2018

The legendary Detroit proto punk band

MC5 delivered an onslaught of energy

exploring the songs off their first and

most celebrated record, 1968's Kick Out

The Jams, for their 50th anniversary tour.

Original lead guitarist Wayne Kramer has

created what can only be described as a

super group lineup consisting of members

from Fugazi, Soundgarden and Faith No

More. The concert opened up with a

recording of the original lead vocalist, the

late great Rob Tyrner's iconic politically

charged rally cries off the first record.

This set the mood for a powerhouse

of dynamic and infectious tunes and

riffs that pummeled their way through

the band's entire set. Even when they

divulged into the free form avant-garde

jazz freak out song, "Starship," there still

maintained a brilliant sense of tension

and release, which complemented the

more focused areas of their set.

It's truly great to see older, more

wizened rockers who have so much

youthful fun on a stage in a city you

can tell they truly appreciate playing at;

Kramer even calling Vancouver one of

"the best crowds in the world" and this

most certainly wasn't polite pleasantry.

Credit to the crowd as well, they fed off

MC5s untamable ethos and were headbanging

with the utmost enthusiasm.

It's easy to see why MC5 have been

debated against The Stooges as the ones

who most shaped the sound of punk

and its transgressive image. Even in

more contemporary times, the Detroit

sound lives on through bands like the

White Stripes and all of garage punk

rock. Heavily influenced by the raw

stripped down nature of the sound MC5

pioneered.

We would be so lucky to have more

contemporary musicians with this much

kinetic rage, vitriol and passion for the

interesting times we find ourselves in.

• Josh Sheppard

Third Eye Blind

Hard Rock Casino Vancouver

October 19, 2018

Its 2018 and the '90s are knocking so hard at the

door that we can't help but open it up and see what's

behind. That was certainly the vibe at the Third Eye

Blind concert at the Hard Rock Casino. I found myself

pressed against the stage with a row of Third Eye Blind

fans from all over. There was a couple on my left who

were from Chicago and a couple to my right who

were from Seattle. It became obvious why they had

traveled for the show when frontman Stephan Jenkins

informed a rowdy crowd that they weren't touring at

the moment, that they were in fact in the middle of

writing a record when they flew out to Vancouver for

this one-off show.

Jenkins is a master of making his crowd hang on

every word, playing more than seven songs before he

even addressed the audience, only to launch into a set

that he lovingly called "Stephan gets to do whatever

he wants" where a taunting audience screamed song

titles for him to play for us. He expertly wove his way

through the gnarly "Slow Motion" moving into a

song he shared was the bands only number one hit in

India, proclaiming "Ok, here is my big fat Indian hit!"

launching into an effervescent and emotional "Deep

Inside of you."

The band came back on stage and closed up the

show with "Semi Charmed Life," their number one

from the nineties, and it was with this song they

declared the night complete. The band knows that

their strength and relevancy rely on their nostalgic

factor, while also appeasing the fans who follow them

faithfully. We are lucky to still have storytellers like

Jenkins still making music.

• David Cutting

Courtney Barnett

The Vogue

October 10, 2018

The stage was drowned in a sea of red as

Courtney Barnett and her backing band

nonchalantly walked on stage and put their

instruments on. They opened with the

deadpan track "Hopelessness," the opening

song on Barnett's new record Tell Me How

You Really Feel, creating an ambiance that

was as sedative as it was seductive. She

followed with the far more upbeat "City

Looks Pretty," the second track from the

new album before performing an old fanfavourite,

"Avant Gardener."

Lighting was a pleasant surprise, at times

mixtures of greens and blues instilled feelings

of 70s hippie freedom while, at other points,

deep shades of reds and blues submerged

you in a psychedelic haze. The new record's

lead single "Nameless, Faceless," a song about

toxic misogyny, and male violence towards

Photo by Darrole Palmer

women, intricately attacks you musically, as

well as visually with it's shocking light-flashes.

Barnett appropriately followed this song with

the seemingly In Utero inspired "I'm Not Your

Mother, I'm Not Your Bitch."

There's something Cobain-esque about

the way Courtney Barnett performs. I'm not

sure if it's the unforgiving vocal wails that

layer over her melodramatic pop songs,

or the thrashy, distorted, grunge-laden

guitar solos, or perhaps the way she flails

her body, exhuming her lifetime's worth of

teenage angst. Playing a left-handed Fender

Jazzmaster ties it all together.

The show showed a lot more aggression

than anticipated. It blended artfully crafted

lighting, and strongly written songs to create

an experience beyond expectation. I must

mention Barnett's beautifully delivered solo

performance of Gillian Welch's "Everything is

Free." The show ended with Barnett's arguably

first big hit "Pedestrian At Best."

• Johnny Papan

November 2018 33
---
NEW MOON RISING

YOUR MONTHLY HOROSCOPE

QUAN YIN DIVINATION

Month of the Water Pig

Compassion, feeling, and good-natured

friendliness are the qualities of the

water pig. They love to befriend others,

share and delight in good company,

and are endlessly generous with their

time and affection. This month is a

sociable one, and you may find that

even strangers are kind or helpful

now if you show even the slightest

receptivity. Giving generously is

favoured under this sign, and this is a

good time to treat a friend to a show,

invite a group for a dinner party, or pick

up the bill for a night out on the town.

Rabbit (Pisces): A time for inspiration.

Think of planting seeds rather than

harvesting fruit. Guilt-free living means

that you can enjoy present moment

satisfaction without compromising

future or past agreements. Look for

ways to optimize stress relief and the

work will do itself.

Dragon (Aries): Congeniality and

sharing tactful yet enthusiastic ideas

with others give those around you the

opportunity to perform at their best.

The wisdom of correct conduct creates

powerful leadership and inspires

excellence.

Snake (Taurus): You're a keen planner

and strategist, Snake, so keep your eye

on your plan and don't get distracted.

Whether in love or financial matters,

people are watching you now. Choose

wisely as your reputation needs to be

polished, not tarnished.

Horse (Gemini): Harsh feelings may

be a symptom of an inner conflict that

seeks resolution. Blaming, judging or

condemning will only complicate and

compound the difficulty. Look for the

good and you will find it there.

Sheep (Cancer): Collaborate with

others freely to enjoy the freedom

that comes from following along with

another's plan. Let go of anything that

causes resistance to a natural flow, and

grow through the experience gracefully.

Monkey (Leo): Physical or emotional

harm teaches us to take care of

ourselves first, before we are able to

offer care to others. It might be time to

take on some self-love assignments.

Rooster (Virgo): Domestic affairs

satisfy. Focus on home and health to

bring great rewards this month. Remain

balanced, fair, and desire-less to lead by

good example.

Dog (Libra): Luxury doesn't always

bring true happiness, but there's joy in

it for the moment. Indulge without

overdoing it. Happy days are here for

you.

Pig (Scorpio): You see the best in

others, but don't allow rose-coloured

glasses to interfere with common

sense. Use your natural intelligence to

evaluate any suspicious situation.

Rat (Sagittarius): Freedom is powerful,

as long as it doesn't mean that you're

neglecting those you love. What

actions can you take now to follow

through on your promises? Reject any

ideas that take you further from your

life goals.

Ox (Capricorn): Stillness and

contemplation can help strong

emotions ground and dissipate.

Observe the rise and fall of any feelings

and identify where they reside in your

body. With awareness, all emotion can

be seen as transient, so high or low,

take it slow.

Tiger (Aquarius): Destruction and

creativity often come to you at the

same time, Tiger. Channel your energy

into building a new home, project, or

relationship and simultaneously tear

down the old. New growth comes in

its place.

Susan Horning is a Feng Shui

Consultant and Bazi Astrologist living

and working in East Vancouver. Find

out more about her at QuanYin.ca.

LUCA FOGALE

ON TOUR

FRI. NOV. 23

SAT. NOV. 24

SUN. NOV. 25

THE FOX CABARET VANCOUVER, BC

ST ANDREW'S PRESBYTERIAN VICTORIA, BC

THE ABBEY

CUMBERLAND, BC

TICKETS AVAILABLE AT

WWW.LUCAFOGALE.COM

34

November 2018
---
CANADA'S LARGEST INDEPENDENT CONCERT PROMOTER

UPCOMING SHOWS

KHRUANGBIN

WITH WILL VAN HORN

November 18

The Vogue Theatre

STILL CORNERS

WITH RUBY HAUNT AND BOOTY EP

November 6 - Fox Cabaret

THE SELECTER

WITH RHODA DAKAR

November 7- Rickshaw Theatre

ODONIS ODONIS

WITH WIRE SPINE AND SIGSALY

November 10 - The Biltmore Cabaret

MR TWIN SISTER

WITH SATEEN

November 11 - The Biltmore Cabaret

ART D'ECCO

WITH BORED DECOR

November 16 - The Biltmore Cabaret

UNDEROATH

W/ GAVIN DANCE DANCE & PLOT IN YOU

November 19 - The Vogue Theatre

SEAN LEON

WITH GUESTS

November 28 - The Biltmore Cabaret

RIA MAE & RALPH

WITH NEON DREAMS

December 1 - The Biltmore Cabaret

JOHN MAUS

WITH ACTORS

December 2 - Rickshaw Theatre

TICKETS ARE AVAILABLE AT MRGCONCERTS.COM