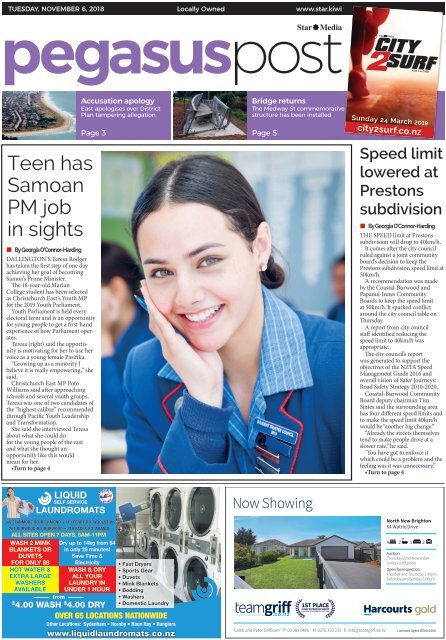 Pegasus Post: November 06, 2018
Create successful ePaper yourself
Turn your PDF publications into a flip-book with our unique Google optimized e-Paper software.
Land size Land size Land size Bedroom Bedroom BedroomBathroom

Bathroom Bathroom

Garage Garage

Garage

Carport Carport

Carport

Car pad Car pad

Car pad

Lounge Lounge Lounge

Land size

Dining

Dining Garage

Bedroom

Toilet

Toilet

Carport

Shower Shower

Bathroom

1 2 3 4 5

Boat pad Boat pad

Pool Pool Tennis Tennis court court

Boat pad

Pool

Tennis court

1 1 2 2 3 3 4 4 5 5 6 6 7 7 8 8 9 9 10 10 11 11 12 12 13 1

1 2 3 4 5 6 7 8 9 10 11 12 13

S

TUESDAY, NOVEMBER 6, 2018

Locally Owned

www.star.kiwi

CITY

2SURF

with Les Mills

Teen has

Samoan

PM job

in sights

• By Georgia O'Connor-Harding

DALLINGTON'S Teresa Rodger

has taken the first step of one day

achieving her goal of becoming

Samoa's Prime Minister.

The 18-year-old Marian

College student has been selected

as Christchurch East's Youth MP

for the 2019 Youth Parliament.

Youth Parliament is held every

electoral term and is an opportunity

for young people to get a first-hand

experience of how Parliament operates.

Teresa (right) said the opportunity

is motivating for her to use her

voice as a young female Pasifika.

"Growing up as a minority I

believe it is really empowering," she

said.

Christchurch East MP Poto

Williams said after approaching

schools and several youth groups,

Teresa was one of two candidates of

the "highest calibre" recommended

through Pacific Youth Leadership

and Transformation.

She said she interviewed Teresa

about what she could do

for the young people of the east

and what she thought an

opportunity like this would

mean for her.

•Turn to page 4

Accusation apology

East apologises over District

Plan tampering allegation

Page 3 Page 5

Bridge returns

The Medway St commemorative

structure has been installed

CITY

2

2SURF

Sunday 24 March 2019

city2surf.co.nz

with Les Mills

Speed limit

lowered at

Prestons

subdivision

• By Georgia O'Connor-Harding

THE SPEED limit at Prestons

subdivision will drop to 40km/h.

It comes after the city council

ruled against a joint community

board's decision to keep the

Prestons subdivision speed limit at

50km/h.

A recommendation was made

by the Coastal-Burwood and

Papanui-Innes Community

Boards to keep the speed limit

at 50km/h. It sparked conflict

around the city council table on

Thursday.

A report from city council

staff identified reducing the

speed limit to 40km/h was

appropriate.

The city council's report

was generated to support the

objectives of the NZTA Speed

Management Guide 2016 and

overall vision of Safer Journeys:

Road Safety Strategy 2010-2020.

Coastal-Burwood Community

Board deputy chairman Tim

Sintes said the surrounding area

has four different speed limits and

to make the speed limit 40km/h

would be "another big change."

"Already the streets themselves

tend to make people drive at a

slower rate," he said.

"You have got to enforce it

which could be a problem and the

feeling was it was unnecessary."

•Turn to page 4

liquiD

selF service

lAunDromAts

345 Stanmore rd, richmond • 713 Ferry rd, WoolSton

261 BurWood rd, BurWood • 319 PageS rd, aranui

All sites open 7 DAYs, 5Am-11pm

WAsH 2 mink

BlAnkets or

Duvets

For onlY $8

Hot WAter &

extrA lArGe

WAsHers

AvAilABle

Dry up to 14kg from $4

in only 25 minutes!

save time &

electricity

WAsH & DrY

All Your

lAunDrY in

unDer 1 Hour

from

$

4.00 WASH $ 4.00 DRY

• Fast Dryers

• sports Gear

• Duvets

• mink Blankets

• Bedding

• Washers

• Domestic laundry

over 65 locations nationwide

other locations: Sydenham • hornby • hoon hay • rangiora

www.liquidlaundromats.co.nz

1ST PLACE

CLIENT EXPERIENCE AWARD

HARCOURTS CANTERBURY 2017-2018

850m 4 2

850m 850m 4 4 2 2 1 1 2.5 2.5

850m 4 2 1 2.5
---
2 Tuesday November 6 2018

Latest Christchurch news at www.star.kiwi

get in touch

from the editor's desk

I PREDICT a bright future for Teresa

Rodger.

She's the 18-year-old with the great

smile on our front page who has politics

on her mind.

She has been selected as Poto Williams

Youth MP for Christchurch East, and will be part of next year's

Youth Parliament.

But she doesn't have her eyes set on the Beehive.

Teresa has a life goal of becoming Samoa's prime minister

one day.

Youth Parliament is an opportunity for her to use her voice

as a young female Pasifika, she says.

And in terms of other goals, Quintin Poole is about to realise

his (see page 11). He's on the under-card for Joseph Parker's

fight on December 15 and has lost a big chunk of weight to get

there.

– Barry Clarke

GENERAL INQUIRIES Ph 379 7100

CLASSIFIED ADVERTISING Ph 379 1100

Star Media, a division of Allied Press Ltd

PO box 1467, Christchurch

starmedia.kiwi

schools

Success at Queenspark Primary

Pupils receive Hillary badges for a range of leadership,

cultural, sporting and academic achievements.

Page 9

sport

Shirley boxer's big fight

Quintin Poole's motivation to be on Joseph Parker's undercard

on December 15 goes far beyond winning a boxing bout.

Page 11

community events

PEGASUS POST

Knit in company

Go along to knit in a relaxed and friendly environment on

Monday, 10.30-11.30am, at Parklands Library.

NEWS

Georgia O'Connor-Harding

Ph: 364 7438

georgia.oconnor@starmedia.kiwi

ADVERTISING

Elaine Moon

Ph: 364 7436

elaine.moon@starmedia.kiwi

Page 15

The best-read local newspaper, delivered to

15,657 homes every Tuesday

Linwood, Avonside, Richmond, Shirley, Burwood, Dallington,

Wainoni, Bromley, Aranui, Avondale, Bexley, New Brighton,

Northshore, Queenspark, Parklands, South Brighton.

Archer

GROUP

Linrose Village

472 Linwood Ave, Linwood

Linrose is our independent-living lifestyle village

For inquiries phone Sue (Sales Manager)

on 021 902 626 or 943 6006 or email sue@archer.org.nz

LOVELY 2 BEDROOM

VILLAS WITH INTERNAL

ACCESS GARAGE

FROM $299,900

Archer Village | Linrose Village | Thorrington Village | Archer Homes | Archer Tours

www.archer.org.nz
---
PEGASUS POST Latest Christchurch news at www.star.kiwi

Tuesday November 6 2018 3

News

East apologises for accusation

• By Georgia O'Connor-Harding

CITY COUNCILLOR David

East has apologised for

accusing the city council staff

of tampering with the city's

District Plan.

His actions have been

supported by Christchurch

Coastal

Residents

United group.

CCRU deputy

chairman

Warwick

Schaffer said

David East

the issue wasn't

so much one of

tampering, it

was that the panel wasn't alerted

to the omission.

"Strictly speaking there was

no tampering of the plan and so

he was quite right to apologise

for that because it is not the case

but it is extremely unlikely staff

wouldn't have noticed it was

there and they should have said

something to the panel.

"My perspective is good on

him for owning that and it will

be nice to see council admit

some similar kind of mistake on

their side as well," Mr Schaffer

said.

He said it was an extremely

technical topic and from an

outsider looking in you would

naturally jump to the conclusion

there had been there had

been tampering.

"He always sort of said it

had been alleged," Mr Schaffer

said.

Cr East's apology came as city

councillors unanimously voted

to change the District Plan

to make it easier for residents

HEAT PUMP

SALE NOW ON!

Amazin' spring Specials!!

living in the High Flood Hazard

Management Area to get

resource consent.

Without the discretionary

rule known as the enable clause,

residents were finding it almost

impossible to build or extend

their properties within the

HFHMA.

The proposed alteration will

be sent to Christchurch Regeneration

Minister Megan Woods

COASTAL:

A clause

allowing

people to

building in

flood risk

areas could

be put back

in the District

Plan before

Christmas.

to put before the public before

signing off.

Cr East previously called for

an independent inquiry into

an erased clause in the District

Plan.

His allegations has received

a flood of support over his

allegations the plan was

tampered with, which could

have seen him asked to resign as

a city councillor.

Local

News

Now

In Brief

Fire rages, homes at risk

FLYING FOX REMOVED

The flying fox at Broad Park,

Waimairi Beach, has been taken

away by the city council for repairs

after the platform was deemed

unstable. The slide has rust on it

and has also been removed and will

be replaced with a new slide.

WATER MAIN RENEWALS

The existing water mains on

McBratneys Rd from Banks Ave

to Dallington Tce and Gayhurst

Rd will be upgraded. The work

will start later this month and is

expected to continue until January.

MOBILE LIBRARY

A mobile library will be at the

Parklands Library three times a

week while earthquake repairs are

undertaken. Work on the library

building will start on November 19

and it will reopen in April. The cafe

will also be closed over this period.

From November 20, the mobile

library will visit on Tuesdays, 10amnoon,

Wednesdays, 3-5pm, and

Saturdays, 10am-2pm.

ESTUARY RECOGNISED

The Avon-Heathcote Estuary has

received international recognition

for its importance as a safe haven

for migratory birds. It is now the

only urban wetland in Australasia

to be part of the East Asian-

Australasia Flyway network.

• We will offer you the best quality brands and

option of heat pump for your home/business

• Providing Heat Pump solutions for over 16 years to Cantabrians

• We personally guarantee all our products & installs for 5 years

(providing annual maintenance has been completed)

Phone us today for your free consultation & quote

41A SHAKESPEARE RD, WALTHAM

PHONE 03 366 0525

www.enviromaster.co.nz

"A local team for local people"

Fall in love

with your

favourite furniture

all over again!

• Recover your chairs and couches

and save money!

• Excellent range of fabrics

• Quality workmanship guaranteed

• Free quotes available

• Over 30 years experience

BEFORE

AFTER

Somerfield Upholstery Ltd

FURNITURE RECOVERY SPECIALIST

10 Calgary Place, Hornby | Ph 021 251 6200 | 349 0456

QUALITY WORKMANSHIP GUARANTEED www.somerfieldupholstery.co.nz
---
4 Tuesday November 6 2018

Latest Christchurch news at www.star.kiwi

News

Teen has

Samoan PM

PEGASUS POST

Subdivision speed limit lowered

job in sights •From page 1

•From page 1

"She is a political beast at the

end of the day but probably hadn't

realised it," Ms Williams said.

Teresa said she is hoping to use

her position to focus on mental

health issues, especially among

youth.

She said it is just about using

her role to express from a young

person's point of view their angle

of life and why these issues are

coming about.

Next year Teresa will be going

to Canterbury University to study

political science as part of a Bachelor

of Arts.

"My ultimate life goal is, I don't

know how realistic it is, is to

become Prime Minister of Samoa.

We will see how we go," she said.

While Teresa was born in New

Zealand, her mother is Samoan

and she has travelled to the country

several times.

She has also enrolled in an Ara

Institute of Canterbury course next

year to strengthen her Samoan.

The 2019 Youth Parliament

will take place from March 1 to

August 31.

Ms Williams said Teresa will

also be attending events over the

summer as Youth MP and may

be attending some events on her

behalf.

Papanui-Innes Community

Board chairwoman Ali Jones

said the feeling from residents

was something that was being

done that didn't need to be.

"The streets were perfectly

able to carry traffic at that

speed," she said.

But an overwhelming majority

of city councillors were

against the

decision

and ruled in

favour of a

resolution

to lower the

speed limit to

40km/h.

Mike Davidson

City councillor

Mike

Davidson

said the resolution will make a

safer environment for a quiet

community consisting of many

families.

He questioned the board's

reasoning not to lower the speed

limit as a result of the four different

speed zones outside the

subdivision.

City councillor Aaron Keown

was also supportive and said it

was a bit of an experiment in a

suburban area and he did not

think people would find it that

bad.

"A kid can run out from behind

a vehicle and hopefully you

will have more reaction time

because of this," he said.

But city councillors David

East and Deon Swiggs voted

against the resolution.

Cr East said the city council

was relitigating the community's

decisions and lowering

the speed limit was quite clearly

something the community

didn't ask for.

"It seems nonsensical to enact

this provision in this subdivision,"

he said.

City councillor Deon Swiggs

SAFETY:

Speed

limits at the

Prestons

subdivision

will be

changed to

40km/h.

said he wanted to support the

community board that had been

on the ground.

•HAVE YOUR SAY: Do you

think the speed limit at the

Prestons subdivision should

be lowered to 40km/h?

Email your views to georgia.

oconnor@starmedia.kiwi

SURF'S UP SCOTTY RAZOR ROBERTSON PROFILE

APRIL 2018

TJ'S

CHASING

GREAT

ONE

MORE

COVER

The power

LINE

of Perenara

SUPER

RUGBY'S

G.O.A.T

CORY JANE

6 issues (1 year) $44.50

12 issues (2 years) $79

18 issues (3 years) $115

Social Media Animal

+

PLUS...

RRP $9.95

KEEPING

WHO

TABS ON

MATSON

CALEB

CLARKE

Chip off the

old block

1ST XVs

PLAY LIKE PROS

A school boy rugby

investigation

SUBSCRIPTIONS FREEPHONE

0800 77 Chief 77 10

Tabai's

rugbynews.co.nz

Tron tribe

WHO WILL

MAKE THE

AB CUT?

Beautiful Teeth

Meet the

Owner

Ryan Carlton

Natural Smile

Free Consultation, No Obligation

• Full Dentures • Dentures Repaired • Implant Assisted Dentures

• Injection Moulded Flexible Partials • Relines

• Mouthguards • Additions/Repairs

• Purchase cleaning and care products from our website.

All dentures personally

designed and created to ensure

a comfortable natural fit.

DENTURES PLUS (2014) LTD

Denture Clinic and Laboratory

396 Innes Road, St Albans. Phone 385 5517.

Email: denturesplus@paradise.net.nz

www.denturesplus.co.nz

Looking for

a mortgage

broker?

Head to our website for

more information or call

Michelle to arrange a

free consultation.

Michelle lindsay

Mortgage advisor

Phone 021 346 265

www.stephaniemurray.mortgage

Orbiter Bus stops Innes Road
---
PEGASUS POST Latest Christchurch news at www.star.kiwi

Tuesday November 6 2018 5

Sea lettuce likely cause

of Southshore smell

Local

News

Now

Fire rages, homes at risk

• By Georgia O'Connor-Harding

SOUTHSHORE residents are

having to shut their windows to

block out the smell coming from

the estuary.

Residents have noticed the

estuary has been smelling worse

than usual over the past month.

It is suspected the bad smell is

a cause of a build up in sea lettuce

– a type of green algae.

But an Environment Canterbury

Christchurch,

West

Melton, Banks

Peninsula zone

manager Steve

Firth said it

has not had

Tim Sintes

any complaints

about sea lettuce,

or odour,

so it hasn't investigated.

Community Board deputy

chairman Tim Sintes said it is

obviously a build-up of sea lettuce.

"Unfortunately we went

through a winter without many

frosts. The frost normally knocks

back the sea lettuce

. . . we obviously need some big

tides to wash it out," he said.

Mr Sintes said the issue does

SMELLY: It is suspected a build-up of sea lettuce is causing

the Southshore estuary to smell worse than usual.

tend to happen from time to time

depending on which way the

wind is blowing.

"Most times we have an easterly

which takes the smell away,"

he said.

Residents kicked up a storm on

the Southshore 8062 Facebook

page.

Comments included "Southshore

dream lol I have noticed

it driving down the road too,"

"this is next level stink" and

"have found I smell it inside even

with windows doors closed. This

time of year generally starts to

stink."

Yoga Tights owner and resident

Sue Carbines said a lot of

locals have noticed the smell in

the past month and have had to

shut their windows.

She said the smell depends on

the sunlight.

"When we had all that hot

weather last month, it gets

hot and it cooks and it starts

breaking down and releasing."

•HAVE YOUR SAY: Do you

think the South Brighton

and Southshore estuary is

smelling more than usual?

Email your views to georgia.

oconnor@starmedia.kiwi

SIGNIFICANT: The Medway St Bridge commemorative

structure has returned to Avonside. ​

Bridge returns

AN ICONIC section of a bridge

symbolising the impact of the

earthquakes on the east side of

the city has been returned to

Avonside.

The Medway St Bridge commemorative

structure has been

installed alongside Te Ara

Ōtākaro, the transitional Avon

River Trail.

The twisted footbridge was

damaged beyond repair in the

September 4, 2010, earthquake

and became a symbol of the

city's damage.

The structure was placed just

north of the bridge's original

location, on the Avonside side of

the river.

An opening ceremony of the

commemorative bridge structure

was held at the end of last

month.

Signs were also installed

detailing the history and

significance of the bridge, which

will be visible from the River

Rd platform that was installed

as part of the Dudley Creek

diversion.

Join in the discussion with Poto Williams, MP for

Christchurch East, and special guest speaker

Hon Dr Megan Woods, MP for Wigram (Minister

for Greater Christchurch Regeneration and

Minister Responsible for the Earthquake

Commission)

Wednesday 14 November

7pm

St Andrews Hall, 109 Marriotts Road,

North New Brighton

Authorised by Poto Williams MP, Parliament Buildings, Wellington

Dyers Road Landscape

& Garden Supplies

• Barks • Peastraw • Composts - we supply the best available

• Aggregates - Chip, Round and Basecourse

• Pavers & Schist products • Pungas

• Decorative Stones & Landscaping Rocks

• Trailer Hire first hour free with purchase

• Bag & Bulk - pick up or delivered

David, Carol & Mike

We will deliver!

SOIL

AND

HARDFILL

DUMPING

Phone: 03 384 6540

183 Dyers Rd, Bromley • OPEN 7 DAYS

Weekdays 7.30am-5pm. Weekends 8.30am-3pm

www.dyersroadandlandscapes.co.nz

Christchurch Casino's

buffet is back!

gold

card special

$

19 Lunch

(THU)

WED - SUN

gold

card special

$

29

Dinner

(THU & SUN)

BOOKINGS ESSENTIAL - 03 372 8892 | CHCHCASINO.CO.NZ | 30 VICTORIA ST

Gold Card must be presented to receive offer. Not to be used in conjunction with any other offer or discount. T&C's apply.
---
6 Tuesday November 6 2018

Latest Christchurch news at www.star.kiwi

PEGASUS POST

Nuturing the young for 167 years

The late US journalist

Herb Caen wrote: "A city

is not gauged by its length

and width but by the

broadness of its vision and

the height of its dreams."

Caen might have been

writing of Christchurch,

as our visions for the new

city pay homage to the

dreams of the founders

while unleashing our own

dreams for a lofty future.

At the heart of the

city since those earliest

aspirational days when the

founders laid out the first

roads and planted the first

trees, St Michael's has had

at its heart the vision and

dreams of our city and its

children.

Indeed, for 167 years,

St Michael's has been

educating and nurturing

the visionaries and

dreamers who continue to

shape our city and step

out into the world beyond.

For our young pupils have

limitless potential to lead

exciting and generous

lives, and we have the

responsibility to educate and inspire

them, to encourage every child to

flourish, in mind, body and spirit.

St Michael's is a prep school for girls

and boys in Years 1-8. Our classes are

small, fewer than 20 pupils, and our

specialist teachers ensure each child is

an individual, well known by staff and

fellow pupils alike. For at the heart of

St Michael's are the essential values

of Christian faith and good citizenship:

respect, integrity, community, faith,

hope and love.

An independent school education

at the primary level is a great gift

and so traditional foundations in

Counting the beat, an exploration of rhythm. Year 1

and 2 Music.

English and Maths are assured. This

academic rigour then underpins our

wider curriculums in Science, History,

Geography and Spanish. IT literacy is

taught, not assumed, and computer

use is measured. We like teaching and

talking to our pupils!

A prep education offers balance.

St Michael's cultural and sports'

programmes further develop each

child's foundation, as creativity and

problem-solving come in many forms.

Specialist art and music classes are

enjoyed weekly. We have two choirs,

and most pupils play at least one

instrument or study speech and

drama with one of our nine

itinerant staff.

Located in the heart of

the city, on the banks of

the Avon and the new City

Promenade, our extended

campus is spectacular:

today, the Art Gallery;

tomorrow, the Gardens;

tennis later in Hagley Park.

A recent school survey

indicates that many of

our parents now work in

the thriving city centre,

or Lincoln and Riccarton

Road hubs but they live

city-wide. They comment

on the benefit of knowing

their children are in

school nearby and the

convenience of popping

in for an hour to catch

a performance or watch

a race. With the new

central exchange only a

block away, a number of

children arrive by bus from

all corners of the city.

Is your child one of 15

or 50? Is their classroom a

calm, productive learning

space or is the noise and

movement unceasing? How

much of the teacher's attention does

your child actually receive? There is

an alternative.

You and your child are warmly

invited to discover for yourselves

our purposeful, wholehearted and

inclusive prep school. Our Open Day

is Tuesday, November 14, or contact

our registrar, Bec Hitchcock, for a

personal tour: 03 379 9790.

On the Alps2Ocean cycle trail as part of the

Year 7 and 8 Mt Cook Camp.

On the go! School Athletic Sports at Christ's

College.

Cracking good fun! The school's annual

Holiday Programme.

St Michael's

Your school at the heart of the city since 1851

✓ Co-educational, Years 1-8

✓ Small classes

✓ Specialist teachers

✓ Traditional classrooms;

academic rigour

✓ Musical excellence

✓ Christian values

✓ Before & after school care:

7.30am - 5.30pm

✓ Cental city location,

easy access

In tune: St Michael's pupils perform at the Christchurch Schools'

Music Festival, earlier this term.

Open Day: Tuesday 14 November

www.saintmichaels.school.nz 249 Durham Street 379 9790
---
PEGASUS POST Latest Christchurch news at www.star.kiwi

Tuesday November 6 2018 7

News

Local

News

Now

Extra funding for community groups

Fire rages, homes at risk

CITY COMMUNITY groups

will receive an increased amount

of funding this year from

Christchurch Casinos Charitable

Trust annual grants distribution.

A total of $186,500 in grants

was announced last week at the

CCCT grants presentation.

Since it was established 23

years ago in 1995 Christchurch

Casinos Charitable Trust has

given a total of $4,092,250 in

grants to support community

groups working to support

and educate for prevention

of compulsive and addictive

problems.

CCCT chairwoman Lady

Karen Hadlee said funds were

distributed to an increased

number of 35 agencies this year

working in areas of community

support, education and youth,

telephone and other counselling,

sexual abuse agencies, refugee

centres and prison-related

charities.

"Recipients of funding are

achieving positive results of

significant change for individuals

and families impacted by

addictive behaviour, including

gambling," she said.

The 35 agencies receiving

funding are all fully engaged

in community services support

work and making an important

difference through their commitment

and diverse projects,

Lady Hadlee said.

Through a long-term

commitment the CCCT has

exceeded $4 million in total

funding for Canterbury

community support groups.

Donations were presented to

recipients comprising of:

Church agencies

Christchurch City Mission –

$12,500

Christchurch Apostolic Trust

– $4000

Enrich Community Chaplaincy

Trust – $3000

Total – $19,500

Community support

agencies

Age Concern Canterbury

Incorporated – $10,000

Aviva (incorporating Christchurch

Women's Refuge) Charitable

Trust – $8000

Battered Women's Trust –

$4000

Canterbury Men's Centre –

$8000

Home and Family Society

Christchurch – $8000

Kingdom Resources Ltd –

Karen

Hadlee

$8000

Birthright Canterbury Trust –

$2000

NZ Council of Victim Supports

Group Inc – $2000

Shakti Ethnic Women's Support

Group Christchurch Incorporated

– $6000

Tenants Protection Association

(ChCh) Incorporated – $6000

Stopping Violence Services

(Christchurch) Incorporated –

$3000

West Christchurch Women's

Refuge Society Incorporated –

$8000

The Order of St John South

Island Region – $5000

YMCA Christchurch Inc:

$5000

Citizens Advice Bureau –

$3000

Total – $86,000

Education and youth

agencies

Big Brothers Big Sisters of

Christchurch – $5000

Cholmondeley Children's

Centre – $8000

Christchurch Children's Holiday

Camps Trust – $5000

180 Degrees Trust – $3000

Korowai Youth Well-Being

Trust – $8000

Life Education Trust Canterbury

– $4000

Life Education Trust Mid and

South Canterbury – $2000

Opawaho Trust – $2000

Spirit of Adventure Trust –

$5000

Cross Over Trust – $3000

K2 Youth Development Trust

– $2000

Total – $47,000

Sexual and child abuse

and prison-related charities

Project Esther Trust – $10,000

Pillars Incorporated – $8000

Total – $18,000

Telephone and other

counselling

Caroline House – $5000

Lifeline Foundation Charitable

Trust – $5000

Youthline Central South Island

– $3000

Petersgate Counselling Centre

– $3000

Total – $16,000

Turning arrow unlikely for intersection

• By Georgia O'Connor-

Harding

A RIGHT turning arrow

is unlikely to be installed

at a busy intersection in

Shirley in spite of concerns

it is inconsistent with other

intersections in the area.

The city council has no

plans to install a green arrow

for vehicles turning from

Marshland Rd into Lake Terrace

Rd.

City council transport

operations manager Steffan

Thomas said the intersection

has not had an arrow installed

as the vehicle movement

ranks lower than other intersections

in the city.

It is also due to a lack of

specific right-turn crashes.

It comes after concerns were

raised by Disabled Persons

Assembly Christchurch and

Districts president Philip

Haythornthwaite requested a

right turn arrow be installed.

This is so it could work in

conjunction with the arrow already

installed for southbound

traffic turning right from

Marshland Rd to Briggs Rd.

He described the intersection

as "totally inconsistent"

with the layout of the QE II

Drive- Marshland Rd and

Shirley Rd, North Pde, New

Brighton Rd and Marshland

Rd intersections.

"If you travel up Marshland

Rd and even from Stanmore

Rd up to QE II, you have

beautifully new up to date

sets of controlled traffic

lights which give you arrows

and everything . . . with the

exception the Lake Terrace,

Marshland Rd intersection,"

he said.

Mr Haythornthwaite's key

concern was in order for a

successful public transportation

system an easy right turn

option was essential.

The route 60 bus which runs

from Southshore to Wigram

also runs through the intersection.

Mr Haythornthwaite is a

frequent user of the bus route.

"The important thing they

are missing is, it is a major bus

route. People like me want it

to run efficiently and smoothly

and that it would encourage

people to use them," he said.

The city council has a

programme that consists of

installing up to five right turn

arrows per year.

Locations are prioritised on

factors including specific right

turn crashes at an intersection

and the volume of right

turning vehicles.

NEED: A call has been made for a right

turning green arrow to be installed for

traffic travelling from Marshland Rd into

Lake Terrace Rd.
---
8 Tuesday November 6 2018

Latest Christchurch news at www.star.kiwi

GEAR UP FOR summer SALE

PEGASUS POST

ON NOW

ENDS 22.11.18

ALL OUTDOOR ON SALE!

We've got outdoor

dining sorted.

Mix and match outdoor dining tables

and chairs to create your summer oasis.

Teak top

Aluminium

frame

Fox Outdoor Dining Table

NOW ONLY $

2299

Resin Outdoor Dining Chairs FROM $ 65

Bailey

Ellis

Maddox

Sienna

Tivoli

Zane

Shop

Online

Nationwide

Delivery

Finance

Options

targetfurniture.co.nz

Cnr Blenheim & Curletts Rds, Christchurch

Ph: 0800 TARGET (0800 827438)

Offers and product prices advertised here expire 22/11/18.

Sale excludes Manchester and Accessories.
---
PEGASUS POST Latest Christchurch news at www.star.kiwi

Tuesday November 6 2018 9

KIND

GESTURE:

Banks Avenue

School made

a heartfelt

gesture last

week to

acknowledge

the work of

emergency

services in the

community. ​

Banks Avenue pupils'

special message to

emergency workers

BANKS AVENUE School

has sent a special message

to acknowledge the work of

emergency services in the

community.

About 400 pupils filled the

school library to give their

messages to emergency workers

and others involved in postaccident

care and recovery.

Fire and Emergency New

Zealand staff and Anzac Fire

Station firefighters were in

attendance.

It comes as the Road Traffic

Trauma Charitable Trust hosted

its third annual Road Accident

Remembrance Day in North

Hagley Park on Saturday.

"Children often have very

heartfelt messages and this is

an opportunity for the students

to share it with the emergency

services in their own special

way," trust founder Sarah Dean

said. Pupil Tessa Stewart's father

Michael is a member of the

Banks Avenue School board of

trustees and a firefighter.

"To you this man is a hero, but

to me, he is my dad and he's a

superhero," Tessa said.

Principal Toni Burnside said

the school's values are based on

'heart' values. 'H' is for hauora,

which is 'holistic well-being'; 'E'

is for 'excellence'; 'A' is for 'aroha';

'R' is for 'respect'; and 'T' is for

'togetherness'.

Year 4-6 teacher Jan

Thompson said it is important

the pupils have a local, national

and global perspective.

"Through looking beyond

their own community they

realise they are part of something

bigger and they understand the

benefits of giving and develop an

appreciation for this," she

said.

Don't leave it until

it's too late to get your

home's earthquake

repairs checked.

Hillary badges presented to

high-achievers at Queenspark

• By Georgia O'Connor-Harding

QUEENSPARK Primary

School pupils have celebrated

their success in and out of the

classroom.

Year 7 and 8 pupils were

presented with gold Hillary

badges for a range of leadership,

cultural, sporting and the

academic achievements last week.

The badges are part of the Duke

of Edinburgh's Hillary Awards.

School team leader Kylie

Murcott said the initiative helped

the pupils become well-rounded

and take part the opportunities

the school offers.

Each time a pupil takes part in

a different school activity, they

will earn points to go towards

their badges.

To achieve a bronze badge, the

pupils needed 30 points, 45 for

silver and 60 for gold.

"It is all about setting some

goals, reaching them, and being

an all-round member at our

school," Miss Murcott said.

Activities the pupils can earn

points from include Cantamath,

kapa haka, choir, being a house

leader or representing the student

council.

"We have got . . . jobs around

our school community, such as

being in the green team, which is

our conservation team," she said.

Miss Murcott said the school

has opportunities for pupils to

step up and do jobs around the

school.

SCHOOLS

TRIUMPH: Year 8 pupils Zoe, Alanah, Caleb, Brooke and Jade

were awarded their second gold Hillary badges.

BIG ACHIEVEMENT: Year 7 pupils

Lauchlan, Saissha, Aimee and Joel

received their first gold Hillary awards.

(Right) – Year 8 pupil Nekera with her

gold Hillary badge.

Remember. Create.

Sign up with us for a free foundation report.

NO WIN

NO FEE

Ph: 03 377 8855 | 130 Ferry Road, Christchurch

E: reception@earthquakeservices.co.nz | W: www.earthquakeservices.co.nz

379 9920 | www.johnrhind.co.nz
---
10 Tuesday November 6 2018

Latest Christchurch news at www.star.kiwi

PEGASUS POST

Armistice DAy

Concert for peace

We will remember them

A moment of silence - Call to prayer

PRO PATRIA

(by Philip Norman)

Massed choir features members from:

Christchurch City Choir, Cecilian Singers, Jublilate Singers

with WOOLSTON BRASS D of M Tyme Marsters

Individual items by:

Christchurch City Choir

Conductor Dr Philip Norman

CSM Children's Choir

D of M Kate Husband Accompanist Roy Zhang

Charlotte Wilson Soprano

accompanied Apollo Musicum

Apollo Musicum

D of M Dr Robert V Tait

Woolston Brass

D of M Tyme Marsters

Sunday 11th November

10:30am at the Air Force Museum

45 Harvard Ave, Wigram

FREE ADMISSION
---
PEGASUS POST Latest Christchurch news at www.star.kiwi

Tuesday November 6 2018 11

• By Jacob Page

SHIRLEY BOXER Quintin

Poole's motivation to be on

Joseph Parker's under-card next

month goes far beyond winning

a bout.

A year ago, the 36-year-old

father of three was 170kg and he

knew things needed to change.

"When you're coaching your

son's junior rugby team and you

can't keep up with him, it makes

you do a little self-reflection."

Having lost 30kg and

competed in four previous

corporate bouts, Poole, a

plasterer by trade, is aiming to

be at 135kg for his bout against

Lincoln roofer Bjorn Horrack at

Horncastle Arena on December

15.

"At 170kg I knew I had to do

something to improve my life

and while I was enjoying boxing

training, doing it alone wasn't

necessarily doing it for me," he

said.

"My first fight was way harder

than I ever thought," he said.

"Three 2min rounds doesn't

sound long, but I went out hard

in the first and by the end, I was

definitely wondering when that

PHOTO: LIZ POOLE

WEIGHT LOSS: Quintin Poole (left) weighed more than 170kg when he

decided to try corporate boxing for the first time 12 months ago.

(Right) – He has lost about 30kg ahead of his bout on December 15.

bell was going to go,"

Poole said his

inspiration was the

Kiwi boxer dubbed

'The Brown Butterbean'

David Letele.

"He went on a similar

weight loss journey to

me and really my dream

is to step in the ring with

him," he said.

Poole said he respected

Horrack's credentials and

willingness to get in the ring.

"Full credit to Bjorn for taking

the fight because he'll be giving

up a lot of weight to me, but I

SPORTS

Shirley boxer drops 30kg for big fight

David Letele

know he'll be prepared.

Poole said the

opportunity to fight on

such a stacked card was

too good to pass up.

"There is a mix

of pressure and

excitement," he said.

"Obviously, it's a big

stage and we'll want to

put on a good fight to

get the crowd into the night.

"I don't think there's too many

people who would turn down a

chance like this so it's well worth

the eight weeks of training camp

for six weeks of fun."

Wheelchairs

to help

disabled

swimmers

at QE II

AN INNOVATIVE and unique

wheelchair design that helps

disabled swimmers get in and out

of the pool is now available at the

Taiora QE II Recreation and Sport

Centre.

The chairs are a collaboration

between the city council and

Christchurch engineering

company, Dynamic Composites,

which designed the steering

wheel for Team New Zealand's

successful America's Cup yacht

and a hi-tech bike for Olympic

cyclist Sarah Ulmer.

City council staff asked the

company to help after a mother

said she found it difficult to take

her son swimming because the

current wheelchairs didn't meet

his needs.

City council recreation and

sport activities and events

manager Martin McGregor

said the new chairs were a vast

improvement because they're

more durable than the older

models and easier to service.

They also have rubber wheels

so they don't need to be regularly

pumped up. The new wet

wheelchairs will gradually replace

the old ones in use at other city

council pools. •More sport, p13

Final stage. Final opportunities.

As the Elloughton Village community continues to grow, we mark a milestone in

commencing the final stage of building. Villas 26-30 are now under construction,

soon to be followed by the last set of villas. These architecturally designed 2 bedroom

villas are build to the highest specifications, as the current residents will attest.

Our Village Development Manager, Jesse Schell, will be happy to take you on a tour

and answer any questions you may have of retirement living at Elloughton Village.

But don't delay - these villas are selling fast!

And they represent exceptionally good value at just $400,000 - $420,000.

Make a booking to view with Jesse, our Village Manager today on 0800 155 155.

Or visit our website www.elloughtonvillage.co.nz to view a walk-through video.

Peace of mind

St John medical alarm in every home

Brand new villas

With leading brand appliances

Advanced care facilities

Available on site if you need them

Leave no pet behind

Your family pet is welcome here

Discover inspired living at Elloughton Village.

Call Jesse now on 0800 155 155.

www.elloughtonvillage.co.nz

1 Pages Road, Marchwiel, Timaru 7910

Our Village sales office has more information and is open from

Monday to Thursday. Bookings for tours are essential.
---
12 Tuesday November 6 2018

Latest Christchurch news at www.star.kiwi

PEGASUS POST
---
PEGASUS POST Latest Christchurch news at www.star.kiwi

Tuesday November 6 2018 13

HONOURED:

Hana Kakoi with

SPORTS

her president of

the year award.

(Left) – Some of

the silverware

the Linwood

Keas won at

the Canterbury

Rugby League

awards. PHOTO:

LINWOOD

KEAS

Parkview pupil with

Crohn's disease tops

off year with medal

• By Jacob Page

PARKVIEW PRIMARY School

pupil Brooklyn Neale took out

bronze at the New Zealand

Judo Championships at Pioneer

Recreation and Sport Centre.

Brooklyn suffers from Crohn's

disease, but it didn't stop him

from having a successful season

leading up to the national

championships.

After winning junior judo titles

at the local and regional level this

year, he earned a bronze in his

final year in the junior category

for competitors aged seven to 10.

The 10-year-old, who lives in

Parklands, often competes during

bouts of Crohn's disease, a bowel

disease that causes pain and

discomfort throughout his body.

The national champs was another

one of those days.

Brooklyn was diagnosed at the

age of three after nine months of

feeling unwell.

He has previously won the open

championship at the Canterbury

Open, Central Districts Open,

Auckland International Open and

the South Island championships

at Nelson in September.

Brooklyn's Mum Andrea said

BRONZE: Parkview Primary

School's Brooklyn Neale with

the bronze medal he won

at the New Zealand Judo

Championships.

PHOTO: NEALE FAMILY

she was delighted Brooklyn

was able to get a medal at the

event after all his hard work and

dedication.

Keas president

keeps winning

momentum

• By Jacob Page

LINWOOD KEAS president

Hana Kakoi is adamant the

club's 106th season will be just

as good as their 105th.

The 28-year-old, first-year

president has seen the club's

men's and women's premier

teams win their respective competitions.

The club won the Poore Cup

at the Canterbury Rugby League

awards, as it was the most

consistent club to make finals

appearances across all grades

this year.

Mrs Kakoi was also named

club president of the year at the

awards night.

"We've certainly created history

in a lot of areas this year

but a lot of that comes from the

hard work of our coaches and

volunteers," she said. "For our

premier women to win their first

ever title and the men to win it

three years in a row for the first

time was amazing."

She said the club had 350

members as well as 70 volunteers

who give up their time in a

coaching, training or management

capacity each season.

Mrs Kakoi said premier men's

coach Andrew Auimatagi's 'big

brother' initiative, which saw a

senior player assigned to one of

the 15 junior teams, had been a

big plus in 2018.

"We're so fortunate to have

Andrew at our club," she said.

"His work ethic is amazing

and, in fact, he's already messaged

me saying that he's bored

already, so he'll be using the

off-season to plan for 2019."

Mrs Kakoi has been part of

the Keas for the past five seasons

and is the first woman to be

president.

"To win (president of the year)

was quite unexpected but a huge

honour." She said with games

moving to Nga Puna Wai next

year, she expected the facility

would allow club's to hold on to

their junior players for longer.

"The issue at the junior level

has been finding parks for them

to play at on a Friday and Monday

night that had lights, so going

to Nga Puna Wai and having

one location will make things a

lot easier."

She said the club was keen to

strengthen its governance to

ensure the Keas continued to

build on a stellar season.
---
14 Tuesday November 6 2018

Latest Christchurch news at www.star.kiwi

PEGASUS POST

Honda CR-V

Large Round White Hand Basin

Socket Set

Toyota Premio X 2004

7m McLay Fisherman

1969 Rover P5B Coupé

$2,500

ID 23979

$65

ID 13076

$10

ID 24906

$4,999

ID 24860

$34,000

ID 24820

$45,000

ID 15246

Swan Plants

Husqvarna 2004 TC450

3-seater Settee & 2 Single Chairs

Vintage Copper Washing Machine

1965 Valiant AP6

King Size Bed Sleepy Head

$5

ID 24784

$2,000

ID 19537

$100

ID 16694

$1,000

ID 19619

$20,000

ID 24086

$1,300

ID 24746

Portable Cabin/Sleepout/Studio

NZ-new Toyota Corolla 2007

4-draw Freezer

Viper 1900 Ski Boat

Suitcase — As New

2015 Chevy Camaro

$17,500

ID 24595

$7,000

ID 24812

$50

ID 24400

$14,000

ID 24359

$60

ID 24236

$79,990

ID 18781

Bike Travel Bag

Chest Freezer 320 litres

Suzuki Swift

2017 Enclosed Trailer

Vintage Teisco Electric Guitar

Suzuki, Manual Diesel, 4WD

$600

ID 24662

$229

ID 19554

$12,500

ID 24653

$3,500

ID 24600

$1,000

ID 24826

$5,500

ID 24825

Antique Vase

Popular Mechanics

Ford Ranger 4x4 Auto

Ride-on Mower

Childrens Playhouse

La-Z-Boy Suite

$20

ID 11840

$50

ID 19533

$16,000

ID 24732

$850

ID 24597

$500

ID 24521

$2,100

ID 24514

Motor boat

Scooby Doo Soft Toy

Flatdeck Truck

Kids Ride-on Car

Nissan Skyline R33

Stiga Ride-on Mower

$8,000

ID 24436

See Seller

ID 23500

$14,950

ID 24738

$10

ID 23061

$3,750

ID 24094

$2,000

ID 23961

Still & Accessories

Honda CRF50

Golf Cart

Masport Electric Mower

Ford Laser XL1

1970S Hob Nob Circular Table

$550

ID 23195

$1,475

ID 24677

$3,500

ID 23651

$160

ID 23613

$1,600

ID 24742

$350

ID 18152

2070458chch
---
PEGASUS POST Latest Christchurch news at www.star.kiwi

Tuesday November 6 2018 15

Email georgia.oconnor@starmedia.kiwi

by 5pm each Wednesday

JP Clinic at Shirley Library

Tuesday, 10am-1pm

A justice of the peace will

be available to members of the

community, to witness signatures

and documents, certify

document copies, hear oaths,

declarations, affidavits or affirmations

as well as sign citizenship,

sponsorship or rates rebates

applications. No charge.

Shirley Library, 36 Marshland

Rd

Storytimes/Wā Kōrero

Tuesday, 10.30–11am

Encourage learning through a

love for stories. Storytimes is an

interactive programme including

stories, songs, rhymes and

play. This is a free session.

New Brighton Library, 213

Marine Pde, New Brighton and

Shirley Library, 36 Marshland Rd

(by the Palms Mall)

Scrabble Club

Tuesday, 1.30-2.30pm at Parklands

and Wednesday at Shirley

Enjoy Scrabble? Go along to

the library for a friendly game or

two with other like-minded folk.

Parklands Library, 46

Queenspark Drive and Shirley

Library, 36 Marshland Rd (by the

Palms Mall)

Reading to Dogs

Tuesday, 3.30-4.30pm

Designed to provide a relaxed,

non-threatening atmosphere

which encourages children to

practise their reading skills and

develop a love of reading. The

programme uses dogs who are

pets of the city council's animal

management team. These furry

friends have all been trained

and tested for health, safety

and temperament. The dogs

can increase a child's relaxation

while reading, listen attentively,

do not laugh, judge or criticise

and allow children to proceed at

their own pace. Library staff and

a dog handler will be present at

all times to help facilitate the sessions.

Sessions are 15min.

Shirley Library, 36 Marshland

Rd (by the Palms Mall)

Rocket Club

Wednesday, 3.30–4.30pm

Rocket Club is a weekly afterschool

program which runs

during term time. All family are

welcome to join the club and

become involved in different

activities based on local and

current events in a fun learning

environment. Homework help is

available during this time. Free

and no bookings required.

Aranui Library, 109 Aldershot

St

Parklands Book Club

Wednesday, 11am–noon

GOOD TIMES: Do you like knitting in company? Go along to knit and natter in a relaxed and

friendly environment. The session will be held on Monday from 10.30-11.30am at Parklands

Library, 46 Queenspark Drive. ​

Love sharing your favourite

reads and discovering your next

one? Go and join other book lovers

in a friendly, relaxed library

environment. No bookings

required.

Parklands Library, 46

Queenspark Drive

CV Drop-in

Thursday, 10-11.30am

A librarian will be on hand to

assist customers who need help

with their resume. You will be

offered guidance on creating,

updating, and editing your CV.

New Brighton Library, 213

Marine Pde

Women's Bible Reading

Group

Thursday, 10-11.30am

Go along to the Women's Bible

Reading Group. For information

phone Elissa on 021 023 65910.

Located at the Small Room at

the Aranui Wainoni Community

Centre, 31 Hampshire St

New Brighton and Shirley

Library Book Discussion

Groups

Thursday, 10– noon at New

Brighton and Thursday 6-7pm at

Shirley

For those who love

reading and want to share

in discussion with other

friendly book lovers. The

group subscribes to the Book

Discussion Scheme so there is a

cost involved.

New Brighton Library, 213

Marine Pde and Shirley Library,

36 Marshland Rd (by the Palms

Mall)

Shirley Library's Culture

Exchange

Thursday, 3.30pm–4.30pm

Shirley Library's Culture

Exchange is a friendly, relaxed

group, where you can make new

friends, practice English and

learn about the city and New

Zealand. Free weekly meetings.

Shirley Library, 36 Marshland Rd

New Brighton Seaside Market

Saturday, 10am-2pm

Held in the Brighton Mall

every Saturday just across the

road from the beach and the new

children's playground.

New Brighton Pedestrian Mall,

cnr Marine Pde and Beresford St

It's our

45th

Anniversary

year!

#areyouupforit

45th Anniversary

Retro T-shirt

available when

entries open on

1st December 2018

Sunday 24th March, 2019 www.city2surf.co.nz
---
16 2 Tuesday [Edition datE] November 6 2018

Latest Christchurch news at www.star.kiwi

Discover

New Brighton

PEGASUS POST

Christmas gifts with the

personal touch

Those looking for Christmas presents

with a difference this year will delight in the

selection of personalised gift ideas available

at Frame n Copy.

With Christmas rapidly approaching, now

is the time to start thinking about presents

for family and friends.

"We offer a huge range of personalised gift

ideas, starting from just $7 for a personalised

key ring through to a canvas print starting

from $95," owner Anne Williamson says.

"Bring in a family photo, a child's drawing,

or your favourite picture and we can make it

into anything from a personalised calendar,

key ring, T-shirt, mouse pad, poster, or

custom framed artwork.

"Alternatively, we can print the image onto

canvas and frame it so it's all ready to hang

on the wall. It's a great gift idea for those

'hard to buy for' grandparents."

As well as offering a wide range of gift

ideas, Frame n Copy is the place to go for

all your printing requirements, at very

competitive prices.

"We do everything from designing

and printing personalised cards, flyers,

invitations and business cards right through

to window or vehicle signage, private sale

real estate, we can add a Christmas theme

to any of these things either existing or new.

Because we are digital printers – we can do

small runs of anything to add in that festive

touch for the season," Anne says.

If a job change is on the agenda for the

New Year, Frame n Copy can update or

create a new CV and bind it for perfect

presentation. Building or landscaping plans

can also be printed in black and white up to

AO size (1189x841mm).

Frame n Copy can photocopy, enlarge or

print almost anything from disk, memory

stick or email as well as laminate in either a

gloss or matte finish.

"We are a friendly, efficient and

competitively priced, one-stop print and

framing shop – and we offer plenty of

parking right at the door."

Frame n Copy is located at the corner

of Keyes and Bowhill Roads in North

Brighton and is open from 8.45am to

5pm Monday to Friday. Phone 382 0867

or email info@framencopy.co.nz, website

www.framencopy.co.nz Check us out on

Facebook.

Anne Williamson gets into the Christmas spirit.

Cnr Keyes & Bowhill Rd

North New Brighton

Ph: 382 0867

Email: info@framencopy.co.nz

www.framencopy.co.nz

Design & Print

Business Cards

Flyers

Photocopying

Typing

Binding

Scanning

Laminating

up to A0 Plan Printing

T-Shirt Printing

Signage

Picture Framing

and so much more…….

FOR ALL YOUR PRINTING REQUIREMENTS

huge selection

of second hand

books

Barnabas Books

121 New Brighton Mall (next to Happy Feet)

Tues-Fri 10am-4pm Sat 10am-3pm

• Key Cutting

• Trophies

• 21st Keys

• Zippo Lighters

The best

in the

business

since

1988

• Shoe Repairs

• Engraving

• Watch Services

• Bag Repairs

Plus we stock a full range of

polishes, dyes and laces

121 New Brighton Mall Ph: 03 382 0399

Web: happyfeetchch.co.nz

Email: info@happyfeetchch.co.nz

TradeMe: 1249562/mothersuperior

Your local friendly Bar

200gm Steak, Salad & Fries

Just $15.50 or 2 for $25

With a drink purchase on Monday nights

Buy a main meal & get another

for $5 Sunday nights. Conditions Apply

Chats Bar

251 Travis Road,

QEII Shopping Centre

Ph: 388 1566

Tuesday quiz nights

Wednesday karaoke

Thursday live music

Sky Sports

Courtesy van

What can New Brighton's own

TV & HiFi store do for you?

The simple stuff

We can supply

and or install;

• TV Aerials & cabling

• Phone & Data cabling

• Sound Systems &

Cabling

• WiFi Solutions

• Computer Cables

The hard stuff

We can supply

and or install;

• Integrated Audio

Visual

• Full Custom Home

Automation

• Electrical Works

• Security Systems

We can also provide some of the

best prices in town with free delivery

from Parklands to Southshore.

61 New Brighton Mall, New Brighton

Call your local: 021 977 595 or 0508 AV SHOP

Promote

your

business

in the next

new brighton

feature

Contact Elaine Moon

P: 03 364 7436

E: elaine.moon@starmedia.kiwi
---
PEGASUS POST Latest Christchurch news at www.star.kiwi

Tuesday November [Edition 6 datE] 2018 17 3

Discover

New Brighton

Quality clothing at very

low prices always in stock

Anyone wanting good-quality secondhand

clothing at exceptionally low prices

will find it at Finders Keepers in New

Brighton.

Centrally located in New Brighton Mall,

the store stocks quality clothing for men,

women and children, with 90 per cent of the

stock priced at $5 or less, and 15 per cent

priced at just $1. There are also designer

labels priced from just $10 to $20, and a

small selection of vintage clothing.

Business owner Brian started selling the

clothing at the Saturday market, but with

a growing customer demand and an everincreasing

amount of stock, he needed to

find a larger and more permanent space. He

moved into the co-operative premises at 105

New Brighton Mall 18 months ago, where

he continues with his business philosophy,

which is simply, "sell it cheap". As he

points out, "This is not a charity, it's a

business."

The stock is bought wholesale or

donated, and Brian is always happy to

accept clean clothing in good condition

to sell to his customers. A portion of the

profits is donated to the Home & Family

charity organisation.

Finders Keepers is open seven days a

week. The hours are Monday to Friday

10am-5pm, Saturday 10am-4pm and

Sunday 10am-3pm.

There is always new stock

arriving, so keep checking it

out at 105 New Brighton Mall.

What's on...

Saturday 10 November

Rockabilly Show and Shine

(New Brighton Seaside Market

will be at the show)

10am to 3pm. Rawhiti Domain

Saturday 17 November

New Brighton Seaside Market ,

10am to 2pm Pedestrian Mall,

cnr of Marine Pde and Beresford St

Saturday 24 November

New Brighton Seaside Market ,

10am to 2pm Pedestrian Mall,

cnr of Marine Pde and Beresford St

Saturday 1 December

New Brighton Seaside Market ,

10am to 2pm Pedestrian Mall,

cnr of Marine Pde and Beresford St

Saturday 8 December

Christmas Parade and Concert.

YOUR LOCAL GARAGE

• All vehicle repairs

• Oil changes and services

• Brakes • Loan car available

• Tyres, punctures & batteries

• W.O.F • Tune up

Your LocaL GaraGe

VERY FRIENDLY SERVICE AND ADVICE

NEW BRIGHTON AUTOMOTIVE

Phone: 03 388 3630

40 Hawke St (behind Z Petrol Station)

Womens, Men & Childrens Clothing and Footwear

Best Selection, Best Prices

Finders Keepers

Quality Preloved Clothing

Check us out on Facebook

105 New Brighton Mall

Mon - Fri 10am - 5pm Sat 10am - 4pm Sunday 10am - 3pm

Crispy Crunchy Batter

Serving the Community for over

23 years with passion and pride

* Specialty fish cooked to order … Blue Cod, Gurnard, Sole, Hoki, and more!

Try a tasty crispy chicken fillet

(real deal) burger now!!

GOURMET SEAFOODS QEII

Ph: 388 2531, QEII Shopping Centre, 251 Travis Rd

Mon - Wed 11.30am - 8.30pm (Tues from 4.30pm), Thurs - Sat 11.30am - 9.00pm

Sun 12noon - 8.30pm, Daily break 3.15 - 4.30pm

SPRING SPECIAL

valors

everything in store under $18

Range of designeR

clothing plus quality

used clothing

womens, mens and childR ens

designeR clothing and accessoR ies

60 Brighton Mall, n ew Brighton

Phone 03 388 0512 or 027 930 9640

valors clothing and

designer wear
---
18 Tuesday November 6 2018

Latest Christchurch news at www.star.kiwi

SENIOR LIVING

Aspire

Canterbury

Enjoy a village

with heart

PEGASUS POST

Aspire Canterbury offers support,

advice and resources to people with

mobility issues and impairments.

Removing barriers to everyday living

for individuals, Aspire Canterbury

inspires people to live life to the fullest

no matter what their difficulties. The

Disability Information Service is a source

of valuable information about the various

services available to people with short or

long term impairments, to individuals

and professionals from community

organisations.

Visit Aspire Canterbury's shop at 314

Worcester Street Aspire or their online

shop selling a wide selection of easier

living aids, They also hire out wheelchairs,

ramps, walkers, crutches. Check out their

online Community Services Directory

which contains contact details of over 300

Canterbury support organisations.

Aspire also has a mobile service which

is available for free fun, interactive

presentations of all their equipment and

services to retirement homes/villages and

any other community groups wanting a

speaker. Call Kylie Taylor on 022 676 5851

or email for a booking.

McKenzie Lifestyle Village started from

humble beginnings on 12 acres of farm

land growing to an impressive modern

architecturally designed development in a

short space of time.

Offering Independent Living for the over

55yr across 113 Villas, you can secure

your future lifestyle here. Choosing from

a collection of 2 bedrooms / single garage

through to 3 bedrooms / ensuite / Spacious

Living Dining / Double Garage. 2019 will

see further developments in the form of

Assisted Care Units and 2 bedroom Terraced

Houses situated close to all the amenities

of the Leisure Centre. The hub of

village life the Leisure Centre offers everything

from Indoor Swimming Pool / Spa,

gymnasium, Hair Salon, Treatment Room

(Podiatrist/ Nurse /Massage Therapist),

Craft Room, Lounge and a well-stocked

library of some 2,000 books and dvds.

Enjoy the picturesque outdoors in the

generous seating surrounding the Bowling

Green, Petanque, Mini Golf, Table Bowls,

Croquet and Putting Green. If that wasn't

enough to fill your day, their activities

calendar boasts daily/monthly events from

concerts, lunch outings, shopping Trips,

Housie, Line Dancing and Qigong to name

just a few.

The village team will see to a villa maintenance

plan attending to exterior window

and gutter cleaning alongside the team of

gardeners caring for the delightful grounds

and lawns. They'll do the everyday tasks,

so you can get on with enjoying the day.

To see if McKenzie Lifestyle Village is

right for you, pop in or call Hayley Grant

on 0800 845524.

Support and Resources for Independent Living

walkers to

purchase

(FroM $230)

or hire

$20

per week

Physical Address:

314 Worcester Street

Linwood Christchurch

2015 NZ Disability

Information Centre

of the Year

Can we help you or someone you support?

Disability Information Service – a 'one stop

information service' which offers unbiased

advice to assist people navigate their way to

organisations or services that can provide them

with support or advice.

Aspire Canterbury Shop – shop online or call in

to our shop at 314 Worcester Street and view our

range of easier living products We also hire out

wheelchairs, ramps and walkers.

Total Mobility Discounted Taxi Service – a scheme

which provides 50% discounts on taxi journeys to

eligible people in the Christchurch area who, due

to health conditions, are unable to access public

transport. Contact us for more information on

03 366 9093 or visit our website.

Mobile Service – Fun interactive

presentations of our information,

services and easier living equipment.

We come to you!

Call Kylie Taylor on 022 676 5851 or email

mobileservices@aspirecanterbury.org.nz

Aspire Canterbury is a not-for-profit organisation

providing services to the community since 1981

Postal Address:

PO Box 32074

Christchurch 8147

Ph: 03 366 6189

Freephone: 0800 347 242

Ph: (Total Mobility) 03 366 9093

E: admin@aspirecanterbury.org.nz

W: www.aspirecanterbury.org.nz

IT'S LIKE HOLIDAYS

ALL YEAR ROUND

Lots of people spend their holidays

here in Geraldine. But why just have a

holiday when you can move here instead?

Make the move to Geraldine's McKenzie

Lifestyle Village. We take care of everyday

maintenance so you can enjoy

a holiday lifestyle all year round.

Talk to Hayley Grant today

on 03 693 8340.

M E M B E R O F R V A

Would you

like to profile

and grow your

Business?

For feature advertising

please phone

Jenny Wright

03 364 7446 or 021 220 3484

jenny@starmedia.kiwi
---
PEGASUS POST Latest Christchurch news at www.star.kiwi

Tuesday November [Edition 6 datE] 2018 193

SENIOR LIVING

Collagen

The Body's Youth Protein

Collagen is the primary protein in the

body. It is a major component of skin,

hair, nails, muscles, tendons, ligaments,

joint cartilage, bones, gums, teeth, eyes,

and blood vessels.

In fact collagen is the primary structural

component for all tissue in the body,

providing the strength and resilience

associated with youth, beauty and

wellness. The body's natural collagen

production decreases with age resulting

in many signs of aging, such as flaccid

skin, wrinkles, ligament and tendon

injuries and aching joints. Collagen

supplementation is one of the most

fundamental things a person can do to

prevent premature aging and promote

youthful vitality.

NEOCELL are the industry leaders in

research on collagen supplementation.

Through advanced research they have

perfected a way to hydrolyse collagen and

effectively reduce its molecular weight this

improving the absorption of collagen into

the blood stream by over 90%.

A clinical study on NEOCELL

COLLAGEN has shown skin hydration to

increase an average of 21% and up to 50%,

with 92% of test subjects experiencing

firmer, softer skin. Most people taking

NEOCELL COLLAGEN reported seeing

visible improvements within two weeks.

Collagen supplementation provides

the nutrients necessary to support the

body's collagen supply. It can help reduce

fine lines and wrinkles and improve skin

elasticity, support building of strong bones

you can stop him

snoring with a

SNOREX

Why put up with a broken

night's sleep?

Ph 377-4318 or 027 682 1752

DENISE LIM

FOR A FREE INFO PACK

Website: www.snorex.co.nz

and teeth, strengthen the nails and hair,

and is vital for muscle growth, It also

assists weight loss by helping burn fat

for energy, promotes wound healing by

supporting the regeneration of healthy

tissue as well as help support overall

health.

NEOCELL COLLAGEN and further

information is available from the

Natural Health Advisers at Marshall's

Health & Natural Therapy, 101 Seaview

Road, New Brighton, Phone: 388-5757.

We are always happy to help!

BOOST BRAIN

PERFORMANCE UP TO 30%

TEBONIN is the No 1 Ginkgo Biloba extract in the World with more than 8 million tablets

being consumed every day. It is also the most researched herbal extract with more than 60

controlled clinical studies & over 400 scientific studies. It has been shown to have excellent

efficacy, safety & tolerability. Millions of consumers have trusted TEBONIN for over 30

years to support blood flow, capillary health, brain health & performance.

Studies on TEBONIN Show:

- Improved Brain Performance & Function up to 30%. This includes improvement

in mental sharpness, focus, attention, concentration, understanding, memory & recall.

- Reduces errors made & mental stress.

- The only Ginkgo shown to increase activity in all areas of the brain. Can help restore

brain function after a brain injury such as from a stroke.

- Helps relieve tinnitus (ringing & noise in the ears), vertigo, dizziness & supports normal

balance.

- Improves blood flow to all areas of the body.

- Reduces plaque formation in the blood vessels.

- Protective effect against eyes damage caused by light.

Collagen is the primary structural component for all tissue in the body,

providing the strength & resilience associated with youth, beauty &

wellness. The body's natural collagen production decreases with age

resulting in many signs of aging, such as flaccid skin, wrinkles, ligament &

tendon injuries & aching joints. Collagen supplementation is one of the most

fundamental things a person can do to prevent premature aging & promote

youthful vitality. NEOCELL collagen has undergone advanced enzymatic

hydrolyzation for superior results.

NEOCELL COLLAGEN SUPPORTS:

• Reduction in lines & wrinkles - improved skin elasticity

• Strong hair & nails, may help reduce hair loss

• Supports bone, ligaments, tendons & joint health

• Lean muscle & weight loss

• Youthful vitality & slowing of the aging process

NEOCELL PREMIUM COLLAGEN IS CLINICALLY

RESEARCHED FOR SUPERIOR RESULTS

The tree of LIFE

New research on Gingko

Biloba excites researchers!

For decades scientists believed brain

damage with age, after a stroke or injury

was irreversible and brain neurons could

not be repaired. In more recent times,

new research has shown that neurons

can grow back with the right conditions

and that a special extract of Gingko

Biloba (EGb-761 or TEBONIN) has

been clinically found to assist in this.

The implications for stroke recovery are

obvious, but researchers also know many

of us suffer from undetected "microstrokes"

that over a period of time slowly

reduce our cognitive function. TEBONIN

is prescribed worldwide as a natural

supportive agent for a healthy brain and

cognitive function. It supports healthy

mental performance, concentration, focus,

alertness, motor function and to help

with many conditions including tinnitus

(ringing and noise in the ears), vertigo

and normal balance. TEBONIN improves

micro-circulation and helps the blood

flow reach those critical places it needs to

get. It is a potent anti-oxidant and makes

the red blood cells more pliable and

capillary walls more flexible.

TEBONIN is one of the most widely

studied and researched herbal products in

the world and is the only Ginkgo biloba

extract manufactured via a patented

multi-step extraction process. Each small

tablet contains a highly concentrated

MAIL ORDER

AVAILABLE

Bringing You the Best in Natural Health

COLLAGEN - ThE BOdy's yOuTh PrOTEiN

hAir - sKiN - NAiLs - JOiNTs - BONEs

Super

Prices

120 tablets only

$36.90 Save

$5.75

Bringing You the Best in Natural Health!

250 tablets only

$56.90 Save

$9.75

500 tablets only

$99.90 Save

$33.40

198 gram powder

$36.90 Save

$5.75

MARSHALLS HEALTH & NATURAL THERAPY

CONSULTING - PRESCRIBING - DISPENSING - MANUFACTURING - MEDICAL HERBALISTS

101 SEAVIEW RD, NEW BRIGHTON • PH 03 388 5757 • Email: enquiry@marshallshealthshop.co.nz

- WE ARE ALWAYS HAPPY TO HELP! -

SUPER PRICE

One month supply

only $39.90

MAIL ORDER AVAILABLE

Save

$8.10

TEBONIN is a highly concentrated

proprietary herbal extract of Ginkgo biloba

leaves that has proven superior to other

brands under scientific scrutiny.

MARSHALLS HEALTH & NATURAL THERAPY

CONSULTING - PRESCRIBING - DISPENSING - MANUFACTURING - MEDICAL HERBALISTS

101 SEAVIEW RD, NEW BRIGHTON • PH 03 388 5757 • Email: enquiry@marshallshealthshop.co.nz

- WE ARE ALWAYS HAPPY TO HELP! -

50:1 extract to give you a therapeutic

clinical dose without having to take a large

amount of the herb. Of 25 Gingko biloba

products on the market, and tested by a

major medical journal, only TEBONIN

passed all five of the test requirements.

Ten brands didn't meet any requirements

and the rest didn't pass more than three

out of five requirements. TEBONIN is

the only Gingko biloba extract shown

to activated all areas of the brain and is

considered the gold standard in Gingko.

TEBONIN has been trusted by millions

of consumers worldwide for over 30

years with more than 8,000,000 tablets

consumed each day.

TEBONIN and further information

is available from the Natural Health

Advisers at Marshall's Health & Natural

Therapy in New Brighton. PH: 388-5757.

They are always happy to help!

A Leader in

Healthcare

Excellence for

the Older Person

Brookhaven

Retirement Village

29 Alport Place

Woolston

Phone 03 384 5046

Albarosa

Dementia

80 Harewood Road

Papanui

Phone 03 375 0727

Somerfield

Dementia

137 Barrington Street

Somerfield

Phone 03 332 5897

www.goldenhealthcare.co.nz

Golden Age

Retirement Village

96 Harewood Road

Papanui

Phone 03 375 0720

Camellia Court

Dementia

84 Harewood Road

Papanui

Phone 03 375 0722

Hoon Hay

Dementia

16 Anvers Place

Hoon Hay

Phone 03 379 7825

Lady Wigram

Retirement Village

Sarah Jacobson

Village Manager

210 Kittyhawk Ave,

Wigram

Phone 027 3411 464
---
20 Tuesday November 6 2018

Latest Christchurch news at www.star.kiwi

PEGASUS POST

Your full-sized daily read

Available

from

7.30am

at . . .

• Beckenham Lotto and

News Agency, Sydenham

• Bishopdale Unichem Pharmacy

• Caltex Russley

• Fresh Choice Merivale

• Hagley Night & Day, Riccarton

• Hillmorton Superette, Halswell

• Kiwi Bookshop and Lotto,

Edgeware

• New World Bishopdale

• New World Fendalton

• New World Halswell

• New World Ilam

• New World Rolleston

• Paper Plus Bush Inn, Riccarton

• Paper Plus Barrington, Spreydon

• Paper Plus Hornby

• Paper Plus South City, Sydenham

• Piccadilly Books, Avonhead

• Relay, Christchurch Airport

• Pak'nSave Riccarton

• Templeton Convenience Store

• Whitcoulls Hornby

• Whitcoulls Merivale Mall

• Whitcoulls Northlands

• Whitcoulls Palms

• Whitcoulls Westfield Riccarton

• Whitcoulls South City

Sign up to our e-edition

A convenient exact replica of the newspaper in a digital format. View the ODT

e-edition on your desktop, tablet, laptop and smartphone (Apple IOS & Android).

To sign up, call our Circulation team

on 03-479-3555 OR email

circulation@alliedpress.co.nz
---
PEGASUS POST Latest Christchurch news at www.star.kiwi

Tuesday November 6 2018 21

REAL ESTATE

Light-filled living: Brand-new executive home

24C Mansfield Avenue, Merivale

Auction: Thursday, 22nd November 2018 – unless sold prior

4 bedrooms | 3 bathrooms | 4 toilets | 2 living rooms | 1 dining room | 1 office/study | 2 car-garage | 2 off-street parks | Listing Number PI56252

This beautifully polished new home

offers exclusive living in a highly

desirable neighbourhood. Designed by

Cymon Allfrey Architects, the result

blends practicality and style for a superb

contemporary lifestyle. Just a short walk

to Merivale Village shops, cafés and

restaurants, and a three-minute drive to

Victoria Street, it's zoned for sought-after

schools including Elmwood School, St

Albans School, Heaton, Boys' High and

Girls' High.

Chic open-plan living and dining

provides an elegant, sunny space for

entertaining, flowing seamlessly to a northfacing

courtyard garden for relaxed outdoor

living with the minimum of maintenance.

The sleek new kitchen is a well-thoughtout

space boasting a scullery and smart

built-in joinery that flows through to the

living area. Built-in joinery also features

in the elegant separate lounge. The palatial

upstairs master suite includes a gorgeous

tiled bathroom and WIR, and a wellappointed

guest bedroom with WIR and

en suite offers an alternative master option

downstairs. Two more double bedrooms

plus office share a beautiful (and practical)

family bathroom. A separate laundry, guest

powder room and double internal-access

garage complete this exclusive package.

Perfected for contemporary lifestyles,

this brand-new home presents a superb

opportunity to secure an executive home in

a premier location.

Auction date Thursday 22 November

12:00 noon (Gold Auction Rooms, 417

Papanui Rd) Unless Sold Prior

Please refer to our Harcourts website

for Open Home dates and times.

To find out more contact Cameron

Bailey on mobile 0275 557 079 or

352 6166 of Harcourts Gold Papanui

(Licensed Agent REAA 2008) today and

register your interest.

growing with you June 2018 | 100%

Plants For

winter wow

Cool Choices

For Colour

& Contrast

From swamp

to sea views

The journey

begins with sarah

the Gardener

$7.90 incl. GST

Snap it up

Enter our annual

Birdlife Photo

Competition to win

great prizes!

clear the air

Why groWing

indoor PLAnTs is

so good for you

give it a grow

from gArLic

To chinese

ArTichokes,

We hAve your

groWing TiPs

covered

the latest releases

into the rose world

+ rose care

through winter

The magazine for

gardeners who like to get

their hands dirty

SUBSCRIBE FROM

$43. 50*

*6 issues/6 months

SUBSCRIPTIONS FREEPHONE

0800 77 77 10

WWW.GARDENER.KIWI
---
22 Tuesday November 6 2018

Latest Christchurch news at www.star.kiwi

PEGASUS POST

Classifieds Contact us today Phone our local team 03 379 1100

Entertainment

Trades & Services

ROOF REPAIRS

Locally owned & operated with

over 30 years experience.

• Extensions & repair • Roof coating

• Concrete & clay tiles • Butynol

• Malthoid • Asbestos Certified

• Coloursteel • Old iron • Guttering

Phone Dave 981 0278

or 021 223 4200

E: dave@beaumontroofing.co.nz

BEAUMONT ROOFING LTD

Trades & Services

kitchen renovation

Kitchen looking tired?

Revitalize with new colour at a

fraction of replacement cost

• Alterations & Hardware available

• Laminated Kitchens no problem

• 'On Site' finishing available

• Over 20 years experience

• Free Quotes with no obligation

• All Joinery & Furniture repair & Spraycoatings

PABLO'S PAINTWORKS

27 Birmingham Drive, Middleton

03 338 6280 | 021 541 323

pablospaints@xtra.co.nz

www.pablospaintworks.co.nz

Caravans, Motorhomes

& Traliers

CARAVAN Wanted to

buy. Up to $5000 cash

today 027 488-5284.

Collision Repairs

QEII Collision Repairs.

Free Courtesy Cars

(conditions apply), All

Insurance work, Rust

Repairs &Private work.

Spray-painting.Free

pickup & delivery.

Ph. 03 388 5187

Community Events

ALCOHOLICS

ANONYMOUS, If you

want to have a drink that's

your business. If you want

to stop, we can help. Phone

0800 229-6757

ADD SOME

COLOUR

TO YOUR ADVERT!

Gardening

& Supplies

A GARDEN OR

LANDSCAPING TIDY

UP? Shrub, hedge &

tree pruning, Lawns,

Gardening, consistently

reliable general property

upkeep, Dip. Hort. 10

yrs experience, One off

tidy ups or on-going

service. Nick's Garden

Maintenance. Keeping

your garden beautiful.

Free Quote. Ph. 942-4440

& 022 264 7452

Holiday

Accommodation

Australia QLD

SUNSHINE

COAST

RESORT

ALEXANDRA HEADLAND

All Units Have Ocean Views.

Heated Pools, Spa & Sauna,

Free Wifi, Tennis

& Mini Golf.

CHECK OUR GREAT

WINTER SPECIALS

www.mandolin.com.au

0061 7 5443 5011

JUNE to AUG temps 20C

Finance

NEED A

QUICK CASH

LOAN NOW?

We offer a range of personal Loans

and can provide cash quickly.

Loans from $500 to $20,000

Contact Karyn or Kris

0800 695 626

or 03 379 7798

www.alternatefinance.co.nz

Public Notices

Whitebait Drop-in Session

The Department of Conservation is holding a

drop-in session to hear your views on whitebait

management.

Come and talk to us:

7 November 10:00 am - 12:00 pm

Blue Skies, 12 Williams Street, Kaiapoi

For more information, visit our website or email

whitebait@doc.govt.nz

Trades & Services

for an uplift of your

tiled area:

Shower, bathroom,

kitchen, pool

surround, deck

etc. Brett will

give you a quote

and honest,

professional

advice on your

tiles and grout.

Call brett at

Groupro on

027 746 7632

before

after

Trades & Services

FOR ALL YOUR

★Garden Clean-ups

★Pruning

★Lawn Mowing

★Garden Maintenance

Call us today for a FREE quote

PH 0800 4 546 546

(0800 4 JIMJIM)

HOUSE

CLEARING

Are you

moving house

or trying to

downsize?

Call All Clear

Canterbury. We work

with you to recycle,

sell and dispose of

unwanted items.

Ph: 03 260 0934

or 021 078 4553

raewynlcooke@gmail.com

www.allclearcanterbury.co.nz

CARPET

CLEANING & FREE

DEODORISING

3 rooms &

hallway

from $59.00

Quick drying

Over 20yrs experience

Our guarantee is your

satisfaction

ALRIGHT CARPET

CLEANING

Ph. 027 220 2256

AAA HANDYMAN

licensed carpenter

LBP, all property and

building maintenance,

repairs, bathroom/shower

installations, with free

quotes 03 383 1927 or 027

245 5226 ciey@xtra.co.nz

BRICKLAYER

George Lockyer. Over

35 years bricklaying

experience. UK trained.

Insurance work. EQC

repairs. Heritage

brickwork and stonework

a speciality. No job too

small. Governors Bay.

Home 329-9344, Cell

027 684 4046, email

georgelockyer@xtra.co.nz

PAINTER

CASH SETTLING?

Call us today for a FREE

no obligation quote.

We are experts in all aspects of interior

& exterior painting & decorating.

Perfection is our passion!

Courtney Keast Creative Technician

P: 021 571 946 E: courtney@paintmasters.co.nz

Trades & Services

BUILDER QUALIFIED

Decks, T & G Flooring,

Villa Restoring, New

Homes, Weatherboards.

Free Quotes. Bennet &

Sons Ltd Sam 027 496-

9362 or Tony 027 224-

0374

*****************

CARPET & VINYL

Laying. Exp Repairs,

uplifting, relaying,

restretching. Email

jflattery@xtra.co.nz ph

John on 0800 003 181 or

027 2407416

FENCING

All styles and shapes,

gates, wooden, ph Mark

0273 313-223

GARDENER

Available, exp &

reliable. Lawns mowed,

general maintanence,

rubbish removed. Ph 021

08823104

LAWN MOWING

All lawn & garden

maintence. Prompt

efficient service.Great

rates. Ph Paul 022 6206412

PAINTING

& Decorating Wingfields

Contracting, all interior

& exterior painting & all

forms of interior plastering

& jib fixing, ph Mark 021

171-1586 or 355-5994

PAINTER AVAILABLE

All aspects in painting.

Very competitive in roofs

and fences. Please call 027

241-7471 or 335-0265

PAINTER

DECORATOR

All int /ext painting.

Comp rates. I stand by

Canterbury. Wayne 385-

4348, 027 274 3541

Trades & Services

PLUMBER

ALF THORPE

PLUMBING Certifying

Plumber for all types of

plumbing, maintenance,

spouting, alterations etc.

Phone 352-7402 or 0274-

350-231

SURF'S UP SCOTTY RAZOR ROBERTSON PROFILE

APRIL 2018

TJ'S

CHASING

GREAT

ONE

MORE

COVER

The power

LINE

of Perenara

SUPER

RUGBY'S

G.O.A.T

CORY JANE

6 issues (1 year) $44.50

12 issues (2 years) $79

18 issues (3 years) $115

Social Media Animal

+

PLUS...

RRP $9.95

KEEPING

WHO

TABS ON

MATSON

Trades & Services

PLUMBER

A Top Plumbing job

completed at a fair price,

prompt service, all work

guaranteed, ph Brian 960-

7673 or 021 112-3492

SPOUTING CLEANING

Spouting Unblocked,

Cleaned Out and Flushed

Out. Call Trevor 332 8949

or 021 043 2034

STUMP GRINDING

Best price guarantee Tony

0275 588 895

TILER/CARPENTER

35 years exp, no job

too small. Ph Ross 027

4311440.

T.V. SERVICE CENTRE

Repairs, tvs, microwaves,

audio amps, soundbars.

Aerial & satellite

installations, kitsets, 480D

Moorhouse Ave, ph 03 379

1400

VHS VIDEO TAPES

& all camera tapes

converted to DVD, video

taping special occasions,

www.grahamsvideo.co.nz

ph 03 338-1655

Trades & Services

VHS VIDEO TAPES

& all camera tapes

converted to DVD, video

taping special occasions,

www.grahamsvideo.co.nz

ph 03 338-1655

WINDOW CLEANING

Average 3 bdrm house

inside or out $40. Both

$70. Phone Trevor 344-

2170

Wanted To Buy

fridge freezers. Same day

service. Selwyn Dealers.

Phone 980 5812 or 027

AAA Buying goods

quality furniture, beds,

stoves, washing machines,

313 8156

A+ Household effects,

fridges, freezers, washing

machines, ovens. Good

cash paid. Ph Paul 022

0891 671

TOOLS Garden,

garage, woodworking,

mechanical, engineering,

sawbenches, lathes, cash

buyer, ph 355-2045

CALEB

CLARKE

Chip off the

old block

1ST XVs

PLAY LIKE PROS

A school boy rugby

investigation

SUBSCRIPTIONS FREEPHONE

0800 77 Chief 77 10

Tabai's

rugbynews.co.nz

Tron tribe

WHO WILL

MAKE THE

AB CUT?
---
PEGASUS POST Latest Christchurch news at www.star.kiwi

Tuesday November 6 2018 23

What's On

Entertainment

To advertise, contact

Jo Fuller 027 458 8590

jo.fuller@starmedia.kiwi

ICONIC IRISH SINGER

HEADLINES FESTIVAL

Start your day

with us

We are open from 6.30am

every day

COOKED

BREAFASTS

from

$

19

Join us for

Race Day

Breakfast

RESTAURANT & CAFÉ

'Famous for

their roasts!'

FAMILY FRIENDLY

Kid's Special

Two courses

Great Kids menu plus designated play area.

SENIORS SPECIAL

Two courses:

Soup/Roast or Roast/Dessert

Special available lunch only

Monday - Saturday 12pm - 2.30pm. Conditions apply

$

13

$

22

Open daily from 6.30am - Breakfast, Lunch & Dinner

The

RACECOURSE HOTEL

& Motorlodge

118 Racecourse Rd, Sockburn,

Christchurch. Ph 03 342 7150

www.racecoursehotel.co.nz

What's On

TUESDAYS & THURSDAYS

MEMBERS LUCKY

CARD DRAW

SUNDAY 25 Nov, 2-6PM

UNFINISHED

BUSINESS

Shuttle Running

GAMING ROOM

TAB POD

Dine by the Beach

PIERVIEW CLUB

RESTAURANT BISTRO

UPSTAIRS

Open from 5.30pm Fri, Sat,

Sun, and Sunday Brunch

from 10.30am to 2pm.

PIERVIEW'S MONTH-END

SUNDAY NIGHT

BUFFET $25pp

Sunday 25th November

from 5.30pm BOOK NOW!

DOWNSTAIRS

Open Tues to Sat

12pm - 2pm &

from 5pm

BISTRO ROAST

SPECIAL

Tuesday - Thursday

Dine in only

$12

202 Marine Pde | Ph 388 9416 | www.newbrightonclub.co.nz | Members, guests & affiliates welcome

H ORNBY

WORKINGMEN'S

CLUB

BUSINESS AS USUAL DURING REDEVELOPMENT

LIVE MUSIC

IN THE

CLUB BAR

SATURDAY

4.30PM: IAN MAC

8PM:

THE C-BAY BAND

FAMILY FRIENDLY DINING

CLUB CAFE

OPEN DAILY

LUNCH & DINNER

GF & V options available

LIVE MUSIC

IN THE HALL

WOODEND BEACH

COUNTRY MUSIC CLUB

COUNTRY

SHOWCASE

SATURDAY 24 NOV

TICKETS $20

UPSTAIRS IN THE HALL

SUNDAY 2 & 9 DECEMBER

LIVE MUSIC

FREE GIFT

FOR KIDS

Adults $30

Kids 12 & under

$1 per year of age.

Bookings essential.

Members, guests &

affiliates all welcome.

The Hornby Club | ph 03 349 9026 | 17 Carmen Rd | Hornby

www.hornbywmc.co.nz Members, guests & affiliates welcome

Lunch & Dinner

All you can eat, 7 days

Bookings Essential PH 386 0088

fb.com/GardenHotelRestaurant www.gardenhotel.co.nz

SERVING

HAPPY HOUR

5PM - 7PM DAILY

OUR CABINET ITEMS

ARE HOMEMADE

CREATED FRESH ON SITE DAILY

$12

LUNCH

SPECIALS

Live Music:

5.30PM.SAT 10 NOV

SATURDAY 24 NOV - MONDAY 24 DEC

LET US TAKE CARE OF YOUR

CHRISTMAS PARTY

LUNCH

MON - FRI $24.50

SAT - SUN $25.50

*SENIOR CITIZENS DISCOUNT AVAILABLE

COFFEE

HAPPY

H O U R

2PM-4PM

DAILY

$3.50

Offer available for a limited time

and includes tea, hot chocolate

MON: ROAST MEAL

TUE: FISH & CHIPS

WED: FISH BURGER

THU: ROAST MEAL

SAT: FISH & CHIPS

DINNER

MON - THU $31.50

FRI - SUN $33.50

AVAILABLE

FROM

11.30AM-2PM

FOR A

LIMITED TIME

DnD Duo

Jojo & Mark

PHONE 385 8880 FIND US ON FACEBOOK fb.com/GBCCHCH

THE GARDEN HOTEL COMPLEX | 110 MARSHLAND RD

www.gardenhotel.co.nz | phone 385 3132
---
24 Tuesday November 6 2018

Latest Christchurch news at www.star.kiwi

PEGASUS POST

studywithus.co.nz

Make your vision

your future

We have courses in:

FREe

CoURSES!

*conditions apply

ENROLLING NOW

FOR 2019!

Text 'STUDY'

To: 027 557 8839

0800 834 834

Phone:

50 Hazeldean

Road, Addington
---
PEGASUS POST Latest Christchurch news at www.star.kiwi

Tuesday November 6 2018 25

EmPowEr

yourSElF

Check out our

NovEmBEr

SPECiAl...

Sign up in November and make

No PAymENtS

oN your

mEmBErSHiP

uNtil 2019

at Snap Fitness New Brighton

SNAP Fitness New Brighton - 185 Bower Avenue, New Brighton

Phone: 021 612 556 | Email: newbrighton@snapfitness.com

Staffed Hours: Monday to Friday 9am-1pm and 3pm-7pm

- www.snapfitness.com -
---
26 Tuesday November 6 2018

Latest Christchurch news at www.star.kiwi

PEGASUS POST

your mEmBErSHiP witH

uS will iNcludE...

24/7

AccESS

We are here to fit your busy

schedule - all it takes is a swipe

of your key card and you have

access to over 2,000 locations

around the world.

jan

feb

mar

Commit to results, not a contract.

We work on a month by month

membership basis, or we have

long term memberships available

if you are after better results.

Benefit from the knowledge of

our skilled instructors - we offer a

variety of instructor driven group

classes that are heaps of fun!

Our classes are available 24/7.

5kg

10kg

16+

We have a range of pin loaded

weight machines, free weights,

boxing bags and the latest

state of the art Technogym

cardio equipment.

SNAP welcomes members

as young as 16. Anyone underage

must be accompanied by

someone over the age of 18.

Whether you are working out

before work, on your lunch break

or after work you can

freshen up with a shower -

don't forget a towel!

"Here at SNAP we

are here to help"

Our team of friendly and qualified

personal trainers offer nutritional

advice and help keep you

motivated to ensure you remain on

track to reach your fitness goals.

MOTIVATE | LIFT | INSPIRE | STRENGTHEN

- www.snapfitness.com -
---
PEGASUS POST Latest Christchurch news at www.star.kiwi

Tuesday November 6 2018 27

Snap fitness

new brighton

is proud to support The

Cerebral Palsy Society,

Sweet Louise, The Mental

Health Foundation

New Zealand and The

Champion Centre with

our children's room

for parents.

trAiN SmArtEr, gEt rESultS FAStEr / StArt your jourNEy tHE rigHt wAy

gEt Fit your wAy witH SNAP FitNESS / SNAP FitNESS - dEdicAtEd to cHANgiNg livES

SNAP Fitness New Brighton - 185 Bower Avenue, New Brighton

Phone: 021 612 556 | Email: newbrighton@snapfitness.com

Staffed Hours: Monday to Friday 9am-1pm and 3pm-7pm

- www.snapfitness.com -
---
28 Tuesday November 6 2018

Latest Christchurch news at www.star.kiwi

PEGASUS POST

Sign up in November 2018 and make

NO PAYmENTS ON YOuR

mEmBERSHIP uNTIl 2019

at Snap Fitness New Brighton

QEII PARK

TRAVIS RD

SNAP Fitness New Brighton - 185 Bower Avenue, New Brighton

Phone: 021 612 556 | Email: newbrighton@snapfitness.com

Staffed Hours: Monday to Friday 9am-1pm and 3pm-7pm

ANZAC DR RESERVE

AVON RIVER

NEW BRIGHTON RD

BOWER AVE

KEYES RD