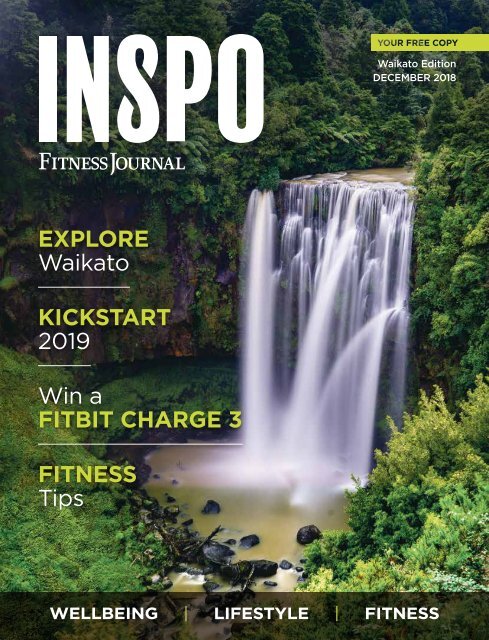 INSPO Fitness Journal December 2018
Everything from nutrition, beauty, home and workplace wellbeing to health, performance – and so much more.
Everything from nutrition, beauty, home and workplace wellbeing to health, performance – and so much more.
SHOW MORE
SHOW LESS
Create successful ePaper yourself
Turn your PDF publications into a flip-book with our unique Google optimized e-Paper software.
Waikato Edition

DECEMBER 2018

Fitness Journal

EXPLORE

Waikato

KICKSTART

2019

Win a

FITBIT CHARGE 3

FITNESS

Tips

WELLBEING | LIFESTYLE

INSPO – FITNESS JOURNAL

| FITNESS

DECEMBER 2018

1
---
IMAGINE

BETTER

MAZDA CX-5

SALE NOW ON!

HUGE SAVINGS ON BOTH NEW CX-5 AND DEMONSTRATORS

NEW MAZDA CX-5.

A BETTER SUV IN EVERY WAY

The New Mazda CX-5 takes the SUV to a new level of refinement,

craftsmanship, and functionality. A stunning new design, refined SKYACTIV

performance, and the latest i-ACTIVSENSE advanced safety technologies,

all combine to deliver an SUV that's truly a class above. Explore the

New Mazda CX-5 today and discover yet another way imagination drives us.

FAIRVIEW MOTORS MAZDA, 2011, 2012, 2013, 2014 & 2017 MAZDA DEALER OF THE YEAR

473 Te Rapa Rd | HAMILTON | P 07 849 9838 / 64 Firth St | MATAMATA| | P 07 888 7127

95 Victoria St | CAMBRIDGE | P 07 827 7005 / 132 Kihikihi Rd. | TE AWAMUTU | P 07 871 3079 fairviewmotors.co.nz

2 INSPO – FITNESS JOURNAL DECEMBER 2018
---
CONTENTS

On the cover

Get off-road and explore your own

backyard. We bring you some of

Waikato's best free adventures.

8

Features

8

10

12

14

Explore Waikato:

Get off the beaten track

Run like a champ with

Braden Currie

Pedal power:

Jordan Castle

Speed Setter:

Roi Speed

15

16

New Zealand Masters

Games 2019

Beating the blues:

20 Arna-Lise Harris

22

26

27

43

46

16

Kick start a healthier 2019

Christmas Competition

Corner

Challenge yourself:

Whaka 100

The high intensity

exercise debate

Beauty guru

Brydie Donaldson

Is 2019 your

Ultramarathon year?

Columnists

18

24

34

36

34

Regular

6

38

40

48

Kristina Driller: Helping

prevent joint stiffness

Shane Way:

Wellbeing awareness

Rebecca Jefferies:

Are you a control freak?

Danielle Roberts:

Summer body tips

Things We Love

Quick bites

Beauty Spot

Book Corner

WWW.INSPOMAG.CO.NZ

FACEBOOK.COM/INSPOMAG

B3920H

Hamilton Radiology.co.nz

HAMILTON RADIOLOGY

Offering unparalleled care and expertise

Hamilton Radiology is the Waikato's

largest private medical imaging facility.

Anglesea Imaging Centre, Gate 2, 11 Thackery St, Hamilton

With the latest medical imaging equipment and a

highly trained, experienced team of technical staff and

14 local radiologists, we offer an unparalleled standard

of care and expertise.

Anglesea Imaging Centre - Anglesea Clinic - Hamilton East - Rototuna - St Andrews - Morrinsville - Cambridge - Te Awamutu

Appointments are essential for Ultrasound and CT:

Please phone our freephone 0800 426 723

No appointments needed for plain x-ray films, all

referrals accepted. After hours appointments

available on Tuesday evenings.

INSPO – FITNESS JOURNAL DECEMBER 2018

3
---
FROM THE

EDITOR

Merry Christmas and Happy Summer

from all of us here at INSPO.

Our final issue for the year is

packed with summer motivation, hopefully

encouraging you to kick into 2019 with fresh

motivation and goals.

Most importantly is the array of professional

advice and encouragement from our

regular columnists; a core part of what makes

INSPO so successful and relevant. All experts

in their field with a genuine wish to inspire,

motivate and educate around everything relating

to health, wellbeing, mental health and

fitness - they each deserve a place on Santa's

exceptionally good gold star list.

I hope you enjoy their insights and that

the information shared contributes to a

healthier and happier 2019.

Given that Christmas is almost upon

us, we've got a fantastic spread of goodies

up for grabs to win, as well as gift ideas for

friends, family (and yourself of course).

My philosophy this year is to shop mindfully,

with care and thoughtfulness for the

recipient. Don't get lured in by flashing

lights, sparkly tinsel and a completely

useless gift. Check out our top picks for

books, beauty and wellbeing inside.

Have a happy and healthy summer and

see you in 2019!

LISA POTTER

EDITOR

Fitness Journal

EDITOR Lisa Potter

MOBILE 021 249 4816

EMAIL lisa@nmmedia.co.nz

ADVERTISING MANAGER

Deidre Morris

PHONE 07 838 1333

MOBILE 027 228 8442

EMAIL deidre@nmmedia.co.nz

DESIGN Tania Hogg / Kelly Milne

Subscriptions

Subscribe to the free e-edition of

INSPO and you'll be emailed a link to

our online edition.

Simply visit:

www.inspomag.co.nz/subscribe

Or pick up a hardcopy from one of

the following locations:

CONTRIBUTORS

Regular contributors: Monica van de Weerd, Alison Storey, Kristina Driller,

Sarah MacDonald, John Appel and Danielle Roberts.

• New World Te Rapa

• New World Rototuna

• Hamilton Airport

• Pak'n Save Te Awamutu

• Les Mills Hamilton

EMAIL info@inspomag.co.nz

PHONE 07 838 1333

12 Mill Street, Hamilton

PO Box 1425, Hamilton 3240

1 2 3

1) Shane Way

An award-winning

personal trainer, Shane

Way is also a physical

therapist and youth

mentor. As well as

volunteer speaking

and being a nutrition

lecturer at Wintec,

Shane launched his own

(also award-winning)

business; Your Way

Wellbeing, specialising

in wellbeing coaching,

public speaking,

seminars and workshops.

yourwaywellbeing.co.nz

2) Danielle Roberts

A nutritionist dedicated

to helping people

enjoy a healthy and

knowledgeable

relationship with food,

Danielle loves to share

her passion for healthy

living and wellbeing. As

a freelance nutritionist,

she offers nutrition plans,

online wellness coaching,

gut reviving protocol,

and a number of other

options dedicated

to holistic health.

fuelnutrition.co.nz

3) Rebecca Jefferies

A Waikato-based

certified life coach/

transformation worker,

Rebecca decided to

become a life coach to

fulfil her lifelong passion

of helping others gain

a connection with their

authentic self, to love

and nurture who they

truly are, live out their

deepest dreams while

living a balanced, healthy

and happy lifestyle.

breathingspacecoaching.

co.nz

PUBLISHER Alan Neben

SALES DIRECTOR Deidre Morris

PRINTING PMP Limited

COMPETITION TERMS

AND CONDITIONS

INSPO competitions are open to NZ residents only.

One entry per person, per competition. Prizes are not

exchangeable or redeemable for cash. Winners will be

selected at random and no discussion will be entered

into after the draw. By entering this competition you

give permission for INSPO to contact you from time to

time with promotional offers. Unless you agree, your

details will not be given to any third party, except for the

purposes of delivering a prize. Winners may be requested

to take part in promotional activity and INSPO reserves

the right to use the names of the winners and their

photographs in any publicity.

4 INSPO – FITNESS JOURNAL DECEMBER 2018
---
FRESH START,

Feel Good!

The fresh start of a new year is usually paved with good intentions. For many

this involves a focus around health, fitness and wellbeing. Healthy eating is a

key part of success in all these areas, and Nadia Lim's Fresh Start, Feel Good!

is the perfect tool to accompany your new intentions.

There is enough information out there

now that most of us know that eating

fresh wholesome ingredients is a win

in terms of creating a healthier lifestyle.

What's not so simple however is keeping

mealtimes interesting and delicious, and

knowing what ratios and servings are best

for your requirements.

With eight best-selling cookbooks, celebrity

chef, qualified dietitian and My Food Bag

co-founder Nadia Lim has knocked it out of

the park with Fresh Start, Feel Good!.

Packed with delicious recipes (as expected),

her new offering is more than a

cookbook. It simplifies your daily or weekly

meal planning with every recipe under 450

calories. So you can simply choose from a

breakfast, lunch and dinner recipe option

and know that you're fuelling your body with

all the right stuff.

The focus is on packing in vegetables and

other nourishing ingredients, while cutting

down on carbs and refined sugar, without

sacrificing flavour. Nadia also shares her nofuss,

fad-free approach to kickstarting health

goals and losing weight.

However she's quick to assure that this

isn't a 'diet book'.

"I don't believe in inflexible diet rules,

fads or cutting out any specific foods,

because it's simply not a sustainable – or

enjoyable – approach to eating," she says.

"You can expect realistic, down-to-earth

recommendations and advice here, alongside

delicious, simple recipes that use normal,

everyday ingredients."

With all recipes conveniently coming

in under 450 calories or less, it's a simple

process to just choose any three meals (and

snacks), equalling an approximate 1200-1600

calorie-per-day eating plan, which Nadia, a

trained dietitian, says is about right for most

people wanting to lose weight.

From smoothies and salads, to soups and

quick dinners, there's even a lighter, healthier

twist on comfort foods like pizza and

burgers, as well as

sweet treats without the

guilt, such as Frozen

Berry Ripple Cake and

Chocolate Coconut

Rough Cookies (yum).

Enter to win a

copy of Fresh

Start, Feel Good!

on page 22.

Christmas menus often focus

around traditional family dishes.

Start a fresh tradition this year

with this delicious summery

frozen cake. It's a recipe you'll

keep wanting to re-create. Plus

it's gluten free and dairy free

(use coconut cream and coconut

yoghurt) and just 335kcal.

Frozen Berry Ripple Cake

Recipe extract from Fresh Start, Feel Good!

by Nadia Lim. RRP $49.99.

This frozen ice cream/yoghurt cake is

incredibly refreshing and summery, and so

quick and easy to make (plus you can make it

well in advance). It's a great one to make for a

special occasion without wanting to blow out

on dessert calories. You could use a mixture

of boysenberries and blackberries instead of

raspberries and strawberries to get a different

berry flavour and colour.

Makes: 8 portions

Prep time: 15 minutes + at least 6 hours

freezer time

Base

• ½ cup desiccated or shredded coconut

• 7–8 pitted medjool dates (or 15–16 normal

dried dates soaked in boiling water for 5

minutes)

• ⅓ cup sunflower seeds or almonds

Filling

• 500g mix of frozen raspberries and

strawberries, defrosted

• ¼ cup runny honey or maple syrup

• 1–2 teaspoons rosewater or vanilla bean

paste or extract

• 1 cup cream or coconut cream

• 1 ¼ cups unsweetened natural Greek

yoghurt or coconut yoghurt

• Grease the bottom and sides of a 20–21cm

round spring-form cake tin and line with

baking paper.

1. To make the base, place all ingredients in a

food processor and blitz until well combined

and the mixture has formed a slightly

sticky dough that holds together well when

pinched between your fingers; if it's still

a little crumbly just add 1–2 tablespoons

water and blitz again. Scrape down the sides

of the food processor as necessary to ensure

all the ingredients are incorporated. Spread

mixture over the base of prepared cake tin

using the back of a spoon – it will be quite

a thin layer. Place in the freezer while you

make the filling.

2. Blend berries, honey/maple syrup and

rosewater/vanilla until smooth. Scoop out ½

cup berry mixture and set aside in a bowl.

3. Add cream/coconut cream and yoghurt

to remaining berry mixture and blend together

briefly until combined and a pretty

pink colour.

4. Pour filling over the base and roughly

smooth out the top. Spoon reserved berry

sauce over the filling and use a teaspoon or

knife to create a few pretty swirls. Freeze

for at least 6 hours (or overnight) until firm.

When ready to serve, remove from freezer and

stand at room temperature for 10–15 minutes

to slightly thaw, before releasing spring latch

and removing cake from tin. Decorate with

extra berries and flower petals if you like.

Use a large, sharp knife to cut into portions.

INSPO – FITNESS JOURNAL DECEMBER 2018

5
---
Things

we love

A few of our favourite things

FIND YOUR EDGE

Party like a rock star with these

glam pieces from Silk & Steel.

The range of New Zealand designer

jewellery is super cool with a

collection for all personalities;

from Sweet Venom to Bohemia.

We've been extra good this year

so have requested this full Haveli

set in black spinel and silver.

Santa had better deliver -

or else! silkandsteel.co.nz

BE AWESOME

Mood boards, goal setting, journalling; the benefits have long

been widely touted. Now you can celebrate and champion all

that is positive in your life, and help create your own happiness.

These AwesoME Inc journals are packed with fab graphics, life

and resilience tips, positive sayings and more. Kick start 2019

with the power of positivity. awesomeendsin.me

BRIGHT EYES

If you only add one new thing to your makeup bag

for 2019 make it this wand of magic. This fairly

ordinary looking eye treatment is in fact genius.

The Colorescience® Total Eye 3-in-1 Renewal Therapy

SPF 30 is 100 percent mineral and chemical-free -

and really does help with dark circles and puffiness

(hurrah - at last!). Best of all is the deliciously cool

and refreshing applicator. Treat yourself - it's the

perfect antidote to the effect of late nights.

CHOC LOVERS REJOICE

Life's too short to waste drinking mediocre hot chocolate. We're

fresh converts of the New Zealand made (yuss) Bennetto drinking

chocolates. Oh lordy, they're sublime. Free from refined sugars,

there are just four simple ingredients - rich dark Peruvian cocoa,

coconut sugar from Indonesia, Heilala vanilla from Tonga and

Marlbrough sea salt. Choose from Dark Cocoa Hot Chocolate

or Superfoods Hot Chocolate. Bennetto.co.nz

INSTANT CURE

No need to worry about finding the perfect gift for the tricky-tobuy-for

person. This luscious Ross & Ross Salmon Curing Kit is a

must-have this Christmas, whether for yourself or the foodie in

your life. It's packed with everything you need to cure your own

salmon at home with three curing salt mixes (gin, smoky and

beetroot). Just add salmon and hello summer.

6 INSPO – FITNESS JOURNAL DECEMBER 2018
---
WATCH YOUR HEALTH IMPROVE

There's nothing quite like being able to see

the steps you've taken (or haven't taken) to

motivate you to get moving. Smart watches

just keep on getting smarter and the Fitbit

Charge3 is the perfect example of this. Offering

next level tracking, it allows you to overview

your entire lifestyle and wellbeing. With an

impressive seven day battery life, now you can

swim with it (yay for waterproof design), as well

as take advantage of the easy-access training

programmes, reminders, water and calorie

tracking, sleep monitoring (packed with info)

and plenty more. It's the ultimate feel-good

Christmas/New Year's gift to yourself. fitbit.com

MAKE IT PERSONAL

When it comes to gift giving, the more

personal the better. So round of applause

please for Merchant 1948 (Overland).

Now you can personalise your fave shoes,

bag or accessories with their bespoke

monogramming service. And better still the

monogrammable items are easy to find in

store and online. Go on, you know you want

to. Merchant1948.co.nz

BE SUPER SMOOTH

JUST IN CASE

These days our smartphones hold our most

coveted information. Protect yours with style,

with a 3SIXT case. Added bonus - the cleverly

designed case eliminates the need for a bulky

wallet. The Neo Clutch features card holders,

a cash pocket and removable inner shell to

provide everyday protection for your phone.

3sixtgear.com

If you want to truly indulge yourself

this Christmas, add the Philips Lumea

Prestige IPL to the top of your

Santa list. Developed with leading

dermatologists and Philips hair

removal experts, now you can ditch

the blade and embrace the latest

technology for hair removal. Using

gentle pulses of light to progressively

reduce the regrowth of hair, when

used every two weeks for an eight

week period, the treatment has been

shown to reduce hair growth up to 92

percent. Now that's smooth.

CLEANSING CLEANERS

Taking eco-friendly products to a whole new level of mindfulness is

the Santosa collection. Instead of being adorned with logos there is

a gentle reminder to make every moment significant. Made in New

Zealand, the cleaning products are free from preservatives, palm oil

and synthetic fragrances. santosa.co.nz

INSPO – FITNESS JOURNAL DECEMBER 2018

7
---
OFF THE

BEATEN

TRACK…

1. Hot Water Beach –

Ocean Beach, Kawhia

2. Hakarimata Kauri Loop Walk

3. Kakepuku Summit

4. Kaniwhaniwha Caves –

Mt Pirongia

5. Te Toto Gorge

6. Omaru Falls

7. Ara Jones Lookout –

Waikato River Trails

8. Wairere Falls Summit

9. Mansfield Garden –

Hamilton Gardens

10. Blue Spring at Te Waihou

Walkway

Summer in Waikato is the perfect time

to get off the beaten track and check

out some of the region's hidden gems,

whether looking for adventures for the whole

family, a more challenging hike for yourself,

or simply the opportunity to meander

through stunning scenery.

Family adventures

The somewhat untouched nature of Kawhia

provides the perfect destination to escape

to and is home to one of the region's best

kept secrets, Kawhia Hot Water Beach. Head

to the end of Ocean Beach Road at low tide,

clamber over the sand dunes and down onto

the beach. Keep an eye out for the hot water

bubbling to the surface and once you find

the perfect spot, start digging for an instant

natural hot water spa, with stunning views to

match.

Another hidden gem of the region is the

Omaru Falls Walk, near Waitomo. This gentle

30 minute walk takes in bush surrounds,

home to native ferns and rimu, and crosses

farmland before reaching the stunning

Omaru waterfall. Remember to take a picnic

and stop for a bite to eat beside the river with

a small terraced waterfall or continue up the

track to the lookout point which provides

great views of the 45m falls.

Head out to the beachside town of Raglan

and check out Te Toto Gorge. The historically

significant site, just south of Raglan,

not only boasts stunning and uninterrupted

views of the rugged West Coast, it also

provides an insight into traditional Māori

gardens. This great short Waikato walk includes

remnants of garden plots, stonewalls

and karaka groves which date back as far

as the 1700 and 1800s. From the carpark, a

short track leads to a viewing platform which

provides spectacular views of the coastline,

gorge and amphitheatre where the Māori

gardens once thrived.

Take the whole family and explore the

Nikau Walk at the base of Mt Pirongia.

Follow a stream through beautiful native

forest, with opportunities for swimming and

picnicking along the way. Branch off to the

Kaniwhaniwha Caves Walk which offers the

excitement of entering two small caves. You

can walk through the main 20m cave which

has a short hands-and-knees crawl, and the

smaller cave which is tight and narrow. Don't

forget to take a torch!

Up for a challenge?

Discover a track full of native wildlife with

a hike up a bush-clad extinct volcano to the

summit of Kakepuku. Climb the mountain

along a shared mountain biking track for

part of the way before continuing along

the mountain ridge through remnants of

original forest in the ancient volcano's crater

before reaching the summit at 449m. A

viewing lookout tower at the top provides

spectacular views over the Waikato region,

with panels offering historical and geological

information on Kakepuku Mountain and the

surrounding area.

Just 10 minutes' drive from Matamata,

Wairere Falls is the highest waterfall in the

North Island and a popular walking track

in Waikato. Small wooden bridges take you

across the stream at several points, affording

lovely views of little cascades and providing

opportunities to cool tired feet in the

refreshing water.

The sight from the viewing platform is

spectacular – water plunges 153 metres over

the falls. Those looking for a challenge can

trek to another lookout at the top of the

falls, from where there is a breathtaking

view back over the valley and Waikato plains

beyond.

For more information on these and even

more great activities and attractions check

out www.hamiltonwaikato.com

8 INSPO – FITNESS JOURNAL DECEMBER 2018
---
Insider info:

Omaru Falls Walk

Location: Clearly signposted on Omaru

Road off SH4 south of Te Kuiti

Time: 1 hour return

Distance: 1.7 km return

Te Toto Gorge

Location: Carpark located south of

Raglan along Wainui Road. Note: After

Whale Bay the road is called Whaanga

Road.

Time: 30 minutes one way

Nikau Walk and

Kaniwhaniwha Caves

Location: Limeworks Loop Road, Te

Pahua

Omaru Falls

Time: 2 hours 30 minutes return

Distance: 7 km return

Kakepuku Mountain

Location: Kakepuku Mountain Road,

Te Awamutu

Time: 2 – 3 hours return

Wairere Falls

Track Entrance: The Wairere Falls walk

starts at the car park on Goodwin Road,

off Old Te Aroha Road.

Time: 45 minutes one way to the viewing

platform, 2 – 3 hours return to the top of

the falls.

Blue Spring

Ocean Beach at Kawhia

Te Toto Gorge

Wairere Falls

INSPO – FITNESS JOURNAL DECEMBER 2018

9
---
RUN LIKE

A CHAMP

Ever wondered how a world-class elite athlete prepares and

trains for key events? Just like everything in life, training

programmes and goals constantly evolve. Braden Currie

recently triumphed with a top five finish at the Kona World

Ironman Championships. We take a look at his road to success.

Braden's achievement at the World

Champs was a truly gutsy performance.

It was only his second time

racing this gruelling event that takes the

world's top professional athletes many attempts

to master.

Finishing the best of the Kiwis, he

managed to hold off American athlete Matt

Russell by a mere four seconds - exerting an

effort so great that he needed an intravenous

drip inserted straight after he finished.

"I absolutely gave it everything I had in

the tank," he says. "To be honest I'm really

proud of the result. I held tough. I held in

there. At the end of the day, I tried to go for

the win and that was what I was there for."

The road less travelled

In this article, Braden shares his "running

evolution: the run session that changed everything"

and how he prepared for the Kona

World Ironman Championships.

Centered on a key run track session that

he used to evolve his run performance to

that of a world class breaking Ironman marathon

runner, the hard work paid off as he

topped the podium with the world's best.

Transition from off-road

My training life is hugely different from

what it was 20 months ago. Back then I was

training mostly off road across six disciplines,

competing in a combination of XTERRA,

Multi-Sport, Ironman and 70.3.

Life changed with the focus on the World

Championships and in some ways became

more simple. Training was just swim, bike

and run. To to be honest, I didn't know

whether this would be enough to keep me

motivated. But for me, the goal of Kona was

one that I thought about every day. It captivated

me and held my entire focus.

The satisfaction I got from training wasn't

as much from the environment I train in,

but the gain I achieved when I worked hard.

I found an unlikely amount of satisfaction in

the process of the road to Kona, and every

element of that process required a uncompromising

level of commitment.

One of my key areas of focus was dedicated

to the process of running economy. When

I started racing 70.3 and Ironman, many people

commented that I needed to run more

efficiently. But there was a part of me that

didn't want to let go of the way I ran, as it was

this method that gave me my success offroad.

It's hard to change something that has

always worked. But last year when I decided

to fully commit everything to Kona, I knew

that I was going to have to let go in order to

move forward. This was the beginning of my

running evolution, and the running track is

the location where I was able to achieve that

progression.

Running track

I have realised that it's the intensity of

running that I enjoy, which is probably why

I loved running up mountains. Now I view

the track as a place to run hard and push my

limits, same as I did in the mountains but

now it's around a monotonous green oval.

Being able to work at max effort in a really

controlled environment, with no place to

hide has helped me to evolve and has proved

to me just how important it is both from

the perspective of performance and injury

prevention.

The key things I achieved during track

sessions was a new awareness of my movement

patterns and how they tend to change

when fatigue sets in. It helped having a coach

with me during these sessions, for a real understanding

of what lapses when I am tired.

Everyone has their idiosyncrasies when fatigue

sets in, and they tend to be small things,

but I learnt the hard way just how much they

can really affect your ability to maintain

speed in the back half of a long race.

Focusing on technique when I'm fatigued

has been vital in my improvement as a

runner and when I'm running track, one of

my key objectives became to ensure I maintained

good form in every set.

Technique was a key focus - increase my

turnover, bring my hip positioning slightly

forward, and straighten up my posture so I

can stabilise my hips through my core and

upper body. This all added up to more power

through my posterior chain, glutes and

hamstrings for the back part of my stride.

I know a lot of people commented on the

change in my running at Cairns. It was good

to hear, and my run time in Cairns gave me

the confidence that I was following the right

process.

The track session that changed everything

This was the key track session I used to

build into my lead-up into 70.3 Worlds and

Kona.

10 INSPO – FITNESS JOURNAL DECEMBER 2018
---
Warm up drills

Focus

• Increase range of movement

• Activate key muscles in the posterior

chain in preparation for the main set

• Strengthen the posterior chain using tyre pull

1

6

quick contact,

heel to bum

A-skip 2 x 20m + 50m jog

7

Warm down

Focus

Focus on maintaining range of movement

and releasing the key muscles worked

during the workout.

1

Lunges 15-20 + 50m jog

2

Knee to Chest 15-20 + 50m jog

3

keep torso

long

High Kicks 12 + 50m jog

4

Running strides 3 x 50m

Main Set

Focus

• Over time, improve my ability to maintain

economy at race pace

• Progression: the progression of this set

will aim to reduce recovery without losing

speed, followed by increasing sets and

therefore distance

• Create length and efficiency in my movement

patterns

Three sets of the following (400m, 400m,

800m) at target 5K race pace (3min/km's)

1:30 jog after the 400 m sets

3:00 jog after the 800m sets

1

Pigeon stretch - Stretching the hips as well

as the groin and the hamstrings

2

Side lunge - Stretches the psoas muscle,

quadriceps muscle and strengthens the

external obliques

3

heel to butt,

big toe up

A-March 2 x 20m + 50m jog

5

Main Set 400m

2

Seated twist - Mobiles the lower back,

stretches the gluts

4

quick contact,

head up

Fast feet 2 x 20m + 50m jog

Main Set 800m

Lying hip and glut stretch - releases the

lower back, stretches the gluts and improves

range of motion through the spine

INSPO – FITNESS JOURNAL DECEMBER 2018

11
---
From painting the black line

TO CHASING IT

Tasked with explaining what people can expect from the

Track World Cup when it comes to Cambridge this January,

New Zealand cyclist Jordan Castle thinks for a moment and

then comes up with this - "it's like bringing the Rugby World

Cup final inside a tin shed."

Jordan Castle in full focus during the 2018 Oceania Track

Championships in Cambridge (Photo by Dianne Manson)

If there's anyone who would know, it's

the 22-year-old Palmerston North-born

sprinter. He was there when the UCI's

flagship track cycling event first rolled into

Cambridge almost three years ago.

Back then (December 2015), Jordan was a

development rider, training by himself and

working 20-30 hours a week to support his

dream of being paid to ride his bike full time.

His move to Cambridge from Manawatu coincided

with the opportunity to see the world

of professional cycling from a different

perspective – that of a volunteer.

Coaching and working behind the front

desk at the Avantidrome, Jordan got a literal

front row seat as the event rolled into town,

complete with 100 volunteers, 339 riders and

7500 spectators over the three days of racing.

His volunteer role included painting the

lines on the track – familiar ones such as the

black line and red sprinter's line. It also involved

crawling under the track to lay cables

for the Sky TV crew and holding some of the

teams on the start line on race days.

There was also time for Jordan to see

some of his heroes race in the flesh.

"I remember watching Sam Webster

go out the front in one of the keirin races

and the crowd just erupted. It was so loud.

Watching a rider that I had looked up to race

in front of his home crowd was something

pretty special.

"Cambridge 2015 was my first experience

of a World Cup. All these huge names like

Robert Forstemann and Francois Pervis were

just right there. I'll never forget it."

Fast forward three years and the Track

World Cup is about to roll into Cambridge

once again. Instead of helping behind the

scenes and watching from the infield, Jordan

is hoping to be in the thick of it this time,

riding for New Zealand or a trade team.

This won't be his first World Cup either.

After a breakthrough Oceania Championships

in late 2016 earned him a spot in the elite

squad, he has raced in World Cups in Columbia,

England and Poland – the latter the

location of next year's World Championships.

"It's been an awesome ride so far. The

past two years I've started going to more and

more races. The magical feeling that you

get when you walk into a velodrome for the

first time and it's packed with two or three

thousand spectators and a whole bunch of

elite riders, it never goes away."

Racing on your home track in front of

friends and family is something New Zealand

track cyclists rarely get to do, spending

months on the road during New Zealand's

cooler months.

"We don't get international racing in

Cambridge very often," explains Jordan.

"It brings variety and a bit of international

flavour that you rarely get to see here. Teams

like the Swiss and Malaysians will be riding

around in their team kit on our streets. It's

pretty cool to see."

And what of that comment about bringing

the Rugby World Cup final inside a tin shed?

"Track cycling live is just electric," he enthuses.

"There's no other word for it, or way

to describe it. Everyone in the crowd will be

a Kiwi, just screaming for the person in the

black skinsuit with the fern on it."

Jordan's passion for the sport and the desire

to see himself and his teammates succeed

is evident. Getting to this point though hasn't

been an easy road, with "two or three years

of grind" and support from local people and

businesses enabling his path to the top.

That is what makes a home World Cup so

special – the opportunity to share the sport

he lives and breathes with those who made it

possible for him to do so.

"We're very fortunate to get an event such

as this come to a place like Cambridge. It

will be awesome having Waipa and the wider

region get in behind it."

Track cycling can seem like an inaccessible

or niche sport at times, but all it takes to

get hooked is to see it with your own eyes.

The visceral effect of seeing the action unfold

right in front of you persuades many to

give the sport a try, and stick with it. Jordan

remembers the impact of the last World Cup

on the town.

"Working at the Avantidrome, I saw

this massive influx of kids take up track

cycling after watching the World Cup. It's

so important for the future of the sport in

New Zealand to have these opportunities

for kids to see the world's best on their back

doorstep, and to be inspired by what they

see. Hopefully we'll achieve the same this

time around and encourage even more kids

to get on bikes."

12 INSPO – FITNESS JOURNAL DECEMBER 2018
---
CYCLING CLASSICS

a boost for fans and regional tourism

Cycling takes centre stage in Cambridge

in January, with the town set to host

the Tissot UCI Track World Cup, the

world cycling body's flagship track cycling

series, as well as New Zealand's only UCIaccred-

ited road cycling tour, the Grassroots

Trust New Zealand Cycle Classic.

Starting on Friday, 18 January, the Avantidrome

will hold three days of Track World

Cup competition, showcasing the best of

international track cycling.

Teams from more than 30 countries,

from as far afield as Canada, Belgium and

Italy, will descend on Cambridge, bringing

with them squads full of talented sprint and

endurance riders.

Competition will be fierce as nations race

for valuable qualifying points for next year's

world championships in Poland, and ultimately

the 2020 Olympics in Tokyo.

The Tissot UCI Track World Cup's return

to Cambridge comes off the back of the

successful 2015 event, which saw 339 riders,

7500 spectators and 100 volunteers immerse

themselves in the track cycling experience.

As well as international superstars such

as Kristina Vogel and Jason Kenny, fans also

got to witness their local heroes with the then

men's team pursuit world champion quintet

showing off their cov- eted rainbow stripes in

front of the sell-out New Zealand crowd.

The 2019 event will see three time

men's team sprint world champions Eddie

Dawkins, Ethan Mitchell and Sam Webster

included in a New Zealand squad bursting

with proven and emerging talent.

Following closely on the heels of the

international track event is the Grassroots

Trust New Zealand Cycle Classic.

This has been moved from Manawatu to

Waipa to become the feature event of the

inaugural Three Peaks Manuka Honey RIDE

New Zealand's Cycling Festival.

Billed as "a carnival of cycling," it incorporates

cycling events for participants and spectators

of all ages, run- ning from January 22 to 27.

The UCI 2.2 New Zealand Cycle Classic

has been a road cycling institution for

more than 30 years and is recognised as the

premier international road cycling event in

New Zealand.

The race has become synonymous with

unearthing exciting new talent, with a number

of riders going on to win stages in the

Tour de France, the Tour of Italy and World

Championships in the following years.

The two events will bring entertainment,

vitality and an economic boost to the region

that extends far beyond the 10 days of racing.

Many international teams are expected

to fly in from the beginning of the new year,

setting up camp in order to prepare well for

the first World Cup of the 2019 calendar year.

Coupled with domestic riders coming for

the five day UCI 2.2 Grassroots Trust New

Zealand Cycle Classic, and spectators coming

from far and wide, this double header of

cycling action is set to kick off the New Year

well for local hospitality, accommodation,

retail, tourism and transport providers.

Having two events of this scale held in

our region puts Waikato on the world stage,

with news media broadcasting the racing to

a large domestic and international audience,

highlighting Cambridge and the wider region

as an attractive destination for visitors.

Don't be surprised if you see folks swapping

the sand, sunscreen and swimming togs

for hot cycling action in late January.

With such a bumper lineup, these are two

events not to be missed!

CAMBRIDGE

NEW ZEALAND

trackworldcup.nz

BE THERE.

INSPO – FITNESS JOURNAL DECEMBER 2018

13
---
SPEED SETTER

BY LISA POTTER

Roi Speed has chosen the later years of

life to live up to her surname. The self

confessed 'non-sporty kid' recently

notched up an impressive achievement -

setting a new World Hour Record for women

aged 70-75 track cycling at Avantidrome in

Cambridge.

Not a bad effort for someone who only

took up cycling a few years ago!

When Roi retired, her plans revolved

around plenty of gardening with husband

John on their on sprawling property on the

outskirts of Hamilton. She had no intention

whatsoever of taking up a fresh interest - let

alone cycling.

However, most days she and John are

familiar and welcome faces at Avantidrome.

It was an open day at the impressive

Avantidrome venue which set things in

motion. Roi and John had gone along purely

with the intention of having a nosey at the

building that had been the subject of much

public conversation.

Part of the open day celebrations were

demonstrations and Have-A-Go events.

Somehow Roi and John (both 71) found

themselves agreeing to have a try.

"This was after we'd looked at the banked

corners inside on the track and literally said to

our guide that you would have to have rocks in

your head to ride a bike on that," she laughs.

"He talked John and I into doing a Have

a Go session, and that literally changed all of

our tomorrows."

Roi and John now ride on the track three or

four times a week, and are official track coaches,

helping and encouraging others to ride.

"As much as the riding is fantastic for our

health, the social contact with like-minded

people of all ages is equally important for us,"

says John.

That original Have-a-Go day sticks in

Roi's mind as one of the most exciting and

amazing things they've ever done.

"We were immediately hooked. It was a

real adrenaline rush."

When they started riding on the track, it

was purely for fun, then it became for fun

and fitness as they started seeing pretty rapid

improvements in their health and fitness.

After setting a new World Hour

Record for women aged 70-75, Roi

Speed with coach Michael van Enter

"We were never sporty types and didn't

even own road bikes."

The couple have gone on to compete in

the New Zealand Age Group Nationals and

World Masters Games (aged 70) and more recently

Roi set a new World Hour Record for

women aged 70-75. They both won national

titles in the 70-75 age group at the Vantage

Windows & Doors Age Group Track National

Championships and Roi took home silver

from the World Masters Games.

"It's definitely hard to believe," she says.

"I never would have dreamed of achieving

something like that, but it does go to show

that regardless of your age you can always try

something new, set some goals and achieve

them."

John and Roi say they have never been so

fit, and enjoy every moment cycling. However,

after a particularly intense training schedule

heading into her world record attempt,

Roi is enjoying the opportunity to tame her

garden (after some months of neglect) and

take a slightly slower pace, just cycling for

pure enjoyment at the moment.

However, training will notch up again

soon, with Waikato/BOP Age Group Championships

and New Zealand Age Group

Nationals to train for in 2019.

"While gold medals and setting a world

record have been absolutely exhilarating,

I've equally been so appreciative of the huge

amount of support from so many people.

There is a real cycling community here,

with endless encouragement, and that really

makes all the difference."

Roi particularly credits her best friend,

husband and cycling companion John – who

endlessly champions and supports her.

"For the world record attempt, the biggest

challenge was the mental focus to ride for an

hour around and around in the same direction.

John cheered me on the whole way.

"Also we have 10 grandchildren, so I started

out with the intent of riding 10 laps per

grandchild and that got me well underway

and into it.

"At the end, it was pretty hard. The technique

is to hold the black line around the

bottom of the track, but on those last corners

I was well above the black line. I was so tired I

just couldn't hold my line, so it probably cost

me 50 metres in the end and some time. "

The Avantidrome has become their home

away from home, where the couple are well

known and respected and have become an

integral part of the team there.

14 INSPO – FITNESS JOURNAL DECEMBER 2018
---
KICKSTART 2019

with exercise

BY RICHARD BEDDIE

A new year often kicks off

with fresh determination

and goals, and a huge

number of Kiwis plan to

start structured exercising.

According to a survey by an Auckland

research company, a total of 176,000

New Zealanders says they will

definitely start exercising at a gym or fitness

facility in the next 12 months.

The study, commissioned by Exercise

NZ, shows the exercise industry growth is

looking positive for the future with many

strong indicators of why more people want

to exercise, to keep fit and healthy.

The survey was conducted by Horizon

Research which also carries out studies for

many multi-national and national companies,

government agencies, iwi and national

business and community organisations.

ExerciseNZ chief executive Richard Beddie

says further findings will be released as

more survey data is analysed.

He says the research survey asked respondents

not only about their exercise habits,

but also perceptions of exercise, its benefits,

and importantly, if they are thinking of starting

or ending their exercise habit and why.

"The survey found nearly 177,000 of the

adult New Zealand population would definitely

be keen to start structured exercise in

the next 12 months.

"It also showed that around 29,700 people

would cancel their memberships in the next

12 months, along with another 14,100 others

saying they would most likely cancel.

"But more than half of those leaving an

exercise facility were planning on joining

somewhere else.

"These statistics show the industry as a

whole will continue to grow strongly, while

consumers continue to be prepared to move

to other providers if their needs are not

being met.

"So, what's changing? Around 29 percent

of people surveyed will be exercising at

home in the next 12 months. That's huge

growth from 10 years ago.

"The study shows more than half those

interviewed believe structured exercise is important

or very important, with another 23

percent saying that it is somewhat important.

"Overall, around 23 percent of Kiwis have

some sort of membership to an exercise facility,

and the vast majority of those are using it.

"It is also worth noting that awareness of

the benefits of exercise increases with age, so

there is still plenty of opportunity for those

catering for different (non-traditional gym)

markets.

"Female respondents definitely placed

more importance on structured exercise

than male respondents."

The research report shows activity levels

are climbing and will likely continue to do

so. The number planning on starting exercise

is almost six times the number likely to stop

in the next 12 months.

Learn to Dance with:

JAZZ UNLIMITED DANCE STUDIO

American Jazz, American Tap, Classical Ballet, Hip Hop,

Contemporary. Plus Musical Theatre and acting classes.

Ages: 3 years to adult.

Learn in a caring, positive, joyful, inclusive and successful studio culture.

You are welcome to visit our upmarket facility and see the culture in action.

We have highly trained teachers, superb exam results, the biggest range of

top-quality syllabi, and fabulous end-of-year Shows. Teaching standards are

extremely high, and exams are moderated by external experts. It's a great

place to be. Saturday classes are also available. Class sizes are limited. Fees

are paid by the term.

We have the best facilities in the region - a new, custom-designed, 4-studio

complex, with sprung floors, commercial air conditioning, ventilation system,

wall-length safety mirrors, double ballet barres, with the latest health and

safety features, viewing areas, and free parking. We've been in Hamilton for

nearly 30 years.

Enrolments are now open for Term 1, 2019. Spaces may be limited. Please

pre-register by email. Term 1 begins on Monday 4 February. There is a full

week of FREE classes prior to that, for students who have completed their

enrolment – enquire now.

JAZZ UNLIMITED DANCE STUDIO

Email: jazzunlimited@xtra.co.nz | Phone: 838 0096

The timetable is on www.jazzunlimited.co.nz from 25 December.

PLANET DANCE

Partner dance classes - Ballroom, Latin, Salsa, Argentine Tango,

Modern Jive. Teens and adults. We are also wedding dance specialists.

Email: planetdance@xtra.co.nz | Phone: 838-0096

BALLET, JAZZ, COMTEMPORARY, TAP, LYRICAL, HIP HOP

ENQUIRE NOW FOR 2019

07 855 3021 • limelightdanceacademy.co.nz

INSPO – FITNESS JOURNAL DECEMBER 2018

15
---
MASTER

YOUR

GAME

It's not too late to grab a group of friends

or family and get involved in the Downer

New Zealand Masters Games, being held

in Whangani from February 1-10.

Around New Zealand, hundreds of masters

athletes and participants are training for

the upcoming event.

2019 marks the 30th Anniversary of New

Zealand Masters Games, the country's largest

multi-sport event.

Launching in February 1989 (in Whanganui),

the Masters Games were established

to provide the community with opportunities

to develop and maintain a healthy

lifestyle. Dunedin joined the party in 1992,

and together the two host cities have taken

this iconic event to new heights.

In New Zealand, sport and recreation is

embraced by young and old, across all walks

of life, playing a significant part in our everyday

lives. In every Masters Games sport there

is all that matters in life - great sport, great

mates, great memories.

The New Zealand Masters Games is a

unique event, with diverse and inspiring participants

ranging in age from 25 to more than 85.

Embodying the spirit of participation

with no qualifying standards, the term Masters

refers only to age, not ability.

With 54 sports scheduled for 2019, new

additions include Olympic weightlifting and

indoor triathlon; as well as croquet returning

to the line-up, and selected sports opening

up to para athletes.

Featuring road and mountain bike

criterium, a duathlon, corporate relays, and

a mobility scooter event (an idea submitted

by Grey Power Whanganui) , the event also

features the "Masters of Tomorrow" concept

- aimed at encouraging the younger sporting

communities to grow and continue with

sport post high-school.

The Masters Games is not just about the

sport, it's about the social aspect too, making

great mates and great memories.

Details of all the sports available are listed

at www.nzmg.com.

Embodying the spirit

of participation with no

qualifying standards, the

term Masters refers only

to age, not ability.

Photos by CMG Sport

16 INSPO – FITNESS JOURNAL DECEMBER 2018
---
INSPO tries … FITBIT CHARGE 3

BY LISA POTTER

Before getting down to business, I have

to admit to some borderline obsessive geeklike

tendencies when it comes to compiling

information and tracking progress.

So the opportunity to test drive

the Fitbit Charge 3 was met

with more than a small

amount of anticipation.

Truth is, I've been

itching to get my hands

on it for a while, purely

to check out the swim

tracking capabilities,

which has always been

a slight niggle for me

with previous models not

being waterproof enough

to take into the pool.

First up, the Fitbit Charge

3 is mighty comfy. I'm not a fan of

sleeping with anything on my wrist, finding

it annoying and uncomfortable. So I wasn't

expecting much success when it came to

wearing the Fitbit to bed to test-drive the

sleep tracker. To my delight I didn't even

notice the watch - it's super lightweight and

extremely comfy. So top marks for that.

Tracking my sleep has never really interested

me. I often work late into the night

and know I should get more sleep. But for

some reason, seeing all the data right there

in front of me has motivated me to change

my habits. In fact, to my surprise, out

of all the whiz bang wizardry

the Fitbit Charge 3 offers, for

some reason it is the sleep

tracker that I'm most fascinated

by. It tracks not

only the amount you

sleep (or don't) but also

shows how much time

is spent in each stage

of sleep (REM, light

and deep sleep), as well

as any periods of awake.

The data display can be

viewed by graph. It's pretty

fascinating and the first thing I

now check out each morning.

As expected, the fitness tracking component

is comprehensive, with steps taken,

minutes exercised, heart rate, weight, etc as

well as water and calorie intake. It's all geared

towards improving overall wellbeing, but

truth is it offers a quick insight and some

accountability to your daily habits.

Other useful extras are the hourly activity

tracker - ideal for those who spend a large

portion of the day at their desks. This can be

set to vibrate on your wrist to remind you to

get up and move each hour.

The female health tracker allows you to

track your fertile window and symptoms like

cramps and headaches.

Fitbit Coach offers personalised video

workouts that evolve based on your progress

and feedback, as well as audio coaching sessions

to improve endurance, speed and form.

There are stair workouts, home workouts,

and plenty of options for those wanting some

guidelines to follow. Your stats and data are

used to personalise the workouts.

If you've worn a Fitbit or smartwatch

before, you'll appreciate the simple sleek

design, with watch straps that are simple to

swap out. The screen is bigger and brighter

than previous models and simple to scroll

through the various options. Just tap and

swipe to see your stats and progress, read

texts and alerts.

Being waterproof to 50 metres is a huge bonus

- no more removing your Fitbit for a bath

or shower, and now you can track your swimming

progress also. Able to record the time

you spent swimming, it's not automatically set

up to track strokes or laps which is a shame.

However the entire package is extremely

user friendly and a definite motivator if

you're goal and results driven. Plus it only

needs to be charged once a week - bonus.

MRI ULTRASOUND X-RAY CT BONE DENSITY

Pacific Radiology specialise in sports injury imaging and diagnosis.

We accept any referral forms and provide a walk in service for all

x-ray examinations and urgent diagnostic imaging.

Call Pacific Radiology for an appointment today

or visit pacificradiology.com

Pembroke

Von Tempsky

Avalon

Cambridge

- 35 Pembroke Street, Hamilton Lake

- 21 Von Tempsky Street, Hamilton East

- 6 Avalon Drive, Hamilton West

- 14 Dick Street, Cambridge

Phone: 07 834 0000

Email: hamilton@pacificradiology.com

INSPO – FITNESS JOURNAL DECEMBER 2018

17
---
EXERCISES TO

HELP PREVENT

JOINT STIFFNESS

Growing up, arthritis was a condition only 'older people' had, it wasn't something

younger people complained of. Since practicing exercise physiology, I've seen clients

in their early 20s who have been diagnosed with various types of arthritis.

BY KRISTINA DRILLER

There are more than 100 different

forms of arthritis and related diseases,

according to arthritis.org. The most

common forms are osteoarthritis (OA) and

rheumatoid arthritis (RA) both of which have

very different presentations.

OA is a degenerative disease in which

the cartilage within the joint capsule breaks

down and over time can cause bones to move

against each other. Pain can vary from very

mild to highly intense and can change with

the weather patterns.

RA is an inflammatory disease in which

the immune system attacks healthy tissue,

the lining of the joints. In RA, often you will

see deformity of the joints and swelling.

Recent studies have found that regular exercise

can elicit the similar pain relief for OA

to that of analgesic drugs (e.g. paracetamol,

NSAIDs and morphine). This is fantastic

news as we know that exercise has huge

health benefits on all aspects of the human

anatomy and physiology and little negative

side effects – the main one being getting a

little hot and sweaty!

People with OA or RA can both benefit

from exercise. Exercise will increase blood

flow to the affected joints and assist with

reducing stiffness associated with arthritis.

Cardiovascular exercise is excellent for

this, walking, cycling or swimming are all

beneficial and each form can be selected

based on the needs of the individual. Resistance

training is also beneficial by improving

physical function, strengthening the musculature

surrounding the affected joints and

improving quality of life by being capable of

doing every day activities with ease.

I recommend aiming to move for at least

30 minutes every day, avoid long periods

of sitting to reduce joint stiffness and try to

exercise so that you get a little bit of a puff on

but can still carry a conversation.

These exercises featured are great

options for those with knee OA, who need

to exercise but find it painful to weight bear.

They will help strengthen your thighs, butt

and core. Do these non-weight bearing exercises,

so you can spend your time on your

feet doing things that you love.

1. STRAIGHT LEG RAISE:

Lie on your back with both knees bent, place

your hands under the small of your back (if

able to) and gently press your lower back into

your hands. Straighten one leg, keeping the

knee straight (this is the key). Slowly lower

the leg to the floor as far as you can (maintaining

a straight knee) and keep the lower

back gently pressed into the floor. Lift the leg

back up and repeat on the other side. Build

up to three sets of 10 on each leg.

2. BANDED GLUTE BRIDGE:

Lie on your back with both knees bent, arms

by your side. Have your band tied up just

above your knees. Move the knees outwards

in line with your shoulders. Keep them there

throughout the movements. Engage your

belly button, drive your heels into the floor,

and slowly lift the hips to make a straight line

from your knees to your shoulders. Pause

and slowly lower. As you lower, watch that

your knees don't cave in. Perform three sets

of 10.

3. BUTT SQUEEZE:

Lie on your stomach face down, keeping

both hips gently pressed into the floor (to

keep them from rotating during the movement).

Squeeze your butt and lift your leg off

the floor. Pause and slowly lower. Ensure you

don't arch your back during the movement.

Perform 3 sets of 10–15 on each side.

4. KNEE BENDS WITH FEET

ON A SWISS BALL:

Lie on your back, place your feet on the

Swiss ball. Place your arms by your side, pull

your toes to your nose and pull the heels to

your butt, as you gently bend your knees.

Push your feet back out and repeat, loosening

up the knees and hips and increasing

their blood flow. Perform three sets of 10. Do

more when able or as feels good for you.

I recommend aiming to move for at least 30 minutes

every day, avoid long periods of sitting to reduce joint

stiffness and try to exercise so that you get a little bit

of a puff on but can still carry a conversation.

KRISTINA DRILLER A specialist in exercise rehabilitation and chronic disease

management, Kristina Driller is a sport and rehab consultant at UniRec and uses

"exercise as medicine". Kristina has a wealth of experience spanning eight years

and provides expert advice in chronic disease management and musculoskeletal

rehabilitation.

18 INSPO – FITNESS JOURNAL DECEMBER 2018
---
▲ 1. STRAIGHT LEG RAISE

▲ 2. BANDED GLUTE BRIDGE

▲ 3. BUTT SQUEEZE

▲ 4. KNEE BENDS WITH FEET ON A SWISS BALL

INSPO – FITNESS JOURNAL DECEMBER 2018

19
---
POWERING

THROUGH

Northland mum Arna-Lise

Harris had extra reason to

celebrate crossing the finish

line at the recent Kerikeri

Marathon. Not only was

completing the challenging

event an achievement in itself,

but the race also represented

her triumph over a nine-year

battle with depression.

Wind the clock back nine years and

Arna-Lise could never have imagined

she would be running in the

Kerikeri half-marathon. She'd just given birth

to her eldest child Lily and struggled to bond

with her – often feeling angry and resentful.

At the time, she had no idea that these

were signs of depression, and the beginning

of a nine- year journey with an illness that

caused her so much anxiety that she was

regularly in a state of panic:

"Anxiety made me irritable, irrational and

took away my confidence in life and areas

I once thrived in. I couldn't sleep. In the

quiet of the night my heart would race and

my mind would work overtime on the cares

of the day. I couldn't silence my thoughts. I

went from being an outgoing extrovert to an

introvert, wanting to hide and stay home."

Finally, after several years, along with the

birth of two more babies, Arna-Lise went

to the doctor, saying ""I don't know what is

wrong with me, but whatever it is, it is ruining

my life."

The doctor identified postnatal depression

and Arna-Lise was given five free counselling

sessions but it wasn't enough, and two

years later, Arna-Lise's thoughts became dark

and suicidal: "[I wondered if] life was some

lacklustre existence and then we die? Would

I ever feel happy again?"

Going back to the doctor and being

prescribed medication was a turning point

for Arna-Lise, but by this time she was

104kg: "Everything was so hard. I felt so

broken, I wanted food to be my friend…being

overweight affected my self-esteem hugely

- which affected my head space. I really

wanted to live a life free from depression and

anxiety, but also, if possible, to do so without

having to be on medication for the rest of

my life."

Arna-Lise set herself a goal weight of

70kg. Initially, her exercise goal was just to

move her body/walk 3-5 times per week: "I

needed to regain my physical strength [and]

I kept injuring myself because of my size and

having very weak muscles."

Eventually, Arna-Lise felt like she wanted

to run. Initially, she could only run 50 to 100

metres but eventually it became 5km without

stopping.

"I had a group of fit friends who were

training to do the Kerikeri half marathon,

20 INSPO – FITNESS JOURNAL DECEMBER 2018
---
and they applied a bit of friendly pressure

- daring me that if I could run 5km I could

definitely do the half marathon - so I just

decided to have a go!"

The Kerikeri half-marathon marked a

significant milestone for Arna-Lise, and triumph

over her battle with depression.

"Looking back on that angry mum,

spending long nights at home dealing with

premmie babies, I thought I was a monster

and I wasn't cut out to have children. I now

realise that I was experiencing PTSD, severe

depression and anxiety and I didn't know."

Arna-Lise used her Kerikeri half-marathon

to raise awareness of perinatal depression

and anxiety and fundraise for Mothers

Helpers – an organisation that focuses on

identifying depression and anxiety in mothers

early, and providing them with help and

recovery.

Founder of Mothers Helpers Kristina

Paterson says "Arna-Lise Harris had clear

risk-factors for perinatal depression and

anxiety. When we consider that Arna-Lise

had three pre-schoolers before she was

diagnosed, we are talking about a series of

health professionals that have come in and

out of her life without ever screening her or

identifying that anything was wrong.

"Even when diagnosis has occurred, the

treatment has been inadequate and the monitoring

and follow-up non-existent. We are

letting our mothers down, and we drastically

need to change that."

If there is one thing that Arna-Lise Harris

wants other mums experiencing depression/

anxiety to know, it's that "you can get your

life back and feel happy again. Being freely

loved and accepted by people when you are

honest about your struggles is one of life's

very best feelings."

Arna-Lise is fundraising for the cause

with a give-a-little page: https://givealittle.

co.nz/fundraiser/an-incredible-opportunity

and is also set to feature on an upcoming

national television series with Charity TV to

screen across New Zealand in 2019.

"I'm looking for brands to align with and

promote on this television project, which

involves me undertaking a life-changing

adventure. The footage will be used as part

of the television series which combines adventure,

travel, philanthropy and television.

In this instance all of my endeavours will

directly support Mother's Helpers."

For more information about Mothers'

Helpers, and for help and support around

antenatal and postnatal depression,

visit mothershelpers.co.nz

GET ON YER BIKE

Use the summer break to hone your

pedal power, with an eye to the

Grassroots New Zealand Cycle Classic.

While you may not be as competitive as the

elite riders from around the world who will

be participating, it's an ideal opportunity to

motivate yourself to follow along and ride

some of the stages at your own pace.

The event coincides with Ride New Zealand's

Festival of Cycling, a week-long festival

encouraging people of all ages and stages of

cycling to get out and ride more regularly.

"Having the Grassroots New Zealand Cycle

Classic and Ride New Zealand's Festival

of Cycling being held simultaneously will

give the entire community a chance to see

some of the world's best riders in action and

provide them with opportunities to get out

on their own bikes and discover the Waipā

district one road at a time," says race director

Jorge Sandoval.

The five-stage elite international men's

road cycling race is the only Union Cycliste

Internationale (UCI) 2.2 sanctioned race to

be held in New Zealand in 2019 and will be

staged entirely in and around the surrounds

of Waipā from January 23-27, featuring challenging

new race routes to test all riders.

"Grassroots Trust has been supporting

many sports, community and education

organisations since it was established in 2003

and we are very grateful for its support to

help deliver New Zealand's biggest international

cycle tour," says Jorge.

Having previously run the New Zealand

Cycle Classic for the past 31 years in Wellington,

Manawatu and Wairarapa, Jorge was

offered a fresh start to stage the 2019 event

in Waipā thanks to generous support of the

Brian Perry Charitable Trust, Waipa District

Council, Three Peaks and Grassroots Trust.

He says it change will help him achieve a

shared goal of growing the race from a UCI

2.2 accredited stage tour to a UCI 2.1 accredited

tour.

"We share the same vision of growing

the tour and cementing its reputation as the

premier road cycling event in the country.

This vision also sees a significant community

event developed to complement

the Cycle Classic and celebrate the Waipa

District," he says.

Photos by Dave Lintott

Photography

INSPO – FITNESS JOURNAL DECEMBER 2018

21
---
COMPETITION

CORNER

Merry Christmas and happy summer

from the team at INSPO.

We've got an awesome array of goodies for you to enjoy.

To enter, email your name and address, with the

keyword of the prize you'd like to win in the subject line, to

win@inspomag.co.nz or enter online at inspomag.co.nz.

Entries close January 11 2019 so you can kick off your New Year

with some exciting treats.

FITBIT CHARGE 3

Take control of your exercise, wellbeing and sleep for 2019 and

enter to win a Fitbit Charge 3. Demonstrating the continued

evolution of this wearable technology, the Fitbit Charge 3

offers personalised training, as well as reminders to get up and

move (perfect if you sit at a desk all day). Best of all - it's now

waterproof to 50m so is perfect for beach or pool swim training.

fitbit.com. Keyword: FITBIT CHARGE 3

BENNETTO

New Zealand made chocolate, fairtrade,

organic, vegan - and delish. (bennetto.

co.nz) Enter to win one of five prize

packs of Bennetto chocolatey goodness.

Keyword: BENNETTO

FRESH START

Nadia Lim's newest cookbook Fresh Start,

Feel Great! Makes every mealtime simple,

tasty and super healthy. nadialim.com

Keyword: FRESH START

BE KIND BODY CO

Natural skincare, handmade in New Zealand with

love. Enter to win one of two luscious prizes.

bekindbody.co.nz

Keyword: BEKIND (Be Kind mask and

original scrub)

SANTOSA

Made from essential oils and the free from

preservatives, the Santosa range is pure

uplifting goodness. Enter to win Good For

Everything Spray. Santosa.co.nz

Keyword: SANTOSA

Keyword: BEKIND MAN (Be Kind man scrub)

22 INSPO – FITNESS JOURNAL DECEMBER 2018
---
PECS PROTEIN COFFEE

Forget protein powder and shakes. Enjoy

35 percent protein with your daily coffee.

Enter to win Pecs protein-enriched coffee

pecscoffee.com Keyword: PECS

FROOZE BALLS

The ultimate plant powered snack, New Zealand

made Frooze Balls are now available with a nut

butter centre. Raw, dairy-free and with no refined

sugar. froozeballs.com

Keyword: FROOZE BALLS

THE SKIN KITCHEN BODY SCRUBS

Exfoliate and nourish your skin with TSK creations. Handcrafted

in Nelson, from natural plant-based ingredients, it's the ultimate

in skin love. Enter to win one of three prize packs of TSK body

scrubs. theskinkitchen.co.nz Keyword: THE SKIN KITCHEN

RENÉ'S KOMBUCHA

Crafted by one of the first genuine Kiwi brewers,

René's Kombucha is an organic cultured tea with

flavours like lemon and ginger, and turmeric and

ginseng. Win a taster box. renesKombucha.com

Keyword: RENES

WELEDA TINTED LIP BALMS

Pucker up this summer with luscious lips

protected from the elements, thanks to

Weleda's tinted lip balms. weleda.co.nz

Keyword: WELEDA

LIVING GREEN

Not all cleaning products are created equal. Living

Nature's is New Zealand's most natural home cleaning

range, with products that are kind to skin, your home and

the environment. livinggreen.co.nz. Enter to win a fab

starter pack for a healthier home and you.

Keyword: LIVING GREEN
---
WELLBEING

AWARENESS

Wellbeing is a term being increasingly used, through

conversations, marketing and in information gathering.

But do we know what it means? Do we know what it

looks like, what it feels like, what it is?

BY SHANE WAY

Wellbeing is defined as "a positive

condition of existence, or a state

of being comfortable, happy or

healthy".

It looks quite straightforward in print,

but when we conceptualise and contextualise

wellbeing in our own lives, that's where it

becomes not so simple. We all have our own

personal definition of healthy and happy -

and then we also feel the pressure to compete

with society's view of healthy and happy.

For example, my personal definition of

health is probably a lot different from other

people's, especially within the fitness industry.

For me, health is a lot more than just the

physical side of things, and my physical

health is a lot more than having a "good

body".

It's about being able to breathe, to be able

to move. To have functionality, mobility and

be able to do all the things I want to do.

My own personal definition/concept of

wellbeing is derived from three key areas.

The six dimensions of wellness, Māori health

model (Te Whare Tapa Whā) and my own

personal life experiences, values and belief

systems.

The six dimensions of wellness integrates

spiritual, emotional and physical health. Te

Whare Tapa Whā is a belief system based

around the wharenui with its strong foundations

and four equal sides. Should one of

the four dimensions be damaged, a person

can become unbalanced compromising the

whole structural integrity – our wellbeing.

From this, I have focused on what I believe

is important when it comes to wellbeing

– what we really need to focus on, think

about and work for daily. There are five key

concepts I believe contribute to our overall

wellbeing. These are physical, emotional,

spiritual, social and environmental health.

At the beginning of each month I sit

down and analyse where I'm currently at

under each concept. Are they balanced and

am I achieving wellbeing?

So how do you figure out what these five

key concepts mean to you?

Physical

Physical health is so hard to achieve because

of how it is portrayed. We're told that

unless we have a low body fat percentage,

big muscles and a banging body, we're not

healthy. But physical health looks different to

everyone and is defined by you. Think about

what it means to you, do you want to be fit?

Strong? Flexible? Mobile? Think about what

you want to be able to achieve with your

body and how you want to feel – that right

there is your physical health definition

Emotional

We've become out of touch with our own

emotions. Feeling and expressing emotion

is normal. Emotional health means being

in touch with your emotional presence;

knowing it's okay to be happy, sad, angry

etc. It's being in touch your emotional state

24 INSPO – FITNESS JOURNAL DECEMBER 2018
---
is, understanding it and knowing what to do

when your emotions to get the better of you,

while also being aware of those around you

and being sensitive to their emotional needs.

Spiritual

Spiritual health isn't just based on spirituality,

faith or religion. Spiritual health

is about your soul; what feeds your soul,

what gives you drive, and adds purpose and

meaning to life. Your spirit is what gets you

out of bed in the morning, what influences

your values, morals and characteristics, and

what makes your life meaningful. It's about

having a life that you enjoy, a life that

makes you happy and a life that you are

living to the fullest.

Social

Social health is vital. It is the relationships

we build, the people we surround ourselves

with and how we interact, communicate and

relate to people. We all have different social

needs; whether we're introverted, extroverted

or anywhere in between. It's knowing the

type of social interaction that you need and

that is healthy for you, that brings positivity

to your life and intellectually compels you.

Sometimes we need to be alone, other times

we need to be surrounded by people. It's

about working out that balance, knowing

your personality and knowing it's okay to say

no when you need time alone.

Environmental

For me, environmental health is the world

around us. It's where we live, work, socialise

and play. Having a healthy living and work

environment is crucial. We need to feel safe,

secure and happy in our environment. Having

a roof over your head and a job is something

that is important for our wellbeing,

something that not everyone has the luxury

of. But we also need to ensure it's healthy –

if that home or workplace is toxic, then it's

going to affect all areas of your wellbeing and

you need to get out.

Being in tune with these five areas of

health will help you on your journey to

wellbeing. Life should be fun. We all want

to be happy and live life to the fullest. So

sit down, have a think about these key areas

and identify where you can make a positive

change that is going to create balance, increase

happiness and contribute to wellbeing

and that full quality of life.

SHANE WAY An award-winning personal trainer; Shane is committed to helping

others reach their goals and enjoy a positive mindset. Passionate about sharing his own

journey, he places a strong focus on mental wellbeing alongside physical wellbeing.

Shane is also a member of the advisory board for "Creating Our Futures", which is the

proposed model of change for Mental Health and Addiction services in Waikato.

BEARD essentials

Summer grooming is for men too, and

with the rise in popularity of beard

fashion, a well tended beard can be a

thing of beauty.

Hamilton couple Tara Overwater and Jarrod

Langman are dedicated to the cause. The

couple kicked off their thriving business, Rosco

Beard Co. with a range of handcrafted 100

percent natural beard oils and beard balms.

"We believe in educating men in caring

for their beards and skin underneath, and

our products are designed exactly for that!"

says Tara.

"My background is in beauty therapy,

and so I used my knowledge to craft our oils

out of jojoba oil (it is the closest to the skin's

natural oil, and so the skin recognises it as

'something it created' and therefore allows it

into the skin to nourish and hydrate)."

Other ingredients include sweet almond

oil, argan oil and hemp seed oil to nourish

and hydrate the skin and beard hair, which

in turn reduces dandruff, itchy and dry skin

and leads to less breakage (faster growth) of

the beard hair.

"Our products are 100 percent natural

and organic where possible. Most importantly,

they are not tested on animals!"

The popular Rosco beard balms are crafted

with argan oil, jojoba oil, beeswax, shea

butter and cocoa butter.

"These are suited for longer beards that

not only need hydration, but also help with

styling and 'smoothing the fuzz'."

All products are scented with certified

pure therapeutic grade essential oils

(doTerra).

The business is named after Jarrod's father

Ross (nickname Rosco) who passed away

a few years ago. Rosco Beard Co is a way of

carrying on his name.

Tara and Jarrod are familiar (and popular)

faces at local markets and the range is

available on Facebook (facebook.com/

roscobeardco)

WIN WIN WIN

Enter to win a Rosco Beard Co. gift

pack of natural goodies, including a

beard balm, beard oil and wooden

comb. To enter, email your name and

address, with ROSCO in the subject

line, to win@inspomag.co.nz or enter

online at inspomag.co.nz.

Entries close January 11, 2019.

INSPO – FITNESS JOURNAL DECEMBER 2018

25
---
UP FOR THE CHALLENGE?

If you're looking for a event to strive for in

2019, how about the Whaka 100 endurance

race?

Warning - only try this if you've got some

serious stamina and time to dedicate to

training.

Regarded as the toughest mountain marathon

(100km) in the southern hemisphere,

the Whaka 100 endurance sees hardy

athletes from around the globe spend hours

pedalling almost unimaginable terrain.

The iconic mountain-bike event deep in

Rotorua's famous Whakarewarewa Forest

taking advantage of 160km of single track

trail perfection - nowhere else in Australasia

has an event like it.

Featuring cross-country riding at its

finest, the Whaka 100 gives competitors a

chance to show off skill and endurance.

Held this year on Labour weekend, 2018

takes its place in the history books for some

epic performances which saw a number of

course records smashed.

Christchurch's Tim Rush won with a time

of 05:10:56 and Manawatu's Josie Wilcox won

with a time of 05:53:32, both breaking the

100km records. Tim Rush beat the course

record by 11 minutes, while Josie Wilcox beat

it by 19 minutes. That's some impressive

pedalling!

More results were: Male 100km top 5:

Tim Rush 05:10:56, Brad Jones 05:17:02, Sam

Shaw 05:25:19, Callum Gordon 05:31:30,

Maxwell Wickens 05:40:27. Female 100km

top 5: Josie Wilcox 05:53:32, Tanya Sharp

06:56:57, Imi Blance 07:05:04, Mary Gray

07:06:24, Liz Smith 07:18:34

With an impressive prize pool to compliment

the kudos of completing such an event,

it could be the ideal challenge to set yourself

for 2019. If you're not up for the main event,

there's something for everyone, with the

Shootout Time Trial, 5.5km kids ride, 25km,

50km, 100km (relay, pairs, individual) and

King of the Mountain. Dates for 2019 are October

26-27 and the full schedule is available

online, along with a training programme.

Whaka100.co.nz

DEEP CLEAN

A combination of powerful protection and

effective care, the NIVEA MEN DEEP range

is the perfect stocking filler for the man in

your life.

Covering every step of a man's grooming

routine, the collection includes a shower gel,

shaving gel, a face and beard wash, anti-perspirant

and an after-shave. Plus the spicy

citrus fragrance is the ultimate in summer

freshness.

With black charcoal as an ingredient for an

extra deep clean, the shaving gel comes out

as a black gel, turning white when it transforms

into foam.

Up your grooming game

and enter to win one of

three NIVEA MEN

DEEP prize packs.

WIN

To enter, email your

name and address to

win@inspomag.co.nz

with NIVEA MEN

DEEP in the subject

line, or enter online at

inspomag.co.nz.

Entries close

January 11 2019.

26 INSPO – FITNESS JOURNAL DECEMBER 2018
---
has benefits, it doesn't mean lower intensity

workouts have fewer benefits.

The case for HIIT

The high intensity by nature means HIIT

workouts can be shorter, making it perfect for

the time poor. The short bursts of work mean

that an exerciser can work at a higher rate, as

they do not have to maintain the effort.

Slow and steady versus

HIGH INTESITY

With the rise of high intensity exercise classes booming,

the battle between steady state training and high intensity

training continues to rage. The New Zealand Register of

Exercise Professionals (REPS) weighs in on the debate.

It doesn't seem long ago that the exercise

message was all about getting your heart

rate up, and keeping it up for an extended

period.

In recent times the move has been more

towards short fast workouts, where these

slower burn workouts seem to becoming

more popular- so which is best?

High intensity interval training (HIIT) is

simply alternating between higher intensity

bursts of exercise with time to rest in

between, with the bursts generally being less

than two minutes. Steady state training is

involves exercising more consistently, for a

longer period of time.

Recently, there has been a focus on the

benefits of HIIT; the shorter bursts mean an

exerciser can work harder as they don't need

to sustain the effort for as long. HIIT sessions

also tend to be shorter overall so are helpful

for the time poor. Research has backed up

this popularity, with benefits of this style

of training showing some great health and

fitness results.

You may be forgiven for thinking that

as HIIT has shown such effectiveness, that

steady state training is not ideal for getting

results. When it comes to exercise, it turns

out that not only is steady state training just

as effective for a big range of health improvements,

it is also better, and safer than higher

intensity options for a range of exercisers -

not just for those who are older or less active.

The key is that just because high intensity

The case for steady state

For heart strengthening, and feel good

enhancing benefits, low intensity steady state

workouts are just as effective as HIIT. It's also

less intimidating for those who are intimidated

by harder exercise.

The case for both?

So, which is best? The answer is either;

depending on your circumstances, current

condition, and preferences.

For those who like to go hard, and get

their workout done quickly, then high intensity

is the way to go. But for those who like to

enjoy the 'scenery', then steady state may be

a better option.

Beware though - the benefits of exercise

require progressive overload, so doing the

same steady state workout will improve your

fitness initially, but after a period of time

the body adapts, so a session will need to be

longer, or harder, to get more improvements.

For the average exerciser, variety is the

spice of life, and most people will end up engaging

in both HIIT and steady state training.

What hasn't changed is that whatever

exercise style you undertake, it is important

you do it with guidance from an exercise

professional who is qualified and experienced

to provide safe and effective exercise

advice to you.

THE NZ REGISTER OF EXERCISE PRO-

FESSIONALS (REPS) ) is an independent not

for profit quality mark of exercise professionals

and facilities. Using REPs Registered Exercise

Professionals is the "warrant of fitness check" that

exercise professionals and facilities meet New Zealand

and internationally benchmarked standards

to deliver safe exercise advice and instruction.

Selling homes

throughout

Ha milton!

BALLET- JAZZ - TAP - HIP HOP

MUSICAL THEATRE-CONTEMPORARY

0 7 855 1524

lissettevalerie@gmail.com

www.valerielissettedance.co.nz

Jo Harris

027 551 3552

joh@lodge.co.nz

JOHARRIS.CO.NZ

My passion equals your results!

INSPO – FITNESS JOURNAL DECEMBER 2018

27
---
Why you should

GET MOVING

Due to the lack of physical activity in modern day lifestyles,

numerous health risks have emerged. This inactivity has

caused deterioration of the body's physical function, which

has resulted in many more cases of premature death and

poor quality of life due to the onset of hypokinetic disease.

BY MICHIEL BADENHORST

Statistics in New Zealand paint a pretty

bleak picture when it comes to injury

and illness. In 2017 a total of 231,100

work-related injury claims were made.

According to the Ministry of Health, 32%

of adults are obese, 12% children (Under age

15) are obese and obesity contributes to an

alarming percentage of all illness, disability,

and premature mortality. And 186,000 people

are living with heart disease.

The 2016/17 New Zealand Health Survey

found that one in six New Zealand adults

had been diagnosed with a common mental

disorder at some time in their lives. This

includes depression, bipolar disorders and

anxiety disorders.

Not all hope is lost though. The evidence

is clear that physical activity can reduce the

risk of injury and aids in rehabilitation of

physical injuries, metabolic conditions and

mental health problems. It also contributes

to a stronger immune system and weight loss

that promotes health and wellbeing.

Here is an excerpt from the Mental

Health Foundation of New Zealand:

"Physical activity releases endorphins

into your blood stream. These are the body's

natural painkillers and are responsible for

the pleasant 'feel good' factor often felt after

being active.

Physical activity improves muscle and

heart function, increases blood flow to the

brain and increases the efficiency of brain

chemicals. It can also promote better sleep.

There is some evidence that being active

can improve cognitive functioning in older

people.

Physical activity has psychological benefits

too. It can: - improve self-esteem - give

you a sense of control over your life - promote

a sense of positive achievement - help

with weight control - provide opportunities

for socialising and making new friends."

Addressing this big issue in New Zealand

requires a strong multi-disciplinary

approach to ensure the health and wellbeing

of the population.

Part of this multi-disciplinary team is the

medically recognised professional discipline

of Accredited Exercise Physiology (AEP).

An Accredited Exercise Physiologist can

be thought of as a specialised exercise therapist

that functions in professional alliance to

health and medicine. It can also be defined as

an individual who specialises in the delivery

of exercise, lifestyle and behaviour modification

programmes for the prevention,

management and rehabilitation of chronic

conditions, diseases and injuries.

AEPs improve an individual's physical

status and quality of life through individualised

assessment and exercise prescription in

dual context of clinical pathology (acute and

chronic) and performance enhancement.

Wintec's Centre for Sport Science and

Human Performance have been training and

equipping Postgraduate Diploma and Master

of Science in Sport and Exercise Science students

for the past three years and also boasts

a Biokinetic Clinic that utilises AEPs and post

graduate students to provide a specialised

service to the community.

The Biokinetic Clinic provides individualised

exercise and lifestyle education for

clients across a wide spectrum of health,

from the apparently healthy to those with

diagnosed conditions such as cardiovascular

disease, cancer, diabetes, respiratory disease

or chronic pain or injury.

The AEP plays an important role in the

multi-disciplinary team by providing specialised

exercise testing, exercise programming

and client education (within their professional

scope of practice) in conjunction with

other medical and allied health professionals.

In the New Zealand context there is,

under the Treaty of Waitangi, a commitment

to Maori health, Pacific health and the

multi-cultural NZ population.

At the Wintec Biokinetic Centre it is taught

that exercise is medicine. The holistic approach

aims to improve the health and wellbeing

of the people of this beautiful country.

The centre offers a variety of packages

and options including an eight-week, twice

per week free programme to individuals

who meet the terms and conditions. A new

Corporate Wellness initiative to promote

health and wellbeing in the marketplace has

also been launched.

Visit https://www.wintec.ac.nz/whph/biokinetic-centre

for more information.

About Michiel

Michiel Badehorst is passionate about

encouraging and educating young athletes.

With a focus on youth obesity, safe training,

functional physical development, long term

athletic development and active lifestyle,

Michiel is the Strength and Conditioning

co-ordinator at St.Paul's Collegiate School,

Hamilton. Having grown up on a farm in

South Africa, Michiel received his honours

degree in Biokinetics (Musculosceletal

Excercises Science and Rehabiliatation) from

the University of the Free State in 2004. He

has worked at a high school in youth athletic

development and owned a CrossFit affiliate.

28 INSPO – FITNESS JOURNAL DECEMBER 2018
---
WINTEC OPENS NEW ZEALAND'S

NEWEST PHYSIOTHERAPY SCHOOL

Waikato Institute of Technology

(Wintec) is home to New Zealand's

first new school of physiotherapy

in 45 years, a coup for the central

North Island.

The addition to Wintec's line-up makes

it the base for just the third physiotherapy

school in New Zealand, with the other two in

Auckland and Otago.

"This is great news and while I'm delighted

for Wintec, the real significance of this is

for the people of the central North Island,"

says Wintec acting chief executive David

Christiansen.

"Wintec's new physiotherapy school is

significant and reflects our role in responding

to the dynamic growth of this area by

helping develop the future health workforce

for our region".

"The approval of Wintec's physiotherapy

school is a reflection of the excellent work

we are doing at Wintec, which is the largest

health and social practice education provider

in the Midland region."

Physiotherapy Board chair Janice Mueller

said: "The accreditation process is rigorous."

"Our principle role is public safety, and

that includes making sure that physiotherapy

in New Zealand is taught to a high standard.

It has been a robust process and Wintec has

met our requirements."

Wintec is approved to deliver physiotherapy

and accredited degree qualifications of

Bachelor of Physiotherapy and Bachelor of

Physiotherapy (Honours).

The first physiotherapy students will

begin their studies on February 11, 2019.

Wintec director of Health and Social

Practice, Dr Angela Beaton who led the

development of the Wintec Physiotherapy

School says: "We are looking forward to continuing

to work in partnership with our community

and practice partners to deliver an

innovative, new physiotherapy programme.

"With the addition of physiotherapy,

this extends the range of health and social

practice programmes Wintec delivers across

the region, which includes nursing, midwifery,

social practice, occupational therapy and

sport and exercise science.

"Enrolment applications have now been

shortlisted and we are currently interviewing

Dr Angela Beaton

the first round of applicants," says Dr Beaton.

"We hope to have the first round of offers

out before Christmas and look forward to

welcoming our first group of students on 11

February, 2019."

This isn't just sport.

This is about excellence,

wellness, health and

helping people reach

their potential.

There are many different levels, choices

and career paths offered by the Centre for

Sport Science and Human Performance, with

postgraduate, degree, diploma, and certificate

programmes available.

Postgraduate scholarships available.

Apply now for 2019!

create your world

www.wintec.ac.nz

INSPO – FITNESS JOURNAL DECEMBER 2018

29
---
HELPING BREAST

C NCER SURVIVORS

with cosmetic tattooing

A Waikato woman who has overcome two types of cancer is giving back by helping

other women who've battled breast cancer.

As the founder of Lady Ink Cosmetic

Tattooing, Debbie Casson helps

women who have been through

breast reconstruction surgery for breast cancer,

by performing cosmetic nipple tattooing

– something she says helps give women

their self-esteem and confidence back after a

tough journey.

Around 2800 New Zealand women and

20 men are diagnosed with breast cancer

every year.

One in nine women will get breast cancer

in their lifetime and, as a cancer survivor

herself, Debbie strives to help promote

breast cancer awareness and offers a range of

services for women who have been through

breast cancer.

"Making women feel whole again, and

their reaction when they first look at themselves

in the mirror, it really is the cherry on

top," says Debbie.

Diagnosed with two forms of cancer in

the space of a week in 2012, Debbie had a

rare type of sinus cancer, and then just days

later was diagnosed with breast cancer following

a routine mammogram.

As a survivor, she understands the emotions

of what cosmetic nipple tattooing can

mean to a woman after undergoing breast

reconstruction, along with chemotherapy

and radiation.

After being diagnosed, Debbie, a former

nail technician, joined Shocking Pink - a nationwide

charity for woman diagnosed with

cancer, aged 45 years and younger.

The charity group has a huge impact

on the women involved through an online

support system and grants. As well, Shocking

Pink hosts an annual retreat in both the

North Island and South Island for women

to attend, meet each other and form

friendships.

Debbie now helps run the charity as one

of three trustees. However, being a part of

Shocking Pink is what led her to train in

"It gives me so much joy

seeing the difference it

makes in women's lives

and it makes me want to

carry on doing what I'm

doing,"

cosmetic tattooing.

Talking to women within the group,

Debbie realised how financially out-of-reach

it was to get areola tattooing done after breast

cancer.

The nipple repigmentation and 3D

nipple cosmetic tattooing service that she

offers helps post- mastectomy patients by

creating the appearance of an areola after

nipple reconstruction, or a 3D nipple can be

created by shading with pigments giving the

3D effect.

"It gives me so much joy seeing the difference

it makes in women's lives and it makes

me want to carry on doing what I'm doing,"

Debbie said.

As part of her training, she also learnt to

do eyebrows, eyeliner and lips. Chemother-

Gift vouches available

treat your loved one to brows,

eyeliner or lips this Xmas.

Debbie Casson CPCP

Certified Permanent Cosmetic Professional USA

www.ladyink.co.nz

027 438 3329

30 INSPO – FITNESS JOURNAL DECEMBER 2018
---
apy can often result in loss of eyebrows and

hair.

"There is sometimes a need for cosmetic

eyebrow tattooing after treatment as they

don't always grow back. Women then think

about lips and eye liners as their treat afterwards

as well," says Debbie.

She also specialises in scar camouflage,

to help with scarring after surgeries or other

skin issues.

For her clients, knowing that Debbie is

a survivor herself and has been where they

are, helps them feel more relaxed when they

come in and tell their story to her.

Around

2800 women

&

20 men

are diagnosed

with breast cancer

every year in

New Zealand

The newly established

Hamilton Skin Cancer

centre opened its doors on

Monday 3

December 2018.

Call us to book

07 856 1646

www.hamiltonskin.co.nz

INSPO – FITNESS JOURNAL DECEMBER 2018

31
---
A CHANGE OF FOCUS

BY KARA THOMAS

At 31 years of age I was living the

dream! I was working in High Performance

Sport and travelling with New

Zealand's elite athletes in Europe, working

with the New Zealand Rowing team and

striving towards my goal of being a Physiotherapist

for the NZ Olympic and Commonwealth

Games teams. I was living a privileged

life, working hard, supporting our athletes

on the world stage and exploring the world

doing what I love as a Physiotherapist.

My world came crashing down when I

was diagnosed with Non-Hodgkin's Lymphoma

in 2013, which resulted in major surgery

and a period of chemotherapy. Even with

my background, the treatment regime was

much more aggressive than I anticipated. It

was mentally and physically draining, both

directly on myself but it also indirectly on

my family and friends.

Following my surgery and treatment I

recognised the need for physiotherapy to

help me to regain my strength and stamina,

to strengthen my muscles and to support

me to live my life to my full potential – to

maximise my recovery and capitalise on the

opportunity of a healthy life. An opportunity

that I nearly missed out on.

Through my involvement with a PINC

Cancer Rehabilitation Physiotherapist, not

only did I get a comprehensive programme

that helped me work towards my goals, I was

also provided with a plan to engage in regular

exercise and advice to manage fatigue as

I went through six rounds of chemotherapy.

Having a PINC Cancer Rehab Physiotherapist

guide me and give me direction as to

what exercise I should be doing and encouraging

exercise as a strategy for supporting

my goal - to go to the Glasgow Commonwealth

Games as a Physiotherapist for the

New Zealand Team.

Following my recovery, I was determined

to complete my training as a PINC

and STEEL Physiotherapist, in order to

support both men and women during their

cancer journey. Through my own personal

experience and my work in supporting individuals

with cancer, I am humbled at the

significant impact PINC & STEEL Cancer

Rehabilitation and exercise can provide in

supporting an individual to live a fulfilling

and meaningful life.

Our range of PINC and STEEL programmes

aim to help people heal as well

as possible, and function at optimal levels

through every stage of their treatment and

recovery, incorporating individualised

physiotherapy rehabilitation and exercise

prescription to specialised group exercise

classes. Having professional guidance will ensure

your exercise and rehabilitation is individually

tailored to your ability or diagnosis

to ensure the maximum possible benefit.

Now five years into my journey I am privileged

to operate two physiotherapy clinics

in Te Awamutu and Otorohanga. With my

experienced team of twelve amazing physiotherapists,

we provide private practice physiotherapy

services to the general community.

We provide a variety of services including

providing PINC and STEEL Cancer Rehab

along with physiotherapists with interests in

Women's Health, Paediatric Physiotherapy,

Neurological conditions, Vestibular conditions

and Breathing disorders.

For more information about

the full range of PINC and STEEL

Cancer Rehab Programmes

visit: Pincandsteel.com or

contact: Kara Thomas at

Focused Physiotherapy, Te Awamutu.

A C C P R O VIDE R

• Spinal, Sport and Work Injuries

• PINC and STEEL Cancer

Rehabilitation

• Women's Health

• Neurological Conditions

• Paediatric Physiotherapy

• Elderly

• Acupuncture

• Pre & Post Op

• Exercise Programmes

• Pilates

• Manual and Manipulative Therapy

• Vestibular Physiotherapy

• Hydrotherapy

• Falls Prevention

• Breathing Disorders

Open Monday-Friday

Early morning and late evening appointments available.

Phone the clinic for more information or to make an appointment.

13/670 CAMBRIDGE ROAD, TE AWAMUTU • 07 871 4321 • info@focusedphysio.co.nz • www.focusedphysio.co.nz

32 INSPO – FITNESS JOURNAL DECEMBER 2018
---
OLD SCIENCE

– new technology

ATP Laser Therapy Centre

has been providing

effective drug-free pain

relief and accelerated healing in

Waikato for the past five years.

Using Low Level Laser Therapy

(LLLT or cold Laser, also known

as Photobiomodulation or PBM),

which is a growing trend internationally

but little known in

New Zealand.

This regenerative treatment

simply reduces inflammation and

speeds up healing, quite significantly

in all tissues, skin, muscles,

tendons, ligaments, bones and

nerves.

It can even regenerate cartilage.

ATP Laser Therapy Centre

treat new and old injuries and can

relieve the pain of arthritis for

several months at a time.

The NovoThor whole body

treatment system has recently

been added to the range of treatments,

increasing the scope and

efficacy of existing therapies.

The NovoThor system not

only reduces pain and improves

healing, but has been proven to

increase endurance, stamina and

recovery for athletes.

The NovoThor is a first for

New Zealand and is available exclusively

at the Sloper Ave Laser

Therapy Centre in Frankton.

Before the Rio Olympic

Games, Nike purchased a NovoThor

system which won an

international elite sports award

in 2016.

The athletes who used this

revolutionary treatment system

improved their "personal bests"

by up to five percent and reported

fewer injuries.

It is now mandatory for all

Nike sponsored athletes overseas

to implement the NovoThor into

their training programs.

Local Waikato athletes Stacey

Waaka (Black Ferns and 7s)

Honey Hireme (triple international

athlete - Black Ferns, 7s,

KiwiFerns and now performing

for The Dragons across the ditch),

and Daryl Mitchell (Northern

Knights) all report similar positive

benefits using the NovoThor.

Stacey, who has been prone to injury

in the past, has not sustained

an injury since she began using

the NovoThor before the recent

Commonwealth Games.

The British army has installed

the NovoThor systems into military

bases as it has been proven to

be the fastest healing for soldiers

returning from battle.

Besides accelerating healing

in general, a particular advantage

of reducing inflammation in the

brain after traumatic brain injury

(which includes concussion)

is the protective effect reducing

the incidence or minimising

the effects of Alzheimer's and

Dementia.

Scientists have now found the

link between inflammation in the

body and diseases such as heart

disease, cancer, Alzheimer's and

Dementia.

The NovoThor is not only invaluable

for resolving generalised

aches and pains and improving

results for athletes, it also has a

significant effect in the protection

from disease.

This is achieved by simply re-

ducing inflammation in the body

and allowing oxygen back into

the cells to begin the regeneration

of ATP (cellular energy).

This has the effect of achieving

the balance or homeo stasis

the body is naturally, constantly

striving for. The process occurs

at a cellular level and serves to re

energise the body.

The team at ATP Laser Therapy

Centre say they see the results

that lead some international

scientists to believe Photomedicine

(Photobiomodulation PBM)

or Low Level Laser Treatment

(LLLT or Cold Laser) is set to

become a whole new field of

medicine and healing.

Visit us at www.atptherapy.

co.nz or call 027 477 3632 for

further information and a free

consultation if you have seen this

editorial.

Low level

laser treatment

for pain relief and

accelerated healing:

• Tendon issues

• Sprains/strains

• Back & neck pain

• Osteoarthritis

• Tissue/wound healing

• Chronic pain syndrome

• Nerve pain

• Post operative pain

• Dental pain

• Shingles

"Home of the NovoThor whole body treatment system"

027 477 3632 • www.atptherapy.co.nz

Health on Mahoe, 160 Mahoe Street, Te Awamutu

9C Sloper Avenue, Frankton, Hamilton

200795AA

INSPO – FITNESS JOURNAL DECEMBER 2018

33
---
Are you a

CONTROL FREAK?

I used to think I could control everything around me, and that

everything was within my control. Not only did these thoughts

serve me up plenty of stress and worry, but also continuous

feelings of failure and frustration.

BY REBECCA JEFFERIES

How much are you trying to control in

your life? Is it your partner? Your children?

Your colleagues? What people

think of you? The way other react to you?

The outcome of each and every situation you

find yourself in? All aspects of your work?

The way the dishwasher is stacked and how

the clothes are folded? Our control is actually

our fear of how things might go if we are not

in control.

Whatever gave us the idea that we had

to control the entire world around us? All

it really sets us up to experience is a lot of

let downs and disappointments. The desire

to always be in control can honestly ruin

people's lives, and the lives of those around

them. Nobody wants to be controlled. You

know we cannot really control anything

apart from our own inner being, the way we

show up in the world and respond to what is

happening around us.

Ask yourself; 'Do you want to be in control

or do you want to be happy?'

So I have some tough words to help you

relinquish control and start feeling more

freedom and peace in your life.

Firstly, get honest about it. Recognise

who you are and don't be ashamed. It is so

common. You don't need to walk far to find

another fellow control freak. Be brave, not

fearful.

Start to observe your mind needing to

oversee everything and pull back to replace

this fear with courage. See it for what it is

and take responsibility for how you usually

would show up. For years we may have have

believed that we needed to manipulate, manufacture

or keep our hand over many (if not

all) situations. And if we didn't, the worst case

scenario would play out in front of us. This

habit will take time to change, so go gentle.

Simply see the truth and learn to allow things

to unfold naturally without your two hands

or your words in there so much.

Meditate to get better at being still and

encourage the act of doing nothing and

allowing. Engage your mind to instead

co-operate with the beat of your powerful

heart. Breathe and believe. Journal your

thoughts and emotions as you start to see

what has always been and who you are now

evolving into. Talk to someone and ask for

support when you feel the need to takeover

take a hold of you.

Secondly, trust others. Delegate. Doing

it all yourself is a recipe for disaster. What

message are you sending others by trying to

control everything? That they are not able

to do it themselves? That they are not good

enough? That they cannot be trusted? Or

just will not do it as well as you? Allow others

to find their own way. Be watchful and look

around for others chomping at the bit to give

it a go. Ask, who else would love to do this,

or even better, who else could benefit from

trying this out? Who else needs to be given

34 INSPO – FITNESS JOURNAL DECEMBER 2018
---
the chance to build their skills in this area,

whether a colleague at work with a new project

or your child learning to fold their own

washing. Create a safe space to allow others

to have the courage to step up. No more robbing

this from those around you. No more

doing it all and feeling bitter and resentful

afterward that nobody helped you. Believe

in others. Allow for mistakes and lessons and

ultimately growth.

Lastly, be grateful. 'Expect nothing, appreciate

everything.' I love this mantra. I share

it with everyone. It rocked my world once I

really got this. We expect a lot of ourselves

and others, and easily forget that we are all

human, with our own flaws and baggage.

So be kind, look for what is going right

and well with yourself and others. Look hard

to see the goodness in people and the world.

And express gratitude for it. Not everything

will come out on top, but if you allow your

expectations to be healthy and less 'high

and mighty' (within reason) you will be less

disappointed in yourself and others.

If someone lets me down, I remember

this mantra and keep moving on rather than

becoming stuck in the situation with that

person. I feel more peace and relaxed in

life than ever before. So remember nobody

owns your joy but you. Your joy is what you

can have complete control over. Your joy is

what you should work hard to achieve. And

eventually your fear will be overtaken by

your freedom.

"Journal your thoughts

and emotions as you

start to see what has

always been and who you

are now evolving into".

REBECCA JEFFERIES is a Waikato-based certified life coach/ transformation

worker, and a loving mama to three gorgeous children. Rebecca decided to become a

life coach to fulfill her lifelong passion of helping others gain a connection with their

authentic self, to love and nurture who they truly are, live out their deepest dreams

whilst living a balanced, healthy and happy lifestyle. breathingspacecoaching.co.nz

CHOOSING A

GOOD SUNSCREEN

10 tips for respecting

our skin – and the

environment:

1. Choose a mineral sunscreen with zinc

oxide – of all sunscreen ingredients zinc

offers the best UVA and UVB broad spectrum

coverage in a single ingredient.

2. Choose "reef-safe" sunscreens that do

not contain oxybenzone and octicinate,

chemicals known to impact coral reefs

and marine life. Hawaii and Pacific

Island, Palau, as well as Mexico's marine

reserves have banned sunscreens containing

these ingredients.

3. Choose a lotion/balm over a spray as they

can present inhalation risks.

4. Choose a sunscreen that does not contain

water - it will protect better during water

activities and not slide off skin, spread on

too thinly, or run into eyes.

5. Make sure your sunscreen contains antioxidants

to support a healthy skin and

minimise sun damage.

6. Allow a small amount of sun to kiss your

skin in early morning and late afternoon,

then cover up.

7. Wear a sunscreen in high sun hours, and

re-apply every 2 hours – don't forget to

apply to the tricky spots that might not

be covered, like back of the neck, ears

and tops of feet.

8. Lips need protection too - they burn

more easily than the rest of your skin.

9. Drink water- your skin protects itself

better when it is hydrated.

10. Find shade. Sometimes, the best way to

stay cool and protected is to get out of

the heat of the day.

WIN WIN WIN

Enter to win one of two Goodybe

OUCH sun protection prize packs.

New Goodbye OUCH Sun Balm, a

NATRUE certified natural sunscreen for

lips and skin, provides the ultimate in

protection, without the chemicals of

regular sunscreens.

Goodbye OUCH Sun Balm's Lip Balm

is the first New Zealand made NATRUE

certified SPF lip balm. All formats offer

50SPF with two hours water resistance or

SPF40 with four hours water resistance.

Certified organic cocoa butter, beeswax,

coconut, jojoba, olive, tamanu and

peppermint oils are combined with zinc

oxide minerals to create a high quality,

smooth blend, rich in vitamins A, C and E

which protects and soothes skin.

Goodbye OUCH Sun Balm does not

contain water, meaning it will not slide

off skin, spread on too thinly, or creep

into eyes. Each prize pack contains a

15g tin for lips, a 35g tube for the face

and a 80g tube for the body, for all over

summer protection. (goodbye.co.nz)

To enter, email your name and address,

with OUCH in the subject line, to

win@inspomag.co.nz or enter online

at inspomag.co.nz.

Entries close January 11 2019.

INSPO – FITNESS JOURNAL DECEMBER 2018

35
---
SUMMER

BODY

TIPS

BY DANIELLE ROBERTS

Just as quickly as Christmas

seems to roll around, so

too does summer. And with

it often comes a sense of

urgency to catch up on the

many things we planned to

do during the year. Often

food, our body and fitness

top this list.

Summer is definitely the time we like

to be more comfortable in our bodies.

Losing weight is top of the list for

many.

As the health of our body is not only

governed by the food we eat, but also our

thoughts and emotions; in order to become

truly healthy we need to take into account all

elements and how they are interconnected to

each other.

If you have weight issues, 95 percent of

the time this means that you have imbalances

somewhere in your body systems. These

have been brought on by inflammation and

stress, not only arising from a poor diet

but also your poor thought systems and

emotions. This means fad diets no longer cut

the mustard, there is now a need to learn to

understand how to rebalance your body.

Some areas to start considering when

embarking on a weight loss journey this

summer:

1. IT'S COMING UP TO A STRESSFUL

TIME OF THE YEAR.

Stress reduces the effective functioning of the

digestive system, liver, sex hormones (which

for women especially dictates how they utilise

energy and maintain a healthy weight), nervous

and immune systems.

Before you get to a point where you need

to do more work on healing yourself (when

body systems become out of alignment),

discover what helps you to come into greater

peace and joy. States of being that are opposite

to stress are going to bring your body

into a state of greater health and physical

appearance.

Is it making time for family and friends?

Making time for creativity? Making time for

nature or singing/ dancing? Choose something

that you don't associate to a diet or

physically thrashing yourself. When it does

come to physical activity, choose an exercise

that helps you feel good about yourself and

leaves your endorphins flowing afterwards.

If this means a walk in nature opposed to

weights in a gym, then go with that.

2. REFRAME YOUR THINKING AROUND

YOUR BODY AND LOSING WEIGHT.

Our minds are very good at sabotaging our

chances of greater health and wellbeing. We

can easily become the victim of our fat, our

weight and illnesses. This victim-like thinking

doesn't empower you to create change

in how you think about yourself or in your

habits. When it comes to fat, it's not having

fat that is the problem, it is how fat you feel

that is the issue.

For most people, the fad diet route often

creates disharmony in the mind. Meaning no

weight is lost due to mental and emotional

stresses such as dis-empowerment, frustration

and feelings of failure . In turn, this cre-

36 INSPO – FITNESS JOURNAL DECEMBER 2018
---
ates a lack of self- worth and lack of self-love.

Your mind and body are interconnected.

Your body hears everything you think about

it and responds accordingly.

If you speak lovingly to your body, as you

would to a family member, friend or pet, and

you did this every day for a month (more so

than the criticisms you aim at it), you would

see such a difference in yourself.

You would be kinder towards yourself, be

less judgemental and have greater self-worth.

You can love yourself and it would shine

outwardly in your appearance.

3. TAKE TIME TO UNDERSTAND

YOUR OWN VALUES.

Values are what are important in our own

lives. Your values drive your decisions and

actions. What you value, you will make time

for. So how much do you value your health?

How much do you value you? How much

do you value your happiness? How you value

yourself will also affect how you nourish

yourself. Saying you don't have time to have

healthy food isn't true. You take care of your

personal hygiene every day; you make time

for that because you value feeling clean.

If you valued your greater wellbeing

in the same way, you would make healthy

eating and de-stressing part of your daily

life too. Also, if you are a person who always

puts others before yourself, then recognise

that. If you aren't valuing yourself and

your health, then how can you truly give to

another?

4. DOES EATING RULE YOUR LIFE?

Do you go from meal to meal stressing about

what you should or shouldn't be eating and

what time you should be eating? Bring it back

to the basics. Start by eating natural, colourful

food.

The body has a fantastic hormonal feedback

system in the gut which lets you know

when you need food (ghrelin) and when you

no longer need it (leptin). Did you know that

there are seven negative feedback signals to

the brain from various organs in the body

telling it you no longer need food and only

one positive feedback signal from the stomach

to the brain telling it you do need food!?

This alone demonstrates how far we have

strayed from communicating with the body.

Furthermore breakfast, lunch and dinner only

came about in the industrial revolution, so

men working the laborious jobs could be fed.

This is not something a lot of office bound

people need to adhere to any longer.

Try being more mindful of how you are

feeling. Are you physically hungry or are

you eating to a schedule? And when you are

eating a meal, are you feeling overly full or

satisfied? Feeling satisfied means the seven

negative feedback signals are telling the brain

it is time to stop eating.

5. ALWAYS FOCUS ON PROPER DIGESTION

AND LIVER PROCESSING AS FIRST PORT

OF CALL TO ASSIST THE BODY BACK INTO

BALANCE.

Without proper digestion of your food you

won't be able to breakdown and absorb the

nutrients the body needs to keep functioning

in a balanced way.

Without the liver working optimally you

can get toxic build up, imbalanced hormones,

high cholesterol and signs of prediabetes,

to name a few.

Digestion tips: chew your food properly,

cut back on foods that irritate your gut and

cause bloating/ lack of energy.

Liver tips: Daily - drink at least two litres of

water and try and include lemon, spinach,

kale, ginger, turmeric, beetroot, carrots,

celery and broccoli.

DANIELLE ROBERTS (Nutritionist) is dedicated to helping people enjoy a healthy

and knowledgeable relationship with food. Her business Fuel Nutrition allows her to

share her passion for nutrition and healthy living. Danielle is a freelance nutritionist

and works with a number of Hamilton gyms. To make a booking, please contact

Danielle at www. fuelnutrition.co.nz

INSPO – FITNESS JOURNAL DECEMBER 2018

37
---
QUICK

BITES

PLANT POWER

The ultimate plant powered snack, Frooze

Balls deserve their place in every backpack,

lunchbox and snack bag. Made solely from

fruit and nuts, Frooze Balls are raw, preservative

free, dairy-free, GMO-free and contain

no refined sugar. The ideal energy boost

for any occasion, thanks to the delicious

new flavours which include a burst of nut

butter, they're also ideal as a yummy morsel

with your daily cuppa. The new Nut Butter

Frooze Balls come in Berry Brownie, Choc

Truffle and Salted Caramel. Clean eating has

never been so much fun! froozeballs.com

GET YOUR COFFEE HIT -

WITH A PROTEIN PUNCH

With a growing focus on protein shakes and

powders, now your coffee can give you a

protein hit. Pecs Coffee is the result of two

years' research and is New Zealand's only

protein-enriched coffee. It's just like normal

coffee grains, with no added taste, but with

a definite protein punch.No more having to

gulp down thick shakes or sneak more food

onto your plate, when trying to maintain or

increase your protein uptake, especially if

you're a keen gym goer. Each serve is 35%

protein. Pecscoffee.com

GET YOUR GRAIN FIX

TASTEBUD ZINGER

The perfect refresher to warm sunny days,

Buderim Ginger Beer (grown, harvested and

made in Australia) is this season's must have.

The zingy thirst-quencher is gluten-free

and free from any preservatives or artificial

flavours. Add this punchy recipe to your

summer party table for the most refreshing

non-alcoholic delight.

Lychee Ginger Rose High Ball

Ingredients:

4 muddled lychees

45ml Gin

15ml Lychee Liqueur

7.5ml Rose syrup

15ml Lime juice

Topped with Buderim Ginger Beer

Method:

Combine all ingredients and stir. Serve in a

high ball glass over crushed ice. Garnish

with a Mint Sprig and an Orange wedge.

With an increased focus on the importance

of grains such as millet, buckwheat, red rice

and riceberry, the new range of microwave

cup SunRice SuperGrains tick plenty of boxes.

They're fast and convenient, and the premium

blend of rice and ancient grains pack

a flavour-filled punch to a wholesome lunch

or dinner (perfect for time-poor diners).

Add to stir-frys and poké bowls, or anytime

you wish to include whole grains, protein

and fibre into your diet. Free from artificial

flavours, colours and preservatives.

Try this super tasty meal idea:

Superfood lunch: Super- Duo Rice cup +

kale + sliced strawberries + sliced red onion +

balsamic dressing + goats cheese.

WIN WIN WIN

Enter to win one of six SunRice

SuperGrains prize packs. To enter,

email your name and address, with

SUNRICE in the subject line to

win@inspomag.co.nz or enter

online at inspomag.co.nz.

Entries close January 11, 2019

38 INSPO – FITNESS JOURNAL DECEMBER 2018
---
ENTER TO WIN

some Bennetto

chocolate on page 22

SWEET TEMPTATION

If you appreciate quality chocolate, your

tastebuds will thank you for introducing

them to Bennetto. It's utterly addictive, and

better still it's made in New Zealand, and is

organic, fair trade and vegan. The flavours

are sublime and when coupled with

the quirky packaging (a collection of Peruvian

birds painted by Kiwi artist Henrietta

Harris), you've got the ultimate foodie treat

perfect for gifting to friends and family (and

yourself of course). Flavours include toasted

hazelnut, orange with chilli, intense dark,

and mint and cocoa nibs. Or try the mini

bars in raspberry, coconut or coffee bean.

Bennetto.co.nz

CHEESE PLEASE

Add instant impact to summer platters and

recipes, with Castello Marquis. This decadent

creamy cheese pairs beautifully with grapes,

and a glass of red wine or beer. Add to your

summer cheeseboard for visual impact and

taste. The milky buttery flavours have notes

of tropical fruit and green peppers, derived

from the natural red smear on the rind and

the albino blue mould inside. As Castello

Marquis matures, the

taste and flavour of

the red smear become

slightly sharper, while

the cheese itself gains

more character.

ICE CREAM FOR ADULTS

Treat yourself to adult ice cream made the

old-fashioned way. Kiwi ice cream maker

IndulgeNZ is bringing the luxury back to

ice cream, with its range of ultra-premium

products. Churned from organic A2 Milk, the

line-up of ice creams, sorbets and desserts

are hand-crafted in Waihi from all-natural

quality ingredients, using traditional artisanal

techniques. The flavour punch is enhanced

with authentic, single source ingredients

like organic sugar, 100 percent pure Heilala

bourbon vanilla beans, honey-infused Turkish

figs, dark Belgian chocolate and raisins

soaked in rich dark Cuban rum. Indulge your

palate this summer. Indulgenz.com

SUPER SNACKS

Keep a packet of these tasty treats close at

hand this summer, for a healthy snacking

option. Made with care from natural ingredients,

The Green Seed Coconut Chips are

gluten free and dairy free - but pack a punch

when it comes to flavour. They're a perfect

replacement for less healthy options and

ideal for lunch boxes, picnics and a late-night

snack. Also sprinkle on soup and over salads

for some crunch.

SUMMER CHEER

Add a touch of elegance to your summer

drinks menu this summer, with the sumptuous

range of Seedlip non alcoholic spirits.

Taking the world by storm, the range is

carefully crafted by distilling herbs, spices

and other nature delights. Seedlip brings

all the glamour of sophisticated cocktails

without the alcohol - or you can simply serve

with tonic for a fresh summer beverage. It

also boasts zero calories, is sugar-free, sweetener-free

and artificial flavour-free. Visit

seedlipdrinks.com for cocktail recipes galore

- plenty of creative fun for summer parties.

ADULT ONLY TREATS

Available in merlot, chardonnay, riesling

and rose, these Vinoos Real Wine Gums are

the ultimate gift for wine lovers. Available

as minis or in a delectable gift pack, they

make a fun addition to any adult dining

table and a perfect stocking filler at this

time of year. The luxury treat gives you

the flavours of wine with the fun of a wine

gum. You don't have to be a wine specialist

to fall in love with the variety of aromas of

this adorable Dutch design.

INSPO – FITNESS JOURNAL DECEMBER 2018

39
---
NATURAL BEAUTY

When the ingredient list reads more like your

kitchen fridge than a chemist, you know you're

onto a good thing. Featuring goodies such as

Oat Milk Foundation, Cranberry Lip and Eye

Butter, Rice Powder Bronzer, Almond Mascara,

etc, the Ere Perez range is created around

natural ingredients - pure goodness for your

skin and soul. ereperez.com

BEAUTY

SPOT

Summer is all about natural

beauty and glowing skin.

We've chosen a few of our

favourites to ensure you

embrace your summer

beauty head on.

BEST COFFEE BREAK EVER

The best way to nourish your skin is to treat

it with kindness; specifically natural skincare

from Nelson business BeKind Body Co. Using

specialty grade coffee beans and organic cane

sugar as exfoliants, your glowing skin is all the

thanks you'll need. bekindbody.co.nz

GOOD HAIR EVERY DAY

Make every day a good hair day

with Only Good Shampoo and

Conditioner. It's 100% natural,

palm free, cruelty free and made

in New Zealand. onlygood.co.nz

GET NUDE

If you're not a fan of going naked in public, Nude by Nature may well

change your mind. This Good for You collection has everything you

need for your most natural and effortless summer look (Airbrush Mineral

Primer, Natural Mineral Cover powder foundation, Liquid Mineral Cover,

Mineral Finishing Veil, Mineral Bronzer and Glow Touch of Highlight

Stick. nudebynature.co.nz

40 INSPO – FITNESS JOURNAL DECEMBER 2018
---
GET YOUR GLOW ON

Forget about tropical holidays and treat

yourself to SALT by Hendrix based around

plant based ingredients. Indulge in the Glow

range or magical Rose Illuminating Elixir

Creme for a radiant bronzed look without

the sun damage. Saltbyhendrix.com

SUMMER FRESH

Give your skin a summer fresh

boost with these delicious

watermelon creations from

The Skin Kitchen. Made in

New Zealand from carefully

formulated certified organic

and natural ingredients, TSK

watermelon facial mask and facial

toner are summer must-haves.

theskinkitchen.co.nz.

WANT BETTER SKIN?

Protect, rejuvenate and transform your skin with

the new SkinBetter Science collection. Packed

with active ingredients, it's also non-comedogenic,

paraben free, cruelty free, fragrance free, dye free,

gluten free and soap and sulfate free. Our fave

is the Alto Defense Serum FACE (delivering 19

antioxidant ingredients). skinbetter.com

FOR THE BLOKES

LIP SMACKINGLY GOOD

Treat the man in your life to some

luxe skincare this Christmas, with

this Natural Refining Revitalising

Facial Exfoliator from New Zealand

brand Savar. It's non abrasive

(bamboo exfoliating beads) and will

leave his skin refreshed and vibrant.

savaronline.com

Keep your summer look fresh and natural, with

luscious lips thanks to Weleda's tinted lip balms.

Made from plant based ingredients, you can

combine a subtle shimmer of lip colour along

with lip protection. Now that's something to

smile about. weleda.co.nz

INSPO – FITNESS JOURNAL DECEMBER 2018

41
---
NATURAL BEAUTY

Inika Beauty

Pure skin goodness

When it comes to choosing what to put on your skin, natural

goodness is the way to go. We're huge fans of natural products

and Inika is 100% organic, certified cruelty free and vegan.

The impressive range has you covered - from foundation and

mineral powders to eye makeup and luscious lips. A pioneer

in Certified Organic ingredients and healthy beauty, all Inika

ingredients are ethically sourced, natural and derived from

botanicals or minerals.

Whether you prefer a natural sunkissed glow or modern

glamour look, treat your skin with love and care with the

Inika natural skincare and cosmetic range. inikaorganic.com

The eyes have it

Everything you need to define and

accentuate your eyes is in this epic

Inika eyeshadow palette, from earthy

hues and gentle pinks to sultry plums

and natural browns. Effortlessly create

makeup looks by following the guide

which is included in the box, with easy

to follow steps for two day to night

eyeshadow looks like a pro.

Sunkissed glow

A healthy sunkissed look has never

been easier thanks to Inika. Brydie

used the fab Baked Mineral Contour

Duo, Brow Definer Palette, Baked

Mineral Bronzer, and Day to Night

eyeshadow palette.

Designer Brands Beauty

Makeup heaven

Have fun with your makeup and be on trend with the latest

offerings from DB (Designer Brands). With a super low price

point, you can afford to experiment. Plus the range is seriously

good quality, cruelty free and vegan.

Sunset eyes

Seductive eyes can be mesmerising.

Create your own version using the

DB palette, including the glorious DB

liquid gold jelly highlighter, Glow get

em bronzer, Lip Boosting Plumping

Treatment (Berry Snap) and Brow

Power Gel. Finish off with a sweep

of False & Flared mascara.

Fire Starter

Make your lips the focal point with

this deep red DB Lip Stix Lip Crayon

(in Fire Starter of course).

Perfect pout

Pack a punch on Christmas day

with DB Lip Stix Lip Crayon in

Regal Rose

Blush tone day look

If you're looking to create a natural

day look, start with the Inika Pure

Primer, Liquid Foundation and

Loose Mineral Mattifying Powder.

42 INSPO – FITNESS JOURNAL DECEMBER 2018
---
GLOW QUEEN:

Brydie Donaldson

Brydie Donaldson loves nothing better

than being surrounded by a palette of

colour and helping women (and men)

of all ages enhance their natural beauty.

The 32-year-old makeup artist thrives on

the delight of creating fresh individual looks

for every client and those who follow her on

social media will know her love of 'makeup

play' and encouraging women to have a go.

This month Brydie joins the INSPO team

as our in-house beauty tester, giving her

unbiased opinion of products and creating

beauty looks with them.

But first a little more about the queen of

glow (so named for the fresh, dewy makeup

looks she creates):

Q. How and why you got interested

in makeup?

A. I studied beauty therapy, realised that

I am not a fan of feet or waxing bikini

lines, so pursued makeup. When the

opportunity to be a counter manager for

Revlon was presented to me, I jumped at

the chance and have never looked back.

Fifteen years later I'm still as passionate

as ever and never stop learning and growing

in this industry.

Q. When and why you decided to make it a

career option?

A. I knew from around the age of 17 that

it was deep in my soul to be a makeup

artist, but I also really wanted to be a

mother, never thinking I could do both

until I became a wife and then at 28

a mother. With a new baby, I stopped

working in retail makeup work and started

freelancing. The freelance jobs kept

coming so I built my own business and

I am so grateful that I can do all of the

things I love.

Q. What was the biggest challenge when

starting out?

A. In the early days as a teenager, it was

learning to not take it personally and have

hurt feelings if a client asked me to change

the makeup. I had to learn fast that it isn't

about what I want them to look like; the

client needs to love they way they look

and feel completely comfortable and

beautiful, or it's a waste of everyone's time.

friends through this job and had some

extremely deep and meaningful conversations

that I cherish.

Q. What's the greatest challenge?

A. Sometimes it is the long hours. On a

wedding day a makeup artist or hairstylist

(I do both) can be on their feet for eight

or nine hours straight, with no breaks. We

get home to our families but also have to

unpack, clean and sanitise everything and

reply to all inquiries. There are so many

hours that go into this work that no-one

sees. That is how you know we are so passionate

about our business.

Q. Your current fave three makeup goodies?

A. The Inika Primer is so divine and smells

incredible (plus it's organic and vegan). The

Hourglass Ambiant lighting trio - cannot

do a makeup look without that incredible

powder giving the skin a 'lit from within'

look. And MAC Mineralize Blush in Warm

Soul. It really is the perfect blush.

Q. Your top skin tips?

A. Hydration from within with water. Always

cleanse off your makeup each night. Never

skip moisturiser and eye cream (morning

and night).

Q. What important lessons you'd love to

share with people regarding makeup?

A. Don't limit yourself. Try things that spark

your interest (even makeup artists fail

sometimes and struggle when learning

something new). Replace your mascara

after a maximum of three to four

months to avoid eye issues. Get your

foundation matched in winter and summer

every year as your skin changes tone

and colour frequently.

Q. Your fave makeup trend?

A. I am obsessed with dewy glowing skin,

long lashes, fluffy brows and minimal on

the eyes and lips.

Q. Your own personal makeup style?

A. Dewy skin, full coverage foundation, neutral

lips, clean fresh brows, pinky neutral

blush and lots of lashes. Easy to maintain

and fast is best.

YouTube -

Brydie Donaldson Makeup Artist

Facebook -

Brydie Donaldson Makeup Artist

Instagram -

@brydiedonaldsonmakeupartist

#Brydiedonaldsonmakeupartist

Q. What other interests do you have?

A. Snowboarding has a big chunk of my

heart and family time.

Q. What do you enjoy most about being a

makeup artist?

A. The connections I make with the people

who hire me. I have made some incredible

INSPO – FITNESS JOURNAL DECEMBER 2018

43
---
What a HOO HAA

There's no denying that

discussing anything

relating to menstrual cycles

makes men (and women)

a little uncomfortable.

Yet it's a relatively common

topic of conversation among

friends, often comparing

symptoms and sharing

information on products.

Exercise physiologist Kristina Driller has

spent a decade working with clients

around issues of bladder leakage and

incontinence. Last year she released her book

A Happy Hoo Haa and this year she is keen to

educate women around menstrual cups.

Why the Hoo Haa Cup?

It is reusable, planet friendly, thrifty and

colourful. Exercise physiologist Kristina Driller

tells us more …

Have you ever considered using a menstrual

cup? Have you heard about these little

cups but been freaked out at the thought of

using 'that cup' in place of a tampon or pad?

I'd like to let you know that it's not as scary as

you might think.

Thousands of women around the globe

are embracing menstrual cups and becoming

converts of these wee little inventions.

Menstrual cups are designed to replace

tampons and pads and collect menstrual fluid.

They are then emptied when they are full,

cleaned and re-inserted. No need for conventional

women's hygiene products ever again.

Cups are usually sought out by women

to save money, reduce exposure to toxins,

reduce their impact on the environment or

simply eliminate the need to rush to the pharmacy

every month to stock up on sanitary

products. Instead you just need your cup. If

any of these options sound good to you then

the Hoo Haa Cup might be the answer you've

been looking for.

Probably the scariest part about using

menstrual cups at first is the prospect of them

leaking. I'm pleased to say menstrual cups are

leak free. It can take a few months for most

women to get the hang of using a cup, but

once you know your flow rate you will know

how often to empty your cup and all fear of

leaks will be gone. You will begin to figure out

your flow rate relatively fast. You will get to

know this by the size of your cup and whether

your period is heavier or lighter depending

on which day of your period it is.

There is of course a possibility for the cup

to leak, but only if it becomes too full then

the seal which is formed when you put it in

will break. This is why it's important to get to

know your flow and how frequently you need

to change the cup.

Some women will use liners initially while

they get the hang of using their cup or period

undies like I Am Eva. We recommend period

undies because they are environmentally

friendly and save you money.

Menstrual cups can stay in for as long as

12 hours before you must remove them. Cups

shouldn't be left for longer than this. Every

woman will differ in how often the cup needs

to be replaced. Some will be every one to two

hours, while others will be able to go from

6am until 6pm without needing to change.

When in place correctly you shouldn't be able

to feel your cup. If you can, then simply snip

the end of the stem a little to the length that

suits your body. If this doesn't alleviate the

issue, then potentially the cup is the wrong

size for you.

At a modest calculation, if a woman's

menstruation lasts five days each month, with

a tampon only used for six hours, then this

equates to 240 tampons a year. The same cup

will last you for anywhere between five and

10 years if cared for correctly. Hoo Haa Cups

are 100 percent medical grade silicone and

FDA approved. The Hoo Haa Cup is brightly

coloured with a rainbow design, specifically

chosen to brighten up your day. Period!

ENTER TO WIN

Enter to win a Hoo Haa Cup prize

package, consisting of a Hoo Haa Cup

combo with both a size small and large

cup, and the eBook A Happy Hoo Haa:

An eight week pelvic floor strengthening

programme.

For more information on the Hoo Haa

Cup visit www.ahappyhoohaa.com

To enter the competition, email your

name, address and contact phone

number to win@inspomag.co.nz with

Hoo Haa in the subject line, or enter

online at inspomag.co.nz. Entries close

on January 11 2019.

Can you truly say you have been

nourishing your body? Are you full of

energy and vitality?

• Mobile Personal Training

• Sport Specific Strength

and Conditioning

• Nutrition analysis and

strategies

• Small group training

M: 027 844 5347

E: danielle @fuelnutrition.co.nz

www.fuelnutrition.co.nz

www.facebook.com/fuelnutrition4life

Sometimes it is easy to let life get in the

way, now it is time to put yourself first.

For nutrition education, plans and

guidance tailored to your needs contact

Danielle Roberts (Bsc Human Nutrition)

44 INSPO – FITNESS JOURNAL DECEMBER 2018
---
HARD WORKS PAYS OFF

Working with athletes from around

the world is just the tip of the

iceberg for Wintec graduate

Josh Trewin.

The talented graduate has been appointed

sport science and performance specialist

for a Major League Soccer (MLS) team, the

Vancouver Whitecaps, based in Canada.

"I feel lucky to be working as Vancouver

Whitecaps Football Club's Sport Science and

Performance Specialist," says Josh.

However it is likely that hard work has got

him to where he is today and luck actually

has very little to do with it.

The 27-year-old Bachelor of Sport and

Exercise Science (Honours) graduate put in

the hard yards to get where is he today.

After graduating from Wintec in 2014,

Josh began his PhD in Strength and Conditioning,

and Performance Analysis through

Auckland University of Technology (AUT),

where he gained a scholarship through the

Canada Soccer Association and Canadian

Sport Institute Pacific.

As part of the scholarship he relocated to

Canada and assisted the Canadian National

Women's Soccer team, collecting data and

looking at how their movement changed

in relation to different factors such as heat,

altitude and winning or losing games.

He also worked with the team in their

World Cup campaign and during the build

up to the Rio Olympics where they won

bronze. During this time Josh made some

invaluable connections with Whitecaps

support staff. He obviously made a good

impression as the Whitecaps contacted him

to offer him a job.

"As the Whitecap's sport science and performance

specialist I am responsible for a lot

of data collection and analysis when it comes

to monitoring players. Throughout the season

I capture GPS, heart rate and Ratings of

Perceived Exertion (RPE) scores along with

wellness questionnaires.

"I love working in a sport that I played

from a young age," says Josh.

The Whitecaps play in the Major League

Soccer (MLS) – a professional soccer league

which sees the team play a game a week, but

sometimes as many as three, throughout

Canada and the United States.

"I love working in a

sport that I played

from a young age,"

During the season (which has recently

ended) the Whitecaps travel the greatest distance

of any professional soccer team which

Josh says is a massive challenge in itself.

Football has always been a big part of

Josh's life. After moving from Rotorua to

Hamilton to study at Wintec, he played up

to National Youth League level with Waikato

Josh Trewin

Football Club and for Hamilton Wanderers

in the Northern League. That was until study

started consuming his life.

Josh says that the best part of studying

a Wintec was the small class sizes and the

practical nature of the degree.

"Getting a lot of hands on experience was

one of the most valuable things, especially

having to apply them in the real world which

has been useful," he adds.

What's next for Josh?

He's currently waiting for another role

with the Whitecaps to be confirmed but he is

hoping to stay in Canada for a bit longer.

As for the future: "I'd like to build a good

reputation and work towards being a lead sport

scientist or Head of Physical Performance at

a club or team. For now, I'm just keeping my

head down, learning and finding my way in

sport. It's tough and often the hours are very

unsociable but it's a lot of fun. I'm very lucky

to be where I am," Josh concludes.

INSPO – FITNESS JOURNAL DECEMBER 2018

45
---
IS 2019 YOUR

ULTRAMARATHON

YEAR?

Photos by Graeme Murray (graememurray.com)

It seems that the Tarawera Ultramarathon

is one of 2019's hot events, with entries

from all over the world pouring in.

"In just 24 hours we saw entrant numbers

surpass what it took us more than three

months to achieve last year," says race director

Paul Charteris.

The iconic race week takes place from

February 6-10 and this year includes new

distances of 20, 50, 102km and 100 miles.

The 102km and miler are both qualifiers

for the Western States Endurance Run and

both also give UTMB points.Already the elite

field is filling up with exciting entrants lining

up for the challenge.

As part of the Ultra Trail World Tour,

Tarawera is the most prestigious race in the

New Zealand racing calendar travelling over

a unique and beautiful landscape of volcanoes,

lakes and native forest.

Traditionally around 2000 participants,

including more than 800 international athletes

compete, with some of the world's best

elite trail ultra runners in the field.

Already three of arguably the best athletes

in the world have signed up for the Tarawera

Ultramarathon; Jeff Browning (USA) who

won Hardrock 100 this year, Camille Herron

(USA) the current 100 mile world record

holder, and Courtney Dauwalter (USA), one

of the greatest ultrarunners in the world and

who won the Moab 240 Endurance Run outright,

with a gap of more than 10 hours to the

second-place finisher. So it's fair the say the

2019 event will be highly competitive.

At the other end of the scale, it is also a

great first-time challenge, with some running

for the personal challenge, training like never

before and enjoy that well-earned medal

at the finish line (every finisher receives a

beautiful wooden medal at the finish-line

or pounamu pendant for the 100-mile

finishers).

To enter or for

more information, visit

taraweraultra.co.nz

46 INSPO – FITNESS JOURNAL DECEMBER 2018
---
EXERCISENZ AWARDS

As well as celebrating dedicated professional

trainers, the recent ExerciseNZ

annual awards showed a significant

rise in the number of Maori fitness and

personal training leaders, according to ExerciseNZ

chief executive Richard Beddie.

Personal trainer of the year winner went

to Ngarama Milner-Olsen, and Mind Body

teacher of the year went to Jase Te Patu of

Wellington.

Hamilton's Shane Way was awarded The

Community Contribution Award for his Your

Way Wellbeing | Wellbeing - Your Way programme.

The programme has been running

since mid 2017 and is delivered to promote

using exercise as a therapeutic and holistic

treatment for mental health.

It is delivered across all mental health

wards at Waikato Hospital including Adult

Acute wards in the Henry Rongomau Bennett

Centre, Puawai forensic and rehabilitation

services and in the community through

integrated recovery services.

"It's an absolute honour to have the programme

recognised, and to have been the

recipient of such an esteemed award," says

Shane. "A lot of hard work has gone into creating

and delivering Wellbeing - Your Way,

and I am truly humbled and blessed to have

this acknowledgement."

Other Maori winners were Wellington's

Gillian Christian who won the skills active

Manukura Award and a Rotorua gym won a

community contribution award. Award finalists,

who are Maori, included Calvin Mitchell

of Rotorua and Joe Waide of Wanaka.

"We are starting to see quite a positive

shift in the number of Maori personal

trainers and exercise instructors and leaders

become involved in our industry which is

just fantastic," says Richard.

"Our annual exercise awards have always

embraced Maori culture with haka and

waiata now being common at each awards

ceremony. In the latest awards, Maori were

both well represented as finalists, but also

as award winners, with several of the higher

profile awards going to Maori.

"The awards were co-timed with the Hauora

Yoga Conference and the Fitex fitness and exercise

conference. With Hauora being in its first

year, it was the first time that eastern philosophy

and Maori values were intertwined and at a

yoga conference anywhere in the world.

"The awards are a celebration of our

collective movement and exercise industry

in their work in getting more Kiwis active.

"To serve all New Zealanders our industry

needs to be as diverse as our country and

it's great to see Maori culture not only being

Ngarama Milner-Olsen and Jase Te Patu.

embraced as a part of programme delivery,

but also now Maori are being recognised as

true leaders in our industry in excellence in

every dimension."

He also said that "it's fair to say Maori

often figure prominently in statistics such as

lack of exercise and obesity but we are doing

our bit to address that and embrace a growing

number of Maori people being involved

in the exercise industry."

STUDIO GLOW

WINNER

2018 New Zealand Exercise Industry Awards

Hamilton Fitness and Dance

business Studio Glow has

been named Winner of the

"Studio of the Year" Award

at the 2018 New Zealand

Exercise Industry Awards.

The small fitness business was

awarded the title whilst attending

the black tie event held at the Grand

Millennium, in Auckland, late November.

The award recognises Studio Glow as

the best exercise facility in New Zealand

operating with under 500 members.

Owner/Operator Abby Dutton (28),

Abby Dutton

since opening the facility in October 2017,

has aimed to become the leading provider

of both one on one and group services in

fitness and dance, to women in Hamilton.

The boutique training environment caters

to both women and children of all ages

and abilities, to foster a passion for movement

and moving well.

Having been a finalist in the Up and

Coming "Personal Trainer of the Year" in

both 2016 and 2017, Abby has found great

success in her transition into the fitness

industry following 5 years working onboard

cruise ships and in Bollywood films

as a professional dancer.

The judges commented, "With a strong

personal values base and an attention to

detail, in the environment and with client

care Studio Glow has created a space that

is uniquely designed to reflect the needs

of its market."

Abby plans to continue to grow the

Studio Glow community by welcoming

Hamilton women to experience the

boutique services that empower women

to thrive in a friendly, non-intimidating

environment.

"Studio Glow is my absolute pride

and joy. Watching it grow and develop

to become a safe place that women are

motivated to come along to and feel a rich

sense of belonging is a huge honour. I am

so lucky to be part of such a rewarding

industry and work with women from all

walks of life."

INSPO – FITNESS JOURNAL DECEMBER 2018

47
---
BOOK

CORNER

ENTER TO WIN

Enter to WIN one of our prize books as marked. Email your name and address,

with the title of the book you wish to win in the subject line, to win@inspomag.co.nz

or enter online at inspomag.co.nz. Entries close January 11 2019.

BEACH READS

Find a quiet spot this summer to relax and enjoy one of our top five fave recent release reads.

WIN

WIN

WIN

Becoming Michelle

Obama

By Michelle Obama

RRP $55

One of the most compelling

and iconic women of

this decade, spend your

summer getting to know

Michelle Obama, both

in her role as first lady as

well as the life experiences

that shaped her.

No Spin

By Shane Warne

with Mark Nicholas

RRP $55

Get your cricket fix with

this in-depth look at

Shane Warne - his life

on and off the field, and

of course the controversies

that thrust him into

the media and public

spotlight.

The Pearl Thief

By Fiona McIntosh

RRP $37

Every summer should

include at least one

un-put-downable read.

The Pearl Thief will lure

you in from the first

addictive page through

to the satisfactory finale.

Fiona McIntosh reigns

supreme again.

The Spy and the Traitor

By Ben MacIntyre

RRP $40

What makes this fastpaced

thriller even more

exciting is the fact it is a

historical retelling of one

of the greatest true spy

stories of all time; that

of double agent

Oleg Gordievsky.

Heroes

By Stephen Fry

RRP $37

The trick with Stephen

Fry books is to read them

with his voice in your

mind. It's glorious prose

and his turn of phrase is

equally as addictive in

print as in speech. You'll

be equal parts fascinated

and educated about

Greek heroes and the legends

surrounding them.

FOR THE FOODIES

Gone are the days of cookbooks just being for recipes. Modern cookbooks are not only packed

with stunning recipes, but also with personality and inspiration. Read, enjoy, share and eat.

WIN

Ripe Recipes, A Third Helping

By Angela Redfern + the Ripe

Deli team

RRP $60

If you've never had the opportunity

to dine at The Ripe Deli in

Auckland, then this is the next

best thing. It's a complete celebration

of food and fresh ingredients,

broken into seasons and

boasting more than 150 recipes.

Eat Your Greens

By Pete Evans

RRP $39.99

With a fresh focus on supporting

local produce and farmers markets,

Pete Evans' love of greens

is a wonderful guide to viewing

your greens more creatively -

and learning why to love them.

Packed with useful info and

wellbeing tips.

Yummy Easy Quick

Around the World

By Matt Preston

RRP $39.99

Dine around the world without

leaving home, under the surprisingly

achieveable guidance of

Matt Preston. With 135 recipes,

it's the perfect introduction

to new ingredients and taste

sensations.

The Keto Reset Diet Cookbook

By Mark Sisson

RRP $32.99

If you know anything about Keto

(or want to) then this is a musthave.

And even if you don't follow

the Keto diet, the recipes are

packed with flavour with a focus

on fresh wholesome produce.

48 INSPO – FITNESS JOURNAL DECEMBER 2018
---
FOR THE KIDS

Lonely Planet is famous for its travel books, but this epic range of children's books is groundbreaking.

They're fun, educational, interactive and inspirational. Adults are sure to love them just as much as the kids.

WIN

101 Ways To Change

The World

Andrew Andrus

RRP $22.99

This could well be my book of

2018. Every home should have

one; for kids and adults. From

small pebbles come big ripples.

Plant the seed for caring for

others, for the planet and for

yourself. A must-have in every

Christmas stocking.

Barcelona City Trails;

Singapore City Trails

By Lonely Planet Kids

RRP $22.99 each

Not your average kids'/travel

book. These are packed with

adventure, secrets, stories and

memorable facts that really

bring each city alive and make it

memorable.

Brick City Paris;

Brick City New York;

Brick City London

By Warren Elsmore

RRP $26.99 each

If you've got Lego or building

blocks, now you can create entire

cities and artefacts (from the

Mona Lisa to the Empire State

Building. Plus enjoy the fascinating

facts and stories along the way.

Cardboard Box Creations

By Lonely Planet Kids

RRP $26.99

Fire up the creativity with this

perfect Christmas Day gift. Featuring

more than 20 cardboard

creations to build, from a camera

to a space rocket. A refreshing

return to hand-on crafts - no

technology required!

SUMMER'S BEST

Make 2019 extra-awesome with these three beauties. You'll be inspired to treat yourself to fresh adventures ...

Lonely Planet's The Vanlife Companion

By Ed Bartlett and Becky Ohlsen

RRP $32.99

Even if travelling the globe by campervan

was never a goal, you'll give it some serious

thought after a quick flick through this glorious

read. It's the ultimate bucket list.

Let's Get Lost: Great New Zealand Road Trips

By Nicola McCloy, photography by Jane King

RRP$45

Kiwi summers and road trips are synonymous.

Use this guide to see remote corners

of New Zealand as well as popular spots -

and the Must Do's and Local Hero's are

fascinating. Start planning.

Lonely Planet's Wellness Escapes

RRP $32.99

If your health and wellbeing is a goal, this

delightful book reveals page after page of opportunity.

Separated into five themes; Active,

Calm, Healthy, Indulged and Inspired, choose

your bliss and perhaps start at home with one

of the three New Zealand destinations.

DISCOVER LITTLE ADVENTURES

Make this summer the one where

you discover all that Hamilton and

Waikato have to offer in terms of free

kid-friendly outdoor adventures.

Hamilton mum Ceana Priest and her

mini-adventurer Finn are dab hands

when it comes to exploring local areas.

So much so that she has put together

a website (outdoorkid.co.nz) and this

awesome guidebook to share her best

finds and tips. Packed with fun outings,

suitable for little people, there are 50 adventures to

experience - plus all the info required to ensure you're

prepared and don't miss out on any secret spots.

WIN WIN WIN

Enter to win one of two copies

of Hamilton & Waikato, 50 Free Kid

Friendly Outdoor Adventures.

To enter, email your name and

address to win@inspomag.co.nz

with OUTDOOR KID in the

subject line, or enter online at

inspomag.co.nz.

Entries close January 11 2018.

INSPO – FITNESS JOURNAL DECEMBER 2018

49
---
GOOD SORTS

FOR SPORT

Sport Waikato has had a grass-roots

focus since it first began and this year's

recent Good Sort for Sport community

day was a way of giving back to its local

community.

Chosen from sports clubs, organisations

and schools across the Waikato region who

applied, this year Sport Waikato gave its

time to three projects; at Maramarua School,

Thames Valley Hockey Turf Society Inc and

Thames Squash Club.

All Sport Waikato staff worked on the

projects, which ranged from helping to

build a BMX track and garden at Maramarua

School, to painting, prepping and handyman

jobs at the other two locations.

"The day was about getting the staff

together as a team, giving back to the community

and helping our schools and clubs

to inspire and enable more people to be out

there and active," says Sport Waikato chief

executive Matthew Cooper.

"We're really doing what thousands of

amazing people do every day for schools and

clubs – volunteering our time to help ensure

that sport and physical activity is accessible

for all. What we've been able to achieve in

just one day is incredible and it's so gratifying

to see the difference we've been able to

make as an organisation – all thanks to the

hard work and willingness of our staff.

"Organisations and schools really do

rely on the 'good sorts' in their community

– those that put up their hand to volunteer

their time, and they can always do with more

volunteers.

"Volunteers are the real backbone of our

communities – the ones who donate their

valuable time to make a difference. Sports

clubs and associations, schools and community

organisations are always looking for

more volunteers; it's a great feeling to be able

to 'do good' in the community."

NATURALLY BETTER

If you're planning outdoor adventures or

some extra training this summer, Nature's

Kiss Anti-Flamme Herbal Relief Crème

could be your new best friend.

Developed in New Zealand almost 30 years

ago by elite athlete Madonna Harris and

herbal chemist and massage therapist Paul

Jeffery, it contains natural ingredients, is 100

percent paraben free and is safe to use with

medication.

The range of Anti-Flamme products includes

something for all the family, from

Soothing Everyday to Extra (50% more arnica).

It can be used for arthritic relief, minor

joint strains, bumps, bruises and aches.

WIN WIN WIN

Enter to win a Nature's Kiss Anti-Flamme

prize pack of Soothing Everyday,

50% More Arnica and Mobility Joints

and experience the relief of natural

ingredients.

To enter, email your name and address

to win@inspomag.co.nz with ANTI-

FLAMME in the subject line, or enter

online at inspomag.co.nz. Entries close

January 11, 2019

50 INSPO – FITNESS JOURNAL DECEMBER 2018
---
52 INSPO – FITNESS JOURNAL DECEMBER 2018