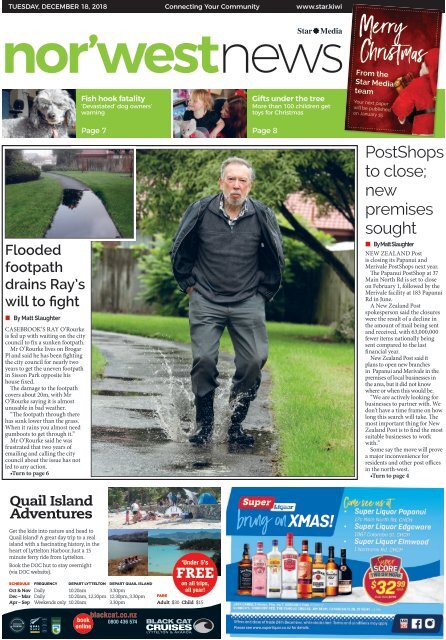 Nor'West News: December 18, 2018
You also want an ePaper? Increase the reach of your titles
YUMPU automatically turns print PDFs into web optimized ePapers that Google loves.
TUESDAY, DECEMBER 18, 2018

Connecting Your Community

www.star.kiwi

Merry

Christmas

Fish hook fatality

'Devastated' dog owners'

warning

Gifts under the tree

More than 100 children get

toys for Christmas

From the

Star Media

team

Your next paper

will be published

on January 15

Flooded

footpath

drains Ray's

will to fight

• By Matt Slaughter

CASEBROOK'S RAY O'Rourke

is fed up with waiting on the city

council to fix a sunken footpath.

Mr O'Rourke lives on Brogar

Pl and said he has been fighting

the city council for nearly two

years to get the uneven footpath

in Sisson Park opposite his

house fixed.

The damage to the footpath

covers about 20m, with Mr

O'Rourke saying it is almost

unusable in bad weather.

"The footpath through there

has sunk lower than the grass.

When it rains you almost need

gumboots to get through it."

Mr O'Rourke said he was

frustrated that two years of

emailing and calling the city

council about the issue has not

led to any action.

•Turn to page 6

Page 7 Page 8

PostShops

to close;

new

premises

sought

• By Matt Slaughter

NEW ZEALAND Post

is closing its Papanui and

Merivale PostShops next year.

The Papanui PostShop at 37

Main North Rd is set to close

on February 1, followed by the

Merivale facility at 183 Papanui

Rd in June.

A New Zealand Post

spokesperson said the closures

were the result of a decline in

the amount of mail being sent

and received, with 63,000,000

fewer items nationally being

sent compared to the last

financial year.

New Zealand Post said it

plans to open new branches

in Papanui and Merivale in the

premises of local businesses in

the area, but it did not know

where or when this would be.

"We are actively looking for

businesses to partner with. We

don't have a time frame on how

long this search will take. The

most important thing for New

Zealand Post is to find the most

suitable businesses to work

with."

Some say the move will prove

a major inconvenience for

residents and other post offices

in the north-west.

•Turn to page 4

Quail Island

Adventures

Get the kids into nature and head to

Quail Island! A great day trip to a real

island with a fascinating history, in the

heart of Lyttelton Harbour. Just a 15

minute ferry ride from Lyttelton.

Book the DOC hut to stay overnight

(via DOC website).

SCHEDULE FREQUENCY DEPART LYTTELTON DEPART QUAIL ISLAND

Oct & Nov Daily 10.20am 3.30pm

Dec – Mar Daily 10.20am, 12.20pm 12.30pm, 3.30pm

Apr – Sep Weekends only 10.20am 3.30pm

blackcat.co.nz

book 0800 436 574

online

CRUISES

LYTTELTON & AKAROA

'Under 5's

free

on all trips,

all year!

FARE

Adult $30 Child $15

Super . .

bt1,t1r o HAs1

Please see www.superliquor.co.nz for details.
---
2 Tuesday December 18 2018

Latest Christchurch news at www.star.kiwi

get in touch

from the editor's desk

GOOD ON Ray O'Rourke for not giving

up on his battle against the city council (see

page 1).

Ray has been fighting the bureaucrats

for two years to get a small bit of his

neighbourhood fixed.

In terms of jobs, it's probably just a drop in the bucket when it

comes to city council priorities.

But it is these relatively minor things that don't get done which

irritate people. After all it's the Rays of this world who pay their

rates to keep the city running.

There is a glimmer of hope though. Ray's determination may

finally have paid off.

The city council has indicated it will have the pathway repaired

by midway through next year.

You'll need more patience Ray.

– Barry Clarke

GENERAL INQUIRIES Ph 379 7100

CLASSIFIED ADVERTISING Ph 379 1100

Star Media, a division of Allied Press Ltd

PO Box 1467, Christchurch

starmedia.kiwi

news

Page 11

schools

Page 15

community events

NOR'WEST NEWS

Shirley pupil fights for pump track

Shannon Smith says a temporary track at the community reserve

just isn't good enough.

Rangi Ruru dux named

Find out who received the top awards and scholarships at the

private girls' school.

Make a gift for your pet

Show your cat or dog how much they mean to you this

Christmas at the Bishopdale and Papanui libraries.

NEWS

Matt Slaughter

Ph: 021 910 788

matt.slaughter@starmedia.kiwi

ADVERTISING

Monique Maynard

Ph: 364 7474

monique.maynard@

starmedia.kiwi

Geoff Moreton

Ph: 353 4595

geoff.moreton@

starmedia.kiwi

Page 17

The best-read local newspaper, delivered to

16,717 homes every Tuesday

Harewood, Burnside, Bishopdale, Bryndwr, Fendalton, Merivale,

St Albans, Mairehau, Papanui, Casebrook, Redwood, Regents

Park, Styx Mill, Northwood, Belfast, Strowan.

New Year's Eve

Featuring the

Jordan Luck Band!

FREE

Monday 31 December, 6pm–12am

North Hagley Park

ccc.govt.nz/summertimes
---
NOR'WEST NEWS Latest Christchurch news at www.star.kiwi

Tuesday December 18 2018 3

News

Board outlines aims for next year

Dealing with

traffic increase

major priority

• By Matt Slaughter

THE PAPANUI-Innes

Community Board says water

issues, traffic management and

community spaces will be its

main priorities next year.

At the top of the list is

ensuring plans are in place to

manage the increase in traffic

flow once the Northern Corridor

project has been

completed.

Community

board member

Jo Byrne said

the Northern

Corridor was

Jo Byrne

expected to bring

an extra 20,000-

30,000 vehicles

along Cranford St and through

suburbs in the north-west.

Ms Byrne said ensuring

residents and road-users in

Papanui-Innes are safe is one of

her biggest challengers heading

into the new year.

Papanui-Innes city councillor

Mike Davidson said it was

important to "make sure

everything's done to mitigate

traffic effects" from the

Northern Corridor.

Cr Davidson said he also

wants to see ongoing issues

with parking options in

Papanui addressed to open

up access to new shops and

businesses which continue to be

developed in the area.

Cr Davidson said concerns

with chlorine in Papanui's water

is also at the forefront of his

mind. "We're trying to push

as hard as we can to get the

chlorine out of the water."

The creation of more spaces

for the community to use is also

a goal for 2019.

ISSUES:

Managing the

increase in traffic

from the Northern

Corridor will be a

priority next year

for the Papanui-

Innes Community

Board.

Ms Byrne said she wanted

to see the plans for the

construction of the Edgeware

Pool gain enough funding to

become a reality.

Cr Davidson said the most

urgent need is to find a new

home and business partner for

the Papanui PostShop, which

will close in February.

Local

News

Now

In Brief

Fire rages, homes at risk

LIGHTS AT ST PAUL'S

St Paul's Anglican Church has

been lit up with a Christmas

light display. A fundraiser in

August raised enough money for

the lights to be installed, with

the design work completed by

international lighting designer

Kevin Cawley. Upcoming events

at the church include a children's

crib service at 5pm on Christmas

Eve and a midnight service at

11pm.

PARK RE-OPENING

The Papanui-Innes Community

Board has confirmed St Albans

Park will reopen in March. The

park has been closed for more

than a year to allow work to be

done to fix its drainage systems.

A community celebration will be

held when the park opens, with

councillors and board members

inviting residents in the area to

discuss options for an annual

community event in the park.

LIBRARY VISITS

Fendalton Library was the most

visited library in the city this year.

From January to November, the

library had 405,571 visitors. The

most requested adult book at the

library was The Midnight Line by

Lee Child. The most requested

children's book was The 91-storey

Treehouse by Andy Griffiths.

Looking for

a mortgage

broker?

Head to our website for

more information or call

Michelle to arrange a

free consultation.

Michelle lindsay

Mortgage advisor

Phone 021 346 265

www.stephaniemurray.mortgage

tree trouble?

call us 384 9630

www.fourseasonstreecare.co.nz

t h e t r e e p e o p l e

f o u r s e a s o n s t r e e C a r e

Season's Greetings

Wishing everyone a

very Merry Christmas

and a Safe & Happy 2019

from

MIKE DAVIDSON

Christchurch City

Councillor for Papanui

Ph. 021 189 6700

mike.davidson@ccc.govt.nz

Asking

Santa for a

new kitchen

in 2019?

Call us to

book your

free measure

and quote

now!

Terms and conditions apply

506 Blenheim Rd, Sockburn

Open hours:

Monday–Friday 9am–5pm

Saturday 9am–3pm

Phone: (03) 365 9152

www.ezykitchens.co.nz
---
4 Tuesday December 18 2018

Latest Christchurch news at www.star.kiwi

NOR'WEST NEWS

News

Premises for PostShops sought

•From page 1

Papanui-Innes Ward city

councillor Mike Davidson said the

closure of the Papanui branch was

"very concerning," given the lack of

certainty around the time frame and

location for opening a new branch in

the area.

"Surely they should have had a new

one running before they decided to

close the current

one."

Cr Davidson said

his preferred option

would be for New

Zealand Post to

partner with the city

council to open a new

Simon

Templeton

shop in the Papanui

Service Centre.

Age Concern chief

executive Simon Templeton said the

closures would have a "social cost"

for older Papanui residents who still

visit PostShops to carry out their daily

business.

"A lot of people go in and pay their

bills on a monthly basis."

New Zealand Post said the post

office boxes in Papanui would remain,

but could not confirm the future of the

Merivale boxes.

CLOSING: The Merivale PostShop

on the corner of Papanui and

Office Rds and the Papanui

PostShop on Main North Rd will

close next year.

Volunteer gets award

A MAIREHAU woman

has been recognised for

her volunteer work in the

community.

Coleen Dunlop, 89, was

presented with a Civic Award

by Mayor Lianne Dalziel on

Wednesday for her service to the

Wainoni Avonside Community

Services Trust.

She was one of 12 to receive

the award at The Great Hall at

the Christchurch Arts Centre.

Mrs Dunlop has been volunteering

at the trust for 17 years

since it was formed.

She was nominated for the

award by trust co-ordinator

Betty Chapman, trust patron

Margaret Austin and chairman

Rodney Routledge.

Mrs Chapman said Mrs Dunlop

is an amazing woman, who

volunteers most days and always

thinks of others. "You will never

meet someone like her."

"Coleen also had triple heart

bypass surgery 18 years ago, but

this has never stopped her. She is

always thinking of other people

and worrying as to their wellbeing

and is always wondering

what she can do for them to help

out a little," she said.

Mrs Chapman said when the

trust hosts Age Concern courses

or morning teas, Mrs Dunlop is

COMMUNITY SPIRIT:

Wainoni Avonside

Community Services Trust

member Coleen Dunlop and

co-ordinator Betty Chapman.

always the one doing the catering.

Mrs Dunlop also works on the

Wainoni Riverside Community

Garden and assists at the Veggie

Co-Op New Brighton once a

week.

Text

206

Holiday Collection

Dates 2018

From Tuesday 25 December and

Tuesday 1 January 2019 wheelie bins will

be collected the day after their usual

collection day.

TUE WED THU FRI SAT

Help Us, Help Others

Harcourts Holmwood has a positive and long-term commitment to

the Christchurch community. This year we have taken another step up,

with us not only contributing to the Mission's 'Walk of the Stars' but

also as a major sponsor to the City Mission Christmas Lunch.

With one family in five finding the expense of Christmas too much

of a burden, it is a privilege to be able to support this important

event that hosts over 700 guests on Christmas Day.

If you would also like to contribute we have set up a 'Givealittle'

page or you can simply text "donate" to 206 to make a $3 donation.

• Monday collection as normal

• Tuesday collections will be picked up on Wednesday

• Wednesday collections will be picked up on Thursday

• Thursday collections will be picked up on Friday

• Friday collections will be picked up on Saturday

Please ensure wheelie bins are placed at the kerbside

by 6am on your deferred collection day.

RED

GREEN

YELLOW

For more information, phone 03 941 8999

or visit ccc.govt.nz

givealittle.co.nz/fundraiser/mission-christmas-lunch

holmwood.co.nz
---
NOR'WEST NEWS Latest Christchurch news at www.star.kiwi

Tuesday December 18 2018 5

Backlash over Riccarton Rd tree plan

• By Anan Zaki

A LACK of options during

consultation has been blamed for

the backlash over putting trees

down the middle of Riccarton

Rd.

That's the view of Riccarton

Bush and Kilmarnock Residents'

Association secretary Bob

Broughton.

Earlier

this month,

Western News

reported

that central

Riccarton

residents

were against

Bob

Broughton

the idea of a

median with

27 columnar

hornbeam trees on Riccarton Rd

between Clarence and Matipo

Sts.

Readers rejected the idea in

more than 70 responses to the

article in Western News.

Mr Broughton said when

the city council consulted with

residents over the changes to

Riccarton Rd in 2015, it didn't

give an option for a median that

was not lined with trees.

Residents were given two

options: Option A with a treelined

median to "strengthen the

GREENERY: The city council plans to plant 27 columnar hornbeam trees on Riccarton Rd, on

the median between Matipo and Clarence Sts.

character" of the busy Riccarton

Rd shopping area between

Clarence and Matipo Sts, which

was selected.

Option B was for trees on

a widened footpath, with no

mention of a median.

Out of 194 submissions,

98 preferred option A and 96

favoured option B, the city

council said.

Mr Broughton took part in the

consultation and said residents

wanted a median to separate the

traffic, but were against the idea

of trees along the middle of the

road.

If there was an option for

a median without trees, Mr

Broughton believes the outcome

of the consultation would have

been different.

Said city council manager

planning and delivery transport

Lynette Ellis: "The trees in

conjunction with the other

streetscape enhancements,

such as new furniture, paving

and landscaping, provide an

improved and renewed sense

of place to the identity of

central Riccarton as a

destination rather than solely as

a transport corridor. A median

with no trees would not have

provided the same benefits," she

said.

The upgrade of Riccarton Rd

between Matipo and Harakeke

Sts will start in February. It is

expected to be completed by

December 2020.

Local

News

Now

Fire rages, homes at risk

XMAS: Bupa Parklands

retirement village residents

decorated their tree with

items close to their hearts.

Retirement

village's tree

of memories

RESIDENTS AT the Bupa

Parklands on Papanui

retirement village took a

different spin on their Christmas

tree this year.

The tree was attached to the

residents' feature wall and was

decorated with images from

their lives, including an old

typewriter and Dr Seuss books.

Care home manager Pauline

Porton said residents had a great

time putting the tree together.

"Our residents enjoyed thinking

of things to include on the

tree that make them remember

key moments of their lives.
---
6 Tuesday December 18 2018

Latest Christchurch news at www.star.kiwi

NOR'WEST NEWS

News

Battle to fix footpath

•From page 1

Mr O'Rourke said his

frustration increased after

the city council recently fixed

another footpath opposite his

house.

"They need to get their

priorities right. I've thought

about giving up at times, but . . .

I'm battling on."

His wait to have the footpath

fixed may be over in June.

Papanui Ward city councillor

Mike Davidson said he was on

Mr O'Rourke's side and had

been pushing the city council to

get the path fixed by the end of

the year.

However, Cr Davidson

said he was told this was not

possible because the project had

fallen at the "tail end" of the

city council's programme of

works for the year.

A LONG-SERVING Wainoni

Avonside Community Services

Trust member has been

recognised for her volunteer

work.

Mairehau's Coleen Dunlop,

89, was presented with a Civic

Award for community service

by Mayor Lianne Dalziel on

Wednesday.

He said it had since reached

a consensus on the issue, with

the footpath expected to be

completed by June.

But Cr Davidson said this had

not happened "as quickly as I

would have liked."

Mr O'Rourke said he was yet

again disappointed with the

city council's response, given

that an email he received in

March said the repairs could be

completed by July this year.

"It's just been promises,

promises and seems to be going

nowhere."

Mr Davidson praised Mr

O'Rourke for his persistence

with the city council, saying

people like him are the reason

things get done.

"A lot of people will just put

up with these issues and that

shouldn't have to happen."

Award for community service

She was one of 12 to receive

the award at the Great Hall at the

Christchurch Arts Centre.

Mrs Dunlop has been volunteering

at the trust for the 17

years it has been in existence.

The awards recognise

substantial service, usually of a

voluntary nature benefiting the

city and its people.

$1110 Christmas cake part

of Gerry's video series

• By Matt Slaughter

ILAM MP Gerry Brownlee has

proven that a career as a celebrity

chef may be an option if politics

ever falls through.

In his latest series of Facebook

videos, Mr Brownlee showcased

his baking skills and a more laidback

side of his personality.

Mr Brownlee raised $1110

for the Salvation Army after

releasing a series of videos

showing Facebook viewers how

to make the perfect Christmas

cake and auctioning the cake on

Trade Me.

The donation was made as a

tribute to former Lieutenant-

Colonel and Salvation Army

worker Peter Savage, who died

last year.

Mr Brownlee said he did not

want to comment on his good

deed, in spite of receiving a large

response from viewers, simply

saying his reasons for doing it

were "pretty self-explanatory."

The videos have received

34,600 Facebook views, with the

cake's Trade Me auction being

viewed 21,000 times before

the sale. Mr Brownlee said in

a previous statement that Mr

Savage "epitomised for me the

Christmas message of peace

and goodwill to all."

He wanted to do what he could

"to raise a few dollars for the

Salvation Army to help them

with some of the extra things

they do around Christmas time."

Mr Brownlee's cake baking

videos were also released as part

of a new push to connect with his

social media audience.

The former Canterbury

earthquake recovery minister

KITCHEN WHIZZ: Gerry

Brownlee's special

Christmas cake recipe has

helped raise $1110 for the

Salvation Army.

released his first instructional

video in October, showing

Facebook viewers how to make

home-made fertiliser and

attracting the interest of more

than 37,000 viewers.

Mr Brownlee told the AM

Show in October the videos were

a great way to connect with a

wider audience and show the less

serious side of what he does on

the weekend.

•To view the videos go to

Gerry Brownlee's Facebook

page.

WARREN

AGENCIES

Jewellery & Giftware

Watch Repairs

• Replacement batteries

fitted from $10

• Strap replacement

Jewellery Repairs

Replacement diamantes for

brooches, earrings, rings and

watches.

Onsite Carparking

Open Mon-Fri 9am - 5pm Sat 9am - 1pm 79 Wrights Road, Middleton.

Ph: (03) 338 0171 Email: sales@warrenagencies.co.nz

www.warrenagencies.co.nz

20% off

Entries close Saturday 30th September

storewide

thursday

20th

deCeMBer

Complimentary gift wrapping

Excludes prescription items

and already reduced items

Barrington pharmacy

Next to CouplaNds, 256 BarriNgtoN st

Ph 332 3156

@WilsoNsBarriNgtoNpharmaCy

10% discount

everyday

using

*excludes prescriptions & sale stock
---
NOR'WEST NEWS Latest Christchurch news at www.star.kiwi

Tuesday December 18 2018 7

Local

News

Now

Fire rages, homes at risk

Fishing hook fatal for dog

Warning to

watch out for

beach anglers

• By Georgia O'Connor-Harding

A DOG has died after

swallowing a longline fishing

hook at Waimairi beach.

It has prompted the dog's

owners to warn other beachgoers

to be wary of longline

fishing devices being used in

busy areas.

Belfast couple Hilary and

Andy Ashby said they are

"devastated" after their 11-yearold

poodle, Sooty, had to be

euthanised when a 3cm hook

became lodged in his throat at

Waimairi beach.

Mrs Ashby was on a morning

walk with her sister-in-law

and their dogs at 10.30am on

December 8 when the incident

unfolded.

She said she was walking

towards the North Beach Surf

Lifesaving Club when she saw

an Asian family rolling out a

longline fishing device on the

shore.

Sooty smelled the bait and bit

into the fish attached to one of

OPTION ONE

BEAUTIFUL: Sooty died when a 3cm hook became lodged in

his throat at Waimairi beach.

the hooks.

Mrs Ashby said her dog

"panicked" and was pulling at

the line. She asked the woman

controlling the line for scissors

who called out to her husband to

get a pair.

"He took quite a while to

come. He cut the line . . . at this

stage Sooty was frothing at the

mouth," she said.

Meanwhile, Mrs Ashby was

juggling trying to get her other

dog, Axel, onto a lead to ensure

he didn't suffer the same fate.

Sooty was then taken to Pet

Doctors Marshall and Pringle

in Phillipstown where he spent

10 hours on the operating table

before he was taken to the After

Hours Vet.

Mrs Ashby said the hook

punctured Sooty's esophagus

and the vet had to cut into his

throat to get the hook out.

It is suspected Sooty suffered a

stroke from the stress.

The next morning, Mrs Ashby

was told the treatment was

not going well and made the

decision to have Sooty put

down.

The operation cost about

$3800. "You don't mind paying

for your loved animal when you

get them back but when you're

left with nothing and not a little

dog you love, it is very hard,"

Mrs Ashby said.

Mr Ashby said he had no

problem with longline fishing

devices but using them in an

area where there are dogs and

children is "just asking for

trouble."

"We just don't want it to

happen to someone else so we

need to make people aware

if they are walking down the

beach," he said.

An MPI spokeswoman said it

will consider what occurred and

whether any rule changes may

be needed.

The Best

Souvenirs

• Green Stone Jewellery

• Woollen Garments

• Food Supplements

• Wooden Carvings

• Sheep Skin Rugs

• Souvenirs

• Skin Care

Northcote pupils

design their

own school

YEAR 2 and 3 pupils at

Northcote School have had a say

on what the school should look

like in the future.

The school is set to be

redeveloped over the next three

years.

Pupils designed their own

plans for the future of the school,

working alongside Casebrook

Intermediate pupils to make their

ideas come to life.

They designed a school that

would meet the needs of pupils

who will come to Northcote

School next year.

The designs were innovative,

and included features such tents

for students to go to for a quiet

space, slides to get from one class

to another, science labs, art

rooms, a film studio, verandahs

for shade, a swimming pool and

outdoor spaces for riding bikes

and go-karts

18B MAIN NORTH RD, PAPANUI | PH 354 6000 | WWW.SHOSHA.NZ

105 Riccarton Road, Christchurch

Ph 03 348-6010 | Open 10am - 6pm

CAMERON BAILEY

I'm usually more about action than reflection but this year I'm really

looking forward to a Christmas break with my family and twin daughters.

We've just finished a busy November with 31 written sales for the month.

As the market tends to wind down over the Christmas holidays, now is

the perfect time to think about putting your house on the market in the

new year. If you'd like to talk all things real estate, please give me call.

NO.1 HARCOURTS CANTERBURY 2012-2018

NO.1 HARCOURTS NEW ZEALAND 2017-2018

NO.1 HARCOURTS INTERNATIONAL 2017-2018
---
8

Tuesday December 18 2018

News

THRILLED: Dean Harris-Clarke, 9 (left), Jack Harris-Clarke, 10,

and mother Kate Harris-Clarke with the new BMX gear.

Funding gets Jack on track

• By Anan Zaki

JACK Harris-Clarke's family has

been saving money all year to

buy him a BMX bike.

It has been a tough ask for the

Hornby family.

But now their dream has come

true, thanks to the Mazda Foundation

which has stepped in with

a $2500 grant.

The 10-year-old from Hornby

is autistic with limited speech,

and has sensory issues, which

makes him only like fatty food.

To combat his weight, mother

Kate Harris-Clarke has tried

to get him into various sports,

without much success.

But Jack finally found a sport

to play last year, when he went

riding at the Kyle Park BMX

track in Hornby, with his nineyear-old

brother Dean.

But proper equipment was expensive.

After trying various organisations,

the family received

good news last month when they

were granted the money.

"It was incredible, I stood there

and bawled my eyes out," Mrs

Harris-Clarke said.

With the grant from Mazda

Foundation, the family had

enough savings (originally

intended for Jack) to buy new

equipment for his younger

brother.

Latest Christchurch news at www.star.kiwi

Local

News

Now

Trust provides more than

100 kids with Christmas gifts

MORE THAN 100 children

will have Christmas gifts under

the tree this year thanks to

people who donated toys to the

Birthright Canterbury Trust.

Parents were able to select

gifts for their children at the

Phillipstown Community

Hub during Christmas Toy

Day, which was supported by

Professionals Christchurch real

estate.

Trust manager Rhodora

Sagles said the Professionals

team volunteered to help get the

toys needed to make the day a

success.

"These gifts make a huge

difference for Birthright

families," she said.

Professionals Christchurch

managing director Colin Lock

said the company hoped it had

contributed to a great Christmas

for children involved with the

trust.

In addition to offering parents

the opportunity to select toys

for their children, the Christmas

Toy Day also included a morning

tea, dancing and craft activities

for parents and children.

Former Birthright Canterbury

clients Anne Addei, of the

Compassion Trust, and Kelly

NOR'WEST NEWS

Fire rages, homes at risk

GIVING: Birthright Canterbury Trust manager Rhodora Sagles

and Aranui mum Shana at the Christmas Toy Day.

(Below) – Redwood's Steph Lawson and her daughter Scarlett.

Burt, of the Dogwatch Sanctuary

Trust, spoke about their own

experiences as single parents

and provided advice and

encouragement.

Birthright Canterbury has

been working alongside families

for more than 50 years.

The charity believes children

have a 'birthright' to the same

opportunities, regardless of

their family circumstances, and

offers practical, emotional and

educational support.

Golden Girls Club

Simply present

your Gold Card and

become part of our

Golden Girls Club.

You will receive

special rates and

promotions reserved

just for our Golden

Girls Club.

Prices start from

those stated and will

vary dependent on

the stylist.

SPECIAL RATES with our Stylist Directors (SD)

and Next Generation Stylists (NG)

Golden Girls Service Menu $NG $SD

Casual Classic Blow Wave/Set 40 42

Casual Fashion Blow Wave/Set 42 49

Weekly Classic Blow Wave 30 32

Weekly Fashion Blow Wave 35 44

Cut Blow Wave & Style Classic N/A 55

Cut Blow Wave & Style Fashion N/A 59

Perm Cut Blow Wave/Set

N/A POA

Tint Blow Wave/Set 89 95

Tint Cut Blow Wave/Set N/A 115

Colour through the ends - add on 10 10

Few Scattered Foil - add on 15 30

Full Foils Short + Blow Wave 125 145

Full Foils Short + Cut + Blow Wave N/A 165

Level One, Merivale Mall | 355 6584 | vforhair.co.nz

Seven friendly villages

in Canterbury

Key

• Ryman village

• Proposed village

Rangiora

• Charles Upham

Christchurch

• Anthony Wilding, Aidanfield

• Diana Isaac, Mairehau

• Essie Summers, Beckenham

• Margaret Stoddart, Riccarton

• Ngaio Marsh, Papanui

• Park Terrace, Central City

• Woodcote, Hornby

0800 588 222

8984
---
NOR'WEST NEWS Latest Christchurch news at www.star.kiwi

Tuesday December 18 2018 9

GIFTS

UNDER $30

GIFTS

UNDER $60

GIFTS

UNDER $100

GIFTS

OVER $100

Arctic

Zone

9 Can

Cooler

935025

$

24 99 Life

Big City Car

Mat Pack

1330x1000mm

326453

$

49 99

$

69

Jobmate

Line

Trimmer

304871

$

149

Number 8

Sloping

Roof Shed

15yr warranty

294939

Rustoleum

Spray Chalk

4 Pack

329250

Festival

Chairs

322932

$

99 98

$

12 98 $

49 98 Bosch

Hozelock

Hose Cart

with 20m

Hose

240358

Portable

Bluetooth

Speaker

Radio

18V

269305

$

150

Waxworks

Jilong

Mini

Framed Pool

$

39

Number 8

Designer

$

118

105 Citronella

Tool Piece

Set 4

$

79 98

322066

Candle

Drawer

306450 Tool Box

Karcher

327908

WV2

Premium

Window

Vacuum

306947

$

5

Fuller

Junior

Safety Set

941608

Bloom

Spade &

Fork

Combo

320951

$

14 98 $

34 98 $ 99 95

Armour All

Jump Starter

& Power Bank

322792

STILL STUCK

FOR IDEA'S?

BUY A MITRE 10

GIFT CARD!

ST191218

Available from Wednesday

19th December until

Monday 24th

December 2018,

while stocks last.

Mitre10 MEGA Hornby

Ph: 03 349 8497

*If you find a lower price on an identical stocked

product locally we will beat it by 15%

Mitre10 MEGA Papanui

Ph: 03 359 5443

*If you find the same product cheaper from another Mitre 10 store or Mitre 10 website we'll match that price.

Excludes trade and special quotes, stock liquidations and commercial quantities. The in-store price may be lower

than that advertised.
---
10 Tuesday December 18 2018

Latest Christchurch news at www.star.kiwi

NOR'WEST NEWS
---
NOR'WEST NEWS Latest Christchurch news at www.star.kiwi

Tuesday December 18 2018 11

News

SCOOTER

MAD:

Shannon

Smith says

he would

like to see a

permanent

pump track

installed at

the Shirley

Community

Reserve

instead of a

temporary

one.

Temporary pump track not

good enough – Shirley pupil

• By Matt Slaughter

A SHIRLEY Primary School

pupil says the Papanui-Innes

Community Board's push to

install a temporary pump track

is not the option he wants.

Shannon Smith, 11, started a

petition for a pump track at the

Shirley Community Reserve but

said he would have preferred a

permanent track instead.

Shannon said he has ridden

on temporary tracks in the past

and "it wasn't smooth and wasn't

that nice to ride on."

He currently has to travel out

of Shirley to find tracks where he

can ride his scooter.

Although he said a temporary

track will be great while it lasts,

once it is eventually moved, he

and his friends will go back to

having nowhere to ride nearby.

"If it's just temporary, we'd

have to go back into town after

it's gone."

Shannon's dad Tim Weir said

he thought Shannon's idea

for a permanent track would

mean kids in the area have fun

and connect for many years to

come.

"It would be a place where

they could enjoy hanging out

positively and a good reason to

get them outside."

The Papanui-Innes

Community Board is currently

seeking funding options for the

installation of a temporary track

by June next year.

• By Anan Zaki

A CEMETERY which

remembers the victims of the

February 22, 2011, earthquake

could get a name change.

The Fendalton-Waimairi-

Harewood Community Board

will ask the city council to

consider adding the word

'memorial' to Avonhead Park

Cemetery's name.

Friends of Avonhead Cemetery

chairman Clive Paris was pleased

with the community board's

decision.

The cemetery is home to an

interment site opened on the first

anniversary of the quake.

Fifty-eight victims are

memorialised at Avonhead Park

Cemetery, the city council said.

The group has been

campaigning to change the name

to reflect the interment site's

significance for 18 months.

"It's a step forward, sanity

prevails, and it's also the wishes

of families of the deceased

who are buried there from the

[February 22], 2011, earthquake,"

he said.

"We've got a $300,000

[interment] there, and referred to

Local

News

Now

Fire rages, homes at risk

Cemetery name

change likely

as a memorial by former Mayor

Bob Parker," Mr Paris said.

Friends of Avonhead Cemetery

will continue to urge city

councillors to change the name.

Community board chairman

Sam MacDonald said the board

was against the recommendation

from city council staff, which was

to keep the existing name.

"Community boards are there

to represent the community. This

council is commonly criticised for

not being prepared to listen to the

community," Mr MacDonald said.

He expects the city council

to consider the board's

recommendation in February.

If that recommendation is

accepted, the city council will

start public consultation to

change the name.

Board member Aaron

Campbell disagreed with Friends

of Avonhead Cemetery on the

"sensitive" subject of changing

the name. Mr Campbell was

the only board member to vote

against changing the name.

"Particularly around the

Avonhead Park cemetery,

any changes that have been

made have been extremely

contentious," he said.

JOIN US NOW!

See website for details

NEW BALANCE

End of Season Sale,

Up to 70% Off RRP

BONDS OUTLET

40% Off The Marked Price

Storewide

STYLES MAY DIFFER TO IMAGE SHOWN

ASICS & TIMBERLAND

50% Off RRP Storewide

LOVE MY MAKEUP

50% Off All Makeup Gift Packs

CUTLER & CO

Short Sleeve Shirts & Shorts,

$69.95 Each or 2 for $100

T's & C's Apply, While Stocks Last

Sign up to Smart Deals & be in the monthly draw for a $100 Dress-Smart gift card!

Be one of the first to hear about the latest deals, sent straight to your inbox each week!

CHRISTCHURCH 409 Main South Road, Hornby

www.dress-smart.co.nz

Open 10am-5pm, 7 Days 03 349 5750
---
12

Tuesday December 18 2018

News

Latest Christchurch news at www.star.kiwi

NOR'WEST NEWS

Local

News

Now

Fire rages, homes at risk

Pressure on to save city's water

PRECIOUS: Limit the time you

operate your garden hose.

THE CITY council is taking a mythbusting

approach to remind residents

about the need to save water this

summer.

It has put out a series of fact-based

articles via its website and Facebook

page in an effort to correct common

misunderstandings about

water use in Christchurch.

Water supply programme

manager Helen Beaumont

says it's important people get

the facts so they understand

the importance of saving

water this summer.

"We've had a lot people

effectively calling us out for

asking them to save water

when water bottling plants are taking

it out of the ground every day. But

there are two problems with that.

Firstly, the city council doesn't decide

who can or can't take groundwater,

Environment Canterbury does, while

taking environmental factors into

account. And secondly, the water

taken by water bottling plants doesn't

actually affect our public water

supply – they're separate issues."

Ms Beaumont says another

common misunderstanding is

around the need to conserve water

this summer.

"It's not that we're running out

of water. The problem is we need to

take some water wells out of service

so we can upgrade them and stop

Helen

Beaumont

chlorinating as fast as possible. If we

keep using too much water, we have

to use more wells to cope, and then

we can't work on them. It's really that

simple," she says.

A wet start to summer in

Christchurch has seen the city

council's online water dial

spend a number of consecutive

days in the "green zone",

which is where the city council

wants to see it stay as the city

moves into the warmest part

of the year.

Ms Beaumont says the

rain means people generally

don't feel the need to turn

on their garden sprinklers

or irrigators, which are the biggest

household water users.

"Running a garden sprinkler or

irrigator for an hour can use up to

1500 litres – or 150 buckets – of

water. That's a huge amount when

you consider we're targeting an

average daily use of 212 litres per

person this summer. We're asking

people to use hand-held hoses to

water – during early morning or late

evening – because you can direct

exactly where the water goes and

avoid wasting it."

•More water saving tips are

available on the city council's

website at ccc.govt.nz/watersaving-tips

Letterbox Advertising

Flyers and Newspaper Inserts

DESIGN

We offer professional

design services.

PRINT

We print your gloss

mailers and letterbox

flyers.

Delivery

Canterbury wide

coverage or targeted

zone deliveries.

FREE QUOTES Contact: Michaela Malloch

P: (03) 379 7100 or 021 932 177

E: michaela.malloch@starmedia.kiwi

'CEREC' & cosmetic dentistry

Wisdom tooth removal

Painless, high quality dentistry

Sedation dentistry

Experienced, conscientious team

Experienced hygienists

OPEN SATURDAYS

355 9380

144 Cranford Street

www.stalbansdentalcentre.co.nz

A GIFT FOR

EvERYONE

Metal art - gifts - hoMewares - water features - pottery

Mirrors - candles - wall hangings & More!!

Metal art

candles

unique gifts

"YOUR LOCAL DESTINATION"

722 Marshland Road | Phone 03 323 9781 |

www.hitchingpost.co.nz

Open 7 Days: Mon-Fri (10am-5pm)

Sat-Sun (10.30am-4.30pm)

RAMP RACE DERBY &

REMEMBRANCE ChAMPs

BOXING DAY 6PM sTART

NEw ZEAlAND suPERsTOCk ChAMPIONshIP, TICkETs ON sAlE NOw INCluDING REsERvED sEATING – BOOk AND BuY NOw AT www.ITICkET.CO.NZ

DOuBlEDAYs ROAD kAIAPOI INFOlINE 03 364 8833 www.wOODFORDGlEN.CO.NZ

ADulTs $20, sENIORs $10, ChIlDREN $5, uNDER 5 YRs Free FAMIlY PAss $40 (2 adults & up to 4 children 15yrs & under)

jANuARY 4 Th & 5 Th 7PM sTART
---
NOR'WEST NEWS Latest Christchurch news at www.star.kiwi

Tuesday December 18 2018 13

THE JAZZ

OUTDOOR SUITE

THE LATEST OUTDOOR FURNITURE IS

IN-STORE NOW!

THE JAZZ BENCH

OUTDOOR SEATING

THE JAG CORNER

OUTDOOR LOUNGE SUITE
---
14 Tuesday December 18 2018

Latest Christchurch news at www.star.kiwi

News

SUPPORT:

Sebastien

Lallemant, Meg

Shatford, Mesiah

Auvae and

Alex Hemens

helped make

the children's

Holiday camp a

big success.

"Life-changing" camp for

children with special needs

A CAMP for children with

special needs has been described

as "life-changing."

Christ's College year 13 student

Sebastien Lallemant, who lives

in Merivale and helped run the

camp, was one of 78 students

from Christ's and St Margaret's

colleges who made the event a

huge success.

Sebastien said the event

had taken a lot of effort to run,

but "it was all worth it in the

end to see all of the kids facial

expressions."

The children's holiday camp

was held at Christ's from

December 7-9 and welcomed

14 young people with a diverse

range of needs for a weekend of

activities and fun.

It was the first time the

event had been held in New

Zealand.

The camp was extra special for

the children who attended, as it

was the first time many had ever

spent a night away from their

parents.

It was significant for parents,

too, some of whom had never

had a break from the full-time

caring duties that can come with

raising kids with the most severe

disabilities.

St Margaret's well-being coordinator

Annie Wynne said

it was "life-changing" for all of

those involved.

Ms Wynne said some

volunteers had been brought to

tears by the positive reactions of

the kids at the camp. The holiday

camp is now set to become an

annual event in Christchurch.

Maiyah gets a star

THE GREATEST gift Maiyah

Martin could receive for

Christmas is to know people

in need have the necessities to

get by.

With the help of her mum

Donna and younger brother

M.J, Maiyah, 8, has been doing

her bit to fundraise for the City

Mission by selling baking at

food markets.

Her services were recognised

when she was presented with a

star by the City Mission as part

of its Walk of Stars pathway

which runs along Oxford Tce.

All of the proceeds from

her baking have gone towards

buying pamper packs full of

toiletries to donate to the City

Mission.

Maiyah's mission is

documented on her Facebook

page, Girl With Cake Projects,

which has more than 300

Facebook likes.

The pathway displays the

names of people who have

made significant contributions

to the City Mission's cause.

GENEROUS: Maiyah Martin

in front of her star on the

City Mission's Walk of Stars.

NOR'WEST NEWS

Christchurch Art Gallery's

Design Store is stocked with

treasures to help you master the

art of inspired Christmas shopping.

With an hour of free parking, why not take in

an exhibition then enjoy a coffee. Too easy!

christchurchartgallery.org.nz/shop

#chchartgallerystore

Strategic

Partner
---
NOR'WEST NEWS Latest Christchurch news at www.star.kiwi

Tuesday December 18 2018 15

EXCELLENCE:

Year 13 student

Valerie Xiang

was named

Rangi Ruru dux

by principal

Sandra Hastie.

SCHOOLS

City Mission

needs food

THE City Mission is in desperate

need of food donations to make

sure people don't go hungry at

Christmas.

Demand for its food bank is up

44 per cent, with people lining

up for hours before it opens to get

what they need.

The City Mission expects to

see a 25-30 per cent increase in

demand for its services in the

lead-up to Christmas Day.

Food donations are also in short

supply for its Christmas lunch,

with city missioner Matthew

Mark saying he expects this to

be the City Mission's "largest

Christmas yet as they face a

significant increase in the need

among their community."

He said it needs canned food,

toiletries, biscuits, tea and coffee.

For the Christmas lunch, it

needs Christmas cake, pavlova

and mince pies.

Celebrating success at Rangi Ruru

SHOWTIME: Rangi Ruru's kapa haka group performed at the

prize-giving.

WHAT'S NEXT?

Year 13 student

Isabella Carter

received

scholarship

offers from

three United

States

universities.

THE AWARDS were rolled out

at Rangi Ruru Girls' School's

end of year prize-giving.

The top students took

centre stage at a ceremony on

December 5, with a range of

achievements being recognised.

Year 13 student Valerie

Xiang was named dux,

finishing top of the class in

music and chemistry, first equal

in English, and gaining a high

achievement award in physics

and French.

About 50 students earned

university scholarships, with

eight receiving offers from

overseas universities.

Top scholarship honours went

to Isabella Carter, who received

offers to attend the University

of California, the University of

Southern California and the

University of Virginia.

Student achievement was also

showcased on the night, with

dancer Juliette Ward accepting

a scholarship to study at the

Next Step Performing Arts

programme in Sydney.

Principal Sandra Hastie

said the award-winners showed

"it is the norm to be the best

you can be" at the school.

It's our

45th

Anniversary

year!

#areyouupforit

45th Anniversary

Retro T-shirt

available when

entries open on

1st December 2018

Sunday 24th March, 2019 www.city2surf.co.nz
---
16 Tuesday December 18 2018

Latest Christchurch news at www.star.kiwi

NOR'WEST NEWS

If you want more information about an item or to contact a

seller, visit www.postanote.co.nz and search the ID#

Honda Del Sol

Dinghy Beach Trailer

Clothes Dryer

Folding Chairs

Nissan Vanette

1985 Ford Courier

$2,500

ID 25059

$400

ID 25628

$250

ID 25671

$10

ID 25666

$7,400

ID 25576

$14,200

ID 25569

1992 Nissan Gunmetal Lada Niva

2015 Yamaha MT-09 ABS

Nintendo Gamecube Package

Harley-Davidson Sportster 1200

Bass Guitar & Amp Package

$5,000

ID 20363

$500

ID 25625

$10,500

ID 25296

$375

ID 25696

$8,000

ID 25694

See Seller

ID 25695

1995 Toyota Camry

Esperanto Dictionary

Vespa 150cc 4-speed

2-Stroke Engine

1998 Hero Gizmo 50cc

Sunbeam Penguin Waffle Maker

$2,000

ID 25318

$40

ID 25673

$1,400

ID 25706

$200

ID 25140

$1,250

ID 6230

$30

ID 25613

2014 Yamaha G29E Electric Golf Cart

2007 Lexus GS 350

Fitbit Charge 2

Toyota Estima Van

Wheelchair

1997 Toyota Cynos

$6,500

ID 25378

$11,900

ID 25288

$115

ID 25143

$2,000

ID 25517

$175

ID 25389

$4,500

ID 15261

Large Basket

Set of 3 Frying Pans

1996 Mazda 626

Cross Stitch Frame

2008 Kia Sorento

Free-standing Oven

$70

ID 25412

$20

ID 25594

$3,000

ID 24943

$30

ID 24639

$12,990

ID 23236

$2,000

ID 24963

Garden Shredder

2002 Nissan Vanette

PLATZ GNOM 41 Motorised Knapsack Sprayer

Frame Tent

Dining Table, 6 Chairs

Bailey Pegasus Caravan

$2,200

ID 25580

$8,500

ID 25576

$100

ID 25584

$650

ID 25564

$300

ID 25563

$42,000

ID 25567

Avanti Barracuda Mountain Bike

2011 Ford Falcon G6E

Brother Printer

Ski Rack System

Motor Boat

Project Bags

$250

ID 25581

$20,990

ID 24482

$50

ID 13953

$100

ID 25496

$8,000

ID 24436

$25

ID 25538

2070680chch-h
---
NOR'WEST NEWS Latest Christchurch news at www.star.kiwi

Tuesday December 18 2018 17

Email matt.slaughter@starmedia.kiwi by

5pm each Wednesday

JP Clinic

Tuesday and Wednesday, 10am-

1pm

A justice of the peace will

be available to members of

the community to witness

signatures and documents,

certify document copies, hear

oaths, declarations, affidavits

or affirmations, as well as sign

citizenship, sponsorship or rates

rebates applications. There is no

charge for this service.

Fendalton and Papanui

libraries on Tuesday, Bishopdale

Library on Wednesday

Papanui Book Club

Tuesday, 10-11am

Come and join other booklovers

in a friendly, relaxed

library environment. No

bookings required.

Papanui Library

Christmas Cards and Craft

Tuesday, 2-3pm, and Thursday,

10.30-11.30am, at Papanui, and

Friday, 10-11am, at Bishopdale

Have fun creating Christmas

cards and crafts for your loved

ones this festive season. Free, no

bookings required.

Papanui Library and

Bishopdale Library

Citizens Advice Bureau

Tuesday, 2-5pm, Wednesday,

Thursday and Friday, 11am-5pm

The bureau provides free and

confidential advice to everyone. It

takes the time to listen and equip

you with information, options

and support.

Fendalton Library

Scrabble Club

Wednesday, 1-3pm

Enjoy a friendly game of

scrabble in the library. Boards

will be provided but you are

welcome to take your own. No

need to book, just turn up and

play.

Bishopdale Library

Technology Help Drop-in

Sessions

Thursday, 10-11am

These free drop-in sessions

will help with specific issues,

such as using email, searching

the internet, using the library

catalogue, electronic resources

and any other general computerrelated

queries. Take your laptop,

tablet, or smartphone, or use one

of the desktop computers if you

need help. This session is free and

no bookings are required.

Bishopdale Library

Knit 'n' Yarn

Tuesday, 2-3pm, at Bishopdale,

Friday, 10am-noon and 10.30amnoon,

at Papanui, and 2-3.30pm,

Show your cat or dog how much they mean to you this Christmas. Create and wrap a special gift

for your cat or dog to put under the Christmas tree. Head to the Bishopdale Library between

2-3pm on Tuesday, Papanui Library between 11am-noon or 2-3pm on Thursday, or the Fendalton

Library between 11.30am-noon or 2-3pm to get in the festive spirit.

at Fendalton

Go along and enjoy a chat with

others as you knit. For anyone

who loves to knit or learn.

Papanui Library and Fendalton

Library

Go Well Group –

Play Rummikub

Thursday, 1-2pm, at Fendalton,

and Monday, 1-3pm, at

Bishopdale

Come along to play rummikub,

an exciting, interactive strategy

game.

Fendalton Library and

Bishopdale Library

Mahjong Group

Monday, 2-4pm

A free game of mahjong for

those interested in learning or

playing.

Papanui Library

Christmas Carol Concert

Tuesday December 18, from

6pm

Come and sing Christmas

songs with a live band playing.

Song sheets available. Free

barbecue sausages in bread

to eat. All welcome. Call

Denise Theyers for more

information on 323 6623.

Redwood Park, Main North Rd,

Redwood

You can make a child's

Christmas a little brighter

Every year, tens of thousands of women and children seek help

from Women's Refuge. This season, you can make a child's

Christmas a little brighter. Donate a gift for a child by dropping

it off at your local Bunnings store by 21 December.

Find out more at womensrefuge.org.nz
---
18

Tuesday December 18 2018

Latest Christchurch news at www.star.kiwi

2

NOR'WEST NEWS

A

EVENT

CITY2SURF

with Les Mills

Sunday 24 March

#Areyouupforit?

14km, 6km Community

Fun Run Event

It's our

45th

Anniversary Year!

ENTER NOW

www.city2surf.co.nz

City 2 Surf 2019_Entries Available
---
NOR'WEST NEWS Latest Christchurch news at www.star.kiwi

Tuesday December 18 2018 19

FOCUS ON HEALTH

Dilo Oil – The Remarkable

Skin Rejuvenator

Until Rachel

Hunter's popular

TV series "TOUR OF

BEAUTY" Dilo Oil was

relatively unknown being

one of the best-kept secrets of

the Pacific Islands. It may however

be the number one natural beauty oil

available as it possesses powerful natural

skin regeneration, anti-aging and healing

properties.

According to ethnobotanist Chris

Kilham, Dilo (pronounced dee-low)

Oil is a powerful skin regenerator as

it is one of the most effective agents

in promoting the regeneration and

formation of new tissue, thereby

accelerating wound healing and the

growth of healthy skin. Dilo Oil is

super-absorbing and nourishing

and can penetrate all three layers

of the skin, offering exceptional

cell hydration and regeneration.

As well as this, Dilo Oil has potent

anti-inflammatory, antimicrobial,

antifungal and antioxidant properties.

Traditionally, Dilo Oil is used to keep the

skin young and youthful and for just about

any skin complaint. Some of the conditions

for which it is considered helpful include

abrasions, cuts and cracks, acne and acne

scars, pimples, blemishes, stretch marks,

wrinkles, blisters, burns (including chemical

and radiation), diabetic sores, rashes, shaving

irritation, dry or scaly skin, eczema, psoriasis,

dermatitis, herpes

sores (cold-sores),

insect bites and stings,

rheumatism, pain, sciatica,

shingles, sunburn, rosacea,

athlete's foot, skin eruptions,

warts, skin ulcers and sores, nappy

rash and almost any other skin ailment

and often with incredible results.

Many beauty and skincare products

on the market today contain unnatural

ingredients that can be toxic and may

even contribute to disease. Generally

the benefits are exaggerated and often

only temporary or camouflage.

Marshall's Dilo Oil is 100% pure

and certified organic. It has been

cold-pressed from the Dilo nut and

contains absolutely no additives.

Polynesians and Southeast Asians

have revered Dilo Oil for centuries

believing it to be a sacred gift of

nature and the Gods. Dilo Oil

contains a unique blend of fatty

acids that stimulate and supports

the skins natural healing process through

the growth of new healthy skin tissue. It is a

remarkable product we highly recommend to

everyone. A 50ml bottle is $19.90 and 100ml

only $29.90.

Further information is available from

the Natural Health Advisers at Marshall's

Health & Natural Therapy, 101 Seaview

Road, New Brighton, Phone: 388-5757. We

are always happy to help!

NATURAL HEALING & BEAUTY OIL

As seen on Rachel Hunter's Tour of Beauty

Revered for centuries by Polynesians & Southeast Asians for its remarkable skin

anti-aging & healing properties, Dilo oil comes from the nut of the sacred Dilo

tree, "the tree of a thousand virtues". Dilo oil is often called the beauty oil as it

can penetrate all three layers of the skin offering exceptional cell hydration &

regeneration. It has a unique ability to stimulate the growth of healthy skin cells

& this gives it powerful anti-aging & healing properties that can help reduce

lines, blemishes, scars & damage to the skin. It also possesses

anti-inflammatory, antimicrobial, antifungal & antioxidant properties.

Dilo Oil Supports

• Anti-aging & skin regeneration, helps reduce lines, GREAT

blemishes, scars & stretch marks

XMAS GIFT

• Skin hydration

• Skin repair & growth, helps feed the skin & stimulate healthy new cells

• Wound healing & skin protection from bacteria, viruses & fungus

• Most skin problems, rosacea, pimples, ulcers & sores, acne, psoriasis,

eczema, dermatitis, rashes, blisters, skin eruptions, warts, insect bites &

stings, athlete's foot, burns, nappy rash etc.

• Joint & muscular pain

Bringing You the Best in Natural Health

AMAZING

PRICES

100% PURE & ORGANIC

50ml

only $19.90

only $29.90

100ml

AMAZING ISLAND

MIRACLE OIL

- WE ARE ALWAYS HAPPY TO HELP! -

MAIL ORDER AVAILABLE

MARSHALLS HEALTH & NATURAL THERAPY

CONSULTING - PRESCRIBING - DISPENSING - MANUFACTURING - MEDICAL HERBALISTS

101 SEAVIEW RD, NEW BRIGHTON • PH 03 388 5757 • Email: enquiry@marshallshealthshop.co.nz

Collagen

The Body's Youth Protein

Collagen is the primary

protein in the body. It is a

major component of skin,

hair, nails, muscles, tendons,

ligaments, joint cartilage,

bones, gums, teeth, eyes, and

blood vessels.

In fact collagen is

the primary structural

component for all tissue in the

body, providing the strength

and resilience associated with

youth, beauty and wellness.

The body's natural collagen

production decreases with age resulting in

many signs of aging, such as flaccid skin,

wrinkles, ligament and tendon injuries and

aching joints. Collagen supplementation

is one of the most fundamental things a

person can do to prevent premature aging

and promote youthful vitality.

NEOCELL are the industry leaders in

research on collagen supplementation.

Through advanced research they have

perfected a way to hydrolyse collagen and

effectively reduce its molecular weight this

improving the absorption of collagen into

the blood stream by over 90%.

A clinical study on NEOCELL

COLLAGEN has shown skin hydration to

increase an average of 21% and up to 50%,

with 92% of test subjects experiencing

firmer, softer skin. Most people taking

Collagen is the primary structural component for all tissue in the body,

providing the strength & resilience associated with youth, beauty &

wellness. The body's natural collagen production decreases with age

resulting in many signs of aging, such as flaccid skin, wrinkles, ligament &

tendon injuries & aching joints. Collagen supplementation is one of the most

fundamental things a person can do to prevent premature aging & promote

youthful vitality. NEOCELL collagen has undergone advanced enzymatic

hydrolyzation for superior results.

NEOCELL COLLAGEN SUPPORTS:

• Reduction in lines & wrinkles - improved skin elasticity

• Strong hair & nails, may help reduce hair loss

• Supports bone, ligaments, tendons & joint health

• Lean muscle & weight loss

• Youthful vitality & slowing of the aging process

NEOCELL PREMIUM COLLAGEN IS CLINICALLY

RESEARCHED FOR SUPERIOR RESULTS

Bringing You the Best in Natural Health!

NEOCELL COLLAGEN reported seeing

visible improvements within two weeks.

Collagen supplementation provides the

nutrients necessary to support the body's

collagen supply. It can help reduce fine lines

and wrinkles and improve skin elasticity,

support building of strong bones and teeth,

strengthen the nails and hair, and is vital for

muscle growth, It also assists weight loss by

helping burn fat for energy, promotes wound

healing by supporting the regeneration of

healthy tissue as well as help support overall

health.

NEOCELL COLLAGEN and further

information is available from the Natural

Health Advisers at Marshall's Health &

Natural Therapy, 101 Seaview Road, New

Brighton, Phone: 388-5757. We are always

happy to help!

COLLAGEN - ThE BOdy's yOuTh PrOTEiN

hAir - sKiN - NAiLs - JOiNTs - BONEs

GREAT

XMAS GIFT

Super

Prices

120 tablets only

$36.90 Save

$5.75

250 tablets only

$56.90 Save

$9.75

500 tablets only

$99.90 Save

$33.40

198 gram powder

$36.90 Save

$5.75

MARSHALLS HEALTH & NATURAL THERAPY

CONSULTING - PRESCRIBING - DISPENSING - MANUFACTURING - MEDICAL HERBALISTS

101 SEAVIEW RD, NEW BRIGHTON • PH 03 388 5757 • Email: enquiry@marshallshealthshop.co.nz

- WE ARE ALWAYS HAPPY TO HELP! -

MAIL ORDER AVAILABLE

Available villas Make Lifestyle Living your New Year's Resolution

Arundel Villa – 160m2

3 Bedrooms, Master Ensuite, Fully Refurbished, Generous Open

Plan Living/Dining, Double Garage. Handy Location. $535,000

Belfield Villa – 108m 2

2 Bedrooms, Fully Refurbished, Spacious Living, Modern Kitchen,

Single Car Garage, North Facing to soak up the sun. $360,000

33 CONNOLLY STREET, GERALDINE 7930

FREEPHONE. 0800 845 524 LANDLINE. 03 693 8340

WEBSITE mlv.org.nz

ACCREDITED VILLAGE OF THE RVA
---
20 Tuesday December 18 2018

Latest Christchurch news at www.star.kiwi

NOR'WEST NEWS

Your full-sized daily read

Available

from

7.30am

at . . .

• Beckenham Lotto and

News Agency, Sydenham

• Bishopdale Unichem Pharmacy

• Caltex Russley

• Fresh Choice Merivale

• Hagley Night & Day, Riccarton

• Hillmorton Superette, Halswell

• Kiwi Bookshop and Lotto,

Edgeware

• New World Bishopdale

• New World Fendalton

• New World Halswell

• New World Ilam

• New World Rolleston

• Paper Plus Bush Inn, Riccarton

• Paper Plus Barrington, Spreydon

• Paper Plus Hornby

• Paper Plus South City, Sydenham

• Piccadilly Books, Avonhead

• Relay, Christchurch Airport

• Pak'nSave Riccarton

• Templeton Convenience Store

• Whitcoulls Hornby

• Whitcoulls Merivale Mall

• Whitcoulls Northlands

• Whitcoulls Palms

• Whitcoulls Westfield Riccarton

• Whitcoulls South City

Sign up to our e-edition

A convenient exact replica of the newspaper in a digital format. View the ODT

e-edition on your desktop, tablet, laptop and smartphone (Apple IOS & Android).

To sign up, call our Circulation team

on 03-479-3555 OR email

circulation@alliedpress.co.nz
---
NOR'WEST NEWS Latest Christchurch news at www.star.kiwi

Tuesday December 18 2018 21

Classifieds Contact us today Phone our local team 03 379 1100

REAL ESTATE

The luxury of space

16 Elmwood Road, Fendalton

Price: $1,349,000

4 bedrooms | 3 bathrooms | 3 toilets | 3 living rooms | 1 dining room |

1 car-garage | 2 off-street parks | Listing Number: PI56392

The generous proportions of this gracious

property have been perfected with a careful

renovation by D.J. Hewitt Builders. The

kitchen, bathroom and lighting was styled

by Lume Design creating an elegant family

home with space for relaxed living and

effortless entertaining.

Zoned for top schools, including

Elmwood School, Heaton, Boys' High

and Girls' High, and just minutes from St

Andrew's College, it will accommodate the

changing needs of a growing family.

A delightful open-plan living space

at the rear of the home faces northwest

for sun and light. Polished timber floors

unite a dining space, casual sitting area

and stunning contemporary kitchen with

island breakfast bar, sleek cabinetry and

feature splashback. French doors lead to

sunny and very private outdoor living

overlooking established and easy-care

grounds. Back inside, a cosy family room

with log-burner adjoins a beautiful lounge

with leadlight window detailing and a gas

fire. Three spacious bedrooms inside the

home share two smart updated bathrooms,

and a new guest room at the rear of the

garage is a versatile space with its own chic

new bathroom.

Located just a six-minute walk to cafés

and shops at Normans Road, or a 4-minute

drive to Merivale Mall or Victoria Street,

superb convenience makes for easy living.

Reap the rewards of the owners' hard work.

Please visit our website www.harcourts.

co.nz for Open Homes times.

To find out more contact Cameron

Bailey on mobile 0275 557 079 or

352 6166 of Harcourts Gold Papanui

(Licensed Agent REAA 2008) today and

register your interest.

Classifieds Contact us today Phone our local team 03 379 1100

Car Parts

TYRES Secondhand,

most szs from $30 - $70

fitted, Also batteries, 217

Waltham Road, 027 476

2404

Community Events

ALCOHOLICS

ANONYMOUS, If you

want to have a drink that's

your business. If you want

to stop, we can help. Phone

0800 229-6757

Gardening

& Supplies

A GARDEN OR

LANDSCAPING TIDY

UP? Shrub, hedge &

tree pruning, Lawns,

Gardening, consistently

reliable general property

upkeep, Dip. Hort. 10

yrs experience, One off

tidy ups or on-going

service. Nick's Garden

Maintenance. Keeping

your garden beautiful.

Free Quote. Ph. 942-4440

& 022 264 7452

ADD SOME

COLOUR

TO YOUR ADVERT!

Holiday

Accommodation

Australia QLD

SUNSHINE

COAST

RESORT

ALEXANDRA HEADLAND

All Units Have Ocean Views.

Heated Pools, Spa & Sauna,

Free Wifi, Tennis

& Mini Golf.

CHECK OUR GREAT

WINTER SPECIALS

www.mandolin.com.au

0061 7 5443 5011

JUNE to AUG temps 20C

Storage

Storage UnitS

26 Belfast Road

Various sizes available in this

very tidy and safe complex.

• Power / lighting available in

large units and include large

door access (over 3.5 metres)

• Individually alarmed

• Surveillance cameras on site

• Vermin controlled

• Toilet on site

Phone 021 810 433

DRIVEWAYS

Exposed Aggregate

Stamped Concrete Plain

Concrete Resurfacing

Things we offer...

Competitive/affordable pricing

Attention to detail

Professional service

free quotes/insurance scopes

Cell 0278 145 848

www.drivecrete.co.nz

Unit Sizes:

13.5m x 3.5m

13.5m x 4m

8.5m x 4m

Double 6m x 6m

Single 6m x 3m

Trades & Services

Trades & Services

kitchen renovation

Kitchen looking tired?

Revitalize with new colour at a

fraction of replacement cost

• Alterations & Hardware available

• Laminated Kitchens no problem

• 'On Site' finishing available

• Over 20 years experience

• Free Quotes with no obligation

• All Joinery & Furniture repair & Spraycoatings

PABLO'S PAINTWORKS

27 Birmingham Drive, Middleton

03 338 6280 | 021 541 323

pablospaints@xtra.co.nz

www.pablospaintworks.co.nz

junk

DIRTY

TILES &

GROUT?

Our unique restoration processes will make your

tiled areas look BRAND NEW again!

We provide cost effective makeovers for showers,

bathrooms, kitchens or any other tiled areas.

Tiled Shower Makeovers

Professional Tile & Grout Cleaning

Re-Colouring of existing Grout

Tile/Grout Sealing

Tile/Grout Repairs

Silicone Replacement

Garage Carpet Installation

For your FREE no obligation quote contact

DARRYL

Why go to the Dump? Junkman comes to you!

Items too big for the rubbish bin?

Or too heavy for you to move?

Junkman comes to FROM

you & takes it away $

65 *

*Prices vary depending on items and volume – minimum charge $65

0800 586 5626

www.junkman.co.nz office@junkman.co.nz

Trades & Services

0800 882 772

darryl.p@groutpro.co.nz

Trades & Services

rooF

painting

Book now and

receive 20% discount

for summer.

Rope and harness a

speciality.

No scaffolding required.

30 years experience.

Free quotes, call

Craig 021 060 2392
---
22 Tuesday December 18 2018

Latest Christchurch news at www.star.kiwi

Classifieds

Trades & Services

pc & phone repairs

• iPhones • Smart Phones

• iPads • Tablets • Computers

• Laptop Repairs, Parts and Accessories

• Glass Screen Protectors

• Phone Cases • Cables etc

Shop 3A, 1 Stark Drive, Wigram Business Park

Phone 0800 222 691

Trades & Services

BLOCKED

DRAINS?

• Video inspection

• Waterblasting

• liquid Waste

pH: 03 365 7960

24 hours // 7 days

info@h20jet.co.nz

www.h20jet.co.nz

ROOF

PAINTING

Rope & harness

a speciality,

no scaffolding

required,

30 years of

breathtaking

experience.

FREE QUOTES

Exterior staining,

exterior painting,

moss and mould

treatment and

waterblasting

Phone Kevin

027 561 4629

Trades & Services

COMPUTER SERVICES

Upgrades, Repairs, Virus

removal. 20 yrs exp. Good

rates. Friendly service.

Free local pickup/delivery.

Ph GLITCHBUSTERS

022 680 4411

COMPUTER NOT

WORKINg?

Try me, I fix most

types,from software to

hardware. Ph Dave 352-

3895

ELECTRICIAN

Registered, electrical

installation and repairs,

Gorbie Electrical, ph 021

026 73375 or 03 322 4209

ELECTRICIAN

Prompt & reliable

registered electrician

with 24 years experience

for all residential and

commercial work, new

housing and switch board

replacements. Phone Chris

027 516 0669

NEW YEARS TIDYUP

Working for u & your

garden. Ph Graeme 027

341 8596, 342-5151

PAINTINg

DECORATINg

Wingfields Contracting,

all interior & exterior

painting & all forms of

interior plastering & jib

fixing, ph Mark 021 171-

1586 or 355-5994

PAINTER AVAILABLE

All aspects in painting.

Very competitive in roofs

and fences. Please call 027

241-7471 or 335-0265

PAINTER

DECORATOR

All int /ext painting.

Comp rates. I stand by

Canterbury. Wayne 385-

4348, 027 274 3541

PAINTINg

30 years experience,

workmanship

AAA HANDYMAN

licensed carpenter

LBP, all property and

building maintenance,

repairs, bathroom/shower

installations, with free

quotes 03 383 1927 or 027

245 5226 ciey@xtra.co.nz

BATHROOM

Renovations, complete

service from start to finish,

free quotes, ph Dave 027 guaranteed, pensioners

334 4125

BRICKLAYER

George Lockyer. Over

discounts, free quotes, ph

Robert 021 026-30757

PLASTERER

35 years bricklaying Gib Stopping, Small

experience. UK trained. job specialty. 30 + years

Insurance work. EQC experience. Ring 0800

repairs. Heritage 387-369

brickwork and stonework PLUMBER

a speciality. No job too ALF THORPE

small. Governors Bay. PLUMBING Certifying

Home 329-9344, Cell Plumber for all types of

027 684 4046, email plumbing, maintenance,

georgelockyer@xtra.co.nz

****************

CARPET & VINYL

LAYINg

Exp. Repairs, uplifting,

spouting, alterations etc.

Phone 352-7402 or 0274-

350-231

ROOFINg REPAIRS

Fully qualified, over 40

relaying, restretching. yrs experience. Ph John

Email jflattery@xtra.co.nz

ph John on 0800 003 181

or 027 2407416

027 432-3822 or 351-

9147 email johnchmill@

outlook.com

$2700.00

plus GST

Trades & Services

plumber

GET GAS HOT WATER

CONVERSION

INCLUDES:

Removal of old

cylinder, installation

of Rheem Gas Pack

GAS PACK INCLUDES:

RHEEM INTEGRITY 27

and...

1x Regular 8kg

oki-koki c/w hood

1x Condensate Kit

1x Twin Valve Kit

1x Slab

Plus every conversion signed up goes into

the draw to win a $500 Westfield voucher

PH 0508 AQUA PRO

aquaproplumbing.nz

Available during the promotional period of 1st November 2018 to 19th December 2018. Products may not be stocked at every store but can be ordered in while

stocks last. Voucher will be drawn on the 20th of December 2018. Further terms and conditions apply, please contact us on 0508 AQUAPRO for more details.

Trades & Services

SHOE REPAIRS

Belfast engraving. Shoe

repairs, key cutting &

engraving. (10 yrs exp)683

Main North Rd, ph 027

3113423

SPOUTINg CLEANINg

Spouting Unblocked,

Cleaned Out and Flushed

Out. Call Trevor 332 8949

or 021 043 2034

STONEMASON, BRICK

& BLOCKLAYER

Earthquake Repairs, Grind

Out & Repoint, River/

Oamaru stone, Schist,

Volcanic Rock, Paving,

all Alterations new & old,

Quality Workmanship,

visit www.featureworks.

co.nz or ph 027 601-3145

TILER/CARPENTER

35 years exp, no job

too small. Ph Ross 027

4311440.

TILINg

Flooring - Splashbacks -

Wall incl tile removal, reg

master tiler, ph Dave 027

334 4125

T.V. SERVICE

CENTRE

Repairs, tvs, microwaves,

audio amps, soundbars.

.Aerial & satellite

installations, kitsets, 480D

Moorhouse Ave, ph 03 379

1400

VHS VIDEO TAPES

& all camera tapes

converted to DVD, video

taping special occasions,

www.grahamsvideo.co.nz

ph 03 338-1655

WINDOW CLEANINg

Average 3 bdrm house

inside or out $40. Both

$70. Phone Trevor 344-

2170

Trades & Services

Trades & Services

EXPERIENCED

GARDENER

(Kevin Garnett)

30 Years

Christchurch Botanic

Gardens.

ALL landscape

work done.

Maintenance, pruning,

tidy up, lawn work,

landscape planning

and planting etc.

Free Quotes

Phone 348 3482

Wanted To Buy

AAA Buying goods

quality furniture,

Beds, Stoves, Washing

machines, Fridge Freezers.

Same day service. Selwyn

Dealers. Phone 980 5812

or 027 313 8156

TOOLS Garden,

garage, woodworking,

mechanical, engineering,

sawbenches, lathes, cash

buyer, ph 355-2045

Public Notices

VIDEO PRODUCTION

business video

PRoduCTion

A video will bring your business alive & into your

customers mind.

Promote your services or business with a

professionally created video with us

• Corporate and Business

video a speciality

• Competitive rates

• 25 years experience

• Start to finished product

• Professional quality

guaranteed

PHone KeRRY 021 635 083

Christmas

Church

Services

Christmas is so much more

than tinsel and trees

There seems to be more and

more to do at Christmas these

days, from choosing between

traditional or up-to-theminute

decoration colour

schemes through to worrying

about having a 'beach-ready

body' and buying presents,

food and bubbles.

With all the hype and pressure

around the season, it's easy

to forget that Christmas is in

fact a faith-based celebration

of the birth of Jesus Christ

and a time to come together

St Aidan's Anglican Church

cnr Brookside Tce & Aorangi Rd.

Christmas Eve 11pm - Communion Service

"This is love"

Christmas Day 9am - Family Communion Service

Please join us at one of our services this Christmas.

Phone 351 8075

Presbyterian

ST ANDREW'S AT RANGI RURU

PRESBYTERIAN CHURCH

16 Merivale Lane • Ph: 355 7174

standrewsatrr@xtra.co.nz

Monday 24 December

9.00pm Christmas Eve Service

Tuesday 25 December

10.00am Christmas Day Service

Sunday 30 December

10.00am Combined Service

@ Linwood Avenue Union Church

378 Linwood Avenue

in worship. Churches across

the city are recognising

Christmas and what it means

for Christians in a number of

ways, often with music at the

centre.

Most churches offer Carol

Services encouraging us all

to raise our voices in the

seasonal songs we remember

from our childhood, as well as

concerts, talks and recitals.

It is a time when churches

and faith-based organisations

remind us of how fortunate

Anglican

we are and that it is possible

to give gifts of hope that will

make a true difference at

this time of year. Christmas

is, after all, about giving nor

receiving.

So why not take a moment

away wrapping the expensive

electronics to reflect on the

true meaning of the season

and call into your nearest

church – all are always

welcome, regardless of their

faith, and especially so at

Christmas.

Christmas at

St Christopher's

We welcome and invite you to join us

as we celebrate that Jesus, God's king

has come.

Sunday 23 December

9:30am Combined Advent service

Monday 24 December

6:30pm Kids' Christmas Eve service

11:00pm Midnight Christmas service

Tuesday 25 December

9:30am Family Christmas Day service

244 Avonhead Rd. Phone 358-8780

www.stchristophers.org.nz

Christmas at the

Transitional Cathedral

FRIDAY 21 DECEMBER

3.00pm Children's Christmas Service

with Animals

SUNDAY 23 DECEMBER

8.00am Holy Eucharist

10.00am Choral Eucharist

7.30pm Service of 9 Lessons & Carols

MONDAY 24 DECEMBER ~

Christmas Eve

6.00pm Carol Recital by the Cathedral Choir

10.15pm Carol Singing

11.00pm The First Eucharist of

Christmas

Preacher: Dean Lawrence Kimberley

Music: The Cathedral Choir

TUESDAY 25 DECEMBER ~ Christmas

8.00am Holy Eucharist & Carols

10.00am Choral Eucharist

Preacher: Revd Ben Randall

Music: The Cathedral Choir

5.00pm Choral Evensong

Music: The men of the Cathedral Choir

234 Hereford St

Latimer Square

NOR'WEST NEWS

ChristChurch

Cathedral

Transitional
---
NOR'WEST NEWS Latest Christchurch news at www.star.kiwi

Tuesday December 18 2018 23

What's On

Entertainment

To advertise, contact

Jo Fuller 027 458 8590

jo.fuller@starmedia.kiwi

Karaoke

GRAND FINAL

Get all 'Christmasy' with us!

PRE-CHRISTMAS

FUNCTIONS, PARTIES,

WORK BREAK UPS.

CHECK OUT OUR

SET MENUS

AVAILABLE LUNCH & DINNER DAILY

UNTIL 24/12/18 FOR PARTIES OF 10 OR MORE

SORRY, WE ARE CLOSED CHRISTMAS DAY

The

RESTAURANT & CAFÉ

0pen daily from 6.30am

Breakfast, Lunch & Dinner

RACECOURSE HOTEL

& Motorlodge

118 Racecourse Rd, Sockburn,

Christchurch. Ph 03 342 7150

www.racecoursehotel.co.nz

IT'S GOING TO BE TOUGH. WHO WILL WIN THE GRAND TITLE?

COME ALONG AND SEE! IT'S GOING TO BE AN AWESOME NIGHT!

7PM THIS THURSDAY 20 DEC

Settlers Cafe, Bar & Restaurant | 1060 Ferry Rd, Ferrymead | p. 03 376 4448

COMING EVENTS

Wednesday

OPEN MIC WITH LYNN

(formerly Janes Wine Bar)

Thursday 7PM

KARAOKE TALENT QUEST

GRAND FINAL

Friday 7.30PM

NEIL ALEXANDER

Saturday 7.30PM

LYNN TIMPANY

Sunday 2PM

MUSO'S XMAS JAM

POOL COMPETITION

EVERY SUNDAY FROM 2PM

Settlers Bar is striving to

become, with your help,

the next entertainment hub

of Christchurch, focussing

on Open Mic Nights, Jam

Sessions, Live Music

catering for most ages,

Karaoke, and other

entertainment most nights.

As we are new, we are

looking for a pool team,

social club etc.

Also having gaming

machines and are

community minded, we

would like to hear from

clubs locally, who we may

be able to offer assistance

to, or would like to run

Raffles or Fundraisers.

SPACIOUS GAMING

MACHINE LOUNGE

NEW

CHEF!

TASTY

NEW

DISHES!

KARAOKE

TALENT QUEST

GRAND

FINAL

7PM THIS THURSDAY

FRIDAY WORK

SHOUT

ENTER YOUR BIZ

CARD IN THE DRAW

AND BE IN TO WIN!

Lunch & Dinner

All you can eat, 7 days

Bookings Essential PH 386 0088

fb.com/GardenHotelRestaurant www.gardenhotel.co.nz

SERVING

HAPPY HOUR

5PM - 7PM DAILY

ON NOW UNTIL MONDAY 24 DEC

LET US TAKE CARE OF YOUR

CHRISTMAS PARTY

LUNCH

MON - FRI $24.50

SAT - SUN $25.50

DINNER

MON - THU $31.50

FRI - SUN $33.50

*SENIOR CITIZENS DISCOUNT AVAILABLE

OUR CABINET ITEMS

ARE HOMEMADE

CREATED FRESH ON SITE DAILY

$12

LUNCH

SPECIALS

Live Music:

5.30PM.SAT 22 DEC

COFFEE

HAPPY

H O U R

2PM-4PM

DAILY

THE GARDEN HOTEL COMPLEX | 110 MARSHLAND RD

www.gardenhotel.co.nz | phone 385 3132

$3.50

Offer available for a limited time

and includes tea, hot chocolate

MON: ROAST MEAL

TUE: FISH & CHIPS

WED: FISH BURGER

THU: ROAST MEAL

SAT: FISH & CHIPS

AVAILABLE

FROM

11.30AM-2PM

FOR A

LIMITED TIME

DnD Duo

Jojo & Mark

PHONE 385 8880 FIND US ON FACEBOOK fb.com/GBCCHCH

HOLIDAY TRADING HOURS

The Buffet Restaurant is closed from

Boxing Day (26 Dec 18)

and reopens on Friday 4th Jan 2019.

GBC will be operating limited hours

(9am - 4pm) from Friday 28th Dec

to New Years Eve; and closed

Tue 1st to Thu 3rd Jan 2019.

We will resume normal business hours from Friday 4th Jan 2019.

We wish everyone a very happy holiday and look forward to seeing you all in the New Year.

1060 Ferry Rd, Ferrymead | p. 03 376 4448 | e. settlersbarcafe@outlook.co.nz

What's On

TUESDAYS & THURSDAYS

MEMBERS LUCKY CARD DRAW

NEW YEARS EVE

MONDAY 31st DEC, 7.30PM

GAME OF TONES

PIERVIEW

RESTAURANT

UPSTAIRS

Open from

5.30pm Fri, Sat,

Sun, and Sunday Brunch

from 10.30am to 2pm.

SUNDAY NIGHT

BUFFET $25

Sunday 30th Dec

NEW YEARS EVE

GRILL & SALAD BAR

$25

Monday 31st Dec

CLUB

BISTRO

DOWNSTAIRS

Open Tues to Sat

12pm - 2pm &

from 5pm

BISTRO ROAST

SPECIAL

Tuesday - Thursday

Dine in only

$12

GAMING ROOM - TAB POD

202 Marine Pde | Ph 388 9416

www.newbrightonclub.co.nz

Members, guests & affiliates welcome

|Cafe | Bar

| Restaurant

H ORNBY

WORKINGMEN'S

CLUB

LIVE MUSIC

SATURDAY 7PM:

REMINISCE WITH

ANTHONY

FAMILY FRIENDLY DINING

Club Café Special

Save the date for

the final

CLUB CAFÉ

CUISINE NIGHT!

Join us for the last of our exciting

Cuisine Nights.

Available for dinner JUST $17.

We've got all the ingredients for a

great night at the CLUB CAFÉ

The Hornby Club | ph 03 349 9026

17 Carmen Rd | Hornby

www.hornbywmc.co.nz

Members, guests & affiliates welcome
---
24 Tuesday December 18 2018

Latest Christchurch news at www.star.kiwi

NOR'WEST NEWS

50 % OFF

Sleep Easy

this Christmas

with our Everyday Dream Prices

SERENITY 6

CLASSIC Sigma

Queen Size Mattress & Base

ONLY $749

EVERYDAY

DREAM

PRICES

SERENITY Carnation

Queen Size Mattress & Base

NOW $1,699

WAS $3,399

50%

OFF

Medium Feel

Firm Feel

SERENITY Jasmine

Queen Size Mattress & Base

NOW $1,899

WAS $3,799

50%

OFF

SERENITY Dahlia

Queen Size Mattress & Base

NOW $1,769

WAS $3,549

50%

OFF

Plush Feel

Medium Feel

Other Sizes & Models Available In-store!

BEDS R US CHRISTCHURCH

166 Moorhouse Ave, (Next To Noel Leeming)

Ph: 03 379 5110