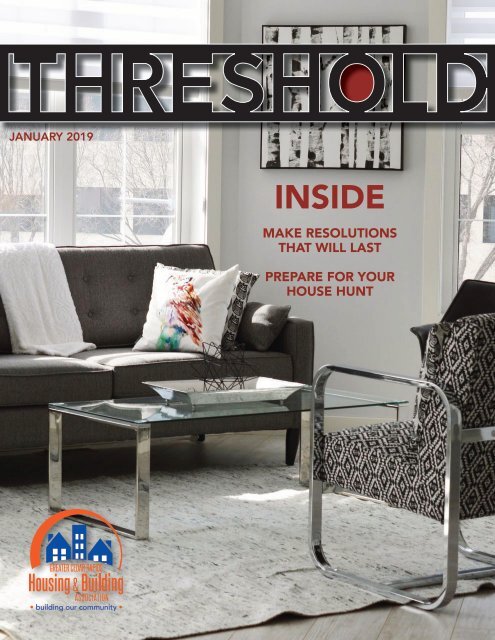 Create successful ePaper yourself
Turn your PDF publications into a flip-book with our unique Google optimized e-Paper software.
JANUARY 2019

INSIDE

MAKE RESOLUTIONS

THAT WILL LAST

PREPARE FOR YOUR

HOUSE HUNT
---
FEATURES

TABLE OF CONTENTS

6

BEFORE YOU BUY:

IMPORTANT STEPS

TO PREPARE

FOR YOUR

HOUSE HUNT

10

MAKE RESOLUTIONS INSIDE

THAT WILL LAST

8 SAVE THE DATE

12 SUPPORT SMALL BUSINESSES

13 SPONSOR OPPORTUNITIES

14 THE SPIKE CLUB

15 NEW MEMBERS

16 LEISURE ZONE GAME NIGHT

17 GCRHBA BOARD

THRESHOLD IS A MONTHLY MAGAZINE PRESENTED BY

THE GREATER CEDAR RAPIDS HOUSING & BUILDING ASSOCIATION

2 THRESHOLD JANUARY 2019
---
EXECUTIVE OFFICER'S MESSAGE

Positive Changes Coming in 2019

MELISSA

OLSON

Happy New Year! I hope everyone

had a wonderful holiday

season. As we enter a new

year, I foresee some positive

changes coming our way in

2019. Our senior leadership is

creating a strategic plan to add

value to membership, help our

members market themselves to

our community, address issues

affecting our industry, continue our efforts of

Building Our Community, and much more.

To successfully implement that plan, an active

membership base is the core ingredient of any

successful association. With a membership of

over 300+ professionals, everyone's voice is vital.

We have some great committees that play an

important role in your association. We want to

hear from you. Giving your time and knowledge

is invaluable so please sign up for a committee

today. Please see page 5 for a complete list of our

committees and email me at eo@crhba.org if you

are interested in joining any of the committees.

One of the biggest benefits to belonging to

the GCRHBA is networking. In 2019, we have

some great networking events that our members

can attend. Networking events are excellent opportunities

to grow your connections and potentially

lead to new business. Please check out

our 2019 Save the Date, page 8, and put these

events on your calendar so you don't miss out.

Along with our events, we offer invaluable

sponsorship opportunities. These opportunities

help you grow your business and create recognition.

Please see page 13 for a complete list

of opportunities. If you are interested or have

any questions, please do not hesitate to reach

out. We want to partner with you to make these

opportunities successful for your company.

Sincerely,

Melissa Olson, Executive Officer

Greater Cedar Rapids Housing & Building

Association

MEMBERSHIP VALUE

Access to expert staff advisors who can

address your business questions. Our

experts include distinguished economists,

tax specialists, legal research staff, financial

experts and regulatory and technical

specialists. Members also benefit from

economic analysis and housing research,

as well as research into innovative building

products and construction techniques.

THRESHOLD JANUARY 2019 3
---
PRESIDENT'S MESSAGE

New Challenges in 2019

Happy New Year! I wish everyone continued

success and positive outcomes for

2019 in both your business and family

life. I truly believe our families come first

and time is our most precious gift. Just

think if time was unlimited, no clocks, no

deadlines. What would you do with your

ROB HAJEK time? Are you spending enough time with

your kids, parents, family and friends?

Are you volunteering or giving your time to things that are

important in your heart and give you passion in life? Allocating

our time is a tremendous task. A book that truly

puts things in perspective about life and I encourage you

to read is "When the game is over it all goes back into the

box," by John Ortberg.

Have you noticed it is easier for most people to give

money than time to a cause? Our association is no different.

You invest around $500 to belong to this association

as you believe in its purpose and benefits. We expect our

association to help make changes, find solutions and advocate

for our industry. Have you also noticed the 80/20

rule at play with our association? About 20% of our membership

is involved and participates on a regular basis, doing

80% of the work it takes to accomplish our goals and

desired changes? The whole reason why you belong, right.

I challenge each of you to what I call "1 in 11" program

this year. Our HBA is very active from January through November

with December being a month to reflect, plan and

celebrate our accomplishments. For the first 11 months

of the year all the hard work is done. This is where we

need your help! Just think, if you could devote 1 hour of

your time for 11 months, what we could accomplish with

our 300 plus members being actively involved. I challenge

you to be active in one of our committees (see the list and

chairs on the next page) come to a special outing or social

event, attend our general membership meeting. It takes all

of us with different backgrounds, perspectives and ideas

to provide a wide range value services. We need to utilize

your talents!

This time of year, allows me to reflect on what is truly

important in my life, spend time with family and friends,

set goals, dream big, plan for our future, self-reflect and

determine how to make a difference in the things I am passionate

about. I hope you will too. As your HBA president,

two of my goals are to be a better listener and surround

myself with skilled and talented people like you. I ask for

your help in accomplishing both goals. With your time

and input it will be exciting to see what we can accomplish.

God bless you all!

Rob Hajek, President

Greater Cedar Rapids Housing & Building Association

RUSSELL FAUST

It is with deep sympathy we

acknowledge the recent passing of our

long-time member Russell Faust, coowner

and operator of Faust Millwork

and Cabinetry. Russell passed away

Tuesday, December 11. Please click

here for the obituary. We express our

condolences to Russell's family.

4 THRESHOLD JANUARY 2019
---
COMMITTEES

Our committees are essential to the success of our association. Committee participation is the

greatest avenue for members to have their voice heard and to influence the activities of the

association. If you are interested in joining a committee, please email Melissa at eo@crhba.org.

MEMBERSHIP COMMITTEE

The focus of this committee is the ongoing goal to recruit and retain members. The committee will meet

monthly and be tasked to approve new member applications, contact members regarding renewing their membership,

and reach out to potential new members to share the benefits of belonging to the GCRHBA. Chaired

by Ray Vasser.

NAIL DRIVERS OPEN COMMITTEE

This committee organizes our Nail Drivers Open each year. The committee meets a few times prior as well as

works the day of the August event. Chaired by Justin and Sarah Zimmerman.

PARADE OF HOMES COMMITTEE

The Parade of Homes Committee is responsible for organizing the details of the Spring and Fall Parade of

Homes such as dates, times, procedures, etc. This committee only meets a few times each year to review the

previous parade and plan for the upcoming parade. Chaired by Randy Dostal and Joe Sattler.

REMODELERS COUNCIL

The objectives of the Council shall be to serve the special needs and promote the activities and interests of

members and prospective members involved in the remodeling segment of the construction industry. In pursuit

of this objective, the Council may:

a) Develop programs and services to improve the business practices of members.

b) Provide quality education programs and opportunities for individuals involved in all facets of the remodeling

segment.

c) Cooperate with other organizations to advance mutual objectives.

d) Work with affiliated national and state associations to generate member services.

e) Increase the number of members active in the remodeling segment.

TRAP SHOOT COMMITTEE

This committee organizes our Trap Shoot each

year. The committee meets a few times prior

as well as works the day of the June event.

Chaired by JR Blok and Ryan Sullivan.

WORKFORCE DEVELOPMENT COMMITTEE

The mission of this new committee is to promote

awareness of our industry to ensure that

there are plenty of employment opportunities

for young people interested in pursuing a career

in building the homes of tomorrow – and

to foster these relationships with the needs of

our industry and this new evolving workforce.

These individuals will be our members down

the road! Chaired by Joe Greathouse.

GREG'S LAWN

& LANDSCAPING

FULL-SERVICE LANDSCAPING AND SNOW REMOVAL COMPANY

ECOLOGICAL • ECONOMICAL • ETHICAL

1200 Continental Place NE

Cedar Rapids

(319) 393-0101

gregslawn.com

THRESHOLD JANUARY 2019 5
---
BEFORE YOU BUY:

Important Steps to Prepare

for Your House Hunt

If you are thinking of buying a new home, you must pay

close attention to many details to ensure that you find

one that will suit your needs and preferences. Before

you begin your house hunt, here are a few steps you

should take to help you find the home of your dreams.

STEP 1:

FINANCING YOUR HOME

The first step to the home buying process

is determining how much you can afford.

STEP 2:

PRIORITIZING MOST-WANTED

FEATURES

Before you start shopping, you should

sit down with the members of your

household to discuss your preferences

and the many options available to you.

An easy way to organize your

thoughts is to write each separate feature

that you want on a 3X5 card and

arrange the cards in order of their importance

to you. For instance, if you like

to cook, you may want a home with a

large, well-equipped kitchen. Or you

may settle for a small kitchen, so that

you can have extra space for a library,

office or playroom.

Some home buyers seek large, open

interior spaces, while others prefer traditional

rooms that afford more privacy.

While looking for a home, consider

whether your needs are likely to

change over time. If you plan to add

rooms, find out if there is enough space

on your site for such expansion and

whether such additions are permitted

by your local jurisdiction.

STEP 3:

SELECTING THE TYPE OF HOME

Options include single-family homes

and condominiums. Some home buyers

prefer homes with large yards. Others

opt for condominiums where they

can avoid yard maintenance entirely.

With a single-family home in a development,

you'll be responsible for

your own yard and home, but may be

restricted to certain design elements

or other regulations if there is a home

owners association.

A condominium is a home in a multiunit

complex, such as an apartment

building or a townhouse cluster. You

own the home, and you and your neighbors

jointly own the common elements,

such as the land around the complex, the

parking areas, building exteriors, hallways,

utility pipes and recreational facili-

6 THRESHOLD JANUARY 2019
---
ties. A condominium owners association

is responsible for maintaining the jointly

owned elements. The day-to-day business

of the complex is generally handled

by a managing agency.

The owner of each condominium

unit has a vote in the affairs of the community.

Each owner pays a fee to cover

the operating expenses of the property

and usually contributes to a reserve fund

for replacements (such as a new roof) or

improvements (such as decorative landscaping

to improve the value of the property).

Changes and improvements to the

complex may be made only as you and

your co-owners desire. You are responsible

for maintaining the interior of your

condominium unit. Typically, you will

not have to perform outdoor chores.

STEP 4:

STARTING YOUR HOUSE HUNT

Now that you know the type of home

and features you are looking for, and

how much home you can afford, you're

ready to begin searching for your perfect

home. Whether you use a Realtor to find

an existing home or work with a builder

to buy a new home, you'll be more focused

with your search. T

CLICK HERE TO FIND YOUR

LOCAL HBA REAL ESTATE

COMPANIES AND AGENTS

Article provided by National Association of Home Builders

THRESHOLD JANUARY 2019 7
---
SAVE THE DATE

JANUARY 24 Leisure Zone Game Night

FEBRUARY 22, 23, 24 Home Show

MARCH 14 KBD Spring Soiree

APRIL 11 UICCU Cedar Rapids/Iowa City HBA Spring Mixer

APRIL 27, 28 and MAY 2, 4, 5 Spring 2019 Parade of Homes

MAY 23 Ferguson Wine & Beer Tasting

JUNE 13 Iowa Stone Supply Mixer

JULY 11 Remodelers Night Out

AUGUST 8 Dupaco Community Credit Union Mixer

AUGUST 23 Nail Drivers Open

SEPTEMBER 12 Kinzler Construction Cedar Rapids/Iowa City HBA Fall Mixer

SEPTEMBER 21, 22, 26, 28, 29 Fall 2019 Parade of Homes

SEPTEMBER 25 Members Only Parade of Homes Breakfast and Tour

OCTOBER 10 Trap Shoot & Barbeque Smoke Off (rain date October 17)

OCTOBER 24 Suburban Lumber Oktoberfest

NOVEMBER 14 Annual Awards Banquet

8 THRESHOLD JANUARY 2019
---
THRESHOLD JANUARY 2019 9
---
Make Resolutions that Will Last

Beyond the New Year

Every New Year, do you make

the same old resolutions? Go

to the gym. Quit smoking.

Be more organized. Then,

like many people, do you

abandon these goals within a

month or two?

Here are some resolutions

you can make — and keep —

that will benefit not only you,

but also your family, your

community and your world.

Improve

Your Home's Safety

There are lots of little things you can do around the house to

give yourself big peace of mind that your family is protected

from all-too-common household accidents. For example, to

avoid electrical shocks, place covers over all outlets and tie

up or unplug cords so they don't dangle temptingly in front

of toddlers or pets.

Home electrical problems account for 67,800 fires during a

typical year, according to the U.S. Fire Administration. Inspect

appliance cords and immediately replace any that are worn,

old or damaged. Keep clothes, curtains and other potentially

combustible items at least three feet from all heaters. Make

sure electrical appliances are used and stored away from wet

floors and counters.

Your home's windows need to be accessible in case your

family has to use them as an escape route. Make sure they are

not nailed or painted shut, and if they have guards, security

bars, grilles or grates, test the release mechanism to make

sure it works.

On the other hand, windows can pose a falling hazard.

Make sure screens are

secure and keep furniture

— or anything children

can climb — away

from window ledges.

Article provided by National Association of Home Builders

10 THRESHOLD JANUARY 2019
---
Save Money

by Going Green

Prices for fuel oil, propane and electricity are

always on the rise, so even the smallest improvements

could help your family's budget. Replacing

incandescent light bulbs with compact fluorescents

can save you up to three-quarters of the electricity

previously used by incandescent bulbs.

Make sure you change your furnace filter

regularly. A dirty filter will make the furnace work

harder to regulate the temperature and will cost

you money.

Put an insulating blanket on your water heater.

The U.S. Department of Energy says that adding

insulation to your heater can reduce standby heat

losses by 25%-45% and save 4%-9% in water heating

costs. The blankets cost anywhere from $15 to

$50 and are easy to install.

Invest in a programmable thermostat and set it

to lower the heat automatically when your home

is empty during the workday, and at night when

everyone is asleep. Programmable thermostats

can save about $180 per year in energy costs,

according to Energy Star, a joint program of the

U.S. Environmental Protection Agency and the U.S.

Department of Energy.

Conserve water, and reduce your water bill, by

making simple changes such as running dishwashers

and clothes washers only when they are full and

taking short showers instead of baths and turning

off the water when you are shampooing or soaping.

De-Clutter

and Help Others

Donating your unused items to charity could be

a lifesaver for homeless or needy families. If it's

in good condition, your out-of-style or outgrown

clothing could keep a family warm during the

cold weather months.

Many local charities also accept donations of

household items that are in working order. That

lamp, toaster or set of dishes gathering dust

in the garage could help furnish a home for a

needy family.

When you redecorate or remodel, don't put

out-of-style-but-usable home furnishings such

as light fixtures, bathroom vanities, and even

doorknobs in the garbage. Habitat for Humanity

ReStores and other organizations will pick up

and re-sell them at a fraction of the cost of new,

and the proceeds help build Habitat homes.

THRESHOLD JANUARY 2019 11
---
Small businesses are the

backbone of America. They

build a strong economy and

strong communities.

Many builders, remodelers and

related businesses in the housing

industry are small businesses

making vital contributions to our

economy. In fact, 15% of the U.S.

economy relies on housing.

A healthy housing industry

means more jobs and a stronger

economy. Constructing 100 new

single-family homes creates 297

full-time jobs, $28 million in wage

and business income and $11.1

million in federal, state and local

tax revenue.

Housing, like no other business

sector, is "Made in America." Most

of the products used in home

construction and remodeling are

manufactured here in the United

States.

That's why it's important to

support small businesses.

CLICK HERE FOR DIRECTORY

OF LOCAL HBA MEMBERS

Article provided by National Association of Home Builders

12 THRESHOLD JANUARY 2019
---
2019 SPONSORSHIP

OPPORTUNITIES

SUPPORTING SPONSOR

$200/event

Available for the following events:

1. Home Show Reception (February)

2. Remodelers Night Out (July)

3. Nail Drivers Open (August)

4. Trap Shoot (October)

5. Annual Awards Banquet (November)

SIGN UP FOR ALL 5

EVENTS AND RECEIVE

20% OFF!

• Company name/logo on all event promotional materials including

event webpage, emails sent to 350+ GCRHBA members, and

THRESHOLD Magazine sent to 8,600 members and consumers

• Company name/logo printed on sponsor flyers

• Nail Drivers Open: Sponsor sign displayed on golf course

• Sponsor recognition during event

PLUS be included on

our 2019 sponsors

plaque that will be

displayed at the

GCRHBA office for

years to come!

NAIL DRIVERS OPEN HOLE

SPONSORS

are reserved for our 2018 sponsors. Please email

Melissa to be placed on our waiting list.

PARADE OF HOMES

SUPPORTING SPONSOR

Want to advertise not only to other GCRHBA

members but also to your consumers? We have

the perfect sponsor package for you!

HOST SPONSOR

Hosting an event at your place of business is

a great opportunity to bring other GCRHBA

members to you! If you are interested, please

email Melissa for availability.

If you are interested in

sponsoring or hosting

an event, please email

Melissa at

eo@crhba.org

THRESHOLD JANUARY 2019 13
---
THE SPIKE CLUB

Growing our Strength

through Member Recruitment, Retention and Involvement

Recruiting new members to your local association is

an activity recognized and rewarded through the Spike

Club. Those who participate are called Spikes, and they

are among the most valued members of the association.

Member-to-member recruitment and retention efforts

are the largest source of growth for the federation.

Spikes bring grassroots growth and stability. These

efforts lend to the development of the general membership

and our leadership pipeline, keeping the face

of the federation true to that of our industry and the

scope of interests we represent.

Spikes are the membership leaders of our federation,

building the voice, power and influence on every level,

in every state.

14 THRESHOLD JANUARY 2019
---
SPIKE MEMBERS

SUPER SPIKE

James Sattler 466.00

Mike Farr 347.75

ROYAL SPIKE

Michael Flynn 268.25

Mike Sattler 224.50

Wayne Winn 208.75

Randy Dostal 183.50

Rob Hajek 173.50

Tom Takes 171.00

Doug Kohoutek 168.25

Jim Buresh 158.25

RED SPIKE

Mark Wood 126.00

Drew Retz 118.00

Tari Dailey 110.75

Alvin Frey 103.25

GREEN SPIKE

Joseph Ahmann 75.50

Robert Meyer 74.50

Paul Brundell 71.00

Jim McGrew 70.50

YELLOW SPIKE

Joe Sattler 44.00

JR Blok 43.50

Steve Erusha 42.00

Ron Valenta 34.00

BLUE SPIKE

Todd Frazier 24.00

Kyle Skogman 23.50

Chad Pelley 22.50

Bryan Thumma 21.00

Benton Frey 14.00

Brian Ophoff 12.50

Ray Vasser 11.00

Chris Mottinger 9.50

Dustin Lee 7.50

Dustin Kern 6.00

Jeff Platten 6.00

SPIKE

CANDIDATES

Six (6) credits needed to

become a SPIKE MEMBER

Bob Rathje 6.00

Paul Scallon 5.50

Mark Sillman 5.50

Tom Kurtz 5.00

Mark Ralston 5.00

Chuck Rhode 5.00

Todd Richardson 5.00

Pat Sauter 5.00

Jeff Melcher 5.00

Al Sattler 5.00

Ben Dahl 4.50

Jerry Sunderman 4.50

Timothy Vaske 4.00

Todd Wood 4.00

Kirk Sadilek 3.50

Jamie Buresh 3.00

Chad Kelly 3.00

TJ Heefner 2.50

Terry Bjornsen 2.00

Matt Burger 2.00

Rex Hamilton 2.00

Jennifer Hughes 2.00

Brad Joens 2.00

Dave Vanous 2.00

Mark Bertelli 1.50

Marc Daubitz 1.50

Brian Hancock 1.50

Mike Delaney 1.00

Casey Johannes 1.00

Hanna Kustes 1.00

Mike Ludvicek 1.00

Brad Nielson 1.00

Justin Wright 1.00

Zechariah Garman .50

NEW

MEMBERS

Christina Reel

Precision Drywall

Jeremy Tipton

Iowa Realty

A new

challenge

begins!

With a new year,

comes a new

challenge.

Who will wear a

crown in 2019?

THRESHOLD JANUARY 2019 15
---
Game Night

Thursday, January 24

5-7 p.m.

Leisure Zone

2343 Blairs Ferry Road NE

Join us at the

Leisure Zone showroom:

Play Billiards, Pool, Shuffleboard, Ping-

Pong, Air Hockey, Foosball, Darts

Take a soak in one of our hot tubs – bring

your suit!

Enjoy hors d'oeuvres, beer and other

beverages

Meet the new GCRHBA member team

and learn what we have to offer

Register online at

www.crhba.org

by January 22

16 THRESHOLD JANUARY 2019
---
Connect with Us

President

Board Member

Board Member

Rob Hajek

Home Repair Team

Office: 319.626.4663

robh@homerepairteam.com

JR Blok

Blok Construction

Office: 319.533.4394

jrblok2@mchsi.com

Drew Retz

Jerry's Homes, Inc.

Office: 319.294.2290

drewr@jerryshomes.com

Vice-President

Dustin Kern

DK Land Services, Inc.

Office: 319.654.6706

dustin@dklandservices.com

Board Member

Randy Dostal

Thomas Dostal Developers

Office: 319.431.3881

allamericanlc@hotmail.com

Board Member

Robert Riley

Windows by Pella, Inc.

Office: 319.363.5768

robert.pellawindows@gmail.com

Second Vice-President

Jim Sattler

Jim Sattler Custom Homes

Office: 319.395.9157

jsattler@sattlerinc.com

Board Member

Mike Flynn

Flynn Homes, Inc.

Office: 319.366.6826

mike@flynnhomes.com

Board Member

Hunter Skogman

Skogman Homes

Office: 319.363.8285

hskogman@skogman.com

Treasurer

Justin Zimmerman

CliftonLarsonAllen, LLP

Office: 319.363.2697

justin.zimmerman@claconnect.com

Board Member

Benton Frey

Frey Homes, LLC

Office: 319.640.2300

benton@freyhomes.com

Board Member

Dean A. Spina

Bradley & Riley PC

Office: 319.861.8725

dspina@bradleyriley.com

Secretary

Andrea Rhoades

Corridor Business Journal

Office: 319.665.6397

Andrea@corridorbusiness.com

Board Member

Joe Greathouse

Kirkwood Community College

Office: 319.398.5411

joe.greathouse@kirkwood.edu

Board Member

Ryan Sullivan

Amerhart, Ltd.

Office: 608.825.3322

ryan.sullivan@amerhart.com

Immediate Past President

Mike Farr

Cascade Manufacturing Co.

Office: 563.852.3231

mgfarr@cascade-mfg-co.com

Board Member

Jim McGrew

Suburban Lumber Company

Office: 319.362.3115

jmcgrew@suburbanlumber.com

Board Member

Bryan Thumma

Affordable Heating & Cooling

Office: 319.462.3638

bryan.thumma@affordable-hvac.com

Remodelers Council First

Vice-Chair

Greg Steffen

Advanced Custom Counters

Office: 319.378.8677

greg@acctops.com

Board Member

Amy Miller

Hills Bank and Trust Company

Office: 319.654.8007

amy_miller@hillsbank.com

Executive Officer

Melissa Olson

Greater Cedar Rapids Housing &

Building Association

Office: 319.395.0778

eo@crhba.org

THRESHOLD JANUARY 2019 17
---
Need a

?

Visit crhba.org for all your

housing & building needs.

• Free Referrals • Reputable Members • Peace of Mind •

18 THRESHOLD JANUARY 2019

crhba.org • 319.395.0778