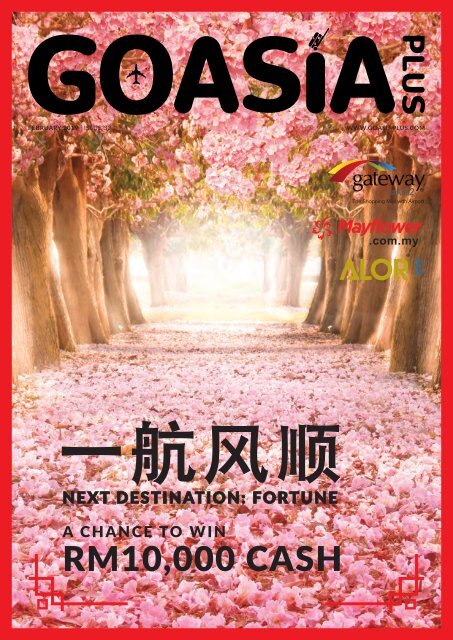 You also want an ePaper? Increase the reach of your titles
YUMPU automatically turns print PDFs into web optimized ePapers that Google loves.
FEBRUARY 2019 | ISSUE 33

WWW.GOASIAPLUS.COM

NEXT DESTINATION: FORTUNE

A CHANCE TO WIN

RM10,000 CASH
---
CONTENTS

6 ON THE RADAR

26

8 OUT & ABOUT

10 INSIGHT

Flying High with

GOFAY Airways

12 TRAVEL

Spotted in Asia: Song

Doong Cave, Vietnam

14 FOOD

Reunion in Oriental Style

18 INSIGHT

Paintings of a Father

21 TRAVEL

Edge of the Wonderland

24 TRAVEL

Dalat, Vietnam

26 TRAVEL

Saying "I Do" Abroad

38 TALES ON TRACK

Lost & Found

21

COVER BY

GATEWAY@KLIA2

EDITORIAL TEAM

GROUP HEAD & BRANDS

JOHN SO

GRAPHIC DESIGNER

JAMIE SOO-HOO

SENIOR WRITER

JESSY WONG

PHOTOGRAPHER

RICK CHEAH

CONTRIBUTORS

FRANCIS YIP, ANGELA HAN & NG SHEN LEE

DIGITAL TEAM

WEB CONTENT

JESSY WONG

EDITORIAL ENQUIRIES

EDITORIAL@PCOMASIA.COM

SENIOR MANAGER

SALES & MARKETING

YONG WANG CHING

YONG@PCOMASIA.COM

COMMERCIAL & PARTNERSHIP

JOHN SO

JOHNSO@PCOMASIA.COM

PUBLISHED BY

PUBLISHCOM ASIA SDN. BHD.

NO. 83–1, JALAN MEDANG SERAI, BUKIT BANDARAYA,

59100 KUALA LUMPUR, MALAYSIA.

+603–20118983 WWW.PCOMASIA.COM

PRINTED BY

PERCETAKAN TURBO SDN. BHD.

NO. 8, JALAN SEKINCAN 26/9,

SECTION 26, SHAH ALAM 40000, MALAYSIA.

The views expressed in the articles published are not necessarily those

of Publishcom Asia Sdn Bhd (963236–P). While every reasonable care is

taken in compiling the magazine, the publisher shall not be held liable for

any omission, error or inaccuracy. Please notify the publisher in writing of

any such omission, error or inaccuracy. Editorial contributions are welcome,

but unsolicited materials are submitted at the sender's risk. The publisher

cannot accept any responsibility for loss or damage. All rights reserved by

Publishcom Asia Sdn Bhd (963236–P). No part of this publication may be

reproduced in any form without the publisher's permission in writing.

KDN PP 19019/05/2016 (034482)

2 · WWW.GOASIAPLUS.COM
---
EDITOR'S NOTE

John So

Publisher

This year of Boar is a special one for me as it

would mark my first Chinese New Year as a

married man and celebrating it with members

from my wife's family!

It definitely feels strange after being on the other

side of receiving ang pows for so many years, now it

is my turn to bestow joy to others. Also according to

tradition, newly married couple have to give double

ang pow for their first Chinese New Year.

Well, nothing stays the same forever and the only

constant thing is change. Albeit the challenge, we

have to learn on how to be flexible and know how to

adapt to fit in to the ever evolving world.

Due to innovation and technology, without a

doubt, what worked 1 year ago may not work so well

today. So, it is best to not fear change, instead we

embrace it. With dedication and the right mindset,

life can bring us to our dream destinations.

I wish everyone a safe travel back to your

hometown and happy holidays!

PUFF AND PASS

Photo ADOBE STOCK

PICK-UP

POINTS

Read our magazine exclusively in Aerobus airport shuttles

or bring home a copy of GOASIAPLUS with you at these

pick-up points below:

GATEWAY@KLIA2

AIRPORT SHOPPING MALL

KLIA

INFORMATION COUNTER AT

DEPARTURE MAIN TERMINAL

& SATELLITE BUILDING

KLIA EKSPRES

KL SENTRAL

KLIA2

INFORMATION COUNTER,

SATELLITE BUILDING &

INTERNATIONAL ARRIVAL

In this day and age, I have so many sly attackers

that are at constant war with my well-being.

These 'bandits' are not natural but they have

claimed an immutable presence, a growing thorn

in my side and everyone else's.

Major investors of the game belong to vehicle

emissions, solid fuel combustion and industrial

emissions. Slowly built up, these attackers take

a long-term and require multiple efforts to be

reduced. However, the pollutant that could be

halted with an individual's attempt is no other

than nicotine.

The everyday's environment is covered with

nicotine lingering in the air and surfaces, which

you are all familiar with and would instantly

know that people have been smoking there. It

only takes 5 minutes for nicotine to penetrate

human skin and stiffens the aorta when a nonsmoker

is exposed to it.

Skin absorbs as much nicotine as inhalation

so Malaysia's no smoking in premises policy

may be of help to mitigate the health impacts to

secondhand smokers. Think of me like a sponge

that had to unwillingly absorb these pollutants

and carry it to the innocents. Enough of taking

me for granted and try to make this world a

better place.

Always dense,

The air we breath

4 · WWW.GOASIAPLUS.COM
---
NEWS

ON THE RADAR

GET UP TO DATE ON THE LATEST HAPPENINGS ON

TRAVEL, HOTEL OPENINGS, FOOD OFFERS AND

TRENDING FASHION AROUND SOUTHEAST ASIA

BEARY LOVELY VALENTINE'S DAY

Look no further for an adorable cake to celebrate

with your lover this Valentine's Day. Topped with a

little cute bear, Swensen's Beary Lovely Cake is in

the sweetest shade of pink made with Cookies 'N'

Cream and Strawberry ice-cream flavours. The cake

is available for purchase till 28 February 2019 only.

Available at all Swensen's and Earle Swensen's

Singapore outlets

A SEASON OF NEW

BEGINNINGS WITH

SK-II

SK-II is celebrating

Chinese New Year

with the brand's most

awarded best-seller,

presented in bold

and modern graphic.

SK-II Facial Treatment Essence is wrapped in vibrant red and a

playful swirl as a subtle representation of a Chinese character for

"spring", also an allusion to new beginnings. This limited-edition

SK-II Facial Treatment Essence is sold at RM716.

Available at SK-II counters nationwide

PRINTING MEMORIES

ON THE GO

The smallest and lightest photo printer

is introduced by Canon to bring back

the joy of sharing printed photo in the

moment with style. Canon Mini Photo

Printer has a superior image quality that

are both scratch-resistant and smudgeproof,

using colour dry-printing without

the use of ink cartridges.

Pair the photo printer via Bluetooth

for immediate photo printing from your

smartphone. Each Canon Mini Photo

Printer (Model number: PV-123) comes

with a starter pack of ten sheets of photo

paper and a charging cable. Available in

Slate Grey, Rose Gold and Mint Green,

the unit is priced at RM499.

Available for purchase on Lazada

http://bit.ly/CanonMini

6 · WWW.GOASIAPLUS.COM
---
EVENTS

OUT & ABOUT

LOOK OUT FOR THE MOST ANTICIPATED EVENTS OF

THE MONTH IN MALAYSIA AND BEYOND

NICKELBACK FEED THE MACHINE TOUR

20 FEB

Formed since 1995, this Canadian multi-platinum

rock band will be holding their first concert in

Southeast Asia through this tour in promotion

of their ninth studio album 'Feed The Machine'

released in June 2017. Nickelback's success has

been considered the second best-selling foreign

act in the United States only behind The Beatles.

Zepp@Bigbox, Singapore

www.sistic.com.sg

HAPPY CHINESE NEW YEAR MY LOVE

LIVE IN GENTING 2019

9 FEB

The local singing sensation Nick Chung will

be joined onstage by his celebrity sister,

Stella Chung to welcome this year's Chinese

New Year. The brother-sister duo made it an

annual event to release Chinese New Year

album every year so do expect new rendition

of classic festive songs from the duo.

Arena of Stars, Resorts World Genting

www.rwgenting.com

#JAMNIGHT LIVE! WITH HONNE

& FRIENDS

20 FEB

Britain's well-known electronic duo James

Hatcher and Andy Clutterbuck are returning to

Bangkok for jam night after their sold-out shows

in Europe and worldwide festival tours. Their

latest studio album 'Love Me / Love Me Not' is a

sophomore set released for summer of 2018.

Thunder Dome, Bangkok, Thailand

www.ticketmelon.com

BLACKPINK 2019

WORLD TOUR

23-24 FEB

One of South Korea's

most successful idol

group slowly makes their

way across Asia for their

first world tour. Debuted

under YG Entertainment,

Jisoo, Jennie, Rose and

Lisa are the first K-pop

girl group to have 4

number-one singles on

Billboard's World Digital

Song Sales chart and

making waves with every

single released.

Malawati Indoor

Stadium,

Shah Alam, Selangor

www.macpiepro.com

NATIONAL CRAFT DAY

29 FEB-10 MARCH

Malaysia has wonderful variety of handicrafts

in forms of traditional arts and trades that

identifies with different cultures in the country.

The National Craft Day is a celebration for

local craft entrepreneurs in recognition of

their dedication and efforts in preserving and

expanding the craft industry.

Kompleks Kraf Kuala Lumpur, Kuala Lumpur

www.kraftangan.gov.my

8 · WWW.GOASIAPLUS.COM
---
INSIGHT

1

1 Airline partner of Gofay

Airways is Sriwijaya Air

2 Manager of YOU Wings

Holidays, Mr. Leong Yong Jian

3 The interior of Boeing B738-

800 aircraft

FLYING HIGH

WITH GOFAY

AIRWAYS

A COMPANY PIONEERING IN PAVING THE

WAY FOR THE COUNTRY'S SECONDARY

AIRPORTS IS EARNEST IN DIVERSIFYING

MALAYSIA'S TRAVEL INDUSTRY THROUGH

CHARTERED INTERNATIONAL FLIGHTS AND

TRENDSETTING MOBILE TRAVEL APP.

Text JESSY WONG

Photos RICK CHEAH & GOFAY AIRWAYS

Gofay Airways breaks the ground in air travelling since their

establishment in 2016. Forming close ties with one of Indonesia's

biggest airlines, Sriwijaya Air, Gofay Airways is the only Malaysia

representative that links traditional demands with personalised services on

board with global chartered flights.

EASY CONNECTIVITY

Based in Kuala Lumpur, Gofay Airways is the only international operator of

Sriwijaya Air for an air network that extends beyond Indonesia. Prizing on

shorter travelling hours and cheaper ticketing options, the chartered airway

routes includes flying to smaller, secondary airports.

Gofay Airways hopes to drive more travellers to Malaysia and Indonesia

by flying to less-in-demand provinces in the countries. Depending on

destinations and distance, Gofay Airways plans flights from cargo to

passengers and stock to travel.

Among their many flight avenues, the most preferred and in demand

route is definitely PEN-KNO, a direct connectivity between Penang,

Malaysia to Medan, Indonesia.

"Penang is a growing state for medical tourism for people and tourists

2

10 · WWW.GOASIAPLUS.COM
---
INSIGHT

3

"When there is a chartered demand,

there are travel demands too."

in Indonesia. To cater these popular requests, we

even have connectivity between hospitals in Penang

and Medan to arrange air ambulance. The seats have

a flatbed for patients if needed," as shared by Leong

Yong Jian, Sales and Operation Manager for YOU

Wings Holidays.

MORE THAN CHARTERED FLIGHTS

"When there is a chartered demand, there are travel

demands too. We have our sister company–YOU Wings

Holidays–to manage those travel and tours for custommade

packages," Yong Jian explains the company links.

Among plenty other locations, YOU Wings

Holidays majorly hosts inbound travellers from China,

Taiwan and Hong Kong and outbound travellers to

South Korea, Japan and even to Europe.

"Our charter flights and tour company compliment

each other as we provide a full-service from flying to

your destination till you return home. YOU Wings

Holidays have a variety of budget options, locations,

travel style and many participating international

hotel brands."

With YOU Wings Holidays destinations, Yong Jian

is confident to curate travel packages that best fit the

customers down to their choice of meals.

"We believe there is more to come in future.

Gofay Airways will get more exciting routes for all our

supporting passengers. At the same time, we will be

bringing new services in travel and tours and even an

online travel portal".

By second quarter of this year, Gofay Airways is

hoping to introduce a new route from Balik Papan,

Indonesia to Kota Kinabalu, Malaysia.

GOFAY TRAVEL APP

While YOU Wings Holidays is designed for traditional

detailed customer service, Gofay Airways is aiming

to launch Gofay Travel–Malaysia's most extensive

travel app with online self-booking for flights,

accomodation, tour packages, site tickets and

transportation in travels.

Armed with more than 20 software engineers,

Gofay Travel mobile app is set to hit the millenials'

market later this February. The all-in-one mobile

booking platform will have multiple functions for

planning a thorough travel itinerary with a secure

payment system.

All said, Gofay Travel is resolved in reshaping

Malaysia's e-commerce travel industry with its mobile

app launch.

WWW.GOASIAPLUS.COM · 11
---
TRAVEL

SPOTTED: ASIA IN FILMS

SON DOONG CAVE,

Text NG SHEN LEE

VIETNAM Photos ADOBE STOCK

Picture cavernous

depths so immense

an aircraft could fit

right through with ease,

stalagmites as tall as an

apartment building and

an entire self-sustaining

ecosystem of primitive

forests and a rapid

flowing river, all these

inside the passages of a

mammoth cavern known

to be the largest cave in

the world.

This exact scene,

akin to a prehistoric

untouched landscape

was what drew the crew

of Kong: Skull Island to

choose Vietnam's Son

Doong Cave as one of

the filming locations for

the 2017 movie starring

Brie Larson, Tom

Hiddleston and Samuel

L. Jackson.

Son Doong Cave in

Quang Binh Province,

Central Vietnam is

estimated to be up to 5

million years old, though

its official discovery was

made by British Cave

Research Association in

2009, helped by a local

logger named Ho Khahn,

who found it in 1991

when seeking shelter

from rain.

In the film, Son

Doong is featured

as Kong's place of

residence, its colossal

dimensions only fitting

to Kong's supposed size.

With its magnificent

structures, remote

and pristine scenery,

Son Doong and its

surrounding areas like

Ha Long Bay proved

to be exactly what

director Vogt-Roberts

was looking for in terms

of an other-worldly

backdrop "yet untouched

by civilization".

The film's global

success has led Vietnam

Tourism Board to name

Vogt-Roberts, director of

the film as the country's

tourism ambassador for

a 3-year term and set

its sights on promoting

Vietnam as a film

destination.

Good news aside,

developers are planning

to construct a cablecar

system in the area.

Although it has yet

to be confirmed, an

organization called

#savesondoong has

started in an effort to

preserve this place, a

movement backed even

by Barack Obama.

To date, adventure

caving company Oxalis is

the only tour operator of

treks to Son Doong.

FUN

FACTS

While usually only

around 1 centimetre

in size, cave pearls

in Son Doong Cave

have been found to

reach up to the size

of baseballs.

Other filming

locations chosen for

Kong: Skull Island

include Australia

and Hawaii.

Actor Samuel L.

Jackson had told

the Southeast

Asia Global in an

interview that

Vietnam is his

favorite filming

location out of

his entire 40-year

career.

12 · WWW.GOASIAPLUS.COM
---
FOOD

REUNION IN

ORIENTAL STYLE

LIVE THE NIGHT ON ONE OF THE BIGGEST

CELEBRATION IN THE WORLD WHERE

RELATIVES AND FRIENDS REUNITE OVER

TIMELESS SPREADS OF TRADITIONAL CUISINE

AND CAROUSING ON CHINESE NEW YEAR AT

THESE ORIENTAL DWELLINGS IN TOWN.

Text JESSY WONG Photos SIX SENSES, SUZIE WONG,

FU LUCK BAR & HILTON KUALA LUMPUR

Splashes of red decorations and wall hangings

are what you can expect to greet you in most

Chinese household during the festive month.

Yet, some gatherings are held away from home to

be free from the busy kitchen preparations and the

tricky taboo that restricts house cleaning on the

celebratory days.

In a house where no cleaning is allowed after

hosting a party only leaves the group to assemble

elsewhere festive. So take your drinks and holiday

episode to the east where tradition is upheld from

the mixing of classic and contemporary Chinese

culture in food, ambience and drinks that fit an

absolute Chinese New Year celebration.

Night of festal frolic

SUZIE WONG

Step into Suzie Wong and find yourself in the milieu

of the old prosperous Shanghai. There's nothing

more seductive than a fictional reality of classic

glamour from the background and cheongsam-clad

hosts with strings of extravagant performances.

While birdcage light fixtures make the inner scene

sultry, the masculine lounge outside let you sink in

their Cheshire tufted seats and take unassuming sips

of beer from a Chinese teacup.

Mood

Best for friends or business

gathering with grandeur and

partying with cabaret shows.

Cuisine

More on drinks from dine, relish

wanton noodles or steamy shumai

at the noodles place at Suzie Wong

for a post-drink session. The

vintage Hong Kong themed stall

is a notable entrance point to the

exclusive club of Suzie Wong.

Liquor to try

Smoked Old Fashioned (Single malt

whiskey, orange zest and bitters)

Suzie Wong, Wisma Lim Foo Yong,

Jalan Tengah, Kuala Lumpur

+6017 226 6480

www.facebook.com/suziewongasia

14 · WWW.GOASIAPLUS.COM
---
FOOD

"Find yourself in the milieu of

the old prosperous Shanghai.."

Chinese philosophy of culinary

YELLOW POT

Well-located at Six Senses Duxton, Yellow Pot

strikes the scene in Singapore with its bold

accents of black, gold and yellow–turning

old-age traditional recipe trendy again within

the old Chinese shophouse facade. Dining

in the restaurant may satiate your mood and

appetency in the nicely decorated crossover

of Chinese designs and 18th century English

indentures, selected from British designer

Anouska Hempel's personal collection. Under

the large golden fan, Chinese screens and

abundance of yellow pots, the dining enclave

takes pride in a sustainably driven timetested

recipes, headed by Chef Sebastian Goh,

to present a classic and innovative authentic

Chinese cuisine that are organic and free of

unhealthy additives.

Yellow Pot, 88 Duxton Road, Singapore

+65 6914 1420

www.sixsenses.com/hotes/duxton/dining

Mood

Family dining and large

groups for healthy and

hearty meal in luxe

surroundings.

Cuisine

Seafood and meat

dishes at Yellow Pot are

portioned for sharing.

Crispy Sichuan Chicken,

Wok-Seared Organic

Grass-fed Beef Tenderloin

and Sesame-coated

Braised Duck Spring Roll

are some of the authentic

flavours to complement an

oriental dining experience.

Liquor to try

Escape to Kaifeng

(Tanqueray London dry

gin infused with housemade

chrysanthemum

cordial)

WWW.GOASIAPLUS.COM · 15
---
FOOD

Back to the 80s

FU LUCK BAR

Propped above a Chinese roof with hanging red

lanterns, the glowing signage of Fu Luck make heads

turn to the vintage dining scene. The recurring

picture of the most iconic red rooster from classic

Chinese tableware–colourfully parroted on the

ceiling and tables–is a friendly reminder that dredge

up the good old days. Upon entering the restaurant,

an instant throwback to the 80s is only possible

when most of its furnishings and decorations are

reconstructed, custom-made and handcrafted to

match the originals. Equally tasteful is their series of

cocktails that uses tropical flavours to make one feel

like home.

Fu Luck Bar, TREC KL,

438 Jalan Tun Razak, Kuala Lumpur

+603 2110 6938

www.facebook.com/fuluckbar

Mood

Channeling nostalgia over

dinner with company in

oriental antiquity.

Cuisine

Comfort food is served

in oriental tapas concept

for sharing. The freshest

dimsum take shapes

in steamed or crispy

deep-fried served with

Chinese-inspired salads

and 'baowich sliders', a

merge of mantou bao and

sandwich.

Liquor to try

Ice Kacang Cocktails–Full

of Luck (Bacardi Carta

Blanca, mango syrup, lime

juice, mint leaves and jelly)

ALSO

CHECK

OUT

CHYNNA AT HILTON

KUALA LUMPUR

wows the palate with

contemporary Cantonese and

Shanghainese cuisine and an

interactive dimsum kitchen.

Closely resembling an old palace's

abode, another sight to catch

is their dexterous tea-master

that pours a specially brewed

8-Treasure Welcome Tea through

a metre-long spout from his kettle.

16 · WWW.GOASIAPLUS.COM
---
INSIGHT

PAINTINGS

OF A FATHER

BEN CHONG, A MALAYSIAN

CONTEMPORARY ARTIST FOUND

HIS WAY IN CREATING A BRAND

OF LOVE AND COMPASSION

THROUGH HIS AUTISM SERIES

INSPIRED BY HIS SPECIAL CHILD.

Text JESSY WONG • Photos BEN CHONG

1 Ben Chong with

"Purity", one of his

favourite painting from

his autism series

2 "Selfharm" from

Ben's autism series 3

"Obsession" from Ben's

autism series

10 years is a short period of time for Ben

Chong to polish his skills and get recognised

internationally. Previously worked in an

advertising agency, it has always been his hobby to

paint since he was little. Gratefully, Ben reunites

with his passion after decades and is proud to be a

fully committed artist.

"The media industry is not doing well so 5 years

ago I diversified into interior design." Ben owns an

interior design company and with more time on his

hands, Ben started picking up his paint brushes too.

When he first started, Ben admits that he is

painting to please people. "I didn't find my calling.

Most of the subjects I painted are to delight others."

And he admits, it wasn't selling well too.

1

HIS ULTIMATE INSPIRATION

Yet with perseverance and good intention, the right

direction will presents itself. Ben is now known as

18 · WWW.GOASIAPLUS.COM
---
INSIGHT

2

one of the few artists globally that paints about autism.

Besides his talent as an artist, Ben confesses that his

autism series is inspired by his 15 year-old autistic son,

Owen Chong.

"Owen learns to paint with guidance from a France

art teacher. Surprisingly, his work was amazing, full of

energy, and all from his heart. One year goes by and he

was invited by UNESCO of Paris to showcase his art

pieces in there.

"We [my wife and I] felt so proud of our son, who

as a autistic kid has the power to show something to

the world." From that day onwards, Ben dedicates

to make people understand more about the complex

disorder, mainly inspired by his son.

Owen has mild autism. He shares that his autistic

child doesn't know where to fit in and he always eats

alone in school. Speech limitation and communication

are the daily challenges of autistic people.

Ben shares that he would think of Owen whenever

he starts painting, and sometimes, he would carefully

observe his son's behaviour and sparks of ideas would

come to him.

AN ARTIST'S OBLIGATION

As a father of a child with special needs, Ben feels the

need to deliver messages of autism to the public to

educate the society. "Autistic people are so unique.

They experience the world in a very different manner.

But most ordinary people don't understand them."

It was a memorable moment for Ben when

parents, mostly professionals, with similar autistic

children are able to relate from the autism series

at his exhibition. The fulfillment he gained is

irreplaceable.

"Your life is not about you. Your life is about all

the people around you, it is about all the people you

can touch, impact, influence, love and all the people

that love you."

"Selfharm", an acrylic on canvas is his first piece

of the autism series. The painting sees a young man

curled up in the lengths of robe, wearing a headgear

with his eyes closed.

"One of my son's classmate wore a helmet to

class, I was curious so I asked their teacher. He

replied that because when the kid feels frustrated and

unhappy, he is unable to express himself. As a result,

he starts to bang his head against the wall so his

mother put a helmet on him.

"I hope that through my paintings, the audience

can view those affected by autism through a lens of

awareness, compassion, love and acceptance."

Ben has had his first overseas solo exhibition after

receiving the Asia Art Award (Grand Prize) by Asia

Invitation Art Exhibition in Seoul, South Korea. He

has also been hailed as one of the most promising

young figurative painters.

Until now, Ben has also sold eighty percent of his

autism series. To view or buy his paintings, visit Ben

Chong Art Studio at Block A-10-02, Tropicana Avenue

at Petaling Jaya or call Ms Leong, art gallery manager

at +6012-6800783.

3

WWW.GOASIAPLUS.COM · 19
---
TRAVEL

EXHIBITION

PERIOD

NOW UNTIL

28 FEB 2019

EDGE OF THE

WONDERLAND

THAILAND BIENNALE MAKES ITS DEBUT IN

A MYRIAD OF SITES AT THAILAND'S WEST

COAST. FEATURING 70 UNCONVENTIONAL

GLOBAL ARTISTS, JESSY WONG WENT ON A

CREATIVE JOURNEY TO THESE SITE-SPECIFIC

ART INSTALLATIONS ALL OVER KRABI.

Text & photos JESSY WONG

As one of world's most famous coastline, Krabi

is an absolute wonderland in the Andaman.

The natural sights of nature and the warm

townspeople have made it an ultimate spot for

innovative outdoor installations against the beautiful

surroundings.

Thailand's first Biennale in Krabi takes on the

versions of fantasy and wonderland from many

cultures. Lead curator, Professor Jiang Jiehong from

Birmingham City University addresses the theme

'Edge of the Wonderland' for the art installations.

The ubiquitous theme simply bridges the concept

between nature and art to engage viewers in both

tangible and intangible resources.

You will not find traditional art forms and

paintings in the exhibition but sculptures and

installations that are seamed with the natural forces

of the world. Curated with nature in mind, the

unconventional exhibition art may vary from time to

time depending on weather and location.

Here, I have highlighted some of my favourite

installations of Thailand Biennale in Krabi on a map.

WWW.GOASIAPLUS.COM · 21
---
TRAVEL

Than Bok Khorani National Park

Letter F By Rikuo Ueda

The wings uses the force of wind and

quantum mechanics to draw on the

surface. The letter is believed by the

artist to deliver the messages from his

late wife from the afterworld.

KRABI

Sites Map

Tha Pom Khlong Song Nam

Through the bones FBy Jana Winderen

Collaborating with local fishermen of Tha Pom, one can hear

the sound of waves made by underwater creatures simply by

placing their heads on a wooden oar. The sound vibration is a

hearing mechanism which humans share with marine mammals.

Poda Island

pulse - Formations

F By Camille Norment

The structure creates

a surrealistic wonder

to the power of nature.

Likened to fallen trees,

the broken drumsticks

amplifies its connection

to power structures

to resonate with the

planet's volatile and

vulnerable state.

Khlong Muang

Rumors from the Sea F By Félix Blume

This orchestral installation can slow down

the current from eroding the shore. Created

with hundreds of flutes attached to bamboo,

the flutes will play when the waves hit

through the movements of air.

22 · WWW.GOASIAPLUS.COM
---
TRAVEL

Krabi Town

Story of Love F By Vichoke Mukdamanee

The story of love between Naga, a mythical

creature and a local human is the folk tale

inspiration for this Thai national artist.

The coastal artwork imitate a matrimonial

ceremony that connects water and land, the

imaginative world and reality.

Ao Nang Beach

No Sunrise No Sunset F By Kamin Lertchaiprasert & Suriya Umpansiriratana

"The sun doesn't move, but the world is spinning by itself", says the artist to see

the world in a perspective. Yai Sa, the sculpture of an elderly is a symbol of love

and awaiting, who is waiting for her partner to return.

Koh Klang

Football Field for Buffalo

F By Takafumi Fukasawa

Incorporating the local

community's love for sports

and agriculture, the artist

created an amphitheater

and football field on an

abandoned ground where

communal buffaloes are the

key player of the game.

Railay Beach

Gilding the Border F By Vong Phaophanit & Claire Oboussier

Connecting the sacred and the earthly, the rock surface is gilded

with gold leaf and aluminium in gradient to create a threshold

between land and sea. When the water touches the gold, the small

island is perceived to be floating.

WWW.GOASIAPLUS.COM · 23
---
TRAVEL

ROAD LESS TRAVELLED

DALAT,

VIETNAM

THE CITY OF ETERNAL SPRING IS A

LITTLE FRENCH TOWN ENGULFED IN A

HIGHLAND CLIMATE ALL YEAR ROUND

WITH SIGHTS OF PINE TREES AND TREE

MARIGOLD IN SOUTHERN VIETNAM.

Text JESSY WONG • Photos ADOBE STOCK, ANA

MANDARA VILLAS DALAT & GETTY IMAGES

HOW TO GET THERE

There are local airline flights from Ho Chi Minh City

(HCMC), Hanoi or Da Nang to Lien Khuong Airport

daily. Other than Vietjet Air flying from Bangkok,

there are no other direct international flights to Dalat

from Asia. A cheaper alternative would be taking a 8

hours bus ride from HCMC.

WHERE TO STAY

Ana Mandara Villas Dalat is housed in a quaint

French villa in the midst of pine forest. The romantic

resort has exclusive cooking classes for guests, a

tour around town, travelling to rural villages or go

canyoning at Datanla waterfall.

Hang Nga Guesthouse or Crazy House is a quirky

hotel in Dalat with psychedelic environment and

architecture. The guesthouse explores the freedom

of art and may make one feel like they are Alice in

Wonderland. Otherwise, there are plenty of other

inexpensive options around town.

24 · WWW.GOASIAPLUS.COM

WHERE TO EAT

A Dalat specialty is definitely bánh tráng, grilled

rice paper with egg and minced meat, commonly

sold by the streets. The piping hot bánh tráng

makes it the best snack to eat in cold climate.

Another one is nem nuong, Vietnam's best spring

rolls with grilled pork patties. For more local

street foods, find it at Dalat Night Market which

opens from 6pm till 4am daily.

WHAT TO DO

Bao Dai Palace is one of the must-visit attractions

in Dalat to see the past-dwelling of Nguyen

Dynasty's last emperor, King Bao Dai and its

events of history. Otherwise, Lam Dong Musuem

is also a cultural center that houses artifacts of

history and local traditions.

Catch the sunrise at Xuan Huong Lake and

stroll around the beautiful lakeside to see the

blooming of cherry flowers at this time of the

year. Next to the lake is Dalat Flower Garden

with hundreds of flowers species around the

world. Beyond the city center, one can take a jeep

up Langbiang Mountain and visit an ethnic village

on the way down.

GOOD

to

KNOW

Dalat is one of

Vietnam's chief

agricultural

producers due to its

climate, high altitude

and fertile landscape

as compared to other

areas in Vietnam.

Traveling on

motorcycle is one of

the immersive ways

to fully enjoy Dalat

to see the countryside

and waterfalls.

Find various Dalat

specialty jam

products at their

market like plum jam,

yam jam, persimmon

jam and etc.
---
Powered by

SOFO SMART CHAIR

With over 1 million units sold worldwide, Sofo

Smart Chair have something for everyone.

Sofo Smart Chair enhances the leisure hour

experience in various public spaces in China.

Travellers and visitors can turn an expected

delay into a comfortable relief while boosting

their health in airports, railway and bus

stations, hospitals and even supermarkets.

在 全 球 销 售 量 超 过 100 万 台 下 ,Sofo Smart

Chair 拥 有 着 适 合 每 个 人 的 品 质 。Sofo Smart

Chair 增 强 了 中 国 的 各 种 公 共 场 所 的 休 闲 时 光 。 游

客 们 可 以 将 预 期 的 延 迟 转 变 为 舒 适 的 缓 解 , 同 时

也 可 以 在 机 场 , 铁 路 和 公 交 车 站 , 医 院 甚 至 是 超

市 提 高 他 们 的 健 康 状 况 。

AVAILABLE AT THESE MAIN LOCATIONS

AND MANY MORE:
---
TRAVEL

SAYING

"I DO"

ABROAD

WEARING ONLY THE IDEAL WHITE

DRESS DOES NOT CUT THE CAKE.

PERFECT HIDEAWAYS AND SECLUDED

DESTINATIONS MAKES WEDDING A

SENSATIONAL AFFAIR. EXCHANGE

YOUR VOWS AGAINST PICTURESQUE

BACKGROUNDS AT THESE WONDROUS

WHEREABOUTS IN SOUTHEAST ASIA.

Text JESSY WONG • Photos AVISTA HIDEAWAY PHUKET

PATONG MGALLERY, THE SANCHAYA, TANJONG JARA

RESORT & AMANOI

HIGH ON HILLTOP

Avista Hideaway Phuket Patong Mgallery

by Sofitel

With the view of two splendid bays, Avista Hideaway

Phuket Patong Mgallery by Sofitel is a reminiscent of a

Thai village perched on the green Patong hilltop. Be it a

traditional Thai ritual or western ceremony, you and your

loved ones can savour the best moment of your lifetime

enveloped in nature's extravagance.

Located at Phuket, Thailand.

www.avista-hideaway-phuket-patong.com

EXCLUSIVE ESTATE

The Sanchaya

This beachfront colonial-inspired salon has an orient

crossover furnishings twined with touches of European

refinements. Surrounded by tropical rainforest and

mangroves, The Sanchaya is designed to feel like a personal

estate. The wedding is best orchestrated at the vast private

beachfront overlooking the oasis accompanied by live

Indonesian traditional gamelan welcome music.

Located at Bintan Island, Indonesia.

www.thesanchaya.com

26 · WWW.GOASIAPLUS.COM
---
TRAVEL

COAST OF CULTURE

Tanjong Jara Resort

A visit to Tanjong Jara Resort will put you in the sanctuary and

grandeur of 17th century Malay palaces. The shimmering clear view

of the South China Sea and serene tropical garden easily capture

warmth and romance in the air. Known for their cultural charm,

expect an age-old classic wedding at the resort.

Located at Terengganu, Malaysia.

www.tanjongjararesort.com

WONDERS OF WILDERNESS

Amanoi

Set apart from the crowd is Amanoi. Dramatically built on the

mountainous landscape in Núi Chúa National Park, the natural

conservation site carves a romantic retreat for couples. From

granite cliffs, bays, rolling hills to ocean, the traditional Vietnamese

pavilions and villas offers spectacular views and off-the-grid

tranquility for your magical day.

Located at Ninh Thuan Province, Vietnam.

www.aman.com

WWW.GOASIAPLUS.COM · 27
---
TALES ON TRACK

LOST & FOUND

WAU-DERFUL

CRAFT

Text FRANCIS YIP • Photos ANGELA HAN

Did you know that the kite or wau in Malay

language originated from China? In ancient

times, the Chinese kite was made from simple

materials such as wood and cloth.

Back then, the Chinese kites were used by the

military to measure distances so that they can move

their armies across tough terrains. Since then, people

from other nations have adapted and assimilated

kites into their cultures.

WAU IN MALAYSIA

The Malaysian kite is known as Wau and it

is uniquely designed like the shape of wings.

Etymologically, the word wau is derived from the

Arabic letter "wau" which has the wing-shaped letter

outline. However, some claimed "wau" came from

exclamation of "wow" by the West people in the early

days after they were amazed by these kites.

Which is the truth? It doesn't matter. But one

thing is certain. Wau is one of the traditional pastime

games that is still being played in the East Coast of

Malaysia, especially in Kelantan and Terengganu and

the rural areas in Kedah and Perlis.

But how did wau flying start? There were a few

beliefs. The local people claimed farmers used wau to

act like flying scarecrows in the field and the sound

of the wau flying made good lullaby for children. The

coastal people, on the other hand, said wau was used

as fishing kites to catch fish.

Above all, wau flying has become increasingly

popular as competitions in villages during harvest

festivals. Judging will be based on the height of the

wau flown, the skills of the players and the quality

and length of the humming of wau in the sky.

Wau flying is normally launched by two people.

One person will hold it against the wind and the

other will handle the wau using the string that tied

to the wau. The players will try to bring down their

rivals' wau by cutting the string of their waus. Most

of these strings are made from ground glass, making it

easy to cut.

MAKING OF WAU

I remember I used to enjoy making wau. It was very

simple using only rice paper, bamboo splits as frames

and strings. The best part was paper cutting of intricate

motifs like flower shapes and then glued onto the paper

layer by layer.

But today, try ask any children if they have made

a wau. Chances are, they may give you a blank stare.

Nevertheless, wau-making still remains as a cottage

industry and it takes a lot of skills and patience to create

them, from selection of materials to the final decoration.

Currently, wau comes in all shapes and sizes and

some even use LED lights to give it a contemporary look.

The most popular wau is Wau Bulan (Moon Kite). It is

shaped like a crescent and is considered as a symbol or

icon of Malaysia. In fact, Wau Bulan is incorporated as

part of Malaysia Airlines logo design. Other waus include

Wau Kucing (Cat Kite), Wau Merak (Peacock Kite) and

Wau Daun (Leaf Kite).

Believe it or not, I still keep my wau although the

colour has faded.

28 · WWW.GOASIAPLUS.COM

FRANCIS YIP always loses himself but somehow, finds his way back with lots of juicy stories to share. Forgive him if he sparks a debate.

Love him if he unlocks hidden jewels. So heavenly, so travelicious with him!

www.franciswriter.com franciswriterAd franciswriter