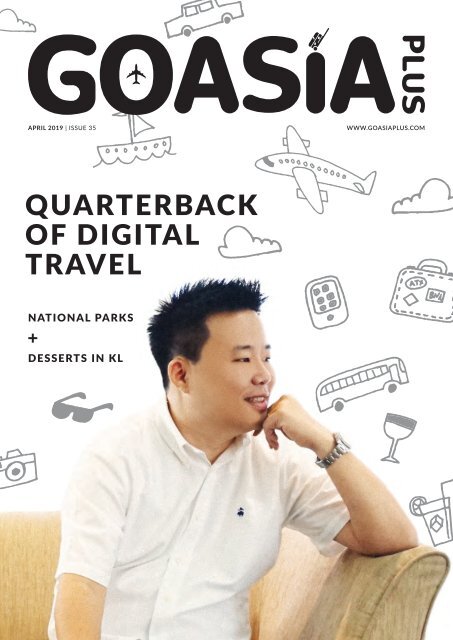 GOASIAPLUS April 2019
Taking the cover feature of our April issue is Mayflower's CTO, Cheah Kwan Cheong (KC) sharing his experience and insights on building aviation and travel start-up websites. For a different travelling scene, Taman Negara in Pahang might just be what you are seeking for, alongside the city of Gwangju in South Korea. The final touch to our April's table are the unmissable dessert places in Kuala Lumpur for a sweet finish.
Taking the cover feature of our April issue is Mayflower's CTO, Cheah Kwan Cheong (KC) sharing his experience and insights on building aviation and travel start-up websites. For a different travelling scene, Taman Negara in Pahang might just be what you are seeking for, alongside the city of Gwangju in South Korea.

The final touch to our April's table are the unmissable dessert places in Kuala Lumpur for a sweet finish.
SHOW MORE
SHOW LESS
Create successful ePaper yourself
Turn your PDF publications into a flip-book with our unique Google optimized e-Paper software.
APRIL 2019 | ISSUE 35

WWW.GOASIAPLUS.COM

QUARTERBACK

OF DIGITAL

TRAVEL

NATIONAL PARKS

DESSERTS IN KL
---
CONTENTS

4 ON THE RADAR

8 OUT & ABOUT

10 INSIGHT

All Game for Digitising

Businesses

13 TRAVEL

Exploring Nature's Glory

20 TRAVEL

Gwangju, South Korea

22 TRAVEL

Spotted in Asia:

Hashima Island, Japan

23 FACE-OFF

Cash vs Mobile Payments

13

20

COVER BY

RICK CHEAH

EDITORIAL TEAM

GROUP HEAD & BRANDS

JOHN SO

GRAPHIC DESIGNER

JAMIE SOO-HOO

24 FOOD

Just Desserts

28 TALES ON TRACK

Lost & Found

SENIOR WRITER

JESSY WONG

PHOTOGRAPHER

RICK CHEAH

CONTRIBUTORS

FRANCIS YIP, NG SHEN LEE, JENNIFER CHOO & SAM YEN

DIGITAL TEAM

WEB CONTENT

JESSY WONG

4

EDITORIAL ENQUIRIES

EDITORIAL@PCOMASIA.COM

SENIOR MANAGER

SALES & MARKETING

YONG WANG CHING

YONG@PCOMASIA.COM

COMMERCIAL & PARTNERSHIP

JOHN SO

JOHNSO@PCOMASIA.COM

PUBLISHED BY

PUBLISHCOM ASIA SDN. BHD.

NO. 83–1, JALAN MEDANG SERAI, BUKIT BANDARAYA,

59100 KUALA LUMPUR, MALAYSIA.

+603–20118983 WWW.PCOMASIA.COM

PRINTED BY

PERCETAKAN TURBO SDN. BHD.

NO. 8, JALAN SEKINCAN 26/9,

SECTION 26, SHAH ALAM 40000, MALAYSIA.

24

The views expressed in the articles published are not necessarily those

of Publishcom Asia Sdn Bhd (963236–P). While every reasonable care is

taken in compiling the magazine, the publisher shall not be held liable for

any omission, error or inaccuracy. Please notify the publisher in writing of

any such omission, error or inaccuracy. Editorial contributions are welcome,

but unsolicited materials are submitted at the sender's risk. The publisher

cannot accept any responsibility for loss or damage. All rights reserved by

Publishcom Asia Sdn Bhd (963236–P). No part of this publication may be

reproduced in any form without the publisher's permission in writing.

KDN PP 19019/05/2016 (034482)

WWW.GOASIAPLUS.COM · 1
---
EDITOR'S NOTE

The world has changed tremendously since

we first ushered in the growing era of

technology. Travel habits has surely evolved

synonymously since the last twenty years. I

remember how travelling in the earlier days used

to be when me and my family had to collect our air

tickets from the travel agency. Now, all you need is a

passport as everything else can be done online.

Therefore, it is only vital when traditional

businesses transform their services and products

online. It is no different for a renowned travel

agency in Malaysia like Mayflower to digitise their

business so it is a great chance for us to speak to KC,

the Chief Technology Officer of Mayflower (page 10)

on his insights of building a digital travel platform.

If you don't know, KC is also the brain behind

the start-up of AirAsia website.

I have been a frequent traveller to South

Korea so emerging cities like Gwangju (page 20)

keeps my interest piqued for what the beautiful

country can offer. Whereas you are looking for

a nature retreat, see our story on national parks

in Malaysia on page 13. The list of things to do

in Taman Negara alone makes me want to go

outdoors more. After all that exercise, perhaps

you will make a guilt-free run for a plate of

dessert or two in Kuala Lumpur (page 24).

John So

Publisher

A

THREAT

TO LIFE

Photo ADOBE STOCK

Do you know what it feels like to be given up for

something else? Mistreated to make room for

development. Altered from my natural estate

to fit into plans. Abused by human's greed and

finally neglected, when I'm no longer beautiful.

Already, a large number of me is considered

"dead". I am damaged to the core and robbed

from my ability to perform.

Pollution made me a threat to fishes and

aquatic plants. Domestic and farming sewage,

illegal dumping and land clearing labours are

bullets to my heart. Harming me is akin to

spitting in the wind. Throwing wastes into my

body will only come back to harm you in a cycle.

This country suffers from low water rates

and yet, people here has the highest water

consumption, wastage and overuse. Will

humans only realise my importance when

I'm finally completely zeroed out? Without

me, the quality of life deteriorates and leads

to long-term economic losses. Where it it

end?

Start your efforts from home. Small

domestic steps like conserving water can

make a huge difference. Reduce water

pollution by using soluble products.

Environmentally-friendly products do not

turn into pollutants when going down the

drain. You can save yourself by saving me.

Devastatingly,

Malaysian rivers

PICK-UP POINTS

Read our magazine exclusively in Aerobus airport shuttles or bring home a copy of GOASIAPLUS with

you at these pick-up points below:

GATEWAY@KLIA2

AIRPORT SHOPPING MALL

KLIA EKSPRES

KL SENTRAL

KLIA

INFORMATION COUNTER AT

DEPARTURE MAIN TERMINAL

& SATELLITE BUILDING

KLIA2

INFORMATION COUNTER,

SATELLITE BUILDING &

INTERNATIONAL ARRIVAL

2 · WWW.GOASIAPLUS.COM
---
NEWS

ON THE RADAR

GET UP TO DATE ON THE LATEST HAPPENINGS ON

TRAVEL, HOTEL OPENINGS, FOOD OFFERS AND

TRENDING FASHION AROUND SOUTHEAST ASIA

CARNIVAL AWAITS AT

SKYTROPOLIS FUNLAND

Resorts World Genting redefines

our childhood memory with their

new indoor theme park Skytropolis

Funland. There are nine thrill rides,

eight family rides and five children

rides in the carnival-like wonderland

with latest innovative attractions

like The VOID hyper reality center,

Imaginatrix that combines physical

rides with virtual reality and BigTop

Video Games Park.

Located at Level 1, 2 & 3, First

World Plaza, Resorts World Genting

DRAMATIC ADDITION IN

PULLMAN DANANG

Located only 10 minutes from

Danang International Airport, this

coastal beach resort introduces

the revamp of 175 rooms and new

two-bedroom Family Suite with

modern amenities. Guests can also

dive into their new ocean-facing

infinity swimming pool, the first in

Vietnam to feature Krislite's fiber

optic lighting for a galactical swim.

www.pullman-danang.com

ALL-YOU-CAN-EAT JAPANESE WAGYU

The Hong Kong shabu-shabu buffet restaurant

sees its first flagship Wagyu More branch in

Malaysia with top notch beef and pork from

different countries and unlimited supply of

meat, vegetables, hot food, sushi and desserts

for diners. Premium Buffet packages include

Japanese A5 Wagyu Beef, Spanish Iberico

Pork and Australian Wagyu Beef. Price for the

shabu-shabu buffet starts at RM36.80++.

Wagyu More, 3rd floor,

The Gardens Mall, Kuala Lumpur

+603-22021811

A DORAEMON WORLD IN

AIRPORT MALL

Revisit your childhood companions of

Doraemon, Nobita and friends in gateway@

klia2, the world-class airport shopping mall in

Malaysia. Surrounded with 30 life-sized mega

figurines of Doraemon, shoppers can choose

from a multitude of merchandises including

limited edition Doraemon items at the popup

store from now until 28 April 2019.

Located at Level 2 at gateway@klia2, Sepang

4 · WWW.GOASIAPLUS.COM
---
NEWS

BESPOKE LUXURY IN HONG KONG

The century-old hotel brand finds its way to Wan Chai's

shore with a vision of Hong Kong's timeless mansion

and cultural diversity. The St. Regis Hong Kong provides

129 designer rooms and suites with personalised St.

Regis Butler Service. Another worth anticipating is their

French and Chinese restaurants featuring Michelinstarred

chefs. The 5-star hotel is slated to open anytime

this month.

The St. Regis Hong Kong, 1 Harbour Drive, Hong Kong

www.stregishongkong.com

YOTELAIR LANDS IN ASIA

Singapore Changi Airport welcomes the first YOTELAIR

property in the newly-built Jewel Changi Airport for travellers

to relax and reconnect. The first-class airport hotel has gym,

co-working space and Club Lounge that overlooks the world's

tallest indoor waterfall. The 130 smartly-designed cabins is

accepting reservations for stay beginning 12 April 2019 onwards.

www.yotelsingapore.com

HYBRID SNEAKERS

FOR THE WILD

Look good and feel good

with ECCO's latest

innovation the ECCO

OMNI-VENT, a style

that match adventures

in the wild and city. The

enhanced ventilation

increases breathability for

warm climate and delivers

ultimate comfort with

their signature ECCO

anatomical fit to the foot.

Made in both black and

white, the hybrid sneakers

retail for RM939.00.

Available in all Ecco

stores nationwide

BIGGEST NIGHTCLUB

IN SINGAPORE

Apart from New York, Sydney and Las

Vegas, MARQUEE's first venture into

Asia is set to hype up the nightclub

scene in Singapore with its carnivalesque

features and amusement. The 3-floors

club will house a fully-operational

indoor Ferris Wheel and high slide for a

new party experience. The club opens on

12 April 2019 at Marina Bay Sands.

www.marqueesingapore.com

6 · WWW.GOASIAPLUS.COM
---
EVENTS

OUT & ABOUT

LOOK OUT FOR THE MOST ANTICIPATED EVENTS OF

THE MONTH IN MALAYSIA AND BEYOND

JOHN MAYER

ASIA TOUR

8 APRIL

Since his debut in the

late 90s, John Mayer is

finally having his first

show in Hong Kong.

Catch the seven-time

Grammy winner in the

highlight of his Asia Tour

in "An Evening with

John Mayer" that feature

songs covering his entire

recording career with

seven studio albums.

HKCEC,

Wan Chai, Hong Kong

www.livenation.hk

ED SHEERAN DIVIDE

TOUR 2019

13 APRIL

Fans rejoice as Ed is returning for his

second round of Divide Tour after his fast

sold-out concert in Malaysia back in 2017.

This time, the 'Perfect' singer will be joined

by special guest, One Ok Rock, a Japanese

rock band on the Kuala Lumpur stage.

National Stadium, Bukit Jalil

Kuala Lumpur, Malaysia

www.prworldwidelive.com

KANDANG

25-27 APRIL

The stage play returns for their award-winning

adaptation of George Orwell's "Animal Farm". It

follows a group of farm animals facing betrayal,

corruption and cruelty in the taste of freedom after

driving humans away from the Jones Farm. This play

is performed in Malay with English subtitles.

KLPAC, Kuala Lumpur, Malaysia

www.klpac.org

DISNEY ON ICE MICKEY'S SUPER CELEBRATION

5-7 APRIL

Join Mickey, Minnie Mouse, Donald Duck and Goofy in venturing a trail of

Disney stories through this interactive event. Appearing in Asia for the first

time is Moana Live on the journey to save her island. Royal siblings Elsa and

Anna will also be part of the action on ice.

Stadium Malawati, Shah Alam, Malaysia

www.prworldwidelive.com

VOLO FESTIVAL

13-14 APRIL

Held at Hua Hin's best waterpark, this hip-hop

festival is set to blow up with A$AP Rocky and

2Chainz as headlining acts. Besides music, find local

streetwear at Fashion Zone and a line of Thai food

trucks at the Food Zone. The pirate-theme festival

encourages their attendees to dress up in costumes.

Vananava Hua Hin, Hua Hin, Thailand

www.volofestival.com

8 · WWW.GOASIAPLUS.COM
---
INSIGHT

ALL GAME FOR

DIGITISING

BUSINESSES

CLOCKING IN DECADES LONG OF

EXPERIENCE IN THE TOURISM INDUSTRY

HAS PUT MAYFLOWER CHIEF TECHNOLOGY

OFFICER CHEAH KWAN CHEONG AMONG

THE TRAILBLAZERS OF BUILDING SOME OF

ASIA'S MOST PROMINENT TRAVEL WEBSITES.

Text JESSY WONG • Photos RICK CHEAH & CHEAH KWAN CHEONG

10 · WWW.GOASIAPLUS.COM
---
INSIGHT

American singer Jon Bon Jovi once said

"Nothing is as important as passion. No

matter what you want to do with your life,

be passionate." Cheah Kwan Cheong is the man who

exhibits similar energy through his works in the

tourism digital world.

Behind the big build and friendly demeanour,

Kwan Cheong or better known as KC, is the person

behind the curtains that first build AirAsia.com back

in 2002 who now delivers Malaysia's leading travel

e-commerce, Mayflower.com.my.

The unbelievable truth on how KC started out

in this industry all hangs on his determination and

passion in software engineering. When he was first

approached to build AirAsia.com, KC interestingly

revealed, "I did AirAsia.com on my own, without

going for any class or training. When my ex-boss

called me about this vacancy, there was nothing inhouse.

I had to take over from agency and build the

website from scratch."

The challenge is indisputable as KC did not

come from a IT or computer background. Instead,

KC graduated with a Degree in Mathematics from

Universiti Putra Malaysia. To add, internet is rare

and it has just been initiated everywhere back then.

AirAsia online platform is build by a man who taught

himself how to do programming, coding and scripts.

"I always tell my guys today to learn from

experience and knowledge. It is something that no

one can't take away from you. One day when you

move on with your job, you actually earn it and own

it yourself."

KC shared his extensive experience comes

from his ten years stint with AirAsia, GDS platform

Travelport and starting a business of his own before

forming joint venture with Mayflower for digital

travel business.

BUSINESS ON ONLINE PLATFORM

"Travel industry is going through a change where

you digitise your business or you're out. The margin

is getting lower and the cost is getting higher." And

the only way to offset the growing change is through

doing more volume via online business.

Mayflower travel agency has more than over 50

years of history in the Malaysian tourism industry

offering services from travel packages, hotels,

flights, car rentals and etc. So, KC is brought in to

elevate Mayflower traditional business onto digital

platforms.

"Key objective is to digitise the business. Three

years on, we have done over 300 times of businesses

in terms of online volume". KC's passion in building

the e-commerce platform followed with his business

expertise makes him a professional in digitising

conventional business.

"Mixing business and technology together is

something I like to do, something that feels quite

fun because when there are problems, there are also

many ways to solve it. Even though you solve a small

thing, it can make a lot of difference"

As Mayflower is leading the travel market in

WWW.GOASIAPLUS.COM · 11
---
INSIGHT

Malaysia, KC is idealistic in providing similar digital

platform for other affiliate companies to standardise

the entire industry digitally. "At the end of the day, it

is the whole marketplace that the volume runs across.

The one thing we can standardise is the platform.

So, even though it is a company we don't own, they

can still ride on our technology to do their business as

we aim to build quality traffic to sustain for a long run."

With the growth of online travel agencies and

internet penetration around the world, KC is also

working on an air travel commerce platform which

helps airlines distribute tickets to global markets

efficiently and cost effectively.

TRAVELLING FOR THE MAN

Being an expert in the digital tourism industry,

KC is a well-travelled man himself. As he said

before, "we are the end users ourselves" on his tip

to build both functional and attractive tourism and

aviation websites.

In the interest of seeking motivation and pleasure,

KC is very much a beach-goer. "I used to go to

Redang island every year until I got married", he

reminiscences. The excitement tells that beach is very

much his happy place to unwind.

His newfound favourite beach destination now

is Hua Hin in Thailand. "The laidback town of Hua

Hin gives you beach, good seafood and you'll find

everything you want [in one location] from anywhere

else in Thailand."

"It's also a good place for family or company trip,

and it's not too far from Malaysia." But in a surprising

revelation, KC is happy to admit that his heart

ultimately lies in Japan.

"During my time in Osaka, I stayed in Shinsaibashi

and went to Kyoto for a day trip. Those few days, I

walked an average of 20,000 steps per day. But I still

think it was quite fun and cooling." Now, KC waits for

his chance to travel to Japan again.

For the other side of the world, his best idea on

travelling in Europe is taking the hop-on hop-off city

bus on the first day. "The bus brings you everywhere as

an introduction. So on the second day, you can decide

on where you want to spend your time visiting or go for

sightseeing around the city."

"Even though you solve a

small thing, it can make a

lot of difference."

12 · WWW.GOASIAPLUS.COM
---
TRAVEL

N

W

E

S

PERLIS

KEDAH

EXPLORING

NATURE'S

GLORY

PULAU

PINANG

PERAK

KELANTAN

TAMAN

NEGARA

TERENGGANU

AN ESCAPE INTO THE DEPTHS OF

MALAYSIA'S RAINFOREST DRAWS

DELIGHT AND UNEXPECTED WONDER

WITH ITS TROPICAL ABUNDANCE AND

VARIOUS RECREATIONS WORTH OF A

TRUE NATURE'S VOYAGE.

SELANGOR

WILAYAH

PERSEKUTUAN

PAHANG

NEGERI

SEMBILAN

Text JESSY WONG Illustration JAMIE SOO-HOO

As a tropical country in Southeast Asia,

the plethora of rainforests in Malaysia is

illustrious of the country's wealth with

nature reserves. The biodiverse hotspots are tucked

away from cities in a stretch of protected territories,

preserving the home for endangered mammals,

fishes and birds.

Despite that, some of these reserves are open

to visitors to fully experience nature in its habitat.

Among the most sought-after eco destination

remains to be Malaysia's national park, Taman

Negara, famed to be the oldest rainforest in Asia

estimated to be more than 130 million years old.

The geological charm comes into play for outdoor

lovers to live out their tropical adventure.

MELAKA

JOHOR

WWW.GOASIAPLUS.COM · 13
---
TRAVEL

THINGS TO DO AT TAMAN NEGARA, PAHANG

CANOPY WALK

Acrophobics might want to stay away from

this longest canopy walk in the world. The

suspended bridge is about 45 metres from

the ground at 550 metres long. It is said

that the canopy walk was initially built for

research in the rainforest. Take a stroll on

the canopy walkway to savour breathtaking

panoramic view of unfiltered nature.

CLIMBING MOUNT TAHAN

Mount Tahan is the highest mountain

in Peninsular Malaysia with more

than 2,000 metres above sea level.

To reach the summit, mountaineers

have to trek through challenging paths

for 7 whole days. Upon ascent, the

temperature drop could materialise

frost at the summit. Usually the best

time to climb Mount Tahan is from

March till August every year and it is

recommended only for those who are

physically fit.

RIVER EXPEDITION

Among the exhilarating activities for outdoor

beginners to engage in is cruising along

the national park's rivers namely Sungai

Tembeling and Sungai Tahan. The popular

one is rapid shooting at Sungai Tembeling

river where there are 7 different rapids for

shots of adrenaline. Otherwise, fishing is

recommended during the dry months from

February till September.

14 · WWW.GOASIAPLUS.COM
---
TRAVEL

CAVE EXPLORATION

The limestone caves in the park

are something not to be missed

for a half-day activity. It is a two

hours trek to reach Gua Kepayang

Besar from the park headquarter

and many would spend a night

camping at the cave. The big

cave chamber could fit up to a

hundred campers at a time.

BIRD WATCHING

Malaysia is a hotspot for bird

watching especially in Taman

Negara to catch sights of rare

bird species like the hornbill,

great argus, yellow-eared

barbet and red-naped trogon.

To date, there are 380 bird

species in the national park.

GOOD

to

KNOW

Malaysia is one of the

eighteen countries in

the world identified as

megadiverse for its great

diversity of flora and fauna.

VISITING INDIGENOUS VILLAGE

To learn more about the ethnic tribes

in Malaysia, the indigenous people's

village is open for experiential learning

at Jeram Dedari to understand their

culture and ways of living in the

backwoods. Survival skills like making

fire and hunting using blow pipes are

demonstrated to the public.

Taman Negara has an area

coverage of 4,343 km 2 which

is equivalent to the size of 6

Singapore islands.

The "ipoh" tree in the

national park is a natural

poison supplier for darts to

the indigenous people. The

tree latex extract has high

toxic steroid that can cause

cardiac arrest.

WWW.GOASIAPLUS.COM · 15
---
TRAVEL

Forested land makes up more than half of Malaysia's terrain and in east

Malaysia alone, there are over ten national parks conserved, reserved and

protected. Considerably, this part of Malaysia lies on Borneo–the world's

third largest island–with an abundance of natural resources. Having said

that, stunning geological sights await in the trip to Sabah and Sarawak's

national parks.

TUNKU ABDUL RAHMAN NATIONAL PARK

This national park is uniquely made up of 5 islands with twothirds

of its surface covered by sea. Pulau Gaya, Pulau Sapi,

Pulau Mamutik, Pulau Manukan and Pulau Sulug are believed to

be formed after melting ice brought a change in sea level about a

million years ago. This marine park is easily accessible from Kota

Kinabalu main town in Sabah by boarding a ferry at Jesselton

Point Ferry Terminal. Aside from trekking in the greens, water

activities like snorkelling and diving are popular here.

Located at the coast of Kota Kinabalu, Sabah

SABAH

SARAWAK

BATANG AI NATIONAL PARK

Around 250km away from main city of Kuching,

orang utan, gibbons and hornbills claim this

tropical rainforest as home. Although close to

Indonesia borders, Batang Ai National Park is a

settlement for the Iban ethnic group. The locals

are heavily involved in conserving the place by

offering services like boat rides, park guides

and porters. Tourists can also visit nearby Iban

longhouses for a cultural detour or stay at the

longhouses to experience a night among local.

Located at Lubok Antu, Sarawak

GUNUNG MULU NATIONAL PARK

The breathtaking scenery and its biological

significance makes the place worthy as a UNESCO

World Heritage Site. As a rich tropical karst area,

this national park has three notable caves and

three dominant mountains. However not all caves

are open to public. Visitors to Clearwater Cave,

Deer Cave and Lang's Cave must apply for permit

and accompanied by a park guide. Other activities

in the park include rock climbing, trekking,

kayaking and mountain biking.

Located at Miri, Sarawak

16 · WWW.GOASIAPLUS.COM
---
ADVERTORIAL

ONE-FOR-ALL TRAVEL

BOOKING WEBSITE

MAYFLOWER.COM.MY HAS PROVEN OVER TIME AND AGAIN TO BE MALAYSIA'S

LEADING TRAVEL PORTAL. SIGNING AS TRAVELLER'S BEST CHOICE, THIS PLATFORM

PRIDES ON HAVING ALL UNDER ONE BOOKING.

Homegrown travel agency

Mayflower has been

around for the longest

time with over 50 years in the

travel market. 3 years ago,

Mayflower made a decision to

digitised their conventional

services to the online platform.

Fitting in to the demands of a

new century, Mayflower.com.

my break through the e-booking

platform with leading examples

of a seasoned travel agency.

WHY BOOK FROM A

SINGLE PLATFORM

These days, there are plenty of

airline websites, hotel booking

platform and tour promotional

sites for one to shakedown

the best deals for their

preferred destination. Fishing

through multiple websites for

one purchase can be timeconsuming

and distractive

especially when you're online.

So, one-for-all travel

website like Mayflower.com.my

exemplifies the perks of having

everything on a single platform.

Dynamic and rich

in content

Mayflower.com.my has a

complete range of travel

products within a click

away allowing users to pick

and purchase destination

and products all under

one booking. There are

more than 80 airlines

and more than 500,000

accommodations worldwide

to choose from.

Ease of customising

travel plans

The convenience of

booking through a single

platform comes into hand

when one is planning

flight, accommodation and

arrangement for airport

transport. The dynamic

offerings provide everything

you need for travelling.

Time-efficient booking

Besides saving your time

from searching the internet,

Mayflower.com.my runs

on a high website speed

performance for seamless

experience plus offering all

the major payment methods

for you to pay for your

bookings.

18 · WWW.GOASIAPLUS.COM
---
EASY BOOKING

STEPS ON

MAYFLOWER.

COM.MY

FOR BEST

BUNDLED DEAL

Sign-in or Register with

Mayflower.com.my

Search for your holiday

destination at 'Flight +

Hotel' search tab

Pick the flight of

your choice

SAVING MORE WITH

MAYFLOWER.COM.MY

The main attribute in the

travel website is their interface

that displays comparison

between multiple airline fares

and time or hotel deals on a

single page. The ease of use

allows users to track down

cheap flights or hotel deals by

navigating on a single page.

Besides, tour or ground

packages are aplenty online

with highly flexible itineraries

to be personalised by users.

Able to fit all forms of travel

and budgets, there is a direct

call-in customer service

during working hours to

check for tour availability and

customisation.

During the flight plus

hotel bundle bookings, users

can purchase add-on services

and also enjoy an instant cash

discount. Add-on services

include car rental, entrance

tickets, airport transfer, travel

insurance, wifi and roaming

SIM card.

Other than direct debit and

credit card payments, registered

members of Mayflower.com.my

can opt to pay with their Travel

Wallet or Travel Credits.

Travel Wallet is a self topup

e-wallet feature to pay for

online transactions. You can

also convert your credit card

points to Travel Wallet and start

paying your bookings with it.

Travel Credit is a system

that rewards registered

members of Mayflower.com.my

via various activities. Gained

through promo codes, the

accumulated credits can be

exchanged for purchases online.

With their long experience

in the industry, Mayflower.

com.my has an extensive

partnerships with other large

partners like Maybank for

treatpoints conversion and

cashback in Boost wallet. Users

can check out the respective

websites for more information.

Pick the hotel of

your choice

Booking add-on

services from airport

transfer, insurance, wifi

and SIM card

Pay for your purchase

REGISTER

TODAY

New members of Mayflower can use "GAPTRAVEL" promo code for registration to

enjoy 20% off or up to RM50 discount on your bookings.

Promo code is only valid for registration from 1-30 April 2019 only • Booking period from 1 April-31 July

2019. • No cash alternatives or refund will be offered in lieu of promotion entitlement • Mayflower reserves

the absolute right to amend, delete or add to these Terms and Conditions at any time without prior notice.

WWW.GOASIAPLUS.COM · 19
---
TRAVEL

ROAD LESS TRAVELLED

GWANGJU,

SOUTH KOREA

FREE YOUR SENSES AT THE SIXTH-

LARGEST CITY IN SOUTH KOREA WITH

HERITAGE VILLAGES, ANNUAL BIENNALE

AND CULTURAL BELT THAT OVERLOOKS

A BREATHTAKING UNESCO GEOPARK.

Text JESSY WONG • Photos GWANGJU

CONVENTION & VISITORS BUREAU AND

RAMADA PLAZA GWANGJU

HOW TO GET THERE

Gwangju is only accessible via domestic

flights within South Korea. Flight from

Seoul or Jeju Island is only 50 minutes long.

Otherwise, Korea Train Express takes 1

hour 30 minutes to reach from Seoul and

there are also plenty of buses to Gwangju

from Incheon, Busan and Seoul.

WHERE TO STAY

Ramada Plaza Gwangju stands tall in

Gwangju as the only 5-star hotel in the

region. The hotel features a designerclass

hot bath at 3Well Spa for relaxation

and massages to rejuvenate. For cheaper

alternatives, there are plenty of local hotels

and cozy hostels to consider.

WHERE TO EAT

Gwangju is a food capital in Jeolla.

Songjeong tteokgal-bi (minced beef ribs

patties) is one of the signature food to

try at their night market. Another local

specialty is ori-tang, a special duck stew

served with rice porridge. Taste specially

made momil-guksu (buckwheat noodle

soup) at Cheongwonmomil, a famous

noodle place Gwangju.

20 · WWW.GOASIAPLUS.COM

WHAT TO DO

Sightseeing of nature at Mudeung Mountain,

a UNESCO Geopark, is one of the relaxing

activities to do. Other than mountaineering,

one can take the chairlift or monorail at

Mudeung Mountain to see the cityscape

or stroll at Mudeung Mountain Art Gallery

Street with various museums and cafes at the

mountain entrance.

To shop, Chungjang-ro Street is the place

to go for the hippest trend to finding hanbok

(Korean traditional costume). Every April,

Sajik Park is a known spot to see cherry

blossoms in full bloom at night time in the

lights. The park also features a memorial for

national heroes, shooting range and multiple

pavilions overlooking downtown.

GOOD

to

KNOW

The word "Gwangju" literally

means "light province" in Korean.

U-Square is probably the largest

and most modern bus terminal in

the country with a movie theater,

shopping outlets, restaurants and

30 gates for buses.

Gwangju Sajik Park used to be

an area for Sajikdan, an altar

for praying to the Gods for a

good harvest during the

Joseon dynasty.
---
TRAVEL

SPOTTED: ASIA IN FILMS

HASHIMA ISLAND, JAPAN

Text NG SHEN LEE

Photos ADOBE STOCK & FREEVECTORMAPS.COM

If you're a fan of historical

tourist spots, you might be

familiar with Hashima Island,

for its story is a bitter one.

When the 2012 Bond film

"Skyfall" was released, one

of the filming locations in

particular caught the eyes

of viewers. It was battered,

decrepit and unsettling. Home

to the film's main antagonist

Silva (played by Javier Bardem),

Hashima Island played a crucial

role in the film as Silva's base

of operations.

Despite this, filming

never took place on the actual

grounds of the abandoned

island due to safety concerns.

The majority of the setting was

actually filmed in a full-scale

replica in the UK, while a

good portion of it was crafted

through CGI.

But the reality of

Gunkanjima or the "Battleship

Island" is an even more

harrowing one. The small island

was initially established during

Japan's industrial revolution as

a coal mining facility. And when

the number of labourers soared,

a multi-storeyed apartment

block was built to house the

workers and their families,

making the island the most

densely populated area in the

world come 1959.

Then WWII dawned upon

the world, and prisoners of

war from China and South

Korea were forced into labour

at the coal mines of Hashima

Island, where an estimated

1,300 of them passed away

on the island. Since then,

the island has long been

abandoned thanks to the rise

of petroleum, which rendered

the need for coal-mining towns

such as Hashima useless.

Of course, word began

to spread and not long later,

journalists and filmmakers

began flocking to the island.

The result? Documentaries

galore from the History

Channel, Forgotten Planet

and most recently, Netflix's

"Dark Tourist", a documentary

TV series exploring ominous

tourist locations.

But be it insightful

documentaries or compelling

images, the controversy

revolving around Hashima

island only ballooned, for

in 2009, Japan's request

to establish the island as a

UNESCO World Heritage Site

was met with backlash from

South Korea after the country

refused to acknowledge its role

in the island's cruel history.

Today, even you and I can

step foot amidst the crumbling

concrete of this history-laden

island to admire its ruins...and

perhaps we have 007 to thank

for that.

FUN

FACTS

The communal

apartment block was

supposedly the firstever

building of its kind

in Japan made from

reinforced concrete.

Despite all this, Hashima

was at one time home to

a thriving community,

including a movie theatre,

swimming pool and even

a pachinko parlour!

22 · WWW.GOASIAPLUS.COM
---
THE FACE OFF

FACE OFF:

CASH VS MOBILE PAYMENT

THE OMNIPRESENT VALUE OF MONEY HAS TAKEN MANY FORMS

THROUGHOUT HISTORY. WILL "CASH IS KING" BE DETHRONED BY

THE PIXELS OF DIGITAL CURRENCY IN THIS TECH SAVVY WORLD?

Text JESSY WONG • Illustration ADOBE STOCK

CASH

TYPES

Paper printed currencies

BENEFITS

Managing tangible cash gives a form of control and

improved fiscal conduct as compared to the digital mode.

This is because handling money physically can affect our

psychological well-being that influence how we spend or save

our money. Cash transaction also open doors for negotiations

deals in the marketplace.

RISKS

Carrying cash (especially when overseas) gives a mixed sense

of security as the natural appeal of money can also attract

unwanted attention. Knowing you have instant money in

hand for emergencies leaves you wrangled with the possibility

of theft and robbery as stolen money is impossible to track.

So, stashing away emergency cash in hotel room's safe or

lugagge is commonly practiced as a precaution.

VALUE

Indisputable appeal

MOBILE PAYMENT

TYPES

Mobile, banking and payment apps through smartphone

BENEFITS

It is all about convenience. Transactions could happen in

an instant through several taps on digital wallet without the

hassle of finding a cash machine and fiddling with tangible

notes for payments. Most mobile apps also exclusively

reward their users with cashbacks, promotional services and

products with usage of digital payment.

RISKS

Unlimited access to credit via payment apps could result in

poor spending choices. It has been proven that digital money

and its transparent transaction make us feel less affected with

our expenses and puts us in risk of unauthorised transactions.

As many payment apps require authentications, a majority of

us tend to reuse password across multiple services. This will

inevitably increase the risk of hackers and data leak.

VALUE

Ever expanding with technology

WWW.GOASIAPLUS.COM · 23
---
FOOD

JUST DESSERTS

LIFE IS SWEET AT KUALA LUMPUR'S

MOST ESSENTIAL DESSERT BARS.

Text JENNIFER CHOO

Photos MADHATTER DESSERTS, FROZEN ARTISAN & SAM YEN

Dessert should never be an afterthought, in

fact, there are many people who don't think

twice about abandoning main courses and

skipping through to the good stuff. Good news for

sugar fiends is that there has been an marked uptick

in dessert only bars in the Klang Valley. From Korean

Bingsu to Italian Gelato, these dessert parlours offer

a taste of Seoul or Florence with the convenience of

never having to leave the city. As enticing as this is,

it's the cafes which utilise available ingredients and

explore familiar flavours which intrigue us the most.

Here is a round-up of three unmissable dessert bars

that are doing our local produce proud.

FROZEN ARTISAN

Best for those who love the cold

Originally called Frozen by Ken, Frozen Artisan

began in a Bangsar shophouse featuring the creations

of Ken Liew and Evelyn Lim who met while working

at Glace, Melbourne's most talked about dessert

bar. The fine yet quirky touch can be seen in the

artisanal frozen desserts sold in this bright modernist

café which include ice cream, sorbets and frozen

cakes. Although the inspiration may come from

Down Under, flavours are decidedly local with

tropical fruits like coconut, soursop, Kalamansi and

Durian and regional herbs like Pandan featuring

prominently, familiar flavours like Ais Batu Campur,

Kopi-O, Kuih Talam and Kaya Toast. Whimsical but

grounded in meticulous technique, Liew and Lim

showcase these unusual flavours through the layering

of multiple elements, weaving together ice-cream,

sorbet, baked cake, glazes, meringue, ganache, sauces,

compotes and crumbles with flair, aesthetics and

utter deliciousness. The original spirit of Frozen

Artisan will be brought to a larger audience beginning

with a kiosk in Paradigm Mall in Petaling Jaya and 4

more in the works.

Must try

The King, the ultimate durian sweet treat pairs a

centre of Musang King durian ice cream with coconut

sorbet wrapped in spiky torched marshmallow

skin showcasing the richness of both fruits with a

satisfying textural contrast.

6, Jalan Telawi 4, Bangsar | +603-2856 8289

24 · WWW.GOASIAPLUS.COM
---
FOOD

WWW.GOASIAPLUS.COM · 25
---
FOOD

"...don't think twice about

abandoning main courses."

MADHATTER DESSERTS

Best for those who like to play with their food

Nestled along an unassuming row of Damansara

Utama shophouses is MadHatter Desserts, Marcus

Low's dessert laboratory of sorts. The name itself

refers to the ex-MasterChef finalist's predilection

for wearing hats but could well be an allusion to the

surreal Alice in Wonderland universe where anything

is possible. Low, who used to be a banker, opened

the café in 2017 with the intention of introducing

his experimental approach to desserts which are

presents familiar local flavours and desserts in

completely unexpected ways. Serving a range of

desserts, many which combine French culinary

techniques and local flavours, classics like the

Entremet cake is reinterpreted with layers of vanilla

sponge cake and Assam-infused curd and topped

with a watermelon and mint veil. Plated desserts are

available after 7pm and this is where Low's creativity

is showcased best with mind-boggling concoctions

like the Claypot Rice, a complicated combination of

rice milk snow ice, rice milk gelée, barley pudding,

and rice puffs realised with liquid nitrogen and

infused with smoke from Bak Chang bamboo leaves.

Must try

Bubur Cha Cha is a deconstructed reimagination of

the classic local dessert soup which layers pumpkin

brûlée, coconut pearls and a sweet-potato-and-yam

cake topped with coconut ice cream infused with

sweet potato and yam.

19, Jalan SS 21/60, Damansara Utama

| +6012-370 4327

26 · WWW.GOASIAPLUS.COM
---
FOOD

DEW

Best for those who eat with the eyes

F&B openings and closings are a dime in the dozen

in the busy Jalan Telawi hub but Jaslyn Cakes run by

self-thought baker Jaslyn Rangson, which has been

in operation since 2014, has been one of its most

successful residents. This charming half shop has

become something of a staple in the area and is full

of cakes and people at any day of the week so when

the lot next door became available, Rangson seized

the opportunity to open Dew. Touted as a pâtisserie,

florist and sometime speakeasy, this sophisticated

stylish space is a contrast from the more rustic Jaslyn

Cakes with two long terrazzo island, brass detailing

and forest green built ins. The space is a reflection

of the more sophisticated offerings on display in the

gleaming glass cabinet - refined botanical inspired

petits gateaux with fresh elements of herbs, flowers,

fruit and minimal colouring. Expect regional flavours

and produce like lime, bananas, mango, black sesame

and yuzu aimed at pleasing visually as much as these

delicate mousse cakes will delight the palette.

Must try

Kopiko tart packs a caffeine punch with patisserie

technique using beloved local beverage Nescafe as

mousse and ganache, coffee praline and cacao nib

nougatine encased in a swirled shell.

7, Jalan Telawi 2, Bangsar Baru | +603-2280 0868

| www.dewbangsar.com

DECODING DESSERTS

To best appreciate dessert, it's important to

have the requisite vocabulary. Here are some

important terms to get you on the way:

Brûlée

French for burned, in cooking it refers to food

that has been sprinkled with sugar and baked

or torched to caramelise the sugar to form a

hard brittle top.

Creme Patissiere

Not an item in itself but this vanilla-flavored

custard filling is used in a wide variety of fruit

tarts and pastries.

Frangipane

Similar to a pastry cream and used in the same

way as a filling for pastries and fruit tarts, this

is an almond paste base enriched with sugar,

butter, and very often, eggs.

Ganache

Made of chocolate and cream, this mixture

can be used as a glaze, icing, sauce, or filling

for pastries.

Meringue

A mixture of stiffly beaten egg whites and sugar

which is then usually browned and used in

confections or as a topping for pies, pastry etc.

WWW.GOASIAPLUS.COM · 27
---
TALES ON TRACK

LOST & FOUND

COMMUNICATION

REBOOT

Text FRANCIS YIP • Photos ADOBE STOCK

Ever wondered what will life be without

smartphones and computers? At the

dinner table, parents frown when

children play with their phones. And the

busy executives work with their tablet while

on the move. In short, we have become

slaves to these devices.

But how did human communicate back

in the early days?

COMMUNICATION IN THE PAST

Indigenous tribes used smoke signal, horns

or drums to communicate in ancient times.

Then postal services started in the 5th

century with the popular use of pigeons,

dogsled and donkeys.

These physical deliveries of documents

were gradually replaced in 1836 with the

introduction of telegraph which used Morse

codes to spell out the messages.

Years later in 1876, the world's first

telephone was invented and patented by

Alexander Graham Bell. I still remember

seeing those bulky telephones with a rotary

dial when I was a child.

Telephones have changed so much since

those days. Did you know that it was from

the 80's menhir-like "brick phones" to the

iconic Nokia handsets that paved way to

what we know as the smartphones today?

These old brick phones weighed a heavy

1.15 kg and were 10 inches long with battery

power lasting only 20 minutes. I have

friends who told me it is a good defensive

tool against robbers!

And how can we forget about radio?

It was the most powerful communication

tool among the Allies during World War 1.

In fact, 80 years ago, thousands of listeners

believed actor Orson Welles that Martians

were invading New Jersey when he made an

announcement in a radio show, "The War

of the Worlds".

They rushed from their homes with

towels on their faces to protect themselves

in case gas was spewed out by aliens!

Since then, we have the entertainment

box known as television and followed by

video, VCD and DVD.

WORLD WIDE WEB

The World Wide Web or internet was

publicly made available in 1991 and have

since, opened up a whole new era of

communication.

Before the internet, I remember

using facsimiles to send business

documents. But soon, we use email, text

messaging and even video chatting and

video conferencing for long-distance

communication.

"The way we do business has changed

a lot. The internet and now mobile apps

have taken business and social networking

to a new level" says Dr Madelene Ong, cofounder

of a mobile app, FlipBizz.

Does that mean face-to-face

communication is no longer relevant?

"Technology is soulless but the trend

is now going back to the basic, in which

human touch is equally important. No

matter how busy we are with our gadgets,

we still need to meet up at one point or

another," says Mr Ho Kim Hong, CEO

of FlipBizz.

He adds, "In fact, mobile apps

complement face-to-face communication.

We call it Humanizing Business Online."

Whatever it is, our modes of

communication may change from time to

time, but our physical interaction with our

loved ones is still much needed today.

28 · WWW.GOASIAPLUS.COM

FRANCIS YIP always loses himself but somehow, finds his way back with lots of juicy stories to share. Forgive him if he sparks a debate.

Love him if he unlocks hidden jewels. So heavenly, so travelicious with him!

www.franciswriter.com franciswriterAd franciswriter