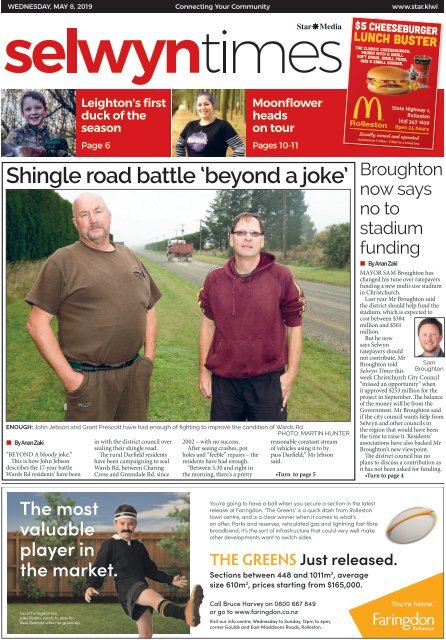 Selwyn Times: May 08, 2019
Create successful ePaper yourself
Turn your PDF publications into a flip-book with our unique Google optimized e-Paper software.
WEDNESDAY, MAY 8, 2019

Connecting Your Community

www.star.kiwi

$5 Cheeseburger

Lunch Buster

The classic Cheeseburger,

paired with a small

soft drink, small fries,

and a small sundae.

Leighton's first

duck of the

season

Page 6

Moonflower

heads

on tour

Pages 10-11

Shingle road battle 'beyond a joke'

ENOUGH: John Jebson and Grant Prescott have had enough of fighting to improve the condition of Wards Rd.

• By Anan Zaki

"BEYOND A bloody joke."

This is how John Jebson

describes the 17-year battle

Wards Rd residents' have been

in with the district council over

sealing their shingle road.

The rural Darfield residents

have been campaigning to seal

Wards Rd, between Charing

Cross and Greendale Rd, since

2002 – with no success.

After seeing crashes, pot

holes and "feeble" repairs – the

residents have had enough.

"Between 5.30 and eight in

the morning, there's a pretty

PHOTO: MARTIN HUNTER

reasonable constant stream

of vehicles using it to by

pass Darfield," Mr Jebson

said.

•Turn to page 5

Rolleston

State Highway 1,

Rolleston

(03) 347 1620

Open 24 hours

Locally owned and operated

Available from 11.30am – 2.30pm for a limited time.

Broughton

now says

no to

stadium

funding

• By Anan Zaki

MAYOR SAM Broughton has

changed his tune over ratepayers

funding a new multi-use stadium

in Christchurch.

Last year Mr Broughton said

the district should help fund the

stadium, which is expected to

cost between $384

million and $561

million.

But he now

says Selwyn

ratepayers should

not contribute. Mr

Broughton told

Selwyn Times this

Sam

Broughton

week Christchurch City Council

"missed an opportunity" when

it approved $253 million for the

project in September. The balance

of the money will be from the

Government. Mr Broughton said

if the city council wants help from

Selwyn and other councils in

the region that would have been

the time to raise it. Residents'

associations have also backed Mr

Broughton's new viewpoint.

The district council has no

plans to discuss a contribution as

it has not been asked for funding.

•Turn to page 4
---
2 Wednesday May 8 2019

Latest Christchurch news at www.star.kiwi

from the editor's desk

news

SELWYN TIMES

I'M NOT surprised Sam Broughton has

changed his tune over Selwyn ratepayers

fronting up for the big Christchurch

stadium (page 1).

It was madness for him to suggest we

help fund it in the first place – certainly not

without asking the people who's pockets the money will come

from.

Selwyn is undergoing its own major growing pains, with more

to come. Charges for water for example, when in Christchurch

they give it away. We will need our own sports stadium in the

years to come. Will Christchurch ratepayers front up? Of course

not. You wouldn't expect them to.

There's been too much mucking around over the Christchurch

stadium. Just build one like the 30,000 seater Bankwest Stadium

in Sydney's western suburbs. Cost: $US300m. Manageable.

- Barry Clarke

get in touch

GENERAL INQUIRIES Ph 379 7100

CLASSIFIED ADVERTISING Ph 379 1100

Star Media, a division of Allied Press Ltd

PO box 1467, Christchurch

starmedia.kiwi

NEWS

Anan Zaki

Ph: 021 911 576

anan.zaki@starmedia.kiwi

ADVERTISING

Lynette Evans

Ph: 364 7434

lynette.evans@starmedia.kiwi

Ploughing nationals

This weekend four people from the district are set to compete

in the national championships.

Page 12

your local views

Mental health awareness

Lincoln's Megan Nelis is calling for people to make sure their

loved ones are okay on World Mental Health Day.

Page 15

community events

Making music

Go along to the Lincoln Library on Friday and watch ensembles

perform. 10.30am to 11.30am. Suitable for all ages

Page 32

The best-read local newspaper, delivered to

20,015 homes, RDs and farms every Wednesday

Ladbrooks, Tai Tapu, Leeston, Lincoln, Southbridge, Prebbleton,

Halswell, Rolleston, Templeton, Burnham, West Melton, Darfield,

Kirwee, Arthur's Pass.

ROLLESTON OFFICE

78A Rolleston Drive, Rolleston

Richard Gray

rcg@meareswilliams.co.nz

Kate Warren

kcw@meareswilliams.co.nz

Anita Molloy-Roberts

am@meareswilliams.co.nz

T: (03) 374 2547

Offices also located at:

Lincoln – 43 Gerald Street

Christchurch – 225 Papanui Road

Darfield – 28 South Terrace

Hon Amy Adams

MP for Selwyn

I am out and around Selwyn regularly and

would love to meet you and hear the things

that are important to you.

Tuesday 14 May

2.00pm - The Store, Tai Tapu

Come up and make yourself known to me.

Visit amyadams.co.nz to sign up for my

newsletter.

Contact me

03 344 0418

@ selwynoffice@parliament.govt.nz

MPAmyAdams

amyadams.co.nz

Authorised by Amy Adams,

829 Main South Road,

Templeton, Christchurch.

Pink Ribbon

Breakfast

Hosted by Leeston Ladies Social Club

Saturday 18 May at 10am

at the Crate and Barrel, Leeston

$20 per head

with 50% donated to

Breast Cancer Foundation

Tickets for raffles

will be available for

purchase which include:

A grocery hamper and

donations from local

businesses

Proudly sponsored by:

Crate and Barrel,

3 Market Street, Leeston

BOWRANDA

ROOFS

For a free Measure & Quote PH 0800 26 26 20

● Immediately increase the value of your home

● Manufactured to custom specifications

● A permanent, sheltered outdoor space

● Strong and durable frame constructed of powdercoated

aluminium and stainless steel

● Square profile complements NZ residential architecture

● Option to enclose with outdoor blinds

● Eliminate 99% of harmful UV light

● Achieve your outdoor vision

A Lifestyle Choice

www.bowranda.co.nz
---
SELWYN TIMES Latest Christchurch news at www.star.kiwi

Wednesday May 8 2019 3

News

Plough blamed for phone outage

• By Anan Zaki

A MOLE plough machine was

responsible for the biggest ever

outage to the district's fibre

network.

About 2000 customers in Lincoln

and Tai Tapu lost landline

and internet connections for

more than a day due to the incident

last Tuesday at 2.20pm.

The fibre cable was damaged on

Weedons Rd, near Lincoln.

Fibre provider Enable said the

incident caused "significant"

damage to the

fibre line and

affected all

internet service

providers such

as 2degrees,

Spark and

Vodafone.

Said Enable

strategic communications

Daniel Herd

manager Daniel Herd: "We've

operated our network for close

to six years in the Selwyn district

and this is the first significant

outage."

The damage was caused by

a contractor working for an

infrastructure company, but

when Selwyn Times asked who

was responsible, Enable did not

answer.

"Our primary initial focus

was on getting services back up

RECONNECTED: Lincoln has the fourth highest uptake of

fibre broadband in the Enable Network, but connection was

interrupted last week.

and running for our customers.

Which we did quickly," Mr Herd

said.

"We're now focused on investigating

what happened."

The majority of customers had

fibre restored on Wednesday

about 5.15pm, more than 24

hours after the incident.

Essential customers such as

emergency and medical services

were restored within a "few

hours," Mr Herd said.

Lincoln University was not affected

by the outage.

Mr Herd said he did not know

what the repair costs were, but

the responsible party would have

to foot the bill.

During the outage, service

provider Spark's customers faced

long waits to call centres.

A customer in Lincoln told the

Selwyn Times he experienced a

two hour wait last Tuesday from

6.15pm to 8.15pm before hanging

up, only to find the call centre

had closed at 8pm when he tried

again. A Spark spokeswoman

said all calls started before 8pm

would be answered.

"In this customer's case, had

they remained on the line, their

call would have been answered;

however, as they hung up and

tried again after 8pm, they heard

the message stating the call

centre was closed."

Spark apologised for the long

wait time.

"Unfortunately, given the

unexpected nature of outages, we

do have occasions when our wait

times are longer than we want

them to be," the spokeswoman

said. The chat service "usually"

has a faster response time than

calling, she said.

Lincoln has the fourth

highest uptake of fibre in the

Enable network, which provides

connections to the district,

Christchurch and Waimakariri

district. Sixty-nine per cent

of households in Lincoln have

fibre, the highest uptake in the

district is Rolleston with 77 per

cent of households having fibre

connections.

•Ploughing nationals, page 12

Local

News

Now

In Brief

Fire rages, homes at risk

CRASH IN LINCOLN

Two vehicles crashed at the

Ellesmere Junction Rd and

Gerald St roundabout in

Lincoln on Thursday about

4pm. A police spokeswoman

said one of the vehicles, a grey

station wagon, reportedly

failed to stop after the crash.

No one was injured.

MORE ROAD WORKS

Road works will be continuing

on Goulds Rd between Maltby

Drive and East Maddisons

Rd until May 17. The district

council said detours and

traffic management will be in

place during this time.

Last week, repairs were

completed on Selwyn and

Ridge Rds.

FUNDING GRANTS

Sport New Zealand Rural

Travel funding is open for

Selwyn sports teams, which

need to travel to games and

are made up of members aged

between 5 and 19-years-old.

The district council said

school competitions are not

eligible. The funding round

is open for winter sports only

and funding applications

close on May 24. For more

information visit www.selwyn.

govt.nz/services/funding/

sport-nz-rural-travel-fund

DI'S

GROOMING

FULL GROOMS

BATH & TIDY

NAIL

CLIPPING

phone:

0274311395

Member of The NZ Dog

Groomers Association

K9

BY APPOINTMENT ONLY

Tired of working home alone?

TRY COWORKING TODAY

FIRST

DAY

FREE

Hot Desks

Permanent

Places

Flexible Terms

Work

Local in

Lincoln

Meeting Rooms

Event Space

Networking

03 595 1694

info@blincinnovation.com

See your local

audiologiSt – BreNNa

for a more personalized hearing aid experience!

There's no excuse to wait…

• Open 5 days a week in Rolleston

• Late night clinic for those who are working (these fill up fast, so be quick!!!)

• Match or beat any competitor's price

• FREE appointments if you have ACC funded hearing aids

• Hearing aids in all price brackets – including fully funded ACC options!

If you have hearing aids or need hearing aids and want a high level of

personal service at a competitive price, get in touch. It's easy to switch

to our clinic even if you already have hearing aids from elsewhere!

36 Tennyson Street, Rolleston

Call 03 390 2332 | www.sincockhearing.nz

Clinics in Lincoln | Leeston | Darfield
---
4 Wednesday May 8 2019

Latest Christchurch news at www.star.kiwi

SELWYN TIMES

News

Mayor says no to funding new stadium

•From page 1

Mr Broughton revealed his

U-turn on funding the stadium

after he was put on the spot about

the topic last week.

He was asked by city councillor

Yani Johanson about the issue at

an Annual Plan submission in

Christchurch.

Cr Johanson

asked if both

councils should

work together

on the proposed

stadium.

"So you're

Bruce

Russell

happy for us

[Christchurch] to

pay for the whole

stadium?" Cr Johanson asked.

In response, Mr Broughton

said he could not answer the

question as the district hasn't

been asked to pay.

Said Mr Broughton: "At the

moment Christchurch and the

[central] Government can pay

for what they are wanting to

build, so there's no need for extra

discussion."

He said his viewpoint was

based on a number of factors.

"It's based on discussions

with ratepayers and also on the

idea that while many things are

better done locally by a town or

a district, other things can be

achieved better by working as a

region," Mr Broughton said.

"I think the multi-use stadium

has the interest of the region

and is of the scale that a regional

discussion should have been

had."

Selwyn Times canvassed

residents' group members from

across the district about the

stadium debate.

West Melton Residents'

Association member Bruce

Russell welcomed Mr

Broughton's new direction.

"I believe we should have a

stadium, there's no question

about that," he said.

"I would have some

reservations, though, if we as a

council should be levied a rate

for it. I think that it's individual.

If they [Christchurch] want it

desperately, they should be the

ones who are contributing."

NO GO:

Mayor Sam

Broughton

no longer

believes

the district

should help

fund a new

stadium in

Christchurch.

Rolleston Residents'

Association chairwoman Leonie

MacLachlan said, in her opinion,

the district should not pay for the

stadium.

"I don't want to pay for a

stadium in Christchurch out

of anything from the district

council. I believe if it was the

other way around, Christchurch

City Council would not help us

in anyway," she said.

Leeston Community

Committee chairman Lloyd

Clausen said, in his personal

view, he agreed with Mr

Broughton's change of tune.

Mr Broughton hoped the

stadium would meet whichever

standards may be demanded by

the rest of Canterbury.

"If the region of Canterbury

had been involved from the start,

I think that would have been a

better process," he said.

Environment Canterbury was

the only local body that could

set a regional rate to fund the

stadium, Mr Broughton said.

But ECan has previously stated

it did not include the stadium in

its 2018-2028 Long Term Plan as

it was never asked for funding

by the city council and central

Government. Its next Long Term

Plan review is in 2021.

HEAT PUMP

SALE NOW ON!

Amazin' Autumn Specials!!

• We will offer you the best quality brands and

option of heat pump for your home/business

• Providing Heat Pump solutions for over 17 years to Cantabrians

• We personally guarantee all our products & installs for 5 years

(providing annual maintenance has been completed)

Phone us today for your free consultation & quote

41A SHAKESPEARE RD, WALTHAM

PHONE 03 366 0525

www.enviromaster.co.nz

"A local team for local people"

CAREERSEXPO 2019

Take a close look at your options

AND MAKE SMART CAREER CHOICES!

The NZ Careers Expo is your

one-stop-shop for careers advice

and information from a wide range

of employers, training providers

and industry organisations.

Open to all & entry is free! Visit careersexpo.org.nz for more details

CHRISTCHURCH 9-11 MAY - Horncastle Arena Thursday 9th 9-3 /5 -7, Friday 10th 9 -3, Saturday 11th 10-3.
---
SELWYN TIMES Latest Christchurch news at www.star.kiwi

Wednesday May 8 2019 5

Fight to seal Wards Rd

•From page 1

"The road is rough with

corrugations in it (and)

when it rains there's a lot of

potholes."

Grant Prescott moved

in the same year his

neighbours' fight began.

"We've moaned about

this since 2002, but it's

increased significantly

since 2005

because the

amount of use

has increased

so much, it's

incredible," Mr

Prescott said.

"We've got

truck and

trailers, on a

Wednesday

it's bedlam

because it's

Coalgate's

market day

for sheep and cattle so the

stock trucks go up and

down all day long."

There has also been a

number of crashes, most of

which go unreported, Mr

Prescott said.

"The council keep on

saying you don't meet the

criteria. When we asked

what the criteria is they

said we want you to have at

least 12 houses," he said.

Murray Washington

"When we had 14

[houses], they said you

need so many vehicles a

day use it."

But district council

assets manager Murray

Washington said there

is no traffic movement

criteria to seal a road.

He also said the council

would meet Wards Rd

residents on

Tuesday to

discuss their

concerns.

"The council's

current works

plan for

Wards Rd is

to continue

to maintain

the road as an

unsealed road,

but we will

be discussing

possible options

to address residents'

concerns at the meeting,"

Mr Washington said.

He referred to the

district council's seal

extension policy, which

stated it "will not fund

public requests for road

seal extensions."

The policy states if

landowners want a road

sealed they must pay for it

and maintain it for at least

10 years at their cost, before

the district council takes

over.

The policy also states

the district council may

consider funding any seal

extension projects which

meet the New Zealand

Transport Agency's

guidelines for funding.

But the district council

said Wards Rd does not

meet the NZTA guidelines.

Mr Washington said 57

vehicles use the road every

day.

But Mr Prescott disputed

the count – which was

taken at Charing Cross. He

said traffic from Darfield

does not often reach

Charing Cross and he

would raise the issue at the

meeting with the district

council on Tuesday.

Mr Prescott said the

district council's stance

"beggars belief."

"That bit about the tar

sealing [policy] makes my

blood boil, because Selwyn

District Council are tar

sealing East Maddisons Rd

[in Rolleston] this year."

"We are being neglected

because there's just spend,

spend and spend in

Rolleston and ignoring

everything else," he said.

rolleston

Goulds Green

Mother's

Day

Stoneleigh 750ml

(Excludes Lattitude,

Wild Valley &

Rapaura Series)

$

12 99 ea

Pams Pancake

Mix 325g

Nestle Scorched

Almonds 240g

Griffins Toffeepops or

Macaroon 200-250g

$

5 99 ea

Mothers Day Mixed

Bouquet (Available

while stocks last)

$

16 99 ea

NEW

PRODUCT

$

2 79 ea $

2 99 ea

WindoW TinTing

• 99% UV Reduction

• Heat & Glare Reduction

• Frosted & Decorative Film

• Privacy

• Safety & Security

• Anti Graffiti

ConTaCT us for a free no

obligaTion quoTe on:

Ph: 021 681 808

E: info@nztint.co.nz

private sale - $749,000

Lovely four bedroom home with an

attached one bedroom flat, great for

your parents, teenagers or a home

business.

Section size 1118sqm and plenty of parking

for the boat and caravan.

Please see our Trade Me Listing:

#1896736084

Contact Zita on 027 226 3575

or email czb@xtra.co.nz

Watties Baked Beans

or Spaghetti 420g,

Flavoured Tomatoes

400g or Peaches, Pears

or Apricots 400-425g

Half leg

sizes

for greater

convenience

ANY 4 FOR

$

5 99

Green Kiwifruit Loose

Product of New Zealand

$

2 79 kg

Fresh NZ Quality

Mark Lamb Leg

Roast

$

13 99 kg

Whole Single Leeks

Product of New Zealand

$

1 99 ea

www.foursquare.co.nz

facebook.com/FourSquareNZ

Specials available South Island only from Monday 6th May until Sunday 12th May

2019 or while stocks last. Wine and beer available at stores with an off licence. Wine

and beer purchases restricted to persons aged 18 years old and over.
---
6 Wednesday May 8 2019

Latest Christchurch news at www.star.kiwi

SELWYN TIMES

News

Speed limits to

get overhaul

A RAFT of speed limit changes

are being proposed for the

district.

District council staff recommended

32 changes in its Speed

Limit Bylaw review.

If the changes are approved

by councillors at today's district

council meeting, they will come

into effect from August 1.

In a report, district council

team leader transportation Mark

Chamberlain said the changes

are mainly to do with replacing

70km/h speed limits with

the New Zealand Transport

Agency's Speed Management

Guide.

Roads with speed limits of

70km/h are recommended to be

brought down to 60km/h.

Speed limits outside rural

schools would also be reduced to

40km/h, Mr Chamberlain said.

"As part of the discussion on

speed limit changes adopted by

council in February 2018, it was

requested that speed limits at

schools be reviewed," he said.

"As a result the proposal to

have permanent 40 km/hr speed

limits outside urban schools"

was included in consultation

Consultation was opened from

CHANGE: Many roads with

70km/h speed limits could

be dropped to 60km/h in a

new proposal by the district

council.

December to February.

District council staff also

proposed to review the 50 km/h

urban speed limit area with the

intention to reducing this to 40

km/h across a broader residential

catchment and including as

many schools as appropriate.

Mr Chamberlain said there are

no "significant" financial implications

for the district council,

should the speed limits change.

"Changing existing signs and

installation of new signs will be

funded from existing roading

budgets."

Leighton starts off the duck

hunting season with a bang

FISH & Game has applauded

duck hunters for a "safe and

compliant" start to the new duck

shooting season which began on

Saturday morning.

Thousands turned out to hunt

birds, such as mallards and

paradise shelducks.

Among the hunters was seven

year-old Leighton Mehlhopt, of

Burnham, who went shooting at

a pond near the Selwyn River.

Fish & Game spokesman

Richard Cosgrove said Leighton

shot his first duck on the opening

day of the season.

It was his second duck

shooting season, but he did not

shoot any last year, Mr Cosgrove

said.

Hunters appear to have taken

the 'safety first' advice and other

messages on board – particularly

those relating to the new firearm

laws, he said.

"At this stage, we've had no

reports of any firearm-related

incidents or injuries, which is

gratifying given the thousands

who have headed out to harvest

birds."

"At the same time, we have

had no reports from any of our

12 regions of any prohibited

firearms being seized."

Also out by the Selwyn River

FIRST CATCH: Leighton Mehlhopt shot his first duck at a pond

near the Selwyn River on the opening day of duck shooting

season. PHOTO: RICHARD COSGROVE/FISH & GAME

was Kurtis Smith, of Rangiora.

Mr Smith has spina bifida –

meaning he can't walk without

crutches. It was his first duck

shooting season, and he went

shooting with Leighton and his

family.

Mr Cosgrove said Mr Smith

managed to shoot his first duck

and "many more" throughout

the day.

North Canterbury Fish &

Game officer Dirk Barr said

hunters have been out in large

numbers. Areas with open water,

such as Lake Ellesmere, shot well

for some time, he said.

"Most hunters in the area all

managed to shoot two or more

birds in the first hour, and some

in the right places had very good

tallies, with some reaching their

bag limit of 25 birds," Mr Barr

said.

FLY INTO YOUR LOCAL FOR THESE MAY SPECIALS...

Cruiser bottles/KGB Jim Beam Gold/CC premium 7% 250ml

Smirnoff pure 10pk bottles Coruba & cola 7%/Coruba Jack Daniel's & Cola 4.8% 10pk cans

Jim Beam Gold/CC premium 4pk 355ml cans

cans all 12pks

12pk/DC 8pk all cans

Blackheart/Wild Moose $ gold & dry 12pk cans

$

23 .99

Codys 18pk 7% 250ml cans

.99 ea

& Jim Beam/CC 4.8% 4pk 330ml bottles $

12pk bottles

21 .99 ea $ 22 23 .99 ea

$ $

$ .99 ea

23

22 .99 ea .99 ea

$

29 11

.99 ea

Woodstock 5%Bottles/7% 250ml

cans all 18 pks Lindauer classics

range Wolf Blass yellow

Taylors estate range

Squealing Pig range (ex PN) Shots 6pk range

$

$

11 .99 ea label range Arrogant Frog Range

$ $ .99 ea

$

11 .99 ea $

14

Church Road classics (ex syrah) 16 .99 ea Blackheart 1L Dewar's 1L Gordon's 1L/Smirnoff

30 .99 ea $

9 .99 ea Jameson Caskmates/

$

12 .99 ea $

34 .99 $

36 .99 1L/Gordon's Pink 700ml

14 .99 ea $

37 .99 ea Beefeater 24 all 700ml

$ .99 ea

41

Jim Beam 1.125L/Jim Beam

Mac's 4 & 6pk bottle range

Black 1L/Makers Mark 700ml

Roku/Laphroaig/Auchentoshan American Oak

Old Mout Cider 1.25L

Tuatara 6pk Range

Kingfisher 12pk

Jameson 1L /Chivas 12yr

$

Jack Daniel's1L

$

43 .99 ea all 700ml

$

Glenfiddich 12yr/Monkey Shoulder 8 .99 12 .99 ea $

18 .99 ea $

700ml

19 .99

$ $

52 .99 $

53 .99 ea 700ml

47 .99 ea $

60 .99 ea

Tiger Crystal 12pk

$

23 .99 Tui/Export Gold/DB Draught 15pk bottles

$

24 .99 ea Heineken 12pk bottles

$

24 .99 Ranfurly 440ml 18pk

$

25 .99 Steinlager 18pk bottles

www.thirstyliquor.co.nz

398 High Street, Rangiora

03 313 7207

1275 Main North Road, Bridgend

03 323 8833

585 Springs Rd, Prebbleton

03 349 6031

45 South Terrace, Darfield

03 317 9499

Lion Red/Speights/Waikato/Summit/Summit low carb 24pk bottles

$ 31 .99 .99 ea

OVER 160 STORES NATIONWIDE!

www.facebook.com/ThirstyLiquorandBlackBullLiquor

Available from 1st – 31st May. Specials while stocks last. Available at participating stores.

1147 West Coast Rd, West Melton

03 347 8460

670 Main South Rd, Islington

03 349 7337

Main Rd, Lake Tekapo

03 680 6242

42 Waimate Highway, St Andrews

RD24 03 612 6740

69 Main St, Fairlie

03 685 8061

21 Aldwins Road, Linwood

03 982 1753

$

36

9 Parnwell St, Burwood

03 383 2564

495 Papanui Rd, Christchurch

03 260 2380

65 Victoria St, Christchurch CBD

03 260 1155
---
SELWYN TIMES Latest Christchurch news at www.star.kiwi

Wednesday May 8 2019 7

Tour The Willows on opening day

THE WILLOWS will be officially

opened on Saturday.

The park has been developed

in West Melton by Environment

Canterbury, in conjunction with

the district council, for nonmotorised

recreational activities.

Park-goers will be able to make

the most of a dedicated walking

and cycling trail, and there is a

camping area for New Zealand

Motor Caravan Association

members.

The Willows is located at the

end of Thompsons Rd, off Old

West Coast Rd. The opening

will start at noon on Saturday.

Everyone is welcome, and people

are encouraged to arrive from

11.30am.

ECan park rangers will be

at the opening to show people

around the park and Mayor Sam

Broughton will also attend.

ECan team leader parks and

forests James Page said it is an

exciting development for the

region.

"Cantabrians and visitors to the

Selwyn area can make the most

of this park," Mr Page said.

"We are very proud of this

development and believe it has

something for everyone to

enjoy."

There will be fishing access

along the river frontage at The

Willows and Weedons Forest,

PREPARATIONS: ECan field ranger Greg Stanley helps West

Melton School pupils water the trees they planted.

with access via Thompsons and

Weedons Ross Rds.

Trail bike riders will have a

dedicated area at the Weedons

Ross Rd end of the park.

The trail bike area will link up

with 28km of additional trails

downstream at Miners Forest

through to Haul Rd.

Four-wheel drive enthusiasts

can access the river upstream

of Intake Rd on the southbank

or the north-bank of the

Waimakariri River, west of

Harrs Rd. In the lead-up to the

opening, about 75 students from

West Melton School had the

opportunity to help plant trees at

The Willows to aid the long-term

sustainability of the park.

"It was great to be able to

engage with our community

and ensure

the children

were part of

something

that will be a

valuable asset

to Canterbury

for years to

come," Mr Page

said.

New Zealand

Motor Caravan Association

national policy and planning

manager James Imlach was

pleased with the partnership.

"There is growing demand

James Imlach

within our membership for more

destination-type campsites that

provide safe and easy access to

passive recreational activities,

such as fishing spots, walking

and cycling tracks," Mr Imlach

said.

•For more information

about The Willows opening,

email the Environment

Canterbury parks team at

duty.ranger@ecan.govt.nz.

Local

News

Now

Fire rages, homes at risk

New civil

defence

manager

A FORMER policeman and

volunteer firefighter ins the

district's new civil defence

manager.

Al Lawn, who took over as the

civil defence manager in April,

said he's aiming to build on the

work done by the team in recent

years under former manager

Ryan O'Rourke.

"They have helped to create

a civil defence team that is the

envy of many in New Zealand.

They have done a brilliant job

so I'm just following on their

coat tails." Mr Lawn has worked

extensively for civil defence over

past five years including as the

district's civil defence controller

and recovery manager after the

Port Hills Fires. He assisted with

the response to the Kaikoura

earthquake and was response

manager in the northern South

Island overseeing the Ministry of

Primary Industries response to

the Mycoplasma bovis outbreak.

Having farmed near Lincoln

for the past 20 years and

serving as a district licensing

commissioner for five years, he

said he enjoys living and working

in the district.
---
8 Wednesday May 8 2019

Latest Christchurch news at www.star.kiwi

SELWYN TIMES

Rosa wood

pellet fire

472 Blenheim Road, Sockburn Phone: 03 343 1651

Open: 8:30am – 5pm | Saturday 10am – 1pm

NEW ULTRA LOW EMISSION BURNER

CAN BE INSTALLED INTO ANY HOME

www.heatstore.co.nz

Fun and exercise

all year round

Lagoon Pools import and install quality fibreglass swimming pools. To compliment the pools

they supply good quality equipment including salt water chlorinators, heat pumps, pool lights,

fountains and water features, swim turbines, spa jets, robotic pool cleaners and a range of covers

and roller systems including hidden and automated.

Imported from Leisure Pools in Australia, their Vinyl Ester pools are strong with six layers including

protective armour. Each pool is strength tested and has a lifetime structural and osmosis warranty.

Lagoon Pools owners Julie and Warren are dealers for Leisure Pools in the North Canterbury to

Southland area, and agents for the Elite Hideaway Roller system.

Call Lagoon Pools on 0800 927 282 or 349 2160, email info@lagoonpools.co.nz or visit:

www.lagoonpools.co.nz They are open by appointment only.

www.lagoonpools.co.nz

03 349 2160

0800 92 72 82

SNACK: Vittoria shares a post-mushroom afternoon tea with Loki.

Fungus freak-out

AFTER NEARLY six

months in the role I'm

getting pretty confident,

but last week I had a major

freak-out which brought

me back to earth.

Like any toddler, Vittoria

is quick on her feet. Not like

regular quick mind you,

any adult can smash a toddler

in a foot race.

Nah, toddlers have a

magic power which lets

them teleport to wherever

you don't want them as

soon as their parents' eyes

are off them.

Last Tuesday, I looked

away for a second and

she was standing on the

TV cabinet (cue lounge

rearrangement).

That was not the worst

one though.

Recently, I turned away to

check my phone as we were

playing out front and before

I knew it she had grabbed

up a mushroom from the

bunch growing near the

bins and shoved it in her

wee gob.

I'm no botanist – and I

don't even know if botanists

know about mushrooms – so

I had zero clue what it was.

All I could think about

was that it could be poisonous.

So I fished out what I

could of the mushroom and

washed her mouth out. Vittoria

was not impressed.

Potential futures rushed

through my mind; bolting to

the emergency room, Vittoria

foaming from the mouth,

her in a hospital bed.

So I rang the poison

hotline for the first time in

my life and was happy to be

calmed, reassured and have

signs to keep watch for.

I kept a sample of the

mushrooms and made

the classic "don't worry,

Vittoria's okay" phone call

to Laura. An hour later,

through some research, I

found out the mushroom

was an edible species.

The relief that Vittoria

VITTORIA

& Matt

was actually going to be fine

had another element to it.

I felt like if she had

actually been sick from the

mushroom, or needed to go

the hospital, it would prove

that I was a bad parent and

incapable of looking after

her on my own.

It was on my watch.

"What would people

think?" actually went

through my head even

though I feel I took all the

right steps in the situation.

As the TV cabinet episode

proves, I didn't quite

learn my lesson.

Now I just have all of the

regular parenting worries to

deal with. Easy.

•Former Star Media

journalist Matt Salmons

has become a stay-athome

dad. We follow

his journey weekly.

Meet Marsha,

Environmental

Advisor.

Meet Stu,

Environmental

Advisor.

Roydon Quarry Quarry Fun Day

Information Help Desks

Sunday 24 June

Templeton 1.30pm-3.30pm RSA

15th May: 24 Miners

12-2pm and

Road

5-7pm

22nd May: 12-2pm and 5-7pm

Weedons Community Centre

16th May: 12-3pm

Fulton Hogan is setting up a series of "pop-up"

information desks to answer your questions and help

you get the correct information if you want to write

submissions relating to the Roydon Quarry proposal.
---
SELWYN TIMES Latest Christchurch news at www.star.kiwi

Wednesday May 8 2019 9

WIN

a weekend away

Opening

celebration runs

between

12pm & 4pm

Friday 10th May

ONLY

Help celebrate our Leeston store opening!

Spend $40 or more on fuel at Challenge Leeston this Friday and go into

the draw to win a pamper weekend in Hamner Springs valued at $399.

Leeston

www.challenge.co.nz

Full terms and conditions apply

CHA0093
---
10 Wednesday May 8 2019

Latest Christchurch news at www.star.kiwi

Our People

SELWYN TIMES

Nicole Schaap

Turning a lifetime of love of music into

Rolleston drummer,

singer and songwriter

Nicole Schaap, 26, and

her band Moonflower

are celebrating the

release of their first

album with a tour. She

spoke to Anan Zaki

about the band and her

musical career

Tell me about your band,

Moonflower?

Basically it started a couple of

years ago when I started writing

some decent sort of songs. I had

been writing for a few years but

hadn't really put anything decent

together. My other band that I

was in at the time, Picking at

the Remnants, saw that I was

needing to have an output for

this music I was making and

to try and get me to the front

rather than being behind the

drums with the other band. I

was drumming and doing a bit

of backing vocals and stuff, but

my thing was to get in front and

do some vocals and actually

write the songs. So that's how

that came about. We've got our

current line up, which is four of

us, me, my partner Josh Fairless

(guitar), my good mate Ethan

Bryant (keys) and my good

BRIGHT FUTURE: Nicole Schaap became interested in music during her last year of primary

school. The Rolleston singer is preparing to tour the South Island with her band Moonflower.

PHOTO: MARTIN HUNTER ​

friend Damon Thurlow (bass) as

well. A big part of it is by parents,

they've helped fund the whole

thing, without them we couldn't

have done it. They're our biggest

supporters.

How did the band name come

about?

I've just always liked that

name. I guess it came about

when I had a hippy van a few

years ago when I was with Picking

at the Remnants. It ended

up being called The Moonflower

Van and I liked that name.

Is it harder to get into the

music industry in Selwyn?

I think so. I feel like people

are really sporty and I don't feel

like its musical. But with events

you've just got to promote it and

if people know it's happening,

they get into it.

You grew up in Rolleston,

what do you make of the music

industry in the district?

Yeah, I went to Lincoln High

School. It's not massive. There's a

lot of bands here doing a lot but

not in the Selwyn District.

What is your role in

Moonflower?

I ended up behind the drums

again, even though the goal was

to get me out in front. It's just

sort of how its ended up. It seems

to be a point of difference being a

girl drummer and singer.

Normally drummers aren't

vocalists are they?

No and it's a hard job. I've been

drumming for a long time and it

sort of comes naturally and the

vocals are the part that I focus on

the most when I'm performing.

When did Moonflower start

as a band?

I'd say about two years ago

and it's always been me and Josh

with others. So we got Ethan end

of last year just before we hit the

studio to record as well. Because

before I was doing keyboard as

well. And I was self taught on

keyboards so I thought getting

someone that's properly trained

and knows his stuff for the

studio was the way to go and he

ended up joining.

How did you go from

performing every now and then

into launching an album?

Pretty much once I had a

group of songs – I think I had

about six or seven that I really

wanted to record. And we had

done a few demos in the garage

and it just wasn't cutting it.
---
SELWYN TIMES Latest Christchurch news at www.star.kiwi

Wednesday May 8 2019 11

an album, tour and a full time career

I wanted something really good

that I could release to online to

get some more exposure and

have a good product to show

people. Then I was like, we

need to contact someone who's

going to be able to do this for

us. We managed to find a really

good studio, with a great sound

engineer in Lyttelton called The

Sitting Room. Which is quite

a big name and owned by Ben

Edwards, he's won producer

of the year and the guy that

recorded it, Josh Petrie, was

taught by Ben Edwards.

What genre is your album?

I'd probably say retro rock with

soul and its got like a dark twist.

I get compared to – not so much

the music style – but my voice,

I've been compared to Adele and

Amy Winehouse. It's funny because

I don't. It's very soulful and

very belty. I love all the old rock

chicks like Janis Joplin. That real

good soulful stuff that I think

we're missing a lot today. I just

feel like I want to hear a lot more

soul in people's voices and that's

why I want to do it.

When did you decide to be

full-time into music?

Yeah for me it is. I'm doing all

the admin and all the management

and all that sort of stuff

and writing. It is a really big job

behind the scenes.

How long did it take for you

guys to create the album?

We booked eight days in

the studio. It was mostly preproduction

stuff – just being

prepared and knowing exactly

what we we're doing so that

we don't waste time because

time is money. So, we just had

to be really into it. Originally

we hoped to record six to eight

tracks like an EP in eight days. I

wasn't happy for it to be just an

EP, I wanted it to be an album

so I kind of looked at my other

songs and we ended up getting

10 tracks done in those eight

days. That's because of the

professionalism of our sound

engineer, its because we were

prepared and it was a really good

environment and we just got

it done. I still don't know how

we did. But now we've got 10

tracks and a full album. It was

intense. We were travelling from

Rolleston to Lyttelton everyday.

Sometimes it was 10-12 hours,

MULTI

TALENTED:

Nicole Schaap

says not many

bands have a

drummer who is

also the vocalist.

PHOTO: PETER

WALKER

but we managed.

How big is the tour?

Two of the guys have a fulltime

job and another has a parttime

job. They're not as flexible

as me. We're looking at doing the

South Island. And we're going to

be doing a thing called the Leading

Ladies' Series. It sets up three

female led bands and takes them

around three or four towns in the

South Island. So it's a really cool

thing to be part of. That will be in

August, September. We're looking

at playing in Wellington.

Where would you like to be in

five years time?

I'd love to be recognised for

my songwriting and just be more

well-known. I think we've got

something different to offer and

some really good catchy songs.

I think our audience would be

a little bit older so that's why we

struggle a bit with the younger

crowd. They don't really get us as

much because we're more retro

but I don't know, I hope they see

something in it and we get more

exposure. I'd love to be doing

bigger shows, bigger festivals and

people wanting to book us.

How did you get into music?

In the last year of primary, I

saw a flyer come around about

drum lessons and for some

reason I felt like I needed to do it.

I kept at it for a good amount of

time and got my own drums for

my 13th birthday. Because you

have to prove it to mum and dad

before they buy you a huge drum

kit. I was 14 or 15 when I picked

up a keyboard from a garage

sale and started teaching myself

chords, writing songs and tried to

get bands together.

• Moonflower is playing

at libraries to celebrate

NZ Music month. May 11,

Leeston. May 18, Darfield.

May 25, Rolleston at 11,30am.
---
12 Wednesday May 8 2019

Latest Christchurch news at www.star.kiwi

News

Pupils get

active on

the way to

school

MORE THAN 4000 young

people from 10 schools across

the district will be getting active

on their way to school for the

second annual Active Autumn.

The district council's road

safety team is running the

campaign during term 2 to

encourage children to walk,

skate, bike or scooter to get to

and from school.

Pupils taking part get a card

stamped each time they walk or

wheel to or from school.

A colouring competition is

also being held, with children

challenged to develop their own

road safety message.

School road safety coordinator

Stephanie Hautler said there are

physical and mental benefits for

children from active transport

including better road safety

awareness, independence,

friendships and physical fitness.

"Skipping the car ride also

means less noise, less congestion,

less visual pollution and cleaner

air. Burning less fuel saves

money too," Ms Hautler said.

• Visit www.selwyn.govt.nz

for more information about

Active Autumn

100%

CAPITAL gAIN

TO THE RESIDENT

• By Anan Zaki

PLOUGHERS FROM across

the district are gearing up

to compete in the national

competition.

The biennial New Zealand

Ploughing Championships will

take place this weekend, with 40

competitors taking part.

It will be held

at Wilkinson

Farm in Chertsey

on Saturday and

Sunday, with the

winner chosen by

a panel of judges

qualifying for the

World Ploughing

Championships

in Russia next

year.

Four competitors are from

the district – farmers Jeff

Cridge, Simon Reed (both

of Kirwee), retired Lincoln

farmer John Stalker and West

Melton construction worker Joe

Marychurch.

Mr Reed is taking part in his

fourth nationals after winning

a regional event in Swanannoa,

North Canterbury, last year.

"I've only been in it for a few

years and you get better and

better. You learn where your

shortfalls are," he said.

The event will feature

conventional, reversible, vintage

and horse ploughing.

Mr Reed is hoping to finish in

the top three this year, after

mid-table performances in the

past. Ploughing is something his

family has been involved in, he

said.

"My ancestors were heavily

involved in match ploughing.

We were introduced into it at a

young age, not at New Zealand

levels but at local levels," Mr

Reed said.

"Then I just decided it was a

sport I'd be interested in pursuing."

It helps as ploughing is part

of everyday life at Mr Reed's

crop farm, but match ploughing

involves careful understanding.

"Understanding the soil type is

the biggest key and knowing how

Local

News

Now

Ready for ploughing nationals

John

Davison

PRECISION PLOUGH: Retired Lincoln farmer John Stalker at last

year's Rakaia Ploughing Match.

$1,000 fULLY

REfUNDAbLE

DEPOSIT

SELWYN TIMES

Fire rages, homes at risk

the soil type is going to behave,"

Mr Reed said.

The event is being hosted by

the Rakaia Ploughing Match Association.

Association president John

Davison said match ploughing

as a sport dates back to the 19th

century.

"When it started there were

only horses ploughing and the

last of them [horses] ploughed

competitively in the late 1940s or

early 1950s," Mr Davison said.

"Then it was tractors until a

few years ago when because of

the popularity of Clydesdales it's

gone full circle."

Association board member

John Hall said the competition

is split into sections over the two

days.

"The first day is stubble

[ploughing]. It's going to be

barley stubble this time and they

are judged various aspects like

straightness, neatness, weed

control and the soil available and

more," he said.

"On the second day they are

ploughing a grass paddock. If

there's any fault they'll show up."

*The New Zealand

Ploughing Championships

will be held on Saturday and

Sunday at Wilkinson Farm,

on Wilkinsons Rd, Chertsey.

Admission is $10 cash

INVESTMENT IN YOUR RETIREMENT AND

REAP THE REWARDS IN ROLLESTON

E S T A T E

Phone. 03 421 7796 | Email. sales@woodcroftestate.co.nz

WOODCROFT WAY, 28 KENDON DRIVE, ROLLESTON, CANTERBURY

ROLLESTON'S NEW REgISTERED RETIREMENT VILLAgE

• Initial weekly fee of $75 includes rates, insurance, grounds maintenance and

window washing

• Gated community and emergency call button in each villa

• Two & three bedroom villas with single/double garage from $450,000

• There will be an on site manager and a pavilion and bowling green

• Show Home now open Monday to Friday 10am to 2pm

• After hours viewing by appointment call Corinne 021 292 1141

www.manorgroup.co.nz

Specialists @ Individuality

• Focus on sustainability

• Award winning family owned business

• Proven reputation of quality

• Full architectural design package

NATIONAL "HOY" WINNER plus GOLD RESERVE 2016

View our display home

Phone Jesse 021 701 265

or visit www.jdhomes.co.nz

Canterbury
---
SELWYN TIMES Latest Christchurch news at www.star.kiwi

Wednesday May 8 2019 13
---
14 Wednesday May 8 2019

Latest Christchurch news at www.star.kiwi

SELWYN TIMES

We're Christchurch's Heating and Cooling Experts!

MSZ-AP25

Heating 3.2kW | Cooling 2.5kW

$2,250

INSTALLED*

MSZ-AP35

Heating 3.7kW | Cooling 3.5kW

$2,399

INSTALLED*

EcoCore AP Series

New Zealand's quietest heat pump ever

from just 18dBA! † Ideal where it matters

most – in living rooms and bedrooms.

†

AP25 Indoor sound level on lowest fan setting in heating mode.

* Price includes back to back

installation within 5m of an

existing powerpoint.

MSZ-LN50

Heating 6.0kW | Cooling 5.0kW

$3,599

INSTALLED*

Black Diamond Series

The new standard in personalised comfort

and style. Choose from Red, White or

Black Diamond, and make your personal

design vision a reality.

Terms and Conditions apply.

Building new or

renovating your home?

Talk to us about energy efficient, whisper quiet

Ducted Systems – the ideal unobtrusive total

home comfort solution year-round.

4 BEDROOM

HOME DUCTED SYSTEM

$7,899

INSTALLED

PEAD-RP71

Heating Capacity: 8.0 kW

Cooling Capacity: 7.1 kW

Call us today for your no obligation consultation.

03 341 7676

www.futureairsolutions.co.nz
---
SELWYN TIMES Latest Christchurch news at www.star.kiwi

Wednesday May 8 2019 15

Your Local Views

Caring for mental health

Megan Nelis

is recovering

from anorexia,

depression

and anxiety.

The Lincoln

resident

writes about

taking action

on World Mental Health

Day.

The conversations are

beginning to be had and

awareness is increasing – but

mental health and illness is still

stigmatised in society.

Today is World Mental Health

Day, a time to really place the

spotlight on mental well-being

and take a look at our health and

that of others.

My name is Meg, I am

22-years- old and have been in

recovery from anorexia nervosa,

major depressive disorder and

anxiety disorders for more than

seven years. When I was diagnosed,

there was little talk about

mental illness, a taboo topic

with stereotype.

I thought there was something

wrong with me, I was alone and

there was no hope for me.

I don't wish for anyone to have

to experience and feel what I felt

back then. I am thankful to be

in a place in my recovery where

I am now, advocating for mental

WELL-BEING: Today is World Mental Health Day and Megan

Nelis is urging people to check up on their loved ones.

health and awareness.

Rawing Meg was a platform

created to share my past experiences

in my recovery, as

well as sharing stories of hope

from others. Mental health is

something we all have. What is

important is that we do not feel

ashamed or embarrassed for

acknowledging the difficulties

we face or for wanting to seek

advice or help. You are no less

of a person, not weak, nor alone

in your struggles. Let today be a

timely reminder to ask yourself

and those around you:

•How are you really feeling?

•Do you have time each day

dedicated to yourself?

•Is your mood, anxiety, exercise

or food taking up more time

than it should?

•Is there something you need

to talk about with someone?

Begin those chats with your

children, friends, and colleagues

and if you see someone struggling

tell them or tell someone

who can help.

•For more information

about Rawing Meg visit

www.rawingmeg.wixsite.

com/hearmeraw

BACKYARD CRITTERS

All about aphids

Mike Bowie is an ecologist who specialises in

entomology (insects and other invertebrates).

Each week he introduces a new species found

in his backyard at Lincoln. His column aims

to raise public awareness of biodiversity, the

variety of living things around us. Check out

the full list of invertebrates found at

http://naturewatch.org.nz/projects/backyardbiodiversity-bugs-in-lincoln

APHIDS ARE a very common

sight on roses, particularly in the

late spring.

Although there are at least four

species that can feed on roses,

the most common species by far

is the rose aphid (Macrosiphon

rosae).

This species is 2-4mm long,

green with a red tinge and has no

distinctive markings.

Aphids can be seen from spring

through to winter and during

that time they can produce many

generations.

In optimal conditions, a generation

can take five to 10 days.

Most aphids are born pregnant

and can therefore build up large

populations quickly.

Aphid mouthparts pierce and

suck fluid from roses and in large

populations can reduce plant

health. Aphids also excrete honeydew

which drips onto vegetation

below, creating a sticky mess

that can attract exotic wasps and

other insects that feed on the sugary

residue. Sooty mould can also

attack the honeydew, turning it

black over time.

Predators include birds such

as silvereye and goldfinch, and

insects such as ladybirds, hoverfly

larvae and lacewings.

WWW.

Your fresh food people.

OUR weekly specials

broccoli .......................................................................99

c

large green kiwifruit ......................... 1

red kumara...............................................................

3

large celery ........................................................ 1

californian oranges .......................... 2

swedes ............................................................................... 1

premium beef mince................................. 11

lamb loin chops ................................................ 16

chicken thigh cutlets ....................... 9

havoc pork loin steaks ............... 16

All our fresh meat is 100% NZ FARMED. specials VAlid 6th may - 12th may 2019.

ONLY AVAILABLE AT RAEWARD FRESH HAREWOOD RD, TOWER JUNCTION

.CO.NZ

each

.99

kg

.99

kg

.99

each

.99

kg

.99

each

.99

kg

.99

kg

.99

kg

.99

kg

Montessori & Early

Childhood Preschool

• We Offer a Friendly, Fun and

supportive environment – only 5

minutes from Rolleston.

• We believe that Tamariki thrive

in a peaceful, structured and

caring environment, full of fun

and challenges.

• We Offer focused, balanced curriculums

that prepare Tamariki for the next step in

their learning journey.

• We value diversity within our Tamariki and

their whānau and this is reflected in our

whānau focused philosophy.

• We have 3 well resourced classrooms,

caring for Tamariki from 6 weeks to

6 years of age. We are proud of our

large, natural playgrounds that offer

challenges for all ages.

Call in to visit us today, meet the teachers and have a look around our school

New enrolments in the months of May and

June will receive one month FREE*

LiMitEd

spaCEs

avaiLabLE

iN ouR

NuRsERy!

*Fees on confirmation of enrolment (with terms & conditions).

Offer limited to 2-3 year old enrolments only.

For enrolments please contact Jasmine or Kylie on 347-6161

visit us at 643 burnham school Road

Download forms from www.burnham-montessori.co.nz
---
16 Wednesday May 8 2019

Latest Christchurch news at www.star.kiwi

SELWYN TIMES

SPORT

Tight start to first

HIGH STAKES: Lincoln's Janie Watkins gets plenty of air in an

attempt to block the shot of Greenpark B's Brooke Coad.

PHOTOS: KAREN CASEY

• By Jacob Page

THE FIRST week of Selwyn's

premier netball competition

proved what many already

suspected – there will be no easy

games this season.

Defending champions

Greenpark A went behind early

but came back to beat Prebbleton

63-31, while 2017 champions

Lincoln A were beaten by

Greenpark B 52-43.

Broadfield A outlasted a plucky

Southbridge team 57-54.

Greenpark B produced a strong

performance to take down a

revamped, youthful Lincoln A

side. Greenpark B coach Mechelle

Harrison was thrilled with how

her team's combinations came

together.

"Everyone gelled really well –

when we needed big plays we got

them, and the changes we made

seemed to make an impact at the

right time."

Harrison said she was happy

with the number of turnovers her

defenders created, but admitted

some of their attacking options

and feeding into the circle needs

to be improved.

She praised shooter Anna

MacDonald for leading their

attack and dealing with the

Lincoln A defenders' extra height.

Lincoln A coach Dawn Dalley

was happy with the team's

performance except for their

OPTIONS: Shannon Corbett looks for a pass during Lincoln's

loss to Greenpark B.

third quarter when Greenpark B

got away.

"Being down only one goal at

halftime, I was really happy, but

the third quarter we dropped our

intensity and while we pulled

it back in the final quarter, the

game was gone by that point,"

Dalley said.

"We had patches where we

would have good play and then

patches where we would hesitate

and we were just turning over too

much ball."

Southbridge pushed last year's

beaten finalists Broadfield A all

the way. While Broadfield A led

the entire game, they were never

able to get a comfortable margin

on the determined Southbridge

team. Southbridge coach Sarah

Ormandy said there were plenty

of positives to take away.

"I think our shooting was

pretty good and our feeds into

the circle were short, which kept

their defenders out of the game as

much as we could," she said.

LIVE MUSIC

THIS SATURDAY

4.30PM

MARION'S

OUTLAWS

7.30PM:

IAN MAC

COMING UP

SAT 18.MAY.19

4.30PM

BARB

(OF BARROSS)

7.30PM:

THE C-BAY BAND

SUN 26.MAY.19

1.30PM

ANNETTE'S

HEART OF THE

COUNTRY

H ORNBY

WORKINGMEN'S

CLUB

ph 03 349 9026

17 Carmen Rd, Hornby

www.hornbywmc.co.nz

Members, guests & affiliates welcome

FAMILY FRIENDLY DINING

SUNDAY

12TH MAY

BUFFET LUNCH 12-2PM

BUFFET DINNER 5-8PM

LIVE ENTERTAINMENT

MID WEEK

MEAL DEALS!

CLUB CAFÉ

LUNCH SPECIAL

ONLY

$12

GO IN THE

DRAW TO

WIN A

PAMPER

PACK

FOR MUM!

*Conditions apply

ROAST OF THE DAY

WITH VEGES

-OR-

FISH OF THE DAY

WITH CHIPS & SALAD

THIS

FRIDAY

BOOKINGS ESSENTIAL.

ADULTS $30. KIDS 12 & UNDER

JUST $1 PER YEAR OF AGE

TUESDAY

WEDNESDAY

THURSDAY

MIDDAY TO 2PM

ADD A DESSERT

FOR JUST $5

BRING A GUEST!

AVAILABLE

LUNCH & DINNER

ON FRIDAYS

AT THE CLUB CAFE

Special includes

Burger served with a

glass of post-mix

'Famous for their roasts!'

RESTAURANT & CAFÉ

Cooked Breakfasts

Check out our extensive breakfast

menu from Continental to Cooked

We are open from 6.30am

Seniors SPECIAL

Two courses $22

Soup/Roast or

Roast/Dessert

The revolution

in heat pumps

is here now!

The revolution in heat pumps is here now!

The Fujitsu e3series

The brilliant

heat pumps from Fujitsu

e1 : efficiency

e2 : environment

e3 : economy

Website: www.pshc.co.nz

FREE consultation from your local

Accredited Heat Pump Expert

Phone today: 03 381 6950

INSERT DEALER DETAILS HERE

Special available lunch only

Monday - Saturday 12pm - 2.30pm

$19

Kid's 2 course

special

The

RACECOURSE HOTEL

& Motorlodge

118 Racecourse Rd, Sockburn,

www.racecoursehotel.co.nz

The brilliant e3 series

heat pumps from Fujitsu

e1 : efficiency

e2 : environment

e3 : economy

NEW ZEALAND'S FAVOURITE AIR

Treat

Mum!

We are family

friendly.

Great Kids menu

plus designated

play area.

MOTHER'S DAY

THIS SUNDAY

$13

Christchurch. Ph 03 342 7150

Fujitsu's Catechin Filters are

approved by the Asthma and

Respiratory Foundation NZ's

Sensitive Choice ® programme.

Email: info@pshc.co.nz
---
SELWYN TIMES Latest Christchurch news at www.star.kiwi

Wednesday May 8 2019 17

round of netball

BATTLE: Hannah

Wilson beats Jessica

McEwen in an aerial

duel.

"I think the girls were initially

surprised they were as close as

they were but we kept doing our

thing and kept it close to the

end."

Ormandy praised the work of

goal attack Fiona Sutherland, not

only for her accurate shooting,

but for her high work-rate outside

the circle. She also did well to

support her young shooting

partner Emily Skilling.

Greenpark A trailed newlypromoted

Prebbleton early in

their match before pulling away

to win by 32 goals.

Greenpark A player/coach

Zaylie Sullivan said their new

combinations and general rusty

play caused them to start slow.

But she also heaped praise

on Prebbleton's physicality and

fitness and said it is an area her

team will have to improve on in

the coming weeks.

"I think (Prebbleton) will beat

some teams," she said.

"They're fit and fast and

caught us off-guard with their

physicality."

•Saturday games

Lincoln A v Broadfield A;

Greenpark A v Southbridge

A and Greenpark B v

Prebbleton A.

•Week one results

Broadfield A 57,

Southbridge A 54; Greenpark

B 52, Lincoln A 43; Greenpark

GOOD TAKE: Leesa Anderson takes a pass as Jemma Geayley

tries to defend.

A 63, Prebbleton A 31.

•Points

Greenpark A 4, Greenpark

B 4, Broadfield A 4,

Southbridge A 1, Lincoln A 0,

Prebbleton A 0.

POSITIONING: Hayley

Banks evades the tight

defence of Mechelle

Barltrop to catch a

pass into the circle.

DEFENCE:

Karen

Harrison

tries to block

Shannon

Corbett's

pass.

•More sport,

pages 20,

23 & 25

spoil mum

this mother's day

lots of great gift ideas and deals instore

diy mother's

day Card

Make a Mother's day

card for Mum at Bush inn

from thursday 9th May until

saturday the 11th May. 3–6pm

and all day saturday for free.

Corner of riccarton road and Waimairi road

www.bushinncentre.co.nz

Monday - friday 9:00am - 6:00pm | saturday 9:00am - 5:00pm

sunday & Public Holidays 10:00am - 5:00pm

food outlets 11:30am - until late

Win

a weekend in

hanmer springs

Just spend $25 or more in one

transaction to go in the draw

plus 3x $100 vouChers

to Be Won!

sponsored by:

*Conditions apply
---
18 Wednesday May 8 2019

Latest Christchurch news at www.star.kiwi

Selwyn Times

Family water

safety programme

Having fun while staying safe in the water is the driver behind a new family programme at

Selwyn Aquatic Centre.

Two Family Water Safety Programmes will be run at Selwyn Aquatic Centre on Sunday 19 and

Sunday 26 May.

It is the first time the Council has run a family-focused water safety programme, Swim School

supervisor Sammy Lawson says.

The Council has been working with Coast Guard NZ for a year providing water safety courses,

which have been run for children and school groups, but the family programme is more in-depth,

she says.

Families will tackle challenges together, both in and out of the pool, with practical tips covering

general water safety along with safety on rivers and in the ocean, she says. It's all designed to get

families having fun together while learning vital skills.

"It's created to be fun. We teach boat safety—falling in and out and flipping a boat—towing

somebody who needs rescuing, throwing ropes, identifying rips, river crossing, hypothermia,

help huddles."

For a country surrounded by water, New Zealanders have a poor record when it comes to water

safety and the course is also working to reach those most at risk of drowning or near drowning,

Mrs Lawson says. Teaching adults alongside children also means parents are better equipped to

keep their children safe, by being able to spot rips or other unsafe conditions and in setting and

enforcing good habits.

"The research in New Zealand shows it's adults and particularly adult and teenage males that are

putting themselves at risk, so we're trying to target that, but it's about keeping all of your family safe."

Completing the session will also see participants receive a NZ Coastguard Safe Boating qualification.

The Family Water Safety Programme will run from 1–4.30pm and costs $25 per family of four,

additional children are $5 each. Children must be over 5 years. Up to 12 families can take part in

each session. Bookings essential by emailing swimschool@selwyn.govt.nz.

ON THE

ROADS

On the roads this week

Repairs will be carried out on Old West Coast Road, Waimakariri Gorge Road and

Selwyn Road until Friday 10 May. Traffic management will be in place during this time.

Resealing work will be carried out on Marshs Road until Friday 10 May. Traffic

management will be in place during this time.

Road works are continuing on Goulds Road between Maltby Drive and East

Maddisons Road until Friday 17 May. Detours and traffic management will be in place during this time.

Footpath construction will be continuing on Edward Street from Millstream Drive to Southfield Drive,

Tod Place and North Belt from James Street to Kildare Terrace until Friday 10 May.

Sealing has been completed for the footpath through Mahoe Reserve in Lincoln, a popular track linking

Lincoln Primary and High schools with the adjoining subdivisions. Storm water improvement and kerb

and channel work has been completed on Tosswill Road. Work will continue this week preparing the

road pavement, footpaths and residential entranceways. Sealing work on Robinsons Road is due to

begin this week depending on the weather.

The newly sealed track in Mahoe Reserve.

Rolleston town centre upgrade –

pedestrian experience

Creating a pedestrian-friendly environment in Rolleston is part of the

vision for the town centre upgrade.

The design and layout of the proposed Rolleston town centre

roading and public spaces is now available to view, along with the

proposed features of the pedestrian walkways.

The design of the carriageway and sidewalk is focused on making

a stroll through the town centre a pleasant experience. This means

children, the elderly and other pedestrians will be safe to cross the

road and travel throughout the town centre.

It's proposed that the pavement will have an interesting design,

with street furniture to be placed at regular intervals. Exotic and

native trees are also planned to be planted in the main street. Where

possible, significantly wider spaces have been proposed to allow a

number of people to gather and enjoy the streetscape.

Modern lighting will also ensure the light level is safe for cars and

people during the day and night.

Some proposed key features include:

· 4000 plants and 185 trees across the town centre

· five or more seats along the Tennyson Street high street

· a community garden alongside the promenade with edible plants

· modern street lighting to enhance light levels

· water fountains and street furniture

· rubbish bins across the development that will be regularly serviced.

For more information and to complete a feedback form, go to

selwyn.govt.nz/rtc-design.

Plant out day at Kirwee

Recreation Reserve

The Kirwee community will be bringing a new touch of green to the

Kirwee Recreation Reserve this week.

Native plants will be planted around the perimeter of the reserve in two

community planting days on Friday 10 and Saturday 11 May.

The aim is to form a "green dot" in Kirwee, establishing ecosystems

and native bird life on the reserve, reserve management committee

chair Raewyn Feast says.

The first of the plant out days on Friday will see pupils of the

Kirwee Model School joining members of the community and will

include an educational session on native planting and ecosystems,

Mrs Feast says.

"We have a large number of plants to get into the ground and are

very happy for members of the community to turn up on either day

starting at 9.30am on Tramway Road. This is an exciting opportunity

for the community to come together and get involved with what we

hope will be a lasting legacy at the Kirwee Recreation Reserve."

The plant out days are the start of further planting at the reserve

and the first stages of the concept plan for developing the reserve

extension, she says. Te Ara Kakariki Greenway Canterbury Trust has

given support and advice on a planting plan.

The concept plan is being developed by the reserve management

committee and the Kirwee township committee with support from

council staff.

Council Call

Selwyn District Council

Norman Kirk Drive, Rolleston

Ph 347 2800 or 318 8338

Rolleston Library

Rolleston Drive, Rolleston

Ph 347 2880

Darfield Library & Service Centre

1 South Terrace, Darfield

Ph 318 8338 or 347 2780

CC080519
---
Selwyn Times Latest Christchurch news at www.star.kiwi

Wednesday May 8 2019

19

Notices

FUNDING AVAILABLE FOR

YOUTH SPORTS TEAMS TO

TRAVEL

Sport New Zealand Rural Travel

Funding is available for Selwyn

sports teams who need to travel

to local competition games and

are comprised of members aged

5–19 years (school competitions

in school time are not eligible).

This funding round is for winter

sports only. Applications close

Friday 24 May 2019.

For further information and

application forms go to www.

selwyn.govt.nz/services/funding/

sport-nz-rural-travel-fund or

contact Stuart Westoby, 03 347

2708, stuart.westoby@selwyn.

Meetings

Public Forums: Council,

Community Board and local

committee meetings are open

to the public. Time is available at

the start of meetings for people

to speak on matters of concern.

Please notify Bernadette Ryan

or your local committee at least

three days before the meeting.

Township, Hall and Reserve

Committees: To list or make

changes to meeting details, email

meeting.changes@selwyn.govt.

nz or phone 347 2800 or 318

8338 by 9am Wednesday the

week before publication.

COUNCIL & COMMUNITY

BOARD

Unless otherwise stated all of

these meetings will be held at the

Rolleston Council Building.

Council Meeting

Wed 8 May 1pm

District Plan Review Committee

Wed 22 May 9am

Road Safety Committee

Thur 23 May 10am

Plastic bags get the bin

govt.nz.

NEED FUNDING FOR YOUR

CREATIVE PROJECT?

Applications are open now for

Creative Communities funding.

Funding is available to groups

or individuals with communitybased

creative projects that

promote arts or culture in

Selwyn. The aim of the scheme

is to increase participation in

the arts at a local level, and

increase the range and diversity

of arts available to communities.

Applications for this funding

round close at 5pm, Friday

17 May. Visit selwyn.govt.nz/

artsfunding for more information

DISTRICT COMMITTEE

MEETINGS

Darfield Township Committee

Thur 16 May 7.30pm

Darfield Library

Dunsandel Community

Committee

Mon 20 May 7.30pm

Dunsandel Community Centre

Glenroy Community Hall

Committee

Tue 21 May 7.30pm

Glenroy Community Hall

Glentunnel Community Centre

Committee

Tue 21 May 7.30pm

Glentunnel Community Centre

Kimberley Reserve and Hall

Committee

Thur 23 May 7.30pm

Kimberley Hall

Kirwee Recreation Reserve

Management Committee

Mon 13 May 7.30pm

Kirwee Recreation Reserve

Kirwee Township Committee

Mon 20 May 7.30pm

Kirwee Community Hall

Ladbrooks Community Hall

and to apply.

MICROCHIPPING

If your dog was first registered

after 30 June 2006 and is not a

working dog, the law requires

him or her to be microchipped.

A clinic will be held on Friday 10

May at the following places:

Rolleston: 9–9.30am

Lincoln: 10.15–10.45am

Leeston: 11.30am–12pm

Darfield: 12.45–1.15pm

Microchipping will not take place

if wet. If you have any questions

regarding microchipping, please

contact Tracey Wheeler on 347

2800.

Committee

Fri 24 May 7.45pm

Ladbrooks Community Hall

Lincoln Community Committee

Mon 13 May 7pm

Lincoln Event Centre

Southbridge Advisory

Committee

Mon 13 May 7pm

Southbridge Hall

Springston Recreation

Reserve Committee

Wed 15 May 7.30pm

Errol Tweedy Pavilion,

Springston Reserve

Tai Tapu Community

Association – Special meeting

Wed 15 May 7.30pm

Tai Tapu Hotel Function Room

Waihora Park Reserve

Committee

Tue 7 May 7.30pm

Waihora Bowling Club

Weedons Reserve Committee

Mon 13 May 7pm

Weedons Reserve

Whitecliffs Township and

Domain Committee

Mon 13 May 7.30pm

Glentunnel Hall

Change is coming for kerbside recycling collection in Selwyn, with plastic bags given the bin.

From Monday 1 July plastic shopping bags will need to go in the red bin – rather than the yellow

kerbside recycling bin.

Solid Waste Manager Andrew Boyd says the decision is a result of the falling number of bags, following

the decision by major supermarkets and the government to phase them out.

The number of plastic bags going into bins in Selwyn has been falling since the start of the year, Mr

Boyd says, matching the change around the country.

Plastics that are marked as compostable or biodegradable also need to be put into the red bin or

composted at home.

To find out more about what you can put in your green, yellow and red wheelie bin, visit our website

selwyn.govt.nz/rubbish.

BOOST Skate a hit with young riders

The first BOOST event of the year saw about 80 young people bring out their wheels or try out new

ones at Rolleston Skate Park and Reserve.

Youth Council Chairperson Katelyn Twiss says the event on 26 April was an awesome way to start the

BOOST events for the year, which will be held every school holidays. There was plenty for everyone,

she says, with a skate competition run by cheapskates, giant games and fun provided by council staff

and Pedalmania's collection of cool and unusual recycled bikes.

"Everyone regardless of their ability had the opportunity to get on a skateboard or a bike and give it a go.

It was inspiring to see people of all ages trying their best and learning new skills. As a youth council, we

enjoyed giving out sports prizes such as vouchers and a basketball to people we believed were trying

their hardest and also helping others. We also gave our main prize of the Bluetooth headphones to Joseph

Hill because he was encouraging his younger brother and having a great time with his friends."

The event also featured a fundraising sausage sizzle, which raised $126. This money will be split and

donated to the Victim Support Givealittle page set up for the Christchurch mosque attack victims and

the MATW (Muslims Around the World) Project.

Selwyn Events

FROM

1–31

MAY

WEDNESDAY

8MAY

THURSDAY

9MAY

FRIDAY

10

MAY

UNTIL

12

MAY

SUNDAY

12

MAY

THURSDAY

16

MAY

'Bring a Mate' May

Selwyn Aquatic Centre

For the whole of May Selwyn Aquatic

Centre is offering the opportunity to

bring a friend with you to any of Aqua

Fitness Class for free.

Sustainable Funding

Lincoln Event Centre, 5.30–7.30pm

A practical workshop for not-for-profit

and voluntary based organisations,

with tips and ideas on securing

funding for your community group.

Run by training organisation Exult the

workshop will cover income streams

for community groups, getting more

people helping with fundraising and

other simple tips and tricks for raising

more money, more often.

Art for All

West Melton Community and

Recreation Centre, 1–2pm

Running every Thursday for eight

weeks, this class is led by local

artist Bridget Carr. Sessions aim to

encourage memory recall through

the process of creating art. Classes

will interest those who are keen to

share experiences and socialise while

stimulating the mind. No experience

necessary. All materials provided. $40

per person for the term (8 sessions).

Bookings essential, at Eventbrite.co.nz.

Christchurch Symphony

Orchestra (CSO) Music Trails

Lincoln Library, 10.30–11.30am

Enjoy this free interactive performance

for children as part of NZ Music

Month. Designed for children aged

two to six, this session is a fun way to

introduce children to live music. For

more dates and information on Music

Month concerts at Selwyn Libraries

visit selwynlibraries.co.nz

An Ashburton Collection

Down by the Liffey Gallery, Lincoln,

selected hours Wed–Sun

Featuring the work of Ngaio McKee,

Margaret Digby and Hakatere

Ceramics and Pottery.

Colour and creativity from a group of

artists hailing from south of the Rakaia.

Mother's Day

Selwyn Aquatic Centre

Mums swim for free at the Selwyn

Aquatic Centre on Mother's Day, so

give mum a quiet relaxing swim, or

celebrate with a family day out.

Confident Drivers Course

Dunsandel Community Centre,

9am–3pm

Offering a refresher of the current

road rules for over 60s. For more

information and to book contact Age

Concern on (03) 366 0903.

For information on listing a community event visit

www.selwyn.govt.nz/councilcall

Leeston Library & Service Centre

19 Messines Street, Leeston

Ph 347 2871

Lincoln Library & Service Centre

Gerald Street, Lincoln

Ph 347 2876

(03) 347 2800

Darfield call free 318 8338

www.selwyn.govt.nz

SelwynDistrictCouncil
---
20

Wednesday May 8 2019

Home & Business Security • Cameras • Gates & Fencing

Access Control • Alarm Monitoring • Home Automation

Alarms Electrical Cameras Intercoms Auto Gates

Residential and Business Security

Tailor Made Security Solutions

All Your Electrical Needs

Custom Designed Automatic Gates

Innovative Intercom Systems

Pet Friendly Sensors

Security Cameras

Access Control Systems

Electric Fencing

Service and Maintenance

24/7 Fault Service

Locally owned and operated

All faults attended that same day

FREE QUOTES

P: (03) 384 0995 24/7 E: info@actionsecurity.co.nz

www.actionsecurity.co.nz

3 issues $20

6 issues $44.50

10 issues $65

SUBSCRIPTIONS FREEPHONE

0800 77 77 10

rugbynews.co.nz

Poor discipline hurts Lincoln Combined

• By Jacob Page

LINCOLN Combined will

have to stop being their own

worst enemy if they want to

beat Shirley Boys' High School

on Saturday.

Lincoln lost their opening

UC Championship fixture

15-0 to last year's semi-finalists

Rangiora High School at the

weekend. The loss at home

can be attributed to their

two yellow cards, general illdiscipline

and an inability to

hold onto the ball, said coach

Tom Hooper.

He said while his team's

defence was exceptional, they

have plenty to work on.

"Discipline was an issue. We

got whistled at the breakdown

a lot, especially in the first half

and had two yellow cards in

the game, which hurt us."

"We didn't retain the ball

well enough. There were some

pluses – our defence was

excellent and the effort was

fantastic, but discipline and

patience were the two things

that were missing."

Hooper said his team

does not have a "skill-based

issue" and can work on their

discipline and patience.

"For the first game,

you could almost feel the

nervousness in the side. So

now that we have that out of

the way, we'll get back into

training and getting our

processes right."

Hooper said he believes their

Latest Christchurch news at www.star.kiwi

UNDER WAY: Lincoln Combined set up for their haka before taking on Rangiora High

School at Lincoln on Saturday.

SPORT

attack will come right once the

combination of impatience,

nerves and ill-discipline are

resolved.

"We definitely dropped some

pill that we wouldn't usually

spill."

Hooper said their set pieces

went "okay but they were

messy most of the time."

"To beat Shirley this week,

we will need to be better with

our execution and not rush

things," he said. "We have to

slow down and get into our

pattern, and if we play the way

we can, then we'll be just fine."

•Round one results

St Thomas 43, Waimea

Combined 12; Marlborough

Boys' College 52, Mid-

Canterbury Combined 8;

St Andrew's 33, Nelson

College 31; St Bede's 47,

Timaru Boys' High School

5; Christchurch Boys'

High School 83, Roncalli

Combined 0; Rangiora

High School 15, Lincoln

Combined 0; Christ's

College 27, Shirley Boys'

High School 15.

•Points table

Christchurch Boys' High

School 5, Marlborough

Boys' College 5, St Bede's

5, St Thomas 5, Christ's

College 5, Rangiora High

SELWYN TIMES

School 4, Nelson College

2, Shirley Boys' High School

0, Lincoln Combined 0,

Waimea Combined 0,

Timaru Boys' High School 0,

Mid-Canterbury Combined

0, Roncalli Combined 0.

•Round two games

Shirley Boys' High School

v Lincoln Combined,

Roncalli Combined

v Nelson College,

Marlborough Boys'

College v St Andrew's,

Waimea Combined v Mid-

Canterbury Combined,

Rangiora High School v

St Bede's, Christ's College v

St Thomas.

•More sport, pages 23 & 25

JOIN US NOW!

See website for details

MAX

Nothing over $39.99 summer clearance.*

HALLENSTEINS

Chinos and Jeans now $30.* **

CONVERSE

Buy one get one half price on all seasonal footwear

including kids styles. 2 tees for $50.

Mother's Day special: 20% off all women's apparel.

Terms, conditions & exclusions apply

STYLES MAY DIFFER TO IMAGE SHOWN

CANTERBURY

All remaining rugby boots to clear at $30.*

THE BAG LAB

$40 fashion bags - up to 75% off RRP. Exclusions apply.

FILA

Men's and Women's snap pants were $80 now $30.*

CUTLER & CO

New seasons jackets were up to $499.95

NOW from $149.95.* **

*While stocks last. **Conditions apply.

Sign up to Smart Deals & be in the monthly draw for a $100 Dress-Smart gift card!

Be one of the first to hear about the latest deals, sent straight to your inbox each week!

CHRISTCHURCH 409 Main South Road, Hornby

www.dress-smart.co.nz

Open 10am-5pm, 7 Days 03 349 5750
---
SELWYN TIMES Latest Christchurch news at www.star.kiwi

Wednesday May 8 2019 21

Southern ChiropraCtiC

3 kennedys bush rd, halswell (upstairs)

Don't put up with back pain

Helping people with back pain and

other spinal issues is behind Southern

Chiropractic owner Andre Grob's

career choice.

Andre has 18 years of experience

treating people with a range of

back problems and has a deep

understanding of the value and

benefits that a professional

chiropractor can

offer clients who

are suffering from

back pain.

A high percentage

of the patients

Andre treats

at Southern

Chiropractic in

Halswell suffer

from lower back

and neck pain,

followed closely

by mid back pain.

Some pain such

as headaches or shoulder pain can

be referred from the spine and it is all

about finding and treating the source

of the pain, says Andre.

He offers hands-on manipulation of

the spine but also soft tissue massage

which some patients prefer. He also

uses laser treatment to assist with the

traditional approach and an activator

instrument that

can be used for

more precise

adjustment of the

spine.

Chiropractic

treatment not only

relieves pain but,

when patients are

seen regularly, it

can also help their

overall wellness

and health.

"When clients first

come to the clinic

I find out about what the problems is.

The aim is to treat the pain and make

them more comfortable." Once the

patient's better, he says it is then up to

them to decide if they want to continue

with further and ongoing treatment

that suits their individual needs.

Chiropractic treatments are listed

overseas as among the top most

beneficial natural therapies, providing

a holistic approach to treating back

pain, says Andre.

"It's all about what's best for the

individual client and giving them the

time and care that they need. No

matter what your age I can help with

your back pain."

So if you are experiencing back pain,

make an appointment with Andre at

Southern Chiropractic.

Southern Chiropractic has recently introduced on-line bookings through the website www.southernchiropractic.co.nz or you can phone Andre on 03 322 1432.

They are based at 3 Kennedys Bush Road with car parking outside the door.

5 Warning Signs

HEADACHES

of Spinal Stress!

NECK PAIN

AND TENSION

André Grob, Dr of Chiropractic, has had over

15 years experience of specialty spinal care in

Australia and New Zealand.

A healthy spine is vital to your wellbeing.

Specialist spinal therapy

at Southern Chiropractic

consists of:

• Manual manipulative therapy

• Soft tissue Massage

• Low level Laser therapy

• Exercise and postural education

• For correction of spinal complaints

and to enhance your health!

MID BACK PAIN AND

TENSION

LOW BACK PAIN

SCIATIC PAIN

Southern Chiropractic Ltd

Telephone (03) 322 1432

3 Kennedys Bush Road • Halswell • Christchurch 8025

www.southernchiropractic.co.nz | email dre.nik@xtra.co.nz

Halswell Jct Road

Halswell

Road

Kennedys

Bush Road

3 Kennedys

Bush Road
---
22 Wednesday May 8 2019

Latest Christchurch news at www.star.kiwi

SELWYN TIMES

ellesmere speedway

sunday 12 TH may

Sidecars

1/4 Midgets

Modified sprints

TQ's

6 Cylinder Sprint Cars

LTD Saloons

ellesmere championships &

ctra si ltd saloon title

gates open at 12.00pm for a 1.00PM start

supporting classes:

sidecars, ¼ MIDGETS, PRODUCTION SALOONS,

MODIFIED SPRINTS, tq's,

6 CYCLINDER SPRINT CARS, LIMITED SALOONS

www.ellesmerespeedway.co.nz

Under 15yrs

free

$15 per adult

gold card

holders $10
---
SELWYN TIMES Latest Christchurch news at www.star.kiwi

Wednesday May 8 2019 23

Final push for country rugby playoffs

• By Jacob Page

THE MAKE-UP of the

Combined Country rugby

playoffs is still far from certain

with just one round to go on

Saturday.

Only Glenmark-Cheviot are

guaranteed a playoff spot after

their last-gasp 28-27 win over

Springston.

Under the new format, the top

two teams from each of the three

pools will qualify along with the

two remaining 'wild card' teams

which have the most overall

competition points.

In pool A, both Southern and

Darfield did what they could,

both picking up bonus point wins.

Southern dismantled Hornby

62-17, while Darfield accounted

for Ashley 35-8.

Both teams are on 27 points,

with defending champions

Waihora in third on 23.

Waihora got the bonus point

win they desperately needed with

a 42-7 victory over Hampstead.

Waihora's match with Darfield

on Saturday will shape the pool A

playoff picture.

Burnham-Dunsandel-Irwell

snuck past Kaiapoi 22-20 to keep

their playoff hopes alive. They will

likely need a bonus point win over

Ashley and results to go their way

over the weekend to make it.

In pool B, a late Brook Retallick

Jim Doyle reports on

Lincoln University's

match against Sumner on

Saturday

IT'S GETTING to be a bit of

a habit watching opposing

sides celebrate wildly after

playing 80min against Lincoln

University.

Two tries in the last 10min by

speedy Sumner centre Alistair

Crossdale against the run of

SPORT

penalty got Glenmark-Cheviot

past Springston in a compelling

game. They are on 27 competition

points, with Springston three

points further back.

A win over West Melton will

guarantee Springston a playoff

berth, but they are still in a strong

position to qualify.

Southbridge have an outside

chance of making it out of pool B.

They beat Rolleston 57-15 and will

now need a big win over Rakaia at

home to have any chance.

In pool C, four teams have a

mathematical chance of making

the playoffs.

Lincoln and Prebbleton are on

26 and 23 competition points

respectively, but both could slide

down the ladder if Saracens (21)

and Celtic (19) can pick up wins.

Prebbleton will host Oxford,

while Lincoln will host Celtic,

so both teams will have the

advantage of a home ground and

crowd to secure their spot.

Saracens will need a bonus

point win over Hurunui, which is

a possibility.

Results

•Pool A: Waihora 42,

play meant the Rams slumped

to their second loss in a row, as

lowly Sumner snatched the metro

rugby premier game 21-19.

Crossdale's first try came

directly from an intercept as

Lincoln Uni's backs probed into

Sumner territory and tried the

wide pass.

His second came after

impressive No 8 Matthew Taula

Fili snapped up another loose

pass from the Rams and made

a run of nearly 50m. Crossdale

Hampstead 7; Darfield

35, Ashley 8; Southern 62,

Hornby 17; BDI 22, Kaiapoi 20.

•Pool B: Glenmark-

Cheviot 28, Springston 27;

Southbridge 57, Rolleston 15;

Ohoka 24, Rakaia 15.

•Pool B and C crossover:

Saracens 29, Methven 22.

•Pool C: Prebbleton 39,

Hurunui 30; Celtic 62,

Oxford 28; Lincoln 35, West

Melton 26.

Points

•Pool A: Southern 27,

Darfield 27, Waihora 23, BDI

21, Kaiapoi 16, Hampstead 8,

Ashley 5, Hornby 2.

•Pool B: Glenmark-

Cheviot 27, Springston 24,

Southbridge 20, Rakaia

17, Methven 11, Ohoka 11,

Rolleston 3.

•Pool C: Lincoln 26,

Prebbleton 23, Saracens 21,

Celtic 19, West Melton 12,

Oxford 12, Hurunui 4.

Saturday matches

•Pool A: Southern v Kaiapoi,

Waihora v Darfield, Hornby v

Hampstead, BDI v Ashley.

•Pool B: Southbridge v

Rakaia, Glenmark-Cheviot

v Rolleston, West Melton v

Springston, Methven v Ohoka.

•Pool C: Saracens v

Hurunui, Prebbleton v Oxford,

Lincoln v Celtic.

Lincoln Uni go down after two late Sumner tries

finished off the movement

on the other side of the park.

Effervescent fullback Eliji Kaneda

again converted from wide out.

At least the Rams gained a

bonus point to go with the two

they garnered after losing to

Marist Albion the previous week.

But they have slipped to third on

the board behind Christchurch

and Linwood.

Lincoln Uni's troubles

throughout can be traced back

to the set pieces. They struggled

IN SPACE: Southbridge winger Ratu Luvenitoga makes a break

against Rolleston on Saturday.

PHOTO: SOUTHBRIDGE RUGBY FOOTBALL CLUB

with their lineout play and also

had problems in the scrum.

Fresh props Ben Crawford and

Dom Devine helped the Rams get

their own back in the scrum at

times over the last quarter.

It was a bit cruel to be undone

by two intercepts, but that's life.

Lincoln Uni played Ere Enari

at halfback for the second half,

but he couldn't quite provide the

extra spark they needed.

Nor could Caleb Makene, who

had done so brilliantly at the

death the previous week.

Lincoln Uni's best player

was No 6 John Borland, who

often ranged wide to bring his

full-steam-ahead approach to

bear.

•Sumner 21 (Alistair

Crossdale 2, Hayden

O'Donnell tries; Eliji Kaneda 3

conv) beat Lincoln University

19 (Fletcher Morgan, George

Stratton, Liam Robinson tries;

Morgan 2 conv). HT: 0-5.

•More sport, page 25

SPEND & SAVE

Spend $400*

SAVE

$50

Spend $700*

SAVE

$100

Spend $1000*

SAVE

$150

ALL STORES

OPEN 7 DAYS

BG50 Blower

SH56 Shredder Vac

BGA56 Battery

Blower Kit

BGA85 Battery

Blower Kit

27.2cc

3.6kg

Airflow 700m3/h

27.2cc 5.3kg

Airflow 710m3/h

Easy to start model

36V 3.3kg Airflow 600m3/h

Includes AK20 Battery & AL101 Charger

36V 4.6kg Airflow 845m3/h

Includes AP300 Battery & AL300 Charger

$325 Incl

GST

$545 Incl

GST

Incl

$445 GST

Incl

$955 GST

*Offers valid until 30th June, 2019, or while stocks last. See instore for more details. Spend and Save only applicable on selected STIHL products ONLY. All pricing includes GST. Finance is available - ask in store

for more details. Store opening hours: All stores open 7 Days: Mon-Fri 8am - 5.30pm, Sat 9.30am - 3pm, Sun 10am - 3pm

STIHL SHOP Fosters - 559 Blenheim Road, Sockburn, Christchurch - Ph: 03-343-6339

STIHL SHOP Northwood - 554 Main North Road, Belfast, Christchurch - Ph: 03-974-2469

STIHL SHOP Rangiora - Cnr Lineside & Station Road, Rangiora - Ph: 03-313-3398

www.stihlshopchristchurch.co.nz

LOVE YOUR LAND
---
24 Wednesday May 8 2019

Latest Christchurch news at www.star.kiwi

SELWYN TIMES

Serenity S Series 7 Serenity Z Series 3

Queen Size Mattress & Base

WAS $3,999

NOW $1,999

Queen Size Mattress & Base

WAS $4,199

NOW $2,099

Serenity Z Series 6 Serenity Z Series 8

Queen Size Mattress & Base

WAS $4,399

NOW $2,199

Queen Size Mattress & Base

WAS $4,599

NOW $2,299

Other Sizes & Models Available In-store!

BEDS R US CHRISTCHURCH

166 Moorhouse Ave, (Next To Noel Leeming)

Ph: 03 379 5110
---
$7.90 incl. GST

SELWYN TIMES Latest Christchurch news at www.star.kiwi

Wednesday May 8 2019 25

Time to step down

for sports trust boss

• By Jacob Page

MIKE LAY believes the timing is right for

him to step down as Selwyn Sports Trust

chairman.

Mr Lay has been in the role since just

after the 2011 earthquake and said it was

time for him to step back and let fresh

blood with new ideas step up.

"It's always positive to bring in fresh

blood with new ideas that can offer fresh

motivation to the trust," he said.

"The trust is in a very good position so

now is as good of a time as any."

Mr Lay grew up on a farm in Irwell and

has been a life-long contributor to both

rugby and cricket in the region. He is also

Canterbury Rugby Football Union vicechairman.

When he was first approached to be

part of the trust in 2011, he said it fitted

perfectly with his philosophy.

"We had a running group in Leeston

that was holding an event and my wife,

Pauline, and I helped with that and we

said at the end of it that we wanted to put a

structure in place so it could happen again

and things went from there," he said.

"I'm just bloody passionate about sport

and absolutely passionate about seeing

people involved and participating in

sport," he said.

"I wanted to ensure we were getting

structures within Selwyn, which was

a growing district at the time postearthquake,

and make sure we could

allow for people to participate in sport in

Selwyn, particularly in the youth space."

Mr Lay has since become a keen runner

and has completed three marathons.

"Largely that was a result of the drive of

some of the people involved in the trust.

When you've run one, unfortunately you

think you can run two, and you become

competitive with yourself, but it's more the

feeling of accomplishment when you cross

that finish line."

He takes great satisfaction in what the

SPORT

trust has achieved during his involvement.

"We started on a shoe-string and now

we have six people employed, all delivering

sport in Selwyn," he said.

"We started on a voluntary basis and

then (chief executive Mike Wilson) started

one day a week and we eventually got

him to five days and now he has a team

of people underneath him who share our

passion for sport and getting kids active in

sport."

Mr Lay said his wife has been a key

component in the trust's success.

"She's been the secretary of the trust and

been one of our key volunteers at countless

events over the years and she's done a lot of

administration work in the background

and has been absolutely invaluable."

Mr Lay said one of his fondest moments

was witnessing the growth of the Koru

Games.

"It was the third or fourth Koru Games

and I'd just come out of a tough meeting

and I went down to Lincoln and watched

1000 kids compete in sport (which) was

an absolute moment of pride."

He said he will still be a regular at

the trust's events and he will continue

running to keep his new hip fully

functional.

Mr Wilson said the work put in by

Mr and Mrs Lay has been immensely

important over the years.

He said a new chairperson should be

confirmed in the next couple of weeks.

Mr Lay said he wants the trust to

continue to grow and build relationships

within the Selwyn community and for

the district to support the trust in its

endeavours.

TEAM: Pauline and Mike Lay at the New York Marathon. Their love of running

has grown over the time they have been involved in the Selwyn Sports Trust.

growing with you June 2018 | 100%

Plants For

winter wow

Cool Choices

For Colour

& Contrast

From swamp

to sea views

The journey

begins with sarah

the Gardener

Snap it up

Enter our annual

Birdlife Photo

Competition to win

great prizes!

clear the air

Why groWing

indoor PLAnTs is

so good for you

give it a grow

from gArLic

To chinese

ArTichokes,

We hAve your

groWing TiPs

covered

the latest releases

into the rose world

+ rose care

through winter

The magazine for

gardeners who like to get

their hands dirty

SUBSCRIBE FROM

$43. 50*

*6 issues/6 months

SUBSCRIPTIONS FREEPHONE

0800 77 77 10

WWW.GARDENER.KIWI
---
26 Wednesday May 8 2019

Latest Christchurch news at www.star.kiwi

Make

Mum's day

this Mother's Day

SELWYN TIMES

GREAT GIFT IDEAS FOR MOTHER'S DAY - SUNDAY 12TH MAY

rolleston FlorIst

What could be better than the gift of flowers

from Rolleston Florist & Gifts? If you are

thinking of a special bouquet that speaks

of love for your dear Mum, then place your

order early, with at least 3-4 days' notice

so flowers can be ordered in advance.

Deliveries are available in Rolleston and

surrounding areas, plus Christchurch city.

You can also choose from a big range of

flowering house plants, gift cards, and

giftware including wall plaques, candles,

diffusers, and much more instore. You'll find

Rolleston Florist & Gifts in their handy new

location next to the Warehouse.

Mason's drapery

Come and check

out Mason's

Drapery in Darfield

for a range of

special gift ideas

for Mum. Choose

from a range of

ladies socks,

boxed and loose

handkerchiefs,

nighties and

pyjamas, gift

vouchers, jewellery,

and ladies fashion.

Make the most

of Mother's Day

with 10% off new

season's clothing

– offer finishes

11 May.

IndustrIa

When it comes to the art of gift giving

Industria has plenty instore to choose from

such as the new 'Stella & Gemma' range

– jewellery, cardigans, ponchos, scarves

and gloves; Swell stainless drink bottles;

re- usable Coffee cups; vases; candles

including Limelight (local brand/maker);

LillyBee wraps – wax food wraps; and a great

range of handbags and wallets in store now.

Other ideas...

Give Mum breakfast in bed

Create a special menu for Mum to so she can

choose what she would like for breakfast.

plan a movie night for Mum

Play her favourite movie, make some

popcorn and settle in for the night together.

Bake Mum a cake

Ice it with a special 'I love you" message.

spend some time with Mum

Take a walk on the beach together or visit

your local museum or art gallery.

Give Mum a massage

Use a delicious smelling oil and give her a

foot or hand massage.

Wash & vacuum Mum's car

Don't forget to leave a special note or some

chocolates on the seat for her to find.

Don't Forget Mother's Day

For all your fresh

Flowers, gifts, soaps &

handcreams, diffusers

and candles.

Mother's Day Special

10% off all

Ladies New

Seasons Fashions

From 6th - 11th May

2 McMillan St, Darfield

Ph. 03 318 8734

Open Mon-Fri 9am-5pm

Sat 9.30am-12.30pm

Find

us on

MOTHER'S DAY

Gift ideas

ORDER

NOW!

Delivery to most of

Selwyn and Christchurch.

WE'VE MOVED! FIND US BETWEEN

THE WAREHOUSE & THE NAIL BAR

Shop 35 Rolleston Square, Rolleston | Phone 03 347 1068

Shop 15, 9 Masefield Drive

(new Rolleston Square West)

Ph: 420 0996

www.industria.co.nz
---
SELWYN TIMES Latest Christchurch news at www.star.kiwi

Wednesday May 8 2019 27

MALONE DONATA – HASS AREZZO

FROM $

549 3 Seater NOW $ 1999 2 Seater NOW $ 1599

feathers, velvets, leather...

Snuggle into Autumn with cosy textures & great prices.

Autumn sale on now. Ends 27.05.19.

Shop

Online

Nationwide

Delivery

Finance

Options

targetfurniture.co.nz

Cnr Blenheim & Curletts Rds, Christchurch

Ph: 0800 TARGET (0800 827438)

Offers and product prices advertised here expire 27/05/19.

Sale excludes Manchester and Accessories.
---
2 [Edition Wednesday datE] May 8 2019

28

Latest Christchurch news at www.star.kiwi

SELWYN TIMES

dISCOVER

Well-known pianist to

present fundraising recital

This Saturday afternoon, May 11 Nut

Point Centre in West Melton is presenting

a piano recital fundraiser featuring wellknown

pianist and regular performer at

the centre, Veronica van der Knaap.

The programme will include works by

Brahms, Schumann, Chopin and other

composers, with the funds being donated

to the Canterbury Charity Hospital.

Veronica has been supporting the

Canterbury Charity Hospital for the last

few years, donating her concert fees to the

hospital on a regular basis.

"Over the years of her activity here, the

Nut Point Centre was, and still is, happy

to support Veronica's wishes to support

the hospital," says Nut Point Centre's John

Allan.

"This will be the second fully donated

concert to the hospital and the 2020

fundraiser for the hospital has already

been incorporated into the Nut Point's

Annual Programme of 2020."

Nut Point Centre has a long history of

holding charity events and other activities

relating to charity, which have taken

place for over 13 years. There are three

charity events planned in the 2020 annual

programme predominantly donating to

animal welfare or animals supporting

people such as the Blind Foundation's

Guide Dogs programme, John says.

Veronica Van der Knaap

Born in the Netherlands in 1947,

Veronica enrolled at the Amsterdam

Conservatorium at age 18 to pursue a

six-year study with Hans Dercksen. She

graduated in 1971, and a month later

arrived in New Zealand with her husband.

A long teaching career followed, while

at the same time she performed both as a

soloist and accompanist.

Veronica retired from teaching when she

turned 65, but has continued performing

and learning many new works, and says

she hopes to be able to do so for a long

time yet.

Nut Point Centre in

West Melton presents

piano recital fundraiser

Veronica van der Knaap Piano

Recital, 2pm Saturday, May 11.

Entrance S4.

Concert & Afternoon Tea $25 pp.

CHECK

OUT

This

Month's

Super

Specials

Field of

dreams

Build your future with space to spare. Find out more about our

wide range of sections at Wilfield, call us on 03 741 1340, or

email enquiries@yoursection.nz

Thompson's Vitamin C Thompson's Junior Thompson's Viraforte

200's

Immunofort 90's

24's

Was $39.99 Was $35.99 Was $19.99

Now $14.99 Now $19.99 Now $14.99

12/736 Weedons Ross Road, West Melton

Phone 03 347 0777

NOW OPEN

IN WEST MELTON

West Melton Pharmacy

Your Friendly West Melton

Community Vet Centre

West Melton Village,

Unit 3, 736 Weedons Ross Rd

P 03 347 4546

E nurses@westmeltonvets.co.nz
---
SELWYN TIMES Latest Christchurch news at www.star.kiwi

Wednesday May 8 2019 29

Small Mazda SUV

has further appeal

WHEN MAZDA launched

its CX-3 crossover/sport

utility vehicle in New

Zealand four years ago,

I was so smitten with it I

described it as being one

of the company's finest

vehicles, it was certainly

one of my best drives for

2015.

Four years down the

track, not a lot has changed,

there's now an upgraded

CX-3 and it still exudes the

feel and vigour that made

the first generation model so

memorable, only more so.

Like before, the CX-3

lands in six grades with

four-wheel-drive options

along the way. All share the

same naturally aspirated

2-litre engine, but there is

now the option of two high

grade models Limited and

Takami, the latter is a range

of high grade models that

are filtering all through

the Mazda line-up, and I

can report from previous

experience with Takami

grade it is something that

gives those models special

appeal.

All that aside, the CX-3

this evaluation focuses on is

a mid-spec front-drive GSX

and it lists at $36,695. For

the record, the entry-level

GLX sits at $31,995, while

the Takami tops the range

at $41,695.

Even in GSX form the

CX-3 wants for little, it

has all of the ingredients

that make you feel

comfortable, and there is

enough gadgetry to keep

the technophile happy.

Bear in mind that in this

specification it also gets

an i-Activesense safety

upgrade which includes

blind spot monitoring,

traffic sign recognition,

smart city brake support

reverse and radar cruise

control. Mazda's safety

suite of technologies easily

qualifies for a five-star

Australasian New Car

Assessment program

rating.

While I consider the

CX-3 to be a true SUV, it

is small and its size won't

appeal to everyone, it is a

bit tight in the rear seating

area but for me that's never

been an issue, the car feels

so right to drive, and for a

small family it will easily

suffice as it makes good use

of its compact proportions.

There is also a purposeful

amount of rear cargo space

– according to Mazda –

264-litres to 1174-litres.

What I like most about

the CX-3 is its normality.

Everything is traditional,

there are no tricks with the

engine and the gearbox is a

torque converter automatic.

While it appears simple on

the surface, you also have

MAZDA CX-3: Two and four-wheel-drive options.

to take into account that

the driveline incorporates

Mazda's SkyActive

technology which promotes

economical fuel usage

without compromise.

This has been the

direction Mazda has largely

focused on as a car maker;

it isn't hugely into hybrids

or electric vehicles, but

it simply makes internal

combustion engines work

with amazing efficiency.

• Price – Mazda CX-3

GSX, $36,695

• Dimensions –

Length, 4275mm;

width, 1765mm;

height, 1535mm

• Configuration

– Four-cylinder,

front-wheel-drive,

1998cc, 110kW,

195Nm, six-speed

automatic.

• Performance –

0-100km/h, 9sec

• Fuel usage –

6.3l/100km

Motoring

Ross Kiddie

As a result, the CX-3 is

rated with a 6.3-litre per

100km (45mpg) combined

cycle fuel usage figure and

that is easily achievable.

Without trying, the fuel

usage reading on the

evaluation car's digital

display was constantly

listing around 7l/100km

(40mpg). At 100km/h

the engine is relaxed

(2100rpm), sipping fuel at

the rate of just 4.5l/100km

(63mpg) instantaneously.

If you think this economy

comes at the expense of

performance you need not

be worried, Mazda claim

power outputs of 110kW

and 195Nm from the

1998cc engine.

The CX-3 is free-revving

and spirited, it's lively to

drive, and because it isn't

carrying too much weight

(1297kg) it feels agile and

nimble, and will return a

9sec standstill to 100km/h

acceleration time.

Along with the solid

response from under the

bonnet, the CX-3 is a hoot

when corners arrive. It

steers with beautiful feel

and feedback, it can be

driven enthusiastically

such is its poise and

composure, all of the

time the suspension

provides occupants with

a comfortable, controlled

ride as well as absorbing

the road undulations

without upsetting steering

response, nor body

balance.

If you weigh up all of

these ingredients, the CX-3

is a lot more than meets the

eye. It is built with all of the

fun factor that is Mazda's

ideology, and that is why I

rate it so highly as a driver's

car, it is so involving.

It is also well appointed,

and given this is the

CX-3's second makeover

it wants for nothing inside.

GSX buyers have the choice

of a leatherette/cloth trim

or leather for an extra

$1600.

Elsewhere there is

keyless entry and ignition,

satellite navigation,

intuitive display screen

readouts, sport drive mode

and my favourite inclusion,

the standard fitment of a

CD player, which is great

for us old dinosaurs who

haven't fully adapted to

the new digital music

technology.

I've written many times

in recent reviews about

the quality of product that

is coming out of Mazda

factories, the upgraded

CX-3 would be very much

a preferable choice, and if I

do get the chance to buy a

new car to see me through

my impending retirement,

then something out of

this Japanese stable will be

right at the forefront of any

decision.

Gardening

How to plant a fruit tree

NOW IS a good time

to get those fruit trees

planted.

Here are some tips:

•Dig a hole that is slightly

deeper than the root depth

and which allows for 20cm

clearance around the roots.

•Mix some compost with

the soil in the base of the

hole, then place the tree

and slow release fertiliser

in the hole so that the graft

is above soil level.

•Create a small mound at

the base of the hole and

spread the roots out carefully.

•Before back filling, position

tree stakes. Partly back

fill and firmly compact.

•Continue back filling and

compact once or twice

more.

•Water well.

LANDSCAPING IS a

wonderful pastime enjoyed

by many.

It provides a natural

beauty and needs no

ornaments or other

attractive items to help

achieve its magnificence.

However, what it does

needis a little TLC from

you and great ideas to keep

the landscape design ever

•Stake securely to ensure

root zone can't move on

windy days.

Bare rooted trees bought

must not be left for roots

changing and up to date.

Landscape design is an

art that not only gives you

the freedom to express

yourself, but also makes

your home more beautiful

and inviting.

There are many methods

of landscape design to

explore. You can trim

your hedges or bushes in

a decorative manner. For

to dry.

•Plunge in water prior

to planting to ensure the

roots are moist prior to

planting.

Keep up with your landscape plans

Canterbury

Timber & Hardware

Timber Wood Fuel Pellets

20kg Bag for $12.30

Call in today for your free quote!

NEW ENTRANCE: 167 Manion Road, Rolleston

Jason Pester P 03 347 7465 F 03 347 7032 E jason@cthl.co.nz

Mon-Fri: 7am-5pm Saturday: 8am-12pm

Canterbury

C T H Timber & Hardware

PATIOS - OUTDOOR AREAS - CAR PORTS

instance, you may want

to cut every other hedge a

foot shorter than the next

to produce a rolling effect.

You could also put a large

decorative fountain in the

middle of your yard.

If you are considering

landscape design, or have

already dabbled in it a bit,

you know the importance

of working with an expert.

We are here

Shadecraft is a locally owned company who specialise in shade and weather

protection products to enhance your homes design and use of outdoor areas.

SHADE SAILS – UMBRELLAS – ALL WEATHER CANOPIES

ShadeCraft (SI) Ltd

0800 742332 • Cell 0274 981239 • www.shadecraft.co.nz
---
30 Wednesday May 8 2019

Latest Christchurch news at www.star.kiwi

SELWYN TIMES

rolleston business hub

Jones Road and Industrial Zone

Specialised diesel engineering

If the diesel fuel injection unit in your

vehicle breaks down, you will need the

services of an engineer skilled in diesel

engine repairs. When this expertise is close

at hand, it is even more convenient.

In the heart of Rolleston's business

district, you will find Diesel Fix; owned

and operated by Phil and Kylie Thompson.

Realising there was a need for a

specialist diesel business in Selwyn, Phil

and Kylie established Diesel Fix around

five years ago. Since then, a growing

number of customers have utilised the

services of the company.

Qualified as an Automotive and Diesel

Fuel Injection Engineer, Phil is one of

a few elite diesel fuel injection experts

in New Zealand. Phil himself has over

30 years' experience in fuel injection

repairs and servicing; supported by

trade qualifications including training

undertaken over a number of years at

Bosch headquarters in Melbourne.

Since 2017, Diesel Fix has been based in

Jones Road in Rolleston, a location many

local customers as well as those further

afield have found particularly handy.

Individuals, business operators and those

in the automotive industry have been

drawing on Phil's knowledge while the

arterial routes into the city have allowed

Christchurch based customers to benefit

from a quick turnaround on repairs.

Phil is in his element, pulling pumps off

and reconditioning them and injectors

of all sizes. His workshop is fitted with

the latest diagnostic equipment and fuel

injection specific machinery, giving it

the capability to take care of general

automotive and specific diesel fuel

injection servicing and repairs.

Kylie supports Phil with all the

administrative and marketing tasks

associated with running the business

and with Rolleston their home for over

10 years, they are well known in the

community.

If it is a diesel operated vehicle or

machine, whether a car, SUV, Ute,

campervan, transit van, small truck or

bus, tractor (old and new), generator

or lawnmower, Diesel Fix can assist.

They recondition fuel injection pumps

and injectors, service common rail

injectors and Efi injectors, and carry

out compression testing and vehicle

scanning. They also supply new common

rail injectors and other parts, exchange

pumps, and carry Koba batteries for motor

vehicles, motorcycles, jet skis and four

wheelers, along with deep cycle batteries

for larger vehicles like motorhomes and

marine batteries.

You can drop off or courier any pump or

diesel fuel injection part, to Diesel Fix at

Phil has over 30 years'

experience in fuel injection

repairs and servicing.

821 Jones Road in Rolleston.

Diesel Fix is open: 8am to 5pm from

Monday to Friday or Saturday from 9am

to 1pm. If you need some advice or wish

to book repairs, give Phil a call on 0274

368 154 or 03 347 7108.

Is your vehicle not running to it's

full potential? Is it lacking power

or blowing black smoke?

Diesel Fix can give you a no Fuss assessment

• Large selection of service exchange pumps and injectors available

• Specialist in fuel injection and efi injector repairs

• Diesel and Petrol Injectors repairs • Compression testing

• Diesel injection pump repairs

• Vehicle scanning and diagnostic

DIESEL FIX

Open Hours:

Mon to Fri 8am - 5pm

DIESEL SPECIALISTS Sat 9am -1pm

821 Jones Road, Rolleston | Phone 027 4368 154 or 03 347 7108

Bridgestone Tyre Centre - Rolleston

847 Jones Road, Rolleston 03 347 4702

*Valid until 31 May 2019. Selected

tyres only. Conditions apply.

For details visit us in-store or

see www.bridgestonetyres.co.nz.

GET A GRIP

4X4, SUV & CAR

TYRE SALE

BUY 1

GET 1

BUY 3

BUY 4

GET $100

HALF

CASH

PRICE * FREE GET 1

*

BACK *

The Team: Hayden, Simon & Allan

Mon-Fri

7am-5pm

Sat 8am-12 noon

(WOFs only)

839 Jones Road, Rolleston

P.O. Box 16 Rolleston

Phone Simon on 347 7110

or Mobile 027 272 9213

3 TRUCKS

3 CARS

3 LUBES

3 SERVICING

3 FLEET WORK

3 BOATS

3 DIESEL INJECTOR

3 & PUMP SERVICING

3 ENGINE TUNING

3 BRAKES

3 MAXXIS TYRES

3 WHEEL ALIGNMENTS

3 BATTERIES

3 WOFs

3 CAMBELTS

AND MUCH MORE!

ALL YOUR

MOTORING NEEDS

› While You Wait WOF's

› Courtesy Cars

› Diagnostics

› Repairs

› Servicing

› Batteries

› Tyres

Phone 347 4020

WE HAvE MOvED

131 IPORT Drive

(Cnr Hoskyns & IPORT drive)

www.jonesroadauto.co.nz

Where your time

is everything...

We understand the need to get the job

done as quickly and efficiently as possible.

Come and see us today for all your hire

equipment needs - we are happy to help!

73 Hire rolleston

873 Jones Road, Rolleston

Phone 03 347 0450

73 Hire - Rolleston

73 Hire darfield

26 Horndon Street, Darfield

Phone 03 318 8228 | 73 Hire

Monday to Saturday, 7.30aM-5pM

WWW.73Hire.Co.nz
---
SELWYN TIMES Latest Christchurch news at www.star.kiwi

Wednesday May 8 2019 31

SCOOP PURCHASE SPECIALS

VRX 2.4L 4WD

$39,990 * • 6-Speed Manual

DRIVE AWAY

• 7 Leather-faced Seats

• 2.4L Petrol Engine

• Ultrasonic mis-acceleration Mitigation System.

• 18" Alloy Wheels

• Reversing Camera

*Christchurch Mitsubishi have a LIMITED NUMBER of Short-term lease

returned 2018 Outlander 2.4L VRX, most having travelled under 25,000kms

available for immediate delivery. Includes balance manufacturers warranty.

GLX-R 2WD Double Cab

Wellside Manual

$26,078 +GST DRIVE AWAY

• Reversing Camera

• Daytime Running Lights

• Smartphone Connectivity

• Sports Suspension

GLX 4WD Double Cab

Wellside Auto

$32,608 +GST DRIVE AWAY

• 5-Speed Automatic

• Easy Select 4WD with rear diff lock

• Keyless Entry

• Cruise Control

• Vinyl floor

GLX 4WD Double Cab

Chassis Manual

$32,608 +GST DRIVE AWAY

• 6-Speed Manual

• 3.5 Tonne Towing Capacity**

• 1,135kg Payload

• Easy Select 4WD with rear diff lock

CHRISTCHURCH MITSUBISHI

386 Moorhouse Avenue, Christchurch.

03 379 0588 | christchurchmitsubishi.co.nz

Prices listed are for Triton 2WD GLX-R double cab wellside manual, Triton 4WD GLX double cab wellside auto and Triton 4WD GLX double

cab chassis manual. Prices include GST and on road costs, which inludes WoF, registraiotn, 1,000km road user charged and a full tank

of fuel. Visit mmnz.co.nz for full Diamond Advantage terms & conditions. **3.5 tonne towing is only possible with a 3-axle braked trailer,

towball vertical load of no grater than 4% and an approved MMNZ towbar.

10 year / 160,000km Powertrain Warranty (whichever comes

first) (non transferable). 5 year / 130,000km New Vehicle

Warranty (whichever comes first) (non transferable).
---
32 Wednesday May 8 2019

Latest Christchurch news at www.star.kiwi

SELWYN TIMES

Email anan.zaki@starmedia.kiwi by 5pm

each Wednesday

Moonflower

Saturday, 11.30am-1pm

Visit a Selwyn library between

11.30am-1pm for live music

every Saturday in May.

Leeston Library

Teen Artspace: After School

Drop-in

Leeston – Wednesday, 4.30-

6pm, Darfield – Tuesday, 4.30-

6pm

Teens can participate in

art and craft activities, and

hang with friends in a creative

atmosphere.

Leeston and Darfield Libraries

Art for All

Thursday, 2-3pm

Led by local artist Bridget

Carr, these specialist sessions

aim to encourage memory

recall through the process of

creating art. No prior experience

is necessary. All materials

provided. $40 per person for the

term if eight sessions.

West Melton Community and

Recreation Centre, 1163 West

Coast Rd

Adults Book Club

Friday, 1.30-3pm

Enjoy a good book? Don't

mind sharing the good the bad

and the ugly bits? The book

clubs are an opportunity to get

together with other readers and

talk about books on a monthly

topic or genre.

Rolleston Library

Mother's Day

Sunday 8am-8pm

Mums swim for free on

Mother's Day at the Selwyn

Aquatic Centre. Enjoy taking a

dip with your family, relax in the

spa or swim some lengths.

Selwyn Aquatic Centre

Sewing Workshops

Sunday 10.30am-1.30pm

Join our sewing workshop,

where you can make a book

bag you can transport your

library books in. All attendees

must have some experience

using a sewing machine. $15 per

person, includes basic materials.

Bookings essential.

Lincoln Library

Justice of the Peace Clinics

Rolleston – Monday, noon-1pm,

Lincoln – Tuesday, 10am-1pm

A justice of the peace will

be available to members of

the community to witness

signatures and documents,

certify document copies, hear

oaths, declarations, affidavits

or affirmations, as well as sign

Christchurch Symphony Orchestra Music Trails on Friday, 10.30-11.30am. CSO ensembles will

perform in Selwyn Libraries, introducing the instruments of the orchestra through fun and

interactive performances for all ages. Lincoln Library.

citizenship, sponsorship

or rates rebates applications.

Rolleston Library,

S.T.A.R.S

Tuesday, 4-5pm

Explore new ideas and

activities. Expand your mind -

create, and play.

Darfield Library

Markets:

Darfield Market: Saturday,

9am-1pm, opposite Challenge

Darfield, South Tce.

Market@254: Saturday,

9.30am-1pm rain or shine, 254

Lawford Rd, West Melton.

Lincoln Farmers and Craft

Market: Saturday, 10am-1pm,

Gerald St.

Running groups:

Rolleston Road Runners:

Monday registration from

6.15pm for a 6.30pm start. 2.5km

and 5km options in Foster Park,

next to the gravel car park beside

the playground.

Lincoln Road Runners:

Tuesday registration from

5.40pm, starts at 6pm. 3km or

6km events. Starts outside Coffee

Culture on Gerald St.

Malvern Road Runners:

Tuesday registration, starts

at 5.45pm for a 6pm start.

3km and 6km options. Meet

at McHughs Plantation.

Ellesmere Road Runners:

Wednesday registration from

5.45pm, starts at 6pm. 3km

or 6km walk or run. Starts

from Leeston Physiotherapy.

Foster Park Run: Saturday

from 7.50am. Free weekly timed

5km run, jog or walk. Register at

www.parkrun.co.nz/foster

and don't forget your barcode.

Starts at Foster Park in Rolleston.

Smooth-Air

Ventilation Equipment Suppliers

totrade

retail

Smooth-Air has a wide range of

ventilation equipment to bring

fresh air into your home.

0800 SMOOTH

(0800 766 684)

sales@smooth-air.co.nz

264 Annex Rd

Riccarton

Christchurch

03 343 6184

Domestic

&

Commercial

Industrial

Remote Extraction Fans

Range Hood Cupboard Inserts

Monday - Friday

7.30am - 5pm

www.smooth-air.co.nz

Moana Maniapoto

plays Darfield

When Moana Maniapoto and her fellow

musicians toured NZ in 2017, some of

their fans loved them so much, they

carried their own guitars and ukuleles to

the show – and joined in. Now she is back

on the road with 'My Name is Moana', a

90-minute tribute to the ocean, including

garage party classics, as well as those

inspirational songs that have taken Moana

and her musicians across 30 countries.

Moana and her musicians will host their

own little garage party on Tuesday, 14

May, 7.00pm at Trinity Church, Darfield.

The audience is invited to bring their

own guitar or ukulele and join in! A

delightful showcase of sublime singing

and captivating storytelling awaits the

audience, drawing them in to discover

and share their relationship to the Ocean

– and to each other.

This year Independent Music NZ

recognised Moana and the Moahunters'

TAHI (Southside 1993) as the 2019

recipient of the Classic Record, an award

acknowledging New Zealand's history

of inspiring music albums. You can find

Moana's music on Youtube, including

songs with her bands, The Moahunters

and The Tribe.

Moana has played hundreds of stages

in Istanbul, Moscow, Florence, Berlin,

Warsaw, Toronto, Venice, Shanghai,

Seoul, Vienna, and Taipei. She has taken

her haka-funk-dub-fusion to the Sydney

Opera House (Australia), as well as to

the Montreux Jazz Festival (Switzerland),

Sziget (Budapest), and Norway. Her

band, The Tribe, performed in and

around Glasgow in July 2014 as part of

the "Boomerang Project" collaboration

with Scottish and indigenous Australian

musicians.

Sponsored by Arts on Tour NZ and the

Malvern Community Arts Council, 'My

Name Is Moana' comes to Darfield on

Tuesday, 14 May, 7pm at Trinity Church

Darfield. Tickets are $20 adult, $10

student, available at the Selwyn Gallery or

at the door.

Malvern Community Arts Council presents...

MY NAME IS

MOANA

TUESDAY

14 MAY

7.00PM

Bring your

guitar or

ukelele to

TRINITY CHURCH

DARFIELD

Tickets $20 adults $10 students

available at Selwyn Gallery or at the door

Malvern Community Arts Council gratefully acknowledges

the support of...
---
SELWYN TIMES Latest Christchurch news at www.star.kiwi

Wednesday May 8 2019 33

Business

Opportunity

Business

Opportunity

For Serious Driven

Individuals.

Take control of your work hours,

your income and your life by

starting your own business. Full,

ongoing training and support

available.

• No Cold Calling or pitching to

friends & family

• NOT MLM

• No stocking or warehousing

products

• Professional & positive

manner essential.

Apply at: www.trishmckay.com

Complete the form and I will

contact you personally within

24-48 hours via phone for an

interview.

Caravans, Motorhomes

& Traliers

CARAVAN Wanted to

buy. Up to $5000 cash

today 027 488-5284.

Firewood

DRY OM PINE.

6 cub metres $595.OM

Bluegum/OM Pine 50/50

mix $695. Ph 027 2977563

Footwear

Down at your heels? We

can't change your luck but

we can guarantee you'll be

well heeled .For repairs to

all types of shoes, boots

and bags drop them into

Cobbler Glenn's Agent:,

Magnitude Sports 55

Faringdon Boulevard,

Rolleston, Its cheaper to

repair than replace

SCHOOL Shoes worn

out? Extend their life with

new heels, back linings,

stitching and patching.

Drop them into Cobbler

Glenn's Agend: Magnitude

Sports, 55 Faringdon

Boulevard, Rolleston

For Sale

FIREWOOD fills 8 x 4

caged trailer, good starting

wood to burn with, free

delivery, $160, ph 027 507

2224

ADD SOME

COLOUR

TO YOUR ADVERT!

AUTO ELECTRICIAN

Ellesmere

Auto

Electrical

• Air Conditioning • Alternators

• Starter Motors • Wiring Repairs

• Diagnostics • Lighting • Batteries

Mobile Auto Electrician

022 644 9664

Classifieds Contact us today Phone our local team 03 379 1100

Farmlands Card Accepted

Funeral Directors

Farm Equipment

PROGRESSIVE

LIVESTOCK LTD

CLEARING SALE

DAIRY FARM PLANT &

MACHINERY AUCTION

A/C Thompson Track L.P.

2264 Thompson Track, Lauriston

Thursday 16th May 1pm

"Approved Quality Outside Entries Invited"

WE WILL OFFER

Deutz K810 tractor c/w trima loader,

McIntosh multicrop 900 feed out wagon,

10 tonne Tip trailer, IH tractor 685 xl, Walk

thru treatment crush, 10 tonne Heavy roller,

King Hitter post rammer- w spike, Brandt

supercharged auger, Krone mower, Sebco

4800 with cube 70 diesel tank, Oil recovery,

PK feeders mobile, Pallet forks, Rata versatile

grapple, 2 axle hay trailer, Grader blade king

60 series, Grubber clough, Maxi rototiller,

Cambridge roller, Lely fert spreader, Spray

unit/water blaster, EID wand reader XRS,

Isuzu flat deck truck, Cattle crate, Portable

cattle yards, Cattle platform for weighing,

Mobile loading ramp, Cradle hay feeders,

Square bale hay racks, Diesel tank

Hay covers, Fencing sundries.

Payment on the day unless prior

arrangement with management

All Prices are subject to GST.

FOR DETAILS CONTACT

STEVE HILL 027 556 4599

www.progressivelivestock.co.nz

SHELTERBELT TRIMMING

Boundary

Trimming

Call Tony Dempsey

Phone 03 325 3256

Mobile 0274 323 943

Heating

Log Fires

Pellet Fires

Heat Pumps

Sales

Service

Installations

Free Quotes

03 343 1651

472 Blenheim Rd

www.heatstore.co.nz

Gardening

& Supplies

ellesmere

lions

Pea straw

now available

We deliver:

Small bales $6

Medium squares

(equivalent of

10 small bales)

$50

Contact

alex Hayward

03 324 4094

Motoring

NISSAN SAFARI

Wagon, Manual 4.2.

$7500 Ph 021 08369857

NISSAN SAFARI

Wagon, Manual 4.2.

$7500 Ph 021 08369857

Musical

Wonderful piano/

keyboard music.

For

weddings,

celebrations, musical

remedies, private tuitions.

Contact : Melody

0220829501

Select Services

DRIVEWAYS

HARRIS

BULLDOZING LIMITED

• Driveways

• Car Parks

• Lifestyle Blocks

• Site Clearing

& General

Earthmoving

Mark 021 345 571

or Paul 021 705 996

Email harrisbull@xtra.co.nz

www.harrisbulldozing.co.nz

All Work Guaranteed

Please phone for a free quote

Heat Pump Specialist

(Registered Electrician)

Installation • Sales • Maintenance

LOMO 4Kw

Heat Pump

$1,790 installed

* Conditions apply,

other models also

available

Contact Stu Masters: 027 472 7955 or 03 338 0295

www.greeonline.com | airconmasters@xtra.co.nz

Select Services

Full Site and

Lawn Preparation

Landscaping

Roll Out Lawn

Irrigation

Free QuoteS

Contact Scott

0800 4 GRASS or

03 347 5555

sprayongrass.co.nz

Garage Sales

Need a hand?

✤ Lawns & Edges

✤ Landscaping

✤ Gardening

✤ Hedge Trimming

✤ Handyman Jobs

✤ Casual or One Off

Phone Mike Lineton

022 341 8848

Your local

Selwyn District

GARDENER/

HANDYMAN

GARAGE SALE

ESTATE REALISATION!

• Irrigation Gear • Olive Catchers & Equipment

• Vineyard Posts • Landscaping Posts

• Timber • Gazebos • Buckets • Garden Tools

• Workshop Sundries • 1950s Dolls House

• Garden Pots & Stakes

• 1960s Olivetti Portable Typewriter

• 1960s Suitcases • Kitchen Sundries

• Linen • Filing Cabinets • Stationary

• Drop Saw • Powertools

• Household items to numerous to mention

SATURDAY 11 MAY,

8.30am - 1.30pm

423 Burnham School Road

Select Services

STOP leaveS

birds, snow, hail & vermin from

blocking up your spouting

Quality materials: BHP Colorbond steel mesh with

unique patented louvre will even keep out pine needles.

Will not rust or sag with age or load. 10 year warranty,

range of colours.

Proven in Australia & New Zealand over the last 15 years.

FOR SaFe, PURe DRINKING

WaTeR FROM YOUR ROOF.

NOW avaIlaBle: STaINleSS STeel

MICO MeSH

Call Rohan anytime Mon-Sat for a

no-obligation assessment & quote

0800 486532

www.gumleaf.co.nz

To Let

RENT ME!

Ideal as an extra

bedroom or office.

no bond required

Fully insulated and double glazed for warmth.

Three convenient sizes from $70 a week:

Standard 3.6m x 2.4m

Large 4.2m x 2.4m | Xtra-large 4.8m x 2.4m

Visit our website

www.justcabins.co.nz

for display cabin locations

www.justcabins.co.nz

Trades & Services

No job to big or small.

Supply carpet, underlay and garage carpet.

Experienced in installing second hand carpet.

Carpet samples.

Free measure and quote!

Call David 0272319931

www.davidfarmercarpetlayer.co.nz

BUILDING REPAIRS

GIB STOPPING | FENCING

YARD CLEARING / CLEAN UP

SMALL DIGGER WORK

DRIVEWAYS & CONCRETE REPAIRS

RC MAINTENANCE

no job too small

LTD

ROSS CHESTNUT

ROSS Owner CHESTNUT

/ Operator

Owner / Operator

021 969 654

021 969 654

ross@rcmaintenance.co.nz

ross@rcmaintenance.co.nz

PO Box 92010

PO Box 92010

Farringdon, Rolleston

Farringdon

Rolleston 7650
---
34

Latest Christchurch news at www.star.kiwi

Wednesday May 8 2019

SELWYN TIMES

Classifieds Contact us today Phone our local team 03 379 1100

Trades & Services

Trades & Services

Trades & Services

Trades & Services

•Re Roofing

•Roof Repairs

•Spouting

Approved Age Concern provider

Over 30 years experience

Licensed Building Practitioner

N A BARRELL

ROOFING LTD

Ph: 349 9778 or 0275 389 415

Email: nabroofing@xtra.co.nz

TAI TAPU TYRES

53 Main Rd Tai Tapu

Ph. 03 329 6767

Will better any

other quoted price

Stockists of Kumho, Goodride and

Petlas Tyres, for all cars, 4WD, bikes,

tractors and trucks.

"Totally Dependable"

Maintenance & Servicing | New Housing | Hot Water Systems

Upgrades | Solar Hot Water | Central Heating

Commercial & Backflow Prevention | Pumps & Filtration

Town & Rural

Laser Plumbing Christchurch West

Phone: 03 348 6920

Email: chchwest@laserplumbing.co.nz

www.laserplumbing.co.nz

Non-Service Cremation $2,050

Commital service with cremation $3,950

Chapel service with cremation $6,500

Family burial service from $3,900

Just Funerals, a family owned and

operated company with qualified,

registered and experienced staff.

Phone 0800 804 663 - 24 Hour Availability

Email: info@justfunerals.co.nz

christchurch.justfunerals.co.nz

• Irrigation • Drainage • Driveways

• Auger Hole Drilling

• Land Clearing & Development

• Culvert Installation • Construction Site Works

• Tree & Hedge Removal • Concrete Breaker

Phone Mike: 027 272 8058 OR 03 324 4323 A/H

g.m.contracting@xtra.co.nz

www.gmcontracting.co.nz

concrete & paving

• Driveways

• Earthquake repairs

• New Home Specialists

• Patios & Paths

tel: 0508 873 7483

email: sales@affordableconcrete.co.nz

www.affordableconcrete.co.nz

Driveways

SWAINS

KIWI KERB

(Since 2005)

Over 22 Years Experience

Quality

Workmanship

• Driveways

• Kerb &

Channel

• Garden Edging

Freephone: 0800 081 400

swainskiwikerb@gmail.com

Trades & Services

Lawn mowing

Hedge trimming

Gardening

Weed eating

Spraying

and much more

Call Todd

0212059543

toddmc.greenacres@gmail.com

Wanted To Buy

Trades & Services

Est

1979

Arthur's

Roof & Property

Services

Ph: 03 347 2635

DeMossing

Silicone Sealing

Pest Controls

Roof Repairs

Colourcoating

Cell: 027 584 7980

Email: apisl2008@slingshot.co.nz

www.arthursroofandproperty.co.nz

Trades & Services

TRACTOR REPAIRS,

PARTS, SERVICING

Ferguson

Massey Ferguson

Most pre 90's

tractors

Phone Mark

027 431 7259

enquiries@farmbits.co.nz

Wanted To Buy

AAA Buying goods TOOLS Garden,

in Rolleston,Lincoln, garage, woodworking,

Prebbleton. Quality

mechanical, engineering,

sawbenches, lathes, cash

furniture, Beds, Stoves,

buyer, ph 355-2045

Washing machines,

TOOLS Garden,

Fridge Freezers. Same day garage, woodworking,

service. Selwyn Dealers. mechanical, engineering,

Phone 980 5812 or 027 sawbenches, lathes, cash

313 8156

buyer, ph 355-2045

Excavations

• Driveways

• Car Parks

• Site Cleaning

• Demolition

• Farm Tracks

• Drain Cleaning

• Stump & Hedge

Removal

• Ashpalt Concrete

Wide range

oF TruckS

For a Free Quote

on your next project

Phone Steve on 021 338 247

or 325 7922

Trades & Services

THE

CLEAN

GREEN

TEAM

• Window Cleaning

• House Cleaning

• Residential

& Commercial

Building Washes

• Deck & Paving

Restoration

Phone Michael

022 6818 650

ROOF

PAINTING

Rope & harness

a speciality,

no scaffolding

required,

30 years of

breathtaking

experience.

FREE QUOTES

Exterior staining,

exterior painting,

moss and mould

treatment and

waterblasting

Phone Kevin

027 561 4629

ACE HIGH

PLUMBING

All Plumbing

Gasfitting

Drainlaying

Blocked Drains

Log Fires,

Wetbacks

Gas Hotwater

Phone

021 454 864

Trades & Services

BUilDER QUAliFiED

Decks, T & G Flooring,

Villa Restoring, New

Homes, Weatherboards.

Free Quotes. Bennet &

Sons Ltd Sam 027 496-

9362 or Tony 027 224-

0374

• Tennis Courts &

Swimming Pools

• Chip Seal Driveways

• Diggers – 2 Ton

up to 20 Ton

• Excavators

• Bobcat & Drilling

• For Posthole &

Fence hole

Free

QuoTe

Trades & Services

CARPENTER

HANDYMAN

Small Job Specialists,

Carpentry, Repairs,

Decking & Maintenance,

40 years experience, no

job too small, Ph Warren

03 322-1103 or 027 697-

8541

CARPET & ViNYl

lAYiNg

Exp. Repairs, uplifting,

relaying, restretching.

Email jflattery@xtra.co.nz

ph 0800 003 181 or 027

2407416

CONCRETE CUTTiNg

Affordable Concrete

Cutting with Quality, and

removal work. Free quote.

No job to small. Phone 027

442-2219, Fax 359-6052

a/h 359- 4605

FENCiNg

Quality timber fencing -

gates & repairs, ph Ryan

027 951 8892

Bellamy's

Furniture

Furniture made to

order and restoration

by tradesman with

35yrs experience.

PH Stephen

021 073 2624

lANDSCAPiNg

Paving, Lawns, Irrigation,

Decking, Fencing.

Kanga & small digger

services. Check out Squire

Landscaping on facebook.

FREE QUOTES. Ph

Arthur 347-8796, 027

220-7014 Edwin 027 220-

7154

MASONRY

DAMAGED

MASONRY?? Rock and

Blocks Work Ltd for all

your brick, block and tile

laying needs. Friendly

service Licensed Building

Practitioner phone Devon

on 021 375-888 or 03 329-

5511

SHEEP SHEARiNg

MOBilE

Fast friendly professional

service. 25 yrs exp.

Shearing, drenching, hoof

trimming etc. Call Shaun

021 204 1274

STUMP gRiNDiNg

Best price guarantee Tony

0275 588 895

TiliNg

Flooring - Splashbacks

-Wall incl tile removal, reg

master tiler, ph Dave 027

334 4125

WiNDOW ClEANiNg

Brown & White Ltd.

Family owned since 2001.

Ph Paul 027 229 3534

GARAGE DOORS

The Genuine

Custom Made Garage

Door Professionals

0800 661 366

info@custommade.co.nz

www.custommade.co.nz

LANDSCAPING

Call Aaron &

the team today!

For the Outdoor

Space of your

Dreams...

Paving, Irrigation,

Lawns, Planting,

Fences, Pergolas,

Water-features,

Outdoor fires,

Raised Vege beds,

Decks, Artificial

grass & more...

Phone: 03 347 4422

or 021 542 402

Email: Aaron@theoutdoorspace.co.nz

www.theoutdoorspace.co.nz

mobility scooters

Get on to

our service

database

for service

when you

want it...

Auckland, Christchurch, Wanaka

We come to you!

Custom

modifications

available

Visit us:

29 Shakespeare Road, Waltham

Open Monday to Friday, 8:30am – 5pm

03 366 8815 | www.mobilitysystems.co.nz

Vehicles Wanted

CAR REMOVALS

$$CASH PAID$$

CARS, VANS, UTES

& 4X4 WANTED

NZ OWNED

AND

OPERATED

FOR

24 YEARS

We use world class vehicle

depollution systems

0800 8200 600

www.pickapart.co.nz
---
SELWYN TIMES Latest Christchurch news at www.star.kiwi

Wednesday May 8 2019 35

Public Notices

Leeston

ConsoLidated sChooL

Board of TrusTees

elecTion

Nominations are invited for the

election of 5 parent representatives

to the Board of Trustees.

A nomination form and a notice

calling for nominations will be

posted to all eligible voters.

You can nominate another

person to stand as a candidate,

or you can nominate yourself.

Both parts of the form must

be signed.

Additional nomination forms

can be obtained from the

school office.

Nominations close at noon on

Friday 24th May and may

be accompanied by a signed

candidate statement and

photograph.

The voting roll is open for

inspection at the school and

can be viewed during normal

school hours.

There will also be a list of

candidates' names, as they

come to hand, for inspection

at the school.

Voting closes at noon on

Friday 7th June 2019.

Megan scott

Returning officer

Leeston Consolidated school

19 selwyn street, Leeston

Public Notices

Weedons

school

Board of Trustees' election

Nominations are invited

for the election of three

parent representatives to

the board of trustees.

A nomination form

and a notice calling

for nominations will be

posted to all eligible

voters.

You can nominate another

person to stand as a

candidate, or you can

nominate yourself. Both

parts of the form must be

signed.

Additional nomination

forms can be obtained

from the school office.

Nominations close at

noon on Friday 24th

May and may be

accompanied by a signed

candidate statement and

photograph.

The voting roll is open for

inspection at the school

and can be viewed during

normal school hours.

There will also be a list

of candidates' names, as

they come to hand, for

inspection at the school.

Voting closes at noon on

Friday 07 June 2019.

Signed Debs Moffat

Returning Officer

Weedons School

135 Weedons Ross Road

RD 5

CHRISTCHURCH 7675

Classifieds

Public Notices

Rolleston softball Club

annual General Meeting

8:00pm Rolleston Rugby Club Rooms

Monday 20th May

Committee positions available.

Constitution changes to be made.

Inquiries or nomination forms contact

secretaryrollestonsoftball@gmail.com

Public Notices

BOARD OF

TRUSTEES

ELECTION

2019

Nominations are invited

for the election of 5

parent representatives

to the Board of

Trustees.

A nomination form and

a copy of this notice will

be posted to all eligible

voters.

Additional nomination

forms can be obtained

from the school office.

Nominations close

at noon on Friday, 24

May 2019 and may

be accompanied by

a signed candidate's

statement.

The voting roll is open

for inspection at the

school and can be

viewed during normal

school hours.

There will also be a list

of candidate's names

as they come to hand,

for inspection at the

school.

The poll closes at noon

on Friday, 7 June 2019

Jill Banbury

Returning Officer

Public Notices

Board of

Trustees

Election

Nominations are invited

for the election of FIVE

parent representatives to

the Board of Trustees.

All eligible voters have

been advised of the

nomination process.

Nomination forms can be

obtained from the school

office. You can nominate

yourself or nominate

another person to stand

as a candidate.

Nominations close

at noon on Friday

24 May and may be

accompanied by a signed

candidate statement and

photograph.

The voting roll is open for

inspection at the school

and can be viewed during

normal school hours.

There will also be a list

of candidates' names, as

they come to hand, for

inspection at the school.

Signed: Jan Brittenden

Returning Officer

Lincoln High School

25 Boundary Road

Lincoln 7608

P: 325 2856

E: jbr@lincoln.school.nz

Public Notices

Lincoln

Farmers

& Craft

Market

AGM

Tues 21st May

7pm

At the Lincoln

Events Centre

Everyone welcome

Public Notices

Board of

TrusTee

elecTions

Nominations are invited

from May 10 for the

election of three parent

representatives.

A nomination form

and a notice calling for

nominations will be posted

to all eligible voters.

Additional nomination

forms can be obtained

from the school office.

The voting roll is open for

inspection at the school

and can be viewed during

normal school hours.

There will also be a list

of candidates' names, as

they come to hand, for

inspection at the school.

If an election is required

voting papers will be sent

to all eligible voters

Nominations close at noon

on 24th May 2019

Voting closes at noon on 7

June 2019.

Kathy Hely

Returning Officer

42 Barnes Road

R. D. 4

Christchurch 7674

Situations Vacant

Public Notices

Clearview Primary

School 2019 Board of

Trustees' election

Nominations are invited

for the election of five

parent representatives to

the Board of Trustees.

A nomination form

and a notice calling

for nominations will be

posted to all eligible

voters.

You can nominate

another person to stand

as a candidate, or you

can nominate yourself.

Both parts of the form

must be signed.

Additional nomination

forms can be obtained

from the school office.

Nominations close

at noon on Friday 24

May, 2019 and may be

accompanied by a signed

candidate statement and

photograph.

The voting roll is open for

inspection at the school

and can be viewed

during normal school

hours.

There will also be a list

of candidates' names, as

they come to hand, for

inspection at the school.

Voting closes at noon on

Friday 7th June 2019.

Susan Meares

Returning Officer

Clearview Primary

20 Broadlands Drive,

Rolleston

EmploymEnt

opportunity

pArt timE / FixED tErm

We are looking for Assessors to coordinate the lincoln

Envirotown trust Selwyn responsible Business Award

Scheme for all areas of Selwyn, to start in June. this

scheme, which encourages and supports local businesses

to become more environmentally sustainable, is supported

by the Selwyn District Council.

These will be part time contract positions to undertake the

distribution of the environmental survey to businesses;

site visits and assessments; assistance in organising the

awards presentation evenings. The assessors need to be

well organised and self - motivated. These roles best suit

people who enjoy meeting others; possess oral and written

language skills, as well as an enthusiasm for environmental

sustainability practices. Computer skills are a requirement

but full training in the new survey and online system will

be provided. Deadline for applications is Wednesday 22nd

May 2019.

Please send cv with short letter to Dave

projectmanagerlet@gmail.com

More information about these positions can be obtained by

emailing or calling Dave on 03 4230445.

Contact us today

Situations Vacant

CALF REARER

2019 SEASON

We require an experienced calf rearer

to assist with rearing approx 200 heifer

calves and bobbies. The position will start

mid July to October. Applicants must

have good animal handling skills and be

physically fit. We are located 10 mins from

Leeston/Dunsandel.

Please contact Chris on 022 690 9562

for more information.

Teacher Aide

We are looking for an enthusiastic teacher aide

to join our team for the rest of the 2019 year.

The position is fixed term (May – December 18,

2019) for 14 hours per week, Monday to Thursday.

The successful applicant will be kind, supportive,

adaptable, demonstrates initiative and is

passionate about supporting students in the junior

school.

Apply by email to: office@broadfield.school.nz

Please include CV, covering letter and contact

details for two professional referees.

Job description available on the school website.

Applications close 3.00pm Friday 17 May, 2019.

Food & Nutrition

Technician

We are looking for a Food Technician to join our

team to support and assist the smooth running

of the Food & Nutrition Department.

• Permanent, part time position starting

Monday 1 July 2019

• 27 hours per week, over 5 days (during the

school day)

• Term time only

Application packs are available, by email, from:

Tracy Roberts – trb@lincoln.school.nz

Applications close Friday 17 May 2019 at 3 pm

DRIVETECH LTD

"TRAINING TOMORROWS DRIVERS TODAY"

HEAVY TRAFFIC CLASSES 2, 3, 4 & 5

FROM FULL CAR (Class 1)

TO FULL TRUCK (Class 2) in 2 days

(Road code & pre-assessment driving training provided)

FORKLIFT ENDORSEMENT (F & OSH)

Train with a knowledgeable experienced Assessor that will

work with you through your theory and practical steps.

Driving Related Health & Safety Training

Passenger, Logbook & Load Security Training

OTHER COURSES/LICENCES & ENDORSEMENTS AVAILABLE ARE:

Vehicle Recovery, Wheels, Tracks, Rollers & Dangerous Goods

Courses in Christchurch, Invercargill,

Cromwell & Mosgiel daily.

Other areas by arrangement

INTEREST FREE TIME PAYMENTS

(Terms & Conditions apply)

FREEPHONE 0508 2 37483

or 03 348 8481, 027 510 0684

info@drivetech.co.nz / www.drivetech.co.nz

Show

home

Guide

Homes by Parklane

"Standout Homes for an

Outstanding Price"

Flemington, Lincoln

6 Craig Thompson Drive

Thurs & Fri 1pm - 4pm

Sat & Sun 12pm - 4pm

Wigram

2 Harvard Avenue

Mon to Fri 9am - 5pm

Master Builders House of the

Year 2017 Gold Reserve Award

Winning Showhome

(03) 341 3000 or 029 201 2453

www.homesbyparklane.co.nz

Signature Homes

Rolleston

97 Ledbury Drive, Faringdon.

Open Wed to Sun 12pm - 4pm

Prestons Park

37 & 39 Prestons Park Drive

Marshland, Chch both Open Wed

to Sun 12pm - 4pm

Show Room/Office:

31 Watts Road, Sockburn

0800 8444 88 or 03 3427788

www.signature.co.nz

Jennian Homes Canterbury North

Rolleston

7 Lemonwood Drive, Faringdon

Wednesday to Sunday, 12pm - 4pm

Rangiora

9 Westpark Boulevard

Wednesday to Sunday, 12pm - 4pm

www.jennian.co.nz

First Homes - Christchurch

St Albans

39 Sherborne Street

Open Tuesday to Saturday

10am - 4pm

021 575 545

chchsales@firsthomes.co.nz

www.firsthomes.co.nz

To advertise in

The Showhome Guide

Contact Elaine: (03) 364 7436

elaine.moon@starmedia.kiwi
---
36 Wednesday May 8 2019

Latest Christchurch news at www.star.kiwi

M-A

MATSON & ALLAN

REAL ESTATE LIMITED

'The

Selwyn

Experts'

SELWYN TIMES

Residential

Lifestyle

Rural Property

Licensed REAA2008

wEST mELTON - 133 Pearces Road

5 BEDROOMS, GENEROUS LIVING,

IDYLLIC RURAL LIFESTYLE

• Farmhouse style living on 4 hectares

• Fully renovated 260m 2 family home

• Functional kitchen

• Large bedrooms, two bathrooms

• Generous living areas

• Log burner with wetback, 2 Heat pumps, double

glazed

• 104m2 North facing hardwood decking

• Tree lined driveway set well back off the road

offering privacy & security

• Balance of 4 ha is well subdivided

ROLLESTON - 14 Navy Loop

EXACTLY WHAT YOU'VE BEEN

WAITING FOR

• 182m2 brick home on 572m 2 section

• 3 double bedrooms, ensuite, WIR

• Bathroom, separate toilet, separate laundry

• Functional & spacious home

• Open plan living

• Great indoor/outdoor flow on landscaped section

• Excellent outlook well situated in the sought after

Levi Park

ROLLESTON - 9 Stanford way

SENSATIONAL & DISTINCTIVE LIVING

• Built in 2013 by Today Homes

• 2 spacious separate living areas

• 4 double bedrooms

• Master with ensuite and WIR

• Dual aspect fire

• Cassette heating, heat pump, underfloor heating

• Modern kitchen with walk in pantry

• Quality fixtures, fittings & window treatments

• Large decked area for entertaining

• Double internal access garage

• Established, private and secure section

ROLLESTON - 39 Stanford way

STAND OUT FROM THE CROWD

• Architecturally designed 230m 2 3 bedroom home

• Very private established landscaped 840m 2 section

• Master with ensuite and WIR

• Designer kitchen, WIP, induction hob

• 2 x living areas

• 2 x large sheltered deck areas

• Separate laundry

• Reticulated gas, gas fire, heat pumps

• Priced for quick sale

LINcOLN - 42 O'Reilly Road

STYLISH AND SPACIOUS LIVING

• Newly built in 2017

• Well designed, north facing 209sqm home

• Two separate and spacious living areas

• Generous size bedrooms

• Master bedroom with walk in robe

• Stylish ensuite

• Stunning kitchen with reputable appliances

• Walk in pantry

• Attached double internal access garage

• Fabulous outdoor entertaining area

• Landscaped easy care and fully fenced section

Andrew Taylor Mb 0274 355 930

andrew@marealestate.co.nz

Viewing: Sun 1.00pm - 1.30pm

Asking Price: Neg over $543,000

View: www.marealestate.co.nz/MA0556

Jo Barrett Mb 021 859 006

jo@marealestate.co.nz

Jo Barrett Mb 021 859 006

jo@marealestate.co.nz

Andrew Taylor Mb 027 435 5930

andrew@marealestate.co.nz

Jackie Derrick Mb 027 636 3576

jackie@marealestate.co.nz

OPEN HOmE

Viewing: Sun 3.00pm - 3.30pm

Price: Neg Over $850,000 Incl GST

View: www.marealestate.co.nz/MA0557

Viewing by appointment welcome

Asking Price: Neg over $749,000

View: www.marealestate.co.nz/MA0540

Viewing: Sun 2.00pm - 2.30pm

Asking Price: Neg Over $599,000

View: www.marealestate.co.nz/MA0545

Viewing: Sun 12.30pm - 1.00pm

Asking Price: Neg Over $615,000

View: www.marealestate.co.nz/MA0551

NEw LISTING

OPEN HOmE

NEw LISTING

OPEN HOmE

PRIcE REDucED

OPEN HOmE

NEw LISTING

ROLLESTON - 1095 Goulds Road

QUALITY LIVING – SUPERB LOCALITY

• 254m 2 home on 1349 m 2 section

• 4 Bedrooms, super-size ensuite, WIR

• Stylish well-appointed kitchen, WIP

• Spacious central living area, separate lounge

• Log Burner, Heat Transfer, HRV

• Solar hot water system

• Great outdoor living

• Zoned for Clearview Primary School & Rolleston

College

ROLLESTON - 57 Navy Loop

PRICED FOR A SLICK "SAIL"

• 227m 2 brick home on 606m 2 section

• Spacious open plan living

• Master with ensuite & WIR

• Bathroom & separate toilet

• Modern kitchen

• Separate lounge

• Light filled, sunny, great indoor/outdoor flow

• Well situated section located in the much desired

Levi Park

ROLLESTON - 39 Sheridan Drive

STYLE & SPACE IN PRIME LOCATION

• 305m 2 Peter Ray Homes

• Four double bedrooms

• Substantial ensuite/bathroom

• Spacious living areas, discreet study nook

• Sleek modern well-appointed kitchen

• Sizeable butler's pantry

• Large separate laundry

• Fantastic heating options

• Immaculate four seasons garden

• Fenced 1296m 2 section

• Zoned for Clearview & West Rolleston Primary

Schools & Rolleston College

ROLLESTON - East maddisons Road

1000M 2 SECTIONS – AN

ENDANGERED SPECIES

• Titles out now

• Only 3 lots left

• North facing aspects

• Fully serviced to boundary

• Internal boundaries fenced

• Sensible covenants to protect your investment

ROLLESTON - 11/487 weedons Road

THIS IS THE ONE YOU HAVE BEEN

WAITING FOR

• 4ha farmlet

• Positioned in private, secure & landscaped setting

• Modern 2 story dwelling

• 2 double bedrooms, 1 bathroom downstairs &

master bedroom with ensuite upstairs

• Open plan living/kitchen

• Great indoor/outdoor flow

• Fully lockable implement shed with concrete floor

& power, single garage & lean to off house

• Good fencing & excellent shelter belts around the

perimeter & internal parts of property

Viewing: Sun 2.30pm - 3.00pm

Price: Neg Over $679,000

View: www.marealestate.co.nz/MA0554

Jo Barrett Mb 021 859 006

jo@marealestate.co.nz

Viewing: Sun 1.45pm - 2.15pm

Price: Neg Over $595,000

View: www.marealestate.co.nz/MA0553

Jo Barrett Mb 021 859 006

jo@marealestate.co.nz

Viewing: Sun 3.15pm - 3.45pm

Price: Neg Over $809,000

View: www.marealestate.co.nz/MA0543

Jo Barrett Mb 021 859 006

jo@marealestate.co.nz

Price: Neg over $240,000

View: www.marealestate.co.nz/MA0374

Andrew Taylor Mb 027 435 5930

andrew@marealestate.co.nz

Viewing by appointment welcome

Price: Neg Over $799,000

View: www.marealestate.co.nz/MA0539

Chris Flanagan Mb 027 433 4657

chris@marealestate.co.nz

OPEN HOmE

ROLLESTON PH: 03 347 9949 LEESTON PH: 03 324 3704 DARFIELD PH: 03 318 8204 www.marealestate.co.nz

NEw LISTING

OPEN HOmE

NEw LISTING

OPEN HOmE

PRIcE REDucED

Chris Flanagan

027 433 4657

Andrew Taylor

027 435 5930

Jackie Derrick

027 636 3576

Jo Barrett

021 859 006

Stephan Knowler

027 229 9522

Cameron McRae

027 769 6696

Paul Robinson

021 277 2690

Juliet Flanagan

027 490 8019

Connie van der Klei

021 449 174
---
THe BeST PRoPeRTieS AcRoSS

THe SeLWYn DiSTRicT

INSIDE

PUBLiSHeD eVeRY WeDneSDAY

Week commencing WeDneSDAY, 8TH mAY , 2019

Dare To Be Different

Built in 2017 is this unique, bold and spacious 181sqm

(approx.) home, sited for the sun on a private 1104sqm

(approx.) section. With excellent off street parking be

further impressed by the astute design of this home

offering generous open plan kitchen/dining/living

complemented with integrated cabinetry, custom built

polished concrete benchtop, walk in pantry, stunning

Leisure gas hob/electric oven, ceiling speakers, and

smart polished concrete flooring.

Heating options include a cost efficient in slab hot

water underfloor system, solar panels, and log burner.

French doors open out onto a private expansive decked

veranda where you can enjoy outdoor living and observe

each tree with its own trickle water supply via the

collection point from the additional 70sqm (approx.)

triple garage and workshop.

Offering three double bedrooms, the spacious main

having French doors to the veranda and further

complemented by a substantial XL walk in wardrobe, the

ensuite is equipped with modern fixtures and fittings

including a tiled shower with rain head. The smart and

functional design of this property also

incorporates a large separate laundry, and

separate office.

Like a box of chocolates you never know

what you're going to get!

M-A

MATSON & ALLAN

REAL ESTATE LIMITED

neg over $610,000

www.marealestate.co.nz/MA0558

Jo Barrett

contact:

M 021 859 006

W 03 347 9949

E jo@marealestate.co.nz

1 BellBirD place, rollesTon viewing By appoinTmenT

M-A

MATSON & ALLAN

REAL ESTATE LIMITED

Thinking of Selling?

For Trusted Reputation, Local Knowledge and Experience

M-A

MATSON & ALLAN

REAL ESTATE LIMITED

Chris Flanagan

027 433 4657

Andrew Taylor

027 435 5930

Jackie Derrick

027 636 3576

Jo Barrett

021 859 006

Stephan Knowler

027 229 9522

Cameron McRae

027 769 6696

Our agents are highly experienced, passionate about property and know the market they are working in.

Call today, we would be delighted to assist with a free no obligation appraisal and to discuss your options.

ROLLESTON P: 03 347 9949 | DARFIELD P: 03 318 8204 | LEESTON P: 03 324 3704 | www. marealestate.co.nz

Paul Robinson

021 277 2690
---
2

Hastings McLeod Limited Licensed under the Real Estate Agents Act 2008 6 Tennyson Street ROLLESTON rolleston@pb.co.nz 03 929 0306

Greenstone Family Gem

Affordable lifestyle opportunity

NEW LISTING

NEW LISTING

WEB ID ROU67824

ROLLESTON

18 Greenstone Street

VIEW Sunday 12 May 12.30 - 1.00pm

Superbly appointed near new family home in

Stonebrook, perfectly positioned for all day sun where it

matters the most. Located just a stone's throw from

Woolshed Park where the kids can enjoy hours of fun.

Gorgeous kitchen with stone bench top, large pantry,

and european appliances including induction cooktop

for that extra touch of class

You won't see a 4 bedroom home in this location and at

this price very often, a true Gem that is quite special and Michael Robb

deserves inspection!

Mobile 027 436 7106

Office 03 929 0306

michael.robb@pb.co.nz

Timeless elegance, central location

BUYERS $535,000+

4

2

2

WEB ID LEU67788

SOUTHBRIDGE

21 Broad Street

Set on a spacious 4047m2 this unique lifestyle

opportunity could be the one for you. A generous sized

three bedroom home with large living spaces and

conservatory will give everyone in your family plenty of

space to spread out. There are great heating options

from the log burner on wetback, open fire in the lounge

to the heatpump and a handy HRV system to help keep

the home dry and warm. The stunning wooden bench

tops in the kitchen add beautiful character & there is

also a large separate laundry.

Better Take A Look!

View By Appointment

Angela Hunt

Mobile 021 548 777

angela.hunt@pb.co.nz

BUYERS $499,000+

3

1

5

WEB ID ROU67580

ROLLESTON

1 Allingham Lane

Designed to grow with your family and with features

that exude luxury yet practicality, this spacious and

elegant 287m2 home (including alfresco area) on a

833m2 section will capture the hearts of all that enter

and leave you with a feeling of home

• Kitchen with WIP & stainless steel tops

• Extra-height ceilings & feature doors

• Gas cooking, heating & water, heat pump

• Ensuite with double head fully-tiled shower

• Gorgeous private setting, alfresco outdoor living

View By Appointment

Sarah Yeates

Mobile 027 447 2719

Office 03 929 0306

sarahy@pb.co.nz

BUYERS $645,000+

4

2

3

WEB ID LEU67868

LEESTON

51 High Street

Hardly even a stroll to the businesses, cafes and schools

in the Leeston township, this 3 bedroom home on

741m2 is ideal if you are looking for your first home or

an investment property.

The open plan kitchen/dining area and living offer

sliding doors onto the covered patio area overlooking

the backyard. Great indoor/outdoor flow letting lots of

sunshine in with a log burner to keep you warm and

cosy during those chillier months.

There`s a single garage and vegetable planters out the

back and so much space to make your own!

View By Appointment

Penny Dadson-Clausen

Mobile 027 895 5943

Office 03 929 0306

pennyd@pb.co.nz

$330,000

3

1

1

pb.co.nz
---
3

Hastings McLeod Limited Licensed under the Real Estate Agents Act 2008 6 Tennyson Street ROLLESTON rolleston@pb.co.nz Office 03 929 0306

Your local Selwyn

Property Brokers team

Tony Quayle

Branch Manager

027 611 6161

Sarah Yeates

Residential/Lifestyle

027 447 2719

Michael Robb

Residential/Lifestyle

027 436 7106

April Nicholls

Residential/Lifestyle

027 737 6474

Angela Hunt

Residential/Lifestyle

021 548 777

Bev Saunders

Property Manager

027 666 1219

Iain McLachlan

Property Manager

027 281 1248

Penny Dadson- Clausen

Residential/Lifestyle

027 895 5943

Jannetta Thomas

Residential/Lifestyle

021 256 6295

Amy Jones

Residential/Lifestyle

027 077 9945

Gareth Cox

Rural

021 250 9714

Matt Collier

Rural

027 205 6626

pb.co.nz

REAL ESTATE SPECIALISTS

20 Irvines Road, Dunsandel

4 Bruce McLaren Way, Rolleston Brand New and Waiting for You!

OffERs OvER $760,000

Just waiting for a family to arrive, this newly built,

beautifully presented, spacious home promises

many happy years of superb comfort and style in a

fabulous neighbourhood. Light & bright throughout

this home oozes quality and is situated in the

sought after Riverstone subdivision.

With four double bedrooms including the master

with generous walk-in wardrobe and a stunning

ensuite this is a home to be proud of. Viewing is

essential to appreciated what is on offer - contact

Mike today to book your time.

** Set Sale : Offers to be presented 5pm, 9th May

2019 (unless sold prior)

DeaDline Sale: all offerS to be preSenteD 5pm, 16th may (unleSS SolD prior)

Welcome to the Good Life!

Beautifully maintained, this substantial residence with expansive grounds offers comfortable family living

with room to roam amongst the tranquil rural surroundings. Situated on 4299sqm, within a short distance

of Dunsandel township, this large, well-maintained family home presents an opportunity for superb family

living in an idyllic rural environment.

The living areas comprise the open plan kitchen/diner with an adjoining lounge with pellet fire and enjoys

views of the garden through the many large windows. Three double bedrooms include the generous master

with built-in wardrobe & luxurious ensuite with a bath, plus a fourth single bedroom. An additional room

could also serve as a guest room or fifth bedroom.

Attractive landscaping & outdoor areas with established trees and vegetable beds complete the lifestyle

package. Don't delay, contact Mike now to organise a viewing.

9/20 North Avon Road, Richmond

OffERs OvER $349,000

Low-maintenance Living – Relax and Enjoy!

Make the most of comfortable easy-care living in

this beautifully-configured town-house in a handy

central location.Perfect for investors, this property

is currently tenanted on a fixed term contract until

October. Built in 2011 & low-maintenance it offers 2

generously-proportioned bedrooms with an upstairs

bedroom and a separate toilet downstairs.

There is a carport with this property, but because of

its convenient location, you may choose to leave the

car at home. Prospective buyers are urged to act

quickly. Contact Mike now to arrange a viewing.

** Set Sale : All offers to be presented 5pm 23rd

May (unless sold prior)

68 Rolleston Drive, Rolleston

0800 645 346

www.oneagencyres.co.nz

Mike Goatley

027 249 5561

stephen ferguson

021 224 2000

fraser Mackintosh

027 286 8161

Elyse Campbell

021 187 6217

Deepak Gangar

021 227 9563

Nicola Curtis

Administrator

Julz sibbe

Administrator

Real Estate Specialists Ltd Licenced REAA (2008)
---
4
---
5
---
6
---
7
---
8
---
9
---
10

Four Seasons Realty 2017 Ltd | Licensed Agent REAA 2008

Contributor to realestate.co.nz

harcourts.co.nz

Your home for local property
---
11

Four Seasons Realty 2017 Ltd | Licensed Agent REAA 2008

Contributor to realestate.co.nz

harcourts.co.nz

Your home for local property
---
12

Congratulations...

To our Top 10 Sales Consultants 2018/19

Our Top 10 sales consultants exemplify everything Harcourts Four Seasons believes in - experience, local

knowledge, professionalism, focus and commitment. Their efforts in providing for their clients have

brought success after success. Thank you to all our wonderful clients who have helped our Top 10 achieve

these outstanding results. If you are considering a move, talk to our top consultants today.

Top

Mitch & Mana

Sue & Gemma

Roberts

02 03 Richard & Sue 04 Chris Vere 05 Harley

Woerlee

Manion

Jackie

Frame

06 07 Lisa

08 Lyn & Nicholas 09 Katie

Tippen

Martin

Harrison

10

Jan Green

Regional Awards Harcourts Canterbury 2018/19

Mitch & Mana

Sue & Gemma

Roberts

Richard & Sue

Woerlee

Chris Vere

Harley Manion

Malcolm Campbell

3 rd Sales Consultants

Harcourts Canterbury 2018/19

2 nd Rural & Lifestyle

Harcourts Canterbury 2018/19

10 th Sales Consultants

Harcourts Canterbury 2018/19

3 rd Rural & Lifestyle

Harcourts Canterbury 2018/19

TOP Rural & Lifestyle

Harcourts Canterbury 2018/19

20 th Sales Consultant

Harcourts Canterbury 2018/19

23 rd Sales Consultant

Harcourts Canterbury 2018/19

2

nd NAI Sales

Consultant

Harcourts Canterbury 2018/19

3 rd Exclusive Listers

Harcourts Canterbury 2018/19

2 nd Total Units

Harcourts Canterbury 2018/19

Your home for local property

0800 789 10 11

Four Seasons Realty 2017 Ltd Licensed Agent REAA 2008
---
13

RURAL | LIFESTYLE | RESIDENTIAL

More Great Property

RURAL LIFESTYLE RESIDENTIAL

This autumn the choice is yours.

With a national team of local experts who understand their regional market, as well as being connected

to a national network, we have rural, lifestyle and residential properties for sale throughout New Zealand.

Choose the property that fits you.

To view your options online, including our national publications, go to www.pggwre.co.nz.

PGG Wrightson Real Estate Limited, licensed under REAA 2008

Helping grow the country

FINAL NOTICE

Boundary lines are indicative only

Boundary lines are indicative only

Boundary lines are indicative only

Halswell 113 Quaifes Road

Springston 103 Goulds Road

Rural living yet close to all

city amenities

Proudly owned for over 30 years, this 7.62ha has a

location hard to beat. Medical Centre, early childcare

facilities, cafes and eateries only 1km away, walking

distance of Seven Oaks School and the CBD is

conveniently close. Water supply is already in place

with an artesian well and shelter is established on two

boundaries. Currently zoned Rural and with no

covenants to restrict your build - turn your family's

plans into reality.

bayleys.co.nz/559928

Deadline Sale (unless sold prior)

1pm, Tue 14 May 2019

Chris Jones 027 220 5043

chris.jones@bayleys.co.nz

Sam Sidey 027 346 3500

sam.sidey@bayleys.co.nz

WHALAN AND PARTNERS LTD, BAYLEYS, LICENSED REAA 2008

Country living at its best

This stunning 10.7220 hectare property is central to

Lincoln, Springston, Leeston or Rolleston. Eye

catching in appearance and generous in size. Openplan

living spaces including a large modern kitchen,

dining area and casual living zone. The north-facing

lounge has access to the patio as do all five bedrooms.

A sixth room could be an office or another bedroom.

Superb storage, internal-access double garage, paved

drive, sheds, stock facilities, good subdivision and

shelter all with an easy commute. Phone to inspect.

bayleys.co.nz/559519

6 2 3 2

Price by Negotiation

Phone for viewing times

Nick Wilson 021 917 047

nick.wilson@bayleys.co.nz

WHALAN AND PARTNERS LTD, BAYLEYS, LICENSED REAA 2008
---
2

14 [Edition datE]

Your guide to all things Real Estate

in the Selwyn District

Landscaping enhances

new & existing homes

Building in a housing subdivision

invariably means the developer will

require you to submit a landscaping

plan along with your house design, to be

approved before building commences.

Just as important as considering

the features for your home will be

your outdoor setting. Indoor/outdoor

requirements will influence your choice

of house design and how it will be

sited on the section for a sunny yard

and best protection from prevailing

winds like the easterly. Having a second

courtyard area offering shelter from the

north-west wind is also an advantage in

Selwyn.

A well thought out landscape plan

will also incorporate off-street parking

space for vehicles while ensuring your

home is attractive from the street. You

might want to factor in parking for a

caravan, motorhome or extra vehicles as

well as a turning circle for safe turning

and exiting your property (a legal

requirement for back sections).

The developer will only want to see a

landscape outline for the part of your

property which will be on view from the

street.

When choosing the design for your

home, address where you want hard

surfaces (driveway, paths and patios),

lawn, play areas and garden beds so it

is suitably positioned on the section.

Even if not all hard surface areas are

completed at the end of the build,

knowing where they will be located will

be helpful.

If your build is nearing completion,

autumn is a good time to sow grass as

the cooler morning and evening dew

assists growth. As winter descends on

us, ready lawn is a better option at least

at the front of the section, which the

developer will require to be completed

before moving in. Your backyard could

be left until spring (another good time

for seeding a lawn) if you are happy to

put up with the mud over winter.

When selling an existing home,

putting effort into landscaping your

yard could add value by presenting a

good first impression and attracting

buyers.

You need not rip out overgrown

established plants. Selective culling and

pruning can make a huge difference

to the look of a garden. Avoid hacking

everything down low. Instead take out

sprawling branches and thin shoots,

leaving a solid trunk; planting flowers

like lobelia, primula, pansies and

polyanthus underneath for impact. Add

a layer of mulch and spray the lawn

for weeds then follow up with lawn

fertiliser to give a lush green look.

The first thing people see is your

home's exterior – the cladding, colours

and landscaping. Putting effort into

these features has the potential to add

value to new and existing properties.

A garden need not be masses of work.

Planning and choosing the right plants

for the location and your lifestyle can

create a relatively low maintenance

outdoor setting while enhancing your

home.

Landscaping presents a good first impression, attracting buyers.

Developers require a landscape plan for the street

view of your home before building commences.

BRAND NEW SHOW HOME NOW OPEN IN

BRANTHWAITE, ROLLESTON

WEDNESDAY TO SUNDAY 12PM - 4PM

2 Reuben Avenue, Rolleston

Modern design, home & land

packages available, friendly team

www.generation.co.nz/christchurch

Like us on Facebook: Generation Homes Christchurch
---
This Week's

15

10.00am – 11.00am

1.00pm – 1.30pm

5.00pm – 5.30pm

11.00am – 11.45am

11.45am – 12.15pm

12.00pm – 12.30pm

12.00pm – 12.30pm

12.15pm – 1.00pm

12.30pm – 1.00pm

12.30pm – 1.00pm

12.45pm – 1.15pm

12.45pm – 1.15pm

1.00pm – 1.30pm

1.00pm – 1.30pm

1.00pm – 1.45pm

1.30pm – 2.00pm

1.30pm – 2.00pm

1.30pm – 2.00pm

1.45pm – 2.15pm

1.45pm – 2.15pm

1.45pm – 2.15pm

1.45pm – 2.30pm

2.00pm – 2.30pm

2.15pm – 3.00pm

2.30pm – 3.00pm

2.30.pm – 3.15pm

2.45pm – 3.30pm

3.00pm – 3.30pm

3.30pm – 4.00pm

10.30am – 11.00am

11.00am – 11.30am

11.00am – 11.30am

11.00am – 11.30am

11.00am – 11.30am

11.00am – 11.30pm

11.00am – 11.30am

11.00am – 11.30am

11.15am – 11.45am

11.30am – 12.00pm

11.30am – 12.00pm

Thursday 9Th may

51 Clydesdale Way (off Carnaveron Drive), Lincoln

Harcourts Hornby

9 Palm Drive, Shirley

Ray White Rolleston

40 Foxbridge Lane, Lincoln

Harcourts Rolleston

saTurday 11Th may

12 Homebush Road, Glentunnel

Mike Pero West Melton

34 Bavaria Drive, Rolleston

Harcourts Lincoln

27 Yardley Street, Avonhead

Harcourts Rolleston

3 James Hight Drive, Halswell

Ray White Rolleston

39 Waddington Road, Waddington

Mike Pero West Melton

28 Skyhawk Road, Wigram

Ray White Rolleston

21 Symes Road, Wigram

Harcourts Hornby

670 Springston Rolleston Road, Rolleston

Harcourts Lincoln

12 Eaton Place, Lincoln

Harcourts Lincoln

4 Thomas Street, Kirwee

Matson & Allan Darfield

13 Aua Street, Lincoln

Ray White Lincoln

3 Garratt Place, Lincoln

Harcourts Lincoln

41 Cardale Street, Darfield

Mike Pero West Melton

40 Shelley Street, Rolleston

Harcourts Rolleston

2/131 Carmen Road, Hei Hei

Ray White Rolleston

94 Moffat Drive, Lincoln

Harcourts Lincoln

21 Anaru Road, Lincoln

Harcourts Lincoln

14 Blunden Road, Lincoln

Harcourts Lincoln

5 Rempstone Drive, Halswell

Harcourts Hornby

268 Southfield Drive, Lincoln

Ray White Lincoln

63 Victors Road, Hoon Hay

Harcourts Rolleston

1/842 West Coast Road, West Melton

Ray White West Melton

83 Highsted Road, Bishopdale

Harcourts Rolleston

11 Franklin Street, Lincoln

Harcourts Lincoln

31 Central Avenue, Prebbleton

Ray White Lincoln

88 Melton Grange road, West Melton

Ray White West Melton

sunday 12Th may

250 Two Chain Road, Rolleston

Ray White West Melton

31 Jean Archie Drive, Rolleston

Ray White West Melton

4 Fountain Place, Rolleston

Ray White Rolleston

6 Kemble Drive, Rolleston

Ray White Rolleston

7 Barcote Lane, Rolleston

Ray White Rolleston

479 Southbridge Dunsandel Road, Leeston

Ray White Lincoln

5 Caesar Close, Rolleston

Ray White Rolleston

70 Othello Drive, Rolleston

Ray White Rolleston

10 Caesar Close, Rolleston

Ray White Rolleston

668 Springston Rolleston Road, Rolleston

Harcourts Rolleston

7 Boulez Mews, Rolleston

Ray White West Melton

11.30am – 12.00pm

11.45am – 12.15pm

11.45am – 12.15pm

11.45am – 12.15pm

12.00pm – 12.30pm

12.00pm – 12.30pm

12.00pm – 12.30pm

12.00pm – 12.30pm

12.00pm -2.30pm

12.00pm – 12.30pm

12.15PM – 12.45PM

12.15pm – 12.45pm

12.30pm – 1.00pm

12.30pm – 1.00pm

12.30pm – 1.00pm

12.30pm – 1.00pm

12.30pm – 1.00pm

12.30pm-1.00pm

12.30pm – 1.00pm

12.30pm – 1.15pm

12.45pm – 1.15pm

12.45pm – 1.15pm

12.45pm – 1.15pm

12.45pm – 1.15pm

12.45pm – 1.15pm

1.00pm – 1.30pm

1.00pm – 1.30pm

1.00pm – 1.30pm

1.00pm – 1.30pm

1.00pm – 1.30pm

1.00pm – 1.30pm

1.00pm – 1.45pm

1.00pm – 1.45pm

1.15pm – 1.45pm

1.15pm – 1.45pm

1.15pm – 1.45pm

1.15pm – 1.45pm

1.15pm – 1.45pm

1.30pm – 2.00pm

1.30pm – 2.00pm

1.30pm – 2.00pm

1.30pm – 2.00pm

1.30pm – 2.00pm

1.30pm – 2.00pm

1.30pm – 2.00pm

1.30pm – 2.00pm

5 Marble Court. Rolleston

Property Brokers

85 Kemble Drive, Rolleston

Ray White Rolleston

13 Othello Drive, Rolleston

Ray White Rolleston

99 Shillingford Boulevard, Rolleston

Ray White Rolleston

27 Yardley Street, Avonhead

Harcourts Rolleston

95 Fairfield Way, Rolleston

Ray White Rolleston

226a Dunns Crossing Road, Rolleston

Ray White Rolleston

223 Brookside Road, Rolleston

Ray White Rolleston

43 Masefield Drive, Rolleston

Harcourts Rolleston

3 Avro Crescent, Hornby

Ray White Rolleston

10 Bonecrusher Street, Lincoln

Ray White Lincoln

9 Palm Drive, Shirley

Ray White Rolleston

18 Greenstone Street, Rolleston

Property Brokers

10 Sunline Avenue, Lincoln

Harcourts Rolleston

12 Navy Loop, Rolleston

Ray White Rolleston

42 O'Reilly Road, Lincoln

Matson & Allan Rolleston

5 Chervier Street, Leeston

Bayleys Canterbury

1/443 Hereford Street, Linwood

Ray White West Melton

16 Leeston & Lakes Road, Leeston

Property Brokers

1/522 Weedons Road, Broadfield

Ray White West Melton

38 Stonebrook Drive, Rolleston

Ray White Rolleston

14D Manor Drive, Rolleston

Ray White Rolleston

6 Boulez Mews, Rolleston

Ray White Rolleston

197 Brookside Road, Rolleston

Ray White Rolleston

670 Springston Rolleston Road, Rolleston

Harcourts Lincoln

95 Genesis Drive, West Melton

Harcourts Rolleston

14 Navy Loop, Rolleston

Matson & Allan Rolleston

95 North Belt, Lincoln

Ray White Lincoln

11 Thames Drive, Rolleston

Ray White Rolleston

51 Jacks Drive, West Melton

Ray White West Melton

904 Hoskyns Road, West Melton

Matson & Allan Rolleston

3 Garratt Place, Lincoln

Harcourts Lincoln

6 Whitehorn Drive, Lincoln

Harcourts Hornby

263 Lincoln Rolleston Road, Rolleston

Ray White Rolleston

14 Marquess Avenue, Halswell

Ray White Lincoln

18 Wilbur Close, Rolleston

Ray White Rolleston

17 Mountain View Place, Leeston

Property Brokers

6 Fleming Drive, Leeston

Bayleys Canterbury

40 Foxbridge Lane, Lincoln

Harcourts Rolleston

51 Oak Tree Lane, Rolleston

Ray White Rolleston

40 Shelley Street, Rolleston

Harcourts Rolleston

20 Full Moon Lane, Rolleston

Ray White Rolleston

6 Claw Place, Rolleston

Ray White Rolleston

6 Fountain Place, Rolleston

Matson & Allan Rolleston

4B Coppell Place, Hoon Hay

Harcourts Rolleston

1 / 4 Banks Street, Templeton

Ray White Rolleston

1.30pm – 2.30pm

1.45pm – 2.15pm

1.45pm – 2.15pm

1.45pm – 2.15pm

1.45pm – 2.15pm

1.45pm – 2.15pm

1.45pm – 2.30pm

2.00pm – 2.30pm

2.00pm – 2.30pm

2.00pm – 2.30pm

2.00pm - 2.30pm

2.00pm – 2.45pm

2.15pm – 2.45pm

2.15pm – 3.00pm

2.15pm – 2.45pm

2.15pm – 2.45pm

2.15pm – 2.45pm

2.15pm – 2.45pm

2.30pm – 3.00pm

2.30pm – 3.00pm

2.30pm – 3.00pm

2.30pm – 3.00pm

2.30pm – 3.00pm

2.30pm – 3.00pm

2.30pm – 3.00pm

2.45pm – 3.15pm

2.45pm – 3.15pm

2.45pm – 3.15pm

2.45pm – 3.30pm

3.00pm – 3.30pm

3.00pm – 3.30pm

3.00pm – 3.45pm

3.00pm – 3.30pm

3.15pm – 3.45pm

3.15pm – 3.45pm

3.15pm – 3.45pm

3.30pm – 4.00pm

3.30.pm – 4.00pm

3.30pm – 4.00pm

3.30pm – 4.00pm

3.30pm – 4.00pm

3.45pm – 4.15pm

3.45pm – 4.15pm

3.45pm – 4.15pm

3.45pm – 4.15pm

10 Manurere Street, Hei Hei

Property Brokers

12 Oak Tree Lane, Rolleston

Ray White Rolleston

57 Navy Loop, Rolleston

Matson & Allan Rolleston

22 Jacqueline Drive, West Melton

Ray White West Melton

21 Anaru Road, Lincoln

Harcourts Lincoln

14 Blunden Road, Lincoln

Harcourts Lincoln

5 Rempstone Drive, Halswell

Harcourts Hornby

39 Stanford Way, Rolleston

Matson & Allan Leeston

711A Hoskyns Road, West Melton

Ray White West Melton

53 Oak Tree Lane, Rolleston

Ray White Rolleston

5 Melville Crescent, Rolleston

Harcourts Rolleston

51 Clydesdale Way (off Carnaveron Drive), Lincoln

Harcourts Hornby

1977 Selwyn Lake Road, Dunsandel

Bayleys Canterbury

63 Victors Road, Hoon Hay

Harcourts Rolleston

17 Tiny Hill Drive, Rolleston

Ray White Rolleston

17C Kingsdowne Drive, West Melton

Ray White West Melton

21 Broad Street, Southbridge

Property Brokers

5 Barnsley Crescent, West Melton

Ray White West Melton

1095 Goulds Road, Rolleston

Matson & Allan Rolleston

17 Allendale Lane, Lincoln

Bayleys Canterbury

182 Robinsons Road, Prebbleton

Ray White Lincoln

788 Weedons Ross Road, West Melton

Ray White West Melton

14 Hungerford Drive, Rolleston

Ray White Lincoln

734 East Maddisons Road, Rolleston

Ray White Rolleston

1 Reuben Avenue, Rolleston

Harcourts Rolleston

55 Farnborough Way, Rolleston

Harcourts Rolleston

9 Fairhurst Place, Rolleston

Ray White Rolleston

50 Strauss Drive, Rolleston

Ray White Rolleston

11 Franklin Street, Lincoln

Harcourts Lincoln

108 Rolleston Drive, Rolleston

Ray White Rolleston

133 Pearces Road, West Melton

Matson & Allan Rolleston

6 Charles Major Road, Rolleston

Harcourts Hornby

56 Preston Avenue, West Melton

Ray White West Melton

39 Sheridan Drive, Rolleston

Matson & Allan Rolleston

1406 Leeston Road, Leeston

Property Brokers

2 Rossington Drive, West Melton

Ray White West Melton

24 Weston Way, Lincoln

Harcourts Rolleston

83 Highsted Road, Bishopdale

Harcourts Rolleston

28 Goodland Place, Rolleston

Ray White Rolleston

4 Gainsborough Court, Rolleston

Ray White Rolleston

50B Stonebrook Drive, Rolleston

Ray White Rolleston

7 Spencer Close, Rolleston

Ray White Rolleston

16 Shona Lane, West Melton

Ray White West Melton

47 Hungerford Drive, Rolleston

Ray White Rolleston

112 Alpineview, West Melton

Bayleys Canterbury

FOR FULL

DETAILS OF ALL

OPEN HOMES,

PLEASE CONTACT

THE REAL ESTATE

COMPANIES

RAY WHITE

ROLLESTON 03 347 9988

www.rwrolleston.co.nz

WEST MELTON 03 347 9933

www.rwwestmelton.co.nz

LINCOLN 03 325 7299

www.rwlincoln.co.nz

FARMLANDS www.farmlands.co.nz

FARMLANDS LINCOLN 03 325 2889

FARMLANDS LEESTON 03 324 3189

FARMLANDS DARFIELD 03 317 9070

PROPERTY BROKERS ROLLESTON

www.propertybrokers.co.nz

ROLLESTON 03 929 0306

HARCOURTS

www.fourseasons.harcourts.co.nz

HARCOURTS HORNBY 03 349 9919

HARCOURTS ROLLESTON 03 347 4711

HARCOURTS LINCOLN 03 662 9933

PGG WRIGHTSON CANTERBURY

03 318 7850, www.pggwre.co.nz

MATSON & ALLAN

www.marealestate.co.nz

ROLLESTON 03 347 9949

DARFIELD 03 318 8204

LEESTON 03 324 3704

MIKE PERO ROLLESTON

03 347 1111, www.mikepero.com

BAYLEYS

CANTERBURY 03 375 4700

www.bayleys.co.nz

GLASS MILES

CHRISTCHURCH 03 343 5178

www.glassmiles.co.nz
---
16