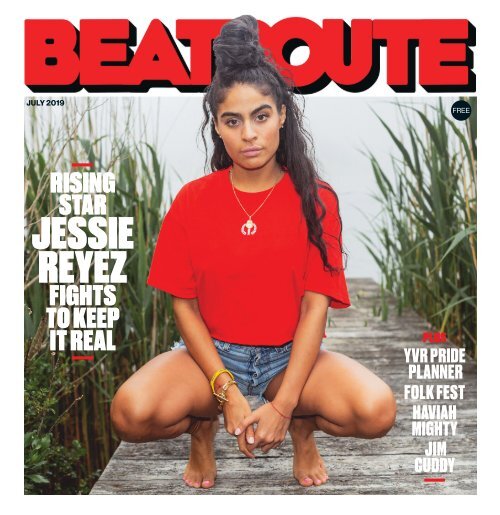 BeatRoute Magazine BC Edition July 2019
BeatRoute Magazine is a music monthly and website that also covers: fashion, film, travel, liquor and cannabis all through the lens of a music fan. Distributed in British Columbia and Alberta, Ontario edition coming Thursday, September 5, 2019. BeatRoute's Alberta edition is distributed in Calgary, Edmonton, Banff and Canmore. The BC edition is distributed in Vancouver, Victoria and Nanaimo. BeatRoute (AB) Mission PO 23045 Calgary, AB T2S 3A8 E. editor@beatroute.ca BeatRoute (BC) #202 – 2405 E Hastings Vancouver, BC V5K 1Y8 P. 778-888-1120
BeatRoute Magazine is a music monthly and website that also covers: fashion, film, travel, liquor and cannabis all through the lens of a music fan. Distributed in British Columbia and Alberta, Ontario edition coming Thursday, September 5, 2019.

BeatRoute's Alberta edition is distributed in Calgary, Edmonton, Banff and Canmore. The BC edition is distributed in Vancouver, Victoria and Nanaimo. BeatRoute (AB) Mission PO 23045 Calgary, AB T2S 3A8 E. editor@beatroute.ca BeatRoute (BC) #202 – 2405 E Hastings Vancouver, BC V5K 1Y8 P. 778-888-1120
SHOW MORE
SHOW LESS
You also want an ePaper? Increase the reach of your titles
YUMPU automatically turns print PDFs into web optimized ePapers that Google loves.
JULY 2019

FREE

RISING

STAR

JESSIE

REYEZ

FIGHTS

TO KEEP

IT REAL

PLUS

YVR PRIDE

PLANNER

FOLK FEST

HAVIAH

MIGHTY

JIM

CUDDY
---
YOUR

OLD FLAMES

ARE BACK

JOHNFLUEVOGSHOESGRANVILLEST··WATERST··FLUEVOGCOM
---
Contents

Up Front

4

6

9

10

The Guide

Hip-hop's sensitive wunderkind

Khalid walks down

the red carpet towards the

star-studded Fvded In The

Park.

Drink

In search of the ultimate

summer spritz; three alternatives

to the classic Aperol

blend

That's Dope

Levo's home infuser takes

cooking with herbs to a

whole new level of reefer

madness.

Fashion

Dr. Martens teams up with

The Who to create a line of

gear for a new generation.

Music

13

23

27

32

Concert Previews

Haviah Mighty, Jonah Yano,

Fat Mike's Punk In Drublic,

Jim Cuddy, The Jerry Cans

and more!

The Playlist

All the singles we can't stop

listening to this month

Album Reviews

Bleached, Daniel Caesar,

Killy, Sum 41, Skye Wallace,

Bruce Springsteen and

more!

Live Reviews

Anderson .Paak, Billie Eilish,

Jamila Woods, Slum Village

JULY 2019

RISING

STAR

JESSIE

REYEZ

FIGHTS

TO KEEP

IT REAL

Cover Story

24

PLUS

YVR PRIDE

PLANNER

FOLK FEST

HAVIAH

MIGHTY

JIM

CUDDY

Jessie Reyez

Canada's rising R&B

sensation, Jessie Reyez,

keeps her family close and

her honesty dialed up as

she readies to climb bigger

stages.

FREE

Travel

34 Cross-Canada Camping

Music Festival Guide

From camping under the stars to

camping with the stars, Canadian

music festivals are plugging in to

electrify the camping experience.

Screen Time

37

38

39

Yesterday

Director Danny Boyle reimagines

a world without The

Beatles.

Wild Rose

Jessie Buckley plays a wild

dreamer in boot stomping country

music drama.

Marianne & Leonard

Director himself part of love

triangle in heartfelt doc about

relationship between songwriter

Leonard Cohen and his muse,

Marianne Ihlen.

Rae Sremmurd brought the bass to

Breakout Fest on June 16. Check out

our review of this show and more

online at beatroute.ca

YVR

41

42

43

44

45

Khatsahlano Festival

Annual multi-block mega party

takes over the streets of Kitsilano

for the biggest block party of the

summer.

YVR AGENDA Agenda

Star Wars goes to the symphony,

Nardwuar becomes a star, Block

Rockin' Beats and more!

YVR PRIDE

A Q&A with Pride Carnival curator

Jaik Puppyteeth plus essential

2019 Pride guide.

Vancouver Folk

Music Festival

There's more than folk folks at

this festival that jumps genres

with Basia Bulat, Corb Lund,

Larkin Poe and many more.

YVR MUSIC

Yamantaka//Sonic Titan's

psychedelic noh-wave and Stef

Chura defiant voice.

DARROLE PALMER

JULY 2019 BEATROUTE 3
---
The Guide

JULY

Khalid:

Hip-hop's

sensitive

wunderkind

Fvded in the Park

Saturday, July 6

Holland Park (Surrey)

Tix: $150-$210, fvdedinthepark.com

A

t the age of 21 R&B/soul artist Khalid has

been nominated for five Grammys, hit quadruple

platinum with his debut single

"Location" and is now embarking on

his first international arena tour.

Khalid began writing his debut album,

American Teen, right before being crowned

prom king at his high school in El Paso, TX.

Since then, the wunderkind has skyrocketed

to stardom with features on Logic's suicide

awareness anthem, Lorde's "Handmade Dynamite

(Remix)," and a spot on the Black Panther

soundtrack alongside other hip-hop superstars

including Kendrick Lamar and Anderson .Paak.

Khalid's first album was inspired by his loneliness

due to constantly moving around the country

with his military mother. The biggest transition

was his move from New York to Texas, marking

the beginnings of American Teen and setting him

down a path that would take his music to places

he never imagined.

In April, Khalid released his second studio

album, Free Spirit, alongside an accompanying

short film and is now touring around the world.

Watching the 45-minute featurette provides a unique

snapshot into the creative and humanistic spirit

of the young artist as he explores themes of love,

friendship and longing.

Khalid might just be one of the most sensitive

and sentimental personalities in hip-hop

today, which seems to count more than

ever as he continues blazing new trails

on stage, on the screen and in his

personal life.

Khalid performs at Holland Park in

Surrey for Fvded in the Park on July 6

By JOEY LOPEZ

4 BEATROUTE JULY 2019

Editor/Publisher

Michael Hollett

Senior Editor/

Western Canada

Glenn Alderson

Creative Director

Troy Beyer

Editorial Coordinators

Jordan Yeager

Sebastian Buzzalino

Contributing

Writers/ Coordinators

Sarah Bauer • Jenessa Blanchet

Ben Boddez • Sebastian Buzzalino

Lauren Donnelly • Jaime Eisen

Karina Espinosa

Courtney Heffernan

Kathryn Helmore • Safiya Hopfe

Jeevin Johal • Brendan Lee

Christine Leonard • Joey Lopez

Sofia Montebello • Trevor Morelli

Pat Mullen • Johnny Papan

Tory Rosso • Yasmine Shemesh

April Summers • Graeme Wiggins

Jordan Yeager

Contributing Photographers

& Illustrators

Sebastian Buzzalino

Jerez Challenger • Stasia Garraway

Jesse Gillett • Michael Grondin

Zee Khan • Nolan Knight

Tenzing Lama • Richmond Lam

Mandy-Lyn • Darrole Palmer

Liz Renstrom • Barry Russe

Yung Yemi

Advertising Inquiries

Glenn Alderson

glenn@beatroute.ca

778-888-1120

Distribution

BeatRoute is distributed in

Vancouver, Victoria, Calgary,

Edmonton, Winnipeg and

Saskatoon

Contact us

2405 East Hastings St.

Vancouver, BC

V5K 1Y8

e-mail: editor@beatroute.ca

@beatrouteBC

@beatroutemedia

beatrouteBC

beatroute.ca
---
UPCOMING SHOWS

JUNGLE PUSSY SEPT 13

CONJURING THE FUTURE #ISF2019

JULY 6

SAMMY JOHNSON

JULY 25

ZAKK SABBATH

AUGUST 5

THE DRUMS

WEYES BLOOD

SYML & EXES

APRIL AUGUST 117

APRIL AUGUST 11 14

AUGUST APRIL 1116

SUN KIL MOON

THE MOUNTAIN GOATS

JOSEPH

APRIL SEPTEMBER 11 2

APRIL SEPTEMBER 11 6

APRIL SEPTEMBER 11 12

TICKETS ARE AVAILABLE AT IMPERIALVANCOUVER.COM

JULY 2019 BEATROUTE 5
---
Drink

THAT'S

AMARO

Often made with Aperol, the Amaro Spritz may well be the cocktail

of the summer. Powered by bitter aperitifs and sparking

wine, this delicious, refreshing and low-calorie sipper

is a classic for a reason.

By GLENN ALDERSON

T

he New York Times spilled

their way onto some people's

shit lists recently with a

stuffy and pretentious article

calling out the Aperol Spritz

as simply "not a good drink."

They claimed the effervescent summer

beverage made popular by the company

Aperol (Campari America) and their

popularized hashtag #spritzlife was

making a whole lot of noise around an

aperitivo that wasn't deserving of all

the fuss or fizz.

Messing around with hashtags

on social media is no way to spend

your summer, but the NYT got it all

wrong. Road tested and popularized

since the 50s, when you take away

the brand appeal of Aperol, there's an

amaro, an Italian-style liqueur, at the

heart of this classic cocktail and Aperol

isn't the only player in the game.

Simple, easy-to-make, low cal and

refreshing — Put an orange wedge on

it and you've found your new summer

squeeze. So pop a bottle of a favourite

mediocre sparkling wine and spice up

summer with these aperitif alternatives

to the Aperol Spritz.

THE ULTIMATE SPRITZ

3 parts Prosecco or sparkling

wine chilled

2 parts your choice of amaro

2 parts club soda or blood

orange soda

Garnish with orange slices,

or pitted green olives

CANADIANIZE

YOUR SPRITZ

Who needs Aperol

with these local lights

The Woods Amaro

A rustic and creative

aperitif true to the brand's

ethos, Woods Spirit

uses rhubarb, gentian

root, wormwood and

BC botanicals including

grand fir needles and

blackberry honey to

create a unique product

that pairs well in spritzes

or acts as an excellent

sub for vermouth in any

classic cocktail. Amaro is

a multi-faceted and intoxicatingly

layered digestif

that boasts a syrupy

sweetness, followed by

the signature bitterness

Amaros are often known

and loved for.

Bitterhouse Aperitifs

Step up your cocktail

game with Bitterhouse

Aperitifs. Offering three

varied options, set your

patio party ablaze with

DaMan, a grapefruit and

pomello flavoured libation,

heavy on the citrus

notes; LaDame with its

sweet notes of candied

orange; or Rubato, a

rhubarb-flavoured aperitif

with a light bitterness that

can also work as a great

substitution for Campari

in your next negroni. For

those on the go, Bitterhouse

now offer a full

mixed spritz in a can.

Odd Society Spirits

Mia Amata Amaro

Named after master

distiller Gordon Glanz's

daughter, Mia, who also

co-produced it, Mia

Amata translates to "My

beloved." This complex

digestive liqueur is flavoured

with exotic botanicals

including myrrh gum,

kola nut, candied plum,

vanilla and cacao.

6 BEATROUTE JULY 2019
---
UPCOMING SHOWS

SOLD OUT

DAN CODY MANGAN KO & NOEL MILLER

WITH SPECIAL GUESTS

AUGUST FEB 136

& 14

TINY MEAT GANG LIVE

LATRICE ROYALE:

HERE'S TO LIFE!

JULY 8

AUGUST BURNS RED

JULY 11

RODRIGO Y GABRIELA

JULY 14

AHFOMAD FESTIVAL

OPENING NIGHT

FEBRUARY 7

JULY 19

MIYAVI

JULY 25

DEAN LEWIS

AUGUST 15

LIGHTS

FEBRUARY 7

AUGUST 16

BURNA BOY

AUGUST 17

CAFÉ TACVBA

AUGUST 23

TICKETS ARE AVAILABLE AT VOGUETHEATRE.COM
---
NEW!

#SummerofSPRITZ
---
That's Dope

THE WEED

LOVERS'

KITCHEN

APPLIANCE

HAS

ARRIVED

By CHRISTINE LEONARD

T

ake the mystery out of

buying premade edibles.

After all, the best way to

know what's going into an

edible is to make it yourself.

Whether you've been

waiting for the right time to jump

on the edible bandwagon or you're a

seasoned kief chef, the convenience

of rendering your own countertop oil

infusions might be the best option

for your body and your wallet.

Making the art of crafting DIY edibles

easy, the LEVO is a remarkable

and somewhat pricey little culinary

gadget that is designed solely for the

purpose of turning your botanicals

(i.e. cannabis flowers or other edible

herbs) into tasty and economical oils

and butters.

The brainchild of ganjapreneur

Chrissy Bellman, LEVO introduces

homemade infusions to the average

consumer, offering a high-quality,

healthy alternative to store-bought

products, which may contain undesirable

solvents and additives.

Dishwasher safe and available in

a range of appealing colours, these

sleek appliances occupy no more

space than a Keurig and can also be

used for processing herbs of all kinds

into restaurant-caliber sauces and

compound-rich skincare products.

Simply load in your favourite botanical

along with your choice of

consumable oil, butter or glycerin,

set the timer and return to a golden

bounty. Why not skip the fuss and

muss of the laborious, time-consuming

and, let's face it, distinctly smelly

are pre-dried and lightly cooked before

infusion, unlocking their full potency.

Both machines deliver carefully

controlled and consistent heat that

is applied for the duration of the infusion

process to retain the bud's desirable

terpene (organic compounds)

profiles, yielding the maximum flavour,

odour and therapeutic benefits.

No need to hover in the pantry –

connecting to the LEVO app allows

you to control your concoctions on

the go, while also having access to

LEVO's Herb and Oil Calculator, custom

recipes and more. Relax, man.

Thanks to the unit's WiFi connectivity,

you can remotely set and check

on your infusions and monitor the

machine's progress on your phone. ,

levooil.com

traditional methods of deriving your

own cannabis-based infusions? Simply

press a few buttons, walk away

and return to dispense your infusion

into a mason jar. Wham! Bam! Careful

with that amber jam!

Eliminating unwanted emulsifiers,

smoke and packaging, the basic

LEVO model will set you back

$199.99 USD and contains a stainless-steel

reservoir that can infuse up

to 16 ounces at one time.

Priced at $449.99 USD when ordered

from the manufacturer, or a

comparable $459.99 from Canadian-based

suppliers like TrimLeaf.ca,

the LEVO II has "Activate" and "Dry"

cycles that decarboxylates your

chopped cannabis flowers and leaves

for you. This means that the herbs

THIS MONTH

IN CANNABIS NEWS

AND VIEWS

THREE DOPE

COOKBOOKS

REVIEWED

What to do with the triumphant oils of your kitchen

witchery? There's lots of ways to use canna-butters

to create palatable treats ranging from salad dressings

to cocktails. Fortunately, enterprising cookbook

publishers aren't far behind the cannabis industry

when it comes to providing tasteful instructions and

mouthwatering recipes that anyone can use to infuse

their mealtime with a little me time.

BONG APPÉTIT: MASTERING

THE ART OF COOKING WITH

WEED

by the editors of Munchies

Ten Speed Press, $40

A proper MUNCHIES and Viceland

television series joint, Bong Appétit

is packed with 65 "high-end"

recipes for the cannabis-tuned

palette. Sophisticated North African

Broccoli Salad and Sausage

Pappardelle Bolognese dishes are

mellowed out by fun noshes like

Green Mac and Cheese and chocolatey

Stoner Candy Bites with

kettle chips and rainbow sprinkles.

EDIBLES: SMALL BITES

FOR THE MODERN

CANNABIS KITCHEN

by Stephanie Hua with Coreen

Carroll

Chronicle Books, $28.99

"Let's make some tasty edibles,

and let's not fuck up our friends."

Complete with a discussion of the

effects and benefits of cannabinoids

and terpenes, this gorgeous

tome provides advice on enjoying

and entertaining with unique

recipes using sous vide infusions,

canna-honeys, magical maple

syrup and a seriously addictive

hazelnut spread.

GET BAKED:

SPACE CAKES,

POT BROWNIES AND

OTHER TASTY

CANNABIS CREATIONS

by Dane Noon and Lex Lucid

Spruce $10.99

Witchetty grub for raucous tea

parties. This potent UK export rolls

out 40 recipes for hash-filled tucker,

from savoury main meals to the

sweetest of treats – The Ultimate

Brownie. Suggesting a subtler

stone for those who prefer a discreet,

smoke-free high, Get Baked

serves up history and humour.

JULY 2019 BEATROUTE 9
---
Fashion

DOCTOR WHO

Dr. Martens X The Who collab creates a walking, talking line for a new generation By KATHRYN HELMORE

T

ranscending trends,

making a statement

and never succumbing

to predictability is

an art form few brands can

maintain. Steeped in controversy

and contradiction,

Dr. Martens footwear has

been a battle cry of fascist

skinhead movements in the

70s, the punt of protest to

80s punk movements and

accessorized ripped jeans and

introspection as the footwear

of 90s grunge.

As part of their AW 2019

line Dr. Martens have collaborated

with touring British

royalty The Who, once again

proving that their boots don't

just walk, they talk.

The Who line captures

the essence of Mod fashion

culture: its boots, loafers and

accessories subvert sacred

symbols and pay homage to

non-conformity.

With The Who arriving

in Vancouver on October

21, this collab is a relevant

throwback. Turn on "My

Generation" and tune into

the history, ideology and rebellion

locked into the iconic

stitching and grooved edges

of this latest collection.

1481 WHO

The second style Dr. Martens

ever made, it was crafted for

industry yet made a statement

when worn with braces, close

cropped haircuts and non-conformity.

The 1481 WHO Black

Smooth replaces the trademark

yellow stitching for a WHO red

that complements the band's

symbol located at the heel.

THE WHO

BACKPACK

Crafted from the hardwearing

Kiev Leather and designed with

a double carry handle and a

buckle-fastened external pocket,

the backpack does what Dr.

Marten's and The Who do best:

fuse performance with style and

expression.

THE TOOMEY WHO

For those who wish to rail

against conformity, The Toomey

WHO is Doc Martens take on

the slip-on canvas shoe. With a

lightweight sole and aggressive

bumper, decorated with the

WHO roundel on the lip and

signature red and blue arrows

on the ridge, the shoe embodies

Doc Marten's commitment to

practical and comfortable style.

10 BEATROUTE JULY 2019
---
1460 WHO

Released April 1, 1960, the

iconic 1460 rejected the timid,

old-fashioned uniform of working

class men. For the young generation,

it was a tool of rebellion.

With a Royal Air Force roundel

at the heel, the 1460 WHO pays

homage to The Who and Mod

culture's subversion of British

symbolism and tradition.

ADRIAN SMOOTH

When paired with tailor-made

suits with narrow lapels and

Nouvelle Vague haircuts, the

Adrian Smooth loafer, first released

in 1980, was a disruption

of gender roles. With the effeminate

double tassel and kiltie

fringe, combined with a Union

Jack on the front panel, the

Smooth Black is no exception.

THE PRESSLER

WHO

Compared to its leather clad

peers, The Pressler is more at

home in a half pipe than a political

rally. A modern skate shoe

with a comfortable lightweight

sole, this comparatively low

profile piece is brought to life

with the iconic WHO logo in the

corner and red stripes decorating

the shoe's stitching and

grooved edges.

JULY 19 TO 21 2 1 0

9

JERICHO BEACH PARK

BASIA BULAT | THE HAMILTONES

DAVID HIDALGO | LARKIN POE | CORB LUND

REBIRTH BRASS BAND | SAM ROBERTS BAND

CHARLOTTE DAY WILSON

THE AERIALISTS | BLACK STRING | DANNY BOUDREAU BAND | MATTHEW BYRNE

CELEIGH CARDINAL | ANDREW COLLINS TRIO | COPPERHEAD | THE DARDANELLES

DESIREE DAWSON TRIO | STEVE DAWSON | BROTHER TITO DELER

DWAYNE DOPSIE & THE ZYDECO HELLRAISERS | BOBBY DOVE

RAMBLIN' JACK ELLIOTT | MIKE FARRIS & THE FORTUNATE FEW | LUCA FOGALE

FRONT COUNTRY | AMOS GARRETT & JULIAN KERR | RAINE HAMILTON STRING TRIO

ZAKI IBRAHIM | ILLITERATTY | KIRCHEN, COX & MCRAE | KITTY AND THE ROOSTER

JOEY LANDRETH | LA MEXCALINA | GEORGE LEACH BAND | LE VENT DU NORD

LOCARNO | LONESOME ACE STRINGBAND | LOS PACHAMAMA Y FLOR AMARGO

DON MCGLASHAN | PABLO MENENDEZ & MEZCLA | MIDNIGHT SHINE

IRISH MYTHEN | NAMGAR | TAL NATIONAL | OKTOPUS | MARIN PATENAUDE

THE RAD TRADS | JOHN REISCHMAN AND THE JAYBIRDS | RIIT

PHARIS & JASON ROMERO | LUCY ROSE | ROSIE & THE RIVETERS

SARAH SHOOK & THE DISARMERS | VIVEK SHRAYA/TOO ATTACHED | RUBY & SMITH

SON OF JAMES | NANO STERN TRIO | EMILY TRIGGS

TSATSU STALQAYU (COASTAL WOLF PACK)

| SUNNY WAR

WWW.THEFESTIVAL.BC.CA

JULY 2019 BEATROUTE 11
---
MUSiC

Artist to Watch

A MIGHTY

NEW FORCE

IN HIP-HOP

Brampton Ontario's

MC Haviah Mighty

raps to empower

By COURTNEY HEFFERNAN

I'm hoping that

I can continue to

push hip-hop in the

direction of being more

accepting so more

people will understand

the music women

are making and

enjoy it.

YUNG YEMI

After a fiery performance

at the NXNE festival stage

in downtown Toronto, Haviah

Mighty is still in constant

motion, waving to fans and

chatting with photographers,

all while assisting

her crew with equipment

takedown.

The rising hip-hop star

has performed four times

throughout the week,

including at halftime at a

Toronto Raptors outdoor

viewing party in her Brampton

hometown, and her energy

hasn't diminished. On top of

that, Mighty's most ambitious

album to date, 13th Floor,

was released a month ago to

acclaim, earning her a spot on

the recently announced 2019

Polaris Music Prize Long List.

Mighty is a commanding

presence on stage. Her raps are

CONTINUED ON PG. 14 k

JULY 2019 BEATROUTE 13
---
MUSiC CONCERT PREVIEWS

V A N C O UVER

Win a Party for you

and 4 Friends!

YUNG YEMI

HAVIAH MIGHTY

JOIN US AT 900 GRANVILLE ST

ENTER AT DUBLINCALLING.COM/VANCOUVER

@DUBLINCALLINGVAN

k CONTINUED FROM PG. 13

dexterous and her movements

are athletic. Though only a small

number of people were present

at the start of her show, her

electric performance turned

passersby into a captivated audience.

And by the time she played her last

song, the crowd stretched down Yonge

Street for more than half a block.

When Mighty jumps from the stage to

greet her fans after the show, she speaks

with the warmth and enthusiasm of an

artist who genuinely appreciates her audience.

She says one of the most consistent

aspects of her live shows is the "upbeat

energy I'm getting back from the audience,

no matter where the show happens or

what the audience is like."

Even when she plays to a large crowd,

which she is doing more often, Mighty aims

to connect.

"It's important to connect with people

by looking at them, by being in the same

space as them, by sharing the experience

with them and creating less of a separation,"

she says backstage after her gig.

This sense of connection creates a "more

rewarding" experience for her audience

and for her.

In conversation, Mighty is engaging and

self-assured. "I feel more confident in what

I'm saying," she says, when she finally sits

down to relax. Her confidence is evident

in the type of music she included on 13th

HAVIAH MIGHTY

Saturday, July 27

Phillips Backyard

Weekender (Victoria)

Tix: $39.50,

backyardweekender.com

Floor. On "Blame" and "Fugazi,"

Mighty's swagger and production

quality rivals that of some of

hip hop's biggest names.

Her growing acclaim has

also given her the platform to

address meaningful subjects.

"Thirteen" is a moving song

about slavery in North America and the

ways it reverberates in the present as

systematic oppression of Black people.

She released the song now because "the

social climate was ready to hear it and I

was ready to say it," she says. "I wasn't

going to release an album with a bunch

of songs that were fun but not speak on

something I feel passionate about."

Her passion is evident in her performance

of "In Women Colour," which she

hopes will help her audience learn more

about her and understand her "very

personal experiences" as a Black woman

in Canada.

"There are many young women just

like me who need to hear this," she says.

"I feel triumphant that I have overcome

the things people have said. Had I let it

change who I am as a person, 'In Women

Colour' and 13th Floor wouldn't exist."

As Mighty's star continues to rise, she

says, "I'm hoping that what I add to the industry

can continue to push hip-hop in the

direction of being more accepting so more

people will understand the music women

are making and enjoy it." ,

14 BEATROUTE JULY 2019
---
NORTHERN

LIGHTS

Nunavut trailblazers The

Jerry Cans want Canada

to hear the unique Inuit

voices of the north

By JAIME EISEN

I

t's soundcheck on Monday

night during Toronto's NXNE

music and gaming festival and

the back room of the Horseshoe

Tavern feels like a family

reunion. A tight group of smiling

musicians are onstage

jamming with Josh Q

of Iqaluit blues outfit

The Trade-Offs. Each

member is taking their

turn to solo before

coming back together.

"I feel like I haven't hung out with

my buddies in a long time," says Q

into the mic with a laugh.

His buddies are The Jerry Cans,

pioneers of the burgeoning Iqaluit

music scene and curators of the

second Nunavut Music Week, which

ran from April 25 to 28, and its subsequent

NXNE showcase. While

Jerry Cans bassist Brendan "Dotes"

Doherty and drummer Steve Rigby

play onstage, frontman Andrew Morrison

dances with his infant daughter

to songs she obviously knows well.

They're far from home, but

they're in their element.

Friends since childhood, Dotes,

Morrison and Rigby started The

Jerry Cans around a decade

ago, playing classic

rock covers at Iqaluit music

hub, the Legion. Their

self-described "Northern

sound"—Celtic-inspired

folk rock with reggae

beats paired with traditional

throat singing and

lyrics sung in Inuktitut—

THE JERRY CANS

Sunday, July 28

Squamish Constellation

Festival

didn't emerge until Nancy Mike (accordion

and throat singing) and Gina

Burgess (violin) joined the group.

The combined punctuation of Burgess'

high-energy fiddle and Mike's

throat singing give the roots rock

base a distinctive cross-cultural feel.

Their sound may have many shifting

influences, but it's always pointedly

indebted to their home.

Mike and Morrison—also romantic

partners—write most of the lyrics

together in Inuktitut, one of the

principal Inuit languages of Canada,

considered "vulnerable" by UNES-

CO. They rarely sing in English, even

translating covers.

"We've gotten hate mail about

how the frontman of this band is

white," Mike says. "But he speaks

Tix: $80, single day pass,

constellationfest.ca

Saturday, August 3

Canmore Folk Music

Festival

Tix: $45, single day pass,

canmorefolkfestival.com

Inuktitut because my family

was supportive of him

learning it throughout our

relationship." Conversations

about accountability

are essential to the group,

even more so after a group

of Inuit artists boycotted

this year's Indigenous Music

Awards over cultural

appropriation concerns.

"We always try to listen to what

our communities are saying these

days about how we should move

forward as a band," says Mike. "We

don't ever want to move forward if

people are uncomfortable with what

we are doing."

Mike and her bandmates want

to make sure Inuit voices are being

heard—across the country, but also

at home.

"When you come from such a

small place where there's absolutely

no history of this music business

infrastructure, you have to figure out

how to do it yourselves, and that's

what we did," she says. "When it

comes to Nunavut Music Week, our

goal is to make sure the younger artists

don't have to struggle

through the same shit

we had to go through."

Inuit Association executive director

Brian Winters echoes this

sentiment in between sets later in

the evening. He's a huge fan of The

Jerry Cans and the lineup of Indigenous

artists they've curated for

their showcase.

"One of the biggest issues with

the country we live in that we now

call Canada is that it's never recognized

or made space for our languages

or the things we're saying,"

he says. "The things we're saying

are so important—especially in

our language. For people to hear

that and respect that is just really

beautiful."

The crowd swells around the

stage when The Jerry Cans start

to play. Some are fans from back

home, wearing hats that proudly

say "Inuk" and singing along in

a language they all seem to know

well. Many are hearing the band

play for the first time. Everyone is

transfixed.

When asked how they approach

bringing their unique northern

sounds to a southern audience,

Mike is quick to respond. "Do I

have to explain anything to a

southern audience?" she asks

with a shrug. "Just hear it and

feel it. That's all." ,

JULY 2019 BEATROUTE 15
---
MUSiC CONCERT PREVIEWS

M

FAT e

i

S

iK

P U n k

DR

ubL

i N

i c

ALAN SNODGRASALAS

16 BEATROUTE JULY 2019
---
NOFX's Fat Mike lives life on the edge and occasionally falls off.

F

PUNK IN DRUBLIC

CRAFT BEER &

MUSIC FESTIVAL

Edmonton:

Saturday, July 6

Edmonton EXPO Centre

Vancouver:

Saturday, July 13

PNE Amphitheatre

Tix: $69.50,

ticketleader.ca

at Mike lives a life of absurdity.

The NOFX leader is bringing

his Punk In Drublic Craft Beer

& Music Festival to Western

Canada this month, continuing

his infamous legacy of

testing the limits of what people

can and can't do.

As the frontman of NOFX,

one of the world's most successful

and controversial independent

punk acts, he's built a career on writing

quick, catchy tunes and pushing people's

buttons.

Born Michael Burkett, Fat Mike is the

first to admit that he could care less about being offensive.

He wears his love for punk rock, kinky sex,

alcohol and cocaine like patches on a denim vest.

Burkett's drunken, drug-fuelled escapades were

filmed for the NOFX tour documentary Backstage

Passport. In the NOFX book Hepatitis Bathtub and

Other Stories, he discusses the first time he drank

his girlfriend's urine. In 2010, while performing as

his alter-ego Cokie the Clown, Burkett passed what

was assumed to be shots of tequila to members of his

audience. After knocking their drinks back, Burkett

played a video of himself "topping up" the bottle,

walking on-stage moments later and serving a bitter

piss-tequila concoction to that same audience. He

was met with echoes of laughter, disgust and appall.

But there are some lines even he can't cross. At

Punk Rock Bowling and Music Festival in 2018, Burkett

riffed on a joke made by NOFX guitarist Eric

Melvin about the Route 91 Harvest Festival shooting,

the deadliest mass shooting in United States

history. It had happened only eight months prior in

the same city. Their comments immediately resulted

in a downward spiral for the band. Beer sponsor

Stone Brewing Co. cut all ties with the band and

many NOFX shows were cancelled, including Burkett's

2018 Punk in Drublic Festival. He says it was

the worst week of his life.

"I don't apologize for shit and I did apologize for

this," Burkett says. "Fletcher [Dagge] from Pennywise

said 'Think about the eight-year-old girl whose

mother didn't come home.' That really hit home

with me. I apologized and I meant it. If someone

still has a problem with it, that's their problem. I

didn't shoot anybody. I made a joke that was insensitive

and it's probably the thousandth time

I've done that. I didn't apologize for the country,

I apologized for the people that lost somebody. It

was a shitty thing to say."

By JOHNNY PAPAN

The storm has calmed for Burkett and his

projects. His label, Fat Wreck Chords, is still

running strong and Punk in Drublic is returning

this year. Burkett also released a new

record, You're Welcome, under his Cokie

the Clown alter-ego. An artistic turnaround

for Burkett,You're Welcome is an acoustic,

piano-laden, intimate expression of his life

experiences; an unveiling of haunting memories

usually masked by his boisterous public

front.

"It wasn't therapeutic," Burkett says. "It was very

difficult to do. The first song is about me finding my

wife after she tried to kill herself in the bathtub. I

found her just in time. When I sing that live, it's acapella.

The crowd is absolutely silent. No one's moving,

no one's filming. It's like giving a eulogy. I did a

show at SXSW and never saw a crowd like that before.

Damian from Fucked Up! said it was the most awkward,

uncomfortable thing they've ever seen. I like

that feeling. And then there's the song 'Fair Leather

Friends.' That one really fucking hurts me."

"Fair Leather Friends" is about Burkett feeling

betrayed by his closest friends after beginning a relationship

with adult film star Soma Snakeoil. Friends

stopped coming for dinner at his house, and the couple

wasn't invited to social gatherings. Burkett remembers

being invited to a bonfire that honoured the birthday

and life of deceased No Use For A Name frontman

Tony Sly. It was an annual event Burkett didn't even

know about until he and Snakeoil split up.

"I didn't go," he says. "I'm only invited now that

I'm divorced from Soma? He was one of my best

friends. I recorded half his records with him. We

toured together. And they didn't invite me because

of the woman I was with. That's why I have a hard

time singing this song. It's embarrassing. I can't believe

people would do that."

Other stories told on the Cokie album include

Burkett being neglected by his father, finding his

roommate who hanged himself, and being the one

to help his suffering mother reach eternal slumber.

"If you're going to do something, fucking go for

it," Burkett concludes when asked why he felt inclined

to pursue a project that brings him so much

pain. "I wanted to sing about the worst tragedies of

my life. It's not a commercially viable record, it's

a fucking big bum out, but it touches people. I'd

rather touch people than write fucking Offspring

songs and talk about taking her home and making

her dessert. Some of the songs don't make me look

good. It's really ugly and heartbreaking, but music

is supposed to make you feel." ,

FAT MIKE'S

TOP 5

THINGS TO DO AT

PUNK IN DRUBLIC

1

Over 40 Locally Brewed Craft

Beers to Choose From

Analog Brewing, Best of Kin,

Hells Basement, Outcast

Brewing and Troubled Monk

are among the many beer

offerings in Edmonton. Breweries

featured in Vancouver's

festival include Andina, Bridge,

Luppolo, Mariner, Yellow Dog

and more.

See the full list at http://punkindrublicfest.com/

2

No Beer Lineups

"We would sit around and

talk about everything that's

wrong with festivals, like waiting in line for

a beer. We fixed that. We found different

ways to do it so you don't have to wait in

line."

3

Rock Throwing

"You buy three rocks for

five bucks and you get to

throw rocks at plates. If you

smash a plate, you win a

beer!"

4

Wheel of Misfortune

"We have three dominatrixes

on tour and not only do

they beat me up every night

on the bus, but they have a

wheel. Five bucks gets you

two spins. You can get paddled,

they'll make you eat an egg…

whatever, it's all bad. My favourite

is 'take beer' where they knock the

beer out of your hand. One time

these guys bought 10 spins for their

friend. He got so fucked."

5

Hang Out With Fat Mike

"I hang out with these fans. I like to

watch shit and I like to hang out with people.

Punk rock is about community. I was

so bummed out when I missed Anarchy

Camp last year because when

people bought VIP tickets and

came early, they got greeted

by me, or someone from

NOFX or people from other

bands like, 'Hey, welcome to

the show. Let's take a picture.'

It's punk, you know?

I think it's nice."
---
MUSiC CONCERT PREVIEWS

JIM

CUDDY

This isn't

his first

rodeo.

After three-plus decades

with Blue Rodeo and five

solo records, Canada's

honey-voiced roots

legend keeps it fresh

creating with his pals.

By MICHAEL HOLLETT

18 BEATROUTE JULY 2019
---
A

fter turning off the main

highway, about 90 minutes

outside Toronto, you

drive down a dirt road

followed by another dirt

road that leads to a dead

end to get to Canadian

music legend Jim Cuddy's

family's farm.

A modest A-frame

with a new addition attached and a weathered

barn dot a rolling landscape with a hilltop

view of a pond and woods below. Cuddy

offers a warm welcome and a seat at an

immense harvest table in a bright and sunny

kitchen that's clearly been designed to be the

focal point of indoor activity in this beautiful

country place that he and his wife bought

with his sisters-in-law years ago.

Cuddy will be heading back down that

dirt road soon for another summer of touring,

including a bunch of Western Canada

gigs, both with his original band, Blue Rodeo,

as well as his decades old solo project,

The Jim Cuddy Band (JCB).

More than 30 years into a monumental

music career, Cuddy, clearly, still loves to

play.

After serving up drinks, Cuddy rubs his

hands together in glee discussing making

music with friends, whether it's around a

campfire, in the barn just outside, or on stage

in front of tens of thousands of people.

"It's easy to keep it fresh," he

says with a smile. "JCB has been a

band for 21 years. Remarkable for

any band, let alone a second band.

Playing is fun for us. We don't get

enough chance to do it."

Playing live means, there's always

something to figure out. The

musicianship and the adaptability

of the players allows Cuddy to constantly

reimagine his shows and

the nature of the performances.

"The lifeblood of a band is to

play together, we have so many

great times when we're doing gigs.

We enjoy it, that's what's fun. It's

enjoyable playing music and it's

enjoyable playing with people

who are really really good."

"If there comes

a time the Blue

Rodeo guys

say we should

record, I'll be

ready."

BLUE RODEO

Medicine Hat:

Thursday, July 6

Canalta Centre

Cuddy proudly beams, speaking of the

great musicians he gets to work with in Blue

Rodeo and JCB, and three artists — bedrock

bass player Bazil Donovan, guitarist Colin

Cripps and, occasionally, violinist Anne

Lindsay — play with both outfits.

Cuddy likes to stay busy, needs to, and he

formed his solo band, in part, to fill the down

time between Blue Rodeo projects.

A self-described "schemer," Cuddy loves

making plans and hatching ideas. A recent

scheme saw Cuddy turn this farm into a recording

studio when he spied an opening

in his schedule last September. Itching to

make a new record, he spotted a three-day

gap in his touring and decided to record

a "live from the floor" album in his barn

with his solo band and his latest, the

excellent Countrywide Soul, is the

result.

He's also a jammer. Regardless of

how busy he is each year at Canada's

JUNO Awards, Cuddy and his

friends host an epic, late-night

jam suite that's all about playing

and little about schmoozing.

And every summer, he and his

family host a massive weekend

long party at this farm, with

camping, that inevitably ends

up around the fire pit with

guitars picked and voices

blending around the flames.

Playing guitar one night

by himself in his barn,

Edmonton:

Saturday,August 10

Edmonton Folk Festival

Vancouver:

Saturday,August 17

Vancouver Folk Festival

Tix: $45-88

THE JIM

CUDDY BAND

Victoria:

Thursday, August 15

Butchart Garden's

Summer Concert Series

Salmon Arm:

Friday, August 16

Salmon Arm Roots &

Blues Festival

Tix: $33.80-$85

trapped inside by a torrential

downpour, the acoustics and the

setting inspired him to call the

band in to record.

And while Cuddy usually has

a firm hand in his recording process,

he wanted the players and the

playing to define the new album. A

tractor trailer with a mobile studio

negotiated the tiny dirt road into

the farm and Cuddy became just

another player in the project.

"I wanted to do it like a kitchen

party; it's part of the fun. We sat in

our seats and we played the songs

as if we were just playing them for

each other, just sharing the joy of

music, and it worked. You're not

editing when you're just playing,

you're just enjoying how everybody plays. I

just wanted to sit in my chair and be a member

of the band.

"A lot of times I didn't listen to playbacks;

typically I'd be listening to everything and

that would be how we build a record. It was

nice not to feel chained to every decision."

With everything being recorded live, there

were no "do-overs," no re-working of solos or

fine tuning with edits. And clearly that was

part of the fun for Cuddy. He loved giving his

players the space to play.

"It was fun in a three-ring circus, put-up

the-tent and bring-in-the-jugglers kind of

way. I like that, especially if it has a calm and

friendly centre. It's about what Steve Earle

would say, "magnetize the fucker," to put that

joy on record."

He contrasts these sessions with Blue Rodeo's

process.

"Blue Rodeo recording is very complicated

because there are two singers, two songwriters

and two methods and so it's very different.

Whatever we have done in the past will not be

what we do in the future, if we record.

"There was a little talk about making another

record but there hasn't been any talk

since last summer. Greg Keelor has a solo record

coming out so I don't know when we'll

get to that point. If there comes a time the

Blue Rodeo guys say we should record, I'll be

ready, or I'll just keep going on my own. It's

fortunate for me to have these choices."

The new album features reworkings of

some old Blue Rodeo and Cuddy tracks, two

new songs and a couple of cool covers.

Asked if we can expect a full album of covers

some day, Cuddy's hardcore work ethic

comes out.

"I would do one or two covers on an album,

I wouldn't do more than that. I feel like my

worth as a musician is about songwriting and

singing and if I'm not doing that, then I'm not

doing my job. If the balance was more towards

covers I just wouldn't feel right. That is my job

and I'm supposed to do my job. It might be fun

but I wouldn't be satisfied." ,

JULY 2019 BEATROUTE 19
---
MUSiC CONCERT PREVIEWS

J

apanese-born, Toronto-based

singer-songwriter Jonah Yano

can't believe the shape his life

is taking. He went from being

unknown, working at a small

cafe to having future-jazz innovators

BADBADNOTGOOD on his gorgeous new

single, "Nervous", from his debut EP of

the same name.

Yano's smooth voice has a tempered

sound that oozes confidence and soul,

sounding like the lovechild of James

Blake and Norah Jones.

Yano was born in Hiroshima and moved

to Port Coquitlam, BC, when he was four.

"Half of my family are musicians or

have musical history," he says. "My

grandma did a royal conservatory and my

father is a folk songwriter in Japan."

After playing music throughout high

school in BC, Yano gave up on the idea of

pursuing it entirely.

"I thought it was so unrealistic. It was a

self-doubt thing. I went to university and

dropped out, did some travelling to 'find

myself' and then moved to Toronto and

got back into music three years ago."

Being in Toronto proved fruitful for

Yano after he befriended BADBADNOT-

GOOD drummer Alex Sowinski at a show

Artist to Watch

JONAH

YANO:

LIVING

THE DREAM

for T-dot duo MONEYPHONE. Yano says

the scenario feels like a scene straight out

of a biopic.

"Isn't it crazy? Like, what the fuck is

going on? Alex and I developed a friendship

naturally. Obviously the conversation of

music was going to come up eventually. I

played him the demo for 'Promise' and he

said, 'Cool, let me show this to the guys and

we'll play on it.' Like, sure man, I'm not even

freaking out at all right now. Sure, send it

to the rest of BADBADNOTGOOD, that's

normal and within the realm of reality."

Yano released his debut EP, Nervous,

with LA-based label Innovative Leisure

last month, who caught wind of his release

right before he self-published it online,

stopping him just in time so that they could

give the project the proper professional

treatment it deserves.

Although he plans on continuing his

creative relationship with BADBADNOT-

GOOD, Yano has bigger goals in mind.

"My biggest goal is to go to Japan and

write songs with my dad. I haven't seen

him since I was 10 years old and that will

be my magnum opus. How fucking cool

would that be?"

Nervous is out now on all streaming

platforms.

By Joey Lopez

KYLE BERGER
---
JULY 2019

EVERY

FRIDAY

REWIND FRIDAY

EVERY

SATURDAY

NITE MOVES

BI-WEEKLY

SATURDAY

BYE FELICIA!

TUE 2 PRIESTS

FRI 5 CIVILIANA FRI 5

DOORS 7:00PM

SAT 6 FRI 12 FRI 12

DOORS 10:30PM

BYE FELICIA! ***

URSULA MAJOR

DOORS 7:00PM

DOORS 10:30PM

REWIND FRIDAY

W/ ALAN & BAZZ

TANGLERS GLORY DAYS!! ***

DOORS 10:30PM

AND GUESTS

NASTY WOMEN

COMEDY

SAT 13 NITE MOVES MON 15 FRI 19

DOORS 10:30PM

DOORS 7:00PM SHOW 8:00PM

DOORS 10:30PM

SWITCH ***

SAT 20 IQ MANIA 3 SAT 20

DOORS 10:30PM

BYE FELICIA!

ALMA BITCHES, BERLIN, SHAY

DIOR, RAYE SUNSHINE

SUN 21

VANCOUVER FOLK

FESTIVAL PRIVATE PARTY

MON 22

BILTMORE CABARET'S:

TUE 23

SOUNDS FROM THE BASEMENT

WILLIE WATSON

DOORS 9:00PM

DOORS 8:00PM

FRI 26

DOORS 7:00PM

GRIZFOLK

REWIND FRIDAY ***

FRI 26 SAT 27 NITE MOVES *** MON 29

DOORS 10:30PM

W/ ALAN & BAZZ

DOORS 10:30PM

DOORS 7:00PM

NASTY WOMEN

COMEDY

IQ 2000:

TUE 30 WED 31

RuPaul's Drag Race Trivia

DOORS 8:00PM

THE BETHS

*** - BILTMORE 11TH ANNIVERSARY EVENT

- CLUB NIGHT - PRIDE EVENT

FOR MORE INFORMATION GO TO WWW.BILTMORECABARET.COM
---
Be one of the first

to know about sales,

events, promotions

and clinics

BECOME A

Long & mcquade

INSIDER

sign up today

and enjoy sweet savings, special offers and exclusive contests!

Have access to exclusive

contests,"insider only"

in-store events and more

Be automatically

entered to win a $ 100

gift card each month,

and a $ 500 shopping

spree 4x per year!

l o n g - m c q u a d e . c o m

Visit www.long-mcquade.com/insider

VANCOUVER NORTH VANCOUVER RICHMOND

368 Terminal Ave.

(604) 734-4886

1363 Main St.

(604) 986-0911

6760 No 3 Rd.

(604) 270-3622

PLUS 11

MORE STORES

IN B.C.

DAN'S HOMEBREWING SUPPLIES

Huge selection

of beer and

wine-making

equipment &

ingredients

835 East Hastings ST. Vancouver, BC • 604-251-3411 beermaking.ca

22 BEATROUTE JULY 2019
---
The Playlist:

10

2

songs in heavy rotation at the BR offices right now

4

1

5

8

6 9

HAZELWOOD PHOTOGRAPHY - THE VINYL DISH

1

The Free Nationals

Time

(Ft. Mac Miller & Kali Uchis)

Mac Miller's first posthumous

release couldn't have been left in

better hands. The backing

band for his close friend

Anderson .Paak pairs

his laid-back drawl

with a shimmering

funk instrumental

and the smooth vocals

of R&B diva

Kali Uchis.

3

2 Selci

Truth In The Sea

A direct hit from this rising Calgary-based

pop star, Selci lays

down an ocean of entrancing electro-R&B

to set yourself adrift on.

The slowly ascending synths

weave around her delicate,

echoing vocals and surprise

whistle tones.

3

Taylor Swift

You Need To Calm

Down

The rebranded, pastel-coloured

Swift takes aim at her haters

on the second single from

her upcoming project. The

track features some

impossibly catchy

building harmonies

and some shoutouts

to the LGBT

community. We

wonder though, if

she'll ever let that

snake emoji thing go.

4

The Dirty Nil

Astro Ever After

These prolific punks are building

momentum for their third album

with a track that alternates between

quieter verses showcasing

Luke Bentham's passionate high

notes and a shockingly distorted

chorus. Headphone users beware

— or indulge. Whichever works.

Mariel Buckley

5 Casting Stones

The Albertan alt-country/roots artist

directs her earnest delivery and

poignant lyricism at political topics,

imploring people to give voice to

the voiceless. The extended bluesy

guitar solo only enhances her

powerful message.

6

Lower Dens

Young Republicans

An upbeat indie-pop satire that

paints the disillusioned youth

of the political party as some

kind of cannibals, frontman

Nate Nelson singing the lyrics

with wide-eyed joy over

a retro beat. This is definitely

one of the strangest

political tracks this year.

7

7 Dreamville

Down Bad

(Ft. JID, Bas, J. Cole, EARTHGANG &

Young Nudy)

One of the first two singles released

from the massive compilation

on the way from J. Cole's

Dreamville record label, this posse

cut is mostly driven by throwback

sounds and JID's youthful voice on

the chorus - but we'll give the best

verse to Cole.

8 Kindness

Hard To Believe

Fresh off of impressive production

work with everyone from Solange

to Robyn, the multi-talented singer-songwriter

teases the September

launch of his new album and

links up with two more dynamic

voices, Jazmine Sullivan and

Sampha, for a piece of chilled-out

synth-funk.

9 Notifi

Won't Get Lonely

This track is so Toronto it's a wonder

that Drake's OVO label didn't

immediately snap him up when it

dropped. An eerie alt-R&B track, you

could easily mistake this for the 6ix

God if you didn't know any better.

Except this guy also produced this

hard-hitting beat.

10

The Underachievers

Wasteman

This up-and-coming Brooklyn duo

adopt a word from the UK grime

scene to throw at their detractors.

Absolutely nobody else can sound

this hard while making references

to Ariana Grande and Cyndi Lauper

hits within the same track.

JULY 2019 BEATROUTE 23
---
COVER STORY

CANADA'S

NEXT HUGE

24 BEATROUTE JULY 2019
---
By JORDAN YEAGER

POP STAR JULY 2019 BEATROUTE 25
---
I like

keeping the

people who know

me best around

me. They keep me

grounded and

authentic.

JESSIE REYEZ

Saturday, July 27

Squamish Constellation

Festival

Tix:$65-$80 single day,

$199-$425 weekend pass:

constellationfest.ca

W

e could all learn

something from

Jessie Reyez. She

holds her roots

close, whether

that's the city

she was born in

(Toronto), the

suburb she was

raised in (Brampton)

or her closest friends (among

them, her parents, siblings, nieces

and nephews). Reyez speaks quickly,

but her timbre is laidback and reflective;

she knows herself, and she's not

afraid for others to know her, too.

Take one listen to her raw and soulful

take on R&B and this becomes even

more evident. Her vulnerable and

sincere lyrics pull no punches; in fact,

the Juno Award-winning singer-songwriter

describes herself as brutally

honest.

That honesty first caught people's

attention with the release of

"Gatekeeper," a track she wrote after

producer Noel "Detail" Fisher

tried to coerce her into sexual acts

in exchange for fame. Reyez turned

that dehumanizing, objectifying experience

on its head and, in the years

since, has collaborated with Daniel

Caesar, Normani and Calvin Harris,

among many others. While she admits

that sometimes her brutal honesty

might get her into trouble, she's

self-aware enough to know that what

she values above all else is holding

herself accountable.

"Not to throw a pity party or anything,

but I've dealt with

a lot of people in life who

have been dishonest with

me," says Reyez. "It's

scarred me to the point

where I just don't want

to be a hypocrite, and I

don't want to treat people

the way I've been treated in the

past that's left me so bruised. Maybe

that's why I'm honest, sometimes

brutally honest, sometimes crude,

because I just don't want to put

someone else through the suffering

that I've been through. And it shows

up in my life, and it shows up in my

relationships, and it shows up in my

music by default.

"Of course it's gotten me into trouble,

but I feel like the trouble that it

gets me into is at least present," she

continues. "It's something that I can

go through right then and there, as

opposed to having a lie that might

get worse over time and accumulate,

because that's usually what lies do. I

think the truth always comes out no

matter what, so you can either deal

with it then if you fuck it up, or you

can deal with it in a few years on top

of paying interest karma."

Much of her mindset – which

might come off as blunt, but is rooted

in empathy and compassion – can

be attributed to her parents. Reyez

describes her mom as "patient" and

her dad as "resilient," and she learns

from them every day when she sees

how they react in any given situation.

"I'm lucky to have the guidance

of my mom. My mom is

the one that will tell me

that sometimes I have to

be a little more delicate.

Not everyone is expecting

that bluntness, so I

just have to be a little bit

more delicate to make

sure that I'm not being mean and

just being honest. They're sometimes

synonymous, which is funny: mean

and honest."

Some artists define success as a

wall full of accolades and a bank account

full of zeroes. Reyez wouldn't

disagree – like anyone putting in the

time to master their craft, she wants

recognition for her hard work. But

success has a deeper meaning for her

than platinum plaques and shelves of

trophies.

"There's three things I want before

I feel like I can properly rest,"

says Reyez. "I want to buy my dad

a farm, and I want to found an orphanage

and name it after my mom.

My dad's always been very close to

nature and animals. He grew up in a

rough household – he lost his mom

and grew up with his evil dad. But he

had a homie in Colombia who had a

farm, and a lot of his childhood memories

were at that farm. He just loves

it, so it would be dope to get him his

own. And my mom started off as a

preschool teacher. If you were to see

my mom with kids… you know how

there's, like, horse whisperers? She's

a kid whisperer. When I was growing

up, our downstairs was a daycare and

TOP 3 PICKS

of the Squamish

Constellation

Festival

Bahamas

Getting his start as a

touring guitarist for everyone

from Feist to Jack

Johnson, the Canadian

folk musician has picked

up JUNO Award nominations

for each one of his

four solo albums, winning

in Alternative and Music

Video last year for his

project Earthtones.

Serena Ryder

A staple in the Canadian

music scene for the last

15 years, we're willing to

bet you still have her 2012

single "Stompa" stuck in

your head after all this

time. Now running her own

radio program in Toronto,

Ryder will be bringing her

impressive three-octave

range and folk-rock sensibilities.

A Tribe Called Red

The 2018 Group of the

Year JUNO winners named

themselves after the

groundbreaking hip-hop

group A Tribe Called

Quest because they

wanted to put out similar

messages of political protest.

Catch their innovative

blend of traditional Indigenous

music with modern

electronica.

By Ben Boddez

we lived upstairs. Even if there were

seven kids and screaming babies, my

mom would stay calm and peaceful. I

feel like there are not a lot of people

in the world who can actually do that.

There are teachers that shouldn't be

teachers because they lack that patience,

they lack that ability. But she

has that innately."

The third thing she wants, understandably,

is recognition – "Grammys

and plaques and everything on

my wall to solidify that I mastered

music."

Reyez is so close with her family

that she brings her parents on tour.

One time, her dad even went crowd

surfing. But they weren't always the

best of friends. Like many of us,

Reyez distanced herself from her

family in her teenage years. But after

going through a breakup that left her

battling depression, she noticed that

her family were the ones waiting for

her on the other side.

"I think that's the first time I realized,

for me, blood is thicker," she

says. "A lot of people say 'Don't let

this industry change you.' I see why

it would be easy for someone to

change, and I feel like keeping the

people who know me best around me

is the best mirror that I could have.

They keep me grounded and authentic.

They remind me of who I am and

why I started."

Recently, Reyez has learned how to

turn inward and keep herself grounded,

too. Whether it's through practicing

meditation or eating her greens,

self-care is an increasingly important

element of her day-to-day routine.

"This is going to sound real funny,

but I just this year started being

conscious of what self-love is," says

Reyez. "Awareness of mental health

and physical health and how they're

intertwined. It took me a long time

to even realize that, and I was so focused

on work and life and moving,

but you can't let yourself get overwhelmed.

You can't let yourself lose

that peace, because the second that's

gone, if I'm the engine that's moving

this whole operation, then what happens?

I have to look out for myself to

make sure that I'm looking out for

everyone else.

"I'm happy that I'm working on

my discipline, and it's permeating in

different areas of my life. It's permeating

in how I move from meeting to

music, and it's permeating in what I

eat and how I treat myself. I'm proud

of making that a priority this year,

and I'm going to make sure that it

stays a priority in my life." ,

26 BEATROUTE JULY 2019
---
Reviews

MUSiC

Album Review

THE BLACK KEYS

Let's Rock

Easy Eye Sound /

Nonesuch Records

It's been a hot minute since we

last heard from The Black Keys,

but their heavy blues rock

refrain remains the same. Reunited

with his better half and

percussionist Patrick Carney,

vocalist/guitarist Dan Auerbach

demonstrates that getting back

in their brotherly Rubber Belt

groove was as easy as falling

off a tandem bicycle.

Recorded from scratch at

Auerbach's Easy Eye Sound

studios in Nashville, Let's Rock

reportedly came together

with very little preparation or

premeditation. Edging away

from the disco ball and asphalt

sizzle of 2011's El Camino and

the polished tones of 2014's

Turn Blue, the stripped-down

nostalgia of Let's Rock offers

heartfelt tribute to the ultimate

tool of the trade - the electric

guitar. Irresistibly retro, yet

tuned to a modern frequency,

the album is already commanding

the airwaves thanks to

catchy-as-hell and radio-ready

singles like "Lo/Hi," "Eagle

Birds" and "Go." These three

Cowtown-meets-Motown

forerunners preface an album

stacked with glossy, voluptuous

ditties that bump 'n' grind

like a preacher's daughter.

Thumping bass notes and

gliding vocals add sleek lines

to "Shine a Light," padded out

by lux backups from guest

vocalists Leisa Hans and Ashley

Wilcoxson. Lonely forest

mating ritual "Eagle Birds"

gets down and dirty, while the

stomping Austin gospel of "Lo/

Hi" hits the album's two sweetest

spots - earnest storytelling

and an unrelenting boogie beat

that drives the drama towards

satisfaction.

At peace with the past, the

sugarcoated dirge "Walk on

Water" echoes Auerbach's time

as "king of a one-horse town,"

but you know you're being

lured in for the big come up

when "Tell Me Lies" struts into

Karmatown.

Yep, The Black Keys have returned

to form nicely, which is

most fortunate because we've

been waiting.

Christine Leonard
---
MUSiC ALBUM REVIEWS

Interview

KILLY

Light Path 8

Secret Sound Club

ABBATH

Outstrider

Season of Mist

SUM 41'S

SOBERING

NEW WORLD

ORDER

SUM 41

Order In Decline

Hopeless Records

Punk teens of the early 2000s

were shocked when Dave

"Brownsound" Baksh announced

his departure from Sum

41 in 2006. A founding member of

the band, Baksh's Indo-Guyanese

background complemented with his

shreddy, heavy guitar playing made

him a unique and recognizable figure

in the scene at the time. After

nine long years, Baksh returned

to Sum 41 at the Alternative Press

Awards in 2015 and appeared on

the band's 2016 album 13 Voices.

Three years later, the band is ready

to come in heavier and harder with

their new record, Order In Decline.

"We were in agreement that we

had to come out of the gates really

strong on this record," Baksh says.

"The album's title is based on a

system that has never worked —

the order of the world. Not only

in our continent, but all over the

place. The order of everything

seems to be in decline, in our view.

It seems like we're kind of leaving

the next generation out to dry."

Overall, Order In Decline is

aggressive in sound and mature

in composition. It walks a fine line

between punk rock and metal

yet still finds room for melancholic,

reflective ballads. It is the

second record written by Sum 41

frontman Deryck Whibley since

overcoming major health complications

caused by alcoholism.

"Man, even if he was a garbage

person to be around sober, I'll

still be happier than when he

was deep into the drinking," says

Baksh. "Being home, hearing

about what was going on and not

being able to reach out, it hurt a

lot. Now, the friendship that we

had since the first day of high

school in transportation technology

class, you know, it's been

rekindled. I think it's stronger than

it was before." Johnny Papan

Following a recent JUNO nomination

for Breakthrough Artist of

the Year, Toronto rapper Killy has

dropped a sophomore project that

shows off his versatility amid a

variety of cinematic and orchestral

instrumentals.

Killy stands tall at an intersection

between trap music and more melodic,

alt-rock-influenced hip-hop,

blending hard-hitting trap instrumentals

and flows with his unique

nasally vocal delivery and cryptically

poetic lyrics.

Light Path 8 adheres to quite

a few modern day rap trends, but

Killy turns the rap game on its head

and disrupts them on almost every

song with surprising, genre-bending

moments, showing his potential and

versatility as a rapper and songwriter.

Killy's pop instincts are much

more fluid than his penchant for

rapping, tapping into some Post

Malone-inspired inescapable

earworms on tracks like "Eye for

an Eye" and "Simulation." These

shorter track lengths and poppy

melodies are designed for streaming

on repeat and getting stuck in

your head — and it works.

Killy has said he named his latest

offering Light Path 8 because he's

focused on the journey rather than

the destination, and it's through this

collection of songs that he's proving

to find his way out of the dark

depths of a competitive industry.

Best Track: Track: Evil Eye

Ben Boddez

Abbath Doom Occulta is the

corpse-painted face and venomous

voice of black metal in his

Norwegian homeland. Born Olve

Eikemo, the 45-year-old multi-instrumentalist

has famously served

as Immortal's lead vocalist, lyricist,

guitarist, bassist, keyboardist and

drummer.

An extreme and extremely versatile

artist, his eponymous offshoot

metal project, Abbath, recently

reformed with a fresh lineup and a

renewed sense of purpose.

The aggressive quartet's current

incarnation attacks Abbath's

sophomore effort with rapid-fire

percussion, caustic vocals and

power guitar enslaughts. Plunging

headlong into the heat of an epic

fantasy battle, the album fuses

the new wave of heavy metal with

rhapsodic melodies and Abbath's

own dark philosophies.

Delivered with face-flaying furosity,

white-knucklers like "Harvest

Pyre," the wiley "Scythewinder"

and wildly imaginative "The

Artifex" prove as intricate as they

are intense. Occulta growls like a

lion, pacing between the bars of

solid steel and shadowy malice on

"Bridge of Spasms," cheering on

the band's hellish machinations.

Ominous and oozing with

goblinesque screams, "Pace Till

Death" hails the flames and traps

the audience between inferno and

abyss. Wrapping up their harrowing

eight-song saga with a pang

of nostalgia, Outstrider makes a

grand exit with an amped-up cover

of Bathory's "Hecate."

Best Track: Harvest Pyre

Christine Leonard

28 BEATROUTE JULY 2019
---
Interview

SKYE WALLACE

Skye Wallace

Independent

BLEACHED

CHANNEL

THEIR INNER

BLONDIE

The self-titled album from Toronto

based artist Skye Wallace claims

the sloppy grunge reminiscent of

Courtney Love and her posse of

furious friends, yet pauses on the

precipice. The album flips between

wildly energetic to greasy and

moody and is nevertheless slow,

polished and rhythmic; elements

that betray the singer's classic vocal

training and background in folk.

While a gritty departure from her

dark-folk history, Wallace's album

nevertheless remains inspired by

the Canadian landscape and experience.

Her split residence between

Toronto and Vancouver, combined

with a vagabond existence that

dragged her across Newfoundland

and Yukon, informs an album that

plays out like a Canadian fantasy

tale.

"Coal in Your Window," the

album's first single, is an old-school

story of forbidden romance about

a boy and a girl who secretly hook

up in the boiler room. Yet, this ain't

your basic barn-yard, rolling-in-thehay

romp. The lyrics might be folk,

but the guitar solos are straight

out of an 80s superhero knock out

scene and the harmonics deliver a

raw and gritty punch.

Vancouver audiences will experience

Wallace's signature fusion of

folk and punk at the Wise Hall on

July 9.

Best Track: Coal in Your Window

Kathryn Helmore

BLEACHED

Don't You Think You've

Had Enough?

XL Recordings

At the end of 2017, sisters

Jennifer and Jessie Clavin

knew they wanted to take their

music in a new direction. Their

sunshine drenched garage punk

band, Bleached, just wrapped

up two major tours opening

for Paramore and the Damned.

Inspired by the energy those

bands elicited each night, the

Clavins resolved to go back to

the drawing board and write the

kind of live bangers that would

be fit for stadiums.

Up until that point, the LA

rockers have benefited from lo-fi

fuzz and playful punk jams. But

according to Jennifer Clavin, it

was only a matter of time before

Bleached dove into different

sonic territory. "I feel like a lot

of bands over time put out one

disco song, even if it's not part

of the plan," Clavin laughs. "Like,

Metallica's 'Jump in the Fire' has a

disco beat throughout, and it's one

of their best songs, in my opinion. I

slowly realized that I was drawn to

that kind of sound."

For their upcoming album,

Bleached worked with producer

Shane Stoneback (Vampire Weekend,

Sleigh Bells), whose penchant

for vintage gear complemented the

band's 70s-inspired aesthetic. The

resulting Don't You Think You've

Had Enough? is glossy and upbeat,

a dance record that shows the

most growth for the band out of all

their releases to date. Tracks like

"Hard to Kill" and "Somebody Call

911" are slick, disco-infused tunes

à la Blondie. Meanwhile "Rebound

City" recalls the rock and roll ethos

of the Runaways, maintaining the

edge of Bleached's earlier work.

It's also the most collaborative

effort between the two sisters, who

returned to their original two-piece

set up. Clavin is quick to praise her

sister, Jessie, who took over the

majority of the guitar work for this

album.

"She mainly plays guitar live,

but she's honestly the best bass

player I know," she says. "She was

controlling all the bass, and I think

because of that it ended up being

this dancier record."

More than creative exploration,

the Clavin sisters underwent significant

personal changes that fuelled

the majority of their song writing.

It's the first time the two open up

about their sobriety, a theme that

underscores the entire album.

In her lyrics, Clavin reflects on

ending toxic relationships and

friendships, shedding self-destructive

habits, and the difficulty of

leaving the past behind. She later

realized that her raucous lifestyle

only hindered her ability to write

music from a truly honest place.

"I was really working on being

present. When I was drinking and

partying, I thought I needed that

kind of lifestyle to help me write

music, which I think is something a

lot of artists struggle with," Clavin

admits. "But as a sober person, I

knew to get to that creative place

I needed to be present. And I realized

playing music in itself is a form

of meditation that forces you to be

present."

Clavin says she learned not to

judge herself in the moment and to

allow her ideas to take shape on

their own. As she began to examine

her life with greater self-awareness,

she also opened herself up to

the idea of self-love. It's something

she accepted when, on an impulse,

she decided to retreat to her

aunt's house alone one weekend.

There, she immersed herself in

the beauty of the surrounding

California desert and decided to

write one great song.

"I ended up writing 'Daydream,'

which is one my

personal favourite songs from

the album," she says. "It was this

real moment of clarity where I

realized, 'Okay, I got this. Being

sober totally works for me.'

Because the other version of me

would've just bought a bunch of

wine and gotten wasted trying to

write something."

The two sisters, newly motivated,

have made some of their

most focused and ambitious

music on Don't You Think You've

Had Enough?. They may have

freed themselves from unhealthy

influences, but their bond together

continues to be as strong

as it has ever been.

"I have to remind myself of

how lucky I am to have my sister

at my side, because I have other

musician friends that are sober,

but the rest of their band isn't,"

she says. "I know it amazes

people that we can get along together.

But it's really comforting

to be in a band with her. In the

end, I think we just have a lot of

fun with it, which is why it works

out so well."

Karina Espinosa

JULY 2019 BEATROUTE 29
---
MUSiC ALBUM REVIEWS

DANIEL CAESAR

CASE STUDY 01

Golden Child Recordings

Toronto's alternative R&B neo-soul

king Daniel Caesar dropped his

sophomore project CASE STUDY

01 as a surprise on a packed

release day, but still managed to

grab all the much deserved online

attention.

After his excellent breakthrough,

Freudian, fans were left waiting for

more of his high-concept songwriting

and aching falsetto. The album

opens with American physicist J.

Robert Oppenheimer's famous

atomic bomb speech, and Caesar

satisfies those desires by dropping

the musical equivalent of one

immediately after.

In true Torontonian fashion,

CASE STUDY 01 is an eclectic

mix of sounds, mostly staying true

to his passionately crooned slow

burns while honoring where Caesar

came from with a couple of other

welcomed diversions. Jamaican

music is a huge part of the Toronto

scene and Caesar has Jamaican

roots. Hearing this side of him on

"Cyanide" is almost as nice as his

return to the gospel music he grew

up on, with a soulful choir enhancing

tracks like "Open Up" and

"Restore The Feeling."

It wouldn't be a Caesar album

without some deep ruminations on

life either, as he ponders the heat

death of the universe, scientific

phenomena, and – most affectingly

– struggles with staying true to his

faith on "Too Deep To Turn Back." .

Best Track: Open Up

Ben Boddez

K.FLAY

Solutions

Interscope/Night Street

K.Flay is finished caring what

anyone thinks. Solutions, her third

full-length offering, is a 10-track altpop

hip-hop album whose singles

hint at a project brimming with catharsis.

She wrote the album after

returning home from her last tour

and finding herself in a dark headspace.

After revisiting what made

her happy in childhood, before

vices like drugs and alcohol made

emotional suppression easier than

self-reflection, she was inspired

to return to that mindset through

doodling, long phone calls with her

mom, and reconnecting with music

in its purest form. Solutions is the

result.

The album opens with "I Like

Myself," an affirming anthem about

accepting the fact that maybe

we're all more average than we

present ourselves to be on social

media.

K.Flay slows down and gets

more pensive on "Nervous," which

is a just-as-synthy but less bassheavy

exploration of the nervous

excitement of a new relationship

when that uncertainty over where

things stand still lingers heavily in

the air.

Solutions uses instrumentation

sparingly in a way that complements

K.Flay's confident vocals

and refined lyricism, which weave

the album together from track one

to finale "DNA."

The project is a personal one

that offers an intimate glimpse into

the mind of an artist whose energy

is palpable.

Best Track: Nervous

Jordan Yeager

BRUCE

SPRINGSTEEN

Western Stars

Columbia Records

Western Stars is a 180 degree

departure from Springsteen's

recent studio records, shifting the

emphasis from bass, drum and

guitars to lush, rich and elegant

orchestral arrangements. They

reverberate from the Southwestern

States combining Springsteen's

brisk acoustic work with the

sweeping, country-pop overtones

of Jimmy Webb's stellar LA studio

hits from the late 60s. The production

is majestic and panoramic — a

soundtrack arching across the

desert floor and open skies cast

upon Hollywood's big screen.

While melodies swell, sometimes

stratospheric, Springsteen's storytelling

pulls it all down into quiet,

intimate pockets. Many characters

bare a resemblance to those found

in 1987's Tunnel Of Love, with lives

burdened and broken by choices

made that can't be undone.

Yet there's also the freewheeling

hitchhiker, first to appear on the

record, who's got no destination in

mind except raking in the experience

of each ride. At the desert

cafe, truckers and bikers meet, the

roadhouse overflows with drink

and dance where "summer girls in

the parking lot slap their make-up

on and flirt the night away."

Western Stars is a complex landscape,

optimistic and joyous as it is

desolate, fatalistic and bittersweet.

In it Springsteen draws on people

and places as well as his own history

grounded in that corner of the

universe resulting in a remarkable

concept album where the magic

flows once again.

Best Track: Moonlight Motel

Brad Simm

GIRLFRIEND

MATERIAL

Cool Car

Dine Alone

Led by Tokyo Police Club keyboardist

Graham Wright, Girlfriend

Material fleshes out the sounds

from the band's 2017 self-titled EP

with jangly pop hooks and plenty of

lyrics about relationships, breakups,

and recoveries.

These songs effectively portray

a confidence for the here and now,

rather than an aching for what

should have been. First single,

"First of the Month," recalls the

fantastic guitar licks and tempo

changes that made TPC's debut

album so fun to listen to, retaining

a youthful cynicism about the world

today.

Maturity also shines through on

Cool Car. With experienced musicians

like fellow TPC member Josh

Hook and Hollerado's Jake Boyd

rounding out the project, Wright is

confident and free to write songs

from the heart.

Sonically, it's not too far from

anything we've heard from Tokyo

Police Club or Hollerado before,

but the songs on Cool Car display

an energy and infectiousness that

will have you bobbing your head

and singing along. If you're looking

for a side hustle to complement

your rotation of Can-rock faves this

summer, Cool Car is the pimped

out Toyota Tercel you've been

waiting for.

Best Track: First of the Month

Trevor Morelli

THOM YORKE

ANIMA

XL Recordings

Some dream theorists suggest

that within our unconscious, dwell

alternate versions of our personalities.

One such logician, Carl Jung,

conceptualized the idea of "Anima"

as representing the unconscious

feminine qualities of the male

psyche. This approach seems

fitting for the title of Radiohead

lead singer Thom Yorke's new

solo album, whose falsetto voice

and undiscerning vulnerability has

always been the focal point of his

music.

ANIMA is an electronic record,

like his last release Tomorrow's

Modern Boxes. Opening track

"Traffic," begins with a simple UK

House beat but becomes chaotic

and busy as Yorke's tender vocals

weave in and out between inconsistent

patterns. The tracks aren't

messy; the production remains

calculated, but the unpredictable

trajectory of the songs keeps them

exciting.

It's not all overly complicated

though. Tracks "Twist" and "Dawn

Chorus" ditch the club vibe for

more delicate melodies, further

exploring Yorke's feminine dreamscapes.

But this only lasts until the

album's final track, "Runwayaway,"

which meshes nightmarish ambient

rhythms with electronically altered

vocals, leaving you gasping for air

upon awakening.

For a full scale experience,

check out the album's visceral accompanying

short film directed by

Paul Thomas Anderson, available

now on Netflix.

Best Track: Impossible Knots

Jeevin Johal

30 BEATROUTE JULY 2019
---
LOCAL ALBUMS

AK- 747S

Movies

Independent

ZANE COPPARD

Of Love

Independent

HOT TUB

Sunrise EP

Independent

THE JINS

Death Wish

604 Records

The Jins are a neo-grunge indie

rock band that unmistakably look

and sound like Nirvana.

They've been a ubiquitous force

as one of the preeminent up and

coming bands in Vancouver's

indie music scene. On their new

EP, Death Wish, the party seems

to have caught up with them. The

lead singer's Cobainian belching

breathes frustration and cynicism.

There's a lot to love radiating from

the bittersweet heartbreak of "She

Said" and the heavy face-melting

absolutism of "Death Wish." The

Jins continue their sonic progression

as their song structures

mature, leading the band onto a

unique plateau that is all their own.

Joshua Sheppard

Movies is a noisy, grief laden

offering of surrealistic punk. Opening

track "Snitches" throws the

first blow with plenty of grit and

crunchy distortion, an anger-filled

offering that effectively smashes

the state in sound and spirit.

The vexation continues as

vocalist Rob Nuclear's agonizing

bellow screeches from the depths

of a sorrowed soul. The tightly

wound trio reverberates from the

core of Vancouver's Downtown

Eastside to the furthest corners

of the city, searching for any remnants

of an underground scene

that might still understand them.

Melodic, emotive and raw, the

self-described "weird punk" that

AK-747s are casting is the sonic

equivalent of drinking Nick Cave's

dirty bath water, and then going

back for seconds.

Johnny Papan

Sounding like it was recorded on

a broken Tascam four-track recorder

in a truck stop somewhere

in Nebraska, Zane Coppard's solo

debut, Of Love, is a sprawling and

breathless collection of experimental

sounds and crooning.

Coppard verges on Jeff Buckley

levels of emotion at times, other

times dark and brooding or lucid

and shimmering like a glacial tarn.

To Coppard, "love in element form

is water" and you certainly get

that sense. The record washes

over like a slow, romantic drizzle.

Although mastered and mixed by

Smash Boom Pow bandmate and

brother Ulysses Coppard, Of Love

showcases his own artistic voice

with fluidity and aplomb.

Sean Orr

Despite standing at only four

tracks in length, electronic musician

Hot Tub's debut EP is built

to let the mind wander to many

places over its short runtime. A

house musician that veers closer

to Daft Punk's uplifting funk than

the genre's traditional repetitive

fist-pumping mixes, Hot Tub presents

a great mixture of in-yourface

electronic hooks and quieter,

more contemplative areas that

sound like a relaxing come-down

after the party.

Hot Tub is an accomplished guitarist

and pianist, and impressively

plays all his instruments live while

adding his own dreamy, echoed

vocals. Each track is an engaging

slow build from start to finish.

Ben Boddez

JULY 2019 BEATROUTE 31
---
Live

MUSiC

ANDERSON

.PAAK

Wednesday, June 19

PNE Amphitheatre

The sold-out PNE Amphitheatre

came out to rage on a cloudy

weekday evening in Vancouver

for hip-hop/soul mastermind

Anderson .Paak.

The crowd was rowdy from

the start, not waiting long before

starting a swirling mosh pit at the

front of the stage. .Paak came out

fully dialled in a bright colourful

short-sleeved button up and gave

it all back to his fans with his

explosive stage presence, effortlessly

switching between being

the energetic frontman running

back and forth across the stage

to, of course, playing the drums

that he's so infamously known for.

After all of the extremes of

.Paak's set, from fireworks to

confetti, he closed out his show

with a touching tribute to his late

friend Mac Miller, with a giant

photo of the two together projected

on the screen behind him.

If anyone who was there is

asked whether or not Anderson

.Paak at the PNE Amphitheatre

was the best show of the summer,

the only appropriate way to

respond would be with a loud and

proud, "Yes lawd!"

Joey Lopez

ZEE KHAN

JAMILA

WOODS

Thursday, June 27, 2019

The Biltmore Cabaret

Wrapping up her Legacy!

Legacy! Tour with a sold out

show at the Biltmore Cabaret,

Jamila Woods' ethereal energy

rippled across a sea of

spellbound Vancouverites as

they recited her lyrics back at

her with raw passion.

Armed with a live band,

Jamila and her talented posse

of musicians ran through the

new album in its entirety with

ease.

Through her music Woods'

seems to have concocted a

colour-by-numbers formula

for wooing a crowd. A product

of the Chi-town spoken word

scene responsible for the

likes of Saba and NoName,

Woods is one of Illinois' finest.

From songs about Frida Kahlo

to "exes that got you fucked

up," Woods' lyrical prowess

hones in on a spectrum of

personal, emotional and societal

concerns that resonated

with the contemplative crowd.

On "Betty," the opening

track on Legacy! Legacy!,

Woods sings; "I am not your

typical girl, throw away

that picture in your head."

Following an evening spent in

her magnetic presence, this

statement can be confirmed;

her artistry is no ordinary feat.

April Summers

TENZING LAMA

32 BEATROUTE JULY 2019
---
BILLIE

EILISH

Friday, June 1, 2019

PNE Amphitheatre

Billie Eilish channeled all the

energy from her now legendary

recent Coachella performances

and showed Vancouver why she

is the new star of pop music.

Dressed in a white sweatsuit

with a clown print, Eilish had the

sold-out crowd singing to every

word of every song. She even

managed to get everyone to put

down their phones urging all her

followers that "This is the only

moment we got, bro."

Whether she was jumping,

dancing or performing in a bed

that dropped down from the

top of the stage, Eilish proved

she is more than prepared for

her throne as pop queen. The

homeschooled 17 year-old sang

flawlessly as she performed her

hits, including "Bad Guy" and "I

Wish You Were Gay" with her

brother and producer, Finneas

by her side.

When Vancouver fans of

Eilish fell asleep after the show

that night, they were surely

dreaming of the next time Eilish

performs here, which is guaranteed

to be on a much bigger

stage. Darrole Palmer

TENZING LAMA

SLUM

VILLAGE

Tuesday, June 25 , 2019

Imperial Vancouver

Hip-hop heads were treated to

a showcase of skilled artists

paying tribute to the genre

when Slum Village checked

into the Imperial with their

stylings of old school lyrical

prowess.

Their set played out like a

Greatest Hits compilation, with

co-founder T3 joined on stage

by the impressive Young RJ.

The unforgettable beats and

flawless flows of Slum Village

proved timeless as an infectious

bout of head bopping

broke out when they dropped

their 2002 classic, "Tainted."

It would be remiss to not

address the J Dilla shaped

elephant in the room, considering

he produced the majority of

their work. Since the legendary

producer's passing, the rap

group have continued to fly the

flag high in his honour.

Slum fans had come for their

dose of old school hip-hop and

bangers like "Get Dis Money,"

"Thelonious" and "Fall in Love"

had the chill crowd hanging on

to every word of the magnetic

emcees.

The seasoned performers

succumbed to calls for an encore,

toasting their fallen friend

as they finished with their

Kanye collaboration "Selfish," a

ditty which bangs just as hard

in 2019 as it did in the early

00s. April Summers

ZEE KHAN

RIO

THEATRE

1660 EAST BROADWAY

JULY

5

JULY

7

JULY

8

JULY

9

JULY

10

JULY

12

14

18

JULY

19

Friday Late Night Movie

Andrei Tarkovsky's

11 DIRTY DANCING

JULY

JULY

JULY

JULY

20

JULY

21

JULY

23

24

JULY

JULY

26

27

JULY

30

JULY

JULY

GORDON LIGHTFOOT

IF YOU COULD READ MY MIND

* Additional times www.riotheatre.ca

Richard Linklater's

DAZED AND CONFUSED

PULP FICTION

STALKER

STRANGE ADVANCE

Live!

Arnold Schwartzenegger in

COMMANDO

David Lynch's

DUNE

The Gentlemen Hecklers Present

THE NEVERENDING STORY

"Nobody puts Baby in a corner."

All Indiana Jones... All Night Long!

RAIDERS OF THE LOST ARK

THE TEMPLE OF DOOM

THE LAST CRUSADE

Bastille Day Double Bill!

AMELIE

&

Sofia Coppola's

MARIE ANTOINETTE

"Tricks are for kids"

Uma Thurman in

KILL BILL Vol 1. & Vol. 2

Steven Spielberg's

CLOSE ENCOUNTERS

OF THE THIRD KIND

Documentary

APOLLO 11

Double Bill!

Sigourney Weaver in

ALIEN & ALIENS

Stanley Kubrick's

2001: A SPACE ODYSSEY

Andrei Tarkovsky's

SOLARIS

Director in Attendance!

PARALLEL LOVE

The Story of a Band Called Luxury

Jodie Foster & Matthew McConaughey

CONTACT

THE CRITICAL HIT SHOW

#DNDLIVE

Ryan Gosling

DRIVE

Friday Late Night Movie

April O'Peel Productions'

TITTIES FOR KITTIES

A Fundraiser for VOKRA

SPICE WORLD

With Live Drag Shadowcast!

31

JULY The Geekenders Present

Harry Potter's Birthday

Burlesque

*www.riotheatre.ca for additional times

COMPLETE LISTINGS AT WWW.RIOTHEATRE.CA

S

JULY 2019 BEATROUTE 33
---
TRAVEL

CROSS-CANADA CAMPING

MUSIC FESTIVAL GUIDE

CAMPOUT

& ROCK OUT

C

amping festivals:

because sometimes,

we all need

an excuse to go

days on end without

showering.

Whether you'd rather

spend the weekend on

a muddy, dusty farm

surrounded by people

wearing onesies and sucking

on soothers or bring

your parents, nephew, and

litter of puppies to camp in

a clean, cool river-side RV,

the coast-to-coast selection

of festivals in Canada

is unparalleled.

While they might vary in

content – some emphasize

electronica, while others

are exclusively metal – festival

culture in general aims

to foster a sense of family

and give their guests a

transcendent, ephemeral

experience of feeling at

home.

Music, painting, yoga,

performance art and a

cozy, beer-stained tent to

return to at the end of the

night… what more could

you need? (Sunscreen.

The answer is sunscreen.)

By JORDAN YEAGER

Shambhala

34 BEATROUTE JULY 2019

Winnipeg Folk Festival

Shambhala
---
River & Sky Music/Camping Festival

ASTRAL HARVEST: July 4-7 on

1 the North Country Fair festival

grounds near Driftpile, AB

"Home is not a place, it's a feeling."

Astral Harvest is more than just

a music festival – their itinerary also

features almost 20 seminars about

topics ranging from beekeeping to

cultural appropriation vs. appreciation

to ayahuasca and Inka healing

techniques (BYOA). There are yoga

classes, fire shows, aerialists, and

bubble blowing parties. Camping is

first-come first-served, so if you're

bringing the whole family, arrive

early and claim a plot on the quieter

Family Camping site.

2

WINNIPEG FOLK FESTIVAL: July

11-14 at Birds Hill Provincial Park

near Winnipeg

Despite the name, Winnipeg Folk

Festival hosts artists who play indie,

electronic, pop, and a wide variety

of other genres, too. They have

Tarot readings, puppetry, an LED

gallery and a costume booth to outfit

you for the day. Kacey Musgraves

is one of their headliners this year

– don't forget to wait until she says

"yee" before you say "haw."

Winnipeg Folk Festival is another

contender that offers two campgrounds

to suit your needs. The

Festival Campground has room for

6,000 people and feels like a little

commune, with everyone making

art and friends between the tents.

The Quiet Campground is a third of

the size, so you're covered whether

you'd rather find your new best

friends or get a good night's sleep.

RIVER & SKY MUSIC/CAMPING

3 FESTIVAL: River & Sky Music/Camping

Festival: July 18-21 near Sudbury, ON

Situated along the Sturgeon

River, River & Sky works closely

with locals to create a sustainable

retreat to nature for festival-goers.

This festival is a smaller one, and

they believe that a smaller, more

intimate experience is best both

for the environment and for the

visitors. The campground is situated

in Fishers' Paradise, a quiet haven

outside West Nipissing, Ontario that

grants visitors access not only to

the river but also to a lake. Bring

your kayaks, your donut-shaped

floaties, and your pups, because

River & Sky is one of few festivals

that welcomes pets.

4

CANADA'S

TOP 5

FUTURE FOREST:

July 26-29 near Fredericton, NB

Future Forest doesn't think of

its guests as audience members,

but rather as active participants

in the creation of a communal

experience. Hosted in a 200-acre

wilderness preserve, the festival

originally began in 2012 as a fundraiser

for friend of the fest DJ Jay

Hamilton when he was diagnosed

with cancer. It's this community

vibe that they strive to recreate

year after year; instead of corporate

sponsors, they invite local

artisans to sell their wares, from

jewelry to clothing to handblown

glass (anyone need a new pipe?).

5 SHAMBHALA:

August 9-12 at the Salmo River

Ranch near Nelson, BC

Shambhalove, Shambhalife –

those who frequent Shambhala

think of it as a second home. Every

year, thousands of attendees

flock to the farm for the electronic

fest. Each of the festival's six

stages has its own stage director,

ensuring that the universes they

create will never be the same

from one year to the next. Don't

forget a face mask – you will be

breathing in dust and cow manure.

Shambhala also stays away from

corporate sponsors. For a festival

that often sells out within minutes,

it's about as grassroots as you

can get.

Shambhala is a lifestyle, and

people who frequent the fest go all

out for it every year. You want to

paint a school bus and sleep in it

for a week? Bring it! Rather build a

wooden pirate ship, affix it to your

truck and drive that over? Please

do! Each year, the themes of their

campgrounds change. This year's

haven't been announced yet, so if

you've got a vision, why not apply

to start your own?

HONOURABLE MENTIONS:

Laketown Shakedown: June 28-

30 in Cowichan Valley, BC

Midsummer Music Festival: July

5-7 in Smithers, BC

Armstrong Metalfest: July 12-13 in

Armstrong, BC

Hillside Festival: July 12-14 at

Guelph Lake Conservation Area

Vancouver Island Music Fest: July

12-14 in Courtenay, BC

Bass Coast: July 12-15 in Merritt,

BC

Starbelly Jam Music Festival: July

19-20 in Crawford Bay, BC

Evolve: July 19-21 in Moncton, NB

Kispiox Valley Music Festival: July

26-28 in Duncan, BC

ArtsWells Festival of All Things

Art: August 2-5 in Wells, BC

Edge of the World Music Festival:

August 9-11 in Haida Gwaii, BC

Regina Folk Festival: August 9-11

at Victoria Park, Regina
---
36 BEATROUTE JULY 2019
---
SCREEN

TIME

We believe

in Yesterday

Danny Boyle's

Yesterday imagines

a world without The

Beatles

By PAT MULLEN

I

magine a world without The

Beatles. Imagine all the people

who never heard "Let It

Be," "Penny Lane," "A Day in

the Life" or any of their songs

that revolutionized music.

That's the simple premise of

Yesterday, which imagines a music

history without Paul, John, George,

and/or Ringo. The Fab Four are

wiped from the Earth when struggling

artist Jack Malick (Himesh

Patel) wishes for a miracle, gets

struck by a bus and awakens in a

world in which only he knows The

Beatles' tunes. Ka-ching, ka-ching!

While the film is as familiar as a

Beatles' song, it's as impossible to

resist. The script by Richard Curtis

(Love Actually, About Time) gives

audiences a sweet love story as

Jack's rise to stardom pulls him away

from his devoted manager, Ellie (Lily

James), as she stays in Suffolk to work

her day job as a schoolteacher and he

jets to LA to pursue his dream. The

pair has great chemistry with James

drawing on her Cinderella charm,

while Patel creates an endearing underdog

in Jack and fuels a soundtrack

of summer fun performing The Beatles'

greatest hits.

As Jack enjoys his success, his

peers — including Ed Sheeran (who

is a good sport about poking fun at

himself) — yearn to know the stories

that inspired "Strawberry Fields

Forever" or "In My Life," and the film

sometimes strains under the simplicity

of its premise as it reworks the

same conflict over a few dozen Beatles'

songs.

Jack's success is bittersweet as he

knows in his heart that he doesn't

come by it honestly, even though his

exuberant covers of these songs electrify

the crowds. He struggles with his

betrayal of Ellie and with selling out

his artistic integrity for success. His

music brings joy to people around

the world, which leaves him with the

choice to erase The Beatles forever or

continue living a lie.

Directed with whimsical energy

and the right flavour of cheese by

Danny Boyle (Slumdog Millionaire,

Steve Jobs), Yesterday doesn't seek

to reinvent The Beatles' music. Both

the approach and the story are relatively

safe, but the film is a novel exercise

in nostalgia.

The earnestness of the film

is too sweet to deny as Jack

saves Beatles' tunes from

oblivion and revisits Liverpool

haunts like Abbey

Road, Penny Lane, and Eleanor

Rigby's grave to jog

his memory. Yesterday

reminds audiences of the

magic of The Beatles by

making them recognize

the ways in which music

in general defines pivotal

moments in their lives.

Yesterday also makes

a strong case that this gen-

eration won't see an act on par with

The Beatles. As Jack navigates the biz

and lets his soulless new manager

(a deadpan funny Kate McKinnon)

sculpt him into a star, Yesterday

places The Beatles' songs within the

American Idol era in which stars are

pre-packaged and manufactured like

products.

The hustle teaches Jack that a true

artist is one who draws from his experiences

and pours himself into

his songs. The songs speak to

Jack's audience, but not in the

same way Beatlemania made

the Fab Four speak to their

generation and inspire music

fans today. Yesterday is

an impossibly charming

essay that reminds us why

few artists live forever.

Yesterday is now in

theatres.

Ed Sheeran was not

Danny Boyle's first

choice for Yesterday. It

was actually Coldplay's

Chris Martin.

JULY 2019 BEATROUTE 37
---
SCREEN TIME

THREE

CHORDS

AND THE

TRUTH

Jessie Buckley plays

a wild dreamer in

Wild Rose. Think of

a Glaswegian version

of A Star is Born.

By PAT MULLEN

I

f Ally Campana and Jackson

Maine had a smokin' hot threesome

with Susan Boyle, the star

born from the passionate tryst

would be Rose-Lynn Harlan.

Played by an outstanding Jessie

Buckley, Rose is a hot mess of an

aspiring singer/ex-con from Glasgow

with dreams of being a country star.

She struts out of the slammer with

the confidence of Johnny Cash when

the film introduces her sporting cowgirl

boots and a sparking house arrest

anklet. She returns to her two kids,

named Lyle and Wynonna after her

country idols, and mother Marion

(Julie Walters) who shudders when

Rose resumes talk of pursuing her

dreams in Nashville.

Rose's day under house arrest is

such a booze-fuelled bender that loses

her gig at the Glasgow Grand Ole

Opry and barely makes curfew. In an

effort to straighten her out, Marion

gets Rose a job cleaning the home of

a wealthy socialite, Susannah (Sophie

Okonedo). Rose makes the best of it,

belting out country tunes as she vacuums

the floor while guzzling Susannah's

whisky. When Susannah's kids

overhear Rose singing, though, Susannah

gears into bleeding heart mode

and makes it her mission to realize

Rose's dreams.

Wild Rose deviates little from

the well-trodden formula of movies

about stars in the making. However,

artists record traditional country

songs over and again and director

Tom Harper delivers a wild, moving,

and boot-stompingly good cover on a

film we've seen before.

Wild Rose will make a country fan

out of anyone since it lives by Rose's

belief that music is "three chords and

the truth," a motto tattooed on her

arm that is best read when she raises

her fist to her heart.

Fuelled by an excellent soundtrack

of country tunes, the film closes with a

mic drop of an original song, "No Place

Like Home" (written by actress Mary

Steenburgen) that shows the range of

Buckley's talent as Rose reconciles her

dreams with her duties in Glasgow.

Buckley delivers on the promise

of her breakthrough performance in

last year's Beast and creates a true

dreamer in Rose, a woman of unbridled

energy and hunger with one hell

of a voice. She owns the stage as Rose

accepts that the heart of Nashville

beats wherever she plays her tunes.

Wild Rose is a film for anyone who

aspires to live the dream—and pursues

it anyway long after realizing it's

out of reach.

Wild Rose opens theatrically on July 5.

38 BEATROUTE JULY 2019
---
LEONARD

COHEN'S

LOVE

A great songwriter and his muse

explored in Marianne & Leonard:

Words of Love By PAT MULLEN

D

irector

Nick Bromfield had a unique perspective

in creating a remarkable documentary

about the complicated love affair

between Leonard Cohen and his legendary

muse Marianne Ihlen — he was in the middle

of a love triangle involving the tortured couple.

Broomfield has a habit of inserting himself into

his movies, but this time he's both a character and

an inquisitor as he reflects upon two lives that

shaped his path. His personal inquiries drive docs

like Aileen Wuornos: The Selling of a Serial Killer,

Kurt & Courtney, Biggie & Tupac, and Tales of the

Grim Sleeper. His latest film, Marianne & Leonard:

Words of Love is his most personal film yet and it

benefits from his ability to open himself up to enter

his subjects.

Words of Love chronicles the long relationship

between the late Leonard Cohen and his Norwegian

muse, also recently passed, Marianne Ihlen,

which began in 1960 on the Greek island of Hydra

and spanned decades, crossed continents, and inspired

generations. She's the girl Cohen sings "so

long" to as well as many other musings.

She would eventually say "so long" to Broomfield,

who also had a relationship with Ihlen and

made his first documentary on her advice, he looks

at the romance of the poet and his muse with objectivity

and poetic grace. He's the Nick Carraway to

Cohen's Jay Gatsby and Ihlen's Daisy Buchanan as

he watches from an inquisitive distance.

The doc features extraordinary footage of Cohen

and Ihlen that Broomfield shot with D.A. Pennebaker

(Don't Look Back) over the summers in Hydra.

This previously unseen material is a valuable

archive of Cohen's career as he flourished on the

arty island with Ihlen as his inspiration. Both Cohen

and Ihlen's voices appear in archival interviews

atop the footage, as they passed away in 2016 just

three months apart, while Broomfield offers new

interviews with their surviving friends and peers.

This intimate glimpse into the creative process

reflects on the poet's ability to draw inspiration

from a muse, but also stifle her in the service of his

art. The doc offers stories of times good and bad as

Cohen wrote songs like "Bird on a Wire" and "So

Long, Marianne" while under her wing, but then

was unfair to her own aspirations and responsibilities.

Broomfield strikes a personal chord when he

tells how the instability of Cohen and Ihlen's onagain/off-again

relationship had long-term mental

health consequences for Ihlen's son, Axel, who becomes

the film's tragic figure.

Broomfield explains how Ihlen eventually left

Hydra, moved home and settled while Cohen skyrocketed

to fame. The film looks at Cohen's success

in the post-Marianne years as he expanded

his audience by experimenting with musical styles.

Broomfield presents an extensive range of concert

footage that captures the deep, gravelly romanticism

of Cohen's voice.

An extended sequence on "Hallelujah" takes

audiences to the peak of Cohen's ability to craft

success through words of love. John Lissauer, who

produced the record for Cohen, recalls how Columbia

executives feared "Hallelujah" would ruin

Cohen and says the label terminated him immediately

upon hearing the song. Despite the song being

one of the industry's biggest successes, Lissauer

says the label's unexpected dislike for "Hallelujah"

inspired Cohen's retreats to Mt. Baldy monastery

for extended periods of self-reflection.

As Cohen's fortune humbles him in later years,

Broomfield returns him to Ihlen. The film provides

intimate access to Ihlen's's deathbed where

she receives a letter from Cohen that thanks her

for the endless love and inspiration. Broomfield,

surprisingly, doesn't comment on the scene. He

steps back, lets the words of love hang in the air,

and invites audiences to appreciate a life they knew

mostly through songs.

Marianne & Leonard is a touching love letter to

artists and the kindred souls who inspire them.

Marianne & Leonard: Words of Love opens in select

Canadian theatres on July 12 and across Canada in the

weeks that follow.

JULY 2019 BEATROUTE 39
---
JESSIE REYEZ • BAHAMAS • SERENA RYDER

HALF MOON RUN • A TRIBE CALLED RED • WINTERSLEEP

DEAR ROUGE • PEACH PIT • SHAD • JOCELYN ALICE • FOXWARREN

COSMO SHELDRAKE • FAST ROMANTICS • SCENIC ROUTE TO ALASKA

FRED PENNER • THE JERRY CANS • ART D'ECCO • THE BOOM BOOMS

SARAH MACDOUGALL • LUCA FOGALE • daysormay

PARKER BOSSLEY• JESSICKA • THE SUNSET KIDS

HUNTING • BEGONIA • THE MODELOS

SAM LYNCH • TAYLOR JAMES

THE OOT N' OOTS • THE KWERKS

CAT MADDEN

Sat and Sun 11:30 AM to 7PM

Paueru Gai (Powell Street area)

lineup subject to change

MEDIA SPONSORS

JUNE 16

TO SEPT 29

Organized by the Sainsbury Centre for Visual Arts, University of East Anglia in collaboration with the Vancouver Art Gallery

Visionary Partners for

Historical Exhibitions:

Supporting Sponsor:

Generously supported by:

Supported by the Government of Canada /

Avec l'appui du gouvernement du Canada:

Huaijun Chen and Family

Alberto Giacometti, Man Walking (Version I), 1960, bronze, edition 3/6, Collection Albright-Knox Art Gallery, Buffalo, New York, Gift of Seymour H. Knox, Jr., 1961

40 BEATROUTE_1/2Page-PrintAd.indd JULY 2019 1

2019-06-14 5:16 PM
---
07.19

YVR

Cultures

collide at the

Khatsahlano

Street Party:

By YASMINE SHEMESH

Kitsilano's annual multi-block

mega party has always been

about celebrating both its past

and future, whether it be honouring

the area's bohemian spirit and

First Nations history or staging

local music's most exciting upand-comers.

In 2015, in what felt like a sort

of psychedelic mirage, Khatsahlano

reunited original members of

Kitsilano's iconic Poppy Family —

a stalwart of the neighbourhood

back when it was the heart of

Canadian counterculture.

The summer festival, which is

completely free, runs the long

stretch of 4th Avenue in Kitsilano,

from Burrard to MacDonald.

Wander down the former

Rainbow Road to take advantage

of its eclectic array of shops and

restaurants, from longtime mainstays

like veggie eatery the Naam

and Vancouver music slingers

Zulu Records, to newer additions

Chewie's Biscuit Co. and sunglass

retailer Warby Parker.

As always, the music is the

cornerstone of Khatsahlano. This

year, for its eighth edition, nearly

40 musical acts will be taking to

the multiple stages, including Tonye

Aganaba, Jody Glenham, Hey

Ocean! and the Boom Booms.

With vendors, art installations

and food trucks dotted along the

sidewalks, Khats is the perfect

opportunity to support local

business, celebrate the vast local

talent and bask in the patchouli-scented

aroma of community.

Khatsahlano Street Party

July 6, 2019 / West 4th Ave from Burrard

to MacDonald

k

VANCOUVER'S ESSENTIAL JULY HAPPENINGS

JULY 2019 BEATROUTE 41
---
07.19YVRAGENDA

THE PRODUCERS LOUNGE

In Conversation with

Sylvia Massey and Howard Redekopp

When you've worked with Tom Petty, Johnny Cash and

Anthony Kedis, there's going to be wild tales to tell. Legendary

music producer Sylvia Massey will be sharing these

tales and some of her industry insight in conversation with

Vancouver producer Howard Redekopp, known for his work

with acts including the New Pornographers and Mother

Mother. The two will be chatting up close and personal

about music, production, inspiration, and, of course, rock and

roll. Take a seat in the Bryan Adams-owned recording mecca

and prepare to learn from two respected industry experts.

July 6, 2019 / The Warehouse Studios

YVRAgenda

Electric Love Music Festival

Presents Block Rockin Beats

The Electric Love Festival is postponed until 2020

due to venue troubles, but that won't stop them from

having a little fun in the meantime. The party starters

are hosting the first-ever Block Rockin Beats (BRB)

as their not-so-last hurrah. The one-day party will

prove Electric Love still has a pulse, retaining the

same free spirit as its parent festival with live performances

from international artists like Opiuo and DJ

Z-Trip, plus art installations and food vendors.

July 27, 2019 / Waldorf Hotel

Star Wars: The

Empire Strikes

Back in Concert

It's common knowledge that the

battle for the galaxy intensifies

in The Empire Strikes Back,

but the Vancouver Symphony

Orchestra (VSO) is looking

to take music fans one step

beyond a galaxy far, far away.

As part of their Star Wars

summer concert series, the

VSO will be performing John

Williams' epic score alongside

a screening of the thrilling fifth

episode of the unfolding saga.

Up on the big screen in front of

the orchestra pit at the historic

Orpheum Theatre, you've never

seen or heard a Force quite like

this.

July 4-6, 2019 / Orpheum Theatre

Doot

Doola

Doot

Doo!

The Vancouver-based

king of the music

interview, Nardwuar the

Human Serviette has

just been added to the

BC Entertainment Hall

of Fame.

Nardwuar has been

blowing people's minds

with his extensive musical

knowledge and research

on his interview

subjects for more than

30 years, skyrocketing

in popularity after

breaking through to

an online audience

with his YouTube

channel.

While he's travelled

the world interviewing

everyone from Cardi

B to Jay Z, he's

always stayed true

to his roots. He's

had his own show

every Friday on UBC's

CITR radio since 1987

and regularly promotes

Vancouver, often giving

his interview subjects

gifts representative of

the city.

"I can't even explain

myself; So for the

group of people who

nominated me to

explain 'Nardwuar the

Human Serviette' to

the The BC Entertainment

Hall Of Fame is

incredible," he says of

the honour.

Nardwuar dedicated

the award to his

mother, a high school

teacher who he says

"instilled in him a deep

love of history."

He will receive a star

on Granville Street's

Walk of Fame at a

ceremony this summer,

alongside fellow 2019

inductees Colin James

and Breaking Bad

producer Moira Walley-Beckett.

Keep on rockin' in

the free world Nardwuar,

and doot doola

doot doo!

42 BEATROUTE JULY 2019
---
YVRPRIDE

Show

Your Pride

We'd like to think it's possible to have your rainbow cake and eat it too.

With so much going on during Pride it can be tough to decide where to

spend your time and money. This year, BeatRoute's got you covered with

his list of inclusive Pride events for all.

By LAUREN DONNELLY

Drag Carnival

Celebrities, August 1

Pop Puppyteeth hosts

this gritty carnival of drag,

performance, and comedy.

Be dazzled by performers

including Vixen von Flex

and Rubberchild, in what

promises to be an off-kilter,

yet ah-mazing event.

The Really Gay

History Tour

August 1-3, 5-7

The Really Gay History

Walking Tour starts from

downtown to Davie Street

and storyteller Glenn Tkach

will entertain while showing

sites of the city's first gay

bars, bookstore bombings

and a secret gay village.

Tickets $32-$35 at

forbiddenvancouver.ca

Downtown

Queer Party

Celebrities Underground,

Friday, August 2

Kick off Pride with this Davie

Street dance party brought

to you by local talents DJ

Skylar Love of Lick and

Babes on Babes, and DJ

Krista of Downtown Vancouver

Lesbian/Queer Dance

Party, plus sets by DJs Adia

and ManyBothans.

Tickets $20.23 - $25.80 ticketweb.ca

Dyke March

August 3, McSpadden Park

Celebrating its 16th year, the

march starts at 11 am and

moves down Commercial

Drive to end at Grandview

Park for a festival including

local performers, artists

and queer-friendly vendors.

Pride Parade

August 4

What started as a protest

has evolved over the years

to something magnificent.

Come gaze at how far

we've come and to feel

the love for the community

that's pushing the world

further towards equality

and inclusivity.

Details at vancouverpride.ca

Alternative Pride's

Backdoor Pride Edition

Sunday, August 4,

venue TBA

Trust the folx at Alternative

Pride presented by Vancouver

Art and Leisure to

mark the end of the week

with a party of epic proportions.

Dance the night away

amid art installations and

performances.

Babes on Babes

Sunday, August 4

Fortune Sound Club

Vancouver's queer collective

of artists, DJs and

promoters is a reliably

good time and a great

way to discover new local

talent. Multiple rooms of

queer powerhouse talent

from near and far, local

queer dancers, four bars

and karaoke –– it turns

out heaven is a place on

earth.

Tickets $20-$22

eventbrite.ca

Untoxicated

August 4, 2019 6-10 p.m.,

Davie and Thurlow

Clean, Sober and Proud's

2019 event is a party you'll

actually remember. Pride's

substance free celebration

takes place at the

new Thurlow and Davie

Street Stage. A sober

dance party featuring

Drag Race alumni Bob the

Drag Queen, Alaska, Violet

Chachki and local gems

Raye Sunshine, Jaylene

Tyme and Kendall Gender.

Tickets $40 at

eventbrite.com

Late Night Snack

Friday, August 2 and

Sunday, August 4, Save

on Meats

West Hastings diner

Save on Meats teams

up with Alternative Pride

to deliver the ultimate

combo — Food specials

meet drink specials meet

drag performances. And

when the party goes all

night, consider staying

up for the inaugural Late

Night Snack Pride Brunch

on Sunday.

MANDY-LYN

DRAG CARNIVAL:

A Q&A with

Jaik Puppyteeth

Jaik Puppyteeth is hard at work in

his Chinatown studio getting ready

for Pride 2019.

The artist is best known for

queerly nostalgic creations with

acerbic humour, but like most

Vancouverites he has a million

other projects on the go as well ––

writing a regular column, masterminding

comic strips, working on a

new graphic novel and hosting the

annual Drag Carnival during Pride

Week as his surly clown alter ego,

Pop Puppyteeth. He shares his

thoughts on Pride with BeatRoute

and teases what his annual Drag

Carnival spectacle has in store for

Vancouver this year.

Drag Carnival / Celebrities Nightclub /

Thursday, August 1 /

$20: ticketweb.ca

BeatRoute: What's Pop Puppyteeth

been up to these days?

Jaik Puppyteeth: Pop Puppyteeth

has been lying dormant, deep in

the earth like a cicada, ready to

make his annual appearance.

BR: You've said performing as

Pop Puppyteeth became a way

of dealing with social anxiety.

What's Pop like?

JP: Pop is sort of a washed-up

antihero. He's crude and selfish

and borderline talentless. I like

playing that role because putting

on a bunch of prosthetics and a

costume removes me from any

semblance of my persona, and I

can truly be the detached, raspy

curmudgeon that I am inside.

BR: This year the venue for the

Drag Carnival has moved to Celebrities,

why?

JP: The first carnival was at my

studio in Chinatown, then the VAL

Villa, then the Rickshaw, and this

year it's going to be at Celebrities.

I feel like my carnival is a nebulous

entity that I'm always retooling and

playing around with, and it doesn't

have a fixed home. This year I think

it'll be funny to have such a gritty

spectacle in the heart of Davie

Village.

BR: How has Vancouver Pride

progressed over the years?

JP: I feel like there's been a shift

of DIY queer spaces harnessing a

lot of queer energy and throwing

amazing, inclusive, accessible

events. I love the folx at Eastside

Studios/Clubhouse, so keep an eye

out for their events!

BR: Where do you think it has

room to grow?

JP: There's always a lot of work to

be done. I feel like for every space

that opens, there are two that

close. There's also a lot of antipathy

and infighting within the queer

community that would strengthen

us as a whole if steps were taken

to mend it.

BR: Do you have a shareable favourite

Vancouver Pride memory?

JP: Last year when I was in my Pop

Puppyteeth costume I went to an

ATM to get some money for my

merch booth, and the bank security

thought I was robbing them!

BR: Aside from Drag Carnival,

what else are you looking forward

to at Pride?

JP: There are always so many fun

events to go to. I think Untoxicated

this year looks amazing. Also Late

Night Snack at Save on Meats

is always so good. I'm happy my

event is on Thursday, so I have the

weekend to go to other stuff.

JULY 2019 BEATROUTE 43
---
07.19YVRMUSIC

Go Folk Yourself

Vancouver Folk

Music Festival

July 19 to 21, 2019

By YASMINE SHEMESH

W

hen Gary Cristall

co-founded the

Vancouver Folk

Music Festival

(VFMF) with Mitch Podolak in

1978, he was a self-professed

political activist who saw the

stage as a platform for exciting

ideas. 42 years later, the festival

has retained its progressive spirit

alongside principles of inclusivity

and environmental stewardship.

According to artistic director Debbi

Salmonsen, those ideals are what

has kept the fest going all these

years.

"Because of those values,

people feel free to speak openly or

identify however they wish to, and

to speak to issues that might not

be sanctioned at a festival that's

more corporate," she says.

For Salmonsen, honouring the

festival's legacy is about creating

a mosaic of music that reaches

and respects a multigenerational

audience in a broad way.

"Maintaining the festival's artistic

integrity, which has developed over

many decades, is important," Salmonsen

adds. "Our festival has always

been very proud to embrace

diversity, gender identity, sexual

orientation and various cultures of

people from around the world."

This all-encompassing sense

of awareness is also reflected in

VFMF's goal of being zero-waste.

They refuse to sell plastic bottles

— you can bring your own refillable

containers or buy one on-site —

have a composting program, and

work with the Parks Board, as

Salmonsen says, "to leave every

blade of grass as we found it."

BeatRoute Picks of the Fest

Zaki Ibrahim

The wracking emotion Zaki Ibrahim

experienced with the death

of her father and the birth of her

son months apart fuelled her latest,

The Secret Life of Planets.

As joy met grief there, the South

African-Canadian artist fuses all

the different parts of herself to

create a soulfully sci-fi sound.

Sunny War

Ever wondered what American

blues legend Robert Johnson

would sound like in 2019? With

a claw-hammer style that recalls

another time and a soul-rattling vibrato,

Venice Beach busker Sunny

War is the closest you'll get to your

answer.

Corb Lund

Backed by his band, the Hurtin'

Albertans, alt-cowboy crooner

Cord Lund is a celebrated writer of

agricultural tragedies; a real-deal

Canadiana troubadour who is also

dynamite on the guitar.

Basia Bulat

If you're looking for Good Advice —

which also happens to be the name

of Basia Bulat's heartbreakingly

beautiful new album — we suggest

going see the chanteuse perform

live with her signature auto-harp.

Larkin Poe

They might be descendants

of Edgar Allan Poe, but sisters

Rebecca and Megan Lovell are

brilliantly unsettling in their own

right, performing a unique brand

of spooky Southern Gothic-tinged

blues.

44 BEATROUTE JULY 2019
---
STEF CHURA

Establishes

her defiant

voice

on sophomore

album

By KARINA ESPINOSA

B

efore her debut album Messes in

2017, Detroit-based indie songwriter

Stef Chura was playing

bass in various local bands while

writing and self-releasing her own music on

Bandcamp. After gaining the attention of a

few music blogs, comparing her sound to

that of a buzzy indie rock band, Car Seat

Headrest frontman, Will Toledo, reached

out to Chura with a special request.

"It's funny, because literally that day I was

listening to NPR and there was a segment

on Will talking about his album, Teens of

Denial," she says. "Then I checked my inbox

and there was a message from his agent

asking me to go on tour with Car Seat

Headrest. I had to check multiple times to

make sure. I was like, 'Wait, is this the same

person I was just listening to on the radio?

What the fuck!'"

The serendipitous pairing would result in

Chura opening for Toledo's band in 2016 and

then working with him on a seven-inch record

the following year. The two hit it off, bonding

over their Bandcamp beginnings and their

mutual love of rugged guitars. Chura knew

she trusted him enough to produce her next

project and sent him 25 rough demos.

Her sophomore album, Midnight, arrived

last June. Toledo's fine-tuning is evident,

but the record is still firmly rooted in

Chura's experiences. She takes inspiration

YVRMusic

from the different interactions she's had in

her Detroit base, a place that's seen its fair

share of both collapse and resurgence. But

it wasn't so much the city as the characters

she encountered that added to the emotional

core of her album.

"There's a music scene out here that I've

been in forever. A lot of the people that I

met at house shows or dive bars are still

running around in my mind, even after they

moved on and grew up gracefully," says

Chura. "I think because I still know them,

and because I live in Detroit, a lot of my

songs are pretty personal."

Chura grew up listening to music in

the 90s and early 00s, and it shows. On

Midnight she's gathered all her influences

in a hefty mixture of gnarled guitar riffs

and spirited vocals. Whether she's jagged

and disjointed on "Method Man" or playing

with dynamics on the epic "Sweet Sweet

Midnight," every decision seems deliberate.

The biggest difference between this

record and Messes is the renewed vigour

and self-confidence in Chura's voice. Her

distinctive yelp takes centre stage, drawing

comparisons to such alt-rock powerhouses

as Alanis Morissette, Karen O and Liz Phair.

"I actually don't think I sound like Liz

Phair, only because I tried to cover her

songs in a Liz Phair cover band and could

never sing as low as her," she laughs. "But

I guess my voice wasn't something I was

thinking about too much; there wasn't a reference

point or guiding light for me. I think

singing live each night just helped things

come together naturally."

Intelligent and furiously exciting, Midnight

is a product of the fruitful collaboration

between two like-minded artists. But

more than anything, it's a testament to the

growth of a budding musician with a lot

more to show.

Stef Chura performs at the

Biltmore Cabaret on August 1.

YAMANTAKA //

SONIC TITAN:

an explosive force

of nature

By CHRISTINE LEONARD

Like the sound of the sky rending open, Toronto-based progressive

art-rock collective Yamantaka // Sonic Titan enter the summer

festival season. They are a musical meteorite streaking towards the

planet's surface and an explosive force of nature. The gender-bending

experimentalists will be staging their psychedelic space-metal

operas at Canadian dates including Yellowknife's Folk on the Rocks,

the River & Sky camp-out in Field, ON and Victoria's Phillips Backyard

Weekender.

Holding a mirror up to the status quo, Yamantaka // Sonic Titan

appropriates elements of pop, rock and heavy metal and blends

them through influences gleaned from Buddhist, Haudenosaunee

and First Nations traditions, along with their own mixed Asian-European

heritages. Embedded in manga art, video games and science

fiction themes, their enthralling tracks are ablaze with socio-political

commentary. DIRT, their latest album released in 2018, is no

exception. The album revolves around the story of abandoned turtle

starship, Anowara, and the heroine Aentsik's quest to collect the final

remnant of arable soil. It's the same edict the ecologically-minded

band has espoused since the beginning: "If the trees die, we die,"

says founding member and percussionist, Alaska B.

"I think we are concerned about the same things any reasonable

person should be concerned with: anthropogenic climate change,

plastic pollution, overuse of antibiotics, animal extinction, unsustainable

agriculture, pollution, corporate and government surveillance

Indigenous rights, human rights, transphobia, sexism, racism,

homophobia," continues Alaska.

"Our music is often interpreted to focus entirely around the

cultural identity politics, but the lyrical content and themes in our art

all deal with the suffering of living beings, environmentalism and the

inevitability of death."

It's a tall order for humanity, let alone a fringe-dwelling Canadian

rock band, but if anyone's up to the challenge, it's the self-defining,

fire-spitting, world-shaking, dirt-venerating music collective and

theatre company who has earned the surname Sonic Titan.

Edmonton: Thursday, July 11 / 9910

Calgary: Saturday, July 13 / The Palomino

Victoria: Sunday, July 28 / Phillips Backyard Weekender

JULY 2019 BEATROUTE 45
---
07.19YVRMUSIC

The Cheat Sheet BR PICKS THE 5 ESSENTIAL LIVE MUSIC SHOWS

PUNK

METAL

FOLK

HIPHOP

1

THE TUBULOIDS/

BRONXXX

Friday, July 5 at SBC

Surf punks The Tubuloids put on a

ridiculously fun show, made even

better by Vancouver's favourite

punk venue/skate ramp combo.

2

AUGUST BURNS RED/

SILVERSTEIN

Thursday, July 11 at The Vogue Theatre

Early 00s era of metalcore/screamo,

August Burns Red celebrate

the 10th anniversary of their album

Constellations by playing it in full.

3

PUNK IN DRUBLIC: NOFX/

BAD RELIGION/ANTI-FLAG

Friday, July 12 at The Rickshaw Theatre

A craft beer music festival with

edge featuring some of the most

classic names in punk.

4

ROCKET FROM

RUSSIA FEST

July 28 to 21 at the Wise Hall

Vancouver's favourite Russian

hosts his annual shindig with his

choice cuts from the local punk

scene including The Corps, You Big

Idiot and Dead End Drive In.

5

TEN FOOT POLE w/

OFF BY AN INCH/BLACKED OUT

Friday, July 26 at Pat's Pub

SoCal pop punk veterans, Ten

Foot Pole are touring their first

new album in 10 years, Escalating

Quickly..

1

STRIKER/LOST NEBULA

Wednesday, July 3 at The Astoria

Striker's approach to that classic

metal sound, for all we know they

are actually time travellers from

the 80s.

2

COVENANT FEST

July 4-6 at The Wise Hall

The extreme music collective

opens its inner circle and invites

you to witness the three-day underground

madness with acts like

Antediluvian, Sortilegia and Dead

Congregation.

3

BLACK WIZARD/

ANCIIENTS

Friday, July 12 at The Rickshaw Theatre

The riff train careens into the

Rickshaw for a night celebrating

10 years of Vancouver's metal

mainstays Black Wizard and fellow

heavyweights Anciients.

4 BUSHWHACKER/

THE HALLOWED

CATHARSIS/REVENGER

Friday, July 19 at The Astoria

Tech-death, thrash and progressive

sounds all come to hang out for

Bushwhacker's CD release shindig.

5

THE GOLERS/GROSS

MISCONDUCT

Friday, July 19 at Pat's Pub

Vancouver metal scene OGs The

Golers bring you their punk and extreme

metal mashup alongside the

introspective, proggy death metal

from Gross Misconduct.

COUNTRY

1

LUCA FOGALE

Sunday, July 14 at Squamish

Constellation Festival

Burnaby folk singer-songwriter

Luca Fogale is touring in support

of his second full-length album.

2

CORB LUND

Sunday, July 21 at

Vancouver Folk Music Festival

Vancouver Folk Music Festival

favourite, Albertan Corb Lund's

brand of alt-country is always a

good time.

3

WILLIE WATSON

Tuesday, July 23 at the

Biltmore Cabaret

Willie Watson has mastered the

craft of speaking to souls through

strong lyricism and deft instrumentals.

4

MIYA FOLICK

Friday, August 2 at the Fox Cabaret

More pop than folk, Miya Folick

has never been one to do things

the traditional way. Hit up this

show if you want to see a band

that was formed using Tinder.

5

THE JERRY CANS

Sunday, July 28 at the Squamish

Constellation Festival

Heavily influenced by their upbringing

in Iqaluit, Nunavut, The

Jerry Cans combine folk music

with traditional Inuit throat singing.

See feature on Page 15.

1 bbno$

Saturday, July 6 at Holland Park

bbno$ has become a local legend

for his fast-paced mumble rap and

catchy production. Catch him at

this year's FVDED In The Park

2 SONREAL

Thursday, July 11 at

The Commodore Ballroom

Rapper SonReal started out

recording songs on his computer

and now features collabs with

artists like Jessie Reyez on his

new album.

3 COMMON

Tuesday, July 16 at

The Commodore Ballroom

A hip-hop mainstay, Common has

been making music with substance

for almost three decades.

4 ZION I

Friday, July 19 at Biltmore Cabaret

Zion I is the passion project of

rapper Baba Zumbi. The MC easily

collaborates with electronic, rock

and reggae groups.

5

BEAST COAST: Joey

BadA$$ / Flatbush Zombies

Thursday, July 25 at PNE Amphitheatre

Fresh off the release of Escape

From New York, this show promises

to be high energy and hectic in

the best way.

EDM

1 TRUTH

Saturday, July 6 on the Queen of

Diamonds

Truth is a Kiwi duo who make

deep, dark dubstep. Prepare to

start tidal waves on the Ocean

Commotion Boat Cruise.

2

RL GRIME

Saturday, July 6 at Holland Park

One of today's hottest producers

and DJs, RL Grime is one of the

founders of trap music, so if 808s

are your thing, snag your ticket to

FVDED stat.

3

FOREIGN BEGGARS

Saturday, July 20 at Red Room

Foreign Beggars have been

making hip-hop, dubstep and drum

and bass in the UK's underground

scene as a collective since 2002.

This is their final Vancouver show

ever.

4 CRANKDAT

Friday, July 26 at Celebrities

Nightclub

His remix of Fetty Wap's "Trap

Queen" landed him on summer

playlists everywhere three years

ago. He's since turned down a full

ride athletic scholarship from Kent

State to pursue music.

5

A TRIBE CALLED RED

Saturday, July 27 at Squamish

Constellation Festiva

Bear Witness and 2oolman merge

electronic music with hip-hop,

heavy bass, and elements of Indigenous

music for a live show that

can't be captured in the studio.

46 BEATROUTE JULY 2019
---
JULY 2019 BEATROUTE 47