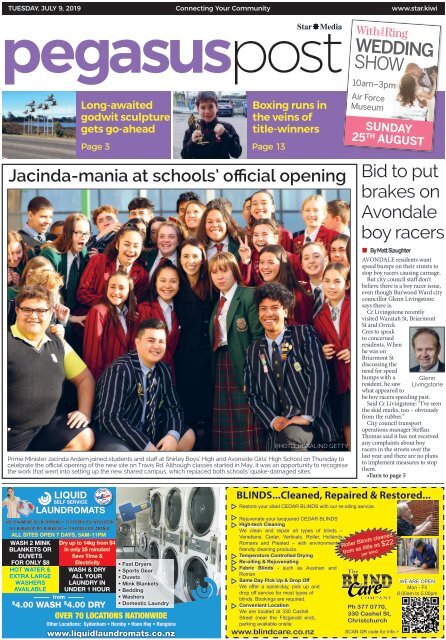 Pegasus Post: July 09, 2019
You also want an ePaper? Increase the reach of your titles
YUMPU automatically turns print PDFs into web optimized ePapers that Google loves.
TUESDAY, JULY 9, 2019

Connecting Your Community

www.star.kiwi

wedding

show

10am–3pm

Long-awaited

godwit sculpture

gets go-ahead

Page 3 Page 13

Boxing runs in

the veins of

title-winners

Jacinda-mania at schools' official opening

PHOTO: ROSALIND GETTY

Prime Minister Jacinda Ardern joined students and staff at Shirley Boys' High and Avonside Girls' High School on Thursday to

celebrate the official opening of the new site on Travis Rd. Although classes started in May, it was an opportunity to recognise

the work that went into setting up the new shared campus, which replaced both schools' quake-damaged sites.

Air Force

Museum

sundAy

25 th August

Bid to put

brakes on

Avondale

boy racers

• By Matt Slaughter

AVONDALE residents want

speed bumps on their streets to

stop boy racers causing carnage.

But city council staff don't

believe there is a boy racer issue,

even though Burwood Ward city

councillor Glenn Livingstone

says there is.

Cr Livingstone recently

visited Waratah St, Briarmont

St and Orrick

Cres to speak

to concerned

residents. When

he was on

Briarmont St

discussing the

need for speed

bumps with a

resident, he saw

what appeared to

be boy racers speeding past.

Glenn

Livingstone

Said Cr Livingstone: "I've seen

the skid marks, too – obviously

from the rubber."

City council transport

operations manager Steffan

Thomas said it has not received

any complaints about boy

racers in the streets over the

last year and there are no plans

to implement measures to stop

them.

•Turn to page 5

liquiD

SeLF Service

LaunDroMatS

345 Stanmore rd, richmond • 713 Ferry rd, WoolSton

261 BurWood rd, BurWood • 319 PageS rd, aranui

All sites open 7 DAYs, 5Am-11pm

WaSH 2 Mink

BLanketS or

DuvetS

For onLY $8

Hot Water &

extra LarGe

WaSHerS

avaiLaBLe

Dry up to 14kg from $4

in only 25 minutes!

Save time &

electricity

WaSH & DrY

aLL Your

LaunDrY in

unDer 1 Hour

from

$

4.00 WASH $ 4.00 DRY

• Fast Dryers

• Sports Gear

• Duvets

• Mink Blankets

• Bedding

• Washers

• Domestic Laundry

over 70 locations nationwide

other locations: Sydenham • hornby • hoon hay • rangiora

www.liquidlaundromats.co.nz

BLINDS...Cleaned, Repaired & Restored...

Restore your oiled CEDAR BLINDS with our re-oiling service.

Rejuvenate your lacquered CEDAR BLINDS

High-tech Cleaning

We clean and repair all types of blinds –

Venetians, Cedar, Verticals, Roller, Hollands,

Romans and Pleated – with environmentally

friendly cleaning products.

Temperature Controlled Drying

Re-oiling & Rejuvenating

Fabric Blinds - such as Austrian and

Roman

Same Day Pick Up & Drop Off

We offer a same-day, pick up and

drop off service for most types of

blinds. Bookings are required.

Convenient Location

We are located at 330 Cashel

Street (near the Fitzgerald end),

parking available onsite

Roller Blinds cleaned

from as little as $22

per blind

Ph 377 0770,

330 Cashel St,

Christchurch

www.blindcare.co.nz SCAN QR code for Info >

WE ARE OPEN

Mon - Fri

8.00am to 5.00pm
---
2 Tuesday July 9 2019

Latest Christchurch news at www.star.kiwi

get in touch

from the editor's desk

WHEN THERE are tyre burnout marks

on a street, it is generally a good indicator

of boy racer activity.

But Avondale residents are having

trouble trying to convince city council

staff there is a problem (see page 1).

They have a simple solution: Put speed bumps in to slow the

boy racers down which will hopefully see them go elsewhere.

But the solution is getting little traction from the powers that

be. And that is understandably irritating the good people who

live on affected streets and pay their rates. City council staff say

they haven't received any complaints about boy racers and have

no plans to put speed bumps in. Burwood Ward city councillor

Glenn Livingstone has now joined the battle.

We will keep you posted.

- Barry Clarke

GENERAL INQUIRIES Ph 379 7100

CLASSIFIED ADVERTISING Ph 379 1100

Star Media, a division of Allied Press Ltd

PO box 1467, Christchurch

starmedia.kiwi

news

Oram Ave extension may have to wait

Work on the extension of Oram Ave from New Brighton mall

to Hawke St may not start as early as hoped.

Page 5

community events

Page 15

tasty bites

PEGASUS POST

Cast a spell at the library

Harry Potter Fun will be held at the Shirley Library on Friday

from 2-5pm.

Busting out the buckwheat

It doesn't have to be hard to eat healthy. Check out these

delicious recipes to find out how.

NEWS

Matt Slaughter

Ph: 021 910 788

matt.slaughter@starmedia.kiwi

ADVERTISING

Elaine Moon

Ph: 364 7436

elaine.moon@starmedia.kiwi

Page 16

The best-read local newspaper, delivered to

15,657 homes every Tuesday

Linwood, Avonside, Richmond, Shirley, Burwood, Dallington,

Wainoni, Bromley, Aranui, Avondale, Bexley, New Brighton,

Northshore, Queenspark, Parklands, South Brighton.

A great lifestyle in a

supportive community

• Stunning serviced

apartments

• Restaurant & bar

• Landscaped

courtyards

• Close to The Palms

Open Monday to Friday 10am – 4pm

or by appointment including weekends.

Apartments

ranging from

$289,500

Call Jenny on 021 993 943 for your own personal guided tour

The Village Palms - 31 Shirley Road, Shirley Where new memories are made
---
PEGASUS POST Latest Christchurch news at www.star.kiwi

Tuesday July 9 2019 3

News

Godwit sculpture finally takes off

• By Matt Slaughter

AN $89,100 sculpture of the

bar-tailed godwits is finally set

to be installed at South New

Brighton.

Because the birds spend

summer in Southshore, the

artwork will

be on show

near the South

New Brighton

bridge. The

project was first

raised by the

South Brighton

Residents'

Association

about three

Bon Suter

years ago.

The sculpture, called The

Godwits, will feature seven

painted, stainless steel birds on

top of tall poles, which will allow

them to rotate in the wind.

The design was approved

by the city council's social,

community development

and housing committee last

week. The project still needs

final approval from the city

council.

A city council spokesperson

said "the Godwits artwork will

be installed following the report

to the city council on July 25."

The artwork has been offered

as a gift to Christchurch by the

FLYING HIGH: An artist's impression of the godwit sculpture

to be installed in South New Brighton.

residents' association, which

commissioned local artist Bon

Suter to design it.

Said residents' association

secretary Seamus O'Cromtha:

"It's been a long, long, long

process. We're very pleased,

obviously. It's good for general

community well-being."

It was proposed as a way to

identify South New Brighton as

an area of natural beauty and a

place where the godwits arrive

and leave from each year.

The committee supported

a recommendation in favour

of the sculpture's permanent

installation and ongoing

maintenance.

Ms Suter is a professional

sculptor and tutor who created

the South New Brighton

Sculpture Park. She has

represented the city council at

the Festival of Arts in Adelaide

and her work is held in public

and private collections around

the world.

While the sculpture will cost

$89,100, $76,000 was raised

by the residents' association

through community events

and donations. The remaining

amount came from the Coastal-

Burwood Community Board's

discretionary fund, with Fulton

Hogan and the city council

covering the installation costs.

The godwits (kuaka)

usually arrive in mid-

September after flying

thousands of kilometres from

their breeding grounds in

Alaska. The wading birds spend

the summer in Southshore

before leaving in March.

Local

News

Now

In Brief

Fire rages, homes at risk

TRAVIS RD MEETING

A site meeting is set to take place

at the median strip west of the

Travis Rd/Bower Ave roundabout

between Hopman Motors owner

Mike Watson, the Coastal-

Burwood Community Board and

city council transport staff. Mr

Watson submitted a petition to the

community board last month to stop

the Travis Rd median strip being

removed to make space for cycle

lanes. He said Shirley Boys' High and

Avonside Girls' High students who

use the median strip to cross will be

in danger if it is removed.

STOPBANK PROJECT STARTS

A project to extend the Avon River

stopbanks in Bridge St, Bridge

Reserve and South New Brighton

began yesterday and will be

completed in September. In April

last year, the city council agreed to

reduce the impact of tidal flooding

from the estuary to more than 500

properties in the area.

MORE BINS WANTED

The North Beach Residents'

Association has asked for more

bins to be installed in the suburb.

The Coastal-Burwood Community

Board requested city council staff

replace several bins with one seagullproof

bin. A meeting between the

association, city council staff and

the community board has been

requested to discuss the issue.

Restoring your confidence through your smile

Next week's

Full service Denture Clinic

and Laboratory

Caldent Denture Cleaner

Free Consultation

No Obligation

Ph: 385 5517 + 396 Innes Road, St Albans

admin@denturesplus.co.nz

+ denturesplus.co.nz

imagination station

Monday 15th July to Saturday 20th July, 10am - 4pm

Build whatever you want - a car, a plane, a flower...

wherever your imagination takes you!
---
4 Tuesday July 9 2019

Latest Christchurch news at www.star.kiwi

News

McMaster & Heap

Veterinary practice

"The Needle"

Last week the decision was

made to open up my beautiful

girl Lola to retrieve a "bent

needle" somewhere in her

abdomen. I debated over this

for 24 hours as I don't like

her having anaesthetics and

I hate cutting her open. She

was telling me she wasn't

right though, lagging behind

on walks and eventually not

wanting to leave the house,

tucked up sore in her abdomen,

head hung low and those sad

eyes staring at me. She may not

speak English but she sure talks

to me.

She is loved and adored by

everyone at the clinic so my

nurses took blood from her

and run them in house. Everything tested

was within normal limits. Richard Lucy then

ultrasounded her abdomen and again

nothing of concern was seen - thankfully.

We radiographed her spine which appeared

normal. What we did find was what looked

to be a needle

sitting ventrally

in her abdomen. I

was aware of the

needle after her

first surgery to

remove her kidney

due to cancer. The

specialist surgeon

mistakenly had

left it behind. I had

been monitoring

its position with

regular X-rays

and it hadn't

moved in years.

Last week when

we radiographed her the needle

had moved and appeared bent,

necessitating removal.

My colleague surgically operated

on Lola as I find it difficult to cut my

girl open. The rusty looking needle was

removed and it had passed through a lobe

of liver causing adhesions to the peritoneal

wall lining. This would have caused her pain.

These were freed up and she was closed and

recovered so quickly with the aid of our "Bear

Hugger' which blows warm air around Lola

on recovery.

She's getting lots of TLC at

home and work and with my

clients. She's adored by so

many and everyone wants

her to recover speedily. She's

fought kidney cancer and

chemo, split pad disease and

intervertebral disc disease.

She's hard to keep down

and out for too long. So far

so good ( Lucky her parents

are vets!!)- she's more

comfortable and

moving better and

that needle had

to go!!

Dr Michele

McMaster

Signage at Bottle Lake

to be improved

• By Matt Slaughter

MORE SIGNAGE will be

installed at Bottle Lake

Forest Park to stop people

getting lost.

The existing signage will

also be improved.

City council head ranger

for coastal and plains

Robbie Hewson said

more map boards would

be installed and minor

updates would be made to

the map boards already in

place.

As well as this, Mr

Hewson said pamphlets

showing the tracks in

the park would now be

available from its visitor

centre.

More markers would

also be installed to ensure

walkers and cyclists could

be sure they were heading

in the right direction,

said Coastal-Burwood

Community Board

member Tim Baker.

Pegasus Post reported last

month, on average there

were between five and 10

police call-outs a year for

people who get lost in the

park.

The Coastal-Burwood

Community Board asked

the city council to improve

• By Matt Slaughter

PHIL MAUGER had not

finished removing a pile of

shingle near The Bower on

Friday morning.

Mr Mauger, who is trying

to oust Burwood Ward

city councillor Glenn

Livingstone from his seat

in October's local body

elections, told Pegasus Post

last week, the job he started

three weeks ago would be

finished by then.

One of the Bower's staff

FOUND YOU: New signage to stop people getting

lost in Bottle Lake Forest Park will be installed and

the existing signage will be improved.

signage throughout

the park to help people

navigate it.

Mr Baker, who

previously told Pegasus

Post he had been lost on his

bike there before, said he

was pleased the city council

had acted on the board's

request.

"It's going to make it a lot

members said the pile was

still there. This was just

before noon on Friday

(Pegasus Post's deadline).

Mr Mauger was not

available for comment.

Last week, Pegasus Post

reported a war of words

had erupted between Mr

Mauger and Cr Livingstone

over the remaining

shingle pile and the fact

Mr Mauger lived outside

of the Burwood Ward in

Avonhead. Mr Mauger said

rather than criticising him,

PEGASUS POST

better and they were very

reasonable and it wasn't a

big deal so it was great."

Mr Hewson said the

planned improvements

would take place soon.

"Signs to be updated are

currently being reviewed

and work will get under

way as soon as the changes

are ready."

Part of shingle pile still remains

Cr Livingstone should "do

door-knocking and just do

common sense electioneering."

Mr Mauger said last

week: "Glenn's about to

get a rocket right up his

a*** very soon in the next

couple of days, because

I am sick and tired of

hearing about the fact that

I don't live in the ward.

Cr Livingstone said he

had not been contacted

by Mr Mauger since this

comment.

CREATE A NEW

WINTER STYLE

with our new stylist, Donna

Open 7 days

Cnr Hoon Hay & Coppell place

phone 338 2534, Fax 339 8624

e. mcmasterandheap@yahoo.co.nz

www.mcmasterheap.co.nz

McMaster & Heap

WARM UP

WITH

Phone 352 1009

358 Main North Road, Redwood

SUNBED | SPRAY TAN | EYELASH | BROW TINTS

WINTER TANNING SPECIALS:

NEW VERTICAL SUNBED: $1.00 per minute

HORIZONTAL SUNBED:

$10.00 off 10x concession card

SPRAY TAN: $20.00
---
PEGASUS POST Latest Christchurch news at www.star.kiwi

Tuesday July 9 2019 5

Oram Ave work may have to wait

• By Matt Slaughter

WORK ON the highly

anticipated extension of Oram

Ave from New Brighton mall to

Hawke St may not start as early

as hoped.

And Coastal-Burwood

Community Board members are

disappointed, saying not starting

the extension as soon as possible

has the potential to damage

investment in the area.

The project is being overseen

by Development Christchurch

Ltd, which said in March it

supported making funding for

the project available sooner.

The board also asked in its

submission to the city council's

Annual Plan if funding for the

extension can be made available

so work can start sooner than

July 2026 as originally planned.

Board chairwoman Kim

Money said it wants the city

council to make $100,000

available between this year and

next year and another $300,000

available between 2020-2021 so

work can start.

However, the city council did

not approve the board's request

at its Annual Plan meeting

and instead asked for more

information about bringing the

funding forward.

Said city council transport

planning and delivery manager

Lynette Ellis: "The funding

needs for any early delivery of a

portion of this work requires an

initial project scope to identify

an appropriate budget amount.

Funding needs are not currently

adequately defined."

She said the information

the city council had asked for

would be provided "as soon as

practicable."

But Coastal Ward city

councillor David East said it

could take "a few months" for the

information to be provided and

this would delay work starting,

which could also damage New

Brighton's growth.

"All delays are not exactly

conducive to getting the right

mix of investor confidence and

projects going forward," he said.

Ms Money was disappointed

with the city council's reaction

DELAY:

The city

council has

delayed its

decision

on

whether

to make

$400,000

available

sooner to

start work

on the

Oram Ave

extension.

to what she believed was a

reasonable request.

"Councillors need to

understand that we're trying to

do a regeneration here and the

board and DCL are asking for

the same thing and time is of

the essence," she said. "To bring

forward that most minor amount

would have been helpful."

Both Ms Money and Cr East

say they are frustrated because

making the $400,000 available

between now and 2021 would

only have a small impact on

ratepayers.

Said Cr East: "The bigger

chunks came in about year three,

and at that stage, it would have a

0.1 per cent impact on rates."

DCL chief executive Rob

Hall said it would support the

city council as it made further

considerations.

Concerns over boy racers

•From page 1

Said Mr Thomas: "The

information currently available

doesn't indicate a specific issue

with anti-social road-user activity

in Waratah St, Briarmont St or

Orrick Cres."

Cr Livingstone disagreed:

"Some residents have told me

that they have been reporting

in the boy racer issue in those

streets to the council call centre

and they haven't had at times

the best of responses or there

hasn't been any action, so they're

feeling frustrated."

"It's definitely a problem and

there are no two ways about it,

and we need to do what we can

to address it."

When asked if Cr Livingstone

was correct, Mr Thomas did not

want to comment.

Cr Livingstone has not

reported the boy racers he has

seen to police. Instead, he asked

the city council to visit the

streets. Once city council staff

had done so, Cr Livingstone

said it would give him stronger

grounds to go to police.

Said a police spokesperson:

"Police are not aware of boy

racer activity on these streets.

We would be glad to receive any

reports from the public that help

us to identify areas to focus on."

Meanwhile, Cr Livingstone

said the city council has a role

BURNOUTS: Residents want

speed bumps in Waratah St,

Briarmont St and Orrick Cres

to prevent boy racers causing

carnage.

PHOTO: MARTIN HUNTER

to play if boy racers are to be

stopped in Avondale. Last week,

he sent a request to city council

staff for speed bumps to be

installed.

Cr Livingstone said the

residents he has spoken to did

not want to go to Pegasus Post

with their concerns as they want

to keep their identities private.

•HAVE YOUR SAY: Do you

have an issue with boy

racers in your street? Email

matt.slaughter@starmedia.

kiwi

Get together

with your neighbours

this summer!

Apply for a subsidy for your Summer

with your neighbours event.

Applications close 16 August 2019.

Apply at:

ccc.govt.nz/GetTogether

Outdoor burning

in winter

During the cooler months, no outdoor burning

is allowed within the Christchurch clean air

zone, including on properties over two hectares,

except for cooking purposes.

Smoke can have a negative impact on air quality

and cause a nuisance for nearby neighbours.

Your local friendly Bar

200gm Steak, Salad & Fries

Just $15.50 or 2 for $25

With a drink purchase on Monday nights

Buy a main meal & get another

for $5 Sunday nights. Conditions Apply

Chats Bar

251 Travis Road,

QEII Shopping Centre

Ph: 388 1566

Tuesday quiz nights

Wednesday karaoke

Thursday live music

Sky Sports

Courtesy van

To report a burning-related incident,

call Environment Canterbury on 0800 765 588.

Head to ecan.govt.nz/outdoorburning

for more information.
---
6 Tuesday July 9 2019

Latest Christchurch news at www.star.kiwi

We're your local...

PEGASUS POST

HIRE

EQUIPMENT

DEPOT & TRADE STORE

TRADE & DIY EQUIPMENT

Power Trowels

Concrete Vibrators

Plate Compactors

Tamping Rammers

Grout Pumps

Floor Grinders

Angle Grinders

Hammer Drills

Rotary Hammers

Power Cutters

Concrete Mixers

Power Generators

Waterblasters

Steam Cleaners

Temporary Fencing

Cones & Barriers

Air Compressors

Trash & Sub Pumps

Dust Extractors/Vacs

Wheelbarrows

Post Drivers

Core Drills

Laser Levels

Diesel Heaters

Dehumidifiers

Carpet Fans

Soff Cut Saws

Brick & Tile Saws

Hydraulic Jacks

Panel Props

Chainsaws

Tarpaulins

Nail Guns

Drywall Sanders

Airless Paint Sprayers

Wall Paper Steamers

Chemical Sprayers

Gib Lifters

Tile Chippers

Electrical Accessories

Roadsaws

...and lots more!

Screw Guns

ACCESS & HEIGHT SAFETY

Mobile Scaffolding

Roof Edge Protection

Scissor Lifts

Cherry Pickers

Safety Harnesses

Single Axle Trailers

Tandem Trailers

Roof Anchors & Connectors

Roof Ladders/Walkers

Platform & Step Ladders

Extension Ladders

Confined Space Equipment

TRAILERS

FREEPHONE

Flatdeck Trailers

Waterblaster Trailers

0508 447 348

for Quotes & Bookings!

Personal service...if we haven't got it we'll find it for you!

Hours Monday to Friday 7am - 5.00pm

72 Treffers Rd Wigram

www.totalsitesupplies.co.nz

CAN'T

COME IN?

We can bring

it to you!
---
PEGASUS POST Latest Christchurch news at www.star.kiwi

Tuesday July 9 2019 7

News

Local

News

Now

Bid to collect and display history along trail

Fire rages, homes at risk

• By Matt Slaughter

INFORMATION is being

sought on the history of the

red zone areas covered by the

Te Ara Ōtākaro Avon River

Trail.

The information collected

will be displayed along the trail,

which runs from the beginning

of the Avon Loop to the edge of

New Brighton through Wainoni,

Burwood, Dallington and

Richmond.

Avebury House Trust

treasurer Hayley Guglietta said

the details about historic people

and places will be on signboards

along the trail.

Mrs Guglietta said the

information – which is being

collected by organisations

including the Avebury House

History Group, New Brighton

Museum, Dallington Residents

Association History Group and

the Avon-Otakaro Network –

would be forgotten if it is not put

on display.

"Our objective is to either

sign locate or digitally locate

heritage information that has

the potential to be lost due to

the red-zoning of that land," she

said.

"As people are getting older

and that information is getting

lost, if we haven't captured it

HISTORY: Avebury House Trust treasurer Hayley Guglietta is seeking information on the red

zone's history to display along the Te Ara Ōtākaro Avon River Trail. PHOTO: MARTIN HUNTER

somewhere, then potentially we

won't know that story and that's

a shame."

One signboard outlining

the history of the Medway

footbridge in Richmond, which

was badly damaged in the

earthquakes, has already

been installed near the

bridge.

Mrs Guglietta said if

enough information is

collected, she hopes the

signboards along the trail

would be on display by the

end of the year.

•If you have information

about the red zone's

history, phone 381

6615 or email admin@

aveburyhouse.co.nz

PEOPLE ARE also being asked to

share information about one of the

settlers who named New Brighton

– Stephen Brooker.

The information and photos

would be displayed on a sign along

the Te Ara Ōtākaro Avon River

Trail. New Brighton and Districts

Historical Society and Museum

president Tim Baker wants to find

photos of Mr Brooker

and any additional

details about his life.

Said Mr Baker: "He

was one of the first

settlers in the area

and someone said

what's this called? He

said New Brighton,

because he came from Brighton

(England).

There is very little information

Tim Baker

available about Mr Brooker, he said.

"It would be nice to be able

to go along and say, well, this is

approximately where New Brighton

was named, in this year by Stephen

Brooker and a bit about him."

Mr Baker said people should

get in touch with him or any of

the volunteer groups involved in

researching the area's history if they

have information about Mr Brooker.

•If you have information

about Mr Brooker, phone

382 6111 or email tim@

davidlawrence.kiwi

JOIN US NOW!

See website for details

COTTON ON KIDS

$10 Fleece tops. $10 Trackpants.

$7.50 short sleeve pyjamas.

Size 1-10 Boys/Girls.While stocks last.

Selected styles only.

PETER ALEXANDER

Sale tops & pants $19. Dressing gowns $39.

Sale sets $39. Kids slipper thongs $2.

While stocks last. Selected styles.

ICEBREAKER

50% off RRP on all

Hoodies and Sweaters.

UNDER ARMOUR

Buy 2 save 20%, Buy 3 save 30%. Discount is

off the lowest marked price. T&Cs apply.

STYLES MAY DIFFER

TO IMAGE SHOWN

BENDON

$20 sale! Lingerie for as low as $20.

Offers include selected Sets for $20, Bras 2

for $20 and 50% off all Naked brand sleepwear.

Selected styles. While stocks last.

Sign up to Smart Deals & be in the monthly draw for a $100 Dress-Smart gift card!

CHRISTCHURCH 409 Main South Road, Hornby

www.dress-smart.co.nz

Open 10am-5pm, 7 Days 03 349 5750
---
8 Tuesday July 9 2019

Latest Christchurch news at www.star.kiwi

PEGASUS POST

now open

M E T R O

nongshim

bowl noodle

range 86g

Hot & Spicy, Shin,

Kim Chi,

Chicken.

$0.99

each

bibigo seaweed snacks 5g

Sesame, Korean BBQ, Wasabi

$1.99

each

nongshim

onion

rings 50g

$0.99

each

jigs potato crisps 70g

Sizzling BBQ, Cheesy Cheese, Sweet & Savoury.

$0.99

each

bibigo

mandu

pork &

vege

dumplings 500g

$5.99

each

bibigo

mandu

pork &

vege

dumplings 907g

$9.99

each

$7.99

each

bibigo

duruduru dumpling

all purpose 710g

jack'n jill potato chips 60g

Salt & Pepper, Extra Hot, Chili Salsa.

$0.99

each

shin

ramyun

multi

pack

5pack

$4.99

each

doowee

chocolate

donuts 10pk

$4.99

Packet

jack'n jill roller coaster 60g

BBQ, Cheese, Honey Butter, Sweet & Spicy.

jack'n jill cloud 9 choco bars

37G Crispies, 45G Overload

$0.99

each

$0.50

each

More opening specials instore

$0.89

each

ding dong

snack mix 100g

ding dong

mixed nuts hot

& spicy 100g

$0.89

each $0.89

each

ding dong

mixed nuts 100g

$1.50

each

oreo mini choc

vanilla cream

biscuit 67g (x24)

Kosco Metro Corner of Colombo Street and liChfield Street
---
PEGASUS POST Latest Christchurch news at www.star.kiwi

Tuesday July 9 2019 9

Beauty is skin deep

Korean skin producs

specific for every skin type

Makeup, hair products,

mens range and more!

• 800 product lines

• Samples on all products

• Try before you buy

Face masks

• Centrum Advance for Adults - 100 tablets $19.99

• Centrum Advance 50plus - 100 tablets $19.99

• Centrum Kids Orange or Strawberry - 60 tablets $9.99

• Centrum for Women or Men - 60 tablets $16.99

Spend $100 on health products

and get a Propolis Toothpaste

free!

Animal face masks

Spend $200

and get five Ekel

Sheet Masks

and one Amino

H.A moisture eye

cream for

free!

Spend $10 on

cosmetics and get one

Ekel Sheet Mask

free!

Spend $50 on cosmetics

and get one Labotica

Cleansing Foam

free!

Spend $100 on cosmetics

and get one Labotica Facial

Water and one Labotica

Cleansing Foam

free!

Kosmetics Corner of Colombo Street and liChfield Street
---
10 Tuesday July 9 2019

Latest Christchurch news at www.star.kiwi

PEGASUS POST

WHY CHoose

for Your next VeHICLe?

It's in our name

- Value!

A vehicle from

Value Cars will have

the best presentation,

best mileage and best

price combination.

We have been

trusted in Canterbury

for over 25 years and a

majority of our customers

are referral or repeat

customers. We stand by

every vehicle and we are

proud of our service.

One location for

every type of vehicle

and under cover makes

for a pleasant buying

experience. Our colour

and low mileage selection

is something we work

hard to provide.

CANTERBURY OWNED

& OPERATED

ESTABLIShED 1993

VALUE

REPUTATION

SELECTION

TRUSTED

HYBrID

PLUS

REGISTRATION

PLUS

REGISTRATION

PLUS

REGISTRATION

PLUS

REGISTRATION

PLUS

REGISTRATION

2014 hONdA FIt

$13,999

Popular, versatile and economical 5 door hatch, current

model, features a 1.3L engine with idle stop, automatic

trans, 5.5 star fuel efficiency, sure stands out finished in

yellow with chrome detailing, stylish black interior, very low

kms, push button start, reverse camera, rear wiper, ABS,

T/C and airbags, inspection won't disappoint!

2016 TOYOTA VItZ

$13,999

Current model, features an economical 1.0L

engine with automatic trans, looks great and

stands out in blue with stylish dark interior,

travelled very low kms, keyless entry, rear

wiper, ABS, T/C and airbags, well worth a look

- fantastic buying!

2014 TOYOTA AquA

$12,999

The Aqua is the smaller sportier version of the

Prius, features a 1.5 litre hybrid energy with

automatic trans, sleek finished in silver, push

button start, rear wiper, rear centre shoulder

belt, ABS, T/C and airbags, perfect around

town vehicle!

2016 SUzUKI bALENO

$14,999

Economical and stylish family 5 door hatch, features

a 1.2 litre engine with automatic trans, travelled

very low kms, cruise control, collision avoidance,

smart ignition, push button start, rear wiper, ABS,

T/C and airbags, great vehicle and great buying!

2015 fORd FOcuS

$18,999

The Focus is a tech savy, enjoyable to drive, family

5 door hatch, features an economical 2.0 litre

engine with 6 speed automatic and 'sport shift'

option, sharp in white with body kit, very low kms,

the Focus has long been one of the best in terms of

handling and this model doesn't disappoint!

PLUS

REGISTRATION

PLUS

REGISTRATION

PLUS

REGISTRATION

2010 SUBARU IMPREZA

$7,999

"Anesis" 4 door sedan model, features an economical

1.5 litre engine with tiptronic trans and 4.5 star fuel

efficiency, looks sharp in white with driving lights and

15" alloys, black partial leather interior, push button

start, rear centre shoulder belt, ABS and airbags,

come and view now!

PLUS

REGISTRATION

PLUS

REGISTRATION

2004 TOYOTA SPAcIO

$6,999

Very popular 7 seater wagon, features the

slightly peppier but still economical 1.8L engine

with automatic trans and overdrive. Looks smart

finished in silver with body kit, driving lights and

14" alloys, rear wiper, low kms, ABS and airbags,

won't last long so don't delay!

2011 JAgUAR xF

$20,999

Luxurious European sedan with refined styling,

features a powerful 3.0L V6 engine with automatic

trans and paddleshift option, looks sleek finished

in dark green with chrome detailing and 18"

alloys, leather interior, heated/powered front seats,

inspection won't disappoint!

2005 NISSAN SKYLINE

$11,999

Well desired sports coupe, 350GT model, features a

3.5 litre V6 engine with tiptronic trans, RWD, looks

sharp in finished in silver metallic on 17" alloys, stylish

black interior with powered front row seats, keyless

entry, A/C, ABS, T/C and airbags, won't last long so

don't delay!

2008 AUdI A4

$14,999

The A4 is part of a line of executive cars produced

by Audi features a 1.8L turbo-charged engine

with tiptronic trans and 4 star fuel efficiency, looks

smart finished in black with driving lights and 17"

alloys, leather interior, powered/heated front seats,

infotainment system, keyless entry, low kms.

PLUS

REGISTRATION

2006 Bmw x3

$15,999

A luxury European 5 door SUV, 2.5 litre engine with

tiptronic trans, looks great in white, factory body kit,

driving lights, factory 18" M-Sport alloys, black leather

interior, 4 star Euro NCAP, cruise control, descent

control, reverse camera, heated seats, safety of ABS,

T/C and 8 airbags, inspection won't disappoint!

PLUS

REGISTRATION

2007 mAzdA cx-7

$13,999

The CX-7 is a stylish, sleek looking, desirable

and spacious SUV, features a powerful 2.3L turbo

charged engine with tiptronic trans, looks sharp in

black with driving lights, chrome details and 18"

alloys, black interior, cruise control, towbar, reverse

camera, keyless entry, ABS, T/C, worth a look!

PLUS

REGISTRATION

2012 mAzdA cx-5

$22,999

A modern tech savy SUV designed to be very

fuel efficient through the use of SkyActiv

technologies like i-stop, 2.0 litre engine with

tiptronic trans, 4.5 star fuel efficiency, really

stylish in red pearl with factory black body kit,

inspection won't disappoint!

PLUS

REGISTRATION

2010 TOYOTA VELLFIRE

$19,999

The Vellfire is a sportier styled version of the popular

Alphard, features a 2.4 litre engine with tiptronic trans,

looks outstanding in dark purple metallic with chrome

accents, body kit, driving lights and 18" alloys, stylish black

interior, push button start, parking sensors, reverse camera,

safety of ABS, T/C and 8 airbags, ride in luxurious comfort!

PLUS

REGISTRATION

2008 mAzdA bIANtE

$9,999

Stylish people mover with room to seat 8. Features

a 2.0L engine with automatic trans and 4 star

fuel efficiency, looks great in white with chrome

detailing, very spacious cabin, keyless entry, ABS

and airbags, well worth looking at if you need to

move a large family or a small group!

Registration for 6 months is $301

Value Cars Warehouse

4.72

32 Moorhouse Ave, P: (03) 366 7768 IMVDA

www.valuecarswarehouse.co.nz
---
PEGASUS POST Latest Christchurch news at www.star.kiwi

Tuesday July 9 2019 11

News

Pump track views sought

SCHOOLS

• By Matt Slaughter

FEEDBACK IS being sought on

a controversial pump track in

Shirley.

The city council began

consultation last week on

an $87,850 temporary track

planned for the former Shirley

Community Centre site.

Shirley resident Don Gould is

concerned about the cost of the

pump track and

is relieved people

have another

chance to make

the city council

change its mind.

He said the

money should be

Don Gould

spent on more

urgent matters,

like managing

the climate emergency, which

was declared by the city council

in May, and reducing chlorine

levels in the drinking water.

"Everybody is going to need to

tighten their belts a bit."

Said city council community

parks manager Al Hardy: "We

are responding to a demand

for youth activities in the area.

There is a gap in our network

for skate and scootering

activities in the Shirley area, so

this proposal works to address

this. In the latest Annual Plan

to be adopted, the council has

included a provision of funding

to address climate change and

water quality."

Mr Gould is also concerned

about spending this much on a

temporary pump track.

"I have no problem at all with

us spending $100,000 – because

this will be $100,000 by the time

we put it all in – on something

that's a permanent civic facility,

but I do have a problem with

spending that money on

something that staff now tell

me is likely to only be there for

a year."

Mr Hardy said a decision on

the pump track's future if it is

installed has not been made.

"It could be moved to another

site that requires activation or

to address another gap in youth

facilities. We haven't confirmed

SKATE:

Public

feedback

on the

pump track

which pupil

Shannon

Smith, 11,

requested

will be

open until

July 29.

how long it will remain at this

site."

In April Pegasus Post reported

on Shirley Primary School pupil

Shannon Smith's 30-signature

petition, which was presented to

the Papanui-Innes Community

Board, asking for a permanent

scooter, skateboard and bike

track to be built at MacFarlane

Park. However, a city council

investigation found the site

at 10 Shirley Rd was more

appropriate.

Shannon told Pegasus Post

he did not want the track to be

temporary, although he said it

would be great while it lasted.

•Have your say on the

planned pump track by July

29 at www.ccc.govt.nz/thecouncil/consultations-andsubmissions/haveyoursay

Pupils train with Rams basketballer

Haeata Community Campus year 6 pupil Mohi Kahukiwa was

taken through his paces by Canterbury Rams basketballer Toby

Gillooly when he visited the school last week. Gillooly joined in

a few games with the pupils and shared his knowledge.

QEII

Panel beater/trainee

manager & sPray Painter

Positions available

We have a great opportunity for two people that are trust

worthy, reliable and can demonstrate team leader qualities.

Must be a qualified panel beater or painter for no less than 5 years and hold a

current Automotive Steel, MIG Welding Qualification and be a confident Structural

repairer. Please forward your CV with minimum 3 contactable referees to

qe2collisionrepairs@outlook.com with the subject line 'Confidential'.

Avonside Girls

& Shirley Boys

High School

Travis Road

We are

here

Bower Ave

Rookwood Ave

oPening hours

Monday 8am – 5pm

Tuesday 8am – 5pm

Wednesday 8am – 5pm

Thursday 8am – 5pm

Friday 8am – 4.30pm

302 Travis Road, North New Brighton, Christchurch | P: 03 388 5187 | E: qe2collisionrepairs@outlook.com
---
12 Tuesday July 9 2019

Latest Christchurch news at www.star.kiwi

PEGASUS POST

CANtAbRIANS

ouR

NEWSPAPERS

Canterbury

readership up

14 %

INCREASE

Reach 164,000* readers

with just one ad in our

Star Max Circ Package.

For advertising enquiries

please contact Shane Victor

Phone: 021 381 765

Email: shane@starmedia.kiwi

*Source: Nielsen CMI Q2 18 – Q1 19.
---
PEGASUS POST Latest Christchurch news at www.star.kiwi

Tuesday July 9 2019 13

Boxers following in fathers' footsteps

YOUNG GUN: Daniel Meehan continued his

impressive junior boxing career by winning at

the New Zealand Golden Gloves in Rotorua.

• By Gordon Findlater

TWO TEENAGE Smiling Tigers

Boxing Club members are following

in the footsteps of their fathers

after winning Golden Glove titles

and gaining selection to the New

Zealand development team.

Daniel Meehan, 16, and Kwhali

Beauchamp, 14, backed up their

recent South Island Golden Glove

titles by going onto claim national

honours by unanimous decision in

Rotorua.

Meehan is the son of Danny

Meehan – a former Jameson Belt

holder. The belt is awarded to

the most scientific senior boxer

at the national championships.

Meanwhile, Beauchamp is the son of

former national champions and now

professional boxer Nort Beauchamp.

The pair have been boxing with

Smiling Tigers for four years

working under coach Mark Fuller.

Beauchamp won the cadet 40kg

title, while Meehan won the junior

60kg title.

"We're absolutely stoked. Not just

for them to win, but the way they

fought was really pleasing," said

Fuller.

Meehan's title came as little

surprise to Fuller. The Christchurch

Boys' High School student has

previously won two New Zealand

title and an Australian golden gloves

title. He also came into the NZ

Golden Gloves on the back of a win

in Australia.

"Because of his work rate and

his angle changes I think he had

SPORT

his opponent flummoxed, it was a

really convincing win for him," said

Fuller.

However, Beauchamp's result

came as more of a surprise for the

fighter shorter in stature than many

of his opponents.

"He's a cracker, really fit, gives it

plenty and has got some really good

skills. I was absolutely stoked for

him," said Fuller.

Titles were also won by Woolston

boxers Hamuera Tainui and Ryley

Sutherland. Tainui took out the

junior 66kg title, while Sutherland

won in the 46kg cadet.

All four Canterbury boxers have

also been selected in the New

Zealand junior development squad

following the Golden Gloves. The

squad will travel to Australia later in

the year.

"They've actually started concentrating

on the juniors as well which

is really good . . . this is the first time

in a very long time that they've sent

away a good size squad like this, it's

going to be great and a good sign of

things to come I think," said Fuller.

"All of those four boys have been

around a wee while now, they're

only young, but they've got quite a

bit of experience and they're only

going to get better with what the

Canterbury association is doing to

support them."

CONTENDER: Kwhali Beauchamp won

the 40kg cadet title.

WINTER BLOWOUT - ON NOW!

ALL STORES OPEN 7 DAYS

Save $400

EU22 Inverter

Generator

Engine: GXR120

Max AC Output: 2200VA

Size: LxWxH (mm)

511x290x425

Operating Hrs (on eco

throttle) 15 hrs

Weight: 21kg

Recoil Start

$2299 Incl

GST

MS250 Chainsaw

Save $200

45.5cc

4.6kg

2.3kW

16" bar & chain

$695 Incl

GST

Battery

HSA25 Hedge Shear

$220 Incl

GST Save $25

Blade length:

170mm

Weight: 0.6kg

Total length:

500mm

Tooth spacing:

19mm

Run time:

up to 110 min

Barbecues, Roasts

& Bakes

Single spark igniter

2 piece grills

Easy-clean drip

tray

5 year warranty

+ 5% OFF ALL Weber

Accessories!

Q 1200 BBQ

Save $23

ONLY @

Northwood

& Rangiora

$426 Incl

GST

FS38 Linetrimmer

420/38 Ride on Mower

Duracut Lawnmower

RE119 Waterblaster

27.2cc 4.1kg 0.65kW

Save $20

$175 Incl

GST

Engine: 420cc MTD OHV

Drive System: 6 spd Cruisematic

PTO Clutch: Manual

Cut Height: 3.8 - 10cm

Deck: 97cm/38"

Save $330

$2969 Incl

GST

Engine: 140cc Lawnmaster

OHV 480

Chassis: Steel Base

Cut Width: 460mm, 18"

Cut Height: 10-65mm

All pricing includes GST. Images may vary from in store product. Offers valid until 21st July, 2019 or while stocks last.

Store opening hours: All stores open 7 Days: Mon-Fri 8am - 5.30pm, Sat 9.30am - 3pm, Sun 10am - 3pm. 12 month interest free is available - see in store for details.

Save

$38

Incl

$341 GST

Save

$300

230V

2.1kW

6.7lt/min

1812 working psi

Hose length: 8m

+ receive a FREE RA101

Patio Cleaner worth $197!

Incl

$495 GST

STIHL SHOP Northwood - 554 Main North Road, Belfast, Christchurch - Ph: 03-974-2469

STIHL SHOP Rangiora - Corner Lineside and Station Road, Rangiora - Ph: 03-313-3398

STIHL SHOP Fosters - 559 Blenheim Road, Sockburn, Christchurch - Ph: 03-343-6339

www.stihlshopchristchurch.co.nz

LOVE YOUR LAND
---
14 Tuesday July 9 2019

Latest Christchurch news at www.star.kiwi

PEGASUS POST

Valid for any purchase from 25/06/19 to 15/07/19. Terms &

Conditions apply. See in store for details.

STOREWIDE SALE

BIRTHDAY

NOW ON!

Sale ends

15.07.19.

Livorno 3 Seater - Black

WAS $2199

NOW

$1699

Indie Bunk Bed

WAS $999

NOW

$599

Aria Corner Sofa

WAS $3599

Real leather!

NOW

$2499

Allessa Sofa with Ottoman – Storm

WAS $2999

NOW

$1999

Catania 3 Seater

Black

WAS $2599

Real leather!

SAVE

$

1000

SAVE

$

900

NOW

$1699

Shop

Online

Nationwide

Delivery

Finance

Options

targetfurniture.co.nz

Don't miss out on great Birthday STOREWIDE SAVINGS! In store and online.

Cnr Blenheim & Curletts Rds, Christchurch

Ph: 0800 TARGET (0800 827438)

Offers and product prices advertised here expire 15/07/19.

Sale excludes Manchester and Accessories.
---
PEGASUS POST Latest Christchurch news at www.star.kiwi

Tuesday July 9 2019 15

Email matt.slaughter@starmedia.kiwi by

5pm each Wednesday

Senior Net New Brighton

Tuesday, Wednesday and

Thursday 10am-noon (by appointment)

Go along for a group offering

assistance to mature people with

modern technology including

computers, tablets, smartphones,

email, Facebook, Skype, Word,

cellphones and the internet.

202 Marine Pde (next to the

New Brighton Club)

JP Clinic at Shirley Library

Tuesday, 10am-1pm

A justice of the peace will be

available to members of the community

to witness signatures and

documents, certify document

copies, hear oaths, declarations,

affidavits or affirmations as well

as sign citizenship, sponsorship

or rates rebates applications. No

charge.

Shirley Library

SAYGo Steady As You Go

Falls Prevention Exercise

Class

Tuesday, 10am

This is a specially-designed

class to help you not to fall.

There will be a $2 koha entry.

There is no booking fee

required, those interested are

invited to just turn up on the day

and see what the class can do for

them.

Parklands Community Centre

Ascot Sit and Be Fit

Wednesday, 1-2pm, and Thursday,

9.30-10.30am

Complete a class of exercises

without even leaving your chair.

The cost of the class is $4 and

with this, you'll get a cup of tea

or coffee.

Ascot Community Centre

Rocket Club

Wednesday, 3.30-4.30pm

Go along and take part in different

activities based on local

and current events in a learning

environment. Homework help is

available during this time. Free

and no bookings required.

Aranui Library

Scrabble Club

Tuesday and Wednesday, 1.30-

3.30pm and 1-2.45pm

Go along to the Scrabble

Club. No obligation, just go

along when you can and join the

friendly group. All materials are

supplied. No fee.

Parklands and Shirley libraries

Reading to Dogs

Tuesday and Wednesday, 3.30-

4.30pm

This programme is designed

to provide an atmosphere that

encourages children to develop

their reading skills and a love for

reading in front of some furry

friends.

Shirley and New Brighton

libraries

CV help

Thursday, 10-11.30am

A librarian will be on hand

to assist customers who need

help with their CV or

resume.

New Brighton Library

Technology Help Drop-in

Sessions

Thursday, 3.30-4.30pm

Go along to drop-in sessions

for help with email, searching

the internet, using the library

catalogue, eBooks, and general

computer queries.

Shirley Library

Cards Club

Friday, 1.30-3.30pm

This weekly club will be held

every Friday, just go along and

join the fun. Free, no bookings

required.

Shirley Library

Makerspace

Friday, 3.30-4.30pm

Go along to weekly Makerspace

sessions and get hands-on

with activities for all ages. Something

new every week.

Aranui Library

Culture Exchange

Friday, 3.45-4.45pm

Go along and make new

friends, practice English and

learn about New Zealand and

Christchurch.

Shirley Library

New Brighton Seaside Market

Saturday, 10am-2pm

Go and enjoy a warm and fun

atmosphere beside the seaside.

With live entertainment, food

Harry Potter fun

will be held at

Shirley Library on

Friday from 2pm

until 5pm. Go along

and celebrate the

magical world of

Harry Potter with

activities for all ages

including wand

making.

and free face-painting.

New Brighton Pedestrian

Mall

Golden Oldies Movie screening

– Don't Look Now: We're

Being Shot At

Monday, 1.30pm

Go along for this 1966 comedy/war

starring Terry Thomas.

Amiable Frenchman and

unwitting Germans aid a British

bomber crew that bailed out over

Nazi-occupied Paris. $2.

New Brighton Museum, 9

Hardy St

Marshland Table Tennis Club

Monday, 7.30-9.30pm

Go along every Monday night

until October 14. Casual players

are welcome – $5 for adults per

night, $3 for juniors under-18.

Marshland Hall, 430 Marshland

Rd

Seven retirement villages

in Canterbury

The "perfect wintertime

solace, right through to

the razzle-dazzle of its

joyous grand finale."

William Dart, NZ Herald.

PRESENTS

The Barber

of Seville

• Halswell • • Rangiora •

• Mairehau •

• Beckenham • • Riccarton • • Papanui • • Hornby •

ISAAC THEATRE

ROYAL

1 – 7 AUGUST

BOOK NOW

nzopera.com

www.rymanhealthcare.co.nz • 0800 000 290

NZO0034CS
---
16 Tuesday July 9 2019

Latest Christchurch news at www.star.kiwi

Tasty Bites

Local

News

Now

PEGASUS POST

Fire rages, homes at risk

Eat healthy using delicious ingredients

Salads never need to

be boring, as seasonal

ingredients are just that

– seasonal. Winter brings

delicious flavours and

textures which go great with

grains. But don't forget to

add a punchy dressing

Buckwheat with

autumn vegetables and

pomegranate dressing

Ingredients

250g buckwheat groats, rinsed

well

1 bulb fennel, cut into thin

wedges

250g pumpkin, peeled and

deseeded, cut into cubes

1 red onion, peeled and cut into

wedges

¼ cup parsley, roughly chopped

2 Tbsp fennel tops, roughly

chopped

Dressing

2 Tbsp pomegranate molasses

1 Tbsp maple syrup

4 Tbsp olive oil

¼ tsp ground cinnamon

Pinch of salt

Directions

Heat the oven to 200 deg C.

Bring a medium-sized pot of

lightly-salted water to the boil.

Add the rinsed buckwheat and

cook for 25-35min. The groats

should be tender when cooked.

Drain and rinse under cold

water. Put into a large bowl.

While the groats are cooking,

prepare the vegetables.

Put the chopped vegetables

into a bowl with enough olive

oil to coat them well. Season

with salt and cracked pepper.

Toss to combine. Spread evenly

over a suitably-sized oven dish.

Roast, turning occasionally so

the vegetables cook evenly and

colour all over (30min).

Add the ingredients together

and pour over the dressing in a

small bowl and whisk together.

Add the roasted vegetables to

the cooked buckwheat, drizzle

over the dressing and add the

herbs. Toss gently to combine,

taste and adjust, seasoning if

necessary.

Top off your healthy salad

with a nutritious treat

Hazelnut bliss balls

Ingredients

½ cup hazelnuts

½ orange (juice and grated zest)

1 cup fine coconut

1 Tbsp coconut oil

½ tsp cinnamon

1 Tbsp dark cacao powder

1 tsp vanilla essence

Pinch of salt

Chunks of your favourite (storebought)

dark chocolate for the

centre of each bliss ball.

Directions

Place all the bliss ball

ingredients (except the chunks

of chocolate) into a bowl and

mix well. Then roll balls out of

the mixture.

Push a chunk of chocolate into

the centre of each bliss ball while

shaping them in your hands. You

can choose how big you make

the bliss balls.

3 issues $20

6 issues $44.50

10 issues $65

SUBSCRIPTIONS FREEPHONE

0800 77 77 10

rugbynews.co.nz
---
PEGASUS POST Latest Christchurch news at www.star.kiwi

Tuesday [Edition July 9 datE] 2019 17 3

continuing education

Learn business

and computing

for free

Vision College's free 20-week Certificate in Business

(Administration and Technology) is a level 3 course

that offers computer skills within a business focus for

those wanting to retrain for modern office systems.

The course is designed for those wanting to run

the admin side of their own business, work in an

administration role, or upskill. While covering

computer applications like Microsoft Word, Excel

and Publisher, it includes business report writing,

communication skills and creating business

documents.

Vision College's self-paced course allows students to

work through a series of computer-based skills with

tutor support, at times that suit their lifestyle. "Classes

are held during normal working hours, but we can be

flexible with hours that best suit our student's lifestyle."

says Gary Taylor, Vision College Campus Manager.

"So, the learning is delivered by way of a workbook,

along with organised tutorials where tutors are on

hand to offer one-on-one tuition when required. While

some theory is included, the course is very practical

and students are at a computer from the first lesson."

Added Taylor.

This course is available for domestic students aged

16+.

We recommend students bring their own devices to

work from, however, we do have computers available

for students who do not have access to their own.

Vision College are enrolling now for their July

intake. For more information call 0800 834 834, txt

'OFFICE' to 027 557 8839, or visit the website www.

vision.ac.nz to enrol online.

School's not

for everyone!

Is school not working for your teen

for more info,

TXT

'STUDY' TO:

027 557 8839

ENROL

NOW!

www.

study

withus

career

Ultimate

Security

digital media

decider

& forces

prep

Business Admin

Early Childhood

Web & Software

.co.nz

GAIN

NCEA

CREDITS

50 Hazeldean Road, Addington

0800 834 834 www.studywithus.co.nz

*conditions apply
---
18 Tuesday [Edition datE] July 9 2019

Latest Christchurch news at www.star.kiwi

4

continuing education

PEGASUS POST

adult and community

education at Risingholme

community centre

It has been an exciting time in the history of

Risingholme Community Centre with the Mayoral

Opening of Risingholme Homestead on a frosty June

the 5th morning. The official opening was followed by

a Community Open Day on Saturday the 8th June when

members of the community and friends of Risingholme

were welcome to tour the refurbished homestead and

hall as well as participate in various demonstrations

and events that were run throughout the day.

After over 8 years Risingholme Community Centre's

office is once more operating from the Risingholme

Homestead at 22 Cholmondeley Avenue, Opawa.

Risingholme Community Centre continues to offer

a wide range of exciting learning opportunities across

the city. With the start of term 3, Monday 29th July, just

around the corner why not enrol in one of our exciting

classes – www.risingholme.org.nz. Enrolments can be

made anytime throughout the year.

Risingholme's strong focus on language development

continues with a wide range of language courses at a

variety of levels – ESOL, German, Italian, Arabic,

Russian, Sign Language, Spanish and Te Reo Maori.

Risingholme's traditional base of art and craft courses

continues to flourish with a full range available at a

number of venues. They include art, fabrics, pattern

making, woodwork skills, health & fitness and wellbeing,

computing, guitar and photography, as well as

many others.

The full programme for Term 3 is available on our

website at http://www.risingholme.org.nz/courses

For more information on classes at Risingholme,

Riccarton High School, Christchurch Girls' High

School, Village House New Brighton, and Hornby

High School, contact the Risingholme Community

Centre at 332 7359 or e-mail info@risingholme.org.

nz

Brochures are available at the Risingholme office

and public libraries.

Explore the

issues that

matter most

This winter you can explore some of the most pressing issues of

our time with a variety of courses, talks, film events and workshops

at the Canterbury Workers Educational Association (WEA).

Whether its understanding fake news and how to spot it or

finding out about climate change; preparing for the local body

elections or learning ways to reduce your plastic use; there are a

huge number of courses to choose from. Here is a small selection

of the 50 or so on offer in Term 3:

Waste Not! – DIY ways to reduce your household rubbish -

Series, starts 31st July, Wed afternoons, from $5

Foraging for Food in New Zealand - Wed 4th Sept 7pm, $gold

coin koha

Local Elections: What are you really voting for? With Garry

Moore - Wed 18th Sept 7pm, $gold coin koha

Films that Matter – Documentary films with discussion:

Fools and Dreamers, Chasing Coral, The Age of Stupid - Friday

afternoons in August and September, from $7

Machine world: Explore the social, economic and political

implications of technology - Series starts 1st Aug, 12.30-2.30pm,

8 Thursdays $76

Technology 101: What is Fake News and How to Spot it - 2nd

September 1-2.30 $8

The WEA is located right in the heart of the city opposite the

Christchurch Art Gallery on Gloucester Street. It is a community

focused organisation committed to keeping course fees as low as

possible and to providing interesting, relevant, adult education

opportunities for the people of Christchurch. To find out more

about the WEA and to book your spot on any of their courses visit

www.cwea.org.nz visit them at 59 Gloucester Street or call

03 3660285.

Adult and Community Education Term 3, 2019

Come learn with us

Risingholme Community Centre offers

a wide range of short courses, each term,

at a range of venues.

Risingholme Community Centre

Art (Create with Pastels & Paints, Mixed Media, Watercolour, Painting with

Acrylics), Drawing & Sketching, Embroidery, Fabric & Craft Skills, Guitar,

Pottery, Sewing Skills, Upholstery, Using your Overlocker, Weekend Sewing

classes, Yoga, Wood Sculpture, Woodwork, Woodwork for Women, Zentangle,

Printmaking, Fermented Foods, Plastics Free, Waiata, Te Reo Maori, Patchwork

and Quilting, Pattern Making.

Christchurch Girls' High School

Dressmaking, Embroidery, Te Reo Maori, Watercolour Painting, Drawing

& Sketching, German Language, Painting with Acrylics, Spanish, NZ Sign

Language.

Hornby High School

Sewing Skills, Thai Cooking, Te Reo Maori, Uke-it-up.

Riccarton High School

Calligraphy, ESOL Business English Intermediate, Indian Cooking,

Italian Language, NZ Sign Language, Russian Language, Sewing Skills,

Spanish for Travellers, Te Reo Maori, Arabic, A Taste of Egyptian Cooking,

Picture Framing, Mediterranean Cooking, Italian Cooking

The Village House - New Brighton

Te Reo Maori, NZ Sign Language.

Full details available on www.risingholme.org.nz

Risingholme office at 22 Cholmondeley Ave, Opawa, Chch

Phone 332 7359 | Email info@risingholme.org.nz

www.risingholme.org.nz
---
PEGASUS POST Latest Christchurch news at www.star.kiwi

Tuesday [Edition July 9 datE] 2019 195

continuing education

adult and community

education courses for

term 3

christchurch

School of Music

With winter upon us why not take the

opportunity of longer evenings to take up

a new hobby, learn a new skill, meet some

new people and have fun at the same time

then join one of Papanui High School's

exciting range of Adult and Community

Education Courses for Term 3 beginning

from 29 July. We have a wide range of

courses to choose from Art to Yoga and

everything in between. New courses on

offer for Term 3 include Life Drawing,

Drawing using Pastels and Charcoal,

Book Art, Sign Language, Writing

Books for Children & Young Adults, and

Cooking for those who are Gluten Free,

Dairy Free, Vegan and or Vegetarian.

We guarantee you will find something to

appeal regardless of age or interests.

For further information and

enrolment in this or any of our courses

please visit our website www.papanui.

school.nz or telephone our office on

3520701, or email Barbara Roper

rpb@papanui.school.nz

Did you know that musical training

can change brain structure and function

for the better? It can also improve longterm

memory and lead to better brain

development, particularly for those

who start at a young age. So why wait

any longer?? Come and join us at the

Christchurch School of Music!

CSM is a not-for-profit organisation with

a strong focus on community. From ages 2

to 92 we have something for everyone. On

a Saturday morning the whole family can

find something to suit.

For the young ones there are pre-school

and junior school classes, "Take Off with

Music", 41/2 year olds can start on Suzuki

strings and at 6 the recorder is a great

instrument to learn. In 2019 we have a

fantastic deal for beginner recorder players

– just $52 for a year of tuition and this

includes a recorder and a book!!

Older children and adults may opt for

group or individual lessons on a specific

instrument (including voice). With six

orchestras, two concert bands, a Big Band,

a jazz combo, six wind ensembles, rock

bands, two choirs, chamber groups, a

samba band and a guitar ensemble there is

an ensemble to suit all levels and all ages.

If affordability is an issue, CSM may be

able to offer a discount through funding

provided by the Rata Foundation.

Find out more about us or enrol any

time at www.csm.org.nz

CANTERBURY WORKERS EDUCATIONAL ASSOCIATION

www.cwea.org.nz 59 Gloucester Street, Christchurch 03 3660285
---
20 Tuesday July 9 2019

Latest Christchurch news at www.star.kiwi

PEGASUS POST

Calling for exhibitors

weddingshow

Sunday 25th August, 2019 Air Force Museum, Christchurch

To exhibit at this fantastic show, please email mark.sinclair@starmedia.kiwi for more info.
---
PEGASUS POST Latest Christchurch news at www.star.kiwi

Tuesday July 9 2019 21

REAL ESTATE

Living the dream…

56 Purau Port Levy Rd, Purau Valley, Lyttelton Harbour

Price: $799,000

4 bedrooms | 2 bathrooms | 2 living rooms | 2 car garage | Listing Number: 8885

A charming, delightful 1950's bungalow set

on nearly 1 acre of flat and very productive

land. North facing, sheltered, sunny and

private, this charming home is in excellent

order throughout having been loved and

carefully maintained over the years.

The top level of the house comprises 2

living areas, a large modern farmhouse style

kitchen with plenty of storage, a massive

master bedroom with adjoining bathroom

and a single bedroom currently used as an

office.

The master bedroom opens onto a covered

North facing verandah with a cosy coveredin

area with a day bed, the perfect place to

enjoy the afternoon sun, peace and birdlife

and to while away a few hours. Downstairs,

(externally accessed) are 2 double bedrooms,

bathroom and a kitchenette/dining area so

semi self-contained, perfect for extended

family or teenagers.

This is a rare opportunity to purchase in

the beautiful picturesque Purau Valley and to

obtain a small manageable holding like this is

really one of a kind.

The land is a mixture of lawns, gardens

and the most established and productive

orchard I have ever seen, with many many

fruit trees established vege beds and native

plantings. There is excellent access, a large

double garage, greenhouse and other useful

sheds and most importantly excellent water

supplies.

My vendors are retiring very reluctantly

and have loved every minute of the 10 years

they have spent here.

Purau Bay is approximately 30 minutes'

drive from Christchurch, making it a highly

desirable destination as it is so useable being

close to Christchurch.

Properties in this lovely valley and by

such a safe swimming beach are defying all

the odds and selling fast generally as they

come up very seldom. Excellent swimming,

boating, walking and stunning sunsets on

the hills, quick and easy access to Lyttelton

via the Diamond Harbour ferry (approx. 5

mins), local shops, cafés and bar make this a

fun filled place to visit.

Properties here make an excellent

investment and Purau Bay and valley is a

truly magical place to live.

To view this home contact Tim

Dunningham of Min Sarginson Real Estate

(Licensed Agent REAA 2008), phone 027

651 5474 or 329 4161

growing with you June 2018 | 100%

Plants For

winter wow

Cool Choices

For Colour

& Contrast

From swamp

to sea views

The journey

begins with sarah

the Gardener

$7.90 incl. GST

Snap it up

Enter our annual

Birdlife Photo

Competition to win

great prizes!

clear the air

Why groWing

indoor PLAnTs is

so good for you

give it a grow

from gArLic

To chinese

ArTichokes,

We hAve your

groWing TiPs

covered

the latest releases

into the rose world

+ rose care

through winter

The magazine for

gardeners who like to get

their hands dirty

SUBSCRIBE FROM

$43. 50*

*6 issues/6 months

SUBSCRIPTIONS FREEPHONE

0800 77 77 10

WWW.GARDENER.KIWI
---
22 Tuesday July 9 2019

Latest Christchurch news at www.star.kiwi

PEGASUS POST

If you want more information about an item or to contact a

seller, visit www.postanote.co.nz and search the ID#

Firewood - 1m Lengths

Subaru Legacy B4 Manual

Lounge Suite/Fold-out Bed

Isuzu Bighorn

Kemble Piano

2000 Subaru Impreza AWD

$50 per trailer

ID 29533

$3,000

ID 29697

$150

ID 29708

$4,500

ID 29655

$1,100

ID 29707

$7,500

ID 29549

Classic Wire Wheeled Trailer

Nissan Truck, Long Deck

Merino Mink Scarf

Ford Mondeo

Haines Hunter V17r. 18 foot

Samsung Oven

$750

ID 26079

$750 ono

ID 29693

$10

ID 29665

$3,000

ID 29647

$10,000

ID 29561

$750

ID 29025

Ladies Bike

Nissan Maxima

Breville Advance Deep Fryer

Ford Model A 19-inch Wheels

Master Brand Padlocks

Brumby Leather Lounge Suite

$150

ID 29410

$900

ID 21212

$10

ID 29028

$150

ID 29681

$40

ID 29588

$150

ID 29633

Mens Ski/Snowboard Jkt Size M

Subaru Legacy Sport

DVD Player

High Sierra Hydration Pack

HP Photosmart Printer

Two Sets of Draws

$150

ID 29630

$8,500

ID 29501

$30

ID 13954

$40

ID 13925

$50

ID 13952

$40

ID 29611

Carport — To Be Assembled

Washburn 335 Electric Guitar

De Longhi 4-slice Toaster

Vintage NZ Pine Wardrobe

2018 Yamaha YZF250

Pedestal Basin

$2,000

ID 29612

$650

ID 29609

$25

ID 29584

$100

ID 29580

$8,500 ONO

ID 29567

$20

ID 29557

Mercedes a160

Porcelain Doll

2009 Ford Mondeo

Chrysler 140 Outboard

Meadow Hay Bales

2008 Hyundai Tuscon City

$7,800

ID 27795

$25

ID 25905

$7,000

ID 29542

$800

ID 29541

$7

ID 29538

$8,500

ID 29537

Honda Fourtrax/Rancher TRX350

Hay Tedder/Rake

Honda 3-wheeler ATC200cc Trike

Yamaha YZF450

McCormick Tractor 115

Wing Chair & Footstool

$2,200 ONO

ID 29530

$100

ID 29528

$300

ID 29527

$5,000

ID 18400

$29,500

ID 27890

$450

ID 10720

0619h09chch
---
PEGASUS POST Latest Christchurch news at www.star.kiwi

Tuesday July 9 2019 23

Classifieds Contact us today Phone our local team 03 379 1100

Collision Repairs

QEII Collision Repairs.

Free Courtesy Cars

(conditions apply),All

Insurance work,Rust

Repairs &Private work.

Spray-painting.

Free pickup & delivery.

Ph. 03 388 5187

Community Events

ALCOHOLICS

ANONYMOUS, If you

want to have a drink that's

your business. If you want

to stop, we can help. Phone

0800 229-6757

Wanted To Buy

CASH FOR

STAMPS,

COINS &

GOLD

Free Appraisals

Call Matt at

The Stamp and

Coin Exchange

134a Riccarton Rd

0800 39 24 26

We can come to you.

Call today.

Health & Beauty

KATANG

Fitness

Held at St Faiths Church Hall,

46 Hawke Street, New Brighton

Sit & Be Fit

Monday 1 – 2pm

$4 per class

Movement to Music

Thursday

9.30 – 10.30am

$5 per class

For more info contact Katrina 3811704 or 0274966845

Wanted To Buy

AAA Buying goods

quality furniture, beds,

stoves, washing machines,

fridge freezers. Same day

service. Selwyn Dealers.

Phone 980 5812 or 027

313 8156

TOOLS Garden,

garage, woodworking,

mechanical, engineering,

sawbenches, lathes, cash

buyer, ph 355-2045

Trades & Services

AAA HAnDyMAn

licensed carpenter

LBP, all property and

building maintenance,

repairs, bathroom/shower

installations, with free

quotes 03 383 1927 or 027

245 5226 ciey@xtra.co.nz

BRICKLAyER

George Lockyer .Over

40 years bricklaying

experience.UK trained.

Insurance work, EQC

repairs, Heritage

brickwork & stonework

a speciality. No job too

small. Governers Bay.

Home 329 9344. Cell

0276844046. E mail

georgelockyer@xtra.co.nz

Trades & Services

BLOCKED

DRAINS?

• Video inspection

• Waterblasting

• liquid Waste

pH: 03 365 7960

24 hours // 7 days

info@h20jet.co.nz

www.h20jet.co.nz

BUILDER QUALIFIED

Decks, T & G Flooring,

Villa Restoring, New

Homes, Weatherboards.

Free Quotes. Bennet &

Sons Ltd Sam 027 496-

9362 or Tony 027 224-

0374

*****************

CARPET & VInyL

Laying. Exp Repairs,

uplifting, relaying,

restretching. Email

jflattery@xtra.co.nz ph

John on 0800 003 181 or

027 2407416

FEnCInG

25 yrs exp. Fencing, all

styles & gates. Ph Mark

0273 313 223

GLAZIER

Glass repairs - pet doors

- conservatory roofs. Exp

Tradesman. Call Bill on

022 413 3504 or 981-1903

Trades & Services

HALSWELL

GLASS & GLAZING 2017 LTD

THE PET DOOR SPECIALIST

• PET DOORS

• NEW GLAZING

• FRAMELESS SHOWERS

• MIRRORS

• INSURANCE CLAIMS

• RETRO GLAZING

• BALUSTRADING

ALL SUBURBS COVERED FOR

ALL YOUR GLAZING NEEDS

PHONE GAIL OR SARAH ON

322 7999 OR 021 CAT DOOR

(228 3667)

PAInTInG

& Decorating Wingfields

Contracting, all interior

& exterior painting & all

forms of interior plastering

& jib fixing, ph Mark 021

171-1586

PLUMBER

A Top Plumbing job

completed at a fair price,

prompt service, all work

guaranteed, ph Brian 960-

7673 or 021 112-3492

SPOUTInG CLEAnInG

Spouting Unblocked,

Cleaned Out and Flushed

Out. Call Trevor 332 8949

or 021 043 2034

STUMP GRInDInG

Best price guarantee Tony

0275 588 895

TILER/CARPEnTER

35 years exp, no job

too small. Ph Ross 027

4311440.

Trades & Services

Computer ServiCing

Computers New or X-Lease

WE'VE GOT IT COVERED!

• PC and laptop service & virus removal

• At home WiFi setup

• On-site service & network setups

• Laptop repairs to broken screens, power

sockets and liquid damage

• Insurance quotes and repairs

• Tablet & smart phone repairs

Serving christchurch for over 30 years

Unit 1/100 Fitzgerald Ave (Next to Cartridge World)

03 379 3428 | computercentre.co.nz

FOR ALL YOUR

★Garden Clean-ups

★Pruning

★Lawn Mowing

★Garden Maintenance

Call us today for a FREE quote

PH 0800 4 546 546

(0800 4 JIMJIM)

TILER/CARPEnTER

35 years exp, no job

too small. Ph Ross 027

4311440.

T.V. SERVICE CEnTRE

Repairs, tvs, microwaves,

audio amps, soundbars.

Aerial & satellite

installations, kitsets, 480D

Moorhouse Ave, ph 03 379

1400

T.V. SERVICE CEnTRE

Repairs, tvs, microwaves,

audio amps, soundbars.

Aerial & satellite

installations, kitsets, 480D

Moorhouse Ave, ph 03 379

1400

VHS VIDEO TAPES

& all camera tapes

converted to DVD, video

taping special occasions,

www.grahamsvideo.co.nz

ph 03 338-1655

Trades & Services

PLUMBER

Leaking Pipes and

Cylinder?

CALL YOUR LOCAL PLUMBER

Best Service.

Right Price.

Aquapro has

you covered for

all your plumbing

needs!

0508 AQUA PRO | aquaproplumbing.nz

PLUMBING | DRAINAGE | GAS FITTING | SOLAR

ROOF REPAIRS

Locally owned & operated with

over 30 years experience.

• Extensions & repair • Roof coating

• Concrete & clay tiles • Butynol

• Malthoid • Asbestos Certified

• Coloursteel • Old iron • Guttering

Phone Dave 981 0278

or 021 223 4200

E: dave@beaumontroofing.co.nz

BEAUMONT ROOFING LTD

Myth # 2

You can trust

everything you

read.

Yeah right! There's a lot of news

available out there, but some sources

are more informed than others.

2 out of 3 readers agree newspapers are

their most trusted source of news and

information*

If you're going to believe everything

you read, make sure you're reading a

newspaper.

Source: Nielsen CMI Q1 18 - Q4 18 (Base: AP 15+ who have read Daily/Weekend newspaper in last 7 days)
---
24 Tuesday July 9 2019

Latest Christchurch news at www.star.kiwi

PEGASUS POST

STOCKTAKE CLEARANCE

20-60 % OFF

simplyfurniture

IMPERIAL, CREAM

30% OFF

ALL FLOOR STOCK BEDS

50% OFF

winter

relocation

ALL SLAT BEDS

60% OFF

ALL ACCESSORIES

REGAL, MOCHA

sale

cranford street store - everythIng Must go!

Massive discounts right across the floor with up to

40% OFF

ALL OUTDOOR

30-60% off storewide

SIMPLYFURNITURE.CO.NZ

Includes lounge suites and outdoor furniture

484 Cranford Street, Christchurch - 03 354 5026 | 12 Hawthorne Drive, Queenstown - 03 442 3435