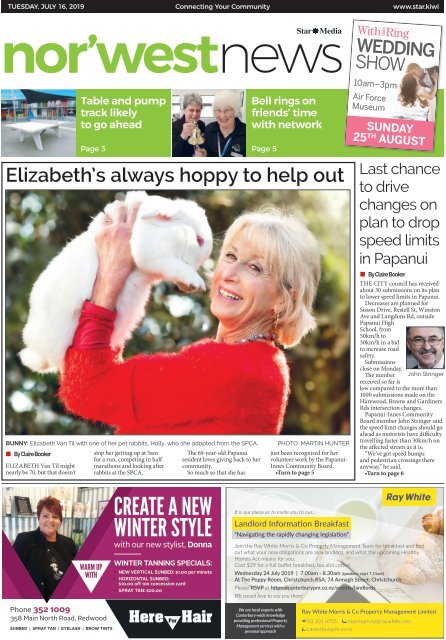 Nor'West News: July 16, 2019
You also want an ePaper? Increase the reach of your titles
YUMPU automatically turns print PDFs into web optimized ePapers that Google loves.
TUESDAY, JULY 16, 2019

Connecting Your Community

www.star.kiwi

wedding

show

• By Claire Booker

ELIZABETH Van Til might

nearly be 70, but that doesn't

Table and pump

track likely

to go ahead

Page 3 Page 5

BUNNY: Elizabeth Van Til with one of her pet rabbits, Holly, who she adopted from the SPCA.

stop her getting up at 5am

for a run, competing in half

marathons and looking after

rabbits at the SPCA.

The 69-year-old Papanui

resident loves giving back to her

community.

So much so that she has

Bell rings on

friends' time

with network

Elizabeth's always hoppy to help out

PHOTO: MARTIN HUNTER

just been recognised for her

volunteer work by the Papanui-

Innes Community Board.

•Turn to page 5

10am–3pm

Air Force

Museum

sundAy

25 th August

Last chance

to drive

changes on

plan to drop

speed limits

in Papanui

• By Claire Booker

THE CITY council has received

about 30 submissions on its plan

to lower speed limits in Papanui.

Decreases are planned for

Sisson Drive, Restell St, Winston

Ave and Langdons Rd, outside

Papanui High

School, from

50km/h to

30km/h in a bid

to increase road

safety.

Submissions

close on Monday.

The number John Stringer

received so far is

low compared to the more than

1000 submissions made on the

Harewood, Breens and Gardiners

Rds intersection changes.

Papanui-Innes Community

Board member John Stringer said

the speed limit changes should go

ahead as motorists have difficulty

travelling faster than 30km/h on

the affected streets as it is.

"We've got speed bumps

and pedestrian crossings there

anyway," he said.

•Turn to page 6

WARM UP

WITH

Phone 352 1009

358 Main North Road, Redwood

SUNBED | SPRAY TAN | EYELASH | BROW TINTS

CREATE A NEW

WINTER STYLE

with our new stylist, Donna

WINTER TANNING SPECIALS:

NEW VERTICAL SUNBED: $1.00 per minute

HORIZONTAL SUNBED:

$10.00 off 10x concession card

SPRAY TAN: $20.00

It is our pleasure to invite you to our...

Landlord Information Breakfast

"Navigating the rapidly changing legislation"

Join the Ray White Morris & Co Property Management Team for breakfast and find

out what your new obligations are as a landlord, and what the upcoming Healthy

Homes Act means for you.

Cost $29 for a full buffet breakfast, tea and coffee.

Wednesday 24 July 2019 | 7.00am - 8.30am (speakers start 7.15am)

At The Poppy Room, Christchurch RSA, 74 Armagh Street, Christchurch

Please RSVP at https://canterburypm.co.nz/events/landlords

We would love to see you there!

We are local experts with

Canterbury-wide knowledge

providing professional Property

Management services with a

personal approach

Ray White Morris & Co Property Management Limited

03 331 6755 morrispm.nz@raywhite.com

canterburypm.co.nz
---
2 Tuesday July 16 2019

Latest Christchurch news at www.star.kiwi

get in touch

from the editor's desk

ELIZABETH VAN Til is a very busy lady

as we highlight on page 1 today.

She is one of a number of volunteers who

have been recognised for services to the

community.

Not only does she spend many hours

volunteering, but she is also super fit. Elizabeth gets up at 5am

to go for a run, which is why she is able to compete in half

marathons.

She also has time to work three days a week. Not bad for

someone closing in on 70.

Elizabeth volunteers for St Paul's Anglican Church, the SPCA,

Northside Toastmasters, St Albans Community Choir and the

Dove Bookshop.

Why does she do it? Because she enjoys it. You can't argue

with that. The community needs more people like Elizabeth.

– Barry Clarke

GENERAL INQUIRIES Ph 379 7100

CLASSIFIED ADVERTISING Ph 379 1100

Star Media, a division of Allied Press Ltd

PO Box 1467, Christchurch

starmedia.kiwi

sport

Top ride for CBHS at cycle champs

Although collecting just one individual title, the school excelled in

the team events.

Page 8

community events

Page 15

tasty bites

NOR'WEST NEWS

Stories at the library

Check out Super Saturday Storytimes at the Shirley Library on

Saturday from 11-11.45am.

Gluten and dairy-free treats

Are you intolerant to gluten and dairy but love a sweet treat?

Here are two straightforward and simple options.

NEWS

Claire Booker

Ph: 021 911 576

claire.booker@starmedia.kiwi

ADVERTISING

Monique Maynard

Ph: 364 7474

monique.maynard@

starmedia.kiwi

Rodd Gray

Ph: 982 9308

rodd.gray@

starmedia.kiwi

Page 17

The best-read local newspaper, delivered to

16,717 homes every Tuesday

Harewood, Burnside, Bishopdale, Bryndwr, Fendalton, Merivale,

St Albans, Mairehau, Papanui, Casebrook, Redwood, Regents

Park, Styx Mill, Northwood, Belfast, Strowan.

RECHARGEABLE

HEARING AIDS

• SIMPLICITY

No batteries to purchase, no ongoing cost

• CONVENIENCE

Charge hearing aids overnight

• EASE OF USE - FULLY AUTOMATED CHARGING

Easier to place aids in the charging case at night and

put them on in the morning fully charged

• ENVIRONMENTALLY FRIENDLY

No need to dispose of dead batteries every week

Book your free consultation today

Merivale Hearing Clinic

24b Church Lane

Call now: 356 2324
---
NOR'WEST NEWS Latest Christchurch news at www.star.kiwi

Tuesday July 16 2019 3

News

Shirley projects almost a certainty

• By Matt Slaughter

THE PLAN to install a multi-use

table tennis table and temporary

pump track in Shirley is almost a

sure thing.

Papanui-Innes Community

Board chairwoman Ali Jones

says the consultation period for

the projects, is more an opportunity

for people to decide where

they want

these items

installed at the

former Shirley

Community

Centre site,

rather than

if they want

Don Gould

them installed

here.

Nor'West

News reported last week people

had until July 29 to present their

views on the plan to install these.

Shirley resident Don Gould

said last week, the about

$100,000 it was going to cost

for the table and pump track

to be purchased and installed,

would be better spent elsewhere.

He said he was relieved people

would get the chance to decide if

the projects should go ahead.

However, Ms Jones said this

week, funding had already been

secured and the large majority of

people would have to be opposed

to the table and pump track if

the community board was to

decide not to go ahead with the

project.

She said this was unlikely.

"We are saying that yes, it will

go in and we want some feedback

on where you think it should go

. . . but, if everyone in the area

came out and said look, I'm

sorry, this is not something that

15,000 of us want, well of course,

the community board would be

silly not to listen to that."

Mr Gould said he understood

this, but the questions on the

consultation document did not

allow enough opportunity for

people to oppose the plan completely.

In the have your say section

of the city council's website, the

questions ask: 1. "Do you support

the landscape plan for the Shirley

Community Reserve pump

track and multi-use concrete

table?" and 2. "Where would you

prefer the multi-use table to be

located?"

WAITING FOR

APPROVAL:

Papanui-Innes

Community

Board

chairwoman Ali

Jones says the

installation of

a pump track

and multiuse

table in

Shirley will go

ahead unless

consultation

reveals the

majority of

people oppose

this.

Said Mr Gould: "The community

hasn't been engaged in

the have your say, with enough

questions for the community to

actually give a balanced response

and suggest that they don't want

it."

"How about we start with just,

do you support us spending

$100,000?"

Ms Jones was in a community

board meeting when contacted

again, so could not respond to

these comments.

Local

News

Now

In Brief

Fire rages, homes at risk

SUBMISSION INVITATION

Individuals and groups

which made submissions on

the Harewood, Breens and

Gardiners Rds intersection

upgrade have been sent

invitations to make a verbal

submission to the Papanui-

Innes Community Board on

August 17. Individuals will

have 5min to speak to the

board, and groups will be

allocated 10min. The whole

day has been set aside if

required, depending on the

final number of submitters

who want to speak.

QE II ROAD WORKS

Night work has begun on

QE II Drive to remove the

median island near the Main

North Rd intersection. This

work involves cutting and

excavation equipment, as well

as truck movements. Nearby

residents will hear the noise

from the machinery and

the crew working at night.

The crew need lights to see

what they are working on,

so residents may notice extra

light coming from the road.

Expected wait times of about

5min are expected when

traffic is stopped. The QE II

west upgrade is expected to

be finished by autumn 2020.

tree trouble?

call us 384 9630

www.fourseasonstreecare.co.nz

The revolution

in heat pumps

is here now!

t h e t r e e p e o p l e

f o u r s e a s o n s t r e e C a r e

The Fujitsu e3series

The brilliant

heat pumps from Fujitsu

e1 : efficiency

e2 : environment

e3 : economy

'CEREC' & cosmetic dentistry

Wisdom tooth removal

Painless, high quality dentistry

Sedation dentistry

Experienced, conscientious team

Experienced hygienists

OPEN SATURDAYS

355 9380

144 Cranford Street

www.stalbansdentalcentre.co.nz

The revolution in heat pumps is here now!

The brilliant e3 series

heat pumps from Fujitsu

e1 : efficiency

e2 : environment

e3 : economy

Do you

NEED functional

but really

WANT

flattering?

Chlorine resistant doesn't need to be plain

and unflattering.

Starfish Swimwear have beautiful styles

available in long life endurance fabrics.

Suits that you can wear to Aquafit and

will also look great on your holiday.

So there is no need to purchase two

suits when one will do both.

Call in and see us, we have all the

information and can help you make the

choice that's right for your needs.

We are open Tuesday to Friday from

9am-5pm and also Saturdays from 10am-1pm.

Website: www.pshc.co.nz

Finance available

FREE consultation from your local

Accredited Heat Pump Expert

Phone today: 03 381 6950

INSERT DEALER DETAILS HERE

Fujitsu's Catechin Filters are

approved by the Asthma and

Respiratory Foundation NZ's

Sensitive Choice ® programme.

Email: info@pshc.co.nz

239 Colombo Street | 379 0009
---
4 Tuesday July 16 2019

Latest Christchurch news at www.star.kiwi

NOR'WEST NEWS

Thank you for

helping your

Fall Zones

community

To all of you who have had your

trees trimmed before they became

a problem, thank you for keeping all

the families in your community warm,

happy, healthy and connected.

You can be proud of the fact that you have allowed your

neighbours to stay warm, cook dinner and even charge

their mobile phones. You may not have realised that what

you've done has had much impact, but from all of us here

at Orion, we just want to say thank you.

Notice and Growth limit zones

B

A

Power line voltage A. Growth limit zone B. Notice zone

66,000 volts 4.0m 5.0m

33,000 volts 2.5m 3.5m

11,000 volts 1.6m 2.6m

400/230 volts 0.5m 1.5m

We're not exaggerating.

On our network, 10-20% of all unplanned power outages are

caused by trees — including vegetation — coming into contact

with power lines. Other than this, fire damage to property from

branches sparking in dry conditions and serious injury from

electrocution from contact with trees touching power lines are

also possible consequences of not maintaining your trees.

How close is too close?

While most damage is caused by trees falling on power lines,

significant risk exists from trees merely touching them. This risk

increases the higher the voltage of the power line.

The minimum distances that must be maintained between trees

and power lines, as defined in the Electricity (Hazards from

Trees) Regulations 2003, are outlined in the diagrams above.

All vegetation should be kept out of the growth limit zone and

preferably the notice zone.

Sometimes it may not be practical to have a tree trimmed at the

rate at which it grows and unfortunately, this means it may need

to be removed. Other situations may require trees to be removed,

most commonly when they are at a high risk of falling due to

disease or adverse weather events.

Where do I start?

Before you begin, remember to keep yourself, and those around

you, safe. We recognise that not everyone is experienced in tree

trimming and are happy to advise you on what to do. We can arrange

for trees near power lines to be trimmed at your expense, however

we recommend you hire professionals to safely carry out the work.

If you or someone working for you intends to work within four

metres of power lines, a close approach consent is required from

Orion before you start. As a tree owner, you may be liable for any

damage caused by carrying out trimming or felling of trees.

Will I be fined if I don't comply?

If a cut or trim notice is given to you and you fail to have the tree

trimmed and/or advise us of the time and location of the trim

without a reasonable excuse, this is an offence. This will make you

liable for a fine not exceeding $10,000. If the offence continues,

you will be liable for a further fine of not more than $500 for every

day or part day during which the offence continues.

More info can be found on our website and if

you have any questions or notice any trees

touching power lines in your area, please call

us on 03 363 9898 or 0800 363 9898.

oriongroup.co.nz

Orion New Zealand owns and operates the electricity distribution

network in central Canterbury between the Waimakariri and Rakaia

rivers and from Canterbury coast to Arthur's Pass.
---
NOR'WEST NEWS Latest Christchurch news at www.star.kiwi

Tuesday July 16 2019 5

News

Community volunteers recognised

•From page 1

Mrs Van Til was surprised to

receive the honour.

"You don't really expect to be

nominated for something just

from going to church."

She was one of 35 recipients of

the community service award.

She volunteers at St Paul's

Anglican Church, the SPCA,

the Northside Toastmasters, St

Albans Community Choir and

the Dove Bookshop.

Mrs Van Til has lived in

New Zealand for 50 years, after

moving from London

with her parents.

She enjoys running

and swimming and

cycles 5km to work at

R J Preston farming

accountants three days a

week.

When she isn't

working, Mrs Van Til

spends time volunteering

in the community.

She cares for rabbits at the

SPCA, and also fostered two. She

said she didn't intend on keeping

them both, but didn't have the

heart to separate them.

"They fell in love with

each other and we couldn't

part them."

Mrs Van Til has been involved

with St Paul's for 10 years, and is

the bishop's warden.

It was her involvement with

the church that led her to take

Stephen

Parkin

singing lessons and from there

she was invited to join the choir.

"I came home (from church)

and said I think I'll have

singing lessons otherwise

people will look at me."

During the weekend,

Mrs Van Til can be found

volunteering at the Dove

Bookstore in Papanui.

She also enjoys keeping

active with husband

Hank.

The pair are planning to

run the Buller Gorge half

marathon.

Individual

recipients

•Stephen Parkin

– Christchurch

North Community

Patrol.

•David Alsford

– Papanui Youth

Development

Trust, Youth @

Papanui, and

Papanui Baptist

Church.

•Mark Baker – Casebrook

Intermediate.

•Graham Cook – WesleyCare,

Papanui.

•Donella Duff – Golden

Connections Programme,

Neighbourhood Trust, St Albans.

•Brian Gardner – St Albans

Swimming Club.

•Joanna Hampton – Citizens

Advice Bureau.

•Trish Le Comte – Feline

Friends Charitable Trust Cat

Gary

Raymond

Plaskett

Graham

Stewart

Rescue, and the 'Knit and

Knatter' group.

•Bill and Sue McEwan –

Belfast Community

Network.

•Peter McGregor

– Kainga Residents

Association.

•Joan Peck –

Golden Connections

Programme, the

Neighbourhood Trust, St

Albans.

•Garry Raymond

Plaskett – Christchurch

North Community Patrol.

•Gordon and Margaret

Shields – Rotary Club of

Papanui.

•Graham Stewart

– Christchurch North

Community Patrol.

•Jack Taylor – St

Albans Park Bowls.

Emma Twaddell –

St Albans Residents

Association.

Group recipients

•St Albans Community

Centre Working Party – Doug

Jack, Paul Somerville, Chris

Wallace, Malcolm Pearce and

Renee Walker.

•Styx Flooding Issue Working

Party – Jan Burney, Kathryn

Snook, Vyvyan Treleaven, Barry

Robertson, Carolyn Richards

and one further community

representative.

•Community Pride Garden

Awards judging team –

Lyn Smith, Jan Claxton, Margaret

Kingsley and Ron Andrew.

• By Claire Booker

LONG-SERVING Belfast

Community Network members

Dorothy Bradley and Adrienne

Gelton have been farewelled by

their fellow volunteers.

The two women have been

friends since they were fiveyears-old

and were both school

teachers.

A combined farewell lunch

was held to celebrate the

retirement of the network's two

original members, who have

been volunteering since 2014.

Local

News

Now

Fire rages, homes at risk

GOODBYE:

Dorothy

Bradley

and

Adrienne

Gelton with

the school

bell they

presented

to the

Belfast

Community

Network.

Bell rings on friends'

time at Belfast network

Network development coordinator

Ashleigh Tootell

attended the lunch.

"Our Thursday Simply

Lunch guests are really going to

miss Dorothy and Adrienne and

their incredible sense of

fun, care and wonderful

cooking, they could make

anything out of very little," said

Ms Tootell.

As a final goodbye, Mrs

Bradley and Mrs Gelton

donated a school bell, which the

community network intends to

use during its lunches.

I enjoyed being a part of

empowering our young people

to lead their communities on

climate change by participating in

the Christchurch Climate Change

Conference at the University of

Canterbury recently as one of

a panel of greater Christchurch

MPs. I admire the commitment of

our youth and it was good to reconnect

with some of the faces I

had worked alongside at the Styx

River planting day earlier this year.

My regular catch up with the

Belfast Community Network and

the great work they do supporting

our community always leaves me

humbled by their commitment

to our families. Whether it is

connecting with our seniors or

working with our youth, they

provide invaluable support. It

was good to catch up with CEO

Lynda last week for another of our

collaborative chats.

I am meeting Northern

Christchurch constituents in

my community clinic on the first

Monday of every month at the

Papanui RSA, following changes

by the Speaker of the House to the

guidelines for constituent offices

after the Christchurch mosque

attacks. Last week I enjoyed

meeting with constituents over a

wide range of issues. If you would

like to meet with me for assistance

over an issue or just to have a

catch up, please make contact by

ringing 03 3270514.

My Caucus colleague, National's

Amy Adams, MP for Selwyn, has

made a significant contribution

to our country and it was with

sadness that we received the

news she will not be standing

again after the elections next

year. Amy made history when she

expunged historical convictions

for homosexual behaviour as

Justice Minister and introduced

the biggest domestic violence

legislation reforms in two decades.

We wish her all the best in her new

ventures.

Independent Easy Living for Over 60's

SAWYERS ARMS VILLAS - PAPANUI

Brand New Villas Available Today From $469,000

• Henry Roil Lane, Papanui (50 Sawyers Arms Rd) – private cul-de-sac

• Beautifully designed, quality finished two bedroom Villas

• Choice of three different floor plans from 97m2 - 103m2

• Focus on privacy, security and lots of daylight

• Freehold (Unit) Title - 100% Ownership. No weekly fees!

• Stroll to Northlands Mall, Buses, Swimming Pool, Cinema

Display Villa Open Saturday 12noon - 2.00pm

Or call today for viewing by private appointment

ANNETTE PENDERGAST

022 090 2627 • 0800 500 123

Annette.pendergast@mikepero.com

sawyersarmsvillas.mikepero.com

Mike Pero Real Estate Ltd REAA (2008)
---
6 Tuesday July 16 2019

Latest Christchurch news at www.star.kiwi

News

SLOWER: The speed limit along parts of Sisson Drive, Restell St, Winston Ave and Langdons Rd

may be reduced to 30km/h.

PHOTO: MARTIN HUNTER

Submissions roll in on plan

to lower speed limits

•From page 1

"So it would be pretty gnarly if

you sped through that area faster

than 30km," Mr Stringer said.

The busy streets have an

average traffic count of about

8900 vehicles per day with the

peak being at 3pm.

Some Papanui businesses have

not heard about the proposed

speed limit changes, but there are

no concerns over the plan.

Warehouse Stationery store

manager Ed Hall said the speed

needs to be reduced in the

narrow and winding Restell St.

"At the moment, cars fly

along there quite quickly, so I

think if they reduce it, it's going

to minimise the risk of cars

crashing into each other." Mr

Hall said.

Espresso Carwash worker

Jass Purewal said he doesn't

mind whether the speed limit

changes or stays at the current

50km/h.

The car wash is located on the

corner of Langdons Rd

and Sissons Drive, and

Mr Purewal said vehicles

usually go slow through the

roundabout.

"Pretty much everyone is on 30

when they drive past," he said.

Once submissions close and are

collated, the community board

will make a recommendation

to the city council on the speed

limit changes.

•To make a submission

visit www.ccc.govt.nz/thecouncil/consultations-andsubmissions/haveyoursay

• By Jess Gibson

TWO HIGH school choirs from

the Nor'West News area will put

their best lungs forward at The

Big Sing finale.

Choirs from Christchurch

Girls' High and Rangi Ruru

Girls' School have been selected

for the nationwide choral

competition, hosted by the New

Zealand Choral Federation.

It will take place in Dunedin

late next month.

Twenty-four choirs have been

invited to the televised national

finale to sing for gold, silver and

bronze medals.

CGHS's Cantrices choir was

selected after taking out the

best overall performance at the

Big Sing Canterbury and West

Coast competition.

Cantrices also won a special

NOR'WEST NEWS

Local

News

Now

CGHS, Rangi Ruru

choirs in national

competition finale

Fire rages, homes at risk

award for outstanding recital

performance by a treble voice

choir at the regional event.

Rangi Ruru's Resolutions

choir will also take the

national stage. It was awarded

outstanding performance of

early music composition at the

regional competition.

Meanwhile, St Andrew's

College choir Staccoro will take

part in The Big Sing Cadenza

competition in Timaru in

August.

Cadenza is the "next best

thing to The Big Sing finale",

enabling competing choirs to

experience the buzz of a finalestyle

event.

It will have the added

dimension of workshops with an

international choral conductor

who will also perform the role of

adjudicator.

SING: Rangi

Ruru choir

Resolutions

will be on the

national stage

at The Big

Sing finale in

Dunedin next

month.

School's not

studywithus.co.nz

for everyone!

Is school not working for your teen?

GAIN

NCEA

CREDITS

TXT

'STUDY' TO:

027 557 8839

career

Ultimate

Security

digital media

decider

& forces

prep

Business Admin

Early Childhood

Web Development

Software Design

ENROL

NOW!

50 Hazeldean Road, Addington

0800 834 834 www.studywithus.co.nz

*conditions apply
---
NOR'WEST NEWS Latest Christchurch news at www.star.kiwi

Tuesday July 16 2019 7
---
8 Tuesday July 16 2019

Latest Christchurch news at www.star.kiwi

CBHS come out on top

at South Island champs

CHRISTCHURCH Boys' High

enjoyed a successful outing at

the South Island school cycling

championships, taking out the

Hayden Godfrey Challenge Cup

for the top performing school.

Although CBHS collected just

one individual title at the event

in Christchurch last week, with

Josh Rivett winning the under-20

individual time trial, the school

excelled in the team events.

They beat Timaru Boys' High to

the under-20 title and Cobham

Intermediate to become under-14

champs. They also finished

second behind James Hargest

College from Invercargill in the

under-16 event.

In a show of dominance, six

of the top eight riders in the

under-20 individual time trial

were from CBHS. This level

of consistently proved vital in

CBHS's bid to claim the overall

title.

More than 230 riders took part

in the road event, organised by

Cycling Canterbury Schools,

at Mike Pero Motorsport Park.

They competed in individual

time trials, team time trials and

road race events.

There were some outstanding

individual performances over

the weekend, which included

rides from Jenna Borthwick (St

Margaret's College) and Amelia

Sykes (Avonside Girls' High),

who both won the road race and

individual time trial in their age

grades.

SPORT

WINNERS: The CBHS cycling team made the most of the home

conditions to win the Hayden Godfrey Challenge Cup for the

top performing school at the South Island championships.

PHOTO: SCHOOLS CYCLING NZ ​

Olli Aitken, of Medbury

School, also took out both

individual under-13 titles.

TALENT: The CGHS year 10 netball team finished second at

the South Island junior championships last week, replicating

the efforts of their year 9 team.

Strong showing by CGHS

THE FUTURE of netball at

Christchurch Girls' High School

looks bright after both their year

9 and 10 teams finished runnersup

at the South Island junior

championships at Hagley Park

last week.

The year 9 team went through

the entire tournament unbeaten

before coming up short against

Dunedin's St Hilda's Collegiate

45-21.

CGHS beat Christchurch's

St Peter's School, Dunedin's

Columba College and Darfield

High School in pool play to top

their group.

They then beat Ashburton College

and Rangiora High School

in the top-16 stage.

They won a tense quarter-final

NOR'WEST NEWS

clash with Mt Aspiring College

24-21 and outlasted Nelson College

for Girls 29-25 to make the

final but they were no match for

a rampant St Hilda's team.

The year 10 team had a similar

path to their final, going unbeaten

before losing to Taieri in

the final.

They beat Rangiora High

School, Roncalli College from

Timaru and Central Southland

in the round-robin section.

They then beat Wakatipu and

Marlborough Girls' College in

the round of 16.

They then beat St Hilda's in the

quarter-finals 37-30 and Nelson's

Waimea College 42-27 in the

semi-finals.

Taieri won the final 38-29.

Entertain the kids

these holidays

Thurs & Fri 18 Th - 19 Th July 10.30 am – 12.30 pm & 1 pm – 3 pm

silly billy

ENTErTaiNEr

silly milly

ballOON arTisT

sTacE ThE FacE acE

FacE paiNTiNG arTisT

WiN $1,000

shOppiNG

sprEE

shOp, scaN &

bE iNTO WiN

dETails iN sTOrE

Bigger Better Bush Inn

Corner of Riccarton Road and Waimairi Road | www.bushinncentre.co.nz

Monday - Friday 9:00am - 5:30pm | Saturday 9:00am - 5:00pm Sunday & Public Holidays 10:00am - 5:00pm

Food Outlets 11:30am - until late | Paper Plus open to 6:00pm Monday - Friday & 7:00pm Saturday
---
NOR'WEST NEWS Latest Christchurch news at www.star.kiwi

Tuesday July 16 2019 9

Where the

best deals

Q Card Finance Now Available

FREE no obligation measure & quote (conditions apply)

are done

Washington

• 22oz Polyester

• Cut pile

• 3 great colours

liMited

tiMe

only

Newport

• Commercial Solution Dyed Nylon

• Loop pile carpet

• 5 colours

now

half

price

$55.00 per blM $65.00 per blM

Grange Fell

• 50 oz Solution Dyed Nylon

• Extra Heavy Duty

• 5 Colours

Riviera

WAS $139.90 WAS $85.00

• 26oz solution dyed nylon

• Cut pile

• Extra heavy duty

• 7 colours

liMited

stock!

now $119.90 per blM

now $75.00 per M

Windsor Twist

• 36oz Solution Dyed Nylon

• Extra Heavy Duty

• 11 Colours

WAS $119.90

now $109.90 per blM

Vinyls

• 2m & 3m wide

2M wide froM $49.90lM

3M wide froM $50.00lM

before

garage carpet

6M by 6M

fully installed

$850

fully

installed

after

312 Wilsons Road North, Waltham Phone 366 0070

Mon to Fri 8am-5pm and Sat 10am-1pm

Check out our website! www.carpetkingdom.co.nz
---
10

Tuesday July 16 2019

Latest Christchurch news at www.star.kiwi

NOR'WEST NEWS

Merivale.

So much Moore than

just a drycleaners

Moores Drycleaners on Papanui Road

is so much more than just a drycleaning

business - it is part of the fabric of Merivale

itself. Their terrific customer service,

expertise and highly-professional standards

have seen them succeed on the same spot

for over half a century. In fact, it is the

oldest business still operating in the same

location in Merivale, and also is the oldest

family-owned and operated drycleaners

in the whole of

Canterbury.

What makes it

such a local success?

Owner Greg Moore's

father began Moores

Drycleaning back in

1961 and Greg joined

him straight out of

school. Having been

there ever since, his

own knowledge is

unparalleled, and it is

the focus on meeting

the needs of customers

that makes them stand

out. These days, his daughter has joined the

team, making her the third generation to work

in the business.

Their focus is on providing a terrific

service to local clients and meeting all their

drycleaning needs. Whether you are spring

cleaning and want to freshen up all your

drapes, duvets and bedding, or have toughto-remove

spots, they are on hand to help.

They will make sure that garments such as

suits and dresses look as good as new when

they return them to you, and they are experts

at working with delicate fabrics in evening

gowns and cocktail dresses. They are also

the go-to drycleaners for wedding dresses,

recommended by many of the region's bridal

salons to their new brides. In fact, they are

just about the largest drycleaners for wedding

dresses in the south island.

In spite of their long tradition in this

industry, Moores Drycleaning have moved

with the times. They now have an ecocleaning

machine which uses a solution of

plant extracts as its cleaning agent which is

far friendlier to the environment. In fact,

they have been leading greener approaches

to drycleaning as they have been recycling

for over 40 years, their plastic bags are

biodegradable and their coat-hangers are

manufactured from recycled plastic which

they encourage their customers to recycle and

return.

You can find them at 178 Papanui Road,

where they are open six days a week (closed

Sundays) or give them a call at 03 355 5942.

They will be happy to help.

178 Papanui Road, Merivale

(3 doors down from St Albans Street)

Ph: 03 355 5942

In business 58 years - same location!

Now is a great time to get your

coats, jumpers, jerseys, trousers cleaned!

Calling for exhibitors

weddingshow

Sunday 25th August, 2019 Air Force Museum, Christchurch

To exhibit at this fantastic show, please email mark.sinclair@starmedia.kiwi for more info.

Home lending advice you

can understand. Kim will help

you control your mortgage and

save you money as well!

Email or call Kim today!

www.mylend.co.nz email: kim@mylend.co.nz cell: 027-222-1044
---
NOR'WEST NEWS Latest Christchurch news at www.star.kiwi

Tuesday July 16 2019 11

Live life

your way

at at Bupa

Parklands

on Papanui

Apartments

available

from

$335,000

Open home

Sunday 21 July, 11am - 1pm

Parklands on Papanui Retirement Village offers

comfortable and stylish apartment living in a

friendly, like-minded community. We currently

have one bedroom apartments from $335,000,

a two bedroom apartment for $415,000 and a

three bedroom apartment for $480,000.

Call Lynda on (03) 669 4594

429 Papanui Road, Papanui, Christchurch

www.bupa.co.nz/parklands
---
12 Tuesday July 16 2019

Latest Christchurch news at www.star.kiwi

In your

neighbourhood

NOR'WEST NEWS

Traditional and natural –

Rawleigh's for your family and your home

Rawleigh's know that when

something is not broken, it

just doesn't need fixing. They

have been manufacturing

natural medicinal products for

over a century and because their

medicated ointment and salve

are so effective they have pretty

much kept to W T Rawleigh's

original formula from back in 1889.

That is not to say they do not

move with the times. Having begun

with the salve and ointment that

so many New Zealanders grew up

with, the product range has evolved

and increased to include other

medicinals, nutritional, personal

care and home care products. The

medicinals are go-to's for any home

first aid kit with antiseptic creams for

abraisions, products to help with the

symptoms of colds, and rubs for after

rugby and netball in these cold winter

months.

The expanded range of personal

care items includes high-quality hair,

skin and bath products, all from the

best possible natural ingredients. And

that same quality applies to keeping your

home hygienic too, with everything from

concentrated multi-surface cleaner and

laundry power to pet shampoo and moss

killer.

Traditionally, a team of independent

distributors has been responsible for bringing

these items into our homes, helping keep

prices affordable. One of these is Fiona

Head. Based in Harewood, she moved to

Christchurch from the Hawke's Bay area four

years ago and has spent the last two year as

a Rawleigh's distributor and, she says, she's

"really loving it." She remembers Rawleigh's

in the house as a child, rediscovered it for

herself and an adult and has not looked

back since. Her customers benefit from her

friendly welcome and in-depth knowledge of

the products. She can explain what they do

and which one is best for any given situation.

Fiona is available every weekday afternoon

and right through the weekends, and with

almost all products in stock, there's usually

no waiting for a delivery.

Contact her on 03 550 1544 or

022 086 7300. Visit us at 283 Wooldridge

Road, Harewood and meet your local

Rawleigh's independent distributor.

Fiona Head, Independent

Rawleighs Distributor

Call us today for a

free

one-on-one consultation

with a pharmacist

• Ask questions about your medications

• Get advice on how to get the most

out of your regular medicines

Call us today and book a time!

108 Memorial Ave, Burnside | Phone 03 351 8633

Open Monday to Friday 8.30am-6pm

Naturally protecting family

health for generations

Now available in Christchurch

and surrounding areas!

For catalogue/pricelist,

contact us.

Independent Rawleighs Distributor

Fiona Head, 283 Woolridge Road, Harewood, Christchurch 8051

Ph: 03 550 1544 Mob: 022 086 7300 E:bandovar@orcon.net.nz

Quality ingredients Quality products Quality prices

Brand new salon open in

your neighbourhood

Shop 8/501 Wairakei Road, Harewood

Phone 03 359 2166

Open Monday to Friday 6.30am-3.30pm

and Saturday 8.00am-3.00pm

Mention this ad and receive

$10 OFF your first visit

Sydenham Bakery

@WAIRAKEI Cnr Isleworth Rd & Leacroft St, Bishopdale | 03 359 0224
---
NOR'WEST NEWS Latest Christchurch news at www.star.kiwi

Tuesday July 16 2019 13

RICHMOND DISCOuNT

Discount Furniture and Bedding - The Best Little Furniture Shop in Town

BEDS TALLBOyS MIRRORS CABINETS CHESTS STORAGE SHELVES

BOOKCASES BuFFET uNITS DINING TABLES HALL TABLES SIDE CABINETS & MORE!

Legacy Bedroom Range

Victor

Bedroom

Suite

Includes

duchess with

mirror, tallboy

and two

bedside

cabinets.

Duchess

with

Mirror

1090x410x820

NZ made.

Chest

$399

Bedside Cabinet

$129

Scotch Chest

$599

Queen Frame & Mattress

$699

$1599

ONLY

$549

Midi 7 Drawer

Scotch Chest

975x760x410. With metal runners.

Also available in Black.

Bedside Cabinet

540x460. With metal runners.

Also available in Black.

7 Drawer

Scotch Chest

1140x800x410.

Also available in black.

Ther-a-pedic Mattress & Base

Reversible pillowtop innersprung.

Single

$499

Solid

Timber

Free

Standing

Mirror

ONLY

$269

ONLY

$130

ONLY

$299

King Single/Double/3/4

$599

Queen

$699

WAS $169

ONLY

$129

Jumbo 4

Drawer Chest

1140x800x400. NZ made.

Metal runners. Also available in black.

Tallboy 4 Drawer

600x400x900.

Towerboy 6 Drawer

1260x460x410.

With metal

runners.

Also available

in Black.

Lowboy 6 Drawer

1130x410x820.

7 Drawer TV/

DVD Chest

760x1140x410. (Gap 150)

Foundry Display

Cabinet

900x1800

x420.

Timber Bookcase

600x320

x1200.

ONLY

$269

ONLY

$199

ONLY

$220

ONLY

$449

eACH

ONLY

$299

ONLY

$599

ONLY

$199

Coffee Table

Solid Timber.

Coffee Table

Solid Timber.

Coffee Table

1200x400x600.

Display

Cabinet

1800h

x900w

x400d.

Buffet

Unit

700x

320x

1070.

ONLY

$169

1200x600

ONLY

$329

ONLY

$399

ONLY

$599

ONLY

$329

Side Cabinet

600x600x450.

Hall Table

2 Drawers.

Hall Table

3 Drawers.

2 Drawer Hall Table

1200x810x420.

Bookcases

NZ Pine.

900x1200

$279

900x1500

$299

ONLY

$199

ONLY

$279

ONLY

$349

ONLY

$379

900x1800

$349

Nest of Tables

2 Draw

entertainment Unit

1200x600x450.

entertainment

Unit

1100x400x480.

Buffet Unit

1500x800x420.

Buffet Unit

1175x430x840.

ONLY

$149

ONLY

$399

ONLY

$299

ONLY

$549

ONLY

$399

233 STANMORE ROAD • PHONE 03 389 0536

WE ACCEPT EFTPOS, VISA AND MASTERCARD... PARKING AT REAR

OPEN MON-FRI 10AM–4.30PM SAT 10–1PM
---
14 Tuesday July 16 2019

Latest Christchurch news at www.star.kiwi

NOR'WEST NEWS

AUTOMOTIVE PROFESSIONALS

Panel repairs in handy,

central city location

As we all know, having our car off the road

for panel repairs can be frustrating, but for

customers of Smart Repairs (NZ) Limited in

Lichfield Street, this isn't a problem.

"With our focus on fast and efficient

turnaround, getting customers back on the

road as quickly as possible is our aim" says

Brian, who owns Smart Repairs with his

wife Maxine.

As specialists in small to medium vehicle

repairs, no job is too small. Their services

include panelbeating, spray painting,

paintless dent removal (PDR) and mag

wheel repairs and painting.

Customers can be assured of top-quality

workmanship at Smart Repairs, with Brian

and Glenn having over 50 years' industry

experience between them.

Customers also have the use of a free

courtesy car, so they can stay on the road

while their vehicle is in the workshop.

There is a free pick-up and delivery service

within Christchurch available on request.

Accidents happen, but there is no

need to panic - the Smart Repairs team

can provide quotes for all insurance

companies, and carry out those repairs

quickly and professionally. With their

friendly, personal approach they make it

easy for customers who may be unsure

what to do if their vehicle has been

scratched or dented. They offer free advice

and assessments, and are happy to discuss

the options for your vehicle repair.

"We take pride in our work and want

to ensure that our customers are happy

with the results," says Maxine. "We stand

behind our repairs".

Eftpos and credit cards are accepted.

Smart Repairs (NZ) Limited is located

at 272 Lichfield Street, Christchurch.

Opening hours are Monday to Thursday

7.30am - 4.30pm

Friday 7.30am – 4pm. To enquire about

repairs to your vehicle please call in and

see the team, or phone (03) 377-0409.

A 10% discount is offered if you

mention this advertising feature.

s

m

a

r

t

Your LoCAL

TYrE SPECIALIST

New & Quality Used

Second-hand Tyres

Alloy Wheels

Replacement Rims

Puncture

Repairs

8c Birmingham Drive, Middleton

Next to Addington Raceway

343 0099 or 027 22 63 805

www.jcmdirect.co.nz

mall

edium

utomotive

epair

echniques

• Paintless dent removal

• Minor paint repairs

Fast

turnaround

Smart repairS (NZ) Limited

automotive refinishers

272 Lichfield Street (Fitzgerald Ave end) | Phone 377-0409 | Find us on

European

Car Owners

NEW DIAGNOSTIC EQUIPMENT!

We can identify ANY electrical

fault & reduce repair work

with our NEW European Car

Specific Diagnostic Equipment

ROSES

AUTO ELECTRICAL

Enquiries welcome

CH 352 5090

NEW

LOCATION

95 Gasson St

®

A vonhead

utomotive

free

The Automotive Lamp Specialists

New and Used Lamps for Cars, Trucks,

Vans, 4WD and Motorhomes

PH 0800 225 483 | 95 Gasson Street, CHRISTCHURCH

6 months roadside assist

with any vehicle servicing

• automatic transmission

flushing service

• Wof • tune-ups • suspension

• batteries • neW tyres • oil &

lube service • courtesy cars

• full mechanical repairs

oPen 6 days (sat until 1pm)

126 racecourse road

Ph 342 7123 or 027 495 6600
---
NOR'WEST NEWS Latest Christchurch news at www.star.kiwi

Tuesday July 16 2019 15

Email claire.booker@starmedia.kiwi by

5pm each Wednesday

Create a Quirky Bookmark

Today, 3.30-4.30pm, Thursday,

2-3.00pm

Take the kids along to the

Redwood Library and pick up

some school holiday reading and

decorate a quirky bookmark.

From googly-eyes to pompoms

and pipe cleaners, create your

own weird and wonderful

bookmark.

Redwood Library

Knit 'n' Yarn

Today, 1-3pm, and Thursday,

2-3.30pm, at Bishopdale.

Wednesday, 1-2.30pm, at

Redwood. Friday, 10am-noon, at

Papanui

Take your knitting, crochet or

another craft project and have

fun with a social group. This is a

free, drop-in event.

Bishopdale, Redwood and

Papanui libraries

GenConnect

Today, 12.15-12.45pm

If you have questions

about your Ipad, smartphone

or tablet, head down to

GenConnect where Papanui

High School students will

help you for free.

Papanui Library

Games at Papanui

Thursday, 2.30-4.30pm

If you love games, head

along and choose from a wide

selection, including the classics,

at this fun and social event. Free

for all ages to enjoy. No bookings

required.

Papanui Library

Scrabble Club

Today, 10.30am-noon, at

Redwood. Wednesday, 1-3pm, at

Bishopdale, and 1.30-3.30pm, at

Shirley

Play Scrabble with a friendly

group. Just head down when you

can – no bookings required. All

materials are supplied at this free

event.

Redwood, Bishopdale and

Shirley libraries

Culture Exchange

Friday, 3.45-4.45pm

Go along and make new

friends, practice your English

and learn about Christchurch.

Shirley Library

JP Clinic

Today, 10am-1pm, at Papanui,

today and Wednesday, 10am-

1pm, at Shirley, Saturday, 10amnoon,

at Bishopdale

A justice of the peace will

be available to members of

the community to witness

signatures and documents,

certify document copies, hear

oaths, declarations, affidavits

or affirmations, as well as sign

Super Saturday Storytimes will be held at the Shirley Library on Saturday from 11-11.45am.

Go along and encourage learning through stories. This is an interactive programme involving

stories, songs, rhymes, craft and play. Absolutely free.

citizenship, sponsorship or rates

rebates applications.

Papanui, Shirley and

Bishopdale libraries

Rummikub

Thursday, 1-2.30pm, Monday,

1-3pm

Go along and play rummikub

– an exciting, interactive strategy

game. Free, drop-in event.

Bishopdale Library

Hairy Maclary Party Time

Today, 10.30-noon

The Shirley Library will host

this fun party morning with

Hairy Maclary stories and crafts.

A great event for kids and preschoolers.

This is a free session.

Shirley Library

Mahjong

Monday, 2-4pm, at Papanui,

Saturday, 2-4pm, at Shirley

Go along if you are

interested in playing or

learning about mahjong. Free.

Registrations required at the

Shirley Library.

Shirley and Papanui libraries

Makerspace

Monday, 3.30-4.30pm

Join in the fun tech activities at

these Makerspace sessions.

Redwood Library

Seven retirement villages

in Canterbury

Proudly

Supported By:

Join us at the 4th annual Waimakariri Winter

Festival where almost all the activities are FREE!

Food, Music, Ice Sculptures, Market

Stalls, Buskers, Bouncy Castles, Big

Screen Movie, Animal Farm, Virtual

Reality. . . and much, much more!

2019

Sunday

21 July

High Street & Blake

Street Carpark Rangiora

WIN

A $5000 Cruise

Enjoy a Fijian South Pacific Cruise

Including Flights, Balcony Cabin

and $1,000 Spending Money!

9am

-4pm

• Halswell • • Rangiora •

• Mairehau •

• Beckenham • • Riccarton • • Papanui • • Hornby •

www.rymanhealthcare.co.nz • 0800 000 290

WaimakaririWinterFestival

www.waimakaririwinterfestival.co.nz
---
16

Tuesday July 16 2019

Latest Christchurch news at www.star.kiwi

NOR'WEST NEWS

WHY CHoose

for Your next VeHICLe?

It's in our name

- Value!

A vehicle from

Value Cars will have

the best presentation,

best mileage and best

price combination.

We have been

trusted in Canterbury

for over 25 years and a

majority of our customers

are referral or repeat

customers. We stand by

every vehicle and we are

proud of our service.

One location for

every type of vehicle

and under cover makes

for a pleasant buying

experience. Our colour

and low mileage selection

is something we work

hard to provide.

CANTERBURY OWNED

& OPERATED

ESTABLIShED 1993

VALUE

REPUTATION

SELECTION

TRUSTED

PLUS

REGISTRATION

2008 toyota passo

$6,499

Popular and pleasingly spacious 5 door hatch, features

an economical 1.3 litre engine with automatic trans

and overdrive, looks lovely in blue, smart keyless

ignition, rear wiper, low kms, ABS and airbags, won't

last long at this price!

PLUS

REGISTRATION

2008 toyota rumion

$8,999

Stylish family hatch, features a 1.8 litre engine with

tiptronic trans, looks great in white with subtle factory

body kit and driving lights, black interior, reverse

camera, push button start, rear wiper, good kms, ABS

and 8 airbags, upgrade your family vehicle today!

PLUS

REGISTRATION

2009 mazda atenza

$13,999

The Axela has quickly become a very popular mid-sized

family hatch and preferred in it's class by many, 2.0 litre

engine with i-stop, tiptronic trans, paddleshift option,

4.5 star fuel efficiency, stands out in electric blue with

driving lights and 16" alloys, push button start, low

kms, safety of ABS, T/C and 6 airbags, nice car!

PLUS

REGISTRATION

2018 nissan march

$13,999

The March is a light steering, easy to drive, popular,

economical and surprisingly spacious 5 door hatch,

features a 1.2 litre engine with automatic trans and 5

star fuel efficiency, travelled very low kms, looks sharp

in silver, keyless entry, rear wiper, ABS, T/C and airbags,

fantastic buying for a near new vehicle!

PLUS

REGISTRATION

2008 suzuki swift

$12,999

An evolution of all Swift elements to arrive at a cutting

edge sports experience, performance and character to rival

the best European hot hatches, "Sport Super 1600 Clone"

edition, 1.6L engine, 5 speed manual trans, stands out in

yellow, wide body kit, rally mud flaps, white 15" Advanti

racing alloys, bolstered seats, low kms, a must see!

PLUS

REGISTRATION

2007 nissan skyline

$9,999

Sporty and well sought after 250GT Skyline 4 door sedan,

high response 2.5 litre V6 engine, tiptronic trans, sharp in

white with chrome detailing, carbon fibre roof wrap, boot lip

spoiler and 19" alloys, black partial leather interior, powered

front seats, reverse camera, push button start, good kms,

ABS, T/C and airbags, test drive won't disappoint!

PLUS

REGISTRATION

2008 toyota axio

$8,999

Reliable, spacious and economical 4 door sedan,

features a 1.5 litre engine with automatic trans and

5 star fuel efficiency, travelled very low kms, reverse

camera, keyless entry, ABS and airbags, looks good

finished in a light brown pearl, great vehicle and

great buying!

PLUS

REGISTRATION

2012 toyota 86

$24,999

Look no further for your new sports car! RWD Toyota

86 travelled very low kms, features a 2.0 litre boxer

engine, tiptronic trans returning a 4 star fuel rating,

looks awesome in red on 16" alloys, keyless entry,

safety of ABS, T/C and 8 airbags, awesome handling,

surprising fuel efficiency and striking looks!

PLUS

REGISTRATION

2017 nissan bluebird sylphy

$15,999

The Bluebird has long been a popular choice for those

wanting an economical, reliable and comfortable family

sedan, 1.8 litre engine, automatic trans, sharp in white

with chrome detail, very low kms, reverse camera, keyless

entry, ABS, T/C and airbags, the perfect family sedan that

encompasses family motoring with a touch of luxury!

PLUS

REGISTRATION

2006 honda inspire

$7,999

A luxury family sedan, good performance supplied from the

iVTEC 3.0 litre V6 engine and ride comfort is high thanks to

the smooth shifting tiptronic trans and superb handling, sharp

in silver metallic, driving lights and 16" alloys, black interior,

woodgrain accents, smart keyless ignition, reverse camera,

climate A/C, ABS, T/C and airbags, an absolute must see!

PLUS

REGISTRATION

2004 toyota sienta

$5,999

The Sienta is a versatile hatch with the bonus of an

extra two seats available for use when needed to

seat 7, features an economical 1.5 litre engine with

automatic trans and 5 star fuel efficiency, travelled

low kms, sliding side doors, keyless entry, rear wiper,

ABS and airbags, great buying!

PLUS

REGISTRATION

2011 honda fit shuttle

$12,999

The Shuttle is the wagon version of the popular Fit,

features an economical 1.3 litre hybrid engine with

automatic trans, travelled very low kms, looks good

and stands out finished in red, cruise control, smart

keyless ignition, rear wiper, ABS, T/C and airbags,

will sell quickly!

PLUS

REGISTRATION

2003 mazda atenza

$6,999

Well sought after family wagon, 2.3L engine, tiptronic

trans, looks good in white with body kit, driving lights

and 18" alloys, black partial leather interior, keyless

entry, rear wiper, ABS and airbags, if you're looking

for a stylish modern wagon with plenty of room,

comfort and safety features look no further.

PLUS

REGISTRATION

2006 toyota caldina

$7,999

A popular mid-sized family wagon that many are attracted

to due to the sleek, low slung sporty styling, 2.0 litre

engine, automatic trans, 4 star fuel efficiency, stands out

and looks great in blue with body kit, driving lights, 17"

alloys, black interior, reverse camera, keyless entry, rear

wiper, ABS and airbags, hurry - won't last long!

PLUS

REGISTRATION

2004 mazda mpv

$5,999

Well sought after family wagon with room to seat 7,

looks sporty and stylish finished in white with body kit,

driving lights and 16" alloys, features a 2.3 litre engine

with automatic trans, twin sliding rear doors, keyless

entry, rear wiper, ABS, T/C and airbags, upgrade your

family wagon today!

Registration for 6 months is $301

Value Cars Warehouse

4.72

32 Moorhouse Ave, P: (03) 366 7768 IMVDA

www.valuecarswarehouse.co.nz
---
NOR'WEST NEWS Latest Christchurch news at www.star.kiwi

Tuesday July 16 2019 17

Tasty Bites

Local

News

Now

Fire rages, homes at risk

Gluten and dairy-free treat options

Are you intolerant to gluten

and dairy but love a sweet

treat? These two recipes

are all straightforward

and simple, giving you

allergy-friendly options

Carrot cake

Serves 8-10

Cooking time 10min

Ingredients

150g flour mix (see below)

180g sugar

2 tsp ground cinnamon

1 tsp baking powder

½ tsp salt

80ml canola oil

40g sweetened soy yoghurt

2 eggs

200g grated carrot

Icing

100g spreadable cream cheese

50g butter

100g icing sugar

Decoration

25g crushed pistachios

Pecans

Toasted flaked coconut

Edible flowers

Homemade flour mix – makes

1kg

500g rice flour

300g cornflour (cornstarch)

100g potato starch

100g almond meal

2g xanthan gum

Directions

Heat the oven to 180 deg C.

Combine the flour mix, sugar,

cinnamon, baking powder and

salt. Add the canola oil, soy

yoghurt, eggs and grated carrot.

Whisk until the batter is well

combined and smooth.

Pour the batter into a greased

loaf tin and bake for 40min.

Allow to cool.

To make the icing, beat the

cream cheese, butter and icing

sugar until creamy. Spread

the icing over the top of the

cake. Decorate with pistachios,

pecans, flaked coconut and

edible flowers. The homemade

flour mix can be varied by

incorporating 100g tapioca

starch or chestnut flour

(reducing the quantity of rice

flour by the same amount) for

cake batters.

Matcha cream puffs

Serves 4-6

Cooking time 30min

Ingredients

Choux pastry

250ml water

6g salt

100g butter or margarine

150g flour mix (see carrot cake

recipe)

5-6 eggs

Icing sugar

Matcha cream

100g single (pure) cream

200g mascarpone cheese

15g sugar

15g matcha powder

Directions

Heat the oven to 200 deg

C. Combine the water, salt

and butter or margarine in a

saucepan and bring to the boil.

When the butter has melted,

add the flour mix to the boiling

butter mixture and quickly mix

with a spatula until the mixture

is well combined and comes

away easily from the side of the

pan.

Pour into a mixing bowl and

add the eggs, mixing with the

spatula until smooth. Spoon the

dough into a piping bag fitted

with a 1cm plain nozzle.

Pipe small balls of choux on to

a baking tray lined with baking

paper. Bake for 30min. Let the

balls cool before cutting off the

top third of each puff.

To make the matcha cream,

Whisk the well-chilled cream

with the mascarpone until light

and airy, then add the combined

sugar and matcha powder.

Spoon the cream into a piping

bag fitted with a 1cm star nozzle

and pipe into the choux. Replace

the lids and dust with icing

sugar.

Kitchen and Bathroom Design & Renovation Services

• Kitchen Refresh

• Kitchen Re-model

• New Kitchen

• Bathroom Renovation

• Laundries

• Home Office

• Wardrobes

• Built in Furniture

0800 202 171 | www.aspiringkitchens.co.nz
---
18

Tuesday July 16 2019

Latest Christchurch news at www.star.kiwi

NOR'WEST NEWS

17 FORD EVEREST TREND
---
NOR'WEST NEWS Latest Christchurch news at www.star.kiwi

Tuesday July 16 2019 19

FOCUS ON HEALTH

Modern diet

leads to illness!

It's not what you eat but what you absorb

More health

benefits with

Advanced

Omega-3-PC

Fish Oil

It is well known how important omega-3 fatty acids are to good

health. It is estimated most people don't even get a third of the

recommended omega-3 fatty acids on a weekly basis. Countries with

a higher amounts of omega-3 in the diet are known to have lower

cardiovascular disease & in many cases better overall health. Recent

research has shown inflammation to be a big part of disease & the

ageing process. Fish oil can help reduce inflammation by providing

essential fatty acids required by the body to heal itself & maintain

good health. Fish oil supplements have become hugely popular for

this reason. Until now most fish oil only contained omega-3 fatty

acids in triglyceride form. Fish however naturally contain omega-3 in

triglyceride & phospholipid form but until recently the phospholipid

form was lost due to the manufacturing process.

GO-ADVANCED OMEGA-3-PC sets new standards in fish oil as

it contains omega-3 attached to both triglycerides & phospholipids.

Studies have shown GO-ADVANCED OMEGA-PC to be far better

absorbed leading to increased levels of vital omega-3 fatty acids in the

organs thru giving the potential for more health benefits.

GO-ADVANCED OMEGA-3-PC is produced from fresh wild

deep sea cold water fish using a new advanced & more natural

cold extraction process that better preserves the natural nutrient

profile found in fish. It is manufactured to high GMP standards &

is molecularly distilled to remove any containments, toxins & heavy

metals like mercury.

Further information on this revolutionary new fish oil & how

it may benefit you is available from the Natural Health Advisers,

at Marshall's Health & Natural Therapy, 101 Seaview Road, New

Brighton, phone: 388-5757. We are always happy to help!

Two Australian

Naturopaths Stephen

and Shane noticed at

the end of the 20th

century more and

more of their patients

were experiencing

gut, bowel and

digestive issues that

were often leading to

more serious chronic

health conditions.

Being Naturopaths

they wanted to find

what was going

wrong and began

extensive research.

What they found was

although their clients

were generally eating good food they were not

obtaining all the nutrients required for good health

from this food. Further research showed one of the

main problems was the digestive system, "it's not

what you eat but what you absorb." Another wellknown

problem is the soils the crops are grown

in have been depleted of many trace elements and

other nutrients that are known to be essential for

good health and therefore the crops and food are

also depleted. If we do not obtain all the nutrients

we require the body will compensate to some

degree but a lack of too many nutrients will

eventually lead to health issues.

Based on this they developed

VITAL GREENS, now call VITAL

ALL-IN-ONE, a

nutrient dense

powdered

formula

that provides superior absorption as well as

comprehensive nutrition. They decided on a

powdered formula that could be made as a great

tasting drink because liquid nutrition is the easiest

way for the body to absorb nutrients especially if

digestive issues are present. The formula provides

78 vital ingredients that work together in synergy

optimising each other's absorption and benefits.

Vital Greens contains a carefully balanced

blend of nutritionally rich greens, vegetables,

fruits, minerals, vitamins, essential fatty acids,

plant and herbal extracts, superfoods, powerful

antioxidants, probiotics, essential amino acids,

digestive enzymes, fibre plus a uniquely alkalising

pea protein. It provides superior nutrition to a

multivitamin and just about anyone will benefit

from it. It is designed to provide all the nutrients

the body requires for good health. It is also ideal

for those in poor health, those recovering from

injury or sickness, children, athletes, poor eaters

and the elderly. It is also suitable for people with

dietary restrictions and is gluten, wheat and dairy

free. VITAL ALL-IN-ONE will help remove toxic

waste from the body while supporting all organs.

You'll often notice more energy and endurance,

better sleep, a more positive mood, skin problems

improving, less sickness, improved eyesight and

overall better more optimum health.

Further information and how to obtain the

maximum benefits from VITAL ALL-IN-ONE

as well as tastings is available from the Natural

Health Advisers at Marshall's Health

& Natural Therapy, 101 Seaview

Road, New Brighton,

phone: 388-5757. We

are always happy

to help!

NOT all FISH OIl IS CreaTed eQUal!

ONLY GO OMEGA-PC retains the natural Phospholipids that have been shown to be so beneficial for Good

Health BUT are lost in other brands of fish oil due to the less natural manufacturing processes used!

GO-ADVANCED OMEGA-PC SETS NEW STANDARDS IN FISH OIL!

Omega-3 fish oil normally contains the vital Omega-3 fatty acids in a triglyceride form. Fish however naturally

contain Omega-3 in a triglyceride & phospholipid form but until recently the phospholipid form was lost due to the

manufacturing process. GO OMEGA-PC is produced using a new more natural cold extraction process that better

preserves the natural nutrient profile found in fish. Studies show GO OMEGA-PC offers superior absorption with

increased omega-3 fatty acids in organs giving the potential for more health benefits.

GO-ADVANCED OMEGA-PC OFFERS:

• Superior absorption of vital Omega-3, as

shown in research

• Advanced new cold extraction better

preserves the natural nutrient profile

found in fish

• Naturally contains phospholipids to

support cellular health

• Contains vitamin D3 to support immune,

bone & cardiovascular health

• Supports cardiovascular health - Countries with

a higher Omega-3 intake have much lower rates

of heart disease

• Supports blood circulation, healthy cholesterol &

healthy blood pressure

• Supports joint health, joint mobility & repair

• Supports overall health & wellbeing

• Natural anti-inflammatory - can help reduce pain

Look for

Omega/PC

on the label

Bringing You the Best in Natural Health!

- WE ARE ALWAYS HAPPY TO HELP -

SUPER SPECIALS

200 Softgels ONLY $19.90 SAvE $18.10

400 Softgels ONLY $38.90 SAvE $37.10

600 Softgels ONLY $56.90 SAvE $57.10

MAIL ORDER AVAILABLE

MARSHALLS HEALTH & NATURAL THERAPY

CONSULTING - PRESCRIBING - DISPENSING - MANUFACTURING - MEDICAL HERBALISTS

101 SEAVIEW RD, NEW BRIGHTON • PH 03 388 5757 • Email: enquiry@marshallshealthshop.co.nz

ARE YOU RECEIVING ALL THE NUTRIENTS YOU REQUIRE?

Take the VITAL ALL-IN-ONE 12 day Challenge to Better Health!

VITAL ALL-IN-ONE has been developed to provide superior nutritional

support to your body. It is near impossible to obtain all the nutrients your

body requires from a modern diet. VITAL ALL-IN-ONE contains 78 vital

nutrients in a balanced & highly absorbable form to help you receive

all the nutrients you require for optimum health. It consists of a blend

of nutrient dense greens, fruits, herbs, superfoods, vitamins, minerals,

antioxidants, prebiotics & 14 billion probiotics, essential fatty acids, fibre,

digestive enzymes, plus a uniquely high alkalising pea protein.

- Increased Energy & Endurance

- Better Digestion & Assimilation of Nutrients

- Optimised Immune Function

- Reduced Brain Fog

- More Balanced Blood Sugar

- 78 Vital Nutrients to Support Optimal Health

- Superior to a Multivitamin Tablet

- Dairy Free, Gluten Free, Vegan Friendly, Wheat Free

- Gently Detoxifies, Cleanses & Energises Every Cell in Our Body

- ALL YOU NEED – ALL IN ONE – DAILY HEALTH SUPPLEMENT

Super Low Prices

120g only $23.90, save $11.00

300g only $54.90, save $20.10

600g only $94.90, save $44.10

1kg only $139.90, save $59.10

MAIL ORDER

AVAILABLE

Bringing You the Best

in Natural Health!

MARSHALLS HEALTH & NATURAL THERAPY

CONSULTING - PRESCRIBING - DISPENSING - MANUFACTURING - MEDICAL HERBALISTS

101 SEAVIEW RD, NEW BRIGHTON • PH 03 388 5757 • Email: enquiry@marshallshealthshop.co.nz

- WE ARE ALWAYS HAPPY TO HELP! -

FREE

TASTINGS

INSTORE
---
20 Tuesday July 16 2019

Latest Christchurch news at www.star.kiwi

REAL ESTATE

Substantial Scarborough Home!

142 Scarborough Road, Sumner

Price by negotiation

5 bedrooms | 3 bathrooms | 5 toilets | 3 living rooms | 1 office/study

4 car-garage | 2 off-street parks | Listing Number SM0222

NOR'WEST NEWS

This striking executive home makes

an immediate impression and enjoys

an irreplaceable dress circle position

opposite Nicholson Park at the top of

Scarborough Hill. Incredibly positioned

with breathtaking 270˚ views that cannot

be built out over Sumner Beach and the

city with a backdrop of the Southern Alps

and the Kaikoura Ranges.

This spectacular level corner site was a

determining factor in the distinctive design

by acclaimed architect Alick Bellerby which

won 'house of the year' on completion.

Spread over a 360sqm of approximate

floor plan with generously proportioned

living areas, 5 bedrooms, 3 bathrooms and

level access to 4 car garaging.

The kitchen is the hub of the home

connecting 2 of the living rooms. Warm oak

floors and full height windows flood the

home with warmth and light and optimise

the sea views. A separate downstairs media

room is a great space for teenagers, a work

from home office space or maybe a gym.

Look out over the manicured gardens

or step outside to a private Halswell stone

courtyard and BBQ area. Here you have

the ability to host everything from intimate

dinner parties to large gatherings in a very

private and sheltered setting.

The established and easily maintained

1613sqm grounds include level lawns, rose

gardens, planted borders and offers an

hot

ULEBs are

Metro Ultra Insert

Pyroclassic Mini

and Pyro IV

Woodsman

Serene

Metro

Ultra

enviable microclimate with total privacy.

Located between Sumner Beach and

Taylors Mistake Beach, allows plenty of

recreational pleasures such as surfing,

boating, walking and cycling right on your

doorstep. While close by in the Sumner

Village you can enjoy the cafes, restaurants,

library and boutique shops.

Sublime design, superior construction

and a prestigious location combine to make

this a compelling lifestyle offering. With

our owner now committed to Auckland

you could secure this home for immediate

possession. Present all offers.

Open Homes: Sunday 14 July 2:00pm -

2:45pm.

See you at the open homes or for a

private viewing or for more information

contact Alison Carter of Harcourts

Grenadier Sumner (Licensed Agent

REAA 2008) on 384 7950 or mobile 0274

318 960.

METRO ULTRA

INSERT

Fits existing masonry

fireplace and chimney.

NEW

When the latest Ultra Low Emission Burners

are here, Simply Heat will have them.

PYROCLASSIC MINI

AND PYRO IV

Inside colour: flame red

Exterior colours: 200+

WOODSMAN

SERENE

Latest in the range.

NEW

METRO FITS FINE

right where any old

woodburner did.

95 Byron Street, Sydenham,

opposite Clip 'N Climb

Call today 03 365 3685

www.simplyheat.co.nz

facebook.com/simplyheat

GASSON ST

MOORHOUSE AVE

CARLYLE ST

BYRON ST

BRISBANE ST

WALTHAM RD OVERBRIDGE
---
2

NOR'WEST [Edition NEWS datE]

Latest Christchurch news at www.star.kiwi

Tuesday July 16 2019 21

HOME & HEATING

Get rid of

dampness in

your house

Now with the colder and wetter weather

on its way, home owners are focusing on

ways to make their homes comfortable,

warm and healthy for their families

throughout winter. Rising damp is an issue

that affects many of our older properties

which suffer from poor, or no, insulation.

In Canterbury especially, post-quake, many

people have relocated to homes that suffer

from rising damp which can be associated

with health problems. Independent tests

have shown that up to 40 litres of water

can rise from the ground and enter a

house every day, leading to mildew, mould,

condensation and musty smells. Moulds

can produce various allergic reactions

and the frail, elderly and very young are

especially vulnerable.

Canterbury Foam Concrete Ltd is a

locally owned and operated firm. The

team understands the problems caused

by rising damp and are there to help.

They will come to your damp home

and pump a lightweight, flowable foam

concrete under your timber floored home.

Specially adapted for our New Zealand

conditions and applications it provides a

layer of protection against rising moisture.

An unexpected benefit that the team at

Canterbury Foam Concrete have noticed

recently, is that many owners of properties

which had underfloor foam concrete

installed, reported that it also provided

protection against liquefaction after

the earthquakes.

Contact Canterbury Foam Concrete

Ltd now for your free, no obligation

quote and complimentary appraisal of

your underfloor ventilation needs. Phone

03 376 4608 or 0508FOAMCO for more

information.

What makes a great

Heat Transfer System?

There are a number of Heat Transfer

systems on the market. Smooth-Air

ventilation specialists offer a range of HTU

Heat Transfer Units with carefully selected

components to optimise the system:

They use insulated duct to transfer the

heated air with as little heat loss as possible.

The fan moves sufficient air for the distance

and number of rooms, without being noisy.

The diffusers send the heat to the floor,

not to skim the across the ceilings. All

components are good quality - designed to

operate for years without problems.

Smooth-Air's HTUs come in a range of

options: One to four rooms, with or without

thermostat and with a choice of grilles and

diffusers. HTUs improve energy efficiency

in your house, as you are using excess

heat. They have low power consumption

- only 80watts for the three room system.

Circulating air through the house also

reduces the risk of damp.

You can also choose the HTU version

with downjet diffusers, which throw the

warm air downwards to the floor. These

downjet diffusers can also be adjusted to

regulate which room receives the most

warm air.

An average size living room requires 2-4

kw of heating, yet appliances such as log

burners generate heat in the region of 10

-20kw. This leaves an excess of 8 -16kw of

heat which sits at high level in the heated

room, usually above door level.

Heat transfer units work best where very

hot air has 'stratified' into a layer near the

ceiling. So heat pumps, which circulate

warm air around the room with no

layering, are not suitable as a heat source

by themselves. However, if you have both

log burner and a heat pump, heat transfer

systems with thermostat can work very

well: The heat pump stops operating once

the heat from the fire has heated the room,

and the heat transfer kicks in above this

point, once there is a layer of hot air at the

ceiling.

Contact Smooth-Air on 0800 SMOOTH

(0800 766 684) to ask how they can help

you with your Heat Transfer, as well as

any other ventilation requirements.

Transfer your heat to the bedrooms

Smooth-Air

Ventilation Equipment Suppliers

to

Smooth-Air also has a wide range

of ventilation equipment to bring

fresh air into your home.

trade

&

retail

T. 03 376 4608

E. info@foamconcrete.nz

W. www.foamconcrete.nz

Domestic

Commercial

Industrial

HEAT PUMP

SALE NOW ON!

Amazin' WINTER Specials!!

• We will offer you the best quality brands and

option of heat pump for your home/business

• Providing Heat Pump solutions for over 17 years to Cantabrians

• We personally guarantee all our products & installs for 5 years

(providing annual maintenance has been completed)

Phone us today for your free consultation & quote

41A SHAKESPEARE RD, WALTHAM

PHONE 03 366 0525

www.enviromaster.co.nz

"A local team for local people"

0800 SMOOTH

(0800 766 684)

sales@smooth-air.co.nz

Transfer

the excess

from your

log burner

to your bedrooms

264 Annex Rd

Riccarton

Christchurch

03 343 6184

heat

Monday - Friday

7.30am - 5pm

www.smooth-air.co.nz
---
22

Tuesday July 16 2019

Latest Christchurch news at www.star.kiwi

NOR'WEST NEWS

If you want more information about an item or to contact a

seller, visit www.postanote.co.nz and search the ID#

1992 Isuzu Bighorn

HeVa 6.3m Folding Roller

2003 Mini Cooper S, 1.8

Mazda3/Alexa Wheels 15inch

Mini Clubman

Hutch Dresser

$4,500

ID 29655

$14,000

ID 21671

$5,600

ID 23996

$200

ID 29866

$7,500

ID 29732

$150

ID 29793

Mazda MX-5 Miata

Chinese Fan Palms

Honda Accord Euro CL 9

Whitebait Net

Nissan Maxima

3 Plastic Drums

$3,500

ID 29833

$25

ID 29854

$8,000

ID 29801

$950

ID 29773

$900

ID 21212

$25 each

ID 17340

Victa Tornado Line Trimmer

Holden Caprice Sidi V6

Pure Wool Wall Hanging

1997 Honda Legend

Cobra Eliminator Kayak

Yardman GLX92RA Ride On

$140

ID 29594

$22,000

ID 26191

$950

ID 19025

$2,000

ID 29798

$800

ID 26166

$1,450

ID 29875

Sharpe Microwave Grill

2008 Hyundai Tuscon City

5kg Washing Machine

Kemble Piano

3-seater & 2-single Seaters

Brake Kit

$70

ID 29711

$8,500

ID 29537

$150

ID 29710

$1,100

ID 29707

FREE!

ID 29705

$80

ID 26069

Subaru Legacy B4 Manual

Nissan Truck, Long Deck

Ford Model A 19-inch Wire Wheels

2005 Ford Mondeo Zetec

File Cabinet

Ingersol Rand Rattle Gun

$3,000

ID 29697

$750

ID 29693

$150

ID 29681

$6,000

ID 29677

$190

ID 29776

$600

ID 26130

Subaru Impreza AWD 2L

Haines Hunter v17r. 18 foot

Honda 3-wheeler ATC 200cc

Wing Chair & Footstool

1988 Volvo 740 GLE

Freedom Jelly Bean Desk

$7,500

ID 29549

$10,000

ID 29561

$300

ID 29527

$450

ID 10720

$4000

ID 29870

$200

ID 23770

Green & Grey Roofing Screws

Subaru Legacy Sport

Steps

2009 Ford Mondeo

Massage Table

Mercedes a160

$100

ID 28806

$8,500

ID 29501

$30

ID 29637

$7,000

ID 29542

$100

ID 13919

$7,800

ID 27795

2180990chch
---
NOR'WEST NEWS Latest Christchurch news at www.star.kiwi

Tuesday July 16 2019 23

Classifieds Contact us today Phone our local team 03 379 1100

Community Events

ALCOHOLICS

ANONYMOUS, If you

want to have a drink that's

your business. If you want

to stop, we can help. Phone

0800 229-6757

Gardening

& Supplies

A GARDEN OR

LANDSCAPING TIDY

UP? Shrub, hedge &

tree pruning, Lawns,

Gardening, consistently

reliable general property

upkeep, Dip. Hort. 10

yrs experience, One off

tidy ups or on-going

service. Nick's Garden

Maintenance. Keeping

your garden beautiful.

Free Quote. Ph. 942-4440

& 022 264 7452

Personals

MATURE N/S Single

Man. In NW of city seeks

a happy slim & perky

older lady for company &

to spoil Ph 0276594425

Vehicles Wanted

CASH/CASH for any

unwanted vehicles, ph

347 9354 or 027 476 2404

ADVERTISE YOUR BUSINESS HERE

ADD SOME

COLOUR

TO YOUR ADVERT!

Phone for further details

Wanted To Buy

CASH FOR

STAMPS,

COINS &

GOLD

Free Appraisals

Call Matt at

The Stamp and

Coin Exchange

134a Riccarton Rd

0800 39 24 26

We can come to you.

Call today.

Wanted To Buy

AAA Buying goods

quality furniture,

Beds, Stoves, Washing

machines, Fridge Freezers.

Same day service. Selwyn

Dealers. Phone 980 5812

or 027 313 8156

TOOLS Garden,

garage, woodworking,

mechanical, engineering,

sawbenches, lathes, cash

buyer, ph 355-2045

Vehicles Wanted

CASH/CASH for any

unwanted vehicles, ph

347 9354 or 027 476 2404

(03) 379 1100

Trades & Services

HALSWELL

GLASS & GLAZING 2017 LTD

THE PET DOOR SPECIALIST

• PET DOORS

• NEW GLAZING

• FRAMELESS SHOWERS

• MIRRORS

• INSURANCE CLAIMS

• RETRO GLAZING

• BALUSTRADING

ALL SUBURBS COVERED FOR

ALL YOUR GLAZING NEEDS

PHONE GAIL OR SARAH ON

322 7999 OR 021 CAT DOOR

(228 3667)

BLOCKED

DRAINS?

• Video inspection

• Waterblasting

• liquid Waste

pH: 03 365 7960

24 hours // 7 days

info@h20jet.co.nz

www.h20jet.co.nz

BATHROOM

Renovations, complete

service from start to finish,

free quotes, ph Dave 027

334 4125

BEST BATHROOMS

full renovations

specialists, LBP builder,

free quote, all building

property maintenace ph 03

383 1927or 027 245 5226

ciey@xtra.co.nz

BLOCKLAYING

Bricklaying, EQC

work, free standing

walls, letterboxes. LB

Practitioner. Free quotes.

Ph Hylton 0274 365 389

BRICKLAYER.

George Lockyer. Over

40 years bricklaying

experience.Uk trained.

Insurance work, EQC

repairs. Heritage

brickwork & stonework

a speciality. No job too

small. Governers Bay.

Home 329 9344. Cell

027 684 4046. E mail

georgelockyer@xtra.co.nz

****************

CARPET & VINYL

Laying. Exp. Repairs,

uplifting, relaying,

restretching. Email

jflattery@xtra.co.nz ph

John on 0800 003 181 or

027 2407416

CHIMNEY SWEEP

*Rotary

brush

technology*. From $70

single story. 0800 SWEEP

ME or 021 0277 1927

ELECTRICIAN

Registered, electrical

installation and repairs,

Gorbie Electrical, ph 021

026 73375 or 03 322 4209

PAINTING

& Decorating Wingfields

Contracting, all interior

& exterior painting & all

forms of interior plastering

& jib fixing, ph Mark 021

171-1586

PLUMBER

A Top Plumbing job

completed at a fair price,

prompt service, all work

guaranteed, Ph Brian 960-

7673 or 021 112-3492

Health & Beauty

Footcare

Deluxe Package

PRICES FROM $55 PER TREATMENT

Footpod offers a complete array of

footcare services to help you overcome

problems and maintain healthy feet.

• Athletes foot

• Fungus nails

• Ingrown toenails

• Warts, corns,

calluses & bunions

• General foot care

BOOkINgS ESSENTIAl 021 900 977

27 Forfar Street | www.footpod.co.nz

Painters and Decorators Ltd

Canterbury Owned and Operated

A husband and wife team

Specializing in:

• Roof Painting

• Interior/exterior

residential

• Small commercial

painting

Trades & Services

PAINTERS

Noel 027-411-3596

kemp.painters@gmail.com

kemp painters and decorators

We offer

free quotes

Quality not

Quantity

Public Notices

Trades & Services

ROOFING REPAIRS

Fully qualified, over 40

yrs experience. Ph John

027 432-3822 or 351-

9147 email johnchmill@

outlook.com

ROSE PRUNING

Sorting climbers, vines,

lemons & fruit trees. Ph

Graeme 027 341 8596,

342-5151

SHOE REPAIRS

Belfast engraving. Shoe

repairs, key cutting &

engraving. (10 yrs exp)683

Main North Rd, ph 027

3113423

SPOUTING CLEANING

Spouting Unblocked,

Cleaned Out and Flushed

Out. Call Trevor 332 8949

or 021 043 2034

STUMP GRINDING

Best price guarantee Tony

0275 588 895

TILER/CARPENTER

35 years exp, no job

too small. Ph Ross 027

4311440.

TILING

Flooring - Splashbacks -

Wall incl tile removal, reg

master tiler, ph Dave 027

334 4125

T.V. SERVICE CENTRE

Repairs, tvs, microwaves,

audio amps, soundbars.

.Aerial & satellite

installations, kitsets, 480D

Moorhouse Ave, ph 03 379

1400

VHS VIDEO TAPES

& all camera tapes

converted to DVD, video

taping special occasions,

www.grahamsvideo.co.nz

ph 03 338-1655

BURNSIDE

HIGH SCHOOL

Amended enrolment scheme

adopted by Burnside High School

effective 1st January 2020

To enable the Secretary for Education to make the best use of

existing networks of state secondary schools in Christchurch and

to avoid overcrowding, or the likelihood of future overcrowding,

in Christchurch secondary schools the Burnside High School

Board of Trustees has adopted an amended enrolment scheme.

This has been approved by the Secretary and will be effective

from 1st January 2020.

Students will be enrolled at Burnside High School if they live

within the scheme which is also referred to as our 'home zone'.

The new boundaries are approximately represented by part(s)

of, or in some cases the entire, street, road or geographic entity

described below. Properties on both sides of street or road

boundaries are included in our home zone.

Russley Road (SH1), George Bellew Road, Grays Road, the

main runway of Christchurch Airport (including addresses on

Aviation Drive), Harewood Road, Wairakei Road, Breens Road,

Twyford Street, Vauxhall Street, Farrington Avenue (including

Kingston Place), Hornsby Street, Mooray Avenue, Staines Street,

Grahams Road, Greers Road, Saffron Street, Manor Place, Idris

Road, Jeffreys Road, Normans, Papanui Road, St Albans Street,

Trafalgar Street, Edgeware Road, Colombo Street, Otakaro /

Avon River, Durham Street South,Tuam Street, Riccarton Avenue,

Deans Avenue, Kilmarnock Street, Kahu Road, Kotare Street

(including Girvan Street), Creyke Road, Maidstone Road, Withells

Road, Wardour Mews, Berkshire Drive, Apsley Drive, Kedleston

Drive, Greystoke Lane, Southern edge of Avonhead Park to

Russley Road (SH1).

Please note that the listing gives a general indication only.

An accurate description of the home zone boundaries may be

viewed on the school website, or at the school office.

The enrolment of out-of-zone students is governed by the

provisions of the Education Act 1989.

DIRTY

TILES &

GROUT?

Our unique restoration processes will make your

tiled areas look BRAND NEW again!

We provide cost effective makeovers for showers,

bathrooms, kitchens or any other tiled areas.

Tiled Shower Makeovers

Professional Tile & Grout Cleaning

Re-Colouring of existing Grout

Tile/Grout Sealing

Tile/Grout Repairs

Silicone Replacement

Garage Carpet Installation

For your FREE no obligation quote contact

DARRYL

Trades & Services

concrete & paving

• Driveways

• Earthquake repairs

• New Home Specialists

• Patios & Paths

tel: 0508 873 7483

email: sales@affordableconcrete.co.nz

www.affordableconcrete.co.nz

0800 882 772

darryl.p@groutpro.co.nz

PLUMBER

NEED A PLUMBER

AquaPro Star April 09

Call us now for fast friendly service.

Juliet Karl 8x2 T&S

JDC107591-V2

Get your problems sorted out

quick smart - on time!!

Phone for a

FREE

quote now.

Phone 03 377 1280 | Mobile 021 898 380

PLUMBER

Leaking Pipes and

Cylinder?

CALL YOUR LOCAL PLUMBER

Best Service.

Right Price.

Aquapro has

you covered for

all your plumbing

needs!

0508 AQUA PRO | aquaproplumbing.nz

PLUMBING | DRAINAGE | GAS FITTING | SOLAR
---
24

Tuesday July 16 2019

Latest Christchurch news at www.star.kiwi

NOR'WEST NEWS

on trend...

More on

trend items

on sale in

store!

MEMPHIS DARK

ON SALE

3 Drawer Bedside $ 179

Queen Bed $

459

5 Drawer Tallboy $

399

8 Drawer Chest $

499

Shop

Online

Nationwide

Delivery

Finance

Options

targetfurniture.co.nz

Cnr Blenheim & Curletts Rds, Christchurch

Ph: 0800 TARGET (0800 827438)

Offers and product prices advertised here expire 29/07/19.

Sale excludes Manchester and Accessories.

On Trend On Sale now on. Ends 29.07.19. In store and online.