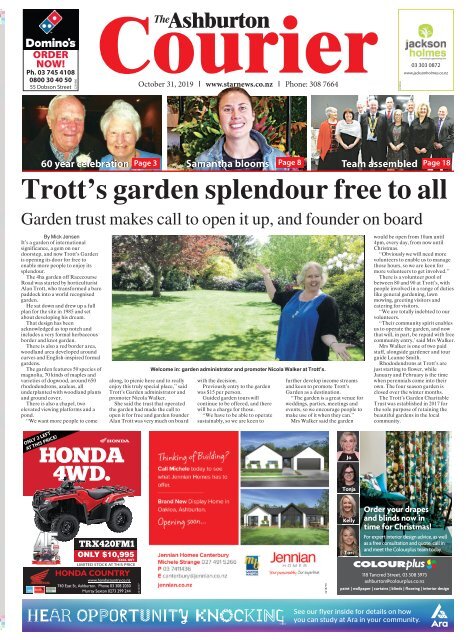 Ashburton Courier: October 31, 2019
You also want an ePaper? Increase the reach of your titles
YUMPU automatically turns print PDFs into web optimized ePapers that Google loves.
ORDER

NOW!

Ph. 03 7454108

0800 30 40 50

55 Dobson Street

2221886

October 31, 2019 l www.starnews.co.nz l Phone: 308 7664

2210134

03 303 0872

www.jacksonholmes.co.nz

60 year celebration Page 3 Samantha blooms Page 8 Team assembled Page 18

Trott's garden splendour free to all

Garden trust makes call to openitup, and founder on board

By Mick Jensen

It's agarden of international

significance,agemonour

doorstep, and nowTrott's Garden

is openingits door for freeto

enable morepeople to enjoy its

splendour.

The4ha garden offRacecourse

Road wasstarted by horticulturist

Alan Trott,who transformed abare

paddockinto aworldrecognised

garden.

He sat downand drew up afull

plan for the site in 1985and set

aboutdeveloping his dream.

That designhas been

acknowledged as topnotchand

includes avery formal herbaceous

borderand knot garden.

Thereisalsoared borderarea,

woodlandarea developed around

curvesand English­inspiredformal

gardens.

Thegarden features50species of

magnolia, 70 kinds of maples and

varieties of dogwood,around 650

rhododendrons,azaleas,all

underplanted withwoodlandplants

andground cover.

Thereisalsoachapel,two

elevated viewingplatformsand a

pond.

''We wantmorepeopletocome

along,topicnichere andtoreally

enjoy thistrulyspecial place,'' said

Trott's Gardenadministrator and

promoter Nicola Walker.

Shesaidthe trust thatoperated

thegardenhad made the callto

open it for freeand gardenfounder

Alan Trottwas very muchonboard

Welcome in: garden administrator and promoter Nicola Walker at Trott's.

with thedecision.

Previously entry to thegarden

was $15per person.

Guided garden tours will

continue to be offered, andthere

willbeachargefor those.

''Wehavetobeable to operate

sustainably,soweare keento

furtherdevelopincome streams

and keentopromoteTrott's

Garden as adestination.

''The garden is agreatvenuefor

weddings,parties, meetings and

events,soweencourage peopleto

makeuse of it when theycan.''

Mrs Walker said the garden

would be open from 10amuntil

4pm,every day,fromnow until

Christmas.

''Obviously we willneed more

volunteers to enable us to manage

those hours,soweare keen for

morevolunteers to getinvolved.''

There is avolunteerpool of

between 80 and90atTrott's,with

peopleinvolved in arangeofduties

likegeneral gardening, lawn

mowing, greeting visitors and

catering forvisitors.

''Weare totally indebtedtoour

volunteers.

''Their communityspirit enables

us to operate thegarden,and now

thatwill,inpart, be repaidwithfree

community entry,' said Mrs Walker.

Mrs Walker is one of two paid

staff, alongside gardener and tour

guide Leanne Smith.

Rhododendrons at Trott's are

juststarting to flower, while

Januaryand February is thetime

whenperennialscome intotheir

own.The fourseason gardenis

closedover the winter months.

The Trott's Garden Charitable

Trust wasestablished in 2017for

the solepurposeofretaining the

beautifulgardensinthe local

community.

ONLY2LEFT

AT THIS PRICE!

Jo

Tonja

ONLY $10,995

EXCL GST

LIMITEDSTOCK AT THIS PRICE

HONDA COUNTRY

www.hondacountry.co.nz

740 East St, Ashburton. Phone 03 308 2030

Murray Sexton 0273 299 244

2210377

2218770

Kelly

Tori

Orderyour drapes

and blindsnow in

time forChristmas!

Forexpert interiordesignadvice,aswell

as afreeconsultation andquote,call in

and meet the Colourplusteamtoday.

118 Tancred Street, 03 308 3973

ashburton@colourplus.co.nz

paint |wallpaper |curtains |blinds |flooring |interior design

*
---
Page 2, Ashburton's The Courier, Thursday 31 October 2019

Local news at www.starnews.co.nz

BUSINESS OWNERS

Build customers,

sales and profits

with us ...

Over 16,065

copies delivered to

EVERYhome,farm,

RD and lifestyle

blocks in

MidCanterbury

news

John Keast

Managing Editor

027 628 7679

john.keast@ashburtoncourier.co.nz

Reporters

Mick Jensen

mick.jensen@ashburtoncourier.co.nz

Toni Williams

toni.williams@alliedpress.co.nz

advertising

Jann Thompson

Sales Manager

308 7664

027 587 6351

jann.thompson@ashburtoncourier.co.nz

Roselle Fuaso

Sales Account Manager

308 7664

021 197 8297

roselle@ashburtoncourier.co.nz

Karen Gane

Sales Account Manager

308 7664

021 510 804

karen.gane@ashburtoncourier.co.nz

get in touch

Editorial

john.keast@ashburtoncourier.co.nz

Advertising

info@ashburtoncourier.co.nz

Production

murray.thompson@ashburtoncourier.co.nz

Accounts

accounts@alliedpress.co.nz

Distribution/Deliveries

leonie.marsden@ashburtoncourier.co.nz

Office

office@ashburtoncourier.co.nz

03 308 7664

199 Burnett Street,Ashburton

www.ashburtoncourier.co.nz

2207985

Four decades of support

Many years ago Tony

Quaid, who is Volunteering

Mid & South

Canterbury and the

Hotel Ashburton Volunteer

of the Month, was

working full time and

didn't think hehad time

to volunteer.

At the same time he

was helping look after

Miss Fowke and Miss

Duckworth's Welsh

Ponies and was asked by

the ladies if he would

help Mid Canterbury

Riding for the Disabled

(RDA) with their secretarial

work.

Tony says at the time

there was no reason for

him to say no, and he

took on the role of secretary

from the late Jack

Thompson.

It was the beginning of

forty five years volunteering

with the organisation

as a''quiet backroom

worker''; including

20 years as secretary and

20 years as treasurer.

He filled the secretarial

role for around 20

years before he decided

it was time to move on

and he resigned.

But that resignation

really turned out to be a

leave of absence because

Volunteer of the month

within afew months he

was asked to be treasurer

and again he had no

reason to say no. Infact

Tony admits hecan't say

no, and his skills ­which

he says are limited ­were

gleaned from his time

''doing abit of accountancy

work for PGG

Trust''.

He, alongside wife, Liz

­also avolunteer ­have

worked together in each

of their roles; Liz helps

Tony with his RDA volunteering

and Tony supports

Liz in her volunteer

Letter to the editor

Peter McQuarters asks

whether ''Ashburton's

day of shame is imminent''

(Ashburton Guardian

26/10/2019), but I

believe it has already

passed ­ on October

12th, when the majority

of voters in this community

had the wool

pulled over their eyes, in

one of the most astonishing

pieces of political

expediency we have

seen in along while.

In an article heavy on

emotion but light on

fact, the writer falsely

claims that ''the old

council decided it could

dispense with an

information centre, yet

after public pressure,

decided to make aspace

for one inthe new civic

building''.

The fact is the Angus

McKay­led council commissioned

aSection 17A

review into economic

development and tourism,

which recommended

the closing of

both of our i­Sites. The

motion to receive the

report and to ''work

with Experience Mid

Canterbury to address

the issues raised in the

report'' (Extraordinary

Council Meeting, 14th

April 2016), was moved

by none other than

Councillor Neil Brown.

The minutes of that

meeting also record one

member of the public in

attendance ­me.

Iwas also in attendance,

and almost fell off

my chair, when both

McKay and Brown

made campaign promises

to reopen the i­Site.

roles with the Ashburton

Museum and Save the

Children.

Doing the books is not

the only way Tony helps

out at RDA. Among

other things he is

involved in fundraising,

too.

But he is quick to

acknowledge there are

many other people who

also volunteer and support

RDA, which was

evident in the buildings

and land funded by the

hard work of those volunteers.

To reinstate the i­Site

on the current site would

require aredesign of both

the CBD redevelopment

plans and the Library and

Civic Centre plans. This

would cost the ratepayers

of our community hundreds

of thousands of

dollars. Given their

record with previous projects

in our town, we need

the rest of the council to

stand firm on plans that

have already been publicly

consulted on. Peter

McQuarters and the

people of this district

should think very carefully

about the implications

of what they wish

for, and whether they're

really being given the full

story.

Selwyn Price,

Ashburton

He says during his

time as treasurer the

work has been pretty

straight forward, but the

introduction of charities

reporting has increased

the workload.

Tony says the RDA

team are a ''good and

happy team'' and he

enjoys being involved

with them.

He says volunteering is

about being part of a

team and feeling you are

useful in the community.

Every person who volunteers

has skills they bring

and the different skills

make the organisation

whether it's volunteering

to wash dishes, raise

funds, help at working

bees, administration

work, picking up poo,

cleaning saddles, working

with the children and

the horses, there are

roles for a variety of

people who want to volunteer

with RDA.

''It's important in the

community that people

volunteer, and if each

person does something

for someone else, even if

it's only small, it adds to

the quality of life for the

citizens of that community.''

Organisations and

groups are encouraged

to get nominations in for

the Volunteering Mid &

South Canterbury &the

Hotel Ashburton Volunteer

of the Month. Nomination

forms are available

by contacting

Volunteering Mid &

South Canterbury, Community

House, 44 Cass

Street Ashburton, ph

3081237 ext 240 or email

volmidcant@gmail.com

or pick up acopy at Four

Square in Rakaia.

Winners posted

An estimated 700 post

boxes were crafted at Ashburton

Museum during the

last school holidays in conjunction

with the exhibition

Ashburton Feels Like

Home.

The exhibition features

displays of art and objects

that evoke memories of

home and was the inspiration

for the busy holiday

craft activity.

Basic boxes were used to

form the base of the post

boxes and craft accessories,

paint and pens used to

''dress'' them up.

While many post boxes

were taken home by their

creators, some 300 or so

were left on display and

judged.

Two NZ Post staff from

Ashburton, Mark Johnson

and Marie Summerfield,

were brought in to select the

best of the best.

Photo: Ashburton NZ

Post staff Mark Johnson

and Marie Summerfield

chose the winners.

28-32 MooreSt, Ashburton l Phone 03 550 7000

2220978
---
Local news at www.starnews.co.nz Ashburton's The Courier, Thursday 31 October 2019, Page 3

Prebbles celebrate 60 years of marriage

By Mick Jensen

Derek Prebble met his

future wife Jeanette at a

Saturday night dance at

Ashburton's Radiant

Hall and love blossomed.

Derek invited her for

another dance and a

romance began that has

stood the test of time.

Last week the couple

celebrated their diamond

jubilee and 60 years of

marriage.

Derek was born and

raised in Mid

Canterbury, and went to

Mt Somers school and

Ashburton High School

before enjoying along

career as afarmer.

Jeanette, 82, came to

Ashburton from Gore to

train as anurse.

The pair were married

at St Stephen's,

Ashburton by Rev.

Froude.

Derek puts his long

marriage down to the fact

that the couple ''got on

well from the beginning''

and kept on working well

as apartnership in life.

He credits his wife with

being ahard worker, both

on the farm and as a

nurse.

''Jeanette volunteered

as adistrict nurse and its

was tough going at times,

but she loved it.''

She was involved with

Plunket, the Red Cross

and kids sports, and in

the 1980s set up and ran a

craft shop in Hinds.

Derek is apast

Federated Farmers

Lowcliffe branch

president and was acrop

farmer at nearby

Coldstream.

He has enjoyed indoor

and outdoor bowls over

the years, returned to the

sport of badminton, and

is still aregular golfer.

He's also giving bridge a

go.

''I joined Pakeke Lions

Club when we shifted

into town in 1999 and it's

been good to be involved

with the club,'' he said.

Derek, asprightly 89,

likes to stay active and is

the Ashburton Courier's

oldest ''delivery kid''.

Ayear ago Jeanette

moved into Princes Court

because of her dementia,

but the couple maintain a

strong relationship and

love for each other, with

Derek visiting afew times

aweek.

The couple have four

children and nine

grandchildren and along

association with the

Presbyterian church here.

They celebrated their

anniversary with family

and friends and lunch

and abig cake at the

Lake House.

They were treated to

afternoon tea at Princes

Court the following day

by Derek's best man and

abridesmaid from their

wedding six decades ago.

Photo: Derek and

Jeanette Prebble

Residents oppose bid for Rakaia liquor store

By Mick Jensen

Passionate community

opposition may not be

enough to stopthe

granting of an alcohol

licence for anew bottle

store in Rakaia.

Rakaia Community

Association chairman

NeilPluck and five

''witnesses'' fronted a

District Licensing

Committee (DLC)

hearing last week to voice

concerns.

TownhillLtd, run by

Michael Brown,who also

ownsThirsty Liquor

Darfield and Thirsty

Liquor Waimak,is

proposingtoopen an

outlet at 114 Railway

Terrace.

Mr Pluck said he and

thecommunity

association opposed the

application because

Rakaia already hadfour

off­licence outlets and

''didn'tneednumber

five''.

Some32members of

thecommunity had

telephoned, or spoken to

himtosharetheir

concernsand the

oppositionhearing was

''about having acrack''at

stoppingit.

Mr Pluck said there

werealready eight

locations to drink or buy

liquor in Rakaia, more

thanenough forasmall

townwith apopulation of

around 1100.

Hard liquor saleswould

increase andmore booze

advertisingwould

influence drinkers to

drinkmore if yetanother

outlet opened,hesaid.

Theproposed store was

in the middleoftownand

his greatest concernwas

thatitwouldlead to an

increase in cheap booze

sales.

He saidnewsofa

proposedliquor store in

Methven afew yearsago

haddriven other outlets

in the township to reduce

prices, even beforethe

newoutlet had opened.

Mr Pluck was

supportedinhis

opposition by five Rakaia

locals.

The quintet were

excludedfrom the

hearing for thefirst two

hoursofsubmissions

because theapplicant's

counsel, Peter Egden,

argued thattheir answers

to cross examination

questionswould be

influenced by thewhatMr

Pluck said.

Mr Egden saidhis

client was an experienced

industry operator, who

had anumber of

successful licenced

premises to hisname.

He said the proposed

Thirsty Liquor Rakaia

outlet would be laid out

and run along the linesof

his client's businesses in

Darfield and Waimakriri,

which hadgood systems

in place andwere run

well.

The community could

be confident thathis

client would operate

Rakaia ThirstyLiquor in

a''responsible andsafe

way'' if granted the

licence.

Applicant Michael

Brown said therewas no

current stand­alone bottle

store in Rakaia andhe

believedhis customer

baseextended well

beyond thetownship and

intonearby rural areas.

He saidthere would be

no major advertising on

the outside of the shop,

instead smallposters

would promote specials.

Hisshop would offer a

wider selectionof

products than was

currently available in

Rakaia,including low

alcohol beers andhigh

quality whiskies.

He said there would be

cameras inside and

outsideofthe shop and

pull barswould likely be

fittedaswell.

Mr Brown said he

would open seven daysa

week from9am until

9.30pm.

No objections were

received fromthe police,

representative of Medical

Officer of Health, or the

district'slicensing

inspector, Leo Ratten.

Adecision on the

application is expected in

thenextcouple of weeks.

$500 GUARANTEED TRADE-IN DEALS

Freestanding Oven

• 8cooking functions –create amazing meals

• Storage drawer forextra trays

• Catalytic panels –absorbs grease &reduces

odours making oven cleaning easier

• 593mm w506mm d(excludes knobs &handles)

896mm h(excludes splashback)

Was $1299

WITH

$799

Dishwasher

• 15 placesettings,large size

• 6washprogrammes to suit anyload –

delicate to heavy

• Auto sensing option foreasy operation

• 597mm w 600mmd 870mm h

• 2years warranty

spend $100

or more

0 5

c

PER

LITRE

MAX50LITRES

OR

spend $500

or more

2 0

c

PER

LITRE

MAX50LITRES

FridgeFreezer

Was $1499

AA SMARTFUEL

SWIPE AND SAVE INSTORE!

Fridge Freezer

• 403 litres (280 fridge /

123 freezer) –family size

• Frost free freezer, glass shelves,convenient

and easy to clean

• 635mm w, 695mm d, 1720mm h

• 2years warranty

$10.10WEEKLY

+ 12

MONTHS INTEREST FREE

ON PRODUCTS $499 &OVER*

Front Load Auto Washer

• 8.5kg, Manhattan Grey

• 16 washing cycles

• Beko StainExpertprogrmmecan cope with 24

differentstain types making stain removalsimple

• 600mmw 600mm d846mm h

Was $1499

WITH

TRADE-IN

WITH

TRADE-IN $998 TRADE-IN

$998

$5.53 WEEKLY

$6.84 WEEKLY $6.84 WEEKLY

Was $1899

$1399

IMMEDIATE

DELIVERY

WIN A

RUGBY

JERSEY*

• 342 litres (250 fridge/126 freezer)

• NeoFrost cooling system maintains humidity

and freshness ensuring no transfer of odours

between fridge and freezer

• Frost free –nodefrosting necessary

• 700mm w660mm d1720mmw

Was $1999

Chest Freezer

• 719 litres

• Fast freezefunction

• 3removable wirebaskets for

flexible storage

• 1860mm w805mm d847mm h

• 2years warranty

Was $2199

WITH

WITH

TRADE-IN

$1498 TRADE-IN

$1699

$9.45 WEEKLY

$11.41 WEEKLY

IMMEDIATE

DELIVERY

WIN A

RUGBY

JERSEY*

IMMEDIATE

DELIVERY

IMMEDIATE

DELIVERY

WITH

TRADE-IN

*TERMS &CONDITIONS APPLY

IMMEDIATE

DELIVERY

WIN A

RUGBY

JERSEY*

IMMEDIATE

DELIVERY

Scott

2216216
---
Page 4, Ashburton's The Courier, Thursday 31 October 2019

THIS WEEK'SSPECIALS

Local news at www.starnews.co.nz

Favel farewells council afternineyearsofservice

It can't be easy letting go.

But outgoingAshburton mayor

DonnaFavel did it with grace.

Mrs Favelasked, whenpresented

with acertificate of serviceatthe

inaugural meeting of this term of

council,ifshe could say afew words.

She used sporting analogies to

pointupthe role of mayor, with

plenty of comments about playing by

the rules and trying hardfor the

team.

Then,she and the other

councillors who stoodbut did not

make it back, were given flowers in

Buskers needed

Ride LikeAGirl

Reviewed by Rowena Hart

Hereisthe storyofthe first female jockey to win

one of the richest horse racesinthe world...the

Melbourne Cup.

We meet her family living in Ballarat, Australia,

all into training and riding horses. There are

10 children and all but two are jockeys! The

youngest of the ten is Michelle. And this is

her story and theirs. Her brother Stevie who

has Downs Syndrome is adelight and works

alongside Michelle as her helper and master

horse strapper.

Michelle is determined from ayoungage to win

the Melbourne Cup. But when she has found the

perfect horse and has won10races in arow she

is still not accepted into the male-dominated

world ofracing. It took extreme courage for her

to fight her waythrough into the race.

Genuinely inspirational on many levels, this

movie was asurprisingly emotional ride on and

off the track.Somany"Oh Wow"moments!

Another very special Australian movie.

bookings ph 307 1230

www.regentcinema.co.nz

Courier comment

recognition of their service.

It must have been difficultfor Mrs

Favel to keepher emotionsincheck,

given she served two termsasa

councillor and one as mayor.

Muchisinvested in nine years of

local government service andthen,

almost withoutwarning, it is all

gone.

It would not haveescaped her

notice, either, that also in the room

was AngusMcKay, whose job she

Local musicians looking

to showcase their talent

are being invited to take

part in two Christmas

busker nights in December.

Held as part of Ashburton's

annual Christmas

festival Nights of Lights,

the buskers nights will be

held onDecember 6and

December 20 in Baring

Square Eastand aresponsoredbyAshburton

Courier.

Both nights will run

from 6.30pm until 9.30pm

andwill feature live music

and asausage sizzle.

Artists who would like

to showcase their talents

on either, or both events

can register their interest

by emailing the Ashburton

council at events@adc.govt.nz.

2220597

took just over threeyears ago.

But thatisthe nature of

democracy: one yearyou are

topping the polls and in another you

are not.

There was no rancour, no fuss.

MrBrown,who took Mrs Favel's

job, commented thatithad been a

clean and respectful campaign.

That speakswell of all candidates,

for higher or loweroffice.

Also of note was the high voter

turn­out ­55.06 of eligible voters,

one of the highest voter turn­outs in

New Zealand.

There has always been ahigh

turn­out in Ashburton,and that says

much aboutthe levelof

engagement, the media coveragethe

councilinAshburton gets and,

probably, thatmost votersknow

councillors, closely or at arm's

length.

Mr Brownaskedvoters not to be

shy to approach him or councillors

on any matter,and they willpossibly

at timeswhen he would

least like an approach.

But that is the nature of the job: of

the people, for the people.

Mrs Favel now, as she said, can

watch from the sidelines,bethe

passionate spectator she alluded to

in her commentstocouncil.

The public seatswere crowded for

theswearing­in ceremony and Mr

Brown said that, now sworn, the

work begins.

­John Keast

Players keen to see chessboard

area cleaned up and used more

By Mick Jensen

Chess players young and old are keen to see

the East Street chessboard spruced up to

encourage more people to play the game in

apublic setting.

Moves have already been made to revamp

and repaint the board's original chess pieces,

ajob completed by Ashburton Menz Shed

handyman Jim Armstrong and others a

number of months ago, but the chess squares

themselves and surrounding chess imprints

are faded and difficult to see.

Veteran player Roy Keeling, these days a

sprightly octogenarian and approaching his

85th birthday, was given the honour of

making the first official move on the board

some 24 years ago.

Mr Keeling was president of the flourishing

Ashburton Chess Club at the time and

and his knight was the first piece to move.

He is now among those leading the call for

aspruce­up of the playing area to promote

the game and to better use the community

space.

Mr Keeling's scrapbook of chess memories

show him moving that first giant chess

move and other news cuttings and photographs

show the support of Ashburton Lions

Club, which funded the initial purchase of

the $5000 custom made chess pieces, and

then later drummed up sponsor support to

share the cost.

Mr Keeling, who worked for Ashburton

council at the time, said the idea for the

public chess area had come from then chief

engineer Steve Taylor, afellow chess club

member.

The council had been supportive of the

initiative and the squares had been painted.

He said chess pieces were stored away

nearby and brought out on request for chess

club members and passing visitors.

''We thought the giant chess board was a

good idea to help promote the game locally.

''And Isupport the effort of those who are

now seeking to achieve the same thing,

Veteran chess players Stewart Bennett, left, and Roy Keeling with Maddie and Harry

Page at the East Street chessboard, below, Roy Keeling making the first move on

the East Street chessboard 24 years ago.

nearly 25 years later.

''It would be great for an old fellow like me

to see some young people out there playing

and enjoying the game.''

Mr Keeling is supported by fellow veteran

player Stewart Bennett, who had been

playing the game for 65 years.

At the other end of the age scale, siblings

Maddie and Harry Page, 12 and eight

respectively, have already enjoyed chess

games on the East Street board on anumber

of occasions, but are keen to see the area

revamped and repainted.

''Chess is fun to play and playing with the

giant pieces on abig board helps you see and

understand things from adifferent perspective,''

said Maddie.

With a revitilisation of the Ashburton

CBD on the cards, it is unclear what the

future holds for the East Street chessboard.

Steinlager Classic

330ml Bots 24s

$

39 99

Smirnoff 1L OR

Gordons 1L OR

Gordons Pink 700ml

2 FOR

$

66

DB Draught,Export

Export33

Smirnoff Guarana

Cruiser 5% 275ml Bots 12pk

Gold,Tui Eipa

Speights Summit

330ml Bots 24s

7% 250ml Cans 12pk

OR Woodstock 7% 250ml Cans 12pk

330ml Bots 15s

Ultra 330ml Bots 12s

$

39 99 $ 25 99 $ 21 99 $ 24 99 $ 21 99

Wild Turkey

1L

$

45 99

Jim Beam

1.75L

$

67 99

Smirnoff Double

Black 7% 250ml Cans

12pk (incl Flavours)

$ 23 99

Woodstock

CodysorKGB

Gordons G&T

6% 420ml OR

7% 250ml Cans 12pk

7% 250ml Cans 12pk

Woodstock Extra

7% 355ml Cans 4pk

$

19 99 $ 23 99 $ 11 99

Lindauer Special

Jim Beam OR

Reserve Range

Canadian Club

4.8% 330ml Cans 18pk

$

33 99 $ 12 99

ASHBURTON

MSA

266 Havelock Street,Ashburton

Telephone 308 7149

www.ashburtonclub.co.nz

HOURS

Monday

Tuesday-Saturday

Sunday

10:00am -8:00pm

10:00am -9:30pm

10:00am -6:00pm

SPECIALS AVAILABLE

from October 31

to November 7

2220574
---
Local news at www.starnews.co.nz Ashburton's The Courier, Thursday 31 October 2019, Page 5

CAR OFTHE WEEK

$64,990

2018 Holden Acadia LTZ-V AWD

3.6L 9spd Auto, Leather Trim, Hands free power

tailgate, Adaptive Cruise Control, 360 degree

camera, Dual Sunroof, Heated &Ventilated

front seats, Memory drivers seat and

FlexRide Adaptive suspension.

Financefrom 9.95%

T's, C'sand lending criteria apply

Richard

027 889 3870

Was $75,160

Shane

027 669 5656

Was $27,990

2012 Holden Colorado LT 4x44

$25,990 2.8L Diesel Automatic. Bluetooth, CD Player,

Tonneau Cover and Cruise Control.

Was $10,990

2001 Holden Commodore VT

$8,490 5.7L V8 Automatic. TowBar, CD Player,

Cruise Control and Air Conditioning.

Was $30,990

2015 Holden Colorado LT 4x4

4

$28,990 2.8L Diesel Manual. TowBar, Tonneau Cover, Was $9,990

Bluetooth, 83,625kms, Reversing Sensors.

2008 Volkswagon Golf Wagon

$8,9900 Cruise Control and Isofix.

Was $29,990

2014 Holden Colorado LTZ

$28,990 2.8L Diesel Automatic. Reverse Camera/Sensors, Was $8,990

TowBar, , 62,175kms,

and Climate Control

$7990 $7,990 2008 Honda Fit 1.3L Automatic. Air Conditioning, CD Player,

Cruise Control, Remote Central Locking.

W

$13,9903 2009 Suzuki Carry 4x4 Was $17,990

650cc, 5spd Manual. Hi/Low 4x4, 43,005kms,

2012 2 Holden Commodore SV6

Canvas Cover and Air Conditioning.

$16,990

2L Automatic. Leather Seats, Front Seats Heated,

3.6L V6 Automatic. Bluetooth, CDPlayer, Cruise

Control, Climate Control and Central Locking.

WARRANT OF

FITNESS

CHECK

+

EXPRESS

SERVICE

ONLY

$

199INCGST

T&C's apply. Bookings essential.

ASHBURTONSHOW

Friday1st y &Saturday2nd y November

ShowWeekend

Specials across

newvehicle

brands

Findusbetween President's Lane and Andy

BeggAvenueatthe NorthWest end of the showgrounds.

ASHBURTON: Main South Road, Tinwald \ 03307 9028 \ Facebook: SmallboneAshburton

Mon -Fri: 8am -5pm \Sat: 9am -12noon

smallbone.co.nz
---
Page 6, Ashburton's The Courier, Thursday 31 October 2019

Feedback sought

on transport move

Safe Communities Ashburton

District is seeking

community feedback on

the need for acommunity

transport service

(such as a community

van) to be established.

The service would

bring residents living in

rural areas of the district

into Ashburton on a

regular basis for medical

appointments, shopping

and other visits.

Community transport

schemes run on a notfor­profit

basis, often

involving volunteers to

manage and deliver the

service. People using the

service make asmall payment

towards recovering

operating costs (fuel,

etc).

''We would really like

to hear from people who

feel restricted from going

about their everyday

business and activities in

Ashburton Township by

alack of transport. This

feedback will help us

decide what, if anything,

could be required to help

people be less isolated in

our more rural areas of

the district,'' said Ashburton

councillor Liz

Is your Will

up-to-date?

Build your Will online

www.argylewelsh.co.nz

BARRISTERS, SOLICITORS & NOTARY PUBLIC

McMillan, chair of the

Community Transport

Working Group.

The survey islive until

November 22 and can be

completed online at

tinyurl.com/Community­

TransportSurvey, or on

paper.

Paper copies can be

obtained by contacting

Safe Communities coordinator

Lesley Symington,

(027 586 6556, or

lesley@saferashburton­

.org.nz) or picked upfrom

the Community House

Mid Canterbury (44 Cass

Street, Ashburton).

Half of drivers think they

are above average on road

Almost half of Canterbury

drivers believe they

have above average abilities

on the road, yet

think 87 per cent of

other drivers are either

average or below average,

aroad safety report

has found.

The Road Safety in

Canterbury Report conducted

by Canterbury

councils, Environment

Canterbury and NZ

Transport Agencyinvestigated

Cantabrians'

driver perceptions and

uncovered some interesting

findings.

Although 43per cent

scoredtheir driving abilities

highly, astaggering

70 per cent believed

other people they

shared the road with

were only average, and

17 per cent said other

drivers were below average.

The authors stated

that, "over­confidence

doesn't just mean you

see yourself as a better

driver than others: it

means you are likely to

forgiveyourown mistakes

as beingresults of circumstance,

while attributing

other's mistakes [as]

defects in their character".

In addition to this finding,

the report discovered

that Canterbury drivers

care about road safety,

with 96 per cent stating

safety "is everyone's

responsibility".

Local news at www.starnews.co.nz

Lions give defibrillator to Tuarangi

The Pakeke Lions raised $3060 to buy adefibrillator for Tuarangi Home in Ashburton. It can be

accessed by patients and visitors. Lion Bob Rodgers said the club saw the need in an area where the

public congregate. Thanking the Lions, Michelle Genet said the defibrillator would be avaluable asset.

Photo: Louise Greer, left, Bob Rodgers, Michelle Genet.

Resident warns of phone scam

Ella of Tinwald felt mesmerised.

The caller was foreign

and very persuasive.

Had she been unwell,

did she fell all right?

''She asked for my

Visa number and Iknow

Ishouldn't give it, but I

did. It was like she had

me under her control,

mesmerised.''

Ella, whose full name

we have agreed not to

use, said acourier pack

of pills she did not want

arrived from Germany,

then another, and suddenly

$600 had been

taken off her credit card.

Ella then went to the

bank and had it cancelled.

She wants to warn

anyone against what she

callsascam and pressure

phone tactics.

''If you don't like the

sound of it, just hang up

on them.''

She said she could not

afford to lose the money

and had felt unsettled

since.

Ella said she went to

the police who said there

Plan to send cards to the lonely

Mid Canterbury residents

are invited to be part of a

campaign that sends afestive

card and greetings to

people who get few or no

cards or visitors at Christmas.

Sending Love NZ is a

platform to raise awareness

about the reality of loneliness.

The idea is to create a

card filled with love and to

pop it into an envelope

without closing it.

You won't know who it is

going to, but the recipient

will be happy to get it.

This year cards will once

again be delivered to rest

homes and, if there are

enough, will also be given to

people attending Ashburton's

long­running Christmas

Day Community

Lunch.

Card drop offs have been

set up at Robert Harris,

Paper Plus and Ashburton

Art Gallery.

The drop boxes will stay

open until December 13.

Photo: Making Sending

Love cards at a recent

Ashburton County Lions

was nothing they could

do, but said scams were

costing Kiwis millions.

Ella has also told her

story to Age Concern in

the hope that others

would not feel prey.

The first lot of pills

were thrown out and the

second will be returned

to sender, marked

unwanted.

meeting are Coleen King,

Avis Kingsland and Nicola

Kelly. (Photo supplied)

FEEL GOOD IN

YOUR OWN SKIN

TIME TO

BEATSTRESS

30%

OFF

ASHBURTON

The Arcade

(03) 308 1815

h2k11@xtra.co.nz

Lighthouse Health Distributors Limited, Hamilton.

EARN UP TO 55

REWARD POINTS

60s NOW

$26 50

was $37.90

120s NOW

$40 50

was $57.90

180s NOW

$54 50

was $77.90

www.Health2OOO.co.nz

Follow Health2OOOGroup on:

20%

OFF

GO LIFE, Auckland.

Offer ends 31 st October 2019 or while stocks last. Always read the label and take as directed.

If symptoms persist, see your healthcare professional. TAPS PP4693.

EARN UP TO 46

REWARD POINTS

40s NOW

$30 39

was $37.99

80s NOW

$46 39

was $57.99

2216206

DevelopmentStockcarTeam

Race (Chch vAsh)

SUNDAY 3RD NOVEMBER 2019

Adult &Youth Ministocks,Stockcars,

Streetstocks,Side Chairs,CGrade,

Saloons,Productions &QuarterMidget

Racing starts 12:30pm

Gate prices

Adult $15 Senior with gold car $10

Children 14 years &under -Freewith paying adult

LocatedonSeafield Road,nexttothe AshburtonAirport

2218378
---
Local news at www.starnews.co.nz Ashburton's The Courier, Thursday 31 October 2019, Page 7

MAKE YOUR

SUMMER

SIZZLE

Mitre 10 has the right BBQ

and accessories to suit

your needs, lifestyle & budget.

Come in and check them out!

1299

NEW PRODUCT

$

Traeger

Wood Pellet

BBQ Smoker

H604mm W571mm L1041.6mm.

New robust body style with sawhorse

chassis foradded stability.

Fuelled by 100% purehardwood

pellets.Versatilitytogrill,smoke,

bake,roast, braise and BBQ.

336917

TRAEGER

RUBS & SAUCES

Kosher,GMO and gluten free

from

$19.99each

TRAEGER

PELLETS

100% all natural hardwood pellets.Made in the USA.

$34.99 each

995

Everdure

$

Force

2Burner

GasBBQ

Large cooking area.

Super fast heat up with

instant searing.

10 minuteassembly.

Assortedcolours

available.

326800

$

2699

Everdure

Hub Electric

Ignition

CharcoalBBQ

With pedestal.

Rotiscope technology.

Integrated retractable

rotisserie poles with

adjustable heights.

307346

$

3699

Everdure

4K Electric Ignition

CharcoalBBQ

Fast flame ignition.

Precise airflowdial

and slidesystem.

Bluetooth connected.

LED digital control.

Assortedcolours available.

326796

969 2399

$ $

Weber

Q3100 Family LPGBBQ Black

Buschbeck

NEW PRODUCT

SorrentoFireplace&Pizza Oven

2400cm2cooking area. Easy to read infinitecontrol burner H206cm W110cm D65cm. Grill with wood andcharcoal.

control knobs.2thermoset swing out work surfaces. Multi functional 3in1fireplace,pizza oven, BBQ and open

Patio car with tool holders.Also available in Titanium. firefor warmth.

317365 337344

$ 139

Weber

SmokeyJoe BBQ

H430mm W360mm D370mm.

Aminiature versionofthe famous Weber kettle.

Porcelain enameled finish.

Easy to clean

219675

$

336907

399

150cm Ceramic Heater

2400W,1year warranty.Nickel-chromium heatingg element. Silent operation. p

Zero light. 13 hour timeroperation.Remote control and brackets included.

Offers expireThursday7th November 2019.

Terms &conditions apply.While stocks last.

Mitre10MEGA ASHBURTON

West Street, Ashburton

PHONE 03 308 5119

OPENING HOURS

Monday-Friday7am till 6pm

Saturday8am -6pm

Sunday&Public Holidays

8am -5pm
---
Page 8, Ashburton's The Courier, Thursday 31 October 2019

Safer Ashburton gets

resettlement contract

Safer Ashburton has been appointed to

support refugees inthe initial stages of

resettlement in the Ashburton District

andwillhelpensurefamilies arelinked to

vital services.

Theannouncement was made last week

by the Ministry ofBusiness, Innovation

and Employment.

Safer Ashburton manager Kevin Clifford

told Ashburton Courier last month

that the $350,000 tender included the

costs ofone full time staff member and

four part timers and an additional

element would be added to cover transport.

Ashburton mayor Neil Brown said

Safer Ashburton was a well­established

2210409

Water purifiers

Home &Office–Underbench and Benchtop

Reduction of nitrates and

heavy metals •Giardia safe

•Asbestos safe

local providerand thecouncil would assist

the agency in the settlement process.

Coming toanew place that was very

different from the world you've known

must be adifficultprocess for families, but

with the right support it would be made as

smooth as possible, he said.

The New Zealand Red Cross has been

appointed toprovide support services in

Blenheim, Levin and Masterton (alongside

Connecting Communities Wairarapa),

while Presbyterian Support South

Canterbury will provide services inTimaru.

Safer Ashburton's refugee settlement

support contract is from February 2020

until 30 June 2022.

ARTHUR

CATES

LIMITED

26 McNALLYSTREET,

RIVERSIDE INDUSTRIAL

PARK,ASHBURTON

TEL 308 5397

www.arthurcates.co.nz

TRUST US WITH YOUR

SUMMERFUN!

Local news at www.starnews.co.nz

Samantha's an official

florist for flowers week

Ashburton's Samantha Trott is an

official florist for the New Zealand

Flowers Week, which

returns this year from 11­17

November offering week­long

bloom­filled bliss for flower

lovers.

The theme for this year's event,

The Power Of Flowers, will be

celebrated by five floristry

experts, who have been charged

with creating a bespoke floral

installation reflective of the

event's theme.

The chosen florists represent

the floral talent that stretches the

country.

The five florists are: Chikako

Shiraki from White Tree Floral

(Auckland), Kerri Murphy from

The Twisted Willow (Wellington),

Kath Parkes from Mrs

Bottomley's Flowers (Christchurch),

Samantha Trott from

Samantha Rose Flowers (Ashburton)

and Linda McKenzie

from Fallow and Fox (Dunedin).

Rebecca Jones, NZ Flowers

Week group marketing manager

says, ''We're fortunate New Zealand

has such a deep, diverse

range of florists. Our homegrown

experts are global leaders in their

craft. It does however make

choosing the five who represent

the event incredibly difficult. This

year's florists have gone aboveand­beyond

and we're so grateful

to be working with such longstanding,

world­class women for

2019's event.''

To effectively portray the

theme for NZ Flowers Week

2019, each florist is assigned an

Ashburton florist Samantha Trott is helping promote New

Zealand Flowers Week.

emotion that feeds into The

Power of Flowers concept.

''The florists were tasked with

creating an arrangement that

reflects their awarded emotion

and the overarching theme. It was

amazing watching the selected

florists assimilate their given

emotion and conceptually grow

idiosyncratic arrangements. Each

florist has her own special narrative,

which is beautifully transcended

as they worked to produce

a broad range of vibrant

designs.''

Ashburton's Samantha spoke

to her emotion, love: ''I have

named my concept 'The Proposal',

the semi­circle of flowers

around the ottoman has an

engagement ring on it. The

woman is slipping into abath to

admire her new ring. The floral

back drop and colours have been

selected to represent her feeling

all the 'love'.''

Very good season on Mt Hutt

Let our team takecareofyour

marine servicing and safetyneeds.

Wake boats, deep-sea fishing boats,

or your trusty ski -wedoitall.

ASHBURTON |153 Moore Street

Ph: 03 3079557 | W: www.dne.co.nz

2019 has been atop year at the Mt Hutt Skifield, with

ski numbers high and injuries and closed days low.

Mt Hutt manager James McKenzie said 2019 was

only second to 2018 in terms of the numbers on the

skifield.

The first six weeks of the season had been ''lean'' in

terms of natural snow, but thereafter the weather gods

had played their part and combined with efficient

snowmaking, the season had been fantastic.

Mr McKenzie said the skifield had topped 3000

visitors on a number of days, including in the

penultimate week, which was agood achievement, and

testament to some very efficient and well­managed

snow making.

New trails this year had been very well received and

there would continue to be investment in the skifield,

including in lift infrastructure.

Mt Hutt had only been closed for 10 days this

season, compared with the usual average of 18­20 days.

Another positive was the lower injury rates

recorded, he said.

Injury rates were 1.7 per 1000 visits and there had

been just nine Westpac Helicopter rescues, compared

to 37 in 2018.

Mr McKenzie said the skifield continued with its

efforts to reduce emissions and to do better with

recycling.

Some 1200 tress had been planted near the access

road, reusable crockery was being used and a

successful carpooling trial would continue next season.

Winning the coveted title of New Zealand's Best Ski

resort for the last four years attracted the ''best of the

bunch'' in terms of skifield staff and led to high staff

retention levels.

''We can rightly claim to have the longest ski season

of any New Zealand skifield and we're proud of that.''

Mt Hutt reopens on June 5, 2020 and early bird ski

deals are now on offer.
---
Book talk reveals role of

colonial businesswomen

Dr Catherine Bishop is on

a mission to debunk

misconceptions that 19th

century colonial women

were just domesticated

baby makers. They were

often businesswomen, who

set up and adapted to

survive in aman's world.

It formedthe basis of her

booktalk at the Ashburton

Museum last week, and is

the topic of her second

book''Women Mean Business:

Colonial businesswomen

in New Zealand''.

She has the names of

hundreds of women from

the period nationwide,

including Ashburton, who

owned businesses; either

thriving, failing or otherwise.

Their stories include

plenty of scandal, cheating

or abusive husbands, tragic

events involving death but

many heart­warming

stories of success.

Dr Bishop, midway

through anational tourdue

to finish in her home town

of Whanganui on December

1, said if there was a

mental image of colonial

women, it would likely

involve awoman incrinoline,

surrounded by lots of

children and living in a

wooden hut.

''It was man's country,

where immigrants were

encouraged to bring a

youthful wife with them to

breed and look after their

house.''

Alot of women did get

married and have lots of

children; typically from the

age of 20, producing achild

every one and ahalf to two

years, for the next 20 to 30

years of their lives.

But many women ran

businesses, which was hard

to do without the support

of their husbands if they

weremarried, as those who

married essentially disappeared

in the eyes of the

law. He was legally

required to be the legal

signer on contracts and for

debtors and creditors.

It was ''very difficult''

right up to, and even after,

1880 when the Married

Women's Property Act

came into effect.

Dr Bishop said it was

often a domestic picture

painted of colonial women,

reinforced by memorial

statues around the country

celebrating events of the

time, such as one onthe

Port Hills, in Christchurch.

Dancers

Tinwald Hall will host atop of the

South Island dancecompetition

featuring tap, jazz, song and dance, in

solo acts through to troupes,this

weekend.Competitors, aged from five

through to adults, are expected in town

from as far afield as Nelson and

Timaru.

National and Australasian Dance

Champions will also be performingand

members of the public are welcome.

It promises to be great

entertainment for the whole family.

Gold coin entry with food,

refreshments and programmes

available for purchaseatthe hall.

Doors open Saturday 9am to 9pm

and Sunday 9am to 4pm.

Ashburton Museum director Dr Tanya Robinson

with author Dr Catherine Bishop.

On the hill amemorial

sits at the site where ''newly

arrived Colonials climbed

the hill from the Lyttelton

Port, and the womenrested

and gazed with awe at their

surroundings.''

Of course it was the

women who rested and

gazed with awe, Dr Bishop

said.

Including one women,

the wife ofamale baker

who should have rested at

the top of the Port Hills.

He died ofastroke during

the crossing.

She, then awidow with

seven children, sold his

yeast supply to survive and

started adrapery business,

Glasgow House, which she

later sold to Armstrong's.

It was acase of adapting

to survive. And women did

it very well.

They faced a lot of

adversity; men who ran off

from their families could

return and reap the financial

benefits gained by a

wife adapting to survive out

of necessity, orhusband's

debt could be collected

from wives left behind.

''There was no social

welfare net, only family,

friends and benevolent

societies.''

Dr Bishop said women

were often portrayed as

self­sacrificing, courageously

doing something they

didn'twant to do, or loyally

following their husbands

but it was not always the

case.

''It's estimated around

20 percent of businesses in

the middle of the 19th

century were being run by

women,'' she said.

They included dressmaking,

travelling saleswomen,

seamstresses, millineries,

midwives,

education centres, boarding

houses, importers,

publicans and even

butcheries, such as the one

run by AnnBird, in Nelson.

Mrs Bird successfullyran

the family butchery for 40

yearsafter the deathofher

husband.

Many used initials in

their business names, rather

than full names, to

mask gender.

Dr Bishop knows of

many stories, but is interested

in adding to her

database of colonial

businesswomen and creating

anon­paywall website

to tell their stories.

Anyone with stories to

add, no matter how small

the business, or how brief it

survived, or wantingtohelp

with awebsite, can contact

her at catherine.bishop­

@mq.edu.au

Dr Bishop, born and

raised in Whanganui, is a

postdoctoral fellow at

Macquarie University in

Sydney, Australia. Her

book is availablefor loanat

the Ashburton District Library.

In 2016 she won the 2016

Ashurst Business Literature

Prize for her first book

Minding Her Own Business:

Colonial Businesswomen

inSydney.

She is currently working

on a third book 'Female

Entrepreneurs inthe Long

Nineteenth Century; A

Global Perspective.

It is due out in early

2020.

First meeting

of new council

Ashburtoncouncil's new team gets into

its work today after councillors were

sworninlast week.

But with formalities out of the way,

and new mayor Neil Brown backfrom

mayoral school in Wellington,the work

gets under way.

The mayoralinductionwas run by

LocalGovernment New Zealandin

Wellington.

This meeting begins at 1pm in the

temporary chamber in Havelock Street.

Hellers Fresh Burgers 400g,

Pre-Cooked Sausages 1kg Plain (Excludes Flavoured Variants),

Our Classics Sausages 6-10 Pack (Selected Varieties only),

Tegel Fresh NZ Chicken Tenders 6 Pack or

Quick Cook Chicken 300-400g Varieties

PamsFreshAsparagus

s

250g Bunch or Cherry

Tomatoes 250g Prepack

Product of New Zealand

Mac's

6Pack 330mlBottles

$

3 49

$

3 49 $ 4 49

ea

WINE

WEEK

BEER&

$ 13 49 pk

ANY

16 00

2FOR

Fresh Strawberries

250g Prepack

ProductofNew Zealand

$

4 4

www.foursquare.co.nz

pk

The Ned

750ml (excludesPinot

Noir &Chardonnay)

$

13 99

ea

facebook.com/FourSquareNZ

Specials available South Island only from Monday 28thOctoberuntil Sunday3rd

November 2019 or whilestocks last.Wineand beer availableatstoreswithanoff

licence.Wine and beerpurchasesrestrictedtopersonsaged18years old and over.
---
Page 10, Ashburton's The Courier, Thursday 31 October 2019

Family Notices

DEATHS DEATHS DEATHS

BLAKEMORE, Margaret

BettyMay:

5-8-1928 -25-10-2019:

Passed away peacefully

in the care of Tuarangi

Home, Ashburton. Loved

wife of the late Russell,

loved mother and mother

in law of Maxine and

Bill Hooper, Pauline and

Lockey Higgins, Wendy

and the late Paul Lennon,

Neville and Tracey. Loved

grandmother and great

grandmother and special

Aunty to her nieces and

nephews. Thefamily would

like to thank the staff and

carers at Tuarangi Home

for the wonderful care of

their mum. Messages to

Blakemore Family PO Box

472 Ashburton 7740 At

Margaret's request aprivate

servicehas been held.

Paterson's

Ashburton

FDANZ

03 3077433

BUNTING, Deanna May

(Anna): Passed away

peacefully at Christchurch

Hospital on October 18,

2019. Lovedwifeofthe late

Joe and loved partner of

Gray. A loyal, trusted and

honest friend to all who

knew her. Inaccordance

with Anna's wishes a

private funeral service has

been held.

0800 2MEMORY

027 637 1229

DICK, Ivan William:

Peacefully at Rosebank

Hospital, Ashburton on

Wednesday, October 23,

2019, aged 69 years.

Dearly loved husband and

soul mate of Marg, loved

father of Wendy, and Tony,

loved step-father of Jody

and amuch loved grandad

and great-grandad.

Messages to the Dick

family, C/- POBox 6035,

Ashburton7742.

A Memorial Service to

Celebrate Ivan's life will be

held at Feeney's Lounge at

the Devon Tavern, Victoria

Street, Ashburton on

Saturday, November 2, at

1.00 p.m.

0800 2MEMORY

027 637 1229

FERGUS, June Mabel:

(nee Sellars): On October

26, 2019, passed away

peacefully in the loving care

of Terrace View Retirement

Village, Ashburton. Aged

90 years. Beloved wife of

the late Raymond Keith

(Ray) Fergus. Loved and

cherished mother of Robyn

and David Neeson (Carew)

and Mark and Raylene

Fergus (Blenheim). Much

loved nana of Frances

(Glasgow) and Heather

(London) and a loved

aunty of all her nieces and

nephews. Messages to

C/- Rand DNeeson, RD5

Ashburton 7775. Aspecial

thank you toall the staff at

TerraceViewfor their loving

care ofJune. Aservice to

celebrate June's life will

be held at our Chapel,

Cnr East and Cox Streets,

Ashburton on Friday

November 1, commencing

at 11.00am. Followed by

private cremation at the

AshburtonCrematorium.

Paterson's

Ashburton

FDANZ

03 3077433

GORMAN, John: On

October 24, 2019. Aged

82 years. Died peacefully

at Ashburton Hospital

after ashort illness. Dearly

loved husband of Colleen.

Lovedfather of Mary,Kevin

and Niki, Danny and Julie,

Johnny and Kate, Eddie

and Lam, Phillip, Ben and

Emily,Mattand Kim. Loved

brother to the late Patrick,

and Mick and survived by

Andy. Loved granddad,

brother-in-law, uncle and

friend to many. Messages

to 14 Morgan St, Methven

7730. A service for John

has been held.

Paterson's

Ashburton

FDANZ

03 3077433

HOOD, Murray Leslie

Thomas: Passed peacefully

on October 25, 2019

at Radius Millstream,

Ashburton, surrounded by

his family. Aged 83 years.

Loving husband of Helen,

father and father in law of

Grant and Debbie, Odette,

Richard and Debra, and

grandfather Pop toall his

grandchildren and great

grandchildren. Messages to

the Hood family,C/- 13 Oak

Grove, Ashburton 7700. In

lieu of flowers, donations

to the Cancer Society or

Nurse Maude would be

appreciated. Our family

appreciatesall the careand

support shown over the

past few years.

Doing as

Murray wished (for once)

we saw him off with a

privatefamily service.

Paterson's

Ashburton

FDANZ

03 3077433

ACKNOWLEDGEMENTS

CHAMBERS, Victor Claude

(Vic): Betty and Maree

would like to express their

heartfelt thanks to those

who supported them by

messages of sympathy,

phone calls, texts, baking,

flowers, meals, home

visits and attending Vic's

celebration of life. Thank

youtothosewho donated

in Vic'smemory.

Thanks also to Bernard

Egan, Linda, Barry and the

team at Paterson's fortheir

careand professionalism.

Special thanks to Dr

Penny Holdaway and the

amazing team at Princes

Court Lifecare for their

wonderful careofVic.

Always agentleman

Treasured memories

Birth notices listed by parents will continue to be

free in the Family Notices column.

Theinitial death noticelodged by afuneral director

will be listed without charge.There will be asmall

charge of $15 forsubsequentnotices relatedtothe

same death, up to amaximum of 35 wordsand on

aper-line basis afterthat.

The same low charges apply to other family

notices,such as engagements,acknowledgments,

in memoriam notices and anniversaries.

Supporting the community

ACKNOWLEDGEMENTS

LEIGHTON, Mary Eleanor:

Bruce, Diane, Jeff, Ian

and Deborah would like

to express their heartfelt

thanks to those friends

who supported them with

messages of sympathy,

baking, flowers and

attended the celebration

of Mary's life.

Special thanks to the staff

of Princes Court for their

careofMaryinher last few

days, and to Paterson's for

their respect, guidanceand

support.

We also acknowledge

the wonderful part that

the Ashburton Garden

Club have played in the

enjoyment Mary had as a

member for many years.

Gardening and Garden

Club were an integral part

of her life.

Please accept this as our

personal acknowledgement.

THOMAS, Margaret Ruth:

Peter, Sharon and Kevin,

Andrew and Rosie and

families would like to give

asincere thank you toall

who gave kind supportand

expressions of sympathy,

phone calls, messages,

cards, baking and visits

and to all that attended

the memorial service toa

much loved wife, mother,

sister, gran, aunt, cousin

and friend to many. Special

thanks to Lois Ranson who

conducted the service and

to Coldstream Lifecare

and staff, their loving care

and kindness was much

appreciatedand will always

be remembered. Please

accept this as a personal

acknowledgement and a

heartfelt thanks to youall.

IN MEMORIAM

STRINGER, Alan John:

29.10-2018

Sadly taken away one year

today.

Ithink of youinsilence

Ioften speak your name

Nowall Ihaveislovely

memories

and your photoinaframe.

Allmylovealways, until we

meet again.

I miss you and love you

always.

Maureen xxxxoooo

96 Tancred Street,Ashburton. Phone 307 8317 LREA2008

MCRE

SAMANTHA

ROSE

FLOWERS

FLOWERS +WEDDINGS +GIFTWARE

SAME DAY DELIVERY IN ASHBURTON

WWW.SAMANTHAROSEFLOWERS.CO.NZ

03 307 4020

Family owned,

locally owned

22 MooreStreet,

Ashburton

0800 263 6679

Local news at www.starnews.co.nz

Law firm seeks

legal high­flyer

Ashburton law firm

Arrowsmith Law has

taken a high­flying

approach to recruitment

­paying for flight training

for anew lawyer.

''Finding the right

employees to help abusiness

grow seems to be a

challenge across the

South Island, but even

more so outside of the

big centres. I'd say it is

the biggest headache for

businesses in Ashburton,''

director Greg Martin

said.

''To meet the challenge

of recruiting qualified

lawyers to the firm,

we have decided to

include in the package on

offer something that will

help someone moving to

2196488

2200590

Ashburton get the most

out of living here: a

private pilot's licence.''

Mr Martin said Ashburton

had a thriving

airfield just five minutes

from town, with grass

runways, and a friendly

club with aflying school

''and is surrounded by

uncluttered open skies''.

''From there you are in

the Canterbury foothills

in 15 minutes and, if the

weather's good, over the

alps and on to the West

Coast in about 40

minutes. There is also

great flying to be had up

the braided rivers, or

down the coast,'' Mr

Martin said.

He said that as well as

amatched­to­market salary,

Arrowsmith Law

would pay its new lawyer

to go through flight training

with the Mid Canterbury

Aero Club.

''It's likely to take about

two years of flying and

fairly hard study, but it's a

hugely rewarding thing to

do. Our hope is that whoever

gets the job will stick

around longer than that.

But if they don't, it will still

have been agreat time for

them living here. And the

real legal work is pretty

good, too,'' he said.

The firm starts its

recruitment

campaign

soon and hopes a new

lawyer.aviator will join by

the end of the year.

Photo: Greg Martin at

Ashburton airfield.

Synlait

buys up

Dunsandel­based Synlait

has bought Dairyworks,

which began in Temuka,

for $112m, subject to

Overseas Investment

Office approval.

Synlait said the acquisition

would provide

''another meaningful move

towards the delivery of our

Everyday Dairy strategy

and complements the company's

recent acquisition

of cheese manufacturer

Talbot Forest''.

Synlait CEO Leon

Clement said it was an

exciting opportunity and

the business was a great

strategic fit for it.

Dairyworks was established

in 2001 in Temuka.

Complete

Local Care

Since 1982
---
Local news at www.starnews.co.nz Ashburton's The Courier, Thursday 31 October 2019, Page 11

Dangerous intersection near

Geraldine set for upgrade

A dangerous intersection near Geraldine

will befixed.

Timaru council has received New Zealand

Transport Agency (NZTA) confirmation

that it will provide the majority of

funding for the proposed $2.3 million

upgrade of the intersection of Winchester­

Geraldine, Coach and Tiplady roads.

The project involves transforming the

intersection into aroundabout with the aim

of improving road safety at the junction,

which is amajor route for both businesses,

tourists and local residents.

Council's land and transport manager,

Andrew Dixon, says that theNZTAfunding

accounts for 75% ofthe total project.

"Our normal rate is 51% but this road

safety project is oneofthe only two projects

in the Canterbury region funded by NZTA

on the targeted enhanced financial assistance

rate (TEFAR) basis," hesaid.

"The intersection has been considered as

asafety issue for anumber of years. This is

reflected by ahigh vehicle crash history in

the last 10 years where there have been

eight injury­causing crashes, with three of

them resulting in serious injuries.

"The Coach ­ Tiplady Road route is

intensively used by motorists and heavy

vehicles travelling from Christchurch to

Queenstown. The number of heavyvehicles

has increased significantly from 20 to 200

per day inthe last ten years, which in turn

has increased the risk to motorists."

Anumber of measures to improve the

safety of this intersection had previously

Airline memorabilia display

By John Keast

WarrenJanett used to fly for

Mount Cook Airlines.

Now he is giving its memorabilia

apermanent home.

Mr Janettispresident of the

Ashburton Aviation Museum,and

the memorabilia is beingdisplayed

in the Taieri area of its Super

Hangar.

He said that whenhelearned

the airline was beingdisbanded, he

made contact to see if the

Ashburton museum could be given

the material ­aseries of paintings,

photographs and logos used by the

company overits life.

The collection includes a

photograph Mr Janett took of a

Mount Cook planesoaring over

snowy peaks.

Mr Janettworked for Mount

Cook from 1974 to 1985, first as a

purserand later as apilot.

''Thisisapictorial recordofthe

Mount Cook Company,one of the

first tourist airlines in the world,''

Mr Janettsaid.

Mr Janettwas based at Mt Cook

and Te Anauand flewCessnas.

''ThenIhad amedical problem

and wentback to being apurser,''

he said.

Mr Janettsaid aviation was in

Sally Middleton cuts acake with the help of Warren Janett.

his bloodand recalled topdressing

planeswhen he grew up in the

King Country.

Aspecial dinner was heldon

Saturday night with Sally

Middleton, daughter of Sir Harry

Wigley, attending.

Mount Cook was established in

Timaruin1920 by Rodolph

Wigley, who drove the first cartto

The HermitageatMtCook in

1906.

Wigleyboughtwar­plus aircraft

for sight­seeing and in the 1930s

formedQueenstown­MtCook

Airwaywith his son, Harry.

Air New Zealandbought partof

the groupinthe 1980s.

Big field out for Lions golf tourney

The recent Lions Club of

Ashburton annual charity

golf tournament had

sunshine and acapacity

field of 144 golfers supporting

it.

Held at Ashburton

Golf Club, the stableford

event included a separate

section for players

without an official handicap

and featured nearest

the pin and longest putt

prizes. The 8th was the

feature hole.

Proceeds of $16,000

from the event, which is

backed by anumber of

sponsors and included an

auction, will go to Life

Education Trust and

Ashburton Cancer Support

Group.

Photo: Left hander

George Brown, who

plays off a20.8

handicap, was the first to

tee off hole 1atthe

tournament.

been implemented, including active ''Stop

Ahead'' signage, other traffic signage,

improvedroadmarkings and roadsurfacing,

asignificant safety issue remains.

"NZTA have assessed the intersection

and recommend that installing a large

roundabout will create a much improved

road safety environment for all road users,"

Mr Dixon says.

"Improving safety for road users is

important to us and a key Government

priority. We expect the improved safety

along this section can help support future

growth in the area."

The project is estimated to be completed

by June 2021, with detailed design being

provided early in 2020 and construction

starting late 2020.

2210146

Stay fit &earn $$$

at the same time

Spend a couple of hours

every Thursday delivering the

Ashburton Courier and Realty in

the Ashburton urban area.

Enjoy the fresh air, stay fit and

reap the health benefits!

Phone Leonie todayon308 7664

to get startedoremail

leonie.marsden@ashburtoncourier.co.nz

2172542

Your LocalVoice

I'm available to meet with

constituents onMondays and

Fridays, and anyday that Parliament

isn't sitting. Contact my office in

Timaru or Ashburton tomake an

appointment to meet orspeak with

me. Ialso hold constituency clinics in

other towns across the region.

Andrew Falloon

MP forRangitata

Timaru Office Ashburton Office

139Stafford Street, 81 Harrison Street,

Timaru

Ashburton

03 6831386

03 3087510

andrewfalloonforrangitata

rangitatamp@parliament. .govt.nz

Authorised by Andrew Falloon MP,

139 Stafford St, Timaru.

171 ALFORD FORESTROAD, ASHBURTON

Phone 308 0006

½DAY

$35

FULL DAY

$55

24 HOURS

$85

2220884
---
Page 12, Ashburton's The Courier, Thursday 31 October 2019

Local news at www.starnews.co.nz

Ashburton College

Individual Excellence in aSupportive Learning Environment

News

Issue 36

31 October 2019

Message From ThePrincipal

Year 13 Graduation Ceremony

Tonight it is our pleasure to showcase and

acknowledge our successful students at our

Year 13 Graduation Ceremony, from 7:30pm at

the Ashburton Trust Event Centre. This evening is

asignificant marker in the lives of our graduating

students.

We of course wish them well as they move out

into the 'real world' (although many would argue

that University study is like an alternate universe). This evening always

provides asmall sense of ajob well done,for staff.Thereisaconsiderable

degreeofsatisfaction seeing students departing at eighteen andwell on

their waytobecoming positivemembers of society.

2019 StudentLeaders

This year group has been fantastic. They have been acohesive group

and have accomplished much. Iwould like to acknowledge,inparticular,

three groups of students:

The first is our four Head Students and the StudentExecutive.

The second is the number of students who have been willing to provide

mentoring to their younger peers -whether it be words ofwisdom, as

reading mentors,cultural groups or sports coaches.All of these have been

greatly appreciated.

The third group is the number of senior students who got involved in

supportofthe dutyteachers. Being able to look out and see amixture of

green and orange vests has helped our school become very settled.

Acknowledgement

On the subject ofacknowledgement there will be anumber of farewells

for teacher Mark Gleason. Mark has recently announced that this year

at Ashburton College will be his last. This ishis 49th year of continuous

serviceand many people Imeetinthe communityhave spoken fondly of

theirmemories of him as ateacher. Wewill wish him well in his retirement

at the end of this school year.

Red Carpet Evening

Last Thursdaywehad our RedCarpet Evening which celebratesthe cream

of musical performance within our College. Itisalways afantastic event

and this year was noexception. In addition to the performers, Iwould

also like to acknowledge our Music Tutors, MusicTeachers, and also Ron

Cresswell and his technical crew who provide the performance support

thatmakesthisevening so special.

NoteworthyEvents

Next week we have several noteworthyevents. On the evening of Monday

04 November we have our Art Department exhibiting students'work in

both Art and Photography. If you have achild doing these subjects you

will understand how much work and care goes into these folio boards.

This will be agreat evening to come along and have alookatthe standard

of work these students areproducing. You will be impressed. This event

will be held in the AshburtonCollege Staffroom, from 4:00pm and all are

welcome.

Our Year 12Prize-giving isalso on Monday 04November followed on

Tuesday 05November by our Year 11 Prize-giving. Both events start at

7:30pm in the College Auditorium. We invite all families to come along

and celebratethe achievements of our students.

Many thanks,

Ross Preece

Principal

Staff Farewells

Regretfully we farewell twostaff from College this week,and we thank

both fortheir positiveinputs.

Tony Robson - Tony has beenwith AshburtonCollege sincethe beginning

of 2017, as Head of Faculty Physical Education, Health and Outdoor

Education. During this time he has assimilated well into the culture of

AshburtonCollege,also taking up extraportofolios.

Very supportive of inter-cultural relationships Tony held responsibility

for Pasifika Student Performance, being involved in promoting and coordinating

students to various events, including sPACPAC speech and

performance occasions at which our students gained some notable

successes.

Tony held anAcross-Schools'Teacher position under the auspices of the

Kahui Ako oHakatere (Hakatere Schools'Community ofLearning position)

and was also committed to leading curriculum change and innovation

through the various evaluation Middle Managementforums within College,

includingthe Innovation ProjectAshburton team.

We aresorry to be losing Tony as aperson and his input,but do equally wish

him well on his promotion to DeputyPrincipal at Opihi College. Tonyleaves

us tomorrowtotake up this position.

Teri Nichol – has been Ashburton College's Student Careers Co-ordinator

sinceAugust 2016. Teri came with abackground of knowledge,experience

and expertise in this area and quickly found her feet at College. Work

experience relationships have been maintained and built with the Mid

Canterburycommunity, which remainsveryloyaltosupporting our students

as they evaluate and experienceemploymentand training options.

In her three years in the role, many students have benefitted from advice,

opportunities, expo visits and expos co-ordinated on-site at College.

Students will be very appreciative ofthe time Teri has given them. Teri's

input and support will be missed bystaff and students alike but she is

wished well forher new ventures in Christchurch, with our appreciation for

all thatshe hascontributed. Teri'slast dayatCollege wastoday.

Information

AshburtonCollege ArtExhibition –'This Is Us'

AshColl is proud to present'This is Us', an ArtExhibition showcasing all

the amazing up-and-coming talentinAshburton.

Open Night isnext Monday 04November in the College Staffroom,

so please dojoin us for refreshments, and of course the experience of

enjoying arange of studentcreativityand passion thatexplodes onto

the page.

Head of Arts Faculty Milly Brown said the students have worked hard, and

would love to sharetheirworkwith you.

If youcan't makeitonMonday 04 November,then the staffroom will be

open after school on Tuesday 05 November until 4:30pm, for awander

through at leisure.

We look forwardtoseeing youthere!

AshburtonCollege Year 9AcademicScholarships

Criteria and application forms arenow available

from your child's school.

TheClosing Date forapplications is

Thursday07November 2019, 3:30pm.

Theacademic examinations will be held at AshburtonCollege

on Monday18November from 9:00am–11:15am.

Enquiries and applications to be made to Sheena Tyrrell,

ManagementAdministrator,

Email: ts@ashcoll.school.nz

Phone: 308 4193, extension 812; 027 247 8003.

Please notethatthese Scholarships are

Academic ExcellenceScholarships.

AshburtonCollege Phoenix Magazine 2019

This annual production is awonderful record of each year at College,

and becomes amoreimportantrecordofmemoriesthe longer students

and staff areawayfromAshburtonCollege.

Remember:

This will be published at the end of February

2020.

Payment for Magazine -$25 percopy

Allfamilies have now

received an updatedaccountthatwill

include the charge forthe Magazine.

To secure your copy of the Phoenix

Magazine,paymentwill be required by

Thursday14November.

Obtaining your Magazine Copy

These will be delivered to studentsin-College at the end of February.

Forstudentswho have left –familieswill be notified thatthe Magazine can

be collectedfromthe College Office.

Where this isn't possible wewill make arrangements to ensure you receive

the copy.

Order aChristmas Magazine Voucher

We willalso have vouchers available forpurchase.

This would be an ideal gift forgrandparents or other family members,

who can then have acopydelivered onceitispublished.

Government-funded Service:

Hearing Servicefor Sixteen Years and Over

How'syour Hearing?

Even young people canlose hearing through noise exposure,

heredityand some medical conditions.

If youfeel youare not hearing well,haveyour hearing checked

beforestarting tertiaryeducationorentering the work force.

Heather Talbott,atLifeUnlimited Hearing Therapy,

provides FREE (MinistryofHealth-funded) hearing tests

and advicefor people sixteen years and over.

Call 0800 008 011 foranappointmentinAshburton.

Event

College Tour Parties

Over the September-October holiday break College had three tour

parties overseas. We nowreportonthe final tour toreturn.

German Tour 2019

Agroup of twenty one Ashburton College students visited Germany from

21 September-13 October.

Thetour group landed in Düsseldorfand made their waybybus to their first

accommodationinKöln.

(Pictured right): View over

Düsseldorf from the TV

Tower.

Staying in Köln foratotalof

three days, visits included

famous Dom (Cathedral),

Innenstadt (Old City part)

and the Lindt Chocolate

Museum. Tom Kitchen,

staff tour leader, said they

also visited Phantasialand

Resort onone of the days and enjoyed all the rides that the theme park

had to offer!

AfterKöln, it wasofftoGrevenbroich to staywith host families forfive days.

Tomsaid thatthe students relished learning howmost German families live,

and enjoyed the different cultural experiences. Homestay isagreat way to

see how'authentic'German people live and do their day-to-day business

and go about their routines. Alot of students caught upwith friends who

they had hosted in New Zealand earlier this year, and all attended school

with their host sibling for two days. Itwas ashock for them tobeina

classroom without devices,and seeing the teachers still using blackboards!

Theschool in Grevenbroich (Pascal Gymnasium) is slowly moving into being

aBYODschoolnow,which is very modernfor Germany.

Thegroup then travelled down to NürnberginSouthGermany, staying here

for four days. During the time here, viewed was the traditional old style of

acastle city from the medieval times, and aday trip to Lauingen where

the tour group's jacket sponsors (Deutz Fahr) have afactory, inLauingen

(pictured below).

The group also went to Dachau and Munich to see aConcentration Camp,

and the Oktoberfest. The students gained areal feeling of what life ina

ConcentrationCamp waslike when they read thewell-detailed signs,and a

sombremood wassharedbyall when we leftthere thatday.

Next it was up the Eastern side of Germany to Leipzig, where two days were

spent. With a market set up on the Saturday, the students could taste many

traditional foods there. Of note was the GDR (German Democratic Republic)

HistoryMuseum which told the storyofformer East Germany, from the end

of the Second World Warall theway through toreunification in 1989.

The group finished off the tour by spending five days inBerlin, where they

could enjoylots of shopping on their free days! Asagroup they undertook

abike tour together on aday whereitpoured with rain, but thatdidn'tstop

them fromlearning lots and having agood time. They even got to witness

the climate change group 'Extinction Rebellion'during apeaceful protest

outside the historic Brandenburg Gate and Reichstag building (pictured

below, leftand right).

One ofthe last nights was spent in the Dlight Disco atClub Matric, where

only students could go on that evening, asthe club closed its doors to the

general public.

While in Germany, students experienced and enjoyed very traditional and

modernaspects of the culture, and all of the differentcitieswevisited.
---
Local news at www.starnews.co.nz Ashburton's The Courier, Thursday 31 October 2019, Page 13

Ashburton College

Individual Excellence in aSupportive Learning Environment

News

Issue 36

31 October 2019

Congratulations

Whole College End-of-Year Assembly

This importantwhole-College occasion washeld,inrathercool conditions,

on Thursday 25October with the timing brought forward to avoid the

southerly and rain coming through.

Afull programme at this Assembly saw the prestigious Sports and

CulturalColours and Blues Awards presented; the 2019 Head Boy'sand

Head Girl's valedictory speeches; speeches from the shortlisted 2020

Head and Deputy Head Student candidates; and the awarding of the

highly contested HouseTrophy.

Principal Ross Preece welcomed all to the assembly. Ross acknowledged

the levels of success gained by students,thankedthisyear's studentleaders

for their meaningful contributions to Ashburton College and commended

aspirantleaders who were putting themselves forwardtoroles in 2020.

(Picturedleftand

right): Head Girl

Mollie Gibson and

Head Boy

William Wallis giving

their valedictory

speeches to the

school's community

of students and staff.

Mollie acknowledged the valuable support from William, and the Deputy

Head Students, Carl Cayanan and Harriet Stock, without whom their roles

would have been moredifficult.

Thanked also were the Student Executive members who had worked

tirelessly to complete tasks, achieve arange of outcomes and provide

exciting opportunities forstudents.

Mollie acknowledged the Senior Leadership Team and staff who had

supported them, provided opportunities and guidance. She wished the

House Captains and Executives all the best for the HouseTrophy outcome,

saying she knows how hard they work tobuild House participation and

loyalty. Mollie wished all students well forthe future.

William endorsed Mollie's comments with his own appreciation to staff,

Deputy Head students, Executive, House Captains and Executive and the

Student Executive, acknowledging their dedication to the weekly 7:30am

meetings.

There was aclear reference toMollie having sat behind him in their Year

9class and William claiming not to have ever heard her speak for the first

three terms! At this stage William got averbal response from her,and then

layclaim to 'teaching her to speak'!

He concluded by saying thatbeing Head Boywill alwaysstayashavingbeen

alifetime experience, andone he would never forget. Hewished this year's

Head Student candidates all the best as they look to leadership roles next

year,and assuredthemitwas 'well worthit'.

AshburtonCollege WinterSportsand Cultural Colours and Blues Awards

Colours Awards

Colours Awards are presented tostudents who are national champions

or who have been selected for anational sports team or are amember of

national cultural group.

AColours Award isrecognised as the most prestigious of the Awards

process. Students who receive aColours Award donot receive aBlues

Award. Unlike the Blues Awardthe Colours Awards arenot confined only to

AshburtonCollege-based activities.

Nine Recipients

Nine recipients gained Colours Awards, being added to Sophie Adams

who was honoured in June at the Summer Blues Awards Ceremony, for

Basketball Achievements.

At this assembly the following were presentedwith their framed certificates

and Colours Badge.

AirPistol Shooting LauraCameron, MiaChambers,CharlotteClifford

This was the Year 9girls' first year as part of the AshColl Air Pistol Team.

Earlier this month they competed inthe Air Pistol Nationals as part ofthe

NewZealandMcMillanCup Competition.

Not only did they win the Intermediate Gradeand the Nobes Cup, but they

were also 6th overall from fifteen senior school teams. This was atruly

impressiveresult from ateam to watch in thefuture.

Equestrian BrittanyFowler

Brittany's year started off with a first placing, both Individually and

Nationally, and subsequent role as Captain for the New Zealand Pony Club

Association Dressage Team. This was followed upatthe Canterbury Area

Pony Club Championships with afirst placing in dressage.

In April Brittany travelled to Australia for the Inter-School Equestrian event

where she was placed 1st in the Eventing Australia 95cm International

Challenge. Being one of only four New Zealand competitors, and the only

SouthIsland competitor, made this areal highlight.

Karate

Taylah Burrowes

At the start ofthis year Taylah travelled to Australia to compete in the

Australian Secondary Schools'and Australian Karate Open Competitions in

Sydney. This eventisthe mainevent on theAustralian Karate calendar and

has athletesattend from all over Australia, New Zealand,Fiji, New Caledonia

and Tahiti.

This yearTaylah's categories had ahugenumber of competitors:

Sixteen in the Australian Secondary Schools' Cadets (Under 16) Kumite, in

which she won this title.

Nineteen in the Australian Karate Open Cadets (Under 16) Kumite where

Taylah placed 3rd.

From hereTaylah also went on to win the New Zealand Open Title in April,

and the New Zealand National SecondarySchools'Title in July.

Karate

Kyle Cabangun

Kyle has achieved some great results nationally and internationally this

year.Heattended the Australian KarateOpen Competition in Aprilthisyear,

placing firstinthe Junior Male-55kg Kumite.

At Nationals in July this year, Kyle placed second in the 16/17 Years -55kg

Premier Kumite and at the NewZealand National SecondarySchools'placed

third inthe Under 16 Male Kata and second in the Under 16 -58kg Male

Kumite.

SmallboreRifle Shooting Shania Harrison-Lee

In 50m outdoor shooting was selected in the Target Shooting New Zealand

team torepresentNew Zealand atthe Oceania Games in November.

In 25 yardindoor shooting,selectedto:

- New Zealand Junior Team (Under 21) as Captain and top-scored for the

team

- New Zealand Women's Team - New Zealand Open Team

- New Zealand SecondarySchools'Team

SmallboreRifle Shooting Emma Smith

In 25 yard indoor shooting,selectedto:

- New Zealand Junior Team (Under 21)

- New Zealand SecondarySchools'Team

Swimming

BlakeFarr

The New Zealand Short Course Swimming Championships were held in

Auckland from 01-05 October and Blake returned having won aNational

Title in the 100m Freestyle and aBronzeMedal in the200m Freestyle.Blake

achieved personal best times in every race hecompeted in, which is a

fantastic achievement.

(Pictured above, back row, left toright): Kyle Cabangun, Brittany Fowler,

CharlotteClifford, MiaChambers.

(Front row,lefttoright): Shania Harrison-Lee,EmmaSmith,LauraCameron.

(Pictured below, leftand right): Taylah Burrowesand Blake Farr.

College RugbyCaps

In some sports, players receive recognition for service tothe team. In

College Rugby, if players demonstrate

acommitment tothe team, are arole

model for other players and take the

field in asignificantnumberofgames

they earnthe honour of being capped.

At this presentation assembly the

following two girls were presented

with their rugbycaps:

Madison Trusler-Clark and

Emma Rollinson (pictured right),

receiving her cap from Team Captain

Aidan Elvines).

Coming Events

November

1 Aoraki Sports Awards,Southern Trust Events Centre,Morgans Road,

Timaru; doors open 5:40pm, 6:00pm start.

Postponementday –Regional Girls'Cricket Tournament,

Hagley Park,Christchurch.

04-05 ArtExhibition 'This Is Us', AshColl Staffroom.

07- 03 Dec NCEA Exams

12 Year 9/10 Caroline BayRelays,Timaru

13 Aoraki Junior Volleyball Championships,Timaru

14 Aoraki Junior Touch, Timaru

18 Year 9(for2020) Scholarship exam

Aoraki SecondarySchools'Junior Girls'Cricket

2019 WinterSports and Cultural Colours,Blues Awards

In establishing Award recipients, each sport has specific criteria that is

used as a guide for nominators. A select committee then discusses the

nominations and makes final decisions.

This year eighty five students were acknowledged across Sports and

Cultural activities.

In acknowledging students' successes we recognise the impressive

accomplishments of our students, and contributions of all, within

and outside of the College, for their time and effort given to so many

College teams and students through cultural and sports activities. These

contributions to the successes of College individuals and teams isgreatly

appreciated, providingsignificantopportunities forstudents.

Blue AwardRecipients are–

Basketball Fotu Hala, Samuel Pearce,Quinn Ritchie.

Cross-Country Toby Woolf

Cycling Oliver Davidson, Isabella Roulston, Ethan Titheridge.

Drama Joseph Collins, Imogene Felton, Calais Hill, Georgia Muir,

Ocean Waitokia.

E-Sport Jade Jung, JayJung.

Equestrian Harriet Stock

Football Ben Holland, Sapphire Kururangi, Amy Pearson,

Bradley Phillips, Gemma Taylor,LaurenTaylor,TobyWoolf.

Golf

Josh Ackerley,Hiromune Kakeda.

Gymnastics Ellie Lawn.

Hockey Emily Armstrong, Zoe Aschen, Chloe Buchanan,

Jacob Gray, Tegan McIntyre,William Wallis,ReeceWatson,

Zac White.

Kapa Haka Shante Kereopa, SoniaStephens-Tahuri, Monaro Tahapehi.

Music Joseph Collins, Willow Diedricks, Zoe Diedricks,

Mitchell Farr, Christina Francis, Spencer Ifopo, Jay Jung,

Tori Kelland, Jade Kruger, Oliver Livingstone,

Bridget McArthur, Barbara Nabeka, Liam Pram,

Louie Pabualan, Harriet Stock, Scott Thomson,

Ocean Waitokia,William Wallis,AlexWood,TobyWoolf.

Netball Grace Adams, Samantha Holden, Poppy Kilworth,

Danielle McArthur,Mia Pearson, Hayley Tallentire.

PasifikaPerforming Arts

Jacklynn Afu, Blanch Chute, Jaimee Chute,

Joseph Collins, James Foaga, Amon Pongia,

Lupepe Saofai, Sonia Stephens-Tahuri, Bobby Tomokino,

Isileli Ula.

Rugby Ben Donald, Aidan Elvines, Thomas Middleton,

Christian Thompson, Madison Trusler-Clark (TC),

Brynmor Workman.

Skiing Cole Beeman.

SmallboreRifle Shooting

Jacob Kilworth, Jack McIntosh, Charlotte McKenzie,

Samuel Smith.

Squash

Trampoline

Isaac Bazley,Brooke Cornish-Madden.

Marlese Schoonderbeek.

Victorious Red House –TrophyWinners,

forthe fifth consecutiveyear

After afifteen year drought Red House wrestled this strongly sought-after

trophyoffthe otherHouses back in 2015. Sincethen, they have backed this

win up by taking the trophyeach year since, and 2019 wasnoexception. It

looks like some hardworkmay be needed to releasetheirstrangle-hold on

the trophynextyear!

Ahealthy House rivalry permeates amongst students and staff during

the year and acknowledgement isgiven to the Staff House Leaders –

Stacey Monk (BlueHouse), Clair Bedward(GreenHouse), Hayley Wards, and

latterly Pete Lee(Orange House) and SarahLassen (Red House) -and to the

StudentCo-Captains of each of the four House Executives –Liam Pram

and Meg McIntyre (Blue House); Josh Jones and, initially, Katie Polmear

(Green House); Titus Lambert-Lane and Aidan Elvines (Orange House),

GraceAdams and Sam Pearce (Red House).

(Pictured right,back row,lefttoright):

Dani McArthur,Grace Adams,

Kaleb Finn,Sam Pearce.

(Front row,lefttoright):

Tegan McIntyre,Quinn Ritchie,

Alena Patterson.

TheFinal House Points forthe year,

aftertwentyseven events,were-

Red: 182.37 points

Orange: 156.14 points

Green: 150.78 points

Blue: 140.71 points

2019 End-of-Year Final Days,Prize-Givings,Events

Parents, caregivers,family/whanau,friends and interested community

members aremost welcome at all prize-givings.

November

04 Year 12 final day. Students finish at 1:20pm.

Year 12 Prize-Giving,College Auditorium, 7:30pm.

05 Year 11 final day. Students finish at 3:05pm.

Year 11 Prize-Giving, Auditorium, 7:30pm. CollegeAuditorium.
---
Page 14, Ashburton's The Courier, Thursday 31 October 2019

WIN CASH

in the

AUTOS LTD

& RENTALS

RENTAL

VEHICLES

1 st

$150

2 nd

$100

3 rd

$50

Local news at www.starnews.co.nz

Melbourne Cup

PUNTERS

HOW TO ENTER: TheAshburton Courier has made it easy for you to have a

win on the Melbourne Cup with this special competition. Youcould win $150,

$100, or $50 to spend with any one of the advertisers on this page. Just cut out

one of the local businesses below, pop the advert in an envelope, write your

name, address and phone number and the advertiser you have chosen on the

back of the envelope. Each business has drawn ahorse in the Melbourne Cup;

the number of the horse appears on the ad. All you have to do is bring your

entry into The Courier Newspaper,199 Burnett Street or post your entry to PO

Box 12, Ashburton to reach us no later than 12 noon, Monday, November 4.

If your pick finishes 1st, 2nd or 3rd in the race, then the first correct entry

drawn will be deemed the winner for each placing. One entry per person.

2218616

choiceofthree

trucks

308 1396

cars

1

8, 10 &12

seatervans

470 West St,

Ashburton

THINKING OF RENOVATING?

WE MAKEITEASY

0800 764 846 |455 West Street Ashburton

smithandsons.co.nz

2

2218712

Servicing Mid Canterburyfor over 80 years

•Refrigeration •Air Conditioning

•Electrical Contractors

211DAlford

Forest Rd

3

Phone

308 7182

2218711

163 Tancred St

Ashburton

2218801

www.uniquejewellery.co.nz

4

Phone

307 6663

TRIANGLE

GARAGE LTD

Victoria Street,

The Triangle, Ashburton

Phone: (03) 308 6772

Proprietors: Michael &Judith Johnston

2218783

2218815

Adams Sawmilling Co Ltd

Your Local Timber &Firewood Merchants

*Treated d Timber e *

*Pallets*Crates *Bins *Boxes *

Large or Small-wemakethemall!

- k

Malcom McDowell Drive, Ashburton

Phone 308-3595

5 6

Pest Problems?

We are here to solve them for you!

Member of Pest

Management

Association of NZ

Flies •Spiders

•Wasps •Rodents •Silos

•Moss Treatments •Grain fumigation

Don't delay call A.J today

For reliable and prompt

service call.......

7

AJ Kerr

308 8147

or 0274 325 447

Race into Sims

For agreat range of pies, old

style breads and much more....

Main Sth Rd

Tinwald

8

2218861

Phone

308 5774

115Archibald Street, Tinwald, Ashburton.

Phone/Fax: 03 307 2354 Email: tincanup@xtra.co.nz

www.tinwaldcanvas.co.nz

9

2218872

212 East Street,Ashburton.

Phone 308 8309

10

2216423

Don't horse around when it comes

to your safety! Book your car in

now for aW.O.F and service

R OBBIE'S

Rundercar specialists

ists

Cnr Cass &

South Sts

Phone

Ashburton 11 3089984

2218910

2218984

Main Rd,

Rakaia.

Phone

302 7434

The best grazing

in Rakaia!

12

We're

open 6days

aweek

Your only localbutcher

NETHERBY

meats

Netherby Shopping Centre •Phone 308 7354

www.netherbymeats.co.nz

13

2219157

2218984

You can bet our food is

darn good!

Creek Road,

Ashburton.

Phone

308 3398

14

Open

7am-5pm

Mon-Fri;

8am-3pm Sat

Letthe team at

Insideout takecare

of all your painting

and property

maintenance

•Painting,

interior/exterior

•Renovations

•Handyman service

•Rural and urban

Property Services 2010 Ltd

15

Phone

Shane

3077071

2219179

027 312 5756 l 99 Archibald Street,Tinwald

Phone (03) 307 8996

16

2219424

For all your

•Vitamin &Mineral Supplements •Herbs

•Homeopathics •Skincare •and much more..

The Arcade

Ashburton

17

2219572

Phone

308 1815

Phone 308 5903 weekdays

Email: agserve@xtra.co.nz

On call 7days: Doug: 027 282 2245

Matt (Tomo): 021 518 538

15 Malcolm McDowell Avenue,Ashburton

18

2219635

Join us to party all day long!

For theMelbourneCup

TINWALD TAVERN

Main Sth Rd

Tinwald

•Big screen TV •Finger Food

•Full TABFacilities

19

2219734

Phone

308 7714

We're

the

68 Cass

Street,

Ashburton.

on

flooring

20

Phone

308 0266

2219749

130 MooreStreet,Ashburton

033087739 l 0277365818

307 8317

Over 16,000 copies

delivered everyThursday

03 308 7664

Open 7daysaweek

7am to 10pm

188 West Street l Phone 308 5809

www.subway.co.nz

21 22

2219937

2219955

23

24

2218092
---
Local news at www.starnews.co.nz Ashburton's The Courier, Thursday 31 October 2019, Page 15

It's the end of story for this reporter

By Toni Williams

Reporter John Keast is

bowing out on a newspaper

career spanning 47

years.

In his career, which

started as aschool leaver,

he met and interviewed

thousands of people,

including prime ministers

and people ontheir dead

beds.

From people in cities, to

the country, in schools,

businesses, and churches,

reporting from accident

sites, celebrations, and

community events, hehas

written the stories of

everyday people in times

of good, and bad.

He has worked at many

New Zealand newspapers

The Press (three times),

The Dominion Post,

Sunday News, The Christchurch

Star, (news editor

and subbing), Ashburton

Guardian (twice) the former

Hawkes Bay Herald

Tribune, covering hard

print news such as death,

murder, and accidents as

well as community stories

of peoplepast andpresent

before extending his repertoire

with video and

online content.

He has been the managing

editor at Ashburton

Courier for the past 10

years.

And it will be from this

position that hewill hang

up his hat in journalism.

It's not retirement, it's a

change of pace, achance

to do things he wants to

do.

''I never chose journalism,

it, in aback­to­front

way, chose me,'' hesaid.

''I was desperate to

leave school and wound

up in the front office of

this (the now­Ashburton

Courier) building with

John Bell, Bruce Bell's

father.'' It was a former

home to the Ashburton

Guardian newspaper.

''I'm sure against his

better judgement, hetook

me on as a sort of factotum

­office junior/print

hand/deliverer. But The

Guardian had plans to

start doing its own photographs,

and I had done

some photography at high

school. Ithink that swung

the deal.

Up till then,photos had

been supplied byAshburton

commercial photographer

Gordon Binsted.

Mr Keast,63, started on

a new electronic platemaking

machine, a

Klischograph.

''Someone from Australia

was brought over to

teach me andthe advertising

manager, Doug Forsyth,

how to use it ­but I

think Doug was far better

at it than me.

''The Guardian's first

camera was a Polaroid

with afixed lens ­not the

ideal camera for, say,

rugby. But it served its

purpose for point­andshoot

shots,ifthe light was

right.

''The paper progressed

to afull darkroom and a

later editor, Graeme Connell,

taught me the basics

of processing film and

prints.

''From then, Iwas the

Guardian photographer.

It was the beginning.

Ajunior reporter job at

The Press inChristchurch

followed; including court

reporting, general reporting

and shipping reporter.

''One of my first jobs

was helping long­time

court reporter Ron Vogt

in the No.1 Magistrates

Court.

''It was anightmare. I

was told to take several

notebooks ­and theywere

needed asevery story had

to be written long­hand.

Ron would doone case ­

say, afine for drunk and

disorderly, when it was an

offence ­write it up, and

then I would take notes

and write up the next.

''We worked on along

wooden press bench,

heavily marked with

names and witty sayings,

and there was always a

reporter from The Star,

Radio New Zealand and,

at times,Radio Avon.The

Keast with former Guardian reporter Gary

Newton and Sir Arthur Porritt

John Keast filming for The South Today.

Tending The Star tomato in 1988

Star used acopyrunner as

it (then) was an afternoon

paper and had tight deadlines.

''The reporter was

the late Stan Rayner, who

did aterrific job. He knew

the courts ­and its clients

­very well. Ifastory was

urgent, he would tell the

copy runner togostraight

back to the office in Kilmore

Street and not deviate

tothe Oxford orany

other hotel.His advice was

rarely taken.''

''The Press, then, was

heaving with staff: there

were two farming

reporters, three, I think,

racing reporters, five

sports reporters, aheap of

general reporters, and

reporters, too inAshburton,

Rangiora, Nelson,

Blenheimand, of course in

Parliament.

''And in Greymouth

there was Pat Taylor,

whose career spanned 44

years, manyofthem as the

Greymouth reporter for

The Press.

Pat did not drive ­ a

handicap for areporter ­

to gettomeetings he went

by railcar, sohespent his

career in Greymouth,

aside from rare ­ and

celebrated trips to HQ in

Christchurch, where he

was feted.

''Pat even had his own

place, Pat's corner, inthe

Kingsgate Hotel. Itookhis

copy more than once,

bashing away at an old

Imperial while Pat dictated,

word perfect, from

the hotel.

''It would not happen

today.''

Mr Keast's working life

has been split between

sub­editing and writing.

He is still unsure which

he prefers.

Five years working in

Australia saw him writing

forabig community paper

in Sydney, trade magazines

in Melbourne, and

the Warrnambool Standard

insouth­western Victoria,

before returning to

New Zealand.

''I was taught layout ­a

stuttery start, I have to

admit­at the now defunct

Hawkes Bay Herald­

Tribune in Hastings.

From there it was to

The Star in Christchurch

where he started as a

general sub and ended up

as news editor.

''It was afine adaily as

there was, and teeming

with top people whose

only goalwas to get agreat

paper out, on time, every

time.

''There was always a

fight between reporters to

get the front page, and

that enthusiasm led to

some great stories.

''And Isaw, first hand,

how television began to

get the audience for afternoon

dailies.''

The Star fought on but

falling sales and revenue

led toaround ofredundancies

in which staff were

asked to the cafeteria

where the latest financial

woes werepassedon­and

staff given abrown envelope.

Some said ''you have

been made redundant'' or

''you have not been made

redundant''.

''After thepaper ceased

being adaily, my role, too,

became surplus to requirements.

''I finished at The Star

(now a thriving city tabloid)onthe

Friday, started

subbing at The Press on

the Monday.

''After several years of

subbing andcopytasting, I

spoke one night with

(then) chief reporter

David Clarkson about a

shift south.

''He said: 'You must be

psychic. The Timaru

reporter has just resigned.'

''I made the arrangements

and shifted to

Geraldine, covering Timaru,

Ashburton, Waimate

­and points south ­from

there.

''It was aheady mix of

hard news ­plenty ­perhapstoo

much ­death and

destruction, feature writing,

colour stories and

run­of­the mill council

stuff.

''There were two big

stories: the breach of the

Opuha dam, and rabbit

virus in the Mackenzie.

''The dam story started

innocently enough. Iwas

wellawareofthe damand

someone told me fairly

late one night that heavy

rain had brought the lake

level right up.

''I went there and was

assured by staff all was

OK: that it was safe.

''I filed astory tosay it

was close to the top and

the rivers feeding itwere

in flood.

''Then Iwas told after

deadline that the water

had breached thedam and

that achannel had been

cut in to the topofittolet

some of the water

through.

''The rest ishistory: the

force of the water gouged

out the topofthe damand

it breached. Badly.

''The dam, and the

damage the water did,

kept mebusy for weeks.''

Mr Keast said he had

met thousands of people

over the years and ''so far

as I know, only fell out

with one, and there is no

need to mention his

name''.

Mr Keast said community

journalism had prospered

because stories are

about everyday people.

''Our city cousins might

think it droll but it need

not be, but it can burn as

brightlyasany city journalism.''

He finishes in early

December.
---
Page 16, Ashburton's The Courier, Thursday 31 October 2019

Local news at www.starnews.co.nz

Marae located on former school site

Hakatere Marae on StateHighway 1at

Fairton was originally the site of

Fairton Primary School.

Aschool building, officially opened

as Newlands School in 1880, was

moved to the Fairton site in 1901.

Fairton School operated there until

1968 when the school moved to its

present site on land donated by alocal

business.

The old schoolbuilding deteriorated

and its grounds rapidly became overgrown.

In 1970 the Mid Canterbury Maori

Committee obtained alease from the

Government for the disused school

building and established the Hakatere

Marae.

The name was given toreflect the

name of the Ashburton River.

The building was bought five years

later and gazetted as aMaori Reserve.

The first Waitangi Day celebration

was held at an evening event in 1973

and a'NewZealand Day' was held the

following year with demonstrations of

culture, craft and ahangi meal.

The Maori populationofAshburton

District has never been too big, but a

small, transient population was drawn

here by employment opportunities in

the Fairfield Freezing Works and in

shearing gangs.

The old school house did duty as the

wharenui (meetinghouse) for the local

maori population until it was destroyed

by arson in2003.

Anew wharekai (dining area) was

completed at acost of over $300,000

four years later.

In 2008 roadaccess to the maraewas

improved and the entranceway widened.

In 2009another wharekai was added

and fittingly opened onWaitangi Day

Kane Tuirirangi, Anaru Reuben, and Zshalem Raukete at ataiaha

wananga at Hakatere Marae in 2016.

that year. Itincludes amain conference/dining

area, stage, kitchen, offices

and toilet and shower block.

The Hakatere Maori Committee

won the Supreme Award at the 2009

Trustpower Ashburton District Community

Awards for the redevelopment

and reopening of the complex.

The maraereceived $10,000 per year

for three years from the Ministry of

Health, also in 2009, to develop a

garden on half an acre of land.

The marae garden wasseen as away

to strengthen links to the wider

community.

Much of the exterior carving work

for the wharenui was completed by

Ashburton master carver Vince Leonard,

who passed away earlier this year.

Mr Leonard also constructed the

carvings at Ashburton College.

The marae is today administered by

the Hakatere Maori Komiti Trust.

Komiti chairperson Michelle Brett

said the marae complex remained a

place for all whanau ''to come and

belong to and a place away from

home''.

It provided ongoing services and

support and because it had full facilities,

including the wharenui, more

whanau and the communitywereusing

it.

Employing a marae co­ordinator

earlier this year had further boosted

user numbers and interest, said Mrs

Brett.

''Hakatere Marae iscommitted to

community focused initiatives and projects

which support all people, but also

to raising awareness of things maori.

''We will continue to deliver activities

such as taiaha, kapa haka, reo, cultural

celebrations, whanau celebrations and

ANZAC celebrations to our community.''

Fairton Primary School teacher Molly Morrison and students in 1929

when the school was located at the current marae site. (Photo:

Ashburton Museum).

Hakatere Marae's co-ordinator

Lara Reihana, right, with

Hakatere Marae Komiti

chairperson Michelle Brett .

Nerissa Ka at afemale cultural

event held at the marae in 1994.

(Photo: Ashburton Museum).

TIRED OF WATER CONSENT

MONITORING HASSLES?

We have an early Christmas present for farmers!

Get a FREE Logger upgradefor water consent meter,soil moisture

and temperature monitoring equipment.

Are you aware that ECan is focussing on Data Gaps for consent monitoring data and taking follow up action? This is

where alogger has not captured data for aperiod of time and shows in the ECan records as aData Gap. If you are still

using Aquacom monitoring units and the Aquacomnetwork you may be at risk of having Data Gaps.

ECan have been communicating with data providers and farmers advising of data missing going back to 2018 (and in

some cases 2017). This places additional and unnecessary stress on farmers and creates additional work for all of us.

From our experience, most Data Gap issues are with the Aquacom units, so we've decided to solve this problem at the

source by offering afree IoT logger in exchange for Aquacom units on properties throughout Canterbury. Farmers

will get an improvement indata timelines, data reliability and eliminate additional expensive Aquacom repair costs.

Not only will we replace your IoT logger, ifyou sign up before the end of November 2019, Watermetrics will waive

your consent monitoring fees from now until the end of 2019 season.

By choosing the free upgrade, you will receive monitoring technology that can add additional sensors to monitor a

number of 'things'. One such example is our soil moisture and soil temperature sensor. Wecan provide these at

$1,850 each, (500mm probe) plus some installation costs, plus GST.

And the best part? It's an early Christmas gift -absolutely free upgrade in exchange for your old Aquacom unit.

If you would like to discuss this further,weare at the;

st and 2 nd November: Stand 1220 on the western side of the arena

th th November: in the Agri tent

www.watermetrics.co.nz

To get your upgrade call

Watermetrics on 0800 493-762

or visit our website to start

enjoying these new benefits:

Terms andconditions apply

2219132
---
Local news at www.starnews.co.nz Ashburton's The Courier, Thursday 31 October 2019, Page 17

Fun­seekers flock to the Plains

Hundreds packed into

the Plains Museum at

Tinwald over the

weekend. The museum

had agreat weekend,

with nearly 500 enjoying

aride behind JA1260.

Visitors were thrilled

with the Haunted

Cottage and dressed for

the occasion. Photos:

David Oakley.
---
Page 18, Ashburton's The Courier, Thursday 31 October 2019

Mayor assembles

team for new term

Mid/South CanterburyContinuous Spouting

TM

TM

Askabout our large capacityspouting for

commercial and farmbuildings

Residential –fascia, gutter and downpipes

Local news at www.starnews.co.nz

The Original

Spouting Specialists

Serving

Mid/South

Canterbury

for over

26 years

TM

Snowprotection our specialty

By John Keast

Ashburton mayor Neil

Brown, councillors and

the Methven Community

Board have been

sworn in, with Methven

councillor Liz McMillan

named as deputy

mayor.

Ms McMillan led the

community board

before her council

selection.

Mr Brown, in his

mayoral speech, said

the work started now ­

and there was alot on ­

an upgrade of the Ashburton

central business

district, the $51.6m

civic centre and library,

and anew pipe project

under the Ashburton

River.

The council this term

will have five standing

committees, up from

the three of the previous

council.

They are audit, risk

and finance, bylaw and

policy, community

services, environmental

services and infrastructure

services.

Returning councillor

and mayoral aspirant

Leen Braam will lead

the audit, risk and

finance committee with

newcomer John Falloon

as deputy, Mr Falloon

will lead the bylaw

and policy committee

with former mayor

Angus McKay as

deputy, Mr McKay will

lead community

services with newcomer

Carolyn Cameron as

deputy, returning

councillor Diane Rawlinson

takes on

environmental services

with newcomer Rodger

Letham as deputy, veteran

Stuart Wilson will

lead infrastructure

services with Lynette

Lovett as deputy, and

the executive committee

is Mr Brown, Ms

McMillan, and councillors

Braam, McKay and

Wilson.

Mr Brown acknowledged

the work of former

mayor Donna

Favel and former councillors

and said the oath

of office should not be

John Falloon

Stuart Wilson

taken lightly.

He welcomed new

councillors and thanked

retiring councillors

and those not elected.

He said the new

smaller council ­ nine

councillors instead of

12 ­did not mean less

service.

Councillors, he said,

should not put the

interests of one area

before that of the

whole community.

Councillors, he said,

might not always agree

but would work

together.

''In the words of

Jacinda Ardern, let's

do this,'' he said.

Mr Brown said councillors'

role was to keep

track of the money and

not direct the CEO on

what to do.

He thanked fellow

mayoral contenders for

an ''honest and

respectful'' campaign.

Mr Brown urged

ratepayers to contact

Leen Braam

Diane Rawlinson

him or councillors on

issues and ''we can only

hear the voices who

speak''.

Meanwhile, former

mayor Donna Favel

said she wrote in a

District Diary in 2011

of asports session, with

candidates urged to do

their best, observe the

rules, and listen to the

coach.

She said she got to

Angus McKay

apply those things in

council, and talked

about ''passionate spectators''.

She urged councillors

to look after themselves

and to get the work

balance right.

She said it had been

an honour and privilege

to serve and now she

would be that passionate

spectator.

Other appointments:

Airport authority,

Leen Braam, Rodger

Letham, Lynette

Lovett, road safety,

Lovett, McMillan, Rawlinson,

library and civic

project group, mayor,

deputy, Braam, Rawlinson

(and CEO and staff),

biodiversity, Lovett,

Rawlinson, creative

communities, Braam,

Falloon, Methven Community

Board, Letham,

McMillan.

There are also many

appointments to councilcontrolled

organisations

and boards.

www.auricelectrical.co.nz

TM

Your new spouting proudly installed by

Craig or Josh

John Tull ...providingoutstandingservice,

afterinstallationcareand pricing requirements!

Phonehim on 021 288 8290

Email: john@canterburycontinuous.co.nz

www.continuous.co.nz Freephone 0800 50 1993

rechargeable

hearing

aids

• Simple to use

• No battery -

no ongoing

costs

• Just charge

and go!

FREE CHARGER

(RRP $700)

With this advertisement.Offer valid to November 29th.

Book your free consultation today

Ashburton

Hearing Clinic

306 Havelock Street

(opposite the police station)

0800 727 366

Delivered to over 16,000homes everyweek

• Domestic electrical services

• New house wiring

• House rewiring &maintenance

SUPPLIERS AND INSTALLERS OF LEADING BRANDS

• TV &Datawiring

• Solar installation

• HeatPumps

Call todayfor an obligation free quote

0800 287 423

2181105

2222142

2174603
---
Local news at www.starnews.co.nz Ashburton's The Courier, Thursday 31 October 2019, Page 19

Realtor Tim just loves the land

By Toni Williams

Eye contact, afirm handshake and

honesty have seen Ashburton­based

rural realtor Tim Gallagher go from

strength to strength.

''For me, ahandshake means

everything. What every farmer wants is

honesty.They want to hear the truth,

good, bad or ugly. Most farmers very

quickly realise when someone is telling

them what they want to hear, instead of

telling them the truth.

''I always keep that in the front of my

mind when Iamdealing with anyone,''

he says.

Tim, 32, grew up in Taupo, with his

parents, Brendan and the late Alice

Gallagher, nee Hayman (daughter of

Frank Hayman, who managed Inverary

Station), and his three siblings, Erin,

Phillip and Tim's twin­sister Charlotte.

His parents had met on Inverary

Station, up the Ashburton Gorge, when

Brendan was ashepherd, and Alice a

nursing student. In asemi­mirrored

existence Brendan was also astock

agent, although in the North Island,

before farming (sheep and beef) and is

now in residential/rural propertysales,

in Taupo.

As ayouth Tim spent alot of time in

Mid Canterbury helping his Aunty

Sarah and her husband, Uncle Mike

(Morrow) when they farmed at

Lowcliffe, near the coast in Mid

Canterbury.

The Morrow's arable farm, and the

work done by his uncle, pipped his

interest in farming from an early age; he

learned every aspect of arable farming

from harvesting, to cultivation and post

harvest work.

''He was aperfectionist, not just a

turn the steering wheel, plant aseed and

hope for the best type farmer... he was

such atechnically capable farmer,'' Tim

says.

And the invaluable experience

allowed Tim to put it into practice while

still studying BCom in Commercial Law

and Business Management at Victoria

University in Wellington.

He used to fly in and out of

Christchurch, and drive down to the

Lowcliffe farm during the week to help

out where ever he could.

It's an interest he still has today. He

rents on arural property, but is planning

to progress to owning his own farm.

''If Iwon Lotto, Iwould still do what

Ido, but I'd buy afarm in Canterbury

and drive atractor after work,'' he said.

Tim Gallagher

Tim's first job at PGG Wrightson

came up while he was home on winter

break from his OE, where he was the

harvest manager on alarge arable

operation in northern Germany,

running ateam of five.

It was one of the various farming and

agricultural contracting roles he picked

up in his time working in Canada, the

USA and Germany. His one year OE

turned into afive and ahalf year jaunt.

Tim says even then, he could

understand the German language, but

didn't speak it.

''When we graduated, all my friends

at university took jobs and focused on

career progression...I never wanted to

rush. Iwanted my career to fall into

place naturally, and looking at it now,

that is how it has happened,'' he says.

Back from Germany to spend time

with family in 2014, Tim was rabbit

shooting in the South Island with some

mates when he spotted aPGG

Wrightson advertisement for ajunior

livestock agent.

Still intending to return to Europe, he

applied for the role on impulse and was

offered aposition.

Working with farmers between the

Rakaia and Rangitata rivers, he rapidly

grew his client book.

But with his livestock business gaining

traction, Tim's career then went in

another unplanned direction after a

suggestion from acolleague.

''Fordy (Robin Ford) is one of the

most successful and experienced rural

real estate salespeople in the country,

working for PGG Wrightson. We were

working for the same company and

dealing with the same clients, so came to

know and respect each other. One day

he said to me 'I can see in you what

made me successful. You should do

your real estate exams.'''

So he did.

Although Tim may have left the

livestock role, he still keeps up to date

with the markets and is often contacted

for advice by some of his larger clients,

who still value his opinion.

''I keep an eye on the livestock

market and am able to offer my two

cents,'' he says.

He began selling farms for PGG

Wrightson Real Estate in October 2017

and after ayear and ahalf in the role,

was named the nationwide PGG

Wrightson Real Estate New Zealand

Rookie of the Year and the Real Estate

Institute of New Zealand's2019 Rural

Rising Star of the Year.

''When (Fordy and I) submit together

on properties, we emphasise that we

offer amix of new and old, the wise

head of the veteran, with the young

fresh legs and heart of the rookie.

''My legal background, which makes

me comfortable around environmental

legislation, compliance and regulation,

alongside Fordy's many years'

experience, priceless knowledge, and

networks,'' says Tim.

The chemistry has worked well, with

Tim playing akey role in 13 rural

property sales during the past 12

months.

''You develop amore deeper and

personal relationship in real estate,''

Tim says.

''People are selling their largest asset,

there is alot of emotion involved, and

(unlike livestock sales) there is often a

wife and wider family involved who are

alarge part of the decision making.''

''They are the salt of the earth people,

so refreshingly honest that you get what

you see.''

It can take abit of time from the

decision to sell, to putting the property

on the market.

It's aprocess, ''to get them

emotionally ready'' especially if it's a

generational farm going on the market.

''A lot of time sweat and heart has

gone into the place,'' Tim says.

But most of those sales are succession

planning; selling the home farm, or

blocks off the back of farms, to give set

up money to children wanting to buy

their own farms.

Tim estimates around 70 percent of

the farm sales are part of succession

planning with the farm not big enough

for two children to take over, but apart,

or whole sale, can be used to help them.
---
Page 20, Ashburton's The Courier, Thursday 31 October 2019

Local news at www.ashburtoncourier.co.nz Ashburton's The Courier, Thursday 31 October 2019, Page 21

2217298
---
Page 22, Ashburton's The Courier, Thursday 31 October 2019

Local news at www.starnews.co.nz

OUTDOOR LIVING •OUTDOOR LIVING •OUTDOOR LIVING

An investment in every day living

That's what agood outdoorspace

should provide all year round:an

investment in your family and also

your lifestyle.

Agreat outdoor gardenreally

adds valuetoyour property. It's

not just the housethat 'wows'us,

it's usually the wholepackage.

We all lookatamazinghomes,

but whatweare really looking at is

the landscape. It's all thisthat

combines to putsome serious

investment back into yourmost

valuable asset.

So how do we makethe best of

our outdoorspaces?

Firstoff, if you reallywant to

add some value, make sure you

get some help.Use professionals

for both the designand

construction, as afreshset of eyes

and acreative design can really

make thebest out of the space you

have.

And, as withyour outdoor

furniture, quality is key; get

quality materials and any

constructionisbuilt to standthe

test of time.

With busy lifestylesand less

time to garden, the realfocusfor

value can be on year­roundusable

space.The use of low

maintenancehard surfacesand

decks can allow for year­round

dry surfaces.

The placementofoverhead

structures, heating and lighting

can make the outdoor

entertainingspace areal feature

of the property. Everyonelikes

entertainingand there is nothing

betterthan awine or beeroutside

aroundthe outdoor fire with

friends and family.

There is alsoamovementback

to self­sufficiency, and vegetable

gardens and ediblegardensare a

great asset to any space.

By building easy­to­useraised

beds, and placing in, perhaps, a

glasshouse,will allow for easy

care growing, while not being so

reliant on the supermarketfor

fresh fruitand vegetables.

Don't over invest, but rather

look at your individual position. Is

the property yourdream home, or

is it just astepping stone,aseach

has its own challenges.

If you are in for the longhaul,

you can designyour garden

around your wants and needs,

withoutthe thought of 'will Iget

thisback next yearwhen Isell?' It

is agood chance to spend money

on you and your family.

But if it is short term, there is

no point in investing big money

withoutthe prospect of getting it

back, so it is more important to

get it right.

In the end it's up to each

individualtoseek help and to

invest in their own property. But

by seekingprofessional help in

bothcreative designand aquality

build, the end result should really

add value to yourlandscape.

~Copy ODT, Design+

Garden Landscapes

Photo:Outdoorfurniture set

among plants provides asoothing

and welcomingoasis in an

outdoorsetting.

Great outdoors close by

Mid Canterbury is the

ideal place toenjoy outdoor

living.

It has head­turning

views at every corner,

clean air, rivers, mountains,

and, of course is

close to the sea.

And with the warmer

weather finally arriving,

now is the time to make

the most of what the

district has tooffer.

Whether you are a

tramper, a walker, an

angler, ajet boater ora

cyclist, Mid Canterbury

has much tooffer. And

these are just some of

the summer activities.

Mid Canterbury, of

course, is a mecca for

skiers and snowboarders,

and has some

of the best slopes anywhere

but at thistimeof

the year, with the mercury

rising, it's a good

timetoenjoy all thatthe

district has to offer in

other ways.

It's also a chance to

enhance your own outdoor

space especially if

you want tosit outside

to relax and put some

food on the barbecue.

If your idea of outdoor

living isgardening

there ismuch to do at

this time of year. If you

are a vegetable gardener,

youwill probably

have a fair bit in

already, and if you

haven't, now is the time

to act.

Whatever the outdoors

means to you,

make the most ofitand

enjoy all of the delights

that Mid Canterbury

and beyond hastooffer.

Where gardening

is an art form...

STIHL SHOP ASHBURTON

187 West Street,Ashburton

Phone 03 308 2055

2221738

2221743

Quality guaranteed

Call Goldmark today for

your next masterpiece

Mark Cherry

e: gold.mark@xtra.co.nz

c: 021 152 7524
---
Local news at www.starnews.co.nz Ashburton's The Courier, Thursday 31 October 2019, Page 23

OUTDOOR LIVING •OUTDOOR LIVING •OUTDOOR LIVING

Maintain your deck, outdoor areas

Summer is just a few

weeks away and the temperature

is steadily rising,

so many Mid

Cantabrians will be looking

at having more and

more barbecues and taking

advantage of some

warm outdoor living.

Spring is agreat time to

check out the decks and

outdoor areas and do

some maintenance to

ensure they are ready

when the warm weather

finally arrives.

Open timber decks

constructed with durable

treated timbers should

be less of aconcern than

enclosed balconies.

However, there are still

maintenance tasks that

should be done regularly

to ensure the deck is

safe.

If you think adeck is a

safety hazard you should

prevent anyone from

using ituntil it has been

assessed and repaired.

Waterponding against

the house can happen if

there's not enough of a

drainage gap between

the deck and the house.

There should be at

least a6mm gap between

the decking boards and a

bigger gap, up to 12mm,

between the house and

Spring is agreat time to check if the decks and outdoor areas need any

maintenance.

the deck structure.

If the boards are too

close to the house, lift

them and reposition or

cut them back.

If the deck or deck

framing is hard against

the cladding this will be a

much bigger job.

Seek professional

advice, particularly if the

cladding is likely to be

damaged bythe work.

Check that flashings

take water awayfrom the

house and allow it to

drain away.

Grime, leaves and

moss collecting in gaps

around a timber deck

can lead to moisture

build­up or ponding

which couldrot the deck.

Clean and remove

leaves, moss and other

debris from the deck,

paying particular attention

to the gaps between

the decking boards and

outlets.

Use amoss remover or

solution of one part

bleach to four parts

water.Rotten timber can

be a safety hazard and

may support toxic

mould, which poses

health risks.

Check under the deck

and any areas where timber

meets other timber

(eg joists, bearers, decking)

as these areas can

trap moisture.

Carefully check any

dark patches as these

indicate high levels of

moisture.

Sometimes timber

appears fine from the

outside even when ithas

started to rot, so use a

screwdriver to see if it is

soft underneath or in the

joint.

Replace rotting timbers

immediately.

Blackish stains around

bolt holes can indicate

that the bolts are rusting,

in which case they'll

need to be replaced.

Also check for undersized

washers.

Bolted connections

often require a 50mm

x50mm square washer

or a 55mm diameter

round washer to be

effective.

For decks that are

high off the ground,

bolts and undersized

washers should be

replaced by a professional.

For a low deck, you

may be able to replace

the bolts and washers

yourself.

Use stainless steel

bolts if you are near the

sea or in a geothermal

area.

Loose balustrades or

posts are asafety hazard

because they may fail

when they are needed to

prevent someone falling.

Ensure they are

securely connected to

the deck structure and

that the barrier doesn't

wobble.

If in doubt, ask for

professional advice.

Corroding galvanised

steel connectors are a

safety risk and should be

replaced, preferably with

GODSELL

BRICKLAYING

•Houses

•Fences

stainless steel products.

Mould can make the

deck slimy and slippery,

which is asafety hazard.

Sweep the deck with a

stiff­bristled yard brush.

Apply hot water and a

weak bleach solution or

household products that

remove slime and mould.

Bleach can damage

plants so you may need

to protect surrounding

vegetation with plastic

sheeting while you clean

the deck.

Don't use awater blaster

to clean wall cladding

materials as these

can cause damage.

Lower pressure water

blasters may be fine for

open timber decks.

­ Source: Consumer.org

•Feature Walls

•Blocklaying

Chris Godsell

027 274 2533

AH 308 7117

godsell@xtra.co.nz

2220765

Adding usable

living space

Evenincolderclimes,peoplenow

want to be able to use andenjoy

their gardensyear round.

Bringing the indoorsout has

become apopulartheme in recent

years, with landscaping trends

focusing on adding usable living

space through an 'outdoor room'.

Well­designed outdoor lighting

is abig part of the equation, being

bothfunctionaland creating a

mood. Uplighting on trees and

other features can createfocal

points, colour can be cleverly

implemented...the right lighting

can add awhole new dimension to

yourgarden.

Outdoor fires of various kinds

havebecome almostmandatory, be

it for warmth,cooking, or

ambience. Braziers, firepits,

chimenea, and others canall be

usedtonegate the cooler southern

nights.

Attempting to achieve culinary

perfection over an openflame isn't

for everyone.

But cooking outdoorsis

becoming more andmorepopular,

so afull­service outdoor kitchenis

an option if you're planning on

doing alot of entertainingthis

summer.

The outdoor loungeconcept can

incorporate technology in other

placesthan thekitchen.

Entertainment canalso be

offered, with audio, or even a

large­screenTV. With some good

design, your outdoors can truly

become anextension of your

interior.

Water is another element at

home in contemporary

landscaping, withwater features

makingawelcome return. Adding

both peace and energy, water can

be abeautiful addition to most

gardens.

Forvarious reasons,more and

more people are choosing to grow

their own food.Be it aproductive

vegetable garden, fruit trees and

berries, or ausefulherb garden,

having your own freshingredients

on handcan certainly addalotto

your cooking. Most herbs areeasy

to grow, eitherinpots, or as useful

ground­cover.

Interior­design ideas can be

successfully exported to the

outdoors. Different texturescan be

used to create interest anddrama.

Usevariations of onematerial to

createdifferent feelings; for

example stone slabs and cobbles.

And feelfree to accessorise ­

shrubsare greatfor layering,

screening, andadding character.

Asymmetry is acurrentinterior

trend that has also migratedtothe

outdoors. Think less structured

and morenaturallines, to provide

adifferent focusfor the eye.

2220880

Macrocarpa 2.1m

OutdoorSet

SPECIAL

$1,599

Table,formand bench seat

m MACROCRAFT

furniture EST 1992 103South Street, Ashburton. Ph 308 0417

HOURS: Monday-Friday 8am -5pm; Saturday10am-3pm

www.macrocraftfurniture.co.nz

Free

Freight

Limited offer

RIVIERA UMBRELLA

151 Alford Forest Road l 308 8893

2221493
---
Page 24, Ashburton's The Courier, Thursday 31 October 2019

Local news at www.starnews.co.nz

OUTDOOR LIVING •OUTDOOR LIVING •OUTDOOR LIVING

2221244

PLAN AHEAD FOR SUMMER

•Awnings

•Shade sails

•Blinds andscreens

•Outdoor furniture

upholstery

•Repairs

115Archibald St, Tinwald, Ashburton.

Phone/Fax: 03 307 2354

Email: tincanup@xtra.co.nz

www.tinwaldcanvas.co.nz

NEATGARDENS

Does your garden need monthly

maintenanceto keep it tidy and

looking goodthrough the seasons?

Or perhaps just need aone off tidy or

pruning completed?

We can help!

Allgardenwasteremoved

ContactCAROLYN Phone: 027 2675403 or 3082333

Email: cccolt@xtra.co.nz

DRIVEWAY SPECIALISTS

Specialising in: Patios, Pathways, Driveways,

Decorative concrete -Exposed aggregrate,

Coloured Concrete, Ground/Polished Concrete

Paving Display OPEN 7DAYS-

13 Robinson Street, Riverside Industrial Park

13 Robinson Street, Ashburton

Phone (03) 307 6466

Mobile 0274 508 191

Email admin@paveco.co.nz

2221965

2221080

Making the right plant

choice in your garden

You can enhance the character of

your home and make it more

attractive, comfortable and

energy­efficient with the right

plant choices.

Consider your garden as an

ecosystem rather than a

collection of individual plants.

This means selecting the right

plant for the conditions and

grouping companion plants

together.

The right landscaping decisions

will determine how much

enjoyment your garden and

outdoor living areas bring, and

how much time and effort you

need to maintain the garden.

Good landscaping involves

thinking about your site as a

whole.

Soil type, landforms and

waterways, orientation, climate

and other conditions will all affect

your landscaping decisions.

It's worth considering: ­Doyou

want to spend time gardening or

would you prefer alow

maintenance garden?

­What is the purpose of your

garden? Will it be used for

entertaining and playing or will

you need private, sheltered spots

for reading, growing food and

attracting birds?

­How might your needs change

over time?

If you choose plants that are

suitable for local conditions, your

garden will be easier to look after

and won't need as much water.

Consider each part of your site

­how sunny or shady it is and how

moist or dry it is ­before deciding

what to plant.

Consider the watering

requirements of your plant

choices. Moisture­loving plants

will need alot of summer

watering and if it's along, dry

summer you may have summer

watering restrictions and be

better off selecting plants suited

to dry conditions.

There's nothing more

satisfying and rewarding than

Consider your garden an ecosystem rather than acollection of

individual plants.

picking food from your own

garden to eat fresh. You don't

need high quality topsoil to

establish aproductive vegetable

garden. If you are on clay or an

excavated location, try non­soil

methods that use compost or

potting mixes.

Your local garden centre can

advise you on what fruit trees

grow well in your conditions.

Other things to consider when

planning agarden and outdoor

areas are: ­How much sun and

how much shade you want ­too

much shade in winter might make

your home cold and damp.

­The direction and angle of the

sun in summer and winter.

­The size of any existing plants

and the fully­grown size of any

you want to put in.

­How far away trees are from

your home and any outdoor living

areas.

Paving laid directly in front of

north facing windows will absorb

heat and reflect it into the house,

making it hotter in summer. A

shiny surface will create glare.

This can be avoided by shading

the paving during summer, or

using decking or other materials

that don't store heat to the same

extent.

Plants can be combined with

fencing or trellis work to provide

privacy and shelter from wind.

For really windy locations,

choose tough plants that are

acclimatised to your area and

compatible with each other. Plant

them close together so they filter

the wind.

2221104

Call Richard308 9039 l 027 279 8952

richard@bradfords.co.nz

www.bradfords.co.nz
---
Local news at www.starnews.co.nz Ashburton's The Courier, Thursday 31 October 2019, Page 25

OUTDOOR LIVING •OUTDOOR LIVING •OUTDOOR LIVING

Basic barbecue hygiene

Warm and balmy days are on the way, or so

we hope.

It's also the time for barbecues, outdoor

living and fun in the sun.

Warm spring and summer temperatures

and cooking food outdoors provide the

ideal situation for pathogens to multiply

and cause foodborne illness. That means

special care is needed when preparing,

cooking and storing food for abarbecue.

By following afew basic hygiene rules,

we can keep the upset tummies at bay and

make the most of outdoor living and

dining.

Wash and dry hands before preparing

food and every time after touching raw

meat or poultry.

Before handling food make sure all

barbecue tools and all surfaces on which

you put food are clean.

Cleaning away afterwards any residual

crumbs and meats will help keep flies at

bay. Precook chicken, meat patties and

sausages before barbecuing. Half raw

barbecued chicken is acommon source of

bacterial problems, particularly when the

meat actually looks cooked on the outside.

Pre­cooking chicken will overcome the

problem.

Meats should be marinated in acovered

container in the fridge, not on the bench

Have clean plates and cooking utensils

Cooking outdoors make the most of

outdoor living and dining.

ready.

Don't place or prepare raw meat next to

cooked or partially cooked meat or other

ready­to­eat foods. Use one set of utensils

for raw meat and poultry and another set

for cooked food.

Always wait until the existing food on the

barbecue has been cooked through and

taken off the barbecue before adding any

more raw meat. Turn the food regularly so

that it cooks evenly.

Minced meat, meat loaf and sausages

should be cooked until steaming hot right

through, and pork and poultry juices

should run clear ­use ameat thermometer

to check temperatures.

Place cooked items on aclean plate, not

one that was used for raw meat.

When buying meat, if your trip back

from the supermarket is likely to take more

than 30 minutes, pack your chilled and

frozen purchases in achilly bin. Don't leave

food in ahot car ­perfect conditions for

growing bacteria.

Keep meat, poultry and other perishable

foods cold until you are ready to cook

them. Use an icepack and cooler bag or

chilly bin to keep food cold outdoors. Store

raw meat and poultry in the refrigerator

away from other foods and below ready­toeat

foods.

When eating outdoors, keep your food

covered to prevent contamination from

insects, birds and pets.

Cover and refrigerate any leftovers as

soon as possible after cooking. Throw out

perishable food that you have left at room

temperature for more than two hours.

Being aware of basic hygiene and

keeping foods fresh, covered and chilled

will help you to enjoy the best of what

summer has to offer.

Connect outdoors and indoors

Outdoor living is about creating

acomfortable outdoor space.

Aplacetohang with family

andfriends for food, fun and

conversation, or aplace to sit

and relax on yourown enjoying

the surrounds of nature.

Thespace is considered

another room in yourhome

whichmeans makingyour

backyardand patio a

functional, livable space that

fitsseamlessly into your life.

Investing in goodquality

outdoor furnituregoeshand in

hand withthe steps

recommendedtocreate a

warm,invitingoutdoor space.

Youroutdoor furnitureneeds

to be comfortable and durable.

Be prepared to spend money

to get something that lasts.

Wooden furniture,such as

teak, may cost morethan say,

plasticfurniture, but it will last

for generations.

If its done right,the outdoor

area is as warm and inviting ­

mostlyinsummer ­asanyroom

in your house.

Hereare sometips to

creating awelcoming backyard:

*Connectthe outdoors with

the indoors by French doors or

sliding glass doors that leadto

the backyard. In addition,a

pergola or awningfrom the

house to thepatio helps to

connect the two spacesvisually.

*Encouragepeople to be

comfortableoutdoorsby

investing in comfortable

seating and asturdy table

wherepeople can sit and talk or

eat anddrink.

*Cleanupthat barbecue,or,

if it'stoo fargone, invest in

another withalid and cover

(and gas) to keepitreadyfor

those lastminute outdoor

meals.

*Ifyour backyard gets cold,

investinapatioheater to

maximise comfort, and an

umbrella to protect from the

sun whensittingenjoying the

outdoors.

*Put art, abirdbath, or a

statue in the garden to increase

yourbackyard beauty. And

makesure the area is lush with

trees, plants or flowers to bring

in the birdsand bees.

*Bringmusic into the

backyardthrough astereo

system or add other pleasant

sounds withwindchimes or a

bubbling fountain.Remember

to consider the neighbours

when it comes to playing music,

especiallyifyou have agood

sound system.

*For time spent after dark,

invest in goodlightingto

enhance the moodand

atmosphereofyourbackyard.

Once you have prepared your

back yard and created a

welcoming, comfortable space,

then makesure you use it: enjoy

life. Formost people, outdoor

livingmeanscasual and fun not

formal and stiff.

FOR ALL YOUR TIMBER

REQUIREMENTS

Come see us first!

For the garden -

• Full range of rough sawn treated timber

• Garden edging and pegs

• Garden stakes

For the farm -

• Cattle & Sheep yard materials

• Kitset implement sheds

• Ready made irrigation/utility sheds

ADAMS

Sawmilling Co Ltd

Malcolm McDowell Road, Ashburton

Phone 308 3595 Fax 308 5649

LAKEWAY NURSERY

SALE

ALL STOCK

REDUCED

RHODENDRONS

At PlaceMakers® we are well equipped to help you

turn your landscaping dream into areality

20% OFF

TOPIARY

BUXUS

FROM

$39.90

$1.90

EACH

BARGAINBINS FROM $5

Phone 308 9950

Grahams Road,Tinwald

(1kmfrommainhighway)

2220870

2222251

2221074
---
Page 26, Ashburton's The Courier, Thursday 31 October 2019

Food from around the world

Too many cooks did not spoil the broth ­they made

it better. More than 60 cooks prepared 71 dishes

from 19 different cuisines and shared it for all.

Ashburton council recently ran another of its

Round the World lunches. The idea is to celebrate

staff diversity and to raise money for acharity. This

time around, it was the Salvation Army. $320 was

raised. Staff nominate to be chefs and prepare adish

Mid Canterbury junior tennis draw

Round 3

Saturday2November 2018

All games to start at 9amsharp

JuniorAGrade ­DutyTeam

Dorie A

Allgames for Junior Bthis

week areatATTC

SouthernStrikers vMethven

Silver; DorieAvMethvenGold;

SouthernStarsvMethven

Bronze; Allenton Tigers v

Allenton Eagles.

JuniorBGrade

Allenton PanthersvAllenton

Bears at Allenton;Methven

White vHampstead Yellowat

Hampstead; Dorie Hampstead v

Hampstead Green at Hampstead;

Methven Black vSouthern

Shakers At ATTC.

that might be from their home country. Non chefs

pay asmall fee plus apantry item to eat. Here, the

chefs line up with their food and flags denoting

country of origin. The lunch was organised by Kathy

Hoy. It is the fourth Round the World lunch

organised at the council.

Photo: Staff ready for the big lunch.

Junior C

Allenton Lions vMethven Blue

at Methven Domain;Allenton

Falcons vMethvenRed at ATTC;

SouthernStormers vSouthern

SharksatHinds.

Please phoneany defaults

through to Mid Canterbury

JuniorTennis 3083020assoon as

possible.

Local news at www.starnews.co.nz

Productive land concerns

Ashburton council has some concerns

abouthow achievable the three­yeartarget

is for regional council to identify highly

productive land.

In its submission to the Ministry for

Primary Industries to submit on a discussion

document, it said council was

awareAshburton had asignificant amount

of highly productive land (HPL) and that

this was of great importance tothe local

and national economy.

The submission said council had been

mindful of the issue of urban growthonto

productive land for years, with the second

generation AshburtonDistrict Planrestricting

expansion ofnon­rural activities into

rural zones.

Council planned its third­generation

review of the District Plan next year.

As shown inthe ministry's discussion

document, that inAshburton, most towns

and settlements were surrounded by versatile

soils.

''As in many other parts of the country,

the expansionofexisting settlements where

Lodge support for group

Money to help: Max

Cawte hands over a

cheque for $208 to John

Waugh, left, amember

of the Prostate support

group. With Mr Cawte is

Ray Gudex, master of

the Methven Masonic

Lodge. The money was

raised by the five

masonic lodges in the

Ashburton district after

asuccessful men's

health night.

there is existing infrastructure is the only

cost effective option. Areas of less productive

land in Ashburton district tend to

be remote and impractical for future

development.''

Council supported a national policy

statement as opposed tonational environmental

standards or amendments to the

national policy statement.

While regional councils have responsibility

for identifying highly productive land,

''we (the council) would expect it to be

made clear that this process is to be carried

out collaboratively as district councils will

have agood understanding of local issues

such as transport routes and the labour

market, aswell as overall spatial planning

for their respective districts''.

The Ashburton council signalled the

difficulty facing councils having tobalance

urban growth with highly productive land.

''While this is not adirect issue for the

Ashburton District, we note that for our

neighbour, Selwyn District, this will bea

challenge.''
---
Local news at www.starnews.co.nz Ashburton's The Courier, Thursday 31 October 2019, Page 27

Labour list MP

Jo Luxton comments

One of the long­term

challenges Jacinda

Ardern's government is

facing is the global economy,

which as you've

seen is faltering abit. But

the latest set of government

accounts shows

New Zealand is in good

shape and performing

better than many similar

countries. Together

we're running a great

race, even though there's

aheadwind about.

Every few months the

Treasury gives an update

on how the country is

performing, which builds

on all the other figures

Statistics New Zealand

puts out. The figures

show that we have a

10­year record low

unemployment rate and

wages rising at the fastest

rate in adecade. On top

of that, the government's

also posted a solid surplus

thanks to New

Zealand's economy

performing better than

predicted, and we're paying

down the country's

debt.

We're posting agood

surplus and keeping the

economy growing well.

We're also investing seriously

in areas neglected

for too long before we

came to office. Across

New Zealand, we're

building classrooms and

schools, fixing up hospitals,

building new roads

and rail facilities, and

investing in the Super

Fund. And what does

that mean for us here?

Right here in Ashburton

we've been able to

invest in new classrooms

and rebuilds for Ashburton

College, Ashburton

Intermediate and Allenton

School. We've been

able to start the roll out

of mental health workers

with investments at

Three Rivers Health.

New Zealand's debt is

19.2% of GDP, down substantially

from the 21.8%

we inherited. Lower debt

means we have more

options if acrisis or natural

disaster hits our shores.

Our progress isn't coming

at the expense of business,

either, with corporate

profits in New Zealand

running ahead of

forecasts. That's good

news for shareholders,

workers, and the government

alike.

Our economy is strong.

We're growing significantly

faster than the

OECD average, at 2.4%.

We're growing faster than

Australia, Canada, Great

Britain, and the European

Union. Now is no time for

New Zealand to talk itself

into joining the offshore

funk.

I'm really proud that our

government, under

Jacinda Ardern's leadership,

is getting the balance

right. We're investing

where we need to invest, in

mental health, cancer care,

schools, housing, and

transport. And we're doing

it while making sure New

Zealand's economy can

run strongly, with New

Zealand firms generating

more jobs, higher wages,

and higher profits across

the country.

Residents urged

to boil water

The Ashburton council is

urging residents in the

north east area of Ashburton

who have private

bore connections to boil

their drinking water, due

to high microbial contamination

being found

in their water supply.

Residents in the affected

area (which is

categorised as properties

and lifestyle blocks on

the outskirts of Ashburton

towards the Ashburton

Airport) are advised

to boil their drinking

water and water used for

hygiene purposes for at

least one minute before

consuming.

This advisory only

applies to residents with

aprivate bore water connection.

The notice does

not apply to any councilsupplied

water schemes.

There is also aconcern

about high levels of

nitrates in the private

bore water. Residents

with bottle­fed infants

under the age of six

months are advised to use

an alternative water source

or use bottled water to

make up their baby formula.

Residents who have

consumed unboiled water

and are showing symptoms

of diarrhoea, vomiting or a

fever are advised to contact

their general practitioner

at any time of the

day or night.

Babies, young children,

elderly and people who

have compromised

immune systems are more

at risk of illness.

Residents in the affected

area are encouraged to

have their water bores

sampled and tested. Companies

that supply this

service are Eurofins (03

343 5227), Hills Chemistry

(03 377 7176) and Citilabs

(03 455 7938).

Further testing is being

done in the affected area

to determine the level and

extent of contamination.

The advisory is in place

until further notice.

Rangitata MP Andrew Falloon comments

Politics never featured

highly for measacareer

goal. If you'd asked me

15 or 20 years ago about

my ambitions they

extended about as far as

Company Road, now

the site ofthe Industrial

Estate, but previously

the pig farm I worked

on.

It was hardbut honest

work, and I'd happily

still be there today.

What changed was a

realisation that on the

really big stuff, for our

district and for our

country rather than just

afew people Imightone

day employ, that change

has to happen at Government

level.

Like many of you Igot

increasingly fed up with

the near­constant focus

on Auckland. Where

problems with housing

becomes aNew Zealand

problem. Where lack of

investment by successive

Auckland councils in

wastewater means we're

now talking about ataxpayer

funded bailout.

And where the major

media outlets go into

meltdown if our largest

city should lose power

or gas for afew hours.

Auckland is important,

but ultimately it's

districts like Ashburton

that drive our economic

growth, and it's critical

that Government supports

that growth.

The rollout of ultrafast

broadband by the

previous National Government

was a gamechanger,

but in too

many areas coverage is

still poor.

The rise of Netflix

and other streaming

technologies (yep, that

includes Spark Sport)

means we need tocontinue

to invest or we'll

be left behind.

The present Government's

decision to cut

more than $5 billion

from the state highway

network will make our

roads less safe.

The fact itwas diverted

into rail and cycle

projects in Auckland

just rubs salt in the

wound. Ashburton to

Christchurch, already

thesecond most dangerousstretch

of highway in

the country for fatalities

and serious accidents is

in serious need of an

upgrade, and delays on

our roads are becoming

a serious handbrake to

growth.

All ofthat requires a

local MP prepared to

stand up and be astrong

voice for ourregion, makingthe

case in Wellington

as to why districts like

ours matter, and unafraid

of confronting the powerful

Auckland lobby.

Recently I confirmed

I'll again beacandidate

at the General Election

next year, seeking your

support to continue tobe

that strong local voice.

Over the next couple of

days I'll be at the A&P

Show. This year the

theme is Seeds of Mid

Canterbury, so at my tent

we'll be giving out aseed

blend designed for our

friend the honeybee.

Drop by for apack, some

balloons for the kids, ora

chat about anything from

politics topig farming.

• Johnson's Panel & Paint • Simply Eco • 128 Victoria • Robbie's Undercar Specialist

• Carpet Court & Curtain Studio • Crafty Cow • Netherby Four Square • First National

• Annies Country Quilt Store • Samantha Rose Flowers • Plains Power • The Bald Barber

• Robilliards Showcase Jeweller • Lushingtons • Stepping Out • Liquorland Tinwald •Ton's Thai •F45

• The Mower Shop • Somerset Grocer • Begbie Plumbing &Gasfitting •Fusion Gallery•Laser Electrical

• Hurst Automotive • Unquie Boutique •Pool &Pump World•RoscoAutoDismantlers •AutoSparks

•MyBoutique •Wilson Windscreens •AshfordCraft Shop •The Tool Shed •Stihl Shop

•Tanglez Hair Studio •Rockgas MidCanterbury•Nosh Cafe •HarveyNorman

2216605
---
Page 28, Ashburton's The Courier, Thursday 31 October 2019

Mural takes shape

at Hampstead pool

An impressive mural is

taking shape at the Hampstead

School swimming

pool.

The outline, featuring

beach­vibe symbols like

surf boards, towels and

palm trees, has been

painted in freehand by

local artist Carmen Lye

and three students from

each of the six senior

classes at Hampstead will

lend ahand to add in the

colour.

The school board of

trustees prepared the

blank canvas by waterblasting

the concrete top

corner of the complex.

The project is part of a

nationwide mural competition

run by paint

company Resene, and

the paint has been supplied

at half its normal

cost.

Hampstead School

had supplied ideas on

what they wanted in the

mural and students

would add colour in

blocks from a master

design, said Carmen Lye,

who is volunteering on

the project and has two

children previously attend

Hampstead.

The entire project is

expected to take around a

week to complete and

could be expanded to

cover other areas of the

otherwise bland coloured

pool complex.

Photo: Ready to start

adding colour to the mural

are Hampstead School

pupils Kymani Pupuke,

Kalotia Ula, Chanelle Ula,

Molly Blackburn, teacher

Hannah Gray, artist Carmen

Lye, front, JJ Tupa

and Harry Tabener.

Nature Matters with Mary Ralston

Council elections were

held recently, and soon

you have the chance to

vote again. But not for

councillors ­ for New

Zealand's Bird of the

Year! And in this election,

everyone can vote ­

not just the adults.

Every year the conservation

organisation

Forest & Bird runs the

Bird of the Year competition

to raise awareness of

our birds and the precarious

life many of them

lead. Many native birds

are in danger of extinction,

mostly because of

the threats they face from

predators such as rats,

stoats, cats and hedgehogs.

Habitat loss is another

big factor in declining

bird populations.

Migratory birds such as

the godwits rely on

estuaries and mudflats in

Asia as well as New

Zealand. Every year big

areas of these habitats are

encroached upon by

industry and housing and

valuable feeding areas

are lost. Climate change

adds to the problem by

triggering storms and

unseasonal weather patterns

which the birds

sometimes don't survive

on their migratory

journey.

At home in New Zealand,

we are lucky that

this year many braided

rivers are relatively clear

of weeds after last year's

big floods ripped out

many lupins that choked

the shingle. Hopefully

that might mean agood

breeding year for the rare

black­billed gull which

nests locally.

So what can you do

about it? Voting in the

Bird of the Year competition

does not seem much,

but it sends a message

that we care about native

birds and New Zealand's

precious biodiversity. It

raises awareness and an

Hughey elected chair of ECan

Christchurch North­East

regional councillor Jenny

Hughey has been elected

chair of Environment

Canterbury (ECan) at the

inaugural meeting of the

new term.

South

Canterbury

councillor Peter Scott,

deputy chair during the

last triennium, was reelected

to the role after a

vote tied 7­7 saw his name

drawn ahead of North

Canterbury councillor

Claire McKay, who had

Local news at www.starnews.co.nz

initial interest hopefully

leads to action ­such as

trapping rats in our backyards

and keeping cats

indoors.

Have athink about the

native birds you see

around our district ­ is

your favourite the blackbilled

gull that nests on

the Ashburton riverbed?

Or the South Island pied

oystercatcher? Many

people love the waxeyes

they see in their gardens.

Perhaps the kiwi or one

of the parrots ­the kaka,

kakapo or kea. Go to

www.birdoftheyear.org.nz

and vote for

your five favourite

species. The competition

opens at 9amonMonday

28 October and closes at

midnight on Sunday 10

November.

Photo: A black­billed

gull soars above the Ashburton

River. Is this your

Bird of the Year? (photo

Val Clemens)

also been nominated.

Cr Hughey was the

only nomination for

chair. Cr Scott is a

mixed­crop farmer and

also had portfolio

responsibilities for air

quality, regional transport

and freshwater during

the last triennium.

The ECan council

includes Mid Canterbury

farmer Ian MacKenzie,

who has akeen interest

in water and along history

of advocacy.
---
Local news at www.starnews.co.nz Ashburton's The Courier, Thursday 31 October 2019, Page 29

Rural&Lifestyle

World­first to reduce emissions

The Government and farming

sector leaders have agreed to a

world­first partnership to reduce

primary sectoremissions in one of

the most significant developments

on climate actioninNew

Zealand's history.

Farming leaders and the

Government announced aplan to

join forces to develop practical

and cost­effective waystomeasure

and price emissionsatthe farm

levelby2025, so that100 per cent

of New Zealand's emissions will be

on the path downwards.

The five­yearjoint actionplan

includes:

­Improvedtools for estimating

and benchmarking emissions on

farms

­Integrated farm plans that

include aclimate module

­Investment in research,

developmentand

commercialisation

­Increased farmadvisory

capacity and capability

­Incentives for early adopters

­Recognition of on­farm

mitigation such as small plantings,

riparian areas and natural cover

The Government recognises

partnering with Maori willbe

criticaltothe success of this joint

action plan.

In addition, Cabinet has also

agreed that in 2022the

independent Climate Change

Commission will check in on the

progress madeand if commitments

aren'tbeing met, the Government

can bring the sector intothe ETS

at processorlevel before2025.

Prime Minister Jacinda Ardern

was proudtobeinvolved in a

world­first agreement to tackle the

long­term challenge of climate

change.

She saiditwas a''historic

consensus with our primarysector.''

''For too longpoliticianshave

passed the buck and caused

uncertainty for everyone while the

need for climate action was clear.

Farm Environment Plans

mooted as way forward

All farms will need farm environment

plans by 2025 to help them manage

their emission reduction levels.

It was one of astring of suggestions

under the farming industry proposal

'He waka eke noa'.

The proposal has been picked up by

government in an attempt to build an

enduring farm­level emission

reduction framework. It will mean a

partnership approach between the sector

and government.

DairyNZ chief executive Dr Tim

Mackle welcomed the news.

''The Government initially wanted to

implement abroad­based tax on farmers

but it would have piled on more

cost with no environmental benefit.''

He was pleased the Government had

listened to the strong advocacy from

the sector and would work with

agricultural groups, including

DairyNZ, on a plan to drive real

behaviour change on farm, rather than

introduce anew tax.

''A new tax, in the form of a

processor levy in the Emissions Trading

Scheme, would have taken money

out of farmers' pockets at atime when

it would be better invested on­farm to

prepare for and start the process of

reducing emissions.

''We are not alone in our thinking,

with the Government's Interim Climate

Change Committee noting that

ultimately the ETS is not the right

mechanism to achieve the best outcomes

at afarm­level in the long­term.

''DairyNZ strongly believes that

working in partnership is the right

approach to deliver real change and to

achieve the best outcome for all New

Zealanders.

''Farmers are committed to playing

their part and want to take action to

reduce agricultural emissions, but the

mechanism to incentivise action needs

to be right.

''He waka eke noa is credible fiveyear

work plan, developed in partnership

with other sector groups, that

includes clear and measurable actions,

outcomes and timeframes that will

facilitate and support action across a

number of environmental improvements

such as climate change, water

quality and biodiversity.

''This includes rolling out Farm

Environment Plans for all farms by

2025 to ensure every farmer knows

their emissions footprint, where those

emissions are coming from, and what

they can do to manage them.

''Having reliable data is important so

that afarmer can make decisions and

trade­offs factoring in all the business

decisions that need to be weighed up.

''While it is disappointing that the

Government has reserved the right to

bring agriculture into the ETS in 2025,

or earlier if recommended by the

Independent Climate Change Commission,

this is not something that we

have supported.

''We will be working constructively

on behalf of dairy farmers to ensure a

fair and effective farm­level pricing

mechanism is designed through the

Commission.

''Our pasture­based dairy sector is

one of the most emissions efficient,

high quality and sustainable in the

world. We are also incredibly

innovative and adaptive.

''He waka eke noa is about ensuring

we remain world leaders in acompetitive

global market.''

Dr Mackle said ''our future is now in

our own hands as we work in partnership

with the Government to deliver

against our commitments''.

RURAL DIARY

Thu

Damien O'Connor

''This planprovides the primary

sector withcertainty and puts us

shoulder­to­shoulder on apath to

reduce emissions, with ongoing

support to help with the plan suchas

the $229 millionSustainable Land

Use investment.

''This will reduceemissionsby

•

Brought to you by your

local insurance brokers

givingfarmers the autonomy to plan

to do so and reward those who do,"

she said.

DeputyPrime Minister Winston

Peterssaid the decision for asectorled

plan to reduce emissions at the

farm gate ''shows we've listened to

farmers''.

''We welcome the co­operation of

our primary sector organisations

who have beenadvocating for a

smoothtransition towards

meaningful emission reductions,''

he said.

Major reforms to the ETS have

also been announced to make it fit

for purpose,with acap on industrial

energyand transport emissions, and

forester incentivessimplified.

Minister for Climate Change

James Shaw said it will help keep

the planet safe for future

generations.

''Withthe world changing at

break­neckspeed, these changes

will drive us towardsalow emissions

country. Changes also align the

Plan Change 7online

The Ashburton River Irrigators

Association (ARIA), agroup of 65

members who hold water take

resource consents connected to the

Ashburton River, are among the

more than 556 submissions

received on Environment

Canterbury's (ECan) Plan Change

7.

In their submission they state

they generally support the direction

of Plan Change 7but ''believes the

regime developed by ECan and

included in PC7 is fundamentally

flawed'' with anumber of failures

around growing operations listed

including its failure to take into

consideration the principles of the

National Policy Statement for

Highly Productive Soil and failure

to consider the social benefits of

vegetable growing operations

through the supply of cost­effective

fresh food for the domestic market.

Their submission states ''as a

consequence of the above, the

proposed PC7 rules framework will

increase barriers for vegetable

growers to expand their operation

in response to population

Friday, November 1

• Ashburton A&PShow

Saturday, November 2

• Ashburton A&PShow

Monday, November 4

• Temuka

Tuesday, November 5

• Canterbury Park All

Stock exc. Store Cattle

Thursday, November 7

• Temuka Store Cattle

Monday, November 11

• Temuka

Wednesday, November 13

• The NZ Agricultural Show

Thursday, November 14

• The NZ Agricultural Show

Friday, November 15

• The NZ Agricultural Show

growth and switches to plantbased

diets in response to climate

change.

''These barriers will limit production

and increase prices for

fresh vegetables on the domestic

market as demand increases.''

ECan has published all the submissions

on the proposed Plan

Change 7tothe Land and Water

Regional Plan, as well as Plan

Change 2.

They are publicly available for

viewing on their website.

ECan planning manager Andrew

Parrish said 556 submissions were

received (plus 28 for the related

Plan Change 2tothe Waimakariri

River Regional Plan).

It was ''well ahead of any previous

Canterbury plan change, as well

as the original Land and Water

Regional Plan''.

''This shows how much interest

there is in important freshwater

provisions for the region,'' he said.

''It is now up to the independent

hearing panel to work through the

submissions and hear evidence

from those who wish tobeheard.''

2207886

purpose of the ETS withthe Zero

Carbon Act and the Paris

Agreement, so that New Zealand

doing its bit to limitglobal warming

to 1.5C,''hesaid.

MinisterofAgriculture Damien

O'Connor saidfarmers understood

thatachanging climate affected

themand manywere already

making changes on­farm to meet

thatchallenge.

Theyalso wanted to enhance New

Zealand's reputation for safeand

sustainable food productionwhile

maintaining our competitiveness in

international markets.

''The agreement with sector

leaders shows the value of

collaboration and provides certainty

for farmers, but the hard work

begins now to develop the tools and

systems to accountfor on­farm

emissions in 2025.

''The Government will back that

withinvestment in research,

extension services and advice for

farmers,'' Mr O'Connor said.

Rural

Directory

CONTRACTORS GENERAL

ACL -Ashburton Contracting

Ltd Ph: 308 4039

SHEARING CONTRACTORS

Proshear Limited

Ph: 302 7541

To advertise in this space

please call 308 7664

199 Burnett Street, Ashburton

Awards

Changes tocriteria for the 2020

New Zealand Dairy Industry

Awards (NZDIA) has seen an

increase in the number of people

from different nationalities entering.

NZDIA general manager

Robin Congdon said the visa

criteria for the dairy trainee and

dairy manager categories were

changed last year, meaning

people were eligible toenter as

long as they held a valid New

Zealand work visa at time of

entry,ateach stageofjudgingand

had been employed full­time for

two years on aNew Zealand dairy

farm at the time when entries

open.

''The qualifications clause in

the dairy traineecategory was also

removed, acknowledging the

awards programme as alearning

platform where people can learn

and grow, both personally and

professionally.''

Entries close November 16.

2180558
---
Page 30, Ashburton's The Courier, Thursday 31 October 2019

Local news at www.starnews.co.nz

Club news, more page 31

Ashburton U3A

''Security and Diplomacy inthe 21st

Century'' was the title of an address

given to the Ashburton U3A by

Professor Rouben Azizian on 22nd

October. Professor Azizian is currently

Director of Defence and Security

Studies at Massey University, Honorary

Professor of New Zealand Defence

Force Commandand Staff College and

Editor in Chief of the NationalSecurity

Journal.

He was born in Armenia and before

becoming afull time academic he had

an extensive career inthe Soviet, later

Russian Foreign Service which took

him to Nepal 1972­1978, Sri Lanka

1980­85 and New Zealand as Deputy

Chief of Mission 1991­1994. Between

leaving the Russian Foreign Service

and accepting his position at Massey

Professor Azizian taught at the Asia

Pacific Centre for Security Studies at

Honolulu and the Dept. of Political

Studies at the University ofAuckland.

He has written several books and many

journal articles on Asia­Pacific security

issues.

His speech was dealt with in three

parts:

1, National Security after March

15th;

2. New international security and the

role of diplomacy.

3. New Zealand and China and the

diplomatic challenge.

Before March 15th the NZ security

system lacked urgency. We were relatively

isolated from areas of unrest and

the general feeling was that we were a

''safe'' country. The massacre altered

that perception. NZ now had to look at

the effectiveness of the intelligence

services; inter agency co­ordination;

issues of religious and cultural tolerance

and integration; the challenges of

cross party government. Externally

aspects of social media, our relationships

with Muslim nations and the role

of allies and friends in our decision

making, all required attention. Our

security now had to be taken seriously

to cope with and understand the

complex security environment worldwide.

New Zealand is part of the Asia

Pacific region as is China. Is China a

friend or foe? Professor Azizian stressed

retaining a balanced attitude

toward China. It is our greatest trading

partner, and Chinese tourists and

students contribute much to our economy.

If NZ wished to be taken seriously

when expressing concerns to another

leader about what was possibly happening

within that country, he stressed the

importance of using diplomatic language.

Diplomacy was likely to gain a

respectful response and some consideration

of our views. An impulsive

twitter would not win friends or

influence people!

The Professor was shortly off to

China to attend a workshop on the

Pacific region. His relaxed delivery,

subtle humour and depth of knowledge

of the area made for astimulating and

enlightening morning.

Altrusa International of Ashburton

This month Altrusa members celebrated

the Altrusa life of two of our

Charter members, Annette Lane and

Joyce Campbell, loyal members supporting

the Ashburton community for

the last 46 years. Agroup of around 20

Ashburton women held an Inaugural

Dinner in June 1973, and continued

holding meetings prior tothe Altrusa

International of Ashburton being

officially chartered onApril 4th 1974.

With Isabel Linton of Christchurch

Altrusa, these three ladies are the

longest serving Altrusans in New Zealand.

At our Membership Programme

meeting we enjoyed a pictorial presentation

of sparkling moments inthe

life of the Club, in which Joyce and

Annette took active part. They were

each presented with a''Your Life in

Altrusa'' photo book, and roses.

For our annual ''Make aDifference

Day'' we have again distributedour sets

of Alphabet Letters to all Ashburton

babies born in October. Our six­weekly

Foot Clinic has been appreciated.

Twice monthly we deliver ''Books on

Wheels'' supplied by the Ashburton

Library to people no longer able to visit

the library personally. Our club was

pleased tohave adisplay at the recent

Ashburton 50Plus Connection Showcase.

Several members recently travelled

to Christchurch to present our

donation cheque tothe Bone Marrow

Cancer Trust for furnishings for the

new extension at Ranui House.

Lions Club of Ashburton

First and foremost, our club welcomes

two new members. Chrissy

Milne, introduced by Lois Sparrow,

and Craig Hadley, introduced by

Michael McAnulty, are welcome addtions

to our ranks. We wish them all the

best .

Our November meeting onWednesday

6November, is ameeting with a

difference. We are visiting Canterbury

Dried Foods at Wakanui. The bus

leaves from Hotel Ashburton at 6pm,

then we return to the Hotel Ashburton

for ashort meeting and meal.

Our Golf Tournament on 17 October,

was agreat success with arecord

145 players participating. The beneficiaries

of our Tournament, Cancer

Support and Life Education, will share

the proceeds from the day. This

amounted to $16,000. Bruce Ferriman,

Terry Molloy and the organising committee,

are congratulated on their

work. One footnote, the Ashburton

Lions Team won the Manny Sim

Trophyfor the first time ever, defeating

Ellesmere and Mayfield.

The race night event at Addington

Raceway was attended by asmall but

enthusiastic group and a good night

was had by all.

Sunday 10 November isthe eagerly

awaited Simon O'Neill/ Woolston

Brass Band concert and the visit to

Dot's Castle in OamaruisonSunday 24

November. Our Christmas meeting will

take the form of apartners night with

aChristmas theme and meal. Entertainment

will be provided by our local

Variety Theatre songsters.

The South Island Motorhome Show

under the direction of Brendan Quinn,

will be held on Saturday 29 February

and Sunday 1March 2020. New and

improved signage for State Highway

One and smaller signage for River

Terrace and East St are being made.

Any inquiries to Brendan Quinn. The

interest to date has been very encouraging

with a number of trade sites

already booked.

Ashburton Woodworkers

Nineteen members were welcomed

by Bruce Ferriman, for our October

meeting then introduced our guest,

luthier, artisan Mac McElwain, guitar

maker.

Show and Tell:

Dave Busby: two candle sticks, a

mairie bowl.

Frank Luxton: some gold leaf sheets,

asmall box to hold adiamond.

Roger Scammell: set of six identical

skittles.

Dave Ford: tow yew items.

Chris Thompson: sandwich board

with the club's logo.

Clarrie Brake: swamp kauri vase.

Les Mattingley: two Christmas

theme cut outs.

Kevin Challis: rewarewa bowl. Interesting

grain pattern.

Bruce then introduced Mac McElwain,

from Methven,aluthier, aperson

who, generally makes or repairs

stringed instruments. Trades under the

name Blackford Guitars. He

mentioned how he got involved into his

hobby, while at acourse he was asked

if he had any dreams he had, apparently

without too much thought, mention

that he wanted to build amusical

instrument, aguitar. So acommitment

and a challenge set, he went about

devouring Google, You Tube and

otherwebsites on how to build aguitar.

After some trials, failures he finally

achieved success. Making a one­off

guitar involves much precision and

challenging difficulties asthe body of

the guitar is 2mm thick and not a

straight line. The body also has to be

strongenoughtohold the neck with the

tension of six strings which can be

about 68kilos, therefore much bracing

is required inside the body. He introduced

three complete guitars constructed

from well grained indigenous

timbers. The rimu came from his

home's barge board, kauri from abuilt

in wardrobe and an electric guitar. This

shows how demolition wood can be

givenasecond life instead of becoming

firewood. The two guitars certainly had

rich, mellow terrific sounds when he

played afew tunes. Some members felt

the need to try strumming, dreaming

some day of becoming amaybe rock

singer, I believe they have left that

dream too late. Thanks Mac for your

interesting talk into the world of

musical instrument maker, afascinating

evening.

Ashburton Herb Society

The Ashburton Herb Society, which

marked its 40th birthday with agathering

in September, has elected to fold.

The society was formed in September

1979 and its first president was

Grace Ackerley

It is with inevitability and sadness

that the society had made the decision,

said its last president Wendy Hurst.

She said everyone involved had

special memories of past and present

members and wonderful recollections

of trips, conferences, venues, activities

and displays over the years.

Let'stalk:

dementia.

Merryn, ColdstreamLifecareand Village

Lorraine, Princes CourtLifecare(Specialised Dementia Care)

Concernedthatyou or alovedone

areshowingsignsofdementia?

Come along to our FREE 'Let's talk'afternoon

at ColdstreamLifecare &Village wherewe'll

covertopics suchas:

• Thefirstsigns of dementia

• How to cope withanxietyinlovedoneswith dementia

• How the Needs Assessmentsystemworks

6

Wednesday 6November,1pm

ColdstreamLifecare&Village

71 Park St,Ashburton

Call Merryn (03) 2880200

heritagelifecare.co.nz

HLCASHCOUHP0002
---
Local news at www.starnews.co.nz Ashburton's The Courier, Thursday 31 October 2019, Page 31

Club news

Save the Children

The Ashburton

branch of Save the

Children NZ has this

year celebrated the

100th anniversary of

the founding of Save

the Children in England

and the 60th anniversary

of our own

existence in Ashburton;

together with holding a

"Pop Up" shop; an Easter

raffle; and a stall

and raffle connected

with Boulevard Day.

The organisation was

founded by Eglantyne

Jebb on the 19th May

1919.

It is recorded that

"Eglantyne Jebb has

been described as one

of the world's most

charismatic, fiercely

intelligent and influential

champions of

human rights. She was a

pioneer who changed

the way children were

treated.

She challenged convention,

changed perspectives

and forged a

new future for the

world's most deprived

children.

Her achievements of

putting children's welfare

on the world's

agenda rank as one of

the great triumphs of

humanity."

Our own branch was

founded on the 26th

August 1959. This followed

ameeting on the

13th August 1959,

sponsored by the Ashburton

Branch of the

National Council of

Women and presided

over by the Mayor of

Ashburton (Mr A.A.

McDonald) heard from

the guest speaker, the

strong and determined,

tough and invincible

Minnie Havelaar (who

founded Save the Children

in New Zealand).

The meeting resolved

to establish abranch of

the fund in Ashburton,

the 10th in New Zealand,

with Mrs J.A.

Reid as chairman.

Today, our New Zealand

programme focuses

on advocating to

Government to

improve policies to

make life better for all

New Zealand children.

It is believed this

approach enables

SCNZ to have an

impact for a greater

number of children,

compared to the programmes

we ran in the

past for small groups of

individuals. We have

numerous overseas

programmes as well,

many based in the Pacific.

It is with deep sadness

and regret that we

have to conclude this

report with the news

that Save the Children

NZ in Ashburton will

be winding up. The

rules and regulations

contained in the Child

Safeguarding Policy

and Article 19 of the

UN Convention on the

Rights of the Child

(1989) make it impossible

for us to continue.

We would like to take

this opportunity to

thank all our volunteers

over the past 60 years,

and there have been

many, for their friendship

and time and commitment

to the cause.

Also to the many spouses,

family and friends

who have been coopted

to give assistance

over the years. While

we are sad and disappointed,

we consider

that SCNZ remains one

of the best children's

welfare charities and

worthy of support.

Thank you Ashburton

for your support.

Photo – Volunteers

90+ cut the cake at the

60th anniversary

luncheon: From left,

Joyce McFaull, Dot

Font, Bill Corbett and

Fay Hunt.

Business administration skills needed in every sector

Up and down the country and in almost every sector

of business, employment opportunities exist for people

with skills in business administration.

Celine Husband recognised the extent of those

opportunities and decided to quit her hospitality job to

study business administration and technology. "It's an

area with such abroad range of jobs available," she

says.

She chose a17-week certificate course at Ara Institute

of Canterbury in Timaru. It gave her ataste of all

aspects of business and equipped her with awide range

of skills.

Celine says much of her learning was done through

projects and role playing in realistic business

environments. As part of the programme, she also

undertook awork placement with Rooney Earthmoving

in Timaru. "It was great. Igot to put everything I'd

learned into practice."

Sandra Black, senior business tutor at Ara, says the

New Zealand Certificate in Business Administration &

Technology is agreat entry level course that can lead

to job opportunities in abroad spectrum of industries.

"It gives you areally solid foundation of skills and

knowledge that can be applied in all sorts of sectors.

Youdon't need to have any prior experience, and as

well as gaining plenty of useful skills, the course will

really build your confidence too."

Sandra adds that Ara's extensive industry connections

means students get great work placement opportunities.

Having completed the Level 3programme in business

administration and technology, Celine has decided to

continue her studies with the Level 4programme.

The next New Zealand Certificate in Business

Administration starts in February 2020 at Ara'sTimaru

and Ashburton campuses. For details visit ara.ac.nz.

2221297
---
Page 32, Ashburton's The Courier, Thursday 31 October 2019

Local news at www.starnews.co.nz

SATURDAY 2ND NOVEMBER

171 South Street, Ashburton 10:00-10:30am 4 1 1 AHB22572

18 Oak Grove,Ashburton 10:00-10:30am 3 1 1 AHB22215

26 Allens Road, Ashburton 10:00-10:30am 4 2 2 AHB22565

7Orr Street,Ashburton 10:00-10:30am 3 2 2 AHB22359

5McNicol Crescent, Ashburton 10:15-10:45am 3 1 1 AHB22215

6Graham Street, Ashburton 10:45-11:15am 3 1 2 AHB22577

13 Parkdale Close, Ashburton 10:45-11:15am 4 2 2 AHB22395

19 Chapman Street, Methven 11:00-11:30am 4 2 2 AHB22382

62 Braebrook Drive, Ashburton 11:00-11:30am 4 2 2 AHB22562

131 Grove Street,Tinwald 11:00-11:30am 4 2 2 AHB22369

119a Racecourse Rd,Ashburton 11:00-12:00pm 3 2 2 AHB22588

25 Grey Street,Ashburton 11:00-11:30am 4 2 2 AHB22548

101 Elizabeth Street, Rakaia 11:30-12:00pm 3 1 1 AHB22520

10E Primrose Place, Ashburton 12:00-12:30pm 4 2 2 AHB22461

58 Cross Street,Ashburton 12:00-12:30pm 3 1 1 AHB22506

23 Cross Street,Ashburton 12:45-1:15pm 4 2 2 AHB22579

117 Grove Street,Tinwald 1:00-1:30pm 3 2 2 AHB22460

150 Milton Road, Ashburton 1:00-1:30am 4 2 2 AHB22579

2Trent Place, Lake Hood 2:00-2:30pm 3 2 2 AHB22585

SUNDAY3RD NOVEMBER

150 Milton Road, Ashburton

4 2 2

119a Racecourse Rd,Ashburton 11:00-11:30am 3 2 2 AHB22588

138 Rolleston Street, Rakaia 12:00-12:30pm 3 1 2 AHB22582

170 Seafield Road, Ashburton 1:00-1:30pm 3 1 2 AHB22500

92 Beach Road, Ashburton 1:00-1:30pm 3 1 1 AHB22587

15 Orchard Grove,Ashburton 1:45-2:15pm 3 2 2 AHB22369

34 Magnolia Drive, Ashburton 1:45-2:15pm 3 2 2 AHB22383

8Penbury Close, Lake Hood 2:00-2:30pm 3 2 2 AHB22463

4LudlowDrive, Lake Hood 2:00-2:30pm 3 2 2 AHB22554

60 PeterStreet,Ashburton 2:30-3:30pm 4 2 2 AHB22384

Agreat opportunity forthe family to move to the

country and experience acomfortable rural lifestyle.

-4Bedrooms plus office, master with ensuite &WIR

-Set on 2.0235 hectares close to town

-Double garage/work spacewith internal access

-4x4.5 metre baypole shed plus pump shed

-2Heat Pumps and night store heater

rwashburton.co.nz/AHB22579

Mid Canterbury Real Estate Limited LICENSED (REAA 2008)

ForSale

Offers over$730,000

View

Saturday1:00 -1:30pm

BruceMcPherson

027 438 4250

360 Burnett Street,Ashburton

-3 bedroom plus sun room, weatherboard bungalow

-Open plan kitchen, living, Separate formal lounge area

-Lovely outdoor area with covered(unconsented)pergola

with zip down sides. Single garagewith additional

workshop area (consented as alean too) &garden shed.

rwashburton.co.nz/AHB22581

Mid Canterbury Real Estate Limited LICENSED (REAA 2008)

ForSale

$340,000

View

by appointment

4 1 1

Kim Miller

027 236 8627

4

Open Home

Open Home

6Graham Street, Ashburton

3 1 2

138 Rolleston Street, Rakaia

3 1 2

Large family sections are getting scarcerbythe month

so here'syour chance topurchase one at an affordable

pricewith potential PLUS. Agenuine opportunity exists

here tokick start yourself on the property ladder. Suit a

young family starting out or an investor.

rwashburton.co.nz/AHB22577

Mid Canterbury Real Estate Limited LICENSED (REAA 2008)

SetDateofSale

Armand vander Eik

closing 4Nov 2019, at 2:00pm 021 597 527

(unless sold prior)

View

Saturday10:45 -11:15am

This property is situatedona1,012m2 section on Rolleston

Street. Permanent material. Three double bedrooms and

an open plan kitchen living area. Separate laundry &toilet.

There isagood size double garage situated at the front of

the property. Fully fenced with agood size yard.

rwashburton.co.nz/AHB22582

Mid Canterbury Real Estate Limited LICENSED (REAA 2008)

ForSale

Price onapplication

View

Sunday12:00 -12:30pm

Dulcie Ellis

027 629 3260

Jill Quaid

Manager

027 437 6755

Mark Totty

Sales Consultant

027 454 4745

Kim Miller

Sales Consultant

027 236 8627

ChrissyMilne

Sales Consultant

027 290 6606

Margaret Feiss

Sales Consultant

021 751 009

ShirleyFitzgerald

Sales Consultant

027 220 1528

Denise McPherson

Sales Consultant

027 242 7677

Cheryl Fowler

Sales Consultant

027 461 2614

Armand vander Eik

Sales Consultant

021 597 527

Lynne Bridge

Sales Consultant

027 410 6216

Mike Grant ncre

Sales Consultant

021 272 0202

Dulcie Ellis

Sales Consultant

027 629 3260

BruceMcPherson

Sales Consultant

027 438 4250

Justin Waddell

Sales Consultant

027 437 1111

Jarrod Ross

Sales Consultant

027 259 4644

RogerBurdett

Sales Consultant

021 224 4214

96 TancredStreet, Ashburton 03 307 8317 Main Road,Tinwald 03 307 8317

rwashburton.co.nz

36 McMillan Street,Methven 03 303 3032
---
Local news at www.starnews.co.nz Ashburton's The Courier, Thursday 31 October 2019, Page 33

open homes

or viewany of our homes in 3D from the comfortofyourhome!

www.realestatenewzealand.net.nz/360-virtual-reality-tours/

Trevor Hurley Real Estate Ltd LREA 2008 -MREINZ

NEWLISTING

41 West Town Belt,Rakaia

(R063)

•Solid twobedroom cottage

situatedonthe west side of

the Rakaia township.

•New floor coverings and

paintedthroughout,verytidy

inside,outside needs alittle

attention.

•Spacious kitchen and

bathroom.

•Easycommuteto

Christchurch and Ashburton.

From 10% Deposit $325pw (Conditions apply)

100 Elizabeth Ave, Rakaia (R064)

• Delightful twobedroom cottage with asunnyconservatory &asmall covereddeck

•Nestled on a1/4 acre of established gardens

•Large single garage,hobbyroom and glass house

•Open plan kitchen, living &dining areas.

$298,000

OpenSaturday2November,

11.00 -11.30am

2 1 1

1RapleyStreet

(E651)

•Perfect first home or

investment.

•New carpet,compliant log

fire

•Insulatedtop and bottom.

•Some double glazed

aluminium windows.

•Wellfenced section and off

street parking beside garage.

•Inspection is amust.

Offers Over $289,000

OpenSaturday2November,

11.00 -11.30am

From 10% Deposit $210pw (Conditions apply)

From 20% Deposit $178pw (Conditions apply)

Offers Over $199,000

OpenSaturday2November,

10.15 -10.45am

2 1 1

4-42Aitken St

(E656)

•Sunnyend unit within the

avenues

•This twobedroom unit has

potential to add value.

•Potential forastuteinvestors

to consider.

•Lockupgarage,small garden

Offers Over $169,000

OpenSaturday2November,

10.00 -10.30am

2 1 1

103 Belt Road (W669)

• Alovelythree bedroom,

colonial style home set

amongstestablished grounds

•Open plan living with the

opportunitytomodernise

and make your markhere

•Prime location close to

schools,parks and Allenton

Shoppingcentre.

•Dontmiss your opportunity

to view this property!

$378,000

OpenSaturday2November,

11.00 -11.30am

From 10% Deposit $315pw (Conditions apply)

Get Listed

Get Sold

Get 3D Marketing

It's FREE!

308 6173

www.realestatenewzealand.net.nz

3 1 1

103 Allens Road (W668)

Make this your foreverhome!

Style abounds from the

outside andcontinues inside.

Modernliving in asought

afterlocation, close to park,

school andshopping centre.

Four bedroomswith excellent

storage,WIR and an en suite

in the master. Immaculate

kitchen with butlers pantry.

Ownabrand new home at an

affordable price!

Offers Over $599,000

OpenSaturday2November,

10.00 -10.30am

From 20% Deposit $410pw (Conditions apply)

4 2 2 4 2 3

AVAILABLE

RENTALS

3 1 1

14 CountryPl (W671)

Preparetohave your breath

taken away as youenter

this gorgeous &beautifully

finished home in asought

afterWestside location. This

property has it all with quality

fittings &fixtures &spacefor

the entirefamily. Relax in your

choiceof outdoor entertaining

areas &takein therural

atmosphereadjoining this

property.Properties of this

calibreare soughtafter,act

fast.

PriceByNegotiation

Open Sunday 3November,

2.00 -2.30pm

•6ClarkStreet AvailableNow 3beds $360per week

•21Burnett Street AvailableNow 2beds $320per week

•2/28 Chalmers Ave AvailableNow 3beds $335per week

•3/46 Grey Street AvailableNow 2beds $310per week

•70Walker Street Available15/11/19 3beds $410per week

Proud supporters of the HeartFoundation of NewZealand! We donate from everypropertysold!

Trevor Hurley

0275 435 799

Tracey Henderson

027 405 8064

Manu Otene

022 308 6885

New AgentComing

Soon!

Stephen Watson

027 433 9695

Julie Srhoy

021 354 885

Deborah Roberts

0210752180
---
Page 34, Ashburton's The Courier, Thursday 31 October 2019

Local news at www.starnews.co.nz

trusted

trades &services

2019 GUIDE

Need storage?

we CAN STORE it!

Convenient, affordable

self storage solution

Phone 307 0213

•185 Alford Forest Road •behind

2115406

FROM

ONLY

$ GST

250PLUS

P 03 308 7298

E mark@dpi.co.nz

dpi embroidme ashburton

2115432

FREE LEGAL HELP

Help in person by appointment

Thursday9.15am -1.45pm

Ph 0508 CANLAW

(0508 226 529) to makean

appointment.

Helpbyphone Infoline

03 371 3819 or 0508 226 529

215 Tancred Street,Ashburton

2115411

You

Forall your flooring needs

•Supplier and installer of

carpet and tiles

•Re-stretch &repair

•Carpet cleaning

2201529

Phone Mike Gill

027 491 4210

Lubes WOF

Allmechanical repairs

TRIANGLE

GARAGE LTD

Victoria Street,

TheTriangle,Ashburton

Phone:(03) 308 6772

2200008

JukeBox Hire

Weddings,21st,

PrivateFunctions

Sound Systems &Lighting Hire

Phone DJ Dave

03 308 5106

027 251 0015

www.soundmanagement.co.nz

2186259

AMTax Solutions Ltd.

accounting •for small business

• Annual Accounts

• Tax Returns

• GST Returns

• CertifiedXeroAdvisor

Andrea Matthews

027 4159880

2141391

FOR ALL YOUR

ADVERTISING

REQUIREMENTS,

GIVE

Jann, Roselle or

Karenacall on

3087664

PROFESSIONAL

PORTRAIT AND

COMMERCIAL

PHOTOGRAPHER

Interior and Exterior Painting

Interior Plastering

Wallpapering

PICTURE FRAMING

GALLERY&STUDIONOW OPEN

179WEST STREET

027310 6521

emmily@emmilyharmer.co.nz

www.emmilyharmer.co.nz

2115433

Hardwareand Software Issues

Data Transfers Virus Removal Backup Creation

ContactGlenn 021062 2756

(Computer Tech at ACA for16years)

2208233

RESIDENTIAL &

COMMERCIAL SPECIALISTS

Phone Quentin and Phil on

027282 8908 or 027282 89099

2139052

Solar powerwhen you need it most

We are expertsatinstallingsolar

power systems for motorhomes.

4WDDiesel &ElectricScissorlifts

Rough terrain and electric lifts available

On site collection or deliveryavailable

403 Nowat6Range West Street St,Riverside

PO Box 60, Ashburton 7740

Phone: 03 308 8155

Mobile: 0273 529 909

Email:sales@nee.kiwi.nz

2115423

• SOLAR PANELS • BATTERIES • DC MANAGEMENT

• CAMERAS • TV SATELLITE • PUMPS • REFRIGERATION

AA Solar

&SUN POWER PLUS

South Island

4McGregor Lane Ashburton

03 3074777-027442 3103

ashsolarpower@xtra.co.nz

aasolarsouthisland.co.nz

2210299

ALL THINGS CANVAS &PVC

*Awnings/Shade sails/Drop blinds *Autoseatcovers &repairs

*Hay&bin covers *PVC covers &repairs

*Ute tonneau covers *Furnitureupholsteryrepairs

*Commercial

PHONE TRAVIS HOWDEN 027 922 4544

2163842

GREAT

RATES

We service and repair all makes and models

of sewing machines and overlockers

PC Repairs, Set-up andTutoring

Icome to youday or evening!

NewPCs

and Laptops

forsale

•PCRepairs/Sales •Networks/Servers

•Firewalls/Security •Spyware Clean-up •Training

20 YearsExperience Microso Cerfied Professional

NETWORKS FIREWALLS AND PCS LTD

Robin Johnstone 67 Aitken Street, Ashburton

P: 03 308 1440 C: 027 768 4058

robinbj@xtra.co.nz

2181086

NOWEXCLUSIVE MID CANTERBURYSUPPLIERS OF

PARTSAND ACCESSORIES

19 J.B. Cullen Drive, Ashburton •Phone 307 8353

info@mainlandcoachwork.co.nz •www.mainlandcoachwork.co.nz

2136774

2210273

Your local Bernina

service team

Gary Flack

John Robbie Rachel

OPEN 7DAYS9.30am -4.30pm

Main South Road, Tinwald Ashburton | Phone 307 6277

www.anniesquilts.co.nz

PAINTER & DECORATOR

Services include but not limited to:

• Water blasting •Mould and moss treatment

• Minor repairs •Spouting cleaning •Airless spraying

~Commercial and Residential ~

Phone 03 307 4200 l 027 936 2452

NOOBLIGATION, FREE QUOTES

2115388

2206183
---
Local news at www.starnews.co.nz Ashburton's The Courier, Thursday 31 October 2019, Page 35

trusted

trades &services

2019 GUIDE

Pruning ·Trimming ·Weeding

FREE

QUOTES!

Does your garden need monthly

maintenancetokeep it tidy and looking

good through the seasons?

Or perhapsjust need aone off tidy or

pruning completed? We can help!

All garden wasteremoved

NEAT GARDENS

ContactCAROLYN Phone: 027 2675403 or 3082333

Email: cccolt@xtra.co.nz

2194760

heartlandprint.co.nz

2195560

Forall your tyre requirements,

see the localexperts

•Wheel alignments

•Wheel balancing

197 Wills Street,Ashburton l www.neumannstyres.co.nz

Phone 03 308 6737 (24 hrs –after hours call out applies)

2115435

We offer the following:

• Gutter and DownpipeCleaning • Weed Spraying

• Moss,Mould and Lichen Spraying • Spider Proofing

• Gorse and BroomSpraying • FenceLine Spraying

• Chimney/Flue Cleaning $75 • Heat Pump Service$90

MENTION THIS AD WHEN BOOKING FOR A10% DISCOUNT

ON GUTTER AND DOWNPIPE CLEANING

Call Allan on 027 209 5026 an let us know howwecan help

"we clean to a

standard,

not aprice"

UNDER NEWAshburton

OWNERSHIP

Same exceptional CleaningServices

level of service

&quality cleaning

• regular full house cleans

• one off spring cleans

• farm houses

• builders cleans

•

03 307 2656

www.ashburtoncleaning.co.nz

2115385

100% LOCAL

2115389

Professionalqualitycleaning

withapersonaltouch

• Commercial cleans

• Farmhouse cleans

• Carpet cleaning

• Builders cleans

• Windows

• Small gardeningand maintenancejobs

• Wetravelwithin1hourofAshburton

• 5% discount if paymentmade on dayofclean

Phone Jan-MareeorRichard Parker

308 2405 or 027 341 7038 l www.happy-hoovers.co.nz

WILSONS

WINDSCREENS

WE WELCOME ZEK

FROM WINSTONES

TO JOIN OUR TEAM

We areyour one stop glass shop for

AUTO and HOUSE

REPAIR or REPLACE 152 Wills Street,

"Your placeorours"

2214033

2181565

Ashburton

Ph.308 8485

Ashburton, Rolleston &Christchurch

•Paving •Irrigation •Lawns

•Planting •Fences

•Pergolas•Waterfeatures

•Outdoor fires

•Raised planters

•Decks •Stonework

•Brick &blockwork

•Artificial grass and more...

Email –Aaron@theoutdoorspace.co.nz

Phone0800688 365 /021 542 402

www.theoutdoorspace.co.nz

2175612

2152985

VISIT OUR STORE AND GET A

TREATFOR YOUR PET

Always in stock:

• Birdaccessories,food &treats

• Rabbit and guinea pig food,bedding &treats

• Cat accessories,collars &treats

• Dog collars,leads,toys, accessories &treats

• Aquarian accessories &food

• Dog crates &cat crates

• Raw,fresh &frozenpet food

• All sorts of dried products

EVERYDAY

SPECIAL

Dog

Rolls

2for

$

12

(3kgeach)

"Come andsee our friendlystaffin-store today"

Phone (03) 307 8996

027 312 5756 l 99 Archibald Street,Tinwald

ashburtoncranes2015@gmail.com

TOTAL LAWN CARE SERVICES

Lawnmowing and

Lawn Maintenance

Hedges

Garden tidy

2220626

We're Backing Black!

David Sewell

Phone 027 4171732 l evenings 3078355

2115428

2211636

•Possum merino •Everast •New season'scolours

606 East Street,Ashburton. Phone 308 6243

DiamondPainters and

Decorators Ltd

Qualityinteriorand exterior

painting and decorating

• Wall papering • Airless spraying

• Water blasting • Residential and small commercial

• Roof painting • Freenoobligation quotes

Gutterguardinstallation and gutter cleaning

Phone Duncan 027 370 2453 l Jeanette 027 318 5055

email: diamondpaintersdecorators@gmail.com

$10 for every try scored by NZ during the RWC will be donated to the

Cancer Society...plus if we win the RWC we throw in an extra $500!

2210327

2136754
---
Page 36, Ashburton's The Courier, Thursday 31 October 2019

Zonta organises

pamper session

BUSINESS OWNERS

Build customers,sales and

profits,with us ...

Over 16,065 copies delivered everyThursday

PRINT, ONLINE AND MOBILE 24/7

ENTERTAINMENT

Local news at www.starnews.co.nz

Zonta Ashburton members

have co­ordinated

and supported an

empowerment and pamper

day for clients of

Women's Refuge.

Based at the Rosebank

Community Lounge, the

day was held for 14

women who have completed

an outreach programme

run by Mid­

South Island's Women's

Refuge and Family

Safety Services.

It was held to improve

self worth, up­skill the

women in self defence,

strengthen relationships

with others and to give

the women time to enjoy

themselves.

The morning session

featured ademonstration

and lessons in selfdefence

techniques from

Ashburton martial artists

led by Paul Breakwell.

After alunch provided

by Zonta members, the

Women's Refuge clients

were treated to hair,

beauty and relaxation

treatments.

All services on the day

were provided free of

charge by local businesses

and the women all

went away with goodie

bags.

Zonta Ashburton

spokesperson Ann Wise

said asimilar day had been

supported earlier in the

year and had been very

well received.

She said it was aprivilege

for Zonta to be

involved.

Photo: Tae Kwon Do

instructor and 8th Dan

Black Belt Paul Breakwell

demonstrated self­defence

techniques with students

at the recent event.

Dorie Ag Day big success

CROSSWORD

QUICK PUZZLE NO. 8541

ACROSS

1. Shrub (8)

6. Sort (4)

8. Difficult (4)

9. Miserable (8)

10. Jolly (5)

11. Missive (6)

13. Beach (6)

15. Spice (6)

17. Scanty (6)

19. Decree (5)

22. Title (8)

23. Above (4)

24. Lazy(4)

25. Garment (8)

DOWN

2. Rent (5)

3. Country (7)

4. Depressed (4)

5. White wine (8)

6. Unspoken (5)

7. Go before (7)

12. Supporter (8)

14. Fever (7)

16. Boring (7)

18. Scope (5)

20. Applaud (5)

21. Capital city (4)

CRYPTIC PUZZLENO. 8541

ACROSS

1. Spent chasing cats? And the odd tiger, possibly (3-5).

6. Lose in the building (4). 8. She can multiply 1001 by

two (4). 9. The rest are forced to wait outside and stretch

their legs (8). 10. For the man, ahard bed (5). 11.Tearoff

round about half time to dress (6). 13. Hide the sieve (6).

15. Figure bid for the chest (6). 17. All ten streaked by

one again (6). 19. Such atemper as your old flame had?

(5). 22. "The bottom line" in aforeign language (8). 23.

The figure spoken of is an unknown quantity (4). 24. A

small label saying "ruminant" (4). 25. Getting in atizzy

about competing against (6,2).

DOWN

2. She comes round -not dead (5). 3.In the amended list

it's defined as an emblem (7). 4. There's friction with a

young lady (4). 5. Aletter saying "Kill" (8). 6. Support as

away to overcome depression (5). 7. Sign at last, sore

pressed (7). 12. It is of concern to financiers (8). 14. Bundled

up in bed, can't communicate with (7). 16. Quickly

supplies the ordered file on vice (7). 18. Chilling messages

may be spelled out on it (5). 20.Acapital Oin"lover"

(5). 21. See the pronounced crest (4).

SUDOKU

MEDIUM No. 5193

7 1

3 2 1

4 8 6

3 9 2

5 2 3 7

4 7 9

4 8 2

2 9 3

6 1

Solution to previous Sudoku

Howto

solve

Sudoku!

Fill the grid

so thatevery

rowand every

3x3 square

containsthe

digitals 1to9

4 7 2 9 8 1 6 3 5

6 9 8 2 5 3 4 7 1

1 3 5 6 4 7 8 2 9

2 8 6 3 9 5 7 1 4

3 4 1 7 2 8 5 9 6

7 5 9 1 6 4 2 8 3

9 6 4 8 1 2 3 5 7

8 1 3 5 7 6 9 4 2

5 2 7 4 3 9 1 6 8

Solution to previous crossword

QUICK PUZZLE NO. 8540 -SOLUTIONS

Across -1,Teem. 7, Capacious. 8, Aunt. 9, Glut. 10, Loll.

11, Grim. 14, Impeccable. 16, Pugnacious. 19, Oust. 22,

Stop. 24, Nape. 25, Edit. 26, Encompass. 27, Free.

Down -1,Twang. 2, Ennui. 3, Gallop. 4, Baltic. 5, Sill. 6,

Guiltless. 12, Reluctant. 13, Mien. 15, Also. 17, Canopy.

18, Oppose. 20, Under.21, Title. 23, Plot.

CRYPTIC PUZZLE NO. 8540 -SOLUTIONS

Across -1,Dash. 7, Leave over. 8,Slug. 9, Stun (rev.).

10, Puff. 11, Days (daze). 14, T-hree-score. 16, Per-missive.

19, Wa-r-s. 22, Mind. 24, H-A-te. 25, Ring. 26, Testament.

27, Mess.

Down -1,D-osed. 2, Saucy.3,Better.4,E-Vince. 5, Coop.

6, Per-former. 12, Ap-pet-is-er. 13, Stem. 15, Crew.

17, S-ch-eme. 18, In-tent. 20, Al-IV-e. 21, Sighs (size).

23, Date.

ContactJann Thompson 03 308 7664 jann.thompson@ashburtoncourier.co.nz

2207837

BOOK

NOW

For more information

www.ateventcentre.co.nz

Dorie School's recent

inaugural Ag Day event

has been abig success.

With visiting Chertsey

School along to enjoy the

fun, the Ag Day event

replaced Pet Day and was

more hands on for

students.

It featured traditional

sand saucer making,

flower arranging and

scarecrow making, as well

as agricultural activities

such as seed identification,

fencing and lassoing.

There was also asheep

shearing demonstration,

display of big farming

machinery, barbecue

lunch and acake auction.

Photos: Dorie School

pupils Sasha Williams,

Sam Kingsbury and Thomas

Easton team up for

some sack race fun, and

Dorie School's TJ Fifita

dressed as apirate at the

Ag Day.

2220609

StAC Attack2019StAndrews Pipe Band

Sun 3rd November 4pm

Celebrate the Pipe Bands Centenary 1919 to

2019 and it is with pride that they bring you an

action-packed show with bagpipes, drums and

highland dancing supported by Julie Hawke

School of Dance. St Andrew's College Pipe

Band are the current NZ Champion Band in

Juvenile for 13 years in arow.

Adult $39.99* /Senior orStudent $24.99* /

Child up to 16 years $19.99* /Family of x2

Adults and x2 Children $99.00*

SimonO'Neillwith Woolston Brass

Sun 10th November 2pm

Superstar Tenor Simon O'Neill joins

Christchurch's Iconic Woolston Brass Band to

perform Grand Opera Show Favourites and

Tenor Classic's. The unique sound of Simon's

voice and the brass sounds will be atreat for

your ears.

Adult $60.00* /Concession $50.00* /Student$20.00*

Twelfth Night–BigLittle TheatreCompanyInc

November 22nd and 23rd 7pm and 24th 2pm

Did not make it to the Pop-Up Globe this

year? –fear not! Fresh from the other side

of the world we bring our gift to you in the

shape of the charming comedy that is "Twelfth

Night". Come be shipwrecked with us in an

enchanted, song and dance filled land of Celtic

charm.

Adults $27* /Seated child $18* /

Groundling (Standing) $10*

Cabarnet

Fri 6th &Sat 7th December 7:30pm

Full Bodied. Well Rounded and that is just the

lads. Afun filled night to raise funds for Variety

Theatre Ashburton featuring the talented Tainui

Kuru, Chris Woods, Heath Walters, Tony Kelly,

Daniel Wilson and Luke Glendining perform

songs from the Bee Gees, Coldplay, Queen

and many, many more.

Tables of 6$60* each

(includes aplatter and drinks) /Theatre Seating $30*

03 307 2010 211A Wills Street, Ashburton 7700 admin@ateventcentre.co.nz *Service fees apply
---
Local news at www.starnews.co.nz Ashburton's The Courier, Thursday 31 October 2019, Page 37

WIN ENTERTAINMENT

acakefor your

special person with

Main South Rd, Tinwald. Phone 308 5774

Birthdays this week

Stella-Page Keen, 1st November,aged 5

GrantPolson, 1November,aged 39

Lillian, 2nd November,aged 73

Maddie Cumberland,5th November,aged 4

SamRodgers, 5th November,aged 21

Congratulations to last weeks winner!

Lily Rosevear

If youhave aspecial friend who youwouldlike like to see

win acake,put their name in the BirthdayBooks at Sims

Bakery, Tinwald or Ashburton'sThe Courier,199 Burnett St.

N.B: Names forbirthdays next week

must be with us by 10.00am TUESDAY

ONLYONE ENTRYWILL BE SUBMITTED

INTOTHE DRAW PER NOMINEE

Advertising thatworks!

Talk to Jann, Roselle or Karen

todayabout ways youcan

reach potential customers or

advertising with that

special difference-professional servicewith asmile.

Phone: 308 7664

office@ashburtoncourier.co.nz • 199 Burnett St, Ashburton

GARDEN SUPPLIES

Ashburton

Plains Rotary

MUSHROOM COMPOST

Available this Saturday

StuartTarbotton Contractors Yard

203FrasersRoad

9am to 12pm

$30 aloader scoop or $5 per bag.

APlainsRotaryCub fundraiser

Formoreinfoplease contact

ClaytonHoward021 1380 677

FOR LEASE

RENT ME!

Ideal as an extra

bedroomoroffice.

Fully insulatedand

double glazed forwarmth.

Threeconvenientsizes:

Standard3.6m x2.4m,

Large 4.2m x2.4m

Xtra-large 4.8m x2.4m.

Visit our displaycabin

418WestStreet or call fora

free brochure.

www.justcabins.co.nz

2186028

0800 58 78 22

SECURE waterproof storage

available. Capacity from

8m 3 to 65m 3 . Prices from

$25 per week. Inspection

invited. Ashburton Safe

Storage 03 308 3086.

STORAGE available, Ashburton.

Self storage, variety

of sizes. Phone Rainbow

Storage 03 307 0401.

SELL

LPG

REFILLS

Small LPG cylinders

Off Street Parking

Available

Arthur Cates Ltd

26 McNally Street

Ph 308 5397

Riverside Industrial Estate

LPG REFILLS

9kg cylinders

$27.50

Askabout our

deliveryservice

Anysizecylinder filled

17 Grey St,Ashburton

Phone 307 2707

2210093

2180822

MY Boutique shop and warehouse

clearance specials.

Discounts on all garments.

Ladies and menswear. Triangle

Shopping Centre.

Hours 10am -4pm.

DO YOU HAVE

SOME NEWS TO

SHARE?

Dropintoouroffice

orcallJohn, Mick or Toni on 308 7664

or email office@ashburtoncourier.co.nz

199 Burnett Street,Ashburton

2172795

2222214

STORAGE: Secure self storage

units available long or

short term at Ashburton

Storage Facilities. Contact

us on 0274 36 26 36 or

www.ashburtonstoragefacilities.co.nz

2172788

16,065 copies delivered everyweek

EDITOR –AshburtonCourier

Allied Press Ltdisseeking an experienced journalist ready

to takethe nextcareer step in their career,

as Editor forThe AshburtonCourier.

TheAshburtonCourier is aweekly

communitynewspaper delivered to more

than 16,000 homes across MidCanterbury

and the surrounding rural areas.

TheAshburtonCourier is the largest

circulating and best read newspaper within

the MidCanterburyarea.

This is an exciting opportunityand provides

the successful applicant the abilitytohelp

shape and connectthe communitywe

serve.

Youwill be responsible forour newspaper

layout, leading the news team, writing

stories and co-ordinating news-gathering for

TheAshburtonCourier.

Thesuccessful applicant will be selfmotivated,tenacious

and have apassion for

news and building relationships within our

local community.

Abilitytofind local stories,juggle tasks,meet

deadlines and writeengaging,accurate

ASHBURTON COLLEGE

'Individual ExcellenceinaSupportive

Learning Environment'

First XV Boys'(UC Championship Team) &

Girls' RugbyAssistants

Expressions of Interest Sought

Ashburton College, in association with the Mid

Canterbury Rugby Union, is seeking to further

enhance the sport ofRugby inthe College and

invites expressions of interest in key voluntary roles

in the Ashburton College Rugby Programme. The

persons appointedare required to maintain positive

relationships and links with the College and ensure

student management is consistent with College

Policies and Procedures.

The successful applicants will be prepared to assist

with thepreparation of the 1st XV in assistantroles.

It is acknowledged that possible applicants may

have limited availability therefore weare happy to

consider multiple assistants to address the various

components of team preparation.

Expressions of interest are sought for the following

voluntary assistant roles for 1st XV Boys &Girls and

U15:

•AssistantCoaches •On-fieldRunners

•Team Managers •Strappers

•Fitness Trainers •College RugbyCommittee

Applications close noon, Friday8November 2019

Expressions of interest or enquiries about

commitments canbemade via email to Ross

Preece, Principal,atprincipal@ashcoll.school.nz.

Please provide abrief rugbyCVand referees.

SITUATIONS VACANT

Advertising that works!

Talk to Jann, Roselle or Karen todayabout ways

youcan reach potential customers or advertising with that

special difference-professional servicewith asmile.

2222785

copyisessential.You will have an eyefor

photography. Video and websiteskills are

desirable.

It is essential that youhaveafull driver's

licence.Given the natureofthe role

occasional evenings and weekend work may

be required.

If this sounds likeanexciting opportunity

foryou,please send your CV with acovering

letter to steve@starmedia.kiwi

All applications will be treated in the strictest

of confidence.

Our well respectedlocal title is owned

by Allied Press,the largest independent

publisher in NewZealand.

Please notethat youmust have the right to

liveand work in NewZealand to apply for

this role.

If this sounds likeanexciting opportunity

foryou,please send your CV with a

covering letter to steve@starmedia.kiwi

2219820

Allenton Auto Centre is a locally owned and

operated, true Kiwi garage, in the heart of Mid-

Canterbury which offers fuel, WOF's, workshop

services, tyresand more.

We have avacancy available in our team for a

WarrantofFitnessInspector/Mechanic.

Thekey job of this role will be to carryout Warrant

of Fitness inspections which means you'll already

have your VI authority and you'll have aclean and

proven record and experience inthis area. We'll

also expect some mechanic work from time to

time,soyou'll keep your skills sharp.

We'relooking forthe rightperson, so we'reflexible

when it comes to hours, we're happy toconsider

applications for full or part time hours.We're after

someone who has ahigh level of workmanship

and commitmenttoproviding qualityservicewho

wantstojoin asmall team who pull together to get

the job done.

Applicants for this position should have acurrent

NZ Drivers Licence, NZ residencyoravalid NZ work

visa.

To apply, please provide aletter detailing your

relevantexperiencetoJane at info@cp.org.nz

Phone: 308 7664

199 Burnett St,Ashburton

2172786

2220555

THE Courier is the best way

to advertise in Mid Canterbury.

Ask anyone who

regularly advertises with us

and they'll tell you, they get

results.

SPACE available for next

weeks Courier -bequick!

Talk to us about your advertising

requirements. Phone

308 7664 or call into our

office at 199 Burnett Street,

Ashburton.
---
Page 38, Ashburton's The Courier, Thursday 31 October 2019

SITUATIONS VACANT

DELIVERYPEOPLE

wanted

to deliver the AshburtonCourier and Realty

everyThursdayafternoon in the

Ashburtonurban area.

ASHBURTON COLLEGE

'Individual ExcellenceinaSupportive

Learning Environment'

First XV Boys' (UCChampionship Team)

&Girls' RugbyCoaches

Expressions of Interest Sought

Ashburton College, in association with the Mid

Canterbury Rugby Union, is seeking to further

enhance the sport of Rugby in the College and

invites expressions of interest in key voluntary

roles in the Ashburton College Rugby Programme.

The persons appointed are required to maintain

positive relationships and links with the College

and ensure student management is consistent with

College Policies and Procedures. The coaches once

appointedwill have the abilitytoappointtheir own

managers.

The successful applicants will be responsible for

leading the preparation and coaching, on and off the

field, ofthe 1st XVtoastandard ofexcellence that

is required of teams participating in this prestigious

competition, while embracing the Values of the

Collegeand the MCRU.

Keyattributessought in the appointees include:

• Strong technicalknowledge of the modern game,

combined with sound coaching and analytical

skills.

• Experience in coaching sport at teenage

representativelevel or higher.

• Special interest in College sport, balancing the

objectives of success inthe short-term, with the

development of individual athletes in a team

environment.

• An ability towork with and challenge agroup of

aspiring rugbyplayers.

Applications close noon, Friday8November 2019

Expressions of interest or enquiries about

commitments canbemade via email to

Ross Preece

Principal, at principal@ashcoll.school.nz.

Please provide abrief rugbyCVand referees.

Phone Leonie on

308 7664 or email

leonie.marsden@ashburtoncourier.co.nz

2222789

QUALIFIED PAINTER/BRUSH HAND

Immediate Start

Looking foranhonestand reliable person to

jointhe team. Good working conditionswith a

competitivewage.

Allenquiries confidential.

PHONE GREG

0274332259 OR 03 3088432

2222412

2172548

HOME SERVICES

ROOF COATINGS: All roof

types, specializing in

Decramastic and Long Run

Iron, Coloursteel etc, steep

roofs not a problem. —

Spraymaster 027-433-7780.

GARAGE SALES

TOOL AUCTION /

GARAGESALE

Model makers lathe +tooling

Drill mill, plasma cutter,

pedestal drill,compressor,wood

lathe, oxy-acet welding plant,

1.5kw generator, arc welder,

8hp Johnson outboard, quad

bikespray tank andwand,hand

tools, measuring equipment,

single axle trailer, 2012 v240

Great Wall ute 54,000 approx

km.

PLUS MORE ...

Saturday9th November

2019

Inspection 10am –12noon

Auction starts 12noon

FairtonHall

Fairfield Road

Paymentcash and

pick-up on the day.

Phone Stan 0272243356

(not Sunday)

2221857

HIRE

SCISSORLIFTS for hire.

4WD and slab lifts available

for daily or weekly hire.

Pickup or delivery. Phone

North End Engineering 308

8155 for abooking.

FRUIT &PRODUCE

POTATOES: Nadine; 5kg

bags $5, 10kg bags $7.50.

Nadine seed potatoes

$2.50 per kilo. 81 Elizabeth

Street, phone 027 531

9103 or 03 308 3195.

WANTED TO BUY

METAL, heavy etc. Free

light-grade metal in-yard

dumping 9am-5pm weekdays

&9.30-11.30am Saturdays.

Ashburton Scrap

Metal Recyclers, 117 Alford

Forest Road (behind

Placemakers). Phone 03

308 8033 or 027 249 6625.

SECOND hand goods,

wanted to buy. Records,

books, any goods considered.

Phone Rodney on 03

324 2999 and leave message.

InsuranceWork

ALTERATIONS, mending

and trouser hemming, curtain

alterations and curtain

making. Call Michelle on

027 352 7248.

BUILDING and property

solutions. For your complete

alteration or renovation.

We project manage

the whole process. Home

and small commercial.

Qualified tradesmen.

Phone Kiwi Building &

Maintenance Ltd. Gary 308

4798, 027 207 1478 or

Cawte 027 418 7955.

CARPET cleaning -Powerful

equipment & fast drying.

Upholstery, mats and rugs.

Experienced owner/operator.

Phone John Cameron

at Supersucker, 027 435

1042 or 308 1677.

CARR'S Chimney Cleaning,

servicing Ashburton and

surrounding districts, $60

per chimney. Phone

Rodney on 03 324 2999

and leave amessage.

COMPUTER problems? For

prompt reliable computer

servicing and laser engraving

contact Kelvin, KJB

Systems Ltd, 4 Ascot

Place, Ashburton. Phone

308 8989. SuperGold discount

card accepted.

TRADE &SERVICES

Specialising in

PANEL BEATING

SPRAY PAINTING&

of

Cars,Trucks,Buses,HorseFloats&Motorhomes,

Caravans,Trailers,Farm Machinery, Jet Boats,

LightEngineering and Aluminium Welding

17 Range Street (Industrial Estate)

Ashburton

Phone 307 0378 l 0274 274 007

Email: busandtruckbodywork@xtra.co.nz

CHARLIE'S Blind Cleaning

Service -same day service

and repairs. Charlie can

supply new blinds and

tracks, will hang drapes.

Phone 03 307 1936 or 020

4169 0342.

COMPUTER repairs, sales,

training, setup -wireless -

networks, spyware cleanup.

On-site day or evening.

LOW FEES. Call Robin

Johnstone, Networks

Firewalls & PC's Ltd, 308

1440 or 027 768 4058.

CONCRETE pavers direct to

you - Best prices, many

sizes, textures and colours

- Paveco, 13 Robinson

Street, Industrial Estate.

CONCRETE Services -

Driveways, paths, patios,

mowing edging. Decorative

Concrete specialist 30

years servicing Canterbury.

Free quotes. No job too big

or small. Phone Paul 021

152 1966.

DENTURES; Dr Peter

Rumping repairs existing

dentures and also provides

new dentures. Phone 027

220 9997.

ENGRAVERS - Local Ashburton

business for all your

engraving and new trophy

requirements. Fast, friendly

and professional service.

Call/text Trudy at 311

Engravers, 022 600 7144,

Facebook.

FLY control and spider

proofing. For all domestic

and industrial pest control

needs phone AJ Kerr at

Ashburton Pest Control on

03 308 8147 or 027 432

5447.

FURNITURE removals -For

all your household removal

needs call Nudges Furniture

Removals, phone 027

224 0609.

HYDRAULICS; Martin

Bennett -Onsite hydraulic

hose repair service 24/7.

Stockists of Aero Quip

hoses &fittings, Commercial

hydraulics, Dynacool,

Spool valves etc., MP Filtri,

Walvoil. Call Justin on 308

9778.

LEGAL work -Phone Peter

Ragg (Ashburton Law) for

house sales, purchases

and refinances. Will call at

home evenings for wills,

enduring powers of

attorney. Phone 308 0327.

2210267

LIFESTYLE farmers need

your sheep shorn for the

summer? Pets and small

mobs. Prompt service.

Phone Jarrod 027 259

4644.

PAINTER for all your painting

needs. No job too small,

inside or outside. Professional

friendly service.

Phone Pete 03 308 1672 or

027 200 1619.

PLASTERING

&COATINGS

Rockcote. Waterproofing.

Texture/Specialist

Coatings.

The Finishing Company

03 307 8870 2131556

PLUMBER: Repair or

replace. Taps, shower

mixers, hot water cylinders,

basins, tubs, toilets, vanity

units, leaking pipes. Call

Pete Young, experienced

plumber 027 280 0889 /

307 7582.

PLUMBING, drainlaying,

blocked drains. Phone

Lindsay at Doaky's Plumbing

on 027 555 5575 or 308

1248 (Master Plumbers &

Drainlayers).

ROOF Painting - Spring

special - Free quote -

Phone Chris on 0800 677

246 - Registered Master

Painters.

SEWING alterations - anything

considered, reasonable

rates. Smoke and pet

free home. Retired wedding

seamstress. Phone Judith

308 3084, Allenton.

SPIDER and fly treatment.

Weed spraying and lawn

treatment. Plus insects.

Call Allan from AA Performance

Services on 027 209

5026. I'll take care of them.

ROOF COATINGS All roof

types, specialising in

Decramastic and Long Run

Iron, Coloursteel etc, steep

roofs not aproblem. Member

Master Painters &

Roofing Association NZ

Spraymaster 0274337780

SUN Control Window Tinting:

Privacy, UV, glare, heat

control for homes -offices -

and cars. Phone Craig

Rogers 307 6347, member

of Master Tinters NZ.

TILING - For all your tiling

requirements including kitchen

splash backs, flooring

etc. (full water proofing),

call Kevin on 027 496 8314.

TV Reception Specialists for

all your digital freeview

installations and repairs,

TV wall mounting, Smart

TV set-up, home theatre

installation. Call John at

Ashburton TV &Audio Ltd

03 308 7332 or 027 277

1062.

FORALL YOUR

•LawnMowing

•Pruning

•Garden Maintenance

•Gutter Cleaning

•Rubbish Removal

Call us TODAY

foraFREE quote

Ph 08004546 546

(0800 4jimjim)

Local news at www.starnews.co.nz

2210075

WINDSCREENS and house

glass. Qualified flat glass

glazier now in-house. Anything

glass, give us acall.

Your place or ours. Wilson

Windscreens, 152 Wills

Street, Ashburton. Phone

03 308 8485.

WHAT better place for a

PAINTING wallpapering, public notice than Ashburton's

The Courier! Simply

plastering - No job too

small. Interior, exterior. clip the form for a run-on

Professional, prompt, competitive

service. Phone us on 308 7664 if you

advert like this or telephone

Tony Sivier at Paint It Ashburton

on 021 878 794 or ment.

require adisplay advertise-

307 7289.

WE value the service we

provide - The Courier for

advice on how you can

reach potential customers.

Call us today on 308 7664.

TINT-A-WINDOW, fade, UV

block, glare, heat control,

safety, security, privacy,

frosting films, solar protective

window films. Free

quotes, 20 years local service.

Phone 0800 368 468

now, Bill Breukelaar,

www.tintawindow.co.nz

MEETINGS

HEALTH &BEAUTY

MEETINGS

Southern

RugbyClub

AGM

Wednesday

20 November 2019

Hinds Clubrooms

startingat7:30pm

Allwelcome

Anyenquiries to

Phil Cushnie

027 439 9555

AWA-AWARATA

RESERVE SOCIETY(Inc)

AGM2019

Thursday28Nov,11am

at the

Rhododendron Reserve

McLennans Bush Rd,

Mt Hu

(meengheld wetorfine)

Please bring your

picnic lunch

Jane Helmore

(Hon. Secretary)

TINWALD RUGBYCLUB

AGM

7.30pm

Tuesday, 12 November

Tinwald RugbyClubrooms

(Cnr Maronan Rd &Shearman Street)

All welcome

Anyapologies to Ken Aitken 027 366 8603

or email kenandseyad@yahoo.co.nz

URGENT CARE CLINIC

WEEKEND DUTYDOCTORS

IN THE EVENT OF AN EMERGENCYPHONE 111

Forall othermedical assistanceoutside of normal

hours please phone your generalpracticeteam, 24/7,

to speak withahealth professional whowill giveyou

free healthadvice on whattodoorwheretogoifyou

need urgentcare.

If youdon't have aregulargeneral practice, call any

GP team 24/7 forfreetelephone health advice.

All non-residents and visa holders please bring your

passporttoyour surgeryappointment.

New Zealanders'tobring some form of ID.

TheAshburtonDutyPracticefor

Saturday2nd November is Tinwald Medical Centre,

33 Archibald Street.

They will hold surgeries from 10.00am until 12.00pm

and from 6.00pm until 7.00pm.

No appointmentnecessary. Surgeryphone 308 6565.

Sunday3rd November is MooreStreetMedical Centre,

MooreStreet.

Consultations will be by appointmentonly.

To make an appointmentplease phone 308 3066.

Methven and Rakaia: Formedical attention on the

weekend and public holidays please telephone

MethvenMedical Centre on 03 302 8105

or Rakaia Medical Centre on 03 303 5002.

Details foraccessing the afterhours services will be on

the answer phone.

PHARMACIES

Wises Pharmacy, CountdownComplex,

East Street will be open on

Saturdaymorning from 9.00am until 1.00pm

Sundaymorning from 10.00am until1.00pm

and from 5.00pm until 7.00pm evenings.

At Geraldine: TheGeraldine Pharmacywill be open

normal trading hours during the week and on Saturday

morning from 9.30am to 12.30pm.

Closed Public Holidays

Forfree24hour Telephone Health Advice

Phone the healthline on 0800 611 116

Broughttoyouby

TURN THE PAGE

TO VIEWMORE

CLASSIFIEDS

CountdownComplex,EastStreet,Ashburton

Phone: 03 308 6733 Fax: 03 308 6755

2212727

2220638

2172825

2222558
---
Local news at www.starnews.co.nz Ashburton's The Courier, Thursday 31 October 2019, Page 39

EDUCATIONAL

PUBLIC NOTICE

Forkliftand Dangerous GoodsCourses

NZTA Approved CourseProvider,MITO&Competenz Assessor

Classes 2&4,endorsements F&DG

ForkliftF&OSH, Saturdays and other days as requested

Dangerous Goods Course,½day Mondaymornings

CommunityHouse or your worksite

Forfurther information

Phone Christine027 245 2563

DRIVETECH LTD

"TRAININGTOMORROW'S DRIVERS TODAY"

FORKLIFT ENDORSEMENT

(F &OSH)

•FORKLIFT (ATTACHMENTS) U/STD

•FORKLIFT MOUNTED SAFETY

PLATFORM U/STD

NEED ALICENCE?

Heavy Traffic Classes 2, 3, 4&5

LICENCE ENDORSEMENTS

For Wheels, Tracks &Rollers,Dangerous Goods,

Vehicle Recovery & Passenger Training

FREEPHONE0508237 483

or 03 348 8481, 027 510 0684

info@drivetech.co.nz |www.drivetech.co.nz

CARS WANTED

CARS

CARS

WANTED!

WANTED!

PUBLIC NOTICE

DEADOR

ALIVE!

getcash now!

getcashnow!

Damaged, Mechanical, Deregistered,

Crashed, NoWOF – NO PROBLEM

Minimum of $100for most cars,

$500 formostvans,utes, trucks,4WDs*

*Conditionsapply.

Call 0800 225508 or text 027540 9813

AUTOMOTIVE SERVICES

PANELBEATING and spray

painting of cars, trucks,

buses, horse floats &

motorhomes, caravans,

trailers, farm machinery, jet

boats. Light engineering

and aluminium welding.

Bus &Truck Bodyworks, 17

Range Street, Ashburton.

Phone 307 0378.

CARAVANS &TRAILERS

CLASSIC Diplomat 4 caravan

for sale. Hard to fault,

many extras. Phone 308

4415.

LOOKING to earn extra

money, even while you're

out walking? Delivery

people required. Phone

The Courier 308 7664.

RELIGIOUS NOTICES

Aplace of

Worship,Friendship

&Caring

Aplacewhere

YOU belong

Sundays @10am

CnrCass &

CameronStreets.

Open at other times.

Phone 308 7610.

Must see exhibition

Bertie Holmes

Art Exhibition

Stunning Art

Methven MemorialHall

Weekdays: 9:00am -5:00pm &

Weekends: 10:30am -2:30pm

Exhibition runs until November 7th 2222242

HakaterePresbyterian Parish

Gospel Service

Sunday 3rdNovember,7pm

Senior Centre,206 CameronStreet

Gospel style music and guest speaker

All welcome

2217880

2143641

2222231

2204413

Peter Blacklow

SEE YOUATTHE A&P SHOW... ONLYWHILE STOCKSLAST!

PETE'S PICK

O F T H E W E E K

Blacklows TradeZone Ashburton your locally

owned &operated family business for 66 years

Full range of engineering supplies and accessories forall your repairs

&maintenance. Kerrick hot &cold waterblasters &industrial vacuum cleaners.

Esseti welders &accessories. Stockists and distributors of Trailer Equipment.

ASHBURTON

South Street, Ashburton PHONE (03) 308-3147

Email office@blacklows.co.nz FREEPHONE 0800 452 522

The AshburtonCivic Music Council

proudly hosts

Sunday3November

AshburtonDomain

Long Lawn (WestStreet) 2pm

Collection forparticipating bands will be taken.

Featuring the AshburtonSilverBand,MtHutt College

Band and Brass Quintet, MSA Orchestra, Ashburton

DistrictPipe Band and the AshburtonElectronic

Organ &KeyboardClub.

Bring along your chair,hat and sunblock

and enjoyanafternoonoflocal music.

"SupportedbyRotary Club of AshburtonCharitable Trust"

COME ALONG AND ENJOYANEVENING

OF ENTERTAINMENT

Livemusic with

'KOPY KATS'

•FOOD•DRINK

&DISPLAYS

Rakaia Lions

Fireworks Night

at Rakaia Domain

Rakaia Barrhill MethvenRoad

November 2nd 2019

Gatesopen at 5:30pm

Gold donation at the gates

Please support

your local Lions

MidCanterburyHockeyAssociation

Annual General Meeting

Tuesday 26th November2019, 7:30pm

at the Domain Pavilion, Walnut Avenue

AllWelcome

ExecutiveCommittee &Award Nominations

closeSunday10th November 2019

Forfurther information visit

www.mchockey.co.nz

or email admin@mchockey.co.nz

2219085

2221844

2221520

HONDA POWERED

WATERBLASTER

2700psi. 11.3 litre.

6.5HpHonda engine.

BAR2565C-H

$1550+GST

(formerly SPCA)

Ginger adult cat

ready fora

new home.

Very smoochyand

lovescompany.

Kitten season coming ...

food donations welcome.

Kindly sponsored by

Adrienne Patterson

Ph308 4432

ASHBURTON

SOCIETY OF ARTS

ShortStreet Studio

180216

2221247

"SPRING INTOCHRISTMAS"

EXHIBITION

Guest Artist: VickiKnudsen

Opening Sunday3rd November 2019

11am–4pm

Continuing for3weeks.

OPEN

Weekends 11am –4pm

Mondaysand Wednesdays when the signisout.

Enquiries Call Ngaio 3084533or

Lynda 0273135178

Allfamilies of prospectiveNew Entrants to

Tinwald School from

December 2019 to June 2020 areinvited to an

Information Meeting

on Thursday7th November at 9:30 am

in the Tinwald School hall.

Allwelcome!

Forcatering purposes please RSVP

by phone on 308 4555

HospiceMid Canterbury

Dealing with alifelimiting illness?

We can supportyou and

your family to make

everyday count.

Allservices arefree.

Phone 307 8387 or 027 227 8387 email manager@hospicemc.nz

www.hospicemc.nz facebook hospicemidcanterbury

2221947

2222232

2209051

Thur 31st &Fri 1st

10.00 Ride Like aGirl

10.00 Jojo Rabbit

11.50 DowntonAbbey

12.00 TerminatorDarkFate

2.00 TerminatorDarkFate

2.30 Maleficent2

4.20 PawPatrolReadyRaceRescue

4.40 ZombielandDoubletap

5.30 Joker

6.30 Ride Like aGirl

8.00 TerminatorDarkFate

8.15 Jojo Rabbit

PG

M

PG

R13

R13

PG

G

R13

R16

PG

R13

M

Sat2nd

10.00 Abominable G

10.00 PawPatrolReady Race Rescue G

11.00 AngryBirds 2 PG

11.45 Maleficent2 PG

12.45 Ride Like aGirl PG

1.50 Dora and theLost City of Gold PG

2.30 DowntonAbbey PG

3.40 TerminatorDarkFate R13

4.40 ZombielandDoubletap R13

6.00 Joker

R16

6.30 Ride Like aGirl PG

8.10 TerminatorDarkFate R13

8.15 Jojo Rabbit

M

Sun 3rd

10.00 Abominable G

10.00 PawPatrolReady Race Rescue G

11.00 Maleficent2

11.45 AngryBirds 2

PG

PG

1.00 DowntonAbbey PG

1.30 Dora and theLost City of Gold PG

3.10 Ride Like aGirl PG

3.30 TerminatorDarkFate R13

5.00 Joker

R16

7.15 TerminatorDarkFate R13

8.00 Jojo Rabbit

M

Mon4th,Tues 5th

&Wed 6th

10.15 Jojo Rabbit

11.00 Ride Like aGirl

M

PG

12.10 TerminatorDarkFate R13

12.45 DowntonAbbey PG

2.30 Maleficent2 PG

3.00

4.40

TerminatorDarkFate R13

Zombieland Doubletap R13

5.30

6.30

Joker

Ride Like aGirl

R16

PG

8.00 TerminatorDarkFate R13

8.15 Jojo Rabbit

M

NO COMPS

Jojo Rabbit,

Ride Like aGirl,

TerminatorDarkFate

It's not about me,

it's about the service

youdeserve

Helena Ratten

Mobile 0274 577998

helena@fnash.co.nz

We put you first

SBW DevelopmentsLtd

Licensed AgentREAA 2008

2217204

BERTIE Holmes Art Exhibition,

Methven Heritage

Events Centre, on now!

Weekdays 9am - 5pm,

weekends 10.30am -

2.30pm. Exhibition closes

8th November.

DINING - Got a special

occasion coming up? Let

the Hotel Ashburton take

care of you. Phone 03 307

8887 and talk to our experienced

team.

IMMIGRATION consultation,

visa applications. Phone

Maria Jimenez, Licenced

Immigration Advisor 027 532 5575.

Mariajimenez.lia@gmail.com

lammsmariajimenez.wixsite.com/nzlia

ARE you struggling to make

ends meet? Need extra

money? Why not sell your

unwanted items in The

Courier! Everything helps.
---
Page 40, Ashburton's The Courier, Thursday 31 October 2019

Local news at www.starnews.co.nz

USED VEHICLES

Finance

2008 MAZDAAXELASPORT 2010 NISSAN NOTE

Alloys,ABS,twin air

bags,2000cc, very

clean and tidy

Twin air bags,ABS, 1500cc,

easy access,auto

$11,995 $8,495

Quality vehicles at affordable prices

Warranties AA Appraised

Finance

BiggestYard

Best Selection TradeIns

2001 HOLDEN COMMODORE VU SS UTE

Cruise control,

twin air bags,air

conditioning

2008 HONDACR-V

4X4 SUV,2400cc,

auto, 98,000kms

2008 TOYOTA ALLION

Sedan, 1800cc, air

bags,ABS, auto,

43,000kms

2013 MAZDAPREMACY

$12,995 $12,995

2007 TOYOTA AURIS

2013 HONDACRV 24G

$10,995

2000cc, auto, 7

seaters,ABS, air

conditioning,

air bags,

103,000kms

1800cc, red, 2

air bags,ABS,

56,000kms

2400cc, 4WD,

cruise control,

65,000kms,

ABS, alloys

2013 TOYOTA PRIUS LHYBRID

5drpetrol/electric hatch,

1800cc, 7air bags,

reversing camera,

3.9 litres

per 100km,

71,326kms

$7,995 $10,995 $22,995

$17,995

ENQUIRE

NOW

-about

our range

of rental

vehicles

Family, Sports, School or SocialTrips

We have 8, 10 &12seaterminivans available.

Cars and 3trucks forsmall or big loads also available.

Selling nice cars to nice people

AUTOSLTD & RENTALS

2221152

308 1396

470 West Street,Ashburton

A/H Keith Drummond 0274 367 646

www.atob.co.nz