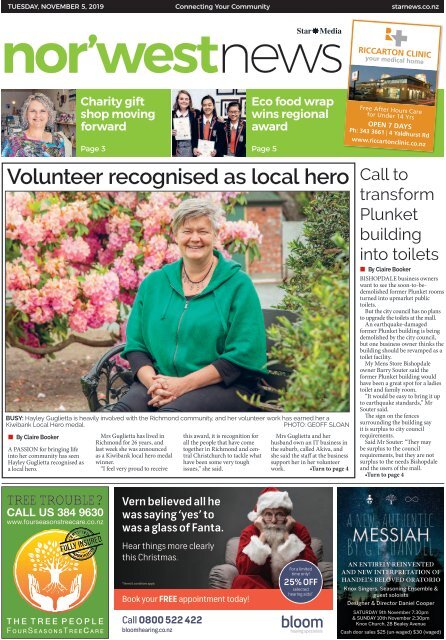 Nor'West News: November 05, 2019
Create successful ePaper yourself
Turn your PDF publications into a flip-book with our unique Google optimized e-Paper software.
TUESDAY, NOVEMBER 5, 2019

Connecting Your Community

starnews.co.nz

Charity gift

shop moving

forward

Eco food wrap

wins regional

award

Free After Hours Care

for Under 14 Yrs

OPEN 7 DAYS

Ph: 343 3661 | 4 Yaldhurst Rd

Page 3 Page 5

www.riccartonclinic.co.nz

Volunteer recognised as local hero

BUSY: Hayley Guglietta is heavily involved with the Richmond community, and her volunteer work has earned her a

Kiwibank Local Hero medal.

PHOTO: GEOFF SLOAN ​

• By Claire Booker

A PASSION for bringing life

into her community has seen

Hayley Guglietta recognised as

a local hero.

Mrs Guglietta has lived in

Richmond for 26 years, and

last week she was announced

as a Kiwibank local hero medal

winner.

"I feel very proud to receive

this award, it is recognition for

all the people that have come

together in Richmond and central

Christchurch to tackle what

have been some very tough

issues," she said.

Mrs Guglietta and her

husband own an IT business in

the suburb, called Akiva, and

she said the staff at the business

support her in her volunteer

work. •Turn to page 4

Call to

transform

Plunket

building

into toilets

• By Claire Booker

BISHOPDALE business owners

want to see the soon-to-bedemolished

former Plunket rooms

turned into upmarket public

toilets.

But the city council has no plans

to upgrade the toilets at the mall.

An earthquake-damaged

former Plunket building is being

demolished by the city council,

but one business owner thinks the

building should be revamped as a

toilet facility.

My Mens Store Bishopdale

owner Barry Souter said the

former Plunket building would

have been a great spot for a ladies

toilet and family room.

"It would be easy to bring it up

to earthquake standards," Mr

Souter said.

THe sign on the fences

surrounding the building say

it is surplus to city council

requirements.

Said Mr Souter: "They may

be surplus to the council

requirements, but they are not

surplus to the needs Bishopdale

and the users of the mall.

•Turn to page 4

tree trouble?

call us 384 9630

www.fourseasonstreecare.co.nz

t h e t r e e p e o p l e

f o u r s e a s o n s t r e e C a r e

Vern believed all he

was saying 'yes' to

was a glass of Fanta.

Hear things more clearly

this Christmas.

*Terms & conditions apply

Book your FREE appointment today!

Call 0800 522 422

bloomhearing.co.nz

For a limited

time only!

25% OFF

selected

hearing aids! *

An entirely reinvented

And new interpretAtion of

hAndel's beloved orAtorio

Knox Singers, Seasoning Ensemble &

guest soloists

Designer & Director Daniel Cooper

SATURDAY 9th November 7:30pm

& SUNDAY 10th November 2:30pm

Knox Church, 28 Bealey Avenue

Cash door sales $25 (un-waged) $30 (waged)
---
2 Tuesday November 5 2019

Latest Canterbury news at starnews.co.nz

get in touch

GENERAL INQUIRIES Ph 379 7100

CLASSIFIED ADVERTISING Ph 379 1100

Star Media,

a division of Allied Press Ltd

PO box 1467, Christchurch

starmedia.kiwi

news

Young sporting talent recognised

The table tennis players had a night to remember at the Burnside

High School sports awards.

Page 7

community events

NOR'WEST NEWS

Want to know your family history?

Go along to the Fendalton Library on Wednesday from 9.30 to

11.30am for help to track down your ancestors.

NEWS

Claire Booker

Ph: 021 911 576

claire.booker@starmedia.kiwi

Page 8

tasty bites

ADVERTISING

Monique Maynard

Ph: 364 7474

monique.maynard@

starmedia.kiwi

Rodd Gray

Ph: 982 9308

rodd.gray@

starmedia.kiwi

Ultimate banana bread

Freeze a loaf for when unexpected visitors arrive. It is moist and

doesn't crumble.

Page 12

The best-read local newspaper,

delivered to 15,890 homes

every Tuesday

Harewood, Burnside, Bishopdale, Bryndwr, Fendalton,

Merivale, St Albans, Mairehau, Papanui, Casebrook, Redwood,

Regents Park, Styx Mill, Northwood, Belfast, Strowan.

• The Star

• North Canterbury News

• Selwyn Times

• Ashburton Courier

also publishing:

• Bay Harbour News

• Southern View

• Pegasus Post

• Western News

CHECK OUT OUR NOVEMBER BIG BANG DEALS!!

Smirnoff DB Guarana Woodstock 330ml 7% Tui Bourbon/ Tui Vodka

Jim Beam Gold/CC 7% 250ml Cruiser bottles/KGB Smirnoff Pure 10pk Double Jack 10pk Cody's 7% cans/Woodstock

4pk 7% 250ml cans 6pk cans (incl zero) Soda 5% & 7% 12pk range 12pk/DC 8pk all cans

cans all 12pks

bottles

330ml cans

5% bottles all 18pks

$9 .99 ea .99 ea

.99 ea

.99 ea

.99 ea

$13 .99 ea

$19

$22

$22

$22

.99 ea

$27

.99 ea

$29

Jagermeister/Pepe

Lindauer Allan Scott Range Church Road Fickle Mistress PN Omaras

Effen Vodka 10pk bottle range Woodstock 7% Jim Beam/CC 18pk Wolf Blass Yellow Classics

$

24 .99 ea (ex PN), Deen De Range Range

Lopez (Gold/Silver) Larios 1L/Teachers

Irish Cream

18pk cans 330ml 4.8% cans Label Range range Bortoli Range (ex PN/Syrah) (ex Central Otago) Range Ivanov1L 700ml 1L/Midori 700ml

$31 .99 ea $34 .99 ea $9 .99 ea .99 ea

$11 .99 ea .99 ea

$13 .99 ea $14 $18 $15 .99 ea $32 .99 ea .99 ea

.99 ea

$34

$33

JB Double Oak

700ml/Larios Rose

Baileys

1L /Chatelle 1L Original 1L

$38 .99 ea

398 High Street, Rangiora

03 313 7207

1275 Main North Road, Bridgend

03 323 8833

Chivas Extra/

Larios 12 1L/ CC 8 yr Bombay Sapphire/ Jameson 1L, Appletons Glenlivet Founders

& Makers Mark 700mls Tanqueray 1L Chivas 12 700ml Estate 1L Reserve 700ml

$43 .99 ea $46 .99 ea $49 .99 ea $52 .99 ea

Jim Beam 1.125 1L

Old Mout Tuatara Kingfisher 12pk Somersby

Jack Daniel 1L Cider 1.25L 6pk range bottles

10pk cans

$39 .99 ea $53 .99 ea $53 .99 ea $8 .99 ea .99 ea

.99 ea

.99 ea

$18 $19 $19

Tui/Export Gold/DB

Mac's Cider and Heineken 12pk Export 33 15pk Carlsberg 15pk

Lion Red/Speight/Waikato/Summit/

Tiger Crystal 12pk

Draught 15pk bottles

12pk bottle range

bottles

bottles

bottles Corona 12pk bottles low carb 24pk bottles

$21 .99 ea $23 .99 ea $24 .99 ea $24 .99 ea $24 .99 ea $25 .99 ea $28 .99 ea

.99 ea

$34

www.thirstyliquor.co.nz

OVER 170 STORES NATIONWIDE!

www.facebook.com/ThirstyLiquorandBlackBullLiquor

Available from 1st – 30th November. Specials while stocks last. Available at participating stores.

585 Springs Rd, Prebbleton

03 349 6031

45 South Terrace, Darfield

03 317 9499

1147 West Coast Rd, West Melton Main Rd, Lake Tekapo

03 347 8460

03 680 6242

670 Main South Rd, Islington

03 349 7337

42 Waimate Highway, St Andrews

RD24 03 612 6740

69 Main St, Fairlie

03 685 8061

21 Aldwins Road, Linwood

03 982 1753

9 Parnwell St, Burwood

03 383 2564

495 Papanui Rd, Christchurch

03 260 2380

65 Victoria St, Christchurch CBD

03 260 1155
---
NOR'WEST NEWS Latest Canterbury news at starnews.co.nz

Tuesday November 5 2019 3

News

Charity gift shop moves out

• By Claire Booker

COMMUNITY activities in

Mairehau could suffer due to a

loss of funding as a charity gift

shop moves out of the suburb.

Pay it Forward which has

been in the suburb for the last

six years, is moving to a pop-up

store in Cashel St.

Part of the shop's commission

went to the Neighbourhood

Trust which runs community

events in Mairehau.

Last year, about $13,000 went

to the Neighbourhood Trust,

which funds community events

and workshops, including a free

class for non-English speaking

people in the area.

About 40 heavily subsidised

craft and Kidsfest classes

were held last year, and Pay It

Forward founder Ginny Larsen

said it will be a loss for some

members of the community who

used the craft classes as a creative

outlet.

Mrs Larsen said it will be

up to the Neighbourhood

Trust to apply for funding to

keep the community projects

going.

Said Mrs Larsen: "I wouldn't

expect them to fold."

Pay It Forward will no longer

be under the Neighbourhood

Trust umbrella, and it will rebrand

as the Kowhai Collective

at its new pop-up store next to

Ballantynes.

'I guess Pay It Forward was

my baby'

– Ginny Larsen

The Nancy Ave site where the

gift shop was will continue to be

used as a community space, but

Neighbourhood Trust manager

Trudy Hedges said there are no

plans for what it will be used for

yet.

Mrs Larsen said the shop

moving out of Mairehau is like a

teenager leaving home.

"I guess Pay It Forward

was my baby, and now it is

reaching young person age and

is ready to flee the nest," Mrs

Larsen said.

Said Mrs Larsen: "The new

space will have makerspaces in

it, so visitors to our store will be

able to interact with designers

LAST

DAY: Pay

it Forward

Mairehau

closed

its doors

last week,

designer

Nicola

Keene will

be part of

the move to

the pop-up

store in the

CBD called

The Kowhai

Collective.

PHOTO:

GEOFF

SLOAN ​

and watch them making the

goods on display for sale. We

love this new concept.

"The local community has

loved having something beautiful

in their neighbourhood and

it has been a place for them to

pop in and have a chat. The

Neighbourhood Trust has

provided us with a home for the

past six years and we will miss

this community, but the CBD

will be accessible to people from

all parts of town," she said.

In Brief

WATER RESTRICTIONS

Residents in St Albans, Merivale,

Mairehau, Papanui and Edgeware

will have water restrictions for

at least three to four weeks in

January. The level one restrictions

mean hoses, sprinklers and

garden irrigation systems are

permitted on alternate days. The

restrictions will allow a deeper

well to be drilled at the Grassmere

pump in Papanui.

SAFETY TALK

Last week, police, Fire and

Emergency NZ and St John

spent a morning at the Bishopdale

Village Mall to meet residents,

share a hot drink and talk about

safety. More than 100 hot drinks

were purchased at the event.

Police and FENZ also visited

houses on Breens Rd where

they helped install new smoke

alarms and checked on home

safety.

CHOIR CONCERT

The annual concert for The

Vocal Collective will be held on

Saturday at St Margaret's College.

Local charities have been invited

to a free matinee performance,

and more than 450 free tickets

have already been allocated.

Tickets can be purchased from

https://thevocalcollective.co.nz/

the concert is set to start at

7.30pm.

The revolution

in heat pumps

is here now!

The Fujitsu e3series

The brilliant

heat pumps from Fujitsu

e1 : efficiency

e2 : environment

e3 : economy

Website: www.pshc.co.nz

Finance available

FREE consultation from your local

Accredited Heat Pump Expert

Phone today: 03 381 6950

INSERT DEALER DETAILS HERE

SILVERSTREAM

MEDICAL CENTRE

The revolution in heat pumps is here now!

Say hello to Fujitsu's latest lifestyle range

NEW ZEALAND'S FAVOURITE AIR ®

• New patients welcome

• Primary Health Care for

your whole family

• Only minutes from Kaiapoi

Town and Belfast/Northwood

"Exceptional care, Exceptional people."

www.silverstreammedicalcentre.co.nz

9/42 Silverstream Boulevard, Kaiapoi Ph (03) 595 1489

Fujitsu's Catechin Filters are

approved by the Asthma and

Respiratory Foundation NZ's

Sensitive Choice ® programme.

Email: info@pshc.co.nz

rechargeable

hearing aids

• Simple to use

• No battery -

no ongoing

costs

• Just charge

and go!

FREE CHARGER (RRP $700)

With this advertisement. Offer valid to November 29th.

Book your free consultation today

Merivale

Hearing Clinic

24b Church Lane

Call now: 356 2324
---
4 Tuesday November 5 2019

Latest Canterbury news at starnews.co.nz

News

Award recognition for

local hero volunteers

•From page 1

When she isn't working on the

business, she's busy at Avebury

House, helping in the Richmond

community garden, volunteering

for Alzheimer's Canterbury

and being the chairwoman of

the Richmond Business and

Residents Association.

Mrs Guglietta's involvement

with Alzheimer's Canterbury came

after her mother died after eight

years of suffering from the disease.

"I wanted to give back and

have been a companion volunteer

supporting others who are in

the early stages of Alzheimer's

in order to help them remain in

their homes as long as possible,"

she said.

A key passion of Mrs Guglietta

is advocating for Richmond to

stay within the Shirley Boys'

and Avonside Girls' high school

zones, in spite of the fact she does

not have children.

Mrs Guglietta said challenges

she has overcome in life are what

led her to become involved with

her community.

"I had always wanted to be a

successful business person with

tonnes of money and the trappings

that come with that, but

the earthquakes, not being able

to have my own family and the

journey with my mum's illness

significantly impacted me and

completely changed my world

view," she said.

Upcoming projects for Mrs

Guglietta include work on the

Avon River corridor, which will

have an interactive kids trial,

nature and heritage trails, and a

community cafe to provide jobs

for locals.

"We have just taken ownership

of another piece of land called

the garden of curiosities where

we will grow foods that people

eat but may not have ever seen

grow such as peanuts, gourds and

heritage varieties of vegetables,"

Mrs Guglietta said.

Mrs Guglietta is also working

on a social enterprise to deliver

a school education programme

based on the importance of pollinators

in the environment.

"I am pretty excited about the

opportunities and projects we

have planned for the next few

years that will ultimately benefit

not just Richmond but all the

people of Christchurch," she said.

Kiwibank Local Hero

winners:

Kenneth Clearwater,

Ahmed Tani

Ian Thomas

Jan Murphy

Michelle Sharp

George Wright

Paul Chamberlain

Susan Foster-Cohen

Gabrielle Huria

Elle Perriam

Yvonne Hiskemuller

Bridget Kelly

Timothy David Baker

Alexandra Poetsckhe

Gavin Reed

Marlene Ingram

Paul O'Brien

Gamal Fouda

Jo Johnson

Paul Munnerley

Anna Manson

Kimberli Schuitman

Zhiyan Basharati

E Wen Wong

Hayley Guglietta

Kathleen Hood

Peter Zhou

Demolition a

disappointment

•From page 1

"If you're going to run

a shopping centre, you

had better have good,

clean toilets. But at

the moment, they just

aren't adequate.

"It's a permanent

issue in Bishopdale,

these are the things that

stop people going."

THe city council has been

making improvements to the

Bishopdale area, but Mr Souter

said there is still more to be done

to bring people back to the mall.

"If [the city council] was really

genuine about it, they would

make toilets a priority, because

that's what brings people to a

mall," he said.

John Filsell

NOR'WEST NEWS

DEMOLITION:

The former

Plunket rooms

in Bishopdale

(right) will be

demolished.

PHOTO: GEOFF

SLOAN

City council head of

community support,

governance and

partnerships John Filsell

said the Plunket rooms

are not suitable to be

refurbished as a toilet

block.

Said Mr Filsell: "The

Plunket building is to be

demolished soon because

it is 12 per cent of building code,

unreinforced concrete block.

"THere are currently no

plans to upgrade the toilets at

Bishopdale Mall. The toilets

will be part of our next round

of toilet condition assessments

and will be prioritised alongside

other toilet blocks based on

condition."

THE ASHLEY SUITES, CARE AND

SUPPORT WHEN YOU NEED IT

Comfort, style and convenience are very important when it comes to helping you feel at

home. Russley Village's brand new residential care facility and serviced apartment complex -

The Ashley Suites come with these elements as standard.

From our one and two bedroom serviced apartments offering an extensive range of

personalised medical and support services to deluxe care suites for health and medical

care, all available in the elegant surroundings of the village.

We pride ourselves on the level of compassion we provide for every one of our residents,

ensuring the care they receive meets their personal needs making sure they always feel

at home.

For more information on

the Ashley Suites and to take a

tour of the care facility and village

make an appointment today.

russleyvillage.co.nz

03 357 9392

73 Roydvale Ave,

Christchurch

RESIDENTIAL AGED CARE | SERVICED APARTMENTS | INDEPENDENT LIVING
---
NOR'WEST NEWS Latest Canterbury news at starnews.co.nz

Tuesday November 5 2019 5

ews

Eco-friendly food wrap wins award

• By Claire Booker

DIRECTORS: The Christchurch Girls' High School Azul team won an award at the Young

Enterprise Scheme regional awards last week. Team members (from left) Huda Abdulridha, Lina

Eljindi, Strev Balmoria, Nicka Pascual, Caryl Cerro accepted the award. ​

AN ECO-friendly alternative to

plastic food wrap designed by

Christchurch Girls' High School

enterprise students has been

recognised as one of the best

products in the region.

The company, called Azul won

the Rotary Club of Christchurch

Sunrise YES Regional Excellence

Award for Social Enterprise at

the Young Enterprise Scheme

regional awards last fortnight.

Azul's chief executive, year

13 pupil Strev Balmoria, who

lives in Riccarton, said it was a

privilege to be recognised as one

of the top six young enterprise

companies in the region.

Said Strev: "We are grateful

to have had this opportunity to

showcase a solution to the everincreasing

plastic issue facing

our society today."

The E-Wrap product the company

designed is gelatine-based

and is 100 per cent environmentally

friendly.

The wrap is produced at a

shareholder's house, and Strev

said the production process is

fairly simple. Once the mixture

is formed, it is left to set for a few

days before it is packaged.

The idea from the product

came from the group members

shared passion for the environment.

"Every day we see single-use

plastics, wrapped in our food

and in abundance in our school

canteen, so we were inspired by

our surroundings to come up

with an alternative to single-use

plastics," Strev said.

The group has made nine sales

and have profited $76.50.

The five year 13 pupils will

not continue the business after

the school year finishes, but

Strev hopes the initiative of the

company will inspire future

students to look for solutions for

environmental issues.

"We faced a lot of difficulties

producing our product but,

despite that, our passion for

saving the environment became

our driving force to continue

making our product a reality,"

Strev said.

Barbara Harding responds

to last week's Nor'West

News article on a proposed

liquor store on Memorial

Ave

I am utterly appalled to think

that yet another shop selling

alcohol may be granted a licence

in an area already well served for

alcoholic beverages, and also with

so many schools in the vicinity.

What possible positives could

there be to offering such a retail

outlet? I can only see the negatives

in a country where unfortunately

alcohol is over-consumed and

often the major cause of family

violence and broken homes.

Why not put a florist there?

New World offers some flowers,

but very few. With the church just

down the road, and being on a

main road for commuters, I could

imagine that this would be a very

worthwhile and attractive retail

option.

Why not send out the message

to tourists heading to the

airport that we are a garden

city? Failing that, a sushi shop

could most certainly be a great

option as there are none nearby,

and this could provide some

healthy snack options for passing

schoolchildren, as well as workers.

Please, do not allow this

proposed off-licence. It is a terrible

and ridiculous idea. Locals will

fight it all the way and hope that

those we have chosen to represent

us on the council will hear our

voices.

FIRST

CLASS

FREE

Dance & Fitness

Condition, heal and

express yourself through

movement and sensation

Classes in Christchurch & Rangiora

For class schedule & locations visit

www.plensorymovement.com

Phone: 027 416 8283

steph@plensorymovement.com

'CEREC' & cosmetic dentistry

Wisdom tooth removal

Painless, high quality dentistry

Sedation dentistry

Experienced, conscientious team

Experienced hygienists

OPEN SATURDAYS

355 9380

144 Cranford Street

www.stalbansdentalcentre.co.nz

LET US HELP YOU MAKE

YOUR DREAM COME TRUE

•DRIVEWAYS •EXCAVATION

•DRAINAGE •FENCING

•ASPHALT & CONCRETE

•HOUSE FOUNDATIONS

021 870 725

Accepted here.

LENDING CRITERIA, FEES, TERMS

AND CONDITIONS APPLY.

info@stylescivil.com | www.stylescivil.com

Nicky Wagner

National List MP

A

E

P

W

922 Colombo Street

Central Christchurch

PO Box 21359

Christchurch 8143

chch.office@parliament.govt.nz

03 365 8297

nickywagner.co.nz

Funded by the Parliamentary Service and authorised by

Nicky Wagner, 922 Colombo Street, Christchurch.

tEAm chAmpS

& mAinLAnD mODifiED SERiES

SAt 9 th nOvEmBER

6.30pm StARt

ADULTS $20 Seniors $10

FAMILY PASS $40

Children $5 Under 5yrs free

(2 adults & up to

4 children 15yrs & under)

DOUBLEDAYS ROAD KAiApOi

infOLinE 03 327 6117

www.wOODfORDgLEn.cO.nz
---
6 Tuesday November 5 2019

Latest Canterbury news at starnews.co.nz

NOR'WEST NEWS

Every Day is Open Day

At the heart of our city since the founders laid the

first roads and planted the first trees, St Michael's

has held dear those early aspirations and visions,

while unleashing our own dreams for a lofty future.

Indeed, for 168 years, St Michael's has been

educating and nurturing the visionaries and

dreamers who

continue to shape our

city and the world

beyond. For our

young pupils have

limitless potential

to lead exciting and

generous lives, and we

have the responsibility

to educate and inspire

them, to encourage

every child to flourish

in mind, body and

spirit.

St Michael's is a prep

school for girls and boys in Years

1-8. 'Prep' as in preparation for

secondary school, a foundation

for a fine life. For at the heart of St

Michael's are the essential values of

Christian faith and good citizenship:

respect, integrity, community, faith,

hope and love.

An independent school education

at the primary level is a great gift.

Our classes are small, with year-groups of 20 pupils,

ensuring your child is an individual, well known by

staff and fellow pupils alike.

Traditional foundations in English and Maths are

assured. This academic rigour then underpins

our wider curriculums in History, Geography,

Science and Spanish.

IT literacy is taught,

not assumed, and

computer use is

measured. We like

teaching and talking to

our pupils!

A prep education

offers balance. St

Michael's cultural and

sports' programmes

further develop

your child's

foundation, as

creativity and

problem-solving

come in many

forms. Specialist

art and music

classes are enjoyed

weekly. We have

three choirs,

and most pupils

participate in

instrumental or

speech & drama

lessons with our

ten itinerant staff.

Located in the

heart of the city,

opposite the

new Riverside

Farmers' Market,

our extended

campus is

spectacular:

the Art Gallery

and Museum,

Tūranga, our new

central library,

and Hagley Park

are frequent

haunts.

Many of our parents now work in the thriving city

centre or Lincoln and Riccarton Road hubs, but

they live city-wide. They comment on the benefit of

knowing their children are in school nearby and the

convenience of popping over for an hour to catch a

performance or watch a race. With the new central

exchange only a block away, senior children arrive

by bus from all corners of the city.

You and your child are warmly welcome to discover

our purposeful, wholehearted and inclusive prep

school. Every day is open day, so please contact

registrar, Bec Hitchcock, to book your personal

tour: 03.379.9790.

St Michael's School

Your school at the heart of the city

✓ Co-educational, Years 1-8

✓ Small classes

✓ Specialist teachers

✓ Musical excellence

✓ Christian values

✓ Traditional classrooms; academic rigour

✓ Before & after school care: 7.30am - 5.30pm

✓ Central city location; easy access

Taking enrolments for 2021.

Some places available for 2020.

Every day is Open Day.

www.saintmichaels.school.nz 249 Durham Street Phone (03) 379 9790 to book your tour.
---
NOR'WEST NEWS Latest Canterbury news at starnews.co.nz

Tuesday November 5 2019 7

Burnside High's top sporting talent

• By Jacob Page

TABLE TENNIS players had

a night to remember at the

Burnside High School sports

awards.

They took away two of the

major awards, with Sang-Yong

Park named sportsman of the

year and the mixed A table

tennis squad – made up Jiayl

Zhou, Avon Liu and Sang-Yong

– winning team of the year.

Talented New Zealand cyclist

Sami Donnelly

took home the

Principal's Cup

for outstanding

achievement in

sport.

Footballer

Ellena Firth

was named

sportswoman

Jiayl Zhou

Avon Liu

of the year,

while Haley

Grimes won the

contribution

to sport award

for her efforts

on the netball

court during

her time at the

school.

Sang-Yong

won his third

straight New

Zealand

secondary

schools' teams table tennis

title in September and finished

second in the under-19

individual category. At the South

Island age-group championships,

he finished first in the under-18

singles, doubles and mixed

doubles. He also competed at the

Oceania junior championships

in Tonga, where he was part of

the boys team which claimed

silver and also earned a mixed

doubles bronze.

Ellena was captain of the

Burnside High School first XI

which won the Canterbury

secondary schools' title. She was

also part of the national leaguewinning

Mainland Pride side

and the Coastal Spirit premier

women's team which reached the

final of the New Zealand Cup

knockout tournament.

Sami continued her stellar

progression in track cycling.

She took silver in the team

pursuit at the junior world track

ACHIEVERS:

Sportsman of

the year

Sang-Yong

Park and

sportswoman

of the year

Ellena Firth

(left) at the

Burnside High

School sports

awards.

PHOTOS: JON

DAVIDSON

NICE JOB:

Haley Grimes

(right) took out

the contribution

to sport award

for her efforts

on the netball

court.

championships in Germany in

October. She also finished 16th

in the omnium. Sami earned a

silver medal in the individual

pursuit at the national track

championships.

Meanwhile, Haley's netball

season will start in February as

an umpire for the netball trials

and pre-season tournaments.

Over the past season, she

coached a year 9 team which

SPORT

finished third in their division.

Haley was the venue controller

for the Wednesday netball

competition at the Burnside

High School courts and was

also in charge of four of the

five games played each week

during terms two and three.

She umpired the Wednesday

and Saturday netball teams

and the senior A team in the

SuperNet Reserve competition

on Wednesday nights.

Study with Vision

CHOOSE FROM OUR CERTIFICATES, DIPLOMAS & DEGREES!

WE OFFER:

• ULTIMATE FOUNDATION SKILLS

• EARLY CHILDHOOD EDUCATION AND

CARE

• SECURITY AND FORCES TRAINING

COURSE

• BUSINESS ADMINISTRATION AND

TECHNOLOGY

• COUNSELLING

• WEB DEVELOPMENT AND DESIGN

AND SOFTWARE DEVELOPMENT

WWW.VISION.AC.NZ | 0800 834 834

50 Hazeldean Road, Addington, Christchurch
---
8 Tuesday November 5 2019

Latest Canterbury news at starnews.co.nz

News

A FORMER children's

orphanage in Harewood will be

remembered with a memorial

seat.

Last week, the Christchurch

Methodist Mission held a small

ceremony to mark the site of the

former South Island Methodist

Orphanage and Children's

Home, on Harewood Rd.

The Christchurch Methodist

Mission office is currently still

located at the site, but the

home was demolished in the

1990s.

The art deco home was first

opened 85 years ago and was

designed by architect Wilford

Melville Lawry.

The memorial seat was blessed

by Reverend Michael Greer, and

about 10 former residents of the

home attended the ceremony.

Christchurch Methodist

Mission executive director Jill

Hawkey said the event honoured

the request of a former resident

for a plaque to remember residents

and staff.

"We hope former residents

will see this as an opportunity

to reminisce about their time at

the home, and as an expression

of our commitment to retain

our memories associated with

the home," she said.

NOR'WEST NEWS

Memorial seat marks site of former orphanage

HISTORIC:

An aerial

view of the

South Island

Methodist

Orphanage

and Children's

Home in

Harewood,

1934. ​

Knit 'n' Yarn

Tuesday, 1-3pm, at Bishopdale,

Wednesday, 1-2.30pm, at Redwood,

Thursday, 1.30-3.30pm,

at Fendalton, and Friday, 10amnoon,

at Papanui

Take your knitting, crochet or

other craft projects and have fun

with a social group. This is a free,

drop-in event.

Bishopdale, Redwood, Fendalton

and Papanui libraries

Housie

Wednesday, 7.15pm

Go along for a social night out

and play housie as a fundraiser

for the Christchurch United

Football Club. Food and drink

available for purchase.

Papanui League Clubrooms, 53

Sawyers Arms Rd

SeniorNet

Wednesday, 10am

SeniorNet Garden City will

host a class for seniors (65-plus)

to learn about all things technology.

Learn how to use your

smartphone, tablet or laptop and

the mysteries of the internet.

Phone 348 4499.

3 Brake St, Upper Riccarton

Loopy Tunes – Music &

Movement

Wednesday November 13,

10.30am

Go along to the loopy tunes

music and movement special

Email claire.booker@starmedia.kiwi by

5pm each Wednesday

event at Empower Church.

Morning tea is provided, but

attendees are asked to make a

gold coin donation. For more

information. Ph 027 555 6269

140 Springfield Rd, St Albans

Games at Papanui

Thursday, 2.30-4.30pm

If you love games, head

along and choose from a wide

selection, including the classics,

at this fun and social event. Free

for all ages to enjoy. No bookings.

Papanui Library

Art Exhibition

Tuesday-Sunday 9am onwards

Members of the St Albans

Art Society will showcase more

than 100 paintings which will

be available to purchase from

Eastgate Shopping Centre.

20 Buckleys Rd, Linwood

GenConnect

Tuesday, 12.15-12.45pm

If you have questions about

your Ipad, smartphone or tablet,

head down to GenConnect

where Papanui High School students

will help you for free.

Papanui Library

Makerspace

Tuesday, 3.30-4.30pm.

Join in the fun tech activities

at these Makerspace sessions.

Redwood Library

Scrabble

Tuesday, 10.30-noon, at

Redwood, Wednesday, 1-3pm, at

Bishopdale, and 1.30-3.30pm, at

Shirley

Play Scrabble with a friendly

group. Head along when you

can. No bookings required. All

materials supplied. Free event.

Redwood, Bishopdale and

Shirley libraries

Bolivia card game

Thursday, 1-3pm

Learn a new game. Cards and

cardholders are supplied. Phone

941 7923 for more information.

Bishopdale Library

Senior men's exercise

group

Friday, 11- 11.45 am

Low impact exercise classes

designed for seniors. Wear

something comfortable and turn

up – no registrations required.

Participants are asked to bring a

$3 koha as a donation. Phone 375

0850 for more information.

Northcity Church, 95a Sawyers

Arms Rd, Papanui.

JP Clinics

Tuesday, 10am-1pm, at Papanui

and Shirley, Wednesday,

10am-1pm, at Bishopdale, Saturday,

10am-noon, at Fendalton

A justice of the peace will be

available to witness signatures

and documents, certify document

copies, hear oaths, declarations,

affidavits or affirmations,

as well as sign citizenship or

rates rebates applications.

Papanui, Shirley, Bishopdale

and Fendalton libraries

Mahjong

Saturday, 1-3.30pm at Shirley,

Monday, 2-4pm at Papanui

Go along if you are interested

in playing or learning about

mahjong. Free. Register for the

Shirley Library event.

Shirley and Papanui libraries

After School Activities

Friday, 3.30-4.30pm

Go along to the

Fendalton Library

on Wednesday

from 9.30-11.30am

for help with your

family history. A

volunteer from

the Canterbury

branch of the New

Zealand Society

of Genealogists is

available to help

with any family

history questions. ​

Suitable for ages eight to 13.

Go along for an interactive session

with technology, games,

crafts and books. Take your

friends, or make some new ones.

Papanui Library

Super Saturday Storytimes

Saturday, 11-11.45am

Encourage learning

through stories. This is an interactive

programme with stories,

songs, rhymes, craft and play.

Free.

Shirley Library

Tabletop Games

Monday, 11am-5.15pm

Play some tabletop board

games. Free event, no bookings

required.

Shirley Library

Cards Club

Friday, 1.30-3.30pm

The weekly cards club is on

every Friday, join the fun. Free,

no bookings required.

Shirley Library

Restoring your confidence through your smile

Full service Denture Clinic

and Laboratory

Caldent Denture Cleaner

Free Consultation

No Obligation

Ph: 385 5517 + 396 Innes Road, St Albans

admin@denturesplus.co.nz

+ denturesplus.co.nz

HEAT PUMP

SALE NOW ON!

Amazin' Spring Specials!!

• We will offer you the best quality brands and

option of heat pump for your home/business

• Providing Heat Pump solutions for over 17 years to Cantabrians

• We personally guarantee all our products & installs for 5 years

(providing annual maintenance has been completed)

Phone us today for your free consultation & quote

41A SHAKESPEARE RD, WALTHAM

PHONE 03 366 0525

www.enviromaster.co.nz

"A local team for local people"
---
NOR'WEST NEWS Latest Canterbury news at starnews.co.nz

Tuesday November 5 2019 9

free luxury

underlay

idaho/iowa

• 50 oz

• Polyester

• Cut Pile

• Extra Heavy Duty

• 2 Colours

with

FREE

UNDERLAY

installed for xmas guaranteed

UNDERLAY

grange Fell

• 50 oz

• Solution Dyed Nylon

• Cut Pile

• Extra Heavy Duty

• 5 Colours

with

FREE

$109.00 per metre

$139.90 per metre

Windsor twist

/cable bay

• 36oz • Solution Dyed Nylon

• Cut Pile • Extra Heavy Duty

• 11 Colours

with

FREE

UNDERLAY

Parklife

• 48oz

• Cut Pile • Extra Heavy Duty

• 100% Wool

• 1 Colour

with

FREE

UNDERLAY

$119.90 per metre

$119.90 per metre

½ Price carpet Remnants

Hundreds of small to large lounge

size pieces available

South island's

largest Stockist

Of vinyl

before

garage carpet

6m by 6m

fully installed

only

$850

after

Conditions apply

lancaster

Park

Railway line

312 Wilsons Road North, Waltham Phone 366 0070

Open Monday to Friday 8am-5pm and Saturday 10am-1pm

q card Finance

Available

Alpine ice

Skating

ASk FOR OuR FREE NO ObligAtiON MEASuRE ANd quOtE SERvicE
---
10

Tuesday November 5 2019

In your

neighbourhood

Latest Canterbury news at starnews.co.nz

NOR'WEST NEWS

A safe, gentle way to improve

fitness and health

For all those wanting to improve their strength,

fitness and overall health in a relaxed, friendly

environment, Charisma Health & Leisure in

Avonhead provides the ideal opportunity.

Not a gym, Charisma Health & Leisure is equipped

with six Shapemaster Powertone electronic beds,

each one designed to target specific muscle groups.

Owner Katrina Barron explains: "With the

Powertone system, the beds are all pre-set to operate

for five minutes, and clients move from one to the

next for the different sets of movements, with their

session lasting just over 30 minutes.

"The speed and resistance of each bed can be

varied according to individual needs, and they are

very safe – people of any age and any level of fitness

can use them and gain the benefits."

These benefits include improving core strength,

gaining longer, leaner muscles, improving circulation

and increasing energy, as well as helping those with

conditions such as osteoarthritis and multiple sclerosis.

People also find the system useful for regaining

strength and normal movement after surgery such

as hip replacement, Katrina says, and for anyone

with an injury such as a broken ankle or damaged

shoulder, who want to maintain their fitness while

recovering, the injured area can be isolated while

they use the system.

The Shapemaster system was developed in the UK

in the late 1980s, and is now widely used around the

world as a gentle, safe form of exercise. Charisma

Health & Leisure in Avonhead is one of only two

places in New Zealand that offers it.

"Our other advantage is there is no pressure on

people to sign contracts – we don't have contracts,

we offer flexible packages for our clients," Katrina

says.

"You can come for a free trial, where we take you

through the system, explain how it works and the

health benefits it provides.

"If you like it you can then take a month's

membership during which you can come once a

day for as many days as you wish. After that you can

choose from one of our flexible packages."

Charisma Health & Leisure is located at 45

Merrin Street, just along from the Avonhead Mall.

Phone 358 3834. Open Monday to Friday 7.30am-

5.30pm and Saturday 8am-12.30pm.

The Powertone electronic beds each

provide different sets of movements

for the body's muscle groups.

FREE TRIAL!

WORK OUT SMARTER

NOT HARDER

No joining fee, no contract!

Try it, you'll love it and so

will your body.

45 Merrin Street, Avonhead

P 03 358 3834 E contact@charismahealth.co.nz

Mon - Fri 8:00am - 5:30pm Sat 8:30am - 1pm

www.charismahealth.co.nz

style

noun

elegance and sophistication.

synonyms: flair, grace, poise,

polish, suaveness, urbanity,

chic, finesse, taste, class,

comfort, luxury, affluence,

wealth, opulence, lavishness.

MAGAZINE

STYLE.KIWI

178 Papanui Road, Merivale

(3 doors down from St Albans Street)

Ph: 03 355 5942

In business 58 years - same location!

Now is a great time to get your

duvets, blankets & drapes cleaned!

AUTOMOTIVE

REPAIRS

Well equipped repair shop incorporating

our mechanical workshop, tyre,

WOF & brake servicing.

Making car repairs easy

& affordable...

The team at Allan's Tyre & Auto are here to help.

Ph: 358 9399. 164 Kendal Ave, Burnside

Email: info@allansauto.co.nz

Hours: Mon-Fri 8am-5pm, Sat 8:30am-1pm
---
NOR'WEST NEWS Latest Canterbury news at starnews.co.nz

Tuesday November 5 2019 11

NGAIO MARSH RETIREMENT VILLAGE

Respite care available now

Ngaio Marsh Retirement Village offers

independent living, assisted living in a serviced

apartment, resthome and hospital care.

We also offer respite care that provides

temporary care in a range of circumstances.

You may need some rehabilitation after a

hospital stay, or perhaps a little extra help –

whether it's for a single night or a few weeks.

If you still live in your own home, a short stay at

our Ngaio Marsh care centre could be a welcome

break from your usual routine.

In fact, if you're thinking about moving into care,

why not spend some time with us in respite care

and experience the Ryman difference before you

make your decision.

We'd love to show you around our wonderful

village and answer any questions you have

on transitioning to residential care, funding,

or assessments.

Care centre benefits

• Dedicated and caring staff

• Spacious rooms with private ensuites

• Delicious menus – providing choice

and prepared fresh on site by village chefs

• myRyman care – our custom-built electronic

care app, installed in every care room

• Ryman Engage programme – activities

and weekly outings

For more information phone

Anna on 352 5140

95 Grants Road, Papanui

2093
---
12 Tuesday November 5 2019

Latest Canterbury news at starnews.co.nz

Tasty Bites

NOR'WEST NEWS

Baking the ultimate banana bread

This amazing banana

bread doesn't crumble,

stays moist and freezes

well. It's also the perfect

way to top off gnudi with

asparagus, which makes

for a tasty meal any time

of the day

Banana bread brilliance

Makes 14-15 slices

Ingredients

270g self-raising flour

½ tsp baking soda

1 tsp ground cinnamon

¼ tsp ground cloves

80g butter, melted

140g dark cane sugar

3 large eggs, size 7

1 tsp vanilla extract

450g very ripe bananas, weighed

without skin, mashed (4-5 large

bananas)

Directions

Preheat the oven to 170 deg C

on bake.

Sift the flour, baking soda,

cinnamon and cloves into a large

bowl and stir well to combine.

Set aside.

Put the melted butter, dark

cane sugar, eggs and vanilla

extract into a medium-sized

bowl and beat together for

several minutes on high speed

until thick and creamy.

Reduce the speed and

gradually add the mashed

bananas, beating until well

combined. Make a well in the

centre of the dry ingredients and

stir in the banana mixture a third

at a time, mixing well after each

addition.

Tip into the prepared tin

(either loaf tin or cake tin) and

smooth the top.

Bake until golden brown – it

should be firm to the touch

and a skewer inserted into the

centre should come out clean

(about 50-55 minutes). You may

need to cover the bread with

baking paper for the last 15min

of cooking if it is browning too

much.

Remove from the oven and

cool on a wire rack for about

20min. Slide a knife between

the side of the tin and the bread

to loosen it. Invert the tin on to

a wire rack, remove the baking

paper, turn right way up and

leave to cool.

To serve the loaf, cut it into

thick slices and toast if you wish.

Cuts into 14-15 slices.

To serve as a cake, use ice

with lemon icing or leave plain.

Without the icing, the banana

flavour is more pronounced.

Cuts into 16-20 slices.

Gnudi with asparagus

Serves 4

Ingredients

400g ricotta

2 eggs

1 egg yolk

120g freshly grated parmesan,

plus extra for serving

100g flour

1 tsp salt

freshly ground pepper

semolina flour

2 bunches asparagus, woody

ends removed and cut into 3cm

pieces

50g butter

4 sprigs of thyme, marjoram or

basil

juice of ½ a lemon,

Directions

In a large bowl, mix together

ricotta, eggs, egg yolk, flour,

seasoning and parmesan cheese.

Mix to combine. Put into a

piping bag with large plain

nozzle.

Dust a tray heavily (5mm)

with semolina and pipe 2cmwide

tubes the length of the tray.

Continue until all the mix is used

and gently roll the tubes in the

semolina.

Chill for as long as possible (an

hour or overnight).

Bring a large pot of salted

water to the boil.

While the water is coming

to the boil, heat a large fry pan

with butter, add the herbs and

asparagus and cook until the

asparagus becomes tender (about

4min).

Cut the gnudi into 4cm

lengths, cook in boiling water.

When it rises to the top (about

3-4min) remove and drain.

Add them to the asparagus,

season, grate over plenty of

parmesan cheese and enjoy

immediately.

Fall in love

with your

favourite furniture

all over again!

before

• Recover your chairs and couches

and save money!

• Excellent range of fabrics

• Quality workmanship guaranteed

• Free quotes available

• Over 30 years experience

after

Somerfield Upholstery Ltd

FURNITURE RECOVERY SPECIALIST

6/47 Sonter Road, Wigram | Ph 021 251 6200 | 349 0456
---
NOR'WEST NEWS Latest Canterbury news at starnews.co.nz

Tuesday November 5 2019 13

CHristCHurCH CAsiNO

Stir fry, dumplings

and noodles!

Advertising Feature

Inside Christchurch Casino is the authentic

and intimate Cantonese inspired restaurant,

Chi Kitchen.

Chi Kitchen will transport you to the streets

of Guangzhou, the stalls of Thailand, and the

melting-pots of Malaysia. Taste the food and

relish the fresh flavours of Asia.

Whether you're dining alone or with ten or

more people, there's a dining experience for

everyone! Chose from the à la carte menu or

Chef 's Banquet including a variety of entrées

and up to seven mains. If you're feeling

peckish, make sure you visit on Thursday

nights for the $1 dumplings. Have one, five or

twenty dumplings for just $1 each!

Their team of chefs is led by Chef Stanley

Mo who has worked in some of the best

restaurants in Hong Kong and China.

Stanley created Chi Kitchen's menu to feature

authentic Asian inspired meals with noodles,

dumplings and stir fries straight from the

purpose built wok station. Some of their most

popular dishes include

steamed prawn dumplings,

hot & spicy chilli chicken

cooked in the wok, and

combination fried rice.

There's also a variety of

menu options which cater

for gluten free intolerances

and vegetarian diners.

Chi Kitchen's portions

are generous, affordable

and authentically oriental.

'Dine with us

during Cup

Week and

enjoy live

entertainment'

30 Victoria Street | christchurchcasino.co.nz | R20 venue

Christchurch

Casino's Buffet

is Back!

SUPERGOLD CARD $ 20 LUNCH SPECIAL

WED - FRI: 11.30am - 2pm

BRUNCH $ 26 | SAT & SUN: 8am - 2pm

LUNCH $ 26 | WED - FRI: 11.30am - 2pm

DINNER $ 39 .50 | WED - SUN: 5.30pm - 9.30pm

Not to be used in conjunction with any other offer or discount.

Book online at chchcasino.co.nz or phone 03 365 9999
---
14 Tuesday November 5 2019

Latest Canterbury news at starnews.co.nz

NOR'WEST NEWS

STOREWIDE BLOWOUT

Get sorted for summer early with these massive deals

HURRY, Limited Stock

65"

$ 1299

Save

$ 900

Now

$ 1988

Max Fabric 5 Seater Lounge Suite

Available in Navy Blue (pictured) and Light Blue.

less

than

per

$ 8 week #>

65" 4K Smart UHD TV

65RU7400

less

than

$ per

21 week #<

COMPACT SIZE

PERFECT FOR

SMALLER CAVITY

SPACES

Available in Blue,

Black, Red and White.

HOT

PRICE!

LIMIT 2 PER

CUSTOMER

EP On-Ear

Headphones

$ 98

Save

$ 61

Heritage Vogue 4 Slice Toaster &

1.8L Heritage Vogue Kettle combo

RHT54 & RHK32 Available in Black and Red.

Combo Price

$ 139

15.6"

SELECTED

BEDS

233L

Now

$ 599

15.6" A6 Laptop

DB0182AU

$ 899

Save

$ 300

50% OFF *

Available in single to

californian king!

233L Bottom Mount

Fridge Freezer HRB227W

less

than

per

$ 8 week #<

8GB RAM, 256GB SSD,

AMD A6-9225 Dual-Core

processor, Windows 10

Home 64 operating system.

less

than

$ 11

per

week #<

50 months

interest free

on furniture $999 and over #

24 months

interest free

on everything $499 and over #

Easy repayments

with affordable finance,

EVERYDAY!

Proudly New Zealand owned, helping Kiwis feel at home since 1918

Some products on display in selected stores only – please call your local store to check for availability. All offers in this mailer are valid Wednesday 6th until Tuesday 12th November 2019, while stocks last or unless otherwise stated. *Discount is off our full retail price and not in conjunction with any other offer. #Apple products,

selected computers, game consoles, gift cards, flooring, clearance items and some promotional items are not available in conjunction with interest free offers. Carpet available on a maximum of 18 months interest free. Exclusions, fees, terms, conditions and credit criteria apply. Equal instalment amounts over finance period

of 36 months (unless otherwise stated) and exclude insurance. Booking fee $45.00, Annual fees $45.00 P.A., Security registration fee $8.05. Current interest rate of 23.95% Applies to any unpaid balance after expiry of (any) interest free period. See in-store or visit smithscity.co.nz/terms-conditions for details.Instalment amount based on a 50 month finance period.

AAWK28

550 Colombo Street | Cnr Belfast and Radcliffe Road Northwood, CHRISTCHURCH MEGASTORES
---
NOR'WEST NEWS Latest Canterbury news at starnews.co.nz

Tuesday November 5 2019 15

SENIOR LIVING

Tips for untreated hearing loss

Hearing is a sense that many of us

take for granted. Throughout our lives,

we subject our ears to loud sounds–

music, power tools, lawn mowers, air

travel–without using ear protection.

regrettably, this can cause hearing

loss. also, the natural aging process

generally results in hearing loss. even

certain illnesses and medications

can adversely affect our

hearing. Unfortunately,

hearing loss that occurs

from such causes is

permanent.

The good news is, even

if you already have a little

hearing loss, it's never

too late to preserve your

hearing for the years ahead.

The first thing you can do

is protect your ears in noisy

environments. also, avoid

using cotton swabs to clean

your ears. and, make it a

priority to get a baseline

hearing screening to see

if hearing loss has already

occurred.

if hearing loss is found

during your hearing

evaluation, it could be

due to excess ear wax or

infection. This type of

hearing loss is reversible.

if hearing loss stems

from chronic exposure

to loud noise, aging, or certain illnesses

and medications, hearing aids are the

best way to preserve your good hearing.

The great news about today's hearing

aids is how small and easy to wear

they are. Modern digital hearing

aids use super-tiny microprocessor

technology–making them virtually

invisible when worn. Hearing aids

can help almost all degrees of hearing

loss–from a little to a lot. and, by

stimulating your brain with sound that

might not otherwise reach it, hearing

aids help keep your brain active, which

lowers your risk for cognitive diseases,

such as dementia.

if you suspect you may have hearing

loss, don't ignore it. neglecting a

hearing loss can have a snowball effect–

making it grow bigger, faster than

necessary.

Here are 10 ways you can limit

hearing damage and preserve good

hearing:

1. Understand the sound levels of the

noises in your environment.

2. Learn about proper ear protection.

There are many kinds on the market

today, ranging from custom ear

molds to foam plugs and more.

3. Put physical distance between you

and loud noise when it is present. if

possible, stand at an angle from the

noise, not directly in front of it.

4. Take breaks when you are exposed to

noise.

5. When listening to music through

headphones or earbuds, keep the

volume low-to-medium.

6. Know the signs of hearing loss, and

measure yourself against them.

7. schedule a baseline hearing

evaluation. Hearing loss is on the rise

among Baby Boomers and young

people. it's never too early to get your

hearing checked, but don't wait past

age 50.

8. Have your hearing evaluated by a

professional licensed by your state.

9. if you have hearing loss caused by

a reversible condition, take steps to

correct it.

10. if any permanent hearing loss is

diagnosed, choose hearing aids to

slow it down, and preserve good

hearing.

you can stop him

snoring with a

SNOREX

Why put up with a broken

night's sleep?

Ph 377-4318 or 027 682 1752

DENISE LIM

FOR A FREE INFO PACK

Website: www.snorex.co.nz

Would you

like to profile

and grow your

Business?

For feature advertising

please phone

Jenny Wright

03 364 7446 or 021 220 3484

jenny@starmedia.kiwi

A Leader in

Healthcare

Excellence for

the Older Person

Brookhaven

Retirement Village

29 Alport Place

Woolston

Phone 03 384 5046

Albarosa

Dementia

80 Harewood Road

Papanui

Phone 03 375 0727

Somerfield

Dementia

137 Barrington Street

Somerfield

Phone 03 332 5897

www.goldenhealthcare.co.nz

Golden Age

Retirement Village

96 Harewood Road

Papanui

Phone 03 375 0720

Camellia Court

Dementia

84 Harewood Road

Papanui

Phone 03 375 0722

Hoon Hay

Dementia

16 Anvers Place

Hoon Hay

Phone 03 379 7825

Lady Wigram

Retirement Village

Sarah Jacobson

Village Manager

210 Kittyhawk Ave,

Wigram

Phone 027 3411 464

INSPIRING

INDEPENDENT

living

Spring is in the air and with our

range of helpful products, we look to

help people achieve their objectives by

reducing barriers of daily living.

• Shop and hire helpful products to reduce barriers of daily living.

• Mobile Services – Fun presentations coupled with demonstrations of

how to use some of the products we stock. We come to you in your

community. For more information contact Kylie Taylor on 022 676 5851

or 03 366 6189.

• Disability Information: Unbiased information, we are here to listen

and help.

• Total Mobility Scheme – call for a chat about this service. 50% off Taxi's

for those eligible. Terms apply.

Contact us for a chat.

314 Worcester Street,

Linwood, Christchurch

Ph: 03 366 6189

Freephone: 0800 347 242

Ph: (Total Mobility) 03 366 9093

Aspire Canterbury is a not-for-profit organisation providing services to the community since 1981

E: manager@aspirecanterbury.org.nz | W: www.aspirecanterbury.org.nz
---
16

Tuesday November 5 2019

Latest Canterbury news at starnews.co.nz

NOR'WEST NEWS

We're for

local

EVENTS

From Kaikoura,

to Christchurch,

to Ashburton,

we have it covered
---
NOR'WEST NEWS Latest Canterbury news at starnews.co.nz

Tuesday November 5 2019 17

REAL ESTATE

What are you waiting for?

157 Puriri Street, Fendalton

4 bedrooms | 3 bathrooms | 4 toilets | 2 living rooms | 1 dining room | 2 car garage | Listing Number PI59339

- Bold architectural design by CoLab

Architecture meets warmth and comfort

for family living

- Spacious open-plan living, dining

and high-spec kitchen with scullery, plus

separate lounge

- Effortless flow between indoor and

outdoor living in landscaped 649sqm

grounds

- Four bedrooms, three bathrooms,

double garage and a host of extras

including surround sound and in-slab

central heating downstairs

- With the choice of master bedrooms

upstairs or downstairs, this versatile home

is perfect for all ages and stages of life

- Superb contemporary design offers

elegant living with the flexibility to meet

evolving needs

- Zoned for Ilam School, Boys' High and

Girls' High, and very handy to amenities,

this is a desirable neighbourhood to call

home

In an ever-popular area, homes of this

nature are always sought after. This is

ideal for professional couples or young

families looking for a picture perfect home

in a convenient location close to malls,

schools, public transport and just a short

drive to the CBD. Our vendor has loved

their time here but a new project is calling

and they need to move on, so call today

for more information.

Open Homes, please contact the agent.

To arrange a private viewing phone

Cameron Bailey on 352 6166 or mobile

0275 557 079 of Harcourts Gold Papanui

(Licensed Agent REAA 2008)

www.bigbrothersbigsisters.org.nz
---
18 Tuesday November 5 2019

Latest Canterbury news at starnews.co.nz

NOR'WEST NEWS

If you want more information about an item or to contact a

seller, visit www.postanote.co.nz and search the ID#

Nissan Maxima

Pink Chair

Toyota Caldina

Mahogany Dining Table & 6 Chairs

Eurotech Oil Heater

Chesterfield Arm Chair

$900

ID 21212

$10

ID 32081

$2,300

ID 32035

$800

ID 32128

$5

ID 31546

See Seller

ID 31916

Toyota Avensis Wagon

2015 Yamaha MT-09 ABS

2011 Toyota Hilux

Great Fishing Boat

Jet Boat - Jet 44 Invader Hull

Solid Kauri Colonial Desk

$7,999

ID 31664

$8,500

ID 25296

$24,0000

ID 32107

$55,000

ID 31132

$5,950

ID 32073

$350

ID 31909

Metal Easel

Aluminium Boat & Warranted Trailer

Large Model Plane

Three Plush Teddies

2004 Honda Fit For Sale

Leather 3-seater Sofa

$200

ID 32071

$2,500

ID 28339

$150

ID 31913

$10

ID 32102

$3,700

ID 31057

$390

ID 31305

Solid Rimu Desk by Gavin Cox

1993 Toyota Estima Emina

1896 Roper Steam Bicycle Replica

Housetruck/Sleepout

NZ New Corolla Wagon

Victorian Porcelain

$550

ID 31910

$3,800

ID 31970

$65,000

ID 31942

$8,000

ID 31888

$4,700

ID 31967

$350

ID 31848

1992 Gibson Firebird V, Mint Mazda MX-5

Small Dehumidifier

Bell Decanters

Tidy VY SS Commodore

Coffee Table - Recycled Hardwood

$3,000

ID 31883

$10,990

ID 26396

$50

ID 31875

$75

ID 31865

$14,750

ID 31800

$375

ID 31869

Ryobi Hedge Cutter

AMW Heavy Duty Scooter

Samsung Fridge/Freezer

FREE Piano

Alloy Jet Boat

Fish Tank, Cabinet & Equipment

$50

ID 31826

$2,995

ID 28336

$225

ID 31746

FREE

ID 31744

$8,000

ID 28259

$300

ID 31653

Couch

Suzuki

2005 Nissan Tiida Latio

Kawasaki ER 650N

Sofa Bed

Leather Recliner

$150

ID 31705

$1,200

ID 31703

$4,000

ID 31840

See Seller

ID 31693

$185

ID 31687

$110

ID 31666

1119h01chch
---
NOR'WEST NEWS Latest Canterbury news at starnews.co.nz

Tuesday November 5 2019 19

Classifieds Contact us today Phone our local team 03 379 1100

Community Events

ALCOHOLICS

ANONYMOUS, If you

want to have a drink that's

your business. If you want

to stop, we can help. Phone

0800 229-6757

Gardening

& Supplies

A GARDEN OR

LANDSCAPING TIDY

UP? Shrub, hedge &

tree pruning, Lawns,

Gardening, consistently

reliable general property

upkeep, Dip. Hort. 10

yrs experience, One off

tidy ups or on-going

service. Nick's Garden

Maintenance. Keeping

your garden beautiful.

Free Quote. Ph. 942-4440

& 022 264 7452

Holiday

Accommodation

Australia QLD

SUNSHINE

COAST

RESORT

AlEXAnDRA hEADlAnD

All Units Have Ocean Views.

Heated Pools, Spa & Sauna,

Free Wifi, Tennis &

Mini Golf.

ChECk OuR gREAT

SpRing/SummER

SpECiAlS

www.mandolin.com.au

0061 7 5443 5011

To Let

HOMESITTERS

reqd Xmas / New Year.

beautiful homes / pets. Ph

Lisa 03 359-2323 www.

townandcountryhomesit.

co.nz

Trades & Services

Trades & Services

HALSWELL

GLASS & GLAZING 2017 LTD

THE PET DOOR SPECIALIST

• PET DOORS

• NEW GLAZING

• FRAMELESS SHOWERS

• MIRRORS

• INSURANCE CLAIMS

• RETRO GLAZING

• BALUSTRADING

ALL SUBURBS COVERED FOR

ALL YOUR GLAZING NEEDS

PHONE GAIL OR SARAH ON

322 7999 OR 021 CAT DOOR

(228 3667)

HOUSE

CLEARING

Are you

moving house

or trying to

downsize?

Call All Clear

Canterbury. We work

with you to recycle,

sell and dispose of

unwanted items.

Ph: 03 260 0934

or 021 078 4553

raewynlcooke@gmail.com

www.allclearcanterbury.co.nz

UPHOLSTERER

dyers upholstery services

(Ex Leacroft St, Bishopdale)

We specialise in

re-upholstering all types of

household furniture

inc squabs.

Trusted craftsman for over

30 years. Fabric samples,

Free quotes, pick up &

delivery.

All work guaranteed.

Ph. 359 5033 or

022 106 0108

•Re Roofing

•Roof Repairs

•Spouting

Approved Age Concern provider

Over 30 years experience

Licensed Building Practitioner

N A BARRELL

ROOFING LTD

Ph: 349 9778 or 0275 389 415

Email: nabroofing@xtra.co.nz

concrete & paving

• Driveways

• Earthquake repairs

• New Home Specialists

• Patios & Paths

tel: 0508 873 7483

email: sales@affordableconcrete.co.nz

www.affordableconcrete.co.nz

Trades & Services

ROOF

PAINTING

Rope & harness

a speciality,

no scaffolding

required,

30 years of

breathtaking

experience.

FREE QUOTES

Exterior staining,

exterior painting,

moss and mould

treatment and

waterblasting

Phone Kevin

027 561 4629

Lawns, Gardens

& Home Cleaning

Free Quotes

Professional, personalised

service. Regular &

one-offs. Fixed price.

Ph: 377-5814

For all your property and

cleaning requirements

Trained, insured & security

screened owner/operators

Multi-award winning

systems & Franchises

Franchises Available

www.viphomeservices.co.nz

BATHROOM

RenOvATiOns

complete service from

start to finish, free quotes,

ph Dave 027 334 4125

BesT BATHROOMs

full renovations

specialists, LBP builder,

free quote, all building

property maintenace ph 03

383 1927or 027 245 5226

ciey@xtra.co.nz

BRiCKLAYeR

George Lockyer. Over

40 years bricklaying

experience.Uk trained.

Insurance work, EQC

repairs. Heritage

brickwork & stonework

a speciality. No job too

small. Governers Bay.

Home 329 9344. Cell

027 684 4046. E mail

georgelockyer@xtra.co.nz

CARPeT LAYinG

Exp. Repairs, uplifting,

relaying, restretching.

Phone John on 0800

003181, 027 240 7416

jflattery@xtra.co.nz

PAINTER

Michael Kelly Painters

Locally owned and

operated family

business.

25+ years Experience

• Painting • Wallpapering

• Interior • Exterior

Free Quotes

Phone

Michael 0212 649 492

michaelkellypainter@hotmail.co.nz

YOU COULD

BE HERE

Let us help take

your business to

new heights

Advertise your business in our

Trades and Services column.

For assistance contact Vicky

Phone 03 364 7419 or email

vicky.sayers@starmedia.kiwi

Trades & Services

house and garden

home

cleaning

gardening

services available

throughout

christchurch

your one stop shop for home services

www.anextrapairofhands.co.nz

info@anextrapairofhands.co.nz

Specializing in:

• Roof Painting

• Interior/exterior

residential

• Small commercial

painting

0800 535 355

PAINTERS

Painters and Decorators Ltd

Canterbury Owned and Operated

A husband and wife team

Noel 027-411-3596

kemp.painters@gmail.com

kemp painters and decorators

We offer

free quotes

Quality not

Quantity

PLUMBER

NEED A PLUMBER

Call us now for fast friendly service.

Get your problems sorted out

quick smart - on time!!

Phone for a

FREE

quote now.

Trades & Services

eLeCTRiCiAn

Registered, electrical

installation and repairs,

Gorbie Electrical, ph 021

026 73375 or 03 322 4209

LAWnMOWinG

Push mow & Ride On.

Fully insured. Ph John or

Jo on 021 027 99392

PAinTeR

50 yrs combined exp.

New, older homes, int ,ext.

Locals working for locals.

We stand by Canterbury.

Ph Wayne 027 274 3541 /

385 4348

PAinTeR QuALified

local professional, int/

Ext,roofs,wallpaller, call

or text Corban 027 846

5033

PesT COnTROL

Qualified & licensed

applicator. Spiders, flies,

ants. Ring Bob 0800

387369

PLAsTeReR

Gib Stopping, Small

job specialty. 30 + years

experience. Ring 0800

387-369

sHOe RePAiRs

Belfast engraving. Shoe

repairs, key cutting &

engraving. (10 yrs exp)683

Main North Rd, ph 027

3113423

sPOuTinG

CLeAninG

Spouting Unblocked,

Cleaned Out and Flushed

Out. Call Trevor 332 8949

or 021 043 2034

sTuMP GRindinG

Best price guarantee Tony

0275 588 895

TiLinG

Flooring - Splashbacks -

Wall incl tile removal, reg

master tiler, ph Dave 027

334 4125

T.v. seRviCe CenTRe

Repairs, tvs, microwaves,

audio amps, soundbars.

.Aerial & satellite

installations, kitsets, 480D

Moorhouse Ave, ph 03 379

1400

vHs videO TAPes

& all camera tapes

converted to DVD, video

taping special occasions,

www.grahamsvideo.co.nz

ph 03 338-1655

Vehicles Wanted

CASH/CASH for any

unwanted vehicles, ph

347 9354 or 027 476 2404

Phone 03 377 1280 | Mobile 021 898 380

VIDEO PRODUCTION

business video

PRoduCTion

A video will bring your business alive & into your

customers mind.

Promote your services or business with a

professionally created video with us

• Corporate and Business

video a speciality

• Competitive rates

• 25 years experience

• Start to finished product

• Professional quality

guaranteed

PHone KeRRY 021 635 083

WINDOW TINTING

tintawindow

advanced film solutions

99% uv block

fade protection

heat control

reduce glare

25 Years Experience

Free Quotes Canterbury and Districts

03 365 3653 0800 368 468

Wanted To Buy

AAA Buying goods

quality furniture, beds,

stoves, washing machines,

fridge freezers. Same day

service. Selwyn Dealers.

Phone 980 5812 or 027

313 8156

AAA Buying goods

quality furniture, beds,

stoves, washing machines,

fridge freezers. Same day

service. Selwyn Dealers.

Phone 980 5812 or 027

313 8156

TOOLS Garden,

garage, woodworking,

mechanical, engineering,

sawbenches, lathes, cash

buyer, ph 355-2045

Trades & Services

privacy films

frosting designs

non-darkening films

Workmanship Guaranteed

Lifetime Warranties on Most Films

UV

block

Public Notices

Wanted To Buy

fridge freezers. Same day

service. Selwyn Dealers.

Phone 980 5812 or 027

fridge freezers. Same day

service. Selwyn Dealers.

Phone 980 5812 or 027

AAA Buying goods

quality furniture, beds,

stoves, washing machines,

313 8156

AAA Buying goods

quality furniture, beds,

stoves, washing machines,

313 8156

TOOLS Garden,

garage, woodworking,

mechanical, engineering,

sawbenches, lathes, cash

buyer, ph 355-2045
---
20

Tuesday November 5 2019

Latest Canterbury news at starnews.co.nz

NOR'WEST NEWS

+ SUPER DEALS

IN STORE &

ONLINE

Fairview Recliner

WAS $599

SUPER DEAL!

NOW

$

399

Tahiti

Cantilever Umbrella

WAS $649

SUPER DEAL!

SUPER DEAL!

NOW

$

399

Majorca

Queen Mattress

NOW

WAS $699

$

499

Get set for

Capri 3 Seater WAS $ 1299

NOW $

1099

Capri Single Seater WAS $ 729

NOW $

599

Summer!

ALL OUTDOOR ON SALE!

Venus Coffee Table WAS $ 499

NOW $

429

Miami Round Dining

Set with Lazy Susan

WAS $2430

NOW $

2022

Bali Sunlounger

WAS $499

NOW $

425

Buy now , pay in

2021!

Credit criteria, exclusions, fees, terms & conditions apply.

SUMMER LOVING STOREWIDE SALE ON NOW! ENDS 25.11.19!

Shop

Online

Nationwide

Delivery

Finance

Options

Cnr Blenheim & Curletts Rds, Christchurch

Ph: 0800 TARGET (0800 827438)

targetfurniture.co.nz

Offers and product prices advertised here expire 25/11/19.

Sale excludes Manchester and Accessories.
---
NOR'WEST NEWS Latest Canterbury news at starnews.co.nz

Tuesday November 5 2019 21

Summerset at Wigram serviced apartment resident, Alma with daughter Maree

Serviced apartments,

the best of both worlds

Discover how Summerset living allows

Alma to stay active and thrive

SUM1852_FC1
---
22 Tuesday November 5 2019

Latest Canterbury news at starnews.co.nz

NOR'WEST NEWS

" Since Mum's been here,

she's just blossomed"

From growing up in a big family in Christchurch to being happily married for 63 years, Alma's had

plenty of company throughout her whole life.

So, when the option to move to a Summerset serviced apartment came up, Alma and daughter

Maree were naturally a little nervous it might be a bit on the quiet side for her. But, since the move,

they've discovered it's been anything but quiet.

"I don't think you'd ever need to feel lonely here. It's just like a big family and there's always

something going on," remarks Alma.

When she first arrived at her serviced apartment, Alma had her husband by her side. Sadly, he

passed away shortly after due to on-going health issues. "I thought it might take her a little while to

deal with the loss of dad and… the new surroundings, but it was quite amazing really how quickly

she settled, and I think that was down to the staff," recalls daughter Maree.

Alma with Maree as a toddler

While the move was a big decision, the whole family feel that Alma has "blossomed" since and

has become more herself again.

" She's involved herself in things that she hadn't done for years, Choir. Exercising.

She's just taken it with both hands, made friends and it's all been just amazing."

Maree and Alma both admit that the stigma of retirement living put them off for longer than it

needed to. "I think mum was just so delighted when she came here and realised how welcoming

and how well-run [the place was] and what care was here for her. I think it was an eye-opener, really."

Having Alma living at home with her would have been a dream for Maree, but with the reality of

working all day, she worried her mum would be very bored. But Alma hasn't had time for boredom

at all since moving to Summerset. "There's so much to keep you occupied. Music. Happy Hour, little

outings. It's a lovely place to be."

Alma also fills her time with a cheeky bit of cleaning, even though she doesn't need to lift a finger.

"I don't think she leaves a lot for the staff to clean, but that's mum," laughs Maree.

"It's a relief for us to know that she's taken care of. Dad would be so pleased to see she's in a

place like this. It's just been a godsend."

To hear Alma's full story, visit summerset.co.nz/servicedapartments

Alma and Maree enjoy quality time

together at Summerset at Wigram

Serviced apartments pre-selling*

now at Summerset on Cavendish!

View our show home, plans and pricing today!

Summerset on Cavendish

147 Cavendish Road, Casebrook

*Licence to occupy.
---
NOR'WEST NEWS Latest Canterbury news at starnews.co.nz

Tuesday November 5 2019 23

Love serviced apartment living

The best of both worlds: Independent retirement living with support on hand

Summerset serviced apartments are modern, purpose-built homes designed for the over 70s. Serviced apartments are light and

spacious with open plan living, a kitchenette and a separate double bedroom with a large ensuite.

Move in and make it your own

You can furnish it as you like and there's plenty of room to entertain family and friends.

Summerset serviced apartments, offer:

• Some of the largest serviced apartments in Christchurch

• Patio or balcony homes offering amazing indoor-outdoor flow

• Open plan living

• Located in the heart of the village, close to all the facilities.

You're welcome to take a tour of our stunning show home, view plans and pricing at a time that suits you, we're open 7 days!

For more information visit summerset.co.nz/casebrook, or call 0800 SUMMER (786 637)

Artist Impression

Artist Impression

View our show home, plans and pricing today!

Summerset on Cavendish

147 Cavendish Road, Casebrook

SUM1852_DPS
---
24 Tuesday November 5 2019

Latest Canterbury news at starnews.co.nz

NOR'WEST NEWS

Serviced apartments pre-selling* now!

Artist Impression

Artist Impression

Discover Summerset

on Cavendish

Apartment living in the heart of our community

Summerset serviced apartments are located in the heart of our village,

close to all of the facilities.

With options for couples and singles, serviced apartments are designed

to create the perfect balance between independence and support to suit

your needs.

Our homes are low maintenance, free from all the hassles of upkeep.

It's all about stress-free living, where time is yours to live the life you choose.

Serviced apartments

pre-selling* now

View our stunning show home,

plans and pricing today!

Summerset on Cavendish

147 Cavendish Road, Casebrook

Take bus route 28 straight to our gate

*Licence to occupy.

As a Summerset on Cavendish resident, you'll have access to a range of community facilities, including;

Divine Café

Exercise room

Communal vegetable

gardens

Hair and beauty

Residents' bar

All-weather bowling green

Residents' workshop

Swimming pool and/or

spa pool

To find out more about Summerset on Cavendish serviced apartments,

visit summerset.co.nz/casebrook or call 0800 SUMMER

SUM1852_FC4