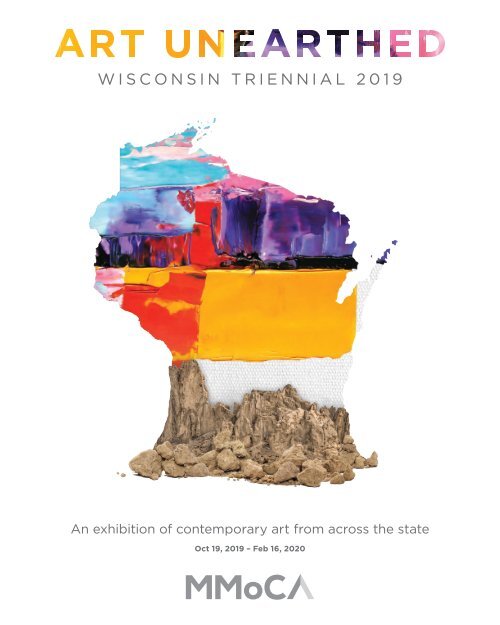 Wisconsin Triennial Brochure 2019
Exhibition brochure for the 2019 Wisconsin Triennial
Exhibition brochure for the 2019 Wisconsin Triennial
SHOW MORE
SHOW LESS
Create successful ePaper yourself
Turn your PDF publications into a flip-book with our unique Google optimized e-Paper software.
WISCONSIN TRIENNIAL 2019

An exhibition of contemporary art from across the state

Oct 19, 2019 – Feb 16, 2020
---
Wisconsin is home to a vibrant, diverse art community that creates in every medium and

touches every corner of our state. In the 2019 Wisconsin Triennial, the Madison Museum of

Contemporary Art celebrates this ever-evolving contemporary art scene with an exhibition

that reflects the dedication and sophistication of Wisconsin's artists. The works presented

are both timely and timeless, bringing into view the ideas, processes, and content that

artists are exploring today.

CONTENTS

Saif Alsaegh 1

John Himmelfarb 3

Stephen Perkins 6

Ariana Vaeth 8

Emily Arthur 1

John Hitchcock 3

Jeffrey Repko 6

Leslie Vansen 8

Tom Berenz 1

Jon Horvath 4

Suzanne Rose 6

Shane Walsh 9

Timothy Brenner 1

Chele Isaac 4

Andy Rubin 6

Della Wells 9

Jennifer Bucheit 2

Tom Jones 4

Dane Schumacher 7

Ed Erdmann 2

Tomiko Jones 4

Peter Schwei 7

Marianne Fairbanks 2

Diane Levesque 5

Anders Shafer 7

Ben Grant 2

Gina Litherland 5

Pranav Sood 7

Rachael Griffin 3

Dakota Mace 5

Spatula&Barcode 8

Helen Hawley 3

Francisco Mora 5

SPOOKY BOOBS 8
---
SAIF ALSAEGH MILWAUKEE

1991 (video still), 2018 • 11:55 minutes • Courtesy of the artist

In 2011, Saif Alsaegh moved from Iraq to the United States, leaving behind

the endless violence, deafening explosions, and constant fear of death

that plagued everyday life in Baghdad. Through the medium of video, he

unravels his memories of war and explores the strange tranquility of his life in

Wisconsin. His experimental style of narration is most poignant in 1991, a video

featuring a phone conversation between the artist and his mother, Bushra, an

Iraqi immigrant currently living in Turkey. The film captures footage of Alsaegh

cooking and engaging in other routine activities while video chatting with

his mom, who tells the story of his birth, in 1991, in the midst of the Gulf War.

Bringing together the virtual landscape of the phone, the bucolic landscape

of Wisconsin, and the fragmented landscape of memory, Alsaegh presents

a poetic meditation on war, displacement, separation, and familial love.

EMILY ARTHUR MADISON

Cherokee by Blood, 2018 • Aspen wood, screenprint, cast bronze, and

dried silk • Courtesy of the artist

For Cherokee by Blood, Emily Arthur collected dead songbirds in collaboration

with a zoology lab and then cast the birds in bronze. The bronze birds

are delicately shrouded in silk organza and placed in wooden boxes — a

presentation reminiscent of a viewing at a funeral. Printed on the silk is text

from a series of documents dating from 1906 to 1910 that contain interviews

of over 125,000 people who applied to the US Court of Claims in an effort to

retain their tribal enrollment within the Cherokee Nation. Traumatic accounts

of removal of Cherokee peoples by the government can be read on the silk

that cradles the dead birds, placing environmental destruction and Cherokee

displacement at the forefront of Arthur's work.

TOM BERENZ MILWAUKEE

Drowning in a Bathtub, 2018 • Acrylic and oil on canvas, 72 x 94 inches •

Courtesy of the artist

Worried about the potential for disaster ruining a perfect moment, Tom Berenz

builds up paint on the canvas into what he calls "piles of floating information,"

which resemble crashes and shattered worlds. In Drowning in a Bathtub, diluted,

watery lines and the black-and-white tiled floor provide a sense of space, while

the jumble of fleshy limbs and abstract shapes lend a sense of unease. Drawing

the viewer in with bright pinks and blues, the angst filled bathtub overflows

off the bottom edge of the painting, opening up the image for personal

introspection and interpretation.

TIMOTHY BRENNER MADISON

Purple and Yellow Still Life, 2018 • Acrylic on canvas, 10 x 8 inches •

Courtesy of Tory Folliard Gallery, Milwaukee

Timothy Brenner's still life paintings are comprised of layers upon layers of

acrylic paint that result in an incredibly tactile and textured composition. Brenner

developed a visual iconography in which he paints a series of reoccurring icons,

symbols, and objects from his life in various environments and color combinations.

For his series of decorative planters, Brenner fastidiously replicated the same

composition in several iterations. The completed paintings were then repainted on

a smaller scale for inclusion in yet another still life: Still Life Shelf. Extending his selfreferential

iconography even further, Brenner reconstructs the shelf depicted in the

painting as a three-dimensional object, replete with hand-painted wood grain, on

which a selection of the physical paintings are then displayed.

1
---
JENNIFER BUCHEIT MADISON

100%, from the series Again & Again: A Reflection on Consumer Culture, 2017 •

Archival pigment print on post-consumer substrate, 17 x 15 inches •

Courtesy of the artist

Jennifer Bucheit's photographic series Again & Again: A Reflection on Consumer

Culture addresses the rise of American consumerism and the inordinate amount

of paper waste discarded in landfills — with Wisconsin being the number

one paper producer in the world. Mindful of the excess waste, Bucheit began

collecting her family's paper trash, which she then carefully deconstructed and

photographed in a still life setting. The images of the paper packaging were then

digitally compiled and printed back onto one side of the original packaging —

reinforcing the themes of repetition, reuse, and recycling. From shopping bags

to takeout cartons, the resulting works of art reveal our irreverent consumption

while unveiling the potential for turning the disposable into the admired.

ED ERDMANN MENOMONIE

Dismas, 2017 • Soil collected from the banks of Red Cedar River on canvas,

24 x 24 inches • Courtesy of the artist

Growing up on a farm in the Mississippi Valley, Erdmann developed a profound

respect for the land. As an artist, the physical landscape informed a series of

paintings that use natural elements — dirt, sediment, and sticks collected from

the Red Cedar and Mississippi rivers — to generate works of art that are a literal

manifestation of his environment. Highlighting the natural rhythms, lines, and layers

produced by water eroding soil, Erdmann creates paintings from dirt and sediment

that are part land art, part color field painting. When the resulting work is placed

on a gallery wall, it serves as a poignant reminder to pause and appreciate the

inherent beauty of the natural world.

MARIANNE FAIRBANKS MADISON

Heart of Being 3, 2018 • Hand woven on a digital loom (TC-1) tencel, acrylic,

nylon, wool, 41 x 21 x 4 inches • Courtesy of the artist

Marianne Fairbanks stretches textiles to their formal and conceptual limits.

Heart of Being 3 is a jacquard weaving with an eye-catching, fluorescent-pink

backside that is presented as the front. A rectangular section is cut out from

the middle of the piece and flops forward toward the viewer, revealing part of

the metallic silver frontside. In jacquard textiles, the design is woven into the

fabric itself rather than printed or embroidered on top of it, which means that

the pattern is created together with the cloth: the image thus becomes the

object, and the object is the image. Fairbanks emphasizes the unique material

structure of jacquard by weaving into her piece the actual patterns that

comprise the visual language of weaving — the crisscrossing of intersecting

threads at a 90-degree angle. Fairbanks thus presents us with a striking

and self-reflexive fabric: a weaving about weaving.

BEN GRANT MILWAUKEE

Untitled 115, 2016 • Acrylic, automotive paint, ball point pen, colored pencil,

enamel, graphite, oil, and spray paint on canvas over panel, 47 x 47 inches •

Courtesy of the artist and Tory Folliard Gallery, Milwaukee

Ben Grant combs through the history of art to recover techniques and

processes that have long been forgotten. He reworks these painterly oddities into

contemporary compositions that he describes as "on the edge of falling apart."

The layering of technique and media — from ball point pen to automotive paint

— results in an intricately patterned composition that is visually stimulating.

Grant's formal explorations hint at representation without completely giving way

to abstraction, inviting the viewer in for a closer look. For Grant, this interactive

inquiry is essential to his practice as it validates these complex, layered paintings

that can be just as engaging as a representational, narrative composition.

2
---
RACHAEL GRIFFIN MADISON

Plum, 2016 • Monotype on paper, 44 x 29 1/2 inches • Courtesy of the artist

Through the time-intensive process of reductive monotype, Rachael Griffin uses

the subject of food to examine appetites — whether a taste for a particular food

or a more sensual craving. Curious where and when these associations are made

in our brains, she explores several of the universal visual triggers that elicit our

most primal desires. In Plum, Griffin renders a bright, juicy plum with a giant

bite taken out of it and in Cherry an impossibly tall slice of cherry pie whets our

appetite. Fleshy and body-like, her images invoke sensations or memories that

are subconscious and inescapable.

HELEN HAWLEY MADISON

In Time, Its Flow, 2019 • Video installation, single projection with sound,

paper screen, steel frame, 5:02 minutes • Sound design by Page Campbell and

Helen Hawley • This project was supported by a Foundation for Contemporary

Arts Emergency Grant • Image courtesy of the artist

In Time, Its Flow is a curvilinear aluminum sculpture that both encloses and serves

as a projection surface for artist Helen Hawley's video animation. Using only water,

the artist brushes lines across a slate slab to create a hand-drawn animation. As

each new mark appears, another evaporates just as quickly, calling attention to

both the passage of time and the transient nature of that which is man-made.

Intentionally choosing materials that are intangible — evaporating water and

vanishing time — Hawley subtly gestures to our own impermanence.

JOHN HIMMELFARB SPRING GREEN

Leader, 2017 • Maple veneer plywood, 96 x 33 x 14 inches •

Courtesy of the artist

John Himmelfarb has always been interested in the symbols and markmaking

that humans use to communicate ideas — from hieroglyphics to more

contemporary pictographs. From his early childhood growing up in Chicago,

he recalls walking through Chinatown with his parents, fascinated by the

pictorial language on commercial signs and storefronts. His admiration for

graphic forms can be seen in his new series of plywood sculptures, which are

based on a geometric vocabulary of squares and rectangles. He begins by

hand-sketching the designs on graph paper using only straight lines and right

angles, and then materializes them in wood using a CNC router. Part human,

part architectural, the resulting sculptures oscillate between figuration and

abstraction to suggest forms that are both playful and symbolic.

JOHN HITCHCOCK MADISON

Bury the Hatchet, 2019 • Multimedia sound installation, dimensions variable •

Courtesy of the artist

John Hitchcock's Bury the Hatchet installation explores the history of the

Wichita Mountains of Oklahoma through the images and sounds of the American

Frontier. This multimedia work layers soundscapes of steel guitar, cello, clarinet,

and accordion with recordings of Hitchcock's grandfather Saukwaukee John

Dussome Reid (Kiowa) telling stories of "the old days on the southern plains."

Hitchcock summons the land, language, and visual symbols of the Great Plains

— the focal point for Plains tribal culture — while challenging the dominantly

Western narrative of the written word. The resulting installation presents an

indigenous view of oral history as passed on from generation to generation

through storytelling. Viewers are invited to engage with the installation and

activate the sound elements while occupying the dedicated space for the work.

3
---
JON HORVATH WAUKESHA

Stray, from the series This Is Bliss, 2016 • Archival pigment print

24 x 30 inches • Courtesy of the artist and Alice Wilds Gallery, Milwaukee

Jon Horvath's narrative project This Is Bliss investigates the roadside geography

and culture of the rural Idaho town of Bliss. The town is historically significant

due to its positioning on the Oregon Trail, but sadly Bliss reached its peak in the

mid-20th century when Interstate-84 was constructed and vehicular traffic was

redirected away from the once thriving community. This Is Bliss investigates the

complex booms and busts of a small town, while reflecting its humanity and the

complicated, romantic ideals of the American West.

CHELE ISAAC MADISON

You were invented to manipulate, 2019 • Installation with single-channel video,

sculpture, sound, and scent, dimensions variable • Courtesy of the artist •

Video in collaboration with Jack Kellogg

Video footage, written prose, atmospheric sound, scent, and sculpture come

together to create an immersive environment in Chele Isaac's installation, You

were invented to manipulate. Isaac mobilizes the prose within her video to

interrogate issues of control, particularly to question who is in control of our

democracy. By deploying language and image to confuse rather than clarify,

she illuminates the fractured nature of information and the subjectivity of

truth within our current political landscape. Working intuitively, Isaac activates

all of our senses and challenges us to enter into a space, both physically and

emotionally, that prioritizes free association, ambiguity, and the unknown

over any definitive answer or didactic message.

TOM JONES MADISON

Payton Grace, from the series Strong Unrelenting Spirits, 2017 •

Archival pigment print and beads, 25 x 20 inches • Courtesy of the artist

Tom Jones has been photographing his tribe, the Ho-Chunk Nation of

Wisconsin, for the past 19 years. Part of an ongoing photographic essay on

the contemporary life of his tribe, Jones uses the Native American tradition of

beadworking that is typically reserved for clothing to hand-stitch floral designs

onto the surface of his photographs. For Jones, the resulting beadwork, which

envelops and adorns his figures, is a metaphor for his Ho-Chunk ancestors and

their spirits. The series, Strong Unrelenting Spirits, enriches the art historical

genre of portraiture and provides visibility to a nation of people who are

often left out of prevailing societal narratives.

TOMIKO JONES MADISON

Hatsubon, 2016 • Mixed media installation, dimensions variable •

Courtesy of the artist

Tomiko Jones explores cultural landscapes and the ways in which our relationship

to the land shapes our identities and defines our sense of place. In Hatsubon,

a memorial to her father, Jones creates an installation with photographs of

three bodies of water that have familial significance: the Monongahela River

in Pennsylvania where her father grew up; the waters surrounding Big Island,

Hawaii, her mother's birthplace and the site of her father's burial; and the Pacific

Coast of California, where her parents met and Jones was born. Another series of

photographs on silk picture the artist, her mother, and her sister as they perform

the Japanese Buddhist ceremony of hatsubon, marking the first anniversary

of a loved one's death — the three women wade into the sea to release a small

bamboo boat into the vast expanse of water. Hatsubon lies within the liminal

space between image and object, performance and ritual, life and death.

4
---
DIANE LEVESQUE KENOSHA

Dancing Bear and Savoyard, from The Penny Dreadful Project, 2018 •

Acrylic on canvas, 48 x 40 inches • Courtesy of the artist

Diane Levesque's ongoing series of paintings and drawings, The Penny Dreadful

Project, reinterprets themes depicted in Staffordshire figurines produced

between 1810 and 1835. These popular collectibles portrayed idealized

pastimes as well as disturbing and often violent contemporaneous events

from infamous murders to public hangings. Despite this, or perhaps because

of it, the figurines were acquired as decorative household items. These themes

also corresponded to what could be read in "penny dreadfuls," popular serial

literature from the same era with sensational storylines. With bold color and

energetic brushstrokes, Levesque heightens the implied violence and sexuality

of the stories, transforming the decorative motifs of the Victorian era into social

commentary that is unsettling yet alluring.

GINA LITHERLAND CEDARBURG

Yggdrasil, 2018 • Oil on panel, 20 x 40 inches • Courtesy of the artist and

Corbett vs. Dempsey, Chicago

Gina Litherland's immaculately rendered paintings reference the artistic

tradition of magic realism and the narrative plotlines found in folktales.

Litherland creates her own mythologies in her wood panel paintings, twisting

familiar iconographies and storylines into new realms of the uncanny where

young girls befriend tigers and join packs of dogs howling at the moon. In her

painting Yggdrasil, Litherland illustrates the Tree of Life from Norse Mythology,

the three "Norns" (female beings who control the fate of both gods and

humans) appear as girls eerily floating beneath the tree, lit from below, toying

with their environment. Litherland imbues her mystical worlds with tales of

female empowerment, making them places where young girls and women

have immense power and magic over their incongruous surroundings.

DAKOTA MACE MADISON

Na'ashch'áá' I, 2018 • Cyanotype/digital media on paper, 24 x 24 inches •

Courtesy of the artist

Dakota Mace is a Diné (Navajo) artist who reinterprets the symbolic abstractions

of Diné creation stories, cosmologies, and social structures. Mace uses a

combination of traditional and nontraditional materials, taking Diné visual culture

and design out of the realm of weaving and into printmaking and photography.

Subverting expectations of Diné designs as utilitarian or decorative objects, Mace

transforms and preserves these traditions while bringing them firmly into the

fine art realm, engaging in an act of cultural reclamation. The abstracted symbol

of Na'ashjéii Asdzáá (Spider Woman) is the most prevalent motif seen in Mace's

designs and one of the most important deities in the Diné Bahané (creation story)

as she was the first to weave her web of the universe while spreading Hózhó

Náhásdlíí' (beauty way) teachings of balance within the mind, body, and soul.

Mace affirms the importance of the cultural signifiers while embracing her belief

of hajisí dígíí dahiistłó biihji nilłx (we weave what we see).

FRANCISCO MORA FOX POINT

Travesía en la Panza de un Burro (Voyage in a Donkey's Belly), 2018 •

Graphite on paper, 12 x 16 inches • Courtesy of the artist

Francisco Mora's drawings reveal the imaginary world of his dreams. Playing with

scale, he transforms humans into animals and back again, sending his fantastical

characters on journeys through a mysterious jungle. Born and raised in Mexico City,

Mora draws on the visual traditions of Mexican surrealism in which Mexican artists

merged their own histories and folklore with the ideas that had defined surrealism

throughout Europe. The resulting works of art transformed and expanded the

movement through new stylistic innovations and cultural references. Mora's body

of work catalogues his imagination, in which a giant child, a wizard, a woman

traveling inside of a donkey's stomach, a fish-man, and a bird-man all intersect

in a visionary, hand-penciled world.

5
---
STEPHEN PERKINS MADISON

Latin American Art and the Decolonial Turn (1963–2018): Memories of

Underdevelopment Revisited, 2019 • Mixed media printed matter, dimensions

variable • Courtesy of the artist

Stephen Perkins is an avid collector of printed works made by artists from

around the world. He proposes curating as a form of art, choosing a thematic

selection of works from his personal collection and presenting them as a

group in a salon-style display. Using his home as an informal gallery space,

Perkins has organized several installations derived from his archive of

materials, which enables him to re-animate older works within new thematic

contexts. This practice is in keeping with his interest in collecting work by

international artists who operate within alternative artistic milieus and explore

new ways of exhibiting. Much like Perkins challenges the traditional museum

model, the pieces he includes in this installation challenge dominant narratives

about art and culture. They present a counter-narrative to the colonial rhetoric

of development that framed artistic practices and discourses across Latin

America between the early 1960s and the mid-1980s.

JEFFREY REPKO MADISON

Fermata, 2018 • Acrylic, paint, and wood, 60 x 36 x 60 inches •

Courtesy of the artist

Jeffrey Repko was born in Pittsburgh right after the fall of the steel industry.

His large-scale sculptures channel the post-industrial narratives of his

hometown to convey notions of assembly and reconstruction. Merging his

interest in machinery with his childhood fascination with plastic toys, Repko

pairs bright colors with modular, building-block forms. In Fermata, Repko uses

the bright pinks, lavenders, and yellows of toys from his childhood to inspire

creative play and youthful optimism.

SUZANNE ROSE FORESTVILLE

45º9'35" N 87º14'10'W" from the series Blind Spot, 2019 • Archival pigment

print, 23 x 34.5 inches • Courtesy of the artist

Suzanne Rose's Blind Spot series uses photographic techniques and styles directly

influenced by photography of the 19th century by artists like Carleton Watkins

and Timothy H. O'Sullivan, to explore natural landscapes altered by humankind.

Grand, impressive trees cut through with telephone lines, branches shorn off trees,

root systems laid bare are all shown in moonlight, twilight, or the pre-dawn light.

The title of each work in this series is named for the GPS coordinates where the

image was taken, effectively contrasting the modern mapping system with the

19th-century aesthetic Rose embraces. Shaped vignettes are used to detail Rose's

observations of the rural Midwest that are lushly detailed and rich in contrast.

ANDY RUBIN MADISON

Love in Balance, 2018 • Collage and monotype, 18 x 24 inches •

Courtesy of the artist

Andy Rubin's etchings incorporate the poetic images from La sculpture

grecque au Musée du Louvre, a 1937 art book documenting Greek sculpture

from the collection of the Louvre Museum in Paris. In Love in Balance, the

sculpture of Aphrodite, the goddess of love and beauty, is depicted alongside

a sculpture that has been masked by a blue monoprint that only reveals the

image through a stack of geological forms. For Rubin, these rock towers

represent our earthly knowledge, an accumulation of facts that build up over

time. Not perfect, nor linear, the information we discover as a society shifts

and is called into question as time passes. What remains is the eternal truth —

the love that unites, repairs, and balances out all the foibles of humankind.

6
---
DANE SCHUMACHER GREEN BAY

Self-Taught, 2018 • Acrylic on canvas, 24 x 30 inches • Courtesy of the artist

Twenty-one-year-old Dane Schumacher insisted on making art before he

even turned two. As he continues into adulthood passionately honing his

innate talent, he simultaneously confronts a chorus of criticism about the

impracticalities of his career choice. The artist fleshes out his anxieties about

his future in each of his immaculately detailed self-portraits. In Self-Taught, he

paints himself donning a smock and a pair of checkered Vans while diligently

drawing pictures with Crayola markers. Having outgrown the childhood art table

where he sits, the artist nevertheless appears happily absorbed in this whimsical

depiction of the childlike imagination and creativity he associates with pursing

an art career. By contrast, Disillusioned presents Schumacher's hypothetical

portrait of himself with a traditional nine-to-five career: absentmindedly holding

a floppy stuffed animal puppet in one of his heavily veined hands, the artist's

expression is one of pure disenchantment.

PETER SCHWEI DODGEVILLE

In the Landscape, 2010–2019 • Oil and water interactions, acrylic, pencil, oil,

and colored pencil on canvas, 98 x 100 inches • Courtesy of the artist

Peter Schwei's monumental canvas overwhelms the senses with its sheer scale,

intricate level of detail, and shifting sense of perspective. In monochromatic

tones of gray, he depicts a forested landscape where trees tower over thick

tangles of underbrush. Rather than creating his composition with brushed

lines, Schwei achieves form, tonal variation, and texture by facilitating chance

interactions between water and oil-based mixtures. Working with a small

section of the unstretched canvas, he pools water onto its surface and then

applies drops of oil paint combined with different liquid agents. The mixture

disperses rapidly, organizing itself into dizzying patterns that dry onto the

canvas as the water evaporates. The result is not only a landscape, but a

physical record of how natural elements in the world interact with one another.

Tying together image and process, Schwei points to the infinite complexity

and profound beauty of the world around us.

ANDERS SHAFER EAU CLAIRE

Childhood of Chaïm Soutine, 2016–2019 • Acrylic on paper, 22 x 29 inches •

Courtesy of the artist

Utilizing the concept of a storyboard, Anders Shafer visually documents the

lives of the artists he admires and those that influence his artistic practice. Artist

and historian, Shafer creates what he calls "immersion" paintings in which he

conducts in-depth research into an artist's life and then reinterprets the historical

narrative though his own creative vision. In Childhood of Chaïm Soutine, Shafer

paints the famous artist revered for his unique form of Expressionism — one

that served as the precursor to Abstract Expressionism. Shafer's work not only

harnesses the gestural, individualized style of Soutine, but recounts the incredible

history of the French artist's life and art.

PRANAV SOOD MADISON

Who is She?, 2018 • Acrylic on canvas, 72 x 48 inches • Courtesy of the artist

and René Heiden

Pranav Sood's intricate, pattern-heavy paintings draw on the artist's personal

relationships. Influenced by Indian, Persian, and Egyptian art, Sood emphasizes

the flatness of the canvas while employing bold lines, strong profiles, and

symbolic motifs. The artist also references op art in his work and each of the

figures in his fantastical compositions inhabit a veritable wonderland of vibrant

color, whimsy, and a surreal graphic sense of space. These works tell the story of

a quest for love between a young couple as they embark on the journey toward

adulthood and leave their homes behind. Sood complicates the cultural norms

experienced in his native India, challenging expectations on how love should

be formed and with whom. The vibrating patterns and repetitive geometric

vocabulary of these works investigate visual language across cultures while

addressing the universal quest for love.

7
---
SPATULA&BARCODE MADISON

Recipe Box, 2019 • Performance and installation, times, dates, and dimensions

variable • Courtesy of the artists

A collaborative duo comprised of artists Laurie Beth Clark and Michael Peterson,

Spatula&Barcode extend artmaking into the realm of daily experience, where

human interactions are themselves the work of art. With the goal of bringing

people together to share stories and spark conversations, their art often takes

the form of food-based events. Recipe Box, their project for the Triennial, is

comprised of hundreds of handwritten index cards that record generations

of their families' heirloom recipes. Presenting their personal archive of family

recipes, Spatula&Barcode ask us to consider how memory, history, and culture

are both preserved and understood through various foodways. They take this

idea one step further, inviting community members to attend and contribute to

hosted potluck dinners in MMoCA's lobby — a series of "performances" that aim

to foster human connection through the actual consumption of culture.

SPOOKY BOOBS MADISON

You Have the Right to Remain a .: 8008069 Aggressive, 2018 •

Digital print, 24 x 18 inches • Courtesy of the artists

An artist collective formed by Amy Cannestra, Myszka Lewis, and Maggie

Snyder, SPOOKY BOOBS (SB) is a collaborative effort that uses art, language,

and design to re-appropriate sexist and misogynistic language often leveled

against women. SB uses words that are often deployed as weapons to diminish,

minimize, and shame women, and integrates them into the designs of innocuous

wallpaper, such as in their series, The Patterns' Vicious Influence. The series

explores how these accusations (bossy, high-maintenance, crazy), oversaturate

our lexicon to the point of becoming unnoticeable. Many of the same words are

used in SB's series You Have the Right to Remain a , which visualizes how

hostile language is used to actively subjugate those not adhering to patriarchal

language. People are "arrested" for their behavior and given a corresponding

label (aggressive, bossy, frigid), in which SB seeks to validate our behaviors in

spite of these labels.

ARIANA VAETH SHOREWOOD

Midnight Delight, 2018 • Oil on canvas, 48 x 72 inches • Courtesy of the artist

Ariana Vaeth's large-scale, autobiographical paintings chronicle relationships

in the artist's life. Capturing seemingly ordinary moments between friends —

watching television, chatting on the couch — Vaeth infuses each snapshot with

a heightened sense of drama. Placing herself within the composition, Vaeth

is able to occupy the dual role of creator and participant, positioned to take

part in the everyday drama of the scene around her. In her work Caitlyn Cold

Day, Vaeth directly stares at the viewer while wearing a t-shirt featuring an

image of Botticelli's The Birth of Venus. Confronting the audience subverts any

societal expectations of a traditionally demure female subject or her role as an

object to be admired, as in the famous work worn by the artist. Vaeth is able to

seize a feminist perspective on the domestic interior painting, while directing

and capturing our gaze.

LESLIE VANSEN MILWAUKEE

Crwth, 2017 • Acrylic on canvas, 60 x 60 inches • Courtesy of the artist

The formal elements of color, surface, space, and movement play strongly in Leslie

Vansen's abstract paintings. Like labyrinthine pathways, layers of swirling and

twisting lines engulf her canvas, hinting at the artist's interest in the movement

of people through space. However, rather than representing a single moment or

identifiable action, her paintings instead express the accumulation of multiple,

repeated actions across place and time — the residue of human activity on the urban

landscape. This notion is reinforced by her methodical application of paint, which is

itself a study in duration, movement, repetition, and accumulation as she overlaps

and intersperses multiple layers of painted acrylic lines and tape. Although Vansen

looks to her everyday surroundings for inspiration, her paintings are suggestive

rather than illustrative, describing through abstraction the ineffability of time,

memory, and bodily experience.

8
---
SHANE WALSH MILWAUKEE

Xpressor 3, 2016 • Acrylic on canvas, 72 x 58 inches • Courtesy of the artist

and The Alice Wilds Gallery, Milwaukee and Asya Geisberg Gallery, New York

While large in scale, Shane Walsh's paintings start out as small-scale collages

constructed from photocopies of various marks and shapes he collects. He

then fastidiously transmits these collaged, transformed images by hand with

acrylic paint onto canvas. Redefining the art historical notion of painterly

abstraction, Walsh paints large scale brushstrokes such that they appear

as if they've been carelessly passed through a photocopier — warped and

echoing the familiar visual palette of the Xerox machine. While the viewer

might see large, expressive brushstrokes from afar, up close one sees an

almost digital color field, devoid of any painterly gesture. Walsh subverts our

expectations of what abstraction means and can mean, imbuing modernist

inclinations of the canvas with a contemporary interpretation, and very

deliberately referencing the history of abstraction.

DELLA WELLS MILWAUKEE

My Rainbow Makes Me Dance, 2019 • Collage on paper, 16 x 12 inches •

Courtesy of the artist and Portrait Society Gallery, Milwaukee

Della Wells employs the medium of collage to construct fractured and

whimsical compositions. Together, her works reveal an imaginary world

she refers to as "Mambo Land," a dynamic environment which serves as

an arena for women and girls to take control of their own fears. In Haitian

Vodou religion, a Mambo is a female priestess, one who often performs

healing works and guides others throughout complex rituals. Similarly,

in Wells's collages, women are the predominant figures, presiding over

each scene. In Mambo Land, there is no fixed point of reference; scales

shift, people and animals fly, children rule, monsters thrive, and daily

routines are given a sense of staggering importance. These collages create

a subverted world, utilizing symbolism such as American flags, highway

signs, state buildings, and chickens, to offer a complex commentary on

what it means to be a Black woman in this current political moment.

9
---
GALLERY TALKS

KIDS' ART ADVENTURES

FRIDAY, NOVEMBER 1 • 6:30–7:30 PM

In Conversation: Chele Isaac and Helen Hawley

Together, Chele Isaac and Helen Hawley will examine their

individual approach to making their video installations and

describe their conceptual underpinnings, such as

phenomena and rhythms of nature.

THURSDAY, NOVEMBER 7 • 1–1:45 PM

Stephen Perkins on Latin American Art and

the Decolonial Turn

Stephen Perkins will discuss his installation which is a

response to an exhibition he visited at the Museo Jumex in

Mexico City in 2018 made from materials from his archive,

coupled with works by Latin American artists.

FRIDAY, DECEMBER 6 • 6:30–7:30 PM

In Conversation: Tomiko Jones and Tom Jones

In this joint gallery talk, Tomiko Jones and Tom Jones

will discuss how they each extend the boundaries of

photography to explore identity, tradition, and

intergenerational understanding.

SUNDAY, NOVEMBER 10 • 1–2:30 PM

Enjoy a variety of artwork that highlights the natural

landscapes of our world. Use printmaking techniques

to create a postcard celebrating your favorite

aspects of nature.

SUNDAY, DECEMBER 8 • 1–2:30 PM

Let the exciting paintings that show interwoven

colors and shapes spark your imagination and make

your own woven paper collage.

MMoCAKIDS ARTPACK

Stop by the museum's lobby welcome desk and ask

for the MMoCAkids ArtPack, the museum's hands-on

discovery kit for exploring art throughout the museum,

which includes a special take-home activity developed

for the Wisconsin Triennial.

DROP-IN TOURS

SATURDAY, NOVEMBER 9 • 1–1:30 PM

SATURDAY, DECEMBER 14 • 1–1:30 PM

10
---
MMo CA BOARD OF TRUSTEES

Officers

Trustees

Larry Frank

Dave Orr

Marc Vitale, President

Shiva Bidar

Sara Guyer

Amy Paulios

Vikki Enright, Vice-President

Marian Bolz, Life Trustee

Cedric Johnson

Rick Phelps

Bret Newcomb, Vice-President

Leslie Smith III, Vice-President

Charlotte Cummins, Secretary

Dynee Sheafor, Treasurer

Bryan Chan

Karen Christianson

Jennifer DeMain

Jim Escalante

Dave Franchino

Valerie Kazamias,

Life Trustee and Chair,

The Langer Society

Jason Knutson

Oscar Mireles

Eric Plautz

Jennifer Ridley-Hanson

John Ronzia

John Sims

QuHarrison Terry

MMo CA STAFF

Administrative Department

Stephen Fleischman, the Gabriele

Haberland Director

Michael Paggie, Business Manager

Judy Schwickerath, Accountant

Curatorial Department

Mel Becker Solomon, Curator of the

Collection

Leah Kolb, Curator of Exhibitions

Marilyn L.M. Sohi, Head Registrar,

Permanent Collection

Carol Chapin, Collection Database and

Image Production Manager

Stephanie Zech, Associate Registrar

Doug Fath, Preparator

Elizabeth Anderson, Assistant Curator

Installations and Facilities Department

Brian Bartlett, Director of Installations

and Facilities

Bruce Crownover, Installations and

Facilities Associate

Sarah Stankey, Assistant Preparator/

Photographer

Operations Department

Bob Sylvester, Director of Public

Operations

Jason Bank, Public Operations Manager

Museum Store

Leslie Genszler, Director of Retail

Operations

Laurie Stacy, Manager

Education Department

Sheri Castelnuovo, Curator of Education

Kelsey Knutsen, Education Associate

Janet Laube, Education Associate

Simone Doing, Education Assistant

Development Department

Elizabeth Tucker, Grant Writer

Annik Dupaty, Director of Events

and Volunteer

Kaitlin Kropp, Development Officer

Amy Lambright Murphy, Events and

Volunteers Assistant

Bob Sylvester, Private Events and

Wedding Rentals

Betsy Wyns, Development Associate

Communications Department

Erika Monroe-Kane, Director of Strategic

Communications and Engagement

Charlotte Easterling, Head of

Graphic Design

11

TO LEARN MORE VISIT MMOCA.ORG/2019-WISCONSIN-TRIENNIAL
---
Generous support for the 2019 Wisconsin

Triennial has been provided by Ellen Rosner and

Paul J. Reckwerdt; Nancy Mohs; the Steinhauer

Charitable Trust; University Research Park; Katie

Howarth Ryan; JoAnne Robbins and David Falk;

Nancy Doll and Michael Bernhard; Karen and

Craig Christianson; Darcy Kind and Marc Vitale;

Dynee and Barney Sheafor; Lynda and Charles

Clark; BDO USA, LLP; an anonymous donor;

Dane County Arts with additional funds from

the Endres Mfg. Company Foundation, the Evjue

Foundation, Inc., charitable arm of the Capital

Times, the W. Jerome Frautschi Foundation,

and the Pleasant T. Rowland Foundation; and a

grant from the Wisconsin Arts Board with funds

from the State of Wisconsin and the National

Endowment for the Arts. Design support is

provided by Hiebing.
---
227 STATE STREET, MADISON, WI

TO LEARN MORE VISIT MMOCA.ORG/2019-WISCONSIN-TRIENNIAL

OR CALL 608.257.0158