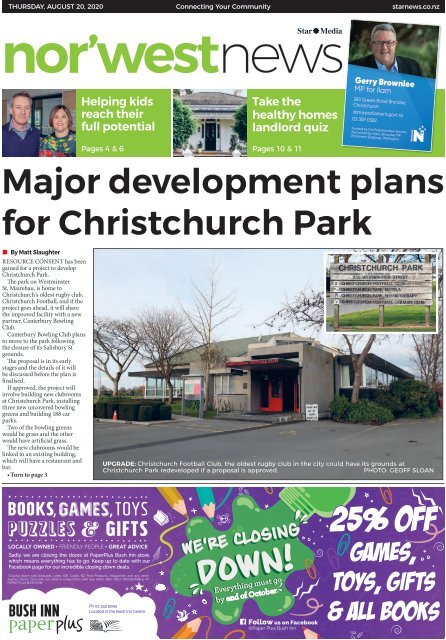 Nor'West News: August 20, 2020
Create successful ePaper yourself
Turn your PDF publications into a flip-book with our unique Google optimized e-Paper software.
THURSDAY, AUGUST 20, 2020

Connecting Your Community

starnews.co.nz

Helping kids

reach their

full potential

Take the

healthy homes

landlord quiz

Gerry Brownlee

MP for Ilam

283 Greers Road Bryndwr,

Christchurch

ilam@parliament.govt.nz

03 359 0582

Funded by the Parliamentary Service.

Authorised by Gerry Brownlee MP,

Parliament Buildings, Wellington.

Pages 4 & 6 Pages 10 & 11

Major development plans

for Christchurch Park

• By Matt Slaughter

RESOURCE CONSENT has been

gained for a project to develop

Christchurch Park.

The park on Westminster

St, Mairehau, is home to

Christchurch's oldest rugby club,

Christchurch Football, and if the

project goes ahead, it will share

the improved facility with a new

partner, Canterbury Bowling

Club.

Canterbury Bowling Club plans

to move to the park following

the closure of its Salisbury St

grounds.

The proposal is in its early

stages and the details of it will

be discussed before the plan is

finalised.

If approved, the project will

involve building new clubrooms

at Christchurch Park, installing

three new uncovered bowling

greens and building 188 car

parks.

Two of the bowling greens

would be grass and the other

would have artificial grass.

The new clubrooms would be

linked to an existing building,

which will have a restaurant and

bar.

• Turn to page 3

UPGRADE: Christchurch Football Club, the oldest rugby club in the city could have its grounds at

Christchurch Park redeveloped if a proposal is approved.

PHOTO: GEOFF SLOAN

Sadly we are closing the doors at PaperPlus Bush Inn store,

which means everything has to go. Keep up to date with our

Facebook page for our incredible closing down deals.

*Closing down sale excludes Lotto, Gift Cards, NZ Post Products, Magazines and any other

Agency Items. Discount not valid in conjunction with any other offer. ONLY REDEEMABLE AT

PAPER PLUS BUSH INN.

We're Closing

We're Closing

Down!

Down!

Everything must go

by end of October.

Follow us on Facebook

@Paper Plus Bush Inn

25% OFF

games,

toys, gifts

& ALL BOOKS
---
2 Thursday August 20 2020

Latest Canterbury news at starnews.co.nz

what's on

this week

NOR'WEST NEWS

GENERAL INQUIRIES Ph 379 7100

CLASSIFIED ADVERTISING Ph 379 1100

Star Media, a division of Allied Press Ltd

PO Box 1467, Christchurch

starmedia.kiwi

NEWS

Bea Gooding

Ph: 021 911 576

bea.gooding@starmedia.kiwi

ADVERTISING

Monique Maynard

Ph: 021 372 481

monique.maynard@starmedia.kiwi

Your local community news

delivered to 28,748 homes

within The Star each week.

Harewood • Burnside • Bishopdale • Bryndwr

Fendalton • Merivale • St Albans • Mairehau

Papanui • Casebrook • Redwood • Styx Mill

Regents Park • Northwood • Belfast • Strowan

Wā Pēpi: Babytimes

Thursday, 10.30-11am

Shirley and Fendalton libraries

Encourage learning through

language. Babytimes is an interactive

programme including music, movement,

rhymes and a story. Recommended

for under two-year-olds. No

bookings required.

Citizens Advice Bureau

Thursday, 11am-5pm, Friday,

11am-5pm, Tuesday, 2-5pm,

Wednesday, 11am-5pm

Fendalton Library

Citizens Advice Bureau provides

free and confidential advice. They

take the time to listen and equip you

with the information, options and

support that fit your needs. Phone 351

7804 for more information.

Knit 'n' Yarn

Thursday, 2-3.30pm, at Fendalton,

Wednesday, 1-2.30pm, at Redwood

Fendalton and Redwood libraries

Take your knitting, crochet or

other craft projects and have fun with

a social group. This is a free, drop-in

event.

The Zone @ Shirley

Thursday, 4-5pm

Shirley Library

Go along and get to know other

like-minded teenagers. Go headto-head

on the PlayStation, mix

music with GarageBand, get creative

with green screen or play classic

board games. Suitable for ages 12

Reading to Dogs, Tuesday, 3.30-4.30pm, Shirley Library

A relaxed, non-threatening event designed to encourage children to practice

reading skills and develop a love for reading. Phone 941 7923 to register. ​

to 19-years-old. Free, no booking

required.

Card Club

Friday, 1.30-3.30pm

Shirley Library

This weekly card club will be

held every Friday. Go along and

join the fun. Free, no bookings

required.

Mahjong Group

Saturday, 1-3.30pm, at Shirley,

Monday, 1-4pm, at Papanui

Shirley and Papanui libraries

Go along to the free event if you

are interested in playing or learning

about Mahjong.

JP Clinic

Saturday, 10am-noon, at

Fendalton, Tuesday, 10am-1pm, at

Shirley and Papanui, Wednesday,

10am-1pm, at Bishopdale

Bishopdale, Fendalton and Shirley

libraries

A justice of the peace will be

available to witness signatures and

documents, certify document copies,

hear oaths, declarations, affidavits or

affirmations, as well as sign citizenship

or rates rebates applications.

Rummikub

Monday, 1-3pm

Bishopdale Library

Join in on the fun and discover

how to play Rummikub, an exciting

strategy game for all ages. Free, no

bookings required.

GenConnect

Tuesday, 12.15-12.45pm

Papanui Library

If you have questions about your

smartphone or tablet, ask an expert

for advice. Free, no bookings required.

Scrabble Club

Wednesday, 1.30-3.30pm

Shirley Library

Play Scrabble with a friendly group.

All materials supplied. Head along

when you can. Free, no bookings

required.

Timeless Elegance

New Boutique Residential Aged Care | 03 357 9392 | russleyvillage.co.nz
---
NOR'WEST NEWS Latest Canterbury news at starnews.co.nz

Thursday August 20 2020 3

News

Fundraising options being considered

• From page 1

The site already has rugby

pitches, hockey and tennis surfaces,

squash courts and parking.

The Christchurch Park Motels

complex is also there.

The squash hall and northern

football pitch would stay but the

hockey and tennis courts would

make way for parking.

The venue would be available

for public hire for weddings of

about 240 people and other functions

of about 400.

Christchurch Football Club

chairman Mark Thompson said

it is not known yet how much the

development would cost but part

of the funds will be covered by

the club.

He said it is considering

options to gain the rest of the

money needed, including asking

organisations like the Rata Foundation,

Sport Canterbury or the

city council for funding.

It is also not known when the

project will start if it is approved.

Neighbours concerned with proposal

• By Matt Slaughter

THE PROPOSAL to develop

Christchurch Park has some

neighbours concerned.

Residents from Crosby, Minaret

and Aylesford Sts and Marlin

Pl have written a letter to the Papanui-Innes

Community Board

saying they were not informed

about the project proposal.

A meeting attended by 35 of

these residents was held and they

discussed their concerns.

The resource consent was processed

as a non-notified consent,

which means no community

consultation was needed.

Said the letter: "We note that

there was never any community

consultation over this re-development,

despite the enormity of

the redevelopment.

"We consider the actions

taken, and the way they have

been taken, to be divisive in

the extreme, and to also be indicative

that Christchurch Park

clearly does not want to be part

of the community it resides in,"

it said.

The letter says the residents

support the redevelopment

proposal in principle but are

unhappy with not having an opportunity

to raise their concerns

about it.

However, Christchurch

Football Club chairman Mark

Thompson said the proposal is

in its early stages and the community

will get

a chance to give

feedback on it.

"We'll proactively

be looking

to engage with

the affected

Emma

Norrish

neighbours to

make sure that

they fully understand

what the

proposal might entail."

The community board's chairwoman

Emma Norrish asked

city council staff to arrange a

meeting between staff, residents,

the rugby club and other concerned

parties.

Thompson said if the meeting

is arranged, club representatives

will attend.

In Brief

BUS STOP CONCERNS

Safety concerns have been

raised regarding bus stops on

Heaton St, Carlton Mill Rd

and Papanui Rd at the latest

Fendalton-Waimairi-Harewood

Community Board meeting. A

representative of the Disabled

Persons Association asked for

no-stopping restrictions to be

placed on either side of the Heaton

St bus stop near Elmwood

Park to ensure buses can safely

access it without interference

from parked cars nearby. The

footpath at the Carlton Mill Rd

bus stop between Harper Ave

and Rossall St has sunk and

needs re-levelling, making access

to buses difficult. The board

has referred the issues to the

city council for investigation.

INTERSECTION SAFETY

Work has started to improve

safety at an Edgeware intersection.

This includes the installation

of a new speed hump in the

left-turn lane and the creation

of a new pedestrian median

island layout at the north side

of Barbadoes St and Bealey Ave

intersection. The work allows

traffic to pass through the area

more easily, providing safer

access to schools, as well as safer

walking and cycling routes.

Construction will be completed

in about three weeks.

Are you

taking Warfarin?

At Unichem Bishopdale, we can

do INR tests in the pharmacy!

Ask us how we can help you

easily and conveniently manage

your warfarin and INR tests.

SALE

Fashionable

functional footwear

Fashionable • Functional • Footwear

Unit 3, 355 Riccarton Rd, Upper Riccarton

P. (03) 929 0927 E. info@theshoeroom.co.nz

www.theshoeroom.co.nz

TOUCHSTONE HOMES

explore a new way of living
---
4 Thursday August 20 2020

Latest Canterbury news at starnews.co.nz

NOR'WEST NEWS

News

Helping kids reach their full potential

A myriad of groups

help keep our

community moving.

Reporter Bea Gooding

speaks to the Graeme

Dingle Foundation

Canterbury manager

Chris Davis about how

its programmes help

children build resilience

and important life skills

Could you tell me about the

Graeme Dingle Foundation?

Graeme Dingle Foundation

Canterbury has been supporting

young people in our community

through the delivery of positive

child and youth development

programmes since 2002. We

work with communities,

predominantly in areas with

high levels of social deprivation,

to provide life-changing

opportunities for young people.

To date, we have delivered our

programmes to 33,042 young

people across Canterbury.

Our vision is to empower

our young people by providing

them with the tools to overcome

any obstacles that may come

their way. Our programmes

are currently benefitting over

3700 young people every week

in 22 schools across Canterbury

of which 2592 students are in

Christchurch specifically. These

programmes build lifelong

skills, positive relationships

and qualities such as integrity,

respect and resilience that will

last the students a lifetime.

What kind of programmes

are available?

Graeme Dingle Foundation

Canterbury runs three

programmes, Kiwi Can, Stars

and Project K. Kiwi Can is the

primary school programme.

The students attend a Kiwi

Can session each week and

learn core values and life skills

through games and activities.

Stars is a year 9 peer mentoring

programme. Year 12 and year

EMPOWERING

YOUNG: Chris

Davis of the

Graeme Dingle

Foundation

is providing

children

with tools

to overcome

obstacles.

PHOTO: GEOFF

SLOAN

13 students are trained to run

mentoring classes once a week for

year 9s. The students learn about

bullying, social media, positive

relationships, teamwork and

respecting each other. Project K

is a 21-day wilderness expedition

for year 10 students. The students

are taken 200 km away from

school into the Southern Alps

and then hike, camp and cycle

their way back to school. Project

K is a journey of self-discovery.

I understand the programme

has experienced an increased

demand recently. Why has this

been the case?

The last few years have been

very difficult for young people

in Christchurch, more so than

in other parts of Aotearoa. The

psychosocial impacts of the

earthquakes are still lingering,

with parts of East Christchurch

remaining uninhabitable due

to the earthquake-ravaged "red

zone." More recently, these same

young people have had to deal

with the horror forced upon them

by an act of terrorism, right on

their doorstep. Now they are faced

with Covid-19, with the "new

normal" that this brings and with

likely job losses impacting their

home lives – the mental health

and well-being of these families

may be negatively impacted,

adversely affecting many young

people across these communities.

Census 2018 statistics across

the communities we work in a

paint a sobering picture, with

nearly a quarter of all school

leavers not gaining qualifications

and a NEET rate (Not in

Employment, Education and/or

Training) of above 15 per cent.

•Turn to page 6

MARK ARNEIL

Candidate, Christchurch Central

Resident of St.Albans, 58 and married with three children.

Accomplished hospitality and recreation & events manager,

with global experience running large complex operations

in both the private and public sectors. Former owner of a

successful hospitality & leisure consulting business.

I am standing for NZ First because:

•On my return after working overseas five years ago, I was struck by the

inequality and a new class of working poor finding it hard to make ends meet

let alone owning a home, the deterioration of public services, and a lack of

investment in infrastructure to keep pace with unfettered population growth.

•I was also appalled by National's obsession with a low wage workforce

instead of training young people - putting profit before people and the

environment, their lack of compassion towards the elderly and other vulnerable

groups, and their relentless sales of land, state houses, and primary businesses

to foreign interests.

My Priorities:

•A more egalitarian, inclusive and just society in which everyone can provide

for their families with well-paying jobs and affordable housing without being

burdened with a lifetime of debt.

•Environmental, economic and sovereign rights vigorously protected.

•New Zealand as a responsible Pacific leader and protector.

•Accessible and high quality health care.

•Future generations able receive education and training well matched to their potential.

•More government investment in infrastructure needs, research and

development, and job rich sustainable industries.

•Implementing the Provincial Growth Fund to boost regional economies.

•Strong border security with all returnees paying their fair share.

•An immigration policy strictly targeted to genuine labour and skills shortages.

•Always looking after the elderly and all vulnerable groups.

Authorised by E Witehira

251E Rawhiti Road, Hikurangi, Auckland.
---
NOR'WEST NEWS Latest Canterbury news at starnews.co.nz

Thursday August 20 2020 5

A VILLAGE WITHIN A VILLAGE.

They say 'it takes a village'. At Ryman we've been creating vibrant communities for more than

35 years so you can enjoy our village within your local village. It's a great way to stay connected

and active with like-minded others. And it's another example of how we're pioneering a new way of

living for a new retirement generation.

A selection of refurbished two and

three-bedroom townhouses are

currently available

All feature spacious open plan layouts

and private ensuites

Priced between $460,000-$675,000

Our base weekly fee is fixed for life*

and our deferred management fee is

capped at 20%

*Some conditions apply

Call for more details or

to book a private viewing:

DIANA ISAAC VILLAGE

1 Lady Isaac Way, Mairehau, 385 3518

NGAIO MARSH VILLAGE

95 Grants Road, Papanui, 354 6608

rymanhealthcare.co.nz

1258
---
6 Thursday August 20 2020

Latest Canterbury news at starnews.co.nz

NOR'WEST NEWS

News

'Not all childhoods are created equal'

What kind of issues have

been impacting school children

recently? And how has the

programme helped them

overcome these barriers?

School principals ask for the

Graeme Dingle Foundation

programmes to come into their

schools because we provide

positive youth development that

complements and extends the

positive behaviour for learning

work that schools are already

doing for their students.

"Many of [our] students lack

the privilege of being immersed

in and surrounded by positive

role models in their life. The Kiwi

Can programme has provided

the opportunity for our kids to

learn, practice and demonstrate

the implementation of values

into their everyday actions and

behaviours. I can confidentially

say that the programme will

undoubtedly have long term

benefits for our students and their

ability to positively contribute to

our community." – Janeane Reid,

principal of Te Waka Unua

School.

What are the common

barriers that hold children

back from reaching their full

potential in life?

It is always so important to

BUILDING RESILIENCE: Demand for programmes at the Graham Dingle Foundation is

soaring, with many more schools coming on board in recent weeks.

remember that not all childhoods

are created equal. Some kids

have a tough start and it can

hold them back. Big factors

are poverty, family instability

with lots of moving house and

changing schools, lack of good

housing and hunger. Our goal as

an organisation is to help those

kids to know that, no matter

what their start is in life, what

they have inside is strong enough

to overcome any obstacle.

Why is an organisation like

this important for Canterbury

kids?

I think a school principal can

answer this better than I can:

"Kiwi Can has a positive impact

on the students at Bamford

PHOTO: GEOFF SLOAN

School. Through the programme,

senior students have become more

confident and have developed

the ability to take risks in front

of their peers without being

embarrassed. Furthermore, they

have learnt valuable lessons

about resilience, honesty, integrity

and leadership through fun and

engaging activities," – Shona

Hewlett, principal of Ngutuawa

School.

What advice would you

give parents and educators to

instil positivity, resilience and

confidence in school kids, and

why?

The teachers and principals

we meet and work with are

fantastic and are all working

really hard on behalf of

Canterbury's youth.

Graeme Dingle Foundation

Canterbury's role is to provide

a set time each week where the

students can really focus on

learning about respect, positive

relationships, resilience and

integrity. These positive values

are of course also being learned

about during regular class time

and at home.

Our foundation's role is to

focus strongly on these topics

in a whole-class format every

week. The students get a chance

to play games that model positive

behaviours and to carefully

consider and discuss their values

and actions.

Our classes are a chance to

talk about values regularly with

young people and our school

leaders model good values and

behaviours.

Kids become what they see and

hear.
---
NOR'WEST NEWS Latest Canterbury news at starnews.co.nz

Thursday August 20 2020 7

Richmond discount FuRnituRE

The Best Little Furniture Shop in Town

BEDS TALLBOyS MIRRORS CABINETS cHESTS STORAgE SHElvES

BOOKCASES BuFFET uNITS DINING TABLES HAll TAblES SIDE CABINETS & MORE!

7 Piece Dining Suite 1500x900

Zig Zag Bookcases

Glass

entertainment

Unit

1000x380x450H.

White

(Beachhouse)

Single Frame

Bed

Mattress not included.

Legacy Single

Frame Bed

Mattress not included.

Duchess

with

Mirror

1090x410x820

NZ made.

ONLY

$749

SMALL 1100 x 330 x 900H

ONLY $249

$199

ONLY

$300

ONLY

$300

ONLY

$599

Midi 7 Drawer

Scotch Chest

975x760x410. With metal runners.

Also available in Black.

Bedside Cabinet

With metal runners.

Also available in Black.

7 Drawer

Scotch Chest

1140x800x410.

Also available in black.

Ther-a-pedic Mattress & Base

Reversible pillowtop innersprung.

Single

$499

Solid

Timber

Free

Standing

Mirror

ONLY

$299

Large

690H x

460W x

410 D

$179

Small

510H x

460W x

410 D

$140

ONLY

$329

King Single/Double/3/4

$599

Queen

$699

WAS $169

ONLY

$129

Jumbo 4

Drawer Chest

1140x800x400. NZ made.

Metal runners. Also available in black.

Tallboy 4 Drawer

600x400x900.

Towerboy 6 Drawer

1260x460x410.

With metal

runners.

Also available

in Black.

Lowboy 6 Drawer

1130x410x820.

7 Drawer TV/

DVD Chest

760x1140x410. (Gap 150)

Pine Display Cabinet

1800x900

x400.

Legacy Bedside

Cabinet

ONLY

$299

Pine Side Table

450x450x500.

ONLY

$220

Student Desk

Available in black or white.

1000w x 690h x 500d

ONLY

$249

steelseries

emma 5 Piece Dining

1200x750

ONLY

$499 eACH

ONLY

$329

White 2 Drawer

entertainment Unit

1115 x 480H x 400D

ONLY

$599

White Bookcase

1200H x 600 x 290

$129

White Hall Table

1050 x 760H x 420

ONLY

$99

ONLY

$349

ONLY

$499

ONLY

$299

ONLY

$299

ONLY

$349

Nest of Tables

Coffee Table

1200x400x600.

Tundra entertainment Units

1600x420x450

$599

2dr / 2 shelf

1200 x 400 x 480h

$349

entertainment Units

Glass Door

1530 x 520 x 660h

$499

Pine

Bookcase

Butcher's Block

Work bench with wheels &

cupboard + drawer.

ONLY

$149

ONLY

$399

1300x420x450

$499

2dr / 4 shelf

1600 x 400 x 480h

$399

900x1800

$349

680 x 580 x 870H

$379

2 Drawer

entertainment Unit

1200x600x450.

entertainment

Unit

1100x400x480.

Glass

entertainment Unit

Side Table

450 x 450

Coffee Tables

1200 x 650 x 400H

ONLY

$199

3 Drawer Buffet

1170 x 420 x 840H

Buffet

ONLY

$449

ONLY

$299

ONLY

$299

ONLY

$89

1200 x 550 x 430H

ONLY

$149

233 STANMORE ROAD • PHONE 03 389 0536

WE ACCEPT EFTPOS, VISA AND MASTERCARD... PARKING AT REAR

OPEN MON-FRI 10AM–4.30PM SAT 10–1PM

ONLY

$449

ONLY

$299
---
8

Latest Canterbury news at starnews.co.nz

Thursday August 20 2020

NOR'WEST NEWS

Go Karting at Christchurch's Premier Indoor Track

GREAT

FAMILY

FUN

opEN

hoURS

Mon–Thurs

Midday - 6pm

Fri Midday - 8pm

Sat 10am - 8pm

Sun 10am - 6pm

Visit Supa Karts Indoor Go

Karting Track for your daily

adrenaline dose, and high

octane fun.

We have something for everyone, whether you

are an expert adrenaline junkie go kart driver,

or just learning to drive. We can help with team

building, corporate events, social events,

stag and hen nights and kids parties.

We have an excellent fleet of top quality

French engineered and manufactured,

SODI Go Karts. Built for Safety and

Speed, they can really get you around our

track fast.

91 Buchan Street, Sydenham | Phone 03 374 9425 | www.supakarts.co.nz | Find us on Facebook

We highly recommend making a booking to avoid disappointment • Fully operational at Alert Level 1 and Alert Level 2
---
NOR'WEST NEWS Latest Canterbury news at starnews.co.nz

Thursday August 20 2020 9

News

Car enthusiasts get first taste of motorway

POWERING UP: These vintage car enthusiasts have been

closely following progress on the Christchurch Northern

Motorway from their homes in anticipation of its opening

later this year.

NEIGHBOURS Graeme Shaskey

and Jack Porter always knew a

motorway would be built near

their homes one day when they

moved to Redwood more than 40

years ago.

Now decades later, the Grimseys

Rd residents have been

closely following progress on the

Christchurch Northern Corridor

from their homes in the last few

months.

So when they asked CNC

Alliance if they could be the

first drivers on the Prestons Rd

bridge – taking their 80-year-old

vintage cars for a spin – the team

were happy to oblige.

Said Porter: ''I receive daily

updates on the bridgework from

my wife Dorothy who can see

the workers on the road from

upstairs. We both enjoy seeing

it all come together and we can't

wait to be using the motorway to

go north."

For Shaskey, who worked at the

Belfast Freezing Works for years,

said it was always an easy commute

to work.

Porter, born in Canada, loves

the Redwood area and the space

on his land to have a decent

garage for his hobby of repairing

and driving vintage cars.

Both neighbours have been

following the construction work

with great interest.

ANTICIPATION: Grimseys Rd residents Dorothy and Jack

Porter (left) with Graeme and Kay Shaskey, who were the

first to drive over the Prestons Rd bridge.

"The new Prestons Rd bridge

is right around the corner and I

could see the crews were getting

ready for sealing work. So I just

walked into the CNC Alliance

office at Winters Rd to ask them

if Jack and I could be the first to

drive over the bridge in style,"

said Porter.

"The team liked the idea, so

they opened their construction

fences before opening to allow us

to drive over the bridge and have

a view from the bridge onto the

new motorway alignment and

our houses next to it; great day,"

Shaskey added.

Eastbound, one-way traffic was

allowed onto the Prestons Rd

bridge from earlier this month.

The new bridge provides for

two footpaths and a shoulder

that can be used by cyclists.

The local residents on either

side of the motorway alignment

will have extended driveways or

a new access way to and from

their houses.

Westbound traffic will need

to continue to take the diversion

while the CNC Alliance team is

working on the reconstruction of

the existing road for the next few

weeks.

By late August two-way traffic

will be on the new Prestons

Rd bridge and also on the new

Radcliffe Rd bridge.

Try us,

you'll like us!

Have you been thinking about

moving & do you think

"where do I start?"

A good place to start could be

talking with us.

Ian and Cathy Falconer

We have helped many homeowners to make their

next real estate move a stress free experience.

Call us on free phone 0800 888 426

to arrange a time to discuss

your real estate plans.

Ian 027 849 0404

Cathy 027 660 1920

I'm looking forward to hosting

Belfast Primary students in

Parliament next week to chat to

them about my role in Parliament. I

enjoy catching up with our students

to talk about the Parliamentary

system and I've done a fair share of

interviews for school projects.

Students will be learning about how

Parliament works and the

importance of democracy.

I'm working with

representatives from

Christchurch City Council and

Environment Canterbury to land

on some dates for my public

meeting for Spring Grove

residents. They are concerned

about the lack of a footpath and

cycleway to allow them to safely

access shops and public transport

in Belfast. With traffic travelling in

excess of 80 kilometres per hour,

they're worried about walking

alongside the road.

This month I will be catching up

again with the team at the Belfast

Community Network for their AGM

to celebrate another year of

community networking. I regularly

catch up with the team to stay in

touch with the good work they do

for our community, offering a

range of services from community

lunches to youth activities.

I'm delighted to report back that

my Member's Bill, which will

require the Department of

Corrections to notify schools of

sex offenders placed within their

communities, has been drawn in

Parliament. Last year, I was

advised by the Department of

Corrections that two sex

offenders were being placed in

the electorate. On checking

whether our local schools had

been notified, I was appalled to

learn there's no requirement to

notify schools when child sex

offenders are placed in the local

community. The School

Notification of Sex Offenders

Amendment Bill will ensure all

schools within five kilometres will

be notified when this happens.

Mike Pero Real Estate Ltd Licensed REAA (2008)
---
10 Thursday August 20 2020

Latest Canterbury news at starnews.co.nz

NOR'WEST NEWS

PROPERTY NEWS

Changes to NZ's Residential Tenancy Laws

The outgoing Labour Government passed

under urgency a series of substantial

changes to New Zealand's residential

tenancy laws.

The extensive reforms of the 1986

Residential Tenancies Act have been in the

works since before the 2017 election, but

were pushed through the House with just

hours of the parliamentary term remaining.

While many property commentators

and investment groups have voiced

concern and frustration over the new

legislation, forecasting rent increases

and landlords exiting the market, owner

of Ray White Bishopdale & Strowan,

Barry Ellis, points out that owning rental

properties has always been a business

venture governed by legislation, so the

new legislation is simply another factor

that landlords need to take into account.

"Landlords in New Zealand have been

well aware of the upcoming legislation for

some time. I don't think it has discouraged

any investors or potential investors from

owning an investment property, but it's

certainly brought us a lot more enquiry

from landlords about having their

investment professionally managed.

"Landlords also have a lot of factors in

their favour at the moment such as low

interest rates and a lot of Kiwis moving

home from overseas, so it would be hard

to imagine any seismic shifts in market

rent costs that could be solely attributed

to these reforms," Barry says.

So how will the new reforms change

things for tenants and landlords?

Key changes in favour of landlords:

• Tenants will now have to give 28 days'

notice to end a tenancy, up from 21.

• If rent is paid late by at least five

working days three times within 90

days, an application can be made to

evict them. Currently, they have to be at

least 21 days behind – this will remain a

justification under the new law.

Key changes in favour of tenants:

• Landlords will not be able to evict

a tenant without a reason, instead

requiring "specific grounds" specified

in law.

• Landlords won't be allowed to list rental

properties without a price attached, tell

people they can secure a tenancy by

paying more, or hold an auction. Tenants

will still be allowed to make an offer above

the listed price of their own volition.

• The rent will only be allowed to go up

once a year (currently every 180 days).

• Landlords will have to prove tenants

have been anti-social at least three times

in a 90-day period if they want to use

that as a reason to evict them, issue

written warnings each time, and would

have to apply to the Tenancy Tribunal

within 28 days of the third incident. The

current law doesn't require more than a

single incident of anti-social behaviour.

• Landlords will have to allow tenants

to transfer their "interests and

responsibilities" to a new tenant, unless

the landlord has a "reasonable" reason

to decline it.

• The amount of notice landlords have

to give to evict tenants if they need it

for themselves, an employee or family

member will rise from 42 days to 63.

The new tenant will also have to move

in within 90 days to prove it was a

"genuine" need, and not just an excuse

to get rid of the tenant quickly. They

will also have to live there for at least

three months.

• If a tenant is evicted so the landlord can

undertake alterations or demolition,

"material steps towards beginning" the

changes would need to happen within

90 days, again to prove it was genuine.

• Landlords will need to keep more

documents regarding alterations and

maintenance work.

• Landlords won't be able to withhold

consent to minor changes to the

premises, such as repairs and work

that doesn't require a consent,

damage the property or have an

"unreasonable negative effect on

any person's enjoyment or use of

any property outside the premises".

Examples given by associate housing

minister Kris Faafoi include "brackets

to secure furniture and appliances

against earthquake risk, baby-proof the

property, install visual fire alarms and

doorbells and hang pictures".

• Landlords will have to provide

details of how the property meets the

Government's healthy homes standards

within 21 days, if a tenant requests it.

Other key changes:

• Fixed-term tenancies automatically

become periodic on expiry, unless both

agree otherwise.

• Either party whose fines total up to

$100,000 can be dealt with by the

Tenancy Tribunal, rather than having to

go to the District Court

when they surpassed

$50,000.

One of the biggest

challenges for landlords

in recent times has

been the new healthy

homes standards, which

introduce specific and

minimum standards

for heating, insulation,

ventilation, moisture

ingress and drainage, and

draught stopping in rental

properties.

From December 1, 2020

landlords must include a

statement of their current

level of compliance

with the healthy homes

standards in most new

or renewed tenancy

agreements.

From July 1, 2021

private landlords must

ensure their rental

properties comply with the

healthy homes standards

within 90 days of any new,

or renewed, tenancy.

Property manager at

Ray White Bishopdale &

Strowan Mark Davison

says the healthy homes

standards are by far the most complicated

aspect of owning a rental property for

landlords, and landlords he has met

recently don't seem to fully understand

the standard.

"A lot of our new landlords I've

onboarded over the last few months

didn't have any idea of how compliant

they were and hadn't even had their

assessment done. I think a lot of

landlords will be caught out with

compliance dates fast approaching."

Mark says it's not only older homes that

are challenged with compliance issues.

"We recently had a case where a brandnew

home failed the healthy homes

standard because it had an open-plan

dining/living area and the heat pump

didn't have the right KW rating to heat

the whole area.

"It's important that landlords get

their assessments done early before

the rush and get to work on ensuring

their property is compliant. It's simply

good business, and protects your

investment," Mark says.

Ray White Bishopdale & Strowan offers

a $250 + gst compliance assessment for

both their new landlords and private

landlords alike.

"For $250 we will review your tenancy

agreement, discuss any outstanding

issues or questions you have, and have a

healthy homes assessment done on your

property. We will also meet with you

and go over the report and explain what

you need to do to maintain compliance,"

Barry says.

"It's a great start for any landlord/

investor wanting to make sure their

investment is protected for the long

term and that they're doing the right

thing, both by the law and their tenants.

The best thing anyone in the residential

rental market can do is get educated and

be prepared to make sure you're on the

right side of the upcoming deadlines for

change," Barry says.

"If you're unsure, reach out to a trusted

property manager and get some free

advice, it could save you a lot of time,

stress and money in the long term."

Make your investment really work.

WHAT ARE YOU WAITING FOR?

Ray White Bishopdale & Strowan

0800 YELLOW (0800 935 569)

rwbishopdale.co.nz | rwstrowan.co.nz

Inline Realty Limited (Licensed REAA 2008)

Proudly owned by

Karen Ellis

021 519 275

Barry Ellis

021 519 274
---
NOR'WEST NEWS Latest Canterbury news at starnews.co.nz

Thursday August 20 2020 11

Ray White

Landlord Quiz

This landlord quiz is designed to help highlight the knowledge and skills required to stay safe and compliant in the

ever-changing rental landscape.

Many landlords aren't aware of the specific details of recent changes, or the risks involved that can lead to significant

fines and consequences.

Whether you choose to manage your own property or have us manage it for you, our Ray White property managers have

the tools and solutions to help you remove these risks.

1. What are the official deadline

dates that bring in new legal

requirements for landlords to

comply with the healthy homes

standards?

A) 1 July 2019

B) 1 December 2020

C) 1 July 2021

D) All of the above

2. Will a newly constructed

property (completed 2019 or

later) automatically comply with

the healthy homes standards and

therefore not require a healthy

homes statement of compliance?

A) Yes, it will comply and no healthy

homes statement is required

B) Yes, but a healthy homes

statement will still be required to

verify compliance

C) No

3. Landlords can complete their

own healthy homes statement of

compliance?

A) True

B) False

4. Landlords will comply with the

healthy homes heating standard if

they provide a tenant with a

high-quality portable fan heater.

A) True

B) False

C) Depends on the circumstances

5. Since 2019 Privacy Commission

updates, what information cannot

be asked of a tenant when they

initially apply for a rental property?

A) Employment history

B) Current expenses

C) Rent paid at previous rental

properties

D) All of the above

6. Within any tenancy agreement,

how many unique statements are

currently required to be included?

(Each statement contains unique

information).

A) Two

B) Three

C) Four

7. What are the potential fines a

landlord can currently receive if

they do not include all the required

statements within their tenancy

agreement?

A) $300

B) $750

C) $1,500

8. An invoice for insulation work

carried out and detailing what

was installed in a rental property

will pass the insulation statement

requirements.

A) True

B) False

C) Depends on circumstances

9. Landlords must provide tenants

with a copy of their own insurance

policy if requested.

A) True

B) False

C) Depends on circumstances

10. What is the maximum allowable

level of methamphetamine presence

in a rental property before it is

deemed uninhabitable?

A) 0.5 μg / 100 cm2

B) 1.5 μg / 100 cm2

C) 15 μg / 100 cm2

11. Tenant X is renting a property at

$400 per week and causes damage

through careless behaviour that

totals $4,000 to repair. Landlord X

has an insurance policy in place with

an excess amount of $1,000.

How much of this repair cost will the

tenant be liable for?

A) $4,000

B) $1,600

C) $1,000

12. Tenant X is renting a property at

$400 per week and causes damage

through careless behaviour that

totals $4,000 to repair. Landlord X

has no insurance policy. How much

of this repair cost will the tenant

be liable for?

A) $4,000

B) $1,600

C) $0

So, how did you go?

If this quiz has confirmed there is a lot happening in the

property management space you're not aware of, please

contact us now for further support or information.

We are here to help!

Quiz Answers

Page 14
---
12 Thursday August 20 2020

Latest Canterbury news at starnews.co.nz

News

NOR'WEST NEWS

OPTIMISTIC: Jolt Dance founder Lyn Cotton and dancer Carl Te Tone Huia

were meant to perform their original works in London this year, but it was

postponed due to Covid-19.

Challenging disability

through creative arts

• By Bea Gooding

CANTABRIANS will soon

be treated to a performance

which challenges

perspectives about dance

and disability in the

creative arts industry.

Representatives from Jolt

Dance company were due

to showcase their work at

performance art theatre

Lyric Hammersmith in

London during May but

it was cancelled due to

Covid-19.

Jolt founder Lyn Cotton

is feeling optimistic in spite

of the growing uncertainty

in the coming months.

"We're looking at it

positively and view it as

a postponement, we still

want to show London what

New Zealand is capable

of," she said.

"We're not angry about

it, this is a time of patience

and reflection and it's

given us an opportunity to

look at the work again in

more depth."

Including Cotton, Jolt

dancers and tutors Carl

Huia, Aleasha Seaward,

Rochelle Waters and Renee

Ryan were meant to spend

a week in London to take

part in Amici Dance

Theatre Company's 40thanniversary

celebrations

and raised $10,000 to do so.

Amici is also an inclusive

dance company and

invited the team to present

two original works, discuss

their achievements and

host teaching sessions.

They Call Me Sam is a

short film that chronicled

life with down syndrome

and challenges attitudes

about having a disability.

Takiwatanga is a performance

which is shaped

by Huia's Māori culture

INCLUSIVITY: Georgia Scarsbrook, Hunter

McLintock, Brooke Joyce and Shanna Charles

are on a mission to break barriers within the

creative arts industry through dance.

PHOTOS: GEOFF SLOAN

and his lived experience of

autism.

The word "takiwatanga"

is used to describe autism

and means "in his or her

own time and space."

Cotton met Amici

founder Wolfgang Strange

in 1995, and after spending

a few years under his wing,

she was inspired to open

her own dance studio with

a similar concept of breaking

barriers within the

disability community.

"Wolfgang was my

teacher for three years, and

when I came back to NZ I

set up my own Jolt classes

and it grew from there,"

she said.

"We take what the dancers

give us which shapes

our work - it's not just

about participation, it's

about excellence and for

people with disabilities to

have their voices heard."

Not only do they offer

dance classes, teaching and

choreography training was

also available which leads

to industry level pathways

through performance and

leadership.

Jolt's "Move" programme

is the country's only teacher

training programme for

people with disabilities,

taking their work into

mainstream schools to

teach non-disabled children.

Said Cotton: "All peer

pressure starts to drop

away when they come together

and dance. It's okay

to be different.

"The bar was set low

for what people with disabilities

can achieve, and

now they're playing catch

up because they've been

denied that opportunity

for so long."

Jolt Dance celebrates

their 20th anniversary next

year and has since grown

to more than 150 dancers.

They will plan to showcase

their original works in

Christchurch in October.
---
NOR'WEST NEWS Latest Canterbury news at starnews.co.nz

Thursday August 20 2020 13

We're for

local

voices

From Kaikoura,

to Christchurch,

to Ashburton,

we have it covered
---
14 Thursday August 20 2020

Latest Canterbury news at starnews.co.nz

ews

NOR'WEST NEWS

Students part of planting project

HIGH SCHOOL students across

the city have planted thousands

of native trees in part of New

Brighton's red zone this year and

plan to add another 10,000 over

the next four years.

An additional planting day has

been planned for the end of the

month, where the students will

add a further 1100 native trees

and plants at Chimera Cres.

The students, who will be

joined with members from

the local community, are from

Shirley Boys' High, Avonside

Girls' High, Christchurch Girls'

High, Linwood College, Rawhiti

School, Heaton Intermediate,

Christ's College, St Margaret's

College, Rangi Ruru Girls'

School, St Andrew's College and

Cathedral Grammar.

Head of physics at Christ's College

David Newton is responsible for

leading the ambitious project which

began last year.

"Over the next four years we're

going to complete the current

area we're working on, plant the

QE II Adventure Nature Trail

and start another large block

which is currently under negotiation

with the Christchurch

City Council," he said.

The planting was an opportunity

for the students to practically

realise the "positive impact"

they can have on the community,

and the planet, by contributing

their part.

"Our work will grow a forest

that will be a lasting memorial

for their efforts," he said.

"It demonstrates the power ordinary

people have to change our

city, country and the planet by

helping mitigate climate change

and increasing biodiversity."

Twenty different species of

native trees and grasses will be

planted, including pittosporum,

ake ake, totara, flax, carex secta,

and lophomyrtus.

Said Newton: "We've selected

these plants to provide both

habitat and food for native birds

and lizards. We want to see more

native birds in Christchurch,

and this is a huge opportunity to

plant a forest that runs as a green

spine through the city.

"The best thing you can do

to encourage native birdlife

back to the city is to plant

trees that become a year-round

supply of bird food."

Newton welcomes help from

DIGGING DEEP:

Led by Christ's

College head of

physics teacher

David Newton,

students

from high

schools across

Christchurch

helped plant

thousands of

native trees in

New Brighton's

red zone.

the community if they have an

hour or two to spare.

He urges people to bring their

own spades, but that tools were

available for use if needed.

The replanting work is being

undertaken in conjunction with

city council parks and Land

Information New Zealand.

•Treemendous effort, page 16

Ray White Landlord Quiz - Answers

1. What are the official deadline dates that bring in new legal requirements for landlords to

comply with the healthy homes standards?

Answer: D - All of the above - Each of the listed dates are all attached to new requirements

landlords must comply with. A statement of intent is required in all new or varied tenancy

agreements now, a much more detailed statement of compliance is required in December 2020,

and finally, compliance with all standards is required in 2021.

2. Will a newly constructed property (completed 2020 or later) automatically comply with the

healthy homes standards and therefore not require a healthy homes statement of compliance?

Answer: C - No - Even if a brand new home meets the latest building code standards and relevant

council regulations, it may not meet the healthy homes standards. A common example of this is

the heating standard requirements, which many new homes do not meet. Regardless of the age

a property is built, every single tenancy agreement must include a comprehensive healthy homes

statement from 1 Dec 2020.

3. Landlord's can complete their own healthy homes statement of compliance?

Answer: A - True - A landlord can complete their own healthy homes statement of compliance,

however, this would almost certainly require a site visit to the property and significant time and

care to complete properly. The current statement template contains 13-pages of required detail

that must be included with measurements, site evidence, heating tool calculations and more.

4. Landlords will comply with the healthy homes heating standard if they provide a tenant

with a high-quality portable fan heater.

Answer: B - False - The heating standard dictates that every main living room must be

provided with a "fixed" qualifying heater, so a portable unit would not comply.

5. Since 2019 Privacy Commission updates, what information cannot be asked of a tenant

when they initially apply for a rental property?

Answer: D - All of the above - In accordance with Privacy Commission guidelines, all of the

information listed cannot be asked for from a tenant when they initially apply for a rental

property. A landlord can only ask for details on where a tenant may be employed right now and

details around where they live right now. There is real skill and knowledge required to ensure

you ask the right questions at the right time so no breaches of the privacy guidelines occur.

6. Within any tenancy agreement, how many unique statements are currently required to be

included? (Each statement contains unique information).

Answer: B - Three - Three statements are currently required in any new or varied tenancy

agreement. An insulation statement, a healthy homes statement of intent and an insurance

statement.

7. What are the potential fines a landlord can currently receive if they do not include all the

required statements within their tenancy agreement?

Answer: C - $1,500 - A landlord could receive penalties of up to $1,500 if using incorrect tenancy

agreements and not including the required statements. Each of the three required statements

carries a penalty of up to $500.

8. An invoice for insulation work carried out and detailing what was installed in a rental

property will pass the insulation statement requirements.

Answer: B - False - An insulation statement must outline the location of any insulation, its

condition, what type has been used, and the R-value. It must also be signed by the landlord or

their agent. An invoice will not generally include all this information.

9. Landlords must now provide tenants with a copy of their own insurance policy if requested.

Answer: A - True - Personal details can be redacted, however, all policy information including

cover and excess amounts should be visible and must be provided to a tenant if requested.

10. What is the maximum allowable level of methamphetamine presence in a rental property

before it is then deemed uninhabitable?

Answer: B or C depending on who you talk to and the situation ( 1.5 μg / 100 cm2 or 15 μg /

100 cm2 - one measure being 10 x higher than the other). - We currently operate in a limbo

state with conflicting guidelines being provided by the NZS:8510 standards and the Gluckman

report. The Tenancy Tribunal may also look at other factors such as the timing and extent of

contamination. Methamphetamine contamination is still a very real risk for landlords, where in

a worst case scenario the tenant may be entitled to all or part of their rent back if they conduct

their own test to find they live in a contaminated property.

11. Tenant X is renting a property at $400 per week and causes damage through careless

behaviour that totals $4,000 to repair. Landlord X has an insurance policy in place with an

excess amount of $1,000. How much of this repair cost will the tenant be liable for?

Answer: C - $1,000 (the excess) - In careless damage situations, a tenant is liable for up to a

maximum of four weeks' rent or the landlord's insurance excess, whichever is the lower amount.

The remaining damages would need to be covered under the landlord's insurance. This highlights

the importance of having good landlord insurance cover.

12. Tenant X is renting a property at $400 per week and causes damage through careless

behaviour that totals $4,000 to repair. Landlord X has no insurance policy. How much of this

repair cost will the tenant be liable for?

Answer: B - $1,600 (four weeks' rent) - In careless damage situations where a landlord has no

insurance, a tenant is liable for up to a maximum of four weeks' rent. The remaining damages

would need to be covered by the landlord - even though the tenant has caused it. This highlights

the importance of having good landlord insurance cover.
---
NOR'WEST NEWS Latest Canterbury news at starnews.co.nz

Thursday August 20 2020 15

Sharing the joy of music

during tough times

THE GLOBAL pandemic

stopped a concert but it

could not stop memories

from being made.

The Christchurch

Symphony Orchestra's

Karawhiua! Let's Play!

Residency Programme

usually finishes with a

concert for school communities

– but Covid-19 tore

the run sheet.

Children at Wairakei

School and Burnside Primary

School were unable

to end the programme

with a concert because of

the alert level 2 physical

distancing rules.

Gatherings of more than

100 people were banned

from Wednesday last week

as the country tackled the

community transmission

of Covid-19 in Auckland.

Community concerts

became impractical – but

that did not mean the pupils'

parents and whanau

had to miss out on seeing

what the children learned

during the week.

Orchestra head of

engagement Cathy Irons,

who helped deliver the

programme at Wairakei

CREATIVITY: Burnside Primary School pupils

were treated to a special workshop by the

Christchurch Symphony Orchestra.

School, said the children

were very excited to learn

they would instead make

a video of their work to

share with their whanau.

It was a pragmatic

response to the Covid-19

response rules, and a new

way to get the fruit of the

children's work into homes

and the wider community,

she said.

The programme gives

children the chance to experience

music by learning

to play new instruments

and taking part in interactive

musical projects.

In one project, pupils

spell their name in Morse

code and use it as the base

rhythm for a song they

compose. Instruments

ranged from ukuleles and

chime bars to violins and

buckets.

Irons said the programme,

which started

in 2009, aimed to give

children access to new

experiences and promoted

confidence, and individual

and shared creativity.

As the country dealt

with the global pandemic,

it also reinforced a sense

of common purpose and

belonging, she said.

FOCUS ON HEALTH

Centuries old folk remedy

supports good health!

A fermented liquid health tonic offers

an array of powerful health benefits. It

is none other than the popular apple

cider vinegar or ACV. Since the time of

Hippocrates – the "Father of Medicine"

– ACV has been renowned for its

curative properties.

In his popular book "ARTHRITIS and

FOLK MEDICINE", DR. D.C. Jarvis

reports how he found that Vermonters

who regularly consumed ACV and

Honey had excellent health with many

putting in a vigorous day's work on the

farm even when well into their eighties.

He also noted the effects of ACV and H

on arthritis to be remarkable with many

patients reporting almost total relief

after taking a course of the mixture.

Dr. Jarvis surmised that the acid and

potassium in cider vinegar counteracted

calcium deposits and helped the body

control calcium use. He also noted that

Vermonters who consumed ACV and H

around meal time had excellent blood

pressure and circulation. The reason he

found was that protein foods thickened

the blood and vinegar thinned it. As

the blood thickens it cannot pass as

easily and quickly through the blood

vessels and capillaries. This poor blood

flow would reduce cellular health by

limiting nutrients to the cells as well

as waste elimination from the cells. To

prevent cell damage the body naturally

increases blood pressure but this puts

more stress on the blood vessels, organs

and heart. Having ACV and H with

meals will help prevent protein raising

the blood pressure. It also contributes to

a feeling of greater well-being because

the thinner blood circulates quickly and

more easily through the blood vessels.

Dr. Jarvis found regular consumption of

CV and H to be an excellent health tonic

with numerous health attributes.

ACV is highly nutritious as it contains

all the goodness of the apple in a

form that is readily accepted by the

body. Good health starts with good

digestion and assimilation of nutrients.

ACV taken before food will stimulate

and promote healthy digestion and

assimilation of vital nutrients for good

health. A well-functioning digestive

system helps prevent disease by

neutralising any toxic substances that

enter the body.

It is important to note not all ACV

is produced in the traditional way and

results are likely to prove disappointing

with these other vinegars.

Marshall's Premium ACV and ACV

with 20% Manuka Honey is produced

in Canterbury from organic whole

apples in the traditional way. It is double

strength so you can use less.

Further information is available

instore from the Natural Health

Advisers at Marshall's Health &

Natural Therapy, 101 Seaview Road,

New Brighton, Phone: 388-5757. We

are always happy to help!

'CEREC' & cosmetic dentistry

Wisdom tooth removal

Painless, high quality dentistry

Sedation dentistry

Experienced, conscientious team

Experienced hygienists

OPEN SATURDAYS

355 9380

144 Cranford Street

www.stalbansdentalcentre.co.nz

Apple Cider VinegAr

Powerful Natural

Health Tonic

ACV is a highly nutritious health tonic with all the goodness of

apples (one of our most health-giving fruits) in a form that is readily

accepted by the body. It promotes healthy digestion, assimilation of

nutrients & elimination of wastes. It is detoxifying, purifying as well as

supporting the function of vital organs like the kidneys, bladder, liver

& heart. It helps neutralise toxic substances & harmful bacteria in

food. A time-honoured natural remedy to improve health & longevity.

Highly recommended as a daily health tonic for everyone!

ACV SUPPORTS

• Healthy digestion, assimilation of nutrients,

elimination of wastes

• Energy – Vitality – Endurance

• Elimination of viruses, bacteria, fungus & parasites

• Powerful antioxidant

• Cardiovascular health,

blood flow & healthy

blood pressure

• Diabetes – improves

insulin sensitivity

• Arthritis & joint support

• Longevity & improved

health

• Settles the stomach &

reduces reflux

• Weight Loss

MAIL ORDER

AVAILABLE

Super price

PrEmIum QuALIty N.Z. DoubLE

StrENgtH, orgANIC APPLE

CIDEr VINEgAr:

750ml only $9.90, 2ltr only $19.90

WItH 20% mANukA HoNEy ADDED:

750ml only $14.90, 2ltr only $29.90

ALWAYS INSIST ON MARSHALL'S TRUE APPLE CIDER VINEGAR

FOR MAXIMUM NUTRITIONAL VALUE & HEALTH BENEFITS!

Bringing You the Best in Natural Health

MARSHALLS HEALTH & NATURAL THERAPY

CONSULTING - PRESCRIBING - DISPENSING - MANUFACTURING - MEDICAL HERBALISTS

101 SEAVIEW RD, NEW BRIGHTON • PH 03 388 5757 • Email: enquiry@marshallshealthshop.co.nz

- WE ARE ALWAYS HAPPY TO HELP! -
---
16 Thursday August 20 2020

Latest Canterbury news at starnews.co.nz

News

NOR'WEST NEWS

BRAVE: Burnside Primary School pupil Mornē Geyer with Ruud Kleinpaste study a spider as part of a science and planting project at the school which

established a new outdoor learning area.

Outdoor area a treemendous effort

BURNSIDE Primary School

pupils had a treemendous

weekend as they and their

community worked on place for

them to learn and relax.

In a burst of arboreal

excellence, they planted more

than 700 native plants and

shrubs to transform a previously

unused area of its grounds into a

dedicated outdoor learning space.

The school plans to use its

new learning space to deliver

science and outdoor education, to

further its current curriculum.

This includes bee studies and

honey making, native tree planting,

harakeke weaving and garden

to table.

Principal Matt Bateman said

the space would become a

teaching tool to educate students

about native trees and animals, as

well an area for pupils to relax.

"We had several students who

were directly affected by the terrorist

attack in Christchurch and

our community is still recovering

from the effects of the earthquakes,"

he said.

"Many of our students have

symptoms post-traumatic stress

disorder as a result.

"Many of our families have also

been affected by financial pressure

as a result of job loss due to the

economic impacts of Covid-19.

"Being amongst nature has

proven to lower stress and

anxiety, and this is exactly what

our students need," he said.

Last weekend, school staff, local

community members, the Mazda

Foundation and the Project

Crimson team worked together to

plant hundreds of native trees.

They also replanted the school's

butterfly garden and built seating

for its hui area.

The school was one of four

selected for a $10,000 grant from

TREEmendous, a joint initiative

between Project Crimson and the

Mazda Foundation.

Foundation chairman David

Hodge said the pupils' passion

to learn about the environment

and willingness to get their hands

dirty was inspiring.

He said he hoped the new

outdoor learning area would

remind pupils they can make

a positive difference and help

them feel connected to their

environment.

They were also visited by

marine scientist Riley 'The

Sharkman' Elliott, who talked

about the importance of caring

for our waterways.

Ruud 'The Bugman'

Kleinpaste and his insect

friends taught the students how

to protect its butterfly garden over

the winter.

Are you ready to grow?

Kiwi Gardener is your practical guide

to gardening in New Zealand.

For all your

pre-loved spring

fashion, come

and see us!

✓ Designer brands

✓ Women's wear

✓ Men's wear

✓ Family clothing

✓ Formal wear

eftPoS only!

and

So much

more!

VISIT US AT ONE OF OUR

FANTASTIC

LOCATIONS! 310Am - 4pm, 7 dAyS A wEEk

SUBSCRIBE FROM

$

20

Sydenham

39 Battersea Street

PaPanui

472 Cranford Street

hornby

94 Shands Road

SUBSCRIPTIONS FREEPHONE

0800 77 77 10

WWW.GARDENER.KIWI
---
NOR'WEST NEWS Latest Canterbury news at starnews.co.nz

Thursday August 20 2020 17

HOME & HEATING

Ground moisture barrier

under low sub-floor

Now with the colder and wetter weather on

its way, home owners are focusing on ways

to make their homes comfortable, warm

and healthy for their families throughout

winter. Rising damp is an issue that affects

many of our older properties which suffer

from poor, or no, ground moisture barrier.

In Canterbury especially, post-quake, many

people have relocated to homes that suffer

from rising damp which can be associated

with health problems. Independent tests have

shown that up to 40 litres of water can rise

from the ground and enter a house every day,

leading to mildew, mould, condensation and

musty smells. Moulds can produce various

allergic reactions and the frail, elderly and

very young are especially vulnerable.

Canterbury Foam Concrete Ltd is a

locally owned and operated firm. The team

understands the problems caused by rising

damp and are there to help. They will come

to your damp home and pump a lightweight,

flowable foam concrete under your timber

floored home.

While insulation is important, it has been

recognised that it is dampness that is the real

villain in the house. The new Healthy Homes

Standards introduced by the government

effective from the 1st July 2019 now has

a requirement to install ground moisture

barriers, a key element in the armory to fight

moisture in the home.

Dr Larry Bellamy BE (hons) PhD in a

report dated 1988: Foam Concrete Under

Timber Floors: An Energy Analysis assessed

the effects of placing Foam Concrete over

damp soil and had this to say: Condensation

on the underside of a timber floor can occur

where the floor is suspended over damp

ground and the inside air temperature falls

close to the crawl space air temperature.

Much energy is required to vaporize moisture

that penetrates the structure. By avoiding

underfloor condensation, foam concrete can

reduce floor heat losses by up to 90%.

• Canterbury Foam Concrete Ltd can in most

cases, install a Ground Moisture Barrier

under the suspended wooden floor of your

home, even when there is no crawl space.

• BRANZ Appraised; Appraisal Number 961

• Members of the Insulation Association of

New Zealand.

• We offer a free measure and quote in the

Canterbury region with no obligations.

• Assessments can be made in all other

regions by arrangement.

Contact Canterbury Foam Concrete

Ltd now for your free, no obligation quote

and complimentary appraisal of your

underfloor ground moisture barrier needs.

Phone 03 376 4608, 0508FOAMCO or www.

foamconcrete.nz for more information.

ATTACK RISING DAMP

Zone Control for your

ducted heat pump

Ducted heat pumps are a highly efficient

way to heat (or cool) your home. The

air from the heat pump is ducted to

several rooms or zones in your house.

Using a zone control system makes your

ducted heat pump even more efficient, by

specifying the amount of heat required

in each area, so not wasting energy to

overheat or overcool any room.

The AirTouch4 zone control system

from Smooth-Air takes ducted heat pump

air zoning to a whole new level of comfort

and energy efficiency.

AirTouch4 - The Ultimate Zone

Control

Have total control of your comfort zone:

AirTouch4 lets everyone enjoy a different

level of conditioned air in the room they

are in.

Save money on the power

bill, without compromising on

comfort, by only running the

heating or cooling where you

need it with Smart Zoning.

Plus with runtime tracking,

energy and airflow management

technology, you can enjoy greater

efficiency and savings from your

family's ducted heat pump.

60 %

The AirTouch4 can also

connect to Google Home and

Amazon Alexa.

Not every home is designed

equal. Not every room is either.

Adapt your home to

YOUR IDEA

OF COMFORT

Temperatures can often fluctuate from

one room to the next because of sunlight,

room activity or other factors.

With AirTouch4's Individual

Temperature Control Technology (ITC),

the AirTouch monitors temperatures

and smartly adjusts airflow as needed

around your home with the aid of multiple

wireless temperature sensors instead of a

single sensor in one location. When some

rooms get too hot or cold, the AirTouch

will adjust airflow to maintain your desired

temperature, without wasting conditioned

air on rooms already comfortable.

Contact Smooth-Air on 0800

SMOOTH or sales@smooth-air.co.nz

for more information on the AirTouch4

zone control.

Smooth-Air

Ventilation Equipment Suppliers

totrade

retail

&

Ducted Heatpump zone control

www.airtouch.co.nz

T. 03 376 4608 E info@foamconcrete.nz

W. www.foamconcrete.nz

HEAT PUMP

SALE NOW ON!

Amazin' winter Specials!!

90%

SubSidy

Warmer KiWi HomeS

Programme

*Eligibility criteria apply

• We will offer you the best quality brands and

option of heat pump for your home/business

• Providing Heat Pump solutions for over 18 years to Cantabrians

• We personally guarantee all our products & installs for 5 years

(providing annual maintenance has been completed)

Phone us today for your free consultation & quote

41A SHAKESPEARE RD, WALTHAM

PHONE 03 366 0525

www.enviromaster.co.nz

"A local team for local people"

Adapt your home to

YOUR IDEA

OF COMFORT

OFF

60 23º

% OFF

75 %

80 % 50 %

100 21º

%

60 % OFF

100 %

18º 80 % 50 22º

%

OFF

75 20º

%

Adjust the airflow around your home in 5% increments so everyone enjoys their own comfort zone.

Adjust the airflow around your home in 5% increments so everyone enjoys their own comfort zone.

0800 SMOOTH

(0800 766 684)

sales@smooth-air.co.nz

264 Annex Rd

Riccarton

Christchurch

03 343 6184

SMART

INTEGRATIONS

INTELLIGEN

WITHOUT W

INTELLIG

WASTAGE

WITHOUT

INTELLIGENT

& WITHOUT

Save money on

your power bill

Monday - Friday

7.30am - 5pm

www.smooth-air.co.nz
---
18 Thursday August 20 2020

Latest Canterbury news at starnews.co.nz

NOR'WEST NEWS

If you want more information about an item or to contact a

seller, visit www.postanote.co.nz and search the ID#

Electrocoup & Pellenc Pruners

1939 Austin Austin 10

Pre-War Saloon

Wideglide Tank

Mitsubishi L300

(Long Wheelbase)

Toyota Vitz

Toyota Corolla DX Wagon

$1,200

ID 35233

$7,500

ID 35099

$450

ID 33239

$9,000

ID 35268

$1,850

ID 35250

$2,000

ID 35262

Cast Iron Water Pump Medium

1962 Land Rover

Series SWB 2A

Half Farthing British Coins

Rimu Dresser With Mirror

Ammunition Reloading Dies

for .300 Savage

Nissan Note

$160

ID 35172

$7,500

ID 35097

$20

ID 35205

$100

ID 35183

$65

ID 35249

$6,000

ID 34110

French Style Armoire — New

Hilux Canopy

Chest Freezer - Small

Yard Machine Ride-on Mower

Dumbbell 1.5kg

BMW X5

$2,350

ID 35170

$500

ID 35031

$180

ID 35159

$1,200

ID 34586

$2

ID 35134

$17,500

ID 35008

Matthew Smith - 'Landscape near

Aix,' Framed Colour Print c 1935

BOC Smootharc MMA170

Welding Machine

Storage Closet/Wardrobe

Mitsubishi Lancer

Bake Cake Pan Springform

Pan 23.5cm

Wooden Single Bunks

$120

ID 33294

$120

ID 35092

$240

ID 31468

See Seller

ID 35229

$5

ID 35133

$100

ID 35086

Genuine Leather Boots Size 7

Pine Vanity

Ford Festiva

Van Toyota Granvia

( Self contained)

HD28 Martin Guitar

Insulated Kennel

with attached Run

See Seller

ID 21287

$250

ID 34720

$1,500

ID 34861

$4,500

ID 35132

$3,699

ID 26803

$375

ID 34821

Ingersol Rand Rattle Gun

Rimu TV/Stereo Cabinet

ABBA ARRIVAL LP

Near New Trailer

2014 Toyota Hilux

Heater

$400

ID 26130

$115

ID 34665

$20

ID 29815

$6,000

ID 33101

$24,500

ID 34186

$15

ID 34839

Sea Anchor & Buoys

Ford Transit

WWII Helmet

Vintage Bedroom Furniture

BOC Smootharc MMA170

Welding Machine

Couch & 2 Armchairs

$60

ID 35095

$6,750

ID 34119

$95

ID 34584

$750

ID 32749

$120

ID 35092

$50

ID 34040

0720h10
---
NOR'WEST NEWS Latest Canterbury news at starnews.co.nz

Thursday August 20 2020 19

Classifieds Contact us today Phone our local team 03 379 1100

Caravans, Motorhomes

& Traliers

CARAVAN WANTED.

4-5 berth,UK type, dont

mind repairs .Ph 027

3679737

CARAVAN

We can sell your caravan

on your behalf in our busy

yard at 512 Blenheim

Road. Affordable

Caravans

Ph 03 348 6614

CARAVAN WANTED

Uk type, Ph 027 2495571

Church Notices

SMALL NON

DENOMINATIONAL

GROOUP. Meet to

read bible on Monday

afternoons.All welcome.

For more info phone

Veronica 960 7655 or 021

022 92613

Community Events

ALCOHOLICS

ANONYMOUS, If you

want to have a drink that's

your business. If you want

to stop, we can help. Phone

0800 229-6757

Wanted To Buy

AAA Buying goods

quality furniture, beds,

stoves, washing machines,

fridge freezers. Same day

service. Selwyn Dealers.

Phone 980 5812 or 027

313 8156

TOOLS Garden,

garage, woodworking,

mechanical, engineering,

sawbenches, lathes, cash

buyer, ph 355-2045

Grout &

Silicone

• Replace missing grout

• Epoxy grout shower

bases

• Replace mouldy silicones

• Stainproof grout

• Change grout colour

GroutWorx

Grout Restoration Specialists

Call Derek on 021363786

House & Garden

Property services Ltd

Tree & hedge

trimming

& removal

Stump Grinding

CALL us 021 405 277

DRIVEWAYS

Exposed Aggregate

Stamped Concrete Plain

Concrete Resurfacing

Things we offer...

Competitive/affordable pricing

Attention to detail

Professional service

free quotes/insurance scopes

Cell 0278 145 848

www.drivecrete.co.nz

house and garden

home

cleaning

Trades & Services

concrete & paving

• Driveways

• Earthquake repairs

• New Home Specialists

• Patios & Paths

tel: 0508 873 7483

email: sales@affordableconcrete.co.nz

www.affordableconcrete.co.nz

gardening

services available

throughout

christchurch

your one stop shop for home services

www.anextrapairofhands.co.nz

info@anextrapairofhands.co.nz

0800 535 355

Specializing in:

• Roof Painting

• Interior/exterior

residential

• Small commercial

painting

Trades & Services

PAINTERS

Painters and Decorators Ltd

Canterbury Owned and Operated

A husband and wife team

Noel 027-411-3596

kemp.painters@gmail.com

kemp painters and decorators

PLUMBER

We offer

free quotes

Quality not

Quantity

NEED A PLUMBER

Call us now for fast friendly service.

Get your problems sorted out

quick smart - on time!!

Phone for a

FREE

quote now.

Phone 03 377 1280 | Mobile 021 898 380

WINDOW TINTING

tintawindow

advanced film solutions

99% uv block

fade protection

heat control

reduce glare

25 Years Experience

privacy films

frosting designs

non-darkening films

Workmanship Guaranteed

Lifetime Warranties on Most Films

UV

block

Free Quotes Canterbury and Districts

03 365 3653 0800 368 468

Trades & Services

AWSOM ROOFS

24/7

MOSS

TREATMENT

ROOFS $300

• Oamaru StOne

• Driveway

• PathS

• hOuSe

• General exterior

wash Down

• tidy up

Ph: 027 561 4629

Kevin

Electrician

Registered Master

Electrician

• No Callout or Travel

Fees

• Reasonable Rates

Domestic

Commercial

Industrial

• Installations,

Repairs, Maintenance

Free Quotes & Advice

Phone Tom

0274 355 496

or 347 9252

E tomx2@xtra.co.nz

BATHROOM

RENOVATIONS

complete service from

start to finish, free quotes,

ph Dave 027 334 4125

BRICKLAYER

George Lockyer. Over

40 years bricklaying

experience.Uk trained.

Insurance work, EQC

repairs. Heritage

brickwork & stonework

a speciality. No job too

small. Governers Bay.

Home 329 9344. Cell

027 684 4046. E mail

georgelockyer@xtra.co.nz

CARPET LAYING

Exp. Repairs, uplifting,

relaying, restretching.

Phone John on 0800

003181, 027 240 7416

jflattery@xtra.co.nz

Trades & Services

ELECTRICIAN

Hickey Electrical.

Reasonable rates, no

call out charge. www.

electricnz.com

Ph Jason 021 260 3426

PAINTER QuALIfIEd

local professional, int/

Ext,roofs,wallpaller, call

or text Corban 027 846

5035

PAINTER

New, older homes,

interior, exterior. We stand

by Canterbury. Ph Wayne

0272 743 541, 385-4348

ROOfING REPAIRS

Fully qualified, over 40

yrs experience. Ph John

027 432-3822 or 351-

9147 email johnchmill@

outlook.com

SHOE REPAIRS

Belfast engraving. Shoe

repairs, key cutting &

engraving. (10 yrs exp)683

Main North Rd, ph 027

3113423

STONEMASON,

BRICK BLOCKLAYER,

Earthquake Repairs, Grind

Out & Repoint, River/

Oamaru stone, Schist,

Volcanic Rock, Paving,

all Alterations new & old,

Quality Workmanship,

visit www.featureworks.

co.nz or ph 027 601-3145

STuMP GRINdING

Best price guarantee Tony

0275 588 895

TILING

Flooring - Splashbacks -

Wall incl tile removal, reg

master tiler, ph Dave 027

334 4125

VHS VIdEO TAPES

& all camera tapes

converted to DVD or

USB. Video taping

special occasions,

www.grahamsvideo.

co.nz ph 03 338-1655

VHS VIdEO TAPES

& all camera tapes

converted to DVD or

USB. Video taping

special occasions, www.

grahamsvideo.co.nz ph 03

338-1655

ADD SOME

COLOUR

TO YOUR ADVERT!

Public Notices
---
20 Thursday August 20 2020

Latest Canterbury news at starnews.co.nz

NOR'WEST NEWS

RAY WHITE PAPANUI NEWS

Ray White Supports Ronald McDonald House

Last week we had the pleasure

of cooking with our Property

Management team for the families at

Ronald McDonald House. We chose

a fun Safari Theme, Grazing Style! It's

great to be able to give something back

and the volunteers that work at the

house are amazing!

Vanessa Golightly,

Business Owner

and Licensee Agent

Ray White Papanui

027 664 9292

How to Successfully do Art at Home

Beverley Frost from the local Artbox

Gallery answered a few questions for

us to share with you all about how to

successfully have art in your home.

1. I have moved into a new home and

I want to put art on the walls . Where

do I start ?

It's best to pop into the gallery and

have a friendly, no pressure chat. Bring

us photos of your rooms on your mobile

if you like or call us about our free Local

Home Visit service. If you're starting

from scratch, the piece over the sofa or

fireplace, the piece that greets you in an

entranceway and the dining space have

the most impact. Once these are sorted

it's easier to choose other pieces.

2. Is art expensive?

There's a feeling that all art is expensive

but we can assure you that you'll find

something in your price range. At Art

Box we have original work and limited

edition prints ranging from $50 to

$5000.

The Residential Tenancies Amendment

Act (RTA) was passed recently and now

moves to gain Royal Assent in order to

become law.

Not dissimilar to the many other

updates and amendments to the RTA

in the past few years, it will be the way

that investment property owners react

which will define the outcome for both

landlords and tenants.

The majority of changes will come into

force roughly six months after Royal

Assent is gained (so February 2021).

In brief here are the changes coming

our way:

The Government's aim with the

reforms is to focus on helping tenants

who meet their obligations to be able

to stay in their homes by removing "no

cause" 90-day termination notices, and

replacing them with a comprehensive

list of specified, justified reasons that

a landlord can use to end a tenancy.

This will include, moving back into the

3. Should the art match?

It's fine if you want to match your art

to your setting or have an eclectic non

matching collection. Recently in the

Resene magazine the interior designers

suggested starting a room design

around a piece of art. Others like to

finish the room with the art, it's really

up to you. All we ask is that you love the

piece you choose. Your home will then

reflect your personality.

4. How do I know my style?

This can be tricky for the novice

art buyer! The best way is to have

a look and see what jumps out to

you. The more you buy, the more

you know what you love when

you see it and it soon becomes an

obsession! Come into the gallery

and just spend time browsing and

seeing what appeals. Be open to

styles and colours. Sometimes

an abstract piece might appeal

and then other times a realistic

The Residential Tenancies Amendment Act

property, doing major renovations to

the property, as well as if the property

is sold.

Other changes include:

•Making rental properties safer and

more liveable by enabling tenants to

make minor changes to the property,

such as installing child-proofing,

hanging pictures, or earthquakeproofing.

•Improving compliance by introducing

a range of tools for the Regulator (the

Ministry of Business, Innovation and

Employment) to respond to people who

are not meeting their obligations.

•Banning landlords from seeking rental

bids and limiting rent increases to once

every 12 months.

I cannot stress enough the importance

of not reacting and making rash

decisions based on hearsay. Instead it is

important that you speak to the experts

before making any decisions.

piece. The worst thing is to buy all

the same style so take your time and

ask questions. Think about where the

painting will hang, for example, is it a

hot sunny room, will the light reflect on

the glass?

5. Top tip for buying novices

Buy what you love (and can afford) and

you'll always love it.

When I first heard of this latest raft

of changes, I personally was a little

nervous, however when I took time

to think it through a little more I

concluded that in actual fact, the way

we run our property management

business means that there will be little

change, and certainly none that will

adversely affect our landlords. We

already have the best pre-tenancy

checks in the business, and have

wonderful tenants in place, so this

coupled with our experience and the

systems we have, means that it will be

more or less business as usual for our

clients.

If you need any advice or clarity around

the new legislation please feel free to

contact me.

Katrina Green,

Operations Manager

Property Management

027 606 0030

Vanessa Golightly

Licensee Agent &

Business Owner

027 664 9292

Stuart Morris

Licensee Agent

& Auctioneer

027 422 6395

Tracy Thomson

Licensee Salesperson

027 440 3035

Ashleigh Pattullo

Licensee Salesperson

027 865 9672

Bronwyn Corps

Administrator

Allie McConnell

Property Management

Assistant

Claire Morris

Licensee Agent &

Business Owner

027 662 4822

Katrina Green

Operations Manager

Property Management

027 606 0030

Tania Ikin

Licensee Salesperson

022 509 2755

Olivia Hendry

Executive Assistant

Estelle Schuurman

Property Manager

Joy Coughlan

Mortgage Broker

027 223 3572

Level 1, 7 Winston Avenue, Papanui

Phone (03) 352 0567 | rwpapanui.co.nz | /RayWhitePapanui Morris & Co Limited | Licenced REAA 2008