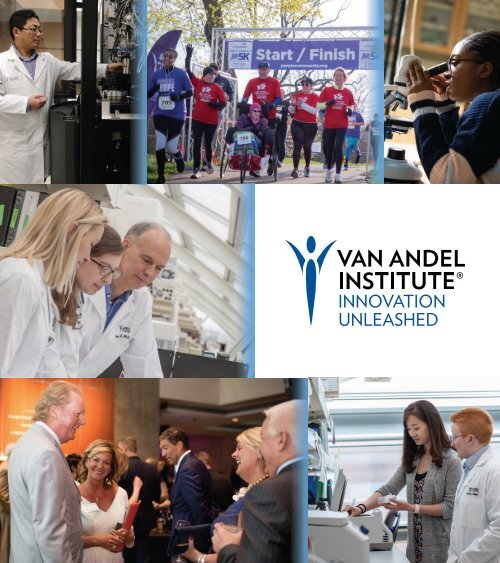 VAI Folio
Informational brochure about Van Andel Institute
Informational brochure about Van Andel Institute
SHOW MORE
SHOW LESS
Create successful ePaper yourself
Turn your PDF publications into a flip-book with our unique Google optimized e-Paper software.
TABLE OF CONTENTS

Van Andel Institute is committed to improving the

health and enhancing the lives of current and future

generations through cutting-edge biomedical

research and innovative educational initiatives.

The Institute is home to more than 400 scientists,

educators and support staff who collaborate with

partners around the world to catalyze discovery and

translate bold ideas into breakthrough treatment

strategies for cancer, Parkinson's and other

diseases.

Our Graduate School offers a rigorous, researchintensive

Ph.D. program that develops leaders in

molecular and cellular biology. And our inquirybased

approaches for K-12 education activate

life-changing progress with greater impact than

traditional academic models.

We invite you to discover our people and share in

our progress.

4

7

8

10

12

14

16

18

20

OUR STORY

David & Carol Van Andel

HOW WE MAKE IT REAL

WHAT WE STUDY

RESEARCH BY THE NUMBERS

GRADUATE SCHOOL BY THE NUMBERS

WHERE WE COLLABORATE

CATALYTIC COLLABORATIONS

CATALYTIC COLLABORATION

Dr. Peter A. Jones

A PERSONAL CONNECTION

Dr. Patrik Brundin

AT THE FOREFRONT

Dr. Rita Guerreiro & Dr. José Brás

A PASSION FOR RESEARCH

Menusha Arumugam

INSPIRING THE NEXT GENERATION

Ben Talsma

WHAT MAKES US DIFFERENT

AREAS OF RESEARCH & EDUCATION

HOW WE'RE MAKING A DIFFERENCE

RESEARCH HIGHLIGHTS

CLINICAL IMPACT

K–12 EDUCATION MAKING A DIFFERENCE

3
---
VAN ANDEL INSTITUTE BEGAN

WITH A VISION: TO IMPROVE

HUMAN HEALTH AND ENHANCE THE

LIVES OF CURRENT AND FUTURE

GENERATIONS.

Van Andel Institute was founded in 1996 to pursue breakthroughs in biomedical research and

promote novel approaches to science education. Under the leadership of David and Carol

Van Andel, the Institute collaborates at the forefront of basic and translational science to multiply

the impact of discovery. Through shared values and an entrepreneurial spirit, we spark innovation

to answer critical questions for our world.

"At Van Andel Institute, our mission

is simple: we want to improve lives

today and for future generations. From

our home in Grand Rapids, we partner

globally, pioneering paths to lifechanging

therapies and treatments for

people living with diseases like cancer

and Parkinson's. We work urgently

every day, knowing that the next

development could improve countless

lives for the better. We may never be the

largest research institute, but we strive

to be the best at what we do."

David Van Andel

Chairman & CEO

Van Andel Institute

"Our personal journey drives us every

single day. We know exactly what it feels

like to face one of these diseases as a

patient, a caregiver and a family. We've

lived it, and we empathize with everyone

who receives a life-changing diagnosis.

Everything the Institute does — from

research in our labs to education in the

classroom and events in the community

— is a critical part of our mission to

provide hope to those who need it most."

Carol Van Andel

Executive Director

David & Carol Van Andel Family Foundation

5
---
BUT IT'S NOT JUST OUR MISSION

THAT SETS US APART. IT'S HOW WE

MAKE IT REAL.

"This place is a miracle. As

a survivor and a person

whose family has been

affected by cancer, I am

well aware that we need

better treatments and

cures. I also know that if

we can continue to support

research with discipline

and tenacity, we will one

day find them."

Dr. Juan Olivarez

Donor & Trustee

WHAT WE STUDY

Alzheimer's disease

Metabolism

Diabetes Depression

Multiple system atrophy Neurofibromatosis type 1

Blood cancers Prostate cancer

Parkinson's disease

Epigenetics

Aging Cancer

Sarcoma

Ovarian cancer

Dementia with Lewy bodies Osteoarthritis Breast cancer

Heart disease

Osteoporosis

Bone diseases

RESEARCH BY THE NUMBERS

32

8

3

2

3

3

Labs

Cores

Structural biology

Colorectal cancer

Pancreatic cancer

Members of National Academy of Sciences

Members of American Academy

of Arts and Sciences

Fellows of American Association

for the Advancement of Science

Fellows of American Association

for Cancer Research Academy

GRADUATE SCHOOL BY THE NUMBERS

5.3

3

3

68 %

75 %

YEARS AVERAGE TIME TO Ph.D.

SEVEN-WEEK LABORATORY ROTATIONS

DURING FIRST TWO SEMESTERS

YEARS OF DOCTORAL CANDIDATE THESIS RESEARCH

IN A FACULTY MENTOR'S LAB

Ph.D. GRADUATION RATE

TOTAL GRADUATION RATE (Ph.D. and M.D.)

WHERE WE COLLABORATE

Van Andel Institute has employees from more than 40 countries

and collaborates with scientists around the world.

CATALYTIC COLLABORATIONS

Through collaboration with key philanthropic,

academic and pharmaceutical industry partners,

we are working to translate what we learn in our

laboratories into clinical trials to develop new

treatments for cancer and Parkinson's disease

patients.

VAN ANDEL INSTITUTE–STAND UP TO CANCER

EPIGENETICS DREAM TEAM

12+

TRIALS

470+

15+

CLINICAL

SITES

PATIENTS ENROLLED

VAN ANDEL INSTITUTE–CURE PARKINSON'S TRUST

INTERNATIONAL LINKED CLINICAL TRIALS INITIATIVE

15 TRIALS 10

TRIALS IN

DEVELOPMENT

850+ PATIENTS ENROLLED 7
---
OUR UNIQUE COMMITMENT TO CATALYTIC

COLLABORATION CREATES, FACILITATES,

FUNDS AND FUELS PARTNERSHIPS LIKE NO

OTHER ORGANIZATION.

"Our mission extends far beyond the walls of the Institute. We seek out and bring

together the best minds from around the world to collaborate on the development

of treatments and cures, and we offer the leadership, support and resources that

accelerate the work they do. Our mission always leads the way at VAI, but how we

achieve it is what makes us special."

CATALYTIC COLLABORATION

Dr. Peter A. Jones saw a remarkable opportunity

at Van Andel Institute. It was the chance to

build a model for research and discovery that

could positively impact human health while

pushing the frontiers of science.

Now, after several years and establishing

VAI as a leader in epigenetics, Jones believes

the Institute is well on its way to realizing

that vision — the result of rigorous science,

removing obstacles to progress and creating

an environment where every member of the

Institute owns the mission.

"I call it catalytic collaboration. Here, the

brightest minds work together without limits.

People want to come here because they see VAI

as a major scientific hub that turns big ideas

into real breakthroughs for human health."

Dr. Peter A. Jones

Chief Scientific Officer

Distinguished Professor, Center for Epigenetics

9
---
IT STARTS WITH OUR PEOPLE, EACH

OF THEM DEEPLY CONNECTED TO

THE WORK WE DO, EACH OF THEM

DRIVEN BY AN URGENT DESIRE TO

MAKE A DIFFERENCE.

"When I was 13, my father was diagnosed

with Parkinson's disease, and I knew

then what I was going to do with my life.

At VAI, we're getting closer every day to

slowing, stopping and even preventing

the progression of Parkinson's. We're

pursuing some of the most exciting

breakthroughs in the field."

Dr. Patrik Brundin

Associate Director of Research

Professor & Director,

Center for Neurodegenerative Science

A PERSONAL CONNECTION

After spending much of his career in academic

research and establishing himself as a leader

in the field of neurodegenerative disorders,

Dr. Patrik Brundin sensed a passion and

determination to cure Parkinson's disease

among Van Andel Institute leadership that

matched his own, and he found a new path

forward.

Since joining the Institute in 2012, he has

assembled a team of world-class scientists who

bring diverse approaches to their work and

share a sense of urgency to develop treatments

that improve outcomes for real people.

"It's important to me that our team includes

people with a range of perspectives: be it from

different scientific backgrounds, working with

new technologies, or just challenging the status

quo. It's the only way we're going to beat these

diseases," Brundin said.

"Being rigorous and ambitious is how we work

here at VAI. At the same time, we all share a

personal connection to our mission that drives

us forward. That's what unites and motivates

us to pursue breakthroughs that will improve

quality of life for people with Parkinson's, and

one day, prevent the disease altogether."

11
---
IT CONTINUES WITH A CULTURE THAT

VALUES CURIOSITY AND ENCOURAGES

BRIGHT MINDS TO TAKE RISKS IN THE

NAME OF PROGRESS.

AT THE FOREFRONT

One visit was all it took for Dr. Rita Guerreiro

and Dr. José Brás, scientists originally from

Portugal, to decide to join Van Andel Institute.

From their first moments in Grand Rapids,

they sensed an overwhelming institutional

commitment and understood how fully

their groundbreaking approaches would be

encouraged. They believed the breakthroughs

they hope to achieve would be possible.

Using cutting-edge genomic technologies,

bioinformatics and computational biology to

analyze robust and timely data from every

corner of the world, they are working to

understand why and how neurological

diseases occur, mindful with every step of

a shared goal to transform people's lives

through discovery.

"The work we do at VAI is for people,

not just for the sake of science. Our

research analyzes massive amounts

of data to uncover the similarities

in people who have been affected by

neurodegenerative disorders like

Alzheimer's, Parkinson's or Lewy

body dementia. This is cutting-edge

technology, but behind each data

point is a person we want to help."

Dr. Rita Guerreiro

Associate Professor,

Center for Neurodegenerative Science

13
---
ALL OF IT IS FOCUSED ON BRINGING

TOGETHER THE BEST IDEAS FROM

AROUND THE GLOBE TO ACHIEVE

TRANSFORMATIONAL BREAKTHROUGHS

IN SCIENCE AND EDUCATION.

A PASSION FOR RESEARCH

Menusha Arumugam was always inspired by

science, but unlike many of her peers who

aspired to become doctors, she found herself

most at home in the research lab. She learned

of Van Andel Institute after coming to the

United States from Malaysia to study biology

as an undergraduate student. During her first

visit to VAI, "the commitment everyone has

to supporting, mentoring and developing one

another here was clear right away."

"At Van Andel Institute Graduate School,

we aren't training students to be

students — we're training them to be

the scientific leaders of tomorrow."

Dr. Steven J. Triezenberg

Dean, Van Andel Institute Graduate School

Now well into her studies at VAI, Arumugam is

working alongside some of the sharpest minds

in science as she pursues advances in cancer

research. "I'm grateful for the experience I've

had at the Institute. I talk to graduate students

at other schools and they don't get nearly the

level of support we do here. It's an incredible

opportunity that's allowing me to fulfill my

dream of helping people through my passion

for research."

"I've wanted to be a scientist my

whole life. Even as a graduate student

at VAI, I already feel like a trusted

colleague. I'm treated like someone

who will contribute to the next

breakthrough in human health."

Menusha Arumugam

Ph.D. Candidate

15
---
BREAKTHROUGHS THAT MATTER

BECAUSE THEY ENHANCE LIVES.

"It's inspiring to see how much a

simple experiment can transform a

child's view of the world. At VAI, we're

helping students learn to think in

ways that will help them become a

generation of innovators and creators."

Ben Talsma

Learning Solutions Specialist

INSPIRING THE NEXT GENERATION

Ben Talsma has two passions:

bringing education alive for students

and making the world a better

place. It was the pursuit of these

two passions that made Van Andel

Institute the perfect fit.

Talsma first collaborated with

the Institute as an award-winning

educator. Since joining VAI, he sees

his values brought to life every day,

as teachers learn to transform their

instruction and as students find new

joy in learning.

Talsma believes that VAI is home to

an incredible combination of people,

programs and resources and that

it will impact countless students for

years to come.

"We're in the business of giving

life to extraordinary ideas.

For students, we inspire a sense

of wonder and possibility.

For teachers, we support them

in creating learning experiences

that are meaningful and fun."

Terra Tarango

Chief Education Officer

17
---
THIS IS WHAT MAKES US DIFFERENT.

It's a vision that empowers us to set lofty goals and gives us the

confidence to pursue them.

AREAS OF RESEARCH & EDUCATION

EPIGENETICS

Epigenetics examines how

the instructions in our DNA

are used to determine cell

form and function. VAI

scientists are investigating

the role of epigenetics in

health and diseases like

cancer, neurodegenerative

disorders and diabetes,

with the goal of developing

new prevention and

treatment strategies that

could help millions of

people around the world.

CANCER

Cancer encompasses

more than 100 different

diseases characterized by

uncontrolled cell growth.

At VAI, scientists are

investigating how and why

cancer begins and the

mechanisms that allow it

to spread — key steps to

designing life-changing

diagnostic and treatment

strategies.

PARKINSON'S DISEASE

& NEURODEGENERATIVE

DISORDERS

Thanks to recent

advances, VAI scientists

are narrowing down the

factors that contribute

to neurodegenerative

diseases like Parkinson's

and working to translate

these findings into new,

life-changing therapies.

METABOLISM

& NUTRITION

Metabolism is a vast array

of chemical reactions that

power every biological

process in our bodies,

from regulating appetite to

ensuring that the immune

system can fight off viruses

and bacteria. VAI scientists

are studying metabolism

and how it is impacted by

nutrition and our own genetics

to improve, predict,

prevent, diagnose and treat

disease.

BONE DISEASE

STRUCTURAL BIOLOGY

GRADUATE EDUCATION

K–12 EDUCATION

VAI scientists study several

aspects of bone biology,

from the mechanisms that

give rise to healthy bone

tissue to those that cause

disease, with the goal of

developing new, more

effective treatments.

Understanding how the

smallest parts of the

human body work together

gives us vital insight into

health and disease. VAI

scientists seek to reveal

the molecular architecture

of these critical building

blocks, notably the vast

array of proteins that carry

out our biological functions.

The Graduate School

develops the next

generation of scientists

through its innovative,

problem-based Ph.D.

program in molecular and

cellular biology. Students

conduct rigorous science

and translate findings

into clinical applications,

blending discovery with

invention and insight

with application.

Through hands-on student

programs, innovative

project-based learning and

transformative professional

development for teachers,

VAI is ushering in a new era

in K–12 education — one

where students develop

not only knowledge, but

also their ability to apply

that knowledge to making

the world a better place.

19
---
AND IT'S HOW WE KNOW WE'RE

MAKING A DIFFERENCE.

For those affected by neurodegenerative diseases like

Parkinson's and Alzheimer's. For people fighting cancer.

For students and teachers embracing the challenges

facing our world.

RESEARCH HIGHLIGHTS

Establishing a link between

the appendix & Parkinson's

Blood test for

pancreatic cancer

Developing more precise

medications

Viral mimicry improves

cancer treatment

VAI scientists identified

the appendix as a

possible starting point

for Parkinson's, opening

the door to potential

new therapies that aim

to head off the disease in

the gut, long before motor

symptoms occur.

VAI scientists developed a

new combination blood test

for pancreatic cancer that

may help catch the disease

sooner, which could lead to

earlier and more effective

medical intervention.

VAI scientists for the first

time identified the structure

of a G protein–coupled

receptor, a major drug

target, which is a critical

step in understanding its

function and leveraging it

for treatment of disease.

VAI scientists and

collaborators have found

that anti-cancer drugs

called demethylating

agents trick cancer cells

to behave as though they

are infected with a virus or

other pathogen. This "viral

mimicry" leads to cell death,

decreasing the number of

cancer cells and improving

the effectiveness of other

treatments, such as chemoand

immunotherapies.

Earliest stages of life

VAI scientists are studying

how DNA replicates, which

may one day contribute to

the development of better

therapies for the more

than 40 diseases related

to failures in this process.

SU2C Catalyst awards

The Van Andel Institute–

Stand Up To Cancer

Epigenetics Dream Team

scientists earned two of 10

prestigious Catalyst awards

from Stand Up To Cancer,

which support clinical trials

for new bladder cancer

and non-small cell lung

cancer therapies.

Creating a cancer atlas

VAI scientists played

integral roles in The Cancer

Genome Atlas, a federally

led project to molecularly

map cancer. The more

than decade-long initiative

was the most in-depth

undertaking of its kind,

spanning 10,000 tumors

across 33 cancer types.

Spread of Parkinson's

disease through the brain

VAI scientists were the first

to show that a Parkinson's

disease-associated protein

spreads from parts of the

brain connected to the

nose to other brain regions

affected by the disease. The

discovery has implications

for finding ways to slow or

stop disease progression.

Van Andel Institute Purple Community collaborates with community, educational

and corporate partners to raise funds for VAI's research into diseases like cancer

and Parkinson's. 100% goes directly to the cause.

21
---
AT VAN ANDEL INSTITUTE, WE

DO MORE THAN DREAM ABOUT

IMPROVING HUMAN HEALTH.

WE STRIVE TO MAKE IT

A REALITY EVERY DAY.

CLINICAL IMPACT

VAN ANDEL INSTITUTE–STAND UP TO CANCER (VAI-SU2C)

EPIGENETICS DREAM TEAM

Optimizing drug combinations for a one-two punch

against cancers, including:

» Metastatic colorectal cancer

» Acute myeloid leukemia (AML)

» Myelodysplastic syndrome (MDS)

» Chronic myelomonocytic leukemia (CMML)

» Non-small cell lung cancer

» Bladder (urothelial) cancer

» Liver, pancreatic, bile duct and gallbladder cancers

» Breast cancer

K–12 EDUCATION MAKING A DIFFERENCE

Creating classrooms where curiosity, creativity

and critical thinking thrive.

International Linked

Clinical Trials (iLCT)

Repurposing existing

drugs to shorten the

development pipeline in

collaboration with The

Cure Parkinson's Trust.

The iLCT initiative

aims to identify new

therapies for Parkinson's

disease by repurposing

medications used

for other conditions,

including diabetes,

high cholesterol and

respiratory ailments.

200+

5K+

7K+

SCHOOLS IMPLEMENTING VAI'S

PROJECT-BASED LEARNING UNITS

TEACHERS AND LEADERS ATTENDING VAI'S

PROFESSIONAL DEVELOPMENT WORKSHOPS

STUDENTS SERVED WITH VAI'S

INNOVATIVE STUDENT PROGRAMS

Van Andel Institute's signature events are an important catalyst for scientific

innovation, bringing community members together in support of research and

educational initiatives that give people hope for a healthier future.

23
---
333 Bostwick Ave. NE | Grand Rapids, MI 49503 | 616.234.5000 | vai.org