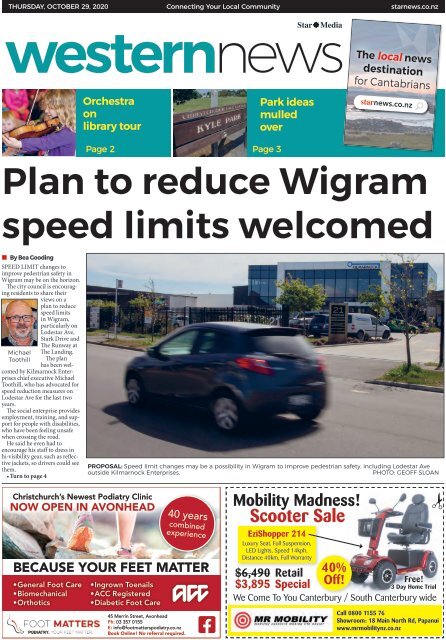 Western News: October 29, 2020
You also want an ePaper? Increase the reach of your titles
YUMPU automatically turns print PDFs into web optimized ePapers that Google loves.
THURSDAY, OCTOBER 29, 2020

Connecting Your Local Community

starnews.co.nz

The local news

destination

for Cantabrians

Orchestra

on

library tour

Park ideas

mulled

over

Page 2 Page 3

Plan to reduce Wigram

speed limits welcomed

• By Bea Gooding

SPEED LIMIT changes to

improve pedestrian safety in

Wigram may be on the horizon.

The city council is encouraging

residents to share their

views on a

plan to reduce

speed limits

in Wigram,

particularly on

Lodestar Ave,

Stark Drive and

Michael

Toothill

The Runway at

The Landing.

The plan

has been welcomed

by Kilmarnock Enterprises

chief executive Michael

Toothill, who has advocated for

speed reduction measures on

Lodestar Ave for the last two

years.

The social enterprise provides

employment, training, and support

for people with disabilities,

who have been feeling unsafe

when crossing the road.

He said he even had to

encourage his staff to dress in

hi-visibility gear, such as reflective

jackets, so drivers could see

them.

• Turn to page 4

PROPOSAL: Speed limit changes may be a possibility in Wigram to improve pedestrian safety, including Lodestar Ave

outside Kilmarnock Enterprises.

PHOTO: GEOFF SLOAN

Christchurch's Newest Podiatry Clinic

NOW OPEN IN AVONHEAD

BECAUSE YOUR FEET MATTER

• General Foot Care

• Biomechanical

• Orthotics

• Ingrown Toenails

• ACC Registered

• Diabetic Foot Care

40 years

combined

experience

45 Merrin Street, Avonhead

Ph: 03 357 0155

E: info@footmatterspodiatry.co.nz

Book Online! No referral required.

Luxury Seat, Full Suspension,

LED Lights, Speed 14kph,

Distance 40km, Full Warranty

We Come To You Canterbury / South Canterbury wide

Call 0800 1155 76

Showroom: 18 Main North Rd, Papanui

www.mrmobilitynz.co.nz
---
2 Thursday October 29 2020

Latest Canterbury news at starnews.co.nz

GENERAL INQUIRIES Ph 379 7100

CLASSIFIED ADVERTISING Ph 379 1100

Star Media, a division of Allied Press Ltd

PO Box 1467, Christchurch

starmedia.kiwi

NEWS

Bea Gooding

Ph: 021 911 576

bea.gooding@starmedia.kiwi

ADVERTISING

Alana Powell

Ph: 962 8753

alana.powell@starmedia.kiwi

Your local community news

delivered to 24,894 homes

within The Star each week.

Templeton • Islington • Hei Hei • Broomfield

Halswell • Oaklands • Westlake • Hornby • Ilam

Wigram • Sockburn • Church Corner • Avonhead

Hyde Park • Russley • Riccarton Park • Riccarton

what's on

this week

JP Clinic

Thursday, 9.30am-12.30pm, at

Hornby, Saturday, 10am-noon, at

Fendalton, Tuesday, 10am-1pm, at

Upper Riccarton and Halswell

Fendalton, Halswell, Hornby and

Upper Riccarton libraries

A Justice of the Peace will be available

to members of the community

to witness signatures and documents,

certify document copies, hear oaths,

declarations, affidavits or affirmations

as well as sign citizenship, sponsorship

or rates rebates applications. This

service is free.

Citizen's Advice Bureau

Thursday, 9am-5pm, Friday, 9am-

5pm, Monday, 9am-5pm, Tuesday,

9am-5pm, Wednesday, 9am-5pm

Hornby Library

Citizen's Advice Bureau provides

free, confidential advice to everyone.

They take the time to listen and

equip you with information, options

and support that fit your needs.

Free, phone 349 5236 for more information.

English Conversation Club

Thursday, 11am-noon

Upper Riccarton Library

The Conversation Club is a drop-in

group where anyone is welcome to go

and practice conversations in English.

This is not a class, but an opportunity

to talk with others and meet new

people.

Rummikub

Thursday, 1-3pm

Fendalton Library

Join in on the fun and discover

how to play Rummikub, an exciting

strategy game for all ages. Free, no

bookings required.

Free Legal Advice

Thursday, 6.15-8.15pm

Hornby Library

A lawyer will be available to answer

your legal questions. Take relevant

documents. Free. No bookings required.

Technology Help Drop-In

Sessions

Tuesday, 11am-noon at Hornby,

2-3pm, at Halswell

Hornby Library and Te Hāpua: Halswell

Centre

These free drop-in sessions are

available to help you with specific issues

including using email, searching

the internet, using the library catalogue,

using electronic resources and

WESTERN NEWS

CSO Music Trails, Wednesday, 10.30-11.15am, Fendalton Library.

Join the musicians of the Christchurch Symphony Orchestra as they travel

around the city's libraries for a series of fun performances filled with song,

dance and storytelling. Catered for two to six-year-olds. Performances start

at 10.30am. Free, no bookings required. ​

any other general computer-related

queries.

Family History

Wednesday, 11am-1pm

Upper Riccarton Library

A volunteer from the Riccarton

branch of the New Zealand Society of

Genealogists will be available to help

you with finding your family history

online. Meet at the family history

computer.

Mah-jong Group

Wednesday, 1-3 pm

Upper Riccarton Library

If you are interested in playing

Mah-jong, go along whether you are a

beginner or an advanced player.

Scrabble Club

Wednesday, 1.30-3.30pm

Te Hāpua: Halswell Centre

If you have a way with words, go

along and play Scrabble with one of

the groups. Boards will be provided

but feel free to take your own.

new services offered at longestablished

podiatry clinic

For more than 25 years, Charlotte

Russell and her team at Feet First

Podiatry have been providing a full range

of professional podiatry services at their

Upper Riccarton clinic. Over that time,

they have continually kept abreast of

innovations in the profession ensuring

New Podiatry

Assistant

Agata in

discussion

with a client.

clients receive the most up-to-date

treatment for their feet.

Now, a new Podiatry Assistant has

joined the team. Trained and qualified

in Europe, Agata is providing general

podiatry services, including a new service

the clinic has introduced – Toenail

Reconstruction. A painless cosmetic

procedure, this restores the natural

appearance of nails that may have been

damaged through accident or have

become discoloured or unsightly due to

fungal infection. Lasting six to eight weeks,

the cosmetic nail allows a new, healthy nail

to grow underneath.

Full information on the procedure

can be seen on the Feet First Podiatry

website, www.feetfirst.co.nz.

Another new service being offered

at Feet First Podiatry is the Medi-Pedi,

(medical pedicure), which is a safe,

hygienic pedicure service carried out in

their clinic with sterile instruments.

Recently, there have been reports of

clients suffering from nail infections after

visiting nail bars for pedicures, which were

likely caused by the use of non-sterile

instruments and nail varnishes that had

been applied to multiple clients.

before

after

A toenail before and after Toenail

Reconstruction has been carried out.

The cosmetic nail has restored the

toenail's natural appearance.

As Charlotte explains, in Christchurch

there are no by-laws governing nail bars,

so clients have no protection from any

unhygienic, unprofessional practices.

On the other hand, at Feet First Podiatry,

Charlotte and her team provide an

hygienically clean environment with health

and safety guidelines being followed and

all instruments sterilised by autoclave.

Clients are also invited to bring their own

nail varnish.

Located at 37 Main South Road, Feet

First Podiatry is open Monday to Friday

from 8.30am to 5pm, with late nights

on Tuesday and Thursday to 7pm by

appointment. Off-street parking is

available.

Feet First also runs several satellite

clinics. These are at the Marshland

Family Health Centre, Marshland Road

on Mondays, the Redcliffs Clinic, Augusta

Street, on Wednesday afternoons, and at

Darfield Pharmacy on alternate Fridays.

Complementing the services offered at

Feet First Podiatry is their retail store The

Shoe Room, located opposite the Lone

Star in Riccarton Road. The store offers an

extensive range of specialised footwear for

people that have foot problems, difficulty

finding shoes or simply those looking for

stylish, comfortable shoes.

Opening hours are Monday 10am-

5.30pm, Tuesday to Friday 9.30am-

5.30pm with a late night by appointment

on Thursday, and Saturday 10am-4pm.

RiccaRton

37 Main South Road

RedcliffS

2 augusta Street

MaRSHlandS

427 Marshland Road

daRfield

darfield Pharmacy

PH 348 7910 | www.feetfirst.co.nz
---
WESTERN NEWS Latest Canterbury news at starnews.co.nz

Thursday October 29 2020 3

Park ideas mulled over

• By Bea Gooding

A COMMUTER rail connection,

an adventure playground, a park

and ride facility and a butterfly

sanctuary.

THese are some of the ideas

being suggested to improve

community utilisation at Kyle

Park within the next few years as

Hornby's population continues

to grow.

THe Greater

Hornby

Residents

Association

believes the

park will be an

integral part

Marc Duff

of the suburb

moving forward

and sees the

potential of it becoming a unique

hub of activity.

Resident's association

chairman Marc Duff was excited

about the possibility of more

attractions in Hornby and to

see more being done with the

western side of the park in the

next 10 years.

THe city council currently had

no plans to develop that side of

the park, but were open to new

ideas for the future.

However, they approved

concept designs for the new

POSSIBILITIES: Options to improve recreational activities

at Kyle Park are being mulled over.

PHOTO: GEOFF SLOAN

Hornby Centre on the east side

of Kyle Park, which is due to

open late 2022.

Said Duff: "Hornby is really

starting to form a hub, with

rugby at Denton Park, the Hub

Hornby for retail, BMX and

cricket grounds, and a new pool

and library.

"It [Hornby] will become a real

focal meeting point for residents

which is quite exciting, and the

park is going to become a part of

that hub."

A Kyle Park management plan

by the city council identified

Hornby's greenspace network

lacking a large area for passive

recreation which specifically

drew people to the space.

"Hornby is well endowed with

sports fields, but lacks purposedesigned

passive recreation

areas," it said.

"Kyle Park could be developed

to meet this need."

Duff said the potential for a

commuter rail station at the park

meant visitors would have good

access to the community centre

and other amenities in Hornby.

But he said a new modern

skate park was needed, as the one

at Wycola Park was "well-used,"

but dated back to the 1980s.

"THere needs to be a more

modern approach as that's a real

weakness in our community."

City council community

parks manager Al Hardy said

they were open to the idea of a

butterfly sanctuary.

"THere are no current plans

to develop a butterfly sanctuary

in the park, however, council is

open-minded around this idea."

THe $37.5 million Hornby

Centre, which features a new

library, swimming pool and

rooms for community use, will

start construction late next year.

THe city council was currently

looking at what facilities in the

area needed revisiting for its long

term plan for the next 10 years,

which could also include the

future of Kyle Park.

•HAVE YOUR SAY: What

new amenities would

you like to see at Kyle

Park? Email your views to

western@starmedia.kiwi

In Brief

SEWER RENEWAL

Work to renew a sewer

main from Darvel St to the

Christchurch Girls' High School

entrance has now started. The

work needs to be undertaken

due to the existing sewer line

failing. Matai St East outside the

high school will be closed during

the works. The Darvel and Matai

St intersection will also be closed

during the end of the works.

Work is expected to completed

in two weeks. Meanwhile, work

to replace a water main on

Steadman Rd has started this

week. The existing water mains

needs upgrading. The work

will take place between Rosella

St and Yaldhurst Rd and is

expected to be completed by the

end of November.

SHARE YOUR VISION

Feedback on the city council's

draft community housing

strategy is now open. The city

council is aiming to identify

what strategic roles and actions

can be taken to ensure sufficient

community housing is provided

in Christchurch. Share your

vision on what the priorities

should be on meeting housing

needs in the city. Consultation

closes on November 16 and can

be found at https://ccc.govt.nz/

the-council/consultations-andsubmissions/haveyoursay

JOIN US NOW!

See website for details

Proposed Amendment

to Enrolment Scheme

Merrin School has been directed, under section 11H(1) of the Education

Act 1989, to implement an amendment to their current enrolment

scheme in order to prevent overcrowding.

The proposed amendment can be found via our website:

www.merrin.school.nz

The revolution

in heat pumps

is here now!

The Merrin Board of Trustees seeks community feedback on this

proposal and invites your response on or before the 20 November 2020.

The revolution in heat pumps is here now!

Say hello to Fujitsu's latest lifestyle range

HEAT PUMPS FROM $1999 inc GST INSTALLED!

The Fujitsu e3series

The brilliant

heat pumps from Fujitsu

e1 : efficiency

e2 : environment

e3 : economy

Website: www.pshc.co.nz

Finance available

2020

Heat Pumps

NEW ZEALAND'S FAVOURITE AIR ®

Conditions apply

Fujitsu's Catechin Filters are

approved by the Asthma and

Respiratory Foundation NZ's

Sensitive Choice ® programme.

ADIDAS

Buy 3 items get 50% off.

29 Oct to 1 Nov only.

Exclusions apply.

Must include 1 item of footwear.

SKECHERS

Up to 50% off selected styles.

UNDER ARMOUR

Mix and Match Tees.

2 for $60. 3 for $80. 4 for $100.

T&Cs apply. Ends 1 Nov

BENDON

The Next Level Sale.

Bras from $10, Briefs from $5,

sleepwear from $20.

T&Cs apply. While stocks last

JUST BAGZ

Up to 50% off RRP

Sign up to Smart Deals & be in the monthly draw for a $100 Dress-Smart gift card!

STYLES MAY DIFFER TO IMAGE SHOWN

FREE consultation from your local

Accredited Heat Pump Expert

Phone today: 03 381 6950

INSERT DEALER DETAILS HERE

Email: info@pshc.co.nz

Open 10am-5pm, 7 Days 03 349 5750

CHRISTCHURCH 409 Main South Road, Hornby

www.dress-smart.co.nz
---
4

Thursday October 29 2020

Latest Canterbury news at starnews.co.nz

WESTERN NEWS

Call for centre line

on Lodestar Ave

• From page 1

Said Toothill: "We're very

pleased that it's got to this

stage, but the concerns have

continued to grow rather than

get better. Traffic has picked

up, and many cars are doing

closer to 60km/h.

"But I'll feel relieved when

it's actually been put in place.

Every day something is not

implemented is a risk to our

employees."

Along with the speed limit

change, Toothill wanted a

centre line painted on the

road.

"It's been proven that when

there's a centre line, people

tend to go slower with the

perception of a narrower

road," he said.

Residents of Lady Wigram

Retirement Village were also

calling for a lowered speed

limit and heavy vehicle

restrictions on Lodestar Ave

after long-standing issues with

noisy trucks.

The city council has since

proposed to reduce the speed

limit from 50km/h to 40km/h

on Lodestar Ave and Strark

Drive.

It also proposed to reduce

the limit from 60km/h

to 50km/h in Awatea Rd,

Wigram Rd and Wilmers Rd;

from 50km/h to 40km/h in

the Wigram Skies, Broken

Run, Awatea Park, Awatea

Green and Magnolia Estate

subdivisions, and from

50km/h to 30km/h at The

Runway at the Landing.

City council transport

operations manager Steffan

Thomas said the "safer speeds

will benefit residents in a

growing and very popular area

of the city."

"Many families – along

with several businesses – have

moved to the wider Wigram

area and we are very conscious

of the need to ensure that

speed limits support a safer

environment," he said.

"It is not just about keeping

the driver and passengers

of a car safe, it is also about

keeping vulnerable road users

safe."

Public feedback on the draft

plan closes on November 18.

A final decision is due in

December, with any changes

implemented by the end of

January next year.

Peace rock proposal for park

• By Avneesh Vincent

A PROPOSAL for a peace rock at

Harrington Park in Riccarton has

been approved by the Halswell-

Hornby-Riccarton Community

Board.

The Oak Development Trust

along with local residents had previously

proposed

for a "peace

garden" in June

last year as a

memorial for the

March 15, 2019,

mosque attacks.

Carol Renouf

However, after

working with

council

staff members and estimating the

costs involved, the trust decided

to have a peace rock along with a

poem inscribed on a plaque.

"A rock is something that shows

a solid relationship of peace and

understanding," said the community

board chair, Mike Mora.

He said it would be a symbol

of unity and had significance in

other cultures as well.

The proposal was first put

forward by local resident, Sirwan

Mohamadi. He had written a

poem in remembrance of the

attacks and was keen to have the

poem on a plaque and placed on a

standing rock.

"It was the writer who came to

us with the idea about 18 months

ago and then we took it to the

council for approval, which we

will see go to work," trust manager

Carol Renouf said.

She said that the location of

the peace rock was based on the

request of Mohamadi who wanted

it to be placed in the vicinity of

the Riccarton community. The

location not being far away from

the mosque.

SYMBOL: A peace rock

has been proposed for

Harrington Park as a

memorial for the mosque

attacks.

"I see the rock as an acknowledgment

of what we want to be,

as a diverse community which is

respecting, loving and supporting

peace.''

Renouf said the city council

would work with the trust to

make sure certain standards are

followed.

While the rock would be donated

by Gardenmakers, she said the

trust would be happy if someone

from the public would want to

donate towards the plaque.

The date for the placement of

the rock is yet to be decided.

NUMBER ONE SUPPLIER

TO THE NZ JET BOATING

COMMUNITY FOR OVER

50 YEARS

• Part Boats & Hulls

• Turn Key Packages

• New Jet Units

• Custom Fabrication

• Expert Advice

SERVICING

Peter Tonkin

03 962 0505

peter.tonkin@hamjet.co.nz

• Spare Parts Retailer

• Jet Unit Refurbishment

• Engine Tune-Ups

• Insurance Repairs

• Impellor Reconditioning

oN sAle Now!

Now only

$35.80

Plus $5 P&H per copy

AvAilAble from stAr mediA:

Level One, 359 Lincoln Road

Addington, Christchurch

Phone 379 7100

For everything

AUTO ELECTRIC

CARS • BOATS • TRUCKS

CARAVANS • TRAILERS • 4WDS

ELECTRIC & HYBRID VEHICLES

• Starter Motors

• Alternators

• Central

Locking

• electric

Windows

• ABS & Airbags

• Stereos/

Alarms

• Batteries

• tuneups

• engine

Management

Amazing

Auto USUALLy

AAE Electric SAMe DAy

ServiCe

65 Coleridge St, Sydenham

Phone 03 379 4250

www.amazingautoelectric.co.nz

Thank you

It's a privilege and I look forward to

working with everyone in Wigram again.

If you would like to get in touch with me

please call my office on 03 338 6347 or email

megan.woodsmp@parliament.govt.nz

Authorised by Hon Megan Woods MP, Parliament Buildings, Wellington
---
LIvIng LIfe

OCTOBER 2020

DisCOv ERing

P O siT ivE

RETi REMEn T

new audIo tour

ShowCaSeS

CIty'S antarCtIC

ConneCtIonS

voLunteerIng

Canterbury

offer your tIme

and SkILLS

Category: retaIL

assisting in op Shops – a great way to be

part of a team, meet new people and pick

up or enhance your customer skills. Charity

shops play a valuable part in assisting people

to recycle and also provide affordable quality

clothing and other goods to those who need

them. In an op Shop there will be roles for

those at the cashier desk, sorting donated

goods, preparing donated goods for onsale in

the shop. So a great variety of opportunities

within one location. these shops play an

important part in fundraising for the charity

which they support. Check out available roles

in these shops at www.volcanmatch.com,

category 'retail'.

living

lifE

TOUR

vOlUnTEERing

Ōtautahi Christchurch's links to the icy

continent are celebrated in a new interactive

audio tour through the city centre.

The Antarctic Gateway City Trail has been

put together by ChristchurchNZ and The

Christchurch Antarctic Office and starts on

Colombo Street, near Victoria Square.

The trail takes listeners on a comprehensive

tour of the city and includes 17 geo-location

audio clips detailing a rich Antarctic history

and the stories of scientists, artists and

experts who have visited the icy continent.

The trail provides exclusive insight into

the two new pieces of street art, including

the Scott Base and penguins mural in

Cathedral Square, which is one of the city's

largest murals. It was created by Oi You! for

ChristchurchNZ.

To access the tour, download the Listen Up

Ōtautahi app in the App Store or Google

Play, or follow the tour on your computer

at https://listenupotautahi.stqry.app/.

Experience the connection.

Category: drIvIng

there are always not for profit organisations

looking for assistance from drivers – you could

be taking patients to medical appointments,

older folks to social/activity programmes, or

others to courses. Check out the available

roles that require a clean driver's licence at

www.volcanmatch.com, category 'driving'.

379 9920 | www.johnrhind.co.nz
---
living life october 2020

Discovering Positive retireMent

law

Puzzle

UnDERStAnDinG

CAPACitY

As lawyers, we are required to

meet with you and take your

instructions in order to help

you complete the particular

legal task you are planning.

Sometimes when we do this,

we need to take a little extra

time to consider your mental

capacity to make decisions.

Mental capacity is a client's

capacity to make a decision.

Decision making requires

living that a client:

EXERCiSE thE minD

of the mind that could distort

life • understands the decision their decision making.

SUDOKU - EASY SUDOKU - mEDiUm

they are having to make

• can discuss with us the

possible options available

to them in a way that shows

they appreciate the risk and

or benefit of those options

• understands the impact

that a decision, or the lack of

a decision, may have on them

or their loved ones

• is able to articulate and

discuss all of the above with

us.

It is important to note that

the level of capacity required

isn't the same in every

situation. For example, to

make a Will, the legal test

is whether the client knows

they are making a Will

and the effect of doing so,

whether they understand the

extent of the assets they are

dealing with, whether they

comprehend the moral claims

which they ought to give

effect to, and finally whether

they are free of any disorders

However, when giving

instructions to complete

Enduring Powers of

Attorney, the test is lower

and is satisfied if a client

understands the broad

consequences of granting an

enduring power of attorney

and can process the relevant

information and appreciate

the nature and effect of the

power they are giving.

Having these discussions can

be difficult. However if there

is a risk that a client's Will or

Enduring Power of Attorney

or other decision of a legal nature might

be challenged it is wise for the client to

obtain a medical certificate in respect of

their capacity in consultation with their

lawyer.

A failure to take this basic precaution

may cause uncertainty, delay, cost and

distress later on.

If a client is concerned about this risk it

SOlUtiOnS On lASt PAGE

is best to discuss with your legal advisor

or general practitioner.

At Harmans we have a specialist seniors

team to help you through the process of

setting up your legal deeds and dealing

with any queries you may have. Contact

Phillipa Shaw on 352-2293 to arrange an

appointment to discuss your situation.

Family Owned & Operated

RetiRement Village

Apartment for sale

Priced from $215,000

1 bedroom

Inquiries to Karen 021 668 140

Get In touch:

437 Armagh Street,

Linwood, Christchurch 8011

Call Jess for care bed inquiries.

General Inquiries:

(03) 982 2165
---
living lifE OCTOBER 2020

DisCOvERing POsiTivE RETiREMEnT

SharIng joy

through bISCuItS

C ommunity inf luencer

The aroma of biscuits has filled the home of Gianni

Barbafiera since childhood. Moving his wife and

young daughters from South Africa decades ago

in the quest for a safer environment and a more

opportune life, Gianni spends his days working

for Hamilton Jet and his Saturday mornings at the

Riccarton Farmers Market showcasing his variety

of cultural delicacies at his booth, Wooden Spoon.

Referred to as the 'biscuit man', we caught up with

him to talk about his customers favourites.

what's your history with

biscuits?

My father was born in a small Tuscan town in Italy.

He migrated to South Africa in the early sixties,

where he met my lovely mother and my four

siblings, and I grew up.

My earliest recollections, when I was very young,

probably only three or four years old, include

wonderful memories of a weekly home baking

routine. My grandmother employed a wonderful

cook, who would make a selection of biscuits,

my favourites being the flower shaped one with

a cherry in the middle. Baking was part of my

childhood and upbringing.

The nineties were a period of uncertainty in South

Africa, and so my young family at the time, arrived

in New Zealand, ready to re-start our lives.

a biscuit smorgasbord

Most of our early biscuits had an Italian origin,

but not being bound by the restrictions of Italian

traditions, we were free to explore the entire world

of biscuits. Not only Italian Ricciarelli, Cavallucci

and Biscotti, but German Pheffer Küken,

American Snickerdoodles, Scottish shortbread,

English Garibaldis and more.

My wife is the baker and I'm the front of the house.

We pride ourselves on tradition, authenticity and

quality.

any time for a hobby?

Week days are spent with a job I enjoy, Saturdays

are filled with talking with customers who have

become friends, family and I do like to sing in our

Parish choir. Stop by the Biscuit stall, The Wooden

Spoon Saturday morning 9-12 at the Riccarton

Farmers Market.

gIveawayS

enter to win a bag of one

dozen cookies of your choice

from the wooden Spoon.

email your name and contact

details to giveaways@

starmedia.kiwi

drawing held november 15th.

living

lifE

Pet Pet friendly friendly around

accommodation

New Zealand

around New Zealand

COMMUniTy

inflUEnCER

If your family includes a

If your family includes a

If your dog,

dog, family cat,

cat,

bird includes bird or

or

other

other a dog, furry

furry cat, bird

creature or other then furry we creature have some then some

we have good some news good for news you

for you

Pets Can Come Too has a long list of holiday

Pets Can Come Too has a a

homes throughout New Zealand that will give

long list of holiday homes

your whole family a warm welcome

throughout New Zealand

that that will give your whole

family a warm welcome

family warm welcome

Ph 021 255 5859

www.petscancometoo.co.nz

Ph 04 293 2705

www.petscancometoo.co.nz

Ph 04 293 2705

www.petscancometoo.co.nz
---
living lifE OCTOBER 2020

DisCOvERing POsiTivE RETiREMEnT

living

lifE

TEChnOlOgy

nzteCh refLeCtS new

zeaLand'S future

Thanks to COVID we are in the middle of a digital

revolution that is changing the way the world does

business. Technology is supporting the industries

and people that are being disrupted right across

society. Yet the tech sector fails to reflect the

diversity of the world it is enabling.

In a committed move to address this long-standing

issue, NZTech campaigned hard for more diverse

candidates to consider standing for its board.

The message was well received and NZTech's new

board is the most diverse the sector has ever seen,

which puts the NGO in a great position to better

help the tech ecosystem, and New Zealand, adapt

and evolve in the time of COVID.

NZTech is the voice for technology in New

Zealand. It is a not-for-profit, organisation which

brings together 20 tech associations and more than

1500 member organisations which collectively

employ more than 10 percent of the New Zealand

workforce. The companies and people work

together to help create a more prosperous New

Zealand underpinned by technology.

With three Maori tech leaders on the board the

organisation is well placed to evolve to support

better inclusion in the sector. The NZTech board

has seven women with three in their thirties

spread across New Zealand including Auckland,

Hamilton, Wellington and Christchurch.

Maori and Pasifika tech success will be a

critical driver of economic well-being for all

New Zealanders in coming years, presenting

opportunities for the development of new tech

businesses, new jobs and the creation of a globally

unique approach to New Zealand tech.

While covid is having a detrimental impact on

much of the economy, the New Zealand tech

sector continues to grow and create jobs.

There are more than 100,000 people employed

in New Zealand in the tech sector with several

thousand new tech jobs created every year.

Tech exports are likely to be the second biggest

export earner for New Zealand in 2020, generating

more than $12billion in revenue last year for the

top 200 tech exporters.

"NZTech is working with the Ministry of Business,

Innovation and Employment on the development

of an industry transformation plan designed to

further increase the growth of the tech sector so

it can help economic recovery with increasing

exports and jobs," says NZTech chief executive

Graeme Muller.

SoLutIonS PuzzLeS

eaSy

medIum

Luxury Seat

Full Suspension

LED Lights

Speed 14kph

Distance 40km

Full Warranty

Thinking about pre-arranging

your funeral?

A funeral plan provides you

and your family peace of mind

in knowing that your funeral

wishes are in good hands.

The Lamb & Hayward Funeral

Trustee Ltd. is a secure scheme.

For more information call

0800 99 22 00

or to request a free information pack

We Come To You Canterbury / South Canterbury wide

www.lambandhayward.co.nz

Call 0800 1155 76 Showroom: 18 Main North Rd, Papanui

www.mrmobilitynz.co.nz
---
WESTERN NEWS Latest Canterbury news at starnews.co.nz

Thursday October 29 2020 9

HEALTH & AWARENESS

Joint pain: Do I have arthritis or

could it be mainly my muscles?

The team at Physical Sense in Sydenham

sees clients with a range of symptoms but

many of their middle-aged and senior clients

visit complaining of pain in one of their joints.

Physiotherapist Ietje van Stolk suggests

that a major part of the pain could be due

to muscle pain rather than simply arthritis.

"Even if an x-ray shows arthritis, the reason

for the pain may be the muscles around

the joint," she explains. The images show

how a muscle knot (the crosses) in a back

muscle can give hip pain (aches and pain

are the red areas in the drawings), a knot

in a muscle on the back of the shoulder

blade can give a deep pain in the front of

the shoulder and a muscle knot all the way

near the groin can give an ache in the knee

(especially at night in bed).

Ietje recalls one case where an 89 year

old client with severe arthritis who walked

with a stick, told her, "I will end up in

a wheelchair, I cannot put any weight

through my right leg due to pain in my hip

and buttock". "Within 4 treatments, she

was walking with her stick but without the

severe pain," says Ietje. "The arthritis was

one of the factors that made her muscles

spasm but the other was that older people

move less and the flexed position the hip

is in when we sit is particularly bad for

the hip." Ietje is happy with the fact that

although the client was 89 and could have

been "given up on" or told to live with the

pain, she made a difference to her health

and wellbeing.

The same lack of movement can be the

reason for your knee pain or your shoulder

pain and the same few treatments could

make a huge difference for you.

At Physical Sense, hands-on techniques

(massage and triggerpoint deactivation

techniques) are used to release the muscles.

The client also gets a home exercise

program designed to mobilize and stretch

the joint, strengthen the important core

muscles and increase general strength and

SHOULDER

PAIN

KNEE PAIN

(the crosses are the areas of the muscle spasms, the red areas is where the pain is felt)

balance. They teach a movement sequence

that stretches the joint in all directions

whilst the client is able to lie safely on their

bed, perfect for older or less mobile clients.

In many cases having the muscles

released and being taught how to maintain

it, is enough to stay on top of the problem.

HIP PAIN

If severe arthritis is the underlying cause,

some maintenance therapy may be

necessary, but that is often more affordable

and, for older patients, better tolerated

than surgery. After only one treatment you

should know that it will work for you. Call

and only pay $50 on that treament.

Physical Sense Gym and Physio is located at 300 Colombo Street, Sydenham. The Blue Line Bus stops in front of the

door and there is ample parking. To enquire about joint pain treatment, phone 377-2577 or visit www.triggerpoints.co.nz
---
10 Thursday October 29 2020

Latest Canterbury news at starnews.co.nz

WESTERN NEWS

Shop

Win

& Relax

WIN

1 OF 5 FAMILY

GETAWAYS

TO HANMER

SPRINGS

SHOP AT THESE

BUSINESSES TO GO

THE DRAW

Hornby & Ilam

thank you for supporting local

SHOP LOCAL WITH SUPER LIQUOR

HORNBY - 8 Tower St

ILAM - 213 Waimari Rd

open 7 days

While stocks last – valid from 2nd Nov to Sun 15th Nov. T&C's apply.

BomBay Sapphire

1 LiTre

2 or more for $45.00 each

OR $47.99 single bottle

CoruBa Dark/

originaL 1 LiTre

2 or more $34.50 each

OR $39.99 single bottle

JamieSon iriSh

WhiSky 700mL

2 or more $34.50 each

OR $37.99 single bottle

TeaCherS 1 LiTre

$34.99

ADVANCED JOINT CARE

ARE YOUR JOINTS PAINFUL, STIFF,

NOISY, SWOLLEN OR INFLAMED?

Natural high potency comprehensive

formula to support joint health:

• Cartilage, ligaments & connective

tissue regeneration

• Joint flexibility & pain relief

• Inflammation & swelling relief

• Healthy joint function

SUPER LOW PRicE!

60 Capsules

only $16.90

120 Capsules

only $29.90

240 Capsules

only $47.80

Mail Order Available

MARSHALLS HEALTH & NATURAL THERAPY

CONSULTING - PRESCRIBING - DISPENSING -

MANUFACTURING - MEDICAL HERBALISTS

101 SEAVIEW RD, NEW BRIGHTON • PH 03 388 5757

Email: enquiry@marshallshealthshop.co.nz

Bringing You the Best in Natural Health!

HealtHy Mexican Fusion Food

THAT'S ON A MISSION TO

BEAT WORLD HUNGER

The hub hornby

Open daily 10am to 8pm, with late night Thursday to 9pm

Shop 40/418 Main South Road P: 03 925 9195

www.zambrero.co.nz/locations/the-hub

Tyrepower

• Wheel alignments • Tyres • Batteries

• Servicing • WOF • Mechanical repairs

• Suspension • Brakes and more….

240 Main South Rd, Hornby | Ph (03) 341-5497

www.tyrepower.co.nz

250 Moorhouse Ave, Level 2 Harvey Norman Centre

RICCARTON STORE

NOW OPEN

136 Riccarton Road | PH 421 8962 | WWW.SHOSHA.CO.NZ

385 Main South Road, Hornby

Open: Tues-Fri 9am-5pm,

Sat 9am-3pm

Late night

Thursday until 6pm

or after by appointment only

Phone: 03 261 9233

Book online:

www.renegadehair.co.nz

enjoy your journey

with caltex hornby

atM | coFFee | lpg swappa bottle

Mini superMarKet | Firewood | trailer hire

Forecourt serVice | touch Free carwash

locally owned & operated

427 Main south rd

ph 349 2407

www.caltexhornby.co.nz

gas up with

us today!

dog wash

OIL & FILTER

SERVICE

FROM$84.95 *

HORNBY Ph 349 2567

375 Main South Rd

PAPANUI Ph 354 4421

Cnr Main North & Northcote Rds

RICCARTON Ph 341 3020

64 Riccarton Rd

www.oilchangers.co.nz

*Ts & Cs apply
---
WESTERN NEWS Latest Canterbury news at starnews.co.nz

Thursday October 29 2020 11

Classifieds Contact us today Phone our local team 03 379 1100

Situations Vacant

Wanted To Buy

Trades & Services

Trades & Services

Reporter - Christchurch

• Great media opportunity

• Be part of an award winning team

• A media company which is growing its reach

Who we are

Allied Press Limited employs over 450 people on a permanent basis

across our 15 sites in the South Island. We operate across multiple

media platforms (print, on-line, digital) delivering news, information and

entertainment through our various regional and city publications, including

Christchurch-based Star Media.

The role

Reporting to the editor, the main purpose of the position is to file

compelling news articles and backgrounders for both print publications

and online platforms.

Your skills and experience

We are looking for a journalist with two to three years experience,

preferably in a metropolitan environment, but someone who has less

experience but who has already displayed the qualities and drive to

become a topline journalist will be considered.

In addition to your interest in equity and diversity you will demonstrate:

• A great work ethic

• A competitive nature

• An eye for detail

• Accuracy

Further details

This is a full time, permanent position.

We can offer you a great team environment, professional development

opportunities and an opportunity to grow.

If you think this role is for you, please apply by way of CV and a

covering letter. Informal inquiries about the role are welcome and

should be directed to Editor in Chief Barry Clarke 021 359-426 or

barry@starmedia.kiwi.

All applications will be treated in the strictest confidence.

Please note you must have the right to work in New Zealand to

apply for this role.

Disclaimer: Allied Press does not accept unsolicited agency resumes.

Allied Press is not responsible for any fees related to unsolicited resumes.

AAA Buying goods

quality furniture, beds,

stoves, washing machines,

fridge freezers. Same day

service. Selwyn Dealers.

Phone 980 5812 or 027

313 8156

TOOLS Garden,

garage, woodworking,

mechanical, engineering,

sawbenches, lathes, cash

buyer, ph 355-2045

Trades & Services

ROOF

PAINTING 24/7

Rope & harness

a speciality,

no scaffolding

required,

30 years of

breathtaking

experience.

FREE QUOTES

20% OFF other

roof quotes

Exterior staining,

exterior painting,

water blasting.

Moss and mould

treatment $300.

Phone Kevin

027 561 4629

BATHROOM

Renovations, complete

service from start to finish,

free quotes, ph Dave 027

334 4125

PAINTER

Houses Interior/Exterior

27 years exp.

Tidy workmanship

On the spot written quotes

Phone: 0274 360 298

BRICKLAYER

George Lockyer. Over

40 years bricklaying

experience. UK trained.

Insurance work, EQC

repairs. Heritage

brickwork & stonework

a speciality. No job too

small. Governers Bay.

Home 329 9344. Cell

027 684 4046. E mail

georgelockyer@xtra.co.nz

CARPET LAYING

Exp. Repairs, uplifting,

relaying, restretching.

Phone John on 0800

003181, 027 240 7416

jflattery@xtra.co.nz

GARDEN NEED

SORTING??

Graeme (Cnr Sorter) 027

341 8596 / 342 5151

PAINTING

Indoor / Outdoor, over 30

yrs exp, same day quotes,

ph Steve 021 255 7968

PAINTER

New, older homes,

interior, exterior. We stand

by Canterbury. Ph Wayne

0272 743 541, 385-4348

ROOFING REPAIRS

Fully qualified, over 40

yrs experience. Ph John

027 432-3822 or 351-

9147 email johnchmill@

outlook.com

ROOFER

All roof repairs, Roof

Painting, Waterblasting,

Moss Treatments, Re

pointing, Gutter cleans,

repairs, Snow straps,

Exterior Painting & more.

Free quotes, call Vinnie

027 505 7779

STUMP GRINDING

Best price guarantee Tony

0275 588 895

TILING

Flooring - Splashbacks -

Wall incl tile removal, reg

master tiler, ph Dave 027

334 4125

VHS VIDEO TAPES

& all camera tapes

converted to DVD or

USB. Video taping

special occasions, www.

grahamsvideo.co.nz ph 03

338-1655

DRIVEWAYS

Exposed Aggregate

Stamped Concrete Plain

Concrete Resurfacing

Things we offer...

Competitive/affordable pricing

Attention to detail

Professional service

free quotes/insurance scopes

Cell 0278 145 848

www.drivecrete.co.nz

SCRAP METAL

Dominion Trading Co Ltd

• Scrap metal buyers

• Canterbury owned & operated

• Top prices paid $$$

• Open Saturday morning

Open Mon-Fri 8am – 4.30pm Sat. 8.30am-12.30pm

www.happyscrappy.co.nz

03 343 9993 333 Blenheim Rd
---
12 Thursday October 29 2020

Latest Canterbury news at starnews.co.nz

WESTERN NEWS

PUBLIC MEETINGS

at Riccarton Park

YOU'RE INVITED TO LEARN MORE ABOUT OUR NEWEST VILLAGE

Hear all about Ryman's newest retirement village

being developed on Steadman Road, Riccarton Park.

This is a great chance to see the designs of our

townhouses and apartments and experience for

yourself why our villages are ahead of the rest.

Founded in Canterbury in 1984, Ryman has been

pioneering retirement living in New Zealand for

more than 35 years.

PUBLIC MEETINGS

Tuesday 3 November, 2pm and 6pm

RICCARTON PARK RACECOURSE

165 Racecourse Road

Light refreshments will be served.

Hear from Ryman residents as they share

their experience of living in our vibrant village

communities.

Learn more about independent living

in townhouses, apartments and assisted

living in serviced apartments.

Find out about our care options, which include

resthome, hospital and specialist dementia care.

All images shown are artist impressions and may differ from final designs

To find out more phone Wendy on 03 342 4755

rymanhealthcare.co.nz

1678