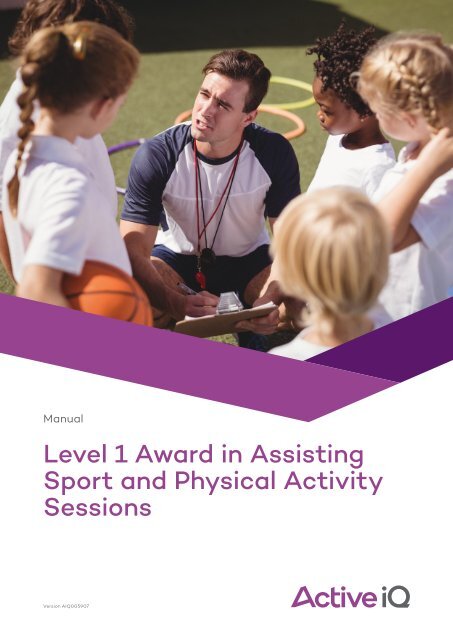 Level 1 Award in Assisting Sport and Physical Activity Sessions (sample manual)
Create successful ePaper yourself
Turn your PDF publications into a flip-book with our unique Google optimized e-Paper software.
Manual

Level 1 Award in Assisting

Sport and Physical Activity

Sessions

Version AIQ005907
---
Section 1

Health and safety considerations for sport and physical activity

Stretching

Previously we defined the types of stretching used in sport and physical activity; take a look at some of the

advantages and disadvantages of static and dynamic stretching below.

Static stretching: helps to rehabilitate injuries, improves range of motion of joints and maintains

mobility, increases blood flow to muscles, encourages relaxation post-activity.

Dynamic stretching: warms up core muscle temperature, mobiilsation of joints and movement

preparation for activity. Prepares body specifically for activity, reduces risk of injury, more

explosive power. Mentally prepares body for moderate–vigorous activity ahead.

Static stretching: is not good pre-exercise when the muscles are cold, can impair strength and

explosive power, needs to be used at the right time.

Dynamic stretching: does not allow you to relax fully post-activity, may aggrevate injuries

post-session.

Choosing activities for muscle balance

Previously, in Unit 1, we discussed how muscles work in

pairs to create movement. One muscle contracts and

pulls on the bones to bring about movement, while the

opposite muscle relaxes to allow the movement. This

happens continuously whenever the body is moving.

When one muscle is stronger than its opposing

muscle, there will be an imbalance. For instance, if you

do leg extensions daily, but never do hamstring curls,

there's a good chance your quadriceps will be stronger

than your hamstrings and it is likely that you will have

a strength imbalance.

Your opposing muscles and muscle groups are

supposed to work together. Those muscles must be

balanced in terms of strength, flexibility and even

posture to be efficient and to prevent injuries.

POINT OF

INTEREST

• Biceps + triceps = bend and straighten

the elbows.

• Deltoids + latissimus dorsi = lift and

lower the arms.

• Abdominals + erector spinae = bend

the spine forwards and backwards.

• Quadriceps + hamstrings = bend and

straighten the knee.

• Hip abductors + adductors = move the

legs towards each other or apart.

8

Copyright © 2018 Active IQ Ltd. Not for resale
---
Effective delivery of activity sessions

Section 3

Section 3: Effective delivery of

activity sessions

Successful sport and physical activity sessions always have clearly identified SMART aims and objectives so that

the success of the activity can be measured and the progress of the participants achieved and developed.

What can you remember from Unit 3? Complete the table below.

Create a SMART objective for a sport or physical activity session

Objective:

What makes it

specific?

POINT OF

INTEREST

What makes it

measurable?

How do you know it

is achievable?

Eight benefits of goal-setting

1. Clear focus on what you want to achieve.

2. Optimise use of available resources.

3. Effective use of time.

4. Peace of mind – gives perspective, commitment and

action.

5. Easier decision-making.

6. Clear measurement of progress.

7. Freedom of thought – look for ways to make it happen.

8. Easier communication with others.

(www.the-happy-manager.com)

Types of equipment

How do you know it

is relevant?

How do you know it

is time-bound?

When planning your session it is important to think about the types of equipment you might need and their purpose.

Assisting in the planning and delivery of a sport or physical activity session

Safety

Coach /

leaders

Equipment

Participants

Technical

/ sportspecific

Copyright © 2018 Active IQ Ltd. Not for resale 11
---
TOP

TIPS

for effective

communication:

HAZARDS

IN A FITNESS

ENVIRONMENT:

Facilities

Equipment

1 Speak clearly.

2 Keep it simple, stupid (KISS).

3 Ensure that your participants can see and hear you.

Working practices

4 Say what you show: words should match actions.

5 Use appropriate language for your

participants' age and understanding.

Clients

6 Use questioning to check understanding.

7 Move around the area if easier

to communicate this way.

8 Use professional body language – stand

tall, don't fold arms and don't sit down.

9 Be mindful of noise and distractions.

Client behaviour

Security

10 Project your voice.

11 Use visual aids to assist you –

whiteboards, clocks, signs.

Hygiene

12 Make eye contact

Copyright © 2018 Active IQ Ltd. Not for resale
---
Active IQ

Dryden House

St. Johns Street

Huntingdon

PE29 3NU

T 01480 467 950

F 01480 456 283

info@activeiq.co.uk

www.activeiq.co.uk

Active IQ wishes to emphasise that

whilst every effort is made to ensure

accuracy, the material contained within

this document is subject to alteration

or amendment in terms of overall

policy, financial or other constraints.

Reproduction of this publication is

prohibited unless authorised by Active IQ

Ltd. No part of this document should be

published elsewhere or reproduced in any

form without prior written permission.

Copyright © 2020 Active IQ Ltd. Not for resale.