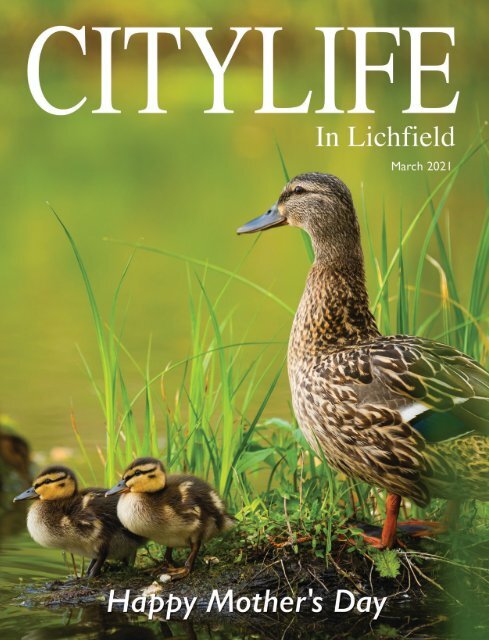 Citylife in Lichfield March 2021
We all love our mums and our March magazine has got lots of ideas on how you can spoil your mum this year, with recipes, gifts, and suggestions for the best places for you to treat her to the tastiest dine-at-home cakes and drinks! We've also got the usual mix of local community news, competitions, history features and more! So why not relax, have a read, and see how you can make your mum feel special again for 2021's Lockdown Mother's Day!
We all love our mums and our March magazine has got lots of ideas on how you can spoil your mum this year, with recipes, gifts, and suggestions for the best places for you to treat her to the tastiest dine-at-home cakes and drinks! We've also got the usual mix of local community news, competitions, history features and more! So why not relax, have a read, and see how you can make your mum feel special again for 2021's Lockdown Mother's Day!
SHOW MORE
SHOW LESS
You also want an ePaper? Increase the reach of your titles
YUMPU automatically turns print PDFs into web optimized ePapers that Google loves.
3
---
Welcome to

CITYLIFE

Welcome to CITYLIFE in Lichfield, a monthly magazine

bringing you our pick of the city's news, events and stories.

Each month CITYLIFE in Lichfield is delivered to

businesses and homes in Lichfield, Kings Bromley, Fradley,

Alrewas, Hill Ridware, Whittington, Stonnall, Shenstone,

Hammerwich, Burntwood and Longdon, completely free

of charge; bringing you the best that the city has to offer.

Each issue features heritage stories exploring the rich

history of our area, plus competitions, interviews and the

latest in fashion and style.

Got a story or charity event you want to share with our

readership? Think you've snapped an image that captures

the spirit of the city? We want to hear from you!

Our business is bringing you Lichfield's city life.

CITYLIFE Contacts

Editor - Kristen Lackajis 07885 380632

kristencitylife@gmail.com

Features - Jono Oates 07785 757201 jonocitylife@gmail.com

Advertising -

Steve Brown 07740 166497 stevebrowncitylife@gmail.com

Rebecca Hill 07970 513144 rebeccahillcitylife@gmail.com

Production -

Helen Smith 07967 154187 helencitylife@gmail.com

Citylife In Lichfield Ltd

PO Box 7126 LICHFIELD WS14 4JS

CITYLIFE in Lichfield and CITYLIFE in Rugeley magazines

are not connected to any other publication or publisher, and are

wholly owned by CITYLIFE in Lichfield Ltd.

Citylife In Lichfield

@citylifelichfield

@lichfieldcity

www.citylifeinlichfieldltd.co.uk

Citylife in Lichfield Ltd does not endorse any business or organisation

appearing in these pages, and the publication of any advertisement,

editorial, event listing or advertising editorial does not constitute an

endorsement by Citylife in Lichfield Ltd.

Your Local Magazine

Inside...

16 Kim Nash Interview

Charlotte Benton interviews the local author

.............................

20 Ask Jono

Jono Oates solves a local historical mystery

.............................

26 Dine at Home

Treat Mum to a dining-in experience

.............................

36 Virtual Chasewater

We take a virtual stroll round the local beauty

spot

.............................

38 Mum's the Word!

Find the perfect gift for Mum

From the Editor…

Welcome to the March issue of Citylife in Lichfield - the cold

weather is finally lifting, and with it come hints of springtime and

the promise of brighter days ahead.

The main event in March is Mother's Day, when we celebrate all

things 'Mum' and shower our matriarch with gifts and love. We've

put together a beautiful gift guide featuring local retailers and

suppliers of everything from handmade candles, to bespoke

flower arrangements, to hand-crafted jewellery items.

Rather fittingly, it's also International Women's Day on 8th March

this year – a global day to celebrate

the social, economic, cultural and

political achievements of women

everywhere. Therefore, it wouldn't

be right to let the occasion pass

without giving a nod to the two

fantastic female directors who are

behind Citylife in Lichfield Ltd!

Helen Smith and Rebecca Hill – this issue is dedicated to you!

Krissy
---
5
---
LOCAL NEWS

Lichfield Market

Secured for Five Years

Donations Buy Laptops

for Lichfield Students

CJ's Events Warwickshire has been appointed

by Lichfield City Council to operate the

monthly Producers' Market located in Market

Square. The appointment has been awarded for

an initial five-year period.

In recent years the Farmers' Market took place

on the first Thursday of the month, but with

declining stall numbers and footfall, Lichfield

City Council appointed CJ's Events

Warwickshire for an initial period of one year

back in 2020 to revitalise the market.

Back in January 2020, following a Working

Group with the local authority, the company

moved the date from the first Thursday to the

first Sunday of the month, and changed the

name from 'Farmers' to 'Producers', which

enabled the operator to attract and deliver a

wider variety of stalls and meet the

expectations of shoppers.

Despite the pandemic cancelling a number of

markets, the ones which took place have been

highly successful and have increased both stall

numbers and footfall.

The monthly market will take place on the first

Sunday of the month between February and

December annually. At present it will only be

essential food stalls whilst current lockdown

restrictions are in place.

For more information, or if traders wish to get

more information on trading, contact CJ's

Events Warwickshire on 01926 800 750 or visit

www.cjseventswarwickshire.co.uk.

.......................................................................................

March the Month with

Georgian Jono!

Whilst going for your daily exercise this month

you may well see a familiar site – Jono Oates,

affectionately known as Georgian Jono to locals,

can often be found pounding the streets of

Lichfield on his daily constitutional.

However, during the month of March, Jono has

taken on the March the Month Challenge for

Prostate Cancer UK and plans to cover a

minimum of 11,000 steps each and every day to

raise money for the charity!

You can support Jono, who owns and operates

Jono's Tourism, in his quest by visiting

https://marchthemonth.prostatecanceruk.org/fu

6

ndraising/jono-walks-lichfield. Or, if you can

catch him, you can also safely and carefully give

him some money on his rounds (you may even

get a little bit of local historical knowledge

thrown into the mix!)

.......................................................................................

Litter Legend's

Competition Winners

As well as keeping

the litter picking

momentum going

through lockdown,

Lichfield Litter

Legend's other aim

was to see a litterfree

Lichfield

through education.

Recently, a project at

St Michael's Primary

School covered the problems associated with

litter and the effect of litter on wildlife,

culminating in a poster competition where

children were asked to come up with an antilitter

poster.

There were some wonderful designs created by

the two age groups, and it was difficult for two

winners to be chosen, however a decision was

made and both winners received prizes of litter

pickers, hi-vis vests and badges provided by

Lichfield Litter Legends and a signed copy of

Lennie The Litter Legend.

Pictured is Bob Harrison, author of Lennie the

Litter Legend and organiser of Lichfield Litter

Legends, with the winners.

Nether Stowe School pupils with laptops bought

from generous donations

Students from a Lichfield school are to benefit

from new laptops to use in their remote

learning thanks to a generous donation by two

historic Lichfield charities.

Nether Stowe School, in St Chads Road, has

been given £6,650 to purchase laptops by the

Lichfield Municipal Charities and the Swinfen-

Broun Trust, which will help disadvantaged

pupils learn at home during lockdown.

The school, which is part of the respected

Arthur Terry Learning Partnership, is currently

open to look after vulnerable students and the

children of key workers and is providing a

remote learning curriculum for youngers to

study at home.

Lichfield Municipal Charities was established in

1654. The organisation runs 13 Almshouses,

known as William Lunn's Homes, situated in

Stowe Street, which provide homes for poor

inhabitants of the City of Lichfield, while also

assisting local individuals and organisations in

times of need.

The Swinfen Broun Charitable Trust was

established in 1973, with assets from the estate

of the late Colonel Swinfen Broun, who died in

1948. It helps organisations and individuals

within the boundaries of the City of Lichfield.

.......................................................................................

Have Your Say on

Lichfield's Car Parks

Car park users, residents and businesses are

being encouraged to put forward their views on

long-term car parking options for Lichfield City

Centre.

Feedback from the consultation will be used to

help Lichfield District Council develop a longterm

car parking strategy for Lichfield City

Centre that will set out detailed

recommendations for future car parking

provision serving the city centre and how this

will function.

Consultation responses are being gathered

through an online questionnaire which is

available at

www.lichfielddc.gov.uk/parkingconsultation.

The consultation closes at midnight on Sunday

21st March 2021.
---
Advertising Feature

Would you like to have a chat

with a local Financial Adviser?

I have lived and worked in Burntwood and Hammerwich for 50 of my 52 years, working firstly as a Police Officer for

25 years and then as a fully qualified Financial Adviser since 2016. My wife and both sets of our parents are from the

area and our children went to the local schools, as did we.

I was a School Governor at EDA for 8 years until 2015 and have been a Parish Councillor for Hammerwich since 2015 and for Boney Hay

and Central since 2019, doing my bit for the local community when I can.

With strong ties to the area I consider myself a local and therefore a local Financial Adviser providing Advice to locals. I look after over 100

households advising on their pensions, investments, savings and inheritance tax amounting to circa £27,000,000. My clients get a personalised

service and I see them once or twice a year depending upon their circumstances.

At Four Oaks Financial Services I am

supported by in-house research, client

liaison and administration teams. I spent

most of 2020 working from home using

online meetings to great effect, keeping in

contact with my clients and advising them

during a very strange year. For the first

part of 2021 this is likely to continue but

it shouldn't be too long before face to

face meetings are the norm.

Our first meeting will be at my cost and

there is no obligation to proceed any

further. Financial Advisers get paid in a

variety of ways and I will explain this to

you when we speak. If you do decide to be

a client then you will get a personalised

service that matches your needs,

whatever they may be, as we are all

individuals.

I will carry out a full fact find of your

circumstances and discuss with you your

priorities, where you want to be

financially in the future and how I may be

able to help you get there. I will speak in

clear terms and do my best to try and

help you achieve your goals.

As an experienced Financial Adviser I

work with clients, at all stages of their life,

to help them achieve their financial goals.

My clients are mainly in the Burntwood,

Lichfield and greater Wolverhampton

areas, although I do have clients much

further afield. You can find me on the

Independent rating sites Unbiased and

Vouchedfor, via my website -

www.financialadviser.me.uk or the Four

Oaks website – www.fouroaksfs.com

It is often said that people deal with

people, particularly local people, so please

give me a call or drop me an email. We can

have a chat and can take it from there if

you wish.

I hope to hear from you soon.

Robin Place DipFA, CeLTCI, MLIBF

Financial Adviser

0121 323 2070, 07968 504805

robin@fouroaksfs.com

7
---
LOCAL NEWS

8

St Giles Hospice

Offers London

Marathon Place

Mark Shanahan of Sutton Coldfield has run 20

marathons for the charity

St Giles Hospice is offering one lucky

fundraiser the chance to run this year's London

Marathon after the hospice was awarded its

first-ever charity place at the iconic event,

which is set to take place on Sunday 3rd

October.

Competition for places at the London

Marathon is always fierce. In 2020 more than

450,000 people applied for the 40,000 places

available in the ballot. The few remaining places

are awarded to top athletes and selected

charities – and St Giles has been incredibly

lucky to be awarded a charity place.

The charity place winner will have to pay a

£100 registration fee and pledge to raise a

minimum of £2,500 for the hospice.

Anyone who already has a ballot place can join

#TeamStGiles for the marathon and all runners

will receive support from a dedicated

fundraising team member as well as an

exclusive St Giles running vest, a training plan, a

bespoke fundraising pack and route

information.

To apply for the St Giles Hospice London

Marathon place, or to join #TeamStGiles, visit

www.stgileshospice.com/londonmarathon.

.......................................................................................

New Virtual Theatre

Clubs from Lichfield

Garrick

The Lichfield Garrick Theatre has started a new

online drama club for people to get involved in

drama and theatre activities from their homes.

The Coronavirus pandemic has put a stop to

theatre productions worldwide and has left

many people feeling helpless and isolated in

their day-to-day lives. So, in a bid to bring

people together and help them make new

friends while also getting involved in drama, this

new free initiative from the Lichfield Garrick

will see people come together in groups over

Zoom and take part in sessions that look at

various parts of theatre, including acting &

directing skills, screen acting, and Foley Effects.

Starting in March, on Monday evenings, people

between the ages of 11-17 are welcome to join

in with the Youth Theatre Club, and the Theatre

Club for those 18 and above will be hosted on

Wednesday nights.

Participants can join for free, but should you

wish to contribute a small donation to the

running costs of the sessions, you can do this

either during the booking process or via the

link provided at the end of each session.

Visit

www.lichfieldgarrick.com/whatson/workshops

for more information.

.......................................................................................

£3,000 Donation for

Domestic Abuse

Charity

Paul Wright hands over the cheque to Emma

Tennant of New Era

New Era, the domestic abuse service, which

supports children and adults in Lichfield and

across Staffordshire, has netted an amazing

£3,000 donation thanks to a group of

courageous local fundraisers.

The fabulous fundraising effort was

spearheaded by Paul Wright, chairman of

Lichfield Social Club Football Club, who

completed a gruelling sponsored climb of

Mount Snowdon, with a group of friends and

team-mates.

Paul, aged 40, who set himself an original fundraising

goal of £1,000, has been overwhelmed

by the generosity of local residents, and their

friends and family.

As well as battling the elements, Paul had to

tackle his fear of heights in order to reach – and

descend - the 3,560-feet peak.

He organised the sponsored climb after being

impressed with the emotional support and

practical help provided by New Era to a friend

who had suffered severe domestic abuse.

New Era's confidential helpline for victims of

domestic abuse is available 24-hours on 0300

303 3778. Alternatively, a live webchat operates

round-the-clock at www.new-era.uk.

.......................................................................................

City Centre

Masterplan Awarded

Funds

Lichfield District Council has received £70,000

funding to support progress on several

important pieces of work linked to the Lichfield

City Centre Masterplan.

Plans are in place for 2021 to start developing

some of the ideas proposed in the Masterplan,

published last year, including public engagement

on long-term strategies for enhanced green

infrastructure, car parking provision, public

realm improvements and a feasibility study on

city centre pedestrianisation.

The purpose of the different strategies will be

to guide future development across the city

centre and support the delivery of proposed

key projects including the development of the

Birmingham Road site, the Bird Street

Courtyard site and the University West car

park site.

The £70,000 funding has been awarded by the

Greater Birmingham and Solihull Local

Enterprise Partnership (GBSLEP) through its

Strategic Economic Plan (SEP) Enabling Fund

and will be used to support several projects in

the next phase.

Valentine's

Winner!

Congratulations to C Hagyard

who was the winner of a bottle

of Rhubling sparkling wine,

courtesy of Clive's Wines in

Burntwood!
---
9
---
LOCAL NEWS

Funding for

Community and

Voluntary

Organisations

Charities, groups and not-for-profit

organisations that work to help the people of

Lichfield District are being invited to apply for

funding.

Lichfield District Council has £163,000 available

each year, over the next three years, to award

to community and voluntary sector

organisations that can deliver projects to make

a difference.

From supporting older people to live in their

homes to working to look after the local

environment, the grants will help communities

across Lichfield District.

The minimum amount that can be applied for is

£5,000 a year over three years, subject to the

funds being available. The grants do not need to

be match-funded.

Grants are available to formally constituted

not-for-profit groups that serve Lichfield

District, including local parish councils, public

sector organisations, and locally based

community enterprises and charities.

To find out more, and for an application pack,

visit www.lichfielddc.gov.uk/cvsfunding. The

deadline to apply is 29th April 2021.

.......................................................................................

Bollard Sleeves Offer

Pandemic Advice

A series of new

bollard sleeves have

been installed

around the city by

Lichfield District

Council to provide a

stark reminder to

residents that we are

still in the midst of a

global pandemic,

despite the fact that

lockdown restrictions may soon be eased

The colourful wraps, in vibrant shades of lime

green, are designed to catch the eye and offer

advice following the current Government

guidelines, such as Pay By Card and Keep Your

Hands Clean.

.......................................................................................

Progress Your Career

in Football

Lichfield Football Academy is looking to recruit

new members for the term academic year

which begins in September 2021.

10

If you love football and you're currently in year

11, you can combine your further education

with your passion for the game.

Offering BTEC Sport Level 3 Extended

Diplomas (equivalent to three A Levels), and

Applied Football Studies BSC (Hons), there's

never been a better chance to learn while you

play!

Elite training sessions are held at St George's

Park and weekly competitive football matches

are played on the 4G home pitch. There's even

USA Scholarships available for those who want

to study overseas.

To find out more about the Academy visit

www.lichfieldcityfcacademy.com, or call 07815

428301 to register your interest.

.......................................................................................

A Wash for Local

Wordsmith!

The statue of Dr Johnson, which dominates

Lichfield's Market Square, was subject to a

recent clean-up.

The famous Lichfeldian received a blast with a

low-pressure system (a certified method for

cleaning stone safely), removing years of dirt

and grime, to reveal a fresher façade!

.......................................................................................

Lichfield Historical

Treasure Hunt

Join Nurture for a family-friendly 'Historical

Treasure Hunt' thanks to Jono's Tourism and

Capture 24 Brand Photography.

Due to the success of this Historical Treasure

Hunt over February half term Nurture has

extended the activity until April 18th (including

the Easter holidays). Simply follow the map to

complete the missing sentences whilst

exploring this beautiful historical city as a family.

You can even tag #NurtureCommunity if you're

a social media user.

Complete the 'Historical Treasure Hunt'

mission by Sunday 18th of April – perfect for

adventure seekers of all ages! The trail is

pushchair and wheelchair friendly so ideal for

all the family!

The free Historical Treasure Hunt map can be

found online by visiting

www.nurturecommunitycic.org and clicking

into the events section. You'll then see the

Lichfield Historical Treasure Hunt advertised

and can go into this event and download the

map in PDF format. Here you can then print it

off, or simply save it on your mobile phone!

.......................................................................................

Spotted: Burntwood!

A mysterious creature

has been caught on

camera roaming the

streets of Burntwood

at night… In fact, it's

actually someone

dressed up as a 'Jawa'

character from the Star Wars film franchise,

complete with hooded cloak and glow-in-thedark

eyes – but who is this mystery person that

is sending the Burntwood community Facebook

pages into meltdown?!

It's just good to see that someone still has a

sense of humour and is brightening up people's

lives during tough times!

Have you seen the Burntwood Jawa? Post your

pictures and tag #BurntwoodJawa and

#CitylifeLichfield.
---
11
---
The Grandstand in the 1960s

A Grandstand

Finish at

Whittington

By Jono Oates

................................

Later this year the former grandstand and golf clubhouse at

Whittington Heath will be demolished to make way for the HS2

high-speed rail link and a familiar landmark will disappear from

Lichfield's skyline.

The annual Lichfield horse race meetings started in 1702, making it one

of the oldest horse racing meets in the country. During the 18th and 19th

centuries the meetings were very popular and,

in 1737, a grandstand was erected to cater for the large numbers of

spectators that flocked to the course from all over the Midlands and

beyond. There was significant prize money to be won by the horse owner.

In September 1801 the race organisers offered prize money of one

hundred guineas, a very large amount of money at that time, for the winner

of His Majesty's Plate which was for horses of no more than five years old

and set over a three-mile course.

By the end of the 19th century the races had begun to lose their

popularity, the quality of the races and the calibre of the horses began to

fall and the races started to attract the wrong type of clientele.

In 1875 the War Office bought the land surrounding the racetrack and

in 1881 the Whittington Barracks were officially opened. In 1890 the

racecourse grandstand was converted into an institution for soldiers from

the barracks, providing then with recreational facilities and a 'home-fromhome'

environment. The Soldiers' Home was the brainchild of Major Seton

Churchill from the barracks and it proved to be very popular will all ranks

within the militia.

In 1895 the War Office decided to ban all horse racing at Whittington

Heath as they said it was having a negative impact on the barracks. Major

Churchill, who was the Vice-President of the Anti-Gambling League,

described them as those 'wretched races' and said that he was glad that

the authorities had closed them down.

The closure of the races was not popular with everyone though and it

created a storm of protest from the racing fraternity and with Lichfield

businessmen as the races were very good for trade in the city centre. In

July 1895 a meeting was held at the Lichfield Guildhall at which a Lichfield

branch of the Sporting League was formed. Major Dalbiac, of the National

12

The Old Soldiers' Home

Sporting League,

referred to a letter

written by Major

Churchill where he

had described the

Whittington Races as

being 'of a very low

order' and that they

had 'sunk into the

hands of publicans

and bookies, and they

attracted the scum of

the surrounding

The Grandstand at Whittington Barracks

towns, such as

Birmingham, Wolverhampton, and Walsall etc.' A national election had just

taken place, with the Conservative and Liberal Unionist alliance replacing

the Liberal government of Lord Roseby, and Major Dalbiac hoped that the

new government would overturn the original decision and allow horse

racing to continue.

His hopes proved to be unfounded however and in September 1895 the

House of Commons debated a request to have the races reinstated. They

heard an appeal from the Bishop of Lichfield, Dr Augustus Legge, and a

number of local inhabitants, pleading that the races remained closed and

also a conflicting appeal from the Mayor of Lichfield, George Ashmall, ex-

Mayors and attendees of the Guildhall meeting requesting they be

reinstated. The government declined to overrule the original decision

however and the horse races were never held at Whittington Heath again.

In April 1927 the Victory Memorial wing was added to the grandstand at

a cost of £5,000, although there was still a £375 debt on the building by

1932, when they held a Market Fair in the grounds to try and raise funds

to clear the debt. Stalls included crockery, cakes and a white elephant stall

while Miss Joan Simpson was the 'lady with a 100 pockets' and there was

also a stall run by Mrs Wigs-of-the-Cabbage-Patch!

In 1957 the Soldiers' Home was closed and the building became the new

clubhouse for the Whittington Golf Club. In 1994 the club bought the land

from the Ministry of Defence, becoming the Whittington Heath Golf Club.

The grandstand clubhouse is, however, on the planned HS2 route and is

scheduled for demolition later in 2021. A new golf clubhouse, funded by

HS2, is under construction and changes are also being made to several of

the greens to accommodate the high-speed rail track.

For nearly three hundred years travellers between Tamworth and

Lichfield will have passed by the familiar outline of the Whittington Heath

grandstand providing memories of one of the oldest, and at times most

successful, horse racing venues in the country. Later in the year, however,

another iconic Lichfield building will disappear from the skyline forever.

Sources:

The British Newspaper Archive; The Lichfield Book of Days by Neil Coley;

www.whittingtonheathgc.co.uk
---
13
---
Look after the

pennies… and the

pounds will come!

14

...............................

By Richard Winterton

As my Granny used to say: "Look after the pennies and the pounds will

look after themselves." I might also add 'look after the pennies and the

pounds will come'. Let me explain…

When I first go to a house, I say: "We are here to help you."

If the property is full, we will check everything – the house of course

and the attic, the cellars if there are any, garages, the gardens, any sheds,

outbuildings, greenhouses, conservatories, orangeries… you name it!

To some, those jam-packed garages, overgrown gardens and crowded

sheds might seem daunting – at best the spectre of a dozen or more

journeys to the tip.

And that's where we come in. We don't cherry-pick, we carefully sift

through everything, identify potential lots for sale at auction (realistically

most things) and then safely dispose of anything which needs to be

scrapped, such as items which do not meet current fire or electrical

regulations.

People do get concerned about sheds, gardens and garages – don't be.

Let us come to you and take away the stress along with the items in

question.

Over the years I have seen so many attics stacked floor-to-ceiling and

garages racked wall-to-wall and whether it's a bulging basement or

unloved outbuilding, these places are so often chock-a-block with

opportunity.

Heaving sheds and garages are teeming with interesting finds, from

vintage tools and equipment to automobilia and random curios which

ended up there by default.

As I say, we don't cherry-pick. We have a dedicated, very experienced

team and if there's something there, we will find it!

Many times, the whole clearance costs can be covered from items

thought only good for the tip until unearthed in those places by our

eagle-eyed team.

As the saying goes 'one person's trash is another's treasure' – should

it perhaps also be 'one person's collection is another's clutter'?

Whichever way, it's never more true than in our specialised field.

There could be one tiny gem in an entire property; equally there could

be dozens! And they could be anything from anywhere in the world. The

possibilities really are exciting.

Once we've done that initial clearance and all the sifting, identifying and

cataloguing, we can then also dress a house for sale should the client

wish. And once the sale completes, we come back again to clear it and

leave the property completely clean for its new occupants.

The contents of house/shed/gardens etc are transported back to The

Lichfield Auction Centre to go through the auction process.

In this respect I liken us to a one-stop shop! We take care of the whole

process and, although we sell many things for thousands and thousands

of pounds, we treat items worth perhaps £5 to £10 with equal care. To

us, everything is important.

Whatever the situation, we never forget that this is someone else's

home and belongings – possibly accumulated over an entire lifetime.

So, whether you are an executor clearing a deceased estate,

investigating downsizing options, administering probate, emigrating or

just keen to clear clutter (or should I say collection?), give us a call.

We're always happy to have a look with a free, no obligation home visit

and give you our honest opinion and free quotation upfront.

That same helping hand is available for all properties inside and out,

ranging from houses, bungalows and flats to schools, offices and factories

and I am so proud of our bespoke, sympathetic service.

When it comes to probate, we're especially adept at handling the

entire estate – as the National Association of Jewellers' newest approved

member for auction services, all members of our jewellery department

are certified gemmologists and diamond graders.

Whatever the items in question, we can handle probate valuations and

estate clearances in their entirety.

Just about anything you can think of can come through The Lichfield

Auction Centre, from watches, jewellery and furniture to specialist

militaria, coins, silver, stamps, ceramics, vintage toys, comics and Pokemon

cards – the ultimate modern-day collectable!

Everything from boxes of mixed lots to automobiles can – and does –

go under the hammer in our online-only auctions.

There's now so much detail with extra photos for every lot in the

online catalogues to help people all across the world buy in confidence.

We've also had so many lovely comments from clients about our

packing service and all the measures we have implemented with regard

to coronavirus.

So, from the back of a Lichfield shed to the front of a Hong Kong

collector's cabinet, perhaps… that's how it's done.

Look after the pennies and the pounds will come – and furthermore

we will look after you!

For a free home visit to discuss house clearances, downsizing, probate

assistance or large collections, contact The Lichfield Auction Centre on

01543 251081 or email richardwinterton@richardwinterton.co.uk.

Visit us online and browse our new website at

www.richardwinterton.co.uk.

Richard Winterton Auctioneers has a

dedicated and very experienced house

clearances team.

A recent house clearance at a

property overlooking Lichfield's

Stowe Pool.

Richard was delighted to discover this vintage Triumph Stag in a barn

earlier this year.
---
15
---
10 Minutes With…

Kim Nash

..........................

Local author of heart-warming

fiction novels, Head of Publicity

for Bookouture and book blogger,

Kim Nash, caught up with Charlotte

Benton ahead of the publication of her

fourth novel, Moonlight Over

Muddleford Cove.

Hello Kim, firstly may I thank you for

taking the time to speak to me today, I

know you are very busy.

Not at all, it's my pleasure.

With the upcoming publication of your fourth novel, did you always

know that you wanted to be a writer?

Yes I did, ever since I was a little girl, however I thought to be a writer

you had to live by the sea and have a small desk by the window

overlooking the waves! An idyllic scene, but I know now that is not the

case.

I presume you have been writing during lockdown, how has this

experience differed from your normal writing schedule/experience?

I am lucky, lockdown has not had a great impact on my writing. A zap in

creativity perhaps, but aside from that I am used to writing as when I can

fit it in, I don't have a set routine. You can't wait for inspiration, you just

have to get on with it!

What inspired you to write this book?

Muddleford is a fictional place but it is inspired by my happy childhood

memories. I spent many summers in Mudeford in Dorset, travelling down

with my Nan to visit my Aunt. I haven't visited in five years now, but it is

a lovely place that I adore.

If you could meet any other author who would it be and why?

I have been inspired by so many great authors of women's fiction, but if

I had to choose one I would say Milly Johnson. She is best-selling author

of romantic fiction, with 18 best-selling novels to date. It was Milly who

inspired me to start blogging about books, she definitely inspired me and

gave me confidence.

What book is on your bedside table at the moment?

It is actually a book written by my friend Nicola May, I just started

reading it today, it is called Welcome to Ferry Lane Market. Nicola is one

of the many authors who was involved in the

Chase BookFest at the Museum of Cannock Chase in September 2019.

I helped to organise the event along with the ladies who work at the

museum, as avid readers themselves and with my connection to many

authors, it was a great opportunity for local readers to connect with local

authors. I am keen to run this event again once things are back to normal.

What do you like to do in your spare time to unwind?

I enjoy taking my dog Roni for a walk over Cannock Chase and spend

many hours watching my son play football for Hednesford Town under

13s. We also like to go and support the club's first team along with my

son's teammates and my friends, the other football mums.

How do you overcome writer's block?

I am fortunate that I don't really experience writer's block. I try to

always maintain a positive attitude towards writing, often reminding myself

that you 'can't edit a blank page'. I think sometimes we can convince

ourselves that we cannot do something, when in fact we can, it's just a

case of sitting down at the desk and giving it a go.

What is the most surprising thing you have discovered whilst writing

your books?

I have been amazed by how much my books have helped people

through lockdown. I have had numerous letters and messages sent to me

from strangers praising the power of my work during this unusual time.

One lady wrote how she had purchased my books for her Mum who had

sadly lost her friend to the virus, she spoke of how my books had helped

her Mum through the grieving process, enabling her to escape to another

world. My third novel is set in Portugal and at a time when we are unable

to travel, it has been lovely to hear how my books have been enjoyed by

many, leading them to feel as though they too have been on holiday,

offering an escape from reality.

What advice would you give to budding writers?

First of all, you have to make the time to do what you want to. If it

means sacrificing an hour in front of the television in the evening then that

is what we have to do. I always used to say, 'I'd love to write a book if I

had the time'. If you really want to do it, don't delay it.

Finally, what do you hope readers take away from this book?

I hope this book offers escapism to my readers, transporting them to

Muddleford with Nellie and Jack away from the current troubles of

everyday life.

Kim's books are all available to buy on www.amazon.co.uk (her latest novel

is available to pre-order) and you can find out more about Kim at her website:

www.kimthebookworm.co.uk.

Win a Copy!

We've got two copies of Kim Nash's

latest novel, Moonlight Over

Muddleford Cove, to give away to two

lucky readers!* Correctly answer the

question below and send your details

for your chance to win:

Which county inspired Kim's

latest book?

a) Dorset

b) Durham

c) Derbyshire

*One hard copy and one e-book. Please specify when entering

which version you would prefer.

To enter, just send your name, contact details and answer to

Book Competition at competitioncitylife@gmail.com or post

your entry to Citylife in Lichfield Ltd, PO Box 7126, Lichfield

WS14 4JS by the closing date of 23rd March 2021. One entry per

household. Multiple entries will be disqualified. No cash

equivalent. Please note you must be 18 or over to enter. All

entrants' information is processed in line with GDPR Data

Protection Regulations and our Privacy Policy (available at

citylifeinlichfieldltd.co.uk).

Full t&cs on page 42.

16
---
17
---
A Letter

for Mum

By Jo Howell

...................

Dear Mum,

Have I told you today I love you? I'm sure I did; I know I say it in my

head every day, so I'll remember to say it aloud tomorrow. And the day

after. And I promise I'll shout it from the rooftops on Mother's Day.

Although I've always thought it a little peculiar, we have a special day

to celebrate how much we love our Mums; surely, we should do this

every day? I know, I know - life gets in the way, we forget to call, we move

away, families fall out and before you know it, it's March and you can't

move for Mother's Day cards and offers on perfume sets.

So, what can I do for you this year Mum? What can I do to make this

year a little bit more special – after all, don't we all deserve a little extra

TLC after the last 12 months? I'm afraid one of my fabulous hugs will

have to be put on hold for a while longer but I came up with a few other

suggestions you may like:

Desert Island Discs

Yes, Mum, you get to choose your Top 10 favourite songs for us to

listen too – with no eye rolling, arguments or skipping songs. If you want

Elvis Presley, Gary Barlow or the soundtrack of Miss Saigon playing loud

all day – you can.

Vouchers

No, not for your favourite department store I'm afraid but vouchers

that you can 'cash in' whenever you like. Fancy a night off from the

cooking? Use a voucher. Want to choose the Friday night movie? Use a

voucher. There are 12 'blank' vouchers for you Mum, so if you want to

make it a gift that keeps giving for a whole year – you can.

Afternoon Tea

I know how much you love a scone with jam and cream, so let's

recreate it in the comfort of our own home – but with a twist! Because

we can't be together this year, your afternoon tea will be dropped on the

doorstep before we both enjoy it together via Zoom. And if you want to

pick the crumbs off your top afterwards – you can.

So, there you go Mum, a few ideas on how I can spoil you a little bit

more in 2021. And yes, I know it's not just about the gifts or the day itself

– it's about gratitude. I am so thankful you got to be my Mum; that it was

you who showed me the way, held me hand, wiped my tears and snotty

nose and now as an adult, gives the best advice – even when I don't want

to hear it.

Of course, not all of us have our Mums to spoil anymore. So, if you,

like me, are missing yours this Mother's Day, simply light a candle, take a

moment and look for the signs - be it her favourite song on the radio or

the daffodils poking through in the garden.

Because Mums, whether with us in person or not, will always be right

by your side. No matter what.

Happy Mother's Day, Mum – I love you.

Got a story or

charity event you

want to share with

our readership? Think

you've snapped an

image that captures

the spirit of the

region? We want to

hear from you!

Contact Citylife at

kristencitylife@gmail.com

18
---
19
---
20

MYM Video

Where was Lilian

Hipkin's Shop?

By Jono Oates

............................

Last month I received a letter from Mrs Lynn Washbourne who

asked whether I knew the location of a shop in Lichfield that

her mother, Ethel Lindsay, had worked in during the 1930s.

The name of the shop was Lilian Hipkin's and it was a fashionable

ladies' dress shop. Lynn had recently moved in to the area and was

keen to know exactly where the shop was.

Although I didn't know the answer immediately, I was very confident

that I would be able to find the answer to Lynn's question. I have access

to all of the vintage photographs that form the St Mary's Photographic

Collection, including street scenes and shop front photographs, I can

look at the photographs listed on the 'You're Probably From Lichfield

If…' Facebook community group which has many photographs of

Lichfield from the past, and I also have a copy of JP Gallagher's book

'Trades of a City' which lists all of the Lichfield shops with details of

their owners from the 1850s to the present time.

My confidence was rewarded when I discovered that Lilian's shop was

at number 16 Bird Street from the 1920s to the early 1940s. I

discovered a photograph of the shop front, with two members of staff

standing outside the front entrance, in the St Mary's Photographic

Collection and I also found several references to the shop in newspaper

advertisements, mainly placed in the Lichfield Mercury, using the British

Newspaper Archive.

The ladies in the photograph, Eileen George and Isabel Bailye, were

part of a team of dressmakers who worked in the upper part of the

building. Lynn says her mother told her that they had an excellent view

of the city from their vantage point but that they never went into the

shop area on the ground floor.

Lilian was well-known in Lichfield and in December 1929 she

provided the dresses for Miss Violet Garmstone, who played the lead

role in the Lichfield Amateur Dramatic Society's performance of Vanity

Fayre. In September 1937 Lilian advertised in the Lichfield mercury

looking for two 'superior girls' as apprentices for ladies tailoring and

dressmaking.

Ethel lived on Stockhay Lane in Hammerwich and Lilian lived at

Eileen George (l) and Isabel Bailye

outside Lilian Hipkin's shop in the 1930s

Mountain Ash, 49 Burntwood

Road, so the two women would

have been near neighbours.

Lilian's husband was William

Hipkin who, by 1939, was a

retired farmer.

In May 1941 Lilian sold number

16 Bird Street as she planned to

retire and announced a

Clearance Sale in the Lichfield

Mercury, with a good selection of

spring and summer dresses on

sale with many 'startling' bargains.

The contents of the shop,

including three Singer sewing

machines, were put up for

auction by Winterton and Sons

auctioneers in June 1941 and the

shop eventually became home to Margaret Salt, a milliner.

The shop has had many different uses since the 1940s including a

garden shop, an antiques shop, the wonderfully named play-on-words

'Sixteen Birds Treat' gift shop in the 1970s and MYM Video in the 1980s.

Today it is the Damn Fine Café.

Ask Jono!

Damn Fine Cafe

Ethel Lindsay outside her home

in the 1930s

If you've got a question about a shop or business in Lichfield,

want to know where it was or who owned it, want to know about

some of Lichfield's well-known figures, spaces, places, or want to

know who did what to who, where and when… In fact, if you want

to know anything about the history or people of Lichfield then

why not Ask Jono?

Email your query to Jono at jonocitylife@gmail.com, or write to

him at Citylife In Lichfield Ltd, PO Box 7126, Lichfield WS14 4JS

and he'll try and answer your query in the next edition of the

magazine. Please include as much information about the place, or

person, that you would like to know about and also include any

photographs that might be relevant to the query.

*Thanks to Lynn Washbourne and her daughter Kate Carter-Brown for the use of the

photograph of Ethel Lindsay.

**Photograph of Lilian Hipkin's shop window courtesy of the St Mary's Photographic

Collection

Sources: The British Newspaper Archive; Trades of a City by JP Gallagher
---
What's On

March/April

.......................

John Louis Petit Lectures

There are two

u p c o m i n g

lectures about JL

Petit, in which

Philip Modiano,

author of Petit's

Tours of Old

Staffordshire, will

discuss his most

recent research

about this

talented Lichfeldian. On March 17th for the Johnson Society

AGM the lecture will focus on Petit's more unusual artistic

achievements as a unique pre-impressionist in mid 19th

century Britain; while on April 9th for the Staffordshire

Archaeological and Historical Society Petit's opposition to

Gothic and advocacy of what would later become

progressive-traditionalism will be the focus. Both lectures

will be on Zoom.

Contact the Societies for further details.

21
---
22

The Kitchen Shop

Says Goodbye to

Matriach

........................

It is with the greatest sadness to announce that

Hilary Woolston, founding partner of The Kitchen

Shop, Market Street, Lichfield, unfortunately lost

her battle with cancer at the end of January.

Along with her husband Barry, they set up their

cookshop in August 1982 and later two of their daughters,

Lizzy and Vicky joined them.

Hilary's family, friends, shop staff and regular customers

will miss her very much indeed!

A private family funeral will be held on 3rd March.

Hilary's family have decided that there will be a memorial

and celebration of her life once friends can gather again. In

the meantime, donations can be received for Cancer

Research UK and Walsall Palliative Trust Fund in her

memory.

Please contact Ian Hazel Funerals Ltd, 23 Anchor Road,

Aldridge, West Midlands, WS9 8PT.

Opportunity for a

Sales Executive

Citylife in Lichfield Ltd

is expanding!

We currently have an opportunity for

a Sales Executive to work on our two

magazines – Citylife in Lichfield and

Citylife in Rugeley & Cannock Chase.

You must be self-motivated and

comfortable speaking to clients on the

phone as well as face-to-face. A car is

essential for this post.

For further information and a full job

description, please email

helencitylife@gmail.com

Support Good Causes with

Lichfield Community Lottery

.................................

Tickets for Lichfield Community Lottery

will be going on sale from 2nd March

2021. Each ticket costs just £1 and can help

support local charities and good causes.

So far, 14 good causes from across Lichfield

District have signed up to be a part of Lichfield

Community Lottery following the virtual launch

in January. These include: Pathway Project,

Lichfield & Hatherton Canals Restoration Trust, CACH, Rotary Club of Burntwood

and District, Friends of Burntwood Library, Hammerwich Bowling Club, Burntwood

Be A Friend, Burntwood St Matthew's Cricket Club, Chasewater Railway, Lichfield

Litter Legends, Girlguiding Lichfield Division, Boley Park Pre-School and COGS

Prepares 4 Life CIO.

These not-for-profit groups and organisations can set up their own online lottery

page and, once tickets go on sale, will receive 50p in every £1 spent by players who

choose to support their cause. A further 10p in every pound will go to other local

good causes from across the district.

Lichfield Community Lottery's first draw is on 10th April. Players have a 1 in 50

chance of winning one of the prizes, which range from the £25,000 jackpot to three

extra lottery tickets. To celebrate the first draw there is also an opportunity to win

a Mercia Food Hub luxury hamper, packed with locally sourced treats.

Local good causes can sign up at www.lichfieldcommunitylottery.co.uk, and the

website is also where supporters can buy lottery tickets when they become available

in March, as well as read regular updates.

Advertising Feature

The Joy of a Familiar Face

....................................

Local home care provider Visiting Angels has

been successful in delivering a different

standard of care to families in East

Staffordshire.

For many receiving care there is often little

consistency or continuity of care. Owner, Andrew

Lofts, says: "I could see the problem comes from

high staff turnover."

Visiting Angels is a proudly carer-centric home

care provider. By looking after our staff with fairer pay and benefits, it believes these

problems can be stopped. Andrew continues: "Our staff turnover is much lower than

the industry average and for clients this means the visits happen when they choose.

"The unique thing about Visiting Angels is that you get to choose the carer who

visits you. You will meet the carer before you decide whether you would like them

to support you. We select the carers who we believe will match the client well and

then introduce them to the client and their family."

Andrew concludes it's not just about keeping people safe: "As well as ensuring that

people are protected, the same carer coming each time means our clients get to

know their Angel and there is joy from spending time with a familiar face. When

during the pandemic the advice has been that our elderly loved ones should not

leave their home, I am proud to say that we are fighting loneliness by ensuring a

regular visit from a friendly face."

Visiting Angels is based in Burton on Trent and covers Burton, Tamworth and

Lichfield. For more information call 01283 319400.
---
23
---
Lichfield Camera Club

.................................

Produce images that are 'Three of a Kind' was the challenge for

Lichfield Camera Club members in the latest club competition. The

images could be on a common theme or a traditional triptych canvas

that was popular with artists of the Dutch Renaissance and more

modern artists such as Jack Vettriano. It is a technique that has also

become popular with photographers.

The winning image was Richard Moore's monochrome study of three

Birmingham Churches entitled: St. Martin's, St. Philip's and St. Chad's, with

each church juxtaposed with architecture of a very contrasting style.

Guggenheim Museum by Peter Evans

Andy Malbon recorded a recent event in Rugeley with

'There she goes!'

Richard Moore's study of Three churches was the winner

The Mating Season by Sandra Morgan

Annette Keatley captured the flight of a biplane with

'Up, Up and Away'

Second place went to Anne Anderson for her beautifully

creative image of Pheasant Feathers.

Tim Wayne created this triptych '3 of The Forth' of the

magnificent architecture of the Forth Rail Bridge.

Lily Pavey's '3

Glasses' exploited

the patterns

created by the

refraction of light

by water.

24

Joe Anderson took third place with another piece of great

creativity with his monochrome Cutlery Composition.
---
Tales of a Private Chef

By Simon Smith

.......................

In the days when

we were allowed

to travel and I

worked in St Tropez

I used to meet up

with another private

chef for a drink

every so often.

These jobs tend to

be for a two-week

spell when people

hire villas, the work varies a lot.

On this occasion he arrived at the villa and saw the

clients in the drive with a taxi and suitcases. "Ah we've all

arrived together," he said. "No," replied the client, "we

are just leaving."

"Have I got the wrong date?" asked the chef.

"No, not at all," came the reply. "We are going away on

a yacht for a couple of weeks, you are here to cook for

the dog. You will find the menu on the back of the fridge

door. Any problems ask the butler."

There are many ways the uber-rich like to spend their

money and that is just one example.

25
---
Mother's Day

Dine at Home

............................

TThis year, Mother's Day is going to be a very different

affair for many of us. With lockdown regulations still in

place, restaurants, pubs and eateries are all closed to

the public, but that doesn't mean Mum can't enjoy a meal

from her favourite place!

We've put together a few of our local favourites which are

offering delicious restaurant-quality takeaway meals to

impress and delight Mum this year.

Cakes of

Wonderland

Mother's Day

Afternoon Teas

available please

see

Facebook/Instagram for details - Limited

Availability.

Mother's Day Cupcake Flower Bouquet - Can be tailored to

any colours you choose - Flavours: Vanilla, Chocolate and

Lemon. £15.00

Box of 6 Mother's Day cupcakes - £10 available in Nude and

Blush designs. Flavours: Vanilla, Chocolate and Lemon.

Booking is essential. Full payment required at time of enquiry.

Collection on 13th March, 1-3pm

Contact: 07516497165 or

hello@cakesofwonderlandlichfield.co.uk

Also message us on Facebook

@cakesofwonderlandlichfield

Los Banditos

Treat Mum to an authentic and

delicious meal from Lichfield's

premium Mexican bar and grill.

With so many great dishes to

choose from, including a range of

tapas plates; the typical Mexican

fare of nachos, fajitas, burritos and

tacos; plus a street food menu

featuring gyros kebabs and

quesadillas, you'll really be spoiled

for choice!

Los Banditos also has gluten-free and vegan options, and two

fantastic Mother's Day deals!

• Any Three Courses and a Cocktail - £22.95

• Any Main Course and a dessert - £13.95

Delivery service to start from 2pm

Please pre-order to avoid disappointment. Pre-orders will be

open from 1st March – call 01543 471537 to book your meal!

The Cheese Cavern

Treat your Mum this Mother's

Day to a cheese hamper from

The Cheese Cavern, a familyrun

artisan cheesemongers

located 'under the arches' in

Lichfield's Corn Exchange.

Husband and wife team, Steve

and Debbie, have spent much of

their time visiting dairies and

local producers, gaining vast *Hamper shown is an example only

product expertise along the way.

There's a choice of cheeses for your hamper, as well as a choice

of different flavoured shortbread biscuits or Turkish Delight, and

also chocolate balls to be included!

Hampers are available to order online from 1st March.

For more details visit www.thecheesecavern.co.uk.

Pizza By Goli

Mother's Day is just

around the corner and, at

Pizza by Goli, we want to

help make your lockdown

celebration just as special

as if you were dining with

us. Simply choose from

the online menu and ring

through your order for a collection or delivery (within

Lichfield area). Pre-order whenever you can and card

payments are safer for everyone when possible.

10% discount is still available for NHS staff.

Visit the website and see the menu at

www.pizzabygolilichfield.co.uk then call the restaurant

on 01543 250916 to order.

Stay safe, eat well, be happy!

26
---
Original Painting as

Raffle Prize

........................

Stuart Sampson

ALichfield artist has donated an original

painting to the city's canal trust to raise

funds for its restoration work.

Stuart Sampson is known for his graphic designs in

waterways guidebooks and magazines, but has revived his

interest in painting during the lockdown.

A life member of Lichfield and Hatherton Canals

Restoration Trust, Stuart chose a vision of Lichfield Canal

in water as his subject for a series of paintings, the first

of which can be won in an online raffle.

In the paintings, which he collectively describes as

'Wishful Thinking', Stuart has tried to merge the present

with a parallel universe where the canal had never been

abandoned, and which one day might look very similar.

Raffle tickets for the first work, a 14inch x 11inch

depiction of Borrowcop Locks, hand-painted on canvas

board with acrylic paint, can be purchased at

www.raffall.com/LHCRT at the cost of £1 per ticket.

The first raffle ends on Saturday 3rd April at 11am. UK

delivery is included or collection is available from

Lichfield.

27
---
Your Garden in March

By Byron Lewis

28

Almost a year since the start of the pandemic, and the

spring gardening season is starting again... nearly three million

people took up gardening for the first time last year. As the

Covid-19 outbreak gathered pace and people were told to

stay at home, they turned to their outdoor space as a way of

passing the time, improving mental health and making more

use of their exteriors - were you one of them? If so, don't lose

that enthusiasm - hopefully you'll have had lots of success (and

even if you didn't you can always try again this year!)

Many seeds can be sown in March, plus flowers and veg too.

The 'grow-your-own' market saw a massive surge in 2020 -

why not try growing your own tomatoes this year? There are

plenty of varieties available from seed, whether you prefer

sweet flavoured cherry tomatoes, through to Italian and

traditional types, most tomatoes are easy to grow. Sow in a

seed tray and germinate on a warm windowsill. Keep them in

a heated greenhouse or conservatory. Depending on variety,

some can be grown outdoors in the summer but do check the

seed packet carefully before you buy. Alternatively, readygrown

plants are available later in the month.

Seeds for many other plants can also be sown in March -

both indoors and outside straight into the garden. Just check

the back of the seed packets for full growing instructions. You

can easily fill a border with summer flowers for less than £10!

Choose easy hardy annuals like cornflowers and godetia

which can simply be sprinkled over the soil outside. If you've

got space indoors, marigold and petunia are easy summer

plants to try.

Summer bulbs are now ready to plant. Garden centres will

have all the popular types – from scented lilies to dahlias, as

well as tuberous begonia and gladioli. Plant them in March and

April for summer colour. Many will flower for years to come

with minimal effort and, as the bulbs increase in size over time,

so the display increases too. As with all bulbs, adding some

Bonemeal, both when planting and after flowering, will feed

the bulb and help to improve the show.

Byron Lewis runs Lichfield Garden Centre at

Curborough Countryside Centre in Lichfield. Tel: 01543

254306, visit the website at

www.lichfieldgardencentre.co.uk or find it on Facebook

and Twitter.
---
29
---
Doxey Marshes by Colin Hayes

Launch of Rivers

Scheme in Stafford

.......................

Staffordshire Wildlife Trust is excited to announce the launch

of a £2.5 million scheme in Stafford that will alleviate flooding

around rivers in the area, as well as encourage a range of

wildlife such as otters and lapwing. Improving public connections

to nature is also a large part of the scheme by upgrading access

to sites and creating more green spaces for families to enjoy.

The scheme has been given a boost thanks to a £150,000 donation

from Highways England which will fund an environmental feasibility

study that is already under way to develop, plan and cost a five-year

Ragged Robin by Victoria Bunter

plan for the exciting Stafford Brooks Project.

In partnership with Staffordshire Wildlife Trust, Highways England,

Stafford Borough Council and the Environment Agency the project will

make vast improvements to habitats surrounding the Sow and Penk

Rivers. 25 sites will be identified which can be improved for

biodiversity, flood mitigation and water quality. Action will then be

taken to help join up some sites so habitats are more resilient and

wildlife less isolated.

The scheme that will restore and create new habitats across sites

including Doxey Marshes, Kingsmead Marsh and Radford Meadows

supports the launch of the Trusts recent appeal, 30 by 30 which aims

to have 30% of the county put aside for nature's recovery by 2030.

Restored sites could become home to a variety of wildlife including

otter, wading birds such as lapwing and snipe and a range of amphibians

as well as them acting as a key contributor in mitigating the effects of

flooding.

Lichfield's Window Wanderland

.........................................................

Residents and businesses throughout Lichfield

decorated the windows of their homes and shop

fronts as part of a national campaign to connect

people in a Covid-safe way.

The countrywide initiative, called Window Wanderland,

encouraged communities around the world to set up their own,

magical windows for people to enjoy.

The Lichfield version took place over the weekend of 26th-

28th February and saw many locals taking part – here are just a

few. How many did you spot?

30

Teddy bears enjoy tea at The Bureau

The Cathedral School in Cathedral Close

Holy Cross Roman

Catholic Church
---
Advertising Feature

A Taste of the

Caribbean

......................

Karib Kitchen is a new and

exciting eatery which

specialises in Caribbean

cuisine to bring a taste of

distant shores to Lichfield!

Having successfully traded at

food festivals around the country

for the past four years, and

experiencing the overwhelming demand for something a

little different, the owners of Karib Kitchen have realised

their dream and chosen Lichfield as their new base in which

to operate.

Friendly staff, great customer service and superb food

can all be expected from Karib Kitchen, and diners can

choose from Caribbean classics such as jerk chicken, fried

plantains, and rice and peas, to more adventurous dishes

like goat curry and callaloo. All of which are freshly

prepared to order.

Based under the historic arches of the Corn Exchange on

Conduit Street, Karib Kitchen is available for online orders,

with deliveries available or collection at the restaurant. The

kitchen is open during the national lockdown and all

Government guidelines are being strictly followed adhered

to.

Take a look at the menu online and order today at karibkitchen-limited.square.site.

Advertising Feature

Master the Art of

Bread Baking

......................

Do you love the smell of a freshly baked loaf wafting

through the house? Learn the skills you need to become a master baker with

Hunnypot Cottage Bakery.

Owned by Ruth Redgate, Hunnypot Cottage Bakery is renowned throughout the area for

range of over 40 bread flavours and styles, from traditional white and wholegrains to more

exotic treats. The bakery was even selected as runner-up in 2020 for the West Midlands region

in the World Bread Awards – the UK's leading awards which celebrate the baking community.

The range of courses that Ruth offers (either individual, group, or virtual) can provide all the

skills you need to start baking, or extend your skills into artisan breads and pastries. Learn

about different ingredients, and how to improve your diet with home-baked, preservative-free

breads.

Group courses are held at numerous local venues and each course includes a deliciously

tempting afternoon tea.

Online virtual courses are also available. The initial price is for the online class which can be

taken at your leisure, and the content will be accessible for a month once you log on. You can

purchase add-ons such as flour, yeast, and tins.

A bread making day is a wonderful experience to share, makes the perfect gift for an aspiring

baker, or is a great treat for Mum this Mother's Day!

Hunnypot Cottage Bakery also offers bread subscription boxes, available in two sizes, which

means a variety of fresh bread can be delivered to your door (or the door of a loved one)

every month! There are options of three, six, nine and 12 month subscriptions – making this a

fabulous, and unusual, idea for a present.

For more information, or to purchase your bread-making course,

visit www.hunnypotbakery.co.uk.

31
---
One Foot

Forward

Walking for Wellbeing

By Louise Morris

..........................

Lichfield Chef's

Lockdown Meals for

School Staff

..........................

Due to the restrictions placed on our everyday

lives caused by the Covid-19 pandemic, we

are all experiencing increased levels of stress

and anxiety. During the spring and summer months

there are greater opportunities to spend time

outdoors, but during the autumn and winter, when

the days are short, our time spent outdoors is much

reduced, increasing our chances of suffering from

anxiety and stress.

No matter what time of year, spending time surrounded

by nature and being mindful of the natural world around

us can make you feel calmer and more relaxed. Taking a

walk in your local park, along a quiet country lane,

immersing yourself in nature at a nature reserve or in an

ancient woodland provides us with an opportunity to

relax and breath. Using our senses to touch, smell, see and

hear nature is extremely beneficial to our mental

wellbeing.

Transforming the Trent Valley is launching its Connecting

with Nature project in 2021, offering people the

opportunity to connect with nature to improve their

mental wellbeing. Participants will begin to understand the

river, wetlands and heritage of the Trent Valley through a

programme using 'forest school' type methods, including

community gardening, guided walks and bushcraft

activities.

For ideas on how to make your daily walk more mindful,

see our One Foot Forward page:

www.thetrentvalley.org.uk/walk_well.php.

If you are interested in finding out more about how

Connecting with Nature could help you, email us at

TTTV@staffs-wildlife.org.uk or visit

www.thetrentvalley.org.uk/cca.php?project=PrNature for

some interesting and useful videos on mindfulness.

32

Liam Dillon of The Boat Inn with Jane Rutherford, Headteacher at King Edward VI School

The owner of a Michelin Guide restaurant is preparing and delivering meals

for staff at his former school during lockdown. Liam Dillon, owner of The

Boat Inn, attended King Edward VI School, Lichfield, and is providing his

'Heat At Home' meals free of charge every week during lockdown.

During this third lockdown, the restaurant's team have been delivering their 'Heat

At Home' offering across not just the West Midlands, but the UK, selling out every

week. Liam, who found his passion for cooking while at the school, came up with the

idea to give something back to his alma mater.

Liam said, "I wanted to give something back to my community. Where better to start

than the school where I spent so many happy years, the place that gave me the

platform to now be my own boss as a restaurant owner.

"Every week until lockdown ends, I will be delivering five of our 'Heat At Home'

meals for teachers and staff who are working so hard, helping pupils, during these very

difficult times."

Jane Rutherford, Headteacher at King Edward VI, Lichfield said, "It was a pleasure to

see Liam again at school. It is such a kind gesture, and his weekly deliveries will put a

smile on the face of many of the school's hardworking staff. One of the first meals

went to one of Liam's former teachers."

The Boat Inn has again been added to the 2021 Michelin Guide and is the only 3*

Rosette establishment in Staffordshire.

Every week Dillon and other chefs at The Boat star in lessons live on Facebook

explaining his 'Heat At Home' dishes and how to cook them:

www.facebook.com/theboatinnlichfield.

To order a 'Heat At Home' meal visit: www.theboatinnlichfield.com/online-ordering.
---
******COVID UPDATE********

In these testing times we have doubled our efforts to make your life as easy as possible while adhering

to the various restrictions. We can offer a live virtual guided tour of our stock yard and swiftly send

samples directly to your door, subject to availability.

There really is no reason to go anywhere else!

Win a Granite Chopping Board

If you require our services please do not hesitate

to call us on 01785 711096 or email your quote

request to stef@justgranite.ltd.uk

With the largest variety of natural stones in the Midlands, the

solid slabs are kept on-site and are available for a virtual viewing

from 9am-5pm on Monday to Friday. Located at The Stone

Works, Pillaton Hall Farm, Penkridge, ST19 5RZ.

We've got a bespoke Chopping Board (in the

colour of your choice) to give away! To be in

with a chance of winning this magnificent prize,

simply answer the following question correctly:

Where does the supply

of granite come from?

a) Spain

b) Italy

c) Germany

To enter, just send your name, contact details and answer to Just

Granite Competition at competitioncitylife@gmail.com or post your

entry to Citylife in Lichfield Ltd, PO Box 7126, Lichfield WS14 4JS by

the closing date of 23rd April 2021. One entry per household.

Multiple entries will be disqualified. No cash equivalent. Please note

you must be 18 or over to enter. All entrants' information is

processed in line with GDPR Data Protection Regulations and our

Privacy Policy (available at citylifeinlichfieldltd.co.uk).

Full t&cs on page 42.

33
---
'Best Foot Forward' for

Local Charity

........................

Lockdown Babies

Celebrated!

........................

Members of a local business

networking group have

helped to organise a

charity event in aid of the Stan

Bowley Trust, Lichfield's cancerbased

charity which raises money

for cancer radiotherapy treatment

and was instrumental in bringing

the revolutionary CyberKnife

machine to the UK.

The Lichfield charity is named after Alan 'Stan' Bowley, a Staffordshire

Police officer who died in 2011 from cancer but who had benefitted from

CyberKnife therapy in Washington DC following a successful fundraising

appeal.

Now, to mark the tenth anniversary of his death, the charity is launching

its 'Best Foot Forward' campaign and inviting people to collectively cover

a distance of 7,088 miles (the distance of the return journey from

Congleton, Cheshire, where Stan lived to Washington DC). This can be

done as a group and entrants are free to run, walk, cycle – or climb the

stairs – to cover the mileage over 18 days.

Event organiser, Stuart Bravington, has already seen 45 people sign up for

the challenge, which will take place from 31st March to 17th April. He's

now calling on local people to get involved, sign up, and take on the

challenge to help the Trust in meeting its target.

To take part, visit www.thestanbowleytrust.org and click on 'events' and

'Best Foot Forward', which will tell you how to register, log your miles and

collect donations.

Greyhound Trust

Online Shop

By Lauren Hirst

........................

Looking for lovely gift ideas or just want to treat yourself or

your hound?

Greyhound Trust Hall Green has had to think outside the box about

how to raise funds to enable us to continue finding loving homes for

retired racing greyhounds. All our usual fundraising events were cancelled

last year and looks like it's going to be at least the summer of 2021

before things start to resemble anything like normal. So, if we can't bring

merchandise to you in the physical world, then we decided to bring our

merchandise to you via the world wide web.

Our lovely volunteers, Tracy and John Tew, take good care of our

merchandising and online shop (as well as helping with everything else).

We are relying on the online shop more than ever for the things we need

or want. Luckily for us Mr & Mrs Tew are ahead of the game and help is

at your fingertips for that special gift. We are also working in partnership

with the very talented cartoonist, Richard Skipworth, Olivia May

Creations, and others, who donate a percentage of all sales to the Trust.

Giving birth can be a traumatic experience at the best of

times, but having a baby during lockdown must have

been extremely distressing as, in some intsances,

partners were not allowed to be at the new mother's side

during labour, and family members were restricted from

meeting their new bundles of joy.

To celebrate the miracle of birth, and to recognise those who were

born during the Covid-19 lockdown restrictions, a beautiful and

thoughtful window display has been created at St Mary's on Market

Square. Decorated with circles, each depicting the name of a

lockdown newborn, the church window is adorned with colourful

designs.

We are also going to be expanding the range of our own merchandise

available online that has previously been available at our kennels. As the

public are currently unable to visit, items such as greyhound coats,

muzzles, collars, leads etc will be made available online.

If you can't adopt a dog, there are other ways to help… Go online and

have a look and support the greyhounds in care at the same time. And

while you're there, why not have peek at the gorgeous greyhounds who

are looking for their forever homes? Might there be room in your home

and heart for a retired greyhound?

Visit the online shop at www.greyhoundtrusthallgreenonlineshop.com.

34
---
35
---
Chasewater

A 'Virtual' Tour

..........................

Spring has nearly sprung and the nights are becoming lighter,

however few of us are able to get out and enjoy it due to the

Government restrictions following the Covid-19 outbreak.

Instead, Jono Oates leads us on a virtual stroll round the stunning

waters of Chasewater and delves into its history.

Set in over 900 acres, of which 200 acres is water, Chasewater is the

third largest reservoir in Staffordshire in terms of volume, and also

provides a wonderful location to go for a stroll and admire the views, as

well as the abundant wildlife.

The reservoir also has an extended history which goes back to the

end of the 18th century and is linked to both the extensive canal and

railway networks that helped propel the Midlands into an industrial

powerhouse.

The first reservoir was formed in 1797 on the site of the Crane Brook

Valley and was originally called the Norton Pool and Cannock Chase

Reservoir. It provided water to sustain the Great Wyrley and Essington

Canal, which was part of the Birmingham Canal Network, and which

suffered from lack of water due to the large number of canal locks in the

area, which consumed water at a very high rate.

The reservoir dam, however, burst in 1799 and the whole local area

was flooded, with the floodwaters reaching as far as the village of

Shenstone some five miles away. The dam was strengthened and rebuilt

in 1800 with a design by Thomas Dadford, a noted canal engineer, and

despite some remedial work in 2010 it has remained intact ever since.

In 1849 John Robinson McLean developed the South Staffordshire

Railway Line and, due to the proximity of the collieries of the Cannock

Chase Colliery Company, by 1871 a railway line was linked around the

reservoir supplying coal across the Midlands and beyond. Parts of the

original railway line are now used by the Chasewater Railway heritage

museum.

By the 1950s the use of the canal network had significantly declined

and large sections of the Great Wyrley and Essington Canal had closed,

therefore reducing the demands on the reservoir. In 1957 the Brownhills

Urban District Council purchased the reservoir for £5,600 and it

became re-named as, simply, Chasewater. The reservoir now changed its

purpose from industrial to recreational as sailing boats and speed boats

took to the waters and restaurants and cafes opened. Visitors came in

their thousands to walk round the waters and spot the increasing influx

of wildlife, flora and fauna as the reservoir became a natural habitat.

There are a number of walks around Chasewater for when the

Government restrictions are over, some of which are on wide, cinder

paths and roads, and others that will take you through forested areas and

right up to the water's edge. The best place to start any of the walks is

at the Chasewater Innovation Centre on Pool Road at Brownhills, where

there is ample parking. Call in to the centre to pick up a walking trail map

of the site and ask advice about the best, and most suitable, walk for your

group or family.

Walking clockwise from the centre takes you towards the Brownhills

West station of the Chasewater Railway heritage museum. The history

of the heritage railway line goes back to the 1960s and a two mile

section of the original colliery track is in operation today, with the Santa

Specials railway trips being very popular at Christmas. As well as the

heritage railway museum the Sidings Railway café provides light

refreshments and is a great stop off point for a coffee and a slice of cake

36

during your walk.

Walking counter-clockwise takes you along the reservoir dam wall and

from there you can walk along road towards Burntwood Rugby Club,

towards the town centre, or take one of the several forest paths by

following the directional arrows to take you to the Chasewater Heaths

station on the railway line, which has a shop and another café for a

refreshments break. From there you can walk along to the Brownhills

West station and back to the Innovation Centre.

Walking around the main pool of Chasewater, using the designated

paths, is approximately a three mile walk and will take, without

refreshment breaks, an hour and a half at a gentle pace. Walking around

the roads to encircle the whole of the pool areas, will take nearly twice

as long but will avoid the waterside paths.

* Please note that the centre is currently closed due to the Covid-19

outbreak. You can keep up to date by visiting the website at

www.enjoychasewater.co.uk/innovation-centre.

** PLEASE REMEMBER, IF YOU WISH TO EXERCISE, YOU MUST DO

SO STARTING FROM YOUR OWN HOME, AND NOT TRAVEL

ANYWHERE TO EXERCISE. PLEASE ONLY EXERCISE ALONE, WITH

MEMBERS OF YOUR OWN HOUSEHOLD, OR WITH ONE OTHER

PERSON.

Sources: www.enjoychasewater.co.uk ; www.chasewaterrailway.co.uk
---
J HOWELL &

DAUGHTERS

FUNERAL DIRECTORS LICHFIELD

LICHFIELD'S LONGEST ESTABLISHED INDEPENDENT,

FAMILY RUN FUNERAL DIRECTORS.

SECOND GENERATION BUSINESS HERE TO ASSIST YOU

AND YOUR FAMILY.

24 hours a day

We are proud to be Lichfield's longest established family run funeral directors offering a wide range of

choices to suit all requirements. Horse drawn hearse, non religious ceremonies, floral tributes and

memorials are but a few of the services we offer.

Pre-paid funeral plans are also available.

For a truly personal service please call

01543 255776

Private Chapel of Rest 116 Netherstowe,

Lichfield, Staffs. WS13 6TS

37
---
Mum's the

Word!

...................

Alockdown Mother's Day doesn't

have to mean you can't spoil

your Mum - if anything, in fact,

she should be made to feel even more

special! Take a look at our gift guide,

packed with beautiful items from local

retailers, to delight and inspire you in

time for Mothering Sunday on 14th

March.

Odonata Studios is a little golden, treasure house

of curated gifts and jewellery to suit all budgets. At

just £6 this little Matchbox Flowerpot is a lovely

gift for your birth mum, adopted mum or a woman

you treasure. Find Odonata Studios at The

Courtyard at Middleton Hall, Tamworth, B78 2AE,

or online at www.odonatastudios.co.uk.

Silver earrings set with blue topaz, crystal and

freshwater pearls. Priced at £240 and available

online from Allen Brown Jewellery at

www.allenbrownjewellery.co.uk.

Tel: 01543 481 948.

Say it with flowers this Mother's Day! With a

detailed eye for colour and a passion for design,

Rob and the team at Secret Garden will make

sure that Mum is truly won over!

Available from www.secretgardenlichfield.co.uk,

tel: 01543 418710.

Add some bling to your keys, or use as a charm

and jazz up your handbag, with this leather

heart-shaped keyring adorned with a stunning

golden bee.

Priced at £8.99 including delivery, visit

www.loveemvy.com, or find on Facebook at

Instagram @loveemvy.

Emily Jane is a creator of handmade jewellery

inspired by nature. She is passionate about

creating her pieces as much by hand as possible;

making each piece truly unique, just like you. Her

tagline is Jewellery With Life because that's what

you're getting.

Discover more and shop on her website

www.jewellerywithlife.co.uk or join her

community on Instagram @emilyjanedesigner

A gift for your mum that will bring her joy every

day of the year! Eight Swarovski crystal pink hearts

shimmer in a heart shaped steel foil. Guaranteed to

bring rainbows into your home by hanging in a

sunny spot. £25 and other colours are available.

www.odonatastudios.co.uk

These gorgeous mugs are created by local artist

Mandy Billington. This hand-drawn cow mug is

available in blue, pink and yellow and priced at £12.

Available from MB Designs at

www.etsy.com/uk/shop/MBDesignsEngland.

Tel: 07841 108207, or

email: m.b.designs@hotmail.com.

A beautiful Cupcake Bouquet consisting of

seven individually decorated cupcakes finished

in a bouquet style.

Can be vanilla, lemon or chocolate.

Order through Facebook/Instagram

@CakesofWonderland or call 07516497165.

38
---
The two-seater Marseille Velvet Dining Bench is

now available in the grown-up shade of Navy

and will look majestic in Mum's living or dining

room. Also available in three other colours and

two different sizes. Prices start from £525.

Available from Peppermill Interiors, Burntwood.

www.peppermillinteriors.com

"Life doesn't come with a manual, it comes

with a Mother" (Unknown)

Just one of our beautiful gifts for that special

person. Visit our shop at

www.atthecedars.co.uk and go to our

Mother's Day Gifts' section where you can

see more of our collection.

Arriving early March is the stunning St Emilion

Upholstered Dining Chair to add traditional

French style to Mum's dining set-up with its

delicate button back. Priced at £225 from

Peppermill Interiors, Burntwood. Pre-order

today on 01543 375 872.

www.peppermillinteriors.com

The 2.1l KitchenAid Food Processor will chop,

purée, knead, mix, shred, and slice with

simplicity, everything from cucumbers to

tomatoes, cheeses and more, knead pizza and

bread doughs! Priced at £155.98 and available

from Tippers, Lichfield. www.tippers.com

Scratch-brushed silver and 18ct yellow gold

plated pendant. Priced at £68 and available

online from Allen Brown Jewellery at

www.allenbrownjewellery.co.uk.

Tel: 01543 481 948.

These Leaf Stud Silver Earrings are handmade by

Rachel Anne Jewellery – a fantastic designer/maker

based in Leek. Rachel creates stunning pieces of

vintage and nature inspired jewellery from fine and

sterling silver. Priced at £38.

Find more handcrafted pieces from over 30

Staffordshire artists at

www.thefoxandcrowgallery.co.uk.

Baking is just the beginning. With 10 speeds and

more than 10 available attachments, the

KitchenAid Classic 4.3l Stand Mixer can whip

up everything from pasta to ice cream, sausages

to salsa and so much more. Priced at £289.09

and available from Tippers, Lichfield.

www.tippers.com

The Apiarist, a gin infused with local honey,

brings the unique character of the sweet golden

nectar into a more 'adult' setting. Made using

raw honey from hives near Lichfield with bees

which forage the nearby countryside.

Priced at £39 and available from

www.theapiaristgin.com.

Based in Great Haywood, Claire at Myrtle Fox &

Maude has a passion for harnessing the natural

beauty and wildness of flowers, inspired by the

changing seasons and the landscape of Staffordshire.

Visit the website at www.myrtlefoxandmaude.com to

see more of Claire's stunning creations and to order.

39
---
Tastes of the Season

By Simon Smith

Cooking for Mum!

Time to spoil the Mothers again and show

how much you love them after all the hard

work they put in raising a family. But this time

it's different.

You may have to cook a meal and deliver to

them so they can reheat it but it will still show

how much you care. If you don't feel like doing

that yourself there are lots of companies that

will be delivering this year and you can find a

list in this magazine on page XX. Many catering

companies have diversified to survive and it's

good to support them so that when things get

back to normal they are still there to go and

visit.

Mother's Day was always a quick seller in the

catering trade with many options for dining

but the most popular being the roast as it

always falls on a Sunday. Normally restaurants

take two or three sittings and you can feel a

bit rushed but this year it's time for a change.

If you are delivering at meal you have prepared

to reheat it will probably be in a foil container

with is quite hard to make attractive but a few

fresh flowers will lift the dish no end, or a

bunch of flowers on the tray.

For the first recipe I'm going to do a really

easy one so the youngsters can prepare it for

the Mum's or Grandparents, under the

watchful eye of an adult however.

Again, recipes are for two this month because

of lockdown restrictions.

Baked Chicken Breast Italian Style

2 x chicken breasts

1 x mozzarella ball

8 x cherry tomatoes

1 x bunch fresh basil

¼pt tomato juice

3tbsp double cream

Salt and pepper

Method

Lay the chicken breast in a tin foil baking tray

big enough to keep them side by side and not

too huge. Mix the double cream and tomato

40

juice and pour over the chicken. Tear the

mozzarella into strips and place on the chicken

breasts. Chop the cherry tomatoes in half and

place on the top. Season with salt and pepper.

Bake in a preheated oven for 20 minutes or

until the chicken breasts are firm and cooked

through. Sprinkle with chopped basil.

Chicken One-Pot Roast

½ chicken (or whole if you have a big

appetite). You can also use chicken portions

without skin if you prefer.

2 x carrots

½ celeriac

1 x parsnip

2 x white potatoes

2 x rashers smoked streaky bacon (or any

bacon you prefer)

2 x sage leaves

2 x bay leaves

1 x sprig rosemary

Salt and pepper to taste

Method

Peel the carrots, celeriac, potatoes and

parsnips and cut into one-inch chunks. Prepare

the chicken into joints of about two inches

(see photo). Mix the chicken and vegetables in

a bowl with the sage, rosemary and bay leaves,

and toss together. Put in a roasting dish and

season with salt and pepper. Cook in a

preheated oven at 190 degrees Celsius for 35

minutes (turn everything after 15 minutes so it

cooks evenly).

This is another ideal dish for children to do

for their mother's with dad supervising,

obviously!

Simon Smith runs a catering business from his

production kitchen in Lichfield, providing bespoke

private dinners plus wedding, corporate and event

catering. Simon also undertakes cookery

demonstrations around the country and with local

businesses such as Arthur Price and Tippers.

During the summer months Simon works for

private clients both on superyachts and in villas in

St Tropez and Europe. If you are looking for

catering or a day of cookery skills go to

www.simonsmith-chef.com

*Please take extra care when preparing and handling

hot foodstuffs. Go to www.food.gov.uk for further details.
---
41
---
CLASSIFIED

To Advertise please

contact our classified

team on

07970 513144

This ad...

£40 plus VAT

Competition and Prize Draw Terms and Conditions

1.Entrants' details will be held and processed in line with Citylife in Lichfield Ltd's

Privacy Policy, which in turn adheres to GDPR Data Protection legislation. For a

copy of our Privacy Policy please email kristencitylife@gmail.com

2.By entering the prize draw/competition, you agree to the terms and conditions

stated.

3.The closing date is stated on each individual prize draw or competition.

4.Entrants' details will be securely held by Citylife in Lichfield Ltd in accordance

with our Privacy Policy. Details will be held only until the closing date of the

competition. After this date entrants' details will be securely destroyed/deleted.

Winners' contact details will be securely stored only until the winner has been

informed of their win/prize. After this details will be securely deleted/destroyed.

5.Entrants' details will never be shared with any third party. The only exception to

this is the name (and if the prize is to be posted) address of Competition/Prize

Draw winners that will be communicated to the competition partner to allow

winners to securely claim their prize, after which all details will be securely

destroyed. The initial and surname of winners will be printed in our magazines –

no other details will be published.

6.By entering the competition/prize draw, entrants agree to Citylife in Lichfield Ltd

using or publishing materials provided by the entrants (but not address or contact

details apart from initial and surname) in any of their publications and online.

7.Citylife in Lichfield Ltd accepts no responsibility for any breach of copyright or

breach of any other legislation entailed by entrants in their creation or submission

of materials.

8.Only one entry per prize draw/competition, per reader.

9.Except in the case of cash prizes, no cash equivalent will be offered and the

prize is non-transferable.

10.All prizes are subject to availability and the prize suppliers' terms and

conditions.

11.No purchase necessary.

12.Prize draws and competitions are only open to UK residents aged 18 years or

over (unless otherwise stated).

13.Competitions and prize draws may not be entered by any employee of

individual associated with any employee, agent or third party of Citylife in Lichfield

Ltd.

14.Winners will be selected at random in the case of applicable prize draws and

competitions, or by an independent judge in the case of photographic/art

competitions from all entries received.

15.Winners will be notified by Citylife in Lichfield up to 28 days after the closing

date of the competition/prize draw by the contact details provided by the entrant.

16.A list of the surnames and county of residence of the winners will be available

by writing to Citylife in Lichfield Ltd no earlier than six weeks after the competition

closing date.

17.When the prize draw/competition winner has been selected, this decision is

final and no correspondence will be entered into.

18.Citylife in Lichfield Ltd accepts no responsibility for the prize being lost,

damaged or delayed in transit. When the prize is provided by a third party, Citylife

in Lichfield Ltd accepts no responsibility for any change to the prize, or for the

quality of the prize provided.

19.Competitions may be amended or withdrawn at any time.

20.By entering the competition or prize draw, you agree to having your name,

(photograph, where stated) and city or county of residence published in any of

Citylife in Lichfield's publications and online.

21.Unless otherwise stated, the promoter is Citylife in Lichfield Ltd, PO Box 7126,

Lichfield, WS14 4JS.

22. Citylife in Lichfield Ltd do not express any warranty or endorsement of any

competition prize, information, service or product provided in connection with a

competition by printing or otherwise publicising any competition.

23.To the full extent of the law, Citylife in Lichfield Ltd shall not be liable for any

loss, claim, punitive, indirect, incidental or consequential damages of any kind

incurred as a result of entering this prize draw or competition.

24.By submitting photos, text or artworks as part of competition/prize draw entries

you agree that you own these photos text or artworks, that it is your original work

to which you own all rights to distribute, and that your entry is accurate, moral and

legal.

42
---
43