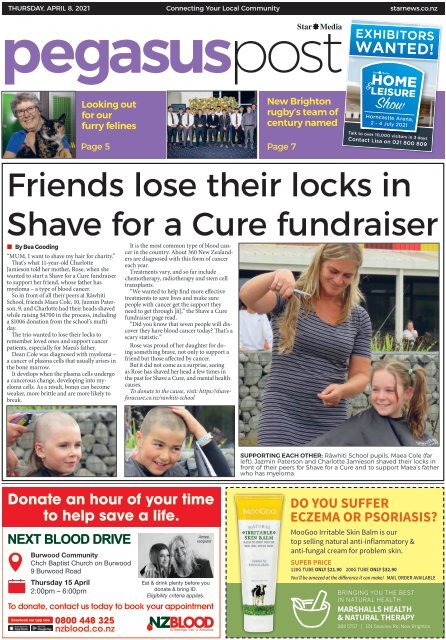 Pegasus Post: April 08, 2021
You also want an ePaper? Increase the reach of your titles
YUMPU automatically turns print PDFs into web optimized ePapers that Google loves.
THURSDAY, APRIL 8, 2021

Connecting Your Local Community

starnews.co.nz

Looking out

for our

furry felines

New Brighton

rugby's team of

century named

Talk to over 10,000 visitors in 3 days

Page 5 Page 7

Contact Lisa on 021 800 809

Friends lose their locks in

Shave for a Cure fundraiser

• By Bea Gooding

It is the most common type of blood cancer

in the country. About 360 New Zealanders

are diagnosed with this form of cancer

"MUM, I want to shave my hair for charity."

That's what 11-year-old Charlotte

each year.

Jamieson told her mother, Rose, when she

Treatments vary, and so far include

wanted to start a Shave for a Cure fundraiser

chemotherapy, radiotherapy and stem cell

to support her friend, whose father has

transplants.

myeloma – a type of blood cancer.

"We wanted to help find more effective

So in front of all their peers at Rāwhiti

treatments to save lives and make sure

School, friends Maea Cole, 10, Jazmin Paterson,

9, and Charlotte had their heads shaved

people with cancer get the support they

need to get through [it]," the Shave a Cure

while raising $4700 in the process, including

fundraiser page read.

a $1006 donation from the school's mufti

"Did you know that seven people will discover

they have blood cancer today? That's a

day.

The trio wanted to lose their locks to

scary statistic."

remember loved ones and support cancer

patients, especially for Maea's father.

Rose was proud of her daughter for doing

something brave, not only to support a

Dean Cole was diagnosed with myeloma –

a cancer of plasma cells that usually arises in friend but those affected by cancer.

the bone marrow.

But it did not come as a surprise, seeing

It develops when the plasma cells undergo as Rose has shaved her head a few times in

a cancerous change, developing into myeloma

cells. As a result, bones can become causes.

the past for Shave a Cure, and mental health

weaker, more brittle and are more likely to To donate to the cause, visit: https://shaveforacure.co.nz/rawhiti-school

your break. Donate an hour of time

Donate an hour of your time

to help save a life.

NEXT BLOOD DRIVE

Bishopdale Reformed

Church

90 Highsted Road

Wednesday 14 April

3:00pm – 6:30pm

Burwood Community

Chch Baptist Church on Burwood

9 Burwood Road

Thursday 15 April

Annee,

recipient

Eat & drink plenty before you

GIVE 2:00pm THE GIFT – 6:00pm

OF BLOOD - COSTS NOTHING! PAY

donate IF FORWARD.

& bring ID.

Eligibility criteria applies.

SUPPORTING EACH OTHER: Rāwhiti School pupils, Maea Cole (far

left), Jazmin Paterson and Charlotte Jamieson shaved their locks in

front of their peers for Shave for a Cure and to support Maea's father

who has myeloma.

Do You Suffer

eczema or PSoriaSiS?

MooGoo Irritable Skin Balm is our

top selling natural anti-inflammatory &

anti-fungal cream for problem skin.

super price

120g tube oNLY $21.90 200g tube oNLY $32.90

You'll be amazed at the difference it can make! MAiL OrDer AVAiLAbLe

Bringing You The BesT

in naTural healTh

marSHaLLS HeaLTH

& NaTuraL THeraPY

388 5757 | 101 seaview rd, new Brighton
---
2 Thursday April 8 2021

Latest Canterbury news at starnews.co.nz

PEGASUS POST

GENERAL INQUIRIES Ph 379 7100

CLASSIFIED ADVERTISING Ph 379 1100

Star Media, a division of Allied Press Ltd

PO Box 1467, Christchurch

starmedia.kiwi

NEWS

Bea Gooding

Ph: 021 911 576

bea.gooding@starmedia.kiwi

ADVERTISING

Frank Greenslade

Ph: 364 7441

frank.greenslade@starmedia.kiwi

Your local community news

delivered to 17,598 homes

within The Star each week.

Linwood • Avonside • Richmond • Shirley • Bexley

Burwood • Dallington • Wainoni • Bromley

Aranui • Avondale • New Brighton • Northshore

Queenspark • Parklands • South Brighton

what's on

this week

Kawhe & Kōrero

Thursday, 10-11am

New Brighton Library

Build your confidence in Te Reo

Māori skills with other fellow learners.

Free, no booking required.

SeniorNet

Thursday, Tuesday, Wednesday,

10am-noon

202 Marine Pde, New Brighton

Go along and learn how to use

modern technology and the internet,

such as smartphones, tablets, laptops,

cameras and more. Bookings required.

Phone 382 6048 to register.

SAYGo Falls Prevention

Exercise Class

Friday, 10am-11am

New Brighton Library

Steady As You Go (SAYGo) is an

exercise class designed to help older

people reduce their likelihood of

having a fall. Free, no bookings required

but places are limited. Phone

Age Concern on 366 0903 for more

information.

JP Clinic

Friday, noon-2pm, at Parklands,

Tuesday, 10am-1pm, at Shirley

Parklands and Shirley libraries

A justice of the peace will be

available to witness signatures and

documents, certify document copies,

hear oaths, declarations, affidavits or

affirmations, as well as sign citizenship

or rates rebates applications.

New Brighton Seed and Bulb Swap, Thursday-Wednesday, 9am-

6pm, New Brighton Library. Take your spare seed or bulbs to the library and

swap them for something new for your garden. All welcome, even if you

have no seeds to share. ​

Rotary Market

Sunday, 8.30am-12.30pm

Woolston Club, 43 Hargood St

A variety of stalls will be available,

including fresh produce, jams and

preserves, and recycled clothing,

books and tools. Every fine Sunday,

with all proceeds supporting the local

community. For site inquiries, phone

Vance at 022 382 0086.

Knit 'n' Yarn

Monday, 10.30-11.30am

Parklands Library

Take your knitting, crochet, stitching

or any other handcraft and enjoy

the company of others. Share skills

and be inspired.

North Beach Bridge Club

Wednesday, 1-4pm

St Andrews Anglican Church,

Marriott's Rd, North New Brighton

Go along and join other friendly

members of the bridge club, who

meet every Wednesday. Phone

Margaret Keall at 382 0274 for more

information.

Reading to Dogs

Tuesday, 3.30-4.30pm

New Brighton Library

A relaxed, non-threatening event

designed to encourage children to

practise reading skills and develop

a love for reading. Registration required.

Phone 941 7923 to register.

South Brighton Voices Choir

Wednesday, 7.30-9.30pm

New Brighton Methodist Church

If you love singing, go along and

join the friendly choir each Wednesday.

New members, especially tenors

and basses, are welcome. Reading

music is helpful, but not essential.

Phone 388 3727 for more information.

CHECK OUT THESE...

EGG-CELLENT DEALS

$35.99

EACH

$15.99

EACH

Jim Beam Gold

CC Premium

7% 330ml 6pk cans

$29.99

EACH

Cody's

7% 18pk cans

$36.99

EACH

$18.99

EACH

Southern Comfort 375ml 10pk cans

Jack Daniel's 6pk 330ml bottles

Jack Daniel's 8pk 330ml cans

$31.99

EACH

Woodstock

7% 250ml cans

5% 330ml bottles all 18pks

Barrel 51

5% 12pk bottles

$36.99

$39.99

EACH

EACH

Long White

15pk bottle range

$19.99

EACH

NEW

15 PACKS

HOT

PRICE!

$39.99

EACH

$21.99

EACH

Cruiser

12pk bottle range

$9.99

EACH

Hardy's VR

1L range

$41.99

EACH

$21.99

EACH

Jim Beam & Cola/CC

(incl zero) 4.8% 10pk cans

Jim Beam Gold 7% 8pk cans

$10.99

EACH

Taylors Promised

Land range

$46.99

EACH

$12.99

EACH

$21.99

EACH

Villa Maria Private

Bin range (ex PN/Syrah)

ODD Company

10pk can range

$49.99

EACH

$12.99

EACH

Stoneleigh

Marlborough /Lighter

ranges

Jack Daniels & Cola

Double Jack

250ml 10pk cans

$52.99

EACH

$21.99

EACH

$14.99

EACH

19 Crimes

range

$53.99

EACH

Effen Vodka

10pk bottle range

$23.99

EACH

$19.99

Jules Taylor

range (ex PN)

EACH

$23.99

EACH

2 FOR

$25.00

Canterbury

Cream

TWO FOR

$72.00

Billy Maverick

12pk cans

$25.99

EACH

Smirnoff Ice DB Guarana

7% 12pk cans

$34.99

EACH

Blackheart /

Woodstock 1L

$35.99

EACH

Malibu / Kahlua

(incl salted caramel) 1L

Gordons Pink /Sicilian

Lemon 700ml

Gordons & Smirnoff 1L

Teachers / Russian

Standard / Stolen

Dark Rum all 1L

Absolut/ Ballantines

Beefeater 1L

Beefeater 24 700ml

Jim Beam

1125ml

Canadian Club

(incl spiced) 1L

JB Devils Cut / JB Black 1L

Makers Mark 700mls

Malfy 700ml range

Jameson 1L

Appleton 1L

Haku Vodka /

Roku Gin

700ml

Jack Daniels (lncl Honey, Fire &

Apple) El Jimador range (ex Anejo)

Old Forester all 700ml or $37.99 each

Chivas Regal 12yr $49.99

Chivas Regal 15yr $74.99

Chivas Regal 18yr $89.99

all 700ml

$22.99

EACH

$23.99

EACH

$24.99

EACH

$24.99

EACH

$25.99

EACH

$29.99

EACH

$36.99

EACH

$39.99

EACH

$40.99

EACH

Somersby

12pk bottle range

Monteiths Batch Brewed

(ex classics range) 12pk range

Carlsberg

15pk bottles

Heineken

12pk bottles

Export 33

15pk bottles

$26.99

EACH

Tui/Export Gold/ Extra /

DB Draught 15pk bottles

Lion Red / Waikato /

Speights / Summit or Low Carb

24pk bottles

Promotion period between 1/04/2021 to 30/04/2021. While stocks last. Promotion only available at participating stores – please contact your local store to confirm

whether they are participating in the promotion and check the pricing in-store prior to purchase. Online pricing will vary.

THIRSTY LIQUOR LINWOOD

21 ALDWINS ROAD, LINWOOD

03 982 1753

Haagen

24pk bottles

THIRSTY LIQUOR BURWOOD

9 PARNWELL ST, BURWOOD

03 383 2564

Steinlager

24pk 330ml bottles

thirstyliquor.co.nz

TWO FOR

$40.00

Tiger / Tiger Crystal

12pk bottles

ASK ABOUT

LOYALTY CARD

BENEFITS &

GIFT VOUCHERS

Asahi

24pk bottles
---
PEGASUS POST Latest Canterbury news at starnews.co.nz

Thursday April 8 2021 3

Four-week delay to completion

of Woolston Village upgrade

BROUGHAM ST motorists may

WORK ON the multi-million

dollar upgrade of Woolston

Village has been extended for

four weeks, with contractors

now expected to finish at the

end of this month.

City council planning and

delivery manager Lynette Ellis

said the streetscape project has

experienced delays due to the

complex nature of the work.

The upgrades include installing

new pedestrian crossings,

mini plazas, wider footpaths,

cycle lanes, and landscaping,

which were meant to be completed

by the end of last month.

"Unfortunately, when you're

working underneath the ground

unexpected things happen or

things don't go to plan. As a result,

our contractor's work programme

has progressed more

slowly than originally planned,"

said Ellis.

"This is a fairly complex

project involving the renewal of

100-year-old wastewater pipes

and working around a network

of underground services. The

contractor has also had to contend

with significant concrete

foundations and steel tram

UNEXPECTED: The Woolston Village upgrades will now take one month longer than

planned.

PHOTO: NEWSLINE ​

tracks that date back to the days

when trams rattled along Ferry

Rd towards Sumner.''

The project is currently on

track to finish at the end of this

month, instead of March as

originally indicated.

The team will also complete

the bulk of the planting and

landscaping work during the

winter months.

"We know parts of this project

have been noisy and disruptive

and want to thank the Woolston

community for their patience

and understanding as we upgrade

the Village centre,'' Ellis

said

"Woolston's vibrant business

centre is open for business, so I

encourage people to keep shopping

locally and support your

community.

"On-street parking on Ferry

Rd isn't available right now,

but there's lots of alternative

parking around the village. It

might mean a bit of a walk, but

Woolston businesses would love

to see you."

Pipe repairs

likely to

disrupt traffic

experience delays over the coming

months as work is carried out

to replace an ageing stormwater

pipe underneath the Barrie St

intersection.

The brick barrel pipe dates back

to 1910 and has reached the end of

its life.

"The work will be carried out

over the next two to three months

and will be done in stages to reduce

the disruption to traffic,'' said city

council stormwater and waterways

programme manager Keith Davison.

"While the work is carried

out, we will be maintaining two

lanes of traffic in each direction

on Brougham St during the day.

However, there will be a speed reduction

in place and Barrie St and

James K Baxter Pl may be closed at

times."

Crews will be working at night

as Brougham St will be reduced to

one lane.

"Unfortunately the night work

might disturb residents living

nearby, but the crews will be

working to get the noisy part of the

work done as early as possible in

their shift to keep the disruption to

a minimum."

WRITTEN BY MART CROWLEY. DIRECTED BY DOUG CLARKE

Hon Poto WILLIAMS

MP for Christchurch East

JOIN THE FRIENDLY

WHANAU CLUB

Play for Shirley Hawks 2021

Looking for juniors & seniors,

players, supporters and their whanau.

REgISTER NOW

Email: shirleyrugbyleague@hotmail.co.nz

Eastern Eagles rugby league club has their home

ground at Wainoni Park, Hampshire, street.

We have Nursery to Premier & Womens teams.

Come down to the landing and represent the east!

7-16 APRIL

Produced by special arrangement with

Play Bureau / Samuel French

THE DRAMA THEATRE, RANGI RURU GIRLS' SCHOOL

TICKETS $25. SEE WEBSITE FOR PERFORMANCE TIMES

TO BOOK PHONE: 338 4699 OR VISIT:

WWW.RICCARTONPLAYERS.CO.NZ

oN sAle Now!

Now only

$35.80

Plus $5 P&H per copy

AvAilAble from stAr mediA:

Level One, 359 Lincoln Road

Addington, Christchurch

Phone 379 7100

SOIL AND

HARDFILL

DUMPING

For information and advice:

P 03 382 0288

E poto.williams.mp@parliament.govt.nz

Electorate office:

Level 1, Eastgate Shopping Centre.

Authorised by Poto Williams, Parliament Buildings, Wellington

WE NOW HIRE

LANDSCAPING AND

GARDEN EQUIPMENT

DIGGERS, TRUCKS, WOOD CHIPPERS, POLE SAWS,

BREAKERS, WATER BLASTERS, ETC.

PLUS WE SUPPLY THE BEST

LANDSCAPE & GARDEN SUPPLIES

•BARKS •COMPOSTS

•AGGREGATES - CHIP, ROUND & BASECOURSE

•SCHIST PRODUCTS •PUNGAS

•DECORATIVE STONE & LANDSCAPING ROCKS

•TRAILER HIRE - FIRST HOUR FREE WITH PURCHASE

•BAG & BULK - PICK UP OR DELIVERED

DYERS ROAD LANDSCAPE & HIRE

PHONE: 03 384 6540

183 DYERS RD, BROMLEY ● OPEN 7 DAYS

Weekdays 7.30am-5pm. Weekends 8.30am-3pm

www.dyersroadlandscape.co.nz
---
4 Thursday April 8 2021

Latest Canterbury news at starnews.co.nz

PEGASUS POST

NEW RELEASES

GREAT

Autumn

READS

INSTORE!

Gulf Wars

How We Kept The Cup

by richard Gladwell

Gulf Wars is a pictorially driven celebration of Emirates Team New Zealand's

America's Cup win in Auckland 2021, written from an on the water perspective

by one of the world's most influential America's Cup photo-journalists,

Richard Gladwell.

Richard Gladwell is an international sailing journalist and photographer who

lives in New Zealand. He began sailing when he was ten years old and first

wrote about the America's Cup five years later. A Kiwi representative sailor,

he competed internationally in dinghies and keelboats for 12 years, sailing

with and against some of the current senior members of Emirates Team New

Zealand. He has covered the America's Cup and Team New Zealand in its

various renditions for the past 35 years.

Between Five Eyes

50 years of Intelligence Sharing

by Anthony r. Wells

UK/US intelligence and the wider Five Eyes community of Canada, Australia and New

Zealand is primarily about one main thing: Relationships. In this remarkable book,

Anthony Wells charts fifty years of change, turmoil, intense challenges, successes and

failures, and never-ending abiding Five Eyes relationships. He traces the development

of institutions that he firmly believes have sustained, and indeed may have saved,

Western democracies and their allies from those ill disposed to the value system and

culture of our nations. More than a chronology of the UK/US intelligence community

during this fifty-year period, it is also a personal insight into key relationships and the

abiding strength of the United States and the United Kingdom and its Five Eyes allies

relationships. The author is the only living person to have worked for British Intelligence

as a British citizen and US Intelligence as a US citizen. He was a fully trained and

accredited security officer for two US intelligence organizations, and used his own

extensive unclassified collection of papers, personal notes and diaries, as well as his

family library for source material to create this book.

A Nurse's Story

by Louise Curtis with Sarah Johnson

Moving, honest and inspiring – this is a nurse's true story of life in a busy A&E department

during the Covid-19 crisis.

Working in A&E is a challenging job but nurse Louise Curtis loves it. She was newly

qualified as an advanced clinical practitioner, responsible for life or death decisions

about the patients she saw, when the unthinkable happened and the country was hit by

the Covid-19 pandemic. The stress on the NHS was huge and for the first time in her

life, the job was going to take a toll on Louise herself.

In A Nurse's Story she describes what happened next, as the trickle of Covid patients

became a flood. And just as tragically, staff in A&E were faced with the effects of lockdown

on society. They worried about their regulars, now missing, and saw an increase in

domestic abuse victims and suicide attempts as loneliness hit people hard. By turns

heartbreaking and heartwarming, this book shines a light on the compassion and

dedication of hospital staff during such dark times.

The Auschwitz Photographer

Based on the true story of Wilhelm Brasse

by Luca Crippa and Maurizio Onnis

When Germany invaded Wilhelm Brasse's native Poland in 1939, he was asked to swear

allegiance to Hitler and join the Wehrmacht. He refused. He was deported to Auschwitz

concentration camp as political prisoner number 3444. A trained portrait photographer,

he was ordered by the SS to record the inner workings of the camp. He began by taking

identification photographs of the prisoners as they entered the camp, went on to capture

the criminal medical experiments of Josef Mengele, and also recorded executions.

Between 1940 and 1945, Brasse took around 50,000 photographs of the horror around

him. He took them because he had no choice.

Eventually, Brasse's conscience wouldn't allow him to hide behind his camera. First he risked

his life by joining the camp's Resistance movement, faking documents for prisoners, trying

to smuggle images to the outside world to reveal what was happening. Then, when Soviet

troops finally advanced on the camp to liberate it, Brasse refused SS orders to destroy his

photographs. 'Because the world must know,' he said.

Crusade On!

Celebrating 25 years Of The Crusaders

By Matt McIlraith

The Crusaders are not just another sports team. Out of a modest beginning grew the

most formidable professional club entity rugby has ever seen. Yet sustained on-field

excellence is just part of the story of a team that succeeded by living its stated ethos of

hard work, the embracement of diversity, and a commitment to represent its people with

pride and humility. Join the crusade as Matt McILraith takes you inside the club's first

25-years, dissecting the key moments, the successes and the rare failures, complete with

season analysis, biographies of all 245 players, and the five head coaches, as well as

statistics from all 370 games the team played. A 360-degree portrait, Crusade On also

introduces some of the larger-than-life personalities, from within the team and off the

field, all of whom helped to make the Crusaders what they are. The way the Crusaders

accomplished their success, with no one person more important than any other, and

the enduring culture they created to sustain it, is an example of continued achievement

that is as relevant for the boardroom as it is for the sporting arena. On-going success in

any pursuit is not achieved by accident. This is why the Crusaders' story is so important.

PUZZLES

A great range of jigsaw puzzles instore for

all ages and ability levels

DIAMOND

ART

1005 Ferry rd

Ph 384 2063

while stocks last (see instore for terms and conditions)

Barry & kerry
---
PEGASUS POST Latest Canterbury news at starnews.co.nz

Thursday April 8 2021 5

Helping cats live out their nine lives

• By Bea Gooding

JOYCE LATHAM never grew up

with a pet.

But when a furry feline invited

itself into her family home one

day her relationship with cats

changed forever.

Now, the president of the Cats

Protection League Canterbury is

the proud owner of six cats, most

of whom have special needs.

And for the past 13 years, she

has been on a mission to save as

many cats in the city as possible.

"My family didn't have cats,

but a cat walked in once and

from there, I became very much

a cat person,'' said the Bryndwr

resident.

It was not difficult to foster

her own felines, she said, having

plenty of experience running a

cattery herself with usually 40 to

50 cats at a time.

The league rescue, rehabilitate

and rehome stray and

abandoned cats, and provide assistance

to those who could not

afford to desex their cats through

its Feline Fix programme.

Desexing your cat, particularly

tomcats, was crucial to help reduce

the rate of feline AIDS and

decrease the number of kittens

being brought into places like the

league.

About 50 volunteers came in

MISSION: Joyce Latham with Hope who has found a new

home.

PHOTO: GEOFF SLOAN

once a week to help out in the

cattery, office and shop, as well

as about four managers who

worked there regularly.

They also often found new

homes for cats that could no

longer be looked after, such as an

owner who was moving into a

retirement home.

Last year, the league rehomed

535 cats and kittens.

But it did not stop there – the

protection league provides emergency

cat food assistance and for

unexpected vet bills as well.

"Sometimes their own cats

have had kittens and we do take

them in when approached to

help rehome them," Latham said.

"There are enough cats in

Christchurch and Canterbury

to go well around all of the organisations,

we've actually got a

waiting list."

Its second-hand shop in Linwood

was also a vital part of the

fundraising efforts, especially

with no government funding.

All store proceeds went towards

work to help the felines of

Canterbury.

When she is not reading or

gardening at home, Latham

volunteers her time feeding the

cats and acts as the matchmaker

when facilitating the rehoming

process.

After leaving a government

office job, she decided to dedicate

most of her energy to the league

and has done so since 2007.

"I like to match appropriate

cats to people with cats that suit

them," she said.

"Some of them are a little older

or have special needs and need

medication, but we just talk with

people about what the cats are

like; their personalities."

With so many success stories,

it was hard for Latham to pick

a particular instance that impacted

her the most.

But on the protection league's

website, there were endless pages

of updates and photos from

owners on how their little furry

friend was getting along in their

new forever home.

There was one case where a lost

cat was brought into the cattery

and eventually reunited with its

owner after four years thanks to

its microchip.

Said Latham: "It's why all of

us volunteer. When people give

feedback and say how the cats

have settled down, how much

they love them, it's a constant

reward to know you've done a really

good job of helping to match

them up.

"It's rewarding to know these

cats have had a second chance

in life and they've gone to really

loving homes."

But there was always a downside.

Even though the league was

sheltered from tending to abused

or injured animals due to the

statutory role the SPCA played,

it was impossible to save them

all.

During the Covid-19 level 4

lockdown, things were made

worse when they were unable to

rehome any cats.

But rest assured, the cats that

do need homes end up finding

one, even if it takes a couple of

years.

"Cats are being surrendered to

us from homes, so we don't see

the neglect and abuse – that's the

SPCA's role," Latham said.

"The downside is knowing that

you can't save every single cat

out there who don't have homes

and aren't desexed, therefore are

having kittens after kittens.

"But we save what we can and

focus on the ones we do save,

and that's the main thing."

PERFECT

BROWS

today & always

JOIN US NOW!

See website for details

Only $599+gST

Payment can be split over the two sessions. Session one $350+, second session $249+

BEFORE

AFTER

Changing Face owner operator Jess

Drake is passionate about achieving

healthy skin for her clients and offers

a wide range of treatments including

Lip Rejuvenation, Dermaplaning,

LED (light emitting diode therapy),

Fibroblast Eyelift and Microblading.

Jess will recommend the right

treatment for you and personalise a

skin care routine to suit your individual

needs, budget and lifestyle.

For an instant and lasting 'pick me up' Jess recommends

eyebrow tattooing.

As a leading semi-permanent makeup artist, Jess creates

brows to frame your face, often taking years off your

appearance. Save time, money and reduce wear on your

skin. Jess's clients love the added confidence they feel with

perfectly manicured brows all day and night.

Changing Face offer Afterpay.

Book now to wake up with make up.

3/75 Rutland Street, St Albans

(Above Meshino Cafe)

Phone/Text: 021 770 184

Sign up to Smart Deals & be in the monthly draw for a $100 Dress-Smart gift card!

Open 10am-5pm, 7 Days 03 349 5750

CHRISTCHURCH 409 Main South Road, Hornby

www.dress-smart.co.nz
---
6

Latest Canterbury news at starnews.co.nz

Thursday April 8 2021

PEGASUS POST

School Update

Manukura Kōrero

He maurea kai whiria!

Ignore small matters and direct effort toward important projects

Nā Whaea Mish.

Hākui Raewyn, Matua Antonio

We are approaching the end of Term 1 and it has been a busy

and exciting time for us as a kura. I want to congratulate our

akonga on their achievements this term and their commitment

to study and mahi. Our akonaga's achievements next term are

very closely linked to their efforts this term and their results

at the end of the year are the culmination of four terms of

their commitment and hard work!

I would like to share with you my message to akonga at our

recent senior assembly. There is a saying,"it takes a village to

raise a child." We are the village and our akonga are being

raised by us collectively. I am proud to be part of that journey.

Tēnā koutou, tēnā koutou, nga manaakitanga ki a tātou katoa!

Term one has been a busy 11 weeks for us all, and many of you have worked hard and as a result

many of you have achieved the goals you set for yourself way back in February. Well done!

As a contributor at Haeata you understand what it means to be responsible for your own actions.

Responsibility means you can be called to account for your actions. It means that you are liable,

accountable and answerable for the things you do and say.

We live in a community where you have rights and we have talked about these all term. We have

also talked about the fact that for every right you enjoy there is a corresponding responsibility.

Your rights:

I want you to take a moment to think about what an amazing country you live in. We are clean,

green and free. We are COVID-19 Free. We are not at war, we do not have to fear that on the

way to school we will be shot at by snipers, we do not have to fear that our buses will be bombed

as we travel to school, we do not have to fear that we may be the victims of a suicide bombing if we

go out to dinner in a restaurant or a movie. This is the reality for many young people your age in

countries around the world.

We all accept that our lifestyle is something we wish to preserve, but what we don't think about so

much is that it is our responsibility to ensure that it is preserved. That responsibility starts here at

school. This school's focus is to provide an education that will equip you to live and contribute to

our society in the 21st century.

Here you learn that it is your responsibility to look after each other, to stick up for each other and

to be supportive of the dreams and aspirations of others. It is your responsibility to work hard, take

every opportunity and be the very best you can be.

When you look around this school if you see things that are wrong – like bullying, theft, dishonesty,

confrontation it is your responsibility to speak out and be proactive in stopping such behaviour. It is

your responsibility to be part of the solution not part of the problem.

If you see students getting or having a hard time you have a responsibility to stick up for them, to

ensure that the weakest and most vulnerable of us are protected. Never is it appropriate to stand

back and say "it's got nothing to do with me". Be part of the solution NOT part of the problem!!

As a contributor you need to ensure you keep the main thing, the main thing. And what is the main

thing? So whanau, 'let's celebrate our akonga's success! We all have a part to play in that. Let's own

that as a village! As always, it is a privilege to serve this village!

Like a supernatural being, Toi, we acknowledge you.

The heart quickens at your call. Your heart gladdens the spirit, your spirit

releases the voice, your voice opens the mind, the mind weaves the words,

weaving the words carves the inherited treasures. Inspired by your image sound

resonates, performance thrives, the many faces of imagery captures the eye.

Linked by a soaring voice, fix your eyes on the people. From traditions etched in

the future let your breath be felt. Ignite imagination! Let the mind create beyond

what is seen, so that the arts that inspire continue to do so. Let everyone know

that the arts celebrate the present and create the future On Sunday we had the

first practice for the kapa haka secondary regional competition.

Our Haeata rangatahi have combined forces with Linwood College, Christchurch

Boys High, Christchurch Girls High, St Thomas and Cashmere. Our name is

Kimihia te Matauranga and what a team! We started the day with whanaungatanga.

Creating and nurturing relationships is an essential part of building a

successful competitive team. We played various games and started the process

of getting to know each other, the laughter reverberated through the hall!

Kapa haka is a powerful medium of Māori identity, culture, and pride. It plays

a huge role in the revitalisation of the Māori language and tikanga. It enhances

positive well-being of our ākonga by encouraging a sense of belonging, providing

a safe space in which to practice te reo me ōna tikanga, whilst reinforcing social

collaboration and cohesion.

Our ākonga have committed their weekends over to practices over the coming

months. We look forward to watching our rangatahi grow as a cohesive unit,

Kia kaha, kia toa, kia manawanui.

Dr. Peggy Burrows

Manukura

creation story of Ngāi Tahu.

As a kura, we were very lucky to receive a number of tickets to attend the performance Tūmahana today at the

town hall. This was a bilingual performance about the creation story of Ngāi Tahu.

Our very talented Kōmanawa māmā and ex Haeata kaiako, Juanita Hepi, was the creative director, and her equally

talented son and current Haeata ākonga, Manu Smith-Hepi, had a starring role. The show combined toi Māori,

circus, theatre, Taonga Pūoro, and the Christchurch Symphony Orchestra. Born of Māku and Māhoranuiātea, the

Sky Father Rakinui had many unions and many children.

One day as he was courting Earth Mother Papatūānuku, the Sea God Takaroa arrived to find Rakinui and Papatūānuku

together. Jealous, Takaroa challenged Rakinui to fight and eventually overcame him. As Rakinui fell on his

wife Papatūānuku, their children became sick from the lack of light and space.

Rakinui told his son Tāne to separate him from their mother Papatūānuku so that they may live healthy lives. Tane

reluctantly separated his parents with the help of his siblings. As the world of light came to be, Tāne realised that

his father was naked in the night. He sets out on a journey to find adornment for him.

The production was enthralling from beginning to end.

The audience (myself included) screamed and clapped in delight throughout the entire performance! When the

cast and crew came on stage to take a bow, Kōmanawa stood to do a haka, Tēnei te ruru, as a show of gratitude.

We finished the day with a kai and a play and Tākaro ā Poi.

Taking enrolments, please email enrol@haeata.school.nz for any enquiries or phone us on 03 930 0110

Haeata Community Campus

240 Breezes Road, Wainoni

Reception Hours: Mon - Fri 8am - 3pm

Contact

03 930 0110 • enrol@haeata.school.nz

www.haeata.school.nz
---
PEGASUS POST Latest Canterbury news at starnews.co.nz

Thursday April 8 2021 7

New Brighton rugby's team of the century named

CLUB FAVOURITE Billy

Harmon scored for the

Highlanders before they upset

the Crusaders on Good Friday,

then Linwood claimed the main

game of New Brighton's centenary

celebrations at Rawhiti Domain.

Yet those 'setbacks' didn't

detract from a long weekend of

memories and milestones for the

rugby club.

The programme ended on a

high note when New Brighton's

team of the century was unveiled

at a gala function at Addington

Raceway on Sunday.

Harmon, the only active Super

Rugby player in the starting

XV, was a logical choice for the

openside flank in a loose trio

also comprising Jeff Wilkins and

former Canterbury captain, No 8

and goal kicker Ian Penrose.

The club's four All Blacks also

featured, with prop Kerry tanner

and lock Isaac Ross starting in the

pack.

Ryan Crotty, New Brighton's

most recent All Black, was named

at second five-eighth alongside

former Crusaders teammate Keiron

Fonotia.

The club's first All Black, the

late loose forward Hugh Burry,

was included on the bench.

Crotty and Ross were unable to

attend the function due to overseas

commitments while the club

had no luck tracking down Tanner,

an All Black from 1974-1976.

Samoan international Fonotia

was able to attend and be presented

with a specially embroidered

cheese cutter cap.

FAVOURITE:

New Brighton

team of the

century member

and Highlanders

flanker Billy

Harmon scored

against his former

Super Rugby

Aotearoa club on

Good Friday.

Centenary committee chairman

Wayne Turner said 15 players or

family representatives were able

to attend.

New Brighton stalwart Ceddy

Smith, who died in 2019, was

named head coach.

New Brighton team of the

century (club representation):

Fullback – Dave Borthwick

(1974-1983)

Wings – Ross Gibson (1974-

1985), Alisi Tupuailei (1999-2018)

Centre – Kieron Fonotia (2007-

TEAM OF THE CENTURY:

Players or family members

received commemorative

cheese cutter caps after

being named in New

Brighton's team of the

century at a function on

Sunday.

2015)

Second five-eighth – Ryan

Crotty (2009-2012)

First five-eighth – Wayne

Burleigh (1976-1988)

Halfback – Tyson Keats (2002-

2016)

No 8 – Ian Penrose (1962-1972)

Flankers – Billy Harmon (2014

-), Jeff Wilkins (1967-1978)

Locks – Isaac Ross (2004-2011),

Eric Leask (1962-1974)

Props – Kerry Tanner (1966-

1978), Paul Bell (1975-1993)

Hooker: Gary Bacon (1967-

1969)

Reserves: Marcel Cummings-

Toone (2003-2018), Ben May

(2003-2005), Ian Boyce (1984-

1988), Hugh Burry (1957-1960

and 1962), Graeme Ellis (1976-

1982), Phil Burleigh (2005-2018),

Steve Blackler (1981-1989).

Head coach: Ceddy Smith

Assistant coach: Craig Philpott

Diana Isaac Retirement Village invites you to our

If you have any pre-loved books you are not planning

on reading again, we are taking donations to sell.

Money raised from book sales will go to our current charity,

Melanoma New Zealand. There will also be an opportunity to tour

our village centre and showhomes. We look forward to seeing you there.

Saturday 17 & Sunday 18 April, 10am - 3pm

Diana Isaac Retirement Village

1 Lady Isaac Way, Mairehau

If you have any books you would like to donate

please call Adrienne or Chris on 385 3518.
---
8 Thursday April 8 2021

Latest Canterbury news at starnews.co.nz

AUTOMOTIVE PROFESSIONALS

PEGASUS POST

Specialised machines used to

identify auto electrical problems

Auto electricAl specialists, roses

Auto electrical, are experts in repairing

and maintaining all aspects of the

electrical and electronic componentry

found in today's highly sophisticated

commercial and passenger vehicles.

Their cranford Street workshop

boasts a suite of highly specialised

diagnostic machines, which enable the

team to quickly identify any electrical or

electronic problems in most makes and

models of vehicle and repair them, saving

time for the technicians and cost for the

customer.

roses Auto electrical offer a full range

of electrical services including batteries,

(they are a Battery town agent), which

are fitted free of charge. They also provide

free battery, alternator and starter checks

and install and repair car stereo systems,

alarms, air conditioning, ASB brake

systems and traction control systems.

A recent acquisition for roses Auto

electrical was the Autologic european

Diagnostics machine

This specialised and highly

sophisticated equipment is used to

diagnose most (if not all) electrical and

electronic faults in european vehicles.

The machine's digital interface interacts

with the vehicle's active components,

programming and coding. Depending

on the model of the vehicle, it reads

and clears all Diagnostic trouble codes

(Dtcs) to identify the faults. it also

reads live vehicle data such as engine

temperature, engine speed, vehicle

speed and suspension height data. Plus,

roses Auto electrical have the back-up a

worldwide european support base.

The Autologic european Diagnostics

machine covers vehicles from 1995

onwards, so for owners of out-of-warranty

european vehicles, it ensures all their

auto-electrical repair and replacement

needs can be ascertained and catered for.

The customer comes first for the

friendly, professional team at roses

Auto electrical, and by having their

vehicle serviced there motorists can have

confidence in its performance.

Roses Auto Electrical are located

at 518 Cranford Street, Papanui.

Phone 352 5090 to book in for service

for repairs, or visit their website

www.roseselectrical.co.nz

for more information.

PARKER

AUTOMOTIVE

All Automotive Repairs and

Servicing including 4WD

Suspension Brakes & Cambelts

WOF, Tyres, Batteries

23B Birmingham Drive,

Middleton

Ph 03 982 4268

Mobile: 027 331 0382

Email: parkerauto89@outlook.com

European

Car Owners

NEW DIAGNOSTIC EQUIPMENT!

We can identify ANY electrical

fault & reduce repair work

with our NEW European Car

Specific Diagnostic Equipment

ROSES

AUTO ELECTRICAL

Enquiries welcome

CH 352 5090

For everything AUTO ELECTRIC

CARS • BOATS • TRUCKS • CARAVANS • TRAILERS

4WDS • ELECTRIC & HYBRID VEHICLES

• Starter Motors

• Alternators

• Central Locking

• Electric Windows

• ABS & Airbags

Amazing

Auto

AAE Electric

• Stereos/Alarms

• Batteries

• Tuneups

• Engine

Management

USUALLY

SAME DAY

SERVICE

65 Coleridge Street, Sydenham

Phone 03 379 4250

www.amazingautoelectric.co.nz

s

m

a

r

t

mall

edium

• Panel beating

• Spray painting

Fast

turnaround

utomotive

epair

echniques

Smart repairS (NZ) Limited

automotive refinishers

272 Lichfield St (Fitzgerald Ave end)

Ph 377-0409

A vonhead

utomotive

free

6 months roadside assist

with any vehicle servicing

• automatic transmission

flushing service

• Wof • tune-ups • suspension

• batteries • neW tyres • oil &

lube service • courtesy cars

• full mechanical repairs

oPen 6 days (sat until 1pm)

126 racecourse road

Ph 342 7123 or 027 495 6600

Your LoCAL

TYrE SPECIALIST

New & Quality Used Second-hand Tyres

Alloy Wheels

Replacement Rims

Puncture Repairs

8c Birmingham Drive,

Middleton

www.jcmdirect.co.nz

343 0099 or 027 22 63 805

Proud to support Hornby Hockey Club
---
PEGASUS POST Latest Canterbury news at starnews.co.nz

Thursday April 8 2021 9

HEALTH & AWARENESS

Joint pain: Do I have arthritis or

could it be mainly my muscles?

The team at Physical Sense in Sydenham

sees clients with a range of symptoms but

many of their middle-aged and senior clients

visit complaining of pain in one of their joints.

Physiotherapist Ietje van Stolk suggests

that a major part of the pain could be due

to muscle pain rather than simply arthritis.

"Even if an x-ray shows arthritis, the reason

for the pain may be the muscles around

the joint," she explains. The images show

how a muscle knot (the crosses) in a back

muscle can give hip pain (aches and pain

are the red areas in the drawings), a knot

in a muscle on the back of the shoulder

blade can give a deep pain in the front of

the shoulder and a muscle knot all the way

near the groin can give an ache in the knee

(especially at night in bed).

Ietje recalls one case where an 89 year

old client with severe arthritis who walked

with a stick, told her, "I will end up in

a wheelchair, I cannot put any weight

through my right leg due to pain in my hip

and buttock". "Within 4 treatments, she

was walking with her stick but without the

severe pain," says Ietje. "The arthritis was

one of the factors that made her muscles

spasm but the other was that older people

move less and the flexed position the hip

is in when we sit is particularly bad for

the hip." Ietje is happy with the fact that

although the client was 89 and could have

been "given up on" or told to live with the

pain, she made a difference to her health

and wellbeing.

The same lack of movement can be the

reason for your knee pain or your shoulder

pain and the same few treatments could

make a huge difference for you.

At Physical Sense, hands-on techniques

(massage and triggerpoint deactivation

techniques) are used to release the muscles.

The client also gets a home exercise

program designed to mobilize and stretch

the joint, strengthen the important core

muscles and increase general strength and

SHOULDER

PAIN

KNEE PAIN

balance. They teach a movement sequence

that stretches the joint in all directions

whilst the client is able to lie safely on their

bed, perfect for older or less mobile clients.

In many cases having the muscles

released and being taught how to maintain

it, is enough to stay on top of the problem.

HIP PAIN

(the crosses are the areas of the muscle spasms, the red areas is where the pain is felt)

If severe arthritis is the underlying cause,

some maintenance therapy may be

necessary, but that is often more affordable

and, for older patients, better tolerated

than surgery. After only one treatment you

should know that it will work for you. Call

and only pay $50 on that treament.

Physical Sense Gym and Physio is located at 300 Colombo Street, Sydenham. The Blue Line Bus stops in front of the

door and there is ample parking. To enquire about joint pain treatment, phone 377-2577 or visit www.triggerpoints.co.nz

ATTENTION BUSINESS OWNERS

Do you sell products that are eco-friendly or sustainable?

You could feature in the Eco-

Zone at the 2021 Star Media

Home and Leisure Show this

July and reach over 10,000

attendees across 3 days!

Beeswax Wraps • Reusable Products • Natural Cleaners • Skincare &

Make-Up Organics • Compost • Upcycled Furniture • Recyclable Products

If this sounds like you,

contact Lisa now on 021 800 809 or email lisa.lynch@starmedia.kiwi for a no obligation quote.

Payment options available. Terms & Conditions apply.
---
10

Thursday April 8 2021

Latest Canterbury news at starnews.co.nz

PEGASUS POST

ATTENTION

BUSINESS OWNERS

Do you sell products or services that

enhance outdoor spaces?

You could feature in the Innovative Outdoor Living Area

at the 2021 Star Media Home and Leisure Show this July

and reach over 10,000 attendees across 3 days!

Louvre System • Bbqs • Heating • Hammocks

Trampolines • Spas • Pools • Decking Pizza Ovens • Shade

Systems • Water Features • Outdoor Furniture • Fencing

If this sounds like you,

contact Lisa now on 021 800 809 or email lisa.

lynch@starmedia.kiwi for a no obligation quote.

Payment options available. Terms & Conditions apply.
---
TUESDAY, MARCH 24, 2020

Connecting Your Community

Councillor takes

Davids heads

matters into

community board

his own hands

advocating body

Page 3 Page 6

TUESDAY, MARCH 24, 2020starnews.co.nz

per blind

Connecting Your Community

Page 3 Page 5

TUESDAY, MARCH starnews.co.nz 24, 2020

RESIDENTS MOST affected by

• By Louis Day

the new Northern Motorway are

WEDNESDAY, MARCH 25, 2020

Connecting Your Community

IT COULD

WEDNESDAY,

be a while until

MARCH 25, starnews.co.nz

2020

Connecting Your Community relieved to hear the Christchurch TUESDAY, starnews.co.nz

MARCH 24, 2020

Connecting Your Community

starnews.co.nz

• By Georgia O'Connor-Harding

the eastern suburbs start to

Northern Corridor opening has

see Lianne Dalziel's campaign

been delayed by six months.

THE earthquake-damaged

aspirations for the area come to

The CNC was due to open in

former Sockburn Service Centre

fruition.

the middle of this year, but last

could finally be demolished in

During October's local body

week the New

July – if the funding needed is

elections, Ms Dalziel identified

Zealand Transport

Agency

It comes as the

obtained.

repairs to the eastern part of the

city's footpaths, pipes and roads

announced more

Halswell-Hornby-Riccarton

as one of her main priorities for

time was needed

this term.

to complete the

Community

"We need a fully integrated

$290m motorwayten

in its draft

Board has writ-

programme of works for the

east, I have loosely called this

The original

submission to

Readers respond

Chance to the eastern alliance, which

scope of the

Delay in

Market day the city council's

would essentially be an alliance

project has been Mark Wilson

Annual Plan

Mike Mora

to supermarket

farewell Holden

of contractors who can take

extended to include

a third southbound lane on

requesting the city council ad-

making mall

goes green at 2019-2020,

the whole area bit by bit and

rebranding

in style

systematically get the work

the Waimakariri River bridge and

exit safer

Cashmere dresses the HS budget gap so the

done," she said during the

a clip-on cycleway.

buildings can be removed as soon

campaign.

St Albans resident Mark Wilson

as possible.

Page 8

GIRL Page BOSS: Julia 17 Holmes But chief wants executive to be a Dawn geneticist after Page high school, 3 and feels the GirlBoss Advantage programme will Page help 10 said GIRL the BOSS: community Julia Holmes are "somewhat

her achieve thankful" her for dreams. the delay.

Page 3

PHOTO: GEOFF SLOAN Page 11 said the final submission is yet to

wants to be a geneticist after high school, and feels the GirlBoss Advantage programme will help Board chairman Mike Mora

her achieve her dreams. Baxendale said any request to

PHOTO: GEOFF SLOAN

• By Bea Gooding

pursue a specific for biology, project in and the from a young Julia is one of 25 young were often male-dominated, •"The By community Bea Gooding will be somewhat

thankful for a reprieve of the

for biology, and from a young Julia is one of 25 young were often male-dominated, be completed but it was likely the

east would have age to has be always agreed been interested women chosen around the with particular focus on science,

technology, engineering

age has always been interested women chosen around the with particular focus on science,

technology, engineering requested.

demolition of the site would be

FIFTEEN-YEAR-OLD upon Julia by council.

effects

South New Brighton School pupil Jacob McMillan enjoying the foam pit at Christchurch School of

City councillors are yet to pass

Gymnastics, which opened its doors to pupils while the school was closed due to fire damage.

Holmes is on a mission on to

in how things worked, often country to participate in the

FIFTEEN-YEAR-OLD of this motorway for Julia six in how things worked, often country to participate in the

months, but it's still there. Until

taking things apart just to put GirlBoss Advantage programme

next month, designed She was shocked to hear the

and maths.

Holmes is on a mission to taking things apart just to put GirlBoss Advantage programme

next month, designed She was shocked to hear the Main South Rd, has been a source

and maths.

The former service centre, on

make a difference in the world. any guidance them to back staff together. around

decisions are made to put our

make a difference in the world. them back together.

•Story, more photos, page 5

PHOTO: GEOFF The SLOAN year 11 St Margaret's this, she said.

community first, then there is no

That passion has landed her to mentor the female leaders news from her mother.

The year 11 St Margaret's That passion has landed her to mentor the female leaders news from her mother.

of tension for years with residents

College student has a passion •Turn to page the 5

relief," he said.

opportunity of her dreams. of tomorrow in industries that • Turn to page 6

College student has a passion the opportunity of her dreams. of tomorrow in industries that • Turn to page 7

unhappy with the state of the site.

•Turn to page 6

•Turn to 5

BLINDS...Cleaned, Repaired & Restored...

BLINDS...Cleaned, Repaired & Restored...

BLINDS...Cleaned, Repaired & Restored...

Restore your oiled CEDAR BLINDS with our re-oiling service.

Restore your oiled CEDAR BLINDS with our re-oiling service.

Restore your oiled CEDAR BLINDS with our re-oiling service.

• By Matt Slaughter

Rejuvenate your lacquered CEDAR BLINDS

Rejuvenate your lacquered CEDAR BLINDS

SPREYDON residents are

Rejuvenate your lacquered CEDAR BLINDS

High-tech Cleaning

High-tech Cleaning

preparing High-tech Cleaning

We clean and repair all types of blinds –

• By Jess Gibson

We clean and repair all types of blinds – Boats, Caravans, • By Devon to help Bolger members of

We clean and repair all types of blinds –

their community if they are

What's in store for

Venetians, Cedar, Verticals, Roller, Hollands,

Venetians, Cedar, Verticals, Roller, Hollands,

Venetians, Cedar, Verticals, Roller, Hollands,

Romans and Pleated – with environmentally SAVE

RESOURCE consent has been

forced

ANY

to

DECISION

self-isolate

on

because

helping

of

people

Romans and Pleated – with environmentally

the property market

Motorhomes

Romans and Pleated – with environmentally

friendly cleaning products.

granted for a major commercial

Covid-19.

who may struggle to pay their rates

SUPPORT: Sonya

friendly cleaning products.

friendly cleaning products.

in 2020?

Temperature Controlled Drying

and residential development in

Temperature Controlled Drying

Expressions of interest sought Spreydon

will come

to Neighbourhood

from the Government,

Hodder says

Temperature Controlled Drying

Re-oiling & Rejuvenating

Lyttelton.

Re-oiling & Rejuvenating

rent covered and open space

Network

the district

in

Facebook

council

group

says.

admin

the Spreydon

Re-oiling & Rejuvenating

Read the full article at

Fabric Blinds - such as Austrian and Buy Now.

Collett's Corner, a three-storey

Fabric Blinds - such as Austrian and

Sonya Hodder got behind

Said district

the

Neighbourhood

the above proposed centre based

Fabric Blinds - such as Austrian and

teamgriff.co.nz

Roman

complex, is now a step closer to

Roman

idea after one of its

council

members

chief

Network will help

in I Zone Park Rolleston.

Roman

Same Day Pick Up & Drop Off Keep warm WE ARE OPEN being built on Oxford St after

Same Day Pick Up & Drop Off

posted asking if residents

executive

are

David

residents if they

WE ARE OPEN

Same Day Pick Up & Drop Off

WE ARE OPEN

We offer a same-day, pick up and drop

Mon - Fri

We offer a same-day, pick up and drop

Mon - Fri

off service for most types of blinds. + Healthy

Christchurch City Council

willing to support people

Ward:

who

"(We) will

have to selfisolate

because

We offer a same-day, pick up and drop

On site facilities will include Mon - Fri

8.00am to 5.00pm approved the consent application

off service for most types of blinds.

8.00am to 5.00pm are self-isolating

the following:

by

be

dropping

guided by

off

off service for most types of blinds.

8.00am to 5.00pm

Bookings are required.

from Ohu Development - the

Bookings are required.

D Security Fence, Swipe food card, and Gate other supplies.

government

D Dump Station On Site

of Covid-19.

Bookings are required.

Convenient Location

group behind the project.

Convenient Location

Entrance

Said Mrs Hodder:

policy

D Trickle "One

and

of Feed the

PHOTO: GEOFF

Power

Convenient Location

We are located at 47 Mandeville St, ***NEW LOCATION***

We are located at 47 Mandeville St, ***NEW LOCATION***

The project is being funded by

D CCTV Camera ladies who is in Dthe guidelines

Office group works

in

***NEW LOCATION***

SLOAN

And Toilet Complex

We are located at 47 Mandeville St,

Riccarton (next to Window Treatments Ph 377 0770,

Riccarton (next to Window Treatments Ph 377 0770,

Riccarton (next to Window Treatments Ph 377 0770,

Caleb Griffioen 0276 370 231

the first crowdfunding campaign

D Wash Down Facility for the Red Cross Dand relation

Affordable she's like

to fifnancial

David Ward

Rental Charges

NZ Ltd), parking available onsite

47 Mandeville St, Riccarton

NZ Ltd), parking available onsite

under taken in New Zealand for a

47 Mandeville St, Riccarton an emergency person, you

assistance

know,

NZ Ltd), parking available onsite

47 Mandeville St, Riccarton

www.blindcare.co.nz

Christchurch www.dimocksenergy.co.nz sales@dimocks.net.nz

commercial development. www.blindcare.co.nz

Christchurch

she goes out with the

for

four-wheeldrive

ratepayers.

Christchurch

Reply to: rvstoragecentre@gmail.com

www.blindcare.co.nz

However, before work starts on

It is

and

likely

that, and

be a

she

national

came up

the complex, Ohu Development

with

decision."

the idea and so I agreed that

will need to raise between

we should

Mr Ward

use our

said

Facebook

it is still too

page

early

$800,000 and $1.4 million in its

as an

to tell

avenue

exactly

if anybody

what assistance

does

the

second round of crowdfunding,

need

community

help.

will need.

• HAVE YOUR

which is planned to start on

"I'm

"It's

not

very

sure

early

how

days

needed

and

that

I

SAY: Tell us

PHOTO: GEOFF SLOAN April 2.

it will

think

be

that

because

we are

most

just

of

looking

the supermarkets

what you're

The public will decide whether

at how we

are

respond

providing

to the

online

virus.

doing to help

DEDICATED: Dave Bryce is passionate about gardening as it is sustainable and promotes healthy eating. GIRL BOSS: Julia Holmes wants to be a geneticist after high school, and feels the GirlBoss Advantage programme will help

or not the second crowdfunding

delivery

For us,

and

it's

things

about responsiveness

like that but

your community

her achieve her dreams.

PHOTO: GEOFF SLOAN

bid will go ahead on that date.

it's

to

just

the

hard

central

to know

government

how it's going

prepare for

• By Jess Gibson

the chairman of Redcliffs/Te Features and was one of seven At the moment, edible

• By Bea GoodingIn a survey by Ohu from a young age has always Julia is one of 25 young industries that were oten maledominated,

with particular "I just think they [people] just

guidelines,

to pan out.

the safety of staff

Covid-19? Email

WITH MORE than 100 edible

Rae Kura Eco Village Group, recognised in the Residential items in Mr Bryce's garden

and the safety of our communities."

starmedia.kiwi.

matt.slaughter@

Development, people been can interested in how things women chosen around the

species in his garden, Dave

was successful at the Linwood- House Category.

include pumpkins, courgettes, WEST MELTON'S choose Julia whether they worked, think oten the taking things country to participate in focus on science, technology, need to let us know what they

Bryce would give any vegetable

Central-Heathcote Edible

The awards were presented to beans, lettuce, rhubarb, Holmes celery,

It follows calls from

is on a mission crowdfunding to campaign apart just should to put them back the GirlBoss Advantage engineering and maths.

need and we'll do our best to

shop a run for its money. Garden Awards.

Mr Bryce at a ceremony held at tomatoes, berries, nuts make and

Christchurch city councillors to

a difference continue, the world.

should together. be paused

programme next month,

She was shocked to hear the help," she said.

the worst happens.

Network] are about, that's why tricky if the supermarkets stop aged not to actually go there if

Which is why the Mt

He received a special

the Matuku Takotako: Sumner herbs among others.

stop rates increases in response

The fifteen-year-old until has the Covid-19 outbreak That passion is has landed her designed to mentor the

news from her mother.

Mrs Hodder said there is no "I just think anything to help we exist.

working and things like that, and they're sick, but to phone in and

to the Covid-19 crisis.

Pleasant resident, who is also award for Best Sustainability Centre earlier this month.

• Turn to page 6 a passion for biology, brought and under control. the opportunity of her dreams. female leaders of tomorrow in • Turn to page 5

need to panic but it is important our community, that's what we "We've got to look after each the doctors, it's hard for them as things like that," she said.

those who can help do

• Turn

their

to

bit

page

if

3

[the Spreydon Neighbourhood other. I guess it's going to get well. People need to be encour-

•Turn to page 6

At The Laboratory

Buy your tickets online

17 West Belt

or from the bar BLINDS...Cleaned, Repaired & Restored...

Lincoln

apollo.thelaboratory.co.nz

Restore your oiled CEDAR BLINDS with our re-oiling service.

lending for buying, building or renovating your new home

Rejuvenate your lacquered CEDAR BLINDS

Refinancing home loans to get best possible interest rates

High-tech Cleaning

available and a structure to suit your goal

We clean and repair all types of blinds –

Venetians, Cedar, Verticals, Roller, Hollands,

Lending for purchase of rental and investment properties

Romans and Pleated – with environmentally

Business lending

Do you have trouble

friendly cleaning products.

• Open 5 days a week •

A service that is totally mobile and at NO COST to you

hearing and need a

Temperature Controlled Drying

Re-oiling & Rejuvenating

hearing test? Your • Late night appointments (these fill fast!) •

Fabric Blinds - such as Austrian and

local hearing expert, • FREE adjustments for ACC funded clients •

Roman

Another Chance UK Feel Good Classic Cinema Jane Austin Comedy Historical Drama Family Fun

Brenna Sincock, is

Same Day Pick Up & Drop Off

• Fully funded ACC options •

Tuesday, 24 March

Thursday, 26 March

Saturday, 28 March

WE ARE OPEN

We offer a same-day, pick up and drop

11:00 AM The Gentlemen

R16 11:00 AM Little Women G

here to help you get

10:30 AM The Big Trip PG

Mon - Fri

• Hearing aids in all price brackets •

1:10 PM Parasite

R13 1:35 PM Jojo Rabbit M 12:10 PM Parasite R13

off service for most types of blinds.

8.00am to 5.00pm

3:40 PM The Invisible Man R16

your best hearing.

3:40 PM Parasite R13 2:40 PM Emma

PG

Bookings are required.

6:05 PM Emma

PG 6:10 PM Radioactive M 5:10 PM The Gentlemen R16

8:30 PM All at Sea

M 8:20 PM All at Sea M 7:30 PM All at Sea M

Convenient Location

Wednesday, 25 March

Friday, 27 March

Sunday, 29 March

We are located at 47 Mandeville St, ***NEW LOCATION***

www.stephaniemurray.mortgage

Michelle lindsay

Call (03) 390 2332

10:30 AM Mums and Bubs, All at Sea M 11:00 AM Emma PG 10:30 AM Emma

PG

Riccarton (next to Window Treatments Ph 377 0770,

Somerfield

12:40 PM Emma

PG 1:25 PM Radioactive M 1:00 PM The Big Trip PG

Mortgage advisor

Shop 40 Rolleston Square, 9 Masefield Dr, Rolleston 7614

3:10 PM The Gentlemen

R16 3:45 PM The Big Trip PG

NZ Ltd), parking available onsite

2:45 PM All at Sea M

47 Mandeville St, Riccarton 03 337 0422

MichelleLindsayMortgageAdvisor

Phone 021 346 265

Rolleston | Darfield | Leeston | Lincoln

Local Selwyn Audiology

5:30 PM 1917

R13 5:30 PM All at Sea M 4:30 PM Little Women G

Christchurch

7:40 PM The Invisible Man R16 7:20 PM Emma PG 7:10 PM Radioactive M www.blindcare.co.nz

Small batch made from scratch, Coffee to go!

Take in an

ice cream or

a drink

MP for Ilam

283 Gr ers Road Bryndwr,

Christchurch

ilam@parliament.govt.nz

03 359 0582

Funded by the Parliamentary Service.

Authorised by Ge ry Brownl e MP,

Parliament Buildings, We lington.

per blind

Connecting Your Community

No review

A message

over

of love, unity

multi-storey

and prayers

house

for peace

Page 3 Page 7

GET CONNECTED WITH

Cheap Tuesdays $10 Any Film, Any Time

Dine a the

Lab before

or after

per blind

MP for Ilam

283 Gr ers Road Bryndwr,

Christchurch

ilam@parliament.govt.nz

03 359 0582

Funded by the Parliamentary Service.

Authorised by Ge ry Brownl e MP,

Parliament Buildings, We lington.

per blind

starnews.co.nz

PEGASUS POST Latest Canterbury news at starnews.co.nz

Thursday April 8 2021 11

Classifieds Contact us today Phone our local team 03 379 1100

Pets and Supplies

Discover Christchurch's

best priced pet

accommodation

• Daycare - all breeds

• Boarding

• Long stay/short stay

Call now to book

in your cats &

dogs, inspections

welcome anytime!

aLameDa

kenneLs & cattery

271 Dyers Road

Ph 384 1297 or 0274 587 067

www.alameda.nz

Community Events

ALCOHOLICS

ANONYMOUS, If you

want to have a drink that's

your business. If you want

to stop, we can help. Phone

0800 229-6757

Wanted To Buy

TOOLS Garden,

garage, woodworking,

mechanical, engineering,

sawbenches, lathes, cash

buyer, ph 355-2045

TOOLS Garden,

garage, woodworking,

mechanical, engineering,

sawbenches, lathes, cash

buyer, ph 355-2045

Trades & Services

FOR ALL YOUR

★Garden Clean-ups

★Pruning

★Lawn Mowing

★Garden Maintenance

Call us today for a FREE quote

PH 0800 4 546 546

(0800 4 JIMJIM)

ROOF REPAIRS

Locally owned & operated with

over 30 years experience.

• Extensions & repair • Roof coating

• Concrete & clay tiles • Butynol

• Malthoid • Asbestos Certified

• Coloursteel • Old iron • Guttering

Phone Dave 981 0278

or 021 223 4200

E: dave@beaumontroofing.co.nz

BEAUMONT ROOFING LTD

Trades & Services

BRICKLAYER

George Lockyer. Over

40 years bricklaying

experience. UK trained.

Insurance work, EQC

repairs. Heritage

brickwork & stonework

a speciality. No job too

small. Governers Bay.

Home 329 9344. Cell

027 684 4046. E mail

georgelockyer@xtra.co.nz

CARPET LAYING

Exp. Repairs, uplifting,

relaying, restretching.

Phone John on 0800

003181, 027 240 7416

jflattery@xtra.co.nz

Trades & Services

Trades & Services

ELECTRICIAN

Prompt & reliable

registered electrician

with 24 years experience

for all residential and

commercial work, new

housing and switch board

replacements. Phone Chris

027 516 0669

LAWNMOWING

reliable service, call / txt

022 172 0870 for a free

quote

VHS VIDEO TAPES

& all camera tapes

converted to DVD or

USB. Video taping

special occasions, www.

grahamsvideo.co.nz ph 03

338-1655

Keep

connected

Digital

editions

available on

your screen

24/7

Foam fun follows fire

Circulation 93,000 starnews.co.nz

Vaping rules

in CDHB

spotlight

www.starmedia.kiwi/digital-editions

– page 4

• By Louis Day

CALLS HAVE been made to

stop rates increases in response

to the Covid-19 crisis.

City councillors James Gough,

Sam MacDonald, Catherine

Chu, Phil Mauger, Aaron Keown

and James Daniels have sent a

letter to Mayor Lianne Dalziel

asking her to lead a conversation

as to how a zero per cent rates

increase could be achieved this

year.

The city council is proposing

an average rates increase of 4.65

per cent across all ratepayers in

this year's Draft Annual Plan

which is currently under public

consultation until April 5 and

will be finalised before July 1.

The 2018-2028 Long Term

Plan also predicts a 50 per cent

rates increase over 10 years.

Said Cr MacDonald: "In

the current environment it's

clear business as usual is not

appropriate and the council

needs to look at how we enable

this 12-month rates increase

freeze to occur, it's crucial for

the economic confidence of our

city."

Ms Dalziel said the las thing the council's budget, which is

the city council needed was for not entirely funded by rates, and

someone to hi the panic button. the consequences that will flow

"Calm heads must and will from decisions we make.

prevail," she said.

"The Annual Plan is not

"Our residents and businesses signed off for three months so

will be depending on us to we have time to ge this advice.

make adjustments, and we will, A the same time, the council

however, we will need advice is meeting with our economic

on the impacts on all aspects of development agency, ChristchurchNZ,

the Canterbury Employers'

Chamber of Commerce

and other key players so we are

best prepared for the economic

challenges that lie ahead."

City council chief executive

Dawn Baxendale did not rule a

zero rates rise out.

"We're considering a series of

options in light of the extraor-

Thursday, March 19, 2020

Parent's

frightening

journey

– pages 6 & 7

Covid-19 prompts call for

zero per cent rates increase

The local news

destination

for Cantabrians

Eastern

Julia's suburbs on

repairs

a mission could take

to make a while a

difference

Ro ler Blinds cleaned

from as li tle as $22

Views on

cricket nets

sought

Consent

Award for green-fingered Bryce Julia's granted on

Limited a mission

for Collett's

stock

Corner plan

Fujitsu 6kw to heat make pumpsa

$ 350 difference

Looking for a mortgage broker?

The local news

destination

for Cantabrians

Ph 377 0034

Helpless to

stop property

flooding

Hear Better,

Live Better

Lively group

celebrate

St Patrick's Day

Gerry Brownlee

Motorway

opening Julia's on

delay

brings a mission

relief to make a

difference

Ro ler Blinds cleaned

from as li tle as $22

Scorch

Broadband

ACTION: Six city councillors including

Catherine Chu, Sam MacDonald (top right),

James Daniels (above left) and Aaron

Keown have called on Mayor Lianne Dalziel

to lead a conversation on how to achieve a

zero per cent rates increase this year.

dinary circumstances related to the economy in response to the

Covid-19. We will discuss these Covid-19 pandemic.

options with elected members The biggest boost is $5.1

as we develop the Annual Plan," billion towards wage subsidies

she said.

for affected businesses in all

The push from city councillors sectors and regions.

for a freeze on rates rises comes •Tips for weathering virus, p3

shortly after Minister of Finance

•Mayor's column, p9

Grant Robertson announced

a $12.1 billion package to aid •From the editor's desk, p10

Gerry Brownlee

Bid to

secure

funding to

demolish

service

centre

Victorious

captain stoked

with cup win

Preparation Rates starts to support

decision

those to come who are self-isolating

R V STORAGE

from Govt

CENTRE

0800 726 724

www.scorch.co.nz

Ro ler Blinds cleaned

from as li tle as $22

Ro ler Blinds cleaned

from as li tle as $22

The local news

destination

for Cantabrians

Place your orders now

I Spy Food

78 Barrington Street,

We're for

local

Our shrub

VOICES

Of the month

Why you need a

smoke bush

growing with you Three Time winner of NZCNA Best Magazine | July 2020 | 100%

Gardening

in Glass

The art of

making

terrariums

Start your

StrawberrieS

Priming for sweet

success this summer

Are you ready

to grow?

The new local

news destination

for Cantabrians

Kiwi Gardener is your

practical guide to gardening

in New Zealand.

SubScriBe FrOM $20

$7.90 incl. GST

Pass the

Potato

A Canterbury family

keeping one special

variety growing

stars of the winter staGe

daphnes, camellias, hellebores & more

SubScriptionS

Freephone 0800 77 77 10

www.Gardener.kiwi
---
12 Thursday April 8 2021

Latest Canterbury news at starnews.co.nz

PEGASUS POST

WORK

WITH THE

BEST!

HARCOURTS GOLD

Internationally renowned and award-winning, the Harcourts gold owners provide incredible business and mentoring support to

their large team of real estate professionals, administrators, marketing and property management teams, as well as their clients.

For a real estate career with a difference contact any of these four today.

Find me on

Find me on

JOHN MCFADDEN

AREINZ, BUSINESS OWNER

Harcourts Hall of Fame

John is a key player in the

extraordinary success of Gold Real

Estate Group.

John's disarmingly down-to-earth

and relaxed approach conceals a

single-minded resolve that propelled

him from his earliest career as a

plumber into the real estate industry,

business ownership and the role of

Managing Director at Harcourts gold.

M 027 432 4554

E john.mcfadden@harcourts.co.nz

CHRIS KENNEDY

AREINZ, BUSINESS OWNER,

GENERAL MANAGER & AUCTIONEER

Former Harcourts New Zealand CEO

In real estate for over 28 years,

Chris has extraordinary industry

knowledge across all sectors of the

business. Starting off as a real estate

consultant in Invercargill, Chris then

moved to roles including business

owner, development manager and

CEO. Chris joined Harcourts gold

in May 2019 and adds enormously

to the company's culture and

performance.

M 027 433 5828

E chris.kennedy@harcourts.co.nz

Find me on

Find me on

LYNETTE MCFADDEN

AREINZ, BUSINESS OWNER

Former Harcourts NZ Inspirational

Women Ambassador,

Harcourts Hall of Fame

Iwi: Te Āti Haunui-a-Pāpārangi

& Te Āti Awa

Lynette's ability to forge

relationships has made her a

formidable business leader – able

to inspire, motivate and support

her team to achieve top results

year after year. Her regular public

speaking engagements, charitable

work and magazine columns keep

her grounded as do her family and

friends.

M 027 432 0447

E lynette.mcfadden@harcourts.co.nz

CAMERON BAILEY

BUSINESS OWNER AND NO.1

HARCOURTS SALES CONSULTANT

WORLDWIDE OUT OF 6400

REINZ Residential Salesperson of the

Year 2020/21 across all brands and

businesses in NZ

Cameron is an integral part of the

Harcourts gold franchise, having

become a partner in the company

in 2009. His expertise and profile

as well as his drive to excel make

him an ideal role model for anyone

wanting to come into the industry.

M 027 555 7079

E cameron.bailey@harcourts.co.nz

www.harcourtsgold.co.nz

HARCOURTS GOLD PAPANUI TOP INTERNATIONAL OFFICE OUT OF OVER 900 for Total Revenue

HARCOURTS GOLD PAPANUI TOP RESIDENTIAL OFFICE IN NEW ZEALAND for Gross Revenue

GOLD REAL ESTATE GROUP NO.1 FRANCHISE IN NEW ZEALAND for revenue per sales consultant

LICENSED AGENT REAA 2008