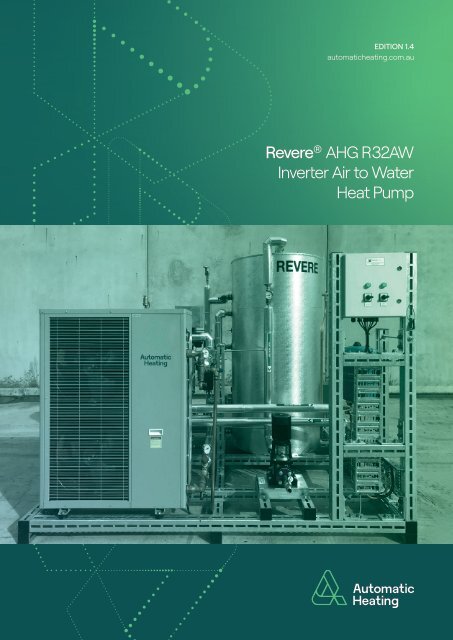 Revere AHGR32AW Heat Pump brochure_1.4
You also want an ePaper? Increase the reach of your titles
YUMPU automatically turns print PDFs into web optimized ePapers that Google loves.
EDITION 1.4

automaticheating.com.au

Revere ® AHG R32AW

Inverter Air to Water

Heat Pump
---
Revere ® AHG R32AW Inverter Air to Water Heat Pump

Revere ®

AHG R32AW Inverter

Air to Water Heat Pump

With the advanced new technology of an

EVI DC Inverter, the Revere ® R32 AW can

be used in extremely cold area for heating/

cooling, hot water.

1315

mm

EVI DC Inverter Technology

With advanced new technology of EVI DC Inverter, the

unit is capable of producing 60ºC domestic hot water.

And according to laboratory testing (basing on ErP test

standard), the energy level can reach A++.

395

mm

1000 mm

13bar

Defrosting

Pressure

Traditional

Pressure Sliding

AHGR32AW

Series

-15 -7 0 7

o

C

Ambient Temperature

Smart Colorful Touch Display

R32 wire controller features a 5-inch smart colorful touch

display which is installed on the wall. Featuring 0.5ºC precise

control, water temperature curve display, easy timing, onekey

mute and more, it provides an easy and convenient user

experience.

Floor

Heating

Application

Sanitary

Hot Water

Radiator

Fan

Coil

AHG

Heat

Pump

Intelligent Defrosting

Intelligent defrosting uses the pressure sliding defrosting

technology to figure out the exact defrosting time and start

pressure according to the real ambient temperature. It saves

energy and makes the heat pump work in high efficiency.

Water Temperature up to 60ºC

Thanks to EVI technology, the R32 features a wide

operating temperature range. It means they can reach high

water temperatures. Even in cold climates, it can work safely

and reliably at an ambient temperature as low as -30ºC with

Wet Injection Technology.

Low Global Warming Potential

Compared to the refrigerants widely used today, such as R22 and

R410A, R32 has a global warming potential that is two-thirds lower

and it is remarkable for its low environmental impact, which has led

to increasing popularity in the industry.

The AHGR32AW Series suits a wide variety of applications,

including space heating, pool heating and domestic hot

water production for residential, commercial and industrial

projects.

2

Automatic Heating
---
Revere ® AHG R32AW Inverter Air to Water Heat Pump

Technical Data

Revere® R32AW AHGR32AW6 AHGR32AW10 AHGR32AW17 AHGR32AW24

Number of Phase(s) Single Single Triple Single Triple Triple

Power Supply 230V~ 230V~ 380V/3N~ 230V~ 380V/3N~ 380V/3N~

Frequency Hz 30~90

Moisture Resistance IPX IPX4

Electrical Shockproof I I

Heating Condition - Ambient Temp. (DB/WB): 7/6°C, Water Temp. (In/Out): 30/35°C

Capacity Range kW 2.29~8.25 4.70~12.50 4.70~12.50 7.00~20.50 7.00~20.50 10.50~25.60

Power Input Range kW 0.63~1.81 1.08~3.44 1.08~3.44 1.50~6.00 1.50~6.00 2.50~6.50

Current Input Range A 3.2~8.0 5.9~16.0 2.1~5.7 6.9~27.7 2.5~10.0 3.5~11.0

Hot Water Condition - Ambient Temp. (DB/WB): 20/15°C, Water Temp. (In/Out): 15/55°C

Capacity Range kW 3.00~9.77 5.76~16.20 5.76~16.20 9.35~24.30 9.35~24.30 11.50~27.50

Power Input Range kW 0.60~2.35 1.16~4.20 1.16~4.20 2.06~6.40 2.06~6.40 2.7~7.20

Current Input Range A 2.8~10.3 6.2~19.5 2.2~6.9 9.5~29.5 3.4~10.7 4.1~11.7

Cooling Condition - Ambient Temp. (DB/WB): 35/24°C, Water Temp. (In/Out): 12/7°C

Capacity Range kW 1.98~6.10 3.22~11.30 3.22~11.30 5.50~15.50 5.50~15.50 8.50~19.50

Power Input Range kW 0.70~2.22 1.27~4.64 1.27~4.64 1.50~6.00 1.50~6.00 3.00~7.50

Heating Current

Input Range

A 3.3~9.7 6.8~21.5 2.4~7.6 6.9~27.7 2.5~10.0 3.8~11.3

Max. Power Input kW 2.90 4.64 4.64 7.20 7.20 12.50

Max. Current Input A 13.0 21.5 7.6 33.2 12.0 20.3

Water Flow m3/h 1.0 1.7 1.7 2.9 2.9 4.2

Refrigerant

Refrigent Proper Input kg 1.3 1.7 1.6 2 2 3.4

CO2 Equivalent Ton 0.88 1.08 1.08 1.35 1.35 2.27

Sound Pressure (1m) dB(A) 37~54 42~55 42~55 44~58 44~58 45~60

Net Weight kg 90 108 108 140 140 206

Operation Pressure

(Low Side / High Side)

Unit Dimension

(L/W/H)

Shipping Dimension

(L/W/H)

Compressor

Circulation Pump

R32

MPa 2.1 / 4.4

mm 1002×490×805 953×460×915 953×460×915 997×437×1315 997×437×1315 1178×450×1605

mm 1070×510×970 1050×500×1060 1050×500×1060 1080×450×1470 1080×450×1470 1220×500×1780

Panasonic

GRUNDFOS

Operating Ambient Temp. ºC -25~43

Fan Quantity 1 1 1 2 2 2

Fan Motor Type

Fan Motor Power Input

(Min~Max)

DC Motor

W 30~75 30~93 30~73 30~80 30~80 60~150

Fan Speed (RPM) RPM 300~850 300~1050 300~800 300~800 300~800 300~800

Water Connection (inch) inch 1 1 1 1 1/4 1 1/4 1 1/4

Water Pressure Drop (max) kPa 28 35 35 65 65 68

Circulation Pump Head m 5.5 5.5 5.5 12.5 12.5 21

Cabinet Type

Galvanized sheet

Automatic Heating 3
---
Automatic Heating Global Pty Ltd

T. +613 8352 7000

E. sales@automaticheating.com.au

67 Gateway Boulevard, Epping VIC 3076

P.O. Box 35a Epping VIC 3076 Australia

W. automaticheating.com.au 18733 210429